Welcome to the webbed and wired edition of R&R, aristotle. We'll be doing the same sort of song and dance here as we do in print: reviewing the latest comics and cartoon-related books and ranting about trends and abuses and unfathomable foolishnesses. Each installment will stay here for about four weeks, with a new one coming in just about every other week or so. If you don't have the time to ponder every punctuation mark in this deathless prose and merely want to see what might be there that would interest you, we suggest you scroll down the page looking for the bold-face type that heralds the notables who reside herein this week. So here we go with Opus 351 (and a reprise of Opus 350):
Opus 351: Reuben Nominees, Ohman's Pulitzer & Reviews of New Black Panther, New Moon Knight, New Black Widow, Dell's Pogo, Mandrake, and Graphic Novels Drama, and Magic Pen (April 30, 2016).
Opus 350: Big 350th Celebration with A Fling for the Occasion, Dennis the Menace Anniversary, Playboy's Explanation & Trumpery and the Fearsome Megyn Kelly Pinups (April 1, no foolin', 2016).
Opus 351 (April 30, 2016). We finish the month with a list of the nominees for NCS's Reuben and Silver Reuben awards, Jack Ohman's Pulitzer, Nick Sousanis's Lyn Ward win, banned graphic novels, and reviews of first issues of New Black Panther, New Moon Knight, Waid/Samnee's New Black Widow, and an essay on Comic Books Corrupted by Movie Versions and book reviews of Walt Kelly's Pogo: The Complete Dell Comics, Vols. 1-3; Mandrake the Magician: Sundays, 1935-37 (with Sidebar on The Phantom); Balls of Fire: More Snuffy Smith Comics; and graphic novels Drama, Indeh: The Story of the Apache Wars (out in July), and Sam Zabel and the Magic Pen and more — plus the usual appreciation of the month's editoons and farewells to The New Yorker's William Hamilton, Dick Hodgins, Jr., Paddington's Peggy Fortnum, and Mad's Lenny "The Beard" Brenner. And more, much more. Here's what's here, by department, in order, beginning with the Association of American Editorial Cartoonists' plan to assault North Carolina's Restroom Law by going to North Carolina—:
NOUS R US
Political Cartoonists to Meet in North Carolina
(just to stick it to the restroom law)
THE AWARD SEASON—:
NCS Reuben Nominees
plus Silver Reuben Nominees
Jack Ohman Wins Pulitzer
Ditto The New Yorker
Lynd Ward Winner: Thinking Visually
Zunar's Case Rejected
Two Graphic Novels Make Top Ten Banned Books
Lynch at the Ireland
Clay Geerdes Website
ODDS & ADDENDA
Free Comic Book Day
Megyn Kelly to Interview Trump
Playboy's May Issue—Another Dud
Fantagraphics Nominated for 17 Eisners
—More Than Anyone Else
Garfield's Jim Davis, Adjunct Professor at Ball State
New First Folio Found
FUNNYBOOK FAN FARE
First Issues Reviewed—:
New Black Panther
New Moon Knight
(Comic Books Corrupted by Movie Versions)
American Monster
Waid/Samnee's New Black Widow
Mockingbird
Gwenpool
Power Man and Iron Fist
Rough Riders
EDITOONERY
An Appreciative Look at the Month's Political Cartoons
—including The New Yorker
Monthly Political Cartoon Newspapers
Tom Toles Talks Shop
ACCRETION OF INTENTION DEPARTMENT
Road to America graphic novel
NEWSPAPER COMICS PAGE VIGIL
Notable Events in the Funnies
—and Taboos Broken, Willy Nilly
BOOK MARQUEE
Short Reviews of—:
Walt Kelly's Pogo: The Complete Dell Comics, Vols. 1-3
Mandrake the Magician: Sundays, 1935-37
Sidebar on the Phantom
Batman Noir: Eduardo Risso
Balls of Fire: More Snuffy Smith Comics
Forthcoming—:
The Fun Family (aka "Family Circus")
Nobody's Fool (by Bill Griffith)
LONG FORM PAGINATED CARTOON STRIPS
Graphic Novels Reviewed—:
Drama
Indeh: The Story of the Apache Wars
Sam Zabel and the Magic Pen
COLLECTORS' CORNICHE
Bill Holman's Smokey Stover (a single magnificent panel)
ONWARD, THE SPREADING PUNDITRY
Building Trump's Wall
WE'RE ALL BROTHERS PASSIN' THROUGH
The New Yorker's William Hamilton
Dick Hodgins, Jr.
Peggy Fortnum (Paddington's "Mother")
Mad's Lenny "The Beard" Brenner
QUOTE OF THE MONTH
If Not of A Lifetime
"Goddamn it, you've got to be kind."—Kurt Vonnegut
Our Motto: It takes all kinds. Live and let live.
Wear glasses if you need 'em.
But it's hard to live by this axiom in the Age of Tea Baggers,
so we've added another motto:.
Seven days without comics makes one weak.
(You can't have too many mottos.)
And our customary reminder: when you get to the $ubscriber/Associate Section (perusal of which is restricted to paid subscribers), don't forget to activate the "Bathroom Button" by clicking on the "print friendly version" so you can print off a copy of just this installment for reading later, at your leisure while enthroned. Without further adieu, then, here we go—:
NOUS R US
Some of All the News That Gives Us Fits
FOR IMMEDIATE RELEASE
Political Cartoonists to Move Forward with North Carolina Convention
DURHAM, NC — Amid the wave of job losses and high-profile concert cancellations in North Carolina, there is finally some good news for its beleaguered governor and state legislature. One group has decided not to pull its upcoming convention in the wake of the controversial law HB2: Political Cartoonists.
Pat McCrory and the GOP-controlled legislature will be gladdened to hear that the Association of American Editorial Cartoonists is standing firm in their commitment to hold their 2016 Convention and Satire Festival at Duke University in September.
"Other groups and companies are boycotting because that is the only way they can express a political opinion," said Adam Zyglis, the 2015 Pulitzer Prize winner for Editorial Cartooning, and current president of the AAEC. "Expressing an opinion is precisely what we do, so I say we should go to the heart of the controversy and speak out on this issue."
The upcoming confab, scheduled for September 21-24 on the Duke campus, will gather together a hundred political cartoonists from across the United States and Canada to join with nationally-known comedians and satirists for four days of panels, exhibits and public shows.
"Cartoonists and comedians don't shy away from controversy — they embrace it. They run toward it," said festival co-host JP Trostle. "I'm sure Pat McCrory and politicians in Raleigh will be happy to hear we're bringing an entire convention of these people to their doorstep."
Zyglis added, "We will be gathering Association members' work on the HB2 issue, and finding ways to showcase these cartoons to the public. [For an indication of what might be displayed, scroll down to Editoonery and watch for Restroom pictures.] We're also talking with the North Carolina Humanities Council on a joint event discussing the different angles and historical relevance of the recent controversy."
House Bill 2, also known as "the Bathroom Bill," has generated a nationwide backlash against North Carolina, and state-wide protests both for and against the measure. A reaction to a Charlotte city ordinance that would have allowed transgender people to use public restrooms based on their gender identity, the new law is seen by many people as discriminatory against the LGBT community.
It also blocks municipalities across the state from establishing their own anti-discrimination laws or increasing the minimum wage, and strips all workers of their right to sue an employer for discrimination in state courts. HB2 was added to the books after a rare special session of the state legislature, when it was written and signed into law by the governor in less than 12 hours. Legislators were given five minutes to read the bill in its entirety and discuss its merits.
Fitnoot (this one from ABC News)—:
Raleigh, NC — At a press conference today, April 21, North Carolina Governor Pat McCrory took further steps to ensure that his controversial bill, HB2, will be upheld when it comes to law enforcement. McCrory announced that his office has setup a 24-hour hotline for individuals to call if they witness someone not abiding by the new law ,"If you see a woman, who doesn't look like a woman, using the woman's restroom, be vigilant, call the hotline, and report that individual." McCrory told reporters. "We need our state to unite as one if we're going to keep our children safe from all the sexual predators and other aberrant behavior that is out there."
Enforcement by snitching. Well, it worked in Hitler's German.
***** The Award "Season" is upon us. *****
AMONG CARTOONIST OF THE YEAR NOMINEES, TWO WOMEN
The National Cartoonists Society announced five finalists for Cartoonist of the Year, and the list includes two women. NCS also announced the finalists in its division award categories— among them, several women (see the ensuing report, Silver Reuben Nominees). At Comic Riffs, Michael Cavna paused in his reporting to compare the NCS honors to France's Angouleme Festival, which "tied itself in knots last January when attempting, in response to a ballot backlash, to try to find a female cartoonist it deemed worthy of its Grand Prix lifetime achievement award."
Well, yes. But NCS hasn't always been so gender sensitive: in its 70-year history, no woman cartoonist won the coveted Reuben trophy, emblem of Cartoonist of the Year, until 1985 when Lynn Johnston won it with her comic strip For Better or For Worse. And then NCS went another six years until Cathy Guisewite won for Cathy. After that, nothing until last year, two decades later, when Roz Chast won.
Three women Reuben winners in 70 years—not a record to be inordinately proud of. And for the first several years of its history, NCS was a men-only club. So by recognizing women in this year's lists of finalists, NCS is launching the merest beginning to make up for past neglect.
Other organizations, similarly afflicted with male-centricity, have also recently betrayed better manners, Cavna observed. "The voting window just closed on the Eisner Hall of Fame Awards, for which one-fourth of the 16 inductees and finalists are women."
But ethnic and racial diversity are, alas, in even shorter supply across the landscape of cartooning as well as in various winner circles.
THE FINALISTS for the Reuben are Lynda Barry (Ernie Pook's Comeek), Hilary Price (Rhymes With Orange), Stephan Pastis (Pearls Before Swine), political cartoonist Michael Ramirez, and Mark Tatulli (Lio and Heart of the City).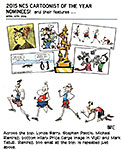 "I'm really happy about it!" Barry told Cavna in an interview. "And I'm honored and surprised to be in the same category with the other kicka-- nominees. They are real cartoonists — the ones who do the impossible," said Barry, whose feature ran for decades in alternative weekly papers, "—because doing a daily comic strip actually is completely impossible, and yet they are doing it, which means they must be part magical being, part Time Lord. I love making comics and I love showing other people how to make comics and I've been so lucky to have this be a big part of my life."
Here's a summary of her cartooning career—followed by similar reviews of the work of the other Reuben nominees—:
■ LYNDA BARRY, a cartoonist and writer, has authored 21 books and received numerous awards and honors including an Honorary Doctor of Fine Arts degree from University of the Arts, Philadelphia; two Eisner Awards, the American Library Association's Alex Award, the Washington State Governor's Award, the Wisconsin Library Associations RR Donnelly Award and the Wisconsin Visual Art Lifetime Achievement Award. Her book, "One! Hundred! Demons!" was required reading for all incoming freshmen at Stanford University in 2008. She's currently Associate Professor of Interdisciplinary Creativity and Director of The Image Lab at the University of Wisconsin-Madison were she teaches writing and picture-making.
■ STEPHAN PASTIS, creator of the daily newspaper comic strip Pearls Before Swine, syndicated by Universal Uclick, practiced law in the San Francisco Bay area before following his love of cartooning and eventually seeing syndication with Pearls, which was launched in newspapers beginning December 31, 2001. The National Cartoonists Society awarded Pearls Before Swine the Best Newspaper Comic Strip in 2003 and in 2006. Pastis is also the author of the children's book series Timmy Failure. Stephan lives in northern California with his wife Staci and their two children. This is his eighth nomination for the Reuben award.
■ HILARY PRICE is the creator of Rhymes With Orange, a daily newspaper comic strip syndicated by King Features Syndicate. Created in 1995, Rhymes With Orange has thrice won the NCS Best Newspaper Panel Division (2007, 2009 and 2012). Price's work has also appeared in Parade Magazine, The Funny Times, People and Glamour. When she began drawing Rhymes With Orange, she was the youngest woman to ever have a syndicated strip. Hilary draws the strip in an old toothbrush factory that has since been converted to studio space for artists. She lives in western Massachusetts. This is her third nomination for the Reuben award.
■ MICHAEL RAMIREZ, two-time winner of the prestigious Pulitzer Prize (1994 and 2008) and a three-time Sigma Delta Chi, Society of Professional Journalism Award winner. is a Senior Editor and the editorial cartoonist for Investor's Business Daily. Ramirez is a Lincoln Fellow, and an honorary member of Pi Sigma Alpha National Political Science Honor Society. He has won almost every major journalism award in America including the 2005 National Journalism Award, the 2008 Fischetti Award, the H. L. Mencken Award and is a five-time National Cartoonists Society editorial cartoon division winner. Michael is the recipient of the prestigious UCI Medal from the University of California, Irvine. Two books of his editoons have been published: Everyone Has the Right to My Opinion and Give Me Liberty or Give Me Obamacare. His work is seen world-wide in over four hundred newspapers and magazines through Creators Syndicate and has been featured on CNN, Fox News, and Fox Business and seen in USA Today, the Washington Post, the New York Times, the New York Post, Time magazine, National Review and US News and World Report. (His caricatures are rendered so thin that their facial features cannot be discerned, but his wit is sharp.—RCH)
■ MARK TATULLI is best known for his two comic strips, Heart of the City and Lio, which appear in 400 newspapers world-wide. He has written three books in a children's illustrated novel series entitled Desmond Pucket, which has been optioned for television by Radical Sheep. He also has two planned children's picture books coming from Roaring Book Press, an imprint of McMillian Publishing. The first, Daydreaming, will hit bookstores in September 2016. Lio has been nominated three times for the National Cartoonists Society's Best Comic Strip, winning in 2009. Tatulli was also nominated for Cartoonist of the Year in 2014, and he was nominated for Germany's Max and Moritz Award in 2010.
The winners will be announced May 28 at the NCS Reuben Awards ceremony in Memphis.
Silver Reuben Nominees. NCS has never quite escaped its status as a drinking club for cartooners rather than as a serious professional organization. It waited for a decade before realizing that the Reuben award wasn't enough: by recognizing only one "cartoonist of the year" every year and always a syndicated cartoonist, it failed to recognize the work of cartoonists in the other, non-syndicated venues they labored in—magazine panel cartoons, advertising illustration, animation, editorial cartooning and so on. In the mid-1950s, NCS started giving awards in these areas, calling them "division awards"—magazine cartoon division, animation division, editorial cartooning, and also newspaper comic strip division, etc.—and sprouted other divisions as time dribbled by (television animation, sports cartooning, and, eventually, comic books—then graphic novels, then online cartooning).
Winners of Division Awards, who receive a silver-looking plaque, are often referred to, casually, as "Reuben winners" even though Reuben winners have always been exclusively Cartoonists of the Year, not Division Award recipients. Division Award winners are "Reuben winners" only in the sense that they receive their plaques at the annual Reuben Award banquet. But it has been confusing. Last year, the NCS leadership decided to incorporate the misnomer into formal language and decreed that Division Award winners should henceforth be termed Silver Reuben Award winners, thereby perpetuating the confusion.
This year, 46 cartoonists and titles in 14 categories have been named 2015 Silver Reuben nominees as part of the NCS's Reuben Awards, which, as Michael Cavna at Comic Riffs says, some consider "the Golden Globes of comics." (By comparison, Cavna goes on, "many now consider the Eisners the Oscars of the comics industry. That nickname could bode well for Pixar's 'Inside Out,' which is nominated in NCS's Feature Animation category; earlier this year, the Pixar film won the Golden Globe, as well as the Oscar.")
Some nominees are finalists in more than one division: Australia artist Anton Emdin, for instance, is nominated for Newspaper Illustration, Advertising/Product Illustration and Magazine/Feature Illustration. And he undoubtedly deserves all three: in MHO, he is the world's most thorough-going cartoonist, expert—highly skilled—in any cartooning endeavor he puts his hand and pen to, including caricature, strip, gag cartooning and illustration—and always in the spirit of highest exuberance. His style most often evokes Jack Davis of yore, but he can (and does) vary the way he draws to suit the venue. (Stunning samples of some of his work, including caricatures of some of the actors in Marvel superhero movies, appear on the other side of the $ubscribers Wall.)
Said Emdin: "I'm amazed, overwhelmed and most of all totally honored to be nominated in three [Silver] Reubens categories — especially considering the high quality of work over all the categories."
Dave Kellett is nominated twice, both in online comics—long-form (Drive) and short-form (Sheldon)."It's a huge honor to be listed among cartoonists I know and respect as working at the top of their game," Kellett told Cavna. "And to have both of my strips … be nominated at the same time is such fun! Now I need to throw a shiv between them, and make my two strips fight for my love."
Also nominated in two categories is Glen Le Lievre, for Newspaper Illustration and Gag Cartoons.
Here is the complete list of "Silver Reuben" nominees:
NEWSPAPER COMIC STRIPS
Lio —Mark Tatuli
Pajama Diaries— Terri Libenson
Pearls Before Swine—Stephan Pastis
POLITICAL CARTOONS
Mike Luckovich
Michael Ramirez
Ann Telnaes
NEWSPAPER PANELS
Bizarro— Dan Piraro
The Flying McCoys— Glenn and Gary McCoy
Reality Check— Dave Whamond
FEATURE ANIMATION
"Boy and the World"
"Inside Out"
"The Peanuts Movie"
TELEVISION ANIMATION
"Tumble Leaf" (Amazon) — Drew Hodges
"Puffin Rock" (Netflix) — Maurice Joyce
"Zack & Quack" (Nick Jr.) — Gili Dolev and Yvette Kaplan
GAG CARTOONS
Glen Le Lievre
Benjamin Schwartz
David Sipress
ADVERTISING/PRODUCT ILLUSTRATION
Ray Alma
Anton Emdin
Luke McGarry
GREETING CARDS
Jim Benton
Scott Nickel
Robin Rawlings
COMIC BOOKS
Giant Days (Boom Box) — Max Sarin
Prez (DC Comics) — Ben Caldwell
Squirrel Girl (Marvel) — Erica Henderson
GRAPHIC NOVELS
"Nanjing the Burning City" (Dark Horse) — Ethan Young
"New Deal" (Dark Horse) — Jonathan Case
"Two Brothers" (Dark Horse) — Gabriel Ba
MAGAZINE FEATURE/ILLUSTRATION
Anton Emdin
Rich Powell
Julia Suits
ONLINE LONG FORM COMICS (Graphic Novel)
Drive— Dave Kellett
The Creepy Casefiles of Margo Maloo— Drew Weing
Octopus Pie— Meredith Gran
ONLINE SHORT-FORM COMICS (Strips and Panels)
Bouletcorp—Boulet
Kevin & Kell— Bill Holbrook
Sheldon— Dave Kellett
BOOK ILLUSTRATION
"Smick" — Juana Medina
"Sidewalk Flowers" — Sydney Smith
"The First Case" — Gitte Spee
■ The winners, as I said before (but in case you've forgotten), will be announced May 28 at the NCS Reuben Awards ceremony in Memphis.
THE BEE'S OHMAN WINS PULITZER
Celebrations erupted on Monday, April 18 at the offices of the Sacramento Bee for its editorial cartoonist, Jack Ohman, who had just been awarded the Pulitzer Prize for editorial cartoons for 2015, a recognition that includes $10,000 prize money. Ohman, 55, had submitted a portfolio of 20 of his 2015 cartoons that explored topics that included gun violence, marriage equality, terrorism and the state of the American political system. The Pulitzer citation noted "cartoons that convey wry, rueful perspectives through sophisticated style that combines bold line work with subtle colors and textures." Near here, we've posted a couple cartoons from his submission.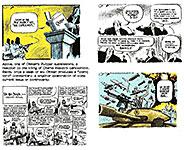 Runners-up for this year's Pulitzer include Matt Davies at Newsday and Steve Sack at the Minneapolis Star Tribune. Davies had won the award in 2004 when he was working at the Journal News in White Plains; and Sack won in 2013.
Ohman watched the announcement on an Internet live stream in "The Hive," a third-floor conference room in the Bee where he was surrounded by colleagues. As the announcement was made, reported the Bee's Sam Stanton, Ohman's co-workers broke into sustained applause and gave him a standing ovation. Minutes later, standing at a lectern amid a champagne celebration, Ohman said he "could not be prouder to work for the Sacramento Bee and the McClatchy Company."
He recalled breaking into cartooning in 1978 and noted the giants of that era who had won Pulitzer Prizes for their work, including legendary cartoonists such as Bill Mauldin and Herbert L. Block, or Herblock, as he signed his cartoons.
"To win an award that they had won is truly overwhelming to me," Ohman said, adding that winning the Pulitzer is "hallucinogenically fun."
Ohman, who has practiced his craft professionally for more than 35 years, says that he especially values the response today from his cartooning colleagues. "I've been very close with those folks and love them," Ohman told Michael Cavna at Comic Riffs, "and to get that kind of support means a lot."
Ohman came to the Bee in 2013 from the Oregonian in Portland. He was a finalist for the Pulitzer Prize in 2012 for that newspaper.
Since arriving in Sacramento, Ohman has established himself as a prominent voice on politics and social issues through his cartoons, a weekly humor column, a blog and via his alter ego, fictional California politician Joe King. [Ohman occasionally takes to tv to make spoofing political speeches as King, whose name, when you say it fast, comes out "joking."—RCH]
Ohman began drawing in 1978. He was signed to a syndication contract while drawing for his college newspaper at the University of Minnesota. His work is syndicated in about 200 newspapers nationwide.
Ohman came to the Bee after the 2012 death of his close friend Rex Babin, the newspaper's editorial cartoonist since 1999. Upon learning he had won a Pulitzer, Ohman said, "the first thing that came to my mind was Rex."
[At the time of his move to Sacramento, Ohman may have seen handwriting on the wall at the Oregonian, which may have been contemplating eliminating the editorial cartoonist job.—RCH] In addition to the Oregonian, Ohman previously worked at the Detroit Free Press and the Columbus (Ohio) Dispatch.
His other honors include the Robert F. Kennedy Journalism Award, the Scripps Howard Foundation Journalism Award and the national Society of Professional Journalists award. "I started winning awards when I stopped thinking about winning awards," Ohman said.
THE NEW YORKER WINS PULITZER
In a recent issue of the magazine, Conde Nast, the owner, took a full page to "congratulate The New Yorker, the first magazine to win a Pulitzer Prize for its writing—two, in fact." Then saluted the writers: Emily Nussbaum for her television reviews, affectionate without compromise; and Kathryn Schulz for her scientific narrative about the Cascadia fault line, "a masterwork of enrionmental reporting and writing."
THINKING VISUALLY WINS LYND WARD PRIZE
Penn State's University Libraries and the Pennsylvania Center for the Book are pleased to announce that Unflattening by Nick Sousanis, published by Harvard University Press, has won the 2016 Lynd Ward Prize for Graphic Novel of the Year.
"Unflattening," the jury noted in the press release, "is an innovative, multi-layered graphic novel about comics, art and visual thinking. The book's 'integrated landscape' of image and text takes the reader on an Odyssean journey through multiple dimensions, inviting us to view the world from alternate visual vantage points. These perspectives are inspired by a broad range of ideas from astronomy, mathematics, optics, philosophy, ecology, art, literature, cultural studies and comics. The graphic styles and layouts in this work are engaging and impressive and succeed in making the headiest of ideas accessible. In short, Unflattening takes sequential art to the next level. It takes graphic narrative into the realm of theory, and it puts theory into practice with this artful presentation of how imaginative thinking can enrich our understanding of the world."
Sousanis showed me a few pages that represented his thesis several years ago at the Denver Comic Con. His premise is that we think in pictures as well as in words. At the time, that seemed to me a commonplace observation. It still does. But Sousanis takes the idea and runs with it to new and unexpected lengths.
The press release continues: The Lynd Ward Graphic Novel Prize honors Ward's influence in the development of the graphic novel and celebrates the gift of an extensive collection of Ward's wood engravings, original book illustrations and other graphic art donated to Penn State's University Libraries by his daughters. ...
Between 1929 and 1937, Ward published his six groundbreaking wordless novels: Gods' Man, Madman's Drum, Wild Pilgrimage, Prelude to a Million Years, Song without Words and Vertigo.
A $2,500 prize and a two-volume set of Ward's six novels published by The Library of America will be presented to Nick Sousanis at a ceremony at Penn State in the fall.
ZUNAR'S CASE REJECTED
Malaysia's High Court turned down satirical cartoonist Zunar's legal challenge to the Sedition Act, clearing the way for a lower court to set his trial date on nine counts of seditious speech. Zunar, 53, and his legal team were challenging the legality of the 68-year-old colonial-era law, arguing that the Sedition Act contradicted the new nation's constitutional guarantee of free speech.
Zunar, aka Zulkiflee Anwar Ulhaque, could face 43 years in prison if tried and convicted of alleged sedition stemming from tweets he had sent out that criticized last year's jailing of Malaysian opposition leader Anwar Ibrahim on sodomy charges.
Eric Paulsen, one of Zunar's lawyers, told BenarNews that his client would now try to persuade the Court of Appeal to overturn the High Court's decision.
TWO GRAPHIC NOVELS MAKE BANNED BOOKS LIST
By Maren Williams at Comic Book Legal Defense Fund
Every year, National Library Week starts off with a bang: the release of the American Library Association's Top Ten List of Frequently Challenged Books from the previous year.
The list is compiled by ALA's Office for Intellectual Freedom from librarians' confidential reports of requests to restrict or ban certain books in their collections. Two graphic novels landed on the 2015 list: ... To Discover the Titles of These Two Sinners, and To Learn the Histories of Black Panther and Moon Knight, To Discover the Corrupting Influence of Superhero Movies, To Perceive the Wonders of Waid/Samnee's New Black Widow, Walt Kelly's Dell Pogo, and Eduardo Risso's Batman and To Learn of Bill Griffith's New Graphic Novel Project— And More, Lots More—Click Here And If You're Not a $ubscriber/associate—
SUBSCRIBE TODAY!
Just $3.95/quarter after $3.95 introductory month
NOTE: You can gain temporary access to this posting (and all the rest of this website)
by paying the trial month fee of $3.95 (which is about what the
New York Times used to charge for a single print-out).
$ubscriber/Associates: To Continue reading please CLICK HERE
To find out about Harv's books, click here.