Welcome to the webbed and wired edition of R&R, aristotle. We'll be doing the same sort of song and dance here as we do in print: reviewing the latest comics and cartoon-related books and ranting about trends and abuses and unfathomable foolishnesses. Each installment will stay here for about four weeks, with a new one coming in just about every other week or so. If you don't have the time to ponder every punctuation mark in this deathless prose and merely want to see what might be there that would interest you, we suggest you scroll down the page looking for the bold-face type that heralds the notables who reside herein this week. So here we go with Opus 354 (and reprises of Opus 353 and 352a):
Opus 354: NCS Reubens Weekend, Alex Raymond Art Book & The Book of Hope Graphic Novel (June 17, 2016).
Opus 353: Bobby London's Firing Revisited, the Complete Peanuts Completed & Ted Rall's Bernie Graphic Novel (June 5, 2016).
Opus 352a Bunny Bonus: Reuben Award Winners (June 1, 2016).
Opus 354 (June 17, 2016). Our hopped up report on the National Cartoonists Society Reubens Weekend in Memphis (and at Graceland) is the Big Story this time. We also destroy "Captain America: Civil War" and review the scholarly Frank Miller's Daredevil and the Ends of Heroism, the new Alex Raymond art book, and the graphic novel The Book of Hope. And we offer a glimpse of the new Hellboy action figure and report Mignola's decision to leave the book, update Mark Russell's Prez satire, ponder the last Snyder/Capullo issues of Batman, and revisit the time Muhammad Ali whupped Superman in 1978 (while Ali was between his second and third championships). We also look at some old postcards, an old magazine, the current crop of editoons, and the passing of The New Yorker's Frank Modell. Here's what's here, by department, in order—:
NOUS R US
Orlando Massacre
Print Comics Thriving in Digital Universe
Comixology Forging Ahead in Digital
Bill Griffith's 10 Rules for Drawing Comics
Comics Musicals: Wimpy and Cul de Sac
Zapiro Admits Monkey Was a Mistake
Odds & Addenda—:
More Live-Action Versions of Disney Animations
Captain America: Civil War
Captain America a Fascist?
Rebirth and Dr. Manhattan
NCS REUBEN AWARDS WEEKEND
Seminars Summarized
Peabody Ducks
Graceland and Elvis' End
Silver Reubens Analyzed
HELLBOY NEWS
Superb Action Figure
Mignola Quits Hellboy Stories
FUNNYBOOK FAN FARE
Up-dating Prez
Muhammad Ali Whups Superman (1978)
Neal Adams Draws Wonder Woman's Butt
Scott Snyder/Greg Capullo's Last Batman (For Now)
EDITOONERY
Reviewing the Last Month's Crop
Hillary Blisters Trump in Foreign Policy Speech
THE FROTH ESTATE
Trump Lies—PolitiFact
Trump Is Entertainment, Not Politics
NEWSPAPER COMICS PAGE VIGIL
Death in Crankshaft—for a Whole Month
The Rest of Jake Tapper's Dilbert Week
BOOK MARQUEE
Frank Miller's Daredevil and the Ends of Heroism
BOOK REVIEW
Alex Raymond: An Artistic Journey
LONG FORM PAGINATED
CARTOON STRIPS
The Book of Hope
COLLECTORS' CORNICHE
Postcards and Old Mags
ONWARD, THE SPREADING PUNDITRY
Trump Lies
PASSIN' THROUGH
The New Yorker's Frank Modell
QUOTE OF THE MONTH
If Not of A Lifetime
"Goddamn it, you've got to be kind."—Kurt Vonnegut
Our Motto: It takes all kinds. Live and let live.
Wear glasses if you need 'em.
But it's hard to live by this axiom in the Age of Tea Baggers,
so we've added another motto:.
Seven days without comics makes one weak.
(You can't have too many mottos.)
And our customary reminder: when you get to the $ubscriber/Associate Section (perusal of which is restricted to paid subscribers), don't forget to activate the "Bathroom Button" by clicking on the "print friendly version" so you can print off a copy of just this installment for reading later, at your leisure while enthroned. Without further adieu, then, here we go—:
NOUS R US
Some of All the News That Gives Us Fits
JUST AS WE WERE ABOUT TO SEND THIS OFF to our Webmaster (Jeremy Lambros, in Japan), we were bombarded with reports of the massacre in the early morning hours on Sunday at a gay nightclub in Orlando. Amid all the dozens of comments in its wake were the speeches by the two candidates for Prez. Watching Trump's bombastardy, we were amazed to see the fabulist world he's managed to conjure up out of the vast well of his ignorance, accompanied by an even more frenzied than usual racist rant, appealing to fear and fostering hatred. Hey, Trumpster—law enforcement and American Muslim communities are already working together to find terrorists before they strike.
The Trumpet is not just an asshole: he's a roaring asshole.
In sharp contrast, we have Hillary's humane appeal to our courageous better angels as she urged us to continue to tolerate diversity and to reject hatred while indicating pragmatic directions we should go to strengthen resolve and tackle problems (such as the too easy availability of "weapons of war," as she so aptly called them).
Out of the buffoon's rant, we drew only despair: his plans are too vast to be practical. Out of Hillary's calm reason, we drew resolve. And hope. Which is a leader for our times?
Editorial cartoonists, like cartoonists in every corner, don't find anything funny about the massacre of unarmed, innocent civilians. Many of the earliest cartoons deployed a gay flag—rainbow bands of color—riddled with bullets or bloodied. Others had Lincoln or the Statue of Liberty weeping rainbow tears. Near here are four of the earliest responses that used other visual metaphors.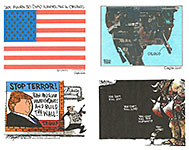 At the upper left, Gary McCoy, inspired by the initial reports of 50 dead, drew an American flag with its 50 stars darkened. The black star-shaped holes denote grief as well as what is missing. Next around the clock, Canada's Aislin (aka Terry Mosher, who has taken his older daughter's name as his pen name) depicts the U.S. as a jumble of weaponry. The picture may not be too clear at this remove in reproduction, but you can probably make out the rifle for lower California and the gun barrel for Florida. The rest of the country is just a heap of firearm hardware.
At the lower right, Scott Stantis turns us away from grief to defiance. "Hate" is depicted as a looming giant, but he can be defeated by even small persons if they employ joy, love and humanity. Solid black underscores the bleak grimness of the threat. Finally, Henry Payne rips holes in the Trumpster's plan: neither the Wall nor a "no Muslims" immigration policy would have stopped the Orlando shooter, who was born in Queens, New York (not, as the Trumpet proclaimed, in Afghanistan).
Payne, by the way, is a devoted conservative. And like virtually all of his breed of editoonist, he doesn't like Trump much. Daryl Cagle, a political cartoonist who runs a syndicate distributing editorial cartoons world-wide, recently made this observation: "I get mail from readers who wonder why we don't post pro-Trump cartoons. The answer is: we don't have any pro-Trump cartoons. I don't know any cartoonists who are pro-Trump."
The reason may be evident in our next visual aid, a cartoon by Randy Enos.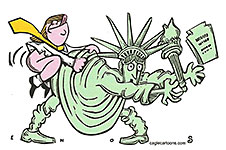 A delightful depiction of what the Trump plans to do to Lady Liberty if he's elected Prez. This cartoon, Cagle tells us, made some of the editor clients of his syndicated service angry—presumably because it's an indecent picture. (My only reservation: Trump's tie should be red, not yellow.)
Said Cagle: "They insisted we should nave never posted it" on the CagleCartoons.com site, by which means it is offered to sale to subscribing newspapers. Yeh, but—nobody forces an editor to buy any of the cartoons distributed by this means. Editors can pick and choose. Editors who didn't like Enos' cartoon could choose not to use it. So what's the fuss about?
More noxious Trumpery: the only opinion that matters is "mine." Phooey.
But, speaking of opinions that matter—there's mine about waging war on terrorism
Maybe now—in the wake of the most horrific of assaults on domestic tranquility, we'll realize that the war against terror has a battlefield within our nation's boundaries, and that we are all on that battlefield. There are no civilians; we're all soldiers. We must gird ourselves for the battle, not tremble in fear. We must go forth in our usual pursuits, not hide behind governmental protections that are bound to fail from time to time, disappointing us all and prompting the call for more new laws that promise safety at the expense of liberties and deliver neither.
The only way to have prevented the Orlando shooter from committing his heinous assault on innocent people would have been to lock him up the minute he showed up several years ago on the FBI's list of suspicious characters. They interviewed him and saw nothing alarming. There are those who say he should have been imprisoned simply because he was suspicious. Not here. Not in this country. Not if we value our freedom more than the illusion of our safety.
And we should. That's the patriot's way. And now that we're all soldiers on the battlefield, we must take the patriot's way.
We can solve the TSA problem by simply dispensing with the security service. The airport—and the airplanes and the sky above—are parts of the battlefield.
Enough sermonizing. Onward.
IN THE DIGITAL AGE, PRINT COMICS THRIVE
The digital revolution has wreaked havoc in nearly every corner in the print publishing game—except, surprisingly, comic books. According to Tom DiChristopher at cnbc.com, print sales in comics are thriving alongside the rise of their digital counterparts.
"Print comic book revenues have been on the rise in recent years," DiChrisopher says, "even as digital comics' sales boom. Print receipts have held up at a time when publishers have introduced all-you-can-download subscriptions that offer thousands of comics for a flat monthly or annual fee."
In 2014, digital comics revenues excluding unlimited subscriptions reached $100 million, according to ICv2— up from just $1 million seven years ago, when ICv2 started collecting data. Meanwhile, the North American market for print comics grew from an estimated range of $650 to $700 million in 2009 to $835 million in 2014, according to ICv2 and the Comics Chronicle. That includes sales of single issues at comic shops and newsstands as well as book channel sales of trade paperbacks, or collected volumes of comics.
There are signs digital comics are butting up against the law of large numbers. Sales growth slowed in 2014 to 11 percent, down from 29 percent in 2013 and 180 percent in 2012. In the coming years, it could be more difficult to keep growing the readership.
Weekly circulation of newspapers is down 17 percent over the last decade, and advertising sales have plummeted more than 50 percent, according to Pew Research Center. Magazine ad revenue is forecast to see only minimal growth through 2019 on the strength of digital sales after five years of decline, according to PricewaterhouseCoopers.
"To be sure," DiChrisopher continues, "comics are relatively new to the digital domain [and as time passes, the situation for comics may change and parallel the fates of music and print media]. Creators have been uploading web comics since the rise of the commercial internet in the '90s. However, mainstream comics didn't migrate online in any significant numbers until smartphones and tablets became commonplace."
COMIXOLOGY FORGING AHEAD IN DIGITAL
Following its launch in 2007, ComiXology established itself as the dominant player in digital comics distribution — largely on the strength of its Guided View technology, which offered a more fluid reading experience than previous apps had afforded. Marvel Entertainment and DC Comics adopted Comixology's platform in their digital storefronts.
And in the last week of May, Comixology pulled off a major surprise with the launch of Comixology Unlimited, a monthly subscription service that's hoping to be the Netflix of comics, the Spotify of sequential art, the Marvel Unlimited of books not published by Marvel.
Alex Spencer at comicsalliance.com reports that "the Twitter reaction since the launch suggests the news wasn't just a surprise to readers, but to many of the creators involved too."
BILL GRIFFITH'S 10 RULES
Posted by Dov Torbin
Bill Griffith did a Sunday Zippy recently in which he cited ten rules for drawing comics; here they are—:
1. Cartoon characters have souls.
2. As Freud meant to say: "Every cartoon character you create is you."
3. You're the auteur of your comic. You write, cast, light, film, direct and edit. You have final cut.
4. Each panel, strip, page and spread is a graphic unit. Compose them that way.
5. Comics are equal parts drawing and writing. With writing being a bit more equal.
6. Ambiguity is okay. Ask the reader to meet you halfway.
7. Don't just look at comics for inspiration. Stare at Hopper, Rembrandt, Magritte, Durer, Hiroshige and Marsh.8. It isn't necessary to completely write out your strip or story in advance. Let the characters speak to you [and for themselves].
9. While you work, take breaks to stretch your neck and upper back.
10. Never listen to anyone else's advice on cartooning.
Dunno that I agree with all of No.5—unless by "writing" Griffith means concept and plot and the like in addition to just words on paper. —RCH
COMICS THAT ARE MUSICALS
Wimpy and Cul de Sac
"Diary of a Wimpy Kid: The Musical" is a hit at the Children's Theater Company in Minneapolis, reports Dominic P. Papatola. Reviews were strong and tickets were scarce, even with a week's worth of added performances. As the production sprinted toward closing night June 12, a question hung over the boisterous proceedings: What's next?
Papatola joins the speculation that the show, based on Jeff Kinney's wildly popular, illustration-dotted novels for young people, is eventually heading east, to a Broadway ever hungry for family-friendly fare. Soon, two shows aimed at that audience will be gone: "Matilda the Musical" is closing on January 1, and while "School of Rock the Musical" is a Tony-nominated hit, "Tuck Everlasting,'' like "Wimpy Kid" an adaptation of a children's book, turned out to be short-lived.
As directed by Rachel Rockwell, "Wimpy Kid" is faithful to the books on which it's based: The set is dominated by a gigantic sheet of notebook paper, which forms the backdrop and spills over into the orchestra pit.
Meanwhile, in Washington, D.C., Encore Stage & Studio is currently showing their world premiere production of "Cul de Sac." The play, written by Amy Thompson, is an adaptation of the popular comic strip of the same name by Richard Thompson (her husband, no less) and includes original music composed by Matthew Heap, reports Kendall Mostafavi at dcmetrotheaterarts.com.
Alice Otterloop is the four year old star of the play just as she is of the comic strip, and the story deals with being one's-self and the meaning of true friendship. Mostafavi notes that "Cul de Sac," the play, does great justice to the original comic strip and its characters, proving to be a fun and silly show, with a touch of heart.
The entire production is put on, as Encore says, "by kids, for kids" as the cast and crew. Playwright Thompson also designed and built the set and props. As in the Wimpy Kid musical, the set is built to look like a drawing, with the Otterloop's house, a platform with a bed to represent Alice's brother Petey's room on the second floor, and the raised man-hole cover, which Alice is known to use frequently as her stage in the strip.
"As in the strip,' says Mostafavi, "Alice has a vivid imagination and the creative team does a wonderful job creating her thought bubbles as live-action. There is a larger platform stage left and, with the help of lighting, projections, and clever costuming, Alice's fantasies are acted out on the raised stage, creating the illusion of being completely separate from the 'real' action on the stage. Many of the funniest moments of the play, are the characters' imaginings, like Alice's idea of what a Fish-slapping Bear would be, and the story-telling of Petey's cartoon about Toad-Zombies."
The playwright, the cartoonist's wife, is not without theatrical experience, as should be obvious. She has taught theater in educational settings, including the Folger Shakespeare Library in Washington, D.C.
ZAPIRO ADMITS THE MONKEY WAS A MISTAKE
Editoonist Zapiro (aka Jonathan Shapiro), a conspicuous finger-pointing truth-teller in South Africa, drew a cartoon recently that depicted the country's president, Jacob Zuma, as one of those sidewalk organ grinders with National Prosecuting Attorney Shaun Abrahams as his monkey. I haven't seen the cartoon, but the message is pretty clear: Abrahams dances to Zuma's tune.
Suddenly, widespread outrage broke out, claiming that Zapiro's portrayal of black people (presumably, one of them—Abrahams—as a monkey) was racist. Speaking to eNCA, Zapiro defended himself—and then admitted his mistake, as reported by Nomahlubi Jordaan at Rand Daily Mail.
"I've had no problem offending," said Zapiro. "I think it's very much part of what cartoonists do and satirists do to have that license to offend and even sometimes to push the boundaries beyond those that society often thinks of and to really offend and take things further.
"I've offended religious groups of all kinds and I'm not unhappy doing that. I've offended politicians for all sorts of things. I've been attacked because of the cartoons of Jacob Zuma. I can defend, I'd say' 99% of them. Occasionally' I make mistakes. This [the monkey and the organ grinder]' I see now as a mistake."
ODDS & ADDENDA
With Disney's roll-out of a live-action CGI-assisted version of "Alice in Wonderland" comes news that the studio is planing live-action remakes of "Beauty and the Beast" and "Dumbo," plus spin-offs of other films—"Cruella" from "101 Dalmatians," "Tinkerbell" from "Peter Pan"— and a sequel to "Jungle Book." I'd like to see a live elephant with ears big enough to flap like wings. Maybe that's the CGI-assist part.
■ I went to see "Captain America: Civil War" and it was terrible. It was too long. Too many fighting and grunting sequences. And except for Captain America and Iron Man, I didn't know any of the characters. None were properly introduced. The viewer was wholly disoriented the entire time. This viewer, anyhow. To enjoy—to even follow—the movie, you had to have seen all the other Avenger movies, wherein the same actors portrayed the same iconic characters. Then you'd know who everyone was. I think Scarlett Johansson was Black Widow; she's called Natasha once. But I'm not sure.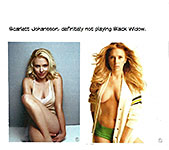 ■ Is Captain America a fascist? Over at Marvel, George Gene Gustines reports at the nytimes.com, the first issue of Steve Rogers: Captain America sheds new light on the hero's past that has a great effect on his present. This issue, written by Nick Spencer and drawn by Jesus Saiz, reveals that Rogers's mother was recruited by Hydra, one of Marvel's terrorist groups. Flash forward to today and Captain America is suddenly doing some terrible things: pushing an ally out of a plane and, on the last page, proclaiming, "Hail Hydra." Since Hydra can easily be equated to Nazism, is Captain America a fascist? The disturbance on social media has yet to die down completely.
■ Over in the DC universe, Gustines continues, the 80-page special Rebirth reveals Dr. Manhattan, one of the heroes in Watchmen, by Alan Moore and Dave Gibbons, as the puppet master behind some recent troubles. Rebirth is written by Geoff Johns and drawn by a cadre of the DC's top artists (Phil Jimenez and Ivan Reis among them). The story addresses some of the shortcomings of the company's 2011 reboot, which made some characters younger, erased others and has generally made fans unhappy. "I hope to inspire passion, create connection and see the DC universe and its readers and fans embrace hope and optimism like its heroes do," Johns said. "The world needs it more than ever."
Fascinating Footnit. Much of the news retailed in the foregoing segment is culled from articles eventually indexed at rpi.edu/~bulloj/comxbib.html, the Comics Research Bibliography, maintained by Michael Rhode and John Bullough, which covers comic books, comic strips, animation, caricature, cartoons, bandes dessinees and related topics. It also provides links to numerous other sites that delve deeply into cartooning topics. For even more comics news, consult these four other sites: Mark Evanier's povonline.com, Alan Gardner's DailyCartoonist.com, Tom Spurgeon's comicsreporter.com, and Michael Cavna at voices.washingtonpost.com./comic-riffs . For delving into the history of our beloved medium, you can't go wrong by visiting Allan Holtz's strippersguide.blogspot.com, where Allan regularly posts rare findings from his forays into the vast reaches of newspaper microfilm files hither and yon.
FURTHER ADO
The Week reported (June 3) that International Olympics Committee announced that it would be handing out some 450,000 condoms to 10,500 athletes and staff during the 2016 Olympic Games in Rio de Janeiro, more than three times the number distributed at the London games four years ago. Let the games begin.
NCS REUBEN AWARDS WEEKEND
National Cartoonists Society at Graceland
NCS met for its 70th annual convening May 27-29, 2016, in Memphis at the 125-year-old Peabody Hotel, famed for the ducks that waddle around the lobby twice a day. Of the 280 persons in attendance, 152 were members; the rest were spouses and children or syndicate officials and other hangers-on. ... For the Complete Report, plus Pictures of the Hellboy Action Figure, Some of the Best of Last Month's Editoons, More Trumperies, Death in Crankshaft (Is this Funny? Is it Even Serious?), New Alex Raymond Art Book, Graphic Novel the Book of Hope from Finland, Some Old Postcards, and Frank Modell's Obit—and More, Much More, Click Here And If You're Not a $ubscriber/associate—
SUBSCRIBE TODAY!
Just $3.95/quarter after $3.95 introductory month
NOTE: You can gain temporary access to this posting (and all the rest of this website)
by paying the trial month fee of $3.95 (which is about what the
New York Times used to charge for a single print-out).
$ubscriber/Associates: To Continue reading please CLICK HERE
To find out about Harv's books, click here.