Welcome to the webbed and wired edition of R&R, aristotle. We'll be doing the same sort of song and dance here as we do in print: reviewing the latest comics and cartoon-related books and ranting about trends and abuses and unfathomable foolishnesses. Each installment will stay here for about four weeks, with a new one coming in just about every other week or so. If you don't have the time to ponder every punctuation mark in this deathless prose and merely want to see what might be there that would interest you, we suggest you scroll down the page looking for the bold-face type that heralds the notables who reside herein this week. So here we go with Opus 333 (and reprise each of Opus 332):
Opus 333: The PC of Zombies, Endings for Glasbergen's Better Half, Best Editorial Cartoons of the Year, Jonah Hex, and London's Popeye & Reviews of Masterful Marks and Best American Comics (November 30, 2014).
Opus 332: Editorial Cartoonists Convention, Four New Pogo Books, Wonder Woman Exposed & Anniversaries in Comic Strips (November 8, 2014).
Opus 333 (November 30, 2014).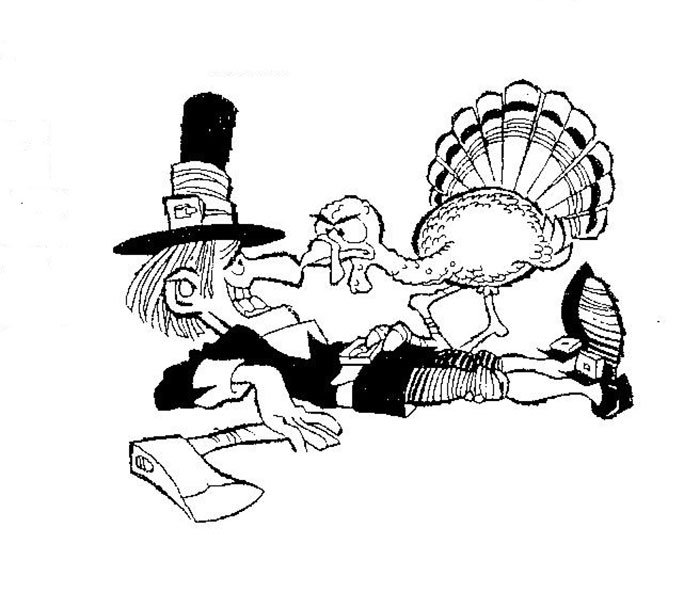 For a hare-raising post-Thanksgiving treat, we have Bill Watterson's latest artwork, Batman postage stamps, Glasbergen's Better Half (and more), celebrations of the Wizard of Id's 50th anniversary, the PC of Zombies and evidence of Marvel's growing diversity, and reviews Joyce Babner's new graphic novel, Alice in Comicland, Scott McCloud's Best American Comics, Bobby London's Popeye (with a report of his firing in 1992 for attacking anti-abortion advocates), a book about New Yorker cartoonists, Bob Powell's Terror Comics, Masterful Marks (Cartoonists Who Changed the World), Kim's booty, and another end, that of Jonah Hex, editoons on post-election shenanigans, Bill Cosby and Ferguson, with an obit for editoonist and collector Art Wood and a radical plan for campaign finance reform. And the world's funniest joke. Here's what's here, in order, by department—:
NOUS R US
Watterson's Angouleme Poster
More Endorsement for the CGI Peanuts
Cavna Now Full Time on ComicRiffs
Marvel Worth More than DC
Book Two of John Lewis' March
No More BECY
Joyce Brabner's Graphic Novel
Batman Stamps
Marvel Getting Diverse
Glasbergen Retires the Better Half
Zunar Still Harassed by Government
Woodring Honored
Palm To Get New Wall Scrawls
THE PC OF ZOMBIES
EDITOONERY
Post-Election Dances
Bill Cosby
Ferguson Again
Booty Call
NEWSPAPER COMICS PAGE VIGIL
Wizard of Id's 50th
WuMo's Not Funny
Racist Editoon in Indy
CIVILIZATION'S LAST OUTPOST
The World's Funniest Joke
BOOK MARQUEE
Popeye: The Classic Newspaper Comics by Bobby London, Volume 2
London Interviewed after Being Fired over Abortion Strips
Alice in Comicland
The Best American Comics 2014
I Only Read It for the Cartoons: New Yorker Cartoonists
Bob Powell's Terror Comics
BOOK REVIEW
Masterful Marks: Cartoonists Who Changed the World
COLLECTOR'S CORNICHE
Literary Digest Mini-bios of Cartoonists of the Thirties
FUNNYBOOK FAN FARE
War Stories
The New and Wholly Unsatisfactory Lobo
The End of Jonah Hex
PASSIN' THROUGH
Art Wood
A Radical Plan for Campaign Finance
Our Motto: It takes all kinds. Live and let live.
Wear glasses if you need 'em.
But it's hard to live by this axiom in the Age of Tea Baggers,
so we've added another motto:.
Seven days without comics makes one weak.
(You can't have too many mottos.)
And our customary reminder: when you get to the $ubscriber/Associate Section (perusal of which is restricted to paid subscribers), don't forget to activate the "Bathroom Button" by clicking on the "print friendly version" so you can print off a copy of just this installment for reading later, at your leisure while enthroned. Without further adieu, then, here we go—:
NOUS R US
Some of All the News That Gives Us Fits
BILL WATTERSON AT ANGOULEME
The creator of the beloved Calvin and Hobbes comic strip has stepped out of seclusion once again—this time, to produce the poster for the 2015 Angoulême International Comic Art Festival held every winter in France. We have a picture of it over the $ubscribers wall. In early 2014, the Festival named Bill Watterson the recipient of its Grand Prix award for lifetime achievement — a prize that usually includes serving as event president the following year (it starts January 29). Apparently, saith reporter Michael Cavna, "in a fashion that's delightfully French, the festival bestows the typically obligation-laden honor without asking in advance whether the honoree'll accept the concomitant duties, from jurying to appearances."
So it was all a surprise to Watterson, who didn't even know the award existed.
"Nobody asked me anything," he told Cavna at ComicRiffs. "I wasn't even aware I'd been nominated. My syndicate sent me an email saying I'd won this award, and I literally had to Google it. People started talking about all the obligations that went with the prize, so I thought the whole thing was bananas, but Angoulême assured me there were no strings attached and they'd work with whatever I'd be willing to do. Drawing the poster sounded fun, so I agreed to do that."
Watterson said he wouldn't be attending the event, but the recent show of Calvin and Hobbes originals at Ohio State's Billy Ireland museum will travel to Angoulême for the festival.
He talked about the poster with Cavna:
"This is a comic strip about newspaper comics, presented as if it were a newspaper comic strip. But in all that circularity, I hope the drawings convey the fun and pleasure of cartoons in the largest sense. I still read newspaper comics, but without much hope for their future. As a small joke on myself, I deliberately set the story in a non-digital world, where the guy gets his morning newspaper in the yard, and the lady next door uses a big phone with a cord. For me, the anachronism evokes the distant heyday of the medium, and razzes how long ago my career was.
"For this idea," Watterson continued, "I wanted something simple, exaggerated, and silly—i.e., very cartoony. In that regard, I always think of Popeye and Barney Google as quintessential comic strips in that old rollicky, slapstick way we've sort of lost. So older comics were in the back of my mind, although I wasn't trying to mimic anything specific. And to tap into one of comics' great strengths, I chose to tell the story visually [without words], so that anyone of any age, from any country, could understand it. In this way, I was trying to connect the poster to my American newspaper comics background and acknowledge the international flavor of Angouleme's festival."
CGI PEANUTS
ComicRiffs' Michael Cavna stoutly (or at least circumspectly) maintained skepticism about the CGI Peanuts animation that's a-borning with a debut date about this time next year. He says he has "two looming concerns" about a new 3-D feature film:
"The first concern was that Schulz's idiosyncratic line and visual style would become lost in the oversaturated tints of so much antiseptic CGI animation – a victim of the souped-up pixel. And the second concern was that the deeply familiar personalities, so crisply drawn out and layered by Schulz over a half-century, would be bent toward the narrative needs of a 2015 film that surely hopes to open to a holiday box office north of $40-million domestic, conservatively speaking. In short: would the masterfully modulated depths of various characters fall prey to the too-frequent tendency to play down to the kiddies by relying on snark instead of soul?"
My concerns are somewhat the same—although I also am apprehensive about the too-polished look of the characters in faux three-dimension. But Cavna had a two-minute peek in mid-November, and felt "another balm for the diehard Peanuts brain. With each release of footage, my skeptical side keeps expecting the cinematic football to be pulled away at some point (blame the big-screen 'Garfield'). Instead, though, my hopes are raised – and with the new trailer, we achieve serious elevation."
He was "absolutely assuaged" on his first concern and "considerably comforted" on the second.
He likes the visuals, "which require paying homage to Schulz's supple kinetic line while giving subtle dimensional shape and shadow to the iconic characters. Somehow, the filmmakers have solved the riddle of how to avoid the clinical, too-cool feel of much CGI – a trick that is so much more essential when the characters are imbued with true psychological dimensions (as opposed to, say, the intentional stock-comedy shallowness of Yogi Bear and Scooby-Doo).
Assuaged, I became curious whether Team Peanuts was as satisfied with the results as I was. Comic Riffs reached out to both coasts involved in this creative high-wire act. They both echoed my sentiments."
On the West Coast at Peanuts Central in Santa Rosa, Cavna spoke with Paige Braddock, creative director at the Schulz Studio. Said Braddock:
"I was talking to the director [Steve Martino] yesterday and I was complimenting him on the renderings of the characters. In terms of Charlie Brown, Steve took a character that already had a lot of depth and gave him even more. The lighting on his simple features, the nuances in movement of his simple eye shapes. Steve's interpretation of Charlie Brown is completely endearing, and I think it will make fans fall in love with him all over again.
"I know Snoopy is a fan favorite," Braddock added, "but I really think Charlie Brown is going to steal some scenes of his own in this movie."
On the East Coast, Cavna got reaction from Neil Cole, the CEO of Iconix Brand Group, which owns 80-percent of Peanuts Worldwide. Cole said:
"It's great to see the incredible animation from Blue Sky Studios and Twentieth Century Fox come to life in today's all-new 'Peanuts' movie trailer. The look is fresh and new, but at the same time, it's clearly the 'Peanuts' characters that Charles Schulz created. Next year is sure to be a banner year for 'Peanuts,' which will also be celebrating its 65th year."
Sorry: I'm not convinced. Not yet.
CAVNA RIFFED?
Not exactly. He's not being forced to retire: he's moving to full time on his ComicRiffs blob covering comics. According to Alan Gardner at DailyCartoonist, Cavna started his comics blog for the Washington Post in 2008, working part-time, the rest of his obligation being as the Post's tv/theater editor. A cartoonist himself, Cavna's first allegiance is clearly to comics. He told Gardner: "The Post has been highly supportive of ComicRiffs since it launched, and while I enjoyed my run as the Post's tv/theater editor, this has been a natural evolution as readers increasingly came to Comic Riffs. The Post has also been very supportive of my cartooning career, so it's a natural. It also speaks to the tremendous changes in kids' publishing, superhero films, webcomics and everywhere else visual storytelling is thriving."
As you've surely noticed, we quote from Cavna's riffs here at Rancid Raves very often. And we're happy to be able to continue to poach from him.
MARVEL WORTH MORE THAN DC
This story first appeared verbatim n the November 21 issue of The Hollywood Reporter magazine.
Much has been made of the arms race between Disney's Marvel Studios and Warner Bros' DC Comics to create superhero movies through 2020. Less debated is a key financial underpinning of the war: licensing revenue generates tens of billions of dollars for Hollywood companies, and DC needs a heroic effort to catch Marvel in licensing profits.
On October 15, Warners CEO Kevin Tsujihara said that if he can close the current gap by half, the studio could earn an additional $150 million a year in profits. How big is the gap? In May, License Global placed Disney first among licensors with sales of about $41 billion in 2013; Warners was seventh with $6 billion. Both have strong properties: the Licensing Letter listed Marvel's Spider-Man global retail sales at $1.3 billion and Avengers at $325 million in 2013, compared with DC's Batman at $494 million and Superman at $277 million.
"Marvel has a big head start," says Ira Mayer, publisher of the Licensing Letter, adding, "It's not that Warners can't do it, but it is going to take a lot of time and money and energy to make it happen."
MARCHING AGAIN
Book Two of John Lewis' autobiographical adventures in the civil rights movement continues his story. PreviewsWorld interviewed Lewis, his co-author Andrew Aydin and the artist, Nate Powell.
"Nate and I joke about this sometimes," said Aydin, "but it's really pretty accurate: If Book One is Star Wars, then Book Two is our Empire Strikes Back. The stakes are higher, the heroes are stronger, more prepared, and the danger is more lethal. Book One focused on the congressman's childhood and coming of age, studying and rehearsing in nonviolence workshops with the Nashville Student Movement, launching a sit-in campaign that successfully forced the city to integrate lunch counters, and eventually the formation of SNCC (the Student Nonviolent Coordinating Committee). Now with Book Two, we show how these young people became a truly national force, and one of the key elements of the broader Civil Rights Movement."
Congressman Lewis chimed in: "So we talk about the Freedom Rides: a group of us, about a dozen people, black and white, young and old, set out on a Greyhound bus and a Trailways bus to ride through the heart of the deep South, to test the Supreme Court decision prohibiting segregation on buses. We were attacked several times, beaten, left lying in a pool of blood. One of the buses was set on fire. We knew that we might die. But we continued the Freedom Ride. More and more riders joined the movement. It became front-page news. Attorney General Robert Kennedy got involved, the governor of Alabama got involved, we were arrested several times, we spent weeks in Parchman State Penitentiary … but we dramatized the issue to the nation, and around the world, to see the reality of segregation in America."
Lewis continued: "Book Two also shows the March on Washington on August the 28th, 1963. I was 23 years old — I had just been elected chairman of SNCC a few months earlier, and after about a week I was invited to the White House along with representatives of several other organizations to discuss plans for the march. And it worked so beautifully. It was an unbelievable day. So many people worked so hard to organize a peaceful, orderly, nonviolent march. It really represented the best of America. Hundreds of thousands of people coming together to say 'we want our freedom and we want it now.' I spoke number six that day. Dr. King spoke number ten, when he said 'I have a dream.' And out of everyone who spoke that day, I'm the only one still around. So we tell the story."
Said Nate Powell: "I could tell how much our collaborative method had found its stride within just a few pages of breaking down the script for Book Two. After getting to know each other on Book One, we were able to come out of the gate swinging with the second, and that gave some much-needed room to allow for all the other considerations that go into the visual process for this story. I certainly had a better sense for the kinds of daily research and reference I'd have to do, the degree of double-checking along the way, and a sense of when some issues would give us problems down the road. Overall it's been a much more natural and efficient process."
"To paraphrase something Dr. King once said," Lewis finished, "there is no sound more powerful than the marching feet of a determined people. This book March is not just my story, it's the story of so many of us who stood up and spoke out, who studied the philosophy and the discipline of nonviolence, who organized and made ourselves impossible to ignore. It is my hope that a new generation can read it and be inspired to march again."
NO MORE BEST EDITORIAL CARTOONS
Pelican Publishing announced that it is discontinuing the Best Editorial Cartoons of the Year series. The 2014 edition, available since last March, is the final volume in the 42-year run of the title. So unless some enterprising publisher picks up the series, we won't henceforth have any more history on the hoof in ironic visual terms.
DALLAS BUYERS CLUB ON SECOND AVENUE
By Michael Sangiacomo at the Plain Dealer in Cleveland
Joyce Brabner, best known as Harvey Pekar's widow and collaborator (Our Cancer Year), released a graphic novel about early efforts in a New York gay community to fight the AIDS epidemic. Despite a weak, unwieldy title, Second Avenue Caper: When Goodfellas, Divas, and Dealers Plotted Against the Plague (Hill and Wang, $22) is a solid piece of work. And at 145 four-panel pages, it's a quick read.
A graphic novel is only as good as its artist, and Brabner found a worthy partner in Mark Zingarelli, who faithfully translated the words into pictures. His artwork is well-done, consistent and makes the story easy to follow.
The story opens with Joyce interviewing a friend, Ray Dobbins, who was horrified to watch his friends die slowly and in agony from a mysterious disease in the early 1980s, then believed to be an illness confined to the gay community. Dobbins learns of a treatment developed in Mexico, but not approved for use in the United States.
Much of the book is about his successful efforts to run an underground smuggling operation to buy the drug in Mexico and sneak it across the border. Where do he and his friends get the money? From selling marijuana.
BATMAN STAMPED
We know when some personage has arrived at the pinnacle of celebrity and distinction—the U.S. Postal Service issues a stamp. And now Batman joins the illustrious legions. We've posted a likeness of the stamps on the other side of the $ubscribers Wall. There's a variety, which we display on the other side of the $ubscribers Wall.
MARVEL'S DIVERSITY DODGE
As Marvel celebrates its 75th anniversary, it is working to take its growing catalog of characters into a future with a more diverse audience – and to use talent and staffing that better reflect the increasingly female and ethnically varied crowd at comic conventions, said Blake Hennon at herocomplex.latimes.com. Shorthand for that effort—a woman becomes Thor, and a black man becomes Captain America. Hennon continues:
"Such dramatic changes coming simultaneously to two of the publisher's classic marquee brands – names that front blockbuster film franchises at its sister company Marvel Studios – were celebrated by many people as positive progress, but others decried the decisions: 'This is political correctness run amok,' 'Affirmative Action Man' and 'PC Avengers, Assemble!' read parts of some readers' reactions posted on Hero Complex stories about the announcements.
"Whether they're meeting fans or foes," Hennon concludes, "— the new Captain America and Thor represent two ongoing concerns for Marvel and the comics industry's growth: minorities and women."
Other recent inroads into the white male redoubt include Ms. Marvel, a young Muslim girl, and Captain Marvel, who is now female.
Not everyone is keen on these innovations.
Hennon quotes one skeptic—Christopher Priest, a former Marvel staffer who in the 1980s became the publisher's first black editor (under his former name, Jim Owsley) and has written a Falcon miniseries and Captain America and the Falcon series in which the Falcon is Cap's second banana.
"It feels like a stunt," he told Hennon in an email interview. "It would have felt like a stunt had I done it."As he understands the development, Sam Wilson, the black guy who is the Falcon and who dons Captain America's costume, wouldn't become Captain America permanently.
"Putting the black sidekick in the suit, when everyone knows sooner or later you're going to switch things back to normal, comes off as patently offensive," Priest said.
Adding that he'd be "delighted" to be wrong about the Cap change being a stunt, Priest laid out what his former employer is facing: "Marvel's challenge is to deliver something so affirming and positive that the work overcomes that cynicism. I assure you, Black America will be watching: Does this have real depth, or is it just surfacey costume-switching?"
And he had some other advice for Marvel: "Hire some actual black people."
Tim Hanley, who wrote "Wonder Woman Unbound" and keeps statistics on female and minority workers at Marvel and DC in a column at Bleeding Cool, counts Marvel's percentage of women working on its comics as varying between 8% and 15% in the three-plus years since he began keeping track, with ethnic minority numbers lower.
"I don't think Marvel's done well diversifying its creators yet," he told Hennon in an email, "but there are people inside the company who are very committed to doing so. I'm optimistic about Marvel in 2015; I wouldn't be surprised to see their numbers for women and people of color grow significantly."
THE OTHER HALF DISAPPEARS
Randy Glasbergen is retiring from the syndicated cartoon The Better Half he told Alan Gardner at DailyCartoonist.com. Glasbergen took over the panel in 1982 from Vinnie Vinson. Said Gardner: "He tells me that with his decision not to renew his contract with King Features Syndicate, the syndicate has opted to retire the panel completely. He says that his freelance business has been doing really well and consuming more of his time and the effort needed to produce The Better Half was becoming disproportionally larger than the financial return."
Glasbergen, the past master at comic noses, will still produce his other cartoons Glasbergen Cartoons and Thin Lines. In this vicinity, we've posted the final Better Half (for November 30), which is all about Harriet and Stanley's "retirement," and a short sampling of Glasbergen's other cartoons. ... To See Them in All Their Excellence and All the Rest of this Opus, Including the Essay on the PC of Zombies, Editoons on Post-election Shenanigans, Bill Cosby, and Ferguson, plus Kim's Booty, Comic Strips Celebrating the Wizard of Id's 50th Anniversary, the World's Funniest Joke, Why Bobby London Was Fired from Popeye in 1992, Previews of Scott Mccloud's Best American Comics, a Book about New Yorker Cartoonists, and Reviews of Masterful Marks: Cartoonists Who Changed the World and the End of Jonah Hex---to See All That, Click Here if you are a member. If not...
SUBSCRIBE TODAY!
Just $3.95/quarter after $3.95 introductory month
$ubscriber/Associates: To Continue reading please CLICK HERE
To find out about Harv's books, click here.