Welcome to the webbed and wired edition of R&R, aristotle. We'll be doing the same sort of song and dance here as we do in print: reviewing the latest comics and cartoon-related books and ranting about trends and abuses and unfathomable foolishnesses. Each installment will stay here for about four weeks, with a new one coming in just about every other week or so. If you don't have the time to ponder every punctuation mark in this deathless prose and merely want to see what might be there that would interest you, we suggest you scroll down the page looking for the bold-face type that heralds the notables who reside herein this week. So here we go with Opus 370b (and a reprise of Opus 370a):
Opus 370b: Cartoons Debut at Esquire, Graphic Novels at Libraries, Archie's New Comics, Savage Dragon Still Savaging, Reed Crandall Biog, Jefferson MacHamer & Spectacular Sisterhood of Superwomen (September 11, 2017).
Opus 370a: The Political Issue—Trumpet Antics Post-Charlottesville and Before & Dick Locher Obit (August 31, 2017).
Opus 370b (September 11, 2017). Here's the second half of Opus 370, the first of which was posted a couple weeks ago as Opus 370a. I thought this would be shorter, but, as usual, my mouth ran away with itself. But the happy result is a cornucopia of news and reviews galore—cartoons debut at Esquire (a critique), Playboy landmarks in comedy, Archie's new comics, editoons that offend, Cartoon Bank gyping cartoonists (?), graphic novel problems in libraries; reviews of first issues of comic books Divided States of Hysteria, Dark Days—The Forge; and of books, Behaving Madly (Mad imitations), Trump Tweets Illustrated, The Spectacular Sisterhood of Superwomen, Reed Crandall biography, and graphic novel Rolling Blackouts; various notes and comments on Jefferson MacHamer, Beetle's birthday, Charlie Hebdo's new offense, the Lone Ranger mystery, obit for Tom Eaton, and more, much more. Here's what's here, by department, in order—:
NOUS R US
Beetle's Birthday
Alt-Right Pepe Suppressed
Comic Characters In Court
Image Is Twenty-five But
Savage Dragon Is Older
The Return of Superheroes of Color
Archie's New Comic Books
Editorial Cartoons Draw Complaints
Charlie Hebdo's New Offense
Caniff Biog Sold Out
Odds & Addenda
Air Guitar Championship
The Lone Ranger Mystery
Nurses Caught Ogling Big Dick
Disney Will Stream Marvel Movies
and Star Wars
THE NEW YORKER AT ESQUIRE
A Critique
Cartoon Bank Gyps Cartoonists
PLAYBOY LANDMARKS IN COMEDY
FUNNYBOOK FAN FARE
The Divided States of Hysteria
Dark Days: The Forge
EDITOONERY
Sampling Last Month's Mischief
NEWSPAPER COMICS PAGE VIGIL
What's Happening on the Funnies Pages
GRAPHIC NOVELS ARE POPULAR—
But Problematic in Libraries
BOOK MARQUEE
Short Reviews Of—:
Behaving Madly (Mad Imitations)
Trump Tweets Illustrated
Three New Scholarly Tomes
And Some Old Harvey Mischief
BOOK REVIEWS
Longer and Opinionated Reviews Of—:
The Spectacular Sisterhood of Superwomen
Including Sally the Sleuth
Reed Crandall: Illustrator of the Comics
GRAPHIC NOVEL
Review Of—:
Rolling Blackouts: Dispatches from the Mideast
COLLECTORS' CORNICHE
Jefferson MacHamer's Glamor Girls
PASSIN' THROUGH
Tom Eaton Obit
QUOTE OF THE MONTH
If Not of A Lifetime
"Goddamn it, you've got to be kind."—Kurt Vonnegut
Our Motto: It takes all kinds. Live and let live.
Wear glasses if you need 'em.
But it's hard to live by this axiom in the Age of Tea Baggers,
so we've added another motto:.
Seven days without comics makes one weak.
(You can't have too many mottos.)
And our customary reminder: when you get to the $ubscriber/Associate Section (perusal of which is restricted to paid subscribers), don't forget to activate the "Bathroom Button" by clicking on the "print friendly version" so you can print off a copy of just this installment for reading later, at your leisure while enthroned. Without further adieu, then, here we go—:
NOUS R US
Some of All the News That Gives Us Fits
Happy Birthday, Beetle
Mort Walker's comic strip about a lazy private was 67 years old September 4. When Walker devised the strip in 1950, the title character was in college; he was based upon a character Walker used in magazine gag cartoons whose name was Spider. When King Features bought the strip, they dropped the name because another of the syndicate's features was using it. Instead of Spider, they called Walker's college kid Beetle. Good choice: as everyone knows, spiders are icky but beetles are intriguing. Walker gave his new creation a last name that gestured gratitude to John Bailey, the cartoon editor at the Saturday Evening Post who had advised the young cartoonist that if he wanted to do a comic strip he should do it about something he knew well—in Walker's case, college life.
However deep Walker's insight into higher educational shenanigans, the strip didn't sell. King was thinking of dropping the strip. Then inspiration struck. The Korean War was going on at the time, and since men of Beetle's age were being called up left and right, it seemed logical to take the kid out of college and put him in uniform. So Walker did just that: on March 13, 1951, with the strip barely six months old, Beetle enlisted. Due to the interest in the military during the war, a hundred papers promptly picked up the strip. Thanks to his own military experience at the end of World War II (particularly being in charge of a German POW camp in Italy), Walker knew army life as well as he knew college life.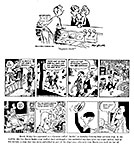 Walker still draws the strip (he pencils; son Greg inks), making him an uncontested record-holder: he's drawn the same comic strip longer than anyone else on the planet has drawn the same comic strip. When the strip started, Beetle was probably around 20 years old; so now, he's 87. Walker was born on the day before Beetle first appeared in syndication, September 3, 94 years ago. And I'm a mere broth of a boy at 80.
Happy birthday, Mort. Ditto Beetle. Onward.
ALT-RIGHT PEPE SUPPRESSED
The creator of Pepe the Frog, a cartoon character initially created in the 2000s as a fun-loving post-college grad but eventually designated as a hate symbol by the Anti-Defamation League (see Opus 366), has forced the removal of a children's book from distribution because it featured the frog, reported Sopan Deb at nytimes.com.
The legal team representing cartoonist Matt Furie, Pepe's creator, said that the book, titled The Adventures of Pepe and Pede, "espoused racist, Islamophobic and hate-filled themes, included allusions to the alt-right movement."
The book, released earlier this summer, was written by Eric Hauser, who lost his job as an assistant principal at Rodriguez Middle School in Denton, Texas, as word of the book spread on social media.
As the Washington Post has noted, Deb writes, "the villain in the book is an alligator named Alkah, which many took as a reference to Muslims, and the farm where the story takes place is Wishington, a play on Washington. In recent years, the protagonist, Pepe, became a symbol of the so-called alt-right and white supremacy."
So whatever confrontation takes place, it pits the alt-right against Islam—with a predictable victory for the former.
Hauser, like many right-wingnuts, claims he and the book are innocent of any such conspiracy (saith RCH). Deb reports that Hauser "said that his book was merely meant to be a children's book with a conservative viewpoint."
Oh, sure.
"I'm not concerned with using those characters because there is nothing wrong with those characters," Hauser told the Dallas Observer. "They're not bad characters," he said, adding, in reference to allegations of links to the alt-right, "I disagree with the label. I think that label was put on Pepe in an attempt to silence conservatives. That's not what Pepe was about."
Furie disagrees about the innocence of Hauser's book. Furie has vigorously fought against the co-opting of his creation, even starting a Kickstarter campaign in June to "to resurrect Pepe the Frog in a new comic book reclaiming his status as a universal symbol for peace, love and acceptance."
Furie threatened legal action against Hauser's book, citing intellectual-property infringement, and the threat was enough. As part of a legal settlement, Hauser must donate his profits from the publication of his book to the Council on American-Islamic Relations, an advocacy group for Muslims.
Boy, I bet he likes that.
MORE LEGAL ACTION ON COMIC CHARACTERS
News on two intellectual property lawsuits was revealed in mid-August, and Milton Griepp rounds it all up.
The more boring of the two is the Hasbro vs DC Comics-Warner Bros confrontation over "Bumblebee," which is the name of a Transformers character and of a character DC is currently using in Super Hero Girls. The suit, according to Hollywood Reporter, focuses on the Super Hero Girls action figures (made by Mattel), which Hasbro alleges infringes on their Bumblebee mark for the same category. The Bumblebee character from DC pre-dates Hasbro's first use, but Hasbro produced the first Bumblebee toy.
The more interesting of the two suits is the litigation over rights to Buck Rogers, the fabled godfather of space adventuring in comics.
Buck Rogers isn't quite as well-known as Luke Skywalker, Captain James T. Kirk or Flash Gordon, but people are more familiar with Buck Rogers than John Carter, Hal 9000 and the Doctor from Dr. Who. How do we know that? asked Eriq Gardner at the Hollywood Reporter. Because, he avers, a survey was taken as part of the ongoing legal action.
The lawsuit is between descendants of author Philip Francis Nowlan, who created the fictional space explorer in Armageddon 2419 A.D., the novel where the property originated the 1920s, and descendants of John F. Dille, whose newspaper syndicate once distributed a Buck Rogers comic strip based upon Nowlan's book.
The legal issues are complex and subtle and too convoluted to briefly describe here, where our less complex and un-subtle brain is focused mostly in the tussle. Simply put, at issue is who owns Buck Rogers and can therefore profit from a "Buck Rogers" feature on the Syfy network.
"The genesis of this dispute," says Gardner, "dates back to Nowlan's death in 1940. Afterwards, his widow brought a lawsuit against Dille alleging that the author had been underpaid. This settled in 1942, and in exchange for $1,750, the widow released claims and assigned rights."
Her heirs have conveniently disregard this settlement, but that doesn't matter. The real issue is who was first to claim Buck Rogers. Neither Nowlan nor Dille it turns out—but their respective trusts. However apparently there is no paperwork to back up either claim. Hence, all the legal maneuvering.
The Dille faction points to the way it continued to license "Buck Rogers" for vintage merchandising and role-playing game. If it hadn't the right, how could it license anyone? Everyone just presumed, I suppose.
By way of establishing their right, the Dilles put forward various pieces of evidence among them a survey that showed 63 percent of respondents recognized Buck Rogers. In comparison, Gardner notes, 91 percent recognized Captain America, 87 percent recognized Luke Skywalker, and 5 percent recognized a made-up character known as "Frederick Johnson" (perhaps showing that one can get 1 in 20 people to respond yes to practically anything.)
Dunno what all that proves, and a judge agrees, asserting near irrelevance for a claim that the success of the Buck Rogers character owed more to the syndication of the comic strip than to Nowlan's book. I'd agree with that, but as I say, the judge said it doesn't matter as far as determining who has the rights to Buck Rogers is concerned.
The judge says the results "fall far short of the recognition of other marks held to be famous," also shrugging at a Buck Rogers show at the Smithsonian and insubstantial royalties for old movies and commemorative statues.
"Maybe," hazards Gardner, "a Buck Rogers reboot would bolster the space explorer's name recognition, but it appears that won't happen until some of the issues surrounding ownership get sorted."
And that leaves us where we started: there's this law suit. ...
Image Is Twenty-five
BUT SAVAGE DRAGON IS OLDER
Eric Larsen, one of the original founders of Image Comics, is the only one of them who is still doing the comic book he started out with—Savage Dragon, 225-plus issues. And still going strong. None of the other seven founders are still doing comics for Image. Some aren't even doing comics anymore.
Larsen's dedication and perseverance is all the more notable when we realize that he invented the character when he was nine years old— 45 years ago. Interviewed in Image+ No.10 (April 2017), Larsen recalled Dragon's earliest manifestation:
"I just knew that I loved comic books and wanted to create comic books. The Dragon at that point was a total rip-off of Batman, only instead of long ears he had this fin on his head. But he had a utility belt and a cape and all the rest. He drove around in Speed Racer's car because I was a big fan of that show. It was pretty wild stuff, but there wasn't a grand scheme behind it. I was a child and I just wanted to create stuff."
The Image reincarnation of Dragon "was very much a new beginning for the character," Larsen said. "He had evolved over time. That culminated in a fanzine that I self-published when I was 19 years old. When I started Savage Dragon at Image [in 1992], my big idea was to work toward those [early] stories. So I started in a very different place—I didn't want to repeat all my nonsensical childhood stories—but chose a direction that could end where I'd left it. More than anything, I just wanted to do a more realistic version of Marvel Comics, to take the kind of things I read as a kid and use that as a jumping-off point.
"I wanted to do a book that was somewhat more mature," he continued, "—where characters went through real life situations, got old, got married, had families, and went through all of life's changes. Plus, more realistic dialogue and language. More of an R rating. But real time means little until kids start showing up and people start showing serious signs of aging. Now that I'm 25 years in, it's really starting to show. Now Dragon's a grandfather, and his son is the lead character. It really hits home that people go through a lot of changes over time. Contrasted with the comics I read as a kid, I'm decades ahead of where they were."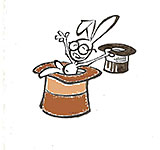 Larsen has no plans to end the saga. "Ideally, it'd go on for the rest of my life," he said, "but I don't know that I can bank on that.
"I'm just happy to be here, honestly," he finished. "I'm proud to have been able to do what I do as long as I've done it. There's no single moment or event that stands out above the rest. It's all there."
All there and still a-comin'. Hats off to Eric Larsen, who, in doing what he loves doing, is doing it with greater dedication than anyone else. And he's making comic book history as he goes.
SUPERHEROES OF COLOR ARE MAKING A COMEBACK
Joe Illidge is back with superheroes of color, which is where he began in 1993 as an intern with Milestone Media, working with classic black comic book characters such as Icon, Rocket and Hardware, reported David Betancourt at washingtonpost.com. "Illidge learned under the leadership of the Milestone co-founder, the late Dwayne McDuffie, as they embarked on a publishing journey meant to give black superheroes their place in comics with roles that were more than sidekicks and stereotypes."
Today, Betancourt continued, Illidge is a senior editor at the Lion Forge imprint Catalyst Prime, a job he got in June 2016 to oversee a new superhero/sci-fi comic book universe featuring diverse characters — "and, just as important to Illidge, diverse creators — with stories taking place all over the world."
Catalyst Prime's comics include Noble, featuring a black astronaut who goes missing on assignment in space and resurfaces with superpowers, though he's on the run in Latin America while his wife and a Latina-led secret organization track him down. The series Accell centers on a Latino character who runs faster than the speed of thought after exposure to an alien object (see our review, Opus 369). Cosmosis, a character with down syndrome, is featured in the series Superb.
Illidge has assembled some of the top writers in comics, including David Walker (Luke Cage), Christopher Priest (Black Panther) and Amy Chu (Poison Ivy: Cycle of Life and Death).
The rest of Betancourt's report follows, verbatim—:
Despite efforts at major publishers like Marvel and DC Comics to introduce new, diverse heroes — at times taking existing mantles (Spider-Man, Thor, Green Lantern) and placing them on minorities — Illidge feels a void has been apparent in the comic book industry since Milestone ceased publishing in 1997.
Most importantly to Illidge, McDuffie's influence at Milestone guides him to this day.
"The biggest lesson I learned from Dwayne that I'm able to bring to this job is that story is the most important thing," Illidge said. "Creative ego has to go in back of the story. Every person in the process, from myself as senior editor, the writer, the penciler, inker, letterer, colorist, everyone's primary job is to tell the story. If we at the Catalyst Prime team can give you that, then I feel like we're fulfilling our promise to the readers and our fans."
ARCHIE CONTINUES TO PUSH THE ENVELOPE
Jon Goldwater lit a fire under Archie Comics several years ago when he approved the publication of funnybook in which Archie marries both Betty and Veronica. And Goldwater's never stopped exploring new possibilities.
At Hollywood Reporter, Graeme McMillan interviewed Goldwater about new directions, beginning with this observation: "Archie Comics has changed significantly over the last few years, both in terms of the company and its output. From 2014's 'Death of Archie' comic book storyline through the tv debut — and success — of the CW's "Riverdale," the very idea of the Archie characters have gone from pop culture curiosity to something that feels contemporary and exciting for a whole new audience."
Naturally, CEO and publisher since 2009 Goldwater, son of original Archie co-founder John L. Goldwater, agrees:"It took longer than I thought, but with a lot of work, we made Archie relevant. We made it a vibrant, living thing as opposed to a retro concept."
This sort of self-congratulatory effusion is standard with Goldwater. And we must say, it's not all hype: there's fact and justifying history behind it.
As the company readies a number of new comic book launches — including The Mighty Crusaders and B&V Vixens, McMillan asked Goldwater if Archie and the gang can tell any kind of story that the writers conjure up.
"Archie can do anything," Goldwater said. "It's not just one kind of comic, show or concept. You can do a horror Archie story, you can do a superhero Archie story, you can do a drama or comedy. ... As long as the story feels true to the spirit of the characters, it can be anything. Archie fights zombies, has powers, tours the world — there's no limit to what you can do with these amazing characters. We've finally gotten to the point where the world is seeing that, too.
"One of the things I'm most proud of," Goldwater continued, "is that, as a company, we're not afraid to take risks. We're not scared of trying something that pushes against where the industry is going. The Black Hood, the first Dark Circle title we launched under the imprint, is a perfect example of that."
And in December, another new superhero title will join the Circle, The Mighty Crusaders.
"We wanted to create a book that's accessible, not mired in a million crossovers and part of a bigger, unfolding story," Goldwater said. "For that, we enlisted [writer] Ian Flynn, who's done a lot of marvelous work for us and has a history with the Crusaders. On art, we have Kelsey Shannon, who did some nice work on the Josie and the Pussycats book recently and has a really clear, modern and welcoming style."
The result, McMillan said, "is something squarely aimed at contemporary superhero readers — and maybe some fans who have been scared away from other publishers because of the amount of knowledge needed to follow a story. Goldwater called the series 'a lynchpin book that we hope will lead to more spinoffs and expansion for the Dark Circle universe,' promising, 'You don't need a PhD in comics to hop onboard. Everything is explained in the first issue. These are beloved, iconic characters and it's time we dust them off and let them shine for what they are — amazing superhero properties that deserve a bigger spotlight.'"
Another new title is B&V Vixens, a Betty and Veronica expedition.
Said Goldwater: "I'll be frank here, because it needs to be said: Betty and Veronica are icons. They are beloved. They are hugely important to what we do at Archie and they deserve to be treated on the same level as Archie. Like Archie and Jughead, B&V are flexible if they're treated honestly, which this book does. It's fun, edgy, different and something so unexpected I think fans will love it. It's an exciting new chapter for the characters and I'm thrilled [writer] Jamie [Rotante] and [artist] Eva [Cabrera] are the ones telling it. They are names to watch."
Goldwater also spoke about the revival of Cosmo, "a genuine blast from the past," said McMillan, adding, "The original version of this — Cosmo the Merry Martian, about a Martian astronaut on his way to Earth — only lasted, what, six issues in the late 1950s?"
"With Cosmo," Goldwater said, "we see a lot of opportunity to tell a fun adventure tale, featuring one of our classic concepts. Cosmo as a character and universe really lends itself to the serialized stories and world-building Ian Flynn is great at, and we're excited to hand him the keys and let him cut loose when this debuts early next year. It fills an important space for our line.
"I feel like the tv 'Riverdale' really kicked a door down," Goldwater reflected, "—and presented to the world an idea that was already common knowledge in comics — that Archie Comics has a wide, diverse and multifaceted library of characters. From Katy Keene to Cosmo to Dark Circle to Josie and the Pussycats — we cover a lot of ground and we have decades and decades of great storytelling to support that. Now that the show is on the air, is a hit and is gaining so much momentum as we head into the second season, I feel like people outside of our industry are starting to take notice — and they're interested. It should be a very fun few years.
"I think we're in a transitional phase, in terms of publishing," he went on. "We've cycled through some titles — books like Josie and the Pussycats and Jughead have gone away for the time being to be replaced by other books, like The Archies or Jughead: The Hunger. We're trying new things with our IP in order to keep fans engaged but also keep our top-of-list titles in the mix. So while we continue to keep our publishing lineup diverse and attention-worthy, I think you'll also see us re-entrench a bit in terms of our core properties, like Sabrina, Betty and Veronica and those kind of titles."
Goldwater concluded with a typical burst of promotional horn-tooting: "Archie succeeds when the core titles are out there and doing well, and the creative shifts or risks become additive. You're going to see us really plant our feet down firmly and push forward with our core books while continuing to make waves and challenge reader and fan expectations." We have a couple pictures on the Other Side of the $ubscriber's Wall.
EDITORIAL CARTOONS DRAW COMPLAINTS
Political cartoons, almost by definition, make some people angry—all those people who don't agree with the editoonist. Among those who complain are often some whose sense of propriety is offended. In the last few weeks, three editoons ruffled these feathers of sensitivity. This sort of brouhaha arises often—too often for us to remark about every instance of it; but we thought we'd report on these three complaints by way of illustrating what editoonists face nearly every day. They usually apologize for offending everyone who's offended—but without retreating from the position taken in the cartoon. This whole sordid subject is exhaustively explored on the Other Side of the $ubscriber's Wall—with illuminating pictures. ... Plus Charlie Hebdo's Fresh Offense, the Lone Ranger Mystery, Cartoons Debut at Esquire (A Critique), Playboy Landmarks in Comedy, Reviews of First Issues of Comic Books and of Books about Mad Imitations, the Spectacular Sisterhood of Superwomen, Reed Crandall Biog, Mad Imitations, Trump Tweets, and a Graphic Novel, Rolling Blackouts (Dispatches from the Mideast) and More, of course, Much More— To Witness It All, Click Here
SUBSCRIBE TODAY!
Just $3.95/quarter after $3.95 introductory month
NOTE: You can gain temporary access to this posting (and all the rest of this website)
by paying the trial month fee of $3.95 (which is about what the
New York Times used to charge for a single print-out).
$ubscriber/Associates: To Continue reading please CLICK HERE
To find out about Harv's books, click here.