Welcome to the webbed and wired edition of R&R, aristotle. We'll be doing the same sort of song and dance here as we do in print: reviewing the latest comics and cartoon-related books and ranting about trends and abuses and unfathomable foolishnesses. Each installment will stay here for about four weeks, with a new one coming in just about every other week or so. If you don't have the time to ponder every punctuation mark in this deathless prose and merely want to see what might be there that would interest you, we suggest you scroll down the page looking for the bold-face type that heralds the notables who reside herein this week. So here we go with Opus 323 (and a reprise of Opus 322):
Opus 323: Feiffer's First Graphic Novel, Archie to Die, NCS Division Nominees, New Animated Peanuts, Stan Lee in Playboy & Fred Kida Obit (April 17, 2014).
Opus 322: Reuben Nominees, Rube Goldberg, Doonesbury's Hiatus, Lester's Mike Du Jour, George Wunder's Terry, Oop's Time Travel Debut, Jonah Hex Stuffed Again & Sins Being Committed in the Name of "Graphic Novel" (March 14, 2014).
Opus 323 (April 17, 2014). Down the rabbit hole this time, review and applaud Jules Feiffer's first graphic novel, Kill My Mother plus several first issues of funnybooks, and we report on Archie's impending death, a new animated Peanuts, the plethora of superflicks, NCS division award nominees, the current crop of editoons, weed in Colorado—and more, much more. Here's what's here, in order, by department—:
NOUS R US
NCS Division Award Nominees
Anniversaries: Dr. Seuss, Australian Cartoonists
Jack Ohman: Best in the West
Editoonist Signe Sued
Archie on Death Row
Peanuts Legacy: New Animated Film
Spider-Man et al: Too Many Superflicks?
History Repeating Itself Again
Stan Lee in Playboy
Report on Weed in Colorado
EDITOONERY
Current Crop of Political Cartoons on the Issues
NEWSPAPER COMICS PAGE VIGIL
Venerable Taboos Being Violated
BOOK MARQUEE
New Biography of Robert Ripley, Believe It Or Not
LONG FORM COMICS (Graphic Novel)
Jules Feiffer's First, Kill My Mother
FUNNYBOOK FAN FARE
First Issues Reviewed: Moon Knight, White Suits, Veil, Starlight
Ms. Marvel Improved
Wolverine, Captain Marvel—All the Same Stuff
Daredevil and Hawkeye, Still Superior
Savage Dragon Starts Over
Sergio Aragones' Funnies
The Saviors
Brother Lono Ends
Obit: Fred Kida
Our Motto: It takes all kinds. Live and let live.
Wear glasses if you need 'em.
But it's hard to live by this axiom in the Age of Tea Baggers,
so we've added another motto:.
Seven days without comics makes one weak.
(You can't have too many mottos.)
And our customary reminder: when you get to the $ubscriber/Associate Section (perusal of which is restricted to paid subscribers), don't forget to activate the "Bathroom Button" by clicking on the "print friendly version" so you can print off a copy of just this installment for reading later, at your leisure while enthroned. Without further adieu, then, here we go—:
NOUS R US
Some of All the News That Gives Us Fits
THE NOMINEES for the National Cartoonist Society's "Division Awards" have been posted at the NCS website. NCS "divisions" encompass cartooning endeavors in all the venues from newspaper comic strips to television animation and advertising and more. Here are the nominees in the divisions we attend to at this site:
Editorial Cartooning —Clay Bennett, Adam Zyglis, Mike Ramirez (two liberals and one conservative, Ramirez); Newspaper Panel Cartoons—Dave Coverly, Speed Bump; Scott Hilburn, Argyle Sweater; Mark Parisi, Off the Mark; Magazine Cartooning—Matt Diffee, Bob Eckstein, and Mike Twohy (all New Yorker cartoonists; Twohy is also up for "short form online cartooning");
Comic Books—Sergio Aragones, Sergio's Funnies; Jay Fosgitt, Bodie Troll; and Chris Samnee, Daredevil; Graphic Novel—Dan E. Burr, On the Ropes; Rick Geary, Madison Square Tragedy (see Opus 319); Andrew C. Robinson, The 5th Beatle; Comic Strip—Isabella Bannerman, Six Chix (six women cartoonists rotate through the days of the week, each doing one strip a week); Terri Liebenson, Pajama Diaries; Mark Tatulli, Lio.
Not a bad selection, over-all—although professional nit-pickers like me might sniff at the magazine cartooning nominees being all New Yorker cartoonists; admittedly, the only other well-known national venue for gag cartooning is Playboy —but none of its cartoonists seem to show up in these listings, year after year.
NCS has finally started recognizing online cartooning, dividing the field into two categories: "long form" (akin to comic books/graphic novels) and "short form" (laugh-a-day stuff, single panel gag cartoons and comic strips).
Nominees in the other divisions are listed at reuben.org. Winners will receive their plaques at the Reubens Banquet on Saturday, May 24, during the NCS annual meeting (this year, in San Diego).
Anniversaries and Etc.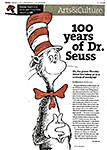 Dr. Seuss would've been 110 years old on March 2; to make up for missing that moment, we've posted four of his scathingly jocular World War II political cartoons on the other side of the $ubscribers Wall. ... The Australian Cartoonists Association is 90 years old this year, and plans are underway for a huge celebration at this year's Stanleys weekend in November, scheduled to meet in Sydney. ... And it's been 50 years since Ford unveiled the Mustang on April 17, 1964.
Jack Ohman, editorial cartoonist at the Sacramento Bee, was named Best of the West, a journalism contest for papers, magazines and news websites operating in Alaska, Arizona, California, Colorado, Hawaii, Idaho, Montana, Nevada, New Mexico, Oregon, Texas, Utah, Washington and Wyoming. Ohman was cited for cartoons on NSA spying and government shutdown. Second place went to Mike Smith of the Las Vegas Sun; third, to John Pritchett of Honolulu Civil Beat.
EDITOONIST SUED
Alan Gardner at DailyCartoonist.com reports that Philadelphia Daily News and Inquirer editorial cartoonist Signe Wilkinson was among several people connected to the newspapers named in a defamation suit filed by Pennsylvania Supreme Court Justice Seamus McCaffery and his wife and judicial aide Lise Rapaport, who allege the paper conducted a smear campaign. The suit mentions a Signe cartoon satirizing Rapaport's receiving fees for referring cases to personal injury firms. We'll post the cartoon on the other side of the $ubscribers Wall.
Gardner didn't go into the case's convoluted legal machinations but said: "On the face of it, I can't think of a case (nor can I find one online) where a cartoonist has been successfully found guilty of defamation in the US. Most cases I've heard about are quickly tossed out. In this case, it's the reporting of the paper that is in question and not specifically Signe, so I'm not sure how that changes the dynamics of the case as far as Signe is concerned."
The circumstance prompted some on the e-mail list of the Association of American Editorial Cartoonists to recall times that they'd been sued, always unsuccessfully. Few of the cases made it to court and those that did were quickly thrown out. Even Yr Rprtr was once the target of a law suit: Maurice Horn, a self-proclaimed critic and historian of comics who, in the last century, wrote several of the earliest books about comics, brought a suit against me and Ohio State University, publisher of Inks, a short-lived journal of comics art, which published my review of one of his books that I said was full of error and wildly divergent opinions. OSU's lawyers laughed, saying people, especially critics, can't be sued for their opinions.
ANOTHER COMIC BOOK CHARACTER KEELS OVER
The big news last week was that Archie Andrews is going to die in July. The publisher has become extraordinarily—even annoyingly—adept in recent years at generating news about itself. But this was unprecedented at Archie Comics. The mainstream media went gaga, naturally. CBS Evening News, CNN, Entertainment Weekly, USA Today, New York Post and on and on. But with the emphasis on the death of an American comic book icon, some reports glossed over and nearly ignored the "alternative" nature of Archie's death.
He dies only in the Life with Archie title, the series in which he marries both Betty and Veronica. That series is a spin-off of a 6-issue story in Archie Comics (Nos. 600-605) written five years ago by the adventurous Michael Uslan who gets Archie married to each of his highschool girlfriends. Uslan's ingenious story was so successful that it spawned a new Archie magazine, the aforementioned Life With Archie. While that title was hitting the newsstands regularly, all the other Archie books continued in ignorant bliss of Archie's new "alternative world" matrimonial fate. Now after three dozen issues, the alternative world is coming to an end. And it ends with the death of the title character.
It's nearly impossible these days to take seriously the death of any comic book character. Superman died; then came back to life. It's going on everywhere. Archie Comics even has another alternative world title, Afterlife with Archie, which is the obvious next in line: after death, we have the "after life."
Sorry. Just joking.
Afterlife with Archie is a zombie title (see Opus 319), another of the Archie-world shattering events that have distinguished the company's books since Jon Goldwater sat down behind the desk his father had occupied when founding the company. Goldwater knew something had to change in Archie Comics. Not the characters—"the personalities, the integrity, who they are as people, what they stood for for seventy years." That, he averred, could not—must not—change.
But Riverdale had to change. The world is different now than it was when Archie first cavorted in front of Betty to attract her attention 73 years ago (Pep Comics, No.22; December 1941). "Riverdale had to expand," Goldwater said, "it had to diversity, it had to morph, and we needed to keep the characters true to who they were but put them in a setting that is more realistic and more contemporary than what was going on in Riverdale before I got there."
So he started authorizing changes. "A lot of it was gut instinct," he told David Betancourt in an interview at the Washington Post early in April, before the death of Archie story broke. "We didn't do focus groups. It was me having so much confidence in who these characters were—and feeling so deeply about what they're all about. I knew that if we tweaked it, a little bit here, a little bit there, that people would embrace Archie Comics."
Having Archie marry both of his highschool sweehearts hardly qualifies as a tweak in my dictionary. Neither does introducing an openly gay highschooler, Kevin Keller, or arranging an interracial marriage for Archie in another of his alternate worlds. But Goldwater plunged ahead, conscious all the time of his responsibility to so many classic characters in the comic book world who have been a part of his family for so long. Goldwater doesn't take his responsibility lightly.
"To be sitting in this seat right now is an honor and something that's hard to put into words," he said. "It means that much to me to carry on the history and the legacy [of Archie Comics]. I'm hoping I'm doing my father proud and that he's happy with all the different incarnations."
What would his father think of Riverdale now?
"I think he would be shocked by 'Afterlife' and 'Kevin Keller,'" said his son, "but shocked in a great way—that these characters that he created decades ago would be able to stand the test of time. And for me to be right here, right now, it's very meaningful and very important."
Goldwater's interview with Betancourt took place before the death of Archie announcement. How the founder's son might see his father reacting to that news is yet an unanswered question.
Goldwater fils is certainly more open-minded than his father. He applauded Seth MacFarlane's spoofing of Archie Comics in "Family Guy." What would he say (what does he say?) about the infamous Harvey Kurtzman/Will Elder spoof that prompted his father to sue to shut down forever? Dunno. But interesting to speculate about. Maybe I'll ask him next time I see him.
THE COMPANY IS KEEPING the exact circumstances of Archie's death under wraps, but not the outcome: Archie Andrews will die, in both of the book's timelines, which merge in Life With Archie, No.36, the series' penultimate issue, which will come with five alternative covers by five artists. The last issue, No.37 (in August), will take place a year later and will show how everyone is getting along without Archie. The title will cease with that issue, and Archie will stay dead in that alternative world.
Other funnybook characters may die and come back to life, but in Archie's case, we're relatively safe in assuming he'll stay dead because he dies only in the alternative world. In the regular teenage Riverdale world, Archie scampers blithely on.
CBR News interviewed Archie co-publisher Goldwater about this world-changing event. Said Goldwater:
"Life With Archie has really been the flagship of the new era here at Archie Comics. 'The Married Life' storyline in 2009 just opened up a whole new world to us, and the Life With Archie series has been so fulfilling and so inspiring—and allowed us, really, to go into areas that I had never thought Archie would go into when I first came into the company. My thoughts always were we could expand what we're doing—we certainly wanted to change Riverdale. But to actually put Archie himself in a different setting, and see how this has worked, and see how people have reacted to him married to Betty, and married to Veronica, and the issues we have tackled— from the Kevin Keller marriage, to Cheryl Blossom's cancer, to the death of Miss Grundy. And we've also tried, of course, to do it with a little bit of a light touch, and try to keep it as much in the Archie world as possible. But of course there are times when we've said, 'You know what? We're going to take this thing into a place where Archie has never been before.'
"And truly," he continued, " the Life With Archie series is like a precursor to Afterlife [with Archie]. It really showed us here that there is a tremendous amount of interest in different settings and different places that people will want to read about Archie."
Having created what everyone thought of as a diverting but temporary "world" for Archie married to Betty in one half of the magazine and to Veronica in the other half, the next problem was how to end it. The end has been in view for some time: apparently Archie's death was seen for quite a while as a way to end the title—and the alternative circumstance of being married to two women.
Said Goldwater: "How do we wrap this up in a way which is important, which is meaningful, and which really does justice to where we want to take not only this magazine, but the company going forward. It took us a long time to really figure out how we were going to do this. This seemed to be a natural conclusion for us. I don't feel this is forced. I don't feel that in any way we're doing this to sensationalize the ending—of course, it will be a sensational story, but it's not a sensationalized ending.
"We needed to figure out the big picture first," he went on, "—and the big picture is who is Archie, and what has he meant for 75 years? What has this company for meant for 75 years, to millions and millions of people, and of course multi-generations? And how do we treat it with the dignity, the respect, the gravity—and frankly, the overall take on how is this going to happen. It took many, many conversations—months of conversation, many layers—about how this was all going to transpire. We finally came up with something that, in our minds, really does justice to who Archie is, and what he has meant to many millions of people.
"Once we came up with the big picture storyline," he concluded, "and how we were going to handle this, it all just felt really natural. At the end of the day, Archie really is a special and unique person. He really represents what I feel is the best in all of us, and that is how we treated it—and that's how we treated issue No.36. And rightly so."
CBR News also interviewed Paul Kupperberg, the writer who killed off Archie.
"Not to hurt myself patting myself on the back," he said, "but I think—I hope—Archie's death is one of those iconic moments. Archie is in character right up to that final moment, reacting exactly the way I think anybody who's ever written him would have had him react in the situation, and then I end on a twist on what I think is one of the truly indelible iconic images from the series history."
Archie dying in one series but living elsewhere presented something of a problem, Kupperberg admited, and that situation is complicated, too, by the presence in one title of two storylines. How to have Archie die in both of them?
"Yeah, that really was the tricky part, but I think we found a way to kind of merge the two storylines for that climatic issue so that there's no doubt the death is the finale for both timelines. It took a bit of finesse, but it was more a matter of staging than anything else to tell the story of that last day without pointing definitively to one or the other, saying 'this is from the Betty continuity, or that's taken from the Veronica story.'"
And then there's the shaky status of Archie's two Life With Archie marriages: Veronica is framed for corruption in that marriage, and Archie's other marriage with Betty in trouble. How will it all end? We'll see in July.
THE LEGACY: JUST PEANUTS
Before Charles Schulz died, he made it clear that he didn't want anyone to continue Peanuts. He meant the strip. Probaby didn't have licensing or merchandising in mind. Or animated Peanuts. Or comic books. I doubt that he'd thought about comic books for decades.
Presumably, he didn't think the strip would go into perpetual re-runs either. Hard to say what he was thinking. Probably Jeannie Schulz, his widow, knows (and since she approves all Peanuts enterprises, we must assume that Sparky would permit all of those that have emerged in the last decade since his death).
Probably the syndicate had something in mind: Peanuts was/is an extremely valuable property, and I'm sure the syndicate was busily thinking of ways to prolong the revenue as soon as it knew Schulz was sick. They had an inventory of almost 50 years of Peanuts —thousands of strips with no topical references to tie them to any time or place—and those can be re-run for generations. And probably will be.
Then there's the issue of the Peanuts staff. At the time that Schulz was contemplating the end, the Peanuts Shop in Santa Rosa was a fairly large operation with several employees. He may have thought the whole thing would stop. Maybe not. Once it was determined that Peanuts would go into re-runs, it was obvious that the licensing and merchandising—most of the operation of the Peanuts Shop—would continue, too. All of that seemed tolerable and within the scope of Schulz's wishes.
But even at the time, I was pretty certain that there would be, someday—and sooner than later—enormous pressure to continue to produce original Peanuts material. You don't just shut down a gold mine. Re-running the strip maintains the franchise, but other profitable enterprises beckon. Somebody would come knocking, suggesting that—well, okay: nobody touches the strip, but what about Peanuts in a comic book?
And, sure enough, a couple years ago, we started getting monthly issues of the Peanuts comic book for which new material was produced (and some re-formatted vintage stuff, too).
Schulz's Peanuts comic strip forged ahead, however, untampered with. All his stuff; nothing new by some alien well-meaning hands.
But somewhere, another insidious development was developing. One of the Shulz children, Craig, had an idea for an animated Peanuts. And now, it is almost upon us.
I share Alan Gardner's conflicted view of this new frontier. Said he at his DailyCartoonist blog: "I've been dreading this moment since it was announced a Peanuts movie was in the works. I have a complex view of 'legacy' strips or related projects. In an ideal world, the creator's work should end with the death or retirement of the original creator. But we don't live in that world, so I give wide allowance for reality—syndicates, heirs have every right to carry on the original creator's work just as business partners or family members can take over the family business in any other industry. But Peanuts is a bit different. Sparky reportedly said he didn't want anyone taking over the strip when he passed and I stretched that directive to other Peanuts endeavors (comic books and movies) which may be a more limited view than Sparky's actual feelings as far as non-strip projects go."
Now a minute-long teaser of the new animated Peanuts is available to view. Accompanying the release of this glimpse is a longish article by Michael Cavna at his ComicRiffs blog for the Washington Post. In it, many syllables are expended to convince us that caring Shulz fans—his family, mostly—are controlling the final product:
"We need to have absolute quality control and keep it under Dad's legacy," said Craig. "You can't bring people in from the outside and expect them to understand Peanuts."
But, of course, animators are perforce outsiders. The leader of the band is Steve Martino, an Emmy-winning writer-director with Blue Sky who has worked on the studio's Ice Age franchise. And that is the connection to character that Martino carried into his meeting with the keepers of the Peanuts flame. "We've all been Charlie Brown at one point in our lives," he said, and before long, he had the job. It helped that he'd directed the animation of another cartooning legend's characters—Dr.Seuss's "Horton Hears a Who!"
Given that success, Craig Schulz says Team Peanuts felt confident it could expect the same sense of vision from Martino on its film.
"Like with Ted Geisel, my passion comes from my love for the art he created … ," Martino told Cavna. "You start with the love of their work and then really study what they've done. You get as close to the person who created the work as you can," the director went on, "—I want to do it through that spirit."
A big part of that spirit is in Schulz's line, the way he wielded a pen. And the new animated Peanuts is in CGI, wherein, ostensibly, there are no lines. Cavna continues (in italics):
When hand-drawn warmth gets adapted into the cool pixel-precision of CGI, the fear is often that something will get lost in the translation. Steve Martino knows he is trying to bridge this chasm between two distinct visual languages. As the director also knows intimately as an artist, there are inherent obstacles to crossing that technological gap.
"I've talked to Craig a great deal about this," Martino tells us. "His dad understood that when he drew for comic strips, he drew for one canvas. And he was very aware that for animation, you paint on a different canvas. There's a different way for it to work."
For Martino's crew, that first meant acknowledging that trying to replicate a hand-drawn work is not a particular strength of the CG medium. "I told my team of animators to embrace that limitation and turn it into a style. They embraced that challenge."
For clues to unlock these visual mysteries, Martino kept returning to the source material. "My mantra to the team was: find the pen line of Sparky— the way he shaped Charlie's head."
For example— "Where there's a worried line [near] the eyes, it's never symmetrical," the director says. "With [CG] characters, you want to make everything more symmetrical. My job is to beat that out of it—to find how to put that asymmetry back in. … We spent well over a year studying how [Sparky] put pencil lines down and how he created that emotion—how the dot of an eye [conveyed] joy or sorrow" so efficiently.
"Really, it's a Picasso drawing," Martino says of Sparky's visual genius.
"There was an early learning curve for the first year," Craig Schulz says. "One thing we struggled with: how to make Charlie Brown move."
The filmmakers had some advantages—the previous Peanuts animated cartoons. They could mine those for help.
"We step off of a legacy of how Bill Melendez created," Martino says of the late Emmy-winning animator. "I go back to the Christmas special," 1965's "A Charlie Brown Christmas."
When Melendez visually adapted the static comic strip for the screen, "his style drew off of what Sparky drew. … Our animation harks back to what Melendez had done."
One of Melendez's hurdles—Charlie Brown's arms are too short for him to touch the top of his own head. And what happens to that spherical head when he turns from side to side? Melendez solved all those problems, and presumably, Martino learned from that.
Martino got the rights to the music of the previous Peanuts animations. They dug into the archives of Bill Mellendez doing the voice of Snoopy and got the rights to use that—and Snoopy laughing, "liquid gold," Martino said.
Martino is tight-lipped about what the film's narrative will be, though he told Cavna: "Here's where I lean thematically. I want to go through this journey. … Charlie Brown is that guy who, in the face of repeated failure, picks himself back up and tries again. That's no small task. I have kids who aspire to be something big and great. … a star football player or on Broadway. I think what Charlie Brown is — what I hope to show in this film — is the everyday qualities of perseverance … to pick yourself back up with a positive attitude — that's every bit as heroic … as having a star on the Walk of Fame or being a star on Broadway. That's the [story's] core. This is a feature film story that has a strong dramatic drive, and takes its core ideas from the strip."
You can find a link to the teaser at Gardner's DailyCartoonist.com for March 18. Gardner's optimistic: "I'm cautious but feeling slightly better about this endeavor after watching the teaser. The animation looks high quality and Charlie Brown sounds like Charlie Brown. He's not a glossy perfect animation – you can see hints they've tried to maintain Sparky's squiggly pen style (example: Charlie Brown's hair). So we'll see."
I watched the teaser, too. But I'm not quite as optimistic as Gardner. Visually, it has something of the flavor of Schulz. Martino's preoccupation with Schulz's line results in a curious hybrid creation: Charlie Brown's eyebrows and mouth are lines; the rest of his figure is CG faux three-dimensional. And the famous curl of hair on his forehead—that is made to look like strands of real hair, curled in the Schulz manner.
Snoopy is good. He has dog hair. Or fuzz.
But the minute is pretty cutesy, too—a little precious. Admittedly, to judge the prospect of a feature-length film based upon a sixty-second sample is not only unfair but foolish. Schulz-supervised animated Peanuts had cutesy moments. But they were rescued by the rest of the story.
For the final verdict on Martino's effort, we'll have to wait until it hits the theaters in 2015. Meanwhile, go to DailyCartoonist.com for March 18 and watch the teaser for yourself. To get you started, we've posted a couple of stills on the other side of the barricade.
SPIDER-MAN AND ALL THAT JAZZ
Spider-Man is on the cover of April 4's Entertainment Weekly —again—this time, with Emma Stone, who plays Gwen Stacy in the forthcoming "The Amazing Spider-Man 2," opening on May 2, the day before Free Comic Book Day, the annual spring rite that began, several years ago, on a Saturday after the opening of a blockbuster superhero flick. Yes, we're repeating ourselves. Again.
But the cover story is not so much about the Spider-Man movie as it is about the whole panoply of superhero blockbusters lining up in the future. Planning at Sony is already well underway for Spidey movies for 2016 and 2018 "and is prepping two spin-offs focusing on [villains] Venom and the Sinister Six." Even the bad guys are getting title roles.
Once upon a time, writes Sara Vilkomerson, "Hollywood executives thought one blockbuster at a time; if that blockbuster spawned a sequel a couple summers later, all the better. These days, studios need at least one megafranchise that is constantly morphing and replicating like an out-of-control lab experiment. ... [as does] the overlapping, crisscrossing, never-ending story that is 'The Avengers'" at Disney/Marvel.
I realized that comic-booky flicks had stormed the summer box offices, but since I don't often go to the movies (because I'm hard of hearing and can't, therefore, hear much of what transpires—and because my most recent experience of a superhero flick, that terrible Superman movie that enacted a series of head-on car crashes), I hadn't realized how pervasive the phenomenon has become. Beginning in 2009, we've had 21 big-budget special effects frenzies based upon comic book creations:
In 2009, "Watchmen" and "X-Men Origins: Wolverine"; then in 2010, "Kick-Ass," "Ironman 2," and "Jonah Hex"; then, in 2011, the flood started with five productions—"The Green Hornet," "Thor," "X-Men First Class," Green Lantern," and "Captain America: The First Avenger." In 2012 came another five: "Ghost Rider: Spirit of Vengeance," "The Avengers" (the biggest at the box office still), "The Amazing Spider-Man," "The Dark Knight Rises," and "Dred." In 2013, we had "Ironman 3," the gawdawful "Man of Steel," "R.I.P.D.," "The Wolverine," "Kick-Ass 2," and "Thor: The Dark World."
It all seems so wonderful. Suddenly, Hollywood has discovered what Marvel learned 50 years ago: if you hinge all your productions together, each supports the total in a grandiose interlocking fantasy, and the whole shebang rings the cash register like Quasimodo in the bellfry of Notre Dame. (Incidentally, if you google "the hunchback of Notre Dame," you get a listing that is mostly movies; it isn't until the 7th item that you get Victor Hugo's novel.)
But Doug Creutz, a media analyst, has another thought. ... To Learn What It Is, and To See Stan Lee in Playboy, the Current Crop of Editorial Cartoons, the Taboos Being Violated in the Newspaper Funnies, the Analysis of the Genius of Crockett Johnson's Genius, Jules Feiffer's First Graphic Novel and Reviews of Funnybooks, Including First Issues of Moon Knight, White Suits, Veil and Starlight— and more, much more—You Must Hie Thee Thither to the $ubscriber/Associate Section, Where You'll Get More of Our News Reports and Penetrating Analysis. To Get There, Click Here. And If You're Not a $ubscriber/Associate—

SUBCRIBE TODAY!
Just $3.95/quarter after $3.95 introductory month
$ubscriber/Associates: To Continue reading please CLICK HERE
To find out about Harv's books, click here.