Welcome to the webbed and wired edition of R&R, aristotle. We'll be doing the same sort of song and dance here as we do in print: reviewing the latest comics and cartoon-related books and ranting about trends and abuses and unfathomable foolishnesses. Each installment will stay here for about four weeks, with a new one coming in just about every other week or so. If you don't have the time to ponder every punctuation mark in this deathless prose and merely want to see what might be there that would interest you, we suggest you scroll down the page looking for the bold-face type that heralds the notables who reside herein this week. So here we go with Opus 361 (and a reprise of Opus 360):
Opus 361: Reviews of More than 15 Books for Christmas, Preview of George Herriman Biography & Obits for Bob Webber and Jerry Dumas (December 16, 2016).
Opus 360: Bunny Bonus: Editorial Cartoons and the Recently Concluded Disaster—er, Election (November 12, 2016).
Opus 361 (December 16, 2016). The date you just read is the posting date, about 2-3 days after I finished writing this colyum of trifling languor, indifferent whimsy and lasting trivolity. This introductory effusion, however—the paragraph now under your very eyeballs—includes our own anyule greeting.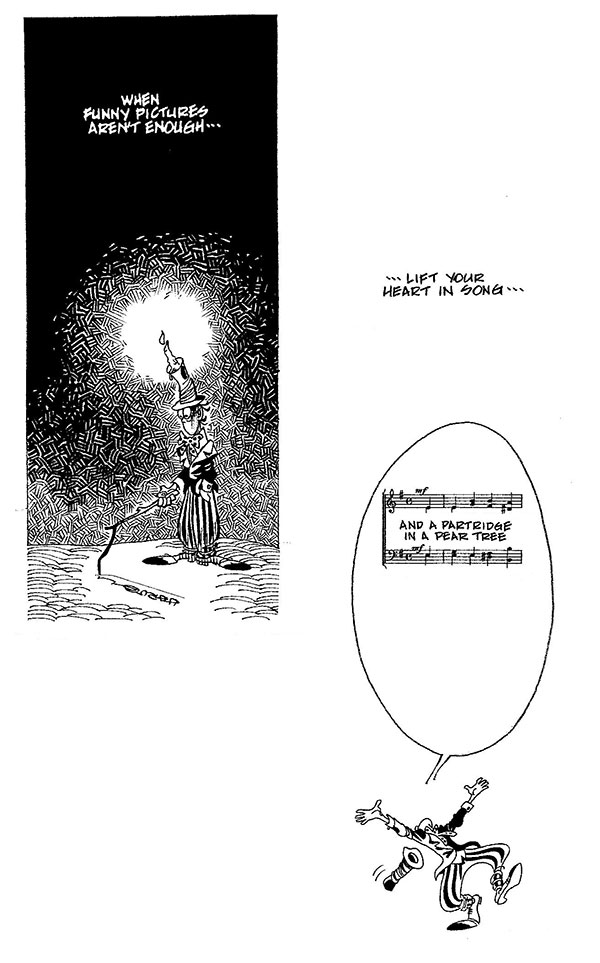 And now, here's what's here, in order, by department—: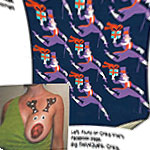 JUST ANOTHER LAST WORD ON THE ELECTION
Hallelujah by Leonard Cohen and Kate McKinnon on SNL
NOUS R US
Lewis' March: Book Three Wins NBA for Young People's Lit
Entertainment Weekly's Validation of Comics
Last Gasp's Last Gasp
DeFalco To Write Reggie Book for Archie
Playboy Continues to Fail
24-Hour Post-Election Turnaround at South Park
Magazines That Jumped the Gun with Hillary Win?
Resist! Another Sign of Trumpery Times
Charlie Hebdo Goes to Germany
Zunar Keeps On
Turkey Suppression of Free Speech and Cartoonist
Odds & Addenda
Image Two-bit Books
Barney Google Back Again
Bob Dylan and Muhammad Ali Nobels
KRAZY BIOGRAPHY ARRIVES
FUNNYBOOK FAN FARE
Reviews of First Issues of—:
Frank Cho's Skybourne
Terry Moore's Motor Girl
Second Looks at—:
Moonshine
Cage
Shipwreck
Betty & Veronica
Also—:
Resident Alien 3
Lady Killer 3
Kill or Be Killed 3/4
Renato Jones: The One % 5
Sex 32
Prez ends in Catwoman Election Night No.1
EDITOONERY
Postponed until Next Time, but—:
Political Magazine Covers
Barry Blitt All Over
THE FROTH ESTATE
Trump's Conflict of Interest: Get Over It
The Trumpet Lied 560 Times
ACCRETION OF INTENTION DEPARTMENT
Review of—:
Stuff They Wouldn't Print (2010)
The Editorial Cartoons of Lee Judge
RANCID RAVES GALLERY
40TH Anniversary Cartoons at In These Times
Telnaes Wardrobe
Fanboy Head Exploding Bracket
NEWSPAPER COMICS PAGE VIGIL
Interesting Happenings in the Funnies
Brad and Toni's Wedding
CIVILIZATION'S LAST OUTPOST
The Bundys and the Sioux
XMAS SHOPPING LIST
Reviews of Books Your Spouse Can Buy You for Christmas—:
She Changed Comics:
Untold Story of Women Who Changed Free Expression in Comics
The Incredible Herb Trimpe
Extra Cheesy Zits
Alamo All-Stars: A Texas Tale
The Lost work of Will Eisner
Tim Tyler's Luck: 1934 (Alex Raymond's debut)
Krazy Kat: 1934
Step Aside, Pops
Jack Cole's Deadly Horror
BOOK REVIEW
Super Weird Heroes: Outrageous But Real!
GRAPHIC NOVEL REVIEWS
Black Dahlia (Rick Geary)
Strange Fruit
Trump: A Graphic Biography (Ted Rall)
The Fun Family (satire of Bil Keane's The Family Circus)
The Funnies (prose novel)
Cousin Joseph (Feiffer)
Citizen 13660 (Japanese Internment, 1942-45)
COLLECTORS' CORNICHE
Painted Portrait of Charles M. Schulz, c. 1999
ONWARD, THE SPREADING PUNDITRY
Why I Don't Fear the Forthcoming Trumpery Administration
PASSIN' THROUGH
Robert Webber
Jerry Dumas
A George Booth Christmas
Annual Report: November 2015 - October 2016
QUOTE OF THE MONTH
If Not of A Lifetime
"Goddamn it, you've got to be kind."—Kurt Vonnegut
Our Motto: It takes all kinds. Live and let live.
Wear glasses if you need 'em.
But it's hard to live by this axiom in the Age of Tea Baggers,
so we've added another motto:.
Seven days without comics makes one weak.
(You can't have too many mottos.)
And our customary reminder: when you get to the $ubscriber/Associate Section (perusal of which is restricted to paid subscribers), don't forget to activate the "Bathroom Button" by clicking on the "print friendly version" so you can print off a copy of just this installment for reading later, at your leisure while enthroned. Without further adieu, then, here we go—:
JUST ANOTHER LAST WORD ON THE ELECTION
The best by far reaction and response to Trump's victory took place on "Saturday Night Live" on November 12, the first post-election broadcast, when Kate McKinnon sat at the piano in what I take to be her Hillary persona and played and sang:
I heard there was a secret chord
That David played and it pleased the Lord.
But you don't really care for music, do ya?
Well, it goes like this—
The fourth, the fifth, the minor fall and the major lift,
The baffled king composing
Hallelujah (five times).
Maybe I've been here before.
I've seen this room and walked the floor.
I used to live alone before I knew ya.
I've seen your flag on the marble arch
And love is not a victory march—
It's a cold and it's a broken
Hallelujah (five times).
I did my best; it wasn't much.
I couldn't feel so I tried to touch.
I told the truth: I didn't come to fool ya,
And even though it all went wrong,
I'll stand before the Lord of song with nothing on my tongue but
Hallelujah (seven or eight times).
Then she stopped playing and turned to the camera and said, mildly defiant:
"I'm not giving up, and neither should you."
Until her closing remark, it could be a lament. And it was. But it was more.
And it made me weep.
Ironically, Leonard Cohen, the writer of these lyrics, "Hallelujah," had just died, November 7, the day before Election Day.
NOUS R US
Some of All the News That Gives Us Fits
LEWIS' MARCH WINS
"This is unreal!" shouted Congressman John Lewis as he and his co-creators writer Andrew Aydin and artist Nate Powell accepted the 2016 National Book Award (NBA) for Young People's Literature for March: Book Three (Top Shelf, 2016). The title is the third in a graphic memoir that chronicles the civil rights movement from the bombing of the 16th Street Baptist Church in Birmingham, Alabama, on September 15, 1963, to the passing of the Voting Rights Act on August 6, 1965.
But—an award for Young People's Literature? Why Young People?
Is it because graphic novels are glorified comic books, and comic books are for young people? Probably. But I don't think the March trilogy was written expressly for young people. I think it was written for everyone, regardless of age.
I know: a carping criticism. Don't look gift horseflesh in the maw. Accept your fate.
But Lewis didn't. He didn't accept his fate.
"There were very few books in our home," Lewis recalled in accepting the award. He also told of going to his public library to get a library card, only to be told that libraries were "for whites." Despite this, Lewis was still encouraged by his elders to "Read my child, read," he said.
Aydin, digital director and policy adviser for the Congressman, as well the March trilogy's co-author, reminded the audience that the "story of the movement must be told." Lewis, who as a young man was directly involved with the Freedom Vote in 1963 in Mississippi, was convinced to tell his story in a graphic format by Aydin. A big fan of comic books, Aydin proclaimed at the close of his acceptance, "Prejudice against comic books must be buried once and for all."
Hear, hear.
Two days later, back in Nashville, Tennessee, which Lewis calls the first city he ever lived in, the Congressman was interviewed by Margaret Renkl on behalf of the Nashville Public Library Literary Award, which Lewis was on hand to receive the next day.
Margaret Renkl: Back in your student days, when you were being arrested repeatedly for working to integrate restaurants and movie theaters and the rest of daily life here, what would you have said if someone had told you that one day you'd be back in Nashville to accept a prestigious award for your work as an author?
John Lewis: I would have said, "You're crazy. You're out of your mind. You don't know what you're talking about." I feel more than lucky—I feel blessed to come back here. I'm honored, I'm gratified, I'm pleased.
Asked about how he thinks the Black Lives Matter organizers feel about his generation of leaders, Lewis said:
"I think the Black Lives Matters generation tends to admire and embrace what we did. I have had the opportunity to sit down and meet in Atlanta—and also in Washington—with many of the young people, and I tell them all the time, 'Read the literature, read the papers and books and speeches from that period. You could learn something.' And I tell them that we never became bitter. We never became hostile. We believed in the way of peace, the way of love—we believed in the philosophy and the discipline of nonviolence. I say, 'You can learn something from the 1960s.' And that's what I tell them each and every time I meet with some of them."
Does he have any advice for American children?
"Yes. I would say, 'Children, read. Read everything. Learn as much as you can learn. Study. Be kind. Be bold. Be courageous. And just go for it.' As I write in the book, my mother and father and grandparents and others said, 'Don't get in trouble. Don't get in the way.' I was inspired to get in trouble, and I got in what I call good trouble, necessary trouble. People like Rosa Parks and Dr. King and Jim Lawson and others—and being in Nashville—helped mold and shape me, and I have not looked back since."
Margaret Renkl: In the March trilogy, the story of your history is framed and punctuated throughout with scenes from your experiences on January 20, 2009—the day of Barack Obama's first inauguration—and it includes a note signed by President Obama: "Because of you, John." What are you thinking as you watch his presidency come to an end after eight years?
John Lewis: It's difficult to see it come to a close because I think President Barack Obama has injected something rare and meaningful into America, and it's going to be missed. I see him from time to time; I listen to him by way of radio, TV; I read about him and each time he seems to be hopeful and optimistic. And that's what we need more than ever before. I think he's been good for America. He's been good for the world community. On one occasion, when he was running for reelection, I said, 'Mr. President, if you were running for reelection in Europe, you wouldn't have to campaign. You'd win by a landslide.' I've traveled to different parts [of Europe], and the people there love him."
Reported by Rocco Staino at slj.com
THE ULTIMATE VALIDATION OF COMIC BOOKS
Now that the movie business has established the cultural worth of comic books for everyone except the National Book Awards, Entertainment Weekly has begun to pay attention to more than just the summer extravaganza in San Diego. In the December 2 issue (with a cover story about the next Star Wars movie), a new funnybook by "two of the most exciting comic-book creators, Scott Snyder and Jeff Lemire" is fulsomely plugged. A.D., "a compelling mix of comics, art and storytelling," is a "beautiful new series that explores a world in which death has been eliminated." Another title in a lengthening roster of good comics—well drawn and well told in a blend of words and pictures—on mature (i.e., thoughtful) themes.
And comics even intruded in EW's year-end "Best of 2016" issue, December 16/23. "Entertainer of the Year" is Ryan Reynolds —for his portrayal of smart-ass potty-mouth Deadpool, no less. And Benedict Cumberbatch is among the other top twelve "entertainers of the year" for his Dr. Strange as well as Sherlock Holmes.
Among the year's best movies, "Batman vs Superman: Dawn of Justice" is listed because of the way breakout actress Gal Gadot plays Wonder Woman. And "Captain America: Civil War" is tenth in the top ten movies of 2016.
This commemorating issue even lists the Best Comic Book series of the year—Black Panther (Best New Series), Bitch Planet (Best Returning) DC Comics Rebirth series (Best Reboot), Monstress (Best Ongoing), and Goldie Vance (Best All-Ages). But there's no "best graphic novel"category.
Finally, in reporting the reading recommended by various entertainment dignitaries (Emma Watson, J.K. Rowling, Stephen King and Kerry Washington among others), the magazine cites Sarah Jessica Parker, who recommends Tintin in Tibet by Herge.
But I don't want to give up on EW's best of the year without pausing to note that the magazine recorded the "most bizarre auction item"—Truman Capote's cremains, which, "ensconced in a wooden Japanese box, sold for $43,750." Ewww.
Further evidence of EW's allegiance with the comic book world, subscription renewal forms that arrived last month offered a bonus for subscribing by December 3—superhero t-shirts featuring (your choice) the Flash, Batman, Superman, Wonder Woman or Super Friends. Talk about uptown: we're there!
Stick that in your ass, National Book Awarders.
LAST GASP'S LAST GASP
(Couldn't resist that headline.) According to Milton Gieppe at ICv2, "Last Gasp has announced that it is closing down its distribution business, which has wholesaled comics, graphic novels, art books, and other publications for 47 years. The distribution business rose out of Last Gasp's roots as a publisher of underground comics, which were sold through a network of bookstores, head shops, record stores, and eventually comic stores. Last Gasp used that network to sell not only its own comics, but those of competing publishers, and added to its mix books and occasionally magazines that fit the same audience."
The company will now focus exclusively on its publishing endeavors "for which it has many new titles planned for 2017."
Meanwhile, my guess is that we should keep a sharp eye out for a bargain-hunter's sell-off of the publisher's remaining inventory.
SURPRISE: SUPERHEROIC REGGIE AT ARCHIE COMICS?
At CBR, Jeffrey Renaud reminds us that "as a writer and editor, industry legend Tom DeFalco has told stories with heavyweight heroes ranging from the Amazing Spider-Man and the Fantastic Four to G.I. Joe and the Transformers. So when he calls Reggie Mantle a 'sinister super-villain,' you might want to pay attention."
What prompts this cautionary note is that DeFalco is going to be writing a new on-going series at Archie Comics—namely, Reggie and Me, about Archie's presumed rival. The first issue hit the stands on December 7, illustrated by Sandy Jarrell, Kelly Fitzpartrick, and Jack Morelli.
DeFalco started his career at Archie, so he'll be coming "home" in some sense. Renaud asked him several impertinent questions about the new Reggie book, and DeFalco responded in kind.
About Reggie, DeFalco said: "Classic Reggie was a prankster, but he was always rather harmless. He was also one of Archie's friends, and a member of the gang. The current Reggie is an outsider. Yes, the other guys want to be like him and the girls want to be with him, but he is no longer a member of the gang."
Renaud: You say he's one of your favorite characters. You admit that he's been called a self-aggrandizing egotist, a sinister super-villain, a merciless monster and worse. So — what's to love?
DeFalco: What's not to love? He drives the best cars and throws the wildest parties. He is also the closest thing Riverdale has to a supervillain and everyone loves a great villain.
Renaud: Is Reggie Mantle misunderstood?
DeFalco: Absolutely! A lot of people assume he has some redeeming characteristics. [Laughs]
Renaud: Can you confirm today that the 'me' of Reggie and Me is in fact Reggie's dog, Vader?
DeFalco: I could, but why spoil the surprise?
Renaud: Will you be telling done-in-one stories in Reggie and Me or will the stories be longer arcs?
DeFalco: I will be doing both. Every individual issue will be a done-in-one, but the stories will build upon each other to form larger arcs. I never make life easy for myself.
Renaud: What can you tell us about the first story that you have planned?
DeFalco: Reggie throws a party and things go sour for everyone… except Reg. Also, we learn the not-so-secret origin of Vader.
PLAYBOY CONTINUES TO FAIL
The December issue is out, and it actually has two cartoons in it. Simple scrawls, both of them, scarcely in the same class of cartoon artistry as, say, Jack Cole. On the Other Side of the $ubscribers Wall, I've posted one of his with these two poor specimens—and a scan of the "artwork" of this issue's "artist in residence," Kim Gordon, otherwise known as "a ferocious musician who became an alt-rock style icon, a high-profile feminist and a muse to everyone from Kurt Cobain to Tavi Gevinson." Pussy galore indeed.
I got my renewal notice last week. I sent it back, annotated: "Not until you start publishing good cartoons again."
MAJOR KERFUFFLE AT SOUTH PARK WHEN HILLARY LOSES
"South Park" famously creates each episode within a week, as chronicled in the 2011 tv documentary "Six Days to Air." In 2008, as Michael Cavna reports at Washington Post Comic Riffs, the show impressively turned around the episode "About Last Night .?.?." to react to Barack Obama's first presidential win, less than 24 hours after it was official. And this year, they did it again.
In what Cavna thinks might be "South Park's" best single-day rewrite ever, the Clintons and the show's Colorado denizens absorb the nation's presidential results just hours after real-life Hillary Clinton conceded.
Wednesday night's episode, as originally written, was to focus on Bill Clinton's becoming the first First Gentleman. But Donald Trump's poll-defying victory forced creators Trey Parker and Matt Stone to scramble at the 11th hour, changing the episode, retitled "Oh, Jeez," to reflect at least half the nation's blindsided surprise and electoral mourning.
In the show's trademark style of paper-cut animation (so crisply digitally rendered), mouths are agape all over South Park, as the Marsh family and their neighbors sit in awkward and dumbstruck silence, as it witnessing a national car crash.
At one point, papa Randy Marsh declares: "A woman can be anything — except for president."
Three characters who remain in full-action mode, though, are Hillary and Bill Clinton and the show's Trump avatar during the season-long election arc, schoolteacher Mr. Garrison.
Two true villains in all this, according to "South Park," are sexism and the mind-numbing allure of nostalgia.
Hillary ostensibly drafts super-troll Gerald for an international plot to stop the world's most damaging online-leaks fallout. Meanwhile, her husband drafts a fellow Bill, Cosby, into his "gentlemen's club," spreading the message that women are growing sick of male misbehavior (and worse) and will eventually topple the patriarchy, rendering men (mostly) irrelevant and sentencing them to subterranean confinement.
SNAFU BY JUMPING THE GUN?
Even after Donald Trump was actually elected on November 8, reported Alex Johnson at NBC News, Newsweek published 125,000 copies of a $10.99 commemorative magazine with Hillary's picture on the cover and the headline "Madam President." Were they simply anticipating what would happen (according to all the polls)?—as the Chicago Tribune famously did in the 1948 Election when it decided that Tom Dewey won and headlined the post-election issue accordingly; and when Harry Truman won, he held that edition of the newspaper aloft with a huge grin on his face.
The "Madam President" copies were quickly recalled — but hundreds of these "collectors' dream" copies are still being offered for sale in online markets, "for prices as low as 99 cents to as high as $9,995. NBC News found 387 offers for the recalled issue Wednesday evening just on eBay."
The publisher maintains that only 17 copies were actually sold before all the rest were recalled, bringing into serious question the authenticity of many of those online offers.
Newsweek itself distanced itself from the "Madam President" edition when news of it emerged even before Election Day, saying on Twitter that commemorative covers were produced for both Clinton and Trump "by a Newsweek licensee, Topix Media, and not by Newsweek."
But whoever is responsible—and even if the Clinton cover story wasn't actually a prognosticating gamble gone awry like the Chicago Tribune's 1948 laughable forecast—we get to enjoy two covers for two cover stories, knowing only one is accurate. Worth a chuckle. Pictures of the covers are on the other side of the $ubscribers Wall, where we also post some wag's deployment of the New York Times masthead for a little cartoonish fun—cartoonish because the pictures explain the words in the headline. Good joke.
And while we're pondering this sort of two-faced prophesying, we noticed that Daryl Cagle, editoonist and honcho of his own syndicate, did two versions of the same cartoon when he learned that his first version was, alas, incorrect. We've posted those on the Other Side, too—and Cagle's commentary.
"I had a lot of good company among my cartoonist colleagues," Cagle said from his syndicate headquarters on the day after the Election, "—in fact, we faced a bit of a crisis this morning as no cartoonists had drawn Trump Wins cartoons in advance. But the Trump cartoons have been pouring in today. Interestingly, the cartoons today don't look much different than the Trump name-calling cartoons we've been getting for the last year. I suspect this is what the next four cartoon years will look like."
"I suspect that we'll be in for four years of the same. ... We'll certainly see Trump hair placed on every imaginable monument and metaphor," he concludes, accompanying the remark with another cartoon (which, you've guessed it, is on display on the Other Side).
ANOTHER TRY AT FEMALE EMPOWERMENT FAILS
Wonder Woman's less than two-month reign as a United Nations honorary ambassador ended December 16. According to Sebastien Malo at news.trust.org, plans had called for use of the character in an empowerment campaign for women and girls to fight for gender equality, especially to appeal to young people. But the plan "sparked heavy criticism that the choice sent the wrong messages." (See Opus 359 for the story.)
Dozens of U.N. employees protested on the day of the appointment. And nearly 45,000 people signed an online petition asking U.N. Secretary-General Ban Ki-moon to reconsider selection of the buxom character.
"Although the original creators may have intended Wonder Woman to represent a strong and independent 'warrior' woman with a feminist message, the reality is that the character's current iteration is that of a large breasted, white woman of impossible proportions, scantily clad in a shimmery, thigh-baring body suit," the petition read.
Release next year of a special-edition Wonder Woman comic book on the empowerment of women and girls, announced in October, is still planned, said DC Entertainment spokesperson Courtney Simmons.
ANOTHER SIGN OF THE TRUMPERY TIMES
A couple of Spiegelmans are collaborating on an anthology of comics and illustrations "on the theme of political resistance to the forces of intolerance," reports Gabe Friedman at jta.org. ... To Find Out What this Is about and To Read Reviews of 15 Books Suitable for Giving Yourself as Christmas Gifts (Including Feiffer's Latest Graphic Novel and Ted Rall's Trump Biog) and a Preview of the Long Awaited Biography of George Herriman—and More, of Course, Much More— Click Here And If You're Not a $ubscriber/associate—
SUBSCRIBE TODAY!
Just $3.95/quarter after $3.95 introductory month
NOTE: You can gain temporary access to this posting (and all the rest of this website)
by paying the trial month fee of $3.95 (which is about what the
New York Times used to charge for a single print-out).
$ubscriber/Associates: To Continue reading please CLICK HERE
To find out about Harv's books, click here.