Welcome to the webbed and wired edition of R&R, aristotle. We'll be doing the same sort of song and dance here as we do in print: reviewing the latest comics and cartoon-related books and ranting about trends and abuses and unfathomable foolishnesses. Each installment will stay here for about four weeks, with a new one coming in just about every other week or so. If you don't have the time to ponder every punctuation mark in this deathless prose and merely want to see what might be there that would interest you, we suggest you scroll down the page looking for the bold-face type that heralds the notables who reside herein this week. So here we go with Opus 337 (and a reprise of Opus 336):
Opus 337: After Charlie—Advocating Freedom of Expression, 2014's Top Ten Newsstories in Cartoons & the World's Worst Comic Strip (February 12, 2015).
Opus 336: Analysis of Charlie Hebdo's Scandalous Cover Cartoons, Depicting Muhammad, Freedom of Expression & More Cartoonists Reactions (January 29, 2015)
Opus 337: (February 12, 2015). We wind up coverage of the horrendous Charlie Hebdo killings by examining issues of freedom of expression vs. offensiveness in U.S., Palestine, Israel, Angouleme, and Malaysia, then we advocate unfettered free speech everywhere. This opus began at the end of December as our year-end review, a sort of holiday edition, but it has been delayed whilst we attend to Charlie Hebdo and the attendant complications. Nothing wroth, we plunge ahead now with the original notion, reviewing the past year with a round-up of the top stories of 2014 as depicted in editoons. Other topics include Sandy Eggo moving (?), terrible WuMo, and reviews of Lunar Park and Sabrina, plus Word of the Year, and obits for comics historian Cole Johnson and New Yorker cartoonist Joseph Farris.
This is a fairly large posting, so we encourage you to pick the topics you're interested in from the list below. Here's what's here, by department, in order—:
CORRECTIONS
A Story for Storytellers
NOUS R US
DC Comics Cuts Line-up
Comic-Con Leaving San Diego?
The New Yorker Moves South
Top Shelf and IDW Join Forces
Word of the Year
Name of the Year
Forbidden Words
National Cartoonists Society Reuben Agenda
Mort Drucker Honored
Cartooning at the White House
MORE CHARLIE AFTERMATH
Muslim-American Cartoonist's Opinions
Muhammad Cartooned—Yea or Nay
No Freedom of Expression in Palestine
No Muhammad in Israel
Je Suis Charlie at Angouleme
Malaysian Authorities Harass Zunar
Free Speech Fundamentalistis Hypocritical
Double Standard for Free Speech?
Summing Up for Free Speech
Cartoonists Forced into Exile
EDITOONERY
Top Newsstories of the Year in Cartoons
RANCID RAVES GALLERY
A Famous Picture by Norman Rockwell
Harv's Post-Grad Ads
NEWSPAPER COMICS PAGE VIGIL
Oddities and Taboo Violations in the Funnies
WuMo, A Terrible Joke
CIVILIZATION'S LAST OUTPOST
Super Bowl Pig Out
NRA Fosters Fear
LONG FORM PAGINATED CARTOON STRIP
Lunar Park Graphic Novel
BOOK MARQUEE
Howard the Duck
Descender the Movie Already
FUNNYBOOK FAN FARE
Sabrina
PASSING THROUGH
Cole Johnson
Joseph Farris
Our Motto: It takes all kinds. Live and let live.
Wear glasses if you need 'em.
But it's hard to live by this axiom in the Age of Tea Baggers,
so we've added another motto:.
Seven days without comics makes one weak.
(You can't have too many mottos.)
And our customary reminder: when you get to the $ubscriber/Associate Section (perusal of which is restricted to paid subscribers), don't forget to activate the "Bathroom Button" by clicking on the "print friendly version" so you can print off a copy of just this installment for reading later, at your leisure while enthroned. Without further adieu, then, here we go—:
CORRECTIONS
As always, pervasive and immutable as Truth itself, our policy is to put the corrections up front where they can't be missed. (Ditto, of course, admission of error.) First, a confession of my abject ignorance. I professed last time not to know what "DIY" meant. I was thinking it must mean something peculiar and/or wonderful in South Africa, where the cartoon in which it appeared (one of Zapiro's) was published. Alas, not so. It apparently means the same there as it does here: Do It Yourself.
I also posted the cartoon that appears here at your eye's elbow and interpreted it wrongly, becoming myself, in effect, an object lesson of exactly the sort of misapprehension that I was sermonizing against.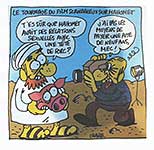 The caption at the top of the adjacent cartoon is: "Filming a scandalous movie about Muhammad." The guy on the left is saying: "You're sure that Muhammad had sex with a pig's head?" To which the cameraman says: "I can't afford to pay a nine-year-old prostitute, dude_"
On the basis of just this much information, I concluded, erroneously as it turns out, that the cartoon ridicules Muslim dietary devotions by showing that even if Muslims normally avoid pork, they'll abandon that principle under the right circumstances—in this case, crass monetary considerations.
Even my attempt, here, to show that a seemingly Islamophobic cartoon wasn't, actually, about Muslim sex practices fell into quite another trap.
Thanks to Matthias Wivel at tcj.com, I finally apprehended the cartoon's actual import. The external context of the cartoon jerks us back to a more accurate reading. The cartoon refers to the Islamophobic film "Innocence of Muslims" that circulated throughout the Muslim world in the summer and fall of 2012, resulting in a violent uproar and over 50 deaths, including that of the American ambassador in Benghazi.
The target of the satire is the rank amateurism of the film's makers: they are so unprofessional that they cannot afford the presumably essential actress for playing the part of Muhammad's youngest wife.
Typically, Charlie (in this case, the cartoonist Charb) goes over the top to insert digs and jabs not necessary to the satirical joke—the digs at the diet of devout Muslims and at the Prophet's having an under-age wife.
As Wivel says at tcj.com: "One must remember that Charb is satirizing chauvinist filmmakers and thus depicting their conception of Islam as reflected in their idiotic film."
But the offensiveness of the superfluous accouterments overwhelms the satire with its maliciousness. Still, understanding the context of this cartoon helps to preserve its claim to satire.
And now, at last, on to the "news."
But first, this—:
A Good Story for the New Year
WHEN the great Rabbi Israel Baal Shem-Tov saw misfortune threatening the Jews it was his custom to go into a certain part of the forest to meditate. There he would light a fire, say a special prayer, and the miracle would be accomplished and misfortune averted.
Years later, when his disciple, the celebrated Magid of Mezritch, had occasion, for the same reason, to intercede with heaven, he would go to the same place in the forest and say: "Master of the Universe, listen" I do not know how to light the fire, but I am still able to say the prayer." And again the miracle would be accomplished.
Still later, Rabbi Moshe-Leib of Sasov, in order to save his people once more, would go into the forest and say: "1 do not know how to light the fire, I do not know the prayer, but I know the place and this must be sufficient." It was sufficient and the miracle was accomplished.
Then it fell to Rabbi Israel of Rizhyn to overcome misfortune. Sitting in his armchair, his head in his hands, he spoke to God: "I am unable to light the fire and I do not know the prayer; I cannot even find the place in the forest. All I can do is to tell the story, and that must be sufficient." And it was sufficient—because God loves stories.
— Hasidic tale told by Elie Wiesel
NOUS R US
Some of All the News That Gives Us Fits
DC COMICS CUTS LINE-UP DRASTICALLY
But Only Temporarily
Almost half the publisher's output is being cancelled at the end of March, reports Matt Kamen at wired.co.uk. Here are the titles ending: Aquaman and the Others; Arkham Manor; Batwoman; Green Lantern Corps; Green Lantern: New Guardians; Infinity Man and the Forever People; Klarion; Red Lanterns; Secret Origins; Star Spangled War Stories; Swamp Thing; Trinity of Sin; Worlds' Finest; and weekly titles Batman Eternal, Futures End and Earth 2: World's End.
"With the latter three shipping four to five issues per month," said Kamen, "the culling accounts for 25 of the 52 comics DC has committed to publishing since launching its New 52 revamp in 2011. Video game tie-in series Injustice: Gods Amongst Us Year Three also ends in March, but isn't part of the New 52 line-up."
After this startling overture, Kamen goes on to explain that "technically, everything DC publishes is ending in March. For April and May, the entire line is replaced with an event called Convergence."
This hiatus coincides with DC's move from "its ancestral home in New York City" to California, where the comic book publisher will take up residence at the Burbank offices of its parent company Warner Bros. Reducing the workload for a couple of months will give the comic book staff time to move in and set up.
Convergence will see 40 two-issue mini-series "starring characters and teams from across the company's disparate continuities brought into conflict," said Kamen. "Once the storyline is concluded— and DC's staff are comfortably ensconced on the other side of the U.S.— it is expected that the surviving titles will return in June."
Kamen's speculation, however, was upended a few days later at Newsarama.com, where, according to Veneta Rogers, everything DC will be different after Convergence: "Beginning in June, DC Entertainment is de-emphasizing continuity and scrapping the New 52 branding of its superhero comics line" to launch a "bold new direction for the DC Universe" and a slew of new titles it's calling "inclusive," "contemporary," and "accessible."
Rogers goes on, quoting DC co-publisher Dan Didio: "In this new era of storytelling, story will trump continuity as we continue to empower creators to tell the best stories in the industry.
"In June," Rogers continues, "DC reports it will publish 24 new No.1 issues to join 25 already-existing comics that will continue from their March numbering for a total of 49 titles. New titles will be added to the line throughout the year. DC's new line will introduce some new creators to DC, like Ming Doyle and Gene Luen Yang, while also bringing back some familiar faces, like Garth Ennis and Bryan Hitch."
WILL THE COMIC-CON MOVE?
ONCE AGAIN, the Comic-Con International San Diego is contemplating a move away from its home for the past 40 years. The Con mulled over the opportunities once before—a couple years ago—but was finally persuaded to sign a contract with the San Diego Convention Center through 2016. Now, as the end of that contract approacheth, the Con is being courted again by Los Angeles and Anaheim.
San Diego, for whom the Con is its Super Bowl (saith Joe Terzi, prez and CEO of the San Diego Tourism Authority), no longer has a convention venue large enough for the Con. And that was the bone of contention before. For several years, the Con has been limited to about 130,000 registrants because the Convention Center turns into a fire hazard if more people are permitted to throng through its hallways and exhibits.
The Con was persuaded to stay in San Diego when the city announced that it would expand the Convention Center. But that plan hit a snag last summer, reported Hugo Martin and Tony Perry at latimes.com:
"The $520-million expansion lost momentum when a state appeals court ruled against a financing plan that would allow hotels around the convention center — instead of voters — to decide on a tax increase to pay for the project. San Diego Mayor Kevin Faulconer has vowed to find another way to finance the expansion."
But he hasn't yet, and it's been six months or more.
"Still, Faulconer faces another problem. The San Diego Chargers are pushing to have a new stadium built several blocks from the existing Convention Center, in a combined stadium and convention center expansion site. Without a new stadium, the Chargers might move to Los Angeles. But the politically powerful hotel industry opposes the Chargers plan for a combination facility. In the past, Comic-Con officials have sided with the hoteliers in favoring an expansion that is contiguous, not several blocks away."
The Con is big business for San Diego: "Last year, its 130,000 attendees accounted for 60,960 room nights and generated $177.8 million for the local economy." In the world of conventions, every dollar that a visitor to a city spends has a multiplier effect of x7 on the local economy. No wonder Los Angeles and Anaheim, sensing a crisis approaching, have begun circling again.
"The proposals we've received are pretty amazing," said David Glanzer, a spokesman for Comic-Con International. "It's not an easy decision."
In its bid, Los Angeles promotes its proximity to the Hollywood studios that film many of the movies and television shows that are featured at Comic-Con. Plus, the convention center is adjacent to L.A. Live, a commercial district brimming with clubs, restaurants and shops. But San Diego has the lively Gaslamp district, also brimming.
Both Los Angeles and Anaheim have larger convention centers than San Diego, but Los Angeles' biggest problem is a shortage of hotel rooms within walking distance of its convention center: fewer than 5,000 hotel rooms within a mile of the convention center, with only an additional 2,000 or so rooms under construction. Meanwhile, Anaheim has more than 13,000 hotel rooms within a mile of the convention center. San Diego has about 11,000 rooms within walking distance—plus several hundred more in Mission Valley, a trolley-car ride away.
"Anaheim may be the most attractive suitor," say Martin and Perry, "— because it can offer the largest exhibit hall space in the region — 815,000 square feet — plus proximity to Disneyland and Disney's California Adventure Park. In addition, the Anaheim Convention Center already hosts a smaller gathering organized by Comic-Con International known as Wondercon."
Still, my bet is that the Con will stay in San Diego—for a very simple reason: most of its staff lives in San Diego, and they probably don't relish the idea of managing a big convention as far from home as Anaheim.
They'll miss a bet, though, if they can't leverage the competition to get the San Diego hotels to lower room rates. They think that they did it last time, but they didn't. Not by much. Not enough to justify leaving $177.8 million behind in the city's economy.
AND, SPEAKING OF MOVING—:
THE NEW YORKER ended the first month of the new year by moving. For the last 15 years, the magazine that Harold Ross founded in 1925 has had its offices at 4 Times Square; effective February 1, it joins its parent company, Conde Nast, at 1World Trade Center. This is only the fifth home for the 90-year-old magazine. When Ross launched the first issue (dated February 21, a date commemorated every year the last week of February with an anniversary issue, usually reprinting the first issue's cover, a Rea Irvin drawing of a supercilious 19th century boulevardier), the office was at 25 West 45th Street. Until now, the magazine has always resided in a mid-town office: in 1935, it moved to 25 West 43rd Street, where it remained for over 50 years until 1989, when it moved a few doors down the block to 20 West 43rd Street. In 1999, it moved to the location it has just abandoned to move decidedly south, far away from the old neighborhood.
On the cover of the February 2 issue, artist Bruce McCall celebrates the move with a picture showing the Editorial staff on a flatbed heading south to the new World Trade Center skyscraper in the distance, some of the famous Times Square signs marking aspects of the magazine's history.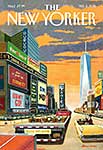 "Eustace" became the first name of Irvin's cover dandy when Corey Ford produced in the summer of 1925 a series of ads in the magazine promoting subscriptions. Eustace's last name, Tilley, Ford borrowed from a favorite aunt.
"Dubuque" on the side of a building refers to Ross's notorious Prospectus for the magazine. Circulated in the fall of 1924 to drum up financial support, the Prospectus described the magazine as "a reflection in word and picture of metropolitan life"—life in New York, the life led by sophisticated readers. It would not be a national magazine; it would not be edited "for the old lady in Dubuque."
The imaginary "dowager Iowan" was revived in the first review of The New Yorker's inaugural issue: Briton Hadden, Henry Luce's partner in founding Time, which started two years before Ross's magazine and worked out of offices one floor below, handed the first issue to one of his writers, Niven Busch, telling him to consider what the old lady in Dubuque might think of it. Busch's old lady was an accomplished vivisectionist:
"I and my associates here, have never subscribed to the view that bad taste is any the less offensive because it is metropolitan taste. To me, urbanity is the ability to offend without being offensive, to startle composure and to deride without ribaldry. The editors of The New Yorker are, I understand, members of a literary clique. They should learn that there is no provincialism so blatant as that of the metropolitan who lacks urbanity." We have a picture of the old lady in Dubuque on the Other Side of the $ubscriber's Wall (just a shameless hint that you ought to join the ranks of the paying $ubscribers in order to absorb all of the benefits available herein.)
Ross would later hire Busch. And in 1936, he would publish a scathing profile of Luce by Wolcott Gibbs, which famously parodied Timestyle's idiosyncratic inverted sentence structure—"Backward ran sentences until reeled the mind"—ending, "Where it all will end, knows God""
On the back of the flatbed is an allusion to something not peculiar to the magazine. The Collyer Brothers were bachelors who lived in a mansion in Manhattan. One of them became blind, and the other began collecting magazines and newspapers and storing them in the mansion against the day when his brother would regain his sight and want to catch up on the events that had transpired during his blindness. Over the ensuing years, the rooms and hallways in the house were piled with towering stacks of periodicals. One of the brothers eventually died, and the other was found crushed under an avalanche of magazines and newspapers.
The allusion was, perhaps, to the sort of detritus that someone accumulates in his office over the years of his residing in it—books, magazine and newspaper clippings, all possible fodder for some future article. As Nick Paukmgarten says in this issue's Talk of the Town, an "accretion of intention." Exactly the situation here at the Rancid Raves Intergallactic Wurlitzer. The expression too exquisite a bon mot for me to leave it buried forever in an expired issue of one of my favorite magazines. (Favored because it, like Playboy, publishes cartoons. Yes, cartoons, kimo sabe, not centerfolds. Although who can overlook a centerfold?)
TOP SHELF AND IDW JOIN FORCES
IN A MAJOR ACQUISITION in the comics marketplace, IDW Publishing has acquired Top Shelf Productions, a highly regarded independent comics house, reported Calvin Reid at publishersweekly.com. Founded by Chris Staros and Brett Warnock, Top Shelf publishes graphic novels with an impressive list of bestselling creators that includes Rep. John Lewis (March); Alan Moore and Eddie Campbell (From Hell); and Craig Thompson (Blankets).
According to a statement released by IDW, Top Shelf will "remain a distinct imprint within IDW." Cofounder Chris Staros will continue with the company as editor-in-chief of Top Shelf Productions, while his longtime partner Brett Warnock will leave Top Shelf to focus on a new business venture outside of comics.
The Top Shelf staff—including publicist and marketing director Leigh Walton, designer/digital director Chris Ross, and warehouse manager Zac Boone—will remain in place at the company's current offices in Marietta, Georgia.
A news release from Top Shelf said IDW's main role will be the support and management of Top Shelf's infrastructure—production, sales, marketing and promotional initiatives. IDW will also provide additional funding to secure new breakout projects so that Top Shelf can direct their full attention to producing fan-favorite award-winning books.
WORD OF THE YEAR
EVERY YEAR SINCE 1990, the American Dialect Society has convened to pick a word or phrase that has become prominent (i.e., "on everyone's lips") during the previous year, denominating the choice as "word of the year." For 2014, ADS has selected #blacklivesmatter as the Word of the Year for 2014, the first Twitter hashtag to be picked. "Hashtag" itself was the WotY for 2012.
In a companion vote, sibling organization the American Name Society voted "Ferguson" as Name of the Year for 2014 in its tenth annual name-of-the-year contest, recognizing the significance of the Missouri town as a flashpoint for protests after the killing of Michael Brown.
The ADS vote is the longest-running such balloting anywhere, proclaims the ADS news release—the only vote not tied to commercial interests. It is fully informed by the members' expertise in the study of words, but it is far from a solemn occasion.
"Members in the 125-year-old organization include linguists, lexicographers, etymologists, grammarians, historians, researchers, writers, editors, students, and independent scholars. In conducting the vote, they act in fun and do not pretend to be officially inducting words into the English language. Instead, they are highlighting that language change is normal, ongoing, and entertaining."
One of those other votes—tied to a commercial interest—is Merriam-Webster's, which this time picked as its WofY "culture," meaning "nation, a workplace, an ethnicity, a passion, an outsized personality."
Oxford Dictionaries, not to be outdone, picked "vape," which can be used as either a noun meaning "an electronic cigarette or similar device" or a verb in which one would "inhale and exhale the vapour produced by an electronic cigarette or similar device."
According to a press release from Oxford, research showed the use of the word "vape" more than doubled in 2014 over the previous year. Couple that with the growth of electronic cigarettes into a multimillion dollar industry and the Oxford editors decided that the word's time had come.
"A gap emerged in the lexicon, as a word was needed to describe this activity, and distinguish it from 'smoking','" the Oxford press release says. "The word "vape" arose to fill this gap, and it has proliferated along with the habit._
Oxford's lexicographers grapple every year with a list of potential winners. Last year, "selfie"— "a photograph that one has taken of oneself, typically one taken with a smartphone or webcam and uploaded to a social media website_—trumped "bitcoin" and "twerk" to take the honor.
The ADS balloting eventually degenerates into categories or divisions, each with a separate winner. For example, the "most useful" WotY was "even," meaning to deal with or reconcile difficulot situations or emotions (as in "I can't even"). "Columbusing" was the most creative; it refers to cultural appropriation, especially the act of a white person claiming to discover things already known to minority culture. Most outrageous went to "second-amendment" as a verb, meaning to kill someone with a gun, used ironically by gun control supporters."
Most euphemistic was "EIT," meaning "enhanced interrogation technique." Least likely to succeed is "platisher," an online media publisher that also serves as a platform for creating content.
AND NOW, CERTAIN WORDS HAVE BEEN FORBIDDEN
WE COULD HAVE BEGUN the New Year right, according to Lake Superior State University in Michigan, by refraining from using any of twelve words the university has banned forevermore. On the last day of 2014, LSSU issued its 40th annual list of egregious words culled from more than 2,000 submissions from members of the language purist public who believe certain words are misused, overused or useless. ... To Learn Which Words We Should Eschew and To Read Why Freedom of Expression Should Be Unlimited and To View Editorial Cartoons on the Top Ten Newsstories of 2014 and To Find out Which Comic Strip We Have Dubbed "The Worst" and To See Some of the Excellent Art by New Yorker Cartoonist Joseph Farris—and More, Much More—Click Here if you are a member. If not...
SUBSCRIBE TODAY!
Just $3.95/quarter after $3.95 introductory month
$ubscriber/Associates: To Continue reading please CLICK HERE
To find out about Harv's books, click here.