Welcome to the webbed and wired edition of R&R, aristotle. We'll be doing the same sort of song and dance here as we do in print: reviewing the latest comics and cartoon-related books and ranting about trends and abuses and unfathomable foolishnesses. Each installment will stay here for about four weeks, with a new one coming in just about every other week or so. If you don't have the time to ponder every punctuation mark in this deathless prose and merely want to see what might be there that would interest you, we suggest you scroll down the page looking for the bold-face type that heralds the notables who reside herein this week. So here we go with Opus 378 (and a reprise of Opus 377):
Opus 378: Editoons in March-April, the Pulitzer Fiasco, Stan Lee at the New York Times, the New Mad No.1 & Denver's Boutique Comic-con DiNK (April 25, 2018)
Opus 377: Sitcomics' Binge Books, Stan Lee's Situation, Magazine Cartooning & Playboy's Reaction to Sexual Harassment (April 15, 2018).
Opus 378 (completed on April 24, 2018). This posting was intended to take place about a week ago as a supplement to Opus 377, which we mercifully shortened by leaving out our customary review of editoons. But before we could post it, we were overtaken by Breaking Nous, which, duty-bound, we're compelled to post—namely, this year's Pulitzer Prize fiasco (for a graphic novel?!), the New York Times report on Stan Lee, the memorable debut of the new (West Coast) Mad, and a report on our adventures at DiNK, the boutique comic-con in Denver. Getting all that done took a few more days than we'd anticipated. But it's here. Plus those editoons from March and April that we left out last time. Here's what's here, in order, by department—:
NOUS R US
The Pulitzer Fiasco
A DiNK Weekend: New Kind of Comic-con
New York Times to the Rescue of Stan Lee
Surprise: A New Mad, Starting at No.1
ODDS & ADDENDA
No "Marvel" at Disney Adventure Land
Saudi Arabia Opens Movie Theaters
Action Comics No.1000
"Challenged" Books in 2017
EDITOONERY
An Extensive Review of the Month's Editorial Cartoons
QUOTE OF THE MONTH
If Not of A Lifetime
"Goddamn it, you've got to be kind."—Kurt Vonnegut
Our Motto: It takes all kinds. Live and let live.
Wear glasses if you need 'em.
But it's hard to live by this axiom in the Age of Tea Baggers,
so we've added another motto:.
Seven days without comics makes one weak.
(You can't have too many mottos.)
And our customary reminder: when you get to the $ubscriber/Associate Section (perusal of which is restricted to paid subscribers), don't forget to activate the "Bathroom Button" by clicking on the "print friendly version" so you can print off a copy of just this installment for reading later, at your leisure while enthroned. Without further adieu, then, here we go—:
NOUS R US
Some of All the News That Gives Us Fits
THE PULITZER FARCE
The Pulitzer Prize for editorial cartooning has finally resolved itself into the farce that many have always thought it to be. This year's Prize went to two people who collaborated in producing a graphic novel that ran serially in 19 installments in the New York Times. A graphic novel is not a cartoon.
Compounding the sham, one of the collaborators is the writer; the other, the artist. Neither is a cartoonist.
So this year's Pulitzer Prize for editorial cartooning went to a non-cartoon produced by non-cartoonists.
To compete for the Pulitzer, cartoonists nominate themselves by submitting a portfolio of what they regard as their best cartoons of the year. Sometimes their newspapers submit the portfolio, as I suspect happened this year with the New York Times.
Three times before in the history of the Pulitzer for editorial cartooning the prize was awarded to people working in realms outside the editoon arena. Gary Trudeau won in 1975 for Doonesbury, a comic strip not the single-panel cartoon format of time-honored custom; and in 1987, Berk Breathed won for Bloom County, another comic strip. Then in 2010, Mark Fiore, a self-syndicated editoonist, won with a portfolio of animated editorial cartoons.
But all three of these practitioners in non-traditional modes were cartoonists.
Only the New York Times would think of submitting a non-cartoon in the category of editorial cartooning: the paper has notoriously not had an editoonist on staff in living memory, suggesting the disdain in which traditional editorial cartooning is held at the nation's "paper of record."
The mold-shattering in this year's award was even more extensive: never in the history of the editorial cartoon prize, beginning in 1922 with the award to Rollin Kirby, has it been awarded to more than one person for a single entry.
The two freelancers, not New York Times staff members, who produced this year's winning Welcome to the New World are writer Jake Halpern and artist Michael Sloan.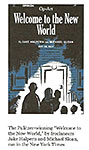 In an introduction to the series, Halpern wrote that Welcome to the New World reports the stories of two Syrians, brothers Jamil and Ammar, who "fled Syria in 2012, with their wives and children. After four years waiting in Jordan, they finally received a visa and traveled to the United States as refugees," arriving on November 8, 2016. The tale continues with an account of the families' lives in America.
In announcing the award, the Pulitzer people described it as "an emotionally powerful series, told in graphic narrative form, that chronicled the daily struggles of a real-life family of refugees and its fear of deportation."
The series "provided a vivid and frequently harrowing depiction of the modern refugee experience in the United States. The episodes were based on months of interviews and reporting, but Halpern suggested that some of its most powerful moments were frames [panels, i.e., pictures] that contained no words at all."
In short, Welcome, while not an editorial cartoon, is a visual enterprise, like an editorial cartoon, that deals with current events and undoubtedly expresses the creators' opinion about those events. With this gloss, it sneaks into qualification as an editorial cartoon.
But the Pulitzer's criteria are so general that almost anything qualifies. The Prize is given "for a distinguished cartoon or portfolio of cartoons, characterized by originality, editorial effectiveness, quality of drawing and pictorial effect, published as a still drawing, animation or both."
Nothing here about expressing opinion on current events or how effective visuals are used to express the opinion or how vividly that expression might be although I suppose "pictorial effect" might include those concerns. An award with the prestige of the Pulitzer should surely more insightfully describe what qualifies as superior achievement in the medium. But the Pulitzer doesn't go that far.
In reporting the award of this year's Pulitzer for editooning, Michael Cavna of the Washington Post's Comic Riffs noted that this year's selection signaled "a potentially seismic shift in the category going forward."
Suspiciously, the Pulitzer announcement did not name the jurors on the committee that made the choice. The jurors usually include at least one editorial cartoonist, sometimes last year's winner (who was Jim Morin). Maybe the cartoonist juror(s) this year thought their choice was risky and preferred not to endure any post-choice brickbats.
Unquestionably, the choice of the winner this year responds to the changing landscape in political cartooning. The number of full-time staff editoonists has been steadily declining since May 2008 from about 101 to today's 50 or slightly fewer. As journalism shifts from paper and ink to electronic digits, editorial cartooning must adjust—or continue to slowly expire.
When the Pulitzer went to Fiore in 2010 for animated editorial cartooning, it signaled a change in the Pulitzer definition of editooning, and the change accommodated an emerging aspect of the medium. Many editorial cartoonists to whom Cavna talked applaud this year's latest broadening of what editorial cartooning is.
"I have to say this year's [prize] was a surprise," says Matt Wuerker, the Pulitzer-winning cartoonist for Politico. "On the positive side, I think it's great to see the old-fogy prizes evolve and get with the times. The Herblock Prize broadened the category years ago. Awarding the great work being done in comics journalism is a good thing."
Matt Bors, a past Pulitzer finalist and winner of the Herblock Prize for editorial cartooning, strikes a similar tone.
"I think broader approaches to comics in journalism being considered for the Pulitzer is a good thing," says Bors, founder of the comics journalism online site The Nib. "I hope more media outlets will take note of how you can apply nonfiction and satire — and then hire some cartoonists."
Joel Pett, the Pulitzer-winning cartoonist for the Lexington Herald-Leader, echoes that sentiment, saying to Comic Riffs, tongue sarcastically in cheek: "I hope the New York Times will now support even more comics and cartoonists."
And Jack Ohman, the Pulitzer-winning cartoonist for the Sacramento Bee, cheers what this year's winner reflects at large. "It's a good sign that we don't get locked into the [lone] rectangle cartoon format that people are familiar with. We're all trying different things that are vital and cross-platform."
The Association of American Editorial Cartoonists (AAEC) has long been concerned about the slow evaporation of the profession. Pulitzer-winning Ann Telnaes finished her tour as president of the group with this call to action (in the Notebook, 2017 Annual):
"For several years now we have complained, bemoaned and raged over the disappearance of our traditional home, the print newspaper. ... The AAEC is also facing the problem of an aging and shrinking membership. Another consequence of the decline of newspapers is that hardly any young editorial cartoonists get their start there [i.e., in newspapers, traditionally college campus newspapers] anymore. The cartoonists today are mostly freelancers and work hard at promoting themselves and their work online and by attending various comic/cartoon festivals and conventions."
I disagree: I suspect that campus newspapers are more alive than dead and that editoonists are as widely published in them as ever. But I have no more evidence for my feeling about this than Telnaes does about hers. Besides, the crisis is fully present regardless of where or how young editoonists get their starts. Or don't.
Telnaes continues: "Why are we at this point? Let's face it, the AAEC hasn't come to grips with the changed landscape in the publishing of news. ... We've really just skirted around the big issue in the room: how to preserve the editorial cartooning profession in the Internet age. ...
"Change is always hard, even when it's for the best. Editorial cartooning has played an important part in journalism throughout our nation's history, and I believe will continue to in the future, whatever medium we use—but we need to be proactive. Editorial cartooning is a vital part of political discourse and much needed, especially in today's political climate. Let's recognize this and move forward to preserve our profession."
But she has no concrete proposal about how this might be accomplished. It could be that the Pulitzer jurors this year share Telnaes' alarm and made their choice accordingly. The graphic novel is the most conspicuous advance in recent history of the ways cartooning is done. If the Prize for editorial cartooning went to a graphic novelist, the prestige of the Pulitzer coupled to the growing popularity of the form might be the right move toward revitalizing the profession.
And there is no dearth of support for this scheme, if, in fact, the Prize this year was awarded with such an intention in mind.
"AS FAR AS THE DIFFERENT CHOICE for the Pulitzer editorial-cartoon category this year, I'm fine with it," says Fiore, who was named a Pulitzer finalist this year along with Mike Thompson of the Detroit Free Press, whose work falls into the traditional editoon format.
Talking to Cavna, Fiore continued: "I think it's just fine to expand the category of 'editorial cartooning.' Remember," he went on, "I'm the guy who sent a spite Pulitzer entry for about five consecutive years before they accepted submissions made up of online-only cartoons.
"I welcome graphic journalism, comics journalism and even cartoon journalism," Fiore went on. "Cartoons like these could just as easily fit the explanatory-journalism category or maybe even nonfiction" in the literature category."
Fiore's description of the fluidity of Pulitzer categorization leads to a strong counterpoint, Cavna observes: some cartoonists say they object to how the Pulitzer jurors might effectively redefine the traditional term "editorial cartooning."
"While I think the work was worthy of a Pulitzer," cartoonist Wiley Miller says of Welcome to the New World, "it was not worthy of this particular prize, as it's neither a cartoon nor an editorial. It's graphic journalism, and there should be a category for that, as it's a growing new field," continued the Reuben Award-winning creator of the syndicated strip Non Sequitur and a former staff editoonist. Miller says freelancer Brian Fies is one the best currently working in this form.
But Miller also contends that neither winner of this year's award was functioning as a "cartoonist": "One [Halpern] is a writer and the other [Sloan] is an illustrator. A cartoonist is one who [both] writes and draws their own material."
Politico's Wuerker has a different criticism of this year's win: should the award go to work that is only tangentially connected to President Trump?
"Seeing as we're living through one of the wildest and most unruly periods in American politics, it's truly strange for the Pulitzers to not fete the bare-knuckled, unruly end of the cartoon spectrum," Wuerker said to Cavna.
"The cartoons being cranked by today's editorial cartoonists are as good, tough and spot-on as the work that was being done in other earlier golden ages for political satire — such as the Vietnam-Watergate era, or before that, the cartoons created during the Gilded Age."
He continued: "If our roiled political waters ever calm down, then sure, it's great to recognize new, softer forms of cartooning. But it seems in these political times, the Pulitzers really should have gone with something political. In the time of Trump, how can the editorial-cartoon prize not go to the best Trump cartoons?"
HOW? ASK PAT OLIPHANT, perhaps the most highly regarded editorial cartoonist in the 60 years. In 1987, following Pulitzer's awarding the Prize for editorial cartooning to Berk Breathed, Oliphant weighed in:
"This year, Bloom County," he roared. "Next year, Garfield."
And in Target (The Political Cartoon Quarterly) for Summer 1987, he went on at great length in paragraphs of indictment and ridicule that could well apply to this year's hoax—:
"The Pulitzer Board by their action has complete debased the prestige of the award that symbolized for years the best that graphic commentary, opinion, and political information had to offer. It was a slap in the face to the legacy of dedicated opinion sharpers who have previously won the award—Herblock, Conrad, Mauldin, Fischetti, Auth, MacNelly. And I could go on. ...
"For the Pulitzer writing awards, there are a great many categories and thousands of eager petitioners, so Pulitzer can give a few bows to some extraordinary efforts by small enterprising newspapers or writers. [Why not, then, have more than one cartooning category?] They then swap the other remaining awards around among themselves. This works with some degree of legitimacy because there are so many writers in the country, literally tens of thousands, so the coziness has cover.
"But the 'dealing among the biggies' formula breaks down when it comes to editorial cartooning where large numbers can no longer provide a cover. We are few. And it gets a bit embarrassing to have to give the same award to the same cartoonists two or three times. ..."
The Pultizer for editorial cartooning has been awarded 91 times since the first in 1922; in 5 years, there was no award. Of the 91, 15 awards were apportioned among 5 cartoonists, each of whom won 3 times; that's 16% of the awards given. Another 18 cartoonists won twice each, 36 awards; that's 40% of the total awards. Together, the two-time winners and the three-time winners represent 56% of the awards given. Yes, embarrassing. It's tacit admission that there aren't enough editoonists to justify an award.
So, Oliphant continued, the Pulitzers decided in 1987 to widen the field and conceal the revealing paucity of candidates by awarding the Prize to a comic strip cartoonist, immediately thereby creating more than 200 possibilities for future awards. "No longer an award for editorial cartoonists. The Pulitzer board now gives an award for cartoonists!"
Oliphant recognized the dilemma the profession faces even today.
"True and effective, hard-hitting, junk-yard dog political cartoonists are a rare bred and about to get even more rare if current trends continue."
As you can tell, Oliphant was no fan of the Pulitzer. He won the Prize once, in 1966 during the Vietnam War, and he did it to make a point. In Columbia Journalism Review (Spring 2016), Telnaes tells the tale—:
"As he tells it, Oliphant wanted to make a point about how the Pulitzer board's hoices in the cartoon category were more about personal politics than identifying exemplary work in the field.
"He looked back at previous winners and, base upon what he saw, chose from his work a submission he thought would suit the judge's tastes and the prevailing political opinion at the time [during the Vietnam War]. He says now that his cartoon was 'one of the worst cartoons I've ever drawn.' [Which we've posted near here with another, somewhat harder-hitting junk-yard dog opinionated and therefore possibly offensive cartoon of Oliphant's that he once described as his favorite.]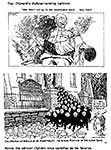 Oliphant's submission "depicted the president of North Vietnam, Ho Chi Minh, holding a dead Vietnamesse with the caption 'They won't get us to the conference table ... will they?'
"Well, guess what. That cartoon did in fact win. (Back then, it was common to give the award for a single cartoon rather than a body of work.)"
Oliphant's cynical expose demonstrated the fallacy in the Pulitzer farce. Looking over the previous winners, he saw that the Pulitzer judges seemed to favor sentimental slop rather than rigorously stated possibly offensive opinion. In choosing the cartoon he submitted, he effectively predicted how the judges would vote. Sentiment, he determined, was more important to the Pulitzer judges than provoking thought about or debate on public issues.
And that may well describe this year's winning "cartoon." I haven't seen it, but even the short description of its content suggests that the story it tells is a hard-luck story, probably one that has a happy ending. The story is undoubtedly heart-felt. Clearly, the editors of the New York Times thought Welcome would make a case for humane treatment of immigrants in our troubled world.
Whatever is virtues in the public square, Welcome is not a cartoon, and it wasn't produced by a cartoonist working on a daily deadline. It should not have won.
After winning, predictably, the Pulitzer in 1966, Oliphant's subsequent action—inaction, rather—was to never again enter his work and "to use his status as a past winner to criticize the Pulitzer selection process well into the future."
And his criticism of the Breathed win in 1987 is a healthy sample of the kind of criticism he's been making ever since.
THIS YEAR'S AWARD, deliberately widening the field of possible candidates, lumps all cartooning into one competition. As Oliphant suggested, there should be more than one category for cartooning. This year's winner and a growing interest in cartoon journalism suggests the obvious new division—cartoon journalism.
And there's already been an exemplary winner in that category, albeit without the existence of the category.
The only cartoonist to previously win a Pulitzer Prize for long-form reportorial comics is Art Spiegelman, Cavna reminds us, whose groundbreaking Holocaust epic Maus received a 1992 "special citation" from the Pulitzers, a cobbled-up category that signaled the deficiency in the Pulitzer categories. It was a category, Spiegelman quipped, that is "designed to honor anomalous creators like E.B. White, Duke Ellington, Bob Dylan and Dr. Seuss."
"Another award in my medium has seemed long, long overdue," Spiegelman said."The Pulitzer committee has honorably grappled with how to recognize a medium that has newsprint in its DNA."
He sees the recognition of Welcome to the New World as a tribute to the "avalanche of jaw-droppingly significant achievements in comics over the past decade or so, as it continues to flourish."
One of the profession's habitual critics, Ted Rall, thinks otherwise.
"They didn't post who was on the committee so it's hard to know why they made the decision they did," he said on e-mail. "This feels like the latest in a long line of middlebrow judging decisions: not much thought went into it, the work was inoffensive and somewhat generic, the subject was unimpeachable and the venue was Serious (that's where the New York Times thing comes in). The same piece in the Akron Beacon-Journal or HuffPo probably would not have received serious consideration.
"Personally," he continued, "my gripe is that the award was shared by a writer and an illustrator. In other words, two non-cartoonists won the cartooning category.
"Bottom line," he finished, "this was not the best cartooning published in the United States in 2017. Not even close."
Another editoonist, Mike Keefe of the Denver Post, also faults the Pulitzer Prize—and many of the other editoonery competitions.
"We take these things seriously," he said in Target (The Political Cartoon Quarterly), Spring 1983, "—even though we suspect the selection of a winner is about as thoughtful as drawing the grand prize stub in the state lottery.
Among the problems, the constitution of the judging panel: "Most panels consist of newspaper editors. If I had to choose a class of professionals to judge editorial cartoons, I'd choose orthodontists over editors. Most editors are principled journalists. Among their tenets are fairness and objectivity. Some of the most effective (as well as some of the least effective) cartoons violate these canons. ... How often does a panel of judges include a respected art critic? Why not include someone in an unrelated profession who deals with many of the same elements used by a cartoonist? ... a film maker, a visual artist who attempts to make a point through humor or pathos.
"Another problem: which is better—to fashion a new and insightful metaphor for the economic travails of Abu Dihabi or to get a crooked city council man canned because of a pointed cartoon? Take a guess which one has the best chance of winning an award. At the community level, the cartoonists is in the trenches. He has the potential to lob grenades, alter the landscape, capture ground. At the national and international level, he's merely pushing toy soldiers around, having little or no affect on the real battles. It's about time the guy with mud on his boots got a ribbon for his efforts."
"The awards system is flawed," Keefe concludes. "Almost everyone agrees. ... In spite of it all, I'll continue to enter them for the same reason you will—maybe this year, I'll get lucky."
Eight years later, Keefe got lucky and won the Pulitzer.
But the profession at large has not been so lucky. It is slowly disintegrating And to rub salt in the wound, the most prestigious of the awards given its practitioners scarcely applies to the kind of work they do.
The Pulitzers need to include in the qualifying criteria for its award in editorial cartooning the necessity for expressing opinion on current events, and the winning cartoon must demonstrate how effective visuals are used to express the opinion and how vividly that expression might be. And then the Pulitzers should add another category—cartoon journalism.
A DiNK WEEKEND
Your Rancid Raves reporter spent April 14-15 at the third annual Denver Independent Comic Art Expo, or DiNK, the acronym into which the founders inexplicably conflate the name. Co-founded by Denver's Charlie La Greca, Jeff La Greca, Dan Crosier and Jim Norris with the able operational labors of Bonnie Graham. DiNK studiously avoids the trappings of the big comic-cons—no celebrity appearances, no Hollywood stars, no animation voice-overers, no video games or cosplay contests (well, one of those, about which, more anon). DiNK proclaims itself a "boutique comic-con." Various corners of it have a distinctly "hippie" flavor, and the clientele is extensively tattooed.
One of the items in the goodies packet distributed at check-in was a booklet entitled S.T.A.T.S., which stands for Sight, Touch, Aroma, Taste and Sensation—a "Guide to Evaluating the Essential Aspects of Cannabis."
A preliminary tally showed a substantial increase in attendance—just a couple dozen shy of 3,000. The aisles teemed with people, all smiling happily.
"Fantastic growth this year," Charlie told me. "And I can't tell you how much all the amazing comments and positive feedback on the show mean. Together—we are all creating a true comic art show and it feels GREAT!"
Charlie and Frank, who also co-founded the Denver Comic-Con, have focused on the comic book as produced by small, independent operators and on the arts and crafts associated with that kind of production. F'instance—:
Wandering the aisles between display tables, I saw an energetically rendered series of comic books written, drawn and produced by Gideon Kendall— Whatzit, Nos.1-5 (so far). His artwork is so dazzlingly expert that I wondered what he did when he wasn't doing his own limited press-run comic books. Why, in other words, wasn't he doing Marvel or DC comic books, which is where I'd expect to find a comics artist of his skill.
His answer: well, not yet. He's hopeful. Meanwhile, he keeps busy.
Working out of Brooklyn, he does a lot of freelance comics work, he told me, and children's book illustration and comically weird sf pictures, but his most rewarding financially is designing animation for children's tv shows, which he does freelance, like everything else. For samples of the array of his talent, visit gideonkendall.com.
What may be Kendall's most ambitious print project lately is Marley's Ghost, an adaptation of Charles Dickens' Christmas Carol that was started but never finished by Harvey Kurtzman sometime in the 1950s. Kurtzman laid out and sketched in his customary manner about three dozen pages of a 60-plus page graphic novel. Kendall with writers Josh O'Neill and Shannon Wheeler finished the project, following Kurtzman's adaptation in layouts and design. It may see print soon, but in the meantime, you can buy the whole thing in digital format from Amazon or comixology.com for five bucks or so.
I talked to Denis Kitchen about Marley's Ghost. He had a table at DiNK, and he has some production connection to the project, deriving, no doubt, from his involvement with the Kurtzman Estate. It was he, I assume, who unearthed the Ghost sketches. He told me that, judging from the condition of Kurtzman's artwork, his interest in adapting Dickens' classic seemed to wane the further he got into the story. He was most engaged in the "ghost story" aspect of the tale, apparently; and once he had to contemplate drawing crowd scenes of people in Victorian garb at parties of Christmases past and the like, his enthusiasm flagged. The first 30-40 pages of his breakdowns are classic Kurtzman in format and appearance; after that, as he seemingly lost interest, the breakdowns are more and more sketchy.
That's how the weekend went. On the Other Side of the $ubscribers Wall, we've posted lots of illustrations from Kendall; don't miss it if you can.
DINK took place in the McNicols Center, a cultural edifice in downtown Denver. Named after a mayor of the city, the building was once the city's public library. Since then, it has been virtually gutted to create a hollow space that can host various kinds of events (those that need exhibit space and don't object to heating and air-conditioning pipes in the ceilings). DiNK occupied all three floors of the Center with a wide assortment of comic-booky tabletop exhibits (mine among them; amply annotated photos on the OSOSW).
At another table, I saw another pile of attractively drawn comic books—including Boom's first two issues of Big Trouble in Little China: Old Man Jack, written by John Carpenter and Anthony Burch, drawn by Jorge Corona, who was staffing the table. I've posted samples of his rendering of Jack Burton, the title character, on the OSOSW. Corona's line is muscular and marvelously flexible, waxing thick to show power and force, waning to add details.
I talked with Denis Kitchen for a while. He displayed all his books published over the last 20 years or so, including Underground Classics: The Transformation of Comics into Comix, by Kitchen and James Danky and published by Abrams (2009, 150 9x12-inch pages, hardcover, $29.95)—the only one of his titles that I don't have. He was promoting a new project, Denis Kitchen's 3-D Chipboard Portfolio, a collection of ten 3-D prints in large 11x14-inch format with custom blue/red glasses, due in 2017 from Beehive Books.
I told him I'd just finished reading Trina Robbins' autobiography (reviewed here last time, Opus 377), and he said he was disappointed in it. He'd had the project for a while and had urged Trina to included much more of her cartooning career than she eventually wrote about. She finally took her book to Fantagraphics.
Kitchen and Howard Cruse did a presentation together on Sunday afternoon, called "Pioneers of Underground Comix: A Conversation."
After the presentation, I talked with Cruse, who is widely recognized as the cartoonist who pioneered bringing the gay experience to comics. I wanted to know, chiefly, what he was doing these days. I told him I expected that the emergence of GLBTQ into the mainstream would give him lots of publishing opportunities.
Not so, he said. He's not all that busy. But the problem isn't the gay subject: it's the disappearance of print as a publishing medium. He still does a little work here and there, he said, but with the slow evaporation of print outlets, he has fewer places to go. Besides, he said, he doesn't work only with gay topics. ("Queer" is his preferred nomenclature: too hard to say GLBTQ, he said.)
I bought two of his books that were on display—and an original Barefootz comic strip. This is a version of Barefootz that he cleaned up somewhat with the hope of getting it syndicated. From the comic books, you'll doubtless remember Barefootz, an unassuming guy with big bare feet, whose apartment is infected with a congregation of highly verbal and aggressive cockroaches. All drawn in Cruse's distinctively simple, bold-line style with tones of pointillist precision.
Barefootz is one of my favorite comics creations, so I was disappointed when Cruse told me syndicates weren't interested in distributing the strip. One syndicate, however, said they'd give it serious consideration if Cruse would take the cockroaches out of it. Ha. Talk about bureaucratic obtuseness.
I bought two of Cruse's books: From Headrack to Claude: Collected Gay Comix (2009, 100 8.5x11-inch pages, paperback $19)and The Other Side of Howard Cruse (2012, 230 8.5x11-inch pages, hardcover, $24.99), which included a lot of Barefootz but also a generous sampling of his non-gay (sad?) comics—political satire, his takes on Nancy and Little Lulu, accounts of trips taken and more.
Visit his website, howardcruse.com, where there is a treasure trove of Cruse comedic art—including a blow-by-blow (pardon) illustrated discussion of how he developed a 2-page Wendel strip. And hundreds of other hilarious visual treats. His ability to create comedy with playful drawings is, in my experience, nearly unparalleled. The invention on display is wondrous. Samples of all this, on the OSOSW.
I had a good weekend in sales at my table, but the exciting part was seeing how good so much otherwise unheralded cartooning is. The new talent at the tables overflowed. Kendall and Corona were only two of scores of others, many of whom equaled their skills.
Oh—the cosplay contest? It was for dogs, whose owners dressed them up as superheroes. Canine cosplay. Pictures, on the OSOSW.
THE TIMES TO THE RESCUE
Stan Lee Not a Prisoner in His Own House
The august New York Times, newspaper of record, decided, finally, to make a record of what's going on with Stan Lee. Is he being held captive by unscrupulous "vultures" bent on siphoning his fortune into their pockets? To get an answer, the Times sent a reporter around, and Ben Widdicome reported on April 13, to wit—:
"A 6-foot-4 security guard, with a pistol on his hip, opened the front gate. And Lee hasn't been getting out as much, after a bout of pneumonia that has left him short of breath and looking frail. He also can no longer read because of macular degeneration.
"Despite all that, Lee seemed relaxed and enthusiastic. Wearing a yellow shirt and beige polyester slacks in his poolside sitting room, its Sherwood-green carpet bleached by 40 years of California sunshine, he welcomed a reporter into his home."
As we observed last time in Opus 377, when The Hollywood Reporter investigated, it reported that Lee, 95, is the victim of "elder abuse," partly at the hands of his 67-year-old daughter, Joan Celia Lee. The Daily Beast reported last month that Lee, who is said to be worth around $50 million, was "surrounded by a panoply of Hollywood charlatans and mountebanks" and being "picked apart by vultures."
And "a radio talk show in Orlando, Fla., even aired a rumor that he is being 'held captive' by handlers who 'have him basically locked up in the house.'"
Apparently not, saith the Times.
"I'm the luckiest guy in the world," Lee said, chuckling and sounding like a 95-year-old teenager. "Nobody has more freedom."
"He also defended his daughter, known as JC, against claims that she has been physically abusive and a financial drain. "My daughter has been a great help to me," he said. "Life is pretty good."
We have posted some photos on the OSOSW.
Since the death of his beloved wife Joan of 72 years last year, "Lee's household has been thrown into disarray, with three factions of once-trusted aides vying for control." Lee got rid of a couple of them, leaving the field to Keya Morgan, "a former memorabilia dealer from New York who moved to Los Angeles as the executive producer of the mobster biopic 'Gotti,' and now describes himself as a 'producing partner of John Travolta.' Sitting at Lee's side, he was dressed in a black suit and tie, black bowler hat and dark sunglasses, which he lowered on his nose to see indoors."
If ever there were a suspicious-looking character, Morgan is it, as you can doubtless tell from a photo of him with JC that we've posted on the OSOSW.
In February, Widdicombe reports, "Morgan called police to the house to physically remove Lee's longtime road manager, Mac Anderson, known as Max. Anderson was accused of, among other things, attempting to bribe a nurse to make statements that Lee was being held hostage."
"He got into a big fight with Stan and Stan's daughter," and was fired soon afterward, Morgan said.
Most of what the Times found out, we recorded in Opus 377. More or less. Minus some of the more colorful language. For instance, Jerry Olivarez, a Hollywood publicist, made off with $300,000 and a $850,000 condo for himself before he was fired.
"In unrelated matters," Widdicombe says, "$1.4 million may have vanished in a series of wire transfers and a Chanel handbag full of cash may be missing from the house, according to Morgan. Also, a trove of Marvel memorabilia, including character sketches and figurines, is the subject of disputed ownership between Anderson and Lee, as reported by THR."
" Lee may be a creative genius," Widdicombe says, "but he isn't a financial one."
"I've been very careless with money," Lee said.
"I had a partner or two who, since I'm not a money counter — I let them take care of keeping track of the money we made," Lee went on, as he sipped a bottle of mineral water to soothe his raspy voice. "Lately, I have found out that a lot of the money we made is no longer available for me. I don't know where it is, but a guy, and maybe one or two others, have found a way to take it.
"So, I feel bad about it, and of course we have a lawyer trying to get it back again," he said. "But money isn't worth losing your cool about, you know?"
He's suing Olivarez for fraud and elder abuse in a suit that alleges such egregious claims of abuse as extracting and selling vials of the Marvel icon's blood as "collectibles" in Las Vegas, reported Dawn C. Chmielewski at deadline.com,.
But Lee is not an everyday all-day-long victim of elder abuse, and he's not a prisoner in his own house. And he seemed to Widdicombe alert and cheerful and in command of his daily life if not of his financial affairs. And he entertained the New York Times reporter with stories from the glory days "even if some of them sound taller than his 1972 creation Giant Man."
The Times article was illustrated with numerous photos, which we've posted, as I said, on the Other Side of the $ubscribers Wall.
WELL, SURPRISE!!
The first West Coast issue of Mad, No. 550, which billed itself on the cover as "The Final Issue," was, in fact, the final issue. Or maybe not. Probably not. ... For an Explanation of this Inexplicable Connundrum, plus Our Exhaustive Review of the Editoons of March and April, All Gloriously Illustrated with Rare and Cunning Pictures—Click Here
SUBSCRIBE TODAY!
Just $3.95/quarter after $3.95 introductory month
NOTE: You can gain temporary access to this posting (and all the rest of this website)
by paying the trial month fee of $3.95 (which is about what the
New York Times used to charge for a single print-out).
$ubscriber/Associates: To Continue reading please CLICK HERE
To find out about Harv's books, click here.