Welcome to the webbed and wired edition of R&R, aristotle. We'll be doing the same sort of song and dance here as we do in print: reviewing the latest comics and cartoon-related books and ranting about trends and abuses and unfathomable foolishnesses. Each installment will stay here for about four weeks, with a new one coming in just about every other week or so. If you don't have the time to ponder every punctuation mark in this deathless prose and merely want to see what might be there that would interest you, we suggest you scroll down the page looking for the bold-face type that heralds the notables who reside herein this week. So here we go with Opus 373 (and a reprise of Opus 372):
Opus 373: Editoonists Convention, Two New Black Comics Resources, Cartoons Return to Playboy & Books Sampling the War Years of Superman, Batman and Wonder Woman (November 18, 2017).
Opus 372: Sheena, Moneypenny and Black Terror Funnybooks, Source of Ideas, Esquire Cartoons Analyzed, Mort Meskin and Jerry Robinson, Rube Goldberg's Foolish Questions, Baker Street Four & Corto Maltese in Siberia (October 22, 2017).
Opus 373 (November 18, 2017). Bounding up the bunny trail this time, we have reports on the November 2-4 meeting of editorial cartoonists, Wonder Woman Gadot's stand on sexual harassment, a count of editorial cartoonists, and South Park's failure to satirize Trump, an analysis of the so-called "cartoons" that have returned to Playboy, and reviews of two new Black comics resources and of three books reprinting the war years of Superman, Batman, and Wonder Woman and of a book on the Art of Garfield and the first issue of Batman White Knight, plus a count of editorial cartoonists, and "retired" editoonist Bill Sanders on Trump, Ed Stein on tax reform, Ted Rall's suit, Hirschfeld biography held up. Here's what's here, in order, by department—:
CORRECTION
Arv Miller not Art Paul changed Stag to Playboy Rabbit
NOUS R US
Wonder Woman's Gadot Takes a Stand
Libyan Religions Fanatics Shut Down Comic Con
Ted Rall's Suit: Progress Report (Non-progress)
Jeff Dahmer Movie Well Done
Hirschfeld Biography Held Up
Village Voice in Print Dies, Joining Others
The Beat's New Partner
Colleen Doran's Back
South Park Avoids Trump
Newspaper Comics Still Matter
More About Guns
KAL Gets Second Berryman Award, A First
EDITOONISTS TALK SHOP
Report on the annual convention of the AAEC
Joel Pett Gets AAEC's Ink Bottle Award
Dwane Powell Gets Babin Memorial Award
Salt Lake City Con Appeals Gag Order and Wins
Odds & Addenda
NCS Reuben 2018 in Philly
Gasoline Alley Will Be 100 Next Year
Disney Disciplined
CARTOONS BACK IN PLAYBOY
But Not Very Good Ones
FUNNYBOOK FAN FARE
Review of Batman White Knight No.1
EDITOONERY
Looking at Last Month's Crop
How Many of Us Are There?
Counting Editorial Cartoonists
Bill Sanders Speaks Out
BOOK MARQUEE
Short Reviews of—:
Superman and the Miserable, Rotten, No Fun, Really Bad Day
Superman: The War Years 1938-1945
Batman: The War Years 1939-1945
Wonder Woman: The War Years 1941-1945
The Art of Jim Davis' Garfield
Garfield Prank in Denver
BOOK REVIEWS
Review and Critique of—:
Encyclopedia of Black Comics
Black Comics: Politics of Race and Representation
COLLECTORS' CORNICHE
My Name on the Skiff in Pogo
ONWARD, THE SPREADING PUNDITRY
Ed Stein on Tax Reform
QUOTE OF THE MONTH
If Not of A Lifetime
"Goddamn it, you've got to be kind."—Kurt Vonnegut
Our Motto: It takes all kinds. Live and let live.
Wear glasses if you need 'em.
But it's hard to live by this axiom in the Age of Tea Baggers,
so we've added another motto:.
Seven days without comics makes one weak.
(You can't have too many mottos.)
And our customary reminder: when you get to the $ubscriber/Associate Section (perusal of which is restricted to paid subscribers), don't forget to activate the "Bathroom Button" by clicking on the "print friendly version" so you can print off a copy of just this installment for reading later, at your leisure while enthroned. Without further adieu, then, here we go—:
*******************CORRECTION**********************
In our lately posted Hindsight on Playboy's Hugh Hefner, we erred in crediting Art Paul with drawing the stag/rabbit cartoon that appeared in the first issue. It was a cartoonist, Arv Miller, who did the deed; later, Miller was publisher of Fling magazine (and for my adventures with him and it, visit Opus 350). Here, then, is a corrected couple of paragraphs that you can laminate into the Hefner Hindsight when the subject is the naming and mascoting of Hef's magazine—:
Hefner contacted a designer he'd been working with, Art Paul, and asked him to create a new symbol for the magazine—"something like the little 'Esky' figure that cavorted through the pages of Esquire." Paul had been toying with a stag design, but for the new title, Hef suggested a rabbit in a tuxedo as being 'cute, frisky, and sexy' and thus embodying the personality of the magazine."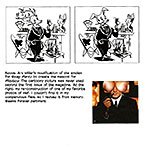 Of the iconic mascot, Hef said in a 1967 interview: "The rabbit, the bunny, in America has a sexual meaning; and I chose it because it's a fresh animal, shy, vivacious, jumping — sexy." He liked the "humorous sexual connotations." The rabbit, he said, was the playboy of the animal world.
Cartoonist Arv Miller re-drew the stag cartoon he'd prepared for the first issue, changing the head from antlered to long-eared. Meanwhile, Paul spent about half-an-hour designing the famous rabbit-head emblem. "There was," he said, "simply no time to spend on it."
NOUS R US
Some of All the News That Gives Us Fits
WONDER WOMAN TAKES A STAND AGAINST HARASSER
Gal Gadot, star of "Wonder Woman" and one of the super-movie universe's heavy hitters thanks to the overwhelming popularity of the movie, says she won't sign up for the sequel unless the production company of sexual harasser Brett Ratner is written out of the deal, according to Emily Smith at pagesix.com.
A Hollywood source said of Israeli-born Gadot: "She's tough and stands by her principles. She knows the best way to hit people like Brett Ratner is in the wallet. She also knows that Warner Bros has to side with her on this issue as it develops. They can't have a movie rooted in women's empowerment being part-financed by a man accused of sexual misconduct against women."
Last month Gadot refused to attend a dinner where she was supposed to present Ratner with an award.
Ratner has denied all charges through his lawyer.
Ratner's production company co-financed the movie with Warner Bros, and it looks as if Gadot's plan is working: the week of November 11, Warner Bros announced it was severing ties with Ratner amid several sexual harassment allegations leveled against him by various actresses.
Earlier this month, Gadot posted on Instagram: "Bullying and sexual harassment is unacceptable! I stand by all the courageous women confronting their fears and speaking out. Together we stand. We are all united in this time of change."
And More. Other superheroine actresses are joining in, reports ICv2. Melissa Benoist, who plays the title role in CW's "Supergirl," posted a statement on her Twitter account in which she says: "When people commit crimes or harass others they should always be held accountable. ... So this week, I'll head back to work on 'Supergirl' even more committed to being a part of changing the norm by listening when people speak up and refusing to accept an environment that is anything less than a safe, respectful and collaborative space."
Emily Beth Rickards from CW's "The Arrow" did somewhat the same thing, saying "men who committed harassment, who turn a 'blind eye' and complain about reverse sexism—you are weak and complicit."
And DC has fired group editor Eddie Berganza in the wake of his suspension after Buzzfeed published an article detailing sexual harassment allegations against him (including those of staffer Shelly Bond, who, at the time of her departure in 2016, alluded to Berganza's conduct).
MEANWHILE, just at posting time, came the news that sexual harassment is alive and well in the U.S. House of Representatives. (Sorry: no surprise here.) On Tuesday, November 14, NBC's Chuck Todd was flabbergasted when Congresswoman Jackie Speier (D-Cal.) told him that $15 million in taxpayer money has been doled out over the last 10-15 years to settle sexual harassment suits filed against House members. Speier vowed to pursue the matter in order to prevent taxpayers from paying the bill in the future. "It is something that should be paid for by the [culpable] individual," she said. Well, yes. Probably so. Maybe.
As this news spread around, various pundits were outraged: "We should know the names of this sexual miscreants" came the cry. Yes, of course. But they reckon without fully grasping the political undercurrents.
A vengeful, say, Democrat could sneak a shapely female into a Republican foe's office with instructions to emerge fifteen minutes later screaming "Rape!" And there are other manifestations of this kind of plot.
Understandably, then, Congress has set up an elaborate system for reporting sexual harassment and other misdemeanors because when a woman screams "Rape!" it's her word against the word of the official being targeted, and there's virtually no way the actual truth can be ascertained. He said, she said.
So the screamer is paid hush money and goes away. The congressman at "fault" remains anonymous, guilty or not, because we can't establish whether he is or not. Rather than condone smear campaigns that can wreck careers, Congress established this convoluted secret system.
WE HAVE (even as I type this) an example of the wisdom of this otherwise dubious system. Senator Al Franken has been accused of sexual harassment by a radio personality, Leeann Tweeden, who says that in 2006 (two years before Franken became a senator) while she and Franken were performing with the USO in the Mideast, and he forced a kiss on her and groped her.
Franken, remember, was a professional comedian before he became a professional politician. (And there are those, Will Rogers among them, who would say the two are synonymous.) The USO act they were doing together was, doubtless, a humorous skit. Keep that in mind.
Tweeden has made public a photograph of Franken seemingly grabbing her breast while she is asleep on the airplane taking them back to the U.S. after the USO tour. In the photo, Franken is looking back over his shoulder towards whoever is taking the photo, and he's grinning fiendishly.
Clearly, this is a prank. Franken isn't actually groping Tweeden: he's pretending to. Just for the sake of a laugh.
The kissing routine is likewise possible to interpret as a gag, depending jupon what the skit was. We know, though—thanks to Tweeden herself—that the kiss was part of the skit, and when Franken kissed her, he said they were rehearsing the skit. Just how hilarious was the kiss in the context of the skit? Dunno.
Franken, as soon as all this became public, issued an abject apology. Then a few hours later, he issued a second even more elaborately abject apology.
Was he sexually harassing Tweeden?
I doubt it. I think he was joking. The photograph at least clearly confirms this. He was just fooling around for a laugh.
That's what comedians do when on the road between acts.
And I think he seriously misunderstood Tweeden: he didn't recognize that she hasn't the kind of sense of humor that could appreciate his off-stage slightly off-color comedy.
She says she's been haunted by this episode since it happened, over a decade ago. I'm sure she's being truthful. But I also think she misinterpreted Franken's "jokes." And his mistake was to think that she had a sense of humor akin to his own.
But she doesn't.
Meanwhile, to relieve her decade-long agony, she's assassinated a public servant whose service, as far as I know, has been commendable. Tweeden, interviewed at length by Jake Tapper on CNN, is clearly upset by dong what she's doing. She didn't expect to be spending this week on this errand. But she regards reporting Franken as her duty to all women, to exemplify going public—and then wait to see if other women join her in complaint.
She says she accepts Franken's apology. She says she doesn't doubt his sincerity and believes his apology comes from the heart. But she can't undo the damage she's done, however well-intentioned she may be.
It is to forestall such character assassination that Congress instituted its convoluted complaint system. If Tweeden had be required to go through such a system, I suspect she'd have given up before completing the course. Too much she said, he said, the classic sexual harassment dilemma.
What confirms complaints of sexual harassment is the number of complainers. The more victims come forward, the more likely the truth of their accusations. That's happening with Roy Moore in Alabama.
But it hasn't happened—yet—with Al Franken.
Some woman said he made suggestive remarks to her on the Bill Maher show in 2000. Seventeen years ago. But she didn't say she was sexually harassed.
Tweeden hopes that if Franken is a habitual harasser, other women will follow her lead. We'll see if any credible complainers come forward. But on Thursday night, November 16, as I type this—with the Franken scandal only a day old—I doubt there'll be any more complaints.
This Just In (from the Associated Press): Eight women who used to work for Franken issued a joint statement Friday morning, November 17, vouching for the senator, saying he treated them "with the utmost respect" while working in his office.
"He valued our work and our opinions and was a champion for women both in the legislation he supported and in promoting women to leadership roles in our offices," the statement said.
LIBYAN RELIGIOUS FANATICS SHUT DOWN COMIC-CON
An armed group in Libya shut down a comic book convention in the capital Tripoli because it affronted the country's "morals and modesty," reports bbc.com. The morality police, the conservative Islamist Special Deterrent Forces (SDF), loyal to the UN-backed Government of National Accord, said they'd arrested more than 20 persons, including organizers of the con.
It looks to me like a rogue operation. Organizers of the event told the Libya Herald that they were shocked by the actions of the SDF, especially given they had obtained official permission to stage the fair.
''Some of those who were [arrested were later] released had received a beating," an organizer told the newspaper. "They were told that Libya is a Muslim country not a free/liberal country."
A statement from the SDF said events like the comic-con were "derived from abroad and exploit weakness of religious faith and fascination with foreign cultures," adding that photos published on social media from the con caused "a widespread public outpouring of criticism."
Six are still under arrest as of the time of this report.
The comic con began in 1970 as a gathering for fans who wanted to swap magazines from the US but has since expanded around the world.
RALL SUIT STALLED IN LEGAL MANEUVERINGS
As we've reported here before, editoonist Ted Rall is suing the Los Angeles Times for defamation because the Times announced Rall's being fired in its online edition, called him a liar, and then, when confronted by contradictory evidence, persisted. (The whole story is retailed in gruesome detail in Opus 342a.) Herewith, Rall brings us up-to-date—:
As you may recall, the Times won their anti-SLAPP motion against me in Los Angeles Superior Court, and we are appealing that to the Court of Appeals. We're optimistic, but in the meantime the Times has filed their attorneys' fees with the Court and is demanding that I pay them $340,000. That's right — the LA Times defamed me, and now they're abusing the law to try to bankrupt me!
There's a court hearing about the Times' insane legal bills on November 20. Among the highlights:
Times lawyer Kelli Sager charges $705 an hour to defend them against the people they libel, instead of simply publishing a retraction and an apology for their lies. No wonder newspapers are in financial trouble!
One of the defendant corporate entities, Tribune Media, ceased to relate to newspapers in a complicated restructuring that my previous lawyer didn't know about. Sager was supposed to tell my former lawyer; that's standard legal ethics. She didn't. Yet she is billing more than $30,000 just defending that defendant. ... when she could simply have told my lawyer for the cost of a phone call.
If the Times wins on November 20th, they will likely go after the $75,000 bond posted in 2016 as a result of a previous court order. If that happens and I prevail at appeal, we'll get it back.
Thank you for your support and, if you've been following the fight between Disney and the LA Times, remember: the LA Times are not First Amendment heroes.
AN UNAPPETIZING SUBJECT WELL DONE
The life and twisted proclivities of Jeffrey Dahmer, who murdered, sodomized and brutally dismembered the bodies of 17 young men between 1978 and 1991, is becoming a movie, "My Friend Dahmer," based on the acclaimed graphic memoir by Derf Backderf. And the movie, despite its gruesome subject, is "a nuanced and sad highschool movie, a portrait of lonely, damaged youth that only gradually reveals itself as the origin story of a psychopath," says Andrew Lapin at npr.org., who reviews the history of the book—:
"Backderf, who attended the same Ohio high school as the serial murderer, began drawing comics about his memories of Dahmer shortly after news of his former classmate's crimes became public in 1991, and published a full-length book in 2012 after years of his Dahmer stories circled the underground scene.
"It's a fascinating document. The future alt-comics star was, from the looks of things, one of Dahmer's only friends — though 'friend' in the title is a loose term, since Dahmer often was more of a pet monkey, amusing Backderf and his buddies with public antics that seem just this side of sane.
"You can read a good amount of residual guilt into Backderf's perspective, the way he interrogates himself for pushing a mean-spirited sense of humor that may have warped Dahmer's views on social life. (It says something that the first time Dahmer earns respect from his peers, he does so by mocking a man with cerebral palsy.)
"Considering that Dahmer murdered his first victim at age 18, the period just after 'My Friend Dahmer' is set, it's fair to say there was more to his teenage years than being the butt of some jokes. Director Marc Myers does an admirable job painting his subject's deteriorating state of mind on a broad canvas. ... In the film, Jeffrey is played by Disney Channel star Ross Lynch in a brilliantly unnerving performance. Hidden under a thick head of hair and wide-rimmed glasses, he's never quite sure what 'normal' behavior looks like: he knows only that he enjoys dissolving dead animals in acid, courtesy of his chemist father."
HIRSCHFELD HELD UP
A biography of legendary theatrical caricaturist Al Hirschfeld is stalled on its way to bookstores by a couple petty law suits, reports Richard Johnson at pagesix.com. The book, Hirschfeld: The Biography by Ellen Stern, was supposed to be released by Farrar, Straus and Giroux on October 10, but Hirschfeld's widow, Louise Kerz, sued Stern's source for illustrations, Margo Feiden, an art dealer to whom the caricaturist granted lifetime rights to sell and reproduce his work. Feiden cooperated with Stern, supplying copies of Hirschfeld's work and, presumably, granting the right to reproduce the drawings in the book.
Says Johnson: "Sources say the publisher never got permission to reprint images that had been provided to the author during her research."
Kerz claims Feiden hadn't the right to grant permission: she violated the agreement with Hirschfeld by flooding the market with cheap copies of his drawings. Feiden is countersuing, claiming, correctly it seems to me, that the Kerz suit has held up publication of the book.
Hirschfeld died in 2003 at the age of 99.
ANOTHER ALT-WEEKLY BITES THE DUST
On September 21, The Village Voice printed its final paper edition. Founded in 1955, the Voice will continue publication online, but it'll scarcely be the same. Then again, it hasn't been since it dropped Jules Feiffer's cartoons a long while back. The Voice joins a steadily increasing number of demised alt-weeklies. With the Voice's transition to the digital ether, pundits mourned the end of an era, not just for the legendary rag but for the industry it spawned. Here, we mourn the likely loss of another market for adventurous cartooning.
"For decades, the alternative weekly was a staple of any city where there were young people who felt the mainstream media sucked and who wanted to read as many underground cartoons, scandalous exposés, concert reviews, and wacky columnists as could fit between the ads for massages and head shops," saith some online report from which I culled this.
The Voice's last issue sparked a dark autumn for alt-weeklies. Seattle's irreverent The Stranger, home to the iconic sex-advice columnist Dan Savage, switched to a biweekly format, even though its owners say the paper makes money. Creative Loafing Atlanta, around since 1972, became a monthly. The Baltimore City Paper announced it would close for good on November 1.
Storied alt-weeklies like the Philadelphia City Paper, San Francisco Bay Guardian and the Boston Phoenix are gone. Ditto the Washington City Paper, the LA Weekly and the Seattle Weekly.
Alas, outlets for irreverent cartoons are evaporating.
THE BEAT GOES ON WITH A NEW PARTNER
Heidi MacDonald has moved The Beat, her column on comics news, to Syndicated Comics, a new division of Lion Forge, where she expects any conflicts of interest with a comic book publisher to be handily resolved as they come up. Said MacDonald: "We'll be setting up some firewalls to make everything as transparent as possible.
"I'm a little sad that everything I write about Lion Forge comics will now have to be labeled as hype and sponsored content," she added, "but I'm going to have the same standards for covering them as I have for every other company. They put out some good comics, and I want to help people know about that, as I always have."
MacDonald has been doing The Beat for 13 years, once with Hiveworks, then solo, then three years with Publishers' Weekly and three with Comicon.com, her original home.
What does the move mean?
"In the short term," she says, "— nothing. I've been doing this daily for 13 years, and will continue doing it just the way I've always done it. ... In the longer term, if you've been reading my posts tagged 'meta' over the years, you know that in this time the archetype of running your own little bedroom blog has gone from wild and sexy frontier rebel, to bold tech entrepreneur, to sad hermit cowering in the basement clutching a thermos of coffee.
"When I started the site there was no social media, no FB, no Twitter, we wore onions on our belt, blah blah blah. Keeping the site running has always been my Number One priority but with that came many sleepless nights, many bowls of thin gruel, and many corners cut and wish lists that would always be wishes."
Now, she'll be able to move up to thick gruel.
MacDonald is an award-winning editor and journalist who has been covering the comics industry for more than 20 years. As an editor at Disney and DC Comics, she edited such titles as The Lion King, Scooby Doo, Swamp Thing, and Y: The Last Man. She has spoken about comics and their culture around the world and cohosts Publishers Weekly's graphic novel podcast More to Come.
Established in 2004, The Beat has been covering the world of comics, graphic novels, comic cons, and pop culture daily to an audience of both fans and industry influencers. It is a two-time nominee for the Will Eisner Award in the Best Comics-Related Periodical/Journalism category and the winner of the Shelf Dorf Award for Best Comics Blog. In 2017, The Beat was added to the Library of Congress's historical archives.
DORAN RETURNS TO THE DRAWINGBOARD
Colleen Doran is back to work, reports Betsy Gomez at ICv2. Doran, the creator of A Distant Soil, has had a years-long struggle with Hashimoto's disease, an autoimmune condition that affects the thyroid and causes fatigue, chronic muscle and joint pain, depression, and other symptoms. Doctors only identified the condition last year, which meant that Doran wasn't able to receive adequate treatment for the disease until recently.
The disease has interfered with Doran's ability to work for several years. Doran has publicly shared her struggle with the disease via social media and in her blog. In her most recent post, she announced that she is back to working regularly. Doran didn't provide details on her projects, but her work has recently appeared in Dark Horse's American Gods adaptation, in the Wonder Woman 75th Anniversary Special, and among Image's Women's History Month variant covers.
A Critique
SOUTH PARK BLINKS
The Once Fearless Comedy Shies Away from the Biggest Target of Our Age
Earlier this year, Lara Zarum reports at villagevoice.com— just days after Donald Trump was sworn in as president— South Park creators Trey Parker and Matt Stone told a reporter that the next season [that is, this season] of their show wouldn't take aim at Trump, because "satire has become reality." ... To Find Out Just How Reprehensible this Non-action Is, To Learn How Newspaper Comics Still Matter, What Happened at the Editoonists Convention, What's Wrong with the Returned Cartoons in Playboy, Editoons of the past Month, How Many Editoonists There Are (Actually), and To Read Reviews of the War Years of Superman, Batman and Wonder Woman and of Two New Resource Books on Black Comics, plus Seeing My Name on Pogo's Skiff, and More, of course, Much More— To Witness It All, Click Here
SUBSCRIBE TODAY!
Just $3.95/quarter after $3.95 introductory month
NOTE: You can gain temporary access to this posting (and all the rest of this website)
by paying the trial month fee of $3.95 (which is about what the
New York Times used to charge for a single print-out).
$ubscriber/Associates: To Continue reading please CLICK HERE
To find out about Harv's books, click here.