Welcome to the webbed and wired edition of R&R, aristotle. We'll be doing the same sort of song and dance here as we do in print: reviewing the latest comics and cartoon-related books and ranting about trends and abuses and unfathomable foolishnesses. Each installment will stay here for about four weeks, with a new one coming in just about every other week or so. If you don't have the time to ponder every punctuation mark in this deathless prose and merely want to see what might be there that would interest you, we suggest you scroll down the page looking for the bold-face type that heralds the notables who reside herein this week. So here we go with Opus 338 (and a reprise of Opus 337):
Opus 338: Black Comics and Cartoonists, Copenhagen and Freedom of Expression & the Meaning of Life (March 8, 2015).
Opus 337: After Charlie—Advocating Freedom of Expression, 2014's Top Ten Newsstories in Cartoons & the World's Worst Comic Strip (February 12, 2015).
Opus 338 (March 8, 2015). In perpetuating our theme for 2015—namely, being late— we now celebrate February in March with our chief focus this outing on Black Comics and Cartoonists to commemorate Black History Month. (Is Milestone Comics returning?) But we also report on the shootings at Copenhagen and the pressures cartoonists in other countries are under and on a resurgence of censorship to avoid offensiveness. Plus we exhibit and appreciate of some of the best editorial cartoons of the month, and report on the first trophies of the Awards Season, the Brian Williams fiasco, ditto Bill O'Reilly, the Sun giving up topless Page 3 girls (and a rare look at a Sun topless comic strip). We also review Rasputin No.1 and the return of Casanova, we exhibit the first (1922) Pulitzer-winning cartoon, and we reprint our essay on the Meaning of Life.
So why are we late? Easy to explain. I started doing a review of Rick Marschall's Bully, the life of and cartoons about Theodore Roosevelt, got so interested in the subject that I spent a couple days rounding up other cartoons of the eminently caricaturable TR, and then, before I finished that, I remembered that the end of February marks the 90th anniversary of The New Yorker, one of the last bastions of cartooning in the country, and so I leaped into that, stumbling into a history of Eustace Tilley (the personage who appears on the covers of almost all the anniversary issues of the magazine). And by the time I'd finished that, I realized that if I included TR and Tilley, I'd have a 100-page Opus, far too long for me to expect anyone to read it. So I took those two items out (TR will show up in Opus 339 in late March/early April) and Tilley will be in Harv's Hindsight in a week or so.
Feeble excuse, I realize. So, without further ado, here's what's here this time, in order, by department—:
NOUS R US
Free Comic Book Day Growing
Thorne's Red Sonja Exhibit
Weird Al to Edit Mad No.533
Kickstarting Comic Book People 2
Return of Milestone Comics?
AWARDS
Trudeau Wins George Polk Career Award
KAL Wins Herblock Prize and Grand Prix Cartoon of the Year
Bennett Wins Berryman
NCS Announces Finalists for Cartoonist of the Year
Charlie Hebdo in Copenhagen: More Gunfire, Fewer Corpses
Lars Vilks the Target?
Cartoonists Pressured—
In Malaysia
In Morocco
International Meeting of Cartoonists Cancelled
NCS Says Je Suis Charlie
CENSORSHIP ON THE RISE
Gilbert Hernandez's Palomar
Texas Nixes "Offensive" Confederate Flag
Rift at Charlie Hebdo
RAMBLING THROUGH BLACK HISTORY MONTH
Tempus Todd and H. Weston Taylor
George Lee's Interesting People (of Color)
Bass Reeves, Western Lawman: Graphic Novel
Strange Fruit Explicated
BOOK MARQUEE
The Untold History of Black Comic Books
EDITOONERY
Some of the Best Editorial Cartoons of the Last 30 Days
Explication and Appreciation
THE FROTH ESTATE
Brian Williams Explained
Bill O'Reilly Incensed
An Essay on the Meaning of Life Itself
RANCID RAVES GALLERY
Rollin Kirby, Editoonist
Faux Newspaper Comic Strips From the Old Life
NEWSPAPER COMICS PAGE VIGIL
Symphony and Vulgarity in the Funnies
Luann's Thirty
GOSSIP & GARRULITIES
The Sun No Longer Topless on Page 3
But George and Lynne Are (A Rare Sun Comic Strip)
COLLECTORS' CORNICHE
Ahern and Our Boarding House and Its Sequel
FUNNYBOOK FAN FARE
Rasputin No.1
Casanova IV: Acedia 1
ONWARD THE SPREADING PUNDITRY
Why the Castro Bros Don't Like Us (U.S.)
And Other Scraps of Wisdumb
Our Motto: It takes all kinds. Live and let live.
Wear glasses if you need 'em.
But it's hard to live by this axiom in the Age of Tea Baggers,
so we've added another motto:.
Seven days without comics makes one weak.
(You can't have too many mottos.)
And our customary reminder: when you get to the $ubscriber/Associate Section (perusal of which is restricted to paid subscribers), don't forget to activate the "Bathroom Button" by clicking on the "print friendly version" so you can print off a copy of just this installment for reading later, at your leisure while enthroned. Without further adieu, then, here we go—:
NOUS R US
Some of All the News That Gives Us Fits
Free Comic Book Day (May 2, always the first Saturday in May) is only two months away and Scoop reports that comic book stores "are expecting high numbers of participants. They are so confident in growth of FCBD that they have broken records by ordering 5.6 million free comic books for the event, a 21% increase over last year's orders. The number of stores participating in the comic book holiday also increased with 2,340 participating in the US, Canada, and internationally, an increase of 8% since 2014."
■ An exhibition of the works of famed Red Sonja illustrator Frank Thorne will open March 7, 4:00-7:00 pm at Illustration House in New York, 34 West 27th Street, 4th Floor. Thorne will be there for the occasion, as will "Red Sonja incarnate—Bre Shanklin." The show will run March 9 - March 30, offering works for sale from the exhibition of over 70 pieces including not only Red Sonja but Thorne's creations—Ghita, Danger Rangerette, Lann, Ribit and Moonshine McJugs (from Playboy).
■ The next issue of Mad magazine (No.533) will be edited by Weird Al, upon whom last May the National Cartoonists Society conferred its A.C.E. Award (Amateur Cartoonist Extraordinaire), an award given to some hapless soul who had aspirations of being a cartoonist but made it big in another field. A lifelong fan of Mad, Weird Al has always wanted to be a contributor and now he is one—Mad's "first-ever guest editor!" as Al says on Twitter. According to Mad's press release, among Weird Al's many duties will be writing an introduction to the issue and picking his favorite Mad article for the Vault section. "Other ridiculous responsibilities are yet to be determined but will certainly do nothing to advance his career."
■ Jackie Estrada writes to say that she's in the middle of a Kickstarter campaign to publish a second volume of her book of photographs, Comic Book People; number 2 will include photographs from the 1990s. Says she: "It's mostly shots from the San Diego Con but also includes pix from other shows." She needs to raise over $7,000 by March 11 or 12. If you're interested, visit https://www.kickstarter.com/projects/1472315988/comic-book-people-2-photographs-from-the-1990s
MILESTONE COMICS RETURNS?
AdrenalineRush reported at the end of January that Milestone Comics may be making a comeback. Created in 1993 by Denys Cowan, Derek Dingle, Michael Davis and Dwayne McDuffie and marketed as an imprint of DC Comics, Milestone's titles were all about superheroes of African American, Asian or Native American descent and written by those of the same persuasion—and superlative stuff it was, not merely token diversity. For the relaunch, Cowan and Dingle have teamed with Reggie Hudlin, "Django Unchained" producer and sometime comic book writer.
The Washington Post said: "The team says it hasn't decided when Milestone will officially begin publishing new content, though Cowan hopes that the company will have new visuals to display at this summer's San Diego Comic-Con."
Apparently, the new line won't be coming out through DC.
Said AdrenalineRush: "Despite critical acclaim and gaining a cult audience, comic sales weren't strong enough and Milestone Comics folded in 1997, though Milestone Media continued as they co-produced the DC Animated Universe tv series 'Static Shock.' Milestone characters were introduced to the DC Universe in 2008, including Static joining the Teen Titans, while the 2010 miniseries Milestone Forever explained the Milestone Universe amalgamated to the DC Universe."
Of the original founders of the line, McDuffie died in 2011, and Davis has seemingly been left out of the impending revival. Although he was an active participant four years ago in discussions aimed at bringing Milestone back, he was either left out or opted out; hard to tell from the diatribe posted at bleedingcool.com.
He says he's been actively advocating a come-back for years, but in the last four years "the focus has changed, and those changes have made it impossible for me to be part of Milestone 2.0 at this time."
That, he implies, may change.
In the meantime, he goes on, "Milestone 2.0 is in three capable hands. What they are about to do will change the game just like the original Milestone did almost 22 years ago. Also just like the original Milestone, a great deal of the talent that will work on the new universe came out of my studio mentor program."
More Good News from the Washington Post: Textbook makers, bookstore owners and college student surveys all say millennials still strongly prefer print for pleasure and learning, a bias that surprises reading experts given the same group's proclivity to consume most other content digitally. A University of Washington pilot study of digital textbooks found that a quarter of students still bought print versions of e-textbooks that they were given for free.
Syndicated columnist Froma Harrop joins the chorus for print: "Paper still rules the soul," she writes. "That's why e-readers have barely dented the market for children's books. It seems that most parents don't want to read a bedtime story off a screen. They want their children to hold a book in their hands and play with the pages. Thus, digital versions account for only 5 percent of children's book sales. ... E-book sales in some adult categories account for five times that share." But that's only 25 percent—and only in "some" adult categories.
Harrop concludes: "It's been predicted that the paper books of the future will be better made and more treasured than today's typical pulp product."
That's already started. More effort goes into book design these days: books have become objets d'art, things to value for their appearance. Ask Chip Kidd.
Books are not on their way out.
And even the humble daily newspaper is still with us.
With its comic strips.
AWARDS
The awards season is upon us. Or about to be upon us. We have a report on the Herblock and Berryman award winners down the scroll, but first—:
■ Garry Trudeau, creator of Doonesbury who is currently devoting his energies to the Amazon Studios production of his political satire "Alpha House," has been announced as the recipient of the George Polk Career Award — the 33rd person to garner the honor, the Washington Post notes, but the first cartoonist to do so. "The Polk Award comes exactly 40 years after Trudeau's comic strip became the first comic strip to receive the Pulitzer Prize for Editorial Cartooning (for the feature's satirical commentary on Watergate)."
" He has cut political pretension down to the size of his Doonesbury comic strip for 45 years," saith prnewswire.com, adding (in italics):
The George Polk Awards are conferred annually to honor special achievement in journalism. The awards place a premium on investigative and enterprising reporting that gains attention and achieves results. They were established in 1949 by Long Island University (LIU) to commemorate George Polk, a CBS correspondent murdered in 1948 while covering the Greek civil war.
Reporters who risked their lives in 2014 to cover the Ebola epidemic, trace the rise of the Islamic State, and reveal secret ransoms paid for the release of hostages are winners of LIU's 66th annual George Polk Awards in Journalism. Additional honorees include reporters who uncovered systemic failure in two federal agencies, the Secret Service and the Veterans Administration, as well as journalists who exposed brutal treatment of prison and jail inmates.
Four other cartoonists—Jules Feiffer (1961), David Levine (1965), Jeff MacNelly (1977), and Edward Sorel (1980)—have also been cited for their work in specific years, but no cartoonist until Trudeau has received the Career Award.
On April 9, Trudeau will speak on the impact of comics in journalism. The talk, titled "Dangerous Lines: Cartoonists and Other Subversives," will spotlight comics and satire in the wake of the Charlie Hebdo massacre.
■ Kevin "KAL" Kallaugher of the Baltimore Sun and The Economist managed to win two awards in the last couple weeks: the 2015 Herblock Prize for Editorial Cartooning and, just before that, the 2014 Grand Prix for Cartoon of the Year in Europe as presented by Press Cartoon Europe. This distinguished cartoon is posted on the other side of the $ubscribers Wall.
The Herblock Prize is awarded annually by The Herb Block Foundation for "distinguished examples of editorial cartooning that exemplify the courageous independent standard set by Herblock." The winner receives a $15,000 after-tax cash prize and a sterling silver Tiffany trophy. The Grand Prix Cartoon of the Year winner receives a check for 8,000 euro (about $8,850) and a bronze trophy designed by Belgian graphic artist Ever Meuklen.
KAL's portfolio for the Herblock Prize "impressed the judges with his ability to jump between macro international policy issues to Baltimore mayor's stonewalling about the accuracy of its speed cameras. Like Herblock, KAL is a committed defender of civil liberties. His artwork, still traditional ink on paper, remains strong in his fourth decade of cartooning. He is a master of caricature. Whether single panel, circular, or multi-panel, his cartoons are clear, thoughtful, forceful and in the best tradition of Herblock."
Judges for this year's contest were Jen Sorensen, nationally-published political cartoonist and winner of the 2014 Herblock Prize; Sara W. Duke, curator of Popular and Applied Graphic Art at the Library of Congress; and Michael Rhode, archivist and author, commentator on comics for the Washington City Paper and creator of the ComicsDC blog.
Other awards KAL has won include the 1999, 2002, 2005 and 2014 Thomas Nast Award presented by the Overseas Press Club of America, and the 2002 Berryman Award presented by the National Press Foundation.
■ Clay Bennett, editoonist for the Chattanooga Times Free Press, has received the Clifford K. and James T. Berryman Award for Editorial Cartooning. The Award, established in memory of two celebrated Washington Star editorial cartoonists, father and son, is given annually "for work that exhibits power to influence public opinion, plus good drawing and striking effect." The winner receives a $2,500 prize and an engraved crystal vase.
In his remarks accepting the Berryman, Bennett admitted, tongue somewhat in his cheek, that his simple cartoon style (an example of which is displayed on the other side of the $ubscribers Wall, revealing that his so-called "simplicity" conveys symbolically an insight powerfully) was a consequence of his inability to draw.
He also said his forte lies not in being funny (as amply demonstrated, he said, by the speech he was giving). And he confessed that he can't do caricatures either (showing an image of a cartoon in which Obama appears and explaining, "That guy is Obama"). His sly implication was therefore that he was unqualified as an editorial cartoonist—except for having one of the salient traits of the breed: he has definite opinions. And he hopes by expressing them in simple, un-funny drawings to offer keen insight into current affairs.
■ Finalists for the National Cartoonists Society Reuben Award as cartoonist of the year 2014 are Roz Chast, whose graphic memoir about her parents' last years, Can't We Talk about Something More Pleasant, has resulted in a deluge of honors and recognitions (Kirkus Prize, National Book Critics Circle rcognition); Hilary Price (Rhymes With Orange comic strip) and Stephan Pastis (Pearls Before Swine comic strip). This is Pastis' seventh nomination and Price's second; for Chast, it's the first.
With two women cartoonists up, we might have a historic moment on May 23 in Washington, D.C, when this year's Reuben is finally conferred. Only two women (Lynn Johnston, For Better or For Worse, and Cathy Guisewite, Cathy) have collected a Reuben statuette in the Society's nearly 70-year history.
CHARLIE HEBDO ALL OVER AGAIN
In Copenhagen on February 14, a lone gunman opened fire in a cultural center, killing one person and wounding others, then went on to kill a Jewish security guard at a synagogue. It is widely supposed that the gunman, a 22-year-old Muslim born in Denmark of Pakistani parents, was inspired by the Paris slaughter on January 7 and 8. He apparently had the same agenda: his attack on the cultural center was prompted, apparently, by a seminar being held there on freedom of speech and expression, instigated by Lars Vilks, a cartoonist (he says) who made himself famous in the aftermath of the Danish Dozen by drawing Muhammad as a dog; and, like the second wave of Paris terror, the Copenhagen shooter assaulted a Jewish target.
Editoonist Daryl Cagle demured over Vilks' profession, pointing out that Vilks is not a cartoonist: "Vilks is a 'conceptual artist,"' Cagle said, "who had been known for building towers made of sticks before he took up the Prophet Muhammad-dog theme. Vilks studied art history and didn't train as an artist, as is clear to anyone who sees his terrible drawings. His most famous Muhammad dog drawing looks like he drew it in five seconds, on a napkin, with his eyes closed, and both hands behind his back. Unlike cartoonists who seek to have their work published, Vilks shopped around for galleries that were willing to hang his scribble on their wall – when one gallery agreed, the drawing made the news, and the art show was cancelled, but the news was enough to give Vilks new fame as the Prophet Muhammad dog 'cartoonist.'"
But the gunman would not have quibbled over such a distinction: Vilks had insulted the Prophet and therefore deserved to die. The seminar was also attended by a Swedish artist, Dan Park, who specializes in offending blacks, Jews, Catholics and Muslims, and the French ambassador to Denmark, who, being French like the cartoonists at Charlie Hebdo, was likewise deserving of murder.
Danish police tracked the gunman and during a shootout at a train station shot and killed him. Later, it turned out he had a criminal record, mostly for possession of firearms, and had probably, like the Charlie Hebdo killers, been radicalized while serving time in a prison.
Lars Vilks. According to Reuters, when Swedish artist Lars Vilks drew the Prophet Mohammad as a dog in 2007, the picture's aim was to challenge political correctness in the art world. After the sketch sparked an uproar in the Islamic world, Vilks admitted that he had been naive to think its effect would be limited.
Vilks, 68, published his Muhammad artwork in 2007, after the 2005 Danish cartoon controversy, and has been a repeated target since then, appearing on death lists of Islamist extremists. He receives round-the-clock police security, has been attacked in his home and at a university lecture, and was the target of a murder plot by a Pennsylvania woman known as "Jihad Jane."
The seminar, which Vilks organized at the cultural center, was meant to mark the 25th anniversary of an Iranian fatwa against British writer Salman Rushdie. During the fireworks, Vilks was whisked away to the safety of a cold storage room, and he has no doubt that he was the target.
"What other motive could there be [for the attack]?" he told Karl Ritter of the Associated Press.
Before 2007, Reuters said, "Vilks was a little known painter, sculptor and art theorist. That year, he drew three cartoons of Mohammad for an exhibition on dogs in art, to test whether the politically correct organizers would dare show them. They did not, citing security reasons."
"In art, it is said there are no longer any boundaries to cross," Vilks wrote at the time. "The little drawings made it possible to show that boundaries undoubtedly exist."
The rejection of his "cartoons" did spark a debate on free speech in Sweden, and several newspapers printed the drawings.
At the time—a year after the brouhaha over the Danish cartoons—Vilks thought all of that was "water under the bridge."
He continued as Reuters reported:
"What I expected was that my contribution would be a local event," he wrote. "But I was naive about this ... Wrong, the issue was very much on the agenda and remains so."
On his blog, Vilks has been critical of Islam, which he says "needs to be modernized," and has upheld the need to debate issues that the religion considers taboo.
But while the controversy over his drawings has gained him fame in his native Sweden, he says his career has suffered due to the security concerns among galleries and art institutions about exhibiting even work unrelated to Islam.
"Just meeting me or learning I am going appear somewhere creates waves of fear," he told Reuters last month. "They think the whole world will come storming over there and blow it all sky high."
"ONCE AGAIN, we are reminded there's a very brutal war going on right under our noses," Robert T. Russell, executive director of Cartoonists Rights Network International, told Michael Cavna at the Washington Post's ComicRiffs. "Many of the same questions will be raised that we all discussed after the Charlie Hebdo killings.
"Once again, we'll most likely come to the same conclusions: freedom of speech and the freedom to express one's self without fear of retribution continues to be the best pathway to a more tolerant world," continued Russell, whose Virginia-based organization is running a crowd-funding campaign to defend "the creative and human rights of cartoonists under threat throughout the world."
"My heart," Russell said, "goes out to the person killed in this attack in Copenhagen, and the family that will now try to cope with actions of people who only understand hate."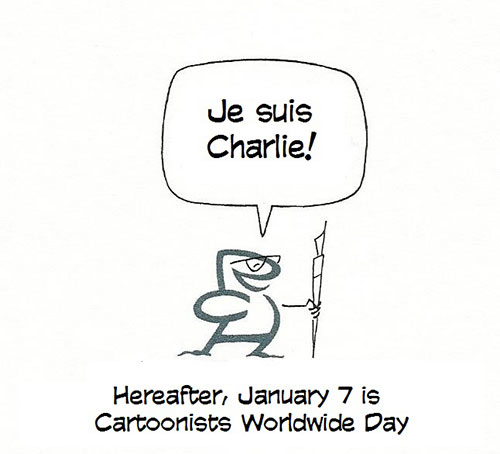 CARTOONISTS PRESSURED
Malaysian Cartoonist Jailed. Again.
Cartoonist Zulkifli Anwar Ulhaque (aka Zunar) was recently imprisoned for three days to await questioning over a tweet he posted suggesting that the Malaysian judiciary is corrupted by political or financial influence. Knowing his arrest was likely, Zunar posted the cartoon at your elbow, which shows Prime Minister Najib Razak handing down a "political sentence" to Anwar Ibrahim, the former Deputy Prime Minister, an outspoken opponent of Najib.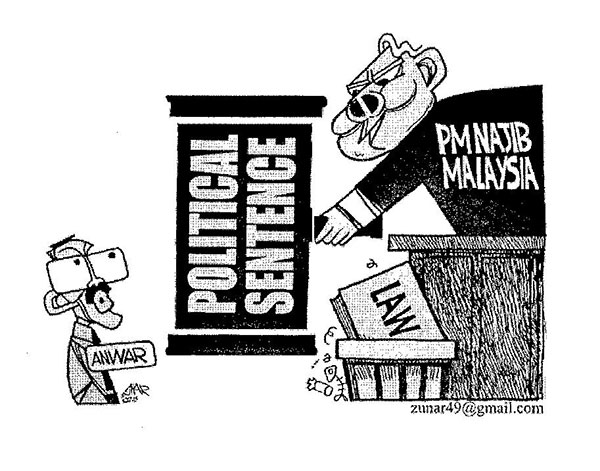 Maren Williams at Comic Book Legal Defense Fund reports that Zunar tweeted just after the sodomy conviction of Anwar Ibrahim was upheld in Federal Court. The conviction was internationally condemned, and Zunar's latest book of cartoons, The Conspiracy to Imprison Anwar, is entirely devoted to the case, which has dragged on for several years.
Williams continues: Shortly after the country's highest court ruled against Ibrahim, Zunar said via Twitter that "the lackeys in black robes are proud of their sentences. The reward from political masters must be plenty." Inspector-General of Police Khalid Abu Bakar pounced, retweeting Zunar's comment with the observation that "this person…wants action to be taken by [police]. PCIRC please detect and investigate." The acronym designates the Police Cyber Investigation Response Centre.
Before the latest sedition charge, Zunar was already under investigation for his cartoons. As we report here last time (Opus 337), just a few weeks ago police raided his office without a warrant while he was out of the country, seizing about 150 books. His current detention is just the newest chapter following years of government harassment and intimidation directed not only at the cartoonist himself, but also at his customers, employees, printers, and the retailers who dared to carry his books. He has cheerfully borne up under the pressure, insisting over and over that only cartoons can do justice to the government of Prime Minister Najib Razak.
To Learn about the Resurgence of Censorship under the Guise of Being Polite and Inoffensive, to See Examples of Black Cartoonists' Art Both Vintage and New, to Appreciate Some of the Best Editorial Cartoons of the Month, to See the First Editoon to Win a Pultizer, to Read Reviews of Rasputin No.1 and Casanova Iv: Acedia 1—and to Learn the Meaning of Life—and More (although what more do you need after knowing the meaning of life?)—Click Here if you are a member. If not...
SUBSCRIBE TODAY!
Just $3.95/quarter after $3.95 introductory month
$ubscriber/Associates: To Continue reading please CLICK HERE
To find out about Harv's books, click here.