Welcome to the webbed and wired edition of R&R, aristotle. We'll be doing the same sort of song and dance here as we do in print: reviewing the latest comics and cartoon-related books and ranting about trends and abuses and unfathomable foolishnesses. Each installment will stay here for about four weeks, with a new one coming in just about every other week or so. If you don't have the time to ponder every punctuation mark in this deathless prose and merely want to see what might be there that would interest you, we suggest you scroll down the page looking for the bold-face type that heralds the notables who reside herein this week. So here we go with Opus 371 (and a reprise of Opus 370b):
Opus 371: Rocky Mountain Comic Con, Hef Dies, the Month's Editoons & Dr. Seuss, America First, and Racial Controversy (October 17, 2017).
Opus 370b: Cartoons Debut at Esquire, Graphic Novels at Libraries, Archie's New Comics, Savage Dragon Still Savaging, Reed Crandall Biog, Jefferson MacHamer & Spectacular Sisterhood of Superwomen (September 11, 2017).
Opus 371 (October 17, 2017). We did it again: we ran off at the mouth to great length, longer than anyone could be expected to wade through. So, ever solicitous of our faithful readers' well being, we cut it all in half, and jammed into this posting all the most topical stuff, the news— Hugh Hefner's death, Schulz home burns but Museum is okay, Rocky Mountain Comic Con, Pepe fighting back, The New Yorker's "what if" cover, editoons of the turbulent month, and a long segment sparked by the 113th annivesary of Dr. Seuss's birth, including his anti-America First stance in WWII political cartoons, the new Seuss Museum and the accompanying controversy from Right Thinkers. Next time—within days, kimo sabe—we'll do a passel of reviews, just to keep you thoroughly up-to-date. Meanwhile, here's what's here, in order, by department—:
NOUS R US
Schulz Home Burns, Museum Okay
Hugh Hefner Dead at 91
New Home for San Francisco Cartoon Art Museum
Sean Spicer at the Emmys
REPORT ON THE ROCKY MOUNTAIN COMIC CON
The New Yorker's "What If" Cover
Pepe Fights Back
Malaysia Bans Another Zunar Book
Zunar's Statement
Another Cartoonist Behind Bars Overseas
Odds & Addena
Superman Fights Dr. Manhattan
Archies No.1
Tribune Tower Dethroned
American Barbarella
EDITOONERY
The Latest Antics
My Rant on Gun Laws
Happy Birthday Dr. Seuss
A Poem
Seuss the Political Cartoonist & America Firsters
Seuss Museum Opens
—Amid Right Thinking Controversy
QUOTE OF THE MONTH
If Not of A Lifetime
"Goddamn it, you've got to be kind."—Kurt Vonnegut
Our Motto: It takes all kinds. Live and let live.
Wear glasses if you need 'em.
But it's hard to live by this axiom in the Age of Tea Baggers,
so we've added another motto:.
Seven days without comics makes one weak.
(You can't have too many mottos.)
And our customary reminder: when you get to the $ubscriber/Associate Section (perusal of which is restricted to paid subscribers), don't forget to activate the "Bathroom Button" by clicking on the "print friendly version" so you can print off a copy of just this installment for reading later, at your leisure while enthroned. Without further adieu, then, here we go—:
NOUS R US
Some of All the News That Gives Us Fits
PEANUTS MUSEUM ESCAPES WILDFIRE
But Charles Schulz Home Is Burned To the Ground
Santa Rosa was hit by some of the wildfires spreading through northern California, but its famed Charles M. Schulz Museum and Research Center was spared. The Museum closed, however, due to lack of power caused by the fires. "We do not know at this time [October 11] when we will reopen," said Tracey Pugh, the marketing director. "We will be updating our social media and website with this information as we have it."
Unhappily, the home of Peanuts creator Schulz burned to the ground. His widow, however, escaped, her stepson told the Associated Press. Jean Schulz, 78, fled her home at about 2 a.m. Monday, October 9, and is now staying with family, said Monte Schulz.
"It's the house my dad died in," he went on, "—all of their memorabilia and everything is all gone. Stuff from my dad and their life together, all gone. That time of our lives is now completely erased.
"She is very resilient," he about his stepmother. "She is energetic and pragmatic and very tough."
His father had long-standing ties to Santa Rosa and to Sonoma County. He and his first wife, Joyce, built a home in the city of Sebastopol in 1958. The airport in Santa Rosa Airport is officially titled the Charles M. Schulz - Sonoma County Airport and features bronze sculptures of the Peanuts characters. Its logo is Snoopy flying on top of his doghouse.
HEFNER DIED. IN HIS BED, OF COURSE
Hugh Hefner died on Wednesday, September 27. He was 91. Celebrated as the founder of Playboy magazine, which, with fold-out photos of barenekkidwimmin, revved a cultural revolution that freed the sex lives of Americans from their Puritan bondage, Hefner was a wannabe cartoonist whose magazine showcased and advanced the art of the single-panel magazine cartoon, publishing full-page cartoons in sumptuous color. His departure from this vale of tears was, gratifyingly, heralded by many cartoonists (albeit of the political ilk), once potential colleagues.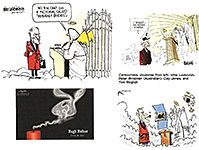 Although Hef (as he was known) appeared in a dapper suit when hosting his Playboy tv series, he was most often photographed wearing a silk robe and pajamas, which everyone supposed meant that he was taking a brief respite from canoodling with one (or more) of the several voluptuous women he kept on hand at the ready in the Playboy Mansion, enjoying an enviable if adolescent life style. But the real reason he was in his pj's was that he was so eager to get to work in the morning when he arose that he didn't bother to get dressed. Hef was a workaholic, and he often didn't go to bed at all. If he could stay awake for 24 hours to edit his magazine, he would. Sometimes, fueled by dexedrine and Pepsi Colas, he made it to 40 hours straight.
In other words, the nation's foremost exemplar of a life of "play" actually worked all the time and seldom "played."
Before he thought of publishing a magazine, Hefner aimed to be a cartoonist. He drew cartoons in high school and in college at the University of Illinois, where he also edited an issue of the off-campus humor magazine, Shaft, espousing the liberating ideas about sex upon which Playboy was founded. All through his youth, he drew an autobiographical comic book, and after college, he published a book of his cartoons about life in Chicago, That Toddlin' Town.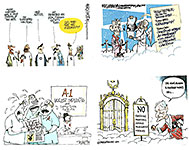 Hefner wanted cartoons to be a major component in Playboy, saying: "I once commented that without the centerfold, Playboy would be just another literary magazine. The same can be said for the cartoons. Playboy's visual humor has helped to define the magazine."
He was a keen student of the cartoon medium and therefore a superlative editor of them. Cartoonists published in Playboy all spoke of the excellence of his insightful editorial guidance.
In 2016, Hef, still active in editing the magazine he founded, and his editors, hoping to compete with a growing number of laddie magazines and realizing that the Web offered more pictures of naked ladies than Playboy could ever hope to cram into its pages, eliminated unabashed female nudity from the magazine. (See Opus 349 for details.) That didn't last long: within a year, naked wimmin were back, sashaying through the magazine's pages in unadorned splendor as of yore.
The new regime that published pictures of artfully draped rather than naked ladies also decided Playboy no longer needed cartoons and stopped publishing them. Alas, cartoons did not return to Playboy with the nudes.
With his magazine no longer publishing cartoons, we could say, with some poetic justice, that Hefner's life had lost its original meaning. And so he stopped living.
At the notice of Hef's death, the supermarket's most energetic tabloid, the National Enquirer, leaped forward with a bushel of scandalous factoids about him and his supposed last days. "In life," asserted the newspaper, "Hugh Hefner knew a million lovers and rarely—if ever—slept alone. In death, he was a bankrupt and wrinkled recluse, withered to a skeletal 90 pounds, and cut off from even those he most loved."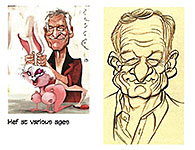 The Enquirer claimed inside knowledge about "the tortured final days of America's most legendary Lothario. The end, by any account, "was nothing like the life Hef lived" according to "a Hollywood insider.
"He lived in shocking, urine-soaked squalor. He had to be lifted into and out of a wheelchair. Hef was desperate to hide his true condition. He wanted so badly to have his memory preserved as the swashbuckling playboy he was in youth... the virile stud with millions of hot girlfriends.
"The truth is he became a modern-day Howard Hughes—alone, refusing to see guests, his fingernails overgrown, his breath a putrid stench, the air around him suffocating and musty."
The official cause of death was cardiac arrest. But the Enquirer reported that he was "cancer ravaged."
In short, the Enquirer was having the time of its life making up stuff about the man the tabloid doubtless idolized for a satyric lifestyle that might've crammed the paper with juicy copy for years. But didn't.
In our next Hindsight, we'll do a lengthy biography of the man and his adventures with the magazine he invented. We'll shoot for something less sensational than the Enquirer's raison d'etre, something approaching verifiable fact. In the meantime, you could visit Harv's Hindsight for September 2008, wherein we examine Hef's life with cartoons in the college magazine he briefly edited and in the early years of Playboy.
THE MUSE HAS A NEW HOME
The Cartoon Art Museum of San Francisco, which lost its lease a couple years ago, has a new home. It's signed a 10-year lease in a historic building at 781 Beach Street overlooking San Francisco Bay, a short walk from Fisherman's Wharf. A block or so in one direction is Ghirardelli Square; about the same distance in the other direction—at the corner of Beach and Hyde streets, where the Powell Street cable car turnaround is situated—is the BeeVee, the Buena Vista, where, according to vintage rumor, Irish coffee was invented and is still being purveyed. One of the things I never miss doing when in town is taking the cable car up Powell and Hyde to the BV, where I always have a few Irish coffees. More than I should.
The new digs boasts a state-of-the-art gallery with movable walls, a screening area, classrooms, an education center and library, storage facilities for its permanent collection of 7,000 original pieces of art, and the Museum bookstore with storefront visibility and interior access from the museum lobby as well as offices for the Museum's staff.
Founded in 1984, the Museum is now the oldest cartoon museum in the country. Having raised $950,000 of the $1,100,000 needed for its new home, the Museum re-opened a few weeks ago; the fund-raising campaign is now open to the public. For more about how to donate, visit the Museum website, cartoonart.org. In case you're wondering why I'm devoting all this energy and visibility to this facility and this campaign, you should know that I'm on the Advisory Board. But they don't pay me, and my personal fortune is not at all affected by the fund-raising.
Comedy at the Emmys
THE BEST PART, indubitably, of the Emmy show in mid-September was the surprise appearance of former Trumpet press secretary Sean Spicer. Emcee Stephen Colbert took a moment towards the beginning of the show to wonder aloud just how large the Emmy audience was. "Can anyone tell how large it is?" he wondered.
In answer to his ponder, here came Spicer, wheeling a podium in front of him, a jovial mimic of Melissa McCarthy's "Saturday Nigh Live" mockery of Spicer. Spicer then answered Colbert's question: "This will be the largest audience to witness an Emmys—period," he shouted with undeniably authority. "Both in person and around the world," he finished, echoing his claim that the Trumpet's inauguration crowd was the biggest ever.
I thought it was great. Spicer participating in—perpetrating!—a joke about himself
But almost at once, some Sensitive Souls voiced disapproval. Giving Spicer a moment at the Emmy show was effectively giving approval to the lying he customarily did from that podium when he was the Trumpet's press secretary. He lied at the behest of his boss, but whether his lies were presidential or not, he lied nevertheless.
Well, phooey. Anyone who appreciates comedy—anyone but the Sensitive PC Souls wringing their sensitive hands—had to love the moment. Spicer proved he can laugh at himself—something no Sensitive Soul can do. And Spicer's satirical treatment of himself confirms that he knew he was lying at the time he lied about the Trump inaugural audience. And probably about a lot of other things, too. But I still admire his self-deprecating sense of humor. Sensitive Souls should try it sometime.
ROCKY MOUNTAIN CON
The crowd was thin at the Rocky Mountain Comic Con, held at the Crowne Plaza near the Denver airport September 29 - October 1. Denver now can boast of three so-called "comic conventions": the Denver Comic Con, usually held in June, DINK (Denver Independent Comic and Art Expo, celebrating independent and alt comics and art culture) in April, and the Rocky Mountain Con in the fall. The RMC bills itself as being about comics, gaming, anime, toys and sf. Perhaps attendance was light because it casts too large a net, and no one knows what it's really about. But I doubt it: the other two cons aim in about the same direction. Vendors looking up and down mostly empty aisles, however, think the RMC didn't advertise enough, depending upon its website rather than promoting through local print media.
Artists Alley was essentially a craft show; and toys were the chief manifestation in the booths. At least three local comic book stores were on hand, but comics weren't the attraction. Action figures were.
My table was the first table inside the entrance—books about cartooning and a standing offer to caricature interested parties. But there appeared to be no parties interested in cartooning: most attendees walked by my table without giving it a glance. They were looking for something other than comics. We have photos on the Other Side of the Wall.
Jim Steranko was the Big Name guest. Other guests included cast members of the new Star Trek, none of whom is familiar to me, so I went over to talk with Steranko. On Saturday, a line of admirers formed at his table; on Sunday, almost no one was there. Thinking on Sunday that I'd not be denying a devotee a moment with his idol, I walked up and introduced myself. He greeted me as if we were long-lost cellmates even though we've never worked together or, even, met. He may have been remembering (though I doubt it) a spoof I did decades ago about a feature he was running in his magazine, Mediascene. I've posted the spoof on the Other Side.
Somehow, I'd learned his address and sent him a copy of my lampoon. He responded with a note and a simple declaration: "I prefer my girls shaved." You have to see my girls to get the quip (although you can probably guess what prompted his remark).
At his table at the Con, I asked him what he was doing these days, and he showed me several covers he'd done for Marvel. And he dabbles in tv and movies, just as he always has —helping to crank up layouts for publicity and the like.
I'd started us off by saying that he was a year younger than me (which is true: he was born in 1938), so some of our conversation was about aging. He said he feels 25. His personal and professional life is packed, he said.
He has only one physical complaint: in his youth, he'd been quite a gymnast, and he'd damaged the rotator cuff of one shoulder while working out on the rings. I said my doctor had told me my shoulder pain was likely a damaged rotator cuff—and did I want surgery? No, I said.
But then, I told Steranko, the pain eventually went away.
"Cured itself?" he exclaimed.
"Right," I said.
"I want a blood transfusion," he said, grabbing my arm.
I HAD A GOOD TIME at RMC. Didn't sell much, but on Sunday I talked with several aficionadoes. Bob Hall was there. His I, Joker, which he wrote and drew, is a masterpiece of a comic book; I reviewed it in May 1999, in Opus Two (and if you venture back there, you'll see why I call it a masterpiece). We talked about what he was currently doing. He'd spent 15 years honchoing a Shakespeare festival in Lincoln, Nebraska at the U. of Nebraska, and he described his present occupation as "looking for work." Which is the same as saying that he's working as a commercial artist.
I met Andy Broome from Dallas, who had chanced by accident upon the RMC. He'd come to Denver for a gaming convention being held at the same time in the same hotel. He was on his way to Leadville, Colorado, where he was going to interview Ted Mullings, a cartoonist who for 40 years had done a cartoon feature for the Climax mining corporation. I'd never heard of Mullings, but I'm now looking forward to seeing Broome's article in a forthcoming Hogan's Alley. Mullings' cartoons have been collected, though, in a paperback named Climax.
And Mark Clegg dropped by and showed me a copy of his vintage fanzine, Dragon's Teeth (No.1, Summer 1983), for which he'd secured the services of Alex Toth and other notables of the day. All in black-and-white, but Toth is always a treat, and his black-and-white treatment is superlative to any other as you can readily tell from the sample pages posted on the Other Side.
One of the most memorable events of the Con, however, took place at the table right behind mine in Artists Alley. There a nine-year-old boy named Bruce was drawing pictures of assorted monsters and heroes of his own devising and selling them. Judging from the sample posted on the Other Side (for which I paid $15), he's on his way to being a comic book artist. I had to ask him to sign it; he hasn't yet outgrown juvenile anonymity even if he has acquired an entrepreneurial sense of values. ... To See Bruce's Work, the New Yorker's Vanished Cover, the Latest Political Antics as Skewered by the Nation's Editoonists, My Rant on Gun Laws, and Dr. Seuss's WWII Editorial Cartoons Jabbing America Firsters and the Controversy Prompted by the Opening of the Seuss Museum— and More, of course, Much More— To Witness It All, Click Here
SUBSCRIBE TODAY!
Just $3.95/quarter after $3.95 introductory month
NOTE: You can gain temporary access to this posting (and all the rest of this website)
by paying the trial month fee of $3.95 (which is about what the
New York Times used to charge for a single print-out).
$ubscriber/Associates: To Continue reading please CLICK HERE
To find out about Harv's books, click here.