Welcome to the webbed and wired edition of R&R, aristotle. We'll be doing the same sort of song and dance here as we do in print: reviewing the latest comics and cartoon-related books and ranting about trends and abuses and unfathomable foolishnesses. Each installment will stay here for about four weeks, with a new one coming in just about every other week or so. If you don't have the time to ponder every punctuation mark in this deathless prose and merely want to see what might be there that would interest you, we suggest you scroll down the page looking for the bold-face type that heralds the notables who reside herein this week. So here we go with Opus 374, Part Two (and a reprise of Opus 374, Part One):
Opus 374, Part Two: December's Editoons, Doomsday Clock & A Seminar on Sexual Harassment (January 3, 2018).
Opus 374, Part One: Christmas Shopping List of Book Reviews (10), the Legal Status of "Comic Con" & Ben Garrison Rogue Editoonist (December 22, 2017).
Opus 374, Part Two (posted on or about January 3, 2018). It's 8 a.m. on New Year's Day here in Denver, as good a time as any to begin the new year. We didn't stay up late last night: turned in just after 10 o'clock, when we watched the televised ball-drop in Times Square where it was two hours later—midnight. That's how the holidays end here at Rancid Raves: they end with the end of the year. We put our Illinois daughter on a plane to Chicago in the late afternoon; our Denver daughter, the attorney, is in Washington with her husband and our ten-year-old grandson, who, earlier in the week, had expressed a desire to see the museums in our nation's capital. His usual preoccupation is as goalie on his soccer team, so a passion for museums is something new. He pronounced the National Air and Space Museum the best he'd ever seen. Back here, we'll start taking down the Christmas decorations today—the tree, the wreaths, the holiday knicknacks, the little ceramic Santa Clauses, the tiny creche with an angel rubber-banded to the roof. Oops: gotta go—the Rose Parade is beginning.
NEW YEAR'S DAY is traditionally a time for reflecting on the immediately preceding year as well as contemplating the future twelve months. Looking backward and looking forward. There's not much to see looking forward: we can't know what's there. We spend most of our lives in the past, so we'll spend this opus looking back.
The emphasis here in Part Two of Opus 374 is on editorial cartoons; in the interest of saving your time, we postponed that department last time, focusing instead on book reviews. Editoonery brings us into contemporary life, the immediate past of it, with over 40 cartoons to examine wherein we find the usual scalawags, starting with the Clown in Chief, who failed to be Time's Person of the Year this year. We examine his antics and the machinations of Time's choice by way of making a cursory review of the year. And we take a look at the first issue of DC's imitation Watchmen, the long awaited Doomsday Clock.
But most of this posting—30% of it—is devoted to an examination of rampant sexual harassment that has emerged in every corner of American life since the expose of Harvey Weinstein's masturbatory habits last month. We see how editoonists have handled the issue, so to speak (sorry), and then we have a seminar on the subject with essays by William Falk (Editor-in-Chief of The Week), Megan McArdle (at Bloomberg.net), Liza Donnelly (New Yorker cartoonist), and Lili Loofbourow (at The Week), who offers 8 questions we need to ask ourselves. But the longest segment is mine, where I grieve over the fates of Al Franken and Garrison Keillor, wondering whether we didn't act just a little too fast with these guys. Not that they were sinless; but their sins, compared to Charlie Rose's and Matt Lauer's, were not so great. But not before we wish you a happy new year.
For that purpose, I've appropriated a wonderfully nonsensical Sunday 9 Chickweed Lane and a couple drawings of Dunstan Barswig, the campus tippler from my youth, who celebrated New Year's Eve all year long, all day long. Those who see an uncanny resemblance between me and Dunston are not far wrong.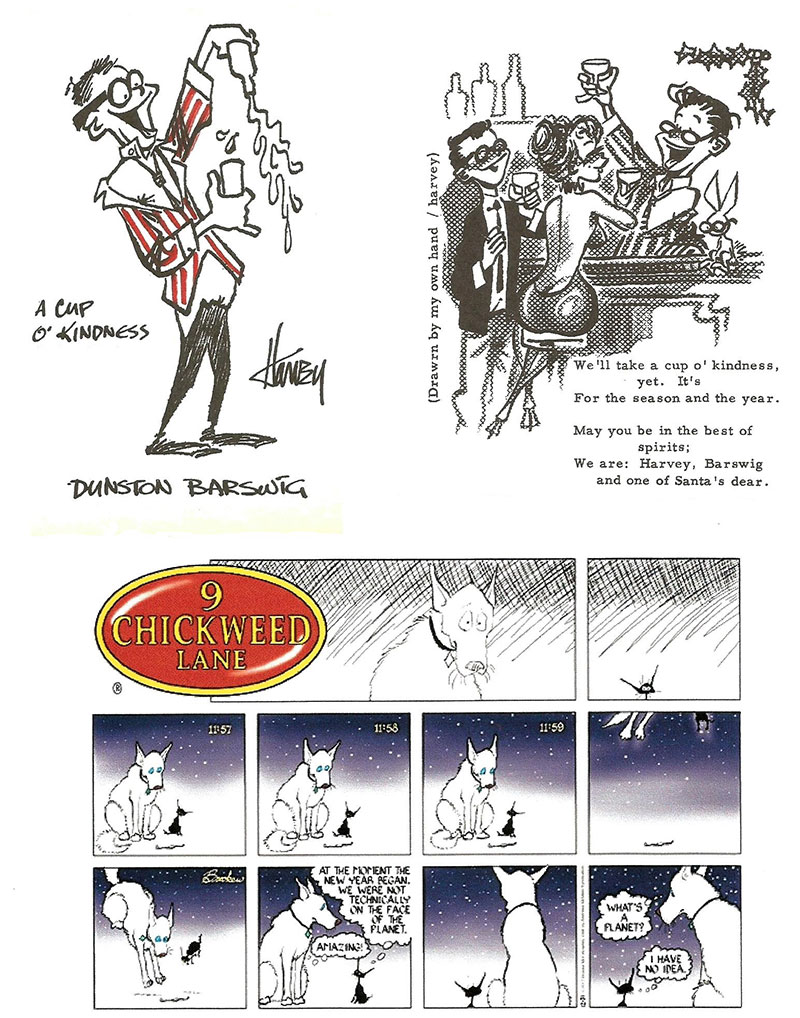 And now, our customary prediction: here's what's here, in order, by department—:
NOUS R US
Watterson Ripped Off
Head Turkey Goes After Cartoonists
Eaten Fish Freed
Archie, Deadbeat Publisher? Nah.
Dilbert's Dad Is a Trumpist
Archie to Publish Dick Tracy
Happy 95th Stan, from Roy Thomas
Alarm from Southern Poverty Law Center
Sexual Harassment in the Funnies
Odds & Addenda—:
Humor Times Is 25; Sub Info
Mort Walker Broke Hip
The Trump Year at The Nib
FUNNYBOOK FAN FARE
Review of Doomsday Clock
EDITOONERY
Over 40 Editoons of the Past Month Examined
Time and the Person of the Year
Cartoons on Sexual Harassment
HE SAID, SHE SAID
Harv's Cry of Alarm
The Harvey Girl and Rubens
THE FROTH ESTATE
Fake News by William Falk
NEWSPAPER COMICS PAGE VIGIL
Quick (and Mercifully Short) Survey of Taboos and Turnouts
CALLING THEM LIKE THEY ARE
USA Today Says Trump Not Fit for Office
—A List of His Misdeeds and Delusions
RANCID RAVES GALLERY
Hellboy's New Role
ONWARD, THE SPREADING PUNDITRY
Seminar on Sexual Harassment
QUOTE OF THE MONTH
If Not of A Lifetime
"Goddamn it, you've got to be kind."—Kurt Vonnegut
Our Motto: It takes all kinds. Live and let live.
Wear glasses if you need 'em.
But it's hard to live by this axiom in the Age of Tea Baggers,
so we've added another motto:.
Seven days without comics makes one weak.
(You can't have too many mottos.)
And our customary reminder: when you get to the $ubscriber/Associate Section (perusal of which is restricted to paid subscribers), don't forget to activate the "Bathroom Button" by clicking on the "print friendly version" so you can print off a copy of just this installment for reading later, at your leisure while enthroned. Without further adieu, then, here we go—:
NOUS R US
Some of All the News That Gives Us Fits
WATTERSON IS RIPPED OFF IN AN ENTIRELY NEW WAY
Mutant Snowman is a unique, 7.6% ABV holiday kettle sour with cranberry, orange and hibiscus from Track 7 Brewing Company, but, says Jim Vorel at pastemagazine.com, what really caught his eye was the label. He says it "refers" to an episode in Bill Watterson's iconic Calvin and Hobbes in which Calvin creates and brings to life murderous "snow goons." More like, it rips off Calvin's creation. And Watterson's.
Vorel thinks "it's a clever, loving little tribute to one of the most inspiring strips to ever hit the Sunday funnies. We'd like to think that even author Bill Watterson, notorious for his desire to never see Calvin and Hobbes commercialized in any way, would hopefully approve of seeing his creations evoked in such a playful and zany way. And while I'm at it, here's hoping he'd also approve of the couples costume worn by the author of this post and his girlfriend this year." (In our customary perverse maneuver, we have illustrations on the Other Side of the $ubscribers Wall.)
I suspect Watterson is too busy to worry much about a beer company copying an inconsequential "character" from his strip. But he could presumably sue over it. Probably won't. Probably won't sue Vorel and his girlfriend for dressing up like Calvin and Hobbes either. But since Vorel knows Watterson's objection to merchandising his characters, I'm surprised Vorel is so enthusiastic about the beer label. Sort of disrespectful I'd say, especially when he sees Calvin and Hobbes as "one of the most inspirational strips to ever hit the Sunday funnies." Hmm. It was daily, too, Jim.
THE HEAD TURKEY OBJECTS
Turkey's President Recep Tayyip Erdogan, who has ingratiated himself as a dictator eager to suppress freedom of the press and its associated freedoms (speech, expression), has it in particularly lately for two cartoonists, who, together, have posted online a total of 12 cartoons mocking him. Erdogan's lawyers have obtained court orders demanding that Twitter remove the cartoons, reports Maren Williams at Comic Book Legal Defense Fund (CBLDF). Twitter has not yet taken action on the orders, which target 11 panels by Brazilian cartoonist Carlos Latuff and one by Dutch cartoonist Ruben Oppenheimer.
Both Latuff and Oppenheimer received notification from Twitter on Sunday that it had been court-ordered to remove their work. The 11 cartoons by Latuff, a frequent Erdoğan antagonist and target, mostly concern Turkish policy in Syria and its purported benefit to ISIS. The single work by Oppenheimer, on the other hand, apparently concerns the very sort of manipulation of social media sites that Erdoğan is trying to apply here. The cartoon shows the president sodomizing Twitter's bird mascot, under the caption "Erdoğan is not a goatfucker." (We have illustrations on the Other Side of the $ubscribers Wall, dontcha know.) The same cartoon was removed from Facebook last year without any need for a court order, when moderators decided that it violated the site's guidelines.
Both Latuff and Oppenheimer have said that they have no intention of voluntarily removing their work from Twitter. The notification letter sent to Oppenheimer indicated that the cartoonist himself was also welcome to contest the order through the Turkish court system. Given that Erdoğan has purged about a quarter of the country's judges since the coup attempt last year, critics of his government certainly cannot be assured a fair hearing.
In his defiance, Oppenheimer even reposted his cartoon with a comment: "So this is the cartoon Erdogan wants to make disappear from Twitter. Is it very silly if I now make a call to massively share it again?"
He also went on to post images of the court order and said: "Christmas came early this year! And in the form of a court order on behalf of my Great Goat-eating friend Erdogan."
EATEN FISH FREE AT LAST
After four years in a detention camp, cartoonist Ali Dorani (aka Eaten Fish) has been released. The young Iranian cartoonist has been the focus of international attention on his plight and the deplorable conditions in Australian-run refugee camps on Manus Island, Papua New Guinea.
Here are excerpts from the ICORN press release on this breaking news—:
"I have left PNG," Dorani said. "It was a long journey but I am safe now. I am thinking about my friends in Manus Island and Port Moresby. Thank you to my supporters and people who worked to make this journey happen." (We have his self-caricature on the Other Side of the $ubscribers Wall.)
Dorani, known under the pen name Eaten Fish, has arrived safely in a city of refuge through the ICORN program, after spending the past four years in the notorious offshore detention camp for refugees on Manus Island, PNG. His cartoons are well known internationally and have become the image of life on Manus Island.
Dorani left Iran in 2013, arriving on Christmas Island by boat on August 6 that year, seeking asylum. He took the pen name, Eaten Fish, after he was pulled from the ocean on his way to Australia.
Dorani was transferred to Manus Island in January 2014, and started cartooning, documenting the harsh conditions and ill treatment of the asylum seekers in the detention camp. His cartoons are published extensively in online media including The Guardian, Washington Post, ABC news, and others.
Dorani's situation has been the concern of Cartoonists Rights Network International (CRNI) and other human rights organisations who have advocated intensively for his release and fair treatment, alongside internationally renowned cartoonists.
In 2016, CRNI conferred on him the Courage in Editorial Cartooning Award, for keeping up a stream of cartoons documenting the unspeakable abuses and excesses in the camp.
On December 16, Dorani left Papa New Guinea and arrived in a safe city in the International Cities of Refuge Network (ICORN) program.
Elisabeth Dyvik, Programme Director of ICORN says in a statement to the press: "We are relieved that Eaten Fish has arrived safely in a city of refuge where he is free to pursue his career as a cartoonist. ICORN could not have organised this residency for him without the assistance and tireless work of a group of dedicated individuals and organisations, such as Bro Russell, Director of Cartoonists Rights Network International (CRNI); poet and activist Janet Galbraith, and cartoonist Andrew Marlton (better known as First Dog on the Moon). ICORN would also commend the city of refuge that has invited him to be the city's ICORN resident for the next two years."
ARCHIE ISN'T, REALLY, A DEADBEAT PUBLISHER
But Archie Comics owes Kappa Printing Group over $900,000 for the printing of comic books, coloring books, and other publications, saith Rich Johnston at bleedingcool.com. Kappa, which bought Vanguard Graphics and the Archie debt, has brought a federal complaint against Archie. When we get beyond the headlines, though, it's a lot more complicated than that. Johnston explains—:
The paperwork states that Archie signed a credit deal with Vanguard Graphics for printing services back in 2015, with a limit of $400,000, and between then and June 2017, was invoiced for $921,309.65. However, despite significant late fees, it appears not to have been paid. Vanguard sold the debt to Kappa in September. Archie has since paid $44,899.83 to Vanguard, reducing the amount owed to $876,409.82.
With interest and agreed late fees, the current sum owed is $954,592.31. Kappa states that Archie has told them, "We will work this out." Kappa is seeking payment of the full sum, collection costs, and legal fees.
Now, here's where it gets interesting: Nicholas Karabots had a large stake in Kappa. He also owns, or has a large stake in, Kable Distributors, a long-standing and historically important pulp books/comics/magazine distributor that handled Archie's newsstand business.
That is, Kable handled distribution until it went out of business, with little notice, about two years ago around this time of the year. And Kable apparently still owes Archie more than enough for Archie to pay off the Vanguard debt— around $1.2 million.
The result is that this situation is part of some internecine debate over who owes who what for how much. Archie is arguing that the Kappa debt should be covered by the debt that Kable still owes them. Kappa argues that the debts should be separate.
And as Kable is pushed into Chapter 7 bankruptcy by many creditors, including Archie, it is more and more unlikely that Archie could get any of that money back — unless they can get out of paying the Vanguard debt and lump it into the same situation.
But then, wouldn't Kable's other creditors also want a slice of that pie? Maybe Pops can whip up another…
DILBERT'S DAD IS A TRUMP FAN
"The country needed to be broken before it was fixed. The government had just been ossified," says cartoonist Scott Adams. "And I thought, at the very least, Trump was going to break it. So I did favor somebody as a destroyer — a destroyer of all the ways we used to think. And what's different about the way I approach this is that I have very high confidence in Americans as a group to break stuff and fix it. It's what we do best."
Interviewed by Chuck Barney at mercurynews.com, Adams said: "I'm at a weird stage in my life where I have fuck-you money. So I can do things that other people simply can't do because of their economic reality. … In my opinion, understanding Trump as a technique is insanely important. You can see that a lot of people don't understand it as technique, and they are frightened to death."
And while the Dilbert creator certainly acknowledges the widespread fear, he is convinced that a president of Trump's ilk was what the the nation needed — and that the American public will be able to rein him in, if needed.
Adams, a trained hypnotist and a "lifelong student of persuasion," was one of the earliest public figures to predict Trump's victory, said Barney. On August 13, 2015, he declared in his blog that the Republican candidate had a 98 percent chance of winning. Just a week earlier, highly acclaimed political forecaster Nate Silver put Trump's chances at 2 percent.
"I was one of the very few people who got it right," Adams said. "And even among the small universe of those who got it right, most were wishful thinkers, whereas I was showing the mechanism under the hood."
In his latest book, Win Bigly: Persuasion in a World Where Facts Don't Matter, Adams
"goes beyond politics to examine tools of persuasion that can work in business settings and elsewhere. People, he writes, are generally more influenced by 'visual persuasion, emotion, repetition, and simplicity than they are by details and facts.'"
The media and all of punditry argued about the impracticality of Trump's wall at the Mexican border, but by harping on the wall—and ignoring construction and funding facts— Trump appeared to be the strongest voice on immigration.
Adams styles himself as an "ultraliberal" — one who isn't beholden to any party. "Still, he has spent much of the past year mostly admiring Trump via blog posts and tweets. Last month, Barney writes, Adams issued a 'report card' that gave the president a grade of 'A' in areas such as fighting terrorism, the economy and jobs, but an 'F' for race relations."
"I believe he's not a racist," said Adams, "but at the moment he's done more wrong than right (in this area). One hopes he can fix that."
Win Bigly, however, mainly focuses on the presidential campaign, during which Adams came to believe that Trump ranks as the most powerful persuader he has ever observed — atop a list that includes Steve Jobs, Barack Obama, Bill Clinton, author Peggy Noonan and … Madonna?
"When you see someone perform far beyond what you imagine their talents should get them, there's usually another layer going on," he says of the pop singer. "She's reinvented herself so many times. She seems unstoppable."
Over the past year or so, Barney reports, Adams has done some reinvention of his own — "going from a largely beloved artist-writer behind an iconic comic strip to a political pundit who has been vilified as a 'Trump apologist' by some on the left. And the career pivot has made him 'toxic.'
"Adams claims that his once-lucrative public speaking career dried up, and after fielding several Dilbert licensing proposals per week over the past couple of decades, the offers are down to zero."
On top of that, he estimates that "75 percent" of his friends and acquaintances, mostly Trump-haters, have shunned him.
"At one point, I actually thought Facebook was broken because I wasn't seeing any posts from my friends anymore," he says. "And I'm not even joking about that."
Still, Adams has kept his spirits up and insists that he has no regrets. He believes he's fighting a good fight.
Fitnoot. Well, that explains a lot. And the explanation of that cryptic assertion can be found on the Other Side of the $ubscribers Wall. (You really need to consider $ubscribing to this memorable online magazine, kimo sabe. Lookit all you're missing by sparing yourself the measly $3.95/quarter?)
Also on the Other Side, We Have Roy Thomas' Birthday Greeting to Stan Lee at 95, a Review of Doomsday Clock (DC's Attempt to Replicate Alan Moore's Masterpiece, the Watchmen), Examination of over 40 of the Nation's Editoons from December, USA Today's Attack on the Trumpet, and a Lengthy Seminar on Sexual Harassment (Almost a Third of the Posting), plus Hellboy's New Role—and More, Much More. To Witness It All, Click Here
SUBSCRIBE TODAY!
Just $3.95/quarter after $3.95 introductory month
NOTE: You can gain temporary access to this posting (and all the rest of this website)
by paying the trial month fee of $3.95 (which is about what the
New York Times used to charge for a single print-out).
$ubscriber/Associates: To Continue reading please CLICK HERE
To find out about Harv's books, click here.