Opus 384 (completed September 11, 2018) focuses mostly on book reviewsCJules Feiffer=s new The Ghost Script (ending his trilogy), Mr. Fish=s cartoons and two Escapist reprintsC and newspaper comics (including a short history of Alley Oop). Also a long remembrance of John Callahan as a movie about him opens and another long segment on Bob Woodward=s book and Trump idiocy plus obits for Marie Severin and Russ Heath and a preview of the Trump 8-pager, some Jim Carrey cartoons and a story about me and Michael Chabon. Here=s what=s here, in order, by departmentC:
NOUS R US
Muhammad Cartoon Contest Cancelled
Tijuana Trump
Carrey Cartoons
Alley Oop Due for a Revival?
(with a short history of the strip)
The Voice Goes Silent, Alas
and My First Acquaintance with the Paper
The Hearings (Kavanaugh=s Flawed Logic)
Odds & Adenda
Another Editoonist Bites the Dust
Banned Books Week
Lechery and the Penile Prompt
Teenage Male Assaulted
Moonves Resigns
Miss America Falls Short
Captain Marvel=s Costume
THE FROTH ESTATE
Sunday Funnies Influenced by Trump=s Tariffs
NEWSPAPER COMICS PAGE VIGIL
Self-referential Strips
Words of Wisdom
Verbiosic in Sally Forth
Blondie Forever
EDITOONERY
Woodward=s Book in Toons
Also 9/11
RANCID RAVES GALLERY
Pogo and the Press
Gasoline Alley
GOSSIP & GARRULITIES
Michael Chabon and Me
Reviews of Two Escapist Reprint Tomes
GAGGING
Esquire Flubs Cartoons
BOOK MARQUEE
Short Reviews OfC:
Penguins
Announcing New Edward Gorey Biog
Talking Mort Walker Collection
BOOK REVIEWS
DC Comics Before Superman
Major Malcolm Wheeler-Nicholson=s Pulp Comics
And Then the World Blew Up
Mr. Fish=s Blasphemous Hilarities
The Ghost Script
End of Feiffer=s Trilogy
JOHN CALLAHAN
Ushering in the Movie with Fond Vintage Obits
PASSIN= THROUGH
Marie Severin
Russ Heath
Hames Ware
MORE NASTINESS ABOUT THE TRUMPET
As If We Didn=t Already Know
QUOTE OF THE MONTH
If Not of A Lifetime
AGoddamn it, you=ve got to be kind.@CKurt Vonnegut
Our Motto: It takes all kinds. Live and let live.
Wear glasses if you need =em.
But it=s hard to live by this axiom in the Age of Tea Baggers,
so we=ve added another motto:.
Seven days without comics makes one weak.
(You can=t have too many mottos.)
And our customary reminder: don=t forget to activate the ABathroom Button@ by clicking on the Aprint friendly version@ so you can print off a copy of just this installment for reading later, at your leisure while enthroned. Without further adieu, then, here we goC:
NOUS R US
All the News That Gives Us Fits
MUHAMMAD CARTOON CONTEST CANCELLED
Following death threats and large-scale protests in Pakistan, Dutch anti-Islam MP Geert Wilders has cancelled a planned contest inviting people to submit a cartoon of the prophet Muhammad.
ATo avoid the risk of victims of Islamic violence, I have decided not to let the cartoon contest go ahead,@ the far-right opposition politician said in a written statement on Thursday night, reported by Reuters.
Wilders, who for years has lived under round-the-clock protection because of death threats sparked by his fierce anti-Islam rhetoric, said he does not want others put in danger by the contest he planned for November.
Physical depictions of human beings are frowned on by Muslims, and pictures of the Prophet are forbidden in Islam and are deeply offensive to Muslims.
AIt=s not just about me,@ Wilders said in the statement. Opponents of the event Asee not only me, but the entire Netherlands as a target.@
Before news of the contest=s cancellation, thousands of Islamists had set out to march toward Pakistan=s capital, Islamabad, in protest.
TIJUANA TRUMP
Near here, we=ve posted some pages from a crisp new 8-pager featuring the sexual adventures of the Trumpet. Mitch O'Connell (that's O'Connell, Athe world's greatest artist,@ not McConnell, the invertebrate fascist symp) reportedly found a cache of Trump Tijuana Bibles during a recent expedition to Mexico.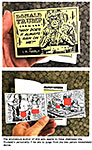 As the codgers among us remember, Tijuana Bibles are little 8-panel pornographic comic books that were popular during the Great Depression, and usually starred famous comic strip characters, like Blondie, Popeye, Dick Tracy, and Mickey Mouse or movie stars and other celebrities, all engaging in a dizzying array of carnal pleasures.
Here's what Mitch has to say about it:
"The palm-sized pornographic pamphlets produced from the 1920s to the early 1960s usually featured crudely drawn hardcore thrusting and pumping pictures by anonymous artists. They were produced in secret printing facilities, as these spunky pen and ink hi-jinks violated about 20 different ye olden laws. Their popularity peaked during the Great Depression era selling millions of >under the counter= copies.@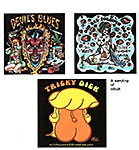 With the advent of Playboy and, later, DVDs, the popularity of the 8-pagers declined and, eventually, evaporated altogether as Internet porn increased.
Mitch goes on in italics: Well, I thought those were just memories from a bygone era, until I came across a source while taking my annual Tijuana vacation and bought all the store had, which was a boxful of little porno pamphlets called ADonald Trump in 'Why Does It Always Rain On Me=?@ by I.P. Freely.
O=Connell is reportedly selling copies from his stash of Trump porn on Etsy.com/shop/MitchOConnell for the low price of $5 a copy.
OhCand before we leave this topic, here are pictures of some of the work of Athe world=s greatest artist.@
CARREY CARTOONS
Not content with returning to a regular acting gig in Showtime=s AKiddie@ about the host of a long-running children=s television show, actor Jim Carrey has taken up cartooning. Besides cartoons, Carrey also makes abstract paintings, according to an article in The New Yorker (which we=ve poached herewith). The walls of his house are covered in his own work: technicolor images streaked onto mirrored surfaces, or canvases that have been slashed and stitched. Some are signed AChurch of FFC.@ (The acronym stands for AFreedom from Concern.@) Though he was an artistic child, Carrey didn=t start painting seriously until seven years ago, he explained, Ain the midst of heartbreak.@
The cartooning started the day before the 2016 Presidential election. AIt was in the middle of the killer-clown phenomenon,@ he recalled.
Since then, Carrey has created more than a hundred cartoons protesting the Trump administration, a pastime that borders on the obsessive. AI fight him to the end,@ he said recently, citing the Bhagavad Gita. AIt=s my Arjuna momentCmy responsibility to pick up the sword.@
He sketches while he watches MSNBC: wonky portraits, satirical headlines, grotesqueries. AIt makes me feel better if I can alchemize all of this,@ he said, ACturn it into something creative and make people on the Twitter feel good.@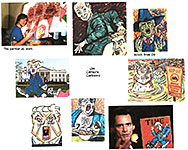 Politically, Carrey described himself as a Aconservative Democrat, because I don=t like boundaries.@
As a cartoonist, his humor tends toward the obscene. He flipped through a stack of sketches, and found a picture of Trump with a Russian flag planted in his rear end.
AI did that one before the Helsinki meeting,@ he said. AIt was a prediction.@
There were drawings of all the minor players: Sean Hannity as a manatee, Trey Gowdy as an insect, Adam Schiff as a Ken doll dropping his pants. (Carrey found the ranking member of the House Intelligence Committee to be insufficiently animated on TV. AShow some passion"@ he wrote in the caption. AWe=ve had it with your calm, reasonable manner" MAKE SOME F=ING NOISE!!!@)
His position affords some flexibility. AI don=t work for a publication, so I=m allowed to do crude things, which I enjoy,@ he said.. ATwitter doesn=t mind.@
Like many people in show business, Carrey has crossed paths with Trump. He recalled meeting him at a New York fund-raiser.
AHe said, >Hey, Jim.= I said, >Hey, Donald.= Later, I rented his ice rink for a Valentine=s Day skate. He was a fine guy when he was a reality-show host.@
He returned to his sketch pad. A more subtle idea had occurred to him. AI started drawing a cartoon this morning that=s just an empty desk and chair on the floor of the Senate,@ he said. AI don=t know what the caption will be yet.@
ALLEY OOP DUE FOR A REVIVAL?
Reports may be premature that Alley Oop, the comic strip about a cave man, may be going the way of dinosaurs, said George Gene Gustines at nytimes.com. The husband and wife team that produces the strip signed off in the strip for Saturday, September 1, signaling an end for the 86-year-old feature, but the syndicate that distributes the strip isn=t so sure. In an interview, John Glynn, president and editorial director Andrews McMeel Syndicate, hinted at a possible future.
The strip=s illustrator, Jack Bender, and writer, Carole Bender, announced their retirement in August and bid good-bye in the September 1 release.

The next day, the syndicate began running reprints, which will continue through the end of the year. But Glynn said he was encouraged to think about continuing the strip partly because of a successful revival earlier this year of the Nancy strip with a new cartoonist, Olivia Jaimes.
AIt=s exciting for me to think about these older features that have some brand equity that a lot of people still enjoy,@ Glynn said.
Other brands have been polished up for new audiences before, he said to Gustines, referring to the reimagining of the characters from Archie Comics on the CW television network. AMy daughters, who are 12 and 14, love >Riverdale,= but have never read an Archie comic in their lives,@ he said.
Alley Oop was created by the cartoonist Vincent Trout Hamlin, who preferred V.T. Hamlin as a signature; he died in 1993 at age 93.
ALLEY OOP HAD A DOUBLE DEBUT. In the late 1920s, Hamlin worked as a photographer for the Houston Press. Surrounded by the oil industry, he became interested in geology and in the dinosaurs that prowled the earth in prehistoric times. Moving from fossil fuel to the fossils themselves, Hamlin began thinking about dinosaurs and cave men (even though the two species never existed concurrently) and started doing a comic strip about them.
"The first character I dreamed up and perfected," Hamlin said in his unpublished autobiogaphy, The Man Who Walked with Dinosaurs, "was Dinny the Dinosaur, a big fellow some forty feet long with a row of upright pointed plates along his spine from head to tail, a head more avian than reptile with a big mouth full of tyrannosaurus-type teeth. I can assure you no paleontological dig will ever unearth the skeletal remains of a creature such as my beloved cartoonosaurus.
Later, Hamlin speculated that Sinclair Oil, in adopting a giant green lizard dinosaur as its symbol, boosted the popularity of dinosaurs in the popular imagination.
Hamlin's first use of his cartoonosaurus was in a strip about a modern family living in prehistoric times among the dinosaurs, but he soon abandoned that idea in favor of a strip about the adventures of a cave man. Entitled Oop the Mighty, it paired its eponymous protagonist with Dinny.
After spending the year 1930 developing it, Hamlin decided the work was unsatisfactory. "And so, before the eyes of my astonished family, my wife Dorothy and little daughter Teddy, I pitched the whole batch into the fireplace and sadly watched them disappear in flames."
But the caveman idea haunted him during a summer trip [1931] to northern Minnesota, and while taking up fly fishing, Hamlin re-imagined his concept and gave Oop a first name, and when he returned to Des Moines, he produced his first Alley Oop strips.
"Dinny was the subject of the feature's first story," Hamlin remembered, "which began when our hero, deep in the jungle in search of some choice morsel for dinner, happened upon the huge monster hopelessly entrapped in a tangle of toughCand I do mean toughCundergrowth. Alley's first thought was that this was a bonanza of good red meat, enough to feed everyone in the kingdom for days to come."
But Oop decides, instead, to free the creature, and when he does, Dinny, in gratitude, becomes the cave man's devoted pet forever after. "Sound familiar?" Hamlin wrote. "Yes, it was a definite literary theft, stolen, no doubt, from some Aesop's fable I'd read about a chap who'd removed a nasty thorn from the paw of a lion."
Hamlin couldn't remember exactly how he came up with his cave man's name. Considering his service in France during World War I, though, he once supposed that Oop's name was probably inspired by a French term used by tumblers (allez oop) because "Oop is really a roughhouse tumbler." Later, Hamlin discovered a translation of the expression that means "all of us."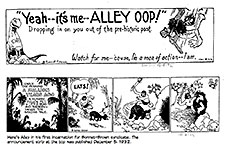 Hamlin submitted the strip to a small syndicate, Bonnet-Brown, which launched the strip as a daily, beginning December 5. It quickly "proved to be Bonnett-Brown's headliner,@ Hamlin said, Aand in no time at all was being published in some 35-40 papers." Alas, Bonnett-Brown, struggling through the Depression, did not survive the winter; it went out of business, and Alley Oop ceased with the strip dated March 2, 1933.
But the newspapers who'd subscribed to the strip wanted more of it, and some of them appealed to the Newspaper Enterprise Association (NEA), a Cleveland-based syndicate, whose editors (one of whom Hamlin had met while covering the 1928 Democratic Convention in Houston) agreed that Alley Oop was a good candidateCa brand new "reader tested" strip ready for the taking. NEA took it and launched it again on August 7, 1933.
| | |
| --- | --- |
| | |
Hamlin=s wife Dorothy also worked on the strip, creating color roughs and contributing story ideas, including the important plot device of time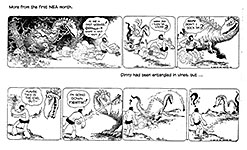 travel, which was introduced April 5, 1939, when Oop and his paramour Oola were transported into the 20th century laboratory of Dr. Wonmug (Aein stein@). Henceforth, Alley and Oola (modeled on Dorothy) had adventures in history, from the age of Greek mythology to America=s Old West, from the Norman invasion of England to riverboat gambling on the Mississippi, from 18the century piracy on the high seas to gold-digging in 19th century California, meeting Cleopatra and Ulysses and Blackbeard other actual personages en route.
HAMLIN WROTE AND DREW Alley Oop with the help of his assistant, Dave Graue, until he retired because of failing eyesight in 1971. Then Graue took over full-time. He had been assisting Hamlin since 1950, and he had been doing the daily solo since 1966, although it was co-signed by Hamlin. The last daily signed by Hamlin appeared December 31, 1972, and his last signed Sunday strip was April 1, 1973.
From his studio in North Carolina, Graue wrote and drew the strip through the 1970s and 1980s until his assistant, Jack Bender, took over as illustrator in 1991. Graue continued to write the strip until his August 2001 retirement; on December 10, 2001, the 75-year-old Graue was killed in Flat Rock, North Carolina when a dump truck hit his car.
Carole Bender took over as writer in 2001.To the best of my knowledge, Oop stayed in the stone age for the entire Bender run, no more time travel. On Saturday, September 1, Carole posted this message on Facebook:
AAlley Oop has been our constant companion for a big chunk of our lives. Jack started drawing Alley Oop 28 years ago, and I joined him as an assistant 27 years ago. We did some calculations and realized Jack has done 10,966 drawings of Alley Oop dailies and Sundays, and I wrote and colored 6,188 of them. We have loved every moment of getting to be a part of the history of this strip. We=re only the third team to have created Alley Oop since its creation in 1933, and we were fortunate to have direct connections to the first two creators.@
THE VOICE GOES SILENT, ALAS
The Village Voice, the iconic New York one-time iconoclastic crusading newspaper that became online-only last year, has shut down, reported Jeanna Amatulli at HuffPost.com. ABusiness realities,@ said owner Pete Barbey cryptically in a phone call.
Barbey bought the famous citycentric weekly, co-founded by Dan Wolf, Ed Fancher and Norman Mailer in 1955, from Voice Media Group in 2015 after it spent years going through assorted owners, mergers and separations. Barbey also noted on the phone that he bought the publication to save it.
AThis isn=t exactly how I though it was going to end up. I=m still trying to save the Village Voice,@ he said, before telling his staff that they had Aamazing grit@ and remained Aprofessional@ through it all.
In a statement, Barbey confirmed that the paper was indeed shuttering and recalled its illustrious history that Adefined a new genre of publishing@ and how it was Asubject to the increasingly harsh economic realities facing those creating journalism and written media.
AThe Village Voice was created to give speed to a cultural and social revolution, and its legacy and the voices that created that legacy are still relevant today. Perhaps more than ever,@ the statement said.
AIts archives are an indispensable chronicle of history and social progress,@ the statement went on. AAlthough the Voice will not continue publishing, we are dedicated to ensuring that its legacy will endure to inspire more generations of readers and writers to give even more speed to those same goals.@
The remaining staff is engaged in archiving the 63 years of the paper=s content.
IN THE FALL OF 1959, I MADE MY FIRST VISIT to Greenwich Village, then considered the Bohemian capital of artistic and literary America. After blundering around the raffish crazy quilt of its streets for several hours, I found myself at Christopher Street and Seventh Avenue with my back to the old Limelight coffee house, and there, across Sheridan Square, emblazoned over windows that had once been storefront display for some departed mercantile enterprise, was a sign with a familiar nameplateC "The Village Voice," it said, the "Voice" larger than the lowercase "Village," which was confined to a box that extended behind the capital "V" of the free-standing "Voice."
I didn't know it at the time, but the Voice had been in these digs for less than a year, having outgrown the two-room walk-up above Sutter's Grocery at 22 Greenwich Avenue that had been its birthplace in October 1955.
I had been an occasional reader of the weekly paper since sometime in 1957, when a cohort who worked in the reference room of the library at my alma mater had drawn my attention to it. So it was satisfying, somehow, to have chanced upon the familiar logotype and to realize that I was, as I stood there across the street from that building, within its aura, so to speak, and breathing the very air of iconoclasm that had distinguished the Voice since its founding.
Having recently escaped the Boulder campus of the University of Colorado, I was in New York marking time until the Selective Service saw fit to pounce. In those days, no male could make a serious start at a career while under the threat of imminent draft, so I thought I'd fill what months of liberty remained to me by freelancing cartoons to magazines in the Big Apple. I eventually sold a few but none at the Voice.
Fact is, I didn't even try to sell anything at The Village Voice. In common with many newly-minted college graduates, I didn't know much; but I knew that my sense of humor wasn't hip enough for this paper. Besides, it already had a cartoonist. It was to admire his work that I'd become an occasional reader of the Voice, and I knew for a certainty that I wasn't in the same league as Jules Feiffer.
But, then, no one was in the same league as Feiffer.
Not then.
Not now.
Then, Feiffer's cartoon was a startlingly different looking enterprise. No other cartoonist produced anything like it. Although it consisted of a succession of images like the conventional sequential "strip," Feiffer scorned the traditional panel borders of newspaper comic strips, dropping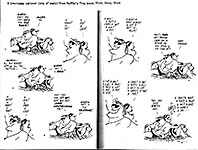 pictures of his actors and actresses into an otherwise uncluttered ocean of white space. And instead of speech balloons, he merely clustered the verbiage of his characters' utterances around their heads, a single slanted line pointing to the speaker.
The comedy of his cartoons was equally unusual. No vaudevillian boffolas here, no pratfalls or custard pies. No puns, either. Instead, we had chorus after chorus of the old "bait-and-switch" as ostensibly hip characters engaged in erudite conversations or monologues that ended by revealing their self-absorption and cultural shallowness. Feiffer's characters were always talking. But none of them ever listened.

Feiffer's cartoons in the old Voice have been described as "comic nightmares, biting vignettes of contemporary life as it is experienced and explained away by sensitive adults, beatniks, precocious children and politicians. The introspective adults are by far the most frequently portrayed, they who, according to Newsweek, have >rationalized Hostile Group attitudes' and are trying to find themselves." In dramatizing their search, Feiffer ripped away the hypocrisy and sham of the intellectual fads that preoccupied so many of the creative poseurs in the Village (and, as it proved, elsewhere).
When the first collection of his cartoons was published in 1958, Gilbert Millstein, reviewing the book for The New York Times, applauded the cartoonistC "alone and unafraid in a world made of the macrocephalic bromides of psychoanalysis, avant-gardism, progressive schooling, the hideous nuances of cocktail-party conversation, politics, television, togetherness, and the careful conformism of the equally careful outrageous."
Al Shepard, my librarian friend, and I had worked on the campus humor magazine, The Flatiron, which had been banned in the fall of 1955C coincidentally, just as the Voice was publishing its first issues (probably some sort of massive celestial correspondence was in effect: as one irreverent publication dies, another is born to take its place). In subsequent years, Al and I passed many pleasant hours planning to launch a new, cleaner, version of that magazine. (We eventually floated two, but only a brace of issues of each; see Harv=s Hindsight for May 2017Costensibly about rabbitsC for this sordid history.)
Feiffer's cartoons had caught Al's eye, and he'd pointed them out to me, thinking I could do something similar in one of our projects. But I declined to try it. For two reasons. First, Feiffer's work was so distinctive in both appearance and content that anyone attempting anything in that vein would immediately proclaim himself as a rank copy cat. Secondly, I lacked the requisite skill. I wasn't above aping another cartoonist, mind you: I just didn't have the wit to do it with Feiffer.
Even today, Feiffer is without peer.
And he=s doing new work; see below, Book Review of The Ghost Script.
THE HEARINGS
Brett Kavanaugh is two days into the hearings as I write this (September 6). Yesterday, responding to questions about his attitude toward gun control, he said he=d opposed the Washington D.C. ban on assault weapons because the weapons were already in wide use in the country. Seems an odd legal explanation, but let it go.
Today, he=s being grilled on Roe v Wade. Is it settled law, as he=s reported to have said, or not? At the moment, Kavanaugh=s position is not clear. But using his assault weapons reasoning, isn=t it widespread among American women that they have a right to have an abortion? Aren=t they presently practicing that right nationwide?
If so, by the same logic that governed his objection to the ban on assault weapons, Kavanaugh must let Roe v Wade stand, as is.
ODDS & ADDENDA
According to the AAEC (Association of American Editorial Cartoonists) List, Don Landgren just announced on Facebook that he is out at the Telegram & Gazette after 35 years as its editorial cartoonist. The number of full-time staff editoonists is 48, down from 101 in May 2008.
The Comic Book Legal Defense Fund (CBLDF) is offering what it calls Aa ton of great print resources and gear for Banned Books Week"@CSeptember 23-29. People who donate Atoday@ can grab a bundle of brand-new resource, Read Banned Comics; AI Read Banned Comics@ t-shirts; signed graphic novels all about comics; a Banned Books Week Kit that includes Read Banned Books publication plus AI Read Banned Comics@ stickers and buttons; and Aso much more"@ Banned Books Week is right around the corner, Aso don=t delay" Every donation helps CBLDF continue our important work fighting bans and challenges in schools and libraries across the country year-round.@
Fascinating Footnit. Some of the news retailed in the foregoing segment is culled from articles indexed at https://www.facebook.com/comicsresearchbibliography/, and eventually compiled into the Comics Research Bibliography, by Michael Rhode, which covers comic books, comic strips, animation, caricature, cartoons, bandes dessinees and related topics. It also provides links to numerous other sites that delve deeply into cartooning topics. For even more comics news, consult these four other sites: Mark Evanier=s povonline.com, Alan Gardner=s DailyCartoonist.com, Tom Spurgeon=s comicsreporter.com, and Michael Cavna at voices.washingtonpost.com/comic-riffs . For delving into the history of our beloved medium, you can=t go wrong by visiting Allan Holtz=s strippersguide.blogspot.com, where Allan regularly posts rare findings from his forays into the vast reaches of newspaper microfilm files hither and yon.
FURTHER ADO
In the latest issue of Esquire, Dan Hyman asked Matt Groening, creator of AThe Simpsons,@ the longest-running prime-time scripted show in television history, how much longer he thinks it=ll go. Said Groening:
AThe work itself is very real. There=s very little strutting around the studio saying, >Look how long we=ve been on the air"= It=s mostly just doing the job, and it=s really fun. And if I could point out something about >The Simpsons= that the general fans might not know: it has turned into a forum for different kinds of animated humor. There=s not a single kind of joke. We do jokes that are about animation, we do parodies, we do topical humor, we do family sitcom jokes, we do all kinds of different approaches to humor. And as a result, it=s not the same as what it used to be. But to me, it=s also not repetitious because we=re always exploring new things.@...
Hyman: AGiven that you don=t do many interviews, I get the ssense you would rather people know your work than the man behind it.@
Groening: AOh, yeah. This is the best kind of fame. If I looked like Bart Simpson, it=d all be over for me.@
LECHERY AND THE PENILE PROMPT
AGod gave men both a penis and a brain, but unfortunately not enough blood supply to run both at the same time.@ CRobin Williams
IT WAS BOUND TO HAPPEN. Now an actress has been accused of sexually assaulting a male, a young aspiring actor, age 17. Asia Argento, age 37 at the time of the alleged assault, paid Jimmy Bennett $380,000 to settle the case. Argento, the girlfriend at the time of the late chef Anthony Bourdain, became a leader in the #MeToo movement after accusing Harvey Weinstein of sexual assault. She denies assaulting Bennett; she paid the blackmail at the urging of Bourdain. But she also texted a friend, confessing to canoodling with Bennett, saying, Athe horny kid jumped me.@
#MeToon now has an entirely new meaning, one involving female sexual appetite and male victims. Until now, it has been assumed that, contrary to everything we know about human nature, only the male of the species has sexual cravings.
MEANWHILE, LES MOONVES, chairman and CEO of CBS Corporation, probably the most powerful and successful corporate executive on the planet, resigned after 13 women accused him of sexually assaulting them. Moonves denied the allegations. The descriptions of his seductions are of sometimes brutal attacks, plainly criminal enough without any sexual aspect. I don=t know how anyone could treat other human beings in the way Moonves is described as behaving. Why for some powerful men is sex a kind of weapon? I look at photographs of Moonves now and see his pecker hanging out. Has he no shame? No dignity? No self-respect? Not as I see him.
THE MISS AMERICA PAGEANT included an evening gown segment after all. Initial reports of discarding of the swimming suit contest had said the evening gown competition would also be abandoned. But it wasn=t. And the gowns I saw (admittedly only a few as I passed through the room where my wife was watching) were more skin than clothCwith no backs, slits up the legs and sides. Who could miss bikinis with so much nudity on display?
BUT THE CAMPAIGN AGAINST SEDUCTIVE wardrobe received a tremendous boost when the new Captain Marvel, aka Carol Danvers, appeared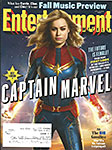 on the cover of Entertainment Weakly (Setember 14) in her fightin= duds for the movie to be released next winter/spring.Yes, the all-leather garb is skin tight. But it=s thick leather (like the stuff Captain America wears), and it doesn=t cling seductively. And there=s no neckline plunging. In short, it=s as business-like a costume for a crime fighter as we=re likely to see.
Continuing in the new #MeToo tradition, the female (not, to all intents and purposes, feminine) Captain Marvel is the first in the Marvel Cinematic Universe to headline a motion picture and to be its solo protagonist. Great strides, kemo sabe. And the actress, Brie Larson, has a nice no-nonsense no-romantic set to her mouth, too.
THE FROTH ESTATE
The Alleged ANews@ Institution
SOMEWHERE in the heaps of paper on my desk is a newspaper clipping that reports that a newspaper somewhere announced that it was dropping the Sunday funnies because of rising costs. Trump=s tarriff affected paper sources in Canada.
READ & RELISH
All the toilets in New York=s police stations have been stolen. Police have nothing to go on.
Haunted French pancakes give me the crepes.
VelcroCwhat a rip-off.
Cartoonist found dead in home. Details are sketchy.
Earthquake in Washington obviously government=s fault
I used to think I was indecisive; but now I=m not so sure.
NEWSPAPER COMICS PAGE VIGIL
The Bump and Grind of Daily Stripping
LET=S SPEND A FEW MOMENTS admiring what Patrick McDonnell did lately in Mutts. He spent a whole week playing with the comic strip format.
I unabashedly love this sort of play, but, at the same time, I realize that a cartoonist can=t carry on in this manner every day. At its most effective, it=s an occasional thing.
(Ooops" I forgot Sam=s Strip, in which Sam ran his own strip which was often invaded by characters from other strips. I=ll post some examples at the end of our Mutts excursion.)
The first page of our visual aid reprints the first five days of the self-referential week=s worth. On the second page, we start with the sixth and last of the week=s strips, then move rapidly into samples of another week a couple months later when McDonnell is doing a different sort of self-referential humor, playing with sound effects, which Earl and Mooch react to as if the words were physical presences in the strip.
This sort of comedy works only when you have a sophisticated readershipCthat is, readers who understand the visual conventions of the medium. And we evidently have a lot of them. Mutts is one of the most widely circulated comic strips, which is a testimony not only to its popularity but to the popularity of comic strips generally and, by the same token, to the sophistication of the readers: they follow comic strips so avidly that they have no difficulty at all in comprehending a week=s worth of gags based entirely upon the nature of the strip format.
And while we=re visiting Mutts, we have a couple seaside strips with the crabby crab. They=re here for two different reasons. The emoji gag I think is inventive and funny. (And I wonder why no one=s jumped on the whole emoji catalog of feelings symbols for running gags.) In the last strip, I admire McDonnell=s treatment of the storm clouds. Nice.
Now here are those Sam=s Strip samples, a sustained instance of a cartoonist (Jerry Dumas and Mort Walker) milking the self-referential notion day after day, each day a delight.
SOMETIMES IT=S THE WORDS rather than the pictures that engage me.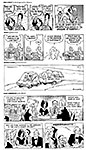 AArmchair of empathy@ in Don Wimmer=s Rose Is Rose; Opal=s put-down of Earl in Brian Crane=s Pickles; and the terrible pun in Dana Summers= Bound & Gagged (surely someone somewhere has done this gag several dozen times before this).
Meanwhile, in Funky Winkerbean, Tom Batiuk keeps on advertising his books, the reprint trilogy Lisa=s Legacy. Turns out that Lisa=s Legacy didn=t win an Eisner Award at San Diego=s Comic-Con International last month: the book=s nomination for the Award was, after all, a piece of Winkerbean fiction.
In the competition for an Eisner, being nominated seems to me more of an honor than winning: the nominees are selected while the winners are the results of a vote on the nominees; the nominees, in other words, are the considered opinions of a jury of five-six knowledgeable persons; and while the voting is done by professionals, it=s still something of a popularity contest. What=s popular may not be technically the best work in the category.
But that=s a mere quibble by an unreliable opinion monger: I=ve been nominated (for my Milton Caniff biography, now out-of-print) but I didn=t win. In other words, the foregoing is a sour grapes rationale.
IN OUR OFFICIAL COMIC-CON REPORT last time, we intended to include notice of Sally Forth=s visit to the Con. But we were soon overwhelmed with logorrhea and so we postponed that visit until this opus, wherein we have time and space enough. Francesco Marciuliano and Jim Keefe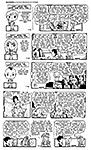 (who draws it) spent a good part of July putting Sally and her family through the agonies and ecstasies of the San Diego extravaganza.For much of it, as we see in the third strip down the line-up, Sally and the rest of the ensemble were cosplayers. Overall, Marciuliano and Keefe highlight various of the dubious pleasures of the Con.
In the second one, I recognize immediately my own adventure with the security staff. The third strip seems to me to emphasize the unfortunate fact that few of the presenters at panels prepare anything. They just show up and free-wheel through the next hour, drawing upon their experiences and knowledge to say somethingCand some of what they say, quite naturally, has little if anything to do with the announced topic of that panel.
The next two strips, dated 7/31 and 8/2, are vivid demonstrations of Sally Forth=s conspicuous failing: Marciuliano doesn=t know when to shut up. In 7/31, there=s barely any room left for visual interest: the verbose speech balloons in the second and third panels very nearly crowd out the pictures. That fact alone is laughable enough for a daily installment.
Marciuliano=s prolixity is all the more unforgivable because it could be better deployed. In 7/31, for instance, Marciuliano could stop with the second panelCA... giving one of my rousing pep talks.@ That=s at least as funny as the wannabe punchline we=re left with. But the third panel could be easily converted to another daily installment, starting with:
AMy rousing pep talks to my little league team usually compensate for our not winning the championship.@
Next panel: A... and so by joining forces ...etc.@
By similar ruthless editing, the verbal excess of 8/2 strip could easily be converted to three strips, one from each of the three panels.
Or so it seems to me. But what do I know?
BLONDIE remains one of the best comic strips going. Maybe I=m just an old-fashioned gaffer and enjoy today a strip I also enjoyed when I was a strapping youth. But I didn=t read Blondie much when I was strapping.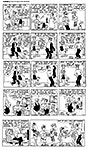 Dagwood, as nearly everyone recognizes, is the actual protagonist of the strip, and in the first strip at hand, we have one of the strip=s periodic pokes at his strange hair-doCwith Daisy the dog doing a whopper of a take. Dean Young (who manages but doesn=t actually write the strip) and John Marshall (and his assistants) return every month or so to the barber shop and another assault of Dagwood=s cowlicky hair.
The next strip focuses on another of Dagwood=s peculiaritiesChis shirt button. And in the next effort, we=re back to his hair.
I=ve included the next strip in this line-up because it is a rare example of a self-referential
jokeCrare for Blondie, which usually stays well within the bounds of the world the strip has established for itself (except for Dagwood=s frequent breaking of the fourth wall to stare at us when something incomprehensible happens to him or in his immediate vicinity).
Finally, another rarity for the strip, an extended panel. Usually, as you can tell by simply glancing at the specimens we=re mustered here, Blondie sticks to a threeBpanel format.
And while you=re glancing over this line-up, notice that in nearly all the panels, the characters are depicted full-figure. No shortcuts. Well, few shortcutsClike the opening panel in the fourth strip. Blondie is strikingly unusual in this respect: few of today=s other strips are so consistently insistent on presenting their casts from head to toe.
THE WISDOM OF RONALD REAGAN
I have wondered at
times about what the
Ten Commandments would
have looked like if Moses
had run them through
the U.S. Congress.
The taxpayer:
That=s someone who works
for the federal government
but doesn=t have to take the
civil service examination.
EDITOONERY
The Mock in Democracy
WE ENJOYED a surfeit of editorial cartoons last time, so this time, we=ll restrain ourselves and confine our visual aids to those commenting on the Brett Kavanaugh hearings and the Trumpet=s adventures as the subject of Bob Woodward=s book and an anonymous op-ed essay in the New York Times.
In our first display, Nate Beeler=s image captures the essence of Woodward=s book by depicting the Trumpet as the thing to be guarded in order to prevent him from saying more stupid incendiary world-order-destroying things. A memorable image.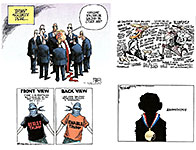 Next around the clock, Milt Priggee offers another take on the same dilemma in which Uncle Sam (government officials) are pursuing Trump with a net. Judging from the strait jacket Trump is wearing, he=s just escaped from a nut house and now runs loose, babbling insanely. Judging from Woodward=s book, not a bad interpretation.
EveryoneCparticularly the Trumpet, bent on revengeCwants to know who the anonymous op-ed author is. Bob Englehart=s deft silhouette identifies the mystery man: all of us recognize Alfred E. Neuman of Mad magazine fame. Then Kevin Siers provides another view with a double image, front and back view of a Atwo-faced Republican politician in Washington@ who resists Trump but also enables him. The image seems not to be precise until we realize that two-facedness presents a face no matter whether we see it from the front or the back. And that, upon reflection, is a accurate image of those who surround Trump, sometimes serving him and sometimes sabotaging him.
In our next array, Mike Luckovich at the upper left creates a visual metaphor of Trump as an infant whose baby chair gives him a faux button to push. Overseen by Defense Secretary Mattis, Trump=s absorbing activity is harmless. In one picture, Luckovich has characterized our Prez as infantile and ineffectual.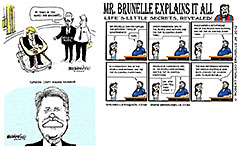 Below this cartoon is another by LuckovichCa great image of Supreme Court candidate Kavanaugh whose ingratiating grin is formed by the outline of a coat-hanger, the enduring image of back-alley abortion, which is where women will find what they need if Roe v Wade is overturned, as everyone fears Kavanaugh will do.
Finally, at the right, one of Robert Brunelle=s multi-panel expositions. The static imagery tells us that the absurdity of the cartoon=s verbal content has no effect on those doing the speaking. (It=s Garry Trudeau=s trick years ago in Doonesbury.) By extensionCwe=re so accustomed to absurdity in government that we have little or no reaction to it when we encounter it. Here, the woman=s eyes betray a reaction. But it=s slight, given the provocation.
FinallyCmostly because I=m typing this on September 11Chere are a few of the editoon remembrances of that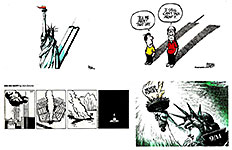 fateful, tragic day in 2001.I like the first two, by Steve Benson and Marshal Ramsey, the best; they use symbols but not sentimentally. Ramsey=s shadows are almost subtle. At the lower right, Joe Heller=s is more sentimental. And it stings a little: I almost forgot.
I saw only a couple more 9/11 editoons. And only two comic stripsC Rick Detorie=s One Big Happy posted here and Dick Tracy, which deployed a strip-wide billboard. Detrorie, on the other hand, used a series of scenes burned into our memories to evoke that terrible day. He finishes with a single candle: shining in the dark, it seems to represent hope.
That=s enough for this outing.
Well, no.
Not quite.
I can=t resist examining and championing Bob Woodward=s book at greater length, so I=ve tacked on to the end of this opus a great wad of prose about it. No pictures. Just verbal rant.
But I=ve posted it at the very end so you can leave these premises without getting swamped in it if you so choose. When you get to ANastiness@ about Trump, you will know you=ve reached the end of the cartooning news and reviews content and can safely click exit and depart.
(Or you can read it all and be amazed, as I was, at the idiocy of the Trumpet.)
RANCID RAVES GALLERY
Pictures Without Too Many Words
I MEANT TO USE the accompanying Pogo squib during our froth about freedom of the press last time, but it slipped my so-called mind; so here it is this time.
The other visual aid harkens to an impending anniversary: Gasoline Alley will celebrate completing its 100th year come November 24. The festivity of the strips we see here, however, is ostensibly Walt Wallet=s. He went to the Old Comics Home (where comic strip characters retire when they=re no longer in print), thinking he was to give a tribute to Little Orphan Annie but found out that he was to be the recipient of the tribute. Confusion reigns, as you can see.
We also see the stupendous anniversary logo that Jim Scancrelli (the current chief mechanic on Gasoline Alley) has designed for the impending celebration.
GOSSIP & GARRULITIES
Name-Dropping & Tale-Bearing
Ah, Fame, Fleeting As It Is. You remember The Amazing Adventures of Kavalier and Clay, the Pulitzer-winning novel written by Michael Chabon about two guys, like Joe Shuster and Jerry Siegel, who invented a comic book hero like Superman, the Escapist, and how they didn=t realize much fame or fortune as a result. Several months after the novel was published, someone wrote to tell me that I may be a character in Chabon=s novel. And it turned out that my informant was, more-or-less, accurate.
Of course, it=s a thrill to be mentioned in a Pulitzer-winning novel. At least, I was thrilled. At first. And then, as I pondered the matter, the thrill began to fade. Slowly, it dawned on me: Chabon has Aexpired@ me. He didn=t actually celebrate my death, but he consigned me to a limbo between fact and fiction where I cease to exist in the normal way.
Take another look at page 547. My name appears in a sentence alleging that I compared Rosa=s comic book page layouts to the films of Douglas Sirk. Then comes the exceedingly complimentary footnoteCAIn his excellent The Art of the Comic Book.@ It=s nice to be dubbed Aexcellent@ by a Pulitzer Prize novelist, no question. But then the real world begins to assert itself.
Douglas Sirk is a real person, but Rosa is not. In my book, I do not, then, refer to the work of Rosa Saxon. Nor do I cite Douglas Sirk. Chabon is complimenting me for doing something I didn=t do.
And if you consider that of the 13 other footnotes in the book, 10 concern wholly fabricated circumstances, the validity of any assertion associated with a footnote in the book is brought into serious doubt. So the question might well arise in the mind of a semi-alert reader: Does this AHarvey@ book exist? Is Harvey a real author or another of Chabon=s fictions?
While I may rejoice in being mentioned so favorably in a Pulitzer-winning novel, I wouldn=t be surprised to learn that most readers of the book regard me as just another character made up for the occasionCor, not much better, as a walk-on like Max Ernst (p. 245), dragooned into service for the patina of realism that his presence adds but under circumstances highly suspicious and probably manufactured.
So do I exist or not? Am I real or one of Chabon=s characters? Is my Aexcellent@ book another of his creations? We=ll never know for sure.
Several months after I outlined this dilemma (as above) in the concluding paragraphs of my review of the book in The Comics Journal, Chabon ran across it, and he must=ve been reading it between flights while suffering from jet lag because he thought I was seriousCthat is, he assumed I was terribly put out by his mentioning me in his book. So he e-mailed me and apologized.
Flabbergasted but flattered, I wrote back, as gently as possible, telling him not to worryCthat I was merely committing what I called Aa joke.@ A bad joke perhaps, or poorly committed, but a joke nonetheless.
By way of perpetuating the frivolity, I went a step further. At the time, Chabon and Dark Horse were preparing to launch a series of comic books based upon his book=s fictional comic book hero, the Escapist. So I ventured that since AI@ had appeared in the novel, AI@ would, surelyChow could he avoid it?Cappear in the comic books, too. Chabon, now tuned in (and completely recovered from jet lag), assured me that he planned to include me in the comic books, Awearing women=s lingerie.@ Touche, and match point.
Thanques, Michael. But you were kidding, right? I=ve been looking in the comic books, and I don=t see any male characters in lingerie. Yet. SoCyou were kidding, right? Right?
And While We=re At It,
MORE ABOUTC
Michael Chabon=s the Escapist: Amazing Adventures
By Various
416 6x10-inch pages, color; January 2018 Dark Horse paperback, $24.99
Michael Chabon=s the Escapist: Pulse-Pounding Thrills
(NOTE THE DIFFERENTIATING SUBTITLES)
By Various
416 6x10-inch pages, color; June 2018 Dark Horse paperback, $24.99
HOW MUCH FUN CAN YOU HAVE writing about or creating stories about the fictional adventures of a character purporting to be a real fiction? The answerCor part of itCis in the 48 tales between the covers of these two tomes, including eleven never-before-published stories, among them, the last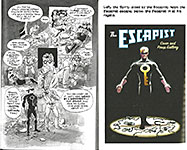 Spirit story written and drawn by Will Eisner in which the Spirit meets the Escapist.
Scattered liberally among the Escapist stories are essays purporting to chronicle the publishing history of the character, but that history is as fraught with fakery as the Escapist tales. Chabon participates in the make-believe, producing a couple essays. Other fictionalizers include Glen David Gold, Ken Kristensen, Kevin McCarthy, Steve Duin, Michael B. Cohen, Diana Schutz, Catherine Yronwode, Roy Thomas, Jason Hall, and the nom de plume=d Bubbles LaTour. The recitation of history in these essays is laced, through and through, with the same make-believe reality that haunted my mention in Chabon=s novel (see the foregoing essay) (oh, you already have? Good). Some facts; some fictions. Which is which?
Despite the freewheeling fictions, we know Diana Schutz is real. Ditto Roy Thomas, and Cat Yronwode. What about Bubbles? SoCis Bubbles real like me? Or fake, like my footnoted fame? We can=t tell. But she=s written a lot of the essays.
One of the stories in the June volume, AWeird Date,@ Bubbles assures us, in the making-it-all-up spirit of the book, was written by Sam Clay (the AClay@ in AKavalier & Clay@) and published in 1949.
And there=s a lot of this sort of thing in the essays.
But it=s all good fun.
As a matter of actual comics history, here=s what happened: after Michael Chabon wrote his novel of faux comic book history (see Gossip & Garrulities above), Dark Horse decided it would be nifty to publish some actual comic books about Chabon=s made-up superhero, the EscapistCtreating the Kavalier and Clay fiction as if it had actually existed sometime in the Golden Age of the 1940s. Along with Kavalier and Clay. And so it came to pass, and Chabon=s fiction acquired a fictionalized past reality.
This pair of books collects some of the stories and pin-up art that resulted when Dark Horse reached out to people like Eduardo Barreto, Steve Lieber, Val Mayerik, Paul Hornschemeier, Gene Colan, Dean Haspiel C. Scott Morse, and Jim Starlin in the January volume, and in the June book, Bian Bolland, Paul Grist, Jimmy Palmiotti, Tim Sale, Joe Staton, Matt Wagner, and a dozen or so more writers and artists (among them, Harvey Pekar, who begins his tale by glaring at the Escapist and saying, AWho th= fuck are you?@ and ends story, saying: AI didn=t know anyone dressed in spandex could be so helpful")
The stories feature the humorous abstracted abbreviations of Marc Hempel, the comical anatomy of Kyle Baker, the stark realism of Tom Yeates, the mannered layouts of Howie Chaykin, the broad painterly strokes of Dan Brereton, the stunningly bold and stark renderings of Roger Peterson, the spidery compositions of Bill Sienkiewicz, the visual hilarities of Michael T. Gilbert, and the talents of other, similarly accomplished artists.
The back cover blurb on both books actually tells it like it is (or was) (or pretends to be)C:
AThe Golden Age superheroCmaster of elusion, champion of liberation and foe of tyrannyCfrom his secret headquarters beneath the majestic Empire Theater, the Escapist and his associates have been defeating the crooked and coming to the aid of those in need for generations. From obstructing the endeavors of post-war Nazis, to protecting the innocent from an attack on the World=s Fair, to infiltrating behind enemy lines to free prisoners of war in Vietnam, and even to stymieing a hypnotizing saxophone play, the Escapist does not suffer oppression of any kind.
AFrom preventing a prison break and attack on Empire City to facing a demonic horde in Japan to crushing a galactic takeover in the year 2966 and to surfacing a sunken submarine from three hundred fathoms, the Escapist brings hope and liberation.
AA multitude of the Escapist=s pulse-pounding adventures are collected here. The June volume also contains a story torn straight from the pages of The Amazing Adventures of Kavalier & Clay, a tale of the mysterious Mr. Machine Gun, written by Michael Chabon. Also featured, from another Kavalier & Clay classic publication, Weird Date, are two stories of romance, crime and mystery.@
The latter do not feature the Escapist: they purport to be late (or early) products of the Kavalier and Clay partnership, together or singly. There are also a couple of war stories without the Escapist. The longest tale in the June volume, Mr. Machine Gun, 76 pages, smoothly rendered by Barreto, is also Escapist-free. And in the January book, the last 87 pages are devoted to the adventures of Luna Moth, another invention of Clay and Kavalier, the alter ego of spectacled librarian Judy Dark, who, as Luna Moth, deploys (as Bubbles LaTour assures us) Aa pulchritudinous pinup design: again, according to Chabon, >a woman with the legs of Dolores Del Rio, black witchy hair, and breasts each the size of her head.=@
But the Escapist stories take the first 300 pages in both books, and that=s where the fun is.
The January volume begins with Chabon=s AThe Passing of the Key,@ crisply rendered in bold strokes by Eric Wright. The key, it seems, has magical properties that permit the Escapist to escape like Houdini, and this story is the Escapist origin taleChow a gimpy young man on crutches inherited the Escapist mantle from an old stage magician and elusionist, Mysterioso.
Underneath the famed Empire Theater, we meet Mysterioso and young Tom Mayflower, who will become the Escapist, and the hangers onCgiant Dr. Alois Berg (ABig Al@), turbaned Omar, and the succulent Miss Plum Blossom. In this subterranean headquarters, Tom learns of the feared Iron Chain, which he will combat for several episodes.
Just as the history of the Escapist and his creators is tongue-in-cheek, so the Escapist tales themselves are not quite entirely, deadly, serious. Luckily, I=m not in any of them, in lingerie or not.
And just to prove it, we=ve posted near here a few more Escapist samples, copious with otherwise revealing information.
THE WISDOM OF RONALD REAGAN: PART TWO
The most terrifying words
In the English language are:
I'm from the government
and I'm here to help.
Government is like a baby:
an alimentary canal with a
big appetite at one end and
no sense of responsibility
at the other.
GAGGING
Single Panel Magazine Cartoons
IT DOESN=T SEEM THAT ESQUIRE is revolutionizing gag cartooning as its cartoon/humor editor Bob Mankoff promised it would when he took the job on the day after being retired at The New Yorker. After publishing an abysmal few full-page color cartoons in his first few issues, Esquire has descended pretty fast into a cartoon no-man=s land. The latest issue, September=s, has three tiny b/w cartoons and only one full-pager, a series of sardonically related comic strips by Edward Steed, who also appears regularly in The New Yorker.
Mankoff also promised to find new and wonderful cartoonists. So far, almost all of the cartoonists he=s published in Esquire have also been New Yorker cartoonists. One of the three tiny b/w cartoons in this issue is his; the other two are signed almost illegibly by someone whose name might be Gerahardt. We=re posting the whole disappointing crop near here.
PITHY PRONOUNCEMENTS
Is a picture of a nude woman automatically exploitative? ... I think that the political agenda that is predicted on the notion that the showing of one=s sexuality as a conscious decision is exploitation is, of course, just a political agenda. It has no reality or truth. Nor the notion that because either of the sexes make themselves attractive to the opposite sex a form of >the devil in the flesh.= I mean the whole idea of taking offense at being a sexual object is playing with semantics because it doesn=t make you an object: it makes you an object of desire. And who doesn=t want to be an object of sexual desire to members of the opposite sex? That=s par of the reason why wer=re here.CHugh Hefner
BOOK MARQUEE
Short Reviews and Brief Opinions plus Forthcoming Events
This department works like a visit to the bookstore. When you browse in a bookstore, you don=t critique books. You don=t even read books: you pick up one, riffle its pages, and stop here and there to look at whatever has momentarily attracted your eye. You may read the first page or glance through the table of contents. And that=s about what you=ll see here, beginning withC:
Penguins
By Nick Thorburn
286 8x10-inch pages, b/w with some color; Fantagraphics, $24.99
THEY LOOK more like people than penguins. Thorburn explains: APenguins go through a lot of hell that could be avoided if they had the ability to fly. This cruel irony lends itself to humor, as well as sadness. Death and the desperate search for love and companionship seem so tethered to life as a penguin, as well as for humans, so the goal was to bridge those two and make them funny.@ A nice idea. Something to play with.
To that purpose, Thorburn gives us page after page of wordless short stories, some several pages long. But I don=t see that he=s bridged the gap between penguins and humans. His tales are often bittersweet explorations of the range of human emotion: fond and romantic aspirations are seldom achieved, and disappointment and frustration reign. Engaging as well as amusing, but his Apenguins@ look like ordinary humans with round heads and button nosesCnot like penguins. If the noses were pointed, the penguin connection would be more apparent.
You should buy this book in order to marvel at two things: Thorburn=s considerable ability to tell stories without words plus his inventiveness in coming up with so many plots. Some of the stories involve rather grotesque humanesque creatures; but mostly, we have his people/penguins cavorting, deliberately not carefree, across the pages, like those we=ve posted in the immediate vicinity.
New Edward Gorey Biography
I got a note from Little Brown about their new Afabulous biography of cultural and queer icon, original elegant freak and ultimate category defy-er, Golden Girl fan, never missed a Balanchine performance, Mr. Edward Gorey, Born to Be Postumous by Mark Dery. It has already earned the following accolades:
AEdward Gorey has been granted the most remarkable biography, one I believe he could have lived with. What was the likelihood that this singular genius could be restored, with such compassion and grace, within his whole context: Balanchine, Surrealism, Frank O=Hara, Lady Murasaki, et al? This is a Dery Gorey book.@ B Jonathan Lethem
AEdward Gorey=s ardent admirers have long known there is something about his work one can=t quite pin down. Past all reason, Mark Dery has pinned it down. A genius book about a bookish genius.@ B Daniel Handler, author of A Series of Unfortunate Events
I just acquired this tome, and there are a few more things you should know about it. For $35 (released in November), it=s 485 6x9-inch pages long, and 70 of those pages are footnotes. There are several photographs, but they=re all too small, and on newsprint paper, their detail is lost. Finally, there are virtually no Gorey cartoon stories. A few isolated drawings or excerpts, but nothing in complete form. Which, I would argue in a book about an artist/cartoonist, is a criminal shame. But if you have any of the three collections of Gorey=s works, you can refer to them whenever you need to be reminded that he was more than an opera buff.
ATalking Mort Walker: A Life in Comics is a major accomplishment," saith Brian Walker (from the Foreword), son of the aforementioned Mort. Quoting from the online description of the bookC Besides syndicating nine comic strips, including Beetle Bailey and Hi and Lois, Mort Walker devoted his life to creating, collecting, curating, and chatting about his one true loveCthe funnies. This book by Jason Whiton takes readers on a journey for the first time through Walker=s career between 1935 and 2018, with over 700 pages of rare interviews, articles, letters, unpublished photographs, and drawings that reveal insights about the child prodigy who grew up to become the Dean of American cartooning.
From his earliest press coverage as a kid to his final interview with his granddaughter, Walker maintained a healthy philosophy that Aseven days without laughter makes one weak.@ Amongst his many awards and accomplishments, he was ultimately most proud of creating so many friends in the funny pages for millions of readers.
Throughout this 83-year collection of clippings, Walker reveals his passion as well as his experienced views on the craft, business and history of cartoon art. Talking Mort Walker is a touchstone for comic scholars, fans, and budding cartoonists. Started before Walker=s death, the book also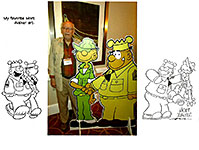 includes speeches from his memorial by Tom Gammill (Seinfeld, The Simpsons, Futurama), Joe D=Angelo (King Features), Rocky Shepard (King Features), and tributesCmany written specially for this volumeCby his family and colleagues, including Jim Davis (Garfield), Patrick McDonnell (Mutts), Jeannie Schulz (Charles Schulz Museum), Lynn Johnston (For Better or For Worse), Jenny Robb (Billy Ireland Cartoon Library & Museum), and writers including R.C. Harvey, Rick Marschall, David Astor, John Breunig, Jud Hurd, and Cullen Murphy.
Author Whiton first collaborated with Mort Walker on the biographical book project, Mort Walker Conversations (University Press of Mississippi, 2005). He teaches drawing, cartooning, and media arts in San Francisco.
PERSIFLAGE & BADINAGE
Modern white-cube galleries have trained us to look dispassionately at Baroque nudes depicting full-breasted goddesses, heroines, and nymphs. We=re encouraged to study the painter=s handling of perspective and of light. But in the 16th and 17th centuries, when Europe=s great painters sent their works to Spain=s Hapsburg kings, Athere were other, less intellectual ways of looking at these tableaux of heaving flesh,@ saith Jason Farago in the New York Times, reviewing what he calls a Asteamy@ exhibition at the Clark Art Institute, Williamstown, Massachusetts.
The artists knew this about their works, as did the Catholic monarchs who commissioned them. In such a climate, the 28 paintingss that make up this exhibitionCall on loan from Madrid=s Prado museumCrepresented Aa moral minefield.@ Rulers hid racier holdings by Velazquez, Titian and Rubens in private rooms called salas reservadas. But sequestering these paintings didn=t quash their erotic charge. Even now, some Amay leave you a little hot under the collar.@
BOOK REVIEWS
Long Disquisitions Full of Crotchets & Opinionated Critiques
DC Comics Before Superman:
Major Malcolm Wheeler-Nicholson=s Pulp Comics
By Nicky Wheeler-Nicholson; Foreword by Jim Steranko
256 8x10-inch pages, color; 2018 Hermes Press hardcover, $125
THE PULPS REFERRED to in this book=s title are the comic books started in the mid-thirties by the soldier-of-fortune pulp fiction writerCstarting with New Fun Comics (January 1935) and progressing through New Comics (December 1935; which eventually morphed into New Adventure Comics and then Adventure Comics), and More Fun (January 1936). In fourteen short text chapters (amply illustrated), Nicky Wheeler-Nicholson, the Major=s granddaughter, traces the history of the Major=s publishing empire and offers a short biography of the Major, plus an argument that it was the Major who discovered Superman. (I agree; for the whole tantalizing tale in agonizing detail, visit Harv=s Hindsight, November 2013 .)
Only about 35 pages of the volume are consumed by Nicky=s prose, leaving well over 200 pages for the pictorial content, the chief purpose of the volume.
Most of the pictorial content presents the adventure stories in comics form that were first published in that form in one or another of the Major=s comic books. The first of these in the book is ABarry O=Neill and the Fang Gow of China,@ 79 pages of serial adventure but, alas, incomplete (due to the scarcity of source pages). ABob Merritt@ gets 28 pages, the second longest excerpt, and his tale is also incomplete.
ABlood Pearls,@ attractively rendered by Munson Paddock with a crisp line and plenty of drama-intensifying close-ups, is thirdCand completeC with 24 pages. Then comes AThe Golden Dragon,@ drawn by Tom Hickey in a manner that shows he=s been reading Milton Caniff=s Terry and the Pirates as well as Alex Raymond=s Secret Agent X-9, with 16 pages, not enough to finish the story. Sven Elven draws two story excerpts, a swashbuckler entitled AFoe of the Borgias,@ and a comics version of H. Rider Haggard=s AShe,@ both drawn in an expertly scratchy manner. All written by the Major (or adapted from a prose story he=d written).
Nicky prefaces each of these reprints with a short summary of the plot and a little information about the artist. Leo E. O=Mealia is the expert artist doing the two longest tales, and he will stick with DC Comics for some time after the Major is bankrupted and forced out by his financier, Harry Donenfeld, publisher of spicy pulps until he inherited a windfall with Superman.
In her recounting of her grandfather=s career and his publishing companies, Nicky is as thorough as she can be in such meager allowances of text. She is also often quite the apologist for the MajorCunderstandably so, given that his contributions to the comics industry have been, until quite recently, ignored or belittled.
In one place, defending the Major from the accusation that some of his Bill Barnes novels Aaren=t his best,@ Nicky explains that because he was, at the time of their production, establishing his comic book company, Ahe could have been somewhat distracted.@
And she does yoeman work in bolstering the Major=s reputationC:
AUnlike many pulp writers who imagined exotic and unusual scenarios, the Major lived them.@ He was an accomplished swordsman and horseman, she saysCbecause he=d been in the cavalry.
He also made Akeen editorial decisions.@
AThe Golden Dragon@ is based upon one of the Major=s prose efforts, AMonastery of the Blue God,@ which, Nicky says, has autobiographical aspects. AMonastery@ is also presented herein in comics form.
The Major=s army career was aborted when he was court-martialed for defending his African-American troops, Nicky explains. At the end of the trial, all charges (which, Nicky maintains convincingly, were spurious to begin with) were dropped except one: the Major had written an open letter to President Harding about these issues, and for that he was Agiven a slap on the wrist and >put back in the files,= meaning that other people would be promoted before he would be.@
The Major=s disgrace, in other words, was brought on him by his own idealistic behavior.
When he asked for retirement with benefits, Athey pushed him out,@ saith Nicky.
WHILE THE BOOK OFFERS MUCH VALUABLE INSIGHT into the operations of the Major=s pioneering comics publishing enterprises, it leaves some tantalizing questions behind.
How did the idea to produce comic books with original art occur to the Major? Nicky says he wanted to establish a comic book industry akin to the pulp magazine industry, but where did that idea come from?
Comic books at the time were reprints of newspaper comics. Nicky joins the speculation that the Major used original stories concocted expressly for that purpose in order to avoid paying syndicates for the right to reprint, as other publishers were doing. But in the end, Nicky denies that this was the sole reason for the Major=s innovative strategy. However, she offers no convincing argument for some other motive.
She says that the Major was an artist, but she offers no proofCno art of his is reproduced in the book.
Nicky mentions that the Major=s ASandra of the Secret Service@ is Aan early heroine created by the Major,@ but we get no pictorial evidence to ponder.
She imagines a salon sort of atmosphere for the early laborers in comic booksCAa time and place in that twenty-something block radius of writers and artists and art students, having drinks after work, sitting in coffee shops, passing around portfolios and seeing new possibilities for their art.@
Not likely, I=d say. For one thing, coffee shops of the sort she imagines probably didn=t exist at the time in the area of Manhattan she alludes to. And a 20-block radius in Manhattan is quite large, scarcely fostering the sort of life she imagines. Nice romantic notion, though.
The biggest question, however, is how, exactly, did Donenfeld and Jack Liebowitz force the Major out of his own business?
Donenfeld and Liebowitz sued Nicholson Publishing into bankruptcy. What of the Major=s other companyChe was owner of National Allied Publishing. And he was a partner in DC Comics with Donenfeld and Liebowitz. So even if Nicholson Publishing went out of business, what about National Allied Publishing? And the Major=s share in DC Comics?
Doubtless, Donenfeld and Liebowitz finagled the collapse of the Major=s other publishing interests as part of the bankruptcy proceedings, but it=d be nice to know exactly how they managed that.
Reproduction of the artwork throughout the book is excellent. Nothing has been refurbished: it=s all been shot from the comic book pages. And the energy of O=Mealia=s drawing and that of the other artists is impressive. Unhappily, printing on slick paper gives the color pages a garish aspect, but it=s tolerable.
And the book includes quite a bit of rare art. Walt Kelly=s AGulliver=s Travels@ and his ADown by the Old Mill Stream@ (the latter, reproduced much too small), and various efforts from Joe Shuster and Jerry Siegel Cexcellent reproduction of the opening pages of their AReign of the Superman@ and samples from ADr. Occult,@ AHenri Duval@ and a couple others. Also, the cover of WowCWhat a Magazine, No.1. None of Shuster and Siegel=s Slam Bradley, though; too bad.
In sum, despite some minor quibbles, the book is a valuable repository of rare comic book history, worth having on your shelf.
And Then the World Blew Up
By Mr. Fish
208 gigantic 9x12-inch pages, b/w and color; 2017 Fantagraphics, paperback, $29.99
OUTRAGEOUS IRE. That describes the attitude Mr. Fish conveys in his cartoons, which he draws in an astonishing array of styles from impressionistic to photographic. His captions use Afuck@ a lot (or phuck) a lot and the characters in them are sometimes flipping the bird to the outside world.
R. C. Baker, reviewing the book for the Village Voice, says: AIt can be dicey to read Dwayne Booth=s new book over a cup of coffee. Chances are you=ll spit out your brew laughing at a particularly hilarious cartoon or choke on a >Did he really just say that?= bit of proseCor your beverage will go cold as he deftly skewers your most comfortably held beliefs.@
That preamble gets us going. But it is scarcely enough.
Dwayne Booth, incidently (although you=ve doubtless guessed), is Mr. Fish=s real name: he adopted the pen name because, he once explained, he didn=t want to be confused with George Booth, the revered New Yorker cartoonist. But no one would ever confuse the two. George draws cartoons about eccentric cranky country bumpkin-like elderly people who keep anti-social dogs; Dwayne draws cartoons that are unabashed attacks on conventional thinking/belief by deploying visual devices that are either sickening or blasphemous. Or criminal. George amuses; Dwayne disturbs. No one is likely to confuse amusement with disturbance.
And yet, for some of us with twisted minds, disturbance is amusing. Baker is such a person. His review is as acerbic as Mr. Fish=s cartoons are insulting.
Commenting on a cartoon in which former Prez Bronco Bama is depicted, Baker says the cartoon Abegs the questions many fans of the former presidentCa cautious politician respectful of his office even as it was being savaged by the oppositionCmight well ask. My own query, once I got on Mr. Fish=s wavelength, was: >Why the fuck didn=t Obama do a recess appointment of Merrick Garland?=
AIf nothing else,@ Baker concludes, Athat would have gummed up the works as Republicans maneuvered to remove the new justice from the Supreme Court, thereby delaying their unrelenting attacks on the poor and middle class through attempts to repeal Obamacare and ram through a mendacious tax giveaway to the rich.@
Baker has caught Fish, producing a worthy imitation of the cartoonist=s peevish prose, the ranting of which introduces each of the book=s Achapters@ with titles such as theseC In Defense of Naked Women, Soup Having Sex with Soup, and, the prize, When Jewish Upon a Star
In one of these text pieces, Mr. Fish tells about driving down an Aunremarkable street@ in a drizzle on Inauguration Day in 2017 and noticing on the front lawn of a house he was passing Aan oscillating sprinkler wearily pissing its redundancy in the rain. Having spent the previous two years watching a pair of similarly monotonous candidates grind away incessantly for the purpose of contributing more and more vitriol and suspicion to a culture drowning in rage and paranoia, this small demonstration of futility masquerading as purposeful functionality gave me every reason to think that we as a nation were finally and irrevocably doomed, the mutilating pointlessness of our electoral politics finally pervasive and bewitching enough to have cursed even inanimate objects.@
In short, Mr. Fish=s prose is as hypnotically captivating as his equally prickly pictures. A treat in either guise.
So the book is not all pictures. But that=s what we buy it for, and a decent review cannot help but deploy a selection of Mr. Fish=s pictures to accurately describe the book=s content. So hereabouts, our selection.
The Ghost Script
By Jules Feiffer
148 9x11-inch pages, b/w some tinted with color; 2018 W.W. Norton hardcover, $26.95
THIS IS THE LAST of the graphic novel trilogy Feiffer began with Kill My Mother (reviewed here in Opus 323) and continued through Cousin Joseph (Opus 361). You might want to re-visit those two reviews just to remind yourself of the cast Feiffer assembles for the series. If you=d rather not make the trips, you=ll have to be content with my abbreviated reprise here. (If you=d like to avoid echoes of the past, skip down to the paragraph beginning with ALL CAPS.)
When Mother opens, we think it=ll be about Elsie Hannigan=s daughter, Annie, but it turns out to be as much about Elsie, widow of a hard-boiled detective named Sam. By the end of the book, Annie is working as a producer/writer in Hollywood and Elsie has been blinded during World War II by a Japanese bullet while on a USO tour in the South Pacific. But these plot elements don=t matter in this brief review: Feiffer undertook the project because he was attracted to the graphic novel form and wanted to try it out with a foray into the noir tradition of novels and movies.
He succeeds in producing a book of wonderful interlocking complexity that proceeds by getting more and more convoluted, over-laid and interleaved with plot and incident in typical noir fashion. The pleasure in reading the book comes in part from admiring the artful way Feiffer brings together all the errant asides, knitting these seemingly loose threads into a knotty conclusion, exactly as Hammett or Chandler might.
Doing the book brought Feiffer back. Until he did Mother, he had nothing to do that engaged his imagination and talent. Once he delved into the long form comic strip that is the graphic novel, he was afire with cartooning ambition again and started working immediately on Mother=s successor, Cousin Joseph, which he now saw as the second in a trilogy.
Cousin Joseph takes place years before Mother, in the early 1930s, and it is ostensiblyConce you back away from it into the lightCthe story of how Annie=s father, Elsie=s husband, Sam Hannigan met his untimely end.
The title character is the villain of the piece, but we see him only once. And he never, despite the malicious mischief he causes, gets his comeuppance. (That is reserved for The Ghost Script.) Sam is Cousin Joseph=s messenger boy: in whatever time he can spare from his job as head of the police department=s Red Squad that fights communist influence in the movie industry, Sam delivers packets of cash to movie producers on the condition that they produce only movies that offer an upbeat vision of America. Anti-communist propaganda, in other words.
Sam finds out that one of the suspect movies is actually a triumph of traditional American values, and when he reports this to Cousin Joseph, Joseph reacts, revealing himself to be an anti-Semite whose payments to Jewish movie producers are intended to prevent them from taking over the world (the old discredited myth of The Protocols of the Elders of Zion).
Because everything in a noir enterprise works out unhappily, it all ends disappointingly for everyone except Cousin JosephCthe saddest outcome, though, is Sam=s death, shot and killed, in a scene repeated in Ghost, by Addie Perl the bartender who says she can handle a gun as well as any cop. For killing Sam, she=s paid enough money to open her own bar. And Sam=s discovery about Joseph=s proclivity remains secret.
FEIFFER SAYS he didn=t intend to write a novel in which political issues lurked, but by the middle of Joseph, he knew he=d been Atricked@ into it. Ghost, then, is about the blacklist in the early 1950s (before McCarthy dominated) and the movie business and communism and left-wing enthusiasms that animate the unions. And this book is even more convoluted than either of its predecessors.
By page 70, Feiffer has introduced over 30 characters and given them names and hinted, but only hinted, at their relationships. We encounter nothing resembling a plot yet; it=s hard to sustain interest in what could pass, so far, as a telephone book. But that=s how noir is, and submerging in it is the pleasure of reading it.
Blind Elsie is back, now a gossip columnist on radio (using material supplied by Patty, one of a murderous pair of sisters in Mother); so=s Annie. Addie, now running her own bar, now goes by Lola Burns. But the book is really Elsie=s: although she doesn=t talk about it much at first, she=s trying to find and kill the person responsible for the death of her husband, Sam.
Archie Goldman, a walk-on in Joseph, is a central character in this bookCa detective aspiring to toughness of the Sam Spade order but turning soft-boiled at every try. He is sleeping with both Annie and Lola, albeit not at the same time. His mother, Cissy, is his partner in his detective business. And we meet Lyman Murchison, a big-name movie producer who is also founder of Our Forefathers for Freedom, supposedly espousing rampant patriotism but probably a front for Murchison=s anti-Semitism; he=s against left-leaning unions.
Lola, assuming her moonlighting guise as a dominatrix, entertains Murchison.
Eventually, we meet the people who are writing AThe Ghost Script,@ about which, until then, we=ve heard only scraps.
The script is the brainchild of O.Z. AOz@ McCay and his paramour, the aging screenwriter Fay Bloom, and a young ambitious Broadway playwright named Anthony Rose. They concoct a story in which writers and actors are blacklisted so that they may be hired back under assumed names and for much less money than they=d get under their own names. The authors plan is to make it clear that Murchison=s Forefathers for Freedom is behind this machination which aims to destroy left-leaning unions (infected with communism) whose aggressive demands give Murchison and other producers ulcers.
Hovering over Hollywood at the time is the nefarious and feared federal government=s House on Un-American Activities Committee (HUAC) which, conducting a perpetual witch hunt for communists, is incidentally creating the blacklist. AThe Ghost Script@ shows that the blacklist is really about union busting.
AThe Ghost Script@ as our plotting trio intends will destroy this infamous effort by exposing the whole enterprise.
That, however, never happens. When Rose tries to interest a producer in making a movie of AThe Ghost Script,@ the producer declines, saying the story is too real. Rose leaves Hollywood, returning to Broadway where he hopes to stage the inflammatory AGhost.@ The producer throws the script away.
AThe Ghost Script@ episode is the book=s satiric jab, but the book is not about satire; it=s noir, remember? And in noir, most people don=t get happy endings.
Here, however, some do.
Elsie realizes that Murchison is Cousin Joseph, the man who arranged for Sam=s death. With Patty guiding her aim, she shoots Murchison and kills him. She and Patty wander off-stage, and Archie Goldman wanders on.
To protect women he barely knows, he re-arranges the murder scene, making it look like a burglary that got out of hand. And he disposes of Murchison=s voluminous files of incriminating blackmail information. Then Archie drives off.
Elsie the gossip columnist announces that Murchison has been revealed as a communist spy, and then we watch Archie driving around in circles for five pages, mulling it all over before Feiffer commits the book=s joke on the last page.
Feiffer=s mastery of the form is evident throughout: despite having never worked in comic book form before Mother, he manages the conventions expertly, and he sometimes displays dramatic deviations from the norm. I=ve posted here at the elbow of your eye a few testimonials.
Let It Be
The Beatles
When I find myself in times of troubleMother Mary comes to me
Speaking words of wisdom, let it be.
And in my hour of darkness
She is standing right in front of me
Speaking words of wisdom, let it be.
Let it be, let it be, let it be, let it be,Whisper words of wisdom, let it be.
And when the broken hearted people Living in the world agree
There will be an answer, let it be.For though they may be parted
There is still a chance that they will see
There will be an answer, let it be.
Let it be, let it be, let it be, let it be,
There will be an answer, let it be.
And when the night is cloudy There is still a light that shines on me
Shine until tomorrow, let it be.I wake up to the sound of music
Mother Mary comes to meSpeaking words of wisdom, let it be.
Let it be, let it be, let it be, let it be,There will be an answer, let it be.
C Songwriters: John Lennon, Paul McCartney
MOVIE ABOUT JOHN CALLAHAN
The Most Dangerous Cartoonist in America
The new movie ADon=t Worry, He Won=t Get Far On Foot@ is about John Callahan, a quadriplegic who became a cartoonist. When he died in 2010, I went nuts writing and assembling obituary material in Opus 265. And in recognition of the cinematic triumph, I=m repeating it all just a paragraph or so down the scroll. Incidentally, the movie=s director, Gus Van Sant, told The New Yorker that the movie was originally Robin Williams= idea:
AHe wanted to play John. I think as a gift for his friend Christopher Reeve, he wanted to play a quadriplegic.@ Reeve, you=ll remember, played Superman several times in the movies until he was paralyzed from the neck down.
Now, just adjacent to these words, are samples of Callahan=s cartooning talent.
These cartoons look as if they were drawn by a guy who could barely hold a pencil. And that=s exactly right: that=s who drew them, John Callahan, a quadriplegic who taught himself to hold a pencil between his hands. On July 24, 2010 Callahan died in Portland, Oregon, the town where he lived most of his life and through which he roared daily on his wheelchair, of complications from quadriplegia and respiratory problems. He was 59, and he=d been a quadriplegic since he was 21Cthat=s 38 years in a wheelchair; an alcoholic since he was 12. And a cartoonist since he was 32.
Often compared to Charles Addams and Gahan Wilson, Callahan was neither: they were much more playful than he. He=d been angry and bitter most of his life. But as you can readily see from the shocking and tasteless cartoons above, Callahan could see the comedy, the hilarity, in even the grimmest and grisliest human condition. He could see it because he was living it.
He said life as a quadriplegic was a "carnival of horrors," T. Rees Shapiro reported in the Washington Post; he said he felt like a "head stitched to a dead body."
Callahan drew praise from Simpsons creator Matt Groening, who said Callahan's works were "rude" and "depraved"Cin short, Groening said, "all the adjectives that cartoonists crave to hear." Callahan=s cartoons appeared in nearly 300 publications worldwide, including Omni, The New Yorker, National Lampoon, Whole Earth Review, Lear=s, American Health, Penthouse and Esquire to name a few, and he was, for a time, syndicated.
ACallahan,@ said Mike Peters of Mother Goose and Grimm,Ais the black hole of humor. His cartoons are ground zero. His insight into the human condition is brilliant. He does what Hitchcock would have done if he had been a cartoonist.@
Gary Larson of The Far Side fame said: AThere are two basic reasons I enjoy Callahan=s work so much. First, I think his cartoons are just plain funny; and second, he makes my own work look normal.@
In 1989, Callahan wrote the first of two autobiographies, Don=t Worry, He Won=t Get Far On Foot: The Autobiography of a Dangerous Man. Callahan told his story into a tape recorder, and his friend David Kelly transcribed itCAdrafted each chapter,@ Callahan explained, Aand then rewrote it again and again and again and again until no trace of his own voice remained. >We=re not going to have one of those goddamn as-told-to books,= he would snarl. And we don=t.@
I read the book when it first came out. The first line stopped me cold: AOn the last day I walked, I woke up without a hangover. I was still loaded from the previous night.@
A fierce and terrible honesty, candor without a single flinch.
Then for the next 210 pages, Callahan continues in the same unyielding way: he tells how he got his spine crushed, how he became a professional cartoonist, and how he coped, day after day, without being able to walk or do much of anything for himself. And in a much more serious albeit satirical vein, how the welfare system is stacked against a quadriplegic cartoonist who would like to make a living with his cartooning. It is one of the most tough-minded, funniest books I=ve ever read.
How does he cope? AI only flirt with girls who look like they have ground-floor apartments,@ he said.
In occupational therapy, Callahan wrote one-liners:
Hey, I haven=t had a chance to stand up all day.
I=m hoping to catch walking pneumonia.
Car accidents aren=t all they=re cracked up to be.
But that=s not all he said. And that=s not all he was. For more of both, I=m reprinting two articles that appeared soon after he died. Here they are:
Fearless John Callahan Pushed Boundaries of Taste and Humor with His Art
By Gene Weingarten, Washington Post Staff WriterOn Saturday, July 24, John Callahan died at 59. He was among the most brilliant and original cartoonists who ever lived. If you never heard of him, it is because he assured his semi-obscurity by venturing into some of the most unnerving, taboo areas imaginable, in a fearless pursuit of humor.
A blind man is plummeting off a cliff. In front of him, on a leash, also falling, is a small animal. The blind man is thinking, "Why did I buy a seeing-eye lemming?"
Callahan was a quadriplegic; he drew with two spastic hands, held together as if in prayer, each giving the other just enough support to fashion a semi-straight line, a line just squirrelly enough to give the drawing a slightly lunatic feel. As it happens, "slightly lunatic" was perfect.
A man is selling puppies on the street. The grim reaper has walked up to him, accompanied by her three little grim reaper children. They are excitedly bouncing around, saying, "Mommy" Mommy" Can we kill the puppies?"
In the late 1980s, when we were editors of the Sunday magazine of the Miami Herald, Tom Shroder and I first saw a Callahan cartoon in a small weekly newspaper in OregonCthe only sort of paper at the time that would run his stuff. This was it:
Two horseflies are sitting on a couch. The male fly is putting the moves on the female fly. On the floor, in front of them, are some little round objects. The female fly is saying: "Darling" Not in front of the maggots!
A few weeks later, Tom and I began running Callahan's work every week in our magazine, Tropic. I believe we gave Callahan his first big break in the mainstream media, and it began a long collaboration and friendship.
Headless bodies are stumbling out of a restaurant, blood spurting from the necks. The restaurant's name is "The Low Ceiling-Fan Cafe."
I think Callahan, who never achieved any significant degree of commercial success, was the first and best to apply such darkness to the comics; this sort of edge is now almost mainstream. If you watch "Family Guy" or "South Park" or "American Dad," you will see that they are Callahan's children.
Where does a sense of humor like this come from? It's a cliche to say "from pain," and it's not always true, but in Callahan's case the connection is self-evident.
HE GREW UP IN OREGON as a teenage alcoholic. He was 21 and drunkCa passenger in a car driven by another drunk who fell asleep at the wheelCwhen the car hit a wall at 90 miles an hour, and Callahan's spine was crushed. Even that didn't stop his drinking. He stopped one day six years later when he was in his wheelchair, trying to gnaw the cork out of a bottle of wine with teeth chipped from battle with so many corks. The bottle slipped out of his clawlike hands and rolled away on the floor to where he could not reach it. He burst out crying. In that moment, he saw the ruin of his life as a pathetic parable. He never took another drink.
A man is at a bar. He has two prosthetic hooks for hands. The bartender is denying him a drink: "Sorry, Mike, but you can't hold your liquor."
Typically, Callahan's humor was judged against the backdrop of his disabilityChe was, in effect, given a pass for what would be considered tasteless if done by anyone else. He objected to that, and for good reason. Callahan's geniusCand it was geniusCmay have been informed by his disability, but it was not dependent on it or beholden to it; Callahan's work needed no special accommodation for the handicapped, and to suggest it did is a disservice to him and to humor itself. Callahan's crippled characters were stand-ins for all of us; he saw all of humanity as being lameCdisabled by prejudice, by sanctimony, by vainglory, by small-mindedness, by self-absorption.
A gunslinger is standing on the Great Wall of China, shouting into the wind: "I'm sayin' you're all yella.@
An adolescent slur, but in Callahan's twisted hands and mind, a joke about how East meets Western.
In person, Callahan was as gentle and unassuming as his cartoons were not. He was so soft-spoken that you sometimes had to strain to hear him. He found himself to be a perfectly ridiculous character, and he seemed genuinely surprised that anyone liked his work well enough to publish it. All he was doing, he felt, was holding up a mirror to a world that was spectacularly, hilariously nuts.
A cowboy lies dead, his gun by his side, an apparent suicide. The title is: Shootout at the Schizophrenic Corral.
Like me, Callahan felt that so long as humor was delivered in a good-natured effort to entertain, absolutely nothing was tasteless. Unlike me, Callahan didn't seem to understand that not everyone felt that way. And so it often fell to us, his editors, to save him from himself. Tom and I would typically reject a half-dozen Callahan cartoons a month. Once, something went wrong, and it resulted in catastrophe.
If you search for Callahan art on the Web, the one that you find most often, unfortunately, is a cartoon that never should have been published. It came in one day, Tom looked at it, blanched and immediately faxed it to meCby then, I had left the Herald for the Washington Post.
The cartoon was an almost unimaginably crude gag at the expense of a teenage Martin Luther King Jr.Cso tasteless that the Post's editors won't let me repeat it here. [Here at Rancid Raves, however, we are not betrayed by taste; here=s the cartoon.]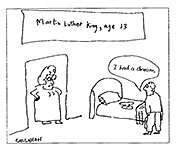 Tom and I both laughedCnot at the joke, which was hideously offensive and not even particularly good, but at the wonderful tone-deafness of Callahan, who simply had no idea that there was a lineClet alone where that line might be.
The cartoon was, of course, instantly rejected. But somehow, through an error by a production worker, it got into the magazine, 500,000 copies of which had to be destroyed at a significant cost to the Herald. The result was predictable: the newspaper's brass went ballistic and banished Callahan forever from the paper.
In the ensuing media storm, the cartoon was described as racist, which was unfair to Callahan. It wasn't about race at all; it was just phenomenally crude and rude and outrageous. Callahan, of course, trafficked in that realm all the time; outrageous humor is funny because we are outrageous, as a species. We are bloodthirsty; we are hypocritical; we are petty. We live in ridiculous denial of our flaws and even of our mortality. Callahan's cartoons took these things and exaggerated them, and threw them in our faces.
I want to end here by telling a story that I never thought I'd be able to tell in any public forum. The Post has permitted an edited version of itCon this day, in this context, for this piece.
Many years ago, Shroder, Dave Barry and I were discussing Callahan's dark brilliance, the fine lines between humor and pain, and how, in a sense, Callahan was right: among friends who understood that each other's motives were honest, nothing is tasteless. So we decided to play an elaborate prank on our friend Mr. Callahan.
First, we each tried to come up with a concept for a cartoon so offensive that even Callahan wouldn't draw it. We came with an unholy trinity of disgusting ideas involving Jesus, Auschwitz and breast cancer.
Tropic's art director, Philip Brooker, was an expert forger. He drew each of these cartoons in Callahan's style and signed them "Callahan." They were, to our eyes, indistinguishable from Callahan's work. We mailed them to Callahan, anonymously, without explanation, postmarked from another city. Several days passed. No word from Callahan. Then, one day, a letter in the mail, addressed to all of us. Callahan just knew there was only one place that first letter could have come from.
What he sent us was his answer, a single drawing. It showed a man walking down the street, popping candy into his mouth, from a bag. The candies were little, shapeless blobs. The bag was labeled "Chocolate Thalidomide Babies."
I once told John that I intended to tell this story, one day, somewhere. He laughed. That day will never come, he said.
I wish it hadn't, my friend. Not this soon.
Bits and pieces from other obits.
From Bruce Weber, New York Times: He was paralyzed from the diaphragm down and lost the use of many of his upper-body muscles, though he could extend his fingers and, eventually, after therapy, hold a pen in his right hand. To draw, he guided his right hand slowly across a page with his left, producing rudimentary, even childlike, images.
From Michael Cavna, ComicRiffs: His satiric cartoons resonated like an angry curse at the world, a shaken and gnarled fist raised to the sky. To equate Callahan the cartoonist to standup acts of the day, he had streaks of Bill Hicks and Sam Kinison and Andy Kaufman. There was nothing, it seemed, he wouldn't do, nowhere he wouldn't go. Callahan not only drew lines, which he did with no small physical strain, he also drew the lines that almost no other cartoonist would cross. At least not anyone since the underground comix movement of a coupla decades earlier. But no one else did it so crisply or succinctly or nakedly as Callahan. There was no high, crosshatched artistry to elevate the point. With a mere few squiggly lines, the scarlet-haired Callahan was a scatalogical Zorro. ...
From T. Rees Shapiro in the Washington Post, who quotes Callahan in the Miami Herald in 1989: "I'm happiest when I'm offensive. I have a desire to tear people in half. I want to move people out of the suburbs of their mind. I want them to suffer, to feel something real. I have a lot of anger. I want to hurt people. At least a little. ... What is interesting to me are problems: tension, despair, tragedy, disability; things that are very taboo, like people who are maimed.@
And here, from Beth Hyams at news.opb.org: Callahan's cartoons made lots of people madChe didn't shy away from making fun of feminists, Catholics, or disabled people like him. Said Callahan once: "Y'know, over the years I've gotten hundreds of angry letters from all around the world. And I only indulged myself one time to answer one of them, a nurse from Chicago. And she said how could I dare draw cartoons about handicapped people, cause she said my brother's disabled, and you'd never know the agony he goes through. But I called Chicago, and I found a way of tracking her downCsome cab company was able to get the address, and I got her phone number where she worked and called her up at her place of work, and explained very gently that I was the cartoonist Callahan, that I had drawn this cartoon ... was responding to her letter ... explained that I was indeed disabled myself ... It was a very sweet moment. I was nice, very gentle with her."
Bruce Weber tells us about the message on Callahan=s answering machine: AThis is John. I=m a little too depressed to take your call today. Please leave your message at the gunshot.@
Typical Callahan comedy. And I suspect, given the option, he would have enjoyed the joke if he could have gone out with that bang.
WE=RE ALL BROTHERS, AND WE=RE ONLY PASSIN= THROUGH
Sometimes happy, sometimes blue,
But I=m so glad I ran into you---
Tell the people that you saw me, passin= through
Marie Severin, 1929 - 2018
One of the first women to become a major comic-book illustrator, Marie Severin was sister to John Severin and helped produce Dr. Strange, The Incredible Hulk and other classic works for Marvel Comics. She died August 29 at a hospice facility in Massapequa, New York at 89. The cause was a hemorrhagic stroke, said a friend, Daniel L. Friedman.
AShe had been in poor health for some time and only days ago, suffered a stroke which put her in hospice care,@ said Mark Evanier at his POV.com. ASo this was not surprising but it's still a bit of a shocker. Let me say this clearly up top: this lady was one of the most delightful, funny and talented people who ever worked in comics. You will find no one who ever knew her who will disagree with that statement.@
Severin spent more than 50 years as an illustrator, at various intervals handling all three of the major visual tasks in comic-book production: penciling, inking and coloring. She worked closely with Marvel=s editor in chief Stan Lee for decades, reported Matt Schudel at the washingtonpost.com, and in 2001 was named to the Will Eisner Comics Hall of Fame.
In the 1970s, Severin was a co-creator of Jessica Drew C better known as the superhero Spider-Woman C and designed the character=s skintight red-and-yellow costume.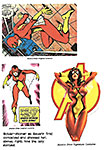 AMarie Severin did it all C penciler, inker, colorist, character creator,@ historian and publisher Craig Yoe, the former creative director of Jim Henson=s Muppets, wrote in an email. He called her Aone of the last of comics= greatest generation.@
Severin began her career in 1949, Schudel said, when her brother asked her to help with comic books he was illustrating for EC Comics. She was often relegated to what was seen as the secondary role of colorist.
Using a palette of 48 colors in that pre-computer age, she mixed dyes and applied hues to a series of black-and-white line drawings, thus giving comics much of their eye-catching vibrancy.
AIt=s like music in the background,@ Severin said in an interview with a website called TheSequentialArt.com. AI think of coloring as the music in comic books.@
AI would mix colors C golds, greens, blues and so on,@ Severin told TheSequentialArt.com. AThey never printed quite as vivid because, remember, in those days the paper was almost a tan to begin with, and if it wasn=t, it would turn so in about six months.@
Sometimes Severin used colors to make editorial comments on the stories she colored. She wasn=t an enthusiastic fan of EC=s horror books, and according to EC legend, when she came across a scene she thought was in bad taste, she would color the whole panel dark blue. Or bloody red. Or a grisly green.
Severin repeatedly refuted this scrap of lore, saith St. Wikipedia, but she also said she sometimes used coloring to "kind of shield" some gruesome content, noting: AI would never assume an editorial position. What I would do very often is, if somebody was being dismembered, I would rather color it in yellow because it's garish, and also [so] you could see what was going on. Or red, for the blood element, but not to subdue the artwork. ... I mean, the main reason these people were buying these books was to see somebody's head cut off, y'know? ... And [the editors] trusted me with a lot a stuff. They knew that I wouldn't subdue artwork; I would just kind of shield it a little bit so if a parent picked up the book in the drug store, they wouldn't see that somebody's stomach was all red.@
AUnfortunately, Severin was one of the many artists who fell victim to the Comics Code of 1954,@ said Betsy Gomez at ICv2.com, Awhich effectively disemboweled EC Comics and put many cartoonists out of work.@
AFTER EC, Severin worked briefly for Atlas (soon to be Marvel) Comics, then found work at the Federal Reserve System as a designer and illustrator before rejoining Marvel Comics in the late 1950s.
There, Ashe found a home in the Marvel bullpen,@ said Gomez, Awhere she worked in production, as a colorist, and as a penciller. Doctor Strange, Sub-Mariner, Iron Man, Conan the Barbarian, Kull the Conqueror, and Incredible Hulk are among the characters she worked on during her tenure at Marvel. Severin=s particular talent for caricature and comedy shone through in her work for Marvel=s satirical magazines Not Brand Echh, Crazy, Spoof, and What the --?"@
AI was always drawing, but in my early years, they didn=t know me as an artist, just as the colorist who could touch up stuff and fix lettering,@ she told TheSequentialArt.com. AWhen I came back to Stan [Lee at Marvel Comics] he didn=t even look at my portfolio: >Oh Marie, it=s so good to see you. We need somebody in production.@
But after Severin did an illustration for Esquire magazine, she began to gain recognition as an artist. She worked on Dr. Strange after its creator, Steve Ditko, left Marvel, then was instrumental in reviving the Incredible Hulk series in the mid-1960s. Her illustrations, and not just her colors, came to be featured on the covers of many Marvel comic books.
AShe basically worked on every character Marvel had,@ said Friedman, a physician, musician and author who has written about Severin.
Lee often came into Severin=s office at Marvel=s New York headquarters with ideas for how he wanted certain characters to look. She quickly sketched as he posed as if in mid-punch or contorted his face in a menacing grimace.
ANo one was able to present action and movement the way she did,@ Friedman said. ABasically, her model for a lot of these characters was Stan Lee.@
Severin served as Marvel=s head colorist until the early 1970s, Gomez said, when she began to focus on penciling. In late 1976, she co-created Spider-Woman with Archie Goodwin, establishing the iconic look of the character. In the 1980s, Severin joined the Special Projects Division at Marvel, working on toy, film, and television licensing and illustrating kids comics such as Fraggle Rock and Muppet Babies. And she provided the art for the Spider-Man and the Hulk toilet paper. She continued making contributions to comics well into the 2000s.
AI WILL ALWAYS REMEMBER HER as my connection with John Severin,@ said Kevin Robinette, convener of G.R.O.U.P. (Denver=s Greater Rockies Organization of Ultimate Panelologists). AShe noticed my badge when I was getting her autograph at the 1971 New York Comic Convention. She told me her brother just moved to Denver and would love to talk to comic fans. She then gave me his phone number. I could hardly wait to get home to call and talk to him.@
When he did, he got a surprise: AHe said >Who told you to call me?= When I told John it was his sister, he informed that he didn't like meeting or talking to fans at all. He just wanted to draw. He informed me that it was a practical joke she played on him. And he would get even. We talked a while and I told him I was going to art school and wanted to be a comic artist. After a bit John said he had to go but to call him back in a week or two.
AI did and we ended up talking for 40 years. He did get even. He told Marie she had to do a drawing for me when we were doing the comic conventions in Denver back in 1981-85. Bless you Marie, and thank you all your contribution. You will be missed.@
MARIE ANITA SEVERIN was born August 21, 1929, in East Rockaway, N.Y., reported Gomez, and grew up on Long Island and in Brooklyn. Her father designed packaging and other products for the Elizabeth Arden fashion company. Marie was encouraged to embrace art by her father Jack, her mother Peg, a homemaker and talented seamstress, and her older brother who would eventually help her secure her first work coloring for EC Comics.
Severin and her brother, who was seven years older and died in 2012, often drew together at the kitchen table, and she studied the comic books he brought home. She also took a couple courses in illustration.
In addition to her work on comic books, Ms. Severin worked on special projects for Marvel and also helped illustrated Muppet Babies and Alf comic books, as well as tie-in publications for the Star Wars film franchise.
She lived for decades on Long Island and retired in her mid-70s. She never married and has no immediate survivors.
Severin=s talent for humor garnered her a Shazam Award in 1974, and she earned an Inkpot Award in 1988. Severin was inducted into the Eisner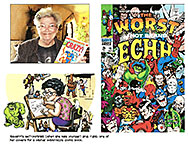 Hall of Fame in 2001, one of the first women to be added to the roster. Comics Alliance listed Severin as one of twelve women cartoonists deservingof lifetime achievement recognition, and in 2017, Comic-Con International awarded Severin the Icon Award for her enduring contributions to the artform.
Severin had a wry sense of humor that she used to battle and often overcome sexual stereotypes in a field dominated by men.
AThey say that women gossip,@ she once said. AWell, networking is male gossip, and they >networked= all the time.@
Russ Heath, 126 - 2018
Best known for the realistic clarity and human drama he brought to the war comics he drew for DC, Marvel, Warren, and EC, Russ Heath died Thursday night, August 23, at the age of 91. Although he did work for all the major publishers and rubbed professional elbows with the likes of Harvey Kurtzman, Heath never achieved the fame that the quality of his work deserved.
AThroughout his nearly 75 years drawing comics professionally,@ Michael Dean writes at the online Comics Journal,AHeath was an artist=s artist who took few shortcuts. His deadline-flouting attention to detail was so ambitious that, whenever one of his jobs was delivered, editor Archie Goodwin reported, everyone gathered around to see what >that crazy bastard Heath= had done.@
Dean=s obit at tcj.com is the best online, and although I=ve quoted from Dean herein, I recommend that you visit his essay in order to appreciate Heath fully.
A master of form, Heath was one of a dwindling few survivors from the Golden Age of Comic Books. His specialty was war and western comics, oh, and sexy girls. But his brilliance shined in all genres, said D.D. Degg at dailycartoonist.com. ATurn him loose on horror, comedy, adventures of any sort in any era and the result was the same B a creative tour de force.@
Raised in New Jersey as an only child, Heath at an early age became interested in drawing, saith St. Wikipedia, going on to quote Heath: "My father used to be a cowboy, so as a little kid I was influenced by Western artists of the time. Will James was one, an artist-writerCI had most of his books. Charlie Russell was my favorite because his work was absolutely authentic, because he drew what he lived..."
Largely self-taught, Heath began freelancing for comics during summers while he was in high school. AHe answered the call of the real-world war by joining the Air Force while still in his senior year of high school,@ said Dean. AIt wasn=t until 1947 that he was able to get his diploma and resume his comics career.@
Heath became known for the authenticity of his military comics, says Wikipedia. The artist would buy uniforms, helmets and radios and Army surplus stores to use as reference, which peer Joe Kubert said Aset him apart. He could illustrate mechanical things like rifles and tanks in a realistic way that few other artists could. He would build models of the things he would draw prior to drawing them and his stuff would come out right on the button. Other artists used to keep what they called a swipe file B pictures of things they may have to draw someday that they could use for reference. Russ' work was so good, other artists used it as reference.
Sometime in the 1960s, Heath drew two pieces of commercial art that became familiar bits of Americana after gracing the back covers of countless comic books through the early 1970s: advertisements for toy soldier sets, depicting Roman and Revolutionary War battle scenes.
THOUGH NEVER LACKING ILLUSTRATIVE DETAIL, Dean says, Heath=s art had an economy of line more common in European comics than in U.S. pages. That clean look may account for a parallel trajectory in Heath=s career: satirical cartooning.
After doing several stories in 1954 for Atlas's Mad knock-off titles Crazy and Riot, Heath went on to hold his own in the real thing, drawing and inking the classic parody APlastic Sam"@ for Kurtzman=s Mad (No.14, 1954). A funny, cartoonish parody of superheroes, it was everything his war comics were not.
Dean continues, Kurtzman left Mad to create and edit Trump, a slick humor magazine for Playboy publisher Hugh Hefner, but he continued to seek Heath out, inviting him to contribute to Trump, as well as his subsequent humor magazines Humbug and Help.
In an as-yet-unpublished conversation with Comics Journal publisher Gary Groth, Heath said, AI met [Kurtzman] when he was doing the Hey Look" strip for Stan Lee up in the Empire State building and we became friends and went out for lunch. And then he started feeding me little things at lunches Y If I=d asked him to go to lunch more Y I finally realized: I=m getting a job every time we go to lunch.@
Dean goes on: Heath=s periodic collaboration with Kurtzman culminated in a hedonistic gig at the Playboy mansion as part of the art team Kurtzman hand-picked to produce his Little Annie Fanny strip. Heath worked on 15 episodes between 1963 and 1967. Several artists pitched in to draw the strip, including Arnold Roth, Jack Davis, Frank Frazetta, and Al Jaffee, but only Kurtzman and Will Elder worked on more episodes than Heath.
All the artists filled in different bits of the strip at different times, making it difficult to tell who did what, but even working in this exaggerated cartooning mode, Heath=s more realistic tendencies crept in. Comparing his work to Elder=s, Heath told Groth, AMy Annie Fannys have a little more bones in her body than his: his were very soft, unrealistically soft.@
St. Wikipedia quotes writer Mark Evanier describing Heath making the most of one Annie Fanny assignment (in italics):
One time when deadlines were nearing meltdown, Kurtzman called Heath in to assist in a marathon work session at the Playboy Mansion in Chicago. Russ flew in and was given a room there, and spent many days aiding Kurtzman and artist Will Elder in getting one installment done of the strip. When it was completed, Kurtzman and Elder left ... but Heath just stayed. And stayed. And stayed some more.
He had a free room as well as free meals whenever he wanted them from Hef's 24-hour kitchen. He also had access to whatever young ladies were lounging about ... so he thought, 'Why leave?' He decided to live there until someone told him to get out ... and for months, no one did. Everyone just kind of assumed he belonged there. It took quite a while before someone realized he didn't and threw him and his drawing table out.
Heath enjoyed working on Jim Warren=s books. AIt was such a great thing. No one could spoil your stuff with bad color. ... So it was a real pleasure.@
Working with a wash, he felt he could make his drawings as painterly as he wanted to.
AAnd that was the most fun I ever had with the work,@ he told Groth. AI consider some of my very best work to be done for the Warren books. ... There was one that was about an African native. He=s a young boy and he=s fallen in love with this enemy captured girl. And at the end, he kills a lion and they say, >OkayCyou can have her.= And that made him a man. And it turns out he wanted to boil her and cook her and eat her@ (laughter).
He had great esteem for Archie Goodwin.
AOne time he sent some stick figures, breakdowns, one page for a story, the scene as he imagined it,@ Heath remembered. AHe said, >You don=t have to follow it. If it=s of any use to you, go ahead.= So I thought, >I don=t want to look at this because it=ll influence me. So I=ll do my own stick figures and then I=ll compare the two. And where I think I told the story better, I=ll use that and where he did, I=ll use his.
AOut of forty pictures, there was one that was different,@ Heath concluded his story. AThe rest were exactly the same. Talk about being able to visualize. That=s unbelievable. And I was just freaked out.@
Heath also did some comic strip work, Degg says. It started by assisting George Wunder on Terry and the Pirates in the 1960s. In the 1970s he assisted Dan Barry on Flash Gordon. And in 1980, he was helping Stan Lynde on Latigo for a few months.
From 1981 to 1984 he drew the revival of The Lone Ranger comic strip. Between Latigo and The Lone Ranger, said Degg, Heath adapted the Walt Disney movie ACondorman@ into a five month installment of the Treasury of Classic Tales Sunday series from November 1980 to April 1981. A rare venture into the superhero genre.
Heath received an Inkpot Award in 1997. He was inducted into the Will Eisner Comic Book Hall of Fame in 2009, and received the Comic Art Professional Society Sergio Award in 2010 and the National Cartoonists Society's Milton Caniff Award in 2014. In 2018, Heath was awarded the Inkwell Awards Stacy Aragon Special Recognition Award for his lifetime achievement as comic book inker.
Carlton Hames Ware, 1943 - 2018
Hames Ware was a pioneer in comics scholarship. He died peacefully September 5, 2018 at the age of 75. He was born August 20, 1943 in Pine Bluff, Arkansas.
Hames graduated from Henderson State University and received a Master=s Degree in Speech and Communication from the University of Arkansas B Fayetteville. He taught school for several years in Pine Bluff.
Hames was recognized nationally as an authority on comic book art and artists. He co-edited the Who=s Who of American Comic Books and contributed to countless other publications. Shortly before his death, he donated his extensive archive to the Comics Collection in Columbia University=s= Rare Book and Manuscript Library, where it will be available for research to the global community of scholars.
MORE NASTINESS ABOUT THE TRUMPET
Is The Prez Really Just Another Washington Nutcase?
How Can We Tell?
Venerable journalist Bob Woodward, whose reporting led to the downfall of the Nixon administration and who has written about every president since, has released an explosive new book on the Trump administration. Various news media have obtained copies of the book, and it has set the gasbag class a-quiver with excitement: they can scarcely believe their luck in getting their hands on another inflammatory expose that paints a laughable but terrifying picture of the Prez.
Upon receiving the news about the book=s impending release, the White House aggressively challenged aspects of Fear: Trump in the White House, which paints a devastating portrait of a presidency careening toward a Anervous breakdown.@
At the Atlantic, David A. Graham says Woodward delivers a raft of jaw-dropping anecdotes about the administration: Secretary of Defense James Mattis saying the president has the comprehension of Aa fifth- or sixth-grader.@ Chief of Staff John Kelly calling Trump an idiot. Trump saying Attorney General Jeff Sessions Ais mentally retarded.@
More startling is the revelation that economic adviser Gary Cohn orchestrating the theft of a letter from the president=s desk to prevent him from signing it. And apparently Trump never noticed the letter was missing.
The letter, saith Cohn, might have been damaging to the country if it had been signed and distributed.
New nuggets in the Washington Post review are similar, Graham said, and sometimes identical, in substance and thrust to what other reports have already conveyed: the White House is a snake=s nest of fear, rivalry, and backbiting, overseen haphazardly by an incompetent and mercurial president.
Yet they are bound to land with a little extra force because of the source: Woodward is a journalism legend whose competence and accuracy in reporting have never been seriously refuted.
An obvious analogue is Michael Wolff=s Fire and Fury, which created a splash when it was released in January. AYet while parts of Wolff=s book rang true,@ Graham said, Acritics were able to poke some holes in others. Additional books about the White House have come from narrators who are unreliable, either because they have an ax to grind (Omarosa Manigault-Newman) or a relationship to sweeten (Sean Spicer).@
While Woodward says the book comes from firsthand reporting, in a process he calls "deep background," he does not directly identify many sources whom he quotes. Woodward is not without critics, said ABC News, many of whom make valid points about his methods. But regardless of the means, he tends to deliver the goods.
Ashley Parker and Josh Dawsey at the Washington Post report that Ari Fleischer, a White House press secretary under President George W. Bush, defended Woodward in a tweet, saying that as someone who has been on the Areceiving end@ of one of Woodward=s books, and not always favorably, he had no reason to doubt the journalist=s reporting and methods.
ANever once C never C did I think Woodward made it up,@ Fleischer wrote. AAnonymous sources have looser lips and may take liberties. But Woodward always plays [it] straight.@
IF THERE=S AN OVERARCHING THEME that emerges from the new revelations, said Graham, it is the depth of the mutual disgust and disrespect between the president and his top aides, which is even more extensive than was already known. While some of the characters in Woodward=s anecdotes, including Cohn, Chief of Staff Reince Priebus, Staff Secretary Rob Porter, and National-Security Adviser H. R. McMaster, have already left the administration, Mattis, Kelly, Sessions, and Ross remain in top positions.
Given the revelations in Woodward=s book, how can these men stay in their roles with a president they detest so much? How will they be able to do their jobs now? And how could the president possibly keep them around now that the book is out?
The standard answer to the first question, writes Graham, is that they are there to protect the country, and the anecdotes in Woodward=s book show why.
He writes that Trump questioned why the U.S. needed to have troops in South Korea, to which Mattis replied, AWe=re doing this in order to prevent World War III.@ After the meeting, Mattis commented to close associates that Trump had the understanding of a Afifth or sixth grader.@
After the latest gas attacks in Syria, Trump, enraged, ordered that Syria=s slippery chinless president, Bashar al-Assad, be assassinated. Cooler heads, however, maneuvered the Trumpet into ordering an air raid instead.
Woodward=s book takes readers inside top-secret meetings, at one of which, Trump=s national security advisers convened a gathering at the Pentagon to conduct an Aintervention@ to try to educate the Prez on the importance of allies and diplomacy.
Trump=s philosophy on diplomacy was personal: AThis is all about leader verus leader. Man versus man. Me versus Kim,@ he said of the North Korean dilemma.
His inner circle was worried about AThe Big Problem,@ Woodword says: namely, Trump=s lack of understanding that his crusade to impose tariffs could endanger global security.
But the meeting didn=t go as planned.
Trump went off on Ahis@ generals. AYou should be killing guys. You don=t need a strategy to kill people,@ he said of Afghanistan.
The answer to the second and third questions is that the people Woodward quotes deny having said what he quoted them as saying. If they=re innocent of the sin of disloyalty, they can stay on in Trump=s administration and continue to protect the country. And so the denials began at once.
Hours after the Washington Post first reported several key incidents from Woodward=s book, the administration mounted a vigorous string of public denials, with statements from top advisers C White House Chief of Staff John F. Kelly, Defense Secretary Jim Mattis and White House press secretary Sarah Huckabee Sanders C as well as from Trump=s former personal attorney John Dowd.
Mattis called the book Afiction,@ and Sanders denounced the tome in a statement as Anothing more than fabricated stories, many by former disgruntled employees@ without disputing any of the specifics that have been reported in excerpts.
AThe Woodward book has already been refuted and discredited by General (Secretary of Defense) James Mattis and General (Chief of Staff) John Kelly,@ Trump wrote on Twitter. ATheir quotes were made up frauds, a con on the public. Likewise other stories and quotes. Woodward is a Dem operative? Notice timing?@
Trump was furious, saying that Congress should take a long look at our libel lawsCimplying strenuously that better, stricter laws were obviously needed.
Reportedly, Trump was storming around the White House, asking people who spoke to Woodward, an outside adviser told Parker and Dawsey. This person added that the president has recently been in a particularly paranoid mood C the result, in part, of that tell-all book by former senior adviser Omarosa Manigault Newman and his perceived betrayal by several key aides and confidants in special counsel Robert S. Mueller ongoing Russia probe.
AHe doesn=t think he can trust anybody,@ the adviser said.
TRUMP IS ALSO FRUSTRATED with counselor Kellyanne Conway. Apparently, Woodward sought an interview with the Prez but couldn=t find anyone who would get him an appointment. He tried Conway, but she, later, claimed she put in a request Abut it was rejected@ (without saying who rejected it). Trump insists that had Conway told him about Woodward=s request, he would have been glad to talk with him.
Trump, it seems, had a telephone conversation with Woodward in early August when he first heard about the book. By then, the book was at the printer, so it was too late for Trump to get himself into it.
Woodward taped their conversation, and a transcript was published hours after the book=s impending release was announced. Here, from the tape, is Trump=s view of what would make the book a good oneCan accurate one:
Trump: I mean, you do know I=m doing a great job for the country. You do know that NATO now is going to pay billions and billions of dollars more, as an example, than anybody thought possible, that other presidents were unable to get more? And it was heading downward. You do know all of the things I=ve done and things that I=m doing? I=m in the process of making some of the greatest trade deals ever to be made. You do understand that stuff? I mean, I hope. ...
Well, you know last year, if you see the secretary, (Jens) Stoltenberg, he said B I believe B $44 billion just last year, and that was from last year=s meeting. And this year it=s much more money they=ve agreed to put up. So it=s a tremendous amount of money. No other president has done it. It was heading down in the opposite direction. So I don=t know if you=re going to report it that way; probably not. But that=s too bad, but that=s all right, but you know, one of those things.
I=m just hearing about it [the book]. And I heard B I did hear from Lindsey, but I=m just hearing about it. So we=re going to have a very inaccurate book, and that=s too bad. But I don=t blame you entirely.
Woodward: No, it=s (?) B it=s going to be accurate, I promise.
Trump: Yeah, okay. Well, >accurate= is [saying] that nobody=s ever done a better job than I=m doing as president. That I can tell you. So that=s ... And that=s the way a lot of people feel that know what=s going on, and you=ll see that over the years. But a lot of people feel that, Bob.
In other words, an accurate book is one that brags about the Trumpet=s accomplishments.
TRUMP=S IRE ABOUT THE BOOK was soon blown away in the Avolcanic anger@ and absolute lividity that resulted less than a day later when the New York Times published on its op-ed page an anonymous letter, purportedly by a senior White House official, that supported Woodward=s claims in the book about the Acrazytown@ atmosphere in the administration and insisted that many staffers were staying on the job solely to protect the country from the machinations of its erratic president.
The Washington Post reported: ATaken together [the book and the letter], they landed like a thunderclap, portraying Trump as a danger to the country that elected him and feeding the president=s paranoia about who around him he can trust.@
Trump called the letter a Atreasonous act@ of disloyalty and demanded that the Times Afor National Security purposes@ (he tweeted) turn over the letter-writer to the government at once.@
Suddenly, all the gaseous talking heads on cable tv were talking about the letter and who wrote it, broadcasting pictures of the Trumpet fulminating at the mouth in rage. As if by plan, the letter in the New York Times had become exactly what the Trump administration needed C the distraction of the week, distraction enough that it shoved Woodward and his thunderbolt book off the front pages after only two days on them.
And so the national discussion rather than being about how absolutely dysfunctional this presidency is turned instead to speculation about who might have written the letter.
Stephen Colbert solved the mystery: the use of the word Alodestar@ in the letter is peculiar. Not many people use that term. ALodestar@ meaning Aguide@ is almost archaic. But Mike Pence is overly fond of it and uses it frequently. Did he write the letter? No way: he hasn=t the intellectual capacity for the sort of closely reasoned argument of the letter. Probably whoever did write the letter, used Alodestar@ knowing it would lead to Pence. Fake clue. Celebrate. Or perhaps, as has been conjectured recently, Pence=s chief of staff wrote the letter.)
Serious discussion evaporated like the morning dew.
But in the midst of all this, I couldn=t help but wonder if there were any books out there with favorable portraits of the Trumpet. Turns out, there=s at least one, Donald Trump Is a President Like No Other, by Conrad Black, a bestselling presidential historian. Here=s an Internet description of Black=s book (in italics)C:
Black has negotiated with Trump in business; he knows him as a perceptive, thoughtful, and amusing friend; and, as a presidential biographer, Black can place Trump in historical context and much needed perspective. The Trump he knows, and the Trump he portrays in his important new book, is quite different from the media image of Trump.
Yes, says Black, Trump can be the consummate showman. Yes, Trump believes in "truthful hyperbole." And yes, few would have pegged Trump as a future president. But, as Black points out, that ambition had been building for a long time.
Trump diagnosed what America's ruling elite, in its arrogance, had ignored for more than twenty yearsC that it had mismanaged America's affairs for the benefit of the few, the well-connected, and privileged identity groups, and not for the American people as a whole.
Trump stormed into the White House with that great insightC that the self-serving, self-righteous governing class had hollowed out our economy and our culture; it was killing the American Dream. Trump's vow to make America great again was a sincere call for renewal.
Amid the most hostile political climate since the Civil War, Trump has, against all odds, proved himself, by Black's estimation, a successful, tenacious, and even visionary citizen-statesmen. As Black points out, "Trump has relentlessly pursued sensible and humane conservative policies in almost all areas....His unquenchable energy, gifts as a popular tribune, sheer entertainment value, and raw toughness have served him well."
Under his leadership "America is reversing its decline...wrenching itself loose from the habits of lassitude, elitist decay, appeasement of foreign enemies, and domestic inertia. His record is impressive; his foibles are not durably relevant.
SO WHICH OF THESE VERSIONS of the Trumpet is the real one? Is he the hail good fellow political genius and brilliant strategist that Black describes? Or is he a bloated blustering blow-hard paranoid egomaniac in Woodward=s book?
Well, you know, by now, where I stand. But there=s another way to assess the authenticity of the description, and CNN=s editor-at-large, Chris Cillizza has done it, herewith (in italics)C:
Bob Woodward's new bookC Fear: Trump in the White HouseC exploded onto the political scene on Tuesday morning. It included anecdotes like: President Donald Trump's aides purposely keeping information from him in order to protect the country; a failed mock-interview in preparation for a potential sit-down with special counsel Robert Mueller over Russia; and Trump lashing out at aides, most notably Jeff Sessions, referring to his attorney general as "mentally retarded."
All of this is salacious. And makes for great headlines.
But what's truly worrisome for President Trump and his administration is that the portrait Woodward paints of a chaotic, dysfunctional, ill-prepared White House is all strangely familiar. It's the same vision of the White House that Michael Wolff wrote way back in January in Fire and Fury.
It's the same picture that Omarosa Manigault-Newman constructed in her memoir of her year in the White House. It's the same story that White House reporters at CNN, The New York Times, The Washington Post, The Wall Street Journal and virtually every other mainstream media outlet have told of the Trump White House.
Sure, Omarosa could be a disgruntled former aide trying to make money while exacting revenge on her enemies. Sure, Michael Wolff could have been misled by a few sources with scores to settle with Trump. Sure, reporters could get a detail or two wrong. Sure, Woodward could have cast a scene or two in ways that are less than favorable to Trump.
But how could allC and I mean allC of the reporting on this White House reach a striking similar conclusion?
The portraits of Trump drawn by Wolff, Omarosa and Woodward are all eerily similar to one anotherC a man hopelessly out of his depth in the job, but entirely incapable of understanding how desperately out of depth he actually is. A man motivated almost entirely by personal grievance. A man willing to humiliate people who work for him, to play staffers against one another, to scapegoat underlings to keep blame off of himself.
Someone who has so much self-belief that he rarely adequately prepares for situations involving international diplomacy and national security. Top aides who view that their jobs are primarily keeping Trump from causing serious harm, and grousing every step of the way about the man.
And now Bob WoodwardC without question the preeminent political reporter and chronicler of the White House in the last four decadesC has written a book that confirms every bit of the portrayals we've seen about who Trump is, who he surrounds himself with and how he conducts his business.
The consistency in those storylines is virtually impossible to explain in any other way than this: It's true.
To believe otherwise, you have to convince yourself that not only the entire daily media but also the likes of Wolff and Woodward all got together and agreed on how to portray Trump across tweets, stories and books. Which is, of course, beyond ridiculous.
The Point: what Woodward's book does is confirm all of the negative stories we've already heard about Trump and his administration. This isn't the work of a reporter with credibility problems or a press-loving former aide. This is the story. This is the President and how he really acts and thinks.
BUT THERE=S A LESS SCIENTIFIC WAY of determining which of the two Trumpets is the real one. Less scientific but more common sensical. Just listen to Trump talk. The most complicated word he uses is the three-syllable Awonderful.@ He has the vocabulary of an eight-year-old.
His vocabulary exposes him as a man of only primitive intelligence. Certainly, such a man would not have the intellectual where-with-all to grasp such an extravagant (and successful) scheme for winning the White House as Black credits him with having. Trump does it by instinct not intelligence.
The Trumpet has managed his successes so far in life through sheer animal cunning. And animal cunning has but one objectiveCself-preservation.
Self-preservation is an acceptable motive for many actions. But when the actor is also highly delusional and not just a little paranoid, the situation careens off into a very dangerous zone.
Metaphors be with you.
To find out about Harv's books, click here.