Opus 177:
Opus 177 (January 24, 2006). Another of our periodic Book Sale lists is NOW AVAILABLE here, including all the books from previous listings that we haven't been able to dispose of, plus another 30 or so titles, more of those I somehow keep buying that duplicate some already on my shelves. One of these days, I've got to get organized. But our chief preoccupation this time is in bidding a heartfelt fond farewell to New Yorker/Playboy cartoonist Eldon Dedini, with whom I've spent many a convivial lunch over the last several years—a master painter and hilarity monger without peer. My remembrance of Eldon comes first and is followed by: NOUS R US —Dark Horse is 20, Ann Telnaes wins a prize, Pat Oliphant sees nudes, a graphic novel history of Israel written by Marv Wolfman, Frank Cho admires Louise Brooks, and we rehearse her story and her connection with a long-running comic strip character, and that character's connection to a famous prize fighter, pausing, slightly, to extol the wonders of Ron Goulart's latest book; then animation's Oscar candidates and how Steve Jobs may be on the cusp of revolutionizing the world as we know it; Impressions and Peeves about the copycat industry of comic books; COMIC STRIP WATCH —a new comic strip takes on our consumer culture; then we visit an old comic strip by a Native American cartoonist; EDITOONERY —the latest wrinkles in the never-ending drama of the dying breed; FUNNYBOOK FAN FARE —reviews of the latest Loveless, Jack Cross, Superman and Shazam: First Thunder, Boy Wonder, and some first issues: Sable and Fortune, The Exterminators, Marlene; Under the Spreading Punditry, we count the millionaire U.S. senators; BOOK MARQUEE —reviews of Weiner's 101 Best Graphic Novels and DeForest's Storytelling in the Pulps, Comics, and Radio, winding up with a mild dose of Bushwah. And our usual reminder: don't forget to activate the "Bathroom Button" by clicking on the "print friendly version" so you can print off a copy of just this lengthy installment for reading later, at your leisure while enthroned.
<![if !supportEmptyParas]> <![endif]>
WITH FURTHER ADIEU
A Fond Farewell
Eldon Dedini, whose painterly cartoons regularly depicted frolicsome forest scenes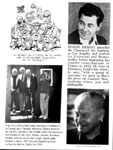 inhabited by lascivious satyrs and plump, wanton wood nymphs, naked flesh glowing in Rubenesque hues, died at his home in Carmel, California, Thursday,January 12. He was 84. He had been battling esophageal cancer for the last six months or so. Dedini's quirky cartoon comedy appeared first in Esquire, then in Saturday Evening Post, Collier's, and others in the general interest market, then in The New Yorker (in boldly lined black-and-white with a wash) and in Playboy (in steamy luminous watercolor).
Gus Arriola, another supreme stylist whose Gordo comic strip was a stunning fiesta of design and color, counted Dedini his closest friend in a friendship of over fifty years that was grounded firmly in their mutual passion and respect for the visual art they practiced and in a unique Carmel camaraderie. "Even his signature was a design," Arriola once said. "—bold, succinct, an autograph as distinctive as the rich humor it identified. Simply, Dedini —much as one would say Bernini, Modigliani, Dali—Dedini—all those ending in -I appellations signifying high art. Few humorists can draw passably, if at all. Eldon was both an accomplished illustrator and a proven humorist. His pictorial and literary recording of international events and domestic culture through his award-winning years was always timely, always cogent and always remarkably funny."
Quoted in the Monterey Herald's front-page obituary for Dedini, Lee Lorenz, cartoon editor at The New Yorker for many of the years Dedini's cartoons were published therein, said: "While a million people can draw, very few can cartoon well. To be a cartoonist you have to be a stylist, and that's not easy to come by. It transcends technique. And he was an excellent idea man. He had a wide-ranging imagination. He was tough to edit because he didn't need much editing. I never asked him to redraw, which at The New Yorker is quite unusual. If 20th century cartooning is ever looked at seriously," he concluded, "Eldon Dedini will be one of the outstanding figures of American comic art."
"He could do anything with paint," said Playboy's cartoon editor Michelle Urry, who knew the cartoonist for over 30 years. "He knew anatomy brilliantly and he could throw away all those lines. And he was funny, very funny. I think it was wonderful he came down to earth for us."
Recognized four times by the National Cartoonists Society as the year's best magazine cartoonist (1958, 1961, 1964 and 1989), Dedini was a master of his medium. He was influenced by the radiant color of E. Sims Campbell, who specialized in those harem cartoons at Esquire. The severe simplification and commanding bold line of a Dedini drawing came, he said, from studying Peter Arno's cartoons and Whitney Darrow, Jr.'s in the venerable pages of The New Yorker. But in the last analysis, his artistry was uniquely his own. He abstracted human anatomy, redesigning and simplifying it to suit the pose and the picture. And then he cast the cartoon, creating the characters for their roles. All his men have bulbous noses and pop-eyes, but each is an individual caricatural design: the noses are not all the same size and shape—they curve and hook, and bend and bulge differently, from face to face. And the women, if they're old, are usually lumpy and frumpy, with noses to match the men's. The young women, however, are erotic exaggerations, bosoms and buttocks galore, legs that go on forever, and perfectly oval porcelain faces, mostly heavily lashed eyes and smiles all tooth.
Dedini loved drawing crowd scenes and elaborate costumes and architectural detail: after simplifying the elements of a composition, he decorated it with visual complexities—patterns of lines and shapes and colors, varied textures, clothing that draped and swirled, building interiors with lofty vaulting ceilings and arched aisles and exteriors with antique sculpted knots and furbelows. Here's a medieval castle, looming in its crenelation, being stormed by an unruly army, described by the king on the parapet as "two hundred thousand peasants from permissive homes." Dedini's sense of humor was as antic as his pictures: typically, it quirked, yoking a commonplace utterance to a fantastically unlikely speaker in a place neither belonged, creating a new and always hilarious scrap of existence, and shedding thereby a liberating laughter and light on the human predicament. A vintage full-rigged sixteenth century sailing vessel, perhaps a Flemish man-of-war or Danish pinnace, its majestic stern toward us, with a fair wind and a following sea, flying the Jolly Roger, its captain on the quarterdeck, saying expansively, "I love the Caribbean in February." Thus, our incongruities make us human and unite us all in a common weal. But the cartoonist Dedini was more than a cartoonist; or, rather, the more that he was made him a great cartoonist.
After Dedini's death, Arriola wrote to me: "I still can't believe our beloved friend Eldon Dedini is gone. And as someone says, I don't have to believe it if I don't want to. When I was introduced to Eldon in 1953, I sensed I was meeting someone of heartening substance. The following five-plus decades of neighborly activities in Carmel and Monterey more than proved that sense. Calling Eldon a cartoonist just christens the tip of an impressive iceberg. Beneath the surface is a superb painter, a remarkably inventive illustrator, philosopher, and humorist—a keen observer, revealing life's little truths with his unerring brush. His chief reward was the viewer's invariable burst of laughter. He was a walking repository of eclectic knowledge about art, history, jazz, wine—you name it. I gave up using my encyclopedia on a subject search: it was faster to pick up the phone and call Eldon. Too many of today's comics stand up and then sit down, seemingly motivated by anger. Anger is not funny. Eldon was motivated by love, love of the visual arts, music, sports, literature, and nature—all revealed in his painterly treatment of man's ridiculous foibles. Those of us lucky to receive his personally designed birthday cards, year after year, noted they were always signed con amore. He was a man as giving of his time and his talent, aiding friends and organizations in need, as he was to his craft. He graced every social gathering with his delightful, informative sought-after company. Among his peers, he was hailed as King not because he hailed from King City but for his unique multi-talented persona and courtly demeanor. Famed names of Salinas Valley should in future read Steinbeck, Ricketts, Jeffers, and Dedini"—referring to the vicinity's celebrated novelist, biologist, poet, and, now, cartoonist.
Although he sold cartoons to the nation's most sophisticated magazines, all headquartered in Chicago or New York, Dedini lived all his life in California, most of it within a few miles of King City, where he was born Eldon Lawrence Dedini on July 29, 1921. "The Dedini family," he once wrote, "were originally butter and cheese makers. Immigrants in 1873 from Lavertezzo, Canton Ticino, Switzerland, on the Italian border. They made butter and cheese in Corral de Tierra for thirty years, leasing from David Jacks, the land baron. Then the family moved to King City in south Monterey County where I was born and escaped the butter and cheese business. It was with the blessings of my father and mother, who said, 'Go! The ranch will always be here if it doesn't work out.' I had been copying the funny papers since I was five years old, and by the age of thirteen, I'd discovered cartooning was a profession and decided to be a cartoonist."
Dedini grew up in the Salinas Valley, "playing accordion at Italian-Swiss weddings and Mexican fiestas," he said. Very early, his art education began: "I copied the comic strip characters—Barney Google, Popeye—all of those, but I always liked magazine cartoons. And when Esquire came out, those colored drawings really impressed me. I didn't exactly copy them—I made my own. Barbara Shermund, Syd Hoff, Abner Dean—you can copy them, but you become them, you sink into them. And everybody said, Be original. So I did my own."
After high school, Dedini enrolled at Salinas Junior College—now Hartnell College—whiling away the long daily bus ride with a deck of cards that he brought along to play Pedro in the back of the bus with friends. He took art courses at SJC but majored in general studies so he'd have something to fall back on if cartooning didn't work out. Thanks to his art teacher—Leon Amyx—Dedini never needed to fall back. Amyx, an accomplished watercolorist, had aspired in his youth to be a cartoonist, and he suggested that Dedini plug the cartooning hole in the art curriculum by volunteering at the local newspaper.
Interviewed by Lisa Crawford Watson at the Monterey Herald, Dedini explained: "I went to the Salinas Morning Post and the Salinas Index Journal—now the Salinas Californian—and made an appointment with publisher Paul Caswell and editor Nelson Valjean to offer my cartoon services free in exchange for the experience. And it worked. They'd tell me the news, and I'd illustrate the point in a cartoon. My first was about the train depot in Salinas and how it was falling apart." He paused before concluding the account with just a nudge of a punchline: "You've gotta start somewhere," he said with a characteristic grin.
At eighteen, still a student at SJC, Dedini sold his first cartoon to Esquire magazine. When he graduated, he took advice again from Amyx and went to Los Angeles and enrolled at the Chouinard Institute of Art, where many of the animators at Disney were training. At Chouinard, he met the woman he would marry, Virginia Conroy, a painter and etcher. "We were both on scholarships," Dedini said. "I was a janitor, and Virginia was a librarian. We got married the year we graduated, 1944, July 15. I went to work for Universal Studios. Three months later, all the studios except Disney went on strike, so I went over to Disney."
Dedini honed his comedic talents doing storyboards. "I worked with writers. What they wrote, I put in a storyboard—a giant comic strip, which was perfect. It was a wonderful education. You draw maybe a hundred drawings a day—staging, laying it out. All day long. And if they rewrite the story, you re-draw the storyboards. You learn never to throw the drawings away because a week later, they say, You know—what we had last week was better. So I always kept the drawings in a drawer that I could go back to. I had another drawer in my desk that Disney didn't know about—full of drawings I was trying to sell to Esquire. I also sold to all the little magazines—Click, Pic, Nifty, Judge—five or ten dollars a drawing, and I thought I was in heaven. But I liked the full pages, not the small cartoons in Collier's and Saturday Evening Post. I did some of them, but my heart wasn't in it."
He also joined a southern California watercolor group and learned about painting in color. At Disney during the day, he worked on such epics as "Mickey and the Beanstalk," "Ichabod and Mr. Toad," and "Fun and Fancy Free." Nights and weekends at home, he drew cartoons and sold them through the mail. "When the nights began running into days," as Watson put it, "he knew it was time to commit to magazine cartooning." In 1946 , he was helped to a decision by Esquire's publisher, Dave Smart, who phoned the cartoonist and offered to double his Disney salary if he would work exclusively for the magazine, generating ideas for the other cartoonists as well as being featured himself. Dedini took the job, knowing that the gags are the most important part of cartooning.
"The gag is the whole secret of cartooning," he told Watson. "Style alone will never sell a bum joke. So you can draw. A million people can draw. The question is, are you funny?"
Dedini was funny for Esquire for the next four years. He sent in 100 ideas every month, tailoring them for the proclivities of specific cartoonists—hillbillies for Paul Webb; working class men in their undershirts at home for Syd Hoff; the frilly-witted young things, Barbara Shermund; the heavy-set set, Dorothy McKay. Any ideas that weren't farmed out to the Esquire stable came back to Dedini to draw.
In 1950, he gave up the Esquire gig, taking Smart's advice when the publisher told him that he was ready for The New Yorker. Dedini was back in Monterey County by then, and he was soon one of The New Yorker's contract cartoonists: he showed all of his cartoons first to The New Yorker; any that the magazine didn't buy, he could offer elsewhere, and in return, The New Yorker provided some employee benefits like health insurance. He continued selling also to Esquire. Then came Playboy.
Playboy's first issue was published at the end of 1953, famously undated so it would stay on the stands until it sold out. Publisher Hugh Hefner, a frustrated cartoonist himself, aspired to muster a troupe of distinctive talent to work exclusively at his new magazine, and he had his eye on Dedini almost from the start. Dedini remembered: "In 1954, Hefner started writing me to say he wanted me at Playboy. But Esquire had put me on the map, and I felt a certain loyalty. Hefner wrote four or five years in a row and kept upping the price. By that time, Esquire had been sold, so that did it." Just about then, Dedini heard from another cartoonist who had just sold a cartoon to Playboy and had been advised by Hefner to apply color "in the Dedini style." Said Dedini: "I figured that if they were going to teach people to work in my style, I'd better get in on some of it." Most issues of the magazine subsequently featured at least one full page color Dedini cartoon, and Dedini was soon a contract cartoonist with Playboy as well as with The New Yorker, the seeming conflict resolved by the simple fact that cartoons for the former wouldn't be appropriate for the latter.
In his Dedini obit for the New York Times, Douglas Martin wrote: "Dedini's Playboy cartoons helped establish the magazine's image in the 1960s, from take-offs on classic Japanese erotica to urban hipsters. His sexually brash satyrs in joyful pursuit of astoundingly proportioned, equally lusty nymphs became as much a Playboy trademark as lascivious advice columns"—and as familiar to readers as the centerfold pin-ups, he might have added.
"My first cartoon appeared there in 1959," Dedini told Watson in October 2005, "and I've been with them ever since. I guess, since I still feel funny, I'll just keep going." He paused. "Until I don't."
Dedini loved the sophisticated wit of Esquire, and he loved the opportunity to work in color that Hefner's magazine afforded him, but for him, Playboy's focus was a trifle narrow. All the cartoons seemed to be focused on boys chasing after girls—and catching them, to the randy delight of both, which was not exactly Dedini's cup of tea. He reveled in life, his son Giulio told me: "He appreciated food, wine, people, humor, history, travel, family, sex, beautiful women, and the outdoors." He gleefully manufactured ribald comedy in his Playboy cartoons, but, according to his brother-in-law, Charles Carey, he was very conservative in his own relationships. Moreover, to Dedini, the usual Playboy cartoons were boring in the tautology of their constantly beatific carnality.
During his presentation at the Festival of Cartoon Art at Ohio State University in 2001, Dedini showed slides of his cartoons for both The New Yorker and Playboy. One of the latter depicted an orgy, a writhing pile of naked bodies—what Dedini called "the standard cartoon" for Playboy. "I try not to do these too often," he said. He tried to vary the standard, he continued, to reduce the monotony of the routine tableau of boys chasing girls all the time. "I discovered I could go to mythology and use satyrs and so forth, and it opened up more ideas. The captions could voice very contemporary ideas but if you put them back there in those mythological times, the result is an extra dimension of humor." He showed a slide of a leering centaur saying to his amply-rounded playmate, "Remember, what's an unnatural act for you is a natural act for me."
"I love to draw," Dedini said. "I often start with a scene and no idea. I just draw a mythological scene, and then leave the drawing lying around, looking at it every once in a while, keeping it in mind, and maybe I come across a line in a newspaper article that fits, and I have a cartoon."
Continuing his search for ways to escape the standard Playboy cartoon, he came across Japanese erotic prints. "Well, no," he corrected himself. "They're not erotic. The ones I make are erotic. I sometimes copy Japanese caligraphy into the cartoon, but I always change something a little in case it means something I don't want to say," he said with a sly grin.
He resorted to history often, mimicking in caricature a well-known painting—for instance, the famous scene of the signing of the Declaration of Independence, wherein a Dedini patriot, his quill pen poised, says, "Frankly, some of those truths don't seem self-evident to me."
Bruegel is a favorite of his. On one occasion, he imitated a Bruegel painting, cramming people into a typical multitudinous throng except that most of these Dedini Bruegelians were engaged in revelry of a more licentious sort than the Dutchman usually contemplated. In Dedini's version, one lone man stood in the midst of the orgy, raising his glass and saying, "Say—this is a nice light beer."
Two cavemen in animal skins watch an extremely statuesque young woman strut by in naked splendor, and one of the men says, "The things you see when you haven't got a club." While looking at this cartoon, Dedini commented that he tried to get some socially redeeming stuff into his Playboy cartoons. Maybe, he wondered, this was feminist?
About a cartoon that didn't get a laugh from his audience, he said:. "Maybe it's not so funny. But it's got girls in it. If you draw the scene with girls in it, Hefner and Michelle most of the time go for it."
Dedini didn't meet Hefner until he'd worked for the magazine for over twenty years. "I got letters, all the time," he said, "but I never met him. And I said to Michelle one time, I'd like to meet him. And she said, You wouldn't like him. And she's his cartoon editor!" he marveled. "But I have met him, and I liked him," he beamed, "—of course, our life styles are entirely different."
Dedini was a disciplined worker. He drew every day, starting at about 5 a.m., and every three weeks, he sent 25 cartoon roughs to Playboy and 25 different ones to The New Yorker. He estimated that he'd published about 1,200 cartoons in Playboy and over 600 in The New Yorker.
"I've had good years and bad years at The New Yorker," he said. "Once I went for a whole year without selling one there. I thought I was just out of business with them. I couldn't make 'em laugh there. And then, all of a sudden—I sold one, two, a half dozen. What they take and what they don't take is still a mystery to me after 50 years."
In concocting New Yorker cartoons, he used much the same tactics as he used with Playboy cartoons but without the amorous emphasis and torrid color. He made historical allusions and sometimes imitated famous paintings. Once he invoked Chagall. "He always has people flying around in his paintings," Dedini said. What could they be doing up there? And why? So he drew a nightscape with a Chagallian man and a woman in horizontal flying position over the rooftops below, the man saying, "I don't love you any more, Lucille, and I'm dropping you off at your mother's house."
During the Cold War, he loved doing New Yorker cartoons with Marx and Lenin in them. "I loved to draw them," he said. "They were the clowns to me."
"I like the subtle ones," he said, showing a cartoon depicting a beach with people seated on the sand, sunning themselves, the waves breaking in the distance. In the foreground, a father is answering his son's question: "Generations of our people have sat by the sea, my son, and when you are older and have sat by the sea, you will understand."
Said Dedini: "It might be funny, eh?"
And here's Toulouse Lautrec, standing in all his three-foot-high majesty before a mirror in a hat shop where he's trying on a towering top hat. The clerk says, "The derby is better: that makes you look like Abraham Lincoln."
In addition to the cartoons by which he earns his living, Dedini contributed artwork to numerous local Monterey enterprises and did posters for various civic events, including the annual Pebble Beach Concours d'Elegance, a celebrated antique car show.
On November 4, 2005, as we reported in Opus 173, a show of his work opened in Salinas at the Sasoontsi Gallery. Entitled "Broccoli and Babes," it ran until January 3, 2006. Dedini's work belongs in museums: it satisfies museum-goer expectations in ways that much comics artwork on display in museums does not. In the first place, single panel cartoons can be experienced in a gallery in exactly the way that paintings and etchings are: the viewer strolls down the gallery, casually looking at the pictures on the wall, occasionally stopping to read the captions just as he or she might stop to read the information placards affixed to the wall next to a Rembrandt or Watteau. And expectations about comics are also handily satisfied: Dedini's cartoons make you laugh. So the desires of both art lovers and comics lovers are gratified, you might say. But there's more here, even greater benefits to be savored. You don't laugh unless you read the caption and grasp its relationship to the picture it accompanies. Your laughter thus signals your appreciation of the verbal and visual blending of the cartoonist's art. So a third objective, one closer to my own aesthetic heart, is realized in an exhibition of single panel cartoons.
What's more, with Dedini's cartoons we can take yet another step in appreciation, this time, back to the art lover who enters a gallery to enjoy the pure unadulterated visual artistry on display. Dedini's cartoons are not just funny; they're not just adroit blends of words and pictures to comedic ends. They are also works of visual art. Dedini's pictures can be enjoyed in much the same way we enjoy Lautrec or Monet—as feasts for the eye and heart. Even more: it's clear that many of Dedini's cartoons were inspired by his enjoyment of a picture or objet d'art that he saw somewhere, something that he wanted to, not copy, slavishly, but emulate, joyfully, in the manner of homage. We see this in his cartoons rendered in the style of Japanese prints and in the mocking evocation of famous paintings and artistic styles. Looking at the lush richness of Dedini's watercolors, we can often find objects in them depicted so lovingly that we know they represent the well from which Dedini drew the refreshment of the picture he made.
Oh, the broccoli? The babes are from Playboy, of course, but Dedini has done a lot of humorous advertising paintings for Mann Packing in Salinas since 1985, when the president of the company persuaded the cartoonist to create provocative pictures promoting the product of the world's largest shipper of fresh broccoli. (More Dedini babes will be readily available next fall, when Fantagraphics brings out a collection of Dedini's Playboy work, assembled under the watchful eye of Michelle Urry, the magazine's legendary cartoon editor. A few hints can be eyeballed at www.fantagraphics.com/blog/ ) The Salinas exhibit included cartoon originals spanning his entire career, even some of the cartoons he did for the Salinas newspapers. "It really does come full circle," he said, "from my start in Salinas to my return to Salinas."
In returning to the scenes of his youth in 1950, Dedini joined a colony of cartoonists who made their homes on the Monterey Peninsula. Virgil Partch, the famed "VIP," lived nearby in Carmel Valley, as did Bob Barnes, both magazine cartoonists. Hank Ketcham of Dennis the Menace fame was established in Monterey, and editorial cartoonist Vaughn Shoemaker, on the cusp of retirement, lived in Carmel and mailed his cartoons to Chicago. And Jimmy Hatlo produced his syndicated panel cartoon They'll Do It Every Time from a place called Tally Ho in downtown Carmel. Gus Arriola soon joined the colony. Dedini met Arriola when they served with Ketcham and Hatlo as judges of a beauty pageant during the Monterey County Fair soon after Dedini moved to town.
In their judicial roles, the cartoonists were driven in the parade down Alvarado Street in brand new, shiny convertibles with the tops down. Their names and pictures of the characters they drew were plastered on the sides of the cars. "Our wives were there," Dedini remembered when we talked, "sitting in the cars. Some beautiful girl was driving. None of us were used to any of that. There were actually people lining the street."
The contest took place in the State Theater. The girls went strutting by in their swim suits, and the judges (and their wives) looked at them, and then one of them was declared the winner.
"We were all there, huddled in the first row of seats in the theater," Dedini said. "I even have a photograph of that, our wives and ourselves, looking very young, looking up at the stage. We're all smiling and laughing. The judges look a little serious, but not too serious. It was great fun. I remember Jimmy Hatlo especially—a great bon vivant, great drinker. Very happy." He paused. "None of us can remember the name of the girl who won."
It may have been the beauty contestants that supplied the crucial bonding catalyst, although it is just as likely that Dedini and Arriola, both gifted stylists at their craft, shared a passion for art. And a love of fellowship that would flourish at Doc's Lab. They became fast friends for life.
The playful sense of humor on display in Dedini's New Yorker and Playboy cartoons serves as a convivial introduction to the man, but knowing him requires that we also know about Doc's Lab. Doc's Lab achieved its first blush of fame in the pages of John Steinbeck's 1945 novel, Cannery Row, which was about life at the tattered edges of the sardine fishing industry in Monterey in the 1930s. Doc was a character in the book, but he was more than a friendly fiction. The real Doc was Edward F. Ricketts, who moved to Monterey in about 1923 and set up the Pacific Biological Laboratory at 800 Ocean View Avenue. He operated the Lab there until he was killed in his car at a railroad crossing in May 1948. Ricketts made a living furnishing live marine specimens to high schools, universities, and medical research facilities. His occupation permitted him to do the things he loved most—comb the beaches and inland waterways of California for exotic creatures and pursue his own researches on marine life and the evolutionary process, about which he wrote numerous scientific papers. His research led him inexorably to the conclusion that all living things were part of an organic whole, the parts of which cannot be understood in separation from one another. Ricketts was, in short, one of the first ecologists.
From the outside, the weathered clapboard building on Cannery Row looks more like a garage with a room on top than anything someone might mistake for a laboratory. Doc's lab equipment was located in the basement—the garage part; he lived in the four upper rooms. The place stood vacant after Doc's death until 1951, when Harlan Watkins took up residence there, renting it from Yock Yee, the owner of Wing Chong Market across the street who had acquired the Lab from Steinbeck. Watkins had come to Monterey in 1946 to teach English at the high school. He was a bachelor and so he had plenty of spare time to soak up information on a vast array of topics. And he was passionate about jazz—the Dorseys, Ellington, Basie, Goodman, Shaw, James. Soon after Watkins moved in, he started inviting people over for drinks and conversation and jazz late on Wednesday afternoons. Some of the people were friends and colleagues. Some were not. Said Dedini: "The best thing that ever happened to me happened the evening Harlan telephoned and said, 'Report to Doc's Lab—you have friends here.' I went. Until that moment, I'd never met him."
| | |
| --- | --- |
| | |
The remark captures the essential Dedini like no other: he was open to life, unquestioning in his acceptance of it in its various manifestations.
Watkins created a Wednesday ensemble of local personages—doctors, lawyers, architects, teachers, a sculptor, even a judge, and, with the addition Dedini, Arriola, and Ketcham, cartoonists. On any given Wednesday, a crowd of men eddied through the second-floor rooms, filling the air with smoke and talk and laughter while a record player tried to make itself heard. Arriola recalled his first visit there: "We were awash with the bonhomie explicit in those rooms. The repartee so glib, so sharp, it sounded scripted. There was Harlan, stentorianly holding forth behind the bar with his good friend and fellow teacher, Ed Larsh, the two seemingly conducting a seminar on everything. Politics, sports, jazz, literature, education, martini jokes—you name it. And all with a scholarly control that welded your attention to the point so well you could have passed a written exam afterward. Skirting pedantry, the operative phrase was always—enlightening fun. It was a club that didn't like to be called a club. It was a men's club for men who didn't like clubs. It was just a group of—what'll I call them?—just guys that enjoyed being together."
Watkins gave up the place in about 1955 when he got married. And the Wednesday group was thrown into a state of panic.
"There were about eight or nine of us," Dedini told me, "and we said, Where are we going to go every Wednesday night if we lose this place? So Harlan told us that he was paying $40 a month rent, and the Chinese landlord across the street had often told him that for $60 a month, he could buy the place. I'm a little hazy: Harlan may have started proceedings to buy it, but we took over his option. We incorporated under the name Pacific Biological Laboratory in 1956."
And the Wednesday evening gatherings continued unabated.
At first, the PBL numbered less than a dozen, but it eventually reached nineteen or twenty. A typical evening at the Lab commenced after work on Wednesdays. Members, still mustered by Watkins, would begin collecting at five o'clock or five-thirty in the back room at the bar. After a drink or two and some conversation about their days' adventures, they'd begin to play jazz records. Watkins might well launch into a lengthy disquisition uncovering some obscure bit of vintage jazz lore, but his lectures were not confined solely to jazz. He was widely read, and what he hadn't read about, he could fake. He could fake such things because he was forever curious about whatever hove into view. Dedini remembered taking a short trip with Watkins:
"Every trip with Harlan took a long time. Getting gas for the car, he'd have a long conversation with the station attendant about the three choices of gasoline at the pump—pros, cons, politics—until I went nuts. Then we had to stop at Castroville at a drug store to get a chapstick or something, and he'd engage the salesgirl in some unbelievable conversation, asking about her life, the store, Castroville, if she knew this book, that movie, and so on. Sometimes late at night, I realize a lot of my humor was honed by this intellectual lunatic. Harlan was a straight man. A satirist with a straight face, a ricochet man who fit in everywhere and nowhere. What can you say about a guy who was capricious, imperial, funny, shrewd, mercurial, ever ready, lordly, principled, windy, nocturnal, competitive, gallant, hilarious, a bull-shitter and smart, smart, smart."
As the afternoon faded into evening, the Wednesday denizens of Doc's Lab listened less to the records and talked more. Sitting around that tiny room, they talked about politics and civil rights and books and their various professional triumphs and complaints. The variety of occupations and interests in the room widened perspective. "I learned about medicine and the law," Dedini said, "and they learned about cartooning. And we all learned about literature from Harlan."
Gradually, the music was background music. "Every now and then," Arriola remembered, "Harlan would get up and stamp his foot and say, Listen to that—listen to that!"
About eight or eight-thirty, the group would rise and go together to dinner at a restaurant down the street. "There were one or two restaurants," Dedini said. "More like joints. Neil de Vaughn's wasn't bad." The group ate at de Vaughn's and continued their conversations. For several hours, Dedini remembered.
Members often brought guests to the Lab. After a three-day workshop on "creativity" at the University of California at Berkeley, Arriola showed up with Max Shulman and Dedini with Art Buchwald. Not all the guests were famous. One time, Watkins invited a Cannery Row habitue named Grant Mclean, nicknamed Gabe. Gabe was Steinbeck's model for Mack in the novel. At de Vaughn's, Watkins seated Gabe next to Dedini, who was a sort of factotum (secretary-treasurer) of PBL and therefore sat at the head of the table. Later, Dedini reported that during dinner, Gabe (or Mack) wet his pants and some of the byproduct found its way into Dedini's shoe. Being an officer has its drawbacks.
After the ritual dinner at de Vaughn's, the group always returned to the Lab for an after-dinner drink. And more jazz. "We'd play jazz," Dedini said, "I would say until midnight, one o'clock—sometimes two or three in the morning. Not everybody. The doctors would say, I've got an operation in the morning; I'd better go. Sometimes cartoonists, who don't know what they're doing, stayed later. But we had deadlines, too. Many a time, one of the doctors would get a call and say, I gotta go deliver a baby. He'd say, I may be back; I may not. And if everything went well, he'd come back. The music, the jazz, was the key thing. We would bring our own records that we liked from home, and play them for the others. And we'd discuss the music. We became authorities. At least on cool jazz, West Coast jazz, bop—music was changing in those days. The Monterey Jazz Festival started in the 1950s," he continued. "And a good many of the Lab members were on the Board of the Monterey Jazz Festival when it started."
The Monterey Jazz Festival was born in the imaginations of disc jockey Jimmy Lyons and newspaperman Ralph Gleason of the San Francisco Chronicle, who, at the time, was conducting the only newspaper column devoted exclusively to jazz. They dreamed of an outdoor jazz festival. And they started talking about Monterey as the site for it after having visited and imbibed both drink and jazz lore at Doc's Lab. "The Jazz Festival was born right here at this bar," Arriola told me. The first Festival opened on October 3, 1958, and among the performers were Louis Armstrong, Dave Brubeck, and Billie Holiday, just nine months before she died.
During an intermission at one year's Festival, Dedini and some other PBL members went up on stage to have their photograph taken. Duke Ellington was still on stage, seated at the piano, putting eye drops in his eyes. When Dedini was introduced as "a cartoonist who sometimes draws jazz cartoons," Ellington got up and, without saying a word, pulled out his wallet and started looking through it as he meandered, aimlessly, around the platform. Finally, he found what he was looking for,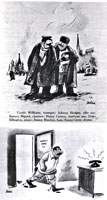 a folded up magazine clipping. He carefully unfolded it and spread it out on the piano: it was a cartoon Dedini had done for Collier's. The cartoon depicted two Russians in Red Square, one of whom is obviously a dealer in blackmarket phonograph records: he has opened his coat to show the other fellow the record that he has tucked inside, saying, " ... Cootie Williams, trumpet; Johnny Hodges, alto sax; Barney Bigard, clarinet; Harry Carney, baritone sax; Duke Ellington, piano ..." Said Dedini: "Ellington loved that cartoon because when he toured Russia the people of Russia loved his music, but they couldn't buy the records." For years thereafter, Ellington sent Dedini a Christmas card. "I have about twenty," Dedini said. "He sends them in June."
Dedini cartoons turned up everywhere. On a trek to the wineries in Napa Valley, the PBL crew visited Martini's old winery, and they noticed one of Dedini's cartoons neatly tacked to a door. When they introduced the cartoonist, their escort declared, "Don't leave" and went to get his boss, Louis Martini. After Dedini autographed the cartoon, the old man invited all five of the group into his home for a spaghetti lunch.
During the Kennedy years, Dedini drew a cartoon in which a couple of tourists in Egypt are contemplating the Sphinx, which looks remarkably like the First Lady. One of the tourists says, "I don't know. Lately, everything looks like Jackie Kennedy to me." Soon after the cartoon was published, Dedini got a note on White House stationery, requesting the original. He complied. After Jackie's death, Dedini's cartoon was among her personal items that were sold at a celebrated auction.
When the Jazz Festival was in session, some of the musicians would come by Doc's Lab after their performances and jam into the wee hours.
"We'd have a few drinks and talk about starting our own Cannery Row Jazz label," Dedini said. "And Gus and I would sit in the party room at the Lab, drawing up logo designs and record jackets."
The walls of the second floor rooms were eventually plastered with colorful souvenirs of these efforts—these and others. Posters and other artifacts designed by Arriola or Dedini for community events often became a permanent part of the decor, remaining on the wall long after the events they were intended to advertise.
The organization of PBL was ferociously informal. In writing about Doc's Lab years later, Ed Larsh took pride in the realization that no one in the group ever thought of it as a club. Yet the corporation that owned the place had a membership: these were the people who paid dues sufficient over thirty-five years to buy the Lab. Men became members by unanimous acceptance; but there was never a vote. They decided to restrict their number to about twenty, but they accepted many "permanent guests" who were not members but were always welcome.
The group held numerous parties at the Lab on days or nights other than Wednesdays. Many of these affairs were in honor of their wives (or, perhaps, to pacify them for putting up with their husbands' coming home in the wee hours every Wednesday). The group also had its own wine label, and various of its members made periodic trips to Hecker Pass, where they bought cases of gallons of wine or, even, barrels of it. Then in the basement of the Lab, they'd bottle the wine and affix their label, using second-hand bottles from de Vaughn's.
Doc's Lab was more than a place. It was a feeling, an ambiance. "We were just going there to listen to music and have a beer or two," Larsh wrote. "But we discovered that the place has a kind of magic about it." For Larsh, the spell was cast by the shade of Ed Ricketts, charismatic advocate for ecology and non-teleological thinking. For Ricketts, everything was connected: it was all part of a communal wholeness, a glorious web of being in which all living as well as inanimate things had a place and function and depended upon one another in a grand harmonious scheme. In Doc's Lab under the aegis of Harlan Watkins, the additional conjuring was done by the music and the drinks and the fellowship. Sitting together silently listening to jazz, the men were enveloped by an oceanic feeling; all other concerns evaporated in the sound, and a transcendent sensation of at-one-ness in some sort of separate universe bonded the group. A sense of community and fellowship prevailed and remained with them even after the sound of the music faded.
By the time I met Dedini and Arriola, the PBL no longer convened regularly. Concerned about the historic associations of the place, the members were eager to assure its preservation, and to that purpose, they sold it to the city of Monterey several years ago. "It's still our club," Arriola told me. "The city owns it, but we have the use of it until the last one of us goes. We're all aging. We kid about it being a last man club."
I visited Dedini in his hillside home and studio in the summer of 2004, during one of my annual pilgrimages to Carmel. One wall of his livingroom is windows that open onto a deck. From the deck, we could see, through some encroaching trees, Carmel Valley in the distance. Around the livingroom and the adjoining studio were stacks of magazines—"For research," Dedini explained. And bookshelves in his studio were laden with books. One wall was a bulletinboard on which were tacked photographs of friends (one of Dedini with Ketcham and Arriola) and famous personages (Louis Armstrong, Jean Belmondo, Phil Silvers), postcards, sketches, and numerous of his own cartoons, sometimes clippings, sometimes originals, matted for display but often overlapping each other and other fragments pinned to the wall. Scattered among the pictorial matter were various bits of paper, each neatly lettered with slogans or sayings: "Ideas cannot be owned; they belong to whoever understands them. Dying is easy; comedy is hard. Never go to a young doctor or an old barber. The more opinions you have, the less you see." On a shelf beneath this array were some record albums, a half-dozen unopened bottles of wine, and a radio. Leaning up against the cabinet under the shelf were several of his color cartoon originals, matted and framed—and, in several instances, unfinished.
Dedini explained that he almost never finishes a cartoon at a single sitting. After experimenting with various compositions, he selects the one that pleases him and sketches it with charcoal outlines onto watercolor paper. Then he begins to paint. He paints until he gets to a place where he hasn't decided what color, say, or texture to deploy. Then he stops. He puts the unfinished art in a matted frame and lets it marinate for a while, sometimes for days, while he does other things. Sometimes, he said, he takes the framed unfinished cartoon into the bedroom at night and stares at it as he falls asleep. "I keep looking at it out of the corner of my eye," he said. "I let it tell me, slowly, what it needs." And when it gets through telling him, he finishes it.
Two of the unfinished cartoons I saw were intended for the Christmas holiday issues of Playboy. One showed a plump, naked Santa gamboling in bed with three naked women in glorious embonpoint. Santa is talking into his cell phone: "I'll be a bit late, dear. Dancer threw a shoe over Greenland." The women are all grinning. Santa was completely colored, but none of the women were. As he contemplated the picture, Dedini said, it seemed to him that if he applied flesh tones to all the women, there would be just entirely too much flesh color in the final rendering; so he stopped, hoping he would figure out a way to finish the coloring and avoid the monotonous hue. In the published cartoon, he made one woman's skin lighter than another's, and the third, positioned somewhat behind Santa, is tinged with green and gray as if in the half-light of the bedroom.
The other unfinished art depicted a couple standing aghast in front of an elevator, which has just opened to reveal a man standing inside, holding a bottle in one hand, with a zaftig woman sitting on his shoulders, her legs around his neck. He says to the astonished couple, "Did you ever go up in an elevator and forget what you went up for?" Complete nonsense, of course. The joke, Dedini said, originated in that familiar circumstance: "Did you ever get up to do something and forget what it was before you got to it? Well, this guy ..." and he nodded in the direction of the cartoon, his explanation dissolving into laughter.
At that, I couldn't resist asking the question that pesters every cartoonist: "Where do you get your ideas?" I said.
"I'll show you," he said, and he got up and went across the room and picked up a small square-spine sketchbook. He brought it back, sat down next to me, and opened the book to show me. On the pages of the book were pasted pictures clipped from magazines—advertising art, photographs of landscapes or odd buildings, picturesque cottages, famous paintings, portraits of medieval kings and queens, actors and actresses, elaborate costumes, random designs. On the pages facing the pasted-in clippings were Dedini sketches and notes. The sketches often echoed, without imitating precisely, the clipped art on the facing page.
"See here," Dedini said, pointing to a clipped fragment of, say, a picture of an Arabian potentate in elaborate turban and colorful cloak, "I thought there might be something in this ..." On the facing page might be a drawing of a man's head enveloped in a monstrous turban dripping with jewels. Not yet a cartoon, just a funny picture. So far. "I make these books," Dedini continued, "and when I'm looking for ideas, I thumb through these."
He also consults his research department—all those magazines stacked throughout the house. Once he saw a spectacular two-page magazine ad spread for women's clothes, gorgeous models marching across two pages in a parade of fashion and femininity. "And I thought, I'd love to draw that, the clothes, the girls," he said, "—so I did." Just for the fun of it. And then, he drew a man in the line-up, and that created a situation begging for a gag. He found the gag in the personal columns of the Village Voice, which he repeated verbatim in the cartoon, a deadpan recitation of the advertiser's search for a liberated roommate.
Dedini's creative process often began with visual images. Looking at other art or photographs, he played with the images and the connections he could conjure up between those and some fragment of conversation.
"Michelle says I should make my women prettier," he said, looking at the woman sitting on the man in the elevator. "My women aren't all that pretty, not like covergirls. But they're—okay. Just not beautiful. But they're like real women that way. I told Michelle that fashions change. And today, women—in movies, on tv, in advertisements—look like ordinary women, not like movie stars. They look like my women," he said with a grin.
All the characters in the elevator cartoon had been colored; everything else was stark white still. When published, the interior of the elevator and the walls were colored muted grays and browns, nothing, in other words, extravagant that would detract from the pictures of the people.
There are doubtless several Dedini cartoons in the Playboy inventory, awaiting publication. The New Yorker also has quite a store of Dedini cartoons. One of the things that puzzled him at the time was that the magazine continued to buy cartoons from him but didn't publish them. One summer, he vowed he'd spend the next month concentrating on New Yorker humor, determined to break into print there once again. But The New Yorker still hasn't published a Dedini cartoon since. A puzzle.
For the last month of his life, Dedini stayed at home under hospice care which kept him relatively pain free and comfortable. His son Giulio came from his home in San Luis Obispo and moved in to stay with him and his mother. So did the cartoonist's younger brother, Delwin, 80, who still lives at the family ranch near Altadena. Friends dropped by, and he enjoyed them, Giulio told me. Even though he hadn't the stamina for long conversation, Giulio said, "He makes us laugh every day."
Dedini wanted his papers and original art to be archived at Ohio State University's Cartoon Research Library. On Monday, January 9, Jenny Robb, Visiting Assistant Curator of CRL, arrived to arrange packing up and shipping the materials. When she came in to meet Dedini, he was delighted to see a pretty young woman, and, the eternal gentleman, he sat up in bed right away to engage her in conversation. The cartoonist was extraordinarily meticulous in maintaining the most comprehensive of files. The White House note requesting the Jackie Kennedy cartoon is filed with associated clippings and other correspondence about the final disposition by auction of the original. So well organized was the material that it took only a day-and-a-half to pack it all up in about 100 boxes. By the end of the day on Wednesday, Giulio told me, the boxes and 2,000 originals were on a truck bound for Ohio.
"I went in to tell him that it was all done," Giulio said, "—all his papers and his originals were safely on their way—and he could rest easy now. And sure enough, the next day, he did. That's when he died."
Reuben Pearson, a printer and poet and a PBL denizen, described Dedini as "gentle and Italianesque, a wielder of brush and Rapidograph, who viewed life through a twinkle and who must ever be counted as one of Heaven's creatures who are splendidly whole." His eye lost none of its twinkle: he kept on making people around him laugh every day, funny to the last.
Here's a too short gallery of Dedini cartoons.
<![if !supportEmptyParas]> <![endif]>
NOUS R US
Popeye is 77 this month: he debuted in E.C. Segar's Thimble Theatre on January 17, 1929, just a ten days after the launches of Buck Rogers and Tarzan, strips the antique histories of the medium used to cite as the watershed birth of the adventure strip. They were only partly right in this contention. ... Dark Horse Comics is twenty years old this year. It was born in the mind of Mike Richardson and on the counter of a comics shop he owned in Beaverton, Oregon, where he and Randy Stradley pasted up the first issue of Dark Horse Presents, featuring work by Paul Chadwick (Concrete), Chris Warner (Black Cross), and Stradley's Mindwalk, drawn by Randy Emberlin. ... Perry Ellis, a sportswear company, will forsake photography in its fashion ads in March to launch a new series of ads in comic strip form in Cargo, GQ, and Esquire. Cartooning in ads was nearly omnipresent fifty-seventy years ago, but it faded with the expiration of such general interest magazines as Collier's and Saturday Evening Post; thanks to the new respectability conferred on comics by graphic novels and hugely successful motion pictures, cartooning in advertising is enjoying a renaissance.
Pulitzer-winning editooner Ann Telnaes won the 2005 National Population Cartoon Contest, with a purse of $7,000. The contest rewards cartoonists whose work occasionally emphasizes the perils of global over-population. Telnaes' entry, entitled "Washington Fashion Week," was chosen over 155 others; it depicts three runway models wearing dresses with anti-condom, anti-abortion, and "stop sex ed" logos, a woman observer commenting: "I hear disturbing patterns are in." Telnaes' cartoons frequently tackle feminist issues, often the plight of women in Third World countries who have no status or rights. ... Another Pulitzer-winner, editoonist Pat Oliphant, who now lives in Santa Fe, New Mexico, went to Lexington, Kentucky to judge nudes in the 20th annual Nude International exhibition. Oliphant was a little daunted to find that he was the sole judge: "I've been on a panel before where we all shared the blame, but this is quite a shag on the rocks." Oh—did I mention? The exhibition was of figurative art, not flesh. Oliphant picked 106 works out of 846 pieces to judge. "The show is much better than I thought," he said, explaining that he'd seen only slides before getting to Lexington.
Apparently a new Golden Age of Comics has dawned without much fanfare. Pratt Manhattan Gallery opened an exhibit on January 20 entitled "Speak: Nine Cartoonists," an event hailed at cgw.pennet.com as a celebration of "the golden age of North American comics." The show displays the work of Ivan Brunetti, Charles Burns, Daniel Clowes, Robert Crumb, Jaime Hernandez, Gary Panter, Seth, Art Spiegelman, and Chris Ware. Not a Golden Ager among them. Curated by Todd Hignite, founder of Comic Art magazine—who doubtless did not dub the contemporary 'tooning "golden" (or did he, trying to establish a new beachhead?)—the exhibit runs through February 25. ... Homeland: The Illustrated History of the State of Israel, a graphic novel that will tell the tale from Biblical times to the present, will be out in May, published under the auspices of the Community Foundation for Jewish Education of Metropolitan Chicago. Veteran comics scribe, Marv Wolfman, is writing the story, which will be ecumenically rendered by Mario Ruiz, an evangelical Christian and president of Valor Comics. William Rubin, the Foundation's CEO, was inspired to foster the project partly by his 9-year-old son, who reads Harry Potter before going to bed, and partly by the increased respectability of the comics medium in its graphic novel manifestation. After devoting approximately 20 percent of the book's pages to Biblical and post-Biblical history, the remaining 80 percent will cover 1860 until today. Aware of Israel's often controversial past, the creators intend to include the warts as well as the wonders, hoping to head off the inevitable criticism that will challenge the book on its representation of the facts.
A comic book in Central America's Belize is called Torn Pages and tells stories of incestuous relations, gang rape, sexual harassment, white slavery, and sexual abuse. The book is not intended to amuse: its sponsor, Youth Enhancement Services, and its illustrator, Charles Chavannes III, hope the stories will help some teens cope with some very traumatic events in their young lives. ... Chartered Bank Malaysia is offering new credit cards emblazoned with the images of Batman, Bugs Bunny, Tweety Bird and the Tasmanian Devil, hoping the promotion will sign up 30-50,000 new cardholders in six months. ... Director Ron Howard's daughter, Bryce Dallas Howard, is reportedly in talks to play the part of Peter Parker's highschool heartthrob, Gwen Stacy, in the third Spider-Man movie; the rumor is already being touted about that in this version of the events of Amazing Spider-Man No. 121, Gwen survives. I don't believe for one minute that they'll actually pull this off; that'd be tampering with holy writ.
Interviewed at dynamicforces.com, Frank Cho was asked which of his two zaftig creations, Brandy in Liberty Meadows or Shanna in the Marvel comic book, he enjoys drawing more. "Depends on my mood," he said. "Of late, I enjoy drawing Shanna more. Shanna is such a wild and uncharted character. I already have a list of do's and don'ts for Brandy, but with Shanna, sky's the limit." He admitted that he misses doing Liberty Meadows "desperately, but Marvel is letting me play with so many cool toys that it takes much of the sting away [currently, the New Avengers, written by Brian Michael Bendis]. People have to remember," he continued, "just because I have time only to draw Marvel characters at this point doesn't mean that I stopped writing for my own creations. Right now, I'm writing and saving all the stories for my future creator-owned books." Then he was asked if there was one female actress in the world that could be your very last drawing, who it would be. "It's a toss up," Cho said. "Bettie Page or Louise Brooks. Besides timeless beauty, both have that indefinable 'spark,' the intangible quality that draws the viewers in and wants men to possess them." Bettie Page didn't surprise me much, but Louise Brooks did.
"Brooksie," as she was known during her notorious first seasons in New York in the 1920s, came to the Big Apple from Kansas, the heart of the Bible belt, where she was born in 1906. She became the youngest chorus girl in George White's stage show, the "Scandals" (described as "a racier, skimpier version of the 'Follies'" in Jerome Charyn's Gangsters and Gold Diggers), where she wore "light bandages." In 1926, Photoplay magazine described her: "She is so very Manhattan. Very young. Exquisitely hard-boiled. Her black eyes and sleek black hair are as brilliant as Chinese lacquer. Her skin is as white as a camelia. Her legs are lyric." Anita Loos called her "a black-haired blonde" with a "blonde personality," her famous bob hair-do was the official party-girl cut of the day. Her beauty and the brevity of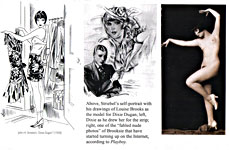 her attire on stage won the attention of "the upper crust of Broadway and its crowd of bankers, brokers, newspaper barons, bachelor tycoons, politicians, impresarios, columnists and playwrights," Charyn said. A free spirit brimming with appetites and attitude, she was constantly out and about in nightclubs, speakeasies, and parties everywhere. As she said herself: "At these parties, we were not required, like common whores, to go to bed with any man who asked us, but if we did, the profits were great. Money, jewels, mink coats, a film job—you name it." Her irreverent cry: "I like to drink and fuck." Brooksie rapidly acquired a reputation as a sexual outlaw and became, Kenneth Tynan said, "an emblematic figure of the twenties, epitomizing the flapper, jazz babies, and dancing daughters of the boom years." Clearly, Cho knew something about Brooks that I hadn't run across until now.
She had an affair with Charlie Chaplin and then went to Hollywood where she was quickly albeit briefly a star, leaving when Paramount denied her request for a raise and going next to Berlin to play the legendary folk seductress Lulu in the celebrated silent 1928 film "Pandora's Box" in which the femme fatale Lulu seduces every male in sight and is then killed by Jack the Ripper. Back in Hollywood, she refused to dub one of her silent movies and was blackballed. Sometime in the thirties, Brooksie disappeared, dropping out of sight, a casualty of her refusal to play by anyone's rules. She worked variously in non-theatrical jobs, was kept by admiring moguls from time to time, and, at the end of her life, wrote articles about her adventures in filmland. Collected, eventually, in Lulu in Hollywood, the articles reveal an engaging writing talent, an ambiguous lyricism coupled to candid revelations, dripping with insightful anecdotes about the actors and writers she hobnobbed with.
Brooksie was also, in her heyday, a cartoon character: she was the model for Dixie Dugan in illustrator John H. Striebel's comic strip of that name. Written by comedy writer J. P. McEvoy, the strip was inspired by his 1927 Liberty magazine serial, Show Girl. The strip debuted under that name in 1929 and lasted over thirty years, but its beginnings are part of another scrap of cartooning lore, this one attached to Joe Palooka. Ham Fisher, Palooka's creator, had been peddling his strip about a prize fighter for ten years, off and on, without success. Finally, one day in 1929, he ran into Charles McAdam, general manager of the McNaught Syndicate, who promised to give Palooka a try the next year. Fisher insisted on going out himself to sell his strip; he apparently had little faith in syndicate salesmen doing right by his creation. McAdam was dubious. So Fisher, to prove his ability as a salesman, undertook to sell one of the syndicate's losers, Show Girl. It had been offered around before but had been picked up by only two newspapers. Paying his own expenses, Fisher went on the road and sold the strip to thirty-some papers in forty days. When he returned and wanted to repeat this performance with his own strip, McAdam demurred. Fisher was so good at sales, McAdam said, he would be more of an asset to the syndicate as a salesman than as a cartoonist. But Fisher would not be denied. He waited until McAdam went on vacation, and then he took Joe Palooka on the road and sold it to twenty papers in three weeks. Joe Palooka began national syndication in April 1930. Ron Goulart, in his history of 1930s adventure strips, The Adventurous Decade, reveals something of the secret of Fisher's success as a salesman. He quotes from the autobiography of Emile Gauvreau, editor of the New York Graphic before becoming editor of William Randolph Hearst's New York Mirror: "I bought my last comic strip one New Year's Eve when Ham Fisher ... befuddled me with a bottle of rare bourbon during a hilarious celebration. When I woke the next day, I found I was sponsor of Joe Palooka, an exemplary character who never drank or smoked and was good to his mother." Meanwhile, Show Girl changed its name to Dixie Dugan, probably with the release of October 29, 1930, enjoying under that rubric a long run until 1962.
And while we're loitering in this vicinity, I remind you that Goulart's book, aforementioned, has just been re-issued, this time profusely illustrated. The text alone was, and is, invaluable. But now, amply illustrated—often from original art—the book is a veritable treasure trove of comics history. In this incarnation, the book is 9x12", bound on the short side, so its pages amply display at generous dimension the horizontal art; and occasionally, strips in their original art are printed across two-page spreads, probably at close to the size of the originals. In his short introduction, Goulart says he did not revise any of the text of the 1975 edition, but he notes and corrects "the few errors of fact and judgment" that he has become aware of. The pictures in this edition are equal to the text as insightful history, at just $24.99, a bargain hard to come by in these days of so much slapdash, haphazard, ill-informed history, like DeForest's book, discussed below.
My. Looking over this last segment, beginning with the Cho quotes, I think we have here, in its loping ramble, a miniature of Rancid Raves itself—news, quoted from the horse's mouth, some social history and cartooning lore, plus a book review. The whole enchilada in a capsule. I feel like Lawrence Sterne.
<![if !supportEmptyParas]> <![endif]>
Animation News. Likely candidates for the Oscar in animation are "Tim Burton's Corpse Bride," "Wallace & Gromit: The Curse of the Were-Rabbit," and "Howl's Moving Castle"—none of which, we hasten to aver, are computer-generated. Traditional animation may log another win for sheer stamina, not to mention excellence, and antique tradition at that: all three of these flicks use more primitive means of production than hand-drawn animated cartoons—namely, stop-motion photography of puppets and clay figures.
Disney is in negotiation with Apple's Steve Jobs to buy his Pixar, and the guessing in the recent past was that if "Chicken Little" did well at the box office, the Mouse House would have the edge in the exercise. But the Chicken didn't come home to roost, and if the prognosticators of yore are right, then, Jobs has the advantage. The Wall Street Journal reported that the deal in the works has Disney buying Pixar with $6.7 billion in stock; if so, that would make Jobs the company's largest single stockholder. With this much clout, he'd be in a position to influence Disney's animation agenda, which has, at last, followed Pixar's lead into computer-generated movies. Of the ten top grossing animated films since "Toy Story" debuted in 1995, all but one (Disney's" Tarzan") have been computer-generated (CG). Pixar's "The Incredibles" in 2004 brought in $630 million, almost as much as Disney's last eight animated movies combined. Disney saw the handwriting on the wall writ large and started converting from pencils to pixels, reducing its animation staff from 2,200 to 725.
A reluctant leader in the conversion was Glen Keane (son of Bil Keane, father of The Family Circus), at 31, a veteran animator with impressive credits ("The Little Mermaid," "Beauty and the Beast," and "Tarzan") that established him with the devotees of the Disney religion, hand-wrought animation. Promised that he could direct a favorite project of his, "Rapunzel Unbraided," if he did it with a computer, Keane sat down to learn CG. And he discovered, perhaps to his surprise, that it made him a better artist. Said he: "It challenged me to be better at what I do." It also enabled him to do something he couldn't have done by hand—give Rapunzel freckles. With Keane converted, others who had been clinging to the Disney tradition started coming over. The next three big animated films will be CG: this year's "Meet the Robinsons," next year's "American Dog," and, in 2008, Keane's "Rapunzel."
Fascinating as all this is, the real poser in the pending Apple-Disney lash-up is what Jobs might do with his clout to marry online content, computer hardware, and digital distribution. Jobs, remember, is the guy who created a hip alternative to the IBM desktop computer, launched a pocket digital music phenomenon, and sent the standard for CG film. Gina Keating at Reuters writes: "Jobs could conceivably exert his new-found influence at one of America's biggest content companies—home to ESPN, ABC-TV, and Walt Disney Studios—to feed Apple's digital music and video download service iTunes." She quotes analyst Jeff Logsdon of Harris Nesbitt, who said: "In our view, no company understands both technology and the consumer better than Apple. ... [If Jobs gets on Disney's board], that certainly brings one of our generation's more innovative applied technologists into their umbrella." The mind, as is its wont these days, boggles. But even if the merger doesn't happen, chances are good that Disney, now that Michael Eisner has evaporated, will maintain good relations with Pixar, and that bodes plenty of innovation for the rest of the Internet Age.
<![if !supportEmptyParas]> <![endif]>
FOUR-COLOR LONG-JOHN LEGIONS: IMPRESSIONS AND PEEVES
A propos of nothing whatsoever, I made a list the other week of the superheroes that first sprang to mind when I remembered reading funnybooks as a kid back in the late 1940s and early 1950s. Superman, Batman—and Robin in his solo gig in Star Spangled Comics —Wonder Woman, Green Arrow, Green Lantern in his purple and green cape, Hawkman, the old Flash in his tin helmet, Captain Marvel and the rest of the Marvel Family, Lev Gleason's Daredevil with his two-tone tights and spikey belt, Captain America, Plastic Man, Dollman, Hoppy the Marvel Bunny. That's about it. I read other comics— Tom Mix, Boy with Crimebuster in his short pants accompanied by his pet monkey Squeeks, the Fox and the Crow, Walt Disney Comics and Stories with the Bad Little Wolf and Mickey Mouse adventures in the back pages, Donald Duck, Blackhawk, Looney Tunes with Bugs and Mary Jane and Sniffles and Bucky and Bo Bug (particularly Bo), George Pal's Puppetoons. Others. But the superheroes I remember are mostly those I just listed. There were many others: they just don't spring to mind as readily.
After making my list of Golden Age superheroes, I quickly jotted down the heroes of the Marvel Universe I whose names surfaced soonest. Iron Man, Daredevil with the toothsome Black Widow. These are the ones I started on when I returned to comics in the early 1970s. I didn't get into the others much, but their names showed up on my list right away: Spider-Man, the Fantastic Four, Doctor Strange, Thor, the Hulk, Nick Fury (mostly because of Jim Steranko's treatment of the medium in that title), then the X-Men—Cyclops, Phoenix, Storm, Wolverine. During my monthly thumb through the pages of Previews, it seems to me that Marvel somewhere along the way developed a severe case of arrested development: its comics are still pretty much all superhero titles. Some of them have been revitalized a little in recent years, but still—nothing much beyond spandex. Nothing like DC's 100 Bullets, Y: The Last Man, Fables, Loveless, The Exterminators, even Gotham Central. Nothing as adventurous as DC's Milestone off-shoot or Alan Moore's America's Best Comics. Just superheroes, more and more jazzed up as time winds on but, still, just superheroes. Adding Stephen King to the Marvel roster of writers yields a new title with a non-superheroic bent, but one series of books does not a swallow make.
Marvel is typical of the industry, which, judging from my Previews thumb-through, is running along some fairly pretty well-worn ruts. Apart from the men in tights, there are the women in tights, and their tights are tighter than the men's, clinging like skin to their generous embonpoint. Basketball bosoms abound. In a country where sex appeal sells like nothing else, the prevalence of zaftig femmes in comic books is scarcely surprising. Wherever you don't see the superheroic, you see the supernatural—zombies and vampires and gruesome phantoms from the nether regions. On nearly ever other comic book cover, we see faces distorted in horror or in grim, teeth-gritting determination. Serious stuff indeed. And then Previews gives us page after page of manga, an infestation of wispy-haired, big-eyed cuteness so colossal that it threatens the zeitgeist of the culture.
Years ago during my novitiate as a comics critic in the late 1970s, I wrote a long piece about DC Comics entitled "DC Means Dull Comics." I'm happy to report that's no longer the case. Of the Big Two comics publishers, DC is by far the more innovative. Image is probably the next most venturesome, followed by Dark Horse, where the distinctive factor is the company's proven ability to tie-in to other realms in the entertainment industry, chiefly motion pictures. But Marvel seems stuck in the groove that its prolific editor Stan Lee ground out for it when he revolutionized superheroics in the 1960s by imbuing the characters with actual human personalities.
Andrew McGinn at the Springfield News Sun recently listed Lee's "best moments," the top ten of his legendary achievements. These include, working from the bottom to the top, the marriage of two of the Fantastic Four, the elastic Reed and invisible Sue, in FF Annual No. 3; the 18-issue run of The Silver Surfer, a near Biblical character who comments on the human condition; the origin of Daredevil, a blind lawyer ("blind justice," eh?); the invention of the X-Men, an analogy of the civil rights struggle in which mutants with special powers are persecuted by the rest of the human species (or is it teenagers put upon by adults?); Fantastic Four No. 51, in which the relationships among the quartet are examined; FF Nos. 48-50, wherein our heroes meet something that can't be beaten and so confront it, the giant Galactus, who intends to swallow the earth whole, people and all; the resurrection of Captain America in The Avengers No. 4; the anti-drug story in The Amazing Spider-Man Nos. 96-98, requested by the White House, rejected by the Comics Code, but published by Marvel anyhow in courageous defiance of the Code in the name of social welfare; the 1962 invention of Spider-Man, the angst-plagued teenager who learns that "with great power there must also come great responsibility"; and the 1961 origin of the Fantastic Four, super-powered beings who bicker and otherwise reveal that they are, after all, human.
Looking back over the list, it's astonishing to realize how little of comparable magnitude in the four-color domain has been accomplished since. The artwork has improved spectacularly over the last couple decades. Some of the best illustrative work in the country is now being done in comics. But the themes of comic books have remained largely unchanged since Stan Lee with the able and indispensable visualizing collaboration of Jack Kirby and Steve Ditko, conducted his revolution in the 1960s. The authentic maturation of the medium represented by the advent of graphic novels with their stories exploring the human condition has taken place almost entirely outside the realms presided over by the major comic book publishing houses.
In those realms, as Andrew Smith notes in The Comics Buyer's Guide No. 1613 (February 2006), certain trends are revisted again and again until they "get so omnipresent that they become absolutely tiresome." He discusses the three that most annoy him: teenage melodrama, lesbian chic, and the "revolving door of death." I agree with him on all three counts. Once publishers discovered that adolescent angst appeals to youthful readers, they flooded the newsstands with titles that examine and agonize over the sorts of teenage agonies that "evaporate by age twenty." As the current deluge of manga books demonstrates, young readers are drawn like moths to the flame of stories that dwell endlessly on oxymoronic juvenile catastrophe, but this game offers little that appeals to adult readers. Smith also confesses to being bored "by the fad of shoe-horning homosexual women into every conceivable title. It doesn't help that a lot of it is played for shock and/or titillation, which ought to annoy readers of any and all opinions on the subject because that's lazy writing. But what really annoys me is the mind-numbing repetition—writer after writer, book after book, pretty much telling the same story, over and over." Smith's negative attitude is not homophobic, he claims—and I believe him—but simple boredom. The surprise "outing" of a lesbian character happens so often, he says, that he's no longer surprised. Or shocked. The device thereby loses its dramatic impact, and without drama, the story has no power to enlighten readers or change their attitudes. Finally, even death loses its dramatic power when a character is killed in one issue and then, six months later, is discovered not to have died at all—or is revived by some miraculous contraption. Writers who resort to killing off characters as a way of shocking or engaging readers reveal only the poverty of their imaginations. Says Smith: "Death has been overdone. It's a lazy cliche. It's just been done to, ahem, death."
Ouch, but—yes.
<![if !supportEmptyParas]> <![endif]>
COMIC STRIP WATCH
Up to our elbows, as we are in this country, in a consumer society and awash, as our newspaper industry is, in demographic pulse-taking, it is little short of astounding that comic strip syndicates have not tried to market a comic strip niched into the various obsessions of consumerism. Until now. Now, King Features has launched Retail, a strip about the sales facet of capitalism. Set in a fictional mall's fictional department store called Grumbel's, the strip is produced by Norm Feuti, who relies upon his 15-year career in retailing "where he says he endured everything from bare fungus-infected feet at a shoe store to rude, know-it-all parents in an educational toy chain. His aim," continues Michael Barbaro in the New York Times, "is to do for the mall what Dilbert did for the office, revealing the dysfunctional world of bickering employees, spineless managers and cruel shoppers that lurks behind the cheery sales slogans." Feuti plans to follow in Dilbert's footsteps in another way: he will solicit stories from actual retail store employees and shoppers, just as Dilbert's Scott Adams did from the denizens of cubicle America. The chief characters, so far, in the strip are: Marla, the unappreciated and idealistic middle manager; Cooper, the smart-aleck and vaguely subversive clerk, who sometimes undermines the fatuous aspirations of Stuart, the irritable store manager who takes his job far too seriously; and Val, an over-qualified sarcastic African-American sales clerk. These are the agents through which Feuti intends to extract his revenge upon those who most annoyed him in his previous career. Some of the gags in the initial offering sales kit seem too predictable. Here's Marla and Val, contemplating life, Marla saying: "You ever wonder where all this senseless consumerism is leading us?" Val: "All the time, Marla." In the second panel, they both stare blankly ahead, thinking, we assume; then, in the third panel, Marla says, "Did you see those new floral skirts we got in?" Val: "Yeah, those are really cute. I might buy one." In another strip, Marla gives the store keys to Val and tells her to open the store at 9 a.m. At the door, Val looks out and sees faces pressed against the door windows; she says, "I take it the 50%-off coupon is running in today's paper." But there are several with more bite. In a Sunday strip, Cooper resists Stuart's command that he wear the "Goofy Grumbel" clown costume for the sale that day on the grounds that the clown suit is dirty and moth-eaten and has been "festering in storage for months" without being washed. But when he realizes that he'd be wearing the costume outside the store, away from annoying customers, he quickly dons the gleeful garb. In the last panel, a mother and child pass Goofy Grumbel on their way into the store, and the kid says, "Mommy, what's that funny smell?" Cooper, overhearing the question, answers to himself: "Freedom, kid. It's the putrid stench of freedom." Only a former retail employee like Feuti could think of that gag in those terms, and while Cooper's self-serving reversal is predictable, the final panel's punchline is not. The other pleasantly satisfying aspect to the strip, which was launched on January 1, is Feuti's artwork: it is simple and uncluttered in the Beetle Bailey mode—without being at all imitative, mind you—and the lines are confidently laid down, flexing slightly from thin to somewhat fatter, obviously the work of someone with drawing skills. It's a delight to see the return of actual art to comic strips. And the promise of some genuine satire about our consumer fetishes is welcome.
<![if !supportEmptyParas]> <![endif]>
LITTLE CHIEF
The Comic Art of Brummett Echohawk
By Richard V. West, formerly director of the Frye Art Museum in Seattle, where, thanks to West, the work was on public view for the first time since it was created over four decades ago.
Little Chief is the title of a weekly comic strip that ran in the Tulsa (Oklahoma) World during the late 1950s and early 1960s. The strip's creator, Brummett Echohawk (b. 1922), is a full-blooded Pawnee with an extensive background in the visual arts, theater, and movies. In the artist's words: "The idea of Little Chief was from my 'growing up' years in Pawnee, Oklahoma. Pawnee was the Indian agency for the Pawnee Indians, who occupied most of the land between the Arkansas and Cimarron Rivers. As a small fry, I hunted and fished a lot. Used a bow and arrow; also a 'throwing' knife. Very young then, I believed that birds talked. Some bird calls sounded like words in the Pawnee language. Gran'pa said the birds were telling me something; and that I should respect them as they were God's creatures. I rode horses, swam swollen rivers and experienced tribal ceremonies. At night, I heard the old ones tell stories till I fell asleep—and lived with Indian humor, which is not offensive. It is a spiritual increment."
Echohawk's strip was popular in the Southwest, but he resisted syndication that would have given his creation national distribution. The artist explains: "Syndicate people approached offering to publish Little Chief—with changes. They wanted the child, the central character, involved in war parties and wagon trains; and they wanted the child to be shown killing deer and bear. All set with corny dialogue …These people missed the point of Native American culture and Indian humor. If they didn't understand, how could their children understand?" Eventually, Echohawk gave up the strip to devote his time to painting and writing. Nevertheless, Little Chief is an historic cartoon. It appears to be the only regularly published comic strip that was conceived and drawn by a Native American. As such, it avoided all the clichés about Indians that appeared in the countless comic strips and comic books published during the last century. In Little Chief, there are pratfalls and pranks, but they are based on the Native American view of the universe in which all living things, boys and dogs, bears and wolves, are equal partners in the jokes.
Brummett Echohawk studied at the School of Arts and Crafts, Detroit and the School of the Chicago Art Institute, later serving as staff artist for the Chicago Daily Times and Sun-Times. Trained as a painter, he assisted Thomas Hart Benton in the completion of Truman Memorial Library mural at Independence, Missouri. Echohawk has also written and lectured on subjects as varied as Indian humor and Impressionist color theory. As an actor, he has performed in Arthur Kopit's play, "Indians," in this country and Europe. Echohawk lives in Tulsa, Oklahoma.
The Little Chief comic strips seen here are the original drawings created by the artist, using pencil, pen, fine brush, and ink on illustration board. The strips are arranged in roughly chronological order, ranging in date from 1956 to 1962.
THE SON OF EDITOONERY
Just to drop the other shoe: some of you may remember that on Black Ink Monday, the day that over 100 editorial cartoons were posted at the AAEC site (Association of American Editorial Cartoonists) criticizing American newspapers generally, and the Tribune Company in particular, for eliminating the staff position of editorial cartoonist, visitors to the site were urged to send e-mails of protest to Gary Weitman, the Tribune Company's VeePee for Corporate Communications. He claimed he received nowhere near the 1,000 e-mails that Daryl Cagle logged at his blog, where protesters were invited to send copies of their communiques. Many of those who wrote noted that Weitman hadn't replied to their letters even though he said he would. Eventually, of course, he did reply, using the following form letter:
"Thank you for your e-mail. Tribune has always had great respect for the profession of editorial cartooning. Our newspapers make their own, independent decisions about running editorial cartoons and employing editorial cartoonists. Some have cartoonists on staff, and some purchase syndicated material from a variety of sources. In fact, one of our subsidiaries, Tribune Media Services, syndicates material from 14 Pulitzer Prize-winning editorial cartoonists to newspapers across the country, including all of Tribune's 11 newspapers. Contrary to what you may have been led to believe, none of our newspapers has eliminated the editorial cartoon from its pages. Thanks again for your e-mail. I hope this explanation is helpful."
Feel better now? Cagle corrects Weitman: of the 14 editoonists TMS distributes, only 7 are Pulitzer winners. Weitman's so-called "response" generated a new round of protests, this time from people who criticized his neanderthal thinking or who objected to the boiler-plate reply. One writer quoted H.L. Mencken, "venerable editor of the Baltimore Sun," which paper just let Kevin "KAL" Kallaugher go after 17 years: "Give me a good cartoonist," the cranky sage said, "and I can throw out half the editorial staff."
KAL's last cartoon was published in the Sun on Friday "the 13th," auspiciously enough. His departure was hailed by the paper's Public Editor, Paul Moore, who voiced his regret and lauded his work, saying his departure was "a signal loss to the newspaper, where editorial cartooning has flourished for more than a century." But, he went on, "the newspaper has no current plans to fill the cartoonist position. This is in line with the trend of U.S. newspapers eliminating editorial cartoonist jobs" (my emphasis). On an AAEC List Serve, I strenuously objected to the use of the term "trend," which has vaguely positive connotations: most people want to join trends, not avoid them. I encouraged everyone to avoid the term and use something a little less favorable-sounding. "Plague" might be more like it, I suggested. Someone came back offering "rash," which I think is better—as in, "A rash of bad decisions by editors."
Incidentally, the current issue of the Columbia Journalism Review contains a short article addressing the financial dilemma that newspapers find themselves in because they've "gone public" and sold shares on the stock market. "Wall Street cares about one thing: growth," according to Douglas McCollam in "A Way Out?" Newspapers, alas, are not financially designed to "grow" in value; they're designed to be financially viable so they can continue in business. To escape the stockholders' compulsions, McCollam suggests that newspapers and chains return to private ownership by means of "leveraged buyouts," which, he explains, is "a fancy way of saying borrow a lot of money from private investors and use it to buy all the stock from shareholders." Leveraged buyouts got a bad name when they were linked to junk bonds and corporate raiders, but that notion may be fading. "Private ownership," McCollam writes, "need not be driven by short-term profits; it has the potential to give newspapers desperately needed space to play and invest in long-term strategies" for the twenty-first century of news gathering and disseminating. "There's no guarantee," he concludes, "that the private ownership of today would recognize the value of journalism, [but] it has already been established that Wall Street does not. Maybe it's time we took our chances." We hope.
<![if !supportEmptyParas]> <![endif]>
FUNNYBOOK FAN FARE
The third issue of Loveless is out, but it has yet to live up to its promise, which is implicit in Brian Azzarelo's other gig on 100 Bullets. Azzarelo himself said that since the run of Loveless is going to be shorter than Bullets, he'd jam more violence into its pages than in Bullets. The first issue kept the promise, but in the next two, there's not so much violence as there is sex, and there's quite a lot of that. There's also quite a bit of sheer bafflement. The books shift back and forth between at least two time periods with little to flag the shifts: it's sometimes difficult to tell where, exactly, the narrative is. And Marcelo Frusin's pictures, alas, don't help much: expert though he is, some of the characters are indistinguishable from others. And Wes Cutter, the ostensible star of the series, has a beard in the post-Civil War continuity but is clean-shaven in the ante-bellum phase. I think.
Warren Ellis's Jack Cross continues on his ruthless way, conducting in No. 3 of his eponymous book an interview at the military installation at Guantanamo Bay. It concludes badly when an observer turns out to be a spy, precipitating a struggle with Cross. Illustrator Gary Erskin produces five pages of wordless, meticulously choreographed blow-by-blow action, which is fun to sort out. But when Cross leaves the environs by chopper and encounters a rival chopper, the incident leaves me wishing for just a little explanatory prose to go with the pictures.
The third issue of the 4-issue mini-series, Superman and Shazam: First Thunder, has arrived, finally—after an ungainly lapse of time since the second issue. I'm not a big fan of Joshua Middleton's clear-line technique—although I think it would work better without the gray tone modeling superimposed on the colors—but I nonetheless enjoy some of his effects in rendering faces, albeit not his versions of Lex Luthor and Captain Marvel's nemesis, Thaddeus Sivana, in No. 2; Sivana's nose is too long. A lot of No. 3 takes place in the upper reaches of Earth's atmosphere where Captain Marvel (who, in the conceit of this interpretation, looks like Fred McMurray, ostensibly C.C. Beck's inspiration) battles Lord Sabbac, so there's a lot of figure drawing and very little background. The series has so far entertained and up-dated (horrid expression) various of the Captain Marvel myths. Cap, for instance, is appropriately awed upon meeting Superman—just as he should be if he's really, as he is, just a teenager named Billy Batson, who acquires an adult superbody but not maturity when he gets Shazam to strike him with a tranforming thunderbolt. This is fun stuff for fanboys like me, who still remember the original Fawcett creation. The story revolves, in some way not yet entirely clear, around a Satanic cult of museum thieves stealing ancient artifacts. To what purpose? We don't know yet. The essential conflict underlying this frail tale has now begun to emerge: it's science vs. magic, tovarich—that is, Superman for science and Captain Marvel for magic, invoking the customary explanation for the difference between the two longjohn heroes back in the Golden Age. In No. 2, Superman encounters raw magic—black magic—in the Temple of Bagdan. "Oh, boy," as Captain Marvel says, Billy Batson-like—more faux supernaturalism, I say. Not to mention Mallus Trolls. Probably, unless I miss my guess (and how can I miss with this material?), the conclusion of this adventure will endorse magic and science working together in concert.
Batman and Robin: The Boy Wonder No. 3 is the pin-up issue. The title characters show up on only two pages, the rest of the book is devoted to the kick-boxing of the Black Canary, whose net-stockinged legs are on generous display as she shuts down the saloon she's bartender at by beating up its patrons, a bunch of rude men voicing syllables of sexual harassment. Jim Lee is expert at rendering her legs and derriere and crotch from nearly every angle, but he still hasn't figured out how to give her bosom the necessary symmetry in three-quarters view shots. Meanwhile, Frank Miller's motives are still a mystery. Then Superman shows up.
Of the first issues at hand, we have Sable and Fortune which brings back Silver Sable, an attractive female mercenary, and Howard Chaykin's Dominic Fortune, a "devil-may-care 1930s adventurer." This issue introduces us to them and them to each other, after which, they team up to retrieve a kidnaped operative from some rogue agents. The action, however, while somewhat successful, plunges us all into the clutches of the Real Bad Guy, who's drugged the kidnap victim with the expectation that he'll kill Sable. He's reaching for a discarded weapon the background just as this issue ends. Nicely staged suspense, but the initial encounter between Sable and Fortune is a bit too talky, and the ensuing action sequence is too abrupt: all fireworks and no continuity in the choreography. There's not enough action to offset the impression that there's an awful lot of talking going on here. The reason I picked up this issue, however, is that it is drawn—painted—by Britain's nearly legendary John Burns, who produced The Seekers for years in English newspapers. His deployment of color is deft, his pictures almost always of a clarity to convey the necessary visual information. He uses a linear touch to clarify some of the early pages, but by the end of the book, it's being done entirely with colors. Lots of close-ups, but enough medium- and long-range shots to include background details for scene-setting.
In The Exterminators, we encounter several hundred cockroaches and two pest-control workers, A.J., the narrator, an ex-con reeking of bad language and bad attitude, and the repulsive Henry, who'd sooner eat a rat as exterminate it. Just as we learn that a super strain of roaches lies just over the storyline's horizon, this issue ends. Roaches, by the way—and this is not something you'll learn in this title—have no internal organs or skeletal structure. They are all shell outside, and inside is all just goo. That's why they squash so nicely. Disgusting as all this may be, the title shows promise, and I'm looking forward to the next issue.
Finally, here's Peter Snejbjerg's Marlene, which, at 48 black-and-white pages, is more like a graphic novel than a comic book. The story begins with the apparent murder of a peeping tom named Mogens Schkmidt. The investigating detective, Michael Joergensen, interviews the object of Schkmidt's obsession, Marlene Mortensen, after which, they promptly go for what Flashman would call a "good rattle" in her bedstead, two pages of explicit sexual content, kimo sabe. Soon thereafter, we meet Uno F. Jensen, a somewhat deranged artist who is aroused only by his artwork, renditions of nudes, for whom Marlene occasionally models. "What is the model but a tool," the boozy Uno soliloquizes, "—like brush, palette or easel? A chance confection of flesh and bone, a mere conduit between my godlike genius and the canvas. And wicked, to boot," he concludes with a leer. He is immediately attacked by what seems to be a mysterious woman, then he attacks Marlene, who defends herself, sending Uno tumbling downstairs. The mysterious woman turns out to be—well, no. Better you should read for yourself. Snejbjerg's artwork is masterful: the drawings are usually drenched in solid black, details obscured yet defined by shadow. And his storytelling is deft, deploying long stretches and short instances of wordless pictorial narrative to enhance suspense and build drama. The artist lives in Denmark, and while he's been illustrating U.S. comic books since 1992 (mostly for DC), he has produced several graphic novels in Europe. Marlene, published there in 1998, is the first of these to be translated into English. I hope there will be many more.
Under the Spreading Punditry
The U.S. Senate, sometimes called "the world's greatest deliberative body," has a new appellation, according to The Washington Spectator: the world's best investment club. At least 60 of the 100-member body are worth $1 million or more now; back in 1994, only 28 senators had achieved that exalted status. A recent study conducted by four business professors showed that "on any given year between 1993 and 1998, roughly one-third of all senators played the stock market, and those who did enjoyed an 'abnormal' rate of return, meaning they out-performed the market" by around 10 percent annually, as compared to corporate insiders who, in a 2001 study, beat the market by only about 6 percent annually. What luck, eh?
This is a really good bunch of government guys, gang. They line their pockets to a fare-thee-well but don't do much legislating. "Nowadays, the Senate is likely to give a transportation bill more thoughtful deliberation than a decision to commit American soldiers, as Leslie Gelb and Anne-Marie Slaughter noted in a November article in The Atlantic. Reportedly, only six senators read the classified intelligence estimate on Iraq before voting to authorize the use of force there."
Let me repeat what I've said before when confronted by an Election Year: the best way to conduct yourself in the voting booth is to vote against anyone who is running for re-election. Vote the rascals out! Make Congress—and, indeeed, all government—amateur again, as it was envisioned a few hundred years ago. Professional politicians are scalawags, and we have far too many of them. Professional politicians are interested in but two things: lining their own pockets and getting re-elected, the latter often being the chief objective of the former. Looking at legislation adopted by recent Congressional bodies, I'm convinced that the sole reason these guys come to work in the morning is to figure out ways to spend our tax dollars in ways that will achieve the two objectives I just mentioned. Democrats and Republicans alike. No discernible difference. Phooey. By the way, if you haven't checked your dictionary lately, you should know that an archaic meaning of the word congress is "sexual intercourse." So whenever you're feeling screwed by your elected officials in Washington, find whatever consolation you can in the knowledge that the body that meets in the capital building was at least aptly named.
<![if !supportEmptyParas]> <![endif]>
GRAPHIC NOVELS AGAIN
Not as useful as it promises but by no means useless is Stephen Weiner's The 101 Best Graphic Novels for NBM (180 6x9-inch pages in paperback, $9.95), a revised and up-dated version of the 2001 edition, which was, itself, a revision of his 1996 title, 100 Graphic Novels for Public Libraries, published by Kitchen Sink. The genealogy betrays the book's intent: Weiner, director of a Massachusetts library, is writing for other librarians who, besotted, doubtless, in the current tsunami of graphic novels and manga, might be having a heckuva time figuring out which titles to order for their collections. Weiner's book will help them.
In revising his list for this edition, he has dropped picture books and comic strip reprint titles, neither of which belong on a graphic novel roster to begin with. But he's retained numerous hardcover reprints of story arcs from serial comic books—The Essential Spider-Man, Volume 1, for example, and the equally "essential" Avengers and Fantastic Four—which, for my money, don't belong here either: these books weren't produced as single, stand-alone narratives, as was, for instance, Alan Moore and Eddie Campbell's From Hell, also listed here. Weiner lists Terry Moore's Strangers In Paradise: I Dream of You, Dennis O'Neil and Neal Adams' Green Lantern/Green Arrow Volume 2, James Robinson and Paul Smith's Leave It To Chance, and Wendy and Richard Pini's Elfquest tomes, all of which were published serially and not, initially, intended for compilation as unified narratives. Weiner includes far too many of this breed considering the wealth of genuine graphic novels—works composed as unified narratives—now available. But Weiner, after all, is revising an existing list and is probably having as much trouble as most of us in keeping up on the latest arrivals.
His list includes such predictable "old" standbys as Barefoot Gen, The Darkknight Returns, The Golem's Mighty Swing, The Cartoon History of the Universe, Palestine, and Watchmen as well as recent titles like Mother Come Home, Persepolis, Blankets, Epileptic, and City of Glass but also such dubious choices as Harvey Kurtzman's The Grasshopper and the Ant, a charming tale engagingly told in Kurtzman's best manner and worthy of putting on your shelf, no question, but scarcely a graphic novel. (It was initially produced as a magazine feature for Esquire.)
More than a mere source list for librarians, the book also offers brief annotations for nearly every title, and these are the book's chief virtue. The annotations are usually descriptive and succinct, if sometimes a little fey: Yasuhiro Nightow's drawing style in Trigun Volume 1 is described as "cinematic and sincere"—what's "sincere" about a drawing style? What's insincere? Fake? But Weiner doesn't dish up such verbal pablum very often.
Another of my quibbles with the book is his assignment to each title of a letter-code that suggests the "readership level" the book is best suited for. Here, I think Weiner often goes astray. Paul Auster's City of Glass, adapted by Paul Karasik and David Mazzucchelli to graphic novel form, is, Weiner says, best suited for "teens between 16 and 19." I think the book is much too sophisticated a treatment of Auster's novel for this age group and would have designated it for "readers 20 years old and older." Weiner thinks the Marvel Essential titles are good for readers of all ages but "especially for readers 12 and under," another dubious call. Jason Lutes' Berlin Weiner says is best for "teens between 16 and 19." Similarly, Watchmen is for readers "between 12 and 15." In his librarian hat, Weiner may think he's indicating to fellow librarians the "minimum age" for appreciation of the books, but his code key doesn't say that. Moreover, since almost none of the 101 titles Weiner lists are designated "for readers 20 years old and older," I'm forced to conclude that Weiner, for all his proclaimed affection for comics, thinks that graphic novels are merely longer comic books and that they are fundamentally juvenile literature. Too bad. The book is undeniably a useful guide for librarians, but its uses for seasoned afficiandoes of the medium lies entirely in the brief annotations Weiner supplies.
<![if !supportEmptyParas]> <![endif]>
BOOK MARQUEE
A little 2004 book by Tom DeForest called Storytelling in the Pulps, Comics, and Radio is just that—a little book, a trifle, really. Subtitled How Technology Changed Popular Fiction in America, the thing promises much but delivers very little. I confess, though, that I'm judging from only the section on comics. That's all I read: it was trivial enough to be misleading and that convinced me that the other two sections probably wouldn't be any more reliable. DeForest also commits a few outright mistakes. In discussing comics, DeForest perpetuates the now discredited factoid that the two Yellow Kids, one in Pulitzer's World and the other in Hearst's Journal, precipitated a landmark legal action in which it was decided that the newspaper owned the title but the cartoonist owned the character. No such case exists. And DeForest also repeats the canard that Noel Sickles drew Terry and the Pirates for Milton Caniff well into the 1940s. Other, somewhat more minor matters, abound. Dick Tracy wasn't gory? News to me. And DeForest puts a final, pluralizing 's' on the name of Tarzan's syndicate; it's United Feature not United Features. Admittedly, lots of writers make that last gaffe, but the other mistakes, discovered effortlessly on a merely cursory read-through, suggest that in his research DeForest dug no deeper than the closest surface. And a glance at his bibliography confirms the suspicion: many of his comics sources are vintage—Stephen Becker, Jerry Robinson. He also used Rick Marschall's America's Great Comic Strip Artists, which he calls "the Ur-book about comics," saying "anyone who claims an interest in the subject but has not read this should simply be taken outside and shot." His worship at this altar explains his mistakes about the Yellow Kid and Sickles, two of Marschall's favorite misapprehensions. DeForest evidently consulted few of the many recent tomes on comics—not any of Ron Goulart's numerous and informed texts. Nor did he look into the medium's classic history, Coulton Waugh's venerable The Comics. For the aged reader making a nostalgic visit to his or her childhood in the 1930s or for the casual reader, seeking only the basic outlines of the history DeForest claims to rehearse here, the book is entertaining enough. He tells the stories of a couple Dick Tracy adventures, ditto Terry and Tarzan, and he regales us with some of the commonplaces of the medium's history. Entertaining, doubtless, for the uninformed reader, but banal withal and likely to perpetuate out-dated shibbeloths. Oh, the promised insight into the technological basis of changes in popular fiction? The technology includes the printing press, the daily newspaper, and the radio. Insightful, eh? This book is the sort of work a librarian like DeForest conjures up out of his casual outside reading using the Gamov Gambit: read three books on a subject and then, based upon the knowledge you acquire that way, write your own book on the same subject. Don't look for anything profound in DeForest. (George Gamov was a celebrated physicist who wrote several books popularizing science, 1-2-3 Infinity for example, using just the method I described. Gamov, however, drew upon his own extensive knowledge of his field as well as the three books he claimed to have read to acquire fodder for his own tomes.)
<![if !supportEmptyParas]> <![endif]>
MORE BUSHWAH
As Usual, We Relegate the Political Mud-slinging Here to the End So You Can Skip it Entirely If You So Desire.
It's amazing the quantity of horse pucky we as a people seem capable of ingesting. Our capacity for this sort of feat is so astounding as to qualify, easily, as the ninth wonder of the modern world. Take, for example, the leak about the NSA wire-tapping venture. George W. ("Wiretap") Bush is all knotted up in rage over how "shameful" it was for the New York Times to reveal to the whole world the secret wiretapping that's been going on. The revelation, GeeDubya alleges, aids the Enemy by alerting him that his phone might be tapped. And the enemy never suspected before this that anyone might be doing some electronic eavesdropping in the vicinity of his phone? My, but the Enemy is one naive son of a bitch, eh?
Here's another example: "Blowing Up the Ticking Bomb Myth." This is the title of a December 20 column by editoonist Ted Rall. I think it's right on the money, so I'm going to repeat the key points here. In the context of the Bush League's much acclaimed refusal to torture anyone, the so-called "ticking bomb scenario" has been frequently invoked as a way of justifying the torture that isn't being done. It goes like this: What would happen if we believed a nuclear device had been planted in an American city, and interrogators had just minutes to extract information about its location from a terror suspect? The answer usually supplied is that in those circumstances, torture would be excusable: hurting one guy grievously in order to save millions from flaming death is permissible. Here's where Rall supplies a short reality check: "Underlying such a claim is ignorance of the methods used by underground organizations such as Al Qaeda. ... Members of secret cells follow simple procedures to avoid arrest and detection. Vary your routine. Set up a legitimate job as a cover. If you set up a meeting and someone is late, even by a minute, walk away and assume that they have been arrested. Check in with other members of your cell—typically one person ranked higher and one or two ranked lower—regularly. If a comrade fails to check in, assume that he has been tortured and has spilled his guts. Scrap your plans and start anew. ... Government agents would need the devil's luck to arrest a terrorist suspect during the short interval between a bomb's placement and its detonation. Even then, given Resistance 101 precautions, a suspect's comrades might note his failure to make a pre-arranged check-in and move the bomb. Assuming an arrest under such extraordinary circumstances, it is well nigh impossible to imagine that the heroic protectors of the American people could identify a subject's significance as a key member of a dangerous organization, determine that he possessed important information, narrow that knowledge down to the subject of a specific bomb plot, and then manage to extract the correct information using torture in time to prevent a disaster. Terrorists lie. They stall. And you can't get an answer unless you know what question to ask—with or without an electric drill." Thanks, Ted. Everyone feel safer now?
By the way, did you notice that during the brief adjournment of the Senate in early January, George WMD Bush appointed 17 federal officials without having to face the confirmation process? Well, he did. One of them, Julie Myers, was named to head the Immigration and Customs Enforcement Bureau. She's the wife of a top aide to Homeland Security chief Michael Chertoff. Oh—and she has no discernable experience in immigration or customs or like that. The White House said it was necessary to make the appointments during the "recess" in order to avoid the otherwise inevitable skirmish in "playing politics." That's what the White House said was the reason GeeDubya didn't try to get legislation to authorize his warrantless wiretapping.
Remember: Valentine's Day is only weeks away. A propos of nothing, as I said.
To find out about Harv's books, click here.