Opus 173:
Opus 173 (November 28, 2005). A little bit of everything this time, but we linger longest over the fate of political cartooning, which, in turn, is yoked to the fate of the daily newspaper, which, as we all know, is doomed. And as a special treat for all our English Lit readers, we end with a high class literary history exegesis on Shakespeare, the everlasting Bard. Here's what's here, in order: CORRECTIONS —right up front, where they can't be ignored or sneezed at; NOUS R US —Australia names a Cartoonist of the Year, conservative superhero comic book debuts, Beavis and Butt-Head return, Bob Lobel settles his suit against Get Fuzzy out of court; REPRINTZ —Review of Rudy Park with a long and lingering aside on Candorville; BOOK MARQUEES —The Spirit and Plastic Man archives from DC; GRAFIC NOVIL —Review of Joe Sacco's War's End; Masters of American Comics show in two L.A. art museums simultaneously and a one-man show for Eldon Dedini; the Boss describes the source of creative energy; EDITOONERY —Two masters of the genre face extinction and we rant on about bottom-line journalism, circulation, and other idiocies in professional newspapering; TED RALL —Talks about the state of American politics and edits three new Altie books from NBM, which we review (Andy Singer, Neil Swaab, and Stephanie McMillan); COMIC STRIP WATCH —Comedy in Bo Nanas, proportion in The Boondocks, and shoes in Blondie (but not John Marshall); FUNNYBOOK FAN FARE —Reviews of Rex Libris, one of the strangest and still funny books of the year, and of Hellboy: The Island, Wildsiderz, and Ferro City, plus a list of Ten Comics That Shook the World from Doug (no relation) Harvey; Lou Myers obit; and a serious, intellectual discussion of who, really, wrote Shakespeare's plays. But—sorry—no Bushwah this time! No Bushwacking! Jeez, the guy is in so much trouble, committing political suicide like he is, that we can't bring ourselves to take any digs at him. I mean, with all the major magazines now unloading on the poor simp, he scarcely needs us to kick him when he's down. (Oh, sure. We're just too busy to bother this month, what with the Thanksgiving holiday and all.)
If you're paying the strictest attention to this picayune prose, you'll notice that our last posting of Rancid Raves was dubbed "Opus 172, Part 1." We'd had some difficulties with our scanner and had to delete from that installment all the illustrations we'd planned as well as the text they were to illustrate. We thought we'd come in quickly with a repaired scanner and "Part 2" of Opus 172. Well, time passed. And we put up Bill Holman instead of Part 2 of Opus 172. And now it's time to post the next biweekly R&R, which, now, we've expanded to include not only the portions left out of Opus 172 but a whole lot of fresher stuff. It's too much, now, to be Part 2: it's a whole other thing now. Opus 173, in fact. Just in case you were keeping score. If you weren't, then ignore this paragraph and go on and have a good time.
Now that you're here in the Membership/Subscriber Section, don't forget to activate the "Bathroom Button" by clicking on the "print friendly version" so you can print off a copy of just this lengthy installment for reading later, at your leisure while enthroned.
And, one more time before you give up altogether in your search for that rare tome, check our list of Bargain Books for sale, which incorporates into the left-overs from April's sale some recent acquisitions. To get to the list, click here. Finally (one last plug), consider, as we pass the 100th anniversary of the debut of Winsor McCay's Little Nemo, celebrating with a tiny tome of mine, The Genius of Winsor McCay, which is described here. Without further adieu—
<![if !supportEmptyParas]> <![endif]>
DEPARTMENT OF CORRECTIONS
& Other Maladroitnesses
Editoonery
Jim Ivey, founder of the OrlandoCon, curator of the cARToon Museum in Orlando and editoonist of renown, sent me a correction for the history books. I've always supposed that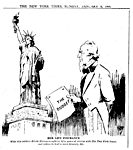 The New York Times never published editorial cartoons. It doesn't now. And on the basis of that slender evidence, it is supposed by one and all that it neverhas. Wrong. Ivey sends the accompanying clipping, dated January 5, 1958, the last political cartoon done by the Times editoonist Edwin Marcus, who retired after fifty years cartooning at the Times. Marcus was never replaced, which oversight created the contemporary Times, sans political cartoonist. But it wasn't always so. Unhappily, what the Times proved through the ensuing years was that a daily newspaper can survive just fine without a political cartoonist. In fact, without political cartoons at all. If it happened once, it can happen again, alas and alack.
And then I said in Opus 171 that Tom Tomorrow was Tom Perkins, but he's actually Dan Perkins.
<![if !supportEmptyParas]> <![endif]>
NOUS R US
Down Under, Adelaide cartoonist Peter Broelman was named Cartoonist of the Year at the recent convention of the Australian Cartoonists Association, receiving, as token of his achievement, the 21st Stanley, an elaborately sculpted trophy modeled after the nation's funniest cartoon, produced in 1933 by the legendary Stan Cross, who created the country's first (and longest running) comic strip, The Potts (initially entitled You and Me), in about 1920.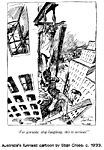 Broelman didn't expect to win, he said. "I actually spend more time on Photo Shop fixing my cartoons up than actually drawing the things in the first place," he joked. He was also named Editorial Cartoonist of the Year, one of ACA's seven award divisions (the other six: comic strip, gag cartoon, caricature, general illustration, digital illustration, and humorous illustration). He's produced comic strips (a couple efforts from a previous year we include in the accompanying illo) and corporate caricature as well as editoons.
ACA, founded in 1924 in Sydney as the Black and White Club, is probably be the world's oldest cartoonist fraternity.
Manga and manga-style comics and graphic novels were a considerable presence and generated a good deal of interest at the annual Frankfurt Book Fair, the premier international marketplace for book rights and licensing, said Calvin Reid at publishersweekly.com. Kyo-yu Liang, sales and marketing director at Diamond, said: "It was like combining BookExpo with the San Diego ComiCon." ... British Columbia's eXtasy Books has published a new erotic novel, Torrid, by award-winning manga bestseller Morgan Hawke; it's a prose enterprise, it sez here, but follows the "narrative style of manga." And all this time, I thought "manga style" would be in pictures. ... DC's Vertigo imprint will be publishing future issues of Harvey Pekar's American Splendor in a 32-page 4-issue mini-series.
Hoping, no doubt, to cash in on the political polarization in the country, ACC Studios, a one-man publishing empire in Kentucky, launched a new comic book on November 2, Liberality for All, which pits superheroic conservatives against tyrannical liberals. In the comic, the U.S., controlled by "ultra-liberal extremists," has surrendered authority to the United Nations, and "a group of bio-mechanically enhanced conservatives (Sean Hannity, G. Gordon Liddy, Oliver North) sets out to thwart Ambassador Usama bin Laden's plans to nuke New York City." You can probably learn more about this unabashed attempt to politicize comics at www.accstudios.com, where some preview pages are posted. The new series may have been, in some sense, a reaction to a white paper prepared in April 2003 for the conservative Foundation for the Defense of Democracies. Entitled "The Betrayal of Captain America," the diatribe, by writers Michael Medved and Michael Lackner, asserted that "Marvel Comics and other publishers are disseminating comic books that actively promote a destructive cynicism and distrust of the United States government." (As if, in other words, the government never does anything to inspire distrust and cynicism.) The creator of this hodge-podge of wish fulfillment and propaganda, Mike Mackey, called "an affable comic book aficionado" last summer by Christopher Dreher at the Boston Globe, says he aimed for a measure of ambiguity in his tales, and incorporated a dollop of humor. Describing himself as a "proud red state conservative," he went on to say: "Liberals and conservatives see the same thing and at the same time see two entirely different things. But I'm hoping the humor can be uniting. I hope the book gets people to laugh and raise questions on both sides and gets them talking about issues again."
The first DVD volume of the 1990s' woefully taste-challenged duo, Beavis and Butt-Head,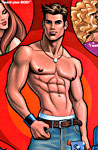 is out, offering 40 of creator Mike Judge's favorite episodes. ...Former Carcuss bassist/vocalist Jeff Walker has commissioned Cherry Comics' Larry Welz to create the art for the forthcoming album of country and blues. I haven'tseen Welz in several years, and I used to see him regularly at comicons in Chicago and San Diego, so it's nice to know he's still out there pluggin'. ... It's comforting, in its own perverted way, to know that Tom of Sweden, the internationally renowned illustrator of gay male adventurers, is alive and well—if, that is, we are to judge from the full-page ad in many recent funnybooks advertising Bod, a brand of men's fragrance.
Scott Adams added a blog to his Dilbert empire on October 25; he was prompted to join the blogosphere because of spam filter interference with the delivery of his newsletter, which is e-mailed to a list of 400,000. ... In the Beginning is a weekly panel cartoon that takes a light-hearted look at religion by Chris Sushynksi, who, according to a report from the Christian News Agency, WDC Media News, started it to break traditional stereotypes about religious people. Said he: "I'm not trying to prove that people of faith can be 'cool,' too. I'm out to show that we can have good clean fun just like anyone else can without going over the edge." One cartoon shows a man approaching Jesus with a box of Krispy Kreme donuts just after Jesus finished feeding 5,000 people with loaves and fishes. With a puzzled expression, Jesus says to the man: "You want me to multiply those, too?" Information about syndication can be found at www.InTheBeginningComics.com. ...
Last May, Bob Lobel, a sportscaster at Boston's Channel 4, sued at least one newspaper, United Feature syndicate, and Darby Conley, the cartoonist who produces Get Fuzzy, because, Lobel alleged, his reputation was smeared by an installment of the comic strip in which the dim-witted dog Satchel sits watching a baseball game on tv with his bad-tempered roomie, Bucky the cat, and the dog speculates that the sportscaster they're watching is drunk. Rob, the animals' custodian, says: "Lobel? Who knows. He's like some tv outreach program or something." They all argue briefly, and then the good-natured Satchel says, "Guys! Guys! How can you fight while there's a drunk guy on tv?" Lobel has a complicated and well-publicized personal life, it seems, and it's possible, as a public figure, he'd have difficulty winning his libel suit. But one of the papers he sued, the Standard-Times, reported on November 20 that an out-of-court settlement has been reached. As part of the settlement, the paper could issue a statement, which could include the following: "The defendants did not intend to suggest that Bob Lobel has ever been intoxicated while on the air and apologize to him for any harm caused by the Get Fuzzy cartoon." The statement was part of a long column written by editor Bob Unger, who added, "While we're not obligated to say anything beyond that, I want Mr. Lobel to know that we are sorry." Unger acknowledged that comic strip creators should be allowed a good deal of freedom to express their views and formulate their comedy, but he believes Conley "overstepped the lines of what's considered acceptable comment by a longshot." I'm sure Conley meant his jibe to be taken in the sort of locker-room spirit of good-natured ribbing that often prevails at the broadcast fringes of sporting events, but I agree: he did go too far for a print medium, in which words stand alone without tone of voice or facial expression. Unger concludes by noting that his paper has cancelled Get Fuzzy, which action, he hopes, "makes a big point in a small way: the Standard-Times is not in favor of needlessly causing any individual, famous or not, public embarrassment—in whatever form. Newspapers have great power to help or to harm, and in this case, we hurt someone for no reason. Mr. Lobel, I'm sorry, and we apologize." Nicely done.
Cheesy Products has brought forth a consumable R. Crumb artifact: Devil Girl Red Hot Kisses, heart-shaped cinnamon candies in a tin designed by Crumb for $3.95. My agent-in-various-matters Denis Kitchen is, in some vague way, probably involved in this (which I mention by way of full disclosure). You can learn more at www.cheesyproducts.com I have three of these li'l heart-shaped red-hots in my mouth right now, and I can therefore personally attest that they are exactly what they say they are. ...
<![if !supportEmptyParas]> <![endif]>
REPRINTZ
The eponymous protagonist of the comic strip Rudy Park, in case you've forgotten, manages the House of Java cybercafe and lives in a Internet fantasy. The second collection of the strip, Peace, Love and Lattes (128 8.5x9-inch pages; paperback, $10.95), shows Rudy indulging in his usual preoccupations and the irregular regulars of the coffeehouse indulging in theirs. One of the characters, Herb, "the Late Adapter," comes in to report that he's just found a great new "mob show" on tv: no, not "The Sopranos"—"The Godfather." The strip escapes this fantasy world occasionally to comment on the passing social and political scenes. Rudy tries out for the reality show, "Cannibal." Secretary of Defense Donald Rumsfeld drops in, accusing everyone of "looking funny at me." And one of Saddam Hussein's body doubles comes in, too, followed by two others, Ahmed and Earl. "Earl?" says Rudy. The strip debuted in 2001 during a particularly inauspicious week of September, and this collection remembers 9/11 in two poignant installments.
Rudy Park is drawn by Darrin Bell and written by Theron Heir, who does not exist. The actual writer of the strip is a highly placed journalist who uses the nom de plume Theron Heir because he suspects the seriousness of his regular mission in life would be compromised if anyone knew he moonlighted by creating hilarities in the funny papers. This rationale is, of course, in and of itself, satirical. Bell produces another strip, Candorville, single-handedly.
Candorville is somewhat autobiographical, dealing in societal issues affecting a multi-racial milieu, whose chief representative is an African-American named Lemont who hangs out with a Latina named Susan and a would-be gangsta named Clyde. Bell, who is African-American, often writes a somewhat more biting satire in Candorville than the anonymous writer of Rudy Park. Recently, for instance, Bell did a sequence demonstrating that "republicans are trying to make inroads with Blacks by giving Black churches tons of cash—all through the White House Office of Faith-based Initiatives. "In this sequence, a GOP operative gives Reverend Wilfred $50,000 "to help the poor—" ("Why are you winking?" asks the good reverend) "—that you don't have to account for." Subsequently, Reverend Wilfred tells his congregation that Jesus wants them to vote Republican next year. A week later, Lemont tells Susan that the Rev. Wilfred, after preaching a Christian doctrine of turning the other cheek and loving enemies, urged that Venezuelan president Hugo Chavez be assassinated. Lemont interviews Wilfred for his blog, saying, "So I can write a fair and balanced article, I'd like to give you a chance to respond about how you claim to be a Christian but your inciting people to murder betrays everything Christ stood for." Says Wilfred: "Well, at least you're not biased." And Lemont continues his interview: "How long have you been a raving lunatic?"
Last spring, Bell did a week's worth of strips in which a conservative Republican, Monty Nixton, emerges from a coma after 36 years to learn that the GOP controls the White House, Congress, and the Supreme Court. Nixton is overjoyed: "Smaller government at last!" he exclaims. His visitor, however, knows the score: "Um, yeah—well, about that ...," he says.
After hearing the accomplishments of President Clinton—balanced budget, huge surplus, end of cycle of welfare dependency, free-trade agreement, teen pregnancy rates dropping—Nixton rejoices: "Clinton sounds like the best Republican President since Teddy Roosevelt," he says. His visitor says: "Um..."
A reprint compilation of Candorville is due momentarily from Andrews McMeel.
To handle the work of drawing two strips, Bell has developed a couple of unique visual dodges. One of his most frequently deployed devices, in at least one panel of a day's strip, is to focus in tight close-up on a character's nose. Given the simplicity of his drawing style—a gracefully flowing line—this maneuver reduces considerably the time he must spend on that day's strip. Says Bell about his two-hatted life: "My best advice for handling two strips at the same time is to get someone else to write one of them. Rudy Park is written by Theron Heir," he continues, "who lives in a small village in Outsourcistan, where I pay him five carrots per week to crank out scripts." Turning serious, Bell went on: "I really don't think I work any harder than other cartoonists for this reason: most cartoonists also have a day job [that supports them]. They draw cartoons at night while their families are sleeping. But during the day they bag groceries, sweep up in the syndicate's evil laboratories, or panhandle. I'm fortunate in that my day job is drawing another comic strip."
Bell's drawing style, deploying a flexible brush-stroked line, is clean and gently rounded off, producing pictures that are crystal clear without drawing undue attention to themselves. Perfect for narrative, in other words. In Candorville, his layouts are unusually adventurous for a newspaper comic strip, but since the strip has a high verbal content, the eccentricities in layout scarcely distract from the comedy; in fact, they make an otherwise talky strip visually interesting and engaging.
<![if !supportEmptyParas]> <![endif]>
BOOK MARQUEES
The 16th volume of DC's Spirit Archives is out, taking the reprinting from January 4, 1948, through June 27, 1948. At six months per volume, we've got just another 9 volumes to go. These books avoid most of the pitfalls into which many of the others stumble. Using good photostats or original art from the Eisner archives, the artwork suffers no reconstruction with the usual blemishes caused by feathering clumping up and the like. And by using off-white paper, the garish effect of the color is considerably muted, approaching, thereby, the original state of the pages when they appeared on newsprint.
The 7th volume of the Archival Plastic Man is out now, too, embracing Plas's adventures from Plastic Man No. 7 (Spring 1947) through Police Comics No. 71 (October 1947). Rick Keene and Jamison did the reconstruction, and their work is better than usual, whether because of their consummate skill or because they used higher quality funnybooks to start with, I can't say; but while there's a little clumping of fine-line shading, for the most part the pictures look terrific. Most of the stories lack Jack Cole's signature on the splash page, and I've always thought he signed everything he did, so who did these? But the note at the top of the Table of Contents says "all art and stories by Jack Cole unless otherwise noted," and since there are no "otherwise notes," I guess he did these, unsigned or not. Maybe he didn't sign them because he was assisted, inked maybe, by others and didn't feel a proprietary interest on these. Bud Plant in the Foreword says Cole was being assisted by Alex Kotzky and John Spranger during this period, but their help was apparently confined to the Plastic Man quarterly, not the 15-page Police Comics stories. This volume includes a couple text pieces, which, given the note about authorship just cited, must've been written by Cole, eh? Plant traces Cole's career briefly, but when he says that in introducing the Midnight character, Cole's imitation Spirit, "Jack immediately took Midnight in an entirely different direction, adding goofball assistants," he's not quite right; he must've missed my Hindsight piece on Cole, "The Mystique and Mysteries of Jack Cole." (Click here for a visit there.) Cole didn't begin to ham it up with either Midnight or Plastic Man until both features were a little older.
<![if !supportEmptyParas]> <![endif]>
GRAFIC NOVIL
War's End from Drawn & Quarterly reprints two of Joe Sacco's earlier Sarajevo stories: "Christmas with Karadzic," drawn in 1996-97 and published in 1997; and "Soba," produced at about the same time and published in 1998. Soba is a painter and rock star who has become, during the war, an expert at disarming land mines, and the story about him is essentially a biographical fragment. We witness his disorientation during the war and his indecisiveness about what to do afterwards. The story ends with stunning abruptness as he takes up his guitar and begins to sing: we turn the page and confront a double-page spread of solid black. What does that mean? When a film "goes black," it blasts the future to smithereens. There is no future. In the other story, we follow Sacco and two network news correspondents around as they try to get an interview with Radovan Karadzic, the president of the Bosnian Serb state, Republika Srpska, and, like Slobodan Milosevic, the president of neighboring Serbia, subsequently indicted for crimes against humanity. If they get an interview (and they do, when Karadzic attends Christmas services at church), they can sell it to CBS and/or NBC for big bucks, and the two stringers live for that. In fact, the point of the story seems to be that they live for little else and have no compassion for the people whose lives are destroyed all around them: they're looking for the big story, the interview. No story about the decimated lives around them will get big bucks. Sacco marvels that he feels no revulsion in Karadzic's presence. "In fact," he says, "going to see him was the most fun I'd had at Christmas in years." In short, Sacco reveals himself as souless as the other news hounds. And their all-consuming desire to get a story they can sell compels them to drive around the town recording sounds that they can later edit into a tape about the war zone. The drive for hours hoping to record the sound of gunfire; not much luck. We get the idea: the news is fraudulent. This story has the distinction in the Sacco oeuvre of being shaded with gray wash rather than relentlessly cross-hatched. And the effect, for my money, is a good deal more professional looking than that painful cross-hatching. There are far fewer simple glitches of shadow and "color," although Sacco continues to draw himself with opaque spectacles behind which are black smudges that can't be eyes—or, even, black eyes. My only other carping is that Sacco seems to have changed the names of his newsmen half-way through the story, or maybe he just shifts to their last names without ever having properly introduced them to begin with.
<![if !supportEmptyParas]> <![endif]>
MUSEUMS AND THE ART OF COMICS AND OF DEDINI
A big comics exhibit opened November 20 in Los Angeles simultaneously at the Hammer Museum and the Museum of Contemporary Art. Curated by John Carlin and Brian Walker, "Masters of American Comics" will run through March 12, 2006. The emphasis at the Hammer is on masters of the more-or-less classical form: Winsor McCay, Lionel Feininger, George Herriman, E.C. Segar, Frank King, Chester Gould, Milton Caniff and Charles Schulz; at the MOCA, more on masters of the medium as it morphed into the modern paginated form— Will Eisner, Jack Kirby, Harvey Kurtzman, Robert Crumb, Art Spiegelman, Gary Panter, and Chris Ware. A long piece in the Los Angeles Times by Scott Timberg heralds comics' advent in the world of Art, saying the "Masters" show is "the first major museum show to trace the history of the medium as an art form in itself." Said Walker: "The selections, of course, will be endlessly debated. We think that's a good thing." I agree. Both about the debate and its desirability. Why not include Walt Kelly, for instance? If ever someone elevated the form to the level of art, it was Kelly. No Roy Crane either, the man who did more to establish the adventure genre of comic strip than anyone until Caniff. Such debates, as Walker realizes, will keep the art form visible. And viable. Altogether, a good thing, like the man said.
Museum exhibitions of the cartoonist's art always present something of a problem, it seems to me. As I said here (Opus 171), people go to art museums and galleries to view visual artworks—paintings, etchings, tapestries and so on. But since the art of comics deploys word as well as picture, the gallery goer is likely to be somewhat flummoxed by the extra work required of him in an exhibition of cartoons. To appreciate the art—in order to properly grasp the blending of word and picture that constitutes the artistry of the medium—it is essential that the viewer read as well as look. Reading takes a good deal more time than just looking, however longingly, and it requires greater endurance: the viewer must be willing to stand there in front the artwork long enough to read it, which, often, demands physical fitness and the right wardrobe in addition to patience. You need a strong back and good shoes. With an exhibition of paintings of the traditional kind, you walk casually along, looking at the art as you saunter. You may stop to read the placard on the wall that gives you the title of the work or its creator or the year of its creation. But you're not likely to do that unless the visual aspect of the thing on the wall arrests you or provokes you in some way. If a given work doesn't attract you almost at first glimpse, you feel quite free to walk on, passing it by. Visual art is visual, after all: it's what you see that pleases you. You came into the place to appreciate the things you simply look at. But you can't appreciate the artistry of cartoon art without reading as well as looking. And that takes more time. Particularly with the pages of much contemporary comic book art, which is often laden with verbiage. I suggested before that exhibitions of the cartoonist's art should be accompanied by some sort of orientation manual that briefs the neophyte viewer about what to look for, about how to appreciate the blending of the visual and the verbal. Otherwise, the visitor to an exhibition of comics is likely to come in simply looking for a laugh—in much the same way as he or she might read the comics in the daily newspaper.
Pondering these things in this perverse way, I was up to my mental lobes in imponderables when along comes an exhibition of cartoons by Eldon Dedini of The New Yorker and Playboy, and I suddenly, with a single bound, realized that his work satisfies museum-goer expectations in ways that much comics artwork on display does not. In the first place, single panel cartoons can be experienced in a gallery in exactly the way that paintings and etchings are: the viewer strolls down the gallery, casually looking at the pictures on the wall, occasionally stopping to read the captions just as he or she might stop to read the information placards affixed to the wall next to a Rembrandt or Watteau. And expectations about comics are also handily satisfied: Dedini's cartoons make you laugh. So the desires of both art lovers and comics lovers are gratified, you might say. But there's more here, even greater benefits to be savored. You don't laugh unless you read the caption and grasp its relationship to the picture it accompanies. Your laughter thus signals your appreciation of the verbal and visual blending of the cartoonist's art. So a third objective, one closer to my own aesthetic heart, is realized in an exhibition of single panel cartoons.
With Dedini's cartoons, however, we can take yet another step in appreciation, this time, back to the art lover who enters a gallery to enjoy the pure unadulterated visual artistry on display. Dedini's cartoons are not just funny; they're not just adroit blends of words and pictures to comedic ends. They are also works of visual art. The steamy luminous watercolors of his Playboy cartoons, for instance, glow with Rubenesque hues. Dedini's pictures can be enjoyed in much the same way we enjoy Lautrec or Monet—as feasts for the eye and heart. Even more: it's clear that many of Dedini's cartoons were inspired by his enjoyment of a picture or objet d'art that he saw somewhere, something that he wanted to, not copy, slavishly, but emulate, joyfully, in the manner of homage. We see this in his cartoons rendered in the style of Japanese prints. Talking about this with Dennis Renault, retired editoonist who curated the Dedini show, "Broccoli and Babes," at the Sasoontsi Gallery in Salinas, California (November 4, 2005-January 3, 2006), we chanced upon another possible example of how a Dedini cartoon may have been inspired by a visual experience. One of the cartoons in the exhibit depicts two armored knights on horseback, one of whom says to the other: "Where do you buy your underwear? I seem to wear mine out awfully fast." Each knight wears a fortress of a helmet, a profoundly dehumanizing carapace, which makes one knight's preoccupation with his underpants funny: that so impersonal an apparition could have such intimate concerns is ludicrous. It would not surprise me to learn that a picture of medieval armor started Dedini's thinking. Judging from his oeuvre, he loves elaborate costumes, and he probably wanted to draw knights in armor, to render the human as a metallic clump of tubes and tubs and other sorts of plumbing, a comedic visual commentary on anatomy and an ironic swipe at the human ego. The caption doubtless came later, preceded by the desire to make a picture of medieval armor that had swallowed up the men inside, virtually replacing the human with contraption. Looking at the lush richness of Dedini's watercolors, we can often find objects in them depicted so lovingly that we know they represent the well from which Dedini drew the refreshment of the picture he made. At our elbow, for instance, ornate turbans or a medieval street scene.
Oh, the broccoli? The babes are from Playboy, of course, but Dedini has done a lot of humorous advertising paintings for Mann Packing in Salinas since 1985, when the president of the company persuaded the cartoonist to create provocative pictures promoting the product of the world's largest shipper of fresh broccoli. More Dedini babes will be readily available next fall, when Fantagraphics brings out a collection of Dedini's Playboy work, assembled under the watchful eye of Michelle Urry, the magazine's legendary cartoon editor. A few hints can be eyeballed at www.fantagraphics.com/blog/
<![if !supportEmptyParas]> <![endif]>
Quips & Quotes
"As one reader told me, 'Benson, I could walk through the deepest recesses of your mind and never get my feet wet.'" —Steve Benson, editoonist, Arizona Republic
"If at first you don't succeed, sky-diving is not for you." —Anonymous Zen (Thanks, Roy)
"When I die, I want to die like my grandfather—who died peacefully in his sleep. Not screaming like all the passengers in his car." —Unknown
"Advice for the day; If you have a lot of tension and you get a headache, do what it says on the aspirin bottle: 'Take two aspirin' and 'Keep away from children.'" —A Nany Mouse
"Women need a reason to have sex. Men just need a place." —Billy Crystal
Last summer, Cal Fussman in Esquire said Bruce Springsteen performs as therapy, quoting the singer: "Picking up a guitar and performing was an act that centered me." Springsteen (accompanied by Fussman) goes on in what I think is a compelling description of the creative enterprise, as follows: When he launches into the first song [Fussman writes], he's always on edge, and groping to connect with the audience. "Part of what I'm searching for is the invisible thread of energy and inspiration or soul or whatever you want to call it that is going to take me to that place where a song can explode to life. I've got to grab it out of the air and physicalize it into something the audience can hear. Sometimes it's like catching a wave that can take you through 25 songs. Sometimes it'll take you through 10 and then you have to re-find it. Sometimes you're looking for it again after one. A big part of what I'm experiencing when I 'm performing is that search." The payoff, Springsteen says, is catharsis. "Walking off stage is a clearing experience. To this day, I feel recentered when I come down those steps. I feel a sense of communication and connectedness and a reason to get up in the morning." Bravo, I say—you nailed it, the illusive font of creative energy.
<![if !supportEmptyParas]> <![endif]>
EDITOONERY
November 11, Veteran's Day, is the time that we as a nation set aside for honoring those who gave their lives in the service of their country, so it is perhaps grimly appropriate that on Veteran's Day this year, we received two more death notices in the continuing and prolonged death throes of the political cartooning profession. The Los Angeles Times, under the aegis, now, of the Tribune Company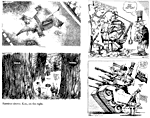 of Chicago Tribune fame, announced that it will be dispensing with the services of its staff editorial cartoonist, Michael Ramirez. At the Baltimore Sun, another Tribune Company paper, the fate of its editoonist is a little less certain but it seems dangling in the balance sheet: the paper announced that it aims to reduce its staff by 75 bodies, offering buy-outs to, among others, Kevin Kallaugher (Kal), who has produced political cartoons for the paper for about seventeen years.
Rameriz, a 1994 Pulitzer winner, has been with the Times since 1997, when his predecessor, Paul Conrad, a three-time Pulitzer winner, retired (more-or-less—although he still produces a few cartoons a week). Strangely, given this succession, Ramirez is as rampant a conservative as Conrad was a liberal. Ramirez began his editooning career in 1982 at the Newport Ensign in Newport Beach, leaving there in 1989 for a position with the Daily Sun Post in San Clemente, then, a year later, for Memphis and the Commercial Appeal. Moving to L.A. from the Memphis, Ramirez has been one of the most effective and hard-hitting conservative political cartoonists in the country, producing powerful visual metaphors and telling images, all copiously cross-hatched. His work will continue to appear in the Times until the end of the year. Perpetuating the policy of its Chicago owner, which has not replaced Jeff MacNelly since the cartoonist died in 2000, the Times will not be looking for a successor to Ramirez. Fortunately for the sake of diverse opinion in profession dominated by liberal voices, his cartoons will continue to be circulated by his syndicate, Copley News Service, which has been distributing his work since 1988. In the same maneuver, the Times dropped one of its most liberal columnists, Robert Scheer, who has been with the paper for 17 years. He and Ramirez speculated that their strong stances played a role in their dismissal: "The owners think they can improve circulation by making the paper bland and safer," said Scheer.
Under the same bottom-line thumb as the Los Angeles Times, the Baltimore Sun had two editorial cartoonists until a year ago when the Tribune Company, in its never-ending scrimp and save scam, offered buy-outs to staff members, and editoonist Mike Lane took one, leaving only Kal at the drawingboard. Kal has been with the Sun since 1988, when he returned to the U.S. from an 10-year sojourn in England, where he'd gone bicycling after graduating from Harvard in 1977. He stayed in England when he became coach and player with the Brighton Basketball Club and, subsequently, political cartoonist at the Economist, the first staff editooner in the periodical's 145-year history. He continues to produce three cartoons a week for the Economist. His work, syndicated by Jerry Robinson's Cartoonists & Writers Syndicate/CartoonArts International, is as powerfully liberal as Ramirez's is conservative and almost as cross-hatched. Kal has won a number of awards, including the Nast Prize, named after the legendary 19th century American pioneering 'tooner Thomas Nast, which Kal will go to Germany to accept on December 8. The buy-out package Kal has been offered came in the same breath as a suggestion that the management was considering terminating the cartooning position. Sounds suspiciously like the Mafia's famed "offer you can't refuse." For newspapers to willingly give up the graphic commentary of two of the nation's clarion editorial voices is a blot on the escutcheon of the newspaper profession—a blot? nay, a dastardly defacement, an ugly graffiti, a shame, a cringing cowardly bean-counting disgrace to journalism.
And it's likely to continue throughout the Tribune Company's chain. At the Orlando Sentinel, another Tribune paper, publisher Kathy Waltz told staffers last week that "a limited number of positions" would be cut over the next few weeks—this, despite what she called, in a memo announcing the impending cuts, "the good news ... that the Sentinel serves a growing market and our readership is now at an all-time high and continuing to build." And at another, the Hartford Courant, editoonist Bob Engelhart was offered the same buyout package Kal had thrust at him. They have until the end of November—just before the Christmas holidays—to decide whether to take the package or not.
One Los Angeles Times reader reacting to the dismissal of Ramirez and Scheer criticized the paper for "eliminating some of the tension on the editorial pages," which, alas, made the paper "metaphorically more like Muzak than like an original composition." Another opined that the Times was making a turn to the right and disguising it by dismissing Ramirez. That may be the case, but the reader is confusing two issues: political posture and budget control. My guess is that Scheer is a victim of the form; Ramirez, of the latter. Or maybe it's precisely the reverse: the Times also cancelled its subscriptions to all syndicated cartoons (budget) except Ted Rall, Jeff Danziger, and Tom Toles, three of the most powerful liberal tooners in captivity. Whatever the case, with Ramirez's departure, the top newspapers in the country's three top media centers—New York, Chicago, and Los Angeles—are without staff political cartoonists: New York Times, Chicago Tribune, Los Angeles Times. And if you count the Wall Street Journal, that's two top papers in New York. Among major American cities, only in the nation's capitol does the principal paper have a staff editoonist—Tom Toles at the Washington Post.
As I've said here before, the reason for all this dearth in staff editoonists is the convulsion newspapers are experiencing as they increasingly become investments rather than news organs. Most newspapers in this country are owned by corporations that feel compelled to provide their financial backers, investors, with greater and greater return on their investment every year. So the usual margin of profit for newspapers—somewhere around 20%, which is high for American companies, most of which think 10% is great and 15% delirious—isn't good enough. (The Gannett newspapers rank highest in profit, 28%; Knight Ridder next with 19% and the Tribune papers, third at 18%.) To improve profitability, newspapers must do one of two things: increase revenue or decrease expenditure. Increasing revenue is possible only through advertising, and advertising rates are determined by circulation; since newspaper circulation is generally diminishing or stagnant, advertising rates can't go up, and so increasing revenue isn't a viable option. That leaves cutting cost. And since political cartoons are available through syndication at much less expense than a salaried employee, newspapers can maintain the look of their editorial pages and still cut costs by eliminating the only obviously superfluous staff position—that of the editoonist. Among the three largest chains, apparently only Gannett values editorial cartooning enough to resist the temptation to fire political cartoonists every time the profit margin is endangered. Knight Ridder and the Tribune Company and smaller chains clearly don't share this conviction.
Recently, the Audit Bureau of Circulation posted one of its routine six-month reports, indicating that newspaper circulation across the country is down an average of 2.6% compared to the same sixth-month period a year ago. The New York Times lead the chorus of hand-wringing: "The industry faces a wave of job cuts ... New York Times, Hartford Courant, Boston Globe, San Jose Mercury News, Philadelphia Daily News, Baltimore Sun, Newsday"—and so it goes. All of these are chain papers, by the way, except the New York Times. At any of these papers, and many others—wherever an editorial cartoonist lurks—the position is in jeopardy. The Knight Ridder chain is everyone's favorite bogie-man in this department: the chain has been wielding a relentless axe over all its newspapers for several years now, ordering great slashes in payroll—75 positions ordered eliminated at the Philadelphia Inquirer lately, which prompted its metropolitan columnist Tom Ferrick Jr. to comment: "They say Knight Ridder doesn't have a plan. Actually, they do. They are going to jettison the old, shoot the young, and ... torture the survivors, which, come to think of it, seems to be an industry-wide plan."
On November 18, in a stunning and wholly unprecedented move, an extraordinary "Open Letter from Knight Ridder Alumni" was distributed to news media by Jim Naughton, former editor at the KR Philadelphia Inquirer and former president of the esteemed Poynter Institute for Media Studies. Signed by 60 former Knight Ridder editors, publishers and star reporters, the letter protested in vigorous terms the bottom-line orientation of the company and a current maneuver by investors to sell or break-up the company for profit: "We understand the obligation of an institutional investor to maximize return on investment. An investor for whom double digits are insufficient is free to sell Knight Ridder stock. An investor who instead demands the sale or dismantling of Knight Ridder merely in the name of a larger profit margin is engaged not in good business but in greed." Affirming the company's erstwhile dedication to good journalism in the tradition of its founder, John S. Knight, who believed that excellent journalism is good business, the statement continued: "Knight Ridder is not merely another public company. It is a public trust. It must balance corporate profitability with civic purpose. We oppose those who would cripple the purpose by coercing more profit. We abhor those for whom good business is insufficient and excellent journalism is irrelevant." The signers say they are prepared to enter the fray in a practical way by nominating candidates for the KR board.
While that seems a fairly muscular stance, KR people point out that the number of shares held by seats on the board that are likely to be open is too small to enable the KR Alums to make much of a difference. Still, the "Open Letter" is a healthy sign that, at long last, the journalism profession is getting ready to get off its duff in its own best interests. This sort of protest could burnish the tarnished reputation of the news media, which presently stands so low in popular esteem that it cannot, apparently, attract any support from the public. Young adults, who do not read newspapers, often say the reason for their indifference is that they don't trust newspapers: newspapers are as corrupted by their capitalistic motives as politicians are by the lobbyists and contributors to their campaign funding. A Gallup poll found that 49 percent of Americans think the news generally is wholly unreliable. Perhaps the KR Alums will start a ball rolling in the direction of redeeming journalism's good name. Perhaps other distinguished alumni of other journalistic institutions will raise their voices, too, and perhaps, just maybe, the unhappy trend away from news gathering to profit sharing will be reversed. We can hope.
My harping on this topic may seem excessive at a website devoted to comics, but since both comic strips and editorial cartooning can exist only in a thriving newspaper climate, whatever threatens newspapers, threatens cartooning, too. Declining circulation, for example, is clearly a matter of great concern, but it is also more complicated a menace than most reports about it admit. The carping Cassandras of the profession say circulation is down for any or all of these reasons: no one reads newspapers, everyone gets news from tv instead, or from radio, or the Internet, besides which, staff cuts have so diminished the news-gathering capacity of the average newspaper that there is no news reporting. At the Philadelphia Inquirer, editor Amanda Bennett destroyed each of these reasons in turn, citing surveys and polls. Two of every three adults read the paper regularly enough to count, she said. "More people get their news from the Inquirer or the Daily News and Philly.com [the newspaper's website] than from the 6 p.m. and 11 p.m. newscasts on the top three tv stations combined." As for radio as a source, she says "more people are reached by one newsstory in the Inquirer than by a drive-time radio story on all 83 local radio stations combined." And the Internet, far from being a competitor, is part of the newspaper's enterprise: the paper's website is visited every month by almost 900,000 adults, she says, "which equals 22.5% of the 8-county market." And even with staff cuts, the Inquirer has the largest news-gathering staff in the region. A similar argument was mounted at the Miami Herald, which is read, either in newsprint or on its website, by 49% of the market, and more people, 23%, read the paper than watch tv newscasts; ditto in a comparison to radio. The newspaper industry is clearly not in quite as much trouble as its doomsayers allege. The problem, as always in a capitalistic environment, is greed: the corporate impulse to increase profit to obscene heights in order to satisfy investors. I don't mean to brand capitalism as evil: I happen to think it's the best economic system for human sapiens to thrive in. But there are some down sides.
At our local paper, the News-Gazette, here in Champaign-Urbana, Illinois, the publisher, John Foreman, a man of rare discernment and calm, took a long look at the Audit Bureau's report and was not alarmed. "The News-Gazette was down a little more than a percent daily and a half-percent Sunday—after showing small gains the previous six months," he wrote. But he's expecting the numbers to be up again next time. He acknowledged that long-term circulation trends have been "edging slowly downwards since the 1970s," but that was "long before anyone had the Internet to blame it on." A number of factors, he said, contribute to the slow decline. The proliferation of media to which people can turn has had an effect. "Newspapers are in competition for the finite amount of free time in people's lives," he noted. And among a portion of the newspaper reading public, a profound change has taken place over the last half-century. More women are in the workplace now than 50 years ago. Women were traditionally "stalwart newspaper readers"; now, they have less time for newspapers than before. And they must choose, like everyone else, from a much greater array of media as they decide how to spend their information-gathering time. Foreman also speculates about whether the decline in newspaper readership is related to a diminishing interest in public affairs, as marked by a steadily decreasing percentage of the populace that votes. Which came first, he wonders.
And he reveals a seldom discussed factor that contributes to reports of declining circulation. "A newspaper's circulation," he says, "is a cost of doing business, not a source of profits." The price of individual newspapers does little more than pay for the cost of delivering them. "Meaningful revenue comes from advertisers, who take advantage of the delivery system to reach desirable customers." He goes on: "What seemed a dramatic drop" in recent reports of circulation averages "was, in fact, heavily influenced by a few large, metropolitan papers and their own business choices." And he tells of the Des Moines Register that several years eliminated daily delivery to the far reaches of the state of Iowa—once a source of pride at the newspaper—because the cost of delivery was too great and advertisers weren't interested in reaching those readers. As a result of this "business choice," the paper's circulation dropped, "but the company made more money" because it didn't have to fund an expansive delivery system. Foreman thinks the same sort of business decision caused a drop of 16 percent in the circulation of the San Francisco Chronicle in the current Audit report.
Foreman is correct about this, I believe. I remember, as a corollary, that the great weekly magazines of the thirties and forties died in the 1950s because their subscription lists were so massive that their advertising revenues could no longer support the delivery of the publication. The death of these periodicals is usually attributed to the advent of television as an effective rival for the advertiser's dollar. And that's true. But it wasn't the drop in advertising revenue alone that did the magazines in: it was that drop in combination with the huge expense of servicing those massive subscription lists. John Foreman can afford to be calm in the midst of this storm: the News-Gazette is a locally owned paper. No investors on Wall Street to worry about. The News-Gazette is also a member of a very small club—those papers who increased the number of comic strips they run every day when adding some new strips to the line-up, instead of dropping strips to make room for the newcomers.
None of these arguments disputing the significance (or accuracy) of circulation figures are likely to make any difference, of course. Newspapers very often don't pay much attention to logic. In the 1950s, they dropped adventure comic strips because of tv, having decided, without any real evidence, that no one would read continuity strips that took 9 weeks to tell a tale when they could get a whole story at one 60-minute sitting in front of the tube. It took thirty years to disprove this canard, but it was done decisively with "Dallas," which not only continued stories from week to week but kept the nation in suspense for an entire summer, waiting to find out who shot J.R. These days, every serious tv drama has a continuity element that goes on and on. But there are no new continuity comic strips in newspapers: the old logic dies hard.
<![if !supportEmptyParas]> <![endif]>
TED RALL ON EDITOONING, U.S. POLITICS, AND ALTERNATIVE CARTOONERS
Editoonist and gadfly syndicated columnist Ted Rall launched a radio show on Sunday, November 13, on San Francisco's new 106.9 Free FM, 11 a.m. to 2 p.m. "Topics," Rall said, "include politics, relationships, pop culture, and anything interesting." Rall was near Rancid Raves World Headquarters last week—that is, on the campus of the University of Illinois—discussing his usual subject, "The Slow-motion Suicide of the American Empire," illustrated with slides of his cartoons, an altogether enjoyable spit-roast of all things Bush League. Prior to his afternoon presentation, Rall was a guest on a local PBS radio station morning talk show with David Inge. In response to Inge's opening question, Rall said he believes the American political cartoon is in serious jeopardy, but he thinks the form has never been more vibrant. Moreover, the reading public seems to love political cartooning and wants more of it; it's newspaper editors who don't run them. (Editoonist Clay Bennett, speaking at a forum on editorial cartooning in Chicago a couple weeks later, agreed, saying that since 9/11, "our jobs got much more important" as Americans re-engaged in both national and international affairs; suddenly, Bennett said, the skills of "art and obnoxiousness" carried weight again.)
Inge asked Rall if it was his "job" to make people angry? "You must be willing to make people angry," Rall said. "I don't set out to make people angry, but if I have an idea, I won't pull my punches." His cartoons are sometimes misinterpreted, raising the ire of readers, and Rall says when that happens, it's probably because the readers don't know the news about that topic as intimately as he does. It's his job, however, to bring them up to his speed. In effect, he said, if they get angry because they've misunderstood his cartoon, that's his fault. If they get angry just because they disagree with him, that's the way it should be—that is, it's legitimate anger, not a misfire by the cartoonist.
Despite the Bush League menace that hovers over freedom of expression in this country, Rall doesn't believe the government has pressured any of his colleagues to hold back. "It's a terrifying comment on the state of political dialog in this country that we must fear reprisal of the kind that the Bush League seems ready to commit," he said; "but whatever reluctance we feel is mostly self-imposed not superimposed from the government." Inge, observing that politics today seems more personal, more divisive, than in the past, asked Rall if the political climate is actually worse today. Said Rall: "To some extent, it's always been this way. But I can't think of a time when one party has been so totally emasculated. The Democrats have totally rolled over. ... We've always been a country of fault lines —rural vs. urban, north vs. south, east vs. west, race and class, male vs. female, etc. What's new about current situation is that nearly half of the public believes Bush was illegitimately elected. I think the system broke down in 2000. Another similar situation, the Hays election in the 19th century, was sleazy, but it was a constitutional deal as opposed to an unconstitutional deal. We are no longer talking the same language, Republicans and Democrats," Rall continued. "We can't even argue: our terms aren't even the same. Liberals think of American as a country of rights as set forth in the Bill of Rights; conservatives think of us more as a superpower and take pride in our economic and military strength. Those are two really different visions, so we not even talking about the same things." As a result, perhaps, more and more, we feel powerless: nothing we say seems to impinge upon the powers that be. And that's bad. Said Rall: "When people feel impotent, they turn violent. That's what happened on 9/11."
Apart from his gigs on radio, as a newspaper columnist, and as editoonist, Rall is also compiling and editing collections of alternative cartoonists' work for NBM. This avocation began with the publication in 2002 of Attitude: the New Subversive Political Cartoons and continued with Attitude 2, about "New Alternative Cartoonists," in 2004 (both reviewed here in Opus 134). Each volume offers interviews with a couple dozen cartoonists, short professional biographies, and a selection of each 'tooner's work. Both titles have apparently been successful, and now Rall and NBM are forging ahead, this time promoting the work of individual cartoonists by giving each of them a book of his or her own. The first in the new Attitude Featuring series is Andy Singer: No Exit (128 8x9-inch pages in black-and-white; paperback, $10.95). In his introduction, Rall explains that "the tyranny of marketing makes classics out of trash and trash out of would-be classics. That and homelessness are among the cardinal sins of capitalism—and it is the duty of men and women everywhere to try to right that wrong." Hence, this series, which Rall hopes will give greater visibility to cartooning voices that need to be heard but that are, at present, muted by feeble circulation and exposure. Like Andy Singer. Singer works in single panels, deploying a confident, bold, inflexible line embellished with a gross prickly cross-hatching to delineate Leger-like humanoids, who seem woodenly uncomprehending of their fate and whose activities usually seem symbolic of a larger carelessness that glowers over all civilization as we know it. Singer is against the profit-motive culture and for preserving the environment, but that scarcely describes the breadth of his reach. Irony is his forte. Here's a picture of a mansion with a limousine parked in front, attended by two servants, one of whom says, "Money buys freedom"; but the house is surrounded by a wrought-iron fence and at the gate a guard is posted. Two men are walking along a street where a newsstand displays magazines with half-dressed women on the covers and billboards repeat the same sexual motif; one man says, "I'm trying to stay sexually satisfied with my wife, but it's tough." A display of "Actual Products" shows t-shirts, socks, caps, and teddy bears emblazoned with the U.S. flag, all made in other countries—Korea, China, Combodia, Honduras. Singer's work is unflinching and merciless. And often funny.
The second book in the series features Neil Swaab's comic strip, Rehabilitating Mr. Wiggles (96 8x11-inch pages in b/w; paperback, $10.95). Mr. Wiggles, we are told on almost the first page, is a "drug-addicted, sex-crazed, homicidal teddy bear." He also molests children. Mr. Wiggles shares the comic strip with a brain-damaged-looking humanoid named Neil, who seems to be the sort of fellow who spends most of his time loitering around his apartment in his underwear. In the introduction, Rall celebrates Swaab's irrepressible urge to "go There"—that place where over-the-top comedy resides, or festers, depending upon your point of view. "Even in the alternative press," Rall goes on, "few cartoonists take the risks in content and presentation that Neil does as a weekly routine. His unrestrained approach, resolute in its commitment to honoring the joke above all else, is particularly commendable insofar as it serves straight-up humor rather than some Important Political Cause." Swaab seldom, if ever, goes political. He just goes There. Anything for the gag. And by "gag," I mean occasionally the urge to retch. Swaab's comedy runs heavily into fornication, defecation, masturbation, a variety of imaginative sexual exercises, and insults. It is, in short, one sick strip. On one occasion, Mr. Wiggles "Presents: Love Is A Four-letter Word," a short three-panel strip in which an unnamed man shows a photograph to an unnamed woman, saying, "Honey, you look great in this photo!" She says, "What are you talking about? That photo looks nothing like me." He says, "Exactly." Anything for a laugh. Mr. Wiggles is telling Neil about losing the remote for the tv. "I couldn't remember where I put it," he says. "Turns out it was in the Indonesian kid's ass next door the whole time." "Well," says Neil, "it's always in the last place you look." "Actually," says Mr. Wiggles, "in this case, it was the first." Makes you wonder what vile activities these two engage in for amusement. Deploying a frail line and nearly static compositions (sometimes, he admits, rendered by xerox machine), Swaab is a past master of the school of Ugly Art. Ugly Art is competent but has no eye appeal. It is unattractive because its compositions lack symmetry or balance or its linear treatment is too tentative or inflexible. Dilbert and Pearls before Swine, a recent phenomenon that has captured the so-called imagination of editors everywhere, are ugly. They are ugly because they are visually uninteresting; they are, in short, dull. So is Swaab's strip. But it is also outrageously funny in its own twisted, perverted way. I'm not sure why we should find this scabrous work funny—or even if we should. Perhaps we should read Swaab as a test: if you don't laugh, you're a better person than I. But you won't have nearly as much fun.
The third, just published, Attitude tome features Stephanie McMillan's Minimum Security strip (160 8x11-inch pages, b/w; paperback, $12.95). McMillan, Rall notes, performs "her most valuable service ... [by drawing] notice to issues and problems that are either unjustly marginalized by the media or bypassed by other cartoonists as topics because they seem too complex to synthesize into a simple cartoon panel." Her simple style—she is a little less adept than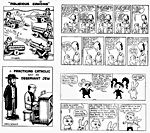 Swaab—and her Hello Kitty characters abet her assault-force comedy: "Her bewildering, intoxicating blend of the cute and the angry, the profane and the innocent, would be scary were it produced by another fiftysomething white Protestant male," Rall says. But "coming from a woman—well, it's downright confounding. And really scary. She's pissed. And she means it!" In sharp contrast to Swaab, McMillan almost never goes for comedy: she aims at outraging her readers as much as she herself is outraged. She may not tell jokes, but she seems to be telling the truth, and we need that almost as much as a good laugh.
<![if !supportEmptyParas]> <![endif]>
Definitions
(Thanks again, Roy)
Dammit Tool: Any handy tool that you grab and throw across the garage while yelling "Dammit" at the top of your lungs. It is also the next tool that you will need.
Expletive: A balm, usually applied verbally in hindsight, which somehow eases those pains and indignities following our every deficiency in foresight.
<![if !supportEmptyParas]> <![endif]>
<![if !supportEmptyParas]> <![endif]>
COMIC STRIP WATCH
Another new strip that has found its footing is John Kovaleski's Bo Nanas, whose title character, a chimp, sees our world from a somewhat different perspective. Fact is, his whole life is somewhat off-kilter but revealing of the assorted follies of human sapiens. In the week of Hallowe'en, one of Bo's trick-or-treater visitors returns every day, never tiring of the game. "Trick or treat!" the costumed kid says on November 1. Bo says, "Hallowe'en was last night." "I know," says the kid, "but I figured you must have some candy left over, and you don't want to eat it all yourself, do you? It's bad for you." Bo says, "So I get to stay healthy and you get more candy?" "See?" says the kid, "we both get what we want." Then he comes again the next night. And the next.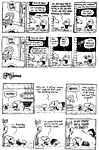 And a week or so later, Bo runs into a kid who's become separated from his mother in a huge grocery store. "Mommy!" the kid yells, looking at Bo. Bo says, "Sorry, kid, I'm not your mommy. And I would bet that I don't look anything like her." Next, the kid—a really diminutive tyke, all head (and mouth) and no body—spies a huge piece of cheese on display and yells, "Mommy!" Bo says, "Have you been paying attention at all during your short time on earth?" The next day, Bo takes the kid to the customer service counter, and—well, that's on the selection you just looked at. I'll be more than usually eager to see the forthcoming collection reprinting the strip, Bo Nanas: Monkey Meets the World from Andrews McMeel.
And, just to keep my hand in as a nag, here are a couple panels from The Boondocks, November 16. Carl Jones is now limning the scurrilous adventures of Huey Freeman and the rest, and while I'm delighted to see that his pictures include more of the characters than their foreheads (a huge break with past practice), I'm not quite sure what's going on in these pictures. Grandad and Huey are in the kitchen, and it looks as if Grandad is about two-three feet shorter than the refrigerator. Are you that much shorter than your refrigerator? Probably not. The usual refrigerator of the sort depicted here is about six feet tall. So Huey's grandfather is only three or four feet tall? And he surely can't reach those cabinets on the wall without a ladder.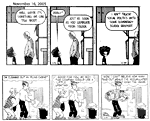 And while you're there, take a look at the panels from Blondie. Drawn now by John Marshall (not Dean Young, who can't draw but who prevents Marshall's name from appearing), the strip continues its laudable practice of depicting its characters from head to toe. Very few strips do that anymore unless the characters are caricatural representations of the human form (like Agnes or B.C.). Ever notice, though, how the shoes of the characters in Blondie usually don't make it entirely into the pictures? Typically, they're cut off just at the sole. Why is that? Marshall isn't the first to do this. Everyone who's drawn the strip has done this, seems to me. Why?
<![if !supportEmptyParas]> <![endif]>
FUNNYBOOK FAN FARE
Rex Libris, written and drawn by James Turner, is easily the most eccentric first issue to come down the pike in a while. "I, Librarian" introduces ol' Rex, who very quickly establishes that all good and faithful librarians talk like Brooklyn street gangs and carry concealed weapons. Hand-to-hand combat goes with the territory, Rex assures us, as he battles his first foe, Kurui-no-oni, a demon spirit samurai who wants to check out a book entitled Evil Made Easy but doesn't have a library card. "Listen, bucko," snarls Rex, "the branch Administrator sez nobody, but nobody, takes out a book here without getting a card and signing for it. And that includes you, buster." The demon samurai, alas, seems recalcitrant, so Rex consults a book on vanquishing demons while the samurai browses in the military section, becoming enamored of histories of World War II. "Incredible," he exclaims, "—How did I miss this? An entire world at war! Blood and sacrifice! Death on a scale even I had not conceived! I must read more! More!" Distracted, he doesn't notice Rex sneaking up behind, and then Rex takes his sword and the demon is consigned to some nether world forthwith. Later, we meet Rex's immediate superior, Mr. Blumenkohl, who holds a snow-white cat and pets it, a reincarnation of that old James Bond enemy, Blofield. Rex also has a consult with B. Barry Horst, the book's editor, who dresses and hunches like Larry King and wants to enhance Rex's adventurous life by providing him with super powers and a sidekick who is a frog: "He used to be a prince but he's been transformed into an amphibian by an evil spell." Rex passes on all this and goes to visit the Administrator in the basement bowels of the library, a character named Toth who looks just like the Egyptian god of the same name—bird's head, long hair, etc. All of this patent nonsense is amusing enough, but there's more: running across the bottom of every page is a "commentary," lampooning, I gather, a kindred and equally distracting feature sometimes available on DVDs. In it, Turner, cast now as "Juame," carries on a long dialog with Horst. Ostensibly, they discuss the layout of the page above or the character development or some such. Mostly, however, they bicker over nearly unrelated matters. There's more reading in this book than in any funnybook I've encountered—just on the story pages; and the footed commentary, all in agate type, adds another 30 minutes to the experience. It took me over an hour to read this tome, aristotle. And I'm not sure, yet, whether it was worth the time spent. As for Turner's drawings, they defy easy explanation. He may be inspired by Chris Ware's more elaborate architectural renderings, producing pictures of his characters and their surroundings that look like schematic diagrams of electrical circuitry. He contrasts bold outlines with filagree detailing and balances hulking solid blacks against several tones of gray. The figures of the book's population are square and blocky. Rex is particularly impressive: although he wears bottle-bottom thick glasses and coat and tie, he has the massive physique of a locomotive.
| | |
| --- | --- |
| | |
I take it back: there's a lot of fun stuff going on in this book, and it's well worth the time it takes to digest it. Juame explains it all: "The mind of Juame [he usually speaks of himself in the third, distant, person] resides on a metaphysical plane, at a perpendicular angle to ordinary thought." Exactly. At a perpendicular angle. This book will surely never make it: it's much too adult and intellectual for comic books. (What am I saying?)
Mike Mignola's Hellboy continues to astonish me. I don't understand any of the supernatural farrago that infects The Island, Nos. 1 and 2. Never have penetrated any of that realm—Ogdru Jahad, Bog Roosh, the Ogdru Hem, and the ever-threatening plague of frogs. Not that understanding, in this instance, is essential. Hellboy is mood more than plot, after all, and we don't have to know just where the Bog Roosh comes from to know it hovers, terrifyingly, over the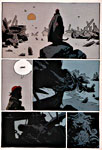 proceedings, page by page. Besides, the astonishing thing—the mesmerizing thing—about Mignola's books is their haunting pictures, their crisp sometimes elliptical minimalism, the disappearance of detail in deep, drenching shadowy blacks, the definition of shape by shadow, the lines left out as well as those blotted over, the breakdowns and layouts that bring us, bit by visual bit, into both locale and mood, glimpsing this way and then that way as we go. I sometimes sit for minutes before a particular page, letting it cast its graphic spell over me to draw me in. What are those spinney shards reaching up from the sea? Are they rocks or ribs, natural formations or human remnants? And where did the horizon go? Are we adrift in an ever-expanding ocean of miasmatic threat? Will we ever see the end? Is it all menace and mysteriousness forever and ever?
J. Scott Campbell may have been savored in various corners of the comicbook universe before the arrival a few years ago of Danger Girls, but with that title, he achieved stellar status. In Danger Girls, Campbell and writer Andy Hartnell produced an action-packed tale, a jubilant and riotous adventure series starring the sexiest, cutest femmes in four colors. There have been a few attempts since that debut series (only 4 or 5 issues, if I recall a-right) to capitalize upon the popularity of the Campbell-Hartnell wimmin, but apart from the "sketchbook," none were drawn entirely by Campbell and so were something of a disappointment. So I pounced upon Wildsiderz, a new creation by Campbell and Hartnell, with great expectations. The concept, as fleshed out in Nos. 0 and 1, is that five teenagers have the ability to assume the capabilities of various wild creatures, feathered and/or furred. Campbell's execution of this notion would have been nearly impossible before computer-assisted artwork: whenever they exercise their powers, the figures of his heroes and heroines are cloaked in a kind of ecoskeleton that superimposes upon their human anatomy the netlike outline of the animal or bird whose powers they are assuming. Over the ecoskeleton of white lines, a single color—green, orange—puts visual flesh on the bones, creating the ghostly shape of the critter. The complexity of the rendering could not be achieved in a reasonable workweek without the considerable aid of a computer. Moreover, I suspect the whole animal-powers idea has its genesis in Campbell's ability to construct these pictures and in his conviction, and Hartnell's, that the resulting visuals could be the basis for stories about humans with animal abilities. In short, if ever there were a computer-generated comic book—from conception to execution—Wildsiderz is probably it. Campbell's caricatural style gives the lives and events of his teenage cast a vivid sense of fun: everyone has a pointy chin and a toothy grimace, and they are all lithe and lively; the girls, unspeakably cute and sexy but not as voluptuous as the Danger Girls. They are, after all, teenagers. Hartnell's story endorses the visuals with its own energetic liveliness. After the introductory matter of No. 0, the action commences in No. 1, and we have the same kind of exuberant breakdowns and layouts that distinguished the previous work, including, here, much fancy lettering for sound effects, again reflecting computer-origins in the layering of letters and images. Another computer-originated aspect of the books bothers me a little—the gray-shading of the artwork. Given the complexities of the page layouts here, the images in various panels are often quite small. That makes them difficult to see clearly, and the imposition on this artwork of a shading technique by computer acts to obscure the drawings. The gray shading is added over the colors and models the figures and objects, giving them a roundness and fulness that flat colors can never achieve. But the grays here are too dark. Oddly, I suspect that the colorist (who, it seems, is Roger Delgado) isn't actually aware of this shortcoming as he works. My guess is that the coloring is done by computer, and that the images therefore appear on a computer screen, with the light, so to speak, coming from behind. Shining through the art, the light effectively illuminates the images and the colors, making it all seem brighter than it does in print on paper. On the computer screen, then, the grays don't seem as dark as they do when committed to paper in printing the images. This is a quibble of the quibbliest sort, I admit. The visual execution here is highly skilled, expert, and, for the most part, a pleasure to behold. But sometimes those heavy grays obscure instead of clarify. As for the story, most of it concerns the teenagers' interrelationships as students in high school, and I confess that this sort of adolescent gamesmanship doesn't much interest me, but Campbell and Hartnell probably have a different readership in mind anyhow. They probably hoping to attract the same sorts of readers who've glommed onto manga books in vast quantities; if they succeed, their fortunes are made.
In Ferro City, Jason Armstrong displays the result of "watching too many Humphrey Bogart movies and re-reading Asimov's Caves of Steel one too many times," as Armstrong himself confesses—a sort of robot sf pulp noir. We meet a pair of private detectives, Cyrus Smythe and Harry Weston, who look like Sam Spade and the fat man, in a futuristic metropolis. Weston is killed in the opening pages, and Smythe, after running into some bad guys who want the Medusa Key that Weston once had in his possession, sets out to find his partner's killer and avenge the killing. The book could use a more attentive editor on dialogue and spelling, methinks—some speeches are hackneyed beyond belief and some of the names are trite beyond appeal—but the book's attractions, for me, are in Armstrong's visual styling—splashy bold lines, clunky anatomy, and slap-dash two-tone gray shading, perhaps a wash but more likely applied digitally. Armstrong says he works up the art in a "beat up sketchbook" then assembles it into pages on his computer, exactly the kind of loose-limbed composition process you'd imagine by looking at the finished product. Some of the pages are a little too busy for clarity, but mostly, it's fun to look at and to read.
And here's Doug Harvey (no relation) with his list of Ten Comics That Shook the World from the L.A. Weekly: Action No. 1, Four Color Comics No. 9 (Donald Duck Finds Pirate Gold, Carl Barks' debut), Fantastic Four No. 48, Zap No. 2, Howard the Duck No. 1, Heavy Metal No. 1, Love and Rockets No. 1, Raw No. 3, Dirty Plotte No. 2, and Kramer's Ergot No. 4. His rationales for these selections can be found at http://www.laweekly.com/ink/05/52/features-harvey.php
<![if !supportEmptyParas]> <![endif]>
Lou Myers, Cartoonist With a Satiric Style, Dies at 90
By Steven Heller
Verbatim from the New York Times, November 21, 2005, with a few bracketed additions by Your R&R Reporter
Lou Myers, a satiric artist and graphic essayist whose expressive style helped modernize cartoons in advertisements and major American magazines, died yesterday at his home in Cortlandt Manor, N.Y. He was 90. The cause of death was spindle cell carcinoma, said his daughter-in-law Alyse Myers, vice president for marketing services at The New York Times.
In a career that spanned about seven decades, Myers developed a deceptively [simple style with a] raw, black brush stroke that gave the illusion of lightheartedness. [He rendered the human form in a childlike manner, stark unmodeled outlines for limbs, bulbous noses surmounted by staring pop-eyes virtually defining the faces.] But his cartoons were more like comic bombs that exploded political and social taboos. Among Myers's frequent topics were sex (especially the relational tensions between men and women) and war and peace (especially the nuclear arms buildup of the 70's and 80's). One of his most memorable images shows a circle of bent-over military officers, each of whom is lighting the fuse of a missile poised to fly into the next. [He often found ironic humor in the board room. Here's a picture of an assembly of board members at the traditional table, all looking out of the window of their skyscraper domain, watching another board table surrounded by board members as it plummets to the earth. In another, the board members are tossing their chairman aloft in a victory ritual like a football team its coach, the chart on the wall showing a sharp increase in income. Myers frequently drew elaborate architecture as part of his cartoon. He did a series in The New Yorker in which subway station entrances were depicted as the maws of decorative dragons. And here's a picture of the nation's capitol building, the entrance facade of which, upon closer inspection, is a proscenium arch over a stage with a Punch and Judy show in progress. Delicious.—RCH]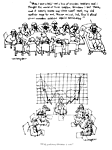 Louis Myers was born in Paris in 1915 and came to New York with his family in 1917. He saw his father drown in 1926 and was the one who had to tell his mother, and his son Marc attributed the "fatalistic sense of humor" of his father's work to that experience. After graduating from DeWitt Clinton High School in the Bronx, Myers studied at the Art Students League in New York and worked for 20th Century Fox and Columbia Pictures in New York, illustrating movie posters. After enlisting in the Navy during World War II, he was dispatched to paint combat scenes and officers' portraits throughout Europe. After the war, Myers returned to his job at Columbia, where he met his second wife, Bernice, a children's book illustrator. In 1952, they moved to Paris, where Myers also illustrated children's books and began drawing captionless cartoons for French magazines and newspapers. While in France, he also illustrated Paris After Dark, a book by Art Buchwald that established Myers's graphic style and artistic reputation.
His cartoon style had developed a sophistication that began to attract the attention of ad agency art directors. As the demand for his work grew among corporate clients, so did his risk-taking. By the late 60's, many of his advertisement images toed a fine line between conformity and subversion; Myers achieved his client's marketing goal while also taking a playful swipe at corporate life. In the mid-60's, Myers's provocative style was in such demand that clients included his oversize signature in their ads, a practice unheard of at the time and still rare today. Most clients prefer to keep artists' signatures out of ads to avoid distracting consumers from their marketing message. [Although the more famous the cartoonist, the more likely his signature was to appear—Peter Arno, for example. —RCH]
In 1966, Myers published his first short story, "The Landlord," in The Evergreen Review, as well as some poetry in Niobe, a literary journal. Throughout the 60's, he illustrated magazine and newspaper articles in publications that included Monocle, Ramparts, Holiday, Show, Esquire, U & L C and The New York Times. He also created the cartoon logo of two men in the same polka dot dress for the film poster for "La Cage aux Folles" (1978). Myers published three cartoon collections: Group Therapy (Dutton, 1962); A Psychiatric Glossary (Dutton, 1965); and Absent and Accounted For (Workman, 1980). He also wrote and illustrated three children's books: Tutti-frutti (Pantheon, 1967) ; Ha Ha Hyenas (Coward-McCann, 1971) ; and In Plenty of Time (Coward-McCann, 1972). In 1976, Myers illustrated the cover of The New Yorker issue for the national bicentennial using famous quotations to create a profile of Uncle Sam. Under the editor William Shawn, The New Yorker published 13 of his stories about growing up poor, serving in the Navy and living in Paris. The stories were later the basis for an autobiographical collection, When Life Falls It Falls Upside Down (Grove Press, 1990).
In addition to his wife, he is survived by a son from his first marriage, George; two sons from his second marriage: Marc and Danny; a sister, Mary Dischell; and a granddaughter. His first marriage ended in divorce. Myers, who worked until earlier this year, was known for wearing a small strip of adhesive tape on his left cheek. When asked the reason, he often said that underneath was the center of the universe.
<![if !supportEmptyParas]> <![endif]>
And Now, For Something Completely Different
THE IMMORTAL BARD'S IMMORTALITY DEFENDED
I used to have arguments about Shakespeare as often as I could with Allan Gross of Insight Studios. Allan contended with some heat the Shakespeare did not write the celebrated plays attributed to him. Scoffing condescendingly, I disparaged his contention with an overpowering contrary argument that convinces sensible people everywhere. Allan, being only marginally sensible, remained unconvinced. And the recent appearance of yet another tome in the assault on the Bard's achievement is likely to supply him with even greater reluctance to admit that he's wrong and I'm right. The Truth Will Out: Unmasking The Real Shakespeare by William Rubinstein and Brenda James offers yet another candidate for the dubious distinction of having secretly authored Shakespeare's plays. I haven't read it. But I have read a good deal of the literature debunking Shakespeare's claimants, and I am almost certain that this theory, like all of the others that have gone before, is balderdash. The new candidate for the playwright, whose name is Sir Henry Neville, was discovered by James who was pawing through the plays on another errand, using a 16th century code-breaking technique. She did not expect to discover the true identity of the person who wrote the plays, but, she believes, she did. Once Neville was revealed, it was discovered that the locales of the plays, arranged in their supposed order of composition, reflect the places Neville was traveling at the times the plays were written. Moreover, Neville's ancestors, the Plantagenets, are always favorably portrayed in the plays. Conclusive, obviously. And there's more of the same. But, as I said, I haven't actually read the book, so I shouldn't be dismissive of it. But given its predecessors in this exercise of debunking Shakespearean authorship, it's difficult not to be nonchalant.
During our trip to England last summer, we stayed in Stratford-on-Avon for five days, and I tramped around the Shakespeare sites, looking for more evidence to shore up my argument. Shakespeare being the local industry there, you can find plenty of evidence of the high regard the Bard's contemporaries held him in. Among the evidences, an impressive bust of the man, purporting likeness, over his grave in a local church, the Holy Trinity. His fellow citizens would scarcely have erected this monument to a fraud: clearly, they believed he'd written his plays.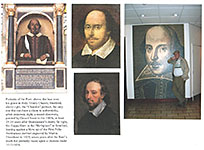 That, of course, proves nothing: if Shakespeare's alleged authorship of 37 plays, many masterpieces of English literature, were part of an elaborate conspiracy at the heart of which was the secret of the real author's identity, the monument in the wall of that church proves only that his fellow citizens weren't in on the secret. They, like everyone else, were fooled. But we don't need to visit Stratford for evidence of Shakespeare's authenticity as author of the plays attributed to him.
Doubts about Shakespeare's authorship have their roots in an ignorance of Elizabethan England that prevailed in the middle of the nineteenth century. Several otherwise respectable personages became convinced that Shakespeare, a poor glover's son in a provincial town, could not have possessed the education or experience to have written the works of genius attributed to him. Shakespeare's plays, these people maintained, were actually written by a contemporary of his, a noted essayist named Francis Bacon, who, as member of the upper classes, did have the education and experience that the plays attest to. None of these "Baconians," as they became known, was a literary scholar. Nor, as Brian Vickers noted in The Times Literary Supplement (August 17, 2005), did any feel "the need to acquire any knowledge of English literature or of the English language in the sixteenth century, and none bothered to read Bacon. ... All they needed was the preconceived notion that Shakespeare could not have written the plays while Bacon could." The Baconian authorship theory gave birth, in due course, to other theories, which offered other people as the probable authors—Willliam Stanley, the Earl of Derby; Edward de Vere, Earl of Oxford; even Christopher Marlowe, another of the playwrights in the milieu of London theater at the time; and a half-dozen others. Although the arguments in favor of other authors are unrelentingly ingenious, they are all flummery. In the decades since the mid-1800s, we have learned a great deal more than we knew then about Shakespeare's early life, and the more we have learned, the less unlikely it is that a "poor glover's son" could have written the plays. Shakespeare's father, John, was a glover, true; but he was also a respected member of the middle class, even the upper middle class, and had both social position and wealth enough to send his son to the local grammar school, where young Will was inculcated with the usual curriculum, which included Latin and, maybe, Greek as well as a certain amount of history and the like. In short, he was not "poor"; and he was not an uneducated country bumpkin who wandered on to the London stage just in time to be adopted by some unknown genius who wanted him to pose as the author of his plays. So there is no longer any justification, as there was when we knew less about life in Elizabethan England, for disbelieving that Shakespeare wrote the plays attributed to him.
Those who offer some other author for Shakespeare's plays must successfully perform a succession of intellectual gymnastics. First, assuming that the general schooling customs of the time are still viewed as not adequate for producing Shakespeare's evident learning and knowledge, the alternate author must be someone who can write. To prove the claimant can write, evidence of his ability must be produced. And in producing this evidence, the theorists run into the first contradictory predicament, to which I'll return in a trice. The second argument the theorists must win is the one that supplies a reason for the alternate author's keeping his identity secret. The usual reason is that "writing"—particularly in association with scruffy and disreputable London actors—was not, then, a respectable profession. If the real author were a nobleman or a respected member of the upper class, he would not want to sully his name and reputation by being known as a playwright. But (and here's where we come to the contradictory predicament) if such a claimant had produced enough writing to prove that he could have written the plays, he would be known as a writer, his reputation would, perforce, be sullied already. Well, maybe playwrighting was deemed a less respectable sort of writing than any other; maybe it is just writing plays that is so shameful that the would-be author wants to keep his participation in London's theatrical life a deep, dark secret. Let's grant that proposition and move to the next hurdle: why did the secret author of the plays pick Shakespeare as his "stand-in"? What was there about this country bumpkin that made him the obvious choice? Assuming that the ingenuity of the theorists can contrive an explanation for this, we next need a convincing explanation for how the secret was kept. Clearly, this secret was the most well-kept secret in Western Civilization: no one, apparently, knew that Will Shakespeare, a minor-league actor who wrote plays for his company, wasn't really writing the plays. It defies our experience of human nature to suppose that the secret authorship would be known by several persons, none of whom ever divulged it. Obviously, since no one spilled the beans, the secret was known only by Shakespeare and the claimant himself. How was the secret maintained? If Shakespeare's colleagues in the acting company didn't know about it, how did Shakespeare explain his seeming inability to make script changes on-the-spot? If Richard Burbage demanded an adjustment in his speech, he would, it can be imagined, expect the playwright to make the changes right there, during rehearsal. But if Shakespeare hadn't written the play to begin with, how could he make such changes? Particularly with his fellow actors looking over his shoulder as he wrote. So what would Shakespeare say to avoid the necessity of making the changes immediately? "Okay, okay—you win. I'll make the changes tonight, and you'll have a new speech tomorrow"? But maybe his colleagues did know the secret. If they did, however, why would they keep it a secret? What compelling reason would persuade them all, to a man, to keep the secret to the grave?
But, enough. If the absurdity of the alternate authorship theories isn't apparent in the difficulties surrounding their invention and maintenance, there is yet another reason for denying their authenticity. All of the claimants are put forward in the conviction that Shakespeare could not have written the plays—for one reason or another. Our knowledge of his early life—of the years between his schooling, which ended, probably, when he was about fourteen, and his arrival in London in the early 1590s as a young man well into his twenties—while greater than it was in the mid-1800s, is still pretty skimpy, and the vacuum still fosters doubts about the supposed Bard's training and experience. How could a man whose life is so unknown have the intellectual wherewithal to produce such impressive literature? The answer—which, I submit, lays waste to any argument against Shakespeare's authorship—is simplicity itself. The plays are universally acknowledged as works of genius. And we cannot explain genius. A genius doesn't need a college education in order to flourish. A genius would find ways to educate himself about whatever he decided he needed to know. The arguments against Shakespeare's authorship crumble away forthwith. If the plays are the works of genius, then Shakespeare was a genius, and we require no further explanation for his achievement.
One of the reasons Shakespeare as author of his plays has been vulnerable to attack is that until quite recently, his adherents were as passionate as the attackers: neither side would admit of exceptions to their generalities or evidence that contradicted them. Bardolators were often as misguided and misinformed as Baconians. But that has changed. Recent scholarship, for instance, has admitted a couple more plays to the so-called Shakespeare canon—"Edward III" and "Sir Thomas More." Both are collaborations in which Shakespeare had a hand but did not produce, single-handedly, the entire script. Similarly, "The Two Noble Kinsmen" is a collaboration; ditto, "Timon of Athens," "Measure for Measure," "Macbeth," and "Henry VIII." Stanley Wells, one of the general editors of the Oxford Complete Works of Shakespeare, said not long ago: "The world of Shakespeare studies has largely come around to the view that we espoused of Shakespeare as a collaborator ... [accepting] Shakespeare as a writer working among a community of writers, and not, as he has often been perceived in the past, the mysterious, lone-God-figure, passing his works down ... as from an ivory tower." The latest play to be added, "Sir Thomas More," was never printed until recently—and it exists in manuscript. The manuscript itself reveals much about how plays were written: the original hand-written text, attributed to Anthony Munday, shows the hands of at least four others, which scholars have identified as Henry Chettle, Thomas Dekker, Thomas Heywood, and Shakespeare. I have no quarrel with Shakespeare as a collaborator in a "community of writers" and actors, all engaged in the production of material for staging. But in allowing Shakespeare his collaborators on a few plays, we need not attribute all of his plays to another, or others. His collaborators were not the sole authors of the aforementioned plays any more than Shakespeare was. At the same time, modern scholarship, while admitting collaborators on a few of the customary Shakespearean canon, does not admit them on all of Shakespeare's plays. Shakespeare's contribution to "Sir Thomas More" consists of just two relatively short passages, not whole scenes or subplots. The bulk of the play is still Munday's. Presumably, the same can be said for Shakespeare's authorship of others of his plays traditionally assigned to him but now seen as collaborative efforts—"Measure for Measure," "Macbeth," etc. Shakespeare probably wrote most of these plays while various passages within were contributed by others. Even in the "community of writers," Shakespeare is still presumed to have written plays virtually single-handed; or, as in the case of "Measure for Measure" and the other collaborations, he took a commanding lead in devising those his name has historically been associated with. And this takes nothing away from his genius, which, as I have said, is the best explanation for the superiority of these works in the lists of dramas in the English language.
Metaphors be with you.
To find out about Harv's books, click here.