Opus 171:
Opus 171 (October 31, 2005). Another whoppin' hopper this time, with long pieces on Doonesbury's anniversary, Marjane Satrapi's Embroideries, the latest book about Walt Disney, and three new reprint volumes. And we ask and answer a nagging question: in the perennial excitement about Edward R. Murrow, which cartoonist of equal moral courage is almost always overlooked? Our contents, in order, NOUS R US —Calvin and Hobbes selling out, The Boondocks set to debut on tv, five "don't miss" graphic novels, a new Asterix book, Eric Powell nails the source of artistic inspiration; The End of Syndication Postponed with Scott Kurtz; BOOK MARQUEES —two new books about New Yorker cartoonists, one more promising than the other; Doonesbury's 35th anniversary and the dangers of topicality in a daily comic strip; COMIC STRIP WATCH —Candorville, Opus, This Modern World, and the Mark of the Beast in B.C.; censoring comic strips, a brilliant refutation; Habitat for Humanity, Stone Soup for everyone; Tom Gill and the Lone Ranger; a new book about Walt Disney; Ivan Brunetti's insight into gallery cartoons; the Edward R. Murrow question and answer; Satrapi's Embroideries; and newspaper comic strip REPRINTZ, Agnes, Sherman's Lagoon (with Eek and Meek), and Boondocks. When you get to the Member/Subscriber Section, don't forget to activate the "Bathroom Button" by clicking on the "print friendly version" so you can print off a copy of just this lengthy installment for reading later, at your leisure while enthroned.
And don't forget: we've revised our list of Bargain Books for sale, adding to the left-overs from April's sale some recent acquisitions. To get to the list, click here. Finally (one last plug), consider, as we pass the 100th anniversary of the debut of Winsor McCay's Little Nemo, celebrating with a tiny tome of mine, The Genius of Winsor McCay, which is described here. Without further adieu—
<![if !supportEmptyParas]> <![endif]>
NOUS R US
The Complete Calvin and Hobbes (three slip-cased volumes, 23 pounds, $150) is likely to sell out before the anyule gift-buying season gets fully underway. The collection sold 15,000 copies its first week, making it the most expensive book ever to get into the Book Standard's Overall Chart, where it ranked 32nd. Andrews McMeel hasn't been able to fill all pre-orders but that's not a mistake: the Kansas City publisher intended to create a collectible "limited edition." The chances are, though, that another edition, perhaps paperback, will eventually emerge. ... The Danbury Mint (47 Richards Avenue, Norwalk, CT 06857) is offering a die-cast metal 1:24 scale model of the 1940s Batmobile as introduced in Detective Comics No. 48, complete with Batman and Robin sitting in the front seat; only $149. ... Another new release is The World on Sunday: Graphic Art in Joseph Pulitzer's Newspaper (1898-1911) by Nicholson Baker and Margaret Brentano. The book displays 85 of the finest examples of reporting, graphic design, society pieces, and long-lost comic strips in an oversized format. ... Driving into Chicago the other day, I had to look twice at a roadside billboard. I thought I saw Aaron McGruder's Huey Freeman up there, giant-size, scowling down at me. Yes, I did: it was advertising November 6 at 11 p.m., which is when the animated version of The Boondocks will debut on tv's Adult Swim, the Cartoon Network's sister channel. Given the lapse between production and air times, we cannot expect on tv as much up-to-the-minute political and social commentary as the strip offers in its newspaper incarnation, which the strip reaches, often, within days of being drawn. But we'll doubtless recognize the attitude, according to Washington Post writer Neely Tucker. "The first episode features the '–word' maybe 15 or 20 times, Riley sighting a (fake) laser-guided rifle on a white woman's ample breasts and on a white cop's neck, his grandfather doing naked aerobics, and lots of clueless, racist white people." The second episode is called "Guess Ho's Coming to Dinner." Topicality of a different order reared its head just after Rosa Parks died last week: McGruder pulled several "rough-hewn references to the civil rights icon" from a forthcoming episode of the show. (A long review of the latest reprint Boondocks is committed below, at the end, actually.)
From Publishers Weekly: Borders is predicting a net loss for the third quarter; Waldenbooks is also expected to be down. And the Chapter 11 (fateful name) regional bookstore chain centered around Atlanta is closing seven of its 13 stores and has filed for, yes, Chapter 11. ... Joining the stampede to "complete reprinting" of comic strips, Garfield, with every strip since its launch in 1978, is now available on a set of three CD-ROMs from Topics Entertainment. "The Wide World of Garfield" includes a history of the cat and a biography of creator Jim Davis among other extras. The fat cat is also on the Web at an interactive site, "Professor Garfield," which teaches kids how to draw and, maybe, think, with games and videos and stories. ... The American Society of Magazine Editors recently concluded a judging which determined the "top magazine cover" of the last four decades—namely, the photograph of a naked John Lennon curled around his clothed wife, Ono (taken on the last day of his life), which Rolling Stone used on its cover tribute issue. Fourth place in the competition went to Saul Steinberg's New Yorker cover of March 29, 1976, depicting most of the American continent from New York's west side to California as a virtual wasteland, the cartoonist's ironic comment on the provincialism of the average Manhattanite. ... In Time, Neil Gaiman attributes his success in recent years to a "weird cultural shift that's erasing the stigma traditionally attached to science fiction, video games, and other venerable dork pastimes." In other words, the geeks have landed.
At the Washington Post on October 9, Greg Zinman annotated "five critically acclaimed" international graphic novels as "great places to start" appreciating the girth and punch of the matured medium. The five: Buddha by Osamu Tezuka (Vertical, $24.95), Cities of the Fantastic: The Invisible Frontier by Francois Schuiten and Benoit Peeters (NBM, $15.95-17.95), Epileptic by David B. (Pantheon, $27.50), Persepolis: The Story of a Childhood by Marjane Satrapi (Pantheon, $17.95), The Push Man and Other Stories by Yoshihiro Tatsumi (Drawn & Quarterly, $19.95). Satrapi's latest, Embroideries, is reviewed below.
Those who have not much except time on their hands have conjured up a list of candidates to play Wonder Woman in the a-borning flick: Sandra Bullock, Angela Bassett, Katie Holems, Mischa Barton, Eliza Dushku, Laren Graham, and Catherine Zeta-Jones. Nah. Looks more like an adolescent wet dream than a list of actresses suited to playing the part. ... Other news in Hollywood recently: ABC replaced the creator and writer of "Commander In Chief" after just two episodes had aired, probably because he was spreading himself too thin, directing as well as writing most episodes. The personage in question, Rod Lurie, is the son of a world famous (just ask him) political cartoonist, Ranan Lurie. The father is a Republican; the son, a Democrat. ...
The thirty-third Asterix book, Asterix and the Falling Sky, was released simultaneously in 22 countries a couple weeks ago. The first new book in the series in four years, it was written and illustrated by Albert Uderzo, 78, who, with the late writer Rene Goscinny, created the series in 1959. The book was released in Brussels, Belgium, where the square in front of the Grand Palace was transformed into Asterix's Gallic village for the occasion. Asterix may be a French hero, Uderzo said, but Belgium liked him more, which is why the launch took place in Brussels. Asterix and his sidekick, the giant Obelix, have always perpetrated a certain gentle social satire, but this time, as Earth is invaded by an alien civilization, the satirical edge is a little more political and pointed. The old wise man on the alien planet is named Hubs, "could this be an anagram of a well-known world leader?" asks Justin Stares at www.telegraph.co.uk. In fact, Stares continues, the book's "not so subtle political satire" is a "heavy-handed dig at American intervention in Iraq." And it has "proved so popular that the book is selling a record 200,000 copies a day." Said Uderzo: "What the Americans are going through today with Bush got me into it." No one at the U.S. embassy in Paris has, yet, read the book, it sez here.
Eric Powell, creator of the surprisingly successful comic book series The Goon, about a zombie-hating enforcer, said about the origins of the character; "I wanted to do my own thing and draw what I wanted, whatever crazy thing I could come up with. I like to draw big, ugly guys and made a character that was a thuggish brute, and he kind of evolved from that." I venture to add that Powell has inadvertently put his finger on the source of inspiration for many comic book series: an artist or cartoonist aspires to draw what he likes to draw, and in comics, that often results in characters being invented to satisfy an artist's itch. Superheroes? Probably came about because an inordinate number of young artists in the late 1930s wanted to do figure drawing. But after you've drawn the figure in virtually every pose possible, what do you do? You leave comics and take up another line of illustrative endeavor. Why do some artists, who achieve fame drawing the curvaceous gender, leave the "bad girl" books and, for all intents and purposes, disappear? Bored. After drawing sexy girls in every conceivable pose, they look for another challenge. Either that, or they do the same pictures and poses over and over, wearing a rut in the pulp. The great cartooners—Jack Kirby and Gil Kane, f'instance—kept on forever, but they were always looking for a different way to present their figure drawings. In their relentless quest for a satisfying variety of poses, they kept themselves interested in what they were doing. And in the very profusion that attended their endeavor, they achieved greatness. As for the limners of the opposing sex, some of them kept on, too—Bill Wenzel, for one; Bill Ward for another. Both, by the way, subjects of recent books from Fantagraphics (where I moonlight when not pounding the keys here at Rancid Raves). Powell, incidentally, made a couple of other observations worth remembering. Asked to identify problems with the comic book industry, he said: "There is way too much repetition and not enough originality being presented. The great books are out there but not being pushed to the front of the mainsteam." He's right: there is originality "out there," but few publishers are willing to take the risk. Powell had trouble finding a publisher for The Goon until it was a proven seller. At first, he said, no one would take it because "we do not know how to market this." How true. Pearls before Swine, a comic strip that is generating a lot of buzz lately, languished for a long time at a major syndicate because they couldn't figure out how to sell it. It lacked a "hook" that salesmen could use to hang their pitches on. A book of mine, a history of the history feud between Al Capp and Ham Fisher, rests, undisturbed, for fundamentally the same reason. How to sell it?
<![if !supportEmptyParas]> <![endif]>
THE END OF SYNDICATION POSTPONED
About a year ago, Scott Kurtz threatened the comic strip syndication industry with extinction. Kurtz, who operates a daily online comic strip, PVP (Player vs. Player) that is reincarnated periodically as a comic book, started offering his strip to newspapers for free. His Machiavellian reasoning was inescapable, its logic relentless in its purity. Newspapers have been complaining about the cost of using syndicated comic strips; Kurtz, who makes a livelihood with his website strip by selling T-shirts and other ancillary goods, figured he could increase his online traffic (hence, sales) if he could attract newspaper comic strip readers. "Traffic from newspaper exposure can really help get eyeballs looking at my site," he said. He'd let newspapers use the strip without charge, he said, if they'd let him give his URL in the strip (www.pvponline.com). Presto: win-win if ever there wuz. The only losers if this sort of thing catches on—the feature syndicates. They could scarcely afford to match Kurtz's "rates"; and if other Internet 'tooners, who are legion in number, followed Kurtz's lead, syndicates couldn't hope to compete. Alas, it wasn't as simple as all that. It almost never is.
Kurtz told me recently that his plan, at least as it was initially launched, was "an interesting failure." The ways of newspaper editors are well-rutted, and they apparently couldn't figure out what Kurtz was up to. "The main problem," Kurtz said, "was that they never wanted the strip 'as-is.' Some wanted just my office humor strips. Some wanted just my technology strips. Some wanted just my story arcs. Some wanted just my single gags. My biggest problem was not firmly offering PvP 'as-is' and walking away if they wanted me to change it. I can't produce a separate feature for the papers. Either they want PvP or they don't. I wasted a lot of time playing the 'maybe' game and trying to make PvP something it wasn't for these guys." He told me that he got into three newspapers are one point, the strip appearing, sometimes, in the paper's "technology" insert. But underlying the entire enterprise was a simple albeit problematical matter of time.
"At this point," Kurtz said, "I just need time free to dedicate to approaching papers." Time or—more people on his staff? More people could do what Kurtz doesn't have time to do—sell the strip to newspapers around the country. Another staffer at PvP would, presumably, require a salary, and that would require more income, and in order to generate more revenue, presumably Kurtz would have to start charging those newspapers. Presto encore: sounds like traditional newspaper syndication, reborn all over again. Kurtz insists he doesn't intend to expand staff. He doesn't want to adopt the traditional syndicate model. Still, he hasn't given up on his original ploy. The beauty of its logic, we must admit, is seductive. For the time being, however, Kurtz is stepping back and re-grouping but planning to revisit the project, somewhat differently, in the future. "There are plenty of papers out there who would take PvP 'as-is,'" he told me, "—I have a folder full of requests." Next time, however, he says he won't go for the Big Brass Ring. "I spent months going after the one big major market paper instead of spending that time getting it into twenty smaller market papers who wanted it 'as-is'. That was my big mistake. But it's correctable when I find the time."
<![if !supportEmptyParas]> <![endif]>
BOOK MARQUEES
Just received my copy of The Comic Worlds of Peter Arno, William Steig, Charles Addams and Saul Steinberg, a 340-page treatise if every there was one, by Iain Topliss. I haven't read but an occasional word in it, and while I look forward to delving further, I have, in my wanton dipping into and out of, come across a few shards that give me pause. The first is wholly unfair: Topliss is a Lecturer at La Trobe University in Melbourne, Australia. While it is not impossible for a person not deeply imbued with American culture to evaluate such a distinctly American manifestation as New Yorker cartoonists—and, in fact, the inherent detachment of such an alien observer might serve analysis very well indeed—when I see in Topliss's tome a cartoon bearing Charles Dana Gibson's scrawled signature about which the caption says "Artist's name undecipherable," I wonder whether Topliss is the man for the job he's taken on. And then, later, he begins a chapter on Addams by pondering how tasteless the macabre 'tooner's cartoons are in the wake of September 11, 2001, blithely excusing this affront to reason by saying "the present changes the past." Still, the book seems to offer biographical information about its subjects as well as Topliss's errant analysis, so, as I say, I'm looking forward to reading it (even those parts where he poses as a psychoanalyst).
An even great pleasure attends my anticipation of reading another recent work on New Yorker cartoonists— Liza Donnelly's Funny Ladies: The New Yorker's Greatest Women Cartoonists and Their Cartoons. Donnelly, a New Yorker cartoonist herself, seems much better equipped to do this sort of book than Topliss is to do his sort—she has, at the very least, an insight into cartooning—and the treatment the book offers is long overdue. Donnelly re-visits the cartoons of the magazine's most famous women cartoonists and supplies biographical information, all organized by the epochs that shaped the magazine editorially. The chapter embracing 1941-1950, for instance, marks the arrival of James Geraghty as cartoon editor; the next period, 1951-1972, signals the change at the helm when Harold Ross died and William Shawn assumed the editorship, ending when Lee Lorenz became cartoon editor. Donnelly's sensibility is feminist without screed. A couple scattered observations: there were no female cartoonists in The New Yorker from 1959 to 1973, an oddity of sinister proportions. In the chapter on the 1930s, Donnelly makes the case that the strides forward in presenting "the world of women as a valid topic for humor ... [that] occasionally moved outside the typical sphere of women" suffered a setback "as the decade progressed and as the country's taste became more traditional again." And then the surprise: she says the change began with Helen Hokinson. The book includes lots of cartoons and an engaging editorial feature: sidebars of related material running in san serif type right next to the appropriate section of Donnelly's narrative. At the book's end, she quotes E.B. White's famous statement: "Humor can be dissected, as a frog can, but the thing dies in the process," adding the part that is seldom quoted: "The world likes humor, but treats it patronizingly. It decorates its serious artists with laurel, and its wags with Brussels sprouts. It feels that if a thing is funny it can be presumed to be something less than great because if it were truly great it would be wholly serious." Thoughts for the ages. I'll probably read Donnelly before I tackled Topliss. Not probably, definitely.
<![if !supportEmptyParas]> <![endif]>
Quips and Quotes
Two blondes were reading newspapers and one sees a headline that reads: Two Brazilian Soldiers Killed. She thinks for a minute and then whispers to her friend: "Pssst —how many is a brazilian?" Steve Sullivan, a confreres from the Wizard Con, remarked that he'd heard the joke before: "But it wasn't about blondes. It was about George Bush." Hey, I can buy that.
Nipsey Russell died a couple weeks ago. Known as the Poet Laureate of Television, he produced this gem: The opposite of pro is con / that fact is clearly seen / If progress means move forward / Then what does Congress mean?
And just to prove not much has changed in a century, here's Mark Twain: "Censorship is telling a man he can't have a steak just because a baby can't chew it."
"The outlook of Richard Nixon was that he was above the law. Watergate disabused him of the notion. The position of George W. Bush is that he is a law unto himself." —Nat Hentoff
<![if !supportEmptyParas]> <![endif]>
DOONESDAY: OCTOBER 26
Garry Trudeau's Doonesbury celebrated its 35th anniversary this month. It arrived in 28 papers on October 26, 1970, and within a very few years, its popularity—notoriety, even—had, as Trudeau himself has observed repeatedly, established the legitimacy of bad drawing in newspaper comics for the rest of the century. Doonesbury had a trial run during Trudeau's college days at Yale. Under the title Bull Tales, it appeared in 1968 in The Yale Record, an irregularly published magazine (edited, for a time, by Trudeau), and, starting September 30 that year, in the campus newspaper, the Yale Daily News. Trudeau was influenced by Jules Feiffer, who had attracted a cult following with the weekly cartoon he had been doing for The Village Voice since 1956. Drawing in a simple, sketchy style, Feiffer specialized in the angst of modern America. His cartoon was mostly talk. His characters were psychotic about talk. In agonizingly introspective monologues and dialogues, they explored their psychological or sexual anguish, invariably tripping over their own shortcomings as they unintentionally revealed their personality disorders and character flaws in the progress of their discourse. Visual-verbal blending is minimal in Feiffer's cartoon: although the pictures sometimes underscore the irony of the characters' self-revelatory remarks, they mostly serve to pace the talk. Feiffer had a good ear for the way people talk, and in capturing their speech and pacing it, he gave his cartoon a unique rhythm, a cadence that led inexorably to a punchline of revelation.
Trudeau drew in Feiffer's sketchy fashion, even eschewing speech balloons by clustering his characters' verbiage near their heads like Feiffer did. But his college kids did not whine in endless self-analysis. Instead, they commented, directly or indirectly, on aspects of campus life. Trudeau's humor was not of the bemused non-sequitur sort; it was attack comedy, sharp and barbed. Trudeau was incisive and witty, his insights often powerfully satirical and always irreverent. It was an age of collegiate irreverence. It was the age of protest—against the Vietnam War, against the establishment, against authority of all kinds. The temper of the times fostered among some young cartoonists a revolutionary counter-culture, and they expressed their disdain for mainstream America in producing "underground comix," comic books that championed the drug culture and assaulted conventional sexual mores with graphic gusto. Trudeau was not so blatant as his underground compeers, but he was every bit as perceptive and angry. He attracted the attention of United Features syndicate, and after his graduation with a Masters in art in 1970, Bull Tales was reincarnated as Doonesbury, appropriating the name of the strip's would-be Lothario for the new title.
As a syndicated feature, Doonesbury continued Trudeau's satiric attack but extended his range of targets to include society at large as well as campus life. And when Richard Nixon committed Watergate, Trudeau had a field day. Pogo was still being published, but it was on its last legs; Walt Kelly was mortally ill, and Trudeau unceremoniously donned his mantle as the most pungent political satirist on the comics page. Unlike Kelly, Trudeau used the real names of his targets. He didn't draw pictures of Nixon, but he drew the White House and lettered outside its windows speeches that only Nixon and his embattled aides could have uttered. In one of the most famous strips of the period, Trudeau contrived for one of his characters, Mark Slackmeyer, to pronounce John Mitchell guilty while at the same time pretending to allow the former U.S. Attorney General the presumption of innocence.
Doonesbury's anniversary prompted a quiz last week by the Associated Press. Asked if the public's reaction to political satire is different these days, Trudeau said: "There now seems to be an insatiable appetite for political satire, which was not in great evidence when I started out. Those were very self-serious times, and there was only a handful of little outposts—Pogo, "Second City," "The Smothers Brothers" tv show—where you could reliably find political humor. The end of the Vietnam War changed all that. The nation exhaled, "Saturday Night Live" hit big, and satire really took off."
Asked if his strip has influenced cartoonists to include more political and social commentary in their work, Trudeau said: "Anyone who stretches the prevailing boundaries, and gets away with it, is bound to have an influence. Walt Kelly and Jules Feiffer were the trailblazers for topical humor in comic strips, and I just built on what they had accomplished by introducing the preoccupations of my generation. Doonesbury in turn freed up options for cartoonists that followed. We're all part of a continuum."
Asked how he responds to accusations that he's anti-Republican, he wasn't as certain about his political allegiances as his opponents are: "I think it would surprise them that the first political strips I ever drew attacked campus radicals. In fact, right after I was syndicated, Time magazine called the strip 'reactionary.' ... The truth is my politics aren't particularly exotic—I'm a stone dull moderate—a little to the left on social issues, a little to the right on cultural. ... I've actually supported some Republicans through the years, and intend to vote for one in a few weeks. But they're thoughtful centrists, not mindless ideologues like the ones who've had a stranglehold on power the past five years. The damage that's being done to the country, on multiple levels, is so massive that it's a real struggle to wrangle my outrage into something that isn't too toxic to read."
In daring, Trudeau was (and is) certainly Walt Kelly's equal even if he falls short of Kelly's visual artistry. Most of the time, Trudeau's strip is essentially a verbal exercise: it makes its satiric thrusts deadpan, with words rather than by blending word and picture in fine-tuned concert. And the power of Doonesbury's humor is rooted in the strip's penchant for calling its political villains by their real names rather than by cloaking them in allegorical costume as was Kelly's practice. There may be less art than audacity in Doonesbury, but Trudeau has raised audacity to an artform. Ditto a genuinely compassionate humanity (not the sloganeering kind).
Audacity, by the way, has its risks. Doonesbury for the week of October 31 was going to concentrate on Harriet Miers' training for the Senate hearings. Alas, by withdrawing from the competition, Ms. Miers rendered Trudeau's artistry obsolete before it could even be current. So Trudeau followed suit, withdrawing the entire week's strips; the week will be devoted to re-runs (as a way of heralding November sweeps, we assume). But you can see what might have been by going to the Doonesbury website: http://www.doonesbury.com/strip/miers.html . Dunno how long this'll be up there, but for the time being anyhow. What a way to celebrate an anniversary.
Some of the foregoing is lifted, with only a few adverbial adjustments, from a book of mine, The Art of the Funnies, which, as you might expect, goes on at somewhat greater length about Doonesbury's early phase. For a preview of the book, click here.
<![if !supportEmptyParas]> <![endif]>
COMIC STRIP WATCH
In Darrin Bell's Candorville, GeeDubya nominated a log to fill the Associate Justice vacancy on the Supreme Court. When critics argued that "a log isn't the best choice for the Supreme Court," GeeDubya reposited: "Of course it is. If the log weren't the best choice, I wouldn't have appointed it. I've known this log for years. Chopped fish on it. It's strong. Solid. It definitely won't be an activist judge." The arguments he offers sound familiar? During the Senate hearings, the log, who can't speak (of course), is accused of stonewalling when it won't answer questions. The first collection of Candorville strips is due momentarily from Andrews McMeel. ... Looks like John Marshall won't be allowed to sign Blondie as have all his predecessors drawing the strip for Chic Young's son. His name's probably too long for a good signature coupled to Young's. "Dean Young," on the other hand, is just the right length.
As a visual enterprise, Berke Breathed's Opus has been a disappointment, usually. Breathed bullied his strip's way into an allotment of half a page on Sundays on the grounds that he'd produce exciting artwork. Well, yawn, mostly. For most of the couple years since its debut, Opus hasn't done much in the way of utilizing the space for stellar, joke-enhancing layouts. October 23, however, is an improvement. The opening panel is a sort of splash panel, two tiers high, showing Opus seated on a dock, lake-side, blowing bubbles aloft. The clouds were nicely done—warm and fuzzy. The conclusion was pure slapstick, but the layout repeated the opening panel, nicely symmetrical. It wasn't stunning art, but at least the layout used the space fairly well. And the gag came about because of neatly knitted pieces, all converging at once in a surprise ending. Good work. Not just the usual journeyman achievement.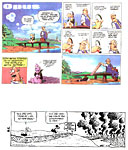 While you were ogling Opus, I hope you noticed the B.C. strip which, for the sake of convenience only, appears on the same page. This is the strip for October 26 in which Johnny Hart gets a teense political—with distinctly religious overtones. Not unusual for Hart. But is the strip more than a simple depiction of the road to Hell being paved with good intentions—namely, in this case, Bush League slogans? Could be that's all; that's enough, surely. But notice that the roadsign bears that cryptic numerological symbol, 666, the legendary "Mark of the Beast." That could refer, simply, to the region into which the road is leading, good intention by good intention—that is, the kingdom of the Beast, the Anti-Christ. Or, by the convolutions typical of some of Hart's religious messages, it could be that the Mark of the Beast on the roadsign means that the road itself—all those broken promises of the Bush League—is the Anti-Christ. If so, perhaps Hart is suggesting that the perfidy of GeeDubya and his minions symbolizes the arrival of the End Times, the age during which the Anti-Christ, the Beast, rules. In those times, as I understand it (and my understanding is fairly tenuous, kimo sabe), his followers are identified with his mark, the Mark of the Beast. This mark, the cryptic 666, is, to quote an online reference on the subject, "the sign that the one in power is Satan's masterpiece." Whoa! Is Hart suggesting that good ol' boy George W. ("Whopper") Bush is "Satan's masterpiece"? Could be. Hart has been at least that convoluted before on occasion.
Finally, for the pure sake of wisdom in the funnies, here's a recent effusion from Tom Tomorrow (Tom Perkins).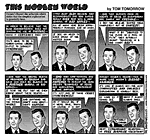 Note the fifth panel: there's an insight of sheer brilliance there. Isn't it wonderful that "the low-ranking bad apples at each [military prison] facility just happened to develop the same specific techniques of abuse and humiliation, independent of one another." About the same likelihood as two civilizations independently developing the concept of Zero. All those high-ranking military guys? As Slackmeyer said, lo those many years ago—Guilty! Guilty! Guilty!
<![if !supportEmptyParas]> <![endif]>
DON'T CENSOR COMICS
Here's a letter that appeared recently in the Salt Lake City Tribune:
Every couple of months it seems that the Tribune prints a handful of letters from angry readers demanding that the comics Boondocks and/or Doonesbury be moved to the editorial page, or removed from the publication entirely. The arguments tend to be that comics should be funny, appropriate for children, and hold no political or social agenda. Yet I never see letters demanding the removal of Mary Worth, which is most decidedly not funny, or really even readable for that matter. No one seems to be outraged by For Better or For Worse, which very rarely addresses topics that would be entertaining to children. Could it be that these individuals are only interested in censoring that with which they don't agree?
When I read the comics as a child I would seek out the strips I enjoyed, and I would skip the ones that didn't speak to me. As an adult, I am fully capable of the same selective reading. This ability applies not only to the comics. I also enjoy reading Maureen Dowd, and occasionally Molly Ivins, but don't bother with Cal Thomas. I don't need the Tribune to remove content I don't wish to read. I simply don't read it. I suspect the rest of the Tribune's readership is fully capable of the same. Matt Palmer
Thanks to Wim Lockefeer, who says: "This letter sums up the only reasonable stance on comics censorship—and censorship in general, in my opinion." I agree. Discussions about censorship almost always begin with a dictionary definition of censorship. But that invariably sends us off into realms only tangential to the issue. Questions about censorship, like questions about pornography, cannot be resolved by recourse to dictionary definitions, which only hint at the difficulties we're trying to resolve. In censorship, the issue is suppression —and who gets to do it.
<![if !supportEmptyParas]> <![endif]>
MAKING SOMETHING OUT OF ALMOST NOTHING
Cartoonist Jan Eliot, creator of the comic strip Stone Soup, writes in the Register-Guard of Eugene, Oregon, about her pitching in on Habitat for Humanity's Women Build program:
Stone Soup, the name of my comic strip, comes from an old fairy tale that illustrates how a community turned its limited resources into a grand feast and celebration—creating something from nothing. I know from firsthand experience that this is what parents, especially single parents, often must do. For 10 years I was a single working mom, with too little time, money and patience. Because I received help and support from friends, family and understanding employers, we nonetheless had a good life. I was lucky enough to eventually buy a home of my own, because I had parents who could help me. But many are not so fortunate.
This weekend, I'm swinging my hammer on a Women Build work site. Along with other
women volunteers, I'm helping Kinte, a single mom of three young children, build a Habitat home where she can safely raise her family. Right now, Kinte and her family live in a basement apartment with plumbing that leaks in every room, exposed wiring and a broken-down boiler. Habitat for Humanity's Women Build program works to involve more women in Habitat's efforts to help more families in need. The program gives women the opportunity to learn construction in a comfortable environment. Like all Habitat homeowners, Women Build partner families work hard for their homes. They invest hundreds of hours of "sweat equity" by working on their own homes and on other Habitat homes. And they pay for their homes through a zero-interest, no-profit mortgage, which Habitat uses to build more homes.
I'm proud to do what I can to help. The generosity of Habitat volunteers and donors makes parents' task of providing a simple, decent home a little easier. Everyone can help in some way - whether that's by making a donation (www.habitat.org/wb), swinging a hammer or by sharing expertise. Lowe's—Women Build's national underwriter—offers financial support of the program as well as free clinics at its stores to help volunteers. Home Interiors & Gifts' independent decorating consultants have raised support one candle at a time, raising more
than $1 million for the Women Build program.
Even before Hurricanes Katrina and Rita devastated the Gulf Coast, more than 12 million children in the United States were living in poverty. The need is even greater now. All of us working together can make a big difference.
<![if !supportEmptyParas]> <![endif]>
UNDER THE SPREADING PUNDITRY
On October 25, the 2,000th American soldier was killed in Iraq, and the round number inspired a certain momentary stock-taking in various corners. While I don't mean in the slightest to belittle the tragic loss of two thousand souls—indeed, I am profoundly saddened by it—the occasion affords an opportunity to acknowledge another category of war dead, Iraqi civilians, who now number somewhere between 26,000 and 30,000. Civilians. Not soldiers. And civilians don't normally expect to be killed in warfare. They aren't armed, after all. Over ten times the number of Iraqi civilians have been killed than American soldiers. One of the war crimes of the Bush League is its ignoring of this number and this category of loss.
<![if !supportEmptyParas]> <![endif]>
Another Silver Bullet
From Reuters
Tom Gill, who drew The Lone Ranger comic books, died on October 17 of heart failure at his home in Croton-on-Hudson, New York, his wife said on Tuesday. He was 92. Between 1950 and 1970, Gill drew the masked rider of the Old West, the Lone Ranger, and his Indian sidekick Tonto for comic books. He also drew the Hi-Yo Silver and Bonanza comic books. He taught cartooning and children's book illustration in New York area colleges, including the School of Visual Arts, where he served as department chair in 1948 and alumni director in 1969. Gill grew up in Brooklyn and went to work for the New York Daily News, where he was credited with drawing the first map of the Japanese attack on Pearl Harbor. Later, he produced a short-lived comic strip about a cab driver called Flower Potts. "People thought it was a gardening column," Gill once quipped. Mark Evanier did a nice piece at the usual place, http://www.newsfromme.com/archives/2005_10_18.html#010464. I shared a podium with Gill at a Reubens Weekend of the National Cartoonists Society a couple years ago; we were, between us—my book-learnin' in the subject and his personal experience— telling some of the history of the organization. Gill was exactly the sort of good guy that Mark says he was, invoking Dick Ayers. Mark referenced the following article from last spring's Albuquerque Tribune (May 20) by Ollie Reed, Jr.
Growing up and working in the wild and woolly East of New York City, comics artist Tom Gill didn't have a chance to watch the deer and the antelope play or to inhale the pungent fragrance of purple sage. But for 20 years, without ever leaving New York, he thundered stirrup to stirrup across the plains with the Lone Ranger, masked rider of the Old West, and the Lone Ranger's steadfast Indian sidekick, Tonto. Gill, 92, drew the masked man's adventures from 1950 to 1970 for stories that appeared in The Lone Ranger comic book, published first by Dell and later by Gold Key. He used to keep three mirrors in his Long Island studio to see how his clothes pulled and draped when he went for a gun or threw a punch. "You were acting," says Gill, who was in Albuquerque this week with his wife, Trish, to visit his wife's daughter and family. "It was fun. It had to be because I did it an average of 12 to 14 hours a day." Which doesn't leave much time for exploring the West.
The big-sky country he penciled the Lone Ranger and Tonto into came from pictures in books and from the wide-open spaces of his own imagination. Despite his fenced-in existence, Gill developed a reputation for being good at depicting action scenes—especially horse rides and gunfights. He can't help but smile when asked how he got so good at corralling horses in the panels of a comic book.
"I bought a $1 book called How to Draw Horses: It's Fun and It's Easy," he says. "I studied it."
He got some of his biggest kicks drawing the Lone Ranger's magnificent white horse, Silver. "You had to make Silver a glamour horse," Gill says. "His head was always high, his mane was always flying."
Gill grew up in Brooklyn and went to work for the New York Daily News in 1943. In 1946, he jumped to the New York Herald Tribune where he wrote and drew Flower Potts, a comic strip he dreamed up about an ex-prizefighter turned cab driver. The character's nickname came from the fact he had cauliflower ears. Flower Potts was not a success. Only three papers bought it, and it died after three years.
In 1949, he started doing freelance comic book work. He drew stories for Bible comics, for war comics, for love comics. "I've been accused of not drawing really rough-and-tumble characters in The Lone Ranger," Gill says. "I think that's because of all those pretty people I drew in the love comics."
But his big break came in 1950 when he was selected to illustrate The Lone Ranger comic book, which was written by Paul Newman (no relation to the actor of the same name). Newman's Lone Ranger was an unofficial keeper of the peace in the frontier West. Although confined to 10 or 11 pages, Newman's stories were usually entertaining. Gill's drawings were a perfect complement to Newman's scripts. The two worked together for 20 years, although they only met face to face two or three times. Newman did the writing in Connecticut and Maryland, and Gill the drawing on Long Island.
"In comic books you were always looking for something that lasted," Gill says. "That something was Paul Newman and me. He never interfered with the art."
Gill has white hair and gray-blue eyes that shine behind big, black-frame glasses. Macular degeneration, however, has robbed him of much of his sight. Today he devotes himself to educating young artists. He is a consultant with New York City's School of Visual Arts, which he helped get started, and still teaches classes at Westchester and Dutchess community colleges in New York. But in comic book collections clung to over the years by young boys now in their 50s, Tom Gill is still galloping over the Western plains, stirrup to stirrup with the Lone Ranger and Tonto.
<![if !supportEmptyParas]> <![endif]>
A Long Look at Uncle Walt
Just In Time for the 77th Anniversary of the Mouse's Debut
In Walt Disney Conversations (170 6x9-inch pages; paperback, $20; hardback, $50), we meet the standard-issue Uncle Walt, a kindly, thoroughly unpretentious, pragmatic workaholic who created an entertainment empire but wanted to be seen as just one of the boys in the backroom, faithfully cranking out footage to amuse Mom and Pop America and their Obedient Offspring. Another in the series reprinting interviews with legendary American cartoonists from University Press of Mississippi (one of my publishers), the book includes the now-familiar array of helpful materials—an introductory essay by the compiler (here, Kathy Merlock Jackson) that briefly rehearses Disney's life story in an analytical context, plus chronology, index, a couple dozen "interviews," and, in this case, a filmography of Disney's major feature-length films. Many of the interviews, as in previous volumes in this series, are not of the Q&A sort but are actually full-blown articles from magazines or newspapers but are based upon interviews.
Jackson, a professor at Virginia Wesleyan College, gained access to the Walt Disney Archives in Burbank, a facility not open to the public generally, by reason of her previous work, Walt Disney: A Bio-Bibliography. Said she: "Archivist Dave Smith knows more about Walt Disney than anyone else alive, and I appreciate his advice in helping me to find the precise sources I was seeking." We might assume from this possibly collaborative enterprise that the content of Jackson's book conforms to the public-relations mythology of Walt Disney as created and nurtured by the company he founded. And that, more-or-less, is what we pretty much find. But this outcome is not due to collusion between compiler and archivist: rather, it is what is to be expected when the subject is a internationally famous personage who has been interviewed several thousand times during his career and who, marvelously adept at public relations and product promotion, carefully managed his interviews to yield exactly the image of himself that he wanted. As Jackson herself observes, no interviewer was likely to catch Disney in anything other than his patented Uncle Walt role, a role Disney steadily embellished to accommodate his entrepreneurial self as well as his entertainment self.
In his later years, as Emperor of Disneyland and Host of the Disney Hour on tv, he had adjusted his projected image to embrace the businessman as well as the folksy friendly next-door-neighbor cartoonist. In 1966, Bill Ballantine approached Disney on this subject: "You've been called an artist, writer, businessman, inventor, naturalist, educator—just what are you?" To which, Disney responded cannily: "I'm just very curious—got to find out what makes things tick—and I've always liked working with my hands; my father was a carpenter. I even apprenticed to my own machine shop here and learned the trade. Since my outlook and attitudes are ingrained throughout our organization, all our people have this curiosity; it keeps us moving forward, exploring, experimenting, opening new doors." On another occasion reported herein, Disney answered a child's question about what he did if he didn't, as he admitted, draw Mickey Mouse, saying: "Sometimes, I think of myself as a little bee. I go from one area of the studio to another and gather pollen and sort of stimulate everybody; I guess that's the job I do." Disney's capsule self-portrait here conforms happily to my own picture of him in an analysis of how he made history in entertainment (which appears, starting at once, in our Hindsight department) so I'm scarcely faulting the content of Jackson's tome. Jackson's Disney in this book is the Disney of popular culture, the Uncle Walt that Disney invented for public consumption, and, given Disney's promotional skills, that's what we should expect to find here. And we do find exactly that.
But anyone expecting to find only the prefabricated Uncle Walt in these pages will be surprised at some of the content—for instance, the transcript of Disney's testimony before the House Un-American Activities Committee in October 1947, wherein Disney allows that the notorious strike at his studio in 1941 was incited by Communist agitators. His paternalistic attitude towards his employees is also revealed in his repeated references to "my boys" (his artists). But Disney, expecting loyalty from his staff, returned the sentiment: when asked if he thought Communists were trying to take over the motion picture industry, he said he thought they were but that "my boys have been fighting it longer than I have—they are trying to get out from under it and they will in time if we can just show them up." And he said on more than one occasion during his testimony that "my boys" were "good, solid Americans."
The book includes other rarities, too—among them, Disney's "talk" to his employees in 1941, explaining the reasons for the company's move to new studios and knocking down as many of the rumors around the place as he can (including the rumor that he was training women in animation in order to displace higher-priced male animators) and his interview by Cecil B. DeMille on Lux Radio Theater in December 1938. "What about the future?" asks DeMille, "—as the art of animating human figures develops." Disney replies: "We'll never do Hamlet." The earliest interview is in 1929, the year after Mickey Mouse's synchronized sound cartoon debuted in New York on November 18, 1928; the last, in 1966, just months before Disney died. Some of the interviews are only a couple pages long. The longest one piece is Don Eddy's 1955 piece reprinted from The American Magazine. In it, Eddy contemplates the Disney who created a successful film empire and then fearlessly invaded television. "The commonest misconception about Disney, I believe, is that he is a sentimental softy. He isn't. He is sentimental, true enough, and to strangers he often seems soft, benign, bashful, or bewildered. Perhaps for flashing moments he is, but he never loses command of any situation. He knows what he's doing every instant. ... He is a dreamer, but he is also an intensely earnest driver and a tireless doer, an unbending perfectionist who tolerates no compromises with himself or with any other person or thing." The book does not include any of the longest "interview" ever done with Disney: an 8-part series that ran in the Saturday Evening Post, starting in late 1956; but, thanks to Jackson's Introduction, we know where to find that one. (It was actually an interview with Disney's daughter, Diane Disney Miller, "as told to Pete Martin"; and it was eventually compiled in book form, The Story of Walt Disney, by Holt, 1957.)
The dubious history of Disney's pet mouse inspiring the creation of Mickey is repeated herein, but there are numerous gems amid such dross. George Kent, in 1938 in The Family Circle, reports on his visit to the Disney Studios, where he watched a bunch of animators who were "looking intently" at a movie of a cow eating grass. Kent wondered if he was missing something important, and then, listening to the animators discuss the film, he realized he had. One of the animators observed that the cow "moves her jaws from side to side instead of up and down the way we do." Says Kent: "I chewed silently to myself. By cracky—the man was right. Cows do chew from side to side." He goes on to applaud the animators' later discovery in studying pigs for "The Three Little Pigs" that "in a healthy porker the tail is tightly coiled, and that in a weak one, there's no curl at all." Kent later asks Disney what it feels like to be a celebrity, and Disney invokes his best aw-shucks persona: "As far as I can see, being a celebrity has never helped me make a better picture or a good shot in a polo game or command the obedience of my daughter or impress my wife. It doesn't even seem to help keep the fleas off our dogs, and if being a celebrity won't even give you an advantage over a couple of fleas, then I guess there can't be much in being a celebrity after all." And he conjures up the same fella again when interviewed by DeMille, who asks him what the secret of his success is. Says Walt: "Over at our place, we're sure of just one thing. Everybody in the world was once a child. We grow up. Our personalities change, but in every one of us, something remains of our childhood. ... The same level knows nothing of sophistication and distinction. It's where all of us are simple and naive without prejudice and bias. We're friendly and trusting, and it just seems to me that if your picture hits that spot in one person, it's going to hit the same spot in almost everybody. So, in planning a new picture, we don't think of grown-ups and we don't think of children, but just of that fine, clean, unspoiled spot down deep in every one of us that maybe the world has made us forget and that maybe our pictures can help recall. But when a picture maker turns philosopher, Mr. DeMille, it's time for him to quit."
A useful tome to put on your shelf. And on the cover, there's a dandy full-color, Studio-supplied picture of Uncle Walt, surrounded by his creations. You can see it, and numerous Mickey Mouses, by consulting our Hindsight department, here.
<![if !supportEmptyParas]> <![endif]>
ART SHOW
For nearly two months, September 8 - October 22, the A-D Gallery of Chicago's Columbia College offered an exhibition of cartoonery, "The Cartoonist's Eye." Several dozen original cartoons festooned the walls of a single storefront room, roughly 75x30 feet. Among those on display were Chris Ware, Art Spiegelman, Robert Crumb, Daniel Clowes, Phoebe Gloeckner, Gary Panter, Ben Katchor, Archer Prewitt, Ernie Bushmiller, George Herriman, Frank King, Charles Schulz, and Karl Wirsum. As you can see, the line-up included traditionalists as well as modernists, the family newspaper guys and a smattering of undergrounders. Herriman's last Krazy Kat strip was on the wall. And there was one of Crockett Johnson's Barnaby (never have seen that in the raw before). Basil Wolverton's Powerhouse Pepper, Fritzi Ritz in her undies (daring stuff for vintage a comic strip), Gasoline Alley, The Bungle Family, Mutt and Jeff —cheek by jowl with Bill Griffith, Julie Doucet's "affair with a bottle," and other thoroughly unconventional material.
The old timers stood up pretty well, I thought. The jokes, intended for national syndication, were necessarily not as topical as some of the modernists, undergrounders in particular. Not that cartoon art should be judged by its ability to be forever funny. Some of our greatest practitioners— Walt Kelly leaps immediately to the front of my mind—have forfeited lasting glory for the sake of topical satire. My criticism of the modernists stems more from the poverty of their comedy: too often, the strips were one-joke affairs that fizzled when drawn out beyond a panel or two. Dragging such one-note gags out makes them appear existential, but usually, I'd say, no such philosophical intention inspired the work. Some of the multi-page strips suffered because they were represented by only a page or so. But several of Ben Katchor's shorter strips were there in their entirety, and I discovered an appreciation for his work that had evaded me before. (And isn't that one of the functions of exhibitions? To enhance understanding and appreciation?) But the fragmentary nature of some of the work—or the extreme topicality or the deeply personal angst—rendered some, for me, less satisfactory than the old timey stuff. Probably more my shortcoming than that of any of the comics on the walls.
This exhibition, like most displays of cartoons and comics, risks falling a little flat, I think, among the "reading" public. Why do people come into gallery's displaying comic art? To laugh, one supposes. And in order to get to the laugh, you have to read a lot. That's more than you do in the usual art gallery, where you wander from painting to painting, staring, but not reading. If the painting doesn't engage you, you move on. But you can't tell if the cartoon or comic strip doesn't engage you until you've read it all. Then you laugh? Not at some of these. The problem is that cartoon art is different than other kinds of visual art. It blends words and pictures, and the "art" consists in effecting the blend. While almost everyone, surely, recognizes this implicitly, I doubt that many average comics-reading citizens have a firm grasp of this peculiar aspect of the artform they've wandered in to witness. Every museum display of cartoon art should come equipped with a small handout that you pick up at the door that demonstrates the difference between a painting by Van Gogh and a comic strip by Bud Fisher.
Many of the pieces here came from the collections of Chris Ware, Glenn Bray, and Justin Green. The exhibit was curated by another cartoonist, Ivan Brunetti, who earns his way these days as a Web designer and freelance illustrator. This show, subtitled "Artists Use the Comics Medium to Tell Real Stories," Brunetti says, is a "metaphor" for a book he's almost finished editing, An Anthology of Graphic Fiction, due out next year from Yale University Press. Yale at first asked Chris Ware to do the job, but Ware, who'd just finished the McSweeney all-comics issue, passed, suggesting a friend, Brunetti. I'm not sure that the show's subtitle is any more descriptive of the material here on display than it would be of any display of an array of cartoonists like this. It's the sort of thing you can say about any bunch of comics. But Brunetti wrote a paragraph or so to adorn the wall of the show, and I think he goes about as far as it's reasonable to expect anyone to go in orienting the ordinary citizen to the mysteries of cartoon artistry. Here's what he wrote:
"Cartooning is a peculiar art form, a 'convergence of seeing and reading,' as has been pointed out by Chris Ware. While it involves a kind of writing and a kind of drawing, it is neither and yet both simultaneously. It is helpful to think of the doodle as the fundament of cartooning. Yes, the humble doodle. Of course, everything stars out as a doodle, a scribble, a scrawl: the masterful paintings, complex architecture, and models of the universe begin with the simplest concrete visual representations. But cartooning is perhaps the one art form that most embraces everything the doodle represents: the fresh spontaneity, the graphic clarity, the beautiful simplicity, the direct and unfiltered transfer of thought from mind to paper, the spark of creativity itself. The very genesis of the cartoon, paradoxically, is its own end goal.
"Art Spiegelman has described cartooning as 'writing with pictures,' and the curator would whole-heartedly agree with this elegant assessment. Here we are using 'picture' in the broadest sense of the term. In comics, words and pictures are not a mixture, but an emulsion. Perhaps calligraphy might be a more apt, if still incomplete, metaphor. The cartoonist uses his own particular set of marks (or 'visual handwriting') to establish a consistent visual vocabulary in which to communicate experience, memory, and imagination—in short, the stuff of narratives.
"When we merely look at the pages on these walls they seem to exist as architectural entities, static aggregates of geometric and organic forms. But when we begin to read them, we enter their world, so to speak, and suddenly characters, situations, and emotions are seemingly animated in our mind's eye.
"At the purest level, comics are not an assembled series of images, but intuitively constructed sequences of images. Panels on a page are connected into a unified whole, and each panel seems to exist in a latent state inside all of the other panels. The cartoonist's job, it seems, is to create—one might almost say discover—these sequences, a process of communicating how he or she sees the internal and external world, the passage and interconnectedness of time. Cartooning is a 'transmittal of thought and soul' through a codified, highly refined system of, essentially, doodles.
"Think of it this way: we can be aware of the structure encompassing the complexity of life, yet at the same time we can only exist 'in the moment.' So it is with the comics page, as perfect a metaphor as any for the unity of macrocosm and microcosm, and the utter folly of even thinking about things in such a highfalutin way. Humor is the salt of life, after all, and the work on these walls reflects this fact, no matter how dark, unfrivolous, dry, or bittersweet that humor might be."
This kind of thinking, and writing, makes me eager to see the book for Yale that Brunetti is doing. In the meantime, you can find him as a cartoonist in his Schizo from Fantagraphics, the most recent issue (No. 4) of which is listed in this month's Previews as containing Brunetti's "academic side with biographies of Piet Mondrian, Soren Kierkegaard, Erik Satie, James Thurber and others, plus tributes to Charles Schulz and the Marx Brothers.
<![if !supportEmptyParas]> <![endif]>
A PAIR OF PATRON SAINTS IN MASS MEDIA
I haven't seen, yet, "Good Night, and Good Luck," but the movie seems likely to perpetuate the canonization of CBS's Edward R. Murrow as the patron saint of broadcast journalism. And that's fine: Murrow surely deserves his niche. What's more to the point here, the film gives me an opportunity to applaud a cartoonist whose courage in those days easily matched Murrow's.
During the early 1950s, the nation quivered in the shadow cast by the U.S. Senator from Wisconsin, Joseph R. McCarthy. McCarthy's self-imposed mission to root out Communists in government had made him a hero to many. He inspired a vociferous following of millions, anti-Communists all. The method of his crusade was founded upon a basic disregard for the truth— determining guilt by association and innuendo and deploying reckless accusation, equivocation, and outright lying not to mention character assassination and sheer intimidation. As others took up his cause and methods, reputations and livelihoods in every corner of American life were destroyed with little or no regard for the truth, and our national lexicon gained a new term to describe what McCarthy was doing: McCarthyism. The menace of McCarthyism stalked the country at least until the summer of 1954. No one, whether in public service or private enterprise, was safe from it.
As 1954 dawned, popular wisdom in the nation's capital had tagged McCarthy as the second most powerful man in the country. And he was a power to be feared: many of his critics didn't speak out—didn't label him as the posturing publicity hound and mountebank that he was—for fear he'd destroy them by including them on his next list of suspected Communist conspirators.
Many newspapers attacked McCarthy on their editorial pages (while giving him headlines on their front pages), but nationally prominent figures (like, for instance, the President at the time, Dwight Eisenhower) were slow in rising to the challenge. Washington's celebrated muckraker, Drew Pearson, fired a shot or two, and then McCarthy rounded on him, insinuating that Pearson was a tool of Moscow and advising people not to buy the hats manufactured by the sponsor of Pearson's radio program, the Adam Hat Company. Pearson wasn't silenced, but he lost his sponsor, who chose not to risk a boycott led by the powerful Senator.
Television journalists were curiously silent. Still in its infancy, tv was already seen as a much more potent medium than either radio or the press. Its audiovisual impact was immediate and persuasive, but its ability to air complex issues thoroughly and fairly was (and still is) suspect. So tv newsmen (in a display of responsible restraint difficult to believe from the perspective of post-Watergate America) were inclined to stick to the barest of facts. And the evil that McCarthy's critics saw in his method did not reveal itself readily with that kind of treatment. Finally, Murrow, then one of the most prestigious journalists in the world, attacked McCarthy on March 9, 1954, on his highly regarded "See It Now" tv program.
Murrow's expose alternated film clips of McCarthy making charges and assertions with shots of Murrow, live, presenting the contradictory facts. The relentless rhythm of lie refuted by truth drummed in the flagrancy of the Senator's perfidy. Some said the program was as artfully constructed of half-truths as anything McCarthy had done. Be that as it may, given McCarthy's power, Murrow showed great moral courage, thereby securing his honorable spot in the history of American journalism. Murrow's assault scarcely destroyed the Senator but it prepared the way for him to destroy himself during that summer's televised hearings investigating the U.S. Army.
Here, McCarthy played to the audience, but he also put his methods on display and thereby revealed himself for the buccaneering demagogue he was—a confirmation of Murrow's damning portrait. But there had been a damning portrait before Murrow's. And it had been in the comics sections of the nation's newspapers in a comic strip by Walt Kelly called Pogo.
Set in a swamp in the South, Pogo was ostensibly what is called a funny animal strip, but Kelly's animals were more than animals. They were perfectly content being animals, but sometimes on an otherwise idle summer's afternoon, they would (for their own amusement) try out for roles as human beings. They'd wander backstage at the passing human drama, picking up a script here, a bit of costume there, and then assemble after hours before the footlights for a little play-acting at being people. In this spirit, Kelly had run Pogo for President of the U.S. in 1952, and the strip rapidly developed into a brilliant satire. Subsequently, the double meaning of the puns in the strip took on political as well as social implications, and the vaudeville routines frequently looked suspiciously like animals imitating officials high in government. And just so we wouldn't miss the point, Kelly underscored his satirical intent with caricature: his animals had plastic features that seemed to change before our eyes until they resembled those at whom the satire was directed.
For one of his earliest forays into this new arena of entertainment, Kelly invented a baleful wildcat named Simple J. Malarkey, who, minus his pointy ears, looked remarkably like Joseph R. McCarthy. During the ensuing shenanigans, Kelly plumbed the potential of his medium.
Malarkey stalks the swampland critters, looking for suspicious "birds," just as McCarthy stalked the American landscape, looking for suspicious Communist sympathizers. The resolution of the sequence comes when Malarkey announces that he can turn any animal into a "bird" with "boilin' tar and a little judicious application of feathers."
In the ensuing attempt to tar and feather an innocent muskrat, Malarkey trips and falls into a pot of boiling tar, demonstrating vividly that those who seek to smear others are likely to be tarred with their own brush—as adroit a coupling of visual and verbal messages as the comics have ever seen.

Word and picture worked in perfect concert: neither meant much when taken by itself, but when yoked in tandem, the verbal and the visual achieved allegorical impact and a powerful satirical thrust. McCarthy was thoroughly ridiculed, his methods mocked and belittled.
Herblock and other editorial cartoonists had skewered McCarthy regularly for the past several years, but syndicated comic strips, in deference—as always—to the differing political persuasions of their client newspapers nationwide, steered clear of politics. In Li'l Abner, Al Capp made fun of the rigid right, but no one named names. Kelly changed that, paving the way for Garry Trudeau's Doonesbury and others of the breed. Although he later claimed that few of the newspaper editors carrying Pogo had objected to his Malarkey sequence, Kelly couldn't have known that when he launched his crusade against McCarthyism. And even had he anticipated the editors' sympathy, he still risked offending newspaper readers, great numbers of whom were avid McCarthy supporters who might have pressured their papers into dropping the strip, thereby drastically threatening Kelly's livelihood. To avoid precisely this scenario, syndicated comic strip cartoonists had traditionally conducted their strips in the least offensive manner possible.
As a syndicated cartoonist, Kelly ran at least as great a risk as Murrow had in taking on a figure of McCarthy's power and popularity. And Kelly had done it in the spring of 1953, almost a year before Murrow's acclaimed attack via television.
<![if !supportEmptyParas]> <![endif]>
EMBROIDERIES
Marjane Satrapi relishes her role as iconoclast: she clearly enjoys breaking idols and shattering shibboleths. And shocking people, particularly Westerners. She delights in comparing the Bush League to the mullah regime of the Islamic Revolution in her native Iran. She loves her country but detests the mullahs, so she has been living in Paris, traveling occasionally to the United States to promote her books and to shock. She smokes cigarettes to shock. Lighting up as often as she can and wherever she is, she has turned smoking into a crusade for individual rights. Non-smoking rooms in hotels and sections in restaurants are fortresses to be stormed, cigarette a-smoulder. And as the author of two best-selling graphic novels, she wields her celebrity as a weapon in the assault. In hotels, that can result, as Debra Pickett of the Chicago Sun-Times discovered, in Satrapi's room being declared a temporary smoking room.
In her two books, Persepolis and Persepolis 2, Satrapi rips the veil of "the other" from the face of Iran, revealing that her countrymen and women, although citizens of a nation that George W. ("Warlord") Bush included in "the axis of evil," are not all terrorists. They are, rather, just ordinary people like you and me.
At West Point, the two Persepolis books are required reading for the military academy's 2006 graduating class, all of whom assume they'll be going to Iraq upon graduation. "Persepolis humanizes a nation we don't look at particularly fondly," said Lt. Col. Art Bilodeau, an English professor there. In the first of these two autobiographical books, Satrapi shows the effect of the Islamic revolution on her childhood self and reveals, as Noy Thrupkaew says at nerve.com, "the hypocrisy of a movement that promised freedom but brought oppression." In the second book, a sequel, Satrapi passes through a painful adolescence, searching for her identity and for personal freedom, first in Europe, then back in Iran. But having enjoyed the freedoms of the West, she finds Iran intolerably repressive, and she returns to Europe. In Satrapi's story, her readers—West Point cadets and the rest of us—discover that Iranians are not all fundamental extremists. And, in fact, there are those, like Satrapi, who strenuously albeit sometimes furtively resist the dictates of the mullahs.
While writing these novels of ponderous seriousness—"I had to remember unpleasant things," she said, "and I had in my mind a mission to teach people about my country"—Satrapi felt she needed a break, "a moment of joy, just joy," she told Thrupkaew, "and [so] I wrote about this afternoon that I spent with women of different generations" who devoted a few hours to talking about sex and their relationships with men. "They made me laugh so much I just wanted to share [their stories]," she exclaimed. The result, Embroideries, is, Thrupkaew says, "a bawdy love letter ... a celebration of these women's resilience, their tough-mouthed [potty-mouthed is more accurate], tender-hearted talk over tea [that] documents the ways in which strong-willed women in Iran have fought back—in secretly gleeful silence or through overt rebellion—against misogynistic traditions and piggish men."
In this book, Satrapi is still in the shocking business: the book is x-rated outspoken about sex as experienced and viewed by a female population that is supposed to consist entirely of prudish models of sexual modesty. One of her tableau's married women, embodying that stereotype, confesses that she's never seen a penis. When her friends wonder how she managed to have four children, she explains: "He came into the bedroom, he turned off the light, and then—bam, bam, bam! And, viola, I was pregnant. But I've never seen penises." Her candor is matched by the grandmother, who has been married three times. She quips: "Quite honestly, you haven't missed anything." This leads to a discussion about whether the penis is photogenic; they decide it's not.
Reflecting their society in which marriages are often arranged without regard to the affectionate inclinations of the participants, one of the women explains how she ran away from her wealthy but aged husband on their wedding night, waited for him to die, and then, with her widow's mite, pursued an independent life. Another confesses that she married the first time for love but discovered her husband was an energetic philanderer so she divorced him and took a lover, who would not marry her because he already had a wife. This anecdote inaugurates a discussion of the merits of being a mistress rather than a wife. In yet another assault on their society's sense of decorum, the women mock the traditional insistence that a bride be a virgin. The book's title refers to a surgical procedure in which a broken hymen is sewn up in order to persuade a husband on his wedding night that he is deflowering a virgin. One of the women explains how to fool one's husband on the wedding night: with a razor blade, the bride gives herself a tiny cut to draw blood. She goes on to explain how a friend of hers, following her advice, mistakenly cut her husband. "Poor guy," says the narrator, "—not only was he misled about the merchandise, but on top of that he found himself with a sliced testicle!"
Fooling one's husband is apparently a well-ingrained custom among the women of Iran. In a discussion about cosmetic surgery, one woman flaunts her new body. "I had small breasts and a big ass," she says, "and now I have big breasts and a little ass. I had the fat removed from here," she pats her buttocks, "and I had it injected here," she cups her breasts." With satiric vindictiveness, she goes on to say that her breasts are the sole object of her husband's attention, but "of course, this idiot doesn't know that every time he kisses my breasts, it's actually my ass he's kissing."
Always on a mission, Satrapi aims in Embroideries to show that Iranian women may have to live within the traditions of a restrictive social code, but they are scarcely prisoners. "In such societies," she says, "discussion between women [such as the one presented here] is the space for freedom. These stories don't present a complacent point of view about women—that they are all suffering. They're not victims. And I refuse it completely. I hate that image. Even in the worst days under the Islamic Republic, I never saw myself as a victim. We always have the choice to do something else, to make a parallel life." Satrapi's women—in their anecdotal conversation over tea as in their lives—are staging a continuing revolt against repression, using as their weapon their sex lives, over which their men mistakenly believe they are the masters.
The afternoon tea that Satrapi depicts customarily takes place after lunch when the men go off to take a nap. At the end of this book, the grandfather comes into the room briefly, but his wife tells him to leave—to go away and take his nap. As he leaves, he mutters, "When the snake gets old, the frog gets him by the balls." I'm not sure what, exactly, that means, but it pretty clearly signals that the old man knows he's bested by the women. (He also is clearly resigned to it.)
Despite the seeming subversiveness of Satrapi's women, sexuality, she says, is more accepted in Iran than in the West. "A woman can complain if a man doesn't satisfy her," she explains. "If you read the original version of One Thousand and One Nights, they are fucking everywhere. I mean, you have the robbers and the flying carpet and all of that, but basically, it's full of sex. In Iran," she goes on, "you don't need a prescription to get contraceptives. There isn't really this feeling of guilt about the idea of abortion even though it's not something the law permits you to do. All the friends of my mother have had abortions. Many of my friends have had them."
Satrapi's championing of individual liberty quite properly infects her interview with Thrupkaew. She talks about the veil that Muslim women are supposed to wear whenever out in public. "I am not a religious person," she says, "all my life, I've been fighting against the veil. But I can imagine that someone might want to put a veil on. To say that a woman cannot wear it is the same as saying that she must wear it. ... From the point of view of some Westerners, the woman who wears a veil isn't worth anything. But [in the U.S.] to sell orange juice or cars, you have to show a pair of breasts? Isn't that also another kind of veil for women? Isn't nakedness veiling what they really are?"
Satrapi is as outspoken in her interviews as she is in her novels. Her women think the penis is not attractive; what does she, as an artist, think? "It's not so special," she says. "Other parts of the body are more interesting to draw. ... I very much like the breasts," she goes on, "the shoulders, the neck—whatever leads to the head. Actually, a nice ass is beautiful, too—a continuation of the leg. A continuation of the balls is nothing, just a hole. And then that thing hanging," she laughs.
Which reminds me of a remark attributed to Dawn French: "I think men are very funny. If I had one of those dangly things stuffed down the front of my pants, I'd sit at home all day laughing at myself."
"God has given me nice breasts fo me to show, so I can be attractive," Satrapi continues. "Otherwise, why would God have given them to me? All the men like to watch, and, personally, I like to watch men's asses. A well-made ass is always cute to look at, no? God has made it, and God has given me eyes, so I look," she laughs. "It is very good! You know," she says at the end of her interview, "talking about sex and pussy is always a joy for me."
Talking, for Satrapi, is easy. "For me," she says, "words are just air. I can say dickdickdickdick! But when I draw, it becomes real. Telling is nothing." Drawing is, apparently, everything. So her characters can talk about penises, but Satrapi doesn't draw any. Still, as a visual enterprise, making Embroideries was undoubtedly a graphic challenge for her. The essence of the afternoon tea is talk, and, visually, her book is therefore mostly talking heads, which Satrapi presents in page-size vignettes without panel borders. This maneuver best represents the experience, and it is also a decorous alternative to explicit sex scenes. But any cartoonist, whose creative mode is pictures as well as words, is likely to be bored by the necessity of drawing parades of faces and pages full of verbiage. Satrapi deftly varies the visual experience by sometimes drawing her characters from the waist up when body language is as important to the narrative as verbal language. As the woman explains her husband's bedroom conduct—"bam, bam, bam!"—Satrapi shows her moving her arm violently back and forth. Sometimes, the verbal content appears as a kind of voice-over, accompanying drawings that amplify the prose by illustrating some of the action. Ingeniously, Satrapi also arranges her pages of faces in wildly differing layouts, imparting graphic variety through the over-all visual impression of a page of artwork. The discussion of the virtues of being a mistress instead of a wife is accompanied by pictographs of shirts (that the wife must launder but the mistress can admire), the man's mouth (which spews bad breath at the wife but reveals sparkling teeth to the mistress), and so on. And some of the episodes are discretely illustrated with full figure drawings in silhouette.
| | |
| --- | --- |
| | |
Satrapi's drawing style is simple, often crude, drenched in solid burka black, and her occasional graphic shorthand---diagrams and pictographs---slips unobtrusively into this visual ambiance. She enhances the simplicity with decorative Persian curlicues and patterns in rugs and attire. Embroideries is a tidy package (144 5x7-inch pages in hardback, $16.95) but full of mischievous humor and delightful candor, a welcome respite from the terrible seriousness of Satrapi's other works—but just as revealing about her country and its people as its two predecessors. Says she: "People thought I was a very political lady not someone who writes nasty jokes. But I am both."
Satrapi visited West Point on her book promotion tour and made a presentation to the student body. Attired all in black with a mini-skirt and extravagant platform shoes and a luxurious mop of dark hair, she praises the United States: "It shows me the greatness of the democracy because I'm someone from the 'axis of evil' being invited to the most prestigious military academy in America." Quoted by Laurel Maury in the Los Angeles Times, Satrapi indulged in one of her favorite perverse pleasures---comparing the religious right Bush League to the reigning mullahs in Iran: "Twenty-five years ago, the mullahs were saying, 'Read the Koran, God is on our side' and 'You are going to fight the big Satan.' And the big Satan," she goes on, "is you. And twenty-five years after, I hear the American government saying, 'God is on our side, read the Bible,' and 'We are going to fight the 'axis of evil.' It is the same words. But when it comes from an Iranian mullah, it is normal. An Iranian mullah is supposed to be a fanatic. It's not normal when it comes from the biggest secular democracy in the whole world."
By the end of her presentation, Satrapi is in tears. She explains to her audience that she has reproached people for thinking the world is black and white without, until just then, realizing that she does the same herself. She admits to having thought that all military people "were a little bit of mean people. [But] here I see the sweetest people possible. From now on, each soldier, anywhere in the world, that will die, that will remind me that he was only nineteen-and-a-half and had pink cheeks."
<![if !supportEmptyParas]> <![endif]>
REPRINTZ
As we evolve into maturity, we learn, in a painfully individual way, that the world seldom lives up to our youthful imaginings of it. In Tony Cochran's comic strip Agnes, the eponymous young heroine reenacts this heart-rending ritual every day, week by week. And in the second collection of the strip, I Have Tampered with the Divine Plan, Cochran prolongs her education for 128 8.5x9-inch pages in paperback ($10.95). Inked into being with Cochran's spidery penline, Agnes is an unlikely-looking icon: her head is bigger than her tiny body, her feet are floppy platforms of a dimension generous enough to support the bobble-head atop her frail frame, her hair looks like a babushka, and her nose is prominent albeit bobbed. Astonishingly for someone who sees so much and talks so extravagantly, her eyes a blank pupilless orbs, and she has no mouth. But the visual comedy does not reside in her nearly featureless face: it arises from the juxtaposition of her dumpy, diminutive body with her high-flying vocabulary. The gags are mostly verbal: they don't depend upon our grasping the implications of the pictures. But without the scruffy minikin, the extravagance of the lingo isn't nearly as risible. Agnes lives with her grandmother in a house trailer, and her only friend is Trout, who plays deadpan realist to Agnes' soaringly imaginative idealist. Agnes is a brilliant child with a vast lexicon encountering the world at large and trying to find her place in it. We realize, almost at once, what she never grasps—namely, that she is incorrigibly delusional.
In this collection, she explores many possible life plans for herself. She decides to become a keynote speaker: "I can't wait," she enthuses, "—I will be at my podium, a single dramatic spotlight caressing my countenance. A huge, restless sea of expectant faces lies before me—there only for me, and my witty and profound oration." Trout, as usual, punctures this balloon: "But you're not witty, and you're not profound," she says. Agnes, withal, is nonplused: "Maybe you should order some balloons," she muses. Agnes also sets her sights on being a country western legend, then a superhero. Says she of the latter: "Being garbed constantly in tights speaks of positive body imaging, thus, self-acceptance." Says Trout: "Also, it's easier to pound people into paste when you're dressed like that." Agnes pauses to ponder this intelligence, then thinks: "Wow—self-acceptance must be very liberating." But she rejects the customary violence of superheroism as an operational strategy. "Our superpowers will be well-researched coping mechanisms," she explains to Trout, "effective relaxation techniques and suggested reading for sorting out the confusion of spirituality. I will be Wellness Woman, and you will be my faithful side-kick, Seminar." Trout sighs: "Could we at least be radioactive?"
On another occasion, Agnes invents "the toe-tucker 2000," a device for putting on one's socks. Says Agnes: "The mental madness of sock application is now safely and effectively terminated." Says Trout: "Who ever went mad putting on socks?" Reflecting, Agnes says to herself: "Fine, wear your rugged stability on your sleeve." Like all young girls, Agnes strives for physical perfection in her appearance, especially around Valentine's Day, when beauty is rewarded with a deluge of valentines. This year, she seeks to "enhance" her visage with lip gloss. "But I have advanced the theory," she explains to Trout; "if glossy lips are attractive, think about how many valentines we will bag if we gloss our whole face." Trout says: "You look like a freshly varnished garden gnome." Agnes: "Don't make me scowl—I'll crack my beauty."
Agnes' encounters with her Grandma are similarly edifying. When Grandma launches into a tirade about some minor infraction Agnes has committed, the child interrupts: "Whoa up, there," she says; "—um, two Irish guys go into a Baptist church wearing chickens on their heads—" Grandma yells: "What?" To which Agnes says, "I am attempting to diffuse your anger with levity." In the last panel, she's been sent to her room, where she mutters to herself: "Apparently ethnic humor really strikes a nerve around here...." Agnes' pedantic vocabulary is invariably a setup for a come-down. She brings home "another" note from her teacher. "Yes," she explains to Grandma, "I am guilty as charged. I was flagrantly fidgeting. She told me to stop, but it's not like I'm a little fidget spigot that can be tuned on and off. I begged for one final fling, for I still had a fidget yearning to fly free, but I was denied. What was I to do? Just sit there with an unrequited fidget silently simmering in my synapses? I could have ruptured my entire nervous system. That 'note' is merely hard copy documentation of a frail girl trying to maintain her physical wellness, nothing more, nothing less." Grandma, a model of jaded patience, finally gets to speak: "This note is about a spaghetti dinner this Wednesday." But Agnes is undeterred: "Is she trying to pin it on me?" she says.
The comedy in Agnes is born in the contrast of Agnes' delusions as manifest in her lush vocabulary with the commonplaces of ordinary life against which she perpetually butts up. Despite this disheartening ritual, Agnes never abandons her propensity to dream flamboyant dreams, and so she inspires us all.
Cochran's own experiences of life doubtless undergird this indefatigable expectation. He has been drawing all his life—"woolly mammoths in tar pits on the cardboards that came with his father's laundered shirts, a mother woodtick dressed in 'a fine, purple dress with dots of blue' during his kindergarten days, and makeshift sea cow tattoos on the arms of third-grade buddies during lunchtime." And with enrollment in a college of art and design, he aspired to being a painter. Despite recognition in this endeavor, he was unable to pay bills, and so, for fifteen years, he worked as an auto body repairman. And then, Agnes arrived a couple years ago. Said Cochran: "Agnes is kind of an indomitable spirit—she has big dreams. Sometimes she wins; sometimes she loses. I think a lot of people will identify with her."
Particularly with the lip gloss strategy.
<![if !supportEmptyParas]> <![endif]>
Sherman's Lagoon seems to be about life on the ocean floor. Its protagonist is a shark, and his closest acquaintances—a sea turtle named Fillmore, a hermit crab named Hawthorne, and a spectacled fish with computer skills named Ernest—are likewise underwater folk. I've never liked fish as cartoon characters. "Looking for Nemo" left me as cold as an iceberger. The reason for my aversion is silly: a fish is just too simple to draw. All face with a tail. Easy. That means in a comic strip, a fish story has a built-in tendency to be all "talking heads," ergo, a boring visual experience. Silly, like I said. And in the ninth collection of Jim Toomey's shark strip, there's yet another shark—Steven, who lives in another lagoon on the other side of the island, "a parallel universe," Ernest tells Sherman, "—a place just like ours where everything is the opposite." Sherman, in addition to being voracious, is pretty dim. He ponders this news, clearly struggling with the concept. Ernest, ever perceptive, realizes the problem: "I'll make you a pie chart," he says. "Now we're talking," says Sherman.
A Day at the Beach (128 8.5x9-inch pages; paperback, $10.95) regales us with the usual Shermanesque preoccupation, his endless quest for sustenance in the shape of "hairless beach apes," as well as Fillmore's equally endless quest for the companionship of a female turtle. The humor, given the milieu, is sometimes pretty grim. A one-legged water skier glides by, and Sherman takes credit: "Hey," he explains to Fillmore, "you waterski in shark infested water, you take your chances. I just take a little nip out of 'em to remind 'em who's boss," he continues. "Some of 'em just keep coming back for more." Another water-skier goes by, this one with no legs at all. Sherman says: "I've been working on that guy for years."
Toomey's drawing style is not particularly remarkable, but that's no detriment. It is entirely serviceable for the purposes Toomey devises for it. His pictures clearly tell us what we need to know in order to grasp the comedy of a strip. The line is confident, the compositions clearly laid out. We are not distracted—not embarrassed by rank amateurism in rendering, not baffled by incomprehensible pictures. Toomey's illustrative manner, in short, is entirely professional. And his pictures are integral to the humor: there's no joke about skiing in shark-infested water without the drawing of the legless skier.
Fortunately for my jaded taste in art, most of the strip's cast have arms and legs and therefore represent a drawing challenge that translates into an engaging viewing experience. And in this compilation, Aurora the mermaid shows up again, too, a treat for these tired old eyes. Her long tresses are arrayed to preserve her modesty, but Sherman and Fillmore are still embarrassed about the way she goes around, as Fillmore says, "au naturel." Or, as Sherman puts it: "And half-naked." Sherman gets her a bra to wear. "Put this on," he says, "this ain't the Playboy Mansion." Aurora reads the package: "Endorsed by Mrs. Jacques Cousteau." And the next day, when she asks Hawthorne if he's embarrassed by her toplessness, the crab tells her that he thinks it's great and offers to photograph her and distribute the images through the Internet. She slaps him soundly. "Boy, she got you good," says Fillmore. Says Hawthorne, a galaxy of stars ringing his head: "That first one of the day always hurts the most."
Toomey has populated his ocean with numerous quirky personalities—Thornton, the sun-bathing polar bear; the mystic Easter Island monolithic head named Kahuna; and the grizzled sea-farer and failed fisherman, Captain Quigley. And all of them are hitting all cylinders in this collection.
And then—what's this? Just as I finished the preceding paragraph, comes a week's worth of Sherman's Lagoon in which Sherman and his mate Megan convince Kahuna to cast his magic spell and transform them into humans! Suddenly, they're walking around on dry land. Will this go on? Have we seen the last of those streams of bubbles rising in the water from their nostrils? It could be. It's not without precedent. Years ago, Howie Schneider invented a comic strip about two mice, Eek and Meek; and before he retired the strip, he had transformed them into humans.
When he started the strip in 1965, Schneider said he wanted to emphasize the writing, not the pictures. "At the time," Schneider said, " I really wanted to write something, and I didn't specifically want to do a comic strip. But I wanted to write on the comic strip page, so I needed drawings." But he de-emphasized the pictorial element, reducing his characters to doodles that looked, he admitted, like "tiny little cocktail hors d'oeuvres" with toothpicks for legs and arms. But he agreed they also looked somewhat like mice: they had big ears like Mickey Mouse. "I even intended to make them 'look alikes' so you couldn't tell one from the other so that the reader would put all his attention on the words." His syndicate, however, eventually prevailed upon him to make one look somewhat different than the other; so he put a derby on one of them and the suggestion of a five o'clock shadow. It was the thin edge of a wedgie. First thing he knew, he was trying to give one of the doodles some facial expression to enhance the implications of an utterance. He started varying the camera distance, moving in for close-ups. "And there's nothing more uninteresting than a cocktail frank with stick arm and leg in close-up," he said, ruefully. Next he abandoned the stick-like limbs and gave his characters slightly heftier appendages: instead of drawing just one line for an arm, he drew two. That presented another problem: one of his characters was female, Monique, and she now appeared topless. "It sounds funny," Schneider said, "but if she has a stick arm, there's no problem. But with this up-grading of all the characters, she would now have meat on her arms—and all of a sudden, her chest is bare." Not naked, exactly, but "bare" in the sense of "nonexistent" like Mother Hubbard discovering her cupboard is bare. "So," Schneider continued, "using the opposite of liposuction, I induced a pair of breasts." Then, naturally, he had to put a shirt on her. And a skirt. And that led to putting clothes on all his characters. And he put them in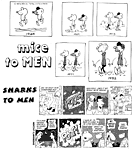 the company with other characters, who looked more human. Finally, he gave up: in February 1982, 17 years after launching his cocktail franks, he turned Eek and Meek into people, giving them hair styles that were configured, vaguely, like their heads with ears had been when they were mice.The mice-people strip lasted over 30 years. And Schneider also did The P.T. Bimbo Circus for 7-8 years; now he's doing a strip a about elderly animals called The Sunshine Club. (It's actually about old folks—er, "senior citizens"—but the jokes are more palatable because they involve anthropomorphic critters instead of human sapien geezers.)
As for Sherman's Lagoon, it returned to what passes for normal in a week or so—Sherman and Megan back to being sharks.
<![if !supportEmptyParas]> <![endif]>
The latest compilation of The Boondocks strips, Public Enemy #2 (176 8x11-inch pages, paperback; Three Rivers Press, $15.95), contains about 20 months of the strip from March 2003 to mid-November 2004. The book retains the chronology of the strips' initial publication, beginning with the invasion of Iraq and concluding with the election of George W. ("Warlord") Bush. Between these two cataclysmic events, Aaron McGruder's radical protagonist, Huey Freeman, has a few incendiary words to say about the Kobe Bryant trial, the California gubernatorial recall vote, Michael Jackson, gay marriage, Bill Cosby's advice to African-Americans, and stem cell research. Said McGruder: "I flip through my past strips and can't believe any sane newspaper would print them."
The comedy is almost always highly topical, based relentlessly upon current events—often events reported on the front pages of the nation's newspapers just a couple weeks before getting encore treatment in The Boondocks on the comics pages. Unlike most newspaper strip cartoonists whose deadlines are 4-6 weeks in advance of publication, McGruder works only a couple weeks ahead in order to stay as current as the technologies of newspaper publication permit. Given the topicality of the content, the entertainment value of a reprint volume would not, you'd think, be very high: The Boondocks is funny, but a large measure of the laughter is prompted by the audacity of McGruder's irreverently making fun of people in the very recent news—that is, while those persons are still prominent and, presumably, important. Once two years have slipped over the horizon, how funny can this bomb-throwing be? Pretty funny still, it turns out. In April 2003, McGruder shows Huey watching tv, which, as often happens in the strip, is speaking: "To guarantee free and fair elections in Iraq as soon as possible, President Bush announced he would be sending Katherine Harris to Baghdad next week." Huey looks out at us and scowls. Those of us who found that funny in April 2003 are news junkies enough to remember the events upon which the joke builds. How free and fair can elections in Iraq be if Katherine Harris, who participated in the rigging of the vote in Florida in the 2000 U.S. presidential election, is going supervise?
Similarly, when, during the 2004 presidential campaign, Ralph Nader is kidnaped in The Boondocks, we recall how his campaign in 2000 may have siphoned votes away from Al Gore. "Reality tv" is still with us, so McGruder still tickles our satirical risibilities when he attacks African American culture by referring to the fad with a reality tv show he scandalously names "Can a N**** Get a Job?" Martha Stewart is still in the news, too, so we can applaud hilariously when Huey's grandfather, reading his newspaper last October, says: "Well, it looks like Martha Stewart is actually going to jail—finally, it'll be safe to walk the streets at night." Topicality can be dangerous, though: I wonder what happened in The Boondocks between September 21 and October 12, 2003. (I suspect it was a sequence in which some persons of color were depicted in what might seem to be acts of violence, wielding knives; but I can't remember the details.) Those strips are missing from what otherwise appears to be a comprehensive reprinting, which includes, it sez here, "strips banned from newspapers around the country"—banned, that is, at various times in various papers, but never all at once everywhere. So we have the celebrated October 2003 sequence during which Huey and his younger brother Riley try to get a date for Condoleezza Rice in the conviction that "she would be a completely better person if she just had the right man in her life." Later, Rice shows up herself in the strip, ostensibly on a tv interview show where she experiences a slip of the tongue that echoes a previous slip when she referred to GeeDubya as her husband. Huey and Riley make much of that, too.
Their crusty grandfather shows up regularly. Granddad speaks for the other side of the generational gap but with a satirical vengeance: he may appear clueless, but his failure to apprehend exactly the events transpiring around him gives McGruder a satirical weapon already honed to a cutting edge. For a week in May 2004, Huey makes a tv commercial with Granddad railing against "his" television for showing those photos of naked Iraqi prisoners in a Baghdad prison. "Male nekkidness on my tv is unacceptable," the old man growls. Holding up a helpful visual aid, Granddad says: "This graph shows the frequency of pictures of butt-nekkid men on my television has gone from 'virtually none' to 'way too d***n many.' Now, dammit, we gotta put a stop to this!" he continues, "I got children in the house." He pauses and looks away momentarily. Then, looking back at the tv camera, his personal agonized frustration written on his face—"And them fools got the nerve to talk about Janet Jackson!" McGruder hits two targets at once with this sort of performance, and he does it often.
Mostly, McGruder takes shots at the political and social shortcomings of the culture at large, but occasionally, he takes a swipe at the African American culture (Black Entertainment Television, usually) or deploys references from it that are obscure. On May 1, 2003, Huey is watching tv news, which is droning on about Iraq: "While insisting that he is in no way the new 'ruler ' of Iraq, retired Army General Jay Garner has asked that he be referred to as 'H.N.I.C.' —although none of us here knows what that means." It means, in the argot of black culture, "Head Nigger In Charge," a vaguely mocking term applied to persons of authority, sometimes those who have an exaggerated idea of their status but sometimes in self-deprecation. Here again, McGruder hits more than one target—the blundering self-importance of the "occupation government" in Iraq and the ignorance of the news media. And we don't have to know what H.N.I.C. means to get the drift.
In his introduction, McGruder alludes to the year that he just spent readying an animated tv version of The Boondocks for a debut this fall. Due to the extraordinary demands on his time, he explains, he had to hire an artist to help on some of the "art duties" on the strip. "People think I stopped drawing the strip, but that's never been the case. To this day, there has never been a single Boondocks strip that I did not personally touch—I still obsess over the details of Huey, Riley, Caesar, and Granddad. I still go over every panel, I still care what it looks like, and I always will." I'm sure McGruder cares about the strip: it is, he admits, the "day job" that he dare not give up, regardless of whatever Hollywood projects come knocking at his door. But it's clear that McGruder, studying American politics as closely as he does, has learned something of the political value of nuancing his words: he "touches" every strip; he obsesses over "details"; and he "goes over" every panel. Touching, obsessing and going over aren't quite the same as "drawing," but McGruder clearly wants us to think they are. On a page of "Special Thanks," he lists Rodney Barnes, Jen Seng, and Carl Jones for "the help out," without saying, exactly, what the help was. The list of people he's thanking is quite long so it's passing strange that when discussing in his introduction the art assistance he employed on the strip, he doesn't mention the name of the assistant whose signature appears with McGruder's on the strip, Jen Seng. Since she gets to sign the strip, I assume she does a little more than just "help out": I think she draws it. And I have no doubt that McGruder looks at what she's done, perhaps making a few adjustments to the drawings as he does. The Boondocks is produced on a computer, which makes that kind of "editing" very easy to do. (Repeating images is easy, too, and it happens in The Boondocks at least on August 24 and September 3, 2004, and July 12 and 13, 2004.) Syndicated strip cartoonists have been traditionally reluctant to admit to having assistants: syndicates have always supposed, and not without reason, that the cartoonist is the brand and that the work of assistants would be perceived by the reading public as a dilution of the quality of the brand. McGruder's coyness on the subject is therefore understandable—and even, within the traditions of the trade, forgiveable. But considering how readily McGruder kicks over any traces that might hinder him, it's odd that he doesn't get any more specific about Seng's contribution. When I asked him about this during a session at the San Diego Comicon two years ago, McGruder was quite candid in admitting that he had a drawing assistant. He didn't explain why, at the time. He said he'd never met her: he'd seen her work on the Web, liked it, and recruited her to "help out."
Seng's signature shows up for the first time on October 27, 2003, but I suspect she started work on the strip some weeks before: the evidence is in the way she draws hands, with thicker fingers. There's also more drawing in the strip—more pictures of the characters in full figure or from the waist up rather than from the neck up. More hands. More faces drawn in three-quarters view, not just in profile. The comedy, however, is still largely verbal: the pictures serve mostly to identify the speakers and to time the speeches. However much or little time McGruder spends on the strip's drawings (recent publicity about the tv series acknowledges that he no longer draws the strip), the satirical comedy is all his own: no one could "sit in" for him on strips like the one on May 29, 2003, where Huey is again watching tv, which diligently keeps him up-to-date on the latest Bush League shenanigans in the early days of the triumph in Iraq: "After acknowledging that looters had plundered several atomic sites in Iraq, the White House announced that its plan to take deadly nuclear materials out of the hands of an evil dictator and put them into the hands of complete strangers was an overwhelming success." For this sort of commentary, we should be everlastingly thankful that McGruder hasn't given up his day job.
Metaphors be with you.
To find out about Harv's books, click here.