Opus 166:
Opus 166 (July 30, 2005). Featured this time are reviews of Paul Hornschemeier's Mother, Come Home, his anthology of college material, Sequential, and the 20th anniversary commemoration of Mother Goose and Grimm, plus a nearly unprecedented deviation in one of the world's most popular comic strips, Blondie, and a long fond report on our reporter's recent visit to England. In order, here's what's here (by department): NOUS R US -Trudeau's turd, the Spirit's new lease on life, the last Cartoonist PROfiles, the fate of Michigan J. Frog at WB, Jessica Alba loves the FF (I think), Superman in Metropolis, Illinois, and Marvel at Niagara Falls; Ye Olde Merrie -earth-shattering events in the UK, lurid sex in the famed tabloid press, British newspaper comics, the civilian body count in Iraq, and a few stray thoughts about antiques; Rowland B. Wilson's obit, Gene Hazelton's cameo, review of Modern Arf and a book of insightful essays on cartooning; 3 cartooners who are "screwing up Bernard Goldberg's America," the evil pointlessness of anonymous sources, Mike Peters and Grimm, and Hornschemeier's Mother. And once again, I see that I've become carried away with my own prolixity, which makes our "Bathroom Button" all the more essential: when you get to the Members' Section, click on our useful "Bathroom Button" (also called the "print friendly version") of this installment so you can print off a copy of just this installment of Rancid Raves for reading later, at your leisure while enthroned. Without further adieu-
NOUS R US 
Doonesbury for July 26 and 27 was pulled by 10-12 newspaper editors because the strips employed a Presidential Nickname for Karl Rove. In one of Garry Trudeau's talking White House sequences, the unpictured personages (presumably GeeDubya and an aide) are discussing the "Rove revelations" about leaking Valerie Plame's CIA assignment, and the Presidential speech balloon says, "Karl's sure been earnin' his nickname lately." Other speaker: "Boy Genius? I'm not so sure, sir." The Presidential balloon then calls out: "Hey, Turd Blossom! Get in here!" A couple papers altered the language to eliminate the fecal reference, and that raised Trudeau's ire. Said he: "Editors obviously have a responsibility to determine what's appropriate for inclusion in their papers. [We] accept that from time to time individual editors may object to particular strips and decide to drop them. What's not acceptable to us, however, is for editors to alter the content of a strip and represent it as what I sent them. In most cases, changing the dialogue compromises its meaning or rhythm or humor. Sometimes, the strip no longer even makes sense. Who benefits from that? We'd prefer that an offending strip be dropped altogether." The incident is heavily laden with satirical irony of a nearly celestial sort. What the offended editors did was to censor the President of the United States. "Turd Blossom" is, after all, GeeDubya's official nickname for Rove. So for the first time in a long time, the word of George W. ("Whopper") Bush is not acceptable to newspaper editors. Delicious.
            At the Sandy Eggo Comicon (July 14-17), DC Comics revealed two future projects that will employ Will Eisner's legendary Spirit character: the first, in December, is a single-issue comic book in which the Spirit meets Batman, written by Jeph Loeb and drawn by Darwyn Cooke; second, starting next year, is a new monthly title starring the Spirit, written and drawn by Cooke. Both projects, according to Newsarama.com, were in the works while Eisner was still alive. The idea for the Spirit-Batman team-up, says Eisner biographer Bob Andelman, reaches far back to the time Denny O'Neil discussed this "dream" team with Eisner when Kitchen Sink Press was Eisner's publisher. O'Neil saw both characters as typically serving as vehicles for stories about the common man (or perhaps the abused human psyche), and he therefore longed to see them paired in some grand and gritty reality adventure. "It was one of those projects that everybody thinks is a good idea, but there was no compelling reason to do it," O'Neil remembered. Eisner breathed new life into the idea last winter before he died. Cooke, who was starting to work out a creator-owned title of his own, was surprised to be offered the assignment-but thrilled and excited by the prospect. Said he: "I've been a Spirit fan since age fourteen, and I can honestly say that he was the only licensed character in the industry that could have got me to change course." In the monthly title, Cooke plans to bring the Spirit into contemporary times rather than dwell in the post-war world of Eisner's last work on the feature. The up-dating will permit him to extent the realm that Eisner so delighted in exploring- the urban milieu and the stories of the people who occupy it. Cooke said he has two goals. The first is to preserve and, if possible, enrich the essence of the Spirit tradition, tales of ordinary people and their oft doomed aspirations. "Placing Denny Colt in the modern world is an updating of sorts," Cooke said, "and there will be a number of new femmes, criminals and loveable losers to go with the incredible cast Will created. However, I don't see any need for 'tweaking' the concept. Will's genius has created a strip where I can explore the human condition from virtually any conceivable angle. I couldn't ask for more. The second goal," he continued, "is to produce a work that reaffirms the Spirit as the strip for graphic innovation that enhances storytelling." And Cooke, judging from the variety and punch of his work in his issue of Solo, is just the man for the job. Denis Kitchen, acting for the Eisner estate, will shepherd the project. "Denis, Will's longtime friend and associate, will be with us every step of the way," said Cooke, "and so far, we seem to be in concert regarding the direction we're heading in."
            The last issue of Cartoonist PROfiles, the profession's longest continuously published periodical, will come off the press in a week or so. The June 2005 issue, No. 146, will end the quarterly's 36-year run. Jud Hurd, the founder, publisher, editor and, for most of those three-and-a-half decades, the chief (if not the only) writer, suffered a stroke in early May. In his nineties, he'd been approaching every issue for the last few years as if it might be his final issue. Enterprising writers kept sending him articles, and he kept the magazine going to print them. But the June issue, he was pretty sure, he told me, would wind it up. He'd compiled much of the content before the stroke. His wife Claudia, his partner and business manager, finished assembling the material and shipped it off to the printer in Alabama, where it has been printed for decades. At 156 pages, the June issue is the largest PROfiles ever published. Another record. Going out with a memorably big bang. For more about Jud and his magazine, see Opus 131.
            Warner Bros cartoon network is abandoning the mascot that has accompanied it since its launch ten years ago: Michigan J. Frog, the miraculous singing amphibian, is being retired because, it seems, he appeals to too young a demographic. Warner Bros is aiming for the 12-34 bracket, and the Frog was hot mostly with teenagers, reinforcing the idea that WB was "that teen network" while the network hopes to grow a young adult audience. "The frog is dead and buried," said WB Chairman Garth Ancier, according to Lisa de Moraes at the Washington Post. "The frog was on life support for a long time," Ancier continued, "and then we got permission from a federal court to disconnect the feeding tube." Ancier, said Moraes, has "always had it in for Mr. Frog, according to well-placed sources who wished to remain anonymous because it's a short hop from killing a frog to knocking off a snitch."
            Free Comic Book Day in 2006 will be May 6. ... According to John Jackson Miller at the Comics Buyer's Guide, "sales of comic books and trade paperbacks to comics shops increased 9% in the first half of 2005 to $168.4 million." My guess is that the graphic novel aspect of the calculation is the biggest component in the increase, and Miller confirms this, saying that "an ever increasing amount of business is being generated by the thousands of backlist trade paperbacks." ... The most recent CBG, cover-dated October, is another of increasingly rare issues-one without a movie-based cover. ... One of my favorite Batman illustrators, Jim Aparo, died in mid-July at the young age of 72; Mark Evanier does a nice obit at www.newsfromme.com ... Attentive subscriber Steve Thompson tells me that I misspelled Pete Seger's name last time, influenced, doubtless, by my lifelong admiration for Popeye's creator, who spelled his name Segar. I'm deeply humiliated and, forthwith, have acted to correct the error; thanks, Steve. Sorry, Pete-but, again, happy birthday. ... The second volume of Mike Allred's graphic novelization of the Book of Mormon, The Golden Plates, was released May 25 and is reported to be selling well. Reporter Heidi Hatch said: "The comic is all new art, but the characters are speaking straight from the Book of Mormon." Some buyers, she reports, are not members of the church of the Latter Day Saints: they're just fans of the cartoonist.
            Laborers in the literary vineyards are increasingly cultivating comics. Jonathan Lethem, whose novel Motherless Brooklyn won the National Book Critics Circle Award, will be writing a ten-issue comic book series about the enigmatic 1970s Marvel superhero, Omega the Unknown. And Pulitzer-winner Michael Chabon is doing the comic book version of the Escapist, the fictional superhero in his otherwise normally populated novel, The Adventures of Kavalier and Clay. Comments icv2: "Interestingly enough the history and iconic mythology of comic book superheroes provided key themes for the novels by both Chabon and Lethem, so their involvement in the actual writing of comics should come as no surprise to the readers of their fictional prose efforts." And this development, icv2 continues, "speaks volumes about the comic book's newly acquired respectability."
            Joss Whedon, who brought tv's Buffy the Vampire Slayer to life for seven seasons, is determined to revive DC's Wonder Woman, a character who, against all indications to the contrary, has failed to light fires of affection in fandom. Whedon's agreed to try a movie adaptation of the character in the spangled hot pants. "I said 'yes,'" he explained, "because in the process of trying to say no, I thought about her character and fell in love with her."
            Jessica Alba says about her experience portraying Invisible Woman in the Fantastic Four movie: "Men run the business, and when you see Elektra or Catwoman, it's clear they don't understand it's more than a hot girl kicking [butt]. 'Fantastic Four' is about relationships, family, life. Her abilities and the effects are separate. ... She's the strongest of the four. She can manipulate everyone else's powers. She doesn't need to walk around in a bikini to impress." FF director Tom Story admits the temptation to put Alba's embonpoint into curve-hugging tights at every opportunity was strong, but he also realized the difference between male and female action heroes: it's motivation. "Males go out and start shooting people," he said. "People understand that. But with women, it's not that easy. You've got to put a real package around them to explain why they are an action hero." USA Today's Susan Wloszczyna, discussing cinematic action heroines, writes: "Back in the waning days of women's lib, a shining symbol of feminine fortitude emerged. Sigourney Weaver's capable and captivating Ripley in 1979's "Alien" as well as its first sequel was on par, if not superior, to any man. She remains the gold standard." But "a close second is Linda Hamilton, "whose sculpted biceps far out-bulged her breasts [as Sarah Connor] in 1991's 'Terminator 2.'" After seeing several unfavorable reviews of the FF movie, I opted out of seeing it. (Besides, I was out of the country at the time and wouldn't be able to review it on anything like a timely basis.) But friends of mine who've seen the flick say it's better than the Batman-enthralled reviewers said it is.
            In Metropolis, Illinois, a 15-foot bronze statue of Superman stands in Superman Square at the center of town. But there's no organic connection between this Ohio River town of 65,000 and America's most famous superhero. Superman's co-creator Jerry Siegel named his comic book big city Metropolis but probably never heard of the Illinois hamlet. The place is "more Mayberry than Metropolis" according to Editor & Publisher (June 27), but the locals have capitalized on the Superman association ever since the Illinois Legislature decreed it Superman's home town in a flurry of funnybook patriotism in the 1970s. The local newspaper was called the Metropolis News until 1972 when it was christened the Metropolis Planet to echo the name of the newspaper Clark Kent works on. An annual Superman celebration draws thousands to the town, and 50-year-old Jim Hambrick glories in it all: he arrived from Hollywood 13 years ago, and now operates a combination museum and souvenir store, boasting "the largest Superman collection on the planet." And there's that storied phone booth downtown, too. But it's just for show: there's no phone inside.
            Not to be outdone, probably, by its DC Comics rival, Marvel Comics has its own Marvel Adventures City as part of the Canadian Niagara Group's Falls Avenue Complex. Marvel City is a funhouse of the company's comic book characters: Spider-Man Ultimate Ride, X-Men Bumper Cars, and the Incredible Hulk Encounter vie with coin-operated machines and colorful cut-outs of the usual spandex band. According to Joseph Szadkowski at the Washington Times (June 25), the effort "comes off more as a co-op arcade on steroids than a mini-theme park." The best of the rides, he says, is the Spider-Man adventure, which "melds 3-D technology, multimedia and target shooting." The Hulk Encounter, on the other hand, is "a complete waste of money and space," a haunted maze filled with loud sounds. The most amazing thing about the complex, however, is that there aren't any real comic books for sale-just "a smattering of graphic novels" in a glass case. Too bad. The House of Ideas came up short here, apparently.
            James Doohan, who played the chief engineer of the starship Enterprise whose job it was, in the "Star Trek" tv series and subsequent movies, to respond to Captain Kirk's command, "Beam me up, Scotty," died on July 20 at the age of 85. I've been invoking the Star Trek command in our bi-weekly Rabbit Habit Alert, and you'd think, now, out of respect, I'd retire the expression. Nope: out of respect, I plan to keep using it as a continuing reminder of the glory days of yesteryear when nights were filled with revelry and life was but a song.
SOJOURNING IN YE OLDE MERRIE
There are no bugs in England. Or maybe they're just better trained bugs. Or smarter than their American c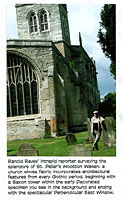 ounterparts. We drove around Merrie Olde Englande for two weeks recently, over 600 miles, and the car's windshield (or "windscreen" as they say) was bug-splatter free. No insect intestines at all. None. So-either English bugs don't exist or they're a lot smarter than American bugs that are mindlessly committing suicide on windshields to a faretheewell. We made many other such discoveries on our trip and, yes, I'm going to inflict reports about some of them on you forthwith.
            Yan. We were scheduled to leave on July 9 on a night flight from O'Hare to Newark and thence to England. And on July 7, bombers attacked London. Not to worry, I told my wife: we're flying into Birmingham, not London. Safe. Well, not quite. On the flight from Newark to Birmingham, we learned that Birmingham's central core, the nightclub and restaurant area, was being evacuated, even as we winged our way eastward, because of a bomb threat: 20,000-30,000 people were moved out of the city center, driven from their dining tables in mid-meal and from pubs in mid-drink. Turns out, it was a false alarm. And at the airport when we arrived a few hours later, nothing was happening. No evidence of security or constabulary. It was the tamest (not to say boring) arrival of all time. No one even spoke. It was like walking through a mausoleum. A single long line of passengers filed patiently, silently, through the customs process. No security-related nonsense whatsoever. (Nor did we have any of these shenanigans when we departed two weeks later. Didn't have to take our shoes off; none of that silliness. Just walk through an x-ray; send carry-ons likewise. Easy.) But when we arrived at Newark on the return, we re-entered nightmare alley. With only an hour between flights, we had to pick up our luggage, go through customs, and get to another terminal for the connecting flight to Chicago. We made it, but the luggage didn't. And we had to take our shoes off and go through security check again, too. This charade is fully supported by a government intent on keeping us forever diverted from noticing its abuses in every other department of civic affairs. We are expected, it seems, to derive reassurance about our safety from such pointless exercises as the confiscation of fingernail clippers; or, alternatively, to be so frightened at the realization that we are still in danger that we'll re-elect George W. ("Warlord") Bush again because only he can protect us.  Phooey. Fact is, we are not safer now, thanks to GeeDubya. Robert Pape, who's just published a book about suicide bombing called Dying to Win, made what I think is the most telling observation in this arena during a radio interview several weeks ago. Said he: "Al Qaida is stronger now by the only measure that counts-their ability to kill us."
            Tyan. We were in England during some pretty eventful days, all of which were happening right there, on the sceptered isle-or quite nearby across the English Channel. And the English national tabloids were full of it the whole time. For the first week, they abounded in daily reports on police pursuit of the identity of the London bombers. They did it pretty fast, seems to me: they'd nailed the names of the four by Tuesday morning, less than a week later. Meanwhile, the G-8 conference in Scotland transpired, forgiving debts in Third World nations but not able to convince George W. ("White Heat") Bush that the planet is heating up. Then the 6th Harry Potter book came out, Jack Nicklaus made a birdie at St. Andrew's on his last competitive golf hole (and shed a tear and hugged his son), Tiger Woods won his second British Open, Ted Heath died, Lance Armstrong made steady progress in the Tour de France (eventually winning his seventh consecutive, two more than his nearest competitor), Camilla unveiled her coat of arms as Duchess of Cornwall, and the sports pages started raving on about the approach of the cricket test matches between England's best and Australia's, a rivalry that dates back to the mid-1880s.
            Tethera. J.K. Rowling's Harry Potter and the Half-Blood Prince went on sale at 12:01 a.m. British Standard Time, and bookstores worldwide stayed open through the wee hours to push those books into the hot little hands of today's Youth. Once again demonstrating that, computer game sales to the contrary notwithstanding, reading has not gone out of style altogether among the Young, the book sold 10 million copies in the first 24 hours. At W.H. Smith's 390 stores in England, the book was selling at the rate of 13 every second, breaking the previous record of 8/second set by-the fifth Rowling opus, Harry Potter and the Order of the Phoenix. Work began immediately to translate the book into the 62 languages it will soon be published in. The Phoenix reached No. 1 on the bestseller lists in both France and Germany, the only English-language book ever to achieve that pinnacle.
            Methera. Camilla's coat of arms fittingly features a royal lion (from her husband's heraldry) and a boar (from her father's) but, strangely, no horsey regalia: coats of arms traditionally incorporate symbols of the principal's preoccupations, but Camilla's equestrian interests aren't trotted out here. Camilla and her spouse are not very popular among the masses, it seems. Three years ago on our visit to the United Kingdom, we'd purchased one of those ornate cups commemorating the 50th anniversary of Queen Elizabeth's ascension to the British throne. This year, we tried to find a similar piece of china that commemorates the wedding of Charles and Camilla. Hard to find. Shopkeepers universally said that they hadn't stocked many (or, even, any) of the crockery because Charles and Camilla are so unpopular retailers feared getting stuck with an inventory of cups they couldn't sell.
            Pimp. In the world of cricket, the test matches between England and Australia are called "the Ashes." The winner, ostensibly, gets the Ashes. But not really. It all started in 1882 when England lost to Australia, and a distraught journalist, Reginald Brooks (son of Shirley Brooks, whose death in 1874 ended a four-year editorship of Punch, the culmination of a lifelong career at the magazine), wrote in the Times: "In Affectionate Remembrance of English Cricket, which died at the Oval on 29th August 1882. Deeply lamented by a large circle of sorrowing friends and acquaintances. RIP. NP. The body will be cremated and the ashes taken to Australia." Subsequently, the Aussies perpetuated the spoof and presented the English team with a tiny urn that supposedly holds the Ashes of the recently deceased. The urn is permanently on display in the cricket museum at Lord's, one of the great English cricket pitches (another being the aforementioned Oval); so the so-called contest for the Ashes is, as they say, "a notion rather than a fact." But the competition is nonetheless keen-particularly in England, which has not won as often as Australia. Of the 306 "tests," Australia has won 125; England, 95-86, a draw. England hasn't won the Ashes since 1987.
            Sethera. As you can see, there was plenty of exciting news to follow in the heroically lurid English press. Not all British newspapers are screaming mongers of scandal and sensation. The Guardian of Manchester, for example, seems an exemplar of responsible journalism. But even the London Times, once a staid bulwark of the establishment, now appears in tabloid format with tinges of tabloid sensibility (a consequence, one supposes, of being owned by Rupert Murdock, the king of tabloid journalism); but it's still more text than picture and therefore still more respectable than the usual run of tabloid newspaper, whose front pages are, typically, circus posters of bellowing headlines and shocking pictures. I picked up and sampled most of the tabloids that are distributed nationally- Daily Mail, Sun, Daily Record, Daily Express, Daily Mirror. The most outrageous of these is clearly the Daily Sport, which out-sensationalizes the others by moving the famed Page Three Girl to the front page (albeit with her chest covered, mostly, rather than bare, the customary Page Three Girl pose). Sport's front page always features nearly barenekidwimmin, rotating poses systematically through chest, crotch, and butt shots.
| | |
| --- | --- |
| | |
The newspaper's name is somewhat misleading-unless you think sex is a sport. Only about four pages at the back are devoted to athletic competitions; the rest of the paper seems a tireless advertisement for pornographic movies. I read The Independent every day, and it seems the least sensational of the traditional tabloids: it's text and pictures are in a roughly even balance, and the front page always has text as well as photographs.
            Lethera. To supplement sensation and gossip, the papers often include enterprising feature material on obscure topics. One day, for instance, the Independent listed "the top ten films that British schoolchildren should see by the age of 14," headlining it "The X-rated Films Every Child Should See." The list included "E.T. The Extra-Terrestrial," "Toy Story," "The Wizard of Oz," and "Night of the Hunter"-all of which seem to me strangely dubbed "x-rated." Meanwhile, on the same day, the Daily Mail listed "Fifty Films Your Child Should See by the Age of 14"-including Errol Flynn in "The Adventures of Robin Hood" (1938), "Back to the Future" (1985), "King Kong" (1933), "The Kid" (1921), "Snow White and the Seven Dwarfs" (1937), "To Kill A Mockingbird" (1962) as well as the films listed in the Independent. The lists are actually one list compiled by the British Film Institute; the Independent chose to print only the top ten of the fifty. And here's a piece about designer Roberto Cavalli's contract to re-interpret the costume of the Playboy bunny. Another article provides thumbnail plot summaries of all 37 Shakespeare plays by way of announcing the Royal Shakespeare Company's intention of staging all of the Bard's plays in a special festival. And here's a mother's account of her breast enlargement surgery, which she undertook in order to "accompany" her daughter through the same ordeal: "When we first took the bandages off a few days later, we both burst out laughing because we were so swollen and looked very funny. I was very happy once the swelling had gone down and I saw my lovely breasts for the first time. I felt brilliant and threw away all my padded bras." And, finally-in the same titillating spirit-an article about the latest artwork of Brooklyn's Spencer Tunick, a photographer who, on special assignment in Britain, recruited 1,700 people to pose naked at Gateshead in Newcastle for a work entitled "Naked City." The article, accompanied by a double-page spread photograph of a sea of nudity (everyone is lying down, side by side), noted that Tunick had done similar exposes at the Saatchi Gallery and on the escalator at Selfridges on Oxford Street in 2003 and in Barcelona, Melbourne, and Montreal in previous years. The best of these pieces was in the Daily Express, which sent its own reporter, Sophie Tweedale, to join "the living landscape" by "stripping off" (as they say). She begins by saying she's no prude, but "put me on a topless beach in Spain, and I'm the one sitting there clutching my bikini top." Her embarrassment on this assignment, she confesses, was "fast overtaken by sheer cold." Her verdict: "There was certainly something strangely bonding about the whole experience of mass nudity."
            Hovera. None of the national tabloids I looked into-and I sampled them all-had more than a few comic strips. Most had a single page, which, at tabloid dimension, offered only 5 or 6 strips. Most of them were in color, but the reproduction was so poor that they all appeared to have been pulled off a computer with not very many working pixels. And strips from U.S. syndicates showed up, too- Dilbert, Doonesbury, Hagar, Garfield, Peanuts, and the new panel from the McCoy brothers, The Flying McCoys. The Daily Record and the Sun had 3-tier strips rendered almost photographically in air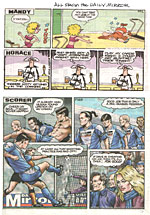 brush color, looking a good deal like Toy Story art. Some strips never seem to die: Andy Capp is running in one paper, and, in another, The Perishers and Fred Basset, perpetual perennials that seem destined to go on forever. And the Mirror offered a 3-tier realistically rendered strip called Scorer, which seems to be about a soccer team and the team members' girlfriends and romantic ups and downs. Its other strips, Mandy and Horace (a spoof of the American cowboy genre), completed the roster with their modest artistic aspirations. Very little of the cartoon artwork in any paper was very ambitious although most was competent enough in the current Cathybert climate. George and Lynn in the Sun is the nicest of the lot, actually a pleasing approximation of realistic comedic artwork-Frank Bolles with flare and operational rather than stiff anatomy. But the Independent's only strip, running in black-and-white, is an advertisement for the sad state of comic strip art. Called As If, it is scrawled rather than drawn, a step below even Pearls Before Swine.
Political cartoonists are the masters of the medium in UK, judging from the evidence. S

tan McMurtry (Mac) still holds sway at the Daily Mail, where he's been since 1971, producing a perfectly sound effort in the spirit of the great Carl Giles. Perhaps the most vicious of the lot is Dave Brown at the Independent, whose caricatures of Tony Blair look like his caricatures of GeeDubya: both have flapping ears, but Blair has more teeth than Bush. I visited no comic book shops so can't say anything about them. But there was comics news of a sort from Belgium, where, as part of the country's celebration of its 175th year of independence, a giant mural of Tintin, his dog Snowy and Captain Haddock appeared on the wall of a building.
            Dovera. Otherwise-I must not be getting out much because it seems to me that young women in England wear less in public than young women in America. I could be wrong about that: as I say, I don't get out much. My wife agrees with me; of course, she doesn't get out much either. In any case, we saw lots of lithesome jiggling young ladies whose tube tops were cut both low (at the top) and high (at the bottom), which, in combination with those low-riding hip-hugger pants, revealed a good deal of epidermis south of the belly button. Meanwhile, the cleavage vicinity between the navel and the clavicle was in constant motion, it seemed-altogether, a wholly refreshing bird-watching experience. We also saw lots of tattoos, bra straps, scruffy-looking males with hair carefully mussed (moused?) to look as if they'd slept wrong in it, and T-shirts. Even at the best four-star hotels, T-shirts were the universal attire. British decorum has long departed. But we didn't see as many people walking around with cell phones at their ears as we do on the average U.S. street.
Dick. ODDS & ADDENDA. In Saga magazine, in a review of Douglas Addams' Hitchhiker books, I ran across this assertion of the enduring value of affability: keep your head, watch your manners, and try to be pleasant, it might yet all turn out for the best. The writer also espoused the English conviction that a nice cup of tea will put it all right.
            Yan-A-Dick. At a sweet (candy) shop in Keswick were several tiers of shelves lined with jars of candy, each jar bearing a commercially issued label to identify the kind of candy therein-jelly beans, tootsie rolls, gum drops, etc. But one jar had a hand-wrought label that read: "Those pink and yellow round things with black centers that you get in All Sorts Liquorice."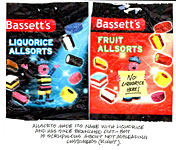 Tyan-A-Dick. Here's something your ATM card issuer probably doesn't tell you: don't enter your PIN more than twice. If the first try doesn't work and the machine asks for a second attempt, go ahead; but if that fails to produce the desired result, retrieve your card and go away. If you punch in the PIN a third time, the machine will "retain" your card. But you won't get it back: the bank will cut it up into little pieces.
            Tethera-A-Dick. Browsing the china shops, I was delighted to see that Norman Thelwell's fat ponies and their juvenile riders have finally been translated into three dimensions. I've thought they were ideal candidates for converting to figurines. But the translations I saw, while encouraging, were not faithful enough to the original. The ponies weren't quite as plump as Thelwell drew them; and the kids, not quite as cute. But there are cups upon which his drawings have been copies exactly, and those are better than the figurines. Quentin Blake is another matter: his renderings of the characters in Roald Dahl's Charlie and the Chocolate Factory have been ingeniously duplicated in figurine form, nearly perfect incarnations. Excellent. Alas, I saw them on our last day in the country and didn't have time to stop and decide which one to buy. (And they're too expensive to buy more than one, kimo sabe.)
            Methera-A-Dick. This just-invoked term, and the others with which I've cryptically ear-marked every preceding paragraph in this recitation, are the English shepherd's antique tally for counting sheep. Herein, we've gone, in order, from One to Fourteen. Fifteen is "bumfit" and twenty is "giggot." More than that, I dunno. But I suppose (because I so fondly wish it) that British shepherds still employ this method when inventorying their flocks.
            One more.
            On July 20, the front page of the Independent was mostly numbers, beginning with a figure three inches high- 24,865, the number of civilian dead in Iraq, a number no official agency in either the U.S. or England seems to be keeping track of. I'd seen the number slowly accumulating at www.iraqbodycount.com over the months, so I wasn't surprised at its magnitude.  Between March 2003 and March 2005, civilian Iraqis were being killed at the rate of 34 every day; the total, so far, is roughly ten percent of the country's population. Nearly ten percent of the total were under the age of 18; 10% of the adult dead were female. The statistics have been assembled from news media reports and from official figures supplied by the Iraqi Ministry of Health and Mortuaries. Anti-occupation forces have killed about 2,300; military forces, about 9,000. One of the report's compilers said: "The ever-mounting Iraqi death toll is the forgotten cost of the decision to go to war in Iraq. It remains a matter of the gravest concern that, nearly two years and a half years on, neither the U.S. nor the U.K. governments have begun to systematically measure the impact of their actions in terms of human lives destroyed." Another added: "Iraq is descending into anarchy and the U.S. presence is not helping. It has shown its incapacity to create a peaceful state. Never again will intervening states so greatly underestimate what is involved in invading and rebuilding a country." However well-intentioned the Bush League power play, it has gone far awry, effectively perverting everything Americans think their country stands for. This may well be the saddest chapter in our history.
ROWLAND B. WILSON, AGAIN
Time noticed that Wilson is no longer among us and spent at least three sentences on his life and career. I didn't do much better, I'm afraid (Opus 165), but now I know more, thanks to the Independent in England, which devoted a third of a page on July 14 to Wilson's obit. Maybe he rated something akin to that quantity in some U.S. publication that I missed while playing hokey in England, but on the chance he didn't, here's most of what Philip Hoare wrote in the Independent (amplified, a little, by my [bracketed] remarks):
            Rowland B. Wilson's work will be immediately and evocatively familiar to any young boy who has sneaked a peek in his father's copy of Playboy. Wilson, who drew cartoons for the magazine from 1967 until his death two weeks ago [on June 28 in Encinitas, California], was the master of subtle humour. "He was the tasteful guy at Playboy- he didn't do the really rude ones," recalls his daughter Megan. Wendy is sitting on Captain Hook's knee in a dark cave. Peter Pan runs in, arms flailing, in an effort to save her, and she says, "Aw, grow up!" Rowland Bragg Wilson was born in Dallas, Texas, on August 3, 1930, and would remain a Texan in tastes and opinions. As a child of the Great Depression, he spent his Saturdays at the cinema, and would come home, drawing Disney characters at the kitchen table. Having gained a degree in fine arts at the University of Texas in Austin, he went on to Columbia, New York, supporting himself in the meantime by sending cartoons to such publications as the Saturday Evening Post and Collier's. His budding career was put on hold when, in 1954, he was drafted into the U.S. Army, serving in Germany and using his artistic talents to create classified charts. He complained bitterly, "The army stole two years out of my career."
            Having been demobbed (demobilized in Americanese), in 1957, Wilson joined a Madison Avenue advertising agency, Young and Rubicam. He spent seven years there as an art director, creating drawings for advertisements. In 1958, he became a regular contributor to Esquire-Wilson was at that time sharing an apartment on Third Avenue with the magazine's art direction, Robert Benton- and throughout the late 1950s and early 1960s, his work was published in The New Yorker. In 1962 a collection of his cartoons [mostly in black-and-white] was published under the title The Whites of Their Eyes. "Ideas are easy to come by," he wrote in the blurb. "It is the drawing that takes a long time."
            In 1964, Wilson left New York for Weston, Connecticut, and became a freelance advertising artist, but continued to draw cartoons. He drew a comic strip, Noon [it debuted March 6, 1967], which was widely syndicated [I'd say not so widely: I don't think it lasted more than a year, if that.-RCH], and began a long relationship with Playboy. Wilson's work was highly regarded, both by his editors, and his readers: his use of colour was superb, his draughtsmanship unmatched, and his knowledge of historical detail immense. Megan Wilson also observes that "movies informed his cartoons. His dramatic use of perspective was influenced by the great cinematographers of his youth." [Wilson's deployment of extravagantly different perspectives was most evident in a series of advertisements he did for a life insurance company in which he depicted, from a wildly divergent angle, some personage being threatened by something he has not yet perceived-a giant wrecking ball, say, swinging towards the window to which his back is turned-who says, "My insurance company? New England Life, of course. Why do you ask?"]
            From advertising, he moved into animation. From 1973 to 1975, he worked in London for Richard Williams's animation studio, where his love of cinema blossomed as his cartoons came alive. He drew animated cartoons for Tic-Tac with a 1940s film noir look. Another television commercial for Williams, "The Trans-Siberian Express," won first prize at the International Animation Festival in New York. Wilson returned to Manhattan and drew an educational animation tv series, "Schoolhouse Rock," which was a landmark learning tool for children of that generation, in the late 1970s. He won an Emmy award for the series.
            In the early eighties, Wilson moved to California, where he worked for Disney. He did pre-production design for "The Little Mermaid" (1989), "The Hunchback of Notre Dame" (1996), "Hercules" (1997), "Tarzan" (1999), "Atlantis" (2001) and "Treasure Planet" (2002). Wilson had many proteges, including the young Tim Burton, whom he dissuaded from his ambition to become a Playboy cartoonist. (Burton would go on to create "The Nightmare before Christmas" and "Edward Scissorhands.")
            Wilson painted epic watercolours, in which he would imagine what medieval Paris would look like when the Hunchback was there. Or he would recreate a Victorian picnic in the jungle. It all tied into the historical knowledge for which his Playboy and New Yorker cartoons were famous. His job at Disney was to create the look of the film-not the characters, necessarily, but the backgrounds. His artistic talent was inherited by his four daughters, all of whom are artists: Amanda, a New York-based graphic designer; Reed, a fine artist and illustrator in London; Kendra, magazine designer for The Observer; and Megan, Associate Art Director fo Random House in New York. Wilson's first wife, the interior designer Elaine Libman [whom he married in 1952] divorced him in 1977. His second wife, Suzanne Lemieux [married in 1980], is also an artist. On the day of his death, a sketch for a new Playboy cartoon still lay on his drawing board.
RCH again: Those young men who sneaked peeks into their fathers' Playboys and found Wilson there are indubitably the better for having experienced the pristine purity of the cartoonist's line and searing clarity of his compositions, not to mention the insightful glimpses into history that he invariably afforded. It's not surprising, either, that Wilson thought drawing was more work than conjuring up ideas: his ideas always involved period costumes and locales out of the distant past, which he not only had to research for authenticity but depict with a persuasive flair for accuracy. Tasteful his drawings and his humor always were, but he was not above limning barenekidwimmin with enthusiasm, and we're all the better for that, too.
Pam's Nipples (One More Time)
I hate to keep bringing this up (well, I don't mind, actually, but I don't want to appear obsessed by the subject), but when I mentioned this last time, I wrote: "Here's Pam Anderson in the current issue of the laddie mag, FHM (the one with her and her chest on the cover). During the interview, she describes her outrage at seeing a photograph of herself in another magazine in which her nipples, which were visibly protruding against the confining fabric of the bodice of her shirt in the photograph until it was printed, had been airbrushed out! Protrusions erased! Breasts hideously de-nippled. Pam, who has made a career of her boobs and nipples, was understandably miffed at this slur on her fame: 'My nipples can cut glass,' she exalted in an apparent assault on the offending airbrusher. Maybe, but I'm not sure that nipples that can cut glass are at all erotic. I mean, think of what they'd do if you ...."
            While I was alarmed, then, about the alleged superpowers of Pam's nipples, I found out while traipsing around Ye Olde Merrie what she actually meant when she likened her nipples to diamonds. The British edition of FHM is somewhat more liberated than the American version (breasts are unveiled in the British edition), and she is quoted at some length on the subject only vaguely alluded to in the edition I saw over this way. Said the mammorable Pam: "I can cut glass with my nipples. I remember getting bugged about them in high school. They'd get harder and harder as people talked about them. I was like, 'Stop talking about my nipples: they'll just get worse.' My nipples show through anything, even when my T-shirt isn't wet. They're always on call-a shot of espresso or tequila goes straight to them." Okay, now I'm really worried: her super-powered nipples get their powers from -caffeine? Or-what?-dead worms?
COMIC STRIP WATCH
On July 10, a historic event commenced in Blondie. That date marks the launch of a two-month continuity in the strip, which hasn't run anything approaching a continuing story since Dagwood went on a hunger strike in 1933. This summer's storyline culminates on Sunday, September 4, just on the cusp of the 75th anniversary of the strip's debut in 1930. Blondie's traditional starting date has been given as September 8 for decades; recently, Jeffrey Lindenblatt, who delves deeply into such matters, disputed the tradition: he consulted all three Hearst papers in New York and found that Chic Young's celebrated strip appeared in nary a one of them on September 8; but the first Blondie appeared in one of them, the American, a week later on September 15. Blondie is syndicated by King Features, which is the Hearst syndicate, so the strip's absence in Hearst's New York papers on its alleged starting date is of more than casual concern to historians. It's possible, I suppose, that Blondie began elsewhere on the King circuit on September 8 and debuted in New York the next week just because the New York papers didn't have room for it on the 8th, but we won't be able to settle the matter until someone somewhere finds Blondie in a 1930 newspaper on September 8. Until that fortuitous moment, we'll barge witlessly ahead, still citing September 8 as the official beginning date.
            The strip began as a "flapper" strip about a dizzy young blonde named, with unrelenting perspicacity, Blondie. This was Chic Young's fourth pretty girl strip: in October of 1921, he'd done The Affairs of Jane at N.E.A. for six months until it faded, and then he'd come to New York and done Beautiful Babs for Bell Syndicate for four months before joining the King Features art department in 1923 and creating Dumb Dora. Dora proved popular enough to endure longer than its forerunners, and when the 1929 stock market crash wiped out his savings, Young, thinking he had leverage, lobbied for more money. But Joseph V. Connolly, King's energetic and imaginative general manager, was not inclined in that direction. Young threatened to quit; Connolly still resisted. So Young packed himself and his wife off to the French Riviera to make his point. When Connolly wired, pleading him to return, Young consented-but only for a bigger piece of the action and his own comic strip. Connolly agreed, provided Young could come up with an acceptable creation. Returning to New York, Young spent the summer devising a new strip. It was yet another pretty girl feature, and this one would reign as one of the world's most widely circulated strips for longer than just about anybody.
            Blondie had numerous beaux in the early years, but the one that kept coming back was the one who introduced her to his tycoon father on the very first day-Dagwood Bumstead. "I always feel so boo-boop-a-doop when I meet my boy friends' papas," Blondie giggles, "but I usually like them better than the sons. Can't I call you 'Pop,' Mr. Bumstead? Tee hee!" When Dagwood decides to marry Blondie, his snooty parents object, so Dagwood goes on a hunger strike that lasts 28 days, starting January 3, 1933. His parents finally consent to the marriage, but Dagwood's father disinherits his son, a callous strategy perhaps, but one that opened the way for Blondie and Dagwood to become The American Newlyweds, then The American Young Mother and Father, and, ultimately, The American Family, a niche the strip has enjoyed for most of its 75-year history as the pace-setter for the domestic comedy genre of comic strip. Most of the drawing after the 1930s was done by other cartoonists under Young's supervision. First, Jim Raymond (brother of Alex, the Flash Gordon/Rip Kirby conjurer); then Mike Gersher followed by Stan Drake. Currently, it's Dennis LeBrun and Jeff Parker.
            This summer's storyline commemorating the anniversary ostensibly aims at the couple's wedding anniversary, but that ceremony occurred on February 17, 1933, not in September. In seeming defiance of this fact, Dagwood and Blondie and their offspring, Alexander and Cookie, will spend the next month continuing to plan an anniversary party, a gala event. During the next weeks, other comic strip characters will allude to the forthcoming festivities in their own strips- Garfield, Zits, Mutts, Beetle Bailey, Hagar, For Better or For Worse, Mother Goose and Grimm, B.C., Wizard of Id, The Family Circus, Marvin, Dick Tracy, Gasoline alley, Curtis, and Bizarro. And Dean Young, the creator's son and current steward of Blondie, will include these characters in his strip. GeeDubya and Laura are also slated to appear. Then on September 4, they'll all come to the party. But will it be a wedding anniversary? Blondie's been pretty coy about it: on July 10, when the storyline began, she says to Dagwood: "I can't believe you still haven't figured out which anniversary we have coming up!" Dagwood is stumped, but Blondie finally tells him, "It was when we began our lives together!" Blondie's right, of course. But I suspect she's alluding not on their February 17 wedding day but that fabled first day of the strip, when Dagwood introduces her to his father-whether September 8 or September 15. That's when their "lives together" began, after all. Dagwood, however, thinks she's talking about their wedding anniversary. So I suspect the punchline of the story will land on Dagwood on September 4 when he finds out it's not their wedding anniversary that he's been planning a party for all summer.
From Terry Van Kirk, editor of Slice of Wry, the newsletter of the Southern California Cartoonists Society (July 21, 2005)---
"Flintstones" Gene Hazelton to Appear in Sunday Dennis the Menace. Look for recently deceased Flintstones cartoonist Gene Hazelton in the lead panel of Dennis the Menace on Sunday, September 18. He'll be the elderly gent on his cell phone with the initials "GH" on his jacket. "It's an in-house salute to a great cartoonist who never received near the credit he deserved" said Gene's biographer and long time friend John Province. "When John suggested the idea, I was HONORED!" said Ron Ferdinand, who draws the Sunday Dennis. "Gene has been such a tremendous inspiration to me over the years, it was the LEAST I could do!"   
Ron had corresponded and traded sketches with the Flintstones cartoonist over the years and he immediately warmed to the idea as a tribute using the medium Gene loved. Hailed as one of the finest character designers in the business, Hazelton, an alumnus of the Disney, MGM and Hanna-Barbera studios, passed away on April 3. He drew the syndicated Flintstones and Yogi Bear from 1962 until 1984. After retirement Gene was selected to design and draw a series of popular limited edition serigraphs subsequently signed by Bill Hanna and Joe Barbera for the collector market.  "Gene admired Ron's work on Dennis very much and when I saw one of his drawings of Dennis displayed on Gene's refrigerator, I knew Ron had made the grade," Province said.  "It was Gene's way of saying 'Great job!'"  Ferdinand has drawn the Dennis the Menace Sunday page since 1981 after being selected and mentored by creator Hank Ketcham.
RCH again: Ferdinand's coloring of the strip, which, he tells me, he performs "the old-fashioned way," producing a color guide with prismacolor markers, is stunning. He highlights flesh tones by leaving patches of white, for example, and the Ketcham-inspired silhouettes are often a solid color rather than stolid black, and night scenes are monochromes of blue. The daily Dennis, which appears as a single-panel cartoon, is produced by Marcus Hamilton, who just won the "division award" for newspaper panel cartooning from the National Cartoonist Society. Appearing in over 1000 newspapers internationally, Dennis the Menace has inspired a syndicated TV program, several motion pictures, comic books, an animated series and remains one of the most popular comic strip franchises in cartoon history.
Quips & Quotes
I don't do drugs anymore because I find I get the same effect just by standing up really fast.
Every time I walk into a singles bar, I can hear Mom's wise words: "Don't pick that up: you don't know where it's been."
Snowmen fall from Heaven unassembled.
ACTUAL BOOKS
Modern Arf (120 giant-size 9x12-inch pages in paperback, $19.95) is an antic dissertation on the scandalous courtship of art and cartooning with numerous instructive examples of the propagation that ensued, including short biographies of both celebrated (Jack Kirby, Milt Gross, Salvador Dali) and relatively unknown (Hy Mayer, Jimmy Hatlo, Antonio Rubino) geniuses who perpetrated the ribald romance. Collected and edited by my friend, the master of manic manias, Craig Yoe, the book traces, in the looney manner of zany cartoonists everywhere, the relationship between upper-case Art and lower-case cartoonery by displaying instances of Art in cartooning and vice versa. In the former category is a section on Patrick McDonnell, who begins his Sunday Mutts strips with a splash panel evoking various works of art, both fine and popular; the McDonnell section of this book, however, offers, instead, samples of his even more fanciful illustration work and some previously unpublished college strips. "The comics I drew in college," says McDonnell, "were minimalist and improvisational. I thought they were Zen." In the vice versa department is a section of storyboards that Dali made for a movie, "Surrealist Mysteries of New York," that was, alas, never made; the storyboards, however, make good comics. Some of Yoe's examples merely depict characters encountering modern art in comics- Fred Schwab's Lady Luck, for instance, from the "Spirit Section" dated August 18, 1946. And here's Jack Kirby's story from Amazing Tales No. 1 (1958), "The Fourth Dimension Is a Many Splattered Thing," in which the King gets as abstract as any of the moderns on museum walls (printed from original art in Yoe's personal collection). Most of the pages of this volume are devoted to displaying extremely rare comic artifacts: Hy Mayer's series of "worm's eye" views of various activities (that is, people seen from below; "the original up-skirt artist," Yoe calls Mayer, but nothing untoward is on view herein); an array of old postcards depicting Alfred E. Newman before he became Mad's maniac mascot; Italian cartoonist Antonio Rubino's stunning visual inventions in comics form; and Jimmy Hatlo's highly satirical Sunday feature, The Hatlo Inferno, a vision of hell in which Hatlo tortures people with whatever it was that they did in life that annoyed people (roasting over a spite, for instance, is a group of waiter-baiters "who always complain that their meat isn't cooked just so"). The book also includes 7 pages of Yoe graphic goofiness, a somewhat Seussian interpretation of a 1940 critique of comic books that appeared in the Chicago Daily News, which claimed comics were "a national disgrace ... The effect of these pulp paper nightmares is that of a violent stimulant. ... their hypodermic injection of sex and murder make the child impatient with better, though quieter, stories." To which Yoe responds: "I couldn't agree more," and then goes on to illustrate his agreement with seven pages of floating eyeballs and other body parts, gamboling animals of no known species, and dancing vegetation of various sorts, all liberally injected with pictures of statuesque nudes of the curvaceous gender. In short, cartooning artistry of the highest order. The page layouts reflect a similarly waggish sensibility albeit tastefully, elegantly, deployed. (In the same carefree spirit, the Table of Contents does not appear until page 31, and although the pages numbers of the volume's various sections are given hereon, none of the book's pages actually carry numbers, so you can't find anything you might be looking for by using the Table of Contents. Another of Yoe's pranks, no doubt.) Each of the ten sections is introduced with a short text piece, usually regaling us with fragments of history and/or biography that has been too long lost in the mists of time. I was delighted to see a rehearsal of Hatlo's career, for example; his skill at flinging satirical barbs is too seldom appreciated and applauded in histories of the medium, perhaps because he drew in a manner that has become "old fashioned," and we all stampede to be cool and up-to-date these days. The pages before the Table of Contents are devoted to a series of cartoons and strips about artists and their models, followed by biographical vignettes for each of the cartoonists represented. Here again, Yoe performs a valuable service for scholars and fans alike, stumbling, as far as I can tell, only once: Rudolph Dirks didn't lose the title of his strip, The Katzenjammer Kids, during a 1897 visit to Europe. I suspect Yoe suffered a momentary diversion of attention while writing this entry and inadvertently substituted the year of the strip's debut for the year of the celebrated legal action that prevented Dirks from using the title of his first-born on a subsequent reprise he concocted for a rival paper. These things happen; they happen to me all the time. The history of the world has been rewritten in sundry places due to some lapse or another that I committed while writing about cartoonists. (By the way, Dirks' trip took place in 1913; the legal action, the next year.) As for the rest of Yoe's scholarship, try as I might, I found no other lapses or sins of ignorance. The book is a treat from front to back, a feast of the kind of rare and wonderful cartooning we almost never see anywhere anymore.
            From Michael Dooley: I'd like to let the others know about a new book I co-edited [with Steven Heller]: The Education of a Comics Artist: Visual Narrative in Cartoons, Graphic Novels, and Beyond. Briefly, it's an anthology of essays and interviews on teaching, and learning about, the various genres of comics art. It's now available at book stores and online sellers such as Amazon.  Here's the contributor lineup: Jessica Abel, Ho Che Anderson, Tony Auth, Bart Beaty, Monte Beauchamp, Colin Berry, Nicholas Blechman, Peter Blegvad, Steve Brodner, Paul Buhle, Kim Deitch, Will Eisner, Robert Fiore, Rick Geary, Bill Griffith, R.C. Harvey, David Heatley, Todd Hignite, Nicole Hollander, Dan James, Chip Kidd, Paul Krassner, Tim Kreider, Rich Kreiner, Joe Kubert, Peter Kuper, Heidi MacDonald, David Mack, Stan Mack, Matt Madden, Bob Mankoff, Barbara McClintock, Scott McCloud, Dave McKean, Rick Meyerowitz, Dan Nadel, Mark Newgarden, Dennis O'Neil, Gary Panter, Joel Priddy, Bill Randall, David Rees, Eric Reynolds, Leonard Rifas, Trina Robbins, Roger Sabin, David Sandlin, Ben Sargent, Marjane Satrapi, Arlen Schumer, Bill Sienkiewicz, Elwood Smith, Art Spiegelman, Tom Spurgeon, Mark Alan Stamaty, Ted Stearn, Jim Steranko, Barron Storey, James Sturm, Ward Sutton, Gunnar Swanson, Teal Triggs, Robert Williams, Chris Ware, and Craig Yoe.
RCH: Dooley is being a bit too cryptic. And the book's title is a trifle misleading: all writing about specific subjects, any and all subjects, is "educational," and this book is "educational" in that broadest of senses as well as in some much more specific senses. In other words, it's much much more than a "how to" book: it's more of a historical adjunct. It's great virtue-and it is a considerable one-is in the array of contributors (all print cartooning fields are represented) and the brevity of their contributions. Many of the essays are only a couple pages long: you can pick the book up and read an entire article on the way to the front door. I've got a piece in it, and I've been paid a modest honorarium for it. (It's about gag cartooning in the olden days-just to give you an idea of the scope of this tome.) But I won't be paid anything based upon book sales. Some of the pieces are interviews rather than essays. Many brim with autobiographical insights about career paths and the like. There is a wealth of anecdotal information. Paul Krassner, founder of the thoroughly irreverent Realist in 1958, regales us with stories about the cartoons he published that were so offensive they couldn't be published anywhere else. He did a piece for Mad, based upon the premise"What if comic strip characters answered those little ads in the back of the magazines?" In the service of this scheme, Wally Wood depicts Orphan Annie getting Maybelline to give her eyes pupils and Dick Tracy being sent for a nose job. "Alley Oop got rid of his superfluous hair, only to reveal that he had no ears." But William Gaines wouldn't let Krassner's take on Olive Oyl go in: Krassner wanted the flat-chested Olive to send for falsies. As Krassner ends the story:
            Gaines explained, "My mother would object to that."
            "Yeah," I complained, "but she's not a typical subscriber."
            "No," he replied, "but she's a typical mother."
In the interview with Jim Steranko, I learn that Joe Kavalier in Michael Chabon's novel Kavalier and Clay is based upon Steranko, who, I'd forgotten, is an accomplished escape artist. I should have tumbled to the Steranko-Kavalier relationship long ago; drat. "Chabon," says Steranko, "ended up with a Pulitzer Prize. And I have a stack of comics." The book is crammed with fascinating tidbits like this-a genuine education; 288 6x9-inch pages in paperback, some illustration; $19.95.
From Rob Weiner: I just wanted to "plug" the book Gospel According to Superheroes.  It is a book of collected essays looking at positive aspects of Superhero comics. It is not a hard-core Christian book. I have an essay looking at Captain America Young Allies, Invaders and the JSA during WW 2.  I'd be curious to see any reviews and to know the opinions of people on the list after viewing it. Stan Lee wrote the preface.  And-No, I did not get paid for the article nor do I receive any money. I just want people to read it.
Forthcoming. Did I mention that Fantagraphics is bringing out Hank Ketcham's Complete Dennis the Menace? Following the pattern established by the Peanuts project, this effort will consist of several volumes, the first 642-page installment due in September. It will include a Foreword by Patrick "Mutts" McDonnell and an Introduction by Brian "Hi and Lois" Walker. Fantagraphics is also publishing a new paperback edition of Ketcham's autobiography, The Merchant of Dennis. ... Peter Maresca at Sunday Press Books is bringing out a giant Little Nemo book in celebration of the 100th anniversary of Winsor McCay's famed feature this year. I've seen a mock-up of this tome, Little Nemo in Slumberland Splendid Sundays, and it is stupendous. At 17x23-inch page size, it comes close to the actual size of Nemo when it was first published. Watch ordering information at www.sundaypressbook.com ... And while I'm at it, remember my own celebration of Nemo's century, The Genius of Winsor McCay, a much more modest effort than Maresca's monumental work of art but, withal, worth the highly reasonable price of admission; more here. We're experiencing a little difficulty with the credit-card paying mechanism, alas; so if it hasn't been fixed by the time you try it and if you don't want to use PayPal, try printing off the order form and sending the thing directly to me with your check for $11.
CIVILIZATION'S LAST OUTPOST: Part I
100 People Who Are Screwing Up America (and Al Franken Is #37) is another fulminating effusion from the rank conservative pen of Bernard Goldberg, whose early book, Bias, is about how the mass media in this country is more liberal than conservative. The tome at hand is the next installment in the campaign. The Number One Person Screwing Up America is Michael Moore-just to give you an inkling of what Goldberg is up to. Three cartoonists made the list: Aaron McGruder is No. 88, Jeff Danziger is No. 35, and Ted Rall is No. 15. McGruder screws America by being unrelentingly iconoclastic, leaving no one's sacred cow unscathed. Danziger, the only outright political tooner of the three, made the list because he once drew Condoleezza Rice as a plantation-style mammy (Butterfly McQueen in "Gone With the Wind" was his inspiration). And Rall is there chiefly for ridiculing the blind patriotism of Pat Tillman (or maybe it was Tillman's unthinking bellicosity). The lowest ranking person on the list is almost Paris Hilton, but Goldberg names her parents instead at No. 100. "Paris Hilton," he writes, "has an excuse. She's a moron. But her parents can't be let off so easily." While I agree that Paris Hilton is by far the most outrageous instance of mindless sexuality achieving celebrity status (her face, frozen forever in a botox grimace of uncomprehending and therefore meaningless complaisance; her body, apart from its all-over tan, wholly unexceptional), I don't think her vacuous existence threatens the welfare of the nation. The news and entertainment media's complicity in promoting this empty icon is another matter: that, indeed, threatens the state of the nation. But I divaricate: This Colyum offers unflagging congratulations to McGruder, Danziger, and Rall for making the list. Keep it up, gang.
            By the time George Santayana reached his eighties in the 1940s, the world-famous philosopher was living on charity in a convent in Europe, thin but well, albeit plagued by a failing memory. Every day, he walked to a nearby park where he sat on a bench and read eight pages of a book that he'd torn out and brought with him; when he finished reading the eight pages, he threw them away. There's a lesson in there somewhere, for those of us who can't let go of any printed matter that comes into our hands.
            The once ubiquitous jockstrap is fading from the cultural landscape. Daniel Akst at Slate got curious about the "athletic supporter" or yore and inquired into it. Yup: it's true. A spokesman for Bike Athletic, the inventor and manufacturer of this once-essential piece of sporting equipage, confirmed Akst's suspicions: "Kids today are not wearing jockstraps." In my misspent youth, all male participants in competitive sports were urged-nay, commanded- to wear jockstraps. We were encouraged to think that this strap of elastic with a pouch for the genitalia would somehow prevent our balls from being irreparably damaged in the careless rough-and-tumble of athletic endeavor. It was, we thought, a kind of armor. That was never the case, however. Jockstraps offer no such protection. And when Akst asked William O. Roberts, a past president of the American College of Sports Medicine, Roberts said: "The best I can tell you is that jockstraps kind of keep the genitalia from flopping around." They also provide a "holder" for a plastic "cup" that would, indeed, offer some measure of protection. Akst can't understand why more athletes don't wear cups: "Kids these days have helmets for practically everything-I wouldn't be surprised to see my sons wearing them for violin practice. But surprisingly few wear cups for sports. ... They consider cups annoying ... which explains why many eschew them even in situations that would seem to call for Kevlar." Not to be deprived of generations of revenue, Bike is now manufacturing a garment called "compression shorts," which function as a somewhat more binding version of jockey shorts. They "provide support and 'steady, uniform pressure' to hold the groin, hamstring, abdomen, and quadriceps muscles in place during 'the twisting, stretching and pivoting action of a game or strenuous exercise.' They're also supposed to 'fight fatigue by helping prevent vascular pooling.'" Vascular pooling? Holy moly: another phantom disorder that can topple civilization as we know it.
THE NEWSIES AND THEIR ANONYMOUS SOURCES
For some years, I've been suspicious of the "anonymous source" device of modern journalism. As a trained journalist, I'm highly apprehensive about this maneuver. There's far too much of it, too many so-called "newsstories" in which the source of the information wishes to remain anonymous. This practice leaves wide open the possibility that the reporter is simply fabricating his story. Even if he isn't making it all up, it looks as if he could be. The recent resolution of the Miller-Cooper case in which a New York Times reporter and a Time magazine reporter were not permitted to invoke the "confidentiality" of their relationship with a source to avoid testifying before a Grand Jury seems to me a move in the right direction. The most that a journalist should be able to promise a source is that his name won't be used in the story the journalist is going to publish-not that the source's identity will be forever "our secret." In other words, no guarantee of "confidentiality" in perpetuity. The confidentiality that is presumed to exist between a doctor and a patient or a lawyer and a client does not apply to a reporter and his source. Not the same thing at all. The professional relationships doctors and lawyers have with their patients or clients are "personal" relationships -that is, the matter at issue is personal with the patient or client; it involves their well being as private individuals. The health or legal status of the newsman's source is not what occasions their exchange: the business at hand is not the personal, private well being of the source.
            The journalistic use of confidentiality in recent times has doubtless been abused almost as often as its been engaged. My guess is that many sources who demand that a reporter keep their names secret are in no great danger if their names were divulged. It's just easier for them to blab if their jobs aren't on the line. But if what they have to say is as important and vital to the well-being of the nation as they claim, then they would probably say what they have to say without the promise of confidentiality. Not because they're patriots. No-because they're blabber-mouths. They love knowing something that no one else knows, and they love being able to prove their possession of secret knowledge by divulging it. Sam Gejdenson, once a Democrat congressman from Connecticut, confirmed my guess. Quoted by Jeffrey Goldberg in The New Yorker (July 4), Gejdenson said: "The No. 1 game in Washington is making people talking to you feel like you're an insider, that you've got information no one else has." Every time a journalist cites an anonymous source, he's playing into the hands of these would-be political mafiosos. Once again, the press is duped into being a tool of the politicians. And it's unnecessary: eventually-given enough provocation -these know-it-alls would tell what they know without the promise of confidentiality in perpetuity. Just to prove they have the power of knowledge. They'd say: "Just don't mention my name in the story, okay? For now." And a reporter can do that without undermining the legal foundations of the Republic. All the blather by journalists about "mutual trust" and the fate of the nation hanging, Watergate-like, in the balance is simply so much hooey. As Goldberg hinted, the press is all worked up over the Miller-Cooper episode because its outcome threatens to shut off leaks, the chief source of news for the Washington press corps. Their livelihoods are at risk, not the nation's welfare.
            Meanwhile, Time and Newsweek have become hyper-circumspect about citing anonymous sources. They still cite them, but now they explain why the source is anonymous. Here, for instance, is a source "who requested anonymity because the FBI asked participants not to comment publicly." Here's one who wanted anonymity "because of the confidential material involved." Yet another, in a wholly speculative (and therefore non-factual) story about whether GeeDubya is "mulling" an autobiography, "declined to be named about a subject that the White House has not discussed in public." If it hasn't been discussed and is only being "mulled," why do a story on it at all? Isn't this "story" little more than pure gossip of the most trivial sort? In a terror-ridden world, who cares whether ol' Texas Two-step is thinking of getting his life story ghost-written? Later in the same story, the reporter quotes a publisher "who didn't want to be named for fear of being excluded from the selling process." Sure. And then in a Karl Rove article there are "two lawyers who asked not to be identified because they are representing witnesses sympathetic to the White House." In fourteen column inches of one story, Newsweek devoted almost an inch-7% of the story- to explaining why sources wanted their names kept out of it. It's a colossal waste of type and space, and an affront to the so-called intelligence of the magazine's readers. The magazine could simply carry a disclaimer in its front matter, saying: "All anonymous sources cited in this issue wanted anonymity either because they were afraid they'd be fired for violating a confidence or being disloyal or for breaking a law." That, it seems to me, would be sufficient "explanation" for the whole enchilada. Besides, how anonymous are the "two lawyers representing witnesses sympathetic to the White House" now? There are presumably lots of witnesses in that category with lots of lawyers. But the magazine's citation narrows the field considerably-and makes every lawyer in the designated category suspect. I think Newsweek, at least, is getting wise to the pointlessness of this dumb show. In a recent article on Tim Russert's testimony to the special prosecutor about the Karl Rove fiasco, the magazine side-stepped the issue by employing such hoary journalistic devices as "reportedly" and "has been said." If we are ready to accept the laborious explanation for the anonymity of a source, then surely our trust in the magazine is sufficient for us to accept shorthand for that explanation: "... statements by White House aides-reportedly including Libby-  ..." Would it increase the validation of the truth of the article if we were told that the person or people who told the reporter that one of the aides in question was Vice President Cheney's chief of staff "requested anonymity because if it were known they'd blabbed, they might lose their job"? Probably not.
            We either trust journalists or we don't. Right now, as a nation of readers, we tend not to trust them very much-probably because they rely too heavily upon anonymous sources and publish a lot of gossip as if it were ascertainable fact. Or as if it mattered. Probably because journalists seem more interested in getting sensational headlines than in reporting the complexities of solutions to public problems. Once the news media start devoting some energy to serious reporting on serious matters, journalism will start to rise again on the horizon of public admiration. And once that happens, reporters can say "reportedly" with impunity, and we'll believe them.
            A couple of footnits. First, as David Broder took some pains to remind us, the Miller incarceration is not without an irony of epic proportions. Judith Miller is the reporter "who, in a series of influential articles before the [Iraq invasion], vividly portrayed the threat that Hussein's weapons supposedly posed. Only afterward was it learned that many of her 'scoops' came from Ahmed Chalabi," the Iraqi exile whose motives were inspired by his desire to ascend to Saddam's throne himself. Concluded Broder: "Her use of an unnamed source in that case was a distinct disservice to the country; had we known his name and motivation, much less credibility would have been attached to her reports."
            As for Rove and his alleged innocence of political motive in leaking the CIA status of political foe Joseph Wilson's wife, I think the press has permitted itself to be distracted, once again, by minutiae-in this case, the legal letter of the law. The law in question is vague, and therefore whether Rove violated its letter or not is even vaguer. Frank Rich, a New York Times writer renowned for his animosity to the Bush League, is probably right about Rove. "Of course," Rich says, Rove deliberately trashed Wilson by making him seem the tool of a high-placed wife. "We know this not only because of Matt Cooper's e-mail but also because of Mr. Rove's own history. Trashing is in his nature, and bad things happen, usually through under-the-radar whispers, to decent people (and their wives) who get in his way. In the 2000 South Carolina primary, John McCain's wife, Cindy, was rumored to be a drug addict (and Senator McCain was rumored to be mentally unstable). In the 1994 Texas governor's race, [incumbent] Ann Richards [against whom GeeDubya was running] found herself rumored to be a lesbian. The implication that Mr. Wilson was a John Kerry-ish girlie man beholden to his wife for his meal ticket is of a thematic piece with previous mud splattered on Rove political adversaries. The difference this time is that Mr. Rove got caught." Gadfly 'tooner Ted Rall also has it right: "We don't need a law to tell us that unmasking a CIA agent, particularly during wartime [the Bush League's favorite justification for every action, remember], is treasonous. Every patriotic American-liberal, conservative, or otherwise-knows that." So does GeeDubya, which is why he changed his tune and is now saying he will fire the leaker at the White House only if the leaker broke the law. A fine, equivocating distinction.
GRIM AND GOOSEY
I read Mother Goose and Grimm everyday in the local newspaper, but I didn't realize how funny it is until I started dipped into the new, 20th anniversary collection from Andrews McMeel, The Ultimate Mother Goose and Grimm (224 9x12-inch pages in paperback, Sundays in color; $16.95). The reason the strip seems funnier in the book than it does in the newspaper is that the book is a compilation of the best strips from two decades, a skimming of the cream of the crop, a selection from a vast quantity of candidates. The daily newspaper, on the other hand, isn't particularly selective: by contract with the supplying syndicate, it must publish virtually everything that cartoonist Mike Peters produces under the heading Mother Goose and Grimm. Those're the rules of the syndicate game. And Peters, for all his comedic gifts, can scarcely be expected to generate six of his all-time funniest comic strips every week. That's the law of averages. The "average," after all, is arrived at by considering both the pinnacle and the nadir of a category. Some are better than the average; some are worse. If there weren't, in any enterprise, some manifestations that are better than others and some that are worse, you wouldn't have an "average." Instead, you'd have "everything"-everything would be the same. And in comedy as in shucking corn, everything is never the same. Even if you are Superman. And Peters has had a turn or two at being Superman. The anniversary book begins with a note from Peters' mother, a one-time local tv personality in St. Louis, who tells about the time she made a Superman costume for her son: "He wore it to school under his clothes until the nuns chased him off the playground for stripping and running around in blue longjohns. Superman was finally sent home by the principal for getting caught in the boys' room, leaping off a urinal at an unsuspecting janitor." Things haven't changed much for Peters since. He's never quite outgrown the Superman costume. On more than one occasion, Peters, who loves to tell stories about his assorted hysterical adventures, regaled us all with an account of the time when, as the editorial cartoonist at the Dayton Daily News, he took his Superman costume to work, changed into it in the men's room, then sneaked into the paper's austere board room on the building's second or third floor, opened the window, went out onto the ledge outside, stood there until the editorial board assembled inside, then sprang in through the window on them, yelling (probably), "Truth, Justice, and the American Way." Or some such. It may not have been the board room;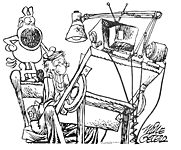 and maybe he didn't yell anything. I don't remember exactly. But I remember about the ledge and the springing into a boardroom therefrom. Mike Peters is like that. He's never quite grown up. Garry Trudeau calls him "the Peter Pan of the cartooning world." Whenever he makes a presentation before a group, he usually tells stories about his misadventures. They're invariably funny. And Peters tells them in a sort of bubbling, gosh-wow, gee-whiz manner, his way of conveying his endlessly amazed awareness of the world.
            When I say that the strips in the book seem funnier than the ones in the newspaper, that doesn't mean the ones in the newspaper are not funny. They are. Peters is invariably funny. Sometimes he's funnier than other times, and the book reprints what he thinks are his funniest offerings. Peters was recently interviewed by Mike Peters of the Dallas Morning News, who is often required to explain that he is not Mike Peters. Not the real Mike Peters. When Mike Peters told Mike Peters about these frequent mistaken identities in his journalistic life, the cartoonist said: "You know what? I tell people I'm not the real Mike Peters, too. I say that's the lead singer for the band Alarm."
            The cartooning Mike Peters' criteria for what's funny is pretty simple, he told the reporting Mike Peters: "I don't know whether people are going to laugh or not. The only gauge I have is whether I laugh. If I don't giggle, I can't really expect you to giggle at my joke or my drawing. You have to trust your own reaction, which is easy if you're doing what you love."
            And it's pretty clear that Peters is doing what he loves. Today's Mother Goose and Grimm is mostly about Grimm, Mother Goose's pet dog, but, as we can see in the compilation at hand, originally the fairy-tale insinuation of the "Mother Goose" part of the title served to warn us that the jokes were going to be more than a little fanciful. Here's the Tin-man with no arms, standing on one leg in front of an airport metal detector; the security guard, holding two of the Tin-man's arms and his other leg, says, "Okay-now try it again." Or Snow White standing there, looking at the seven dwarfs, one of whom has his coat open, flashing her; she says, "And you must be Sleazy."  The strip's concept permits Peters to wander wherever his sense of the ridiculous takes him. To Frankenstein and his Bride, for instance, looking at a baby's cradle as the Bride marvels, "Isn't Junior cute dear? He's got your nose and my ears." Frankenstein has a bandage over where his nose would be; and his Bride has bandages where her ears should be. One of my favorites depicts Grimm standing at the end of a line of husky dogs hitched to a sled; says Grimm, "If you're not the lead dog, the scenery never changes." There's a vivid lesson in that for anyone working in corporate hierarchies.
            Grimm, if we are to judge from the entries in this book, was a presence from the very beginning, but he looked more like a dog then. By page 20 of this tome, however, he's assumed his classic proportions, basketball body and a nose of equal size. He's more cuddly and his antics therefore more uproarious whether wagging that tiny sprout of a tail, drinking out of the toilet or foraging for food in neighborhood trash cans. Coming upon a half-dozen trash cans lined up in an alley, Grimm says, "I love these handy six-packs," lifting the lid of the first in line. Although he shares billing with Mother Goose, Grimm is the actor in most of the jokes for most of the strip's history. That's because the strip pretty soon became autobiographical. As Grimm became less dog-like in appearance, he became more and more like Mike Peters (or maybe it was vice versa)-in behavior, not appearance. 
            Peters once explained how this came about. "I have this thing about Fritos-corn chips. If someone is eating Fritos in the same vicinity I'm in, I find myself going over to them and wolfing down any stray bits they may have left. But some years ago, in order to avoid killing myself with all the grease and salt, I devised a new scheme. I go to the vending machine at the newspaper office, buy one of those bags of Fritos, take a mouthful of the chips, crumple up the bag with most of the chips still in it, and throw it away in the trash can so I can't retrieve it. One day, I tried that at home. And after I threw away the bag, I had an irresistible craving, and I started rummaging through the trash can to find the bag I'd thrown in. My wife, Marian, caught me in the act and said, 'My gosh-that's the dog. You're Grimm!'" Peters was startled to realize that she was exactly right. "It was then that the character started coming together for me," Peters said. "I stopped doing just dog things and stared doing Michael things, my fears, my desires, whatever. I projected these onto the dog. That has made it a lot easier for me to do Grimm because now I understand him."
            So here's Grimm, sitting sadly outside his doghouse and saying, "I wish I could be like that little round-headed kid in the other strip." The caption explains it all: "Peanuts envy." Peters loves a good pun. At Christmas, Grimm is under the Christmas tree, furiously scratching himself and humming "Fleas Navidad." But there are occasional philosophical moments, too. One Sunday Grimm follows Mother Goose around the house as she performs her daily chores. "That's woman's work," Grimm mutters, "I'm a guy-guys don't do dishes." They don't make beds, either, he says. Nor do they sweep up. "God didn't intend for guys to do woman's work," he growls. "Oh, yeah?" says Mother Goose, "-then why do guys have nipples." This reposit freezes Grimm where he stands; baffled beyond understanding, he is still standing there at night when the moon comes out.
            Mother Goose has evolved over the strip's life. "She's gotten more mellow and mom-like," Peters told Peters. Originally, she was a crankier sort. "But she's evolved more into a foil for the dog. And that's okay-she makes the dog work, and that's the point, really."
            A lot of Grimm's earliest adventures involved fire hydrants and trees and the like. Just the sort of comedy that will get a cartoonist into trouble. Peters told of a time when the strip was cancelled in Pittsburgh. Peters was surprised: he thought the strip had an enthusiastic following in that city, so he phoned the editor to find out what caused the cancellation. The editor explained that they'd cancelled Grimm because of the protests of a particularly vociferous group of concerned readers. (Groups of this sort are always "concerned.") Peters wondered what their specific objection had been, but the editor didn't know, exactly, so he gave the cartoonist the phone number of the woman who was the apparent leader of the mob. Peters phoned her. What was the problem? he asked. After voicing some generalities about taste and morality, the woman finally explained that the chief objection to the strip was that Grimm was often depicted drinking out of the toilet. All dogs do that, Peters said. Well, the woman said, that may be so, but I have a little dog, and so far, he doesn't drink out of the toilet, but if he should see Grimm drinking out of the toilet -.
            With that for insight into the mind of America's concerned population-which, as we all know, continues to flourish unabated, these days often enabled by flaming religious righteousness-we can appreciate another of Peters' gifts as a cartoonist: he draws funny. Grimm is all comical nose and fluttering tail. Men are almost all lumpish mounds with heads affixed to the shoulders without benefit of necks; they all have big noses and yapping wide mouths (except when they're smoking, and then their mouths pucker and protrude like spigots on the front of their faces). Women, too, are largish and lumpish, their hair inevitably a bundle of frazzle. All Peters creatures, whether humanoid or not, have very little anatomy: they're all facial expression. Exaggeration is Peters' forte. Just looking at his drawings arouses the risibilities.
            The book prints Sunday strips in full color, about one every third page. But none of the strips carry the date of their original publication. Unhappily for cartooning historians, history in this tome is, as it is in most such compilations, a yawning vacuum. Too bad. Pat Brady in his collections of Rose Is Rose strips rearranges them in a succession of thematic arrays, condemning historians to blithering frustration. But the books read better that way, he says. And when you consider that most reprint volumes are intended to be ready by ordinary human sapiens, not historians, you must agree.
            Peters, who also does editorial cartoons for the Dayton Daily News that are syndicated nationally, is among the most decorated of cartoonists. He won the Pulitzer Prize for political cartooning in 1981, and then the Editorial Cartoon Division Award from the National Cartoonists Society in 1982 and 1983. NCS gave him the Elzie Segar Award in 1987 for "unique nd outstanding conributions to the profession of cartooning" and in 1991, he garnered the NCS Reuben Award as "cartoonist of the year." But the main thing is: he draws funny.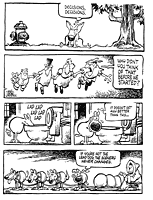 MORE WIERDNESS
Just In Case You're Always Wanted To Know
I wouldn't have brought it up if Mike Peters hadn't, but-men have nipples for the same reason that women have orgasms. This is a little convoluted, but here goes: Males have orgasms because ejaculation is necessary to bring sperm into contact with eggs; hence, male orgasm is necessary for the survival of the species. Not so female orgasm: women can become impregnated without having an orgasm. Scientists, we are assured by The Week magazine (June 3), have been befuddled by female orgasm ever since Kinsey discovered it. But now, biologist Elizabeth Lloyd in the New York Times explains it all. In the first three months of human fetal existence, male and female embryos are indistinguishable. In the fourth month, the embryo develops its sexual identity-but, whether male or female, it will have the same basic neural "wiring" that was developed in the preceding three months. So women have orgasms. And men have nipples. Both are "artifacts of fetal development." "That makes the female orgasm a gift from nature since it's not necessary for the survival of the species. 'It's for fun,' Lloyd explains." Male nipples, of course, are not as much fun. But they are at least as otherwise purposeless.
CIVILIZATION'S LAST OUTPOST: Part II
Ted Rall is always worth a look-not only his cartoon but his syndicated column of iconoclastic commentary. Recently, he so acutely echoed my sentiments about the widely touted "ease" of transacting one's affairs on the Web that I must quote him verbatim; herewith: Millions of Americans, especially young adults, prefer to pay their bills with a debit card or via the Internet.
"It's much easier to be able to point and click to make a payment," says Larry Lyons, a student. I don't know what he's talking about. I have broadband, a fully-loaded computer and I'm a former computer programmer-certainly no Luddite. Yet, for me, paying bills online compares unfavorably with a visit to the dentist. First you fill out your name, address, credit card information on a long form. Don't forget the four-digit security code on your card. No, not the one on the front. The one on the back. OK. Now wait a few moments while we process your payment. What, you don't have "cookies" activated on your browser? Go reset your preferences to allow us to plant mysterious tracking files on your computer. Don't worry about all those identity theft stories on TV, just do it. Now reenter all that stuff in the long form. Great. Now wait a few moments while we check to see if your chosen username is available. Wait-you have to enter your password twice. Four to six digits. Now wait a few moments while we e-mail you a link to verify your account. Click on the link. The link isn't live? Cut and paste it into your browser. Wait for it to reload. Now re-enter everything. Now wait a few moments while we process your payment. What's that? Your screen is locked up? Better do a hard shut-down and reboot. That should take about ten minutes-assuming that a utility crew across town isn't about to accidentally knock out your DSL or cable connection. Compare high-tech bill paying to the old-fashioned way: Write check. Place in pre-addressed envelope. Lick. Stick on a stamp. Total estimated time of procedure: one minute.
            Bravo, Ted: I couldn't have put it better myself. Modern technological life isn't always what it's touted to be. If it ever was.
            In another recent column-more in his usual vein-Rall makes a good case for Osama bin Laden being in Kashmir, not in the border mountains between Afghanistan and Pakistan. The Bush League doubtless knows this, and from that, Rall safely concludes that GeeDubya and his minions haven't captured bin Laden because they don't want to. Probably never did.
Graphic Novels
In the Washington Examiner's May 16 review of Will Eisner's The Plot, Mark Molesky, a professor of history, observes, correctly, that Eisner's subject does not lend itself readily to the kind of visual treatments that the graphic novel excels at. I agree, but I think Eisner is more successful in The Plot than Molesky does (see Opus 161). Molesky goes on to say: "While the comics have consistently proven themselves more than able to contend with subjects of depth and gravity, these subjects must have demonstrable physical component to them in order to be successfully rendered. The life of Sir Francis Drake: Yes. The life of Emily Dickinson: No." In other words, comics-and graphic novels, "long form comics"-should confine themselves to subjects that are essentially action narratives. That's the "demonstrable physical component" that Molesky misses. For Molesky, graphic novels will always be about superheroics and swashbuckling adventure, the outer, visible, life, and never about emotions and thought, the inner life. Here, I disagree. Not only is Molesky shortchanging the medium, he is betraying an anti-comics bias of a tradition-locked professorial virulence.
            Not too long ago, it would be difficult to find any significant number of works in the medium that could refute Molesky. No longer. In Mother, Comic Home, for example, Paul Hornschemeier depicts the oppressive despondency that afflicts a father and his son at the death of his wife (130 6x9-inch full-color paperback pages, $14.95). The narrative assumes the son's point-of-view, mostly, and is, seemingly, a straightforward progression, beginning shortly after his mother has died and recording the increasingly disconsolate behavior of the father, who seeks psychological help in an asylum but eventually leaves and takes his own life.
            Hornschemeier complicates this apparently simple narrative in several ways. It is soon clear that the son is no longer seven years old, as he was at the time of his mother's death, but is a grown man, looking back upon this time of grief and revealing the mechanisms of denial by which he and his father initially survived. As a seven-year-old, the son imagines himself the custodian of his mother's garden and her room (the father moves out of it and sleeps in the attic) and her grave and the woods between. But even the adult narrator seems puzzled by the events of his now-distant past, incapable of explaining what happened except in the terms of his seven-year-old grasp of events.
            The boy tries to keep his father's deteriorating condition secret but "makes a mistake," and his uncle finds out and encourages the father to seek professional help. The uncle and his wife take custody of the boy while the father is in therapy. Then the boy "rescues" his father, and the two escape into the woods where the father jumps off a cliff.
            The strict chronology of the narrative is modified and given emotional context with several visual devices. The most haunting of these occurs in the opening section of the book, which shows the father floating in the air like a dirigible, searching for his deceased wife. It isn't until the end of the book that we realize why the "floating" image is deployed: it evokes the manner of his death. And the mother's garden, despite the son's attentions, fails to flourish in quite the way it had during her lifetime: it becomes just a patch of mud. The grass on her grave, however, grows thick and hardy, suggesting the permanence of the grave.
            Another of the symbolic elements is the lion's mask that the boy often dons. It was given to him by his mother, who, he tells us, "loved to give presents." At the end of the book, he resolves not to wear the mask anymore. We may assume that as he puts aside the mask, he abandons denial and accepts the death of his mother.
            The design of the book itself functions symbolically. Episodes are clearly delineated by chapter headings, but the headings take us in an unexpected direction-not to the end but, perhaps, to the beginning?
            Hornschemeier's storytelling manner is halting, the narrative punctuated frequently by wordless pictures that focus our attention, momentarily, upon this character or this activity, thereby giving emblematic weight to the pictured element. The loneliness of the father's inconsolable grief is symbolized when panels depict only him even when he is in the room with other people. In his simple but precisely descriptive renderings of the pictorial elements, the cartoonist gives ordinary events an almost clinical emphasis. The pictorial focus on trivial sometimes unrelated elements suggests the meaninglessness of all aspects of daily living in the mournful context of the mother's death, which has robbed life of its joy and meaning. The pace throughout languishes, imparting a mood of sustained grieving and heartsick desolation.
            In the last analysis, Mother, Come Home is more about feelings-moods-than about thought although Hornschemeier's existential point of view emerges in the book's final moments. In any case, it is more Emily Dickinson than Sir Francis Drake, demonstrating that the symbolic character of a visual artform can convey complex emotional content as well as action -packed adventure.
            Hornschemeier, one of a half-dozen graphic novelists singled out by Time in its February 7 issue, is fascinated by "the subjective world" he told Rolling Stone's Steven Russell. Said Hornschemeier: "I'm interested in the deterioration of memory and the nature of first-person accounts." My guess is that this existential preoccupation grows out of his engagement with the medium itself, with its form and how that form works. His earliest publish efforts were in comic book form. Entitled Sequential, the publication ran to seven issues, and they have been collected and reprinted under the original title (256 6x9-inch pages; hardcover, $25). The contents are mostly short stories or vignettes, often playing with the form itself. In a 4-panel strip, a boy walking with his mother comes upon a scrap of paper and says, "Mother-oh, Mother! Is this it? The punchline?" She says: "Foolish boy! Have I not told you that you must wait? In the next panel ..." Playing with the sequential nature of the form, in the next panel, Hornschemeier shows us that the boy is now an old man who says to another old man, "... I am older! Now may I have the punchline?" The other man laughs and says: "Hah hah! How sad! There is no punchline, my boy. Your hair grows thin and your bones weak! Nothing more!" And he falls backwards off his chair laughing. Many of the Sequential strips are exercises in arbitrary cruelty. In "Seizure," we watch, in the imaginatively designed introductory two-page spread, as a young man suffers a seizure. On ensuing pages, his girlfriend begs passersby for help, and when one finally pauses, seeming to render aid, we learn on the following page that all he's done is to give the victim a cigarette.
            For Hornschemeier, the joke, the punchline, is often disappointment or death or dismemberment, offered, in effect, as a conclusion to what seem to be philosophical musings. It's as if he can find no other "answers," no other explanations for the contradictions of the human condition. Without  conclusions (other than death), he offers no explanations for his being, who or what he is. He is, in effect, unable to ascertain his identity. In such existential ponderings, irony is dramatically preferable to angst every time, and Hornschemeier's work is certainly superior to any number of other adolescent philosophizings that have infected the medium (Belly Button Comics, for example). But I can't help wondering if these laborious episodes represent an actual intellectual quest or are merely what a cartoonist does when he wants to draw but has nothing to say. And then, having set the pattern, Hornschemeier adheres to it diligently thereafter-creating metaphysical puzzles that he can't solve except by invoking one kind of cruel disappointment after another.
            One of the longer sequences in Sequential is "The Devil's Lonely Day." In this tale, a naked portly devil awakens, wanders around, encounters a dead bird and a sort of doppelganger, and -it ends. Close inspection reveals that there are pages missing from the narrative: all the pages are numbered, but some numbers are missing. Some of the missing pages turn up later in the book. This is the second of three parts, we're told. "The idea," Hornschemeier explains, "is to essentially create three distinct, understandable narratives (devil runs, devil trips, devil falls, etc.); a discernible chain of events that hopefully develop a situation and characters. But then, and this is the fun (and hard) part, to have those three stories create one story." We may suppose that the cartoonist created one story then dismembered it and published the pieces in separate, baffling installments; but, no, that's not what he says he did. He wrote nothing in advance and drew one page at a time, he tells us. We assume, nonetheless, that once we have all three parts, we can integrate them, following the sequence determined by the page numbers, and get a Master Work, a final revelation. Alas, no-again. We're doomed to disappointment. The second part appears in this book, but the third part doesn't. The third part was to be published in No. 8; but Hornschemeier never published an eighth issue of the magazine. Perhaps he never intended to. The two sequences he did publish make no more sense when we read the pages in the sequence that the page numbers suggest than they do as "separate" installments. The final irony, then-the existential lesson-is that the puzzle is never completed. Or explained.
            As I said, I'm not convinced that Hornschemeier isn't just doodling around intellectually in order to give himself something to draw, indulging the impulse to draw rather than obeying the imperative to think. Metaphysical musings often tend in the direction of imponderable meaninglessness. But his work, however intended, seems serious, and it is certainly more of an interior adventure than a physical one, proving, as if it needs proving, that the medium can grapple with such ethereal questions.
To find out about Harv's books, click here.