Opus 161:
Opus 161 (May 2, 2005). By way of celebrating Cartoon Appreciation Week and Free Comic Book Day, we take a lingering look at several books about cartoonists-chiefly Chuck Jones, Mort Walker, and Robert Crumb, but including a few more; and we illuminate one of gag cartooning's most celebrated artifacts, the 1928 "spinach" cartoon by Carl Rose. Other matters, listed now in chronological order by department, are: NOUS R US -Candidates for "division awards" from the National Cartoonists Society, new Boondocks, free downloads of manga, The Simpsons nudges up to a record, a Moroccan cartoonist in and out of jail for ridiculing the government, Stan Lee's hopes and his remuneration from Marvel, Rumsfeld photographed with Spider-Man and Captain America, The New Yorker's new weekly cartoon captioning contest,  Don Rosa's Life & Times of Scrooge McDuck in one volume, parting appreciations of the work of those who recently left us, Andre Francois and John Gallagher, and who's writing The Phantom these days; Editoonery -Mark Fiore's online flash animation political cartoons get the nod from RFK and Mike Ritter leaves his post of 13 years at the East Valley Tribune in Arizona; Civilization's Last Outpost -the Pope and sex; Funnybook Fan Fare -the Left Behind mythos infects comic books, Billy the Kid goes weird; One for the History Books -Carl Rose's famous cartoon; Appreciating Cartooning -reviews of books about cartoonists and cartooning; and a li'l Bushwhacking to conclude. Finally, as always, our usual Solicitous Rejoinder: Remember, when you get to the Members' Section, the useful "Bathroom Button" (also called the "print friendly version") of this installment that can be pushed for a copy that can be read later, at your leisure while enthroned. Without further adieu-
NOUS R US
Here is the rest of the slate of nominees for various distinctions at the Memorial Day Weekend meeting of the National Cartoonists Society: Advertising Illustration: Roy Doty, Mike Lester, Sean Parkes; Animation Feature: Brad Bird, Director (The Incredibles), Tony Fucile, Character Design (The Incredibles), Lou Romano, Production Designer (The Incredibles); TV Animation: Tim Bjorkland (Brandy and Mr. Whiskers), Craig McCracken (Foster's Home for Imaginary Friends), Glen Murakami (Teen Titans); Book Illustration: Geefwee Boedoe, Jenna Lareau, Emma Magenta; Comic Books: Tom Bancroft (Opposite Forces), Darwyn Cooke (DC's The New Frontier), Roger Langridge (Fred the  Clown); Editorial Cartoons: Jim Borgman, Gary Brookins, Jeff Parker (interestingly, they all moonlight on comic strips: Borgman on Zits, Brookins on Shoe, and Parker on Blondie); Magazine Gag Cartoons: Sam Gross, Glenn McCoy, Robert Weber; Greeting Cards: Oliver Christianson, Benita Epstein, Glenn McCoy; Magazine Feature Illustration: Glenn McCoy, Steve McGarry, Jack Pittman; Newspaper Illustration:  Tom Kerr, Peter Kuper, Michael McParlane; Newspaper Panel Cartoons:  Marcus Hamilton (Dennis the Menace), Steve Moore (In the Bleachers), Jeff Stahler (Moderately Confused); Newspaper Comic Strips: Tom Batiuk (Funky Winkerbean),  Jef Mallet  (Frazz), Glenn McCoy (The Duplex). If you're counting, that's four nominations for Glenn McCoy. To repeat my earlier announcement, the finalists for "cartoonist of the year" are Pat Brady, Rose Is Rose, Dave Coverly, Speed Bump, and Dan Piraro, Bizarro.
            The tv verson of Aaron McGruder's The Boondocks will commence in October on the Cartoon Network's late-night "Adult Swim" offering, but I wonder if Huey and Riley and their minions will be as biting as they are in print: the time lag between preparation for an animated show is, after all, much longer than the lag between penning and printing the comic strip so the comic strip can be much more topical, and so far, McGruder's comedy has depended to a great extent upon topicality. ... Playboy featured McGruder in its "On the Scene" section last month, calling his strip "smarter and angrier than anything else on the comics page." Quoting McGruder: "Americans are not used to talking honestly about race, let alone laughing about it. But if you worry about what other people think, you can't do the job." Huey is not an incarnation of the cartoonist, McGruder explained: "Huey's paranoid," he said, "I just don't trust the government. People think I'm trying to change the world. I'm just trying to earn a living in a way that I don't have to be ashamed of." A new collection of the strip, Public Enemy #2, is due out. Said McGruder: "I flip through my past strips and can't believe any sane newspaper would print them." ... Playboy also recommends Battle Royal, manga by Koushun Takami and Masayuki Taguchi, as a good way to start your appreciation of manga; the story, it sez here, involves a class of students sent to a desert island and forced to fight one another to the death. ... Seven Seas Entertainment, the first manga publisher to release free downloadable content for the Sony PSP, announced April 26 that the response to the new program was incredible: 12,000 downloads almost immediately, all without charge. Said president Jason DeAngelis: "This is only the beginning. We've discovered that the Sony PSP is a great, innovative way to reach manga fans, and the fact that we're still a small company with flexibility means that we're able to work fast to provide original, free content for PSP users." I'm not sure what PSP is, but free downloads sounds pregnant with possibilities for altering the future (and that, of course, means more trouble).
            Some weeks ago in reviewing the latest collection of FoxTrot strips, the 191-page Foxtrotus Maximus, I opined that the compilation did not include all the strips from the three previous volumes, but I was wrong: Bill Amend himself wrote to chastise me. I was simply doing some clumsy math (a risky proposition because Bill is much better at math than I) to arrive at this misconception. Amend assures me that the Maximus tome does include all the content of its three predecessors, as advertised: it does it by running more strips to a page. Sorry, Bill. ... CrossGen's "reorganization plan" in the face of heavy numbers on the deficit side of the ledger is, according to icv2.com, actually a plan for the liquidation of the company; so one more comic book publisher goes under. ... MoCCA (the Museum of Comic and Cartoon Art) is launching a traveling exhibition of Will Eisner's art; the opening reception is Saturday, May 21, free to MoCCA members but with a ticket price for non-members; for information, e-mail info@moccany.org. ... Steve Behling has just joined United Media Syndicate as Managing Editor/Comics, leaving Disney Publishing Worldwide, where he was Executive Editor of Disney Adventures magazine. At Disney, Behling supervised the publication of 14 magazines annually and a team of 50 freelance writers and artists as well as shaping and executing content for ten monthly issues of Disney Adventures and editing the magazine's monthly 20-page comic section. United Media's Senior Vice President and Gneral Manager Lisa Kelm Wilson said: "His experience comes from outside the typical newspaper environment, which will bring a new perspective to our business."
            "The Simpsons" broadcast its 350th episode on Sunday, May 1. That's more than the combined total of "Seinfeld" and "The Mary Tyler Moore Show." Only two comedy shows have done more than 350 episodes: "My Three Sons" at 380 and "The Adventures of Ozzie and Harriet" at 435. To surpass the latter, "The Simpsons" would have to finish a 20th season, scarcely an impossibility: Sunday winds up the show's 16th season, and the cast is already signed up through the 19th season. If Homer and company go beyond 20, they'll pass the longest running tv show, the 20-year oater, "Gunsmoke."
            Ali Lmrabet is out of prison. Morocco's most notorious cartoonist and satirist, Lmrabet was sentenced on May 21, 2003, to four years in prison for publishing material in his magazine that was  "insulting the king" and "damaging the monarchy." He received a royal pardon six months later and returned to civilian life, where he immediately began planning to resume his career as a journalist and cartoonist. He had high hopes: since the death of the present king's father in 1999, Morocco has committed itself to expanding the freedom of the press. That freedom does not, at present, include the right to criticize the monarchy, namely King Mohammed VI. Last month, Lmrabet received a temporary license granting permission to start a new magazine. He predicted that the government would be eager to put obstacles in his way, and he was right: in mid-April, a judge found him guilty of making defamatory remarks about the government during an interview published in another paper. Lmrabet was fined $6,000 and banned from practicing journalism for ten years. Reporters Without Borders called the action a "serious blot on freedom of opinion and the press in Morocco." But it is not yet clear whether the ruling will stand. Prince Moulay Hicham, a cousin of the king, has taken Lmrabet's side: "He's made it a profession to cross all the red lines," said the Prince. "There have been many times when his journalism has been excessive and unjust. But this is not about Ali Lmrabet: it is about freedom of expression, which for me is a much more important issue." As he was being interviewed by Craig Whitlock of the Washington Post Foreign Service, Lmrabet took out a pen to show how easy it is for him to get in trouble with the authorities. On a bit of paper in front of him, he drew the turrets of a castle and a speech balloon coming from the tower. Clearly, "the king" was about to speak. Would the cartoonist dare to put words into the balloon? He grinned and put down his pen. Not yet.
            Stan Lee, interviewed by Janet Kinsian in the Los Angeles Times online, says his new company, POW! (Purveyors of Wonder) is different than the failed Stan Lee Media, which was Internet-based, he explained; POW! "is a full, broad-based entertainment company." The "continuing thread" in his life, from Marvel to "broad-based entertainment," is "telling stories," Lee said. The thing that drives him now though is that he wants to prove "what happened in the past wasn't a fluke"-which means, I gather, that he wants success with something other than four-color pulp. You'd think one successful career would be enough. Not with Lee. Ahhh, but it was a fluke, Stan. A grand and glorious fluke. Most watershed events in history are flukes, happy confluences of personality and prospect-the right man in the right place at the right time. Nothing demeaning about it. FDR was a fluke; Winston Churchill ditto. The "right" man means the man who can seize the propitious moment. You did. Nothing to apologize for in that.
            Asked to explain why Spider-Man is a global icon, Lee came up with an odd reason: "Spider-Man appeals to every race and every color," he said, "and I think a reason is that he's the only superhero whose costume covers him complete. You can't see his skin color. A black person can empathize and imagine that's me under that costume, as could an Asian, Indian or anybody. That wasn't done for that reason," he concedes, "but it's a very fortuitous choice." I don't suppose superheroics has anything to do with Spidey's icon status? Or maybe his teenage angst? Just his costume, eh, Stan.
            Marvel Enterprises moved up the list of top licensors in the country from 69th in 2003 to 4th in 2004, with retail sales climbing from $189 million to $4 billion. Disney and Warner Bros. Consumer Products were first and second on the list; third was Nickelodeon/Viacom Consumer Products, and Sanrio (Hello Kitty) tied with Marvel. ... Marvel would have exceeded the company's "guidance ranges and operating margins" in the first quarter of this year were it not for a one-time outlay of $10 million, "the successful resolution of all past and future payments claimed by Mr. Lee," according to the home.businesswire.com; as it was, though, Marvel "maintained" its guidance ranges. Although the details of the settlement with Lee are supposedly not disclosed, the financial news seems fairly straight-forward. ... Meanwhile, Marvel Comics has produced a "custom" comic book manufactured expressly for free distribution to U.S. troops around the world; those in the Middle East will get the first 150,000 of the 1-million press run, which, to get around the usual distribution difficulties, will be available through military exchanges. The book, a normal-sized edition of The New Avengers written by Brian Michael Bendis and drawn by Dan Jurgens and Sandu Florea, features nearly every Marvel hero in a confrontation with an alien army and is already creating buzz among the collector population, but "these are for the troops," said Jeff Klein, a company spokesman. To announce this patriotic publication, Secretary of Defense Donald Rumsfeld appeared in a photo op with actors costumed as Spider-Man and Captain America. ... A 3-part documentary about superheroism will run on Bravo for consecutive nights, starting May 26; narrated by Adam West, a former Batman, the series is entitled "Ultimate Super Heroes, Ultimate Super Villains, Ultimate Super Vixens."
            The New Yorker, having experimented with a cartoon-captioning contest on a once-a-year basis, has announced that, hereafter, its back page will be devoted to the competition every week. The editors will pick three finalists, publish them in one issue of the magazine, and then readers will vote. The winner will take up residence in the White House. Ooops. No. Sorry. That's a lie. The trick, from cartoon editor Robert Mankoff's point of view, is to present every week an uncaptioned drawing which has an incongruous element. The contestants, in effect, "explain" the incongruity with the captions they submit. One of the previous uncaptioned cartoons in the annual Cartoon Issue of the magazine depicted a sushi bar with a giant squid standing next to the sushi chef. The squid was wearing a chef's hat. "Nepotism was a big theme," Mankoff said, "-there were jokes that the man was somehow forced to hire the squid because he was related to the boss. Also there were jokes about outsourcing labor, or insourcing, and jokes about being intimidated by the squid." He was surprised that a high percentage of entrants found the same kinds of things funny. The winning caption: "He feels he can do more good working within the system." The winners, by the way, will get signed prints of the cartoon. A print? Not the original art? Cheap.
            A 53-year-old trial lawyer in Hartford, CT, has a comic book collection that numbers about 18,000. Comics just aren't for kids anymore. ... The third volume in the Fantagraphics' Peanuts reprint library is now out, reprinting strips for 1955 and 1956; we'll soon be in the vintage years, but in the meantime, this volume, with Pigpen on the cover, includes 316 dailies never before reprinted and 17 Sundays-virtually a whole year of never-seen-but-once Peanuts. ... Fantagraphics announced this month that it will be publishing the complete run of Hank Ketcham's Dennis the Menace, starting in the fall. ... New Yorker cartoonist Marisa Acocella, who broke the cartoon ban barrier by getting cartoons published in The New York Times, has just sold her graphic novel about having breast cancer, Cancer Vixen, to Knopf for $250,000.
            The Life & Times of Scrooge McDuck, Don Rosa's painstaking construction (from hints and scraps of information in the Carl Barks canon) of the miserly fowl's biography will be out in June, from Gemstone. Rosa began the project for the Disney overseas licensee Egmont in 1991 and finished in 1994, whereupon Gemstone reprinted the books in the U.S. in twelve issues of Uncle Scrooge (starting with No. 295). At 264 pages, this volume will combine all twelve issues, plus Rosa's revisions in his commentaries and some covers from offshore printings, some storyboards that didn't make into final publication, and a two-page spread of Rosa's Duck Family Tree; at merely $16.99, paperback.
And a fair wind and a following sea, as we used to say in the sea-faring trade, to those who've recently left these shores: the great Italian Disney master, Romano Scarpa, who died April 23 at the age of 78. ... Gene Hazelton, 85, animator and all-around cartooner in many fields with one of the crispest, cleanest styles around; more from Mark Evanier at http://www.newsfromme.com/archives/2005_04_09.html#009780 ... Zeke Zekley, who assisted George McManus on Bringing Up Father ("Jiggs and Maggie") for nearly 20 years but didn't inherit the strip when McManus died; I just got at post time the sad news of his death on Thursday, April 28, at the age of 90. Funny: he never seemed that old to me. Next time we pop up on your screen, I'll have more to say about Zeke and his work and why he didn't get the strip he'd worked on for so long. ... And Andre Francois, whose cartoons began appearing in France in 1939, died April 11 at 89. Born in what is now Romania, he moved to Paris in 1934 at 19 and worked at first as a poster artist. In addition to cartoons that displayed a visual inventiveness akin to that of Saul Steinberg and the latter-day William Steig, Francois wrote and illustrated children's books. A close friend of Ronald Searle, with whom he collaborated on The Biting Eye (1960), Francois produced several volumes of cartoons (or humorous drawings, most of them are wordless concoctions of an antic imagination), including The Tattooed Sailor (1953) and The Half -Naked Knight (1958). Ralph Steadman called Francois "one of the singularly great graphic artists of the 20th Century." Searle, writing in the Introduction to the book they produced, said: "The dividing line between reality and fantasy is barely visible. Ideas sprout like flowers from his head. But they are rooted in reality, not dottiness, and although the order of things is rearranged, it is only to sharpen our appreciation of them."
            John Gallagher, who died March 17 at 79, collaborated in recent years with his brother, George Gately Gallagher, on the panel newspaper cartoon Heathcliff, but Gallagher started off, just after World War II, doing magazine cartoons-and that's how I "knew" him. I didn't actually know him, of course: from an early age, I recognized and rejoiced in his cartoons, which were invariably populated by bulb-nosed flat-footed human sapiens the likes of which, once you've seen one, you'll never forget. After the magazine cartoon business collapsed, he wrote gags for the comic strip Moose for awhile for Bob Weber. I interviewed him a couple years ago. Mostly, I was hoping to get him to wax reminiscent about his freelance magazine cartooning days, to recall hilarities of the weekly lunch that the cartoonists all met for on Wednesdays, the day they made the rounds to magazine editors' offices in New York. They collected regularly at the old Pen and Pencil (no longer around, alas), he said, but apart from conversation, not much happened. "They weren't very wet, these lunches," he explained, "-we all had to finish the rounds of editors' offices in the afternoon." And they couldn't be staggering for that. But at the end of the day, rounds completed, they met at the Men's Bar at the Roosevelt Hotel. Considering that the cartoonists were all in direct competition with each other for sales each week, their gatherings were always convivial; competition, in other words, did not overwhelm the fellowship of sharing the same profession. That didn't prevent an occasional shenanigan in good spirits. Gallagher recounted his first encounter with John Norment, who was a cartoon editor. Gallagher had just started selling pretty regularly to the big
magazines (Saturday Evening Post, Collier's), and when he showed up at the Pen and Pencil one lunchtime, he was genially introduced all around. Everyone was "being very nice and very polite," Gallagher said. And then he was introduced to Norment. "He just looked at me and said, 'You bastard.' That was the most honest greeting I ever had. Everyone else was thinking it, but John came right out and said it." They hadn't been thinking it in deadly earnest, of course-any more than Norment had been. Norment's greeting was merely a satirical jibe at Gallagher's having reduced everyone else's sales by some fraction. Here's a smattering of Gallagher's cartoonery.
Comic Strip Watch. At Springfield, Mass., the local paper, The Republican, was thinking of reducing its comics section from two pages every day to one as a cost-saving maneuver. But when 4,000 readers responded negatively to the notion, the paper decided not only to keep the two pages but to run the funnies in full color. Sometimes, against all odds, you win. ... I realized that Woody Wilson was writing Rex Morgan, but I didn't know who was writing The Phantom until Graham Nolan, who draws Morgan and the Sunday Phantom, revealed, in an interview with Mike Manley in Draw, No. 10 (Spring 2005), that Tony De Paul is presently penning the escapades of the Ghost Who Walks, both weekdays and Sundays. ... Blondie and Dagwood were in bed on Sunday, April 24. Nothing alarming in that: they are married, after all. But Blondie's nightie is slipping off her shoulders. Pretty daring stuff. And remember all the trouble John Singer Sargent got in with his painting of Madam X, depicting one strap of her gown off the shoulder? Well. Who knows wot'll heppen in the Bumstead case?
Editoonery
Mark Fiore, whose editorial cartoons deploy cutting edge Flash animation online, received the Robert F. Kennedy Journalism Award for editooning, an accolade widely applauded among his peers who are glad to see the RFK people moving into the 21st century by going beyond paper and ink for a change; many also voiced the hope that some of the other trophy-dangling concerns (Pulitzer, Herblock, Headliner, etc.) would do the same soon. Fiore is a freelancer, with the accent on "free"-he has no "home base" paper. ... Another of the awarding tribe, the Overseas Press Club, presented its annual editorial cartooning prize to Kevin Kallaugher of the Baltimore Sun. ... Ann Telnaes has left the Tribune Media Services for Cartoonists and Writers Syndicate as of the end of April.
            Out in Arizona, the East Valley Tribune let Mike Ritter go after a 13-year career with the paper. The question on everyone's mind was whether Ritter left on his own or was shoved out, some suspecting the latter. The Tribune people had nothing illuminating to say. A former president of the Association of American Editorial Cartoonists (AAEC), Ritter was, Editor & Publisher noted, "openly gay." And while no one was saying anything, speculation hovered just over the horizon that his sexual orientation may have had something to do with his departure. None of those who might have known were saying anything, preferring to let Ritter speak for himself-as he should be permitted to do. Apparently trouble had been brewing between Ritter and his paper for some months, according to report, so those aware of the situation were not terribly surprised. In an E&P story 15 months ago, Ritter had described himself as once a registered Republican but presently more libertarian. Political viewpoint is usually the reason a paper and its editorial cartoonist part ways, and that could be the case here, speculation to the scandalous contrary notwithstanding. Apparently, although there is a little confusion on the question, the paper does not intend to replace Ritter with another full-time editoonist. Instead, Brian Fairrington, a somewhat conservative voice who had been making himself heard as an occasional contributor at the neighboring Arizona Republic, will "continue to freelance for the paper," according to Bob Schuster, the Tribune's editorial page editor. Fairrington, whose work is syndicated by Cagle Cartoons, lives in the East Valley and attended Arizona State University thereabouts.
            It would appear, then, that the political cartooning profession has lost another of an increasingly diminishing number of permanent berths. Nation-wide, the number of staff positions for editoonists is much smaller now than it was even as recently as five years ago. Part of the reason for that is the shrinking number of daily newspapers in the country; every time one dies, it takes an editorial cartooning position with it. Another contributing factor is the ready availability of editorial cartoons through syndication: why have a staff cartoonist when you have a much greater range of choices by subscribing to syndicate services, which, customarily, offer several editorial cartoons on a timely array of topics by differing cartoonists every day?
            Dan Perkins, who as "Tom Tomorrow" produces the weekly comic strip This Modern World, was interviewed the other day by V. Cullum Rogers, a distinguished member of the AAEC, and at the conclusion of his interview, Perkins said: "For daily cartooning, the newspaper editors are using syndicated work in lieu of staff cartoonists, and eventually there aren't going to be any staff cartoonists to create the work for syndicates to syndicate. It's a tough field to make a living in. At least once a week, I will swear to my wife that I'm quitting, I'm done, I've had it, I can't keep doing this. And then," he continued with a laugh, "I'll draw something I'm fairly happy with, and there it is."
Civilization's Last Outpost
You can buy, for a mere $4.99, a crucifix with an enamel sort of finish out of which, when you wear the thing around your neck, an image of Christ on the cross emerges in reaction to your body heat. Magic. Now if only he'll come down off that cross and walk on water again, the Pope will succeed in converting the entire planet. ... Not that the new Pope is an enthusiastic evangelist, seeking to round up new faithful for the flock; it appears, rather, that Benedict XVI hopes merely to preserve the doctrinaire religion of historical Roman Catholicism, to protect it from being sullied by the scientific thinking and secular humanism that infects contemporary civilization. Those hoping for relaxation of prohibitions against women priests and contraception (to mention two bones of contention) will probably be disappointed. But this Pope is not likely to be merely a "caretaker"; he will doubtless pursue an agenda of doctrinal purity, perfectly willing to see church membership shrink in order to protect "the traditional identity of Catholics against an infinite sea of threats," according to John Allen Jr., his biographer. ... And speaking of the Pope, RJ (the raccoon) and Vern (the box turtle) in Over the Hedge were doing just that on April 23, discussing the hypothetical perks for whoever came in second in the Pick the Pope conclave. Talk about edgy: it's almost blasphemy, isn't it? Sacrilegious anyhow?

            Now that Britney Spears is pregnant, we all know what she's been doing. She can't pretend any longer to be "nice" when it's now obvious that she's been doin' the nasty. ... According to a recent report from the Associated Press, a small study in California determined that one-in-five ninth graders have had oral sex and almost one-third say they're planning to try it. Oral sex, say the teenagers, is "less risky" than intercourse. And it's not a big deal, they say. Tell it to a certain former U.S. President, who was, doubtless, operating on the antique principle, often favored by young women who are saving themselves for marriage, that oral sex isn't, actually, sex. Everyone except journalists at the nation's capital and rampant rightwingnuts has known this all along.
Funnybook Fan Fare
In last month's Previews (that is, cover-dated April), it appears that Image is off in the direction of the Left Behind ethos with books like Strange Girl, Godland and Small Gods. Not surprising, I suppose: even tv is now scrambling to cash in on the Religious Right's fascination with the Rapture as sf saga. Tom Scioli's artwork in Godland looks as if he cloned it almost perfectly from the vintage Marvel work of Jack Kirby. The timing for the re-appearance of the cigar-chomping Battle Pope is a little testy, though: John Paul II lay dying just as this issue of Previews hit the stands. "When he's not leadin' mass, he's out kickin' ass" the blurb reads. Well, why not. Is nothing sacred any more? Probably. As my ol' barstool compadre Dunston used to say, "Ever notice how 'Wot the hell' is always the right decision?"
            The Previews cover is a sterling piece by J. Scott Campbell, heralding his return with weirdly spelled Wildsiderz. And Red Sonja's back (her front, too). Issue No. 0, which is now out, opens with a tight shot of her derriere and continues throughout with her epidermis amply displayed. The artwork and storytelling (by Mel Rubi and Michael Avon Oeming with Mike Carey) is superlative although I don't much care for the face they've laminated on Red Sonja: I've always preferred Frank Thorne's ominously browed beauty (who, by the way, is doing an encore in a trade paperback re-issue of Nos. 1-7 of the Roy Thomas - Frank Thorne production of the she-devil with a sword, also from Dynamite Entertainment). Finally, the trumpeting of the Fantastic Four movie is up a couple octaves in this issue.
            Judging from the four-color fare of late, the Old Wild and Wooly West has lost its intrinsic appeal. Wild and wooly is no longer enough excitement: we need also weird. And that brings me to Billy the Kid's Old Timey Oddities, No. 1, a book whose title at least betrays an over-arching sense of fun instead of that boring penchant for serious vampire-slaying and the like. Since I'm not a big fan of the weird and supernatural, I wasn't struck breathless by the story here. (I'm not a big fan of the supernatural mainly because, I suspect, my literary expectations are not sufficiently sated by being scared; I crave something a little more-or less-than things going inexplicably bump in the night. But that's my problem.) The storied death of Billy the Kid, muttering "Quien es? Quien es?" while Pat Garret shoots him to death in Pete Maxwell's house, is, writer Eric Powell tells us, a trumped-up tale, designed to let Billy fade off into obscurity and live the rest of his days without fear of pursuit by the law dogs. But a spook meister named Fineas Sproule knows Billy is still among the living (and he should know) and recruits the lad to help him recover the magical "heart of the Golem" from its current owner, Victor Frankenstein. This installment sets up that task and introduces the characters, including a menagerie of freaks with whom Sproule lives. The best part of the book, however-for people who aren't big fans of the weird-is Kyle Hotz's artwork. Drawing in the glistening fluxile manner of Rand Holmes' faux Wally Wood, Hotz has produced a persuasive likeness of William Bonney (aka the Kid, kimo sabe), one that convincingly evokes the imagery of the only known photograph of the New Mexican bandit and rounder.
One for the History Books
One of magazine cartooning's most quoted cartoons appeared in The New Yorker of December 8, 1928. By Carl Rose, it depicts a mother and daughter at the dinner table, the mother saying, solicitously, "It's broccoli, dear." And the daughter firing back with, "I say it's spinach, and I say the hell with it."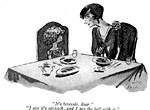 The caption, as was the case, then, with many of the magazine's cartoon captions, was the product of tinkering by James Thurber and E.B. White. We've known that for a few eons. But in a 1946 collection of his cartoons, One Dozen Roses, the cartoonist reveals that the original caption, the one he submitted with the drawing, read as follows:
            "Mother, if I eat my spinach, may I have some chocolate pudding?"
            "No, dear, there isn't any chocolate pudding today."
            "Well, then," the moppet says, "the hell with the spinach."
Rose continues the tale of the spinach cartoon: "The idea was okayed, although grudgingly, because Mr. Harold Ross [the legendary editor/founder of The New Yorker] didn't think children should talk like that. He also thought the conversation clumsy, and the drawing was held up for a few weeks, pending the creation of a new caption. I made a few unsatisfactory attempts myself. An acceptable legend was finally worked out in the office. ... Some months [after its initial publication, the cartoon] was included in the Second New Yorker Album and the lit'r'y reviewers wrote of it, some at considerable length, and spinach became another simile for sham or fake, and I think Irving Berlin wrote a song (one of his lesser efforts) using the line as a title, and broccoli became a popular vegetable and, if the subject came up in general conversation, someone would turn to me and say, 'O-o-oh, did you do that drawing? I thought it was Arno' (or Hokinson or Irvin or Steig or Price of Hoff or Decker or Wallace Morgan or about twenty-five other estimable colleagues). The most perspicacious comment was written in all innocence by Gilbert Seldes. ... He wondered for a few lines what it was that made this little drawing so funny. The drawing, he thought, was all right (thanks), but the answer did not lie there. It was the caption that gave the drawing its verve; it had fire and passion and a rhythm of its own, and if Mr. Rose, who made the drawing, also wrote the line, he'd do well to do more writing [saith Seldes]." To which Mr. Rose then added, "The caption was written by that practically perfect blend of genius and gentleman, E.B. White." White, I should say, has been credited for the caption in numerous other places, so his authorship is scarcely the revelation in This Colyum. But I'd never realized before what White had been working with-that is, the caption Rose had initially supplied. And now I do. And so do you.
            My use, herein, of the antique expression "This Colyum" surely requires annotation. A few centuries ago-near the dawn of the 20th, to be exact-the term was introduced by persons writing such effusions as this. The purpose of the errant spelling was to distinguish a "personal column" (or a column of personal opinion) from the regular "columns" that made up the page layouts of the newspaper-that is, the vertical "columns" of typeset prose.
A Few More Ways to Appreciate Cartooning
Western civilization has advanced to the point that nearly everything about it is commemorated with idiosyncratic national holidays and special weeks. Cartooning, we are pleased to note, is no exception. We are in the midst of Cartoon Appreciation Week, May 2-8, which itself embraces Cartoonist Day, May 5, and, at local comic book shops, Free Comic Book Day-Saturday, May 7.  This is the first time in its four-year history that Free Comic Book Day (FCBD) has not fallen on a Saturday connected to the premiere of a superhero movie. To make up for that lapse, we have, as I said, Cartoon Appreciation Week, which, I ween, has its origins in Cartoonists Day. Some years ago, feeling a bit neglected, those of the nation's cartoonists who are members of the National Cartoonists Society proclaimed a national holiday-Cartoonists Day. And then, doubtless feeling a little self-conscious about drawing all that attention to themselves, they tried to move the spotlight from the artists to the art and declared that Cartoonists Day would be surrounded by Cartoon Appreciation Week. Whereupon, ever after, May 5 has been Cartoonists Day, and the week in which it falls has been Cartoon Appreciation Week.
            The dates of Cartoon Appreciation Week shift a little from year to year, but that doesn't make cartoonists any more shifty than the rest of us. Cartoon Appreciation Week, as fomented by the National Cartoonists Society, is whatever Monday-through-Sunday includes May 5. So this year, it's May 2-8, which, this year, includes Free Comic Book Day, which, otherwise, might have gone forth into the world naked and entirely unaccompanied by any worthy accouterment (like a superhero movie debut)
            The NCS picked May 5 because it was on that date in 1895 that the New York World published a cartoon called Hogan's Alley by Richard Outcault, a freelance technical draftsman, who, when not diagraming electrical equipment, drew comical pictures and peddled them to weekly humor magazines. Hogan's Alley, like others Outcault had sold to magazines, featured the juvenile antics of a swarm of tenement urchins, and among the otherwise raggedy and bedraggled mob, Outcault drew one distinctive little kid: he was bald (his head having been shaved as a cure for lice), and he had big jug ears and a gap-tooth grin, and wore a nightshirt that reached to his ankles. His name was Mickey Dugan, but almost no one knew that then or knows it now. Outcault first drew the nightshirted kid in a cartoon that was published in a magazine called Truth; the waif debuted June 2, 1894, in a single-panel cartoon. He appeared several times thereafter, and the cartoon from the February 9, 1895 issue was reprinted in the World on February 17. These cartoons were all published in black-and-white. But on May 5, 1895, Outcault's cartoon about slum kids, a sprawling single-panel panoramic drawing of "Hogan's Alley," was published in color; the Kid's nightshirt was blue. And its color varied for the next dozen or so appearances until January 5, 1896, when it was yellow. Subsequently, it was always yellow, and the character was dubbed "the Yellow Kid." Mickey Dugan disappeared from the annals of cartooning forever, nearly.
            Eventually, the Yellow Kid, who never spoke a word, communicated his thoughts to us by means of lettering on his nightshirt, a maneuver that effectively put his words within the picture, an aspect of cartooning that became characteristic over the years (although it didn't, really, start with the Yellow Kid). The Yellow Kid turned out to be a genuine crowd-pleaser: people bought the newspaper just to follow his shenanigans every week. The character was so popular that William Randolph Hearst hired Outcault away from the World to draw the cartoon for his New York Journal. But Joseph Pulitzer at the World hired another artist to draw the Yellow Kid, and for quite some time, the circulation battle between the two press lords had the Yellow Kid in the front lines as the most conspicuous combatant: delivery wagons taking newspapers around the city had posters on their flanks bearing the grinning visage of the Yellow Kid. Observers on the sidelines of the conflict sometimes referred to the two papers as "the Yellow Kid journals." Or just "the yellow journals." From which, we derive that expression customarily used to denigrate the sensation-mongering newspaper practices of Hearst and Pulitzer-"yellow journalism."
            For years, tradition had it that the Yellow Kid was the first newspaper comic strip even though he wasn't first, and he didn't initially appear in a "strip" but in a single, large drawing. No, he occupied his niche because he demonstrated the marketplace appeal of cartoons. After his noisy debut, newspaper publishers knew they could attract readers (and sell newspapers) if they published cartoons. The Yellow Kid established, beyond doubt, the commercial power of newspaper comics. And for that, he surely deserves the honored place he has in the history of the medium, even though, as I say, he wasn't the first of his breed.
            Newspaper comics have been "appreciated" ever since, every day, so Cartoon Appreciation Week scarcely fills a crying need. But then, we could claim the same for Mother's Day. We tend to take for granted our everyday blessings, even while appreciating them.
            In due course, newspaper comics started appearing in reprint volumes and then, in the 1930s, the reprinting took the form of magazines, dubbed, unaccountably, "comic books" even though they were sometimes not comic and never "books." Comics fans have never, apparently, been good at definitions or identifications. But they are appreciative, ravenously so. And this year, come May 7, we can appreciate comics all the more because we can pile up some free comic books at our local comic book shop. This week, to enhance that appreciation, try delving into books about cartoonists. Of these, there are, nowadays, a great many. Hundreds of years ago when I was a mere broth of a lad, there were virtually no books about cartoonists. Today, we are luckier.
            The University Press of Mississippi (which, to be painfully candid, has published several of my books) has, for some years, been producing a series of books about individual cartoonists under the heading "Conversations." Each volume reprints assorted interviews with a cartoonist, thereby providing a convenient one-source trove of insight into the way that individual thinks and works. Putting the "conversation" into context in each tome is an introductory essay by the editor, followed by an invaluable Chronology that traces the career of the cartoonist by highlighting, year by year, various of his achievements.
            The most recent of the series is Chuck Jones Conversations (244 6x9-inch pages in paperback, $20), talks with the famed animator who, more than anyone in his field except perhaps Walt Disney, shaped the history of the medium with Bugs Bunny, Daffy Duck, Wile E. Coyote, Road Runner, Sylvester and Tweety, Michigan J. Frog, and Pepe le Pew. The collection starts with 1968 and ends with 1999, just three years before Jones died. Jones discusses the Golden Age of studio animation (1930s and 1940s) as well as his creative processes, influences, and attitudes about what makes a good animated cartoon.
            Jones defends Walt Disney against the allegation in Richard Schickel's nefarious The Disney Version that Disney was merely a canny businessman. "To call Disney a businessman is about like calling Adolf Hitler a humanitarian," Jones says. "He was the despair of business." And then Jones supports his assertion by relating how Disney sacrificed profits in order to get something "right." Says Jones: "He'd do things like that on features; you'd animate maybe three or four people doing something, a very expensive thing to do, and Walt would look at it and he'd say,'It would be much better if you were animating if from this viewpoint. Turn 'em around.' And, Christ! The amount of dough they put in things like that!" Throughout the book, Jones spends as much time talking about his colleagues as he does about the cartoons they produced. "See, I was really lucky," he says at one point, "-I had such great collaborators!" Even producer Leon Schlesinger, "the last of the robber barons," contributed: he had a slight lisp, and to mock him, Jones and his crew gave Daffy Duck a lisp. Schlesinger's successor was Eddie Selzer, who got the job, Jones says, "following a diligent search of the studio to find out who hated laughter the most." Selzer "issued random dictums like 'I don't want any gags about bullfights; bullfights aren't funny.'" So Jones promptly started work on a bullfight cartoon, "Bully for Bugs."
            Jones analyzes most of the characters he invented and discusses their various appeals, and he talks at length about "One Froggy Evening" and what makes it the uniquely comedic venture it is. Asked which of the characters he invented is the "most enduring," Jones says: "All of them. It's like somebody saying, 'What's your favorite child?' ... If you have more than one child, you will have a favorite. But if you value your sanity, you will never mention it to anyone. The same thing is true here: each character represents a part of me. You never find a character outside of yourself because every human being has all the evil and all the good things, and it's how you use them, how you develop them. Those who enjoy Daffy obviously recognize Daffy in themselves. And with the heroes, like Bugs Bunny, what you have there is that that's the character you'd like to be like. You'll dream about being like Bugs Bunny, and then you wake up, and you're Daffy Duck."
            In Mort Walker Conversations (286 pages, $20), we meet the dean of newspaper cartoonists, the man who created Beetle Bailey and, over the years, eight other comic strips, not counting The Lime Juicers, a comic strip he was producing for the Kansas City Journal at the age of thirteen.  (He'd sold his first magazine cartoon three years before.) Today only three of his creations are still running (Sam and Silo and Hi and Lois in addition to Beetle). Although Walker's fecundity is aided and abetted by several collaborators (including his sons) who participate in gag-writing sessions and draw or ink the strips, he still pencils every panel in Beetle Bailey, which, over the years, has become, graphically, a masterpiece of hilarious geometry and, thematically, a gently jaundiced view of social hierarchy.
            Launched on September 4, 1950, as a jape on college life, Walker's strip didn't come to life until its eponymous anti-hero blundered into an army uniform. We'd just gone to war in Korea, and the nation was khaki conscious: every male citizen was vaguely apprehensive about being drafted (or called up again), so Beetle's fate was on the horizon for many of the strip's readers. But Beetle Bailey is not really a strip about the military. Says Walker: "The truth is, it's just a strip about a bunch of funny guys.  They could be policemen, factory workers, college students, whatever.  The Army is just a convenient setting that everyone understands.  The pecking order doesn't have to be explained, and the role of the poor guy at the bottom of the ladder is a classic in literature." Sociologists who have studied the strip for the way it represents authority are close to the heart of the matter.  Walker's army is simply a version of society, which sustains its essential order through a hierarchy of authority.  From the point of view of most of us in a social order, the flaws in the system are due to the incompetence of those who have authority over us.  Beetle Bailey encapsulates this aspect of the human condition and gives expression to our resentment of authority by ridiculing traditional authority figures.  But the ridicule is gentle:  it takes shape as Walker repeatedly shows us that everyone in his army-authority figure or not-is but a bundle of personality quirks.  Hence, the strip is a great leveler:  we're all equal.  Everyone has his frailties, his entirely human foibles.
            In Backstage at the Strips (still probably the best book around about the life of a cartoonist), Walker discussed his attitude towards humor.  He disagreed with Jules Feiffer, who, he said, believes "you have to hate to be funny.  Humor, Feiffer says, comes from dissatisfaction with things; you attack, ridicule, and destroy what you don't like with humor."  Some humorists do.  But Walker said he's more comfortable with Leo Rosten's notion that "humor is an affectionate insight into the affairs of man."
            "Affectionate is the word that won me," Walker explained.  "I like people.  I like their absurdities, their aberrations, their pretensions.  If you catch a guy exaggerating, you don't ridicule him:  you understand him."
              Walker's strip is, indeed, just about "a bunch of funny guys."  All of us.  And that is the universal appeal of the strip-its foundation on the fundamentally human condition.  In the early years, a large proportion of the gags were built on Army customs, duties, and regulations.  But the longer the strip lasted-and the greater its circulation grew-the more the gags sprang from the personalities of the characters rather than the institutions of the Army.  It was a wholly natural development, the outcome we would expect in a strip with a large cast.  As the Army as an institution faded away, the common condition of humanity remained, and the strip thus established its universality.
            For the student of comic strip art, Beetle Bailey is something more than a strip with universal appeal.  Although Walker's accomplishments were recognized by his peers as early as 1953 when the National Cartoonists Society gave him a Reuben as Cartoonist of the Year, he has, oddly, never been credited enough in critical circles for his complete mastery of the medium.  And his is scarcely an unconscious talent.
            "An editor told me a long time ago," Walker once said, "that if you could cover up the drawing and still get the gag by reading the caption, then you were a writer and not a cartoonist.  With that advice, I've always tried to get as many funny pictures into my work as possible."
            To a greater extent than many of his more trendy contemporaries-Johnny Hart, Brant Parker, Jeff MacNelly, Gary Trudeau (and a flock of the latter's imitators)-Walker and his crew of assistants make the humor in Beetle visual as well as verbal.  To understand the joke, we must grasp the implications of the pictures as well as the meaning of the words.  In blending the verbal and the visual, Walker is firmly in the tradition of comic strip art at its finest, using the resources of the medium to their fullest.
            In visual terms alone, Beetle achieves a highwater mark in the art of cartooning.  Over the years, Walker's style has evolved.  At first, he drew in a simple bigfoot style that seemed a mix of John Gallagher and Tom Henderson, two great magazine cartoonists of the fifties.  (Walker says his style was absorbed from Frank Willard, Walter Brendt, Chic Young, Milton Caniff, and Al Capp;  so what do I know?  Just that where there's smoke, there's something to make your eyes smart.)  But as the years rolled by, Walker refined his style, streamlining simplicity into a unique comic abbreviation. Some simplification was required to meet necessity.  As strips were reproduced smaller and smaller, Walker stopped drawing elaborate crowd scenes.  And he stopped using Benday gray tones to shade uniforms and began relying entirely on judicious spotting of solid blacks for visual variety in his strip.  (The drab, monotonous setting of Army life still bothers Walker, and he continually struggles to insinuate telling graphic contrasts into each daily installment. Benday soon returned, by the way.)  Walker shrank his figures to fit the smaller panels.  Heads stayed about the same size, though, so the proportions changed:  heads became larger in relation to bodies than they had been in the fifties.  One effect was to make his people cuter.  At the same time, everything-heads, noses, bodies, hands, fingers-got rounder.  Sarge got rounder and fatter as he grew shorter, finally becoming cuddly (a dubious trait for the top sergeant of tradition, but with Sarge, it works). "I like round figures, graceful. I don't like sharp elbows and things like that," Walker explains. "It's not personal or warm."
            By the late fifties and early sixties, Walker's patented stylized forms had emerged.  Not since Cliff Sterrett surrealized human anatomy in the futuristic manner have we had such charming comedic abstractions of the human form.  Human dimensions are suggested by the simplest shapes. Beetle's head is a cantaloupe; Sarge's, a giant pear.  Upon these pulpy craniums, Walker's grafts billiard balls for noses.  Bodies in repose hang limply from these heads like uninhabited haberdashery weighted to the ground by monster shoes (not feet), and hands are doughy wads, dangling at the ends of empty sleeves.  Clothing shows no wrinkles:  sleeves and pantlegs are simple geometric shapes vaguely approximating arms and legs. 
            Anatomy is wonderfully elastic in Walker's hands.  A bent arm or leg is longer than when the limb is straight (you need length to show a bend).  The illusion of the body in motion is achieved by means of a carefully orchestrated series of wild distortions.  A person walking has only one leg-the one in front, which trails a second foot behind as if it were growing out of the lead leg's ankle.  Running figures are all elbows and knees, perfect comic abstractions.  The flexibility of Walker's abstracted simplicity is capable of extreme exaggeration for comic effect.  Indeed, much of the humor in many strips arises from the antic visuals as much as from the situation depicted.
            If I were in a poetic mood, I'd be tempted to say that Walker's style evolved to suit his subject.  His representations of humanity are as abstracted as his microcosm of society.  But that's poetry not fact.  Nice but it reaches a little.  The fact is that the drawings are they way they so that the visuals will be funny.  The pictures help the words achieve comedy by blending the visual and the verbal.  But the pictures are comic in themselves, too.
            Much of the foregoing can be derived from the interviews in the book (although most of what I've said here comes from my own book, The Art of the Funnies, about which you can read more if you click here). From the Chronology we glean such tidbits as when Walker sold his first gag (to Al Capp for Li'l Abner; and the book reprints the gag), when he was hired (at the age of 18) as chief editorial designer at Hallmark Cards (one of Walker's hometown industries), when one of his drawings was the first cartoon to be faxed, when he moved into the former studio of Gutzon Borglum (famed as the "sculptor" of Mount Rushmore), and when the Museum of Cartoon Art, founded by Walker, opened. Elsewhere in the volume, we learn that Sarge is Walker's favorite character, and we see the first appearance of Lt. Flapp (and the strip itself is reprinted-a stunning example of comedic chutzpah and social insight), and Walker tells us something about the difficulties, in 1970, of introducing a black character. ("At the time, a black couldn't get his own television show," Walker says. "Look at it now. You're used to seeing blacks, but they were almost invisible then.") Walker also tells us about the time he arranged for Camp Swampy to be picketed by anti-war demonstrators-one of the rare occasions of social/political commentary in the strip-and he identifies which strip brought in more mail than any comic strip at King Features. The book brims with anecdotes about the early days of the National Cartoonists Society and Walker's various enterprises and professional contacts. (Among other things, he got Charles Schulz into NCS.)  And in one section of the book, he runs through a chronological history of the comic strips he's invented after launching Beetle Bailey: Hi and Lois, Mrs. Fitz Flats, Sam's Strip, Boner's Ark, The Evermores, Sam and Silo, Betty Boop and Felix, and Gamin and Patches. Walker seems to have bubbled over with ideas for comic strips. He says at one time, he'd create a new strip every three or four months and send it to Sylvan Byck, King's veteran comics editor. "He'd reject it," Walker adds, "and I'd say, 'Thank God!'" He had enough to do.
            With R. Crumb Conversations (266 pages, $20), we enter the world of unfettered creative freedom, not to say licentiousness. One of the founding comix undergrounders, Crumb achieved a fame and notoriety none of his peers, save Art Spiegelman, have matched. Exercising a perversity that distinguishes not only his work but his life, Crumb fled the temptations of mercantile America in 1991, moving to southern France where he still resides, producing occasional strips and cover art for magazines here while working at his new long-range project, illustrating the Bible. One of the most gifted of his breed, Crumb has drawn almost obsessively all his life, increasingly, as time passed, examining and revealing his sexual hang-ups. Recently in the London Daily Telegraph, he announced, with great relief, that his "sex drive has really gone down a lot." The interviews herein date from November 1968, late in the same year that he published one of the first comix, Zap, in San Francisco's Haight. And it's clear Crumb hasn't changed much.
            In the 1968 interview (published in the Berkeley Barb on November 22), Crumb expounds: "No, I'm not political. God, I don't know what it is. I'm instinctive. I just let it come." The interview was prompted by the recent confiscation of copies of Zap and Snatch by the authorities who alleged the comix were pornographic. Asked if his work was intended to arouse the prurient interests of his readers, Crumb said, "I don't know about that, but I'm aroused." He was already a dedicated advocate for freedom of expression, thanks to S. Clay Wilson. Said Crumb: "Wilson just showed me his stuff and said, Uncensor yourself. He doesn't censor himself at all. It's healthier that way. There's a lot of weird shit in everybody's head. The whole value of a cartoonist is to be able to bring it all out in the open. It takes courage to let it all out. And it's necessary so that we can all laugh at it all." In the 2002 interview that concludes this volume, Crumb's schtick is intact: "Is there anything left [for me] to confess, anything I haven't told? Y'know, I'm probably one of the few, maybe the only, human on this planet with no secrets. My deepest, bizarrest thoughts and fantasies are known by millions of people!"
            Dubbed the modern Brueghel by art critic Robert Hughes, a "professional pervert and shameless monster who let it all hang out" by reporter Simon Hattenstone at the Guardian, and "a sexist, racist, misogynist misanthropic anti-Semite" by his "current" (his term) wife, Aline (who is Jewish), Crumb was extensively written up in England last month for the opening of two exhibitions of his work in London, at the Whitechapel Art Gallery and at the Bonhams. He told Hattenstone that his celebrated descent into forbidden libidinous fantasies was his attempt to thwart his own celebrity, which crashed around him in the wake of the first issues of Zap. Said Hattenstone: "He hated being labelled 'America's best-loved underground cartoonist,' so he determined to make himself less loved. He exposed his darkest side on paper, presuming the world would run a mile. But it didn't work out like that." As we all know, he just got more famous and better loved, and his fans ran toward him.
            Crumb went to France (at Aline's prompting) to escape the things about his country that he was appalled by-corporatism, Coca-Cola, George W., intolerance, Christian fundamentalism, red tape, prices, logos, environmental destruction, property developers, and so on. Or so he said when questioned, but we must observe that GeeDubya and Christian fundamentalism were scarcely high on anyone's list of irritants in 1991. What does he miss about America? "For one thing, I guess I miss all those large-butted American women. But also my role as a commentator on that culture. I mean, I can't comment on French culture. I can't tell what the hell's going on here."
            One of the most impressive aspects of the Crumb Conversations book is the Index, which offers over four pages of page references therein for the whole range of topics Crumb discusses (from the Academy Awards and AIDS to The Yum Yum Book and Zap), including many of his works by title. The Chronology is also extremely helpful. I've researched Crumb and wrote quite a bit about his life and career in my book, The Art of the Comic Book (click here for more about it), but it wasn't until I browsed this Chronology that I realized he hadn't lived in Philadlephia as much as I thought he had, and, in fact, his earliest comics work was done while the family lived in Delaware, where he went to high school. My sources at the time I wrote my book were mostly Crumb's hand-lettered introductions to Fantagraphics' Complete Crumb series, and Crumb, like most of us, isn't often as precise about dates and places as historians are.
            A propos the advent of the Crumb Conversations is the arrival of The R. Crumb Handbook, a fat 440 5x7-inch pages in stout hardcover for $14.99. Nearly a cube in shape, the book reprints vast samples of the Crumb canon, selections from some of his more celebrated oeuvre and some not so well known, I suspect, assembled and arrayed by Peter Poplaski, once of the Kitchen Sink crew, plus a CD of music recorded by various musical groups Crumb played with. The new material appears to be mostly Crumb's accompanying autobiographical text pieces and numerous photographs. A bargain at the price.
            Other cartoonists in the University Press's matching cartoonist conversation series are Charles Schulz, Milton Caniff (my offering, which I peddle here), and Carl Barks-representing, respectively, the masterworks Peanuts, Terry and the Pirates and Steve Canyon, and the Disney Ducks in comic books, Donald and Uncle Scrooge in particular. All include some representative visuals, but the emphasis is text. More at www.upress.ms.us.
            From the sublimity of Barks' ducks to the superpowers of the longjohn legions, here's Gerard Jones' Men of Tomorrow: Geeks, Gangsters, and the Birth of the Comic Book (390 6x9-inch pages in hardcover, $26). In lively prose that tumbles through the events of the formative years in the medium, Jones reveals that the earliest comic book publishers, often friends of 1930s mobsters, started their careers with sleazy soft-core porn magazines. He discusses in most detail the life-long struggles of Jerry Siegel and his drawing partner Joe Shuster, the geeks of the title, to produce and capitalize on their Superman creation, pausing along the way to interview Will Eisner, who conducted one of the first "art shops" that produced material in assembly-line fashion for the infant industry, and to consider the watershed influence on the four-color superheroes of the bickering creations of Stan Lee and Jack Kirby.
            Jones is perhaps a little too impressed with the sensationalism that comic books were an offshoot of the porn racket, and he often presents his speculative passages as if they were documented fact (they aren't: most depend upon interviews with persons as enthralled to the scandalous as Jones is), but the book is an entertaining read, presenting information about the business that has, until now, been circulated only through the circles of the comic book cognizanti.
            Finally, to return to one of the events that prompts this hasty survey: among the comic books that will be given away during Free Comic Book Day are: a reprint of Carl Barks' landmark "Only a Poor Old Man," the book-length Uncle Scrooge McDuck story that took his miserly old quacker and made him comically lovable (no small achievement) and a preview of "Star Wars: Revenge of the Sith" (not the whole story, just a sneak peek).
            Incidentally, one of our Vast Network of Spies, John McCarthy, made a presentation on comics and cartooning recently to a throng of eighth graders, numbering 56 by count, none of whom had ever heard of Free Comic Book Day, although some of them read comic books (or used to). Said he: "Now this is a crowd that would seem to be prime targets for this program and THEY DIDN'T GET THE MEMO!" Once again, the realms of comics fandom seem to be mostly incestuous.
Under the Spreading Punditry
David Corn posted a report on the annual Whistleblower Awards, given to those who doggedly pursue the truth. One of this year's winners was Kristen Breitweiser, a 9/11 widow and activist who joined with other 9/11 widows (aka "the Jersey Girls") to push for an independent 9/11 commission and reforms in the intelligence system. Corn wrote: Breitweiser delivered a kick-ass speech, explaining that she went from becoming a rose-tending housewife (whose husband worked in the World Trade Center) to an activist simply because she desired answers to obvious questions. But she noted she was tired of talking about her own transformation and wanted to discuss her country's transformation and the (bad) choices of the Bush administration. Why, she asked, has the Bush administration not done enough to secure airliners, ports, and mass transit systems, not done enough to secure loose nukes, and not done enough to support local responders and, instead, launched a war against a country not involved in the 9/11 attack? Why, she asked, has the US government "invaded an oil-rich country and passed no alternative-energy legislation?" Why, she asked, does the Bush administration alienate other nations when "we need the trust and cooperation of the world to contain terrorism?" And, she asked, "why do we accept these choices?" As for Congress, she wondered how the public could trust a Congress that meets on a Sunday night to deal with the Schiavo case but holds no hearings on "the dead-wrong intelligence that brought us to war in Iraq?" Good questions. "I got here by asking questions," Breitweiser said. "I wanted to know my daughter and I were safe." She still wants to know. She's still trying to get answers.
            Aren't we all?
To find out about Harv's books, click here.