Opus 165:
Opus 165 (July 10, 2005). A huge helping of hoppiness this time, gang. A long essay on the alleged virtues of copyright is interwoven with a review of Bob Levin's The Pirates and the Mouse at the penultimate moment herein, followed by a review of Rick Geary's latest graphic novel. Before getting to that, though, we have a review of "Batman Begins" and a lengthy report on the mischief being wrought in Mexico with a stereotypical racial caricature. We also examine the unprecedented heated passions in 9 Chickweed Lane and the strip's equal daring in its treatment of a gay character and accuse Stephen Pastis of swinishness. Plus, all the other recent news that gives us fits. When I printed this installment out, tovarich, it came to over 30 pages, so I'd recommend you take advantage of our "Bathroom Button" feature, as below. Here's the contents, in order: NOUS R US -a new feature at the CBG site, the deaths of Selby Kelly, Rowland B. Wilson, and Bruce Hamilton (with a harrowing recollection of the perfidious Grandeys); Funky Winkerbean and unexploded landmines, Max Allan Colllins' documentary on Alley Oop's V.T. Hamlin, Marvel's kiddie line, and Joe Sacco's latest graphic reportage; Mexico's stamp act, "Batman Begins" (and the disparaged origins of the Batmobile); Funnybook Fan Fare -reviews of The New West, Judo Girl, Shanna, Heroes Anonymous, Dr. Blink, and Black Panther; George Perez's dilemma; Comic Strip Watch -Will comic strips be the next thing newspapers cut back on? Chickweed Lane and youthful passion, Pastis' swine; Bob Levin's good book and a question: Is perpetual copyright a good thing? Then, at last, a review of Geary's book. And once again, as always, our usual Solicitous Rejoinder: Remember, when you get to the Members' Section, the useful "Bathroom Button" (also called the "print friendly version") of this installment that can be pushed for a copy that can be read later, at your leisure while enthroned. Without further adieu-
NOUS R US
When Cathy Guisewite arranged for her nose-less comic strip heroine, Cathy, to marry her on-again off-again beau, Irving, she also set up an unusual gift registry for the happy couple: instead of sending the newlyweds gifts, well-wishers could donate the gift money to a fund for orphaned dogs and cats. The result (up to now) has just been announced: $25,000 has been raised for homeless felines and canines. ... The Comics Buyer's Guide, which went out of the comics fandom business a year ago with its transition to magazine format and an editorial concentration on comic book collectors and speculators, has launched another online vehicle, attached to its current digital presence: www.cbgxtra.com, it sez here, will offer an online discussion board (with CBG editors) in addition to its periodic news flashes. The site lists a number of forums on various topics and reprises of some of the articles in previous print issues of CBG. All sorts of promotions abound on-site, including the proclamation that CBG is the "longest running fan community." Now there's a new buzz word-"community." One hopes, against all likelihood, I realize, that this little slogan signals the publication's return to its roots, comics fandom-namely, people who read and enjoy comics for their own sake not people who buy them as investments. ... Warren Beatty is suing the Tribune Media Services syndicate for violating a provision of the contract he had for Dick Tracy projects; Beatty wants to do another Tracy film, and TMS, which owns Dick Tracy, is, apparently, throwing legal roadblocks in his way. ... Pete Segar, a balladeer and the leader of a band of right-thinking people for decades, turned 86 on May 3; a belated best wishes, Pete. ... Jennifer Brummett, who writes a book column online, cites a Nielsen Bookscan report indicating that 70% of the graphic novel titles that appeared in 2004 were manga.
            It's been a bad fortnight for Grand Old Names in cartooning. Just at press time ("digital time"?), I learned that Selby Kelly, Walt Kelly's last wife, who carried on Pogo for a time after Kelly's death, died of complications from a stroke on or about July 5. She was 87 and had been in a nursing home (in Santa Rose, California, I believe) for quite some time; she may have been suffering from Alzheimer's or some similar malady of the elderly. I had dinner with her one memorable evening in 1998 when I was visiting Mark Cohen in Santa Rosa; Mark arranged it (as he did so many worthy things). Among the memorable parts, Selby got lost trying to get herself to the restaurant where we were meeting. By the time you read this, more information will doubtless be available at the usual dependable places (Tom Spurgeon's www.comicsreporter.com and Mark Evanier's www.newsfromme.com). Try Steve Thompson's www.pogo-fan-club.org, too: Steve is the President-for-Life of the Pogo Fan Club and co-author, with Selby, of the Pogo Files for Pogophiles, an invaluable compendium of incidental and vital information about Kelly and the swamp and nature's "screechers." And then there's www.pogopossum.com run, I believe, by someone in the Kelly clan. ... And Rowland B. Wilson, whose gracefully penciled cartoons in muted hues dressed up the pages of Esquire and Playboy, died of a heart attack on June 28 at the age of 75. Wilson also produced a series of pictures of persons in dire albeit comedic straits as advertisements for an insurance company. Many of his early classic cartoons were reprinted in The Whites of Their Eyes, a compilation now at least two decades old. In recent times, he worked for Disney and is credited (it sez here) as layout designer for "The Litt

le Mermaid." I first ran into Wilson's work while I was in college, cartooning for a campus humor magazine that would, shortly, be banned for undue emphasis on sex and alcohol. I spent several instructive hours in the magazine's office browsing the exchange file, studying the cartoons in magazines from other campuses. Wilson's work appeared in the Texas Ranger, the laugh riot from Texas U. Here's his drawing of the ribald Ranger and two of his cartoons that I never forgot. In fact, I copied the idea of the suicide cartoon in a drawing of my own, and, in a fit of unrequited passion, gave it to a girl I pined for, supplying it with the caption: Light Up My Life. She didn't. But the cartoon remains memorable, burned forever into my banal brain pan.
            And Bruce Hamilton died, too, on Saturday, June 18, ending a four-month hospital stay. A tall imposing man with a radio personality's clarion vocal chords, Hamilton was a seminal figure in the history of comics fandom. He was, as they say, there at the creation. Establishing a succession of companies for each of his many enterprises, Hamilton revived several vintage comics characters through reprint projects-Dick Tracy, Little Lulu, and EC Comics among them. But he was renowned for his associations with Disney comic books and Carl Barks. He negotiated a deal with Disney that allowed Barks to continue to produce and sell oil paintings of the celebrated ducks and subsequently helped Barks get a better price for the paintings. In about 1980, Hamilton obtained a license from Disney to publish The Fine Art of Walt Disney's Donald Duck, a high quality reproduction of Barks' oil paintings, and, later, he produced limited edition lithographs of Barks' works. And when Western Publishing dropped the license for Disney comic books, Hamilton picked it up, forming Gladstone Publishing for the purpose. Together with Russ Cochran, with whom he established a partnership, Another Rainbow, Hamilton successfully promoted Barks as a superstar. I didn't know him at all except to recognize his snow-haired head towering above the crowd in the distance at comicons. Diamond's Scoop site (http://scoop.diamondgalleries.com/scoop_archive.asp?m=6&d=24&y=2005 , if this'll get you there) carries a long warm-hearted appreciation of Hamilton's contributions to comics, and both Tom Spurgeon and Mark Evanier (URLs given above) recognize his achievements briefly, but I gather they didn't know him much better than I did. The Comics Buyer's Guide promises a long treatment in its next issue, No. 1609.
            Nowhere yet, however, have I seen reference to Hamilton's signal act of courage-bringing legal action against Carl Barks, whom he loved. The action was a sort of Trojan Horse, however, aimed not at Barks but at smoking out the parasitic couple, Bill Grandey and Kathy Morby, who moved into a house next to Barks after his wife died in 1993 and took control of the 92-year-old cartoonist's life and work. They preyed upon the man in his old age, effectively living off his talent and reputation, securing his cooperation and consent through a blizzard of legal documents of questionable morality. Hamilton, seeing how captive Barks had become, brought suit under some rubric that had the ultimate effect of exposing the Grandeys' perfidity and driving them out of Barks' life. It was a courageous act because the couple had demonstrated a vicious instinct for self-preservation, resorting to character assassination and slander to impugn the reputation and veracity of anyone who attacked or questioned them. Their tactics had cowed much of fandom into an uneasy silence; those who weren't cowed stayed quiet out of respect for Barks, not wanting to make trouble for him in his last years. Hamilton broke the silence. Once his suit was filed, news accounts explaining the action, effectively recounted the Grandeys various chicaneries. After the Grandeys were drummed out of the Duck Man's life, Hamilton and Barks effected a reconciliation, I understand. And Barks' last year or so of life was, I assume, somewhat more placid than it had been when he was forced to produce more work by the voracious Grandeys. To those of us who love Barks' work, it was a relief to know that he was, at last, free. Thanks to Hamilton.
            In Tom Batiuk's Funky Winkerbean, one of the two recently married couples, Wally and Becky, are going to Afghanistan to join the Vietnam Veterans of America Foundation's project to clear the country of its many unexploded landmines. Wally, who's Funky's cousin, served in Afghanistan in the post-9/11 invasion. "He was shot down while in a helicopter," David Astor tells us in Editor & Publisher, "captured, and held for ransom before escaping. Then, with the help of an Afghan girl and her family, he was rescued by American soldiers." Said Batiuk: "I think comics are at their best when they deal with what's happening in the real world." The story will include a near-tragedy and a massive car-bombing. The cartoonist researched the story pretty thoroughly, consulting VVAF information director, as well as numerous books and websites. "I'm probably on some Homeland Security list at the moment," he joked to Astor. Batiuk has delved into real-life issues before in his strip-teen pregnancy, teen suicide, breast cancer, and Alzheimer's disease (in his other strip, Crankshaft). But this time, in Funky, he delves deep for a different sort of reality: on July 5, Wally is given an old World War II vintage flight jacket, worn, he is told, by one of the pilots in the famed Flying Tigers. We can see the name stenciled on the collar: T. Lee. Ahhh. Well, the Flying Tigers had gone kaput by the time Terry Lee (of piratical fame) got his wings and commission, but it's a lovely thought, Tom. And Terry did serve in the same theater of war, China-Burma-India, but by now, the former Flying Tigers were an official U.S. Army Air Corps outfit.
            The New York Times doesn't usually publish comics, Editor & Publisher observed June 21 online, "but it put a comic collection on the cover of its Sunday book review section" June 19. The book was The Long Road Home: One Step at a Time, a compilation of Garry Trudeau's Doonesbury strips about B.D.'s losing a leg in Iraq and learning to deal with his disability. Reviewer Kurt Andersen raved: "Garry Trudeau, who by all rights should b phoning it in by now, still takes his responsibilities to the strip and his audience seriously, and in service to them still takes large and interesting risks. Which is one reason I am much more enthusiastic about the Democrats' favorite comic strip than I tend to be about the Democrats." Royalties from the book's sales will go to Fisher House Foundation, which provides housing for families of wounded soldiers visiting their relatives in military hospitals.
            On June 24, a documentary on V.T. Hamlin, creator of the comic strip Alley Oop, premiered in Perry, Iowa, Hamlin's birthplace. The premiere was attended by Hamlin's daughter and his son and Jack and Carole Bender, the current artist and writer on the strip. Hamlin died in 1993 at the age of 93, but he'd relinquished Alley Oop to an assistant, Dave Graue, in about 1970; Graue was killed in an auto accident a couple years ago, but the Benders had effectively taken over in 1990 or so. The film, four years in the making, is another of the worthy undertakings by Max Allan Collins, known to most of us as the one-time writer of Dick Tracy, mystery novelist, comics collector, and author of the graphic novel Road to Perdition, which was turned into a grown-up movie. Interviewed by Dar Danielson of Radio Iowa, Collins said the film provides insight about what it was like to be a syndicated cartoonist meeting weekly deadlines with a daily strip. He also claimed that Alley Oop had a big cultural impact on America, notably with a number one rock and roll song, "Alley Oop." What's more, Collins said, "[The strip] really was a feature that sparked a lot of interest in dinosaurs and cave men and that kind of story. You can draw a direct line between Alley Oop and the Flintstones and Jurassic Park and all of that sort of dinosaur mania."
            Maybe, but I wonder. After a false start in 1932 with a bush league syndicate, Alley Oop re-emerged with NEA in the summer of 1933 as a comic strip about a cave man with a pet dinosaur, but it achieved its imaginative pinnacle after 1939, when the cave man started traveling through history in a time machine. Although Oop returned to his prehistoric origins occasionally, he spent most of the ensuing twenty years jumping from ancient Athens to the American Old West to Rome and antique Britain. I rather doubt that America's presumed fascination with dinosaurs was much fostered by Hamlin's strip: I don't think it was circulated widely enough in its dinosaur heyday to impinge upon the cultural mainstream. I suspect, in fact, that Americans have almost always harbored a fascination for dinosaurs, and we have evidence of their pre-Oop enthrallment. In 1930, two years before Alley Oop showed up with his dinosaur, Sinclair Oil adopted the giant lizard-like apatosaurus for its logo. An enterprising advertising personage with the company had launched a monster-laden publicity campaign springing from the plain fact that the oil they were pumping out of the ground had been mellowing there during the Mesozoic era when dinosaurs roamed the earth. "The obvious sales message," according to Sinclair Oil's history site online, "was-the oldest crudes make the best oils. But how to dramatize this?" With dinosaurs, they decided. The campaign featured the entire cast of dinosaurs-the "hideous-fanged tyrannosaurus rex, the three-horned triceratops and the unaggressive, vegetarian apatosaurs, a 40-ton lizard with neck and tail each thirty feet long." Intended as a one-time effort, the campaign yielded an unexpected result: the apatosaurus turned out to be hugely popular, a real crowd-pleaser. The company forthwith adopted the green giant as its symbol, and "Dino," as it was nicknamed, roamed the country for the next forty years or so.
            Cartoonist Hamlin, who worked in the oil fields of Texas at various times through the 1920s, was quite aware of the Mesozoic dinosaur population-and he also recognized the popularity of Sinclair's Dino. When he invented a pet for Alley Oop, he combined distinctive features of several of the old monsters, including a 30-foot neck and tail, to create "Dinny," the cave man's pet who adopts the cave man for much the same reason as the lion followed Androcles around: Alley rescued the big lizard, extracting him from a snare. We'll have a full-dress rehearsal of Hamlin's history in our Hindsight department in August. In the meantime, though, my guess is that Alley Oop scarcely caused America's passion for dinosaurs. The strip was less an influence and more an incidental sideshow as far as dinosaurs are concerned. As a rollicking adventure strip, though, Alley Oop was without equal, a genuinely unique creation of superior quality in both art and story. And for chronicling the life of a syndicated cartoonist generally-and Hamlin in particular-we are much in Collins' debt. And he, like all of us, is much in Hamlin's debt. As Carole Bender put it: "The film is a testament to the characters Hamlin created. They're timeless. They can be anywhere and do anything." Added Jack: "We'd be nothing without V.T." Naturally, I'd love to see the film, and Collins is reported to be anticipating cable and DVD sales. Tell me where to put my dollars down, Max.
And Elsewhere In the Public Prints: Newsweek (June 13) announced that Marvel, seeking to inculcate a love of funnybooks in tomorrow's consumer, has launched a new series aimed at "the ten-and-under crowd." The first title, staring Spider-Man and the Fantastic Four (movie tie-in, tovarich), is less violent and the page layout is less frenetic. And the drawings are more cartoony, too (or maybe it's manga-like, again seeking synergy). Said supervising editor MacKenzie Cadenhead: "It's a more vibrant style. Kids will respond to that." DC, Newsweek affirms, "already devotes about ten percent of its issues to kids."
            Time recently listed "5 Fantastic Graphic Novels": Ice Haven by Daniel Clowes, Ordinary Victories by Manu Larcenet, War's End by Joe Sacco, Why Are You Doing This? by Jason, and, unaccountably, Little Lulu, the third reprint book of John Stanley comic book stories from Dark Horse, scarcely a "graphic novel." Time's Andrew Arnold, who maintains the magazine's online comics site, oughta know better. Maybe he's just pandering to an adult audience that he thinks doesn't.
            Time has started published a selection of editorial cartoons every week in rather blatant imitation of its Newsweek rival. But Time is much more respectful of editoonists: it leaves their signatures in the artwork. Newsweek, which views editorial cartoons as visual content in the same category as photographs rather than as commentary in the same category as opinion columns, always excises the signatures, giving credit to the cartoonists in agate type at the bottom of the page, the same way as it treats photographers.
            Mother Jones (July/August) runs an interview with Joe Sacco accompanied by a stunning mug shot: the guy looks a good deal more intelligent and perceptive than his cartoonish alter ego in the books he produces.  The interviewer notices the difference, too, and asks Sacco why he draws himself the way he does. "When I started Palestine [his first graphic reportage], it was a bit cartoony at the beginning because that's the only way I knew how to draw. It became clear to me that I had to push it toward a more representational way of drawing. I tried to draw people more realistically, but the figure I neglected to up-date was myself." With his latest endeavor, War's End, Sacco returns to the Bosnian arena, his third foray into that troubled terrain. "I think any journalist who spends time at a place realizes that there are lots of stories around beyond their primary story." He believes he has even one more good one he'd like to do-this one, on the Serb side, where he spent "a fair amount of time ... which isn't apparent in the other books." He works like a journalist, interviewing people, but Sacco is also recording visual information: he walks the locales he'll re-visit in a book, he photographs those he interviews if they permit him (if not, he makes a quick sketch), and when asking questions about past events, he often asks what people are wearing. I wonder when Sacco will get to Iraq.
CIVILIZATION'S LAST OUTPOST
I saw one of the new nickels the other day. It restores the old buffalo to one side; Thomas Jefferson is still on the other side, but only part of his distinctive profile is engraved thereon. And he's looking to the right! There is no limit to the extent the Bush Leaguers will go to change America: they intend to infiltrate every single aspect of our lives, however tiny an aspect it might be. Lincoln is looking to the right on the twenty, I notice; and Washington on the dollar bill.
A COMIC BORDER INCIDENT
The latest disturbance on the placid pool of international politics originated a couple weeks ago south of the border. In Mexico, a new issue of postage stamps featured several poses of a famous Mexican cartoon character, Memin Pinguin, who was created in 1943 by Yolanda Vargas Dulche. A mischievous but inept youth, Memin Pinguin is forever bumbling into trouble and then being spanked by his mother. The problem-the international dis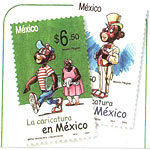 aster-: Memin Pinguin is an African-Mexican, drawn in the Sambo style of 1940s cartoon characters-big liver lips, rolling eyeballs, chimplike physiognomy. And his mother is another in the same ilk, an Aunt Jemima type with a more-than-ample bosom and her head wrapped in a scarf. Arriving on the scene just a few weeks after Mexican President Vicente Fox offended the African American community by saying Mexican immigrants were so hungry for jobs north of the border that they'd do jobs "not even" American blacks would take, the Memin Pinguin postage stamp quickly mobilized a chorus of furious criticism north of the border.
            Civil rights activists and black historians alike agree that racial caricatures like Memin Pinguin reinforce prejudices and impede progress towards equality among races. And that, surely, is true. Civil rights leaders in the U.S. all called on Fox to apologize and on the U.S. President to denounce the images. Speaking for GeeDubya in our nation's capital, Scott McClellan dutifully called racial stereotypes offensive: "Such images as these have no place in today's world. The Mexican government needs to take this into account."
            The Mexican government, on the other hand, said Americans are over-reacting. The situation for Mexican blacks scarcely parallels that of American blacks. Mexico abolished slave trade decades before the U.S. did and never enacted Jim Crow laws to keep the minority "in its place." Many black Mexicans are descendants of African Americans who fled to Mexico to escape discrimination in the U.S. But the black population in Mexico is relatively small and politically weak. Sergio Penalosa, a civil rights leader in Mexico's small community of blacks on the Pacific coast, said he wished the Mexican government had been "a little more careful and [would] avoid continually opening wounds." Some of the American press, Eugene Robinson at the Washington Post among them, unfurled another dimension in the brouhaha. Many African Americans are already apprehensive about being supplanted by the Latino population as the largest racial minority group in the U.S., and the prospect of a Mexican racial caricature that demeans blacks seems likely to undermine even further the social status and political power of the African American community: Latinos coming to this country from Mexico will bring with them the belittling stereotype fostered by Memin Pinguin.
            Robinson, an African American who spent years living and reporting in Latin America, points out the difficulty in trying to apply to one culture the standards of another: "Cultural sensitivities don't translate," he writes. In Mexico, he goes on, "Memin Pinguin is hardly controversial. In fact, he's almost universally beloved, in part because Memin Pinguin comic books are seen as having played an important role in successful literacy drives in the 1960s." That was a long time ago, he admits, and times-and sensitivities-have changed. Today, "a homage to Sambo, however you look at it, is a big step backward."
            But many Mexicans love Memin Pinguin, whose comic books are still produced there. Mexican Foreign Minister Luis Ernesto Derbez said the U.S. response was "totally incorrect." Said he: "Memin Pinguin is a character with a long tradition in our culture. He is loved by all Mexicans." Rafael Laveaga, a spokesman for the Mexican ambassador in the U.S., said: "Memin Pinguin is a character like Speedy Gonzalez, and just as Speedy Gonzalez has never been interpreted in a racial manner by the people in Mexico because he is a cartoon character, I am certain that this commemorative postage stamp is not intended to be interpreted on a racial basis in Mexico or anywhere else." Julio Cesar, a newsstand operator in Mexico, said: "Memin Pinguin is years old, but Americans don't know him and there's a lot of racism there." A Mexico City postal clerk agrees: "There's more racism in the U.S. [than in Mexico], which may be why they are on the defensive."
            Sixto Valencia Burgos, the current cartoonist on Memin Pinguin, worked with originator Vargas and is quick to defend the character: "When I first heard about this, I couldn't believe it," he said. "How could you take Penguin offensively? I've always made him the good guy."
            Quoted by Monica Campbell in the San Francisco Chronicle, Valencia, 71, recalled a 1960s Memin episode attacking racism in the U.S. Memin has traveled to Texas with his soccer team, and when they stop at an ice cream parlor, he orders a milkshake, and the waitress says: "Here we don't serve Negroes, Mexicans or animals." Memin's friends are outraged and a fight ensues. Memin ends up in jail, but the incident made a point. "Yolanda and I wanted to address race issues in the U.S.," said Valencia. "It wasn't always easy to do, but I think we did it in a way that expressed unity and friendship."
            Campbell also quotes Armando Barta, a Mexican sociologist and comic book historian: "Memin Pinguin actually took on racism several times; he hardly perpetuated it. This is the context that Americans are missing when it comes to understanding all of this. What I can't believe is that with all of the other problems between the U.S. and Mexico, you could have so much attention on Memin Pinguin. It's absolutely surreal. What about the militarization of the border and immigration? Those are real issues."
            Cartoonist Valencia, Campbell says, started working with Vargas on Memin Pinguin in 1963 and "appears unfazed by the controversy." He is also apparently more attuned to contemporary life and its attendant problems than the Memin caricature would suggest: "His latest project is a collaboration with a Los Angeles-based lawyer and immigration activist to create a cartoon pamphlet assisting undocumented Mexicans with the ins and outs of living in the U.S."
            Many Mexicans have taken offense at Americans' taking offense. The stamps have suddenly become emblematic, reports Mark Stevenson of the Associated Press, "a symbol of resentment that the United States-where Mexicans have long faced discrimination-would dare accuse Mexico of racism." "Americans are the racists," declared Cesar Alonso Alvarado; "they're worse than we are but they just want to belittle us, like always."
            Quoted by Campbell, Domingo Perea, a Mexico City artist who has known Valencia for decades, said: "Memorializing a cartoon character that hardly represents a country's entire way of thinking is something that we can do in Mexico without problems. The U.S. gets so squeamish about these things. Meanwhile there's plenty in Hollywood and Disney that stereotypes Mexicans. Should we ban all of that?"
            Not everyone in Mexico agrees that Memin Penguin is innocuous, Campbell points out. "Black Mexican activists condemn the stamps. Elisa Velazquez, an anthropologist who studies Mexico's black communities, calls the Memin Pinguin image an insult to people around the world. 'It reveals our own ignorance of what can be considered racist,' she told La Jornada, a national newspaper."
            In all the excitement, the stamps have become highly collectible. Speculators, hearing that the 60-cent stamps are going for $200 a sheet of 50 on the Internet, stampeded to buy them. The stamps were issued on Wednesday, and by Friday thousands of people had lined up at post offices to buy sheets of the stamps, which depict Memin Pinguin in five different poses. Calls for President Fox to recall the offensive stamp issue are now immaterial: Stevenson reported that all 750,000 stamps had sold out by the end of the week.
            The entire incident could pass for ingenious satire if it weren't fact rather than fiction. The comedic denouement defuses the passions animated by the ugly cruelty of the racial caricature and, at the same stroke, makes ludicrous the folly of trying to impose the standards of one culture upon another. The prospect of material gain elbows all other principles out of the way. We remain human despite our best efforts to become divine.
Interlude
On a listserv devoted to Platinum Age Comics scholarship, a recent discussion thread sought to discover how many, if any, cartoonists had achieved their professional status while still teenagers. Historian Rick Marschall, managing editor of Rare Jewel Magazine, produced this gem:
Gosh, I'm coming up dry. Except for the recollection that the creator of Blondie was Young, we have-
the cartoonist of Sunflower Street was Little;
the cartoonist of Salesman Sam was Small;
the cartoonist of Outdoor Sorts was just a little Tad;
the editor of those cool cartoon collections is a Kidd;
and then of course when I was editor at Marvel I worked with an Infantino.
Otherwise, we're left with Carl Ed, who was, of course, a Teen cartoonist.
RCH again: If you picked up on T. Lee in Funky Winkerbean a few minutes ago, you oughta home in on these okay, too.
BATMAN FLIES
The plight of the movie-maker planning to make a superhero movie is the same as that faced by the writer of the comic books wherein that superhero first found life: after you've done the schtick a few times, what's left? Superman is the looming example of the predicament. His powers are so stupendous that he's invincible. How do you create suspense about your main man when he can leap any hurdle you put in his path? Every writer of superhero comic books encounters this problem. And now the producers of the motion picture versions of the same heroes are coming to grips with it, too. Their dilemma, reprised, is this: if you have a superhero who has been issued a certain number of superpowers and you tell stories about him by confronting him with challenges that he uses his superpowers to overcome, you will eventually exhaust the kinds of difficulties he can overcome in any new and different way. Eventually, given a finite list of superpowers, your superhero will have exercised them all in every probable way at least once. Thereafter, you make movie after movie of the same explosions and rambunctious action sequences. The only innovations are purely technical: everything happens faster and louder. So how do you do something new? I suspect we're reached this daunting impasse with Spider-Man movies. Superman's been there for decades. I'm not sure we're there with Batman, but the new movie, "Batman Begins," suggests we are.
            The symptom of our having arrived at this point is when the mythos of the character begins to change. Having drained the possibilities from the initial concept, the concocters of the stories begin to tinker with the original formula. It's all over the place in "Batman Begins." The "pre-history" of Batman-Bruce Wayne confined in a Bhutanese prison then learning martial arts with a vigilante gang called the League of Shadows under the auspices of Ra's al Ghul and his henchman, Henri Ducard; then comes the surprising return to Gotham after seven years in Tibet (a circumstance not without echoes of the origins of this notion). Mostly, I'm happy to say, this stuff works just fine. The traditional Batman legend is a beckoning void on the early life of playboy Wayne. As co-writer (with director Christopher Nolan) David S. Goyer acknowledges, "No one has ever told the definitive Batman origin story." So they did. The elaboration of Bruce Wayne's personal history in that Asian redoubt takes almost half the movie: we don't see Batman until we're into the second hour of the show. The proportions alone reveal the movie-makers' purpose-to tell "the true story of a man who has a series of odd, transformative experiences," as Mick LaSalle puts it in the San Francisco Chronicle. And Nolan insisted, Stephen Kiehl tells us in the Baltimore Sun, that the truth be realistic, scorning Warner Brothers' suggestion that he resort to computer graphics.
            "What I'd never seen in superhero movies," Nolan told Kiehl, "or comic book movies, if you will, is a naturalistic, more realistic, grounded tone to the film. [In this movie] as in the comics, Batman is an extraordinary figure against a relatively ordinary and recognizable contemporary reality."
            The result of Nolan's passion for realism, says Kenneth Turan at the Los Angeles Times, is "a consummately well-made piece of work, a serious comic-book adaptation that is driven by story, psychology and reality, not special effects."
            A new Batmobile is one of the stars of this flick. The Batmobile was never as big a deal in the comic book: a cute deployment of the bat emblem, sure; but nothing much else. Carmine Infantino redesigned the vehicle during his "rescue" operation in the mid-1960s, but it wasn't until we got the so-called "camp" version of Batman with the giddy 1966-68 tv series that the Batmobile emerged as a virtual character in the mythos. Strange, then-considering how universally disparaged the Adam West series has become while the more sophisticated Batmans go up on the big screen-that the Batmobile of these latter-day movies is always just one more elaboration on that tv creation. As a perennial symbol of the phallic power (think "thrust") that all male adolescent power fantasies are at their core, the Batmobile is probably, now, a permanent fixture of the mythos. Christian Bale's Bruce Wayne and Batman seem the best so far; at the very least, he has the biceps for the part. And I see, now, why in the Batman Adventures comic book, done in the animated style, Batman's jaw has suddenly become pointed rather than square: Bale's jaw is pointed. And the marketing geniuses at DC believe, with every fiber of their alleged acumen, that they'll sell more comic books if the comic book characters look like the movie incarnation. It may seem silly to you and me, but consider, before you scoff, that Mickey Mouse in the comics always looks just like Mickey Mouse on the screen. With proof like that, who needs market research?
            Wayne's taking control of his hereditary business empire by stealthily out-maneuvering Rutger Hauer's Earle is a nice new wrinkle. But a lot of this movie's ploys have their origins elsewhere. Batman's menacing raspy Darth Vader whisper seems appropriated from the animated Batman. Morgan Freeman's role as the tech-genius comes right out of the James Bond movies. But Alfred the butler is still the stalwart family retainer. Michael Caine, who has been assuming character roles with panache the last dozen years, does Alfred with his customary elan, just shaking the impersonation easily out of his sleeve. (Caine's career hit its first high point in a movie called "Alfie"-remember? And so here he is playing "Alfred." I hope this doesn't mean we've come full circle because I'd like to see a lot more of Caine in the years ahead.)
            In all the persistent realistic seriousness of the movie, however, I miss the devil-may-care grin that characterized the Cowled Crusader in the comic books of the 1950s (which is when, for me, the character came alive since that vintage was my first exposure to him). No colorful costumed villains in this production either. Maybe that suits the new paradigm better, but I miss the splash and dizzy ambiance of the comic book in Nolan's conception. As Gene Seymour in Newsday reminds us, invoking the great animator Chuck Jones, "the point is not that cartoon characters be realistic but that they should be believable." Nolan and Goyer may have gone too far in the direction of realism. They work too hard, Seymour says, "to explain Batman's psyche and not [hard enough] to let it run loose." Lots of Eisnerspritz in the movie, though-rain dripping from every eve in Gotham. Atmosphere galore. But not as much fun. And adventuring -superheroing- oughta be fun, a little. Not all grim seriousness.
            The highpoint in the revamping of the mythos-Batman flies! Yes, finally! I've been waiting for several generations now for someone to realize that his batcape can function like the wings of a glider. You just get up high on the roof's edge of some building, then jump off and spread your cape, which then becomes your wings and you soar like a glider. Presto: flight. Oddly, for years, I dreamt this action: I'd find myself perched on a rooftop at some altitude, then just "fall forward" and spread my arms and-presto! I'm gliding. Just like Batman in this movie. As the dream ran on, I would "fall forward" from ever decreasing heights. Eventually, I could "fly" by falling forward while just standing on ground level. Astonishing. Freud, by the way, maintained that the dream of flying symbolizes sexual excitation. But I doubt it applies here: Katie Holmes' mouth makes too lopsided a grimace for her to be a big screen icon of female pulchritude, and her body lacks the embonpoint for a sex symbol. Although at least one critic, Phoebe Flowers of the South Florida Sun-Sentinel, thinks Holmes "fulfils the apparent erect-nipple quota set by Kirsten Dunst in 'Spider-Man,'" I saw little outstanding evidence of it. No nipples on the Bat-suit either. And since nipples are, in this society, the supreme source of erotic stimulation, I can't see where the Freudian flight syndrome originates. So I just enjoyed the flying.
FOOTNIT: This weekend of July 9th, we'll see another of those comic book matchups that were so popular a few years back as Marvel puts its Fantastic Four flick up against DC's Batman movie. I won't know the results for a couple weeks, though, because I'll be out-of-the-county when they are reported.
FUNNYBOOK FAN FARE
The second and final issue of the two-issue series, The New West, is as satisfying a conclusion to Jimmy Palmiotti's tight-lipped tale as any student of noir could want. Our anti-hero, the renegade cop turned private eye, cleans up the gang of bad guys with some artfully placed swipes of his samurai sword, imparting to the proceedings a generous dollop of bloody action. Despite a necessarily  talky denouement in which the mayor explains how he got entangled in a plot using the pulse weapon to shut off Los Angeles' electricity, there are enough silent sequences to let the visual medium play its part. And Phil Noto's storytelling, prompted, presumably, by Palmiotti's plotting, deploys an expert clear-line technique for dramatic staging-most evident in the camera's focussing on the moment just after bodies are decapitated or hands sliced off. There are also a couple of the snappiest black comedy lines in literature. Our man Dan Wise, contemplating the young Megan's outfit, mutters to himself: "Nice pants-any tighter and I could read her lips." And, later, when she complains, asking when he's going to stop treating her like a child, he replies: "The minute you look over my shoulder and see the ceiling. ..." Some things you should remember all your life. A couple pages of Noto pin-ups at the end of the book are delicious, too.
            Judo Girl No. 1 is a visual jumble. To add to the confusion, it's also a "flip book," with half devoted to the "modern adventures" of our heroine, the other half to her "retro adventures," the latter presumably in Comicbookland because the coloring is suddenly vintage flat hues with flesh tones produced by tiny dot patterns. A clever idea but perhaps too clever. The page layouts, however, destroy the possibility that any but a dedicated fan of Nador Balan's pencils and Nick Schley's inks could make sense of all this-a riot of color and cascading imagery with overlapping figure drawing and a dash of speech balloons, sprinkled hither and yon across a screaming pictorial landscape. Too bad.
            Frank Cho continues to amaze in Shanna Nos. 4 and 5. The story is as dramatically told as anything in comics, superb timing and staging. And his artwork is a study in what a single line-no feathering, no shading, just an undulating line-can be made to do. How can it be used to model shape, to suggest weight and volume? It works only if precisely placed. And Cho uniquely uses a fineline tracery to suggest musculature. A master at work. The curvaceous gender is well-done, too-so much so that it probably distracts from Cho's storytelling and drawing skill. By the way, Cho has a new Sketches and Scribbles tome out, Book Two by count, just in time to shower the aisles at the Sandy Eggo con with zaftig imagery. The 80-page volume includes numerous preliminary pencil sketches side-by-side with the final, inked art and a number of quite nekid ladies. Some Spider-Man sketches, too.
            And, speaking of the ol' Webslinger, we've known ever since he arrived that superheroes are in desperate need of psychological counseling. Bill Morrison and Scott Gimple leaped to the rescue with Heroes Anonymous, in which various of the longjohn legions show up at a weekly group therapy session. Finally, after months of dilly-dallying, the 6-issue mini-series comes to a conclusion. All the superheroes who've been showing up for group therapy return in No. 6 for the grand finale as they try to find out where The Blitz has gone. Adam Van Wyk and his inker, Andrew Pepoy, have plenty to do: the crowd of characters is more numerous than any in comics, and their attention to detail is painstaking even in this crisp simple style of rendering. It turns out that The Blitz is suffering from a species of multiple personality disorder. Prior to losing control, he was Les Rose, the inspirational half of a stand-up comedy team Rose and Howard, but when he got recruited as an assassin for the Allies during World War II, he ran off the track, assisted by a nefarious villain. Chandler Howard, meanwhile, failed as a comedian without Les Rose's scripts and schtick, and The Blitz's mysterious disappearance in No. 5 of this series is caused by Howard kidnapping Rose. I'm not sure why, exactly (although Morrison and Gimple are). But the book ends with The Blitz trying to achieve therapy by the means he urged upon all the others-talking it out. Nice wrapping up.
            Another pioneer in comedic psychic superheroing is John Kovalic, sometime editorial cartoonist and all-time publisher of the gaming-oriented Dork Tower Comics  (www.dorktower.com and www.drblink.com for titles and ordering information). Kovalic's Dr. Blink, "Superhero Shrink," showed up several months ago in one of the Dork Tower Comics, then debuted in his own title, No. 0, and is back in No. 1 of the series. Drawn by Christopher Jones and colored by Melissa Kaercher, the book is a treat for the eyes. Jones invests his stylized bold-lined simplicity with more nuanced facial expression and telling details than you'd expect in that style, and Kaercher's colors often underscore the mood of an episode. In No. 1, for instance, when Dr. Blink's daughter gets angry at being rebuffed by superhero idol Teen Crush (who tells her that if she's not a superheroine or a super model, he's "super un-interested"), she turns a smoldering red, and then, lime-colored in an envious green panel, she undermines his reputation by divulging to her girlfriends the results of her rummaging through her father's files: Teen Crush, it seems, is a "chronic bed-wetter with the mother of all mother complexes." But this episode is just one of several satiric diversions on the path of the issue's main storyline, which concerns the plight of Major Amazing, the world's only "suicidal superhero" who is seeing Dr. Blink because, being invulnerable, he can't kill himself.
            After the opening sequence in which Major Amazing throws himself off a skyscraper to no effect, we attend a meeting of a group of superheroes who are struggling to find a name for themselves. The Avenging Legion of Titan Justice Defenders Society of America League, they decided, is a bit too cumbersome. Perhaps they were misguided to have outsourced the naming task. ("Outsourced?" exclaims one of the group, "-we gave the job to a chimp." "A super-chimp," corrects a cohort.) Meanwhile, Major Amazing is having a session with Dr. Blink, who's trying to make him see that living is better than dying. Being one with the cosmos, Dr. Blink suggests, ought to be stimulating intellectually. Major Amazing, however, is not impressed. The universe and all its secrets, most of which he's mastered, bore him. "Do you know what point all civilizations end up at?" he asks. "Boy-bands and telemarketers," he sniffs. "Life forms! Bah! They take one step with a vaccine, a moon-landing or time-travel, then before you know it, it's personalized license plates, pet rocks, and low-carb diets! In the blink of a cosmic eye, it's like a billion steps back." But when he hears that the Avenging Legion etc. is under attack from outer space, he dashes off to join them, albeit still sulking. "Why fight?" he asks. Athena tells him: "We fight because others can't. We fight against injustice because we've got the power to." In other words, we fight because we can, a persuasive if pithy philosophy. Shortly thereafter, Major Amazing suffers a psychic turning point with huge thematic implications (buy the book) and decides to enter the fray. But not before settling an argument with Captain Omnipotent, who thinks "this is my kind of operation, you know." "No," says Amazing, "this is definitely a job for Major Amazing." And then he settles the dispute: "Stand down, Captain," he growls, "as Major Amazing, I outrank you." He flies off, saying (or singing?), "By the cosmos' awesome might, I alone shall put things right!" And Captain Omnipotent, left behind, scratches his head in wonderment: "These ranks really mean something?" he says. Fun stuff. And more to come. Kovalic says they've sketched out at least four more issues-"with more to come as Chris and I discover what makes the characters tick and what drives them off the deep end. Though this is ostensibly a humor book, these are characters we actually care about, and I can't wait to delve into their hopes and fears (and psychoses) in the coming months and, hopefully, years."
            Incidentally, in a two-page story in Dork Tower No. 30, we witness Dr. Blink's session with the Amazing Aracno-Lad (who looks, naturally, very much like Spider-Man) as the superhero rants on about an endless series of frustrations and disappointments in his life ("My boss is always firing me, I can't get another job, my apartment is crummy because I can afford nothing better, and my aunt died and came back to life"). His complaints so depress Dr. Blink that he visits a shrink himself, Dr. Beth Jennings, who, in real life, Kovalic explains, "is the expert I turn to when I need to make sure the comic book has at least some foundation in actual science." Some, yes-just enough to make the character and the series hilarious. One of the future issues of Dr. Blink will collect all the Dork Tower back-up stories.
            The fifth issue of the new Black Panther series is out, and in it, the African nation of Wakanda, where the Black Panther is the warrior king, is, at last, being invaded by the hostile forces that have been gathering for four issues. John Romita, Jr.'s taut compositions and carefully staged breakdowns continue to lend visual drama to the proceedings, and Klaus Janson's crisp inks underscore Romita's graphic restraint, the sort of prowess that, by not calling attention to itself, seems more potent, like a coiled spring. Reginald Hudlin's story, now that war is underway, resonates occasionally with vague echoes of the quagmire in Iraq, the "Mess o' Potemia" as Jon Stewart says. And Hudlin's sense of humor is often on display. In No. 3, for example, the psychic vampire Cannibal witnesses the antics of the Black Knight, who, mounted on a flying horse, leaps over her head. "Not to sound too crude," she says, "but with that horse flying around, has anyone ... Oh, no-he didn't." But he did. Even as she speaks, she feels the horse apples landing on her nice, clean white broad-brimmed chapeau. Hudlin also takes a shot at the Vatican, which, as he portrays it, is just another gig for the power- and money-hungry.
            The series' concept, involving a technologically advanced African nation never defeated or subjugated, gives Hudlin ample room to indulge in a sort of racial revenge riff, taking digs at racists and extolling African excellences. In No. 4, the letters column starts to reflect a certain, er, "dissatisfaction" with Hudlin's apparent racial agenda. One writer objects to a scene in the White House in which an official calls blacks "jungle bunnies," which, the writer asserts, is a ridiculous situation and "speaks to Mr. Hudlin's hatred of Bush." Later, the same writer protests Hudlin's portrayal of "all black people as good, all white people as bad." Hudlin replies: "I've been black for a long time and I've met prejudiced people in every walk of life-regardless of race, creed, social position or political affiliation. Acknowledging their existence does not imply that whatever group they belong to automatically shares their beliefs. As for whether such talk could occur in such rarefied circles, plenty of Presidents, from Woodrow Wilson to Lyndon Johnson to Richard Nixon, have been documented saying racist remarks. Do I think it's in the realm of possibility that a White House staffer from either the Clinton or Bush Administrations (remember, the story does not specify who is President) might make a racist comment? Yes. Would such a remark be tolerated? Well, in my story, the black woman who is running the meeting-Dondi Reese [Condi Rice] -summarily dismisses the idiot without breaking a sweat. ... [As for all whites being bad and all blacks being good] this remark says more about you than the comic I wrote. Aren't the first 'bad buys' in the book black invaders with body part trophies from previous raids? If you think I'm vilifying the administration, isn't that a black woman in charge? Clearly, all black people aren't 'good' in this issue. So maybe the problem, in your eyes, is that there aren't enough 'good' white people." Hudlin concludes by saying that he's "an equal opportunity offender" and that ensuing issues will "challenge readers of every political stripe." But mostly, he says, "I'm all about kick-ass action and heroics." I'll buy that. But I'm also enjoying Hudlin's seeming enjoyment of indulging in the old adage, "turn about is fair trade."
            Hudlin has long been a kibitzing comics reader, and he got this Marvel gig after his friends got tired of listening to him telling them how it should be done. So "they put me in the same room with Joe Quesada and Axel Alonso," Hudlin told Richard Vasseur at www.jazmaonline.com, "And amazingly enough, Joe and Axel liked what I had to say; next thing you know, I'm banging out two books for Marvel." The other one is Marvel Knights Spider-Man. It is "a lot more comedic a character," Hudlin said, "so I write that book with an eye toward humor. Panther is all about epic." Does his Hollywood experience help in writing comics? "It doesn't matter what the medium is," Hudlin said, "-telling stories, pleasing an audience-every time you try, you learn something."
PEREZ'S UNHAPPY COMICON
George Perez, who was to be a guest at the Sandy Eggo Con later this month, has been forced to cancel. Here's his letter, which has been posted on various listservs on the Web: As some of you may already know, I've had to cancel my appearance at Comic-Con International in San Diego. The official reason stated on the site "circumstances beyond George's control" has, as I figured it would, started people speculating as to what those circumstances are. I certainly appreciate Comic-Con's desire to protect my privacy, but I also don't want people panicking about my health-especially with my known history of diabetes. Here, edited to remove any non-pertinent info, is the letter I sent to Sue Lord, Head of Guest Relations for the con:
            Sue: You cannot imagine how much I hate having to type this e-mail, but, please believe me that I would never do this unless the situation was absolutely dire. I'm afraid I will have to cancel my appearance at San Diego this year due to my contracting severe psoriasis, which, in less than a year's time (much to my dermatologist's surprise) has now taken over a third of my body and has made it all but impossible for me to sleep, work or just sit without being in major discomfort or burning pain. This genetic disease (which I did not know existed in my family line until a couple of months ago) is incurable and what treatments I am now forced to take (pills, creams, injections and possible phototherapy treatments) will require a minimum of 6 months to start showing results, and even then there are no guarantees. I had gone to the movies for the first time in months to see if I could sit through the length of a film without discomfort. I lasted about two hours before the itching and burning started. This made the prospect of a five hour plane flight all but inconceivable. And being in a hotel without my wife to rub lotion on my back or finding a way to use a shower without my skin feeling like it's being sprayed with acid, or having to vacuum the bed every day due to the flaking dead skin that I shed profusely are likewise unpleasant prospects. One of the side effects of my current medication is possible mood swings, although it's uncertain whether that would actually be attributable to the drug or the psoriasis itself. Regardless, I'd hate for a fan to be the inadvertent target of a negative shift in temper.
            Thankfully, psoriasis is not life-threatening, but it is a serious blow to my lifestyle. Never in my wildest dreams would I have figured that I'd cancel an appearance at San Diego, but Mother Nature has really slapped me in the face here.  Having to deal with psoriasis on top of my diabetes is a major life change for me and these next few months will be hard, but I'm grateful for the good things I still have going for me: an adoring wife, good friends, and a still-prospering career. Hopefully, things will get better by next year should you decide you'd like to give me a raincheck. Thank you for everything you and the con organizers have done to make me feel special. I know the Con will even bigger than ever, and I'm really sorry that I won't be part of it.
Sincerely, George Perez
            As a follow-up [Perez continues], my wife and I have come up with a therapy regime
that has helped relieve the itching and burning somewhat and I've gotten back to work on the Return of Donna Troy. Unfortunately, my treatments require that my wife and I be available to each other and, since her job limits her ability to travel with me, I will be canceling all my public appearances for the rest of the year. Right now I have to work to keep my stress levels down and
will be following an incredibly restrictive diet and following up on other treatment options. If all goes well, I hope to attend next year's Comic-Con since the organizers have graciously and generously extended a "rain check" invitation, my condition permitting. I cannot express enough how touched and humbled I am by everyone's concern. As I said, this isn't life-threatening, but
it is life-altering. With the support and kindness of so many people and the love and care of my dear wife Carol, I'm confident that I will be able to beat this thing enough to be able to get
out there and thank all of the fans in person. Take care, George Perez
            And here at This Colyum, we hope the treatments and therapy do the job they're intended to and that Perez is fully recovered soon.
COMIC STRIP WATCH
Passing through the city of my misbegotten youth a few months ago, I picked up a copy of the Rocky Mountain News, Denver's tabloid behemoth, which is now in a Joint Operating Agreement with its arch rival, the Denver Post. My father subscribed to the Post during my growing up years: the Post is a broadside paper, and I suppose he thought it was a soberer recorder of daily events than a tabloid, which are traditionally screaming rags. The Rocky Mountain News I saw only at friends' houses-or during paper drives, which, during the years just after World War II, were fairly numerous as money-raising projects for our Boy Scout troop. Under today's Post-News JOA, the Saturday paper is a joint publication, and the comics page runs the strips and panel cartoons from both papers-a stunning compilation of 58 strips and 14 panel cartoons. It goes on and on, for four pages. On Monday, the News reverts to its normal allotment of funnies, 31 strips and 5 panel cartoons-still an impressive array on two pages. I remained impressed by this vista of funnies stretching out before me until I returned home to Champaign, Illinois, where our local paper, the News-Gazette, runs a page-and-a-quarter of strips, a total of 28 strips, plus two more buried in the Classifieds (Judge Parker and The Boondocks) and a panel cartoon-total, 30 strips plus one panel cartoon. Considering that Champaign is home to only about 100,000 persons while Denver, alone without its sprawling suburbs, boasts a population of over 500,000, the News-Gazette's line-up is pretty startling. Based on population alone, the circulation of the News-Gazette must be only 20% that of the Rocky Mountain News -or, to take into account a two-newspaper town which must divide newspaper readership, let's say the N-G has 40% of the circulation of the RMN. Yet it publishes almost as many comic strips and cartoons. Impressive. When the News-Gazette revamped its comic strip line-up a few years ago, it added a quarter-page of strips instead of simply substituting "new" strips for "old" strips to keep the funnies on a single page. Impressive. So I got to wondering why.
            The News-Gazette is a locally-owned paper; the RMN is a link in the Scripps-Howard chain. Chain papers have become notoriously pinch-penny in recent years, seeking to enhance stock-holders' annual earnings. Locally-owned papers, in contrast, don't have to please Wall Street investors. If the Rocky Mountain News were locally-owned, would it be running comic strips in a quantity proportionally equivalent to the News-Gazette? That'd be, conservatively speaking, a total of, say, 42 or 43 strips instead of 31. But the Rocky Mountain News, interested, like all chain newspapers, in keeping expenses low in order to boost profits (and, thereby, stockholders' earnings), doesn't want to incur the additional cost of running more comic strips. Twelve more strips at an average of $15/strip/week would add nearly $10,000 to the paper's operating cost over a year. The News-Gazette, on the other hand, because it is locally-owned, is more committed to keeping its readers happy than to increasing earnings for stockholders, those villainous absentee owners of song and story.
            When you think about the annual cost to a newspaper of running a full page of comic strips, the wonder of it is that the Rocky Mountain News (or any other chain newspaper) runs comic strips at all. It could save thousands by dropping its comics altogether. Most newspaper editors believe that their comic strip sections are the second-most-read section in the paper (after the sports section), and since editors have no wish to commit suicide, they keep right on publishing comic strip sections. But what if they change their minds? The New York Times survives quite nicely without comic strips. Or editorial cartoons. As we contemplate the gradual disappearance of staff editorial cartoonists across the country, let's hope they're not the canaries in the mine shaft: let's hope comic strips aren't next to go the way of the dodo.
            Newspapers, however, are keeping a stiff economic lip. In Editor & Publisher's online edition for June 21, Knight Ridder's CEO, Tony Ridder, while acknowledging that newspaper readership is in a downward slide, reminds us all that 52% of adults in any given week still read a newspaper, 60% on Sunday. Not yet dead. The New York Times has been branching out into the Web, as have almost all big-time newspapers; but Leonard Forman, executive vice president, reaffirmed the company's commitment to print, which, he said at a mid-year media review, "will be a strong part of our business. No one is disputing there is a decline. It's not disappearing. ... It's a tough business to manage," he continued. But "you can do quite well with 3-5% growth." McClatchy Company, owner of the Sacramento Bee and the Minneapolis Star Tribune, projected  its year-end earnings at or just barely below the average Wall Street forecast. At Gannett, retiring CEO Doug McCorkindale isn't wringing his hands according to Time's "Inside Business" dated July. Gannett is investing in Internet technology, but the chain's newspaper circulation isn't down "anything like a lot of the folks in the industry. And in fact, USA Today, which just raised its cover price from 50 cents to 75 cents, actually had a positive circulation for the period ending in April. The world is not coming to an end," he continued. "Young people do read print if you take a traditional Gannett medium-size market newspaper and you package the same information but in a way that younger people want to see it-shorter stories, more graphics, easy maneuverability." But USA Today publishes no comics section. Ouch.
            In Wiley Miller's Non Sequitur for July 4, I read that the famously silly Runaway Bride has signed a tv movie deal. Is that right? Can that be true? Wiley's character, Joe Pyle, goes on: "Once again, people of genuine achievement go unnoticed while media reward spectacular idiocy with fame and fortune." That's right. That's true.
            When we last left 9 Chickweed Lane, Brooke McEldowney's visually imaginative and humanely engaged comic strip, the household of women at that address was breaking up after a dozen years: teenager Edda has gone to the big city to join a ballet company, mother Juliette moved out to a farm, her mother (Edda's grandmother) going with her. Mostly since the break-up, we've watched Edda. And she's been on a rampage of spectacular taboo-bending escapades. First, she moves in with her male dancing partner, Seth; and if that wasn't scandalous enough, Seth, it slowly develops, is gay. Then, even more alarming, in May, Edda's highschool friend Amos shows up, and Seth, who is both mother hen and match-maker, arranges for the two of them to meet at a tango salon he and Edda sometimes visit. As soon as Amos gets his arms around Edda, their passion is aflame and nearly consumes them. It's the hottest nuzzling the funny pages have witnessed since Burma vamped Terry in Milton Caniff's last month on Terry and the Pirates (December 1946). And it's mostly done without a word being said-just pictures of dancing, twirling, embracing, touching, and then, a long, two-day kiss. Finally, Amos says, "Should my glasses steam up?" And Edda replies: "If I'm doing my tango right."
            Then they leave the tango salon and go to Edda's apartment; Seth obligingly stays away, telling his friend that he's left a note on Edda's pillow, advising her about what she should do next. Edda invites Amos in and slips into something more comfortable-a pair of striped pajamas. Just what an amateur seductress (or friend?) might do. Wonderful. And her entrance culminates in the most uproarious of non-seductive collisions of uncontrollable amorous intent ever. A beautifully clumsy moment of pure adolescent passion.
Then follows an overheated week of heavy petting on the couch; Edda's pajama top slips off one bare shoulder, and one pajama leg gets shoved up to expose a naked knee, then a thigh. This, you must admit, is hot stuff wherever it may appear, but it's unheard of in a newspaper comic strip. Just as we verge on a physical intimacy that would send shock waves through the marrow of the nation's prudish bones, McEldowney arranges a graceful exit-for Edda and Amos not to mention for McEldowney and his readers and the 60 or so family newspapers in which the strip appears. In the spirit of their long friendship, Amos buttons Edda's pajama top, says goodnight, and leaves. It is a beautifully and unabashedly truthful stretch of storytelling. Events exactly like this transpire between adolescent lovers in livingrooms all across the land: the temperatures rise, breathing shortens, and hearts beat faster and louder as hormones exert their ageless influence. To say that McEldowney is daring as well as visually inventive and perfectly attuned to the human comedy is not to say too much.
            McEldowney is also the subject of a June 21 article in The Advocate, a bi-weekly magazine for the lesbian, gay and bisexual community. Here, the cartoonist says pretty much what he said to me when I asked me about Seth (Opus 158). The article begins with a question: "How do you work gay characters into the comics without making a fuss? Don't make a big deal about it." And writer Adam B. Vary goes on to observe that McEldowney had no political motive in introducing Seth-unlike Garry Trudeau with Mark Slackmeyer and Chase Talbott III in Doonesbury or the teenager Lawrence's coming out in Lynn Johnston's For Better or For Worse. "No need for overt hand-wringing about coming out," Vary notes. And McEldowney agrees: "I never think of bringing it up-to have Edda's mom say, 'Oh, is he gay?' or anything like that. I just think it would be one of those things that wouldn't be an issue because he is just the way he is." The successful non-combustible introduction of Seth is due, McEldowney believes, to the organic way his readers have discovered the character's sexuality: he was never introduced as a gay man. No one ever said anything about it. He was just there, as gays often are. His sexuality, Vary notes, is "slyly hinted at through subtle asides and gestures for months until a sequence of strips featuring Seth's boyfriend, Mark, appeared the first week of May." Then we all know for sure. Just as it happens in life outside the funnies.
            There was, then, virtually no outcry. Even if there had been, McEldowney has no intention of altering his strip to appease the clamor. "I've had the strip going since 1993," he said, "and I want to do it the way I want to do it. If somebody wants to make an issue out of Seth being gay, then I'm just going to bring him out more and more. I got a letter from some reader saying, 'Does Etta realize that Seth's gay? I hope she's careful.' I felt like writing back, 'He's a cartoon! What is it you think could happen to Edda?'" About Seth, the cartoonist adds: "[He's] this person who is going to be Edda's best friend, who fusses over her, worries about her when she's on dates-[and critics] just see this as some innate evil. I was thinking, 'My God, their minds are so terrible.' They have their own terrible thoughts and then blame them all on me. I don't understand these people who dub themselves the religious right. They're worried about going to hell-they're already there. It's in their heads."
            The same article notes that Rick Stromoski has an effeminate character in his strip, Soup to Nutz -namely, the six-year-old Andrew. But Stromoski doesn't know if Andrew is gay or not: "I think when you're six years old, you're not really sure what sex is at that point." But he has no intention of changing Andrew, whatever his sexual orientation, to satisfying the ravening right. Vary lists other gay characters in mainstream comics: in addition to those in Trudeau's strip and Johnston's, there's Akbar and Jeff in Matt Groening's Life in Hell, Freddie in Lynda Barry's Ernie Pook's Comeek, even, startlingly, Peppermint Patty and her pal Marcie in Charles Schulz's Peanuts, although Vary admits that Schulz would "no doubt deny any lesbian subtext" between the two.
SO WHO, EXACTLY, ARE THE SWINE?
Contrary to popular opinion, Stephan Pastis, who produces the comic strip Pearls Before Swine, can actually draw. You can't tell from the usual stick-figure tripe that he foists off on us every day, but occasionally-for instance, during the week of June 27-he betrays himself. During this series, Pastis gets his star players, an unnamed Rat and an equally nameless menagerie of barnyard beasties and exotic species, to speculate on the whereabouts of Osama bin Laden. Rat's theory is that bin Laden has slipped into the U.S. as an exchange student and is living with some American family that has no idea who he is. Says Goat: "Oh, please-what American family could be that out of touch?" The last panel shows the cast of Bil Keane's Family Circus around a dinner table, with the mother saying to the bearded turbaned person sitting across from her, "I'm sorry, Osama, but at the end of grace, we say 'Amen' not "Death to America.'" The so-called joke is that Keane's ever-so wholesome family is clueless as well as wholesome-in fact, one may be a condition of the other. In other words, Pastis is taking a slap at an American comics institution that he finds so bland as to be not-of-this-world. It is, in short, an insult. Satire, yes-ridicule of Family Circus for being bland, er, wholesome to the point of boredom (for Pastis)-but insulting satire.
            As attentive readers of This Colyum (and of Pearls) know, Pastis frequently "pokes fun" at his cartooner colleagues by referring to their strips in his, usually not in complimentary terms. Usually, for this purpose, Pastis picks on hugely successful-that is, widely circulated-comic strips, strips that appear in 1,000 or more papers. After all, his so-called "jokes" at the expense of other cartoonists' creations wouldn't make sense if Pearls readers didn't recognize the butts of the joke; comic strips that appear in over 1,000 papers are likely to be familiar to Pearls readers. And such celebrated strips as these are not likely to be hurt any by Pastis' ridicule. But my point, which I'll eventually get to, is that in mocking Family Circus, Pastis manages to draw the characters perfectly. And his picture of Osama bin Laden is also a passable rendering of the human physiognomy.
| | |
| --- | --- |
| | |
Not Pastis's usual painfully infantile stick-figure doodles. So he can draw. Why doesn't he? Why are his regular characters little more than stick figures?
            Because, kimo sabe, he scorns the medium-particularly, but not exclusively, the more simply rendered efforts (Cathybert, probably, but also Drabble and a host of other barely competent enterprises by today's crop of pseudo cartoonists). He not only ridicules other, usually more celebrated than his, comic strips by "making fun" of them in the storylines of his strip, but with his own graphic style, he mocks them, showing how ludicrously simple the acceptable comic strip drawing has become. It's as if he's saying: if Cathybert can be successful, why should any comic strip cartoonist attempt to draw in any but the crudest, simplest style? His contempt is palpable. Look, he seems to be saying to his college fratboy fans, I can be funny in a comic strip without drawing anything but childish stick-figures. And with that, his contempt spills over onto the entire profession: all you misguided souls who actually draw your comic strip are squandering your talent and wasting your time, he seems to be saying-you're devoting hours and hours to drawingboard duties when you could dash off a few stick drawings and spend the rest of the week on the golf course. You're obviously fools and dim bulbs.
            Pastis' cynical disdain for his own profession is matched only by Chester Gould's famous put-on in Dick Tracy. Well, "matched" is not exactly right: Gould made sure we all knew he was being satirical; Pastis is working under cover. In 1964, Gould introduced a cartoonist character in Tracy, Chet Jade. To satirize the current state of the comic strip in newspapers of the day-which were steadily shrinking the space allotted to strips-Gould gives Jade a strip called Sawdust, which, because there is so little space for comic strip art, consists entirely of tiny specks in each of four panels, with speech balloons hovering over the specks. The jokes are all bad puns: "He's not knotty?" says one; "No, but somehow he goes against my grain." As an additional fillip in his satire-this time ridiculing the growing trend in multiple authorship of strips (artists assisted by writers and the like)-Gould gives Jade four assistants, Al, Ray, Jack and Rick; they work on the strip simultaneously, each one drawing the specks in one of the four panels. Later, Gould returned with more satire on shrinking strips: in 1969, he brings in another cartoonist, Vera Alldid, who produces a comic strip called The Invisible Tribe. Yup-in this one, there are no pictures at all. Just speech balloons. Subsequently, in 1973 Gould did another encore on the subject when a ten-year-old kid named Peanutbutter "draws" a strip called Bugs and Worms, depicted as squiggles rather than specks. Gould's Dick Tracy set the pace for detective comic strips in the history of the medium; alas, his assault on shrinking comic strips had no impact at all, if we are to judge from the present state of affairs. What Gould would make of Pearls we can only imagine (but it doesn't take much imagination).
            Pearls is, however-against all probability-funny; which proves only that scoffing can be amusing. Pastis is outrageously blunt; his humor is dark. His strip is typically sick, twisted, and astonishing. His credo, if we are to judge from a note reportedly on his bulletinboard, is: "When in doubt, kill cute things." He pretends that Charles Schulz is his idol. That, perhaps, is job insurance: he works three days a week at the Schulz Museum in Santa Rosa, California. Says Pastis: "All roads lead to this one man [Schulz]. I picked up everything from him." Everything? Really? If so, then Pearls is a passing strange manifestation of gratitude. Pearls is absolutely, top to bottom, nothing like Peanuts. The humor in Peanuts pulls at the heartstrings of the human condition, reveals insecurity, confronts personal shortcomings and societal failures. Pearls makes fun of death and stupidity. Shulz's characters are resilient: they never give up. Pastis's characters never begin: they sit on the sidelines and snipe at their betters.
            Oddly, Pastis' colleagues in the inky fingered fraternity apparently find his mockery amusing. Bil Keane told reporter Paul Giblin of the East Valley Tribune near Phoenix, Arizona, that he's flattered that Pastis drew inspiration from Family Circus. Moreover, Pastis' treatment is so ridiculous, no one could consider it mean-spirited. The situation is absurd: Bin Laden is too old to be an exchange student. Said Keane: "I don't mind being lampooned by a person that has a good sense of humor." But Pastis wasn't so sure of his ground: he sent the entire week's strips in advance to Keane's collaborator, his son Jeff, to see if the Keanes were amenable to the scheme. Pastis had taken shots at Family Circus before, but only in a single daily installment; this was a week long. And Keane had threatened legal action several years ago when a Website cartoonist recycled Family Circus drawings, giving them obscene captions. Pastis' plan was no such thing, of course. The Keanes signaled their approval. And Pastis went ahead.
            "Family Circus is so consistently sweet and pure," Pastis said. "When you mix it with something edgy like Osama, I think it makes for good comedy." He also pretends to be a big fan of Family Circus. He collected many of the reprint books when he was a kid. But he doesn't read the cartoon these days: in drawing the Family father, he left off the glasses the character now wears; and he gave the mother the hair style she abandoned several years ago. So how big a fan is he? More disdain oozing contempt.
            Inter-strip comedy may be highly amusing, but it can backfire. Keane said he's considering doing a cartoon in which the Family father squashes a rat, Pastis' lead character. Said Keane: "I could say, 'Well, what's Pearls Before Swine going to do now that you've killed the rat?' It might do better," he finished.
            Pastis' victims seem to enjoy ridicule at the hands of his merciless Rat and mindless Pig. Well, we knew, all of us, that after 9/11, irony was dead. Pastis is proving it every day.
FOOTNIT: Pearls fans, being highly trained in deadpan ironic humor, will be able to discern that this whole diatribe is merely a tongue-in-check screed, a hilarious satire. The rest of us will realize that I'm entirely serious, that my deep psychological analysis of Pastis' motives, conscious or not, is intended to show him the error of his ways in the hopes that he'll find ways to be funny without using other people's creations.
COPY RITES AND THE REWARDS OF PIRACY
On the high seas of cultural well-being, it turns out, piracy is not necessarily the scourge of civilization. Not, at least, where Mickey Mouse is concerned. And for this smidgeon of insight, we have Bob Levin and Lawrence Lessig to blame. In an age in which Creator's Rights reigns rampant, Levin and Lessig, together, insinuate the warm gray shades of nuance into the cold black-and-white certitudes of moral absolutism.
            Bob Levin's book about "Disney's War against the Counterculture," The Pirates and the Mouse, is an exuberant romp through legal thickets and hippie eccentrics. His narrative style is joyfully discursive, a giddy ramble that frequently detours into rich atmospheric detail culled from the lives and attitudes of the indigent cartoonists Dan O'Neill enlisted in the Air Pirates in 1970 to help him rout the perniciously saccharine influence of fictive Disney values upon the lives and welfare of real Americans. Not content with a meandering storyline laced with parenthetical asides, Levin festoons the book (Fantagraphics Books, 272 6x9-inch pages in hardback, $24) with footnotes, every one of which trickles into the mainstream of the story rivulets of fascinating and often integral tidbits of supplemental information. Reading this volume is a little like going on the road with Jack Kerouac: the headlong dash down the highway of the century's most pesky copyright excursion alternates with relatively inert interludes of introspection and inebriation when Levin is diverted into the intoxicating byways of anecdotal history and biography (even autobiography). I've known for years that the Air Pirates case ended with a defeat for O'Neill and his fellow parodists, but until reading this engaging tome, I've managed to keep myself quite ignorant of exactly what constituted that ignominious ending. Levin changed that with this gleeful volume.
            The case, which began with a Disney filing in the fall of 1971, took a long and torturous route to its conclusion in 1980. It was, Levin asserts, "one of the longest and most absurd in the history of attempts to use copyright to stifle artistic expression in America. The lessons learned from it are more relevant than ever to anyone who chooses parody as a way to speak to power, especially corporate power."
            Leading up to his careful exegesis of the legal issues, Levin rehearses the history of comic books and of the Disney empire, retails O'Neill's biography and those of his henchmen, and recounts the emergence of Marvel Comics and the growth of underground comix. In the introductory pages of the book, Levin sets the scene for O'Neill's disaffection by conjuring up the early 1970s. "In the first days of the 1970s, America had seemed ready to tear itself apart. ... The expanding war in southeast Asia was a meat grinder, shredding connections and civilities. ... It was a time for well-considered fire-bombing of judges' homes and liquor-fueled vigilante raids on communes. For armed assaults on courthouses and vandalizing of alternative newspapers. The ambush of policemen on patrol and the brutalizing of hippies passing through town." It was also a time of nearly ritual reaction to the "dominant ethos of the country ... [the] muted consensus and polite conformity [of the 1950s and early 1960s] ... [when] Elvis Presley not being televised below the waist ... made perfect sense...."
            The reaction created a "new nation" that "came wild-haired, bare-footed, costumed as frontiersmen and buccaneers, Renaissance princesses and fairy sprites. It cavorted in the nude. It replaced keg parties, backyard barbecues, and the cocktail hour with marijuana, LSD, methedrine, laughing gas, mescaline, magic mushrooms, opium, STP, and anything it could find in the medicine cabinet. It had its own bone-jarring, head-rattling music, augmented by light shows that rewired any senses the music and drugs and missed. ... its own 'far out,' 'mind-blowing,' 'mellow,' language. 'Come together,' it sang. Pick up the 'good vibrations.' 'Wear ... flowers in your hair.' It lived on over 2,000 rural communes and operated over 5,000 cheese-selling, baguette-vending, taxi-driving urban collectives. And it took to sex like it was grabbing M&M's from a bowl."
            Reading Levin's invocation of those heydays of the counterculture, it's easy to understand the "moral values" voters in the 2004 Presidential Election: their votes were not so much for GeeDubya and his henchmen as they were against the raging liberalism that, in the view of Middle America, had spawned the debaucheries they'd witnessed thirty years before when they, and those whose behavior so outraged them, were young and impressionable. What is liberty to some is licentiousness to others.
            We have since learned that the "moral values" vote was a chimera of the exit poll moment. A Gallup Poll conducted under somewhat less intense circumstances in early December revealed that only one in ten citizens thought that "moral values" were "the most important problem facing the country today," tying for fourth place with unemployment/jobs. The so-called war in Iraq ranked first, followed by terrorism and the economy in general. According to Andrew Kohut of the Pew Research Center, the manner in which the exit poll was conducted doubtless influenced the response: presented with a list of answers in a multiple-choice question, many people would choose "moral values" because of its high rank in "social desirability."
            Still, as Thomas Frank convincingly argues in What's the Matter with Kansas?, the conservative posture of the electorate in the opening years of the 21st century is pretty clearly the accumulated backlash against the seemingly laissez faire liberalism of the sixties and the resulting permissive momentum that coursed through the rest of the century. Nostalgia for a lost moral center has dragooned itself into an impressive if unholy alliance with soulless corporate America, leaving those who would march to a different drummer without so much as a tomtom to their name.
            In the late sixties milieu of free-wheeling morality, O'Neill had decided that what America desperately needed was the destruction of Disney. As Levin writes in his characteristically tumbling prose, "The trajectory of O'Neill's career, though mostly downward, was, in its commitment to a free-spirited, convention-defying bluenose-shocking, light-out-for-the-territory view of the personal and public good, just as resolutely mythic-American as Disney's." In short, unbeknownst to either party, O'Neill and the Disney enterprise were fated for a collision.
            By mid-century, Disney's signal achievement was the creation of a fantasy world so sanitized as to be perfectly harmless entertainment. But what was harmless in entertainment could be dangerous self-delusion in real life-at least, so O'Neill and his cohorts believed. The American Way of Life was corrupted by Disney's appropriation, emasculation, and sugar-coating not only of America's folklore but of the world's fairy tales and myths as well. Mickey Mouse, the Pirates believed, was "part of our national collective unconscious," and while he may once have been "innocent and delightful," he had become "a reactionary force [devoted to] Establishment values ... a partisan of elements and values in American government and society which the Air Pirates oppose."
            And so in 1971, the Pirates set out with a comic book, Mickey Mouse Meets the Air Pirates Funnies, to correct the erroneous impressions they felt Disney had foisted onto unsuspecting Americans. Most significantly, they reminded their readers that all animals (including the human variety) have sex lives thereby exploding the central a-sexual myth of a Disney-fied universe. Once this affront was brought to the attention of the Mouse House, Uncle Walt's minions were furious and sued to block further publication of the comic book in which these antics were portrayed, saying Disney's image was being tarnished.
            At issue was the copyright protection that Disney believed applied to its creations. The Pirates, however, felt they had not infringed on Disney's copyright. In the tradition of Cervantes, Shakespeare and Swift, they were parodying Disney. To succeed, Levin points out, parody must be based "on conflict between the expected and the actual," juxtaposing "a known existing work" against "something else" all the while keeping the reference to the original work absolutely clear. The "fair use" clauses of the copyright law permit limited copying of copyrighted material in certain circumstances, and in one of those, successful parody claims a special status: by its very nature, it must imitate its target precisely or it will misfire altogether. But Fair Use was not the Pirates' only defense: in their parody, the Pirates were engaged in "aesthetic and political criticism of a deeply serious nature," an endeavor they felt was protected by the First Amendment's championing of free speech and freedom of the press.
            O'Neill's affidavit said: "Disney presented Mickey Mouse to us when we were children. As cartoonists and adults, we approach Mickey Mouse as our major American mythology. I chose to parody exactly the style of drawing and the characters to evoke the response created by Disney. My purpose in using the Mouse as a character is not to destroy the Disney product but to deal with the image in the American consciousness that the Disney image implanted."
            "This here is a free republic," O'Neill said elsewhere, amplifying his purpose; "and if I don't like what this guy is saying, and I happen to have the same language gift he has-the same ability to speak with words and pictures-I can reply in his language. The characters might look like Disney, but the soul is 180 degrees turned away. The original work is conjured up to the reader's eye as closely as possible, but the behavior is exactly opposite. The closer you draw the parody, the greater the shock, the greater the criticism. The less you look like the original, the weaker the parody; and, no matter how weak it is, there's always the possibility of a lawsuit, so publishers will fear to print all but the very weakest. You try to explain that to lawyers and judges, they go 'What?' The trouble with evolution is it's not happening for some people."
            Court decisions had determined that parodists could copy enough to "conjure up" their target, but the court before which the Pirates appeared held that they had appropriated more than was necessary, therefore more than Fair Use permitted. Nor did the First Amendment apply: if it did, it would "obliterate copyright protection anytime anyone asserted their infringement conveyed an idea." The Pirates had other ways of expressing their ideas, so the First Amendment did not allow them to infringe Disney's copyrights. The Pirates were ordered to pay Disney $190,000, plus attorney's fees and other miscellaneous costs. Enjoined, also, against future parodying of the Mouse, the Pirates appealed to the U.S. Supreme Court, which declined in January 1979 to hear the case.
            That spring, O'Neill arranged for the publication of a four-page "Communique No. 1 from the MLF" (Mouse Liberation Front) in which Mickey and Minnie Mouse speak out, crediting the Pirates with turning their lives around and defending the artists' right to copy Disney characters for the purpose of parody. O'Neill violated the injunction deliberately in order to provoke response. "Doing something stupid once is just plain stupid," he explained; "doing something stupid twice is a philosophy. When you're down $190,000 in a poker game, you have to raise." As Levin puts it: "The next step was obvious: commit a new crime. If O'Neill defied the injunction, Disney's only recourse would be to have him held in contempt of court. 'And then they have to put you in jail,' O'Neill says. 'For drawing a mouse? In the land of the free? No way.'"
            The legal machinery ground to a stall in attempting a response to this fresh insult. By this time, the copyright law had been recently revised (1976), and the crucial question under Fair Use was whether Disney was caused economic harm by the "Communique." Since the Mouse House suffered no demonstrable losses, O'Neill was covered by Fair Use. His "Communique" was "a political essay," Levin explains, "exploring the 'metaphysical distinctions' underpinning copyright law and dramatizing Disney's 'draconian efforts' to muzzle O'Neill. Like any citizen, O'Neill had the right to mock Disney's prosecution of him. As a cartoonist, he had the right to use pictures to do so."
            Within months, the whole matter was settled. In 1980, the Pirates agreed to abide by the original injunction not to draw Disney characters any more; they accepted the financial judgment, too, and Disney, apparently, agreed not to attempt to collect damages if O'Neill never drew the Mouse again.
            O'Neill's recollection of the final decision is wonderfully comedic: "It was great. The judge told 'em, 'You knocked him down once, and he got up and hit you back. You knocked him down twice, and he got up and hit you back. You knocked him down three times, and he got up and hit you back. By now, you should have figured out he's Irish.'"
            The opposing attorneys remember no such catechism. "It's what the judge should have said," one of them allowed. "There are some facts too good to check."
            Particularly if one relies upon O'Neill for those facts. Early in the book-and frequently throughout it-Levin cautions against accepting O'Neill's testimony. "He is a man unhobbled by factual restraints when a touch of moon-dust will enliven life's dance. He is a storyteller in its most noble of manifestations, relating to the world through re-worked lines and remodeled anecdotes, more devoted to achieving the most affecting of tellings than the exactly replicated, always less satisfying [than] what was. To quote his attorney, 'You don't talk to Dan if what you're interested in is some Kantean discourse addressing the abstract nature of truth. He's Irish.' It is surprising," Levin concludes, "how often this explanation, uttered by others, surfaces to account for some quirk in O'Neill."
            Moon dust indeed, a wholly serviceable example of the kind of verbal festivities Levin conducts throughout, alive with leap-frogging lingo shored up with as much fact and truth as can be ascertained. An attorney himself, Levin displays the typical lawyerly ability to marshal a vast array of facts and details and to organize them succinctly and tellingly. This ability serves him well both in rehearsing the legal issues involved (including a short history of copyright law) and in seasoning the otherwise dry recitation with spicey anecdotal material derived from countless interviews that he conducted. In discussing the "anti-Disney" movement, Levin reveals that the heirs of the man who created Pinocchio, Carlo Collodi, were "so upset with Disney's changes in the story [that] they sued-unsuccessfully." In the midst of tracing the living and working arrangements the Air Pirates found themselves in as they moved around to find the cheapest accommodations, Levin recalls-and splices in-the fact that O'Neill has a bias against health food: "Health food is cheap food with soy sauce," he once wrote. Lovely. None of the Pirates cooked, apparently, and in one of their hovels, they were so far from the nearest restaurant that "by the time you got back, your dinner was wasted because you were hungry again."
            Levin occasionally slips up: Walt Disney's mother's name was Flora, not Ella (although she lived in Ellis, Kansas, when she first met her husband-to-be). And the proof-reading sometimes goes fishing, leaving the remnants of preliminary syntax flapping in the breeze. Moreover, it is sometimes difficult, due partly to the density and minutiae of the issues being discussed, to keep track of the sequence of events. Levin's deployment of the novelist's narrative mannerisms results in an eccentric citation of dates: he drops them in at conversational intervals rather than as milestones in a chronology, an irregularity compounded by Levin's gleeful surrender evry so often to the temptation to take long detours in pursuit of other, amusing, facts. But these are majestically minor hurdles in the path of the parade of prose delights that Levin leads. In a segment relating how the Air Pirates' defense team sought to expose the real motive for Disney's bringing the suit, Levin writes: "Disney wanted all criticism of its world view extinguished. It wanted the Pirates' tongues torn out; their pens ground into dust; their pages burned; salt plowed into their fields." And if the prospect of savoring verbal effusions like this isn't enough to persuade you to pick up this book, then perhaps its astonishing illustrations can. In addition to photographs of the principals in the adventure, the book reprints several scabrous pages from both issues of Air Pirates Funnies (including a 4-page episode during which Mickey tries to persuade Clarabelle Cow to give him a blow job) and the entire "Communique No. 1." We can scarcely appreciate the issues involved in the case without seeing the causes of it all, but, as Levin told me when we met for the first time several months ago, he marveled at Fantagraphics' courage (or foolhardiness) in tempting the Disney powers once again.
            More than a decade after the presumed settlement of the Air Pirates case, the U.S. Supreme Court took up another copyright case and in its decision created a loophole through which Levin believes the Air Pirates could have escaped, had it existed before. While a key question in Fair Use is whether the alleged copyright infringement destroys the commercial value of the original-in effect, superseding it in the marketplace-under the latest decision, "the question is whether the copying cast new light upon the original, enabling the public to view it in a new way," Levin explained. "And the Court made clear that it did not matter if the parody depressed the sales of the original. Even a 'lethal' parody that 'kills demand' entirely may be a Fair Use. 'Displacement' could be prohibited; 'disparagement' could not."
            Levin continues: "If Air Pirates Funnies did not 'satisfy the same purpose' as Walt Disney's Comics and Stories -and how, in God's name, could you conclude it did? -it was a Fair Use."
            Levin was, briefly, encouraged by this development, but when he asked a copyright expert if the Air Pirates could have prevailed under this new dispensation, the answer was depressing: because of the sexual content of the parody, the courts would probably have ruled against the Pirates. "Most courts are too sexually ill at ease to give Air Pirates Fair Use."
            Except, perhaps, in Massachusetts, where at least one court was comfortable enough with human sexuality to countenance the marriage of same sex couples.
            As for the rest of the country-well, what can we expect? In the Bush League's Ashcroftian Universe, we have, alas, lost sight of the naked boob of Justice. The shroud of decorum has replaced simple unadorned honesty just as spin has elbowed facts out of the room. In this climate, "fair use" must be "balanced" as well as fair, with the balance tipping, relentlessly, in the direction of corporate America.
            And it is precisely this kind of machination that Lawrence Lessig wrote a book to combat. The book, entitled Free Culture (in which "free" is verb as well as adjective), argues that corporate America is using the copyright law to eliminate competition with the incidental effect of suppressing creativity. In the fall of 2002, Lessig had appeared before the U.S. Supreme Court, hoping to get that worthy body to deny Congress the right to extend the copyright protection of the U.S. Constitution. But the Court upheld Congress's right, 7-2.
            At issue was the 1998 law known as the "Mickey Mouse Extension Act" because it came into being as a result of aggressive lobbying by Disney, whose earliest representations of its mascot were set to slip into the public domain in 2003. To prevent that from happening, Congress extended copyright protection an additional 20 years for cultural works, thereby protecting movies, plays, books and music for a total of 70 years after the author's death or for 95 years from publication for works created by or for corporations. In challenging the extension, Lessig contended that the Constitutional provision for copyright was intended to protect a creator's right for only a limited time and that by extending this protection every time it verged on expiring, Congress was, in effect, granting copyright protection forever, a perversion of the Constitution. In the majority opinion that sustained Congress, Justice Ruth Bader Ginsburg cast aspersions on the "wisdom of Congress's action," but allowed as how ruling on the wisdom of congressmen is "not within our province." Well, it is within my province, which, being that of tireless typist, includes, naturally, all of the known and unknown galaxies.
            Judging from the number of extensions Congress has granted over the years, we are perilously close to having copyrighted material protected in perpetuity. This is clearly contrary to the original intent of the Constitution, which states, in Section 8 of Article I, that Congress "shall have the power ... to promote the progress of science and useful arts by securing for limited times to authors and inventors the exclusive right to their respective writings and discoveries." In other words, the essential purpose of copyright is to encourage creativity by assuring that creators will be rewarded. Creativity is, in human psychology, its own reward: creative personalities create because their inner selves drive them to. Still, it's nice to have bread on the table and various other creature comforts as a result of one's creative endeavor-hence, the value of copyright.
            Between the lines, however, another value lurks. The language implies that even after the expiration of copyright protection, society at large will continue to benefit by enjoying the unfettered circulation of such works as have, for a "limited time," been protected. Publishers, for instance, who no longer have to pay permission fees to copyright holders, could publish works in the public domain at prices that are much more affordable to the general populace, thereby fostering learning and pleasure and other benefits to good order and cultural vitality. The very use of the term "public domain" implies a societal value beyond the private benefits that accrue to copyright holders. Extending the protection of copyright deprives the public of much of the benefit it might derive from creative endeavors.
            Instead of promoting creativity as intended, saith the Washington Post Weekly after Lessig's defeat, the current law "has turned whole categories of American national culture into heritable assets owned by people who had nothing to do with their creation." And it inhibits free expression by restricting the dissemination of cultural artifacts. If artistic works had been perpetually protected by copyright in the past as they seem likely to be in the future, we would, presumably, have no animated version of "Cinderella" from Disney. Nor would Disney have been able to produce the very film that threatened to fall out of copyright, 1928's "Steamboat Willie," which was a comedic re-enactment of a Buster Keaton feature, "Steamboat Bill, Jr."
            The sort of "piracy" that "Steamboat Willie" represents is, Lessig says, "Disney creativity." And Disney creativity is manifest throughout our culture, not just at the Mouse Factory in Burbank, California. "The film industry was built by fleeing pirates," Lessig observes-entrepreneurs who, in moving to California, expected, correctly as it turned out, to be far enough away from the East Coast to permit them to evade the enforcement of the law that protected Thomas Edison's patents on the motion picture camera, patents that demanded that anyone using such equipment apply to him for permission. For would-be filmmakers, that was a cumbersome and expensive obstacle, and to steer around it, they took Edison's patented equipment to Hollywood where, in the early years of the 20th century-the formative years of the film industry-they were effectively out of sight and beyond the law. Similar piratical acts ("Disney creativity") resulted in the record industry, radio, and cable tv. And in Japan, where the population seems to subsist entirely on manga, a huge portion of the manga industry, Lessig says, is made up of "doujinshi," manga that copies, with slight variations, other manga. Steamboat Willies all over the landscape, here and there.
            This sort of "borrowing" is likely to be curtailed by the present interpretations of the copyright law, putting an end to a distinct kind of creativity-the kind that is inspired by one work to invent another that is similar but different, the kind, ironically, upon which Disney built his entire empire.
            The copyright owners who support the continual extension of copyright protection are not interested in the right of a creator to reap rewards for his successful endeavors. That may happen (and I applaud it whenever it does), but the copyright holders' real agenda is, as Lessig puts it, "to assure that nothing more passes into the public domain." Says he: "It is another step to assure that the public domain will never compete, that there will be no use of content that is not commercially controlled, and that there will be no commercial use of content that doesn't require their permission first. ... Their aim is not simply to protect what is theirs. Their aim is to assure that all there is is what is theirs" (Lessig's emphasis).
            I'm all for creators' getting their due, but I question whether their entitlement exceeds their lifetimes. No creator has any use for material reward after death, surely. So why extend the copyright protection beyond the creator's life? Legitimate as creator's rights are, they must have a limit, it seems to me. Otherwise, as Lessig shows, they begin to impede creativity generally and the cultural well-being of a society. Lessig's chief interest in changing the copyright law springs from his desire to nurture the creative potential of the Internet's technology. But the case he makes applies to many other creations from which society has a right to benefit. How much Shakespeare would we find on stage in America if all producers had to apply to the Shakespeare Trust for permission to stage one of his plays?
            What about a creator's family and survivors? Isn't a creator entitled to provide for his heirs out of his creative enterprise? Yes and no, I'd say. If creations earned enough during their creators' lifetimes to compensate them appropriately, then the creators could make adequate provision for their heirs to benefit, somewhat, from their work. Not, probably, enough to guarantee a life of ease and idleness, but enough, doubtless, to gratify a son or daughter or distant cousin who had nothing to do with the original acts of creation. In the last analysis, however, perhaps the best we can do for our children is to bequeath them the will and skill enough to make their own way in the world and be self-sufficient. What more could any reasonable person want?
            Had the old law been restored, we would have reaped at least one benefit: if copyrights are permitted to expire, eventually, young campers can huddle around their campfires at night and sing Irving Berlin songs without fear of ASCAP's charging in out of the dark to claim licensing fees.
            In the meantime, while we await the return of common sense to the commonweal, we can, for the pure sake of nostalgic reminiscence about a more exuberant time, visit Levin's book to savor its cascading prose and the manic crusade it so vividly and engagingly celebrates-and to take to heart the warning it imparts about the impending sleep of creativity that perpetual copyright protection is likely to induce.
GRAFIK NOVELZ
Graphic novelist/historian Rick Geary has made a thoroughly respectable career out of Victorian crime-murder, to be gruesomely precise. He has produced grisly examinations in graphic novel form of Jack the Ripper's slaughters, the Lizzie Borden axe murder, the assassination of President Garfield, the serial killer H.H. Holmes of Chicago, and others, all from NBM Publishing under the general heading of A Treasury of Victorian Murder (www.nbmpublishing.com). Most recently, he has focused his ghoulish gaze on what is doubtless the most sensational 19th century killing in American history in The Murder of Abraham Lincoln (80 6x9-inch hardback pages in black-and-white, $15.95).
            As always, Geary's narrative oozes with an authenticity derived from exhaustive research. He lists nearly a dozen works on Lincoln's assassination in the bibliography, and the book includes carefully wrought maps of downtown Washington, D.C., showing the relative positions of various sites associated with John Wilkes Booth's plot, the infamous Ford's Theatre where the deed was done, Surratt's boarding house where Booth met with his co-conspirators, the Peterson house where Lincoln died, and the assassin's escape route through Maryland to Virginia and the Garrett farm where he died in a barn fired by his pursuers.
            Geary begins with Lincoln's second inaugurral on March 4, 1865 and concludes on July 7, 1865 with the execution of four of the conspirators. He conducts a nearly day-by-day rehearsal of the events leading up to Lincoln's murder on April 14 and Booth's subsequent flight and death on April 26. As Lincoln, on the steps of the newly domed capitol building, anticipates the end of the Civil War (which occurs a month later with Robert E. Lee's surrender to U.S. Grant on April 9) and speaks of "malice toward none," the actor Booth watches from the attending crowd and seethes in a rage born of his Southern sympathies. With six others, Booth has been hatching a plot to kidnap Lincoln and convey him to Richmond, the Confederate capital, where he will be held until ransom is paid-namely, the release of thousands of Southern prisoners of war. Booth and his cohorts actually assemble for this purpose in the woods along a road north of the city, expecting Lincoln to pass by on his way to a military hospital to speak to wounded soldiers. But when they learn Lincoln has changed his plans, they believe their plot has been discovered, and the hoodlum band breaks up. Only three of the original six stand by Booth as he evolves a new plan, this time to kill Lincoln.
            Geary's nearly hour-by-hour account of the day of the assassination is complete with maps and cut-away diagrams of the presidential box in Ford's Theatre, showing where all its occupants were seated when Booth entered and aimed his single-shot derringer just inches from Lincoln's head and fired, sending "a half-inch ball of lead deep into the skull of its victim, the projectile [taking] a path from the left to the right, through the mass of the brain and lodging behind the right eye." At approximately the same moment, two of the other three conspirators attack Secretary of State William Seward in his home; the third villain, assigned to kill Vice President Andrew Johnson, loses his nerve and wanders the streets all night. The rest of the story traces Booth's flight, alternating with scenes at the Peterson house where Lincoln lay dying for nine hours and glimpses of the subsequent entrained funeral procession across the country to Springfield via Philadelphia, New York, Chicago and several places in between.
            Before closing the book on Lincoln's murder, Geary lists several of the provocative unanswered questions that still hover around the infamous event. Was the Booth plot part of a larger enterprise? Did he have "inside information"? (How else to account for his having with him only a single-shot derringer and a knife? Did he know Lincoln would not be well guarded that night in Ford's Theatre?) Why did Secretary of War Edwin Stanton destroy 18 pages of the journal Booth kept during the days of his flight after the assassination? If Seward and Johnson as well as Lincoln had been killed, would Stanton have become President? Was he, then, the master assassin?
            The history of Lincoln's assassination is familiar to most of us in its larger outlines. Geary adds many details that are less widely known, but in recounting these matters in the graphic novel mode, Geary gives dimensions to the story that are missing in any other medium. His drawing style evokes woodcuts, but Geary's lines bristle uniquely along the edges, giving to the visuals the fustian patina of early Americana. The technique of Geary's storytelling lends the tale its peculiar tone. The pictures add little substantial narrative information. Apart from bird's-eye views of key scenes and maps, the story is carried entirely in the verbal captions. But the pictures accompanying the captions lend to every event, no matter how trivial, a strangely foreboding aspect. Geary's prose is spare, almost completely devoid of adjectival nuance; it's deadpan and factual. In this context, the pictures function as illustrations of the text, and the illustrations add an eerie ambiance. When a new personage is introduced, Geary pictures him or her straight on, full face, from the waist up, as if sitting for a 19th century studio photograph. But the eyes often glance to the side, making the person seem vaguely guilty. In various sequences, the characters frequently look over their shoulders, almost fearful of some lurking threat. Geary draws in a cartoony rather than realistic manner, and although his skillful use of linear shading techniques produces an illusion of realism convincing enough for his serious purpose, the caricatural impulse persists as a structural underpinning, adding a sense of detachment that, oddly, augments the aura of menace. Because we are distanced from the events depicted, they seem dreamlike-or, more exactly, nightmarish. When the would-be assassin of Seward leaves the house of his victim, he finds his accomplice has already left, and Geary depicts the deserted murderer standing, motionless, in front of the house, knife in hand, staring out at us as if caught in the act by an unanticipated witness. That's exactly what Geary's "camera" is, of course, but Geary's deployment of it makes the camera an actor in the drama, often an intruder. And so the impression emerges, over-all, that the storyteller is the lurker, the threat, an augury of retribution that haunts these evil doers.
            Geary's pictures of Lincoln are deft invocations of the classic image, a treat for the eye. Beyond mere depiction, however, Geary infuses the tale with an antique sense of the macabre by his narrative mannerism and graphic style, and it is in these aspects that the visual nature of the medium complements and enhances the story, bringing an appreciative shiver to the experience of reading it.
Are Liberals Just More Rational than Conservatives or What?
I have struggled, until June 21, 2005, with the nagging thought that maybe I'm as rabid and closed-minded a liberal as the right-wing nut conservatives I scoff at for being rabid and close-minded. Maybe my liberal myopia is the reason I think liberals are more sensible than right-wing nuts. But on June 21, 2005, I realized that wasn't the case. Watching a so-called debate on the NewsHour between a conservative critic of PBS and a defender of PBS, I realized why I think liberals are more sensible. Because they are. Right-wing nuts, in contrast, are merely doctrinaire. They mouth party lines and platitudes, slogans and "talking points," and they say them over and over, whether they are appropriate responses to the questions or the circumstance or not. The strategy, clearly, is the Bush League war plan all over again: tell the Big Lie often enough, and enough people will believe it to secure your position and guarantee your triumph. No matter what the question or the comment from the PBS defender, the conservative mouthpiece had only three things to say, and he repeated them as often as he could: 1) Bill Moyers is a rampant liberal and his presence on PBS confirms the liberal slant of the network; 2) the animated cartoon rabbit who went to visit lesbian parents shows just how "deeply embedded" the liberal bias is in PBS; and 3) the majority of Americans disapprove of this liberal bias in a medium they help pay for, and we know it's a majority because they elected GeeDubya President twice, their votes establishing beyond a doubt two things: the enduring popularity of George W. ("Whopper") Bush and therefore the majority endorsement of the conservative point of view. The PBS defender reminded us that PBS broadcast a talk show hosted by William F. Buckley for 30 years, and if that wasn't as conservative a "balance" as Moyers was liberal, what was? The conservative scoffed at this: Buckley was mere tokenism; Moyers was pervasive. (From this, we may assume that any attempt at "balancing" one point of view against another is merely "tokenism" for the point of view that is not being championed.) When the PBS defender pointed out that Moyers had retired, it didn't faze the critic: he kept on invoking Moyers' name as proof of liberalism in PBS. The defender missed a bet, though: every time the PBS critic cited Bush's immense popularity, the defender ought to have pointed to Bush's steadily declining approval rating, now below 50%. Scarcely a "popular" president any more (if he ever was: remember, he lost the popular vote the first time he "won"; and his second win was merely a victory for the status quo, the incumbent-always preferred over something new and different). The defender consistently answered questions put to him; the conservative critic consistently repeated Moyers and the "majority opinion" that is overwhelmingly poised against liberal views, coast to coast. The defender had a mind and exercised it; the conservative had only a mantra, and dared not stray from it for fear he'd get to a place where he'd have to think. So, the lesson I learned was that the liberal "point of view" includes a thought process; the conservative, does not. And that's why I like liberals. Nothing myopically knee-jerk about it.
            To be scrupulously fair and balanced, however, I must acknowledge that if the Bush League and their conservative minions succeed in silencing forever any opposing voices on PBS and everywhere else, the country will be in better shape. Clearly there would be less disruption of our daily lives if everyone held the same undeviating opinions about everything-if we all believed that Iraq has been liberated (not invaded and occupied), that the Clear Skies Act reduces pollution rather than perpetuating it, that what's good for American business (particularly the oil business) is good for us all individually, that homeland security is worth giving up a few paltry rights for, and that GeeDubya walks on water and is a model of eloquence.
To find out about Harv's books, click here.