Limners of the Immortal Toad: Disney, Rackham, Shepard, and Plessix—
Cartoonists All, in the Wind in the Willows
Words into Pictures: Visualizing Literary Works, Warts and Gnarls

Here is Kenneth Grahame's irrepressible Toad in full cry, singing a "little song" about himself: "The world has held great heroes, as history-books have showed; / but never a name / to go down to fame / compared with that of Toad!"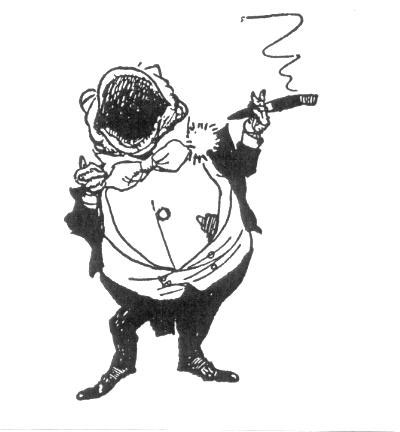 Here, in a couplet and an internal rhyme, is Toad entire. Swollen with self-importance, blurting braggadocio in metered measures, Toad rises up before us and marches off to the beat of his own private drummer, blissfully unaware, it seems, of any personage of importance save himself. But the bloated arrogance of Toad's poetic posturing is deflated, ever so little but punctured nonetheless, by the very musicality of the utterance, the lilt of lyricism that hints at the love of fun that so animated the character in Grahame's classic, The Wind in the Willows. Perhaps, the scintillating rhythm suggests, Toad is not altogether serious. Perhaps his egotism is childish rather than pompous.
But Grahame's Toad is not the only Toad in Willows. Arthur Rackham's Toad dwells among the reeds along the same river bank. And Ernest Shepard's. And Disney's. All illustrators of Grahame's ode to Nature and the natural in us all. And in the realm of visualizing, Disney has often dispossessed all the images that preceded his.
Who can think of Snow White and the seven dwarfs without the mind's eye conjuring up Grumpy and Dopey and the rest of the potato-nosed ensemble? Bland Bambi is forever coupled to a mischievous bunny named Thumper just as the wicked wooden-head Pinocchio is made perpetually appealing by a tiny top-hatted cricket acting as his conscience. And Paul Dukas' "Sorcerer's Apprentice" will always be Mickey Mouse in a floppy, pointed cap.
We should not be surprised, then, to discover that even as early as 1949, the year Grahame's Toad began cavorting on the silver screen, Disney had earned a reputation for the efficacy of his imposters. His adaptations of the characters of others were more lively and hence more living than their originals—particularly when the originals were literary creations that had existed, until Disney appropriated them, solely in between the lines of typography in a wholly verbal enterprise, altogether motionless. In animating them—in bringing them to life—Disney supplanted them.
In assessing Disney's rendition of Grahame's book on November 21, 1949, Life magazine noted, without a trace of rue, that "the film leaves out all the poetry and most of the subtlety, but it still has action enough for the children and wit enough for everybody. It is deft and pleasant throughout, ironic and good-hearted. ... good enough to convince Disney admirers that the old master can still display all the bounce and vitality he had before the war."
A trace of pique, if not outright sarcasm, infects the verdict over at the New Republic (October 24), which pronounced "The Adventures of Ichabod and Mr. Toad" "neither good taste nor bad. It shows a vivacious absence of taste; it is bright, sprightly, arch and obvious. The flavor of the originals is lost in garishness and pretension, and it was flavor principally that they both had to offer."
Right away, you can tell they don't like Disney movies over there at the New Republic. So why did they devote, from their precious allotment of pages per issue, even two paragraphs to "Mr. Toad"? Clearly, they see Disney as a threat to the American Way of Life and to Western Civilization as a whole, a menace that must be stopped out of sheer patriotic devotion before it smashes culture to smithereens.
I was, at the time, too young to realize all that. Disney's Toad—or, more precisely, pictures of his version of Toad as published in that November 1949 issue of Life—was the first version of Grahame's immortal bumptious blusterer I ever saw, so I had no way of comparing it to the original and thereby assessing the damage being inflicted on evolutionary progress by the Mouse House minions.
On the screen, Disney tells the Toad story of The Wind in the Willows with lively panache. Among the animals along the River Bank, Toad is the squire, the occupant of Toad Hall, the local manor of majestic dimensions. He is also, we are told, a mad, reckless adventurer who has a mania for fads and leaps from one to another with complete abandon and unbounded enthusiasm. His latest mania is to dash giddily about the countryside in a canary yellow gypsy cart, wrecking everything in his path. As the bills for repair mount up, his friends, Rat, Mole and Badger, decide upon an intervention, but before they can get it properly executed, Toad falls in love with the first automobile he has ever seen. Touring the country's highways and byways in a motor car becomes his new mania.
In the grip of this fresh enthusiasm, Toad buys a car he sees outside a roadside tavern, trading for it the deed to his ancestral manse. Alas, the car he buys proves to be a stolen one, and Toad is arrested as the presumed thief. Through a stratagem, he escapes from jail (or "gaol," as the English have it), returns to the River Bank, discovers Toad Hall overrun with villainous weasels, and, disconsolate, seeks out his friends. Badger musters them all to reclaim Toad's patrimony. They storm Toad Hall and, in the ensuing hilariously frantic encounter with the weasels, recover the deed, which had been obtained under false pretexts. Toad is restored to his rightful place in the mansion on the River Bank, and peace reigns. For an instant. Then we see Toad aloft in a new fixation—piloting an aeroplane!
In Disney's hands, Toad is not only lively: he is graceful in every movement and thoroughly dapper, the perfect English country gentleman.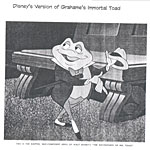 And Disney deftly solves the most persistent of the problems in visualizing Grahame's tale—size. In Grahame's telling, the animals interact with humans, and while our imaginations easily envision a tiny toad talking and cavorting with humans, an artist, who must show the two species in the same pictures, has a difficult time of it. At a realistic scale, Toad is simply too small to be seen in the same picture with a normal-sized human or to operate, say, the locomotive he commandeers to escape from prison.
A.A. Milne faced a similar problem in creating a stage version of the tale, "Toad of Toad Hall," in 1930. "In reading the book," Milne wrote, "it is necessary to think of Mole, for instance, sometimes as an actual mole, sometimes as such a mole in human clothes, sometimes as a mole grown to human size, sometimes as walking on two legs, sometimes on four. He is a mole, and he isn't a mole."
Grahame solved the problem with a simple albeit potent sleight of speech: "The train is Toad-size," he explained once; "and Toad is train-size."
Disney's solution is the same as our imagination's: on the screen, as in our mind's eye, we usually "see" only a portion of the total picture, the portion with Toad in it—at the controls of the locomotive, gripping the motor car's steering wheel, and so forth. And as a grace note resolving the incongruity with an internal contradiction, the doors of buildings through which the Disney Toad and his friends pass are normal, human-size: the animals reach up to grasp the doorknobs. But the furniture they sit on in their own homes is animal-size.
Grahame's animals in Disney's hands are undeniably given a human dimension. It was (and is) endemic in the Studio's efforts that everything it touches be anthropomorphized. Grahame's animals were no exception. But Grahame might very well have enjoyed the results.
In his mind, his relationship with animals was as fellow creature, not as human to animal. Anthropomorphized animals, then, were, in effect, Grahame's species. Late in life, he revealed his feelings on the matter:
"As for animals, I wrote about the most familiar and domestic in The Wind in the Willows because I felt a duty to them as a friend. Every animal, by instinct, lives according to his nature. Thereby he lives wisely, and betters the tradition of mankind. No animal is ever tempted to belie his nature. No animal, in other words, knows how to tell a lie. Every animal is honest. Every animal is straightforward. Every animal is true—and is, therefore, according to his nature, both beautiful and good. I like most of my friends among the animals more than I like most of my friends among mankind."
The next rendition of Toad that I beheld was Arthur Rackham's in a copy of Willows that my parents gave me for Christmas that year. I had only recently discovered some of Rackham's artwork illustrating other books, so I was fascinated with his interpretation of what, to me, was Disney's Toad.
Illustrating Grahame's book was, for Rackham, a labor of love, and it was his last labor. Rackham took the commission to illustrate the book in 1936 at the age of seventy. The next year, he went to Berkshire in the summer with Elspeth Grahame, the author's widow, to view the banks of the Thames along which Grahame had envisioned his animals living, and in August of that year, he underwent X-Ray treatment for a cancer that had just been discovered. By the time he began doing the illustrations in earnest, he was in and out of the hospital. His doctors permitted him to work only an hour a day, and it took him nearly two years to complete the job, slowly dying all the while. He was afflicted with rheumatism in his hand, and by early 1938, he feared he was losing the sight of his right eye. Four of the book's 16 color illustrations were done while he was in bed, and all 12 of the pen-and-ink drawings for the chapter headings.
Rackham's letters during this time to George Macy, the editorial director of New York's Limited Editions Club, publisher of the new work, reported on the artist's health as well as his progress on the illustrations, and as the months passed, it was clear that Rackham was engaged in a race against time, the question being whether he would live to complete the work.
He did. He reported on April 13, 1939, that he'd finished the last of the art, the line drawings. "I think some of them are as good as I have ever done," he wrote to Macy.
He did not live to see the publication of the book. He died September 6, and his edition of The Wind in the Willows finally appeared in early 1940.
Although it was Rackham's last work, illustrating Grahame's book had been among his fondest wishes. Macy recalled the day in 1936 when, visiting the artist at his studio in Britain, he had first suggested the project among several other possibilities for future illustration: "Immediately, a wave of emotion crossed his face; he gulped, started to say something, turned his back on me and went to the door for a few minutes. When he came back, he said that he had been trying for many years to persuade an English publisher to let him illustrate Grahame's book, having been forced to turn it down due to the pressure of other work when Grahame invited him to do it nearly 30 years earlier."
In other words, Rackham had been Grahame's choice from the very first. And when the artist was not available, Grahame permitted the first edition of the book to be published in 1908 with only one illustration, a frontispiece by his friend, an artist and playwright, Graham Robertson.
Rackham's pictures, which often depicted the animals out-of-doors, laminated the work with a patina of Nature. And in that, they were the perfect accompaniment for Grahame's prose.
The initiating impulse for The Wind in the Willows had been in stories Grahame told to his seven-year-old son, Alastair. Related sometimes in letters, the stories regaled the youngster with the antic adventurings of Toad. And in Toad's egocentric self-indulgence, his defiance of the dictates of respectability, his assertion of personal, untrammeled freedom to do whatever he wanted to do, we have young Alastair—any child, in fact. The child in Grahame, too. Toad's personality and his adventures embrace and reflect the child-like yearning in us all to achieve wonderful things and to do only what we like to do.
In creating the book, using his letters to his son as a launching pad, Grahame had written Toad's story first. And then he went back and insinuated into it his haunting descriptions of Rat's life along the river bank—and Mole's, both of them "messing about in boats"—and the ominous, mysteriousness of the wild wood and the mystic lyricism of the chapter entitled "The Piper at the Gates of Dawn." These quiet paeans to Nature put Toad's excesses in context: childhood, for all its self-centered extravagances, is part of Nature. As are we, at whatever age.
Rackham's woodland wild with his characteristic burly trees and clumpy knots of grasses give visual expression to the Nature so poetically invoked by Grahame's text. No wonder Grahame had picked this artist over all others when he first contemplated the publication of the book.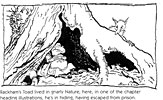 There had been four illustrators of the book by the time Rackham's version appeared: Paul Bransom in the 1913 edition; Nancy Barnhart in 1922; Wyndham Payne in 1927, and Ernest Shepard in 1931. Grahame had not been particularly happy with any of those before Shepard's. Bransom and Barnhart had drawn the animals naturalistically, which failed to impart to them their human characteristics. Payne was too cartoony and slick. But in Shepard, the last to illustrate the book while Grahame was alive to witness the results, Toad and his cohorts found an ideal visualizer.
Fresh from illustrating Milne's Winnie-the-Pooh and The House at Pooh Corner, Shepard was one of the top cartoonists and illustrators of his day. He made a substantial living as an illustrator of books, but he was also a member of the Punch Table, a designation reserved for those writers and cartoonists (artists) whose work generated each weekly issue of England's premier humor magazine.
At weekly meetings around this relic, called "the mahogany tree" even though it was made of ordinary deal, the regular contributors gathered for dinner on Wednesdays. (Later, Thursdays, and, since 1925, for lunch rather than dinner.) After an appropriately liquid as well as solid repast, they discussed current events and possibilities for articles and cartoons for the next issue.
Shepard had been published in Punch since his debut there in 1907, after trying, vainly, for three years with a regular succession of submissions. By 1921, he had been accepted for publication often enough to warrant his invitation to "join the Table"—i.e., to become a staff member.
When a new edition of The Wind in the Willows was contemplated in the early 1930s, Shepard was invited to illustrate it. Ironically, the cartoonist had always believed Grahame's masterpiece was one of those books that should not be illustrated. Not ever. When he was offered the assignment, he took it because he believed he could do better than his predecessors on the book. Grahame, who always had Rackham in mind, wasn't so sure.
Shepard went to Berkshire to visit Grahame, then in his seventies and in frail health, to lobby for acceptance as the new edition's illustrator. Grahame explained that "my animals are not puppets"; other illustrators, he complained, "always make them puppets." Shepard told him what he hoped to do. And Grahame, assenting, finally, said: "I love these little people; be kind to them."
That afternoon, Shepard strolled the banks of the Thames nearby to absorb the milieu of the book and to make sketches. Some time later, he returned to visit Grahame again to show him the results of his work thus far.
"Though critical," Shepard reported, "he seemed pleased and, chuckling, said, 'I'm glad you've made them real.'"
And that, indeed, he had done.
Grahame's biographer, Alison Prince, calls Shepard's style "a perfect match for Grahame's writing." Said Prince: "He obviously understood that animals, for all their smallness of literal scale, were adult beings, going about the business of their lives with as much common sense and blamelessness as they could manage, and so he invested them with immense plausibility."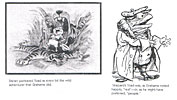 Others have illustrated Willows since Shepard. John Worsley and Jonathan Langley, both too slick, and Eric Kincaid, the best of the three, vaguely like Rackham. Shepard, however, was the last to work with the book's author as John Tenniel had with Lewis Carroll in illustrating the Alice books. British art historian Bevis Hillier believes Shepard's drawings are "the canonical ones." Admitting that Rackham is a "formidable rival," he goes on to say of Shepard that "nobody else's Mr. Toad could ever be so egregiously conceited, no one else's Mole so velvetly self-effacing."
I've been going about this backwards, you may have noticed. The order of achievement here is, first, Shepard (1931), who gave Grahame's animals human personality, then Rackham (1940), who injected a palpable Nature into the visualization, then Disney (1949), who captured, I believe, the childish exultation in Toad's tale. And now, bringing them altogether, we have Michel Plessix.
Plessix, a 40-something French cartoonist of extraordinary skill, first achieved notice in Europe with a four-volume series called Julien Boisvert, a modern-day Tintin. Since 1995, Plessix has been working on Willows, completing the project in July 2001.
If you've ever wondered what cartooning can do that other media cannot do as well, you can find the object lesson in Plessix's interpretation of Willows. NBM has published this gemlike cartooning masterwork in four 32 9x12-inch page hardcover volumes, each merely $15.95 (lately re-issued as a single 144 6x9-inch paperback volume by NBM's subsidiary arm, Papercutz, and available through the latter's website). These books evoke perfectly the pastoral enchantment of Grahame's world. Just as important, Plessix has preserved the feel of the best of Grahame's illustrators, Shepard and Rackham.

In the first volume, Plessix takes us from the riverside meeting of Mole and Rat to their accompanying the irrepressibly changeable Toad on the open road by horse-drawn cart and, finally, to Mole's venturing into the Wild Wood to meet Badger. In this volume, Plessix follows Grahame's story meticulously, abbreviating it necessarily but capturing its mood and spirit exactly. In Volume Two, Plessix elaborates somewhat upon his source, but, again, faithfully maintains the atmosphere of the story.
His delicate lines etch Grahame's "pageant of the riverbank" with loving care. He devotes many spacious panels to setting scenes, evoking mood with breath-taking detail. A canny and caring maneuver: Grahame's tale is largely atmospheric, and to properly enjoy it, we must enter into the warm summer afternoon of its beginning chapters. Here, thanks to Plessix's painstaking attentiveness, we feel the lassitudinal drift of the river, the dreamily slow current that takes us almost imperceptibly out to our adventure.
As Mole and Ratty join Toad on his cart trip, Plessix gives us a half-page illustration of the road through the forest that is rich in ambient detail—birds perched on tree limbs, a squirrel clutching the trunk, butterflies and birds on the wing. Then, no slouch at the storytelling techniques of the medium, he produces a short sequence of tiny panels that focus in close-up on the gentle denizens of the woods—insects, mice and the like; and at night, as the trio gets ready to retire, Plessix conjures up a hauntingly beautiful vault of the deep blue night sky, dotted with stars and crossed with a pillar of gray campfire smoke.
When the gentle Mole wanders through the eerie Wild Wood, Plessix shifts narrative gears and, with rapidly changing perspective and distance from panel to panel, creates a glowering forest, alive with shadowy threat, and paces Mole's growing alarm until it reaches a nearly hysterical pitch. Masterfully done.
He is marvelously adept at telling details. In the Wild Wood, moss grows on the horizontal surfaces of aged tree limbs, toadstools sprout from the trunks, branches twist and vines twine. On the river, he attends carefully to the contours of the antique rowboat and its oarlocks and other archaic fittings.
In the Badger's subterranean burrow in Volume Two, Plessix creates a warm and tidy kitchen hearth as well as, a few pages later, a vast cavern at the other end of the Badger's digs. The snow scenes outside are starkly white, but the expanse of colorlessness is often broken by such tiny details as the dried stalk of an occasional weed, piercing up through the frozen crust like a minuscule skeleton.
Volume Three covers chapters 7-9 of the original opus—the chapters in which the incorrigible egotist, Toad, escapes from prison and wends his event-laden way back home towards that ancestral pile, Toad Hall.
In interpreting Chapter 7 of the book, Plessix arrives at another pinnacle of achievement. This is the mystic chapter entitled "The Piper at the Gates of Dawn," and when I read the book first (just on the cusp of adolescence, tovarich), it seemed to me the most mysterious of the book's chapters—so mysterious as to be almost entirely extraneous to what appeared to be the book's over-arching plot about Toad and Ratty and Mole. But Plessix makes it all intelligible and reveals it to be at the heart of the book. I had forgotten how much of the book is a dreamy evocation of the river bank—of the flora and fauna that line the eddying flow. In his pictures, Plessix captures this feeling, showing us Ratty and Mole adrift in their boat, seemingly floating on airy nothing because the cartoonist depicts the river simply by sketching its banks, leaving out any indications of the current that doubtless animates its surface in actuality. His vision of the Piper—his explanation of this haunting phenomenon—can take place only in cartooning (or in a medium so similar as to be virtually imitative).
And, finally, playing with a single word, Plessix explicates the book's title, acknowledging that this key chapter incorporates "the music of the wind in the willows." Beautifully done.
Volume Four sees Toad and his friends reclaim Toad Hall, and Plessix creates here all the frantic excitement of Disney's animated action, deploying the sequential panels of the artform with an expert flair to achieve both dramatic and comedic ends. And he ends on the same unGrahame-like note as Disney did—with Toad at the controls of his brand new aeroplane, spiraling above Toad Hall in a paroxysm of excitement.
Sherpard gave Grahame's animals their humanity and comic gloss, and Rackham gave the tale its gnarly natural texture. Plessix's pictures evoke both once again with individually realized animal personalities and knotty renderings in pen-and-ink delicately colored with aquarelle. And yet, there is a distinctive Plessix presence, too.
His is the cartoonist's presence, and it conjures up the Disney version. Plessix laces his narrative with sight gags, pictorial inventions that reveal aspects of Toad's character, say, while at the same time provoking the risibilities. Sometimes this is effected by pictures that contradict the accompanying prose narrative; sometimes, by simple visual comedy.
Grahame might not have been too keen about the Disney version. Disney's animals have personality and human dimension, but there's little of their natural setting in the film. The all-encompassing Nature of which we are all a part is altogether missing. But it is present in every knotty line of Plessix's drawings. I think Grahame would have been pleased.
Here's a gallery of drawings by three of our principals.
Footnit: The foregoing is almost word-for-word a reprinting of a column I did for Comic Book Marketplace No. 95, a special Disney issue.