SIGNE WILKINSON ON THE ATTACK
Editorial Cartooning with a Vengeance
I interviewed Signe Wilkinson in the summer of 1997. I was in Philadelphia on other business, and during a lull, I found my way through a drenching rain storm to the Philadelphia Daily News building. I arrived in her office soaked, but she promptly forgave me by overlooking the water draining from my clothing onto her office floor. The basic information in the ensuing article is mostly the same today as it was then. She is no longer doing extracurricular cartoons for some of the magazines mentioned, but she's doing some for others. Wilkinson's opinions about some things may have changed somewhat (although I doubt it), but as a snapshot in a moment of time, this'll still do.
Her acerbic wit is pervasive and enhances her every utterance. Some years ago at one of the annual conventions of the Association of American Editorial Cartoonists (AAEC), she and two other women cartoonists—Ann Telnaes and Etta Hulme—appeared to make a panel presentation about the dearth of women cartoonists in the profession, of which there are, still, too few. The title of the presentation was, if I remember aright, "Bitch, Bitch, Bitch"—a nice double entendre. When Signe got up to start things off, she allowed as how they'd played with alternative titles, including "Ho, Ho, Ho."
The interview appeared in Cartoonist PROfiles, No. 125 (March 2000), and I've up-dated it a little for our present purpose, particularly in the gallery of cartoons that conclude this foray.
"NEWSPAPERS ARE AMONG THE WORST OFFENDERS when it comes to backing down on issues," Signe Wilkinson once said. "It takes only two complaining readers for some editors to dive under their desks."
She was speaking generically—that is, about newspaper editors generally, not her editor at the Philadelphia Daily News. "I have been blessed with stand-up editors at stand-up newspapers," she elaborated.
But that doesn't change much her opinion of cringing editors at other papers who seem to knuckle under to any protest bellowed from the reader ranks..
The first woman editorial cartoonist to win a Pulitzer (1992), she scoffs at advocates of political correctness and opponents of stereotyping. "Every organized group wants to have control over their own stereotypes," she said. "I'm sorry, they can't. We have joint custody."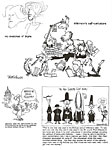 Possessed of a tart and ready wit as well as a daring pen, Wilkinson advocates taking strong positions, saying that "fear of offending creates a mushy middle that is not very firm footing; you don't get any wildness, no craziness and no strong stands."
As president of the Association of American Editorial Cartoonists (1994-1995), she took a strong stand on cartoons: "Cartoons are a reason people read newspapers. Thus, newspapers should have more rather than fewer, run them bigger rather than smaller, and should feature them prominently rather than hide them. That was my platform," she said, "—that and condom distribution. The boys referred to me as Signe Rodham Wilkinson. They thought I had a health plan to foist on them"
In addition to the Pulitzer, Wilkinson has won other prestigious awards for editorial cartooning—the Berryman Award (1991), the Overseas Press Club Award (1997, 2001 and 2007), and the RFK Journalism Award (2002). The honor she cherishes most, however, was being named "the Pennsylvania state vegetable substitute" by a one-time speaker of the Pennsylvania House of Representatives in 1989.
She values highly what she calls, tongue in cheek, her "intensely unremarkable family life," which is adorned with her interest in growing outdoor lilies, killing indoor orchids, finding an easy way to match her husband's socks, and trying to figure out why Paris Hilton is famous.
Wilkinson's cartooning has not been confined to the editorial pages of the Daily News, for which she does five cartoons a week. She has also drawn "mulch-based" cartoons for Organic Gardening magazine, mortarboard-based cartoons for the Institute for Research on Higher Education, and water-based cartoons for the University Barge Club newsletter.
Syndicated by Washington Post Writers Group, Wilkinson didn't start out with her sights set on becoming an editorial cartoonist. She grew up in and around Philadelphia, and her chief interest was simply—art. While in high school, she took an art course offered by a local college on weekends.
"But I was very practical," Wilkinson said, "and I didn't grow up with any expectation of art providing enough to live on. I wanted a profession I could live on. And that's why I got an English degree!" she said with a wicked laugh. "The most worthless of all possible! I might as well have gone ahead and got an art degree. They are of equal value on the free market. However, the long and short of it was that I had no faith in myself whatsoever. Did not think that I drew well enough to be a fashion illustrator—which is about all that I aspired to art-wise. And so I didn't go into art."
She got her B.A. in English at a western university with a good reputation for skiing ("No one else would let me in," she quipped), but, unlike so many of her colleagues, she did not work on the campus newspaper as a cartoonist.
"I had absolutely no idea that I would end up as an editorial cartoonist on a major metropolitan daily newspaper," she said. "I am as surprised as anyone that I am sitting where I am sitting today. I'm thrilled, though. I really love it. I really believe that if you let your interests and talents guide you, you'll eventually find your place in the world. I was in the fortunate position having the time and the patience to spend years finding myself, and here I am."
After graduation, she tried to find herself at a number of rather miscellaneous things--including going to Cyprus.
"There was this professor," she said, "who was putting together a team to bring peace to the island of Cyprus. I went, and nine months later, war broke out," she finished with a grin.
Returning to Philadelphia, she also worked for the Quakers (a former editor called her "the attack Quaker").
"I started going to night school in art," she said. "I went to just about every art institution in the Philadelphia area for my remedial art training. And many of my readers think I should still be going to school! Probably many of my colleagues as well. But I just kept working on it and started freelancing.
"I worked for the Academy of Natural Sciences in Philadelphia," she continued, "where I laid out their quarterly publication—liberally sprinkled with my own illustrations. So my advice is that if you can't get into someone else's publication, run your own. And work free. And I did cartoons for all sorts of publications, but the thing about it is, once you cut them out and put them on one of those black pages in your portfolio, it doesn't matter that they didn't appear in the Wall Street Journal. They were printed on paper, and somebody looked at them, and somebody else looking at them—some editor somewhere, some prospective employer—will see them as published cartoons. And that's how I kept going, one job after another after another.
"I worked many, many places," Wilkinson concluded. "My portfolio is varied. And I think I picked up a lot that has informed my cartoons. None of the things that I did outside journalism do I feel were at all wasted time."
Her first job on a newspaper was as a reporter—a stringer, working nights, for a West Chester daily newspaper. She claims no one would hire her except as a journalist: they looked at her "worthless" degree in English and thought it qualified her as a reporter.
"They'd say, It's a directionless English major; we can do something with her by paying her absolutely nothing to write about really boring community events," Wilkinson said. "And that's how I got my start."
While attending these boring community meetings and taking notes, she started doodling in her notebook., drawing pictures of the "people who populated these community events, and I decided that was much more fun than actually going to the community events."
In short, she discovered she was an editorial cartoonist.
"I couldn't spell," she quips, "so cartooning was a lot better than being a reporter. I needed the dictionary a lot less often."
She continued freelancing cartoons anywhere she could see a potential market, including The New York Times to which she mailed candidates for its op ed page.
Meanwhile, she also cruised the cartoon markets in Philadelphia. Some didn't pay but it was exposure. "I always asked for money," Wilkinson said, "but sometimes I didn't get it— because publications went out of business or whatever. I usually got something. But you can't make a living at $35 a cartoon—or $15."
She met Tony Auth of the Philadelphia Inquirer at a gallery showing of his editorial cartoons, and she started submitting cartoons for the Inquirer's op ed page.
About Auth, Wilkinson is absolutely unequivocal: "He is a great cartoonist—just very generous-hearted in that he has really helped me along in many many different ways, and I really owe a lot to him. And I hope you put every word of that in the magazine: he deserves it."
In the late 1970s and early 1980s, Wilkinson said, editorial cartoonist jobs on newspapers seemed to open up at the rate of three or four a year—"a forgotten period at this point," she said. And she applied for many of them, collecting her "fair share" of rejection letters.
During the five years she freelanced in and around Philadelphia, she married.
"It was very helpful to me to have a husband," she said. "Not because he earned any more money than I did—he didn't," she laughed; "he was as bad as I was at that time. But he knew he was my keel: he helped me take the rejections and look ahead, and he encouraged me. I don't think I would have been a cartoonist without his help. I don't know if I would have been strong enough on my own to take all the crap you have to take as a freelancer—the rejection, but also the poverty. I didn't make a lot of money, and that didn't bother him. He was great, just great. He was the contributory negligence to my downfall here as a cartoonist," she finished, laughing. "He is now an immigration lawyer. In those days, he was working for a very non-profit organization. These days, it's better."
Then in early September of 1981, she received the fateful phone call.
"Tony Auth called me one morning at my home studio," Wilkinson said, putting quote marks around "home studio" ("I put down the laundry and answered the phone"), "and he said he'd just been talking with this editor in California at the San Jose Mercury News, who was trying to cast his net widely for applicants for the editorial cartooning job. He was hoping to find somebody who was a little different—i.e., somebody who would satisfy an MBO [Management By Objective] for diversity—and so Tony said, Why don't you call? And—it was a Monday—I called Rob Elder, and we had a very pleasant talk. And he said, Well, where can I see your work?
"As soon as he asked that," she continued, "I knew I had the job, without any doubt— because I was able on that day—and that day alone—to say, Well—do you get The New York Times? And he went, It doesn't come in until later in the afternoon. And I said, Well, when it comes in, you can look on the letters page: I have a drawing there. Of course, it was only the second drawing I ever had in The New York Times, but it sounded like, Well, yes—today's drawing in The New York Times ..."
Wilkinson grinned her impish grin. "After that conversation, I just knew that the stars were in alignment."
Five months later, she was working at the Mercury News—"my first job with health benefits," she quipped.
"We loved California," she said. "It was really good to be in another city that was so different from Philadelphia. It was forward-looking and optimistic; it was young and growing and talented and confident. And all the opposite of Philadelphia."
But she left without regret about four years later when the Philadelphia Daily News had an opening for an editorial cartoonist.
"Both of our families live in this area," she said, "and I really love Philadelphia. I care about it. And it's a privilege to work in a city that you're not just assigned to by the luck of the draw but that you really want to make a difference in, so I am very happy to be able to work here. I really feel that I was fortunate that it worked out that way."
Wilkinson's day begins early. She arises about six o'clock and tries to read at least two newspapers at home to get a grip on the major stories of the day. During the summer, she drives to work, stopping en route to row six miles on the river; during the winter, she goes to work by train.
"I don't row then because my hands get cold," she grins, "and I always think my fingers are going to fall off and I'll never draw again, so I take the train in and out, and I get to read a little more that way."
At the office by nine-thirty or so, she reads her own paper and then, about ten-thirty, she goes to the editorial board meeting.
"It takes a lot of time," she said, "but I'm part of this paper, and so that's a fairly light obligation. Not a bad thing."
Knight Ridder papers do not have a unified editorial policy.
"I wouldn't say we're all quite different," Wilkinson said. "We're all struggling with the same problems with being corporate-owned mouthpieces trying to find a voice. Who owns us? Do our share holders own us? Do our readers own us? Do we own ourselves? I understand with corporate journalism the idea of one tent, however, a cartoonist is not hired to be the mouthpiece of a corporation, fortunately. And I think that Knight Ridder has a fabulous stable of cartoonists—Tony Auth, Jim Morin, Joel Pett, Chip Bok—several other good cartoonists, and we generally speaking have pretty free range. So as far as corporate masters go, they have a light touch."
[Since this interview, Knight Ridder has left the newspapering business; the Philadelphia Daily News is now owned by Philadelphia Media Holdings, which also owns the city's other daily newspaper, the Philadelphia Inquirer. The Daily News, in effect, is published as an edition of the Inquirer. Judging from the current crop of Signe's cartoons, the new owners don't interfere with her any more than the old ones did.—RCH]
Wilkinson rarely gets an idea from the editorial board meeting. Sometimes, however, she will deal with the same topic as one of the day's editorials.
"This happens when I want to do a cartoon on a subject that isn't the lead subject in everyone's news," Wilkinson said. "So it might be a smaller subject but one that I think is important. Having an editorial on the same subject on the same day allows the reader to get background on the topic.
"Editorial cartoonists sometimes complain about being chained to the news," she continued. "And we are. Because we're going to a mass audience, and therefore our subjects have to be something that most people have heard about. Otherwise, they don't know what it's about. It doesn't help to be obtuse." But editorial prose on the same subject as her cartoon helps to broaden the range of possible subjects.
Wilkinson does her "heavy sketching" after leaving the editorial board meeting.
"I try to have an idea before lunch," she said. "I hate going to lunch if I don't have an idea. Then I can't think of anything else other than how can I fill my little corner of the newspaper."
Using a rapidograph pen, varying the points, Strathmore paper, and lots of white-out, she draws the cartoon in the afternoon.
Some days, she has a concept in hand by the time she gets to the office.
"I came in today with a little clip," she said, "a notice from the tennis farm that children's tennis lessons are available, and I put down three little ideas about the Lutherans, about campaign financial reforms, and about abstinence. So I ended up doing the Lutherans. They're having their convention in town, so it's in the news. They're joining other churches."
Her deadline is 10:30 p.m. for the next day's paper.
Typically, she takes roughs of her ideas to show her editor before doing the final inking.
"One of my editors has a very good eye," she said. "I find that there are a couple kinds of people who get editorial cartoons. I like people who are generous spirited, who like cartoons, and then, after they say they like all the cartoons, they're willing to tell you which ones they like best. It becomes clear which one is working best. So— even if I have several ideas, I often go with the one that gets a lively reaction from the editor."
As for the unused ideas, "I hold onto them, but I usually don't draw them because they get to looking pretty old pretty fast," she said.
Sometimes she disagrees with her editor. "I'll say, I think you're missing the point on this one, and it's a more important topic. But it's not for content that I'm looking for their criticism: I'm looking for a reaction that will tell me if the cartoon works."
Her cartoons are rarely killed by an editor. And she feels quite free to express her views.
The rest of our conversation went like this:
Harvey: To get to the obvious question, what would you say to young women who want to be cartoonists about being a female cartoonist—or is there anything peculiar about that?
Wilkinson: I think there's nothing peculiar about it, but there's something rare about it. Obviously, it helped my career: the reason the San Jose Mercury News was looking so long for a cartoonist is that they were hoping they would find somebody who wasn't a sandy-haired white male. And they found her! Much to their dismay, as it turned out. We had a rocky time, but I think ultimately they were not too regretful. So I am definitely an affirmative action hire on the first round [of my career]. But I think editorial page editors are always trying to find different views on their pages, and so a woman cartoonist I think would be greeted warmly— if she had the qualifications and competence. I have to say editors still look at me as a woman cartoonist. My hate mail, however, always begins, Dear Mister Wilkinson. They don't care that I'm a woman. And neither should anybody else. I'm not simply interested in women's issues. I range abroad— no pun intended—
Harvey: But I'll use it anyway!
Wilkinson: —and so, it always annoys me to be seen as a woman cartoonist interested only in women's issues. My interests go well beyond strictly feminist concerns. Nicole Hollander's Sylvia is a women's cartoon, a brilliant one. It's one of the best cartoons in the latter part of the twentieth century. But that's not me. And that's the way it goes. I'm just a plain, old schlocky political cartoonist like a lot of the guys.
Harvey: But you're the first female Pulitzer Prize winner.
Wilkinson: Yeah. So? What's it to you?
Harvey: Do you see yourself as a feminist?
Wilkinson: Yes, absolutely. I firmly believe in equality. I believe in being equally idiotic. And I hope more women get the power to prove it [grins]. Also, I grew up Quaker, and Quakers have believed for four hundred years that women have an equal claim on ministry. This whole argument in other churches about women ministers to me is just idiotic. They can argue about it all they want, but eventually, they're going to realize that women will be ministers whether the church allows it or not. So that's just not an issue for me. My feeling is that smart, talented women—black, minorities—who are interested in political satire now probably just skip newspapers altogether and go directly to Fox television, where they can make actual money and have a much larger audience. [For more on this topic, see Signe's essay "Exile in Guyville" further down the scroll.—RCH] The Internet also offers huge new possibilities. And that's how things have evolved. I'm just paleolithic enough to have missed that development in our culture. I'm in the backwater of print journalism. I like it. I'm a backwater kind of person.
Harvey: I think you're right. I think people don't look at newspapers as an opportunity as they once did.
Wilkinson: Why should they? Newspapers have a shrinking readership, and cartoonists can find many other ways of getting their work out. And I think Ted Rall and Tom Tomorrow have both shown that it's possible to get their work circulated widely without having a home newspaper. And that's great!
Harvey: And of course cyberspace is going to open up that possibility even more--once they figure out a way to make some money on it so you can actually make a living.
Wilkinson: There is another way that I get my cartoons out there—that is, through magazines. I have worked for a number of magazines. And mostly, I've gone to them and said, Do you need any cartoons? And, Here's a cartoon on your subject, and why don't you run it? I've had cartoons in parenting magazines. I do a monthly cartoon for an organic gardening magazine. I used to do a monthly cartoon for Working Woman magazine, but they had a purge there, and I was one of many people who were relieved of their obligations. I've been doing one recently for Mode Magazine, and I think that there are a lot of specialty magazines out now with a huge range, and they're all looking for material. So if you have something, you can explore there. Magazines don't know that they need cartoons; but once they see them, I think that they often realize that there's something more that they can offer their readers that they aren't getting in other places. Editors are really pretty thick about cartooning, but they can be educated. Certainly, The New Yorker would not be The New Yorker without cartoons.
Harvey: An old-time freelance magazine cartoonist once told me that she thought the reason cartoons have disappeared from most magazines is that designers took over the appearance of the magazine, and to have a cartoon on a page upset their design, so they didn't want to have cartoons. Cartoons just didn't fit into their thinking about how a page should look.
Wilkinson: I don't know if it's that, but everything is rigidly formatted now. And it's true that designers have taken it over, and—surprise!—they're interested only in design. When you get a rigid format, then where would you put a cartoon?
Harvey: Designers think this page is supposed to be gray, all text.
Wilkinson: Yes, even The New Yorker would have gray pages. Their cartoons are a way of making those pages interesting. Whereas most magazines now put in a pie chart and white space to make the pages visually interesting. How many refrigerators have pie charts stuck on them? Not many.
Harvey: Do you think that the Web is going to be the home of cartooning in the future?
Wilkinson: I've started doing a monthly panel cartoon for Oxygen.com, in a similar style to the work in did for Working Woman. The Internet's potential is in adding time and motion to otherwise static cartoons.
Harvey: So you see the Web as a home for animated cartoons rather than static pictures.
Wilkinson: I think that animation really adds. It's great.
Harvey: Tell us more about your extra-mural cartooning for magazines.
Wilkinson: The thing I like about having other venues for my cartoons is that I can do cartoons on subjects that I don't think are going to be of particular general interest to my newspaper readers but they will be of interest to the readers of Organic Gardening or whatever. It gives me plenty of opportunities.
Harvey: Other editorial cartoonists who feel the same way say that's why they do a comic strip as well as an editorial cartoon.
Wilkinson: I think it depends entirely on the cartoonist. There are cartoonists who can do that; I'm not one of them. I generally drag myself in in the morning and get back out again and have good humor left for my family. I have a lot of family responsibilities. I'm not as flexible as I would like to be. I don't have the time to edit a book or write a book and put it out. I don't have the help. I will someday. My kids will grow up and leave, and I'll have more time than I want.
Harvey: How old are they now?
Wilkinson: Twelve and ten. They're coming into the high demand teenager years. And I like to be around them; I enjoy them. I think they're fabulously interesting little lava lamps [laughs]. I enjoy watching them. So I don't want to spend my extra time chained to my drawing board any more than I already am. [By 2002, when her kids were approximately seventeen and fifteen, she had extra time enough to produce a syndicated comic strip, Shrubbery, a hilariously blatant assault on the Bush League. We expose a sampling down the scroll.—RCH]
Harvey: How do you think of the job of the editorial cartoonist. Are you a crusader? A jester? Or a reporter?
Wilkinson: Or a preacher [smiles]. A little of all of them—plus bomb thrower. And depending upon the day, a little more one than another. I think a lot of people who I admire as cartoonists came in when history was a little more vivid. The reason I became interested in politics is that I grew up during the Vietnam War and was involved in a lot of the tangential politics of the day. By the time I got into cartooning, Richard Nixon was off the stage, but he made the careers of many of my colleagues. We don't have Richard Nixon to kick around anymore! So I think sometimes that cartooning is not in its high point right now just because the issues of the day are small bore issues—
Harvey: Or else they are extraordinarily complex.
Wilkinson: But I think the cartoonists can keep pointing out what's important and who's idiotic. Because the issues are complex, people get all tangled up in details, and cartoonists can help do the untangling. For our patriotic efforts on behalf of our fellow citizens, we are accused of being simple-minded, which I take to be a compliment. My own simple-minded approach is to try to remember the women and children as our manly leaders are climbing into the lifeboats. I hope I'm more compass than weathervane, but I'm constantly embarrassed in this regard whenever I see a Herblock cartoon. His old fashioned decency always reminds me that while I may still fancy myself a bleeding heart liberal, the ravages of middle age have turned me into a cheap bleeding heart. Garry Trudeau has described himself, I believe, as a radical moderate. And I'm probably not too far away from that.
Harvey: But that describes a attitude that emerges rather than a prescription. I mean, you draw what you feel; you don't care whether it's liberal or not.
Wilkinson: Oh, right: I don't say, first of all, What is the liberal line on this? If I did, I would never draw a cartoon. There is no more liberal line. There is no true liberal left. If there is, I don't know who it is. The liberal voice is completely hidden, eclipsed, by the juggernaut of Newtonian politics. (Gingrich, for those who have already forgotten.) There's just not a left left. All the stuff about there being so many leftists around just cracks me up. The only place they are is maybe college campuses; so who cares? The anthropology department somewhere.
Harvey: You alluded to the fact that at some time in the past there were a lot more editorial cartoonists on the staffs of papers than there are today. And in the last two or three years we've seen conspicuous examples of people who have suddenly been "let go" by their papers— sometimes for unspecified reasons, sometimes for specified reasons—and then in their place we get Jeff MacNelly's cartoon from Tribune Media Services—or somebody else's syndicated cartoon. And that's kind of an alarming state of affairs, really, isn't it?
Wilkinson: Somebody raised the issue of how many cartoonists there were historically and how many there are now, and I really don't know. Certainly since the late seventies and early eighties, we've gone down in the number of cartoonists. I think that was probably the high water mark; I think that before, a lot of papers didn't have cartoonists on staff—in the fifties, sixties, and seventies— I'm guessing—I really just don't know. But newspapers were flush. Obviously now, they want to get rid of cartoonists. What you can't get with a syndicated substitute is local cartoon commentary. As I said, yesterday, the mayor's office called here in a fury. Well, Bill Clinton is not going to call my newspaper in a fury. Even if I did the wickedest possible cartoon. He wouldn't care. Every single day, he's got a hundred cartoonists doing cartoons about him. So what? We're a drop in the bucket— a piece of sand on the beach of commentary about Bill Clinton every day; he doesn't care. I'm really pretty sure that Boris Yeltsin doesn't care either [laughs] what I have to say! And it's my suspicion that Yassar Arafat doesn't care what I say [laughs]. However, the mayor of Philadelphia cares what I say. So what a newspaper cartoonist can do on local issues is really much more influential just because the smaller pond makes the fish seem bigger. And that's true even in a pretty big pond—like New York, L.A. I don't do a lot of foreign cartoons because our paper is so locally focused. I mean, my readers read the Daily News for sports, local news, and celebrities; and if they're interested in Ireland, they probably read some other paper for that.
Harvey: But you're syndicated, so you have to do a certain number of cartoons every week for national audience, right?
Wilkinson: Right. Having said what I just said—we have a lot of readers, a certain generation that grew up reading this paper, blue collar workers, normal everyday Philadelphians, who are much more tuned into politics than you might think, particularly on the Arab-Israeli issue. There's always a group of readers who are profoundly interested in that, one way or other--mostly one way. So that's an issue I can't ignore. But I do fewer cartoons on international issues than I'd like to. I'm personally very interested in them, but—the other thing about being a cartoonist is, in one sense, you're doing it to try to get your readers interested in things you're interested in [grins]! And so it's a great opportunity to take
on things like Bosnia and Iraq. Nobody else was writing about China in my newspaper; and yet I have the ability to do it, and I think it's a huge privilege to have that license. I feel extremely lucky, and I don't want to squander my little stage. It's very precious.
Harvey: What do you think the biggest issues are in the editorial cartooning profession? Other than finding enough employers?
Wilkinson: I don't care; I'm employed [grins]. And that's only one issue. If you're employed, there are other issues.
Harvey: Several years ago, people said there's too much humor, too much comedy, in editorial cartoons.
Wilkinson: For a cartoonist, it has to have that punchline—humor. A cartoon with no punchline or no punch is not a cartoon. A cartoon with humor and no point of view is not a political cartoon. You have to have both. And different people just put weight on different things. Mike Luckovich, for instance, is often very funny, but he has taken very tough stands—civil rights, confederate flag—so I don't think you can say that he's without a point of view. I wish I could be as funny as Mike Luckovich. That'd be great. But I just have a different style and sensibility, and I just muddle along with my cartoons. I think a good cartoonist has both point of view and humor in various ways. Jeff Danziger is hard-hitting with a huge wallop politically, and yet every single one of his cartoons has this wicked stamp on it that makes it a cartoon. We think if it hits hard, it's not funny, but that's not true. Having said that, there are indeed cartoonists who are all gags, and they don't impress me. I want to see someone who is making sense out of something— Tom Toles, never fails to do that. The other thing about cheap humor is, What's the point? Today, Gingrich fell down; I'm going to make fun of Gingrich. Today Bill Clinton fell down; I'm going to make fun of Bill Clinton. And?
Harvey: Can you get away these days with historical allusions? Biblical allusions? Literary allusions?
Wilkinson: No. My classic story on that was a kid who came up to me on a campus one day and said, I really like your cartoon today, but there's one thing I didn't understand. And I said, Oh—what was that? And he said, What is the Golden Rule? Well, now if you can't mention the Golden Rule and depend upon people knowing what it is, what the hell can you mention? And one of the reasons I'm very interested in education is so that my readers have some frame of reference outside of movie and TV titles. People complain about cartoons being too tinged with popular culture, but that's all we have left. It's pathetic. Even kids whose parents take them to church don't know Samson and Delilah, or Moses. Most of them. They might hear the Ten Commandments, and that's about it. We just don't have very good teaching about the Bible. Except for Evangelicals and fundamentalists, but they don't want to have any jokes made about it. You put anything religious in a cartoon, and you have literally committed sacrilege. They don't care what you have to say; in a cartoon, it's sacrilege. You're going to hear about it.
Harvey: So you really are stuck with allusions to popular culture or no allusions at all.
Wilkinson: Mostly. But cartoonists are ever inventive. We'll find new material. We're always looking for the next cliche.
Harvey: Anything you'd like to say that I haven't given you the opportunity to say?
Wilkinson: I love all cartoonists. I think my colleagues are all brilliant.
*****
EXILE IN GUYVILLE
Signe Wilkinson on Khaki and Caa-Caa
Signe concocted the following essay for the Hartford Courant, and it was subsequently reprinted in The American Editor, December 1998; then again a year later in the AAEC Notebook.
WHY ARE 9.85 out of every 10 editorial cartoonists in America today male? There is a simple one-word explanation: khaki.
At the office, the cartoonists wear khaki slacks. At summer cartoonists' conventions, it's khaki shorts. And for evening dinners, where they pick up their awards for the year's most insightful cartoon on the problems of the misunderstood insurance industry, the cartoonist adds a tie and navy-blue blazer to his khaki outfit.
You can see why it's a tough arena for women to enter. We girls just don't do as much with khaki. And, just as there's group-dress, there's also group-draw.
When cartoonists go off to develop their artistic style, the style they usually end up developing is Jeff MacNelly's. He's the Michael Jordan of cartooning, and editors seem comforted when everything on their pages looks MacNellyesque.
Editors also seem touchingly comforted by a breadth of humor that ranges from Jay Leno all the way to David Letterman monologue material. It's humor that whacks Newt today, then Bill tomorrow, with just a touch of naughtiness. For example, if the news is filled with wild leaks about White House interns, a cartoon showing the first dog Buddy next to the first shrubbery and a lot of excited reporters racing over yelling "Another White House leak!" would be appropriate.
Sound stupid? Well, yes, but when I did that cartoon last winter, it got many favorable reviews from readers sick of my usual cartoons straining laboriously to make some idiotic policy point on an issue that might actually affect peoples' lives.
Unfortunately, as Howard Stern's mostly male audience shows, certain kinds of humor apparently aren't as funny to women as men. Maybe it's that women (even young women who've done plenty of baby-sitting) have heard their fill of poo-poo and pee-pee jokes from the 3-year-olds of their acquaintance. In addition, it's the moms and baby sitters who are usually telling future cartoonists that "if you don't have anything good to say, don't say anything at all." I think the fact that they are less into khaki and perhaps take less pleasure in puerile and pointless jokes helps explain why women don't throng to this trade. It wasn't always so.
While there are virtually no women in daily political cartooning in America today (the sandhill crane population is growing faster), this country has had plenty of powerful women cartoonists. Thanks to Alice Sheppard's fme book Cartooning for Suffrage, we know that from about 1910 to 1919, nearly two dozen women were actively cartooning for the women's right to vote. As soon as the 19th Amendment was passed, most of these cartoonists dropped their pens and went on to real work. Idiotically, they thought of cartooning as a tool of social change, not as a career or a means of getting a 401(k) retirement plan.
They were rewarded for that unAmerican thinking with the ballot and with personal obscurity. Except in Sheppard's book, most of their names are lost to history. They forgot to get their work certified by their era's equivalent of the Pulitzer Prize committee or rounded up in the Newsweek magazines of their day. Just as well, since their work was filled with passionate opinions and few excrement-based punch lines.
And yet their cartoons represent how cartooning can be much more than jokes about headlines. Cartoons can fight for ideas, defend the downtrodden and, most important, use humor to subvert the status quo. Like an ice pick applied swiftly to the tires of a fat and glistening sports utility vehicle, a good cartoon can quickly deflate the pretentious bullies who clog the highways of power.
You don't find many women, or many thoughtful men, going into the political-cartoon end of the print "communications" industry these days because this industry isn't about communications. It's about selling sports utility vehicles, not criticizing them. Partly because there are so few editorial page cartooning jobs available (in a good year there might be one or two) and partly because in a one-newspaper town, editors are often reluctant to hire too strong a voice in any ideological direction, young satirists of both sexes are either going directly to the Fox network or, like Nicole Hollander (creator of the divine strip Sylvia), piecing together a platform of magazines, alternative newspapers and book collections. Other women, like Gen Guracar, who signs her work "Bulbul," publish almost exclusively in the feminist press.
Still, I have hope that with the increase of women in politics, there will be an increase of women in my little cartooning fraternity. (By the way, the fraternity brothers are generally above-average specimens of the species, and I count many of them among my best girlfriends.)
Unfortunately, most of the kids who come in to show me their work are boys (drawing big-muscled or bosomy action figures).
Fortunately, in a recent nationwide cartooning contest for kids, girls won the first and third place, which proves, I hope, that the cartooning talent isn't based entirely in some Y chromosome-linked gene. To be really encouraging, however, the prize for any girl who wins a cartooning contest ought to be a pair of khaki pants
GALLERIES OF SIGNE
Here's our first Gallery of Signe—a culling of her editorial cartoons, both recent (those in color) and, from the Cartoonist PROfiles article, classic (those with amplifying description and comment). After which, we're posting samples of two of the comic strips she produced after her kids grew a little older.
Abortion Cartoons
AS AN AVOWED FEMINIST, Wilkinson is an abortion rights advocate. About her cartoons in this arena, she wrote:
Compared to politicians [she said, prefacing a booklet of her cartoons in August 1992], political cartoons are powerless little things. They can't give friends tax breaks, vote themselves raises, send kids off to war, or protect our private lives from government intrusion. Somehow, though, on their way from the newsstand to birdcage liner, cartoons seem to incite brief incendiary bursts, propelling readers to call for apologies or reprint rights. While it may look like I run an abortion cartoon mill, most of my work in the daily paper deals with the post-born. But I've gathered together my abortion cartoons in this election year so they reinforce each other—and the people who believe that the right to outlaw abortion is one power no politician should have. ...
[She continued in a caption under one of her cartoons in The Nation, April 24, 2000:] How many ways can we cartoonists deal with abortion-clinic violence, philandering pro-life politicians and endless court battles over access to a legal procedure? The technical answer is lots and lots of ways, as the Center fro Reproductive Law and Policy's intelligently curated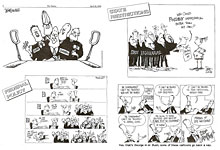 exhibit (my work was in it, after all) at the Ceres Gallery in New York City recently showed [Spring 2000]. It was a joy to see our disposable little drawings outlive their usual twenty-four-hour life spans and to recognize how they offer a movement known for its earnest and often bitter rhetoric a humorously subversive way to illustrate its views. A cartoon can't keep a clinic open, but it can buoy the spirits of those who do.
SHRUBBERY
Caustic Bushwhacking Comic Strip Three Times a Week
By the fall of 2002, her children somewhat older, Wilkinson thought she had enough time freed up from doing her share of parenting them ("rearing" them, as we term it, for reasons that are obscure) that she could produce a comic strip. Shrubbery, however, was markedly different from all other comic strips then being syndicated. It was an unabashed send-up of the Bush League for one thing—an unrelenting political attack strip. Moreover, she did only three strips a week. Her syndicate, Washington Post Writers Group, compounded this startling experimental effort by sending it out in a package with her editorial cartoons to subscribing newspapers—"free of charge, as a bonus for being a client of Signe's editorial cartoons." Client papers could run the strips on any days they chose, but they were asked to run all three "so as not to interrupt ongoing stories."
The syndicate asked Signe to describe Shrubbery, knowing she could do it with more insight and wit than anyone; here's what she wrote (in italics), promulgated on September 13, 2002:
This is a warning. Next week the Washington Post Writers Group will be sending you my new editorial-cartoon comic strip called Shrubbery. I've managed to design it so that it doesn't fit into anyone's format or schedule. It will appear three days a week so you can't use it in the comics but it's sized like a comic so it will look weird on the editorial page. ...
It's a cartoon about— well, I think you should just take a look at it with fresh eyes. The first three strips will be sent to you on Monday. Let me just say that while I was on vacation in July thinking about a gardening strip in which each plant had a distinct personality, the idea that they might be political personalities suddenly clicked into place.
My home paper, the Philadelphia Daily News, is used to odd ideas so it took about five minutes for my editors to decide that we would run it in the news section of the paper with a column called Would We Lie? It's a column filled with odd and unbelievable news tidbits (like the details of what GE is providing their former CEO in his retirement). Shrubbery will be appearing Tuesdays, Wednesdays and Thursdays [in the Daily News].
I've shown it to friends at other papers who have expressed enough interest in it to say they thought they could use Shrubbery in cartoon round-ups and possibly on their op-ed pages. They were undoubtedly trying to get me off the phone. Still, I harbor the hope that you and your readers will enjoy Shrubbery enough to want to see it regularly.
Dunno how long the shrubbery flourished, but here's a sample of the Bushwhacking it did for however long.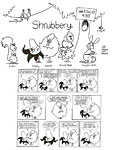 A LONGER-LIVED COMIC STRIP
Green Feministry
Wilkinson's subsequent effort at producing a comic strip while also doing editorial cartoons for the Philadelphia Daily News was named Family Tree. It was, as you may have concluded, about a family named Tree— father Ames, mother Maggie and daughter and son, Twig and Teddy, with the maternal grandmother, Agatha Bell, thrown in. But it was not just another family strip. Wilkinson, long a promoter of environmental concerns, made her comic strip family "live green." Ames, for instance, let his yard grow wild, thereby annoying his suburban neighbors who trim their lawns to carpet uniformity.
It started January 7, 2008. Doing the strip more than doubled Wilkinson's workload: she continued doing 5-6 editorial cartoons every week and co-produced occasional political animations, but since her daughters were by then both adults, she figured she had the time.
"I don't have to pick up anyone from sports practice any more," she joked with Dave Astor at Editor & Publisher.
"Family Tree combines my interests in raising tomatoes and raising children," Wilkinson said at the time, "neither of which ever goes exactly as we plan. Even though my husband and I were consistently brilliant parents, we managed to create enough detours from perfection to provide inspiration for Family Tree."
Wilkinson also has a feminist row to hoe from time to time, and she's attuned to the various hypocrisies of modern life, all of which she cut down to size with an acerbic wit of flashing eloquence. She denied that the strip is political in the Republican or Democrat sense, but she tackled with relish social issues that arose from politics. Said she: "It's sort of how politics filters down to the family level."
Take, for instance, the time the house next door to the Tree family's was vacant but up for sale. Prospective buyers included a gay couple and a black couple. The Tree kids thought the gay couple "dullsville." Other residents on the street thought the gay couple "looks normal." What about the Trees? "Are they normal?" asks one of the neighbors. "They think so," says another.
One of the reasons she decided to do a strip was for job security: with staff political cartoonists evaporating nation-wide, doing a comic strip seemed a likely way to remain a cartoonist even though her situation at the Daily News was not, at the moment—then or now— endangered.
"She also wanted to create characters, not just draw people such as George W. Bush and Dick Cheney," Astor wrote, "and she wanted to be topical without being overly political."
In making a decision to take on a daily strip, Wilkinson was also influenced by a desire to increase the number of female voices on newspaper comics pages. There are more women cartoonists in the funnies these days than ever before, but, said Astor, the comics "remain a mostly male-cartoonist bastion."
Wilkinson believed she could deal with "beauty, clothes, social pressures, mother-daughter relationships, and other issues in a way that will ring true to other mothers and other daughters."
Family Tree was Wilkinson's third comic strip. She developed a strip called The Garden of Edith early in the 2000s but abandoned it after a few syndicate rejections; and for a short time she did a political strip, Shrubbery, that starred a leafy GeeDubya among other characters who looked compellingly familiar to anyone scanning the political landscape. Notice how all of these efforts seem to have something to do with the environment—gardens, shrubs, trees. Yes, Wilkinson is a vocal advocate for the environment. Here is a sampling of Family Tree.
Family Tree ended on Saturday, August 27, 2011, at Wilkinson's behest. "I couldn't give the strip the attention I'd like in addition to doing my regular job that still, after all, pays my health care," Wilkinson told Alan Gardner at DailyCartoonist.
Gardner interviewed Wilkinson, whose rapier wit was on display throughout the exchange, as you can readily tell by reading on and on.
AG: Do you have any post-Family Tree plans? Will we see your strip/character elsewhere?
SW: Universal will rerun the strip on its GoComics website but otherwise, I won't be using the characters for the time being. They would, of course, make a brilliant sitcom or movie (even without superheroes) and I will entertain all the multi-million dollar offers I assume will flood in. In the meantime, I plan to re-introduce myself to my family and re-learn their names.
AG: Has your work in cartooning (editorial cartooning or comic strips) ever taken on any more special meaning because of the scarcity of female cartoonists or was it just simply your life pursuit irrespective of other women in the field?
SW: The lack of women creators and decent female characters in strips is a whole other sinkhole I could wallow in. I wish the best for talents like Hilary Price who remain in the trenches. Fortunately, I'm getting supportive emails from readers who are shocked their favorite strip is ending. A little late but I'll print them out and put them under my pillow.
AG: Any regrets regarding the strip, unfinished goals?
SW: I loved doing the strip and regret I didn't have the time to both draw it and help promote it in the way it needed to be successful. Twig was a real girl. I'll especially miss her and her grandmother. They allowed me to write and draw outside the left/right, headline-driven box of daily editorial cartooning. Really fun. And, much as I admire my talented male colleagues, I took pleasure in drawing female characters for comics pages that don't have many good ones. I still think about my little family members as real people and miss being able to chronicle how they navigate the hideous pressures of having the right online personality, eco-sensitive footwear and impressive SAT scores.
IN THE HOPE OF CAPTURING a few more Wilkinson bon mots, I asked her a few weeks after Family Tree ended about the evaporation of her original plan—to develop a comic strip as a fall-back position in the event that her editorial cartooning career came to an involuntary end.
"Yes," she said, "I did think the strip would be a nice way to segue out of editorial cartooning if it came to that. So far, despite all my paper's turmoil, my key still turns in my office door so I can only hope that I have a few more years as a staff editorial cartoonist. What I liked about the strip was thinking outside the left/right political grid. My strip family tried to do right by the world, especially environmentally, but had its lapses and, ummm, inconsistencies. In the political world, inconsistency is a sin punishable by excommunication.
"I'm now in recovery," she continued, "and wake up on a Saturday morning wondering what to do with time. Yesterday I wandered around the city, strolled by an open-air art show, perused some clothing shops, bought apples at the farmers market, ran into friends and talked to them. It was shockingly pleasant."
In her interview with Gardner, Wilkinson added: "I will forever thank/curse Ted Rall for getting me into this racket in the first place."
It was Rall who signed her up to do a strip while he was Editor of Acquisitions and Development for United Media 2006-09, and when he heard Family Tree was ending, he mourned its passing: "In previous years my friend and fellow editorial cartoonist Signe Wilkinson would have enjoyed a big paycheck as the result of this intelligent strip. Alas, the market for print comics has all but dried up. Comics pages are shrinking, newspapers aren't buying, and the Internet doesn't pay. When her strip vanished from papers, readers didn't complain—they just began reading it online. I will miss the Tree family. But I still have Signe to kick around—well, not really. No one kicks Signe around. But I can still whine—if she'll take my calls."
In Philadelphia, Family Tree enjoyed a brief afterlife in an exhibition of Wilkinson's artistry at Moore College of Art. The display, which continued through October 15, was mounted in connection with her being honored with a Visionary Woman Award. The award is made annually to women whose work and leadership have had a major influence on the visual arts, but Wilkinson is the first illustrator to win this award.
"We thought she was a pioneer in the industry," said Moore College President Happy Fernandez. "She's a strong woman who we [decided] would be a great influence on our students."
Highlighting her career, the exhibition included a selection of editorial cartoons that she produced for the Daily News. Grouped by ongoing themes found in the cartoonist's work, they include her perspectives on education, peace and/or war, women and everything else. In addition, the show includes cartoons for Organic Gardening and other magazines, plus a section devoted to Family Tree, "a daily comic strip," saith the College's brochure, "that follows a family's loopy attempts to live green in modern, chemically dependent America."
And we conclude with a sample of Wilkinson's non-political cartoon commentary. She often does cartoon reporting of the kind represented here, picked up from 1996.