ANOTHER REDHEADED ENDING
Brenda Starr and Her Flamboyant Creator, Dale Messick
They got tired, that's all, or most of all of it. Chicago Tribune columnist Mary Schmich and her drawing partner June Brigman decided in the fall of 2010 to stop producing Brenda Starr, and Tribune Media Services, which owns the strip, seized the opportunity to end its syndication. Six months earlier, TMS took out of its comics line-up the other redhead, Annie, a remnant of Harold Gray's plucky waif strip, Little Orphan Annie. You'd think the syndicate has something against redheads.
The final Brenda Starr ran on January 2, 2011, a Saturday, finishing the week and ending the nearly 70-year run of one of the medium's most venerable (and venerated) efforts, undoubtedly the longest-lived newspaper adventure strip with an eponymous heroine and the most famous strip created and produced by a woman cartoonist, Dale Messick, who was fiercely feminine if not so much fashionably feminist.

"It's been an incredible privilege to be able to live life through this medium all these years," said Schmich, who has written the strip for the last 25 years. "I'm a reporter, above all, so I always use Brenda in a funny way to report things," she told Sophia Tareen at the Associated Press.
Schmich researched her stories as carefully as she could to give a patina of authenticity to Brenda's exotic adventures in India or up Mount Everest. And she also used the strip to skewer the foibles of today's news media—once inventing a character named Rat Sludge, "a thinly-veiled caricature of Matt Drudge." And the strip also commented on the roles of working women.
But after 25 years, Brian Steinberg opined at comicsexaminer.com, "Schmich sounds bored with Brenda," referring to a Chicago Tribune story on the matter: "A comic strip like this is a very funny form to write in," Schmich said. "It's very difficult to advance the character, to advance the story. My life has advanced so much in 25 years. It just felt weird to me to continue to write a story and a character that could not."
"The trouble?" asked Steinberg, hastening to answer himself: "Like Little Orphan Annie, Brenda Starr just wasn't made for these times. She's a reporter at a time when fewer people are, and when fewer traditional media outlets command much notice from consumers. At one time, being a globe-trotting journalist meant having great tales to tell and places to experience. These days, it usually means hacking out four tweets, a blog post and a couple of paragraphs for the web and print that have none of the detail, color or fine turns of phrase that drew readers to newspapers when they were at their height. Simply put, Brenda Starr's story just isn't that interesting any longer."
Probably. But her story was gripping for a long time, and the story of her rambunctious creator is the stuff of legend. Messick threatened to live forever, for instance; and it looked, for a while, as if she might.
DALE MESSICK, who often introduced herself as Brenda Starr's mother, died on April 5, 2005, just six days shy of her 99th birthday. Her health had been in a long decline since she suffered a stroke on 1998; she'd lived in a nursing facility for a time, but she died in the Penngrove, California, home of her daughter, Starr Rohrman, who had been caring for her through the last few years.
Messick, who changed her first name to avoid being hit on by male newspaper editors, was a thorough-going professional cartoonist all her life. In her book The Great Women Cartoonists, Trina Robbins called Messick "one of the most seriously committed and tenacious woman cartoonists of the century. In a 1973 newspaper interview, Messick describes her pregnancy: 'It was throw up, draw Brenda, throw up, draw Brenda.'" The anecdote captures with succinct acumen not only Messick's dauntless dedication but her irrepressible sense of the ridiculous—about herself as well as the world around us.
Messick was born April 11, 1906 in Indiana and as soon as she could, she left for Chicago, where she attended the Chicago Art Institute for a summer and then worked in greeting cards until she went to New York where she continued making greeting cards while conjuring up comic strip ideas in her spare time. Before Messick came up with Brenda and went on to become "the grande dame of comics," she tried to sell four other strips, whose histories (with sample art) Robbins rehearses in her book— Weegee ("drawn probably when the artist was just out of high school" and drawn better, I might add, than many contemporary strips of the mid-1920s) about a country girl coming to the big city to earn a living (On Stage anyone?), Mimi the Mermaid and Peg and Pudy the Strugglettes, which "metamorphosed into Streamline Babies." None of them sold.
Then in early 1940 she was dating C.D. Batchelor, the editorial cartoonist at the New York Daily News, and he told her that the newspaper was going to launch a new publication, a comic book supplement to the Sunday funnies inspired by the recently invented newsstand comic book, which, by 1940, was doing a booming business. For this purpose, Batchelor said, the newspaper needed eight new comic strips. Messick promptly invented a girl bandit strip and sent it in.
By then Dahlia (or "Dalia," as it is usually spelled these days), knowing that a woman cartoonist would have small chance of success in the male-dominated world of the time, was signing her strips with the gender ambiguous "Dale," thinking that most editors to whom she submitted her work by mail wouldn't suspect she was female. But Captain Joseph Patterson, publisher of the News and head of the adjunct Chicago Tribune-New York Daily News Syndicate, knew Dale was a woman.
"One look at Brenda Star," Robbins wrote, "and it's clear that no one would mistake the art as drawn by a man. Messick 'drew like a girl,' displaying a keen eye for exquisitely detailed fashions, featured lots of close-ups of her heroine's beautiful starry-eyed face, added romance to adventure in her storytelling, and included paper dolls." Messick said she was influenced by another great cartoonist of feminine frills, Nell Brinkley.
Messick's characters were undoubtedly the frilliest heroines in comics since Brinkley, and perhaps for that reason, Patterson wanted nothing to do with them. Or perhaps the Captain had once before tried, unsuccessfully, a strip by a woman cartoonist and had vowed never to make that "mistake" again (although I don't know who that cartoonist might have been, and it seems unlikely, as you'll see in a trice, that he was prejudiced against women).
In any event, Patterson didn't like the strip. He might have been guilty of simple male chauvinism. These days, we're tempted to accuse him of sexism. But anyone hoping to make that charge stick will have to explain Mary King and Mollie Slott. King was Patterson's first assistant on the Sunday Tribune, where he started out, and he made no bones about her contribution to the paper's success, giving her credit for "at least half of every good idea I ever had." He eventually married her. And Slott was Patterson's good right hand on Tribune-News Syndicate matters. It is doubtful that a rampant sexist would give such power and responsibility to women.
When Slott saw the girl bandit, she saw possibilities, and she convinced Messick to change the bandit into a newspaper reporter, a red-haired beauty inspired, it is claimed, by Hollywood star Rita Hayworth. For the heroine's first name, Slott borrowed that of one of the day's glamorous debutantes, Brenda Frazier, and picked "Starr" because Brenda would be the "star reporter" of her newspaper, The Flash, also named by Slott. And then, Slott prevailed upon the Captain to buy the strip. He agreed—but only so long as Brenda Starr would never appear in his newspaper, the New York Daily News. And it didn't. Not until two years after Patterson's death in 1946.
Messick's chronically romantic newspaperwoman first appeared June 30, 1940, in the Chicago Tribune's newly launched Sunday Comic Book Magazine. The cut-out paper dolls that distinguished the Sunday Brenda for so many years were not yet in evidence, but in almost every other respect, the early adventures are vintage Brenda—as Richard Severo said in the New York Times, "a symphony of decolletage, good legs precariously balanced on high-heeled shoes, and Dior-like clothing that no woman would be likely to wear to a newspaper office."
No self-respecting professional journalist, that is. But Messick knew little about the newspaper business and purposely avoided learning anything, believing that actual knowledge would corrupt her imagination.
Norma Lee Browning, writing in the Saturday Evening Post (November 19.1960), observed a consequence of Messick's fact-free understanding of the newspaper business: "Messick left the newspapering to Brenda, which may explain why Brenda has been known to drop into her city room at midnight, bat out a story, and then hand the copy to a cleaning woman, who presumably conveyed it directly to the newspaper's front page, without intervention of editors or other middlemen."
In the newspaper business, Browning reported, not everyone had a high regard for Brenda. Said one newsman: "She's the dame who put press cards back in reporters' hats after reporters stopped wearing hats." Said an editor of a major daily who wouldn't run Brenda: "She does a disservice to the industry."
The publisher of the Houston Post cancelled the strip when, in 1949, Brenda briefly took to smoking a polka-dot cigar.
And so Brenda Starr flounced across the comics page, festooned with fluffy nighties and lounging pajamas, low-cut (for that day) gowns, and plots governed only by the whim of Messick's breathless invention, which often ignored logic and reason in favor of such purely feminine diversions (in the traditional male chauvinist sense) as a fresh hairdo or a new pair of shoes.
Yes, I know: that sounds sexist. But consider the evidence. On March 30, 1941, for instance, a doctor speculates that he'll have to amputate Brenda's legs so badly have her feet been frozen in a Sun Valley winter storm. The next week, we're still waiting for a verdict on the projected amputation. But by the following week—happily, Easter Sunday—Brenda has miraculously recovered so she can waltz down the avenue in her Easter finery.
By the end of her first year, Brenda is the fashion plate she'll be for the rest of her run under Messick, who stopped drawing the strip in 1980. ("The syndicate pushed me out," she said, with a sort of bittersweet chuckle, "or otherwise I would have continued on.") In her first adventure, the redhead is a little more fiery than she eventually became for the duration, but otherwise, she lacks only those stars in her eyes to be the Brenda we've always known (and, yes, loved).
AT THE STRIP'S PEAK CIRCULATION in the fifties, it was in 250 newspapers—which, for that day, was a goodly number. The stories are fast-moving adventures. Fast and even a little dizzying. But that is always part of the pleasure of reading Messick's strip. The woman with a man's name kept us on the edge of our chairs for forty years, and you don't do that without being a teller of good, suspenseful tales, however dizzy they sometimes are.
Messick was famous for a dizziness all her own—occasional drastic lapses of memory. In one notable strip, she drew an injured man with his right leg bandaged in the first panel; by the third panel, it was his left leg. Her assistants and editors check for such endearing gaffes, but they didn't always catch them, Browning said:
"In one sequence, she showed a father consoling his daughter. The father had his hand on her shoulder. Changing her mind, Messick placed the father farther away from the girl and removed his arm—but not his hand. To inquiring fans, she blithely explained it as 'the hand of fate.'"
Messicks' work day in 1960 started at 7 a.m. "or earlier," said Browning, "depending on what she dreamed during the night. Many of Brenda's most exciting escapades are inspired by Messick's dreams."
The cartoonist usually wakes up singing, said Browning, and after choosing a wardrobe for the day, prepares a whopping breakfast for her husband, and then researches for the strip, clipping fashion illustrations from magazines.
At about 10 a.m., her staff arrives: Jack Olson, a $12,000-a-year assistant "who corrects her spelling, does her lettering and draws outdoor backgrounds and most male anatomy for the strip; and Jim Mackey, an art student and part-time assistant, who draws automobiles, buildings and 'mechanical things.'"
From the very start, Brenda was independent and feisty as well as courageous and resourceful—not only a suitable protagonist in an adventure story but, as it developed, a thoroughly admirable role model for ambitious young women who could find no others of their sex much worth admiring on the comics page.
CNN's Charlayne Hunter-Gault is reported to have said that as a teenager aspiring to a journalism career, she hoped for the kind of "mystery and romance" she saw in Brenda's big city newspaper career. Hunter-Gault is surely not alone. Brenda even inspired writers like Pulitzer Prize-winning journalist Anna Quindlen. "I originally became interested in journalism because I read Brenda in the late lamented Philadelphia Bulletin," Quindlen wrote in an e-mail to the Associated Press. "She had red hair, stars in her eyes (literally), and a dishy boyfriend with an eyepatch named Basil St. John. Sounded like a plan to me. Later on I embraced the allure of deadline storytelling and the professional obligation to ask strangers rude questions."
Quindlen was featured in the strip once and said that was one of the high points of her professional life. A copy of the strip hangs over her desk.
MESSICK, LIKE ANY CONVINCING STORYTELLER, lived her character's life. She dyed her hair to match Brenda's, "claiming the expense is tax deductible, which," Browning adds, "in this case, it is."
"I am Brenda Starr," she would tell interviewers. "Brenda is the glamorous girl I wished I was. She's what most women wish they were and what most men wish their women were, too," she'd add (with a laugh, unless I miss my guess). "Whenever I hear from real reporters," she went on, "they would all say their lives weren't as interesting as Brenda's. Who would have read Brenda if it was real life?"
Linda Feldman of the Los Angeles Times visited Messick in early 1999 and observed that the cartoonist didn't make small talk: she just said what was on her mind, even offering unsolicited information. "I was married twice," Messick blurted out, "divorced twice, had a bad car accident and a baby and never missed a deadline in 43 years. I mailed Brenda in before I saw the baby. I was a terrible mother."
"Not true," interrupted daughter Starr, who was born a year after her namesake's debut. "She was a fine mother, though my life certainly wasn't ordinary. I attended seven different schools before the fifth grade because we traveled in the Brenda Starr rolling studio—a silver streamer RV outfitted with its own water supply. Mother was a vagabond who worked seven days a week. She and my father both loved to travel, and she just had to have adventures. She eventually would use the adventures in the strip. My father, Everett George [an erstwhile art supplies salesman], was her business manager and the draftsman who did the lettering for the strip."
Her mother slipped back into the conversation: "That's why we got married—we needed each other."
Her second husband was Oscar Strom, a lawyer. Brenda married only once, but it took 36 years to get to the altar. Her life was forever haunted by her romance with her "mystery man," Basil St. John, a manikin-beautiful male specimen with an eye patch. He'd show up every so often to take Brenda into his arms. The redhead would melt in ecstasy—but then, the guy would run off, usually in pursuit of a rare black orchid from which he could extract a serum that provided temporary respite from the effects of the exotic disease he was dying of. Finally, in 1976, Messick permitted the love-lorn pair to marry. And then St. John took off again on another wild orchid chase.
The Mystery Man was an inspired invention. An beautiful adventure heroine poses a unique problem to her creator. If she's beautiful, she'll attract men—and what will happen then? She'll either get married, ending her career as an adventuress, or she'll have numerous affairs with the legions she attracts, bouncing from one bed to another in an endless round of carnal exuberance. But the Mystery Man solves the problem: as long as Brenda is in his thrall, she will not be attracted to another man, either as a husband or as a lover. Her love for the Mystery Man saves her from both kinds of ruin.
The Mystery Man, Browning learned, was modeled on an assistant Messick hired long ago and fired three days later.
"He was no good as an artist," Messick explained. "But he wore this black patch over one eye, and I was fascinated. I don't even remember his name, but I've always wondered: where did he go? What happened to him?"
Browning continued: "Soon after he left, someone started sending her anonymously a fresh black orchid every day for a week. Could it have been her Mystery Man? Messick likes to think it was."
Messick achieved her fame through talent and dedication—not academic training. She spent two years in the third grade and repeated that performance in the eighth. She told Feldman that she rarely watched tv because she "can't tell when the commercials begin and shows end." And she never read fiction because she could always predict what's going to happen next. She did, however, date. In her eighties, she managed to juggle three boyfriends simultaneously. "All three wouldn't make one good man," she told an interviewer, "but at my age, you can't be too choosy," she concluded (probably with a short laugh).
I met her only once, in the winter of 1998, when I was visiting Mark Cohen and his wife Rosie in Santa Rosa. Mark arranged our meeting for dinner one evening, and after dinner, we drove Messick home to her townhouse in a senior residential enclave. As we pulled up outside her place, Messick asked if we wanted to come in and see her "studio." We did, and we did.
It was a spare bedroom and lacked a drawingboard. But there were souvenirs of her years drawing Brenda Starr all around. She was still drawing: she took a tiny sketch pad with her to the mall almost every day, and she sketched the people she saw. She showed me some sketches, all very confidently executed work. And when I professed admiration for one of them, she gave it to me (and I've posted it near here with a self-portrait of the cartoonist as a little old lady). She said she was working on an autobiography, Still Stripping at Ninety (never finished), and she was drawing a panel cartoon for a local newspaper called Granny Glamor.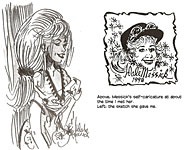 She harbored, slightly but persistently I believe, some resentment over the male chauvinism that had infected the profession all her life. She felt that the National Cartoonists Society had never quite accepted her—even then, in 1998, as NCS was poised to give her the Milton Caniff Lifetime Achievement Award at its annual meeting that spring in La Jolla, California.
Messick, I think, felt a little more comfortable with me, a stranger, as the evening wore on, and her talk was increasingly enlivened by a satirical sense of humor, often self-deprecating, punctuated, usually, by a short little hoot of laughter. "Ha," she might say at the end of a particularly cutting remark. She was, in short, a delight. And I'm glad to have met her.
RAMONA FRADON WAS THE FIRST ARTIST to succeed Messick. "She decided she didn't want to draw any more," Fradon told Katherine Keller at Sequential Tart in 2000. "She wrote it for a year [maybe two or three] and then they sort of got rid of her," Fradon sighed. "It was not a very pretty thing, the way they did it. They hired another writer. I continued to draw it for 15 years."
All the while she was drawing it, she was paying Messick's pension. "The syndicate insisted that half of her pension come out of my paycheck. For the 15 years that I was there, I was paying for half of Dale's pension. I figured it amounted to something like $95,000 over those years. And Dale was so angry at the syndicate that she vowed to live forever so that she could keep collecting that pension, and she's still doing it. She's 94 now," Fradon laughed.
The writer the syndicate hired to replace Messick was Mary Schmich. It never occurred to anyone that even though Schmich could write a newspaper column, she might not be able to write fiction in daily installments; but, as it turned out, she could. And did for the next 25 years. After Fradon retired in 1995, the drawing fell briefly to Linda Sutter, then June Brigman took over. "June is a great artist," said Schmich.
Brigman got her start drawing comic books, gaining fan attention with Marvel Comics Power Pack, but she's been a life-long Brenda fan. Interviewed by Dan Johnson in Hogan's Alley No. 15 (2007), she said she grew up reading Dick Tracy, The Phantom, and Brenda Starr. "The main reason I read The Phantom was because he rode a horse and I was, and am, a huge horse geek. But I grew up reading Brenda. Besides the job security and the paycheck, [drawing Brenda] it had a very nostalgic appeal to me, and I understood the legacy of the comic. It was a real honor to be chosen to take it over."
She believes she was chosen in part because that the syndicate, which contacted some male artists before settling on her, wanted to continue the female authorship of the strip, and she's glad of it. "Mary and I are very much in sync on the character and her storylines."
Brigman runs into Fradon at comic book conventions every once in a while. "When I first took over the strip, she was very nice and took time to talk with me about it. She gave me some idea of what to expect. Ramona lives about two hours north of me, and she's just wonderful. She's such a great artist. ... Her work [on the strip] is an inspiration to me."
Brigman isn't the only comic book artist to invade the sacred precincts of the newspaper strip. Graham Nolan and Eduardo Barreto and Mike Manley have all recently taken up the newsprint medium, and Brigman thinks comic strips will be better for the input.
"When I took over Brenda," she says, "I was just doing storytelling that I thought was very basic, yet in reviews and critical articles, they kept saying how I had this cinematic approach. I didn't understand what they were talking about, but I guess coming from comic books, where you have a lot more room to work and more freedom, you're encouraged to change camera angles and do more extreme perspectives and more dynamic work than you normal see in comic strips. Comic strips have traditionally been quieter, and I think the artists coming in from comic books are bringing some freshness to comic strips. Comic strips had been criticized for looking old-fashioned, and now they have a whole new look."
But not too new—at least, not with Brenda Starr. Said Bridgman: "On the one hand some people may complain about a strip being old-fashioned, but then on the other hand, you have a group of people who complain if anything changes in the comic strip. With Brenda, if you don't put that sparkle in her hair and that sparkle in her eyes, we get letters. People want to see that, and they don't want it to change."
Scripting the strip, Schmich brought her own experience as a newspaperwoman to bear on Brenda's adventures, reducing preoccupation with the redhead's love life. "How many romances can a woman have without beginning to look trampy?" she asked rhetorically during an interview published in Editor & Publisher, April 2005.
At the time of Messick's death that same month, Schmick and Brigman had just completed a sequence highly critical of the news media's celebrity journalists, whose egos, in the strip, drive their careers, not their news sense. Written before the pundit-payola scandals that surfaced with Armstrong Williams' getting money from the government for promoting the Bush League agenda, the sequence, which ran in February and March, understandably attracted more attention than Brenda usually does in the 20 or so newspapers that were then running it.
And this was not the first time Brenda had been critical of the news media, but this time, thanks to the publicity attending the pundit-payola scams, the strip earned two pages in the April issue of Editor & Publisher. Said Schmich: "It's always interesting to me that the way to get noticed by the media is to write about the media." Interesting—even indicting.
With the expiration of Brenda Starr, Tribune Media Services, the lineal descendant of the powerhouse syndicate that Joe Patterson built with a sure instinct for what the comics readers wanted, offers only Dick Tracy and Gasoline Alley of the storied line-up that had included Terry and the Pirates, Moon Mullins, Smilin' Jack, Harold Teen, Winnie Winkle and Smitty. And late-comer Gil Thorpe and newcomer Brewster Rockit: Space Guy are the only other storytelling strips left on the roster. Jim Scancarelli's solo enterprise, Gasoline Alley, remains one of the best drawn and most imaginatively written of the lot—of any syndicate's lot, I ween.
Most of TMS's remaining ten comics features, except Russell Myers' Broomhilda, are fairly routine gag strips or panel cartoons—another exception being the wildly popular albeit insanely saccharine panel, Love Is... But looking over the crop, it's hard to believe that TMS wants very badly to be in the business of syndicating comics. I don't think they've added a new comic strip in ten years.
And now here's a much too brief reminder of Brenda Starr's seven decades in the funnies, from her very first appearance to her last.