Lulu, Henry, Hazel and Marge
Pop-up Feminism at the Back of the Post
Little Lulu, a feminist icon in the pantheon of American popular culture, is somewhat less visible these days than Mickey Mouse and Superman (and, yes, Spider-Man, thanks to the everlasting persistence of Stan Lee and the directorial genius of Sam Raimi and the reticent angst of Tobey McGuire and the special fx of modern motion picture technology—not to mention, as is the usual practice, the imagination of Steve Ditko). Lulu may never rival Harry Potter in the sheer number and passion of her devotees, but she was once, in her heyday as a shill for Kleenex Tissues, almost as pervasive a presence in American life as Bart Simpson, whom she somewhat resembles, at least in her anti-authoritarian stance.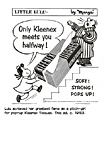 Surprisingly, the creator of this symbol of juvenile independence, Marge Henderson Buell, appears in few histories of comics and in none at any length. I know because I recently undertook to write a biography of Marge for the American National Biography Online, and in the safari I took through what researchers call "the literature" (everything except the Little Lulu Library, about which, more anon), I found virtually nothing of any biographical import. But I found her sons, Lawrence and Frederick, via the 1993 obituary in The New York Times, and through them, a biographical entry by Eva M. Maddox in Scribner's Encyclopedia of American Lives. Not in the "comics literature" at all. Thanks to Lawrence Buell and Eva Maddox, then, here's some biography of "Marge," as the first roaringly successful American woman cartoonist signed her work.
          Marjorie Lyman Henderson was born December 11, 1904, in Philadelphia, Pennsylvania, the first of the three daughters of Horace Lyman Henderson, an attorney, and Bertha Brown Henderson. Marge grew up on the 60-acre family farmstead (originally, her grandfather's country place; he was an accountant and Civil War veteran) on Hershey Mill Road in Malvern, attending the Friends' School in West Chester and receiving her high school diploma from the Villa Maria Convent (or Academy) in 1921.
          She and her sisters drew throughout childhood, doing elaborate comic pictures for birthdays and special family events. They also sometimes improvised plays. Marge launched her commercial artistic career at the age of eight, selling drawings to her friends.
          "To me," Lawrence Buell wrote me, "her early self-caricatures resemble Lulu. [She depicted herself as] a skinny kid with dark curly locks. She claimed not to see any such resemblance or continuity though."
          While still in high school, Marge began, at sixteen, selling cartoons to the Philadelphia Ledger, working out of her own studio, a converted chicken coop. An early mentor was Ruth Plumley Thompson, author of many of the Oz books after L. Frank Baum's death in 1912; years later, Marge would illustrate one of Thompson's books, King Kojo, and various of her short stories in magazines.
          Encouraged to pursue cartooning as a vocation, she submitted cartoons by mail and sold them to the humor magazines Life and Judge and to Country Gentleman, Collier's and Saturday Evening Post. By 1929, she had produced at least two regular features of flapper follies—"The Boy Friend," a syndicated newspaper strip ©. 1925-26, by the Ledger Syndicate), and, for magazine publication, "Dashing Dot," which recorded, in verse and drawings, the mundane machinations of one of the era's curly-headed, long-legged sweet young things. For Judge (and perhaps others, but I've seen some in Judge), she also wrote humorous chatty articles, some of which she illustrated.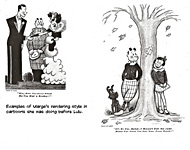 By the mid-1930s, Marge's cartoons were appearing in nearly every weekly issue of the Saturday Evening Post. And then, in early 1935, she was asked to invent a successor to one of the magazine's popular recurring features, a single-panel pantomime cartoon by Carl Anderson called "Henry."
          Anderson, who had been contributing regularly to magazines since the turn of the century, had started with the Post issue for March 13, 1932, to produce a single-panel cartoon about a funny-looking kid—bald, pot-bellied, knobby-kneed, and mouthless (and therefore mute). In the debut cartoon, a little kid is holding Henry up in his arms so his unadorned head touches the belly of a horse standing over both of them, and the kid says, "Is your head warmer now, Henry?"
          The cartoon appeared routinely thereafter for the next three years. Then late in 1934, a German magazine reprinted a collection of Henry cartoons, and the ever-roving eye of press lord William Randolph Hearst fell upon these pantomime vignettes. Hearst promptly signed Anderson to produce the feature in comic strip form for newspaper syndication with Hearst's King Features, and a daily "Henry" started December 17, 1934, with a Sunday strip beginning March 10 of the next year.
          The syndication deal apparently came to fruition rapidly, and the contract undoubtedly specified that King would have exclusive use of the character. All of which seemed to come up on the blind side of the Post. It continued publishing "Henry" into January, well after the syndication had begun. And then, in the issue for February 2, 1935, the magazine published six Henry cartoons, all on a single page, suggesting that the Post had been notified to "cease and desist" publication of its "Henry" at once and had rushed its remaining inventory into print as soon as possible to avoid having to discard material it had already paid for.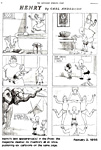 And, while we're here, a couple footnotes. First, Henry actually speaks in one of those last six cartoons. **C** Second, Anderson, who was now seventy years old, almost immediately hired a ghost to draw the feature, a budding young cartoonist in his neighborhood named Don Trachte. When Trachte went off to war in 1941, Anderson turned to another assistant, John Liney, who continued the strip until Trachte returned. Thereafter, Trachte did the Sunday strip and Liney the dailies and the comic book. Anderson died in 1947 after a long illness.
          Meanwhile, back in early 1935, Marge devised a female version of Henry, an equally silent and resourceful and slightly anti-authoritarian apple-cheeked little girl with corkscrew curls and a red dress.
          "I wanted a girl," Marge told a newspaper interviewer five years later, "because a girl could get away with more fresh stunts that in a small boy would seem boorish. Lulu's curls, I guess, were reminiscent of the way my hair looked when I was a youngster, but her face and the dress were just accidents."
          Christened "Little Lulu Moppet" by the Post editors, this child (who was, Marge later said, a little more than seven years old and a little less than nine) debuted in the "Henry" slot on the penultimate page in the magazine on February 23, 1935 and re-appeared, every week, for the next ten years.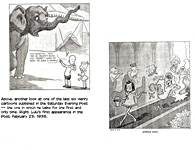 In her inaugural appearance, Lulu is a member of the wedding party, leading the bride's maids down the aisle and strewing not rose petals but banana peels behind her as she goes; the bride's maid immediately behind Lulu is slipping and falling, but Lulu displays a perfectly innocent expression.
          Her subversive tendencies were revealed in deadpan pantomime over the next few weeks. In her third appearance, she stands in a line of men to attend a theatrical event for "Men Only," wearing a phony moustache to disguise her gender. She brings a cat to a dog show. In sitting for a family photography, she grimaces and frowns while all the rest of the family smiles.
          Sometimes, Lulu is simply clever or inventive. Lining up to take the required cold shower before entering the swimming pool, she wears rain gear and carries an umbrella. To take her pet dog with her on the trolley, she drapes the animal across her shoulders like the woman next to her who is wearing a fox fur around her neck. She goes to a costume party dressed as a pelican and fills the pelican's bill with more than her share of the candy and fruit.
          Lulu is often an irritant to her male playmates. She persuades her chubby boyfriend to buy a loud plaid suit that comes with two pairs of pants so she can have the second pair. When she goes on a hayride with him, she ties a bundle of prickly hay around herself so he won't want to embrace her. Dressed in a Red Cross outfit, she runs his model train at breakneck speeds, hoping for an accident so she can play nurse. She enters the boys' model airplane flying contest with a bird disguised as a model airplane.
          But Lulu's forte as conscience-free scamp is usually without sexist bias one way or the other. She puts an "I.O.U." in the collection plate at church. Standing next to a fisherman being photographed with his catch, Lulu holds her catch aloft—an old boot. (Or maybe, judging from the fisherman's frown, the boot was his first catch of the day, and he resents Lulu's impertinent revelation.) She sells ear muffs on the street corner while a politician's sound truck blares his virtues. In a restaurant, she annoys a waiter merely by not being able to make up her mind which dessert to order. She wears muddy galoshes to a shoe-shine stand. In a library festooned with "Silence" signs, she blows her nose loudly.
          Although published, usually, as a single-panel cartoon, by the end of the feature's run in the Post, Lulu often acted in four-panel comic strips, two panels stacked on another two to form the square shape of the traditional cartoon.
          Lulu was almost immediately a hit. Her popularity with Saturday Evening Post readers prompted the Rand McNally Company to publish a collection of her Post cartoons in 1936, before the feature was two years old. Five more collections would be published by David McKay: Little Lulu and Her Pals (1939), Little Lulu on Parade (1941), Laughs with Little Lulu (1942), Oh, Little Lulu (1943), and Fun with Little Lulu (1944).
          On January 30, 1936, Marge married Clarence Addison Buell, an executive with Bell Telephone of Philadelphia, and the couple moved into a house built in 1684 on the family estate in Malvern, and there, Marge enjoyed again the genteel country life of her childhood, including exercising her jumper, Waywood, and a Great Dane named Noodles. Her two sons were born on the Malvern estate (Lawrence in 1939 and Frederick in 1941). When Marge's father died in 1941, she and her family moved into the larger ancestral manse that her grandfather had built on the estate in 1904.
          Composer Julia Smith wrote "Waltz for 'Little Lulu'" in 1937, and in 1939, the Knickerbocker Toy Company was manufacturing Little Lulu dolls that the Post and Ladies' Home Journal offered as premiums with a two-year subscription. In 1943, Famous Studios produced the first eight of twenty-eight Lulu animated cartoons for distribution by Paramount.
          Lulu's success as a promotional ploy resulted in her most remembered role: in 1944, Marge signed a contract for Lulu to star in cartoons advertising Kleenex Tissues, the ingenious novelty of which was that individual tissues were made to pop up, one after another, as they were pulled from the cardboard box, the acclaimed "Serv-a-Tissue" dispenser. The editors at the Post were not happy at the prospect of Lulu popping up outside the magazine's venue, but since Marge owned the copyright on Lulu, she could do as she wished with the character; the Post, however, could decide what to do with the cartoon, and it did.
          "We parted amicably," Marge recalled in later years.
          The last official Lulu cartoon in the Post was published in the last issue of the magazine for 1944, dated December 30. In four panels, Lulu embarks upon the new year. In the first panel, she drops her trusty slingshot into a garbage can, clutching a paper with New Year's Resolutions on it. In the next panel, she sees her portly paramour with another girl. In the third panel, she takes a shot at him with her retrieved slingshot. And in the fourth panel, we see the garbage can, this time with Lulu's sheet of Resolutions in it, starting with "I resolve to be a good girl in 1945."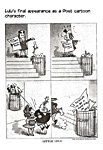 Considering the circumstances, we may, in hindsight, see in this finale a slightly sarcastic farewell to the Post (as well as a barbed prediction of future fortune).
           Lulu's spot in the Post was taken by "Hazel," Ted Key's cartoon about a formidable domestic servant whose overbearing personality intimidates everyone around her, including, most especially, her employers, the Baxters. And with that, the penultimate page in the Post was secured as a hotbed of feminism. Hazel was another kind of female role model, one that was nearly stereotypical—the servant who is more knowing than the master.
          Oddly, in Key's initial notion, the maid was incompetent and timid and wholly submissive, and in the early cartoons that he sold to a variety of magazines, he depicted her as a thin, round-shouldered and bleary-eyed woman. But Key found that the humorous possibilities in a bumbling self-effacing maid were quickly exhausted: "Mocking incompetence and ignorance is an easy laugh," he once remarked.
          And so he gradually evolved the character into the domineering Hazel of matronly mein, who would prove a font of material for comedy.
          This new creation began appearing in the Post on February 13, 1943, where, in the kitchen, turning away from a steaming pot on the stove, she addresses the man of the house: "One more thing," she says, glaring at him, "do I tell you how to sell insurance?"
          The next week, she is christened as her mistress, deferentially addressing her as she pounds away with a hammer at a rectangular mass that she holds over the sink: "There must be a simpler way to defrost those peas, Hazel."
          Key realized almost at once that Hazel would not last as a one-dimensional personality. Over the months and years, he polished other facets of the character, making her fond of children and stray dogs and sympathetic to her boss when he comes home browbeaten by his boss. She's not just a maid or cook: she's also a babysitter, a cheerleader, a surrogate mother to the Baxter offspring, and entirely one of the boys whenever her favorite baseball team is up to bat, sitting herself down, uninvited but too self-possessed to dislodge, in front of the family tv set with Mr. Baxter and his guests.
          "Hazel is basically a sympathetic, warm, compassionate woman," Key said, "in great need of love and giving it. Her wisecracks, her wit, and the dominating, aggressive take-charge attitude are a defensive bastion. But she's an unfulfilled woman and knows it. And when the armor cracks, we are torn by the poignancy. She doesn't stay exposed long, though, for Hazel's best defense is an offense. And an overwhelming sense of humor."
          And a towering independence of spirit.
          "Women who work in offices or who have hired only babysitters see in Hazel a vociferous symbol of their sex, for centuries an underdog minority group," Key said.
          But Hazel's appeal was not confined to readers of the same gender, Key believes: "Any person who holds a job under a superior views her as fellow employee—the underdog, like themselves, saying or doing things they wish they could say or do (for example, telling off the boss). Anyone who revolts against the pattern, the mold, or who has ever had the desire to (and this desire is in all of us) sees something of himself in the woman."
          "Hazel" appeared in the Post every other week or so for two years before assuming the regular weekly spot previously occupied by "Little Lulu" on January 6, 1945. Key's feature was one of several titled cartoons the Post was publishing at the time—Roland Coe's "The Little Scouts," about a tribe of miniature Boy Scouts and their plump Scoutmaster, and George Sixta's "Rivets," about a rambunctious little dog, and Hank Ketcham's "Half-hitch," a pantomime about a diminutive sailor (which Ketcham produced while serving in the Navy in Washington, D.C.), to name a few.
          By the time "Hazel" graduated to Lulu's slot (a favored position: think of how you thumb a magazine by starting at the back), the Post, having lost two of its popular cartoon features to outside enterprises, had learned a lesson. Key was signed to a fiendishly restrictive contract, giving the Post exclusive possession of Hazel and prohibiting the character's use for endorsing commercial products. Key produced "Hazel" every week for the next twenty-four years, finally gaining full possession of the feature only when the Post ceased publication in February 1969. Whereupon, he immediately sold the cartoon into syndication with King Features, where it has remained, stolidly, ever since.
          Despite the conditions of servitude the magazine imposed, Key was granted book and movie rights, and he almost certainly enjoyed revenue from the television adaptation with Shirley Booth playing Hazel, 1961-69. (In an earlier aborted foray into tv, Thelma Ritter was slated to play the maid, with Marilyn Monroe the series executive producer; but the Post wouldn't permit it. Whether the publisher objected to Ritter or Monroe—or to something else altogether—I dunno.)
          After leaving the Post, Marge's Lulu empire expanded rapidly. Paradoxically, Lulu continued popping up in the magazine—in Kleenex ads, the first of which appeared on January 20, three issues after her last cartoon. Kleenex, for the next fifteen years, made Lulu nearly ubiquitous in newspapers and magazines and on billboards and display cards in trolleys and subways and department stores, even, in 1949 and 1957, in an electronic display on Times Square in New York.
          In magazine advertising, Lulu joined a distinguished company—Paul Webb's hillbilly family, Al Capp's Li'l Abner, Dudley Fisher's Right Around Home cast, as well as Peter Arno's voluptuous maidens and pompous young men and George Price's wacky urbanites.
          In 1945, Marge signed a contract with Western Publishing Company for the publication and distribution of "books, comics, magazines, and other publications containing or featuring Little Lulu and various supplemental and subordinate characters which may, from time to time, become associated with Little Lulu in stories or in pictures or in any printed form."
          Lulu was launched into funnybooks with Dell's Four Color No. 74, dated June 1945. This book and Lulu's next, Four Color No. 97 (February 1946), were drawn as well as written by Western staff cartoonist John Stanley. Stanley wrote Lulu stories for her next five Four Color issues (Nos. 110, 115, 120, 139, 165), sketching characters and page layouts and filling the speech balloons with dialogue in cursive, and he continued for the next 12 years or so, for at least the first 135 issues of Marge's Little Lulu comic book when that started in early 1948 (cover-dated January-February). With the first of the on-going series, Irving Tripp became Lulu's regular illustrator, turning Stanley's roughs into finished art; Tripp, sometimes assisted by other Western cartoonists, remained Lulu's chief illuminator through the run, which ended with No. 268 in April 1984.
          Like most cartoonists, Tripp felt the characters he drew were real. At least, they were real to him, he told Bruce Hamilton in the only known interview with him (1985). "They were my kids," Tripp said, "... I'd have people come in and I would say we were working 9-10 hours a day [during the peak production years of Little Lulu books], and they'd ask: 'How can you sit here and do this day after day after day?' And I would say that every day is different because I would feel the mood of the characters myself. When Lulu was happy, she gave me a lift. If there was sadness, I would feel that, too. I would have the feeling of the characters while I was doing the job, and this is what made it so interesting. I looked forward to going to work every day, and this was hard for people to understand." (The entire interview appears at http://comicscomicsmag.blogspot.com/2009/12/irving-tripp-rip.html .)
          Tripp drew from Stanley's scripts, those pencil sketches of every page of a story, panel by panel, submitted on 8x11-inch typing paper. "His scripts were rough," Tripp said, "but better than most." Stanley put all the characters in place and clearly indicated expressions. "Everything was so clear and precise: you didn't have to go over it with a magnifying glass or ask questions about what did this mean or that." As a matter of routine, Tripp did a page a day; that was the production target. According to Tripp, Stanley did every Lulu story through about the mid-1950s. One of the ways to determine Stanley's authorship, Tripp explained, was to note the number of characters appearing in each panel: Stanley habitually included more people in his stories than did other writers.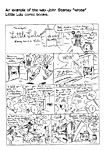 Working with Marge's supervisory consent, Stanley refined Lulu's personality somewhat, making her more feisty and assertive and giving her portly boyfriend a name, Tubby Tompkins (Marge had called the character "Joe"—but the name never appeared in print because the cartoon was pantomime, right?) Faced with the need for stories with plots, Stanley created the necessary conflict by pitting Lulu against her male playmates; no longer just mischievous, Lulu emerged as a crusading feminist (before the term had been invented), determinedly besting the boys at every turn. Stanley greatly expanded Lulu's milieu, adding numerous characters—Lulu's pesky little brother Alvin and the youngsters Iggy and Annie for whom Lulu sometimes babysits, and the baleful Mr. Gump, the fantasy Witch Hazel, and "the Spider," a detective persona that Tubby sometimes assumes (and then habitually foments suspicion about Lulu's father). Under Stanley, Tubby became so distinct and intriguing a personality that he whirled off into a title of his own: Marge's Tubby ran from August 1952 to February 1962, 49 issues.
          The Little Lulu comic books, eventually published throughout the world in half-a-dozen foreign languages, were elegantly reprinted (in English) in slip-cased hardcover volumes by Gladstone in the 1980s (and some sets of the Little Lulu Library, each containing three volumes, are still available at $130/set from our editor at Gemstone Publishing, P.O. Box 469, West Plains, MO 65775).
          In 1950, a Little Lulu newspaper comic strip was produced by Western and syndicated by the Chicago Tribune-New York Daily News Syndicate, starting June 6 and continuing for the next two decades, drawn and written by divers hands: Woody Kimbrell (writer and artist, 1950-64); Al Stoffel (writer, 1964-69, the last three years paired with Del Connell); and artists Roger Armstrong (1964-66) and Ed Nofziger (1966-69). (The redoubtable Armstrong, who drew such stylistically dissimilar strips as Napoleon, Ella Cinders—simultaneously!—and Disney's Scamp, as well as "Mary Jane and Sniffles" for Looney Tunes and Merrie Melodies Comics in the early 1940s, received from Cypress College in 1976 its "bicentennial award for meritorious contribution to the American culture" for his work on Little Lulu, an honor that made him smile and shake his shaggy head, considering that Lulu's character had been well-formed long before he had a hand in her fate. An accomplished watercolor painter, Armstrong, tireless in his mid-eighties, conducted classes and workshops in watercolor and led painting safaris to distant vistas overseas.)
          Lulu's appearance remained remarkably consistent in all her incarnations, due, doubtless, to Marge's constant supervision. In her first appearances in the Post, Lulu seemed more nine years old than seven: she had the long, spindly legs of an incipient teenager, but as the years rolled by, Marge made her seem younger, gradually shortening legs and stature. The most deliberate modifications took place upon departure from the Post.
          "At the time," Marge wrote years later, "I altered the appearance of Lulu considerably, changing her from a cartoon character to a real little girl. Plumper, shorter legs, wider dress, more attractive curls, big smile, and the like." The effect made Lulu cuter: shorter, her head was proportionately larger and the character more infant-like and, perforce, cuter.
          "I also made some changes in Tubby at the same time," Marge said. "The new looks were carried over into the comic books when they started."
          Shortly after Lulu's first comic book appearance, Marge conferred with Stanley in person in Philadelphia to ensure that the changes she'd instituted would be retained in the four-color format.
          Said Marge: "It was generally felt that the three vehicles in which Lulu appeared merged with each other in both appearance and personality of the characters."
          By the late 1940s, Marge was managing a merchandising empire that eventually fostered throngs of products—games and puzzles, bean bags, balloons and assorted toys, greeting cards and children's apparel, candy and confections, cosmetics and toiletries, towels and fabrics featuring Lulu and her milieu, and so on. While Marge approved all the Lulu appearances from the comic book and comic strip to coloring books and dolls, she drew Lulu only for the Kleenex campaign, often assisted by one or the other of her sisters, who inked her sketches.
          Initially, Marge worked out of a studio in a converted barn behind the house she and her husband moved into after marrying; later, when they moved into the larger house on the estate, she took over a room in the house as an office and studio. She occasionally hired part-time child care but had no secretarial staff and consequently spent as much as half of every weekday at her desk. Her son told me that she sometimes got up in the middle of the night to attend to some nagging business loose end.
          In 1971, Marge sold her rights to Western (which dropped "Marge's" from comic book title with No. 207) and retired, moving shortly thereafter to Oberlin, Ohio, where she died of lymphoma twenty years later, on May 30, 1993. Her husband died five years later, on November 20, in Massachusetts, where he had moved to be closer to his son Lawrence.
          Although many women grew up with the assertive and self-reliant Lulu as a role model, Marge was not, according to her older son, a crusader for women's rights. Not in the deliberate way we ascribe to champions of the feminist cause these days.
          "She knew she had created a feisty character and liked it," Lawrence told me. "But she was not a conscious feminist. She didn't see life that way. She was like the mid-19th century women writers of best-selling novels who modeled (and imagined) a sort of feminism but were not feminist activists.
          "As for Lulu per se," he continued, "MHB always took the view that the purpose of the cartoon was amusement and pleasure, not to convey a message. She would have liked Hemingway's quip: 'If you're looking for messages, try Western Union.'
          "Let me add," he said, "that she was also very proud to have created a popular nonviolent cartoon. She disliked media violence intensely, even something like Superman. So clearly, Lulu did consciously reflect social-moral values in at least this one respect. She and I had some fascinating discussions about such matters in later years."
          Growing up, Lawrence and his brother were quite conscious of their mother's fame, he said, "and of her desire to avoid publicity. The family was well aware that at a certain point (in the late 1940s), Lulu comics were outsold and out distributed only by Disney. She didn't boast about this, though—never. She always looked upon her fame as an amazing happenstance.
          "Lulu was a household word among all our friends. They read the comics, too. Boys as well as girls. When they came over to visit, sometimes my brother and I felt upstaged by them wanting to spend time reading through the old archives."
          Returning to the subject of his mother, Lawrence said: "She was one of the most extraordinary human beings I have ever known in her combination of fun-lovingness (droll story-telling gifts), responsiveness to other people, and proactive concern for others. She was also a quietly but deeply spiritual person, the only person I've ever known who was both puckish and saintly. A zany sense of humor never at anyone else's expense, morally centered and serious but never self-righteous or doctrinaire.
          "It's always nice," he concluded, "to find people who've made it to the very top of their field who are also by any imaginable criterion thoroughly admirable human beings."
          Among the things that pleased Marge most, he told me, was being an entrepreneurial success as a woman cartoonist. And she was surely that. Others of her sex had cartooned with much success before her or contemporaneously with her. But Marge exceeded the usual accomplishments of a professional cartoonist. And she did more than create a merchandising empire unprecedented for a woman cartoonist: whether she intended it or not, she also created an icon for America's girls and young women.
*****
An earlier version of this epic appeared in Comic Book Marketplace, No. 94. And other versions of it may even have appeared here. My files have cryptic notations about September 14, 2003, and March 27, 2005; but I can't find a posting hereabouts for either date. Maybe I was just warming up the engine. In any case, the foregoing is the most complete, up-to-date version of the history of Marge and pop-up feminism on the back page of the Saturday Evening Post. And now, a gallery of miscellaneous Lulu.