Herblock Has Left the Building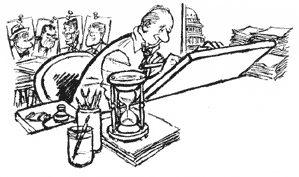 A giant passed this way, taking almost all of the last hundred years to do it. Herbert L. Block, who signed his editorial cartoons "Herblock," died on Sunday, October 7, the day we started bombing Afghanistan, just six days short of his 92 birthday. His death at just this moment was "inappropriate," wrote Mary McGrory, a Washington Post colleague. "There never would have been a good time," she went on, "but at this moment—when the worst threat since Hitler is darkening our lives—it is particularly hard to take."
The next day, the Post, Herblock's home for the last half century, started his obit at the bottom of the front page and jumped it inside to two more pages. At the top of the front page were the headlines announcing the air strike in bin Laden land.
It was Herblock's father who invented the portmanteau signature. While in high school, young Herbert was sending drawings and witticisms in to their local paper's "contributions" column. Civilian contributors signed their work with their initials or a pen name. Herbert's father suggested that his son combine his first and last names by letting them share their common consonant.
Herblock was—is—a colossus astride the roads of editorial cartooning. No one has matched him in the length of his career: his first editorial cartoon was published April 24, 1929; his last, August 26, 2001. That's 72 years. He was in the army for three years (1943-45) during World War II, but the 69 years of active editorial cartooning that remain still constitute a record.
He cartooned through 13 presidents—Herbert Hoover, Franklin D. Roosevelt, Harry Truman, Dwight Eisenhower, John F. Kennedy, Lyndon B. Johnson, Richard Nixon, Gerald Ford, Jimmy Carter, Ronald Reagan, George Bush, Bill Clinton, and George W. Bush. Two of them, Ike and Nixon, repeatedly canceled their subscriptions to the Post because of Herblock's cartoons. He is one of only five cartoonists to win three Pulitzer Prizes (1942, 1954, 1979), and he shared a fourth with the Washington Post for its coverage of Watergate. And he might've had a fifth (or a fourth of his own): the Pulitzer committee deadlocked over Herblock and another cartoonist in 1936, and, rather than acknowledge a tie, the committee simply awarded no prize that year. In 1994, he was awarded the Presidential Medal of Freedom, the nation's highest civilian award. (LBJ almost gave him one in 1967 but evidently had second thoughts and passed on the opportunity, probably because of the cartoonist's opposition to the President's Vietnam policies.)
But it isn't the length of Herblock's career or the number of awards he has won that give him the stature that inspires unqualified admiration and envy among his colleagues. They admire him for his principled stand on public policy and social issues; and they envy him his unprecedented independence—his absolute freedom to express his opinions without editorial interference.
Celebrating Herblock's 50th anniversary at the Post, Katharine Graham, then the publisher, wrote: "He fought for and earned a unique position at the paper: one of complete independence of anybody and anything. Journalistic enterprises run best when writers and editors have a lot of autonomy. But Herb's case is extreme. And because he's a genius, it works."
Herblock's unwavering liberalism and his trenchant and unrelenting assault on hypocrisy in a newspaper published in the seat of government (where there is plenty of political hypocrisy to assault) contributed to the elevation of the Washington Post from a fourth-rate paper in the city to a first-rate paper in the nation. Herblock was as much a part of the national institution that the paper became as the ink on its newsprint.
Graham acknowledged his role: "When the Post was struggling for its existence, Herb was one of its major assets, as he has been throughout his 50 years here. The Post and Herblock are forever intertwined. If the Post is his forum, he helped create it. And he has been its shining light."
Born in 1909, Herblock was twenty when he went to work for the Chicago Daily News where he was the second-string editorial cartoonist. Vaughn Shoemaker was the first stringer with his cartoon on the paper's front page; Herblock's appeared on the editorial page. Herblock left Chicago in 1933 to join the staff of the Newspaper Enterprise Association in Cleveland. It was while there that he won his first Pulitzer, but he almost wasn't there then.
In the spring of 1942, Herblock was summoned to the New York offices of NEA where he fully expected to be fired by Fred Ferguson, the syndicate's president, who customarily occupied the opposite end of the political spectrum from the cartoonist. While Herblock was cooling his heels in Ferguson's waiting room, the syndicate received word that he'd won the Pulitzer. One of the NEA editors took Herblock in to Ferguson's office and broke the news.
"The expression 'mixed feelings' never showed so clearly on a man's face," Herblock wrote afterwards. "Ferguson gave a sort of anguished smile. It was the only time anyone at NEA had won such a prize, but it was the wrong person at the wrong time."
Herblock wasn't fired. But within a year, he was no longer with NEA. He was in the army.
In the autumn of 1945, Herblock, anticipating his release from military service, was looking around for a berth with a newspaper. He rather liked Washington, D.C., and then, by chance, he met Eugene Meyer, a millionaire who had bought the Washington Post at a bankruptcy auction in 1933 and had managed to keep the paper alive by injecting it frequently with funds from his personal fortune. Meyer offered Herblock a job, and Herblock took it, starting early in 1946. Meyer had told the cartoonist he expected a cartoon for every day the paper published, and since it published every day of the year, Herblock drew seven cartoons a week for the first years of his employment there.
For the first half-dozen years, he showed preliminary sketches of cartoon ideas to an editor. But after the presidential election in 1952, Herblock's cartoons went into print at the Post without let or hindrance. By this time, he'd coined the term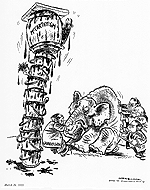 "McCarthyism" (in a cartoon published March 29, 1950—less than two months after Joe McCarthy first attracted attention by asserting that 205 communists worked in the State Department). He'd published his first book in 1952 and was firmly established as a journalistic power in the city as well as in the nation. Meyer's son-in-law, Phil Graham, was now publisher of the paper, and Graham favored Eisenhower in the presidential contest; Herblock, the unrepentant liberal, favored Adlai Stevenson. As a result, the editorial page of the Post frequently suffered from a dyslexic condition: it promoted Ike in text and Stevenson in Herblock's pictures. Graham, who had many friends among Washington's politicians, was embarrassed by this split personality at the heart of his paper. Herblock, seeking to be accommodating, suggested that the Post needn't run his cartoons during the campaign: he'd continue to produce them, but they'd see publication only through his syndicated distribution. Graham agreed but soon regretted it. Stevenson supporters noticed the absence of Herblock's cartoons almost at once, and the rival Washington Daily News, delighted at the chance to needle the Post, ran an article about the missing cartoonist. He wasn't really missing, of course: his support of Stevenson, thanks to syndication, was in evidence everywhere in the country but Washington, D.C. Graham was more embarrassed by the accusation that he was censoring his star cartoonist than by the schizophrenia his editorial page displayed when he published Herblock's cartoons. So after only a few days, Herblock was back. And thereafter, Herblock was never again required to get editorial approval for his cartoon. He was his own editor, and the cartoon he drew was the cartoon the Post printed.
Katharine Graham, who succeeded her husband as publisher, once said: "Since he arrived at the Post, five editors and five publishers all have learned a cardinal rule: Don't mess with Herb."
Herblock's steely incorruptibility lent the Post's editorial page a stalwart integrity: here was a paper not afraid to publish dissenting views from within. Henceforth, Herblock was, in effect, the liberal conscience of the paper.
"His point of view was liberal," said Katharine Graham, "and his instincts were common-sensical."
Doonesbury's Garry Trudeau doesn't quite agree. Admiring Herblock as a man of truly deep conviction, Trudeau
said: "I never thought of him either as a liberal or a conservative but as a satirist with a satirist's conviction that because this is America there is always room for improvement. That kind of idealism and hope never waned over the decades."
When he died, Herblock left an estate of over $50 million, $49 million of it in Washington Post stock. That he should have unfettered editorial freedom at the paper, then, may not surprise a generation made cynical by overexposure to the 24/7 cable news babble of sensation and rumor. But Herblock didn't always own stock in the paper. He won his independence as a crusading spirit whose tenacious will could not be denied, whose passions had a logic so persuasive that they repeatedly earned their way into print.
The tireless crusader, however, had a distinctly human side that showed to everyone who knew him. Unmarried, his personal habits teetered into slovenliness. Sartorially, he was permanently rumpled. His office was a chaotic warren of stacks of old newspapers and magazines, clippings and discarded pieces of clothing, and coffee cans filled with soft-lead pencils and used brushes.
A Post colleague, Robert Asher, wrote: "Though he could boil down global complexities and put them in historical context brilliantly, Herb never could deal with the basics of existence, such as how to drive, buy a new refrigerator, or get to Virginia."
In the newspaper's staff directory, Herblock listed the Washington Post as his home, and he ate most of his meals in the paper's second floor cafeteria, often bringing plates of food up to his office to store in the refrigerator there or taking them home by taxi to his Georgetown residence where he'd freeze them for later consumption.
Vitriolic in print, he was gentle in person. Unassuming and almost apologetic in demeanor, he punctuated his utterances with the mildest of exclamations—"oh, hey," "golly," or "oh, boy."
"All the energy and venom went into the cartoons," columnist David Broder said. Animator Chuck Jones, a friend, thought Herblock was "a tiger posing as a possum."
Mary McGrory said: "Despite his preeminence, he never succumbed for a second to the local disease, self-importance," and she went on to note that "he preferred to communicate with jokes and gags."
Another Post reporter remembered a dinner dance at the American Society of Newspaper Editors at which he'd observed an exuberant Herblock dancing with an equally exuberant Walt Kelly, a capering tableau of champions who'd confronted Joe McCarthy and lived to tell about it.
Herblock padded around the offices of the Post in carpet slippers or running shoes, wearing a plaid flannel shirt and a funny hat. The shirt was his version of an artist's smock. The hat Herblock called his Thinking
Cap: it was a toy helmet topped with a light bulb that the cartoonist could set blinking to indicate he was having an idea.
His daily routine was unvarying. He arrived at the paper after noon, and by five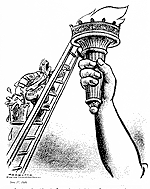 o'clock or so, he had concocted four or five ideas for a cartoon. Then came the legendary "five o'clock shuffle" as the cartoonist made his way to the newsroom, the assortment of sketches for his cartoon in his fist. Nearly six feet tall with a slight paunch, a Jimmy Durante schnoz and the visage of a slightly trimmer Rodney Dangerfield, Herblock was bent and slow moving in his last years, and he smiled as he shuffled along, stopping to re-orient a lost copy boy or to greet friends, inquiring after their families. In the newsroom, he would approach a reporter at his desk and stand diffidently, silently, at one side, not wanting to interrupt. When the reporter looked up, Herblock would apologize for the intrusion and say, in a voice vaguely reminiscent of Goofy's, "Got a mo'?" The reporter invariably did have a moment for Herblock, and so the cartoonist would ask him to look over the sketches he'd brought along and say which he liked best—and, more importantly, which one had the facts right.
"Is this right?" Herblock would ask. "Does this work? Is this fair? Is this premature?"
As McGrory observed, here was America's premier editorial cartoonist, "who fiercely fought off any editorial supervision from above," seeking it from below, from some humble beat reporter.
But Herblock was not seeking approval: he was consulting with experts. The reporter whose reaction he sought had been deliberately picked because his beat gave him intimate knowledge of the subject Herblock was tackling that day. If Herblock was doing a cartoon about the defense budget, he'd take his ideas to the Pentagon correspondent for reaction. He showed his cartoon ideas to others, too—to secretaries, stock boys, other reporters along his route to the desk of his consultant-for-a-day. Their reactions told him whether or not the cartoon was making the point he wanted to make. But it was chiefly the expert reporter's knowledge he wanted to bring to bear on his proposed target and tactic.
And after getting responses to his day's crop of ideas, Herblock went off and drew the final version of one of them. He inked with pen and brush and then gave the picture a variety of gray tones by shading with a grease crayon on the pebble surface of the paper. His cartoons are typically festooned with labels—a nondescript fellow is a "voter," a jar of cookies is "tax rebate," a small child is "conscience," and so on. And most of his caricatures, except for presidents and the most well-known politicians, carry their names on their sleeves for identification even though they are all, without quibble, readily recognizable likenesses, deftly wrought with slight but telling exaggeration. This confetti of labels gave his work an old fashioned patina; but in the ferocity of his attack, he is thoroughly modern, even avant garde. And his caricatures are superior to most of the work of today's editorial cartoonists, who too quickly adopt each other's formulations (Bush's ears, for example, which are not, really, large enough to justify the attention that they get these
days) and peddle the resulting generic brand as the original article.
After finishing his drawing, Herblock took it to the engraving department and waited around until they could show him a proof. And then, chances are, he went back to his office and puttered around until the wee hours, watching late-night tv news broadcasts and reading magazines and newspapers, stoking up for the next day.
"We might notice when he arrived every day," Asher noted, "but not when he would leave."
Herblock wrote 12 books, including one autobiography and one about a stray cat who took up residence with him for a time. The other ten were collections of his cartoons accompanied by Herblock's text, which supplied historical and political background. As a youth, I bought Herblock's second book, Here and Now, when it came out in 1955. I never read the text. I was looking at the pictures. I studied Herblock's drawings to learn how to draw wrinkles in clothing. This will seem a trivial compulsion these days, when all raiment is spandex and proficiency at drawing anatomy is more important than an ability to rendering clothing, but in my salad days, you had to draw people with clothes on, and wrinkles were an important part of clothing. The wrinkles Milton Caniff lavished on his creations were much too complex a combination for me to unlock, but Herblock's wrinkles were as uncomplicated and straightforward as his politics. And they were likewise convincing.
And his prose was as forthright and unaffected as his artwork. His first book is called The Herblock Book, and its first chapter is entitled "Begin Here." No confusion. No dilly-dallying. Just plain speaking. With a dash of self-deprecating humor.
"I'd hardly be giving away any trade secrets if I told you how a book like this comes to be written," he starts off, "because I'm not really in the trade. In this particular author-reader relationship—if it can be called that—we're both starting from scratch. ... What you seem to have got hold of here is a kind of free-wheeling book of commentary. It's not a complete history of political events, not a definitive work on any subject, and it's not 'inside' anything except my head. ... While you look at the pictures, I run along on this sound track, telling you how I feel about some of the subjects in general, recalling a few incidents here and there, and digressing every once in a while to mention something about the cartoons themselves."
In short, Herblock's embarkation verbiage on his maiden voyage in book authorship is as accurate and unvarnished an introduction to the book and to the man as we're likely to find anywhere.
Herblock was one of the only two newspaper cartoonists recognized by Editor & Publisher as belonging among the fifty "most influential" newspaper people of the 20th century. Charles Schulz was the other one. And now they're both gone.
But, with Herblock as an exemplar, we should not be down-hearted. He ended his autobiography by talking about the opportunity that the next day's cartoon offers, always, to compensate for whatever shortcoming today's cartoon might embody. And thus the last word in the book about his life is a ringing joyfully optimistic exclamation: "Tomorrow!"
We all have tomorrows. And, like Herblock did before us, tomorrow we have another chance to do it right, to make another beginning, a better one.