Cartoonist As God
John Held, Jr., Creator of an Age
John Held, Jr. is arguably the most powerful cartoonist the print medium has ever seen. He co-created, it is often alleged, an entire decade of American history. The period of exuberant decadence that has entered American mythology yclept "the roaring twenties" was conjured up, according to ample testimony on the matter, by F. Scott Fitzgerald, a novelist, and Held, a cartoonist. Fitzgerald's 1920 novel, This Side of Paradise, captured the spirit of disillusioned ennui and impertinent disregard for convention that infected the joy-riding Younger Generation in post-World War I America. And Held's drawings of spindle-shanked flappers and bell-bottomed sheiks of a few years later became the iconography of what Fitzgerald had christened the Jazz Age. No novelist, and certainly no cartoonist, had ever done the like before. Or since. Together, they put into words and pictures the feelings and tendencies then bubbling to the surface in American life. They gave to the airy nothings of such insubstantialities the imagery that completed the birth process.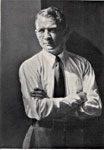 And if there is any single image that epitomizes the era it is not the gangster or the funereal Mr. Dry in Rollin Kirby's anti-Prohibition editorial cartoons; it is that effervescent bundle of giddy self-assurance, girlish laughter, and unabashed sex appeal—the flapper. The visual symbol of the flapper did not appear widely until she was an accepted type—that is, until about 1922 or so; but she had become a familiar social phenomenon long before then. The typical flapper was a nice girl who was a little fast ("brazen and at least capable of sin if not actually guilty of it," as Shelly Armitage says in her biography of Held). The flapper offended the Older Generation because she defied accepted conventions of decorous feminine behavior. Women's hair had always been long; the flapper wore hers short—"bobbed." She used make-up (which she often applied in public!). She wore tight, short dresses which bared her arms and her legs from the knees down; underneath, she wore as little as possible. But she did more than symbolize the revolution in feminine fashion and mores: she also embodied the spirit of the times in a way no other figure did.
| | |
| --- | --- |
| | |
And John Held, Jr., a mere cartoonist, did more to create this revolutionary icon than anyone else. And in the brevity and brilliance of his career, he enacted in his life the meteoric character of the Age of Flaming Youth that he so deftly illustrated with his pen.
Held was born January 10, 1889 , in the unlikeliest of places— Salt Lake City , Utah , in a two-room adobe house with a lean-to kitchen. His father, John Held, Sr., was an artist and engraver and amateur bandmaster—and something of an eccentric; and his mother, Annie Evans Held, was active in local theatrical endeavors. Held began sketching and painting at a very early age, and at the age of nine, he was paid for a block print he produced, his first earnings as an artist. He attended both elementary school and high school but finished neither; in high school, he worked on the school paper with Harold Ross (destined to found The New Yorker in 1925), and by the time he was fourteen, he was cartooning for the Salt Lake City Tribune, where Ross also found employment as a reporter.
In their off hours, the two sometimes toured the Stockade, the city's red light district, where they acquired an education in the seamier side of society. In this, they may have followed in the footsteps of Held's uncle Pierre, who first introduced young John to the Stockade. Pierre was an electrician and handyman, and he wired the district—installing electrical doorbells in the houses of ill repute. Armitage speculates that the cartoonist's comic sensibility was fostered by his perceiving the contrast between the noble vision of his Mormon faith and the seedy life of the Stockade.
In 1908, Held married the Tribune's society editor, Myrtle Jennings, and sold his first cartoon to the humor magazine Life. Two years later, he left Utah with $4 in his pocket and went to New York City to become a serious artist. Intending to send for his wife once he became established, he studied and lived with the sculptor Mahonri M. Young (one of Brigham Young's 160-some grandsons) for a short while. But when the need to earn a livelihood became urgent, he found work at the Collier's Street Railway Advertising Company, doing posters. Soon he left to become a display designer for the United Lithographic Corporation, where he stayed for over a year.
When Myrtle joined him, she transformed his life. She saw commercial value in the comic sketches he made after hours, and she took them around to magazines and sold them to Vanity Fair, Life, Smart Set, and Judge. From 1912 until 1916, Held's cartoons in Vanity Fair were signed "Myrtle Held" or "Babette" because editor Frank Crowninshield mistakenly supposed she had drawn the cartoons she was peddling—and she, rather than give a tedious explanation about her diffident husband, had played along, signing her name to Held's unsigned work.
In 1913, Held joined the art department at John Wanamaker Company, continuing at the same time to freelance illustrations and cartoons to various magazines, resulting, in 1915-16, in a series of covers for Smart Set. In 1916, he made a trip to Arizona for several months with Young (who Held regarded as one of the two most important influences on his artistic life, the other being his father).
By the time he returned (probably in the fall), his marriage was on the rocks; Held took a room with four other youths in a rooming house on West 37th Street—Red Smith (but not the sports writer), Hal Burrows, Paul Perez, and Marc Connelly. Connelly later wrote of their adventures in a piece entitled "The Doings at Cockroach Glades," the name of the place inspired by the non-paying residents that shared the accommodations.
There were sleeping facilities for only four persons, but since Smith worked nights, he slept days, leaving the beds free for the remaining quartet at night. "When I joined the Glades' inhabitants," Connelly wrote of that cold winter, "John and Hal were using the room in the daytime as a studio. Bundled up with scarves and sweaters, the two young men sat by the drafty windows, their drawing boards propped against the kitchen table between them, both engaged in making colored portraits of onions, asparagus, tomatoes, and ears of corn for a seed company's catalogue. John's vegetables brought him enough livelihood to allow him time to work on sculpture. As I remember, he won one or two modest prizes offered in contests for animals and human figures carved from cakes of Ivory Soap. I thought John's were beautiful."
When the U.S. entered World War I in April 1917, one of Held's artist friends, Ernest Haskell, was commissioned to help develop the new science of camouflage. One day when Held and Connelly visited Haskell on leave at his digs, Haskell regaled them with the remarkable achievements of the Camouflage Corps:
"We can paint battle ships in such a way that at sea they seem invisible a mile away—or even less," Connelly quotes Haskell as saying. "We're also devising camouflage for artillery concealment and even uniforms."
Promising to show them a raincoat that "a Heinie can't recognize two hundred yards away," Haskell disappeared for a moment "and reappeared wearing a doughboy helmet and a raincoat, both painted with a dadaistic confusion of reds, greens, yellows, blues, and browns. He stood six-foot-two and now gave the appearance of a nightmarish Pierrot," Connelly said. "While the rest of us stared at his weird appearance, Held stretched out his hands like a man groping in the dark: My God! he exclaimed, Where's Ernie?"
About this time, Held was hired as an artist on a Carnegie Institute archeological expedition to Central America . From July 1917 until May 1918, Held documented the explorations by making maps and paintings and sketches of the sites they visited. He also kept an eye out for German U-boats: for a salary of $1,200 a year, he was secretly working for Naval Intelligence.
Upon his return to New York , Held resumed his freelance career, and before the end of the year, he was selling cartoons and covers regularly to Judge, Life, Puck, and Vanity Fair.
Before his trip to Central America , Held's style of drawing was rather conventional for the time, distinguished by a spider-web line, elongated and somewhat stiffly stylized figures, and lavish use of solid black and geometric patterns. After the trip, Held's cartoons assumed a quite different appearance: although still employing a fragile line and solid black shapes, Held now produced plumper figures with disproportionally large round heads, a maneuver that made the people in his drawings seem youthful, almost childlike. Henceforth, Held began to specialize in cartoons about young people. Whether by accident or conscious design, this choice of subjects placed Held in the public eye at precisely the right moment: a Youth Culture was emerging in America in the post-war years, and Held was soon seen as their spokesman, capturing their insouciance with the simple elegance of his line. His style continued to evolve, however, and his characters became more realistically proportioned until about 1925, when the style for which he is most remembered reached its maturity. Skinny approximations of their sex, Held's belles were emblematic of a sort of perpetual adolescence. As skirts became shorter, he exaggerated the effect by making his girls' legs longer and slenderer, giving them the gangling coltish appearance of youth. And so the apotheosis of the flapper was achieved.
Humorist Corey Ford maintained that Held actually invented the flapper by supplying the Young with a prototype: "Each new Held drawing was pored over like a Paris fashion plate, girls cropped their hair and rouged their cheeks and shortened their skirts to be in style, galoshes and raccoon coats were indispensable to every male undergraduate wardrobe. So sedulously did we ape his caricatures that they lost their satiric point and came to be a documentary record of our times."
Without question, Held delineated the spirit of the 1920s. More than any other cartoonist, Held captured in his graphic abstractions the fashions and fads of the collegiate jazz age. His leggy flappers with noses in the air and hose rolled at the knee and his bell-bottomed sheiks with their hair plastered tight to cue-ball heads personified the Younger Generation to a nation of readers. Sophisticated and vaguely dissolute, his scantily skirted cuties were insatiable neckers, and their tuxedo-clad escorts inveterate social bootleggers, a flask on every hip. And the drawings were rendered with matching elan—delicate, thin lines in bold contrast against arresting solid blacks.
Susan E. Meyer in America's Great Illustrators notes that Held's work was unique: he "knew no predecessors. ... His work was idiosyncratic, bearing no stylistic resemblance to that of any other artist before him."
Walt Reed, historian of American illustration, agreed: "Held is impossible to pigeonhole. His style did not grow out of anybody else's, and no one followed him. He was unique. His style evolved steadily from the one-eyed doll-like figures of 1919, growing into much more sophisticated creations. They remained unique."
But Held's great friend, the theatrical caricaturist Al Hirschfeld, saw "early influences [in] pre-Columbian sculpture and the drawings on Greek vases, as well as the highly stylized thin-line drawings in La Vie Parisienne, a profusely illustrated French weekly," which, "over the years," Held developed into "his own thumb-print" style.
Held's drawings appeared regularly throughout the Roaring Twenties in all the most popular magazines. He did cartoons, advertisements, covers. In 1924, Held started a weekly half-page comic strip called Oh! Margy! for United Feature Syndicate; lured away to King Features in 1927, Held continued the feature under an assortment of titles (Merely Margie, Luck Lady, Runaway Redhead, and Rah Rah Rosalie among others) until the mid-thirties.
| | |
| --- | --- |
| | |
And in 1925, for Ross's infant New Yorker, he began producing a series of woodcut-like drawings of the "gay nineties," a sharp departure in style from his more familiar style on display in nearly every magazine of the day. The cartoonist was giving his old friend something completely different, something entirely new, in the Held ouvre, but something ironically a propos. Fashioned from his fond recollections of the demi-mond of whores, pimps, gamblers, and lenient cops of turn-of-the-century Salt Lake City 's Stockade, these cartoons reflected obliquely upon the manners and mores of Flaming Youth in the 1920s.
| | |
| --- | --- |
| | |
Held was well-known and wealthy by 1921. He had moved to Westport , Connecticut , as early as 1919; there, he had purchased a small working farm called Grindstone Hill Farm. At one time during the decade, he also had a penthouse in Manhattan, a beach house in Florida, and a second country estate (this one, 163 acres) in Connecticut where he played at being a gentleman farmer, maintaining a kennel of blooded dogs, a stable of blue ribbon saddle horses, and a staff of dozens of servants—a golf pro for his golf course, a Chinese cook, farm hands, and a menagerie keeper for the dogs and peacocks and a pair of mules named Abercrombie and Fitch.
His domestic life, however, was not successful: he had divorced his first wife in 1919 and married Ada "Johnnie" Johnson, a woman animated very much by the spirit of the Jazz Age, whose frequent demand for lavish and populous house parties kept her husband working almost all the time. The work ethic of his Mormon upbringing very much operative in his mind, Held was an absentee merry-maker: while his wife and friends partied through the nights, he hunched over his drawing board to earn the money that financed the fun. (It was to escape the milling of her throngs of house guests and the commotion of her parties that led Held to purchase his second Connecticut farm in 1924.)
At the peak of his fame from 1923 until the end of the decade, Held could earn thousands of dollars with a single drawing; editors begged for his work. "I used to work all day, days and nights," he recalled in a mid-1950s interview. "Nobody believes me now, when I tell this, but people used to send me blank checks to make drawings for them. I could write in my own price."
Hirschfeld tells of watching Held open his morning mail—each of twenty or thirty envelopes containing a check for hundreds or thousands of dollars. But Johnnie was apparently as proficient at spending it as Held was at earning it. Luckily, Held was a fast worker. By mid-day at his studio in Manhattan (a one-room apartment), he would complete twenty drawings. Then he'd desert the drawing board for the groaning board, having lunch at the Coffee House Club or Jim Moriarty's speakeasy or the "Round Table" at the Algonquin. His luncheon companions included the range of 1920s celebrities—Lucius Beebe, Nelson Doubleday, Rockwell Kent , Don Marquis, Rube Goldberg, Dorothy Parker, Robert Benchley, Alexander Woollcott, and so on.
Despite the glitter of his daily routine, Held was a prisoner of his fame. Hirschfeld recalled Held's coming to see him off when he embarked on his first voyage to Paris in 1924. As Held handed his friend a bottle of champagne, he said:
"Gosh, how I envy you, Al. I would give anything to just get up and go."
Hirschfeld, who had his life savings, $500, pinned to the inside of his jacket, couldn't imagine why Held didn't just take off.
"You could buy this tub and take it anywhere you wanted," he said.
Held stared at him.
"I can't do it," he said. "I have a whole crew of people in Connecticut and Florida depending on me."
He paused for a long time and then fixed his eye upon his friend and said: "Don't, for God's sake, ever earn more than you need to live on. Try not to be too successful."
But Held wasn't always successful. His political career, for instance, after a brilliant start, faltered. He was elected constable in Weston in 1922 and then, in 1926, was persuaded to run as a Democrat for U.S. Congress from Fairfield County . He ran but he did not campaign: he was too busy, he said, but if anyone was interested in his political views, they could find him at his farm. His platform was appropriate: "I intend to devote my attention first to the Congressional Record. Here is a magazine that needs new blood! I'll do the covers myself."
Alas, he was not elected. The Congressional Record continued in its stodgy rut, and Held continued in his rut, too, a much more gaily decorated one, and we are the richer as a culture for his political failure.
And then came the stock market crash in late 1929 and the aftermath in which Held lost a fortune he had invested with Ivar Kreuger, the Swedish match king. He would also soon lose his syndicate contract: in the grimmer climate of the Depression, his silly flapper cartoons seemed out-of-step. Magazine editors stopped commissioning covers. But the bills still demanded payment. The accumulated pressure took its toll: by March 1931, Held was in a Stamford sanitarium suffering from nervous exhaustion. Later that year, he separated from his second wife and their three adopted children; they were divorced in Mexico in September, and she took possession of all their houses. On November 11, Held married Gladys Moore, a Ziegfield Follies girl he had met while judging a beauty contest in 1927. Gladys preferred the social life of the smart set in the city while Held yearned for the country life; they separated in 1936, having produced a daughter, Judy.
In the 1930s, Held's spherical-headed sheiks and shebas lost their appeal; perhaps they reminded a Depression-wracked audience too vividly of the bubble that had burst. Hirschfeld believed his friend was destroyed by the very thing that had made him a success, the fickle spirit of fashion:
"The long skirt imported from Paris did it," Hirschfeld explained. "Held's drawing of a girl in a long dress was ludicrous. Russell Patterson [the other iconographer of the Twenties—responsible for introducing the raccoon coat and galoshes—] replaced Held's flapper with a cleverly drawn anatomically persuasive girl in tight-fitting, transparent long dress."
Unable to sell cartoons, Held began writing short stories about those bygone days of Jazz Age, selling them to Scribner's, Harper's, and College Humor. Between 1930 and 1937, he collected them in four volumes and wrote four novels, also about life in the 1920s. Often bleak in the naturalistic manner, Held's narratives (some of which he also illustrated, sometimes with pictures not a little risque) aimed at exposing the shallowness of the Flaming Youth of yesteryear.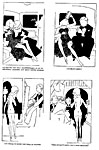 Written in terse, spare prose, his stories and novels display a fine eye for authentic detail, but they are ultimately depressing, not amusing: here in naked prose, his satiric view predominates and overwhelms while in his pictures of the previous decade, humor outshines the satiric irony. Animated chiefly by dialogue (the hallmark of the cartoonist), his prose fiction was critically shunned and never achieved the popularity of his cartoons and drawings.
In the Smithsonian for September 1986, Dorothy and John Tarrant record a telling episode from this, the nadir of Held's professional life:
One day, Held ran into Russell Patterson, who had, by then, replaced Held at the pinnacle of popular acclaim. Patterson offered to get Held the lucrative assignment of designing Macy's Christmas-toy window. Held, doubtless recalling the advice he'd given Hirschfeld years before, declined, saying he had a room, a coat, some shirts, trousers and a pair of shoes. That was all a man needed, he said.
Patterson said, "We'll get together again. I'll call."
"I have no phone," said Held.
Less than a popular success during the thirties, Held was to experience his greatest artistic satisfaction during this and the following decade. He illustrated several books, produced and hosted a collegiate talent radio program ("Tops Variety Show"), designed sets for the successful Broadway comedy Hellzapoppin, and became (at last) a serious artist in watercolor and bronze. His subjects in watercolor were New York skylines (in transparent watercolors) and Western scenes of ranch life (in opaque watercolors), populated by figures reminiscent of his round-headed cartoons of the past; in bronze, he did animals as well as people, mostly in the Western mode. In 1940, he was artist in residence at Harvard University and then at the University of Georgia , both funded by a Carnegie Corporation grant.
On December 23, 1942 , Held married Margaret Schuyler Janes, and during World War II, they both worked for the Signal Corps, making pictures of radar apparatus then being designed. In 1943, they purchased the Conover Farm near Belmar , New Jersey , where Held became, again, a farmer. But this time, for a living. They raised crops and sold produce, preserves, and the bread that Maggie baked. The farm population included goats, geese, ducks, chickens, a burro and a dog named Mr. Dooley "who did not know he was a dog."
Held occasionally did magazine illustrations, and he produced several children's stories. Before he died on the farm of throat cancer on March 2, 1958 , he had been "rediscovered" and enjoyed considerable reputation. Galleries displayed his paintings, magazines carried articles about him and printed his drawings, and social historians examined his work in the hopes of explaining the 1920s.
A satirist whose comedy depended upon irony, Held's career is itself riddled with ironies. Aspiring to be a serious artist and sculptor, he achieved fame and fortune beyond his most extravagant expectations with simple cartoon drawings, undertaken initially to earn enough money to support his other artistic ambitions. His success was so great that he was imprisoned by it; only economic and personal disaster, a collapsing stock market and a nervous breakdown, freed him to resume artistic pursuits.
The supreme irony, however, was that his cartoons of the twenties, caricatures which he intended as satirical comment on the faddish foibles of Youth, became instead their fashion bible and brought him wealth and celebrity; but his fiction of the thirties, satirical of the very era his cartoons had helped to create, was scorned. His place in the pantheon of American cartoonists is nevertheless secure: his cartoons virtually define that period now known as the Roaring Twenties.
GALLERY OF HELD. Since Held's images virtually define the Roaring Twenties, they have become a familiar part of the cultural heritage we all share. We recognize them because we carry them around in our heads. In selecting pictures for the essay above and the gallery below, I tried to avoid the cliche Held, and thanks to a revered ninety-year old cartoonist, I came into possession of some that I don't think have circulated much. The photo of Held appeared in Vanity Fair in July 1930; he's older and wiser after the stock market Crash that nearly wiped him out. The covers for McClure's are a little more widely known, perhaps, but the two-page two-color cartoons for DAC News seem to me almost fugitives, long out of sight and consciousness. The fragments of full-page cartoons from the 1930s are likewise of a lesser-known sort, seems to me, as are the two-panel cartoons recording "Civilization's Progress," in which, by the 1930s, he was displaying both of the drawing styles he deployed in the 1920s—the woodcut manner he used in The New Yorker and his usual fragile line and solid blacks. After that, come several more of the pictures he drew to illustrate his novels and short stories in the 1930s, concluding with our End Piece, a 1925 cover for Life in which Held's flapper wasn't skinny and knobby-kneed. (Thanques, Gus.)