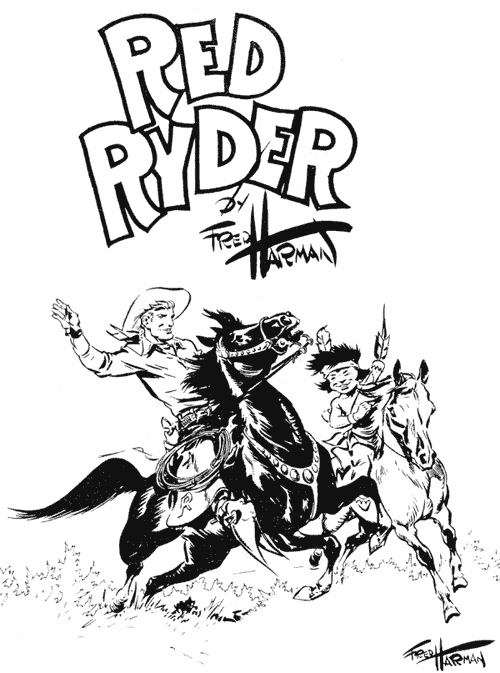 Fred Harman, Cowboy Cartoonist
Creator of Little Beaver and "You betchum, Red Ryder"
Fred Harman Jr. (middle name, Charles), famed cowboy cartoonist and painter and the creator of Red Ryder and Little Beaver, grew up on a ranch and remained intimately connected with ranching all his life. He was born on February 9, 1902, in St. Joseph, Missouri, where his lawyer-rancher father, Fred Charles Harman Sr., and mother, Birdie Olive Walker Harman (who had once modeled for Charles Dana Gibson), were visiting relatives while vacationing from their homestead near Pagosa Springs, Colorado.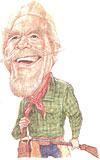 The family returned to Colorado when young Fred was two months old, and he grew to adolescence on the ranch, learning how to ride horseback and herd cattle and teaching himself to draw by copying pictures in mail-order catalogues. Recalling his life and career in True West magazine (October 1968), Harman wrote: "My recollections from two months to six years is on the hazy side, but the fog sort of clears to find me bouncing back of Dad in the saddle with both hands clawing his suspenders as he yelled, 'Hang on, son!' He'd all but forget me while hazing an ornery milch cow hell bent to a brush hideout to calve. Those words I was to remember all through my life when the going got rough. Even now when a painting is hard and discouraging, I recall, 'Hang on, son!' and start throwing more paint." Harman's first published drawing appeared in a Saturday youth section of the St. Joseph News-Press when he was six, but he didn't begin to make a living with his graphic skill until he was eighteen.
            In 1916, the Harmans, now including two more sons, Hugh and Walker, moved to Kansas City, and young Fred, already skilled with horses, found a before- and after-school job driving a grocery wagon. When the United States entered the European conflict in the spring of 1917, he quit school to go to war. Too young to be inducted in his chosen service, the Navy, he managed to join the Missouri National Guard. "After many months guarding pipe and reservoirs to save Kansas City's precious water from the Germans, I was granted a furlough and hightailed it back to Colorado," Harman wrote. He spent the summer and fall working as a cowhand at ranches in the vicinity of the Harman homestead. By Christmas 1918, he was back in Kansas City, a pressman's helper on the Kansas City Star. There, he witnessed the operations of the paper's art department and realized he could make a living drawing, but he never lost his affection for the West and the outdoor life on a ranch. He returned to Colorado again for the summer, but when he came back to Kansas City the next year, he found a job animating cartoons for the Kansas City Film Ad Company, where he worked with two other cartoonists destined for future fame—Walt Disney and Ub Iwerks.
            When these two started moonlighting a film company of their own, Laugh-o-Grams, Harman joined them. After the company went bankrupt and Disney left for Hollywood in the summer of 1923, Harman freelanced at commercial art for a year and then went back to Colorado to savor cowboy life once again. That fall, he was offered a position as the sixth artist in the art department of Artcrafts Engraving Company in St. Joseph, eastern terminus of the legendary Pony Express. He spent the next three years there, specializing in boots and saddles; and he also designed the costumes for an MGM film about the Pony Express. He met and, on June 26, 1926, married Lola May Andrews, who was working in the music store on the ground floor of the building that housed Artcrafts. When their son, Fred III, was born in 1927, Harman began looking in earnest for a higher paying situation, and when Disney invited him to join his growing operation in California, Harman took a short vacation to reconnoiter the opportunity and to visit his brothers, both of whom were then working in animation for Disney. Harman realized, however, that animated cartooning was not for him, and he returned to St. Joseph.
            By December 1928, he was in St. Paul, Minnesota, employed as an illustrator in the midwest's largest art department at Buckbee-Mears. Soon thereafter, he and an advertising friend, Paul McGinnis, established their own agency, Harman supplying the start-up capital with freelance assignments from Buckbee-Mears. Their agency did well until the Depression hit the Minnesota in 1932. By then, Harman had decided upon a career producing art about the West; he sold his partnership to McGinnis and prepared a series of short stories and illustrative paintings entitled On the Range that he offered to the Des Moines Register-Tribune for syndication to the Sunday rotogravure sections of newspapers. While awaiting a decision, he and his family traveled in the spring of 1933 to the Colorado ranch, where he built a cabin. Hearing nothing about his syndication proposal, Harman went to Hollywood late that summer and arranged an exhibit of his pen-and-ink cowboy drawings at a Wilshire Boulevard gallery. In the fall, he brought his family west, and, financed by loans from his brothers and their friends, he began syndicating himself a daily comic strip about the Old West, Bronc Peeler.
            Bronc is a gangly two-fisted fast-riding redheaded young cowpoke, whose adventures Harman rendered in a confident, sinewy penline that resonated authenticity, evoking the artist's own early life on horseback in Colorado's Blanco Basin. The panels of the strip brandish highspeed horseflesh and gnarly, bow-legged hombres as Bronc chases after tinhorn gamblers, town bullies, horse thieves and rustlers, stagecoach robbers, and owlhoots of every stripe. The genuine appearance of the strip is so authoritative that its B-movie plots and hoked-up lingo are very nearly overwhelmed by ambiance. In harness with his Hollywood tradition, Bronc is accompanied on his early adventures by a grizzled old desert rat named Coyote Pete, but when Harman's wife suggested that a younger sidekick might attract a larger juvenile readership for the strip, the cartoonist replaced Pete with a seeming Navajo kid named Little Beaver, whose attire, Harman later admitted, was not at all authentic and whose pidgin locutions were an affront to his ethnicity. Having shot a trout with bow and arrow, Little Beaver chases it downstream, saying "Me killum fish—now to ketchum before him float away." Intended, perhaps, as comic relief, a plucky smart-mouthed sidekick, Little Beaver was much more: ingenious and courageous, he was often in the right place at the right time to rescue his mentor, and the boy proved quickly more popular than the old timer he'd displaced. When Harman added a Sunday strip to his workload on October 7, 1934, he also produced a linear newsprint-suitable version of his earlier On the Range paintings for the bottom half of the page, accompanying it with an artificial rustic Will Jamesian patois describing life in the Old West.
            The work of self-syndication was daunting: Harman wrote his continuities, drew the strip, arranged for the engravings to be made and mats to be shipped to client newspapers, and drove around the country, trying to sell the feature to newspaper editors. He also sold Bosko, a strip about a clown character based upon the animated cartoon created by his brother Hugh and his partner Rudolph Ising. In 1936, the syndication of Bronc Peeler was taken over by Consolidated News Features until the strip ceased in 1938. During the strip's five-year run, Harman remained on the West Coast and met many notables in and around the movie lots—Gene Autry, who later financed a movie about Harman's later creation, Red Ryder; Will James, the cowboy artist-writer; Emmett Dalton, the last of that outlaw family; Al Jennings, the old train robber; and Curley Fletcher, the "Cowboy Poet" and author of "The Strawberry Roan." Fletcher had an idea for a slick magazine about the West and persuaded Harman to join him in the enterprise, Ride, which they wrote and drew for three issues before it collapsed for want of capital.
            Harman's break came in 1938 shortly after he had illustrated a Big Little Book, Cowboy Lingo, for Whitman Publishing Company. Sam Lowe, Whitman's president, liked Harman's work and recommended an agent in New York, Stephen Slesinger. Slesinger had an assignment for Harman, illustrating a book about cowboys and Indians, and Harman promptly moved to New York and joined Slesinger's art staff, leaving Bronc Peeler in the dust. While on staff, Harman may have tried out to draw King of the Royal Mounted, a comic strip produced by Slesinger. But he soon found his metier elsewhere. That summer, as Harman tells it, "Fred Ferguson, president of Scripps Howard's NEA newspaper syndicate, came into the office inquiring about a Fred Harman he had heard about who drew a Little Beaver cartoon. When I stuck out my eager paw and said, 'Howdy—I'm Fred Harman,' he dang near lost his voice in surprise." At Ferguson's instigation, Harman created a sample Sunday comic strip in which Bronc Peeler was transformed into Red Ryder, and Slesinger negotiated a ten-year contract with NEA. Red Ryder debuted November 6, 1938, its raw-boned redheaded hero in his signature red shirt, white wide-brimmed low-crown hat, and chaps; a daily strip started March 27, 1939.
            Red Ryder is older and broader of shoulder than his antecedent, but Little Beaver is exactly the same: spunky and out-spoken, he is the human chorus to Red's granite-faced struggle against rascality, grunting a supportive "You betchum, Red Ryder" with such regularity that the expression became a catch phrase. The stories have the same sort of fast-breaking action-packed plots and central-casting villains as before. Harman was now drawing with a juicy brush, splashing drawings through the panels in a fluid, sketchy manner, accenting them with realistic black shadow. Fittingly in a Western, Red is on horseback much of the time, astride a big black horse named Thunder (Little Beaver rides a paint pony called Papoose), and Harman could make his hero sit a horse convincingly. The bandy-legged

mannerisms of Bronc Peeler are continued, as is Harman's characteristic treatment of everything wooden, imparting a knotty reality to the environs—fence posts tilt askew in the parched earth, the planks of board walks and buildings are weathered and warped in the sun and are therefore uneven, the wheels on wagons almost certainly wobble; every landscape has towering buttes in the distance, and shaggy pine trees and tufts of scraggly juniper bushes are everywhere along the hillside trails near the little Colorado town of Rimrock.
            In the first year or so of the strip's run, Red meets his life-long paramour, the dark-haired beauty Beth Wilder, and his arch enemy, Ace Hanlon, the card sharp scoundrel who would periodically for the next twenty-five years pester the townspeople with one swindle after another. Completing the cast of regulars are Rimrock's cantankerous Sheriff Newt and Red's aunt, the Duchess, a doughty matriarchal old scout whose rough edges never quite conceal the warmth of her heart; she manages Red's ranch whenever her tumbleweed nephew is off righting wrongs or supplementing his income as a hired gun. But Little Beaver was undoubtedly the most popular of the strip's cast (so much so that much subsequent publicity referred to the strip as "Red Ryder and Little Beaver," suggesting Harman's attachment to the character that rescued him from a life illustrating children's books for Slesinger). The affectionate and respectful relationship between the resourceful wise-cracking kid and the big sober-sided redhead was arguably what gave the otherwise headlong action strip its heart and endeared it to its readers. During World War II, the Indian youth's name was also deployed with several combat units that effectively adopted him as a mascot.
            Red Ryder was the most successful western in comic strip history, appearing, eventually, in 750 newspapers. Republic Pictures produced a 12-chapter serial in 1940, followed by 27 feature-length motion pictures (1944-49); and a radio program started in February 1942 and ran three half-hour programs a week until 1951, part of the time standing higher in the Hooper ratings than "The Lone Ranger" on a rival network. The Red Ryder comic book appeared sporadically beginning in September 1940, became bi-monthly in December 1943 and monthly in January 1946 until the last issue, no. 151, in April 1957. Red Ryder's name was used on an array of merchandise, the most celebrated of which was the Daisy 111 Model 40 Red Ryder Western Carbine, known popularly as the Red Ryder BB gun, which was first offered to the purchasing public in 1939 for $2.95. Ubiquitously advertised on the back covers of comic books through the 1950s, the rifle continued to be a popular item for the rest of the century.
            His financial success assured by 1940, Harman returned to his roots, buying land near Pagosa Springs and building on the slope of Square Top Mountain a cabin with an majestic view of the rugged San Juan Mountains of Archuleta County. Although he envisioned his domicile as a hideaway, the promotional press dubbed it "Red Ryder Ranch," and it was soon the destination of touring fans of the strip.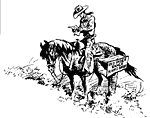 The red-haired Harman participated enthusiastically in publicity campaigns, appearing around the country at rodeos as "Red Ryder," and he always had a "Little Beaver" imitator with him, a succession of youths recruited from the nearby Jicarilla Reservation. The cartoonist was active in operating the ranch, too, and once, for a time, drew with his arm in a slin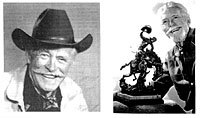 g, the casualty of a bronc-busting afternoon. Harman continued to control the activities of his creations, but he acquired assistant artists over the years so that he would have time to paint, and when the strip ceased December 26, 1964, it was being produced almost entirely by Bob MacLeod. Harman, meanwhile, resumed full-time a painting career that had been interrupted for thirty years.
            Harman began wintering in Albuquerque and finally bought a year around home and studio in Phoenix. Before he died on January 2, 1982, of complications from a stroke suffered December 27, 1981, Harman produced over 350 oil paintings, scores of pen-and-ink drawings, and numerous bronze sculptures on Western themes.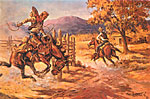 He had been inducted into the Society of Illustrators early in his comic strip career and was a charter member of the National Cartoonists Society. In 1958, he received the Sertuma Club's American Way of Life Award for Colorado's Outstanding Citizen, and other awards included those from the U.S. Treasury, the Department of Defense, the U.S. Navy, and the State of Texas. In 1963, he joined four other artists (Joe Beeler, Charlie Dye, Jon Hampton and George Phippen) to found the Cowboy Artists of America. Among the honors Harman valued most was his official adoption into the Navajo nation, a distinction enjoyed by only 75 other non-Native Americans. His name and comic strip creation are perpetuated in the annual Pagosa Springs Red Ryder Rodeo, a suitable legacy of cartooning's most accomplished representation of the American West.
Bibliography. The most detailed account of Harman's life until the syndication of Red Ryder is the autobiographical article, "New Tracks in Old Trails" in True West, September-October 1968. Other accounts include "He's At Home on the Range and Quick on the Draw" by Paul Friggens, Quill, February 1939; "Ryder of the Comic Page" by James Poling, Collier's, August 1948; and "Red Ryder's Eternal Home on the Range" by Mark Yost, Wall Street Journal, December 23, 2003 (all somewhat inflated with promotional mythology) and entries in Comics of the American West (1977) by Maurice Horn and The Encyclopedia of American Comics (1990) edited by Ron Goulart as well as Goulart's The Adventurous Decade (1975). Dean Krakel's introduction to a book of Harman's paintings, The Great West in Paintings (1969), also supplies a few details. Red Ryder's celluloid career began with a twelve-chapter Republic serial, The Adventures of Red Ryder, starring Don "Red" Barry (1940), which was followed by 27 feature-length films: all Republic films with "Wild" Bill Elliott, George "Gabby" Hayes (first two), and Bobby Blake as Little Beaver– Tucson Raiders (1944, May 14); Marshall of Reno (1944, July 2); The San Antonio Kid (1944, August 16); Cheyenne Wildcat (1944, September 30); Vigilantes of Dodge City (1944, November 15); Sheriff of Las Vegas (1944, December 31); Great Stagecoach Robbery (1945, February 15); Lone Texas Ranger (1945, May 20); Phantom of the Plains (1945, September 7); Marshall of Laredo (1945, October 7); Colorado Pioneers (1945, November 14); Wagon Wheels Westward (1945, December 21); California Gold Rush (1946, February 4); Sun Valley Cyclone (1946, May 10); Conquest of Cheyenne (1946, June 29); Sheriff of Redwood Valley (1946, September 29); with Allan "Rocky" Lane as Red Ryder– Santa Fe Uprising (1946, November 15); Stagecoach to Denver (1946, December 23); Vigilantes of Boomtown (1947, February 15); Homesteaders of Paradise Valley (1947, April 1); Oregon Trail Scouts (1947, May 5); Rustlers of Devil's Canyon (1947, July 1); Marshall of Cripple Creek (1947, August 15); then in Equity/Eagle Lion films with Jim Bannon as Red Ryder and Don Kay Reynolds as Little Beaver–  Ride, Ryder, Ride (1949, February 1); Roll, Thunder, Roll (1949, August 27); The Fighting Redhead (1949, October 12); Cowboy and the Prizefighter (1949, December 15).  Harman's papers and many of his oil paintings and other art works are archived or on display at the Fred Harman Western Art Museum, once the cartoonist's home near Pagosa Springs, Colorado. The New York Times published a brief obituary, January 5, 1982.