Milt Gross
Banana Oil and the First Graphic Novel?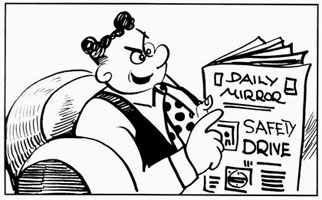 With his characters' ludicrously bug-eyed bulb-nosed physiognomy, sausage-fingered hands and flat feet, Milt Gross may be said in his drawing style to epitomize "cartooning." In his life, he was creative profusion incarnate, producing not only a gaggle of comic strips but several risible prose works and, as the piece de resistance, a tome that some have dubbed the first so-called graphic novel.
Gross was born March 4, 1895 in New York City, the son of Samuel Gross and Rose Spivak. He grew up in the Bronx and had one-and-a-half years of secondary schooling in Kearney, New Jersey, before leaving formal education at the age of sixteen to take a job as an office boy in the art department of William Randolph Hearst's New York American. The bull pen denizens for whom young Gross did chores included Harry Hershfeld, Gus Mager, Walter Hoban, Tom McNamara, Cliff Sterrett, Winsor McCay, and Thomas Aloysius Dorgan, who signed his cartoons "Tad" and who called Gross "Davenport" because the youth idolized the work of editorial cartoonist Homer Davenport. Gross, who at an early age had demonstrated an artistic bent, was in his element, and he was often able to put his pen to good use: "I used to ghost for artists who were late with their assignments," he told Martin Sheridan in Comics and Their Creators. Then in November 1912, he signed his own comic strip, his first, Jack Bull.
In 1913, Gross found a position as staff artist for the American Press Association, and two years later, he was back with Hearst, this time at the Evening Journal, for which he created his first comic strip, Henry Peck, A Happy Married Man, which was eventually syndicated by Hearst's King Features in 1917. Like most newspaper staff cartoonists at the time, Gross concocted a variety of cartoon features for his paper, some of which lasted only a few installments before yielding their place to his next creation. For the sports section, he did a strip called Phool Phan Phables and, later, Sportograms. He also produced Izzy Human and Kinney B. Alive and And Then the Fun Began—each an instance of the typically short-lived genre of the day. In 1917, after a salary dispute, he left Hearst and joined the Barre-Bowers Animation
Studio, which produced Mutt and Jeff animated cartoons. His tenure there was interrupted by service in the U.S. Expeditionary Force with the Seventh Division in France during World War I. After the war, Gross went back to animation at the Bray Studios, and in 1920, he married Anna Abramson; they had three sons.
By 1922, Gross had returned to newspaper cartooning in the art department of the New York World where he produced his most celebrated creations. Following the usual pattern, he again drew an assortment of features, most based upon catch phrases. Some lasted longer than others: Bimbo started in June 1922 and lasted until September, after which, Gross replaced it with Babbling Brooks, which ran through February 1923 before being supplanted by Toy Town Tots from April until November.
During this period, he also began writing and illustrating with comic drawings a column called Gross Exaggerations. Many of the column's installments concerned the dilemmas of daily life in an imaginary Lower East Side apartment building where Mrs. Feitlebaum exchanges gossip with her neighbors. Written in a highly inventive Yiddish dialect, the conversations of the residents wander from sympathetic analysis of the husband next door ("sotch a hanpacked poison") to discussions about the scion of another family who got caught in the "undertone" at "Coney Highland" or the unfortunate couple that bought a cottage with "sudden exposure." In a fourth floor apartment is a "nize baby" who must be seduced into eating dinner by parents' telling "ferry tails." All of which Gross reported in exhaustive detail, complete with blundering grammar and hilarious malapropisms. A collection of pieces from the column was published in 1926 as Nize Baby, and its enthusiastic reception was followed that year by the publication of Hiawatta Witt No Odder Poems, Gross's Yiddish dialect version of the Longfellow classic—a "parody which went beyond parody into the realm of jolting laughter," according to Stephan Becker in Comic Art in America. It was "a poetic triumph," Becker said, to which "the author's inspired drawings added the final lunatic note."
Nize Baby's success encouraged Gross to produce a Sunday comic strip with the same title. Starting in September 1926, it had run its course by February 1929, and Gross replaced it with his comic strip masterpiece, Count Screwloose from Tooloose, a weekly morality play about the prevailing insanity of the world at large. Every Sunday, Count Screwloose escapes from the Nuttycrest asylum, observes humanity in action, and returns to Nuttycrest, which he now perceives as a safe—and sane—haven. In the last panel of every installment, the Count rejoices at his lucky reinstatement with a dog named Iggy (who thinks himself to be Napoleon): "Iggy, keep an eye on me," the Count sings out gleefully.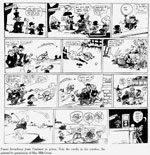 Although the formula was trite ("the old joke about the escapee who returned voluntarily," as Becker observes), Gross endowed its weekly repetition with the comic genius of his graphic imagination and made it "more than just a variation on a theme." The Count is dapper but diminutive, less than half the size of the other characters, and in drawing his pint-sized protagonist, Gross crossed his goggle-eyed orbs, giving him the wildly comedic aspect that virtually defines "comic strip character." The rest of the cast partakes of the same tradition, resulting in a strip of almost manic ambiance, which Gross enhanced with fast-paced action and a few doses of slapstick. The cartoonist's inventive prowess is further displayed in the variety of
ways he engineered the Count's weekly escape: an inmate raps a hammer on one end of a teeter-tottering plank and the Count, seated on the other end, is propelled over the wall; the Count traps the hot air of a visiting politician in a balloon and floats over the wall, clinging to the balloon. At the top of the Count Screwloose Sunday page appeared another Gross concoction, Banana Oil, which took its title from the imprecation invariably shouted in the last panel as comic indictment of some minor fraud or misapprehension being perpetrated elsewhere in the strip; it became a popular expression, the equivalent of "baloney." In October 1930, on the eve of the World's collapse, Banana Oil was replaced by a revived Babbling Brooks, which continued into the next year. Count Screwloose continued until May 31, 1931, after which it was syndicated by King Features.
Gross continued to write books in the same vein as his 1926 volumes: in 1927, De Night in De Front from Chreesmas and Dunt Esk; in 1928, Famous Fimmales witt Odder Ewents from Heestory; and then in 1930, He Done Her Wrong, a pictorial novel without words—perhaps, even, a "graphic novel." Calling it Gross's "graphic masterpiece," Becker describes it as "a silent film transferred to paper." In his method, Gross was perhaps inspired by the recent work of a wood engraver named Lynd Ward, who, in 1929, had published God's Man, a wordless novel-length cautionary tale. (Ward, in turn, had probably seen similar silent pictorial novels by a Belgian artist, Frans Masereel.) For his subject, however, Gross relied upon his experiences in the film colony where he had worked briefly with Charlie Chaplin on "The Circus" (released in 1928): the novel mocks the grand passions and stock situations of Hollywood adventure films and the stage melodramas of the 1890s with its numerous homicides and chases, not to mention its dastardly villain, brave hero, and pure heroine. Dover reprinted the book in 1963 and Abbeville in 1983, both, Paul Karasik tells us, with an "inexplicable" new title, Hearts of Gold. Both also excised a few politically incorrect pages involving an African-American—"a blackface gag," Craig Yoe calls it, which has been restored in the 2005 carefully wrought reprint from Fantagraphics with an Introduction by Yoe and an Appreciation by Karasik.
The World merged with the New York Telegram in February 1931, and Gross joined Hearst's King Features Syndicate, creating Dave's Delicatessen, a daily and Sunday strip of comedic continuity about the family and business of a delicatessen owner. The strip often ended with an extraneous panel in which a small boy observes his father at some nefarious activity and proclaims joyfully: "That's My Pop!" The youth's pride is not at all affected by the obvious fact that his father is usually portrayed as wholly incompetent. This panel eventually became a stand-alone feature in about 1935; entitled Grossly Xaggerated, it was usually called by the expression that had become a catch word, "That's My Pop!" The feature inspired a radio program of the same name in the 1940s.
At various intervals during the thirties, Gross lived in Hollywood, where he resumed writing scenarios for movies, but in 1934, he was back in New York at the Mirror, for which he created the short-lived comic strip Otto and Blotto. He also wrote magazine articles and more humorous books in Yiddish dialect in addition to screenplays; he was a frequent guest on radio programs and often served as master of ceremonies at formal occasions. In 1945, he suffered a heart attack and reduced his activity; he died November 28, 1953, of a second attack while returning to his California home from a Hawaiian vacation.
Drawing in a style that exemplified "cartooning," Gross was nonetheless an original, a talent without predecessor or successful imitator. Becker reports that he was a man "who combined a brilliant career with absolute honesty and generosity to all men. No ego, no tantrums, no feuds. Just Milt Gross." When the National Cartoonists Society established a fund
for the relief of indigent cartoonists, it was named the Milt Gross Fund as a mark of the profession's enduring regard.
<![if !supportEmptyParas]> <![endif]>
Bibliography. Milt Gross's life and career receives fullest treatment in Stephan Becker's Comic Art in America (1959), pp.366-374. Other books in which Gross receives more than token treatment are A History of American Graphic Humor, 1865-1938, Vol. 2, by William C. Murrell (1967), Comics and Their Creators by Martin Sheridan (1944) and The Encyclopedia of American Comics by Ron Goulart (1990). Gross's books not mentioned in the foregoing include: What's This? (1936), Dear Dollink (1944), and Shoulda Ate the Eclair (1946); his illustrations appear in Margaret Linden's Pasha the Persian (1936).
<![if !supportEmptyParas]> <![endif]>
More cartooner biographies? They appear in profusion, somewhat shorter than the foregoing, in Harv's Gallery of Rogues, a preview of which appears here. For Harv's other books, click here to be transported to the page where their covers are displayed (from whence, you can journey to previews of each).