Julie Larson=s Dinette Set Is All of Us
Life in Suburbia is Forever Inane and Banal
The Dinette Set is a searing satire of ordinary middle-class American culture by Julie Larson, who achieves her indictment of the inanities of suburban life by juxtaposing keen observations with equally revealing background images in her drawingsCbut, she claims, it=s more mirror-holding than finger-pointing. As the single-panel cartoon passed its twentieth anniversary in May 2010, Larson moved it on the 31st to another syndicate, United Feature, which, by my thoroughly unofficial tabulation, is the third to undertake the feature=s national distribution.
Larson didn=t set out to be a cartoonist and didn=t become one until she ran up against her subject in rude real life. She grew up Ain a fun family of five kids in Lincoln, Illinois,@ her website reports, ACa small, quiet town surrounded by cornfields. With only three channels on tv and miles of open space around, Julie and her siblings had ample time and room to create their own fun. >My family always had a terrific sense of humor and never hushed laughter at the dinner table,= Julie says.
AIrreverent behavior and pranks amongst the youngsters filled any doldrums. Humor was a daily part of life. As one of the resident artists, Julie was in charge of producing homemade family birthday cards for close relatives. Anyone who had a quirk or a visible Achilles' heel would find it tastefully highlighted in a personalized birthday greeting. Drawing was her hobby, and she always kept pen and paper close at hand. The annual oversized Sears catalog was also a prime target for satire and the shaky beginnings of dialogue writing. Julie enjoyed drawing speech balloons filled with idle conversation coming from the girdle/bra clad ladies in the underwear section as well as casuals conversations amongst the 'Husky Size' models.@
AThey were all funny,@ Larson told reporter Melissa Merli at the News-Gazette in Champaign, Illinois, during a visit there in 2006. AIt was a family filled with a lot of sarcastic humor and irreverence. Whoopee cushions under grandma=s rear end. Whatever we could do.@
Larson went to the University of Illinois where she and her roommate amused themselves by drawing caricatures of friends, acquaintances, and professors. She earned a bachelor=s degree in architecture in 1982, worked at an architecture firm in Palo Alto, California for about a year, then came back to Illinois, where she continued as an interior designer for a firm in Chicago.
Six years later, married and with an infant daughter, she and her husband moved to Park Ridge, a suburb. AShe found the lifestyle there claustrophobic, cloying and repetitious,@ wrote Merli. AShe had always hated malls and considered the conversations among suburbanites mundane; they talked mainly about shopping, sales and grocery stores.@
AThey=re very suspicious and cautious of newcomers,@ Larson remembered. AThey=re not very friendly, and it wasn=t a warm view. It=s very competitive, too.@
That was her first impression. Then, her website reports, Awhen she took a closer look, she saw it was only monotonous on the outside. Underneath, she observed a lively hustle and bustle of people who truly enjoyed every moment of belonging to the masses. Mass consumerism was exciting and colorful! Julie embraced it and saw it as a theater filled with stars whose favorite ride was >The Rat Wheel.= She >got it.=@
Larson started recording her observations of the personnel in suburban America in 1990 with a single panel cartoon she entitled Suburban Torture. She sent it to alternative weekly newspapers, and the Los Angeles Reader picked it up first; the editor said the cartoon Astrikes a chord of my awful upbringing.@ Soon, other altie papers were publishing the cartoon, and by 1994, Larson was pitching it to syndicates.
An editor at King Features who had grown up in the most stereotypical suburb in the U.S., Levitown, New York, related to Suburban Torture. He suggested that Larson concentrate on improving her drawing and lettering and submit six weeks= worth of cartoons; he also re-titled the feature, calling it The Dinette Set. King began distributing it as a daily feature in 1997.
By 2006, Larson had moved to Creators Syndicate, following, I believe, a few more years of self-syndicating; now, in 2010, to United Feature. Larson=s drawing ability remains rudimentary, perhaps in outright defiance of King=s exhortation to improve. But her neckless, chinless rutabaga-headed characters, despite the sameness of their appearance (they all wear glasses), embody some of the shrewdest put-downs of American culture to be found in contemporary commentary.
At thedinetteset.com website, we learn that the cartoon Ais an in depth study of banality and entitlement within American middle class culture, a world of mindless consumerism and the mentality that fosters it from small towns to sprawling suburbia to major citiesCan inane, repetitive lifestyle that persists and is growing.@ The principal occupants of this mind-numbing humdrum existence are the Pennys, Joy and Burl, and their friends, a group of bromide-ridden, platitudinous yet loving would-be human beings who Asqueeze the life out of the American dream.@
Oddly, the cartoon=s most devoted fans are those who inevitably find something startlingly familiar in the daily doings and hackneyed utterances of its cast, thereby validating Larson=s satire: they fail, apparently, to realize that the familiarity implies kinship: in all likelihood, they themselves are the objects of Larson=s scorn and risible derision. Instead of seeing themselves in the cartoon, they find solace in it: it persuades them that Athey are not suffering alone, living amongst the Pennys. They live next door to the Pennys, work beside them, dine out next to them, and share the aisles in stores with them. We no longer cringe at their slaughter of the English language and basic social graces; instead we embrace their foolishness, reveling in a therapeutic theater of the Dinette Setters' honest foibles.@
Larson=s characters must endure her constant, withering ridicule, and listening to her talk about them at a presentation a few years ago, I wondered if she liked any of them, and asked her. She likes Burl, she said, but she also respects all of them. AThey=re honest,@ she said, ACuninhibited. They say whatever they want to say, whenever they want to say it.@
I=m not sure that this trait implies courage or candor so much as sheer stupidity or rank naivete. But at least Larson regards them with affection whatever their personality disorders or afflictions. AWe all get there sometime,@ she said. Her daughter, Britta, once joked that Larson herself is Burl.
Here=s the cast, with a gloss about the characters.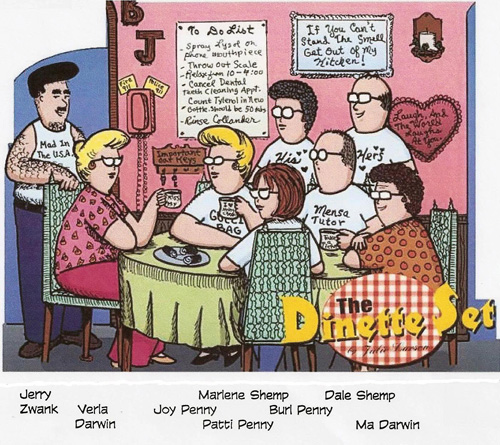 Jerry Swank, Larson says, works as manager of Dingiss Formal Wear. He thinks of himself as a Aman=s man,@ a totally macho swinging singleCmoron. He loves working out and hanging around with the Pennys.
Verla Darwin, Joy=s sister, is a clerk at Berrin County Assessor=s Office; she=s single and hopes Jerry will someday ask her out.
Joy Penny is a Aproud housewife,@ the bossy, self-proclaimed matriarch of the ensemble; she loves gossiping, watching tv, and keeping track of her To-Do List.
Marlene and Dale Shemp are Joy and Burl Penny=s dear friends and neighbors; she=s a housewife, he=s parts manager at the Crust Plumbing Supply House. Marlene is perky and soft-spoken and a grandma; Dale never lets a lull in the conversation go by. Like the Pennys, they love to gossip and spread rumors.
Burl Penny is manager of the Crustwood U-Store-It; his personality is dry with a sourpuss attitude. He loves eating heavy meals and sharing his self-anointed Awisdom.@
Patty Penny, the daughter, is a Aprofessional@ of some kind; she=s loyal and, although embarrassed by her family, serves as a social barometer.
Ma Darwin, Joy and Verla=s widowed mother, has no known occupation except getting under Burl=s skin; she=s tough and sharp-tongued. She loves talking nonsense and spewing absurdities at the Pennys.
A later addition to the cast is Timmy, the Penny grandson, who provides an otherwise missing generational perspective.
Altogether, they may not be the smartest gang or make the world a better place, but they are deliriously adapted to their ordinary lives in suburban Crustwood. AThey=re gullible,@ Larson said, Abut they try to beat the system.@
She continued: ABurl and Joy do the best they can with material goods, to surround themselves with as much as they can. But Burl and Joy are always unhappy. That=s the bottom line of this whole thing. The need for the next, latest thing is very strong. Coveting thingsCI think that is still as strong as ever. Is it getting worse? I think it=s getting unaffordable.@
Here=s more of the cast in action.
Television is a focal point in the daily lives of the Pennys, but lately, Larson has been discouraged about this domestic appliance: AReality tv has killed just about everything creative,@ she blurted out once. AI can=t stand it.@
When asked, as all cartoonists are, without deviation or let, where she gets her ideas, Larson says there=s only one way to write a daily cartoon: write about what you know. AI make no bones about who's really talking in The Dinette Set," she says. AIf we can't make fun of ourselves, who will?"
She gets ideas from her family and from readers, some of whom write in to say how much The Dinette Set reflects their own livesCand then offer examples. She and her daughters often Aplay the Pennys.@ The game plan is simple: take a mundane life situation (perhaps discovering after leaving McDonald=s drive-thru that they forgot the fries) and then imagine what Burl and Joy might say about it. AIt=s fun, it=s therapy,@ saith the website, and Larson=s loyal fans write to say they Aplay the Pennys@ at home, too.
Many of Larson=s readers get as much enjoyment from the t-shirt slogans and the signs on the wall as from the self-incriminating conversation of the characters. Offbeat phrases on clothing (AKick Me Again@ or ASanta=s Enormous Helper@), AD-cup@ coffee mugs on the table, posters of weeping clowns, and lists of things to do on fridgeCthey pile up the hilarities. These irreverent witticisms and soaring banalities are the last things Larson puts into every cartoon, and they=ve become a trade-mark of the feature.
And lately, enhancing The Dinette Set=s whimsical charm, Larson has introduced a device that will engage her readers even more deeply in the Penny world: she includes a word or phrase in the picture and challenges readers to Afind it@ in the classic Awhere=s Wally@ mode. No prizes. Just part of the insidious plot to capture readers and never let them go.
Larson and her daughters moved back to Lincoln several years ago after the cartoonist=s divorce, but abandoning suburbia for small town life is not likely to deprive her of fodder to poke fun at. AAfter all,@ wrote Michelle Holmes at the Hobart Merrillville Post-Tribune in northwest Indiana in 2004, Ashe=s still got Wal-Mart, where ladies loading up carts of Ding Dongs and Scott Tissue pose questions for the ages like: >Don=t you just hate it when your teeth start falling out?=@
In the last analysis, Holmes wrote, Larson wants us to understand one thing: AI=m not making fun of people.@
AShe sounds sincere,@ said Holmes, Abut I don=t buy it. >I do read your comic, you know,= I tell her.
So Larson relents: AOkayCmaybe I am. But I=m including myself.@
And me, too; here we both are.