Day's End. Apparently, no one noticed. One of cartooning's stalwarts died on New Year's Day 2000, but no one in the inky-fingered fraternity knew about it until several weeks later.
Signing his panel cartoons with his nickname, "Chon," Chauncey Day entered the profession in about 1929 and sold work to just about every magazine that ever published a cartoon--including the Saturday Evening Post, Collier's, True, Look, and The New Yorker.
"Unless I missed it," said Frank Pauer, editor of the National Cartoonists Society newsletter, "the New Yorker has never mentioned his death, much less the New York Times. No one in the professional community even knew that he had died until some five weeks after the fact. One of Day's sons sent a note to a friend at the Boca Raton museum [the International Museum of Cartoon Art], who knows Bill Janocha, who phoned me."
Pauer made up for the silence elsewhere with a short piece for the March-April issue of the NCS Cartoonist. The Saturday Evening Post, in its May-June issue, gave belated recognition to Day, devoting a page to four of his cartoons and noting that he was the magazine's longest-running cartoonist: "Chon Day has been a regular fixture of the Post since 1948. He was the master of the to-the-point punchline. We'll miss you Chon."
(In the same issue, by the way, the editors allocated a page to Charles Schulz, saying that some of his first nationally published cartoons appeared in the Post and printing four of them. Together, these two pages probably published more cartoons than the Post has published in a single issue since its first demise as a weekly magazine three decades ago.)
Chon Day deserves the notice: after all, he was one of cartooning's pantheon and should not be permitted to slip unremarked into that good night. And since I have a little more room in This Corner than these other publications, lemme expand on that notion somewhat.
Born in 1907 in Chatham, New Jersey, Day attended Manlius Military School 1923-26, then entered Lehigh University. His father wanted him to study civil engineering, but Day thought differently:
"I asked some of the other students in the registration line which was the easiest course," he told Jud Hurd, editor of Cartoonist PROfiles. "They said, Business. So I signed up for that."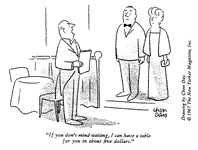 He drew cartoons for the student magazines at Manlius and at Lehigh, and when his grades "went bad" at Lehigh, he had a long talk with the dean, who, seeing that Day already knew he wanted to do artwork professionally, advised him to leave Lehigh and enter an art school.
But Day needed the tuition, so he sold cars for a while, worked at Western Union, did clean-up at an ad agency, and pined for art school. When his mother came into a little money, she paid for Day and his brother to tour Europe. Upon return, Day enrolled in the Art Students League, where he studied under Boardman Robinson and George Bridgman, who, Day explained, was the cause of his leaving the school.
"I had drawn one of those statue things and had spent two weeks on it," Day said. "Bridgman came in, sat down, and in a minute flat, got out his chamois, erased the whole thing and sketched it in as he said it should be done. He then told me that if I'd just fill in the shading, he'd hang it up. Well, I got out my chamois, took his drawing off, packed my stuff up, and walked out of class! I felt that if I stayed there I'd have to draw just like George Bridgman."
Which, obviously, Chon Day was not about to do.
He took some of the drawings he'd made in life drawing classes, put clothes on them, and attached captions. A number of new magazines were emerging in the wreckage of the Stock Market Crash (Ballyhoo, Slapstick, Hooey, and the like), and Day was living in New York, so he made the rounds. (But not on Wednesdays; the Wednesday "look day" tradition, the day cartoon editors held open house for walk-in submissions, hadn't yet been established.) Day sold his first cartoon to a Wall Street magazine.
"Two-line captions were on their way out," Day said, "and I began doing one-line captions. In those days, you'd often see a cartoon showing two people talking and you couldn't tell who was speaking because no character had a mouth open. I wasn't the first, but I always indicated the speaker with an open mouth."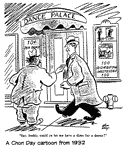 This may have resulted from attempts to sell at the New Yorker. The irascible editor, Harold Ross, insisted that he should be able to tell in an instant who was speaking in a cartoon. And the New Yorker was by then setting the fashion for panel cartoons.
At first, Day's style of rendering a cartoon was not particularly unusual. It was entirely competent but not distinctive. He drew with a brush initially, stroking in beautiful bold fluid flexing lines. But he is noted for his mature style--a very plain penline, slightly tremulous but moderately and uniformly thin, and open, airy pictures with no shading except for a gray tone (known as BenDay). It was a style he arrived at almost accidentally.
During World War II, drawing paper was scarce, but a friend of Day's told him he knew where he could get great quantities of it.
"One day," Day said, "he called me and asked if I had a wheelbarrow. C'mon over, he said, I've got some paper for you. The sheets were about 60 inches long by 40 inches wide, and it was almost like charcoal paper--thin but with a great bite to it. I was stuck with a whole lot of it. It was second-run stuff, and I used to find mosquitoes and flies embedded in it!"
The paper changed the appearance of Day's line: "My pen would catch on the paper, and I developed quite a shaky line--which editors seemed to like," he explained.
And after the War, Day investigated to find out what the paper was, and when he found out how to buy it on the open market, he used it regularly thereafter.
Although his work appeared in virtually every magazine, Day is probably remembered most readily for his Brother Sebastian cartoons in Look magazine. The "gentle, imperturbable monk" was invented to supply the need of a cartoon editor.
When editor Gurney Williams moved from Collier's to Look, he took Larry Reynolds' Butch cartoons with him, and he wanted one more recurring character cartoon.
"One day we talked cartoons over lunch at Toots Shor's," Day recalled. "I had been selling a fair number of friar cartoons--even though other cartoonists had told me you couldn't sell clergy gags--and Gurney asked me how about a little monk character. Thus was born Sebastian. At first he wasn't too fat, and I can't recall whether he or I began to put on weight first."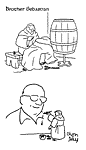 Brother Sebastian started in 1954 and presumably ran in most if not all issues of the weekly Look until the magazine folded in October 1971 (or at least as long as the magazine published cartoons).
Day continued to sell his cartoons elsewhere, too--notably at the New Yorker, where he was a contract cartoonist (which means he gave that magazine first choice in every batch of cartoons he produced). He also sold to the some of the weekly Sunday supplement magazines like This Week, whose editor once told Day that he was the only cartoonist who could draw nudes that the magazine could publish--"because," Day explained, "he said all of mine were as sexy as vegetables!"
While his children were young, Day worked mostly at night because the house was quiet then. His neighbors, he said, consequently thought he was a bum, or a bookie. He'd tell them he was retired. "That's as good as anything, I guess, after twenty-five years of cartooning."
But he continued cartooning, earning the NCS accolade as "best magazine cartoonist of the year" three times, 1956, 1962, and 1970. He died in Westerly, Rhode Island, where he lived for most of his working life, having cartooned for about seventy of his 92 years.