You're In the Army Now
Private Breger and His Creator Dave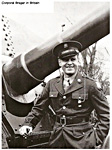 Whenever the dogs of war start howling to be let loose, I think about soldier cartoonists. It's more than a mere occupational inclination. It's a form of denial. Death and destruction are grievously serious matters, too serious to be left to cartoonists. We'd all be better off, though—and fewer of us dead or destroyed—if cartoonists did the fighting. Crossed pens and flung ink rather than smart bombs and spilt blood.
But I think of soldier cartoonists when war is on the agenda because of World War II. It was my first war, and it consequently made an impression on me, being, as I was, young and impressionable at the time. Two impressions, actually. One consisted entirely of the lurching cadences in the oral delivery of H.V. Kaltenborn on radio broadcasts; I remember the sound of his voice, not what he said.
The other thing that impressed itself upon me at that tender age was Private Breger, a cartoon character (and, I subsequently discovered, also a cartoonist, likewise named Breger). Several centuries later, I realized that WWII (as it is usually shorthanded) was the last great conflict in which cartoon characters figured prominently. It was also the last time there were any substantial number of cartoonists who plied their craft while wearing the uniform.
The most storied of these is doubtless Bill Mauldin, who, at merely 23 years of age, won a Pulitzer Prize for his Willie and Joe cartoons championing the WWII "dogface" (as the ordinary infantryman was called). When Mauldin died January 22, 2003, the nation's newspapers carried the farewell wishes of the inky-fingered fraternity: editorial cartoonists across the country drew pictures that commemorated the towering achievement of one of their own. (For my own tribute to Mauldin, visit Harv's Hindsight for February 2003.)
The roster of WWII cartoonists is fairly long, compared to World War I, which seems to have nurtured only Britain's Bruce Bairnsfather and America's Wally Wallgren. In the century's other conflicts, cartoonists somehow didn't rise much over the military horizon to become known among civilians. Shel Silverstein's work in the Pacific edition of Stars and Stripes during the Korean War never surfaced this side of the International Dateline. And apparently there was nothing funny about Vietnam. (Wally is profiled in Harv's Hindsight for February 2009; Silverstein, April 2001.)
And that's somewhat odd. Soldier cartoonists have almost always been able to find comedy, to make men laugh even while they were being menaced by death-dealing machinery on every side. During WWII, lurking hilarities were found by the likes of Ralph Stein, Larry Reynolds, Dick Wingert, and George Baker. Stein and Reynolds, who had both been cartooning for magazines before the War, continued those careers afterwards.
Stein, who, by all rights, should come between William Steig and Saul Steinberg in encyclopedias of cartooning, isn't in any of them that I have handy. I suspect he made a living for awhile as an art director in one or another of the New York ad agencies while freelancing, somewhat, magazine cartoons. (He'd been art director of the New York World-Telegram before the War.) Later, Stein, following one of his many passions, became automobile editor of This Week, a newspaper supplement.
Reynolds, who made his living in advertising, moonlighted by drawing a regular cartoon for Collier's, and then Look, featuring a shy overweight burglar named Butch and his grumpy sidekick, Slug. Reynolds painted and dreamt of retiring to a house on the beach where he could paint seascapes. "Instead," he said, "I'll probably develop sinus and have to live in Phoenix or Butte, Montana." ("Butte, Montana" being a funny-sounding place name like Lubbock, Texas.)
Wingert moved his Stars and Stripes character, Hubert, into civilian attire and syndication. And Baker did the same, to slightly more fanfare, with his character, Sad Sack. The Sack was the classic put-upon low man on the army's totem pole of rank and privilege; so was Hubert, but he wasn't as miserable as the Sack and wasn't therefore as celebrated.
But neither Hubert nor the Sack appeared in our paper, the Fargo Forum, so the army cartoon character I remember best from my unspent youth is Private Breger, who appeared therein regularly in a single panel cartoon. The thing I remember most about it, apart from the character's pointy nose, oval spectacles, and freckles, was that the khaki color of the army uniforms was indicated with a Benday dot pattern, and if you applied water to the dotted areas, a color emerged. Magic.
That's what I remember about Private Breger. But I'm certain I'm mis-remembering. No Benday dot pattern in an ordinary newspaper turns color when wetted with water. I'm doubtless remembering this magic from some other dotted area in some other publication. What I didn't learn until much later was that Private Breger was drawn by a cartoonist named Dave Breger who had, at an early point in his military career, been a private. The cartoons were signed, conspicuously, "Pvt. Dave Breger," but at the age of eight, I scarcely paid any attention to signatures.
Breger started out being Irving David Breger when he was born in 1908 in Chicago, Illinois. He arrived in Chicago shortly after his parents did: his father, Benjamin, and mother, Sophie Passin, had immigrated from the Ukraine (where his father was Beryl and his mother was Zlata) only weeks before. According to family legend (parts of which were revealed to me by Dee Breger, the cartoonist's first-born daughter), when Sophie saw the Statue of Liberty as their ship sailed into New York harbor, "she took off her babushka and threw it into the water." Initially, Benjamin found work helping in the butcher shop of a friend from the old country. Later, he would open a sausage factory of his own.
Meanwhile, his son was attending school and drawing pictures. At Crane Tech, a sort of vocational school for boys, he drew cartoons signed "Irving Breger" for the school newspaper. After graduating in 1926, he went to the University of Illinois where he studied architecture. Later, he entered Northwestern University and switched to medicine. He also indulged a passion for cartooning in the campus humor magazine, the Purple Parrot. By 1930, he was the magazine's editor-in-chief.
Like most college cartoonists of the day, he drew in the geometric manner of John Held, Jr.—his characters' spindly-limbed bodies surmounted by cue-ball heads, solid blacks artfully spotted throughout. The comedy was, er, thoroughly collegial—that is to say, laced with puns.
Here's the medical school pep rally: "Slice 'em up! Saw their bones! Rip their guts! Hear their groans! Raw!! Raw!! Raw!!"
And here's a doctor-instructor, advising a female student:
"See here, Miss Brown, you are indoors too much. Now I am going to give you a little sun and air."
"Oh, at last, at last," she swoons, "a proposal!"
(Read it aloud.)
Most of these were signed "Irv," but Breger sometimes slipped in "Dr. Breger." Wherever it might contribute to the comedy.
In the midst of these shenanigans, pre-med, Breger discovered, was not working out.
"The laboratories smelled bad and were messy," he explained years later. "And the dissections (dis-assembling a dogfish was as far as I got) seemed to bear no relation to the textbooks. A textbook picture would show some particular nerve embedded in tissue as clearly as a macaroni on black velvet. But in the laboratory I would probe futilely for days for this particular nerve that was utterly indistinguishable in color or texture or form from the surrounding tissue.
"A great truth struck me," he concluded. "An even nobler mission in life would be to create the beautiful pictures that purported to represent reality rather than mess about with reality itself. Besides, I was aware of the countless lives I'd be saving by not practicing the medical profession. So, it was from abattoir to atelier for me."
En route, he changed his major and graduated with a degree in abnormal psychology in 1931 on the eve of the worst year of the Depression. "In view of what was then called a 'business recession,'" Breger wrote later, "I decided to travel about the world until the recession was over."
He peddled cartoons and soon earned enough to finance his trip, during which, he visited the Mid-east, Africa, and his parents' homeland. At the Polish-Russian border, Breger had an experience that impressed him "with the universality of cartoons as a common denominator in humor."
He was at first prevented from entering Russia because of a "technical error" in his Soviet visa, and as he waited to get the difficulty resolved, Customs was confiscating a good many of his personal items. "At that time," he explained later, "the United States had not yet recognized Soviet Russia, and I suppose I was fair game as a representative of bourgeoisie capitalism. A couple of my cartoons in my baggage attracted the customs officials. They noted the name in my passport and on the cartoons to be the same. They asked me to draw cartoons of them. This was easily done, and soon a crowd of officials, soldiers, and civilians gathered. I was well aware of their hatred for the Germans even then," he went on, "and did an appropriate cartoon which excited great approval. I was now their comrade. Some official corrected the technicality in my visa. All my personal effects were returned and passed by customs. Two bottles of wine and a bottle of vodka were added. And an army officer was delegated to accompany me to my destination in Russia to see that I be taken care of properly. All this impressed me sharply—that if you can make people laugh, you become their instant friend."
After two peripatetic years, Breger returned to Chicago, which, by then, presented no better employment opportunity than it had when he'd graduated from Northwestern. "The recession was now being called a depression," he reported wryly.
So he went to work for his father at the sausage factory at the stock yards where he soon betrayed a cartoonist's sensibility in coining the memorable slogan, "Our Wurst Is the Best." He also freelanced single-panel gag cartoons to magazines by mail and married a fashion model named Evelyn. And he invented the Mickey Mouse watch.
Breger's idea, the now familiar concept of a cartoon character on the face of the watch whose arms swing around the dial, pointing to the hour and the minute, was patented, but the patent, Dee Breger said, was based upon paperwork drawn up by a law school friend, and the document had a "loophole you could drive a truck through" (mainly, her brother Harry told me, it wasn't clear whether the patent covered a general concept or a particular figure). The Disney truck roared through, loaded up Breger's notion intact, and disappeared down the block, leaving Breger behind without a legal leg to stand on.
"My memory of the story," Harry Breger said, "is that father altered a cheap watch for his own amusement and friends persuaded him it was good enough to spend money to get it patented. He then brought the idea to a large Chicago watch company—Ingersol, I think—which said, No thanks. A year later, guess who came out with the Mouse watch, which was such an immediate hit that it would have cost a fortune to defend a patent which was iffy anyway."
Meanwhile, at the sausage factory, Breger rose to become office manager, and his future seemed assured except for the precarious nature of ordinary life in the Windy City, which, by then, was a notorious gangland.
"Things might have been different if I hadn't been held up so much," Breger told an interviewer years afterwards. "Robbers were always singling me out. One time I was shot at, but a doorjam intervened between me and the bullet—and so I was saved. Then I had my car stolen four times, once at gunpoint. My father was being held up regularly, too, so I decided to chuck the sausage business."
On a 1937 vacation trip to New York, Breger took gag cartoons around to magazine cartoon editors and sold one to the Saturday Evening Post. Shortly thereafter, he left Chicago for New York to pursue a cartooning career. He achieved a modest success, selling cartoons to such magazines as Collier's, Esquire, Parade, This Week, and others in addition to the Saturday Evening Post.
About this time, his divorce from his first wife became final, and he met his second. These two events, Dee Breger told me, took place at almost the same instant.
"He was then living in an apartment in Brooklyn," she said, "and he was reading his divorce notice (which, presumably, had just arrived by mail) as he was walking up the stairs, when he saw a pretty 17-year-old girl sitting on the stairs, waiting to show an apartment." This was Dorathy Lewis. (Spelled with an 'a.') They married four years later, on January 11, 1942; by then, Breger was in the Army. And he would soon be in the neighborhood, on Church Street in downtown Manhattan, where Yank, The Army Weekly was billeted.
Early in 1941, Breger had been drafted into the Army and shipped off to Camp Livingston in Louisiana where, with the vocational strategy for which it is legendary, the Army assigned him to repairing trucks. In his off hours, he continued to draw cartoons, giving "moonlighting" a slightly different meaning: he worked, at first, in the bakery because it was the only place that lights were on all night.
"Even during maneuvers," he said, "I managed to carry on, sketching in the back end of a truck" by the light of the tail-light extension draped over his shoulder. In the spirit of patriotism that prevailed at the time, he signed all his cartoons "Pvt. Dave Breger."
Among the cartoons he did were some based upon his own experiences in the Army in which he drew a round-faced freckled and spectacled version of himself as the military misfit protagonist. These attracted the attention of the Saturday Evening Post, which offered to publish them as a series about a draftee's life in the Army. Breger titled the series "Private Rank," but when the Post began publishing them with the issue for August 30, 1941, the editors had re-titled the cartoons "Private Breger," elevating Breger's signature to the marque and, thereby, giving the series an added aura of authenticity.
When the Army finally realized Breger's talent, it did something very unusual: it decided to take him out of Motor Maintenance and put him to work drawing. He was transferred to the Special Services Division, and, judging from the subscript in his signature on the Post cartoons, he was sent to Fort Dix, New Jersey, and Fort Jay, New York and various other exotic locales. Eventually, in the spring of 1942, he was assigned to New York and the all-enlisted staff of Yank, which was about to be launched.
The editors asked him to do a cartoon like the Post's "Private Breger" but with a different name, and by the time of the magazine's first issue on June 17, 1942, Breger had reincarnated his alter ego as "GI Joe" (last name, Trooper), thereby coining a generic name for the ordinary infantryman that endured beyond the years of World War II. (During World War I, "GI" stood for "galvanized iron" and designated garbage cans; in explaining his use of the term to his new bride, upon whom he had tried out the name for his character, Breger said "GI" was standard argot for "government issue," a common expression in the WWII armed forces, and he chose "Joe" for the "alliterative effect.")
That summer, Breger was sent to cover the American military presence in England, becoming art editor of the British edition of Yank. He was one of the first two military correspondents thereabouts, and the role was so new to the Army that it hadn't, yet, developed the uniform insignia to designate it. Undaunted, Breger devised a shoulder patch on his own, yellow lettering on a dark brown field, reading "Correspondent U.S. Army."
Breger's cartoon persona attracted the attention of press lord William Randolph Hearst, who recruited him for King Features newspaper syndicate, and on October 19, 1942, Private Breger debuted in scores of the nation's newspapers. Henceforth, in addition to his weekly cartoon for Yank, Breger produced a daily panel cartoon for domestic syndication while also fulfilling his other obligations at the army magazine—taking photographs and doing miscellaneous artwork.
"He's a busy soldier," wrote Ernie Pyle, the legendary WWII correspondent, who also pointed out that Breger made five sets of photostatic copies of his cartoons, filing one set with the army's public relations office and sending three to King Features in New York, each by a different channel ("to be sure at least one gets there"), and one, by special request, to Supreme Allied Commander General Dwight D. Eisenhower.
This last requirement at first nearly paralyzed the cartoonist: "My production of cartoons came almost to a standstill," he recalled, "because of my concern that the General would take offense at most of my gibes at Army life." But Eisenhower's aide reassured Breger: "Don't worry about it—the General said he just wants to make sure of one laugh a day out of the War."
Breger denied that Private Breger was based upon himself. "That's not true," he told Michael Barsley, a British humorist. "But the public remains convinced."
Pyle thought there was a resemblance, too. "Breger looks a great deal like his cartoon [self] but he's much bigger. He stands five-feet eleven-inches and weighs around 175 pounds. His face is round, his hair thinning, and he wears colorless tortoise-rimmed glasses.
"His name is pronounced with a short 'e' as in 'egg,'" Pyle continued. "He says nine-tenths of the people he meets think his name is 'Berger.' He just lets it go. Breger doesn't smoke, and drinks very little. At first, he gives the appearance of being shy and formal, but that is soon over. He likes to talk, and he talks well. His conversation isn't wise-cracky nor witty, but facile and flowing. His cartooning is his main interest in life, and that's what he talks about mostly.
"He is a gentle-mannered man," Pyle concluded, "very sensitive to bluntness in others, and army life has been hard for him to take. I've found that true with many soldiers of his education and mentality. Breger says that once or twice he has been close to the breaking point, but by now, he's so well onto the ways of army life that he can take it."
In London, Breger once met Bairnsfather, then a captain, who had achieved cartooning immortality during World War I with his battlefield cartoons of Old Bill, a fat walrus-mustached old soldier whose most famous appearance was in a foxhole under fire where he tells a companion, "If yer knows a better 'ole, go to it."
Breger joked with his fabled predecessor: "I always wanted to be known as the Bairnsfather of this war. Now I hope you'll be known as the Breger of the last one."
Later, discussing the alleged humor of the Germans, Breger said: "Bairnsfather told me how the German militarists tried to inject humor into the Germany army. It seems a military handbook for the German forces, before the War, included a Bairnsfather cartoon to illustrate British war humor. This cartoon represented Old Bill near a huge shell hole in a wall. A young rookie asks what caused the hole. Old Bill replies, 'Mice!' In the German handbook a footnote has been added below this cartoon: 'Of course it must be realize that a shell caused the hole not mice.'"
While in London, Breger began to realize that he was becoming famous. He was naturally modest and unassuming. "When people would rave about the artistry of his cartoons," Dee Breger told me, "he'd say that cartooning was to art what a butcher was to a surgeon."
Still, the prospect of fame was seductive. He wanted to know: was he famous or wasn't he?
To find out just how well-known he was, he conducted an experiment. He asked his wife back in New York to send him a postcard addressed simply, "Dave Breger, England."
When he received the postcard, he knew: he was famous.
Fame, however, proved to have a life nearly separate from his. Once, while he was painting a mural of Private Breger on the wall of London's Washington Club, run by the Red Cross for servicemen, a kibitzer sneered, "Copying Dave Breger, eh?"
Others among the onlookers refused to believe that a "Dave Breger" actually existed. To establish his identity, the cartoonist resorted to pulling out his dog tags to show them.
Breger was understanding about it: "It was, for them, like meeting the actual Santa Claus, I suppose," he wrote later.
His fame, alas, didn't protect him from military protocol. Promoted to second lieutenant in March 1943, Breger was promptly banished from Yank, which published the work of enlisted men only. "GI Joe" appeared thereafter in the military newspaper, Stars and Stripes, until the spring of 1944, when it was discontinued in order to eliminate "duplication of efforts" (as Breger diplomatically put it).
Private Breger continued in newspaper syndication on the homefront, and for Stars and Stripes, Breger produced another cartoon, "GI Jerry," that satirized Nazi philosophy in a military setting through the device of what Breger called "an unpleasant German soldier" (a denomination possibly, as Breger said, redundant).
Breger's duties as cartoonist and correspondent sometimes took him away from London. He was scheduled to fly to Paris in December 1944 and was very nearly on the airplane that went down over the English Channel, carrying famed band leader Glenn Miller to a watery resting place. Breger, again according to Breger family lore, heard about a vacant seat he could fill on that fated flight, volunteered to fill it, but, at the last minute, reverted to his original plan. And escaped with his life.
When the War ended, he left the Army and so did his cartoon character: Private Breger became Mister Breger and continued syndicated life for the next two decades until the cartoonist's death after a short illness on January 16, 1970.
Breger's cartoon incarnation as a buck private is an almost childlike naif, meek and a little clumsy, confused but not at all dismayed by the alien environment in which he has been plunged by his local draft board. Vaguely baffled by it all, he is like every conscripted American of the time, who, unused to military life and custom, tries, in the best spirit but with sometimes risible results, to adapt.
Families left at home are equally puzzled by what their relatives encounter. In his inaugural appearance in the Post, entitled "Family Visit," Private Breger stands on a camp roadside with his father and mother, and, as a passing carload of officers return his salute, his mother says, "My, David, but you've made some awfully nice friends in the short time you've been here."
On another visit, his parents see him picking up cigarette butts while policing the grounds, and his mother says, "Good heavens, David! Why haven't you told us you needed cigarettes!"
A dutiful son, Private Breger applies the entrepreneurial spirit his father has inculcated in him by hawking throughout the camp his mother's periodic shipments of homemade cookies and fudge; later, he's on the beach, greeting a landing party by selling copies of Stars and Stripes and Yank. He tries to sell lieutenant bars to Officer Candidate School students and MacArthur buttons to Japanese POWs.
Much of the humor arises from a juxtaposition of inbred civilian attitude and unyielding military custom. In his barracks, Private Breger hangs a "Home Sweet Home" placard and faces disciplinary action for "inciting to mutiny."
On bivouac, he gets the morning newspaper and a bottle of fresh milk delivered to the "doorstep" of his tent every day, and his superiors say, simply, "We don't know how he does it."
At the front, Private Breger delivers a "secret" message to his commander by singing it, and an observer explains that in civilian life he delivered singing telegrams.
Carrying a violin case, he is admonished by his sergeant, "I don't care how they do it in the movies. Take your rifle out of that violin case!"
Another time, Private Breger sends his rifle out to a professional laundry to be cleaned. Later, he digs a foxhole using a toy steam shovel that he had sent to him from home; yet another time, he uses a jack hammer, and his comrades-in-shovels say, "Why can't he dig his foxhole like everybody else?"
Said Breger: "I find that Army life, certainly, gives me an unlimited store of ideas. Once you compare an item of military routine with its civilian counterpart, why, you have a humorous contrast all set and ready to be drawn."
Private Breger is often distracted from his military purpose by some deeply ingrained civilian outlook. He is discouraged from using a baseball bat to increase the distance he can lob a hand grenade. From the second floor window of a barracks, he drops a water balloon on a passing officer in the hopes that his demonstration of expertise will get him assigned to bombardier school. When a tank gunner gets married by long-distance phone call, Private Breger ties tin cans and a sign, "Just Married," to the back of the tank.
On New Year's Day, he greets the morning with noise makers left over from the previous night's celebration instead of using a bugle. Once in combat, he hires body guards to protect him from the enemy, saying there's nothing in the Articles of War that prevents his doing so. At the rifle range, Private Breger wants to know where to cut the notches on the rifle.
The military's institutional mind-sets are frequently ridiculed. Standing in ranks and looking askance at a stack of picks and shovels that suggest his next task, Private Breger is advised by his sergeant to "wipe that opinion off your face." On another occasion, his commanding officer sends him off with the following: "Here are your secret orders where to go. You are not to open them until you reach your destination safely."
In the company office, he's given another order: "Arrange these documents alphabetically and then burn them."
The saluting tradition is a frequent target. Private Breger stands at a curve in the road and salutes passing officers on bicycles, and they all crash because they're distracted from steering by the requirement that they return the salute. Private Breger goes out of his way in town to walk by an apartment building whose doorman salutes him. He also strolls repeatedly by a sidewalk cafe table at which officers are trying to eat their meals but can't because they must return his salute every time he goes by.
But throughout his military adventures, Private Breger exercises considerable ingenuity and enthusiasm for the work. Going into battle, he wears a horned helmet like a Viking because, he explains, it gives him more confidence. He carries a picket sign, urging a Second Front. He paints flies on a horse on the theory that real flies, seeing the crowd on the animal, will go elsewhere.
On a long march, rather than shoulder his rifle, he puts the butt in a roller skate and trails the weapon alongside, saying to an irate sergeant, "Well, they do it in the artillery, don't they?"
Breger's drawing style, achieved without benefit of any art instruction (like that of many cartoonists), is straightforward unadorned outline, no linear variation or stylistic pyrotechnics except solid blacks and gray tones strategically placed to enhance readability.
Pyle observed a visual rhetoric in the cartoons: "Breger always makes officers bigger than privates. And he always makes officers' jaws jutting and privates' jaws rounded. That's to show 'authority' and 'obedience,' he says."
His gags often demand detailed pictures of equipment and setting, and Breger was adept at drawing whatever was needed from virtually any angle. He was dedicated to realistic accuracy.
"If you see a tank," he said, "it's correctly drawn. In one cartoon, I have a soldier's kit laid out on the bed: it's checked down to the last item. The detail of an air-gunner's weapon and turret gave me some work, but it's correct. This gives me a lot of satisfaction, especially as I never had a drawing lesson, and the details don't seem to hinder the fun."
On one occasion, though, the fun was hindered by Breger's passion for authenticity: he drew into one cartoon a tank so accurate in detail that the military censor wouldn't let it be published.
In post-war civilian life, Mister Breger remained the cheerful well-meaning victim of his circumstances. Breger assigned his character to any and all occupations—truck driver, store clerk, mailman, salesman, fireman, citizen—wherever the cartoonist's search for a gag took him. As a result, Mister Breger is more prop than personality except for his eternal haplessness.
On an automobile trip with his wife, they run out of gas, and he walks to the nearest town; when he returns with a can of gasoline, his wife tells him that she played the radio to pass the time and now the battery is dead.
He plants a roof garden, and the roots come through his ceiling. He's shown installing a sign on his front yard that reads "Cheese for Sale"; looking on, his wife says, "Next time we go away for the summer, I hope you'll remember to stop the milk delivery."
Mister Breger was a generally humorless victim. His creator was quite the opposite. Reflecting on life in the Army, Breger produced the following recollection, rampant with irony:
"In my basic training period, our company assembled to be instructed in the art of safely opening the first aid kit every soldier carried. I say 'safely' because it was a sealed metal container that had to be opened, when the emergency arose, like a can of sardines. And inexpert handling might result in a cut finger.
"A medical officer," continued Breger, "demonstrated the proper procedure to us and cut his finger opening the first aid kit. He promptly utilized its contents to bind his wound. I do not know what the moral of this story is or precisely what bearing it has on accident prevention, but I think it makes a good story."
Dee Breger remembered another good story about the big house with a large stone-wall basement they once lived in. Her father somehow obtained the skeletal arm of some long-departed human, and he affixed it to the stone wall in the basement, put a candle in its outstretched hand, the wax dripping onto the fingers, and told his children (which by this time included Lois as well as Dee and Harry) that it was their grandfather.
"I don't remember being told it was grandpa," Harry said. "But the arm is real. I have it here at work, guarding a box of important items such as Dad's college paper, 'Theme for Advanced General Psychology,' dated May 31, 1929." Harry's work, incidentally, has nothing to do with human remains: he was, he said, enough influenced by "family life" that he practices commercial art as a graphic designer in the publications department of Boston University. Lois's life also took an artistic bent: although presently a children's librarian in Savannah, Georgia, she spent many years as a puppetry artist-in-residence with the South Carolina Arts Commission.
In 1955, Breger edited a collection of "rejected" (or "censored") cartoons for Bantam Books. Titled But That's Unprintable, the book included Breger's running commentary on the various taboos the governed the selection of magazine cartoons.
"Who sets up the cartoon taboos?" he began. "The editors of the magazines, newspapers, and newspaper syndicates. Nobody, of course, should begrudge them their right to censor their own comics. That's their business. But, please, let it not be trumpeted that these same editors are holding aloft the torch of Freedom of the Press as gloriously ablaze as our Founding Fathers so nobly intended. On the contrary, where the cartoons are concerned, that part of the torch is fizzling. And getting feebler.
"The trend," he continued, "is towards more taboos in the cartoons, not less."
And he then demonstrates with chapters on cartoons about sex, religion, drinking, death, nudity, body parts, deformities, and cursing that "the whole business of taboos in humorous cartoons boils down to three words: don't risk offending. Or, the DRO code."
Don't even risk it.
Not much has changed, I'd say. Except for Playboy and its ilk, DRO has proved contagious to the point of epidemic. It has spread from cartoon editors to newspaper editors to broadcast executives and, even (wonder of wonders) to our so-called political leadership, chiefly those in Congress.
In the 1960s, Breger developed and taught a course in General Cartooning for New York University, one of the first such courses on the university level. He subsequently translated his experiences into a book, How to Draw and Sell Cartoons (1966), one of the best on the subject. (And the best demonstration of perspective I've ever witnessed.)
The dust jacket of the book contains a hitherto undisclosed scrap of cartoon history. Or, perhaps, "non-history" or "fraudulent history." You decide.
Here's Dee Breger's explanation: "For cartoon buffs who try to identity all the comic characters whose faces appear on the cover, one will always be elusive. That's because it's not, strictly speaking, a comic character. I was home from college just when my father was mocking up the cover, and I jokingly asked him if he'd put a drawing of mine in among the others. He said he would if I could get it to him in 15 minutes. And I did. It's a kind of self-portrait, and it was our own little private joke."
Until now. Dee's self-portrait is sandwiched between Archie and Popeye. And judging from even this meager evidence, she should have been a cartoonist.
What she is, however, is an electron microscopist, which is what you call the person who operates a transmission electron microscope. She graduated from the University of Wisconsin with a BS in Art but "fell in love with the TEM," at which she proved to be adept "not only at the imaging but the technology—sample preparation and darkroom photography."
She's spent her career to the Lamont-Doherty Earth Observatory, "Columbia University's world class earth science research institute," where she was eventually promoted to Officer of Columbia University and manager of the facility employing the scanning electron microscope with accompanying X-ray analyzer and photographic accouterments, a position she has held for the past twenty years.
"In the last ten years or so," she said, "I've been creating electron micrographs of research samples and other samples I collect myself and turning them into 'microgaphic art,' a description I coined because there wasn't one." She has published two books of micrographic art for the general reading public—Journeys in Microspace, a coffee-table volume, and a smaller book, Through the Electronic Looking Glass (both 1995). At present, she is looking for a publisher for her next two books—Destination Microworld, a sequel to Journeys, and Spiderscapes, "a monograph of surprisingly beautiful images from a magnified tarantula."
Her father, as far as I know, never had any truck with spiders. Despite the long run of Mister Breger, Breger's lasting contribution to American culture is the invention of the term "GI Joe."
Broadway columnist Damon Runyon found the term distasteful. Consulting a dictionary of slang, he found that "Joe" was an expression used "to deride." Said Runyon: "That is what I had in mind in objecting to 'GI Joe.' I think it is a derisive term." But he eventually conceded that soldiers had accepted the appellation without prejudice, and, if anything, they seemed grateful to Breger for making the expression widely known.
In any event, the term survived. We may not much remember these days Breger's mild-mannered, well-intentioned misfit. But we appreciate GI Joes everywhere we find them.
And now, here's a gallery of Breger.
This article originally appeared in an issue of Hogan's Alley. Breger's books: Private Breger: His Adventures in an Army Camp (1942; reprints of the Saturday Evening Post cartoons), Private Breger in Britain (1944), Private Breger's War (1944), The Original "GI Joe" ("Private Breger") (1945), But That's Unprintable (1955), How To Draw and Sell Cartoons (1966).