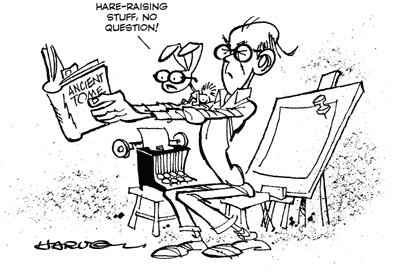 The Whole Sordid Story

Harvey has had no formal training in cartooning and very little (as you might deduce) in writing other than actual experience on the campus newspaper at the University of Colorado, from which he graduated in 1959.
He says he's been drawing cartoon characters since the age of seven, when he started copying pictures in comic books.  "After about ten years," he said, "I'd copied so many different cartoonists and borrowed such a variety of styles that no one could tell who I was copying any more.  I had arrived."
Harvey's first encounter with magazine cartooning was in college where he drew cartoons for the campus humor magazine, The Flatiron.  It was here that he first used a tiny drawing of a spectacled rabbit ("Harvey the Rabbit," shades of Mary Chase) as his signature.  (For the Exhaustive Discussion of the Rabbit, click here.) 
After college, Harvey freelanced at cartooning in New York City for a time, then went into the Navy, where he eventually spent over $9 million as paymaster aboard the famed USS Saratoga (CVA 60).  Although he enjoyed cruising around the blue Mediterranean, his interest in things nautical was, at best, merely fleeting.  Upon discharge after three years, Harv turned to teaching.
"I taught high school English for several years," Harvey reported, "but I had to give it up when I discovered that I wasn't supporting myself at it.  It was just as well: Being an English teacher is somewhat like being a carrier of the plague.  As soon as my occupation became known in mixed company, whatever throngs were within earshot would immediately clam up and begin looking nervously over their shoulders for split infinitives, dangling participles, off-color adjectives, and similar kinds of disorderly grammatical conduct (all of which, I should say, are entirely permissible between consenting adults.)
"It's demoralizing to be thought of as the watchdog of everyone else's language," Harvey continued.  "Not only that, it's lonely.  So in an attempt to demonstrate that I was just one of the fellas on the corner (like everyone else), I began to draw cartoons about sexy girls--some of them in broken English, some of them in nothing at all."
This effort, as might be expected, did not produce a living wage.  For that, Harvey found work as an advance man for a school teachers' road show (that is, as convention manager for a teachers' association).  He persisted in this thankless task for nearly thirty years before giving it all up for the blissful state of retirement, where he now resides.
In addition to columns and articles for numerous comics-related publications, he authored two theoretical and historical tomes about cartooning:  The Art of the Funnies (1994, an "aesthetic history" of the comic strip), The Art of the Comic Book (1996), both from the University Press of Mississippi.  He also collected and edited two volumes of Cartoons of the Roaring Twenties for Fantagraphics Books (1991 and 1992) and contributed biographies of cartoonists to the American National Biography from Oxford University Press.  He was associate editor (for comic strip content) of the short-lived scholarly journal, Inks: Cartoon and Comic Art Studies (1994-1997). 
Harvey also produced over 150 biographies for a collection of cartoonists' self-caricatures, A Gallery of Rogues: Cartoonists' Self-caricatures, and wrote the monograph The Genius of Winsor McCay (both from Ohio State University Libraries, 1998).  In addition, he was guest curator of an exhibition of original comic strip art for the Frye Art Museum in Seattle (September-October 1998) and wrote the accompanying catalogue, Children of the Yellow Kid (Frye Art Museum/Washington University, 1998).  Subtitled "The Evolution of the American Comic Strip," the book examines the growth and development of the medium through five distinct "movements" or modes.  
Works in progress include the definitive biography of Milton Caniff (creator of Terry and the Pirates and Steve Canyon) and Accidental Ambassador Gordo: The Comic Strip Art of Gus Arriola (due out in the summer of 2000), Conversations with Milton Caniff (summer 2001)--both from the University Press of Mississippi--as well as a collection of the cartoons of T.S. Sullivant.  Harvey continues to produce a regular column in The Comics Journal (a bi-monthly magazine) and an occasional column in The Comics Buyer's Guide (a weekly newspaper) as well as articles on individual cartoonists whom he interviews for a quarterly magazine, Cartoonist PROfiles.

The Rabbit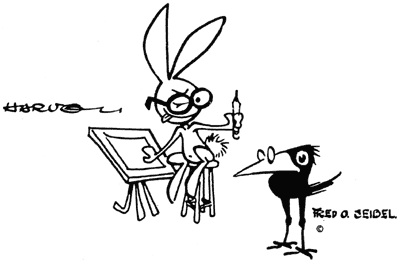 Or, A Real Hole Story
by R.C. Harvey

As reported previously, I concocted the rabbit dingbat while cartooning in college.  ("Dingbat" is the highly technical term used to denominate small visual devices that cartoonists use in lieu of a verbal signature.) 
But I didn't use the rabbit again for a long time after I escaped from college.  I didn't use it on any of my girlie cartoons because Playboy seemed to have the franchise on rabbits, and I was pretty sure Hugh Hefner wouldn't publish any of my cartoons if I signed them with a rabbit that would seem to be imitating the magazine's mascot.  And certainly no rival publication would.  (As it happened, Hefner never published any of my cartoons anyway, rabbit or no.)
Finally, I realized that women don't make passes at rabbits who wear glasses, so the world seemed safe for my rabbit again.
But Pat Oliphant stopped me.  No, he didn't actually speak to me about it, but I was afraid that people would think I was aping him with his diminutive penguin, Punk, who adorns all his editorial cartoons.  I didn't want to be perceived as a rank copycat.
Then I got peeved.  Hey, I said (to myself), I was using a rabbit as a signature as early as the fall of 1955, nearly a decade before Oliphant turned up on these shores.  So I decided not to let the Aussie-come-lately prevent me from deploying my rabbit again.  (He had stood in the way for over twenty years as it was.)
Besides, editorial cartoonists long before Oliphant used dingbats.  My inspiration was Fred O. Seibel, editorial cartoonist for the Richmond Times-Dispatch for over three decades, who accompanied his signature with a bespectacled crow--called "Jimmy Crow" at first, then, after racial sensitivity set in, "Moses."
I call my rabbit Cahoots.  I call him that but that's not his name.  He may not have a name.  Or his name might be Harvey.  I chose the rabbit, as disclosed earlier, because the name Harvey had become associated with a rabbit thanks to Mary Chase's play, Harvey, the title of which was inspired by one of the central figures of the production, a six-foot rabbit, usually invisible, called "Harvey."  My stratagem was that readers would see the rabbit in my drawings and think--immediately, as a virtual knee-jerk or Pavlovian drool--"Harvey!"
Clever, eh?  Well, I'm only five-foot-eleven-inches tall, but I have some rabbit habits.