Opus 339 (April 19, 2015). This time, we solve the mysteries in the cartoon origin of the Teddy Bear (replete with previously unknown facts!). Plus: cartoonists' fate in other oppressive countries, nominees for the Silver Reubens from the National Cartoonists Society, Trudeau criticizes Charlie Hebdo for abusing satire, Frank Cho's Manara cover spoof, Eric Larsen vs. "the vocal minority"; and reviews of funnybooks (Lady Killer, Howard the Duck and others). And more, always more—including reviews of 16 books and 7 obituaries (all listed immediately below). Here's what's here, in order by department—:
NOUS R US
Trudeau: Charlie Hebdo Went Too Far*
Political Cartooning in Today's World
The State of Magazine Cartoons
Rare New Editoonist Gig
CARTOONISTS IN OTHER LANDS
Turkish Cartoonists Fined for Obscene Gesture
French Jewish Cartoonist Arrested for Anti-Semitism
Malaysian Zunar Faces 9 Counts of Sedition
Ecuadorian Cartoonist Censored
Swedish Conceptual Artist Vilks Honored
IN THIS COUNTRY:
Censoring Palomar Fails—For Now
NOMINEES FOR NCS SILVER REUBEN
ODDS & ADDENDA
New Wimpy Kid Book
Pentagon Dropping Cartoon Leaflets in Syria
Matt Wagner on Will Eisner's Spirit
Alan Moore's Jerusalem at Publisher
Tintin Pulled Then Reinstated in Canadian Bookstore Chain
Bill Watterson Interview
Doug TenNapel Nominated for Emmy
THE ABUSE OF SATIRE
*Trudeau's Full Text Verdict on Charlie Hebdo
Reactions
COMICS JOURNALISM IS DIFFERENT. OR NOT.
They Shoot Black People, Don't They?
Keith Knight on the Road
COVER CONTROVERSY
Batgirl No.41
Frank Cho's Manara Spoof
Dennis the Menace and Archie
APPEASING THE "VOCAL MINORITY"
Erik Larsen Is Against It
NEWSPAPER COMICS PAGE VIGIL
Zits and Pickles Peeing
ACCRETION OF INTENTION DEPARTMENT
Really Short Reviews Of—:
Jack Davis: Drawing American Pop Culture, A Career Retrospective
The Cisco Kid, Vol. 1, 1951-1953
Wally Wood: Classic Tales of Torrid Romance
Wally Wood: Strange Worlds of Science Fiction
Cannon
The Art of Ramona Fradon
Berlin: Books One and Two
BOOK MARQUEE
Slightly Longer Reviews Of—:
Heroes of Comics: Portraits of the Legends of Comic Books
Cats, Dogs, Men, Women, Ninnies, Clowns: The Lost Art of William Steig
Sherlock Holmes in a Study in Scarlet (Gris Grimly)
Lincoln for Beginners
Perfect Nonsense: The Chaotic Comics and Goofy Games of George Carlson
COLLECTORS' CORNICHE
Percy Crosby's Skippy, Jack Farr, Theodore Roosevelt Caricatures
BOOK REVIEWS
Reviews At Length Of—:
Bully! The Life and Times of Theodore Roosevelt (with Cartoons and the Origin of the Teddy Bear)
Foolbert Funnies: Histories and Other Fictions (Frank Stack)
LONG FORM PAGINATED CARTOON STRIPS
(Graphic Novels)
Law of the Desert Born
The Sculptor
FUNNYBOOK FAN FARE
Discussions Of—:
Lady Killer
King Comics: Prince Valiant, The Phantom, Mandrake, Jungle Jim, Flash Gordon
Howard the Duck
Zombie Tramp
PASSIN' THROUGH
Jim Whiting
Irwin Hasen
Fred Fredericks
Jim Berry
Yoshihiro Tatsumi
Roger Slifer
Stan Freberg
Our Motto: It takes all kinds. Live and let live.
Wear glasses if you need 'em.
But it's hard to live by this axiom in the Age of Tea Baggers,
so we've added another motto:.
Seven days without comics makes one weak.
(You can't have too many mottos.)
And our customary reminder: don't forget to activate the "Bathroom Button" by clicking on the "print friendly version" so you can print off a copy of just this installment for reading later, at your leisure while enthroned. Without further adieu, then, here we go—:
NOUS R US
Some of All the News That Gives Us Fits
TRUDEAU: CHARLIE HEBDO WENT TOO FAR
Doonesbury's Garry Trudeau was at Long Island University on April 10 to receive the George Polk Career Award, an award conferred annually to honor those whose careers represent special achievement in journalism. The awards place a premium on investigative and enterprising reporting that gains attention and achieves results. They were established in 1949 to commemorate George Polk, a CBS correspondent murdered in 1948 while covering the Greek civil war.
As we reported last time, Trudeau is the 33rd person to garner the honor, but the first cartoonist to do so. Four other cartoonists— Jules Feiffer (1961), David Levine (1965), Jeff MacNelly (1977), and Edward Sorel (1980)—have also been cited for their work in specific years, but no cartoonist until Trudeau has received the Career Award.
During his remarks made in accepting the award, Trudeau reviewed his career producing one of the most frequently banned comic strips in the medium's history—banned for saying things that too many people regarded as offensive. In that connection, he talked about Charlie Hebdo, the satirical weekly in Paris, the offices of which were attacked by Muslim terrorists on January 7. What he said about Charlie has created no little stir in cartooning circles. We have posted the entire speech below (albeit on the other side of the $ubscribers Wall); but here, we quote those of his remarks that have alarmed many (all in italics):
Traditionally, satire has comforted the afflicted while afflicting the comfortable. Satire punches up, against authority of all kinds, the little guy against the powerful. Great French satirists like Molière and Daumier always punched up, holding up the self-satisfied and hypocritical to ridicule. Ridiculing the non-privileged is almost never funny—it's just mean.
By punching downward, by attacking a powerless, disenfranchised minority with crude, vulgar drawings closer to graffiti than cartoons, Charlie wandered into the realm of hate speech, which in France is only illegal if it directly incites violence. Well, voila—the 7 million copies that were published following the killings did exactly that, triggering violent protests across the Muslim world, including one in Niger, in which ten people died. Meanwhile, the French government kept busy rounding up and arresting over 100 Muslims who had foolishly used their freedom of speech to express their support of the attacks.
Guided by DailyCartoonist.com's Alan Gardner, we found the full text of Trudeau's speech at theatlantic.com, and, as I said, we've posted all of it further down the scroll.
POLITICAL CARTOONING IN TODAY'S WORLD
In a press release, the Library of Congress announced that Pulitzer-winning cartoonists Signe Wilkinson and Ann Telnaes will share their perspectives on the art of political cartooning and show examples of their own cartoons, starting at noon, Thursday, April 30. The event is free and open to the public. No tickets are needed.
Under the heading "That's Not Funny!," Wilkinson and Telnaes will address several topics that currently affect a political cartoonist's approach to his or her work. Each cartoonist will describe her initial reaction to the murders of cartoonists at Charlie Hebdo magazine in Paris, and her responses in cartoon and other formats. They will also share their perceptions about collective responses to the events from the cartooning community.
The broader, related issue of exercising freedom of expression in the art of cartooning also will be discussed by the cartoonists. Both will show, and comment on, their own cartoons that have triggered controversy and aroused strong negative and/or positive responses.
Wilkinson is the editorial cartoonist for the Philadelphia Daily News and Telnaes creates animated editorial cartoons and a blog of print cartoons, animated gifs and sketches for the Washington Post. The only women so far to have won the Pulitzer Prize for their political cartoons, each also has won many other prestigious awards in the field. They are among a small number of women who pursue political cartooning as their main professional focus. Both will comment on their own experiences as women in a cartoon specialty heavily dominated by men.
THE STATE OF MAGAZINE CARTOONS
Magazine cartoons have all but disappeared except in the nation's two best venues for single-panel "gag" cartoons: they're holding their own. I was mildly alarmed a few weeks ago when The New Yorker for March 23 arrived with only 10 cartoons, a disastrous drop from its usual 12-17 per issue. But the next issue, with 19 cartoons, brought the average back into its usual range.
Playboy, the other major cartoon outlet, is still printing about 15 cartoons each issue despite the steady decline in the total number of pages. The last two issues (March and April 2015) offered 5 full-page color cartoons (plus the "pin-up" cartoon by Olivia) and 8-9 smaller cartoons and a couple of strips (including Bobby London's Dirty Duck). Although the number of cartoons in each issue has slowly declined over the last decade or so, the ratio of cartoons to total page count (which has also declined) remains fairly steady. In the March and April issues, taken all together, Playboy averages 1 cartoon for every 8-9 pages; 1 full-page color cartoon for every 25-28 pages.
In the best of all cartooning worlds, the number of pages per cartoon would be fewer. Instead of encountering a cartoon every 8-9 pages, you'd like to come across one ever 3-4 pages, say. But the March-April ratios are about the same as it's been lately.
Parade, the newspaper Sunday supplement magazine, has apparently given up on cartoons. Several months ago, it published a little booklet with a half-dozen or so cartoons in it. That exercise seemingly exhausted the magazine's inventory of unpublished cartoons: none have showed up since.
RARE NEW EDITOONIST GIG
At Cagle.com, Daryl Cagle announced that former Memphis Commercial-Appeal and the Detroit Free-Press editorial cartoonist Bill Day has taken a full-time position with the Florida web site FloridaPolitics.com. Said Cagle: "New jobs for editorial cartoonists are rare these days, and full time jobs with Web site firms are even more rare, so this is great to see! Kudos to Peter Schorsch of FloridaPolitics.com for being a brave trendsetter who sees the need and value of having a staff cartoonist and local cartoons. Bill will be drawing about Florida issues, at least five cartoons a week, in addition to illustrations for the site."
With Day's new job, the number of full-time staff editorial cartoonists jumps from 50 to 51.
NEWSPAPER PRINT COMIC STRIPS AREN'T DEAD
A Nashville entrepreneur is toying with the idea of launching a weekly 6-page comic newspaper delivered via mail. From the press release:
Seeking to preserve a uniquely American art form, Nashville based media entrepreneur Logan Sekulow announced the launch of Laugh-O-Gram, a weekly, family friendly comic strip only newspaper delivered by mail. Acknowledging the importance of grassroots support, Sekulow chose Kickstarter to launch the paper.
Each issue of Laugh-O-Gram will feature six full-color pages of classic and original comics. Sekulow hopes to bring the funnies to a new generation, while retaining what made them appealing to the pre-2000s generation. The paper, printed on newsprint, will be delivered directly to the mailboxes of subscribers. With traditional newspaper subscriptions in decline, Sekulow saw a need to save the "funny pages."
Classic titles include Peanuts, Garfield, Family Circus, Beatle Bailey, Amazing Spiderman, Popeye, Dennis the Menace, Zits, Ziggy, Baby Blues, Hi and Lois, The Phantom, Dilbert, FoxTrot, Nancy and more.
Along with the classics, Laugh-O-Gram hopes to foster a new generation of comics through original content supplied by accomplished and aspiring cartoonists. So far, this roster includes:
The Kid In Me by Noah – Celebrating the kid in each one of us. Some of us imagined being a doctor; others, an attorney.
Px – The life of a punk rock misfit with a love for music. Based on the original character the Pokinatcha Punk, the icon of the band MxPx.
Middle C by Jon Schneck—The unintentionally hilarious life of a brilliant middle child.
ArtMan – Art History Teacher by day, Superhero… kind of.
Retails – The story of a nervous turtle named Jitter making his way in the hectic world of retail and relationships.
Zaob – Guerrilla warfare takes place on a grand scale between two mischievous siblings and their homeschool parents.
CARTOONISTS IN OTHER LANDS—:
Where The Powers That Be Don't Like To Be Laughed At
■ In Turkey, from Cartoonists Rights Network International: Cartoonists Bahadir Baruter and Ozer Aydogan, from the Turkish satirical magazine Penguen, appeared in court charged with "insulting" Turkish President Recep Tayyip Erdogan. The indictment relates to a cartoon placed on the front cover of the magazine last August, depicting the President meeting two officials outside his newly completed presidential palace.
The cartoonists explained in court that the cartoon was making a comment on the victimization of journalists, the President replying to the greeting within the cartoon with "What a bland celebration. We could have at least sacrificed a journalist" —an allusion to a Muslim practice of ritual sacrifice.
But the insult was conveyed by another allusion, according to hurriyetdaillynews.com. One of the welcoming officials is buttoning his jacket, his fingers making a "ball-shape," a gesture customarily used to imply that the person being addressed is homosexual.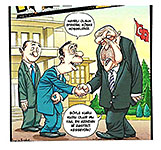 Baruter explaining that was not the intention, stressing too the problematic nature of predicating the law suit the idea that being homosexual is insulting.
"If you look at the whole picture," he explained, "you see that the joke has got nothing to do with the gesture."
Aydogan, whose idea Baruter illustrated with the cartoon, stated that the cartoon was simply a comment on the lack of press freedom in Turkey.
Initially, the two cartoonists were sentenced to 11 months and 20 days in jail, but the sentence was subsequently commuted to a fine of 7,000 Turkish liras (about $2,700).
Penguen said it would appeal the verdict, adding: "We will continue to draw our cartoons as we feel like. We hope this case will be the last example of the efforts to dismay the freedom of thought."
■ Turkish President Erdogan is particularly edgy about cartoon criticism, according to Aljazeera.com. He has lashed out at Charlie Hebdo, the French satirical magazine, for its "provocative" publications about Islam, saying the weekly paper incites hatred and racism.
"This magazine [is] notorious for its provocative publications about Muslims, about Christians, about everyone," Erdogan told a meeting of businessmen in Ankara recently. "This is not called freedom. This equates to wreaking terror by intervening in the freedom space of others. We should be aware of this. There is no limitless freedom," he said.
"They may be atheists. If they are, they will respect what is sacred to me," said Erdogan.
"If they do not, it means it is a provocation, which is punishable by laws. What they do is incite hatred, racism," he added.
In solidarity with Charlie Hebdo, Turkish daily Cumhuriyet published a four-page pull-out including some Charlie Hebdo cartoons (translated into Turkish) which prompted prosecutors to open an investigation into two commentators writing for Cumhuriyet.
Erdogan has sued "dozens of people" for purportedly insulting him.
Speaking to Al Jazeera from Istanbul, Emma Sinclair, the senior Turkey researcher with U.S.-based Human Rights Watch, said that there was a pattern with the recent prosecutions on alleged insults towards politicians: "A lot of prosecutors seem to act on their own initiatives in opening cases. There have even been some activists, not only prosecuted but put into prison for insulting Erdogan."
She added that Erdogan was not the only Turkish politician pursuing lawsuits on alleged insults of his critics.
Erdogan sued Penguen in 2005 when he was prime minister for depicting him as several different animals. A court threw out the case in 2006.
Most recently, 37 students and teachers appeared in court in the northern city of Trabzon on charges of insulting the president at a protest in February. A 16-year-old is also being tried in a similar case.
In a case opened by Erdogan's lawyers in February, former Miss Turkey, Merve Buyuksarac, faces up to 4-and-a-half years in prison over social media comments allegedly insulting to Erdogan.
■ In France, from Alan Gardner at DailyCartoonist.com: A French Jewish cartoonist was arrested on charges of Anti-Semitism for a cartoon he drew in 2011. Anadolu Agency reported:
"The environment after the Charlie Hebdo attacks is just like post-September 11. You are either Charlie, or a terrorist," cartoonist Zeon said in an interview with the Agency. After the 2001 terrorist attacks in the U.S., then-President George Bush had famously drawn the red line as "either you are with us or you are with the terrorists" at the start of his so-called war on terror.
The Jewish cartoonist was arrested in early March and sent to court in Paris for his alleged "anti-Zionist" drawings, in particular for a cartoon he made in 2011 that depicted a Palestinian child being stabbed by an Israeli-flag shaped knife. His arrest followed a complaint that was reportedly filed by the International League Against Racism and Anti-Semitism.
Zeon alleged that his arrest was ignored by the mainstream French media since talking about his case would contrast his situation to the January 7 attacks on the French satirical magazine known for printing controversial material, including derogatory cartoons of Prophet Muhammad in 2006 and 2012.
Firstly, said Gardner, free speech should prevail in a case like this. Secondly, if free speech isn't the norm, what about statute of limitations on things people say. 2011? What if in the last four years, he's changed his mind on an issue?
■ In Malaysia, from the malaymailonline.com: Political cartoonist Zulkiflee SM Anwar Ulhaque, aka Zunar, has been charged with 9 counts of sedition, all of which, he says, are part of the government's effort to silence him from criticizing the Barisan Nasional regime. If he is found guilty on all charges, he would be jailed for a maximum of 43 years.
"At the very last minute," Zunar said, quoted in theadministrator.com, "they changed the original one charge to nine charges, resulting in RM45,000 bail (later reduced to RM22,500) by the court). This was clearly to punish me even before trial.
"The charges are evidently politically motivated, and a new level of intimidation and harassment against me," Zunar added, "—part of a grand modus operandi to stop me from drawing critical cartoons."
Throughout his career as a cartoonist, Zunar's human rights have been under attack by the Malaysian police and authorities who say his cartoons are "detrimental to public order." According to the administrator.com, Zunar has been detained twice under Malaysia's archaic Sedition Act. Five of his cartoon books have been banned. His office in Kuala Lumpur has been raided a few times.
It is not just Zunar who is being targeted; the printers, vendors, and bookstores around the country that carry his cartoon works, have been harassed. Their premises have been raided and they have also been warned not to print or carry any of his titles.
Zunar is undeterred.
"The use of the Sedition Act came as no surprise for me as in a corrupt regime, the truth is seditious," he said, quoted by themalaysianinsider.com. He vows to continue. "I will not be silenced. I will keep exposing the corruptions and wrong-doings of the BN government. I will keep drawing until the last drop of my ink."
Meanwhile, he is suing the the police for damaging the original art of a cartoon that was seized in September 2010, along with 66 copies of his book, Cartoon-O-Phobia.
■ In Ecuador, from Comic Book Legal Defense Fund: Ecuadorian cartoonist Xavier Bonilla (aka Bonil) is a frequent target of governmental censors in a country that has become more repressive since Rafael Correa became president in 2007. In the guise of "democratizing" the press, he issued a series of new communications laws that have the effect of restricting freedom of the press.
Said Caitlin McCabe at CBLDF: "Cartoonist Bonil, who pulls no punches when criticizing the government in his cartoons, was recently charged with 'socioeconomic discrimination' and fined $500,000 by the Ecuadorian government in an attempt to stifle free speech. This is not the first time that Bonil and his work have come under attack, nor will it probably be the last."
"There have always been tensions between the government and the press," Bonil commented during his interview with Freedom House. "This is the first time in the country that there is a specific governmental policy directed to control the media. The 'democratization' did not mean to expand the number of people talking, but to limit the media to whomever the government wanted to hear."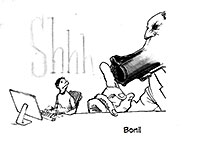 Bonil fears that the situation is only getting worse: "I see the situation deteriorating. In 2014, it became more evident that the government is intent on punishing and oppressing critical voices from media and civil society, as well as private citizens who are on Twitter or social media. This illustrates the growing intolerance against dissident or critical voices. There has also been an increase in the fines against media companies.
"Paradoxically," he adds, "the role of a cartoonist is to be a dissident, to not have a role. This allows me to see what is happening from outside the system. It allows me to be a critical voice, to be a discordant voice in the choir, the choir being the unanimous voice of the regime."
Bonil's troubles have lately stemmed from beyond his country's borders. El Universo, the newspaper that often prints his work, received a letter of warning from supports of the Cutthroat CalipHATE:
"Once again, the cartoonist for El Universo, ridicules the Islamic State with his drawings, and names Allah. ... The next time I see a cartoon similar to what I have mentioned in your journal, I will call my friends in Syria to alert them about what is happening in Ecuador, so they can come and kill the wretch who is doing this. ... [They will] make an attack against the newspaper El Universo such as the one that happened in France with the magazine Charlie Hebdo. ... This is the last time, Bonil, or you will regret it."
The letter was a response to a cartoon entitled "Fundamentalism and Barbarism," McCabe explained, "which was published on March 1. It depicts ISIS group members performing destructive acts with the caption, 'Let's put an end to cultural expressions of the infidels!' The second panel shows a man in a turban, ostensibly a member of ISIS, sitting at his computer cursing, 'By Allah! The Internet is slow ... I cannot submit our video to Twitter and Facebook.'"
Bonil commented that the threat comes from a "climate of hostility and harassment against citizens and journalists," noting two other recent cases of governmental acts against cartoonists for their "anti-governmental" work. Bonil says he will continue to draw despite threats and actions against him.
Said McCabe: "The state of freedom of speech and expression is in a precarious position in Ecuador."
SWEDISH CARTOONIST HONORED
Swedish conceptual artist Lars Vilks, who has been dealing with death threats from Muslims in Europe ever since drawing a dog with Muhammed's head in 2007, received the Sappho Award from the Free Press Society of Denmark. The prize is for courage in the advocacy of free speech and is named after the Greek poet who serves as the Society's icon.
Said Vilks upon receiving the award: "I am an artist and my artwork is probably difficult to understand. Many have tried to understand what that dog is about. But I don't even understand it myself. Some believe that it is a form of blasphemy, but I say that it is what art is all about. I show my things to the world and then the world must interpret it."
Vilks has been living under police protection in Sweden, and his appearance to accept the award is the first time he has appeared in public since he attended a seminar on February 14 in Copenhagen that was attacked by a gunman sympathetic to Muslim objections to drawing Muhammad (see Opus 338). The presentation took place at a heavily secured event in the Danish parliament.
CENSOR FAILS — FOR NOW
From a Comic Book Legal Defense Fund press releases: In response to that New Mexico parent's complaint that the highly-regarded graphic novel Palomar by Gilbert Hernandez was "child porn" (see Opus 338), a district review committee has voted to keep the book in a high school library. CBLDF joined partners in the Kids Right to Read Project (KRRP) in sending a letter on March 9 to the Rio Rancho Public Schools to rebut this inaccurate and lurid storyline. KRRP pointed out that the book was not pornographic at all.
The letter also argued that one parent's objections cannot be allowed to determine the rights of other students to enjoy Palomar or any other literary work. And the letter urged the school district to adhere to its own guidelines, which state that reviews to challenged materials be treated "objectively, unemotionally, and as a routine matter."
The Rio Rancho review committee agreed. By a 5-3 vote, the committee voted on March 16 to retain the book.
But the instigating parent, Catreena Lopez, was neither chastized nor silenced: she plans to appeal to the school board.
This story broke in February with a heavily biased news report from Albuquerque-area tv station KOAT, which unquestioningly labeled the critically-acclaimed comic "sexual, graphic, and not suitable for children." Lopez, the mother of a Rio Rancho High School freshman, said she wanted the book off school library shelves because it contained "child pornography pictures and child abuse pictures." The KOAT report showed the library copy stuffed with sticky-note flags that Lopez had used to mark all the pages she found objectionable, but the reporter provocatively told viewers that "we can't show you any of the images because they're too sexual and very graphic."
In the latest news report from competing station KRQE, the book received slightly more balanced treatment: some images from interior pages were shown, albeit with pixelization, and a reporter interviewed CBLDF Executive Director Charles Brownstein to provide a counterpoint to Lopez. KRQE also referenced the letter that CBLDF and other members of the Kids' Right to Read Project sent to the Rio Rancho school district in defense of the book, calling it an "exploration of culture, identity, sexuality and memory" rather than a compendium of child porn.
Lopez seems undeterred, however, hyperbolically telling KRQE that "to me, this book is kind of like having a Hustler magazine in the schools." While CBLDF strongly disagrees with that sentiment, "we are gratified that Rio Rancho district officials are following their challenge policy and requiring Lopez to lay out her case before the public. Rest assured we will keep fighting to make sure Palomar stays in the school library collection!"
Makes us wonder how she knows about Hustler.
The school board is expected to consider the appeal in a public meeting sometime in the coming weeks.
RCH: Help support CBLDF's important First Amendment work in 2015 by visiting the Rewards Zone, making a donation, or becoming a member of CBLDF!
NOMINEES FOR NCS AWARDS NAMED
The National Cartoonists Society has completed the nomination process for its annual Division Awards—cartooning endeavors in various modes, as indicated below—now dubbed "Silver Reubens." The process this year involved members all voting for nominees via an online ballot box rather than distributing the nominating function to "jurying" by various of its chapters around the country. And, judging from the results unveiled below, this new process has produced a list of nominees that is more representative of cartooning in its assorted modes than before.
In the Editorial Cartooning category, for instance, we have both liberal and conservative editoonists represented. And Comic Books and Graphic Novels reflect, for the first time in these categories, an actual knowledge about those enterprises and what's going on in them. Alas, not all is golden: magazine Gag Cartooning seems restricted to New Yorker cartoonists.
Nominees for the Granddaddy Award, the Reuben (no metallic adjective), we announced last time, in Opus 338: Roz Chast, whose graphic memoir about her parents' last years, Can't We Talk about Something More Pleasant, has resulted in a deluge of honors and recognitions (Kirkus Prize, National Book Critics Circle rcognition); Hilary Price (Rhymes With Orange comic strip) and Stephan Pastis (Pearls Before Swine comic strip). This is Pastis' seventh nomination and Price's second; for Chast, it's the first.
With two women cartoonists up, we might encounter a historic moment when this year's Reuben is finally conferred. Only two women (Lynn Johnston, For Better or For Worse, and Cathy Guisewite, Cathy) have collected a Reuben statuette in the Society's nearly 70-year history.
The winners of the Reuben and the Silver Reubens will all be announced during the annual NCS Reuben Awards dinner on May 23rd. This year's Reuben Awards will be held in Washington D.C. Herewith, a listing and a robust Rancid Raves Congrat to the nominees.
Editorial Cartoons
Clay Bennett
Michael Ramirez
Jen Sorensen
Newspaper Illustration
Anton Emdin
Glen LeLievre
Ed Murawinski
Feature Animation
Paul Felix (production designer: "Big Hero 6")
Tomm Moore (Director: "Song of the Sea")
Isao Takahata (Director: "The Tale of Princess Kaguya")
TV Animation
Mark Ackland (Storyboards- "The Void" : "Wander Over Yonder)
Patrick McHale (Creator "Over the Garden Wall")
Kyle Menke (storyboards- "Star Wars" parody episode "Phineas and Ferb")
Newspaper Panels
Dave Blazek (Loose Parts)
Mark Parisi (Off the Mark)
Hilary Price (Rhymes with Orange)
Gag Cartoons
Liza Donnelly
Benjamin Schwartz
Edward Steed
Advertising/Product Illustration
Kevin Kallaugher
Ed Steckley
Dave Whammond
Greeting Cards
Gary McCoy
Glenn McCoy
Maria Scrivan
Comic Books
Jason Latour (Southern Bastards)
Babs Tarr (Batgirl)
J.H. Williams III (The Sandman Overture)
Graphic Novel
Jules Feiffer (Kill My Mother)
Mike Maihak (Cleopatra in Space)
Jillian Tamaki (This One Summer)
Magazine Illustration
Ray Alma
Anton Emdin
Tom Richmond
Online – Long Form
Vince Dorse (The Untold Tales of Bigfoot)
Mike Norton (Battlepug)
Minna Sundberg (Stand Still, Stay Silent)
Online – Short Form
Danielle Corsetto (Girls with Slingshots)
Jonathan Lemon (Rabbits Against Magic)
Rich Powell (Wide Open)
Book Illustration
Marla Frazee "The Farmer and the Clown"
Yasmeen Ismail "Time for Bed, Fred"
Shaun Tan "Rules of Summer"
Newspaper Comic Strips
Brian Bassett (Red and Rover)
Stephan Pastis (Pearls Before Swine)
Glenn McCoy (The Duplex)
ODDS & ADDENDA
■ Abrams Books for Young Readers has announced the publication of the 10th volume in Jeff Kinney's Diary of a Wimpy Kid series, which will be released on November 3, 2015. The title has not yet been divulged.
■ Paul D. Shinkman at USNews.com reported: The Pentagon dropped 60,000 propaganda cartoon leaflets over the key Syrian city of Raqqa on March 16. The gruesome cartoon depicts two extremist fighters at a "recruiting office" leading young people toward a blood-splattered meat grinder bearing the scrawled word "Daish" – an alternative name for the Cutthroat CalipHATE (Islamic State group) in the derogatory form U.S. allies in the Middle East prefer.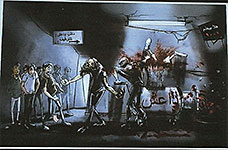 ■ Matt Wagner has accepted an assignment to write stories for Will Eisner's iconic Spirit in connection with Dynamite Entertainment's 75th anniversary celebration of the character, which will be launched during the Comic-Con in San Diego in July. In an interview with comicbookresources.com, Wagner admitted being somewhat intimidated by the prospect: "Doing this is like someone continuing Peanuts after Charles Schulz died," he said. But he agreed, at first, to at least think about it, and while thinking, he came up with what he thought was a great idea. "And as I read and re-read some of the classic Eisner stuff, I realized, 'Oh, shit. There's my idea. They already did it.'" By then, Wagner was hooked. His stories will be set in the classic 1940s period. As of March 12, an artist had not yet been named.
■ W.W. Norton's Liveright and Co. imprint has acquired the rights to Jerusalem, the massive, long-awaited prose novel by acclaimed comics writer Alan Moore, author of such bestselling graphic novel classics as From Hell and Watchmen. Calvin Reid quoted a spokesperson for Liveright who said it's "likely" the book will be published in fall 2016, but acknowledged that the date "is not firm." Given Moore's reputation for verbosity and layers of complexity, my guess is that the manuscript will require massive editing—which takes time. More than 20 years in the making, Reid said, Jerusalem is centered around Moore's hometown of Northhampton, England, and tackles a dizzying array of subjects, including the nature of time and death. It also features a wild collection of historical figures, from Oliver Cromwell to James Joyce's daughter to Buffalo Bill. Typical of the author of the Extraordinary Gentlemen graphic novels, in other words.
■ A Winnipeg Chapters bookstore was asked to pull the comic Tintin in America from its shelves, citing "the impact of racist images and perpetuating harmful narratives." At first, Chapters pulled the book, but, reported Kim Wheeler at CBC News, it is now back on the shelves after the bookstore chain determined it does not violate its policy. The cover image depicts stereotypical images of indigenous people in buckskin, and a chief brandishing an axe over his head while Tintin is tied to a post in the background. The manager said that the company doesn't feel there is anything wrong with the imagery or the content of the book.
■ From Dan Gearino at the Columbus Dispatch: For decades, a 1989 interview with Bill Watterson stood as the best, and close to the only, opportunity for readers to hear directly from the cartoonist about his life and art—until the publication last month of Exploring Calvin and Hobbes. The book — which follows the exhibit of the same title last year at the Billy Ireland Cartoon Library & Museum at Ohio State University — includes an in-depth interview with Watterson by Jenny Robb, curator of the Billy Ireland, as well as scans of Watterson's original artwork.
■ Noted animator, game designer, and graphic novelist Doug TenNapel joined the faculty at Houston Baptist University's Cinema & New Media Arts program in 2013 as filmmaker-in-residence. For nearly twenty years, TenNapel has been a creative force in popular media, beginning with his video game concept Earthworm Jim, which spawned an animated TV series and toy line in the early 1990s. At HBU, TenNapel created a reboot of the classic kids series VeggieTales for Netflix and DreamWorks Animation. The new series, "VeggieTales in the House," premiered on Netflix this past winter and has just been nominated for an Emmy, HBU announced in a press release.
THE ABUSE OF SATIRE by GARRY TRUDEAU
Originally entitled "Dangerous Lines: Cartoonists and Other Subversives," Trudeau spotlighted comics and satire in the wake of the Charlie Hebdo massacre. Here is the entire text as we found it at theatlantic.com:
My career—I guess I can officially call it that now—was not my idea. When my editor, Jim Andrews, recruited me out during my junior year in college and gave me the job I still hold, it wasn't clear to me what he was up to. Inexplicably, he didn't seem concerned that I was short on the technical skills normally associated with creating a comic strip—it was my perspective he was interested in, my generational identity. He saw the sloppy draftsmanship as a kind of cartoon vérité, dispatches from the front, raw and subversive.
Why were they so subversive? Well, mostly because I didn't know any better. My years in college had given me the completely false impression that there were no constraints, that it was safe for an artist to comment on volatile cultural and political issues in public. In college, there's no down side. In the real world, there is, but in the euphoria of being recognized for anything, you don't notice it at first. Indeed, one of the nicer things about youthful cluelessness is that it's so frequently confused with courage.
In fact, it's just flawed risk assessment. I have a friend who was the Army's top psychiatrist, and she once told me that they had a technical term in the Army for the prefrontal cortex, where judgment and social control are located. She said, "We call them sergeants."
In the print world, we call them editors. And I had one, and he was gifted, but the early going was rocky. The strip was forever being banned. And more often than not, word would come back that it was not the editor but the stuffy, out of touch owner/publisher who was hostile to the feature.
For a while, I thought we had an insurmountable generational problem, but one night after losing three papers, my boss, John McMeel, took me out for a steak and explained his strategy. The 34-year-old syndicate head looked at his 22-year-old discovery over the rim of his martini glass, smiled, and said, "Don't worry. Sooner or later, these guys die."
Well, damned if he wasn't right. A year later, the beloved patriarch of those three papers passed on, leaving them to his intemperate son, whose first official act, naturally, was to restore Doonesbury. And in the years that followed, a happy pattern emerged: All across the country, publishers who had vowed that Doonesbury would appear in their papers over their dead bodies were getting their wish.
So McMeel was clearly on to something—a brilliant actuarial marketing strategy, but it didn't completely solve the problem. I've been shuttled in and out of papers my whole career, most recently when I wrote about Texas's mandatory transvaginal probes, apparently not a comics page staple. I lost 70 papers for the week, so obviously my judgment about red lines hasn't gotten any more astute.
I, and most of my colleagues, have spent a lot of time discussing red lines since the tragedy in Paris. As you know, the Muhammad cartoon controversy began eight years ago in Denmark, as a protest against "self-censorship," one editor's call to arms against what she felt was a suffocating political correctness. The idea behind the original drawings was not to entertain or to enlighten or to challenge authority—her charge to the cartoonists was specifically to provoke, and in that they were exceedingly successful.
Not only was one cartoonist gunned down, but riots erupted around the world, resulting in the deaths of scores. No one could say toward what positive social end, yet free speech absolutists were unchastened. Using judgment and common sense in expressing oneself were denounced as antithetical to freedom of speech.
And now we are adrift in an even wider sea of pain. Ironically, Charlie Hebdo, which always maintained it was attacking Islamic fanatics, not the general population, has succeeded in provoking many Muslims throughout France to make common cause with its most violent outliers. This is a bitter harvest.
Traditionally, satire has comforted the afflicted while afflicting the comfortable. Satire punches up, against authority of all kinds, the little guy against the powerful. Great French satirists like Molière and Daumier always punched up, holding up the self-satisfied and hypocritical to ridicule. Ridiculing the non-privileged is almost never funny—it's just mean.
By punching downward, by attacking a powerless, disenfranchised minority with crude, vulgar drawings closer to graffiti than cartoons, Charlie wandered into the realm of hate speech, which in France is only illegal if it directly incites violence. Well, voila—the 7 million copies that were published following the killings did exactly that, triggering violent protests across the Muslim world, including one in Niger, in which ten people died. Meanwhile, the French government kept busy rounding up and arresting over 100 Muslims who had foolishly used their freedom of speech to express their support of the attacks.
The White House took a lot of hits for not sending a high-level representative to the pro-Charlie solidarity march, but that oversight is now starting to look smart. The French tradition of free expression is too full of contradictions to fully embrace. Even Charlie Hebdo once fired a writer for not retracting an anti-Semitic column. Apparently he crossed some red line that was in place for one minority but not another.
What free speech absolutists have failed to acknowledge is that because one has the right to offend a group does not mean that one must. Or that that group gives up the right to be outraged. They're allowed to feel pain. Freedom should always be discussed within the context of responsibility. At some point free expression absolutism becomes childish and unserious. It becomes its own kind of fanaticism.
I'm aware that I make these observations from a special position, one of safety. In America, no one goes into cartooning for the adrenaline. As Jon Stewart said in the aftermath of the killings, comedy in a free society shouldn't take courage.
Writing satire is a privilege I've never taken lightly. And I'm still trying to get it right. Doonesbury remains a work in progress, an imperfect chronicle of human imperfection. It is work, though, that only exists because of the remarkable license that commentators enjoy in this country. That license has been stretched beyond recognition in the digital age. It's not easy figuring out where the red line is for satire anymore. But it's always worth asking this question: Is anyone, anyone at all, laughing? If not, maybe you crossed it.
Reactions
At breitbart.com, a conservative website, John Nolte was quick to accuse Trudeau of "victim blaming." Said Nolte: "What Trudeau fails or chooses not to understand is that rebellion is not hate speech. Charlie Hebdo was not gratuitously mocking Muhammed or Jesus Christ or the Pope. For the cause of free speech, Charlie Hebdo was pushing back against what it rightly saw as creeping fascism, especially Islamic fascism, in the most blatant and in-your-face way possible.
"As a devout Catholic, I take no pleasure in seeing my faith debased. Context matters, though, and while I may have winced at times, I understood and appreciated Charlie Hebdo's intentions. That's what makes Trudeau's comments so sinister. To accuse Charlie Hebdo of Hate Speech is to attack their intentions. It is obvious this far-left outlet was furthering the righteous cause of free speech. ...
"It is also obvious that Charlie Hebdo was fighting for this cause in a way Trudeau never would: bravely, and in the face of legitimate threats. There's a saying that if you scratch a liberal, underneath you will reveal a fascist. With Trudeau, you will also find a coward, a hack decades past his prime, surviving on the affirmative action of the same left-wing mainstream media editorial pages he would never challenge or provoke, for fear it might ding his vast fortune."
Denis Kitchen, founder of the Comic Book Legal Defense Fund, was interviewed on the eve of the East Coast Comicon, April 11-12. Kitchen had not heard about Trudeau's speech at the time of the interview (I assume), but he made remarks about Charlie Hebdo that seem to dovetail with Trudeau's,
After observing that "the world has changed since you founded the CBLDF," interviewer Mark Voger asked: "Where is the line between fighting for freedom of speech on one hand, and avoiding incidents such as the rioting following the Danish cartoons that portrayed Mohammed, or the killings at the Charlie Hebdo office in Paris?"
Said Kitchen: "Here's the thing: If you're going to be a satirist, you must be honest. Internal integrity is central to being a satirist. But it's a fine line between what is brave and what is stupid. If you draw anything that depicts Muhammed, you are crossing a major line there. You can't even do a benevolent cartoon of Muhammed if you're a Muslim; you can't even draw the image. That puts you in dangerous territory. The Danish cartoons crossed that line; Charlie Hebdo crossed that line. You're poking a stick in that eye, and we've seen the consequences."
Alan Gardner, in posting excerpts from the speech, added his own reaction; herewith—:
"The issue (free speech and when it's employed) is not as clear cut to me. I certainly get his point and I think it's well articulated and reasoned. I disagree that Charlie Hebdo was 'punching downward.' The cartoons featured in the magazine were not making fun of the common Muslim practitioner – punching downward as defined by Garry. The cartoons made fun of the founder of the religion – a religion which subjugates its adherents into a world view that is oppressive toward women, other religions and cultures and condones violence as an acceptable way of dealing with others. That IS punching upward."
I agree. Charlie Hebdo was punching upward. But it wasn't Muhammad that was being punched. It was oppressive authority. Muhammad served merely as a symbol of one kind of abuse of power. And Charlie attacked others of the same ilk—the Catholic church among them.
Adherents of Islam and Catholicism were understandably offended. But perhaps their zealous devotion to their religion blinded them to its essentially oppressive nature.
One of the ways we attack oppression and abusive power is to laugh at it—to laugh it out of existence. And I believe that's what Charlie was doing. In the case of Charlie's satirical assaults, those who were laughing were not, admittedly, devotees of the religions being attacked; those who were laughing were those who could see that those passionate devotees were being bamboozled and persuaded to act in ways that diminish or limit human potential.
The problem that Trudeau addresses here is that when satirizing an institution, like a religion (or a form of government), the satirist unavoidably seems to be attacking the institution, not just those who abuse the power that the institution confers upon them—the real targets of the satire, in other words. I admire Trudeau for being sensitive to this aspect of satire. It is a problem that perhaps only a career satirist like Trudeau is much aware of. But good satire always risks crossing the line into hate speech. To be too wary of the danger of this pitfall is to curb the satiric impulse altogether. And I doubt that Trudeau would endorse that outcome.
HOW COMICS JOURNALISM IS DIFFERENT. OR NOT
Josh Neufeld is a New York Times best selling author praised for his character driven narratives reporting on the aftermath of hurricane Katrina, the revolution in Bahrain, or racial profiling on the Canadian US-Border. What sets him apart, says Caroline Bins at verhalendejournalistiek.nl, is that he reports factually in graphic novel form. Bins interviewed Neufeld in March; his responses appear herewith—:
Despite the celebrated work of nonfiction cartoonists like Joe Sacco, Art Spiegelman, Marjane Satrapi, Scott McCloud, and Alison Bechdel, many people still confuse the medium of comics with the content of comics. They assume that all comics are fiction, fantasy, or humor for children. So the most common misconception about comics journalism is that it's not real journalism. But in my work I follow the traditional rules of journalism regarding sourcing, quotes, chronology, and so on. It's real. It happened. All the quotes people are saying are actual quotes that they said. The comics form is a hurdle for some people
It's true that in the course of telling nonfiction stories — especially when you're doing long-form, and crafting extended "scenes" — the cartoonist is required to "make up" certain details of things (people's outfits, details of buildings or rooms, miscellaneous passers-by, etc.) that he or she didn't personally witness or have visual records of. But I believe most readers understand and accept these conventions. What they get in return are powerful, visceral stories that drop the reader right into the action. I believe this gives readers an understanding of people and events that can be deeper and more intimate than other forms of journalism. Different forms of journalism require different "participation" on the part of their consumers, and they often speak in different voices: formal or informal, fact-focused or emotion-focused. To me, what's really exciting about comics journalism is the form's ability to bring more visceral emotion and intimacy into a story while still being truthful. As the institutions of traditional journalism appear to be fraying — crumbling, even — the growing acceptance of newer vehicles like comics journalism, participatory journalism, multimedia journalism are all giving notice to the traditional forms that they may need to reinvent themselves a little for the changing media landscape.
THEY SHOOT BLACK PEOPLE, DON'T THEY?
That's the title of the slide show Keith Knight has been showing around the country. The title is another in Knight's long list of ironic endeavors. He once posted signs around his neighborhood in San Francisco that read: Rent a Black (and listed his phone number). It was his satiric response to a growing cultural trend that made it fashionable to have African Americans in attendance when giving a party. Knight creates three syndicated comics features: The Knight Life, a 7-day-a-week comic strip; The K Chronicles, a occasional multi-panel cartoon; and (th)INK, a single-panel "political cartoon."
Knight was recently named a 2015 NAACP History Maker for his cartoons about police brutality, and Michael Cavna at ComicRiffs talked to him about his long history of drawing insightful cartoons about police brutality in America since the '90s, when it was a video of the Rodney King beating that put LAPD officers in the stark national spotlight. "And through the years," Cavna said, "from Missouri to New York to Ohio to South Carolina, the names of victims and officers changed, but not the brutality."
Said Knight: "It's weird to see things that I've drawn as comics years before come true. Like, a strip I did in 2008, where the targets police were shooting at were young black men.
It's no doubt frustrating, but the public response has changed recently because of social media. All these incidents of police brutality can no longer be hidden or swept under the rug. We are now seeing it as it happens, and how often it happens. At this point, one has to truly double-down on their complete denial of how huge this problem is, or they have to acknowledge it, and work towards change."
Knight did a ride-along in a police car recently. Cavna asked him whether it was eye-opening in ways that surprised him—or did it essentially affirm his own sense of the world.
"It mostly affirmed my sense of the world," Knight said, " — cruising around the worst parts of town and monitoring poor people. One of the cops seemed extremely distrustful of me being present while they did their 'jobs.' … And we drove waaayyy too fast down small, residential streets. Looking back, I think police officers should always have volunteer citizen baby-sitters riding around with them. I think they'd behave a lot better."
He added: "I will say that I've heard from a retired cop that, with marijuana finally being legalized all across the country, they regret putting away — and basically destroying — the lives of so many young black men for simple pot possession."
About his History Maker award, Knight said: "I was shockingly surprised, humbled and honored. It means a ton, considering the amazingly brave people on the protest front who were recognized along with me. I'm just a dude with a pen. What makes this honor special is that it reaches beyond the comics industry. Not to diminish my previous awards, but telling my parents I got recognized by the NAACP has a whole other thing to it. Makes me wish that some of my recently passed elders were around to hear about it."
Noting that Knight is the father in a growing family, Cavna asked him when he would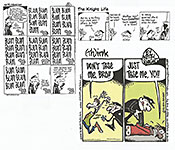 have "that conversation" with his children about the police and their historic and current treatment of people of color. "At what age do you have that conversation?"
"Ahhh," said Knight. "That's the big question amongst parents of color. ... I think it's a long, drawn-out conversation that you return to time and time again. Much like my comics!"
Cavna ended with this note: If you want Knight's slide show to come to your town, you may email him at: keef@kchronicles.com
And here are some of the pictures he'll show you.
COVER CONTROVERSY!!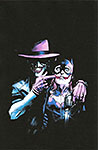 If you're going to create a scene, do it on the cover where it'll be noticed. Last month, forinstance, DC decided to pull a variant cover for Batgirl No.41—at the request of both the artist, Rafael Albuquerque, and the book's creative team."The cover," saith ICv2.com, "which evoked the Killing Joke victimization of Batgirl by the Joker, was seen as an inappropriate portrayal of the character as she exists now." Probably it also had something to do with imagery of a man menacing a woman—he, obviously evil; she, obviously helpless.
AND THEN FRANK CHO, master limner of the feminine form, drew a parody image of the notorious Milo Manara Spider-Woman cover (see Opus 329) for his blog on the new character, Spider-Gwen. Jude Terror at theouthousers.com noted immediately that The Mary Sue's Sam Maggs took issue with the cover. Acknowledging that Cho "has always drawn some cheesecake stuff," Maggs says this particular rendering, evoking another cover that caused so much discomfort among lots of comic book readers, shows a clear disregard for the perfectly valid outrage over Manara's original Spider-Woman variant; an incident that, we should note, made our list of the 'Worst Moments in Female Fandom in 2014.'
"Aside from being an obvious poke at 'those angry feminists' who 'overreact' to things, the cover is also an unfortunate but elucidating look at what some men think about women who are trying to carve out a space for themselves in the frequently misogynist world of comics – where they feel objectified and overly-sexualized on a regular basis. What makes this sketch even more inappropriate is that the Spider-Gwen book is clearly aimed at a teen audience, meant to entice new, younger female readers to Marvel comics. Plus, Gwen herself is a teenager."
In response, Cho doubled down and posted the following on his blog—:
"Wow. What a crazy couple of days it has been. My parody cover sketch of Spider-Gwen aping the infamous Manara Spider-Woman pose sent some of the hypersensitive people in a tizzy.
"To be honest, I was amused and surprised by the uproar since it was, in my opinion, over nothing. It's essentially a small group of angry and humorless people ranting against my drawing of a pretty woman. It's utter nonsense. This world would be a better and a happier place if some people just grow a sense of humor and relax.
"Now, I'm getting bombarded by various bloggers asking for an interview addressing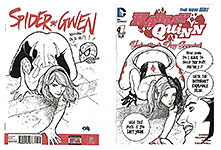 this 'scandal.' Instead of me wasting my breath and precious time over this non-issue replying to all the interviewers, I've drawn another cover sketch in response which will, hopefully, answer all the questions. Enjoy, everyone."
The "origional" Cho-Manara "cover" appears on the left in the accompanying visual aid; Cho's witty response, on the right.
AND THEN we have a couple of antiques—a Dennis the Menace cover and a Betty and Veronica cover. A friend and fellow funnybook lover showed me these. And it seemed to both of us preposterous that these two specimens found their way into print.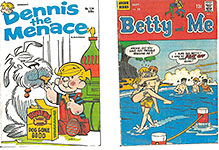 Start with the Archie cover on the right—the big red-outlined-in-black letters "Beat Off." Admittedly, the alternate meaning of the phrase—the masturbatory one—may not hover in the backs of the minds of anyone at wholesome Archie Comics. But that's hard to believe. Someone is trying to get away with a little sexual innuendo here, and it looks hysterically like they did.
As for the Dennis cover—well, maybe "Boner" is a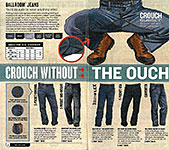 good name for dog food. But it's also another name for something altogether different.
Finally, by way of ending this segment on yet another laughable expression in print—although not in comics—here's a spread from a catalog advertising "ballroom jeans." I suppose you don't have to read the fine print to get the gag. But it helps.
APPEASING THE "VOCAL MINORITY"
In early March, Erik Larsen, one of the founders of Image Comics and the long-term artist-writer of Savage Dragon (a favorite of mine, I should say, by way of admitting a bias), tweeted that he was "tired of the Big Two placating a vocal minority at the expense of the rest of the paying audience by making more practical women outfits." His remarks prompted some incensed responses in the Twitterverse, many by women comics creators who, presumably, took offense at what they thought was Larsen's advocacy of skimpy costumes for women.
Chris Bechtloff at reaxxion.com gave Larsen a chance to clarify, and I'm pulling out of that the following (all Larsen unless italicized)—:
First, by "vocal minority" I don't mean any group other than the collective group of all people talking. Anybody with a voice who talks online or sends emails, anybody who gives feedback of any kind, and that includes me. The largest segment of our audience is silent. They say nothing at all. They likely talk amongst friends and family like anybody else, but they're not inclined to go online and share their opinions with the masses.
There's a tendency to treat any feedback as though it represents a measurable portion of the audience. If a book gets one letter for every thousand readers, editorial sometimes assumes that each letter talks for the other 999 people, but that's nonsense. If one guy says he'd totally buy a signed and numbered hardcover 3-D Man collection, it may very well be that just that one reader is interested in such a book. There's no reason to think the other 999 unspoken readers would fall in line and purchase such an unlikely collection. It's no way to run a company. That single voice really doesn't speak for the others. That one reader speaks for that one reader. Others may agree. Others may not but they aren't making their opinions known.
There's also a tendency [on social media] to bellyache. Readers don't necessarily run out and sing the praises of anything: they're more likely to bitch and moan, especially on the Internet with a screen-name that isn't their actual name.
The call for realism seems to be the fallout from the movies. In the movies, it's nearly impossible to create costumes that fit as well and look as good as those in the comics. That's an advantage artists have when putting lines on paper: they can have clothes be perfectly form-fitting and we can see every muscle and sinew, even through cloth. This means that an artist can draw a far prettier picture than could possibly appear on film.
The disadvantage is, of course, that if lines are added to costumes [to delineate the "practical" modifications], then an artist needs to draw those lines again and again, whereas in the movies that's not a big deal. Since movies are incapable of making superhero outfits that fit and look as good as the ones in the comic books, they have to make alterations in order to make up for that. Theirs is a compromise. Our mistake is following their lead as though it is a lead instead of a compromise.
[RCH here: I agree with Larsen. The movie costumes of comic book superheroes are sorry substitutes for the funnybook versions—but they are practical from a costuming and appearance perspective. The problem, as Larsen points out, is that now the comic book characters are expected to look—to be costumed—like their on-screen incarnations. Not a good choice. Back to Larsen:]
This started out as comics emulating movies, but it's expanded. And for a large part the argument is that it "makes costumes more realistic." When Batman is on screen he wears armor, so Batman in the comics has to wear armor now, and then Superman has to and Wonder Woman and it just gets silly. The audience expects this and justifies it, arguing that, "of course Batman would wear armor!"
But the reality is this: armor is ridiculous, not realistic! One of the reasons superheroes wore tights in the first place is because acrobats wore tights, and why did acrobats wear tights? So they could move! Modern actors have admitted that they can hardly move in the Batman suits. In some cases the actors couldn't even turn their heads: they had to move their entire bodies in order to look from side to side. One famously admitted that anybody could beat the crap out of him in that suit! ...
READERS HAVE OFTEN BEEN PRICKLY when it comes to bodies, especially those of women. What doesn't seem to be understood is that there's a big difference between costume design and character design. Wonder Woman's costume is perfectly fine. It's strong, it's iconic, it harkens back to ancient Greece with athletes in appropriate sporting attire. It's a costume that functions.
But it's also one which can be abused. Women characters can be drawn sexy or strong, girlish or mature, thin or voluptuous and everything in between. If DC doesn't want Wonder Woman to pose seductively and prance around like a sex object, they should make that point clear. Frank Miller drew Elektra as a powerful, taut ball of muscle. Wonder Woman can be that: she doesn't need to be a tart. But that's the way she's drawn, not costume design.
I've attached two images that I've joined together showing Wonder Woman drawn by artists Mark Beachum and Bruce Timm. Both draw the same Wonder Woman costume, but one looks weak, vulnerable and slutty as all hell and one looks proud, confident and powerful.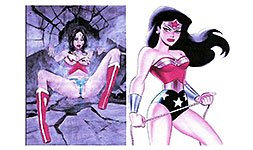 So is it the costume to blame or the approach to drawing the character? I say the problem is the approach. DC and Marvel seem to act as though the problem is the costume design. ...
The danger is, of course, that the online community feels that they are empowered. We already saw a Milo Manara Spider-Woman cover censored due (I would think) to online pressure and since that time Spider-Woman's costume was altered as well. Where will this lead? Well, if history is any indication it can lead to something like the Comics Code Authority in the '50s where a group of outraged individuals policed everything we read. I'm not convinced that's such a great idea. ...
The slippery slope is a return to the Comics Code. That, or some other kind of censoring body who knows better than the rest of us. Movies have gone in a direction where everything is pre-screened to an audience who weighs in on them and decides what's good or bad and changes are made accordingly. The danger of taking cues from the audience is pablum like Star Wars Episode I where fans weighed in on what they wanted, George Lucas gave them what he thought they wanted and then they hated what he gave them. The audience is not wiser than the creative people. If they were better writers and artists than those in the field, they would be employed in the field. They're mouthy amateurs and their suggestions should largely be treated like the witless ramblings of an insane person. ...
The danger is in thinking that the vocal few represent the entirety of your audience. They don't. And so what we're getting is situations like Jim Lee giving Wonder Woman pants in the Justice League because readers demanded it, then getting rid of them because other readers demanded it, all before the pants version saw print! These publishers are running around like chickens with their heads cut off, trying to please everybody and not knowing who to listen to, and I can't help but feel that a lot of the people yelling and screaming aren't buying the comics, pants or no pants. ...
The bottom line is that you can't please everybody and everybody's voice is not being heard. So your best bet is to do the best work you can, try to expand the market and try new things and do more of the things that work and less of the things that don't work.
As for his own books, Larsen is pragmatism incarnate:
I'm in charge here. Readers can buy what I'm selling or not. Ideally that's what it should be. A candy bar company makes a candy bar and you can buy it or not. Those are your two choices. The internet assumes there are two other options: that candy bars can be pulled off the shelves and returned to their manufacturers unsold or that those buying candy bars can stipulate the ingredients. You want to make a different comic book? Make one of your own. You can buy the one I produce or you can not buy it, but you can't dictate what goes on inside those pages. One guy makes that call.
Fascinating Footnit. Much of the news retailed in the foregoing segment is culled from articles eventually indexed at rpi.edu/~bulloj/comxbib.html, the Comics Research Bibliography, maintained by Michael Rhode and John Bullough, which covers comic books, comic strips, animation, caricature, cartoons, bandes dessinees and related topics. It also provides links to numerous other sites that delve deeply into cartooning topics. For even more comics news, consult these four other sites: Mark Evanier's povonline.com, Alan Gardner's DailyCartoonist.com, Tom Spurgeon's comicsreporter.com, and Michael Cavna at voices.washingtonpost.com./comic-riffs . For delving into the history of our beloved medium, you can't go wrong by visiting Allan Holtz's strippersguide.blogspot.com, where Allan regularly posts rare findings from his forays into the vast reaches of newspaper microfilm files hither and yon.
Quotes and Mots
"You may not be able to change the world, but at least you can embarrass the guilty."—Jessica Mitford
"When evaluating my effectiveness, don't compare me to the Almighty. Compare me to the alternative."—Joe Biden
"Story and art are the humanizing elements of us."—Emma Thompson
EDITOONERY
The Mock in Democracy
Postponed until next time. Sob.
PERSIFLAGE AND BADINAGE
Here's an Irish prayer that Gregory Peck recited once for Lauren Bacall:
Dear Lord,
I want to thank you, Lord, for being with me so far this day.
I haven't been impatient, lost my temper, been grumpy
judgmental, or envious of anyone.
But I will be getting out of bed in a minute and I think I will
Really need your help then.
Amen
NEWSPAPER COMICS PAGE VIGIL
The Bump and Grind of Daily Stripping
FOR ALL US POTTY-MOUTH WATCHERS, the year 2015 is turning out to be a real pisser. Jeremy got us off to a "good" start in Zits. Jerry Scott and Jim Borgman produced a three-day sequence that began when their starring teenager arrives in class to take a test only to discover that he needs to answer a call of nature.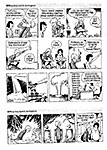 That's what us old timers call it; Jeremy and his generation are more specific, as you can see. He says he needs to "pee."
As I've mentioned on other occasions, I think the word "pee" is the word of choice for urination among women; for men, "piss" is the word of choice. But that is beside the point of our current sermon. Here, we wish only to recognize, as we have numerous times in the past, that "times they are a-changin'": used to be, newspaper comic strips couldn't even THINK the word "pee" (and I suspect "piss" is still verboten). And now we have Jeremy saying it out loud.
Well, actually, he is thinking it. But "thinking" and "speaking," although differentiated by the way a speech balloon is drawn (with or without "thought" bubbles), the effect is the same: visual "speech," the same as if he'd spoken his thought aloud.
That was in January. In March (at the bottom of this visual aid), we got another dose of peeing, this time with a picture of Jeremy at the urinal. Never would that have been depicted in the distant days of yore in newspaper funnies.
And during the very same week, just a few strips down the funnies page in my newspaper, we have a four-day sequence in Brian Crane's Pickles in which gramma Opal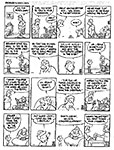 has devised an ingenious way of inducing her grandson Nelson to aim better when peeing. And she manages to chastise grampa Earl at the same time.
Which brings me to that classic admonition always foisted off on newlywed men: be sure to close the lid in consideration of your wife's alimentary needs. And so equality between the sexes evaporates at a single swell foop. Why aren't new wives ever cautioned to leave the lid up in consideration of their husbands?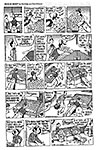 WE DON'T OFTEN FIND in Pat Brady's Rose Is Rose, now being done by Don Wimmer, any sort of continuity. Usually, the strip is a gag-a-day and that's that.But through the last week of January, Wimmer got Jimbo, Rose's faithful and loving husband, into a jam. And then couldn't, apparently, get him out of it. And that doesn't happen very often—anywhere. So it's worth noticing here, where we keep track of as many deviations from Newspaper Comics Norm as we can. It's a thankless task, but we abide.
CIVILIZATION'S LAST OUTPOST
One of a kind beats everything. —Dennis Miller adv.
THIS STARTED, I assume, as an offshoot or parody of the nefarious "Where's Waldo" posters and wall scrawls. Instead, we have—:
Where's the Dildo
By Jenny Block at Huffington Post
Um, so this is happening. A Tumblr has been created in which a dildo is poised in every photo and viewers are invited to do their best to find it.
"An installation art project about the place of rubber in our lives," the heading reads on the collection titled "Subtle Dildo."
I like this. And I will tell you why.
It puts the dildo in its rightful place. Front and center. Well, sort of. I mean, it's hiding. But it's asking to be found and—like a car wreck— it's impossible to look away.
Dildos are our friends. Certainly a friend to the lesbian. But no reason it shouldn't be a friend to gay men and straight men and women and every other self-respecting adult.
This cute little project makes these oft whispered about toys a little less daunting. It's hard not to laugh and imagine the little guy holding its breath thinking, "She's never going to find me! Ah! Look at her looking over there when I'm over here." Just makes me giggle.
I also like this project because it treats the penis—or an object often intended to stand in for a penis— as it should be treated, respectfully but not without humor. With Mark Driscoll being "your penis in on loan from God," a little levity about the mighty member seems in order.
Once we start seeing our parts as instruments of pleasure instead of "those parts of which we shall not speak," we can really start enjoying them and using them properly.
Sure, the human body is beautiful. But let's not kid ourselves, our naughty bits are some crazy looking parts. It's time we got comfortable with them and stopped treating the whole sex thing with so much fear. It's sex for goodness sake.
I also like this project because it has an arty aspect a la Duchamp that the Art History buff in me is just delighting in. Art is about creating a reaction. It's about making a statement. It's about challenging the viewer to really look at it and question what she may or may not be seeing.
Subtle Dildo certainly does all of those things.
That's the other reason I like this project. The name. Subtle Dildo. Ain't nothing subtle about a rubber cock. No siree, Bob. And as any lesbian—or anyone else who uses one for that matter—will tell you, you know when that little devil is in the room. Believe me, you know.
So the idea that there is any subtlety to a dildo is a kind of charming and I kind of like it.
I also like this project because it clearly does not take itself seriously. As it shouldn't. As men with them shouldn't. As women without them shouldn't. As anyone shouldn't.
What I like the most about this project is that it's a subtle reminder—far more subtle than any dildo I ever met—that we are all far more than the sum of our parts and what we do with those parts and whom we do those things with and how we identify regardless of what parts we were born with.
Subtle Dildo, the personification to my mind of the penis, is a gloriously disembodied reminder that who you love and how you love them, who you f**k and how you f**k them makes no difference. Never. Ever. Ever.
Now, where is that dildo...
ACCRETION OF INTENTION DEPARTMENT
Books In Need of Good Reviews
THE RANCID RAVES Book Grotto is littered, literally, with books we acquired with the intention of reviewing them. Alas, they've piled up over the years, and it has become increasingly apparent that we'll never give them the kind of intensive examination they deserve. So rather than let the accretion be entirely in vain, we've started this new department wherein we'll briefly describe books by way of urging them upon you. And the first of these, in order and in importance, is surely—:
Jack Davis: Drawing American Pop Culture, A Career Retrospective
By Jack Davis; Introduction by William Stout; Biography by Gary Groth
207 10x13-inch pages, color; 2012 Fantagraphics hardcover, $49.99
THIS SCRAPBOOK of Davis art is organized in chapters whose themes are laid out by Stout—Early Years, Comic Book Years, Advertising Years, Record Jacket Covers, Magazine Illustration—with a few insightful notes about style and methods of work. At the end is Groth's 12-page biography followed by 5 pages of paragraph-long "tributes" by such Davis admirers as Sergio Aragones, Peter Bagge, Drew Friedman, Bill Griffith, Al Jaffee ("The best part about Jack is that he is a throwback to a kinder, gentler time. He is a quintessential Southern gentleman."), Joe Kubert and others. In between are pages of gorgeous Jack Davis art, much of it in color. The Early Years (high school, college, Navy) are mercifully represented by only a few pages of work. The comic book period is almost all from Mad, horror and war scarcely evident. Some of his unsuccessful comic strip attempts are here (Beauregard, the only one to achieve publication—four months merely—is criminally shortchanged by printing 12 strips postage-stamp size on one page), but when we get to Record Covers and Movie Posters, the book blossoms in color. The final section reproduces Time and TV Guide covers (alas, many small, nine to a page but with caricatures and related illustrations, including some preliminary sketches, at full-page dimension).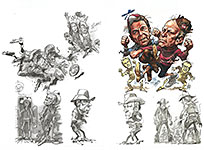 The book's only conspicuous flaw: no source information is given on any of the pages. To learn that pages 48-49 reproduce panels from a 1960 comic strip based on the "Howdy Doody" tv show, you need to consult two pages of End Notes. This is not an impossible task: you can browse the book with a finger at the End Notes section and easily flip back and forth. But some pages are not annotated at all. Otherwise, the book is a treasure trove of Jack Davis' most mature work.
The Cisco Kid: Vol. 1, 1951-1953
By Jose Luis Salinas; Introductions by Sergio Aragones and Dennis K. Wilcutt
230 8.5x11-inch landscape pages, b/w; 2011 Classsic Comics Press paperback, $24.95
PUBLISHER CHARLES PELTO, who has brought us high quality reprints of such illustrative masterworks as Mary Perkins On Stage and The Heart of Juliet Jones, herewith recycles one of the greatest artworks in newspaper comic strip history. Based upon a name in a O.Henry short story (published in this volume's introductory material, in which the Cisco Kid is a murdering outlaw, scarcely the light-hearted Robin Hood of the Old West who appears in the strip), the strip, a rollicking and oft nicely harrowing albeit melodramatic narrative, was written by Rod Reed and gloriously drawn by Salinas. Unhappily, Salinas' copiously feathered and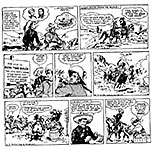 shaded style is not reproduced herein as well as it deserves, due largely to the dearth of high-quality proofs. In his Afterword, Pelto relates the saga of his search for good source material, and he has found a substantial amount, which is happily reproduced in these pages.Reed's ability to write continuity for a daily comic strip is not always as sure-footed as Salinas' command of the visuals, but the latter is so superlative that neither Reed's occasional shortcomings nor the often muddied reproduction of the art can entirely undermine the intended excellence of this enterprise. A second volume is available.
Wally Wood: Classic Tales of Torrid Romance
By Wally Wood; Introduction by J. David Spurlock
200 8.5x11-inch pages, color; 2014 Vanguard paperback, $24.95
"TORRID" WHEN COUPLED TO "WALLY WOOD" creates an expectation for lascivious pictures of Wood's amply curved women, an expectation this book promptly disappoints. The "romance" stories reprinted herein start with September 1949 and end with April 1953 (all copiously dated and sourced), during what must, in retrospect, be regarded as Wood's less inciting apprenticeship. Reproduction from comic book pages is excellent, but the typical Wood femme doesn't appear until the last three-four stories, and even then, his hand is more evident in faces, not figures.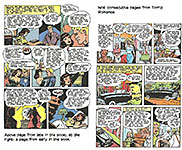 Apart from the first story (which, I suppose, Wood did before his publishers—Fox and Fawcett—tamed him), the pictorial content is entirely bland—well coiffed, conventionally dressed (no tight blouses or plunging necklines or short skirts). Useful as an insight to Wood's early work, but "torrid"? Not hardly. And the stories themselves are nothing particularly scandalous by today's standards—despite titles that hint at rapacious doings, "Dance Hall Girl," "I Tormented Men," and so on. In his Introduction, Spurlock tells us that "these rare and valuable Wood Studio stories—sometimes in collaboration with the likes of Harry Harrison and Marty Rosenthal —have never appeared in any proper book."
Wally Wood: Strange Worlds of Science Fiction
By Wally Wood; Introduction by J. David Spurlock
216 8.5x11-inch pages, color; 2012 Vanguard paperback, $24.95
THIS VOLUME EMBRACES Wood work from 1950 through 1958, with most from 1951 (15 of the 23 stories). Herein, the artwork is typical of Wood's mature style—feathering and shading—and the women are Wood women.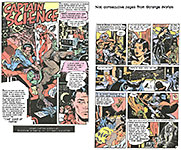 Perhaps the sf publisher, Avon, gave Wood greater leeway in limning the curvaceous gender than Fox or Fawcett in Torrid Romance. Reproduction (from comic book pages, not original artwork) is excellent, and all the content is meticulously dated and sourced. The first three stories, the three-part "Flying Saucers," is probably inked by Harry Harrison, employing a heavier line than Wood or Joe Orlando, who inked most of the rest. Throughout, every story is "introduced" by a black-and-white page from Wood's EC oeuvre for comparison purposes. The book concludes with several Spy Masters Sunday comic strips, which, I believe, Jack Kirby penciled and Wood inked.
Cannon
By Wallace Wood; Introduction by Howard Chaykin
288 7x11-inch landscape pages, b/w plus a few color pages; 2014 Fantagraphics hardcover, $35
THE OVERSEAS WEEKLY was a tabloid published 1970-73 for distribution to U.S. military stationed abroad, and for it, Wood produced Cannon, which appeared as a full-page comic strip about an operative, John Cannon, who had been brainwashed and re-programmed to be a perfect, emotionless assassin. Most of Cannon's assignments, however, involve rescuing barenekidwimmin, who appear in profusion with every installment of the continuing story—most regularly, the sinister and voluptuous Asian, Madame Toy.
Although penciled by someone else, Wood's inks, as Chaykin says, made the artwork "his property, his line and impact being so strong," and as a result, we have here the mature Wood at the top of his game. The Cannon strips are printed two to a page in stunning clarity.
Cannon also appeared twice (1969 and 1976, before and after his Overseas incarnation) in comic book form from the same publisher, Heroes, Inc.; and this volume concludes with both adventures, the first, in color, but the pages are severely reduced and appear here two to a page, the women, although luscious, always clothed.
Also in this volume, reproduction of a letter from Wood to the publisher, outlining plans for a future project, a comic book of "sex, violence and horror—none of it would pass the Comics Code"—for a wide audience, "science fiction fans, comic book fans, servicemen, grownups and just horny kids." I'm hopeful that Fantagraphics has plans for publishing a companion volume of Sally Forth, Wood's comedic naked lady strip for Overseas Weekly.
This is the second "complete" reprinting of Wood's Cannon: Fantagraphics did it (almost) in 2001 at a larger, tabloid size (10.5x13 inches). The earlier version is missing the first strip, but it includes an appreciative 4-page introduction by Jeff Gelb, who places Cannon in the just-concluding super-spy context of the times—James Bond, the Avengers, et al—but neglects to cite many dates; so as history, it falls somewhat shy. The volume is missing the Heroes, Inc. material, and the reproduction, while excellent, is just a tiny shade less pristine than the new production.
The Art of Ramona Fradon
By Ramona Fradon; Introduction by Walt Simonson; Interview with Howard Chaykin
152 9x12-inch pages, color; 2013 Dynamite hardcover, $29.99
FRADON ENTERED the comic book industry in the early 1950s, left to raise her daughter in the 1960s, and returned in the 1970s and left again in the 1980s to draw the syndicated newspaper comic strip, Dale Messick's Brenda Starr, which she continued until 1995. Fradon, who was married for 35 years to New Yorker cartoonist Dana Fradon (until divorcing him in 1982), was one of the few women working significantly in comics. This volume presents samples of all her work from Aquaman and Metamorpho to House of Secrets and Freedom Fighters to Super Friends and Plastic Man (I always told her she did the best Plastic Man since Jack Cole, and she always agreed) for DC and Fantastic Four (one issue) for Marvel to Brenda. Threading throughout the artwork on display is Chaykin's knowledgeable and perceptive interview with Fradon, covering every aspect of her career from an artist's perspective. The book concludes with a bibliography of her work (helpful, but, I suspect, not complete: I don't see listed the Shining Knight story, which she says is her first for DC).
Berlin, City of Stones: Book One
By Jason Lutes
212 7.5x10-inch pages, b/w; 2001/2011 Drawn & Quarterly paperback, $22.95
Berlin, City of Smoke: Book Two
By Jason Lutes
212 7.5x10[ilnch pages, b/w; 2008/2011 Drawn & Quarterly paperback, $22.95
THESE TWO GRAPHIC NOVELS were originally published in comic book format, then re-issued in book form. The action takes place in post-WWI Germany between September 1928 and August 1930, when the liberal democracy of the Weimar Republic lapsed. At the end of the "golden years" of the 1920s, Germany was beset by political unrest, extremists on both the left and the right, the emergence of the communists and the Nazis; economically, the country was suffering from massive inflation. In this setting, Lutes tells the stories of several individuals from different parts of the Weimar social order, chiefly that of a young woman, Marthe Muller, who comes to Berlin for the first time, and Kurt Severing, a political writer. Marthe becomes Kurt's mistress for a time, then leaves him for a Lesbian relationship. As the institutions of democracy slip away, Kurt becomes disillusioned about the efficacy of political writing to affect the course of events. Book Two ends with his burning his papers and watching them go up in smoke.
The other characters Lutes deploys are victimized by the social and political turmoil of the period. In the first volume, one of them, a mother, dies during a riot in which the chief weapons are stones hurled by the opposing sides.
Throughout the books, the tone is bleak and unforgiving. The characters all seem helplessly caught by the circumstances of their lives. As a reflection of the history of the times, Lutes' narrative is probably as authentic as possible. At the time of this work's first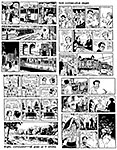 publication, it was the most ambitious comics narrative of the day, among the earliest to use the visual-verbal medium in a serious literary manner. Lutes' drawing is meticulous simple linework without feathering or shading, rendering people and their surroundings in impressive detail. His page layouts are traditional rather than experimental, telling his stories with slowly paced grids of panels, varying their size and number occasionally to suit the needs of the narrative. And those needs, part from depicting events in his characters' lives, are fundamentally tonal.
BOOK MARQUEE
Short But Not Abbreviated Reviews
This department works like a visit to the bookstore. When you browse in a bookstore, you don't critique books. You don't even read books: you pick up one, riffle its pages, and stop here and there to look at whatever has momentarily attracted your eye. You may read the first page or glance through the table of contents. All of that is what we do here, starting with—:
Heroes of the Comics: Portraits of the Legends of Comic Books
By Drew Friedman; Foreword by Al Jaffee
184 9x12-inch pages, color; 214 Fantagraphics hardcover, $34.99
EACH OF 83 GIANT, beautifully executed full-page painstakingly pointilist-like portraits appears opposite a page of biographical text that supplies birth and death dates and a helping of the most commonly held notions about the subject and his/her work, the sort of thing Wikipedia thrives on. This method results in a couple of errors: John Goldwater is credited with creating Archie, but Bob Montana pretty clearly did it (see Harv's Hindsight in 2001 for the gory truth); Humorama is the name of the publishing company, not the name of a magazine; neither the Pie-face Prince nor Reg'lar Fellas is mentioned in George Carlson's write-up; Peter Parker's saga began when he was in high school not college; George Evans is not credited with ghosting Terry and the Pirates; and the term "headlight" refers to the whole boob when given undue prominence, not "large erect nipples."
But these are piddling criticisms. Friedman's texts also offer tidbits of previously obscure information—Lev Gleason's early career, for instance: Al Hollingsworth's later career. Besides, this is a book of portraits, not biography.
And the portraits are delicious—some, like Jerry Robinson's, depict the subject at the time of the first blush of fame; others, like those of Jerry Siegel and Joe Shuster (the only joint portrait in the book), at maturity. All show the subjects in what are presumably characteristic poses or settings. The roster includes most of the usual suspects—Jack Kirby (whose face, strangely, is obscured: Friedman choosing to picture his hands clasped in front of his mouth), Will Eisner, Harvey Kurtzman, Jack Davis, Wally Wood, Joe Kurbert, Joe Simon, Stan Lee, C.C. Beck, Lou Fine, Carmine Infantino (whose grin is, unhappily, more grimace than grin), Walt Kelly, John Stanley. But others are usually on the second tier of comics creators—Dick Sprang, Wayne Boring, Basil Wolverton, Otto Messmer, Lily Renee, Marie Severin, Jack Kamen, Ramona Fradon, Howard Nostrand, Russ Heath.
Publishers are included as well as artists and a couple writers (Wonder Woman's William Moulton Marston, Gardner Fox, Fredric Wertham)—Max Gaines (ironically portrayed sitting on a dock, presumably at the lake where he drowned), Alfred Harvey, Malcolm Wheeler Nicholson, Martin Goodman, Woody Gelman, William Gaines, and Harry "A" Chesler, whose face I hadn't seen before. (Others in this latter category include Carl Burgos, L.B. Cole, Boody Rogers—surprisingly—and Graham Ingels, Jack Oleck, and Jesse Marsh.)
In each portrait, Friedman resorts to a device of caricature, drawing the head and face proportionately much larger than the body.
Friedman's 8-page introduction (which includes pencil sketches of some of those that re-appear later in full portraits) rehearses his career as it touched the "heroes" he depicts, and he concludes with a wholly accurate description of the book: "These were the pioneers who helped to shape a new medium, the American comic book. Some are still celebrated, some are more obscure, some died forgotten, and some are vilified. Several became rich and famous, several were exploited, and some were bamboozled, but all of them are legends—the heroes of the comics."
Delicious, throughout.
Cats, Dogs, Men, Women, Ninnies, Clowns: The Lost Art of William Steig
Annotated by Jeanne Steig, Introduction by Roz Chast, Afterword by Jules Feiffer
352 8x10-inch pages, color; 2011 Abrams hardcover, $40 but as little as $10 through AddALL
STEIG, WHO STARTED AS A CARTOONIST, became one of the most inventive visual comedians of our times, and this volume, which has rapidly and unaccountably slipped off the regularly priced shelves into the bowels of bargain basements, is a vivid testimony to his antic imagination. Full of doodles and scrawls, many enhanced with color, the volume is arranged thematically—Ladies & Gents, Art, Dogs, Cats, Odd Ducks, Ninnies &K Clowns, Bodily Harm.
And each chapter is introduced by Steig's widow, who supplies insights into her husband's so-called mind. In launching the chapter on Art, she says: "In Bill's drawings, artists are often depicted as animals, just as animals are often the subjects of artists. Art was not a profession Bill regarded with reverence. Art was part of nature, shared by dogs, cats, clowns, and roosters. ... Art expressed whatever was important about life, and in Bill's case, he expressed it comically."
In the chapter on Ninnies & Fools, she is careful to say that friends are not clowns, "much less fools, but there were a number of people Bill never got tired of." Those included two "fine and respectable citizens," who, for no reason at all, "exchanged pants under a restaurant tablecloth."
"Once," she continues, "we all made large noses of bread and wore them until they fell off."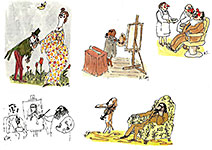 Well, I suppose you had to be there. And this book is a fair substitute for being there, as you can tell from this miserly selection.In her Preface, Jeanne Steig explains that Steig's humor wasn't in captioned pictures: "It was there in the art itself. ... Bill held in his heart that one great question: 'What's going on here?'; with every drawing he made a leap toward revealing at least the question. And sometimes, he even provided an answer."
Sherlock Holmes in A Study in Scarlet
By Sir Arthur Conan Doyle; Illustrated by Gris Grimly
280 5.5x8-inch pages, text with b/w illustrations; 2015 Balzer-Bray (Harper Collins) hardcover, $17.99
THIS IS THE 1887 PROSE TALE that introduced the brilliantly eccentric Sherlock Holmes, "consulting detective" and master of deduction, to the world, but I bought this edition not for Conan Doyle but for Grimly's spikey illustrations, which transform the shadowy mystery into bizarre Victorian comedy. This book, in other words, is prose with occasional pictures—not comics. The best part of Conan Doyle's work is the first part, this very story, wherein Dr. John Watson meets Holmes and they agree to share rooms at 221B Baker Street. We get the most detailed examination of Holmes' eccentricities (the mind is an attic but has only so much room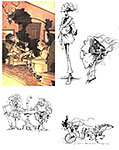 for "information" so he deliberately avoids learning anything that cannot be of use to him in solving mysteries) in the Sherlockian oeuvre. But in presenting Holmes' solution to a murder,Conan Doyle is obliged to provide a long flashback about Mormons in Salt Lake City (in which the Latterday Saints are depicted erroneously as a murdering, kidnaping culture), a digression made all the more annoying because during its course, Holmes disappears from the book's pages. Grimly, however, does not: his pictures enliven the digression. But it's his pictures of Holmes and Watson that are a treat; here are a few.
Lincoln for Beginners
Written by Paul Buhle; Illustrated by Sharon Rudahl
178 6x9-inch pages, b/w; 2015 For Beginners paperback, 15.95
POSING IN PROMOTIONS as a graphic novel, this volume is actually a prose biography interrupted occasionally by Rudahl's crammed and awkward pictorial collages.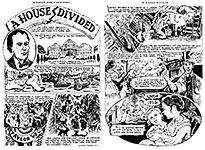 The publisher's description sets an impossible task: over a thousand books about Lincoln have been written and yet "the enigma" of Lincoln's personality, which took him from humble beginnings to the highest elected office in the land, remains. Buhle, it is alleged, sets out "to demystify the man behind the legend." Having not actually read this tome, I don't know whether he succeeds or not, but I've read other instances of Buhle's work, and based upon that experience, I doubt that he succeeds here where thousands have previously failed.
Perfect Nonsense: The Chaotic Comics and Goofy Games of George Carlson
Edited and Introduced by Daniel F. Yezbick; Preface by R.C. Harvey
318 9x12-inch pages, color; 2014 Fantagraphics hardcover, $49.99
IF, LIKE ME, YOU'VE ALWAYS WONDERED just who was George Carlson, the manic mind behind the visually punning, whimsically inspired adventures of Dimwitri, the Pie-Face Prince of Pretzleburg, and "Jingle Jangle Tales," who also, incongruously, provided the deadly serious cover illustration for the first edition of Margaret Mitchell's Gone With the Wind, then this is the book for you. Yezbick, a friend of long-standing, has performed a stunning feat of research (including extensive interviews with Carlson's daughter and grandson) in reconstructing the life and work of a man who dabbled in a wide range of children's printed entertainments—from cartoons and comics to riddles, puzzles and games; magazine and book illustration (among which, Uncle Wiggly stories), even political cartoons.
Carlson's longest gig was with John Martin's Book (1913-1933), a "kiddie pulp," for which he was lead designer, puzzlemaster, and, as Yezbick puts it, "spinner of graphic gimmickry" —a shamefully short sample of Yezbick's rollicking prose style, for which slight perhaps this fragment will compensate (a little): Carlson was "JMB's wunderkind, flooding every issue with a spiraling array of ornaments, geegaws, and finials of miscellaneous styles and traditions."
Yezbick's 43-page biography of Carlson is lavishly illustrated with rare photographs and drawings, after which, the book's chapters (each introduced with a short essay by Yezbick) present his works thematically—poems and pixies, songs and games, art instruction, portraits, advertising and so on—followed by 70 gloriously colorful pages of Pie-Face Prince stories and "Jingle Jangle Tales," six 5-6 page episodes in each category. The latter, for which Carlson has been celebrated for years among comics cognizantti, is as significant a part of the book as the biography: just as Carlson's career outside of Jingle Jangle Comics (a comic book created to showcase his cartooning talents) has been unknown, so are the comics stories for which he is celebrated hard to come by: those old funnybooks are now nearly impossible to find and too expensive to purchase if somehow found. But here we have a generous sampling of the masterworks, caught between the highly decorative covers of a captivating cut-out design.
And near here, a not quite generous but hopefully adequate sampling of the pictures parts of Yezbick's book.
Carlson's career included many more episodes and achievements than are detailed in this volume, and Yezbick plans another volume to complete the job.
PERSIFLAGE AND BADINAGE
Ramona Fradon on the "Marvel method," working from a paragraph of plot: "I wasn't the least bit used to drawing that way. It also occurred to me instantly that they were asking me to write and draw this thing for the same price."
"When you're 60, your brain possess four times the information than it does at 20."—David Shields in The Thing About Life Is That One Day You'll Be Dead
"As we get older, we do not get any younger."—Henry Reed, British poet
"Forty is the old age of youth. Fifty is the youth of old age."—Victor Hugo
COLLECTORS' CORNICHE
Welcome to our sentimental section where I muse and marvel about antique volumes on the shelf and rare finds in old bookstores and the like. Nothing major. Skip over this if you're busy.
HERE'S ONE OF PERCY CROSBY'S early Skippy pages from the old humor magazine Life.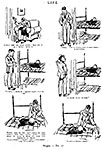 This one, published in the fall of 1923 before Skippy graduated to newspapers, is distinctly more poignant than the usual Skippy fare, wherein he is a thoroughly mischievous kid, more energy than cunning. As you can see, this was Skippy's 17th appearance in Life. I think they numbered all the Skippy pages until he left for newspapers on June 23, 1925.
Jack Farr was a workhorse of a cartoonist through the early years of the 20th century. Nearby is one of his cartoons for the old humor magazine Life, fall 1923.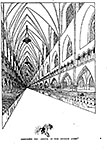 Spectacular perspective. He did a lot of cartoons of this sort— architectural wonders— for Life. He was a staff artist with several newspapers in New York and Boston and created such comic strips as Little Willie (1909), Mr. Jolt Chubby (1918-1920— dunno if this is two strips or one; my source is Lambiek Comiclopedia), Bringing Up Bill (1925). Farr also went on to do comic book stuff, mostly back-up short stories in anthology titles. Farr's characters in those stories included Vitamin Vic, Bradley, Donny the Dreamer, Gadget Man, Iron Munro, Romeo the Robot, and Three-Ring Binks. Among numerous others.
A COUPLE OTHER GLEANINGS from my latest rummaging through stacks of the old humor magazine Life.
I don't recognize the name of the cartoonist, Morris, but he's dead-on with Theodore Roosevelt—and with the other dignitaries he pictures in the second cartoon. Nifty stuff. The Preparedness cartoon is a gem— TR's teeth, and all the accouterments of San Juan Hill adventure bristling out of his clothing.
DeeDee Degg on Facebook suggested (and he's undoubtedly correct) that Morris is William Charles Morris, who was an editorial cartoonist for the Spokane Review from about 1903 until 1913, when he went to New York. The timing is about right.
How many of the movers and shakers in the second cartoon can you name? Here's who I see: Poncho Villa, Woodrow Wilson, Wilhelm of Germany, and William Jennings Bryan, not to mention Uncle Sam and John Bull of England.
And the ol' Rough Rider leads us to—:
BOOK REVIEWS
Critiques & Crotchets
Bully! The Life and Times of Theodore Roosevelt
Illustrated with More Than 250 Political Cartoons
By Rick Marschall
448 8x9-inch pages, with color; 2011 Regnery History hardcover, $32 ($3.95 at E.R. Hamilton, erhbc.com/903
"TR," as newspaper headline writers liked to call him (he hated being called "Teddy"), is undoubtedly the most caricaturable president we had until his cousin Franklin took office thirty years later, and Marschall, a noted collector of comics and cartoonery, has assembled a massive sampling of moustachio'd bared teeth for this tome. Probably half of the cartoons are in luxurious color, pulled from the pages of the humor magazines Judge and Puck, and while many of the color cartoons get full-page display, many do not, appearing in such diminutive dimensions that their impressive detail is lost.
And a few of the color cartoons are printed across two-page spreads, which effectively destroys the center of the art by pinching it in the gutter of the book.
Although the book's subtitle leads us to expect lots of cartoons—and we get them—the volume is not just an album of drawings: Marschall's text occupies probably half the book's pages. The chapters are chronological snippets of TR's life—Rising like a Rocket, 1878-1884; Black Care Rarely Sits Behind a Rider Whose Pace is Fast Enough, 1885-1888; Reform—"He Seen His Duty and He Done It," 1889-1897.
Each chapter is followed by a "cartoon portfolio" of cartoons produced during that part of TR's life, but cartoons are sprinkled through Marschall's text, too.
Marschall is a passionate and dedicated TR fan, and the Rough Rider he shows us on these pages is a champion without flaw. When, during the Spanish American War—and before leading the charge up San Juan Hill— TR exceeded his authority as Assistant Secretary of the Navy to order the Pacific fleet to Manila in the Philippines, Marschall dubs this usurpation of power an act of "enormous sagacity and brilliant military strategy." And once President, TR proved "to be a perspicacious master of diplomacy." By adjective alone—even if his acts were not themselves admirable (and they are)—TR in Marschall's hands is a heroic personage larger than life.
BEING AN ADMIRER of TR myself, I don't mind the hero worship. In fact, I rather revel in it. But Marschall sometimes surrenders to his right-wingnut biases, deploying TR to make points only the present-day Tea Baggers doubtless rejoice in. Marschall quotes from the last speech TR gave in order to emphasize a contemporary conservative bias against cultural diversity:
"We should insist that if the immigrant who comes here does in good faith become an American and assimilates himself to us, he shall be treated on an exact equality with every one else for it is an outrage to discriminate against any such man because of creed or birth-place or origin. But this is predicated upon the man's becoming in very fact an American and nothing but an American. If he tries to keep segregated with men of his own origin and separated from the rest of America, then he isn't doing his part as an American. There can be no divided allegiance here. ... We have room for but one language here, and that is the English language, for we intend to see that the crucible turns our people out as Americans, of American nationality, and not as dwellers in a polyglot boardinghouse; and we have room for but one soul loyalty, and that is loyalty to the American people."
Roosevelt clearly intended to foster a patriotic impulse, but Marschall, in annotating TR's words, turns them into a crusade for the "biblical truth" of the "wisdom of the founders," who combined "integrity, honor and courage ... not just as the best way for a Republic to survive but as the only way for a Republic, and a free people, to thrive."
TR's aversion to hyphenated Americans was, apparently, life-long. But it grew out of a positive vision for his country not out of a negative reaction to cultural diversity (which is how Marschall, I think, sees it; of course, I could be as wrong about him as I think he is about this aspect of Roosevelt). As TR came to power, the United States was just becoming a player on the world stage. It was just beginning to have a national identity, and as I read Roosevelt, he was stumping for that national identity, a new thing in American politics and culture. And there's even more subtext to his remarks.
In January 1919, the time of the speech quoted here, World War I had just concluded, and Roosevelt, like millions of his fellow Americans, was suspicious of a particular breed of hyphenated American—German-Americans, whose loyalty was questioned. The internment camps for Japanese-Americans during World War II weren't the first time that Americans with roots in an enemy nation were segregated and ostracized because they were suspected of having a "divided allegiance." And Roosevelt, unhappily, believed many rumors about purported presence within our borders of a quarter million German spies and agents.
"Although he approved of hating Germany, he insisted he did not preach domestic hate or violence: 'I am utterly against any "hymn of hate" in this country as against any nationality,'" he said, quoted by Kathleen Dalton in Theodore Roosevelt: A Strenuous Life. He repeatedly called for assimilation but "denied he was encouraging anti-immigrant prejudice, as he insisted that it was wrong to discriminate against any loyal American because of his ethnic or national origins. Unfortunately," Dalton continues, "that fine distinction was lost on audiences already inclined toward nativism."
As for the cultural diversity that, presumably, Marschall wishes weren't being so avidly championed these days, my guess is that if TR were around, he'd applaud the effort to foster diversity.
His book The Rough Riders celebrated "the many ethnic groups who fought side by side in brotherhood during the [Spanish-American] war," Dalton says. And later, TR fought against the system of "peonage" by which employers held laborers virtually captive because of debts the employers forced upon them—many of them Italian immigrants, new to these shores.
In his book We Are All Americans, Pure and Simple: Theodore Roosevelt and the Myth of Americanism, Leroy G. Dorsey demonstrates that Roosevelt's faith in rugged individualism trumped all else: it meant that he could maintain that some minority groups were often backward in relation to true Americanism even while some minorities met the standards determined by the Frontier myth he so adamantly espoused.
And for all his worshipful tales about his hero, Marschall probably doesn't like TR's crusades against corporate monopolies. And some of Roosevelt's last words on related matters probably would rankle Marschall:
"Never willing to abandon capitalism altogether," Dalton writes, "TR viewed it in the end as a cruel system unless it was moderated by humane values and a government-promoted defense of the public good. In the end, he wrote, America was a 'backward' country because 'our system, or rather no-system, of attempting to combine political democracy with industrial autocracy, and tempering the evil of the boss and the machine politician by the evil of the doctrinaire and the demagogue has now begun to creak and strain so as to threaten a breakdown.'"
Words that more aptly describe our present dilemma that the sentiments Marschall attributes to his hero— the "biblical truth" of the "wisdom of the founders," who combined "integrity, honor and courage ... not just as the best way for a Republic to survive but as the only way for a Republic, and a free people, to thrive."
We should not be surprised at the conservative tilt of Marschall's narrative. Even if we didn't know he was of that ilk, the publisher identifies the political thrust of the book. Since its founding in 1947, Regnery's website proclaims, it has specialized in avowedly conservative books that run counter to those of mainstream publishers of New York. Its history imprint is found on books that challenge the status quo, stories that deserve attention but may have been ignored or covered up by the liberal biases of the rest of the culture.
AMONG THE TALES of TR, Marschall includes the origin of the Teddy Bear. In November 1902, about 14 months after assuming the Presidency following the death by assassination of William McKinley, Roosevelt went on a hunting trip to Mississippi. It was his first relaxation since becoming President, and he hoped to bag one of the state's famed black bears. Says Marschall: "After three days and no bears spotted, a guide and his hunting dogs finally found an old bear. The dogs injured the bear, and guides tied it to a tree and called for the President. TR refused to shoot the bear except to put the old fellow down, so old and infirm was the animal."
Clifford Berryman, the editoonist at the Washington Post at the time, "memorialized the incident" in a cartoon. Two cartoons, as it turns out. "The first cartoon [published November 16, 1902] was a vignette in a larger group of cartoons of the week's events and depicted TR refusing to shoot an old bear. A second, cleaner cartoon [not part of a montage] drawn in response to public interest, showed the bear as a cowering cub." (Both of these cartoons appear below.)
The latter, the cute little cub, began to show up on other Berryman cartoons about Roosevelt. Eventually, the cartoonist used the little bear as his "dingbat," a visual symbol of the cartoonist's name. Berryman, Beary-man. TR called it the Berryman Bear; Berryman called it the Roosevelt Bear. "Everyone else," saith Marschall, "called it the Teddy Bear."
And once the little bear began appearing in Berryman's cartoons about TR, who was always favorite copy for journalists, the cub's fame spread. Among those noticing was a Brooklyn shopkeeper, Morris Michtom, "who took two stuffed toy bears his wife made and put them in his shop window. He called them Teddy Bears and found instant success. His store eventually became the Ideal Novelty and Toy Company," and it sold Teddy Bears all over. And other toy bear manufacturers complimented Michtom by imitating him.
"Nothing before had anything compared to the craze of the Teddy Bear," said Linda Mullins, a collector of teddy bears and author of their history, The Teddy Bear Men: Theodore Roosevelt and Clifford Berryman (Hobby House Press, 160 8x11-inch pages, paperback).
That's the Teddy Bear legend. But reality throws a few knots in the yarn—most of which are either overlooked in the name of a good story (when the history becomes legend, print the legend) or are unknown.
In 1987, collector Mullins published her book about her hunt for the authentic story. She went to the Library of Congress and found in the archived Washington Post the published reports on TR's 1902 hunting expedition, from which we quote anon. The party included, among others, Holt Collier, "a negro who was a scout in the Confederate Army during the Civil War ... who has charge of the pack of hounds" that were supposed to find bears.
The party arrived at the camp on the Little Sunflower River on November 13, the Post reported. The next day, a 235-pound black bear was bagged. This was the bruin the Prez declined to shoot.
The hounds chased the bear through dense undergrowth and brush, and the chase went on for hours. TR took time off to have lunch back at the camp. Meanwhile, Collier caught up with the bear, standing in a water hole. "Exhausted by its long race," reads the Post report, " it turned on the dogs. ... As the bear was making a sweep with its paw at another dog, Collier jumped from his horse and, clutching his rifle, knocked the bear over with a blow to the head. Then he blew his horn that the quarry had been brought to bay. A messenger was sent back for the President. Meanwhile, Collier roped the bear and tied him to a tree. When the President arrived, he would neither shoot the bear nor permit it to be shot.
"'Put it out of his misery,' said he to one of his entourage, who promptly ended the bear's life with his knife."
Marschall, you'll note, got most of the story right. A few minor discrepancies. The bear hunt was on the first day of Roosevelt's foray, not the third. The bear was a mature beast, albeit tired and worn out, not an "old infirm bear" but not a cute bear cub either. An old bear could scarcely have lasted long enough to lead a pack of hounds through the undergrowth for hours. And it hadn't been injured by the dogs.
Otherwise, Marschall' account is a good version of the legend.
But there's more to the tale, as Mullins learned. Why, she wondered, are there two "teddy bear" cartoons? Actually, as it turns out, there are three, not just two. Mullins explained the existence of the legend's two:
"It appears, shortly after the first cartoon was published, that the Washington National Press Club requested the 'original' of the Berryman drawing that had aroused such national attention. When it became apparent that the original was missing, Berryman drew another version."
Thus, two "teddy bear" cartoons.
The second original "was one of the notable items in the National Press Club's collection of originals," Mullins goes on. But in 1940, the place was redecorated, and during the uproar, the second original went missing.
Mullins makes no mention of the third, probably because she didn't know a third existed. But as you can see from the accompanying visual aid, there are, indeed, three versions of the famous Berryman cartoon.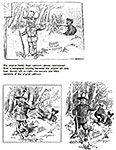 Even a cursory examination reveals that the man holding the bear in the second and third cartoons is not the same man. The rope by which he is holding the bear is shorter in the third cartoon than in the second.
In the second cartoon, TR's right heel is almost obscured by the rifle; in the third, we can see his right heel. In the second cartoon, there's a gap between TR's right arm and his body; in the third, no gap. The neckerchief is different. And so on. There are a dozen or so other minor differences.
So how come the third cartoon? Probably when the second original disappeared at the Press Club, the chagrined management asked Berryman if he'd, pretty please, do another one because the cartoon was such a popular feature of the Club's collection. And he probably did just that.
In her book, Mullins unearths another obscure and now forgotten wrinkle in the tapestry of the teddy bear tale. William H. Taft, TR's successor in the White House, was apparently mildly jealous of all the attention that the Roosevelt Bear garnered his predecessor. And then, by happenstance, he discovered his own successor to the little bear.
Taft dined at a banquet held in his honor in Atlanta, Georgia, ordering "possum and 'taters" as his main course. "So taken was Taft with the possum delicacy," says Mullins, "that he made the statement 'For possum first, last, and all the time.' The press capitalized on his speech and announced that it was the death of the Teddy Bear and the beginning of a lifelong reign for possums. ... According to an advertisement in the Washington Evening Star [where Berryman then worked] it was possums and not Teddy Bears that were the popular toy at Taft's inauguration."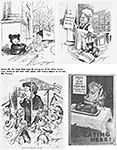 The possum was christened Billy (like the bear was Teddy) and appeared in many of Berryman's cartoons about Taft (who had been accompanied by the Roosevelt Bear in Berryman's cartoons until the possum adventure in Atlanta). Toy manufacturers attempted to recreate the Teddy Bear sensation with Billy Possum, but despite being a distant cousin in the bruin family tree, Billy never had anything approaching the success that Teddy did.
Oddly—proving he was not a man of the 20th century even though he lived all his adult life in it until he died in 1949—Berryman made no money on his Teddy Bear. He left all that entrepreneurial venture to toy manufacturers. He could have
made millions, Mullins says, "but instead he would tell people, 'If it has given pleasure to children, that's reward enough for me.' He said he never even thought of creating a toy bear."
Here's an abbreviated gallery of Teddy Bears.But if, by chance, you're looking for more characters of TR, you may wish to find a copy of Albert Shaw's A Cartoon History of Roosevelt's Career (260 8x11-inch pages, 1910 Review of Reviews Company hardcover) which boasts 630 "contemporary cartoons and many other pictures." More pictures than words, but the pictures are all black-and-white, alas.
Foolbert Funnies: Histories and Other Fictions
By Frank Stack (aka Foolbert Sturgeon); Foreword by Bob Levin
224 7.5x10-inch pages, b/w; 2015 Fantagraphics hardcover, $24.99
STACK RETIRED from being a professor of art at the University of Missouri in 2000; taught his last class in 2002. I visited him and stayed at his place in the fall of 2001 (or maybe it was the spring of 2002). He'd invited me to make a presentation about comics to one of his classes. He also invited me to attend his life-drawing class, which I happily did, drawing from a nude young woman while Frank paced the room, delivering a harangue about some current societal or political evil.
That blend of art and anger is the essential Frank Stack. Says Levin: "Stack has frequently cited 'outrage' as the fuel firing his comic work, and while he does scorn such targets as authoritarianism, censorship, consumerism, mindless patriotism, the CIA, Richard Nixon, and George H.W. Bush, this seems fairly modest for a guy who has disclosed his displeasure with all 'rotten, power-mongering, paper-shuffling assholes who think work is to buy cheap and sell dear.' ... But Stack also believes that, whatever the ferocity of his feelings, he should leaven them with humor. 'The bottom line consideration about a cartoon,' he said, 'is that it's funny.'"
But comedy isn't all there is in art. One afternoon, Frank drove us out into the countryside to a bluff overlooking a particularly pastoral vista, a favorite view of his, he said, and one he'd painted often.
And one evening over dinner, we tried to construct the chronology of his cartooning life in order to properly date his watershed work, The Adventures of Jesus (or The Adventures of J, the exact title being somewhat hazily recalled), reputedly the first underground comic book. (It was actually eight sheets of paper stapled together by Gilbert Shelton in the winter of 1963; not a "book" nor a "pamphlet"—but first nonetheless.)
Stack had trouble remembering the exact dates (who among us can remember with precision what they did 40 years ago?). And in the book at hand, for which he supplies a Chronology of his career, his memory is still faltering: he calls this landmark publication The New Adventures of Jesus and dates that title 1963 and 1968 (or 1969), when it was Rip Off Press's first publication. True, certainly; but the Rip Off Press production was the second of Stack's Jesus comics, not the historic first. No matter: what matters is the content of this volume.
The Savior doesn't show up here because Fantagraphics already published a collection of Stack's Jesus stories in 2007, The New Adventures of Jesus: The Second Coming. But the book at hand offers a wealth of Stack satire and twisted history, reprinting so-called "juvenilia" (from the seventies and eighties), character work (Dr. Feelgood stories, Frank Crankcase's Time Machine), histories and other fictions (Van Gogh's ear, Shakespeare's contribution to the King James Bible—"My notion of historical fiction," Stack explains in his Introduction, "is neither to illustrate a popular notion of events nor to fabricate explanations by altering known facts but to propose a feasible hypothesis to explain gaps in the established record"), adventure stories (Phanty, a parody of the Phantom, Dirty Diana and the Amazons), and political comix (with Paddy Booshwah—George H.W. Bush—and "Patriotism for Dummies").
Throughout, we have Stack's distinctive "gestural" style of drawing, bristling with crosshatch and accented with splashes of solid black, creating mood as well as narrative.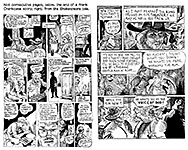 In his Introduction, Stack rehearses the origins of some of the stories herein and comments on the passing scenes of his creative life. "The Chancellor" story, for instance, "was about a cruel and cowardly official at the University of Missouri who had called out the National Guard to deal with a peaceful student protest." In Stack's telling, a student comes into the chancellor's office and finally interrupts the official's mindless and inappropriate rote recital of university rules and regulations by attacking him physically and dismembering him; he then puts the pieces back together and adds a clockwork mechanism, which enables the robot to go on reciting gibberish until he manages to blow himself up.
In his Van Gogh story, Stack offers a plausible explanation for the artist notoriously cutting off his ear—in a fit of delusion. In his Shakespeare offering, Stack's narrative fills in a couple gaps in the Bard's biography. During that "blank" period before turning up in London as a playwright, Stack's Shakespeare was in the English army in Flanders. Stack also suggests that Shakespeare was the secret love child of Elizabeth I and Robert Dudley, Earl of Leicester. But the culminating fabrication in Stack's life of Shakespeare is his claim that the poet/playwright was enlisted to invest the scholars' translation of the Bible with some of his majestic poetic language.
And then, when Shakespeare wanted to include in a publication of his collected works selections from the translations he made of the Psalms and "the Song of Songs," King James balked and denied permission: "You'd think he'd know he can't claim credit for the Bible," he growls. But his advisor is worried that denying Shakespeare permission might make him mad enough that he'd do it anyway. So His Majesty arranges for a "natural death" to overtake the Bard, which explains how Shakespeare died the day after spending an evening drinking with old "friends," a death the cause of which is still bewildering to scholars.
SCHOLARS HAVE BEEN BEWILDERED by Shakespeare for centuries. The fundamental problem is how to explain the genius of the plays attributed to him when we have no evidence that he ever went to college. Or something along those lines.
This dearth of biographical/educational information prompted the first defection in Bardolatry: numerous doubters finally decided that "Shakespeare's" plays were actually written by Francis Bacon, the only writer of the time with sufficient intellectual heft to have produced such masterpieces. And the Baconians (as they were called) produced evidence to support their contention: Bacon had actually "signed" the plays, coding his name into various verses here and there.
And prompts the next question: if Bacon was writing Shakespeare's plays, what was Shakespeare doing? And Frank Stack confirms the suspicion: Shakespeare was translating the King James Bible.
And he, like Bacon, signed his work, coding his name into Psalm 46. If you count 46 words from the beginning, you get "shake." And 46 words from the end (not counting the last word, "selah"), "spear." Shakespeare. ("Selah" is a closing term, somewhat like "amen"; its actual meaning is unknown, but many suppose it is a musical annotation, the psalms being intended for singing.) Why Psalm 46? That's how old Shakespeare was when he finished translating.
But why do we persist in seeking some "explanation" for Shakespeare's plays? Why is it so difficult to believe that a humble commoner from Stratford, supposedly without advanced education or much worldly experience, could write the plays? They are unequivocally deemed works of genius. And that's enough explanation. We can't explain "genius" either.
All of which has led us somewhat astray. To end, properly, the review: this book is a welcome addition to the Frank Stack oeuvre in print, a primer revealing the motives and preoccupations of underground cartoonists in one of its most successful, long-lived practitioners, and a pleasure to read and, where appropriate, laugh at.
READ & RELISH
"If you are immune to boredom, there is nothing you cannot accomplish."—David Foster Wallace
"Comparison is the thief of joy." —Theodore Roosevelt
"People will pay more to be entertained than to be educated."—Johnny Carson
"If a politician found he had cannibals among his constituents, he would promise them missionaries for dinner."—H.L. Mencken
LONG FORM PAGINATED CARTOON STRIPS
Called Graphic Novels for the Sake of Status
Law of the Desert Born
By Louis L'Amour; Adapted by Charles Santino; Drawn by Tom Yeates
154 8x12-inch pages, b/w wash and line; 2013 Bantam hardcover, $25
WESTERN NOVELIST L'AMOUR'S TALE WITH TWO BAD GUYS or two good guys—the same two guys—is beautifully drawn by Yeates (who also draws Hal Foster's Prince Valiant these days) from storyboard adaptation by Santino. The two guys are Shad Marone and Jesus Lopez, half-Apache half-Mexican, who works for Marone, foreman of Tom Forrester's ranch in New Mexico. Forrester settled the region with his friend Clyde Bowman, and with a handshake they have shared the water that is more plentiful on Bowman's land than on Forrester's. But Clyde died and left his ranch to his son Jud, who, during a drought, has decided to reserve to himself his grazing land and water by fencing Forrester out.
Forrester convinces Marone to rustle some of Jud's cattle to make up for losing a couple hundred of his own to starvation, and Marone recruits Lopez to help him. They hide the stolen cattle in a remote canyon, but Jud figures out what's happened and brings the law with him to find the cattle. Marone is with them; he has left Lopez to guard the cattle, and when the sheriff finds Lopez and arrests him as the rustler, Marone says nothing about their joint enterprise. Jud nevertheless assumes Forrester is behind the rustling and in a fit of rage runs him down with a wagon. Forrester dies, and Marone, in revenge, kills Jud.
The sheriff recruits a posse to go after Marone, and Lopez pleads to be released from jail to help them track Marone. The sheriff finally relents, and Lopez joins the posse, saying he knows where Marone will go and can track him across the desert. (And he does know: Marone told him of a refuge and waterhole when they were rustling the cattle together.) They catch up to Marone and are set to ambush him, but Lopez fires first; his cohorts think he blew it because he was nervous, but Lopez was deliberately alerting Marone to the ambush. Marone rides off, escaping for the moment. By the time the posse finally closes in on Marone again, their number has been reduced to the sheriff and Lopez. The sheriff, wearying of the chase, wants to put handcuffs on Lopez and take him back to jail. Lopez overpowers him and runs off, still following Marone.
Lopez catches up to him at the remote waterhole Marone had told him about. But Marone is so weak from thirst that he can't reach the waterhole up the side of a cliff. Lopez helps him. Then the two acknowledge how they'd used each other. Marone let Lopez take the rap for rustling, thus saving himself. But Lopez enabled Marone to escape the ambush because he needed to track him to the waterhole and thus make good his own escape. Each used the other to save his skin. At the end, they decide to team up to make good a joint escape across the Rio Grande to Mexico.
So who is the bad guy? Who is the good guy?
Not the usual sort of L'Amour tale.
In a lengthy epilogue, L'Amour's son Beau explains how the graphic novel came into being—progressing from the original short story to radio script to movie script and finally to Santino's storyboarding for Yeates. All but one paragraph of the essay is devoted to Beau's machinations—mostly, his agonizingly careful relationships to the writers who produce the scripts for the various versions of the story. He devotes only a single paragraph to Yeates, saying he "was the perfect man for the job."
I have the distinct impression that Beau L'Amour is a man desperately trying to make of himself something other than just the son of a famous writer. He expends lots of verbiage on a process of which he is mostly a mere observer, hoping, I suspect, that he will gain in importance by associating himself with the creative personalities who actually produced this novel. But he apparently has none of the usual creative talents—pictorial or verbal. He lists himself simply as the "producer" of the novel.
In his scheme to bathe himself in reflected glory, Beau neglects the real hero of the production—Yeates—whose pictures are simply glorious. I have no way of telling how precise Santino's storyboards were—page layouts? panel by panel? individual panel compositions?—but the final result is stunning visual-verbal storytelling. The pictures themselves are beautifully rendered, embellished by the gray tones of a wash. But the storytelling is equally impressive: narrative breakdowns pacing the story and panel composition varying for dramatic emphasis and visual variety.
Verbal content is spare to non-existant. No captions. All verbal content is in the speeches of the characters. And they often go for pages across the burning desert without saying a word.
Impressive. This is the way graphic novels are supposed to be.
The Sculptor
By Scott McCloud
488 6x9-inch pages, b/w with a blue tint; 2015 First Second hardcover, $29.99
I JUST FINISHED this lovely, engrossing book. It made me weep. Before that, it made me happy—happy to see that the man who's been telling people how comics work could make the medium work so well, deploying so many of its tics and tropes and capacities to tell a great story. Technically, every page was a fascination.
As always, McCloud's style is clean, uncluttered. But here, despite a vast array of detail in backgrounds, the drawing is relaxed; it doesn't seem as rigid as in Zot! and other McCloud works. The line is more flexible; anatomy and compositions, more easy-going. Throughout, a soft blue-gray tint gives depth to the pictures and volume to the figures.
Working with a nine-panel, three-tier grid, McCloud varies page layouts regularly—for dramatic emphasis or simple variety. Occasionally, a panel goes black. Or shockingly blank. The architectural detail is simply stunning—street scenes, soaring skyscrapers, coffee shop interiors—all create an authentic sense of place, of New York City.
And the story itself is engaging, absorbing.
McCloud recasts the Faustian fable with a young sculptor, David Smith, the beneficiary of a deal with the devil: with his bare hands, he will be able to make anything he envisions out of anything—for 200 days. Then, he'll die.
Thereafter, the tale moves through a cascading succession of suspenseful developments that interconnect, each fraught with the possibility of failure—or great success. It begins with David's learning how to sculpt any solid substance with his hands alone; then he tries to gain recognition for his talent but is initially rebuffed by snooty critics. At the nadir of his experience, David meets a girl, Meg, and the tale focuses on his getting to know her and she, him. Finally, after spending quite a lot of friendly time together, they fall in love. Just at this point, his sculptures begin receiving the recognition they deserve. Then David faces the dilemma of his Faustian deal: when he made the deal, he had nothing to live for; now, he has Meg and their supposed future life together —not to mention dawning fame as a sculptor.
Through careful development of each evolution of David's life, McCloud makes us care about him. And that, given David's introduction as a sort of whiney wannabe, is no small achievement.
The book's theme is the artist's eternal struggle—to find a satisfying balance between creating art and enjoying life with his muse. And there is a good deal of McCloud in the story: his muse is his wife Ivy, who inspired the character of Meg.
To say how it ends would spoil the experience of the book. And since it's an experience I wish for everyone who loves comics, I'll stop here. But not before pointing out how well McCloud invokes the ambiance of New York City—and how frequent panels depicting skyscrapers soaring into the sky above foreshadow an aspect of the book's ending.
Great stuff.
This is the way graphic novels are supposed to be.
BADINAGE AND BAGATELLES
Jimmy Palmiotti on Kickstarter: "We deal with crazy shipping prices, people for the hell of it cancelling pledges along the way, that sets everything off and we have a constant back and forth with people that move, losse the package and so on. There is a lot most people don't talk about and this is in the fulfillment stage. Costs change. Printing time clocks get altered. Packing supplies have to be ordered in bulk. Customer service happens even a year after a drive has been delivered and so on. It is a ton of work, but I welcome the interaction with the people that support our work."
FUNNYBOOK FAN FARE
Four-color Frolics That I've Been Readin' Lately
NO EXHAUSTIVE ANALYSIS under this heading—just a few quick notes about some of my recent reading. Lady Killer f'instance. Co-written by Joelle Jones and Jamie S. Rich and drawn by Jones, the book is a shocking novelty: here's a contract killer, Josie Schuller, who, when she's not out killing someone, is a wife and mother of twin girls just beyond toddler age. And Josie's beautiful to boot. In the first issue, she kills a nasty-tempered shrew of a woman, and we meet her handler, Peck, who flirts with her; she doesn't return the favor. In the second issue, she becomes a "kitten" at the Kitty Cat Club (a stand-in for the old Playboy Club) where, wearing an abbreviated costume, she finds her target, a particularly obnoxious groper. She also finds out she's getting a reputation with the hit agency's Big Boss for being uncooperative, thanks to handler Peck's reports. Further complicating her predicament is her mother-in-law, who no longer believes the excuses Josie offers to explain her absences from home and hearth, thinking, stead, that she's having an affair.
Being a mother, Josie fails her next assignment—killing an 8-year-old boy who witnessed the killing of his parents. Meanwhile, the Big Boss has decided to "remove" her from the company's roster of assassins and sends Peck off to do the job. Peck follows Josie as she drives away from the site of her failed assignment, pulling her over and pulling a gun on her. No.3 ends there.
Jones' drawings are stunningly distinctive: crisp renderings with a flexing line and very little feathering, no shading, every detail clearly delineated. She varies perspective often,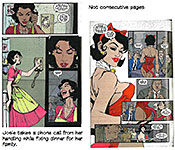 opting for extreme foreshortening and birds-eye views. And her staging and blow-by-blow rendering of Josie's assassinations is meticulous, every movement carefully articulated. I haven't seen anything like her work in any other comic book although she's done other work (Helheim for Oni). Says she: "Working on Lady Killer has so far been the most satisfying project that I have been a part of. I think it helps that every panel is something I am excited to draw!"
OVER AT DYNAMITE ENTERTAINMENT, the 100th anniversary this year of King Features, the nation's oldest newspaper syndicate, is being celebrated with a special comic book "event": under the King Crown logo, five mini-series, each one starring one of the venerable syndicate's biggest players—Prince Valiant, the Phantom, Mandrake the Magician, Jungle Jim, and Flash Gordon. The series will end in May with a "grand crossover." The launch issues featured covers by Darwyn Cooke, but the interiors are by five other guys. I've seen only three of the titles (Val, Phantom, Flash), but what I've seen is promising.
Not content with simply reviving the King stalwarts, DE has given each of them a new twist. Prince Valiant, for example, seems caught in an intergalactic flash-back and -forth: we see him as a too exuberant teenager in King Arthur's court thanks to a disembodied space voice who's telling the tale. At the end of the first issue, we see an aged Val, who has presumably survived centuries of adventures.
The Phantom legacy is being carried on by Lothar, Mandrake's African cohort, who puts on the purple only temporarily until he can find the rightful heir to the Skull Cave and its contents. He gets going by tackling a mysterious jungle mafia called the Vultures. We see the Vultures in their cruel lair as they question a female freelance reporter, who is investigating their nefariousness.
The Flash Gordon mythos of Alex Raymond seems entirely untampered with. He and Dale Arden and Dr. Zarkov are still battling Ming the Merciless (who, in this incarnation, has the inkling of a diabolical sense of humor).
I still have to acquire samples of Mandrake and Jungle Jim.
The stories are reasonable elaborations within the ambiance of the original creations, but it is the art that most interests me. Ron Salas who draws Nate Cosby's story in Prince Valiant has the good sense to know he cannot compete with Hal Foster, the feature's pacesetting creator; so he simplifies. He repeats Foster's famous scene of Val battling a horde on a bridge armed with his famed Singing Sword, but Salas changes the camera angle, depicting the action from one end of the bridge rather than from the side.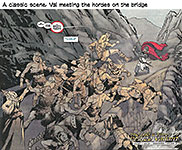 In The Phantom, Brent Schoonover also simplifies the visuals in rendering Brian Clevinger's tale, but the original Phantom illustrators, Ray Moore and Wilson McCoy, also drew simply, albeit almost entirely in outline.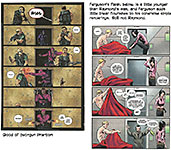 And again in Flash Gordon, Lee Ferguson produces comparatively simple renderings of the story by Ben Acker and Ben Blacker. (Acker and Blacker. Sorry: couldn't resist.) Alex Raymond he isn't, but he turns out a deliciously creditable job. It is, however, somewhat more embellished with modulating lines than the visuals of Evan Shaner, who is illustrating another DE Flash Gordon: written by Jeff Parker, this title (also Flash Gordon but not bearing the "King" mini-series crown logo on the cover) again seems well within the traditions of the character.
Ferguson's Flash looks a little young for his role; he reminds me of Milton Caniff's Terry in the years before Terry joined the Air Corps in World War II. Shaner and Parker give their Flash a personality akin to Errol Flynn's in the olde swashbuckling films of a couple generations ago—a nice touch, delicately administered.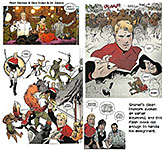 Roger Langridge, who is writing the Mandrake tale for Jeremy Treece to draw, promises to give Mandrake's stage career a place in the story. And Paul Tobin and artist Sandy Jarrell will put Jungle Jim on another planet, presumably with a more primitive culture, where he will function, Tobin says, "as a force of nature like the forest around him."
Altogether, the revivals brim with promise although I'll probably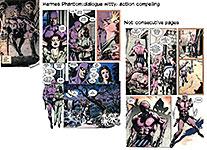 stick with them only for Flash.
Meanwhile at Hermes Press, another revival of the Phantom is taking place. Written by Peter David and drawn by Sal Velluto, it's better than the DE version. The story is more straightforward, the dialogue wittier, and the drawing more assured even though it embodies the usual superheroic fashion of flaying flesh to reveal musculature.
THE REVIVAL OF Steve Gerber's Howard the Duck over at Marvel seemed doomed to me. The promotions featured a visual interpretation that made me think of Baby Huey, a conception that at odds with the satirical function Gerber made Howard serve. When No.1 arrived, the art was not as disappointing as I'd feared; and that's good. What rescues the Howard visuals is the attention given by Joe Quinones to the character's expressive eyes.
But I wish Quinones would modify the treatment of the duck's bill, which he seems to have thought through but the result is not convincing. The thing doesn't hinge on the bridge of the nose correctly. And when Howard opens his beak, everything disappears in a black maw.
Given Disney's ire over the original Howard rendering, it's not surprising that Quinones' version departs from cartoony ducks pretty decidedly. But Quinones' Howard does not look like the character speaking the words Chip Zdarsky gives him to say. This Howard is as short-tempered and peevish as Gerber's, but he doesn't look the part.
Then there's the issue of Howard's over-all duckishness. Quinones' Howard has a duck's head and webbed feet, but otherwise, he's a small boy or short man. Except for his tail. Which doesn't appear often. And it's a good thing it doesn't. Whenever Quinones tries to convey the impression that there's a fowl tail behind Howard, he just puts a suspicious bulge in the back of his trousers—making it look as if Howard has a hard-on coming out of his tailbone.
The first issue successfully conveys Howard's irritable personality, and we meet the Beverley substitute, a tattoo artist named Tara Tam. But the satire, if any, is a little tepid. Gerber began by bringing in other Marvel characters. And Zdarsky does the same: Spider-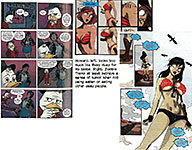 Man shows up, ditto the Black Cat and a character that might be Doctor Doom or another of Jack Kirby's intergalactic creations. (Sorry: I'm not up on my Kirby.) And is the green woman She Hulk? Probably. Spider-Man whines a little about his Uncle Ben, but none of the other importations seem to function satirically. And at the end of this issue, we're promised that Rocket Raccoon will show up in the next issue.
I'm not convinced.
AS SOON AS I SAW the size of the Zombie Tramp's bosom, I couldn't resist buying the initial issues of the eponymous title. The alleged premise of the book is that a call girl named Janey Belle got bit by an undead john, turning her into another of the walking dead but "with supernatural abilities" and she now "roams the highways searching for answers."
But even after a couple issues, I can't tell you what the questions are.
Mostly, the comics feature an unending succession of scenes of characters ripping each other apart, splattering blood and bone hither and yon. Oh, and Janey Belle's hooters.
ONWARD, THE SPREADING PUNDITRY
The Thing of It Is ...
If any language of the Patriot Act or any of the subsequent related acts of Congress can be found to include the phrase "war on terror" to which the U.S. is committed, then the Senator signatories of the infamous letter to Iran's leaders are traitors, guilty of treason. Iran is the region's most active agent in support of terrorist organizations; the country is therefore our "enemy" in the war on terrorism. The Senators, in giving Iran a reason not to negotiate with the U.S. about a possible weapon of war, are therefore giving aid and comfort to an enemy—ergo, they are guilty of treason.
Impeccable though this line of reasoning is, I don't, really, think the self-important Senators are traitors to our country. But the mere fact that I and many others of a similar ilk can even consider the possibility reveals just how blatant an offense against the custom and values of our nation that letter is.
WE'RE ALL BROTHERS, AND WE'RE ONLY PASSIN' THROUGH
Sometimes happy, sometimes blue,
But I'm so glad I ran into you---
Tell the people that you saw me, passin' through
NOT A GOOD MONTH FOR CARTOONISTS. Several of the noted among the breed died in the last 30-40 days.
Jim Whiting, 1928-2015
Jim Whiting died March 30 in Los Angeles, where he and his wife Bernita had moved into an assisted living facility a couple of years ago, leaving San Diego, their home for almost 30 years. He had lived with chronic lymphocytic leukemia for fifteen years; then a couple years ago, he got a virus that affected the joints. His arm was always in a sling and he was in pain, which made drawing, his life-long passion, next to impossible.
Jim is fondly remembered by friends and cartooning colleagues at sccs-online.org, the website of a cartoonists club he co-founded and nurtured as its president for 15 years. I am one of those friends and colleagues.
I shared a hotel room with Jim Whiting a few times at the National Cartoonist Society Reubens weekends or other cartoonist events. And sharing a room with Jim is the only way to have a conversation with him. In the wild—that is, out among cartoonists at these convivial convenings—Jim was forever spying across the room a comrade of yore who needed to be greeted. You might start a conversation with Jim, but it would come to a halt the minute he saw over your shoulder someone he hadn't seen in a long time: he'd immediately dash off to shake a hand and find out what was going on with that person. If the human (sic) sapien is an essentially social creature—a being who lives and thrives only in society—then Jim was the quintessential human. He liked people.
And he was perpetually cheerful. If he couldn't think of a joke or witticism, Jim could still grin and say something cheerful. No wonder he was welcome wherever he went.
We never talked much on telephone: by the time we knew each other, we were both a little deaf, and telephone conversations—which necessarily were conducted without the benefits of lip-reading—tended to be a rapid exchange of "What?" and "What" again.
Once when we were in the audience at one of the triennial cartoon festivals at the Cartoon Library & Museum at Ohio State University, Bernita sat between us so she could tell us both what was being said on the stage in front of the room. Mostly, we turned to her when the audience laughed: we asked her to repeat the jokes.
Jim couldn't keep a straight face even when reciting his autobiography for the NCS Membership Album. Born May 19, 1928 in Canton, Pennsylvania, he was taken at the age of two by his parents to Watkins Glen, New York, and that's where he grew up and spent most of his life. His childhood apparently teemed with typically uneventful events until 1942, when, he reports, "I got my biggest laugh when I was elected President of the Junior Class. Passed out cold. Decided drawing cartoons is a better way to amuse people."
The next year, he met Bernita Blanchard and the year after that, he joined the Navy, and the next year on November 20, he married his "highschool sweetheart," Bernita. They both went back to Watkins Glen after Jim's discharge in July 1946.
Then Jim met New Yorker cartoonist Sam Cobean, who summered in Watkins Glen.
"It opened a door that allowed a peek into a wonderful world for me," Jim said in his autobiography. "While not telling me what direction I should choose, he did make me aware of—and indicated that I should investigate—some of the options available: comic strips, editorial cartoons, animation, advertising, children's books, comic books, and, of course, magazine cartoons. ... Sam took the time to look at my first efforts and patiently answered questions. Seated at his drawing table, he put tracing paper over my drawings and with his pencil made suggestions that improved the composition and the gag.
"Although kind and considerate," Jim went on, "he got the message through: 'Go to art school, Jim.'"
Cobean continued to encourage Jim for the next few years until he tragically died in a car crash in July 1951.
"I was deeply touched," Jim wrote, "when Sam's wife Anne called after the funeral to ask if I would like to have her husband's drawing table. It was so thoughtful of her. Often after that, the thought occurs: how that table, which had been central to the production of a great body of work by the original owner, has continued to serve its present one for more than half a century. It's almost as though this utilitarian piece of furniture is a metaphysical continuation of Sam's guidance."
Jim took Cobean's advice: in 1948, he went to Illinois and enrolled in the Chicago Academy of Fine Arts. While attending classes, he worked as a mailman in suburban Chicago—"for one week only," he admitted, "because I kept getting lost on my route. The Chicago Academy put up with me for a longer period—four months." (That's how long it took Jim to run out of money.)
Burne Hogath's Cartoonist and Illustrator's School in New York City "was even more lenient," Jim reported, "allowing me to attend night sessions for two years and teach day classes!"
Jim qualified for a Veteran's Administration loan and bought a tiny house near New York City. About this time, he sold his first cartoon to a national magazine, Seventeen, and then began selling to most of the major magazines, "which were decreasing in number as my family was increasing in number" (up to five, eventually—and at least eleven grandchildren).
In 1952, he and Bernita returned to Watkins Glen, and Jim freelanced for the next five years. In 1953, he—with Joe Daley—founded UCLA (Upstate Cartoonists League of America). Early members included Brad Anderson, Ford Button, Johnny Hart, Reg Hider, Brant Parker and Fred Thomas. Then in 1956, he took what he thought was a part-time job at the local radio station, WFLR, where he was an "on the air" personality and a control room operative. Twenty-nine years later, he said, "WFLR gave me a gold watch."
Meanwhile, starting in 1957, Jim drew the syndicated feature that Larry Hurb (aka Len Bruh) was writing, AD Libs, a gag panel cartoon for newspapers' classified ad sections. The job lasted over 15 years; then Joe Daley inherited the drawing chores. Before that gig played out, Jim "adopted" in 1965 two syndicated gag cartoon features created by Mell Lazarus— Li'l Ones and Wee Women (Lazarus deserted his first born for Miss Peach, a comic strip he'd launched in 1957)—which he continued for the next 11 years.
In 1964, Jim opened the Cartoon Studio and Gallery in Watkins Glen, displaying and selling original cartoon art and cartoon-related merchandise (books, mostly). "Hung in there for four years," he said, "but lost money."
By the mid-1970s, Jim was no longer producing syndicated cartoons, but he continued freelancing and talking on the radio. Then in 1984, he and Bernita packed up and moved to San Diego, where he persisted in freelancing cartoons to magazines and ad agencies on both coasts—"Doing full-time what I've always enjoyed the most," he said.
At his website, jimtoons.com, we learn that Jim has published over 14,000 cartoons. While still freelancing cartoons in his later years, he also specialized in providing humorous illustrations for instruction manuals, corporate magazines and trade publications.
A couple of years after he arrived in San Diego, he and Brad Anderson invited some local cartoonists, Paul Norris, Sherm Goodrich and Lyle Swiger, to lunch. "That was the genesis of the Southern California Cartoonists Society," Jim wrote. SCCS, like UCLA, is now a chapter in NCS's sprawling national network.
Jim published an autobiography in 2005. Entitled Analecta: Selected Reflections of a Cartoonist's Life, the book is just that: "analecta" meaning "a collection of literary passages," which, in this case, are stitched together as a crazy quilt of friendships.
In fact, one has the impression, after reading the book, that it's more about Jim's friends than it is about him. The book is organized around the names of his acquaintances and colleagues, whom Jim admires unreservedly. We learn about Jim, his aspirations and achievements, mostly by what he says, almost incidentally, when introducing us to his friends.
And that's just exactly as it should be. Jim was not much involved with himself: he's much more interested in other people. If you set him loose in a roomful of perfect strangers, he'll know more about each one of them within a half-hour than you could find out in a week. The thing that interests Jim is other people—what they do, what they think. And he'll drop everything in pursuit of this sort of knowledge. The book is exactly like that. (A longer review of this tome appears at Opus 180).
Jim was an affable, kind and out-going person, and the book is a perfect reflection of his personality. You may not learn all that much about what a cartoonist does, day-by-day (or a radio personality), but you get to know Jim Whiting pretty well. And that, after all, is what autobiography is about. And Jim's casual prose style—warm, conversational and gently humorous—completes the reflection. The volume, with a healthy sampling of Jim's cartoons and numerous photos of his friends and family, is still available through Amazon.com
In San Diego, when not cartooning, Jim enjoyed beach hikes, exploring San Diego, Dixieland jazz, shop talk with cartoonists, and magic—both doing it and watching it done. (His book of magic cartoons, A Rabbit Under the Hat, done with Ellen Friedman, is reviewed at Opus 317, accompanied by a few of the cartoons.) And tennis. He was passionate about tennis and played every day he could until just a couple years ago.
While strolling around town, Jim indulged a hobby: like most of the rest of us, he picked up any friendless coins he saw lying about on streets, parking lots and sidewalks, but Jim didn't just pocket the accidentally gained loot: he kept track of the monetary value, year by year, so he'd know how much richer he was by the end of the year. The year 2005 was a pretty good year: he amassed $10.42; but the record year was 2000, when he rescued $20.70 from oblivion.
But the real wealth in Jim's life was his family and knowing other cartoonists. "Cartoonists, pound for pound, are as nice as any people I've ever met," he'd say, always adding: "I feel lucky to be a cartoonist—and most grateful for 42 (eventually, 70) years of understanding support I've had from my childhood sweetheart, Bert."
I'll miss him.
Irwin Hasen, 1920 - 2015
One of the last surviving Golden Age artists and the co-creator of the comic strip Dondi, Hasen died on March 13. Hasen had a long career in comics, beginning in 1940 at the Harry "A" Chesler Shop, doing the Green Hornet, Cat-Man, and Secret Agent Z-2 among others, after which he went to DC comics and co-created Wildcat and worked on other iconic comic book characters—Green Lantern, the Flash, Justice Society. But it was with Dondi, says David Colker at latimes.com, "a pint-sized war orphan who had no greater powers than gumption and wide-eyed innocence, that Hasen charmed a nation." After retiring Dondi at the end of a 30-plus year run, Hasen finished his career as a well-regarded longtime member of the Joe Kubert School faculty.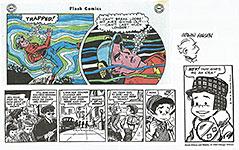 Hasen began his cartooning career at the age of 15, drawing pictures of prizefighters (good training for Wildcat). "At a young age," he recalled in an interview with Roy Thomas in Alter Ego (Vol.3, No.1, 1999), "I was suddenly around a seamy bunch of people—gangsters, fight promoters, champion boxers."
Steven Ringgenberg has a long appreciative obit in the online Comics Journal at tcj.com, where he writes: "Hasen teamed up with Batman co-creator Bill Finger to dream up Wildcat, a heavyweight boxing champ who moonlighted as a costumed hero, initially to clear his name after getting entangled with organized crime, and whose only superpower is the cat-like 'nine lives' power he had bestowed on him by magic. He also possesses extreme strength and vigor even at an advanced age. Although he has no real superpowers, his toughness and boxing skills enabled him to survive many perils in the pages of Sensation Comics (debuting in issue No.1 alongside Wonder Woman, eventually becoming the second-most popular feature in the title) and All-Star Comics, where he was a member of the Justice Society of America. Wildcat trained Batman, Black Canary, and even Superman in the pugilistic arts. Wildcat was Hasen's best-known creation in comic books, though during this period, he also did stories starring the Green Lantern, succeeding original artist Martin Nodell."
During World War II, Hasen, deemed to short for combat, was stationed at Fort Dix in New Jersey where he ran the post newspaper—doing everything as a one-man newspaper band, editing, writing, setting type, drawing a comic strip. "I wrote the whole goddamn paper," he told Thomas, "and I interviewed all the celebrities coming in from New York. I worked my ass off and I wound up in the hospital. But that was my proudest time, editing that newspaper for a year and a half."
"Active in the National Cartoonists Society for many years," Ringgenberg says, "Hasen went on a USO tour during the Korean War where he met writer Gus Edson, who proposed they work together on a syndicated strip. In 1955, Dondi debuted with Hasen drawing and Edson writing it."
Dondi was an Italian orphan adopted by an American G.I. in the aftermath of World War II. The situation resonated with readers, said Colker.
"What inspired it was that during the Korean War, officers were adopting war orphans," Hasen (pronounced HAY-sen) once said. "We just made it World War II, instead."
At the strip's beginning, Dondi was living behind a rubbish heap where he was found by G.I.s who give him food and a place to sleep, Colker said. When the soldiers are ordered back home, Dondi sneaks aboard their ship to reach America, "where swell guys come from."
Once in the U.S., Colker continued, Dondi is embroiled in an immigration battle. Readers breathed a sigh of relief when Dondi, whose newspaper subscription base grew steadily, was allowed to stay in the country. The plot pattern was repeated with Dondi becoming a pawn in custody battles. He also got the constant companionship of a dog, Queenie, and met up with a variety of characters.
"The strip had a sense of wonder," Colker quoted comic book editor Danny Fingeroth as saying. "You saw America through a little kid's eyes — a kid who had seen way too much unpleasantness in his young years."
The strip peaked at about 100 papers, Ringgenberg said, lasting until 1986, when dwindling subscribing newspapers brought about Dondi's retirement. And Hasen's.
"I think Dondi was just too sweet, too nice, too gentle for the times we live in now," Hasen once told the Chicago Tribune. "He believed in everybody."
Thereafter, Joe Kubert invited Hasen to join the faculty at the Kubert School of Cartooning, where he taught for many years. In 2009, he produced his autobiography, Lover Boy, about his amorous adventures as well as his cartooning career. "A dedicated ladies man throughout his life," said Ringgenberg, "Hasen never married." But he decorated the walls of his bachelor apartment with drawings of past girlfriends.
Fred Fredericks, 1929 - 2015
When Fredericks, who died March 10, retired from active cartooning on Mandrake the Magician in 2013, he had completed 48 years on the strip, one of the longest tenures on record. And for the last 16 years, since the 1999 death of the strip's creator and writer, Lee Falk, Fredericks wrote as well as drew the adventures of the svelte illusionist. Fredericks also inked another Falk creation, The Phantom, on Sundays for five years (March 19, 1995- July 30, 2000).
When Mandrake was launched June 11, 1934, Falk both drew and wrote it—for two weeks. Then Phil Davis took over the drawing and continued until he died in December 1964 after a run of 30 years. Falk then picked Fredericks to draw the feature, starting in 1965.
Fredericks was not without credentials: he'd produced three strips reflecting his abiding interest in American history: New Jersey Patriots in 1959, The Late Late War (a humorous take on the Civil War) in 1960, and Under the Stars and Bars in 1961. None lasted more than a few months.
Frank Thorne, a neighbor and cohort of Fredericks, said at tcj.com that his friend's "true cartooning genius was as a writer of humor" and could be found displayed in Fredericks' early work in Gold Key comic books, where he wrote and drew Magilla Gorrila, Nancy, The Munsters, Mister Ed and others.
After Thorne produced Moonshine McJugs for Playboy, he and Fredericks collaborated in full-page gag cartoons for which Fredericks concocted the gags (but "insisted on anonymity").
Another Fredericks' friend, Hy Eisman, remembered at tcj.com working together on the Nancy and Sluggo comic book feature in the wake of the advent of the Comics Code: "It was Fred's writing, with new characters he introduced, that took the feature way beyond anything Ernie Bushmiller ever envisioned. As a result, the Nancy title was selling while everything else was bombing.
"After Fred left The Munsters," Eisman continued, "I was assigned to the book. He made it easy for me since he had worked out the drawing style and all I had to do was follow it. Fred continued writing the scripts. ... He always ended our phone conversations quoting a ubiquitous ad in the old Popular Science magazines: 'Make Big Money Drawing Cartoons!'"
Fredericks made good money with Mandrake until, after years, his salary was staying virtually the same while the cost-of-living soared. In the 1980s and into the 1990s, Fredericks did comic book work for both Marvel and DC while continuing his Mandrake efforts.
At King Features ComicsKingdom.com, the Archivist assessed Fredericks' impact upon Mandrake: "When Fredericks joined Falk, at first he was told to copy Davis's old-fashioned style, and slowly change into his own. He brought a fresh, modern approach. Davis had a basically static point of view, like an older film, with three different set-ups: long shot, medium shot, and sometimes close-up. Fredericks was more active, giving wild angles, overhead views and mood lighting. He also added many more details and movement, giving the strip a real second wind."
And his drawing style, once he was permitted to indulge it, was markedly different than anything else in the funnies of the day. His line was simpler than most realistically rendered strips, and forms, especially faces, seemed chiseled into being.
The Mandrake Sunday ended December 29, 2002; the daily continued with reprints from 1995 after Fredericks retired.
James Berry, 1932 - 2015
The creator of the syndicated single panel cartoon, Berry's World, died March 20 in Boynton Beach, Florida. Berry attended Dartmouth College and Ohio Wesleyan University, majoring in business administration. Following a brief stint in the U.S. Navy aboard a destroyer where he "dabbled with a cartoon strip for the ship's newsletter, Berry leveraged his degree in business administration into several ventures, including work as a management consultant in Manhattan," according to an obit from boykntonmemorial.com.
Then, in mid-1961, "Berry made a radical and risky career break by accepting a position as a staff illustrator on the Cleveland Plain Dealer. His talent and industry were recognized almost immediately. He created an editorial feature called Berry's World in mid-1963 and achieved national syndication within months," hitting a circulation of more than 400 papers within a couple of years.
Berry's World was an unusual hybrid. It was a single-panel cartoon with the usual range of satirical comedy on life in America, but it also shifted frequently to what most observers of the genre would call "political cartooning." In acknowledging the political slant, Berry was active in the Association of American Editorial Cartoonists, becoming president in 1981.
Berry moved to Washington, D.C. in the early 1970s which "enabled him to observe his quarry at close range. There, he launched a second, short-lived, feature called Benjy about an amiable hobo (November 4, 1973 - September 27, 1975), which he wrote and Bill Yates drew. In the early 1980s, now settled in South Florida and equipped with a personal computer and a scanner, Berry was able to have a late-breaking material appear throughout the country in the very next print edition; this certainly qualifies him as being among the earliest creative telecommuters.
"Throughout his career, Berry was dispatched internationally for new material. One such trip to the former Soviet Union yielded a contract with the satirical journal Krokodil that temporarily gave him more daily readers in Russia than in the United States.
"By the 1990s, Berry's World appeared daily in approximately 1,000 newspapers. After over forty years, and nearly 15,000 unique published works to his name, Berry retired in 2003 [claiming never to have] missed a single deadline through the run of the feature (February 18, 1963 - March 1, 2003). A five-time winner of National Cartoonist Society awards and of the National Headliners Club award, he was regarded by colleagues as one of the most astute, insightful chroniclers of his generation."
Yoshihiro Tatsumi, 1935 - 2015
Tatsukmi, a Japanese cartoonist whose dark, psychologically astute tales helped establish the gekiga genre of adult comics and graphic novels, died March 7 in Tokyo. The cause was cancer, said Peggy Burns, a spokeswoman for Drawn & Quarterly, Tatsumi's English-language publisher, quoted in the New York Times by Bruce Weber.
Tatsumi is perhaps best known in the United States for A Drifting Life, published in Japan in 2008 and in English translation in 2009. A mammoth illustrated work in graphics novel mode, Weber explained, it draws heavily on the details of Tatsumi's own early life, beginning at the end of World War II, when he was 10 and Japanese popular culture was awash in the serialized illustrated stories known as manga.
Largely aimed at children (though enjoyed by many of their elders as well), Weber continued, manga was by tradition limited in both its illustrative and narrative possibilities, with a recognizable if not entirely uniform style of drawing (characters with wide eyes and small mouths) and a simplistic range of emotional and intellectual concerns.
Tatsumi's approach was different, aimed at adult readers with adult themes, often grim, uncompromising realism. He became known in this country with Pushman and Other Stories and Abandon the Old in Tokyo and other collections of short stories in graphic novel style published by D&Q.
Roger Slifer, 1954 - 2015
Lobo co-creator Roger Slifer, who was seriously injured in a 2012 hit and run, died March 30 while on the way from his nursing home to an emergency room, reported Kevin Melrose at comicbookresources.com.
"It is especially sad because in the last month he was making great progress," his sister Connie Carlton wrote on Facebook. "He was writing words on his new whiteboard that I bought with money his friend Larry Spears sent for Christmas. He was nodding yes and no to questions. A couple weeks ago they put a passey muir device (speaking valve) in his trach and he said 'yes, no, and hi.' They were getting ready to start him on speech therapy and occupational therapy. Things were finally looking up for him. But God needed another angel."
The hit and run in Santa Monica, California, left Slifer in critical condition with broken bones and a traumatic brain injury; he was comatose for nearly a month, said Melrose. No arrest has been made in the accident.
A member of the CPL Gang alongside such future creators as Roger Stern, Bob Layton, John Byrne, Tony Isabella and Steven Grant, Slifer began working for Marvel in the mid-1970s as a writer and assistant editor before moving in 1981 to DC Comics as its first sales manager for the direct market. He also wrote Omega Men, for which he created the alien mercenary Lobo with Keith Giffen.
He later moved into animation, working for Sunbow Entertainment as a producer, story editor and writer on such series as Jem and the Holograms, Transformers and G.I. Joe Extreme. Slifer was reportedly working on a new project at the time of the 2012 accident.
[All the foregoing from Kevin Melrose.]
Stan Freberg, 1926 - 2015
From Scoop, Gemstone's Free Online Newsletter; and washingtonpost.com
Stan Freberg called himself a "guerrilla satirist," and that might be as good a description as anyone could come up with for the humorist, who passed away April 7.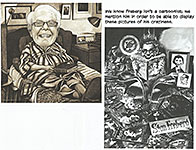 There were, of course, many other adjectives for this protean force in American comedy: successful radio host (he took over Jack Benny's slot when Benny made the leap to tv), advertising executive (the Jeno's Pizza commercial with Clayton Moore as the Lone Ranger and Jay Silverheels as Tonto immediately comes to mind)—not to mention author, recording artist, comedian, puppeteer and, perhaps his most famous persona, parody recording artist— with hits like "St. George and the Dragonet" (mocking the popular "Dragnet" radio/tv show) and "Stan Freberg Presents The United States of America."
In the latter, Freberg re-created the nation's history in exaggerated comic and musical form, beginning with Columbus's arrival on these shores," Matt Schudel notes at washingtonpot.com. "The explorer hoped to take out a loan to open an Italian restaurant only to find the banks all closed because it was Columbus Day."
He was a commentator and also a voice over artist. Among his many credits, he provided the voice of Cecil the sea serpent on the pioneering tv puppet show "Time for Beany" from 1949 to 1954.
Successful people in other fields also ascribe a good portion of their senses of humor to Freberg's influence, including Paul McCartney, Stephen King, Steven Spielberg, Garry Trudeau, the Smothers Brothers, "Weird Al" Yankovic, David Mamet, and magicians Penn & Teller, among others.
To find out about Harv's books, click here.