Opus 329 (September 17, 2014). Down the rabbit hole this time, we report on the summer's comics movies, Pat Oliphant's opinions on the state of the editooning art, the historic Family Guy-Simpsons crossover, Jules Feiffer interviewing himself in a comic strip, anti-bullying comics, Sandy Eggo's law suit against Salt Lake (which recorded a record-tying attendance at its just-concluded Comic-Con), Frank Miller on making movies, Nate Beeler's winning jubilant editoon, and superheroine pin-ups (including Milo Manara's erotic twerking of Spider-Woman) and reviews of Outside the Box (a book of interviews with graphic autobiographers), Miss Mizzou beyond the comic strip, Terminal Man, Hexed, Howtoons, and The Bunker, and a fond adieu to Stan Goldberg.
We realize that there's a lot to read and view here. Too much for ordinary mortals, and while we realize that Rancid Raves Readers are not mere mortals, we've also designed R&R so it can be quickly perused to find what you're actually interested in. To this purpose, we list forthwith this Opus's contents, in order, by department, to wit—:
NOUS R US
Courageous Cartoonist Award
Anti-bullying Comic Books
Archie Memorabilia
Watterson Art Auction Raised $74k
San Diego Sues Salt Lake
Editoonist Matt Davies Finds Job
Joe Fournier Added to Chicago Tribune
Jeff Smith's Bone at Library of Congress
Jules Feiffer Interviews Himself in a Comic Strip
Comics in the Movies: A Galaxy Summer
Frank Miller on Making the Sin City Movie
Action Comics No.1 Sells for Million$
Historic Cartooning Restaurant Demolished
Help with Understanding that Satire Is Satire
Ed Stein to Retire Freshly Squeezed
Bizarre Piraro Gets Real at FOX
PAT OLIPHANT ON THE STATE OF EDITOONING
Mouly's Toon Books Spawns Toon Graphics
Comics That Teach Hygiene Worldwide
NATE BEELER WINS FISCHETTI WITH A JUBILANT CARTOON
Family Guy to Visit the Simpsons
EDITOONERY (Next Time)
RANCID RAVES GALLERY
Superheroines as Pin-Ups
Jack Cole's Skintight
Milo Manara and Spider-Woman's Twerk
NEWSPAPER COMICS PAGE VIGIL
Glimpses of Oddities and Anniversaries in Today's Funnies
Book Marquee
On-going Li'l Abner Reprint Project at IDW
Friedman's New Book, Heroes of the Comics
My New Book, Insider Histories of Cartooning (due in December)
BOOK REVIEWS
Outside the Box: Interviews with Contemporary Cartoonists
Miss Mizzou: A Life Beyond Comics
Collectors' Corniche
Gus Arriola's Last(?) Drawing
FUNNYBOOK FAN FARE
Terminal Man
Hexed
Howtoons
The Bunker
Where Is Jake Ellis
Lobster Johnson: Get the Lobster
Starlight
PASSIN' THROUGH
Stan Goldberg
Bookman's Alley
Our Motto: It takes all kinds. Live and let live.
Wear glasses if you need 'em.
But it's hard to live by this axiom in the Age of Tea Baggers,
so we've added another motto:.
Seven days without comics makes one weak.
(You can't have too many mottos.)
And our customary reminder: don't forget to activate the "Bathroom Button" by clicking on the "print friendly version" so you can print off a copy of just this installment for reading later, at your leisure while enthroned. Without further adieu, then, here we go—:
NOUS R US
Some of All the News That Gives Us Fits
THE CROSS-OVER that everybody's been waiting for will occur on September 28 when, for one special hour, the Griffins of "Family Guy" wander into Springfield and encounter "The Simpsons" in the former's time slot. This historic event was heralded with a September 12 cover story in Entertainment Weekly. Having disposed of the vital information (date of the crossover), we'll offer a few choice quotes and some stunning pictorial embellishments down the scroll and over the $ubscriber Wall. See you there.
COURAGEOUS CARTOONISTS ABROAD
Michael Cavna reports that the Cartoonists Rights Network International has just announced that Indian cartoonist Kanika Mishra and Palestinian cartoonist Majda Shaheen are the 2014 winners of the Award for Courage in Editorial Cartooning. The CRNI presents the honor to "a cartoonist in great danger who has demonstrated exceptional courage in the exercise of free-speech rights under extraordinary circumstances."
Mishra and Shaheen are the first women ever to win the award, says CRNI executive director Robert Russell.
In the face of death threats against her and her family, the Mumbai-based Kanika Mishra took on the "outrageous hypocrisy" of popular religious leader Asaram Bapu, who was accused of raping a 16-year-old, CRNI says. Bapu was eventually arrested and jailed. But his avid supporters and devotees continue to threaten Mishra with violence and death.
"Kanika, like some cartoonists who find themselves under pressure, refused to bend or compromise her art," Russell tells Comic Riffs. "With every new phone threat or attack, her cartoons just got stronger and stronger."
Through her cartooning, Majda Shaheen "depicts her view on the relationship between Ismail Haniyeh [senior political leader of Hamas] and the Al-Quds Brigades," says CRNI, noting that she also faced threats of violence for her commentary.
"Majda thought the climate for free speech in Palestine would be stronger, but the threats made against her — asking people to find where she lived — caused a deep sense of fear," Russell said. "Neither she nor her husband ever thought her cartoons would cause that kind of a backlash."
The awards will be presented October 11 in San Francisco, during the Association of American Editorial Cartoonists convention.
. . . AND COURAGE AT HOME: STAND UP TO BULLYING
Some kids go to school mostly (if I recall my own distant school days) to bully other kids, so the beginning of the school year seems a good time to launch a campaign against bullying in school. And in October, Marvel Comics will join the crusade with a special variant cover program to commemorate National Bullying Prevention Month and support STOMP Out Bullying's efforts to prevent school bullying. In October, Rocket Raccoon No.4, Guardians of the Galaxy No.20, Avengers No.36, Inhuman No.7, Hulk No.7, Captain America No.25, and Legendary Star-Lord No.4 will all sport anti-bullying covers designed to bring awareness to the issue.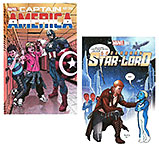 Marvel's Editor-in-Chief Axel Alonso noted correctly that bullying plays a key role in the origins of numerous Marvel superheroes, "The center of Marvel's storytelling history is the eternal struggle between good and evil, with many of its greatest Super Heroes having to contend with— and rise above—bullying, in all its forms."
"Rise above," incidentally, is the title of a comic book produced by Nancy Silberkleit, the embattled co-CEO of Archie Comics, who inherited her position upon the death of her husband Mike, the son of one of the company's founders. A former teacher, Silberkleit's purpose in publishing the comic book (which is not part of the Archie line) is to combat bullying, which she saw enough of in schools. We have more about Rise Above at Opus 317. Her success at Archie Comics and the work of her foundation Rise Above Social Issues led to her inclusion in the Commerce and Industry Association of New Jersey's Women of Influence event in 2013.
All of which leads us, more-or-less indirectly, to—:
ARCHIE MEMORABILIA
Nancy Silberkleit has one of the biggest collections of Archie memorabilia, which she acquired not from the company storage closet but during years and years of scouring antique stores and bidding in online auctions. Earlier this year, she set up her collection as an exhibit in the Mamaroneck Public Library in New York, and then it got legs, traveling to the Salt Lake City Main Library. Silberkleit didn't start out to be a comics collector, but she says she's always collected antiques and loves the preservation of history inherent in collecting. And her experience in urging kids who are being bullied to "rise above" their bullies—to resist letting others define them—has convinced her that collecting is a character-building enterprise.
"If a person can get involved in something, it can help them. People have passions for things, and people collect all sorts of things, and if you think about bringing it to another level of organizing it, and sharing it ... to become knowledgeable about anything, what happens is, you get confident. It empowers you to have some self-respect. When people are targeting you to try to define you as something they want you to be [another form of bullying], hopefully a light bulb will go on in your head. 'I'm not that. I know about this. I'm an expert on this.' Or 'I play sports' or 'I sing beautifully.' When you think that you can show people things that you take pride in, and you have knowledge on, it builds confidence. I'd like to put that out there to people—caregivers, teachers—to think about getting people interested in something.
"What happens with collections is, they take up room, a lot of space, and they're never looked at. So I'm happy to have moved this out of my drawers and closets. And honestly, I don't think I'm ever going to see it again. I'm happy that I have let this go. I'm hoping it will end up in the Smithsonian, and I just hope that we can have the libraries propel it around the globe and let people enjoy it. It's colorful, it's interesting."
She enjoys hearing from people who see the exhibit and remember their Archie experiences.
"I started hearing the feedback from the exhibit at the library in Mamaroneck, about how people enjoyed it and were engaged in conversation, and reminiscing. I love to hear from people around the world about how Archie impacted them. Archie seems to be part of childhood. A childhood would not be complete unless they had experienced Archie comics. Archie has been with us for seven decades. ... It's the conversation of people that have propelled the brand. It comes up time and time again, with men or women, with an 8-year-old or an 80-year-old. It's ageless—are you a Betty, are you a Veronica, are you a Jughead? These characters are fantasy, but they've taken on a life because people see themselves as part of Archie and the gang.
"I spoke to Michelle Obama in a meet-and-greet line and told her what I did. She stopped and talked about Archie for so long. Imagine, the first lady had gotten lost in the moment and regressed back to Archie and the gang. She was beaming. And she was not beaming because of me: it was the brand. Archie brings this happiness into one's heart. Reading Archie for 30 minutes is like therapy. When I went into the Archie company, I had never read a comic book. ... But once I stepped in there, I had to read them. When I brought the comics home and started reading them, I found myself stacking up a pile of my favorites, because I wanted to re-read them."
Asked who is her favorite Archie character, Silberkleit usually says it's Mister Lodge.
"I admire Mister Lodge for his involvement in business and how, just five years ago, I found a love for business when I stepped out of the classroom and into the Archie Comics boardroom after my husband's passing. I paired my teaching background with business. It was my job for 25 years to figure out how to get our children interested in taking in information and learning. The same for business; it is my job to figure out how to grow the brand, sell comic books and keep fans like yourself engaged in Archie Comics.
"But I've branched out with my favorite character: now it's Mister Lodge's daughter, Veronica. I think Veronica gets shortchanged. She's looked at as a spoiled character, sort of self-centered, but I see Veronica as much deeper than that. She has the CIA in her—confidence, intelligence and allure. I enjoy when she's positioned with her father because it's often in a business format. And she is always able to advise her father on ideas. She would be a very successful businesswoman, and would clearly be able to step into her father's footsteps. Sometimes she is on the outs with her Riverdale friends, but she knows who she is: she has a good mind for business and doesn't let the negative get her down. She will get things done, even with the roadblocks that may face her. And she does it all with charm, creativity and allure."
ODDS & ADDENDA
On August 31, the Sunday newspaper supplement magazine, Parade, continued, after a short hiatus, publishing gag cartoons in a separate 4x8-inch pamphlet inserted into the magazine; entitled Ha, it printed seven cartoons; the next week, no pamphlet but 3 cartoons inside under the old heading "Cartoon Parade." ... "Sesame Street" is having its 45th anniversary. ... Auctioning off the three Pearls Before Swine strips that contain panels drawn by Bill Watterson earned $74,000 for Parkinson's Disease research. ... We just heard that editoonist Tony Auth, 72, died of a brain tumor as we were in final throes of getting this opus off; we'll have a full obit in Opus 331 later this month.
When the Salt Lake City Comic Con organizers shrugged off the Sandy Eggo Comic-Con's cease-and-desist letter, Sandy filed suit, alleging that the Salt Lake City gang is confusing the public into thinking that the Salt Lake City Con is akin to the San Diego Con, thereby attempting to ride the coattails of the latter to a similar success for the former. According to ICv2, Sandy Eggo "is asserting, for the first time that we're aware of, that the way Salt Lake is using 'Comic Con' is an infringement on 'Comic-Con' or on 'Comic Con International' at least in this case. San Diego argues that the graphic design of SLCC's use of 'Comic Con,' which de-emphasizes the 'Salt Lake' and emphasizes 'Comic Con' is confusingly similar to San Diego's" registered marks.
While the lawyers hung around courtrooms awaiting events, the Salt Lake City Comic-Con went forward, as scheduled, September 5-7, with attendance estimated at more than the goal of 120,000 (coincidentally, the reputed size of the San Diego extravaganza). Organizers cut off online ticket sales at noon Thursday in an attempt to prevent guests from buying passes and not being able to get in, and the Salt Lake City Fire Marshal briefly blocked entry on a few occasions Saturday to break up the flood of fans entering the convention center. Despite the rough start, organizers knew the event was a rousing success when Stan Lee, returning guest and master of the Marvel universe, gave praise at the end of his appearance Saturday saying, "I love Salt Lake City. They have the best comic con in the world."
So there, Sandy Eggo.
Maybe the tide that's been running against editorial cartoonists, reducing the ranks of full-time staff positions to about 50 from slightly more than 100 in May 2008, is turning. In July, Newsday hired Pulitzer- and Herblock-winning Matt Davies, who has been without a full-time gig since being laid off by Westchester's Journal News in 2010 (after 17 years on staff), one of the casualties of the cost-cutting age in newspapering. Davies replaces Walt Handelsman, who went to New Orleans (where he'd worked before on the Times-Picayune) to join the Advocate staff in 2013, so the tally of full-time staff editoonists ratchets up by one. In the midwest, the Chicago Tribune has increased its editorial cartoon coverage by using the op-ed caricatures and multi-panel cartoons of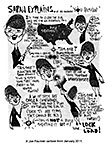 Joe Fournier; he's not on staff, but he does three cartoons a week, supplementing thecartoon coverage of full-timer Scott Stantis. Here's a sample.And even the staid New York Times, without a staff editoonist since—oh, the 1940s? 1950s?—now has a regular cartoonist, Brian McFadden, albeit only on Sundays, for which edition he produces The Strip.
And here's a fresh new Bone strip by Jeff Smith, who produced it for the Library of Congress' National Book Festival.
And, immediately thereafter, an unusual interview with Jules Feiffer, who interviews himself—in the form of an autobiographical comic strip.
COMICS IN THE MOVIES
"Guardians of the Galaxy" emerged from its August 23-24 weekend with a $17.6 million take at the box-office, making it the summer's top-grossing movie. And the reptile reboot, "Teenage Mutant Ninga Turtles," raked in $16.8 on its third weekend. Comics forever.
But the "Guardians" weren't done. ICv2 reports that it "topped the box office chart during its fifth weekend in theaters, dropping just 5.2% over the first 3 days of the Labor Day weekend, earning $22 million and bringing its 2014-best-so-far total to $280 million."
Alas, the news ain't all glorious, ICv2 went on: "Despite the addition of two new films, the horror movie 'As Above/So Below' and the espionage saga 'The November Man,' the total of the top 12 box office films dropped nearly 8% from the same 3-day period last year when 'Lee Daniel's The Butler' held on to the top spot for the third weekend in a row with a $14.8 million haul.
"Right now the moguls of Tinseltown are scratching their heads and wondering what went wrong during the summer of 2014 during which revenue fell 25% to $3.6 billion, the largest such single decline in over 30 years of box office history. Does this represent some accelerating long term trend?
"Not really," ICv2 continued, "since up until the start of the summer season in May, the box office was roaring along at a blistering pace. No, the decline is more likely the result of a lack of new interesting films. Note that we are talking about the domestic market here, foreign sales continue to increase as China increasingly opens its huge market, but it is clear that many of the big summer tentpole releases of 2014 like Sony's 'The Amazing Spider-Man' and Paramount's wretched 'Transformers' are suffering from real 'franchise fatigue' here in North America. ... It would appear that the typical blockbuster formula of more and more elaborate stunts and CGI explosions loses its effect if it is not tied to a decent narrative that can engage an audience."
But "Guardians" did more than just make a pile of money, says ICv2: "Not only did the film establish a potent new Marvel cinematic franchise, it expanded the summer season, by demonstrating that a blockbuster can debut in August and still be hugely successful."
And when "Guardians" pulled in around $22 million over the 4-day Labor Day weekend, it suddenly stood a better-than-average chance at being the first 2014 film to surpass $300 million at the domestic box office.
But another comics-originated film, Frank Miller's "Sin City: A Dame to Kill For" stumbled badly, saith Tom Finn at ICv2, confirming its "total bomb" status by plummeting 66% and falling to no.14 in just its second weekend in theaters. "So far the Sin City sequel has earned just $10.8 million, and doesn't have a prayer of ever matching just the debut total of the first Sin City film, which bowed with $29.8 million."
Footnote on Sinning: Michael Cavna, the ubiquitous comics reporter at the Washington Post's ComicRiffs, talked to Frank Miller about his movie-making methods.
Miller started off: "I find that, if I may say so, a screenplay is a gawdawful form. It's just a dreadful way to translate an idea for a movie into a movie."
Miller's contention is that actors respond better to visual coaching: "For me, the key is to draw constantly [on set]. When I was drawing, to an actor, he or she would immediately understand what I meant.
"Here's one anecdote," Miller went on. Referring to one of his many returning "Sin City" actors, he said, "I had come up with a shot of Jessica Alba with her crossbow, and I drew it in my style. I tend to draw very extreme figures and impossible poses. I looked at the set, and [suddenly] there she was, in exactly the pose I drew. I said, 'Jessica, how did you do that?' 'That's what you drew,' she said."
Before Miller would even finish drawing, Alba says she would re-create the position, figuring out how to find the right movement — even against a green screen, acting with objects that would be superimposed only later — and have it "read" as real.
"We would create it together," Alba says.
The fedora-loving perpetually scowling Miller knows this live-sketch collaboration is unusual, and he also understands why it works.
"Actors love all the information they can get," Miller told Cavna."They always ask me who they are, where they came from — all these things that have nothing to do with the actual performance per se. ... I give them the drawings to show them exactly what I've got in mind."
It helps that co-director Robert Rodriguez ("El Mariachi," "Machete," "Spy Kids") was a cartoonist before he became a director; he drew a strip called Los Hooligans in high school, and he deeply appreciates Miller's visual aesthetic.
When they teamed on the first "Sin City," Rodriguez insisted that Miller be his co-director, even, he says, quitting the Directors Guild of America when the union objected to their twin-director credit. "Being a cartoonist myself, I told Frank to come direct me," Rodriguez says. "Actors are your paper characters. You use a pen instead of a camera. It's the same creative process — you're just using slightly different tools."
Their approaches are so similar, they say, that the collaboration became symbiotic and seamless. "When we disagree, it's always toward the same goal," Miller says.
Their symbiotic relationship, alas, did not produce a blockbuster at the box office. Neither, it seems, did Miller's visual way of directing actors. Although that's a great notion and a welcome boost to cartoonists' egos (if they ever need boosting) that their erstwhile denigrated skill could be important to a giant entertainment industry like filmmaking.
COSTLY COMICS SELL FOR MILLIONS
Action Comics No.1, which recorded the first appearance of Superman in June?? 1938, just keeps getting more and more expensive. It's been the most valuable comic book ever sold for years, and every time another copy goes up for sale, it sells for even more. In the latest sale concluded on August 22, the book, certified 9.0 by CGC, went for $3,207,852, surpassing the previous record price of $2.16 million that was paid in 2011 for a copy of the same comic once owned by actor Nicolas Cage.
While both are rated 9.0 by the Certified Guaranty Company, the Cage issue had "cream to off-white pages"; this one is considered to be in pristine condition. They're the only two copies of Action Comics No.1 to receive that high a rating according to Kevin Melrose at comicbookresources.com.
Melrose rehearsed the history of the copy just sold: "This copy was acquired several years ago in a private sale by Darren Adams of Pristine Comics in Federal Way, Washington, and stored a temperature-controlled vault. He said the original owner bought the comic from a newsstand in 1938, and then kept in a cedar box for about four decades until a local dealer in West Virginia purchased it in an estate sale. The issue then passed to a third person, who held onto it for 30 years.
"Adams, the comic's fourth owner, said he recently turned down an offer of $3 million, opting instead to sell it on eBay," Melrose concludes: "A portion of the proceeds will benefit the Christopher & Dana Reeve Foundation, which is dedicated to curing spinal cord injury."
This sale is the sixth time a comic book has sold for more than $1 million; the others: three other copies of Action Comics No.1, a single copy of Detective Comics No.27 (the first appearance of Batman), and a single copy of Amazing Fantasy No.15, the debut of Spider-Man.
This sale concluded with 48 bids, another record.
There were originally 200,000 copies of the comic printed at the time of its release. Of those, reportedly 130,000 were sold (in a nation of 130 million at the time) and 70,000 were returned and destroyed (that is a strong sell-through for a newsstand comic book). Normal wear and tear over the years, the ever-vigilant moms of America cleaning out the bedrooms of their offspring, and wartime paper drives disposed of most of them. At the time, comics were never considered as anything but disposable entertainment.
Vincent Zurzolo, CEO of Metropolis Collectiblees and ComicConnect.com, believes that there are about 100 copies of Action Comics No.1 left in existence.
"But who knows?" he said. "We had a couple from the South find one in their basement a few years back that helped save their home from foreclosure and a man in the Midwest found one in the wall of his home. We sold both of those copies for what are record prices in their respective grades. So there could be more copies out there that are waiting to come into the market. It is a very exciting prospect indeed," he concluded.
While the sale of Action Comics No.1 deservedly got the lion's share of the press at the time, ComicConnect set another record on August 27 with the sale of the CGC 9.2 Northland pedigree copy of Incredible Hulk No.1 for $326,000. The company broke the record they set in June, when they sold another CGC 9.2 copy of the same title for $320,000.
PALM'S UP
After 39 years, the Palm restaurant in West Hollywood is closing on September 30 and re-opening in Beverly Hills, where, apparently, the rent is less than the landlord's recent increase in West Hollywood.
This Palm restaurant is a cousin (that is, a distant relative) of the historic Palm in New York City, a speak-easy that became a hangout for cartoonists, who showed their gratitude by defacing the walls with paintings that caricatured their number and drawings of their comic strip characters. The West Hollywood Palm (like the ones in San Diego and Denver and Washington, D.C. and elsewhere) imitated its East Coast ancestor by getting cartoonists to decorate its walls. But that scheme wasn't quite as successful.
For one thing, West Hollywood was home to far fewer famous syndicated cartoonists. Wall-scrawlers had to be recruited by inviting visiting cartoonists to eat there and put their characters on the plaster. And in the last analysis, most of the caricatures on its walls were done by the same caricarturist, a fugitive, probably, of beachfront boardwalk art rather than a celebrated syndicated cartooner.
Still, the faces on the walls there are famous faces, and in early October, the Palm will cut the existing caricatures out of the wall, frame them and give them to their real-life counterparts, or else their loved ones, upon request.
The new place will open with bare walls, said owner Bruce Bozzi, Jr. "I thought, 'Let's start putting the faces on as people start coming.' Besides, if you do 50, then who are those 50? Am I insulting another 100? So now people can build a relationship with this new place and get on the wall again."
WE NEED HELP WITH SATIRE
It is admittedly sometimes not readily apparent that a satire is a satire. In many cases, you have to share the view of the satirist in order to realize that he has his tongue in his cheek. When you arrive at that realization, you tend to feel pretty smart. You're pleased with yourself: your own cleverness suddenly compares favorably with that of the satirist.
But those who don't share the satirist's view are baffled and angered by what they perceive as the benighted point-of-view being expressed. As noted lately on the Web, "Purported news reports on Kim Jong Un's being named 'sexiest man alive' or a study that found most children are 'unrepentant sociopaths' can be entertaining. Alas, such items have apparently caused enough confusion and even outrage that Facebook is introducing a 'satire' tag for articles from parody news sites.
"'We are running a small test, which shows the text '[Satire]' in front of links to satirical articles in the related articles unit in News Feed,' a Facebook spokeswoman told MarketWatch. 'This is because we received feedback that people wanted a clearer way to distinguish satirical articles from others in these units.'
"But the announcement comes in the wake of satirical articles that have deceived not only readers but also established publications. Two years ago, The Onion, one of the best known parody news publications, ran a piece that said North Korean leader Kim Jong Un had been named 'sexiest man alive.' The article was picked up by the People's Daily, the official newspaper of the Chinese Communist Party."
A couple of days after reading the foregoing, I visited cartoonist Ed Stein's blog, edsteinink.com. Stein, who produces a syndicated comic strip Freshly Squeezed, about three generations of a family living under one roof (because the oldest generation was foreclosed out of their domicile), was, for most of his career, the editorial cartoonist at the Rocky Mountain News—until the paper shut down in 2009. Here's the piece that first attracted my eye—:
What the Hell is wrong with us?
How did we get to the point in this country where this was possible?
By now you've seen the video of that nine-year-old girl accidentally killing her firing range instructor with an Uzi.
I'm sure we all agree that this tragic accident totally preventable, if any of the parties involved had had an ounce of common sense. Understand, I'm not blaming the girl. Clearly, it wasn't HER fault. She's only nine, and she was unfamiliar with a weapon that powerful, a gun designed by the Israeli military for its soldiers to use in combat.
I know what you're thinking, but you're wrong. I don't blame her parents. In fact, I applaud their courage. They were just doing their constitutional duty to make sure that their daughter was properly armed and ready to defend herself and her family against our government when it decides to take away our freedoms, which could be any day now if Obama gets his way.
So who's fault was it? The instructor's, of course. If you saw the video, you couldn't help noticing that he was unarmed! Standing right next to a little girl with a powerful automatic weapon that can fire 100 rounds a minute! What was he thinking? What the Hell was he thinking?
Had he been properly equipped, as he should have been, with superior firepower, and in the correct defensive position, as soon as that Uzi started to get away from the kid, he'd have been able to take her down before she could shoot him. Yes, it would have been sad if the kid had died instead of him, but in a dangerous world that's the price we have to pay for our liberty.
Because only when each and every American has a gun aimed at all times at every other American will we truly achieve the freedom our Founding Fathers envisioned when they so wisely crafted the Second Amendment.
Fitnoot. Now that, aristotle, is satire. Knowing the reputation among Rancid Raves $ubscribers for superior intelligence, I'm sure I don't need to label the foregoing as "satire."
I do, however, need to report that—:
Freshly Squeezed, Stein's newspaper comic strip aforementioned, will be retired with the release for October 19. The strip has a long and winding history: Stein started it as an unsyndicated six-day-a-week strip while also doing editorial cartoons daily for the Rocky Mountain News. Entitled Denver Square, the strip focused on local, Denver and Colorado, matters—one of only a couple daily strips in the country that was exclusively local—and Ed loved doing it. And Rocky readers love it: it was the most popular feature in the paper. When the Rocky ended on February 27, 2009, so did Denver Square. (Although a 2002 paperback collection of the strips can still be found on the Web for about five bucks; try AddALL.com). For a while, Stein continued doing editorial cartoons through Cagle Cartoons syndicate, and then he revived all the characters from Denver Square and sold it as Freshly Squeezed to Universal Uclick. Near here are a few examples of both strips. Soon launching Freshly Squeezed, Stein quit doing editoons.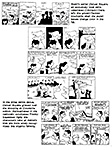 And now, as Stein told Allan Gardner at DailyCartoonist.com, "After 36 years of meeting daily deadlines, it's time to do something on my own schedule."
When I asked him why he was ending the strip, Ed pondered: "Well, where to start. The strip wasn't ever going to grow, nor was the income, and it increasingly felt like a grind just to churn it out with no chance of ever building anything with it, doing a book, etc. I have other things I want to do with my time and I didn't see any reason to put them off any longer."
He's off to new horizons, which include the Web and telling stories in comic strip form about a different America that existed back in the 1950s and 1960s.
A BIZARRE FATE FOR A CARTOONIST
Bizarro cartoonist Dan Piraro has been cast as the host of a FOX network reality tv show, "Utopia," in which 15 people with a great variety of backgrounds have been recruited from all around the country to occupy an idyllic compound in the desert somewhere and turn it into Utopia. The idea is to start civilization all over again. Given FOX's political proclivities, I wonder how that'll turn out.
Said Piraro in his blog:
"Think about it. I'm at home in my sweatpants working on my cartoon career like I've been doing for the past 30 years, a friend asks me if I'd like to do some voiceover work for a tv show and I'm thinking, 'Sure. If I can make a few extra bucks talking into a microphone for a few hours a week, I'm game.' A few weeks later I'm on national tv, posing for publicity shots, and going on press junkets. I didn't even have an agent or a headshot when this started. People who've been working for this kind of break in showbiz for years must hate me, and I can't blame them. To them, I can only say I'm sorry."
The voice-over gig, for which Piraro tried out endlessly until they finally picked him over all other applicants, morphed into a voice-over gig with the voice occasionally materializing on screen. The biggest obstacle was Piraro's picturesque moustache, which they let him keep but he modified it to something less Dali-esque.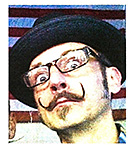 You can see a five-minute snippet of the introductory episode by visiting the cartoonist's blog, bizarrocomics.com.
Sez Piraro: "The show premiered on FOX (the network with 'The Simpsons' and 'Family Guy,' not the one with Bill O'Reilly) Sunday September 7 with a two-hour episode, then again on the usual nights it will be seen thereafter, Tuesday and Friday."
OLIPHANT ON THE PROFESSION AND THE WORLD
HE LAMBASTS REGULARLY
Lee Daly's recent interview with Pat Oliphant appeared at TheAtlantic.com a week or so ago. Said Daly [in italics]: Pat Oliphant is perhaps the most influential political cartoonist in the world. He has drawn—and quartered, some might add—ten American presidents, and assorted political figures and events that have caught his attention since he arrived in the United States from his native Australia fifty years ago. ... A dose of humor is what makes political cartoons powerful, Oliphant says: '"Humor makes things palatable and induces people to look at things they wouldn't otherwise want to think about without the humor."
With a Pulitzer Prize and a thick volume of other awards and honors behind him, he still produces three cartoons a week for the Universal Uclick. Among its roster of cartoonists, the syndicate casts Oliphant "in the middle" politically, favoring neither liberals nor conservatives. Both Democrats and Republicans regularly dispute that. His drawings are distributed to some 250 publications in the United States and more internationally in the Republic of Korea, Japan, Brazil, France, and places in between. His lectures on political cartooning, producing large drawings on-stage all the while, have taken him to university campuses and to audiences from Eastern Europe to Turkey to Davos.
Oliphant, now 79, still delights with a boyish sense of disbelief at what he sees as the absurdity (at best) of most political figures and the things they say and do. Exploding happily into laughter at his good fortune, he says, "They create this stuff; all I have to do is illustrate it. I just sit back and it comes at me."
He is less good-humored about the fate of newspapers and magazines; the educational breadth, or lack of it, of the people who read them, whether in print or online; the people who publish and edit them; and the politicians who "keep the country going in circles." He reads a lot of history, he says, "to find out if they're doing it again."
Oliphant could be called cantankerous if he were not so funny and ever ready to laugh at a joke or at some bizarre ripe new situation that his sharp-nibbed pens and inkbottle find irresistible. I met with him in Santa Fe, New Mexico, where he and art-gallery owner Susan Conway, his wife, manager, muse, and bemused supporter of his heavy Diogenes lamp, have lived for some 20 years.
Excerpts from the interview follow—:
"The Catholic Church has been good to me over the years," Oliphant said, his remark illustrated by what he once called his favorite cartoon.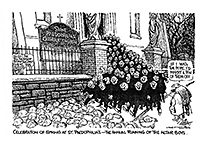 "They hit a high point for me that sort of steamrolled into a big global event when the priests were being nabbed everywhere for abusing altar boys. It was terrible. It made for lovely cartoons. The cartoons caused a bit of a stir in Catholic Church publication"
He continued: "I love drawing and maybe I get lost in it sometimes. I enjoy it so much that I just keep drawing and drawing, and as the drawing develops you see other chances and places you can take it. When you get into some cartoons like that, you can see this is going to be a long day, but what the hell?"
Said Daly: "You tend to gather a crowd in your cartoons whenever you can."
"Yes, and that always seems to happen when I'm in a hurry, too," Oliphant said. "I'm a captive to my own idiocy sometimes. The more people I put in, the happier I am. Except when I'm in a hurry, and then my enthusiasm runs up against the deadline. You have to keep up your enthusiasm. It mustn't show in the cartoon that you're in a hurry. [But] it adds to the spontaneity if you're working fast."
Daly brought up Punk, the "smart aleck little penguin with a punch line," and asked: "Aren't you a ventriloquist with Punk as your sidekick to say what's really on your mind?
"I never heard it put that way before," said Oliphant, "but, yes, he's sort of my alter ego. If I had any additional thoughts I could float them again in his words, just to expand the idea. Sometimes penguins arrive in southern Australia from Antarctica, so I introduced him in weather cartoons I was doing there at the time. Let him be the smart-ass; I'm not the smart-ass. He got a good reaction, so I kept him and brought him with me to America. I never really thought much about what I was trying to do with him here. I just enjoyed doing it."
Commenting on the current state of the profession, Oliphant said: "The influence of cartoonists has diminished greatly, even in the past 10 years. It's a great disappointment really. It's a noble and vital sort of art that took about 600 years to develop, going back to Leonardo, and the grotesque figures of Goya. In part, it's been sabotaged by the newspapers themselves. They're giving their content away on the Internet and haven't figured out how to stay in business. Editors and publishers are a great disappointment. You've got editors who don't read now. I once did a cartoon of Reagan as Johnny Appleseed for a national magazine. Reagan was striding along spreading his seeds and waves of pollution were growing up behind him. The editor didn't know who Johnny Appleseed was. Everybody used to freely use Shakespearean quotes and apply them to a current problem like, say, indecision. You know, 'Alas, poor Yorick.' You can't do that anymore. You'll get, 'What's with this guy with the skull?'
"Publishers of newspapers don't want to offend anybody," he went on, "and the editors, their lackeys, are only too happy to play along. Controversy is not welcome in newspapers. Bill Mauldin—along with Herblock and Paul Conrad, he was the pick of the bunch of American cartoonists when I was starting out—saw this coming about 10 or 15 years ago and said, 'I don't want to do this anymore.' It turned out he was right.
"There's another important factor," he added, "—education. The frames of reference have disappeared. You have to have a frame of reference to appreciate a cartoon, to know what is being caricatured. People don't do the reading of news anymore that would give them the background to know what the cartoon is about; you can't refer to accepted wisdom or variations of accepted wisdom. We are in a forest fire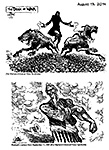 of ignorance."
Said Daly: "You sometimes sound like you live somewhere between amused,frustrated, and angry."
"And appalled," said Oliphant. "Don't forget appalled."
Here are a couple of his cartoons, one recent—the other nearly iconic but (as Oliphant might say himself) predictable given the circumstance, the 9/11 attacks, that inspired it.
COMICS IN THE CLASSROOM WITH TOON GRAPHICS
Francoise Mouly, who, you might suppose, as The New Yorker's art director has plenty to do, is also publishing a new line of comic books for children. The first of them came out in September. Theseus and the Minotaur was given a test run last winter in a Brooklyn fifth grade classroom, and it was a big success. Reports Robert Ito at the New York Times: "A retelling of the classic Greek myth by the French writer and cartoonist Yvan Pommaux, the book is filled with gruesomely creative murders, feats of superhuman strength, misbehaving gods and bloodthirsty beasts. A scene in which a rampaging bull gores a Cretan youth was a particular favorite, according to the fifth graders' teacher. The best part about Theseus and the Minotaur— at least for this audience—it's a comic book."
Theseus is the first in Mouly's Toon Graphics, a new aspect of her Toon Books imprint in her Raw Junior, an independent publishing house that she started in 2008. Toon Books are for young children; Toon Books, for older ones.
"[These] books are listed on several prominent recommended reading lists (including the American Library Association's)," says Ito, "and are included in state and national school programs and initiatives, which is where the teachers who take them into the classrooms often hear about them in the first place. The books are taught across the country, with the help of 200-page illustrated lesson plans that cover topics from literary interpretation and story arcs to 'comics as a genre.' Their use in classrooms made immediate sense, given their similarities to the picture books that children that age were already reading in school.
"Though the books also have accompanying lesson plans and follow national Common Core standards, the battle for acceptance, Mouly admits, may be uphill. Plenty of fourth and fifth graders love comics, of course, but that's also the time when many teachers and parents are trying to wean children off them."
Ito quotes Timothy Shanahan, distinguished professor emeritus of urban education at the University of Illinois at Chicago: "To develop as readers, kids need a lot of experience processing words. If a youngster spends an hour reading a comic and an hour reading a book, they're probably processing a lot more words when they're reading a book. It's not that comics are bad, it's what they might replace."
Neil Gaiman, who, with illustrator Lorenzo Mattotti, is bringing out a "largely faithful reworking of Hansel and Gretel" in October, disagrees. He said he doesn't think there is such a thing as a bad book for a child.
"Every few years, people point to books like 'Captain Underpants' or 'Goosebumps' and say kids shouldn't be reading this," he said. "It's rubbish. First, it's not you reading it: it's them. And you, as an adult, may think it's junk food, devoid of calories, but what you're failing to understand is that the kids themselves are bringing the calories."
"Mouly's books are anything but literary Doritos," Ito points out: "Contributors have won some of the industry's top prizes, from the comic book field's Eisner awards to Newberys to Pulitzers, while Toon Books releases have won praise from the School Library Journal and the American Library Association; three Toon Books have won the library association's coveted Theodor Seuss Geisel prizes."
In September Toon Graphics will release Cast Away on the Letter A, a whimsically trippy tale about a teenage boy, Philémon, who falls down a well and emerges in a fantastical world. The book contains "cool nods to subjects ranging from Robinson Crusoe and talking donkeys to Théodore Géricault's 1818-19 painting 'The Raft of the Medusa'."
Toon Graphics has three more titles in the works for 2015, including Orpheus in the Underworld, a graphic retelling of the Greek myth, and Lost in N.Y.C.: A Subway Adventure, which will be published in both English and Spanish.
Mouly has two bits of advice for parents and teachers of potential readers. The first: "Don't be suspicious of something just because kids love it."
And the second: Don't call them graphic novels. "I think we need to move past that euphemism," she said. "It's a 32-page book, with 300 words. I don't need to pretend it's a novel. It's a book. It's a comic book."
Bravo. It's about time we shed the pretentious and erroneous "graphic novel" tag.
COMIC BOOK ON HYGIENE AND OTHER HORRORS
Lifebuoy soap is engaged in a project to improve the health of children in the developing world by urging them to wash their hands. The vehicle by which the urging is accomplished is a comic book produced by Craig Yoe's Yoe Studios. Unilever, Lifebuoy's parent, claims that 1.7 million children will die this year as a result of easily preventable diseases, one-third of whom could be saved by washing their hands. Lifebuoy's efforts since 2010 have reached 183 million people in 16 countries in Africa, Asia and Latin America. Yoe says the hand-washing comic is in 19 languages, 23 countries with a circulation of 21 million copies ("a comic book record," he noted).
Craig is a friend of mine, and I'm plugging his efforts here partly out of friendship but mostly because the Lifebuoy endeavor seems remarkable—and its choice of a propaganda device, ingenious. And here, at the elbow of your eye, is a sample of the hand-washing propaganda.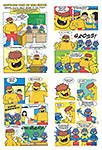 And while I'm at it, here's Unilever/Lifebuoy's description of Yoe Studios and Craig's career—:
Craig Yoe and Clizia Gussoni's Yoe Studio is an award-winning agency specializing in cool, youthful marketing and design. "Our clients include Unilever, Microsoft, DC Comics, Marvel, Hasbro, Mattel, Mad magazine, MTV, Crayola and many others." Craig, a former Creative Director for the Muppets, Nickelodeon and Disney, is an author, editor, art director, graphic designer, cartoonist and comic's historian who is perhaps best known for his Studio's creative marketing solutions.
Today his major emphasis is in creating Yoe Books (with IDW), and Books by Yoe (with various publishers) about the history of comics, cartoonists and pop culture. USA Today called Yoe "the Comic Book genre's master archaeologist!", ABC TV hailed him as "America's foremost comics historian" and Vice magazine called him "the Indiana Jones of comics history!" Yoe has been an adjunct professor at Syracuse University and a popular speaker at conventions, conferences and colleges on creative marketing and on the history of comics. Yoe Studio is located in upstate New York, where Craig works and lives in an old stone castle on 4 wooded acres with his wife and business partner, the editor-designer Clizia Gussoni and their two children, a cat and way too many old mouldy comic books.
Coincidental with all this puffery, I was going to mention in another department—but may as well here—Craig's new line of reprint comic books published by IDW. With titles like Haunted Horror and Weird Love, these books have unearthed vintage comic book art by the likes of Bob Powell, Jack Cole (yes—with a horror story dated 1953, before he went to work for Hugh Hefner's Playboy), Simon and Kirby, Bernard Baily, stunning work by Lou Cameron, Jose-Luis Garcia-Lopez (from 1968), Vince Colletta, Tex Blaisdell, Ogden Whitney, even Jack Katz and Jay Disbrow (whose work always struck me as powerfully wooden, but in Haunted Horror's reprint of a story from Crime Detector No.5, July 1954, the rendering is supple and confident)—among others.
The treat, for me, is not so much the story content as the artwork. It's a delight to see the 1950s work of artists whose names ring bells in the back of my mind. And the reproduction of these books is good enough that the stylistic flourishes of the artists are preserved and well displayed.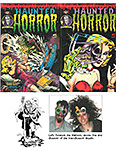 And there are odd tidbits of history to relish. In Weird Love No.2 is a full page strip—"A Picture Biography"— about Ronald Reagan, "dream beau of the month," who is "regarded as a first citizen of Hollywood for his interest and participation ingovernment and civic affairs." The date, May 1952.
Here are a couple covers and Angelo Torres' portrait from the inside front cover of our guide to the stories within, Forelock the Warlock, whose hair style is remarkably reminiscent of Craig's.
BEELER'S EXUBERANT CARTOON WINS FISCHETTI
Editorial cartoons are best when they attack—the barbs are sharper, the emotions rawer—so, understandably, most editorial cartoons are attack cartoons. But this year's winner of the John Fischetti Editorial Cartoon Competition, Nate Beeler, celebrated a current event with an unmistakably jubilant image.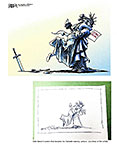 In the press release from Chicago's Columbia College, sponsor of the Competition, Beeler commented:
"Most days, an editorial cartoonist will draw his or her inspiration from the latest political gaffe, sex scandal, or flaring debate. The art form's natural territory is criticism. [Rarely however,] you chance upon an opportunity to comment on the news in a positive way."
He continued: "On the day of the Supreme Court's ruling on the Defense of Marriage Act, I felt it was not a moment to be droll or cynical. I wanted to simultaneously depict and celebrate the happiness experienced by same-sex couples and their supporters across the country. The court's decision righted an injustice and was an affirmation of both dignity and freedom, which made Lady Justice and Lady Liberty logical icons to use in the cartoon. I hoped showing them rejoicing in a loving embrace would be an image that resonated with readers, and gratifyingly, the response to the cartoon has been tremendous."
John Fischetti was a Pulitzer Prize-winning editorial cartoonist whose work for many years graced the pages of the New York Herald Tribune, the Chicago Daily News and the Chicago Sun-Times. Shortly after his death in 1980, friends and family created the Fischetti Fund in Columbia College Chicago's Journalism Department, which has provided scholarships to some 700 students, as well as monetary awards to outstanding editorial cartoonists. Unlike the Pulitzer Prize for editorial cartooning, which judges a body of work, the Fischetti is awarded each year for a single image that depicts a particularly relevant political or social event.
Beeler is the editorial cartoonist for the Columbus Dispatch, the newspaper of his hometown. Prior to joining the Ohio capital's newspaper in 2012, Beeler drew cartoons for seven years in the nation's capital at the Washington Examiner.
Michael Cavna at the Washington Post's ComicRiffs.com interviewed Beeler about his Fischetti experience, asking first how the cartoonist picked a single cartoon for the contest.
"Drawing 240 or so cartoons a year leaves you with a lot of hits and misses," Beeler said, " — and it invariably feels like the latter vastly outnumber the former. But there can be two or three cartoons that stick with you as the months progress, which comes in handy when the Fischetti deadline nears. The criteria for my entries include, first and foremost, a striking image and forceful viewpoint that uses as few words as possible. I'll consider reader reaction and feedback from colleagues as well, but I have to be passionate about the cartoon myself."
Cavna wanted to know if the image of Lady Justice embracing Lady Liberty came to Beeler all at once, or did he have to work at it.
Said Beeler: "That feeling of spontaneous reaction — a joyful running leap into a loved one's arms — was what I wanted to capture. I assembled the image in my head fairly quickly that day and only drew one sketch. The hard parts for me were things like figuring out the right angle for Lady Justice's leg, and how the two figures physically interacted. Should they be kissing or just nuzzling? I wanted to convey nuanced emotions without words, which is a struggle. I searched online for pictures of couples jumping, hugging, kissing, and touching noses, but in the end designed my own pose."
Asked whether he considers himself a liberal or conservative policially, Beeler said:
"I slam President Obama, and liberals say I'm a conservative. Then I draw a cartoon bashing conservatives, and they call me a liberal. I don't self-identify as anything other than an editorial cartoonist. My opinions lean libertarian, but when pressed to it, libertarians would likely reject me as one of their own. And I would have no problem with that. I worked in Washington long enough for it to strip me of most of my political idealism. Now I naturally use more of my head than my heart when it comes to politics.
"I received zero criticism for my DOMA cartoon," he said in conclusion. "In fact, I received more positive feedback to it than just about any other cartoon I've drawn. I'm not used to e-mailers addressing me in terms that are actually publishable in a family newspaper."
THE FAMILY GUY VISITS THE SIMPSONS
I happen never to have become a fan of Matt Groening's "The Simpsons." I don't know how, exactly, I wandered off into this tawdry life of sin. But I did. I watched it once, but didn't think it was particularly funny. This is my character flaw, not Groening's or his staff's; and millions of Simpsons fans concur, no doubt, in recognizing my failure as a flaw. A relative (by marriage) of mine thinks "Family Guy" is brilliantly, hysterically comical. I do not. Again, a character flaw of mine, no doubt (although this relative is nefarious for a twisted sense of humor).
The Entertainment Weekly article (from which I've poached most of what follows) consumes 10 pages of the magazine; it's mostly a record of a conversation between Groening and Seth MacFarlane (creator, I'm sure you know, of "Family Guy"). If you missed picking it up while it was still on the newsstand (with one of several covers featuring characters from the two shows), you can doubtless find it at your local library. Here, I'm excerpting only small fragments of the highly amusing exchange between the two cartoonists, egged on by EW's Dan Snierson, who points out that "the crossover episode pokes fun at the idea that 'Family guy' is derivative of 'The Simpsons' and 'The Simpsons' is old and not funny anymore."
"Wait a second," says Groening, "—they say we're not funny anymore? I'm sorry—this crossover is cancelled."
But, of course, it isn't.
During the course of the interview, Groening explains his philosophy about doing political jokes on the show: "My measure—can we make a Republican laugh?" (I knew I should have been watching this show all these years.)
On the matter of a show's age, MacFarlane contributes this: "I don't know any show that I've ever seen that had its best years after season 7. [He's only 40, so how many shows can he have witnessed to support this contention?—RCH] If you're being honest with yourself" he goes on, "a show that is in season 12 or season 20, you start to confront that. You can either just kind of coast or you can continue to try to surprise your audience. Regardless of how they're perceived, I do feel like both shows are continuously trying to surprise their audiences. That was why we killed Brian for three episodes."
About the crossover itself, MacFarlane says: "We hope that people will really enjoy it because it is a gift to the fans."
"It's a reward for paying attention if you followed both shows," Groening chimes in.
MacFarlane agrees. "You try to put yourself back in the mindset that you were in when you started. If my college self knew that this was happening, I would probably never stop s–tting myself."
"That's so sweet," purrs Groening.
"I do have to try and capture that emotion in my mind," MacFarlane persists. "It's a pretty astonishing, special thing, to have characters that I created sharing our programming with 'The Simpsons.' I can become a meth addict now because things won't get any better than this."
To which Groening appends to Sneirson: "Just make sure when you write this, you write, 'He said humbly,' not 'He gloated: I can afford meth now!'"
The idea for the crossover originated with MacFarlane's staff during a meeting for planning the year. Someone suggested a mash-up of Fox's two animated cartoon shows that seem sometimes engaged in a friendly rivalry. The Family Guy gang wrote the script.
Groening and his crew were on board with the idea immediately, with only one proviso: the condition that "Do us proud, but please don't kill Marge and let us read the script." (That's three, I know: but I'm pilfering from EW, remember.)
It all went smoothly apparently, except for some minor technical matters. In production at "Family Guy," for instance, they had to dim the whites of the Griffins' eyeballs so they wouldn't jump out and look too bright compared to the Simpsons'.
Another "big Simpsons animated event" was anounced in the same EW article: on "The Simpsons" episode for November 9, Homer and his crew encounter a familiar bunch of now-homeless space adventurers from the cancelled "Futurama" in an episode entitled "Simpsorama," described in the credits as "a show out of ideas teams up with a show out of episodes."
This crossover, Groening says, "was really tough to negotiate because I had to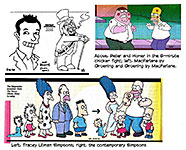 talk to myself."
Among the highlights in the FamilyGuy-Simpsons mash up: Bart blows his noseinto a sandwich that he places in a time capsule. Another of the highlights: an eight-minute chicken fight between Peter and Homer.
Here are some of the visuals EW used to illuminate the article. Particularly revealing is the picture comparing the way the Simpsons looked at birth with the way they look now.
Fascinating Footnit. For even more comics news, consult these four other sites: Mark Evanier's povonline.com, Alan Gardner's DailyCartoonist.com, Tom Spurgeon's comicsreporter.com, and Michael Cavna at voices.washingtonpost.com./comic-riffs . For delving into the history of our beloved medium, you can't go wrong by visiting Allan Holtz's strippersguide.blogspot.com, where Allan regularly posts rare findings from his forays into the vast reaches of newspaper microfilm files hither and yon.
QUOTES AND MOTS
"I think it was Harvey Pekar who said there's no limnit to how good the words can be or how good the pictures can be. There's no limit to how good comics can be, and I live in admiration of the art form. Let's face it: comics creators tackle one of the trickiest forms of entertainment; when they make it work, it is not to be missed." —Maggie Thompson, former editor of the defunct Comics Buyer's Guide
EDITOONERY
The Mock in Democracy
We're postponing our usual foray into the thickets of politics as illuminated by the nation's editorial cartoonists. In a doubtless vain (both meanings) effort to reduce the bulk of this installment of Rancid Raves—and thereby, we hope, its readability—we're spinning off Editoonery this time to post it in a day or so as the next R&R Opus, number 330. It'll be up in a
trice, while most of the events cartooned are still reasonably fresh in our collective memory.
Meanwhile, we'll plunge on herewith with a short substitute from a funny man—:
READ AND RELISH
From the inimitable Will Durst on the Do-Nothing Congress:
During the past 19 months, the Republican-controlled House has shut down the government and voted to defund or repeal Obamacare about a gazillion times and don't forget the two dozen or so Benghazi hearings. They have definitely earned that approval rating lower than thumbtacks in your underwear when riding a motorcycle. Over railroad tracks. ...
The Legislative Reorganization Act of 1970 requires Congress to take off the entire month of August. Not sure, but perhaps it was in response to members of Congress wandering aimlessly en masse in our nation's capital during peak tourist season, frightening small children and prompting plaintive cries from local merchants.
[In the case of the current "Slacker Congress"] they're taking a vacation from nothing. Which is a lot like waking up to take a nap.
RANCID RAVES GALLERY
Pictures Without Too Many Words
WE'RE WELL PAST THE DOG DAYS of summer so it's no longer an appropriate time for our Annual Swimsuit Issue, but here at the Rancid Raves Intergalactic Wurlitzer, we dispense with all such topical or timely pretense. And almost all swimsuits. The accompanying pictures are of women on the covers of or in the advertisements for superheroine funnybooks. You'll right away notice two things: first, the fighting garb for these wimmin is skimpy; second, most of the poses emphasize hooters.
I'm not sure this is an Advance in Civilization or not. But the presence of these wimmin in scanty attire testifies, at the very least, to the sort of attraction the female of the species has for the male and, hence, the distinct probability that the species will be perpetuated.
Toward the end of the fleshy parade, we come upon a picture of a toothsome lovely drawn in 1946 by Jack Cole. Because it is not a contemporary piece (so to speak) of evidence of the male preoccupation with the female form, it is entirely out-of-place in this array. But I've included it anyhow for several reasons, some of which are purely historical. First, it is testimony to Cole's ability in limning shapely women: he was doing it long before he became the star of Playboy's stable of cartoonists in 1954. Second, it was published in Judge magazine, which, by 1946, was in its final throes of being a national humor magazine: launched as a weekly in 1881, by 1931, it, like the rest of the depression-plagued nation, had fallen upon bad times, but it attempted to survive by converting to monthly publication, which prolonged the agony until it finally expired in 1949.
Finally, this picture is here because of its unabashed sex appeal and because of Cole's surpassing skill in rendering a clinging gown that is virtually transparent. Alas, the reproduction here (in its third generation) merely hints at the glory of its original publication, which you can see in its first generation at colescomics.blogspot.com; scroll down the right-hand side until you come to "The Cole Mine," and there, click on 1936, which'll take you to this 1946 cartoon. (Inexplicable, I know; just do as you're told.)
In the last collage in this line-up, we have Milo Manara's variant cover for Spider-Woman No.1 in which his rendering of the heroine's butt provoked criticism in various sheltered regions of comics readership and non-readership (just busybodies looking for sexy images to get all worked up about), who found the picture lewd. Some also thought Spider-Woman's posture was submissive and thereby sent the wrong message about women to young women readers.
Marvel pooh-poohed the criticism. Senior vp of publishing Tom Brevoort noted that Manara has been drawing for comics publication since 1969 and his work has usually featured sexy pictures of attractive wimmin. "So when we say 'Manara cover,' his body of work indicates what sort of thing he's going to do."
Manara himself responded in an Italian-language site (his remarks subsequently translated into English by FreeTranslation.com, an automatic translation service that usually messes up syntax). He divided the criticisms into two classes: those objecting to eroticism and those who believe the anatomy of his drawing is impossible.
The former, he dismissed by calling the criticism hypersensitive and alluding to the ways Muslims treat women: "We know that the censoring of a woman's body should not be a characteristic of our Western culture as it is in Islamic cultures."
The pose itself he selected because he wanted to show Spider-Woman just completing a climb up the side of a building, crawling up on the roof. "She finds herself on the edge and her right leg is still just coming up, consequently, her back is arched." I'm not sure that one follows the other anatomically; it's true that her posture requires that her torso be somewhat twisted, but the prominence Manara gives her posterior is an artistic decision not a wholly anatomical matter. Manara doesn't see it quite that way.
"It's not my fault if women are like that," he said. "I only do the design [drawing]. It is not me who created women this way: it is an author much more important, say, for those who believe. For evolutionists, including me, on the other hand, women's bodies have taken this form over the millennia in order to avoid the extinction of the species. In fact, if women were made exactly as men, the same shape [and body], I think we would have already been extinct for a long time."
About that, I think he's undoubtedly right. And I applaud him for it.
PERSIFLAGE AND FURBELOWS
"They (who) seek to establish systems of government based on the regimentation of all human beings by a handful of individual rulers ... call this a new order. It is not new and it is not order."—Franklin Delano Roosevelt
NEWSPAPER COMICS PAGE VIGIL
The Bump and Grind of Daily Stripping
THE FIRST WEEK IN AUGUST, Sherman the shark and his wife go on vacation to Matha's Vineyard in J.P. Toomey's Sherman's Lagoon.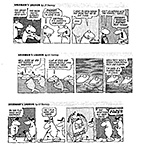 Maybe they'll meet Prez Bronco Bama there. But that's neither here nor there. Looking at the strips of the week—of which three are posted here—I can't figure out why Sherman and his wife are sharks. That is, the jokes have nothing to do with sharks or fish or life under water. These jokes would be the same if the characters were Irish leprechauns. Or crawdads. Or people. In fact, the jokes read exactly like they're people jokes, not shark jokes.
Okay, Donald Duck was never in jokes about ducks or other waterfowl. But in Bugs Bunny animated cartoons, at least the wascally wabbit was sometimes the prey of a hunter. That's some connection.
So why are Sherman and his wife sharks at all? Maybe because sharks (and, indeed, the finny folk of all sorts) are painfully easy to draw. Just an oval with a mouth and eyes. Sigh.
THIS AUGUST 15 RELEASE of Rob Armstrong's Jump Start, a strip whose chief protagonist is a cop whose wife is a nurse, came along not quite a week after the August 9 killing of Michael Brown in Ferguson, Missouri.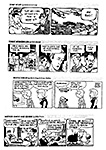 What with the ensuing uproar over Brown's killing and the growing criticism of the militarizing of the nation's police forces and the police department orientation of the strip, Armstrong doubtless felt he had to comment in some fashion. Despite the present laxity about what comic strips are permitted to do in the paper, any allusion to the Ferguson tragedy while it is still unfolding is risky. Here, Armstrong has the police (in the person of his hero) admit to excessive reaction: "My bad" indeed. Both comedy and low-key commentary. Nicely and courageously done.
In Tom Batiuk's Funky Winkerbean, writer Les is in Hollywood, tinkering with a script for a movie about his deceased cancer-victim wife, Lisa. The guy next to the bearded Les is an actor, and this exchange alludes to sexual "performance anxiety," the sort of sexual content that was, until lately, strictly verboten in U.S. newspaper comic strips.
In Mort Walker's Beetle Bailey, the visual comedy proceeds directly from the notion that the skin cream will remove blemishes—in this instance, all of General Halftrack's face. The joke's exercise of logic leads to an obvious conclusion, but its obviousness—the inexorable logic of it—is part of the joke.
And finally, in the last panel of Mike Peter's Mother Goose and Grimm, we see Grimm from the rear, a perspective we seldom have. FYI.
STUPENDOUS. What else can we say about this Sunday Pearls Before Swine? Maybe now we'll get real campaign finance reform.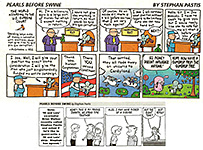 If Stephan Pastis can get Bill Watterson to come out of hiding, surely he can get "Twitch" McConnell and John Boehner (pronounced "blather") to pass legislation that will take the money out of politics.
In the Pearls below Sunday's, Brian Walker, who writes Hi and Lois, is mentioned. I asked him how it felt to be suddenly made famous in Pastis' strip. Apparently the cameo was less carefully worked out than Bill Watterson's collaboration in Pearls. Said Brian: "Stephan warned me about this in San Diego [at the annual convention of the National Cartoonists Society in May) but after three months, I thought he gave up on the idea. Your characters must be iconic to be spoofed in the first place, so, in a weird way, it's a tribute."
MUTTS BEGAN twenty years ago on September 5, and this year, on September 5, Patrick McDonnell helps us remember, as we see just out of the corner of your eye.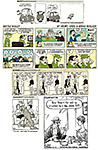 The inaugural strip set the pace: nicely gentle, whimsical comedy. Just what we need in the morning over coffee.
And speaking of politics in the funnies (as we were a moment ago), you know the situation in this country has reached a new low ebb when Mort Walker feels obliged to say something political in Beetle Bailey, which has resolutely refrained from political commentary for its entire run of 65 years. So far. (And speaking of years, Mort achieved 91 of them on September 3. I wished him a smokin' 91st with the accompanying sketch.)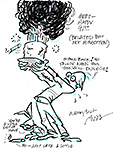 .
The joke in Blondie walked in the door at least a panel before the police officer did, but that just makes it all the sweeter: we're so smart we knew this was going to happen (as with Genral Halftrack's face).
Marmaduke is here because I like the way Brad Anderson and his son draw that big dog. Ankles and feet, great. And Bizarro is here because the speaker is a self-caricature of the cartoonist who draws it. Dan Piraro often includes himself as one of the hapless humans that wander into this bizarre world. And now, having revealed his moustache in an actual photo several paragraphs ago, we know how accomplished a caricaturist Piraro is.
In other words, this last batch of strips is here because these strips made me smile. Not laugh, necessarily, but smile. And these days, we need, more than ever, a good smile.
CIVILIZATION'S LAST OUTPOST
One of a kind beats everything. —Dennis Miller adv.
A NEW STUDY from researchers at the University of Hong Kong and Indiana University has determined that the ten most corrupt states in the U.S. are (in order): Mississipppi, Louisiana, Tennessee, Illinois, Pennsylvania, Alabama, Alaska, South Dakota, Kentucky (from whence hails the incomparable Mich McConnell), and Florida. I always thought that Illinois was the second-most corrupt state, Massachusetts being the first. Only half wrong, more-or-less.
The researchers measured corruption by studying more than 25,000 convictions of public officials for violation of federal corruption laws between 1976 and 2008. The researchers also found that in 9 of the 10 most corrupted states, overall state spending was higher than in less corrupt states. (South Dakota was the exception.)
The ten least corrupted states are: Oregon, Washington, Minnesota, Nebraska (where, last I heard, they don't pay state legislators and so they only meet a couple weeks a year), Iowa, Vermont, Utah, New Hampshire, Colorado, and Kansas.
BOOK MARQUEE
Proclamations of Coming Attractions
Al Capp's Li'l Abnerdebuted August 13, 1934; it quickly became one of the most popular comic strips ever. Starting with sharp social satire, it eventually moved into the less refined realm of political satire. Running for over forty-three years, the strip was so popular that at one point it appeared in over 900 newspapers. It even spawned a strip within a strip: Capp's parody of Dick Tracy was Fearless Fosdick. (And when Tracy's creator, Chester Gould, was asked if he objected to the lampoon, he would laugh and say he was privileged because no other comic strip he was aware of had its own publicity department, right there on the funnies page.)
The strip became an advertising monolith. Abner appeared in comic books, on Broadway in his own musical and eventually on the silver screen.
IDW's Library of American Comics is reprinting the strip from beginning to end, including Sundays (which offered a different continuity from the dailies), and the project is up to the fifth volume.
Caricaturist Dan Friedman's latest book is Heroes of the Comics, for which Friedman created portraits of 84 of the most significant people in the history of comics and wrote about their contributions. The book includes an introduction by Al Jaffee, where the artist talks about how his paths crossed with many of the creators depicted within, from his childhood to college to adulthood. The book is an undeniably great tribute to the people who shaped the business and the artform that is comics.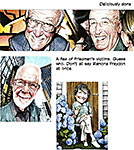 Friedman's work has appeared everywhere from Raw and Mad to Spy and The New Yorker. In addition to his magazine work, Friedman also has a number of books to his credit, including the justly celebrated Old Jewish Comedians and Drew Friedman's Sideshow Freaks, which demonstrate his mastery of portraiture. But as an additional testimony, here are some of his pictures of legendary comics greats from the new book.
My new book, Insider Histories of Cartooning, is listed in the September Previews, No.312 (page 431 if you're desperate to see the ad). We'll have it for sale here, too, when it finally arrives (probably late November/early December).
Other notices in this issue of the Diamond catalog include pages urging us to give comic books as treats on Hallowe'en. You can get a pack of 20 mini-comics for $4.99 only from your local comic shop once October arrives.
And something called "Hallowe'en Comicfest" is advertised as taking place on October 25. Several ads. But none of them say where this event will occur. Slipshod advertising if you ask me.
And here (assuming you've been eagerly waiting since the opening sentence of this section) is a short blurb about my book—:
Cartoonists, the "insiders" of the book's title, are likely to know most of the histories rehearsed in the volume. Most but not all of them. Many have never heard of Bill Hume or Bailin' Wire Bill or Abe Martin or the Texas History Movies or the Weatherbird at the St. Louis Post-Dispatch. Or AWOL Wally. And many insiders don't know why we call comic books "comics" even though lots of them aren't at all funny. Many of the better known stories in some of the book's fourteen chapters are wrapped around fugitive scraps of information that are almost unknown. Which of Bill Mauldin's famous duo is Willie? Which is Joe? What was the big secret about E. Simms Campbell? Who was Funnyman? And why?
And some of the pictures are rare, too. Hugh Hefner's cartoons, Kin Hubbard's illustrations for Short Furrows, Betty Swords' pictures for the Male Chauvinist Pig Calendar of 1974. Babysan, the Far East pin-up. Illustrations for Popo and Fifina. Red Ryder's last bow.
Now you can flip Previews open to page 431 and order your very own copy. Be the first kid on your block....
Or you can wait to order yours from me; same price but you get the book inscribed by the author, should you so desire.
TALE BEARING
(Culled from The Week)
Some 44 percent of Americans live in states where gay couples can marry, and 54 percent are in jurisdictions that legally recognize gay couples' relationships.
When the U.S. invaded Afghanistan in 2001, fewer than 1 million Afghan childlren were enrolled in elementary schools, and just 5,000 of them were girls. Today, more than 8 million Afghan kids go to an elementary school, including more than 3 million girls.
In 1975, the average American vacation lasted more than a week. By 1985, it had shrunk to 5.4 days; by 2010, 3.8 days.
In a sign of America's aging population, sales of adult incontinence products increased 20 percent to $1.4 billion from 2009 to 2013. Sales of baby diapers, on the other hand, dropped 8 percent to $4.8 billion.
BOOK REVIEWS
Critiques & Crotchets
Outside the Box: Interviews with Contemporary Cartoonists
By Hillary L. Chute
272 7x10-inch pages, b/w and color illos; Univ. of Chicago Press 2014 paperback, $26
ASSISTANT PROFESSOR OF ENGLISH at the University of Chicago, Chute is a protégé of Art Spiegelman, whom she assisted in the manufacture of his MetaMouse (another in the seemingly endless line of products Spiegelman has been able to spin out of his Pulitzer Prize winning graphic novel). Smitten by comics a dozen or more years ago, she began discussing comics with cartoonists in 2005, and in this volume, she publishes the interviews with Linda Barry, Charles Burns, Daniel Clowes, Phoebe Gloeckner, Aline Kominisky-Crumb, Scott McCloud, Francoise Mouly, Joe Sacco, Adrian Tomine, Chris Ware, Spiegelman, and Alison Bechdel (with whom she co-taught a course on comics and autobiography and co-curated an exhibit of Bechdel's work). Each interview runs about 20 pages and they are all adequately illustrated with pictures torn from the interviewee's oeuvre. A happy touch are the caricatures of the cartoonists by minimalist Ivan Brunetti, who produced them expressly for this book. He shows without question that it's possible to caricature someone through the use of hair style, facial hair, and eye glasses alone; otherwise, all his caricatures are circular shapes drawn with a compass.
Each interview-chapter is introduced by Chute, reciting the subject's professional history in wholly readable prose, mostly devoid of the oft-numbing argot of academics.
Chute's Introduction to the book (another instance of crisp fact-laden prose) is entitled "Twenty-first Century Comics," which, together with the roster of cartoonists she talks with, suggests not only the ambition of the book but its hubris. Five of the cartoonists are women, implying the politically correct inclusive part of Chute's mission. (Her other book is Graphic Women: Life Narrative and Contemporary Comics.) But she doesn't include Craig Thompson or Jeff Smith or Robert Crumb or Mike Mignola or Frank Miller or Alan Moore or Jim Steranko or Chester Brown—and probably others whose work is just as accomplished as that of her roster. And her selection of interviewees leans pretty heavily in the direction of the Spiegelman-Mouly school of cartooning (or what McCloud thinks of as the "Understanding Comics generation" of cartoonists). These cartoonists are generally thoughtful about their medium—they not only practice cartooning but they have theories about it—and they are therefore perfect subjects for an academic to interview about the medium.
Talking with Tomine, Chute remembers picking up the cartoonist's Optic Nerve and thinking: "Oh, that's a girl in a cute miniskirt I would wear." She means by this to say that she finds Tomine's books full of people that she recognizes are like her, but the miniskirt is almost an emblem for Chute's own understanding of the arts of cartooning: it's abbreviated.
In her interview with Sacco (at 16 pages, the shortest in the book), Chute professes alarmed admiration: "This is the stuff that blows my mind about cartoonists. They have to be good at so many things, including having a rigorous, special design sense, right?"
To which Sacco responds: "That's like walking, if you're a cartoonist."
Chute's grasp of the way cartooning works veers off in the alarmingly theoretical direction rather than the homely practical. She tells Bechdel that she thinks her graphic autobiography Are You My Mother? is "a book about touch." And Bechdel agrees, saying she often feels, when drawing, "that the line I'm making on the paper is a way of touching the people and things I'm drawing. It's a figurative stroke..."
While Bechdel goes along with Chute's scholarly observation—playing the academic's game, so to speak—she also betrays a cartoonist's over-riding interest in the role of pictures when she talks about how she researched different ways of depicting the numerous therapy sessions in the book, looking for ways to make these tediously similar episodes "visually interesting."
Bechdel admits that picturing is a more vital way of "writing" for her than simply verbalizing. She began by typing a text but "started hitting a dead end with that. I couldn't get where I needed to go just using text." Then she discovered Adobe Illustrator, which permitted her to think visually, to move images and shapes around on a single page. "Even though I wasn't drawing, I could start thinking: What's the sequence here? What image will accompany this narration? ... Even though I didn't have images, I knew in my head what they were going to be as I was mapping out the page."
Chute's questions don't seem to me penetrating enough: they lurk on the fringes of cartooning just as any non-practitioner must.
And sometimes Chute overlooks an opportunity to delve deeper. When Bechdel says color sometimes works symbolically, Chute fails to ask her how. And then when Bechdel says the Robert Crumb-Harvey Pekar collaborations "remain for me the acme of autobiographical cartooning," Chute lets another opportunity slip away unexplored.
Pedestrian as her queries mostly are, they are sufficient prompts to her interviewees, who, nudged by Chute, go off in productive directions. In short, Chute is lucky in her choice of subjects: they are all articulate about their understanding of how they work and how cartooning works, and for the insights they provide, the book is worth having on your self.
It's also worth buying just to reward its overt celebration of a print medium in this age of digital distraction.
Miss Mizzou: A Life Beyond Comics
By J.B. Winter
100 5.5x8-inch pages, b/w plus ample illustrative drawings and photos; 2014 paperback, $7.99 ($7.19 at Amazon)
IN HIS STEVE CANYON comic strip, Milton Caniff tried hard to create a character as provocative as Burma in his Terry and the Pirates. The closest he came was Miss Mizzou, who shows up only five times, each time wearing a trenchcoat and, she assures us with a knowing wink, little, or perhaps nothing, else.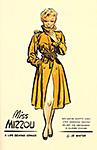 In this slim and impressively researched volume (the footnotes are as fascinating a read as the main text), we find out that Mizzou had an equally tantalizing life beyond the borders of the comic strip, and J.B. Winter never fails to remind us of what she was wearing (or not) beneath the trenchcoat. The backcover blurb accurately predicts the content: "Miss Mizzou's adventures in the comic strip turned Columbia and the University of Missouri on its ear, inspiring various promotional tie-ins during the 1950s and 1960s. Some of these promotions were celebrated with fervor, while others created controversy that attracted national headlines."
Columbia, Missouri is the home of the University of Missouri, commonly called "Mizzou," hence the connection between the comic strip siren and the city. The promotions that promised to put Columbia on the map were enthusiastically entertained by the city fathers; but often, on second thought, they wondered if a vagabond blonde wearing nothing but a trenchcoat would bring credit to the city or condemnation. And so controversy ensued. Winter has detailed it all here.
Even if you're not a Caniffan, you should buy the book and read it simply to get some understanding of how important newspaper funnies were in the days of yesteryear. It was like every cartoonist was Bill Watterson and every comic strip Calvin and Hobbes. If you can believe that. And this book will make you a believer.
Winter, who is a designer and cartoonist living in Columbia, has published mini-comics over the years, the best known of which is probably his 50-state jam comic featuring cartoonists from every state in the nation. More of his work is available at his website, misterwinterman.com
Winter plans to write more about Miss Mizzou, expanding on events in the book and adding new information as it surfaces, at misterwinterman.com/missmizzou/blog
IRKS & CROTCHETS
"There are those who say our Maker has things all worked out for us and whatever happens is for the best. There are times when I can't agree, and this is one of them."—Sterling Hayden upon the death of Humphrey Bogart
Collectors' Corniche
Welcome to our sentimental section where I muse and marvel about antique volumes on the shelf and rare finds in old bookstores and the like. Nothing major. Skip over this if you're busy.
RUMMAGING, AS IS MY WONT, through the heaps of paper on my desk and in the surrounding environs, I came across an antique file folder with a couple letters from Gordo's Gus Arriola in it—and the drawing posted here, one of the last he made, I suspect.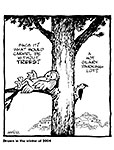 While I was working on his biography, we'd exchange comments and notes about the current state of comic strippery. And we continued to correspond erratically after I'd finished the book. I'd send him copies of cartoons and strips I'd liked or admired, commenting on them. And he'd answer occasionally with reports on his latest doings.
Gus lived in Carmel, California, where he was a reluctant local celebrity. He'd moved into a town house many years ago after he'd given up drawing Gordo. And then about the time I started work on the biography, the person who had bought the house in Carmel where Gus'd lived and produced the strip for thirty years decided to demolish the building (which was not too sturdy at that point) and put up a new house on the site.
Suddenly, the citizenry was up in arms. They protested the idea of demolishing the house where Gus Arriola had lived and worked. It was a shrine. To tear it down would be to destroy the town's history. Concerned citizens stormed the city council meeting.
Gus was flabbergasted. He went to one of the city council meetings that had his former house on the agenda and told them to let the new owner tear it down. It was a wreck. The whole shrine thing was anathema to him.
He was undeniably a local celebrity.
About the drawing at hand (made in the winter of 2004), he wrote: "The enclosed drawing was forced out of me by the local do-gooder group Friends of Carmel Forest, led by Clayton Anderson, an old close friend of Sparky Schulz. I was surprised to learn I can still passably pull a No.2 brush."
Gus had Parkinson's and while medication controlled tremors, he'd given up drawing for all practical purposes. He'd retired his strip, the immortal Gordo, in 1985—for reasons not related to Parkinson's. He died in the spring of 2008.
More Rummage. http: // www.nostalgiaroad.com/home.html is a nifty website for a nostalgia fix.
BADINAGE AND BAGATELLES
Referring, once, to ballet dancers, Robin Williams said they were "men wearing pants so tight you can tell what religion they are."
FUNNYBOOK FAN FARE
Four-color Frolics
An admirable first issue must, above all else, contain such matter as will compel a reader to buy the second issue. At the same time, while provoking curiosity through mysteriousness, a good first issue must avoid being so mysterious as to be cryptic or incomprehensible. And, thirdly, it should introduce the title's principals, preferably in a way that makes us care about them. Fourth, a first issue should include a complete "episode"—that is, something should happen, a crisis of some kind, which is resolved by the end of the issue, without, at the same time, detracting from the cliffhanger aspect of the effort that will compel us to buy the next issue.
PETER MILLIGAN'S TERMINAL MAN is about cancer. Or, as Milligan says: it's "about being forced to face the reality of who and what you are. ... It's a dark journey, the road is littered with horror, black humor, and monsters but also tenderness, sex, love—in other words, it's one hell of a ride. ..."
In the first issue, Dr. Rory Fletcher discovers he has an inoperable tumor in his brain and about two weeks to live. But a friend, Raza, learns of a possible cure developed by a mysterious Brian Quigley, who, it develops, injected himself as an experiment and overdosed, went mad, and had to be shot. Raza convinces Rory to take Quigley's treatment, and Rory experiences a variety of horrific consequences, mostly, it seems, hallucinogenic. The most spectacular of them sets his head afire. But in a fit of rage, he also assaults Raza and perhaps kills him. Meanwhile, his regular doctor discovers something about Rory's blood test and tries to contact him; the book ends as a SWAT team and his doctor arrive—accompanied by helicopters— to tell Rory the results of his blood test.
The initial story consists of a series of episodes, none of which make narrative sense but each of which show Rory in an emerging new state of consciousness. Or ability. In seems, in short, that the Quigley treatment is turning him into someone with extra-normal powers, but in this issue, he doesn't learn much about how to control them.
In what must be considered the only completed episode in the book, a beautiful fellow doctor, Emma Flowers, learning that Rory has a terminal illness, offers herself sexually to Rory, but he declines because, although he likes her, "it feels wrong." Later, he goes to her apartment and, his head aflame, burns her clothes off. But he manages to hold himself in check and doesn't assault her sexually; instead, he leaves and seeks relief with a prostitute in the city's red light district. The episode shows us that Rory is a decent guy—even as he is slowly being taken over by whatever mysterious powers the Quigley treatment is giving him.
Piotr Kowalski, who also illustrates Joe Casey's Sex, renders this tale in the same distinctive fashion—fine lines embellished with modeling patches of black and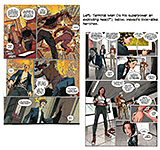 occasional feathering, producing a fractiled appearance that, while thoroughly competent in setting and anatomy—even masterful—seems fragile, crystalline. But, thankfully, not photographic: it's linework, not computer-generated reality.
Kowalski's art alone is not enough to bring me back, and neither is Milligan's story, which, for all of Rory's desperate attempts to stay human and humane, is a little too vague in suggesting what his new powers might be. Still, I might sample the second issue just to see if it's just another horror story.
AND SPEAKING OF HORROR STORIES, we have Hexed No.1, which is (I think) about demonic possession or something in that neighborhood. I'm not into that sort of spook stuff so I may not have the terms right. In the opening sequence, we meet Lucifer, an extremely self-confident woman who doesn't like to be called Luci. By invoking a monstrous fang worm, she defeats a passel of thieves trying to steal a painting off the wall in a museum where she ostensibly works, but the regular guard, Bob, suffers some sort of attack. And that's where writer Michael Alan Nelson loses me.
Thereafter, the narrative leaps back and forth in time and in and out of another infected dimension. Lucifer apparently works for an older woman—perhaps the museum's curator—Val Brisendine, whose assistant, Rani, looks exactly like Lucifer. And to add to the confusion, they also dress alike.
They all transport themselves into another dimension where they encounter a handsome man dressed in white who behaves as if he'd eat Rani, given half a chance. Lucifer scares him off. For the moment.
Then they seem to be back in the museum. Then Lucifer goes off into another dimension to find The Harlot, a tall witchy woman in black, who causes Lucifer to cut her own throat. On the last page of the issue, Luci lies bleeding (to death?) at The Harlot's feet.
The only episode herein that makes sense to me is the opening one. In it, at least we understand the objective—stop the thieves. And we admire Lucifer's command of the martial arts. But thereafter, I'm not sure what the objective of her machinations is.
And in the midst of it all, another two-page apostrophe in which we meet Madame Cymbaline, a woman (or spirit) dressed all in flowing white, a man with a bleeding eye, and a sprinkling of several other names—Yves, the Dietrich Fiasco, the Carasinth. Some of these talk about Lucifer, but mentioning her name is the only connection this episode has to the rest of the book.
In short, too much bafflement. Too many unconnected loose ends. It's attractively rendered in a vaguely manga manner by Dan Mora, but there's altogether too much spookiness for me.
HOWTOONS IS A DESPERATELY NOVEL IDEA —an educational comic book. And this one has elbows all over the place. In the first issue, we get a lesson in energy and a novel solution to global warming: blow up all the world's volcanoes, creating an encasing shroud of ash around the earth to prevent greenhouse gases from escaping. "Like the earth giving herself a hug." More than that: with diagrams to aid us, we learn how to make protective eye goggles, a marshmallow shooter, and a flashlight.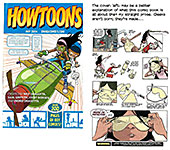 The story—once writer Fred Van Lente finishes the opening six-page lesson on energy—plunges us into the volcano-exploding tale, but before they all blow up, we meet Celine and her brother Tuck, both drawn by Tom Fowler in a cartoony style to distinguish their antics from the more realistically rendered volcano continuity. Celine is a precocious girl and Tuck is fully engaged in a fantasy life in which he is a heroic figure. The parents of this pair are scientists involved in the volcano enterprise, and they appear to have disappeared while searching for more fuel for the underground bunker wherein they all live to protect themselves from the effects of the volcano explosion.
Celine and Tuck turn off all the bunker's power to conserve energy and fuel—which prompts Celine to improvise a flashlight so they can see their way through the darkened bunker. Her construction of the flashlight is described in detailed diagrams and accompanying instructive text. Then they leave the bunker and find that a beautiful wilderness has overgrown the structures of what was once civilization. End.
The cartoony style for Celine and Tuck enables Fowler to deploy antic, animated action sequences to enliven otherwise boring diagrammatic passages that show us how to make a pea-shooter for marshmallows. And these passages, each of which enables our dynamic duo to escape a new crisis, are the only completed episodes in the book. They show our heroes to be resourceful and imaginative (as well as amusing)
This book is a "chapter" in what is apparently a much more ambitious work—200-to-300 pages of the same sort of adventure—invented, I gather, by Dr. Saul Griffith with the aid of Nick and Ingrid Dragotta and Joost Bonsen. The second issue is out, and it includes instructions about how to build a go-cart.
The title is a noble effort skillfully executed. If this series can't make comic books educational as well as entertaining, then nothing can. But I'm tempted to think the effort is a bit too much, too obvious and too straining to convert an entertainment medium to something "useful." Pfaugh.
I MISSED THE FIRST ISSUE of The Bunker, but I was intrigued enough to glom onto Nos.2-4. It's built around a time-warp concept. Five people discover in a secluded part of the woods a bunker where they planned to bury a time capsule. But they find in the bunker some letters from their future selves, "warning of dark fates awaiting each of them."
During the ensuing issues, one of the five, Grady, ponders what to do: his letter told him that he would become a hero by rescuing people from bombed building. But that creates a moral dilemma: since he knows the building will blow up and kill people, shouldn't he issue a warning—thereby saving lives? The letter says his becoming a hero will also save lives. So some lives must be sacrificed for a "greater good."
By the fourth issue, the focus shifts to another of the quintet, Daniel, a scientist whose work will, at some future point, poison the world. And there, poised on the cusp of another disaster, No.4 ends.
Writer Joshua Hale Fialkov has produced books that are more talk than action—page after page of characters arguing and explaining. But this tedium is considerably reduced by the wildly energetic pictures from Joe Infurnari, who, as you can see from the evidence at hand, produces wildly scarred-up renderings, blending furious pen-scratching and somber color to pulsing effect. Some of his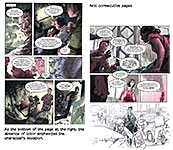 characters—Grady and Billy, chiefly—are difficult to tell apart, but the speech balloons float through the pictorial carnage and identify the speakers, so we aren't often lost.
Infurnari also jerks page layout around, regularly upsetting the routine grid. Despite all this pyrotechnique, his storytelling is just fine: he breaks down the narrative by picking telling moments to illustrate, and he lets pictures do the talking at highly dramatic moments. Interesting stuff.
THE FOURTH ISSUE of Where Is Jake Ellis? finally appeared. It's been so long since the third issue that I've forgotten the McGuffin, but writer Nathan Edmondson and artist Tonci Zonjic have helpfully nudged me into vague recall with an opening page that tells me that Jon and Jake and Mollie have been captured by the Ungodly, whose purpose we soon learn. Jon and Mollie, I remember, have spent the last three issues running from the Ungodly; but now they're caught.
We learn a little about the mysterious connection between Jon Moore and Jake Ellis. The Ungodly had been experimenting with "remote viewing" when they accidentally discovered (by "snipping the brain's leash to the mind—physically snipping" and other surgeries) that when Jake's leash is snipped and he is unconscious, his mind doesn't simply wander around loose: it enters into Jon's mind. Once they fully understand this ability, the Ungodly aver, no one will be safe.
"Imagine what our employers could do with that power ... Presidents wouldn't be safe."
So now that they have Jon and Jake, they intend to continue their experiments. But when they leave the room, Jake's mind, enters Jon's (taking the familiar form of a lurking gray eyeless body), telling him he can slip his bonds (he's strapped to an operating table) by dislocating his left shoulder, which, unbelievably, he does. Then he frees Jake, who's on the next table, and they go find Mollie, and all three head out across the desert.
Interleaved with this action is a flashback wherein the government facility Jon works at is invaded by some pistol-packing bad guys, who start shooting everyone. Jon hides under his desk and, presumably, escapes.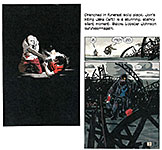 As Jon and Mollie run across the burning sand, we get another series of flashbacks to the moments right after Jon freed Jake; Jake keeps saying, "There's a way out of this, Jon." And "Listen to me one more time: do it."
On the next stunning page, Jon shoots Jake in the head.
The next issue is the last in this series. Maybe it'll pull all the pieces together. If it shows up.
THE FIFTH AND LAST PART of Mike Mignola's current Lobster Johnson series, "Get the Lobster," has also appeared. Not as late as the Jake Ellis book, but still a trifle tardy: there was a gape between the third and fourth issues, as I recall. The Lobster finally destroys all the Ungodly by running one of them down in a car chase and pursuing the other into a dirigible. The guy in the dirigible is destroyed when the Lobster explodes it with both of them aboard.
On the last memorable page of the issue, two civilians, a man and a woman, strolling the beach, come upon the wreckage, and the Lobster, uniform torn and face bleeding, emerges from the debris. Nicely done.
Oh—and New York's famed crusading mayor of the thirties, Fiorello LaGuardia, makes a cameo appearance.
BOTH JAKE ELLIS AND LOBSTER JOHNSON are distinguished by the artwork, which, in each case, is executed with a simple bold line by Tonci Zonjic, and, in Lobster Johnson, the resultant shapes and forms are neatly sculpted by Dave Stewart's coloring. In both books, Zonjic enhances his unfeathered outlined forms with patches of black shadow, and the locales are etched with solid blacks. But the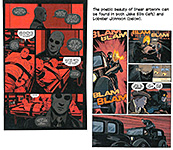 predominant visual is linear. And with that statement comes my realization about why Idislike so much of the stuff produced these days—almost all of it, that is, which is vamped into nearly photographic realism by the many digital mechanisms now available to artists. The pictures look like photographs. In these ambitious undertakings, lines have virtually disappeared. And lines, to me, are at the core of what art is—drawing.
Other kinds of art exists, I recognize. But my preference is for line drawings. And when I don't see any lines, I'm a little turned off—which happens frequently with Dynamite Entertainment books.
I JUST RAN ACROSS Nos.3-5 of Mark Millar's Starlight, the first two issues of which I raved about here a few opuses ago. Goran Parlov, who produced the memorable Fury Max books here a year or so ago, did the visualizing, and his line, while slightly flexible, is not as bold as Zonjic's. It is clean and utterly uncluttered by feathering or shadowing. Naked and unadorned, it must create the images, alone and unaided by fancy freehand footwork. And it does that, in spades. Image and action, beautifully captured and conveyed.
Parlov's faces and figures are muscular, the line supremely confident, the imagery thoroughly engaging. Action sequences are powerfully rendered in such stark visual terms; but even talky scenes achieve power through the simple understated imagery of Parlov's lines. Here are two pages by way of exposition.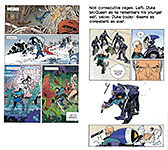 Aged Duke McQueen, erstwhile savior of a distant planet when young, has returned to save it again. In his first encounters with the Ungodly, he proves his age has not seriously impaired his warrior skills, but in No.5, he is seemingly vanquished by the merciless ruling class of Bad Guys. And then, on the last two pages, he emerges like Venus in the surf, gritting his teeth, spitting salt water, and vowing that he won't let the planet down. And from what we've seen so far, he's probably right.
ONWARD, THE SPREADING PUNDITRY
The Thing of It Is ...
FINALLY, AT LONG LAST, we get the missing piece in the VA hospital scandal. Sometimes the news media actually does its duty. It may take a while, but—sometimes—it actually gets the job done. Here, it is being done by Creators Syndicate columnist Froma Harrop, who writes: "At the bottom of this emotional story [about delaying medical attention for vets and faking records to prove otherwise] sits a very plain-vanilla villain: the nationwide shortage of primary care medical professionals. This scarcity plagues the entire American health care system, government-run and private alike."
And it's not likely to change any time soon. Harrop goes on: "In a highly market-based system such as ours, providers go where the money is. That would be the more lucrative medical specialties—and in hospitals rather than doctors' offices."
Certainly not in VA hospitals where the pay is hardly likely to approach the remuneration possible in the private sector. So because there aren't enough doctors in the VA system, those seeking medical help must wait a long time. And when the higher ups demanded reports that showed no delay longer than, say, 40 days, hospital administrators did what miliary personnel have always done: they faked reports to support a desired outcome—i.e., short wait times for seeing doctors.
The $16 billion fix that Prez Bronco Bama signed into law in August is not going to fix the VA: most of the money "will pay for veterans on long waiting lists—or who live more than 40 miles from a VA facility—to see private providers."
Harrop claims "thousands of doctors, nurses and other health care professionals are being hired" in the VA. But if the country has a shortage of doctors, those thousands must not be only doctors but nurses and others.
WE'RE ALL BROTHERS, AND WE'RE ONLY PASSIN' THROUGH
Sometimes happy, sometimes blue,
But I'm so glad I ran into you—
Tell the people that you saw me, passin' through
STAN GOLDBERG, 1932 -2014
Stan Goldberg died the last day of August due to the aftereffects of a stroke he suffered two weeks before. He drew comics for 65 years, a long and distinguished career matched by few. He was also a supremely nice guy—friendly to all, generous with his time and his opinions, and unassuming to a fault. Stan was one of the first cartoonists I met at my first National Cartoonists Society Reuben Award weekend. He was kind and welcoming to this bush leaguer; and at every Reubens ceremony thereafter, he greeted me with a smile as if I was an old friend.
These next few paragraphs are taken, almost verbatim, from Stan's autobiographical paragraphs in the NCS membership album to which all members contribute the content about themselves. He wrote his in the third person. You'll notice how his modest parade of facts fails to blow his own horn.
Stan Goldberg was born in New York City in 1932. He started his comics career at the age of 17 as a staff artist in the coloring department at Timely (later Marvel) comics. He was later in charge of the color department. In 1958, he left the staff job to freelance but continued to color all of Marvel's comics for about the next ten years. As "Stan G.," he was responsible for the colors of the costumes for all the classic Marvel superheroes and villains for the 1960s.
From 1949 to the late 1960s, he illustrated adventure stories, drew gag cartoons, did pop art for advertising, and illustrated all the teen titles for Marvel— Kathy the Teenage Toronado, all the Millie titles, Patsy Walker, and so on. From 1968 to 1970, Stan drew the teen titles for DC Comics— Scooter, Binky, and Debbie's Dates.
Since 1968, he's been drawing many of the titles and covers for Archie Comics; he also spent five years drawing the Archie Sunday newspaper comic strip. Some of his other illustrations have appeared in children's books, greeting cards, and magazines— McCalls, Redbook, Seventeen, and others.
Stan also drew Mindy and the Gollem, a comic strip that appears in Jewish papers all over the world and a comic book with the same characters that appear in the strip.
That's it. That's Stan's summary of his career as of 2005.
Fortunately, others are aware of his achievement and are not as reticent about it. Here, for instance, is Mark Evanier (in italics):
Stan went to work for Marvel when he was 17, primarily as a colorist. In fact, there were periods at Marvel when Stan either headed the coloring department or was the coloring department. He colored all the early super-hero titles in the sixties. He was the man responsible for Spider-Man's costume having the colors it has. He was the man who made the Hulk green and so on. The artists whose work he colored all thought he was terrific.
He also had a long career drawing, usually in what we think of as the "Archie" style. He occasionally did something more realistic but mainly drew comics like Millie the Model for Marvel, Swing with Scooter for DC and Archie for Archie. Most of these were unsigned and some that were signed were signed with someone else's name since the Archie company didn't like to find out their artists were drawing that way for competitors.
No one has ever totaled up how many pages Stan drew of Archie and his friends but the total was certainly well into the thousands. That association lasted for 40 years, ending in 2010 and he was startled and puzzled when it did end. For the last decade or so with them, he was not only kept busy but did many of their most prominent works, including the Archie newspaper strip, the much-publicized Archie-Punisher crossover comic and most covers. He told friends that he honestly did not know why they had suddenly decided to dispense with his services. [For some details about Archie's shameful treatment of their veteran cartoonist, see Opus 275.—RCH]
He stayed busy. He worked on other projects including Simpsons comic books and a nice array of Archie parodies and knock-offs. In 2012, the National Cartoonists Society presented him with its prestigious Gold Key Award, and he and [his wife] Pauline were active in the group, Parents of Murdered Children, which they joined after the tragic slaying of their daughter Heidi, who was then a college student.
And here's Tom Richmond, President of NCS (also in italics):
Stan had the kind of career in comics that in some ways flew under the radar, but in others was one of rare influence and greatly respected by industry pros. ... Stan was such an easy person to talk to. Soft spoken, he had so many stories of the old days in the Marvel bullpen, his time with Archie and the people he'd met and worked with you could completely lose track of time listening—yet at no time did you ever get the feeling any of the things he said were about himself. He had a joy for comics and cartooning that was infectious.
The last few years at the Reuben Awards were special ones for Stan and [his wife] Pauline. In 2012 in Las Vegas, the NCS honored him with the "Gold Key" award, inducting him into the NCS Hall of fame. [Stan has also been awarded a Stanley, the Australian equivalent of the Reuben.—RCH] A very humble man, Stan was really moved by the recognition, but it was undeniably well-deserved. You should know you are a big deal in the world of comics when Stan Lee sends in a long video tribute to you for your award presentation! It was wonderful to see him get that award.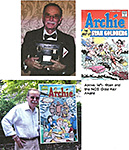 This past year was another special Reubens for the Goldbergs. Back in October of last year, Stan and Pauline were involved in a terrible car accident that badly injured them both. I was told that one of the first things they said after beginning their long roads to recovery was that they were determined to get better and go to the Reubens in San Diego last May. In fact, they had their room booked right after the accident as incentive. At the Reuben Awards dinner we recognized them and let them know how glad we were they were there and how important they are to the NCS family with a thunderous round of applause. They are such special people. Little did we know we were also saying goodbye to Stan.
Nancy Silberkleit, co-publisher of Archie Comics, remembers working with Stan (in italics):
Zam wham wow flowed through Stan Goldberg's veins. Stan's style went beyond artistic talent, and placed him in the elite category of what we refer to as graphic literacy. Throughout his long career, people around the world were entertained by the combination of rich graphics in service to a visual story that brought laughter, and managed to access deep emotion. Magical and forceful, his lines enhanced the spare text in ways that emotions such as surprise, sadness, passion were made visible, allowing the story to take on a deeper meaning. A reader exposed to such rich graphic art was able to internalize and experience the story in a way that only heightened the reading experience.
For me personally, I will always treasure my collaboration with Stan on one of his last comic book projects, Rise Above. Stan taught me that the story, which addressed young people and bullying, actually needed very little text. Stan had a unique ability to communicate and tell the story with the intensity of his graphics. Watching his hand manipulate the movement of that pencil on the page, and connect readers with the emotional realms of laughter, or sadness, or triumph, was thrilling to see.
Like a pencil on paper, Pauline and Stan were always side by side. But many of Stan's global fans didn't know that. Fans only knew of the two other women in Stan's heart: Betty Cooper and Veronica Lodge. Stan viewed Betty and Veronica distinctly; he truly loved them with all of his heart. That passion is what gave these beloved Archie characters such life!
If I could speak directly to him, I would say: Stan, what you gave to Archie Comics cannot be measured. It is a fact that the Stan Goldberg graphics are imprinted across the hearts of people around the world. Your rich graphics were the element that sparked people's conversation, and through your art you pushed folks to connect and were one of the reasons for the brand's longevity of seven decades. The global fans that love and support the iconic Archie brand thank you in their many languages!
Stan is now with God, and you can bet my late husband Mike Silberkleit and business partner Richard Goldwater have been waiting to have a word with him. It will be business as usual up there.
I cannot post these thoughts here without recalling the sorrow that Stan felt after Mike and Richard were no longer at the Archie helm. Now they are together again. Stan Goldberg now has God's ear. May God and his many angels surround Stanley Goldberg and his gentle loving soul.
We all will miss Stan…
To the best of my knowledge, no one else at Archie has written anything about Stan. Not surprising. If anyone there wrote about him, it would remind comics fans everywhere how shabbily they treated him at the end; go read Opus 275.
AT COMICRIFFS, Michael Cavna quoted veteran Marvel editor Tom Brevoort: "While he may not be as well-known to the masses as Stan Lee or Jack Kirby, Stan Goldberg — or 'Stan G.,' as he was inevitably credited — was likewise one of the pioneers of the Marvel renaissance. As Marvel's one-man coloring department, it was he who determined that the Thing would be orange, that Spider-Man would be red and blue-black, and that Iron Man would be red and gold."
Cavna also quoted Batton Lash, the Eisner-winning cartoonist and creator of the comic Supernatural Law:
"Watching him draw– he made it look so easy! Stan's cartooning alone would have earned him a secure spot in pop culture — among the thousands of comic-book pages he drew, Stan illustrated the milestone six-part 'Archie Gets Married' storyline — but comics history will always recognize him as the accomplished colorist for the fledgling Marvel Comics Group."
Lash continued: "I had the distinct pleasure of working with Stan Goldberg on the 1994 Marvel/Archie crossover, Archie Meets The Punisher, and Archie Comics' 1995 'House of Riverdale' miniseries. And if 'Stan G.' drawing my scripts wasn't enough of a treat, getting to know Stan Goldberg was icing on the cake."
He remembers his initial meeting with Goldberg: "My first impression was that he was quite the distinguished gentleman: dapper, friendly, witty and a raconteur."
Joe Wos, out-going director of the ToonSeum, the Pittsburgh Museum of Cartoon Art, said: "What stood out to me was, he spoke with such love for his fans. He was so grateful. He was a gracious talent with no ego."
Cartoonist Mike Lynch agrees. "So many people are calling Stan their friend, and they are right. Stan was a gentleman and when he spoke with you, you got 100% attention. He was generous and enthusiastic about comics, and people. And when it came to comics: he was there. There for everything: the Golden Age, the anti-comics crusade of the 1950s, the Silver Age, and so on. He could tell you stories of working for Stan Lee. He was there in the Empire State Building as a teenager, in the Marvel bullpen. This was during the 1940s, before Marvel was Marvel. ... As a teen, he assisted Carl Burgos, the creator of the original Human Torch." And Stan Lee, the man Goldberg credits with getting him started on drawing teenager comics—Lee calls Goldberg "a great cartoonist" and "a great friend."
Talking to Cavna, Lee said: "I'll never forget the long walks we used to take in New York during lunch hour, while we discussed and joked about everything under the sun. He had a great sense of humor, and was fun to be with and to work with. If ever anyone qualified for the description 'Nice guy,' it was that truly talented nice guy, Stan Goldberg."
In 2012, CBR News interviewed Goldberg, and, as usual, Stan revealed himself to be appreciative of others' talents and self-effacing about his own. Early in the interview, he denied that cartooning was a job. "This is something I've been doing since I was seven or eight years old, so would you consider that a job?"
One of his last "jobs" is on the cusp of appearing— a Spider-Man collaboration in Marvel 75th Anniversary Special.
Goldberg talked with CBR News about the variant FF cover for Marvel that he'd done earlier in the year:
"That was a freaky thing," he said, "but I'm glad it turned out well. They called me up and I said, 'You've got the wrong guy.' They said, 'No, we've got the right guy.' I had worked on all those early issues and I'm still around so they wanted me to do it. I sent a couple roughs up to them, they picked one of the roughs out and I really had a lot of fun with that. I worked with my buddy Joe Sinnott. He's a great guy, probably the best inker in the business. He called me up and said, 'It's a great cover, how should I approach this?' I said, 'That's like Norman Rockwell asking, how should I paint this?' I said, 'Joe, I thank you for asking me, but whatever you do is going to work out fine.' He did a really great job on it. It was nice that he asked."
Goldberg reminisced about his coloring superhero costumes:
"In the early days, in the '50s, when I was running the color department, I worked directly for Stan. Even when I started, I didn't answer to anybody else but Stan. I got to know what he liked and what he disliked. I did all the covers all through the '50s. ... I knew what he liked and he left it up to me. I got to know the good printing and the bad printing that we could get. In those days any grandiose ideas of what you wanted to put down [on paper] were limited. Nine times out of nine times, you'd never get them in those days. I managed to figure out the best way with the limited facilities that we had.
"Fast forward to 1958 when Stan wasn't buying any more art. It didn't have to do with the sales. We lost our distributor. In a short time we found one and there were books all ready to go out except they needed color on those books so he called me. At the time, I was going to change directions a little bit. I went back to art school. I was doing tv storyboards. A lot of guys went into the advertising field. But Stan called me so I figured I'll keep going to school and do these things he wanted. I was single and the money was fine and he liked what I did. After a while, they were putting out a teenage book and they wanted me to do it, and that set my career for the next fifty years.
"That was all Stan," Goldberg explained. "On a Friday, Stan said, 'Martin (who was publisher at the time) wants to put out a teenage book and I want you to do it." I wanted to do a little bit more of the serious stuff, but Stan said, 'Go home and bring something in to me on Monday.' So I brought some stuff in. He looked at it and said, 'You're going to do it. Simple as that.' The book was Kathy the Teenage Toronado, and I did about 35 issues of that book.
"As far as coloring those books," he continued, "it was all left up to me, really. If you look at those first five years, from 1961 to 1965, that's when I did all the books. Right after that I was just doing special books, but those five years I did practically everything. There might have been something Marie [Severin] had done, but I did ninety percent of creating all the color schemes for the heroes and the villains. If you look at the heroes you can see basic colors: reds and blues and a little bit of yellow. The reds and blues were very important for the superheroes. You really wanted them to pop out, and those were colors that I could ensure that I was going to get. Place them in the right spots on the heroes, it worked. Jack [Kirby] made it easy.
"The first [Fantastic Four] didn't have any costumes," said Goldberg, "but in the second book, Jack put this long underwear on them with the number 4 on the chest and I figured just keep them blue. I've never given blue to a villain. Orange was a color that we used on The Thing. The Thing wasn't a human being so I could have made him anything, but orange was the best color to work with for him. He looked like bricks or earth. I got word from Kirby that that worked out fine.
"With Spider-Man," he went on, "there's your red and blue, but even the blue on the early Spider-Mans was a deeper blue, a blue with a lot of red in it. In those days it had more of a deep purple-y blue instead of just a flat blue.
"The villains were green and magenta and burnt umber and gray and everything else that went along with deep and dark muddy colors. If they couldn't come out that well, it was okay, because they were the bad guys. The heroes always got their red, yellows, and blues. I could go on with a lot of stories about why I did this and why I did that, but never in my wildest dreams did Stan and I imagine that we would talk about this for so many years."
Asked about green for the Hulk, Goldberg said: "Well that's a takeoff on Sub-Mariner. He was a bad guy and then became a good guy. I'm almost sure I came up with the idea of green. The Jolly Green Giant was very popular in advertising. If I'm not mistaken, I think the first issue he was gray, and I think that was Stan's suggestion. I told him it's not going to work. He said, 'Give it a shot,' but then we put out just a few books. I don't quite remember all those exact things. It doesn't seem like a thousand years ago, but it's been a lot of years.
"I never ever thought that would make me as equally well known today in the business as drawing teenage humor and romance books which I've been doing for over fifty years. A lot of people in the business never even knew that I was involved in that until the magazine Alter Ego did a story on me in one of the early issues. Jim Amash really played up my involvement in all those superhero books. Jack was coming up with new books and Steve Ditko and Don Heck and on and on and on. Daredevil was by Bill Everett and Wally Wood. I colored all of them."
At the end of the interview, Goldberg pondered his own work a little: "I always thought that the strength in my art was the storytelling. One story I'm doing for these books, sometimes a couple of pages can go by and it's basically just talking heads. I have to do it in a way that will make it as interesting as possible. I think I succeed most of the time. Not 100%, but I try very hard."
I think you succeeded most of the time, Stan.
BOOKMAN'S ALLEY: RIP
A favorite used book store of mine in Evanston, Illinois, Bookman's Alley, was always worth a visit, not just for the printed treasures you might find in its cavernous embrace but because it was virtually a museum of oddifacts—Navajo blankets, hats of all sorts, vintage military uniforms and weapons—arranged to augment kindred subjects in the books on the shelves. The store had a L-shape floorplan, which enhanced the impression that you'd wandered into a cavern of shelved print matter. I found many a favorite tome in this comfortable cave. But no more.
The place closed last fall because the building's owner raised the rent. Here at YouTube, the bookman himself, Roger Carlson, tells the sad tale, a story repeated in many such venues: https://www.youtube.com/watch?v=kATuwSOLSXQ
To find out about Harv's books, click here.