Opus 293 (May 24, 2012). After last time's hare-brained monster of an opus, we return this time with what we hope will become the norm for size (length, vocabulary, etc.). Starting with a list of the Reuben nominees, we continue with a review of the endangered status of several cartoonists in foreign lands, report on "rage comics" and a scholarly effort to find evidence of Jewish culture in comics, examine salacious paperback book covers of yore, profile Pulitzer-winner Matt Wuerker (and unhorse his know-nothing critic), discover when Pogo went national in 1949, look at some funnies (Funky taking on homophobia and Edda's pregnancy), review A Parent's Guide to Kids' Comics and The Sign of Four graphic novel, and say farewell to Maurice Sendak, Tony DeZuniga, Ernie Chan, and Paul Gringle. Here's what's here, in order, by department—:
Correction Adjustment
NOUS R US
NCS Reuben Nominees
Asked to Cartoon for Nothing
Crock Ends the Agony
CARTOONISTS' FATE IN FAR-FLUNG PLACES
Zunar's Trial Still Pending
Iranian Cartoonists Sentenced to 25 Lashes
Winners of the 2012 CRNI Courage Awards
The Avengers, Lee and Kirby
Rage Comics
Altie Cartooner McMillan Wins RFK Award
DO COMICS REFLECT JEWISH CULTURE?
And Now for Something Completely Different
Capp's Covers
Salacious Three Musketeers
EDITOONERY
Pulitzer-winner Matt Wuerker Profiled
Editoons Criticized for Not Being Listicles or Infographic
Wuerker on Ali Ferzat and Responding to Critic
Gossip & Garrulities
Pogo Didn't Go National in May 1949
NEWSPAPER COMICS PAGE VIGIL
Appreciating Last Month's Strips
Funky Takes on Homophobia
Edda To Get An Abortion? Not Likely
BOOK MARQUEE
A Parent's Guide to Kids' Comics
GRAPHIC NOVEL
The Sign of Four Adapted
PASSIN' THROUGH
Maurice Sendak
Tony DeZuniga
Ernie Chan
Paul Gringle
Our Motto: It takes all kinds. Live and let live.
Wear glasses if you need 'em.
But it's hard to live by this axiom in the Age of Tea Baggers,
so we've added another motto:.
Seven days without comics makes one weak.
(You can't have too many mottos.)
And our customary reminder: don't forget to activate the "Bathroom Button" by clicking on the "print friendly version" so you can print off a copy of just this installment for reading later, at your leisure while enthroned. Without further adieu, then, here we go—
CORRECTION ADJUSTMENT
Here at Rancid Raves, we always give corrections (or, in this case, "adjustments") top billing, injecting them into the flowing scroll at the very beginning where they can hardly be overlooked. Last time (Opus 292) we ran this blurb, crammed with hopeful statistical-sounding data:
According to Liza Mundy in The Richer Sex: How the New Majority of Female Breadwinners Is Transforming Sex, Love and Family, women are becoming the new power in American life. "Nearly 40 percent of working wives already earn more than their husbands. Single, childless women under 30 pocket more than their male counterparts in many U.S. cities. As women earn the larger share of advanced degrees, they're also nearing total domination of certain professions. ... So what happens when bigger female paychecks are the norm—when women are the 'Masters of the Universe'?"
As father of two of the opposing gender, I took heart at this information. And Time magazine recently published cheerful seeming statistics about how women are doing in the American milieu. But Time used only the happiest stats. The complete picture hasn't changed much. My friend Karyl Miller, to whom I sent Time's happy data, responded with this—:
"The Time article was sprinkled with predictions and false assumptions. As far as women who write for in tv (my field) the stats could not be worse. Women write only 12 % of tv shows, down from 2010!"
And Time said: "It's expected that by the end of the year, for the first time in history the majority of workers in the U.S. will be women — largely because the downturn has hit men so hard." Not quite, saith Karyl: "Actually the above quote full of hope but not fact. Just a perfect example of the press quoting something so many times that it sounds like the truth, but it's not. Nowhere do they mention that the good stats good news applies only to white women."
Time: "This is an extraordinary change in a single generation, and it is gathering speed: the growth prospects, according to the Bureau of Labor Statistics, are in typically female jobs like nursing, retail and customer service." Karyl: "Like I said, women work for cheap. Retail? Customer Service? The worst! Jobs for the working poor."
Time's data can be found here: http://www.time.com/time/business/article/0,8599,2015274,00.html#ixzz1tCy
Karyl supplied a couple Web destinations where the larger picture is laid out. Depressing but more truthful than Time's hopeful meantime: http://www.time.com/time/specials/packages/article/0,28804,1930277_1930145_1930309,00.html #ixzz1tCzaOarz
And: http://www.catalyst.org/publication/217/womens-earnings-and-income
In short, maybe we are getting better, but maybe not as much as Time's twist on stats would suggest.
NOUS R US
Some of All the News That Gives Us Fits
AT THE END OF MARCH, the National Cartoonists Society announced the nominees for its various Division Awards including the newest division, Online Comic Strips. The winners are to be announced during the Reuben Awards ceremony (a gala banquet) held Memorial Day weekend, this year in Las Vegas. The Division the nominees are as follows:
Newspaper Comic Strips—Glenn McCoy, The Duplex; Jeff Parker, Dustin; Mike Peters, Mother Goose and Grimm; Newspaper Panel Cartoons—Mark Parisi, Off the Mark; Stephanie Piro, Smile; Wiley Miller, Non Sequitur; Magazine Gag Cartoons—Mathew Diffee, Zach Kanin, Barbara Smaller (all New Yorker cartoonists); Editorial Cartoons—Lisa Benson, Mike Lester, Mike Ramirez (all conservatives);
Comic Books—Darwyn Cooke "Betty Saves the Day" in Rocketeer Adventures no. 2; Duncan Fegredo, Hellboy: The Fury; J.H. Williams, Batwoman; Graphic Novels— Chester Brown, Paying For It; Rick Geary, The Lives of Sacco and Vanzetti; Ben Katchor, The Cardboard Valise; Online Comic Strips—Matthew Inman, The Oatmeal; Mike Krahulik and Jerry Holkins, Penny Arcade; Jon Rosenberg, Scenes from a Multiverse;
Television Animation—Ben Bocquelet and Antoine Perez, Production Design on "The Wonderful World of Gumball," Cartoon Network; Penn Ward, Character Design on "Adventure Time," Cartoon Network; Erik Wiese, Production Design on "The Mighty B," Nickelodeon; Feature Animation—Mark McCreery, Character Design, "Rango"; Carlos Saldanha, Director, "Rio"; Jennifer YuhNelson, Director, "Kung Fu Panda: The Kaboom of Doom";
Newspaper Illustration—Glen LeLievre, Michael McParlane, Bob Rich; Greeting Cards—Dave Klug, Glenn McCoy, Rick Stromoski; Magazine Feature/Magazine Illustration—Victor Juhasz, Bruce McCall, Edward Sorel; Book Illustration—Barbara Lehman, The Secret Box; Mark Pett, The Girl Who Never Made Mistakes; John Rocco, Blackout; Advertising Illustration— Nick Galifianakis, Kevin Kallauger (KAL), Tom Stiglich.
As usual, I pick at the nits. Dustin is written by Steve Kelley; he's not mentioned. There are no magazine gag cartoonists published anywhere but in The New Yorker? And not a single liberal editoonist is worth mentioning? Geary's Sacco and Vanzetti tome is not a novel: it's actual history, not fiction, which is what "novels" are. The best online comic strip is Sinfest by Tatsuya Ishida, who is so reclusive that I don't think he's ever given an interview. So how would the jurying chapter of NCS acquire the information for the entry form? (Yes: there are forms to fill out, deadlines to meet, all that ballroom dancing.)
But still—nits picked—where else are any of these cartooning endeavors suitably honored? Up for the Reuben itself, that heavy metal statuette conferred annually upon the "cartoonist of the year" are Stephan Pastis (Pearls Before Swine), Brian Crane (Pickles), and Tom Richmond (Mad caricaturist; and current prez of the club).
*****
THAT 1938 CHECK that misspelled the Jerome Siegel's name (Seigal) and that of his partner Joe Shuster (Schuster) in paying them $130 for the rights to Superman brought $160,000 at an April 16 ComicConnect.com auction. ... Parade had no cartoon in the issue for April 22; a tiny long narrow one (1.5x4 inches) in April 29, with no heading; next, May 6, two tiny ones in a third-width column; and again in the next two issues. ... The New Yorker reviewed "The Avengers" and didn't think much of it (although director Joss Whedon was given a nod for managing to pull it all together); the review was poignantly illustrated with a photograph of a jumble of action figures—Captain America, Hulk, Spider-Man, Iron Man—all heaped up. Action figures. Hooha. We've reproduced this clever visual satire on superheroes.down the scroll at the Whip Hand in Iran; don't miss it if you can..
Heidi MacDonald at publishersweekly.com reported that attendance at the Chicago Comic and Entertainment Expo (C2E2) was much improved over last year's. Held April 13-15 at Chicago's McCormick Place (a considerable distance from the downtown Loop), the comics/entertainment festival is expected to record much better numbers when the final tally is taken: said show honcho Lance Fensterman, "keep in mind the size of the show floor doubled and the aisles were much more full than last year. That tells you how much attendance jumped to keep pace with the floor growth."
*****
It's Not Enough to Be Laid Off: You're Also Asked to Work for Nothing
Editoonist Kirk Anderson, who was laid off at St. Paul's Pioneer Press a few years ago, was recently asked to contribute editorial cartoons for the paper's website. Said Anderson: "The guy contacting me said: 'We're seeking submissions from readers and the local community of cartoonists, comic book artists and animators who might be interested in creating cartoons for this animated version of an OpEd page. We wanted invite you to consider submitting a cartoon inspired by something in the news that has appeared in the Pioneer Press and to ask if you can suggest some other people or groups we can contact who would be interested in contributing to the site.'
Anderson continued: "After I politely asked the Pioneer Press reporter, 'Is the paper offering money for this, or is this another attempt to get poor quality content for free?' he responded, in part: 'Right now, unless some grant money comes through—it's possible I might have a grand to play with by the end of the year—we wouldn't be paying anything, although never say never. I'm working on some sponsorship ideas. But right now, it's an opportunity to get an audience, get something off your chest, be a part of a new experiment ...'" Blah blah blah.
To which Anderson replied at length: "The only words more awful to hear than 'It's great exposure!' for a cartoonist are 'Your mother just died. Flesh-eating bacteria. And it's genetic.' I understand that there's no money for frills like animation, let alone reporting. But when I have no money for frills like eating out, I generally don't approach the restaurant owner and ask if she can feed me anyway because I'm giving her an opportunity to get some good buzz for the restaurant around town. Then, if she continues feeding me, and I continue to enjoy it, there's the possibility that I might, sometime down the road, eventually pay her something!"
Anderson went on: "Maybe as the internet continues to fundamentally shift broad sectors of our economy, this will become the dominant business model. One of the many factors killing the newspaper industry is, of course, people's expectation that they can get their content for free. It's kind of sad that the Pioneer Press tries to remedy this with ... the expectation that they can get their content for free.
"I'll pass the info along to other cartoonists, and hope they're not offended. Reader submissions are a better bet. Unless quality is important.
"Sorry to be so dour," he concluded. "I should be grateful you're trying to bring some extra interest to the medium of cartooning, even if it pays nothing. And, to be fair, your terms aren't much lower than what the paper is currently paying for syndicated cartoons. Best of luck. Glad to hear someone I worked with is still holding down the fort!"
Anderson, as you can tell, is as good with words as he is with pictures. And he's visual dynamite as you can readily tell by returning to Opus 238, where we review and applaud his magnum opus about the Banana Republic.
CROCK ENDS THE AGONY
"What began as a labor of love has become too heartbreaking to continue," said Michael Zitz at blogs.fredricksburg.com. Crock, the comic strip parody of "Beau Geste," a film about the French Foreign Legion, ceased domestic syndication on May 20. Since the death a year ago of one of the strip's creators, Bill Rechin, Crock has been continued by Rechin's son Kevin and a son-in-law, Bob Morgan, drawing and writing respectively. But the task proved too much for Kevin.
"It was so connected to my dad that, after losing him, it was very hard to draw it," Kevin said. "Our styles are very different. I felt like I was trying to mimic my father. It felt wrong and it was just a little overwhelming."
Rechin and Brant Parker created the strip in 1975. Parker was concentrating on his Wizard of Id, so Don Wilder became the writer in 1976. The strip's characters were forever assigned to a forgotten outpost in the desert under tyrannical Commandant Vermin P. Crock. Rechin and Wilder surrounded him with the cowardly Captain Poulet, the simple-minded Maggot, camp follower Grossie and Quench the Camel.
"It was mentally anguishing for Kevin," Morgan said of continuing the strip. "The characters are an extension of Bill."
Kevin, said Zitz, was trying to "channel his father's spirit through the strip," but "he felt he couldn't do it as his father would, and he didn't want to change it to make it his own."
"It's very hard," Kevin said. "I still go back and forth. In my gut, I want to keep going. But it will always be him. The only one who could do it is my dad. Would I be honoring him by continuing? I think I honor him and the strip more by letting it be him."
In January 2012, the strip was being read in 14 countries and appearing in 250 U.S. and foreign newspapers and their related websites, Morgan said. It reached its peak, he said, in the late 1980s and early 1990s, when it was carried by nearly 400 American newspapers. King Features will continue to provide classic Crock strips to foreign papers for the next three years, he said.
CARTOONISTS' FATES IN FAR-FLUNG PLACES
A panel of five judges in Tunisia convicted Nabil Karoui, the director of Nessma television channel, of "disturbing public order" and "threatening public morals" for airing "Persepolis," the animated film version of Marjane Satrapi's acclaimed graphic novel. The film includes a brief depiction of God, which many Muslims consider offensive. (Depicting God is offensive; not God.) Karoui has been fined the equivalent of $1,600 and two members of his staff, who played a role in the airing of the film, were each fined $800. Reported Betsy Gomez at Comic Book Legal Defense Fund: "Lawyers for several Islamist groups had called for tougher penalties, ranging from a 5-year prison term to the death penalty. The airing of the film led to violent demonstrations, several of which attempted to shut down the television station."
A gaggle of Islamic Hooligans attacked police in the German city of Solingen on May 1 during a far-right demonstration; four were injured. The radical Muslims were provoked by the anti-Islamic Pro-NRW party, which displayed cartoons of the Prophet Muhammad. Officials had warned that the publicity stunt could spark violence.
Zunar's Fate Still Pending? Last year, Malaysia's cartoonist Zunar, whose full name is Zulkiflee Anwar Ulhaque, filed a civil suit against the police and the government over his "unlawful detention" (reported in Opus 281). The government controls Malaysia's major newspapers and has forbidden the publication of Zunar's work, so the cartoonist turned to alternative methods of reaching his readership: he published books and magazines of his cartoons and posted his work online. That, however, did not prevent further governmental attempts to silence him. His books and magazines were banned, his office and those of the enterprises that print his books and magazines were raided, copies were seized, and vendors were frequently warned not to sell his work.
In July 2010, he filed a suit against the government to challenge the banning of his books. In June 2011, he filed another suit to challenge the legality of his arrest and detention. He hopes the detention will be ruled unlawful. On February 28, reported freemalaysiatoday.com, Zunar was told that the trial has been postponed to April 5 and 6. Another book of his is out—another in the series that got him in trouble in the first place. 1 Moolaysia is his fifth book, and like its predecessors, it views Malaysia through a satirical lens, finding humor in scandal, racism and corruption.
Said Zunar: "The cartoons mainly touch on issues that fail to be highlighted by local political cartoonists such as the prime minister (Najib Tun Razak) and his shop-a-holic wife (Rosmah Mansor), the conspiracy against (opposition leader) Anwar Ibrahim, Scorpene, racism, corruption and Malaysian politics in general."
Zunar admittted that continuous government pressure had made it difficult for him to find willing printers and vendors to openly sell his book.
"Some printers and vendors were told that they would lose their operating licences if they continued printing or selling my books," he said.
Zunar's previous books are: Even My Pen Has A Stand (2011), Cartoon-O-Phobia (2010), 1 Funny Malaysia (2009) and Cartoons on Tun… (2005).
His second book was banned on the grounds that its contents were "detrimental to public order" while the third was investigated under the Sedition Act. Zunar himself was detained under the same act just hours before the book's launch in September 2010. Last June the Kuala Lumpur High Court rejected Zunar's suit to challenge the government on the banning of 1 Funny Malaysia and another book, Perak Darul Kartun. Zunar filed a subsequent suit to challenge the police and government on his detention immediately after publishing Cartoon-O-Phobia.
"Whatever the result [of the impending trial]," Zunar said, "it will not derail my spirit to continue drawing cartoons. I will fight until my last drop of blood. I also urge Malaysians not to keep quiet but to do their best in fighting this corrupt and inept government. The least you can do so is through a (sense of humor). If you cannot beat them, laugh at them!"
I scoured the Web looking for reports about the April 5-6 trial; no results. If convicted of sedition, Zunar could be sentenced to up to three years in prison.
Under the Whip in Iran. Iranian cartoonist Mahmoud Shokraye was lately sentenced to 25 lashes for caricaturing a right-wing member of parliament, Ahmad Lotfi Ashtiani, who apparently, like several Iranian politicians, has earned some criticism for interfering in sports. In the cartoon, Ashtiani is depicted wearing a football uniform as if he were a player. Wow. Talk about insulting.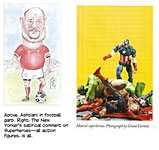 Reported the Guardian: "The MP's forehead in the cartoon (as also in reality) has a dark mark, said to be the sign of a pious Muslim, caused (supposedly) by frequent prostration during prayer. The cartoonist was subsequently sued by Ashtiani for having insulted the MP." The sentence "was an unprecedented punishment for an Iranian cartoonist."
When the sentence was announced, many of Shokraye's colleagues—cartoonists and journalists—protested. Suddenly, reported Arash Ahmadi at bbc.co.uk/news, there appeared a number of cartoons lampooning Ashtiani.
Said one of Shokaye's defenders: "This poor MP made it worse for himself. If he had kept quiet, no one would have seen the cartoon. He himself has made it go international."
Subsequently, Ashtiani sought to rectify the damage he'd done himself: he withdrew the charges.
Take Courage. In a press release, Robert Russell, the Executive Director of the Cartoonists Rights Network International (CRNI), announced the winners of the 2012 Courage in Editorial Cartooning Award as decided by a unanimous vote of the CRNI Board of Directors. The winners are Ali Ferzat, from Syria, and Aseem Trivedi, from India. CRNI, the only international organization exclusively devoted to defending the human rights of cartoonists imperiled because of their work, will hold the award ceremony during the annual convention of the Association of American Editorial Cartoonists (AAEC) on September 15. Every year, CRNI recognizes a cartoonist who has shown exemplary courage in the face of unrelenting threat, legal action or other pressure as punishment or disincentive for cartoons that are too powerful for some officials, sects, terrorists or demagogues.
The Syrian cartoonist, after years of working within the governmental guidelines about what is permissible, broke free last year and began criticizing Assad. He was subsequently attacked by government thugs, who beat him and broke his hands. But he nursed his hands back to drawing condition and has continued to cartoon. (For more, see Matt Wuerker's tribute for Time's 100 Most Influential People in the World, quoted below; where we also post a too brief smattering of Ferzat's recent cartoons.)
Quoting again from the CRNI news release: Aseem Trivedi, a young cartoonist from India, like Ali Ferzat, made two courageous decisions. First, in an atmosphere of increasing censorship and repression in the world's largest democracy, Aseem launched the Cartoons Against Corruption website. In an effort to mobilize his fellow citizens against India's pervasive political corruption, Aseem filled this site with his anti-corruption cartoons. After being charged with treason and insulting national symbols, Aseem took his second courageous action. Despite the charges and threats of additional charges, he has taken a leadership role in India's emerging free speech movement. Joining forces with other free speech activists, Aseem has launched an online freedom of expression campaign called Save Your Voice: A Movement Against Web Censorship.
CREDIT FOR THE MARVEL UNIVERSE. AGAIN.
Given the history of battling over credits in the creation of the Marvel Universe, it was perhaps no surprise that Jack Kirby's co-creator credit appears nowhere in the promotion of "The Avengers." Reported Eric Larnick at Moviefone: "His fans have expressed outrage over the way his contributions to the movie's very existence are being swept under the rug. Stephen Bissette (co-creator of Constantine, and noted Swamp Thing artist) called for a boycott of Marvel comics and merchandise, while James Sturm, co-founder of the Center for Cartoon Studies, also published an essay explaining his decision to boycott the movie. Many fans have followed suit, arguing that while Disney and Marvel have no legal obligation to acknowledge Kirby, their actions are completely lacking in ethics."
But it proved a tempest in a tosspot: after attending a New York press screening, Moviefone confirmed that Kirby's name is listed in the end credits as a co-creator. Stan Lee, meanwhile, side-stepped the issue. Interviewed by Moviefone, ostensibly about his new documentary "With Great Power: The Stan Lee Story" (no shortage of ego here), Lee said:
"You're talking to the wrong guy because I have nothing to do with the credits on the movies. I'm credited as one of the executive producers because that's in my contract. But Jack was not an executive producer. So I don't know what he'd be credited as. Again I know nothing about that, I have nothing to do with the movie's credits. You'd have to talk to whoever is the producer of the movie. Is there anything you want to ask me about the documentary—because I thought that's what I was supposed to be talking about."
Lee sounds a little miffed, if you ask me. But I guess I would be, too, if I were forever being asked about crediting Kirby and Steve Ditko and the rest of the drawingboard classes whose work, with Lee's, established Marvel. Elsewhere, interviewed at HuffingtonPost about the documentary, Lee reverted to his usual posture these days, giving proper credit to Kirby. Asked who he would choose to partner with, dead or alive, Lee was prompt with his answer: "I think Jack Kirby would have to be my first choice. He had the ability to take any basic idea or concept and make it appear spectacular by the way he drew it and positioned it on the page. I feel Jack would have made an ideal film director because he always knew the most dramatic way to depict something."
Asked if Joan, his wife of six decades, inspired any of the Marvel characters, Lee said: "She did more than that—she inspired me. Because I've spent most of my life with such a beautiful, talented, challenging female, I feel I've gained, and am still gaining, a great deal of knowledge about the feminine mystique and about personal relationships—knowledge which is so important to a writer."
"What makes you feel like a kid again?" Lee's interlocutor mused.
"Again?" said Lee. "I think I've never stopped feeling like a kid.
OUTRAGEOUS
Something called "rage comics" is becoming all the rage on the Web. Judging from the few examples I've pondered, rage comics are distinguished by inane unfunny "jokes" and drawing so rudimentary that it ceases to be drawing. Here's a sample.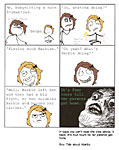 Paul Boutin discussed this latest affront to aesthetic sensibility at nytimes.com.
"Thousands of rage comics are posted daily," Boutin asserts. "Most are the creations of anonymous people seeking not fame, but an audience with whom they can air their dark wit. Popular themes are public embarrassment, private shame in the bedroom or bathroom, and most of all, the unbearable burden of dealing with other people's stupidity."
In Boutin's first example, two female heads on a white background are talking. One asks the other if she has read "The Hunger Games" books. "I don't think so," the other replies, "but I'm glad you finally realized that you need to start a diet!" The stark fourth panel has no dialogue. It is just the first woman's face — alone, weary and resigned to her friend's vapidity.
"The best stories are those that could happen to anyone," Boutin said. "In one strip, the author tries to nudge a ladybug off his car's windshield by flicking his wipers, only to smear the hapless insect across the glass. In another, a father is enjoying time with his daughter when the girl asks, "Daddy, why are you so ugly?" The father's response: his eyes spurt bright blue tears.
Hilarity ensues.
Undoubtedly, the best way to understand rage comics is to make one of your own. Perhaps the genre's biggest attraction is that you don't have to be able to draw to produce rage comics: you can go to ragemaker.net, one of several browser-based rage comic sites with editing and publishing tools, among them, clip-art images ready to pilfer. Boutin continues:
"Rage Maker will start you off with a blank four-panel strip. Resist the urge to go long. Start with just four panels. The tool allows you to import images and draw with your mouse, but it is easier to start with a dialogue between two clip-art heads. Browse through the available faces by clicking the menu on the left side that says Neutral, which is just one of dozens of sets of faces sporting expressions. Drag some faces into the panels, then grab the square in the lower right corner of the inserted face to resize it. To move it around inside the panel, grab it anywhere else and drag it."
You can insert into your comic labels and dialogue, clicking on options available.
"Reading a few comics will familiarize you with the genre's verbal conventions," Boutin assures us. "Refer to yourself as 'le moi.' Male characters are named Herp and Derp; women are Herpina and Derpina. Chain restaurants and stores in your strip should likewise be renamed McDerp's, Derp Buy and so on.
"An easy formula for a rage comic that doesn't confuse readers is this: Set up a dialogue between two characters, one of whom is you, in the first panel. In the second, have the heads talk some more. In the third, have the other character say whatever it is that is unexpected and exasperating. The fourth panel can simply be one image, representing your reaction, chosen from Rage Maker's built-in sets.
"Most strips focus on some small moment," Boutin continues, "—a true-life anecdote, that sent the author spinning into inexplicable fury or burrowing deep into resignation to keep from exploding. The last panel typically features the author, represented by a standard clip-art illustration, either screaming, fuming, throwing up hands in exasperation, or a collapsed-potato face sighing, 'O.K.'
"Rage comics are not like the average viral YouTube video. They are more like a Bob Newhart sketch: the laughs come not from replaying the public foolishness of some stranger, but from watching the awkward reaction of the observer, who almost always appears as a character in the strip. Like Garry Trudeau's Doonesbury strips, there is usually a punch line after the punch line in which the author reacts to the situation. But where Doonesbury characters typically react with wisecracking aplomb, rage comic characters respond with — well, rage."
Boutin explains the appeal of rage comics: "Readers identify with the author's frustration at being forced to deal with mundane inanities. It is not that the woman's friend said she needed to go on a diet that is painfully funny; rather, it is that she is stuck with friends like these.
"Reddit's f7u12 readers have set a high bar for both originality — within the genre's limits — and for cruel funniness that rewards making fun of oneself instead of others. Even if a strip is about something inane the guy in line at McDonald's said, the punch line isn't the gaffe, but the author's confused, awkward reaction, represented by one of several clip-art characters whose what-the-heck expressions of exasperation have punctuated thousands and thousands of others' strips."
Boutin's last words contain the moral lesson of the entire enterprise: "If you don't get them, look at the bright side. You have another thing to rage about."
Here are a couple more of these brilliances to ponder and rage over.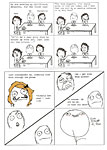 ANOTHER UNCONVENTIONAL CARTOONING WIN
Another altie cartooner, Stephanie McMillan, a comics journalist for the South Florida Sun-Sentinel and contributor to the website Cartoon Movement (and editor of the Notebook, the newsletter of the Association of American Editorial Cartoonists), has achieved national recognition: she has just won the Robert F. Kennedy award for social justice cartooning, specifically for "The Beginning of the American Fall," her reporting on the Occupy movement, and her "Code Green" editorial cartoons that focus "exclusively on the environmental emergency."
Other cartoonists working in alternative media who have recently been honored are Matt Bors, who has just won the Herblock Award, and Jan Sorenson, this year's Herblock finalist (reported in Opus 292).
"I'm very honored to receive this award, especially because it's judged by professional journalists — including cartoonists," McMillan told Michael Cavna at Comic Riffs, "and I very much value the good opinion of my distinguished peers. The award is supposed to honor work that furthers the cause of social justice, and I'm gratified that my work is viewed that way," she continued.
"Contributing to the fight for social justice is, indeed, the reason I do the work in the first place. I'm also happy that the environment is seen as a social-justice issue," she added. "The more we can connect the fight to stop the destruction of our planet with the struggle for liberation of humanity, the better chance for success we may have with both goals."
The award — which includes "a cash stipend" — were presented May 24 during a ceremony at Washington's U.S. Institute of Peace. McMillan's honor also reflects well on the site Cartoon Movement, Cavna noted, recalling that Matt Bors also works at the site.
Fascinating Footnit. Much of the news retailed in the foregoing segment is culled from articles eventually indexed at rpi.edu/~bulloj/comxbib.html, the Comics Research Bibliography, maintained by Michael Rhode (even though he said he was "stepping back" a little, starting in April), which covers comic books, comic strips, animation, caricature, cartoons, bandes dessinees and related topics. It also provides links to numerous other sites that delve deeply into cartooning topics. Three other sites laden with cartooning news and lore are Mark Evanier's povonline.com, Alan Gardner's DailyCartoonist.com, and Tom Spurgeon's comicsreporter.com. And then there's Mike Rhode's ComicsDC blog, comicsdc.blogspot.com and Michael Cavna at voices.washingtonpost.com./comic-riffs . For delving into the history of our beloved medium, you can't go wrong by visiting Allan Holtz's strippersguide.blogspot.com, where Allan regularly posts rare findings from his forays into the vast reaches of newspaper microfilm files hither and yon.
Quotes and Mots
T-shirt slogan: "Jesus is coming—. Look busy."
"A man does what he can, and endures what he must."—DunnoWho
Here's another one I never want to forget (so I'm putting it here): "Laissez les bon temps roulez." You see it all over N'Orleans. And it always makes me want to sing and dance.
More: "Times have changed. I blame Bob Dylan."—Button
DO COMICS REFLECT JEWISH CULTURE?
Martin Lund, a researcher at Ohio State University's Billy Ireland Cartoon Library & Museum, is delving into the Library's Will Eisner archives in search of evidence of the cartoonist's religion in his work. A Ph.D. candidate in Jewish Studies at the Centre for Theology and Religious Studies at Lund University in Sweden, Lund was interviewed by Caitlin McGurk. Said Lund: "The general subject of my thesis is 'Jewish Cultural Memories in and of American Comics.'"
In addition to Eisner, he is looking at Jerry Siegel and Joe Shuster's original run on Superman and Chris Claremont's Uncanny X-Men. "I chose them for the fact that they worked in mainstream comics … comics that were created for and have reached a much broader audience. I didn't want to write about more alternative creators like Art Spiegelman or Harvey Pekar whose works are created with more of an outspoken intention to reflect the Jewish experience. Instead, I was looking to find something less obvious. The three main focuses of my thesis are: 1) How, if at all, is the fact that they (Siegel, Shuster, Eisner, and Claremont) were Jewish reflected in their work? 2) How is this fact argued in recent writings on Jews in comics? 3) How do similarities and discrepancies between these two issues reflect and effect contemporary American Jewish identity politics?"
Lund added: "A lot of my inspiration came from reading material on similar issues, but ones I felt were not as critical and contextualized as they could be. A lot of the work on Jews in comics that I will be studying is… I guess you can label it post-Michael Chabon's fantastic novel The Amazing Adventures of Kavalier and Clay, because of the effect the book seems to have had on the discourse. I want to read both collections of material from a cultural history and sociology perspective, and through this hopefully further the understanding of how comics reflect and are said to reflect the American Jewish experience in the past century."
Lund's quest has so far turned up a good deal of incidental fascinating information: "There is a lot of old business correspondence in there between 'Jerry' Iger, Eisner, and E.M. ('Busy') Arnold from the studio days of working on The Spirit. The way that Arnold criticizes Eisner's work is hilarious – very harsh and matter-of-fact."
In conducting his research, Lund says "I look for keywords and topics in his personal writings—like anything pertaining to his views on life, or, of course, to Judaism or Jewishness in general. A lot of what I've found is along the lines of what Eisner said in other places, about not considering himself a particularly Jewish writer, but instead insisting that he just 'wrote what he knew.' He appears like more of an observer—reporting the human experience through the lens that he knows, which, he writes, happens to be Jewish culture. He refers to himself as a Jewish Frank McCourt. He also mentions in one correspondence about The Spirit that only Jules Feiffer considered the Spirit to be Jewish, even underlining the word 'only.'"
While in Columbus at the Cartoon Library, Lund is doing some research on another topic in the realm of comics and religion: "I've actually been working on another piece during my stay in Columbus, totally unrelated to my thesis, about Jack Chick's Chick Tracts. They are definitely a private obsession of mine. I'm looking at Chick's use of stereotypes—the division of humanity into what he calls the saved and the lost—and how he uses these in his tracts for propaganda purposes."
Lund isn't the only voice crying Jewish in the wilderness. Fantgraphics Books has just published Jewish Images in the Comics (304 6x6-inch pages, b/w; hardback, $26.99) by Fredrik Stromberg (who also wrote Black Images in the Comics). I have a copy but haven't delved very far into it yet. But the Fantapress release provides a succinct description I can agree with: "The book is divided into chapters on Anti-Semitism, the Old Testament, the Holocaust, Israel, the Golem, and more, featuring everything from well-known comics like Art Spiegelman's Maus and the work of Will Eisner to much more obscure (and in some cases far less savory) but no less culturally and historically interesting examples of how Jewish culture has been depicted in comics As with Stromberg's previous two books for Fantagraphics, each strip, comic, or graphic novel is spotlighted via a short but informative 200-word essay and a representative illustration."
AND NOW FOR SOMETHING COMPLETELY DIFFERENT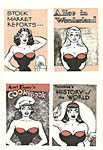 Here we have an assortment of paperback covers of the salacious sort that decorated newsstands in the 1950s. The kind men like—with pictures of voluptuous damsels and their decolletage on lascivious display. As you might imagine, given the American penchant for doing anything (and everything) for a buck, the cover illustrations of the time almost never had anything to do with the narrative within.
Our first visual aid consists of four pictures purporting to be paperback book covers, all made up by Al Capp of Li'l Abner fame as part of an article he conjured for the digest-size Pageant magazine in about 1953. In the article, "Al Capp's America," the irrepressible cartoonist looks at various aspects of American culture at the time—money, presidents, cars, and the sex lives of boys and girls. And what Capp calls "Literature in the U.S." The pictures at hand illustrate the latter.
To explain the paperback covers on literary masterpieces, Capp wrote: "Lately it's gotten so a decent respectable citizen can't buy a book at his newsstand to read on the train going home—one of these little paperback reprints of the classics, I mean. [In Capp's world, revolving around New York and Boston, most of the middle-class working population lived in the suburbs and took commuter trains to and from work. Capp supposes that the entire U.S. population does the same.] Let's take the typical case" Capp continues, "of a very proper little man who has just moved to Larchmont, and is about to take his first commuter's train home. He's a studious li'l soul who wants to spend the next half-hour improving his mind. But he's also a shrewd li'l duck who knows the train will be full of his new neighbors, who'll certain peek at the cover of the book he's reading to see what kind of a guy he is—and he wants to make a good impression."
So the guy goes up to the train station newsstand and asks for a copy of Toynbee's History of the World. The vender hands him a paperback book with the cover we've seen. Our Larchmontian is shocked:
"What's a history book doing with a cover like that?" he cries.
The vendor explains: "That's Cleopatra, Mac. She made plenty of history!"
Similarly, the vendor explains the other cover subjects as the Larchmontian tries to find suitable reading matter for his trip home. The cover of Alice in Wonderland depicts Alice after she grew up. The cook book features its author, Aunt Fanny. And on the cover of the Stock Market Reports —why is she there?
"Why not, kiddo?" says the vender. "She's stocked."
Sure.
Moving to our next exhibit, we encounter two books that exemplify what Capp was fulminating about (with his usual, braying gawfaw). The Hunchback of Notre Dame cover on the right is a typical example of this sort of book-cover sales pitch. This edition was produced in connection with the 1957 movie starring Gina Lolobrigida as the gypsy girl Esmeralda and Anthony Quinn as Quasimodo, the hunchback. Esmeralda doesn't play as large a part in the book as the sumptuous Lolobrigida does in the movie, but her photo on the cover of the book will sell more books than Quinn's, so she and her neckline are given prominence.
You'd think, then, that the cover of Three Musketeers at the left is another of the same ilk: Milady de Winter and her naked shoulder will sell more books than the swordsmen, so she's front and center while the swordplay is consigned to a distant background. But in this book, Milady de Winter is actually the protagonist, and the musketeers are about as important to the narrative as they are to this cover.
Look again. The name Alexander Dumas doesn't appear here. And for good reason: this is not the Three Musketeers you read as a youth. The author of this Three Musketeers is Tiffany Thayer, who wrote quite another version of Dumas' swashbuckling tale—one that focuses enthusiastically on Milady de Winter, aka Charlotte—and for good reason: her ample anatomy rewards continued focusing. (Incidently, the hardcover edition of this tome has no subtitle; "And a Lady" was added to the paperback edition, probably to emphasize the salaciousness of the cover picture.)
The first sentence in the book warns us that this is an unusual telling of the Dumas tale: "You can drown a witch." And then we meet the witch in person, the delectable Charlotte, who, as a novitiate in a convent when she was sixteen, bewitched a young priestling and took him to her bed. She could do that because she was beautiful.
Among all the nuns and novitiates, "she stood out," Thayer writes. "Her lips stood out. Her chin stood out—yes, yes, her confessor noticed them too. Like half-grown melons, hard and energetic. The temptation was to test their ripeness with the fingers."
Thayer, grandson of a Methodist chaplain, bursts into raptures of this kind throughout this tome. Frequently. And with ever inventive metaphors for the objects of his panting contemplation.
When d'Artagnan meets his paramour, Constance Bonacieux, he is not a little forward.
"I hope no one saw me come up your stairs," Constance worries.
"No one," d'Artagnan assured her, plucking at the collar of her dress.
Constance pushed his hands gently away. "Not now, monsieur. The Queen needs you."
"But not so much as I need you, madame. It must be now before the others get here."
"Oh, you men!" Constance exclaims, loosening her bodice for him. "You will spend half your lives compromising us so that the other half can be spent defending what you do."
"Sweet Constance," said d'Artagnan, gazing at the breasts which lay like pink-nosed puppies in his palms, "would you have me do less than this?"
The lady's breath was shorter then. ... "You're like a hungry boy," she sighed, softly.
In short, the cover of this paperback is an astonishingly accurate representation of the narrative within. Or at least, some of it.
Dumas should have been so lucky. Athos and d'Artagnan were.
In addition to Three Musketeers, Thayer wrote Thirteen Women and other genre romances that were not well received by literary critics—for reasons that, having seen what he can do with melons and puppies, are not difficult to discern. Dorothy Parker, in a New Yorker review of Thayer's An American Girl, said: "He is beyond question a writer of power; and his power lies in his ability to make sex so thoroughly, graphically, and aggressively unattractive that one is fairly shaken to ponder how little one has been missing." F. Scott Fitzgerald said: "Curious children nosed at the slime of Mr. Tiffany Thayer in the drug-store libraries." William Tenn, recalling Dr. Arnoldi more than sixty years after he read it, characterized it as "absolutely fascinating—and disgusting ... If you ever find a copy, give it to some sf fan you dislike. Your reward will be the baffled misery in his eyes after he's read it."
At NeglectedBooks.com, our host declaims about Thayer's books: "They're sleazy, pandering, full of wooden characters and plot devices, and suffer from Thayer's logorrhea, which appears never to have been moderated by any editor. ... If you're going to read a bad book, you don't want one that's half-heartedly bad, one whose author betrays any misgivings or sense of aesthetic standards. You want a full, unrepentant wallow—and that's exactly what you get. In the case of Thirteen Women, you get adultery—both hetero- and homosexual—suicide, murder, rape, revenge, envy, gossip, corruption, show business, clairvoyance, yoga, blackmail, and chain letters. And I probably left something out. ... Thayer's motto, when it came to writing, was 'Go with the flow.'"
A passage is cited in which Thayer goes from (1) a half-caste woman with undulating hips through (2) child-bearing and the need it creates for a girdle to (3) thighs so soft that one's finger might leave a dent there for, say, twenty or thirty seconds to end, finally, (4) with a man taking his meerschaum pipe out of its chamois glove and lighting it. "Go with the flow" indeed. No one could have actually planned such a meandering piece of prose.
Not unlike, I blush to admit, what you've been reading hereabouts for as long as you've subscribed. Give a sentence its head, I say, and follow where its patois leads you.
I first encountered Thayer's Three Musketeers and the overflowing Charlotte when I was in high school but not the paperback version. I picked up the thoroughly respectable looking hardcover book in the school library, thinking it was the Dumas novel. I knew the story but I'd never read the book, so I thought I'd correct the oversight in a succession of study halls that week. When I discovered Dumas was nowhere in the volume but Charlotte was all over it, I was, naturally, delighted. And I can't disagree more with the verdicts rendered above. But then, I was just an adolescent with raging hormones when first I looked upon Thayer. What teenage American male wouldn't love Thayer's turgid tale?
Several centuries later, remembering the high school Musketeers but never having taken cognizance of the name of the author, I tried, when wandering the aisles of second-hand book shops, to find the book. I remembered its binding and the blunt brown letter of the title on the spine. Then one time in a cavernous bookstore in St. Louis, that remembered book spine leapt out at me from a long row of book spines. And I bought it.
A few weeks ago, I happened upon the paperback with its salacious but accurate cover illustration. I bought it, too, as you can plainly tell.
You have to give Al Capp credit for all-seeing acumen.
EDITOONERY
Afflicting the Comfortable and Comforting the Afflicted
ON APRIL 16, A MONDAY, it was announced that Matt Wuerker, editoonist at Politico, had won the Pulitzer for 2011. We reported this triumph here last time (Op. 292), but didn't take the time to show Wuerker's wares; we were up against our usual self-imposed posting deadline. So we'll make up for the seeming slight this time. Here are some of the cartoons he submitted to the Pulitzers, with an extra excellence I found on my own.
WUERKER SAYS HE GOT THE CARTOONING BUG as a child—thanks largely to location. He lived next door to Paul Conrad, a 3-time Pulitzer winner whom Wuerker called "great titan." Wuerker recalled that Conrad (who died in 2010) encouraged him to cartoon and "made it seem possible that you make a living doing editorial cartoons.
"Before joining Politico," wrote Patrick Gavin at Politico, "Wuerker spent decades as a freelancer cartoonist, with his work appearing in such publications as the Washington Post and the Los Angeles Times. Wuerker was a finalist for the Pulitzer Prize in 2009 and 2010 and has picked up such additional honors as the 2010 National Press Foundation's Berryman Award for Editorial Cartooning and the 2010 Herblock Prize for editorial cartooning. From the very beginning, Wuerker's interest was almost exclusively in politics as he recalled his time in the 1970s doing cartoons of Jimmy Carter."
"I loved politics and I loved art and the only place they truly meet in a meaningful way is political cartooning," said Wuerker, adding: "The best kind of cartoon distills a political moment and has a certain gestalt effect on people, and it either achieves it by being pointed or sharp or by being particularly funny."
Oftentimes, the light bulb of a cartoon idea happens before Wuerker even gets into the office. "I ride to work on my bike and usually a half-baked idea that I woke up with in the morning bakes further on the bicycle ride into work. I don't know if it's the extra oxygen in my blood or the allegorical plaque in my blood vessels scraping off as I go up the hill."
Wrote Gavin: "Monday's Pulitzer news comes as a joyous moment during what's been a tough few weeks for Wuerker, whose mother was recently diagnosed with cancer.
"It comes at a nice time," said Wuerker. He spoke with his father — a physicist with a Ph.D. from Stanford — after getting the good news and said the senior Wuerker was overjoyed. "He was always worried about the son who worked, quote unquote, by his wits," joked Wuerker. "He likes cartooning, but it's not exactly physics."
The cartooning Wuerker, 55, lives in Washington, D.C., with his wife, Sarah Stephens, and their son, Owen.
Wuerker recalled his joining Politico as a founding staffer in 2007. And that, he said, profoundly changed his career."I credit the people aboard the good ship Politico," he said. When he came aboard, he thought he'd have a nice ride on a tidy little sailboat. And then the ship became a rocket ship.
"I can't thank everybody enough — Jim VandeHei and John Harris [executive editor and editor-in-chief], in particular, for all of the creative license that they've given me," he said in Politico's report. "I feel like a piccolo player, and I'm in this great big orchestra, and as a piccolo player, if I'm just out there playing my piccolo, I'm just this annoying guy with this little instrument in the corner. But I've had the great, great fortune of finding myself in this great orchestra with major players and fabulous conductors and a fabulous concert hall, and that's what this is about. So I share this with all of you. The much more serious players at Politico will be picking up [Pulitzers] in the years ahead."
WHEN I READ ABOUT HIS LIKENING himself to a piccolo player surrounded by an orchestra, I was reminded of an ancient joke. Perhaps you've heard it. If not, here goes:
One day whilst sitting at the bar absorbing nourishment, I noticed that the only other occupant of the saloon at that hour was weeping, seemingly uncontrolably, into his beer. I moved down the bar and asked him what the trouble was. He explained:
"I'm a piccolo player," he began, sniffing miserably," and I played with one of the world's great orchestras. We traveled the world and played before princes and kings. We played for the King of England, and he was delighted. 'Fill their instruments with silver,' he ordered. So they filled the bass drum with silver, and they filled the bassoon with silver, and they filled the tuba with silver. And—" he paused for emphasis, "—there I stood with my piccolo.
"We played before the princes of the Netherlands," he continued, still sniffling, "and they, too, were delighted. 'Fill their instruments with gold,' they roared. So they filled the bass drum with gold, and they filled the bassoon with gold, and they filled the tuba with gold. And—" again he paused for emphasis, "—there I stood with my piccolo.
"Then we went to Russia and played before the czar. But he hated what he heard. Inexplicable. But he hated us. 'Shove their instruments up their asses,' he screamed. So they tried with the bass drum, and they tried with the bassoon, and they tried with the tuba. And," another pause, "—there I stood with my goddam piccolo."
That's the joke. The older generation among us must keep these things alive by telling them over and over again. Otherwise they die, deservedly or not.
On Monday afternoon, Politico President and CEO Frederick Ryan; Chief Operating Officer Kim Kingsley; publisher Robert Allbritton; Executive Editor Jim VandeHei, who is a member of the Pulitzer board [Cavna thinks this was an important element, but I say it's Wuerker's work]; and Editor-in-Chief John F. Harris congratulated Wuerker in front of hundreds of Politico employees in the Arlington, Va., newsroom.
"I can't think of anybody more deserving than Matt," Allbritton said to applause.
He noted that he had spoken to his father, 87-year-old Joseph Allbritton, the previous evening. "I asked him, 'You were publisher of the Washington Star from '76 to '79' I said, 'did you guys ever win one of these things?' He said, 'Yeah, actually, we did. Pat Oliphant, he was a cartoonist!' So thank you, Matt, for keeping this family tradition going."
EDITORIAL CARTOONS ARE STALE, SIMPLISTIC, AND JUST NOT FUNNY
The buzz about Matt Wuerker's Pulitzer win had not yet died own when an article with the above headline appeared at Slate.com. Written by Farhad Manjoo and published April 19, 2012, the article began as follows:
"When I heard that Politico won its first Pulitzer Prize this week, I assumed that the site had been recognized for the way it tirelessly handicaps the state of play in Washington. But rather than honor one of Politico's scoop-hungry stars, the Pulitzer committee recognized a guy I'd never heard of—Matt Wuerker, its editorial cartoonist."
Since Manjoo has never heard of Wuerker, his next statement, alas, comes as no surprise: "I rarely look at political cartoons, so it was quite possible that I was missing out on a groundbreaking genius of the form. Not so. Judging by his hits, Wuerker isn't a bad cartoonist, but he's hardly an innovative one. His work is typical of every old-timey Thomas Nast spot you remember from your high-school history textbook. In Wuerker's drawings, the government is an ailing Uncle Sam or a sinking ship (helpfully labeled USA), Washington is a circus, and there are lots of elephants and donkeys.
"Wuerker is neither subversive nor an extremist," Manjoo goes on. "He seems to target Republicans more often than he does Democrats, but he mainly favors a clichéd, pox-on-both-your-houses approach. This excruciatingly punny panel [referring to the sleeve-rolling cartoon in our exhibit, above], published during last summer's budget crisis, illustrates Wuerker's overriding argument: Washington is broken! (Who knew?) It's one of Matt Wuerker's Pulitzer Prize-winning cartoons."
Then Manjoo gets to the heart of his complaint, about which, let me emphasize, he believes that his experience of rarely looking at political cartoons qualifies him as an expert:
"I don't mean to single out Wuerker—my problem is more with his medium than with his work. If you study all of the recent Pulitzer winners in the cartooning category, you'll see that single-panel editorial cartoons are an increasingly timeworn form. Even the best ones traffic in blunt, one-dimensional jokes, rarely exhibiting nuance, irony, or subtext.
"The backwardness of political cartoons is especially evident when you compare them to the bounty of new forms of graphical political commentary on the Web. My Facebook and Twitter feeds brim with a wide variety of political art—biting infographics, hilarious image macros, irresistible Tumblrs (e.g., Kim Jong-il Looking at Things), clever Web comics, and even poignant listicles. I don't think I've ever seen a traditional political cartoon appear on my various social-media channels. Aside from the Danish Mohammed cartoon controversy, it's hard to remember the last time a single-panel cartoon entered the political zeitgeist."
Naturally, Manjoo can't remember much about editorial cartoons: he rarely looks at them.
He sees editorial cartoons as belonging to newspapers, a print medium no longer operative, and so he urges the Pultizer committee to "look past this old-fashioned medium and include graphics that are better attuned to this century—namely, infographics and interactive visualizations." Manjoo next betrays his humorless bias by saying: "Like most political cartoons, infographics are rarely funny. Unlike most political cartoons, the best infographics tend to pack a wallop."
He then makes the mistake of comparing the Wuerker cartoon, "Those Kitchen Tables Americans Sit Around," to an infographic chart, posted by Mother Jones as part of a piece called "Eleven charts that explain what's wrong with America."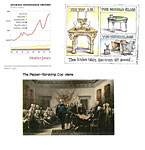 "Both graphics set out to make a similar point," Manjoo continues: "The top 1 percent is doing a lot better than everyone else." Then he unveils the lack of subtlety in his so-called thinking not to mention his abject failure to grasp what political cartoons are:
"Wuerker's cartoon," he says, "shies away from specificity—all it tells us is that rich people have awesome furniture" and it therefore "barely merits a second look. Mother Jones' graphic, though, demands to be shared widely. That's because infographics derive their power from real, often surprising data that's presented, ideally, in a simple, understandable way. The difference between a great editorial cartoon and a great infographic is like the difference between a great painting and a great photograph. Both have their place, but the latter is clearly more influential as a form of journalism. As far as I can tell, Wuerker's cartoon on inequality didn't go viral. Mother Jones' infographics, meanwhile, have acquired more than 242,000 Facebook Likes, and some of its charts were spotted on Occupy Wall Street protest signs."
Where to begin unraveling Manjoo's alleged reasoning? To begin with, going viral is scarcely a criteria I would invoke as validation of greatness in either editorial cartooning or photography. Going viral is a contagion, not a judgement. Secondly, editoons are not journalism in the sense Manjoo deploys the word: editorial cartoons convey opinion, not information. Both are functions or journalism, but Manjoo, citing an infographic, sees journalism as fundamentally and exclusively an information medium. He clearly dotes on information—or, to use his expression, data; opinions, although he professes to have some, are not his strongest suit, and he clearly doesn't understand how opinion mongering works, particularly in editorial cartooning.
He doesn't think Wuerker's Kitchen Table merits a second look, but that's probably because he misses its point. The kitchen table Wuerker refers to is the same one politicians often invoke when alluding to the budgetary machinations of the average American family, which, according to the folksy myth, gathers around the kitchen table regularly to discuss their fiscal vitality or lack thereof. The kitchen table metaphor is intended to conjure up homey notions of commonality, even equality in a familial sort of way: we all have kitchen tables that we sit around to discuss family matters. The power of Wuerker's pictures resides in the fine irony of their progression that denies notions of equality. The cartoon destroys the validity of the politician's folksy imagery. Just as all kitchen tables are not equal, so, too, the legendary family council: not everyone convenes around kitchen tables to assess their financial status. Some, the ones with the most ornate tables, probably never have to convene at all. While others don't even have a table to gather around. So if you're Mitt the plastic plutocrat, don't talk to me about family budget crises that you can't possibly understand. (Ditto if you're Ann Romney.)
Manjoo resumes his diatribe, extolling the "collaborative" efforts of gangs of perpetrators who work together to Photoshop images, offering as an example "The Casually Pepper Spray Everything Cop" meme we've just witnessed in the last exhibit. Says Manjoo: "This image makes a profound point about police brutality by itself." True, but a meme, if this one is exemplary, is the same visual device as a political cartoon—except that this one is not, in and of itself, particularly funny; the comedy arises in the manner of the image's construction not in the content of the image alone. Manjoo says he appreciates comedy, but there are no inherent laughs in this image. In fact, Manjoo claims the "lasting power" of the Pepper-Spraying Cop meme lies in the "hundreds of hilarious follow-ups that it spawned"—in its imitations, in other words. Collaborative effort to a fare-thee-well.
Manjoo continues: "The most compelling political art I've seen recently was a Buzzfeed listicle called '25 Photos of Mitt Romney Looking Perfectly Normal.' The list is exactly what it claims to be: pictures of Mitt Romney looking like a human being, a side of him that most of us had never seen before. The list is subversive—subtly making the point that Mitt Romney isn't instantly likable—but also informative and moving."
Manjoo admits that it would be difficult for the Pulitzer committee to find a category in which Buzzfeed images could compete journalistically. But the difficulty, he urges, should not preclude an effort.
To be fair, Manjoo, despite his ignorance about political cartoons, is advocating that the Pulitzers broaden their definitions to include infographics and listicles and memes and other manifestations of the Webworld we now live in. And perhaps the Pulitzers should do that, but if they do, they are also broadening the definition of journalism to include any medium that conveys information and opinion. It may come to that. But it hasn't yet. And it the hopeful meantime, we still have functioning newspapers and working journalists—and editorial cartoonists, whose deployment of words and pictures in tandem achieves a unique impact upon readers/viewers, something infographics can scarcely do. The deciphering of an infographic usually takes a little more time than grasping the implications of a political cartoon—it does in the Mother Jones example; so infographics are scarcely the equivalent of editoons.
WHEN WUERKER CAME UPON THIS MANJOO OUTPOURING, he was moved to ask: If someone tries to pick a fight in the digital forest, but no one responds, do they make a sound? At first, Wuerker's answer was that no one would notice, but that if he did, he'd amplify Manjoo's nonsense, giving it status it didn't deserve. But then he was reminded that Slate.com is a forest that lots of people wander through. He might have responded by simply quoting the article he had written at Time's behest, extolling one of the magazine's 100 Most Influential People in the World; to wit—:
The Pen that Mocked Syria's Tyrant
By Matt Wuerker
There's something about cartoons. They really get under the skin. Tyrants often don't get the jokes, but their people do. So when the iron fist comes down, it often comes down on cartoonists.
Ali Ferzat, 60, spent years drawing insightful cartoons, mostly staying between the prescribed lines of Syria's state-sanctioned media. But confronted with the regime's increasing brutality, he embraced the democracy movement and turned his lampoons on President Bashar Assad directly. Masked men from the regime soon came for Ferzat. They beat him brutally, making a point of breaking both his hands to stop his cartoons.
Ferzat wasn't intimidated. His hands have healed and are back to cartooning — drawing sharp, vivid pictures and wry observations on his people's plight. In the end, the joke is on the regime. It thought it could silence Ferzat and break his will by breaking his hands. Instead it created a powerful symbol who draws cartoons the whole world is now reading. Talk about a great punch line.
TO ILLUSTRATE THE ARTICLE, Time published a photograph of Ferzat, but I think one of the cartoonist's cartoons would better illustrate the point Wuerker is making, so here are a few of his recent efforts.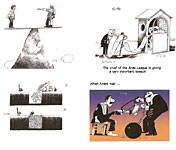 Note, particularly, the teeter-totter image at the upper left: it demonstrates more accurately and more vividly than any listicle or infographic Manjoo may come up with the self-destructive nature of a government that makes war on its citizens.
Wuerker, meanwhile, was at last persuaded to respond to Farhad Manjoo specifically; here's what he wrote and the Columbia Journalism Review posted at cjr.org on April 23, accompanied by a couple of Wuerker's cartoons—:
A Picture Is Worth A Thousand Memes
Pulitzer-winning cartoonist Matt Wuerker responds to Farhad Manjoo
Farhad Manjoo thinks political cartoons are stale, stupid, and unfunny—or so he argued in Slate last week, saying that, instead of honoring cartoons, the Pulitzer committee should consider including "biting infographics, hilarious image macros, irresistible Tumblrs … clever Web comics, and even poignant listicles."
But political cartoons are neither homogeneous nor passé. They come in every shape and medium and are found all over news sites, blogs, and social media. There are plenty of great single-panel cartoons, Manjoo's least favorite, but there is also a lot of excellent animated commentary. Ann Telnaes has been doing strictly animated work for The Washington Post for a number of years now. Two years ago, Mark Fiore won the Pulitzer for his brilliant, self-syndicated animations. And Steve Brodner does amazing hybrid animation-live drawing commentary, which can be found on several online platforms, including the Washington Spectator. Since the launch of Politico, I've done animations, as well as a number of interactive political cartoon games.
The people who run websites know that cartoons have broad appeal. That's why you find cartoons on the homepages of so many sites, including Slate. (I'm told by Daryl Cagle, who used to draw and edit political cartoons for Slate, that in its early days, political cartoons often accounted for half the site's traffic.) And The New York Times, for the first time in its history, has a regular political cartoon, Brian Macfadden's "Big Fat Whale," which appears in its Sunday Review section.
Cartoons are not infographics. They employ art, humor, metaphors, and, yes, even stupid puns. They engage the reader in ways that literally light up the brain more than plain factual information.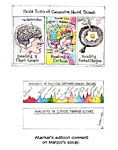 Don't get me wrong. I like infographics, am a big fan of pie charts and graphs, and really love seeing the memes and macros spreading out there online. But a pie chart or other infographic has never provoked a riot or resulted in a fatwa on its author. Just this year, the Syrian regime went after Ali Ferzat, a Syrian cartoonist, whose drawings mocked President Bashar al-Assad. They were so infuriated by his cartoons they broke his hands trying to shut him up. Cartoons have a special way of getting under the skin.
Cartoonists were creating memes before anyone had a clue what a meme was. They were the original tweeters, long accustomed to boiling a thought down to 140 characters. We've been around a long time and, like the rest of journalism, we're adapting to all the current changes. That said, we're happy to share the space with the new kids on the block. Let a thousand listicles and photoshopped memes bloom. Just treat us with a little respect, will ya?
WUERKER, prez-elect of the Association of American Editorial Cartoonists, cited several others of his brethren in the foregoing piece, but CJR cut out many references in the interest of conserving precious space in the digital ether. (As if they were going to run out of digital space?) Or else, perhaps, CJR thought so few readers would be interested that the issue wasn't worth spending any more space on it. If so, too bad.
PERSIFLAGE AND FURBELOWS
IN AN ARTICLE IN The New Yorker for April 16, Basharat Peer describes his visit to Mecca during last fall's hajj, a pilgrimage every Muslim is supposed to make at least once in his lifetime, if possible. Peer's description is laced with instances of the religious devotions of the faithful contrasted, on occasion, with the commercial ambitions of Mecca's merchants and Islam's adherents. Ancient holy places have been demolished to make room for the world's tallest buildings. Peer notes, while visiting the mayor of Mecca, that "a bulldozer with an out-stretched blade is engraved on the bronze seal of the city outside his office."
On another page, Peer writes: "In online forums, some see the towers [of new hotels to house pilgrims] as a sign of doomsday. They connect the competition among oil-rich Arab states to build skyscrapers to a reference in the Hadith, or the Prophet's sayings, about the arrival of Judgment Day. When the angel Gabriel asks the Prophet when the world will end, Muhammad replies, 'When destitute camel herders compete in building tall structures.'"
THE FROTH ESTATE
The Alleged News Institution
On Andrea Mitchell's MSNBC program (April 25), she interviewed GOP Sen. Roy Blunt about the projected increase in interest rates on government loans to college students (from 3.4 to 6.8 percent). Blunt casually noted that the increase was part of legislation that created Obamacare: the increase would pay for the greater expense of student health care under the new law. Luckily for us, Mitchell's next guest was the Secretary of Education Arne Duncan, and when she asked him about the connection of the interest rate increase to Obamacare, he said that the increase had been introduced in 2007 legislation—long before Obama was prez, long before Obamacare. So, once again, the GOP contrived an agenda to blame Obama. In short, Blunt was lying.
It's possible that Duncan was too, of course, but I ran across another reference to the loan interest rate increase—a reference quite independent of the Mitchell program—and it confirmed that Duncan was correct on the dates.
I expect politicians to lie to enhance their political fortunes, so Blunt's lie scarcely surprises me. But the shameful thing about this journalistic episode is that Mitchell let Blunt and Duncan get away with assertions that contradicted each other. Which is correct? Both are matters of fact, ascertainable—not opinion. One or the other must be true; the other, false. As a reporter, she should have at least noted the contradiction if she couldn't actually assert which was the fact and which the lie. Presumably, she knew Blunt was lying (or distorting wildly): she's a good reporter, and the loan interest rate increase has been news for several weeks, so she must've known that the increase was introduced in 2007. But she said nothing, abdicating her responsibility to keep the public informed.
It's possible that she didn't pursue the subject with Blunt because she knew he'd fabricate some sort of convoluted so-called reasoning that would somehow link legislation passed in 2007 with a law adopted in 2009, and she didn't want to give him the air time, the opportunity to further fulminate on Obamacare. But that seems a little lame.
GOSSIP & GARRULITIES
Name-Dropping & Tale-Bearing
I ALWAYS THOUGHT that when Walt Kelly's Pogo comic strip was picked up for distribution by the Post Syndicate in May 1949, it went immediately into national circulation. Nope, not so. In those days, apparently comic strips didn't always leap from the syndicate office into the offices of countless newspapers across the otherwise blighted land. At least, not in Pogo's case. According to an article by Murray Robinson in the March 8, 1952 issue of Collier's, "Pogo went into the New York Post on a trial basis in May 1949. Soon after, the strip made its bow in the Philadelphia Bulletin, the Washington Star, and the Newark Star-Ledger." Robinson quotes Kelly, who said: "It seemed to attract a few readers during the summer of '49, but still no great hopes were held out for it. The strip had no real sock gag in the last panel, and nobody was getting shot. But—more on faith in [syndicate president Robert] Hall and Len Adcox, his sales manager, than for any other reason—a few editors took the strip when national syndication started in the fall. Surprisingly, it held up well, and even outdrew some established comics in fan mail."
"When national syndication started in the fall" of 1949. So there.
And with national distribution, gang busters apparently ensued.
By March 1952, Robinson could report that 226 newspapers subscribed to Pogo—"figures," he goes on, "that will be obsolete by the time this gets into print since Pogo ... is picking up new papers at the rate of one every 48 hours. In little more than two years, Pogo has vaulted incredibly into the Top Ten among syndicated comics."
READ AND RELISH
"May your troubles be less and your blessings be more, and nothing but happiness come through your door."—Irish Blessing
"It's never too late to live happily ever after."—Inscribed on a Wall
"The presence of a bar stool shouldn't prevent you from standing for something: drink life deeply."—Billboard outside a saloon (but it could've been ol' Dunston Barswig his own self)
NEWSPAPER COMICS PAGE VIGIL
The Bump and Grind of Daily Stripping
HEADING UP OUR EXHIBIT of recently fascinating comic strips is a page of Funky, a culling of strips from the third week or so of May during which Tom Batiuk took on homophobia—with all us flaming liberals on the victor's side. "It's your prom, too" indeed. Yeh, and it's your planet, too.
| | |
| --- | --- |
| | |
Remarkably enough, as these strips were running here in the Denver Post, the Colorado State Legislature was killing a bill that would legalize civil unions. It was all done through parliamentary maneuvering in the House: the Speaker, a Republicon, knew if it came to a vote on the floor, it would pass, so he prevented that from happening on the last day of the legislative session, killing a half-dozen other vital bills in the process. The Democrat Governor (a former tavern owner with the unlikely, for a politician, name Hickenlooper, John), was piqued enough to call the Legislature back for a special session the next week. It convened, and the Speaker out-maneuvered the bill's supporters (a majority of the House) by re-assigning the bill to a committee he knew wouldn't pass it.
The deciding vote was cast by a veteran representative whose adult son is gay. He and his son usually get along fine, but the legislator said he couldn't vote in favor of his family when he knew his constituency was opposed to civil unions. So he killed the bill.
Whatever happened to that time-honored Burkian political tradition in which elected officials vote their conscience, not the dubious will of their constituencies? Any politician who says he's voting the way his constituency wants him to vote is simply maneuvering to get re-elected. He's no leader at all. Phooey. And they all do it. Re-election is uppermost in the minds of all our modern statesmen and patriots. Phooey again.
On our next exhibit (above, with the Funky strips), we see two Baldo strips in which the teenage Baldo and his chum are experiencing Career Day. For the fun of it, I wrote the strip's creators, correctly identifying the guy at the journalism table as Hector Cantu, a full-time journalist who writes the strip. The next day, I sent them another missive, surmising that if Cantu had modeled for the journalist, Carlos Castellanos doubtless modeled as the politician. They didn't answer me. But I had my fun anyhow.
Next down the page are two Baby Blues strips in which the parents behave exactly as the liberals among us think such "concerned parents" do behave—with alarm and panic at the slightest perceived danger from society at large to the welfare of their children, usually too young to be affected at all. I doubt these two strips had any effect on targeted "concerned parents" though: the "concerned" among us cannot ever be persuaded to change their minds. We know that. But Jerry Scott and Rick Kirkman sure must've had fun doing the strips, all that wild exaggeration perfectly capturing the state of so-called mind amongst the "concerned."
Finally, a Dilbert that Scott Adams assures us we'll never see in the newspaper. If you can't quite make it out, the pointy-haired one is, in the last panel, looking at his lap where the spilled magic dust has fallen.
In our next batch of strips, we consider the biffy and its assorted taboos, herewith blasted out of existence.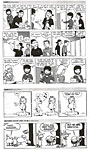 Greg Evans took his Luann characters and his readers into the restroom again this week. (Yes, he's taken us into one of these before.) The girls restroom was full or closed or something, so Crystal invades the boys restroom, where she encounters Knute, her wannabe beau. Very funny stuff, proving, if it needs proving, that comedy is sometimes merely alimentary.
Below, more in the same, er, vein. Took me a minute to realize what Garfield was alluding to—just as it should. Take a minute, I mean. Just a week or so before, Grim was in the same forest. Proving, as I say, that we all like potty humor.
In our next display, we have Patrick McDonnell giving us in Mutts a whole week of substantially the same picture—with variants, of course, but still the same decoration.
I love the pictures. The design element of the clouds overhead. The narrow concentration of the downfall itself, repeated in every strip for three panels. Delicious. I've left out a couple of the week's offerings in order to leave room for this exhibit's punchline: on Saturday, May 7, Blondie seems to be riffing on Mutts comedy that week. Dean Young and John Marshall couldn't have known, of course: Blondie, like Mutts, is drawn weeks in advance of publication, so none of the creators knew what the others were up to. But I get a kick out of coincidences like this.
On the next visual aid, we have several strips that demonstrate what comic strips—and only comic strips—can do. No exposition is necessary (which never stopped me before, I realize)—except, maybe, for the last strip, Tundra, which falls into the "only in a comic strip" category merely because the cartoonist insinuates himself into the festivities. The bad pun is superlative; and the cartoonist's comment entirely appropriate (and as much the joke as the pun).
To wind up this posting's survey, we have several strips gleaned from recent 9 Chickweed Lane. When we last checked in (last time, in Opus 292), Brooke McEldowney had just launched into a continuity in which his young unmarried heroine, Edda, thinks herself pregnant by her beau and lifelong chum, Amos.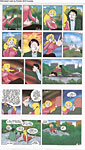 The theme, then, is unwed motherhood—and, not at all incidentally, arbortion. Over the weeks, Edda confronts the abortion issue, deciding, as we see in the fourth strip posted here, that she couldn't abort her unborn child. And then, her roommate Seth, finally convinces her to go see a doctor to ascertain if she is, in fact, pregnant. She isn't. But McEldowney scarcely sidestepped the abortion issue: we know that Edda wouldn't have one.
As usual, McEldowney manages some of the sequence's most critical moments with aplomb, delicacy, and compassion—and humor, always the most humane comedy. Edda has to tell Amos that they're about to be parents, and McEldowney, as we see in the first three strips here, relates this episode without words. Edda's gestures and Amos' reaction tell the story better—with more feeling—than any words could. And this sort of storytelling is the reason McEldowney is the most expert cartoonist in syndication today. This and his fearless confrontation of issues no other cartoonist dares face in his strip.
Incidentally, at his Pib Press, McEldowney has published two volumes that reprint the first two years of the strip: Year One: Out Whom Shall We Gross (1993-94) and Year Two: Sonata for Piano and Armpit (1994-95), each 8.5x11-inch pages, b/w; paperback, $19.99. Available at Pib Press, P.O. Box 942, Kennebunk, ME 04043; or via Internet, pibpress.blogspot.com. In these years, Edda and Amos are teenagers, but the rest of their situation is about the same. It's the same magical storytelling in a gag-a-day mode for a while, and about half-way through the first year, McEldowney's drawing style has matured to its present elegance.
CIVILIZATION'S LAST OUTPOST
One of a kind beats everything. —Dennis Miller adv.
Dick Clark, American Bandstand's wholesome host for 33 years, died April 18 at the age of 82. I think I watched the Bandstand program once, and then only for a few minutes, so I can barely appreciate his contribution to American culture—chiefly, I gather, making rock 'n' roll a little less fearsome to parents, an impression he fostered, no doubt, by always wearing a suit and tie. But the thing that caught my eye in the flood of obits that accompanied announcements of his death was that his middle name is Wagstaff, aka Shakespear (wag staff, shake spear). Were his parents English teachers? Not his father: he was a salesman and, subsequently, manager of a radio station.
BOOK MARQUEE
Previews and Proclamations of Coming Attractions
(Some of Which Are Already Here)
This department works like a visit to the bookstore. When you browse in a bookstore, you don't critique books. You don't even read books: you pick up one, riffle its pages, and stop here and there to look at whatever has momentarily attracted your eye. You may read the first page or glance through the table of contents. All of that is what we do here, starting with—:
A Parent's Guide to Kids' Comics: Choosing Titles Your Children Will Love
By Scott Robins and Snow Wildsmith with Foreword by Jeff "Bone" Smith and his wife Vijaya Iyer
256 6x9-inch pages, color; Krause Publications, paperback; $16.99
THIS MAY WELL BE ONE OF THE BEST-CONCEIVED and produced guidebooks around. Organized by grade level (pre-K-12 through 8th grade), the book offers brief two-page descriptions of each of 100 titles—a plot summary, list of what's next in the series, thumbnail picture of the cover and a full-page sample of one of the interior pages, plus, in some cases, website URL. A section at the back, Title Information, provides bibliographic summaries and ISBN numbers for all the books reviewed, plus sequels and other titles in each series. The authors' professions as librarians are offered as credentials, but the volume itself is the best testimony to their expertise.
Said Brent Frankenhoff, editor of Krause's monthly Comics Buyer's Guide: "The goal was to come up with a handbook that wouldn't overwhelm people who are looking for a quick survey of some of the terrific comic books they could find in comics shops, bookstores, and libraries." And the authors did just that—a succinct, clearly organized guidebook. Bravo. And beautifully produced, too. Bravo some more.
As for the books being reviewed, not as much manga as you might otherwise expect. And—even more surprising—most of these books are very well-drawn. But the biggest surprise is that there are so many "comics" for young readers. Some of the book series are familiar—Tintin, Smurfs, Geronimo Stilton, Owly; some are superheroic—Superman, Captain Marvel; or otherwise newsstandish (Archie). Shaun Tan's masterfully wordless The Arrival is reviewed; ditto Eric Shanower's Oz books and Doug TenNapel's Bad Island.
Intended, saith The Comics Buyer's Guide's Maggie Thompson, for parents and librarians and educators, this volume is also a nifty guide for fans. Me? I'm going to get a copy of one of Bill Slavin's Elephants Never Forget books; the two-page entry for one of them, Big City Otto, is right hereabouts, and, as you can see, the cartooning is superlative.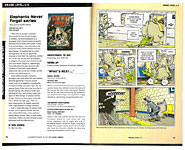 And Then We Continue With Other Dribs and Drabs—:
Allison Bechdel's new book, Are You My Mother?, reviewed with hysterical applause in both The New Yorker and Time, the latter, alas, using an illustration that doesn't show what reviewer claims is a big deal: verbal-visual interdependency.
Not unexpectedly, for every picture The New Yorker puts on its cover, there are scores of ideas, sketches and, even, fully realized designs that don't make the cut, reported the UK's Guardian. Since 1993, when Françoise Mouly became art editor of the magazine, she has been commemorating these never-rans—often rejected for being too outrageous—by posting them on her office wall. Now she's gathered them into a coffee-table book called Blown Covers: New Yorker Covers You Were Never Meant to See. Here she picks her favorite cover sketches that are as acute as they are provocative. You can get a copy through Amazon for as little as $14, plus p&h. We'll probably take a look at it in a future Opus; my copy arrived just today, and it's laden with fascinating insights and absurdities.
Leaping Tall Buildings: The Origin of American Comics started as a book of Seth Kushner's photographs; then writer Christopher Irving joined in, and they interviewed over 5t0 cartoonists. Said Irving: "One thing I was very against was having it just be a book of pictures with minimal biographical info." He opted for more. No, I haven't seen it yet; just thought you'd like a heads-up.
Bon Mots from the Happy Harv
All those sexy conversations you can have with unknown persons at 900-numbers—that's aural sex, right?
Rejoice: the American workforce enjoys nearly 92% employment.
LONG FORM PAGINATED CARTOON STRIPS
Called Graphic Novels for the Sake of Status
The Sign of Four: A Sherlock Holmes Graphic Novel
By Arthur Conan Coyle, adapted by Ian Edginton and drawn by I.N.J. Culbard
124 6x9-inch pages, color; 2010 Sterling paperback, $14.95
IN THEIR THIRD ADAPTATION of the Sherlock Holmes Canon (The Hound of the Baskervilles and A Study In Scarlet preceded this volume, both also from Sterling), the British authors, Edginton and Culbard, have done a sterling job of translating into a verbal/visual medium a work that is not only verbal but excessively verbal: like most of Conan Doyle's stories about his master of deduction, this one relies heavily for its appeal upon Holmes' explanations of his seemingly mysterious elucidations, based upon whatever visual evidence he happens to observe, ever keen-eyed. The story is also complex, not yielding to easy adaptation, but Edginton has done it admirably.
Holmes' client is a comely lass, Mary Morstan, who has been receiving from an anonymous donor a valuable pearl every year for the last six years. Now she has received a letter asking her to meet her benefactor, and she comes to Holmes to accompany her. He does, and so does Watson, who promptly falls in love with Ms. Morstan; they eventually marry. Which is somewhat beside the point. The point is to discover who and why she is the recipient of such annual treasure.
The solution involves her father, an officer in Britain's Indian Army, who, with another of his colleagues, acquired an ill-gotten treasure through the agency of four convicts in a prison where Captain Morstan and his cohort worked. Morstan is dead; so is his partner, but the latter, who had absconded with the treasure, left twin sons who are now in possession of the trove. One of them has been sending Ms. Morstan a pearl by way of atonement for depriving her of the treasure that should have been in her possession.
One of the four convicts is now on the loose and comes for his share of the boodle, accompanied by an aboriginal with a quiver of poison darts, one of which kills one of the twin sons. At this point, Holmes enters the story, having accompanied Ms. Morstan to her rendezvous. Holmes soon figures out who the ex-convict is and where to find him, and he and Watson go after him. They catch him trying to escape by boat. He tells his tale, tying up the loose-ends in a maddeningly complicated plot.
Only a few pages offer much opportunity for more than pictures of people talking, but Culbard manages to bring considerable visual variety (and, hence, interest) to even Holmes' vaporizing. Drawing in a stunningly simple manner with a dashing bold line, Culbard varies distance and angle and focus, sometimes closing in on hands or an eyebrow or a clue; he repeats images for dramatic purposes (to emphasize a statement or a reaction); and he varies page layout for dramatic impact. He also somewhat playfully uses silhouette on occasion. The climactic sequence as Holmes pursues his quarry by boat is well staged, both dramatic and atmospheric.
The next on Sterling's Edginton-Culbard roster of Conan Doyle canon is The Valley of Fear, the last of the four Sherlock Holmes novels, an even more difficult tale than The Sign of Four. Other classic literary works can be found at sterlingpublishing.com: Princess of Mars (Burroughs), Dorian Gray, Crime and Punishment, Dr. Jekyll and Mr. Hyde, Tale of Two Cities, and what seems to be all of the Asterix books.
PERSIFLAGE AND BADINAGE
The very week after we posted Opus 293 with its spectacular disquisition on fuck, The New Yorker came along (May 14) with an article called "The English Wars" by Joan Acocella, who observes: "For many years, the filthiest word in English was 'fuck.' ... [According to Ruth Wajnryb's Expletive Deleted], fuck has ceded first place to cunt." Wouldn't you know.
WE'RE ALL BROTHERS, AND WE'RE ONLY PASSIN' THROUGH
Sometimes happy, sometimes blue,
But I'm so glad I ran into you---
Tell the people that you saw me, passin' through
Maurice Sendak, 1928 - 2012
Author of Splendid Nightmares
From the New York Times obit by Margalit Fox, we have extrapolated these few paragraphs.
Maurice Sendak, widely considered the most important children's book artist of the 20th century, who wrenched the picture book out of the safe, sanitized world of the nursery and plunged it into the dark, terrifying and hauntingly beautiful recesses of the human psyche, died on Tuesday, May 8. He was 83 and lived in Ridgefield, Conn. The cause was complications from a recent stroke, said Michael di Capua, his longtime editor.
Roundly praised, intermittently censored and occasionally eaten, Sendak's books were essential ingredients of childhood for the generation born after 1960 or thereabouts, and in turn for their children. He was known in particular for more than a dozen picture books he wrote and illustrated himself, most famously Where the Wild Things Are, which was simultaneously genre-breaking and career-making when it was published by Harper & Row in 1963.
Among the other titles he wrote and illustrated, all from Harper & Row, are In the Night Kitchen (1970) and Outside Over There (1981), which together with Wild Things form a trilogy; The Sign on Rosie's Door (1960), Higglety Pigglety Pop! (1967), and The Nutshell Library (1962), a boxed set of four tiny volumes comprising Alligators All Around, Chicken Soup With Rice, One Was Johnny and Pierre. ...
In book after book, Sendak upended the staid, centuries-old tradition of American children's literature, in which young heroes and heroines were typically well scrubbed and even better behaved; nothing really bad ever happened for very long; and everything was tied up at the end in a neat, moralistic bow. Sendak's characters, by contrast, are headstrong, bossy, even obnoxious. (In Pierre, 'I don't care!' is the response of the small eponymous hero to absolutely everything.) His pictures are often unsettling. His plots are fraught with rupture: children are kidnapped, parents disappear, a dog lights out from her comfortable home. ...
His visual style could range from intricately crosshatched scenes that recalled 19th-century prints to airy watercolors reminiscent of Chagall to bold, bulbous figures inspired by the comic books he loved all his life, with outsize feet that the page could scarcely contain. He never did learn to draw feet, he often said. ...
As portrayed by Sendak, the wild things [in that book] are deliciously grotesque: huge, snaggletoothed, exquisitely hirsute and glowering maniacally. He always maintained he was drawing his relatives — who, in his memory at least, had hovered like a pack of middle-aged gargoyles above the childhood sickbed to which he was often confined. ...
As far back as he could remember, Sendak had loved to draw. That and looking out the window had helped him pass the long hours in bed. While he was still in high school he worked part time for All-American Comics, filling in backgrounds for book versions of the Mutt and Jeff comic strip. His first professional illustrations were for a physics textbook, "Atomics for the Millions," published in 1947. ...
The huge, flat, brightly colored illustrations of In the Night Kitchen, the story of a boy's journey through a fantastic nocturnal cityscape, are a tribute to the New York of Sendak's childhood, recalling the 1930s films and comic books he adored all his life. (The three bakers who toil in the night kitchen are the spit and image of Oliver Hardy.) ... Depicting the story's young hero, Mickey, in the nude prompted many school librarians to bowdlerize the book by drawing a diaper over Mickey's nether region. ...
[It wasn't the first time Sendak's stories aroused apprehension in the parental and librarianal ranks: Wild Things, that watershed tome, was widely criticized for being too frightening for children.]
Though he understood children deeply, Sendak by no means valorized them unconditionally. "Dear Mr. Sun Deck ..." he could drone with affected boredom, imitating the semiliterate forced-march school letter-writing projects of which he was the frequent, if dubious, beneficiary. But he cherished the letters that individual children sent him unbidden, which burst with the sparks that his work had ignited.
"Dear Mr. Sendak," read one, from an 8-year-old boy. "How much does it cost to get to where the wild things are? If it is not expensive, my sister and I would like to spend the summer there."
THE MOST EXHAUSTIVE APPRECIATION of Sendak on the occasion of his death can be found at The Comics Journal website, tcj.com where Philip Nel, professor of English and Director of Kansas State University's Program in Children's Literature, holds forth at some length. Nel is otherwise at work on a biography, Crockett Johnson and Ruth Krauss: How An Unlikely Couple Found Love, Dodged the FBI, and Transformed Children's Literature (due from the University Press of Mississippi later this year), and on a compilation of Johnson's famous comic strip, The Complete Barnaby (5 volumes, co-edited with Eric Reynolds, Fantagraphics, 2012-2015), which collects for the first time the full 10-year run (1942-1952) of this highly literate example of the arts of cartooning. Here are cullings from Nel's treatment—:
Maurice Sendak, creator of Where the Wild Things Are, is dead at 83. He knew that would be the first line of his obituary, he told me once, in a tone that conveyed more resignation than pride. He was an artist, first: that his work spoke to children was important to him, but he disliked being limited to the realm of childhood alone. That's why, earlier this year, he told Stephen Colbert: "I don't write for children. … I write, and somebody says 'That's for children.'" Sendak's work speaks to us all, and his work extends beyond children's picture books. He's designed sets for opera and dance productions, illustrated Herman Melville's Pierre, created album covers, posters and dust jackets for adult books. His inspirations span both genres and age categories: Melville, Mozart, Winsor McCay, William Blake, Walt Disney, Maxfield Parrish, Jacob and Wilhelm Grimm, Stan Laurel and Oliver Hardy.
Yet he's most recognized for his genius in creating books for the young, winning all the top prizes in the field and beyond it: and rightly so. The illustrator of over 100 books, Maurice Sendak was the greatest artist-for-children of the 20th century — a century that brought us the astonishing, transformative work of Dr. Seuss, Virginia Lee Burton, Beatrix Potter, Chris Van Allsburg and Peter Sís. Sendak was a giant among giants. He still is.
The book that leads all obituary notices — Where the Wild Things Are (1963) — remains a revolutionary work. As protagonist Max moves toward and then more deeply into the land of the wild things, the pictures command more and more space. When the "wild rumpus" begins, Sendak — for the first time in children's picture books — provides three two-page spreads without words. Max has left the world of language, and can communicate only through his wordless, wild cavorting. Beyond its formal innovations, the book is unusual in its respect for the natural ferocity of children. Max hangs his teddy bear by the neck, terrorizes the dog, and shouts at his mother. Yet, when he returns home from the land of the wild things, he faces no punishment. He finds "his supper waiting for him and it was still hot."
The power of Sendak's work develops from the author's acute feeling for the dynamic emotional landscape of childhood. When he and Dr. Seuss (Theodor Geisel) shared a stage at the San Diego Museum of Art in 1982, moderator (and children's lit scholar) Glenn Edward Sadler asked them both to "comment on how much your own early childhood has influenced your work." Geisel said he skipped his childhood, but used his adolescence; Sendak said he skipped his adolescence, but "profited mightily from my early childhood." Geisel harnesses the skeptical adolescent's gift for finding and satirizing the adult world's many hypocrisies, but Sendak draws upon the basic fears and desires of very young children. As he observed in his Caldecott acceptance speech for Where the Wild Things Are, "from their earliest years, children live on familiar terms with disrupting emotions … [and] fear and anxiety are an intrinsic part of their everyday lives." Sendak's books are about facing those fears and anxieties, documenting the sharp, turbulent, powerful feelings of early childhood. ...
Though now a classic, the book did not initially meet universal acclaim. Publishers Weekly: "the illustrations are superb, but they may well prove frightening, accompanied as they are by a pointless and confusing story." One librarian warned: "It is not a book to be left where a sensitive child may come upon it at twilight." Most famously, child psychologist Bruno Bettelheim said of Wild Things: "The basic anxiety of the child is desertion. To be sent to bed alone is one desertion, and without food is the second desertion. The combination is the worst desertion that can threaten a child." [Bettelheim later admitted that he hadn't read the book at the time he made this pronouncement.] When the book overcame such adversity to win the Caldecott Medal, Sendak addressed his critics, arguing that children such as Max play games in order to cope with "the fact of their vulnerability to fear, anger, hate, frustration — all the emotions that are an ordinary part of their lives. … To master these forces, children turn to fantasy: that imagined world where disturbing emotional situations are solved to their satisfaction." Max uses fantasy to purge himself of his anger because "it is through fantasy that children achieve catharsis. It is the best means they have for taming Wild Things." ...
Sendak's penultimate book, Bumble-Ardy (2011), celebrates death and life. Bumble-Ardy (a pig) is adopted by his Aunt Adeline after his "immediate family gorged and gained weight. / And got ate." Scolded after throwing himself a birthday party without her permission, 9-year-old Bumble-Ardy tells his aunt "I promise! I swear! I won't ever turn ten!" This dark joke underscores the book's celebration of mortality — Bumble-Ardy is the author's surrogate. The opening three pages repeat their shared June 10th birth date several times, each with a different year. On the title page, the birthday's fourth and final appearance is "June 10, 2008." That was a significant year for Sendak: he turned 80, had a triple-bypass that temporarily left him too weak to work or walk his dog and mourned the passing of his partner of more than 50 years, psychiatrist Eugene Glynn. Though Dr. Glynn died in May of the previous year, in 2008 Sendak spoke publicly about his sexuality for the first time. It's tempting to see Bumble — as he bursts through the June 2008 calendar on the title page and shouts "Well!" — as an echo of Sendak's declaration of his own sexual identity.
Sendak had then outlived his mentors and most of his friends in the business. And yet, as he told Terry Gross last fall, "I am not afraid of death." In his final years, he was still creating art and helping others create theirs. In 2010 he created the Sendak Fellowship, which — like the MacArthur Fellowship — had no application process, and instead relied upon other picture book artists to nominate and to judge prospective recipients. Fellows each got a room and month to work on a project or projects, and (if they wished it) counsel from Sendak himself, who lived in the house next door. The fellowship formalized the mentoring he had done for years. Sendak has helped many other artists get started in children's books — James Marshall, Richard Egielski, Peter Sís and Chris Raschka, to name but a few. The New York Times obituary reports that his final work — My Brother's Book, a tribute to Jack — will be published in February 2013. Until the very end, Sendak continued to follow his muse, wresting light from darkness, always ready to sail to the land of the wild things, trusting that he can find his way back again.
Thanks to Maurice Sendak, we have a much richer map of the emotional landscape of childhood. He didn't invent books that explore darkness, uncertainty, or rebelliousness. But his success made it acceptable to write children's books that delve into these areas. The wild things live on, not just in his books, but in all who follow him. The king of the wild things is dead. Long live the king.
*****
Jules Feiffer, Sendak's friend for 60 years, spoke to The Hollywood Reporter about Sendak's legacy:
"Maurice changed the way people looked at children's literature. He was like a child himself, growing all the time. What made him successful was that he got at where children lived, where the emotions are, because he understood who and what they were as editors didn't, as parents didn't, as librarians didn't. His Jewishness permeated his work in disguise. In those days growing up in New York, it was pre-Freud, it was pre-Dr. Spock. No one bothered to ask kids what they were thinking or feeling. It was a world where a kid—if he or she was sensitive—was an alien force in this world of overpowering adults who talked to them but did not listen.
"He loved to complain," Feiffer continued. "He was like a little, old Jewish man, but there was a great sweetness to him. I just saw Tony Kushner [the playwright with whom Sendak collaborated on a version of the opera 'Brundibar'], and oddly enough, we spent most of our time together talking about Maurice—and to know him, in both of our cases, was to ignore his kvetching. He took it for granted, as we all did, that the movies are run by schmucks, even more schmucks than run publishing, and it all got a Jewish shrug: 'What are you going to do?'
"I do think that it was remarkable that Spike Jonze was allowed to get away with what he did in 'Where the Wild Things Are,' which is closer to Maurice's vision than I'm sure anything Maurice ever expected would be allowed on the screen.
"He loved being on 'The Colbert Report' [in January]. That was a nice final sendoff for him, even though no one knew that is what it would be."
*****
Among the other testimonials that wafted through the Web in the wake of Sendak's death, this came from comics scholar Charles Hatfield (quoted here en toto):
RIP Maurice Sendak (1928-2012), one of America's great cartoonists, her preeminent picture book artist, and one of the most articulate and impassioned author/critics in the children's book field. Sendak was a genuine Renaissance man, an artist whose interests could not be neatly corralled into one tiny box (genre, style, medium). But for me the heart of his achievement will always be his picture book children, those squat, feisty urchins, full of vinegar and fire: feisty, anti-authoritarian, and, yes, wild. He paid tribute to their imaginations by unleashing his own fierce imagination, untrammeled, boundless, and free.
Sendak pursued his interests in defiance of pinched, hidebound ideas about what children's book could be (and children's authors could do). He is that rare artist whose pursuit of self-indulgence liberated and humanized an entire field, extending its horizons and enriching its emotional palette. And he was a genuine scholar of his field too: his understanding of the picture book form was so complete, and his reverence for its history and greatest practitioners so genuine, that he became the great practitioner-critic of children's books. (Who else would accept his Caldecott Medal by giving a speech praising Randolph Caldecott?)
Farewell, Mr. Sendak, one of our bright, burning stars.
*****
Yes, as you no doubt noticed, Hatfield asserts, feeling no need to explain, that Sendak was a cartoonist. Among those Sendak credited as influencing him were British cartoonists Thomas Rowlandson and George Cruikshank, Germany's Wilhelm Busch, and America's Winsor McCay. There were others, but these have all been recognized as essentially cartoonists. So was Sendak. And as a cartoonist, he realized the fundamental interplay of words and pictures, the "art" of cartooning.
In her book The Art of Maurice Sendak, Selma Lane talks about "the picture book" as a distinct genre. Sendak, she says, did not consider any of his early pre-Wild Things to be picture books. "The length and content of the texts [of Kenny's Window, Very Far Away, The Sign on Rosie's Door and others] placed them in the category of illustrated books, works in which words carry decidedly more weight than pictures and illustration serves merely to heighten the narrative's forward motion. By contrast," Lane continues, "the picture book is a form unto itself, a special mix of text and art, in which the pictures are vitally needed to fill in what the words leave unsaid; the words, in turn are indispensable to moving the narrative forward during whatever time—or space—gaps exist between illustrations. In a picture book, neither text nor pictures by themselves can tell the story. They comprise an equal and totally interdependent partnership." Exactly the kind of definition I've been touting about cartoons and comics.
Perhaps In the Night Kitchen most exactly demonstrates the cartoonist at work. In his notes about the period of the book's composition, Sendak speaks of a desire to "animate" the book—to turn it into "motion pictures," continuous action, panel-to-panel, in comic strip fashion, comic book style. Writes Lane: "The ultimate comic-book-art simplicity of the In the Night Kitchen illustrations doubtless owes most to an exhibition that Sendak saw some two years after the [1963] publication of Wild Things: the Metropolitan Museum of Art had an exhibit of pages from Little Nemo in Slumberland." But we don't need Lane to tell us, comics aficionados all, what we knew the minute we opened the Night Kitchen volume. This was the work of a consummate cartoonist.
Filipino Pathfinder Dies
Tony DeZuniga, 1941 - 2012
In early May or late April, ICv2.com reported, Filipino comic book artist Tony DeZuniga died from complications of a stroke. Tony entered the Filipino comic book industry in 1957 and worked his way through college at the University of Santa Tomas by lettering and drawing comics. Determined to break into the U.S. comic book industry DeZuniga came to the U.S. in 1970 and was eventually hired by DC Comics where his energetic and realistic style opened doors for other Filipino artists, some of whom, like Alfredo Alcala and Nestor Redondo, had been his mentors in the Philippines. In an 18-year career in comics, DeZuniga co-created Jonah Hex and Black Orchid with John Albano and Sheldon Mayer respectively at DC; at Marvel, he drew X-Men and Spider-Man. After that, he worked for a decade at video game producer Sega where he was a designer.
Mark Evanier at newsfromme.com added: "He told the editors at DC that there were many other fine artists back in The Philippines. At first, the notion of working with talent so far away (and not well-schooled in English) scared DC's management away. That was until they learned how inexpensive it would be to have comics drawn there. Even with the expense of shipping work down there, it made it possible to get a comic book drawn (and drawn well) for a fraction of what American artists were paid. At first, Tony served as a kind of agent as dozens of Filipino artists began drawing for DC and later for Marvel and other companies. They included Nestor Redondo, Alfredo Alcala, Alex Nino and Ernie Chua (later known as Ernie Chan). Some of these artists later relocated to the United States and Tony spent much of his time here.
"Tony is probably best remembered for Jonah Hex," Evanier continued, "—and for the work he did on DC's mystery comics and on Marvel's Conan the Barbarian. He drew very powerful heroic figures and very beautiful women and I always enjoyed talking or lunching with him and his wonderful wife, Tina. Our thoughts and condolences go out to her tonight along with the knowledge that Tony and his fine work will not be forgotten.
DeZuniga's success at paving the way for a succession of Filipino artists was, ICv2.com said, the "first step towards the increasingly global nature of today's mainstream American comics industry, which features many talented creators from all over the world."
Ernie Chan, 1941 - 2012
This news just arrived as we were poised on the cusp of shipping this Opus off to our faithful webmaster for posting. Not a formal obit by any means, but an adequate remembrance by Rich Johnston at bleedingcool.com; to wit—:
Ernie Chan passed away last night (May 17), aged 71. Chan (initially credited as Ernie Chua after a passport mix up) was a Filipino comic book artist who moved to the U.S. in the 1970s to work in the comics industry.
With a notable inking run on Conan the Barbarian with John Buscema, and art runs on both Batman and Detective comics, he would go on to draw Conan solo, as well as work on books such as Doctor Strange, Kull The Destroyer and becominf DC's go-to guy for covers in the late seventies. He then moved into computer designs as well as tv and movie animation. Chan retired in 2002, spending much of his time in China, in search of tranquility, but financial pressure saw he return to the form for a softcore porn webcomic, The Vat for Dark Brain.
Ernie was also a special guest at last year's San Diego Comic Con where he appeared to enjoy himself immensely.
Paul Gringle, 1922 - 2012
It's not a name that leaps to the fore anytime "cartoonist" is mentioned, but Paul Gringle was a cartoonist all his life. A graduate of the Landon School of Cartooning, Paul said he sold his first cartoon to Hobo News in 1948; took home $2.50. He made his syndicated mark when he took over the Sunday Out Our Way for a couple years in the late 1960s; at about the same time, he also did the daily panels that featured cowboys and the famed Bull o' the Woods. Paul's stint on the J.R. Williams' creation was concurrent with that of Neg Cochran, who took it on after Williams died in 1957.
Gringle did a lot of ghosting and worked in animation and greeting card design. He assisted Ving Fuller on the Doc Syke syndicated strip briefly and then created his own comic strip, Rural Delivery, in 1951 but gave it up after a year or so; it was continued intermittently by Al Smith (or one of his Mutt and Jeff minions). Gringle also did the NEA's annual Christmas strip in 1969, How Wyn Sock Saved Christmas. The title character was a cat pilot whose friends were all animals in the woods.
Paul's friend Jim Whiting sent me a note when Paul died: "Arthur Paul Gringle died just two weeks ago [about April 21/22]. He was a good friend to many and was very generous in sharing his time and expertise. An excellent cartoonist."
Jim has posted a memorial at his website, monthlymissive-jimvtoons.blogspot.com. Gringle was active in the Southern California Cartoonists Society, which is where I met him—a shortish man, a little stoop-shouldered as befitted his vintage, and with a face very like that of an eager chipmunk who was also in on a joke no one else seemed aware of. He was always working on some cartoony project, and unfailingly asked me if I'd participate; I always said I would. As far as I know, none of the projects ever materialized, perhaps understandably: by the time I met Paul, he was in his late 70s, full of the ideas born of a lifetime but low on energy (like all of us septuagenarians). There's more about Paul at sccs-online.org also.
To find out about Harv's books, click here.