Opus 292 (April 20, 2012). On the occasion of Sylvia's retirement from print, we conduct a fond appreciation of Sylvia and her creator, Nicole Hollander, and we showcase a notable quantity of editorial cartoons from the last month. We also rehearse Paul Krassner's obscene pranks and discuss the whys and wherefores of the most tabooed word in English, the F-word. And we report on Andy Capp's sobering up, Corey Randolph's retirement of The Elderberries, Brooke McEldowney's latest daring in 9 Chickweed Lane (unwed motherhood!), cartoons in Playboy, the resolution of the disgraceful case of Canadian border guards seizing a computer and its owner for allegedly possessing child porn (it was manga), plus reviews of Stan Lee's Mighty7 and commentary on Catwoman, Franchesco's She Dragon, Fatale, Lobster Johnson, Batman, Mud Man, and All Star Western, and obits for Rex Babin, Moebius, Fran Matera, and Mike Wallace, a dramatist whose connection with cartooning is obscure. But first—
BUNNY BULLETIN: Announced Monday, April 16, Matt Wuerker of the online and multi-media political news organization Politico won the 2012 Pulitzer for editorial cartooning. He'd been a finalist twice, in 2009 and 2010, and he is also a Herblock Prize winner (2010). Interviewed by Michael Cavna at ComicRiffs, Wuerker said: "This feels fantastic, to state the obvious. This is a dream come true. I've been cartooning for some 30 years now, and up until a few years ago, I didn't think anything like this was vaguely possible." Wuerker freelanced editorial cartoons for most of his career until 2007 when he was invited to become a founding staffer at Politico. And that, he said, profoundly changed his career."I credit the people aboard the good ship Politico," he said. When he came aboard, he thought he'd have a nice ride on a tidy little ship. And then the ship became a rocket ship.
"I can't thank everybody enough — Jim VandeHei and John Harris [executive editor and editor-in-chief], in particular, for all of the creative license that they've given me," he said in Politico's report. "I feel like a piccolo player, and I'm in this great big orchestra, and as a piccolo player, if I'm just out there playing my piccolo, I'm just this annoying guy with this little instrument in the corner. But I've had the great, great fortune of finding myself in this great orchestra with major players and fabulous conductors and a fabulous concert hall, and that's what this is about. So I share this with all of you. The much more serious players at Politico will be picking up [Pulitzers] in the years ahead."
Read more at ComicRiffs.com and/or Politico.com (both for April 16) and watch a video of Wuerker describing his feelings and overwhelming sense of good luck (can be seen at either). We'll have a selection of his cartoons in the next opus, next month.
And now, we resume our regular programming. Because of the vast length of this opus, you may wish to take a breather halfway through—that is, just after reading about Nicole Hollander. You choose. Here's what's here, in order, by department—:
NOUS R US
Mandrake Movie
Glen Keane Leaves Disney after 38 Years
Matheson Case Ends Unhappily in Plea Bargain
PayPal Bans Sales of Erotica
Superman Letter Up for Auction
Unconventional Editoons Reap Awards
Jack Ohman Collects Scripps Howard Award
Nick Anderson Gets Berryman
Dr. Seuss Gets Insulted by "The Lorax"
PLAYBOY, GRAPHIC NOVELISH AND CARTOONS
What To Do about the F-word
Stan Lee in Time
Stan Lee Court Case History
Corto Maltese Screwed Up
Academy Awards History—Not!
SYLVIA HOLLANDER, ICON
Nicole Retires From Print
EDITOONERY
Tony Auth Leaves Philadelphia Inquirer
Signe Wilkinson Stays On
Nate Beeler Goes to Columbus Dispatch
The Future of Editorial Cartooning, Self-Syndication and False Cheer
ROUND-UP OF THE MONTH'S EDITORIAL CARTOONS
Paul Krassner and Outrageous Iconoclassicism (Mickey and Charlie Brown Fucking)
Loaded Words Not Permitted in New York Schools
THE FROTH ESTATE (Alleged News Institution)
NEWSPAPER COMICS PAGE VIGIL
Darrin Bell and Rudy Park
Funky is Forty
Corey Randolph and The Elderberries
Brooke McEldowney Does It Again—Unwed Motherhood
Pastis' Pearls Too Self-Referential?
Andy Capp Sobers Up
CIVILIZATION'S LAST OUTPOST
Harold Camping and the End of the World
Supercalifragilisticexpialidocious
BOOK MARQUEE
More Wimps
Bruce Timm's Naughty and Nice Girls
BOOK REVIEWS
Barney Google
Hark! A Vagrant
Comics and the U.S. South (Scholarly Essays)
Two Krazy Kat Books
Nancy Is Happy
Stan Lee's Secrets Behind the Comics
The Complete Peanuts: 1983-1984
FUNNYBOOK FAN FARE
Stan Lee's Mighty 7
FOUR-COLOR FANTASIES I'M READING THESE DAYS
Catwoman and Guillem March
Franchesco's She Dragon
Fatale
Lobster Johnson
Batman
Mud Man
All Star Western (Jonah Hex)
PASSIN' THROUGH
Obituarial Appreciations of Rex Babin, Moebius, Fran Matera, Al Ross
And, Mike Wallace
Our Motto: It takes all kinds. Live and let live. Wear glasses if you need 'em.
But it's hard to live by this axiom in the Age of Tea Baggers,
so we've added another motto:.
Seven days without comics makes one weak.
(You can't have too many mottos.)
And our customary reminder: don't forget to activate the "Bathroom Button" by clicking on the "print friendly version" so you can print off a copy of just this installment for reading later, at your leisure while enthroned. Without further adieu, then, here we go—
NOUS R US
Some of All the News That Gives Us Fits
PARADE, THE SUNDAY NEWSPAPER SUPPLEMENT that usually includes (however postage-stampish) a "cartoon parade," contained no cartoons whatsoever, parading or otherwise, in its April 1 issue. I put it down as a perverse April Fool's joke, but when the April 8 issue showed up likewise cartoonless, I began to fear for the perpetuation of the artform: Parade has been a stalwart in publishing cartoons, but after two weeks in a row without a giggle, could it be giving up on cartoons? Then came the issue of April 15—and a welcome reprieve: two postage stamp cartoons within. ... Caricaturist Steve Brodner does a regular "Brodner Minute" of animated editorial cartoonery at washingtonspectator.org. ... Jules Feiffer received the 2012 Fischetti Lifetime Achievement Award. ... Archie is getting married again in the current Archie title continuity: another trip down Memory Lane, this time it's Valerie's, the African American member of the Pussycats, who dreams she's marrying Archie. ... "Christians BD" (bande dessinee, French for "drawn strip," or comic strip), an ecumenical group of Catholic and Protestant comic book makers with 25 years experience amongst them, appeared again this year at the International Comics Festival at Angouleme, France, in a special "Christians BD" section; the group's objectives are to promote the comic book style of explaining Christianity, to establish a link between faith and reason, and to attract more authors. ... And, not to abandon Archie Comics too quickly, the alternate cover of the second issue of Kevin Keller is by Dan Parent, an echo of the cover of Archie No.1, this time with Kevin on skates jumping the barrel on the frozen pond. Why the pond would still be frozen by mid-April, don't ask. ... And right here, just at the corner of your eye, we have posted one of those mind-boggling instances of the right hand not knowing what the left hand doeth when it comes to displaying sexy covers in Previews. And yet, both hands are in plain sight all the time. Who are these people? Moral self-righteousness gone amuck (but containing, therein, a lesson for us all: suppression of sex will never succeed).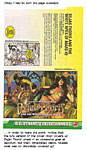 Warner Bros is conjuring up Mandrake the Magician in celluloid, picking up the movie rights to the classic comic strip with Atlas Entertainment producing, reports Borys Kit at hollywoodreporter.com. Created in 1934 by Lee Falk (who also created The Phantom in 1936), Mandrake is an illusionist who has the power to quickly, instantaneously, hypnotize his foes. Forever attired in top hat and tails, "Mandrake fights evildoers ranging from gangsters to masters of disguise to aliens. Mandrake is one of those characters that Hollywood has long tried to nail down in a viable movie adaptation. Columbia Pictures made a 12-part serial in 1939, and a TV movie aired in the 1970s, but nothing has made it to screens since."
Animator Glen Keane, a 38-year veteran of the Walt Disney Animation Studios who worked on such classics as "The Little Mermaid," "Beauty and the Beast" and "Aladdin," announced last month that he is leaving the company. According to HollywoodReporter.com, he said that while the studio has been his "artistic home," he decided after "long and thoughtful consideration" that there are "endless new territories to explore" and so he is moving on. The announcement came as a shock. "He's such a Disney icon and an inspiration to so many people," one source said. Confirming his departure, a Disney spokesperson said, "Glen Keane has decided that the time has come to take the next step in his personal exploration of the art of animation. As much as we are saddened by his departure, we respect his desires and wish him the very best with all his future endeavors."
In 2000, someone broke into Nicolas Cage's house and stole his mint copy of Action Comics No.1; in April last year, the priceless artifact (one of only two in such pristine condition known to experts) was found in an abandoned storage locker in California's San Fernando Valley by a man who had purchased the contents of the locker. It returned to Cage just in time to help the actor with his financial travails, which saw him face bankruptcy for failing to pay taxes despite having earned more than $40m in 2009. Cage sold the funnybook for a record-breaking $2.16m in November. And now this whole preposterous adventure may find its way to the big screen: Lionsgate is reported to be interested, and the spec screenplay "takes the form of a heist comedy in which a group of fanboys break into Cage's home and steal the comic," reports Ben Child at guardian.co.uk.
BORDER ORDEAL ENDS BUT JUSTICE HAS STILL GONE AWRY
ICv2.com reports that the Canadian government has dropped all criminal charges against Ryan Matheson (previously referred to as "Brandon X"), an American computer programmer whose laptop was seized by Canadian customs officials when he traveled to Canada from the U.S. in 2010. He was arrested and detained based upon images in his laptop that customs officials deemed "child pornography."
In a plea bargain that resulted in the dropping of all criminal charges, Matheson pled guilty to a non-criminal code regulatory offense under the customs act of Canada and will not stand trial.
Matheson's defense cost $75,000. The Comic Book Legal Defense Fund helped by recruiting expert witnesses for the trial and providing $20,000, while the Comic Legends Legal Defense contributed $11,000, but that still leaves Matheson with nearly $45,000 in debts relating to the case. The CBLDF is currently seeking funds to help pay off Matheson's debt and to create new tools to prevent future cases. Visit cbldf.org for details.
The ICv2 report continues:
Now that the case has been settled the details of Matheson's arrest and detention have come out. Matheson was subjected to abusive treatment by the police when jailed and then placed under harsh bail conditions. His life was severely disrupted for two years during which was unable to use computers or the Internet outside of his job because of the strict conditions of his bail.
In an accompanying statement Matheson described his situation: "I was given extraordinarily strict bail conditions considering it was my first offense of any kind and I had a totally clean record. My bail conditions tightly restricted my use of computers and the Internet. My conditions had even specifically named a single company I could work for, which prevented me from advancing my professional career. I am a computer programmer and I've been in love with computers ever since I was seven years old. To place such overbearing conditions on me was heart-wrenching and very difficult to endure. Even for people who do not have a life and career based on computers, I believe completely restricting Internet access is wrong; too many things in life and society nowadays rely on the Internet. In my opinion, it's like restricting use of basic utilities like water and electricity."
Matheson also describes his longstanding interest in manga and anime, which had led him to study Japanese language and culture: "I first got into anime when I was about eight years old by watching Sailor Moon and Dragon Ball Z that aired on tv at the time. Soon after I started reading manga with my first volume of Ranma and began drawing my own illustrations and making my own animation flipbooks. To this day I still draw and have attended art and drawing classes. I have been studying Japanese since high school. To have this healthy and fulfilling hobby of mine deemed 'unfavorable,' 'deviant' or 'criminal' by ignorant government officials is insulting and degrading not only to me, but also to the millions of fellow fans who take part in enjoying this art. After going through such a challenging and difficult period of my life, my own convictions about what anime and manga mean to me have become stronger than ever before."
At last the image that Canadian customs found so objectionable has been identified publicly, a moe-style parody of a classic Japanese wood block prints called the "48 Positions," which were wrestling positions in the original classic print and rendered as sexual positions in the parody. As anyone familiar with manga and anime knows, "moe" refers to cute, often diminutive characters, which undoubtedly led the overzealous customs officials to suspect child pornography, though it is totally obvious that no underage models were used to create the illustration, which contains very little detail in the rendering of the sexual acts.
PAYPAL BANS TRANSACTIONS INVOLVING EROTIC STUFF
In early March, Betsy Gomez at Comic Book Legal Defense Fund reported that PayPal told publishers that they cannot sell erotic material that depicts incest, pseudo-incest, rape fantasies, bestiality (including non-human fantasy characters), and BDSM. "Selling these materials will result in the deactivation of the publishers' PayPal accounts. As a result of PayPal's new policy, many publishers are taking down erotic work. Anyone who uses PayPal is subject to their terms of service. The banning of the erotic work may have less to do with PayPal's opinion of the work and more to do with business practices. Commentary on both ZDNet and Daily Kos notes that erotic work carries a high likelihood of buyer's remorse, and credit card companies charge higher fees for returns on such high-risk content. PayPal likely instituted to practice to avoid these fees."
In response, CBLDF reports, the American Book Sellers Foundation for Free Expression and the National Coalition Against Censorship sent PayPal a letter decrying the policy. The list of organizations signing on to ABFFE and NCAC's letter is growing, and CBLDF has joined the coalition against PayPal's erotic content policy.
AGED SUPER ARTIFACT
Shed Light on Siegel and Shuster Rights
A check for $412 is being auctioned off, and 12 bids so far have jacked its value to more than $25,000. The check on the block is the one endorsed by Jerome Siegel and Joe Shuster when they signed over their rights for creating Superman. Bidding at Comicconnect.com began March 27 and will close April 16. "The check includes an accounting," writes George Gene Guistines at the New York Times: "$130 for the rights to Superman, $210 for stories in Detective Comics and two $36 payments for stories in More Fun and Adventure Comics. The back of the check includes a stamp from a United States District Court from 1939, when it was used as evidence by DC Comics in its successful copyright infringement lawsuit against Victor Fox, a publisher who unveiled Wonder Man, a hero deemed too similar to the Man of Steel.
"The signing away of the rights to Superman long plagued his creators, and their heirs have been waging a court battle to restore their claim on the copyright. In March 2008 a federal judge in Los Angeles ruled that the heirs of Siegel were entitled to claim a share of the United States copyright to the Superman character. Time Warner, which owns DC Comics, would keep the international rights to the character. Last month, the Hollywood Reporter said that Warner Brothers Studios and DC Comics had filed a brief before the United States Court of Appeals for the Ninth Circuit to try to hold on to all rights to the character."
UNCONVENTIONAL EDITOONS REAP AWARDS
Portland-based editooner Matt Bors won the prestigious Herblock Prize for 2012, becoming the first alternative political cartoonist to win the award. In reporting the Herb Block Foundation's March 12 announcement, Michael Cavna at ComicRiffs remembered Bors' "withering Steve Jobs obituary cartoon" (you can see it at Opus 285, and while your off surfing, stop in at Opus 288, where we recollect Bors' Christopher Hitchens obit cartoon, embodying a similarly off-beat approach). Nationally syndicated by Universal/Uclick, Bors has also done cartoon reportage, visiting Haiti last year and, the year before, trekking off to Afghanistan with Ted Rall (see Ops. 265 and 267). Two of Bors' masterpieces in a minor key appear down the scroll.
"It's an honor and was completely unexpected," Bors told Cavna. "I'm humbled to be included in the group of previous winners" — a list that includes such recent recipients as Politico's Matt Wuerker and the Washington Post's Tom Toles.
The honor comes with a $15,000 "after-tax cash prize," which, Bors said, is "more than I've ever made in a year from my editorial cartoons." An editor at the Cartoon Movement website, Bors plans to use the money to redesign his site (MattBors.com) and find ways "to keep this going for the long haul."
Bors's cartoons are "relevant, smart, surprising, wickedly funny," said Toles, who was one of the judges along with the Philadelphia Daily News' Signe Wilkinson and Jenny Robb, curator at OSU's Billy Ireland Cartoon Library & Museum. Wilkinson cited Bors's memorable Jobs "obit" cartoon, which she said was "the most masterful cartoon of this masterful collection."
This year's finalist for the Herblock Prize is another altie-editoonist, Jen Sorensen, whose Slowpoke she syndicates herself. Sorensen, who will receive a $5,000 cash prize, said: "It's so nice to see our genre of political cartooning acknowledged after so many years in the wilderness. I'm, of course, deeply flattered," she said to Cavna.
The Herblock Prize honors "distinguished examples of editorial cartooning that exemplify the courageous standard set by" legendary Washington Post political cartoonist Herblock. Bors and Sorensen will receive their awards May 10 in a Library of Congress ceremony, at which Doonesbury creator Garry Trudeau will deliver the annual Herblock Lecture.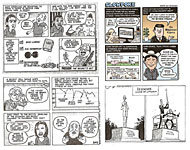 One of Sorensen's Slowpoke cartoons appears in the accompanying array; ironically, it was pulled, like a week's worth of Trudeau's strips on the same subject. Said Sorensen:
"As you might have guessed, this one is about last month's ["I thee rape"] Doonesbury strips, which over 50 newspapers refused to print. Personally, I'm surprised the number was that high. I may be an easy audience, but I thought the strips were witty and tastefully done. Thursday's comic was intense, but it was hardly in poor taste. Have these editors not seen reality television lately? Compared to that, Doonesbury read like a Lewis Lapham essay.
"Notably, this week's cartoon marks the first time I've had a strip pulled in over a dozen years of drawing Slowpoke. One of my weekly papers is owned by a daily paper that decided not to run the Doonesbury strips, so the editor, who actually liked my comic, had to ask for a substitute. The layers of irony here are impressive."
The last cartoon (lower right) in the exhibit is by Jack Ohman of the (Portland) Oregonian, who won the Scripps Howard Award for editorial cartooning and received $10,000 and a trophy chiefly in recognition of the effectiveness and initiative shown in his multi-panel cartoons on Sundays. In nominating Ohman, his editor, Robert Caldwell, wrote: "Jack addresses issues of child abuse, the death penalty, and the unemployed in Oregon; he goes out into the community and reports in a spare, stark style. He has pioneered this local approach to the point that readers view this as the equivalent of a popular local column. ... Jack's style excels because of his boldness, his attention to detail, and his topic selection. He doesn't go for the typical gag approach, and you can see the fine line of irony instead of the sledgehammer. ... His work is highly original, he doesn't employ cliche, and he claims that he has forgotten how to draw Uncle Sam. There are no labels. ... His caricatures are dead-on."
I concur on all counts, adding only that Ohman is perhaps the most skillful caricaturist working in editorial cartooning today. And here are a couple of those Sunday extravaganzas with national targets.
Berryman Winner
The Houston Chronicle reports that its editorial cartoonist, Nick Anderson, has been honored with the Clifford K. Berryman and James T. Berryman award for national cartooning "for work that exhibits power to influence public opinion, plus good drawing and striking effect." Anderson won the Pulitzer Prize in editorial cartooning in 2005; in 2006, he joined the Chronicle, where he has pioneered a method of coloring his cartoons using a computer program that creates digital paintings characterized by subtle textures and striking images. Near here, we've posted a couple exemplary Andersons.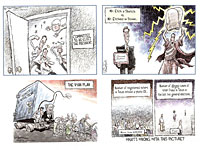 The Berryman Award started in 1989 when Florence Berryman, former art critic of the Washington Star, endowed an annual award in memory of her late cartoonist father and brother, both Pulitzer Prize-winning cartoonists. The winner receives a $2,500 prize and an engraved crystal vase, usually presented at the National Press Foundation's Annual Awards Dinner in Washington, D.C.
Fan Starts Medal Campaign for Garry Trudeau
Michael Masley, a 59-year-old Los Angeles-based musician, has launched a Facebook campaign to get the cartoonist the nation's highest civilian award, the Presidential Medal of Freedom. Writes Patrick Gavin at Politico.com: "The campaign, which currently has more than 1,800 members after a week, praises the totality of Trudeau's career" as one of "democracy's closest friends, whose protean originality, courageous breadth of thought, generosity of spirit, great sense of justice and uniquely brilliant wit, have so well served American Culture for decades."
"Trudeau has balls," Masley told Politico. "He's one of the most responsible celebrities out there. He's an icon. He's a national treasure."
Gavin closes by noting "a bit of irony when it comes to mixing Trudeau with the Medal of Freedom: when Frank Sinatra was given the honor in 1985, Trudeau ended up in hot water for using the occasion to rib Sinatra's alleged mob ties."
A Wretched Lorax
I haven't see "The Lorax" yet. And I may not—if I am to be guided by a local Mile High critic, Jonathan Lack, who, writing in a giveaway weekly tabloid, calls the film a "wretched insult" to Dr. Seuss. The book, Lack remembers, "is a sad, uncompromisingly bleak story of a world desolated by greed." In the book, a boy living in this barren waste seeks knowledge to restore the environment and make the world right again. In the movie, the kid is living in luxury in a thoroughly modern city. When he leaves to wander the wasteland beyond the city's borders, he does so merely to impress the pretty girl next door. "Instead of a serious, down-to-earth fable about the environment, the film is a broad, pandering comedy, filled wall-to-wall with terrible jokes, endless slapstick, pop culture references, horrifyingly awful musical numbers, and long, complicated car chases. Yes, you read that right: 'The Lorax' now includes car chases." The animation is "stupendous," Lack says---"lush, gorgeous, immaculately detailed and beautifully colored. In every other regard, the movie is an utter failure. ... If there was one thing we know Dr. Seuss believed in, it was that children are worthy of the best. Ignoring all its other sins, 'The Lorax' film violates that crucial principle, and that alone makes it an abject failure in my book."
READ AND RELISH (A Short Break From Rampant Seriousness)
Three Rules for Old Guys (from the autobiography of Piers Anthony):
1. Never pass up a restroom.
2. Never trust a fart.
3. Treat every erection like a gift from the magi.
THE GRAPHIC NOVEL & CARTOONS IN PLAYBOY
Also Sex
Playboy has lately taken to glorifying the graphic novel form. Almost. In the January/February 2012 issue, 6 pages are devoted to "Superjail!," a static rendition of Adult Swim's animated series of the same name by Christy Karacas, which is now in its third season, commemorated, perforce, by this episode in Hugh Hefner's magazine. A little too manic in both art and concept for my taste. More to my liking is the offering in the April issue: by Walking Dead's Robert Kirkman, "Michonne's Story" recounts a turning point in the life of the katana-wielding survivor. More ambulatory dead people, but appealingly interpreted by artist Charlie Adlard in his best Caniff-like manner, enhanced by Cliff Rathburn's gray tones.
And while we're pausing here at the body shop, let's take inventory of Playboy's cartoon content as we've been wont to do occasionally as the magazine sinks slowly in the West. Despite the snark, Hef's not doing bad with cartoons. The number of full-page color cartoons remains approximately constant, about 5-6 per issue; and the smaller cartoons are slightly more numerous in these two issues, 10 in each. Not counting the Olivia pin-up page, which carries a caption so it effectively doubles as a cartoon (but I'm not counting it, as I said). Both issues also continue to offer Bobby London's half-page strip Dirty Duck and Meaty Myths by an indecipherable signature that looks a little like Schin.
Less important than the gross number, however, is the ratio of cartoons to page count since the number of cartoons is likely determined to some extent by the number of pages available to print them on. The January/February issue's ration of full-page cartoons is 1/30; April, 1/28 (that is, one full-pager for every 30 pages; ditto every 28 pages). For the smaller cartoons, it's 1/21 in the January/February issue; 1/14 in April. The January/February issue also offers a two-page retrospective of Erich Sokol cartoons, 8 in all, but since they're reprints, I'm not counting them in the calculation. (Sokol's cartoons showed up in Playboy just about the time Jack Cole offed himself, and because Sokol's wimmin looked somewhat like Cole's, I always thought Hefner recruited Sokol as a replacement for Cole. But years later, I discovered that the time sequence doesn't support this fond notion. If I remember aright, Sokol had started appearing while Cole was still alive.)
One of the full-pagers in this issue is by editoonist Bill Schorr, who enjoyed a brief career at Playboy some years ago when he helped in the brief revival of Little Annie Fannie. Since Schorr lost his newspaper perch a few years back, he probably has a few more spare hours a week than previously, so, one assumes, he fills them by doing gag cartoons to submit to Playboy. Not an altogether safe assumption. He also continues to produce a daily newspaper comic strip, The Grizzwells, and does some editorial cartoons for syndication through Cagle Cartoons, so I'm not sure how many erstwhile idle hours he may have. (Another fond notion evaporates.) In any event, it's fun to see him in Playboy.
That the January/February issue has more full-page cartoons than the April issue (7 versus 5) should not surprise: it's a "double issue" and it has more pages, 210 versus 142. But as a "double issue," it isn't, as you can plainly tell, twice the size of a "normal" issue. It's only 32% larger. So it has 32% more full-page cartoons. But not, alas, 32% more of the smaller cartoons: both issues have only 10.
This is a feckless quibble, of course. The "double issue" has two Playmates, after all—two gatefolds—plus the usual 11-page round-up of the year's Playmates and a stunning 10-page pictorial featuring Lindsay Lohan as Marilyn Monroe, posing naked on that legendary crimson cloth in nearly perfect imitation of Marilyn's appearance in the first issue of Playboy, 59 years ago. And here, at your elbow—as promised—the pertinent visual aid. (Are you glad that you're a $ubscriber?).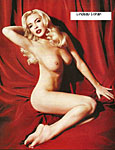 I say "nearly perfect" because Lindsay is somewhat more voluptuous in the upper story than Marilyn was; we forget, as I've pointed out in these precincts before, that Marilyn's reputation as a sex symbol derived more from her flagrant double entendre about sex and her derriere than her bosom. She was no Sophia Loren or Gina Lolobrigida, and she achieved fame by walking away from us, her buttocks in rhythmic undulation, not by bending over in a low-cut gown. Lindsay, however, could easily supplant this historic fact with the fiction of her imitation.
The "double issue" also includes the customary year-end report on "The Year in Sex." Here again, Playboy is playing fast and loose with the language: just as the "double issue" is not twice the size of the usual issue, "The Year in Sex" is less than complete by at least half. Nowhere in the six pages of photos do we find any pictures of naked men. Barenekkidwimmin abound, bosoms flaunting. But no naked men. One male, however, saves the sex: Vladimir Putin appears bare-chested. Judging, as we must, from this plethora of pendulous female pulchritude, we must assume that for Playboy, "sex" has come to mean, simply, "naked women." Perhaps only a linguistic perversion, but a perversion nonetheless.
*****
OUR VOCABULARY is perversely puny on matters of sex. Take the word fuck, for example. Fuck, a perfectly serviceable word for sexual intercourse, has been replaced by right-thinking people who talk about their bed-rattling adventures as "having sex." Having sex? Having a donut? Having a dish of ice cream? Having a night out? Can't we do better than that? We don't "have" sex: we experience it. Sometimes we wallow in it. And in the height of that transcendent experience, we are nearly overwhelmed by it. "Having sex" is much too effete a term for what transpires. "Making love" is better, a teense poetic, but two words, not one and therefore not, strictly speaking, a good passionate alternative to fuck.
We have other words for sexual intercourse: fornicate, copulate, coitus. But these are a little clinical, too Latinate. "Let's copulate." Doesn't work. And coitus is a noun, not a verb. Closer to real life are such slangy terms as screw, hump, bang, rock-'n'-roll, swive, lay, ball. But the first two seem crude—too much in the same vein as fuck; the latter two are better, but they seem somehow passive. Fuck is much more active—an aggressive, fun-loving word. Bang comes close, but it's a little too fun-loving, too noisy—a clang of cymbals instead of the earnest thump of bellies bumping. Rock-'n'-roll, like bang, is close, but it is so closely associated with the music industry that it's too ambiguous for our present purpose. And swive is simply archaic. Fuck is the best word for it. By far.
In the landmark opus The F Word, Roy Blount, Jr. opts for fuck. "Sounds a little like a suction-cup arrow hitting a wall," he muses. "Or someone pulling it off. Or putting a foot down in a quagmire. Or pulling it out. Connection, detachment. The old in-and-out," he finishes, deploying yet another slangy but not quite right term.
"Fuck," saith Charles Panati in his Sexy Origins and Intimate Things, "is lusty, aggressive, and erotic and more truthfully reflects the expression of passion."
If fuck sounds so right, why are we so reluctant to use it as the term for sexual intercourse? Although fuck has suffered as a verbal taboo for centuries, it's now infiltrating ordinary everyday conversation like never before in the history of the English language. "It's our worst word, at least of one syllable," says Blount, "and maybe out strongest. Shakespeare, Dickens, Mark Twain never used it, at least in print." As recently as 1948, the publisher of Norman Mailer's war novel The Naked and the Dead persuaded the author to render the soldier's commonest epithet as fug—"which led Dorothy Parker to tell the young novelist, when she met him at a party, 'So you're the man who can't spell fuck.'"
And yet, by 1995 when The F Word was published, fuck was being heard "in the best-regulated livingrooms." But it wasn't being used as the best word for "sexual intercourse." It was used as a curse word, an adjective—absofuckinglutely. And it still finds employment in these somewhat marginal ways. But not for the old in-and-out. Only the very youthful and hip use it to describe copulation. And the very youthful and hip eventually grow older and become less hip and less fucking glib, too.
Despite its frequent cropping up in ordinary conversation, fuck isn't home free just yet. In the Introduction to The F Word, editor Jesse Sheidlower writes: "The increasing acceptance of fuck in American society is not a sign that its use should be encouraged. ... It would be as misguided to say that fuck should be used everywhere as it would be narrow-minded to insist upon its suppression." He reminds us of George Carlin's classic list of "Seven Dirty Words" that can't be used on radio or tv: fuck, shit, piss, cunt, cocksucker, motherfucker and tits.
Times have changed a little since Carlin conjured up his list. Many mainstream publications—Harper's, Atlantic, Playboy—print fuck without apology. As they should. But newspapers don't use it. While taboos are weaker, they're still healthy enough to inhibit our uttering fuck whenever we think of it—particularly in reference to sexual intercourse. The word is simply a verbal stink bomb.
The word is very very old. At least a thousand years old. Probably more. Maybe as old as oral language itself. And according to researchers, it has always been taboo. Always. (And still.) It's origin is Germanic—foken or ficken, meaning "to beat against" or "to thrust," allusions to the male body bumping the female while fornicating. The taboo about fuck is so strong that it prevented the word from being printed until 1475, its earliest known appearance in print in English. But everyone agrees that fuck was spoken and heard for centuries before finding its way, at last, into print.
Why are words like fuck and cock and cunt so offensive? Freud gives one explanation: "The off-color saying is like undressing the person of the opposite sex to whom it is directed. ... It obliges the attacked person to fancy that part of the body [cock, cunt] or that action [fuck] to which the word corresponds."
Panati offers another: "Dirty words have a great capacity for arousing emotions, for awakening passion. The appeal of erotic literature is based on its use of racy language. ... Dirty talk adds a dimension to passion. Obscene words are an aphrodisiac. Erotic literature is ancient, existing in all cultures. ... Surveys show that three little words—fuck, cock, cunt, the act and the organs engaged in it—are the most taboo and, hence, erotic in the English language. The forbidden word is graphic, a turn-on—the reason it's forbidden."
Now we're getting somewhere. Fuck is forbidden because it alludes to sexual passion and therefore can arouse lust. My guess is that as human sapiens (sic) moved out of caves and began standing upright and, at the same time, started establishing communities and—presto!—civilization, they had to learn to control their lusts. Lust violates decorum and thereby threatens the order essential to civilization. Thus, the thriving of civilization and its very survival required that lust be kept in check. And words that might arouse lust—like fuck—were therefore banned, forbidden. Tabooed.
My theory explains the taboo, and the explication also asserts the power of the word, accounting for its endurance—and its attraction.
Among the other human traits that had to be controlled was individuality. The basic unit of human society after the family is the tribe, and the survival of the tribe (and therefore the species itself) required that individuals sacrifice their private, personal aspirations to those of the tribe. That's how it worked for a long time. But given the egocentricity of each representative of the human (sic) sapiens, over the centuries, the individual gained ground; eventually, the individual acquired a societal value that rivaled that of the tribe. And the more the individual emerged, the more society realized that it would not be destroyed if it permitted individuality, deviance and diversity, in deeds and thought. Hence, democracy with its accompanying individual liberty.
By the same token, if society could survive the emergence of individuality, it could probably survive the loss of a taboo about fuck. And so we find the word bandied about in even polite society these days. For a while.
But societal fear of lust is strong. All religions lobby against the word. Even linguists like Jesse Sheidlower warn against it. We may yet see a return to those dear dead days of yesteryear when fuck was forbidden wholesale, everywhere. After all, as Blount says, "There are limits!"
He foresees a return to euphemism. The F-word will become, simply, eff. "Effing will come back, and other eff-words," he speculates, providing a conversational example:
"You're lookin' mighty effable this evenin,' Miss Effie—pardon my effrontery in bein' so effusive."
"Why thank you, Eph, don't mind ef'n I do. And may I say you're lookin' mighty efficacious, y'self."
But, adds Blount slyly, "there will be no doubt what they're thinking."
STAN LEE REDUX AND REDUX
If you can't get on the cover of Time, the next best place is the last page in the magazine. (Think about what you do when you first pick up a magazine at the newsstand: you thumb it, flipping the pages from the back to the front, and the first interior page you see is the last page.) And that's where Lee is in the March 19 issue, answering in the "10 Questions" feature, which is illustrated with a handsome photograph of the Man Himself.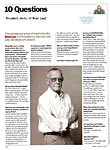 Lee talks about his project with Archie Comics, Stan Lee's Mighty 7, in which he appears as a character ("This is probably the world's first reality comic book," he says), his affection for great villains (without which you can't have superheroes), his bafflement at the popularity of zombies ("It seems to me that somebody who is dead and comes back to life should be so grateful that he's here living again—why would he want to eat up other people?"), his candidate for U.S. President from among those he's created (Reed Richards), and his wife.
Asked if it's true that he's been married for 64 years to the same woman, Joanie, Lee said: "Oh, yea. I wouldn't lie about it." Does a long marriage require a superpower? "You must marry the right girl," said Lee.
Meanwhile, a defunct entity known as Stan Lee Media Inc. is suing Stan Lee over the rights to characters the latter allegedly created. You can find the convoluted details unraveled by Brad Stager at www.movieline.com/2012/03/07/stan-lee-vs-stan-lee-the-epic-legal-follies-of-a-comics-mastermind
In the course of the piece, Slager rehearses the history of post-Marvel Stan Lee; to wit: In the early 1990s,"Lee was still the figurehead at the then-struggling Marvel. Throughout that decade the comic company over-leveraged acquisitions and hemorrhaged enough money to land in bankruptcy. By 1998, the company used that proceeding to end Lee's contract of $1 million annual salary for life. Lee left Marvel and started a new company, Stan Lee Entertainment (soon becoming SLMI) as a way to maintain control over his intellectual property. The company was started by Lee with a close friend [that's what it sez here, "close friend; some friend], Peter F. Paul — a man with a checkered history of federal drug and conspiracy convictions for crimes including, but not limited to, selling $8.7 million worth of 'nonexistent coffee' to Fidel Castro. Paul was to have an equally troubled future that would soon ensnare his new partner Lee.
"Initially the company made an impact with online animated comics, developing new characters on Web sites with the expectation of spinning them off into various media. The company enjoyed initial success. The creation known as The 7th Portal, for starters, had been acquired by Fox television for foreign broadcast, and was featured as a 3-D attraction for Paramount Theme Parks.
"Like so many digitally-based companies of the era, SLMI foundered with the bursting tech bubble. Then, after Peter Paul secured a bridge loan to prop up the struggling enterprise, he and numerous board members dumped large amounts of holdings ahead of the ultimate stock collapse. The Securities and Exchange Commission feared insider trading, and Paul feared the SEC — so he fled for Brazil. The company's stock price plunged to $.13 per share by the end of 2000, and it filed for bankruptcy in February 2001. Sensing both SLMI's downfall and encroaching legal troubles, Lee founded POW! Entertainment — a new company that was strictly his own. He transferred the rights of his properties to POW! during bankruptcy and then departed SLMI. ...
"The latter events coincided with Marvel's incredible comeback. Led by Vice Chairman (and longtime Marvel power broker) Isaac Perlmutter, the company had climbed out of bankruptcy by licensing the film rights for several of its highest-profile characters including Spider-Man (which Sony would soon develop into a box-office behemoth), X-Men and the Fantastic Four (both successfully adapted by Fox). In light of this swift, lucrative reversal of misfortune, Lee brought suit against Marvel for terminating his contract and demanding payment on the promise of 10 percent of profits earned by characters of his creation. Yet even while he pursued this lawsuit, Lee — and his intellectual property — returned to Marvel. ... In 2005, Marvel and Lee settled their case before going to jury; the court records were sealed, although Marvel later reported a $10 million write-down with regard to Lee."
Without doing any more research than quoting Slager, it would seem that Stan Lee is still collecting checks from Marvel, assuring him a comfortable retirement; and he goes on inventing new stuff, too.
Meanwhile, on March 21, the 2nd Circuit Court of Appeals denied SLMI's bid for rights to Spider-Man, delivering a momentary setback to the company. But, says Eriq Gardner at HollywoodReporter.com, "SLMI is not finished in its long-running effort to reclaim property the company argues was stolen out of bankruptcy, hoping that the latest appellate decision opens the door for the company to pursue legal action in California against Lee himself."
DESECRATION AND DISAPPOINTMENT OVER SALT SEA
Corto Maltese, the laconic early 20th century seafarer created by Italian cartoonist Hugo Pratt, is returning to these shores in the first English translation in twenty years, reports John Seven at Publishers Weekly. (The last time Corto reached us in English it was in seven black-and-white volumes translated for and published by NBM in the late 1980s.) Seven rehearses briefly the intellectual origins of the character: "Just before Pratt was devising his character, Malta had become independent of Britain and stood as a Mediterranean symbol of freedom," says Seven. "The character of Corto was born in the capitol of Malta, La Valletta, and functions as a walking extension of that symbolism." The newest book recording his first adventure, The Ballad of Salt Sea (initially published by Casterman in 1975; then NBM in comic book format, seven issues, 1996; translated by Ian Monk), is now on the stands. But it isn't winning kudos from fans, whose hopes were soon blasted.
The ComicsBeat reports that "although the new edition uses the color of the original Casterman edition ... it also uses the redesigned page format of the Casterman editions, and the files are at a very low res, resulting in ugly scratchy-looking art. "When we eagerly flipped open the pages of the edition when it arrived we were ... underwhelmed. Quite frankly, the rugged beauty of Pratt's line has been made ugly, rough and amateurish by this awful low res version."
Designer Chris McDonnell explained that he had asked for the original format pages and better quality line art files, "but the files that we ultimately used were the only option for files provided by the licensor or the estate (I don't know who)."
ComicsBeat continues: "When, over the years, we asked why there was not a good English version of Corto, we were always told that it was because the licensor couldn't come to an agreement with the U.S. That made it sound like quality concerns were the issue. But instead, it seems that somehow Casterman and Rizzoli have produced an awful looking, budget version of the story." ComicsBeat goes on to quote from a letter to the publisher from Big Planet Comics, a retailer with stores in the Washington, D.C. area:
"The art has been scanned at a low resolution, leading to pixelization that obscures or erases the smoothness of the fine and precise art of Hugo Pratt. ... Most offensively, the original panels of Hugo Pratt's art have been resized, cut, and cropped to fit this amateurish new layout scheme, in some cases removing over a third of each panel, or splitting a panel into two new panels. Some panels appear to have been zoomed in, resulting in further loss of quality and removing more of Hugo Pratt's art. These terrible mutilations of Hugo Pratt's art are insulting enough, but there are numerous panels where someone has taken upon themselves the hubris to fill out the gaping holes in the modified panels by adding to the art itself."
Sad. But at least we have the NBM books.
Please Don't Shoot My Dog
While watching Billy Crystal's Big Show last month, I was reading, during commercials, a vast tome entitled The Academy Awards: The Complete History of the Oscar by Gail Kinn and Jim Piazza (2002). In 1931, the Best Director statuette went to Norman Taurog for "Skippy." The title role was played by Taurog's nephew, Jackie Cooper, who was famously able to cry on cue because his uncle told him if he didn't, he'd shoot the kid's dog. The role made Cooper's reputation as a child actor, and he went on to play hundreds of other parts in movies and tv productions. But he never forgot his uncle: when he wrote his autobiography, Cooper entitled it Please Don't Shoot My Dog.
The pages of this history devoted to each Oscar celebration offer numerous other tidbits under such headings as "Firsts" and "Unmentionables." Taurog's threat appears under the latter. Under the former, comes this: "Jackie Cooper's vehicle, 'Skippy,' was unquestionably the first and only time a peanut butter was named after a movie." The two could have handily reversed categories. Nowhere do Kinn and Piazza mention that the movie gave celluloid life to Percy Crosby's hugely popular comic strip, Skippy, from which the peanut butter criminals stole both the name and a familiar graphic (the fence with "Skippy" lettered on it).
And so we have an object lesson in why anyone's "Complete History" of anything ought to be glimpsed askance: too much history gets rolled up, over and over again, until telling pieces of it are ground out of existence. For the complete story of the Great Skippy Robbery, visit Harv's Hindsight for April 2004.
Fascinating Footnit. Much of the news retailed in the foregoing segment and in what follows under the guise of "news" is culled from articles eventually indexed at rpi.edu/~bulloj/comxbib.html, the Comics Research Bibliography, maintained by Michael Rhode and John Bullough, which covers comic books, comic strips, animation, caricature, cartoons, bandes dessinees and related topics. It also provides links to numerous other sites that delve deeply into cartooning topics. Three other sites laden with cartooning news and lore are Mark Evanier's povonline.com, Alan Gardner's DailyCartoonist.com, and Tom Spurgeon's comicsreporter.com. And then there's Mike Rhode's ComicsDC blog, comicsdc.blogspot.com and Michael Cavna at voices.washingtonpost.com./comic-riffs . For delving into the history of our beloved medium, you can't go wrong by visiting Allan Holtz's strippersguide.blogspot.com, where Allan regularly posts rare findings from his forays into the vast reaches of newspaper microfilm files hither and yon.
SHORT ANNOUNCEMENT. Here at the Rancid Raves Intergalactic Wurlitzer, our news department has been systematically supplied with news about all things comics for several years. Our supplier, the dedicated and diligent Mike Rhode, decided recently to gafiate for a while. Said Rhode: "After 11 years and 4 months, and over 102,000 citations, I'm going to step back from doing Comics Bibliography. I've just been spending too much time on this, and not enough time on the comics and books that inspired it, let alone the rest of my life." In exiting, however, he sounded a note of cheer: "The mass growth of stories on comics and cartoons—the 'success' story of the [comics] industries—has meant that the amount of time it takes to do this has grown to hours per day. Backing off will hopefully help me relax and enjoy comic art more again."
We envy Mike the time he thinks he'll now have to peruse the hobby that inspired his daily toil for more than 11 years. We should probably do the same. But we won't. The news coverage we've been lavishing on R&R readers, however, might be a little less lavish—er, loquacious. After you've waded through this posting, you'll probably be thankful.
And so are we—to Mike Rhode.
P.S. Gafiate is the verbal buzz word with roots in the fan expression Getting Away From It All, "all" being, usually, all things fannish.
QUOTES AND MOTS
"Santorum is more worried about how easy it is to get sex than how hard it is to find work."—Ted Rall
"What we're getting this year is not a presidential election: it's an auction."—John Hightower
"I offer my opponents are bargain: if they will stop telling lies about us, I will stop telling the truth about them."—Adlai Stevenson
"Don't vote. It only encourages them."—Anonymous
THE ICONIC NICOLE HOLLANDER
The Demise In Print of Sylvia
ON APPROXIMATELY March 26, Nicole Hollander started off her blog with a ringing phrase of just two words: "I quit!" she wrote. "That phrase has been running through my brain for years now," she continued, explaining that she was finally moved to utter it because the Chicago Tribune had dropped her comic strip, Sylvia, and since she couldn't read her strip in her hometown newspaper, she felt the loss. So she'll give up the print Sylvia but promised to continue to please her fans by creating an online presence for her sardonic cigarette-smoking matronly broad.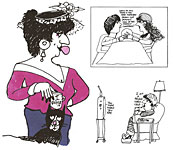 Hollander observed in the same posting that "Dick Cheney received a new heart. Let us hope that it is a generous heart, one that feels remorse and wants to right as many of his wrongs as possible. What do they do with the old hearts? Are they recyclable? Sylvia has retired from her comic strip and Dick Cheney got a new heart! Whew! What a week.
"But do not worry!" she went on: "I have 33 years of Sylvia comic strip archives! I'll be going through them, and every day there will be a strip on the blog which is relevant and probably one you have never seen before."
Sylvia, like most iconic personages in life and literature, began by doing walk-ons in a comic strip that Hollander conducted in the 1970s pages of The Spokeswoman, a monthly feminist magazine that she, as its graphic designer, had transformed from its earlier manifestation as a newsletter. While laying out pages, Hollander sometimes added doodles of a politically incendiary nature, and around 1978, she started a comic strip, The Feminist Funnies. It was in this strip that the character that eventually became Sylvia first appeared. Selections from The Feminist Funnies showed up in Hollander's 1979 book, I'm in Training to Be Tall and Blonde, and the book's success persuaded Field Enterprises in 1981 to syndicate Sylvia nationally as a daily newspaper comic strip.
Since then, as Hollander observed, Sylvia has never been at a loss for words. Or opinions. And neither is Hollander, who confessed to feeling vaguely uneasy if she doesn't manage to insinuate an overtly political comment into the strip at least once a week. The strip must, she once said, contain a kernel of outrage, albeit (I say) often subdued in deadpan delivery. Some years ago—in other words, long before the current excitement about abortion—Hollander's newscaster in the strip, Patty Murphy, reported as follows (the ellipses indicating transition from one panel to another in a sweetly timed sequence): "The state legislature passed a law today ... that would outlaw abortion ... unless the doctor's life is in danger."
In her insight laden history of her comic strip, The Sylvia Chronicles (2010), Hollander muses about the state of feminism: "When did we get to the postfeminist era? Was I asleep, in a coma, or otherwise engaged? Do we have equal rights, equal pay, equal opportunity in education? Equal professional opportunities? When my local dry cleaner charges the same price to launder and press women's blouses as men's shirts, I'll know we have arrived."
In the mid-1980s or thereabouts, Hollander jumped the syndicate ship and started distributing Sylvia herself. I'm not sure of the details, but from what I've gathered, she was reacting to the unfortunate situation in Detroit. The syndicate salesman called on one of the city's two daily newspapers, and the comics editor there bought the strip but never published it; he probably just wanted to keep it out of the rival paper. That sort of thing went on a lot in those days. Hollander, miffed, withdrew from her syndicate contract and started distributing it herself, reasoning that she could probably avoid such dire Detroitish outcomes if she were doing it herself.
Sounds like the sort of thing Sylvia would do.
Hollander enjoys the regard of cartoonists as well as that of passionate readers. Said Jules Feiffer: "When the news is distorted, slated, or misreported, that's what we call it: news. When it is reported truthfully, we label it satire. ... Nicole Hollander has been one of our nation's leading satirists. This means she is in the business of telling the truth and making it funny. She is right about almost everything. And because she is right and she is funny, she has no power whatsoever. ... She is a radical social critic who is certain that nothing works, and so what? —a revolutionary who believes in the hell with it, I'm going shopping."
Barbara Ehrenreich in the Introduction to Tales from the Planet Sylvia wrote: "What working commentator can confront Sylvia's range of subject matter—from macro-economics to stretch marks, from foreign policy to kitty litter—without gnawing anxiously on his or her writing instrument? ... her supernatural insight into matters of public policy, her ability to see, as with x-ray vision, through the stupefying drone of media rhetoric."
And there's more. Herewith—:
Michael Miner at the Chicago Reader: This week Nicole Hollander dropped the second shoe. She announced that she's bringing her comic strip Sylvia to an end in April. The first shoe fell 26 months ago, when her hometown Chicago Tribune canceled the strip, cutting Hollander's income roughly in half. On March 28, I asked Hollander how she's doing.
"I'm fine," she said. "I'm in the stage after you ask for a divorce and you feel really terrific."
What's the next stage? I wondered.
"Sometimes it's a sense of loss," said Hollander, who went through a divorce from Hungarian sociologist Paul Hollander in 1962 after only a few years of marriage. "I remember the stages," she said. "Not quite as many stages as dying, but it's in there." But Hollander doesn't intend to stop drawing Sylvia altogether, nor does languishing fit into her schedule. She tells me she's been confronting certain personal deficiencies.
"I don't know how to embroider or sew," she says. "I worked with a woman from Lill Street. She knows how to embroider and she taught me as much as she could. But I will never learn the womanly arts."
She learned what she needed to know. [For a local exhibit,] she just did a drawing of Marie Antoinette and embroidered a great big pimple on her nose. She wrote on the drawing "Marie Antoinette has a pimple on her nose. HEADS WILL ROLL!"
"I always hope I'll have a show," says Hollander. "Now that I have time to think of these things, I'm thinking of approaching galleries with this work my house is full of."
She recently spent time at Ragsdale working on a graphic memoir, huge sheets of paper she's drawing on in charcoal to remember the life she lived from the age of six to 14 in a yellow-brick six-flat at 3914 W. Congress.
"I started doing it in black and white," she says, "but I took a photo on Google maps and blew it up and there was actually a parking space in front of the apartment so I put my father's Hudson in it in color."
She's assembling the drawings into strips 16 inches deep and seven feet wide. She's finished five strips so far.
The last time I talked with Hollander, in November of 2010, she was bouncing back from the Tribune cancellation and trying to figure out the Internet. The good news was that a young 'net whiz named Alicia Eler had decided to take Hollander in hand. [Her successor], Deanna Trejo, manages the website Eler created for Hollander, BadGirlChats.com, and also Hollander's Facebook page. The other paid member of Team Sylvia is Laura Zinger, a documentary filmmaker whom Hollander calls her financial "strategist," explaining:
"Because the blog is not monetized, I have to think of some way to earn money to keep going. And what she helps me do is contact libraries and universities. I give talks and I get paid. It's a mystery to both of us how you get ads [online]. We'll learn it eventually. Laura felt I should tweet. We did that for a while—I would write it and she'd put it up. But that did nothing.
"I haven't figured out how to put the cat to work," she continued. "It's the way I've lived my whole life. A little bit of money comes in every month, from unexpected sources."
She mentions book illustrations, an assignment from Lilith magazine when it redesigned, a poster for a Nancy Pelosi event. Hollander is 72 years old, and although Sylvia never ran in many papers, Hollander's been drawing her for more than 30 years; and there are ways to monetize icons. ...
"I've been sitting here answering the comments on the blog, which are really touching," Hollander says. "Some people have decided to be in denial, and some are saying they don't see how they can be happy for this. I say I'm retiring and I have the blog and the blog is really satisfying, but I think they're worried they won't have new strips and I won't be commenting on things that are happening right now. My partial answer is that I have 32 years of strips and many of them, unfortunately, are as relevant now as they were then."
[Having looked all the way through Hollander's 1986 collection, The Whole Enchilada, searching for examples to post later, on down the scroll, I agree: 26-year-old Sylvia is astoundingly pertinent.—RCH]
She intends to dust off and post those old strips as appropriate. "And if I don't have to do six strips a week, I think I can manage one that is current. You heard it first."
When we talked in 2010, we discussed her Wikipedia entry, which was four lines long and didn't even say that Hollander was born in Chicago. On this front, the progress has been astonishing. Her current Wikipedia entry is a thing of beauty, rich in biographical detail, references, links, and even "critical commentary." I ask if Eler put it together.
No, she says, it's a guy who lives near Seattle who's a fan. He used to be a senior editor at Encyclopedia Britannica here in Chicago. She's never met him.
*****
Here's Donald Liebenson's earlier report in the Libertyville Review on the famed cartoonist and feminist icon before we knew Sylvia was ending in print: Sylvia is Hollander's signature creation. Running in more than 30 newspapers across the country, the comic strip is a rarity on the comics pages: woman-drawn with a woman at its center. And what a woman: in a youth-obsessed culture, Sylvia remains as ever a 50-something, chain-smoking, cat-loving, liberal feminist who dispenses cynical, satirical and ironic potshots at political and societal absurdities.
As a feminist, Hollander, 72, was born to the breed. When she was about six, her father brought her along when he joined his union, and the women in her family worked when June Cleavers were the norm.
"The minute there was a movement, I got it," she said. "It was seamless. The feeling that certain groups in our society were oppressed or cut out of reaching their full potential; I went right from there to women."
As a cartoonist, she was a late bloomer. She was 40 when she created Sylvia, who made her inauspicious debut in a feminist newsletter, The Spokeswoman. Hollander had originally envisioned herself as a serious painter probing her "tormented soul." [When she said this, Hollander probably smiled, maybe even chuckled a little as she sometimes does when uttering vaguely self-deprecating humorous asides.—RCH] She became a graphic designer and was charged with making The Spokeswoman look more like a magazine.
"I started drawing political illustrations for them," she said. "It was a chance to be sort of a bad girl. I could caricature judges as pigs. I didn't have to be careful."
The earliest incarnation of Sylvia appeared there and in a proposed book of cartoons that became Hollander's first collection, I'm in Training to be Tall and Blonde. [A typical Hollander remark. See what I mean by self-deprecating comedic asides?—RCH] The character introduced each chapter. She was depicted berobed, sitting in a chair, her hair in pin curls, and wearing backless Mules. The editors called her Sylvia the Slattern.
"I went through the roof," Hollander said, "but I thought Sylvia was a great name. It reminded me of my mother and her friends. I got my sense of humor from her and her interaction with these funny, very quick-witted women."
Ironically, Sylvia has always depended on the kindness of enlightened men. When Hollander first pursued syndication, she was told her work was "deep but narrow."
"That has always been a problem," she said. "Unless there were men who got my humor, I never would have gotten my first book or into any newspaper."
But the times they may be a-changin'. "I received a letter from a 10-year-old boy who said he loves Sylvia," she said. "Maybe little boys today see something (in her) that makes them laugh. Maybe it's that edginess."
Sylvia was dealt a setback two years ago when the Chicago Tribune stopped carrying it. Hollander jokes that she is presently doing the same amount of work for about half the income. Expanding her horizons, Hollander started a blog, www.BadGirlChats.com, featuring cartoons, posts, and guest submissions. The blog fosters a sense of community among people for whom Sylvia (and by extension, Hollander) say the things they are thinking but lack the platform to express. Hollander is also working on a memoir, which she developed while in residency at Ragsdale in Lake Forest.
Sylvia was originally going to get older, but a funny thing happened. "She was older than me when I started," Hollander laughed. "But I couldn't bear to make her any older. That's something I have control over (unlike myself)."
So what would Reagan-era Sylvia say to Obama-era Sylvia? "Isn't it amazing how the same awful things happen over and over again?" Hollander supposed.
Take Rush Limbaugh and the recent imbroglio over his intemperate slurs against Georgetown law student Sandra Fluke. The immediacy of the blog allows Hollander to comment on breaking news. In this case, she posted a link to a website mounting a drive to urge sponsors not to advertise on Limbaugh's radio show.
When the news serves up the comic equivalent of a 16-inch softball begging to be hit out of the park, does Hollander hear Sylvia's voice in her head demanding to let her comment?
"I hear my own voice," she laughed.
Now, here is an assortment of Sylvias—after which, we'll return for an insightful footnit.
ALTHOUGH PRODUCED BY A THOROUGHLY ACCOMPLISHED cartoonist, Hollander's comic strip betrays a secret shortcoming. You'll notice in the foregoing culling a preference for rendering her heroine in profile. In the latter years of the strip's run, Hollander reported that she had, very early on, produced the perfect Sylvia profile. Try as she might, she could not reproduce the perfection perfectly in subsequent renderings. So she stopped trying. Instead, she photocopied the perfectly profiled Sylvia and pasted it onto strips whenever possible. After sticking the photocopy down, Hollander took an exacto knife and performed careful surgery, cutting out a hank of hair in order to put a decorative kerchief on Sylvia's head or slicing off an earring in order to draw in a newer, more outlandish piece of ear wear. Hollander sometimes committed this "self mutilation" on so many aspects of the original profile that only Sylvia's nose, eye, and chin remained of the initial perfection. No matter. It was the perfection of nose, eye and chin and Hollander wanted to preserve. And so she did, as we can plainly see among the evidence above.
BADINAGE AND BAGATELLES
"Sex after marriage, the old saying goes, has three phases: kitchen, bedroom and hallway. Kitchen sex is the spontaneous type spouses have when they first get together. Bedroom sex is the more routine lovemaking that sets in after a few years. And hallway sex is when husband and wife pass each other in the hallway and say, 'Screw you.'"—Belinda Luscombe, in Newsweek
"I am a hospice chaplain. I visit people who are dying—in their homes, in hospitals, and in nursing homes. What do people who are sick and dying talk about? Mostly, about their families, their mothers and fathers, their sons and daughters. They talk about how they learned what love is, and what it is not. That is how we talk about the meaning of our lives. That is how we talk about the big spiritual questions of human existence. We don't live our lives in theology and theories. We live our lives in our families. This is where we find meaning; this is where our purpose becomes clear."—Kerry Egan at CNN.com
EDITOONERY
Afflicting the Comfortable and Comforting the Afflicted
THE RANKS OF FULL-TIME STAFF EDITORIAL CARTOONISTS have diminished by two with the death of Rex Babin (see Passin' Through for an Appreciation) and the departure of Tony Auth, the 69-year-old Pulitzer-winning editoonist at the Philadelphia Inquirer, who left at the end of March the paper where he's been for just weeks shy of 41 years. Auth wasn't forced out: he took a buy-out. But the buy-out was part of the owner's effort to trim 37 jobs from the payroll of the Inquirer and its sister paper, the Philadelphia Daily News.
Auth told Michael Cavna at ComicRiffs that he'd started feeling burned out, doing one cartoon a day, five days a week, for four decades. And a recent illustration job convinced him that he wanted to make room in his life to do more of that sort of work. So when the buy-out offer came, Auth was ready:
"It was pretty clear," he said to Cavna: "I had come to the conclusion that I wanted to move on and, hopefully, grow as an artist. I saw a path I wanted to follow, this buyout came and it seemed like the right time. This has more to do with what I want to do than [the Inquirer's financial dilemma]."
At the DailyCartoonist, Alan Gardner discussed the "uncertain future" of the two Philadelphia dailies: "Currently the two papers and their joint web property, Philly.com, are up for sale and the papers are being combined with editorial separation. Buyouts are being offered to employees with the hopes of trimming the employee count."
The Inquirer's executive editor Stan Wischnowski put a spin on what was doubtless a purely financial consideration about another staff editoonist: "Tony Auth's name might be more synonymous with the Inquirer than perhaps any journalist we've had. You don't replace somebody like that. You don't replace a legend."
After Auth's departure, Daily News editorial cartoonist Signe Wilkinson is the last staff editoonist in the city. After a couple of suspenseful weeks during which the paper's management dawdled and pondered while she wondered if she'd still have a job at all, she finally learned that her job was, for the nonce, safe: she was told she'd be appearing in the Inquirer thrice a week in addition to continuing her regular daily gig at the Daily News, five times a week.
"It was a huge relief," said Wilkinson, the first woman to win a Pulitzer for cartooning (in 1992). "It was a terrible, terrible, terrible couple of weeks. So many people's jobs have been up in the air."
Other staff members "look at you like you've got terminal cancer," she joked. "They touch you on the shoulder. I kept saying, 'No, no—I'm going to live. I'm alive.' The only good thing about these past weeks was the amount of support I got from all quarters"—newsroom colleagues, executives and letter-writers who rallied around her.
Auth will continue doing editorial cartoons, 2-3 a week for syndication, but he'll devote more effort to doing animated editoons for the local PBS radio station's website, NewsWorks.org, where his work will accompany news reports and features about some of the region's significant stories. He'll develop depictions of complicated city governance issues and create behind-the-scenes pieces that show slices of life at venerable city institutions, creating "video cartoons" drawn and recorded with an iPad app called Brushes.
"He then overlays the video with audio commentary," Gardner explained. Said Auth: "I've been fooling around with Brushes for several months. That's been a joy! Just using the medium, I'm trying to build time and motion into it. Watching people draw is magic. These videos invite people into the process."
Auth remembered that his job at the Inquirer began with a "weeklong job interview" in 1971: "My task was to attend editorial board meetings, take positions, argue my point of view, win some arguments, and lose others. In short, for a week I did everything a political cartoonist does at a newspaper—except draw cartoons. I lost most of those arguments, but won the job. ... The Inquirer was taking a chance on me. I was working as a medical illustrator in Los Angeles, and I also supplied three cartoons a week to the UCLA Daily Bruin. So the rules at the time reflected that lack of experience."
Writing a farewell to Inquirer readers on April 1, Auth remembered his first editor: "Creed Black was a moderate Republican. He'd not be welcome in today's Republican Party, but that was a long time ago, in what seems like a far away galaxy. Creed would never tell me what to draw, he said, but wanted a choice of drawings to pick from. That led to some game playing by the two of us. If I had what I thought was a really good drawing, and he picked one of the other two sketches I submitted that day, I would show up the next day with the remaining two. If he picked the 'wrong' one again, I would only submit the one he'd turned down twice on the third day, and we'd fight about it. I lost a fair number of those fights, but also won my share. We came to an understanding, and by the time I won the paper's second Pulitzer in 1976, I was submitting one cartoon a day just like any regular contributor."
About his stint at the Inquirer, Auth said: "For the vast span of 40 years, I've been in-cred-ibly appreciated. It's been a great ride. With the possible exception of Herblock's [situation at the Washington Post], there cannot have been a better environment for me to function in," nodding in appreciation to such editors as Creed Black, Ed Guthman, Gene Roberts and Chris Satullo (who is now at the PBS radio's NewsWorks). "Other cartoonists complain about their editors, for me it was a fabulous environment with lots of freedom. I was never hassled by editors.
"Over the years," he continued, "people have often said to me, 'You're so lucky, you can work from home.' Why in the world would I want to work from home, and deny myself the pleasure of working in a building filled with smart, insightful, irreverent, funny, energetic, and engaged people? Colleagues at the Inquirer created an atmosphere of give and take, one where I could show my sketches to the reporters who wrote the stories I was commenting on to get their feedback; an environment that was stimulating and nurturing, and that still exists at the paper."
Looking around, Auth is saddened to see the gradual disappearance of the artform he spent his life practicing: "It's just sad to see such a historically wonderful genre kind of disappear," Auth told Cavna. "I think newspapers are to some extent responsible because they've always [divided] our profession over seriousness versus laughs. ... For as long as I've been doing this, there've been two divided camps."
He criticized such editorial packaging as the New York Times' old "Laugh Lines," which he says never picked the best editorial cartoons. "They printed me once in a while, but never the good ones," he says. "They'd run four cartoons with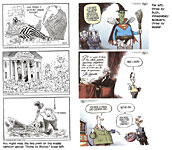 Leno quips and call it 'Laugh Lines.' ... It was denigrating. There's nothing wrong with humor for humor's sake," he continued, "but editorial cartooning is capable of so many reactions from people—tears, laughter, sadness—it's just so rich. But then [only 'funny' ones run] and readers say: These cartoons aren't good — who's responsible for this."
COLUMBUS DISPATCH REPLACES STAHLER
Nate Beeler, erstwhile editoonist at the Washington Examiner, is leaving to take the same job at the Columbus Dispatch, where Jeff Stahler worked until forced to resign last fall over a plagiarism allegation (see our story at Opus 291). Beeler has been at the Examiner since it started in 2005, working first as a page designer.
"I cut my teeth as a cartoonist here when it was still fighting for a foothold in D.C.," he told Michael Cavna at ComicRiffs. "I've seen other employees come and go in the newsroom, and I kept plugging away at my drawing table. However small it was, it feels like I had a hand in building the Examiner into the Washington fixture it is today, which makes my departure a bit bittersweet. I've always felt incredibly privileged to draw editorial cartoons in the nation's capital, and I will miss the energy of its politics — no matter how ridiculous it is at times."
But when the Columbus Dispatch beckoned, Beeler didn't hesitate. "I couldn't say No," he said. "It's the number one newspaper in Ohio, and Columbus is both the state capital and my hometown. My parents live there, and this was an opportunity for my son to grow up with his grandparents being a big part of his life."
"We were fortunate to have a strong pool of applicants for this position," said Dispatch editor Ben Marrison. "Nate's artistic and journalistic talents made him our top choice."
Beeler begins his work at the Dispatch within the month.
His editors at the Examiner bade him adieu with a notably gracious memo: "Nate joined the Journal Newspapers in 2003, a year after his graduation from American University, and stayed with the paper when it became the Washington Examiner in 2005. He has been turning out five cartoons a week, and we gave him prime real estate – half of page 2 – so readers would be sure to enjoy his work as much as we did. We've also featured his cartoons on our website and mobile app, and sent them to thousands of email subscribers. Only 31, Nate is a fine draftsman, a natural wit, and a first-rate journalist. And while each of his cartoons has a distinct point of view, he is no ideologue. We may have endorsed Romney for the Republican nomination, but Nate subsequently drew him as Frankenstein, proving emphatically that he is no slave to editorial policy."
Among other awards, Beeler won the 2009 Thomas Nast Award from the Overseas Press Club and the 2008 Berryman Award from the National Press Foundation. The judges for the 2009 Nast award said: "Nate Beeler's entries stood out for their powerful and vivid composition that brings the message home regardless of whether the cartoon centers on a conversation or a visual punch line. Notable for his use of color and for meticulous art work that, in the words of one of his editors, 'treats each cartoon like a painting.'"
Crystal-balling the Future for Editorial Cartoonists
WITH THE DEPARTURE of Tony Auth from the ranks of full-time staff editoonists and the death of Rex Babin, the tally of those remaining now stands at 60 (or 65, if all 5 of the "questionable" 'tooners on my list are actually at work at newspapers and not in some semi-retired limbo; I'm investigating). For many of the 41 whose names have dropped off the list since May 2008, syndication is the only way they survive as editorial cartoonists. But syndication with any of the big syndicates is no way to make a living.
Typically, syndicates send out packages of editorial cartoons, and the cartoonists in the packages make a pittance. (Unless you're Pat Oliphant, who is a one-man band, being distributed singly by his syndicate, which charges a somewhat higher fee for the nation's legendary political cartooner.) Probably the only way to make a living wage (unless you're Pat Oliphant) through syndication—which is, as I say, the only alternative to raw unemployment if you're an editorial cartoonist—is to be your own syndicate, an option lately touted in Editor & Publisher by freelance cartoonist/columnist Rob Tornoe.
Tornoe, whose cartoons have been published in the Philadelphia Inquirer, Press of Atlantic City and the website WHYY (where Auth is now the principal cartoonist), is the owner/editor of Punchline Magazine, an online endeavor. And he writes about the media and the cartoon industry for Editor & Publisher. Tornoe is probably the only active cheerleader for editorial cartooning still vociferating in the country. And sometimes, I suspect his enthusiasm runs away from facts.
Last fall, for instance, he interviewed Jack Newcombe, who, last summer, took over as president of Creators Syndicate, which his father had founded in 1987. Jack reported, surprisingly, that Creators had recently experienced an increase in feature revenue. He attributed this unlikely phenomenon to the dedication of his sales staff—nice tribute but more an inherent sales pitch ("Use our syndicate because we get results") than you'd expect in a straight news report (which this piece wasn't: it was a Q&A interview).
Newcombe expects continued growth through something called "ancillary revenue," resulting from marketing products associated with comic strips and columnists and other media entities. He sees the market for growth in syndication in "middle-American papers [those in relatively smaller towns and cities] without a lot of debt" who "are doing better than their counterparts" in big cities. Reasonable: that's where I'd be looking, too, but Cagle Cartoons' Daryl Cagle, who's been trying to sell this market for years, told me once that it isn't as fruitful as reasonable analyses would suggest. Some activity, yes; but no bonanza.
Despite the terrible market for selling syndicated material, Newcombe reported great success in selling Brett Koth's Diamond Lil (about a cantankerous old lady with a tart tongue) and Dogs of C-Kennel (about dogs) by Mick and Mason Mastrolianni. Newcombe attributes the success to the experience of the cartoonists: Koth, originally an animator, has been working with Jim Davis on Garfield for 25 years, and the Mastrollianni brothers are the grandsons of Johnny Hart (and Mason is presently drawing Hart's B.C.). Said Newcombe: "So the fact that they weren't amateurs allowed us to develop and create great products prior to their launch."
Asked about the future of syndicated content, Newcombe beat the Creators drum. Acknowledging the tough economic times newspapers are struggling through and the resulting consolidation, he nonetheless sees "a tremendous opportunity for Creators" because "it is an independent media company, not owned by a major conglomerate." Creators has "an entrepreneurial history. We have the industry juice to distribute and sell to anyone in the world who will buy content and relationships with all the big decision-makers in media. At the same time, we can still provide premium customer service to all of our clients and talent. Most importantly, we are nimble enough to adapt and embrace the media revolution that is currently taking place."
Sounds to me like a salesman hard at work.
But Tornoe persists. In the most recent issue of E&P, he writes about some remarkable success stories among the self-syndicated.
Editoonist Joe Heller, for example, started self-syndicating 30 years ago to other newspapers in Wisconsin, the home of his newspaper, the Green Bay Press-Gazette. He slowly branched out to other newspapers. Digital imaging and the Web made his expansion easier, and he also maintains contact with editors.
"What I do is I find a newspaper that runs me," he told Tornoe, "—and then I go out to the papers nearby and carpet bomb around. Editors love being in contact with the cartoonist, and the connection to the editor is key."
BUT THE BIGGEST SUCCESS STORY in self-syndication owes some of its success to the wildlife in Alaska. Chad Carpenter is perhaps not as well-known as another resident of Wasilla, Alaska, but his Tundra panel cartoon, which he produces in strip format, is widely read in 500 newspapers, an astonishing achievement. Carpenter grew up in Alaska but in 1988 went to Sarasota, Florida, where he says he learned some of the tricks of the trade from Hagar the Horrible's Dik Browne. But it was Mike Peters, an editorial cartoonist with a successful sideline in Mother Goose and Grimm, who provided the impetus to Carpenter's new career when he advised the younger cartoonist to "draw what you know."
So Carpenter went back to Alaska where the things he knew were and started drawing a comic strip about anthropomorphic Alaskan wildlife: Tundra started in December 1991 in the Anchorage Daily News and eventually picked up another six papers in the state. But it wasn't until 2003 when he partnered with a longtime friend, Bill Kellogg, who worked for a computer company that wanted to make Tundra mousepads, that Tundra took off.
"A $10,000 investment later," writes Tornoe, "and Kellogg was traveling around the continental U.S., pitching the strip to newspapers and finding a good amount of success. By 2006, Tundra was in more than 75 newspapers, well on its way to becoming one of self-syndication's greatest success stories."
Face-to-face salesmanship doubtless had much to do with the success, but Kellogg sees another dimension: "As a sales guy, you always use what you can to make the sale. But when comic polls come up, and Tundra rises to the top of nearly every one, it means a whole lot more to editors than anything I can sell."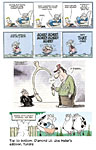 In any event, self-syndication, for the first time in modern times, seems a promising venue for otherwise underemployed editoonists to explore. There is, however, a lurking problem: saturation of the potential market with too many salesmen and too many products, some of which will probably be inferior. Traditionally, syndication has worked for a couple of reasons: first, because it provides content at low cost (it makes its profit through volume); second, because the syndicate selects its products, thereby imposing quality control on its content.
Self-syndication includes the first of these criterion, but probably not the second. We have only to wander through comics websites to see how inferior some material is despite being deemed worthy by its creators.
Meanwhile, Tornoe goes on cheering, pointing to whatever shred of information nurtures optimism. Under the headline "Staff Cartoonists Make a Comeback" in last August's E&P, Tornoe singled out several newspapers where staff editoonists have enhanced the reach of their papers with special cartoon displays, animation, and blogging interaction with readers.
At Newsday, Walt Handelsman occasionally gets a full-page front cover cartoon, and at the Oregonian, Jack Ohman produces a long-form sequential cartoon for the Sunday edition. Tom Toles at the Washington Post operates a blog and often posts and discusses roughs of his cartoons. Fellow Post-staffer (and another Pulitzer-winning editoonist) Ann Telnaes does three animated editoons a week.
Scott Stantis at the Chicago Tribune has turned into a "multi-media star," his editor says. He operates caption-writing contests, a blog, and has a recurring segment on WGN-tv (the Trib-owned channel) called "Stantis Rant."
Bruce Dodd, the Trib's editorial page editor, has apparently re-learned what canny newspaper editors have always supposedly known: "Lots of cartoonists do great work, but none are doing Rahm Emanuel cartoons day after day [i.e., cartoons about local issues]. That's where we find our readers connect. Newspapers need to build that great sense of commitment from readers to keep them. A good local cartoonist like Scott does that."
All very encouraging, but that's less than half-a-dozen newspapers who've seen the light all editoonists knew all along was burning brightly: cartoons foster readership and reader engagement with the newspaper.
MORE LESSENING
Editoonist Dennis Draughon lost his freelance gig at the Durham News after six and a half years of regular contribution. "I knew this day was coming," he wrote in an e-mail to friends. "It was no surprise, as this same time last year saw a reduction in my output from once a week to twice a month." It was a cost-cutting move. Ironically, the paper had just renewed his contract for two more years. Contracts, it seems, aren't what they used to be. Draughon has two other regular weekly clients, the Fayetteville Observer and the Insider. Otherwise, he earns his keep as a teacher.
"I'm not quite ready to give up my old profession entirely though. As much as I will relish getting an extra hour of sleep on those mornings when I would normally have to get up to draw for a deadline before heading off to teach, I'm still proud of the appellation of editorial cartoonist and I would dearly miss not having any creative outlet other than lesson planning. What a queer business we all found ourselves in, eh? As Lloyd Bridges would say, 'Looks like I picked the wrong week to quit drinking.'"
Since Draughon is not a full-time staff cartoonist, our running tally is not affected. But his loss is a blow to our spirits.
T-Shirt Slogans and Button Mottos
(Another Well-deserved Break from Seriousness)
I came, I mowed, I kicked grass.
You Can't Spell Awesome Without "Me"
Sorry if I looked interested. I'm not.
I am lost. I've gone to look for myself. If I should return before I get back, please ask me to wait.
No Trespassing. Violators will be shot. Survivors will be shot again.
Guns carry Chuck Norris for protection.
A penny for your thoughts. Five bucks if they're dirty.
Computers do not damage your thinker thingy.
What I really need are minions.
The last thing I want to do is disappoint you. But it's still on the list.
All the happiness in the world can't buy you money.
Are you talking to yourself or just pretending I'm listening?
If winning isn't everything, why do we keep score?
Stop reading my shirt.
This Month's Round-up of Killer Kartoons
MARCH WAS DISRUPTED by the ever-pandering press's so-called investigation of the killing of Trayvon Martin, a 17-year-old African American in Florida, who was shot to death by a supposed "neighborhood watch" vigilante named George Zimmerman, who, although known to be the shooter, was not arrested until nearly two months after the killing. To hype the supposed injustice of the situation, the press used a 7-year-old photo of a somewhat beefy-looking Zimmerman, glowering malevolently at the camera, contrasted to a photo of Martin taken several years ago when the 6-foot 140-pound youth of today was more baby-faced and innocent-looking. Nice work from the fact-founded Froth Estate. Day-by-day, the soap-operatic reportage continued, each day bringing forth a new hitherto undisclosed "fact" about the incident. Some supported Zimmerman's contention that he'd shot in self-defense; some supported the Martins' belief that their son had by stalked and killed because he was black. Both suppositions are plausible, which underscores the dilapidated condition of race relations in this country.
Despite the dubious evidence supplied by supposed witnesses, we will probably never know the truth of the matter; only Zimmerman knows for sure, and he has reasons to stick to the story he's telling, accurate or not. Probably Zimmerman, known as a wanna-be cop, stalked Martin, which provoked the youth's confronting (perhaps actually physically assaulting) his stalker, resulting in the gun being fired and Martin being killed. But that's mere speculation, a lame attempt to knit together the conflicting accounts of what happened that day.
What is true, however, is that African Americans and other racial minorities in this country are often picked on and otherwise abused because of their race, and only their race. In white neighborhoods, African Americans motoring through are often stopped because they are, in their expression, "guilty of driving while black." We all know that, and we've known it for a long time. And it isn't getting markedly better. The Martin case is merely emblematic of a long-festering scar across our society. The fact that Martin was killed on February 26 but his death and its questionable circumstances were not known nationally for two weeks is another puzzle but likely immaterial to the facts about being a racial minority in America.
And editoonists were similarly laggard in taking up the issue. I didn't find the first cartoons on the subject until a few days after the story broke nationally. But many made up for the tardiness with cartoons that were heavily ironic.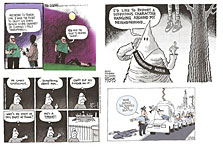 Many, like Mike Luckovich's cartoon at the upper left of our inaugural exhibit, referenced Florida's "Stand Your Ground" law that legalizes the use of deadly force in self-defense; Luckovich evokes the language of that law. The power of Luckovich's cartoon, however, derives from the second panel, which makes a bitter mockery of the legal advice a law-enforcement officer is supposed to quote to anyone he/she's arresting. Next in clockwise order is Rob Rogers' incriminating image accompanying what Zimmerman is supposed to have said when phoning the police about "a suspicious character" he saw lingering in the neighborhood.
Signe Wilkinson comes up next with a comment on the general state of gunplay in America. The Wall Street Journal supposedly reported recently that some 40 killings occurred in Chicago on the same day as Martin was killed—all black-on-black killings. No outrage ensued. But it should have prompted ire at least 40 times as great as Martin's death. Note the third vehicle in line labeled "Official Outrage." Just in line, awaiting its turn. Nice touch. Al Sharpton has to be one of the people in that car. Finally at the lower left, we come to Joel Pett's masterful editoon strip that dramatizes and thereby refutes the so-called "logic" that governs "suspicion" of racial minorities in the wrong neighborhoods.
Much of the furor surrounding the case arose because Zimmerman wasn't jailed. (He was, strictly speaking, "arrested"—he was detained on the day of the shooting and taken into custody—i.e., arrested—but he was soon released.) Under the terms of the "Stand Your Ground" law, it seemed initially that he hadn't done anything to justify being put in jail. Subsequently, closer examination of the evidence surrounding the incident persuaded Florida authorities otherwise. But the "Stand Your Ground" law is not all that's strange about Florida law. Time describes it:
"One of the stranger elements in the legal landscape of such cases is that Florida law offers a strong incentive to shoot your gun once it's drawn. Even though the 'Stand Your Ground' law excuses shootings with the barest of evidence, Florida punishes the crime of simply pointing gun at someone with a mandatory minimum sentence of three years in prison. In other words, you can point a gun and go to prison—or you can fire the gun and go free."
The cartoons about the Martin incident are as revealing an array of acrid irony as we're likely to see on the nation's editorial pages. Elsewhere (so's not to depress you with too many cartoons that aren't funny), we have the ongoing comedy of the Election Year, rich in hilarities for edtioonists everywhere.
AS THE SEEMINGLY ENDLESS Republicon primary season wends on, editoonists are having a gleeful good time: most of them are liberal by political persuasion, and lambasting the Grandstanding Obstructionist Pachyderm is the sport of the season.
Even Bruce Tinsley's ultra-right comic strip, Mallard Fillmore (more of a lockstep Rightwing bulletinboard than an actual comic strip—all the more surprising these examples), has grown weary of the squabbling, as we see at the upper left in two of a min-series Tinsley did in January. Next on the clock, Tom Toles' metaphor for the current state of the GOP campaign supplies a vivid assessment of the future fortunes of the GOP: even if his Newtness, Sanctorum and the gab-flapping Ron Paul were to "lighten the load," Mitt's automotive future is not bright. The in-fighting has so damaged the reputation of the alleged front-runner that he's sure to go down with the vehicle. David Fitzsimmons gives us a demonstration of just how the front-runner has contributed to the destruction of his party's reputation. And at the lower left, I've included Pat Bagley's joke about Sanctorum chiefly for the picturesque description of his wardrobe—"sweater vest of righteousness" indeed.
Sanctorum is no longer much of a factor in the GOP race, but he loomed large for most of the last month or so as revealed in the editoon assault on him that continues in our next exhibit.
Starting at the upper left as usual, Brian Fairrington's St. Patrick's Day celebration is here mostly because I love his drawing style; but his message, coming from a conservative-leaning cartooner, is on target, deploying one imaginary proposition to expose another. Going clockwise, Nick Anderson provides an image that dramatically reveals the danger inherent in Sanctorum's hope for a "faith-bound" America. Sanctorum's rituals and righteousness lead us, inexorably, to the light-hearted intermission at the lower right, where we can pause amid all the high- fallutin' seriousness to chuckle at the punning of a purely harmless cartoon that wandered in over the Internet portcullis while I was thinking unsanctified thoughts. Cheeses of Nazareth indeed. And next, we come to a rarity—an editoon by Yr Faithful Rancid Raves Reporter.
This idea has its origins in the heavy-handed imagery in a cartoon by Cullum Rogers at North Carolina's Independent Weekly (indyweek.com) amplified by an article I happened to be reading at the time about Paul Krassner, a child violin prodigy (he performed at Carnegie Hall at the age of six) gone woefully wrong. Krassner was a member of Ken Kesey's Merry Pranksters (notorious for merry prankster activism), protégée of Lenny Bruce, and, most infamously, founding editor of what might charitably be termed a "freethought" magazine, The Realist.
****
KRASSNER HAD DONE A LITTLE FREELANCING with Mad but realized that Mad was for teenagers: "There was no satirical magazine for adults," he said and set out to invent one, "a combination of satire and alternative journalism."
The first issue appeared in the summer of 1958, with a sad-looking shmoo-like character in an upper corner of its cover—a mascot, like Alfred E. Neuman at Mad. Krassner called it Sir Realist. (If you say it fast, you get another idea about what sort of magazine it was.) He labeled The Realist "the magazine of the lunatic fringe" and "the fire hydrant of the underdog" (a particularly alluring description).
The magazine was famous for starting "bullshit rumors," the most celebrated of which was an article entitled "The Parts That Were Left Out of the Kennedy Book"; it appeared shortly after Jacqueline Kennedy censored parts of the book about the Kennedy assassination that she'd commissioned from William Manchester.
Following the assassination in 1963, newspapers all over the world published photos of Vice President Lyndon B. Johnson looking sad as he was sworn to become JFK's successor while on the airplane taking Kennedy's body back to Washington.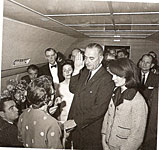 But, wrote Burton Wolfe in the magazine article I was reading, "everybody knew LBJ was delighted to get the job, not sad at all, but the mass circulation press bosses refused to let their writers say such things." So Krassner invented and published in 1967 a story about what happened that on the airplane:
"During that tense journey from Dallas to Washington after the assassination, Jacqueline Kennedy inadvertently walked in on Johnson" in the compartment where JFK's body lay, and she heard him chuckling as he stood over the casket of his predecessor. After which preamble, Krassner quotes Mrs. Kennedy:
"That man was crouching over the corpse, no longer chuckling but breathing hard and moving his body rhythmically. At first I thought he must be performing some mysterious symbolic rite he'd learned from Mexicans or Indians as a boy. And then I realized—there is only one way to say this—he was literally fucking my husband in the throat. In the bullet wound in front of his throat. He reached a climax and dismounted. I froze. The last thing I remember, he was being sworn in as the new President."
Krassner then quotes "handwritten marginal notations" that he alleges existed on the excised pages of the Manchester manuscript: "1. Check with Rankin—did secret autopsy show semen in the throat wound? 2. Is this simply necrophilia or was LBJ trying to change entry wound into exit wound by enlarging?"
Reputedly, some of the mainstream press actually believed Krassner's report to be true. "It worked," Krassner said, "because Jackie Kennedy had created so much curiosity by censoring the book she authorized. What I wrote was a metaphorical truth about LBJ's personality presented in a literary context, and because the imagery was so shocking, it broke through the notion that the war in Vietnam was being conducted by sane men."
Appearing in 1967, the fucking LBJ story was coincident with the increasing military action in Vietnam and, hence, an indictment of Johnson's insane war policies. Krassner's opposition to the Vietnam War was probably epitomized in a poster he created that Kurt Vonnegut called "a miracle of compressed intelligence nearly as admirable for potent simplicity, in my opinion, as Einstein's e=mc2." Vonnegut explained (at Wikipedia): "With the Vietnam War going on and with its critics discounted and scorned by the government and the mass media, Krassner put on sale a red, white and blue poster that said FUCK COMMUNISM. At the beginning of the 1960s, fuck was believed to be so full of bad magic as to be unprintable. By having fuck and communism fight it out in a single sentence, Krassner wasn't merely being funny as heck. He was demonstrating how preposterous it was for so many people to be responding to both words with such cockamamie Pavlovian fear and alarm."
Fear and alarm still ring out whenever fuck wanders into the conversational neighborhood. As we've seen, despite the word's more frequent appearance in everyday life, it is still a powerfully bad word. One that clearly inspired Krassner.
As a result of his dubious success bandying the word about, Krassner became enamored of the satirical efficacy of the word fuck—and the act it described. In 1967, he published a controversial poster as the centerspread in The Realist: entitled "Disneyland Memorial Orgy" and drawn by Wally Wood, it depicts the perpetually decent and Puritanical Disney menagerie (including Snow White, the dwarfs, and Cinderella) gleefully performing a variety of carnal acts—presumably revealing thereby the essential phoniness of the Disney world view in which neither sexual relations nor many other aspects of everyday existence had a place. The Disney universe therefore was not depicting anything approaching real life. The cartoon held this posture up to ridicule. The cartoon was, perforce, satire.
But then in 2000, soon after Charles Schulz died, Krassner published a similar cartoon about the Peanuts characters (cartoonist unknown).
Alas, in my view, the depiction of Schulz's characters is not satirical at all. What is the object of the satire? To suggest that the Peanuts gang was as a-sexual as the Disney characters? So what? Polymorphous perversity aside, they're prepubescent children, nearly the very definition of a-sexuality.
In the case of Wood's Disney lampoon, the objective was not to ridicule a-sexuality but to use that peculiarity of the Disney universe as a way of pointing out how absolutely untrue the "Disney vision" could be. In denying such aspects of ordinary life as odor and ugliness (not to mention acts that assure survival of the species), the Disney organization purified "life" to such a degree that the resultant vision of life was wholly fraudulent. It was a lie.
Telling such lies to the young is wrong. And Disney's target audience is mostly youngsters. If we believe such lies when we are young, we are liable to be made very unhappy indeed as we encounter real life and find that it is nothing like the Disney version. The purpose of Wood's satirical cartoon, then, was corrective. It was to ridicule a vision of life that was fraudulent and therefore somewhat dangerous.
Since the Peanuts cartoon is essentially the same statement as the Wood cartoon, we are entitled to ask similar questions of it: What is the satirical objective in portraying the Peanuts gang as rutting mammals? Does this expose the a-sexuality of the Peanuts gang? Why should prepubescent a-sexuality be exposed? Isn't a-sexuality normal among the very young? Does exposing a normality accomplish the same thing that Wood's cartoon accomplishes?
In his comic strip, did Schulz maintain that life was rosy—or that it should be? Did he sweep all of the normal human preoccupations under the rug and ignore them? (Hardly.) Do we now, thanks to this cartoon, know something about Schulz and his philosophy of life that is corrective? Do we now see that his Peanuts gang is corrupt because it counterfeits and thereby denies the human condition (as was the case with the Disney version of life)?
Schulz's vision of life was scarcely fraudulent. He saw and depicted the essential loneliness and failure and insecurity and heartbreak. That's fairly real. Fairly accurate. Scarcely fraudulent. So a false vision of life is not being ridiculed by this terrible carton. It therefore does not qualify as satire.
What, then, was Krassner's objective in commissioning the cartoon and in publishing it? Probably he had nothing more in mind than to ridicule what he regarded as the excessive display of grief on the front pages of the nation's media when Schulz died.
Okay. Sorry. I've wandered a bit afield, ranting into the wilderness. Let's get back to my Sanctorum cartoon.
With Rogers and Krassner floating at loose ends through my banal brain pan, I suddenly had a vision of Rick Sanctorum and his attempt to suppress contraception. I'm tempted to apologize for the language in this cartoon, but I won't: without the infamous four-letter word, the cartoon loses its meaning. I realize, however, that the hour is passed for this editoon to have any effectiveness, but, then, I'm not in the game to change minds and hearts; just to have some fun, in this case, at the expense of sanctimonious politicians.
When I sent the cartoon to Cullum Rogers, with my thanks for the inspiration, he said the cartoon reminded him of a nefarious slogan from the sixties: "Fighting for peace is like fucking for chastity." Seems to fit. Even if the language still beckons for apology.
Krassner is still among us, by the way, crusading as energetically as an 80-year-old man can. He does standup comedy and lectures. The Realist expired with No. 146 in the spring of 2001. In the 1970s, Krassner worked as a weekend radio personality. Under the pseudonym "Rumpelforeskin," he satirized culture and politics and espoused atheism. In 2005, he received a Grammy nomination for Best Album Notes for his essay on the 6-CD package Lenny Bruce: Let the Buyer Beware. And his irreverent scatological gadfly enterprise is always appreciated (even when, as with the Peanuts cartoon above), he's wrong. George Carlin put it this way: "The FBI was right: this man is dangerous—and funny; and necessary."
ANOTHER MAN WHO IS BOTH FUNNY and dangerous turns up at our next stop.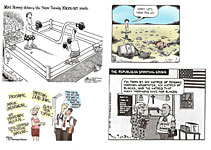 At the upper left, Stuart Carlson gives us the happiest (because most effective) image for Mitt's so-called victory on Super Tuesday. A silly picture all the more potent for its silliness. And then Toles returns with a good (and laughable) metaphor for what, exactly, Romney has won—a battlefield littered with post-primary offal.
Ted Rall at four o'clock takes up the "spiritual crisis" faced by the evangelical (mostly Southern) wing of the Republicon Party. They believe Mormons are not Christians (therefore, "demons"), but they apparently realize that Mormon dogma, until quite recently, was biased against people of color (the "black skin curse"), an attitude that many Southerners still can't help themselves from retaining. I'm surprised that this hasn't surfaced before; maybe it needed someone with Rall's careless chutzpah to bring it up. Rall's cartoon is mostly verbal assault: he provides a reinforcing image by festooning the picture with religious messages—the reader board notes the day's sermon, "How Intelligent Design Made Our Stupid World"—thereby heightening the irony of the situation that he constructs, but his assault is contained in the cartoon's words, not its picture. Finally, we have Bagley again, who, as a Mormon, can approach the dilemma he depicts without fear of being accused of anti-Mormon religious bias. He lists all the poisonous myths by setting up a Mormon missionary vignette, two missionaries at the door (fugitives from the Broadway show "The Book of Mormon" no doubt) and a housewife harboring all those strange beliefs about Mormonism.
POLITICS HAVE INFECTED HEALTH CARE, too, lately, and editoonists doubtless derive a certain fiendish pleasure in envisioning the rampant hypocrisy about contraception and abortion and the like.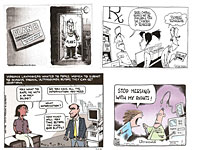 Clay Bennett supplies a grim image about the only option available for young women who don't qualify as purchasers of Plan B. Grim and wholly unsanitary, mockery from a past we thought we'd left far behind. Going clockwise as usual, we come to Signe Wilkinson who provides a stunning analysis of the essential male bias in contraception policies. She would doubtless applaud Ohio state senator Nine Turner, who recently introduced a bill that would make Viagra prescriptions as difficult to get as abortions. "For far too long," the senator deadpanned to Newsweek (March 26 - April 2), "female policymakers have abdicated our responsibilities to protect men's sexual health." In the same vein, she thinks men should submit to cardiac stress tests and go to counseling where they discuss their progress with the little blue pill.
Moving right along, Toles is so disgusted by the whole misbegotten campaign that he abandons all metaphor in favor of a simple scream of outrage. And Rall eases into the Election Year antics by implying that women will eventually express their resentment by kicking the butts of Republicon candidates. Again, his assault is mostly verbal (although the male animal here is holding the dildo in an appropriately revealing place).
The prize of the month goes to someone who isn't, as far as I know, an editorial cartoonist by trade: Edel Rodriguez drew an "illustration" for the April 1 issue of The Washington Spectator, and we see it in our next display at the upper left.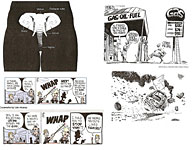 Yup, that's right: he's contrived a picture of the GOPachyderm that vividly demonstrates just how much Republicons' reproductive policies have invaded women's bodies. You don't get better telltale images than this. (If the labeling print is too tiny to read, the labels, clockwise from the top, are: uterus, fallopian tube, cervix, vagina, ovary.) Next, by way of dialing back on the grim realities, are a few laugh provokers, beginning with John Darkow's vignette at the local gas station. He imagines that public outrage over higher prices at the pump have turned the gas station into a battlefield. Not quite yet, but who can tell what the proximate future may bring? And Steve Benson's image of Newt's progress toward the GOP nominating convention this summer is another hoot: his campaign's falling apart, but he forges ahead, full speed, blissfully unaware. Finally, at the lower left, we come to a couple recent installments of the comic strip, La Cucaracha, wherein Lalo Alcaraz provides a display of just how realistic the current Republicon drive to recruit Latino voters is. All that illegal immigrant cant.
BEFORE WE LEAVE ABORTION too far behind, let me repeat from Opus 291—and then add to—some statistics about abortion and how increasingly difficult it is for a woman to obtain one. In all our self-righteous support of a woman's reproductive rights, we often forget that those rights have not actually been secured, Roe to the seeming contrary notwithstanding, all across the land. Forty (40) states prohibit abortions generally (except when necessary to protect the woman's life or health) after a specified point in pregnancy, usually fetal viability; 26 states require a woman seeking an abortion to wait a specified period of time, usually 24 hours, between when she receives counseling (which, presumably, is required) and when the procedure is performed; 9 of these states have laws that effectively require the woman to make two separate trips to the clinic to obtain the procedure; 46 states allow individual health care providers to refuse to participate in an abortion and 43 allow institutions to refuse to perform abortions, 16 of which limit refusal to private or religious institutions.
The Washington Spectator reported (April 1) that ultrasound tests are increasingly required: 12 states mandate one or the other type of ultrasound examination before a woman can undergo an abortion. Other states now considering mandatory ultrasounds as a precondition for abortion include Idaho, which will require a woman to view the fetus on a screen before an abortion; ditto Pennsylvania.
Utah has approved a bill that dictates the longest pre-abortion waiting period in the nation—72 hours. In Oklahoma, its mandatory ultrasound edict temporarily on hold pending a court challenge, the senate has approved a bill requiring physicians "to inform a woman seeking an abortion that she has the right to hear the fetal heartbeat before abortion." And in Florida, where an ultrasound law is already on the books, a new bill is being considered that would "impose a 24-hour waiting period and require women to be informed that fetuses feel pain at 20 months, a statement disputed by many scientists and physicians."
The Spectator adds a chilling insight: "The increase in ultrasound requirements is directly related to gubernatorial and statehouse gains by Republicans in 2010—and one Christian right group. When researchers from the Sunlight Foundation, a non-profit group that promotes transparency in government, analyzed ultrasound legislation moving through state legislatures, they found that 13 bills shared language found in model legislation drafted by the religious-right group, Americans United for Life." AUL can also be credited for inspiring Florida's investigation of Planned Parenthood and for the language in the Texas law that went into effect in September 2011—"not only the most extreme anti-abortion measure in the nation, but the only ultrasound law to be upheld in a federal appeals court."
Clearly—as if we didn't have the Catholic church's public condemnation of various contraception laws to alert us—religious beliefs are shaping public policy. Deirdre English, writing the abortion article for The Spectator, voices concern over "the alarming number of Americans who, according to the polls, don't understand that in its role as an employer, the Roman Catholic Church should not be allowed to discriminate against an employee based on her religious beliefs or lack thereof."
In waging its war on women, the GOP has evidently lost sight of a present that is steadily reshaping the future. According to Liza Mundy in The Richer Sex: How the New Majority of Female Breadwinners Is Transforming Sex, Love and Family, women are becoming the new power in American life. "Nearly 40 percent of working wives already earn more than their husbands. Single, childless women under 30 pocket more than their male counterparts in many U.S. cities. As women earn the larger share of advanced degrees, they're also nearing total domination of certain professions. ... So what happens when bigger female paychecks are the norm—when women are the 'Masters of the Universe'?"
With greater power come enhanced rights, including reproductive rights, and the expansion of women's rights always extends individual liberty, English notes. "The ideal of the women's movement is identical to the ideals of the American revolution, just applied to women. Women have struggled to be included, as free individuals, in the promise of democracy. ... Does such independence destroy the institution of marriage? Why should it? Having democratic rights did not destroy male morality, presumably. ... In egalitarian marriage, where there once was a dominant and a subordinate, there is mutual respect. Where there were commands, there are conversations and negotiations.
"Over time," she continues, "women's attainment of rights will tend to break down male-dominated marriage and increase egalitarian marriage, with its own modern morality. And, in answer to worries about social instability and the breakdown of the family, experience is showing that egalitarian marriage partners and parents do as well at staying together, raising children responsibly, and modeling cooperation and community."
Times, they are a-changin'.
But in notoriously conservative Utah, the citizenry seems to be wending backwards. A bill is awaiting the governor's signature that will outlaw sex education classes in public schools and prohibit instruction about the use of contraception and about homosexuality. If signed, the bill will prohibit discussion of all birth-control methods except abstinence. Some lawmakers believe the bill doesn't go far enough. Said Senator Stuart Reid: "To replace the parent in the school setting is wrongheaded. We have no idea what their morals are, we have no ideas what their values are, yet we turn our children over to them to instruct them in the most sensitive sexual activities in their lives."
That's probably true. Similarly, we have no assurance that our children's math teachers won't go around instructing their charges that 2 + 2 = 14. The mind reels.
*****
OTHER ISSUES, FOREIGN AS WELL AS DOMESTIC, are faced in our next visual aid.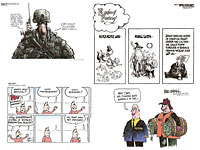 Mike Ramirez starts us off with an image that gives new, and more accurate, meaning to the situation in Afghanistan, where Karzai does indeed seem to be at the "end of his rope." And what will transpire when we leave? Ramirez has no doubts. Next, in three vignettes, Ben Sargent explains the fantasy that animates the conservative belief about energy independence. Then Luckovich gives us an insightful metaphor for the role of the National Rifle Association in making the nation's laws. And finally, returning to the Supreme Court and to contraception and abortion rights, Joel Pett reveals the hypocrisy at the core of GOP attitudes about government and individual rights. Of this selection, Ramirez and Luckovich provide the best examples of the use of visual metaphors for political commentary; the other two display acumen and ascertainable truth, but are less dependent upon pictures for making their points.
Another cartoon I liked but didn't have room for this time is one by Gary Varvel. (What? Didn't have room for? All I've got here is room! Well, I didn't want to add another page of illustration, particularly one on which only one cartoon appeared.) Like Sargent's, Varvel's is more verbal than visual. In two panels, he pictures a convenience store selling lottery tickets and then the nation's capitol; the captions read, respectively: "The largest jackpot ever ($640 million) ... would be spent by the Federal Government in 95 minutes."
DOMESTIC ISSUES continue to dominate in our next exhibit.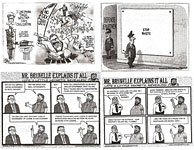 At the upper left, Bagley's imagery provides a dramatic (and revealing) contrast between the so-called democracy of tax-slasher Grover Norquist (I love the cartooni shness of the name!), who has successfully cowed the entire Republicon Party into opposing taxes forever and ever amen, and the democracy that an iconic Oliver Wendell Holmes supported by enthusiastically paying taxes. Next, Bennett offers another of his telling images. And if I have to explain that his "Stop Waste" sign is wasting space, then he's probably failed in his attack on Defense Department spending.
Then we have a new arrival in these parts, Robert Waldo Brunelle, Jr., who eases into view with two spiffy examples of his cartooning mannerism. At mrbrunelle.com, he explicates that he started his feature, Mr. Brunelle Explains It All, in 1995 in the Vermont Times, and it is now featured on two websites, blacklinecomics.com and politecompanycomic.com, and often appears in the monthly newspapers, Comic News and Funny Times. The comedy and commentary is entirely verbal here as Brunelle dismantles whatever seeming logic is being bruted about by our political leaders; his pictures merely depict the speakers of the words. But the comic strip format permits a careful timing of the disclosure that is Brunelle's comedy.
R.J. Matson headlines our next exhibit with a metaphor enacting the aged axiom about beating drums for war.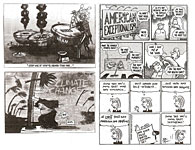 The power of the metaphor in this instance is that the first two drums have been beaten "to death," so to speak; note Uncle Sam's hat, too—soliciting donations. Then Tom Eagan gives us a comic strip, a useful visual device for piling up the indictment he makes of the foolishness of "American Exceptionalism," the everlasting cry of simple Tea-bagged minds. At the lower right, Joel Pett continues the "piling up" indictment at which the comic strip form is so adept. All this time, we thought the issues of birth control were far far behind us. Not yet.
Finally, another delicious picture from the Salt Lake Tribune's hilarious editoonist, Pat Bagley. "Climate Change" is the typhoon the guy clinging to the palm tree is trying to ignore. How can he? Good question. But the biggest laugh here—and the most telling part of Bagley's metaphor—is the "toot" labeled "Denial." Bagley has given visual substance to the antique adage about the ineffectiveness of "a fart in a windstorm." What a hoot. Er, toot.
OTHER ISSUES are highlighted in the next array. Pat Oliphant supplies a metaphor for the Supreme Court on the eve of a decision about ObamaCare. These are crows, not vultures, but crows are in the raven family, and ravens are usually employed as bad omens, symbolizing death and darkness, and that's doubtless some of what Oliphant intends here.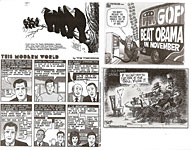 Oliphant's message is chiefly in his verbiage, not in his imagery. Jeff Parker's picture lends a little insight into the words in the next cartoon: although the thrust of the cartoon is essentially verbal, the van with its sloganeering sign on the side completes the meaning by unmistakably linking gas prices to the GOP Prez campaigns. No serious person believes the President can do anything about gas prices; but to pretend he can fuels the Republicon machinery. Bagley shifts the subject again, this time, to the recent federal effort to help home owners who face foreclosure by forcing the banks to give them money. The image enacts another old saying to make sure we all understand that the banks still have plenty of money. (Most of the new construction going on in my neighborhood is the building of new branch offices for banks.)
Then we have Tom Tomorrow's comic strip that typically trades heavily in sarcasm—always to good effect, but it's preaching to the choir: sarcasm never reaches its targets: it merely cheers its true believers on. I'm cheered, reading this, but I also admire the extent to which Tomorrow can link all of the Romney sins into one simple metaphor: if corporations are people, as Mitt and his minions maintain, then rearranging corporate assets (which is what Mitt did at Bain) is the equivalent of organ harvesting from "people." Nicely done; skillfully extrapolated.
In our final fling at visual-verbal commentary, we turn to foreign affairs, beginning at the upper left with Oliphant's bitter assessment of the world's attitude about Syria and its bloodied dictator, Assad.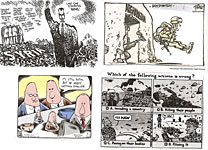 Notice that Punk, Oliphant's nearly ubiquitous penguin, is missing in this cartoon: the cartoonist leaves him out when his subject is death and kindred disaster. Next is a cartoon by Tom Janssen in the Netherlands from Cagle Cartoons, which syndicate, like Jerry Robinson's Creators & Writers Syndicate, offers an outlet for cartoonists who ply their giddy trade in places other than the U.S. Apart from Janssen's telling image of an "exit strategy," I salivate over the juicy splash of his brush strokes. Then we have Rall again. Here, his pictures are more integral to his meaning than previously in this diatribe: without the pictures of actions that become increasingly nasty as he goes along, the bite of his sequential indictment loses some of its edge. But his message is still carried mostly in the verbiage.
Toles takes up the subject of the recent alleged election in Russia of former prez Vladimir Putin. Putin first came to national power in 1999 as the hero of a bloody suppression of the Muslim separatist movement in Chechnya. Subsequently, he reformed a deteriorating Russian economy, leaving many of his ordinary countrymen better off today than they ever were before, thereby earning their regard. But his stature, as Toles adroitly indicates by using those traditional Russian nesting dolls, has diminished somewhat due, among other things, to irregularities that accompanied his re-election, most conspicuously, in Chechnya, where there were more pro-Putin votes than registered voters.
PERSIFLAGE AND FURBELOWS
Kevin Smith, erstwhile indie filmmaker ("Clerks," "Chasing Amy," "Red State"), comics writer, and tv reality show honcho ("Comic Book Men"), is interviewed in the April 2 issue of Time. Asked why he's given up movies to focus on podcasts, Smith reposited:
"We record all these podcasts and create a vast library so that when people are bored, they put you on. You become their friend. They take you with them wherever they go." In contrast, they must go somewhere to see movies. "Podcasting is simple storytelling" he went on. "The morning-radio people have known this for years. They're living as white noise of their listeners' lives, and they have far more pull than the guy who is simply like, 'Hey, I made a movie. Come see it.' There's no loyalty to that entertainer. There's a loyalty to someone who spends every day or every week with you."
Incidentally, "Comic Book Men" isn't the smash hit it was supposed to be, capturing viewers as they come off "The Walking Dead" on Sunday's AMC. Chris Sims at comicsalliance.com sums up his opinion, saying the show is "the most compelling argument I've ever seen for never setting foot in a comic book store."
CLOSING MINDS
And Undermining the Function of Education
At the end of March, the blogosphere and many other spheres were a-twitter with the hilarities lately let loose by the New York City Department of Education when a list of banned "loaded words" surfaced. The Department of Ed released this year's "request for proposals" (RFP) sent to test publishers around the country to find one of them to revamp math and English tests for the City, and the RFP listed words that the test makers should avoid in making their tests. Among the banned words were birthday, divorce, poverty, Hallowe'en, and dinosaur. Fifty words altogether.
The reason the words should be avoided is that some of them might "evoke unpleasant emotions" in the students taking the tests. "Divorce" and "poverty," for instance, might make poor kids or kids whose parents are divorcing (or have divorced) feel bad.
"Many of the words on the list were to be avoided because of faith-based concerns," CNN reports. "For instance, 'birthday' or 'birthday celebration' may offend Jehovah's Witnesses, who do not celebrate birthdays." As for dinosaurs, that word, suggested the New York Post when it got its hands on the list, "could call to mind evolution, which might upset fundamentalists."
Except, as CNN points out, fundamentalists who don't believe in evolution still believe in dinosaurs. "Young Earth creationists, or Biblical creationists as they prefer to be called, often point to dinosaurs in making their arguments. They say dinosaurs and humans roamed Earth together, citing legends of dragons."
Hallowe'en may suggest paganism, which, of course, some benighted souls would rather not acknowledge the existence of.
Somewhat embarrassed by all the fuss, the Department of Ed said avoiding sensitive words is nothing new in the test-making biz. And New York City isn't the only locale to ban words. California avoids the word weed, and Florida eschews hurricane and wildfires. The NYC Department of Ed has assembled lists like the hubbub-arousing one for years—four previous years anyway.
"Luckily," saith CNN, "lots of people are pissed about the list too. Including Staten Island Republican Assemblyman Lou Tobacco, whose last name would also not be allowed on those testssince it can also refer to cigarettes or smoking paraphernalia, which is verboten. In a press release, Tobacco said: "This is a clear example of the hyper-sensitivity that exists in our city and state's ivory towers of education, and it shows how out-of-touch these career bureaucrats are with the communities they serve. This is a foolish policy that will ultimately hurt teachers' abilities to expand their students' vocabularies and understanding of human history."
Here's the whole list. Make up your own reasons for the banning of each of them. "Homes with swimming pools"? Might suggest to sensitive inner-city kids that some people live in homes with swimming pools. And they wouldn't otherwise know this? From watching tv, say?
Abuse (physical, sexual, emotional, or psychological), Alcohol (beer and liquor), Tobacco, or Drugs; Birthday Celebrations (and birthdays), Bodily functions, Cancer (and other diseases), Catastrophes/disasters (tsunamis and hurricanes), Celebrities, Children dealing with serious issues, Cigarettes (and other smoking paraphernalia), Computers in the home (acceptable in a school or library setting), Crime, Death and Disease, Divorce, Evolution; Expensive gifts, vacations, and prizes; Gambling involving money, Hallowe'en, Homelessness, Homes with swimming pools, Hunting, Junk food;
In-depth discussions of sports that require prior knowledge, Loss of employment, Nuclear weapons, Occult topics (i.e. fortune-telling), Parapsychology, Politics, Pornography, Poverty, Rap Music, Religion; Religious Holidays and Festivals (including but not limited to Christmas, Yom Kippur, and Ramadan); Rock-and-Roll Music, Running away, Sex, Slavery, Terrorism, Television and Video Games (excessive use);
Traumatic material (including material that may be particularly upsetting such as animal shelters), Vermin (rats and roaches), Violence, War and Bloodshed, Weapons (guns, knives, etc.), Witchcraft, Sorcery, etc.
What fun.
THE FROTH ESTATE
The Alleged News Institution
On Tuesday, April 3, Prez Baracko Bama spoke before a gathering of news executives and, finally, attacked the Republicans for being so far right that not even Ronald Reagan, patron saint of the modern Republican Party, could hope to gain the Party's nomination. In particular, Obama took on the budget plan passed last week by the House of Representatives—a plan so radical that it would never have passed at all if the House Grandstanding Obstructionist Pachyderms weren't confident that the Senate would never take it up; it would, therefore, simply die, but even in death, it would be the banner around with Republicans would rally for re-election. "See? Here's what we wanted to do to turn the entire country and its government into a vast Tea Party. But the nasty old Senate Dems wouldn't even consider it. They stood idly by, letting the whole country go to hell."
Obama said the bill offered a "radical vision" of America's future. It would further reduce taxes for the wealthy and, to make up for the shortfall, reduce government services and raise taxes on the middle class. Said O'Bama: "It is antithetical to our entire history as a land of opportunity and upward mobility for everybody who's willing to work for it. It is a prescription for decline."
As for Reagan, who, Obama opined, "is not accused of being a tax-and-spend socialist," he "understood repeatedly that when the deficit started to get out of control, that for him to make a deal, he would have to propose both spending cuts and tax increases." And if he did, "he could not get through the Republican primary today."
The next day, Fox so-called News tv was all a-twitter, ranting on about how Obama played fast and loose with facts, distorting merrily as he went. His defenders pointed out that all Obama did was apply the mathematics inherent in the bill and extend them; by so doing, much of what Americans regard as national government (not to mention welfare in general) would be dismantled. Then Mitt the Ken-doll Candidate spoke before the same bunch of news executives and accused Obama of distorting and misrepresenting the facts. He went on to assert, as he has done repeatedly, that Obama has failed to save the country's economy.
And where was the ever-vigilant news media? Did anyone on the PBS News Hour airing the Romney claim point out that Romney, too, was distorting? How, without misrepresenting some kind of statistic or another, could he say Obama had failed when unemployment has been dropping for the last couple years, the stock market has risen steadily since Obama took office, and economists claim the economy is improving. Doesn't sound like failure to me. But who among the so-called journalists sitting on their butts would point out that Obama was guilty only of rhetorical excess but Romney was distorting to such a degree that an objective observer might claim he was lying outright?
And he's been doing it for months, egged on by his alleged opponents in the GOP, the Newt and Sanctorum. All are asserting as facts what can only be described as rampant opinion, only vaguely related to actuality.
It's going to be a long year.
NEWSPAPER COMICS PAGE VIGIL
The Bump and Grind of Daily Stripping
Via Tom Racine at TallTaleRadio.com (Episode 139), we learn that Darrin Bell, who produces the daily comic strip Candorville and draws another daily strip, Rudy Park, which is written by an unnamed person called Theron Heir, will soon take over the writing of Rudy, which will mean he'll be writing and drawing two daily comic strips, a feat unattempted since Bill Schorr did it in 1990-91: for about a year and a half, he did The Grizzwells (which he's still doing) and a highly topical political satire called Phoebe's Place, plus a daily editorial cartoon (which he is also still doing for syndication with Cagle Cartoons).
Funky Winkerbean turned 40 on March 27, and a generous assemblage of events marked the milestone. First, the publication of the first volume of a Funky reprint project, compiling the
first three years of the strip (1972-74) (with a foreword by Yr Faithful Chronicler). Then on the 27th, Kent State University (publisher of the book) hosted creator Tom Batiuk and Chuck Ayers, who draws another Batiuk strip, Crankshaft, to unveil a new mural in the student lounge where Batiuk signed books and met fans. Batiuk and Ayers are both KSU alumni.
THE ELDERBERRIES, A COMIC STRIP about life in a retirement home for a gaggle of quirky old folks invented by Phil Frank and continued by Corey Randolph when Frank fell ill and then died, has itself expired: the last release appeared on Sunday, March 4. Randolph, as we'll see anon, is moving on to other artistic endeavors, but before he departed the premises he'd inherited, he planned a conclusion for the strip, making The Elderberries while not one of a kind at least one of a very small coterie of strips that were permitted to conclude formally. (Steve Roper and Mike Nomad was another.) As Randolph played it out, the end of the strip coincided with the closing of the home, as we see in the samples we'll posted ere long. And the end didn't come quickly, all in a rush: it took almost all the month of February.
Corey, at fakerockstar.tumblr.com on February 21, explains the end of the strip, herewith (in italics):
I've spend the last month thinking about how I would word this note. I went from the self-serving placing of blame to "I'm just not gonna say anything and let it ride." In the end, I chose neither, so here goes:
In less than two weeks, The Elderberries —the syndicated comic strip that I was lucky enough to write and draw for five years—will be ending its run in newspapers. Sunday, March 4th will be the final comic strip.
ALSO SAMPLE NEW YORKER CARTOON.
Let me say first that the decision to end the comic was all mine [Universal/Uclick, his syndicate, apparently had nothing to do with it—RCH]. There is no one to blame but me. Put simply, my career is going in another direction. I've been writing and performing more comedy,
finding my cartoons in the pages of The New Yorker and discovering new ways to work in comedy, while still keeping myself happy and food in the refrigerator.
I've done a daily comic strip in one form or another for nearly 15 years. There have been some real breaks along the way—a few reasons to really get excited about a future in comics strips—but nothing seemed to manifest itself into a solid career path.
As I mentioned, this is all on me. I chose the manner in which I wanted to find success in the world of comic strips. I chose to not involve myself in today's artist-owned business model of
embracing the Internet and constantly hustling my own work to make a buck. I tried all that for a time with Barkeater Lake [his earlier strip] and I knew it was just not for me. Those who find
success at being both creator and salesman in this world have my respect. It is very hard, very disciplined and it is not my bag.
I know a lot people see me as a quitter. In some respects, those people may be right. I do have a lot of ideas, but tend to latch on to too many at once, sometimes creating a large body of unfinished and disjointed work. I like to throw a lot of ideas out and see what works, so occasion
monumental failures are par for the course. If I were truly a quitter, however, I'd walk away from everything entirely. If anything, I'm sloppy.
There are also those who claim that I have walked away from "million dollar" ideas, or a "substantial income", i.e.: Barkeater Lake and now The Elderberries. To those who assume this, please note: I was told there was little chance for Barkeater Lake in the very beginning. I held on to it and tried to make a go on my own. It did not work. I lost money. As for The Elderberries' income, it was a decent supplement, but never really enough to live on. I only mention the income aspect for clarification, not motivation to essentially end my career in comic strips. Money was certainly a consideration, but ultimately, I found my interests skewing elsewhere and it was time to move on.
I want to thank Phil and Susan Frank for the incredible opportunity afforded me over the past five years. It was my dream to be a syndicated cartoonist and they made it a reality. I wish I knew Phil better before his passing. Over the years of trying to fill his shoes, I have been humbled by the brilliant simplicity he showed in his art. It made me a better artist and writer. I also want to thank John Glynn, Clint Hooker, Shena Wolf, Dave Ohman, Lee Salem and everyone at Universal/Uclick. They treat their creators on a level of respect rarely seen in today's business world. They always had my back and supported the feature right up until I said "when." They are not only friends in business, but friends in life that I'm damn lucky to have.
Lastly, thank you to all fans of mine and of Phil Frank's for graciously embracing the last five years of my career. I have learned so much about the world of comics and the countless opportunities still out there for a jerk like me. I hope you will continue to follow my work, wherever it takes me.
ELSEWHERE, AT 9 CHICKWEED LANE, Brooke McEldowney is, once again, rushing in where no one else in syndicated comics dares to go. With him, it's habitual. A couple years ago,
you'll recall, his teenage heroine Edda graduated from high school and moved to the Big City where she became a professional ballerina, sharing an apartment with her dancing partner, a toweringly handsome hunk named Seth, who, by way of preserving Edda's innocence, is gay.
Then Edda and Amos, her lifelong chum, began canoodling, falling precipitously in love and, even, making love—right there, in the comic strip, before millions of readers. The canoodling has continued with carefree abandon and no little heat ever since, and now, it develops, unwed Edda is pregnant.
Pregnancy! Unwed motherhood! In a comic strip! Distributed to ordinary newspapers that are delivered to the front porches of hundreds of thousands of otherwise dutiful Americans—who have families, including children!
As you can see from the handful of strips gleaned, herewith, from the current continuity, McEldowney handles this delicate dilemma with his usual combination of compassion and
warm comedy as Edda tells her mother. (I'm reproducing from online pixelated strips; if these are not readable, visit GoComics.com and look under Comics for 9 Chickweed Lane, and then go back until the end of March and play through.)
Actually, the first to find out is her stepfather, as we can see, and he tells Edda's mother. And then we are reminded that Edda's mother, Juliette, is, herself, a "love child," born to Edda's grandmother, out of wedlock. And when Edda and Juliette visit the grandmother, a conversation (not yet concluded as of this writing, April 16) ensues that approaches abortion.
Unwed pregnancy! Abortion!
Episodes such as this, coupled to McEldowney's masterful deployment of a compassionate sense of humor, make Chickweed Lane the most refreshingly humane breeze to waft through the funnies in the history of the medium. And the humanity is committed in a comical parade of taboo-trampling episodes. F'instance—an erstwhile nun falls in love with a priest and they marry; she becomes pregnant and her water breaks "on camera" last June. Another of the strip's regular cast, who may be an alien from another planet, visits regularly with God, a somewhat stout bald guy who shows up in a suit and tie. And last summer, McEldowney went further out on a storytelling limb than anyone I've ever heard of or seen.
Last June, Seth, Edda's gay roommate, had a one-night stand with Fernanda, a young woman in his dancing company. A gay guy having sex with a straight woman! Here is a culling from the sequence.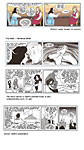 Amazing. Talk about kicking taboos out the door and stomping them to smithereens.
Seth's explanation seems stunningly true. "When I met Fernanda," he tells his friend Roger, "I was already so enthralled by her artistry that she became ravishing to me. You see, I'm not interested in girls, but if one plays an instrument beautifully, or dances gorgeously, I turn into a complete wanton. ..."
I don't know how the gay community reacted to this treatment, but, as I say, it seems authentic to me.
The whole strip is authentic. It's full of life, the kind of life we all lead. Or should.
And it's also funny, deeply, profoundly, humanly funny.
STEPHEN PASTIS has been up for the National Cartoonists Society's "cartoonist of the year" Reuben award for several years running. He's never won, and he's up for it again this year. And this year, he's chosen to go public with his pique—witness his Pearls Before Swine strips on
display in the accompanying visual aid.
When I imply that he's miffed at not
winning so often, I have my tongue in at least one cheek: his pique, I'm certain, is fake, assumed solely for the sake of the jokes in the strips at hand.
Pastis has long been a character in his strip—usually, as here, the butt of the jokes—so these specimens present nothing particularly new. My reason for bringing this series before the Saloon (bar) of Judgement here at Rancid Raves, however, is that I wonder whether his readers
get some of these jokes. The first two, published on February 27 and 28, seem comprehensible enough because Pastis includes explanation about the Reuben. But the last two in this line-up were published March 2 and 3, and the interval between the two exposures (February 29 and March 1) was filled by some strips about turtles, as we see midway down the page. Then on March 2, Pastis is back with another couple of Reuben jokes. By the time of the Reuben sandwich gag, Pearls readers have been subjected to two turtle jokes; are they likely to remember the supposed "justification" for the Reuben joke when they see the March 2 strip? Considering that the NCS Reuben scarcely enjoys the renown of Hollywood's Oscar, I'm filled with doubt about whether an ordinary funnies peruse, even with the acumen of the average Pearls reader, would remember that Pastis is making fun of himself and his string of loses in the Reuben contest. He hasn't approached Garry Trudeau's record (I think he was nominated a dozen times or more before he finally won), but who among Pearls readers is carrying around a consciousness of the supposed import of the Reuben in Pastis' life sufficient to appreciate the gags of March 2 and 3? Well, me, for one. But who else?
Risky stuff, but Pastis is not above risking all for an in-group joke. The current (March 19-24) Pearls series is about a mock "war" between West Coast cartoonists (where Pastis lives)
and East Coast cartoonists (where almost all the rest live). The in-group comedy is surely lost on Pearls readers, but the residue, the supposed "war," is mildly funny in itself so Pastis is not risking as much with this as he did with the Reuben sandwich.
By the way, Pearls is not the only strip that is sometimes about its creator. In fact, Keith Knight is the whole story in his Knight Life strip.
AT THE BOTTOM OF THE PEARLS LINE-UP is one of Brian Crane's Pickles strips. I enjoy his frequent forays into verbal gymnastics like the one on display here. Pickles has also been nominated for a Reuben this year.
On the next page in our exhibit (above), we have a couple of Garfield strips, the first of which is a perfectly delicious contortion of logic; in the second, another assault on logic, this time employing the visual nature of the medium. Then comes one of Chad Carpenter's Tundra Sunday strips; this one made me laugh aloud, which I don't normally do.
The bottom exhibit, however, is not here because I admire it. John McPherson's Close to Home often encourages my stomach to turn ever so slightly because of the ineptitude its visuals display. The chinless characters aren't so bad, but aspects of McPherson's lifework are awful. He seems never content with one line to depict something but piles on lines as if searching for the right one. The far side of the bed and the guy's shirt and the girl's left sleeve and the pillow on her right give you an idea of the haziness of McPherson's linear vision. What turned me off the most here, however, is the woman's right leg: the anatomy as it progresses from her knee up to her buttock (not visible here, thankfully) is completely askew. Where is that thigh going? Is it hooked onto her pelvis or some other part of her anatomy? McPherson is in doubt, too, as you can tell by the tiny mass of lines on the leg as it disappears up the gown.
Naturally, I wouldn't have noticed the problem with the leg if I weren't in the habit of looking up girls' dresses. My bad. Sorry.
REG SMYTHE'S ANDY CAPP, whose title character is a working class lout, an unrepentant drunk, inveterate gambler, and tireless womanizer not above backhanding his wife when she misbehaves, started in British papers in 1957 and—astonishingly— moved in September 1963 to
this morally moribund country, where every one of his reprehensible recreations violated long-standing taboos for newspaper comics. And, even more astonishingly, it became successful, achieving circulation sufficient to perpetuate the strip beyond the life of its creator, who died in 1998. Sean Kleefeld at kleefeldoncomics.blogspot.com reports that Roger Mahoney and Roger Kettle continued the strip until last April when one of the two Rogers, Kettle, was replaced by two G's, Goldsmith and Garnett (probably Lawrence Goldsmith, says, Kleefeld, but he hasn't been able to find a first name for Garnett) with Mahoney still doing the drawing.
And then astonishment endemic to the strip's history continues as Andy sets out to reform his profligate ways. Prolonging his report, Kleefeld notices that on February 13, Andy announces that he's going to cut back on booze. Next, he undertakes a health regimen, working out and eating better.
The strip has changed its basic formula before, Kleefeld says: "In the 1980s, Smythe quietly stopped drawing a cigarette dangling from Andy's mouth, and the wife beating jokes dropped off in favor of marriage counseling jokes." But give up booze? Yes and no. As you can see from this culling of strips from the last month, Andy occasionally falls off the wagon. And it's a good thing, too: too much change might be damaging to his readers' innards.
CIVILIZATION'S LAST OUTPOST
One of a kind beats everything. —Dennis Miller adv.
IN EARLY MARCH, a Southern California woman delivered a 13-pound, 14-ounce healthy baby boy by cesarean section. The attending doctor said Jayden Sigler is the largest baby he's delivered in 20,000 births he's assisted at since 1961. The largest newborn in history, according to Guinness Book of Records, was 23 pounds, 12 ounces, and died 11 hours later.
HAROLD CAMPING, the 90-year-old preacher who's been regularly predicting the end of the world, has announced that he won't be doin' that anymore. "We realize that many people are hoping they will know the date of Christ's return," he said, but he won't be forecasting it. "We humbly acknowledge we were wrong about the timing," he said in a formal online statement about his May 21 prediction. "We tremble before God as we humbly ask Him for forgiveness for making that sinful statement."
A subsequent October 21 prediction also, evidently, wasn't accurate. No matter: while the predictions were wrong, it was all in God's plan: "Though we were wrong, God is still using the May 21 warning in a very mighty way. In the months following May 21, the Bible has, in some ways, come out from under the shadows and is now being discussed by all kinds of people who never before paid any attention to the Bible," Camping wrote. "Even as God used sinful Balaam to accomplish His purposes, so He used our sin to accomplish His purpose of making the whole world acquainted with the Bible. We also openly acknowledge that we have no new evidence pointing to another date for the end of the world. Though many dates are circulating, [we have] no interest in even considering another date. God has humbled us through the events of May 21 [and, presumably, October 21] to continue to even more fervently search the Scriptures (the Bible), not to find dates, but to be more faithful in our understanding."
Supercalifragilisticexpialidocious
Robert B. Sherman, who, with his brother Richard, invented that delirious verbal exultation, died March 5 in London. He and his brother wrote many memorable songs for "The Slipper and the Rose," "Snoopy Come Home," "Charlotte's Web," "The Magic of Lassie," and such Disney films as "Jungle Book," "The Aristocats," "Chitty Chitty Bang Bang," "Winnie the Pooh," and "Mary Poppins," wherein their "Chim Chim Cher-ee" won an Oscar for best song (and their score for the film won, too). "They also wrote the most-played tune on Earth," saith Associated Press, "—'It's a Small World (After All).'"
STRANGE PRIORITIES. The AARP magazine notes in the March issue that "we don't hesitate to spend nearly $1 trillion on the nation's defense. Here's a thought. The Pentagon is buying 2,443 F-35 joint strike fighters, sleek, $133 million supersonic jests for battling a weapon that hasn't been imagined by an enemy that remains unknown. If we bought just seven fewer F-35s, we could buy a handheld computer tablet for every first-grader in America." But we prefer hardware over intellectual armament.
ENCYCLOPEDIA BRITANNICA is throwing in the towel and casting its lot with the digital dictionaries: it's giving up on paper and ink. In print since it was first published in Edinburgh, Scotland, in 1768, it will go exclusively digital after the last of the current stock is sold (at $1,395/set). The decision, prez Jorge Cauz told the Associated Press, "has nothing to do with Wikipedia or Google. This has to do with the fact that now Britannica sells its digital products to a large number of people." And it's cheaper to manufacture in pixels than on presses.
BOOK MARQUEE
Previews and Proclamations of Coming Attractions
This department works like a visit to the bookstore. When you browse in a bookstore, you don't critique books. You don't even read books: you pick up one, riffle its pages, and stop here and there to look at whatever has momentarily attracted your eye. You may read the first page or glance through the table of contents. All of that is what we do here, but first—:
A couple of new book compilations have wandered across the horizon: the latest collection of Dan Piraro's Bizarro panel is Bizarro Heroes, published by Last Gasp in San Francisco. Because Sometimes You Just Gotta Draw A Cover With Your Left Hand is the latest Pearls Before Swine reprint from Stephen Pastis. Alison Bechdel's latest graphic novel (memoir, rather) is out; entitled Are You My Mother?: A Comic Drama, this one focuses on the other half of her parentage.
Forever Wimpy
Contrary to previously announced speculation that the Wimpy Kid will wimp out after six titles, there will be a seventh Wimpy Kid book from Jeff Kinney. PublishersWeekly.com announced that it will have (nearly) simultaneous publication in seven countries. The book, the name of which has not yet been revealed, will be published in the U.S. on Tuesday, November 13. Kinney was on hand in the Bologna Children's Book Fair when Abrams released teaser art for book seven, which hints at a Valentine's Day theme. And more WK books may be in the offing. "I've been really overwhelmed by the worldwide reception to the books. I'm still having a lot of fun with the books, and there are still a lot of stories to tell." The new book, he said, will center around a school dance, and a love interest for Greg or Rowley (Kinney did not specify, and implied some potential conflict). "I've only written about a third of it," he said. "And I haven't drawn a single picture yet. But it's all in my head and on my phone."
Naughty and Nice: The Good Girl Art of Bruce Timm
By Bruce Timm
304 9x12-inch pages, color & b/w; Flesk paperback, $50
Timm may be the only good girl artist these days who achieves a persuasive sexuality in his renderings of the curvaceous gender without making the objects of his fascination top-heavy with bountiful bosoms. In this accomplishment alone, he is worthy of a book. Timm is without peer in the portrayal of tiny titted tempresses (to descend to a vulgarism). And this book is as extensive an array as anyone of us could wish of Timm's alluring ladies, rendered in a great variety of treatments, black and white brush, pen and ink, and, everywhere you look, sumptuous color—chalk, watercolor, paint, pencil.
Jim Steranko provides a lyrical introduction, "Vixens and Virgins: In Search of the BT Babe," wherein he rhapsodizes about the fantasy women of Timm's dreams—"Barbie-doll hairdos, subliminally-exotic eyes, Bardot lips, perky, plum-sized breasts, waspy waists, flaring hips (he loves that line like his life depends on it), ample asses, schoolgirl legs. ..." Steranko traces the emergence of the Timm girl as a byproduct of Timm's learning animation at Filmation, where "he was forced to abort almost everything he'd learned over the previous ten years [drawing superhero comic books]. The fanboy concept—that the more lines in a drawing, the better it is (aka the More Is More Syndrome)—was turned inside out. ... Detail, he discovered, is a dirty word in the animation cosmos, where everything is reduced to the atomic minimum."
Following this new compulsion, Timm eventually reduced the female form to a design of curves, and the BT Babe was born. In this compilation, she appears in sketches, both black and white and color, cover illustrations for mock hardboiled detective novels, superheroine costumes battling monsters, and in bedroom eyes and pin-up poses galore, plus an entire chapter of delectable vampires. So extensive is the variety of his designs that it is impossible to pick representative drawings to illustrate this review. But it was fun trying.
PERSIFLAGE AND BADINAGE
"The greatest lesson in life is to know that even fools are right sometimes."—Winston Churchill
"The truth will set you free. But first, it will piss you off."—Gloria Steinem
"In an April Fool's Day announcement that took the political world by storm, the Republican Party revealed today that its entire presidential race had been an elaborate prank."—Borowitz Report
BOOK REVIEWS
Critiques & Crotchets
Barney Google
By Billy DeBeck; edited with Introduction by Craig Yoe
246 9.5x9.5-inch pages, b/w and color; IDW/Yoe Books hardcover, $39.99
THIS HANDSOME TOME reprints the crucial months in 1922, May 18 to December 26, when Billy DeBeck radically altered the theme, and thereby the circulation, of his strip: in May, it was a gag-a-day strip about a ne'er-do-well husband; in July, it became a humorous continuity propelled daily by comedic suspense about its protagonist's fate as the owner of a race horse. Starting June 17, 1919 with a long title—Take Barney Google, F'Instance—and a tall protagonist, the strip had evolved a shorter title, just Barney Google, and shrunk the eponymous Barney to pint-size by 1922. In the six months reprinted here, the pip-squeak sporting enthusiast inherits on July 17 the aforementioned race horse, the fabled Spark Plug, and gives up trying to outsmart his wife for spending and gambling wherewithall in favor of conning the world at large out of enough of said wherewithall to pay the fees to enter the nag in big pay-off races. Oddly, the horse wins in the races run in this volume, and Barney fritters away his winnings on high living and the pursuit of beauteous ladies (having forgotten, apparently, that he is married). When one of them dumps him for a more wealthy sugar daddy, Barney goes back to Spark Plug, and they go to Cuba for the big race in Havana. By the end of the year, he is sitting pretty financially and the love affair is between him and his horse, which circumstance no doubt did as much to endear the strip to readers as did the suspense DeBeck conjured up about the outcome of the next race or of Barney's latest get-rich scheme.
The strips are printed one to a page, a generous dimension (3.5x13 inches) approaching that of their original run in newspapers, and DeBeck's loose but confident line intricately enhanced with heaps of hay (shading) filled the panels with appealing pictures. Although shot from newspaper clippings and therefore sometimes blemished by highspeed printing on newsprint, the strips' appearance is enhanced by a tinted underlay that frames each strip on the page. Yoe's Introduction, quickly rehearsing DeBeck's biography and the history of the strip (particularly its incarnation in the movies), is accompanied by a "scrapbook" filled with photos and newspaper clippings and includes a passing assertion, fraught with historic significance: the Spark Plug inaugural sequence was reprinted in the tenth issue (October 1922) of Comic Monthly, "the first monthly newsstand comic publication," produced, Yoe tells us, by Embee Distributing Company of New York and featuring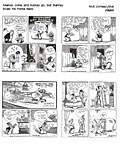 the re-issue of such comic strips as Tillie the Toiler, Polly and Her Pals, Little Jimmy, and Barney Google.
The whole sordid business—a biography of DeBeck and his successors on the strip, and a cursory summary of the strip's history—is gone into at some length at Harv's Hindsight for December 2009. But before you rush off, here are a few samples of DeBeck's work in the Yoe volume.
Hark! A Vagrant
By Kate Beaton
168 8x8-inch pages, b/w; Drawn & Quarterly hardback, $19.95
DUBBED ONE OF THE TOP BOOKS of 2011 by Time, this happy volume reprints strips from Beaton's webcomic at harkavagrant.com where she presents short comic-strip essays on contemporary mores and historical and literary events, taking a distinctly jaundiced view of all the personages involved. In her treatment of Courtly Love, for example, the beauteous damsel's would-be lover prefers playing the lute to playing around, much to the lady's disappointment. She waits in vain for him in bed: he's off knight-erranting. But she turns the tables on him: her concluding gesture, when he begs for "a token, a sign—anything"—is high fives. It's smile provoking if you know that Courtly Love was literary fantasy, not actual romance.
If you don't, Beaton helps: she footnotes the Courtly Love sequence, commenting and explaining: "Courtly love— so pure, so true! More pining than what the modern couple would care to indulge in, but pining is better than being bored to tears at your loom, I suppose. They say it was platonic, in that I-love-you-but-will-never-touch-you way, which seems about as likely as my platonic relationship with the Loch Ness Monster. (We're just friends, you guys.)"
And that's Beaton, over and over. Mildly but satisfyingly amusing, often with an edge, but not too sharp an edge. Like cheddar—sharp enough, but still mild. And her undeniable and usually irresistible wit, as you can see below, is steeped in the vagaries of literature and lore. Her appeal, then, is to like-minded fugitives from college lit and history classes. High concept stuff, and I'm not quite certain that it doesn't involve a measure of snob appeal. But it's fun, so she's forgiven.
Her lettering is barely serviceable. Her drawing ability is modest but felicitous in a charmingly adept way. Her brush strokes are sure even if her anatomy is sometimes missing bone structure. The way she draws belongs to her subjects: one feeds upon the other in a seamless exchange of inanity and insight. Here are two facing pages from the book.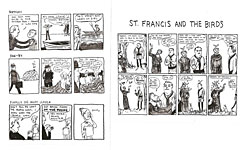 One two-tier strip examines St. Francis and the birds. On the facing page, are three seemingly unconnected vignettes (although they follow two pages of "Canadian Stereotype Comics" and are probably, therefore, a continuation of the theme).
We look in vain for punchlines. What we get are quirks, comical enough in themselves---even revealing---but not hilarious at all. Just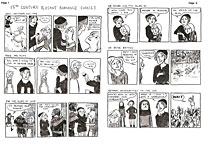 pleasant. Makes you smile. And we need as much of that as we can discover. Hence, Beaton's book. I recommend it. Why? Because nowhere I know of can you find subversive comedy like that unfolding in this next sequence, with which, we'll take our fond leave.
Comics and the U.S. South
Edited by Brannon Costello and Qiana J. Whitted
358 6x9-inch pages, mostly text with a sprinkling of b/w illos; University Press of Mississippi hardback, $55
THIS COLLECTION OF SCHOLARLY ESSAYS examines how life and culture in the South is represented in comic books, graphic novels, newspaper comic strips, and webcomics. Quoting the publisher's description: "Some essays seek to discover what Captain America can reveal about southern regionalism and how slave narratives can help us re-read Swamp Thing; others examine how creators such as Pogo's Walt Kelly, Stuck Rubber Baby's Howard Cruse, Nat Turner's Kyle Baker and A.D.: New Orleans after the Deluge's Josh Neufeld draw upon the unique formal properties of the comics medium to interrograte and revise familiar narratives of race, class and sexuality."
The first essay in the book is by M. Thomas Inge, who examines the influences on Al Capp as he created Li'l Abner—the national infatuation in the 1930s with hillbillies and the South—the most thorough exploration of this topic I've seen, with an aside on Billy DeBeck and his extensive research in presenting Snuffy Smith in Barney Google. In another chapter, Doug Marlette's Kudzu strip is shown to be exploring identity consciousness and "the commodification of the South." Hellboy's encounter in "The Crooked Man" with the
Melungeons, a "little race" of miscegenated people near the Cumberland Gap, is the subject of another chapter; in another, the South in Garth Ennis and Steve Dillion's Preacher.
As is the case with most scholarly discussions of the cartoonist's art, kernels of insight are wrapped in the often gauzy context of larger pictures. In "Black and White and Read All Over: Representing Race in Mat Johnson and Warren Pleece's Incognegro, A Graphic Mystery," Tim Caron takes five of his 21 pages to get to the graphic novel he's explicating. Caron takes us through visual culture theorist W.J.T. Michell, Scott McCloud, Art Spiegelman, art historian Michael D. Harris, Will Eisner, and Nicholas Mirzoeff before getting to Johnson and Pleece.
But when he gets to Johnson and Pleece, he only hints at the tantalizing complexity of the story they tell, a convoluted yarn with more twists than any pretzel in the bag, every bend extending the narrative in another direction, each more bizarre than the last, each giving the suspense more of the torque that drives us to the end, which, itself, is another unanticipated outcome. Instead of giving us a synopsis of this fascinatingly structured tale, Caron focuses on the racial issues the novel deftly explores. But in his examination, he does something few others in this collection do: he reads pictures into the narrative, giving them a major role in defining the theme of the book. In doing so, he references my own theories about the unique blending of word and picture that achieves meaning in well-made comics. (I didn't realize he'd done this until I got to the end of the essay and read the footnotes; but as I went along, I applauded his verbal-visual emphasis, which I can now do again without the kind of hesitation that his endorsement of my theories might otherwise require because I didn't know he explicitly endorsed them.)
I CONFESS TO AN UNCONTROLLABLE EGOTISM about the theory of verbal-visual blending with which I have infected my own appreciations of comics, so when I came upon Conseula Francis' essay about Kyle Baker's Nat Turner and saw that she thinks I "borrowed" from Judith Yaross Lee in formulating those ideas, I was a little miffed and wrote her about it.
The work that she cites in A Comics Studies Reader was published in 2009 and Lee's book, Defining New Yorker Humor, was published before that, in 2000, making it at least physically possible for me to crib my ideas from her. But my theories about the interdependence of word and picture in comics were most thoroughly explained and exemplifed in a book of mine, The Art of the Funnies, which was published in 1994, long before Lee's book. Moreover, had Francis been as familiar with my work as her reference to it makes her seem, she might have known that the first time I discussed my theory in academic circles was in 1979 in an article, "The Aesthetics of the Comic Strip," published in the Journal of Popular Culture in the spring of 1979 (VII:4), pp. 640-652, a good twenty-one years before Lee's book.
Given this sequence, it is more likely that Lee borrowed from me than vice versa. But I doubt that she did: she arrived at her understanding of the verbal-visual blending in comics by examining what Harold Ross, the famed founding editor of The New Yorker, said about cartoons in various letters he wrote.
I don't mean to suggest that my theory sprang into my mind as pure unencumbered inspiration. In my 1979 article, I say explicitly that it is Stephen Becker in his landmark volume, Comic Art in America (1959), who made the most "distinctive contribution" to the definition of comics as a visual-verbal art form when he said that "neither words nor pictures are quite satisfactory alone without the other."
In short, it was Becker from whom I borrowed, not Lee. But "borrowed" is an unfortunate term, implying a sort of genteel plagiarism. Most scholarship is a process of building
upon previous work. We stand on each other's shoulders, and no one's reputation should be impugned for doing so.
LIKE MOST OF THE OTHER WRITERS in Comics and the U.S. South, Brian Cremins builds upon previous work, weaving his way through a small jungle of references in his "Bumbazine, Blackness, and the Myth of the Redemptive South in Walt Kelly's Pogo." Cremins shows that Pogo's "most human, most endearing, and most transformative qualities were not his own; they were inherited from Bumbazine, the black boy who is the central character of Kelly's earliest Pogo and Albert stories in Animal Comics in the early 1940s." I would argue that Bumbazine is not the central character in the Animal Comics incarnation of Pogo: Albert the alligator is. But Cremins' basic premise, that Bumbazine and Pogo are messianic figures, the latter inheriting those qualities from the former, is intriguing and probably accurate.
Having asserted his theme, Cremins then garnishes his argument with references to and citations from Norman Hale's All Natural Pogo, Scott McCloud's Understanding Comics, Toni Morrison's Playing in the Dark, Walter Ong's "Bogey Sticks for Pogo Men," Eric Jarvis' several articles on Pogo, Fredrik Stromberg's Black Images in the Comics, and Clay Geerdes' "Pogo in the Underground," in which Geerdes notes: "Probably a handful of people, cartoonists among them, understand the many levels Kelly worked on in a single strip. He was to comics what William Faulkner was to the psychological novel"—an insight that justifies a few more generations of copiously footnoted articles about Pogo.
Cremins concludes, finally—having guided us through a thicket of tangential but revealing asides—that "it would be inaccurate to argue that Kelly's strip provided his readers with simple escapism ... [but] it cannot be denied that Kelly invented a world in which [complex problems in American social and political life] could be debated, examined, and often resolved through comedy and laughter." Kelly was "the inheritor of the legacy of writers including Mark Twain and Charles Chesnutt—that is, as a social and cultural observer in the tradition of those late nineteenth-century local colorists. Just as those writers documented the changes taking place to the American landscape at the turn of the century, Kelly held up a mirror for readers seeking to validate their own best instincts and utopian social desires." Pogo, as the continuation of the humane Bumbazine, represents those best instincts.
Cremins takes us a long way around to get to that conclusion, but the journey itself is the fun in scholarly essays of this sort, not so much the conclusions.
Krazy & Ignatz (1922-1924): At Last My Drim of Life Has Come True
By George Herriman; edited by the legendary Bill Blackbeard
256 9x12-inch pages, b/w and color; Fantagraphics paperback, $24.99
THIS IS THE LAST VOLUME in the Fantagraphics Sunday Krazy Kat reprint project. When this enterprise hove into view ten years ago, it hove with the 10th and 11th years of Herriman's kat komic strip, namely 1925 and 1926, because "another publisher" (namely the now defunct Eclipse) had published the first nine years of Sundays previously. By the time Fantagraphics reached the end of the Krazy run with the 1943-1944 compilation in 2008, the Eclipse volumes had soared into the realm of rarity and were selling for obscenely satisfying prices in the collectors market. In short, the first nine Krazy years were, once again, lost to popular perusal, so Fantagraphics went back and started at the beginning, 1916, now reprinting three years per volume instead of the customary two. And the volume at hand is the last of that supplemental series: all of Herriman's beloved Sunday strips have now been reprinted in 13 matching Fanatagraphic volumes, designed by Chris Ware and prefaced and annotated by the late Bill Blackbeard, who explains obscure references in the strips at the end of each tome in a "Debaffler" section.
This volume is especially rich in rarities. It concludes by printing a never-before-published, "lost," Sunday strip, provided, in the original, by Steve Geppi. It bears no title, date, or copyright line, so we have no way of knowing when, exactly, Herriman drew it; and no published version of it is known to exist.
This book also reprints Herriman's first daily comic strip, Mrs. Waitaminnit—The Woman Who Is Always Late, which, from September 15 until October 13, 1903, rehearsed the hilarities that transpire while a husband, James, attempts to hurry along his wife, Hortense, who ends every strip with a reproachful comment—"I am breathless with hurry," "I am palpitating with speed," and the like. Cute stuff but primitive Herriman.
And, finally, this compilation also includes the ten color "Sundays" Herriman did from January 7 through March 11, 1922, when William Randolph Hearst, the reigning press lord whose syndicate, King, distributed Krazy Kat, directed the cartoonist to do a color Krazy as well as a black-and-white Krazy for the weekend comics section. The color page was published on Saturday; the black-and-white page on Sunday. The color page was not, as we might otherwise expect, just a color version on the Sunday black-and-white: no, it was a completely new, separate, page of kraziness, wildly innovative in layout and design.
Blackbeard speculates in one of his chronic flights of speculation that Hearst expected the color Krazy to stimulate sales of the Saturday papers, but when it didn't, he surrendered to his editors' tastes (all of whom, to a man, Blackbeard supposes, hated Krazy) and rescinded his order. Herriman would not produce a kolor Krazy again until June 1, 1935, when, oddly, Herriman would forego the dazzlingly different layouts he'd been deploying in favor of the lockstep of the traditional grid of panels because, presumably, the regulation panel borders would "hold" the color while borderless drawings would not.
This book's other treat is the reprinting in color of Herriman's Us Husbands, a domestic comedy in red and yellow (and black, of course) that ran on Sundays for most of 1926. For almost all of the years he produced Krazy Kat, Herriman was also doing other strips, none of which lasted for any great length of time; Us Husbands is another of those. But it is better than many. By 1926, Herriman's drawing style had matured and loosened up, resulting in breezy lifework and rumpled-looking figures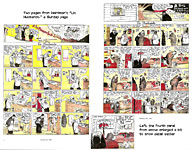 who slouch comfortably through their paneled misadventures, the panels littered with cunning visual details. In the examples I've posted near here, for instance, Herriman's lines get as frazzled as the husband while the latter washes dishes and douses himself and the surrounding architecture with explosions of water. And in our other example, notice the easy wrinkles of the antimacassar draped over the back of the chair in the fourth panel and, throughout, the husband's easy slouch. This strip maybe my favorite of all of Herriman's extra-Krazy work.
Krazy Kat & the Art of George Herriman: A Celebration
By George Herriman; edited by Craig Yoe with an Appreciation by Bill Watterson
176 9x12-inch pages, color; Abrams Comic Arts hardcover, $29.99
ANY BOOK OF HERRIMAN'S KRAZY is a treat, but this one is a veritable smorgasbord of treats. As a sort of glorious scrapbook, this volume includes a few copies of Sunday pages in color and some dailies from original art as well as the briefest smattering of panel cartoons Herriman did, but most of the artwork is of the incidental sort—drawings the cartoonist did for friends or special projects, hand-colored (how else? foot-colored?) original Sundays presented to friends or admirers; plus photographs of Herriman (some with his hat off) and members of his family. And, the piece de resistance, two unfinished Krazy dailies found on Herriman's drawing board at the time of his death; these two are not the two previously published unfinished dailies that we've seen in other Herriman appreciations (f'instance, in the Fantagraphics book reprinting strips from 1943-1944) .
In addition to Watterson's short essay, there are essays by Yoe, Harry L. Katz, E.E. Cummings, Craig McCracken, Richard Thompson, Summerfield Baldwin, Jay Cantor, Douglas Wolk, Tad Dorgan, William Paul Langreich, granddaughter Dee Cox, and Gilbert Seldes' celebrated "The Krazy Kat That Walks by Himself" from The Seven Lively Arts, which, in 1924, so championed Krazy Kat that it effectively enshrined Herriman's work as a cultural icon.
The Krazy chapter of Seldes' book is preceded by another devoted entirely to other comic strips that Seldes either admired or accorded a significant place in the history of this "lively art." Entitled "The 'Vulgar' Comic Strip," it began: "Of all the lively arts the Comic Strip is the most despised and, with the exception of the movies, it is the most popular." After which opening, it traced the chronology of the medium from The Katzenjammer Kids and Max and Moritz to Mutt and Jeff, The Gumps, Gasoline Alley, When a Feller Needs a Friend, Us Boys, For Better or Worse (not Lynn Johnston's), Barney Google, Boob McNutt, Jerry on the Job, Abie the Agent, Happy Hooligan, The Toonerville Trolley, and others—all of which served as preamble to Seldes' discussion of Krazy Kat, "the daily comic strip of George Herriman ... the most amusing and fantastic and satisfactory work of art produced in America today."
The 1924 book was reprinted in 1957 with new addenda at the end of every chapter. At the end of "The Vulgar Comic Strip," Seldes writes: "I face a blank wall here. Again and again, year after year, I have tried to follow a comic strip—and failed. It is as if I had grown blind. The nearest I came to success was with Al Capp's work and when he caved in, yielding to some pressure he couldn't himself properly identify, and let Li'l Abner marry Daisy Mae, I gave him up. I was told that Barnaby had the real stuff, I still am told that Pogo is as imaginative and fanciful and great as I thought Krazy Kat was—but I cannot focus on these or any other strips as I turn the pages of my newspaper." But he says he still enjoys Krazy Kat—if only between the covers of a reprint book, the one to which E.E. Cummings supplied a preface, reprinted in Abrams volume at hand.
At the end of the Krazy chapter, Seldes writes: "George Herriman was one of the most endearing men I have ever known. Once, while he was living in New York, which was not where he wanted to be, he said he hoped to end his life on the mesa, lying down on a giant cactus leaf until he shriveled up and was blown away by the wind. He almost had his wish. Although he sounded rather sad the last time I talked to him, out West, he was approaching death as sweetly as he had approached life."
And in the end, Herriman was cremated and his ashes scattered in Monument Valley, near that mesa he so admired.
The only flaw in this otherwise delicious book is that on several occasions a large and beauteous color drawing is printed across the book's gutter, effectively putting a giant gully in the middle of the art (as we can see in one of the three illustrations accompanying my effusion here). Publishers of art books face this difficulty all the time: how to reproduce an artwork too large for the page size. And they invariably solve the dilemma in the same defacing way—by running the picture across the gutter, thereby destroying the very art they seek to immortalize with the book. I'm not sure there's a happy solution—printing the picture sideways? That works but not if the picture is twice the size of the book's pages.
Maybe the best way is to adopt the Playboy plan: print the large artwork on a fold-out page. Admittedly, a crease would deface the middle of the picture, but a crease is not as damaging as the gully of the gutter, which pinches and thereby obliterates the middle of the art. Playmates have had staples in their stomachs for years and no one has complained about a diminution of their seductiveness.
The gutter trap happens less than a dozen times herein, so my gripe is not so devastating as it may be for other books of this ilk.
Nancy Is Happy
By Ernie Bushmiller; edited by Kim Thompson with Introduction by Daniel Clowes
336 8.5x8.5-inch pages, b/w; Fantgraphics paperback, $24.99
THREE YEARS OF Bushmiller's oddly compelling daily comic strip, 1943 through 1945, are presented in chronological order, three strips to a page (except for an occasional page devoted to one daily, enlarged to fit), each carefully dated. In case you've temporarily mislaid the information, Nancy, a precocious eight-year-old girl who looks like a fireplug, first appeared in the strip Fritzi Ritz, who was mostly a flapper of the uproaring 1920s. Larry Whittington began Fritzi Ritz in 1922, but Bushmiller took it over three years later and made it his own. And in 1933, Bushmiller introduced Fritzi's niece, Nancy, and the brillo-haired brat soon dominated the strip, which was retitled Nancy in 1938. At its peak in the 1970s, Nancy ran in more than 880 newspapers.
Fantagraphics, already awash in classic comic strip reprints—The Complete Peanuts, Popeye, Krazy & Ignatz, a upgraded re-issue of Prince Valiant, plus Captain Easy, Dennis the Menace, Zippy the Pinhead and others— has acquired the rights from United Media to publish the first 24 years of Nancy, beginning when Nancy took over the strip through 1961.
"I was a late Nancy convert," admitted editor Kim Thompson. "It wasn't until Denis Kitchen published his Nancy collections in 1989 and 1990, after people like Bill Griffith and Scott McCloud had been touting it for years, that I finally 'got' it. It's one of the all-time greats— way ahead of its time in its own goofy way. Ever since then it's been at the back of my mind to do a more extensive reprinting, and our ongoing successes with classic reprint series told me the time is now ripe."
About the content of the first volume, which doesn't begin at Nancy's beginning, Thompson said: "While we have access to great, nearly complete runs for most of the 1940s dailies, it looks like it will be far more trouble to collect the 1938 and 1939 material. So we've put out a call to Nancy fans, both over the internet and in the first book itself, until we eventually secure the missing strips to double back and release the best possible 1938-1942 volume."
The complete story of Ernie Bushmiller, Nancy and the alleged Bushmiller Society (is it or is it not an invention of Denis Kitchen?) is rehearsed at Harv's Hindsights for November 2010 under the oddly compelling heading, "The Lawrence Welk of Cartoonists." (And the reason I keep using the expression "oddly compelling" is to plug the collection of cartoons by the ever illusive Denis Kitchen; but more about that book at a later time.)
Secrets Behind the Comics
By Stan Lee
100 5.5x8-inch pages, b/w; Pure Imagination paperback, $20
IF JACK KIRBY is the King of Comics, then Stan Lee is surely the Cornball Prince of the genre, and we find him enthusiastically "on" throughout the reprint of this 1947 gem, which, while purporting to reveal deep dark secrets, is a well organized guided tour of the comic book business, the secrets of which seem today quaint to most comics afficionados. One of the "secrets," for instance, explains how artists and writers, who don't know each other and may never actually meet, can work on the same comic book. Answer: they work through an editor! (Exclamation points end almost every sentence in the book.)
Lee's fourteen secrets begin with: Who is Stan Lee and why did he write this book? —and ends with: What happens inside of a comic publishing house? The latter has charts and diagrams. Other sections offer clues about "How to discover who is the real artist of a comic strip" and "How to recognize artists' styles!" (One good way to recognize Ed Winiarski's style is to notice "how many folds Ed draws in his figures' clothing. ... In the picture of Gabby in panel 4, do you see all the folds in Gabby's pants and coat? This is called 'putting in lots of detail.'")
Three sections in the book give the reader a test, and at the end of the tome, Lee encourages would-be comic book artists to send him samples of their work, which he will "personally inspect and personally write you a detailed letter, telling you how good it is—or how bad it is!"
The volume is amply illustrated, including sample scripts and a few reproductions of penciled pages that, alas, don't reproduce well in this reprint effort. Among the compensating treats, however, are caricatures of numerous comic book producers of the time—Ed Winiarski, Vic Dowd, Ken Bald, Frank Carin, Ed Jurist, Kin Platt, Mario Acquaviva (letterer), Violet Barclay, Alan Sulman, Syd Shores, Mike Sekowsky ("one of the fastest artists in the comic magazine field!"), Morris Weiss ("one of the speediest artists you can find!" whose wife Blanche is mentioned in the section about how one artist can write, pencil and ink his own strip), Basil Wolverton, and "able" Allan Jaffee, as well as Stan Lee and publisher Martin Goodman, both realistic renderings.
Goodman stars in the section "How a comic strip is created!" which explains how he created Captain America. No mention of Joe Simon or Jack Kirby, who, by this time, had left Marvel and were working for DC, a defection rewarded in this tome by omitting the creative duo entirely. Those who survive get to write the history, and Simon and Kirby didn't survive at Marvel. Not in 1947 when this book was first published.
The Complete Peanuts: 1983-1984
By Charles M. Schulz
346 7x8.5-inch landscape pages, b/w; Fantagraphics hardcover, $28.99
THE 17th VOLUME IN Fantagraphics massive reprint project has Franklin, the strip's African American kid, on the cover even though he debuted in the strip years before the strips reprinted in this book (July 31, 1968). As in all the previous Seth-designed volumes in this series, each page offers either three dailies or a Sunday, all in perfect chronological order, each meticulously dated. At the end of the book is a helpful index ("snoring" can be found in strips on pages 109, 264, 267-68, 270-71) and a short biography of Schulz.
This volume's introduction is from movie maven Leonard Maltin, who, he reveals, as a kid aspired to be a cartoonist, wrote to Schulz, and received in response a "personal, full-page typed letter" from the "great man"—and an original daily strip A lifetime later, Maltin met the man in person when he was invited to shoot a video with Schulz to accompany a celebration of the strip's 35th anniversary.
Maltin's life-long appreciation of Peanuts inspires this insight: "To a generation accustomed to acquiring complete collections such as this book's, it must seem downright quaint to think of a time when people actually waited for each daily installment of a popular strip. I still marvel when I read about the following that Dick Tracy had in the 1930s and 1940s—yet I fell under a similar spell when I first came upon Peanuts in my father's evening copy of the New York World-Telegram in the late 1950s. I remember the mounting suspense over Linus' lost blanket when it was used as a kite in that memorable run of stories in 1961."
As do we all.
BADINAGE AND BAGATELLES
Musing about the Trayvon Martin killing, Time's columnist Joe Stein wrote (April 16): "I'm less afraid of criminals than of guys in a neighborhood watch. ... Neighborhood watch guys have always creeped me out because they seem a little eager for something to go wrong, like they've been waiting for one act of heroism to fulfill their lives. ... So I'm not surprised that George Zimmerman, the man who shot teenager Trayvon Martin for wearing a hoodie, was the coordinator of his neighborhood watch group. ... We act shocked by neighborhood watch killers and soldiers who commit atrocities overseas. Shocked that violent men don't always figure out who deserves their aggression and who doesn't. That's because we live in a comic-book-soaked culture in which we convince ourselves that aggression can be neatly meted out in zooms and kabows. It may have just become clear that I've never actually read a comic book."
FUNNYBOOK FAN FARE
Four-color Frolics
An admirable first issue must, above all else, contain such matter as will compel a reader to buy the second issue. At the same time, while provoking curiosity through mysteriousness, a good first issue must avoid being so mysterious as to be cryptic or incomprehensible. And, thirdly, it should introduce the title's principals, preferably in a way that makes us care about them. Fourth, a first issue should include a complete "episode"—that is, something should happen, a crisis of some kind, which is resolved by the end of the issue, without, at the same time, detracting from the cliffhanger aspect of the effort that will compel us to buy the next issue.
STAN LEE'S MIGHTY 7 No.1 arrived just as I was about to ship this R&R installment off to the Rancid Raves webmaster in Japan, so, funnybook in hand, I'm obliged to report on it. The opening splash page shows Stan at a computer—typing, presumably—with seven costumed superheroes bunched over his shoulder, as he says: "I'm Stan Lee ... but don't hold that against me! ... I won't claim this story is true because I can pretend it's fiction and get paid for writing it! ... But once it's in print, you can bet I'm going to watch my back!"
Then, upon turning the page, we meet a scruffy version of the scruffy Watchman, the Comedian, who is exacting vengeance on a fat, bald greedy entrepreneur who poisoned the city's water supply so he could sell his water filters to the otherwise poisoned multitudes. Scruffy, whose actual nom de guerre is Blastok, is interrupted at this good deed by a Star Marshall named Asoara, but it's her buddy (and not-so-secret admirer) Vallor who pastes Blastok a good one in a 4-page free-for-all that ends with Blastok aboard the Star Marshalls' spaceship, a prisoner with four other super-powered miscreants. Blastok's sin, it emerges, is that although he was once a Star Marshall, he lost his license and he's not supposed to practice superheroing without sanction. So he's arrested and jailed.
But Blastok and his fellow prisoners—Faidout, Mercuria, Telepan, and Ovalax—break out and another 4-page free-for-all ensues. It ends, however, when Ovalax, whose superpower seems to be turning himself into a big, powerful ball, rolls into the space craft's controls and sends the thing careening earthward.
Meanwhile, between fight sequences, two other plot strands begin to unwind. In one, Stan Lee is the protagonist, and he goes to Archie Comics (which is the publisher of Stan Lee Comics, the line of which Mighty 7 is the first) and tries to sell a story to Archie Co-CEO Jon Goldwater, but he's not successful. Goldwater expected Stan to come up with a new group of superheroes (i.e., we suppose, breathless with discovery, the Mighty 7?), but instead, he's produced a superheroic horror tale, "Betty and Veronica in the Mosh Pit of Doom." Goldwater isn't having any of that, so Stan leaves the premises, tale between his legs, to ponder his future: will he ever write another superhero story? Or not?
The other strand of story involves a hysterical mad scientist who has invented the p-wave generator that, operating on the same principle as vaccines, can prevent future earthquakes by causing minor quakes. His demonstration, however, is sabotaged by an assistant fed up with the genius's arrogance, and when the university moguls funding the mad scientist's research deny said funding, he vows vengeance as the police lead him off-camera (and, in the lower right corner of the page, a hideous skull says he'll help, starting in the next issue).
That's the first issue. And it meets the criteria I expect a good first issue to meet. We encounter a couple characters we might get to like—Vallor and Asoara (he loves her unabashedly, but she's not similarly disposed; romantic conflict). Even Blastok. And Mercuria, who applauds the action of her fellow prisoner, Faidout, who can shrink in size small enough to slip out through a keyhole: "Like I always said," she says, palming off this issue's double-entendre, "—size does matter." The others don't display much personality as yet.
There are several complete episodes, each one revealing more of the characters' personalities by showing them in action: Blastok's capture, the mad scientist losing his funding, the escape of the five prisoners (who will, we assume, band together with Vallor and Asoara to make up the Seven of the book's title), and Stan Lee failing to sell a Betty and Veronica story.
And that brings us to the cliffhanger. Stan has gone off into the desert to think, and just as he starts composing a letter to his fans, announcing his retirement, the space ship with the Mighty 7 on board—having lost its controls, crashes into the desert behind Stan and bursts into flames. "Little did I dream," he muses, returning us to the caption narrative mode that began the book, "that, after this moment, superhero stories everywhere would never be the same."
Not bad.
Now we want to know, not just what happens to the Mighty 7 and how the mad scientist will achieve his revenge (and will that endanger our Mighty 7?), but also how superhero stories will change forever—and what Stan's role in that might be.
Not bad at all.
The eight pages of fight scenes, each filled with bombastic self-serving exhortations by the costumed characters, are a tedious reminder of the old Stan Lee Marvel comics, but the device of including Stan in the story as a character is, as he triumphantly announces, new—"the world's first reality comic book!" And the entanglement of his fate with that of the comic book characters he presumably is inventing is the kind of twist the old Stan Lee Marvels would not attempt. Stan has attempted it before, though, in Boom's Starborn in which the superheroic beings are all inventions of a wannabe writer of fiction, and we slip back and forth between the reality of the writer's world and the fiction (or is it?) of the world he imagines, slippage graced by artist Khary Randolph, who deployed two drawing styles, one for each of the worlds. Nothing of that visual inventiveness here. Alex Saviuk is expert in depicting all the events but only routinely so.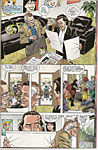 The quaint spelling of the Mighty 7 characters' names is a little too cute, and while the bombast of their utterances is tiresome, it contrasts nicely with the superhero-weary talk of the Stan Lee character, another sophistication that the old timey Marvels could scarcely countenance.
The book's credits indicate that Stan's involvement with this title is slight: he's credited with the "concept." Which means, I assume, that he gave to writers Tony Blake and Paul Jackson, the idea of a Stan Lee writer who, about to give up on his life's work, is rejuvenated by "real" superheroes in action. (Or are they real? That'll be the conundrum that ends the 6-issue series, I'd say.) Thereafter, it was up to Blake and Jackson to put flesh on the bare-boney notion they'd been given. (And if we were being nasty, we'd say that this maneuver continues a practice Stan began with Kirby and Ditko—letting them to all the work while he takes credit. But we're not being nasty today.)
Another remnant of bygone times is a revival at the end of the book of Stan Lee's Soapbox, now under the banner "Yakkin' with Stan." A welcome infusion of his comical prose, mightily inflated with self-adoration (tongue in cheek, of course).
The concept of Mighty 7 is intriguing, especially the anti-vigilante theme, which, were it to run rampant, would unhorse every superhero presently cavorting.
THINKING ABOUT IT
Speaking of the week of vaginal invasion depicted in Doonesbury, Tom Tanquary (owner, Picture and Sound Productions and other such enterprises) said: "That week's strip was so politically charged that some newspapers substituted older ones for it or moved it to the editorial pages. If Doonesbury appeared only on a website of comics, would anyone care what the strip was about? Without that uniform delivery system of aggregate news sources (newspapers) that's seen by the national reading population on the same day, can a comic strip still have an impact?"
THE FOUR-COLOR FANTASIES I'M READING THESE DAYS
The Funnybooks I Spend My Money On
Pin-Up Heroines
Not that it matters much in the long run because Father Time, as he always does, has sorted it out by merely passing. I think. But for a few weeks there, Previews (No. 281, February) had convinced me that with No. 8, the New 52's Catwoman was no longer going to be drawn with loving lasciviousness by the meticulous Guillem March but by two other guys, Adriana Melo and Mariah Benes. But then when I bought No. 8, I saw that March was still there. And Previews lists him doing No. 9, too. And that's a good thing. The disappearing Melo and Benes turned up, though, drawing No. 7, which they did with considerable panache, but it was March who impressed me. Regardless of who draws the book, I suspect Selina will continue banging Bruce at every opportunity, but fornication among the spandex set is now being regularly enacted at Marvel, where the fickle Black Cat is taking turns seducing Spider-Man and Daredevil, willy nilly, you might say, showing no preference as long as the wood is ready.
Strictly speaking, these sorts of antics qualify as pornography (from the Greek, porne, meaning harlot, and graph, meaning writing; hence, writing about prostitutes—or, sex workers, or sex generally). But we're not being strict here, so it's not porn; it's just romance at its heavy-breathing lustiest. Fortunately, Republicons don't read comic books, or we'd have Sanctorum, His Newtness, and the Ambidextrous Mittins all over us, wagging their fingers and clucking about the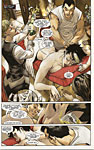 exclusively procreative purposes of sex.
March has a book out, by the way—Cover Girls (80 9x12-inch pages, color; Image hardcover, $24.99), very elegant fine-line drawings taken from his Spanish comic books (Sofia, Ana & Victoria and Laura) and from the Spanish Playboy and, even, Eros. Very nice but, compared to Catwoman, restrained. Plenty of nudity, but elegant nudity, as I said. At eye level here, however, a page from Catwoman No.5; somewhat less restrained.
SPEAKING OF VISUAL EXUBERANCE—some years ago, I bought a copy of She Dragon, a seeming one-shot by Dragon-creator Erik Larsen with pictures by Franchesco. I've admired Larsen's achievement and persistence with Savage Dragon for years: he's now approaching the 200-mark with the book (current issue, No. 181). None of the other original band of Image renegades has kept going as long on his initial conception. And Larsen is still both writing and drawing Dragon; here's a guy who loves his medium and his creation. But I can't buy every funnybook I love, so I don't get back to Savage Dragon regularly. In this case, however, it was Franchesco that inspired my purchase—way back in 2006, kimo sabe.
Franchesco is a specialist in the femme form although, as far as I know, he doesn't do a regular book; I used to run into him at the Chicago Comic-con Artists Alley occasionally. In She Dragon, he's lavished his usual care on the title character as you can tell from the mash-up gallery of panels I've assembled down the scroll. Apart from the delectable Franchesco wimmin in this book, we have Larsen the Crazed Storyteller, a double-barreled treat you ought not miss.
Not only is Larsen a surpassingly triumphant storyteller, but he has a wicked sense of humor that lurks pervasively throughout the Dragon canon. This fiendish wit first impressed itself on me several light years ago when the Dragon was badly damaged and stuffed down a chimney, where he was all wrinkled and bent up, broken bones every which way. The joke was this: Dragon has the kind of healing mechanism that Wolverine has, so here he was "healing" while being mashed up in a chimney. When he healed, he was so bent out of shape that he had to have his bones all broken again in order to heal in some semblance of his original form. Now that's a sense of humor.
The same twisted risibles seep into Larsen's work whenever he pauses in penciling flat-out, straight-ahead bristling muscle-bound action. And sometimes, even more so. In this book, Larsen perpetrates a two-page footnote at the end during which he explains how She Dragon, aka Amy Belcher, winds up in Dimension-X for this book's adventure. Mr. Glum flung her there. Mr. Glum, Larsen explicates, is actually a "pip-squeak" named Ba-Goom from another world. "Though Ba-Goom was considered a giant on his world, on Dragon's world, he was little more than a foot-and-a-half tall."
In the opening pages of the book, She Dragon rehearses her origin after momentarily rejoicing that Mr. Glum had flung her wardrobe into Dimension-X after her so she wouldn't
have to face this new world "in my naughty nightie." She was a sick-unto-death sixteen-year-old, and a mysterious "creator" touched her and saved her life. She awakens and blurts out: "What happened to me? What—? Oh, lordy—I'm green! And my tits are huge!"
That's the sort of superior nonsense you will find in this tome if you're lucky enough to find one in a back-issue bin somewhere. In case you don't, here, at your elbow, is that mash-up of the delectable Franchesco She Dragon (whose face and form make me wonder about her naughty nightie), plus a few of Larsen's layout pages that Franchesco followed for the first 26 pages of this monster magazine. (They were having so much fun they got carried away and added 16 more pages to the planned 48.) Think of this R&R opus as our "swimsuit issue." If Sports Illustrated an pass off their annual undressed issue as sports, then we can show pictures of wimmin in their scanties as superheroines.
THE LATEST OFFERING from Ed Brubaker and Sean Phillips, Fatale, is now up through the third issue. I wasn't sure, after the first, that I'd like this endeavor. It seems to be about a deathless femme fatale named Josephine, who, in this series, is seducing men in two different eras. Too much supernatural sleight of hand for me normally, but Brubaker is slowly persuading me to enjoy being hooked. And every issue includes nifty bonuses: in No. 2, an essay about Edgar Allan Poe as a horror writer; in No. 3, about long overlooked mystery writer Dan. J. Marlowe. Both engaging and informative. And every issue also concludes with a stream-of-consciousness memo from Brubaker. In No. 3, he tells us that Fatale is not, like the other fictions he and Phillips have collaborated on, a limited mini-series. Neither, Brubaker asserts, is it an on-going title. "It is an epic," he says, "which will, as of this writing, run about 15 issues, unless it goes longer as we work on it. It was going to be 12 when I started it, but it's grown since then. In fact, this issue was where I realized I needed more space to tell it all."
I'm enjoying Mike Mignola's Lobster Johnson, too. It's the name, Lobster Johnson, that worms its way into my head. The current on-going story, "The Burning Hand," is okay, properly suspenseful and replete with stand-alone episodes in each issue, but it's the protagonist's name that haunts. Possibly the best name in comics after Hello Swifty, a detective in early Barney Google. Tonci Zonjic's drawings are beautifully simple: he doesn't drench his pictures in solid black as Mignola does (whenever he draws, which, alas, ain't much lately), but there's enough shadow to create a distinctively menacing ambiance. Nor does he feather and model his forms; it's his pristine precision with an economical line that attracts and holds. Beautiful.
In Batman, I'm attracted mostly by Greg Capullo's magical pictures, fraught though they are with details often too infinitesimal to see with the naked eye, his adroitly storytelling layouts and breakdowns—all of it oozing atmospherics and laden with inker Jonathan Glapion's exquisite fineline embellishment. In Nos. 5 and 6, Batman is the captive of the Court of Owls, a bunch of masked Gotham moguls bent on preserving their ill-gotten power over the city. I've seldom seen as much graphic brutality and blood spatter as No. 6 offers, but by No. 7, the Cowled Crusader is back home in the Bat Cave, nursed back to health by the ever-faithful Alfred. (Crusader? When's the last time that noble appellation applied to our spandexed sociopath?) Batman manages to get his left eye back into its socket (I told you, it's been brutal) but he still needs a shave: Glapion decorates the hero's jaw with a fine spray of ever-so tiny whiskers, about 18 hours old, I'd say, which makes the bruised and battered Batman more than just a little scruffy-looking.
Despite (or perhaps in defiance of) my own failing to keep up with Paul Grist, I'm getting a kick out of his Mud Man. I've never come to the end of one of his tales and so I'm as disappointed with him as with Palmiotti and Gray (next in our line-up)—but in Grist's case, it's my own fault for abandoning a title before he finishes. His storytelling in Mud Man is, as usual, as crisp as his drawings, and his page layouts are unconventional but depict progressive action clearly. The story, up through No. 2, is about how a kid named Owen Craig becomes Mud Man—i.e., a man of mud who is, therefore, indestructible A bad guy shoots holes in the costumed character's mud chest, but the holes fill up, the mud folding in on itself because it hasn't the substance to hold a shape, and Mud Man is once again whole. This could be fun. Ditto Image's other Grist reincarnation in "Britain's Greatest Hero," Jack Staff, the title character whose fighting togs evoke his country's national flag. Again, Grist's impressively simple drawing, liberally laced with solid blacks, promise a feast of comics viewing. Maybe this time, I'll stick with these titles long enough to reach endings.
IN ALL STAR WESTERN, Moritat is more at home picturing the grouchy Jonah Hex than he ever was imitating Will Eisner on the Spirit. His pictures have the stiff and wooden quality of stain-glass windows, but his breakdowns and layouts give life to the proceedings, moving quickly, step by step, through the hazards afflicting our defaced hero. Hex has wandered into 19th century Gotham, where he acquires an escort in the person of Doctor Arkham, for whom, presumably, the 20th century asylum for the criminally insane is named. The appeal of this series arises chiefly from the promise it offers to explain some Gotham origins. In No. 5, Hex and Arkham find themselves in the Bat Cave, menaced by a tribe of primitive zombies and, by the end, a giant bat.
Arkham is the narrator and supplies a running comic relief by screaming about his helplessness in the face of life-threatening adversities, with which the Cave is liberally festooned. One of the most comical is, I'm sure, unintended: they fall into the Cave via a waterfall, but Arkham's pincenez stays firmly in place in the bridge of his nose throughout the otherwise shattering experience. In No. 6, Hex and Arkham escape the Cave, popping out into the world again at the Wayne Mansion—"home to Alan and Catherine Wayne," Arkham helpfully says. Alan joins them as they go looking for some kidnapped childen, and after they rescue them, Hex decides to pursue the perpetrator of the juvenile slavery to New Orleans, where he'll encounter Nighthawk and Cinnamon, shown at full-page length on the last page of the book.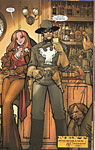 Alas, the title has so far not delivered quite as promised. Writers Jimmy Palmiotti and Justin Gray take us on a guided tour of Gotham's Bat Aspects, but we don't find out if Wayne knows about the Bat Cave beneath his mansion or how Arkham Asylum came to be. Hex also encounters the forerunner of the Court of Owls, but no origins are detailed. After all the titillation, Hex just leaves the storied city for another one on the Gulf of Mexico. Just leaves. Dangling promises and loose ends behind him. Palmiotti and Gray have done this before—frequently, in fact: they conjure up all sorts of nifty complications but seem unable to tie them all together in a concluding crescendo that proclaims "fini" with a flourish. Reminds me of Al Capp, who could construct Baroquely fiendish satirical adventures for Li'l Abner but could never quite end the satires satisfactorily: instead, they just sort of dwindle, disappearing off stage as his protagonist turns on a dime to face a new preposterous predicament. Ditto here. Too bad.
WE'RE ALL BROTHERS, AND WE'RE ONLY PASSIN' THROUGH
Sometimes happy, sometimes blue,
But I'm so glad I ran into you—
Tell the people that you saw me, passin' through
Rex Babin, 1963 - 2012
The Sacramento Bee's editorial cartoonist Rex Babin died March 30 at his home after a two-year battle with stomach cancer. He was 49.
I knew Rex and worked with him on committees of the Association of American Editorial Cartoonists, of which he was president in 2010-11. During his regime, we met in Portland, Oregon, the first time in years at university facilities, and we had to walk from the campus hotel where we slept to a building in which we met a few blocks away. Rex assembled the unruly inkslingers in the hotel lobby and led us fearlessly through Portland wilds to the meeting site, waving his arms like John Wayne at the head of a wagon train and shouting directions and encouragement as we went.
A few years before when we met in Sacramento, he assembled the convention's program events, capturing Jerry Brown to make a speech while he was still merely California's attorney general.
Rex had a passion for the profession and something of the cheerleader in him, and it was a quality AAEC needed in these times of the diminishing ranks of editorial cartoonists. As president, he held out hope—and goaded us on.
Rex's drawing style was unique: in a profession still recovering from grease-crayoned Herblock and cross-hatched MacNelly, no one else drew in such a spidery albeit realistic manner. Sketchy but powerful, as you can see from the samples we're posting just at the corner of your eye.
It was hard to find examples of Babin's cartoons that would be comprehensible to people not residing in Sacramento, the state's capital: most of his barbs he shot at local and state politicians, and the faces of his villains are not familiar to most of us.
One of his most recent, for instance, skewered the state's Fish and Game Commission chairman Daniel Richards, whose resignation hordes of animal-rights activists and legislators demanded after he posed in a photo holding a magnificent mountain lion he'd shot. As you can see in the array above, Rex's reaction was to mount Richards' head like a hunter's trophy on the wall next to a bear and a lion. But without the explanation that the McClatchy Newspapers' obit supplied, we could scarcely realize how potent the cartoon is.
I knew Rex, but I didn't know him well, so I'll surrender this space to those who did, his colleagues at the Bee; herewith, their farewell on March 31—:
IN WHAT MAY BE REX BABIN'S MOST BELOVED EDITORIAL CARTOON, huge hands reached down from on high to steady US Airways Flight 1549 as it floated on the Hudson River, passengers standing on its wings. The "Wings on the Hudson" cartoon showed a different, more emotional side of Babin to Sacramentans who were accustomed to the sharp observations of his political cartoons: it showed his heart.
"That cartoon resonated with people on the flight," said his wife, Kathleen. "He heard from many of the passengers and crew, and he presented it to Captain Sullenberger when he was in Sacramento. The reaction was amazing. But he liked the ones that stirred up controversy. He was proud of doing that."
For Babin, passion was the point of his work. With what Sacramento Bee editorial page editor Stuart Leavenworth called "an amazing blend of edge and humanity," Babin's cartoons touched people, stirring their anger and outrage, making them laugh and making them think.
"When Rex nailed a cartoon, it resonated more than anything we could say in words," Leavenworth said.
Many of the political figures he'd skewered over the years remembered him with praise.
"In politics, as in life, you have to be able to laugh at yourself from time to time," said Governor Jerry Brown. "Rex had a unique ability to make biting comments in a way that still managed to put a smile on your face."
Said former Governator Arnold Schwarzenegger: "Rex was truly a great artist. He put a smile on people's faces, even as he educated the people with his cartoons and made them think about difficult current issues."
Babin liked to tell people that he was born to be a cartoonist: from the time he was in diapers, he was drawing and playing with crayons. He was born in Walnut Creek, California, to Shirley and John Babin. When he was 4, his father died of myasthenia gravis, and his mother moved Rex and his younger brother, Trent, to Los Angeles, where she sold real estate. A field trip to the Los Angeles Times when he was in junior high showed him a career, after he saw the work of Pulitzer Prize-winning editorial cartoonist Paul Conrad, his wife said.
He cartooned for the student newspaper at San Diego State University, where he majored in English. After working as a graphic artist at the Orange Coast Daily Pilot, where he met his wife, he worked as editorial cartoonist for the Denver Post, 1988-89 (during Mike Keefe's sabbatical), and then at the Times Union in Albany, N.Y., joining the Bee in 1999. He was a finalist for the Pulitzer Prize in 2003, and he won the Berryman Award in 2001.
"He was a cartoonist who other cartoonists really respected," said his longtime friend, Jack Ohman, editorial cartoonist for the Portland Oregonian. "I thought he was the most artistically talented cartoonist in the U.S. He was almost painterly in his approach. He was influential with other cartoonists because he challenged them all the time to talk about local issues that affected their own readers."
He took special pride in his local cartoons with their pointed commentary on City Hall, the Capitol and local life. After becoming ill, Babin still did some cartooning whenever he felt visually inspired by the news and up to drawing, his wife said. And his last cartoon was published on March 4.
"Rex shared a piece of himself with every cartoon he drew," said Cheryl Dell, publisher of the Bee. "His wit, wisdom, sense of optimism and friendship will be sorely missed both by readers and his Bee family."
Those closest to him knew that Babin was a devoted family man who described the day his son, Sebastian, now 10, was born as the best day of his life; and an athlete who played football in high school, surfed in college and for the past two decades was a competitive rower.
"We were friends because we both loved the outside," said fellow River City Rowing Club member Peter Brostrom. "We liked to talk politics and sports. We're both passionate about our families and friends and life in general. I had a lot of conversations with Rex this past year about what life means. A lot for him involved recognizing at the end how truly beautiful life is and what a gift it is."
As a resounding footnote, Governor Jerry Brown declared April 15th to be 'Rex Babin Day' in the in the state of California. Here's the governor's proclamation:
PROCLAMATION BY THE GOVERNOR OF THE STATE OF CALIFORNIA
"It is difficult not to write satire," observed the Roman poet Juvenal at the close of the 1st Century A.D. Few understand this basic truth better than political cartoonists who, 2000 years later, wield the power of caricature, parody, farce and lampoon in the pages of our newspapers.
Paul Conrad said that political cartooning "is a peculiar art form ... but a necessary art form ... and a noble art form." Rex Babin found his calling during a junior high field trip to the Los Angeles Times. After studying Conrad's Pulitzer Prize-winning work for the Times, young Rex dreamed that one day he, too, might join the pantheon of great political cartoonists. For Rex that dream came true.
Over the past twelve years in Sacramento, Rex chronicled the pitfalls and foibles of politics in the Golden State and beyond. His pen rendered verdicts on every issue and individual of importance. He had the unique ability to make biting comments in a way that still managed to put a smile on your face. Those lucky enough to escape his scathing critique should feel slighted to have been overlooked.
Rex left us too soon, and life will never be the same for the family, friends and colleagues who knew the man behind the pen. But his wife, Kathleen, and his son, Sebastian, can hopefully find some solace in the fact that the State of California mourns this native son today.
A powerful voice is gone, but a legacy remains. Rex is best remembered—not with words—but with cartoons. For these were his life's work, shedding light and laughter amidst turbulent times, and becoming an indelible part of our history.
NOW THEREFORE I, EDMUND G. BROWN JR., Governor of the State of California, do hereby proclaim Sunday, April 15th, 2012 as "Rex Babin Day."
IN WITNESS WHEREOF I have hereunto set my hand and caused the Great Seal of the State of California to be affixed this 15th day of April 2012.
___________________________________
EDMUND G. BROWN JR.
Governor of California
Read more here: blogs.sacbee.com/the_swarm/2012/04/gov-jerry-brown-declares-april.html#storylink=cpy
A tribute to Rex written by Jack Ohman, plus links to Rex's cartoons and to stories about him, has been posted at the AAEC site:
news.editorialcartoonists.com/aaec/2012/04/farewell-to-rex-babin.html
Jean Giraud (aka Moebius), 1938 - 2012
By Paul Vitello, New York Times
Jean Giraud, a French comic-book artist whose dark, intricately drawn fantasy worlds exerted a profound influence on graphic novels worldwide and on American science fiction films like "Alien," "Tron" "The Fifth Element," and "Avatar," died March 14 at his home outside Paris. He was 73. The cause was cancer, according to a statement by his publisher, Éditions Dargaud.
Giraud, who used the pen name Moebius in much of his work, was seen in the comic-book world as a kind of artist-avatar of the unbounded interior human landscape. In France, where the line between popular and serious art often blurs, he was a source of national pride. Jack Lang, the French minister of culture in the 1980s and early 1990s, told Reuters that Giraud's work "made him the figurehead of this unique art form in France."
His reputation as a comic book master was established in 1963 with Les Aventures de Blueberry, a Wild West story about a fugitive Union Army lieutenant running from the law. His densely packed panels depicted an American West he knew mainly from the movies. But the drawings conveyed both the minutest natural details and an outsider's sense of the menace lurking in the vast badlands — a combination that would later come to define his science fiction work as well. Giraud drew 28 volumes of the Blueberry story, the last in 2005. Fifteen were published in English in the United States between 1977 and 1993.
In the mid-1970s, Giraud worked for the French comic magazine Pilote and helped start Métal Hurlant, a monthly comics magazine that was replicated in the United States as Heavy Metal. Its stable of graphic artists produced an array of book-length stories that combined science fiction, horror and erotica. The best known were Giraud's tales of the character Arzach, a wordless series about a warrior who soars over the desolate terrain of a distant world on the back of a pterodactyl-like creature and eventually enlists the help of a disillusioned graphic artist from Earth to help him fight an enemy they share.
Giraud, whose pen name referred to the disorienting, curved plane known as the möebius strip, was often compared to M. C. Escher, the Dutch master of mind-boggling, dimension-bending graphic art.
Jean Henri Gaston Giraud was born May 8, 1938, near Paris. His parents divorced when he was 3, and he was raised by his grandparents. He began drawing illustrations and comic strips in his early teens, sold his first story at 15 and became an advertising and fashion draftsman at 18, after two years of art school. The Belgian artist Joseph Gillain hired him as an assistant for the strip Jerry Spring, set in the American West. He adopted the pen name Moebius in 1963, when he began drawing the Lieutenant Blueberry stories.
In "The Masters of Comic Book Art," a 1987 documentary that featured interviews with a wide spectrum of artists, including the Pulitzer Prize-winning memoirist Art Spiegelman and Jack Kirby, a co-creator of many Marvel superheroes, Giraud said he had turned to comic strips as a young man to escape what he considered the shackles imposed on graphic artists by the conventions of commercial art.
"Comics gives to the artist a very interesting field of exploration and research," he said. "Everything is possible. You can be very small or very big or very modest or very ambitious. You can stay in a regular style like everybody, or you can escape and be completely unusual and incredible. You can give more to the world, more to the drawing. Everything."
Fran Matera, 1924-2012.
By Tom Spurgeon, Comics Reporter
Fran Matera worked in both comic strips and comic books including a long run on the Steve Roper and Mike Nomad daily; he died on March 15 in Safety Harbor, Florida, surrounded by members of his family.
Matera grew up in Connecticut and through Alfred Andriola made contacts at Quality Comics, where he worked both before and after highschool graduation during the height of the comic book industry's initial explosion of activity before World War II. That work included uncredited art on Quality's Doll Man character. Matera studied at the Art Institute of Chicago (some sources indicate that this may was supplemented by a correspondence course taken before making the move to the Windy City) before dropping out to join the marines during the War. He spent some of his time in service drawing political cartoons and a comic strip, Ship to Shore, for the camp newspaper on Parris Island. He would eventually request combat duty.
[Before getting shot at, though, he was assigned once to guard Harry S Truman when the President visited the ship Matera was aboard. In preparation for the visit, Matera drew a portrait of Truman from a photo and presented it to him. Reported Andrew Meacham at the Tampa Bay Times: "A copy of the sketch, signed with compliments by Truman, hangs in Matera's studio. It is dated August 5, 1945, a day before an atomic bomb landed on Hiroshima."]
Matera launched his comics career in 1947 after leaving the military, starting by assisting Andriola on Kerry Drake. His first solo major comic strip assignment was illustrating the Dickie Dare feature, which he did from late 1947 to 1949. Other major assignments were doing art for Little Annie Rooney (he ghosted in the early 1950s), two years on a feature called Mr. Holiday with the writer Chad Kelly, one year in the late 1950s on a Nero Wolfe enterprise, additional and somewhat brief ghost-artist stints on Rex Morgan, MD, Judge Parker and Apartment 3-G.
Matera was part of two of the more prominent late-period efforts to revive the adventure strip: an Indiana Jones-related effort and The Legend Of Bruce Lee strip from the early 1980s. He also worked on an abortive strip project featuring Dolly Parton.
In comic books, Matera was one of the many artists who did hundreds of pages of work, including covers, for the Charlton line, a comic book company noted for their ability to supply as much work as a productive artist might be able to do, to the point they could fit it around other projects. He worked on the Catholic comics magazine Treasure Chest from its inception, mostly for its Chuck White serial (from its launch through 1971) but also for the initial material presented to educators. He also did comic book pages for the Stan Lee/Jack Kirby Hulk character and for various Tarzan comics when the Edgar Rice Burroughs property was at Marvel.
Matera's most high-profile gig was a two-decade run on Steve Roper and Mike Nomad for King Features, beginning in 1984 and ending with the strip's cessation in December 2004.
After retirement Matera attended a few comic-con shows in Florida and continued to draw. The Tampa-based cartoonist Greg Vondruska told CR about meeting Matera in 2006: "I couldn't believe there was a comic strip artist of his caliber that lived in my area! He was just about 20 minutes away from Tampa in Safety Harbor. My first thought at seeing his work was that it looked a bit like Milton Caniff to me and I was blown away. I looked up his number a few weeks later and called him."
He added: "Fran was the friend I always wanted to have. He was a great raconteur full of the lustre and history of comic strips. He was generous and contributed to several small press comics I put together. It was a treat to ink a few of his drawings as well. He loved drawing and was at his board daily until the last few years."
Al Ross, 1911 - 2012
Al Ross, who died March 22 at 100 years of age, drew cartoons for Colllier's, Esquire and The Saturday Evening Post as well as The New Yorker, where his cartoons appeared for more than 60 years, starting in 1937, said Bruce Weber at the New York Times. Born Abraham Roth, Ross was one of four cartooning brothers and a sister who came to this country in the early 1920s, fleeing persecution of Jews in Vienna, where their father, Reuben, served in the cavalry of the kaiser of the Austro-Hungarian Empire. Reuben arrived in the U.S. shortly after World War I and his family soon followed, settling in what is now Spanish Harlem.
Ross was born on October 19, 1911. Most sources say he was born in Vienna, but his son David said he was born in Romania and lived in Vienna as a boy. Abraham dropped out of school in the eighth grade and worked as a messenger in the button business. In their 20s, all four brothers studied drawing at the Art Students League, but they began cartooning before that, according to David. "They were always carrying on, almost like the Marx brothers," he said.
The names the brothers made for themselves in cartooning were somewhat different: Abraham became Al Ross; Irving also changed his last name, to Roir; the other brothers, Salo and Ben, kept their last name, but only Ben signed his full name to his cartoons. Among the Ross cartoons at the end of this piece are the brothers' self-caricatures and signatures.
All the brothers played pro soccer at one time (as an old write-up in Collier's said, "look at Roir's nose"), all married and lived in the Bronx. "Between them," saith Collier's, "they turn out some eighty cartoons a week, selling about twenty-five."
Ross, the most successful of the four, was also the best draftsman, said Weber: "A devotee of 20th-century painting and a painter himself — his work was in the Abstract Expressionist mode — he often referred to painters and painting in his cartoons. He had a particular affinity for Picasso's work — one cartoon shows a figure borrowed from 'Guernica,' seemingly drowning, with the caption 'Incident off the Spanish coast.'
"He had a full-bodied illustrator's style at the beginning of his cartooning career that became looser, more minimalist and more suggestive ... and over the years in The New Yorker, he mastered the wry, arched-eyebrow sensibility of the magazine's cartoons, and its signature wit, which speaks to an affluent, sophisticated readership and relies partly on erudition, partly on timeliness, partly on psychological astuteness and partly on silliness."
Weber quotes Lee Lorenz, a veteran magazine cartoonist who was art editor (cartoon editor) at The New Yorker from the 50s into the 70s: "He was a very talented draftsman who seldom made a preliminary sketch; he'd sit down with a pen and just do it. He valued that spontaneity, which was very much in his character. And he had very good ideas."
Here's a sample of Ross's work, plus samples of the work of his brothers—and self-caricatures of them all.
Ross sold to all magazine cartooning markets, including, by the late 1940s, the Humorama breed of digests that included Snappy, Breezy, Stare, Gaze, Joker (and many more of the same ilk). By the time Ross' last New Yorker cartoon appeared in February 2002, says Tom Spurgeon at ComicsReporter.com, he had placed over 600 drawings in the magazine.
Spurgeon adds: "Two Ross solo cartooning books are Sexcapades—The Love Life Of The Modern Homo Sapiens, published in 1953, and 1972's Bums Vs. Billionaires. He illustrated Bedside Humour for Howard Stackman in 1953 and What Every Supervisor Should Know for Lester Bittel in 1959. That same year Ross was the featured cartoonist in Bennet Cerf's Best Jokes. In 1977 he released Cartooning Fundamentals through Stravon Educational Press, a publisher of various guides (they also did Syd Hoff's Learning To Cartoon). Ross also appeared in multiple anthologies featuring cartooning, including the legendary Volkswagen giveaway Think Small, about the design-conscious Beetle."
Ross outlived his brothers and his sister, Ann, who was a bookkeeper. His wife, the former Sylvia Heller, whom he married in 1937, died in 2006. She started the Rothco cartoon agency, an expansion of the cartoon bank that was started by Ben Roth and that established a secondary market for published cartoons.
MIKE WALLACE IS HERE
The Most Feared Four Words in English
Things keep happening. Just as I'm poised to ship this off to the R&R webmaster, something else happens or someone else dies. Today, Sunday, April 8, I heard that Mike Wallace died last night at about 8 o'clock in a care facility in New Canaan, Connecticut, where he'd been living for several months. He was 93.
Wallace was highly regarded—and still is—as a tough reporter who never flinched from asking hard questions, sometimes nasty ones. "Wallace didn't just interview people," said David Bauder in an Associated Press obit, "—he interrogated them. He cross-examined them. Sometimes he eviscerated them pitilessly. His weapons were many: thorough research, a cocked eyebrow, a skeptical 'Come on' and a question so direct it took your breath away."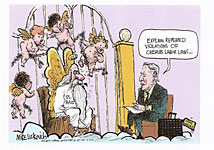 More than one observer said that the most frightening four words in the language are "Mike Wallace is here." That sentiment and those four words appeared once in a full-page newspaper ad; Wallace had it framed and hung it on the wall of his office.
Wallace acquired this reputation in the early days of television on a 1956 late-night interview show called "Night Beat," aired in New York City. It went national in 1957 as "The Mike Wallace Interview" and ran for about four years. The set was mostly pitch black darkness wherein two chairs faced each other under tiny spotlights. Wallace sat on one, smoke curling up into the darkness from his cigarette (the show's sponsor was Philip Morris), and quizzed his guest who sat on the other.
Wallace said it was his colleague at New York's Channel 5, Ted Yates, who came up with the notion for an interview show that just might get late night viewers' attention. "'Night Beat' was a radical departure from the usual pablum of radio and television interviews," Wallace wrote in his memoir, Between You and Me. "We agreed that, properly primed with solid research, I would ask our guests the kinds of questions that folks in the tv audience might want to ask for themselves if they had the chance—nosy, irreverent, often confrontational." Not to mention sometimes downright rude.
"For our M.O., we appropriated a dictum from playwright-cum-social critic George Bernard Shaw: 'The ablest and most highly cultivated people continually discuss religion, politics, and sex. It's hardly an exaggeration to say that they discuss nothing else with fully awakened interest. Common and less cultivated people, even when they form societies for discussion, make a rule that politics and religion are not to be mentioned and take it for granted that no decent person would attempt to discuss sex.'"
When Wallace graduated to "60 Minutes" in 1968 as one of the "founding reporters," his reputation followed him. In fact, some of the Wallace bits were probably contrived to preserve that reputation. An acquaintance of mine was once interviewed by Wallace for a "60 Minutes" story in the 1970s, and he described his experience, contributing to my scanty knowledge of what tv journalism is.
Behind the scenes, the interview process is more complex than it seems when broadcast. As we watch the broadcast, we see the interviewee answering questions, and the camera seems to switch back and forth between interviewee and interviewer—sometimes focusing on the latter when the question is being asked; sometimes, when the interviewer is reacting to what the interviewee is saying. The interviewee is also filmmed answering questions and reacting to the questions.
Filmming the proceedings requires a double set of "takes." First, the camera focuses on the interviewee when he/she is hearing the questions and answering them. Then the interviewer repeats the questions while the camera focuses on him/her. These two separate but related "takes" will be spliced together later to produce the impression that the interview is filmmed continuously, first showing the interviewer asking the questions, then showing the interviewee answering them, the camera switching back and forth. In practices, not quite so simple.
My acquaintance told me that Wallace asked his questions in two guises. His initial questions during the first "take" were probing but gently, politely worded; the camera was on the interviewee. But when the camera focused on Wallace to film him asking the questions a second time, Wallace asked the same questions but less gently, less politely—more confrontational. When broadcast, the second enactment of Wallace asking the questions was used, not the gently worded first.
The procedure helped perpetuate Wallace's reputation as a tough questioner. The interviewee, on the other hand, probably seemed curiously detached from the rudeness embodied in Wallace's second more aggressive version of the questions.
And so the medium's stellar news "magazine" turns out to be as carefully crafted for entertainment value—for drama— as any other hour on tv. Just a little show biz, but even so, the questions, enhanced dramatically or not, were tough probing questions. No one will quarrel with that. If you'd like to see Wallace in the infancy of his reputation on "The Mike Wallace Interview"—on a simple tv set where two cameras recorded more-or-less simultaneously the questions and the answers—visit the website where videotapes of 60 interviews from 1957 and 1958 are available: the Harry Ransom Center at the University of Texas at Austin, hrc.utexas.edu/collections/film/holdings/wallace/ Among those interviewed are political figures like Henry Kissinger, Fulton Lewis Jr. (spokesman for the "militant right wing"), Orval Faubus (governor of Arkansas, interviewed while he was defying a court order to integrate a high school in Little Rock); shakers and shapers like Margaret Sanger (advocate for birth control), Lili St. Cyr (stripper), Dagmar (tv vamp), Steve Allen, Diana Barrymore, Bob Fuller (baseball player), Mary Margaret McBride (first lady of radio), and more.
Wallace and the "60 Minutes" moguls eventually realized that the theatrics associated with Wallace interviews (the famed "ambush" interview technique of taking an unwilling subject by surprise) were undermining the show's believability as journalism and stopped doing them. More credit to them.
Apart from my enduring interest in journalism, Wallace has cropped up in my researches in cartooning, too. Milton Caniff was a friend of Wallace's and based a character in Terry and the Pirates (Fob Cobb a female dancer who appeared in the strip in December 1945) on Wallace's girlfriend at the time, Buff Cobb, an actress with whom Wallace conducted a radio show, "Mike and Buff." She became Wallace's second wife in 1948.
To find out about Harv's books, click here.