Opus 289 (February 19, 2012). It all contrived to heap up a lot over the last few weeks until we have a Great Wad of News waiting to be played at the Rancid Raves Intergalactic Wurlitzer this time. It got out of control. And then people started dying. Cartoonist people. I started the month intending to do a long leisurely obit about Ronald Searle, one of our greatest cartooners, who died just as last year was ending. And I already had Eduardo Barreto on my hands. Then along came Richard Alf and Blaine and Al Rio and a couple other notables. Opus 289 was starting to sound like a dirge—and then the great John Severin died just as we were locking up the forms and getting ready to roll the presses. And then, the National Cartoonists Society announced this year's nominees for Cartoonist of the Year on the very eve of our posting. We'll bid Severin a fond and admiring adieu next time. This time, we gotta post what we've got before something else happens: we're already a week later than I'd hoped we'd be.
I apologize. It's unlikely that you'll be able to digest all of this installment at one sitting. But, then, wasn't it ever thus? So what's new?
Answering that question is part of our task here, and we'll get to it in just a nonce. Before taking up the cudgel to beat this opus into final shape, though, I must announce that it is no longer the Year of the Rabbit. As you can tell from the accompanying decoration, the lunar year now belongs to the dragon.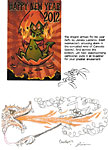 And this particular dragon was drawn by our webmaster, Jeremy Lambros, who will celebrate the Year of the Dragon in Japan, where he's been for several years.
Apart from heralding the life and work of Ronald Searle, which we do at the end of this edition, our other Big Stories include reactions to the proposed Watchmen and our annual Review of the Year Just Past, including a selection of some of the best editorial cartoons of the annum. As usual, we've consigned our political diatribes to the final moments, where they multiply like dust bunnies under the bedstead. But enough hare-brained jokes. We'll be draggin' more by you next time. Until then, though, here's what's here, in order, by department.
NOUS R US
Bud Plant Defunct
Ditto Dragon Lady in Toronto
Signs of Health
NCS Grants Status to WebCartoonists
Reuben Nominees Announced
African American Cartooning
Romance Comics
Top Ten Black Superheroes
Reprising 2010's Tribute to Black Comic Strip Tooners
Gay Wedding at Archie
Silberkleit Banned from Office
Valiant Returns
Alumni Return to Fantagraphics
Susie Cagle Arrested Again
Superman Statue at Cleveland Airport
Simpsons and Barbie Banned in Iran
Persepolis in Tunisia Trouble
Powers Returns
DUBIOUS PREQUELS TO WATCHMEN
EDITOONERY
New York Times Backfires and Retreats
Chris Britt Fired
Golden Age No More
KAL Returns (only on Sundays)
DILDOES FOR SOLDIERS' WIVES
NEWSPAPER COMICS PAGE VIGIL
Cul De Sac To Be Done by Substitutes
Non Sequitur and Doonesbury Pulled
BOOK MARQUEE
Brenda Starr Reprint
Comics Research Bibliography
THE YEAR IN REVIEW: 2011
Notable Events of the Year
Best Editorial Cartoons of the Year
Word(s) of the Year
PASSIN' THROUGH
Eduardo Barreto
Richard Alf
Blaine
Al Rio
Milburn Calhoun
John Celardo
RONALD SEARLE
Under the Spreading Punditry
Harv's Foaming at the Mouth
About the Grandstanding Obstructionist Pachyderm
& the Republican Primaries
Our Motto: It takes all kinds. Live and let live. Wear glasses if you need 'em.
But it's hard to live by this axiom in the Age of Tea Baggers,
so we've added another motto:.
Seven days without comics makes one weak.
(You can't have too many mottos.)
And our customary reminder: don't forget to activate the "Bathroom Button" by clicking on the "print friendly version" so you can print off a copy of just this installment for reading later, at your leisure while enthroned. Without further adieu, then, here we go—
NOUS R US
Some of All the News That Gives Us Fits
BUD PLANT IS SHUTTING DOWN Bud's Art Books after 42 years. As we reported last summer (Opus 280), he offered the business for sale, but "no serious buyers have come forward," he writes in the "last catalog" he will ever issue in print format. The Web has effectively undermined and destroyed his mail order enterprise, he explained. "Today you'll find most everything we stock online: direct from the publisher or on Amazon or EBay or ABEBooks and other sites—and at discounts that I cannot match while still producing catalogs and paying my staff a living wage and benefits." Sales have been dropping steadily for the last 3-4 years, and last year, Plant said, "we lost a lot of money, too much to keep doing what we are doing."
While he is discontinuing Bud's Art Books, he intends to stay in the book business at his website, budsartbooks.com, where he'll continue to sell out of his inventory and, even, acquire new books to sell. Meanwhile, he has started a new business, Bud Plant and Hutchison Books, which, in partnership with Ann Hutchinson, will offer out-of-print and rare books related to comics, comic strips, classic illustrated books, art and art reference, sf and fantasy art as well as Gold and Silver Age comics and pulp magazines, plus (Hutchison's interests) children's illustrated books and picture books.
They will exhibit at antiquarian book shows, and they have space in a local used book co-op. Bud's Art Books customers are encouraged to sign up for newsletters and press releases at the website and/or BudPlant.com.
In the last catalog, Plant bids his customers adieu: "I've greatly enjoyed working with each and every one of you and being able to make so many great books available. I've had a great run—few businesses last for 42 years. As the saying goes, when one door closes, another opens, and I look forward to what's next."
ANOTHER COMIC BOOK SHOP SHUTS ITS DOORS
In early February, the venerable Toronto specialty store Dragon Lady Comics closed after 33 years, the victim of the usual economic evolutions—e-books and Amazon, weary aging owners, and high rents; the DLC's landlord was understanding and made concessions, according to Howard Akler at the National Post, but the last hike, to $5,200/month, was too much. One of the shop's regular customers for five years, 2000-2005, was writer-artist Darwyn Cooke, whose work is steeped in 1950s and 1960s styles, and he found a deep pleasure in the shop's mix of comics and ephemera. "I'd buy a foot-tall stack of mags and just sit back and drink them in, pulling specific references out when necessary," he told Akler. "Cooke was part of a group of professionals, including future DC talents Francis Manapul and Cameron Stewart, who met at Dragon Lady each new comic day. They'd pore over the latest arrivals, grab a bite and talk shop. They called themselves the Superman Club."
Dragon Lady Comics may be closed but it is continuing in two guises. Owner John Biernat will sell old comics and paper nostalgia online; and new comics will be sold at the Comic Book Lounge, a second-floor operation on the same old street, sharing space with the Toronto Cartoonists Workshop and Guerrilla Printing "to create an integrated comics hub." Joe Kilmartin, erstwhile manager of DLC, said the goal of this one-stop shop will be to add a strong social aspect to a notoriously unsocial crowd.
"We've already moved from a reading culture to a watching culture," he says. "But we've also moved from an outlet culture to a catalogue culture. Retailers have to try to grasp whatever they can and the best way to do that is to have a place where customers want to hang out." The Lounge will have coffee and couches, a gallery and event space. It is, Kilmartin says, the way retail is going.
Bookstore closings are nothing new, Akler said. "But the closing of Dragon Lady feels particularly poignant because it revelled in all forms of printed matter. It was the last shop of its kind in Toronto. In an era when retail success demands a hip, curatorial pose, Dragon Lady remained, to its dying day, a stubborn and lovable anachronism."
BUT ALL IS NOT LOST
ICv2 reported that sales of comics and graphic novels to comic stores as tallied by Diamond Comic Distributors surged in January, with a 27.5% increase over January 2011. While January 2011 was weak in sales, down around 19% from the previous year, the increase this January reveals a net increase over January 2010. "In fact, January 2012 looks like the best January since pre-crisis 2008. ... Both comics and graphic novels showed big increases, with comics at a 32% gain and graphic novels up 18% vs. 2011."
The popularity of the graphic novel genre is attracting attention in unlikely places for unlikely projects. Round Table Companies, which has released a variety of graphic works based on licensed bestselling business and motivational titles, is turning to the educational market and releasing The Constitution: A Graphic Adaptation, by Nadja Baer and illustrated by Nathan Lueth. Publishers Weekly reports that the full-color work includes the full text of the U.S. Constitution, brought to life by illustrations that examine its creation. The book will be released in March in print for $12.99 and in all digital formats for $6.99.
And over at Forbes, a newly arrived intern, Caleb Melby, who was assigned to write The Zen of Steve Jobs about the Apple-meister's Buddhism, chose the graphic novel format and now believes, as psfk.com reports, "that focusing on newer ways of storytelling (i.e. interactive maps, unique story ideas) and finding the human element (i.e business leaders, relationships within a particular industry) are the keys to saving journalism. The graphic novel, therefore, is one form that can easily be leveraged to achieve this."
NCS GRANTS PROFESSIONAL STATUS TO WEBCARTOONISTS
The National Cartoonists Society has recognized the existence of a digital universe by initiating this year a Reuben division award for achievement in online comics. Candidates must be in strip format (no single-panel cartoons) and must appear consistently only on the Web—at least weekly. At first, the final criteria—specifying that the creator "must earn the greater part of their living directly from the strip/property"—would have disqualified virtually all web cartoonists because only a couple that I know of make anything approaching a living from their webcomics.
But NCS prez Tom Richmond recognized the impossibility and promptly corrected what he called "poorly worded" criteria. "It should not be required to earn a living from one single property/strip as it is not a requirement that other cartoonists submitting in other divisions earn the majority of their living from that particular type of work."
The revised criteria reads: "Creator must earn the greater part of their living directly from cartooning in order to adhere to the NCS criteria that creators under consideration must be either full members or eligible for full membership." NCS offers membership to cartoonists who don't earn most of their living from cartooning, but these "associate members" are not eligible for awards. In any case, for online cartooners submitting their work for consideration, it's not necessary to have made their entire living from their webcomic.
REUBEN FINALISTS
The National Cartoonists Society announced the finalists for this year's Reuben, the trophy designating the Cartoonist of the Year: Brian Crane, Stephan Pastis, and Tom Richmond (who is, at present, prez of the organization. Here's the NCS press release:
Brian Crane is the creator of Pickles, a daily comic strip syndicated by the Washington Post Writer's Group. Soon after Pickles' debut in 1990, Brian "retired" as an art director for an advertising agency in Reno, Nevada, to devote his full attention to his comic strip. Although he often used cartoon figures in ads he designed, Pickles is his first syndicated comic strip. In 1995 and 2001, Pickles was nominated for Best Newspaper Comic Strip by the National Cartoonists Society, winning the coveted award in 2001. Pickles has topped comics polls across the nation again and again, and it appears in over 800 newspapers around the world. Brian lives near Reno
with his wife, Diana. He's the proud father of seven and grandfather of 10.
Stephan Pastis is the creator of the daily comic strip Pearls Before Swine, syndicated by Universal Uclick. Stephan practiced law in the San Fransisco Bay area before following his love of cartooning and eventually seeing syndication with Pearls. Launched in newspapers beginning December 31, 2001, the daily strip currently appears in 650 newspapers worldwide. The National Cartoonists Society awarded Pearls Before Swine the Best Newspaper Comic Strip in 2003 and in 2006. Stephan also recently released an interactive app called Only the Pearls. Stephan lives in northern California with his wife Staci and their two children.
Tom Richmond is a freelance humorous illustrator, cartoonist and caricaturist. In 1985, Tom got his start as an artist drawing caricatures at a theme park between college semesters. His work has appeared in hundreds of national magazines, newspapers, books, computer games, comic books, advertisements and in animations for film and television. He is best known as one of the "Usual Gang of Idiots" as a major contributor to Mad magazine. He also contributes to the Mad animated show on the Cartoon Network, and is the author of The Mad Art of Caricature! He was honored by the NCS with divisional awards for Advertising Art in 2003, 2006 and 2007, and for Newspaper Illustration in 2009. He lives near Minneapolis, Minnesota with his wife Anna. They have four children.
The official ballots have been issued to all full members of the National Cartoonists Society for voting to determine the winner, who will be announced on May 26th at the annual NCS Reuben Awards dinner in Las Vegas, NV.
AFRICAN AMERICAN CARTOONING
Anticipating Black History Month (February, kimo sabe), some weeks ago, Scoop approached William H. Foster III, who remembers:
"I grew up with six sisters and often had to escort one or more of them on a weekly trip to the neighborhood beauty parlor. For me it was a form of torture. I would wait for several hours with nothing to do, except pray that none of my buddies saw me. Fortunately, early on I discovered a pile of romance comics stacked in the waiting area. I was skeptical at first but soon became an engrossed and loyal reader. What an unplumbed gold mine they were! Okay, that mine was usually full of the latest fashion trends, weight loss tips, and more dating advice columns than you could shake a stick at, but the stories still drew me right in. With series titles like Young Romance, Heart Throbs, Girls' Love, and Young Love, their stories were aimed directly at young people (okay girls!) who were curious about that strange, scary phenomenon called social interaction."
Then in the mid-1950s along came the Comic Code Authority, Foster said, and crime and horror comics disappeared. "Romance comics ... must have offered a tame substitute that wouldn't cause much controversy. But the rush to promote clean cut American values had an unfortunate side effect – the disappearance of people of color. The simple logic seemed to be: 'No people of color, no controversy regarding racial issues.'"
But there were "forward thinking publishers like Fawcett Comics" which produced "a rare exception to this trend entitled Negro Romance. The art was terrific and the stories were flawlessly written in the accepted formula. The combination was almost too much to resist. For one of the first times in comics there were positive images of people anyone would want to be -- good looking, industrious, middle class Black men and women who like their White counterparts were struggling to make sense of their love lives."
The title is among the rarest for comic book collectors though: "At the time it did not last long or sell very well."
It wasn't until "the more liberated and free-thinking 1970s ... that comic book companies felt free to represent a more diverse cast of characters for their comic book lines – and romance comics proved no exception. ... One series (Young Romance) even featured a dating advice column (usually presented as a one-page story), with a young Black woman, Page Peterson, as the love advisor. Talking about being ahead of the curve! And occasionally during this time there were stories of actual interracial romance. Several romance books featured a young couple who had to not only battle their insecurities about being with each other but their family and friends as well. These were breakthrough efforts that embodied the true romantic theme of 'love conquering all' as well the importance of racial understanding. This kind of story telling is rare even nowadays in the free wheeling 2000s."
For more information on the Negro Romance series, check out episode 904 of the "History Detectives" tv series, available online. Foster is a long time fan of both comic books and science fiction. He is the creator of a traveling educational exhibit on "The Changing Image of Blacks in Comics" and has written two books on this topic: Looking for a Face like Mine (2005) and Dreaming of a Face like Ours (2010). To find out more about his research visit his website, finallyinfullcolor.com.
TOP 10 BLACK SUPERHEROES
On Martin Luther King Day, Jason Bowles at sciencefiction.com listed his candidates for the Top 10 Black Superheroes in comics (explaining, "They're not all American, so the term 'African American' doesn't quite apply. I wish someone would come up with a more inclusive euphemism!"). Here are his choices, going from tenth place to first: Patriot (Elijah Bradley) in Captain America titles; Vixen (Mari Jiwi McCage), Justice League International; Spawn (Al Simmons), Spawn ("the number one selling African American superhero of all time" ... albeit no longer the "hot property he once was"); Black Lightning (Jefferson Pierce), DC's first black superhero in his own book; Falcon (Sam Wilson), Marvel's first African American superhero teamed occasionally with Captain America; Cyborg (Victor Stone), New Teen Titans; Green Lantern (John Stewart), Green Lantern adventures; in Hero for Hire, Luke Cage, Marvel's take on blaxploitation movies of the 70s like "Shaft" and "Superfly!"; Black Panther (T'Challa), in his own title; and, leading the pack, the beauteous Storm in X-Men titles—"Since X-Men sells so well, Storm has arguably the highest profile of any of Marvel's female heroes."
But Bowles isn't autocratic about his choices: he invites others to submit their own choices.
BLACK CARTOONERS
Which, the foregoing, is my contribution to the month's festivities, but I'm calling it an encore and referring you to Opus 257 where we exhausted the subject by reviewing the careers and comics of Harlem's fabled black cartoonist Oliver Harrington, whose Dark Laughter starred Bootsie, and the cartoon creations of Morrie Turner, Ted Shearer, Ray Billingsley, and Milton Knight as well as the pioneering black comics characters Bungleton Green and Torchy Brown.
FUN TIMES AT RIVERDALE
Archie Comics continues to make history with its gay character, Kevin Keller: the cover of Life with Archie no. 16 features the same-sex marriage of Kevin and his partner Clay Walker. In this issue, Kevin, in the alternate future with Archie, has joined the army and is injured while serving in Iraq. In the hospital rehabilitation unit, he meets Clay and they eventually fall in love—and marry, the logical conclusion in a love story.
The Daily Mail in London picked up the comment of Bob Bretall, co-host of the Comic Book Page Podcast, who told CNN: "Sexuality is a trait that's a facet of character but is not the single defining characteristic when the writer is doing a good job. I applaud Archie for creating a character where being gay isn't a pejorative and showing that it's possible for the Riverdale characters to interact with Kevin as they would interact with any other person." Me, too.
But I'm less enthusiastic about the other antics at Archie headquarters in Mamaroneck, New York. Nancy Silberkleit, who shares the CEO job with Jon Goldwater, has been acting up in the hallways to such an extent that Goldwater filed a complaint, asking a judge to issue a restraining order to prevent Silberkleit from entering the company's headquarters. The judge complied, saying: "At no point is she to go to the offices, and she is not to present herself to anyone as representing Archie Comics Productions, and she is not to do any work for Archie Comics Productions."
As reported by Brain Donnelly at the Daily Mamoroneck, Goldwater has received letters from Archie employees complaining that Silberkleit made threats against an employee's livelihood "and alleging inappropriate and offensive language and behavior, making off-color jokes and commenting on employees' physical attributes or characteristics," amounting to sexual harassment.
As we reported last summer (Opus 281), Silberkleit calls male employees "penis." At the time we took notice of this strange behavior, I said I thought Silberkleit was enacting a satire on the kind of sexist environment many women find in offices where the only other women are secretaries. Dunno if that's the case at Archie, but Silberkleit's behavior still sounds like satire to me.
Silberkleit embraces a philosophy of gender equality (meaning Betty and Veronica never had to rely on a man to solve their problems), and she claims to be responsible for bringing a gay character to Archie Comics for the first time. (Dan Parent claims he "created" Kevin Keller, but, to give Silberkleit the benefit of the doubt, he probably means that he devised the character's appearance.) Silberkleit also says she's updated and modernized the line in a respectful way. And, she's been instrumental in forming a comics program for schools that allows them to sell Archie comics to raise funds for schools (see Opus 282).
Silberkleit, who became co-CEO in March 2009 upon the death of her husband, a descendant of one of the company's founders (as is Goldwater), denied the allegations of sexual harassment and called the legal action a "smear campaign." She and Goldwater are apparently struggling for control of the company, and their struggle has resulted in a couple other legal actions that seek to prevent her from acting as co-CEO.
She had seemingly violated an earlier injunction that prohibited her from interacting with employees, and she has admitted reaching out to freelance writers on her own about doing a comic book with an anti-bullying message. Said Silberkleit: "I thought it was a good idea to do a book about bullying because I'm right here in the midst of it myself. I'm the one being harassed and abused here."
In mid-January, Silberkleit announced the Strides to Stop Bullying essay event, which invites students 8-18 to submit a 250-word essay on the topic of bullying—perhaps about what made things better when they were bullied, or how they supported someone else who was being bullied. Selected stories will serve as the inspiration for a forthcoming, not-for-profit comic book written by Silberkleit.
Both sides in the legal maneuvering over her role in the company were due back in court on February 2. Perhaps the disputation will be resolved then; no word as of this posting. But it still looks to me as if Silberkleit has taken on the guise of satire in her behavior.
ODDS & ADDENDA
Kevin Smith's new reality tv show, "Comic Book Men," takes place in Smith's Red Bank, New Jersey comic book store, Jay and Silent Bob's Secret Stash, wherein Smith's employees assess on camera the value of collectibles that customers bring in; Smith appears in wrap-around segments with the cast doing their regular podcasts. The show debuted February 12 on AMC, which hopes to snare "the fanboy audience that tunes in for the comic-book spawned series 'The Walking Dead.'" Alas, early reviews have not been kind. Opined Hank Stuever at the Washington Post: "Rather than debunk a few stereotypes about such a place (and the men who would work there), the series steadfastly reinforces them with supergeek adhesive. ... It's clear that Smith is happiest hanging out here, and it's a shame that happiness doesn't translate as a tv show. ... 'Comic Book Men's' idle chit-chat about comics comes off as remedial and boring. Are the citizens of Nerdland really still nervous cracking pedophile jokes about Batman's attraction to Robin? Still explaining the graphic uniqueness of Kirby's dots? Still fussing over whether 'goggles Catwoman' was hotter than the other versions? Do they have anything new to say when ogling an original 'Six Million Dollar Man' doll in its original box?"
WikiLeaks founder Julian Assange was a guest character and voice on "The Simpsons" airing February 19, the 500th episode of the animated tv comedy. ... Rob Liefeld, who has been puttering around at DC Comics since abandoning his Image career, will be writing Grifter and The Savage Hawkman and writing and drawing Deathstroke. ... I've been seeing a new breed of reprint tome in the catalogues these days—something called "artist's edition." This denominates a book the interior of which is reproduced directly from the original artwork, black-and-white, warts and white-outs and all—just as it appeared on the artist's drawingboard. And these books are also giant-size because they publish the artwork at its original dimensions. ... A Dutch court acquitted politician Geert Wilders of inciting hatred against Muslims when he compared Islam with Nazism and called for a ban on the Koran. Good for freedom of speech, but it'll doubtless embolden European right-wingers to ramp up anti-immigrant rhetoric, which, I gather, is already pretty virulent.
Valiant Comics is slated to return after a 10-year hiatus, arriving on the newsstands in May with an inaugural title featuring a stalwart Valiant character, X-O Manowar, created in 1992 by Jim Shooter, Bob Layton and Jon Hartz. Valiant Executive Editor Warren Simons is quoted in the Washington Post, saying "the launch of the new title, illustrated by Cary Nord, will spearhead more books and characters — including Harbinger, Bloodshot, Ninjak, Archer & Armstrong and Shadowman — later this year as the publisher brings them back to a new audience, with nods, but not direct ties, to the original Valiant continuity— modernizing the characters while also being faithful to the core concepts that drive them." Valiant, founded in 1989, was later acquired by videograme maker Aclaim Entertainment, "which used the characters for its games before it went out of business in 2005."
Steven Spielberg, accepting a Golden Globe for "The Adventures of Tintin" on January 15, rattled off an impressively long list of persons he thanked but neglected to mention Georges Remi, whose fictional creation he appropriated for the movie. ICv2, in reporting the award (and another to "Hugo," another comics-based creation), said: "Golden Globes are probably most important as possible indicators of Oscar winners, which can have a significant impact on box office and DVD sales. The fact that two graphic novel-based films won Golden Globes, both from A-list directors, is a sign that Hollywood reception of comic-based films is moving beyond superhero fare to other genres." So what's next? Movies based on newspaper comic strips? It's been done before, and maybe it needs to be d one again. Beetle, are you ready for your close-up?
A graphic graphic novel shocked a New Brunswick mother when her 12-year-old son brought it home from his school's library, reported David Bell at atlantic.cty.ca. "Christine Stillman says she is still fuming over the incident and is wondering how such graphic novels, which feature cartoon animals having sex acts and depict acts of violence, ended up in the library at Salisbury Middle School, Bell wrote, then quoted the offended mother, describing the book: "She is on top of him, he's on top of the female chicken, she's telling him 'Don't stop, give me more.' Then the chicken is telling the pig, after she's been on top, 'Can I get on top?'" Stillman doesn't think the questions prompted by such scenarios are ones parents should have to answer. If not parents, then, who?
One of Stan Lee's latest, based upon an obscure Shakespeare play, Romeo and Juliet: The War, which Lee co-wrote with Terry Douglas, finished the week ending February 3 at No. 7 on both the hardcover and paperback graphic books best-seller lists, reported George Gene Gustines at the New York Times. "The tale is a science-fiction twist on the classic story, as a young boy from the Montague family (who are cyborgs) falls in love with a young girl from the Capulets (who are mutants). How will they survive love?" That's enough for me; no need to read it now.
TWO FANTAGAPHICS alumni have returned to the alma mater: Mike Catron, co-founder of the company, and Preston White, art director during the early years, are both back on the job in the Seattle headquarters, their return heralded by Tom Spurgeon (one-time managing editor of The Comics Journal) at ComicsReporter.com. Spurgeon interviewed Gary Groth, who told him the tandem return of the prodigals hadn't been planned: "The simultaneous return of Mike Catron and Preston White to Fantagraphics was pure coincidence," he said. "They were both engaged in shady, scrofulous, semi-criminal activities and were looking to get out while the getting was good and were therefore casting around for a stable, legitimate, high-paying position in a respectable profession. This was clearly beyond their grasp, so they broached the subject with me. It just so happened that we've expanded our line sufficiently so that we could use one additional person in our editorial and art departments. In short, they were at the right place at the right time, or the wrong place in the wrong time, depending on how you look at it."
In the latest (January 28) round-up of the criminally inclined at Occupy Oakland (I'm being sarcastic), comics journalist Susie Cagle was again arrested with a bunch of other Occupiers. "I now have the extremely dubious honor," she told Michael Cavna at ComicRiffs, "of [being the] first professional journalist arrested more than once at an Occupy event." She was taken into custody again with more than 400 others, including other journalists. She had a press pass — "I was certainly better papered this time around" — and she said she was told by authorities when she was released shortly thereafter that she was being released "as a favor" despite the police department's promulgated policy of exempting journalists from such arrests. Charges related to her first Occupy Oakland arrest (Opus 286 records this event) have not yet been dropped (as of February 15).
Starting this summer, travelers arriving at Cleveland and passing through Hopkins International Airport are likely to be greeted by Superman, a somewhat larger-than-life statue that will be part of a display relating, in picture and text, the history of the Man of Steel, created by Clevelanders Jerry Siegel and Joe Shuster. Standing next to the statue, designed by Studio Graphique, is "a perfect place for tourists to be photographed," wrote Plain Dealer reporter Michael Sangiacomo in a clipping sent in by Rancid Raves correspondent Ed Black. The president of the Siegel and Shuster Society, Michael Olszewski, hopes the display will become a rendezvous point: "We want the phrase 'Meet me at Superman' to become a common saying at the airport," he said. Because of the statue's strategic location near the baggage retrieval area, over 80 percent of the visitors at the airport will see it. The display will cost only $40,000-50,000, of which $5,000 has already been contributed by an anonymous donor. Donations can be sent to the Siegel and Shuster Society, 7100 Euclid Ave., Cleveland 44103; the Society's funds are managed by the Cleveland Foundation.
Simpsons Banned in Iran
THE PRETORIANNEWS.COM PICKED UP AN IRANIAN NEWSPAPER report that dolls of the Simpsons characters have just (February 6) been banned in the country, joining the shapely Barbie among Western toys targeted by a new crackdown in Tehran that seeks to prevent the "intoxication" of Western influence. Barbie is bad for Muslims because she's too obviously female; if she were cloaked in a burqua, that'd be better. The Simpson dolls are not in-and-of themselves evil, but they refer to an animated tv show, some episodes of which are so scabrous that they've been banned even in Europe and sin-ridden America, according to Iranian morality police..
"We do not want to promote this cartoon by importing the toys," said Mohammad Hossein Farjoo, whose full title is Secretary for Policy-making at the Institute for the Intellectual Development of Children and Young Adults in Tehran.
The popularity of the Simpsons in Iran is hard to gauge, reports news.nationalpost.com. Those with access to foreign satellite channels are familiar with the Fox Television cartoon. But it is not shown in Iran, relieving local networks of finding a translation for Bart Simpson's singular response to tiresome instructions of all kinds: "Eat my shorts!"
THE DIRECTOR OF TUNISIA'S Nessma television is ostensibly on trial for broadcasting the Iranian film "Persepolis" last October, but when the proceedings began, reported Al Arabiya News, the court was overwhelmed with the uproar, so the trial was postponed until April. Nessma's head, Nabil Karoui, called it a "political trial—the trial of 10 million Tunisians who dreamed of having a democratic country." Karoui is on trial for "insulting sacred values, offending decent morals and causing public unrest" in an affair which has led to violence and seen passions run high because in the film there is a scene showing God, who is not allowed to be portrayed in Islam.
Opponents and supporters of the broadcast collected outside the court building. A group of bearded young Islamic radicals shouted "The people want Nessma closed down" and "You, media cowards, know that religion mustn't be defamed." Their opponents argued that they were defending the freedom of expression in a trial that was a test of Tunisia's youthful democracy. "Persepolis," an animated cartoon based upon the graphic novel by Marjane Satrapi (a famous smoker who also directed the film), tells the story of the Iranian revolution and the Islamic regime of Ayotollah Ruhollah Khomeiny through the eyes of a precocious young girl.
NEIL GAIMAN AND TODD MCFARLANE have agreed to settle their long-running legal battle over Gaiman's share of the Spawn universe, reported the Associated Press. Gaiman claimed rights to several characters created when he was collaborating with McFarlane on the Spawn comic book series, and under the terms of the deal reached, he is declared a fifty-percent owner of Spawn nos. 9 and 26, the first three issues of a spin-off series on the angels, and the issues' contents. The financial terms of the settlement have not been disclosed. And probably won't be.
Writer Brian Michael Bendis and artist Michael Avon Oeming are bringing their creator-owned series Powers back to the newsstand after a lengthy hiatus, reports comicbookresources.com. Bendis had been so preoccupied in the development of a "Power" tv series at FX that he kept putting the comic book aside. "I literally couldn't do it because I was so laser focused on this other thing," Bendis told Dave Richards. "I didn't even realize that time was going by because in my world I was working eight to nine hours a day on 'Powers' almost every day. There just wasn't anything that people were seeing. So people would ask me, 'Hey, don't you care about Powers anymore?' and I would be like, 'What are you talking about? That's all I've been doing all day.' So it was weird. Then when we were done with post production of the pilot I started missing having Powers stuff to do and I realized I was sitting on four issues of Mike Oeming's art." Resuming the story left dangling in no. 7, no. 8, Bendis said, is at the printer and no. 9 is being lettered. Bendis, embarrassed by his dereliction, promises to make it up the fans with future issues.
At Parade magazine, the ubiquitous Sunday newspaper supplement, cartoons are back. After a couple of issues with no cartoons, "Cartoon Parade" returned. For a few issues, the cartoons were, as they have been for weeks, postage-stamp size. But in the issue for February 5—suddenly, giant-size cartoons! Three of them. Filling a column that is almost half-a-page wide. A temporary triumph, no doubt, but it's still worth rejoicing, and so we do—by posting the return here.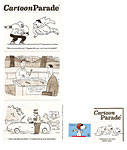 Also on display in this visual aid, the regrettable return in the very next issue (February 12) of the postage-stamp cartoon. Alas and alack.
Fascinating Footnit. Much of the news retailed in the foregoing and subsequent segmenst is culled from articles eventually indexed at rpi.edu/~bulloj/comxbib.html, the Comics Research Bibliography, maintained by Michael Rhode and John Bullough, which covers comic books, comic strips, animation, caricature, cartoons, bandes dessinees and related topics. It also provides links to numerous other sites that delve deeply into cartooning topics. Three other sites laden with cartooning news and lore are Mark Evanier's povonline.com, Alan Gardner's DailyCartoonist.com, and Tom Spurgeon's comicsreporter.com. And then there's Mike Rhode's ComicsDC blog, comicsdc.blogspot.com and Michael Cavna at voices.washingtonpost.com./comic-riffs . For delving into the history of our beloved medium, you can't go wrong by visiting Allan Holtz's strippersguide.blogspot.com, where Allan regularly posts rare findings from his forays into the vast reaches of newspaper microfilm files hither and yon.
Quotes and Mots
Lena Horne: "My life has been about surviving. Along the way I also became an artist. It's an interesting journey, one in which music became my refuge and then my salvation."
*****
AARON MCGRUDER, who once thrived on controversy, told interviewer Allison Samuels at thedailybeast.com that he's enjoying time away from the world of politics, contention and drama "and rarely has much to say on many of the same topics that fueled his work just a few years ago"—:
"I don't really engage in those type of conversations anymore," said McGruder. "Not in public. It's not worth it for me. It's a new day and everyone is a critic and everyone is on television no matter if they are talented or not. Things have changed drastically in the business over the last few years, but I hope to have something new for people again."
Lately, he helped George Lucas out on writing "Red Tails," a movie about the famed Tuskegee Airmen, an all African American band of pilots in World War II.
THE DUBIOUS RETURN OF THE WATCHMEN
Ever eager to repeat and repeat success, DC Comics is now poised to follow up its rejuvenation of iconic characters in the New 52 with another revival attempt—namely, a series of prequel comics set in the world of Alan Moore and Dave Gibbons' "Watchmen": seven miniseries, each featuring one of the original cast—Rorschach, the Minutemen, the Comedian, Nite Owl, Ozymandias, Silk Spectre and Dr. Manhattan. Starting in the summer, the miniseries and one-shot epilogue will carry the banner "Before Watchmen" and will be published one book a week over 35 weeks with work by the likes of Brian Azzarello, Darwyn Cooke, Len Wein, John Higgins, Lee Bermejo, J.G. Jones, Andy and Joe Kubert, Amanda Conner and Jae Lee.
The announcement was followed immediately by earthquake and eruption, foaming at the mouth and copious flow of lava. Fandom was enflamed: some are wildly excited; others, bitterly condemnatory, went promptly into a swivet, claiming, rightly, that the original series was a single unified artistic creation. It was complete in itself, whole. Each issue of the comic book was a "perfectly constructed chapter," said Jerry Ordway. As an organic whole, it can scarcely be added to. In fact, it begs to be let alone. Those who object to the prequel see it as messing with the original. Moreover, to tinker with the masterwork is insulting to Moore and Gibbons and belittling to the creative impulse itself.
At ComicRiffs, Michael Cavna summarized the view of the opposition: "To many devotees, Watchmen is a sacred text and testament to comics' highest literary powers. To these worshipers, DC has just become a defiler of the crypt, if not the script."
One of the excited ones, Lucas Siegel, editor at Newsarama, admitted: "Now, some people are less than enthused. People talk about how great Watchmen was, and how it stood on its own for a reason. Even the original artist, Dave Gibbons, said: 'The original series of Watchmen is the complete story that Alan Moore and I wanted to tell.' That makes a lot of sense, and is a good thing. No matter what happens, that original series exists, in several printings, and can stand on its own. The movie didn't make the original series magically change or disappear, and the prequels won't do that either." That is probably true, but it misses the point: a work of art that is finished, completed, should be honored by letting it stand, as is. No prequel. No sequel.
Moore, whose artistic impulse set him in vehement opposition to film adaptations of "Watchmen" and his earlier "V for Vendetta," had two words as preface to his reaction to DC's intentions: "completely shameless." But that wasn't all Moore said; he went on: "I tend to take this latest development as a kind of eager confirmation that they are still apparently dependent on ideas that I had 25 years ago. ... I don't want money. What I want is for this not to happen. As far as I know, there weren't that many prequels or sequels to Moby Dick." Gibbons, on the other hand, while seeing the original Watchmen as a complete, stand-alone story, added an appeasing footnote: "However, I appreciate DC's reasons for this initiative and the wish of the artists and writers involved to pay tribute to our work. May these new additions have the success they desire." And he probably hopes for work in the future from DC; Moore clearly doesn't.
John Mayo, who, along with fellow Comic Book Page podcaster Bob Bretall, read Watchmen when it was first released in 1986, called the prequels an "unwise move," creatively, by DC. "Who knows?" he added. "It could be even better than Watchmen, but I have a hard time imagining the prequel will even measure up to the original series, much less surpass it. And the risk of tainting the reputation of the original series is very real. The inferior sequel to The Dark Knight Returns caused some lasting damage to the reputation of the original miniseries."
In Atlanta, comic book reader David Burns, quoted by Henry Hanks at geekout.blog, admitted that he would pick up the new books out of curiosity: "While I'm excited to see more about the past of these characters, I'm also not sure there is a need to revisit the series. The original Watchmen left just the right amount of the past to the imagination."
That is the key issue: "just the right amount" is the reason a completed unified artistic whole should be left alone.
But many of those favoring the prequel, including J. Michael Straczynski, who'll write the project's Dr. Manhattan and Nite Owl books, take up instead the question of continuing the characters, which many fans objected to as if the characters are "sacred—nobody else should write them."
Said Straczynski: "If we're going to talk about the sanctity of characters, let me point to an observation I made in one of the interviews: Alan has spent most of the last decade writing some very, very good stories about characters created by other writers, including Alice (from Wonderland), Dorothy (from Oz), Wendy (from Peter Pan), as well as Captain Nemo, the Invisible Man, Jekyll and Hyde and Professor Moriarty. I think one loses a little of the moral high ground to say, 'I can write characters created by Jules Verne, H.G. Wells, Robert Louis Stevenson, Arthur Conan Doyle and Frank Baum, but it's wrong for anyone else to write my characters.'"
I'm sure Lewis Carroll, L. Frank Baum, and J.M. Barrie would cringe at the erotic afterlives Moore gave their creations, but Moore didn't say, exactly, that it was his characters that he wanted to preserve from desecration. My guess is that his objection stems entirely from his feeling that Watchmen as he and Gibbons finished it is complete, a unique and unified literary totality. It changed the nature of the superhero in comic books; and it demonstrated the complexity to which comic books can aspire. To concoct prequels implies that the sea change can somehow be replicated. Or prolonged.
Newsarma polled a variety of comics creators to see how they felt. Here are some of the responses:
Erik Larsen: "It's hardly a surprise, is it? I mean — we knew this was in the works. It's a shame they wouldn't respect Alan Moore's wishes but what do you expect? Corporations are going to exploit their IPs — that's what they do. If you thought DC was going to treat Alan Moore any different from all of the other creators they've screwed over the years — surprise, motherfuckers!"
Ron Marz, like many, was conflicted: "Now, to be honest, I'd rather see these creators and those resources go toward creating something brand new. But in the comfort-food market of American comics, that's not terribly realistic. I suspect we'll get some pretty damn good books here. Will they be as good as the original Watchmen? No, they won't. But if that's the benchmark for whether a project should be done or not, we wouldn't print much of anything, would we?"
Steve Niles: "Now, do I need more info on the Nite Owl? No, but in the hands of a great creator, you never know. I'll wait and see. I'm a little tired of the Chicken Little syndrome in comics. Everybody freaks out before anything is even done. I'll wait and see on the actual books."
Gerry Conway: "From an aesthetic and ethical point of view, I think it's a weak move. But I'm reminded of a conversation I had with the late John Verpoorten, forty-odd years ago when I was an irrepressible, self-important young snot (as opposed to today, when I'm an irrepressible, self-important old fart). John, who was head of Marvel Production at the time, was pressuring me to deliver my latest script on time (the nerve of the man) and in a burst of self-righteous wrath, I told him he was putting business needs above aesthetic principles. John laughed, and said something that's stayed with me ever since: 'If you're going to talk aesthetics, Gerry, we can justify publishing one, maybe two comics a month—at most. Grow up, kid.'"
Jamal Igle: "Well, DC is going to do what they want to do. They're a corporation and it's their job to exploit a property until they've squeezed it dry. I'm sure they'll be good, looking at the talent involved; I'm sure they'll be readable. Do I think it's a good idea? Absolutely not. One of the problems I have with the way we do things in this business is that there are no finite stories. I believe wholeheartedly that Watchman stands alone as a singular piece. It has a defined beginning middle and end; its story has been told. I wasn't clamoring for the further adventures of Rorschach or about what happened to Silk Spectre after she donned her tights. Everything I need to know about Laurie Juspeczyk can be found in the 12 issues of Watchmen."
Peter David: "To me, DC's announcement simply means that Alan Moore's work has reached the iconic status of such characters as Superman and Swamp Thing, about both of whom Moore has graced us with some of the most compelling and memorable stories ever told. Let us hope that the storytelling bar that Moore has set in his own work on other people's creations will be met — and perhaps even exceeded — by those who are now following his lead."
Kurt Busiek: "In the end, Watchmen is what it is, and it's there on the shelf and nothing's going to change that. So if people like the spinoffs, great, and if they don't like the idea, they've still got the original, as is."
Chuck Dixon: "From a strictly business standpoint, it probably looks to the executive types like it makes perfect sense. The original Watchmen has had its run as toys and movies and such, so the only way remaining to 'add value' to the franchise is to produce new material. From a creative standpoint, the idea is dead on arrival. In the long term, they really should put this kind of effort into creating new properties. But in the atmosphere of endless re-boots, re-makes, prequels and sequels this is what we can expect from entertainment conglomerates."
And we live in a capitalistic society in which Art is forever at odds with Commerce. And commerce always wins. Retailers are delighted at the prospect of sales soaring because the Watchmen are back.
But if Commerce wins, Art doesn't necessarily lose. Without financing, the basic energy of Commerce, Art doesn't see the light of day.
As for the original Watchmen series, it will always be a classic. And I have no doubt at all that the prequels, however good they may be (and, judging from the talent assembled, they're likely to be very good indeed), will not measure up to the original. But I'll buy the first issues of "Before Watchmen." DC'll succeed at least that far in its purpose.
EDITOONERY
Afflicting the Comfortable and Comforting the Afflicted
THE NEW YORK TIMES, which, a month or so ago, discontinued its weekly round-up of political cartoons in favor of a single comic strip rotated among a roster of altie cartooners (currently, Brian McFadden), has decided that maybe that was a mistake, at least partly so. And so they announced that as of February 26, they'll publish a political cartoon (one) in addition to the altie strip every Sunday. So far, so good. But the conditions the Times imposes were scarcely glorious according to many of the editoonery fraternity.
First, the cartoons must be original for the Times; no recycling of syndicated material (as before). Roughs are to be submitted by 11 a.m. on Friday; finished art by 4 p.m. for Sunday publication. The cartoonist of the chosen cartoon will be paid $250.
Editoonists immediately reacted with scorn and derision. Not only did several object to competing against each other "like rabid weasels" for the dubious privilege of being selected by the Times' editors (whose judgement about what makes a good editorial cartoon is questionable—how do they acquire such expertise when the paper doesn't have an editorial cartoonist of its own whose work is evaluated daily?), but the timetable is pretty demanding (sometime after 11 a.m. on Friday morning, the "winner" will be notified that he/she has won and will then have until 4 p.m. to produce finished art) and the reward is chintzy.
Said one cartoonist: "The princely sum of $250 ought to be a reprint fee considering the size of the paper, not a payment for original art." Considering the status of the Times, it seems fair to compare its proposed fee to that of The New Yorker, which, according to the 2006 Artist's & Graphic Designer's Market, pays $575 minimum for cartoons. Now, six years later, the magazine reportedly pays $700 for a cartoon, $1,400 for full-page color.
MSNBC.com's Daryle Cagle, whose Cagle Cartoons syndicates the work of a few dozen editoonists, chimed in, noting that the Times' previous weekly round-ups ran under the title "Laugh Lines," wherein "they selected funny cartoons that were like Jay Leno jokes, expressing no strong opinion, but good for a smile. Cartoonists suspect that the new cartoon in the Times would be the same, encouraging cartoonists to compete for the Times' favor by submitting opinionless, funny cartoons that would further 'dumb-down' the profession. The Times would also remove the artist's signature from their editorial cartoons, an annoyance to the cartoonists.
"It is a sign of our times," he continued, "of how far our cartooning profession has fallen, and of how callously editors have devalued our work that the Times would solicit cartoons under these conditions – and also a sign of how arrogant the New York Times has become, to assume that top cartoonists would participate."
"I understand cartoonists' indignation," John Cole, president of the American Association of Editorial Cartoonists (AAEC), told Michael Cavna at ComicRiffs. "I have a hunch that the Times would never solicit opinion columns or even freelance illustrations in this manner in exchange for a comparatively small fee. This amounts to a cattle-call for cartoonists, wherein each would elbow aside their peers at the end of an already-busy workweek in the hope of landing a job requiring a three-hour turnaround. None of this is to say that the Times' initiative is a bad thing," Cole finished, "—just that it could be better."
Politico cartoonist Matt Wuerker, president-elect of AAEC, wrote the Times: "Your email announcing the return of editorial cartoons to the Sunday Times filled me with mixed emotions. I was very happy to hear the Times is going to use more cartoons, in addition to the fine work of [alt-cartoonist] Brian McFadden that you so wisely added to your pages. Cartoons are hugely popular, as you found out from your readers when you dropped the roundup of syndicated work last year."
But Wuerker sees the new approach as insulting: "The idea of dozens of cartoonists submitting sketches on spec, and then out of that pile your editors pick one idea to assign and only that one cartoonist is paid, is not a system any self-respecting journalist would submit to. To add to the insult, your fee of $250 is far closer to a reprint fee than a fair price for an original cartoon. Given the size and prestige of the Times, something starting at $750 for first rights would be reasonable."
Tom Richmond, prez of the National Cartoonists Society, also wrote the Times to protest. AAEC, on the other hand, decided to forego formal, institutional protest in the conviction that letters from individual cartoonists would have more impact.
Political cartoonist and former AAEC president Ted Rall, after lambasting the Times in fairly intemperate language on the AAEC List, told Cavna that he thinks communication is vital at this point.
"We're not trying to give the Times a hard time," Rall said. "The problem is that they're not making the slightest effort to make our lives easier, but rather the opposite. As always, communications are key. ... I think if [Times editors] simply were to call some cartoonists informally ... these things would stop happening."
Then he sent the Times a protest letter signed by 57 editorial cartoonists, including seven Pulitzer winners.
Amid all the furor, one cartooner stood back and cogitated divergently. He routinely produces sketches for a dozen or more cartoons every week; his editors pick one a day, and the rest languish. He figures now, with the Times offer, he'll send the week's unfinished roughs to New York: he might sell one of those unused cartoons there, and if so, it hasn't cost him any additional work.
Otherwise, the Times didn't seem likely to be flooded with submissions.
And the Powers That Be probably realized this homespun truth. A few days after the flurry of protest letters arrived, the Times announced that it would postpone starting the new cartoon feature on February 26. Instead, the paper was re-thinking the whole scheme, hoping to "figure out a process that is fair to cartoonists and also works for us."
Think of that: a protest that worked.
ANOTHER DEPARTURE
Chris Britt is the latest casualty in the ranks of editorial cartoonists: the State Journal-Register in Springfield, Illinois, fired him on the morning of January 26. Britt, who began editooning in 1990 and joined the Journal-Register in 1999, was stunned, apparently having had no warning about his impending demise..
"I was just informed," Britt said. He told Bruce Rushton at the Illinois Times that he wasn't sure whether he was given a reason for his firing.
"They may have – I was just in a little bit of a daze," Britt said. "Economic re-structuring, or something like that."
Indeed. The paper's parent company, GateHouse Media, is in financial straits, owing more than $1 billion to creditors with a balloon payment due in 2014. Staff cuts run deep. The equivalent of 10 full-time copy editors will lose their jobs in the summer when their duties will be shifted to a centralized desk that will edit copy and write headlines for all the papers owned by GateHouse; at least 11 other people were laid off in other departments. The paper lost 50 jobs in Springfield last year when it moved its printing operations to Peoria.
With Britt joining the ranks of the unemployed editoonists, the total number of full-time staff editorial cartoonists in the country drops to 67 of which 5 are in a questionable category because I'm not sure whether they're still full-time staff at the papers where they were last known to be working.
Britt will continue editooning through Creators Syndicate, to which the Journal-Register subscribes, so his cartoons will still appear in the paper.
CURTAIN GOING DOWN ON THE GOLDEN AGE OF EDITOONING
The Herblock Foundation has just issued a report on the state of the profession of editorial cartooning. It begins by asserting that the "golden age of editorial cartooning" is over. That may well be true. I haven't yet read the whole thing (which is based on a survey of editoonists done last year), but right off the beanbag, the Herblocks claim that there were 2,000 or so full-time staff editorial cartoonists in U.S. newspapers in 1900 or thereabouts; now there are only 40—hence, a drastic decline..
But both numbers are, I believe, gross exaggerations—particularly the last one. By my tally (maintained diligently since Cullum Rogers listed 101 in May 2008), there are about 67 full-time staff editoonists in American newspapers. This represents a disastrous decline of about 35 percent in only 3-4 years, but still, we haven't descended yet to the abysmal 40. (Newt has probably been around, infecting the Herblock folks.)
Probably, the Herblocks assembled their statistic by make a sweeping supposition. In 1900, there were 1,967 English-language general circulation daily newspapers; by 1910, that number was 2,200-according to The Press in America, an authoritative history textbook by Edwin Emery. And that was the high-water mark: the number of daily newspapers in America declined rather steadily, albeit not suddenly, thereafter. The Herblock supposition is probably that all those 1900-1910 papers had staff editorial cartoonists.
Not likely. Not as we usually think of "staff editorial cartoonist."
Probably they all had staff cartoonists, each of whom did vast array of drawing jobs in those years before half-toning photographs became widespread. Among those jobs, occasionally producing an editorial cartoon. They also drew pictures of local politicians and celebrities, courtroom drama at trials, crime scenes, and other illustrations and visual decorations. But they didn't do editorial cartoons exclusively as the presently understood "full-time staff editorial cartoonist" does.
I asked Cullum Rogers what he thought about all this, and he agreed that the 2,000 number Herblock was bandying about probably derived from the number of newspapers in 1900-1910, not the number of actual editorial cartoonists, but he digs a little deeper to support his contention.
Said Rogers: "The 2,000-jobs figure is mentioned on page 68 of Stephen Hess and Sandy Northrop's 1996 book Drawn and Quartered. I suspected Hess and Northrop misread a section of Time's 1961 cover story on Bill Mauldin, which said, 'after the 20th century began, U.S. political cartooning entered its golden age. At a time when there were some 500 more daily papers than today [i.e., around 2,200], most of them had staff cartoonists.' The golden-age figure is for staff cartoonists of all kinds (which every paper had, just as they later all had photographers), but a hasty reader might miss that."
Rogers continues: "In the same article, Time said 'only 119 men now work at the art, one for every 15 daily newspapers.' I suspect Time got its figure of 119 either from the Association of American Editorial Cartoonists (AAEC), which had about that many members in 1961, or from John Chase, who in 1961 was finishing up Today's Cartoon, his book about contemporary editorial cartoonists. Today's Cartoon featured 140 men (no women), about 20 of whom had recently retired, worked in Canada, or worked for weeklies and specialized publications. My first state-by-state count in 1997-98 found there were 131 to 154 papers in the U.S. that had a full-time staffer who regularly drew editorial cartoons—which is not the same thing as having a full-time editorial cartoonist. Those surveys plus the tallies we've been keeping on the AAEC List since 2008 are the only job numbers I ever seen that aren't just guesswork."
I'm always happy when Rogers, a fellow member of AAEC and my predecessor as the group's secretary-treasurer, agrees with me: he's a more dedicated historian of editorial cartooning in the U.S. than I have been ere now. My guess is that there have never been more than about 180 newspaper cartoonists under the "full-time staff" rubrick. Charles Press, writing his Political Cartoon in 1981, says there were about "150-or-so" professional political cartoonists at that time. And that's about right, I'd say. Going from 150-180 editoonists to 60-70 is still a stunning decline, but it's not the hideously ludicrous 2,000 to 40 ratio avowed by the Herblocks. Yes, the "golden age" of editorial cartooning may be over. At least as far as newspapers are concerned. (After all, the golden age of newspapers is doubtless over, too.) But let's not turn a withering of editoonists into a rout or a tsunami.
KAL's KOMEBACK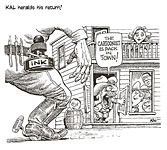 Veteran editorial cartoonist Kevin "KAL" Kallaugher—the man who, saith Baltimore Brew, never met a politician's dome-y head he couldn't make dome-ier—is returning to The Baltimore Sun, confirming "rumors that have been swirling that Kallaugher has been talking to management about coming back to draw a once-a-week cartoon for the newspaper that employed him for 17 years—and then dropped him in late 2005, at a time when staff cartoonists were being cut by ailing news organizations all over the country."
A KAL kartoon was in the paper on Sunday, February 19. But he's not full-time, so his return won't affect our aforementioned running tally.
Kallaugher, 56, was among 70 Sun employees who took a buyout as part of one of the many sweeping staff reductions the Sun's parent company, Chicago Tribune, ordered in recent years at the Sun and its other newspapers. Since departing the Sun, Kallaugher has continued his longstanding relationship with Britain's The Economist, producing editorial cartoons and cover art for it. He is also an artist-in-residence at the University of Maryland Baltimore County.
CIVILIZATION'S LAST OUTPOST
One of a kind beats everything. —Dennis Miller adv.
I'm not sure but what this story isn't a hoax, but in these days of real battles raging over phoney issues like contraception (which question I thought was settled a generation ago), I can't be sure. Goes like this: Scott Rinaldo, manager of a company called RealTouch, says he's working on a project to distribute "thousands of dildos for the military wives" of U.S. servicemen stationed abroad. The Internet-connected device, Sascha Segan assures us, works this way: "RealTouch is a slightly terrifying, synthetic orifice that lives in a plastic tube and connects to a computer. Based on data from an Internet connection, the unit warms up, lubes up, pulses and grips any item stuck into it. On the other end of a connection, a 'performer'—who could be a paid 'cam girl' or the aforementioned military wife—hand-operates a sensor-covered rod to run the motors in the RealTouch."
Doesn't sound like a dildo to me; sounds more like the opposite sex. But Rinaldo claims he has a device (aka dildo) for wives; he just hasn't explained it to Segan, who continues:
"Rinaldo's core audience, at least so far, is men who buy his device to sync it with porn videos in the privacy of their own homes. But Rinaldo sees a genuine social benefit in his tech, so he said he's trying to get in touch with the U.S. military to have RealTouch approved as a method for a sort of virtual conjugal visit."
Segan, no fool he, is a hands-on reporter: "I stuck my finger into a RealTouch unit while performer Kirsten Price hand-rubbed a nearby, Internet-connected dildo. The sensation was very strange; what felt like a whirring, rotating, feathery object made of a moist latex-like material was almost polishing my finger. Afterwards, my finger smelled like lube. I'm not going to judge."
Me neither.
NEWSPAPER COMICS PAGE VIGIL
The Bump and Grind of Daily Stripping
Cul De Sac creator Richard Thompson has just announced that he is going on hiatus for "three or four weeks" as he receives new treatment for his Parkinson's disease reports Michael Cavna at his ComicRiffs blog. Of the impending treatment, the cartoonist wrote on his blog: "I've only been in for an evaluation, but the therapy largely consists of big, exaggerated movements and sweeping silly walks that will so embarrass your body that it'll start behaving itself, I hope. Also I'll learn 10 ways to defeat a mugger by falling on him."
While Thompson is off learning more about the dubious joys of falling down, his comic strip will be handed over to six of his cartooning friends— Mo Willems (children's books Pigeon and Elephant and Piggie), Stephan Pastis (Pearls Before Swine), Lincoln Peirce (Big Nate) and Michael Jantze (The Norm), Corey Pandolph (The Elderberries) and Ken Fisher (Tom the Dancing Bug). Starting Monday, March 19 through April 15, they'll take turns drawing a week of dailies each; then a Sunday.
"I let them have free rein to re-create Cul de Sac as they saw fit," Thompson told ComicRiffs, "hoping only that no one introduced anything too bizarre, like an angry talking Rat, or a Pigeon with some kind of bus-mania."
Jantze leads off on March 19.
"I just wanted to be Richard for a couple of days and doodle," Jantze said. "On the final day, I didn't even pencil it; I just started inking and—had some fun accidents with it."
He said his idea for his final contribution came from his 9-year-old daughter, Colette — who also happens to voice young Alice Otterloop in the "Cul de Sac" animations by RingTales.
Pierce, whose drawing style is markedly different than Thompson's, experimented as he sought a middle (play)ground between his style and Thompson's.
"Part of the charm of Cul de Sac is the loose, kind of wobbly quality of the line," he said, "— it's a far more variable and expressive line than I generally employ in my own strip — and I just wasn't capturing any of that. So I fussed around a little bit, and ended up with something that's closer to Richard's style than my own, but certainly not a 100 percent attempt at imitation—because who can draw like that but Richard?"
Jantze watched Thompson draw in person last year and noticed a lot of the Cul de Sac lines have "two or three extra" movements — something he tried to employ. And then there was what ComicRiffs' Michael Cavna calls Jantze's "a-ha" moment after a couple of days of trying to write like Thompson:
"His characters don't listen to each other!" Jantze discovered. "When I write, it's always about Norm paying attention. But Richard's characters don't — and the theme [becomes] the thing."
If You Can't Take a Joke,
What Are You Doing on the Funnies Page?
—Amy Lago, comics editor, Washington Post Writers Group.
THE PRESUMED SENSITIVITIES of readers resulted lately in newspaper editors pulling two comic strips because they imagined they might be too offensive for the small minds of some of their readers. Both strips—Non Sequitur and Doonesbury—have been pulled before for being unduly provocative, so neither cartoonist, Wiley Miller or Garry Trudeau, was particularly upset, although both were somewhat aghast at the so-called reasoning of the timorous editors.
The Cleveland Plain Dealer yanked Non Sequitur for January 13, leaving a blank place on the comics page and inserting in the unaccustomed expanse of white space a note: "Today's Non Sequitur strip was withheld because it was deemed objectionable by Plain Dealer editors. A replacement strip was unavailable at press time." ("Withheld," a sleazy wobble word.) The strip, as you'll see when you get to our posting below, showed a rabbit looking at a police lineup of various animals (all predators) and saying "Okay, I know how bad it sounds, but they all really do look alike to me…" According to Miller, interviewed by Christopher Cousins at Bangor Daily News, an editor at the Plain Dealer saw racial undertones.
The editor's note supplanting the strip immediately sparked response from readers: astride the glaring white space, the note might have been deliberately put there to foment revolution. Readers response was copious: they wrote in quantity sufficient that the paper's "reader representative," Ted Diadiun, devoted a column a week later to chewing over the issues.
He noted that another strip on the same page that day had not been pulled despite being as racist as Miller's: Patrick McDonnell's Mutts, in which one of the animal characters observed during a snow flurry that all snowflakes look like. Yes, a reader complained about the implied racism.
Another cartoon on the same day, Dave Coverly's Speed Bump, also provoked a reader. The cartoon depicted two witches seated at their livingroom coffee table complaining that children don't come with instructions on how to cook them. The woman who protested was a Holocaust survivor and found the unintended evocation offensive.
Diadiun's conclusion: "Just about everything we put in the paper will be offensive to someone." So if an editor took every potentially offensive thing out, there'd be no paper.
He remembered another Non Sequitur release: "In 2007, the paper took some heat for running a strip that showed a farmer next to a chicken coop, looking at a chicken wearing a KKK hood and saying, 'It only lays white eggs.'" But that strip didn't get pulled.
Concluded Diadiun: "We should make our judgments with the vast majority of the readership I mind—knowing that there will always be a small number that will be offended by any judgment we make."
For Miller, the issue is somewhat cloudier than that. Reacting to the current excision, he said: "Editors are word people. A cartoon is an abstract. Today [editors] seem to be so much more afraid of a quote offending anybody that their first reaction is to err on the side of caution. Since they can't fix the copy in [the cartoon], they just cancel it. This was just a straight gag, very innocuous. The cartoons that you think are going to raise some hackles quite often get nothing. The ones you don't expect to sometimes evoke some rancor.
"In the old days," Miller went on, "that's how the newspaper industry made their business; they weren't afraid of controversy. Today they're so petrified of losing a single reader that they err way on the side of caution. This has become more of a problem with everyplace being a one-newspaper town.
"I'm a satirist," he continued. "That's the essence of my work. It does take on serious topics, but by putting a silly hat on it to emphasize how silly these things are."
Miller told Cousins that he has been attacked from both sides of the political spectrum even though his work has targeted both. Said Cousins: "He sees that polarization as a major threat in American society, from the general populace all the way to a gridlocked Congress. He said so many people making judgments based on labels of 'liberal' or 'conservative,' or even 'moderate,' is leading to the death of healthy debate about the actual issues. He sees that in the comment he receives from readers."
Miller said: "What happens quite often when people get angry at something I've pointed out—they'll immediately call me all kinds of names and question my intelligence. One thing they never get around to doing is saying anything about the issue I'm hitting on or saying how I'm wrong. They launch right into an attack on you and your integrity. It's the whole Rush Limbaugh mentality. Attack, attack, attack and ignore the issue. There is no discourse anymore, especially in government."
But Miller has no intention of quitting. "This is an art form; it's who you are," he said. "It's not something you retire from. It's something you die from. When I go, you'll probably find me slumped over my drawing board."
DOONESBURY FELL AFOUL an editor's purification policy for the February 3 release. The Chicago Tribune pulled it because it "broke from its satirical mission" so it could "deliver a direct fund-raising appeal for a specific charity" — i.e., DonorsChoose.org. A note that ran in the paper explains: "The Tribune's editorial practices do not allow individuals to promote their self-interests." The strip included a QR code that, when scanned by a smartphone, would take readers to the DonorsChoose website.
In deleting the strip, the Trib's decision makers achieved a self-contradictory policy of pretzel-like configuration, which Trudeau, interviewed by Michael Cavna, was quick to point out: "I'm not sure 'self-interest' quite applies, since (a) DonorsChoose is a charity, and (b) I have no formal connection to it."
Moreover, Trudeau continued, "curiously, the Trib had no problem with the previous day's strip directing readers to my website — which actually was in my self-interest."
Finally, this was the second time that Trudeau had referred readers to DonorsChoose. "I think I first read about DonorsChoose in a Jonathan Alter column, and was so fascinated by their peer-to-peer funding model, I described it in a Sunday [Doonesbury in 2007]. Apparently the site received a surge of interest in response, so they approached me to work it into the strip again this year. I was happy to oblige— especially since my son, who's a high school teacher in a high-poverty neighborhood, had used DonorsChoose himself to raise funds for classroom supplies."
That time, the Trib apparently wasn't as squeamish as they are these days: the paper published the 2007 DonorsChoose strip.
As far as the cartoonist knows, no other newspapers refused to run the strip the Trib found so ethically dubious, and his syndicate, Universal Uclick, has not received any complaints from editors.
"All positive," Trudeau says of the reaction from readers and clients. "No one else seems to have a problem with my using the strip this way."
Cartoonists occasionally tie their comic-strip creations to specific causes, Cavna observed: "In 2007, for example, Tom Batiuk notably launched a Lisa's Legacy Fund after a storyline in his strip Funky Winkerbean involved a character dying of breast cancer. And Cul de Sac's Richard Thompson, who has Parkinson's disease, has recently linked his comic to the Team Cul de Sac campaign to raise money for Parkinson's research."
Here are the provocative pictures—plus Matt Bors' obit cartoon upon the death of Christopher Hitchens, a writer whose perversity and acumen I admire. As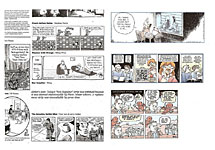 with his obitoon for Steve Jobs (Opus 285), Bors customarily steers clear of the warm maudlin fuzzies in acknowledging the passing of some notable. Here, he alludes to Hitchens' famous atheism as well as his fondness for argument. With gyrating irony, Bors lets Hitchens win even as he loses. I think Hitchens'd love Bors' farewell.
BOOK MARQUEE
Previews and Proclamations of Coming Attractions
Dale Messick's ground-breaking comic strip heroine is back in a new reprint compilation from Hermes Press, Brenda Starr: the Collected Daily and Sunday Strips, Volume One, which will focus on the glamorous redhead's earliest adventures. Reviewing the book at geek-news.mtv.com, Valerie Gallaher writes: "The storytelling is a cross between a soap opera, with Starr facing the chore of having many attractive men in love with her, and action-thriller— the latter, thanks to [some occasionally] creepy art and at times bizarre plot developments, almost give some of these tales a David Lynch type vibe. We're talking men with small feet, disembodied heads, crazy underground civilizations, the corpses of dead women, cross-dressing villains, poisoned puppies, scary twins, and so on and so on. The dissonance between the (for lack of a better term) 'girly' art and romantic storylines and the sheer weirdness of these elements makes, at least for me, a very fascinating read—and very reminiscent of contemporary manga."
While Brenda is often cited as a feminist icon, Gallaher says, in these early strips, she's more often fighting against women than against a sexist society. But she's aglow with pulchritude, and Messick makes sure we know it. "Starr looks like a cross between a pulp heroine and a fashion illustration—indeed, the lush, gorgeous art is one of the biggest reasons to buy this collection. With her sparkling-bright eyes, flowing hair, and epic wardrobe, Starr captivates every scene she is in." And later on, she appears regularly in her scanties for the paperdoll panel at the close of every Sunday episode.
For the whole Messick/Starr tale, visit Harv's Hindsight for January 2011.
THE COMICS RESEARCH BIBLIOGRAPHY, maintained for several years by Michael Rhode and John Bullough, is now available for purchase either as an e-book or in print. Over 800 pages long with more than 4,000 new entries, the bibliography comprises articles and books on all aspects of comic and cartoon art including comic books, comic strips, cartoons, animation, editorial cartoons, newly updated as of the end of 2011. The electronic book ($10) include tens of thousands of citations with links to information on comic book movies, the Danish Islam cartoon controversy, cartoon responses to 9-11 terrorism and other topical matters. Many citations are hotlinked to the web publication for ease of use. In print, the same content swells the tome to two volumes ($15 and $16.50). As anyone reading this knows, I use Rhode's research as a clipping service, and I've also used the Bibliography as a finding aid. Both extremely helpful. Here are the 3 links to the various versions:
http://www.lulu.com/product/paperback/comics-research-bibliography-2012-print-edition-volume-1/18794996
http://www.lulu.com/product/paperback/comics-research-bibliography-2012-print-edition-volume-2/18794997
http://www.lulu.com/product/ebook/comics-research-bibliography-2012-print-edition/18792651
MOTS & QUOTES
"Gingrich's presentations are forceful. He has a genius for pithy formulations and a consistent theme: The solutions to everything are obvious if only the idiots would get out of my way."—David Brooks
"Aggregation of wealth into fewer hands has shrunk the size of the U.S. market for consumer goods, prolonging and deepening the depression."—Ted Rall
One of the difficulties haunting our present hobbled economy, saith Hendrik Hertzberg in The New Yorker, is that American talent and investment have been diverted from making things to making bets.
*****
I don't remember (if I ever knew) where these came from, but I like them just the same:
About all those dead soldiers in Iraq and Afghanistan and elsewhere: "They didn't give their lives: their lives were taken from them—and from all of us.
When love was on the wing and we were young with songs to sing.
THE YEAR IN REVIEW: 2011
When I've been serious about reviewing the events of the year—most previous years, but not this year because the end of the year is so far in arrears—I'd take the time to pick out the best of this and the best of that, holding up my choices for universal ridicule. This year, because I want to finish this off tout de suite, I'm simply going to nod at a few of the Notable Doings without regard to ranking them as best or worst.
Except for the biggest comics event of the year: that was clearly DC's New 52, a much ballyhooed re-tooling of the publisher's iconic line-up of superheroes. Surprisingly, it was mostly successful: many of the spandex roster acquired fresh zest from the treatment; I reviewed a few at Opus 285.
Other than that, notable events of the year included Spider-Man flying and crashing on Broadway; Stan Lee's umpteenth attempt at recreating the Silver Age with Soldier Zero, Traveler and Starborn funnybooks (none of which are still coming out as monthly books, are they?); Comics Code collapses because no one joins the club anymore; Dick Locher retires from Dick Tracy (but continues to produce editorial cartoons); Wizard ceases publication; Lucy Caswell retires as founding curator of the Billy Ireland Cartoon Library & Museum at Ohio State University (see Op. 274); John Byrne returns to comics with a revival of his Next Men and the new Cold War; South Park creators open "The Book of Mormon" to great and hilarious acclaim; Brian Walker's two volume history of The Comics (since and before 1945) is re-issued as a single compendious tome; Tokyopop closes U.S. offices; Bud Plant shuts down; Golden Apple closes doors; gay Kevin Keller gets his own book at Archie; Brenda Starr ends January 2 (the other famous Tribune-News redhead, Little Orphan Annie, ended in June 20120).
On the international scene, South Africa's prez launched a legal attack on editoonist Zapiro for disrespecting him in his cartoons (however much Jacob Zuma deserved the treatment); Lybian cartoonist was killed as he cartoons on a wall; Syrian cartoonist gets his hands stomped; and Islamic hooligans continue to raise alarm in Denmark and elsewhere against cartooners who have the effrontery to draw a picture of Mohammad.
Some of the best reprint tomes of the year: new Skippy expose, Skippy vs. the Mob, published but disappears (?); Krazy Kat and Tiger Tea; Edie Ernst: USO Singer, Allied Spy; Willie and Joe Back Home; Pogo: Through the Wild Blue Yonder; Milton Caniff's Male Call; Walt Disney's Donald Duck: Lost in the Andes; Genius Isolated: The Life and Art of Alex Toth; The Quality Companion.
Anniversaries noted (although not necessarily occurring this year): Garfield (33), Luann (25), Dennis the Menace (60), Dick Tracy (80).
Some of the best books on comics and cartooning: 75 Years of Modern Mythmaking at DC; newly revised history of American editorial cartooning, American Political Cartoons: The Evolution of a National Identity, 1754-2010 ; Jerry Robinson's revised tome, The Comics; Blackjacked and Pistol-Whipped: A Crime Does Not Pay Primer.
Lots of graphic novels, more than any mere mortal could consume in a year, but of those I critiqued these were notables: Motel Art Improvement Service, How to Understand Israel in 60 Days, Frank Miller's Holy Terror; African American Classics (and others of similar ilk from Eureka Publications).
And the profession is poorer this year because of the departures last year: Jerry Robinson, Joe Simon, Les Daniels, Alvin Schwartz, Lee Ames, Sam Norkin, Gene Colan, Lew Sayre Schwartz, Bill Crouch, Dwayne McDuffie, Charles Brooks, Bill Blackbeard, Bill Gallo, Bil Keane, Tom "Ziggy" Wilson, Bob Artley, Ronald Searle (see the end of the scroll), Eduardo Barreto, Jack Adler, Russ Heath. Stand at attention and take your hat off as they pass by.
Best Editorial Cartoons of 2011. Before we offer our nominations, we must take a stab at identifying the top newsstories of the year because, presumably, editoons grow out of the news—so the best ones, it would seem, must address issues associated with the top news events of the year. No: of course not. Excellence in editooning depends upon factors other than currency of events. But it'll help to appreciate the artistry if you remember the context of events. By way of jogging your memory, then, here's this—:
The events of 2011 that got the most news coverage or that seemed important enough to change the course of human events—not necessarily the same thing—began with the shooting of Gabrielle Giffords, which prompted all sorts of hand-wringing about guns, violence and the unrestrained vehemence of political rhetoric—all of which, naturally, came to nothing. About the same time, the Arab Spring got underway, messing up the already chaotic mess-o-patomia of the Middle East, ending in the deposing of Hosni Mubarak and the killing of Moammar Khadafy and precipitating the agony of endless protestation and bloodshed in Syria. The earthquake and tsunami in Japan focused attention on the risks of nuclear power, and Osama bin Laden was killed. After that, most of the so-called important matters were essentially domestic: gay rights for Americans in uniform, a tsunami of federal budget crises (May/April, August, November, December, and on and on into the everlasting night), the Occupy Movement pitting a small portion of the 99 percent against almost none of the One Percent, the GOP debates pitting clown against clown, and the U.S. managing to extract most of itself out of Iraq, an event mostly overlooked for reasons we'll get to in a trice.
The happening of the year that I enjoyed most, however, was the marriage in England of Prince William and Kate the Commoner. Maybe not the most earth-shattering of the year's occurrences, but surely the happiest. The thing I like most about Kate Middleton is her killer smile. And what I like about it is that she looks as if she realizes the whole royalty thing is so mind-numbingly archaic as to be something of a joke. Smiling broadly, she looks as if she's either just had a private giggle at it—or she's about to.
Dave Barry puts the tragedies of modern cultural and political life into the same laughable context that I imagine Kate finds herself in as she contemplates life among the Royals, so he's a nearly indispensable resource here at Rancid Raves at this time of year. He reminds us, for instance, that "Hosni Mubarak" can be rearranged to spell "A Bum Honks Air." Always helpful to know. I thought Dave Barry had retired but he keeps coming out of embalmment at the end of every year to write the greatest Year in Review feature in journalism. Here are a few snippets from his 2011 opus (again, by way of preparing us for the ensuing Best Editoons of the Year extravaganza later on):
"It was the kind of year that made a person look back fondly on the Gulf oil spill. Granted, the oil spill was bad. But it did not result in a high-decibel, weeks-long national conversation about a congressman's underpants bulging with what appears to be a congressional member rarin' to filibuster. ... It was a year in which a significant earthquake struck Washington, D.D., yet failed to destroy a single federal agency. ... The economy remained wretched, especially unemployment, which got so bad that many Americans gave up even trying to work. Congress, for example. ... Despite a prophecy by revered Christian radio lunatic Harold Camping, the world did not end on May 21. The fateful hour came and went without incident, except in New York City, where, in yet another setback for the troubled production of "Spider-Man: Turn Off the Dark," the entire cast is sucked through the theater ceiling, never to be seen again.
"But things are not so rosy in Europe," Barry continues, "where the debt crisis continues to worsen with the revelation that Greece has sold the naming rights to itself and will henceforth be officially known as the Republic of Burger King. In response, Moody's lowers Greece's bond rating to the point where it is no longer represented by words or letters, just a brownish stain on the rating document. ... In political news, Rick Perry announces that he will run for the Republican nomination with a goal of "restoring the fundamental American right to life, liberty and a third thing." ... And the congressional Supercommittee [finished its work and] in the true "can-do" bipartisan Washington spirit, announced that it is giving up. ... Undaunted, Democratic and Republican leaders move forward with the vital work of blaming each other."
Sorry about this, but Barry's reference to the Wiener Snit that animated the nation for several weeks a year ago provokes me to post once again the drawing you see at your elbow.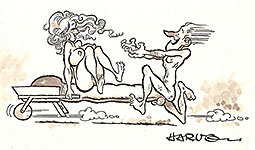 I'm not offering it as one of the year's best editorial cartoons. In fact, unless I alter the face of the sprinter to make him resemble the confounded congressman, it scarcely qualifies as an editorial cartoon at all. The picture does, however—as I look at it—make a profound statement about the nature of human sexuality. I'll explain.
As I mentioned when I first posted this specimen, it's a drawing I did 30 years ago to illustrate a magazine article in Pillow Talk about sexual "records"—largest breasts, most famous blow job, etc. The drawing you see before you commemorates—well, you probably can tell what sexual record it extolls.
During the height (or length, perhaps) of Weinergate, I remembered doing this drawing and remembered too that it seemed a perfect caricature of Anthony Weiner's attitude about his appendage. So I posted it with appropriate explanation. Later, as I rejoiced in the drawing, I realized how profound was the paradox it depicted: as long as the guy is afflicted with his inflated, er, ego, he can't get close to the inspiration of his lusty passion. The paradox of sex, you might say. Or maybe not.
Leaving behind us that vastly amusing apostrophe, let me take another detour to ponder Will Durst's Top Ten Comedic News Stories of 2011, from which listing I quote two verbatim as follows:
Ranking sixth— Rick Perry. The candidate for those of you who could never cozy up to George Bush due to all his intellectual elitism. George Bush Lite. Which should be redundant. "Debates aren't my strong suit." Strong suit. Weak suit. Space suit. Leisure suit. Birthday suit. Class action suit. Debates aren't your black socks with sandals.
Ranking third—Newt Gingrich vs. Mitt Romney. The Newtster versus Mittens. One has more baggage than the first flight out of O'Hare after a freak spring blizzard, and the other has flip-flopped so often his ads should end with "I'm Mitt Romney and I both approve and disapprove of this ad."
Anthony Weiner ranked first. Wouldn't you know?
You can find the entire compendium at HumorTimes.com; look under columns
humortimes.com/topics/columns/
AND NOW, AT LAST, for some of the Best Editorial Cartoons of the year. The best ones, it has always seemed to me, are those in which the picture plays a dominant role: the picture becomes a visual metaphor that makes the cartoonist's statement memorable (thereby presumably influencing the way we think about an issue ever after). And here are the first eight (of twenty-four this year) that seem to me to do that (some of these, we've posted before at the times of their initial publication).
Going clockwise on the first page, we start with Clay Bennett, who has created a memorable image for trickle-down economics. And the pyramid he has constructed even looks as if it would work: if you started filling the champagne glasses at the top, they'd overflow eventually and trickle down. But, as we see, there's not enough champagne, so only the glasses at the top of the heap get filled. Never enough champagne for those of us down the pyramid.
John Cole's characterization of Rick Perry's political career reveals that "Pecos" Perry can't actually walk on water as his enthusiasts suppose: he's sustained on the water's surface by ordinary citizens and their plights that he blithely ignores. After the shooting in Arizona, the next cartoon (by Neage?) presents memorable images of the ways our political parties engage in disputation. And Mike Keefe's image at the lower left creates a chilling portrait of how some aspects of some of the Muslim culture predict a future none of us want.
On the next page, again going clockwise from the upper left, we have Joel Pett's memorably complex image of the tanking economy and its causes: war, the rich, corporations, welfare and the chart on the wall all point to the little old lady on the right. That's what the GOP wants us to believe anyhow: if we would just curtail (stop altogether, even) Medicare, the economy would promptly recover. Phooey. Next we have Gilmar's portrait of Ali Ferzat, the Syrian cartoonist who was beaten and his hands stomped by security police, who expected that their treatment would stop him from drawing cartoons. As we see, their expectations were foiled by the defiant spirit of the cartoonist.
Pat Bagley's vignette about the killing of Osama bin Laden is a gem. After disposing of the world's Number One Terrorist, the U.S. soldier finds Pakistan hiding in the closet: the official's apparent nudity suggests he's been in bed with bin Laden, a metaphor for the suspected Pakistani connivance in providing a safe haven for bin Laden. The culprit waves shyly at the soldier—a perfect touch, comedic and, ultimately, revealing of the nation's guilt.
Steve Breen's contrivance for raising the debt ceiling gives us a metaphor that shows that it is today's children who will ultimately bear the burden. If he intends a criticism, I don't agree: raising the debt ceiling is merely a statement that the U.S. intends to pay the bills it's already run up. But whether I agree with a criticism here or not is immaterial to our task: it's a great image and a memorable editorial cartoon.
| | |
| --- | --- |
| | |
On the next page, Pat Bagley again gives us a vividly hilarious image of the wrong-headedness of GOP economic engineers: they insist on attacking the Deficit when it's obviously the charging Recession that is the immediate threat to the economy. And Pat Oliphant's metaphor for trickle-down economics is not as intricate as Bennett's pyramid of champagne glasses but its bawdiness makes the point even more memorably. Daryl Cagle dips into the mythology of superhero comics for an image of the functioning of the congressional Supercommittee. And Bennett is back with a comment on the Weiner snit that depends for its punchline on realizing that our government is a Congress of whores. Apt.
The next page begins with two cartoons whose visual metaphors are not particularly telling but the situations depicted are both gutsy assaults on conventional decorum. David Fitzsimmons at the upper left not so subtly attacks and makes ludicrous the too frequently bandied about notion that God has anointed the Republican presidential candidates. Ask any one of them; they'll tell you. And Pat Bagley, a Mormon, makes us face up to the "elephant in the room" that threatens the candidacies of both Mormons running for office—John Huntsman and Mitt Romney. Evangelical Republicans don't believe Mormonism is a Christian religion, and their refusal to learn anything about it effectively deprives both Mormon candidates of the votes they need to win: evangelicals won't vote for anyone whose Christianity is in question.
Bennett, however, shows us in the next cartoon why Mitt Romney, the Ken-doll candidate, is likely to win the GOP nomination, Mormonism or no. And then, Bennett takes us into foreign affairs, providing a stunning metaphor for why peace talks in the Middle East make no progress.
Next—several paragraphs from now— we have a paltry few cartoons about our exit from Iraq. We got out of there, you'll remember. Finally. In Bill Mauldlin's memorable phrase (about Vietnam), we declared victory and bugged out. A unilateral declaration. Few, if any, in Iraq would agree about "victory." In fact, no one is declaring victory. Mission accomplished, more-or-less, is as much as any of our bloviating governmental leaders will say. Despite our obvious failures, they have to say we succeeded, in some fashion, otherwise how'll we ever get out? The American public, despite its eagerness to leave Iraq behind, would never countenance a departure predicated upon our inability to achieve what we'd set out to do. In Joe Bilden's view, "Iraq is united, secure within its own borders, not a threat to its neighbors and no one able to fundamentally threaten them." So everyone pretends that we've succeeded; that permits us to leave. Job done; clear out. Job done? Really?
Iraq will surely go down as the most shameful and stupid misadventure in American history. We leave behind a shattered polity, a lame economy, and a ravaged infrastructure. The country's in tatters. The population cowers in the streets in fear of Islamic militants. The Sunnis, Shiites and Kurds are still bitterly divided by issues of power, wealth and identity, saith Fred Kaplan at Slate.com. American money built sewers, power grids and roadways in Iraq, but many places in the country still haven't a dependable supply of potable water or electricity or functioning sanitation system.
John Tirman, writing in the Washington Spectator for November 15, 2011, reports that "thousands of women and girls have been driven into prostitution or kidnapped and forced into sexual slavery; rising Islamic militancy has stripped the rights of millions more. The government reported in 2009 than 750,000 widows are living in poverty." He also quotes the U.N. Special Representative for Iraq saying that more than half of all Iraqis live in "slum conditions," compared with 17 percent in 2000. The World Health Organization estimated that 70 percent of Iraqis lack access to clean water and 80 percent lack sanitation, conditions that can lead to epidemics of cholera. Officials at the Central Pediatric Teaching Hospital in Baghdad estimate that in 2010, 28 percent of Iraqi children suffer some degree of PTSD and their numbers are steadily growing.
What do we have to show for perpetrating this tragic calamity? After nine bloody years of war, nearly 4,500 U.S. soldiers dead, another 33,000 wounded and maimed and nearly a trillion spent (and a crumbling infrastructure at home). No one knows exactly how many contractors died in Iraq; no one keeps track. In Afghanistan last year, more contractors died (430) than American military (418). But that's not all the cost. At Salon.com, Gary Kamiya estimates that between 150,000 and 400,000 Iraqis were killed in the war and bungled occupation and civil war that followed. And another 1.3 million were displaced from their homes and businesses. Other estimates are higher.
Costs of War from the Eisenhower Study Group puts the number of displaced persons, refugees, asylum seekers, stateless persons and the like at 3.5 million out of a total Iraqi population of 31.5 million. "This means that around 1 in 10 Iraqis are currently on the run."
The only victory to be found in Iraq is the name of a now-abandoned base, the "obscenely large Camp Victory." In the Washington Spectator for January 1, 2012, Nick Turse describes Camp Victory as "the mother of all U.S. bases and the nerve center of the Pentagon's war—an Americn city complete with Burger King, Cinnabon, Pizza Hut, Popeyes, Subway and an electric grid that was the envy of Iraqis everywhere but available to few of them." Camp Victory and more than 500 other U.S. military bases are now closed or disassembled. Gone.
And are we really out of there? In Baghdad, we have the largest American embassy in the world. With a payroll of $6 billion a year, it employs nearly 16,000 people, mostly contractors. The State Department is expected to slash the rolls by half, largely because our ambitions for our post-occupation presence in Iraq have been defeated by the facts on the ground. We aren't trusted. And the ruling Shiite class, a model of perfidy, is making alliances with Iran.
Iran is the winner. In a destabilized Middle East, Iran is emboldened and empowered, their status fueled by widespread hatred of the U.S. So there we are, as Hendrik Hertzberg points out in The New Yorker: "Instead of Iraq's imaginary quest for the bomb, we now face Iran's real one."
But death and destruction are not the only costs. There is also "the harm this war has done to American interests, American honor and American power," writes Hertzberg. "The U.S. came out of the Cold War and into the new century cloaked in an aura of mostly beneficent omnipotence, strengthened by the first President Bush's quickly decisive (and truly multilateral) police action in Kuwait. If the aura was a myth, it was a useful myth: it served as a means of persuasion and a deterrent to mischief. It was a kind of hard soft power—a velvet fist in an iron glove. Its efficacy, a little like a nuclear deterrent's, was a function of potential, not actual use. That and more was squandered in Iraq."
Andrew Bacevich in the Washington Post agrees. The Iraq war provided a vivid demonstration of the limits of American power. And limited by the change in our potential, we are no longer as effective as we once were. GeeDubya and his hangers-on launched the war to remind the world that despite 9/11, the U.S. "still called the tune to which history marched." But in Iraq and Afghanistan, our matchless military could not create the liberal democracies of neocon fantasies. We leave these killing fields having buried our faith in "permanent American supremacy" in unmarked graves. That is the war's final legacy.
I didn't find many editoons about our successful departure from Iraq. Probably because the whole episode was too ugly and unforgivable to laugh about it or, even, to denounce it. Probably editorial cartoonists didn't want to participate in so obvious a charade as our "accomplishment" in that devastated country. Nor, on the other hand, did they want to expose the Iraqi success story as a sham because that might delay the departure, which they, like most Americans, were eager for. Despite such reluctances, real or imagined (by me, writing this diatribe), there were some cartoons about our leaving Iraq. A few, which I'm not posting, celebrated the return of soldiers to their families in time for Christmas; nice, harmless seasonal pablum that side-stepped entirely the whole catastrophe of Iraq. Those that dealt directly with the monstrousness of our Iraqi expedition were fewer.
| | |
| --- | --- |
| | |
Ted Rall at the upper left manages in a single cartoon to capture the horrors of the occasion. An obvious pictorial treatment you'd say, but no one else I saw did anything approaching it for naked hideous imagery. Oliphant is next on the clock, and he returns to one of his favorite themes about Iraq and the Bush League; I don't disagree. Bennett, whose skill at manipulating images gets him into this round-up frequently, shows how flawed are our hopes for what we've achieved: in our Middle East experience, we can no longer find any reason to expect that if we topple autocracy it will be replaced by democracy, the fondest of neocon hopes. Next, John Cole reminds us that GOP war mongers, urging an invasion of Iran to stop their developing an atomic bomb, have erred before in their eagerness to resort to military action to correct the behavior of rogue nations. Since it has proved awkward, if not painful, to get our foot out of the Iraqi bucket, why suppose our venture into the Iranian bucket would be any different? And aren't our so-called motives for an invasion of Iran at least as suspect as those the neocons mustered for crashing into Iraq?
Continuing our jaunt to faraway places, we come to Cam Cardow's portrayal of the civil war in Syria, a conflict in which one side has all the fire power and therefore runs over the opposition, converting the population to tank tread. (I'm not sure this shows up in pixels but the tread, if you look closely, is human bodies.) Next is Bennett again, this time back to the home front where he dismantles the so-called scientific theories of intelligent design (and/or anti-global warming) with a single cartoon. Bagley's picture of how Congress is occupied by corruption is another of his hilariously exaggerated visual metaphors: it's clear that corruption is "all over" Congress, not just camped outside in a tiny tent. And Daryl Cagle shows how the simplest visual metaphor can be a potent message.
You Don't Say. One of my favorite year-end pastimes is to see how the American Dialect Society characterizes the year just disappearing over the horizon. Every year, ADS picks the Word of the Year, which, usually, reflects some preoccupation in the culture as a whole. To qualify, the word must be: demonstrably new or newly popular in the year in question; widely and/or prominently used in the year; indicative or reflective of the popular discourse; and not be simply a peeve or complaint about overuse or misuse. This year, occupy, as a noun or verb, is the winner. Runners-up include: FOMO ("Fear of Missing Out"), the 99%, job creator.
ADS also picks words that are "the most creative" (kardash, a unit of measure consisting of 72 days, after which the marriage of Kim Kardashian and Kris Humphries disintegrated), "most unnecessary" (planking, posing for a photograph in a public place with one's body in a stiff, prone position), "most outrageous" (assholocracy, rule by obnoxious multi-millionaires; deather, one who doubts the official story of the killing of bin Laden), "most euphemistic" (job creator, a member of the top One Percent, none of whom, as a simple fact, have created any substantial number of jobs), "least likely to succeed" (Tebowing, posing for a photograph while praying on one knee in imitation of the Denver Broncos' sensational new quarterback).
Last year's Word of the Year was app; the "most outrageous" was gate rape, a pejorative term for the invasive new airport pat-down search procedure.
Meanwhile, from Lake Superior State University in Michigan, we have a list (compiled afresh every year) of words that should be banished—words we use so often in media and in conversation that the words become annoying. This year's list of banished words (in order of annoyance): amazing, baby bump, shared sacrifice, occupy, blowback, man cave, the new normal, pet parent, win the future, trickeration, ginormous, and thank you in advance. Jason Knott at Cepro.com commented on "man cave":
"Unfortunately for many custom installers who love to buddy up with the male head of household when outfitting a home theater, the term 'man cave' has made the list. According to submissions to the university, the phrase 'man cave' is 'overused by television home design and home buying shows, has trickled down to sitcoms, commercials, and now has to be endured during interactions with real estate people, neighbors and co-workers.'
Another submitter said of "man cave": "It is not just over-used, it is offensive to we males who do not wish to hunker (another awful word, often misused) down in a room filled with stuffed animal heads, an unnecessarily large flat-screen TV and Hooters memorabilia. Not every man wants a recliner the size of a 1941 Packard that has a cooler in each arm and a holster for the remote. So please, assign 'man cave' to the lexicographic scrap heap where it so rightly belongs."
While Lexiconifying, Another Detour (gleaned from Mental Floss magazine, January/February 2012 issue): The word brunch was invented in 1895 by Guy Beringer as describing, and, hence, prescribing, a mild meal suitable for starting the day for people nursing hangovers. They could begin with innocuous breakfast foods, then work slowly up to the more challenging repast of the mid-day meal. The next year, Punch demurred, saying brunch described the meal if it was closer to breakfast, but if closer to lunch, it should be denominated blunch.
Such portmanteau words were more numerous in those days than we suppose, believing, as we often catch ourselves doing, that people today are brighter and more inventive verbally than their ancestors. In 1913, the New York Times listed some of the type: crilk, a mixture of cream and milk; insinuendo, half insinuation, half innuendo; alcoholiday, leisure time spent nursing a drink; and bungaloafer, one who loafs in his bungalow.
Other Cartooning Sidelights of the Year
In its January 16 issue, Time's movie critic Richard Corliss bemoans the slump in box office receipts—down 4.9% in 2011 from the previous year, "with the fewest tickets sold since 1992." And cartoons have suffered, too. "Animated features, box-office magnets for a decade, lost their luster. In 2010, five of the top ten grossers were cartoons; in 2011, there was just one, 'Cars 2.'"
The Person of the Year (once, the Man of the Year) at Time magazine is, this year as in only a few others, a generic symbolic person—i.e., the Protester, "from the Arab Spring to Occupy Wall Street." An excellent choice I'd say. The Person of the Year is defined as that individual, who, for good or ill, has most influenced the news of the year (and thereby, perhaps, history itself). Political figures—heads of government or leaders of movements—have usually been the choices. Two persons in this year's cover story caught my eye—both graphic artists. First, one of the four "runners up" is Ai Weiwei, the Chinese artist whose dissidence so aroused the ire of the country's rulers that he was imprisoned for most of the year. But Ai's activism consists largely of inspiring online campaigns of protest. In Egypt, however, El Teneen, is a graffiti artist whose wall scrawls motivated action and cheered protesters on. It's nice to know in these days of bombs and bloodshed, that art still matters.
WE'RE ALL BROTHERS, AND WE'RE ONLY PASSIN' THROUGH
Sometimes happy, sometimes blue,
But I'm so glad I ran into you---
Tell the people that you saw me, passin' through
Eduardo Barreto, 1954-2011
Luis Eduardo Barreto, who, most spectacularly, revived the appearance of the newspaper strip Judge Parker from 2006 to 2009, died December 15 after a long battle with meningitis. He was 57 years old.
Born in Montevideo, Uruguay, he found "his first gig either on a series of newspaper comics for an Uruguayan newspaper or [reports vary] on a science fiction comic strip that was distributed by United Press International to several markets in South America," said Tom Spurgeon at ComicsReporter. "He soon found an established place in the South American comics world, first with a strip for the newspaper El Dia, then working with Hector German Oesterheld on Kabul de Bengala, and then on a run of the feature Nippur as part of a number of gigs for the Argentinian publisher Columba. During this period, basically the heart of the 1970s, Barreto would travel once a month to Buenos Aires to deliver artwork and pick up scripts."
After a few assignments with Marvel, Barreto started working for DC Comics, where he drew Superman, Wonder Woman, Batman, Teen Titans and nearly every other DC character. He also worked with Marvel on Marvel Knights and Dark Horse on Aliens vs. Predators, Indiana Jones and The Escapist. And he drew for Archie, Big Entertainment, IDW, Boom!, Crossgen, and Claypool.
"In one of his stronger stand-alone efforts released in North America, Barreto drew the 2005 western The Long Haul [reviewed in Opus 158] for writer Antony Johnston and Oni Press," said Spurgeon. "On news of his passing, Johnston described Barreto as 'an amazing talent, a thorough professional, and a kind, generous artist who possessed a deep love of comics.'"
"Some of the biographical material," Spurgeon went on, "indicates that when Barreto was initially seeking and doing North American comics work, he and his family had moved to the Phoenix area. They would later return to Uruguay, where Barreto once joked he was closer to Manhattan."
Barreto took over drawing Judge Parker from longtime artist Harold Ledoux in May 2006. Almost at once, Barreto was involved in a serious car accident and was unable to draw the strip for a period, during which Graham Nolan and John Heebink substituted. Barreto returned, but when he contracted meningitis in 2010, he found himself unable to handle to arduous task of daily strip making, and the job went to Mike Manley in March of that year.
Manley told Comic Riffs how much he appreciated his predecessor's work on the strip: "He was the type of artist who did the hard things well and the great things great—his dynamic figures and layouts, sexy women, bold blacks and brushwork added a dramatic splash to the often tepid comic page and revitalized the strip."
Last July, Barreto returned to newspaper comics, doing the Sunday Phantom for King Features.
"Eduardo was a wonderful talent," said Brendan Burford, King Features Comics Editor, "and we at King Features feel fortunate to have worked with him. His work on Judge Parker and more recently on The Phantom was memorable and brought a tremendous amount of taste to those great comic strips. He will be missed."
Beau Smith and Barreto were close friends for over twenty years, Smith said. And when he heard his friend had died, Smith wrote about him at comicsbulletin: "Eduardo also had a film director's cinematic eye. If you look at his work, you'll be able to see how he could take the reader's eyes on a wonderful journey and unfurl a story with characters that you would invest in emotionally. Not many artists can do this. Eduardo could. ... Just as Eduardo was a top professional with a brush and pen, he was also A-List when it came to doing his work on time and going the extra distance to make everyone connected with the job look better.
"Eduardo first starting getting sick when we were working on Cobb: Off the Leash at IDW Publishing," Smith continued. "Instead of letting the pain double him up and knuckle him down, Eduardo took the fight to his work and produced possibly the finest work of his career. I was never so honored when Eduardo told me that working on Cobb was his most favorite work of his career. His words brought tears to my eyes then and it does to this day. For a talented man like Eduardo, with an amazing landscape of work like his, to tell me, a story of mine was his favorite. Well, it's career-making for me, an honor I cannot put into words."
Smith went on: "When you talked to Eduardo he was always concerned on your health, your life and what you were doing. He never whined, complained or shoved a bad mood on you. He was modest to a fault, he was generous to a fault. Those were his only faults. More of us should have those faults."
Smith concluded by remembering a late-night confabulation atop a San Diego hotel during a San Diego Comic-Con. Eduardo, Chuck Dixon, Graham Nolan and Smith were all guests of a Dark Horse Comics party: "The four of us had been mingling, networking and drinking when we finally settled out on the roof section overlooking San Diego. The stories flowed, as did the beer. Wonderful stories about the comic book business, our childhoods and all the pop culture that we admired and shared interest in. We spoke of the old west, history and of course, beautiful women, but it was Eduardo who, while on the subject of women, had these words that rung most true. He simply smiled, raised his beer and said 'My friends, there is beauty in every woman.'"
Richard Alf, 1953 - 2012
Another of Sandy Eggo's founding fathers has died. At the San Diego Union- Tribune, Peter Rowe tells the tale: "In 1970, Sheldon Dorf led a band of volunteers organizing San Diego's first Comic-Con. The 35-year-old Michigan transplant had the vision and the experience, having run similar shows in Detroit. But if Dorf was the main man, Richard Alf was the indispensable teen. The 17-year-old senior at Kearny High School possessed two things Dorf did not: a car and cash." For the first year or so, Alf fronted the money, getting his investment back after the Cons. Alf's battered 1954 Volkswagen bug was also critical. Alf is listed as co-chair for several of the early Cons. He later founded the Comic Kingdom comics shop. He died January 4 of pancreatic cancer. He was 59.
Blaine, 1937 -2012
Blaine MacDonald, the Hamilton Spectator's colorful (even eccentric) editorial cartoonist for 30 years until his retirement in 1993, had been in poor health in recent years after heart surgery and a stroke. He died February 5. Here are portions of the obituary written by Mark McNeil for the Spectator:
As Blaine MacDonald gained profile in the world of cartooning, adopting a style that was strongly influenced by the great Toronto Star cartoonist Duncan Macpherson, he legally changed his name to Blaine.
Blaine was anything but bland. He had a black belt in karate, played guitar and sang, liked wearing cowboy boots and jewelry and was remembered for driving motorcycles and a Corvette Stingray monogrammed with a drawing of a butterfly on the hood. The story goes that he once picked up an injured butterfly by the side of the road, nursed it back to health, and then used the experience of releasing it for inspiration to buy lottery tickets. He matched numbers to the letters of the song "Butterflies are Free" (B=2, U=21 etc.) and won $15,443 in Lottario.
But that wasn't the only thing he won during his life. For his editorial cartooning, Blaine received National Newspaper Awards and a Reuben division award for Editorial Cartooning, and he was the first cartoonist ever to win a Salon of Cartoons Grand Prize at Montreal. Sometimes, in hyperbolic jest, he called himself the "fastest cartoonist in the West."
Roy Carless, a local cartoonist who died in 2009, once described Blaine as "probably the most brilliant caricaturist that I ever met. A lot of artists were jealous of him."
Other Blaine admirers included Pierre Trudeau, who wrote to Blaine in May 1969, saying: "I am not sure whether it is more foolhardy for a politician to praise the work of a cartoonist, or to refuse to do so — particularly when the cartoonist holds a black belt in karate. In any case, I freely admit to enjoying your drawings, both the lifelike pencil portraits and the imaginative political caricatures. Keep that pencil sharpened. My fellow politicians and I will keep you well supplied with material."
But actually it was Blaine who owed thanks to the former prime minister. Trudeau was one of the cartoonist's favorite subjects and Blaine won a National Newspaper Award by depicting him putting his middle finger into a light socket with one hand and holding an illuminated light bulb with the other. The caption: Finger Power.
Blaine's caricatures of Trudeau have a special meaning to the Spec's current editorial cartoonist, Graeme MacKay. Years ago, as a Grade 10 student with a sketchbook tucked under his arm, MacKay went into the Spec's newsroom to meet Blaine.
MacKay says he remembers the five-minute meeting with his hero in such detail that he can still play it like a short movie inside his head. It ends with Blaine grabbing a blue pencil and a piece of paper, and in a matter of seconds drawing a cartoon of Trudeau.
"I thought, 'This guy is incredible,'" MacKay says. "I still have the drawing."
Editoonist Cullum Rogers has another Blaine story: "My favorite memory of him is from the '84 AAEC convention, when a busload of us rode miles and miles and miles outside Oklahoma City to visit cowboy actor Dale Robertson's ranch. When we got there, the first people we see are Robertson's other guests, John and Bo Derek. Blaine had a thing for beautiful women, anyway, and he had his video camera with him. I don't think he photographed anything but Bo for three straight hours."
Jack MacDonald, who died in 2010, used to say he treasured the political cartoons that Blaine drew of him during his time as mayor. His favorite was published after an election win and pictured the new mayor crawling into bed with a big ceremonial chain around his neck and his wife, Jessie, remarking, "You can't wear that thing to bed."
MacDonald — who wrote a regular column for the Spec in the 1990s, working out of the same editorial page office as Blaine — once told a reporter: "If you knew him, you knew he was a happy-go-lucky kind of guy. If you crossed him, he would be very upset about it. But there was no malice in him. There was humor."
MacKay says Blaine had a different sense of humor than political cartoonists today.
"His cartoons weren't nasty," he says. "He used more of a whimsical approach. It was kind of a Rich Little kind of humor compared to the more cutting, crass things you see on late-night television."
Blaine's wife, Ildico Horvath said recent years had been difficult for Blaine. He couldn't speak and suffered from partial paralysis. He had been admitted to the Juravinski Hospital because he was having trouble breathing. He died at about 8 p.m. after watching part of the Super Bowl on television.
"You know how some people can predict things? He always used to say that he wanted to live to 74," she said. "And he did."
Here's a sample of his flashing brush and sense of humor.
Al Rio, 1962 - 2012
From Tom Spurgeon at ComicsReporter.com: The prolific Brazilian comics artist Al Rio committed suicide, reportedly by hanging himself, on January 30 after a long period of battling depression. He was 49 years old. Rio was best known for his "good girl" comics art and illustration, working for a variety of publishers including Marvel, DC, Dark Horse, Image, Avatar, Angel Entertainment, WildStorm, Malibu, Vertigo, Crossgen, Trinity, Zenescope, Harris and Chaos. "Few could draw as well, adapting to so many styles so effortlessly, as Al Rio," said David Campiti, his agent of many years. "We'd gotten together several weeks ago and were working hard on his projects, so news of his death came as quite a shock. He was a long-time friend whose art was a great joy to me and even inspired my wife's drawing career. Generous and humble, he'll be deeply missed."
Milburn Calhoun, 1930 - 2012
Calhoun, a lover of books and a recognized expert on rare tomes, founded a couple of rare and out-of-print bookstores in his native Louisiana, and then in 1970, following his passion, he bought a bankrupt publishing house, Pelican Publishing Company, and moved it to Gretna and began revitalizing the operation by printing books about Louisiana and other Southern subjects. In 1973, he launched an annual series, The Best Editorial Cartoons of the Year (beginning with the cartoons for 1972), edited by Charles Brooks, who died just last fall, September 29 (Opus 285). Calhoun died January 7 afer a lengthy illness. (Source: news release from Pelican.)
John Celardo, 1918 - 2012
John C. Lardo adopted the foregoing pen name for a lengthy career drawing comics and comic strips. He started by making sports cartoons for Smith & Smith in 1937, Tom Spurgeon says at ComicsReporter.com, and the next year, he joined the Eisner-Iger comic art shop from whence he moved to freelancing for Fiction House and Quality. After service in World War II, Celardo returned to comic books until the mid-1950s, when he took over the syndicated Tarzan strip "for an equally talented (and also long-lived) veteran of the now fading comic book Golden Age, Bob Lubbers. It's likely that he inked Lubbers for several months before taking over full art duties; he certainly had experience in the late 1940s doing one of comic books' many Tarzan knock-offs, Alex Blum's Kaänga. Lardo is credited with both dailies and Sundays starting in early 1954. The Celardo run on Tarzan has been occasionally criticized for the lack of easy dynamism apparent in work by artists like Hal Foster and Burne Hogarth, but may be better remembered for his well-received inclusion of modern storytelling elements into the strip, some of which reflected Africa's tumultuous mid-20th Century. He was eventually succeeded by Russ Manning. Celardo moved from Tarzan to Tales Of The Green Beret, which he took over from Joe Kubert. Lardo was also the last artist on the Buz Sawyer daily, taking over in 1983 and finishing out that feature in 1989."
Celardo worked as a comics editor at King Features at intervals in the 1970s and 1980s, and at the same time, he also freelanced at Gold Key and DC Comics.
RONALD SEARLE, 1920 - 2011
THE ANNOUNCEMENT IS TERSE to the point of cryptic: "Ronald William Fordham Searle, cartoonist and illustrator; born, Cambridge, March 3, 1920; CBE, 2004; married 1946 Kaye Webb (died 1996; one son, one daughter; marriage dissolved 1967); 1967 Monica Koenig; died Draguignan, France, December 30, 2011." And it includes an error: 1946 was the year his twin children were conceived; he didn't marry their mother until 1948.
But that error is not as blatant as the blithe glide over Searle's achievement. Ronald Searle was not just a cartoonist and illustrator: he was a glorious survivor and perhaps the greatest cartoonist of his generation.
Best known (probably to his chagrin) for his comic drawings depicting the outrageously ghoulish machinations of the school girls at St. Trinian's, and for his illustrations of the Molesworth books, written by Geoffrey Willans, which, as any fule knoz (sic), tells of life at the boys' prep school St. Custard's, Searle, the Guardian reported, died "peacefully in his sleep" in southern France's Draguignan after a short illness—and just months after his second wife, Monica, for whom he scandalously left his first wife and family in the early 1960s, died in July.
Searle "created an alternative to the conformity of Harold Macmillan's Britain", said Searle's Penguin publisher Simon Winder, quoted in the Guardian. "He gave Britain in the 1950s particularly a sense of anarchy. He was extraordinarily skeptical about all forms of authority [and] there's something just astonishingly anarchic about Molesworth and St. Trinian's— that's why they have appealed to so many generations. They will endure forever as masterpieces of comic anarchism."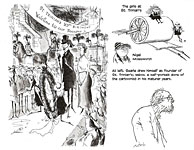 Art dealer Chris Beetles, who held several exhibitions of Searle's work at his gallery, said: "He had become the yardstick by which all those professionals in his trade judged themselves, and his witty draughtsmanship was the standard to which they aspired. Over my 40-year collecting and art dealing lifetime, I have never encountered a cartoonist with his consistency of drawing ability, and such an inventive range of humor from burlesque to surrealism."
Anarchism and truth. The British are stereotypically renowned for their obsession with "form" and sheer propriety at the cost of all else, and Searle ridiculed them for it. And the girls at St. Trinian's and Nigel Molesworth epitomized that ridicule because they were in active and perpetual rebellion against propriety. And almost all the rest of the Searle oeuvre reveals that not only is decorum a fraud, but underneath its placid surface, all of so-called humanity reeks of a morbid fascination with wholesale havoc and disorder, becoming thereby the perfect target for a cartoonist.
| | |
| --- | --- |
| | |
Michael Cavna at ComicRiffs.com writes: "Searle will surely be best remembered for his St. Trinian's boarding-school girls gone bad; through their brazenly wicked behavior, the artist was sending up the 'proper' British school system. These dark-humored hellions debuted in the magazine Lilliput in 1941, the year before Searle was captured by Japan and endured brutal conditions as a World War II POW (he drew with whatever he could find during this time, later publishing To the Kwai—and Back: War Drawings 1939-1945)."
Searle was in the Japanese jungle prison camps Southeast Asian for virtually the duration of WWII. Britain had been at war with Germany for two years when the newly-inducted Searle arrived at Singapore—just in time for the Japanese invasion in early 1942. He and over 50,000 other British soldiers were imprisoned when the island garrison, hopelessly outnumbered, finally capitulated in mid-February. He was a prisoner until the Japanese surrendered in August 1945. For almost a year of that time, he worked on the notorious "Death Railway" from Thailand to Burma (made famous by the movie "The Bridge on the River Kwai"). Over 13,000 of his fellow prisoners died because of the brutal treatment by the Japanese (whose culture encouraged them to think of soldiers who surrendered, regardless of the circumstances, as somehow sub-human).
Surviving the inhuman conditions of the Japanese prison, Searle returned to Britain after the War and enjoyed a spectacular career as a comic illustrator and a member of the legendary Punch table. His work was a regular fixture in such magazines as TV Guide, The New Yorker, and Holiday, for which he did travelogue cartoons about such exotic climes as Russia and the U.S.A.
Searle's biographer Russell Davies traces Searle's development from cartoonist to caricaturist to satirist to "moral portrait artist"—a kind of "cosmic Searle" whose bleak and grotesque vision of humankind is tempered with "a tender impulse, the urge towards beauty." By the 1950s, Searle had achieved his distinctive "stammering" linework with its peculiar "ricketiness" (a style that would influence Pat Oliphant who, in turn, would set the fashion for a generation of American editorial cartoonists) to the moral portraits of the last decades when Searle mixed color and line in eccentric profusion.
Cul de Sac's Richard Thompson expounded on the Searle style for Cavna: "His drawings were so potent and dense and alive with comic energy. His pen could do anything; it went curling and spiraling all over the paper, describing a world that was ugly, bitter, grotesque, hilarious and sometimes, briefly, quite sweet. It made me suddenly aware of how liquid ink is, how it skips and splotches and pools when it hits the paper. It was also obvious Searle had a deep appreciation for the history of the graphic arts and an awareness of how he fit into it. This was heady stuff for a generally clueless 20-year-old semi-cartoonist to be exposed to, and it took a few years for me to put my own eyes back in my head."
BORN IN Cambridge, which Searle counted "one of the most beautiful and ancient university towns in England," he grew up in a working-class home. His parents, William and Nellie Searle, were not "poor in the needy sense," biographer Davies wrote, but most of their money went to necessities. "Still, recognizing their son's talent, they bought him a set of pastels," said Steven Heller in his New York Times obit, "and by age 9 he was drawing credible portraits of his family and friends."
Writing in Cartoonist PROfiles no. 4 (November 1969), Searle said he could draw before he could write legibly and he consumed comics (Comic Cuts, Film Fun, Chips) that he swapped with classmates in the schoolyard. But his "great love," he said, was books.
"I devoured everything in our town library. ... By the time I was 13, I wanted my own library, and I began to haunt the secondhand bookstalls and barrows in Cambridge." Within five years, he had "accumulated" some 500 volumes for a few pennies apiece, including a few books about caricature. And he picked up M.H. Spielmann's History of Punch and decided "with juvenile confidence" that he would be a Punch cartoonist.
"I was obsessed with drawing and scratched away incessantly." In art classes, he "scribbled comic drawings" next to renderings of plaster Discobolos and "painfully shaded" renderings of "floppy breasted nudes with blue toes and purple legs" (it was cold in the life-drawing classroom).
Like the youth of many families in his class, Searle left school at the age of 14 to earn money to contribute to the family coffers. In July, he went to work for a local attorney as an office boy; in October, he was sacked for drawing on legal paper. In November, he found work as a parcel-packer at the Cambridge Co-Op and started taking night classes at the Cambridge School of Art, paying his tuition by drawing cartoons for the Cambridge Daily News.
Explained Searle: "When I was 15, the CDN cartoonist left for London and higher things. I stuck a cartoon through the letterbox of the paper, utterly confident that the editor would take it, and that this would solve an important economic problem for me. He did take the cartoon and asked me for more at 10s.6d. a week (about $2 then). This paid for all the drawing materials I needed with a bit left for the family and something for me."
He drew traditional continuous-panel strips in the graphic style of the early 20th-century cartoonist and humorist H.M. Bateman. "I continued with these weekly cartoons from 1935 until the War, almost without a break. They were dreadful, but they taught me how to draw for reproduction."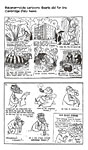 Searle also drew for The Granta, the University's leading student magazine, whose editors recruited the townie cartoonist because the student body had failed to produce one. Searle's first cartoon in the magazine appeared late in 1936; by 1938, he was producing caricatures of touring artistes and ambitious parodies. He also participated in various theatrical performances.
In 1939, on the eve of his being called up for military service, Searle, browsing in a bookstall, found a "small monograph by Marcel Ray on the work of George Grosz. It cost me 2s. and changed my artistic direction." He had already "established a pedestal for Picasso as the foremost of my living heroes," among whom he also counted John Gillray, Thomas Rowlandson and George Cruikshank.
"If anyone influenced me in my work, it was on the basis of draughtsmanship," Searle wrote, "rather than painting. I saw in line then, as I still mainly do now. Above all, I admired 'Roly' Rowlandson with his wit, genius, ability to handle line, ability to range from the broadest and most clownish grotesque to a cunning subversive charm. I cannot say that I have ever consciously had the desire to copy anybody. But if I have been influenced, it is by Rowlandson. And Grosz.
"I had known little about Grosz until I got the Marcel Ray book ... and now he fitted into place for me. Grosz exposed the rotting military mind; the filth of war and the stench that lingered after it—and how he could draw! With this book of his, I headed off for my seven years as a soldier."
In 1938, Searle had joined the Territorial Army Royal Engineers as an architectural draughtsman, and in the summer of 1939, he was called up into the regular army, wherein he eventually became a "camouflage artist." After a few weeks' training, he was sent off "to defend the east coast," which the engineers accomplished by constructing shoreline pillboxes disguised as farm huts and haystacks.
For two years, Searle's unit moved around England, "camouflaging," arriving, at last, on the west coast of Scotland at Kirkcudbright, which, according to biographer Davies, sustained "a thriving and extremely hospitable artists colony" on the Firth of Solway. Searle noted: "Execution of army duties deteriorated and drawing improved."
Searle spent some of his off-duty time with artist Bill Johnston and his family, which had been temporarily evacuated from Edinburgh, where the two girls, Cecile and Pat, had been attending an academy for young ladies—St. Trinnean's. To entertain the girls one day, Searle made a drawing that was fated to be the first of his famed St. Trinian's cartoons.
He submitted the cartoon with several others to a monthly magazine, Lilliput, a small-format monthly magazine founded in 1937 by photojournalist Stefan Lorant that published humor, short stories, photographs and art. (During the 1950s, Lilliput had a reputation for printing daring, for the time, photos of female nudes, but it wasn't until long after it merged in 1960 with Men Only that the magazine became outright pornographic, saith Wikipedia.)
Searle addressed his fated submission to the assistant editor, Kaye Webb. It was July 1941. The cartoon was accepted for the October issue, but Searle didn't see its publication until February 1942: in November, his unit was shipped off to North Africa. After Pearl Harbor in early December, it was re-assigned to the Far East, arriving in Singapore January 13, 1942.
Sent north toward the mainland, Searle's unit soon encountered the British retreat, streaming southward to Singapore. On February 13, as the Japanese bombarded the island city, Searle spotted a ragged copy of the October Lilliput in the debris of a Singapore street. He picked it up and thumbed the pages and, in what Davies dubbed as "a moment of sublime irrelevance," saw his schoolgirl cartoon in print. Two days later, Webb later recorded, the magazine carefully tucked into his map pocket, "Searle and his companions obeyed the order to surrender and were marched off on the first stage of their painful journey" to a succession of Japanese POW camps.
"Owing to the international situation," Webb wrote, invoking the cartoon's caption, "the career of cartoonist Ronald Searle had been postponed. This improbable story is entirely true."
SEARLE SPENT the next three years in the appalling conditions inflicted upon prisoners of war by the Japanese, who, because their code stipulated that defeat without death equals dishonor, felt their prisoners were beneath contempt, deserving of no courtesies and only bare subsistence. Searle did not expect to survive. But he drew pictures the whole time, preserving them at great risk.
"I desperately wanted to put down what was happening because I thought if by any chance there was a record, even if I died, someone might find it and know what went on," Searle said in a 2010 interview with the Guardian's cartoonist Steve Bell. "At times I was so ill that I couldn't draw at all. You're doing 16 hours a day rock-breaking and you're exhausted. You come back and have a bowl of rice. You have no light, but you have fire, a big fire keeping the mountain lions away, and snakes perhaps, and by the light of the fire, I made the drawings. I didn't have a watch or anything, so you just lie down in the tent until you were dragged out the next morning to go back to the rock-breaking. And so all these drawings, some of them very bad, were all I could do in a state of exhaustion."
In a very real sense, Searle survived the ordeal by drawing: the self-imposed task of making a visual record gave him a mission, a reason to go on living. Afflicted at various times (occasionally simultaneously) with malaria (two types), beri-beri, dysentery, enteritis, gastritis, manges, flesh ulcers and a wound to the back caused by a blow from a guard's pick-axe (which had penetrated to his spine), and a host of other plagues (including skin diseases), Searle managed to procure paper and manufacture ink and he drew pictures, over 400 of them, depicting his dying friends and brutal guards. He hid the drawings beneath the bodies of cholera-ridden fellow prisoners, a successful ploy because the guards were afraid to touch diseased bodies.
A fellow prisoner is quoted by Davies: "Imagine something that weighs six stone or so [about 84 pounds], is on the point of death and has no qualities of the human condition that aren't revolting, calmly lying there with a pencil and a scrap of paper, drawing, [and] you have some idea of the difference of temperament that this man had from the ordinary human being."
Searle participated in the creation of a camp newspaper, which was soon determined to be too subversive to survive, and Searle and his compatriots were punished by being shipped off to more severe environs. Searle went to work on the Siam-Burma railway where 95 percent of the workers perished.
Davies reported that Searle, "never the likeliest of chain-gang laborers," was beaten many times and on one occasion one of his hands was the object of "a spitefully punitive attack ... putting him in the camp hospital, though they chose the wrong hand if they intended to stop him drawing." He was frequently too ill to work. "Beri-beri had spread to his feet, and a skin disease (tropical perfligas) was rapidly colonizing his entire skin. Like all the men, he had suffered throughout from tropical ulcers, where the skin would go bad like a fruit, the rottenness eating inward towards the bone with the help of maggots."
After ten months, the railway was finished and Searle was eventually returned to a prison in Singapore in December 1943. Conditions there were somewhat better, but only barely. Malnutrition and disease persisted.
When he was liberated in August 1945, Searle weighed 7 stone (about 98 pounds), his legs were swollen by beri-beri, and his ankle cut to the bone by a tropical ulcer. "I'd had dengue fever and malaria 25 time," he said later, "—I came out a walking skeleton, but I was alive."
And he brought back his stash of drawings, including, alongside pictures of the dead and dying, sketches for cartoons, including a rough for a prospective St. Trianian's, drawn on the back of an official notice listing prisoners who had recently died in captivity.
Harry Mount, writing Searle's obituary for the Daily Mail, observed: "A unique combination had been forged in Searle's art—between the funny and the wickedly bleak."
He quoted Searle about the cartoonist's subsequent career: "The darkness in my drawings came from being a prisoner. I went into the war as an art student of 19 who did pictures of my mum and dad and the dog. Suddenly, you're drawing people who are going to die."
He remembered awakening in the prison barracks one morning, and on either side of him was a man who had died in his sleep during the night.
SEARLE ARRIVED BACK in Merrie Olde Englande at the end of October 1945, his chin enhanced with a fashionable goatee that he would countenance the rest of his life. He visited his parents in Cambridge briefly, then went to London in search of a livelihood.
"I arrived in London with a grubby portfolio of sketches and found myself a room in a cheap boardinghouse in Chelsea. This boardinghouse had once been the home of Oscar Wilde, and my room had been the library."
"It was then that I was faced with earning my living," he continued in the 1969 Cartoonist PROfiles article. "I had nothing but fantasies in my head, and a small army pension between me and the post-war wolves at the door while I was getting rehabilitated and thinking about long-term plans for the future. It seemed to me that the only fast and easy way of keeping myself fed was to sell cartoons. So I sold cartoons.
"This I rapidly discovered needed no particular ability apart from being able to communicate a personal way of looking at things," Searle went on. "Coming as I did from an atmosphere of stinking cells, wasted bodies and grim humor, my humor was 'black' [a bleak and often grisly breed of gallows guffaws then wafting through Western civilization]. But so was the post-war climate of rationed England, and my work found a ready market there. I cannot say that I ever thought of cartooning as an ultimate career. All I knew was that I wanted to eat and that I wanted to draw, and this was one way of being able to get some of the disgust I felt for human behavior into print (comically wrapped-up for public consumption). At that point, I became a part-time cartoonist. I still am."
He discovered that his career as a cartoonist in England had continued, intermittently, while he was a POW. Magazines to which he had submitted cartoons before embarking for Singapore published a cartoon of his every once in a while, and at one point, Davies noted, "he had even been named among the 'Twelve Best Cartoonists of the Year.'"
In post-war Britain, various publications eagerly published articles about the POW cartoonist, accompanied by his drawings. Cambridge University Press published a collection of his prison camp sketches, Forty Drawings. Vogue, The Times Literary Supplement and other magazines bought and published cartoons, and the venerable Punch, pinnacle of professional aspiration for an English cartoonist, published its first Searle cartoon in the issue for March 20, 1946. About the same time, London Opinion published the first of a series that Searle concocted featuring a sadistic youth named 'Orrible Albert; Albert, however—despite a tendency towards havoc that the St. Trinian girls would make infamous—didn't catch on. Then in the April issue of Lilliput, the second of Searle's St. Trinian's cartoons appeared.
Getting the gargoylish girls back into Lilliput had taken a while. Searle was eager to exploit his connection with the magazine and had written Kay Webb several times, twice showing up at the office but denied access to the assistant editor because, on the first occasion, an excessively efficient secretary thought he should have an appointment and he didn't and, the second time, because Webb was indisposed by a burst appendix. At last, however, they met in person.
Webb remembered that the cartoonist showed up in his "awful oversized army clothes and a little moustache ... bearing a neat folder containing seventy-two cartoons drawn in faded ink on stained and yellowing paper, crumpled from having been buried in the jungle and hidden under disease-ridden mattresses."
She took him out for a drink, and very soon, they began a serious affair. She was six years older than he and was still married although estranged from her second husband. Davies, attempting to explain the mutual attraction, wrote: "She had 'lived' while Ronald had [merely] avoided death; in her, perhaps, he could embrace his 'lost years.'" They were soon regarded as a glamorous couple in London's literary social milieu.
Theirs was a professional as well as a romantic relationship; in fact, as it proved, it was perhaps more professional than romantic. Daughter of a journalist, Webb had numerous contacts throughout the world of publishing, and she was an enthusiast for his work, extolling his achievement wherever they went. Searle was soon being published in many places.
"To sell a sketch was a pleasure," Searle said, "because it meant a little less economic worry and more freedom to explore. But if I had not sold, I still would not have stopped. I carried a sketchbook day and night because I could not stop drawing. To me, line is something which one can explore endlessly and which keeps me in a constant feeling of excitement and adventure. I know I shall never live long enough to say and do all I want in line. I can only hope to get up each day, bursting to push the exploration a little further.
"But line is useless if one has nothing to say with it," he continued. "The artist must be driven with the desire to express something, and use any device to achieve it. He must be perverse. Everybody will want to mold him to their pattern. But in the end he has to satisfy himself—or spend his life trying to please other people."
By 1969, when he wrote these words, Searle was well-established as a flamboyantly perverse cartoonist, a versatile caricaturer of the human (sic) sapiens. But he gained his foothold in post-war England with St. Trinian's, where his fame was firmly rooted. The St. Trinian mob was enthusiastically embraced by the British public, becoming, eventually, an integral element of the national DNA.
The first collection of St. Trinian's cartoons, Hurrah for St. Trinian's, was published in 1948. It, like six of the eight St. Trinian's books to follow (one was a novel by Timothy Shy, illustrated by Searle), included Searle cartoons that didn't take place on the grounds of the macabre girls' school; the last, St. Trinian's: The Entire Appalling Business with the Complete Drawings, published in 2007, collected just the previously published St. Trinian's cartoons about the fiendishly bad behaving schoolgirls that had captured the fancy of Searle's countrymen.
Said Raphael Satter at the Associated Press: "The long-legged, leering schoolgirls drank, smoked and generally cut a swatch of destruction, their antics colored by Searle's morbid sense of humor. His satire of the venerable English school system struck a chord, launching a series of books [nine] and films [seven, the most recent appearing in 2009]."
"Searle's secret," Satter continued, quoting an early profile, "was to turn 'the very epitome of decency and polite tradition for every right-thinking Englishman' into 'a place of terror more hellish than anything conceived since the days of Hieronymus Bosch and Pieter Brueghel.'"
As a student of the comically grotesque in humanity, Searle believed that his sense of humor had been shaped (albeit perhaps not born) by his scathing experiences as a POW. At London's Independent, however, Martin Plimmer, writing the Searle obit, thought otherwise:
"Searle's appreciation of the dark side went back to his childhood. As a small boy, he was transfixed by a tattoo of a Chinese head pierced by a dagger on his railway-worker father's back; by the engraving of a 1736 Edinburgh lynching hanging in his parents' hall; by the slaughterhouse he visited when he worked as a butcher's boy, and by the illustrated books of surgery and mental deficiency he collected. He may even have inherited a black-humor gene. When his mother, Nellie, discovered a minor physical oddity in one of his earlobes, she remarked that it might come in useful one day if she ever had to identify his body in a morgue."
Plimmer summarized Searle's post-war career and rise to fame: "The late forties and fifties saw him working a schedule that taxed even this workaholic. As well as serving the St Trinian's monster, he collaborated with the writer Geoffrey Willans on the anarchic Nigel Molesworth books, with a miscreant schoolboy as hero [ostensibly setting down the merciless rules by which one survives triumphantly in a boys' school]. He drew a series of lucrative advertisements for Lemon Hart rum, illustrated many books and performed the schizophrenic role of political cartoonist for both the Tribune and the Sunday Express. He also contributed social cartoons to a wide variety of magazines, including Punch, Radio Times and Tatler.
"In 1949," Plimmer went on, "Searle took over from G. L. Stampa as Punch's theater illustrator, working with the critic Eric Keown. This involved working late at night after the theater, and Searle further complicated the task by caricaturing the actors, something previous illustrators hadn't attempted."
Meanwhile, like Arthur Conan Doyle, who disdained his Sherlock Holmes creation because supplying demand for the detective's adventures prevented him from doing what he regarded as serious literary work, Searle soon began to feel an indentured servant in the cottage industry of books and films that issued from the schoolgirl cartoons. Like Conan Doyle, Searle attempted to free himself from the "burden of success" by killing his creations: in the collection of 1953, Souls in Torment, Searle, who had assumed the guise of the school's founder, announced that St. Trinian's had been blown up by members of its student body who were experimenting with a nuclear device.
Searle wrote the epitaph: "This blow from which St. Trinian's cannot recover (the building fund has been embezzled anyway) may bring a sigh of relief to many a parent and a quiet tear from true lovers of healthy girlhood. Let it suffice for us to say (before we draw a veil over the last broken limb) we are proud that the name of St. Trinian's has echoed through the land."
C. Day Lewis contributed to the mock aura of mawkish grief with a Preface in which he mourned the passing of "this unparalleled school ... built on the ideals of our founder, Dr. Searle. ... A firm believer in Original Sin, he strove always, with the ungrudging co-operation of the girls, that this great human heritage should be the cornerstone and beacon of our educational system. ... St. Trinian's was indeed, in the words of our Founder, 'one great big trigger-happy family.' ... And it is no more."
Alas, the plan was no more successful than Conan Doyle's. Just as he was forced by madding public demand to resurrect the implacable Holmes, so was Searle prevailed upon to sponsor more books of the misadventures of the schoolgirls at St. Trinian's. Searle found himself a prisoner still.
IN THE SPRING OF 1953, as the ruins of St. Trinian's smouldered, Searle was a guest at the celebrated Punch Table, where the "members" of the magazine's staff met weekly to dine, drink, and come up with an idea for the "Big Cartoon," the full-page political statement in each issue. "The Punch table in those days was a closed shop," Davies wrote, "reserved for members only." Just once before had a "guest" sullied the legendary Table—in 1907, when Mark Twain sat in. (Twain was held in such esteem that he was invited to carve his initials on the Table, a ritual reserved only to members. Twain famously declined, graciously saying that two-thirds of William Makepeace Thackeray (WMT) was enough for him. Arnold Roth, who was made a member in 1986, told me everyone thought Twain declined because he was too drunk to hold a penknife for carving.)
Searle had been invited by Punch's new editor, Malcolm Muggeridge, who admired Searle's work and wanted to "bind him closer to the magazine." As a first step, Muggeridge wanted Searle to substitute on the Big Cartoon for vacationing Leslie Illingworth. Subsequently, Searle sat in for Illingworth a number of times but didn't covet the assignment: "he never enjoyed the experience of expressing a corporate opinion," said Davies, "or drawing in the stiffened didactic tradition of Punch's 'policy' cartoon."
Muggeridge didn't achieve his objective, however, until 1956, when Searle became a Punch cartoonist exclusively. For a weekly stipend of £ 90 (plus supplemental fees for covers and other special work), the cartoonist agreed to "abandon all artistic work for other magazines and newspapers in this country and accept no further commissions here." Suddenly, Searle was the highest paid Punch cartoonist in the history of the magazine. But to Muggeridge's chagrin, the agreement contained an escape clause, "in this country," that permitted Searle to do work for European and American magazines and newspapers. He was able to continue his lucrative assignments for Holiday and Life magazines and TV Guide and other U.S. publications.
THROUGH THE 1950S, SEARLE CARTOONS seemed to be everywhere. In the Daily Mail obituary, Harry Mount attempts an explanation: "Near-death propelled Searle into extreme levels of productivity, creating thousands of St Trinian's and Molesworth drawings, Punch cartoons, adverts and the work he was proudest of—his reportage, including drawings of the 1952 funeral of George VI and, in 1961, pictures of the Berlin Wall and the Adolf Eichmann trial in Jerusalem. 'Reportage is much harder,' Searle said, '—you've got to get behind what's going on, to locate the atmosphere people are living in. Anyone can do a cartoon and make people laugh.'"
Searle's serious commentary took him to Auschwitz, Communist Europe and to various countries with Webb to document the post-war plight of European refugees (Refugees, 1960)
On assignment for various magazines, Searle traveled quite a lot during those years, returning to America several times. In addition to his work for periodicals, Searle was illustrating books—nearly three dozen by 1961, when, suddenly and with no warning, everything changed. On September 9, he packed his bags for another trip, one from which he would not return. The next day, he landed in Paris and moved in with Monica Koenig, a jewelry designer who was working as a painter and theater set designer when he met her in 1958 on one of his numerous trips to France.
Various explanations for Searle's absconding were offered, then and over the next few years. Davies said/says Searle "began to see his own existence as another series of imprisonments—in a family structure he had not sought, a lively social life he did not desire, and an involvement with publicity he frequently resented." His fame required him to participate in a celebrity life he abhored. Fed up, he fled.
Martin Plimmer wrote: "Despite his achievements, Searle wasn't happy. He felt trapped, both at home and at work. He came to realize that he didn't enjoy the limelight. Protective of his artistic freedom, he felt engulfed by the demands of work and stifled by the way British publications tended to pigeonhole cartoonists. Neither did he take easily to the role of family man. He saw his marriage as that of two egotists, with Webb from 1960 increasingly occupied by a new editing job at Puffin."
Searle's explanation supported both Davies' and Plimmer's: "I was 25 [upon returning from WWII] and completely lost with domestic life and burdened by its responsibilities. Kaye and I were both egotists in our work, so we barely ever met. When we had the children, the place was full of au pairs and nannies, and the treadmill of meeting deadlines and earning drove me up the wall."
The arrival of their twins in 1947 was wholly unexpected and not, apparently, welcomed. Searle and Webb were both working "flat out," as Davies put it; they had no time for children. Soon after they were born, they were sent off by their parents to be raised by Kaye's mother who lived on the north coast of Kent.
"Kaye Webb was stunned" by her husband's desertion, Davies wrote: "Never having imagined that the marriage had become meaningless to Ronald, she preferred to believe that he had been lured away and blamed herself for not realizing how attractive he was to women, how much he had been 'chased.' In Paris, however, the persuading had all been on Ronald's side." Monica had been avidly pursued by Searle on numerous trips to Paris since 1958.
Searle's departure was brutal, he acknowledged, but he saw it as a "necessary act of survival," which he admitted caused his family great pain. He said he would have left three years earlier but for the children: he waited until they were fourteen believing they could readily adjust at that age. He, after all, had been earning a living at fourteen.
Valid as all these explanations are, Times cartoonist Peter Brookes probably put his finger on the truth at the heart of the matter when he said, simply, that Searle had fallen in love. His marriage to Kaye was more of a professional partnership, and in Monica, Searle, for the first time in his life, found love. And he left his career behind to pursue it.
In Paris, Searle began at once looking for assignments, and within six months, his schedule was as crammed as it had been before going into self-exile. He was doing more book illustration and magazine travelogues, and Monica was going with him on all his visits to foreign climes. After a few years, they left Paris and moved to Tourtour in Southern France. In 1967, when Searle's divorce from Kaye Webb was final, he married Monica.
Over the years, Searle's cartoons became artworks, more suited to gallery display than magazine illustration. "His signature method," Steven Heller said in the New York Times, "a curious mix of minimalist detailing and rococo flourishes using a vibrant watercolor palette, exuded a modern air—sometimes realistic, other times abstract, occasionally phantasmagoric—more reminiscent of the German expressionist George Grosz than Hogarth and his other British antecedents."
But, saith Plimmer, "his cartoon characters are almost always English: huge dowager ladies picking at tiny blackened fowl, while spiky waiters giggle maliciously behind their trays; ripe women whose black lips perch on their faces like butterflies; baffled, lovelorn trombonists; threadbare bank clerks with splinter feet... They wore delicately realized pointy shoes and seemed unaccountably oblivious to the abundant richness of their settings."
Groucho Marx had yet another assessment. Offered as a foreword to From Frozen North to Filthy Lucre in 1964, he wrote: "My knowledge of art is infinitesimal. I know that Rembrandt was deaf (no, that was Beethoven). I know that Van Gogh got hungry one day and cut off his own ear and that Toulouse-Lautrec walked around on his knees. And that's about it. So for me to write an extended frontpiece for Ronald Searle's collection would not only kill the sale of the book but would also ruin what is left of my vanishing career. However, it does not need the curator of the Museum of Modern Art to tell the world that Mr. Searle is a genius. Whatever the price, the buyer will be getting all the best of it."
"Searle's sensibility," Heller continued, "—though rooted in an English tradition—was decidedly universal, and not always overtly comic. In addition to creating humorous covers for The New Yorker [more than he'd done for Punch] and TV Guide from the 1960s through the 1980s, as well as cartoons for the French newspaper Le Monde [starting in about 1995] and illustrations for The New York Times and the International Herald Tribune, he recorded serious news events." He also devised visual title sequences for various films, including "Those Magnificent Men in their Flying Machines" (1965) and "Monte Carlo or Bust" (1969).
The work of Searle's last years could be found mostly in gallery exhibitions or between the covers of his own books—85 of them—and virtually nowhere else.
"As time went on," Heller said, "his work occasionally became surreal and his comedy darker, as in his books The Square Egg (1968) and The Secret Sketchbook (1970). He continued to focus on familiar themes, like overpopulation and religion, but with more angst; a 1972 drawing titled "The Arrival of God" shows a huge crescent moon falling with a thud onto a large city."
"With age," Plimmer wrote, "Searle's serious work, far from becoming complacent, tended towards the splotchy, acidic, and psychologically dangerous. Anatomies and Decapitations was a series of starkly disturbing paintings of distorted human shapes exhibited in the U.S. When Monica was diagnosed with cancer [in 1969], he produced 'A Few Complexes: 12 Pen Drawings on the Theme of Frustrations and Complexes' which were powerful and lurid explorations of human angst, fueled by his anger. The human condition, man's inhumanity, and the Earth's fragile ecology continued to be subjects that excited him. His refined sense of the absurd had never flagged since the day, as a boy, he saw a policeman sneeze in St Andrew's Street, Cambridge, and wondered how such a thing could be possible. However, to the outside world he appeared increasingly cantankerous, never meeting agents or editors, dealing with queries by fax alone, repulsing foot visitors and only emerging from the Searle eyrie in Haute Provence to fetch fresh supplies of champagne, his favorite tipple."
SEARLE IS IN THE LINEAGE of British cartoonists from Hogarth on, and the list of today's cartoonists who show his influence is long—Arnold Roth, Richard Thompson, Ralph Steadman, Ann Telnaes, Nick Galifianakis, Gerald Scarfe, Posy Simmons, Martin Rowson, even Matt Groening, who said it was Searle's wicked St. Trinian's girls and other cartoons that led him to create the bleakly humorous worlds of Life Is Hell and "The Simpsons." Scarfe, upon learning of Searle's death, remembered being inspired by Searle and then dining with him occasionally.
At the tender age of 14, Scarfe discovered Searle and dreamt of meeting him. What happened next, Scarfe recalls herewith (in italics):
I found out where he lived and used to cycle over to Bayswater in Central London from Hampstead, composing what I would say to the great man. His house had a green door with a brass doorbell — but I could never get my fingers to ring it. I was too afraid. I would get back on my bike and cycle home, feeling dismal. A few years later, my wife Jane Asher organized a secret meal for my birthday at an exclusive restaurant in Provence.
When we walked in, the only other people there were Ronald and his wife. It turned out they had lived in the same town for years. A beautiful little package sat on the table, all done up with ribbon. I said: 'Oh, is this for me?' And Ronald said: 'Yeah, it's nothing.'
So I opened it, and there was a brass doorbell with a note saying: 'Please ring any time.'
We became great friends, meeting up in that restaurant every year. Ronald had a wonderfully dry sense of humor. Once a year, he would pay the restaurant with a picture: pigs going into the kitchen looking doubtful, or snails crawling on to people's plates. We would always find pictures waiting for us at the table: Jane would have a drawing of a cat wearing a ballerina's outfit or putting lipstick on in front of a mirror; and I would have a bearded, scruffy cat, scratching his head, pens and paper laid out, waiting for his cartoon to come.
Ronald made me laugh so much. Although he was an elderly man then, he didn't have an old mind at all. I'll always remember his kindness: he was laudatory about my work, and would send me pages telling me what he liked about it. He used to love sitting and talking about art. After our meal in the restaurant, we would go back to his house for what he called 'a little bit more engine oil' — meaning expensive champagne, which he loved. He and I would discuss all the art we could think of. He was quite acerbic; if he didn't like something, he didn't pussyfoot around. Even in his late 80s and early 90s, he was still worrying where the next job was coming from. He just wanted to keep working and drawing. Luckily he was able to, right to the end.
SEARLE WAS HONORED BY THE FRENCH in 2006 when he was awarded the Legion d'Honneur, France's highest decoration. His native Britain had merely made him Commander of the British Empire (CBE) in 2004. The National Cartoonists Society gave him the Reuben for 1960, the only non-American to be so recognized. But he was unable to attend the presentation in 1961, which may have resulted in a disreputable scrap of lore.
For some years—maybe as many as a dozen—a slightly inebriated fiction was circulated in saloons and taverns and other such habitats of ill repute frequented by cartoonists. The story stars Ronald Searle and Rube Goldberg. This is it, in italics (as recounted in Cartoonist PROfiles no. 22, June 1974):
Ronald Searle, the English limner of fanciful frescoes, won the Reuben for 1960. He did not attend the dinner in New York as he was busy shooting grouse or furling his umbrella. Rube was going to Europe that year and offered to surprise Searle and present the statuette in person. Rube toted the heavy sculpture aboard ship, through customs to Southampton, thence to London and from there in hired chauffeured car to Searle's palatial digs in Surrey.
Cradling the award in his non-drawing arm, America's most famous cartoonist gave three polite down beats on the massive bronze knocker. After a respectable minute, a liveried butler opened the ornate aperture. Rube announced himself:
"Rube Goldberg from America. I've brought the National Cartoonists award to Mr. Searle."
"One moment, please," said the butler, shutting the door and leaving Rube on the doorstep to ponder British manners.
After an interval, the front door was again opened by the costumed factotum, who cleared his throat, looked down his nose at Rube and said, as he took the statuette from him: "Mr. Searle said to thank you for this award. He is sorry, but he is too busy to see you. Good day, sir."
And he closed the door before Rube had a decent chance to sputter.
* JUD HURD, proprietor of Cartoonist PROfiles, ended the article by inviting Searle to provide his version of the story, and by way of eliciting it from him, Hurd sent the foregoing recital to Searle, who was then residing in Paris. And Searle wrote back. Almost none of the story stands up under exposure to actual fact, among which, are these, saith Searle:
"In 1960, I was living in Paddington in central London, not in Surrey. That year, Rube Goldberg came to England ... and he knew where to find me in Paddington, and he brought with him an NCS silver plaque—the award for Advertising and Illustration in 1959. This was our first meeting, and we spent a pleasant afternoon chatting until he left belatedly for his next appointment."
At that time, Searle goes on, an Italian girl was living in his house to help with the children. She also answered the door whenever necessary. She was tiny and "incapable to stringing together more than five English words at a time." She was too short to look down her nose at anyone, Searle observed. She could not have been mistaken for a snooty liveried butler.
The Reuben for 1960 was announced at the annual dinner on April 25, 1961. Searle, at the time, was in Jerusalem, covering the trial of Adolf Eichmann for Life. When he got back to London, Searle opened a night letter from NCS President Bill Crawford. Dated May 1, 1961, it told him that he'd won the Reuben as Outstanding Cartoonist of 1960. At the dinner, it was accepted for him by the British Consul General of New York, Allen Meredith Williams.
"I am sure that I replied immediately," Searle wrote, "with suitable expressions of surprise and pleasure."
Soon thereafter, he was touring the U.S., working on a feature for Holiday magazine. Searle's agent got in touch with NCS to say that the cartoonist would be in and out of New York but would "be most happy to meet and thank whoever had to be thanked for the Reuben award, which," Searle wrote, "as a cartoonist (and a foreigner to boot), I was absolutely delighted to receive from my American colleagues."
Alas, upon investigation—during which, Searle alleged, the skies over Manhattan were tinged red by NCS embarrassment—it developed that the statuette was nowhere to be found. It had disappeared. They looked all over the British consulate. No luck. "No one has succeeded in discovering 'Reuben 1960.'"
Searle continued: "Perhaps it is a pity to spoil the now hoary saga of R. Goldberg and his heartbreaking journey from dear old, safe New York to the perilous wilds of Surrey, England. The heart bleeds at the thought of this pathetic old fellow at journey's end, weighted down by his bronze brainchild (and a monster door-knocker), being refused entrance by a haughty English flunky.
"No doubt a surly gamekeeper hurried that frail figure on his way out through the massive gates (bronze, what else?) of the grouse-covered drive, making a final brutish gesture with his umbrella to hasten the departing chauffeur-drive car and uttering uncouth oaths into the rapidly thickening fog until he could no longer be seen.
"What a pity," Searle went on, betraying not a little pique, "it is not a good story. It lacks wit, humor, and inventiveness. One would have hoped for a higher standard from the cartoon profession. Alas, the ability to draw is not necessarily accompanied by intelligence and imagination.
"Anyway—does the story matter? Yes it does, for one reason. On this occasion the NCS chose to give their award to a non-American artist for the first time, and it is disagreeable to be accused unjustly and inaccurately of being churlish about it.
"And may the story end here," Searle finished, with what might be regarded as the last laugh, albeit from between clenched (if not gnashing) teeth.
Searle received the division award for Advertising and Illustration three more times, twice after the publication of the preceding article. But we are left with a tantalizing question dangling: Did Searle ever get an actual Reuben to replace the missing one?
WITH THE FOREGOING BIOGRAPHY AS PROLONGED AMBLE, we're now ready to meet Searle in his native habitat, that mountain-top village in Southern France to which he and Monica fled in the mid-1960s. What follows next is an article by Times cartoonist Peter Brookes. Published just two years ago, it is, for me, the best (because most casual) glimpse of the man who was undoubtedly the greatest cartoonist of our time. With the life story of the preceding paragraphs lodged in our heads, we can appreciate better Brookes' references and allusions en passant; herewith—:
Ronald Searle is alive and well and about to be 90. He is used to people thinking him long dead. This is a man who, in 1945, came out of Changi prison after four years as a Japanese prisoner of war, beaten, starved and tortured on the infamous Railway of Death. Skeletal, weighing 6st (38kg) — the after-effects of malaria and beriberi — he was ready to take the world of illustration by storm. Within 15 years the Penguin book of his collected cartoons declared: "Mid-century Britain is a Searle-haunted land."
Yet in 1961 he fled these shores to live, first in Paris, then in the South of France. He is a walking advertisement for this voluntary exile. He has a hearing aid, and his voice fades by evening, but his blue gaze exudes contentment, as does the unlined complexion of his domed forehead. Trim, alert and spry, he is brimming with bonhomie and hospitality. Each decade or so, an interviewer is granted a rare audience and, as Martin Amis rightly put it in 1977, gets greeted by Searle and his wife, Monica, "as if my presence were a key part of some rare and complicated treat they had long promised themselves."
Our rendezvous was 90 minutes' drive from Nice, at the Michelin-starred Les Chênes Verts, his favorite restaurant. In one room every wall is hung with Searle drawings presented to the patron, mostly on the theme of truffle-hunting. Truffles are the specialité de la maison; Searle discourses eruditely on their pervasive smell, their mysterious resistance to cultivation. His favorite rosé champagne, Billecart-Salmon, is poured at once. We are to enjoy a feast, he says, and then drive one mile to his house where we shall consume more Billecart-Salmon, which he stocks in quantity. It is his "engine-oil."
"People say, my God, all this champagne," he says, "but I point out that we have no car, and they spend more on their cars than we do on champagne."
What does Searle mean to the British public today? He is resigned to the ineradicable association of his name with the St Trinian's schoolgirls ("Hands up the girl who burnt down the East Wing last night!") who have entered the language. My generation revere him for his Molesworth books. Old actors display the Punch caricatures of themselves. Wine buffs cherish his wine books, cat-haters his cat books; and the 300 drawings he brought home from Changi and the Kwai would ensure his immortality, even if he had done nothing else.
For 35 years he and Monica have lived in Tourtour (population 150), the medieval "village in the sky," with its 16th-century château, old stone fountain, and winding cobbled lanes. "You see the village at its best time," Searle says, "—when it's dead."
It is cold and snowy. There are British expats about, but the Searles don't see them.
Their hidden-away home is a labyrinthine tower with twisting staircases that would defeat most octogenarians. In 1966 the Searles could just afford the house, a ruin, with £19,000 thanks to his title sequence for "Scrooge," the musical, starring Albert Finney.
For two years I have been receiving Searle's faxes from Tourtour — always a thrill to see the inimitable spidery handwriting — while writing the biography of his first wife, the children's publisher Kaye Webb. Before they met, Kaye took his cartoons for Lilliput, the monthly humor magazine, and he wrote her sweet letters. Their magazine alliance was happy and productive for a decade, in their Lasdun-designed Bauhausian house with its vast studio in Bayswater. But what happened next is a painful memory for all concerned. In September 1961, while Kaye and their teenage twins were away, Searle vanished. He flew to Paris and to the glamorous Monica (theater designer and painter, whom he had met in 1958), leaving a letter for his wife saying that he had gone for good.
Apart from shockwaves and domestic misery, he left behind an enormous reputation and a punishing workload. Along with the theater caricatures for Punch that kept him drawing half the night, there were his books, illustrations, advertising posters, theater designs, film animations, his publishing company Perpetua Books, travelogues and serious newspaper reportage (the Eichmann trial, the JFK-Nixon presidential campaign of 1960). His output was prolific, but the quality of the work never faltered: he was the foremost graphic artist of his time, with a distinctive style that already influenced younger practitioners such as Quentin Blake and Gerald Scarfe. He left all this behind, baffling colleagues, who missed his presence at the Punch Table — at which he never sat again.
Was it really because he felt swamped by demands, deadlines, domesticity, imprisoned by his life? Or was it perhaps (as I suspect) that at 40 he had simply fallen in love?
"Would you like me to go away?" interceded Monica.
Searle: "Why?"
"Well, I didn't want to be indiscreet."
"I'm not being indiscreet, I've nothing to hide."
So Monica stayed.
"After I came out of prison in 1945," Searle says, "I had to slog every day to try to sell a drawing — I got £5 for a St Trinian's — to pay the rent. Little by little, it advanced. Then I suddenly had children, became married, and from then on I was always running to pay the bills to keep a family. For me it became a treadmill. I never really loved London: being born and brought up in Cambridge, a condensed jewel, containing, for an art student, the whole history of architecture, from Saxon churches to Giles Gilbert Scott, London was, for me, bleak — the equivalent of poor old Dickens's blacking factory."
But is there nothing you miss, in an emotional sense?
"No, not at all, really. I'd made up my mind to leave some years before. Finally I decided to pack up and go when the children were 14. I don't regret one second of it. A brutal decision, as I said to Sue Lawley ("Yes, totally egotistical," he said on Desert Island Discs in 2005). But at 14 I was practically working myself. At 14, you are big enough to make your own life."
A statement his twins, now 62, would dispute.
His relationship with his children remains, at best, distant and sporadic. Kaye never got over his leaving and for the rest of her life talked about him as if he had gone yesterday. The truth is, he was never a family man.
For years he and Monica traveled the globe. She, too, is a survivor: she was treated for breast cancer in 1970. [A new experimental treatment, painful but not intolerable, and repeated for years until she finally died of the cancer in July 2011.—RCH] They remain as interdependent as newlyweds, their 50-year togetherness reflected in their symbiotic duologue, finishing each other's sentences.
"If our relationship hadn't worked so beautifully," he says, "you couldn't spend 24 hours a day here. We both respect our own corners."
They meet at 6:30 pm to watch a "ghastly" tv quiz, "Questions Pour Un Champion." Monica cooks.
"An ideal life," Searle says, "because I am a solitary person, and Monica lets me concentrate on my work."
"The phone hasn't rung in this house for 20 years," Monica says. "He chose that it should never ring again, and had the bell switched off."
Yet they are clearly gregarious; they send Christmas cards, and welcome friends.
This week they should have been on their annual escape to Paris, at the Hôtel l'Aiglon in Montparnasse, which names rooms after creative artists. "Suite Searle" is on the fourth floor.
"Suite Searle ... could have been put to music by Louis Armstrong," he muses.
They should be lunching daily at their favorite Paris restaurant, Le Duc. But their doctor — who visits every Monday to reassure them that they are alive — has forbidden all travel this year.
On March 3, his birthday, they will unplug the fax machine and open another bottle of Billecart-Salmon, à deux. Meanwhile, in London, Searle devotees will gather at exhibitions celebrating his work. New editions will be launched.
"Dear old Ernest Hecht" has never met Searle, but his Souvenir Press has published him for 40 years, including To the Kwai – And Back, with its drawings, "the graffiti of a condemned man."
"I wrote it as a clear factual account, not an indictment," Searle says. "It's not an emotional book. I adore our Japanese friends."
In fact, Nobuko Albery, who lives in the Alpes-Maritimes, helped him with Japanese words. But when the Imperial War Museum exhibited the drawings in 1986, Searle stayed away.
"I couldn't go and accept this accolade for myself, when all my friends were fertilizing the jungle. Kids of 19 or 20, destroyed."
He still feels guilt to be among the few who survived. And he remains grateful for Australian fellow prisoners.
"I loved their camaraderie. They couldn't care a damn. The Japanese beat me up, and tried to crush my right hand — they didn't know I was left-handed — but an Australian surgeon bandaged me in banana leaves, and my hand was saved."
No one who has been taken prisoner ever really comes out of his cell, he says. "But in a way, I'm grateful, because at the formative age of 20, you realize what losing liberty means. You take freedom for granted, then suddenly you're 1,000 miles from civilization, in the jungle, with a fire to keep snakes away, trying to do your drawings, thinking perhaps someone might discover them one day. This is what made me an artist, because it gave me a purpose. As a student, you spend days on the folds of a sleeve, but without purpose. Suddenly, you have a way of applying it, a subject that matters. Those four years were my formation. A God-sent gift."
In the 1980s, when he drew for Le Monde and The New Yorker, and sculpted medals for La Monnaie, the French Mint, and was lauded and honored in Europe and the U.S., a British tv director, Patrick Boyle, proposed a Searle film. The BBC turned it down. Then Tina Brown [who arrived at The New Yorker in the 1990s] stopped commissioning New Yorker covers. But in 2005, when Sue Lawley flew over for Desert Island Discs, his gentle voice and modest good humor charmed the audience. Latterly, the art dealer Chris Beetles (who Searle won't meet) got his friend Jeffrey Archer, a Searle collector, to commission brilliant illustrations for his prison stories.
He has yet to watch the DVD of Rupert Everett's new St Trinian's film. He killed off St Trinian's in 1953 (with an atomic bomb), but they refused to die. Now he's glad of it. He got £300 for the first "cretinous" film, but the latest deal netted £100,000 — "enough to keep us in champagne this year!" Those cartoons were inspired, first, by his sister and her friends (including P.D. James), but chiefly by two schoolgirls, evacuated from St Trinnean's in Edinburgh, whom he met while stationed in 1941 in Kirkcudbright.
A fellow soldier in Kirkcudbright was the historian Eric Hobsbawm, who published Searle's drawings when he edited the Cambridge magazine Granta in 1939. I brought a greeting from Hobsbawm, signed "from another survivor, now about to be 93!" I delivered Searle a book by his late friend Feliks Topolski, written and drawn in 1948, when Topolski, Searle and Paul Hogarth attended a political congress in Poland. Searle peered at Topolski's portrait of Picasso.
"I watched Feliks drawing that," Searle says. "The idea of seeing Picasso — to me a god, who's opened so many doors, if you go to an exhibition of Picasso, you rush home and want to work — and there he sat! Feliks, whom I greatly admired, began sketching away. It's a good likeness, only took him two minutes, real reportage. He got Picasso to sign it — Feliks was very pushy — then we were told to more or less clear off."
The Searles are both squirrels. Monica's atelier has 1,022 drawers, full of bright beads and gems for the necklaces she designs. Ronald's study and library are lined with books, box-files, ink bottles, a nail from the Kwai railway, 20 Stilton jars of pencils and pens. Max Beerbohm's wife, Elizabeth, turned up one day, saying she had brought something special, all the way from Rapallo — a blank sheet of Beerbohm's drawing paper.
"I wrote on the corner of it," Searle says, "— 'piece of paper from Max Beerbohm.'"
Everything will be bequeathed to the Wilhelm-Busch Museum in Hanover [where a Searle exhibition ran until January 2011]. ... It holds Searle's archive, his sketchbooks from 1938, and the books and drawings he has collected since the age of 15. Why Hanover, not the British Library?
"They weren't interested," he says. "Until wonderful Frances Carey worked like mad to buy my Rake's Progress."
Searle does not want his collection scattered piecemeal. The Wilhelm-Busch "offered the space, and the money. They even photographed my bookshelves in the same order, and rebuilt my library in the museum — very Germanic. I don't have a conscience about it. We are Europeans, not parochial. I don't think I am betraying anyone by letting my work go to Germany."
A section of his library is devoted to books on Cambridge. After I returned home, Searle sent me another fax: "I unthinkingly said that I missed nothing in England. Actually, I do miss Cambridge. Although my sister warned me that so much had changed, that should I be tempted to return, I would be seen on Clare Bridge, sobbing into the Cam."
People have always wondered how such an amiable person could produce sometimes scabrous, cruel drawings. When I asked Searle what inspired him, he replied: "Inspired? Drawing is just slog, slog, slog ... until what you have in your head approximates to what emerges on the drawing-board. Like writing, I suppose."
In a new anthology, Quentin Blake rejoices that Searle is still "at his drawing board and still brilliantly with it." In the same book, Searle writes of his "creaking, asthmatic body, older than Mickey Mouse ... Being old is a drag." Then he remembers his friends, dying in the jungle of the Kwai, and concludes: "In fact, being old is lovely!"
Even had he not achieved a lifetime of distinction in a lengthy career, Ronald Searle's drawings from his early twenties as a POW of the Japanese would put him in the top rank on their own. Not even Goya's "The Disasters of War" can surpass them as a record of horror and suffering. But even here Searle finds sardonic humor, as when he describes "the appropriately named Major-General Fukuye."
There is so much else: St Trinian's, Molesworth, reportage from the Kennedy election campaign and the trial of Eichmann. I love his series capturing the fleshpots of St Pauli in Hamburg. Drawn over a week, his record of this notorious red-light district is not only penetrating in the simplicity of line, but also captures the prostitutes and strippers in a way that is, above all, affectionate.
There have been a wealth of satirical gems since, for example the two funeral directors reading Life magazine or the gallery attendant looking up at a ceiling painting from which a real horse has fallen on to the floor. And, of course, there are Searle's coquettish lovelies — a particular favorite is seen slyly signing off with "Yours ever." But it is quite futile to try to describe Searle cartoons, because they are just as much about the drawn line as they are about the joke. Infinitely varied, with thins and thicks, smooth as well as jagged, this is at once delicate and abrasive, giving the satire its bite.
Searle has created a world that he constantly revisits — of wicked schoolgirls, racy women, louche men, flashers. And that's without the cats and pigs. Ultimately, it's all a satire on the human condition.
He is a true artist, and the rest of us struggle in his wake, mere hewers of wood, and drawers of cartoons. —Peter Brookes
"The cartoonist, however inflected, inflated, or addicted, remains perfectly aware that he or she is nothing more than this week's stand-up comic battling as always for attention, just reward, a better place on the playbill, full copyright, and the hearts of a public who have paid to be diverted in the old music-hall tradition in which comic drawing was born."—Ronald Searle
HARRY MOUNT concluded his Searle obituary with this: "The mutual devotion between the Searles was overwhelmingly apparent when I interviewed them in 2010. It was a closeness intensified by Monica's long battle with breast cancer, which began in 1969 and to which she finally succumbed last July [2011]. Only last autumn, Searle published his last book, The Richest Hours of Mrs Mole, a collection of the drawings he made for each of her 47 chemotherapy sessions. Searle was bereft without her. Monica's death was, it seems, the final blow — the only unbearable one — for someone who had seen so many others die, who had drawn with that unmatched gift for creating laughter in the dark."
During the five years of Monica's treatment for cancer, Searle was profoundly frustrated by the "intolerable situation of being a helpless bystander. ... I thrashed about, desperately seeking whatever small contribution I could make to relieve the pain and suffering. I have only my talent for drawing, so I drew. What emerged was a minuscule, romantic saga of a Mrs. Mole pottering about a dream house in a provencal village. This was eventually to be our home, once it had been transformed from its original chaos."
It was Monica's assignment to effect the transformation. She was also going in for chemotherapy every two weeks while working on the plans for the house. Her doctor, she wrote in the little book's afterword, "had to work experimentally as my body refused most of the chemo ingredients in use at the time. This made everything more difficult, but life continued optimistically, thanks to Ronald. He was wonderful throughout—a tower of strength and a continual source of pleasure. From the start, he had the idea of giving me a little drawing for each chemo session, and I would lie in bed, living the life he created in the pictures."
Vincent Dowd at the BBC interviewed Searle when the artist turned 85, and Dowd marveled: "The young Searle had survived horrors which destroyed hundreds of other men, yet his awful experiences didn't make him bitter or angry at life. Quite the opposite: 'If everyone you know died when you were 19 or 20,' Searle said, 'you feel like you've got the biggest present in the world. You live from day to day thinking—My God! Every day is a present!'"
IT'S NEVER PLEASANT to say goodbye to an artist like Ronald Searle. But it has its compensations. Looking for samples of his art to use to illustrate his career, I browsed a dozen or so Searle books that lurk in the R&R Book Grotto, and over every page, I marveled at the breadth and depth of his talent. Here, arranged in rough chronological order, are a few of his pictures; I hope you enjoy looking at them as much as I do.
ONWARD, THE SPREADING PUNDITRY
The Thing of It Is ...
IF YOU MISSED the Republicans debating on NBC's "Meet the Press" Sunday morning, January 8, you missed Rick "Pecos" Perry's moment. Moderator and interrogator David Gregory put before the massed presidential hopefuls a question from the Internet. I can't remember the question exactly, but it was, in effect: Assuming, as Tea Baggers rush in to do, that government handouts are somehow immoral, should people who accept funds through government programs (Social Security, Medicare, food stamps) suddenly stop accepting the money? The question was directed first to Perry—you remember, the guy who couldn't recall the third of the three cabinet departments he said he'd dissolve if elected Prez. Perry said he didn't know about everybody who accepted government funding, but some of the bureaucrats in Washington wouldn't have to worry about it if he got elected because he'd be shutting down three cabinet departments—energy, commerce, and education. He clicked them off with a grin on his face, and after reciting all three, he held up three fingers, and turned to the rest of the line-up triumphantly. Rick Sanctorum, looking, as always, like he's running for student council (Dave Letterman), held up three fingers in response, and everyone got a huge laugh.
At that moment, I considered voting for Pecos. By turning a seemingly unrelated question into a maneuver for addressing (and dispatching) a previous blunder, he displayed imagination and adaptability as well as a self-deprecating wit—all human dimensions that most of his foes have failed to demonstrate in any appreciable way.
Besides that, his plan to make Congress a half-time job seems astute.
THE ELECTION YEAR is off to a fine, frothing start. No contest. In the Republican ranks, confusion reigns. No one likes the Mittness of Romney, but they can't settle on any alternative. The Newtness of Gingrich has been up and down in the polls and at the polls a couple times. At Santa Cruz Comic News, co-publisher John Govsky writes:
"As we go to press, Mitt Romney has just won big in Florida, trouncing Newt Gingrich. I have to admit I was rooting for Newt because I'm so enjoying the circus that is the GOP primary race and anything that slows down Romney prolongs this amazing spectacle. I haven't had this much fun in ages, and that probably goes for many of the cartoonist we publish, too. So please, Newt, keep on running! Don't give up!"
The Santa Cruz Comic News, in case you have somehow contrived to overlook it, is a monthly tabloid newspaper that prints almost nothing except the editorial cartoons of the previous month—and Doonesbury. It's worth a look. A monthly sampling of editorial cartoons will give you perspective and soothe your furrowed brow. Subscriptions are $29 for a year's worth (12 issues): 135-H Clay St., Santa Cruz, CA 95060-4698; e-mail, office@thecomicnews.com.
In any event, I agree with Govsky: Newtness is keeping us all from nodding off into hibernation this political season. No one—especially not Newt, who worships at the altar for the Holy Trinity of Me, Myself and I—doubts that he is a serial adulterer with a distinguished record as an ethically challenged Speaker of the House and a subsequent career as historian getting paid $1.6 million for not lobbying on behalf of Freddie Mac and the health care industry (including his long embrace of the individual mandate).
With his self-aggrandizing exaggerations endlessly uttered in the unassailable tones of a college professor lecturing a class of raw freshmen, Newt proclaims himself the smartest guy in the room. Too bad. As Joe Scarborough said, "If Newt is the smartest guy in the room, leave that room."
Remembering that a newt is a small semiaquatic salamander, a sort of slimy four-legged worm, helps explain his rising and falling in the polls. He's just one slippery fella.
"Romney's reinventions pale beside Gingrich's," said Frank Brukni at the New York Times. "At one moment, in one passage of oratory, Gingrich is the only stick-to-his-guns conservative running. At another moment, in another passage, he's a seasoned practitioner of the political arts of compromise—as proven by the Clinton years."
Which is it? Unyielding conservative or canny compromiser?
He says whatever his audience is likely to applaud.
Pandering to the Florida electorate, many of whom suffer from the recent round of federal cuts to the space program, His Newtness promised to establish a permanent base on the moon by 2020 if elected. It was an educational moment. So that's how it's done: you can accomplish miracles by simply setting a target date. That'll do it.
He's a walking kick me sign, Denver Post columnist Mike Littwin observes, but every self-contradictory thing about him adds up to "Newt's essential Newtness."
Hubris disguised as chutzpah.
He goes up and down in the polls. Every rise in the polls he experiences is based upon the failure of everyone else to appeal to a dissatisfied Republican base. Newt has apparently failed to notice this fundamental (his favorite word—right after "frankly") aspect of his candidacy, Littwin says. "Doesn't he know the line about history repeating itself—first as tragedy and then as farce?"
Newt is the court jester of the Republican race.
As we contemplate future state primaries and Super Tuesdays and the like—which, once the pendulum swings South, favor Newt—we must remember what Littwin reminds us of: "We know Gingrich has already imploded twice this campaign season and that, given his essential Newtness, he will almost certainly blow up again."
Providing more entertainment for the observing pundits like moi.
Rejoice.
OLD NEWS NOW, but in its time, everyone got excited over the upset in South Carolina, the sort of state that deserves an upset. South Carolinians chose Newt over Mitt and Sanctorum. Mitt and Sanctorum—classic Republicans. Mitt is the personification of the One Percent, the perfect emblem of the GOP's traditional posture favoring the rich and the corporate. Sanctorum, holier than us, represents the GOP Right's aspirating to moral rectitude and championing family values. These are Republican principles. Support the rich; aspire to moral purity.
So instead of principle—the principle of trickle-down economics that pretends that if the rich get richer, they'll let some of the wealth trickle down the economic ladder to create jobs and middle class income; the principle that family values trump all other considerations—we have Newt, the man of no principle at all, the philandering fat man, a bloviating know-it-all (who begins every other sentence with either "frankly"—to mask the absence of candor—or "obviously"—to prevent us from seeing that some highfalutin' piece of nonsense is just that, nonsense), the blustering political opportunist who we easily recognize in every politician. In Newt, we have raw opportunism posing as pragmatism.
His performance at the key election eve debate was a perfect illustration of the Newtness of opportunism as pragmatism. His triumph stemmed almost entirely from his attack on John King and the news media generally, exactly the targets that the salivating base always wishes to lambast. They loved Newt for it. Here was a man after their shriveled hearts. He spoke out. Such a man could beat Obama.
So they voted for the man they thought could beat Obama. No other serious consideration. No trickle-down economic principles. No family values principles. Pragmatism trumps principle.
ELSEWHERE: Stephen Colbert calls Romney the Ripper on persuasively logical grounds: since corporations are people, when Mitt at the head of Bain, dismembered corporations (ostensibly to make them more efficient; actually, to earn money for Bain's investors), he was doing exactly what Jack the Ripper was doing in 1890s London.
DID YOU NOTICE? Congress has passed laws against insider trading by its members—amid much trumpeting and drum-beating of self-congratulation. Almost as if they'd thought of doing it themselves instead of being shamed into it by the expose on "60 Minutes" and in the book that inspired the CBS coverage. Rank and file congressmen/women leaped to microphones to proclaim the law as a guarantor to the public of the financial ethics of its political leaders. "See? We want to do the right thing."
For the moment, that is. For now. Until they can discover a way around the law.
You'd think they wouldn't need a separate law to compel them to obey the laws all the rest of us have to obey.
The whole idea of outlawing insider trading for members of Congress is based upon a notion that government officials should not use their positions in government as a means by which to enrich themselves.
But it won't be long before the devious minds of the nation's leading politicians find a way to continue doing exactly what the new law is supposed to prevent them from doing. Remember: these connivers are experts at figuring out ways around obstacles, ways to avoid the consequences of their actions. The law they just passed surely has loopholes through which they'll eventually drive trucks loaded with ill-gotten loot.
Outlawing insider trading for congresspersons doesn't go far enough. As long as we have a plutocracy—the ultimate form of government in a capitalistic society—any law enacted by Congress will affect the fortunes of the plutocrats, first among which are members of Congress.
The only way to prevent government officials from using their positions to get rich is to prohibit all stock and business investment by government officials. Anything short of that is a mere sop thrown to the ravening public, thee and me, kimo sabe.
DILBERT'S SCOTT ADAMS told Tom Benning at the Dallas Morning News on January 28 that he used to care about presidential candidates' telling the truth. He'd ponder their various (and often varying) positions and fact-check their statements, trying to figure out who was lying—"and who was just mostly lying."
"But now it's easier," Adams told Benning: "They've dropped all pretense of even pretending to be honest or forthright."
Benning agreed: "Some see that lapse in the politicians who trash their rivals one day and then turn around and act like best buddies the next. It flows the other way, too. Rick Santorum supported Romney for president in 2008, but now he's doing his best to cast his GOP foe as anything but conservative."
Adams, however, is not troubled by such diversity. He's cheekily running for president this year as an independent.
"It's a strange kind of freedom," he said. "The world is so complicated that what people say about anything is completely irrelevant. It's independent from our decision-making now."
Similar exaggerations lurk in business, Adams pointed out. "He recalled recent stories on Apple admitting some iPhone problems. The newsworthy aspect, in his view, was having a company actually tell the truth about something."
That kind of mistrust and cynicism often creeps into Adams' strip in hilarious ways. "The entire reason the comic works is that Dilbert's the only honest person in the world," he said.
AT LAST: AN UNASSAILABLE ASSESSMENT of the political Right that has so successfully taken over the Republican Party. This comes from Mark Crispin Miller, a left-leaning author and media scholar at New York University, who says: "The Right today is driven mainly by rage. To call them conservative is a little misleading because conservatism is an ideology, whereas this Republican Party is ultimately less concerned with ideology than with certain tribal animus ... an undiscriminating fury that includes racism, anti-Semitism, xenophobia, homophobia, misogyny." In Miller's view, if we were to subtract that hostile impulse from today's GOP, there would be nothing left. He sees the Right infected with "a kind of malevolent self-righteousness."
Oh, true, so true.
And that's why Newtness is so popular with the right wing-nuts of his party: he's "obviously," "fundamentally," and "frankly" angry.
MEANWHILE, TO SAVE US ALL, here comes the Sanctorum Surge. (Yes, I know his name is spelled differently in official documents; I'm merely trying to capture his essence here.) He cleaned up in three caucuses a couple weeks ago. None of these results are binding. Nor, I suspect, are they very representative. In Colorado (from whence Rancid Raves now emanates), only 8 percent of registered Republicans voted. Said conservative Denver Post columnist Mike Rosen: "That's like the 100-seat U.S. Senate passing legislation by a vote of 5-3."
But, regardless of the facts or common sense—a prevailing tendency in politics these days—Sanctorum surges forth. And if he begins to win elsewhere, it could assure his nomination and with that, Obama's win in the fall.
If Sanctorum is the GOP candidate, he will represent but a tiny fraction of the Republican Party, not to mention the voting public, in which probably 99 percent of the female portion has, at one time or another, used contraception, which Sanctorum doesn't believe in. His other views are likewise radically fundamental. But it may be his views on contraception that are likely to unite the Christian fundamentalists behind his candidacy. In Newsweek for February 20, Andrew Sullivan examines this proposition and concludes: "[Contraception] could well be the issue that finally galvanizes the religious right, especially in the South. Imagine how Santorum could use that on Super Tuesday. In fact, it could be the issue that wins him the nomination. And do you really think that would hurt Obama in the fall?"
If Sanctorum runs against Obama, he'll lose because his beliefs on social issues (i.e., sex and its various manifestations) are too extreme to attract the moderates and independents upon whom every elected President in recent years has depended for his victory.
To find out about Harv's books, click here.