Opus 286 (December 5, 2011). Yes, it's still the Year of the Rabbit, as you can see from the accompanying visual aid, which signals our having taken the pledge to Respect the Bird.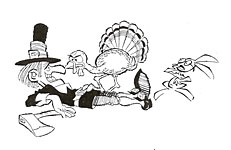 The bird in question is the turkey, not the vaguely obscene hand gesture, and Respecting the Bird means celebrating one holiday at a time—in this case, Thanksgiving. It means resisting "holiday creep." It means stifling the impulse to go shopping for Christmas gifts while Thanksgiving is still in session. It means refraining from joining the multitudes who camp out Thanksgiving night in order to be at the store's front door when it opens at midnight or 1 a.m. or at any hour before, say, 8 a.m. on Black Friday.
Respect the Bird was started just a year ago when Doug Matthews in Mendham, New Jersey, posted a rant on Allrecipes.com: "The calendar seems to be going by at a frightening pace," he wrote, "and holidays are getting blended into each other like ingredients in a smoothie. Thanksgiving is a great holiday. It's a truly American holiday. It combines food, football and drunken relatives we actually look forward to seeing once a year."
To Respect the Bird means to preserve Thanksgiving, to prevent inroads being constructed into its borders. People who Respect the Bird celebrate Thanksgiving on the fourth Thursday in November and don't start celebrating Christmas—or the early bird Christmas shopping obsession—until Thanksgiving is entirely over. And here at Rancid Raves, as you can tell, we've gone completely overboard in Respecting the Bird because we're still celebrating the movement even though the calendar has moved on, inexorably, leaving Thanksgiving well behind. The calendar has moved, but we have not. Yet.
We have, however, assembled this time one of the larger feasts of comics news and reviews. We have a long segment on Occupying because at least two cartoonists have become embroiled in it. We come to the defense of Herge on the eve of the debut of Spielberg's Tintin movie in this country. Other lengthy articles are prompted by editoonist Mike Keefe's unexpected retirement at the Denver Post and Bil Keane's death. And we start our anyule Christmas shopping guide with the Spouse List (Part One) reviewing 13 books, plus reviews of ten funnybooks of note and appreciations of a dozen or so editorial cartoons culled from the offerings of October.
What with the length of this posting, we thought it propitious to point out the way we have devised to shorten your reading experience, should you so desire. Departmentalization. The departments into which we divide each Opus are intended to make it easy for you to find whatever you're interested in and avoid the rest. If editorial cartoons are your passion, you can scroll past all the newsy bits and get right away to the Editoonery Department. If obits are your thing, you can skip everything by scrolling down to Passin' Through. And for those who want to avoid my political harangues, you can stop reading when you get to the Spreading Punditry (conveniently located in the caboose so you don't have to encounter any of it as you browse the rest of the Opus, which is conveniently located everywhere else except at the end). Well, you get the idea. The ensuing list that prefaces our every offering tells you what's on hand so that you can, if you want to avoid topics that bore you, skip all of those and go immediately to whatever interests you the most. Here, then, is what's here, in order by department—:
NOUS R US
Short Notices
Australian Cartoonist of the Year
Bud Plant All Online
Harvey Pekar Memorial
Occupying the World
Guy Fawkes
Cartooning Journalist Arrested
Profession Protests
Frank Miller Unloads
Occupy Achievement
Who Are the One Percent?
Bob Layton's Legitimate Snit
Jeff Kinney's Millions
Stan Lee Again
Signe Wilkinson's New Strip
Spiegelman's Maus Some More
MIKE KEEFE RETIRES
John Sherffius Quits
Asterix's Albert Uderzo Retires A Little
The New Peanuts Comic Book
The Internet: Savior?
Is Herge a Moral Degenerate? No.
The Crimes He's Accused Of Explained
The Happy Harv on Video
EDITOONERY
The Running of the Panderers: Cartoons of the Last Month
Republican Prez Candidates
Joe Paterno
THE SPOUSE LIST: PART ONE
Reviewing Books Your Spouse Can Put Under the Tree for You
Pogo: Through the Wild Blue Yonder
Caniff: A Visual Biography
It Was the War of the Trenches
Complete Little Orphan Annie, 1936-38
100 Sexiest Women of Comics
Good Girl Art by Ron Goulart
The Pin-Up Art of Humorama
Not Just Another Pretty Face: The Confessions and Confections of a Girlie Cartoonist
NEWSPAPER COMICS PAGE VIGIL
News and Gossip
Exemplary Strips from the Last Few Months
Dennis and Pearls Cross Over
BOOK MARQUEE
1001 Comics You Must Read Before You Die
Code Word: Geronimo
Joe Palooka MMA
America's Most Visible (and Vocal) Comic Character
LONG FORM PAGINATED CARTOON STRIPS
Liar's Kiss, Graphic Novel
FUNNYBOOK FAN FARE
Short reviews of Catwoman No. 3, Wolverine and the X-Men No.1, John Byrne's Cold War No.1, Neal Adams' Batman Odyssey No.1, Aquaman No.1; The Kents, No.1, Shade No.1, Jonny Double No.1 (graphic novelish)
Who Is Jake Ellis ends; ditto The Last of the Innocent
PASSIN' THROUGH
Bil Keane
Alvin Schwartz
Les Daniels
ONWARD THE SPREADING PUNDITRY
More of the Happy Harv's Political Sprew
Harv's 24-Hour Comic: If you're looking for this because a Facebook note sent you here, you should go, instead, to Harv's Hindsight, where the whole enchilada is posted.
Our Motto: It takes all kinds. Live and let live. Wear glasses if you need 'em.
But it's hard to live by this axiom in the Age of Tea Baggers,
so we've added another motto:.
Seven days without comics makes one weak.
And our customary reminder: don't forget to activate the "Bathroom Button" by clicking on the "print friendly version" so you can print off a copy of just this installment for reading later, at your leisure while enthroned. Without further adieu, then, here we go—
NOUS R US
Some of All the News That Gives Us Fits
ALLAN GARDNER AT DAILYCARTOONIST reports: "Good news for those of us watching print media struggle to gain sufficient advertising revenue as they transition to digital. The Atlantic magazine's online advertising revenue has overtaken its print revenue for the first time." ... Editor & Publisher reports that the Chicago Tribune has increased its page count by 40 full pages per week: "We've added depth, dimension and range to our news report to serve you better," the paper's promo said, "—we've strengthened the newspaper for readers who love the printed newspaper and are serious about their news." No word, yet, on whether circulation or advertising has increased as a result. ... If you've been wondering what Boondocks' Aaron McGruder has been up to lately, wonder no longer: he's co-writer on George Lucas' only non-Star Wars movie in 18 years, "Red Tails," about the exploits of the legendary Tuskegee Airmen, the African American fighter pilots who battled Nazis during World War II. ... A lost Walt Disney cartoon, discovered in a British film archive, will be auctioned in Los Angeles on December 14, reported Mike Collett-White at Reuters; "Hungry Hobos" is one of 26 episodes featuring Oswald the Lucky Rabbit, a character created by Disney and Ub Iwerks in 1927 for Universal Studios before they created Mickey Mouse. ... In Paris, the office of the satiric weekly Charlie Hebdo was fired-bombed after the newspaper "invited" the Prophet Muhammad to be guest editor and published a caricature of him on its front page. Muslim leaders and politicians on all sides condemned the bombing, and the paper's editor vowed that the next issue would come out on schedule even if they had to produce it with pencils on individual sheets of paper.
Austrialian illustrator and cartoonist Anton Emdin took home two awards, including the Gold Stanley for Cartoonist of the Year, from the Australian Cartoonists Association's annual Stanley Awards celebration, November 11-12; this year, in Sydney. The other award was for Best Illustrator. Emdin is the only Aussie to receive award-recognition from the U.S.'s National Cartoonists Society: last May in Boston, he received the Reuben division award for magazine illustration.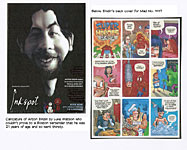 We've posted at your elbow a sample of Emdin's cartooning—the back cover of Mad No. 447. Next to it, Emdin's likeness (sort of) on the cover of the ACA magazine Inkspot is by fellow ACA member Luke Watson, who accompanied Emdin and ACA prez Jason Chatfield to the Boston Reubens Weekend. A jarring note of their visit to Beantown was that Watson was refused a drink at the hotel bar because he couldn't prove he was at least 21 years of age. He's thirty. You can see more of Emdin's work at his website, antonemdin.com.
Bud Plant is going all-out online. Citing "increases in paper, printing and postage costs paired with declining returns on catalog-based sales," he explained in the last issue of Bud's Art Books catalog, "we're obliged to make some changes in order to survive." Henceforth, the "catalog" will be online only (at BudsArtBooks.com); no print version. In lieu of the printed catalog, an e-mail newsletter is available; it will list new titles, specials, and offer links to download periodic mini-catalogs "and other items of interest." Orders for books can be placed online or by phone, as has been the practice for some years.
Only Clevelanders would decide that American Splendor's Harvey Pekar deserves a memorial in the city and only Clevelanders would successfully raise $30,000 to fund the project. The memorial will be in the city library but it's not exactly a monumental statue: instead, a functional desk that will be installed and stocked with paper and pencils, providing a place where people can sit and write or draw comics, reported Pat Gallbincea at the Cleveland Plain Dealer. "Mounted on the desk will be a sculpted bronze comic book page, with Pekar himself stepping out from a panel." The tribute will be located on the library's second floor, where Pekar liked to work. "Harvey was here all the time," said Carole Wallencheck, a reference associate at the library. "It was his favorite place to go." And he'd probably get a kick out of the image. And the fuss. And the fund-raising.
The Avengers made the cover story of Entertainment Weekly's October 7 issue. This's scarcely the first time comic book superheroes have been on EW's cover. They've been there so frequently of late that we may, at last, breathe easily: comics have now been roundly accepted as legitimate manifestations of the popular culture. Juvenile junk lit no more. (Unless you assume, as many misguided souls do, that popular culture is junk culture. Then we have to start over.)
The director Julie Taymor, a key creator of the Broadway musical "Spider-Man: Turn Off the Dark," is suing the producers of that $75 million show, claiming that they are profiting from her creative contributions without compensating her. The lawsuit seeks at least $1 million from the producers, as well as future royalty payments. According to Patrick Healy at the New York Times, "Taymor, the Tony Award-winning director of 'The Lion King' and other musicals and films, has been wrangling with the producers over money and artistic credit ever since they fired her as the director of 'Spider-Man' in March. The dismissal shocked Taymor, her associates and friends said in the spring, adding that she was especially galled that the producers continued to use much of her staging and script contributions, even after a much-ballyhooed overhaul of the musical in April and May."
OCCUPYING THE WORLD
Everybody's Doing It—Even Guy Fawkes
A PERSISTENT IMAGE OFT SEEN among the Occupy milieu these days is a mask depicting a sallow, smirking, moustached alleged likeness of Guy Fawkes, a nearly legendary British failed revolutionary who plotted to blow up Parliament some four centuries ago. The mask was initially created by David Lloyd for Alan Moore's 1982 graphic novel, V for Vendetta, whose protagonist seeks to destroy the government. Over the Guy Fawkes Day weekend— "Remember, remember, the Fifth of November: the gunpowder treason and plot"—Michael Cavna at ComicRiffs asked Lloyd for his thoughts on the mass appropriation of his mask:
"As far as that mask is concerned, well, I'm happy it's being used as a multi-purpose banner of protest. It's like [Alberto Korda's] Che Guevara image on t-shirts and such that was used so often in the past as a symbol of revolutionary spirit—the difference being that while Che represented a specific political movement, the mask of V does not: it's neutral. It just represents opposition to any perceived tyranny, which is why it fits easily into being Everyman's tool of protest against oppression rather than being a calling card for a particular group."
The man behind the mask said the Occupy Movement reminds him of [Paddy Chayevsky's 1976 satire] "Network," in which the disillusioned newsman cries out: "I'm mad as hell and I'm not going to take this anymore!"
As for Alan Moore, he was smitten; as he told Tom Lamont at the guardian.co.uk:"I suppose when I was writing V for Vendetta I would in my secret heart of hearts have thought: wouldn't it be great if these ideas actually made an impact? So when you start to see that idle fantasy intrude on the regular world—it's peculiar. It feels like a character I created 30 years ago has somehow escaped the realm of fiction."
Cartooning Journalist's Rights Violated
Daryl Cagle, editorial cartoonist at cagle.msnbc.com and syndicator, through Cagle Cartoons, of the work of editorial cartoonists worldwide, has a daughter, Susie, also a cartoonist—and a journalist—who was doing cartoon reportage on Occupy Oakland for AlterNet when she and several others were arrested on November 2. Susie Cagle, despite presenting her journalist credentials, was hauled off to jail where she spent the next 15 hours.
"The arresting officer knew I was press," she said to Michael Cavna at ComicRiffs; "when he came up to me and saw my AlterNet press pass—which is bright pink-orange, like coral—he even said he knew my comics." No matter; off to jail.
When she was released, her personal effects were not, she told Laura Hudson at comicsalliance.com: "No one had keys, wallets, cell phones—so we couldn't get into our houses." After a day's wait, she was able to collect her belongings, but she was charged with "failing to leave the scene of a riot." Ironically, she was leaving when she was arrested. A week earlier, she had been tear-gassed.
One of the reasons she went to cover the event was her conviction that the usual news media were not being comprehensive enough in their coverage (i.e., they were biased in favor of visuals of seedy-looking hippie-types in funny hats rather than information about what the protestors wanted). Moreover, the Oakland police department was establishing itself as unnecessarily aggressive force. As she experienced and witnessed the rude and pushy (not to say brutal) behavior of the police cracking down on protestors, she cranked up her reportorial aspirations: first, she decided to do an extensive piece, prose and pictures, on the Oakland adventure, offering it to the news organization Truthout; but by the time Hudson interviewed her on November 8, she'd decided to go to GOOD magazine.
Meanwhile, she hopes the charges against her will be dropped, she said to Hudson. "I guess right now my main concern is that there were some very explicit threats about anyone returning to Occupy, and that if we were arrested on the same charge again that it would be a felony and that we would be held until a court date. They were clearly trying to intimidate. It's kind of scare-mongering."
And she's understandably concerned: "I don't have money for bail. I don't really want to go back to jail again, but I also think that all of this makes me so much angrier and more determined to do this story because I feel like they tried to shut me up, and I can't in good conscience walk away under those circumstances. I feel like this is just getting started."
She hopes for an end to the violence, but more than that, "better news coverage from other journalists who spend as much time here and talk to people as much as I do. There are a lot of people who pop in for a minute and pop out, and then do a whole piece that doesn't really understand what's going on. It's a very complicated situation and I think it requires that sort of long view that news doesn't really have patience for these days."
Cartoonists Rights Network Files Protest
Acting on behalf of the Cartoonists Rights Network International, Drew Rougier-Chapman wrote to Nancy E. O'Malley, District Attorney, Alameda County (Oakland) with a Request to Drop Charge Against Journalist Susie Cagle; to wit—:
Dear District Attorney O'Malley, Cartoonists Rights Network International is a free speech and human rights organization that looks after the free speech rights of cartoonists all over the world.
I would like to bring to your attention that on November 3rd Oakland Police Officer D. Bruce unconstitutionally arrested and detained a journalist. As you are well aware, journalists have a constitutional right to cover important public events without being treated as criminals. Editorial cartoonist and reporter Susie Cagle was covering the Occupy Oakland movement in her capacity as a journalist at the time of her arrest.
When the protests began, and many days before her arrest, Ms. Cagle applied for an Oakland Police Department (OPD) press badge, which has since been granted by the Oakland Police Department. While waiting for the OPD to issue an OPD press badge, Ms. Cagle received a press badge from her media employer, AlterNet. Ms. Cagle was wearing and clearly displaying her media issued press badge and told her arresting officer that she is a journalist. Photographs of Ms. Cagle being arrested clearly show her press badge.
Her status as a journalist at the time of the arrest was even acknowledged in the presence of the arresting officer by another police officer who is familiar with her work. Furthermore, Ms. Cagle told her arresting officer that she had an appointment later that very day with the Oakland Police Department Public Information Officer (PIO) to finalize her paperwork. Instead of contacting either the PIO or AlterNet to verify Ms. Cagle's status as a journalist, as Ms. Cagle requested, the arresting officer taunted the handcuffed journalist, telling her, "You'd better call her and tell her you're going to be late."
To date a charge of failure to leave the scene of a riot is still pending against this journalist.
We call on your office and the Oakland Police Department to review Ms. Cagle's case, immediately drop the charge against this journalist, and enforce a new policy of noninterference towards the constitutionally protected activities of journalists. Since the actions of the OPD that evening equate to an extrajudicial suspension of a journalist's First Amendment rights and a dangerous precedent if allowed to stand unchallenged, our office has no option but to consider bringing suit against the Oakland Police Department if the criminal charge against Ms. Cagle (Citation Number 0308317) is not dropped.
We would like to note that in the twenty years our office has endeavored to protect the human rights and free speech rights of editorial cartoonists around the world, this is the first time we have felt compelled to write such a letter to American officers of the law, individuals who have sworn to uphold the Constitution.
Please bear in mind that a journalist's constitutional rights and responsibilities to cover important social events such as the Occupy Oakland protest do not begin when the PIO gets around to issuing a OPD press badge. Denying journalists timely access to important social events is commonplace in extralegal regimes like Zimbabwe, not in the United States of America.
We would very much appreciate a response to this letter so we may communicate with the other free speech and human rights organizations that we are cooperating with on this matter.
R&R Footnit: Susie is not alone. During the sweeping up of Occupy Wall Street in New York, more than two dozen journalists were arrested. Many of them were credentialed journalists —including reporters from Vanity Fair and the Associated Press—but more than a few were likely freelance Internet bloggers whose claim to be journalists is still open to disputation.
As of this writing (December 5), the charges against Susie Cagle have not been dropped: she is to be arraigned later this week.
Anger at Anarchy
Occupiers inspired Frank Miller into a notable outburst, but I doubt he is making any friends with the screed he posted at FrankMillerInk.com on posted November 7. Here it is, all of it, dripping with sarcastic venom:
Everybody's been too damn polite about this nonsense: The "Occupy" movement, whether displaying itself on Wall Street or in the streets of Oakland (which has, with unspeakable cowardice, embraced it) is anything but an exercise of our blessed First Amendment. "Occupy" is nothing but a pack of louts, thieves, and rapists, an unruly mob, fed by Woodstock-era nostalgia and putrid false righteousness. These clowns can do nothing but harm America.
"Occupy" is nothing short of a clumsy, poorly-expressed attempt at anarchy, to the extent that the "movement" – HAH! some "movement," except if the word "bowel" is attached—is anything more than an ugly fashion statement by a bunch of iPhone-, iPad-wielding spoiled brats who should stop getting in the way of working people and find jobs for themselves.
This is no popular uprising. This is garbage. And goodness knows they're spewing their garbage – both politically and physically – every which way they can find.
Wake up, pond scum. America is at war against a ruthless enemy.
Maybe, between bouts of self-pity and all the other tasty tidbits of narcissism you've been served up in your sheltered, comfy little worlds, you've heard terms like al Qaeda and Islamicism. And this enemy of mine — not of yours, apparently— must be getting a dark chuckle, if not an outright horselaugh, out of your vain, childish, self-destructive spectacle.
In the name of decency, go home to your parents, you losers. Go back to your mommas' basements and play with your Lords Of Warcraft.
Or better yet, enlist for the real thing. Maybe our military could whip some of you into shape.
They might not let you babies keep your iPhones, though. Try to soldier on.
Schmucks.
FM
SELDOM, IF EVER, has your Rancid Raves Reporter read anything the equal of this for freeform, untrammeled, bellicose yowling. "The real thing," Frank? Would that be the military that you were lucky was no longer drafting the youth of the nation when you came of age—so you didn't have to serve; and, as far as I know, didn't?
As an unrepentant admirer of Miller's work, I appreciate his talent and his achievements. Even his latest, Holy Terror (which we reviewed in Opus 285), has its nastiness tempered by Miller's superior skill at his craft and art. But there—and here—he's let his fear and anger at the abhorrent predations of al Qaeda unhorse his reason. Name-calling will accomplish nothing, Frank—no matter how extreme the vocabulary.
I agree that the Occupy minions may reek of "Woodstock-era nostalgia" and include a fair number of anti-authoritarians, campus rebels, and probably some loutish loafers who say they can't find a job without having looked very hard. But however malformed the Occupy ranks may be, the notion that joining the U.S. Army to fight al Qaeda is the best way of protesting the abuses for which the notorious One Percent is now known is about as misguided as many, yourself included, see the Occupiers as being. I applaud their noise and scrawled signage. Someone had to shriek in rage and frustration at the imperious millionaires who, operating well out of sight (and apparently out of reach), keep us all docile with credit cards and then sock us with higher fees, gamble at high finance games no one understands, and bankrupt a financial system through sheer unregulated greed—er, I mean unregulated capitalism. Same thing.
But joining the military may not be a bad idea—although for reasons you, Frank, having not served, cannot know.
A recent Pew Research Center report found that, increasingly, the number of Americans who have served in the military or who have a family member who has served is steadily decreasing. Over three-quarters of Americans over the age of 50 had an immediate family member who served; but only a third of those 18-29 years of age have that experience.
Some hand-wringing academics (a newspaper account reveals) are worried about this: the fewer connections between the military and the rest of society, the less well-informed are decisions about going to war because conflicts and the people who fight them are not part of most people's everyday lives. That's a stretch, maybe: I don't think ordinary service as a grunt in the army necessarily supplies a person with the expertise to make informed decisions about going to war. But there are other hazards inherent in our present military configuration.
The practice of out-sourcing many of the functions that the military once performed—everything from food preparation and service to guard duty and over-all security—should ring another alarm bell: if all military operations are done by hired guns (to which circumstance we are frighteningly close in our latest extra-national belligerence), then no one's children are involuntarily put in harm's way. It is then much easier for Congress to vote for war—and a president to send troops overseas to fight—if all those shooting and being shot at have chosen that way of life. That's what those guys signed up for, after all; and they're unhappy if they're not firing off guns and rockets. War makes them happy.
If we re-instituted the draft that was shut down in 1973 (when Frank Miller was 16 years old), we'd have enough personnel in uniform to do the jobs now being done by mercenaries, and we'd be less eager to go adventuring.
The draft, or, rather, the near universal military service that it engendered, did something else for the nation: it was a great unifier. Everyone who served had a more-or-less common experience for one extended period of their lives. Some of that experience was nothing to write home about; but some of it was. In any event, we all emerged with a somewhat heightened sense of the brother/sisterhood of humanity. And an awareness of a national bond that goes beyond the infantile chest-thumping patriotism of cable-tv gasbags. Not a bad thing.
The Occupy Achievement
After the evacuation of Occupy Los Angeles, sanitation workers wearing surgical masks hauled away 25 tons of debris from the lawns around City Hall. Those who think that's about all the protest has accomplished need to think again.
The Hightower Lowdown begins its report on Occupy with this: "Americans who flew bombing missions in World War II had a saying: 'You know you're on target when you start getting a lot of flak.' The protesters in today's Occupy movement must really be on target, then, because—boy!—they're enduring an unrelenting barrage of rhetorical flak from political and media defenders of America's plutocracy."
Rush Limbaugh weighed in with a "gusher of vitriol" against "anarchists" and "union thugs" before reaching this conclusion: "There's no doubt in my mind that the White House is behind this. Obama is setting up riots." Mitt Romney called it "class warfare." Glenn Beck warned that "these guys ... will come for you and drag you into the streets and kill you. ... They are Marxist radicals. ... They will kill everybody." The ever-astute Ann Coulter brands the movement as "the flea party ... wingless, bloodsucking, and parasitic."
One of the criticisms of the movement is that it has no agenda, no target, no list of specific demands that can be acted upon. Publisher James Israel at Humor Times writes: "Sure it's messy. Reading the creative handmade signs, the list of grievances is long and varied, from unfairly burdensome student loan debt to environmental degradation, Wall Street corruption to lack of affordable health care. But they are all valid concerns, and they all have a common root. And that root is the lack of real representation for the common citizen in our government. Instead of representing us, our elected officials do the bidding of the moneyed interests who fund their campaigns."
John Hightower (another flaming liberal—whom I often applaud, as I do here) agrees: "the so-called 'unfocused' young instigators of the Occupy movement have forced the establishment media, politicians, and Wall Street itself to take notice that masses of Americans are deeply pissed off. ... For now, protest itself is the focus, and that's enough. While the protesters do pull from a very full grab bag of particular outrages—corporate personhood, the contamination of our food supply, eliminating collective bargaining rights, the Koch brothers, Big Oil, student loan ripoffs, government-for-sale, permanent war, downsizing and offshoring middle-class jobs, gutting health plans and pensions, etc.—practically all come down to the domination and abuse of America's many by its evermore-privileged few."
At the Washington Post, columnist Eugene Robinson sees somewhat the same unifying element. Quoted in The Week, Robinson sees Occupy's central idea, and a powerful one at that—"that our financial system has been warped to serve the interests of a privileged few at the expense of everyone else." To be more specific, the One Percent who control much of the nation's wealth have rigged the game, using campaign contributions to buy tax loopholes and relaxed regulation from Washington, and awarding themselves monstrous bonuses while laying off vast armies of the middle class. The protesters may not have supplied a point-by-point political agenda to redress that unfairness. "But they've done something more important": they've gotten the One Percent vs. 99 percent idea "into people's heads."
Thanks to the Occupiers, adds David Car in the New York Times, the 2012 Election may well be fought over the issue of economic fairness. If so, those who slept in parks, sat through endless "general assembly" meetings, and got roughed up by cops will know that "though their tents are gone, their fooprint remains."
And who knows how that might come out? Hightower attempts a prediction: "Despite feverish attempts by Loyal Defenders of the Plutocratic Order to mock, demonize, and otherwise make ordinary Americans fear, despise, and reject the Occupy movement, quite the opposite is occurring. An October National Journal poll found that 59 percent of Americans agree with what the protesters are saying and doing. That includes 56 percent of the white working class, a group that Limbaugh, Fox, the Kochs and other corporatists always target to foment cultural resentment, which they then twist into political energy for whatever game the moneyed class is running.
Class warfare? You bet.
Fitnaught: In the midst of the Occupiers, altie cartoonist Matt Bors sees an opening for comics journalists: "News outlets are beginning to realize that comics journalism is a serious form of reporting," Bors told ComicRiffs, "and it's particularly helpful with a movement like Occupy."As a syndicated editorial cartoonist, Bors has been on the scene at Occupy Portland, recording the city's protest play-by-play, Michael Cavna observed, and as the comics journalism editor at the website Cartoon Movement, he has been coordinating the cartoon contributions of such visual journalists as Stephanie McMillan (DC and elsewhere), Shannon Wheeler (New York), Sharon Rozensweig (Chicago) and Susie Cagle— who have drawn from the encampments amid skirmishes and, sometimes, official evictions.
And Who Are the One Percent?
The poster boys of the One Percent are bailed-out banksters and securities traders, hedge-fund managers and other plutocrats from the world of finance. But they represent only about 14 percent of the country's richest taxpayers, reports The Week (November 4). According to the Internal Revenue Service, one in six of the One Percent is in medicine; one in twelve is a lawyer. "The select club of the top One Percent includes more information-technology specialists and engineers than it does entrepreneurs, and more scientists and professors than celebrities from the arts, sports, and media. Not incidentally, more than half of the U.S. senators and members of the House are among the One Percent."
AN INTERIM MOTS & QUOTES
"Government is instituted for the common good; for the protection, safety, prosperity and happiness of the people; and not for profit, honor or private interest of any one man, family or class of men."—John Adams, Thoughts on Government, 1776
"The world is full of people whose notion of a satisfactory future is, in fact, a return to the idealized past."—Robertson Davies
"Work like you don't need the money. Love like you've never been hurt. Dance like nobody's watching."—Satchel Paige
The GOP jobs plan, saith Michael Hiltzik in the Los Angeles Times, is a package of "shibboleths and ideological dog whistles" designed to "eviscerate" environmental regulations and protect corporate profits. "Ideological dog whistles"—I like that.
CORPORATION VS. ART
Rich Johnston at bleedingcoolcom tells the tale: Bob Layton, apprentice to Wally Wood, writer, penciller, and inker for Marvel and DC, as well as a senior figure and creator at Valiant, is especially remembered for his work with David Michelinie on Iron Man. And the pair had reunited to work on the character on a mini-series Iron Man Forever. Not that Layton recognizes the final version. He writes on Facebook (quoted herewith in full):
Speaking of Marvel, today, I finished the last page on the fourth and final issue of my Iron Man Forever mini-series. Sad to say, this will be my last assignment for Marvel Comics. Not that I hate them, or think that it's a horrible place, but it's simply not the same Marvel I enjoyed working for during most of my career. It's clear to me that it's time to move on.
To clarify my last statement, my decision is more about individual expression and to not become a contributor to "units sold." The pervasive corporate atmosphere felt like the Number One goal was to crank out grist for the stockholder mill. In other words, it seemed to me that pumping out endless, poorly conceived mini-series to make sales figures has become that driving force at Marvel/Mouse.
To confess, in no way, shape or form does this last Iron Man mini-series resemble what David Michelinie and I had intended it to be. Christ, we went through two editorial teams and it took over a year just to get the four measly issues to be the mess that it currently is. The story was edited and approved by a faceless committee, then run past the sales department for its approval. The sales department? Really?
Well, my primary concern as a storyteller is not to assure that the Disney corporation makes its quarterly projections. More power to them, but that's not why I got into the comic field. As much as I love Iron Man (and all of my fans worldwide), I feel it is impossible to do the kind of stories you expect from me in the current situation.
Edward James Olmos recently gave me some sage advice over dinner. When describing my frustration over the situation at Marvel, he leaned over and said: "What's one more friggin' Iron Man mini-series going to contribute to your 35-year legacy?"
And … I realized that he was right.
Naturally. Remember folks, Edward James Olmos is always right…
FAILED CARTOONIST BANKS MILLIONS
The sixth book in Jeff Kinney's Wimpy Kid series, Cabin Fever, was published November 15 with a first printing of more than 6 million copies, making it the biggest release of the year in both kids' and adult books, according to Publishers Weekly. Kinney has been named one of Time magazine's 100 "most influential people in the world," and two movies based on his books have grossed millions of dollars. "Kinney is one of the best-selling authors in America," reports Karen MacPherson at Scripps Howard News Service. More than 50 million copies of his Wimpy Kid diaries are in print in the United States and Canada. The series has been translated into 35 languages.
Despite all the ballyhoo and jingling cash registers, Kinney still considers himself a "failed cartoonist."
"I'm an author whose strength is in gag-writing," Kinney said. "I recently went to speak at the National Cartoonists Society, and I think the line is clearly drawn between what they do and what I do."
At the University of Maryland, Kinney created a comic strip called Igdoof that he hoped would catapult him into cartooning stardom; "he even changed his major from computer science to criminal justice because he thought he would have more time to draw," MacPherson said.
But when his efforts to sell Igdoof failed magnificently, Kinney turned away from his drawingboard to his computer screen and became a well-regarded website developer. "Among his creations is the popular website Poptropica.com, which was named one of Time magazines' 50 best websites."
Kinney told MacPherson that he expects to write 7 - 10 Wimpy books, so there is at least one more brewing somewhere in Kinney's stick-figured mind. Maybe more than one.
ANOTHER COMEBACK AGAIN
Stan Lee, 88, is at it again. Alex Dobuzinskis at Reuters reports that POW! Entertainment, Lee's current company, is invading the Internet hoping to make money at it with a YouTube project called "Stan Lee's World of Heroes," which will feature short, live-action videos and animation. "The Internet is so much bigger," Lee said in a phone interview, "and it's so all encompassing and everybody is involved in it. Years ago, it was just getting started. This is the perfect time for us to dive in with both feet."
Of the characters he is planning to unleash, Lee said, "there will be some with super power, and there will be some that are just good stories of people doing good things." The time is ripe for superheroes on the Web, Lee thinks. "I am hoping everything we're doing at POW! will be as good or even better than what I did at Marvel because I'm more experienced now," he said. "I know more now than I knew then."
Us old and faithful fans recognize in such ringing assertions the Soap Box hype of yore. And most of us, including Dobuzinskis at Reuters, realize that "so far, none of the characters Lee has dreamed up at POW! have come close to achieving the worldwide fame of the heroes he helped create in over five decades at Marvel Comics."
Most of the comic book creations he has launched in the last decade or so have expired after a few issues. No one can doubt that Stan Lee revitalized a moribund comic book industry five decades ago, but, sad to say, the concepts that worked so well for him then are not working these days.
But Lee is still riding high on his reputation of yesteryear, a deserved reputation but for accomplishments that have lost their pertinence in today's popular culture. And despite his recent record, he seems oblivious of any prospect of failure.
"I don't feel I'm working," he enthused to Dobuzinkskis. "I feel as though I'm playing. There are guys 100-years-old who can't wait to get to the golf course. I can't wait to get to the office."
More power to him, I say. If you enjoy it, keep right on playing.
A NEIGHBORHOOD STRIP
Signe Wilkinson gave up her syndicated comic strip Family Tree just three months ago, but she's trying again—this time, with a comic strip that will be printed only in her home town, Philadelphia. A once-a-week strip, Penn's Place started November 20 in the Inquirer (not in Wilkinson's paper, the Philadelphia Daily News). It's set in Philadelphia, and Wilkinson intends to keep it local to the extent of sticking to a single fictional city block, to which her protagonist, Hannah Penn, recently moved.
Writes the Inquirer's Ashley Primis: "Readers will meet Hannah's neighbors (the older and younger couples who live next door, the Korean grocer, the bar owner), and see some familiar faces, too," she continues, quoting Wilkinson: "The mayor will walk down Penn's Place, a homeless person might come into contact with Sister Mary Scullion, and Jose Garces might be looking for a restaurant space. Who knows?" said the cartoonist, whose career we profiled here at Harv's Hindsight just last month.
Penn's Place may be Wilkinson's love letter to her home town: she has almost always, through a long career, lived and worked in Philadelphia (except for a three-year stint in California at the San Jose Mercury News).
"Her edgy editorial cartoons," Primis said, "which she continues to draw daily (and which also appear in about 100 other papers and on websites such as Slate.com), have brought her plenty of attention, including being the first female cartoonist to win a Pulitzer, in 1992."
"Philadelphia Magazine once said I was one of the 12 or 13 people who should be run out of town, along with Charles Barkley and Camille Paglia," Wilkinson recalls. "I thought, 'That would be a fun road trip.'"
Said Primis: "Wilkinson is well aware that she is one of few women cartoonists whose work is featured in newspapers, and believes it's important that there are women writing female characters. 'We need to have some balance,' she says.
Wilkinson creates her Inquirer comic strips in her home office, and her editorial ones in her tucked-away nook at the Daily News. "It's such an old-fashioned medium," she says, "—I feel lucky that someone is willing to pay me to do it."
THE MAUS FOREVER
Having won the first-ever Pulitzer bestowed upon a work of comics, Art Spiegelman hasn't been able to escape his opus. Any time his name is mentioned, the prize-winning Maus is appended to it; or vice versa. To some extent, he is reaping what he sowed: whenever he drew himself in the post-Maus years, he gave his self-caricature a mouse head. And now, with the publication of MetaMaus, he adds fresh altitude to the pedestal he claims to resent having been placed upon.
"I'm blessed and cursed by this thing I made that obviously looms large for me and for others," he told David L. Ulin at the Los Angeles Times. "The result is that I can't do this thing that seems quite easy, which is: 'That's that, and now I'm working on a new thing.'"
MetaMaus, which digs deep into Maus's creation, collecting interviews and sketches that deconstruct his defining work, proves his point with its very existence. And Spiegelman knows it: "If you can't outrun it," he said, "just stare the damned beast down."
MIKE KEEFE RETIRES—ALMOST
Last year's Pulitzer-winning editoonist Mike Keefe has been at his newspaper, the Denver Post, longer than either of his immediate Pulitzer-winning predecessors, Pat Oliphant and Paul Conrad. Conrad left the Post in 1964 after 14 years; his successor was an Australian who revolutionized American political cartooning and then left in 1975 after 10 years. Keefe, who retired, accepting a buy-out, at the end of November, has been at the Post since 1975, 36-plus years.
Unlike so many of his political cartooning colleagues, Keefe was not so much forced out as he recognized an opportunity—and seized it. The Post, like most print news media, is hurting financially, and last month, it sought to reduce its payroll burden by offering buyouts, hoping to get 18 volunteers. Keefe looked at the offer.
"I had planned to semi-retire in a year," he told me. "The Post's buyout offer was advertised as a year's salary (in reality it's somewhat less). So, I could work and earn a year's salary or I could not work and earn a year's salary. I did the math. To be clear, the buyout offer went out to a good portion of the staff. They didn't single me out. I felt no pressure to leave. And while layoffs could come if they don't get 18 takers on the buyout, I felt pretty secure. I don't think I was in danger of being laid off. The Post has always treated me well.
"It's been an emotional few weeks," he continued. "Bittersweet. I am sorry to see that they are forced to cut back on staff. The revenue is simply not coming in. Thank you, Craigslist and digital media."
On Sunday, November 27, the Post devoted the front page of its weekly Perspectives section to saying farewell to Keefe. It was a heartfelt send-off, accompanied by a selection of his cartoons. We're reprinting all of it down the scroll; here are some of the cartoons, plus a few from our own Keefe Kollection.
The article was accompanied by some impressive statistics: an estimated 8,880 cartoons published during his tenure at the paper; 63,096 entries to the weekly cartoon captioning feature.
As of November 27, the Post hadn't decided whether to fill the staff position Keefe leaves vacant. Said Keefe: "Even though there is a long tradition of high quality cartooning at the Post, I'm guessing that it's unlikely that they will seek a replacement. I could be wrong."
About the future of his profession, Keefe added: "There is plenty of incredible talent of all ages in our business. I don't worry about any decline in quality. How they earn a living at is another question. It's a lot tougher now than it was when I started. Clearly cartoonists must create with digital media in mind. Traditional newspapers are going to be a less robust and thinner version of their former selves. Not many will be able to afford to support a full-time cartoonist. That means someone has to crack the code concerning online profits. Till that time, it will be a forum for the dedicated and passionate cartoonist who also works at Starbucks."
About his own future, Keefe was a little more specific. When his wife, who is still employed outside the home, asked him how he was going to spend his time, he answered her in three words: Turner Classic Movies.
"She was not amused," Keefe quickly added. "Actually, I have a number of things in mind: I want to beef up my guitar chops, paint a bit, pick up the slack on Sardonika.com, a satiric blog that Tim Menees and I do. ([Formerly editoonist at the Pittsburgh Post-Gazette], he's been doing most of the heavy lifting lately.) And I want to write. I've been researching the armored recon squadron in which my dad served in World War II. I've gotten a lot of riveting material."
And he expects to continue drawing editorial cartoons for Cagle Cartoons, which has been distributing his work for several years.
When Keefe joined the Post in 1975, it was the start of his second career. The first, commenced after two years in the Marine Corps, was as a math instructor at the University of Missouri-Kansas City, where he completed course work toward a doctorate, but he also cartooned for the school newspaper, the University News. Watergate was headlining the news then, and Keefe became an expert at rendering Prez Nixon's ski-chute nose.
"With material this rich," Keefe once wrote, "I was fooled into believing that cartooning would always be easy." He gave up math and went to the Post.
At the time, his drawing style, deploying a fragile wandering line, strenuously resembled Gahan Wilson's. For the last couple decades, though, Keefe has evolved a strong gnarly but simple outline style for delineating his clunky anatomies which he then decorates with restrained flicks of hachuring.
When he won the Pulitzer last year, Post publisher William Dean Singleton said Keefe's work underscores the importance of newspapers in generating original content, which, ironically, eventually winds up on the Internet, contributing to the slow extinction of the print medium.
Singleton called the Pulitzer recognition "long overdue," adding: "Mike's been here almost 36 years, and he's put out award-winning work almost since the day he arrived. The two who preceded him were legends. I think Mike is now a legend too."
All of our report on Keefe's winning the Pulitzer can be found at Opus 276. Now here's the Post's farewell to its long-time cartoonist, by Curtis Hubbard, editorial page editor.
DRAWING TO A CLOSE
Mike Keefe came into my office earlier this month with two pieces of sketch paper and a problem. On one piece of paper, he'd drawn a gut-wrenching image of a naked young boy curled up in a locker room shower with the caption: "Will not be attending any Joe Paterno support rallies." [This cartoon appears in our Editoonery department this time.]
It was drawn shortly after thousands of students rallied in part to support the embattled Penn State coach amid reports that he did not do more in response to being told that a young graduate assistant had seen Jerry Sandusky raping a young boy in the locker room showers.
The cartoon was picked up and run in papers across the country. After seeing it in the Washington Post, one reader remarked: "My initial reaction was one of amazement that a drawing with so few words could say so much about the misguided priorities of so many. Then, looking again at the drawing, I began crying and had to put the paper down. It brought back to me my experience as a victim of rape and the inaction of bystanders."
On the other piece of paper was a cartoon Mike had sketched in honor of Veterans Day, which fell on 11/11/11. [All those 1's cued Keefe.] The picture showed a young boy tapping a decorated veteran on the shoulder, with the child saying, "You're Number One!"
For me, it brought back memories of a grandfather who'd served in World War II. In my youth, I never fully comprehended the sacrifice he and other veterans made for this country. The cartoon was a simple yet powerful reminder of the importance of showing our men and women in uniform that we are grateful for their service while we still have a chance.
"The Veterans Day cartoon needs to run tomorrow," said Mike, a former Marine. "And I'd like to run the Penn State cartoon soon, while the rally is still fresh in people's minds."
In my short time at the helm of the paper's editorial page, I don't know that I'd seen two better pieces. His problem was one that I was happy to solve. We ran both the following day.
A few days earlier, Mike was at my desk with a single piece of paper. It was an agreement to accept a buyout that the newspaper is offering longtime employees as we continue to maneuver the industry's choppy financial seas. On that occasion, the problem was mine. Mike was taking the buyout. After 36 years at the Denver Post, he is leaving us at the end of this month.
Today we celebrate Mike's career with a selection of some of his more memorable cartoons. Given the thousands he has drawn in his time here, the available space does his body of work little justice. But we could not let him go without thanking him for all he has done for this enterprise.
A mathematician by training, Mike was teaching at a college in Kansas City in 1975 when a side job drawing cartoons became an invitation to be a full-time cartoonist at the Denver Post.
Earlier this year, he was awarded our profession's highest honor: the 2011 Pulitzer Prize for editorial cartooning.
Like John Elway [formerly, long-time Broncos winningest quarterback, still a local hero], Mike is going out on top.
I have had the pleasure of working with him for only a few months. Former editorial page editor Dan Haley, who worked with Mike for years, summed up his impact well in a column earlier this year.
"In the years I've worked with Mike, I've never stopped marveling at how he can distill a complex issue, or a prickly political fight, into a concise, compelling opinion with just one image," Haley wrote. "In one frame, he tells the stories of our times better than most keyboard-punching reporters or editorialists. Journalists are always jockeying for more space — just a few more words, a few more inches — but Keefe needs just a handful of words to deliver a powerful punch."
It's too soon to know exactly what we will do in his absence, but I take some comfort in knowing that we are not losing him entirely. Mike will continue to syndicate cartoons on a weekly basis, and we will have access to a smaller sampling of his work that way.
Selfishly, I wish that he was not leaving, as I know that his work makes this a better newspaper. But Mike lives a rich life outside these pages, and it comes as little surprise that he is ready to move on to his next remarkable phase.
We wish him well.
IRONICALLY, after all the fine sentiment, the Post editors rejected Keefe's last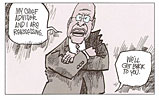 cartoon, submitted for publication November 29 (and visible nearby). "I knew it probably would be rejected," Keefe told me. And you can see why (either here or at Sardonika.com, where Keefe promptly posted it). A great finish, I'd say. Like all truly good editorial cartoons, it's unflinching and hard-hitting. And funny.
ANOTHER EDITOONIST QUITS
At the DailyCartoonist.com, Alan Gardner alerted us on November 1 to the retirement of John Sherffius, the editorial cartoonist for the Boulder Daily Camera. Sherffius, whose symbol-ridden cartoons are among the profession's most powerful and imaginative, is not simply retiring from the newspaper: he's leaving the profession. Gardner quotes the e-mail Sherffius sent to the Association of American Editorial Cartoonists email list group:
"I wanted to let you, and the AAEC, know that this will be my last week at the Daily Camera, as I am retiring from editorial cartooning. I informed my editors and Creators News Service at the beginning of October, but I wanted to wait before letting the AAEC know until the Camera readers were informed today. I've had a great career in editorial cartooning and I'm very thankful. However, I've been in this field since college and I think a change will do me good. I'm looking forward to pursuing other artistic endeavors."
To the readers of the Daily Camera, Sherffius wrote: "It's been a tremendous privilege to comment on the news and express my opinion on local, national and global affairs. I have enjoyed every minute of it. However, after so many years in this business I'd like to pursue other creative endeavors and, not incidentally, begin to prepare the bank account for the kids' college tuition! And thank you, readers, for the opportunity to be a part of your morning routine."
Editor Erika Stutzman added: "Working with Sherffius was a real pleasure, not only because of his talent and professionalism, but because he is a genuinely pleasant and thoughtful colleague, and someone who cares deeply about the world around him. We'll miss seeing his name and his thought-provoking work on our pages."
Sherffius started editorial cartooning for the campus newspaper, the Daily Bruin, while a student at the University of California at Los Angeles. He graduated with a BA in psychology in 1984 but found no openings for editorial cartooning; he went back to school, graduating in 1986 with a second BA, this one in graphic arts, from California State University.
After several positions as staff artist, he found in 1992 a similar position at the Ventura County Star that offered him the chance to do editorial cartoons in addition to graphs, maps and the like. Before long, he was doing six editoons a week. With that experience under his belt, he left in 1998 for a full-time staff editooning job with the St. Louis Post-Dispatch, but he resigned in December 2003 because a new editor's ideas and his didn't coincide much.
After freelancing and syndicating, still, Sherffius moved to Denver in 2005 and found a situation at the Daily Camera. He won the Herblock Award in 2008, a signal distinction, perhaps the highest prize the profession offers. And now—who knows? But with his talent, he won't be wandering long, I wager.
Footnit: With the departures of Sherffius and Keefe, the number of editorial cartoonists has reached an all-time low. Counting David Horsey, erstwhile staff editoonist on the now defunct Seattle Post-Intelligencer but still full-time with the Hearst organization, the number of full-time staff political cartoonists in the country is 66, down from 101 in May 2008—a loss of 35% of the staff positions in three-and-a-half years.
READ AND RELISH
Let's take a break with a few bon mots:
"Never hit a man with glasses. Use something much heavier."—Anonymous
"A good listener is not only popular everywhere, but after a while, he knows something."—Wilson Mizner, playwright
"Humor can get in under the door while seiousness is still fumbling at the handle."—G.K. Chesterton
"The best thing about the future is that it comes only one day at a time."—Abraham Lincoln
UNCHARGING A SUPERHERO
Ben Fodor, the Seattle resident who wears a black mask with yellow stripes and a bulging muscle body suit and calls himself Phoenix Jones, a superhero whose self-imposed duties included patrolling the streets and battling miscreants, won't be facing charges for pepper-spraying a group of people brawling outside a downtown nightclub. Officials decided not to press charges; they'd initially thought the bulgy Fodor started the brawl by spraying the unruly bunch, but they couldn't find two of the people pepper-sprayed to testify and without such testimony, they figured no jury would be persuaded of Fodor's guilt.
Fodor wore his uniform to court last month, removing his mask when asked by a court factotum. And he dramatically removed it again outside the courthouse when speaking to the assembled multitudes: "I will continue to patrol with my team," he said, "—probably tonight. In addition to being Phoenix Jones, I am also Ben Fodor, father and brother. I am just like everybody else. The only difference is that I try to stop crime in my neighborhood and everywhere else."
Vocabulary Enrichment
AT THE UNIVERSITY OF IOWA, as at many other Institutions of Higher Learning, they've started teaching a comics course—not how to draw but how to read and appreciate. "Comics scholars feel they're exploring the last pop-culture medium to earn critical and aesthetic examination," reports Lin Larson in the alum newsletter, Spectator. But the comics course instructors have discovered that while primary material abounds (reprints of classic newspaper strips, graphic novels, etc.), not much theoretical literature exists. Says Corey Creekmur, who holds a joint appointment in cinema and comparative literature: "We don't have an established formal vocabulary like we have for film. What do you call sweat beads that indicate a character is worrying, or the little lines that show surprise?"
Those're called plewds and enamata, as any reader of Mort Walker's Comicana knows. And the aesthetic and critical vocabulary Creekmur is looking for can be found in my two foundational works: The Art of the Funnies: An Aesthetic History of the Newspaper Comic Strip and The Art of the Comic Book: An Aesthetic History. You can buy them both here, Corey. They'd make excellent Yuletide offerings to your friends and cohorts.
A LITERARY GIANT STEPS DOWN
The surviving co-creator of the French comic strip Asterix has announced he will retire and hand the series over to a younger artist after 52 years of drawing the characters, reports James C. McKinley Jr. at the New York Times artsbeat.blogs. At 84, Albert Uderzo, who created the diminutive Gaul with writer Rene Goscinny in 1959, said that he would let his successor pen the 35th volume, due out next year, according to theaustralian.com.au.
"I'm tired," Uderzo said. "The years have gone by and these years weigh heavily. I have decided to leave this to young authors who certainly have enough talent to do it."
But with a flourish worthy of Asterix, Uderzo has so far (as of September 27) declined to name his successor, setting the Parisian rumor-mill into overdrive. "It's an artist who has followed us for a long time in the bosom of the studio," he said, smiling coquettishly no doubt.
The position is one of the most coveted in comics, given that 350 million books compiling the strips have been sold since the first in 1959. Uderzo dismissed speculation that the indomitable Gaul would end his career of resistance to the Romans.
"Asterix will live. And me, I'm not yet retired," he said. "I am going to help my successor to create the next book. It is excessively dangerous to take over a series which is 52 years old, with 34 volumes and such success. But we've got to try because that is what readers want."
However, many Asterix fans may also be hoping Uderzo takes a back seat in the next production, since purists say the series lost its magic when Goscinny died in 1977 and Uderzo took over the scripts as well as the drawings.
Still, "it's rather more remarkable that Uderzo kept Asterix going so long on his own [34 of the feature's 52 years]," said Samira Ahmed at guardian.co.uk. "Part historical fantasy, part a kind of Private Eye, packed with the harmless violence of 'pafs' and 'tchocs,' the world of Asterix was a unique dual creation. Multilingual Goscinny brought the literary allusions—there's an entire page of Caesar's Gift where Asterix duels a Roman soldier in the style of Cyrano de Bergerac. Uderzo matched him with meticulously researched and drawn landscapes, architecture and visual puns, such as the reference to Géricault's painting 'The Raft of the Medusa' in Asterix the Legionary.
"Because it looked as good [as the collaborative effort]," Ahmed continued, "we ignored the fact that most of the stories, apart from a couple of notable exceptions (Asterix and the Black Gold, Asterix and the Great Divide) were much poorer after Goscinny died."
But, he goes on, "Uderzo deserves recognition for the scale of his achievement; much of it in the long-running Pilote comic, where Asterix first appeared. A master draftsman and a cinematic storyteller, in his use of epic set pieces, cutaways and closeups, he's drawn 400 unique characters to date in Asterix alone.
"He revels in all the variants of Gallic physiognomy (bullying Crismus Bonus in Asterix the Gaul looks unnervingly like Dominique Strauss-Kahn) but Uderzo, born of Italian immigrant parents, also delighted in national types—the separate tribes who join together to fight the global corporatization and arrogance of the Roman empire. From the moustachioed, hot water-drinking Britons to the proud Corsicans with their dangerous cheeses, Uderzo has gently mocked, but also shown affection for, individuals who stay true to themselves. So after so many years, would it have been better to have said it just ends with me, as Charles M. Schulz did with Peanuts?"
Probably not. Besides, Peanuts hasn't ended with Schulz's death.
NEW PEANUTS
The Peanuts franchise is simply too big a cash cow. No one—the Schulz family, the syndicate, Creative Associates (the staff assembled by creator Charles Schulz), and legions of fans—could realistically be expected to abide forever by Schulz's parting behest that his work not be carried on by a successor. It has always been happily endorsed by many of us that Schulz's wishes honored, that the work of his genius be allowed to rest undisturbed—to continue in reprints, of course, as a kind of monument to his achievement, but not to be added to by anyone. Alas, that was too much to expect. The franchise, as I said, is simply too potent with revenue-generating possibilities.
Since Schulz's death, the franchise continued for some time without adding anything new to the canon—i.e., the comic strips that comprise Schulz's life work (and, according to him, his life itself). And the restraint, admirable though it is, is now giving way to temptation. A new tv special came out a year or so ago, if I remember. In homage to Schulz's wishes, it was said that he had worked up the script before he died, so this latest production was actually the realization of his intention. Okay, we accept that.
And then came last spring's graphic novel, Happiness Is a Warm Blanket, Charlie Brown. That, we gathered, employed tropes Schulz had long established in the strip. Okay, we accept that—just as we would accept any other graphic novels cobbled up from the tv animations.
But now comes the comic book. Here we slide further down that slippery slope. Schulz's wishes, we may presume—branching out into a fresh new interpretation of them—apply only to the syndicated newspaper comic strip. I don't know, for any sort of fact, whether this is the kind of rationale that permits new Peanuts material to surface; but I can easily imagine that it worked somewhat in this fashion. And so the Peanuts comic book is permissible: it does no violence to Schulz's wishes. New Peanuts comics can be concocted; other cartoonists engaged to draw them.
Besides, an awful lot of people—family and staff—depend upon the revenues that Peanuts generates. I don't mean that in any snide way. It's simply a fact. And as their expenses heap up, more revenue is needed. They can't go on forever just selling ceramic Charlie Browns and Snoopys. Other ways of exploiting the franchise must be explored. The Peanuts comic book is one such foray.
The "Special Preview Issue," No. 0, is now out. It reprints several Sunday Peanuts strips ("Classic Peanuts Strips") by Schulz, thereby justifying (probably) the use of his name on the cover. The rest of the interior consists of short stories by Ron Zorman, Paige Braddock (creative director of Creative Associates), and Vicki Scott. In future issues, they will be joined by others—Shane Houghton and Matt Whitlock, according to a notice from the publisher at its website, BoomStudios.
The chief challenge the artists face is presented by the comic book format itself. Schulz produced page-size strips on Sundays, but he never varied the grid-format of the newspaper comic strip even on Sundays. The comic book form offers opportunities in layout and page design. Said Braddock:
"We'll fully exploit the sequential art storytelling of traditional comic books. However, the full-page format will give us more room to expand backgrounds and story context. Breaking out of the horizontal comic strip format will allow for more visual storytelling. I think this will be more of a style that younger readers are used to, and our goal is to stay true to the editorial guidelines that Schulz set forth—so, hopefully, more seasoned fans will be pleased as well."
An example of the way page layout is being exploited is posted nearby. The Happiness graphic novel was even more flamboyant in some of its page designs.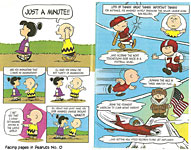 "Rather than trying to do one longer 24-page story," Braddock continued in her interview with Cliff Biggers at Comic Shop News, "the monthly issues will contain a couple of 8-page short stories. The stories are fun and quick for those of us with shorter attention spans."
The themes and characterizations of the new material will be based upon Peanuts in the 1960s, she said. "This seems to be the period where Schulz really hit his stride and had established the major characters and themes. Also, as far as the art goes from this period, there's a lot of really funny source material to pull from for inspiration."
Braddock hopes to attract young readers; at least a generation of readers has grown up without seeing new Peanuts material. "When I was a kid," she said, "Snoopy was the character that inspired me to be a cartoonist. I want kids today to have the same inspiration. ... The problem is that kids don't read newspaper comics, so for them to meet the Peanuts characters, we have to be where kids are. Hopefully, creating these comic books will help us do that."
I applaud the impulse, but I'm not sure that today's kids are the kind of comic book readers Braddock envisions. One of the problems plaguing the industry is that the reading audience is growing older—and comic book publishers increasingly appeal deliberately to that older reader. Are there any substantial sales of comic books to young readers? Pre-teen readers? Maybe. But I'm not confident about it.
Because Schulz permitted Peanuts comic books to be produced with new material during his lifetime, it may safely be assumed that he would not mind a prolongation of that scheme now. Still, among Peanuts fans are many whose knickers are in a knot about it. I have mixed feelings myself. Clearly, the rationales I've suggested here for the continuation of Peanuts in every venue except the newspaper comic strip section are acceptable. Nothing particularly underhanded about them. But it's clear after reading the new stories in Peanuts No. 0 that, however humorous and even delightful they are, they're not Schulz's Peanuts.
The drawings are very good, as perfect an imitation of the Master as anyone could want. But the spirit of the stories is not Schulz's. They're more exuberant than he usually was. They have more action and less heart. More akin to the animated Peanuts than to the syndicated, static Peanuts.
And so the new Peanuts is a mild dose of disappointment. But what do we expect? Schulz? Not likely. There was only one of him, just once. And that is the reason that he wisely desired that no one try to continue Peanuts after he was gone. That was Schulz the artist talking. But Schulz was also an entrepreneur, manager of a monumentally successful commercial enterprise. In the various Peanuts projects that have surfaced since his death, his successors do their best to honor the wishes of the artist—to preserve that part of Peanuts that was closest to his heart, the strips—but they have also paid heed to the entrepreneur.
And we're likely to see in future issues of the new comic book the stories that Schulz himself produced—all of the first comic book incarnation in 1954—before turning that endeavor over to Jim Sasseville and then Dale Hale, who, it is reputed, did all the rest. So for a short time sometime soon, we'll have both the artist and the entrepreneur in the new comic book series.
WILL THE INTERNET SAVE US ALL?
The comic book industry, which has been experiencing a slow downward spiral in sales for years, is now grasping at a way to stop the tail spin—the Internet. Most comic book publishers have been approaching the digital ether cautiously: if an electronic edition of a book is issued, it doesn't hit the Web until weeks—often months—after the print version appears. DC Comics lately took a huge step into the unknown: all of its New 52 titles were digitized and posted on the Internet the same day the print versions hit the racks in comics shops this fall.
"I love digital comics. I will always have a heart for paper and a book I can hold, but I have an iPad that is stocked with comics," Kelly Sue Deconnick, a new writer for Marvel Comics, told Arman Aghbali at Commerce Times. Deconnick carries at least fifty comics with her at any given time, since those issues weigh no more than her tablet does. "I have a favorite reader," she said, "and I love the ease of downloading. I read most of my comics this way."
Some complain that the price of digital comics is too high and that the way comics are edited to fit on a phone or tablet fundamentally changes the way comics are read.
"If [comics publishers] want to reach a wide audience, their price has to be two digits, 99 cents. That's the magic number where it doesn't feel you're spending money," says Cameron Stewart. Stewart is an artist whose work includes a run on Batman and Robin, and his own award-winning webcomic, Sin Titulo. Print comic books are currently priced at $2.99 and $3.99, depending on size. Stewart believes that the closer you get to five dollars, the more the consumer has to think about what they're purchasing.
Ty Templeton, a comic book creator who's worked for Marvel and DC Comics for popular series like Justice League International and Batman Adventures, doesn't mind either format. He likes web comics and has all of his comics for sale online. But he sees a bigger issue with the digital format than the price. He believes that it fundamentally changes the way comics are read.
"A lot of apps show the comic panel by panel, and for a comic, that's like watching a movie in the 80s," Templeton said. "You would lose a bit of the left and the right, and soon, the movie 'Seven Brides for Seven Brothers' becomes five brides for four brothers. It doesn't work."
Apps like ComiXology tend to show comics through individual panels, due to smartphones' smaller screens. Without this feature, the dialogue and narration become difficult to read.
Said Templeton: "I object to the idea that you have to change the shape of the screen to enjoy the content."
Deconnick, though more positive, admits that "digital doesn't work with the double-page spread." A picture spread over two facing pages is a maneuver often used for dramatic impact and surprise. Not in digital comics. Not yet.
Said Deconnick: "Because you have to pull out and shrink down to see the full image on a double-page spread, and then zoom in to see the detail, it doesn't have the same power as it does [in print]."
"While discussion behind digital comics isn't exactly unanimous," reported Aghbali, "almost everyone agrees that it's the way of the future, whether the publishers take initiative or not. Ask any creator if their work is available online and the answer is a resounding yes; though they'll add that they didn't have choice in the matter. ... Despite many of the challenges ahead for comics distribution and sales, there is an overwhelming belief that digital comics and web comics are expanding the medium and the readership."
He continued: "Stewart is confident that web comics are the next stage in comic production. He's willing to bet that Marvel and DC would generate a lot more interest if they had exclusively online series. Not to mention that he thinks focusing on the Web will fix many of the glitches found in digital comics."
Aghbali goes on to quote Stewart: "Print comics are limited by the amount of ink you can fit on paper, but online you can do whatever you want. If you think about the aesthetic of digital, one panel at a time, you'll be able to take advantage of it. There's a concept in comic design called the 'infinite canvas' which implies that on the web, you have literally infinite space to make a story. No need for turning a page at all. No matter where this industry goes, I'm sticking with the web. I'm at a stage in my life where I don't like accumulating stuff."
"Many love saying good bye to dusty basements and garages filled with thirty-year-old periodicals," Aghbali said. "The iPad can store just as many issues of X-Men and Wonder Woman without all the clutter. Yet, Templeton is quick to remind people that there will always be a place for print comics."
And he finishes by quoting Templeton: "If you want a first edition copy of the Old Man in the Sea by Ernest Hemingway, you're going to pay a thousand dollars for it while the paperback is out this week for eight-ninety-five. And there's a reason for that," he concluded: "Print is a moment in history that you can hold in your hand."
NEWSPAPER COMIC STRIPS are another species that's become endangered because their platform is collapsing: newspapers are in financial peril because they're losing readers and advertisers to the Internet. But some comic strip cartooners see salvation in the Web. Dave Kellet, for instance, has appeared twice at recent cartoonist gatherings (Festival of Cartoon Art at Ohio State University a year ago and National Cartoonists Society in June in Boston), both times as a drum-banging advocate of the money-making potential of comics on the Web. A few years ago, he moved his comic strip Sheldon out of print syndication and onto the Web, saying it generated more income for him in the electronic ether than on newsprint. (Kellet, incidentally, is one of those behind "Stripped: The Comics Documentary," a video being funded through Kickstart and produced by Kellet's Small Fish Studios.)
And Kellet is not alone in singing the praises (and the money-making cache) of the Web for cartoonists.
Last July, after a five-year run, Aaron Johnson ended print syndication of his strip WT D (or What The Duck as fans knew it before the title was changed for syndication, adds Alan Gardner, who interviewed Johnson at DailyCartoonist.com). He wanted more time to devote to other projects he told Gardner. But many of the projects seem rooted in the webcomic, so Johnson continues the feature on the Web but not as a daily cartoon: instead, it shows up once a week, on a Monday, which Johnson says is the high traffic day. Said he: "I still continue to self-syndicate the comic to print publications domestically and internationally. I miss writing the strip every day, but not as much as I'm enjoying this—how do you say it?—free-time."
He fully intends to continue the strip as a webcomic: "These last couple of months have confirmed that dialing back the production hasn't changed things much. The fan-base continues to grow, licensing offers, speaking engagements, publication requests, sales—keep coming in. The difference is now I can devote the proper amount of time and energy to those things. ... My laundry list of things I want to do (both WTD related and not) has gotten too large and too long ignored. I've had to turn down too many opportunities over the years simply because there weren't enough hours in the day."
Asked to compare his print syndication experience to his Web experience, Johnson said: "Here's the thing – I never set out to be a comic strip cartoonist, period. So everything has been icing on the cake. Syndication was great. John Glynn [his editor at Universal Press syndicate] is an awesome guy. To Universal's credit, they were completely supportive and never got in the way of what I was already doing. In the big picture, newspaper syndication was just another revenue stream and audience for What the Duck (as is self-syndication, licensing, merchandise, advertising, etc.). If you have something that people are interested in reading, you'd be foolish not to explore any and all forms of media and methods of distribution out there.
"As far as some tangible experiences between newspapers and web," he continued, "—it's easier to have relationships with your fans online. There's a little bit of a disconnect with readers who are only following you via the newspaper. I guess you could compare it to a two-way and one-way street. Online, you instantly know what works, who's reading it, immediate feedback from your audience, etc. With the newspaper audience, it's a little like throwing a message in a bottle out into the ocean everyday. You know it has the potential of reaching millions of people, but you don't really have a good idea who and how many people are reading your work everyday. Again, I had a wonderful time with newspaper syndication (and the Andrews McMeel book) and if there is a newspaper market for a 'Monday Comic,' I'm game."
TINTINABULATIONS ABROAD AND HERE
From ContactMusic.com: It didn't open in Europe until October 26, and it won't be seen in the U.S. until December, but Steven Spielberg's motion-capture "The Adventures of Tintin: The Secret of the Unicorn" is already drawing much criticism from fans of the original Hergé comic strip and those who have accused the Belgian writer/artist of racism, anti-Semitism, and sexism.
Typical of the fury ignited by the movie, Nicholas Lezard, the literary critic for Britain's Guardian newspaper, said that when he left the theater showing the Tintin film, he found himself "too stunned and sickened to speak; for I had been obliged to watch two hours of literally senseless violence being perpetrated on something I loved dearly. In fact, the sense of violation was so strong that it felt as though I had witnessed a rape."
If other fans of Hergé react the same way, it could diminish the value of Tintin books and merchandise, which have remained top retail sellers overseas, other critics of the movie suggest.
"There's a risk that Spielberg's vision will undermine Hergé's," Jean-Claude Jouret, a former manager of Hergé's estate, told Agence France-Presse, the French news agency. Making the movie, he said, was "undoubtedly good business but perhaps it won't help the longterm preservation of Herge's work."
Meanwhile, critics of Hergé are wondering why Spielberg would ever have wanted to associate himself with the man. They note that a court case is currently festering in Brussels in which a Congolese citizen is demanding that Tintin in Congo be banned because it amounts to "a justification of colonialization and white supremacy."
They note further that Hergé was arrested after World War II for collaborating with the Nazis and inserting anti-Semitic subplots in Tintin stories. And Matthew Parris, a columnist for the London Times, noted that there is virtually a complete absence of women from Hergé's stories, a condition also apparent in Spielberg's movie.
Spielberg and Tintin. Spielberg had never heard of Tintin when he kept running into the word in French reviews of "Raiders of the Lost Ark." The critics were pointing out that Tintin's globetrotting adventures are similar to those of Indiana Jones. "Once this was explained to him," Lev Grossman reports in Time.com, "Spielberg hunted down his very first Tintin book, which happened to be The Seven Crystal Balls. He still didn't understand the French, but he understood Tintin immediately. 'It was like a movie, with beautifully rendered storyboards,' he says. 'I understood the story, I understood the humor, I just got it, without having to hear the words.'"
It was 1983 and Spielberg was in London making "Indiana Jones and the Temple of Doom." He called up Hergé, who was 75, to talk about making a Tintin movie. "He'd seen 'Raiders of the Lost Ark' and loved it," Spielberg says, "and he just committed, at that moment, that he wanted me to be the director to turn his stories into films." (This is Spielberg's account, Grossman points out; one of Hergé's biographers, Pierre Assouline, tells a much longer story involving a lot of legal wrangling over contracts.)
Plans were made for Spielberg to visit Hergé in Brussels a few weeks later, but before that could happen Hergé died. Spielberg acquired the rights anyway, from Hergé's widow, Grossman says, but there were script problems, and he had a lot of other movies to make, and the project stalled. It would be nearly three decades before Spielberg brought the comic-book hero to the screen.
It wasn't until Spielberg saw motion-capture animation that he realized how Tintin could be brought to the big screen. After seeing Robert Zemeckis' pioneering of the technique in "The Polar Express," Spielberg said, "I realized that's the medium I'd like to tell the story in— it most resembles the hand-to-paper art of Hergé."
Spielberg calls it "performance capture" animation, and he knew immediately that it "would preserve the integrity of Hergé's world," said Peter Jackson of New Zealand's Weta Digital, "—not just the world of stories and plot but the way it looks, the color and the visual style. They're all part of the DNA of Tintin. Live action wouldn't have the ethos of what it's all about."
Said Grossman: "It's a minor, but still choice, irony that all this high-powered technology is in the service of a movie set in an indeterminate but decidedly retro past, a dreamy world of vintage cars and rotary phones. It turns out that it takes the computing resources of a cutting-edge data center to bring to 3-D life the world Hergé created using only pen and paper. 'That's probably the thing that impressed me the most about the books,' Spielberg says, '—that Hergé was a filmmaker in his own right.'
"He pays a deft homage to the master in the opening moments of 'The Adventures of Tintin,'" concluded Grossman: "We first meet Tintin sitting for a portrait by a jovial sidewalk artist, who then holds up his work. The portrait is recognizably the iconic Tintin of the comics. The artist is recognizable too, at least to fans. It's Hergé."
Tintin the Movie. However apprehensive Tintin fans were about the movie, Spielberg won the seal of approval of Tintin's native land, Belgium, where Herge is a national hero. In Tintin's home city of Brussels, where a bronze statue of Tintin and his faithful canine Snowy stands in a city square, local critics had a sneak preview of "The Adventures Of Tintin," and knives were sharpened in case the Hollywood director had desecrated one of Europe's greatest cartoon characters.
"But the reviewers were won over by the new movie, which used performance-capture technology to create Herge-like cartoon versions of actors Jamie Bell, Andy Serkis, Daniel Craig and Simon Pegg," reported UKPA on October 14. "Bull's eye," headlined the Dutch-speaking De Standaard newspaper. "A pure jewel" the Francophone Le Soir had on its front page.
Herge and Racism. Elsewhere in Brussels, publishers of Tintin in Congo denied racism charges against the controversial comic book on October 14, telling a Belgian court during the last hearing of the years-long case that the book reflected the "kind paternalism" of the 1930s, when it was penned. Lawyers for Bienvenu Mbutu Mondondo, a Congolese citizen who brought the charges, claim the book to be "a justification of colonization and of white supremacy" that should be deemed racist under Belgian law and pulled off shelves.
Rejecting the charge as "a totally twisted reading" of the book, which has sold 10 million copies worldwide, the lawyer for the publisher and the copyright firm, Alain Berenboom, said Herge's book was a mere reflection of his times.
Herge, who was only 23 when he wrote the comic, which was later revised in 1946, had never left Belgium, AFP reported, and drew his inspiration from reports by missionaries, museum artifacts and articles in the "bourgeois and conservative press."
"Herge was part of his times: it wasn't racism but kind paternalism," Berenboom said.
He said that should the book be banned or the publishers ordered to add a warning to a new edition, they might as well take the knife "to (Charles) Dickens on the Jews, Jules Verne on blacks or the Bible's attitude towards women."
The judge said she would issue a final ruling in the case by mid-February.
Herge's World War II Collaboration with the Nazis. In another article at ft.com/cms/s/2/2f9b1552-faa5-11e0-8fe7-00144feab49a.html, Simon Kuper of the Financial Times explores the allegations against Herge about his supposed support of Nazism implicit in his working for the pro-Nazi newspaper Le Soir during World War II. Reviewing Herge's life and work, Kuper points out that in the pre-war Tintin books, "many of the villains are fascists. The Blue Lotus (1936) takes the Chinese side in the Sino-Japanese war. The Black Island (1938) features a German villain, Dr. Muller. King Ottokar's Scepter (1939) reworks the German-Austrain Anschluss in a Balkan setting, with the scary fascist leader Musstler, whose name derives from Mussolini and Hitler. ... The 1930s Tintins," Kuper concludes, "are (to use the jargon of the day) lightly anti-fascist. This is surprising given where Herge was publishing them and worth remembering given what happened later."
Later, after a stint in the Belgian army, Herge, "no Tintin," fled to France when the Germans invaded Belgium but returned to when his country surrendered and, needing work, he took the advice of Belgium King Leopold who issued his famous summons to his countrymen: "Tomorrow, we will return to work." Herge, whose work was drawing a comic strip for newspapers (and, subsequently, for book compilations), went to the pro-Nazi newspaper Le Soir, his earlier vehicle, Le Vingtieme Siecle, having been shut down. Henceforth, none of Tintin's adventures would be inspired by current affairs. "During the Occupation," Kuper writes, "Herge barely drew a picture that even hinted at the war."
Given the circumstances—the limited opportunities open to him as a cartoonist in occupied Belgium and his pre-war anti-fascism record—it's a stretch to call Herge a Nazi sympathizer or anti-Semitic. A collaborator, yes; but not a sympathizer.
Sexist Herge? Of course. Most males of his generation were.
THE HAPPY HARV IN MOTION
Speaking of movies, I'm in one. A year or so ago, an enterprising tv producer approached me about acting as an on-camera consultant and grand comics history poobah for a documentary on the history of American comic strips. I eagerly agreed. He wanted to get some footage of me pontificating on historical comics matters so he'd have something to show potential backers of the project. He sent around a camera-man to film me extolling, which he did in my downstairs studio.
The project came to naught, but I wound up with an hour of videotape of me talking profusely about comics. The producer asked me questions via cell-phone, and I responded as fulsomely as I could. Alas, due to my hearing loss, I often could not hear what he was asking, and you'll see me cocking my head to catch his questions. Having forced my children to watch the thing several times, I now have no further use for it. I passed the entire enchilada on to toon-ed.com, an educational cartoon website for aspiring young cartooners, and you can see me holding forth thereupon: toon-ed.com/toonhistory.html
In the second "reel," I pick up a comic strip of my own devising and discuss how it blends words and pictures. Because you can't make out the details to which I refer on camera, I've posted the strip under examination in this neighborhood. (It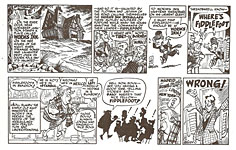 also appears at toon-ed.com.) The strip was called Fiddlefoot, the name of the bumbling hero. The visual aid at your elbow consists of two consecutive daily strips, one atop the other; it's the second one that I talk about in the video.
Ahhh, celluloid stardom. Or, at least, digital celebrity. Where will we go from here?
Fascinating Footnit. Much of the news retailed in the foregoing segment is culled from articles eventually indexed at rpi.edu/~bulloj/comxbib.html, the Comics Research Bibliography, maintained by Michael Rhode and John Bullough, which covers comic books, comic strips, animation, caricature, cartoons, bandes dessinees and related topics. It also provides links to numerous other sites that delve deeply into cartooning topics. Three other sites laden with cartooning news and lore are Mark Evanier's povonline.com, Alan Gardner's DailyCartoonist.com, and Tom Spurgeon's comicsreporter.com. And then there's Mike Rhode's ComicsDC blog, comicsdc.blogspot.com and Michael Cavna at voices.washingtonpost.com./comic-riffs . For delving into the history of our beloved medium, you can't go wrong by visiting Allan Holtz's strippersguide.blogspot.com, where Allan regularly posts rare findings from his forays into the vast reaches of newspaper microfilm files hither and yon.
Quotes and Mots
"A corporation is not a person until Texas executes one."—John Tower, quoting an anonymous source
Barney Frank, upon announcing his intention not to run for re-election after three decades in the House: "We have a very large number of people who, through no fault of their own, have lost everything they have. Now, I'm a great believer in the free-market system, but I also believe that there are important values that an only be vindicated if we act together through government."
Barney Frank got along just fine, thank you, with members of the opposing party when Republicans were sometimes progressive and sometimes moderate. But none of the current crop fall into those categories. The present GOP membership in the House, Frank said memorably, "consists half of people who think like Michele Bachmann and half of people who are afraid of losing a primary to people who think like Michel Bachmann."
John Hightower about corporations: "They think they're the top dogs and we're all fire hydrants."
EDITOONERY
Afflicting the Comfortable and Comforting the Afflicted
As you may have noticed in previous visits to this department, I occasionally wander from the ostensible purview—exclaiming about how political cartoons work and what makes them effective—into the political undergrowth with such obvious enthusiasm that political commentary threatens to elbow aesthetic considerations off the screen. But we've built in a device that permits you to avoid this tangle of kudzu if you wish: whenever you come upon a political diatribe that's derailed the aesthetic one, you can skip it by scrolling down until you encounter the next paragraph that beings with a phrase in ALL CAPITAL LETTERS. All caps signal that we're back on track, so you can re-commence without having to endure my political biases and bigotries.
The Running of the Panderers. We're now well into the Silly Season of American politics when the airwaves are awash with candidates seeking votes by telling voters what the voters want to hear. It's mostly Republican candidates for Prez so far, but they make up in outrageous excess for the absence of any competition from the disorganized opposition. They regularly attack each other for offenses never committed, and oppose federal regulations that don't exist. How anyone can take these clowns seriously I dunno; but enough do, apparently, to keep them on the road and in front of tv cameras.
I'm reminded almost daily of a remark attributed to Adlai Stevenson, who, on one of his two unsuccessful runs for the White House in the 1950s, was supposedly told that he would have the vote of every thinking person in America. "The trouble is," he responded, "I need a majority."
It is clearly the strategy of the GOP candidates to appeal to that majority, and so even the smart ones have to play dumb. Bizarre behavior in the party of William F. Buckley and George F. Will. But smart, as Stevenson found out twice, won't necessarily get you elected, Barack Obama to the contrary notwithstanding.
The GOP of recent years has always stood for stupidity, except for Newt, who, compared to most of the rest of the roster, is an intellectual giant. And if you don't believe that, just ask him. His smug self-regard is "troubling," writes Jennifer Rubin at the WashingtonPost.com. "He considers every thought that pops into his head brilliant."
He is also the victim, as the Denver Post's Vincent Carroll puts it, of "a grandiose sense of destiny [his own], over-weening confidence and a weakness for extravagant (if wonderfully entertaining) rhetoric." And the Post's Mike Littwin says Newt is "the only bomb-thrower I know who also managed to be a Washington insider, a money-chasing historian/not-lobbyist and an intellectual anarchist all at once."
Newt has recently risen in the polls in Iowa, overtaking Cain the pizzaman. The Evangelical right wing of the GOP, desperate to avoid Mitt Romney, whom they say is not a Christian, has lately been faced with a choice between an alleged adulterer and an admitted one. Even before Cain dropped out, Iowa polls showed that they'd chosen, apparently, the admitted one, with ancient Israel's King David as the inspiration: David, the Old Testament tells us, committed adultery with Bathsheba and then sent her husband off to be killed on the battlefield. And yet David somehow piled up enough religious regard that Jesus had to trace his lineage back to him in order to be entirely legitimate as the Messiah. So David lets Newt rise in the Evangelical polls, adultery notwithstanding.
Amazing. Breathtaking.
(Even stranger, the Christian religion, having gone to such pains to establish Jesus as a descendant of David, throws the whole lineage question into a quandry by saying he was born of a virgin who was impregnated by the Almighty; hence Jesus cannot have the supposed natural father, Joseph, of the House of David.)
SUCH WHOLESALE MONKEYSHINES make politicians perfect targets for cartoonists, as you can readily see nearby.
You may wish to print out these three visual aides in order to have them ready to inspect as we discuss their numerous nuances.
At the upper left of the first of this month's survey of effective editoons, we have a powerful (because ludicrous and accurate) image invented by Bill Day: his memorable emblem of the extremely conservative branch of the Republican Party, the "right wing nut." He's used this laudably laughable image before, but this time, the emblem gets all the spotlight to himself and his campaign buttons.
And he deserves the attention. It could have been a caricature of the even more deserving Jon Kyl, the GOP senator from Arizona who effectively sabotaged the super committee, saith Dana Milbank at the Washington Post. Not only did he adamantly refuse to compromise with Democrats on raising taxes, but he cowed his fellow Repubs on the panel by repeatedly invoking the Grover Norquist threat—to publicize in their home districts any lapse in orthodoxy by any Grandstanding Obstructionist Pachyderm who seemed ready to withdraw his signature from Norquist's infamous pledge not to raise taxes—smothering in its crib any impulse among his fellow Republican super committee members to compromise.
But Kyl is perhaps too grim for cartooning: he's "walking napalm" according to one Democrat's aide. It's much better to try to laugh these guys out of power than to take them seriously; if we took them seriously, we'd have to visit their homes late at night with home-made nooses in hand.
And laughter is what Brian Fairrington is aiming at in our next example, going clockwise. It is an ascertainable fact that many of the Right Wing Nuts who fear the Mormon influence on Romney have some fairly unorthodox religious views themselves, and Fairrington's talking snake makes the point here. With equally persuasive logic, Fairrington could have cited Christian notions about drinking blood and eating flesh as being as extreme as Mormon magic underwear, but had he done that, he would have been ridiculing such a huge segment of American society that his attack on anti-Mormon bigotry would have been lost—the laughter forfeit and his point suppressed in the ensuing furor.
Next in the clockwise rotation, we have Steve Sack's stunning metaphor for the GOP governing strategy, the chief reason that Congress has failed to pass anything remotely resembling a jobs bill. Or any other legislation that Barack Obama could point to as a sign of his effectiveness. Come election time, the GOP plan won't work: Obama has simply been too effective in too many niches of the government. But with Sack's cartoon at hand, we have a clear reminder of just why the Republican-controlled Congress is so devotedly do-nothing.
Finally, here's Steve Benson celebrating the withdrawal from presidential politics of the most laughable of all the cockamamie Republican candidates. Too bad, though: as Benson laments, Sarah the Palin was always good for a cartoon, a sure-fire laugh-getter.
IN OUR NEXT QUARTET OF CARTOONS, starting at the upper left, we offer several more instances of editoonists never flagging effort to ridicule the GOP out of power. John Darkow's image reveals just how Congress's loony buffoonery is another in an elongated series of distractions the result of which is to tempt us into ignoring the actual plight of actual Americans. (There are thousands of children in homeless families who go to bed hungry in the richest nation on earth! One out of five! Unthinkable! How is this possible? Go back to Steve Sack's cartoon.) Joe Heller's take on the God motto (which I haven't included because I'm trying to cut back to one cartoon per issue) also invoked joblessness in celebrating Congress's re-affirmation of the motto. In Heller's cartoon, Congress is shown trusting in God to solve the jobs crisis.
The God motto, by the way, was not part of this country's Founding Mythology. It was not formally adopted until 1956 when Congress legislated it into lasting immortality. Two years before, "under God" had been insinuated into the Pledge of Allegiance. In those years, facing the godless communists of the Soviet Union, various of our political leaders sought to carry on the war on a variety of battlefields. God had been first installed on coins in 1864 at the urging of Lincoln's Secretary of Treasury Salmon P. Chase, probably in recognition of the increased religious sentiment hovering over the Civil War (although he discovered an Act of Congress in 1837 that "prescribed the mottoes and devices that should be placed upon the coins of the United States")
David Fitzsimmons, next on the clock, found an effective way to show how impractical the Balance the Budget Amendment is. (On the other hand, as I've said before, if we had a Balanced Budget Amendment, we probably wouldn't have invaded Afghanistan in 2001, let alone Iraq.) Matt Wuerker's image successfully persuades us that once the GOP has sunk Obama's ship of state, they'll be commanding a sunken ship. With the next cartoon, Mike Keefe's image addressing the Penn State scandal, we move decisively away from the fatuous fumblings of the GOP. Keefe may be the only cartoonist commenting on this shameful episode who focused on the real tragedy.
As we noted earlier in this Opus, this cartoon of Keefe's was picked up and run in papers across the country. After seeing it in the Washington Post, one reader remarked: "My initial reaction was one of amazement that a drawing with so few words could say so much about the misguided priorities of so many. Then, looking again at the drawing, I began crying and had to put the paper down. It brought back to me my experience as a victim of rape and the inaction of bystanders."
Amid the initial reports of the arrest of Jerry Sandusky, former assistant to Penn State's legendary head football coach, "JoePa," were more than one demurer seeking to salvage Paterno's reputation by noting that he'd done his duty: he'd notified his superior in the university's bureaucratic hierarchy. A sainted father figure whose bronze image stands outside the football stadium, Paterno, 84, had escaped legal liability, but his reputation for moral leadership is in tatters.
I, too, thought at first that the firing of a man with Paterno's reputation was extreme. Not only is he the winningest major college football coach in the history of the game (with 409 wins), but his players usually graduate (no small achievement among athletes at major colleges) and his leadership over the 45 years as head coach (62 counting his years as assistant coach) was of a distinctly high moral character. Paterno wrote of his obligation as a teacher in his 1989 autobiography, claiming for coaches "more [than ordinary teachers] moral and life-shaping influence over our players than anyone else outside of their families." And Paterno seemed to wield moral influence better than most. Until Sandusky came along.
University officials had been urging Paterno to retire for several years; now, they had an excuse to compel his retirement. And they took it: they fired him.
At first, I was angered as well as saddened by Paterno's firing: for all he had done for his institution and the young men in his charge, surely, I thought, he deserved to a dignified departure. But then reports began recording a litany of sexual shenanigans.
Sandusky, it seems, has been at it for a long time: he was first reported groping a boy in a shower in 1998. A report was filed with the campus police, and Sandusky was allowed to retire, but he continued to have access to university facilities—and to young boys, through a youth outreach program that is now being seen as a ruse by which Sandusky recruited sexual victims.
Then in 2000, a Penn State janitor reported seeing Sandusky performing oral sex on a boy. Next, in 2002, assistant coach Mike McQueary told a grand jury he'd caught Sandusky anally raping a ten-year-old boy in the showers. This incident is the one Paterno reported, but he claims he didn't know it was rape. Just foolin' around, I suppose.
In 2007, Sandusky victimized yet another boy, a outrage that might have been prevented had Sandusky been more aggressively dealt with after the 2002 incident.
Still, shouldn't Paterno be given some benefit of doubt? Maybe he was too busy to think seriously about Sandusky's peccadilloes. He had many other things to think about, many more good deeds and influences to wield. And then I read Buzz Bissinger's piece in Newsweek for November 21. Bissinger interviewed former Oklahoma head football coach Barry Switzer, who does not buy the explanation that none of the Penn State coaching staff knew about Sandusky. Said Switzer:
"Having been in this profession a long time and knowing how close coaching staffs are, I knew that this was a secret that was kept secret. Everyone on that staff had to have known, the ones that had been around for a long time."
So Paterno and the rest chose to keep silent, presumably to protect the sacrosanct Penn State football program, to protect the brand rather than the kids Sandusky was escorting to the showers.
Now, the firing of Paterno and of the Penn State president made sense. And the sexual predations of Sandusky revealed the greater calamity: that university football programs are so important to their institutions that they hold sway over all other considerations. Wrote Bissinger: "There must be changes to control the monster that college sports have become."
Well, yes. But we've been there before. The monster has been no secret agent: we've known for years about his malevolent influence. And yet, despite repeated revelations, we've done nothing.
Keefe's cartoon doesn't embrace all of these issues, but it focuses on the heart of the matter: the welfare of the young, whether in showers or on the football field.
ON OUR FINAL PAGE of current editoons, we begin at the upper left with Pat Bagley's imagery explaining why the Occupy legions are unhappy with Wall Street—big, fat bloated financier trampling on people's houses and threatening to choke the life out of a poor citizen, shown in miniature as a way of dramatizing our ineffectiveness in combating the bloated fat guy. Next around the clock, Steve Sack provides an even more dramatic image justifying Occupy anger. With the next example, Tim Eagan takes us away from the distractions of camping out in public areas in the cold of the approaching winter, giving us a succession of vignettes that reflect the mendacities of the new decade. The progression of the images, unrelated in themselves, pile up to an indictment of our inability as a society to see things as they are. Finally, here's Adam Zyglis with a metaphorical reminder of the looming disaster at the Postal Service, threatened memorably by a mouse.
PERSIFLAGE AND FURBELOWS
Dined with friends at the Cheeky Monk, and after a couple tankards of good Belgian ale, I decided that the adjective in the name of the place alluded not to the British expression meaning "impudent" (as most people suppose) but to the erroneously (but persistently) alleged sexual proclivities of men who choose to spend their lives exclusively in the company of other men—i.e., monks. Among the monastic sodomites, the "cheeks" of the nether regions presumably constitute a kind of sex appeal, so a cheeky monk is a sex object not an impudent cleric. It was the beer speaking, of course; one should never talk while drinking.
THE SPOUSE LIST: PART ONE
We begin with this installment of Rancid Raves our anyule list of books you might want to pass along to your spouse by way of suggesting gifts that he/she could buy you for Christmas. Some of the ensuing reviews are quite short because sometimes this department works like a visit to the bookstore. When you browse in a bookstore, you don't critique books. You don't even read books: you pick up one, riffle its pages, and stop here and there to look at whatever has momentarily attracted your eye. You may read the first page or glance through the table of contents. All of that is what we sometimes do here, starting with—:
Pogo: Through the Wild Blue Wonder
The Complete Syndicated Comic Strips, Volume 1
(1949-1950, plus the New York Star's Pogo)
By Walt Kelly
308 9x11-inch landscape pages, b/w dailies and color Sundays; Fantagraphics, $39.99
THE LONG AWAITED POGO REPRINT project is, at long last, afloat. We've been waiting for several years since Fantagraphics first announced it; it took a long time, editors Kim Thompson and Carolyn Kelly tell us in the prefatory Note, because they were looking for perfect copies of the strip from which to reproduce this invaluable tome. And if this inaugural volume is not perfect (and it comes terrifyingly close), it is, not to mince words, gorgeous.
If you need to know why a Pogo reprint is An Event—which means you have just arrived from another planet and aren't aware of Walt Kelly's consummate cartooning genius (and if that's you, how did you find your way to this website?)—take a moment and visit Harv's Hindsight for December 2002, where we rehearse the history of the medium's most revered exemplar. But before I fire off more superlatives, I need to remind you that I am a long-time paid contributor to Fantagraphics oeuvre, and I am a participant in the Pogo project. I wrote introductions to Fantagraphics' earlier Pogo reprints (11 volumes, published periodically from July 1992 to June 2000, taking the strip through February 12, 1954), and I contributed to the volume at hand an appendix that explains the numerous contemporary references in the strip that, now—60 years later—are probably lost in the mists of antiquity.
The reprinted strips in this volume fall into three sections: the syndicated daily strips from May 16, 1949 through December 30, 1950; the never-before-reprinted Sundays (in blazing color) from the beginning on January 29, 1950 through December 31, 1950; and the daily strips from the New York Star, Pogo's earliest newspaper incarnation, October 4, 1948 - January 28, 1949. The Sundays appear one to a page; the dailies, three to a page, each measuring 2 1/4 x 8 inches, giant-size by today's standards; not ample, I suppose, but at least adequate for displaying Kelly's often intricately decorative drawings.
The Introduction by life-long Kelly scholar Steve Thompson outlines the cartoonist's life and rehearses some of the highlights in the strip's run. I have been perusing Pogo and other Kelly works for almost as long, and I still learned things from Thompson's essay. F'instance, Kelly had a smattering of short-term jobs between his graduation from high school and his producing a comic strip biography of P.T. Barnum for the Bridgeport Post. I didn't know Kelly admired Edward Lear—although I should have guessed since Kelly conjured up nonsense poetry as adroitly as Lear.
Kelly managed to keep ownership of his Pogo menagerie when he left Western (Dell) and the funnybook vehicle in which the swampland was born, Animal Comics. But he had to surrender the copyright to Hall Syndicate when Pogo went into national syndication. He regained the copyright late in 1951, after strenuous lobbying, which included his refusing to sign his name to the strip in the fall of 1951. Thompson confirms my speculation (in Volume 7 of the previous series) that the goofy names Kelly signed to the strip then—Hurty Gurdee, Orville Yonder, Wart Kerky and the like—were the cartoonist's way of protesting against not owning his copyright. If he didn't own it, why sign his name to it?
Among the highlights Thompson mentions is Pogo's 1966 sojourn in Prehysteria: Pogo, Albert and Churchy find themselves for most of the year in a prehistoric region where cuddly people live in the desert with animals and dinosaurs. Thompson, like most Kelly fans, sees this celebrated sequence as Kelly's homage to T.S. Sullivant, whose talking animals and cave dwellers and Biblical personages enlivened the pages of the old Life humor magazine (roughly, 1890 to 1926, when Sullivant died). Kelly was giving himself a vacation, it is said. And I agree. But why?
My guess is that Kelly took himself and a few of his cast to a prehistoric era in order to escape from doing political satire. By 1966, Pogo fans expected political satire in the strip, but I think Kelly had lost his taste for it after John F. Kennedy was assassinated in November 1963. Kelly was a big admirer of Kennedy, and I think Kennedy's death dashed his hopes for the well being of the nation. Lyndon Baines Johnson was no John F. Kennedy, and, watching the humorless Texan try to steer the ship of state, Kelly must've felt the loss of JFK even more keenly. The emergence of a powerful political Right in Barry Goldwater's nomination as the Republican candidate for President would have added to Kelly's discontent.
Although Goldwater was thoroughly trounced in the 1964 election, Kelly was political observer acute enough to realize that extreme conservatism was undergoing a resurgence, and that realization was doubtless dispiriting. Under the circumstances, doing political satire would have been a burden not a relief. And so after fighting the good fight for a few post-Kennedy years, Kelly gave himself a psychic vacation, going to a distant time and place where contemporary politics held no sway.
After a year's respite, Kelly was ready to rejoin the satirical battle, and he brought LBJ into the strip's prehistoric landscape as a centaur with a cowboy hat. Prehysteria, it turns out, was probably the Australian outback— if we are to judge from the accents of the two bush pilots who take Pogo, Albert and Churchy back to the swamp.
Thompson's essay suffers from a repeated idiotic typographical error—a computer glitch, I'd say, that results in a failure to space between [sic] twowords (like that). And Thompson stumbles factually once: Kelly received from the National Cartoonists Society the Billy DeBeck Award (later the Reuben, as Thompson notes) in 1952 for "cartoonist of the year" 1951, not for "best comic strip." Oddly, Kelly was never awarded the division trophy for "best comic strip."
And, just to add a name to the roster of those who kept Pogo going after Kelly's death, Bill Vaughan, a humor columnist at the Kansas City Star, was on the list for a time. He died 1977, two years after Pogo was discontinued.
Jimmy Breslin, one of Kelly's drinking buddies, supplies a short but heartfelt nostalgic Foreword, and Mark Evanier offers a preface to the Sunday strips, describing the peculiarities of the form and appreciating Kelly's mastery of color.
The book's extras include a Table of Contents that is an extended annotation, describing the action in the strip, week by week—a sort of guide to the content. But the best of the book's bonuses is the occasional spot illustration reproduced from original art. Kelly penciled in light blue, known as "non-photo blue" because when the artwork is photographed for black-and-white reproduction, the blue lines disappear. But when shot for "color" reproduction—as is the case here—the light blue lines are retained, and they add a softening, modeling dimension to the drawings (one of which is a hitherto unpublished sketch of a Skippy-like boy done in the early 1930s).
It's a gorgeous book, as I said. And if you want to know why Walt Kelly enjoys universally a high regard among cartoonists and fans of Pogo, this book is a good place to begin to learn the reasons. (Not, as you may have noticed, one of our shorter reviews.)
Caniff: A Visual Biography
Edited by Dean Mullaney
324 giant 11x11-inch pages, b/w and color; IDW's Library of American Comics, hardcover, $49.99
ANOTHER GORGEOUS BOOK, this one purports to be "the definitive visual biography of one of the most revered artists of the American 20th century." But the word "biography" isn't quite accurate: if this were a visual biography of Milton Caniff, it would consist largely of photographs or drawings of Caniff. And it isn't that. It is, however, a book of Caniff art, and a better title might be simply Caniff Art. But that's a quibble of the nitpicky sort that critics so frequently indulge in, chiefly to establish their bonafides as astute critics. Readers must be ever on the alert for manifestations of this kind of self-indulgence, which, as I say, critics commit at the drop of a tertium quid. The alert reader must ask him/herself: Does this critical observation—this astute borborygmus, this nefandous mussitation—serve to deplete in some substantive way the essential worth of the work at hand? Or not? If, as in the case of my arrogant phrontistery, the fustigation has absolutely nothing to do with the basic content of the matter under examination, it should be bulldozed aside as quickly as possible so that the scarified artifact can be otherwise appreciated. Having now absolved myself of the sin of showing off, I can go on to tell you about this gorgeous book.
In researching the IDW Terry and the Pirates reprint volumes, Mullaney and his cohort Bruce Canwell spent hours pawing through Caniff artwork and records at Ohio State University's Billy Ireland Cartoon Library & Museum, marveling at the artistry of the pictures and lusting to produce a book collection of the more spectacular imagery in the archive. This is that book.
Most of the pictures in this tome, I've seen before during my own OSU research for Meanwhile: A Biography of Milton Caniff. I included therein some of what I pawed through, but my book was planned as a work of prose not a picture book. Many of the pictures I admired, I had to leave out of my book; others that I included were necessarily printed too small. Many in both categories are now given generous display in this excellent book. (I was surprised, however, when, last night, I thumbed through Meanwhile and found that I'd rescued more fugitive visuals than I'd remembered; in the IDW tome, some of these erstwhile obscure images are given the display they deserve but that I could not afford them in my book.)
The best parts of the book are those that offer pictures of Caniff's extracurricular efforts while producing Terry and the Pirates—paintings of Pat Ryan and other such images.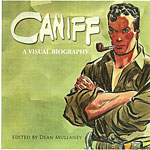 (The picture of Pat Ryan on the cover of the book is part of a series of paintings of Terry characters, but only two of the others appear herein; puzzling. Not Burma, f'instance.) Watercolored color guides of Sunday strips, promotional drawings for various purposes (not just the strip but charities and worthy causes), character sketches, insignia for military units, and the like—plus drawings and illustrations Caniff did while in the art department of the Columbus Dispatch, where he worked his way through OSU, and pictures he made while in the New York offices of the Associated Press, his first career stop after leaving Columbus, Ohio. The latter includes a sampling of the cartoon features he did for AP (Mister Gilfeather, The Gay Thirties, Puffy the Pig, and the comic strip Dickie Dare) as well as illustrations he did to accompany syndicated fiction distributed by AP. The book also samples illustrations for books and special visual reportage Caniff did when he visited London and Tokyo.
Amid high quality reproductions of original art are copies of yellowed newspaper clippings of pictures Caniff did for newspapers to use in publicizing the strip, some pages from his fraternity's magazine for which the cartoonist did drawings at frequent intervals, and so on. Caniff did more "special" art (drawings outside the borders of the strips he did) than just about any cartoonist I know of. All his life—even in the years of Steve Canyon's fading popularity—he did promotional drawings of the new characters he was introducing into the strip and sent them out to client papers, hoping they'd publish them to stimulate readership. In the later years, I doubt any of these were ever used by client papers. But some of them are in this volume.
But the bulk of the book is devoted to sampling various landmark stories from Terry, Steve Canyon and Caniff's wartime effort to bolster the troops' morale, Male Call (starring the toothsome Miss Lace): the Terry sequence introducing Burma, the blonde bombshell of the Far East, for instance; Big Stoop's rage when he recognizes the Dragon Lady as the person who ordered his tongue cut out; the death of Raven Sherman. But not the Dragon Lady's ringing declaration of guerilla warfare against the invading Japanese in World War II (and her consequent abandonment of piracy for the duration). Flip Corkin's trenchant patriotic speech to Terry when the youth qualifies as a pilot, but not Pat Ryan kissing the Dragon Lady (and her kissing back). Not Hotshot Charlie's arrival in the strip—with a marching band ushering him in.
Also included are samples of the predecessor to Male Call, the "Burma strips" in which Terry's Burma played the role that was subsequently inherited by Miss Lace when newspapers subscribing to Terry objected to its characters appearing in military newspapers within their circulation area. The first Steve Canyon Sunday strip is here but, strangely, not the preceding week of dailies that so artfully set up for the Sunday. Nor the stunning color sketch of Canyon and Copper Calhoun done to promote the strip in Coronet magazine in the spring of the strip's debut.
It probably goes without saying that all of the "no shows" I'm noting here can be found in my book. Shameless plug, I realize. But let me even things up. Mullaney includes a Caniff painting of Clinton D. Vincent, who was eventually the second youngest Air Force general and who was with Claire Chennault's Flying Tigers in Western China in WWII; Vincent shows up Terry as Vince Casey and in Steve Canyon as General "Shanty" Town. In a futile attempt to reduce the number of pages in my book, I excised the whole story of how Caniff came to meet Vincent. One of these days, I'll post it at The Comics Journal website.
Most of these strips are reproduced from syndicate proofs, and some of those, alas, are not of the highest quality—particularly those from late in Steve Canyon's run. But Steve Canyon years, although longer than Terry's, get relatively short shrift in the book. Too bad, but Caniff's signal achievements as a cartoonist and artist took place before the 1950s, so the emphasis of this "art book" is correctly skewed.
I could go on, of course, but listing the book's contents (or its forgivable omissions) is not the point here. The point is that this volume is a perfect accompaniment for my biography: if you have one, you must have the other. So dash right out and be the first on your block to own them.
It Was the War of the Trenches
By Jacques Tardi
126 8x10.5-inch pages, b/w; 2010 Fantagraphics hardcover, $24.99
TARDI'S WAR BOOK is not a graphic novel in the usual sense of a "novel," a continuous narrative with a recurring cast of characters. It is, rather, a series of short stories and vignettes. As Tardi says in the Foreword: "[This book] is not the work of an 'historian.' This is not the history of the First World War told in comics form, but a non-chronological sequence of situations, lived by men who have been jerked around and dragged through the mud, clearly unhappy to find themselves in this place, whose only wish is to stay alive for just one more hour, whose over-arching desire is to return home—in one word, for the war to be over! There are no 'heroes,' there is no 'protagonist' in this awful collective 'adventure' that is war. Nothing but a gigantic, anonymous scream of agony."
Tardi calls the Great War, his ostensible subject, "that gaping wound in Europe's history from which has sprung seemingly every horror that has afflicted us since." This book has taken longer to complete than any of his other 30-plus graphic novels. It started in 1982 with a few pages in a French comics anthology, continued two years later with more pages in another book but was then abandoned for nearly ten years. Completed in 1993, it has taken until last year to reach an English language version.
Tardi pulls no punches. Deploying a gritty black-and-white graphic treatment, he depicts the horrors of war—the grisly deaths, the soldiers' bitterness and disillusionment, the patriotic jingoism, the mass hatreds—with a towering revulsion. In each vignette, we meet a new protagonist whose fate underscores Tardi's message. Binet is a youngster playing soldier; he's killed before he can grow up. Gaspard, the killer of rats for bounty, is eaten by his prey. Soufflot infects his arm, and when it is amputated, he achieves his objective: he is discharged but can no longer find work at his pre-war occupation. Huet must kill women and children in the line of duty and goes mad. Bouvrenuil is wounded in an open stretch of the battlefield and screams in excruciating pain, but his comrades can't get to him, so they kill him as an act of mercy.
Another soldier, who falls into a trench and ends up wrist deep in a dead German's entrails, speculates: "I thought about what an amazing amount of plumbing a man carries around in his belly, and how fragile the envelope that protects it all is. Our bodies really hadn't been created to withstand the barrage of metal that's being flung at us." Then he encounters a soldier sitting in a trench with a wound that spills his guts out; hopeless, he explodes a hand grenade to kill himself. Other stories offer the bitter irony of men dying just as they are about to go on leave—or just as the war ends.
World War I is the first European conflict modernized by horribly efficient killing devices, and it was fought from trenches, employing suicidal tactics: opposing sides periodically left their relatively safe (although squalid) trenches to dash across the open land between the hidey holes and are mowed down by machine guns. With meticulous linework and atmospheric gray tones, Tardi reveals the miserable conditions, blood and guts and gore, in gritty detail. These stories—these situations—will make you sick. And they should.
The Complete Little Orphan Annie: Volume 7, 1936-38
The Omnipotent Mr. Am
By Harold Gray, Edited by Dean Mullaney
296 8.5x11-inch landscape pages, b/w dailies and color Sundays; IDW hardcover, $49.99
REPRINTING from October 1, 1936 to June 8, 1938, this volume of IDW's massive Library of American Comics includes the most fantastical Annie adventure of all—her visit, squired by her fabulously wealthy stepfather Oliver "Daddy" Warbucks, to the jungle hideout of Mr. Am, an other-worldly being with a Santa Claus beard who seems to have lived forever (and may, in fact, be God Himself). But the other historic event in these pages is the arrival of Warbucks' second trouble-shooter, the Asp (dubbed "the Grim Reaper"), who on February 21, 1937, joins Punjab as the most trusted of Warbucks' bodyguards. Punjab "disappears" Warbucks' most unsavory enemies by throwing a magic rug over them; the Asp just uses old-fashioned firearms.
Jeet Heer's introductory essay offers a short history of another comic strip with which Annie's Harold Gray has long be associated: Little Joe, set in the modern American West, started October 1, 1933, as one of several new strips in the expanded Chicago Tribune Sunday funnies. Although signed by Edwin Leffingwell, Gray's assistant, the strip, Heer maintains, was Gray's concoction entirely: starring a teenage cowboy, Little Joe revived an early strip idea Gray'd toyed with before Annie began. The 1933 revival was due, Heer argues persuasively, to Gray's desire to frustrate two people with whom he and Dick Tracy's Chester Gould had a bone to pick. The first of these personages was Norman Marsh, once a friend of Gould's, who earlier that year had launched a rank copy-cat detective strip, Dan Dunn. The other offender was Arthur Crawford, the ostensible head of the Tribune Syndicate (distributor of both Annie and Tracy), who was sponsoring a western-themed strip submitted by Marsh for the new expanded Sunday Trib. When Little Joe was selected, both Marsh and Crawford were deflated—which was Gray's objective.
Ed Leffingwell died in 1936, and his brother's name then appeared on Little Joe. But Heer thinks Robert Leffingwell probably didn't draw it; probably Gray did. And Little Joe, from the beginning, was rendered in Gray's distinctive manner. Be that as it may (and I believe Heer, who interviewed Leffingwell's nephew and supplies pencil sketches from Gray's notebook), this volume of the IDW Annie project is a treasure and a continuing testament to the comic strip genius of Harold Gray.
Comics Buyer's Guide Presents: 100 Sexiest Women of Comics
Edited by Brent Frankenhoff
64 8x11-inch pages, color; Krause Publications paperback, $8.99
AS YOU CAN READILY TELL from the visual aid accompanying this notation, this is a book of pin-ups. The surprise is that it is produced by CBG, the most family-focused of fandom's publications (i.e., fully-clothed, staid). Not only is this an un-staid book, but it begs disputation. The ladies on display here include the usual crop of the scantily clad basket-ball boobed —Red Sonja, Vampirella, Torchy, Little Annie Fanny, Sheena, Will Eisner's P'Gell, Sand Seref, Silk Satin; Valkyrie (the Dave Stevens version), the stupendously pendulous Lady Death, Black Cat (by the inimitable Dodsons), Black Canary, She-Hulk, Power Girl, and Wonder Woman.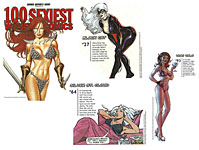 But also in the muster are such dubious choices as Neil Gaiman's flat-chested Death, Shadow Lass, Silk Spectre, Fury (daughter of Wonder Woman and Steve Trevor, not Tarpe Mills' character), Triplicate Girl, Light Lass, Jaka, Ramona Flowers, Lori Lemaris (Superman's mermaid love interest), Patsy Walker, and a flock of Dan DeCarlo's toothsome teenagers (Betty Cooper, Veronica, Josie, and Cheryl Blossom but, unaccountably, not the sexiest of his creations, My Friend Irma).
Frankenhoff and his minions have also overlooked several hot candidates from the Golden Age. They've included Phantom Lady (in her earliest costume, the most demure of her wardrobe with scarcely any neckline at all), but they've left out many of Matt Baker's most stunning delineations—Senorita Rio, Flamingo, Tiger Girl, Sky Girl (whose dress was always flying up to her waist, displaying her shapely gams), Canteen Kate—not to mention Lee Elias' Black Cat, Bob Powell's Cave Girl, John Cassone's Black Angel (in skin tight Black Widowy garb), Bob Lubbers' Firehair, and Tarpe Mills' Fury to name a few. All of whom appear in Ron Goulart's Good Girl Art (briefly reviewed next).
Of the more recent heroines with hour-glass figures, Dave Stevens' Betty from his Rocketeer doesn't appear; neither do any of Howard Chaykin's lascivious ladies from American Flagg or Black Kiss or Chuck Austen's Strips, Jordi Bernet's Betty by the Hour, Armando Huerta's Double Impact Hot Shots or any of Frank Thorne's post-Sonja wimmin, Lann, Danger Rangerette, Moonshine McJugs, or Ghita. Nor does Wally Wood's Sally Forth, Mike Vosburg's Lori Lovecraft, John Byrne's Babe, John Lomax's voluptuous femmes from Case Morgan, Guy Colwell's peculiar Doll, Dennis Mallonee's Flare (who dramatizes ever adolescent's wet dream by popping out of her bodice whenever she makes the slightest exertion), Barbarella, and none of J. Scott Campbell's spectacular Danger Girls.
The CBG tome culls only from funnybooks, it seems, which means some of the most storied of the curvaceous gender from newspaper comic strips have simply been disqualified:
Milton Caniff's Burma and Dragon Lady from Terry, Miss Lace from his wartime Male Call, and Delta and Miss Lynx (whose cleavage inspires) and Miss Mizzou (whose nudity is never seen) from Steve Canyon; Al Capp's Daisy Mae and, even more astounding, Moonbeam McSwine; Edgar Martin's nicely rounded Boots from Boots and Her Buddies; Russell Patterson's ever statuesque Mamie. None of Alex Raymond's high fashion beauties from Flash Gordon (where their costuming was often abbreviated), Jungle Jim, or Rip Kirby; Harold Foster's Aleta from Prince Valiant, Norman Pett's British Jane, Dale Messick's Brenda Starr; Eve Jones from Stan Drake's Heart of Juliet Jones; the pneumatic Dinah from Ray Gotto's Ozark Ike, and none of the purely delicious women from R.B. Fuller's Oaky Doaks (whose feminine forms are said to have inspired Dan DeCarlo). And not one of the sumptuous leggy women of Don Flowers, who, with his graceful lyric line, could teach us all how to do it. (Flowers' kittenish cuties, famous for faces and architectural rather than mountainous torsos as well as curvaceous legs, are the subject of a single volume, Don Flowers, collected and edited by femme fancier Alex Chun and designed by Jacob Covey; one of the Fantagraphics series alluded to on down the scroll.)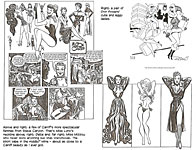 Perhaps the most mind-boggling of CBG's omissions are those penned into fulsome glory by Frank Cho, whose ladies have appeared both in the funnies and in funnybooks.
But you can't have everything, I suppose. Disputation, though—you can have disputation, as above. We may not be content with the 100 to be found on exhibit in this book, but we enjoy them nevertheless.
Our concluding array (just within eyeshot) offers two more glimpses into the CBG book (both of the warrior lady in the tin bikini) after which we ease into a couple pictures from Ron Goulart's tumescent tome (reviewed next in line) then Matt Baker's Sky Girl's airborne hemline, a preview of my own book's content, finishing with a stupendous ironic oddity from the most recent (November) issue of Previews in which the seeming prudery of propriety impinges not at all upon the near pornography of some promotional cover images.
Good Girl Art
By Ron Goulart
176 9x12-inch pages, color; Hermes hardcover, $49.99
THIS IS A 2007 BOOK but since the eternal feminine is forever (thanks to Goethe), this volume will never be out of date. For the serious (or merely idle) historian, the tome's appeal is that has text in paragraphs, pages of it, not just the labeling captions that CBG supplies (its book being chiefly for oglers rather than historians). Goulart begins by noting that the term "Good Girl Art" was "coined in the mail order catalogs of the American Comic Book Company" and didn't come into use "among fans, collectors, and dealers until a few decades ago."
Goulart, who, at one time in the not-so-distant-past, produced a book about comics every other year or so, divides this tome into fourteen chapters, each of which is devoted to one phenomenon of Good Girl Art. He begins with Golden Age embonpoint and continues through Charles Biro's gun molls in tight shirts, then the Phantom Lady and her peek-a-boo blouse, Lee Elias' agile Black Cat, jungle girls in their furry scanties, EC ecdysiasts, heroines and Riverdale dwellers, finishing up with Dave Stevens, some Adam Hughes' covers, Frank Cho's Shanna the She-Devil and Vampirella.
The illustrations, of which there are a satisfying sufficiency, are not pin-ups as in the CBG volume: as you've doubtless observed already, Goulart's pictures are pages from the GGA books themselves, and he occasionally resorts to original art. Good Girl Art is a genuine historical glimpse into a fondly recalled past.
The Pin-Up Art of Humorama
Edited by Alex Chun and designed by Jacob Covey
216 6x8-inch pages, b/w with color accents; Fantagraphics paperback, $19.99
CHUN AND COVEY have culled from the pages of Humorama magazines the contents of four other digest-sized books like the title above, one devoted to each of the publisher's stellar attractions—Bill Ward's protrusive voluptuaries, Bill Wenzel's Rubenesque "innocently bawdy beauties," and two volumes of Dan DeCarlo's unconsciously seductive grown up and out versions of Betty and Veronica. The volume under our microscope here is a sort of grand finale that collects more of the work of the aforementioned, plus the carefree raunch of such luminaries as Jefferson Machamer, Dave Berg, and Bill Kresse and that of many others whose names don't ring the chimes of memory right away— Gene Priscilla, f'instance; and a few known only by their last names (Kremos, Censhaw, Sutton, Homer, Andrews, Jake—Playboy's Jack Cole before he was Playboy's—Hamilton, Camill, at least one that looks like the work of Eldon Dedini (signed "Brutus," a pen-name he may have adopted because he was under contract at Esquire), Rayon, Kirk, Gregory and so on into pseudonymic bliss. But no lewd ladies of mine.
Not that I expect to find any of mine in this book. I sold only one cartoon to Humorama, although I visited its headquarters more than once during the weeks in the late 1950s that I tripped the light fantastic on the sidewalks of New York, going every Wednesday ("Look Day") from one magazine's offices to another's, starting at the highest-paying publisher and working down to the five-buck skinflints. I usually didn't get to Humorama until late in the day. Bill Ward could make a living on $5/cartoon because Humorama's chief, Abe Goodman (brother of Martin Goodman at Marvel Comics), bought 30-40 a month.
The world headquarters of Humorama, which published a steady stream of little square-back books with unforgettable titles (Comedy, Laugh Riot, Breezy, Gaze, Zip, Joker, Jest, Stare), was, if my memory serves (a dubious proposition now that I'm in my dotage), one crowded room. No receptionist. You opened the door and walked right into the pulsing heart of the behemoth of bosoms and buttocks. The room was outfitted with 2-3 desks, all of which were piled high with paper. In his helpful Introduction, Chun says Goodman was reputed to be the largest buyer of cartoons in the world (at his paltry rates, he could well afford to be), and the piles on the desks included stacks of cartoons as well as photographs (he published slightly risque cheesecake) and foolscap upon which were typed hundreds of bad jokes and sexy verses, the non-visual content of the Humorama line.
Chun has been studying Humorama for years, and his scholarship shows. Cole's signature "Jake" is his wife's nickname for him. Kremos is the pen name of Italian cartoonist Niso Ramponi, and Jim Mooney signed his cartoons with a crescent moon embracing a final "e." Humorama began in 1938 "as PG-13," Chun reports, but "they ended as a hard R. Reflecting the times, the charm, innocence and bathing beauties of the 1950s gave way to free love and topless photos and cartoons of the 1960s. By the 1970s, Humorama ... often featured photos portraying full frontal nudity. By the 1980s, however, Humorama was pushed completely out of the marketplace by blatant hardcore fare" available on newsstands everywhere.
The cartoons in the book at hand include occasional nudity, a plentitude of colossal bosoms, and often awkward poses that are clumsily constructed to display the bimbos' butts and boobs and thighs above the stockings. Many are infused with the voyeuristic spirit of looking up girls' dresses. Some of the pictures are shot from original art that bears editorial comments in the margins, and sometimes cartoons appear without captions. Jokeless. But who needs captions? This is a "pin-up art" book, not a compilation of cartoons. Delicious.
Not Just Another Pretty Face: The Confessions and Confections of a Girlie Cartoonist
By R.C. Harvey
136 8x11-inch pages, b/w; Aeon paperback, $23
OKAY, THIS IS MY OWN BOOK, published in 1996 and now out-of-print and available only through me (and it's not advertised on this website, so the only way to get one is to write me via the e-mail mechanism at the very end of this opus, just below the drawing of me and Cahoots). The book reprints many of the girlie cartoons I drew and (and some that I sold) in the late 1970s; lots of them unpublished anywhere else in the known universe. Also included are cartoons from my so-called college career, several highly theoretical essays on lust and the girlie cartoon, and the entire run of Leda's Ugly Duck (19 pages), a comicbooky strip I drew for several issues of Dugent magazine.
| | |
| --- | --- |
| | |
As any devotee of Hans Christian Anderson can tell, the duck of the title is actually a swan, and Leda is that Greek mythological bimbo who hung out with swans and cranes, who may be birds of a feather but who seem to have nothing else in common but a dependence upon bodies of water for their livelihood. But Leda's preference for these long-necked and/or long-beaked species reveals a meaning fraught with significance for her escapades: it bespeaks a Freudian affinity for phallic symbols that gives archetypal resonance to the otherwise one-dimensional romps in which her figure is so much in evidence as to be altogether figurative (so to speak).
Apart from such occasional effusions of erudition as the foregoing, the book is full of pictures of barenekkidwimmin, lewd but comical.
The book was priced at $15 when first published, but since there are no more available anywhere, it is now scarce—ergo, a rare book; and for that reason, I've jacked the price up another eight bucks (but the price, $23, now includes p&h).
By the way, if you're looking for more incidental HarvCartoons, try Robert Harvey's Facebook, where I've been posting a few antique examples lately.
JIM IVEY'S ANAGRAMORAMA
It's time once again, boys and girls, for a visit to Jim Ivey's WordWorks. Given my effervescence about the bimbo species in the preceding paragraphs, it's time, without a doubt, to bring forward one of Jim's triumphs. The real trick with an anagram (as I have learned, late in life, by watching) is to make the second verbalization a comment on the first. And as you'll see in a trice, Jim took my name and turned it into a comment on my orbal fixation. Great fun.
Jim has over 700 of these fabulous fabrications, and while we've displayed a few here, he's gonna send me the pick of the litter pretty soon. Then you'll see....
T-SHIRT SLOGANS
Live each day like it's your last. One day, you'll get it right.
I do whatever the voices in my pants tell me to do.
I keep hitting the escape button, but you're still here.
How to handle stress like a dog: if you can't eat it or play with it, then pee on it and walk away.
Jesus is coming. Look busy.
Sometimes I laugh so hard tears run down my leg.
I started with nothing, and I still have most of it left.
Sign in saloon:
Men: no shirt, no shoes, no service.
Ladies: no shirt, free drinks.
NEWSPAPER COMICS PAGE VIGIL
The Bump and Grind of Daily Stripping
At Dick Tracy, artist Joe Staton and writer Mike Curtis littered a recent story with characters from the comics past: cartoonist Vera Alldid, Charles Addams, and a "friend" at the Flash newspaper in a nearby town. The "friend" was a major supporting character from the now-defunct Brenda Starr, Reporter comic strip, reported Brian Steinberg at Examiner.com: "Yes, that's right, that androgynously dressed lady seen in the November 10 episode of Tracy is indeed Hank O'Hair, longtime confidant and pal of Brenda's." Steinberg claims to be surprised at Hank's cameo: "Dick Tracy just told us a few days ago that he no longer reads the comics!" The appearance reminds us that these days an "androgynously dressed" female character would be a stand-in for a lesbian. Dale Messick was before her time in more ways than one. ("Hank of hair," ha.)
At a national institution in Australia, cartoonist Jason Chatfield celebrated Ginger Meggs' 90th birthday on November 13 (the date the irrepressible redhead Ginge first appeared in a strip then entitled Us Fellers) by drawing caricatures of the four cartoonists who have preceded him on the famed strip: founder Jim Bancks, Ron Vivian, Lloyd Piper, and James Kemsley. In the same anniversary spirit, the Perth Mint has released a commemorative 1-oz silver Australian $1 coin that depicts Ginge on the back of a kangaroo, accompanied by his dog and his pet monkey. At 90, Ginger Meggs is the longest-running and most popular Australian comic strip, currently appearing in newspapers in 34 countries. Chatfield, by the way, is the current prez of the Australian Cartoonists Association, which, as noted in Nous R Us, just held its annual awards weekend in Sydney.
Sometimes we don't need the pictures even in a verbal-visual medium. Here are a couple instances—:
Questions Adam's son asks him in Rob Harrell's Adam@Home: When does Superman sleep? Why wouldn't the bad guys just wait until he's asleep and then do their crimes? And does he turn on his x-ray vision or can he always see through everything? That'd be sorta gross—to see people's organs and bones. And the blood. But if he could see through your skin, shouldn't he look through your organs and bones too? When would his x-ray vision stop? Does he look and see nothing if it's on full power? Can you explain any of this? Adam is nonplused: "Me? I'm still trying to figure out how Betty and Veronica find Archie so darn irresistible."
We don't need the pictures in Mike Peters' Mother Goose and Grim for November 3: the verbal exchange in the dialogue between two characters is the whole joke:
"Did you know Lincoln wrote the Gettysburg address on the back of an envelope?"
"Did it ever get delivered?"
"Of course it got delivered. He delivered it himself."
"I guess he had to. No mailman could deliver it with the address on the back of the envelope."
A beautiful joke; dazzling word play. But pictures are wholly superfluous.
ON THE OTHER HAND, we need the pictures to get the jokes in the comic strips we've posted at your elbow.
Beauts, every one. In Jim Davis' Garfield, the very nature of the sequential medium is at the heart of the joke. And in Mike Peters' Mother Goose and Grim, the scatological comedy violates an ancient taboo (thou shalt not make references to alimentary matters), but the pictures need the words (and vice versa) for the joke. In Baldo, we get a more traditional deployment of pictures to get at the laughter, but in Tundra, we're back in never-never land where speech balloons are physical realities. Bound & Gagged, which I usually pass over with a sigh, is a champion this time out—perfect blend of word and picture for a boffo gag.
On the next visual aid, Zits leads off because the humor in Jim Borgman and Jerry Scott's strip is almost always picture-dependent. No joke without the picture. And Borgman Scott takes the role of pictures to fanciful extremes, creating images that expand the pseudo-sense of comic strip reality for the sake of a joke. Always deftly done. Chad Carpenter is another who consistently stretches comic strip reality for the sake of a laugh as his Tundra does here with a telling revelation about the existence of Bigfoot. Finally, in Mort Walker's Beetle Bailey, we return to the traditional function of pictures in strips: they supply visual narrative elements that make the otherwise meaningless speeches funny.
With the last two strips, we have one of those Cosmic Comic Strip Occurrences. Both strips invoke Bigfoot for their comedy, and they were both published on the same day; in my paper, the Denver Post, they appeared just as you see them here, Tundra atop Beetle.
We offer our next batch of strips to demonstrate how reality is more and more impinging upon the imaginary domain of the cartoonist.
In Baldo, Hector Cantu and Carlos Castellanos' strip that celebrates Hispanic family life, usually in the person of the teenage title character, Baldo necessarily notices that the Spider-Man persona has been invaded by a Hispanic named Miles Morales. But as we all know, Morales was another in the funnybook fantasies that come and go and doth not interlope permanently. Peter Parker still reigns.
Strips are getting political, too—here Funky Winkerbean, Pearls Before Swine, even the eternally noncommittal Blondie. You know discontent with our national political so-called life has reached intolerable levels when Dagwood comments on it.
On the next page, politics supply the gag in Bill Whitehead's Free Range, and Mike Peters takes on corporations to prove that they aren't actually people in a Mother Goose and Grim series that went on for a week much in the same vein as our representative sample.
After these two examples, we retreat into the usual comic strip universe. Sort of. Jimmy Johnson often recognizes the role of sex in marriage in his Arlo and Janis; and he does here, fairly blatantly. But with admirable decorum. More reality strips: Bil Keane's passing was recognized by many of the cartooning fraternity, here by editoonist Brian Fairrington and strip tooner Mark Tatuli in his Lio.
And then, we get to a purely wonderful joke in Betty, wherein Gary Delainey and Gerry Rasmussen have blended the verbal and the visual for a comedic meaning neither words nor pictures achieve alone without the other. The speech doesn't make the same sense without the pictures; the pictures are only marginally funny without the speech.
Anatomy of a Cross-over
In our final visual aid this time, we have a stirring example of one of the latest indoor sports among syndicated cartoonists—the cross-over.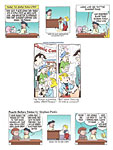 The impulse that launched Marcus Hamilton and Stephan Pastis into giving each other's characters guest appearances in Dennis the Menace and Pearls Before Swine began almost a year go, when, in Hamilton's Dennis for January 26, Margaret asks Dennis: "If you could talk to anyone, living or dead, who would you choose?" And Dennis, with razor-sharp acuity, responds: "Well, duh! Somebody livin', of course."
Hamilton's daily Google Alert told him that day's joke was being discussed at Pastis' blog. Pearls had offered the very same gag nine years earlier! Some Pearls fans suggested that Pastis sue the pants off the Dennis combine. Hamilton, mildly aghast, e-mailed Pastis:
"I saw on your blog that Dennis and Margaret 'relived' the same gag that you had done 9 years ago. The question is, 'Was it a coincidence, or a swipe, or a compliment???'
"Actually," Hamilton continued, "when I chose that gag from one of our writer's submissions, I was not aware that it had been used before. But I do believe it was a case of 'creative minds' coming up with the same, or similar, idea. Over the years, there have been several occasions where I have seen 'mirror' situations of gags occurring the same day in the comics. Please be assured that there was no intention to copy. If I had intentionally 'swiped' the gag, it would have been done as a parody and would have included a credit line, 'with apologies to Pearls Before Swine.' Thanks for bringing it to our attention."
Then Hamilton ended by proposing a gesture that would enable Pastis to "get even":
"Here's a thought: you could have Rat and Pig reading the comics and commenting that Dennis is more intelligent than dumb ol' Margaret, 'cause he gets his common sense from reading Pearls!"
Pastis responded graciously, observing that he'd learned that Garrison Keillor had done the same joke three years before it appeared in Pearls. Then he proposed they do a cross-over.
"We talked on the phone," Hamilton told me. "And because he is three months ahead, we settled on running his strip and our DTM panel on July 28th. I checked it out with Mrs. Ketcham and King Features Comics Editor Brendan Burford; both agreed the crossover would be a 'fun' idea. Stephan and I exchanged a few ideas."
Ron Ferdinand, who does the Sunday Dennis strip, even got into the act, submitting the pencil sketch we've posted below in the second of our Dennis exhibits. Hamilton liked its edginess, but he and Pastis finally settled on the combination shown in our visual aid. Pastis achieved the perfect copy of Dennis by tracing it from a Hamilton picture and then pasting it into Pearls on photoshop.
By the time July 28 rolled around, Hamilton had forgotten that was the Big Cross-Over Day for Rat, Pig and Dennis. Then when he opened his paper, he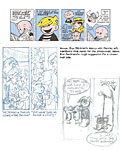 remembered—and then learned of a bonus:
"Totally unexpected, Guy Gilchrist emailed me a copy of that day's Nancy in which he had inserted Dennis! Ironically," Hamilton went on, "today is mine and Kaye's 48th wedding anniversary. So Dennis appearing 3 times in today's paper was a nice anniversary gift!"
BOOK MARQUEE
Previews and Proclamations of Coming Attractions
In 1001 Comics You Must Read Before You Die, subtitled The Ultimate Guide to Comic Books, Graphic Novels and Manga (Universe, $36.95), editor Paul Gravett commits what reviewer Whitney Matheson at USA Today says is "the longest-ever list of funnybooks adult fans should be familiar with. What do I like about this mammoth, 960-page title?" Matheson continues: "For one thing, it presents comics as they should be: in full color, with sizable summaries of each book. It's also one of the most inclusive comics guides I've seen; recommendations encompass superhero, indie, international and manga titles," with a "decent chunk devoted to graphic novels released in the last 10 years, like the awesome Asterios Polyp and the award-winning Fun Home. And it's as current as it can be: The last page is devoted to Craig Thompson's Habibi, which came out in September."
Mattheson thinks the tome is "best suited for moderate comics fans who are looking to expand their knowledge. Personally, I'm thankful that now I know about Reid Fleming: World's Toughest Milkman—where has this dude been all my life? ... You can read an excerpt, including Terry Gilliam's spirited Foreword, on Universe's website."
CODE WORD: GERONIMO, a tense, moment-by-moment graphic novel recreation of the raid to kill Osama bin Laden, is out. "The amazing part is that, even though we all know how the May 2 surprise attack turned out, this is still a suspenseful read," said Dan Brown at the London Free Press. "As I read, I found myself wondering how the special-forces/CIA squad would pull it off. Heck, the pilots didn't even know if the helicopters would be able to take off with all those soldiers and their gear. The creative team (writers Dale and Julia Dye with links to the U.S. military, artists Gerry Kissell and Amin Amat) spends as much time showing the preparations on the ground in the days leading up to bin Laden's assassination as the fateful night itself—so readers understand the outcome was never pre-ordained."
JOE PALOOKA IS RETURNING but he's scarcely Ham Fisher's sainted role model for American youth. Instead he's "the 22-year-old Californian falsely accused of murder and now brawling in underground fight clubs in Tijuana. The blonde-haired light heavyweight will soon carry a 3-0 record into a new worldwide fight league, joined by real life former Ultimate Fighting Champ Rashad Evans and a handful of other Mixed Martial Arts stars." That's how Mike Trask at espn.go.com, sums up the plot line of the new Joe Palooka MMA comic and its sister series, Legion of Combat. The first issue is available online for free if you sign up at palooka.com.
The Palooka comic is the creation of Joe Antonacci, a 51-year-old ring announcer from New Jersey who grew up with Fisher's newspaper strip hero, a do-goody heavyweight boxer whose unruly shock of hair was the only unruly thing about him: he was so polite he could turn stomachs, saying "thankew" at every opportunity. Researching the character, Antonacci found that the name is up for grabs so he grabbed it and hired respected comic book artists (who are not named in Trask's article or anywhere else I could find) and signed a deal with Authentic Sports Management to allow Evans and other fighters to appear on the pages. "But Palooka," said Trask, "working to clear his name as he encounters unsavory characters and fights his way to the top of the MMA heap, will be the star. At least in the fictionalized world."
AMERICA'S MOST VISIBLE COMIC CHARACTER, Sarah Livingston Palin, will soon appear in what should be her rightful medium. When Sarah Palin Came to Town is a book collection of Tony "TOE" Newman's cartoons about the celebrated celebrity that chronicle Palin's political career, "focusing on the effect she had on Juneau and its residents," according to Courtney Nelson at the Juneau Empire. She quotes TOE: "If there are two characters in this book, they are Sarah Palin and Juneau. The relationship between Palin and Juneau—the impact of her celebrity and leadership was something I hadn't seen explored fully in the books that have been about her and by her. The arc of Palin's career from governor to not-governor has been a single storyline. I realized I do have a theme here."
Newman's tone is playful rather than biting, said Nelson. The cartoonist sees the book as a sort of Palin therapy, and he hopes that both Palin critics and Palin fans will identify their own reactions to her in the book. Came To Town, which is being released at the Alaska-Juneau Public Market, is for Juneau residents who might enjoy reliving "this interesting time in our history," said Newman, "but it's also for people who are interested in Sarah Palin, and either love her and don't understand why there has been sort of a general reaction against her from Alaskans and/or for people who don't understand what her appeal ever was and how Alaska could put her out as a sort of our best citizen."
LONG FORM PAGINATED CARTOON STRIPS
Called Graphic Novels for the Sake of Status
YES, I KNOW: a comic book is also a "long form paginated cartoon strip," except that here at Rancid Raves, whenever we are seized with pedagogy, we reserve "long form" for graphic novels and call comic books, simply, "paginated cartoon strips." They're my terms, after all, and I'll use them my way, Humpty Dumpty as my mentor.
"When I use a word," Humpty Dumpty said, in rather a scornful tone, "it means just what I choose it to mean—neither more nor less."
"The question is," said Alice, "whether you canmake words mean so many different things."
"The question is," said Humpty Dumpty, "which is to be master— that's all."
And I, your humble Rancid Raves reporter, intend to be master.
The term is part of a plot, I admit: the idea is to wean all of us off the use of "comics" as a term to describe the medium. "Comics" is wholly unsatisfactory for at least two screaming reasons: 1) the term has been used interchangeably for both newspaper comic strips and comic books and therefore serves to denominate neither; and 2) "comics" is also the word we often use for stand-up comedians. So we should consign "comics" to limbo and use, instead, cartoon, cartoon strip, paginated cartoon strip, and long form paginated cartoon strip.
But that scarcely gets us to the graphic novel at hand, to wit—:
Liar's Kiss
By Eric Skillman and Jhomar Soriano
120 6x9-inch pages, b/w; 2011 Top Shelf hardcover, $14.95
IN THIS CLASSIC NOIR PRIVATE EYE TALE, we meet the hard-boiled PI Nick Archer, who is a champion sleaze. His current client is an old millionaire who has hired him to follow his sexy young wife around to see if she's unfaithful to him. Archer provides photographic evidence that she isn't. But she is: she's boffing Archer. Then one day, the wife finds her millionaire hubby dead. The police think she did it, but Archer knows she didn't.
From then on, Stillman's story turns and twists with every page: each new character he introduces eventually betrays someone, usually Archer. Revenge is the universal motive; betrayal, the pervasive by-product. Classic noir, as I said. The tangled skein Stillman is unraveling eventually becomes a sprawling maze, seemingly without exit. Stillman's resolution seems to me not wholly satisfactory: I think it smacks a little of cop-out. But it may be entirely a matter of taste, and you might think it's perfect.
In any event, the book is worth a read both for the encounter it affords with a Gordian knot of the plot and for Soriano's art, which is thoroughly accomplished: with a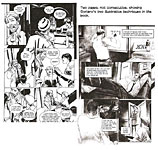 crisp line flecked with solid black shadowing, he ably illustrates the action, and he never misses on dramatic page layouts and telling panel compositions. For flashbacks, Soriano adds soft gray tones, expertly producing stunning pictures. So good are these, that I wish he'd done the whole book in this manner. But his linework is impressive, too. Through and through, Liar's Kiss is an unmitigated pleasure.
FUNNYBOOK FAN FARE
Four-color Frolics
An admirable first issue must, above all else, contain such matter as will compel a reader to buy the second issue. At the same time, while provoking curiosity through mysteriousness, a good first issue must avoid being so mysterious as to be cryptic or incomprehensible. And, thirdly, it should introduce the title's principals, preferably in a way that makes us care about them. Fourth, a first issue should include a complete "episode"—that is, something should happen, a crisis of some kind, which is resolved by the end of the issue, without, at the same time, detracting from the cliffhanger aspect of the effort that will compel us to buy the next issue.
Pithy Pronouncements, Plaudets & Peeeves
Browsing the latest crop of paginated cartoon strips that caught my eye, we come first to Catwoman No. 3, wherein our shapely heroine gets terribly beat up, and Guillem March proves as adept at depicting a beautiful beat-up, bleeding woman, tears pouring down her face, as he is at drawing the vampier version. Catwoman is about sex and violence; we've had a couple issues of sex, and this issue is about violence.
Short shrifts, that's what we're doing this time out. By the way (a propos of almost nothing), the expression "short shrift" has reference to confession in the religious sense. "Shriving" meaning "confessing"; "shrift" being the noun, equivalent to "confession." In seventeenth century England, a condemned criminal was usually allowed time for confession, or shrift, but because in those days the number of crimes punishable by execution was considerable, the number of executions was likewise, crowding the executioner's daily docket. The condemned, then, were advised to "make short shrift"—a short confession—in order to speed up the processing.
I don't mean, however, by using the term to suggest the outcome of my reviews of the comic books considered hereafter—i.e., I don't intend that you think I'll be condemning them all. But some—well, f'instance—:
WOLVERINE & THE X-MEN No. 1 serves to re-introduce a number of the Usual Gang by taking us on a tour of inspection of the new school, which is apparently going to be run by Wolverine. We meet too many characters, though: we need a filing cabinet to keep track of them because none of them performs in any memorable way. No central episode to muster emotion—just a running joke about failing to meet the board of education standards as they are being enforced by a nit-picky sour-faced lady and her prissy cohort who follow Wolverine and Kitty Pryde around the place. Chris Bachalo's drawing style is stunningly attractive albeit wildly eccentric: he deploys, in effect, three styles, one for close-ups, another for medium-range shots, and yet another for long shots. Moving through that litany, his mannerism becomes increasingly abstracted and stylized: by the time we get to long shots, the anatomy of figures has been reduced, simplified, to mere geometric shapes. Always appealing, as I say, but the tiny figures occupy tiny panels that show too little. And the issue is awfully talky, too.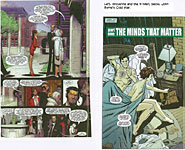 Lots more activity in the second issue of the New 52's Blackhawks—very action-movie-ish; but it's all about hardware, not enough people or personality. I've never been that interested in hardware.
The first issue of John Byrne's Cold War is impressive—even for Byrne, who is always a deft deployer of the medium's resources. The first 11 pages wordlessly depict agent Michael Swann's escape from an East Berlin prison, deftly establishing the character's determination and resourcefulness. In the second of four distinct episodes, Swann quits the spy agency. In the third, he is briefed on a new assignment by the girl he's just been rattling the bedposts with. In the fourth, Swann goes to a missile site where he meets the principals, who are engaged in some sinister talk away from Swann. In the last panel, a hand belonging to WhoKnowsWho holds a gun pointed at Swann. The next issue will presumably resolve that suspense and perhaps answer other questions that hover: Who's the shy girl? Will Kemp defect? Byrne's hero is an attractive reincarnation of James Bond, and this inaugural issue is excellent comics—as almost all of Byrne's work is.
Neal Adams, the giant comicbooker of yesteryear, returns to plot, script and pencil Batman Odyssey, and the first issue (of seven) is a pyrotechnical display of Adams tics and tropes—modeling by extensive hachuring that gives sharp definition to musculature and facial features (the first four pages are close-ups of Bruce Wayne on a ranting exposition), throbbing action sequences, wildly varying camera angles (all highly effective)—inked by Bill Sienkiewicz, Paul Neary, Michael Golden and sometimes Adams himself. Much of this issue is devoted to demonstrating the powers of the Great Sensei, Batman's ostensible foe in the series (and probably the son of Ra's al Ghul, a patented Adams villain, who shows up in the Batcave); and the rest is a somewhat tedious display of Bruce Wayne in a snit. No one can fault the sheer artistry in this issue: the panels are jammed with visual detail. Too jammed. Crammed, and visually complicated by Adams' penchant for letting his figures distort layout and violate panel borders. Visual fireworks, as I say, and an eye-opening nostalgic trip to the best of the past in comic book storytelling technique.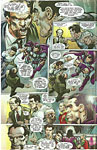 I've never been an Aquaman fan, but the first issue of the New 52's version of the character by Geoff Johns is worth mentioning (and even saving as a souvenir) because in it, after an opening action sequence, Aquaman goes to a seafood restaurant for lunch. That's right, a seafood restaurant. And when he tries to order fish and chips, those in nearby booths tell him he can't. Why? "Because you talk to fish," says the guy. This sequence alone is worth buying the book and saving it forever. Aquaman goes on to explain that he doesn't, really, talk to fish; instead—well, see for yourself.
Who Is Jake Ellis? ends its 5-issue run with Jon Moore slipping in and out of a kind of dreamlike reality, and as he does, we find out who Jake Ellis is and why (or how) he has had such an influence on Jon's maneuvers. Altogether, a satisfyingly mystic ending to a mystic series by Nathan Edmondson and Tonci Zonjic, who have shown us with this short series another dimension of the sort of thing comics can do. This last installment ends with Jon stealing a sailboard in Barcelona and sailing across the bright blue of the harbor. In the foreground, the well-known statue of Christopher Columbus atop his pedestal, pointing westward. When I beheld this celebrated symbol, he was pointing across the square—to the American Express office, just as Lawrence Ferlinghetti said he was.
Ed Brubaker and Sean Phillips conclude their latest 4-issue Criminal series, The Last of the Innocent, with a surprise: they let their cuckolded protagonist, Riley Richards, get away with murdering his unfaithful wife and the friend who has been sleeping with her. While the sins he's avenging seem to excuse him, Riley also arranges for his best friend to overdose and kill himself because he knows Riley's "secret." The last pages show Riley enjoying a new life with a highschool girlfriend he'd always ignored before. Or is that, actually, the end? Phillips varies his drawing style throughout, abandoning a shadowy realism for a DeCarlo simplicity whenever Riley is recalling his teenage years. And the closing sequence slips from realistic to Riverdale. Is Riley dreaming? Or wishing?
DC PRESENTS SUPERMAN: The Kents No. 1, a compilation of previous issues posing as a graphic novel, is a particularly offensive effusion: its one-dimensional liberal bigotry is outrageous even if well-intentioned. The 19th century Kents, committed abolutionists, move to Kansas and run into various anti-abolutionist ruffians during the years that Kansas was still neither a slave state or a free one. Timothy Truman's drawings sometimes falter on anatomical proportion and perspective, but he produces visual details in copious quantities. The offensive part of this monumental undertaking consists mostly of the treatment of the thuggish anti-abolutionists. Truman draws them as drooling morons, and writer John Ostrander gives their speeches a distinctly illiterate not to say ignorant flavor. The offense is in so simple-mindedly portraying the villains as not just bad but evil and not just evil but beastial.
The Kents move through actual history in this volume, and the weaving of the actual and the fictional sometimes produces more tangle than fabric. A reference is made to the "discovery of gold out around Pike's Peak" in the spring of 1858, an event that draws citizens away from Kansas and thereby reduces the free-state/slave-state brouhaha. But gold was not discovered in Colorado until 1859 in sufficient quantity to cause a gold rush. In the spring of 1858, only a smattering of gold had been panned in Colorado streams; rumors circulated through the midwest, but no gold rush materialized. Nit-picky, I realize, but to achieve a measure of historical accuracy, Ostrander could have written about "rumors of gold out around Pike's Peak." Some interested parties left their homes and headed for Colorado that spring, but probably not migration enough to quell the quarreling about slavery in Kansas.
And the book could use attentive editing: in one place a character named Abigail is referred to as Belinda, who is actually Abigail's daughter; in another place, the dates cited (the story is told through entries in diaries and letters) are wrong (or the episode that's prefaced is out-of-order). It's as if Ostrander is so eager to propagandize on an issue long ago entirely resolved that he overlooks the story itself.
Over-all, the tale has the heft of a family saga, despite its shortcomings. And I want to know how the Kents turn out. Oh—and then there's the Iroquois "healing blanket" that Mary Glenowen, half-Iroquois, drapes over wounded Nathaniel Kent, bringing him back to health. The insignia on the blanket, incorporating a serpentine figure, looks suspiciously like the red 'S' on Superman's chest a generation or so later. Wonderful concoction.
CULLY HAMNER'S MUSCULAR DRAWING STYLE saves Shade No. 1 for me. I don't know who Shade is; probably a refugee from some earlier DC series, and he's making a come-back now. Richard Swift is Shade, apparently, and this issue opens with him discussing the depressing effect of fall weather with Mikaal, whom I likewise don't know. The scene then shifts to one of the completed episodes in the book, William Von Hammer defeating some assassins, after which, he decides to warn Shade. Next comes the second completed episode: Shade in post-coital reverie with Hope, who tells him he needs to go have an adventure because he's no longer fun in bed. They part, and Shade goes for a walk in the park where he encounters Deathstroke, who cuts off both Shade's hands and his head. Then this issue ends.
A cliffhanger. Is Shade dead? Probably not: this is the first of a 12-issue series, so unless he'll be starring in the rest as a mere ghost of his former self—ah, a shade!—well, he'll recover from the dismemberment.
As a first issue, it has all the requisite ingredients for success except one: nothing connects the pieces here. Writer James Robinson, while otherwise adroit enough, has failed to fulfil our second requirement. Are the assassins in the employ of Deathstroke or his employer? We've got menace on every page (and sex in the middle), but it would help make the story coherent as well as suspenseful if we knew whether Deathstroke and the assassins are on the same team. Or, alternatively, why they all want to extinguish Shade.
THE TITLE CHARACTER in Jonny Double No. 1, "Two-Finger Discount," is a slacker PI who lives in a friend's room and owes money all over town. He's hired by a rich guy to look out for his daughter, who frequents the same bar Double owes money in; they become lovers. But the action doesn't commence until she introduces Double to some young punks who have learned, how we don't know, that a local bank has an account of $300,000 in the name of "Al Brown," which is the alias used by Al Capone. Since Capone's dead and supposedly no one knows about the stash, the punks want to collect it, but they need someone older-looking to play the part of Al Brown's son. They pick Double.
Double gets the money, but it turns out to be $7 million, not $300,000. There's another "Al Brown" around, a very alive bad guy, who wants his money back and eventually rubs out some of the punk gang, trying to get it. He also captures Double and tortures him, but eventually lets him go. After spending most of the issue with bruises and bandages adorning his face, Double goes south to Mexican beaches and resumes recreational alcoholism. Only now, he has some money: someone—presumably the girl—has sent him a portion of the heisted boodle. There are a couple of delicious twists you should read the book to discover.
My chief reasons for buying this one? The writer, Brian Azzarello, and his visualizing partner, Eduardo Risso, the old 100 Bullets combine. The story is at least as grisly as 100 Bullets. Risso's layouts, while always imaginative and unconventional, are not quite as wild as in the Bullets series. But he loves to fill backgrounds with incidental, wholly superfluous, visual stories that unfold in the distance as the principal characters confabulate in the foreground. In one such instance, we watch a quarrel between two gay guys for several successive panels.
WE'RE ALL BROTHERS, AND WE'RE ONLY PASSIN' THROUGH
Sometimes happy, sometimes blue,
But I'm so glad I ran into you---
Tell the people that you saw me, passin' through
A Ringmaster Dies: Bil Keane, 1922 - 2011
Bil Keane, whose family inspired the most widely circulated single-panel daily cartoon in the world, died of congestive heart failure on Tuesday, November 8, at his home in Paradise Valley, Arizona. He was 89.
"We've just lost the Norman Rockwell of comic strips," said Mike Peters of Mother Goose and Grimm. "He was as American as Irving Berlin, and that's why The Family Circus was a part of everyone's morning. God love you, Bil," Peters finished, "—'course, I'm sure He has your cartoons already taped on the Gates."
"The Family Circus was Americana on the comic page," said Mad's Tom Richmond, president of the National Cartoonists Society.
The comedy in the circle of The Family Circus is gentle and authentic, home-spun and laden with traditional values. "Knee-slapping guffaws were not the stuff of Mr. Keane," wrote Dennis Hevesi at the New York Times, going on to quote the cartoonist from a 1995 interview: "We are, in the comics, the last frontier of good, wholesome family humor and entertainment," Keane said."On radio and television, magazines and the movies, you can't tell what you're going to get. When you look at the comic page, you can usually depend on something acceptable by the entire family."
And The Family Circus was that, in spades, hugs and pulls at the strings of the heart. "It endures as a kind of eternal world of 'Donna Reed' and 'Father Knows Best,'" said Matt Schudel at the Washington Post.
"I don't have to come up with a ha-ha belly laugh every day," Keane told the Atlanta Journal-Constitution in 2003, "but drawings with warmth and love or ones that put a lump in the throat or tug at the heart. That's more important to me than a laugh. I would rather have the readers react with a warm smile as they recall doing the same things in their own family. Basically, I set out to entertain. However, if there is a philosophy it is to show that a home where little children have love for one another and their parents for them is the happiest place in the world. It's a subject that is near and dear to me.""
Keane's cartoon family grew directly from his own experiences as the father of five and the grandfather of nine. He based his characters on his wife Thel, sons Neal, Glen, Christopher and Jeff, and daughter Gayle. "They provided the inspiration for my cartoons," he would say, "—I provided the perspiration."
But the heartfelt endearing aura that floats over the comedy in The Family Circus is only one facet of Keane's sense of humor. He was an over-the-top public speaker who was the highlight of many cartoonist gatherings, said Arizona Republic editorial cartoonist Steve Benson. Slender and small of stature, Keane often surprised people with a quick wit that veered into biting sarcasm and rampant irony.
"He was hilarious," Benson told Scott Craven at the Republic. "He was a great emcee who had an amazing ability to play on words. People were surprised to hear this volcanic stream coming out of a little guy."
In 1980, Keane was on Larry King's nation-wide radio show, and after King welcomed him to the show, Keane responded in his gravelly voice: "Larry, it's more than a thrill to be here. It's a damn inconvenience."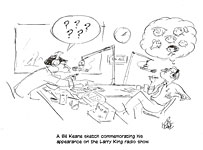 It was a line, and a comedic attitude, that Keane put on display whenever he was standing at a microphone. Which he did often as emcee of the festivities of the National Cartoonists Society (NCS) at its annual Reubens Banquet. Most non-cartoonists never saw that kind of Keaning, said Michael Cavna in the Washington Post, "but he was laugh-out-loud funny."
Richmond remembers attending his first Reubens weekend at which Keane was moderating (so to speak) the event: "Knowing that The Family Circus was a very sweet and gentle feature, I mentioned I was surprised they didn't have an emcee with a little more of a sharp-tongued approach. 'Just wait,' they said, '—you haven't seen Bil emcee yet.' I sure hadn't," Richmond continued; "I was laughing so hard throughout the awards I barely recall who won what. To say that Bil Keane was only quick-witted is like saying Olympic superstar Usian Bolt is just 'sort of fast.'"
"He was so funny," remembered Between Friends' Sandra Bell-Lundy. "I remember thinking how different his humor style was in person compared to the warm, gentle humor of his comic feature."
Keane might start with the ludicrous comment, "Before I begin." Followed by an equally inoffensive piece of nonsense: "How many of you in this room have attended one of our dinners before but couldn't be here tonight?"
But he was soon strafing the roomful of tuxes and ballgowns, as Cavna said, "his deft, relatively gentle barbs toward his fellow creators somehow proving as reassuring and comforting as his cartoon."
The first time the Reubens was held outside of New York, it was in Los Angeles, and Momma's Mell Lazarus was dinner chairman. (Lazarus said he got the second L in his first name by stealing it from Keane's first name; Keane agreed.) Keane launched into his after dinner remarks by recognizing the work Lazarus had done:
"Mell Lazarus was dinner chairman. He did fine work chairing the dinner. He had ten chairs at every table."
Another time, attempting to explain the significance of the NCS division awards, Keane deployed another of his patented routines, a strenuous tirade of meaningless double-talk (of which he was a past master), concluding, "I hope I've made that clear."
In later years, NCS concluded its Reubens weekend with a roast, and Keane was the first to be so dubiously honored. Lazarus was the second roastee, and Keane took a turn at the microphone: "As a rule, we roast only people we love," he said, "—but tonight, we make an exception."
Cathy Guisewite was the first female target at a Reubens Roast, and Keane delivered this encomium: "Of all the women ... cartoonists ... currently making a living ... at the profession," he said, drawing out his pronouncement by prolonging the pauses between words, "Cathy Guisewite ... is ... one."
Asked once about the future of NCS, Keane said: "I think it lies ahead."
Jud Hurd, publisher of Cartoonist PROfiles, "interviewed" Keane every once in a while, and transcriptions of their exchange were festooned with word play.
"You currently reach close to a hundred million readers daily," Hurd said, by way of introducing his co-conspirator. "You are an unqualified success."
"Yes," said Keane, "and think what I could do if I was qualified."
Hurd remembered Keane had met his wife in Australia in 1942, saying: "Tell us about that meeting."
"Meeting!?" Keane croaked: "It wasn't a meeting! It was World War II! It was in all the papers!"
"Let's skip a few years," Hurd said, hoping to extricate himself from the verbal dilemma.
But Keane wouldn't let him off so easily: "You can skip if you like, but I'd rather walk normally."
William Aloysius Keane was born in Philadelphia on October 5, 1922 to Aloysius and Florence Keane, devout Catholics. "I think that being born in October is the reason some people have begun calling me a mysterious name, 'octo-genarian,'" Keane wrote in the last NCS Membership Album. "I don't remember much about 1922," he confessed, "except lying in a bassinet waiting to be syndicated."
Young Bill (two Ls then) "showed an early interest in cartooning," Hevesi reported, "—as a child, he drew on his bedroom walls."
Which circumstance, Keane later posited, explained the spelling of his first name: "My parents named me Bill, but when I started drawing cartoons on the wall, they knocked the L out of me."
Not quite. As a teenager growing up in suburban Crescentville in the late 1930s, he and some friends produced a satirical magazine the Saturday Evening Toast, and he started signing his cartoons "Bil Keane" merely to be different. He was joining in: the other artists on the project also altered their names for their signatures.
A staunch Catholic from birth, Keane concluded his education at parochial schools by graduating from Northwest Catholic High, after which, he joined the work force as a messenger at the Philadelphia Bulletin, where, between deliveries, he observed the paper's staff artists at work (and longed to join them).
During World War II, Keane was a tech sergeant stationed at a desk in Brisbane, Australia, where he observed at the next desk a shapely young woman named Thelma Carne. "I got up enough nerve to ask her out," Keane later reported, "and we started laughing then and never stopped."
Keane also drew cartoons for Yank magazine and the Pacific Stars and Stripes, for which he created a feature called At Ease with the Japanese. After the War, he and Thel continued a relationship, mostly long distance, until 1948 when Keane returned to Brisbane to marry her.
Back in his home town in the U.S. in 1946, Keane returned to the Philadelphia Bulletin, this time as a staff artist. "I drew staffs," Keane said.
He also edited and drew cartoons for the paper's 16-page Sunday supplement, Fun Book, for which he concocted the comic strip Silly Philly about a little boy dressed as William Penn, a page of jokes called Mirthquakers, and another strip, Corn Crib, which featured round-headed characters spouting puns. At various times, Keane produced other comic features, mostly short-lived (and none in syndication)—The Master, about a put-upon father; The Suburban Set, about typical family life in the suburbs; and The Silent Set, a pantomime panel. In his spare time, Keane freelanced these and other cartoons to Collier's, Saturday Evening Post, This Week, Look and other general interest magazines of the time. He kept this up for 13 years.
In 1954, Keane contacted the Register & Tribune Syndicate about distributing Corn Crib, but the master minds in Des Moines countered with a suggestion that he do a panel cartoon about an entertainment medium just then completing its saturation of the country, coast to coast. Keane's Channel Chuckles was the first newspaper cartoon about the medium that newspapers at first feared would render them obsolete; by the mid-1950s, however, newspapers had reconciled themselves to living with their competition and had introduced tv program listings and gossip columns in special television sections, into which Channel Chuckles fit handily. It continued for the next 22 years until 1976.
In April 1959, shortly after moving from Pennsylvania to Arizona, Keane approached his syndicate with another cartoon idea. Called Spot News, it was a pantomime gag that highlighted some recently reported event. It debuted in June but began to fade by fall. Unhappily, given the lead time that syndicated cartoons require, 4-5 weeks before publication date, Spot News couldn't be very topical. But Keane was intrigued by an aspect of the cartoon's design: the cartoon appeared always in a smallish circle, which newspapers could insert as an "ear" above their front page masthead. Keane liked the circle—a visual novelty that almost guaranteed attracting a reader's attention no matter where it appeared in a newspaper—and he next produced some family jokes in a circle. Now, he had arrived at a subject he was intimately familiar with.
By 1960, he and Thel had produced five children, four boys and their older sister—a circumstance fraught with gag material for a family-focused cartoon. (In Philadelphia, Bil's brother Bob lived next door with his nine children. Those Keane boys, gluttons for punishment.) Keane continued to do Spot News while preparing The Family Circus: the syndicate's plan was to launch Family Circus by switching it for Spot News, slipping it into the syndicate pipeline while hoping client papers would continue the circular cartoon with its new focus. And it worked: "Newspaper editors hardly grumbled about the swapped feature," wrote Keane's son Christopher in the first volume of IDW's complete Family Circus compilation. "They liked the new material and found room for the new comic inside their papers."
The feature's title, however, created a small albeit surmountable problem.
Keane had christened the cartoon The Circle Family, but his editor at the syndicate thought The Family Circle would be better. And it launched with that title on Leap Year's Day, February 29, 1960 in 19 newspapers. The inaugural panel shows a front room strewn with toys, and Mom is at the door with a pollster who asks: "Any children?"
Within six months of its launch, the cartoon attracted the attention of the legal department at Family Circle magazine, which threatened to sue. Keane had his editor pondered a host of other title possibilities before Keane opted for The Family Circus, which, he said, "better described his own life experience."
The curtain went up on the new title August 15, 1960. The color Sunday installment first appeared September 10, 1961, and Keane ended Silly Philly and stopped freelancing cartoons to magazines to concentrate on Channel Chuckles and The Family Circus.
In the early years of the cartoon, the paterfamilias has a somewhat different look—a much more bulbous nose being the most conspicuous. "He looked like a big fat clumsy guy," said Keane's son Jeff, the present ringmaster of the Circus. In appearance, he evoked the star of The Master, which title," Christopher Keane explained, "was an ironic take on a father being more of an indentured dupe than master of the house. The gags focused on a constantly bemused, bewildered, and often put-upon dad."
But the father of The Family Circus was no dupe: he was simply an ordinary dad, and over the ensuing years, he eventually looked more and more like Bil Keane. The nose got smaller, and "Father" started wearing horn-rimmed eye glasses. Keane forthwith eliminated Father's eyes, explaining: "When you draw glasses and put two dots in the middle of them for eyes, the character looks surprised all the time. I don't want him to look surprised; I'd rather have him look uncommitted."
"Mother," however, didn't change much (although her hair-do achieved its stylized set after just a year or so). And in deference to her model, Thel, she always had a superb figure. The rest of the family was also modeled on the cartoonist's. The toddler Jeffy was "an obvious caricature" of Jeff; the little girl Dolly resembled the Keane daughter Gayle. Billy was a "generic little boy" that Keane had been drawing for years who therefore resembled Christopher and Neal and Glen, who went to work at Disney, doing character animation in such films as "the Little Mermaid," "Aladdin," "Beauty and the Beast," "Tarzan," and, most recently, "Tangled," a computer-animated hit based on Rapunzel. (Keane himself dabbled in animation, overseeing the production of three tv specials starring The Family Circus.) Later, in 1962, Keane added PJ, the enduring toddler, whom Jeffy introduces to a friend by saying: "His name is PJ—but most of the time, he's called No-No."
On another occasion, Jeffy introduces PJ to another friend: "He has some teeth, but his words haven't come in yet."
Running errands and shopping in Paradise Valley, Thel Keane was sometimes recognized as "Mommy" in The Family Circus, and she apparently enjoyed her role as role model, entering into the alter ego fantasy. In the mid-1980s, Keane thought he'd add a new character to his cartoon family by introducing a baby. "My wife was outside the studio working in her garden, the flower bed," Keane remembered. "I ran out of the studio and said, 'Thel, what would you think of adding a new baby to the family?' She said, 'Well, it's all right, but let me finish the weeding first.'"
No baby was added.
Thel was Keane's financial and business manager and was a key ("hard nosed") negotiator (with their lawyer) in getting her husband ownership of the feature's copyright in 1988. When she died of Alzheimer's disease in 2008, Keane called her "the inspiration for all of my success."
"When I first started The Family Circus, it was more exaggerated family humor," Keane recalled. "Everything would go towards the big laughs. The kind of stuff that Jerry Scott and Rick Kirkman are doing so well now in Baby Blues."
At avclub.com, Sean O'Neal said he liked the early version best. "It was actually funny, even occasionally bordering on risqué as it contrasted the home life of an ordinary '60s dad (and Keane stand-in) contending with his rambunctious kids while also drinking and ogling loose women. Compared to what it would become, in fact, it was downright cynical about the way child rearing can be its own special prison."
O'Neal goes on to quote Keane who pinpointed the moment "everything changed"—in a mid-1960s panel showed Jeffy coming into the livingroom late at night in pajamas, and Mommy and Daddy are watching television, and Jeffy says, "I don't feel so good, I think I need a hug."
As Keane said, "And suddenly I got a lot mail from people about this dear little fella needing a hug, and I realized that there was something more than just getting a belly laugh every day."
"Indeed," O'Neal continued, "some would argue that Keane never really cared about getting a belly laugh ever again: over multiple decades, through all the shifts in social mores and increasingly sophisticated ideas about comedy, Keane made The Family Circus even more cutesy and sentimental, saying explicitly that he believed it was his responsibility to act as a stalwart for traditional values. Naturally, being so gooey and simplistically, unflappably square—even in a somewhat staid medium like the newspaper comics—made Keane and The Family Circus a frequent target for ridicule."
O'Neal admitted that Keane was always a good sport about being sometimes the butt of someone else's joke. But Dilbert's Scott Adams has another thought: "Critics were sometimes harsh, especially other cartoonists. But allow me to point out the obvious: if other cartoonists could make a family-oriented comic that was as popular as The Family Circus, they would have done it. Bil was a misunderstood creative genius who knew how to write for his target audience. He was also a great guy. I was a big fan."
Keane knew exactly what he was doing. "I think the injection of the warm, tear-in-the-eye humor is what built a particularly strong following for me," he said. "Consequently, since I didn't have to always be funny, I could change the pace of the cartoon. Going from to day from funny, to a warm loving look, to a commentary, and even to inject religion into the feature."
A memorable instance of the latter took place when Dolly asked: "Is God white, black, brown, yellow, or red?" Mommy answered: "Yes."
"Laughter was a part of the church services I attended as a child," said Keane, who believed that Jesus must've had a sense of humor: "I like to think of him as a guy who got people to listen to him by leaving them laughing and chuckling with one another."
Keane may have trafficked shamelessly in wholesome, but he had a lasting impact on legions of readers, among whom, Lynda Barry, creator of Ernie Pook's Comeek in altie weekly newspapers, was a vocal representative. Learning of Keane's death, she wrote:
"I was a kid growing up in a troubled household. We didn't have books in the house, but we did have the daily paper, and I remember picking out The Family Circus before I could really read. There was something about looking through a circle at a life that looked pretty good to me. For kids like me, there was a map and a compass that was hidden [in] The Family Circus. The parents in that comic strip really loved their children. He put that image in my head and it stayed with me.
"I'd always heard that great art will cause people to burst into tears," she continued, "but the only time it ever happened to me was when I was introduced to Bil Keane's son Jeff. As soon as I realized who he was, I just started bawling my face off because I realized I'd done it. When I shook his hand, I realized I had climbed through the circle to the side Jeffy was on.
"To me, they are family," Barry finished, "—my soul family. That's why if someone says a word against The Family Circus to me, I will slug them so hard."
Mommy is seated and hugging PJ and Dolly, and Jeffy comes up, saying: "Got some room left in that hug, Mommy?"
Billy, carrying PJ around piggyback, says: "I'm practicing to be a daddy."
Approaching Christmas, Father brings home an evergreen tree, and Billy says: "Mmm! Now the house is beginnin' to smell like Christmas."
Watching the leaves fall one autumn, Dolly wonders: "Why do trees take their clothes off when it starts getting cold?"
On a vacation, the family stands on a scenic overlook at the Grand Canyon, and in a flurry of speech balloons, the children register their appreciation: "Why are the rocks painted different colors?" "What time does it close?"
"For millions of readers," said Michael Cavna, "Bil Keane reached out, day by reliable day, through the pure and distilled and comforting power of a single panel. The Family Circus may play out within its distinctive circle, but to many readers, the debut of its midcentury family felt like a keyhole, then a fully inviting window into a reassuring world—an approachable, guileless realm of broad grins, wide-eyed observation and the winking malapropism."
In the spirit of the latter, Keane added a couple of invisible characters—Ida Know and Not Me, gremlins who were always the ones who did the naughty thing and ended up getting blamed by the kids whenever something went awry. Another staple is Billy and his dotted line. Glen Weldon at npr.org remembered fondly:
"A dotted black line followed Billy's carefree peregrinations through the privet-lined, strangely carless, possibly post-Raptured streets of his neighborhood. Here, Billy dallies on a jungle gym. There, by the babbling brook, he catches polywogs. And all the while, that dotted black line follows him, jumping over tree stumps and skirting around barking dogs. It's impossible to read these strips, which depict a small child blithely wandering on his own through verdant backyards and quiet cul-de-sacs, without feeling a pang of nostalgia for a time before stranger-danger and Amber Alerts. But that's exactly what Keane was selling, of course. Because his dotted line always, always circled back to end where it began: On the doorstep of the family home."
Weldon also appreciated the sheer artistry of the dotted-line cartoons: "The Sunday dotted-line strips required a level of planning—and evinced a clean, meticulous draftsmanship—the daily strips never needed to. As I grew older, I began to appreciate the way Keane cheated the perspective so as to fill the entire panel with detail—even those places and objects farthest away from the reader's eye."
Keane's peers saw his genius: NCS awarded him the Reuben as "cartoonist of the year" for 1982. He also served as NCS President 1981-83. And "he never forgot his service in the Army," wrote Terry Ponick at the Washington Times, "—and how important entertainment was for the morale of the troops. He frequently signed on to join USO tours" that performed before military encampments.
He has also been known to offer advice to aspiring cartoonists: "Success can be found in four key words: Labor—hard work with unswerving dedication. Unique—Make sure what you do is different and original. Creativity—Let your imagination be your only guide. Knowledge—Know your subject. Know what the public wants and give it to them just before they know they want it. And, if you look at the initials of those four key words, they spell out a fifth: LUCK."
Asked whether comics are "art," Keane said: "The comic strip is a brilliant form of art developed in America and now imitated in every country. More people see and appreciate this art form daily than ever see the expensive paintings tucked away in museums. I'm proud to be exhibited regularly in over 1,500 newspapers, and to have my work hung on what I consider the world's most prestigious art gallery: the refrigerator doors in homes across America."
But he's never entirely serious for long: "Some cartoonists jot their ideas down on the back of an old envelope," he once said. "Some talk into a tape recorder. I talk into the back of an old envelope."
"Through the years," Scott Craven wrote, "Keane stuck to his tried-and-true comedic formula of finding humor in everyday life. Whether it was poking fun at the same old Father's Day gifts to having Billy occasionally fill in as artist (resulting in pun-plagued sight gags on Sundays), Keane's relaxed style and simple themes endeared him to readers."
Said Keane: "Everything that's happened in the strip has happened to me. That's why I have all this white hair."
In the early 1980s, Keane's son Jeff began working with him. "He agreed to do my inking, coloring, pencil sharpening, etc. for a 75-cent raise in his allowance," Keane wrote, "—and will one day run away with the circus." And so he has.
The father-son collaboration began with Jeff drawing Eggheads, a punny strip written by his father ("Did you take a bath?" "No, is one missing?"). It appeared in about 30 newspapers and ran for two years, after which, they quit. By then, Jeff had taken over the inking of The Family Circus from the previous inker, Bud Warner, who had been signed on in 1965.
Keane appreciated Warner's work, giving him credit in reprint collections of the cartoon. A typical Keane accolade: "To Bud Warner goes credit for the very flattering things which have been said about The Family Circus finished art, most of which have been said by Bud Warner. It is a delight to work with such a fine gentleman, even though he is quite elderly. He was born five days before me."
Jeff has been doing the panel solo for several years, although his father sometimes helps: "He'll send me some roughs and some ideas and things," Jeff told ICv2.com not long ago. "He's not as involved as he used to be. [Since] my mom passed away, he's been less hands-on. But he's still there, he still reads, and he still tells me if I do anything wrong."
Jeff's involvement in the strip pre-dates his inking apprenticeship by a couple decades. Born in 1958, by the time he was two, "Dad started to chase me around every day, begging that I do something funny." Married since 1988 and with three "cartoon models" in the house, Jeff says, "I now chase those characters around every day, begging them to do something funny. So The Family Circus keeps going around in circles."
At the death of Keane pere, cartoonists remembered him.
From For Better or For Worse's Lynn Johnston: "I think my memories of Bil will echo those of so many others: he was generous, kind, talented and very, very funny. He loved his wife, Thel, so much that when she died, I think the light went out in his life. Despite the love and companionship of family and friends, he never really recovered. I wish that we could all have experienced such devotion in a partner. Bil was such a good example to us all—not only was he a hard and prolific worker, he was a man of honor, principle and integrity as well. He will be sadly missed."
Speed Bump's Dave Coverly remembers Keane as "such a gentleman. ... To me, and this was his greatest lasting influence on the cartooning community, he was a role model when it came to respecting the younger generations of cartoonists who followed him. He embraced the newcomers and made us feel more than welcome. In fact, he had a gift for making you feel like a peer, which is the highest form of respect any of us could want. He was one of The Good Ones."
At my first Reubens weekend, Keane came up to me, introduced himself, and said he enjoyed my writing about cartooning.
Non Sequitur's Wiley Miller remembered Keane's influence on him "both as a professional and as a person. I do not measure up to him in either of those categories, but he served as a benchmark for me to keep working toward. You will hear from many saying what a good man he was, as well as being a great wit. I can tell you that these are not exaggerations—they're [not just] being polite in speaking of the departed. They are genuine sentiments and reflections of the man. You can't ask for more than that in life."
As Keane's condition worsened over the last month, one of his sons was always by his side, Jeff Keane told the Associated Press. All of his five children and nine grandchildren and a great granddaughter were able to visit him the week before he died, Jeff said.
Of his last conversation with his father, Jeff said: "He said, 'I love you' and that's what I said to him, which is a great way to go out. The great thing is Dad loved the family so much, so the fact that we all saw him, I think that gave him great comfort and made his passing easy. Luckily, he didn't suffer through a lot of things."
At npr.org, Glen Weldon wrote: "As a man of devout faith, Keane likely suspected that his strip could provide comfort and hope to kids like Lynda Barry. Could he have imagined that his dotted-line strips might also have the power to send bored, broody, indoorsy kids like me down so many existentialist rabbit holes? Ida know."
Alvin Schwartz, 1916 - 2011
Schwartz, a writer and born polymath whose expansive career spanned eight decades and saw the creation of the iconic Bizarro Superman for DC Comics, died on October 28 at his home in Chesterville, Ontario (just outside Ottawa, Canada's capital) from heart-related complications. He was 94. Continues Brad Mackay at sequential.spiltink.org: "The US-born Schwartz was a notorious firebrand who resisted conventional thought, even if it meant challenging his own ideas or dismantling his own creations. In the nearly 20 years he worked in comics he wrote countless Batman and Superman stories (in comic books and in newspaper strips), came up with the idea (and title) for World's Finest comics, and was behind the remarkably durable villain Bizarro, the mirror-image anti-Superman whose pop-culture bona fides were cemented when he inspired an 1996 episode of the sit-com "Seinfeld" (1996's 'The Bizarro Jerry').
Les Daniels, 1943 - 2011
Daniels, one of the earliest historians of comic books, died on November 5 at his home in Providence, Rhode Island. He was 68. Daniels wrote 10 nonfiction books—among them histories of superheroes and of major publishers like DC and Marvel—and five works of fiction, all revolving around a globe-trotting, time-traveling vampire, Don Sebastian de Villanueva. "But he is perhaps best known, particularly among aficionados, for his 1971 book, Comix: A History of Comic Books In America," wrote Dennis Hevesi at the New York Times. "Starting with the days when pulp fiction fused with newspaper cartoons, Daniels documented how the golden age of comic books (pretty much starting when an infant placed on a rocket ship from Krypton to Earth became Superman) evolved into a period of turmoil in the industry after a noted psychiatrist, Fredric Wertham, published Seduction of the Innocent in 1954.
SO HOW ABOUT THAT CELLPHONE?
At the Newark airport (although it could just as well have been anywhere), I felt the need to visit the men's room, and did. Quite by happenstance, I stood at the urinal next to a man who was talking on his cellphone, one hand holding the instrument to his ear, the other, his dick. I don't know of any necessary connection from one hand to the other, but the circumstance made me wonder: Did the person on the other end of the phone conversation know he was talking to a man who was peeing as he spoke? And who phoned who? Did the guy at the urinal get the call while he was answering nature's call? Or did he wait until he unzipped his pants to phone his friend? And what do the answers to these probing questions tell us about our high-tech mobile society? If anything?
ONWARD, THE SPREADING PUNDITRY
The Thing of It Is ...
"It could probably be shown by facts and figures
that there is no distinctly native American criminal class
except Congress."
—Mark Twain
And now, thanks to a middle-aged conservative policy wonk named Peter Schweizer, we have the facts and figures.
Among them, this set: when Dennis Hastert went to Congress in 1986, his net worth was less than $300,000. When he retired in 2007 after being Speaker of the House, his net worth was close to $11 million.
How did that happen? Not because he saved the pennies left unspent each month from his salary. Of that we may now be certain.
And Hastert is scarcely alone.
"Schweizer had been struck by the fact that members of Congress are free to buy and sell stocks to companies whose fate can be profoundly influenced, or even determined, by Washington policy," wrote Peter Boyer in Newsweek (November 21), "and he wondered, Do these ultimate insiders act on what they know?" Browsing through public databases, Schweizer found the answer: yes, they certainly seem to. "Schweizer's research revealed that some of Congress's most prominent members are in a position to routinely engage in what amounts to a legal form of insider trading, profiting from investment activity that, he says, would send the rest of us to prison."
Insider trading, as it is known, is illegal. Unless you're a member of Congress. For you, it's legal. And if you're serving on a committee that has information you can base your investment upon, you are free to exploit whatever opportunities open up for you. And those who have taken advantage of their privileged position include both Democrats and Republicans—Nancy Pelosi, Max Baucus, John Kerry, Spencer Baucus, John Boehner, Shelley Capito, Jared Polis. The roll call, presumably, probably lists more than just these, who are named in Boyer's article.
And what's the consequence of all this?
One result is that Congress is one of the wealthiest demographics in the country. According to The Week, it takes an annual income of just above $516,000 to qualify as one of the riches One Percent of Americans. More than half of the members of Congress, senators and representatives, are in that One Percent.
And how does that matter? We have a few examples.
THE SO-CALLED "SUPER COMMITTEE" did what everyone supposed all along that it would do: it failed. Why would anyone on it want it to succeed? If a dozen elected officials could do what 535 congresspersons couldn't do, why have those superfluous 523 bloviating politicians cluttering up the halls in Washington? It would appear, then, that the super committee's underlying purpose was to preserve Congress despite its approval rating of 9 percent. Even members of the super committee, after all, are members of the Congressional Demographic, the Millionaires Club, and out of group loyalty, they act to preserve their colleagues' access to insider information and other perks and privileges that permit them to line their pockets. Or so we might suppose.
But that's not the only discouraging factoid rattling around loose in the halls of the Capitol.
Most observers agree that the solution to the nation's debt problem will ultimately involve cutting spending and raising taxes. Any sort of compromise on the issue was rendered moot by two people: Grove Norquist and Senator Jon Kyl. Senator John Kerry, a member of the super committee, said Republicans repeatedly insisted they could not violate the pledge against raising taxes authored by Norquist. "Grover Norquist has been the 13th member of the sujper committee without being there," Kerry said.
Grover Norquist, one guy who can bring a 235-year old democracy to a screeching halt. All this time, I thought we'd eschewed monarchy. Wasn't that what the Declaration of Independence was all about?
All six of the Republicans signed the Norquist pledge not to raise taxes. All six of them. Why would they raise taxes on all those super-rich guys, the much heralded One Percent? More than one half of the congress are in that top One Percent. Why would they tax themselves?
Would they act against Wall Street interests? Not likely. Wall Streeters have invested $17 million in the campaigns of the six Republican super committee members; $15 million in the campaigns of the Democrat six.
About Kyl, Dana Milbank at the Washington Post wrote: "It exaggerates little to say that Kyl thwarted agreement almost single-handedly. While some Republicans on the panel—notably Representatives Dave Camp and Fred Upton—were, with House Speaker John Boehner's blessing, prepared to strike a deal, Kyl rallied resistance...." Compromise was never possible with Kyl in the room because he refuses to negotiate. Last June, he dramatically demonstrated his unwillingness to make a deal when he joined House Majority Leader Eric Cantor in walking out of budget talks with Vice President Joe Biden. And when during the health care debate Senator Chuck Grassley was negotiating with Democrats, Kyl went on tv and said Grassley "has been given no authority to negotiate anything."
I HAD ABSOLUTELY NO REALISTIC EXPECTATION that the "gang of 12," the so-called "super committee," would produce anything but more hot air. Vain hope was all I had. The highly touted "penalty" if they can't reach their goal—tax cuts across the board—was supposed to act as a goad to get them to actually do something. Ha. Whatever Congress enacts, it can repeal. So they'll either repeal the legislation that created the super committee and the penalty or they'll modify the conditions or—something. Whatever happens, it won't be anything we'll recognize as any of the predicted outcomes of the legislation that created the super committee and the penalty for failure to act.
Columnist Vincent Carroll at the Denver Post summed it up: "Of course, Congress in all likelihood will act. It will wring its hands and wring its hands and eventually repeal the mandatory cuts, even if it can't agree to offsetting budgetary savings—and the president will likely go along despite his pledge to 'veto any effort' to get rid of them. We've seen too much of these guys to hope for a better outcome. It's clear what many of them care most about, and it isn't our colossal burden of debt."
What they care most about is being re-elected, which is why the Congressional Reform Act I've been touting lately is important; more of that (again) in a trice.
I'm persuaded, however, that, as E.J. Dionne says at the Washington Post (and in the Denver Post on November 17), that "failure by the super committee to endorse a deeply flawed deal is actually a victory for sensible deficit reduction" later. "Here," he goes on, "is a surefire way to cut $7.1 trillion from the deficit over the next decade. Do nothing. That's right. If Congress simply fails to act between now and January 1, 2013, the tax cuts passed under GeeDubya expire, $1.2 trillion in additional budget cuts go through under the terms of last summer's debt ceiling deal, and a variety of other tax cuts also go away."
Despite such realistic appraisals, we're already hearing about the catastrophic consequences of the automatic, across-the-board cuts. About cuts in defense spending, we hear that troops in the field will be deprived of bullets for their guns."The reality," Carroll points out, "is much more prosaic." He notes that Pentagon spending is higher today "than any time during the last 60 years, and that includes the Korean War, the Vietnam War, and the Defense Department spending during Ronald Reagan's administration. It's also more than 40 percent of all military spending in the world. And yet we're supposed to believe that reining in spending over nine years (the dictum of the sequestration) will jeopardize national security—even though the base Pentagon budget in 2021 would still be larger than it is today.
"No doubt," he goes on, "we'll hear similar squawks about automatic cuts in domestic programs—and never mind that the law exempts Social Security, Medicaid, the Children's Health Insurance Program and other programs for the needy while limiting Medicare reductions to 2 percent."
What have we done to deserve this Congress?
I'm reminded that the word "congress" also means sexual intercourse, and so I have come to believe that's what they're doing to us all.
Schweizer has provided a feeble hope, however. Removing insider trading privileges would help. And for some years, Representative Louise Slaughter (D-NY) has repeatedly proposed legislation that would require congresspersons to reveal all significant stock trades in real time. That way, we'd know if they were trading on information they were privy to. Slaughter never got more than a dozen of her colleagues to sign on to her proposal; but as of the first week in December, 138 eagerly supported the legislation.
Will that reform Congress? Probably not. They'll find ways around whatever legislation they pass if it makes them equal to the multitudes they govern.
Money has so corrupted our political system that it cannot act. The only solution is to destroy its influence by limiting all terms, as per the Congressional Reform Act. I'd say that purging the system of monetary influence would be better, but the chances of that happening when over half the members of Congress are in the upper One Percent of the nation's rich are remote. Impossible.
And so the next best thing is to limit terms of office. Then perhaps congresspersons will be less inclined to get hooked on lobbyist largesse. And if we removed all those financial perks congresspersons are entitled to (free health insurance, retirement pay equal to the salaries they enjoyed while in office), the incentive to re-join the club is somewhat diminished.
COMES THE REFORMATION
A friend sent me the specifics set forth below for revamping Congress. The recommended steps seem to me to tackle and remove most of the present impediments to decent government in this heppy heppy land.
Capitalism is probably the best way to organize human society: capitalism works well because it depends upon a fundamental aspect of human nature, greed. A capitalistic society like ours is inevitably a plutocracy in which government is conducted by or for the wealthy. But a plutocracy need not also be an oligarchy, government by the few. Over the years, we have participated in the charade created by the oligarches, who have cleverly convinced us that our form of government is a democracy. It is time to reject this figment, destroy the oligarchy, and reclaim some semblance of the democracy we all think we're living in. And we can do it with a simple series of laws, that we call here—:
CONGRESSIONAL REFORM ACT OF 2011
With actions like the following, we can revitalize our moribund government.
1. Term Limits
12 years only, one of the possible options below:
a. Two Six-year Senate terms
b. Six Two-year House terms
c. One Six-year Senate term and three Two-Year House terms
2. No Tenure / No Pension
A Congressman/woman collects a salary while in office and receives no pay when out of office. Serving in Congress is an honor, not a career. The Founding Fathers envisioned citizen legislators, so ours should serve their term(s), then go home and get back to work at some useful occupation. No pensions for "retired" Congresspersons. (As things presently stand, a Congressperson who serves as little as one two-year term in the House can "retire" with a pension in the amount of the full salary he/she enjoyed while on duty. Phooey.)
3. Congress (past, present & future) participates in Social Security
All monies in the Congressional retirement fund move to the Social Security system immediately. All future funds intended for this purpose flow into the Social Security system, and Congressmen/women participate in the system just as the rest of the population does.
4. Congresspersons can purchase their own supplemental retirement plan, just as all Americans do
5. Congresspersons will no longer vote themselves a pay raise
Congressional pay will increase by the lower of CPI or 3%.
6. Congresspersons lose their current health care system and participate in the same health care system as the American people
7. Congresspersons must equally abide by all laws they impose on the American people
And we'll be re-running this Excellent Plan here until it is actually adopted. See you (and it) next time.
VITAL FITNAUGHT: Once we have installed a new Congress under these rules, it should immediately formulate a Constitutional amendment that states, unequivocally, that corporations are not people and that money is not speech. Next, they sould break up the big banks so that the U.S. economy is not quite so interwoven with other countries' financial systems. They might also reinstitute the draft, for the reasons I offered above.
And then, even with campaign funding de-emphasized because no one will be a career candidate anymore, we should redesign campaign financing along the lines suggested by James Carville and Paul Begala. Google "Not One Dime" or "Carville Campaign Reform" to see the proposal. We'll publish it here next time or so.
ANNUAL REPORT
Just So We'll Have This Thing On Record
IN OUR EIGHTH YEAR AS A SUBSCRIPTION online magazine, from November 2010 through October 2011, we posted a total of 712 pages of Rancid Raves (averaging 59 pages a month—virtually the same as last year's totals, 705 and 59 respectively), plus 83 pages of Hindsight (an average of 6.9 pages a month, a little better than last year's 78 pages total, 6.5 pages a month). And so we are once again able to trumpet our accomplishment: what other magazine generates 66 pages of comics-related (mostly) news and reviews and in-depth articles every month for a mere $1.32 a month?
We (Jeremy Lambros, R&R webmaster, and I) produced 17 opuses of Rants & Raves in the last twelve months and posted 7 Hindsight (history and biography) articles. In the aggregate, that's somewhat fewer individual postings than in some previous years, but we're still within sight of the terms of our contract with subscribers: our treaty specifies approximately bi-weekly issues of R&R, and we did that six times out of twelve, but we posted something at least twice a month—at least one R&R and one Hindsight—for 9 months. And, as noted above, the total pages compare favorably with previous years. Still a big bargain, aristotle.
Resolve to the contrary notwithstanding, I still have not managed to curb my tongue sufficiently to reduce output to about 20 pages per opus, the original target, which I suspect is more reader tolerable because digestible at a single sitting. Once in the grip of my obsession, I cranked out 30-plus pages almost every month. And I now realize I'm not likely to change. So for the next year, I'm likely to continue pretty much as we have for the last year—one long R&R every month, plus a Hindsight, one or the other landing in your inbox every other week. Or so. Still, I humbly submit, a bargain at a mere $1.32 a month.
If you're not a $ubscribing Associate, here's some of what you've missed last year: During the preceding twelve-month, we did long essays on chesty superheroines, Spider-Man on Broadway, The New Yorker's annual "cartoon issue," Playboy's cartoon count by the issue, Ted Rall's trip to Afghanistan again, NBM and Papercutz, Newsweek's survival as the print version of DailyBeast, South Africa's Zuma going after pesky editoonist Zapiro, politics at Riverdale and sexism at Archie Comics, the demise of Wizard and what that means for comics, Billy Ireland Cartoon Library & Museum (including a report on the Festival of Cartoon Art in October 2010), Jefferson Machamer (bio and a generous sample of his cartoons), expiration of Fantastic Four and the demise of the Human Torch, Stan Goldberg's shabby treatment at Archie, border baggage searches and the Comic Book Legal Defense Fund, the endlessly revamped Wonder Woman, the fate of cartooning and cartoonists in the Middle East, Islamic hooliganism some more, a look at the infamous 1941 strike at Disney Studio, Garfield's 33rd anniversary, Bud Plant selling his mail order biz, my "roastee" response to being roasted at the Reubens Weekend, a short history of Maxine the crabby lady, Marvel's Fear Itself fiasco, San Diego Comic-Con International, fandom's 50th anniversary, comic strips celebrating the 10th anniversary of 9/11, DC's New 52, and Mike Dana's non-disappearance—plus regular pulse-taking on editorial cartoons and the state of the steadily diminishing profession.
And we did career-appreciation obits for Bill Blackbeard, historian/critic/collector Bill Crouch, Dwayne McDuffie, editoonist Bill Gallo, Lew Sayre Schwartz, Gene Colan, Sam Norkin, Lee Ames, Charles Brooks, BobArtley.
We reviewed books, too, great heaps of them, including: Was Superman a Spy?, Shameless Art (pin-ups); Holy Sh*t: the World's Weirdest Comic Books, The Story of O, First Time, Aldana, A Home for Mr. Easter; Salvatore, Elephant Man, Papercutz's Cyrano de Bergerac; Klassic Krazy Kool Kids Comics, Luann 25 Years, Bizarro and Other Strange Manifestations of the Art of Dan Piraro, Comics Shop, Graphic Classics: H.P. Lovecraft (and others), George Herriman's Krazy & Ignatz in Tiger Tea, Shazam: The Golden Age of the World's Mightiest Mortal, The Classic Era of American Comics, 75 Years of DC Comics, DC Comics Year by Year, Dick Briefer's Frankenstein, revised History of American Editorial Cartooning, Skippy vs. the Mob, Working with Disney, Denis Kitchen's Chipboard Sketchbook, Old Farts Are Forever, Wild Wood [Wally]: 100 Pages of Text and Art; various volumes of the Complete Peanuts as they appeared;
When Do They Serve the Wine; Jerry Robinson's revised The Comics; The Horror! The Horror! Comic Books the Government Didn't Want You to Read; A Celebration of America's Favorite Teenagers (Archie stuff), Archie's Madhouse, Mad Fold-In Collection, Essential Dykes to Watch Out For, The Addams Family: An Evilution; Too Small to Fail: Another th(ink) Anthology; Blackjacked and Pistol-Whipped: A Crime Does Not Pay Primer; Willie and Joe Back Home, and Lincoln from Rail-Splitter to Icon, plus reprint tomes of Secret Agent Corrigan, several on Dick Tracy, Chic Young's Blondie (1930-33), Edie Ernest: USO Singer/Allied Spy (from 9 Chickweed Lane), The Classic Archie Comic Strips (1946-48).
We inspected more than a few graphic novels, too, among them: Incognito, Motel Art Improvement Service, The Playwright, The Lives of Sacco and Vanzetti, Guerillas: Volume 1; The Big Hoax, How To Understand Israel in 60 Days or Less, and Aaron and Ahmed.
And we reviewed numerous first issues of funnybooks (among them, Stan Lee's First Soldier Zero, Traveler, and Starborn; and 14 of DC's New 52) and reported news until our feet smelled and our nose ran (we're built upside down and don't know it).
And in the Hindsight department, our long-form essay/historical section, last year we rehearsed and celebrated the histories and artistries of Dale Messick's Brenda Starr, Dick Locher's Dick Tracy, Charles Addams, Basil Wolverton, Bill Griffith and Zippy, and Signe Wilkinson.
To find out about Harv's books, click here.