Opus 274 (February 28, 2011). The Year of the Rabbit continues apace as we report on the Billy Ireland Cartoon Library & Museum at Ohio State University—its history, Ireland's biography, and the 2010 Festival of Cartoon Art that the Cartoon Library sponsored. (Maybe a bit too much on OSU doings, but Ireland's life and art are fascinating and well-illustrated, and this section is arranged so you can steer up to Ireland and then beyond without wasting valuable time on badly reported presentations that your half-deaf reporter can barely hear, let alone report.) We review a new history of American Political Cartooning and books about The Punch Brotherhood and Five Decades of Sergio Aragones' cartooning at Mad, plus John Byrne's Next Men and Fantastic Four No. 587 wherein the Human Torch goes out. And we spend far too much time listening to Gareb Shamus, Wizard CEO, explaining that nothing's amiss there even though the Wizard mag has ceased. Also: drama critics have at Spider-Man, Superman flick cast, Trudeau's data verified, Reuben finalists announced, black cartoonists are revisited for Black History Month, and Carl Barks makes cameo appearances in Disney comics. And we bid farewell to Bill Crouch and Dwayne McDuffie. Here's what's here, in order, by department:
NOUS R US
60TH Anniversary for PS Magazine
Reuben Finalists
Parade at Sandy Eggo?
Archie Graphic Novel, Politics at Riverdale
Bill Holbrook Site & Books
Spiegelman Gets Angouleme'd
RANCID RAVES AT THE MOVIES
Superman Cast
Forthcoming Superflicks
CONGRESSMAN IN THE COMICS
John Lewis Writing a Graphic Novel/Autobiography
SLINGING AT THE WEBSLINGER
Critics Open Up on Broadway's Spider-Man
Wizard the Magazine Ceases
But CEO Gareb Shamus Goes on Forever
Comics Buyer's Guide Reigns
YOUR EUSTACE
Contest to Portray New Yorker's Mascot
Tina Brown and Newsweek Light Fireworks
BLACK CARTOONERS REVISITED
RCH Meets Pearls' Pastis and Lives Despite Devastating Satirical Attack
NEWSPAPER COMICS PAGE VIGIL RETURNS
Trudeau's Accuracy
Jivey Department
BILLY IRELAND CARTOON LIBRARY & MUSEUM
Lucy Caswell Retires
Short History of the Cartoon Library
Brief Biography of Billy Ireland
2010 Festival of Cartoon Art: A Report
Celebrating Krazy's 100th
EDITOONERY
Revised History of American Editorial Cartooning
COLLECTORS' CORNICHE
A Valentine from Thomas Jefferson Machamer
BOOK MARQUEE
Art of Modern Rock: Mini No. 2, Poster Girls
The Punch Brotherhood
Sergio Aragones: Five Decades of His Finest Works
FUNNYBOOK FAN FARE
John Byrne's Next Men Returns
Fantastic Four's Human Torch Goes Out
ODDS & ADDENDA: Daredevil Reborn, Eisner's Spirit
Carl Barks Celebrates 70 in Disney Comics from Boom!
Jake Ellis, Tom Strong Time Travel, John Severin in the Old West, Jordi Bernet's Hex, The Man of Glass
PASSIN' THROUGH
Bill Crouch
Dwayne McDuffie
Our Motto: It takes all kinds. Live and let live. Wear glasses if you need 'em.
And our customary reminder: don't forget to activate the "Bathroom Button" by clicking on the "print friendly version" so you can print off a copy of just this installment for reading later, at your leisure while enthroned. Without further adieu, then, here we go—
BUT BEFORE WE GET STARTED, if you haven't inspected our list of Books for Sale, now's a good time to make the trip. Just click on Books at the left, and you'll be transported to a list of Great Buys: if these books are not rare and therefore somewhat vintage (as some are), then they're either brand new or read only once. And the prices are usually less than half the cover price (except for the rare ones, the prices of which scrape the ceiling). Among the numerous treasures for sale are such recent arrivals as: Shameless Art, a spectacular collection of pin-up and paperback book cover art by all your favorites; Chic Young's Blondie: The Complete Daily Comic Strips from 1930-33; and The Best of Simon and Kirby, showcasing representative works by Joe Simon and Jack Kirby, starting in the 1940s and through 1966. Try it; you'll like it. Now, as we were saying, here we go again—
NOUS R US
Some of All the News That Gives Us Fits
EVERY ONE OF MARVEL'S MARCHING MINIONS who cares about such matters now knows that the member of the Fantastic Four who died in issue No. 587 is Johnny Storm, aka the Human Torch. For more, see Funnybook Fan Fare 'way down the Rancid Raves Scroll. ... This may be the first time an animated feature film was in the Oscar competition for Best Picture—"Toy Story 3," which was also in the Animated Feature category against "How to Train Your Dragon" and, surprisingly, "The Illusionist." ... .Joanne Siegel, the widow of Superman co-creator Jerry Siegel and the model for Lois Lane, died February 14 in California. She was 93. ... DailyCartoonist sez: BOOM! Studios has announced that it is beginning a new association with Charles Schulz's Peanuts, and that its kids imprint will henceforth be known as Kaboom! Fantagraphics Books is currently publishing the chronological reprints of the Peanuts strips, so BOOM!'s packaging will presumably employ some other content. Perhaps the old Peanuts comic book stuff.
Joe Kubert and Paul E. Fitzgerald have started a year-long blog salute to the Army's PS Magazine in honor of its 60th year. Fitzgerald was the magazine's first managing editor (1953-1963), and is the author of the 2010 Eisner Award-nominated history, Will Eisner and PS Magazine. He will make "best of" selections from the 227 issues Eisner produced over his 21 years with PS; Kubert, who has just completed his tenth year as the contractor for the magazine's creative art, design and pre-press services, will make selections from all issues since February 2001, and the magazine's existing staff will choose from issues by the six art contractors between Eisner and Kubert. Of the eight contractors responsible for producing PS, Eisner served the longest; next with 150 issues are Jack and Diane Backes. Murphy Anderson served twice, 111 issues (and he had worked in Eisner's PS shop). Kubert has so far produced 124 issues and is still the contractor. The blog, which apparently will post new material daily, can be found at thebestofpsmagazine1951-2011.blogspot.com
From Alan Gardner at DailyCartoonist (February 4), the latest chapter in the Danish Dozen adventure: "The 29-year-old Somali man that allegedly tried to break into Kurt Westergaard's home with an axe was found guilty. The sentence is nine years in prison plus a fine of nearly $2,000. After being released, he will be expelled from Denmark. Defendant said he just wanted to scare Westergaard, not kill him."
Finalists for the "cartoonist of the year" award (the Reuben) conferred by the National Cartoonists Society (NCS) are Glen Keane (animation), Stephan Pastis (Pearls Before Swine), and Richard Thompson (Cul de Sac), the latter two strip cartoonists have been previously nominated for the honor. The winner will be announced at the Reuben Banquet during the NCS annual convention held over Memorial Day weekend, this year, in Boston. Best known for his character animation at Walt Disney Studios for such feature films as "The Little Mermaid," "Aladdin," "Beauty and the Beast," "Tarzan," and "Tangled," Keane received the 1992 Annie Award for character animation and the 2007 Winsor McCay Award for lifetime contribution to the field of animation. Bil Keane, Glen's father, collected the Reuben for 1982. The last cartoonist in animation to receive the Reuben was Matt Groening who received his for 2002; no other animators have ever won the Reuben.
Someday, maybe as early as 2012, the Sandy Eggo Comic-Con might begin with a parade through downtown San Diego. It's an idea being touted about by City Council President Tony Young, reports Jen Lebron Kuhney at signonsandiego.com Young, a "self-proclaimed comic book collector and sci-fi novel fan," thinks a parade would be a good way to involve the city in the Con. "The problem with Comic-Con sometimes is that San Diegans can't really participate in all the spectacle," he told Kuhney. "They can't take part if the Convention Center's full. So this is a way for that guy who's in his Chewbacca outfit or whatever to take his kids and come down and watch this parade. They're going to be hungry, they're going to go to restaurants and they're going to spend money. The other thing is, you know CNN, and all the networks are going to show this. This is going to be a great way to highlight San Diego. The bottom line," Young ranted on, "is San Diego needs to let its hair down a little. We can get so tied up in some of these major issues, which of course are important, but to be a big city you have to have great events and you have to let down your hair some. I want to see the mayor in his Batman costume that I know he has tucked in the back of his closet somewhere and I want to see him leading the parade."
*****
Calvin Reid at publishersweekly.com reports: "For the first time in its 70-year history, Archie Comics will publish an original graphic novel later this year—a major change for a company that still leans heavily on newsstand sales of single-issue comics and digests for the lion's share of its revenue. The new graphic novel, Archie Babies, will be written by Mike Kunkel, who wrote and drew the first issues of Billy Batson and the Magic of Shazam! for the DC Comics' DC Kids line. The artist for the project is Art Mawhinney, who has worked for DC, Marvel, and Nickelodeon. The book will be distributed by Random House. Archie Babies was originally announced as a monthly series, but Jon Goldwater, co-CEO of Archie, said the company is putting renewed emphasis on graphic novels since signing a distribution deal with Random House last September. "We are going to put a lot of emphasis on our graphic novels," he said. "It is a very, very important part of our business here at Archie Comics."
Archie's latest foray into the future will result in digital versions of its comics being online the same day as print editions hit the newsstands, reports George Gene Gustines at artsbeat.blogs.nytimes.com. Postings will begin in April, but already comic shop retailers are a little upset, fearing the web exposure will sabotage sales in their stores.
Archie is getting so up-to-speed that politics have intruded into the otherwise balmy afternoons at Riverdale High School. In Archie No. 616, Archie and Veronica are depicted talking environmental issues with President Obama, and Reggie gets his photograph taken with Sarah Palin. "Both political alliances are used for Archie and Reggie to further their campaigns for student-body president," said Ken Tucker at EW.com's Shelflife blog.
****
Bill Holbrook, who confounds us all by producing three daily comic strips, writes: "On January 1, the websites for On the Fastrack and Safe Havens (fastrack.com and safehavenscomic.com) were redesigned with new features. Most importantly, they now display the strips themselves in addition to an archive. The purpose behind this is to build an online community around them similar to what has developed for my online strip Kevin & Kell (kevinandkell.com). Basically, I've created three stages of interactivity: A weekly news update, a blog written by one of the strip's characters that allows reader comments, and also a comment section for each individual strip. Reader participation will hopefully create a feeling that they're invested in the strip's success, and will support it financially. That's basically what's kept Kevin & Kell going all these years." The site also offers book collections of Holbrook's strips, each containing a year's strips: Fastrack is in New Hair Day (2005), Merger! (2006) and Bug Zapper (2007); Safe Havens is in Taking Wing (2005), Resident Advisor (2006) and Extreme Vows (2007). Holbrook continued: "I'm currently working on the next Kevin & Kell collection called Honeymoon 2.0, the complete run of strips from 2009. Still in the works is a possible TV series which is in the process of being pitched." And then there's a special iPhone/iPad app by the WareTo company, visible here: itunes.apple.com/us/app/kevin-kell/id404235152?mt=8
"An additional note," Holbrook added last week, "is that one of my Fastrack characters, Dethany the perky Goth, is going to start a Twitter feed and a Facebook wall. The later is still under construction, but the Twitter account was launched last night at twitter.com/dethany_d ."
*****
In early February, maus-man Art Spiegelman accepted Angouleme's Grand Prix honor, knowing that acceptance entails being president of the Angouleme International Comics Festival next year—and that means guiding the festival's exhibits and conferences and programs. "I don't know whether you should say 'congratulations' or 'condolences,' " said Spiegelman when he was interviewed by ComicRiffs' Michael Cavna. But, he went on, "I didn't think I could say 'no' without causing an international incident of Bush-like proportions."
The four-day fest, which debuted four decades ago, now draws roughly 200,000 visitors to southern France. Joking aside, Spiegelman recognizes the Grand Prix as a distinct if perhaps (in his case) misplaced honor: "It would have made sense 15 years ago," he said. "I feel like President Obama and the Peace Prize—the timing's all wrong." It might be wrong, but Spiegelman has scarcely left his 1992 Special Pulitzer Prize for Maus behind: his latest project is "Metamaus," a look back at the landmark Holocaust-memoir graphic novel that is still his best known work.
RANCID RAVES AT THE MOVIES
"The New Superman" is on the cover of last week's Entertainment Weekly (February 25)—in the person of British actor Henry Cavill, who got the part in the forthcoming Superman movie because he wore the costume without inspiring laughter. That was the test. The Laugh Test. Said director Zack Snyder: "If you can put that suit on and pull it off, that's an awesome achievement." And Cavill did it. "He walked out and no one laughed," Snyder said. "Other actors put that suit on and it's a joke, even if they're great actors. Henry put it on, and he exuded this kind of crazy-calm confidence that just made me go, 'Wow. Okay, this is Superman.'"
Snyder phoned Cavill with "good news and bad news." The good news : he got the part; the bad news : he needed to start working out. Cavill was thrilled.. He thinks of the role as "the biggest job in history."
That's a little extreme, I ween—I mean, bigger than Prez of the U.S.? Bigger than King of the World? Bigger than Rush Limbaugh?
But Cavill's overblown (somewhat) excitement is a measure of the cultural status of funnybook superheroes these days. And the EW cover treatment is another indication that the spandex bunch have Arrived. Nothing is a measure of Human Achievement so accurate as getting into the movies. In our culture, the movies confer the ultimate accolade. They represent the pinnacle of success. Forty years ago, comic book writers were chagrined if they had to admit they wrote comics for a living; if at all possible, in the same breath as their confession, they'd strenuously imply that they were actually working in comics as a way of developing the skills they'd need in their Real Profession, which, they'd say, was writing movie scripts. Nowadays, the two, movies and comic books, have become so intertwined that comics have achieved a respectability and acceptance, and comic book writers need no longer snivel apologetically about their work life.
Superman isn't the only superhero to achieve status through the movies and cover treatment at EW. Batman's been there; ditto Captain America. And in the "Superman issue" of EW, we find a handy role call of forthcoming superhero movies, a positive orgy of status symbols: Thor gets the season off to a hammering start on May 6 (the door-opener for this year's Free Comic Book Day on May 7); "X-Men First Class," June 3; Green Lantern, June 17; Captain America, July 22. Next summer's offerings are all apparently definite enough that EW can announce opening dates for all but the Wolverine flick: the Avengers will debut on the silver screen on May 4; Spider-Man's back on July 3 and Batman on July 20. And more—many many more—are doubtless in the offing.
One of the more unusual is Matthew Vaughn's a-borning project. ICv2.com reports that even as Vaughn is still editing "X-Men: First Class," he's already thinking about his next project, "The Golden Age," described as "a saga about the denizens of a retirement home for superheroes, who have to come to the aid of their grandchildren after their middle-aged offspring screw up the world. "The Golden Age" is based on an unpublished comic book series written by Jonathan Ross, the British talk show host, who is a huge comics fan and the author of Turf, which is drawn by Tommy Lee Edwards and published by Image." The aging superheroes concept of "The Golden Age" is not exactly new, ICv2.com points out. Frank Miller may have initiated the genre with The Dark Knight Returns, and Working Title films has an adaptation of Kurt Busiek's Astro City in development.
Vaughn's project appears to be in its early stages: he told Deadline that he is not sure if his writing partner Jane Goldman will write "The Golden Age" screenplay, or if he will direct as well as produce the movie. The project is not related to the James Robinson Elseworld's mini-series from 1993, which was also called "The Golden Age," and which dealt with Golden Age DC heroes entering their twilight years in the 1950s and dealing with McCarthyism.
In other celluloid configurations: ICv2.com reports that Adrianne Palicki, who starred as Tyra Collete in "Friday Night Lights," will play Diana Prince/Wonder Woman in the new NBC series being developed by David E. Kelley. According to The Hollywood Reporter, Kelley's conception of the Diana Prince character is that of a modern woman who is trying to balance her life as a successful corporate executive, and a crime-fighting vigilante. As I contemplate her physiognomy, Palicki "looks" more like a tough lady WW than, say, the sweetly pretty Lynda Carter of yore.
CONGRESSMAN IN THE COMICS
Civil rights pioneer Congressman John Lewis of Georgia is writing a graphic novel about his lifelong crusade for human and civil rights. Lewis began organizing sit-in demonstrations in 1959 in Nashville, Tennessee. In 1961 he was beaten and jailed for his participation in the Freedom Rides that were launched to desegregate interstate bus depots in the South. From 1963-1966 Lewis was Chairman of the Student Non-Violent Coordinating Committee (SNCC). He coordinated the Mississippi Freedom Summer in 1964, and he led the voting rights march across the Edmund Pettus Bridge in Selma, Alabama, where the marchers were attacked by Alabama State Troopers on what became known as "Bloody Sunday."
Despite being arrested over 40 times, physically assaulted and severely injured repeatedly, Lewis remained unwavering in his commitment to non-violence. He has served as the Congressional Representative from Georgia's 5th District since 1986. Entitled March, the graphic novel will be a history of the civil rights movement as well as Lewis' personal story. It will be published by Top Shelf in 2012.
Lewis is writing with his Congressional aide Andrew Aydin, a comic book fan who is the one who put it all together, said Top Shelf Co-Publisher Chris Staros, who lives in the Congressman's home state Georgia.
Reports Vaneta Rogers at newsarama.com: "It all started when Aydin discovered the historic importance of a comic book called The Montgomery Story, which was published by the Fellowship Reconciliation in 1957. The comic told the story of the Montgomery bus boycotts, but also talked about Gandhi, Dr. Martin Luther King and nonviolent social resistance."
When Adyn asked Lewis about the comic book, Lewis said he could remember people saying The Montgomery Story was one of the things that inspired them to join the Freedom Rides.
Said Aydin: "I was hooked right there. I started asking him, 'Congressman Lewis, why don't you write a comic book?' He would laugh and smile and sometimes even say maybe." A few weeks passed and Aydin was out on the hustings with the Congressman during the 2008 campaign when a volunteer mentioned something about comic books, prompting Aydin to pose the proposition one more time. This time, Lewis said he'd do it if Aydin would write it with him. Once they started writing, Aydin approached Top Shelf, and Staros was interested.
And when he read the script, Staros became enthusiastic about March. "I knew the idea was good, but execution is key. So they sent me the first half of the graphic novel. And Andrew and the Congressman had done a fantastic job with it," Staros said. "It really read like a graphic novel. It was going to convert digitally to comics form exceedingly well. So once I read that, I was elated, because I knew this was a winner. I knew this would be an important literary work."
None of my sources here, USA Today and newsarama.com, named an artist who would produce the visuals from the Lewis-Aydin script.
SLINGING AT THE WEBSLINGER
The review crew along Broadway in New York has been pouting about the Spider-Man musical. The show has yet to experience an "official" opening: it's still in a "preview" phase as it tries to work the, er, bugs out of its numerous mechanisms, and until it opens officially, the unwritten rule along the Great White Way is, apparently, that critics refrain from reviewing the production. But the show has itself broken plenty of rules. "It's had more previews than any musical in history," says Robert Siegel at NPR—60 as of February 7. And when the "official" opening was postponed again from February 7 to March 15, the critics club balked at tradition. They're a snotty bunch anyhow (not unlike comic book critics): they act as if Broadway theater was their stage.
In any event, the vultures descended on February 8, spewing up 11 reviews. "Every one of them," as Jeff Lunden reported at npr.com, "—negative."
The Washington Post's Peter Marks was a little uneasy: "I think it clearly makes you a little uncomfortable to be reviewing something before the production claims it's quote-unquote 'ready.' but the other side of that is this show decided that, you know, it was okay to charge Broadway prices [top price, $275, and sales remain strong throughout the "previews"] while they screwed in the nuts and bolts." Marks plunged into the fray regardless of his discomfort. Saying the show was 170 spirit-snuffing minutes long, he went on to say it lacked a coherent plot, tolerable music, and workable sets. To be sure, the hero soars over the audience, he concluded, "and yet, the creature that most often spreads its wings in this show is a turkey." Cute.
Ben Brantley at the New York Times is quoted in Time, February 21, from his February 8 review: "The sheer ineptitude of this show ... loses its shock value early. After 15 or 20 minutes, the central question you keep asking yourself is likely to change from 'How can $65 million look so cheap?' to 'How long before I'm out of here?'"
At Hollywood Reporter, David Rooney wrote: "What really sinks it is the borderline incoherence of its storytelling." It is a mistake to include a musical number, "Deeply Furious," in which "Arachne [a villainess] and her Furies go shoe-shopping before entering the human world. Seriously." Steven Suskin at Variety doesn't like the show either and hopes the ever-forthcoming changes will include surgery to remove "Deeply Furious"—"the spiders-in-heels number that is fast developing into musical-theater legend." Not a good thing, apparently.
Charles McNulty for the Los Angeles Times said: "Spider-Man is a teetering colossus that can't find its bearings as a circus spectacle or as a rock musical. ... Nothing," he finishes, "cures the curiosity about 'Spider-Man' quite like seeing it."
So much for Broadway's critical chorus, united, it seems, in utter disparagement, leaving only the immortal Glenn Beck as Spider-Man's champion. John Lahr in The New Yorker (February 28) says Beck has seen the show four times. "With his canny nose for truthiness," Beck has declared it "the best show I've ever seen. Bar none. Heads and shoulders above anything else." What's the attraction? Said the guru of dramaturgy: "I want to see if Spide-Man falls on the audience."
Concludes Lahr: "Producers take note: people are paying top dollar for a Flying Wallenda moment."
In the midst of this tsunami of snark, I was happy to see Peter David, an actual comic book guy, wade into the fray in Comics Buyer's Guide No. 1676 (April). Upon first seeing the topic of his column, I thought maybe his sympathies and his understanding of the source medium and of the characters enacted on stage will dilute his verdict. Maybe not.
David begins by accusing carping commentators about the show of "showdenfreude, a variation on the German schadenfreude (enjoyment of other's problems), it involves bystanders eagerly rooting for, and taking personal satisfaction in, the failure of a tv program, movie or—in this case—a Broadway show." He continues with a metaphor that seems not to bode well for his final verdict: "'Spider-Man: Turn Off the Dark' is like a homerun hitter. It doesn't know how to lay down a bunt or just try to make contact. It consistently swings for the fences. It strikes out more than it should—and with big strokes. When it connects, however, it knocks it out of the park."
Alas, it doesn't connect very often. Costumes, sets and special effects are "amazing," David said. And "the Green Goblin and Sider-Man slugging it out while soaring over the audience [is] the most totally immersive super-hero experience I've been to since Spider-Man ride at Universal." And in Act 2, is "a haunting sequence involving a sleeping Peter being seduced in his dreams by the villainess Arachne that is simply one of the most astounding visuals I've ever seen on stage, period."
That's about all the homeruns for David. The first act "stumbles," he says, "right out of the gate with the introduction of The Geek Chorus." I suppose it was just too tempting to concoct the modernization of a classical theatrical device, "the Greek chorus" that comments on the action as it transpires. The device has possibilities, David allows—"the discussions they have about free will versus determination (Was Peter Parker destined to be bitten by a spider as opposed to its being random chance?)" are exactly "the kinds of debates one sees on message boards all the time."
David sees a theme buried in the show's mechanical rubble: "Spider-Man is part of a mythic architecture that goes back centuries and is as old as mankind's ability to sit around a campfire and say, 'Once upon a time.'" But the plot that wanders off into Never Never Land in the second act sabotages this ambitious notion.
David doesn't like the music either. Announcements that the show's opening is being delayed so more work can be done on the book and the songs "is both good news and bad," he says. "The good news is: thank God; it needs it. The bad news is: Bono and The Edge are coming back to write new songs, while I'm not blown away by the ones they've got."
One observation David makes is a welcome scrap of fact that should unhorse much of the commentary about (as Adam Markovitz says in Entertainment Weekly) performers injured by high-flying stunts. (Commentary that I've participated in by repeating it here). "It should be noted," says David, "that none of the injuries since the show opened in previews has been associated with the flying effects."
David's bottom line about the most expensive musical ever mounted on Broadway is this: "At the curtain call, the audience gave the show a standing ovation because of what the show as—a sheer spectacle, unlike anything else that has ever hit Broadway, that was a culmination of nearly a decade of work. Not a trace of showdenfreude in the house."
Nicely done, Peter, and thoroughly authentic sounding, too.
Magazine Publication, the Web, Fate, Wizard,
And Our Deluded Niche Audience as Seen by One Who Pretends to Know
A FULL-PAGE ADVERTISEMENT in Time (February 21) claimed that the magazine industry is in a glorious state of fiscal health and expansion. "Barely noticed amidst the thunderous Internet clamor is the simple fact that magazine readership has risen over the past five years. Even in the age of the Internet ... the appeal of magazines is growing. Think of it this way: during the 12-year life of Google, magazine readership actually increased 11 percent." Dunno what, exactly, the ad is selling. Magazines, I suppose. Conde Nast, a magazine publisher, apparently placed the ad. In any event, if the assertions are true, print journalists aren't out of work yet.
Except, maybe, in the comics niche of the magazine publishing environment.
Wizard, the glossy monthly magazine about comics, is no longer in print. Ditto the publisher's ToyFare magazine. Starting this month, the print Wizard will be replaced by a digital version called WizardWorld. It will cover comic books, toys, and superheroes and the personalities behind them, kittyspride.com announced at the end of January. The publisher recently went public as Wizard World, Inc., and it seems focused now on its program of popular culture shows, the Comic Con Tour, that is supposed to convene all around the country in 12 cities this year.
According to Gareb Shamus, Wizard World President and CEO who has, for twenty years (since the debut of Wizard in 1991) catered to pop culture fans, the death of his two print magazines is simply a matter of evolution. Interviewed at ICv2.com, he seemed deliberately to avoid saying that the magazines died as a result of drooping circulation, the slow evaporation of print media generally, or the emerging dominance of the Internet. In fact, he maintained that Wizard was a champion seller to the very end. But times they are a-changin' and Wizard has to change with them.
"The market's changed," he said. "When I started 20 years ago, I was pioneering in the publishing world in terms of creating a product that got people excited about being involved in the comic book and toy and other markets, and we could do a lot of really cool and innovative things. Unfortunately right now being involved in the print world is very stifling, in terms of being able to leverage your content and your media and your access to the world out there."
The print world is failing publishers not because of declining readership or advertising (the usual culprits) but because it's "stifling"—not adaptable enough for the times. And Shamus is all about creating a product for a new market: "Through Wizard World, I'm starting an all new free weekly digital magazine. By doing it digitally, we have direct access to our consumers. There are no intermediaries between us now and our end consumer in all the businesses that I'm in now. When you look at my ability to sell tickets to fans, or get fans excited about our digital offerings now whether it's through Wizard World, our new digital magazine, or Geek Chic Daily, I have direct access right now to the consumers who are our biggest fans. They're the ones who support us, they're the ones who get excited about what we do, and now we have direct access in all areas of the world I live in."
WizardWorld will be on the Web and available in an app download for any format people have access to. And Shamus is not the Lone Ranger in his move into digital ether: at the ComicsPro meeting in Dallas, February 10-12, Diamond Comic Distributors announced a partnership with ComicsPlus reader developer iVerse Media to offer digital comics exclusively through comics retailers, beginning in July.
WHEN THE ICv2.COM INTERVIEWER pointed out that comic book shops have made a lot of money selling the print Wizard and that he was leaving them in the lurch, Shamus admitted no responsibility and shifted the blame for the dire circumstances of retailers to comic book publishers.
Wizard, he professed, was a gold mine to retailers: "Until we ceased publishing," he said, "Wizard probably sold better than 95% or more of every single comic book out there in terms of sheer units. Forget about even dollars because it was a higher cover price."
He said he feels bad for the retailers: "They have a very difficult situation ahead of them. I read a lot of their newsletters in terms of their struggling, their crises, having their worst sales ever."
But that's not his problem: "The problem is the comics industry has not taken a leadership position in helping these guys. Their sales continue to fall, they've been falling for a long time, and nobody's taken a leadership position in helping these stores pay their bills. I don't make the product; I make the magazine about the product, so it's up the people that make the product to figure out how to support the system that gave them their livelihood."
If publishers took the leadership role Shamus urges on them, they could take his company's modus operandi as a model: "When I go into a city with a show, I do everything I can to sell tickets. I do everything I can to get the word out. I do everything I can to get people to come to the show and have a great time and get exhibitors and get dealers. I do everything. I work with everybody. I do everything I possibly can, and the companies in the [comic book] industry aren't doing everything they can. They're picking and choosing when they should be doing everything. Mattel and Hasbro don't sit there and say, oh well, no tv or no radio, or no this or not that. They work with everybody. They support everybody that supports them."
SHAMUS SEEMS TO VIEW THE DIGITAL MAGAZINE chiefly as a marketing tool for the Comic Con Tour. The inherent strategy of the Tour is to capitalize on two aspects of such events: "When you think about what these events are about," Shamus said, "it's really a social gathering of people who are interested in pop culture, whether it's comic books, toys, games, animation, movies, television, and when you look at people who attend these events, it's a local thing. ... Consumer shows are really built around consumers that live within a radius of the local market. We're strategically targeting areas throughout the country where we know there are pockets of people who are interested and excited about what's going on in the pop culture world."
Hence, the strategy of the Comic Con Tour: "Companies that want to reach this audience don't want to reach them at one time in one place; they want to reach them all the time all over the place. We've found it's impossible to build momentum when you have one-off events. By being able to create momentum from city to city, throughout the tour and throughout the year, companies and people and artists and celebrities can benefit from being around all the time and building the momentum we can create from city to city."
Shamus was asked about the suppose competition between Wizard World and Reed Exhibitions. Wizard has run the Chicago Comic Con for almost 15 years, and Reed's running a new show there and in New York. Wizard acquired the Big Apple show and at one point had a show scheduled the same weekend as Reed's New York Comic Con. But Shamus denied the obvious competition: he thinks Wizard has the superior events:
"At the end of the day when we create a compelling event, our audience comes out to see us. I've been marketing and promoting and been involved with this fan audience for 20 years now and when I put on an event, my audience responds. So it actually doesn't matter what anyone else does out there. We don't have competition. So if someone's going to spend money with San Diego and not with us then it wasn't in their budget. We don't fell like there's any competition for us."
And then, as if to promote his show over that of the competition's (because they are competitors as Shamus' every utterance attests), he veered off into extolling the features of the Wizard Con over all other rivals: "If somebody wants to meet Julie Benz, they're coming to our show. If someone wants to meet Bruce Campbell, they're going to come to our show. If they want to meet Felicia Day, they're going to come to our show. If they want to meet Ethan Van Sciver, they're coming to our show. Just because Bruce Springsteen is playing and we're Bruce Springsteen, if some little band is playing across the street, then nothing's going to stop them from coming to see us in concert. ... There's nothing that's going to stop fans from coming to our show if we do a good job and create a compelling event."
And the alleged competition is in the same game: "If people like what someone else is doing, they'll go to both," Shamus said. "People don't just buy one video game, if they want two video games, they'll buy both. If there are two movies that they want to go to, they'll go to two movies, but if there's only one that they want to go to, then they'll go to one. It's my position that if we create a compelling event that people will come out for it."
Spoken like a tooth-and-claw competitor.
WITH THE EXPIRATION of Wizard magazine, the venerable Comics Buyer's Guide (CBG) now stands alone as the only monthly magazine about comics. The Comics Journal went digital in December 2009 (at tcj.com), resorting to print only once a year in a "book format," the first "issue" of which is coming in at around 600 pages and is poised, even as I scrawl this unrepentent prose, to emerge.
At the CBG, editor Brent Frankenhoff can't help but insinuate a tiny note of victory in his announcement of Wizard's demise: launched in 1991, Wizard: A Guide to Comics was, Frankenhoff says, "a glossy comics magazine designed to compete with many other comics-related magazines [most obviously, given the deployment of the term 'guide,' CBG]. In the years since, all of those publications have changed formats or frequencies or gone out of business"—except, he might have added, but had the surpassing insouciance not to mention, the Comics Buyer's Guide.
Were I he, I must confess, I'd have rubbed my hands in glee and done the happy dance, figuratively speaking, at the ultimate triumph of my magazine. CBG abandoned its weekly newspaper format for a slick-paper color-cover monthly magazine about 4-5 years ago; it was an obvious attempt to meet the perceived competition of Wizard. (But Frankenhoff is careful to note that "others may have perceived a rivalry [between CBG and Wizard, but] we've always had friendly relations with Gareb and his staffers at his many shows." Of course; why not be friends? You can be friends with your competition. No law against that. But friendly relations do not eliminate rivalry.) After a few years going head to head, toe-to-toe, now CBG is the last of its breed still standing.
CBG has endured some financial doldrums lately—giving up its monthly "price guide" section, for instance, an expensive luxury these days—but it's still producing a print edition on a regular schedule. Maybe appealing chiefly to the "collector/speculator" was a canny move, despite my disparaging of it lately. But CBG's publisher, Krause/F+W Media, has apparently given up on its toy collector magazine: I've forgotten its name, but I see no evidence of it at the F+W Media website.
Conte Nast's magazines may be thriving in these straitened economic times (and maybe their cheery ad in Time is designed to lull potential advertisers into buy ads in Conte Nast magazines), but in the universe of comics, survival is a struggle, it seems.
YOUR EUSTACE, 2011
Eustace Tilley, the so-called "mascot" of The New Yorker, is, as he has been for almost all anniversary issues of the magazine, on the cover of the issue closest to the actual date of the first issue, February 25, 1925, where Eustace debuted with the magazine. This year, that issue is the one dated February 14 & 21. Only a few things vaguely at variance with actuality in the foregoing.
Rea Irvin's mockery of the twenties' Broadway dandy by deploying an image of an antique, the top-hatted Regency boulevardier inspecting a passing butterfly through his monocle, seemed, at the time, oddly out-of-place. But Harold Ross, the magazine's founder, wholly at a loss as to what to use for the inaugural issue, picked it for reasons he could never explain. Turns out, it was perfect, as we can read at the newyorker.com —"a gentle barb (aimed, in this case, at the city's fossilized high society" by portraying it with an out-dated image, "and, perhaps, self-mockery (aimed at the fledgling magazine's own ambitions)." But Eustace was never intended as a mascot. He showed up on the cover of the first anniversary issue because Ross, once again, couldn't think of anything better. And after two appearances, the tradition was rutted, seemingly, forever. Cartoonist Lee Lorenz, who was the most recently reigning "cartoon editor" (the title was never part of Ross's wayward vocabulary about his staff) before the current Cartoon Editor (the title now established), Robert Mankoff, told me that the staff struggled every year to contrive something other than Irvin's insouciant lepidopterist for the anniversary issue and, forever failing, resorted to tradition year after year.
And Irvin's dandy had no name at first. He appeared later in the inaugural year, reports Louis Menand, in a series of humor pieces lampooning corporate promotional advertisements. Written by Corey Ford, these effusions purported to offer an inside look at the way the magazine was produced. Irvin's image was given a name, Eustace Tilley, and a function, supervising, for example, the felling of "specially grown trees to make paper for The New Yorker."
"Almost all anniversary issues" is correct. Starting in 1994, Irvin's drawing disappeared for several years as other artists took their turns at re-interpreting the iconic image. R. Crumb started it with Tilley as a callow slacker; R.O. Blechman did a female Tilley. And others had their way with the character. But Tilley returned in his Irvin glory in 2001 and has continued, every year since, with occasional errant divergences.
But the desire to tamper with tradition wells up irrepressibly at the magazine, and beginning in 2008, the management has sponsored a contest every year to let outsiders lambast the Irvin tradition. This year, more than 600 iconoclasts submitted drawings, and the editors picked twelve winners, all of which are displayed at newyorker.com under the heading we have above; a couple, you can see hereabouts.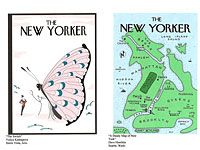 At The New Yorker site, you can see some of the candidates of previous years, too. The Grand Prize winner for 2011, chosen from the twelve, will be announced later in the spring when New York's fabled bookstore, the Strand, will introduce its tote bag with the Grand Prize image on it.
As an unabashed luddite traditionalist, I'm happy that the magazine has, for the most part, resumed the anniversary cover tradition by finding another way to permit, even encourage, deviant creativity.
Herewith, An Irrelevant Interlude
at the Froth Estate
IT WAS TINA BROWN, magazine journalism's wunderkind from Britain, who shattered the hoary tradition of the Tilley anniversary cover: she commissioned Crumb's slacker Tilley in 1994. Brown's editorial strategy was once described as "kissing the ass of celebrity," and the first two magazines she rescued from obscurity were periodicals that exploited the famous to titillate their readers. She had established herself as a writer of bright witty prose while still a student at Oxford, but some of her career advances came as a result of her relationships with writers Auberon Waugh, whom she profiled for a student magazine, and Martin Amis, whom she dated for a time. In 1974 at the tender age of 21, she was introduced to Henry Evans, editor of the London Sunday Times, who gave her assignments. He divorced his wife in 1978 and married Brown in 1981.
By then, Brown's freelance writer career was over: in 1979, she had become editor of tiny, almost extinct society magazine Tatler, which she transformed into a modern glossy with covers by famous photographers and interiors written by equally celebrated writers. Tatler's circulation soared from 10,000 to 40,000. Brown went back to freelancing for a short time after Tatler had been bought by S.I. Newhouse's Conte Nast in 1982, but then Newhouse brought her to the U.S. in 1983 to advise on Vanity Fair, a venerable magazine he resurrected that year from the grave it had been moldering in since 1936. She advised briefly and then became editor-in-chief in 1984. She described the magazine then as "pretentious, humorless" and not too clever—"It was just dull." She changed all that and made Vanity Fair a notable commercial and critical success, winning four National Magazine Awards
As an indication of her editorial sagacity, Wikipedia notes, one of her VF editorial decisions was in October 1990, two months after the first Gulf War had started, when she removed a picture of a blonde starlet named Marla Maples from the cover and replaced it with a photograph of the much better known Cher. The reason for her last minute decision, she told the Washington Post, was that "in light of the gulf crisis, we thought a brunette was more appropriate." It was this kind of so-far-outside-the-box-that-it's-In instinct would also rescue The New Yorker, another Conde Nast magazine, that Brown was invited to take over in 1992, which she did—reviving yet another moribund periodical. She introduced photography and color to the staid New Yorker's interior pages and, firing 79 writers over the next few years and hiring 50 new ones, she restored to the magazine the irreverence and lightness of touch as well as the literary voice that she had found in founder Ross's magazine.
Then, with three successful revivals on her resume, she left in 1998 to found the monthly glossy, Talk, another celebrity mag that triumphed until advertising dried up in the wake of 9/11. Talk died in January 2002, Brown's "very first public failure." But she had no regrets about embarking on the project, according to Wikipedia, which quoted her: "My reputation rests on four magazines— three great successes, one that was a great experiment. I don't feel in any way let down. No big career doesn't have one flame out in it and there's nobody more boring than the undefeated."
A celebrity herself by now, Brown went on to a career in talk-show tv then wrote a book about Princess Diana, further polishing her reputation. Then in October 2008, she teamed with Barry Diller to launch The Daily Beast, an online news magazine that mixes original reportage with news aggregation and a touch of sensationalism. It was almost immediately successful, and last fall, when The Daily Beast merged with the foundering Newsweek magazine to form The Newsweek Daily Beast Company, Brown emerged as Editor-in-Chief of both.
I was preparing to let my subscription to Newsweek lapse, but when I heard of Brown's arrival there, I renewed—chiefly to see what she would do with the magazine. Until the February 21 issue, nothing much was in evidence. Newsweek under prior management had abandoned news in favor of in-depth features on current events and a plethora of opinion columns. That continued. Then with the February 21 issue, the Brown touch began surfaced: the cover was a vast expanse of white with a tiny picture of Obama in the lower right hand corner and a screaming headline in 96-point extraboldface type—"Egypt: How Obama Blew It." The cover story was the inaugural column by a British historian turned pugnacious journalist, Niall Ferguson, known for "counterfactual history."
Counterfactual history is a form of historiography that uses "what if" situations to examine the relative importance of an event, incident or person that the counterfactual historian is negating, saith Wikipedia. For instance: What would have happened if Hitler had drunk coffee instead of tea on the afternoon he committed suicide? Probably nothing different: he would probably have committed suicide anyhow. But if the assassination attempt in July 1944 had achieved its objective, the extermination of Hitler, the probable result would have been the end of World War II. Thus, counterfactual history, in this case, proves "how important Hitler was as an individual and how his personal fate shaped the course of the war and, ultimately, of world history."
This is the guy Brown has brought on board to help her rescue Newsweek.
In his curtain-raiser, Ferguson says we've just witnessed a "colossal failure of American foreign policy": when Egyptians swarmed in the streets of Cairo, Obama had a "historic opportunity" to align the U.S. with the "revolutionary wave" sweeping across the region. Instead, Obama dithered. But it wasn't all his fault: the real responsibility for this failure rests with the people he has surrounded himself with, namely National Security Council members who haven't formulated a "grand strategy" to resist the spread of radical Islam, to limit Iran's ambition to dominate the Middle East, to contain the rise of China as an economic rival, and so on.
Naturally, Ferguson offers no alternative here, counterfactual or factual: he has no "grand strategy" to offer. Perhaps because he doesn't want to admit that no single nation, even one as presumably powerful as the U.S., can dictate the fates of other nations. But counterfactual historiography ought to have come to his aid. What if the U.S. had jumped in to support overtly (instead of covertly) the Egyptian protesters? Without much question, the result would have been to lend support to Hosni Mubarak's claim that the uprisings were being driven by a foreign power. And that might well have inspired the Egyptian military to suppress the demonstrations, thus foreclosing on the possibility of their succeeding. Instead, Mubarak was forced out. Counterfactual reasoning proves Obama did exactly the right thing.
You can't argue with success, said Thomas DeFrank in the New York Daily News, quoted by The Week magazine. Mubarak is gone. America's relationship with this vital strategic partner is intact, and Obama "burnished his image" by managing a foreign-policy crisis that ended in a positive, peaceful way. Actually, The Week continues, paraphrasing Aaron Miller in Foreign Policy, the White House was smart to keep its distance from this crisis. The U.S. has supported Mubarak for decades out of pure self-interest, so to turn on him too quickly and too decisively would have seemed hypocritical [and might have persuaded other American allies in that region and elsewhere to doubt U.S. reliability—and if the U.S. cannot be trusted, what happens to alliances worldwide?] Obama's only real option was the one he took: walking the political tightrope in his public statements while, behind the scenes, pressuring Mubarak to leave. In the end, Obama played a bad hand pretty well.
In any event, from the evidence of the Newsweek cover of February 21, it's clear that Brown's rescue operation for the magazine is to emphasize the opinion columns in the most sensational tub-thumping way possible. It's celebrity journalism in another guise.
*****
IT GLADDENS MY HEART to be able to report that Ferguson is not as humorless as the ferocity of his prose would suggest he is. In his second outing at Newsweek (where he enjoys the lead-off position in the magazine), he turns to the deficit and suggests a cure: sell or lease sections of the Interstate to private enterprise for whopping fees, which will wipe out the debt in no time. Leading up to this massive remedy, he pens this penetrating observation about how we got into this fiscal mess to begin with: "The root of the problem is, of course, a lack of political will, extending down from the president himself to the lowliest Tea Party activist living on Social Security and Medicare."
Irrelevant Interlude Over: Return to Regular Regaling
ANNIVERSARIES SOME MORE. The immediately expiring year marked the 70th anniversary of Walt Disney's Comics and Stories (see Funnybook Fan Fare up ahead). And it was the 100th anniversary of Krazy Kat. Two signal events that we ought to have commemorated extensively here at the Rancid Raves Intergalactic Wurlitzer; but, alas, following the example of the inestimable Homer, we nodded off instead. Propensity of the gaffer.
We also missed heralding the 100th birthday of Herge, creator of Tintin, in 2007. In preparation for that, I tried to read all of Tintin and got about half-way through. Maybe some other day. I just got a copy of Pierre Assouline's Herge: The Man Who Created Tintin, which, by quoting directly Herge's first wife, substantiates, at last, the innuendoes of previous books about Herge to the effect that his first wife, Germaine nee Kieckens, didn't love him much, which serves to explain and perhaps excuse Herge's having an affair with a colorist on his staff while still married to Germaine. Later, after divorcing Germaine, he married his paramour, Fanny Vlamynck. Since most of the previous biographies were produced by persons with close ties to the Herge establishment, operated to a large extent under the watchful eye of Herge's widow, the aforementioned second wife Fanny, the biographers' slighting remarks about Herge's first marriage and wife seemed like slurs, perpetrated to enhance the reputation of his second wife—take a breath here—rather than ascertainable fact. But Assouline, by quoting the first wife, Germaine, directly, confirms the erstwhile slights as fact not spiteful fiction.
Assouline's book, which I've only browsed through, not read with thorough attention, covers Herge's love life in some detail (although not at all salaciously). In 1960, after 28 years of marriage and a four-year affair with Fanny, Herge left both women. Briefly. Then Fanny forced the issue, and Herge separated from Germaine. But it would take 17 years for her to grant the divorce. "Throughout, Germaine clung to the hope that he would return. He did not abandon her, either materially or morally. Until the end of his life, he would spend Mondays with her in what had been their home in Ceroux-Mousty."
If the rest of the book is as detailed and fastidious as this, it's a fine biography indeed. No pictures, though. Not even a photograph—except one of Herge on the dust jacket. Odd.
Fascinating Footnit. Much of the news retailed in the foregoing segment (and much of what follows immediately) is culled from articles eventually indexed at rpi.edu/~bulloj/comxbib.html, the Comics Research Bibliography, maintained by Michael Rhode and John Bullough, which covers comic books, comic strips, animation, caricature, cartoons, bandes dessinees and related topics. It also provides links to numerous other sites that delve deeply into cartooning topics. Three other sites laden with cartooning news and lore are Mark Evanier's povonline.com, Alan Gardner's DailyCartoonist.com, and Tom Spurgeon's comicsreporter.com. And then there's Mike Rhode's ComicsDC blog, comicsdc.blogspot.com and Michael Cavna at voices.washingtonpost.com./comic-riffs . For delving into the history of our beloved medium, you can't go wrong by visiting Allan Holtz's strippersguide.blogspot.com, where Allan regularly posts rare findings from his forays into the vast reaches of newspaper microfilm files hither and yon.
QUOTES AND MOTS
"We have to believe in free will. We have no choice." —Isaac Bashevis Singer
Things to remember when you're growing up and older: "Never pass up the opportunity that a restroom affords, don't ever waste a hard-on, and never trust a fart." —Edward Cole (Jack Nicholson in "The Bucket List")
BLACK HISTORY MONTH
Reprising Black Cartoonists
Last year during Black History month (February), we paused in our headlong dash to the Next Thing to remember and recognize the marks that some African American cartoonists have made in the medium of newspaper comic strips and elsewhere in cartooning. We began with our discovery of Tempus Todd, a comic strip that started in 1923 and may have been the first strip with an adult male African American protagonist. Until Todd's advent, most African American characters in cartoons and comic strips had been children, or, if adults, they filled secondary roles as servants or other kinds of menials and fools, importing their imagery and comical conduct from black-face minstrelsy, which is to say, not from actual African Americans but from whites with burnt cork on their faces, "caricatures derived from the popular stage routines of white males' gross parodies of 'black life,' originally the slave life of blacks," according to Steven Loring Jones in "From 'Under Cork' to Overcoming: Black Images in the Comics" at ferris.edu. Tempus Todd, as the star of his own strip, represented, therefore, a marked departure in role if not in portraiture.
The strip was written by Octavus Roy Cohen, a Jew from Charleston, South Carolina, who started as an engineer, graduating from Clemson Agricultural College in 1911, but soon turned to journalism, working on several newspapers around the South before deciding to study the law. He was admitted to the bar in 1913 and hung his shingle in Charleston, but when he sold his first short story in 1915, he quit the law and concentrated on writing fiction. I first ran across Cohen in the pages of the Saturday Evening Post, where he achieved some popularity (as well as a measure of notoriety in literary annals) with stories featuring egregious comic stereotypes of African Americans, who spoke an exaggerated "black dialect" that Cohen deployed for comic impact. They were, in effect, still "under cork." The stories, usually starring a "sepia gentleman" named Florian Slappey, known as the "Beau Bummell of Bumminham," were handsomely if stereotypically illustrated in gray wash by J. J. Gould, a mainstay at the Post since early in the century. The eponymous Tempus Todd of the comic strip, however, was drawn by H. Weston Taylor, who also did work regularly for the Post.
In a 1997 Newspaper Research Journal article analyzing black images in comic strips, Sylvia E. White and Tania Fuentez say that Tempus Todd's all-black cast is depicted "as individuals" and that Taylor "avoided the traditional minstrel face (protruding white lips, bulging round eyes in a totally black face)." I haven't seen any more of the clickingly christened Tempus Todd than the drawing we posted at Opus 257 (where these paragraphs first appeared, just last year), which appears at lambiek.net under Taylor's name, but with no more evidence than this before me, I'm not sure I'd agree that Taylor avoided "protruding white lips" and "bulging round eyes" although Todd, if this is he, doesn't have the totally black visage and grossly liver-lipped portrayals typical of the day. Todd is a cab driver, say White and Fuentez, and the comedy in the strip arises in his encounters with his passengers, all of whom spoke in the minstrel dialect that Cohen had perfected for characters of color. With only White and Fuentez' cryptic paragraph for guidance, I don't know when Tempus Todd ended, but Taylor pursued cartooning in the infant comic book industry, working 1940-42 in the Jacquet Shop, where he produced features for Centaur comics ("Dr. Synthe," "King of Darkness," and the briskly named "Dash Dartwell"), Novelty ("Lucky Byrd"), and Quality ("Scarlet Seal," "Ace of Space," and "Counterspy") before dropping from sight.
After Tempus Todd, African American characters in mainstream newspaper strips reverted wholly to their traditional subservient comic relief roles, playing the buffoon in white society—portrayals that white readership could countenance because they presented blacks in non-threatening ways. Moreover, as Jones points out, "The image of the stereotypical black servant or fool permitted middle-class white audiences to vicariously indulge in attitudes and behaviors otherwise off limits in 'genteel' society. At the same time the pathetic black character offered the white working class an image to whom they could feel superior, no matter how bad their lot in life might be." Black community activists were outraged at the picture of blacks as "ebony humanoid clones," Jones continues, and occasionally forced such raw unfeeling caricatures out of the newspaper, sometimes through court action. In the early 1930s, a comic strip based upon the popular radio program "Amos and Andy" was cancelled due to black objections.
Until quite recently, only in black ethnic newspapers did African Americans find themselves in positive, identity-affirming positions in the funnies—the most celebrated, probably, was produced by Harlem's fabled black cartoonist Oliver Harrington. For more about Harrington and his single-panel creation, Dark Laughter, re-visit Opus 257, where we also survey the landscape populated by Torchy Brown and Bungleton Green and the creations of Morrie Turner, Ted Shearer, Ray Billingsley, and Milton Knight. We didn't explore much the contemporary achievement of Aaron McGruder or Keith Knight, but that'll come along later. Meanwhile, celebrate by re-visiting last year's festivities.
For even more about African American cartoonists, use your browser to find Pioneer Cartoonists of Color, a website operated by Tim Jackson, a black editorial cartoonist at the Chicago Defender.
*****
Sadly, before Black History Month was over and just as we were getting ready to post this Opus, a seminal figure in the history of African Americans in comics died. Dwayne McDuffie, on February 21. Scroll down to "We're All Brothers..." for a too hastily assembled assessment of his role and tributes.
CRITICISM AND UNWITTING SELF-SATIRE
You may remember a short contretemps we had hereabouts a year or so ago in which I unburdened myself of a few thoughts about Stephan Pastis' drawing ability in his widely beloved comic strip, Pearls Before Swine. Among other things, I said Pastis insulted his colleagues by drawing less expertly than his ability would allow. Some of Pastis' colleagues got all wee-wee'd up about it, kidnaped me and tied me to a stake and then set fire to the stake. I burned up.
Pastis, however, is smarter than all of us. On the back cover of his latest Pearls reprint, When Pigs Fly, he publishes the following blurb:
"Pastis is an arrogant egomaniacal blowhard who scoffs mercilessly at his readers and his fellow cartoonists. How can I say that? Come now: anyone who names his comic strip Pearls Before Swine is expressing an overweening disdain for his readers. Day after day, he casts his 'pearls'—his comic strip—before the 'swine,' his readers. The conclusion is inescapable."
The quotation continues: "When he draws his characters in a way that they resemble hors d'oeuvres on toothpicks, we know he's doing minimal work, artistically speaking. In effect, he's ridiculing his hardworking fellow cartoonists, many of whom spend almost every waking hour making the elaborate drawings in their strips. I can almost hear Pastis scoffing: 'You fools! You spend your lives pushing ink around on paper, but I have achieved fame and fortune with the barest resemblance of drawing in my strip. Don't you wish you'd thought of this?"—R.C. Harvey
This quotation is followed immediately by this:
"You fools! You spend your lives pushing ink around on paper, but I have achieved fame and fortune with the barest resemblance of drawing in my strip. Don't you wish you'd thought of this?"—Stephan Pastis
Not only does Pastis get the last laugh, he proves that, all along, while everyone around him was setting their hair on fire and running around screaming, he, with his pervading sense of self-deprecating humor, saw comedy where others saw only bad manners.
I finally met Pastis, by the way, at last summer's Sandy Eggo Con. Jeff Keane, president of the National Cartoonists Society, had to step between us to prevent Pastis from tearing my throat out, a moment of high dudgeon captured in this photo taken by the omniscient Keith Robinson.

That's me, cringing on the left, Keane in the middle, and Pastis, doing an imitation of an enraged cartoonist, on the right.
Thanks to the back cover blurb, we know, now—as we never knew before—that the title of Pastis' strip is ironic, sarcastic of course, but also deeply ironic, just the sort of thing a twisted albeit self-deprecating mind might toss off in an attempt at humor.
And as we arrive at this Truth, I must confess another. When, years ago, I was formulating an opinion about Pearls Before Swine, I wrote disparagingly about the so-called drawing displayed in it. Pastis was favored by Scott Adams, whose Dilbert was yet another offense to artistic sensibility. Both, I thought, were greasing that slippery slope to mediocrity in picture-making—the sort of thing that Jackson Pollock might enthuse over but that I was appalled about.
But when I came up with the notion that the name of the strip was an overt insult to its readers and that Pastis' characters looked like hors d'oeuvres on toothpicks, my critical acumen ran away with me. Seduced by the convoluted reasoning I was committing, I didn't realize, until some months later, that my analysis of Pearls Before Swine, with its inherent insult and its hors d'oeuvres, embodied a shrewd (if unconscious) satire of intellectual or academic criticism. It was literary criticism gone completely out of control, barking mad. I was, inadvertently of course, satirizing myself.
NEWSPAPER COMICS PAGE VIGIL
The Bump and Grind of Daily Stripping
IN GARRY TRUDEAU'S DOONESBURY for Sunday, February 13, Mark Slackmeyer, radio personality, is musing: "What are we like as a people? Nine years, ago we were attacked—3,000 people died. In response, we started two long, bloody wars and built a vast homeland-security apparatus—all at a cost of trillions! Now consider this. During those same nine years, 270,000 Americans were killed by gunfire at home. Our response? We weakened our gun laws."
A reader asked PolitiFact about the accuracy of that number—270,000 Americans killed by gunfire at home. And editor Bill Adair examined the evidence and determined that Trudeau was Mostly True. "Mostly" requires a little amplification.
Adair contacted Trudeau, who said he had extrapolated the number, using the most recent data from the Centers for Disease Control and Prevention. For six years, Trudeau discovered—from 2002 through 2007—the number of gun deaths per year was pretty stable, "around 30,000. So in my judgment, multiplying 30,000 times nine yielded a figure reasonable and accurate enough for rhetorical purposes without using hyperbole. If anything, it may be slightly on the low side."
"We found that Trudeau was basically right," Adair said. Using the same source, he came up with a slightly higher number (281,757) "because we not only extrapolated out through the end of 2010 in our calculations but also included the final three months of 2001."
The number included all gun deaths in several categories: suicide, homicide, accidental, legal shootings and "undetermined." What gave Adair pause, however, was Slackmeyer's qualification—"at home." If that means in or near someone's home, Trudeau's number couldn't be correct, Adair said. But when he asked Trudeau about it, the cartoonist clarified:
"I didn't say 'in the home,' I said 'at home' as opposed to abroad, where the wars are. Failure to communicate clearly, I guess. Rats."
I read it the way Trudeau intended it to be read: in context, Slackmeyer is contrasting deaths in the U.S. ("at home") with "two long bloody wars" overseas. But Adair wasn't entirely persuaded:
"Reading through it again, we think Trudeau's explanation sounds reasonable. But we decided to mark Trudeau down slightly because we think it's also reasonable for people to make the same initial assumption we did, that 'at home' means in or near one's home. So we'll rate the comment Mostly True."
Mostly fair, I say.
Feverish Foonit. We pause, here—a fittingly theatrical gesture—to note the return to Rancid Raves' digital ether of this department, Newspaper Comics Page Vigil, wherein we marvel at the bump and grind of daily comic stripping. For the past 15 months, we've been perpetrating this watchdog function at The Comics Journal website, tcj.com, in a regular thrice weekly blog, Hare Tonic. But the Journal Management, ever questing for engaging ways explore its domain, has re-purposed the site, eliminating blogs. So we're back.
JIVEY DEPARTMENT
Jim Ivey, you'll readily recall, is a political cartoonist, former curator of his own cARToon Museum in Madeira Beach and, later, in Orlando, and all-time beach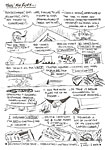 comber, raconteur and good friend, who sends me letters that are often decorated with characteristic verbal-visual commentary on the passing scene. Here's one that came along last month.If you need more Ivey-fixes, visit Alan Holtz' website, strippersguide.blogspot.com, where Jim Ivey's Sunday Comics appear regularly.
AMONG THE HORDES AT THE CARTOON LIBRARY'S HOARD
Caswell Retires—Almost
Lucy Shelton Caswell has been curator of the Cartoon Library since it was called the Milton Caniff Research Room at its founding in 1977. The Library is now called the Billy Ireland Cartoon Library & Museum because it has outgrown a "room" and now archives much much more than Caniff's papers, the donation of which instituted this unique special collection of the Ohio State University Libraries. After 33 years, Caswell announced her "semi-retirement" as of December 31. The new curator is Jenny Robb, erstwhile Caswell's assistant (and onetime student), who left the OSU campus briefly to be director of the Cartoon Art Museum in San Francisco (cartoonart.org). But Caswell will re-appear in the Cartoon Library as curator of special projects, chief among them, the renovation of Sullivant Hall as the new home for the cartoon holdings.
When it opened, the Library for Communication and Graphic Arts (a more dignified, institutional name than Milton Caniff Research Room even though the latter was on the bronze plaque at the door) occupied two converted classrooms in Ohio State's Journalism Building at 242 West 18th Avenue. From this inauspicious beginning, Lucy Caswell spent the next three decades building the Library into "the widely renowned facility it is today, one of the most admired and sought-after caretakers of legacy collections" as press releases put it.
Thousands of donors have contributed to the collection, with gifts ranging from one item to tens of thousands. The first donation came from another OSU alumnus, illustrator Jon Whitcomb. Then came the Philip Sills Collection of over 100,000 motion picture posters and stills dating from 1927 to 1964. After that, dozens of cartoonists seeking a secure place to deposit usefully the remnants of their life's work found the Cartoon Library. Sometimes they sought out Lucy; sometimes, she cultivated potential donors and secured their materials. The Will Eisner Collection was established in 1984 and additions were received following his death. Other cartoonists who have their work archived in the Library include Nick Anderson, Jim Borgman, Eldon Dedini, Edwina Dumm, Walt Kelly, and Bill Watterson. The Jay Kennedy Collection includes more than 9,500 underground comic books, one of the most extensive in the world. The records of several professional organizations—the National Cartoonists Society, the Association of American Editorial Cartoonists, Newspaper Features Council, and the Cartoonists Guild—are archived in the Library.
In 1992, the Robert Roy Metz Collection of 83,034 original cartoons by 113 cartoonists was donated by United Media, and in 1998, Bill Blackbeard, director of the San Francisco Academy of Comic Art, donated its collection, the largest aggregation of newspaper comic strip tear sheets and clippings on the globe. In 2007, the entire holdings of the Mort Walker's International Museum of Cartoon Art (IMCA), numbering more than 200,000 originals, was transferred to the Cartoon Library and Museum with the caveat that the art be regularly displayed in a suitable permanent gallery—hence, the Sullivant project.
With the addition of the IMCA's extensive permanent collection, the Cartoon Library now houses more than 450,000 works of original cartoon and comic art, 50,000 books, 61,000 serial titles, 3,000 linear feet of manuscript materials, and 2.5 million comic strip clippings and newspaper pages. The Library also has an extensive collection of Japanese manga.
In addition to fulfilling its basic mission to develop a comprehensive research collection documenting American printed cartoon art, archiving and organizing materials and providing access to them, the Library, according to its brochure, "promotes the study and appreciation of the art form by sponsoring a variety of educational programs and publications including exhibitions, catalogs, lectures and panel discussions." For a time, it also published a scholarly journal of cartoon and comic art studies, Inks (1994-97). But its most consistent outreach program is the triennial Festival of Cartoon Art, which I'll report on as we unroll the scroll.
Now arguably the world's largest collection of cartoon art and comics material, the Billy Ireland Cartoon Library & Museum is currently located in the lower level of the Wexner Center for the Visual Arts complex. Its new, permanent home in Sullivant Hall will expand its space from the current 6,808 square feet to more than 40,000 gross square feet, with a spacious reading room for researchers, three museum-quality galleries, and expanded storage with state-of-the-art environmental and security controls. The addition of exhibition galleries dedicated to cartoon art will facilitate public display of the Library's extraordinary collection and satisfy the IMCA's proviso.
I HAVE KNOWN LUCY CASWELL as a professional colleague for nearly 30 years. It seems strange to me to realize the length of this relationship: most of the people I've known for three decades, I've known since we were children together, and Lucy and I were never children together. I met her in 1982 at the 75th birthday party held at Ohio State University for Milton Caniff, whose "definitive biography" (his term) Caniff had invited me to write. At the time, I recognized that Lucy was an exceedingly nice person—too nice, I thought, to have allowed herself to fall in with such a disreputable gaggle of people as cartoonists almost inevitably are. Nothing much has happened in the years since to change my mind. I still believe all of that—she's still too nice, and cartoonists still gaggle disreputably. But along the way, I've learned more about Lucy.
I am a chronicler of cartooning; and she is the keeper of the pertinent trove. It was inevitable, given the mission of the Cartoon Library and my obsessions, that we would spend more time together than was possible at the Caniff birthday fete. A couple years later, I returned to OSU to became one of the first persons to make extensive use of the holdings of the Cartoon Library in assembling material for the biography. I spent a week pawing through the papers that Caniff had bequeathed to the University. I came back on other occasions to continue the research, but that first week was the most memorable.
In those years of the infancy of the Cartoon Library, it was housed in three small rooms in the old Journalism building. Researchers like me were supposed to do their work in the first of the rooms. In the other two rooms, the holdings of the Library were archived.
As soon as I unpacked my pencil and paper in that first room, Lucy explained the protocol. She presented me with a loose-leaf notebook, the pages of which listed the Caniff materials available. I was to thumb the pages and pick which of these hundreds of items I wanted to inspect and read, and Lucy's assistant would disappear into the two-room bowels of the Library, find the item I'd asked for, and bring it out to me, so I could read it seated comfortably at the table in the front room. This system, for all its admirable aspects, soon revealed an unfortunate drawback.
The catalogue notations on the pages of the loose-leaf notebook were, of necessity, cryptic rather than amply descriptive. And so when Lucy's assistant, Luther Boren, brought me the first item I requested, I knew at a glance that it wasn't, quite, what I'd expected. So Luther took it back while I picked another item, and then he disappeared again to retrieve it for me. This next item, like the first, was not what I thought it would be: it didn't contain the sort of information I was looking for. So I tried again. Luther disappeared again. Again, no luck.
This procedure, due, doubtless, to my own lack of perspicacity and experience as a researcher, was simply not working. At this rate, I would wear out my thumb and Luther his shoe leather long before I discovered anything useful for the Caniff biography. Lucy, bless her, realized the fruitlessness of this endeavor long before I did. And she immediately took remedial action.
She told me to take my pad and pencil and the catalogue notebook into the second of the three rooms, where there was a work table I could sit at. There, I was closer to the material I wanted to inspect—namely, Caniff's records, syndicate proofs of his comic strips and some original art, and, most important, his correspondence, which, filed by year, was immediately behind me in a dozen or more filing cabinets that had been transported, whole, from his studio. Lucy then invited me to help myself to the files, provided I would be exceedingly careful to return each of the files to its appropriate place in the filing cabinet when I'd finished with it. I was happy to agree. And Lucy started holding her breath.
I hasten to say that nothing this informal prevails at the Library these days. Today's researchers, among whom I am still numbered, adhere religiously to accepted protocols that are designed to preserve the material in pristine condition while also assisting the researcher.
Today, we have to wear white cotton gloves to handle any of the materials we want to inspect. But we still start with catalogues—i.e., looseleaf notebooks with pages of cryptic annotations.
Still, I hesitated before committing this anecdote. I suspect that had the Grand High Director of Ohio State University Libraries known that Lucy had let me into the inner sanctum sanctorum and permitted me to rummage through the files willy nilly, Lucy might not have lasted until such an occasion as official retirement, semi- or wholesale.
But those were the early days of the Cartoon Library, and all of us were sort of feeling our way. I learned, and Lucy learned. And the Cartoon Library grew and grew until it is now the country's foremost research facility in the history and art of cartooning. And I doubt that it would have grown to such impressive dimensions if Lucy had not been the kind of curator she was then and is now.
There is an entirely practical reason for such special collections as this one, and, as Lucy demonstrated in the Milton Caniff Research Room during my first visit there, she knew the practicalities and could adapt to serve them. The practicalities have no doubt changed greatly as the collection grew, and perhaps such solutions as Lucy found in those early days would no longer apply (or be acceptable) now.
But Lucy can find a way.
She found a way to assist me in my baptism as a researcher, and she found a way to bring to publication the biography that I finally wrote about the man whose papers started this special collection, a man whose talent and dedication shaped the newspaper comic strip medium, and the cartooning profession, in ways few others have. And I have no doubt that Lucy has found other ways to achieve other objectives over the last 30 years.
She is, after all, an expert in practicality. She is also dedicated as few are to the preservation of as much of the history and artifacts of cartooning as possible. But it was her practicality that impressed me 28 years ago, and continues to impress me.
And she is also—above and beyond dedication and practicality—too nice to have fallen in with such a disreputable lot as cartoonists.
AMONG THE PRACTICALITIES that Lucy has faced over the years was the need for storage space and, just as urgent, the need for funding. The former, she achieved with steely determination by lobbying the university, insistently, tenaciously. In 1990, during the week of March 12-16, the Library for Communication and Graphic Arts (or CGA, as it was abbreviated), moved from the old Journalism building to brand new accommodations in the lower level (basement) of the Wexner Center at 27 West 17th Avenue Mall, just off High Street at the eastern edge of the campus. Compared to the two converted classrooms, CGA's new digs were spacious—mostly controlled climate storage. As befitting these sumptuous surroundings, the Library acquired a new more highfallutin name, better suited for the dignified halls of academe: it was now the Cartoon, Graphic and Photographic Arts Research Library (which the university allowed us to shorten to CRL, Cartoon Research Library). In 2013, CRL will move to the renovated Sullivant Hall (although not named for a legendary American cartoonist, T.S. Sullivant, the coincidence rings a happy chime). Preparatory to the move and coincident with the renovation, the Cartoon Library acquired a new name: it is now, as I mentioned at the onset of this report, the Billy Ireland Cartoon Library & Museum (with ampersand forever).
The first monumental financial gift to the Cartoon Library was made in 2009: $7 million to support the renovation of Sullivant Hall from the Elizabeth Ireland Graves Foundation, managed by Billy Ireland's granddaughter, Sayre Graves. The gift resonates with a peculiar and reflective poetry. For Lucy Caswell, it may be said to have rounded off her thirty-year dedication to the Library, closing the circle: Billy Ireland was closely connected to Milton Caniff, the gift of whose papers began to trace the circumference of Library's scope. Ireland was arguably the chief instrument by which Caniff gained a college education. And according to legend, at a crucial juncture in Caniff's life, Ireland persuaded the young man to choose cartooning over acting as a career.
BILLY IRELAND
Excerpted (and Mildly Modified to Suit the Occasion) from
Meanwhile: A Biography of Milton Caniff
Written by Yrs Trly, RCH
WHEN CANIFF GRADUATED in 1925 from Stivers High School in Dayton, he knew he wanted to go to college. The obvious choice was Ohio State University just up the road at nearby Columbus. Tuition was free to state residents, but Milton would need money to live on, and that meant finding a job. During high school, he'd worked in the art department at the Dayton Journal, and the summer after completing high school, he'd worked at the Miami News in Florida. What he hoped to find in Columbus was a job in a newspaper art department. The most appealing of the three newspapers in Columbus was the Dispatch—chiefly because of the work of its editorial cartoonist, Billy Ireland.
Milton had long admired Ireland's work: he'd poured over Ireland's drawings in the Dispatch, particularly his Sunday page called The Passing Show. Punctuating his signature distinctively with a shamrock, Ireland specialized in the same kind of gentle humor that distinguished the cartoons of two other great midwestern cartoonists, John McCutcheon at the Chicago Tribune and Jay N. Darling ("Ding") in the Des Moines Register. Columbus native James Thurber, whose tenure on the Dispatch (August, 1920-May, 1924) coincided roughly with Milton's days in high school, wrote an affectionate profile of Ireland thirty years later, saying: "Ireland was most at home and most effective in the intimate domain known as human interest, which takes in everything from the calling out of the fire department to rescue a cat in a tree to the assumption of royal guardianship over the destinies of five infants born to the same mother on the same day."
Thurber was most impressed with Ireland's ability to draw animals, any animal, from memory. "The morphology of the rhinoceros and the hippopotamus came readily to his mind," Thurber wrote, "but he had difficulty spelling their names. He wasn't even sure, in fact, of 'Holstein' and 'Guernsey,' and I once asked him how he could draw cows from memory as accurately as he did, when he couldn't even spell their names. 'If you'll look closely at those cows,' he told me, 'you'll see that they're misspelled, too.'"
As Thurber attentively described, Ireland's cartoons recalled the simpler life of a smalltown America that had all but disappeared by the mid-twenties. Ireland drew upon his youth in the hill country around Chillicothe in Ross County, which he eagerly revisited each spring when the redbud, dogwood, and lilacs were in bloom. His drawings were populated by fictitious folks based upon his Ross County memories: Jedge Tish Lybold and Uncle Jerry Smudge, Tillie Metz and Uncle Lafe Newberry, and Mert Pettigrew and Teck Haskins, all from the village of Tick Ridge up near the Pickaway border. The country kids in Ireland's cartoons pitched horseshoes, played marbles, flew kites, made slingshots, carved jack-o'-lanterns, fished for bass and catfish, swam in ol' swimmin' holes, watched traveling medicine shows, and belly-busted down snowy hills on their sleds.
All these homespun happenings with their quaintly comforting humor occurred regularly in The Passing Show, Ireland's special province and weekly masterpiece on the front page of the Dispatch's Sunday magazine. Ireland filled the entire page with a disorderly patch-work of full-color cartoons celebrating the strange and wonderful moods and manifestations of midwestern life. There were big cartoons and little cartoons, perfect squares and long skinny rectangles that ran horizontally or vertically, depending upon the subject depicted. Ireland fitted this conglomeration of odd shapes together with jigsaw precision, topping the entire production with a decorative heading that captured the mood of the season or illustrated a current topic. Marvels of inventiveness, the headings were different each time. The words The Passing Show might be spelled out by the tails of a parade of black cats near Hallowe'en or the letters might sprout legs, arms, and baseball uniforms when the summer season opened. The title could be found as tracks in the snow or as a plume of smoke or as the foam on cresting waves rolling onto the beach. Once when the winter cold was particularly bitter, the letters were connected pieces of frozen plumbing.
| | |
| --- | --- |
| | |
Ireland's subjects were as varied as the page's title design. Each week he presented a humorous essay in words and pictures on such subjects as keeping warm in winter, fashions in overshoes, the uses of thread, types of spring gardeners, the evolution of the sunbonnet, oddly shaped vegetables (locally grown), the holiday at hand, political issues, the local baseball team's fortunes, the week's entertainments at local theaters and vaudeville houses, fashions, and the occasional current event. Calling himself "the janitor" of this gallery of midland marvels and human foibles, Ireland swept into it scenes of the changing seasons, homey vistas of Ohio countryside, and snippets of daily life around Columbus.
Although he preferred gentle rather than biting satire, Ireland could crusade effectively on the editorial page. He was responsible for the restoration of the log cabin birthplace of U.S. Grant and for protecting the quail by getting it onto the official Ohio songbird list. He was an early champion of women's suffrage and stumped for better dams and against unsafe railroad grade crossings. And "his ridicule of the Ku Klux Klan in the early twenties was a significant force in the disintegration of the Klan's local Klavern," Thurber wrote; "Billy's caricatures literally kidded them to death." Three days before he unexpectedly died on May 29, 1935, Ireland's Passing Show wondered why Mount Logan, the scene depicted on the official seal of Ohio, was not a state park. Legislation authorizing the park was passed in June, a fitting memorial for one of the state's most illustrious sons.
William A. Ireland was declared the First Citizen of Columbus in January 1928, but his cartoons were circulated far beyond the city's limits and were appreciated by such distant readers as Irvin Cobb, George M. Cohan, and Will Rogers, who told his friends that he subscribed to only two papers—"The New York Times and the Columbus Dispatch, for Billy Ireland's page." Upon hearing of the cartoonist's death, Rogers elaborated: "Billy Ireland of Columbus was one of the greatest cartoonists of his day. I have known him many years. I never saw a man in any line of business, in any town, that was so universally loved as he was in Columbus. The city had two institutions—its state capitol and Billy Ireland."
ONLY HIS OLDEST FRIENDS called him Bill. To everyone else, he was Billy Ireland, one of the city's most beloved landmarks. He'd been at the Dispatch, commenting on the passing scene in Columbus, since 1898. Before that, while in high school, he'd worked for two years at the Chillicothe News in his home town. Drawing for the News had been a tedious business. He drew in ink on copper plates covered with a coating of chalk. When he was finished, the chalk not covered with ink was removed, the remaining chalk-and-ink lines were hardened in an acid solution, and from that, a mold for a stereotype plate was made. Whenever the chalk chipped or crumbled as he drew, which it often did, he'd have to abandon that plate and start over. The offer to join the Dispatch staff had been one of three such offers from Pittsburgh, Cleveland, and Columbus. Chalk plates weren't in use at any of the three, but Billy chose the Dispatch because Columbus was closest to Chillicothe, and he wanted to live "within burying distance of Ross County."
Born in Chillicothe on January 8, 1880, Ireland was a self-taught artist. Writing a short biography of the cartoonist, newspaperman Hugh Fullerton, a friend of Ireland's and a columnist for the Dispatch, said Billy was known for his drawings on the paving stones in front of the Ross County Courthouse in Chillicothe. "Lying flat on his stomach, oblivious to the fact that a crowd was gathering to watch him, the small boy crawled from slab to slab over the sidewalk, drawing engines, trains of cars and Indians, then as now his chief passions. The crowd gathered around the small boy who was so intent on his work he did not realize he was being watched. Before the crayons were exhausted, he had drawn a Passing Show from the corner of Paint and Main streets clear to the alley, decorating each slab."
In February 2008, Bill Eichenberger, a reporter on the Dispatch, wrote: "Ireland loved nothing more than Ohio, Columbus, and Chillicothe." Although the cartoonist presumably enjoyed offers of national distribution by feature syndicates, he declined them all.
"He truly loved Ohio," Lucy Caswell told Eichenberger. "The fact that so much of his work dealt with local people and issues made him a beloved member of the community. The irony is that this fact means that he never won a Pulitzer Prize or other national recognition, which might have kept his name in the spotlight longer. He didn't want to be syndicated because he wanted to draw about things that interested him, and syndication would have required a more national focus. The particular of Columbus he made universal in the same way Garrison Keillor today has made his imaginary hometown of Lake Woebegon universal."
In her affectionate and lavishly illustrated biography of the cartoonist, Billy Ireland, Caswell quotes Fullerton: "He once said to me, 'Hughie—did it ever occur to you that my object isn't to get to New York but to get back to Chillicothe?'"
By 1925, the year he met Caniff, Ireland had long since been moved away from the Dispatch art department, which was wedged into a corner of the bustling city room on the newspaper building's second floor. Years before, his friendship with Robert Wolfe, the publisher of the Dispatch, had enabled him to buy stock in the family-owned paper. Elevated to the board of directors, Billy was simultaneously moved up to an office on the fifth floor, well above the hurry-burly of the noisy city room. But moving Billy away from the art department didn't change his status: he was still the art department of the Dispatch. Wolfe had furnished the new office of his treasured cartoonist with a large, ornate and expensive desk, but Billy preferred to work at his old drawing board, battered and besplattered with years of friendly usage. The ornate desk he used to store corn in for feeding the pigeons.
When he worked, Billy took his coat off and rolled up his sleeves. But he kept his vest on, sometimes unbuttoned in deference to his girth, and he kept a cigar going all the time. He drew with his right hand, and he held his cigar in his left, which he also used to hold the drawing paper in place. His office door was always open, and through it passed a constant stream of visitors—admirers, sight-seers, gag men and other assorted wise-acres, folks from Ross County, readers and friends with garden oddities or ideas for The Passing Show, other cartoonists and artists, and youngsters who aspired to careers in cartooning with handfuls of their drawings. Ireland always examined these adolescent offerings at the altar of his fame, delivering afterwards one of two verdicts: an enthusiastic "Keep at it!" or a gentle "What else can you do, son?"
Billy worked right on through these audiences, listening and nodding or commenting briefly while he continued his "scratching" (as he called his painstaking drawing). Sometimes he'd stop scratching long enough to lean back and, head on one side, chuckle in appreciation of some hilarity he was perpetrating—like a cook savoring his own stew.
In 1925, Billy Ireland was only forty-five years old, but he already had silvery hair. He also had a round face, a genially glowing pink complexion, and blue eyes that twinkled. He was not very tall but made up for it with a pleasant, jovial, over-all roundness. His appearance seemed deliberately designed to put a supplicating young cartoonist at ease by reminding him of some earlier interview he'd held at Santa Claus's knee. On a particular morning in September, Ireland, catching a movement at his open doorway out of the corner of his eye, looked up from his drawing board and saw just such a supplicant.
Inspecting the youth over the top of glasses characteristically well down on his nose, Ireland saw a young man of medium height with a big portfolio under his arm. Neatly dressed in coat and tie and Oxford bags, the youth could have stepped out of a collegiate fashion magazine except that he lacked a porkpie hat. The young fellow's dark hair was parted on the left and combed straight back from his forehead in the slicked-down style of the day. He wore a serious expression on a face that, the Dispatch's master cartoonist thought fleetingly, wouldn't be a good subject for caricature: it was oval, coming to a rounded point at the chin, the nose was straight, and the blue eyes looked out from under brows which, at some time in the distant future, might be said to beetle slightly. It was, in any caricaturist's eye, a thoroughly ordinary face—handsome without a doubt, but handsome in a thoroughly ordinary, uncaricaturable way. The young man spoke:
"Mr. Ireland?" he said. "I'm Milton Caniff. I phoned you a little while ago—."
"Yes, of course, my boy," Ireland rumbled, taking a puff on his cigar, "Come in and let's see what you have."
It was the first day of classes at Ohio State, and Milton had been in town a little over a week. He'd spent his time finding a room, going through fraternity Rush Week, and enrolling at the University. He'd pledged Sigma Chi. Given his predisposition for that club, Rush Week had been anticlimactic. But all these preliminaries would be pointless unless he found a job: his trifling savings were fading into invisibility. Before they disappeared altogether, Milton phoned Billy Ireland and asked if he could come and talk to him about a job. Ireland said he'd be in all morning—come any time. Milton went right away.
Milton handed Ireland his portfolio, and Billy spread the samples out on his drawing board, looking at each one carefully. He puffed on his cigar. He said nothing. Neither did Milton.
"These are all fine," Billy said finally, "but I'd like to see how you'd handle an assignment. Why don't you do something just for me—something special. Give it a punch. Make me jump out of the chair."
"Yessir," said Milton, and he gathered up his samples, mind racing. Something special. Now what would that be?
On the two-mile streetcar ride back up north to the Ohio State campus, Milton pondered the assignment. He picked up some drawing paper at the campus art supply store and dug into the task in his room, cutting his first day of classes. He did a lot of thinking and made several sketches. Nothing seemed quite right. He had to make Ireland jump. Finally, he had a thought. He'd do a comic strip. And Billy would supply the punchline.
Milton worked well into the night to finish the drawing. The next morning, he called Ireland again.
"May I come down and show you what I have?" he asked.
"Sure," came Billy's voice, sounding a little surprised, as if he'd not expected to hear from him for a couple of days.
Milton's creation was a comic strip resume. There were only two characters: Milton and Billy Ireland. In six carefully colored panels, Milton depicted his collegiate hopes and his plight as an unendowed student. Building to the punchline, he portrayed himself laboring at the drawing board "in desperate straits" for money to eat—a situation from which he could be extricated only by a jumping Ireland.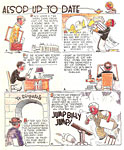 Ireland, glasses at the end of his nose, read Milton's strip and smoked. Then he took the cigar out of his mouth, looked up over his glasses at the young cartoonist, and said:
"Well, kid, I'm gonna jump."
Billy picked up his phone and called the Dispatch's managing editor, Henry Rieker.
"Heinie? Billy. I've got a young man here I'd like you to put on the payroll ... art department."
It was that simple. No one at the Dispatch was in a position to deny Billy Ireland anything. They didn't discuss salary. "I needed the job—any job," Caniff said, "and I was afraid talking money might ruin the chance."
Working afternoons and evenings at the Dispatch, Caniff earned enough to pay his way through college. When not in the classroom or at the paper, he participated in numerous campus activities, chief among them, the theater. He had acted in high school, and he was an accomplished thespian, winning accolades as well as applause throughout his college years. And such enthusiastic receptions had made him think, tentatively, about a career on stage. These musings were mostly idle daydreaming: "I was never as tempted, as serious about it, as it sometimes sounds," Caniff told me.
But when a traveling stock company approached him with a job offer, he told them he'd think about it. And then he went to see Billy Ireland. Partly he wanted another opinion, even though he felt committed to a career in newspaper cartooning. Partly, he took his dilemma to Ireland because it gave him a reason to make one of his periodic visits to the cartoonist's fifth floor office.
Billy was at his drawing board, wreathed in cigar smoke as usual. As was his practice, he kept scratching away at his work while Milton weaved through opening pleasantries and then outlined his problem. Billy took a pull at his cigar and resumed drawing.
"Well, you do what you like, of course," he said, "but I'd say stick to your inkpots, kid. Actors don't eat regularly."
The remark confirmed Milton's own feelings. And although he stayed active in the theatrical life around Columbus and Ohio State for the next few years, he never considered seriously a career in the theater. But he often quoted Billy's comment as the advice that set his feet on the path he chose, and it became an integral part of the Milton Caniff legend.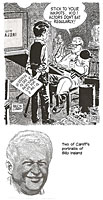 THE MAGNAMITY OF THE IRELAND GIFT doubtless inspired the change in the Cartoon Library's official name. And perhaps it would not be too outlandish to suppose that the publication of Lucy Caswell's Ireland biography, published first in 1980 and sumptuously revised in 2007, inspired the Ireland Foundation to make the gift. (Couldn't have hurt.) Such speculation, however untoward, is beside the point: Ireland as a doting champion of Columbus and Ohio needed a suitable monument to his legacy ? memory, and as one of the nation's first newspaper editorial cartoonists, setting the pace for a generation of the breed, what more fitting monument could there be than having his name on the world's foremost cartoon research library?
Said OSU president E. Gordon Gee: "Naming the Cartoon Library and Museum in Billy Ireland's honor is a fitting tribute to a remarkable Ohioan."
Lucy Caswell agreed: "Billy Ireland was a Columbus celebrity during his lifetime. He enjoyed a national reputation and his work is still delightful to read. This is a fitting honor for a great cartoonist."
A few months after the Ireland donation, Jean Schulz, widow of the creator of Peanuts, gave $1 million towards the renovation of Sullivant Hall—with the proviso that one of the rooms in the new facility be named the Lucy Shelton Caswell Reading Room.
When in an OSU press release Schulz was asked what inspired her to give to the Cartoon Library and Museum, she said: "Lucy Caswell has done a marvelous job in collecting and preserving works in the cartoon medium. I was pleased at the opportunity to help provide a fitting home for this important collection and to recognize her contribution in the field."
Schulz also issued a challenge: she would match, dollar for dollar, every donation to the Sullivant project up to $2.5 million. The monetary impact of Schulz gesture is thus $6 million. "At last count," Jenny Robb told me in mid-February, "we have raised $2,184,000 for the Schulz challenge." And they have until March 9, 2014, to raise the additional $316,000. Over-all, counting all contributions, the Library has raised $12,368,000 of its project goal of $13,000,000. The rest of the $20.6 million renovation cost will be supplied from other sources; when the Schulz challenge is met, the Sullivant project will be completely funded.
Included in the aforementioned total is $50,000 from cartoonist Bil Keane (The Family Circus) and his family. Said son Jeff Keane, who now draws the feature: "This donation is our way of thanking Ohio State for their great support of the cartoon art form. This library and museum will give future generations the opportunity to enjoy the original art of cartoons that have graced refrigerators, cubicles and classroom walls for years." Jeff Keane is president of the National Cartoonists Society.
Also participating in the Schulz challenge is the Will and Ann Eisner Family Foundation, which in late 2009 pledged $250,000 over five years. In recognition of this gift, the Library's seminar room will be named in honor of Will Eisner. Revered as the creator of The Spirit, Eisner (1917-2005) also championed the development of the graphic novel, beginning with his 1978 A Contract with God. He was an early and influential analyst of sequential graphic narrative with his book Comics and Sequential Art, and he taught for many years at the School of Visual Arts.
"We are very grateful for the support of the Will and Ann Eisner Family Foundation," Caswell said. "It is particularly appropriate to name the seminar room in honor of Will Eisner because he was a gifted teacher who genuinely cared about his students."
WHILE IN THE GRIP of this spasm of commemorative christenings, I had a thought of my very own. Contemplating Caniff's "Jump Billy" cartoon, I saw it as the only visible artifact yoking the founding donor of the Cartoon Library to the cartoonist whose name would now be on the door. While I'm sure the bronze plaque proclaiming, with Caniff's celebrated boxed signature, "Milton Caniff Research Room" will be on a wall in a room somewhere in the future Sullivant Hall, wouldn't it be triumphant if Caniff and Ireland could be memorialized together somehow? Why not, I suggested, have another bronze plaque made—this time, of the "Jump Billy" cartoon, wherein both of the most significant figures in the history of the Cartoon Library appear together at a historic moment—and hang that plaque on a wall somewhere in the foyer of the facility in recognition of these two cartoonists' contributions. What poetry in a single comic strip! What celestial significance! What music of the spheres!
Alas, it will probably not transpire. Such a plaque, I was told, would violate the Cartoon Library's policy prohibiting the permanent display of any cartoonist's work. Understandable. But—wait!—Caniff is not just "any cartoonist" in the history of the Cartoon Library. And neither is Ireland.
Oh, well. There are other matters of more moment. The most recent Festival of Cartoon Art, f'instance.
The 2010 Festival of Cartoon Art
ONCE EVERY THREE YEARS, the Cartoon Library arranges the Festival of Cartoon Art, inviting a dozen or so practicing cartoonists and a smattering of scholars and other interested parties to talk about the art form during a weekend in Columbus on the Ohio State University campus. Last fall, the tenth Festival took place October 14-17, Thursday through Sunday. The talk is usually supplemented by two or three exhibitions of original cartoon art, culled from the Library's holdings. This year, the exhibitions featured Billy Ireland,, Krazy Kat (celebrating the 100th anniversary of the debut of George Herriman's poetic masterwork), and R. Crumb's Illustrated Book of Genesis, the exhibit of the erstwhile underground cartoonist's extraordinarily unanticipated achievement, presently touring the country.
The first day, a sort of preamble to the Festival, was devoted to "academic perspectives," a parade of twenty-minute rapidly rattled off presentations on an array of topics by scholars, a dozen of them, who, in the custom of academe, read as fast as they could from papers they'd written. Listening to papers being read aloud in tumbling monotone is tedious work, but I understand the custom: if a presenter is to stay within the rigidly enforced time limit, the only way he/she can be certain of doing that is to write his presentation then rehearse it aloud until he's sure he can read it all within the allowed time.
My predicament as a reporter is that I am hard of hearing. ("Hard" of hearing? How about "soft" of hearing? Seems more suggestive of a disability than "hard." "Half-deaf" is even better.) I simply can no longer hear well enough to take copious and accurate notes. So the ensuing report consists of bits and pieces, snatched from the presentations, and a few caricatures and notations in my sketchbook.
Leading off was David Berona, Plymouth State University, who talked about a subject upon which he has become a expert—wordless comics. His talk was mostly a roll call of cartoonists who became specialists in the form. Beginning with Britain's H.M. Bateman, the list includes Swede Oscar Jacobsson's Adamson (Silent Sam in this country), Milt Gross's He Done Her Wrong graphic novel, Carl Anderson's Henry, Otto Soglow's Little King,. Irving Phillips' Mr. Mum, Mik's Ferd'nand (started in 1937 in Copenhagen by Henning Dahl Mikkelsen; continued since 1989 by Henrik Rehr, who signs the strip Rehr.Mik), Antonio Prohias Spy vs. Spy (being perpetuated by Peter Kuper) as well as several whose names I'd never heard—Bob vanden Born, Andre Daix, E.O. Planen (Father and Son), Won Sze-ma (also Father and Son), Zhang Leping, Myron Waldman, and John Henry Rouson, whom I had long forgotten but whose simple but spritely rendered Little Sport and Boy and Girl I vastly enjoyed as a kid.
A friend of mine from Champaign's University of Illinois, Damian Duffy talked about swearing, comic satire, and pop culture identity politics, tossing out such concepts as the rhetoric of trauma post-9/11, the aesthetics of intersectionality (networked meanings, repetition and patterning of images, meta-narratives and images as symbolic language), noting also that imagery without words risks misinterpretation—words clarify the symbolic meaning of images.
Under the heading "I Love Death," Peter Sattler, Lakeland College, resurrected Bud Fisher's Mutt and Jeff during World War I, which used images of real people (i.e., the Czar of Russia, et al) and depicted battlefield action. Fisher enlisted in the U.S. Army expecting to be able to issue his comic strip as a dispatch from the front lines but found that military brass wouldn't permit him his scheme, so he covered the war from a public relations billet in the British army, to which he resorted after he discharged himself from the American Expedition Force.
Theresa Tensuan, Haverford College, discussed "conversion narratives" from Crumb's The Book of Genesis Illustrated to A.D. After the Deluge. Susan Kirtley, University of Massachusetts, concentrated on girlhood in Lynda Barry's Ernie Pook's Comeek. Forest Park College's Daniel Yezbick, another cohort from Champaign, talked about Carl Barks' ducks.
Alex Boney, Ohio State University, examined "The Superhero Gutter: How Empty Space Transformed a Medium." The gutter, he said, is "nothing": panels freeze action in place, panel-to-panel, which creates timing. "The gutter is only ticks in the clock," he added in a memorable turn of phrase. But the gutter, that space between panels, is wholly incidental: "The important thing is to select the right moments to depict, those that will convey visually the essential action."
At this point in my notes I quote M. Thomas Inge, noted comics and popular culture scholar, an old friend sitting next to me, who said, a propos of nothing else in my notes: "Chris Ware is the James Joyce of comics."
Toni Pape, University of Montreal, offered the most provocative presentation I thought. Although his talk was laced with highfalutin lingo and argot only vaguely defined (metalepsis, pseudo-liveness and mediality are among the terms he flung around; they're not even in my American Heritage Dictionary, so what does that mean?), in essence, he was talking about what comics do that no other medium can do. I can't talk and tell you how I am talking, for instance, but comics can do that. Another instance: a picture of a man drawing himself with a felt-tip pen and getting ink on his hands and saying he must wash his hands—all in a single picture. Then he showed on the projection screen a picture of a page consisting of solid black panels with speech balloons that included no words, just a repeating symbol, the letter I.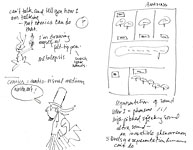 The number of i's in each balloon changed from panel to panel. The page, Pape said, represented sound, the letter i, a phoneme, which, as the page progressed, went from a high-pitched squeaking sound to "ultra sound." On the page, it was an inaudible phenomenon, something only comics can represented.
Or so I understood him to say.
It was an extraordinary theoretical presentation, fraught with exotic argot and abstruse notions—so fraught, in fact, that I thought Pape might be kidding and asked him, in front of everyone, "Are you serious?" He was. Which made his presentation even more extraordinary. (It reminded me of a scholarly panel at a national convention of writing professors during which the panelists presented papers based upon a linkage between two well-known concepts. First—the style is the man; second—you are what you eat. So one ought to be able to improve his writing ability by watching his diet carefully and eating just the right stuff.)
The rest of the day's presentations were devoted to George Herriman's Krazy Kat. Jared Gardner, Ohio State University, said Herriman was the first to see strips as both entertaining and profound. Isaac Cates, University of Vermont, looked for messages in Herriman's ever-changing backgrounds. Charles Coletta, Bowling Green State University, showed pages from the 1950s Krazy Kat comic book series, a non-Herriman production. And Charles Hatfield, California State University Northridge, and Craig Fischer, Appalachian State University, talked about the Ignatz-flung brick as "imagined precursor to Eddie Campbell's Alec," the sort of assertion that is so inexplicable as to be impervious to debate.
At the end of the day, we heard a talk by Michael Tisserand, who is on the cusp of finishing the definitive biography of Herriman (due this spring from HarperCollins). Among other things, he addressed the everlasting dispute over whether Herriman was African American or not, concluding, correctly I'd say, that Herriman was of "mixed blood" (or Creole), which, by the racist definition that branded black Americans for generations, meant that he was black because he had some drops of negro blood in his veins. (Funny: my spellcheck just stopped at negro, presumably because I didn't capitalize it.)
Tisserand supplies a long biographical essay in Peter Marseca's Sunday Press George Herriman's Krazy Kat, a stupendous "celebration of Sundays," reprinting a selection of strips from its inaugural years in black-and-white to its festive color years and including other Herriman strips, Major Ozone's Fresh Air Crusade, Us Husbands, Stumble Inn, Grandma's Girl, Alexander, Two Jolly Jackies (sailors), Prof Otto and His Auto, Acrobatic Archie, Rosy Posy, and others—all prefaced with an essay discussing them by Daniel Meyerowitz, who, it sez here, "makes a living playing with language, naming new chewing gum flavors ... and running the show at Words.eu."
Tisserand's regrettably short essay is jammed with details about Herriman's youth, beginning in New Orleans, which his father left when the infamous Supreme Court case of Plessy vs. Ferguson created Jim Crow laws of segregation, thereby rendering meaningless the notion of "Free People of Color." Among the nuggets of new information Tisserand imparts—the name of the brick-flinging mouse, Ignatz, was "based upon a Coney Island character who was a running joke in the newsroom" of the New York Evening Journal, to which Herriman had been summoned from the Los Angeles Examiner, another Hearst paper, to help cover the 1910 prize fight between Jim Jeffries, the Great White Hope, who was coming out of retirement to reclaim the heavy-weight crown, and Jack Johnson, a "flamboyant black Texan who wasn't shy about publicizing his relations with white women," thereby sending racist white American into a frothing tizzy.
Tisserand reports: "Herriman drew a memorable series of comics commenting on the hysteria surround the fight. He imagined that public schools were now teaching children that the imaginary line dividing the Earth was no longer the equator: it was the color line. And when Johnson emerged the victor, the Herriman cartoon, Uncle Tom's Cabin–1910, splashed across the Evening Journal, depicting Uncle Tom finally knocking out Simon Legree."
If such tidbits as these are not enough to persuade you to buy Marseca's book (not to mention Tisserand's when it appears), the dimensions at which the volume reproduces Krazy Kat Sundays, virtually the size of their original publication, 14x17 inches, and the genius of Herriman ought to complete the seduction. Among the selected strips are the one in which Krazy enters a "beauty salon" and emerges all white (is Herriman expressing a secret wish?) and the last Sunday Herriman produced (an eerie episode, perhaps prescient, in which Offissa Pupp saves Krazy from dying in a pool of water) and the last two dailies Herriman produced, both left unfinished on his drawing board. Highly recommended.
Visit sundaypressbooks.com for purchasing instructions, and while you're there, consider picking up one or more of the other meticulously printed Sunday Press extravaganzas. Marseca's books always come with nifty extras. The Krazy tome, for instance, comes with a sheet of postcards, each of which depicts the deployment of a brick with Ignatzian intentions in other comic strips—among them, Barney Google, Happy Hooligan, and Mutt and Jeff (in which strip, Mutt beans Jeff years before Ignatz aims at Krazy, proving that a flung brick, or similar missile, was a standard vaudeville ploy that Herriman eventually adopted and made his own).
But I divaricate. Back to the Festival of Cartoon Art, 2010 edition.
NEXT DAY, THE FESTIVAL BEGAN WITH Tom Cochran of Agnes fame, who did a stand-up routine for all of his forty minutes. Most presenters give illustrated talks, projecting images of their cartoons on the screen behind them and then commenting on the pictures. We didn't see a single picture of Agnes while Cochran regaled us with funny stories and anecdotes. What can we expect, he suggested, of a man who locks himself in a room and draws pictures of a little girl?
Jan Sorensen followed the more traditional mode, commenting on installments of her Slowpoke, which is described as a weekly editorial cartoon. Dave Kellett created his strip Sheldon on the Internet; it wandered into print syndication briefly, but Kellett pulled it and went back to the Web. When I asked him about it at the Sandy Eggo Con last summer, he said he made more money on the Web by compiling and selling reprint books and other trinkets. In his presentation, he argued for Internet cartooning as the salvation of the medium.
Paul Levitz, lately of DC Comics, talked about the book we reviewed here in Opus 272, 75 Years of DC Comics: The Art of Mythmaking. He said the publisher, Taschen, had invited him to write the text after most of the illustrations had already been selected. When he started working on DC comic books in the early 1970s, the company was still owned and operated by the founding families, who, Levitz said, were "smart, tough street people." When they sold the business later in the 1970s, there were no business people left to run the company, he said; all those left were "creative people."
James Sturm, who operates a cartooning school, talked about the struggle between art and commerce in comics. My notes are mere cryptic comments, unconnected to the rest of reality: "yiddish postcards of the marketplace in New York's lower east side," and "preoccupation of the twenty-ones—how to get your head out of your ass." Dan Piraro was next, talking about his daily panel Bizarro, and various of his adventures doing stand-up comedy. The title of his presentation, "My Life as a Pornographer," reveals Piraro's perverted and highly iconoclastic sense of humor. We reviewed his latest book collection in Opus 272.
The formal presentations continued on Saturday with editorial cartoonist Steve Breen, who talked about "Editorial Cartooning: Humanity's Last Hope." Jan Eliot then spoke about her Stone Soup comic strip. She was followed by a panel of cartoonists paying tribute to the late Jay Kennedy, comics editor at King Features—Bill Griffith (Zippy), Patrick McDonnell (Mutts), and Matt Groening of "The Simpsons" who had known Kennedy much of his life, and Kennedy's successor, Brendan Burford.
Gene Luen Yang of American Born Chinese fame described himself as "a school teacher by day, cartoonist by evening." He said he always hoped to find laughter at the bottom of the panels in cartoons—"like tv sitcom audience reaction." The New Yorker's Roz Chast answered the question of how one gets a cover assignment at the magazine: "You send in a drawing and a $100 bill." The New Yorker's art director, who selects covers, Francoise Moulay, was seated in the audience, first row, with her husband Art Spiegelman, who took the platform Sunday afternoon to discuss his work and career and the future of the universe.
Groening was the entertainment that evening, subjecting himself to questions from Tom Gammill, who draws a daily online comic strip, The Doozies, at GoComics.com and is also a comedy writer.
And now, by way of a cascading crescendo of Fine Art, here are some caricatures from my sketchbook (with marginal notes about their dubious accuracy) and one or two other artifacts by which we remember the occasion.
EDITOONERY
Afflicting the Comfortable and Comforting the Afflicted
"A political cartoonist is like a sheepdog," Kevin "Kal" Kalaugher said: It isn't his job to run up in front of the herd and get them to follow him. His job is to go behind the herd and nip them in the ass to induce them to go in the desired direction.
THE LATEST MANIFESTATION of Stephen Hess's long love affair with editorial cartooning is entitled American Political Cartoons: the Evolution of a National Identity, 1754-2010 (204 7x9-inch landscape pages, b/w; Transaction paperback, $24.95). The book reprints exactly, page for page, an earlier, 1996 tome, Drawn and Quartered: The History of American Political Cartoons, which, like the present volume, is co-authored by Sandy Northrop. To this new edition, the authors have added a 39-page chapter, covering the years since the previous publication, 1997-2010.
Inside, 345 cartoons range across U.S. history from the time of the Founding Fathers through the election of Barack Obama. The book may be envisioned as an essay on political cartooning, the profession and its craft, bracketing a history of political cartooning in America. The first chapter, repeating the previous edition verbatim, talks generally about the social and political role of the editorial cartoon; the "conclusion" to this essay comes at the end of the book, on the last couple pages:
"The political cartoon is the embodiment of the American form of government. Democracy is fed by encouraging a free forum for discussion. Wrote historian Larry Mintz: 'It takes a confident and aggressive society to consider its most serious problems and reduce them to jokes. It involves a willingness to consider the stupidities and errors of one's environment as less threatening—as, in fact, survivable.'"
This passage makes explicit the connection between editorial cartooning and the "national identity" of the title; the evolution is implicit in the pages of cartoons.
In between the first chapter and the last, we have examples of how political cartoons have responded to and recorded our history. Reviewing the book in The Hill, Erika Niedowski describes how this is accomplished, for example, during the Civil Rights fights: "While they spoke out on the New Deal and Vietnam, cartoonists were far less vocal during the civil rights era. In the decade after the Supreme Court's landmark Brown v. Board of Education ruling, Hess and Northrop write, most cartoonists probed little and took no grand moral stand.
"Interestingly," she continues, "there are virtually no images of Martin Luther King jr., Malcolm X and other black leaders to be found because of acute sensitivities to caricaturing African Americans. Northrop says it wasn't until the Rev. Jesse Jackson ran for president in 1980 that that changed. If you could have some fun with a former peanut farmer (Jimmy Carter) and a star of the silver screen (Ronald Reagan), Jackson was fair game, too."
Hess has been surveying this landscape for a long time. Writing in the History News Network (hnn.us), Hess confesses: "I fell in love by accident. It was 1959 and I was writing a book with my mentor from Johns Hopkins, Malcolm Moos. It would be called Hats in the Ring: The Making of Presidential Candidates. The problem was that it was too thin for the price Random House wished to charge. It needed padding. So off I went to the Library of Congress to find filler. There I met curator Milton Kaplan, who opened my eyes to the vast resources of the prints and photographs collections."
With eyes wide open, Hess saw: "Ben Franklin was the first American cartoonist! Paul Revere drew cartoons when colonists couldn't afford to buy his silverware! Currier & Ives cartooned contentedly for competing sides in any dispute, including slavery! There were the cartoonists in combat with the bosses. Thomas Nast vs. William Tweed. Homer Davenport vs. Mark Hanna. Plus the presidents who must have been created especially for cartoonist's pen: Abe Lincoln and Teddy Roosevelt."
Kaplan convinced Hess "that the world needed a history of American political cartoons. After about twenty rejections, Macmillan decided to take a chance. The Ungentlemanly Art was published in 1968, complete with illustrated endnotes"—the most valuable part of the book.
The 2010 version of the 1996 book is not the first time Hess has participated in a second edition: he and Kaplan produced a second edition of The Ungentlemanly Art in 1975 but added only 8 pages to the original volume. In those pages, they introduced the work of cartoonists absent from the first edition: Garry Trudeau, Jeff MacNelly, Ranan Lurie, Mike Peters, Tony Auth, Ray Osrin, and Ed Ashley.
Hess says he had great fun assembling the material for the first Ungentlemanly book.
"Part of the joy of these projects has been the opportunities to observe and otherwise fraternize with the artists whose livelihood is making public figures look ridiculous. In 1965 I set out across country, first to California, where Paul Conrad had the year before left the Denver Post for the Los Angeles Times. It was a Friday. We had a lunch date. I arrived early, which might have been distracting in that Conrad had to produce cartoons for Sunday and Monday. The Chinese had just exploded their first nuclear device. 'What do you think of this?' He handed me a sketch of little men holding up a huge missile, with the caption, 'Chinese explode first nuclear-guided muscle.' I replied, 'The Chinese have a bomb because they've got a lot of nuclear scientists, not because they've got a lot of coolies.' (This now sounds nasty, which it wasn't meant to be.) Conrad sketched again, another idea, then another sketch. I think he never sat down. Finally he was satisfied and we left for lunch. I had never before seen a frenzy of creativity."
Hess's next stop was Denver, where Conrad had been succeeded on the Denver Post by Pat Oliphant, a fugitive from Australia who won the Pulitzer after only a year in the U.S. Oliphant explained how he achieved this rare feat by analyzing the winners of previous years and, with those as a guide, composing a saccharine picture of Ho Chi Minh, holding a dying Vietnamese child in his outstretched arms, saying, "They won't get us to the conference table…will they?" The story is told in more detail in the current volume.
The 1960s, Hess said, was the perfect time for him to begin exploring political cartooning. "After eight years of Eisenhower keeping the calm, the country was a cartoonist's dream"—in turmoil over poverty, crime in the streets, Vietnam, civil rights and so on. Hess cites "two great examples during this period that illustrate what my colleague Sandy Northrop says is how 'simplicity belies the complexity of the art form, reducing the event through eloquent use of caricature and juxtaposition into its essence.' In 1966 Lyndon Johnson pulled up his shirt to show reporters his scar from a recent gallbladder operation. David Levine turned the scar into the shape of Vietnam, thus exposing the president's and the nation's deeper wound.
"The other cartoon," Hess continued, "was Bill Mauldin's response to the killing of President Kennedy. Here the seated Lincoln at the Washington mall bows his head, covers his face, depicting the nation's grief."
Cartoons became for Hess "an endless gift when Sandy, a prize-winning filmmaker, won a NEH award to create a series on American political cartoons for PBS and invited me to co-author a companion book." The tv series was never produced, but the companion book, Drawn and Quartered, appeared in 1996.
The new last chapter of the present 2010 version of the book begins on page 149 and supplies new material but ends with the earlier conclusion. The new chapter starts by plunging right away into the profession's plight—alarming attrition in the ranks of full-time staff editorial cartoonists. Only about 75 full-time positions remain, Hess says. In the 1968 Ungentlemanly Art volume, he put the number at about 100; in the 1975 version, he'd upped it to 130. Hess does not dwell long on this dire dilemma; he goes on to muster cartoons on the major events since 1996: Clinton's impeachment, Bush's election, 9/11, the invasion of Iraq, 2004 election, and the emergence of animated editorial cartoons on the Internet, an interesting phenomenon, he says, remembering that editorial cartoons never quite made it on television. He quotes Matt Wuerker:
"Websites have learned the value of cartoons. They understand that the Internet is a visual universe. They're putting cartoons on their homepages to draw in readers. Politico runs me off the homepage, the Washington Post is doing it, so is Slate.com. So maybe it's all coming full circle, back to where we were in the 19th century when cartoons were featured on the front page of many newspapers."
Hess takes a long look at the work of Ann Telnaes and Mark Fiore; he also gets to Lalo Alcaraz and Aaron McGruder as representatives of minority editorializing but overlooks Keith Knight, whose (th)ink is a panel cartoon of overt editorial commentary that he does in addition to The K Chronicles and his daily syndicated strip, The Knight Life. Hess doesn't mention Jan Sorensen either, but I'm including one of her cartoons in the accompanying visual aid because she was also a presenter at OSU. (Other good and sufficient reasons exist for including a sample Slowpoke, but the foregoing will do as a purely rhetorical maneuver.)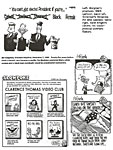 The new chapter gives immortality to several other cartoonists either not mentioned before or who have joined since then: Sandy Huffaker, Nick Anderson, Ann Telnaes (with a rave review of her work and several cartoons), Kirk Anderson, Mike Keefe, Ted Rall ("the current 'bad guy,'" named "the most annoying liberal" by the Right Wing News website), Joel Pett, and Daryl Cagle have joined the panetheon of Nast and Herblock and Ding and Conrad.
Self-caricatures appear of Clay Bennett, Rall, David Horsey, Mike Ramirez, Telnaes, and Toles (and perhaps Wuerker, unless that "cartoonist" in one of his is a generic practitioner of the craft). In the previous edition, self-caricatures are confined, mostly, to the historic pre-1950 era: Nast, Opper, R.F. Outcault, Cliff Berryman, Robert Minor, Art Young, J.N. Darling, Bill Mauldin, and John T. McCutcheon (at the drawing board in the classic picture of his studio in the Tribune Tower).
An epilogue honors several giants who've died—Herblock, Mauldin, Levine, Conrad, but doesn't mention Draper Hill, the historian/cartoonist who often deployed the history of the medium to comment on the foibles of the present; too bad. Also not covered in this edition is the growth and distorting market influence of syndication. But perhaps that's too esoteric a subject for the general reader to whom this book seems addressed.
This volume's only fault lies in its treatment of the pictures. Given the page size, most cartoons are printed small, and the more detail in the drawing, the worse it survives. Apart from diminution, the quality of reproduction is also flawed. For this edition, the earlier edition seems to have been scanned, page by page, with the result that the lines in the drawings are not nearly as sharp and clear as in the first; they're pixelated and fuzzy—throughout, even the new last chapter.
In boldly rendered line art, no serious damage is done by this practice. It's noticeable to beady-eyed people like me, but not catastrophic. But it's disastrous when the initial image is a half-tone, as in the case, say, of a grease-crayon shaded Bootsie by Oliver Harrington. Scanning in such cases muddies up the gray tones and loses much detail and sharpness, a degrading complication in a book like this in which all pictures are pretty small to begin with. I understand there are budgetary reasons for such maneuvers; but this one isn't a good move.
For the general reader, such a criticism probably doesn't much matter. And the overview provided by the prose is satisfying; short and general rather than detailed with esoteric particulars (which is the admirable function of the endnotes in the two Ungentlemanly books), the story it tells is engaging and informative.
COLLECTORS' CORNICHE
Welcome to our sentimental section where I muse and marvel about antique volumes on the shelf and rare finds in old bookstores and the like. Nothing major. Skip over this if you're busy.
TO PROLONG OUR REGRETTABLE HABIT of delinquent tardiness, here, before the occasion slips over the horizon for another year, is a lingering nod at Valentine's Day, courtesy that old limner of feminine lineaments, Thomas Jefferson Machamer
. I was wandering through the bowels of the Rancid Raves Book Grotto the other day and my moistly rolling eye fell upon a magazine that had, inexplicably, strayed from its appointed place to lie on top of a stack of old Saturday Evening Posts. The errant magazine was the February 1937 issue of College Humor, and, picking it up to restore it to its rightful place somewhere else, I thumbed a page or so, then, sitting down to lavish a little leisure at the pastime, I came upon the accompanying two-page spread by Machamer.
Machamer may be the oddest of his breed: known as a girly cartooner (or, as Jim Linderman puts it at his blog, dulltooldimbulb.blogspot.com—employing as the blog title the only swear words his father ever used—"a fine gag, gam and garter artist"), Machamer drew women who usually looked startlingly mannish, unless he was overtly imitating Russell Patterson, which, as occasion demanded, he sometimes did. Drawing in a slapdash manner that splattered his lines around his figures, Machamer produced bristly-looking cartoon characters for over thirty years, won the first annual Vintage Sleeze "Lead in His Pencil" Award (probably a Linderman invention), and yet I can find almost nothing about him on the Web. Next time, I'll round up a few biographical factoids and some more Machamer men in drag—and more Machamer, too: that's his self-caricature at the lower right on the second page. He was a regular character in the longest-running of his newspaper comics, Gags and Gals.
College Humor, by the way, was no longer very collegiate by 1937, if we are to judge from the specimen at hand. My understanding of the magazine is fairly primitive, but, withal, when it started in the early 1920s, it mined college humor magazines and carted off cartoons and humorous essays and short stories and reprinted them, without permission or recompense to the originators, who, being mere college sheiks and shebas of the flapping era, were doubtless thrilled to see their work in a National Publication. (Well, if they were paid, it probably wasn't much—certainly not as much as if they'd been adult professionals.)
This issue lists dozens of "Our College Editors," but the cartoons within, a plentitude, are almost all by known professionals—Otto Soglow, Jay Irving, Dorothy McKay, Lawrence Lariar, Gregory d'Alessio, Syd Hoff, Ty Mahon, George Shellhase, and Peter Arno. (I bet you thought, like me, that Arno cartooned only for The New Yorker; we're both wrong.) The magazine staggered on through the early forties as a thin bimonthly, dying, finally, in the spring of 1943.
CIVILIZATION'S LAST OUTPOST
One of a kind beats everything. —Dennis Miller adv.
NOW THAT WIKILEAKS GURU Julian Assange is being extradited to Sweden to be investigated about the sex crimes he committed there, curiosity is revived about what, exactly, those crimes where. And when it comes to sex, no source is more authoritative than our old single-handed friend Playboy. From the March issue, here's the straight skinny (if you'll pardon the expression) about Assange's sexually assault of two women during a business trip:
"Although the encounters began consensually, Assange is accused of pinning one woman's arms so she couldn't grab a condom and then damaging the condom so it ripped. The second woman told police Assange penetrated her without a condom while she slept after they'd had sex with a condom. Refusing to wear protection, a lawyer for both women said, is 'a violation of sexual integrity' that can be seen as rape. (Assange denies the allegations.) Swedish law is expansive when defining sexual assault; it recognizes 'withdrawal of consent' and three grades—severe, regular and less severe. [In contrast,] in general, U.S. laws require evidence of force, sometimes to extremes."
Nothing in this changes my mind about what actually happened. Two Wikileaks groupies discovered that Assange had sex with each of them only a couple days apart, demonstrating convincingly that he was not serious about either one, so they've conspired to extract revenge on the marauder. A finicky Swedish law enables the pair; in this country, they'd never get to first base. (For more detail about how this all came about, see Opus 271.)
BOOK MARQUEE
Brief, Not to Say Brusque, Reviews
This department works like a visit to the bookstore. When you browse in a bookstore, you don't critique books. You don't even read books: you pick up one, riffle its pages, and stop here and there to look at whatever has momentarily attracted your eye. You may read the first page or glance through the table of contents. All of that is what we do here, starting with—:
Art of Modern Rock: Mini No. 2, Poster Girls
By Dennis King
192 6x8-inch pages, color; Chronicle Book paperback, $18.95
NOT MUCH TEXT in this book; it's almost all pictures. But King, who (it sez here) is an internationally recognized authority on posters with a big poster collection and an "extensive poster-related website" at dking-gallery.com, utters a few pithy Truths worth preserving, among them: "Emblazoning posters with scantily clad women is a time-honored tradition dating back to Art Nouveau. After all, the purpose of a poster is to capture the attention of the viewer. Having observed countless numbers of people stopping to comment on posters in the windows of my gallery, I can safely say that bare breasts are still a show stopper." And, elsewhere in this 2008 tome: "I've always felt that drawing women is actually a libido exercise for men, even the great artists of the past. The women are always idealized, no matter who they are or how they are drawn. I've always felt that all drawings of women by men are fetish art, period." And then he goes on to talk about the "female empowerment—female sexuality controlling male responses"—that is inherent in pictures of barenekkidwimmin. Despite such profoundly insightful observations, the prevailing reason for buying this book is its pictorial content; so here, by way of review, is some of it. Note that the artists are credited in the fine print.
| | |
| --- | --- |
| | |
The Punch Brotherhood: Table Talk and Print Culture in Mid-Victorian London
By Patrick Leary
208 7x10-inch pages, b/w; British Library hardcover, $40; less on AdAll
FEWER THAN HALF-A-DOZEN decent histories of Britain's famed humor magazine, Punch, have surfaced over the years: Richard Price's 1957 A History of Punch, Arthur Prager's 1979 Mahogany Tree, Marion H. Spielmann's classic 1895 History of Punch, Arthur Adrian's 1966 Mark Lemon: First Editor of Punch, and G.S. Layard's 1907 Shirley Brooks of Punch. All of them, one way or another, whet one's curiosity about what, exactly, transpired at the storied Wednesday night dinners during which, amid witticisms and drolleries, abetted by liquid emollients and a hearty repast, the regular contributors (or "staff") decided on a theme for the full-page weekly editorial cartoon that ran in the middle of each issue. Leary, a professor of history at Indiana University, has attempted, with notable success, reconstructing that milieu and that ambiance, relying heavily on the unpublished diaries of one of the "members of the table" (as they were termed), Henry Silver, who, upon returning home after those fabled evenings, jotted down as much as he could remember of the conversation that transpired around the table in some 360 gatherings from 1858 to 1870—that is, from Punch's 18th year to its 30th, if not formative years, still crucial ones.
Leary's book is decidedly not a history of Punch: it is instead an attempt at highlighting "the role of talk in the understanding of nineteenth century print culture." Leary eventually generalizes from the specifics of the Punch table talk to the larger realm of publishing in an oral culture, but his specifics are wonderfully insightful about a legendary enterprise. Not many illustrations, alas, but the quality of the few is high. Here's the book's cover (a delightful reproduction of an illustration from one of the magazine's periodic compilations, this one collecting issues from July-December 1844) and, from the back of the jacket, a picture of the assembled wits at the Punch table.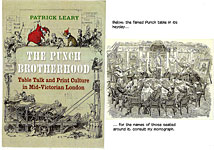 And before we punch out, I hasten to offer for sale here my profusely (but not excessively) illustrated 22-page monograph on the history of Punch— Table Talk and the Birth of Modern Magazine Cartooning: A Short History of the Early Years of Punch and of Drawing for the Block—with an emphasis on its cartoons: merely $6, including p&h. To order, send me an e-pistle at the address at the end of the Scroll, and I'll send mailing instructions.
Sergio Aragones: Five Decades of His Finest Works
By Sergio Aragones
272 9x12-inch pages, mostly b/w; Running Press hardcover, $29.95
FOR THE FIRST, presumably, of a series under the heading "Mad's Greatest Artists," this book's subject, Sergio Aragones himself, picked his favorite works from nearly a half-century of contributions to the nation's fabled humor magazine. Since his debut in No. 76 in the early 1960s, Sergio has been in every issue with, at least, his famed "marginals," those tiny pantomime vignettes that keep encumbering edges of the magazine's pages. And while many of these appear herein (on the margins and on the 18x24-inch pull-out poster reprinting 500 of them, almost but not quite too small to see), his work is most often featured in the magazine in an everlasting series of "Mad Looks at..." articles, each collecting a dozen or more wordless gags and short strips on a given topic, and those comprise the bulk of this volume's content: A Mad Look at Sharks, at School, at Las Vegas, at Body Piercing, at When Nature Calls—at virtually any and all aspects of our so-called civilization.
But Sergio did other topical features, too—on doublespeak, courtroom drama, Thanksgiving, safe-cracking, comic book conventions and so on and on—including his justly celebrated insightful "The Shadow Knows" exercise in which the shadows people cast reveal their innermost thoughts and feelings. And a couple of those are represented here, too. Plus a few spot drawings and chapter opening pages that have been concocted especially for this volume. The book is organized chronologically, a decade to each chapter, beginning with the 1960s.
Sergio came to New York from the land of his youth, Mexico, in 1962 with twenty bucks in his pocket. The saga of his stumbling rise from being an impoverished foreigner fumbling his naive way to self-sufficiency in the big city is the stuff of legend—a legend Sergio himself, attuned to a keen sense of the ridiculous, has foisted off on us. One of the foistings took place at an OSU Festival of Cartoon Art several years ago when he was one of the speakers, and I was in the audience. No one can foist the story as Sergio does it, his voice thick with accent, suggesting that he is somehow unschooled and terribly uneasy with English as a foreign tongue; but Sergio is a university graduate, and if you read transcriptions of his discourse in what sounds like staggering English, you soon realize that his speech is entirely grammatical. It is the accent, and the accent alone, that conveys the sense that Sergio is a country bumpkin from an alien land.
Once he had unpacked his luggage, Sergio says, he made the rounds of the newspaper syndicates. Because in Spanish "syndicate" means "union," Sergio thought he had to become a "member of a syndicate" in order to peddle his cartoons in New York. He showed his cartoons around, but no one was interested in syndicating his pantomime comedies.
As he was attempting to recover from this rebuff, he ran into another cartoonist who told him about "look Wednesdays"—the day of the week that magazine cartoon editors opened their doors to cartoonists to bring in their wares for consideration. Sergio, applying the cunning for which he was not yet at all famed, thought: "Ah, ha—I'll take my stuff in on Tuesdays and get the jump on all the other guys."
He was treated courteously the first couple of weeks, but finally one of the editors said: "Are you planning to stick around the city for a while and sell your cartoons?" When Sergio replied in the affirmative, the editor said: "Well, you should come in on Wednesday like everybody else."
Sergio adjusted his program accordingly, but he wasn't selling any of his wordless cartoons. As he tells it, one of the editors, thumbing through the stack of Sergio's cartoons, wondered aloud, "Where are the captions?" And he kept turning the cartoons over, looking for the captions on the reverse. (The comedy in this episode is much more pronounced if you're in the audience as Sergio tells it: a big man with a flourishing moustache, he bends forward and pantomimes the editor's action, turning the cartoon over and peeking underneath for the words.)
Finally, one editor, who wasn't buying any of Sergio's cartoons either, suggested that the young man with the lurching accent take his work to Mad. And soon, Sergio's life's work, if not his fortune, was laid out before him.
Introducing an interview conducted for this tome, former Mad editor Nick Meglin recounts Sergio's arrival at the Mad offices and what happened next. At first, no one thought his work "fit" the magazine's format, but Meglin put together a bunch of Sergio's gags about astronauts, creating the first "Mad Looks at" array, and the rest, as they always say of auspicious moments like this, "is history." Well, that was the first Sergio in Mad, and it's reprinted herein.
IN MEGLIN'S INTERVIEW, Sergio describes aspects of his working methods. Facing a blank sheet of paper, "I think about the absurdity of the situation at hand. 'What unusual or awful thing can happen to a person?' When the idea begins to 'appear' in my mind, I write it—not draw it!" Later in his studio, he develops the ideas by drawing them. For marginals, the procedure is somewhat different: "I just start sketching and see where it leads." Astonishingly, he draws directly on the paper with a pen, rarely using a pencil. And he seldom re-draws anything: "I see the gag in my head and it goes directly to the finished drawing stage."
Sergio, in case he has unaccountably escaped your attention until now, is cartoonist incarnate. In his Preface, Patrick McDonnell encapsulates the Essential Sergio: "Sergio is one with the cartoon universe. Sergio draws all the time. It's what he always wanted to do. He draws in the car while his wife Charlene drives. It's as if he's on 'automatic pilot.' I say that with the highest praise; only the most gifted and veteran artists (and athletes) can do this. They are 'in the zone.' they stay open and let the action flow. The mind flows, the hand flows, the ink flows—and cartoons appear like magic." The flow and its magic are wonderfully dammed up for your amusement herein.
This is not the sort of book you want to read at a single sitting. You want to pick it up and read a few pages at a time, savoring each of Sergio's ingenious contrivances. Again and again he successfully pulls the same stunt: he presents a puzzle, often building it in a succession of pictures in strip form, and then, in the last picture, he "explains" the puzzle. And we laugh at the ingenuity of the contrivance. Sometimes though, he draws a picture that is, simply, in-and-of-itself, funny. The people in the picture look funny: Sergio's typical humanoid begins with a big-nose visage and doodles down through a squat body to the stilt-like legs that seem grafted on at the bottom of the body, all balanced on flat not necessary large feet. His anatomy is cartoon anatomy, but his cartoony people are doing ordinary human things, and they are being forever fooled and flummoxed by their fellow creatures or by circumstances over which they have absolutely no control. And we laugh at their endless frustrations. And then, a second or so later, we realize that we're laughing at ourselves.
And that is the secret of Sergio's comic art. Sergio has no axe to grind, no political agenda. Says he: "Having grown up in a political family, I learned in childhood never to believe in anything so vehemently that you maintain only one point of view." His comedy isn't edgy or arty or mean or "smart": it's true to life, to our lives—to all our lives. Our politics or deeply held convictions are of little importance in Sergio's comedy because his comedy is the human comedy. And his laughter, which he teaches us to share in, is gentle, humane. You can't laugh mean laughs when you're the butt of the jokes. From Sergio's humor, we learn tolerance and compassion. We also learn to laugh at ourselves. And it helps us survive.
For more about Sergio, visit Harv's Hindsights for July 2008—the Whole Story.
*****
Rich Clabaugh at csmonitor.com reports "good news" for Bone fans: Scholastic is releasing a new series of graphic novels that take place in the Bone world. Bone: Quest for the Spark, Book One (recommended for ages 9-12) is the first in a planned trilogy written by Tom Sniegoski with a cover and interior illustrations by Bone creator Jeff Smith. Meanwhile, Smith, DailyCartoonist.com tells us, has hinted on his blog that he's working on a Superman project for DC Comics. The mention is on his blog along with a sketch of the man of steel.
FUNNYBOOK FAN FARE
Four-color Frolics
An admirable first issue must, above all else, contain such matter as will compel a reader to buy the second issue. At the same time, while provoking curiosity through mysteriousness, a good first issue must avoid being so mysterious as to be cryptic or incomprehensible. And, thirdly, it should introduce the title's principals, preferably in a way that makes us care about them. Fourth, a first issue should include a complete "episode"—that is, something should happen, a crisis of some kind, which is resolved by the end of the issue, without, at the same time, detracting from the cliffhanger aspect of the effort that will compel us to buy the next issue.
JOHN BYRNE'S NEXT MEN is back. Byrne produced 31 issues of his Next Men title from February 1992 to December 1994 and then said he was taking a few months off. He was emotionally exhausted, he said, and needed a change. So he was going to abandon comics for a while to work on a novel and a couple of other projects. Then he'd come roaring back, tossing his characters into "a whole new mess, and that mess might even lead me to retitle the book." The retitling, if it happened, would not come as a consequence of "sabre-rattling from Marvel," which, presumably, was upset because "Next Men" sounded too much like "X-Men." In any event, Byrne took 16 years off, not 4-5 months as he'd initially supposed, and upon return, he has not retitled the series. It's still Next Men.
And it still features a team of super-powered beings who were concocted at a place called "the Greenery," an idyllic sort of scientific Garden of Eden (the first of several Biblical allusions insinuated into the stories). Nathan, who can see through things, is called Scanner; Jack, the strong man, is Brawn; Bethany, who is indestructible, is Hardbody; Danny, who can run faster than anything, is Sprint; and Jasmine ("Jazz"), whose acrobatics defy gravity, is Bounce. All the names were originally supplied by Danny, who is a comic book aficionado. But none of them have used their superhero noms de guerre. Ever since leaving the Greenery, led by a government agent, an African American woman named Tony Murcheson, they've been living in a nightmare of menace as various personages, chiefly a criminally inclined former senator (eventually Prez of the U.S.) Aldus Hilltop, who also initiated the experiment that resulted in the creation of the Next Men, sought to enlist their abilities in sundry plots and schemes. Besides Hilltop, there's a comic book publisher, Dollar Comics, who wants the Next Men to act as shills for its comics. Eventually, they're all accused of being murderers.
Byrne is one of the most talented creators to work in comic books: he is, first of all, a cartoonist, which means he writes as well as draws his stories. He has a special feeling for science fiction and its associated fantasies, which he evolves in the most grown-up themes. The Next Men were created by activating a "trigger gene" found in all humans; it propelled them to the "next" level of human evolution—hence the name. The dilemmas into which Byrne thrusts his Next Men are not the slam-bang sort that infect the pages of Marvel and DC funnybooks: Byrne's superheroes are plagued by more sophisticated threats, and they extricate themselves more by intellectual means than physical. The original series was branded for "Mature Readers," and it lived up to the brand: the books display some nudity (even male frontal nudity) and some of the characters engage in sexual intercourse, which they originally, while in the Greenery, called "dancing," betraying a childlike naivety that subsequently gets both Danny and Jasmine in trouble. All achieved in tasteful sequences: nothing salacious, kimo sabe.
By way of demonstrating all of these tendencies in Bryne's work, we have the episode in which naive Danny enjoys a brief emotionally charged sexual fling with Sandy Tolliver, an employee of Dollar Comics assigned to "babysit" (Byrne's term) Danny, the youngest of the Next Men. This happenstance "triggered" Sandy, who developed strange and potentially dangerous powers. Apparently through Sandy's unconscious manipulation, characters from the comic books she has always read are coming to life in New York, threatening the populace. Meanwhile, Jasmine, who, despite her being the most flat-chested of Byrne's heroines, does a little too much dancing, gets pregnant, and is persuaded by a lower-level fiend to have an unnecessary abortion.
Amid all this heartbreaking seriousness, Byrne has a little fun for himself and his readers. The Fantastic Four, whom he once guided, show up by allusion in the form of the Wild Five. Byrne's book was (and is) published by Dark Horse, and other Dark Horse comics characters put in guest appearances: Hellboy and Concrete.
The first issue of the new series is devoted pretty much to a brief recounting of the Next Men's adventures as retailed in the first series. Narrated mostly by Jasmine, the flashback is nonetheless fairly lively for this sort of thing, hitting chiefly the high points in the narrative and introducing the entire line-up, all of whom seem admirable if wildly misunderstood persons. The single completed episode involves Jasmine's attempt to escape the laboratory where they all are at the moment, recovering from the latest experiment to which they've been subjected. At the end of her story, Jasmine is transported to another time, perhaps a prehistoric time, where she lives in a cave with Nathan. Danny is loose on the landscape, perhaps lost.
That narrative thread, however, Byrne discards for the next issue. In it, we find Tony Murcheson, a free black being persecuted in Civil War times; Nathan, in World War II Europe where he is mistaken for an escapee from a German concentration camp; and Jasmine, in Elizabethan England where she has been rescued from the gutter by the Earl of Oxford, Edward de Vere, who some misguided souls in later generations credit with writing Shakespeare's plays. And there Byrne leaves us, awaiting developments in the third, forthcoming, issue.
As you might gather, I've admired Byrne's work for most of his comic book career, and even before—beginning with Rog 2000, a robot character he initially created for fanzines, and through his stint on the Uncanny X-Men of yore. In the current run of Next Men, his drawing style has lost the Neal Addams' modeling technique; it's much cleaner linework albeit with just enough but not too much feathering. My favorite of all Byrne's work, though, is the performance he turned in with The Sensational She-Hulk.
Not only did Byrne produce a pin-up quality superheroine, but he gave in to comedic temptations on every hand, distinguished, often, by Jennifer breaking the fourth wall. Nearby, I've posted a page that Byrne proclaimed (as of 1994 or so) his all-time favorite page. Culled from The Sensational She-Hulk No. 8 in which Jennifer meets a bearded short guy who calls himself Santa Claus, this page records what happens when Jen is told to climb down a chimney. She protests that it can't be done—with the results depicted nearby. "It's not often I can pick a single page as something special," Byrne wrote in Next Men No. 30, "but when I finished this one, I sort of sat back and said, 'You know, you might get good at this yet.'"
At your elbow, here's the page (and a few of Byrne's humorous cover treatments of the jolly green giantess).
What makes the page special is that its layout follows the action so precisely and emphasizes it: in the fourth panel, Jen is slinging a leg over the chimney (to prove she won't fit) as if she's going to try to go down it; the fifth panel, configured to emphasize the action, shows us what happens next as Jen lands on the floor inside the house on the fireplace hearth. The picture contradicts her claim that she won't fit. Words and pictures together are arrayed for exactly that purpose. But it's the page layout and the composition of the last panel—Jen on her fanny, her feet in the foreground—that makes Byrne's narrative case with emphatic comedic conviction. No wonder Byrne was (is) so fond of the page: it embodies a pinnacle of achievement in the art of comic book storytelling.
Feetnoot. On the fourth cover of our exhibit, Byrne is aping a scandalous Vanity Fair cover of the day on which Demi Moore posed pregnant. And so Jen— .
*****
IN NO. 587 OF MARVEL'S SILVER AGE flagship title, The Fantastic Four—once subtitled "The World's Greatest Comic Book," the book that launched the "superheroes with human faults" trend in 1960, setting the pace for an otherwise moribund industry—one of the fabled quartet dies. After announcing that one of the four would die in this issue, Marvel kept the doomed one's identity a secret for weeks, and when the book arrived on newsstands, it was encased in a plastic envelope with the number "3" in the team's shimmering blue circle surrounded by funereal solid black. Sealed in plastic, the issue could not be picked up, standing there at the rack, and flipped through hastily to discover the fatality. Fiendish marketing scheme: you had to buy the thing to get license to tear open the plastic envelope. Ripping it open in an eager albeit morbid frenzy, I read the whole issue (something I haven't done for years, decades) to learn who would die. It was Johnny Storm, as a mentioned at the outset of this opus—the Human Torch, one of the duo (the Submariner was the other) who effectively launched the comic book company that became Marvel by deploying superheroic conflict in the basic antagonistic elements of fire and water. And now the fire has gone out.
It didn't take long to get to the bad news : in what I suppose is typical of FF books these days, the so-called adventure is inundated with inexplicable argot and continuity references so obscure that I simply glanced my way through to the end. On the first page, what might be intended as a synopsis of what's happened previously is awash in allusions without explications—Galactus, artificial planet Nu-World, the portal to the Negative Zone, Annihilus' insectoid soldiers, the kids of the Future Foundation. Galactus, I recognize; the rest, a dense mystery.
And the puzzlement proceeds apace throughout the book. Characters' speeches are larded with esoterica. "I could activate the still-functional vibranium shielding..." "Is she not ul-oyt?" "The larger annihilation wave..." "Triple redundancy, integrated software and hardware." "... background radiation and data sinks..." "Prepare for the abyss..." The wormhole is stable." "Are we factoring that Annihilus does or does not possess the cosmic control rod?"
I'd like the cosmic extrication rod myself. I realize I'm expecting too much explanation in a single issue of a serial title with complicated continuity that stretches back for decades, but I shouldn't feel completely at sea when I pick up at random any individual issue of the series. And I do here. So, I assume, will any new reader picking up this issue. Baffled from beginning to end, would such a reader buy the next issue? Or any other comic book?
I'm tempted to say that Marvel's tactic of hiding the identity of the FF member destined to decease after announcing that someone would die and then wrapping the tell-tale issue in black plastic to prolong the mystery was, in tandem, a clever promotional gimmick. But the result, it would seem, is profoundly limited: only obsessive FF fans are likely to continue to buy the title. And they would doubtless go on buying the book whether Johnny Storm died or not. Marvel's cleverness, in other words, is impotent: it probably won't promote anything except sale of this particular issue. Many of us non-minions will buy it out of sheer curiosity; but, given the impossibility of making any sense of the narrative, we're not likely to buy ensuing issues. Too bad. Grand scheme; lousy execution. Damn shame: to kill off a lead character of decades with so long a pedigree and get so little in return.
As a marketing maneuver, it worked, though. No. 587 sold over 115,000 copies, the highest total for a direct market comic book since X-Men No 1 launched in July of 2010. Second best seller of the month, Spawn No. 200, didn't come close to FF No. 587—just 73,000 copies sold. Both FF No. 587 and Spawn No. 200, an oft-delayed anniversary issue that was aided by something like six variant covers, are getting second printings that will help February sales, but they won't ship in time to boost January's totals.
Now minus a fourth, The Fantastic Four title ceases with No. 588. But in its place, ICv2.com reports, Marvel will publish The Future Foundation, the first issue of which is by Jonathan Hickman and Steve Epting. In it, the remnants of the Fantastic Four, Marvel's First Family of Comics, replace the departed Human Torch with Spider-Man and form a new supergroup known as The Future Foundation—a good trick considering that Spider-Man is dying in his own Ultimate title.
ODDS & ADDENDA, HERE AND THERE.
In Daredevil Reborn, a 4-issue mini-series, we find Matt Murdock wandering out West, trying to find, through his peregrinations, himself, the idealistic crime-fighter and righter of wrongs he was before he was seduced by the Beast of the Hand and lost his way. He walks into a small town, stops at a diner for a meal, is accosted by a quartet of bullies, beaten, and run out of town by the local law enforcement. On the road again, he discovers the town's secret—a mass grave on its outskirts. Meanwhile, the sheriff and his minions, having discovered that the stranger who came into their midst is probably a superhero named Daredevil, go hunting him with the object of eliminating him. On the last page, Daredevil pounces.
Andy Diggle's beginning is provocative enough, but what captured me is Davide Gianfelice's drawing. His line is bold, confident, but it flexes, waxes and wanes and flicks in fineline embellishments sometimes; his pictures—body language, clothing wrinkles, hands, facial expressions—supple, casual, almost as if tossed off carelessly, but surely not: these are carefully made pictures, made with care to look relaxed. I'll be back.
IN THE LATEST Will Eisner's The Spirit from DC, writer David Hine tries the master's trick—a story told entirely from the point-of-view of the villain, a petty crook unconsciously seeking revenge upon an abusive father. Moritat draws the book; he's apparently the regular artist now. Here, he's inked by John Kantz, and the linework is clean and crisp. But Moritat is no better in this, the tenth issue of his run on the feature, than he was in the first. Each individual drawing is satisfactory, but he can't render the faces of the characters recognizably from one page to the next. Sometimes the Spirit's face is lean and hard; sometimes, it's soft and doughy. Dolan fares no better. Too bad.
CELEBRATING THE 70th anniversary of the first issue of Walt Disney's Comics & Stories, Carl Barks puts in an appearance in Donald Duck No. 363 and in Uncle Scrooge No. 400. Here's a tell-tale page from each.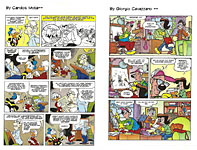 In the former title, drawn by Carlos Mota, Barks appears as a human being; in the latter, drawn by Giorgio Cavazzano, he's got a big black dog-like nose, a visual rhetoric that Barks used to convince us that all the stories took place in a town populated entirely by animals and birds, no people. Don Rosa was convinced.
Rosa spent several years of his life writing and drawing Duck stories, realizing a life-long ambition. He read all the Dell titles when he was growing up, but his particular favorites were the Disney duck books written and drawn by Carl Barks.
"Those were the comics I loved the most," he said when I interviewed him in 1992 or thereabouts—when he was drawing Duck books— "and those were the kind of stories I'd imitate when I did my own little comics. But I didn't draw ducks. I drew human beings. That's what I saw the ducks as. I never saw 'em as ducks. I saw Bugs Bunny as a bunny and Daffy as a duck, but Donald Duck and Uncle Scrooge were like people because you could tell their stories were real. They were taking place in the real world, on earth—not in some zany Warner Brothers Land. And I saw the ducks as people, so when I imitated the duck stories, drawing my own stories in blank accounting ledgers that my father would bring home for me, I'd draw people.
"The interesting thing is that all the people I drew had black noses," he continued. "And I never realized why until I started drawing Donald Duck stories a few years ago. When I sketched the scripts, I'd put dog characters in the background like Barks did. Barks was told to have only animal characters in his comics. He seemed to prefer human beings, but he'd make 'em look like dogs. He gave his human beings dog ears and black noses. But lots of times, he'd forget, and the ears would be regular human ears. So they were human beings with black noses. And when I started doing the duck comics, I'd put dog characters in the backgrounds of my stories, and I noticed that I was drawing the same characters I'd drawn as a kid. Round heads and black noses. And I realized then that when I was very young and reading Barks' comics, I thought that's how a cartoonist drew a human being—with a black nose."
JAKE ELLIS of the comic book Who Is Jack Ellis? by Nathan Edmondson with deftly shadowy visuals by Tonci Zonjic is some sort of doppleganger that accompanies Jon Moore, a somewhat disreputable petty miscreant, and, invisible to everyone but Jon and us, warns him of impending disasters (assassination attempts, mostly, so far) and guides him to safe harbors. Or more troubled waters, depending.
THE SIX-ISSUE MINI-SERIES Tom Strong and the Robots of Doom was satisfying chiefly because of Chris Sprouse's drawing, inked by Karl Story. Having admired Sprouse's work as long ago as the Hammer Locke mini-series in 1992, it's nice to have him around to watch again. The story is a time-traveling tale in which Tom Strong returns to pre-war Nazi Germany to prevent the Nazis from winning World War II. Altering outcomes—that is, doing something in the past that will have a desired effect on the future—is a tricky piece of sf legerdemain, an awesome pitfall for any writer who is tempted to wander this seldom chartered territory. Peter Hogan makes a noble attempt here: Strong enlists the aid of the only person he can trust in the past, his 1930s self. Nice premise, but cluttered somewhat by Hogan's roping in an army of robots. The desired outcome is achieved by invoking mysterious totems and lots of flashing lights: visually satisfying but I'm not sure it's intellectually sound. But watching Sprouse made the trip worthwhile.
IN HELLBOY DOUBLE FEATURE OF EVIL, Richard Corben does the drawing, and very nicely, too. I wasn't sure he could do justice to the deeply shadowed world of Mike Mignola's hell spawn, but he manages it handily.
In another Mignola series, Sir Edward Grey Witchfighter, John Severin comes out of what might be semi-retirement to conjure up the story by Mignola and John Arcudi. It takes place in the Old West, a locale that Severin is comfortable in, having mastered the depiction of horses and, more important, of riders on horseback. Severin's style is evident, but he's not drawing in his former clean unembellished manner: these days, he resorts to fustian flourishes—bits and flicks of hachuring that model forms and give them texture. If you like this treatment better than his former style, it's a matter of taste. I like 'em both, and I rejoice to see Severin out West again.
JORDI BERNET has been visualizing Jonah Hex often lately, and I enjoy his work: while not as gritty as, say, Tony DeZuniga, Bernet's manner seems nontheless suited to the locale and the ambiance, and my guess is that writers Jimmy Palmiotti and Justin Gray give Bernet license to formulate some of the sequences, particularly those in which pictures carry the narrative. Well, maybe not: the same sort of wordless action happens when Palmiotti-Gray's Hex is drawn by others. Still, it's a treat to see Bernet's interpretation.
MARTIN FLINK'S exquisitely produced graphic novelette, The Man of Glass, which seems to be about a man in his old age suffering and surviving pangs of remorse for things he'd done (or not done) in his youth, didn't reach me. Flink's story is told with a minimum of verbiage and lots of wordless close-ups, and because his visual style is bold-line simplicity, a manner that frequently fails to yield recognizable physiognomies from page to page, we don't have many clues as to what, exactly, is transpiring. Particularly when the characters age and then go back and forth in time. Flink means well, and he clearly hopes to have produced a heart-rending tale, but I'm not sure when and where the hearts were rent or who's responsible. If that matters.
WE'RE ALL BROTHERS, AND WE'RE ONLY PASSIN' THROUGH
Sometimes happy, sometimes blue,
But I'm so glad I ran into you—
We're all brothers, and we're only passin' through.
Bill Crouch, 1945-2011
William M. Crouch, Jr., a comics historian of minor repute who generated major illumination, died on Monday, February 21, of cardiac arrest. He had been in a coma for three weeks and had suffered serious respiratory problems for several years.
Well-known in some circles as an original cartoon art collector, Crouch held degrees in journalism as well as art history, and he turned his passion for the art into a historian's dedication to reporting about it. Starting in 1973, he wrote regularly for Cartoonist PROfiles magazine, interviewing, among others, Harold Foster, Noel Sickles, and Norman Mingo (the first artist to paint Alfred E. Neuman in full color for the cover of Mad). He edited Dick Tracy: America's Most Famous Detective and co-edited with Mrs. Walt Kelly a series of seven magazines about Walt Kelly and his creation, Pogo: The Okefenokee Star (1977-82), that compiled and reprinted articles and Pogo strips. This content was later recycled and added to in five books edited by Crouch and Selby Kelly and published by Simon and Shuster's Fireside imprint (1982-89).
A contributor to Maurice Horn's World Encyclopedia of Comics/Cartoons and 100 Years of American Newspaper Comic Strips, Crouch wrote about Dick Locher, June Brigman, Jackie Ormes, Frank Springer, and such cartoon creations as Curtis, Fusco Brothers, Herb & Jamaal, Kudzu, Mallard Fillmore, Mutts, Motley's Cew, Rose Is Rose, Sally Forth, and Shoe.
Crouch also wrote scripts for syndicated comics and humorous comic books, including Yogi Bear, Top Cat, Hong Kong Phooey and The Flintstones. For several years, he wrote a monthly column on comic strips and comic books for a newspaper published in a summer resort community where he and his wife, Minh-Chau Loung-Crouch, regularly vacationed. While Crouch maintained a residence in Fairfield, Connecticut, she had an apartment in Manhattan, where she worked at the United Nations as a translator.
Bill made a living selling paper and envelopes, and his business card was the most ingenious I've ever seen—in the form of an envelope. He and I corresponded regularly over the years, usually when he sent me a tearsheet of his monthly column. Lately, he was disappointed at the newspaper's cavalier treatment of his contribution, shabby editing and confusing layout. When he last wrote, just a few weeks ago, he said he was almost ready to give up the column out of frustration at the destruction the impervious editors wreaked upon his work. But, on second thought, he decided to continue regardless of the damage they did. Bill didn't give up.
George Hagenauer, who collects and sells original art, wrote the Comics Buyer's Guide when he heard Crouch had died: "Bill was one of those people I have known for over 35 (maybe 40) years, but never met. He taught me a lot by phone or mail when I discovered there were other people out there who loved, clipped and collected comic strips. But Bill was far more than a collector. His close friendship with Terry and the Pirates artist George Wunder resulted in that art being offered to collectors. If you own a piece of Wunder art (which has become a lot scarcer due to the tragic death of Don Lineburger in a fire that destroyed hundreds of Wunder originals), it is because of the efforts of Bill Crouch. He was involved in one of the early reprintings of Wunder's Terry. Living in Connecticut, he knew many comic strip artists and writers. Those contacts provided him the material for many articles. His knowledge and insight related to the history of the comic strip field will be sorely missed."
I agree. And I'll miss his friendship and monthly letters.
Dwayne McDuffie, 1962-2011
From ICv2.com, just as we were about to post this Opus, comes this: "Writer/producer Dwayne McDuffie passed away Monday, February 21. He was only 49. McDuffie was the writer of the just released direct-to-DVD "All Star Superman" feature, along with "Justice League: Crisis on Two Earths." He was a producer of 66 episodes of various "Ben 10" series, and 65 episodes of "Justice League." He wrote numerous episodes of both series and was story editor on "Static Shock." McDuffie has also written numerous other comic series, including Spider-Man, Batman: Legends of the Dark Knight, Back to the Future, Hellraiser, and more."
For all his accomplishments, McDuffie's stellar achievement in my book was as co-founder of Milestone Media in the early 90s, where he was editor-in-chief. His comic book creations or co-creations include Static, Damage Control, Deathlok II, Icon, Xombi, Road to Hell, Hardware, and more. The failure of the Milestone line was not due to lack of talent or inspiration among its creators: it was idiotic marketplace positioning, I say. And it was a damn shame. The Milestone milieu was brilliantly conceived and ably executed. McDuffie and his cohorts brought a fresh and often unique perspective to comics with a stable of heroes from various racial minorities.
Born in 1962, McDuffie got his start working at Marvel Comics, creating the original series Damage Control. Marvel is also where McDuffie famously wrote the Teenage Negro Ninja Thrashers pitch, satirizing the company's use of two-dimensional black characters. In 1993 he left to co-create the African-American owned and run Milestone Media, along with Michael Davis, Denys Cowan, and Derek T. Dingle. My best memory of Milestone is of the stories in the books it published, but as I recall, Milestone titles were distributed by DC Comics under some sort of special arrangement. And after a few years of ground-breaking stories, Milestone collapsed.
From Milestone, as Josie Campbell recounts at comicbook resources.com, McDuffie moved into television, writing and producing Warner Brothers Animation and DC Entertainment's "Justice League," "Ben 10: Ultimate Alien," and "Static Shock," the last of which was based off McDuffie's Milestone character.
While prolific in his writing, McDuffie's enduring legacy, said Jessie J. Holland at google.com/hostednews/canadianpress, is as a founder and editor-in-chief of Milestone Media, the first major comic book imprint to feature non-white lead characters.
"Milestone was the shared vision that we would provide the world with images that had been excluded from the mainstream for decades. Dwayne was the key to making that dream a reality to our company and comic book fans, as well as those who sought tales of adventure," said co-founder Dingle when interviewed at ComicBookResources (CBR).
"Dwayne realized the importance of creating such images because they represented heroes and opportunities," Dingle went on. "He also saw comic books and animation as a way of dealing with such issues as racism, sexism, gang violence, gun control and conflict resolution without sacrificing entertainment value."
Milestone was so revolutionary, Holland said, because the mass comic book market had never seen so many multicultural characters before. McDuffie, a lifelong comic book fan, was keenly aware of the lack of superheroes that looked like him.
"You only had two types of characters available for children," McDuffie told The New York Times in 1993. "You had the stupid angry brute and the he's-smart-but-he's-black characters. And they were all colored either this Hershey-bar shade of brown, a sickly looking grey or purple. I've never seen anyone that's grey or purple before in my life. There was no diversity and almost no accuracy among the characters of color at all."
McDuffie broke boundaries, Campbell said. He championed creator-owned work with Milestone. He co-created African-American superheroes such as Static Shock, Icon, and Hardware—heroes who still make up a significant percentage of DC Comic's minority characters. Along with co-writer Alan Burnett he won the 2003 Humanitas Award for an episode of "Static Shock" that dealt with gun violence in schools. He was a black man working in two white-dominated industries, and refused to compromise his principles to fit in.
Holland remembered that McDuffie often said he didn't set out to be a black comic writer, or a comic-book writer who wrote about black issues. But he didn't run from those roles either.
"I'm conscious of race whenever I'm writing, just as I'm conscious of class, religion, human psychology, politics—everything that makes up the human experience. I don't think I can do a good job if I'm not paying attention to what's meaningful to people, and in American culture, there isn't anything that informs human interaction more than the idea of race," McDuffie told The Atlantic in a March 2010 interview.
In a 2009 interview at Mania.com, McDuffie said his goal was to "portray a fictional world that looked like the real world."
"I was just getting out of the military when Milestone came on the scene," writer Deric Hughes told CBR, "and it blew me away because I was seeing black superheroes talking the way that I talked. It was an awe-inspiring thing."
When McDuffie died, Campbell wrote, "a hole appeared in the universe. Where that hole exists, a man should be—a man known as the Maestro to his fans and Dwayne McDuffie to the rest of the world."
Others agreed, adopting the metaphor: "He's not just gone, there's a freaking hole in the planet because he's gone," said Michael Davis.
"There's just a hole, and no one's fixing that hole. No one's filling that hole. There's no one who might one day be that guy—it's gone and that's it," said film director and comic book writer Reggie Hudlin. "Dwayne spoke up, at a cost to his career, but that's what men of courage do. That's what men of integrity do. And that's what Dwayne was."
When asked what would be McDuffie's lasting legacy, all agreed that his greatest gift was to the kids who grew up reading Milestone or watching "Static Shock" and "Justice League" on tv and believing in a world where anyone, black or white, could be a superhero.
Perhaps, wrote Campbell, the person who can best sum up the life and impact of Dwayne McDuffie is the man himself. In Icon No. 3, which McDuffie wrote, the African American superhero Icon addresses a crowd as follows:
"As many of you have already witnessed, I am gifted with certain special abilities. I have possessed these gifts for many years but for the most part have refrained from using them. No more. Today I set a challenge for myself, a challenge to be of service to humanity. I will do this by being a living example of what's possible. I intend to hold myself to a very high standard. I ask no less of you. I challenge you to challenge yourselves. You are all gifted with special abilities. Strive to live up to your potential, as I will strive to live up to mine. I can fly—so can you!"
ONWARD, THE SPREADING PUNDITRY
The Thing of It Is ...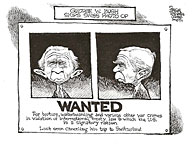 Some dedicated fans of the Grandiose Old Pachyderm found Steven Benson's cartoon about GeeDubya's non-adventure in Switzerland to be in extremely bad taste. The former Decider decided not to go to Switzerland early in February, citing security concerns about protests that were planned to celebrate his arrival in the alpine nation. But it is likely that some of his concern was prompted by international human rights groups that said they were prepared to indict him for approving the torture of detainees. Issuing a 42-page "preliminary legal analysis" that provides a template for an indictment, the groups say the case could be filed whenever GeeDubya travels to any of 147 nations that have signed the Convention Against Torture. So it's not just Switzerland in early February 2011 that is off limits for the accidental prez: it's just about anywhere he might want to go except his ranch in Texas.
BUT THE REAL PROBLEM for the GOP, now that it controls one of the two houses of Congress, is how to portray itself as capable of governing. So far, not much luck. First John "Blubberer" Boehner's House of Representatives repealed the health care reform law; now it is attempting to slash, willy nilly, $60 billion from domestic programs, which, like the repeal of the health care legislation, it is undertaking because various of its newly-elected members pledged to do that while campaigning for office last fall. They're keeping their campaign promises. An admirable trait, usually, but in these instances, its all sound and fury and no actual accomplishment (and accomplishment, not symbolism, is what they promised while running for office).
What we're witnessing is irresponsible grandstanding. It's irresponsible because everyone in the House knows the Senate will never pass the same legislation; and if it does, by some as yet unimaginable fluke, Prez Obama will surely veto both bills. Both the highly touted GOP "achievements" so far have nothing to offer except the opportunity for Tea Baggers and other similarly rabid wannabe lawmakers to fume and fulminate—to grandstand, in other words. Irresponsible grandstanding is not governing; ergo, the GOP has so far proved nothing more than it is unfit for the job.
One result of all this might well be that the government will shut down because the legislative and executive branches of government cannot agree on a budget for the rest of the fiscal year. Ed O'Keefe at the Washington Post provides a useful summary of the consequences: "Some military veterans might not receive benefits checks and other Americans would be unable to apply for Social Security. The State Department might not issue new passports, unemployment statistics would not publish as scheduled, museums and national parks would close, and the elephant manure might pile up in the National Zoo parking lot because workers can't ship it away for composting."
Elephant manure. That's what the Grabby Old Pachyderm has produced thus far in its effort to govern.
To find out about Harv's books, click here.