Opus 255 (February 3, 2010). The bargain-priced DVD of all of Playboy for its first decade, 1953-1959, prompted us to re-visit the magazine and the cartoonists who made it home during that formative ten years—Jack Cole, of course, but also the unknown (or at least unheralded) Draber—and so we spent an inordinate amount number of sentences marking first appearances and other innovations ushered into the modern era by founding publisher Hugh M. Hefner. We also celebrate the centennial of the Boy Scouts of America by digging up the cartoons and illustrations of one of its founders, Dan Beard; and ponder the myopia of a New Yorker profile of Neil Gaiman. And (trying to make up for our dereliction lately) we review a dozen new funnybooks, all listed below. Yes, I know we were going to do Osamu Tezuka this time; but the Playboy bargain just sucked up all the space—that and the surprise interview with Bill Watterson. Next time, Osamu Tezuka. This time, here's what's here, in order, by department:
Watterson Interview
NOUS R US
Amazon's Top Ten Comics and Graphic Novels
Women in Comics Week
Twilight Graphic Novel Preview
Avatar's Box Office Record
How Many Have Died in the Funnies?
Neil Gaiman in The New Yorker
P. Craig Russell on The Dream Hunter
Alan Moore's New Magazine
Feiffer's Memoir
HAPPY BIRTHDAY
Boy Scouts of America: 100 Years Old
Dan Beard, Founder and Cartoonist
EDITOONERY
Good Ones This Week
Airport Security
BOOK MARQUEE
New Books Now Available
BOOK REVIEWS
Two Bargains: The Completely Mad Don Martin and Playboy Cover to Cover, 1950s
Early Playboy Content and Its Cartoons 1953-1959
FUNNYBOOK FAN FARE
Dominick Fortune, 1-4
Archie Nuptial Saga, 603-605
Stumptown, 2
The Last Resort, 1-5
28 Days Later
Glamourpuss, 10
FIRST ISSUES:
Daytripper
Cowboy Ninja Viking
Nomad: Girl Without a World
Greek Street
The Eternal Conflicts of the Cosmic Warrior
Black Widow: Deadly Origin
And our customary reminder: don't forget to activate the "Bathroom Button" by clicking on the "print friendly version" so you can print off a copy of just this installment for reading later, at your leisure while enthroned. Without further adieu, then, here we go—
NO REGRETS: WATTERSON'S FIRST INTERVIEW IN 15 (OR SO) YEARS
Fresh newly crafted Calvin and Hobbes comic strips haven't been in the newspaper for fourteen years. During that time, the strip's creator, Bill Watterson, has been absent from the public prints, refusing to be interviewed or photographed. But Watterson grew up in Chagrin Falls and still makes Greater Cleveland his home, and he presumably has some residual affection, even loyalty, to the local paper, the Plain Dealer. Whatever the reason, Watterson recently answered some questions via e-mail from reporter John Campanelli. It's believed to be the first interview with the reclusive artist since 1989, apart from some exchanges in connection with the publication of The Complete Calvin and Hobbes in 2005; the following was published February 1, 2010.
Q. With almost 15 years of separation and reflection, what do you think it was about Calvin and Hobbes that went beyond just capturing readers' attention, but their hearts as well?
A. The only part I understand is what went into the creation of the strip. What readers take away from it is up to them. Once the strip is published, readers bring their own experiences to it, and the work takes on a life of its own. Everyone responds differently to different parts.
I just tried to write honestly, and I tried to make this little world fun to look at, so people would take the time to read it. That was the full extent of my concern. You mix a bunch of ingredients, and once in a great while, chemistry happens. I can't explain why the strip caught on the way it did, and I don't think I could ever duplicate it. A lot of things have to go right all at once.
Q. What are your thoughts about the legacy of your strip?
A. Well, it's not a subject that keeps me up at night. Readers will always decide if the work is meaningful and relevant to them, and I can live with whatever conclusion they come to. Again, my part in all this largely ended as the ink dried.
Q. Readers became friends with your characters, so understandably, they grieved—and are still grieving—when the strip ended. What would you like to tell them?
A. This isn't as hard to understand as people try to make it. By the end of 10 years, I'd said pretty much everything I had come there to say. It's always better to leave the party early. If I had rolled along with the strip's popularity and repeated myself for another five, 10 or 20 years, the people now "grieving" for Calvin and Hobbes would be wishing me dead and cursing newspapers for running tedious, ancient strips like mine instead of acquiring fresher, livelier talent. And I'd be agreeing with them. I think some of the reason Calvin and Hobbes still finds an audience today is because I chose not to run the wheels off it. I've never regretted stopping when I did.
Q. Because your work touched so many people, fans feel a connection to you, like they know you. They want more of your work, more Calvin, another strip, anything. It really is a sort of rock star/fan relationship. Because of your aversion to attention, how do you deal with that even today? And how do you deal with knowing that it's going to follow you for the rest of your days?
A. Ah, the life of a newspaper cartoonist— how I miss the groupies, drugs and trashed hotel rooms! But since my "rock star" days, the public attention has faded a lot. In Pop Culture Time, the 1990s were eons ago. There are occasional flare-ups of weirdness, but mostly I just go about my quiet life and do my best to ignore the rest. I'm proud of the strip, enormously grateful for its success, and truly flattered that people still read it, but I wrote Calvin and Hobbes in my 30s, and I'm many miles from there. An artwork can stay frozen in time, but I stumble through the years like everyone else. I think the deeper fans understand that, and are willing to give me some room to go on with my life.
Q. How soon after the U.S. Postal Service issues the Calvin stamp will you send a letter with one on the envelope?
A. Immediately. I'm going to get in my horse and buggy and snail-mail a check for my newspaper subscription.
Q. How do you want people to remember that 6-year-old and his tiger?
A. I vote for "Calvin and Hobbes, Eighth Wonder of the World."
For more about Watterson, including a link to samples of the editorial cartoons he drew for the Sun Newspapers, go here: cleveland.com/living/index.ssf/2010/02/bill_watterson_creator_of_belo.html
*****
Reporter Campanelli, a comics enthusiast and former college cartoonist, scored his interview with the J.D. Salinger of cartooning without ruse. He'd started out thinking he would review Nevin Martell's recent book, Looking for Calvin and Hobbes. "Instead of doing an article on the book," Campanelli told Michael Cavna at Washington Post's Comic Riffs blog, "I wanted to use the book— and the announcement of the [Calvin and Hobbes] postage stamp and the 15th anniversary of the retirement of the strip—as hooks for a wider-look article on the timelessness and enduring nature of the strip itself." To that purpose, he e-mailed Watterson a list of questions, but he was well aware of Watterson's reputation as a recluse, so he wasn't very hopeful of a response. "To my complete amazement," Campanelli said, "—he responded. I've never had contact with him before."
          He has no idea why Watterson chose to speak at this time, but he did so without imposing any limits or conditions. "When he sent his answers, Watterson mentioned that he trusted his words would be used in context and that the questions behind them would be clear. That's it." Asked if there was any one thing about Watterson's responses that most surprised or intrigued him, Campanelli said: "You mean, besides that he answered them at all? I'd say what most intrigued me was his frank insight and, of course, his humor. And that he has never regretted leaving the comics pages when he did. Amazing."
NOUS R US
Some of All the News That Gives Us Fits
Until this year, the National Cartoonists Society judged graphic novels with comic books in the same category division of NCS's annual Reuben awards. But this year, for the first time, NCS recognizes that the graphic novel is a separate, and different, genre of cartooning than the comic book. It's about time. ... Last summer, Ruben Boling's weekly altie strip, Tom the Dancing Bug (which doesn't seem to be about a dancing bug—or anyone called "Tom"), won the Association of Alternate Newsweeklies' award for Best Cartoon. A live-action comedy featuring one of the strip's characters, Harvey Richards, Lawyer for Children, is in development at New Line Cinema.
          In Amsterdam, popular lawmaker Geert Wilders failed on January 13 to get a judge to reduce or drop charges against him for his 2008 short film "Fitna," which offended many Muslims by juxtaposing Koranic verses with images of terrorism by Islamic hoodlums. Wilders is scheduled to go on trial in March for "insulting Muslims as a group and inciting hatred and discrimination against them"; Wilders argued that his anti-Islam message is protected as freedom of speech, but he lost this preliminary bout.
          Amazon.com listed the top ten "editor's picks and customer favorite" comics and graphic novels for 2009, in order, we assume, of popularity: Stitches, George Sprott, Asterios Polyp, All-Star Superman, the Umbrella Academy: Dallas, Locas II, The Photographer, A Drifting Life, The [Illustrated] Book of Genesis, and Masterpiece Comics. ... Kim Thompson at Fantagraphics tells me that my magnum opus, Meanwhile: A Biography of Milton Caniff, Creator of Terry and the Pirates and Steve Canyon, is nearly sold out: only about 400 of the initial press run of 3,500 still remain in the publisher's warehouse. And I have a few left here, too, safely ensconced in the Rancid Raves Book Grotto and Gallery below; more about the book here. ... Both the McCoys, Gary and Glenn, had a cartoon in Parade's "Cartoon Parade" January 10. Can you tell the difference in styles?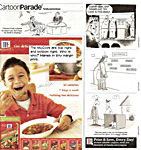 ... Joe Sacco is making a splash in various of the public prints with reviews of his new 400-page graphic novel/reportage about Israeli atrocities in 1956, Footnotes in Gaza. Accused of an anti-Israeli bias, Sacco says: "It's up to us to fill history's glass with as much truthful, cogent testimony as we can." ... Collector comic books still make news with their reputed monetary value. Detective Comics No. 27, in which Batman debuted, is expected to bring in at least a record $300,000 at a February 25 auction, says Jeff Bounds at Dallas Business Journal, quoting Noah Fleisher, director of public relations at Dallas-based Heritage, the third-largest auction house in the world.
*****
"Women in Comics" week is coming, March 21-17, inspired, doubtless, by the prospect of selling more comics while also nodding ceremoniously to "the women who work in the industry and create the comics and the women who star in the comics we read each month" (Previews). The magazine's "brand manager" Jim Meyer interviewed Gail Simone, who has lately hove into view writing the adventures of Wonder Woman, "the most iconic woman in comics," who is also one of the most problematic. It has never been quite decided, for once and all, whether Wonder Woman (aka Diana Prince) should be a sexy superheroine or a feminist icon. Herewith a few out-takes from the Simone interview, published in the January Previews.
          On Wonder Woman: "Greg Rucka, one of the best Wonder Woman writers of the modern age, has said that the problem with Wonder Woman was that she was fragmented each time a new writer came on and abandoned everything the previous writers had done. I agree, so my goal was to present a human Diana, someone who had some wit and charm and an inner life, but also someone who was cohesive. ... Mainly, I wanted to ditch the idea of an arrogant speechifying aristocrat: that's never felt like Diana to me. "
          On being a woman in the comic book biz: "I love being a woman. I love being a woman who writes. But being a 'woman writer' is not nearly as important to me. ... Each year that goes by, I feel a little bit less like an oddity. The industry welcomed me; pros I had worshiped when I was little were incredibly kind and supportive. And now I look out and see Ivory Madison and Kathryn Immonen and Nicola Scott and so many other fierce women of impact and talent, and it all feels like a road we're walking that's headed somewhere wonderful. I walked it because Colleen Doran and Jill Thompson walked it for me, after Ramona Fradon and Marie Severin paved the way. People don't buy Nicola Scott-drawn books because she's female; they buy them because she draws like a damn bandit. ... Every interview Dwayne McDuffie [an African American comics writer] is asked about blacks in comics, when what the audience cares about is that he's a brilliant writer. Really, what is wanted is not 'more Asian creators.' What is wanted is a wide range of voices, and the best available talent."
*****
Passing Through. Several notable toilers in the vineyards of popular culture left us in the last month. Erich Segal made us all weep with the novel and then the movie "Love Story" about a young college man and his wife, who dies of cancer soon after they marry; Segal died January 17 at the age of 72. Robert B. Parker, who wrote more than 50 novels, 37 of them about a Boston private eye named just Spenser, no other name, died at 77. Movie actress Jean Simmons, whose career flourished in the 1950s and 1960s in such films as "Guys and Dolls" and "Elmer Gantry" and "Spartacus," died at 80. The "other Lone Ranger," John Hart, the actor who took over after Clayton Moore left the tv masked man in 1952, died at 91. Hart also played Jack Armstrong in the 1947 Columbia serial of that name, based upon the radio program of the late 1930s and 1940s. French cartoonist Jacques Martin, creator of the popular comic book hero Alix and Herge's collaborator for 19 years on the Tintin books, died at 88.
          And Jerome David Salinger, who wanted to be the "catcher in the rye" and caught, with his book by that name, the anti-phoney spirit of an age—specifically, teenage—died at 91, no better known to us on the day of his death than he'd been for most of his obsessively reclusive life. He was, in fact, "as famous for being a non-publishing recluse as for anything he had written," observed Mike Littwin in the Denver Post. Some students of modern life, Littwin goes on, believe that The Catcher in the Rye would not impact today's teenagers as much as it did before Facebook: "Holden's self-involved take on the world is hardly radical anymore when kids self-publish every self-involved thought" in their heads on the Web. "One writer makes the case that 'teenager' is now less a time of life than it is a consumer demographic." Perhaps. Although adolescent self-involvement as a manifestation of "I'm the center of the universe" is still a fairly wide-spread affliction, I'd say, so Holden Caulfield is probably still relevant.
          Salinger kept writing, they say, but stopped publishing; perhaps, now that he has been removed from any possibility of unwanted public adoration and acclaim, his children, or his agent, will be able to publish what he's written all these years since he stopped publishing in 1965.
GRAPHIC NOVEL PREVIEW
The January 29 issue of Entertainment Weekly (the issue with a discombobulated Jay Leno on the cover) published eight pages of the 72-page Twilight Graphic Novel as a special preview of manhwa artist Young Kim's adaptation of Stephenie Meyer's prose novel, due for a March 16 release. With this kind of publicity, "it is no surprise," notes ICv2, "that Twilight's publisher, Yen Press, has set a mammoth 350,000 first print run" for the book. In an interview with EW's Tina Jordan, author Meyer said she was pleased with Kim's work: "Reading her version brought me back to the feeling I had when I was writing and it was just me and the characters again. I love that. I thank her for it." Kim depicts young people as far too beautiful for my taste—and they're all beautiful, not an ordinary-looking person in the lot. And the book perpetuates the annoying practice of printing speech balloons as semi-transparent bubbles through which we can see people and backgrounds. But I suppose Twilight fans will be ecstatic. Or moribund, if that's their pleasure.
          Kim based her adaptation on Meyer's novel not on the movie. Said Meyer: "It was important to us both that this novel be an interpretation of the novel rather than a cartoon version of the movie. Young took her inspiration direction from the descriptions in the novel, and as a result, the images are much closer to the characters I see in my head than any actual human being could be." Meyer approved all the art, requesting only minor adjustments—the way a character's hair was rendered, for instance. "I also asked for the cars to be changed to exactly the models that I'd described," she said, admitting "no one cares about that besides me." Meyer said she's not working on any new Twight-based project at the moment; "but there's still a possibility that I'll go back and close some of the open doors" some day in the future.
IN MOTION
At the Denver Post, Lisa Kennedy said about "The Book of Eli": "The Hughes brothers have given audiences a graphic-novel flick, but there's no comic-book series out there on which it's based. They enlisted comic-book artists to help hone the look, a mix of sharp duns and grays. And writer Gary Whitta, who has done most of his work in videogames and comic books, has crafted a script nearly as methodical and deliberate as its hero [played by Denzel Washington]." Used to be—remember?—when a film critic likened a movie to a comic book, it wasn't a compliment.
          Walt Disney Pictures has started shooting Edgar Rice Burroughs' "John Carter of Mars" in London; it will star Taylor Kitsch and Lynn Collins; ICv2 prints a leggy picture of Collins next to its announcement.
          Neither Tobey Maguire nor director Sam Raimi will be involved in "Spider-Man 4," which, saith the Associated Press, will focus on Peter Parker in high school. The change in personnel is occasioned, some said, by "creative differences" about the future of the franchise. Jerome Maida at the Philadelphia News recorded some reactions: "I actually think it's a good idea," said local writer/artist J.S. Earls (Pistolfist). "It's all about communication and if you keep telling stories with the same actors and directors, it's more difficult to communicate with your audience effectively." Said writer Brandon Jerwa ("Battlestar Galactica"): "Personally, I wish Sony would go with the more mature Peter Parker, employed as a teacher and juggling a couple of girlfriends, Mary Jane and the Black Cat, maybe? They'll never go that route, but Neil Patrick Harris would be my pick if they did. I don't necessarily think anyone should freak out over the reboot, but I'm definitely a little nervous about how this will play out. Ultimately, I blame Jay Leno."
Said IDW Publisher Chris Ryall: "I think a near-decade is a long time for comic-book movies where the characters aren't supposed to have aged much at all. So rebooting the franchise and getting Peter Parker back in high school for the next movie sounds right to me, especially if Brian Bendis' masterful 'Ultimate Spider-Man' comic is used as the template." Writer Jimmy Palmiotti (Jonah Hex, Power Girl) was fatalistic: "They will forever re-boot properties," he said, "—look at Bond. Look at Sherlock Holmes. Look at Hulk, Superman. It's the nature of the business."
*****
On January 24, ICv2.com tried to come to grips with the box office phenomenon of "Avatar": "'Avatar' is the first film since [John Cameron's other film] 'Titanic' to top the box office for six consecutive weekends. Overseas the film has now earned $1.288 billion, eclipsing 'Titanic's' 13-year-old international box office record of $1.242 billion. Of course adjusted for ticket price inflation, 'Titanic's' total would be in the neighborhood of $1.66 billion. Meanwhile 'Avatar's' domestic total has swelled to nearly $553 million eclipsing 'The Dark Knight' and within easy range of 'Titanic's' record total of $600.7 million." A few short but profitable days later, "Avatar" surpassed "Titanic's" record. "Still," ICv2 went on, "to put 'Avatar's' considerable financial achievements in perspective, in spite of its record-setting performance, Cameron's 3D outer space saga has still sold fewer tickets than 'Home Alone,' 'Forrest Gump,' and the first Spider-Man film." Entertainment Weekly bent over even more in trying to put "Avatar" in its place. Adjusting for ticket-price inflation, "Avatar" plummets to 34th place in the top-earners list, "just a few notches above 'Pinocchio.'" By this measure, "Gone with the Wind" is still at the top of the heap, followed by: 'Star Wars,' 'The Sound of Music,' 'E.T.,' 'The Ten Commandments,' 'Titanic,' 'Jaws,' 'Doctor Zhivago,' 'The Exorcist,' and 'Snow White and the Seven Dwarfs.'
          The Pope, meanwhile, is not happy with "Avatar": the Vatican newspaper faults the movie for flirting with the idea that nature worship can replace religion, "a notion the Pope has warned against," reported the Associated Press. Ross Douthat at the New York Times sees "Avatar" as a "long apologia for pantheism—a faith that equates God with Nature and calls humanity into religious communion with the natural world." Not a bad idea, said Gus di Zerega at Beliefnet.com: the movie's message is that "completeness is achieved in connection with others, that harmony is the basic value and its loss the basic failing of the modern mentality." What this world needs is more pantheists, di Zerega says, and fewer religious fanatics and "narcissistic armchair warriors eager to see others fight in endless wars."
*****
When filmmaker Oren Peli moved into a new house with his girlfriend, they heard noises during the night. "It started me thinking about setting up a video camera and letting it run while you're asleep," Peli told Walter Scott at Parade. "How scary would it be to go through the footage afterwards and see something happening that shouldn't be happening?" And that's how "Paranormal Activity" was made. It cost $15,000 to produce and has earned, as of January 10 or so, about $100 million.
DEATH IN THE FUNNIES
When Lisa Moore, a character in Tom Batiuk's Funky Winkerbean, died of breast cancer in the fall of 2007, it was a major sensation and inspired countless accolades in the news media about how mature (i.e., serious) the funnies had become. Batiuk's motive was, at first, simple: he wanted to grow as a writer by dealing with disturbing human situations; and he hoped the story, for which he, a cancer survivor himself, did a lot of research, would help people who either have cancer or who have friends or relatives with cancer. Presumably, Batiuk was successful in both his objectives: he demonstrated great skill—sensitivity and understanding as well as mastery of his medium—in handling the Lisa story, and the American Cancer society named the cartoonist to its Cancer Care Hall of Fame. Lisa, however, was not the only comic strip character to die in the history of the comics.
          Sam Fulwood III, reporting at the Cleveland Plain Dealer, Batiuk's hometown newspaper, identified at least ten other comic strip characters who died. The first were in George Storm's Phil Hardy in 1925: several supporting players were killed off during a mutiny. Comics historian Bill Blackbeard gave these deaths historic significance, saying the presence of death in comic strips made adventure continuity strips possible: if a character could die, that ramped up the reality in adventuring to a life-threatening levels. Then in The Gumps, Mary Gold, who was poised to marry another character, fell ill and, after a long illness, died, precipitating an avalanche of protest mail to creator Sidney Smith's syndicate at the Chicago Tribune.
          Daddy Warbucks died twice in Harold Gray's Little Orphan Annie. After his first death, in May 1937 of knife and bullet wounds, reader protest was so clamorous that Gray brought him back to life. But he bumped him off again in 1944 as a protest against the policies of Franklin D. Roosevelt, whose New Deal offended Gray's conservative sensibilities to such an extent that he decreed that the self-made millionaire Warbucks couldn't live in FDR's world. A few months after Roosevelt died in 1945, Gray brought Warbucks back from the grave again. Warbucks explained his reappearance to Annie by saying that "the climate here has changed since I went away."
          In the fall of 1941, Milton Caniff famously killed off his plain Jane character, Raven Sherman, having the villain of the moment in Terry and the Pirates shove her off the back of a speeding truck. She lingered for the next 11 days and finally died in the arms of the man who loved her, Dude Hennick. Caniff's wife had given Raven her name, and the cartoonist joked that Mrs. Caniff never forgave him for killing off "her little girl." Caniff had killed another supporting character, Old Pop Scott, on January 17, 1935, during the strip's inaugural episode, mostly to demonstrate that death can happen in a comic strip: no character can be presumed immortal.
          Andy Lippincott, a gay character in Doonesbury, died of AIDS in 1990, raising awareness of the disease and sympathy for its sufferers. Lippincott is the only fictitious person to have a patch on the national AIDS quilt. Garry Trudeau has killed off other characters—congresswoman Lacey Davenport and her bird-watching husband, Dick, and fat-cat businessman Phil Slackmeyer.
          And in For Better or For Worse, Lynn Johnston killed the family dog, Farley. Dogs don't live forever, and Johnston, who has taken great pains to make her strip as realistic as possible, knew the Old English Sheepdog would eventually have to expire, like all family pets do. She arranged a heroic departure: Farley died after saving a child from drowning in 1995.
          Thanks to Rancid Raves Correspondent Ed Black for the newspaper clipping detailing most of the foregoing.
ICON IN BLACK
In The New Yorker for January 25, Neil Gaiman is the subject of a profile entitled "Kid Goth" by Dana Goodyear, who, while remarking Gaiman's extraordinary popularity with certain crowds of young people, misses the secret of his appeal. She fails to see that she has encapsulated the secret when she says: "Gaiman is forty-nine and English, with a pale face and a wild, corkscrewed mop of black-and-gray hair." She fails to see the Gaiman mystique even when a full-page photograph of him appears on the page facing her description. Sex appeal, that's the secret. Not talent, not wit. Just sex. Oh, and the all black costuming he affects.
          Gaiman, Goodyear explains, "is unusually prolific. In addition to horror, he writes fantasy, fairy tales, science fiction, and apocalyptic romps, in the form of novels, comics, picture books, short stories, poems, and screenplays. Now and then, he writes a song. Gaiman's books are genre pieces that refuse to remain true to their genres, and his audience is broader than any purist's: he defines his readership as 'bipeds.' His mode is syncretic, with sources ranging from English folktales to glam rock and the Midrash, and enchantment is his major theme: life as we know it, only prone to visitations by Norse gods, trolls, Arthurian knights, and kindergarten-age zombies."
          If he could draw cartoons, it sounds like he might be today's Shel Silverstein. But mostly, he writes. Not, however, without some trepidation. Says he: "There's always that fear of writing too much if you're a reasonably facile writer, and I'm a reasonably facile writer."
          Gaiman has a good opinion of himself, and not without justification. When the New York Times waited for months after its publication to review his latest book, The Graveyard Book, it didn't matter. Sales burgeoned apace notwithstanding. "I have at this point a critic-proof career," Gaiman said. "The fans already knew about the book."
          Writes Goodyear: "He attributes his recent No. 1 débuts to his ability to communicate directly with his fans: he tells them to buy a book on a certain day, and they do. 'It means I'm nobody's bitch,' he told me. Through his blog and Twitter, readers have a seemingly transparent window into his process. ... To his readers, Gaiman projects an image that is at once iconic author-hero and cozy bookworm. 'At the age of four, I was bit by a radioactive awesome,' he'll say, by way of the origin story that comics fans are conditioned to expect. Sartorially, he is remarkably like Dream, who is one of his best-loved characters and the protagonist of a monthly series called The Sandman, which he wrote for DC Comics between 1988 and 1996. He wears black: black socks, black jeans, black T-shirts, black boots, and black jackets whose pockets are loaded with small black notebooks and pots of fountain-pen ink in shades like raven.
          "'Of course, he wants to become a character,' says Stephin Merritt, who is the lead singer of the Magnetic Fields and a friend of Gaiman. 'He's not Salvador Dali, but he's not far off. There's no hard line between his persona and his private life.' Jon Levin, Gaiman's film agent, says he recognized his client's popularity only when he took him to a meeting at Warner Bros. and all the secretaries got up from their desks to ask for autographs. Someone said, 'That never happens when Tom Cruise is here.'
          "Everywhere Gaiman goes, he encounters women dressed as Death, Dream's sister in Sandman: black clothing, elaborate black eye makeup, and, often, an ankh charm around the neck. (Internet critics deride Gaiman's fans as 'Twee 'Bisexual' Goth Girls with BPD'—borderline personality disorder—'who are drama majors and who are destined to become cat ladies.')" Karen Berger, his editor at DC, says: "You look around a room where Neil is, and half the fans are women, if not more." Still Goodyear doesn't seem to get it.
          "Now that he is widely read," Goodyear says, "he is apt to publish even the most ephemeral of his offerings, often between hard covers and with lavish illustrations. Last spring, he released 'Blueberry Girl,' a bit of doggerel written for his friend Tori Amos when she was expecting her first child. ('Help her to help herself, help her to stand, / help her to lose and to find. / Teach her we're only as big as our dreams. / Show her that fortune is blind.') It spent five weeks on the best-seller list for children's picture books."
          Writing comics, Gaiman's initiation into authordom and fame, "afforded him his great opportunity to invent a cosmology," which he did, after Alan Moore coached him on how to write a script. But Gaiman's scripts are half the length of Moore's exhaustive texts with dialogue and descriptions about what to draw. For his Sandman series, Goodyear writes, "Neil gave the series a loose, intuitive structure; dream logic prevailed. This allowed him to tell whatever stories he wanted to, about the kinds of people he knew: pre-operative transsexuals, dysfunctional families, mixed-race couples, spurned lovers, addicts, and young adults with tattoos and brightly colored hair. 'He's got incredible storytelling drive,' says novelist Michael Chabon, who has written extensively about comics. 'The stories just exfoliate off each other, and mythology and folklore are so confidently and freely appropriated, with such chutzpah.' The whole is a chaotic collage."
          Gaiman writes page-turners: you read on, expecting something to happen. But it seldom does. He has ideas for what he might call "stories"—concepts—but they have little or no narrative propellent. The idea doesn't go anywhere: it just lays there, radiating allusion to Norse folklore and Shakespearean lyrics. The characters (and the readers) marinate in a broth of tingly suggestion without ever acting. They feel but they don't think.
          Once, Goodyear reports, Gaiman "happened to see a shooting star. Watching it fall, he says, 'I just did that thing where you're following a chain of thought, and you go, That looked like it was really near. What if I went and it wasn't a meteorite but it was actually like a big diamond or something? Wouldn't that be cool? And I thought, What if it was a person? And then suddenly it was like a little chain of dominoes.' He went to Charles Vess, the artist who had illustrated the award-winning issue of Sandman, and told him the idea. That became Stardust, a nineteenth-century-style fairy tale that was first a four-part miniseries for [the Berger-edited] Vertigo imprint, with illustrations by Vess, and then a novel for William Morrow, and finally—after the model Claudia Schiffer read it and implored her husband, the director Matthew Vaughn, to make it—a movie starring Claire Danes and Michelle Pfeiffer."
          I don't know about the chain of dominoes—except for the chain that led to the novel and then the movie. But the chain that allegedly proceeds from the moment of "cool" inspiration—the chain that is the story, the narrative—I haven't encountered, having not read Stardust, and so I can say nothing about it. But stories rooted in the supernatural have always seemed to me entirely too frothy: because the writer can evade any and all necessity to create portraits of real people, real humans with limitations as well as potentialities, his stories do not much engage me. Neil Gaiman is a big success, no question. But his stories, the few in the original Sandman series that I read, were mere page-turners: they got me going, but by the time I'd reached the end, I realized I was nowhere.
          Consider, for example, the first issue of P. Craig Russell's adaptation of Gaiman's novella The Sandman: The Dream Hunter, which appeared a little over a year ago. In the inaugural issue of this tale, a young monk in Japan lives alone among his devotions in a remote temple. He is observed by a badger and a fox who make a wager that whichever one of them can drive the monk from his temple will inherit the edifice as a home. Being magical, the animals assume other forms to frighten the monk—a hideous demon with his entourage, a beautiful young woman. The hoaxes don't work because the monk sees through them. In the meantime, the fox has fallen in love with the monk, and when she overhears a plot to kill him, she gives up her most treasured possession to find out how to save him.
          As a first issue, book satisfies all of the usual criteria (see below under "First Issues"). It contains a central episode—an event with a beginning, a middle and a resolution of the conflict prompted by the beginning—namely, the monk's successful matching wits with his foes, the badger and the fox. We come to care about the monk because he is witty and clever and a model of integrity. And the end of the issue, we are left in suspense about his fate, but the fox's maneuvering promises some sort of solution. And maybe in a subsequent issue, we'll see the Sandman, who makes no appearance herein.
          Despite its embodiment of the elements that make a satisfying first issue, The Dream Hunter doesn't much engage me as a narrative. The monk's problems are created by something alien to normal human experience—the magical machinations of the fox and the badger. So I cannot identify with the monk's dilemma. And the monk's means of escaping his predicament—seeing that one of the badger's demons has the tail of a badger and guessing from that evidence that the being threatening him is not a demon but an badger—are likewise akin to magic. The monk is observant and clever, and I admire those qualities. But he is applying his skill to a wholly unrealistic problem, one I cannot identify with. And that is the glitch I can't get around in any tale involving the supernatural and why, for me, Gaiman's stories are just so much warm milk foam, page-turners without the means of absorbing the reader (i.e., me).
          But Russell's pictures are something else. As far as I'm concerned, the pictures are the story. Almost. They are all there is in the story that excites my interest. Russell's drawings are elegant, exquisite—and appropriately tinged Asian.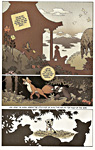 They create the atmosphere in which Gaiman's fantasy thrives. Without them, the story is nothing. With them, the story becomes something worth attending to. The pictures aren't all there is of the story, but they are integral to it, and they are the only part of it that attracts and holds me (an admittedly idiosyncratic qualification). In a very substantial way, Russell's visual adaptation here exemplifies comics: at the very least, the book models the vital role pictures play in the blending of word and picture that is the essence of comics art.
          As for Gaiman, Goodyear's profile, apart from her curious myopia (as noted), is informative about the life and lifestyle of this erstwhile comics phenom and worth a read. And if it were more about Gaiman's comics and less about his persona, it would represent a significant step in cartooning's march to respectability and artistic status. The New Yorker! But I'm left with a puzzle: Gaiman, Johnny Cash, Alan Moore, Bob Dylan—why do all these guys dress all in black all the time? What is there about black? Funerals? A death wish? "Oh, poor little me—I'm doomed." And aren't we all?
ANOTHER ICON IN BLACK HEARD FROM
Alan "Watchmen" Moore is now producing a new bimonthly magazine called Dodgem Logic, which, says Jessica Holland at thenational.com, combines "psychedelic cartoons, whimsical confessions, political satire and recipes. Subtitled 'Colliding Ideas To See What Happens,' the 40-page pamphlet has the look and feel of such 1970s magazines as Oz and the International Times, with the same mixture of radical ideas, frankness and fervor. Dodgem Logic opens with a six-page article dedicated to a history of underground self-publishing, which stretches way past the usual 1970s punk fanzines, beginning with handwritten tracts 'handed between plague carts' in the 13th century. (Moore describes them as 'very much like Twitter only with more leprosy and maggots.')" The magazine, says Moore, is neither "global" nor "local": he calls it "lobal." The artlessness of Dodgem Logic is its charm, says Holland: "The entire magazine looks as though it was put together by students during the early days of desktop publishing: each page is designed differently from the rest and it's easy to spot a few misspellings."
          She continues: "Although Moore has become known as the patron saint of graphic novels, this is not the first time his career has veered in an idiosyncratic direction. Ever since he first got kicked out of school for dealing LSD as a teenager, the writer has had a knack for doing what's least expected. Starting out as a young cartoonist for the music paper NME and local papers in the 1970s, he moved on to writing scripts for the comic-book publishing houses Marvel, 2000AD and Warrior. Since then he has written for scores of comics: reworking familiar characters from superhero characters as psychologically complex and sometimes allegorical entities, and creating new ones to express his ideas on everything from politics to the nature of time. On the way, he has blazed a trail for independent thinking (and downright stubbornness) that has made him almost as many enemies as fans."
          Revered in some quarters for scorning Hollywood versions of his graphic novels, Moore said in an interview last year: "It is as if we are freshly hatched birds, looking up with our mouths open waiting for Hollywood to feed us more regurgitated worms. The Watchmen film sounds like more regurgitated worms. I for one am sick of worms."
          Holland goes on: "His truculence and deliberate awkwardness became part of his outlaw appeal: Moore was lampooned in an episode of 'The Simpsons' in 2007, where he admitted turning Bart's favorite character, Radioactive Man, into a 'heroin-addicted jazz critic who's not radioactive.' (Bart just shrugs and says cheerily: 'I don't read the words; I just like when he punches people.') Now 56, Moore shows no signs of slowing up or toeing the line. In Dodgem Logic's tongue-in-cheek foreword, he says, while lamenting the planet's current financial, political and ecological climate, 'Clearly, what the world needs is a trippy-looking underground mag with a self-confessed agenda of aggressive randomness. Then everything will be all right.' And he signs off with a characteristic mixture of hubris and humor: 'Alan Moore, 80s icon and the boss of you.'"
          Moore's newest title is 25,000 Years of Erotic Literature; I haven't see it yet, but it purports to be a fully illustrated essay contending that society's that permit pornography to thrive tend to be advanced societies; those that don't, are autocratic dictatorships. An interesting and provocative proposition, however fanciful it may prove to be.
*****
Feiffer's Memoir. Jules Feiffer's long awaited autobiography, Backing into Forward (termed a "Memoir"), is among the books you can order in the January Previews, which means it is in a bookstore near you—or will be soon. "Brimming with wry punchlines," it sez here, "slices of Americana, and pithy social commentary, Backing into Forward charts Feiffer's rise to fame from unlikely beginnings."
          Meanwhile, after half-a-century, Feiffer is back with his one-time collaborator, Norton Juster: the two are working on a new book, The Odious Ogre, for Michael di Capua Books at Scholastic. Their previous effort together was The Phantom Tollbooth, which came out in 1961; since then it has sold 3.3 million copies.
          Feiffer and Juster met while taking out the garbage: they lived in the same apartment building—Juster in the basement; Feiffer on the third floor. When the landlady ended their leases so she could renovate, the two took up residence in a nearby "seedy duplex." Juster paced the floor as he conjured up a story. On the floor below, Feiffer could hear him walking around: annoyed by the noise, he came up to see what Juster was writing. Said Juster: "Then he drew sketches to go with the story. They were unbelievably good."
          Juster wrote two more books, reported Sue Corbett at Publishers Weekly, but, trained as an architect, he devoted most of his energy to designing buildings for the next thirty years. Feiffer also turned away from children's books for most of his career: "I started the weekly comic strip [in the Village Voice], trying to overthrow the government," he quipped. But he also wrote novels, plays, and, particularly in the last few years, children's books again.
          Di Capua longed to bring the duo together again, but he thought Juster's most recent books were too "sweet" for Feiffer's scratchy artwork and urbane sensibility. "But this story about the ogre is extremely witty and has a certain black humor to it," di Capua said. The ogre, for instance, has an impressive vocabulary, "due mainly to having inadvertently swallowed a large dictionary while consuming the head librarian in one of the nearby towns. I knew dead certain Jules was going to want to illustrate it," di Capua said.
          He was right. Now nearly finished with the artwork, Corbett continued, Feiffer reports he's had a blast. "The one thing I will say is that, in relation to the other characters, he is possibly the biggest ogre in captivity," Feiffer said. "He was great fun to draw, though—more fun for me than for the ogre."
          Di Capua finds an echo of Feiffer's Village Voice comic strip in The Ogre: though the ogre is "extraordinarily large, exceedingly ugly, unusually angry, constantly hungry, and absolutely merciless," the girl he encounters, working in her cottage garden, is unfazed by his brutishness. "She's another manifestation of Jules's dancer," di Capua said. Only, somehow, she's better. "Not that I'm knocking his earlier work," he added, "but there's a certain freedom that's noticeably on a higher level. You can tell he's having a great time."
          Right again, Feiffer said, who did the illustrations in pen and ink brush with colored markers, gouache "and anything else I could think of. It's my new way of working, which I love."
In fact, he and Juster are already planning their next joint maneuver, he says.ThePhantom Ogre, or maybe The Odious Tollboothcoming in 2060.
Fascinating Footnit. Much of the news retailed in the foregoing segment is culled from articles eventually indexed at rpi.edu/~bulloj/comxbib.html, the Comics Research Bibliography, maintained by Michael Rhode and John Bullough, which covers comic books, comic strips, animation, caricature, cartoons, bandes dessinees and related topics. It also provides links to numerous other sites that delve deeply into cartooning topics. Three other sites laden with cartooning news and lore are Mark Evanier's povonline.com, Alan Gardner's DailyCartoonist.com, and Tom Spurgeon's comicsreporter.com. And then there's Mike Rhode's ComicsDC blog, comicsdc.blogspot.com and Michael Cavna at voices.washingtonpost.com./comic-riffs . For delving into the history of our beloved medium, you can't go wrong by visiting Allan Holtz's strippersguide.blogspot.com, where Allan regularly posts rare findings from his forays into the vast reaches of newspaper microfilm files hither and yon.
MOTS & QUOTES
          "One of the big problems with comics is that they are too blunt: melodrama is the default mode of comics." —Jeet Heer in an interview with Tom Spurgeon at comicsreporter.com
          "My heart was gladdened by an official-looking sign in the Milwaukee airport just beyond the TSA checkpoint, hanging over where you put your shoes and coat back on. The sign said: 'Recombobulation Area.' The English language gains a new word. Recombobulate, America."—Garrison Keillor
          Denver's major, John Hickenlooper, a trained geologist and onetime bar owner, announced his candidacy for governor recently by urging a progressive posture: "What's ultimately the opposite of woe?" he asked. And then he answered: "Well, it's giddyap. And right now, it's truly giddyap time in Colorado." Woe and whoa, right? Ha.
HAPPY BIRTHDAY
The Boy Scouts of America celebrates its 100th anniversary on February 8. As a boy, I served time in the Cub Scouts and, subsequently—starting at the age of twelve—in the Boy Scouts. Troop 63 in the Holy City of Edgewater, Colorado. Before that, though, I'd spent hours pouring over the Scout manual, Handbook for Boys, the 1930 revision of the original 1910 tome having found its way into my father's library. By the time of that edition, almost five million of the books had been published. It was a paperback volume, but the cover was flexible, not stiff, so the book fit your hand like a glove not like a board. I lost the copy I grew up with, but I've since obtained another of the same vintage, with a cover illustration by Norman Rockwell, the unofficial official illustrator of the Boy Scouts.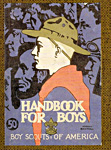 The origin of the BSA is rehearsed in Chapter IV: The "Good Turn" and Knighthood: "Early in the fifth century, there rode through the forest, in what is now a corner of London, a powerful Knight, clad in full shining armor, with lance and plumes and helmet. Like his master, the great war horse was also protected by armored trappings. At his side rode his Squire, a young knight in traning, and behind came his picked patrol of men-at-arms—strong, brave, armed to the teeth. A gallant band, alert and ready.
          "The shrill scream of a woman in trouble startled the band. Instantly, the Knight turned aside, and spurring his charger into a full gallop, was soon at the woman's side. One stroke of his trusty sword disposed of her captor, while his men quickly overtook and handled the other bandits. Then the frightened woman was restored to her fireside—and the Knight traveled on. Such was the spirit of these Knights of old. A 'Good Turn' to some one was their daily practice.
          "1,500 years rolled by and over that selfsame one-time forest, the great city of London has grown. All day long it had been in the hard grip of a dense, heavy fog. Traffic crept cautiously and slowly. Street lights had been ordered on by the police before noon, and now night was coming on. Danger lurked on every hand because 'going' was difficult even for the native.
          "William D. Boyce, Chicago publisher and traveler, was seeking a difficult address in old London. A boy approached him and asked, 'May I be of service to you?' Mr. Boyce told him where he wanted to go and the boy saluted and said, 'Come with me, sir,' and forthwith led him to the desired spot. Like the typical American tourist, Mr. Boyce reached in his pocket and offered the boy a shilling. The boy promptly replied, 'No, sir, I am a Scout. Scouts do not accept tips for courtesies.' The man in surprise murmured, 'What do you say?' The Scout repeated and then added, 'Don't you know about the Scouts?' Mr. Boyce said, 'Tell me about them.' The boy did and added, 'Their office is very near, sir. I'll be glad to show you the way.'
          "Mr. Boyce had to complete his errand first. The lad waited, however, and then led him to the office of Sir Robert Baden-Powell, founder of the British Boy Scout Association, where information about the Scout Movement was gladly given. Mr. Boyce was tremendously impressed and gathering all available information, brought it back to the United States. On February 8 the next year, Mr. Boyce and others interested in boys and citizenship formally incorporated the Boy Scouts of America. This day is observed each year as the birthday of Scouting in the United States. This 'Good Turn' to a stranger brought Scouting to millions of American boys."
          Knighthood in flower, damsels in distress, good turns in "heavy dense London fog"—what boy wouldn't be enchanted with this tale, most of which, obviously, is claptrap, pure window-dressing designed to raise Boyce's chance encounter in "old London" to the level of myth and legend. To that, the American founders added Native American woodlore and the resourcefulness of pioneers. Irresistible.
          Boyce, by the way, was not just a "Chicago publisher": he was one of the inventors of newspaper syndication. He sold to small town and rural newspapers printing plates or sheets of newsprint printed on one side with national or regional news; small papers then filled the unprinted sides of the newsprint with local news.
          The Handbook, having regaled us with the story of old London's "Unknown Scout" (as Boyce's savior is known in BSA lore), continues: "The final test of a good Scout is in his doing of 'Daily Good Turns' quietly and without boasting. "A 'Good Turn,'" it advised, "is an extra kindness and service—something more than what courtesy and good manners would do." And the Handbook even helpfully listed Some Modern Good Turns: put out a forest fire, let a dog out of a trap, carry mail to a prisoner, wheel a crippled man, move a sewer pipe out of the road, get a ball out of a tree for a boy, help a grocer recover spilled fruit. The list goes on for two pages, doubtless sending uncounted legions of Scouts off looking for forest fires to put out, trapped dogs, balls snared in trees, and stray sewer pipes. We can laugh today at the primitive naivety of this catalogue of kindnesses, but the book was in its 49th printing by 1930.
          What intrigued me, however—at an earlier age than I needed to be to join up—was not the text in the book but the pictures. Every one of its 5x7-inch pages carried several illustrations, spot drawings and diagrams. Some of the former I've collected in this vicinity.
Most of the drawings were reproduced at diminutive dimensions, just the right size for small boy eyes. I was enchanted, particularly by the full-page illustration of the "trail" of Scouting advancement, which we've posted in this batch.
          Baden-Powell, a British army officer, hero of the Siege of Mafeking in South Africa during the Boer War, served in India and Afghanistan also and, based upon his practical experiences, wrote handbooks for adult army scouts and later adapted his teachings to a younger audience in the belief that physical fitness and intellectual attainments among the nation's youth would insure a long life for the British empire. I picked up a copy of the Oxford University Press 2004 reprint of the original 1908 text of Baden-Powell's Scouting for Boys and, skimming the table of contents, was intrigued by an appendix entitled "Continence." "Incontinence" these days usually refers to a failure of the blader or bowels, so I wondered what Baden-Powell might have to say about its opposite.
          I turned to page 351 and found an essay on the evils of masturbation that Baden-Powell had drafted under the heading "Avoid Self-Abuse" but had been persuaded to leave out of the book. I can see why: it's a genuinely horrifying treatise. Baden-Powell addresses his young readers directly:
          "I have told you of the dangers of drink and of smoking which, if indulged in boys, are certain to make you unhealthy in the end and therefore useless as a scout. ... But there is another practice which is perhaps more dangerous. ... The practice is called 'self-abuse.' And the result of self-abuse is always—mind you, always—that the boy after a time becomes weak and nervous and shy, he gets headaches and probably palpitation of the heart, and if he still carries it on too far he very often goes out of his mind and becomes an idiot. A very large number of the lunatics in our asylums have made themselves ill by indulging in this vice although at one time they were sensible cheery boys like any one of you. The use of your parts is not to play with when you are a boy but to enable you to get children when you are grown up and married. But if you misuse them while young you will not be able to use them when you are a man: they will not work then."
          You can understand why in this country boys at the age of 12 were ushered into Scouting: at that age, you were poised on the precipice of adolescence, so the parental presumption was that if you got preoccupied with woodcraft, you wouldn't notice woody when it showed up.
          Willliam Boyce of foggy London fame was not the only advocate in favor of scouting for boys in the U.S. In fact, he was rather a johnny-come-lately. Daniel Carter Beard had preceded him by several years. Trained as a civil engineer and surveyor, Beard abandoned that profession early. Influenced, no doubt, by his father's being a celebrated portrait artist, Beard took up drawing, and when the family moved to New York in 1878 from northern Kentucky, where young Dan had developed a love for nature and outdoors living, Beard began studying at the Art Student's League, and, at the age of 32, sold an illustrated article, "How to Camp Without a Tent," to St. Nicholas, a magazine for young people. That same year, he wrote and illustrated What To Do and How To Do It: The American Boy's Handy Book.
          The illustrations attracted attention, and in 1889 Beard illustrated Mark Twain's A Connecticut Yankee in King Arthur's Court. Some of his drawings (as you'll see in a trice), inspired by Twain's satire, achieving the potency of political cartooning. And in some of the pictures, Beard went beyond Twain's satire, caricaturing leading political and business figures of the day with whom Beard disagreed. Beard's illustration commissions fell off quite sharply thereafter.
          In 1905, Beard became editor of the wildlife magazine Recreation and formed Sons of Daniel Boone, an organization for boys that promoted conservation and outdoor living; due to its affiliation with the magazine, it also promoted circulation. A year later, Beard went to work at another magazine, Women's Home Companion, leaving it in 1908 for the Pictorial Review, where, once again, he formed a youth group affiliated with the magazine, the Boy Pioneers. The Boy Pioneers was among several boys' organizations that were consolidated into the Boy Scouts, and Beard was a charter member of the executive committee. He was also one of the editors of Boys' Life, the BSA magazine, for which he wrote a popular column as "Uncle Dan." Later, he helped his sister organize the Camp Fire Girls.
          Apart from my youthful involvement in Boy Scouts, my interest in Beard is prompted by the appearance of his drawings, as cartoons, in the old humor magazine Life. Here is one of the latter and some of his illustrations for Twain's satirical novel.
          The other principal in the formation of the American Boy Scouts was Ernest Thompson Seton, whose passion for the traditions of Native American life prompted him to form boys clubs to practice those ways of living in the out-of-doors. His book, The Birch-Bark Roll of the Woodcraft Indians, inspired the formation of Woodcraft tribes all around the country, starting in about 1902. Seton was an artist—he made his fortune drawing detailed pictures of birds and animals in the wild—and he had met Beard while both were studying at the Art Students League in New York. But Seton, as far as I know, never drew cartoons, so I'm slighting him in this history. Sorry. Maybe another time.
          Baden-Powell was also an accomplished artist; many of the illustrations in Scouting for Boys are his (perhaps even the two I've reproduced above). His drawing ability was useful when he was scouting enemy positions. He once famously said he'd drawn a schematic of an enemy fortification within a sketch of a butterfly wing so if he were captured he would not be revealed as a spy.
EDITOONERY
Afflicting the Comfortable and Comforting the Afflicted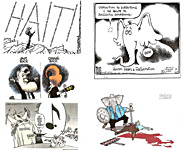 Against the monumental tragedy of the earthquake in Haiti, the clownish machinations at NBC over what to do about the bad idea of Jay Leno's prime time show and how best to dispose of Conan O'Brien were fatuous to the point of trivial. At least the plight of the Haitians prevented editoonists from spending the entire week making up bad jokes about late-night comedians and their bad jokes.
          In our harvest of good editoons for the week, Mike Peters' visual punning over the Jay-Conan affair seemed the most accurate and pungent (pun unintended but savored) on that topic, and the pun also suggested just how frivolous a distraction this episode might have become had there been no other news that week. David Fitzsimmons' stark imagery of the Haitian tragedy— giving credit to rescue operations while also, with the clutching hand of supplication, expressing a searing sympathy for those caught in the debris of the collapsing country—moved the pile of rubble away from being the simple visual cliche so many other cartoonists had resorted to.
          Mike Keefe, beneath Fitzsimmons in our visual aid, supplies a persuasive image denying the logic of the Supreme Court's decision to let corporate cash represent speech, a ruling that reverses previous Court decisions and upends a host of laws that go back more than 100 years to when Teddy Roosevelt was chasing after robber barons. If that isn't a prime example of an activist judiciary, I dunno what better instance we could find. And at the upper right, Tom Toles adroitly deploys a popular culture metaphor to puncture the GOP's political strategy. Funny and pointed at the same time.
          Below that we have Brian Fairrington's telling image reporting the results of the Massachusetts special election. Fairrington leans to the right, so it's easy to understand his jubilation when Scott Brown, a Republican, was elected to the U.S. Senate to fill out the rest of Teddy Kennedy's term, all that was left of a nearly half-century of continuous Democrat incumbency. Brown's arrival in the Senate marks the first time since 1972 that the Congressional delegation from Massachusetts has not been Democrat from top to bottom, side to side. The first time since 1952 that Massachusetts has had a Republican senator.
          Fairrington's cartoon is a nicely layered comment on the historic moment. When I ponder editorial cartoons, I look for visual metaphors, images so memorable that they sear the observer's brain pan thereby affecting whatever he/she thinks forever thereafter. At first blush, the metaphor in this cartoon is the Grand Old Pachyderm slaying a Democrat—a bloody though simple enough metaphor for the election of Scott Brown. But then I realized that the pool of blood forming under the corpse was in the shape of Massachusetts. And so the erstwhile Democrat blue state becomes, for the nonce, a Republican red. And with this fillip of visual information—likely to be overlooked by anyone not familiar with the shapes of U.S. states (and how many fresh highschool graduates these days are?)—Fairrington's deft cartoon acquires a meaningful and supremely memorable complexity.
          It was the tea baggers, they say—not the hoary old elephant—that turned the trick for the Republicans. And the tea baggers are now often termed the "Tea Party," a raucous and rude anti-government bunch of greater decibels than sense. Did you ever have tea parties when you were a kid? And if you did, wasn't the tea always make-believe? Well, so is most of the tea bag world as envisioned by its ostensible leader, Glenn Beck, a preposterous erstwhile comedian who manages with almost every political utterance to contradict himself.
          Writes Thomas Frank in Playboy: "In his philosophical mode Beck often questions greed and materialism; in his political mode, he is dedicated to the utterly materialistic principle of free-market economics." A constant cheerleader for Thomas Paine, whose pamphlets helped pave the way to the American revolution, Beck doesn't discern that Paine disapproves of virtually every so-called "idea" in Beck's political agenda.
          Beck's reverence for the Founding Fathers' Constitution is denounced by Paine who finds it absurd that one generation should bind succeeding generations to its way of thinking. Beck, who champions self-sufficiency and sees socialism lurking in every government program, probably never read the part of Paine's The Rights of Man that urges old-age pensions, subsidies to the poor, welfare payments to mothers of small children, and guaranteed employment. And in The Age of Reason, it's clear that Paine also doesn't think much of Christianity, which Beck sees as inspiring the very words of the Constitution. No matter: in Beck's make-believe world, facts don't matter as much as self-serving opinions. Tea bags galore.
****
Airport security faded as a topic for edtioonists and pundits. But not before David Harsanyi in the Denver Post observed that "if we are asked to remove our underwear at the airport, well, the terrorists have won." Genuine security is not going to be possible, he continues, until we admit that terrorists "tend to come from certain places and subscribe to a certain religious affiliation." But since such a politically incorrect posture is not likely, before long, we'll all have to drop our trousers and bend over while a friendly TSA officer conducts a full body cavity search.
          At the New York Times, David Brooks averred that the most troubling aspect of the "debate" about body scanning is the childish assumption, on both the Left and the Right (where Brooks usually resides), that government has the duty and the ability to protect us from every danger. It can't, and it won't. ... In the struggle against terrorism, "bad things will happen, and we don't have to lose our heads every time they do."
          At Newsweek, Jon Meacham seems to concur: "So this is what winning may look like: smaller-bore plots, carried out (or not) by radicalized Islamists. ... A never-ending war is not a war we should not fight: it is just a war that never ends. The sooner we accept this, the better."
          Most Americans—that is, a simple majority, 51%—think it's okay to give up some liberties to make the U.S. safe from terrorism, according to a McClatchy-Ipsos poll. And 74% think full-body searches at airports is the most effective preventive; although 81% think better intelligence coordination is even more effective. Just 36% think "some of the governments proposals will go too far in restricting the public's civil liberties."
          Calvin Trillin, writing in The New Yorker, reports that the whole remove-the-shoes dodge was a result of a bet made by Khalid the Droll, an Islamist prankster in England, who said to his cell: "I bet I can get them to take off their shoes in airports." And then he went out and recruited Richard Reid (described by British acquaintances as "very, very impressionable") to put a bomb in his shoe. The underwear exercise is another of Khalid the Droll's bets, Trillin says—and he, Trillin, predicted it in a book of his in 2006.
CIVILIZATION'S LAST OUTPOST
One of a kind beats everything. —Dennis Miller adv.
Some in the women's fashion trade are worried that the traditionally skinny runway models send the wrong message to American womanhood, bringing on all sorts of eating disorders. On the other hand, advocates for "plus size" models worry that these somewhat larger clothes horses send the wrong message at the obesity end of the spectrum. And then when the fashion mag V published its "size issue" featuring size-12 women, critics complained that the star of the issue, Crystal Renn, was only size 12. How could she be a "plus" at that diminutive dimension? How big is big enough?
          Air America, talk radio's liberal answer to Rush Limbaugh, has pulled the plug and gone silent. ... Bankruptcies are on the rise again: with more than 1.4 million filings last year, 2009 is the seventh highest year on record, up 32 percent from 2008; there were 2 million in 2005, before the crash. ... Just hours after saying that God was punishing Haiti for making a "pact with the Devil," televangelist Pat Robertson explained that it was all a misunderstanding: "Haiti?" he said, incredulous, "—I thought they said 'Hades'." Not really. This is a spoof, torvarich. (Thanks, Roy.)
          For about 60 years, someone has visited Edgar Allan Poe's grave on the eve of his birth on January 19 and put roses and a half-empty bottle of cognac on the tombstone. Not this year. No one knows for sure who the mysterious midnight visitor might have been, but one possibility, a Baltimore poet and "known prankster" (according to the AP), died in his 60s the week before Poe's birthday anniversary.
          In Denver's Boettcher Concert Hall a week or so ago, the Colorado Symphony Orchestra just finished the second song of Peter Liberson's "Neruda Songs" when someone in the audience yelled out, "That's just awful!" "Who does he think he is? Joe Wilson?" quipped the Denver Post's Bill Husted.
          On October 19, Erick Williamson, 29, a resident of suburban Fairfax County in Virginia was arrested and charged with indecent exposure because two women and a 7-year-old boy saw him naked. Williamson customarily sleeps in the nude, and he made the mistake of not donning a robe before going into his kitchen to make breakfast; the peeping toms, walking by his house, saw him through the window. A judge found Williamson guilty but didn't fine him or sentence him to jail; Williamson is appealing.
          One of the states that permits medical marijuana, Colorado has been dubbed "America's cannabis capital." By the end of 2009, Denver had issued sales-tax licenses to more Maryjane dispensaries than there are Starbucks coffee houses in the metropolitan area—twice the number of the city's public schools and a third more than the number of retail liquor stores. In nearby Nederland, a mountain village of about 1,400 souls (mostly refugees from an earlier, hippier, time), may soon vote to legalize the use of weed, as another mountain town, Breckenridge, already has. Nederland has 5 dispensaries and is considering holding a Cannabis Festival to celebrate the virtues of medical mj.
          Barack O'Bama was called to jury duty in Cook County, Illinois, but didn't make it: he was preparing his State of the Union speech.
BOOK MARQUEE
Previews and Proclamations of Coming Attractions and Short Reviews
Things We Knew Were Going To Happen Dept. The Archie bigamy series, Nos. 600-605 of the comic book, plus the "epilogue" in No. 606, are being issued as a 168-page paperback tome, The Archie Wedding: Will You Marry Me? for $14.95. ... IDW, jumping on the R. Crumb Illustrated Genesis Norton Bible-wagon, is offering The Bible: Eden, painted by Scott Hampton and adapted by Keith Griffen and Dave Elliott; 112 pages in paperback, $17.99. Then, not to be outdone, here comes Titan with Classic Bible Stories, Vol. 1: Jesus, The Road to Courage / Mark: The Youngest Disciple, the work of Frank Hampson and Frank "Garth" Bellamy; 112 pages in hardcover, $19.95. ... Finally, changing the subject somewhat, here's Seth Grahame-Smith's novel, Abraham Lincoln: Vampire Hunter, 352 pages in hardcover, $21.99. Remember that "milk sickness" Abe's mother died of when he was nine? Turns out his mother's "deadly affliction" was the work of, yes, a local vampire. So the Civil War, widely believed to be fought to keep the United States intact as a nation or to eliminate slavery, was actually a struggle between Lincoln and those who killed his mother. ... We didn't see this one coming, but here it is anyhow: Dave Stevens' posthumously compiled The Rocketeer: The Complete Adventures is given an "A" by reviewer Ken Tucker in Entertainment Weekly (January 29).
BOOK REVIEWS
Critiques & Crotchets
Two massive reprint projects are now available at vastly reduced prices through Daedalus Books (salebooks.com): The Completely Mad Don Martin, 1956-1988: Mad's Greatest Artists (1,000 10x14-inch pages, b/w and color) and Playboy Cover to Cover: The '50s—Searchable Digital Archive—Every Issue, Every Page, 1953-1959, 2 books plus 2 DVDs.
          The Don Martin archive comes in two sumptuous volumes, linen-bound and slipcased and originally priced at $150, now available through Daedalus for $29.98. If you missed this trove when it came out in 2007, now you can get it at a bargain basement price. The write-up says it includes "every one of Martin's strips, covers, posters, and stickers from his decades at Mad" accompanied by "tributes" from many of the other Mad cartooners and fans—Al Jaffe, Sergio Aragones, Jim "Garfield" Davis, Steven Spielberg, and Jon Stewart to name a few. The book also claims to include rare photographs, and "original pencil sketches" by Martin and his long-time writer, Duck Edwing. That's a little extravagant: there are three (3) photographs, two group shots of the "usual gang of idiots" on one of the famed Mad junkets to exotic climes, the other of Martin sunning himself on a beach; three (3) pencil roughs by Edwing, and only one (1) pencil rough by Martin.
          Due to the deflation in fact of the inflated claim, I don't know if this brace of books actually includes "every one of Martin's" works, as touted. Missing, incidentally—but alluded to in the books' introductory forewords and prefaces and introductions— is any evidence whatsoever of Martin's "fine art pen and ink drawings" that decorated his home; I'd love to see evidence in support of that assertion. But the books offer nearly 1,000 pages of Martin cartoons, strips, etc., and that's surely enough for rabid fans of Mad's Madest cartoonist. I am not one of those, incidentally: I admire the man's genius for uproarious visuals and wholly unprecedented sound effects (the end papers are all Martin sound effects, many of which were actually concocted by Edwing), but the slapstick bait-and-switch gags soon seem repetitive. I suspect most of Martin's fans, as much as they enjoy his work, tire of it as a regular diet, which may account for this bargain offering.
          The extravagance of the book production suggests that the publisher was operating under a delusion about Martin's globe-girdling greatness—an idea doubtless fostered by Martin's widow, who managed his business—and, under the spell, over-estimated the fame of his subject, producing, instead of a compendium of cartoons, a monument to the delusion. And when the reputed millions of Martin fans didn't spring for the elegance of the eulogy, the publisher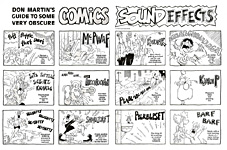 was forced to sell off great quantities at production cost in order to balance his books. But who can say for sure?
          For sure, there's a huge harvest of Martin maniacality here, and even if, like me, you have to swear off for a month after spending an hour with his comedy, this collection is too good to miss at this price. For the whole Don Martin story, visit Harv's Hindsight for May 2004, where we rehearse the events of his life and career and catalogue the quirky appeal of his cartooning.
*****
The Playboy package is an even bigger bargain: originally priced at $100, it is available through Daedalus for merely $29.98. The package is a red box that's hinged like a book, and when I opened it, I found two shallow pockets, left and right: in the one on the right are a "photo album full of behind-the-scenes views of Playboy's first decade" and a facsimile of the magazine's first issue; in the other, another hinged box, this one containing 2 DVDs—one is the installation disk; the other archives "every page" of the magazine from its famously undated debut in November 1953 through December 1959.
          The magazine's first issue, judging from the facsimile, is surprisingly slim—just 42 pages, no ads. It contains the celebrated color photo of Marilyn Monroe, sprawled naked on her side on a sheet of velvet red, accompanied by a two-page article, unquestionably written by the magazine's founder, Hugh M. Hefner, entitled "What Makes Marilyn?" (Not "Who Makes Marilyn"; but the sexual implication lurks.) The article, which is sprinkled with a few canned publicity photos of the sex symbol clothed, concludes: "More than either face or body, it is what little Norma Jean has learned to do with both. Caruso, they say, could break a wine glass with his voice. Marilyn shatters whole rows of beer steins with a single, seductive look. And when she turns and slowly undulates out of a room, seismographs pick up quivers a thousand miles away."
          Extravagantly put, but Hef has captured exactly what it was that Marilyn did that distinguished her from all the other Hollywood starlets of the day—the way she juggled the parts of her derriere when she knew someone was watching her walking away. It wasn't her figure or her bosom, which, after all, is scarcely as spectacular as, say, Sophia Loren's, to name another idol of the day. No, it was Marilyn's "going away" look that proclaimed her the sex goddess of the age.
          The first page in the issue is devoted to Hef's editorial, which he begins by advising readers that "we aren't a 'family magazine.' If you're somebody's sister, wife or mother-in-law and picked us up by mistake, please pass us along to the man in your life and get back to your Ladies Home Journal." But you'd be hard-pressed from reading the rest of the prospectus to imagine that Playboy would in the future so studiously celebrate female anatomy and the everlasting coital encounter. "Within the pages of Playboy," Hef continues, "you will find articles, fiction, picture stories, cartoons, humor and special features culled from many sources, past and present, to form a pleasure-primer styled to the masculine taste." You must read between the lines and code words—"pleasure-primer," "picture stories"—to find Marilyn, going away or not.
          After extolling the virtues of urban life, the indoors where "we plan on spending most of our time," Hef concludes with a reference to Alfred Kinsey's sensational 1948 research report on the sexual behavior of the American male (which revealed that American males often—more often than heretofore supposed—behave sexually) that so fascinated him when editing Shaft, the humor magazine at the University of Illinois: "We believe, too, that we are filling a publishing need only slightly less important than the one just taken care of by the Kinsey Report. The magazines now being produced for the city-bred male (there are two—count 'em, two) have, of late, placed so much emphasis on fashion, travel, and 'how-to-do-it' features on everything from avoiding a hernia to building your own steam bath, that entertainment has been all but pushed from their pages. Playboy will emphasize entertainment." Entertainment "for Men" the cover unabashedly proclaims, boldfacing the masculine noun.
          The magazine's first issue also prints numerous cartoons, one of which, a full-pager, is in color—strangely unsigned, as if the cartoonist didn't quite want to be associated with a magazine called, probably, at the time he submitted his offerings, Stag Party.
          Together, the cover and the back cover of the inaugural issue deliver a precis of the magazine's contents and intentions—in this issue and for several years to come. On the back cover under the heading "In This Issue," photos of Tommy Dorsey on the trombone and of a football player (Red Grange, as it happens), and a cartoonish drawing of a man and woman, her blouse open to the navel, proclaiming "a humorous tale of adultery" within (the everlasting excerpts from Boccaccio's Decameron that populated every issue of Playboy for decades to come, morphing, finally, into the more generic Ribald Classic). On the cover, Marilyn waving to us and, next to her cleavage, a tiny drawing of a running naked woman labeled "Vip on Sex." Playboy is all there on the front and back covers—pin-up sex, jazz, sports, titillating fiction, and cartoons.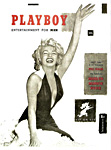 Apart from the subjects and their treatment, only a little of the first issue is original with the magazine. Much of the content is reprinted from its initial publication elsewhere and some of it is in the public domain. A Sherlock Holmes short story, reprinted "with the permission of the estate of Sir Arthur Conan Doyle," opens with the world's most famous detective injecting himself with the notorious "seven percent solution" of cocaine. Illustrated with a two-color drawing of Holmes (looking, here, like Christopher Plummer, who would, later, play Holmes in movies) administering the shot. "Vip on Sex" gets two pages, whereon are reprinted five Vip cartoons, all from Wild, Wild Women. Vip will show up several more times in the magazine's first years, always in reprint. (For Vip's history, see Harv's Hindsight for May 2005.) An Ambrose Bierce short story is presumably pilfered from the public domain.
          The first issue is nonetheless remarkable for its cartoon content, all of which, apart from Vip's cartoons, is original with this publication. In addition to Vip's quintet, there are two more of the small dimension—and 6 full-page cartoons, two of which are photographs of fetching nekid ladies with cartoon captions, a device Hef abandoned after this issue. The ratio of cartoons to the magazine's page count is higher than in most subsequent issues: full-pagers come in at 1/7 (one cartoon every 7 pages); small cartoons, 1/6. (The ratio of photographs of barenekidwimmin, counting those two full-page "cartoon" appearances, is 1/5, much better than the latter-day Playboy, accounting, no doubt, for the magazine's initial success back in the early 1950s when the only nude women in photographs were those in nudist magazines, usually sold from under the counter, or, sometimes, in "photography" magazines.)
          Two of the cartoonists in the first issue will re-appear in virtually every issue for decades: Gardner Rea, with his distinctive outline style of drawing, and Al Stine, whose illustrative artwork lent an aura of realism to the cartoons he drew. Stine's cartoons would soon begin to chronicle the sexual appetites and adventures of two attractive young women, Babs and Shirley, a blonde and a brunette, as they conquered the male populace. Another illustrator whose work appears here as a cartoon and subsequently as decorations for articles and fiction is Ben Denison. Later, he produced a series of cartoons in which lovingly rendered pictures of famous sports cars were the dominant feature. One of the full-pagers in this issue looks almost as if it were rendered by Peter Arno, but it isn't: the cartoonist is Julien Dedman, whose work I've never seen elsewhere. He appears in Playboy for several of the early issues, humorous text pieces as well as cartoons, notably a parody of Mickey Spillane in February 1954. Then he disappears, as far as I know, forever.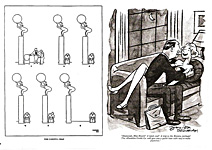 Hef publishes one of his own cartoons in the debut issue, too: two art students stand gaga in front of an abstract painting of a nude and say, "Man—is she stacked." This cartoon is a reprise of one Hef did while working on Shaft, where the cartoon was printed large enough to make sense: in the first issue of Playboy, the inscription, "nude," under the abstract painting is missing, and so the joke is somewhat obscure. You can find the Shaft version of the cartoon and Hef's history as "Playboy's First Cartoonist" under that heading in Harv's Hindsight for September 2008, in case you want to refresh your memory.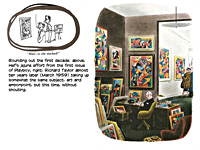 The Photo Album
The photo album, entitled Under the Covers, is a thick, square-spined volume that includes much more than photographs of Playmates (which are numerous, as you might expect)—fragments of notable articles that appeared in the magazine during its first decade, cartoons, illustrations, copies of correspondence, and the like, all culled from Hefner's voluminous scrapbooks (he's an obsessive magpie), all copiously annotated. Here, for instance, is Hef's letter to his parents, written in the summer of 1955 when the success of Playboy was undeniable. Writes Hef:
          "I'm beginning to realize, for the first time, how spectacularly successful this venture has become. PLAYBOY is, I believe, without precedent in the magazine publishing world. It shouldn't have succeeded, but it has. It was started without any real financial backing; had it failed, I would have been in debt for, almost certainly, years. Instead, it appears that I will be able to spend a lifetime doing the work I love best and, in the process, become a very wealthy man. When I dreamed this dream of my own magazine just two short years ago, I didn't realize that it would make me rich, but that's what it's doing. I certainly never thought that it would make me famous, but it's doing that, too."
          He goes on to report that he and his wife will soon move into "a luxurious lakeshore apparent on the north side of Chicago" and that he's just bought a Cadillac Eldorado. Revenues from the magazine have "wiped out the deficit of the first year in the first quarter of 1955," the staff has grown to twenty, "and we now occupy the entire building at 11 East Superior."
          Thumbing the pages of this book is, I confess, like strolling down a personal memory lane. I entered college in 1955 and began drawing cartoons for the campus humor magazine. By that time, as Hef just observed, Playboy was a yodeling success saga, selling over a half-million copies with every issue, and growing. The magazine was ubiquitous on college campuses in male dorms and fraternity houses and nearby newsstands. Each issue included, it seemed, some new feature as Hefner explored and expanded his and the magazine's interests.
          Every other issue published a lavish multi-page cartoon article, usually by Jack Cole, whose first full-page cartoon had appeared in the fifth issue, April 1954—a black-and-white wash drawing; Cole's first full-color cartoon appeared in October 1954. (You can find Cole's biography rehearsed in Harv's Hindsight for November 2003.) Here are three of the first four Cole cartoons in Playboy, April, May and June 1954. The June issue prints two, one of which is here; the other pictures a guy having dinner with a babe whose gigantic boob is immediately over a candle on the table, and the guy says, "I could swear I smell rubber burning!"—a cartoon frequently reprinted in Playboy collections so I didn't include it here. Here, we've got the rare, seldom seen elsewhere stuff.
          As you see, three of Cole's earliest cartoons feature an old roue still chasing after succulent young bimbos, which is exactly the tableaux that George Petty created in his earliest cartoons for Esquire, starting with the magazine's first issue in the fall of 1933. Given Hefner's association with Esquire, it's hard to imagine that this coincidence is wholly accidental. In fact, with Playboy's emphasis on literary content as well as pin-ups and cartoons, the Esquire influence is pervasive. One early critic of Esquire said the magazine formed "an unholy combination of erudition and sex," and the same could be said about Playboy. And Esquire was as famed for its risque cartoons as Playboy was, although I don't remember any multi-page cartoon articles in Esquire. Cole gave up on lascivious old men as regular occupants of his cartoons almost at once, but lascivious young women continued in conspicuous attendance, both in single cartoons and in multi-page spreads, where they were the chief attractions.
          Nowhere else in the 1950s of Playboy's salad days could you find cartoons regularly treated as substantive content on their own merit, grouped in thematic collections as stand-alone "articles." Naturally, I poured over these articles and the rest of Playboy's cartoon content; and I was always disappointed when an issue arrived that didn't include a multi-page cartoon feature by Cole. Naturally, I also studied Playmate embonpoint for hints about how to render the curvaceous gender. Naturally, this book reminds me of all those studious hours.
          The names in Playboy's pages for the 1950s conjure up many memories of my own so-called cartooning career. Here are illustrations by Arv Miller, who later founded and edited Fling, one of Playboy's many imitators; I sold a few cartoons to Fling and eventually produced for it a monthly half-page cartoon about a young sultan and his harem. And here's Jerry Warshaw, doing illustrations. I met Jerry forty years later: he was one of the founding members of the Chicago chapter of the National Cartoonists Society, and if I'd known then, during our early meetings, that he'd done work for Hefner, I'd have quizzed him about it. As it was, we talked only of Dan Heilman and his strip, Judge Parker, on which, if I'm remembering rightly, Jerry assisted at various times, Heilman having a sometimes incapacitating proclivity for alcoholic intake. And here's an article by Gene Shalit, another alum of the University of Illinois' Shaft.
          Playboy's first art director was Art Paul. He eventually left the magazine and in his later years, I think he ran a sort of agency for peddling cartoonists' cartoons; I was one of his stable for a brief time in the late 1970s, when I relaunched my cartooning career (also briefly).
          Parts of Hefner's pre-Playboy past are entombed in this volume, too. Here's the cover of the self-published book of his cartoons about Chicago, That Toddlin' Town, and a page from the autobiographical comic strip he did for years; on this page, Hef agonizes over a name for his new magazine. The other cover depicted here, Hef's Magazine, does not refer to Playboy: it is, rather, the cover to one of the many volumes of Hef's autobiographical comic strip.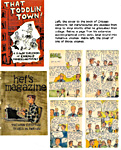 Page by Page with the DVD
The DVD that accompanies the photo album is a comprehensive, page-by-page, visit to very issue of Playboy during the 1950s. I'm not confident of the quality of the electronics involved—the thing didn't work well until I started using the hand crank on my computer, and I had to repeatedly run the installation disk—but I finally succeeded in looking at every page to prepare for this review. In the second issue, Miss Lace, the star of Milton Caniff's World War II comic strip for military newspapers, appears in both published and censored strips, prompting some readers to write in requesting England's Jane, another notorious comic stripper, and she dutifully showed up in September 1954. (For Jane's history, see Opus 202.)
          In the same issue, January 1954, Hef gives himself a two-page spread of Christmas-themed cartoons, in color. No Christmas cartoon cards appear the next year, but, starting with December 1955, Playboy's Christmas cartoon cards are an anyule feature of the magazine. None, though, by Hefner. In his own magazine, Hef would do only one more cartoon in color—a full-pager in the third issue—and then two black-and-white pages of cartoon comedy on the street, culled, no doubt, from Toddlin' Town, in August 1954. Thereafter, Hef the cartoonist disappears from Playboy to make room for Hef the publisher. In recent years, Hef the publisher is always among the bevies of babes on Playboy's "The World of Playboy: Hef Sightings, Mansion Frolics, and Nightlife Notes" fearure, but even his boxtoxed visage is an improvement over the cartooning Hef the cartoonist did.
(Apologia por oversight: I meant to include in our last opus the cover of the January-February 2010 issue of the magazine, a memorable visualization of what a "massive double issue" is; I forgot, but I don't want my momentary attack of Alzheimer's to prevent you from enjoying the visual pun, so here it is, under the Hef line-up.)
          Playboy's first decade constituted the magazine's formative years; by the end of 1959, Hef's "entertainment for men" periodical was there in all its lineaments and accouterments. And on this DVD, we can see it all taking shape, accumulating, month by month. Cole, as we've seen, was in place by the third issue. His insightful Females by Cole series began that June and was in every issue until Cole died by his own hand in August 1958. His first multi-page spread, five pages in color, was published in the July 1955, just before I entered college. By that summer, all of the full-page cartoons in the magazine were in color.
          But Cole's watercolor cartoons were not the only indications that Hefner intended to elevate the artistic status of magazine cartoons. Three of his regular cartoonists were Chicago illustrators: Denison, Stine, and Dick Loehle, all of whom "painted" their cartoons. Loehle also provided border decorations for the page of Playboy's Party Jokes, limning nude women with a delicate penline at first, then doing them in full color.
          Twice during the 1950s, Hefner devoted his opening editorial, called Playbill, to the magazine's cartoonists. In the Playbill for the first August issue, Hef acknowledges the central role cartoons played in his magazine and profiled several of their creators: Cole (who was born, Hef notes, in New Castle, Pennsylvania, which "should permit some sort of hilarious hyuck concerning carrying Cole to New Castle, but we'll let it pass"), Dedman (a Yale man who had produced a book of his cartoons about his alma mater called Boola Boola!, samples of which eventually showed up in Playboy), Virgil Partch (Vip), Rea (the oldest of the lot, he was 60 when Playboy began), Denison and Stine, Arv Miller, and Draber, perhaps the most interesting of the bunch.
          "Draber's full name is Inge Draber Bollman," Hefner writes, "and her charcoal sketches suggest her background in fashion illustration. She studied at Contempora, Kunst und Werk, Reimannschule, and the Academy of Fine Arts in Berlin. During the war, she worked as a fashion designer and illustrator for stage and fashion houses in Berlin; after the war, she taught art for the American Occupation Forces. In 1949, she moved to Paris, and in 1951, she came to the United States. Like a number of other regulars, her work rarely appears outside the pages of Playboy."
          As it turned out, her work appeared in Playboy only rarely, too: just five times, the first, a full-pager, in January 1954; the last, in July 1954. To the best of my knowledge, she is the only female cartoonist to be termed a "regular" for Playboy (with due reverence to the magazine's long-time cartoon editor, Michelle Urry; see Harv's Hindsight for October 2006).
          In Playbill for March 1959, Hefner again paid tribute to the magazine's cartoonists, listing them by name and sometimes offering a brief biography. Shel Silverstein's first Playboy cartoon was published in the issue for May 1956; his first reportage on a trip abroad, "Return to Tokyo" (where he's served in the Army), in May 1957. (We've posted an entire Harv's Hindsight on Shel; look for April 2001.) John Dempsey's first was in December 1954; his first nudist camp cartoon, April 1957. Larry Klein showed up in October 1954; Phil Interlandi, October 1955; Charles W. Miller, another illustrator, in November 1955; Alden Erikson, February 1957; Arnold Roth, June 1957 (see Harv's Hindsight for July 2006); Gahan Wilson, December 1957.
          Erich Sokol, who I once thought had been enlisted as Cole's "replacement" after Cole died, made his first appearance in the magazine in January 1958, eight months before Cole's unexpected suicide—so he was scarcely Cole's replacement. (Or maybe he was. His style is similar to Cole's in rendering voluptuous babes and bimbos, and in the winter and spring of 1958, Cole was probably concocting and then producing his newspaper comic strip, Betsy and Me, which debuted May 26, 1958. I wouldn't be surprised if Cole planned to give up doing cartoons for Playboy—a syndicated comic strip is notoriously demanding of a cartoonist's time—and if Hef knew of Cole's syndication plans, and he undoubtedly did, he may have taken steps to find a replacement for his most popular cartoonist, picking Sokol because of the similarity in drawing mannerisms. So maybe Sokol was recruited to take Cole's place after Cole left for Betsy and Me. Seems likely, now that I construct a timeline.)
          Glen Bernardt's first Playboy cartoon appeared in May 1956; I enjoyed Glen's company at lunch several times during the last decade when visiting Gus Arriola in Carmel, California; by then well into his eighties, Glen was still freelancing, even though magazine markets had almost entirely evaporated. Jules Feiffer and his "sick cartoons" were the subjects of an article in August 1958; the next issue, Feiffer joined the regulars. Except for Eldon Dedini, the roster of Playboy's most celebrated regulars was complete with Feiffer. (Eldon believed he did his first Playboy cartoon in 1959, but I didn't see any of his on my admittedly hasty look-through; perhaps he sold his first in 1959, but it wasn't published until 1960. Most of Dedini's story is told in the obit we posted in Opus 177.)
          By the time of the March 1959 Playbill, Jack Cole was dead. His cartoons went missing from Playboy from February through June 1959, But Cole would appear twice more in Playboy in 1959. His last previously unpublished cartoon appeared in July 1959, a silent portrait of an old man—perhaps the same old roue that Cole began with in the spring of 1954—who is nostalgically contemplating an empty canoe, the site, perhaps, of a long-ago tryst. Or perhaps he's shedding a tear because he sees young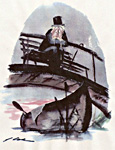 lovers in the canoe and envies their sexual revels. (If so, why aren't their legs and/or arms visible over the side of the canoe?) In either case, the picture evokes a sad longing for a vanished past, a poignant coda to Cole's Playboy career, clearly a deliberate and fitting choice by Hef, who presumably had other Cole cartoons in inventory to choose from. Although maybe not.In September, Hef did a four-page spread of Cole's "best, most popular" cartoons, selected from the Cole oeuvre of the previous four years. And Cole never appeared in the magazine again.
Origin of Femlin
In August 1955, the magazine's resident illustrator, Leroy Neiman, a friend of Hefner's since the days they both worked in the advertising department of Carson Pirie Scott department store, inherited the Party Jokes page from Loehle. At first, Neiman just drew tiny nudes in his slapdash fashion. Writing his Femlin tome (2007), he says he "recruited gratis a perky girl friend to model" for him, but he was making that up, and he quickly divulges that he pulled out "drawers of risque near nude girly club and titty bar drawings" and converted them to miniature "strutting strippers in stilettos, some wearing black mesh hose," cavorting, often, with normal size men.
          In March 1956, one of his diminutive nudes is wearing shoulder-length black gloves, raiment that shows up now and again for the next year or so. Finally, in June 1957, a recognizable Femlin is depicted in a stemmed glass. The next month, she appears again, now the only occupant of the Party Jokes page, and she will continue in that role forevermore.
          For Neiman, the Femlin was a design: "Femlin's extremities were basically made up of five black shapes: four limbs sheathed in black gloves and stockings and the ink black hair mass. I always tried to design the drawings so that the black shapes would touch, hook together, or overlap, into one animated gesture, forming a kind of flexible grouping. The face, torso and buttocks complete the figure in a soft grey outline, but the five black shapes determine the overall form, a kind of private game I've played each month while rendering Femlin."
          Each month, Femlin's actions are all linked thematically: in her allotted three spot drawings, she might be cooking, mixing a drink in a larger-than-she cocktail glass, playing tennis, or—who knows? Neiman scribbled rough sketches all month, wherever he was: in the Femlin retrospective book, she shows up on hotel letterhead, newspaper pages, and lined notepaper. And Neiman is proud of his achievement: after 50 years, "she could well be the oldest monthly changing symbol drawn by a single artist in United States magazine publishing history," he opined. And he may be right, although Reamer Keller, drawing the Boys' Life letters page mascot, Pedro the Mailburro, might give Neiman a run for his money.
The Image after the First Decade
The only facet of the revered Playboy brand that hadn't quite matured by the end of the 1950s was the cover. The first issue is the only one on which the rabbit doesn't make a cameo cover appearance. But the emblem, the white bunny head with bow tie in a square of somber black, was in place within, as terminal punctuation for articles. On the cover of the second issue, a drawing of a soucient SP? long-eared playboy stands between two swimsuited beauties; on the third issue, the emblem is the only sign of the rabbit; and again on the fourth issue. Thereafter for most of the remaining decade, the rabbit is a fuzzy cutout in a collage created by art director Paul and/or his wife. The emblem, as cuff-link or tie-tack, is used now and again, but the rabbit-in-a-haystack conceit doesn't appear until the end of the decade with the August 1959 issue: the cover is a close-up of a woman's face, and you can just make out the famous rabbit emblem in her eyes, where it seems to be the very iris.
          The girly picture content of the magazine for the first several years is strangely unexceptional considering Playboy's reputation—mostly photo articles about strippers or some other species of professional nude. The Playmate has the fresh-scrubbed appearance that earned her the sobriquet "girl next door," but, surprisingly, Playboy was markedly restrained in the display of the female epidermis. While the Playmates are often nearly naked, the poses were arranged in such a way that nipples almost never showed even though the curvature of the breasts was amply in evidence. It's the old "nipples are the nasty part" syndrome (which persists to this day), and as long as they're kept under wraps (so to speak), the magazine evaded the charge of pornography.
          Perhaps the most nefarious of the "hidden nipple" strategy was the picture Russ Meyer took of Marguerite Empey (aka Diane Webber) for the February 1956 Playmate spread. Like most Playmate poses, it told a story. Empey is sitting up in bed wearing a man's pajama top, apparently enjoying breakfast after a night's romp with her host. The pajama top is unbuttoned so that her bosom is on display except for the very tips, which are hidden from view by (a) a coffee cup she's holding in front of her left breast and (b) a piece of toast she's holding in the other hand, positioned so artfully that it obscures the view of the right breast's nipple without at all interfering with a vision of the rest of the protuberance's majesty.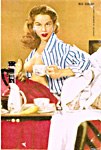 My roommate at the time of this delection's publication, took the gatefold page, cut out Empey's eyeballs, took a strip of paper on which he drew two black dots to represent the absent eyeballs, hooked the strip loosely to the back of the pin-up with the black dots showing through the holes where Emprey's eyeballs had been, rigged the strip to a system of pulleys, hung the resultant contraption on the wall, and whenever some visitor chanced into our room, my roomie would manipulate the pulleys in a way that made Empey's eyes follow the visitor around the room. My roommate was an engineering student, and it's a comfort to know that engineering has practical applications that matter in our everyday lives.
          Times have changed, though. The year 1959 was the year that obscenity died: at a federal courthouse in lower Manhattan the Post Office was ordered to lift all restrictions on sending copies of Lady Chatterley's Lover through the mail. Never again would the Post Office have the authority to declare anything it might mail obscene. Henceforth, almost anything goes. Or went. In the 1970s, Playboy pioneered picturing pubic hair on its Playmates, and Neiman was directed to add a sixth black shape to his Femlin orchestration, a triangle where the crotch was. And today, newspapers that go into the home are often as daring as Playboy advertisements.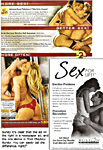 *****
Playboy Sex. All the deathless prose we've just expended on the 1950s of my wanton youth reminds me of the time I called on Playboy to sell some cartoons. I've told this story in these parts before, but now I have a new punchline; so I'll risk boring you by telling it again.
          I was still in the full flush of my youth in the fall of 1958 when, as a campus cartoonist attending a college journalism convention in Chicago, I played hooky one afternoon to take some of my cartoons to the magazine's world headquarters, then at 232 East Ohio Street. The building was one of those shotgun structures—narrow across the frontage but burrowing deep into the lot behind. I walked into the first floor reception area, stated my business to a striking-looking crystalline blonde at the reception desk, and was directed to an elevator that would take me to the fourth floor. The building was so narrow it wouldn't admit of a staircase for public use; elevators were the only means of levitation.
          The elevator stopped at the second and third floors, and each time the door opened, I was treated to another blonde vision at a reception desk. When I told the blonde at the fourth floor desk my errand, she summoned someone by phone. Another blonde houri appeared and asked to see my drawings. Her job—at least part of it—was to screen supplicants seeking admission to the sacred cartoon precincts at the Playboy and to weed out the unworthy ones. She looked briefly at my drawings and then asked me to wait while she took them back into the bowels of the office. I waited. I'd made it to the eye of the needle, now to get through it. That was next.
          The statuesque blonde returned shortly and escorted me around a cluster of cubicles to the office of Jerry White, one of two assistants to art director Art Paul. White (dark-haired, bearded, collar unbuttoned, tie loosened) had my cartoons in front of him on the desk, and as he looked at them, he made sympathetic sounds and told me to keep at it because they were looking for younger cartoonists who could bring to the magazine a somewhat less jaded view than might be found in the work of such antiques as Gardner Rea, who was, by then, about 65. Ancient to me then; a mere stripling whippersnapper to me now. I left with my portfolio intact, my sales record unblemished.
          Due to the press of other adventures, I didn't try to sell to Playboy again for two decades; I tried in the late 1970s, and my sales record remains entirely virginal. But I remember my 1958 pilgrimage to the holy of cartoon holies where I enacted the magazine's most profound ritual: sex in Playboy is always looking, and that's all I did.
ONWARD, THE SPREADING PUNDITRY
The Thing of It Is ...
Iran is putting 16 citizens on trial for their anti-government protestations last month, charging them with rioting and conspiring against the system. Five of the bunch, including two women, are charged with "moharebeh"—defying God—an offense that could carry the death penalty. That's the risk you run if you don't separate church and state.
          The Grumpy Old Pachyderm keeps criticizing the Obama administration for mistakes made in the arrest of the Underpants Bomber: he was questioned for 50 minutes before being Mirandized, for instance. But weren't all those officials doing the questioning appointed or hired during the Bush League years?
          From the AARP Bulletin: "In 2008, S&P 500 companies with pension plans provided their top execs $44.5 billion in stock grants and options, but they contributed just $39.5 billion to the pension funds for the rest of their employees. The biggest offenders are financial services companies, which handed out $2 in stock and 30 cents in stock options to executives for every $1 they gave their employee fund."
          In Afghanistan, American military casualties during 2009 totaled 319; in Iraq, 148, including December when no American soldiers were killed or wounded—the first casualty-free month since the invasion. Civilian deaths in Iraq were also at a low ebb: only 3,454 in 2009, the lowest since March 2003 when all the killing began. Terrorist acts in Pakistan, however, were up 45% in 2009: 87 suicide bombings amid 2,586 terrorist strikes, killing 3,021 people and injuring another 7,334.
FUNNYBOOK FAN FARE
Four-color Frolics
Howard Chaykin finished his Dominick Fortune four-issue mini-series last month; alas, it was something of a disappointment. The first issue, which we reviewed in Opus 248, promised pulsating action and sex coupled to some of the nastiest dialogue in comics. Subsequent issues teased with covers depicting Dominick in his best fighting togs embracing beauteous femmes, but the interiors never lived up to the titillation. Hazel Fontaine, whose naked debut gave the first issue one of its better moments, disappears from the continuity until the last pages of No. 4; and the foul-mouthed Delatriz Betancourt talks a good game and walks around in clingy gowns or abbreviated underwear but doesn't get as much of Dom's time as the three over-the-hill Hollywood actors do, spouting outrageous anti-Semite slurs and sex talk. Although she gives Dom one roll in the hay, Delatriz spends most of her time with the Nazi anti-Semite Malcolm Upshaw, whose towering bald head Chaykin habitually draws too tall from the bridge of the nose to the crown.
          Set in 1936, the adventure turns on a Nazi plot to take over the U.S. government, which Fortune eventually uncovers when he learns that Upshaw is smuggling money into the U.S. to pay the storm troopers that will conduct the coup. Fortune foils the plot at the last moment by landing an airplane on the storm troopers as they storm the White House. The drunken old actors, who stay in the spotlight so much of the time, have no part in the main action of the narrative: because Dom's been hired by their studio to babysit them and keep them out of trouble, they provide the excuse for his travel—the rich old lechers chase pussy (to sink to the level of their lingo) from New York to Germany and back—but otherwise contribute little to the mystery that animates Fortune. They are, in effect, a nearly superfluous comedic distraction but they yield a toxic side effect.
          Chaykin, a Jew, came out of the closet long ago and now, as we observed, in Op. 248, relishes his ethnicity; and in this book, the villains are Jew-hating Nazis, and they get pounded by Fortune, the Jewish protagonist. Fine. Three rousing cheers. But the nastiness of the anti-Semitism of the period is represented in the old actors' remarks and in Upshaw's, of which there is a plentitude. In thus characterizing the bigotry of the time, Chaykin supplies anti-Semite readers with something to applaud—namely, the very attitudes that the anti-Semite dialogue embodies. With this curious unintended by-product of his otherwise admirable crusade, Chaykin undermines his purpose with the oddly self-defeating rhetoric of some characterizations. He also contributes to the insidious catastrophe by caricaturing one of the German Jews that Fortune questions, giving him an enormous hooked nose—the very personification of ethnic bigotry. (See the visual aid below.)
          Every once in a while, Chaykin stumbles badly in simple rendering. Upshaw's head, for example. And Dom's—which is often as flat on top as a pool table. Once he gets Dom's nose wrong: on the same page, it's hooked in one picture, turned up pug in the next. And sometimes the figures themselves suffer from uncomfortably stiff anatomy. In the final issue, Upshaw wears jodhpurs that are proportionately out-of-whack: they're as baggy-looking as today's teenage fashion. And sometimes Chaykin's line deteriorates into a fuzzy mass as if his scanner needed more pixels. But Chaykin's page layouts are always stunning.
| | |
| --- | --- |
| | |
On almost every page, he puts both a long-shot scene-setter and at least one tight close-up of one of the actors on stage at the moment; the startling alternation in focus produces on every page a visual variety that imparts energy to the proceedings even when they consist mostly of talk. The pages radiate atmospherics with elegantly detailed architecture and interiors, but after a while, the repeated intensity of tight close-ups becomes somewhat monotonous—particularly Fortune's ponderous jaw. One of the best features of the books—plot summaries on the first page, so you know exactly where you're jumping into the story in each issue. And the story keeps you jumping: despite the flaws I've noted here, Chaykin keeps us turning pages with Fortune's first-person narrative in snappy patter and outrageous stunts, and Edgar Delgado's colors give Chaykin's drawings an elegance they otherwise wholly lack.
Footnit: One of the things Dominic Fortune murmurs to himself during the unemotional drone of his first person narrative is this: "When fascism comes to America, it will be wrapped in the flag, holding a cross." This ringing declaration is apparently available these days on buttons and bumper stickers nation-wide. Dom attributes the insightful phrase to the novelist Sinclair Lewis, who, it may be presumed, wrote it in his novel about fascism coming to America, It Can't Happen Here. But, we are assured by the Sinclair Lewis Society, the novelist didn't write it there. Nor, apparently, did he write it anywhere. The origin of the phrase is attributed to Huey P. Long, the radical rabble-rousing governor of Louisiana in the 1930s, who apparently once said something like: "When fascism comes to America, it will be on a program of Americanism." But no one has found documentation to support this attribution.
          In 1971, a scholarly writer named Harrison Evans Salisbury included in his summary of Lewis' book this sentence: "Sinclair Lewis aptly predicted in It Can't Happen Here that if fascism came to America it would come wrapped in the flag and whistling 'The Star Spangled Banner.'" A nicely turned variation on the phrase, but whistling the national anthem just repeats the Americanism notion of being wrapped in the flag. The cross is a happier addition: it supplies another dimension to fascism in America. Lewis probably heard a report of Huey Long's utterance—Huey was everywhere in those years, blurting out slogans by the crimson foot; and Lewis is supposedly quoted in a newspaper interview as saying something like it: "When fascism comes to America, it will be wrapped in the flag." Later, some other patriot added the notion that the cross—i.e., religion—would impart spiritual fervor to the crusade. Whatever the origins of the phrase, it seems frighteningly appropriate to our times.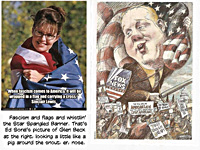 *****
The Archie nuptial saga continues through Nos. 603 and 604: Archie, having taken the road not previously taken in this historic series, finds himself still a bachelor after graduating from college, so he proposes to Betty, she accepts, and they marry. Veronica plays her customary role as the spoiled little rich girl, assuming that Archie would marry her, not Betty; but Archie tells her she'll always be his friend and goes off to impregnate Betty. In the No. 605, we see Betty obviously pregnant, an Archie first (Veronica, being wealthy, could afford garments that concealed her belly; Betty isn't similarly situated). By the end of this issue, Archie and Betty are the proud parents of twins, a red-haired boy and a blonde girl.
          Stumptown's second issue prolongs the provocations launched in the first issue. The heroine, Dex Parios, continues her search for the missing Charlotte, her progress now complicated by gangster Marenco's renegade daughter, who, in an interview with Dex, lets slip just enough to suggest that her brother, Oscar, who was dating Charlotte until she dumped him, may have something to do with her disappearance, and by the end of this issue, Dex finds the illusive daughter. The book ends with an essay by its artist, Matthew Southworth, who has, so far, done admirable storytelling with a sometimes sketchy, shadowy style. His breakdowns and the prominent role he gives to pictures in his storytelling make his work worth careful study. In the essay, Southworth muses about movies and comics and ponders how one is different from the other without coming to any kind of definitive conclusion. He decides that "drawing a comic is exactly like directing a film" and "it's also why drawing a comic is nothing like directing a film." And he leaves us with this virtually unresolved connundrum. The difference, I submit, is that film is about time; comics are about space. Filmmakers juggle time; comics makers juggle space. And this notion is given full treatment and explication in a book of mine, The Art of the Comic Book (which you can read more about here).
          The Last Resort reached its fifth and last issue last month. The story, by Jimmy Palmiotti and Justin Gray, is a now fairly commonplace zombie romp wherein a certain portion of the population is infected and subsequently seeks, mindlessly, to devour the rest of the population, infecting them as they go. It all takes place on Long Island, which, by the end of the series, is quarantined—but how effective is that going to be? By far the best part of The Last Resort is Giancarlo Caracuzzo's art. He deploys a bold fluid outline, eschewing feathering and the other devices of graphic niggling that destroy pictures with fulsome detail, and his command of rendering is so complete that he doesn't need anything but a single line. In coloring his own work, he enlivens the visuals with highlighting that imparts a vibrancy to his pictures that is a pleasure to behold and experience. Darwyn Cooke did the covers in an abstracted manner; nice designs but completely falsifying the style we encounter within.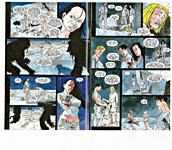 28 Days Later is another zombie-infested book, this one by Michael Alan Nelson rendered competently, expertly, by Declan Shalvey in a realistic mode. The title's serial version is now up to No. 9, and two compilation volumes have been published. The principal character is Selena, a survivor of the "infection," who decides to help Clint Harris in his quest to find out what the hell is going on. The first issue's central episode proves Selena an effective guide through the wilds of the infected countryside despite her initial reluctance to get involved. Nelson could use an editor, though. In one speech balloon, someone claims that he "could of been really lucky"; the construction Nelson is looking for here is "could have (could've) been lucky."
          I wish I'd started Wasteland at the beginning because Christopher Mitten's art is so good—outlines sublimely enhanced with painted backgrounds and figure modeling. But the series is up to No. 27, and I don't think I can catch up.
          David Sim's Glamourpuss is up to No. 10, and while I've missed several issues between the first and the tenth, I've enjoyed those I've witnessed. In No. 10, Sim is copying Stan Drake's drawings in The Heart of Juliet Jones and pondering Drake's several wives, all of whom served as his models. Sim indulges in speculation about the artist and about the strip, sometimes on firm footing; sometimes, it seems to me, not—particularly when the speculation veers off into sensation. I never trust sensation. The more sensational an allegation, the less reliable I think it is. A character flaw, I admit, but mine own.
FIRST ISSUES
An admirable first issue must, above all else, contain such matter as will compel a reader to buy the second issue. At the same time, while provoking curiosity through mysteriousness, a good first issue must avoid being so mysterious as to be cryptic or incomprehensible. And, thirdly, it should introduce the title's principals, preferably in a way that makes us care about them. Fourth, a first issue should include a complete "episode"—that is, something should happen, a crisis of some kind, which is resolved by the end of the issue, without, at the same time, detracting from the cliffhanger aspect of the effort that will compel us to buy the next issue.
          The first issue of Daytripper by the twin brothers from Brazil, Gabriel Ba and Fabio Moon, could have been concocted precisely to upend the foregoing criteria. It fulfils all the requirements and yet is more frustrating than I would have supposed with such a performance. It proves, I suppose, that criteria such as I've cobbled up here are useful but, in the final analysis, are much too cut-and-dried, too brittle—too intellectual—to evaluate works that are genuinely superior: such endeavors, when successful, appeal to our emotions in ways that intellectual criteria cannot adequately account for.
          In No. 1 of the ten-issue mini-series, we meet Bras de Oliva Domingos, who, at the age of 32, works at a newspaper writing obituaries while, in his off hours, he struggles to produce his first book, a novel, probably. His mother loves him in a demanding but not unpleasant way, and she phones him in order to make sure he will attend later in the day a ceremony honoring his father, also a writer, but a successful and highly regarded one. Bras assures her that he'll be there despite an unvoiced reluctance, stemming, perhaps, from a mild resentment that his mother remembers his father's "special day" but has forgotten, apparently, that today is also Bras' birthday. He is interrupted at work by his friend Jorge, a dark-skinned young man with wild raggae dreadlocks, and they go out for a coffee break, during which they remember fondly a trip they made together to Salvador eleven years ago.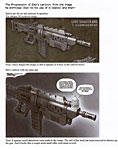 Then Bras launches into philosophical pondering about life and about his vocation: "I wanted to write about life, Jorge, and look at me now—all I write about is death." Jorge remembers Bras' birthday.
          That evening, Bras arrives early at the site of the celebration for his father, but he has run out of cigarettes and drops into a nearby bar to buy another pack. He's the only one in the place; he orders a beer and passes time in idle conversation with the bartender, who is also the owner, having inherited the establishment from his father. Then the bartender's nephew enters, brandishing a pistol and demanding money. The bartender tries unsuccessfully to calm him down, but the kid shoots him in the face and kills him. Bras, sitting at the bar in his tuxedo, is dumbfounded: "Why ... why did you shoot him? He ... he was your uncle." The kid points his gun at Bras, and, saying, "You don't choose family," he shoots and kills Bras.
          That brings us back to the book's opening scene that shows us Bras standing at a bar, splashed with blood and staring at a body on the floor—all inexplicable at the onset; now fully explained. A caption at the end of the book tells us that Bras was killed "in a robbery gone bad" and that, "like Shakespeare," he died on his birthday.
          We have grown fond of the likable Bras, we admire his dutiful response to his mother and to the demands of a job that is ultimately unfulfilling to him. But now he's dead. If this were a stand-alone book, that would be that. But it's the first issue in a series. So is the rest of the series going to consist of short stories like this one?—a day-in-the-life sort of series? We don't know from anything in the tale itself, but at the end of the book in the editorial written by Ba and Moon, we learn that every ensuing issue will be about Bras. Every issue will "present a new chance" to get to know Bras, his aspirations and exasperations, his successes and failures. In this way, Daytripper is "about life," they say:
          "Have you ever realized how our lives can change at any given moment? Have you noticed how we can plan ahead all we want, but we're always surprised by the unexpected? And that, afterwards, we end up with a sum of moments, both good and bad, that really define who we are, what we want, and what we love? Such roller coasters of ordinary life happen every day, and that's what Daytripper is about."
          The book itself may not foster the sort of suspense a first issue is supposed to nurture, but the book as supplemented by the brothers' editorial does. The issue contains several short completed episodes (like Bras and Jorge having coffee together), but the entire issue can be seen as a completed episode—a day in the life of Bras that ends in a wholly unanticipated way, with his death by violent means. But my criteria are designed to help evaluate first issues of continuing, serial stories, not stand-alone one-shot tales, which is what this first issue seems to be until we get to the brothers' editorial musings. And then the suspense kicks in: what will the rest of the series be about now that the protagonist is dead? Will we flashback through the rest of his life, day by day?
          The second issue of Daytripper is another installment in the same frustration fomented by the first. The second issue finds Bras and Jorge on their fabled trip to Salvador, where Bras goes swimming and meets a beautiful woman, who tells him about a local goddess of the sea whose "day" is the next day. On her day, fisherman give the goddess gifts, throwing them into the sea. Bras and the woman make love, after which she disappears, leaving a note: "I'm waiting on the beach." Bras goes to the beach but doesn't see her; instead, he encounters an old man who says he will take him to her. They go out to sea in the old man's rowboat, and he begins to give his "gifts" to the spirit of the sea—bundles of flowers and small figurines. Bras disappears from the pictures, and the concluding caption tells us that he drowned while giving gifts to the queen of the sea.
          So Bras dies ten years before he is shot to death in the first issue? And what does the "moment" in Salvador tell us about Bras in later life? What later life? He died in Salvador didn't he? The answers to these questions can be found, if they are to be found at all, in the way the brothers treat their medium.
          Although the brothers worked together on this project, and they usually "do everything"—each one drawing and writing—this time, Ba does most of the writing and Moon does the drawing. I first saw Ba's drawings in Casanova, where he was eventually replaced by Moon, who I subsequently met again on Smoke and Guns (2005). At the time Moon was drawing with a splashy brush, particularly in Smoke and Guns. In sharp contrast to Ba's more disciplined penline in Casanova, Moon's work in the title seemed a little sloppy. Nothing inherently wrong with it: I just liked Ba's crisp rendering better. But in Daytripper, Moon exerts a greater control over his brush, and his renderings seem almost as crisp as Ba's. Almost but not quite: there's a softness to the edges, a rounded suppleness, that Ba's work lacks, and Moon's pictures seem perfect for this book.
          Moon's pictures in Daytripper contain more visual detail than the story, on its surface, requires. With the additional detail, Moon gives the story's locale a palpable presence in the tale, creating not only atmosphere but actual accouterments of the exotic settings in which the stories unfold. When Bras goes swimming in Salvador, he's underwater much of the time, and the treatment of the sequence, a couple pages of it, mutes the lines and colors of the drawings: Bras seems to have plunged into another world, a soundless place, and when he comes to the surface with a gasp and a splash, he finds himself among several unmanned boats, bobbing at anchor in the harbor. In one of them, he finds the woman. Is she the goddess of the sea?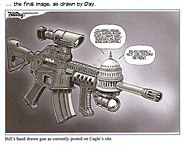 The book opens with pictures of a woman on a rowboat combing her hair; bunches of flowers float in baskets around her. Bras seems to be dreaming this sequence, and it contains elements—visual allusions, hints, foreshadowings—that emerge in the tale as it transpires. Through the rest of the book's moments—his finding the woman in solitary splendor in a boat at anchor in the harbor, the walk they take through the marketplace, her story of the local goddess of the sea, her invitation to join her on the beach, Bras' final voyage out to sea in the old man's boat, throwing bunches of flowers into the water—pictures and words all tend to cohere around a central but covertly expressed notion involving the woman and the goddess and the gifts thrown into the sea. And lost love. When Bras swims underwater, has he reached another realm of reality? Or fantasy? Is the book a metaphor for a love lost long ago in a dreamlike exotic port? Or, as the old man suggests, has Bras become one with the woman, thereby disappearing (drowning in her)?
          And here we arrive, finally, at the key to understanding Daytripper—and an explanation for why my criteria don't seem to fit well enough to assess the title's success. Daytripper is poetry: words and pictures act in concert and separately herein the way words do in a poem, suggesting and coloring ideas, evoking feelings and reactions by allusion—sounds in verbal poetry, pictures and colors in visual poetry. And that's why my criteria don't work quite so well. My tumbled-up criteria are linear; poetry is nonlinear, cumulative, piling up bits and pieces. To look for an explanation for Bras' multiple deaths under these circumstances will take us far afield. The authors don't intend an explanation: they offer instead experience, the stuff of poetry.
          In an interview in The Comics Journal (No. 298), Moon says: "Anything at any moment can shape what you will become from then on. That's where we drew the idea of Daytripper from. Every day you will find the character in a crucial situation that, sometime later, he'll discover has changed his personality or history forever."
          Ba adds: "We go forward and backward in his life and try to show how these moments shape him."
          Bras' shape, the person he becomes, is less important in the creation of these books than the moments that did the shaping. And so his deaths are probably best understood as figurative rather than actual—punctuation marks in a progression. Or in a poem.
*****
Gabriel Ba and Fabio Moon, incidentally, are not the names you'd find on the brothers' passports. "Ba," Moon says in the Journal interview with Diego Assis, "is a childhood nickname, diminutive of Ga, from Gabriel. When I was smaller, I couldn't pronounce the G, which I only learned after the B. Ga, from Gabriel became Ba. Moon," he continued, "was an idiosyncracy of a shy teenager. 'Moon' comes from Moonshadow. We read and liked the story, and it was cool because the character, a young boy, liked to read and to experience these worlds in his imagination. And I fell lin love with this girl but was too shy to tell her, so I would send her secret letters. I'd write them on the typewriter and sign 'Moonshadow.' I didn't get the girl, but started using the Moonshadow name after Fabio on everything. But it was too big, and I started shortening it until it was only Moon. I started using it on my drawings, and now it's too late [to change]."
*****
The mysteriousness of the first issue of A.J. Lieberman's Cowboy Ninja Viking kept me going long enough to dope out some of the title's underpinnings—but that, my persistence, was more a personality quirk on my part (stubbornly, I want to figure out what the hell was going on) than it was a result of skillful storytelling. That and the dubious appeal of Riley Rossmo's drawings, which go Ashley Wood's energetic slap-dash technique a step further into splatter and near incomprehensibility. The over-all visual appeal, however—sketchily rendered, sometimes deeply shadowed, and tinted with gray and shades of blue—is considerable, so I plunged ahead, hoping it would all shape up.
          The story opens at sea, a short episode featuring an egomaniac who blows up a fishing vessel. And then we jump to San Francisco where, in a backgroundless setting (on a rooftop?) We meet the Cowboy Ninja Viking for the first and still inexplicable time; the episode concludes when he swipes his ninja blade at a well-dressed character and slices off the top of his head just above the nostrils. Then comes a flashback where we meet Sara Nix, who is interviewing the asshole who just got his head sliced. Her interview is interrupted by a cellphone call (why is everyone everywhere in entertainment media tied to their cellphones?) from an arrogant honcho who sends her off to look for a "triple." About this time, we find out that a "triple" is a person with a three-part multiple-personality disorder and that the Cowboy Ninja Viking is exactly that, name of Duncan. He's then recruited by the arrogant honcho to do battle with another triple, the one that blew up the fishing boat at the beginning. This promises to be an interesting confrontation, and with that promise, this issue ends.
          While this issue does not contain anything approaching a complete "episode"— something with a beginning, middle and end that is, in-and-of-itself complete and comprehensible—it does explain the three images that we see when we first encounter Duncan: in the first panel, he wears a cowboy hat; in the second, a viking's helmet; in the third, a ninja's hood. And when each one talks, his speech balloon takes the shape of his distinctive weapon—six-shooter, sword, battle axe.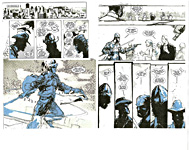 We also learn who (or what) the nasty opening event involves. And that may be enough. Otherwise, the book consists of chorus after chorus of snappy patter from such know-it-alls as the asshole honcho, whose speeches, mentioning strings of meaningless names and isolated, irrelevant and inexplicable events, are intended to impress us with the speaker's importance but not to explain anything. This much bafflement isn't good in a first issue, but, fortunately, the explanation of a "triple" and the identification of Duncan as one is enough to satisfy momentarily—and the impending confrontation with the sea-going triple is enough to foster expectation that can bring us back. The concept—making a heroic figure out of a multiple personality—is intriguing enough on its own to stimulate curiosity, enough that we can almost overlook the deliberate confusion that prevails throughout, smattered, slightly, with clues about the over-all scheme of things.
*****
The first issue of Marvel's Nomad: Girl Without a World intrigued me with David Baldeon's crisply rounded drawings but, alas, not much else. Sean McKeever's story gives us a teenage girl wanting to become Captain America's sidekick—but not "our" Captain America, some other parallel universe's Captain America. And which universe is the girl from? She starts off with a Bucky costume but on the last page, she finds a Nomad costume in her room. This thing is too steeped in continuity for my poor head. But it includes a complete episode (her encounter with a basement-dwelling monster from which she manages to escape) and fosters suspense by introducing a clique of highschoolers who are apparently part of a larger conspiracy to take over everything. Or to obliterate everything. Or maybe just the opposing football team. And they seem to have some connection to the monster in the basement.
****
In Greek Street, Peter Milligan becomes the latest writer to tickle the filthy underbelly of the demimonde in the tradition established most recently by Brian Azzarello's gritty street argotted 100 Bullets, and Davide Gianfelice seeks to emulate Eduardo Risso's unencumbered open-line manner of drawing while Patricia Mulvihill colors in a repeat performance of her subdued earth-toned treatment in Bullets. Gianfelice's drawings are a little too detailed to perfectly evoke Risso: the over-all impression is successful, but he details genitals and unsavory bits of anatomy much more brazenly than Risso, and his page layouts are not at all adventurous. But the first issue flaws here arise from too many narrative threads, none of which are successfully or satisfyingly resolved in the first issue.
          We begin in a club where several strippers or pole dancers cavort, displaying their charms expansively, but the connection to what happens next is vague to nonexistent: next, we see Eddie being seduced by a street walker who turns out to be his mother. Eddie vomits at the thought of incest, and then we meet Sandy in an asylum where she's hallucinating monsters; after which, we encounter a couple gangland leaders, one of whom may own the club we started out in (it's not altogether clear). Eddie gets a job in a club owned by a friend's uncle Dino, but when Eddie saves Dino from a beating by toughs working for a collection agency, he brings upon himself the ire of the hoodlums, who threaten him. He retreats to his room and is poised to commit suicide while masturbating as this issue concludes. Oh—and I think there's a gay copy in the wings.
          Apart from the appeal of Gianfelice's artwork and the unadulterated grit of the sex in the book, nothing here is going to make me want to find out what happens in the next issue. In short, as a first issue, this one fails.
****
The Eternal Conflicts of the Cosmic Warrior is apparently the first issue of a new series by Paul Grist, whose work I generally admire. But here, all is bafflement. Apart from a three-page sequence in which Captain Uriel contorts himself as if fighting some unseen demon, nothing herein seems an episode complete in itself. And Uriel's fight, since it involves a seemingly invisible and as yet unnamed foe, is not much help. There are allusions to Leonard (and how he lost his hand and various other appendages) but no explanation as to who, exactly, he is; and "the Cosmic" is also something more than an adjective. What, we don't find out. The Cosmic Warrior, who appears on the first page, disappears until the last pages where he fights but does not dispatch Captain Uriel, the struggle being witnessed by a mysterious but probably too powerful woman, who frustrates the Warrior by letting Leonard's dismembered hand ("the hope of the universe") fall to the floor and shatter. So the Warrior, the "new Cosmic champion" the woman calls him—the fourth to come her way—departs. Forever? We don't know. The stately woman creates all the suspense there is by saying: "The universe has spent too long dwelling in the darkness, crying out to me in its anguish and despair. It's time for me to put an end to its misery." All nicely atmospheric and boldly rendered in Grist's usual manner—stark, impressive, pregnant with meaning only hinted at, albeit in the most ominous manner possible. I'll give the next issue a pass.
*****
Black Widow: Deadly Origin No. 1 sets us up for what will presumably rehearse the origin of the character in the rest of the 4-issue mini-series. In this inaugural issue, the Widow foils a rogue test pilot who then kills himself by swallowing a poison capsule, and then her old mentor, Ivan, phones to tell her to beware "the icepick protocol"; but he's killed before we find out what that fearsome thing is. Up to this point, Paul Cornell's story has been drawn by Tom Raney on pencils and Scott Hanna with inks; the ensuing flashback, which rehearses the Widow's childhood and her instruction in various combat fighting techniques, is drawn by John Paul Leon, whose lush brushwork is much more pleasing to my eye than the previous duo's exactingly detailed manner, however shimmering Matt Milla's colors. The book ends with the Widow vowing vengeance for the death of Ivan, the man who raised her from infancy; she will be joined in this effort by James Barnes, the Winter Soldier. It's a routine first issue (and I wonder if we haven't seen the origin of the Black Widow before someplace) enlivened by Leon's page layouts and breakdowns, but unless you're a fanatic for Marvel continuity, you probably won't buy the rest of the series. I won't.
ONWARD, THE SPREADING PUNDITRY
The Thing of It Is ...
James O'Keefe, who gained notoriety last summer by posing as a pimp seeking help from ACORN to set up his business and videotaping the apparently acquiescent responses of a couple of employees at a Baltimore ACORN office, is back in the news. He and three accomplices were arrested in the New Orleans office of Senator Mary Landrieu, where they were accused of posing as telephone repairmen and tampering with the phone system. O'Keefe said they were simply investigating to find out why so many of Landrieu's constituents were (allegedly) complaining that they couldn't get through to the Senator's office. So O'Keefe's fifteen minutes of fame are being prolonged.
          Do you know why we haven't heard much lately about the nefarious prostitute-funding neighborhood organization called ACORN? Here's Jim Hightower's explanation. Hightower, once a U.S. congressman from Texas, has, since giving up his seat in that august body, taken to publishing a monthly newsletter, The Hightower Lowdown (with more frequent railings online at hightowerlowdown.org). His January issue began with this (in Roman; my remarks in this segment are italicized):
          The name Felix Walker is not one you would recognize, but this 19th-century congressman inadvertently contributed a word to America's political lexicon that you will recognize—a word that fairly well sums up a lot of what we're getting these days from right-wing politicos and pundits.
          In the 1820s, Walker was the U.S. Representative for Buncombe County, North Carolina. In an age of great political orators, Walker was not one. He was a droner, a dull fellow known for expressing his dullness at great length on every topic. No matter what issue was up for debate in the House—no matter whether he had any real knowledge, facts, or insights to add—Walker would rise to speak, insisting that his constituents back home would want his voice heard. He would then launch into a wandering, wearisome, often-nonsensical discourse that he always called "a speech for Buncombe."
          Exasperated colleagues began to refer to Walker's interminable prattling as "just so much buncombe," a phrase that has been passed down to us as "bunk"—a synonym for meaningless political claptrap.
          Hightower then gets to the point of this elaborate introduction:
          We've been getting an overload of bunk in recent weeks from a gaggle of Fox-brained Republican Congress critters. They've been flapping their gums to demonize and destroy a grassroots group that has offended them by—get ready to be outraged—organizing and helping to empower thousands of Americans who live in low-income and working-class neighborhoods all across the country. ACORN is this grassroots group. For four decades, the Association of Community Organizations for Reform Now has been going door to door, neighborhood to neighborhood, to extend basic democratic tools to people who've been dissed and dismissed by the political system. What ACORN's effort amounts to is civic education. Few members of the local chapters have ever been active in community decision making. After all, that process is usually held in the tight grip of moneyed interests who reside and work in distant, much tonier zip codes, and regular folks rarely are welcome.
          After several paragraphs recounting the efforts of ACORN, Hightower reminds us that the Grouchy Old Pachyderm accused ACORN and, by association, Barack O'Bama, with all sorts of ballotbox stuffing malfeasance during the presidential campaign in 2007 and 2008. That didn't stick as well as the GOP hoped it would, but then, last fall, the frenetic right-wing swatters made a direct propaganda hit. Two young ultra-right activists who despised ACORN for its success at turning out people who tend to vote for Democrats produced a gotcha video they had surreptitiously recorded in the organization's Baltimore office. Posing as a prostitute and her boyfriend, the two sauntered in and asked for help to file taxes, buy a home, and run a brothel out of it.
          The hidden-camera video appears to show two ACORN representatives (a part-time staffer and a local member serving as a receptionist) working with the "couple" to skirt the laws. "AHA!" shouted the entire right-wing machine in unison. "See, we told you this outfit is corrupt from top to bottom!" Fox News quickly threw the illicit video (it's illegal in Maryland to tape people without their knowledge and consent) on the air as PROOF! that ACORN must be busted.
          Not so fast, slick. Yes, the unprofessional behavior of the two Baltimore office workers was deplorable and embarrassing, but this organization has 300 full-time employees, 200 part-time workers, and tens of thousands of volunteers doing honorable and important work that benefits millions. Before we hang the whole outfit, let's consider three little-reported facts about that undercover video:
          1) Only selected pieces of the tape have been shown, and those appear to be heavily edited--there are abrupt breaks in the action, for example, and the words of the prostitute/boyfriend duo have been altered by inserting voiceovers that make it difficult to know the questions to which the ACORN workers are responding. Also, the boyfriend had showed up at the office in the preppy attire of a college student, but in the released video snippets he appears in the garb of a pimp. Neither the videographers nor Fox News have been willing to make the full video available for review by ACORN or the news media.
          Hightower then goes on to point out that the videotapers tried their "sting" in at least seven other ACORN offices without producing anything useful for Rabid Right-Wingnut purposes. In fact, the staff in Philadelphia and San Diego called the cops on them. Finally, Hightower maintains that the two Balimore workers "played along" with the stunt—implying that they were not convinced that it was anything but a college prank. (The "pimp," I should point out, is 25 years old, easy to mistake as a college prankster.) And, what's more, no one in any ACORN office prepared or filed any papers or took any action whatsoever to pursue what the poseurs said they wanted. Beyond some comments in the interview, nothing improper happened, much less anything "corrupt" or illegal.
          But the pranksters achieved their goal: national publicity smearing ACORN. And as a result, Congress, that font of political righteousness, passed the so-called "Defund ACORN Act," which stopped any federal grant money from reaching the organization—the budget of which, by the way, gets only about 10% of its revenue from the federal government. But that, Hightower writes, was not the end of the episode. There were two large problems in the Defund ACORN Act:
          First, it is blatantly unconstitutional. In Article One of the Constitution, Congress is specifically prohibited from passing a "bill of attainder," which is a law singling out any one group for retribution. It is the judicial branch, not Congress, which deals with the punishment of misdeeds, and our courts require a trial to convict anyone. In ACORN's case, there has never even been a judicial investigation of purported misdeeds, much less a trial. The organization has not been convicted of anything. Luckily, the legal system seems to be setting things right. ACORN sued the House for its unconstitutional penalty—and won! Last month, Nina Gershon, a federal district judge in New York, ruled that punitive legislation amounts to a bill of attainder, and she issued a preliminary injunction nullifying the defunding law. We'll soon see if Obama's Justice Department appeals her ruling.
          The second problem is even more glaring. And fun! It hoists right-wingers on their own corporate petards. When passing the Defund ACORN Act, proponents asserted that while it focused on the poor people's group, Congress intended a broad implementation that would cut off federal funding for "any organization" that has been charged by authorities with breaking federal election laws, lobbying-disclosure laws, or campaign-finance laws, or with filing fraudulent paperwork with any federal agency.
          Hello! ACORN has not been so charged, but guess who has? A who's who of fat-cat war contractors, that's who!
          Hightower begins the list with Blackwater (such a notoriously bad corporate player that it has recently changed its name and ousted its CEO to try to buff up its image) which has taken more than $1 billion in federal contracts and continues to receive more contracts despite being charged with fraud, tax evasion, arms smuggling, and manslaughter. Just one of Blackwater's contracts that is now under investigation totals $55 million. That is $2 million more than the total federal dollars allotted to ACORN in the past 15 years.
          And that's not all. The three biggest Pentagon contractors (Lockheed, Boeing, and Northrup) have engaged in 109 criminal violations since 1995, paying nearly $3 billion in fines and settlements. Yet these three recidivist corporations were rewarded with another $77 billion from the Pentagon in 2007. And the newsletter lists others: KBR, SAIC, United Technologies, L-3 Communications, BAE Systems, Raytheon, General Dynamics, and Lockheed Martin—all have been awarded government contracts despite being found guilty of serious misconduct.
          So perhaps the reason we haven't heard much about ACORN's sins lately is that (a) the charges were pretty flimsy to begin with and (b) the law that punished them was unconstitutional and ( c) the punitive part of the law also applied to so many government contractors whose sins, presumably, congressional bigwigs wanted to keep out of sight. Who knows?
*****
I fully realize the pitfalls I am skirting here by quoting so ravenous a progressive as Jim Hightower. I happen to agree with most of what he says usually, but he could also be so dedicated to propagating his own propaganda that he overlooks factual errors in whatever he cobbles up. That, after all, is the usual behavior of propagandists whether they are Republican or Democrat; and we've seen plenty of evidence in the conduct of the former ("death panels" in the health care reform legislation, for instance). But after due deliberation, I have decided that Hightower's probably more right than propagandistic.
          For one thing, if he's mispresenting facts, he could easily be caught. It would presumably be easy to check his assertion about the Defund ACORN Act's provisions prohibiting funding of any agency charged with the crimes listed therein. But I'm not sure that Blackwater's crimes involve breaking federal election laws or that charges against the other corporations involve "filing fraudulent paperwork with a federal agency." Those provisions are pretty clearly aimed at election fraud, not the general corruption that outfits like Blackwater may be guilty of. So maybe that part of Hightower's screed is a bit of a stretch. But it's also too delicious not to pass along.
          Quite apart from the provisions of the Defund ACORN Act that are presumably ascertainable and therefore probably accurately cited, I've thought from the beginning that the ACORN sting operation was highly questionable. Newspaper accounts at the time confirm that the videotapers had run their scam in other ACORN offices, but most accounts didn't say how many, although they did admit that the scam hadn't worked elsewhere. Moreover, most newspaper reporters did not, apparently, interview very many of ACORN's employees or officials to determine the extent or accuracy of the videotapers tape. Were the Baltimore employees taken in? Or were they just "playing alone" in a good humored sort of way until the scammers left the premises?
          Because ACORN officials were alarmed by the videotape—which, on its surface, is so damning—they reacted quickly to stifle the coverage. Reports of "investigations" and "house cleanings" surfaced, but not much more. Why so much silence? Maybe because, contrary to popular Republican belief, it's the Right Wing that controls the press, and it didn't want anything favorable about ACORN to emerge. If the much maligned "liberal media" were in control of such matters, wouldn't we have heard a good deal more of ACORN's side in this episode?
          The culpability of the news media is on display again, though, in the reports on the recent New Orleans incident. In the Chicago Tribune's report, we find this: "O'Keefe is most widely known for pretending to be a pimp and secretly taping ACORN officials in several cities, where he obtained advice on tax evasion, human smuggling and child prostitution." My emphasis. And later in the article comes this: "O'Keefe ... and another activist, Hannah Giles, released videotapes secretly recorded at ACORN offices [plural] across the country. In the videos, O'Keefe and Giles, disguised as a pimp and a prostitute, appear to receive advice on tax evasion and underage prostitution from ACORN employees."
          Twice in the same article, it is alleged that the pimp scam took place at several ACORN offices and that the resulting videotape successful revealed ACORN employees giving reprehensible advice at every location. Even if Hightower has exaggerated the minuscule extent of the scam, my recollection of the original reporting last fall is that only the Baltimore sting was successful in catching on tape ACORN employees seeming to give advice on various illegal or immoral business proposals. But in rehashing the incident, the Chicago Tribune reporter—and, presumably, other newspaper reporters—has increased the scope of the videotapers' success.
          Sloppy reporting perhaps. Perhaps forgivable because financially endangered newspapers can't afford to employ enough reporters to do a good job. And maybe it doesn't matter much because most Americans don't have much faith in the validity of news reporting under any circumstances. We may not believe everything we read in the newspaper, but I'm afraid many politicians believe that we believe whatever we see there. They should know better, but I'm betting they act on the conviction that their constituents back home read such items in their hometown newspaper and believe them. In this manner, then, misrepresentations and half-truths exert a kind of control on legislation. And so we all join Alice as she goes through the looking glass.
ThePhantom Ogre, or maybe The Odious Tollboothcoming in 2060.
To find out about Harv's books, click here.