<![endif]> Opus 202 (March 12, 2007). Captain America dies and the Mainstream Media demonstrates once again how completely derelict it is, failing to see any significance in the death. After that bombshell, what else can we say? Well, plenty, as usual. Big Book Sale, for one thing: yes, it's time, once again, for us to try to dispose of all those books we bought by mistake, not realizing we already had a copy in the Rancid Raves Library. Plus a hoard of review copies, offered at half-price. And we've lowered the prices on all those titles that were listed last time but didn't sell. Here's where you can find them all. Apart from that, our Big Event this time offers reviews and discussion of comics in other countries, with an emphasis on Britain, including a long and amply illustrated examination of the British wartime strip, Jane, wherein the eponymous heroine kept on stripping. We also discuss the fate of American newspapers again and discover that Roy Lichtenstein was a bitterly disappointed would-be comic book cartooner. Finally, we look at the cartoons of the political cartoonist whose obsession resulted, eventually, in the movie "Zodiac," and we reveal the Starbucks hoax. Here's what's here, in order, by department, beginning with one of our Rare Errors:
<![if !supportEmptyParas]> <![endif]>
Correction on Wiley's Homer
NOUS R US
Captain America Is Dead and What That Means
Ormes Society Formed for Black Women Cartooners
Glyph Award Nominees
Gaston Lagaffe's Birthday in Brussels
AAEC's 50th]
Doll Man—One of the First Superheroes
Trudeau on B.D.
Scott Adams on the Surge
Manga Fad
Nasty Words in Comic Strips
Eustace Tilley and the New Yorker's Annual Anniversary Issue
New Yorker Cartoonists Sound Off
<![if !supportEmptyParas]> <![endif]>
CIVILIZATION'S LAST OUTPOST
The Twin Towers Conspiracy
<![if !supportEmptyParas]> <![endif]>
ART FOR ART'S SAKE
Roy Lichtenstein's Fraud
<![if !supportEmptyParas]> <![endif]>
BOOK MARQUEE
New Mutt & Jeff Reprint Coming from NBM
<![if !supportEmptyParas]> <![endif]>
THE FROTH ESTATE
Are Newspapers Being Owned Locally Again? Or Not
<![if !supportEmptyParas]> <![endif]>
FUNNYBOOK FAN FARE
Cross Bronx, Lone Ranger, Jonah Hex
<![if !supportEmptyParas]> <![endif]>
REPRINZ
Pickles
<![if !supportEmptyParas]> <![endif]>
EDITOONERY
Asay Retires
Tom Toles on Censorship
<![if !supportEmptyParas]> <![endif]>
SIGNS OF THE ZODIAC
Graysmith's Cartoons
<![if !supportEmptyParas]> <![endif]>
COMIC STRIP WATCH
Judge Parker, Get Fuzzy, Piranha Club, Sam and Silo, Pearls before Swine, Rudy Park
<![if !supportEmptyParas]> <![endif]>
Free Comic Book Day, Cartoon Appreciation Week, and the Webslinger's New Movie
<![if !supportEmptyParas]> <![endif]>
INNOCENCE ABROAD
Reviews of The Essential Guide to World Comics
and Great British Comics: A Century
<![if !supportEmptyParas]> <![endif]>
The Unforgettable Jane
Who Peeled for the Normandy Invasion
Colonel Blimp
<![if !supportEmptyParas]> <![endif]>
Starbucks and the Great Coffee Scandal: A Hoax
<![if !supportEmptyParas]> <![endif]>
<![if !supportEmptyParas]> <![endif]>
And our customary reminder: don't forget to activate the "Bathroom Button" by clicking on the "print friendly version" so you can print off a copy of just this lengthy installment for reading later, at your leisure while enthroned. Without further adieu—
<![if !supportEmptyParas]> <![endif]>
<![if !supportEmptyParas]> <![endif]>
RARE GAFFE
We goofed again, one of our rare gaffs here at Rancid Raves. Last time, discussing Wiley Miller's various enterprises, I talked about Homer, his strip about an inquisitive angel, saying that when he discontinued the print version in newspapers, he offered to continue the strip online if he could interest enough paying subscribers. And then I said that not enough signed up so Miller cancelled the plan. Actually, Miller tells me, Homer did attract enough paying subscribers to make it worthwhile for him to continue it, but Miller was at that very moment in the throes of doing two other complicated things—moving himself and his family from Iowa to California and moving Non Sequitur from one syndicate to another. He just couldn't find the energy or time to do the online strip, and so he "shelved it." He planned, then, to revive Homer in a series of books, and, after the success of his Ordinary Basil book for children (it "has been met with nothing but rave reviews," he reports), the second of which will come out next fall, he intends to return to Homer and the book plan.
<![if !supportEmptyParas]> <![endif]>
<![if !supportEmptyParas]> <![endif]>
NOUS R US
All the News That Gives Us Fits
Captain America is dead. Again. This time, for a change, his death signals something other than the poverty of his writers' imaginations. This time, the death of Captain America represents the death of American values and, hence, of America itself. With that, Marvel Comics has taken a defiant political stand. And it's about time someone did. Captain America's death is a fitting ending to Marvel's Civil War, an philosophical dispute in which superheroes chose up sides on the question of whether to register and reveal their secret identities or not. Captain America regarded the government's new requirement as an erosion of his civil liberties and refused to register. But, as I understand it (yup: I'm commenting on this without having actually read the series; I have, however, read what various observers have said about it), Captain America eventually capitulated to Iron Man and the rest of the gang who supported the government's dictate. In surrendering, Captain America gave up the American values he has always stood for. Without those values, America isn't America anymore. And so the death of Captain America isn't just the death of an individual: because he is an icon, when he died it meant that America is dead, too. The comic book character won't be dead for long, of course. His comic book is still on Marvel's publishing schedule; and that movie is still lurking somewhere in the future. So Captain America will be back. As Marvel Entertainment's president Dan Buckley said: "This is the end of Steve Rogers, the meat and potatoes guy from 1941. But Captain America is a costume [I'd say 'uniform'], and there are other people who could take it over." But if the thematic import of his death is to be sustained, no one should don the uniform until traditional American values have been restored—until we no longer have a national policy of torturing helpless prisoners, eavesdropping on citizens, denying habeas corpus, and the rest. Then the old uniform can come out of mothballs. Incidentally, the episode—death by a sniper's bullet—was an eerie echo of that November day in Dallas in 1963; coupling the two murders together in this fashion gave the death of Captain America an extra layer of emotional meaning. Neatly done, Marvel—all around. Although the impending demise was a well-kept secret, we should have seen it coming: given all the parallels to the real world assault on American values, we should have guessed that someone had to die, and who better than the American icon?
The MSM, reporting this event, mostly missed the import of the story—that is, they didn't understand, or even know, the issues being explored in the Civil War series, and so they couldn't interpret Captain America's demise as a thematic, political, statement. Stephen Colbert, on the other hand, knew exactly what was at stake. Naturally, he favored Iron Man's side in the dispute because, as he explained on the "Colbert Report," Iron Man is really Tony Stark and Stark is a defense contractor, and all patriotic Americans support defense contractors. Captain America, Colbert explained, refused to give up "a few minor freedoms" so Americans could be safe. The lesson, he went on, is clear: those who fight to protect American freedoms are dangerous. Colbert realizes, of course, that Captain America will go on—the uniform will be taken up and worn by some other patriot. And he nominated Alberto Gonzales, recommending that the red-white-and-blue color scheme of the time-honored threads be discarded in favor of the colors of the Emergency Alert System.
Because organizations are widely rumored to nurture the things they're organized for, a graphic novelist who works at Publisher's Weekly has just formed a new one dedicated to promoting black women cartoonists, the Ormes Society, named for the legendary pioneering cartoonist of color Zelda "Jackie" Ormes. Ormes created Torchy Brown in 1937 and syndicated her creation as Torchy Brown in Dixie to Harlem, a Sunday strip, to fifteen black newspapers around the country, home-basing it in the Pittsburgh Courier, where Ormes was working as a sports writer. Torchy went on a ten-year vacation in 1940, and Ormes produced single-panel cartoons (Candy about a black maid and Patty Jo 'n' Ginger, about two girls) and moved to Chicago where she worked for the Chicago Defender, albeit not in any artistic capacity. In 1950, Torchy returned in Torchy in Heartbeats, which lasted for about five years. In both her incarnations, Torchy flew in the face of the custom of the times: she was neither a maid nor a mammy but a beautiful black adventuress in the Brenda Starr tradition, complete with life-threatening dangers and romance hanging at every cliff. According to Trina Robbins in A Century of Women Cartoonists: "What kept the strip from being a black soap opera was Ormes' treatment of segregation, bigotry and, in an age when ecology was a virtually unknown word, environmental pollution." More information about pioneering African American cartoonists can be found at Tim Jackson's www.clstoons.com; and the Ormes Society is at http://theormessociety.com
Incidentally, this year's nominees for Glyph Awards include two friends and associates of mine: Damian Duffy for Best Writer (with Deborah Grisom) for Day 8, a short story about a Katrina rescue mission, and Duffy, Grisom and John Jennings, the artist, for Story of the Year; Jennings is also nominated for drawing the Best Character in Day 8. The Glyph Comics Awards (GCA) recognize "the best in comics made by, for, and about people of color. ... While it is not exclusive to black creators, it does strive to honor those who have made the greatest contributions to the comics medium in terms of both critical and commercial appeal. By doing so, the goal is to encourage more diverse and high quality work across the board and to inspire new creators to add their voices to the field." The GCA, now in its second year, takes its name from the blog Glyphs: The Language of the Black Comics Community at Pop Culture Shock (http://popcultureshock.com), started in 2005 by comics journalist Rich Watson "as a means to provide news and commentary of comics with black themes, as well as tangential topics in fields of black science fiction/fantasy and animation." Watson is founder of the GCA and chairman of the committee. Nominees for Best Comic Strip are: Candorville, Darrin Bell; The K Chronicles, Keith Knight; Templar, Arzona, Spike; (th)Ink, Knight; and Watch Your Head, Cory Thomas. Nominees for Best Comic Book Fan Award are: Black Panther: The Bride, Crisis Aftermath: The Spectre, Firestorm Nos. 28-32, New Avengers No. 22, and Storm. The awards will be presented at the East Coast Black Age of Comics Convention at Temple University's Anderson Hall in Philadelphia, May 18-19. Fans are invited to vote on the Best Comic Book at www.ecbacc.com through the month of March. Nominees in other categories are listed at the aforementioned Pop Culture Shock site.
On March 1, everyone in Brussels could park free. In honor of the 50th anniversary of the birth of Gaston Lagaffe, a colossally lazy accident-prone comic strip character created by Andre Franquin, the mayor of the Belgium's capital city turned off the parking meters (euronews.net). It was a supremely fitting tribute: one of the plagues in Gaston's travesty-laden life involves his obsession with not paying for parking his dilapidated car. (I recently inquired about purchasing an original Gaston Lagaffe; Kim Thompson at Fantagraphics, another Franquin fan, told me that the most recent price he'd seen was $30,000. There goes another of my lifelong dreams.) The December 15, 2006 issue of American Way devoted 8 pages to a discussion of Brussels as "the international center of comic-strip art [known in those parts as the ninth art] and home to the world's most important comic-strip museum, 25 comics stores, and 30 larger-than-life murals of favorite comics characters." The museum's holdings include 6,000 original drawings by 500 cartoonists, plus 40,000 comic books in 20 languages. The museum may be the world's "most important," but its collection is not the world's largest, a distinction probably befalling Mort Walker's National Cartoon Museum, which claims over 200,000 pieces. The Library of Congress's collection was more than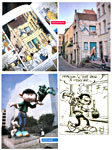 doubled recently with the acquisition of Art Wood's trove of 32,000 pieces by 3,000 cartoonists, so the LoC, while larger than the Brussels collection, isn't as large as NCM. But no city I know of can claim 25 comic shops or any comic character murals, which, in Brussels, can be found hither and yon on the sides of randomly chosen buildings throughout the city, if we are to judge from the photographs that accompany the American Way article. Near at hand, a few photos of the city's landmarks and a picture of a single panel of an original Gaston.
Speaking of anniversaries, February 28 was the 50th anniversary of the incorporation of the Association of American Editorial Cartoonists, which will hold a suitable celebration at its annual meeting over July 4 in Washington, D.C.; AAEC's website is http://editorialcartoonists.com . ... Editor & Publisher reports that Jim Morin, editoonist at the Miami Herald, is this year's winner of the $10,000 Herblock Prize. Morin, who has been at the paper almost 30 years, won the Pulitzer in 1996. ... E&P further reports that Austin Monthly magazine named the Austin American-Statesman's editorial cartoonist Ben Sargent "one of the 10 coolest creative people" in the Texas capital city. Sargent, a 1982 Pulitzer Prize winner, is certainly one of the snappiest dressers in editoonery, specializing in three-piece suits and ten-gallon hats, not to mention distinguished foliage around the chin. ... And Mike Luckovich at the Atlanta Journal-Constitution was awarded the year's $1,500 Headliner award last week. ... Finally, regaling us with leaks from the Pulitzer deliberations, E&P says the nominees for this years Pulitzer in editorial cartooning are Walt Handelsaman (Newsday), Nick Anderson (Houston Chronicle), and Mike Thompson (Detroit Free Press). In fairness, I must note a vague memory of mine to the effect that the leaked information E&P reported last year was wrong on one count; so, maybe again.
Golden West College in Huntington Beach, California, is retiring its mascot of 36 years, Rustler Sam, a cowpoke character designed by Tom K. Ryan, creator of the comic strip Tumbleweeds. The college, reports the Orange County Register, is systematically modernizing its image and has already changed the school logo from a setting sun ("too sleepy and associated with the end of life") to a surfboard. Sam got a make-over in the 1990s, losing the cigarette that had always dangled from his lip. Candidates to replace the grizzled rustler—a surfer, a wave rider, a shark, a stingray, and a sea dragon.
At arflovers.com, a gleeful site maintained with a maniacal chortle by Craig Yoe with the help of the Yoe Studio minions, recent speculation holds that "Popeye is a stoner," which Yoe says he first heard of on "the terrific animation blog CartoonBrew" and subsequently "turned up conclusive evidence that what Popeye had in his pipe was indeed wacky tobacky (i.e., marijuana)." The word spinach, it is averred, was, at the time of Popeye's animated incarnation, "a popular euphemism for marijuana celebrated as such in jazz songs." I've heard spinach used to refer to folding money—even a beard—but not, until now, mj; but I'll take your word for it, Craig. ... At the same ethereal venue, every Monday is Doll Man Day in honor of one of the first four-color superheroes: Darrell Dane invented the formula that enabled him to shrink to his minuscule crime-fighting size in Feature Comics No. 27, cover-dated December 1939. "One of the first" indeed: Doll Man is poised right on the cusp of the creation cycle that would flood the pulp world with longjohn legions, most of whom are costumed colorfully but not endowed with any superpowers. Of the superpowered sort, only Superman (in Action Comics No. 1, June 1938), Wonder Man (in Wonder Comics No. 1, May 1939; and he was promptly sued out of existence as a Superman rip-off), and the Human Torch and Sub-Mariner (both in Marvel Comics No. 1, November 1939), preceded Doll Man. The first costumed but super-less hero to arrive after Superman was the Arrow, who debuted in Funny Pages No. 21 in September 1938; after him came another costumed do-gooder, the Crimson Avenger in Detective Comics No. 20, October 1938. Batman, the most famous of the early spandex-clad, didn't arrive until May 1939 in Detective Comics No. 27.
B.D. is going to make it back to some sort of normal life. "That's the plan," said Doonesbury's Garry Trudeau in an interview with Elizabeth Gettelman in Mother Jones (February). "I'd like to have him return to Walter Reed as a peer visitor, so I can get into the subject of traumatic brain injury, the signature wound of this war." Asked how he is received by the troops, Trudeau said: "At both readings I've done at the Pentagon, I signed over 400 books, so I can hardly ask for a better reception. I got one drive-by dis from a soldier, but it was over strips that pissed her off during Gulf War I." His two B.D. books have introductions by John McCain and General Richard Myers, neither of whom groused about the strip. If they had reservations, Trudeau said, "they went unvoiced. Both men knew where I stood on the war. But the B.D. story is politics-free; it just means to be a clear-eyed accounting of the sorts of sacrifices that thousands of our countrymen are making in our name." The strip is rarely pulled from papers these days, and when it is, "its usually about language, not political content," the cartoonist said. "I've gotten very little public push-back on the B.D. series. Politics is only a small part of what I do; the strip is mostly about the characters." When Doonesbury went to Vietnam, the conflict was treated humorously, Gettelman observed, but now war is treated more seriously—why? Said Trudeau: "When I was writing about Vietnam, I was 22. Now I'm 58. I know more."
Riding on the assumed popularity of the "Ghost Rider" movie, the Comics Buyer's Guide for May (No. 1628) has a nice piece about Dick Ayer's original Ghost Rider, who was, back in the early 1950s, the star of a horse opera comic bearing his name; he started in November 1949 as a backup feature in Tim Holt No. 11 and then graduated to his own title. Ayers' work always stood out: he was a skilled artist and, lucky for Ghost Rider, could draw horses superbly, but the distinctive feature of his style was the way he rendered the eyes of his human characters—they seemed sunken in their skulls, burning with an almost fiendish inner madness.
Name-Dropping and Tale-Bearing
Clint Eastwood "is a man of few words and a gentle, beloved director," writes Jean Wolf in Parade (February 25). But Eastwood, it seems, has an aversion to posing for photographs. At the Golden Globes, when he was asked by a photographer to pose with his trophy for "Letters from Iwo Jima," he said: "I don't pose. I don't pose for anyone. Who do you think I am—Paris Hilton?" So when, during the Oscars ceremony, Ellen Degeneres sidled up to Eastwood on one of her forays into the audience and inveigled the crusty movie-maker into posing for a photograph, she was doubtless engaging in a little low-key satire, staging the event in a way that Eastwood could scarcely decline to have his picture taken this time. She also got Steven Spielberg to do the photographing, and that couldn't hurt. Eastwood was probably squirming with contradictory inner conflict, but he didn't look it.
<![if !supportEmptyParas]> <![endif]>
Scott Adams Examines the Surge
In his latest blog, excerpted by E&P, Dilbert's creator subjects George W. ("Warlord") Bush's latest scheme to penetrating analysis: "President Bush has unveiled his plan to achieve the top
goal of his presidency: a popularity rating of zero. The only risk to his plan is if this Iraqi 'surge' concept actually works. So let's examine his chances. On the American side, all we have to do is stretch the military to the point of breaking, spend tens of billions of dollars, and do what has never been done, i.e. secure a major Iraqi city and let the highly capable Iraqi government forces hold it. And popularity-wise, it would be helpful to do that without any casualties. This is the same successful strategy that has brought democracy to several blocks in Kabul, except at night.
"On the flip side, the insurgents will be faced with the insurmountable task of going on vacation outside of Baghdad until all the surging is finished. Then they can wander back, all tanned and rested, and pick up where they left off. ..."
<![if !supportEmptyParas]> <![endif]>
Manga Fad
In his "Manga for the Mainstream" column in the latest Comics Buyer's Guide, Bill Aguiar, apologist for the genre, rambles on for a couple pages about why manga aren't in the comic book shops. At first, Aguiar says, several years ago at the beginning of the current tidal wave, manga publishers tried to interest the specialty stores in stocking their books, but the comics shops weren't—and aren't still—making much of an effort to sell these strange new comic books/graphic novels. So the manga publishers, quite naturally, turned to the grown-up bookstores, where, as we all know, they've taken over row upon row of bookracks. And now the presence of manga is so pronounced and so successful in this country that indigenous publishers are cranking out manga imitations, and comics creators are "incorporating manga influence into their comics." But still, comics specialty shops seem indifferent to the genre. "Sooner or later," Aguiar says, a new kind of store will start cropping up on these shores—"manga stores, comics shops that only stock manga and sell coffee or soda—stores like that already exist in Asia." Some enterprising entrepreneur will surely see the manga phenomenon as an opportunity to exploit. Such stores, unlike regular bookstores, will stock "a complete line of titles from every company," and clerks will know the product so they can steer customers to titles that fit their interests. Aguiar fears that "the market will remain bifurcated"—bookstores on the one hand, comics shops on the other—and they'll compete with each other when they should be complementing each other. If so, he says, it will be "another wasted opportunity in comics history." Comic book shops should "reach out" and offer the kind of manga service that the Asian shops offer—expertise, coffee and sodas—in short, a salon for manga and manga lovers, who, Aguiar argues, will discover other comics there that they'll like, and everyone will prosper.
Last September, the Mainichi Daily News announced that, come January 2007, some of Shakespeare's plays would assume manga form in Britain. "Published by Self Made Hero, a division of Metro Media Ltd., Manga Shakespeare is designed to revive the Bard's lagging popularity among British teenagers, by giving the plays an injection of 'cool Japan.'" The first two plays to attempt to capitalize on the manga fad in the UK are Romeo and Juliet and Hamlet, whose protagonist, according to artist Emma Vieceli, is "the ultimate bishonen character": bishonen heroes, or "beautiful boys," are troubled, rather girlish characters, doted on by a mainly female readership. Said Vieceli: "They need to be angsty, broody, beautiful and have lots of trouble and strife going on in their life, and if possible die at the end. Hamlet is absolutely perfect for that." Churn, stomach, churn. (Angsty?)
<![if !supportEmptyParas]> <![endif]>
Watching Our Language For Us
Amy Lago, comics editor for the Washington Post Writers Group, recently posted at www.postwritersgroup.com/groupblog a couple increments in what deserves to be an on-going argument about what's permissible language in strips ("The Language Feint" and "Guilt Trips"). She discussed her editorial encounters with such outre expressions as "bite me," "suck," "blow," and "ass." Lago usually opts for outspokenness: "I think using staid language is a mistake for newspapers. I think that it's important to recognize that language changes—what once was unacceptable to one generation becomes acceptable to another." I agree. But the annoying aspect of the terms I just mentioned is that many readers aren't quite sure whether they are nasty or not. And if readers aren't sure, neither are editors, who arrive at certainty, apparently, only when it has been heavily endorsed by reader reaction. The terms themselves are somewhat ambiguous: "suck" and "blow" may refer to the ancient and honorable sexual exercise of fellatio; but maybe not. Or, at least, not any more. Something "blows" or "sucks" when it is boring or obnoxious, as Christopher Hitchens lately observed—but is fellatio either "boring" or "obnoxious"? Confusion reigns amid the gradual mutation of meaning. And with this vocabulary, we are in midstream, halfway between verboten and common parlance—and therefore at neither. No wonder editors are hesitant about letting comic strips get by with using words like these. "Geez" has finally escaped its original association with "Jesus," but we still can't publish "shit happens" with impunity. Not even "crap," it seems. Lago applauded Scott Adams for feinting "carp" for "crap" some years ago. "'Oh, carp' never caught on," she reports, "but it was brilliant. Everybody understood what Adams meant, but those who could choose to be offended—'If my child reads that word in the newspaper, he's going to think it's okay to say, and it's not!'—couldn't be [offended], because Adams hadn't used it." But Lago has been burned enough to grow cautious.
"Nowadays," she writes, "I try to be frank with cartoonists. I try to analyze why a strip will be viewed as offensive to readers, how editors may react to reader complaints and whether or not I really feel the strip will suffer cancellations if the cartoonist chooses to go forward with a potentially problematic strip." That's about the best service an editor can supply to a cartoonist. Be another (friendly) consciousness, pointing out the various perverse misunderstandings likely to be prompted by the usage the cartoonist has employed: Do you realize how this term or situation can be misinterpreted by the bent and bruised psyches out there among newspaper readers? But, Lago goes on, "nothing could have prepared me for the reader—with a medical degree no less—who called the December 24 Pickles strip 'sadistic.'"
When I asked about this, Lago explained: "Earl and Opal, the elder Pickles, tell Nelson, their grandson, that they hide the Pickle Xmas tree ornament on Xmas eve, and whoever finds it Xmas morning gets a surprise. After Nelson leaves the room, Opal says, 'Should we tell him the surprise is washing the dinner dishes?' So some idiot in Buffalo felt the December 24 Pickles was 'sadistic.' Honestly, some people can't take a joke. And if you can't take a joke, why, pray tell, are you reading the comics pages?!"
I dare not leave this subject without a word or two about Hitchens' essay, alluded to above. It appeared in the July 2006 issue of Vanity Fair, the one with Sandra Bullock in dishabille on the cover, and it, like many of Hitchens' utterances, is a tour de farce, an extravagant flight of reason and an enviable display of linguistic pyrotechnics. His contention, which he advances and defends with relentless logic, is that fellatio is "as American as apple pie." Fellatio, he observes, comes from the Latin verb "to suck," which leads, with the relentless logic I mentioned, to the question: "Which is it—blow or suck?" And that, in its turn, leads to Hitchens' reciting an Old Joke: "No, darling. Suck it. 'Blow' is a mere figure of speech." (Early in my lost career as a gag cartoonist, I did a cartoon that alluded to this confusion. It sold, too—very quickly. Sales are not necessarily indicators of high art, I realize; but sales are nothing to sneeze over in a capitalistic society. I thought the funny part of the gag was in imagining the girl in need of the doll. A female friend to whom I showed the cartoon didn't think it was at all funny. Not at all. Hitchens' latest essay in Vanity Fair, January's, is about whether women have a sense of humor, so I wonder ...)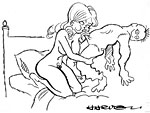 The origin of the operative expression, "blow job," Hitchens reveals, is in Victorian London's demimonde where the working women referred to one of their services as a "'below-job' (cognate, if you like, with the now archaic 'going down')." It is the "three-letter 'job,'" Hitchens goes on, "with its can-do implications," that makes the term "especially American." He continues: "The idea of an oral swiftie was re-exported to Europe and far beyond by a massive arrival of American soldiers. For these hearty guys, as many a French and English and German and Italian madam has testified, the blowjob was the beau ideal. It was a good and simple idea in itself. ... It put the occupied and the allied population in their place. 'You do some work for a change, sister. I've had a hard time getting here.'" But whether Hitchens is correct in his assessment of the activity as being essentially American, it is a treat to watch his verbal gyrations in propounding his contention. "The illusion of the tonsilized clitoris," he concludes, "will probably never die ... but while the G-spot and other fantasies have dissipated, the iconic U.S. Prime blowjob is still on a throne. ... Who dares to say that true global leadership is not still within our grasp?"
Footnit: Several school libraries have elected not to circulate Susan Patron's Newbery Medal-award winning children's novel, The Higher Power of Lucky, because the word "scrotum" appears in the book. On the first page, no less. Take that, you starry-eyed liberals. The scrotum in question, incidentally, belongs to a dog that was bitten by a rattlesnake. When the 10-year-old heroine of the book hears the odd word, she decides that it sounds "secret, but also important." Take that, you starry-eyed reactionaries. (The Week)
<![if !supportEmptyParas]> <![endif]>
Eustace Tilley Returns
Cartoonist Rea Irvin's supercilious anachronism, that 18th century boulevardier inspecting a passing butterfly, returned to the cover of The New Yorker to celebrate the magazine's 82nd anniversary the last week in February—a gratifying encore for the hide-bound geezers among us. Chris Ware's Tilley last year was a triumph, but it's nice to have Irvin's classic back for the occasion. The magazine's founder, Harold Ross, believed that the best thing about the first issue had been Irvin's cover drawing, so he ran the same cover every year to celebrate the magazine's birthday. Eventually, everyone at The New Yorker wanted something different, but no one could think of an appropriate substitute, so Eustace Tilley reigned on and on until, finally, during Tina Brown's editorship, Robert Crumb was recruited to conjure up a more contemporary version of the Broadway dandy. His drawing, a Village slacker, broke the mold in 1994. Thereafter, a short flurry of variations, but Eustace soon returned again. And again.
Another flurry, this time of the magazine's cartoonists themselves, occurred last month at Beaver Creek, a ski resort near Vail, Colorado. The occasion was a seminar called "Humor on the Slopes." Ted Alvarez of the Vail Daily News interviewed several of the inky-fingered participants, including Drew Dernavich, who spoke for millions of aspiring gag cartoonists when he said The New Yorker is the pinnacle of magazine cartooning, the highest of the high. "The New Yorker is about cartoons," he said; "you want to be in a magazine that sees it as a valid art form." Most New Yorker cartoonists take years, and hundreds—perhaps thousands—of submissions before they finally get one published. But Matthew Diffee won a contest. "I never intended to be a cartoonist," he said; "I was regularly doing art and writing and performing comedy. I didn't put the two together until I was 29."
Like Diffee, Chad Darbyshire (aka C. Covert Darbyshire) honed his comedic skills through performance and writing for other performers. "I have this picture in my mind of my tombstone," Darbyshire said, "—He died but at least he was in The New Yorker." Getting published in The New Yorker was, he said, "intellectual confirmation because it's the best magazine in the world." Dernavich and Harry Bliss have art education backgrounds, but Dernavich's "second career" is carving gravestones. "If you can think of something that's completely opposite, I guess that's pretty much it." Curiously, his cartoons look carved—scraped out of linoleum blocks.
Describing his creative process, Bliss said: "It's taken me years to figure out, but, basically, I just start drawing. Maybe I'll draw a couple out to dinner; the guy will have a smirk on his face, and the woman will look sad. I think about what they've said before and what they'll say after, and I create this narrative—I think of the cartoon as a frame in a film—and figure out what they're saying at this particular moment." The trick, he said, is to "finish the story." The single panel cartoon is, for many cartoonists, "the ultimate expression of visual comedy," Alvarez wrote, going on to quote Dernavich: "For the best cartoons, brevity is the soul of wit, and the shorter and sweeter, the better. If you can get it down to a single frame, it delivers the best bang for the buck. The premise, the visual—the joke—all have to happen at the same time, within that single frame."
The cartoonists enjoy the interaction they have during the seminar with an audience. "My job is to sit at a desk and look at a blank piece of paper," said Dernavich, "so it's nice to get out and draw. We assume people laugh at our cartoons, but we never get to see it. It's nice to see them laugh and react. Interactive drawing with an audience, like we do here at Beaver Creek, really brings cartooning out from behind the desk."
Bliss agreed. "I enjoy the spontaneity of just going for it, which comes from improvisation. The older I get," he continued, "the more I think about how important laughter is. I have yet to dissect it fully, but life is tough: it's tough getting by, and if you can laugh along the way, it makes everything better."
Some people, however, just can't laugh. In the predominantly Polish neighborhood of Greenpoint, Brooklyn, for instance, some residents were shocked—shocked!—by a recent New Yorker cartoon by Bob Weber, according to Joe Babcock in the New York Daily News.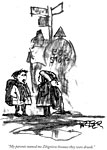 Said Anna Doda, a music store owner who has been in the U.S. for 20 years: "I'm assuming the person who drew this hates Polish people." Another witness testified that the cartoon merely demonstrates the double standard in Americans' acceptance of ethnic jokes: "You make fun of blacks or Hispanics, and you're racist. So, instead, people say, 'Yeah, let's make fun of the Polish.'" But no offense was intended. The New Yorker's apologetic response to complaining readers claimed that the "tacit assumption ... is that the child is not of Polish origin." Said David Remnick, the magazine's editor: "The heart of the joke is the difficulty in saying the name; there's no ethnic slur." I doubt that Weber was even aware that the name was Polish. But in these days of resplendent victimhood, one can't be too careful.
<![if !supportEmptyParas]> <![endif]>
<![if !supportEmptyParas]> <![endif]>
Fascinating Footnote. Much of the news retailed in this segment is culled from articles eventually indexed at http://www.rpi.edu/~bulloj/comxbib.html, the Comics Research Bibliography, maintained by Michael Rhode and John Bullough, which covers comic books, comic strips, animation, caricature, cartoons, bandes dessinees and related topics. It also provides links to numerous other sites that delve deeply into cartooning topics. Three other sites laden with cartooning news and lore are Mark Evanier's www.povonline.com, Alan Gardner's www.DailyCartoonist.com, and Tom Spurgeon's www.comicsreporter.com. And then there's Mike Rhode's ComicsDC blog, http://www.comicsdc.blogspot.com
<![if !supportEmptyParas]> <![endif]>
<![if !supportEmptyParas]> <![endif]>
From Hilaire Belloc:
From quiet homes and first beginning,
Out to the undiscovered ends,
There's nothing worth the wear of winning
But laughter and the love of friends.
Dedicatory Ode
<![if !supportEmptyParas]> <![endif]>
<![if !supportEmptyParas]> <![endif]>
CIVILIZATION'S LAST OUTPOST
One of a kind beats everything. —Dennis Miller adv.
Nestled comfortably in east central Illinois where we are sheltered from the World Outside by vast acres of soy bean cultivation, I wasn't aware until quite recently of the cottage cabal of conspiracy theories about 9/11. I came across an entire magazine devoted to advocacy of these theories, and one of them gave me pause. The collapse of the twin towers in New York did, indeed, look suspiciously like the result of controlled demolition—the buildings' pancaking, floor upon floor upon floor, into their own footprints instead of tottering and falling to one side or the other. When I read that, I remembered thinking as I watched the tragedy on tv that the collapse of these buildings was much too orderly. Controlled demolition, of course. But if the buildings were deliberately blown up, why? The mind boggles, as is its wont, at the fiendish implications. Conspiracy theorists suffer no boggling whatsoever: they know, immediately, that the Bush League is up to no good. Much as I loathe Baghdad Bob ("We're Winning the War") Cheney and his trained chimp, I couldn't swallow that. But the appearance of controlled demolition—that was suspicious. Then cartooner Jim Ivey sent me pages from a 2006 issue of Skeptic magazine that allayed my suspicious. This issue, No. 4 of Vol. 12, offers an entire article that demolishes all of the conspiracy theories, one by one, systematically and thoroughly. The twin tower demolition is exhaustively examined, but the most convincing aspect of the argument was the simple assertion that controlled demolition of buildings begins with the bottom floors, not the top ones. The pancaking of the twin towers resembles the pancaking of a purposefully demolished building but only because of the pancaking. "Actual implosion demolitions always start with the bottom floors. Photo evidence shows the lower floors of WTC 1 and 2 were intact until destroyed from above." That's enough for me, but there's more: both towers did not fall into their own footprints; one of them tipped slightly.
According to The Week magazine, quoting the New York Times, three 30-minute naps every week have been discovered to reduce the risk of heart disease by 30 percent. How did they get this number, 30 percent? Ever wonder that when you read these astonishing medical statistics that are forever cropping up? ...Also from The Week: Anna Nicole Smith was the 11th Playmate to die before her 50th birthday. ... And again: Hugh Hefner, 80, is getting married again, for the third time; this time, to Holly Madison, 27, one of his girlfriends. The wedding will be taped for Hef's reality tv show. ... And yet again: A Chinese paraglider died when he was sucked into a storm cloud and frozen. According to an unnamed tabloid, a member of the Chinese paragliding team while training in Australia suddenly shot upward at a speed of around 70 fps into a huge black cloud; when a rescue 'copter found his body later, it was frozen. ... Ray Evans, the lyricist who co-created with Jay Livingston such hum-able songs as "Mona Lisa," "Silver Bells," and "Que Sera, Sera," died the last week of February at the age of 92. The title of the Yuletide song "Silver Bells" was originally "Tinkle Bells" until Livingston's wife objected, thinking, perhaps, that "tinkle" suggested toilet training in some vague way. ... In Minnesota, Raymond Snouffer Jr. won $25,000 in the state lottery two days running, reported The Week—"a bit of luck that officials said defied 'incalculable' odds." ... And in California, the same magazine announced, a pediatrician refused to treat a baby girl with an ear infection because her parents had tattoos. His faith, said Dr. Gary Merrill, inspires him to enforce certain standards in his medical practice—"and that means no tattoos, no body piercings, and no chewing gum." It's a comfort to know that the nation is safe again from the attacks of tattoos, body piercings, and rampant chewing gum.
<![if !supportEmptyParas]> <![endif]>
<![if !supportEmptyParas]> <![endif]>
MORE ART FOR ART'S SAKE
Richard Corliss, exercising his franchise as art critic at Time, committed a long disquisition on "comics as art" on February 4, ostensibly reviewing the Masters of American Comics exhibition. He begins by noting that aficionados of the medium have never felt comics enjoyed sufficient status in the art world, and then he offers a reason for the neglect: "To the arbiters of 20th century art, comics had plenty of handicaps. It was printed on disposable paper (hence not worth saving, owning or investing in). It was popular (the wrong people liked it), American (when high culture was a European near-monopoly) and, worst of all, funny." He continues: "This snobbery still vexes Art Spiegelman. 'I have all sorts of issues with the idea that a Lichtenstein painting of a comic book panel is art but the original comic panel it draws on is not considered art,' he told Time's Jeanne McDowell for a 2005 story we did on the exhibition. 'I hate that whole attitude and way of looking at this stuff. Lichtenstein did for comics what Warhol did for Campbell's Soup? It had nothing to do with comics. It had to do with exploiting the form without any of the content." Corliss eventually concludes that comics don't belong on a museum wall but not because he dislikes comics; in fact, he loves comics. But the "museuming of comics," he says, seems to glorify the wrong thing—the pictures instead of the writing. Corliss, like too many critics, thinks the making of comics consists of two distinct creative acts, drawing and writing, when, as we all know, making comics consists of "writing" by "drawing." To dramatize his point, Corliss asks whether we'd rather "see (read) Kurtzman's Mad or Spiegelman's Maus illustrated by other artists or have others write stories for which Kurtzman and Spiegelman provided the drawings. The first, obviously, because the genius is in the writing." True. But, as I said, in making comics, drawing is writing. In any event, Corliss concludes: "The way to appreciate comic book art is by reading them, in book form" not on museum walls. ... You don't need a museum to tell you that this stuff is great." Can't quarrel with that.
But Roy Lichtenstein continues to lurk, an annoying barb forever lodged in the side of cartooning, the emblem if not the progenitor of the "comics are art" magpies. He lurks behind a current exhibition at New York's Museum of Modern Art (MOMA). Entitled "Comic Abstraction: Image-Breaking, Image-Making," the show displays about 30 works by 13 artists who, as Roberta Smith tells us in The New York Times, "borrow one way or another from comic strips, cartoons and animation." The idea behind the show, she goes on, is that "the lively and essential contamination of abstract art by popular culture that began with Surrealists ... has greatly expanded during the last 30 years." The works on display "use the conventions of comics 'not to withdraw from reality but to address perplexing questions about war and global conflicts, the loss of innocence and racial stereotyping.' But in the end, the works here are mostly cute," Smith finishes, "neat and perfectly pleasant, implying a view of contemporary art as mildly titillating but basically toothless entertainment." I watched a slideshow of some of the pieces online, and I must say that I had to work hard to see any connection to comics in many of them. One looked like an imitation Jackson Pollock roil of paint, not a cartoon except, perhaps, in the same way that all of Pollock is a cartoon, a mockery of painting as an art form. Speech balloons float across the prospect in a couple samples. In one, they float like balloons over head. In another, the words have been deleted; ditto, the pictures, leaving panels of different flat monochromes, sprinkled with blank speech balloons. They say, in other words, nothing. Says Smith: "They provide some welcome if relatively pure visual intensity, regardless of what the label says about the cultural significance of the comics used." She has little use for many of MOMA's recent shows: "Beyond the big solo retrospectives that MOMA handles with expert aplomb, too many of the museum's recent exhibitions have a veneer of political piousness that limits and shortchanges everything—art, artists, the public and the institution itself."
But Lichtenstein endures. Last month, Eddie Campbell wrote online approvingly of the painter's comics phase, that period during which Lichtenstein achieved immortality by painting enlargements of panels from comic books. "In theory," said Campbell, "it was like painting a view of a building or a vase. He worked through a long series of the same kind of thing before applying the particular treatments he had devised, such as the mechanical dots, to other kinds of images, ultimately including abstract images as in the brushstrokes series. I find his whole project quite astonishing and invigorating. It was good for art. Hell, it was even good for the comic book medium, setting a precedent for it to be taken seriously." I don't know about that. I'm not sure Lichtenstein was taking comics seriously by making paintings of them. He seems, rather, to be mocking comics. But why do comics need to be taken any more seriously than they are? They are read in the nation's newspapers every day by millions of people, for most of whom, Charlie Brown is an intimate friend. That is the ultimate achievement of art, the accolade of rendering the imaginary real. Like Corliss, I believe the way to best appreciate the form is to read comics in their native, newsprint habitat, not, necessarily, on museum walls, where they appear only fleetingly, breeding only backache as we stand there, reading what we would enjoy better were we sitting down and turning pages. Yes, it's good for the cultural status of the medium. But the social status—the power in status—in this society stems from the money comics generate for those who do them or who deal in them.
The Lichtenstein folks, meanwhile, are a bit defensive about the artistic accomplishment of their idol. As Campbell reports, "On the opening page of their site, an excellent document on the artist and his life, it says: 'The contents of this site are for personal and/or educational use only. Neither text nor photographs may be reproduced in any form without the permission of the Roy Lichtenstein Foundation,' and then you have to click on the 'I agree' button" to gain entrance." It is, as Campbell says ("smiling at life's daftness without a hint of indignation") "one last irony." The very stuff of cartoons.
If, by chance, you think Lichtenstein did much originating of imagery when copying panels from comic books, visit David Barsalou's site, http://davidbarsalou.homestead.com/LICHTENSTEINPROJECT.html, where he has collected 85 of Lichtenstein's masterpieces, pairing them with their four-color inspirations. "The [art] critics," says Barsalou, "are of one mind that Lichtenstein made major changes, but if you look at the work, he copied them almost verbatim. Only a few were original." Jack Cowart, the executive director of the Lichtenstein Foundation, is not impressed by this sort of reasoning. "Barsalou is boring to us," he said, quoted by Alex Beam in the Boston Globe (October 18, 2006). "Roy's work was a wonderment of the graphic formulae and the codification of sentiment that had been worked out by others. Barsalou's thesis notwithstanding, the panels were changed in scale, color, treatment, and in their implications. There is no exact copy." Well, yes—there is some variation from one to the other, but the variations are not as consequential as the similarities. Clearly, Lichtenstein was a bitterly frustrated comic book artist, aspiring to the fame he was denied in the funnybooks. Which editor turned him away after pawing through his portfolio of samples? After which, the dejected Lichtenstein went back to whatever dank basement he was using as a studio, and, like any yearning young comic book artist, performed his apprenticeship, copying, as nearly as he could, his favorite comic book artists, panel by panel.
Most copyright attorneys contacted by Beam believe copyright law has been violated. Perhaps, one lawyer speculates, there was a private settlement between DC Comics, the source of most of the inspirational images, and the painter. But it no longer matters: the statute of limitations for copyright infringement is three years. Russ Heath, one of the DC artists whose work Lichtenstein appropriated, told Beam that DC was never interested in suing, probably because there wasn't much money to be made. "He never even had me over for a cocktail," sniffed Heath, "and then he died. So I guess I'm out of luck."
<![if !supportEmptyParas]> <![endif]>
<![if !supportEmptyParas]> <![endif]>
Son of Quips & Quotes
"Dogs come when they're called. Cats take a message." —Mary Bly
"The only statistics you can trust are those you falsify yourself." —Winston Churchill
"The man who dies rich, dies disgraced." —Andrew Carnegie
"If I gave a shit, you're the first person I'd give it to." —A Nonny Moose
<![if !supportEmptyParas]> <![endif]>
<![if !supportEmptyParas]> <![endif]>
BOOK MARQUEE
Reviewing Travels in the Scriptorium, Paul Auster's new novel, his eleventh, Allen Barra in Salon.com wrote that the puzzlebox-like story is "at times intriguing" but it comes to nothing. It's like watching a magician saw a box in half after he's forgotten to add his lovely assistant. Now there's a turn of phrase worth smiling over. ... NBM Publishing is poised to bring out the first volume of a projected multi-volume reprinting project with the deluxe, dust-jacketed 192 8x6-inch page hardcover of Forever Nuts: Classic Screwball Strips, The Early Years of Mutt & Jeff ($24.95). Starting in the San Francisco Chronicle on November 15, 1907 (this is the centennial of its birth, kimo sabe), Bud Fisher's Mutt and Jeff was not only the first successful daily comic strip, it also established the horizontal "strip" format. Originally featuring just the tall half of the duo and bearing his name, A. Mutt, the strip aimed at an adult readership: a racetrack tout, Mutt bet money on a horse that would run later in the day, and readers had to buy tomorrow's paper to find out if he won. Not the sort of comedy children would cherish or, even, understand. With the daily wager as its initial dynamic, the strip was a continuity feature from the start, and by the late winter of 1908, the continuity was political satire: Mutt stands trial for stealing money to bet with, and Fisher takes the occasion to poke fun at San Francisco politicians and municipal corruption. Mutt is judged insane and is sent to the local looney bin for a cure; there, he meets a diminutive nutcase who thinks he's the prize fighter, Jim Jeffries, and the classic team was born. It was so popular a team that "Mutt and Jeff" was soon, and forever after, the phrase we use to refer to the pairing of a tall man and a short one. With this series, NBM is returning to its roots, in a manner of speaking: in 1984, it launched the 12-volume hardcover reprinting of Milton Caniff's Terry and the Pirates, one of the company's first publishing endeavors and a historic achievement.
Sometime in the next month or so, we'll reprint here the last Mutt and Jeff comic strip, but until that auspicious occasion, we'll continue to ponder the puzzle Fisher left us with: What, exactly, is the relationship between Mutt and Jeff? From the beginning, Mutt had a wife and child, but over the years, we are prompted to wonder how Jeff fits into this relationship. Some of the daily gags involve Mutt and his wife or Mutt and his son, Cicero. But Jeff seems always to be present on the premises, too. Does he live with the Mutts? If so, does he ever talk to Mrs. Mutt? I can't remember ever seeing them together in the strip. Sometimes, I have the impression that Mutt and Jeff are roommates in a rooming and boarding establishment. Other times, it seems that Jeff lives alone. But we can't be sure. Maybe the NBM project will, at last, remove our doubts and settle the question. Whatever the duo's living arrangements, they were doubtless established in the first year or so of the strip, and that, as I understand it, is the content of the inaugural NBM volume.
<![if !supportEmptyParas]> <![endif]>
<![if !supportEmptyParas]> <![endif]>
BOOK SALE
And if you haven't yet browsed our Book Sale, click here to do so.
<![if !supportEmptyParas]> <![endif]>
<![if !supportEmptyParas]> <![endif]>
THE FROTH ESTATE
The Alleged News Institution
Last fall's November issue of Editor & Publisher carried an article reporting on the "widespread clamor to return newspapers to local ownership." As we've noted here before, very few—maybe only 350-400—of the nation's 1,500 daily newspapers are owned locally; most are owned by chains or corporations, all of which trade shares on the stock market. Investors want a continually increasing return on their investment, but they don't get it with newspapers. Newspapers generate the largest profit margin, usually 20-25%, of any business in the country, but that's not good enough for investors who expect a steady growth. So newspapers are constantly being prodded by their Wall Street proprietors to improve profit, which can be achieved by two means: increase income and decrease expenditure. In a climate that sees newspapers losing circulation, slowly but steadily, increasing income is unlikely; so profit can be improved only by cutting costs. And that usually means reducing payroll. One of the staff positions being eliminated regularly in cost-cutting measures is that of editorial cartoonist. We've been donning sack cloth and ashes about that for months. But another big expense for a newspaper is its comics section. If a paper offers 30 strips a day, that will cost at least $450 a week, or $23,400 a year. That's a big hunk, maybe half a top-salaried editoonist's salary (or a third, maybe, counting the cost of benefits). Frankly, I'm surprised that there hasn't been a sudden boycott of syndicated comic strips nationwide: cost-cutters are merciless, and the funnies look frivolous enough to be ripe for cutting. So far, that hasn't happened. Knight Ridder, a newspaper chain that sold off all 32 of its papers a year ago, once suggested to syndicates that subscription fees for comics be reduced or K-R would drop the strips in all its papers; nothing came of the threat. But public (that is, Wall Street investor) ownership of newspapers still hovers over the comics page. So I watch with great interest the flux of financial affairs in the newspaper industry.
Lately, many observers have opined that if newspapers were locally owned, the constant pressure to improve on the 20% profit margin would be eased, and newspapers could go back to committing journalism again—reporting the news in the sort of depth and breadth that makes readers informed citizens. The article in November's E&P by Mark Fitzgerald and Jennifer Saba constitutes a major cheer-leading exercise for local ownership. They concede that local ownership doesn't necessarily produce good newspapering, quoting an analyst who said: "Some of the worst newspapers in the country were owned locally. They were beholden to local establishments and sacred cows. A lot of that has gone away with chain ownership." But Fitzgerald and Saba pretty consistently tout the "great collective pining for the old age of family or independent newspaper ownership," saying the "widespread clamor ... represents a dramatic change in course." Well, yes and no.
Yes, a small number of major papers have escaped the clutches of The Street and are now owned by consortia of local entrepreneurs. The Philadelphia Inquirer and the Philadelphia Daily News, both purchased by McClatchy Company when it bought all the other Knight Ridder papers, were quickly purchased when McClatchy offered them for sale. Viewed as "dogs" by The Street, they were snapped up by local investors. McClatchy also sold one of the papers it owned before the K-R acquisition, the largest in the McClatchy chain, the Minneapolis Star Tribune, to a private equity firm, seeking a tax advantage. Local billionaires are eyeing the Los Angeles Times, the Baltimore Sun, and the Hartford Courant, all part of the Tribune Company's chain, and the Tribune Company is being pressured to make more money than these papers seem capable of, so it might sell some, or all, of them. In these developments, Fitzgerald and Saba evidently expect us to see a happier future for daily newspapers. It isn't until the twelfth paragraph of the article that we read "the movement to local ownership is more talk than trend." And then, a page or so later, we meet some locally owned newspapers that have turned into financial disasters for their owners.
So, no—a dramatic change is not yet underway. We may hope for it, and local ownership, even with its penchant for being protective of the indigenous bovine population, is probably healthier for newspapers than public ownership. With less investor pressure for increased profits, the comics pages of locally owned newspapers are likely safer than those of papers owned by The Street. But local ownership is not yet a trend, alas; and what local ownership exists is threatened by the changing information environment: newspapers have yet to figure out how to make maximum use of the Internet. And until they do, newspapers will continue to be the steadily slumping behemoths of yesteryear, slouching inexorably toward an ever diminishing bottom line.
<![if !supportEmptyParas]> <![endif]>
<![if !supportEmptyParas]> <![endif]>
Out Among the Unimportant
"A hospital bed is a parked taxi with the meter running." —Groucho Marx
The world's record for keeping a Lifesaver in the mouth with the hole intact is 7 hours and 10 minutes.—The Bathroom Trivia Almanac
<![if !supportEmptyParas]> <![endif]>
<![if !supportEmptyParas]> <![endif]>
FUNNYBOOK FAN FARE
A few extracts from the notebook at my elbow when I'm reading recent comic books. Cross Bronx ended its 4-issue run, leaving me just about as baffled as I'd been at the beginning. Dubbed a "supernatural police drama," Michael Avon Oeming's story starts promisingly enough with a murder committed with a dead cop's gun, and when the protagonist visits the widow, exploring possible explanations, he encounters a woman understandably bitter because her dancer daughter was raped and disabled. In the end, a spectral young woman shows up and avenges all the wrongs done. Is she the "ghost" of the dead raped girl? High in suspense but obscure, like most tales of the supernatural, which phenomena never require any explanation or logic. Keeps you turning the pages, though, and Ivan Brandon's art is a moody chiaroscuro treat.
Lone Ranger Nos. 2-3 gives us more of Sergio Carriello's superior painterly art. In these issues, Collins, who led the rangers into the ambush that, eventually, resulted in the "lone" survivor, is killed by a mysterious black man, who then kills Mrs. Abrams, and the Lone Ranger acquires a mask. ... The last of the 4-issue series Sable and Fortune has arrived, after what seems to me a long delay, caused, perhaps, by John Burns' departure from the title. Maybe the delay is a figment of my imagination brought to the surface by a fetid filing system. But the virtuoso Burns is definitely gone. The tidy linear mannerisms of his successor, Laurenn McCubbins, are scarcely an adequate substitute for the bravura performance Burns gave, and so it all seems to end with a whimper, not a bang, which is partly writer Brendan Cahill's fault, but Burns' absence doesn't help: presumably, his panache with colors could have rescued the otherwise pale tale. ... Speaking of delightful stylistic treatments, we have Chris Sprouse on the 2-issue special of ExMachina, a pleasure to watch. And Brian K. Vaughan's story offers a challenging conundrum: his hero is forced to kill the bad guy but he doesn't believe in the death penalty.
Jonah Hex Nos. 13-15 is drawn by Jordi Bernet, one of my favorite inkslingers. His style—crudely, nicely, blunt and thorny with heavy-handed feathering—suits the subject admirably. It is a little too cryptic to catch the grisly horror of Hex's right eye and peeled visage, but it catches the energy in action sequences with great verve. Bernet's evocation of the locale and ambiance is convincing and confident, and the opening sequence in No. 13, with soldiers getting shot as they sit around a campfire at night, is expertly achieved in both action and atmosphere. But the story by Justin Gray and Jimmy Palmiotti is a trifle confused, seems to me. Or maybe it's me that's confused. Ostensibly, this is Hex's origin story: we learn how he acquired his facial scarring, but the storyline flips back and forth between two (or maybe three) time periods, and the sequence is difficult to reconstruct. His eye is damaged, it seems, when he is whipped while in the Confederate army in September 1862. Yet when he returns to the Apache tribe he grew up in after the war, his face seems entirely unblemished; it's during the ensuing fight with a tribal rival that he's burned with a hot iron tomahawk, scarring his face. So which is it? The whipping or the tomahawk?
<![if !supportEmptyParas]> <![endif]>
<![if !supportEmptyParas]> <![endif]>
Some of the 1,911 Best Things Anybody Ever Said
"The advantage of the emotions is that they lead us astray." —Oscar Wilde
"Wagner's music is better than it sounds." —Bill Nye
"Nothing is said that has not been said before." —Terrence
<![if !supportEmptyParas]> <![endif]>
<![if !supportEmptyParas]> <![endif]>
REPRINZ
Brian Crane's Pickles, a strip about the senior members of a family surrounded by two generations of their offspring, has been hovering on the newspaper horizon since 1990, when, at the age of 40, Crane, a commercial artist in advertising, started thumbing through his sketchbook in search of characters for a comic strip. He was also pondering the milieu for a comic strip. "I didn't see any senior citizens as the focus of comics and thought people could relate to that," Crane said last fall in an interview with Jarid Shipley of the Nevada Appeal. "I see similarities with my family and neighbors. When I started, I didn't think I'd get syndicated. When I did, I didn't think it would be popular, so my expectations have always been pretty low." His tactic has apparently paid off. Pickles was named Best Comic Strip of 2001 by the National Cartoonists Society, and the strip is now in more than 500 newspapers, nationwide—a more than healthy circulation.
The members of Crane's cast include Earl and Opal Pickles, the elderly couple, and their daughter Sylvia and her husband Dan, and their son Nelson, plus a somewhat obtuse dog named Roscoe and a sly cat named Muffin. In recent years, the strip has focused more on Earl and Opal than on the rest of the ensemble. Earl, we quickly realize, has only one hobby—annoying his wife. And Opal, although a devoted wife, dotes on Muffin, so don't ask her to choose between Earl and the cat. Nelson shows up fairly often, seeking wisdom at his grandfather's knee. Still Pickled after All These Years (128 8x9-inch pages; paperback, $10.95) is Andrew McMeel's 2004 collection of the strip and the whole cast is on display herein. Sylvia, reacting to the news that her mother and father are going to visit Grand Canyon, says to Opal: "I've heard it's breathtaking." "Oh, yes," says Opal, who is working at the ironing board. "It's one of the three sights I want to see before I die. The others are the pyramids of Egypt and your father ironing his own pants." On another occasion, Earl is out walking and runs into his friend Clyde. Earl is holding a dog leash and Clyde asks him why. "Good question," says Earl. "I was just trying to figure that out myself. I must be having a senior moment," he continues, holding the leash up for closer inspection, "—I can't remember if I found a leash or lost a dog." This compilation regales us with Opal's pursuit of a writing career. She writes a children's book and then gives it to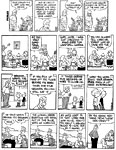 Earl to read, saying: "So, tell me what do you think of my children's book." "I like it," says Earl. "You do?" says Opal, nearly incredulous. "Yes," insists Earl. "Oh, thank you," Opal says, kissing Earl on the cheek. She goes away, and Earl looks down at Roscoe, who has observed this entire exchange. "Keep in mind," Earl tells the dog, "I don't necessarily agree with everything I say." Another time, Opal tells Nelson that his grandfather is a very wise man. "And he likes to spread his wisdom like mayonnaise on a sandwich. Go head, Grandpa, "she says, "—spread some wisdom." Says Earl: "Don't throw a brick straight up." Opal looks at Nelson and says: "Sometimes Grandpa scrapes the bottom of the mayo jar."
<![if !supportEmptyParas]> <![endif]>
<![if !supportEmptyParas]> <![endif]>
More of the Same
Recipe (in its entirety) for boiled owl: Take feathers off. Clean owl and put in cooking pot with lots of water. Add salt to taste. —The Eskimo Cookbook (1952)
"Punctuality is the thief of time." —Oscar Wilde again
"Platitudes are the Sundays of stupidity." —Unknown
"Never eat more than you can lift." —Miss Piggy
<![if !supportEmptyParas]> <![endif]>
<![if !supportEmptyParas]> <![endif]>
EDITOONERY
After 21 years with the Colorado Springs Gazette, staff editorial cartoonist Chuck Asay announced his retirement on Friday, March 2. His retirement was part of a general cutback on staff: the paper slashed 33 positions, Editor & Publisher reported, leaving 475 full-time staffers. Although the reduction seems a little drastic, 10 of the 33 positions being eliminated were "empty," unfilled job descriptions. But not the editoon slot: it was more than filled. Asay drew charming and profusely elaborated albeit simple funny pictures that were both vintage and modern in style and appearance, and he specialized in multi-panel format—comic strips—for his cartoon commentary. He is such a staunch conservative that I very often couldn't decipher his cartoons: From his undeviating endorsement of conservative positions, I knew what his opinion was in a general way, but the specific point he was making in a particular cartoon was sometimes obscure.
| | |
| --- | --- |
| | |
Take, for example, one of those displayed here—in which one of his favorite characters, Lara Liberal, is protecting the children from exposure to various dangers. It's clear to me that Asay thinks liberal attitudes about such things as "secondary smoke and asbestos" result in extreme measures—laughably extreme—but how Iran's nuclear ambitions fit into the same series as global warming and prayer in schools is not so clear. Does he mean that liberal attitudes toward Iran encourage jihad? How? If we assume that the liberal position on Iran's nukes is to let them be, then maybe the last panel fits. But is that, really, the liberal position? Liberals see danger from secondary smoke but not from nuke-wielding rogue states? Is advocating negotiating with Iran somehow the equivalent of suppressing religious speech? I don't see the connection, but Asay's sequence suggests there is one.
Is he saying that talking to our foes is wrong? Misguided? Foolish? I don't agree that we shouldn't talk to our enemies, the traditional Bush League chant until recently. I think when we withdrew from active involvement in the Israeli-Palestinian crisis as soon as Darth Cheney came to power, we hastened the day that the U.S. would be attacked, the day we now date September 11. Not talking to one's enemies does not, ipso facto, provoke them into behaving better in order to have a conversation with us; instead, it heightens the resentment they already feel. I suppose the problem is me, not Asay: I'm so liberal that I can't get into the right frame of mind to even understand a conservative attitude. Compounding the difficulty for me might be the Biblical element. After an early career as a school teacher at the Taos Pueblo in New Mexico, where he sharpened his drawing skills by caricaturing tourists in the Taos plaza, Asay "found God," as his editor put it, a discovery that influenced his political as well as his spiritual posture. And Asay himself once allowed that his "biblical worldview" on the issues of the day made his cartoons different. I can't discern a biblical aspect in the cartoon I'm examining, but then, that may be another instance of myopia caused by a deviant view. Dunno.
In any case, I have always admired Asay's drawings whether I understood his point of view or not, and I'm sorry to think that we may see less of them. He's still syndicated by Creators, but whether he'll do as much work now without a daily deadline remains to be seen. It's not clear whether Asay's retirement was encouraged as part of the paper's over-all staff reduction; but it's not likely that the staff cartoonist position will be retained. The position was part of the budget; the cartoonist was part of the staff. Asay's editor at the Gazette bid the cartoonist a fond and personally heartfelt adieu: "Saying Chuck will be missed is too trite. His departure leaves a hole in the heart of this page and this newspaper." And it leaves editor Sean Paige sadder, clearly. You can read the whole thing, which I recommend, at http://www.gazette.com/onset?id=19782&template=article.html.
In September, Tom Toles, the editorial cartoonist at the Washington Post, went back to his former hometown, Buffalo, New York, where he gave a talk about censorship and was interviewed by Geoff Kelly of artvoice.com. Saying he often draws cartoons about censorship, Toles referred to one he did about "a revived threat" from the Attorney General to prosecute journalists for "receiving" classified information, an outrageous prospect. Said Toles: "I took that one step further and said that anyone reading a newspaper is receiving classified information." He also lambasted the White House for paying journalists to write flattering stories. "It gets to the constellation of government control of information or manipulation of information," said Toles. "While not strictly in the narrowest sense censorship, it's a related danger." Has he ever been censored? Yes, once, Toles confessed—and it was while he was working at the Buffalo News. He intended to take to task a prominent local non-governmental person, and his editor felt it was an unfair criticism. Toles was, he said, "more-or-less outraged because more-or-less my agreement with the last three newspapers I worked for has been that I will not be edited for content grounds, but only [for] taste and libel." Generally speaking, American political cartoonists these days are pretty content with their situations, Toles believes. "If you polled them right now, you would find a very high degree of satisfaction in the amount of latitude that they are ordinarily given." But they are still not quite as free to express themselves as Toles thinks he is. Working in the nation's capital as opposed to Buffalo gives a cartoonist "a highly different sense of what's going on," he said. You also have "an audience that is eagerly attuned to all of this inside baseball. I've likened it to sitting in the front row of the movie theater. It's good and bad in all the same ways: you can see the nostril hairs here much more clearly, but there is a certain distortion that comes with being so close." And the social network adds another level of distortion. "So many people here know so many of the other people involved so well that sometimes, I think, objectivity suffers. There comes to be a language with which issues are spoken of. It's a circumscribed language in that certain points of view just aren't represented."
At the Dayton Daily News in Ohio, you can write a Mike Peters' editorial cartoon. Sort of. (As I've said before, in cartooning "writing" is "drawing"; so this exercise, as you'll see, is not quite either. But it sounds fun.) "Open Mike" is a blog feature at http://www.daytondailynews.com/o/content/opinion/peters/openmike/ ; staff editoonist Peters draws a picture (called a "cartoon" even though it makes no sense by itself without a caption or any other verbiage), and readers are invited to supply words for the speech balloon. Contenders' submissions are published at the site, and a winner is declared every so often. The winner gets the original art for the cartoon.
<![if !supportEmptyParas]> <![endif]>
<![if !supportEmptyParas]> <![endif]>
SIGNS OF THE ZODIAC
The first letter signed by the Zodiac, the serial killer who terrorized the San Francisco Bay Area for several years, was sent July 31, 1969; the last, July 8, 1974. The Zodiac may have begun his spree earlier—on October 30, 1966—with Cheri Jo Bates, who was found with her throat slit and nearly decapitated in the parking lot of Riverside City College's library annex. A letter from someone claiming to be her murderer was mailed to the police and the local newspaper a month later, but the letter wasn't signed. The Zodiac sent at least 18 letters and claimed 37 victims, but the police are sure of only seven. The Zodiac was never caught, although some associated with the case believe one of the 2,500 suspects interviewed, Arthur Leigh Allen, was the perpetrator; he died several years ago. Two exhaustive books have been written about the case: Zodiac and Zodiac Unleashed. Both are still in print; the former in its 39th printing, the latter in its seventh edition. Both were written by the same man, Robert Graysmith, who was, at the time of the murders, working at the San Francisco Chronicle as the staff political cartoonist. In the movie "Zodiac," released March 2 and based upon Graysmith's books, Graysmith is one of the four men who become obsessed with finding the illusive killer, whose communiques were often coded in cryptic symbols. Another of the four was "supercop" Dave Toschi, who, Graysmith says, was the model for Clint Eastwood's Dirty Harry. The other two of the quartet were Toschi's assistant, William Armstrong, and the Chronicle's reporter on the case, Paul Avery.
Graysmith had graduated in 1960 from Yamato High School in Japan, where he'd worked as a sports cartoonist and illustrator on a local paper. He earned a B.A. in fine arts at California College in Oakland, worked as a sports cartoonist and staff artist at the Oakland Tribune for a year or so, then in somewhat the same capacity for the Stockton Record before landing at the Chronicle, where he remained for twenty years, nominated by the paper for a Pulitzer six times. According to Emanuel Levy at his website, Graysmith became a diligent investigative reporter in pursuing his interest in unsolved crimes. After the success of Zodiac, Graysmith left cartooning and devoted himself to a writing career, producing six true crime volumes, including The Murder of Bob Crane about the unresolved homicide of "Hogan's Heroes" tv sitcom star.
Interviewed recently by Kim Voynar at cinematical.com, Graysmith acknowledged that he was scarcely an investigative journalist when he became involved with the Zodiac murders. "I wasn't even a writer!" he exclaimed. "I was a political cartoonist. I wanted to have a career as a painter and a sculptor. All the really great American painters were also all newspaper artists. And the thing about a newspaper artist is you have to be fast and work on deadline and still be good. Back in those days, they'd send you out—There's a parade! Go draw it, quick! That's how they did it in those days. But you could afflict the comfortable and comfort the afflicted [citing the creed of political cartoonists]: you could change the world—get a bill overthrown, get a bad guy kicked out of office. You really could make a difference with a picture [cartoon].
"So then," he continued, "Carol Fisher, who was our long-suffering letters-to-the-editor person, brings in these letters. She was just always in the midst of it. And I saw the Zodiac letter, and I was really drawn to the symbols. And he was very artistic. He did this one, a 320-character cipher that was perfectly aligned, with no ruler marks, and it was perfect. They guy who did that had a light table, a t-square, drafting materials. Basically, he's doing cartoons and symbols. See, he's trying to scare us with symbols, and I'm trying to fix things with symbols [as a political cartoonist]. And there were all these police jurisdictions and nobody was cooperating. And so I got the idea—I'll make this book that has the effect of a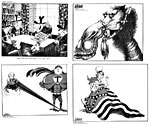 political cartoon, organize all the material from all the jurisdictions in one place, lay it all out, and then maybe it will make a difference, help solve the case."
Zodiac was published in 1976. It didn't solve the case. But it changed Graysmith's career. Here are some of Graysmith's cartoons from the late 1970s, before he'd left the field.
<![if !supportEmptyParas]> <![endif]>
<![if !supportEmptyParas]> <![endif]>
COMIC STRIP WATCH
Eduardo Barreto is back on Judge Parker and is doing spectacular work. Here's the release for March 1: lookit all that drawing in the first panel. No wonder he went for the portrait of an eyeball in the last panel: he'd already spent a couple days on the strip by then. ...
And while you're admiring Barreto's energy and craftsmanship, take a look at the two Get Fuzzys from Darby Conley. In the first, Bucky gives us a punchline in every panel; George McManus used to do the same sort of thing in his classic Bringing Up Father: Jiggs would have a comic reaction in every panel to something his wife Maggie was saying. And in the other GF, ponder for the nonce the numerous actions in the first panel: Satchel speaks, Foodar raises his paw, Satchel stops speaking—all in a single panel, such is the mystique of the cartooning arts. ... On the next page, we have a recent Piranha Club strip from Bud Grace, who's comedy infringes, always, on the lowdown outrageous. Here—of course, we know what Ernie will do with that dipstick. And he does, on the next day, with predictable results. ... As for the Silo and Sam strip by Jerry Dumas—alas, have we lost forever (except, thanks be, here) the Cartoon Automobile? What a treat to see it. ... Meanwhile, Stephen Pastis is up to his Old Trick again, importing another cartoonist's characters into his strip. Gotta admit, though: it's funny. In the next Pearls, we have Pastis' customary cigarette-smoking self-portrait, about which he says, in one of the compilations of the strip: "Funny thing is, I don't smoke." Oh—that's the funny thing. ... Finally, on page 3, we have Darrin Bell and the entirely fictitious Theron Heir suffering the consequences of using other cartoonist's characters in the December 31 release of Rudy Park (which was duly noted here at the time, you remember). Now, for Pastis—.
<![if !supportEmptyParas]> <![endif]>
<![if !supportEmptyParas]> <![endif]>
FCBD, CARTOONISTS DAY, CARTOON APPRECIATION WEEK
—AND THE WEBSLINGER
Free Comic Book Day this year comes on Saturday, May 5. That's the day after "Spider-Man 3" opens in theaters from sea to shining sea. This maneuver repeats the early strategy of FCBD, which coincided for the first couple years with the opening of a brand new funnybook superhero movie in the fervent expectation that the enthusiasm for the motion picture would spill over into comic shops everywhere. And so it did. After the first few FCBDs, however, the event seemed strong enough on its own merits to take place without the support of a movie debut; and so it was. Whether this year's return to the initial formula is mere happenstance, I can't say. Nor can I say with any assurance that another congruence of that weekend is deliberate or accidental. May 5 is also Cartoonists Day, and Cartoonists Day is embedded in Cartoon Appreciation Week. The dates for the latter shift a little from year to year, but that doesn't make cartoonists any more shifty than the rest of us. Cartoon Appreciation Week, as fomented by the National Cartoonists Society, used to be whatever Monday-through-Sunday includes May 5. So this year, it would be April 30 - May 6. But it isn't. There seems to be an institutional prejudice against April; so the powers decided on May 3-9 as the official dates for Cartoon Appreciation Week, thereby destroying forevermore any structural logic for the determination of the week's dates. Cartoonists aren't logical, they say, so it all fits.
The date for Cartoonists Day, however, is firmly rooted in the history of the medium and not likely to change. NCS picked May 5 as Cartoonists Day because it was on that date in 1895 that the New York World published a cartoon called Hogan's Alley by Richard Outcault, a freelance technical draftsman, who, when not diagraming electrical equipment, drew comical pictures and peddled them to weekly humor magazines. Hogan's Alley, like others Outcault had sold to magazines, featured the juvenile antics of a swarm of slum urchins, and among the otherwise raggedy and bedraggled mob, Outcault drew one distinctive little kid: he was bald (his head having been shaved as a cure for lice), and he had big jug ears and a gap-tooth grin, and wore a nightshirt that reached to his ankles. His name was Mickey Dugan, but when, on subsequent appearances, his nightshirt was colored yellow, he became known as the Yellow Kid.
The Yellow Kid turned out to be a genuine crowd-pleaser: people bought the newspaper just to follow his shenanigans every week. The character was so popular that William Randolph Hearst hired Outcault away from the World to draw the cartoon for his New York Journal. But Joseph Pulitzer at the World hired another artist to draw the Yellow Kid, and for quite some time, the circulation battle between the two press lords had the Yellow Kid in the front lines as the most conspicuous combatant: delivery wagons taking newspapers around the city had posters on their flanks bearing the grinning visage of the Yellow Kid.
The Yellow Kid is often called the first newspaper comic strip (even though he wasn't first, and he didn't appear in a "strip" but in a single, large drawing) because he demonstrated the commercial appeal of cartoons. After his noisy debut, newspaper publishers knew they could attract readers if they published cartoons. And for that historic reason, Cartoon Appreciation Week always convenes around May 5, which is, itself, called Cartoonists Day. For more information about Free Comic Book Day, visit www.freecomicbookday.com ; for Cartoonists Day, www.cartoonistday.com
<![if !supportEmptyParas]> <![endif]>
<![if !supportEmptyParas]> <![endif]>
IN A SENSE, ABROAD
Upon first looking at the cover of The Essential Guide to World Comics (320 9x9-inch pages in paperback, color; 2005, $19.95), I was nearly whelmed by a sense of my own ignorance. Being American and therefore determinedly innocent of any knowledge of any other culture, I recognized almost none of the characters on the book's cover. As I pondered the apparent dimness of my tunnel vision, I grew mildly alarmed as I realized that there seemed to be no American comics characters among the cover array.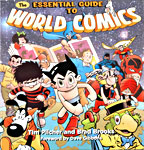 The frizzy-haired little girl at the upper left, whom I initially mistook for an inept interpretation of Ernie Bushmiller's Nancy, is not Nancy at all but, I learned, Mafalda, the pint-sized protagonist of a comic book in Argentina. A few of the characters I knew: the most prominent being the British Dennis the Menace (in the striped shirt, not the Hank Ketcham creation although invented in exactly the same year), the Japanese Astro Boy, and the French Asterix. Unaccountably, the fourth largest face (lower right-hand corner) belongs to a Disney Studio creation, Jose Carioca, who, here, is credited to Brazil. The dog at the left, Lupo, a German character, evaded me entirely. Then I saw Tintin and, finally, Fawcett's Captain Marvel, the only U.S. creation I recognized at once after noticing it. There is another—Antman/Giantman from Marvel, an obscure choice, I thought, as representative of the great American superhero population. No Superman, no Batman, no Spider-Man. No well-known, easily recognizable American superhero figure, in other words. This did not bode well for a book claiming to be the "essential guide" to comics. In saying that, I'm not simply indulging the usual American penchant for ethnocentricity to the exclusion of all cultures save our own. I'm willing to admit that I don't know much about the vast congeries of comics that are being concocted in distant climes —and I'm delighted to learn more about them all, much of which knowledge I have acquired through this very book. But the book claims that the comics in most countries trace their lineage to the American breed, and to begin then with a cover that snubs the most recognizable of the that breed suggests an error-prone tendency within that forecasts a guide somewhat less than adept. Alas, that may prove to be true.
My second realization about the book dawned much later. Bushmiller's Nancy would have been out-of-place on the cover because the book is about comic books and just comic books. "Comics," it seems, is now a generic term reserved exclusively for comic books; it no longer embraces comic strips, too. A third thing, which ought to have registered as another clue to the tome's intentions, was that the double-truck title page reprinted a fragment of a Chris Ware strip. This, had I been properly attentive at the very first, would have warned me that there would be very little history in the volume, that it would concentrate mostly on contemporary comic books in various countries.
The book's authors, Tim Pilcher, a writer and editor, and Brad Brooks, a cartoonist and "journalist-historian," divide their expedition into ten parts, the first three devoted, in order, to countries—the U.S., Britain, and Japan; three of the last four, to regions—South America, Scandinavia, and Africa/Arabia, with Australia sneaking in betwixt. Early on, they observe that their researches have yielded at least two realizations: first, that "many countries began their comics industries in almost exactly the same way (with, first, the importation of American newspaper strips and, later, comic books ...)"; second, that "many countries have clutched that most unlikely of popular characters, The Phantom, to their collective bosom." Despite this discovery, they spend almost no time contemplating American newspaper comic strips, the nearly universal font.
Each chapter begins with a short so-called historical overview of cartooning in the country, then moves to a more detailed, but scarcely exhaustive, glimpse of contemporary comic books. If the chapter on the U.S. is any indication of the authors' grasp of their subject and the accuracy of their research, then the book cannot be much relied upon. After mentioning ever so briefly Little Nemo, Krazy Kat, Polly and Her Pals, Thimble Theatre, Tarzan, Terry and the Pirates, Flash Gordon, Mandrake the Magician and The Phantom, our guides leap immediately into the four-color world of comic books with the invention of Superman. The next leap takes them to Marvel Comics and publisher Martin Goodman's hiring of his 17-year-old nephew, Stanley Lieber, then to Jack Kirby and Joe Simon and the creation of Captain America, followed by post-World War II's spate of romance titles and then EC Comics' horror and science fiction books. They discuss the blighting of the industry by Fredric Wertham's crusade but do not ever mention Lev Gleason and the "crime" comics that most exemplified the genre Wertham crusaded against. Nor do they mention Quality Comics or Fawcett (despite their Big Red Cheese being on the book's cover) or Dell. From Wertham, they proceed immediately to Mad and Marvel's Silver Age, then the undergrounds and independents.
While the truncating of history results perforce in skewing facts into veritable error, Pilcher and Brooks compound the misadventure by tossing in a few unabashed errors. They allege that the notorious U.S. Senate Subcommittee on Juvenile Delinquency "released a widely circulated report which was very critical of comics." I don't believe the report was widely circulated; reports of Wertham's charges were, but not any government document. And when Pilcher and Brooks get to the creation of Marvel's Silver Age, they have Jack Kirby coming into the office and finding Stan Lee "distraught as movers took the furniture out of Marvel's offices" and then teaming with Lee to invent the Fantastic Four in September 1961, thereby saving the company. But Kirby had encountered the movers and a discombobulated Lee in 1958, and the books they initially cranked out to save the company were the infamous BEM titles—the bug-eyed monster tales, Strange World, Tales to Astonish and so forth. Amid the recitations about alternative and independent publishing, the authors devote 4-5 pages to a history of Fantagraphics Books. I'm fond of the publisher of The Comics Journal, wherein I've had a writing career of nearly half my lifetime, and I think the Journal can claim credit for much of the maturation of the medium as an artistic enterprise (as opposed to a commercial one), but I don't know that I'd give it 15 percent of the history of comics in the United States while leaving out Fawcett and Quality and Rip-Off Press. If the authors' other sections devoted to other countries are as misleading as this one, their guide is scarcely essential.
I don't know the history of comics in other countries well enough to say, but a couple instances made me raise an eyebrow. In discussing Japan's comics history, they say that "certain aficionados" of manga, "upset by the negative connotations prefer the term gekiga (dramatic pictures)." Could be, I suppose; but manga and gekiga are not interchangeable, as I understand the terms. "Gekiga" was coined by Yoshihiro Tatsumi to describe his comics, which are darker and more realistic than the usual manga of the day. According to Adrian Tomine, who is bringing the work of Tatsumi to U.S. readers, "Gekiga might best be thought of as a style or genre within the broader term of manga, in the way that 'underground' or 'alternative' are subsets of the term 'comics.'" And the book's bibliography doesn't include the only decent history of Australian comics I'm aware of, John Ryan's 1979 Panel by Panel; seems they should have consulted it if they were writing about comics "down under." On the other hand, in discussing censorship in Japan, the authors mention the "unfortunate rise of rorikon (Lolita complex) comics," invented, we are led to understand, as a way of dramatizing sexual appetites without depicting adult genitalia, a forbidden visualization. "These titles portrayed pre-pubescent girls with excessively sized breasts in sexual situations, in what would be regarded as pedophilia in the West. The whole uneasy image of sexy schoolgirls has a firm grip on Japan's manhood." My thought exactly (although I might be tempted to avoid the double entendre of "a firm grip" on anyone's "manhood").
My last quibble about the book is that the illustrations are often minuscule, giving Dave Gibbons' opening remark in the Foreword an ironic meaning: "As the world seems to shrink, the variety it holds seems to expand in equal measure." Nice thought, nicely phrased. But the illustrations herein scarcely meet the expectations Gibbons fosters. Alas, there is nothing expansive about the pictures. A page of Winsor McCay's Little Nemo is reproduced herein at 2x3 inches. At that size, the whole purpose of an illustration is rendered meaningless: we can't make out the pictures let alone read the words. Some illustrations achieve a comparatively generous 4x6 inches, but they tend to be magazine covers which don't offer much reading matter. The deployment of teeny tiny illustrations is understandable if we think of them as "glimpses" of the art being discussed. And since the book can hardly undertake reproduction of whole stories, "glimpses" are all that we're likely to get. But when forcing us to look at a picture through a keyhole, don't write a caption that raves about the quality of the art—"a quite simply wonderful panel from Drew Weing's exquisite webcomic, Pup." Captions like that, and there are more than a few, are not only insulting to the reader but desecrations of the art. Just to be perverse, I tried photocopying a few of the teeny weeny illustrations, blowing them up 250-400 percent. One or two of them came out all right; but most did not. The illustrations are digital scans, it seems, so blowing them up simply produces lines of dots.
Given the degree of generalization and telescoping that inevitably yields inaccuracy in the text and the insultingly teeny tiny illustrations, what good is this book? If it had been entitled A Primer of World Comics, the book's contents would have been better served by its title. Although we are forced to guess at the "exquisite" quality of the artwork on several occasions, even such glimpses as we are afforded demonstrate a great deal of energetic visual comedy worldwide and a greater extent of design-quality artwork abroad than here at home. The book, then, is an ample enough demonstration of the viability of comics in many lands. Just as manga has invaded these shores, maybe we can look forward to similar beachheads being established by other nations' comics. More from Belgium and France, at least. All of Andre Franquin's Gaston Lagaffe, for instance.
The illustrations in the other omnibus tome up for inspection this time are somewhat better than The Essential's. They, too, are small, but in even the smallest we can make out the words in the speech balloons, a possibility rarely realized in the Pilcher-Brooks book. We're looking at Great British Comics: Celebrating a Century of Ripping Yarns and Wizard Wheezes (190 9x11-inch pages in paperback, color; Aurum Press Ltd., $36 more or less) by Paul Gravett and Peter Stanbury in which "comics," this time, includes strips as well as comic books. Other volumes by Gravett, Graphic Novels: Stories to Change Your Life and Manga: Sixty Years of Japanese Comics, make similar use of smallish illustrations, but, again, large enough to be readable even if not large enough for the artwork to be admired. On the back cover of Great British, Stanbury is suddenly recognized as the "co-creator" of the previous two Gravett volumes, which otherwise credit him as the designer. He was also, apparently, the "co-founder" with Gravett of the "influential British comics magazine Escape," founded, Pilcher and Brooks tell us, "out of Gravett's small-press distribution service, Fast Fiction" in 1983. In any event, they have been around the comics arena long enough to know whereof they speak, and Gravett, with both Graphic Novels and Manga to recommend him, is a voice worth listening to.
In defiance of common sense, Great British, unlike most histories, is organized by theme, not chronology. Once within a theme, however, chronology asserts itself. The method in this seeming madness permits the humble reader to discover how comics developed—how one seminal work in, say, science fiction comics impinged upon future works. And so we learn, as Martin Gray observed in his Scotsman review, that "take-no-prisoners lawman Judge Dredd [is] both successor to, and reaction against, the ever-so British Dan Dare." After an introductory chapter, the book devotes a chapter each to the comedies of classes (upper vs. lower and vice versa), movie stars (Charlie Chaplin), animals, school boys, science fiction and horror, heroines (the most famous being Norman Pett's nubile Jane), and adventure (including sports heroes). The introductory chapter touches quickly on the history of British comics, beginning in 1825 in Glasgow with The Looking Glass, the first weekly journal of caricatures and strips, continuing through William Hogarth's series of prints, "A Harlot's Progress" (as reprinted in a London newspaper in 1826), and the founding of Punch in 1841, followed, eventually—inevitably—by another weekly comic magazine, Judy, in 1867, wherein appeared, on August 14, "the earliest popular comics celebrity, Ally Sloper," a Dickensian name signifying the disreputable personage's "habit of 'sloping' down an alley to avoid the rent collector or the angry victims of his hopeless money-making schemes." The necessary abbreviation of history precludes mention of the scores of humor magazines "in the air" at the founding of Punch—many with "Punch" in their titles: Penny Punch, Punchinello, Punch in Cambridge, Punch in London, etc. The theory is that the 1841 Punch survived because it, unlike so many of the others, set itself to appeal to the middle class, which was just emerging and eager to find an identity.
The chapter's most helpful device is a graphic timeline with different colored bars tracing the lives of various publications. Here, we learn that the legendary Comic Cuts began in 1890 and lasted until 1953. We also discover that Illustrated Chips and Funny Cuts began the same year, the latter expiring in 1920 but the former lasting until 1953. Useful as such a visual aid is, it could have been much more valuable if the month and day had been given for each year cited; then we would know, for example, which of the three founded in 1890 came first—which, then, were the imitations. The chapter concludes with another instructive interlude—reproduction of twenty tea cards (trading cards) that provide a photograph and a short biography of various famed British cartoonists, many still among the living (Alan Moore, Eddie Campbell) and some not (Norman Pett, Roy Wilson).
Each of the individual chapters begins with a short essay, profusely illustrated, followed by pages reproducing samples of comics, each captioned with a short history of the feature and, usually, an informative tidbit. Here, for example, is the caption for Fred Basset, a strip whose canine star's thought balloons comment satirically upon his owner's attitudes: "Following complaints from dog fanciers about Alex Graham's inaccurate drawings, the Daily Mail bought him a basset called Freda, who became his life model for the strip, shown here from the first year, 1963. Among his fans was P.G. Wodehouse who was fond of this breed, calling Wooster's simpering admirer Madeleine Basset, or simply 'the basset.'" A thoroughly admirable cramming of data into succinct prose. The comics samples in these portions of each chapter appear against a color background in which Stanbury commits the perfectly silly maneuver of printing portions of drawings in a slightly darker hue of the same color. This execrable practice is akin to "screening" drawings—that is, printing a line drawing in gray tone and then overprinting text, which partially obscures the picture. In effect, the function of the pictures is destroyed, setting up contradictory propositions. Since the pictures are not clearly visible, we may suppose that they are so unimportant they aren't needed. If so, why include them? If they are important enough to be included, why not arrange for them to be visible? Why a book about a visual art would resort to such a self-defeating device is beyond me, but it happens too often for comfort or edification.
Apart from this quibble, however, I mostly enjoyed the ride. Gravett and Stanbury protest the accusation that the book is just an exercise in nostalgia, and they're quite right. It is that, but it is more than that. In the nostalgic vein, I was happy to encounter such comic strips as the earliest version of James Bond (which started in a comic strip in 1958, four years before Sean Connery played 007 in an American movie—suggesting that artist John McLusky's depiction determined the look that Connery embodied), Tug Transom, the ineffable Pop (straining the format in a strange new direction), Modesty Blaise and, by the same writer-artist team (Peter O'Donnell and the great Jim Holdaway), Romeo Brown, a spoof of a detective who is always being pursued by voluptuous femmes, often in various states of revealing deshabille.
| | |
| --- | --- |
| | |
I savored the liquid line and decoratively spotted blacks of the famed Roy Wilson, whose comedy was always antic and perpetually, manically, cheerful. His style, patterned after Don Newhouse, virtually defined a "British manner" of drawing a certain kind of comic strip.
The text underneath the pictures, which drones on whether speech balloons float above or not (and sometimes in near contradiction of the sense of the speech balloon utterances), is called the "libretto," I learned. Usually used to denote "the text of an opera or other dramatic musical work," the term is superbly appropriate for verbiage that usually tells us what the picture is depicting—just as, in an opera libretto, the text tells us what's happening on stage.
I also discovered numerous delicious factoids whilst meandering through the book. Among them, as reviewer Gray also noticed, that "Dan Dare was intended by Eagle editor the Reverend Marcus Morris as a moral example to British children assailed by nasty U.S. horror comics, but who knew the comic's dummy issue actually starred 'Chaplain Dan Dare of the Inter-Planet Patrol'?" Gray also observed that the comedy in Andy Capp was made more palatable by the wife of the eponymous layabout being somewhat maternal, her husband reduced thereby to being a "particularly useless son." Said Gravett: "In one strip, when a census gatherer asked Flo [Andy's wife] how many children she had, she replied, 'Just the one.' This is an insight into why Flo has thrown Andy out on several occasions, only to take him back in." He goes on to quote creator Reg Smythe, who explained the evolution of the couple: "there is a very special relationship that grows between a childless couple. The man will come to represent the child and, in some strange way, the woman becomes his mother. I started to draw [Flo] in a more buxom and motherly way, I also made Andy a little smaller. It works more easily for me when the pair look like mother and child."
Elsewhere, Gravett tells us that "it may be coincidence, but J.K. Rowling named the school attended by Harry Potter 'Hogwarts,' which is also the title of a Latin play by Nigel Molesworth," the annoying and possibly criminal juvenile lead in George Williams' novel, Down With Skool, illustrated by co-conspirator Ronald Searle. We also learn that virtually all of the original art for the notorious comic "strip" (in both senses) Jane was destroyed after her creator's death: the lawyer for Norman Pett's estate disapproved of the risque enterprise and burned all the art in Pett's garden where the artist used to sketch his nude model. For the whole Jane story, scroll down a little further.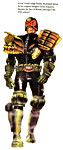 And, finally—to return to Gravett's book for one last instance of happy discovery—the authors give us a full-figure portrait of Judge Dredd in full regalia, chains and massive boots and body armor, chillingly "a nightmarish response ... and a warning as to how policing might evolve after the riot police quelled the miner's strike and poll tax riots," asking: "Could Judge Dredd become the face of British policing in the 21st century?"
<![if !supportEmptyParas]> <![endif]>

<![if !supportEmptyParas]> <![endif]>
THE UNFORGETTABLE JANE
Who Seldom Blushed Regardless of Provocation
The British comic strip Jane was dubbed "the strip that teased," and during World War II, the strip and its heroine, frequently flouncing through the panels in her frilly underthings, were the first thing soldiers turned to in London's Daily Mirror, the newspaper for which Jane had been created. Jane teased but, according to legend, she never appeared naked—until a particularly significant day in 1944.
Jane began cartoon life on December 5, 1932 in a feature entitled Jane's Journal, subtitled "The Diary of a Bright Young Thing," in which Jane and her pet dachshund Otto (also named Fritz) go about their daily business. Jane's creator, Norman Pett, enjoyed showing off his character's lithe figure but only insofar as an ordinary wardrobe displayed it; there was no outright nudity—although, given the clinging female fashions of the day, it was apparent that Jane was naked under her clothing. She was sometimes depicted in shorts while engaged in some athletic endeavor, but that was about the only time any leg was bared. At first. For several years. Mildly exciting but still pretty tame, in perfect tune with the depressed times. Then in 1938, Pett saw a petite young blonde woman modeling naked for an art class he was visiting, and he was smitten: "That's Jane!" he is supposed to have exclaimed, and he hired her on the spot to model for him, chaperoned, always, by Pett's wife, who had been the cartoonist's first model for Jane. Pett's new model, Chrystabel Drury (Chrystabel Leighton-Porter after marrying an RAF pilot), posed for Pett in the nude because that's what female models did: that's how they were able to assist artists to an understanding of female anatomy sufficient for depicting it even when it was fully clothed. The Jane Legend has it that every picture Pett drew of his oft dis-dressed heroine was drawn from life, from Chrystabel posing. About the time she arrived, Pett evidently decided that his strip needed a little more in the way of spice, and so he began depicting Jane either dressing or undressing, either way, in her scanties much of the time. When she wasn't dressing or undressing, she was often experiencing some minor household disaster that resulted in an expanse of leg being exposed, usually up to the garter. Pett also began working with a writer, Don Freeman, who assisted him in concocting situations that required pictures of Jane "scantily clad, clothes askew, skirts ripped and legs akimbo."
| | |
| --- | --- |
| | |
According to the Jane Legend, Pett and Freeman held story conferences in the pubs around Fleet Street, most frequently in the White Swan, where many of the cartoonists of the day imbibed—Lunt Roberts, Illingworth, Leo Dowd, Rowland Davies and Giles among them. Over flagons of stout, mild and bitter, or beakers of Scotch, the duo plotted Jane's dis-dress. As Freeman later recalled: "We must have had the best jobs in Britain, Norman and I. Our whole purpose in life, our raison d'etre, was to think up ridiculous ways in which to get the clothes of a gorgeous woman; in fact, the woman who was probably desired by the majority of red-blooded males in the entire world! And, the best of it was that we were getting paid for it!"
Jane increased in popularity as her clothing decreased its coverage, and publicity about the strip began mentioning Chrystabel, albeit without mentioning that she posed naked: nude modeling was so scandalous an avocation in those days that it was a carefully guarded secret in the Chrystabel-Jane newsstories that ensued. By the time War broke out at the end of the decade, Jane was the sweetheart of the British armed forces, many of whom believed that the comic strip character was based wholly upon a real person, so persuasive had the publicity about Chrystabel been. But Jane in the strip was still, comparatively speaking, somewhat circumspect in the display of her epidermis. According to the Jane Legend, she didn't appear naked until the Allies invaded France, the celebrated day when "Jane Gives All," as reported in Round-Up, an American serviceman's newspaper.
"After years of teasing and lingerie," Paul Gravett reports in Great British Comics, "artist Norman Pett had finally caught his character in one panel in the altogether, drying herself with a towel the morning after June 6. That day was D-Day, when a great armed armada had swept across the Channel to take the Normandy beaches. What better way for Jane to congratulate the troops following that historic day and boost their morale further?" Jane's "inspirational impact upon the British Tommy," Gravett assures us, was no exaggeration. The Round-Up summed up: "Well, sirs, you can go home now. Right out of the blue and with no one even threatening her, Jane peeled a week ago. The British 36th Division immediately gained six miles, and the British attacked in the Arakan. Maybe we Americans ought to have Jane, too." The Americans had Miss Lace, the central figure (so to speak) in Milton Caniff's wartime strip for U.S. military newspapers, Male Call. Lace was enormously popular, but she never peeled.
Jane, however, peeled plenty, and on several occasions before June 7, the ecstasies of the Jane Legend to the contrary notwithstanding.
| | |
| --- | --- |
| | |
True, on D-Day + 1 she was unabashed and full-frontal bare naked, and neither she nor Pett did anything to shield her charms or to frame their revelation in terms of accidental dishabille. Unprecedented. But she'd been bared before in the strip. One enterprising British journalist, Margot Bennett, did an exhaustive inventory of Jane's happy happenstances of near and absolute undress in 260 issues of the Daily Mirror: Jane, she reported, "shows her legs to a distance of at least nine inches above the knee 83 times. She dresses, undresses or is undressed forcibly to reveal the brassiere 14 times, the panties 13 times and both brassiere and pants 51 times. She is also shown full-length behind some inadequate substance such as steam, a nightgown, bathing costume or towel in 24 picture. She has her clothes blown off by a bomb in 4, takes a bath in 5, falls by parachute in 9 and sits up in bed in 5. She has a double who is shown twice bathing, 6 times in brassiere and pants. There is also a girl called Gladys, who is shown wholly in underwear 13 times and sectionally 3 times. This makes an astonishing total of 232 exposures, partial or complete, in 260 issues of the Daily Mirror."
So popular was Jane that she was briefly exported to U.S. newspapers. There, Gravett says, readers of "family-friendly funny pages would be far less tolerant than their supposedly reserved British counterparts of daring glimpses of nipples, breasts, bottoms, and states of undress," and so Pett was persuaded to doctor his artwork to remove such affronts to America's Puritan sensibilities.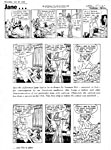 These adjustments, given Jane's proclivity for shedding raiment, consumed vast reaches of time. As a result, Pett fell behind in meeting his British deadlines and Jane once dropped out of the paper for several days, inspiring a desperate outcry among the populace. Finally, she reappeared in a single panel composed for the occasion, naked but clutching a couple of curtains for the sake of modesty and saying: "In reply to all your many inquiries as to what has happened to me—Give me a break. I can't find my panties!" Andy Saunders in his book Jane: A Pin-up at War regales us with the inevitable sequel:
"The effect was immediate, and literally quite overwhelming. If the staff at the Daily Mirror had been surprised by the response when Jane had initially been dropped, then nothing could have prepared them for what happened next. [The street in front of the newspaper office] was blocked with mail vans and delivery boys—all of them bringing hundreds upon hundreds of letters, most of them containing pairs of undies. The question, of course, was what to do with them?" The answer, during wartime, was comparatively simple, Saunders explained. His book, my source for much of what is transpiring here, is as much about the model who posed for cartoonist Pett as it is about the comic strip character. Always interested in the theater, Chrystabel had made a career being Jane's alter ego: in addition to modeling for Pett, she appeared during the War in theatrical revues aimed at boosting soldiers' morale. What with the wartime rationing of various kinds of fabrics, lacy feminine undergarments were in short supply. Chrystabel gathered up basket-loads of panties at the Daily Mirror office and distributed them to chorines-in-need at the revues where she worked.
| | |
| --- | --- |
| | |
Jane was easily the most famous British comic character in World War II, more celebrated, even, that political cartoonist David Low's Colonel Blimp, a self-mocking blow-hard; see next paragraph. But once the hostilities were over and the Tommys returned to the domesticity of home and hearth, Jane's purpose in the world faded. Pett retired in 1948 to start another strip about a pretty young thing undressing, Susie; but lacking the fevered morale-building function of the wartime Jane, Susie foundered. Meanwhile, Jane was continued by Pett's erstwhile assistant, Mike Hubbard, who prolonged it until October 10, 1959, when Jane finally married her beau, the patient Georgie, with whom she sailed off into the sunset—in a rowboat. Before long, the Page Three Girl invaded tabloid Britain, and female nudity from the navel up was all at once so amply displayed as to render Jane's earlier antics nearly antiseptically quaint. Quaint but charming. And historic, very historic.
About Colonel Blimp: In the mid-1930s, Britain's most celebrated editoonist, David Low, created this fatuous character in order to typify "the current disposition to mixed-up thinking, to having it both ways, to dogmatic doubleness, to paradox and plain self-contradiction. This sort of thing: 'We need better relations between Capital and Labor. If the trades unions won't accept our terms, crush 'em.' Or, 'What the country wants is more economy. Our fellows should fight Russia and China and damn the expense.'" Low had been allotted an entire page in the Saturday issue of his newspaper, and he created Colonel Blimp as a single-panel cartoon to help fill up the space. Recalling the final moments in the gestation of the character in his autobiography (entitled, with admirable exactitude, Low's Autobiography), Low said he was in a Turkish bath, "ruminating on a name" for his character, when he happened to overhear a couple "pink sweating chaps of military bearing" talking nearby. "They were telling one another that what Japan did in the Pacific was no business of Britain." At the same time, Low was thinking about an article in the newspaper that morning in which "some colonel or other had written to protest against the mechanization of cavalry, insisting that even if horses had to go, the uniform and trappings must remain inviolate and troops must continue to wear their spurs in the tanks." This was just the thing, Low realized: his character should be a military man, puffed up with his own sense of importance and certitude. And so the Colonel Blimp series began: Low put himself into the picture, so Colonel Blimp would have someone to pontificate to, and the cartoonist put them both in a Turkish bath "performing our ablutions or exercising, he uttering to me a blatantly self-contradictory aphorism." The series continued every Saturday until the end of the decade, when, due to the onset of war in 1939-40, a shortage of newsprint eliminated Low's page. Thereafter, he concentrated on his purely political cartoon, but Colonel Blimp showed up occasionally, and the character eventually starred in a movie, "The Life and Death of Colonel Blimp." Some who saw the movie were scandalized, outraged because of "their simple belief that, in political or social fantasy, hateful ideas must always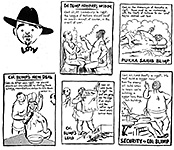 berepresented by hateful characters," so they thought Colonel Blimp was supposed to be hateful—even though he wasn't. When the film arrived in the U.S., the character had assumed another dimension altogether in publicity materials. Apparently misapprehending the type that Blimp represented, American flacks depicted him as a near cousin of Esky, the leering roue mascot of Esquire magazine, bug-eyed in admiration of whatever female leg came into his field of vision. After World War II, Low retired Colonel Blimp: he had become too closely identified with the War to fit into the new age.
<![if !supportEmptyParas]> <![endif]>
<![if !supportEmptyParas]> <![endif]>
STARBUCKS DENIES COFFEE TO MARINES IN IRAQ
A rumor on the blogosphere recently infiltrated the inner recesses of the Rancid Raves Intergalactic Wurlitzer: Starbucks, the java giant, disapproves of the Iraq hostilities and therefore wouldn't donate to U.S. Marines or anyone else associated with the Mess o' patomia any free coffee. Turns out the rumor was bunkum of the usual panicky, scandal-mongering sort. Here's what I found on the "I Hate Starbucks" website (www.ihatestarbucks.com), where you'd think the custodian would jump on the rumor and run all over creation with it, hooting with joy and pointing the fingerbone of scorn, but, instead—like a good Web citizen—he's taken great pains to establish the truth of the matter. Here goes:
Ok, here is the deal with Starbucks and Iraq. I have no interest in debate, whether pro or con via the war, the nation is divided on this, so 50/50 we are going to be arguing the same points back and forth. It is not our jobs, to make each other "get it". Ya dig? I get a lot of emails about this, so for the sake of clarity, I'll just write one page. Forgive me for not having a timeline, but this is the order of events as they unfolded. An email was sent by a Marine that said this or something similar:
<![if !supportEmptyParas]> <![endif]>
From a U.S. Marine:
Recently Marines in Iraq wrote to Starbucks because they wanted to let them know how much they liked their coffees and to request that they send some of it to the troops there. Starbucks replied, telling the Marines thank you for their support in their business, but that Starbucks does not support the war, nor anyone in it , and that they would not send the troops their brand of coffee.
So as not to offend Starbucks, we should not support them by buying any of their products. As a war vet writing to fellow patriots, I feel we should get this out in the open. I know this war might not be very popular with some folks, but that doesn't mean we don't support the boys on the ground fighting street-to-street and house-to-house for what they and I believe is right. If you feel the same as I do then pass this along, or you can discard it and no one will never know. Thanks very much for your support of me, and I know you'll all be there again when I deploy once more.
Semper Fidelis.
Sgt Howard C. Wright
1st Force Recon Co
1st Plt PLT RTO
<![if !supportEmptyParas]> <![endif]>
The email was said to have been started as a hoax, why it was started I have never been able to find out. Starbucks also sent out emails in response to the email from the Marine, saying they could not/would not/didn't even want to send coffee to the troops because it would affect their taxes. I don't have a exact copy of that one.... [He gives the gist: Starbucks said it supported the military and that the only reason coffee was not donated was because the official Starbucks donation policy authorizes such gifts only to organizations officially designated public charities under 501 ( c) (3) of the IRS Code, such as libraries and schools, and that the U.S. military or military personnel do not qualify. The company added that many of its employees, who get a pound of Starbucks coffee free every week, send their coffee allotments to members of the miliary or their families.] Ok, but what does that mean? The people that work for Starbucks are donating to the troops, that's good! But Starbucks could not donate coffee to the military because it doesn't qualify them for tax credit. So they will let their employees spend their money for our troops, but the buck stops there. There is a great explanation of what the tax code they were talking about means and why their answer is a bunch of bull. A professor of tax law has the answer at http://taxprof.typepad.com/taxprof_blog/2004/10/starbucks.html
That isn't going to stop the media spin that almost makes the rumour seem true. What can we do? Damage control! The Marine who sent the email subsequently retracted his previous email.
<![if !supportEmptyParas]> <![endif]>
Dear Readers,
Almost 5 months ago I sent an e-mail to you my faithful friends. I did a wrong thing that needs to be cleared up. I heard by word of mouth about how Starbucks said they didn't support the war and all. I was having enough of that kind of talk and didn't do my research properly like I should have. This is not true. Starbucks supports men and women in uniform. They have personally contacted me and I have been sent many copies of their company's policy on this issue. So I apologize for this quick and wrong letter that I sent out to you.
Now I ask that you all pass this email around to everyone you passed the last one to. Thank you very much for understanding about this.
Howard C. Wright
Sgt USMC
1st Force Rcon Co
1st Plt PLT RTO
<![if !supportEmptyParas]> <![endif]>
He didn't write, "P.S. or they are going to sue the crap out of me!" So at least that email they were circulating. Apparently that didn't do so well, either, so Starbucks revisited the tax attorneys and decided, well, maybe we should take a wash on the taxes in order to restore some goodwill. So here is what they did:
WASHINGTON, Nov. 9, 2004— The coffee giant Starbucks and the American Red Cross are teaming up to deliver hot java to U.S. service members serving overseas in the war against global terrorism. Starbucks Chief Executive Officer Jim Donald said during a Capitol Hill press conference today in the office of U.S. Rep. Norm Dicks that his company would provide 50,000 pounds of free, whole-bean coffee that will be brewed and distributed by Red Cross workers to troops serving in Kuwait, Afghanistan and Iraq.
Reprinted from: http://www.defenselink.mil/news/Nov2004/n11092004_2004110908.html
<![if !supportEmptyParas]> <![endif]>
So they decided to send some coffee to the troops in order to get everyone to shut up. If coffee costs them let's say for the sake of argument, $1.00 per pound, that is a $50,000 Band-Aid on a public relations nightmare. And each troop would get a little over half a pound of coffee. That's support my friends. I know that a half a pound of coffee would last me a week if I rationed it. So I could fight for a while with a latté and a machine gun. But PR nightmare averted, lipstick has been put on the bulldog.
RCH again: Of course, all this could be bunkum, too; but the initial rumor seemed too ugly to be true—exactly the sort of thing that the legions of Starbucks haters would circulate. So I harbored serious reservations about it from the start, serious enough that I checked elsewhere on the Web and found the "I Hate Starbucks" site.
To find out about Harv's books, click here.