Opus 197:
<![endif]> <![endif]>
Opus 197 (December 11, 2006). Our main feature this time is a long review and analysis of Alison Bechdel's graphic novel, Fun Home—"uncontestably," saith the London Times, "the graphic book of the year." Neel Mukherjee continues: "An unflinching, multilayered memoir of growing up in small-town Pennsylvania. ... A complex love-letter not only to her father but also to books and reading, Fun Home is luminescent with wit, lyrical prose, intelligence, honesty and emotional truth." On this side of the Atlantic, the New York Times lists Bechdel's book among its list of "100 notable books of the year." We also commit an extensive review of DC's Batman and the Spirit, which marks Darwyn Cooke's debut drawing the iconic Spirit, and examine the annual "cartoon issue" of The New Yorker, which, again this year, falls short of its inherent obligations. Here's what's here, in order, by department:
<![if !supportEmptyParas]> <![endif]>
NOUS R US
Dave Cockrum Dies; a link to obit
Steve Sack Named Berryman Cartooner of the Year
Don Trachte's Rockwell Sets a Record
Manga Again
Marvel's Movie Moves
The Secret Origins of Borat
<![if !supportEmptyParas]> <![endif]>
FUNNYBOOK FAN FARE
Batman and the Spirit
Vol. 19 of the Spirit Archive
Norton's Eisner
<![if !supportEmptyParas]> <![endif]>
COMIC STRIP WATCH
Pearls Before Swine
Opus Takes on Disney
BOOK MARQUEE
Cancer Vixen
REPRINT REVIEWS
Sherman's Lagoon
Tina's Groove
<![if !supportEmptyParas]> <![endif]>
GRAFICITY
Fun Home
<![if !supportEmptyParas]> <![endif]>
NOTES ON THANKSGIVING
Cartoon Issues
'Bye Fats, A Personal Note on the Passing of Another CBS Stalwart, Christopher Glenn
<![if !supportEmptyParas]> <![endif]>
<![if !supportEmptyParas]> <![endif]>
And our customary reminder: don't forget to activate the "Bathroom Button" by clicking on the "print friendly version" so you can print off a copy of just this lengthy installment for reading later, at your leisure while enthroned. Without further adieu—
<![if !supportEmptyParas]> <![endif]>
<![if !supportEmptyParas]> <![endif]>
NOUS R US
All the News That Gives Us Fits
Comics continue to invade the hallowed halls of museums. Rancid Raves spy Bill Crouch reports that 300 cartoons from 50 countries will be displayed in three New York City venues under the heading "Drawing It Out: First International HIV/AIDS Cartoon Exhibition; see www.ippfwhr.org. And Editor & Publisher tells us that in Long Branch, New Jersey, the Shore Institute of the Contemporary Arts is displaying "American Comics' Creators," a show focusing on the work of "more than 30 comic book and newspaper comic cartoonists" from Bil Keane (Family Circus) to Will Eisner (The Spirit), through December 23. Elsewhere, the Marine Corps Times reports that a collection of Bill Mauldin's original cartoons, including, it is implied, some of his World War II efforts, is being exhibited at the Jean Albano Gallery in Chicago through December 30. ... Comic characters are still among the popular choices for parade balloons, reports Editor & Publisher. Garfield and Snoopy were in the Macy's Thanksgiving Day parade in New York, and a For Better or For Worse -themed float cruised down the street in the Santa Claus Parade in North Bay, Ontario. ... Two graphic novels are on the list of Top Ten Spiritual Books of the Year from the Detroit Free Press: Sandman: The Absolute I by Neil Gaiman and Pride of Baghdad by Brian Vaughan and Niko Henrichon. ... The 2007 Art Festival of the Museum of Comic and Cartoon Arts in New York has been so enthusiastically applied to by exhibitors that the organizers have expanded the venue to put exhibits in the seventh floor Skylight Ballroom of the historic Puck Building, the traditional Festival site; the panel sessions that usually take place there will be moved to the MoCCA museum itself, two blocks away at 594 Broadway. The Festival is planned for the weekend of June 23-24. ... Veteran comic book artist Dave Cockrum died on Sunday, November 26 from complications due to diabetes. For an appreciation of Cockrum's role in comics, and a heartfelt eulogy from Jim Shooter, visit http://scoop.diamondgalleries.com/scoop_article.asp?ai=13938&si=124. I can't do better here.
Dynamic Forces will publish a line of Historical Retrospective Books by Stan Lee, beginning with Stan Lee's Guide to Writing Comics and Stan Lee's Guide to Drawing Comics. Lee, remembering the success of his How to Draw Comics the Marvel Way, which he produced with the considerable aid of John Buscema in 1984, is confident of a best-seller. ... David Remnick, editor of The New Yorker, has received the National Press Foundation Benjamin C. Bradlee Editor of the Year Award "for his work on a magazine that is literary journalism at its best ... a magazine that meets the ultimate test—its readers look forward to its arrival every week." True, for me anyhow. In the same competition, Steve Sack of the Minneapolis Star Tribune was named the Berryman Cartoonist of the Year for his excellence in political cartooning, a distinction Sack deserves from the Pulitzer Committee, too. ... That Norman Rockwell painting that was discovered behind a false wall in the Vermont home of Henry cartooner Don Trachte after his death sold at Sotheby's on November 29 for $15.4 million, a record auction price for the artist. The painting, "Breaking Home Ties" (the cover of the Saturday Evening Post, September 25, 1954) was voted the second most popular cover in the magazine's history; "Saying Grace," the Thanksgiving cover of November 24, 1951, was the most popular. For the Trachte tale, visit Opus 181 and 182. ... In Yemen, a newspaper editor was sentenced to a year in jail for publishing the Danish Dozen, and his paper was shut down for six months, saith BBC News. The hapless but good-intentioned editor said he had reprinted the cartoons to raise awareness not to insult Muslims. Out on bail, he's appealing the sentence. Two other Yemeni editors face similar charges.
From Editor & Publisher: The U.S. Marine Corps presented its William L. Hendricks Founders Medallion to Mutts' Patrick McDonnell for his help with the Corps' "Toys for Tots" program, founded by Hendricks. Among McDonnell's contributions, the artwork for the poster. ... Warned that Stephen Pastis' Pearls Before Swine strip would use the words "bite me" in its December 2 release, apparently only two newspapers requested a substitute strip. Maybe daily print journalism is becoming more tolerant. Or more licentious. Or clueless. Seems an advance in civilization, no matter which.
From a September issue of Time: Manga was a $180 million market in 2005. Milton Griepp, CEO of ICv2, "a pop-culture news site," said: "Books are not a growth business, but the manga category has tripled in the last three years. That gets publishers' attention." And so American publishers are dashing into the market with manga of every description, seeking, in particular, the 11-21 year-old female market, which is "huge," said Jane Friedman, CEO of one of the dashers, Harper-Collins. In a hurry to penetrate the target market, American companies are producing home-grown manga, which provokes an argument from purists who contend that true manga can be made only in Japan. At Tokyopop, the largest U.S.-owned creator and licensor of manga, CEO Stu Levy disagrees: "Manga is like hip-hop. It's a lifestyle. To say that you can't draw it because you don't have the DNA is just silly." Meanwhile, at DC Comics, plans are afoot to capitalize on the female appeal of the manga fad: in May 2007, DC will launch "Minx," a line of graphic novels aimed at young adult female readers. The six initial titles include Clubbing, a London party girl solves a mystery; Re-Gifters, a Korean-American in California enjoys martial arts; and Good as Lily, a young woman meets three versions of herself at different ages. Says DC's Karen Berger, a senior veep: "It's time we got teenage girls reading comics."
Did Avi Arad abandon Marvel for greener pastures? Probably, but why did Marvel let him go? According to that same September issue of Time (above), it was in order to make more money on its superhero motion pictures. Marvel is doing just fine, thank you: its stock has jumped from $1 a share in 2000 to $20, but while its movies are piling up boodle, Marvel isn't going to the bank as often as we might imagine. Ron Perelman, remember, "pillaged Marvel for cash" and sold off much of the company's intellectual property. "Because Spider-Man's theatrical rights had been sold to Sony, Marvel received just 5% of the $400 million U.S. box office" from the first Spider-Man movie. "If we wanted to control our own destiny [that is, collect the revenue that's rightfully ours], we'd have to make our own movies," said Michael Helfant, president of Marvel Studios. Marvel's risk-averse board managed to steer clear of the biggest risk by borrowing a $525 million nest egg to make ten films by 2012. Letting Arad go was another expense-saving maneuver: "Avi's contract was up in November," Marvel CEO Peter Cuneo said, "and Marvel couldn't afford the compensation he can demand. So we thought we'd let him leave on our own terms." One of those terms is "that Arad will be involved in at least the first three Marvel movies." Some see Arad's departure as a sure sign that Marvel will soon change hands again.
The operative mechanism in the movie "Borat" may have its roots in its star's dissertation at Cambridge University, according to Brendan O'Neill in The Christian Science Monitor, November 21. The dissertation's ostensible subject is the alleged alliance between Jews and African Americans in the U.S. in the 1960s, a time of civil rights activism. While the claim of an alliance is exaggerated, Sacha Baron Cohen argues, Jews' own history of suffering "played a vital role in predisposing them to identify with oppressed Blacks." Cohen, a devout Jew who keeps kosher and observes the Sabbath, notes that Jews may have taken up the Black struggle because of a Jewish ethic to "know the stranger," to defend those cast out. Says O'Neill: Cohen "quotes the Passover command 'Know the stranger, for thou wert strangers in Egypt,' and cites Jewish activists who believe you can judge a man by the way he treats those who are 'strange.' Baron Cohen pretty much has turned this ancient Jewish ethic into a guerrilla comedy tactic designed to expose prejudice. His characters are archetypal 'strangers': the weirdly foreign Borat,, the self-ghettoized Ali G, the over-the-top gay Bruno. And their aim is to provoke reactions to their strangeness. The 'good guys' are generally tolerant ... and the bad buys get hot under the collar. ..." Thus, "Borat the anti-Semite may be built on firmly Jewish ethical foundations."
Our esteemed webmaster, Jeremy Lambros, produces two comics. One, an erstwhile half-page strip in the digest 'zine Disney Adventures, has been bumped up to four pages in the magazine's quarterly version, Comic Zone. Entitled Level Up, it features an ensemble of young gamers and their vicarious (and sometimes actual, right there on the couch) adventures. The other Lambros enterprise is Domestic Abuse, a single panel cartoon about the attitudes and exploits of common kitchen implements and household condiments, which can be found at www.GoComics.com, Universal Press's latest online manifestation. Click first on "Comics" for a complete list, then scroll down the list to the D's. (Yes, you'll see Rants & Raves in the vicinity, too, a version of the Intergalactic Rancid Raves Wurlitzer torn from the mother lode here at RCHarvey.com, where only you, a $ubscriber/Associate, can enjoy the Full Treatment. But, as you might say, we're branching outwards.)
<![if !supportEmptyParas]> <![endif]>
Fascinating Footnote. Much of the news retailed in this segment is culled from articles eventually indexed at http://www.rpi.edu/~bulloj/comxbib.html, the Comics Research Bibliography, maintained by Michael Rhode and John Bullough, which covers comic books, comic strips, animation, caricature, cartoons, bandes dessinees and related topics. It also provides links to numerous other sites that delve deeply into cartooning topics. Three other sites laden with cartooning news and lore are Mark Evanier's www.povonline.com, Alan Gardner's www.DailyCartoonist.com, and Tom Spurgeon's www.comicsreporter.com. And then there's Mike Rhode's ComicsDC blog, http://www.comicsdc.blogspot.com
<![if !supportEmptyParas]> <![endif]>
Further Ado
A baby, Ronald Knox has said, is "a loud noise at one end and no sense of responsibility at the other."
And Dr. Samuel Johnson, a tortured moralist who also made the first great dictionary of the English language, said that people more often need to be reminded than informed.
We're lucky to live in an age when such bon mots still seem applicable.
<![if !supportEmptyParas]> <![endif]>
EDITOONERY
At several newspapers recently, editors have solicited political cartoons from their readers. "Readers as cartoonists? Why not?" asks Dennis Ryerson of the Indianapolis Star. To hear him tell it, the scheme is merely an extension of letters-to-the-editor. "We welcome the views of others," he writes. "Editorial cartoonists do play a special role in engaging readers. Their visual impact and quick point of view combine to make a powerful statement." That's nice to hear, of course. But, says one editoonist lately laid off in a tightening budget move: "It's kinda like just anyone off the street can do what any editorial cartoonist can do," and it looks suspiciously like "an attempt to get free content, no matter how shitty it looks." At the Indy Star, staff editoonist Gary Varvel is still employed, but he's taken on the additional task of "coordinating the reader-cartoon initiative." A little like signing your own death warrant, sounds like.
<![if !supportEmptyParas]> <![endif]>
FUNNYBOOK FAN FARE
The Spirit of Eisner, Loeb and Cooke
Batman and the Spirit is an old fashioned romp, a giddy union and re-union of too many characters to make much of a story, but, defying the odds, turns out just fine. The one-shot comic book from DC is intended, probably, to kick off the latest reincarnation of Will Eisner's legendary character—due momentarily—which is both written and drawn by Darwyn Cooke. Here in the preamble, Cooke draws a tale written by Jeph Loeb. Someone at DC doubtless thought having Batman meet the Spirit would be a good way to bring Eisner's classic creation into the current DC milieu. On the face of it, the notion seems not only intriguing but workable: Batman and the Spirit are both masked vigilantes who often work closely with the city's police commissioner, and they're both somewhat noirish, an ambiance evoked with lots of black ink, bottles of it, soaking the paper in dark and shadowy night. They seem to belong together. They don't, of course: Batman is a serious pathological crusader, and the Spirit has his tongue in his cheek more often than not. But Loeb gets them to work together just this once, mustering a menagerie of menace for the occasion.
The McGuffin is a policeman's convention in Hawaii to which both Batman's James Gordon and the Spirit's Eustace P. Dolan are invited. When the criminal element hears that a great quantity of the nation's policemen will be assembled, like sitting ducks, in a distant resort, they all get together, inspired by the Octopus, the faceless nemesis of the Spirit, to blow up the entire establishment. The Spirit and Batman, separately, wonder why all the bad guys have disappeared from Central City and Gotham and pretty soon realize that a dastardly plot is afoot; they both go to Hawaii. In Hawaii, Commissioner Gordon is seduced by P'Gell, the notorious femme fatale in the Spirit's adventures, and Dolan falls under the spell of Poison Ivy from the Batman oeuvre. Meanwhile, a gaggle of Batman and Spirit villains have assembled—Croc, Catwoman, the Riddler, Cossack, Carrion—and Batman and the Spirit set out to discover exactly what the evil doers are plotting. They first encounter each other whilst lurking in a darkened place, and since each thinks the other is a bad guy, a fist fight ensues. Drenched in black, this is a memorable sequence: each panel is like a momentary flash of light during which we see a fragment of the fight—a swinging fist, a foot, a flapping cape, an eyeball through a mask's eye aperture. Unbeknownst to the entire ensemble, the Joker and Harley Quin arrive in Hawaii with a plot of their own. The roster of baddies is now complete. Batman and the Spirit vanquish their foes, of course, and the adventure ends with a chuckle for literary scholars when Superman shows up as the classic deus ex machina.
The story eventually devolves into a dizzying charade of characters shedding masks and revealing identities—the Joker goes to the banquet with a Commissioner Gordon latex face mask, and the Spirit wears the Batman's cape and cowl. Any plot that embraces all these personages and still carries a story is bound to be a convoluted complexity, more contrivance than drama, and this one is every bit of that. Loeb, clearly enjoying himself, heaps on even more incident and event. Gordon and Dolan dally with P'Gell and Ivy, and the Catwoman tempts the Spirit. When the Spirit jumps into a taxi, he comments that it's a nice car and he has a friend back in Central City who'd appreciate it—an allusion to Ebony White, who debuted in Eisner's feature as a cab driver, a fact long lost, I suspect, but relished as Loeb reminds us. Loeb also insinuates the best running gag in the tale when, upon meeting Batman, the Spirit says: "C'mon—Batman isn't real. It's just something the Gotham City P.D. made up to scare crooks."At the end, as Superman flies off bearing an entire yacht of crooks, the Spirit says: "Now, there's something you don't see every day," and, turning to Batman, he continues, "—and now I'm supposed to believe there really is a Batman?"
Twice Loeb and Cooke exploit the duality inherent in the pairing of two heroes by unfolding events in a vertical stack of parallel panels in which similar events are shown taking place simultaneously in the Batman continuity and in the Spirit continuity. Cooke's treatment of Eisner's iconic character is not much like Eisner's. The Spirit's mask doesn't look quite as pasted on as it does with Eisner's rendering, but Cooke comes as close as he can with his manner of drawing. I miss the feathering and trap-shadow shading that distinguished Eisner's drawing style, but I never expected to find it with Cooke. I expected Cooke, and that's what we have here. We're accustomed to the animated style in Batman titles, but it's still a hurdle to leap with the Spirit. Cooke's crisp rendering with a bold, flexing line was never intended to duplicate the appearance of the original, but he nonetheless evokes it by laying in solid blacks, creating his own version of the noir atmosphere in Eisner's tales.
The opening sequence is particularly delicious. On the first page, Dolan and Gordon frame the tale that will follow by reminiscing about the time Batman and the Spirit met, and their conversation takes place in the Kipling Club's cavernous livingroom, its architectural features etched in black shadows. The two stand before a roaring fireplace, and their faces are shadowed and highlighted in the best Eisner manner. Then comes the best nostalgic gag in the book. The scene shifts to the waterfront where the Spirit is closing in on some of the ungodly. As he prances across the giant letters of a warehouse name plate, Pier Sixteen, the bad guys let loose a fusillade so intense that it knocks down the name plate and unhorses the Spirit. Turning from that to a full-page illustration, we see the Spirit falling through the air, surrounded by some of the letters dislodged from the Pier Sixteen sign—the letters S, P, I, R, I, and T. Eisner would love it.
Next month, we'll see the first Cooke solo on the Spirit as that new DC title launches. The old Spirit, the Archive volumes, continue to be issued regularly. We're now up to Volume 19, July 3 - December 25, 1949. By this time, Eisner had come to realize that Ebony White, his stereotypical caricature of an African American, was not just comic relief: he was also crude racism. Eisner began to phase Ebony out of the stories, introducing a white kid, Sammy, whose bulging cheeks gave him a physiognomy similar to that of Ebony with his giant pink lips. Ebony makes his last appearance in the story dated September 18, 1949; he disappears quietly between the first page and the last, without fanfare or farewell. The Spirit continues to run into a catalogue of femme fatales with picturesque names—Autumn Mews, Vino Red, Lilly Lotus, Flaxen, Cider Sue, and, for Hallowe'en, a wizened old crone, a witch named Hazel P. Macbeth, who is running for Miss Rhinemaiden of 1950 (an allusion to the Miss Rhinegold contest staged annually by a beer brewer in New York). More and more, Eisner's stories focus on characters other than his hero; the storyteller, chafing at the limitations of crime fiction, explores the literary potential of his medium with O. Henryesque stories. In some stories, the Spirit scarcely appears. In "Ten Minutes," Eisner tailors a story to the time it takes to read it: in the last 10 minutes of his life, a petty hoodlum commits a robbery during which he unintentionally kills his victim, but before the end of the tale, the hoodlum is dead, too. The Spirit appears but the crook's demise isn't his doing: the presence of the masked man, however, forces the hood to act without thinking, and that results in his death. The Spirit volumes continue to be the best in DC's archival series. Two things distinguish them: first, they're printed on off-white, mat-finish paper, so the pages don't glare, and the colors seem somewhat muted compared to the garishness of most comic book reprint tomes; second, the artwork is probably shot from Eisner's originals, so all the fineline feathering is reproduced exactly, without the clotting that sometimes results when reconstructing the art of Theakstonized old comic book pages.
<![if !supportEmptyParas]> <![endif]>
The Other Eisner. W.W. Norton, the uptown house that published in 2005 Will Eisner's last graphic novel, the polemic The Plot: The Secret Story of the Protocols of the Elders of Zion, is continuing its program to fulfil the last wishes of the legendary cartoonist in re-issuing all fourteen graphic novels in the Eisner Library, as it had arranged to do before Eisner's death in January 2005. The first to be published (in November 2005) was the hardcover A Contract with God Trilogy, which collected A Contract with God, Eisner's first graphic novel, and A Life Force and Dropsie Avenue. For this volume, Eisner supplied more than 20 additional illustrations plus a new introduction in which he tells how the death of his daughter inspired Contract. Next came Will Eisner's New York, which included a chronological quartet, New York: The Big City (1981), The Building (1987), City People Notebook (1989), and Invisible People (200). This volume, another hardcover, just out, includes six new illustrations, "the last images he ever drew," according to Robert Weil, the publisher—inked by Peter Populaski. These are some of the most poignant of Eisner's tales of New York, "a valentine to the Big City," as Neil Gaiman says in the introduction—a vivid demonstration of the dramatic potential of the arts of cartooning, I say. And the artwork, which I've seen only in the pre-publication bound galleys, is lovingly reproduced, no idle matter because the first section consists of drawings to which Eisner applied a delicate wash, creating a combination that often does not survive reproduction. Here, it does very well. According to PW Comics Week online, Norton will be re-issuing all the graphic novels in paperback, one every fall. And in the fall of 2008, the publisher plans to bring out Eisner's three instructional books: the "classic" Comics and Sequential Art will be retitled Will Eisner's Comics and Sequential Art, and Graphic Storytelling and Visual Narrative will appear as Will Eisner's Graphic Storytelling. Both will employ a second color. Finally, Norton will produce Eisner's final work, the unpublished Will Eisner's Expressive Anatomy. Eisner had completed the pencils; Poplaski will ink them. The plan is to have copies of the instructional titles in time for the 2008 San Diego Comic-Con.
<![if !supportEmptyParas]> <![endif]>
CIVILIZATION'S LAST OUTPOST
One of a kind beats everything. —Dennis Miller adv.
Tom DeLay is probably embarrassed. His House district in Texas turned blue. Democrat Nick Lampson, who had been one of the Hammer's "re-districting" victims in 2004, moved into DeLay's district and took his seat in November's election.
<![if !supportEmptyParas]> <![endif]>
<![if !supportEmptyParas]> <![endif]>
TWO CENTS WORTH
The penny started carrying Abraham Lincoln's image in 1909 to celebrate the 100th anniversary of his birth. This was the first U.S. circulating coin to bear a president's face. Until then, starting in 1859, the penny was embossed with an Indian head. Lincoln's likeness was sculpted by victor D. Brenner, and if you have better eyes than I, you can find his initials at the bottom of Lincoln's right shoulder. On the reverse side is the Lincoln Memorial, and if you look close (with the same magnifying glass you just used on Lincoln's shoulder), you can see between the two center columns the famed statue of the seated Civil War president.
<![if !supportEmptyParas]> <![endif]>
COMIC STRIP WATCH
Stephen Pastis is still at it. On November 22 in Pearls before Swine, his alter ego personage is bemoaning the success among readers of Brian Crane's Pickles strip, so Pig and Rat dress up like Earl and Opal. "I lost my glasses, Opal," says Pig/Earl, who is wearing his glasses. "Check your face, Earl," says Rat/Opal.
In Opus on November 19, Berke Breathed started playing word games—anagrams, to be exact. "Tom Cruise" became "So, I'm cuter." Ronald Reagan, a darn long era. Salman Rushdie, read, shun Islam. By December 3, the Anagrammer was up to "God" morphed anagrammatically into "dog." Then he wanted to go for "the Prophet Mohammed," but Opus quaked in fear: "No," he shrieked, "newspapers won't show that anagram!" But the Anagrammer insisted. "Whisper it," Opus whimpered. But in the next panel, Breathed avoids disaster: whatever the anagram of "the Prophet Mohammed" may be, he obscured it with a crimson scribble. Having dodged one bullet, he then lined up for another one. Opus turns to us and says: "Folks, as always, send your comments and complaints directly to my cartoonist," and he points to the signature below: Walt Disney, a perfect mimic of the famed signature. Muslims probably won't riot in the streets over that, but what about the Mouse House minions?
<![if !supportEmptyParas]> <![endif]>
<![if !supportEmptyParas]> <![endif]>
BOOK MARQUEE
The back cover of the book asks a question: "What happens when a shoe-crazy, lipstick-obsessed, wine-swilling, pasta-slurping, fashion-fanatic, single-forever, about-to-get-married big-city girl cartoonist (me, Marisa Acocella) with a fabulous life finds ... A LUMP IN HER BREAST?" One of the things that happened in this case is a colorful graphic memoir entitled Cancer Vixen. Another thing that happened in this case is exuberant cartooning the way exuberant cartooning should be. Suffused with wit both visual and verbal, the book is a roller coaster read of emotional highs and lows, joy and anger illuminated on every page by Acocella's simplest line art. (She has other styles.) She uses visual symbols like an editorial cartoonist—also diagrams and charts—to take us, step by step, day by day, through the ordeal of initial suspicion about the lump, then examination, ascertainment, and treatment of all sorts. The book is informative in copious detail, explaining every aspect of her disease and its treatment—with visual aids, naturally. Acocella satisfies her curiosity, and ours, about breast cancer, but in addition to being curious, she's a cartoonist and thinks like one—in visual-verbal terms—as is evident on every page. She deploys narrative breakdown and page layout as deftly as she wields her pen, adroitly blending word and picture for comedic purposes as well as educational ones. And there's personal drama as well as hilarity: will her fiancé desert her now that she's "damaged goods"? It's great cartooning. Along the way, we get generous glimpses of her professional life as a cartoonist and her love life; she is on the cusp of marrying for the first time at the age of 43 to celebrity restaurateur Silvano Marchetto, and by the end of the book, that's been accomplished, so her byline on the book acknowledges it: Marisa Acocella Marchetto, "right now, cancer-free," she says, "—thankfully."
<![if !supportEmptyParas]> <![endif]>
<![if !supportEmptyParas]> <![endif]>
QUIPS & QUOTES
From Gore Vidal:
"It is not enough to succeed. Others must fail."
"There is not one human problem which could not be solved if people would simply do as I advise."
"A narcissist is someone better looking than you are."
"Never have children; only grandchildren."
<![if !supportEmptyParas]> <![endif]>
<![if !supportEmptyParas]> <![endif]>
REPRINT REVIEWS
The eleventh compilation of Jim Toomey's Sherman's Lagoon is among us. That means there've been ten previous successful compilations. The apparent popularity is not easy to explain. Sherman is a shark, and the appeal of a comic strip about a carnivorous fish is not patently obvious. The attraction does not lie in visual flamboyance: Toomey's drawing style is assured and more than adequate but without any flourishes at all, and cartoon pictures of sharks, large fish, are scarcely artistic challenges. All face and fin and tail. That's it. In Sherman's case, it's all nose and tail. The graphic achievement is not inherently impressive. The rendering of one of the supporting cast, a hermit crab named Hawthorne, is a little more complex, but, again, drawing crab anatomy, however confidently, doesn't represent the accomplishment of, say, the 100th view of Mt. Fuji. No, it isn't the pictures that attract Sherman's Lagoon readership. It's the humor, and the hilarity is amply displayed in this tome, Planet of the Hairless Beach Apes (128 8x9-inch pages in w/w; paperback, $10.95), a "hairless beach ape" being the sea-dwelling characters term for human beings.
There are few humans in the strip. They appear mostly just before Sherman eats them. Sherman has a rapacious appetite and will eat anything, a tendency responsible for many jokes in the strip. In this collection, a flock of sheep is marooned on the island, and Sherman starts eating them. His wife, Megan, finds a cookbook written by a Buddhist vegetarian and a meat-eating hunter-rancher and reads some of it to Sherman: "Lambs are intelligent, sensitive creatures that form complex communities," she reads, "you can bake 'em, broil 'em, skewer 'em, boil 'em and chop 'em up into sausages." Sherman says: "Does the whole book read like that?" The comedy here arises in part from Sherman's sharkness but also from Toomey's swipe at the unlikely collaboration between vegetarians and meat-eaters. And it's this combination that gives the strip its unique appeal—a vision of the human sapien as seen from the animal perspective. Or, rather, the fishy perspective.
Sherman eats nothing but sheep for several days, and, giving substance to the old expression "you are what you eat," he begins to sprout wool and to bleat. He even seems to aspire to change species. His friend Fillmore the sea turtle tries to talk him out of his fascination with sheep. "They are not you," he says; "this is not your tribe. You're a fish. See that sheep on the left," he continues, pointing off-panel; "ask yourself—could you date her?" Sherman says: "The cute one? Sure." Which proves, I suppose—assuming that it needs proving, which I doubt—that we'll be attracted to anything that's cute, regardless of species.
Toomey feels a shark's reputation is not entirely deserved. "Sharks have an image of being tough and ferocious," he told Theresa Winslow at the Annapolis Capital, "but they are in fact delicate and endangered. Sharks are unique and streamlined and beautiful and efficient, and I like that as an artist and an engineer."
Toomey comes from a family of engineers, and he has an engineering degree, but he turned to cartooning after trying a couple of jobs as production manager for museum exhibit companies. When mulling over a subject for a comic strip, he remembered seeing a shark sunning itself in a lagoon when he was a kid. A strip about a shark combined all the things Toomey liked: drawing, the ocean, and humor with a sense of environmentalism. He self-syndicated the strip at first, running in about 15 newspapers; now syndicated by King Features, Sherman's Lagoon appears in about 220 newspapers.
The main characters are named after streets in San Francisco, where Toomey used to live. He now lives in Annapolis, and his wife, Valerie, runs a children's clothing and toy shop downtown. Her favorite sequences involve Sherman trying to figure out his wife, which, she believes, capture some of the fine points about relationships. "It's true," Mrs. Toomey says, "whether it's fish or people."
"For me," says Toomey, "the characters are different facets of my brain. Sherman is the impetuous side; Fillmore, the intellectual side; Hawthorne, the cranky side; Megan, the feminist side."
And all of his sides encounter in the strip the various phenomena of life on land as experienced by all of us. Sherman gets a computer and has trouble, so he phones tech support, which results in the usual run-around. He finally gets "Greg," who asks what his problem is. "It's my e-mail," says Sherman; "I'm not receive any. Haven't for days." Says Greg, with the usual tech support helpfulness: "Have you considered that maybe you don't have any friends?" Says Sherman: "Listen Greg, I'm capable of biting you in half." Says Greg: "Sir, this is tech support. I hear scarier threats from my mom."
Sherman aspires to better himself and starts reading a book. Fillmore is astonished, but Sherman responds with aplomb: "The new sophisticated Sherman happens to love literature," he smirks." "He does, eh?" says Fillmore. "Yeah," says Sherman; "one thought though—with no commercials, how do you know when to potty?" Fillmore, to himself: "Rookies."
Sherman scoffs at his son playing with a doll, but Megan defends the practice: "This is a guy doll," she says; "fathers are using guy dolls to help pass on manly traits to their sons. It's a new age parenting thing. Look," she continues,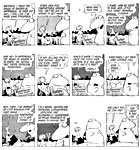 "—he burps, he scratches, he swings a hammer, he even ignores instructions." "Whoa! Stop!" says Sherman.
Fillmore the sea turtle, talking to Hawthorne the hermit crab, says: "Now hybrid cars are all the rage. Turtles are the original hybrids, you know." Oh, really?" says Hawthorne. "See that shell on my back?" says Fillmore; "wherever I go, I'm always home. Now that's a hybrid." Hawthorne disagrees: "That sounds more trailer park than hybrid," he says. Says Fillmore: "We're sticking with hybrid."
<![if !supportEmptyParas]> <![endif]>
The First Tina. Tina is one of those comic strip characters with a tiny, tiny body and a big head. This character design went out of style just before World War II, but it's coming back in fashion because newspaper comic strips these days are being printed so small that there's no room for the drawing after the speech balloons are lettered. Tiny-body characters leave more room for speech balloons; and the large heads are perfect for putting large faces on, faces large enough to register emotions appropriate to the jokes being perpetrated. The advantages of this character design became apparent in the tsunami success of Peanuts. In addition to a large head, Tina has a hair-do that appears to end in a matched pair of buns, if that's the right technical term for the bunches of hair that women wad up into a ball against the backs of their heads. Tina is the title character in Tina's Groove, a strip always signed "Piccolo," one of the creating cartoonist's names. The other name is "Rina," which suggests, correctly, that the cartoonist is female. She is also, as it happens, of somewhat petite stature, but that has nothing to do withTina's size. Tina is a young unmarried woman working as a waitress in a diner, another relic of a bygone age but lively enough here. A comic strip about a youngsingle working woman created by another young woman (who was, whenthe strip started, also single) seems deliberately contrived by a syndicatemarketing department to take advantage of the demographic-pleasing impulses that inspire newspaper editors everywhere. One might suppose that Tina's Groove is a second Cathy. And I suppose some of the more than 100 subscribing newspapers signed up for the strip for exactly that reason. It's accurate to say that Tina's Groove reflects a female sensibility, but it's also funny. And it's rendered with a brush, which gives the linework a visual interest entirely lacking in such endeavors as Cathybert.
Here is a sampling of the comedy from the first collection of the strips,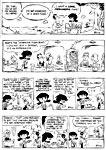 Tina's Groove (128 8x9-inch b/w pages; paperback, $10.95). Tina's friend Suzanne convinces her to phone a guy named Eduardo whom Tina just met. Tina thinks Eduardo is "a little bit too 'out there'" for her, but Suzanne says he's popular and maybe just "hasn't found that special someone yet." "You're right," says Tina, "I'll call him." And she does and hears this on the phone: "Hi! You've reached Eduardo. For lunch or dinner date availability, press one. For drinks, press two. To inquire about a recent breakup, press three..."
Tina's search for romance is often frustrating. At a nice patio restaurant, her escort takes her hand and says, "Oh, Tina—I knew from the moment I met you that I wanted to spend the rest of my weekends with you."
Other members of the cast are also sources of comedy. Suzanne displays an inexorable logic explaining to Tina why getting her credit card stolen is actually a good thing: "The person who stole the card is spending less with it than I normally spend. I'm saving a bundle!" she says. Tina's waitress friend Monica decides that it's true "that time heals all wounds." She explains: "Last week, I was terribly hurt by this letter from my boyfriend, and today, the paper cut is healed." Women's fashions sometimes inspire a jaundiced reaction. At a boutique, Tina inspects a dress with a high neckline and a low hemline and says, "I believe I've just discovered the antidote for viagra." Encountering a display of garments called "granny panties," Tina decides that lingerie designers must be "thinking globally" because the unattractive underwear is an obvious "attempt to decrease the population growth."
Life in a quick-order diner also inspires comedy. Here, for instance, is an unkempt, bearded, hairy man who complains to Tina that "there's a hair in my salad." Or the man who explains to Tina about the tape on his wife's mouth: "It's the Dieter's Patch—you wear it before meals to reduce food intake." At the Take Out counter, Tina cheerfully says to a hippie-looking woman: "It's the last slice of key lime pie, and it has your name on it." The hippie stares at the pie for a panel and then says, "Man, I must be on some kind of weird mailing list." One week is devoted to a series entitled The New Girl Won't Last. The new waitress tells a lady customer: "I highly recommend the white wine ... because it won't stain as bad if I spill it on you." The customer apparently left in a huff because in the next panel, Tina is saying to the new girl: "Your resume says you have experience serving wine." "Did I mention," says the new girl, "it was a bad experience?"
Outright word play tickles the risibles, too. Suzanne, flustered, yells at her boss at the diner: "Rob—don't talk to me when I'm at my wits' end!" Rob thinks it over for a moment, and then turns to Tina and says: "Is Suzanne ever at her wits' beginning?" That's funny enough in itself, but Piccolo adds another chuckle with Tina's response: "It's a very narrow window of opportunity." Suzanne regularly meditates of an evening, and once she tells Tina, "Last night, I suddenly saw the light." "What was it like?" Tina wants to know. "There was way too much magenta in it," says Suzanne. Another time: "I spent the weekend organizing my personal files so I can have a semblance or order around here," Tina tells Suzanne, "—the whole weekend just for a semblance of order. Imagine how long it would take if I aimed for real order."
Not much in Tina's Groove about the annual spring search for a figure-flattering swimsuit when your figure is larger than the suit. No Cathy formula jokes at all. Just good comedy.
OLD RISQUE JOKES FROM THE PRAIRIE HOME COMPANION MOVIE
"I think my wife died."
"Why do you think that?"
"Well, the sex is the same but the dishes in the sink are stacking up."
Second Joke:
"What'd the elephant say to the naked man?"
"Dunno. What?"
"It's cute, but can you really breathe through that thing?"
The Kind We Love Here at the Intergalactic Rancid Raves Wurlitzer (but not from the Prairie Home Companion Movie):
Evidence has been found that William Tell and his family were avid bowlers. However, all the league records were unfortunately destroyed in a fire. So, we'll never know for whom the Tells bowled.
One more:
A man rushed into the doctor's office and shouted: "Doctor! Doctor! I think I'm shrinking!"
The doctor calmly responded: "Now, now—settle down and wait your turn. You'll just have to be a little patient."
Okay, I lied; here's another:
A nurse stood by quietly while the doctor yelled, "Typhoid! Tetanus! Measles!" A new nurse observing all this, asked: "Why is he doing that?" The other nurse replied, "Oh, he just likes to call the shots around here."
<![if !supportEmptyParas]> <![endif]>
<![if !supportEmptyParas]> <![endif]>
GRAFICITY
Fun Home
It's no good extolling Alison Bechdel's Fun Home as a literary achievement without taking into account the role of pictures in this graphic memoir. The maturity of comics as literature is evident, first, in the book's narrative technique. Bechdel the cartoonist's autobiographical recollections of her childhood and youth as Alison, the daughter/narrator, do not form a chronology: instead, they cluster thematically in chapters that examine her father's role in the family and his daughter's discovery of her homosexuality. In successive chapters, Bechdel returns, again and again, to pivotal events, each time exploring various memories that resonate from aspects of each of them. Her protagonist is her father, a highschool teacher of English and, part-time, the small town's only undertaker, who spends his spare hours meticulously restoring the family's 1867 Gothic-revival home, working in the garden, or reading great works of literature. Alison's mother, also an English teacher, working on her master's degree and acting in community theater, is, compared to her father, a blank; her two siblings, likewise. We learn about the father's obsessive perfectionism in restoring the house in the book's opening pages, and Alison also tells us, off-handedly, that he killed himself and that he had sex with teenage boys.
When she returns to his alleged suicide, we learn that his death may have been accidental: he jumped, backwards, into the path of an oncoming truck and was killed. About his homosexual adventures, however, there is little doubt. He was a closeted gay all his life, but his wife knew, and she tells Alison soon after Alison discovers her own sexual orientation as a lesbian, which she does when she goes away to college. There, like any dedicated book lover—she is, after all, her father's daughter—she learns about lesbianism by reading about it first rather than by experiencing it with someone. When she tells her parents, they react like the two somewhat liberal intellectuals they are: the mother, without overtly condemning her daughter's waywardness, hopes she is mistaken; her father, his own orientation still a secret from the daughter, announces his belief that everyone should experiment. "It's healthy," he says. Almost immediately thereafter, her mother tells Alison of her father's predilection. Upon subsequent revisitings of these events, we learn that her mother started divorce proceedings soon after learning of her daughter's homosexuality, and then, just two weeks later, her father is killed by the truck.
As Alison circles again and again the key events in her life, she comes closer and closer to the preoccupation that compels her as a person and motivates her art—her desire for a closer relationship to her father, who, as she establishes very early, was distant emotionally, seldom, if ever, displaying affection for his wife or children. When she learns of his homosexuality soon after acknowledging her own, she hopes the coincidence will establish a rapprochement otherwise missing in their relationship. Instead, he dies. Alison assumes a cause-and-effect relationship from a sequential one: in her imagination, her revelation seems to have caused his death.
In the first scene of the book, Alison propounds a mythic kinship with her father, evoking Daedalus and his son, the doomed Icarus, who flew too close to the sun, which melts the artificial wings his father had devised for him and sends him plummeting from the sky. Her father, Alison says, embroidering the allusion, was a master artificer, "a Daedalus of decor" in his restoring passion. But, she goes on, ominously at this early stage in the book, "in our particular re-enactment of this mythic relationship, it was not me but my father who was to plummet from the sky." The book is laced with other literary allusions—to Henry James, F. Scott Fitzgerald, Shakespeare, Proust. Given her father's involvement with literature, the maneuver lends the narrative an appropriate ambiance. Long before the end of the book, we know her father's favorite novel is Ulysses, James Joyce's portrait of a complete man. "Ulysses," Joyce told the artist and critic Frank Budgen, "is son to Laertes, but he is father to Telemachus, husband to Penelope, lover of Calypso, companion in arms of the Greek warriors around Troy, and King of Ithaca." In his famed novel, Joyce intended to show "the complete man," man in all his roles, "from all sides." And in Joyce's enterprise, Daedalus again appears, this time as a young man, Stephen Dedalus—a son—whose odyssey results in his finding a spiritual father in the novel's Ulysses, Leopold Bloom, the cuckolded husband of the affirmative Molly, earth mother of us all. Fun Home moves from the mythic to the spiritual, but the flywheel of its dynamic is Alison's search for something real, a tangible relationship with her father.
The strongest thematic current in the book is the deceptive spell of appearances. The name of the book is the first clue: "fun home" is the Bechdel children's mocking shorthand for their father's "funeral home"occupation. The label that cartoonist Bechdel puts on the cover for us to see, the "fun home," is not the reality she shows us inside, which is scarcely fun. Moreover, the painstakingly restored house the family lives in "is not a real home at all but the simulacrum of one, a museum"; and the family, "a sham." In the father's passion for restoration, Alison sees telltale evidence that her father was "morally suspect" and had "a dark secret," saying: "He used his skillful artifice not to make things but to make things appear to be what they were not." This caption runs over a page-wide panel showing her father taking a photograph of his family, an idyllic tableau followed immediately by another, captioned: "He appeared to be an ideal husband and father, for example, but would an ideal husband and father have sex with teenage boys?" The mother's passion for the theater, for play-acting, is another manifestation of the artifice of appearance. And in real life, she plays a dutiful and loving wife even though she knows her husband prefers sex with other males. The father's death is another deceiving appearance: he seems to have been killed accidentally, but his daughter thinks it was suicide. Finally, the father's homosexuality is the central deception in the book: he appears to be what he is not, "an ideal husband and father." By this route, homosexuality itself acquires a cloak of deception: homosexuality is the reality contradicted by appearances. Gay people are not the sexual personalities their apparent genders announce to the world.
Alison's search for rapprochement with her father thus becomes a metaphor for her search for peace of mind about her own sexual preferences. She needs from him some sort of sign of approval or acceptance. The closest she comes is a conversation the two of them have in the car on the way to a movie one night a few weeks before he was killed. "When I was little," her father says, rather emotionlessly, "I really wanted to be a girl. I'd dress up in girls' clothes." And Alison says: "I wanted to be a boy! I dressed in boys' clothes." Pause. Then the telltale appeal for recognition: "Remember?" This barren but revealing exchange is not, alas, "the sobbing, joyous reunion of Odysseus and Telemachus," Alison notes wryly in captions accompanying the visualization of the episode. "It was more like fatherless Stephen and soulless Bloom having their equivocal late-night cocoa at 7 Eccles Street. But which of us was the father?" she continues. "I had felt distinctly parental listening to his shamefaced recitation."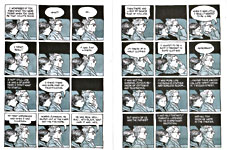 And here, the function of Bechdel's pictures is crucial. The conversation is depicted in two facing pages, twelve panels of uniform composition on each page: we look into the car from the window on the passenger side, Alison in the foreground, and her father beyond her at the wheel of the car. The night outside is evoked with a black background hovering around the images of the father and his daughter. The monotony of the layout emphasizes the emotionlessness of their exchange. Alison's thoughts appear in white letters against the black. Her father's facial expression and his posture never change, suggesting the absence of emotion in his remarks. Alison, in contrast, gestures and looks around, her eyes, opening wide or squinting, accenting her comments and registering her reactions to what her father says.
In the best works of the cartoonist's art, pictures blend with the words to create a meaning neither achieves alone without the other. In that idyllic family tableau that Bechdel shows her father photographing, the picture shows us one thing—the ideal; the words announce the fraud. The picture without the words sustains the illusion; the words without the picture say nothing about the Bechdel family being the "sham." Together, the picture and the words create the reality of the family as Alison understands it.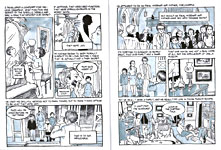 Bechdel's blend of the visual and the verbal here achieves yet another dimension in thematic depth: she shows us a photograph being taken, and a photograph is another "appearance."
Bechdel's attention to visual details gives endless nuance to her tale, usually a humorous embellishment. In the picture of her family at church, notice that her father is eyeing the choir boys as they pass—just as the accompanying caption reveals his sexual interest in them. Alison, standing next to her father, also looks at the boys, but not with the same interest. She seems bored, an emotion suggested by the depiction of her brother next to her: he is clearly nearly overcome with ennui, his eyes closed as if asleep, and his posture is the mirror image of Alison's. The visual details in the backgrounds of Bechdel's pictures usually reward our attention with the quiet hilarities of the human comedy.
The information conveyed by the visuals is not always subtle. In the book's most outrageous blend of word and picture, Alison records an early lesbian love-making with captions that evoke Odysseus in tandem with pictures that give the verbiage a musky double entendre that is altogether missing in either words or pictures independent of each other. "In true heroic fashion," she writes, "I moved toward the thing I feared"; the picture shows her face hovering over her lover's naked crotch. The verbal paean continues: "Yet while Odysseus schemed desperately to escape Polyphemus's cave, I found that I was quite content to stay here forever"; and the picture shows Alison up to her nose in the honeypot of her lover.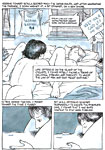 For the book, Bechdel has simplified her usual drawing style, eliminating the cross-hatching and slant-line shading that we find in her comic strip, Dykes to Watch Out For. Her line is simple, unadorned, flexing slightly but not obtrusively, a little bolder in outlines than in details. Her draftsmanship—anatomy, composition—is confident, accomplished rather than adequate; the pictures, nearly a tour de force of plain-line technique. In place of linear texturing, she has deployed a delicate gray-green wash, tinting the entire enterprise with a low-key hue.
In Fun Home, Bechdel often deploys her visual-verbal resources to create a tension that underscores the theme that things are not always what they seem or what we might want them to be. In a long sequence early in the book, the captions drone on, comparing the Bechdel home life to that of Jimmy Stewart's family in "It's A Wonderful Life" and to the mythic life of Daedalus. The pictures accompanying the captions show us what Alison means when she says Stewart's yelling at his family in the movie is "out of the ordinary." The pictures present an episode of Alison's home life, complete in itself: her father's fit of temper causes her to break some crystal she's handling and, fearing her father's reaction, she flees the house. The captions, meanwhile, carry on about Daedalus' famed labyrinth, concluding with a speculation about whether Daedalus was "stricken with grief when Icarus fell into the sea? Or just disappointed by the design failure?" The prose of the captions offers one story; the pictures, another. Together, they juxtapose a fiction and a reality, myth and fact, a happy abstraction and a grimmer actuality.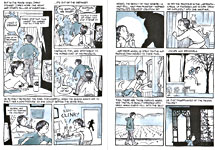 Alison frequently shadows her prose with her pictures, telling two tales simultaneously, juxtaposing two realities—two appearances?—which suggests that one may be more real than the other. Or, perhaps, sometimes both are equally real. In a sequence at the end of Chapter 3, the captions fantasize about Alison's father and F. Scott Fitzgerald, imagining a mystic connection between the two. The pictures, however, show us an entirely mundane incident, Alison asking her father for money to buy some new Mad books. The episode concludes with a telling picture: we peer into the house from outside, seeing Alison and her father in the same room through two separate windows. The mini-essay of the captions, meanwhile, has reached its heartbreaking conclusion: that she persisted in believing that she somehow caused her father to commit suicide because it created a bond between them, a connection she longed for all her life. As we read these words, we see the father and his daughter, bonded, ironically, by the composition of a picture that completely separates each from the other.
In creating the book, Alison's method doubtless fostered the frequent occurrence of such double-vision passages of prose and picture. "The first thing I do," she told Margot Harrison at sevendaysvt.com, "is I write on the computer in a drawing program, which enables me to make these little text boxes and move them around, make my panel outlines" without any images. Then she adds pictures, sketching into the panels on the preliminary layout of the page. A cartoonist's sensibility kicks in naturally, then, resulting in pictures that have an ironic or satiric relationship to the verbiage. But however accidental the emergence of the double-vision sequences, they are integral to the meaning of the book as a whole, establishing a pattern of appearance and contradictory or alternate realities.
The culminating event to which the narrative wends is a Joycean meeting between father and daughter, a spiritual sharing, which, at last, is achieved more in Alison's memory than in fact.
In the book's last sequence, Bechdel returns to Joyce's Ulysses to marvel at her father's staying in the closet all his life. Referring to Molly Bloom's passionate and sexual affirmation of life, Alison writes about her father: "How could he admire Joyce's lengthy, libidinal 'yes' so fervently and end up saying 'no' to his own life?" The last three pages of Fun Home take place in a swimming pool, where Alison's father is apparently teaching her to swim. Or encouraging her to dive off the diving board.
| | |
| --- | --- |
| | |
Alison admits her claim that her father is gay "in the same way I am gay, as opposed to bisexual or some other category, is just a way of keeping him to myself, a sort of inverted Oedipal complex." In the last analysis, however, "spiritual paternity," like that between Stephen Dedalus and Leopold Bloom, is more important than "consubstantial" paternity. She depicts her younger self poised on the diving board, her father in the water beneath her, and concludes: "In the tricky reverse narration that impels our entwined stories, he was there to catch me when I leapt." The picture shows her jumping off the diving board and her father with his arms up to catch her.
But did he catch her when she leapt, jumping from straight life into gay life? Very little in the book supports that conclusion. In fact, the book is about her longing for him to be there and being perpetually disappointed that he never was. Or was he? Throughout the book, Alison returns again and again to aspects of her father's life and their relationship. Gradually, through repeated approaches, she strips him of his pretenses, of his artifices. But she clearly loves him, and it's his approval she wants. That tenuous conversation in the car comes close but it's not enough. By the time Bechdel in creating the book gets to the last pages, she has been back and forth over aspects of her father's life, and her own, several times, entwining their stories in tricky reverse narration. In the book—in her imagination—he is a constant presence. He is "there" in her imagination if not, actually, in her life. But his imagined presence persuades her that he has been "there" all along: that he caught her when she leapt, even though, as we well know, he didn't.
Having lived, with Alison, through the elaborate charades of the book, the juxtapositions of alternate realities, of appearances and contradictory realities, we are ready, as is she, to accept the reality she constructs for us, and for herself. The last sequence in the book reveals, in its allusions to Joyce, the book's narrative strategy: Alison, failing to achieve a genuine connection to her father despite their shared homosexuality, consoles herself with a spiritual relationship. The book's last caption is the conclusion in this line of thought. But it is false. Like the book itself, the assertion on the last page is a devout wish but not a fact, an appearance but not a reality.
The reality is in Alison's basement studio. Rachel Deahl of Publisher's Weekly visited the cartoonist in her lair. "I stand in her workspace and look at the rows of books lining her shelves. They remind me of the panels in her book, the pictures of her reading and her father reading, of them sitting in that massive house surrounded by print and pages, skirting discussions of their own lives by talking instead about Leopold Bloom and Stephen Dedalus, Odysseus and Penelope. Then I notice it. It's a black-and-white photograph of a young man. He's handsome, clean shaven and smiling. He looks familiar, and I think I recognize him from the drawings. I begin to ask, 'Is that ...' 'That's my father,' Alison says. It's the only framed picture in her work area and one of the few in the house. But that seems as it should. After all, who could have watched Alison through this process other than her dad?" Her father is still a presence in her life, still "there," but only in a photograph, an appearance.
While homosexuality forms the core of otherness at the thematic center of the book, Fun Home could well be a tale of adolescent alienation. In the Bechdel household, each family member is isolated from the others, each absorbed in his or her separate pursuit, a circumstance the cartoonist dramatizes with a telling cut-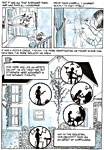 away illustration of the old house that shows each of the family engaged in a different endeavor, a diagram that is repeated on the cover of the book underneath the dust jacket.Alison's situation could well embody the typical adolescent's sense of profound aloneness coupled to an equally typical desire for adult approval and acceptance. Fun Home is more than a portrait of an emotionally barren family life: it is also a record of Alison's persistence in trying to find actual evidence of having shared life with a father she admires and loves, evidence that, in the last analysis, exists more vividly in memory than in fact.
Judging from the book, Bechdel never seems to have felt hesitant about her homosexuality: she apparently accepted her sexual orientation as a simple fact of life almost from her first awareness of it. She was about twenty when her father was killed, and she launched her alternative newspaper comic strip within a couple of years. Its title, Dykes to Watch Out For, is not just unabashed: it's defiant. Neither unabashedness nor defiance are marks of hesitancy or awkwardness; both are flat assertions. At first, when the strip started in 1982, it took the form of weekly (or bi-weekly) commentary on various aspects of the human condition—the joys of couplehood, "the rule" (never go to a movie unless it has two women in it who talk to each other about something other than a man), the party, great romances ("that never were"), the first sleepover, politi-cola ("the birth of an activist"), summer grooming tips ("at the music festivals, braid your armpit hair"), and so on. In "Depression," Bechdel speculates on the condition and its causes. Depression may be brought on by hormones or "because you don't have a girlfriend ... or it's the inevitable result of living in a depraved society during the nuclear age" (the caption under a picture of Reagan on tv, saying, "I believe in Armageddon"), but "it's well known that even women with rich lovers and no political awareness are often depressed!" She illustrates various possible remedies—increasing sugar intake, sex, reclusive behavior—"but nothing works except waiting for it to pass ... one day, just as inexplicably, you will wake up in a good mood."
Eventually, individual characters emerged from the nameless milieu Bechdel began with, evolving into the current manifestation with a cast of dozens of diversities, including various racial minorities and a lesbian (or bi-sexual) who has a child by her male housemate. The presence of personalities pretty soon produced plots and stories, which are now continuing from week-to-every-other-week, exploring the ever-changing combinations of lovers, politics and social issues, and such personal trauma as breast cancer. Bechdel's drawing style at the beginning deployed a fragile line of unvarying thinness and solid blacks deftly spotted throughout. The line acquired greater confidence over the years, becoming bolder when outlining figures, and Bechdel began using gray tones as well as a variety of texturing devices. Dykes is now one of the handsomest comic strips around, in or out of the alternative newspaper universe, and its storylines reflect current political events as well as social consciousness and personal crises. At least 11 reprint volumes have been produced; see www.amazon.com for a list. Doing the strip undoubtedly gave Bechdel the creative confidence to undertake the longer work of Fun Home, but the two enterprises are not at all alike in theme or substance except that each is assured cartooning about aspects of the human condition that matter. Serious literature for mature readers for whom sex is only a part of adulthood.
<![if !supportEmptyParas]> <![endif]>
NOTES ON THANKSGIVING
Cartoons Championed? Not Much.
The so-called "cartoon issue" of The New Yorker, an annual event at this time of year since 1997, continues to be a disappointment. It's not the quality; the number of cartoon captions that make comedic sense without the pictures is not, it seems to me, as high as it sometimes was, and that strikes a blow on behalf of the visual-verbal blending that is the essence of cartooning. In that respect, the "cartoon issue" is satisfying. Nor is my disappointment a result of the quantity. There are more cartoons in the "cartoon issue" than in the usual issue of the magazine. The typical issue offers about one cartoon for every 6 to 8 pages. In the "anniversary issue" last February, the ratio was one every 4 ½ pages. This year's "cartoon issue" runs one per 3 ½, a satisfyingly high rate, achieved by reason of an 18-page section called "The Funnies." Four of the pages are devoted to 9 previously unpublished drawings by B. Kliban. Roz Chast has a 2-page comic strip, and Matthew Diffee offers 2 pages of realistic bird drawings with humorous text in the guise of A Guide to City Birds: "Josh Everett, Snow Goose, likes travel, good food ... About Me: I came here on a southbound stopover in '99...." Leo Cullum has a 2-page panoramic cartoon on security at airports (a sign says "checked baggage"; another sign right below it says "plaid baggage"), and two pages are devoted to comical explanations of some of the more baffling cartoons published in the past year. Only 6 of the 18 pages are devoted, strictly speaking, to a feast of single-panel gag cartoons, 16 cartoons total. All of this is to the good: it's gratifying to have a major magazine heralding the useful hilarities of cartoons in this fashion. But I'm disgruntled because again this year the "cartoon issue" does not live up to the promise of the first "cartoon issue."
The inaugural issue published at least two text pieces about cartooning. The artform was thereby celebrated not merely recognized. And I persist in hoping that The New Yorker, a periodical distinguished by a long record of publishing superior gag cartoons as well as superior prose, would make its annual fete a more extravagant party. It could, for lack of any imaginative option, publish short biographies of some of the medium's masters—Harvey Kurtzman, E.C. Segar, Walt Kelly. This year, the magazine could have run a review of the "Masters of American Comics" exhibition taking place in two of the city's museums. Or it could have examined the role of Jewish creators in the history of comics, the subject of another exhibition currently in the city. Or it could have mentioned and reviewed the other comics exhibitions in the city these days, the ones I mentioned in our Nous Report. For The New Yorker to slide by its annual celebration of cartooning without devoting any text to the subject is a little like Playboy (coincidentally, the only other respectable venue for gag cartoons) producing its Playmate of the Year feature with photographs of a fully clothed member of the opposing sex. In theatrical terms, it just doesn't fill the bill.
Then we have Chris Ware's covers, which the management of the magazine treats with a disdain akin to the benign neglect it inflicts on cartooning generally by not talking about it. There are five Ware covers, which The New Yorker, in its usual pince-nez art critic mode, calls "a work in five parts." Although this issue is dated the week after Thanksgiving, the five-part cover has "a Thanksgiving theme." "Four of the parts are magazine covers," the deliberately obfuscating explanation continues, "and the fifth is a comic strip. Subscribers will receive one of the four covers." I'm a subscriber, but I got the comic strip "part" not a "cover" part, a direct contradiction of the editorial intention, I gather. Each of the five parts commemorates an aspect of the holiday: Stuffing, Conversation, Family, Main Course, and Leftovers. Visually, the five-part work is a progression: starting with a full-page illustration, the parts get steadily smaller, dividing first into two panels, then four, then sixteen, then a collage of 256 individual pictures. The comic strip, entitled "Main Course," is a 4x4 grid of four tiers of four panels each. Twice during the strip, Ware divides a single panel into four equal parts, a maneuver he frequently deploys. The actual artwork, another instance of Ware's meticulous geometric diagraming, is on a miniature scale, which means the figures are often minuscule to the point of near invisibility; the lettering, likewise. The cover perpetrates the usual New Yorker insult: the address label is pasted on the lower left-hand corner, which, in this case, obscures two of Ware's sixteen panels.
Ware's art, as always, is so pristine it is antiseptic albeit quite pleasing as wallpaper, but his comedy, which arises entirely from the titles he gives each of the "parts," is pure cartooning. The two-panel "Conversation," for instance, depicts two family gatherings around the festive board: in one, family members seem to be talking to one another; in the second, they are all watching a football game on tv. The same nihilistic note is sounded on the "Family" cover: in four separate cartoons, young people have deserted the family hearth on this holiday, complaining, variously, of ways their families have abused them. In "Main Course," a pigeon is run over by an SUV. All of the covers are on display at www.newyorker.com, alas, another disappointment. The fifth "part," entitled "Leftovers," is a collage, a scrapbook, of visual memories of a brother killed during World War II. Many of the pictures are microscopically tiny, and the magnifying device on my computer enlarges only a portion of the artwork, and although Ware designed the piece to be viewed on the Web using the scroll bar, I can't find a scroll bar on the window displaying the art, so I can't read or view all of it. Bittersweet, like most of Ware's wares.
In an audio interview on the website, Ware discusses his five-part "cover," which, it seems, deliberately reflects his somewhat jaundiced view of Thanksgiving. He denies that the five-parter is intended as a political statement. "I'm not anti-turkey," he says; "I'm pro-turkey." And then the give-away: he's a vegetarian, and he confesses to seeing a bitter irony in Thanksgiving's "inherent brutality [as] ritualized in the sacrifice" of turkeys. With this as preamble, the "Leftovers" becomes a highly charged political comment: in time of war, to reflect upon the loss of a relative in a previous conflict is surely to condemn the senselessness of the current bloodshed in Iraq. Ware's remarks during the interview work in the aggregate much like the visual vignettes that make up his cartoons. Recalling Ben Katchor's goal of making cartoons with "the density of a novel," Ware says he researched the World War II material extensively, discovering, to his surprise, that many soldiers drew cartoons on their letters home as if cartooning were a skill everyone exercised, not just professional cartoonists. He felt obligated to spend the time on research in order to do justice to the subject, and he clearly enjoys lavishing hours and hours on his cartoons. In a self-deprecating aside, he realizes the humorous consequences of his painstaking devotions: "By the time you're done, you're ten years older," he said, "and you wonder, Where did my life go?" Taken all together—from "Stuffing" to "Main Course" to "Leftovers," from the pictures to his own comments about them—Ware's commemoration of Thanksgiving is not so much about giving thanks as it is about indicting a blood-thirsty warlike culture. Where do our lives go?
<![if !supportEmptyParas]> <![endif]>
'Bye, Fats
A Personal Note
It was a disorienting sensation, horror in a minor key. I was watching NBC's evening news on Tuesday, October 17, when suddenly Brian Williams started talking about someone who had just —something, I missed it because I was trying to make sense of the images. Behind Williams was a photograph of a handsome man, and underneath the name "Glenn." In another second, I realized it was a picture of Christopher Glenn. I didn't recognize him right away because he was wearing glasses in the picture, and I'd never seen him wearing glasses. And he was older: I hadn't seen him for 15 years or so.
My wife said, "Isn't that Chris?"
"Yes," I said and shushed her so I could hear.
What was Williams saying? Chris Glenn, who had reported, written, and anchored CBS radio news programs for 35 years had died "suddenly" last night in a Norwalk hospital. "He was sixty-eight," Williams said. Chris was a CBS newsman but here was NBC doing an obit. Why the attention? Because Chris was an award-winning broadcast journalist who'd been on the air for many years, a widely respected colleague. Cartoon fans will know him if they ever watched Saturday morning cartoons on CBS: Chris was the reporter/narrator of "In the News," a series of two-and-a-half-minute current event broadcasts spliced in between cartoon programs. Chris was the voice of the Emmy Award-winning program for its entire 15-year run, 1971-1986.
"He was to be inducted into the National Radio Hall of Fame in Chicago in two weeks," Williams finished. Later, I learned it was cancer. Of the liver.
Shocked and angry, I thought: he just retired last February. He didn't have time to enjoy his retirement. But then, what would he do? Chris was hyper-active. One morning he got up and tore down a wall in his house because he had an idea for re-decorating the place and the wall was in the way of the plan. When I'd heard he was retiring, I couldn't believe it because I couldn't see him lounging around enjoying the leisure. Chris was not a man of leisure. I phoned him, and we brought each other up-to-date a little more than our anyule exchange usually did. He planned to do voice-overs, he said. Didn't want his "pipes" to get rusty—that distinctive baritone rumble that a co-worker, Greg Kandra, called his "cognac and cigarette smoke" voice. On the air, Chris pitched his voice a little lower than in ordinary conversation. And before flipping on the mic—I'd watched him—he'd clear his throat, a robust cough or two.
We called each other "Fats." It was a no-longer-sensible remnant of an antique vaudeville joke we'd both enjoyed when we were in college at the Boulder campus of the University of Colorado. It went something like this:
"Do you know Fat Burns?"
"No."
"Well, it does."
Everafter, whenever we met, we called each other "Fats." And we'd chuckle quietly in recollection of a joke neither one of us could remember very well. Three or four years ago, I sent him an old novel I'd found in a used book store because the title was Red Pepper Burns. It was so close.
"Do you know Red Pepper Burns?"
"No."
"Well, it does."
When I ran across another copy of the book, I bought it for myself.
I met Chris in about 1957. For the next couple of years, we played follow the leader until he caught up with me and passed me, surpassed me. An English major, he went into a career in journalism; I, with a degree in journalism, didn't.
A fraternity brother of his, Al Shepard, brought us together. Al and I were trying to launch a new campus humor magazine: we'd both worked on the notorious Flatiron, which had been banned the previous year. Chris, Al said when he introduced us, was interested in journalism and magazines. When the new magazine debuted, Al was editor and I was managing editor. Chris was on the staff, a star reporter. He did a story on campus fashions with another memorable aspiring journalist, Pia Lindstrom, the daughter of Ingrid Bergman. Pia looked exactly like her mother, and that, together with her celebrity as the actress's daughter, attracted the local paparazzi before there were paparazzi. I don't know how much reporting Pia did on the story, but I know Chris didn't care: he wanted her company, and he had it for a couple dates. The magazine failed after two issues, and Al graduated. The next year, I started another magazine that I edited, and Chris was the managing editor. The magazine failed after two issues, but another pattern had emerged. The next year, I was layout editor of the yearbook, and Chris was assistant layout editor. I graduated that spring, but Chris stayed in school, starting work on a master's degree. That year, he was layout editor of the yearbook.
In the summer after we both graduated, we stayed on campus to work on the student newspaper, the Colorado Daily: I was editor, and Chris was managing editor. We shared an office, desks so close the arms of our chairs collided when we spun around to answer the phone. Chris did a lot of feature stories on entertainment and the arts. He also wrote an occasional personal column, "This Colyum," for which I drew a caricature of him as the heading. Chris delighted in designing the layouts for his articles, and for his column, he sometimes chose unusual typography. He'd fool around, doing word counts and character counts, making sure it all fit together exactly as he envisioned its appearance, smiling to himself as he worked in contented anticipation, and when he finished, he'd show it to me with a triumphant flourish. He'd gesture lovingly at the typography, smoothing the paper with his hands—big carpenter hands, I remember thinking.

Chris' radio career also began in Boulder. He was a disc jockey on KBOL radio, spinning platters (as they used to say) between 10 p.m. and midnight every weekday. The pipes began to play.
After the summer editing the campus newspaper, I decided to try my luck at selling cartoons in New York, hoping to crack into the business before being drafted into the Army. Chris was a New Yorker and planned to visit home before classes began that fall, so he drove home and I hitched a ride. I stayed at his home in Barney Park in Irvington-on-the-Hudson until I found a job in the city. The job lasted two weeks, and after it expired, I concentrated on making cartoons and trying to sell them. I sold a couple and then thought I'd return to Colorado where the living was less expensive. I found a room in a transient hotel in downtown Denver and on weekends took the bus to Boulder and peddled my services as a cartoonist doing advertisements. Saturday nights, I'd say at Chris' place. He was renting a tiny building near the river. It had been little more than a shack with plumbing when he moved in, but Chris was a skilled carpenter, and he rebuilt the place. The livingroom was four walls of ceiling-to-floor bookshelves, with a huge gap in one bank of shelves for an aquarium. He'd remodeled the building like a submarine: everything had a place, and it all fit together, slot and groove. The bookshelves were tailored to fit his books: all the nine-inch tall books on a shelf nine inches tall, and so on. I slept on the couch. One Sunday morning, I awoke, somewhat hung over as usual in those days. Chris was already up, and when he saw me stirring, he motioned, wordlessly, beckoning me to the kitchen. There on the counter, he'd laid out my "breakfast": two aspirin, a glass, can of tomato juice, tabasco sauce, and a coffee cup. "Start here," he said, pointing to the aspirin. I was to consume the breakfast in the order of the array.
I soon left Colorado to live with my folks in Kansas City, awaiting the draft. Chris, meanwhile, got drafted. He also got married. He got married while in boot camp at Fort Carson in Colorado Springs. I took the train from Kansas City to be his best man. He married Dianne West, whom he had been dating in Boulder, and they remained married until the day Chris died. They had two children, both girls—Rebecca Joy and Lindsey.
After boot camp, Chris was stationed in New York, and he moonlighted with Radio Press International. When he was discharged, he worked for WICC radio in Bridgeport, Connecticut. He didn't want Dianne to work, so he held a couple of other jobs, one of which was delivering newspapers, which he did from his car, careening at a furious clip in dawn's early light the winding roads of wooded Connecticut residential areas. One Sunday after finishing his route, he went home and turned on the television to see what was happening in the wake of the Kennedy assassination the previous Friday. When the coverage shifted to the Dallas jail, Chris turned on his tape recorder—just in time to catch the sounds of Lee Harvey Oswald being shot by Jack Ruby. Chris grabbed the tape recorder and dashed to WICC, where he got on the air with the audio report within minutes of its happening. It was Chris' first big story; there would be others.
I returned to New York in the summer of 1964 to attend New York University. I had been discharged from the Navy the previous fall and had a contract to teach high school English in Kansas City, Kansas, starting in September 1964, but I hoped to sell a comic strip into syndication, and I thought I could work on a master's degree in New York while hawking the strip to syndicates headquartered in that city. If the strip didn't sell, my progress through the ivied corridors of higher education might improve my teaching salary. Neither of the two strips I was offering sold that summer, and after I got into teaching, I enjoyed it enough to forget about cartooning for a while. For the next three summers, I came to New York to study at NYU. And every weekend, I'd escape the summer heat of the city by going to Chris and Diane's 100-year-old house in Norwalk, Connecticut. I'd spend Saturday studying; Chris was usually at work in the city, but he'd be home for dinner, and we'd have a few drinks and a few laughs into the evening. The Beatles' album, Sgt. Pepper's Lonely Hearts Club Band, came out one summer, and we'd stay up late every Saturday, listening to the revolution. And to Judy Collins records. Chris always insisted that I'd met Judy Collins while she was singing in Murphy's Pub, a downstairs joint on Pearl Street in downtown Boulder. But I had never met her. That was Chris, the year after I'd left Boulder, who hung out in that basement bistro and listened to the songbird's plaintive cries. Dianne went to bed long before we did. Sometimes, the next day, Chris would get up and tear down a wall in the house and begin a new re-modeling project.
Chris was working at WNEW, New York's legendary radio station. One summer, he roamed the city, and, every half-hour or so during an evening talk-and-music program, he reported live from whatever "happenings" he encountered. He invited me along one night. He had a van and a driver, and they cruised the streets, looking for something worth reporting. We stopped at Tompkin Square in the East Village, and as we walked through the milieu of pot-smoking hippies playing guitars and chanting oooommm, Chris turned his tape-recorder on, saying, "You never know when you might need just these sounds." In a subsequent broadcast, he played the tape as he reported on some vaguely related event. Late that night, we went to the opening of the Electric Circus, a house in the East Village that had been re-modeled into a cavern of rock music and psychidelic sounds and images, projected onto stretched canvass ceilings and walls.
Chris went to Washington, D.C. in 1970 and spent two years there as managing editor of Metromedia Radio News. In 1971, he returned to New York to take a position at CBS News. In his 35 years with CBS, he did about everything. Starting as a producer, he advanced to reporter then correspondent. Since 1999, he anchored CBS Radio's flagship newscast, "The World News Round-Up," the longest-running news program in broadcasting; he'd anchored "The World Tonight" for the previous eleven years. He produced, wrote, and narrated the daily "What's in the News" since it started in 1995. He also did some television. He anchored several editions of "What's It All About?" an award-wining series for young people in the early 1970s; and he was a reporter and co-anchor on another award-winning series, "30 Minutes," a tv magazine tailored for a teenage audience on Saturday mornings. Chris was photogenic enough for the visual medium, but he preferred radio.
"That's where I started," he said, "and I've always thought that the medium was especially good for communicating with audiences because [your audience doesn't] just sit there and stare at the pictures. You have to tell them the story and make them understand, and I think that that's much more of a challenge for a journalist, and it makes it more interesting in the long run."
He covered space shuttle missions, national political conventions, and other major news stories. Asked, when he retired, what the highlight of his career had been, Chris remembered January 28, 1986:
"Definitely being there when Challenger blew up in front of my face," he said. "I had to get back on the air real fast to describe that, and had a very difficult time doing it."
On the air as the space craft took off, Chris interrupted his own narration: "Terrible, terrible," he said, " ... debris falling out of the sky ... falling slowly, painfully, tragically slowly... toward the Atlantic Ocean just a few miles offshore." And then the newsman took over, summarizing: "This flight, which was to have been such a bright chapter in the history of the manned space flight program," Chris said, "turning in the flash of an instant into a terrible, terrible tragedy."
Thinking about it years later, he said: "It was a very, very emotional moment—probably the most emotional of my career. It was tough to keep it under control while I was doing the broadcast."
Two years earlier at the 1984 Democratic national convention, the news was happier. Geraldine Ferraro had been nominated as the first woman vice presidential candidate, and Chris reported: "People standing up, locking arms and rocking back and forth, and singing and cheering and clapping...."
At the conclusion of a 50-year career in radio last winter, Chris, asked what his favorite role had been, said: "I would be hard-pressed to say. I've had a great deal of enjoyment from the jobs that took me into the field as a reporter, but I've also very much enjoyed being an anchor for the last 10-15 years. Done it all, seen a lot, had a very good time, very few disappointments, very few bad days if you want to put it that way."
By any measure, a distinguished career as well as a long one. One of his colleagues, writing online at "Couric & Co," delivered what I, as a defrocked journalist, would call the ultimate accolade: "In an era of increasing hypersensitivity to political bias in news presentation," said Brent-of-CA, "it was impossible to guess Chris Glenn's political affiliation. He wrote and played it straight for the news."
The day before he died, he was presented in absentia the Radio Television News Directors Edward R. Murrow Award for the best newscast of 2005; he'd won it the year before, too. And then there was the Hall of Fame induction, posthumously on November 4. Chris and Dianne were in California the week before he died; he was attending a convention of broadcasters and newsmen and made a speech. "He saw a lot of old friends and had a good time," Dianne told me. Then when he got home that weekend, he didn't feel well.
I finally got my Master's in 1968; my last summer session at NYU was in 1967. I didn't see Chris or Dianne much after that. I taught school for five years and then became advance man for a convention of English teachers. When my job took me to New York, I'd phone Chris. "Come out to the house," he'd say, "—Dianne wants to see you." And so I would. The last time, too many years ago, I went up to their new old place on Chestnut Hill Road in Norwalk. Like the place I knew from so many bygone summer weekends, this one Chris had extensively re-modeled inside, his distinctive walls of bookcases, tailored to his library—of tapes, now, as well as books. That evening, we sat in front of his sound system and sipped a drink and Chris played a tape of Walt Conley singing folksongs. Conley's Colorado singing career began, as best I can remember, at the Red Onion in Georgetown, where he sang to skiers on their way down the mountain to Denver from the slopes near Loveland Pass. I first heard him at a Denver restaurant, long gone now, called Little Bohemia. He also played for a long time at the Last Resort in south Denver. That's where a roommate of mine, Hank Fox, taped Walt singing for a record. The chorus of one of my favorites among his songs goes like this:
<![if !supportEmptyParas]> <![endif]>
Passing through, passing through,
We're all brothers and we're only passing through.
Sometimes happy, sometimes blue,
But I'm sure glad I ran into you—
We're all brothers and we're only passing through.
<![if !supportEmptyParas]> <![endif]>
Conley belted this one out in his strained voice, banging enthusiastically on his guitar as he went. I love Walt's songs, and Chris made a copy of the tape for me that night. I slept in the bedroom of one of the children, both grown and out of the nest. It, too, had walls like bookshelves, niches for everything.
My first encounter with Chris and Dianne after their marriage had been at the Glenn family home in Barney Park, an enclave of big once expensive-looking houses in Irvington-on-the-Hudson. The Glenn manse, bought when his father, Jack Glenn, was making movies for March of Time in the thirties, and making good money, too, I suppose, was a large two-story building, somewhat gone to seed now that Jack Glenn was no longer making as many movies. Chris and Dianne and a couple friends were dredging the swimmin' hole, which, long neglected, was full of silt. And tin cans and other debris. Chris took me upstairs in the house to the bedroom of his youth. "Here," he said, reaching into a box on the floor, "you should have these." And he handed me the complete run of Mad Comics, Nos. 1-23, plus the first two magazine issues. They're all defaced where he'd stamped his name on the bottom margin of the first page: Chris Glenn. I still have them all.
<![if !supportEmptyParas]> <![endif]>
We're all brothers and we're only passing through.
To find out about Harv's books, click here.