Opus 182:
<![endif]>
Opus 182 (April 24, 2006). This time, we celebrate the editorial cartooning of Mike Luckovich, who just won the Pulitzer Prize for editorial cartooning and is poised to rack up a record number of awards and prizes for the year, and we remember appreciatively the career of Dick Rockwell, Norman's nephew, who penciled Steve Canyon for 35 years and who died last week. We also review Gerald Scarfe's new coffee-table tome and several funnybooks. Here's what's here, in order: Luckovich wins the Pulitzer; NOUS R US —Hef is 80 but the world around him has survived, almost intact, the sexual revolution he sponsored; Warren Beatty persists, Popeye on radio, manga in a slump in its native land, and comics publishing mogul John Kovalic proves there is life after editooning; THE OTHER SHOE —following up on some stories from Opus 181; COMIC STRIP WATCH —Fuzzy poaches Pearls turf, and reader survey results; BOOK MARQUEE —A bookful of Scarfe's gross-out caricatures; FUNNYBOOK FAN FARE— Reviews of American Virgin, Painkiller Jane, Hysteria: One Man Gang, The Middleman, Super Real; REPRINZ— Bo Nanas' first book; DICK ROCKWELL: ASSISTANT PAR EXCELLENCE— An appreciation extracted from my Work In Progress, the biography of Milton Caniff; INTERVIEW WITH MIKE LUCKOVICH— A long excerpt from a 1997 issue of Cartoonist PROfiles. By the way, the afore-mentioned Caniff biography, which I am revising for publication by Fantagraphics in 2007, is progressing steadily. I'm reducing a 1,900-page typescript by about a third, and I'm within sight of the end: only 200 of the 1,900 pages to go. Rejoice. And our customary reminder: don't forget to activate the "Bathroom Button" by clicking on the "print friendly version" so you can print off a copy of just this lengthy installment for reading later, at your leisure while enthroned. Without further adieu—
<![if !supportEmptyParas]> <![endif]>
THE YEAR OF LUCKOVICH
The year's top journalistic award for cartooning went to Mike Luckovich, the "popular but polarizing" (as the paper put it) editorial cartoonist at the Atlanta Journal-Constitution and the favorite reprint choice of Newsweek magazine. It's Luckovich's second Pulitzer—he won in 1995—and it comes with a $10,000 prize. Runners-up were Marshall Ramsey of the Clarion-Ledger in Jackson, Mississippi, and Mike Thompson of the Detroit Free Press. Luckovich has also won the Society of Professional Journalists Sigma Delta Chi Award for editorial cartooning and The Week magazine's Cartoonist of the Year in the magazine's annual Opinion Awards, and he shares, with Clay Bennett of the Christian Science Monitor, the Overseas Press Club Award for the best cartoons on international affairs. Luckovich is also up for the Reuben, the "cartoonist of the year" award from the National Cartoonists Society; members of the club vote on this distinction, and the balloting was completed a couple months ago, so it can't be affected by any of the present plethora. The winner will be announced at the end of May.
Each entrant in the Pulitzer contest submits a portfolio of twenty cartoons done during the year. Luckovich's portfolio can be viewed here: http://www.ajc.com/opinion/content/shared-blogs/ajc/luckovich . A selection of my favorite Luckovich 'toons, which includes his commemorating the 2,000 American dead in Iraq by lettering all the names to form the word "Why?" is here.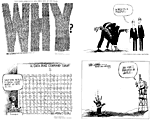 When he won in 1995, Luckovich said, "The monkey's off my back," meaning that, having won once, he didn't have to fret any more about getting a Pulitzer. But he went on submitting, fret free. According to Heather Vogell at the AJC, "Pete Corson, who designs the paper's editorial page, often serves as a sounding board for Luckovich" who brings around sketches of his ideas for Corson to react to. "The cartoonist usually draws a handful of sketches that are little more than stick figures and concepts, then settles on one or more to develop." Corson said, "On a normal day, he could go through eight to ten easy." He may start with a simple idea—two people watching tv and a punchline. "But by the time, it makes the paper, the tv is gone, and the punchline has morphed into a more powerful image."
You don't get Pulitzers for neatness, obviously: Luckovich has the most litter-encrusted workspace of any inhabitant of the galaxy. When I interviewed him in July 1994, his office at the AJC was blanketed in cast-off paper—drawing paper, newsprint pages, magazine tearsheets. You couldn't see the floor underfoot for the layers of paper. If he didn't get someone to pick up occasionally, he'd be waist-high in waste paper within a month. I asked him recently if he still persists in this unique house-keeping ritual. He does. Most of my interview with him is quoted herein; scroll down.
While Ramsey and Thompson are accomplished editooners, I'm a trifle miffed that neither Steve Sack at the Minneapolis Star-Tribune nor Jeff Danziger, who's syndicated without a home paper, made it to the finals. Sack's work for the last two years anyway has brought distinction to the profession with a consistently potent deployment of stunning visual metaphors; and Danziger's raw vignettes give "unflinching" a new lease on life. Maybe next year.
I'm miffed but I'm not pissed. The people who tend to be pissed at Pulitzers are the so-called "conservative" cartoonists who complain that only liberals get Pulitzers (despite Mike Ramirez's win several years ago, not to mention Jeff MacNelly's three), and cartoonists whose work appears only in alternative newspapers, like Ted Rall and Tom Tomorrow aka Dan Perkins. This year, rather than suffer in silence, Perkins spoke up, posting on his website "An Open Letter to the Pulitzer Prize Committee." After congratulating Luckovich and saying that he hoped nothing he was going to say would detract from Luckovich's achievement, Perkins, whose wife's grandfather, H.M. Talburt, won the Prize in 1933, pointed out that cartoonists who are published in the alternative press seem to be routinely ignored by the Committee. Jules Feiffer is the only alternative cartooner, Perkins said, who has won a Pulitzer, in 1986, by which time, Feiffer was arguably more mainstream than alternative, judging from name-recognition alone. "The Pulitzers don't seem to be keeping up with the times," Perkins continued. "The media landscape has changed dramatically since the Pulitzers were founded, and there are a lot of cartoonists these days whose work is distributed in ways that Joseph Pulitzer could never have imagined possible—and whose styles do not conform to the traditional editorial cartoon template." And he asks: "Do any of us have the remotest chance of ever being considered for this honor? ... if the Pulitzer Prize for Cartooning is really the Pulitzer Prize for Daily Newspaper Editorial Page Preferably Single Panel Cartooning, Others Need Not Apply, would you mind letting us know? That way we can stop wasting our time, and yours, applying for a prize for which we are not actually eligible." And he adds a postscript: "To those whose immediate response is 'Ha! he certainly does not deserve a Pulitzer,' let me just reply in advance: you are probably correct. But I would maintain that the entire field of alternative cartoonists do not deserve to be similarly dismissed out of hand." The complete text of Perkins' letter can be found here: http://thismodernworld.com/2845 .
Some of the inky fingered fraternity applauded; others were disconcerted because Perkins' outburst seemed ill-timed. But when would be a good time? Surely the best time is while the whole enterprise is bubbling in the Public Mind. Now, say. That's not to say, though, that today's run of alternative cartoonists are Pulitzer-deserving. One of the criteria is quality of drawing, apparently: most of the citations about the finalists and the winners mention the artistic, or visual, qualities of the work. Alternative 'tooners are not known for their masterful artistry. Two or three, in fact, use clip art. And Perkins tinkers with high-contrast photocopies of 1950s advertising art, or some such. Dunno if that qualifies as "drawing."
<![if !supportLineBreakNewLine]>
<![endif]>
NOUS R US
All the News that Gives Us Fits
Hugh Hefner turned 80 on Sunday April 6. The old Playboy marches on: a new Playboy club is opening in Las Vegas, and the magazine has launched an Indonesian edition, raising eyebrows all over that mostly Muslim nation. Playmates in burqas? Not likely. But just how successful has Playboy been in achieving the sexual revolution? Not all that much, apparently. Looking around at the fear of government crackdowns on tv content at Superbowl halftime shows, Hef, quoted by the Associated Press, said, "Attitudes toward nudity and Playboy have changed, in many ways, very little. In some ways it is even more political than it was in the fifties and sixties."
Vaughn R. Larson, news editor and editoonist for the twice-weekly Review in Plymouth, Wisconsin, was called up for active duty in Iraq with his National Guard unit. Larson, who has been on the paper's staff for 13 years, has been in the Guard for 17 years and served in Desert Storm. His unit will get three months training then a year in Iraq. As time permits, Larson will do cartoons and news reports from that distant desert. But, he says, "I probably won't be drawing any cartoons of Muhammad."
Meanwhile, in Iraq, a symptom of the country's new freedom is the emerging work of caustic editorial cartoonists who, under Saddam, could make cartoons that were little more than state propaganda. One recent effort in Al Bayyna al Jadidah, a conservative Shiite newspaper, celebrated the third anniversary of the toppling of the Saddam statue in central Baghdad. It depicts the statue's boots on the pedestal, and around the pedestal are a dozen or more empty boots. The quick victory that the toppling of the statue symbolized is contradicted by the continually mounting death toll, symbolized by the empty boots. No state propaganda here—for either the Iraqi state or the American one.
Prince Valiant is heading for DVD. Ink and Paint Brand will release on July 4 "The Legend of Prince Valiant," a 33-episode 5 DVD package, the first of two that will recycle the 1991-93 animated tv show that was aired on the Family Channel. Just $29.98.
Actor Warren Beatty isn't giving up: he insists he has film rights to Dick Tracy as a result of the deal he made in 1985 for the 19990 Disney live-action film about the cleaver-jawed detective. Last year, a U.S. District court ruled that Beatty's suit could proceed, but the latest hearing ended on April 3 without a ruling. Tribune Media Services, the syndicate that distributes and owns the comic strip, maintains that the deal Beatty made with Disney to "reserve rights to make a Tracy film sequel" required the Trib's approval to be valid.
Another Disney animated cartoon, this time "Tarzan," opened a stage version on Broadway this month, which prompts an impertinent query: why make an animated film if it can be a stage play? Shouldn't an animated cartoon contain something unique to animation, something that can't be translated into live-action theater? Well, I suppose that each of the versions of "Tarzan," "Beauty and the Beast," "Lion King," and "Aida" offer aspects peculiar to the medium in which they appear. But it still seems to me that the animated medium is being contaminated in the process.
According to Diamond's online Scoop, Popeye was a big-time radio star on NBC's Red Network for 15 minutes every Monday, Wednesday and Friday of the 1935-36 season. I speculate in my book, The Art of the Funnies (more about the book here), that the popularity of the character stemmed more from the Fleischer animated cartoons, which began appearing in the summer of 1933, than from E.C. Segar's strip, which wasn't, at the time, in wide circulation. Beginning in 1934, Fleischer cranked out a Popeye film every month for the next nine years, which surely helped increase the strip's circulation. It probably also prompted the radio series.
The Marion Chronicle-Tribune says the 5-foot tall statue of Garfield the city will erect downtown will promote health. The fat orange cat will be attired in gym shoes and a sweatband. Apparently, there are several of these statues: the neighboring cities of Fairmount, Van Buren and Sweetser also purchased Garfield statues. And five more towns are working on fund-raising.
Sales of graphic novels in North America rose 18 percent last year to $250 million according to estimates by ICv2, an online retail trade publication that focuses on popular culture. Dan Frank, editorial director for Pantheon Books, believes the success of graphic novels is due, in part, to the omnipresence of the computer and Internet. Said he: "What goes on in a comic panel and on the computer screen is actually very similar. You're looking at the interplay of word and image."
And manga surged in 2004 to $124 million, up from 2002's mere $55 million. But manga sales in the medium's native Japan are falling off, due, it is surmised, to the growing popularity of the Internet and mobile phones. One of the most frequented mobile phone sites is "Comic Site," dedicated to manga. "We've passed 10 million downloads since starting the service in August 2004," a spokesman for the company told Sunday Mainichi. "We get about 2 million to 3 million downloads a month." Clearly, Dan Frank is right, so we can look forward to a steady decline in manga sales setting in soon.
On March 20, four more creators signed exclusive contracts with Marvel Comics: J. Scott Campbell, M. Zeb Wells, Skottie Young, and Yanick Paquette. It's part of a trend. "Almost all of the top-selling writers and artists for Marvel and DC are exclusive to their respective companies," said Ian Brill at PW Comics Week online, adding, "now even artists with lower profiles are getting deals." Among the big advantages to erstwhile freelancers, whose financial well-being is often precarious, are job security and such benefits as health care. It's about time.
In the March issue of Editor & Publisher is a long piece by Dave Astor celebrating the successful post-newspaper career of former editorial cartoonist, John Kovalic. Starting in 1988, Kovalic did freelance and staff cartooning for the State Journal in Madison, Wisconsin, but he left in 2000, disgusted with the disputed Presidential election. "I was burned out on politics," he said. "Luckily, my other endeavors were starting to take off at that point." His other endeavors included a games company, Out of the Box Games, which he founded with three others, and, subsequently, a publishing enterprise, Dork Storm Press, that publishes a comic book, Dork Tower, aimed at "geekdom," Kovalic said—fanatics about games, Star Trek, movies, and the like. Dork Tower is also produced as a comic strip that appears in magazines (like The Comics Buyer's Guide) and on Kovalic's website, www.DorkTower.com. He also writes a hilarious superhero send-up comic book, Dr. Blink: Superhero Shrink, with drawings by Christopher Jones (which I've raved about before; see Opus 165), and is about to launch, with artist Liz Rathke, a comic strip called Newbies that's set in a fictional daily newspaper. If her work is anything like Jones', I'll be happy to see it.
THE OTHER SHOE
Picking Up the Loose Ends from Previous Stories
When the sons of Don Trachte discovered an original Norman Rockwell painting hidden in the wall of their deceased father's studio, they found other paintings therein. Those were not, however, Rockwell paintings; according to the New York Times, they were by other Vermont artists who lived and worked near Arlington—Gene Pelham, Mead Schaeffer, and George Hughes. Trachte had made copies of them as well as the Rockwell, hoping to secretly retain possession of the originals when a divorce-prompted division of property took place. He got the Rockwell, both the forgery and the original, but his wife, Elizabeth, now 98, got the others, all, unbeknownst to her, copies. When she was told about the scam, she was reportedly unfazed: "Doesn't surprise me," she said.
Fans of tv's South Park have decided to boycott the new Tom Cruise movie, "Mission Impossible 3," in order to force the controversial South Park episode, "Trapped in the Closet," back on the air. This is the episode that makes fun of Scientology. Cruise, a leading spokesman for the sf religion, allegedly brought pressure on the Comedy Central network to suppress re-running the episode recently. And Comedy Central continues its sniveling ways: having caved in to Scientology pressures, last week, it refused to air an image of Muhammad that was integral to the "South Park" lampoon of the Danish Dozen brouhaha, citing "recent world events."
It should have occurred to me before now, but it didn't. And if Shel Dorf hadn't mentioned it, I probably never would have realized the appropriateness of the National Cartoonists Society scheduling their annual Reuben Weekend this year in Chicago, gangland city. Where else to celebrate the 75th anniversary of Dick Tracy, which was inspired by Chicago's gangsters in the 1930s and is presently being written and drawn by a local boy who made good, Dick Locher—who will be presented with the NCS Silver T-square during the festivities. Tracy will hit 75 October 4.

And here's a vintage Mutt and Jeff strip in which the title pair are sharing a bed—and this at a time when not even married couples in movies could be shown in the same bed together. If the first panel here doesn't establish Mutt and Jeff's sexual orientation, what does? And where's Mutt's wife in this scenario? Maybe M&J aren't gay: maybe they're permanent members of a menage a trois. Ahhh, those carefree days of yesteryear.
<![if !supportEmptyParas]> <![endif]>
Fascinating Footnote. Much of the news retailed in this segment is culled from articles eventually indexed at http://www.rpi.edu/~bulloj/comxbib.html, the Comics Research Bibliography, maintained by Michael Rhode and John Bullough, which covers comic books, comic strips, animation, caricature, cartoons, bandes dessinees and related topics. It also provides links to numerous other sites that delve deeply into cartooning topics.
<![if !supportEmptyParas]> <![endif]>
<![if !supportEmptyParas]> <![endif]>
<![if !supportEmptyParas]> <![endif]>
The Froth Estate: The Alleged News Institution
Newspapers aren't in as much financial trouble as they keep on saying they are. The publisher of our local paper, the Champaign-Urbana News-Gazette, revered in This Corner for his candor and tendency to pooh-pooh wild-eyed rumor, reported on April 9 that he'd just returned from "the nation's largest newspaper technology trade show," where he'd gone to shop for some equipment. Said he: "The price of a daily newspaper's press is measured in tens of millions of dollars. It
takes years to design, manufacture and install one. But every major supplier I spoke with could point to an installation just completed and another soon to begin. It all looked robust to me. Those newspapers—like ours—were planning and investing in their futures. It didn't look like the behavior you'd expect from an industry ready to roll over and die—far from it."
The Gannett newspaper chain reported an earnings decline of 11.5 percent in the first quarter of 2006. Unless I'm misapprehending this, a decline in earnings refers to the profit margin of the company, reportedly in excess of 20 percent, which would mean, I think, that the profit in the first quarter is merely 17.7 percent, still better than most business enterprises.
<![if !supportEmptyParas]> <![endif]>
COMIC STRIP WATCH
Lalo Alcaraz continues the industry-wide effort to usurp The Boondocks slot on the nation's comics pages. In his strip, La Cucaracha, a brand new strip is announced: The Beandocks, which his characters describe as an "Afro-Latino" strip. Mexican president Vicente Fox is quoted as saying: "This proves that Latino cartoonists are willing to do the work that even Black cartoonists refuse." ... Dilbert and Hagar's helmet made cameo appearances in Pearls before Swine the week of April 10. Then during the next week, the Swinish author, Stephen Pastis, showed up in Get Fuzzy to complain to that strip's creator, Darby Conley, about the appearance in Fuzzy of the voracious crocodiles from Pearls. Turn-about is apparently not fair if your ox is being gored. Conley pretends he doesn't speak English, and the crocs terrify poor Satchel. All in good clean fun, kimo sabe.
In the alternative comic strip Minimum Security, cartoonist Stephanie McMillan strikes a blow for women. When the female lead in the strip has to decide what kind of dressing to put on her salad, she phones South Dakota senator Bill Napoli, saying, "He believes women can't make our own decisions, so whenever I'm faced with one, I call him at work, 605-348-7373, or at home, 605-341-2370. Hello, Bill?" she says into the phone; "pepper vinegarette or honey mustard?" Delicious.
The Orange County Register in California reported on April 11 the results of a recent readership survey on the paper's comics line-up. For Better or for Worse ranked first with 2,277 votes out of almost 3,000 responses. The rest of the top ten are: Luann, FoxTrot, Peanuts, Overboard, Adam, Garfield, Family Circus, Mother Goose & Grimm, and Rose Is Rose. The survey also asked for the least favorite strips, and the five leaders there are: Rudy Park, Tina's Groove, Sherman's Lagoon, Heart of the City, and Baldo.
The Sacramento Bee cut its Sunday comics section from 8 pages to 6, dropping several
strips as a consequence, and 250 readers responded by e-mail. Not many, according to the Public Editor, Armando Acuna, who pointed out that when the paper reduced its weekly tv guide, several thousand reacted; and 5,000 voted in last fall's comics survey. ... At the Houston Chronicle, which has one of the largest comics sections in the country, F Minus took The Boondocks' slot, and Prickly City elbowed Mallard Fillmore out of the line-up, provoking a dose of reader outrage. Both the latter are "conservative" slant strips, although Fillmore is by far the obnoxious one. ... The Winona Daily News discontinued Cathy, replacing it with Get Fuzzy; Buckles with Pearls Before Swine; the sacrosanct Mary Worth with Cow and Boy (the inexplicable friendship of a boy and his cow.)
<![if !supportEmptyParas]> <![endif]>
<![if !supportEmptyParas]> <![endif]>
BOOK MARQUEE
The Outrageously Disgusting and Hilarious Caricatures of Gerald Scarfe
As nearly as we can tell, Gerald Scarfe became a cartoonist because he was afflicted with chronic asthma as a child, growing up in Britain. In Drawing Blood: Forty-five Years of Scarfe Uncensored (350 10x12-inch pages in hardcover; $55), he tells us that he spent the better part of his childhood and youth in bed or otherwise restrained from normal boy activity. His mostly solitary hours he whiled away, he says, reading, making models and toy theaters, listening to the radio, and drawing. His schooling was, perforce, "spasmodic." At about 18 or 19, beyond school age, he tried to find work in a succession of banks, but he routinely failed the job interviews. He finally was put to work in an uncle's small advertising studio where he learned to draw "domestic goods" for advertisements and catalogues. "It taught me to draw absolutely anything and everything from a bicycle to a banana." His uncle also sent him to weekly life drawing classes. But it wasn't until, after five or six years of this, he bought medical books and taught himself anatomy that the Scarfe we have come to know began to emerge. "The anatomical detail began to feed into my drawings, giving them a grotesque quality. My efforts to draw anatomically led to caricatures that showed the workings of the body—the bones, sinews, muscles, skin, bulging flesh, and veins—and sometimes innards—the intestines, heart, lungs. It all came in useful," he writes, "because it was at about this time that I began to work for the satirical magazine Private Eye, and I was able to use this style to its full-blooded extent. I felt I could let go and proceed at full rip. I could draw whom I liked and what I liked, warts, nipples, pubic hair and all. I hadn't known I wanted to draw these things, but I had a great feeling of childish release when I did, like shouting 'bum' at the vicar's tea party. I have always had an urge to mention the unmentionable, to make jokes about the taboo. Nothing was sacred for me."
He soon found his forte in caricature. Said he: "A caricature is not just a big head, nose or ears: it is the whole persona, boiled down until reduced and concentrated in a summary. When I start to caricature someone," he continued, "I exaggerate their features or I may imagine them as something else entirely, a wombat or a vacuum cleaner. What I'm trying to do is simply to bring out their essential characteristics. I find a particular delight in taking the caricature as far as I can. It satisfies me to stretch the human frame about and recreate it and yet keep a likeness. ... I feel I am tearing the image apart and throwing the torn pieces of flesh randomly into the air and letting them land where they will. ... The subject will suggest the way he or she should be depicted. I could always draw Mrs. Thatcher as something sharp and cutting—an axe or a knife. Whereas John Major could never be a knife—his character wouldn't allow it. Mrs. T could bit his head off: he was always soft, bumbling and gray."
<![if !supportEmptyParas]> <![if !supportEmptyParas]> <![endif]> Mrs. Thatcher, John Major, Tony Blair, George WMD Bush, Lyndon Johnson, Bill Clinton—they're all in this stupendous book. In black and white, and in screaming color. This all-too brief sampling includes outrageous visual metaphors, all of them; but Clinton is perfect.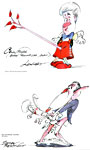 Scarfe supplies a short autobiographical introduction, but by far the bulk of the book is given to his drawings, paintings, sculptures and other artistic exuberances. Arranged in chronological order by decade, about 70 pages to each, the pictures are annotated by Scarfe, who tells us where they were published and, often, under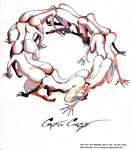 what circumstances they were produced. His earliest professional work appeared in 1960 in the venerable Punch, then in 1963 in Private Eye, when he was in his mid-twenties and decidedly under the influence of Ronald Searle and Andre Francois. By 1970, the authentic Scarfe began to surface, shrieking in gross distortions of all known human physiognomy. By the 1980s, he's there in full flower. In the 1990s, he worked for a time at Disney, where his designs were subjected to computer animation. Said he: "As an artist, I am biased towards the magic of real drawings giving the impression of movement. ... Computer graphics don't in any way feel 'real,' just as in live action films, I would like to feel that a real flesh and blood stuntman had actually skied off the cliff as James Bond, rather than the stunt having been generated in a computer."

<![if !supportEmptyParas]> <![endif]>

CIVILIZATION'S LAST OUTPOST

One of a kind beats everything. —Dennis Miller adv.

From lansingcitypulse.com: Josh Kilmer-Purcell, the editorial cartoonist for the State News in Lansing, Michigan, recently produced a memoir about his adventures as a New York City drag queen, I Am Not Myself These Days. It is, we are assured, "a funny, harrowing account of Kilmer-Purcell as Aqua, whose gimmick—goldfish swimming in water-filled transparent boobs—helped make her a star on the gay club circuit."

<![if !supportEmptyParas]> <![endif]>

FUNNYBOOK FAN FARE

"Virgin," a word that signals the absence of sexual activity, almost always announces a preoccupation with sexual activity wherever it appears. The word is one of our most incendiary oxymorons, nearly as useful in promoting sales and/or interest as "sex" or "new" or "free," the traditional troika of come-on terms lavishly invoked by advertising copy writers everywhere. We are not surprised, then, to discover that the first issue of American Virgin is about sexual activity, or, more precisely, the absence of sexual activity. Adam Chamberlin is a college senior who goes around the country giving lectures urging the rest of his generation to abstain from sex until they are married. "God told me to wait," he says. "I heard him speak into my heart, and he told me my girlfriend Cassandra is the woman I am meant to be with, only her and no one else—forever. ... I

class=Section5>

will never be with any other woman because that's what the Lord expects of me—so how can I not expect that of myself?" This sort of smarmy self-righteousness usually makes me gag, but in

this case, just as the gorge was rising, writer Steven T. Seagle turned a corner in his narrative, and it got somewhat interesting. Adam's sleazy stepfather shows up and wants Adam to lend his

charisma to his tv ministry, but before that wrinkle gets ironed out, Adam is waylaid by his cousins, who kidnap him and tie him up so he can be corrupted by a stripper performing a lap dance. Adam escapes without losing his virginity, but then he learns that his girlfriend, who's working in Africa, has been killed. Or so we are led to believe. Adam believes it, too, and on the last page, he voices his rage and devastation: "Fuck me," he says, disconsolately. Becky Cloonan's drawings are crisply rendered in a bold line with filagree texturing, and her storytelling is adept: she adroitly varies camera distance and angle for variety and for dramatic impact. Attractive and effective. There will be three more issues of this title, and Seagle promises "American Virgin is going to do for global sexual ritual what Hellblazer did for demonology or what Preacher did for gross-out humor." Okay: I'll go along.

Painkiller Jane No. 1 by Joe Quesada and Jimmy Palmiotti with Lee Moder on pencils (maybe Palmiotti inked?) is about a provocatively named woman whose wounds heal as fast as Wolverine's. Her friend Fernandez, with whom she attended police academy, sends her to "clean house" at a seedy mansion where girls are chained up and shaved bald-headed and otherwise abused. Jane kills her way in and then kills one of the sadists, who turns out to be famous. Jane then realizes that "they" know who killed the guy and will come after her. Moder's angular style is clean and simple but effective. But most of the action takes place in the dim recesses of the sexual pleasure dome, and Pilvi Kuusela's coloring, aiming to evoke the dimness, is much too dark: most detail is lost in deep shadow. And that, perhaps, is just as well. Moder's style, unencumbered by shadow, would probably be too clean for the necessary atmospherics: everything would look neat and tidy when it should look shabby and dirty.

Mike Hawthorne's Hysteria: One Man Gang No. 1 is all in black and white and gray. And it's all action. Bruce Lopez is the one man gang, and he crosses the border into a neighboring gang's territory in order to rescue a little girl who is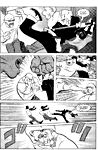 about to be run down by a truck. Lopez's trespassing provokes the rival gang, the Eggs, and the rest of the book is devoted to unrelieved fighting in panels filled with contorting figures and lots of horizontal lines denoting movement and excitement. No backgrounds to speak of. Just horizontal lines—"hites," as Mort Walker calls them in his Lexicon of Comicana, which also identifies those little dust clouds left behind speeding comic characters as "briffits." Hawthorne draws very well, and he can depict fight sequences with panache. But there hasn't been an all but plotless comic book like this since Scott McCloud's 1986 one-shot epic Destroy! which lampooned superheroic action comics by giving us an entire book devoted to the mindless rampaging and wanton destruction of a superpowered wanton rampager. The second issue of Hysteria is a continuation of the feverish fight scene in the first. More and more hites. One character, the little girl whom Lopez is "protecting," even says what we all, by now, must be thinking: it's all pretty silly. I can't imagine where Hawthorne will go with this, but subsequent issues are, doubtless, in the offing.
The Middleman by Javier Grillo-Marxuach as drawn by Les McClaine is a lampoon of spy thrillers, the general tone and hilarity of which is amply indicated in a speech early on by the Middleman himself, "a covert operative for the World's most absurdly secret organization," who consoles our heroine, Wendy Watson, by explaining: "You had no way of knowing Sensei Ping has a blood feud with a cabal of Mexican wrestlers who stole the rarest diamond in the world to create an energy field capable of holding the Earth's most dangerous martial artist." Later, he falls into the clutches of the self-same Sensei Ping, who wonders: "Whatever happened to the American cowboy ethic? Roaring into a den of iniquity with your weapon in one hand and your privates in the other?" We have to respect the creative impulses of anyone capable of producing a line like that. And I do. This is the second issue of "The Winnebago Interrogation Contingency" with ensuing issues promised. McClaine's art, which sometimes reminds me of the admirable C.C. Beck's Captain Marvel for Fawcett, is delicious: he (she? "Les" is ambidextrous, tovarich) can draw anything from any angle, and he (yes it is "he"; I checked o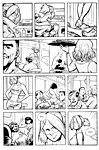 nline) does it with a clean, bold but flexing line, embellished with a mere hint of feathering here and there. He enhances action sequences with plenty of hites and adds such emanata as neoflects, that spray of straight lines that emanate from and surround a central point, nimbus-like, but he doesn't stint on background detail: everything herein takes place in settings and locales, and McClaine shows us enough thereof so we know where we are all the time. He also knows about storytelling with pictures and does it without words on occasion, usually for comedic emphasis.The last couple pages in this issue are devoted to several newspaper-type comic strips by Wes Molebash. Entitled You'll Have That, the strip, drawn in an attractive retro style, deals with the tribulations of a newly wed couple; you can see daily installments online at www.yhtcomic.com ; try it, you'll like it. Ditto The Middleman.
About Super Real written and drawn by Josh Martin, we are nearly at a loss for adequate vocabulary. The concept is fairly straight-forward: "Upstart extreme programming network XTV" is launching a new reality show based upon comic book fiction, featuring five would-be superheroic types—namely, Holly Hood, a waitress and go-go dancer; Michael Dasquea, a professional body builder; Kityana Bliss, a model; Warren Campbell, a club promoter and music producer; and Shana Payne, the ostensible owner of a failing Internet company. In this issue, the second of the title, the group is assembled and taken to the studio where they'll live and work. They meet each other on the airplane flight to the studio, and we learn a little about each of them. The executives of the tv network include people that look suspiciously like GeeDubya and Darth Cheney. Other than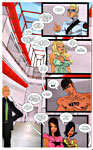 that, the most spectacular aspect of this issue is Martin's art, the likes of which, as I said, defy description. His line is often frayed and sketchy, an attribute which seems to suit the way he renders the species: anatomy is angular and lumpy. These people look as if they've been modeled from gummy oatmeal and left to dry in the sun. The body builder's physique, of which he is inordinately proud, looks like his bones were badly assembled inside and struggling to get out, poking this way and that. The women have long legs and basketball bosoms of the most pendulous kind, but it's not at all offensive or sexist because the exaggeration makes them comic rather than sexy. Some of the backgrounds are photographs over which Martin's drawings have been superimposed. For the eccentricity of the rendering alone, I'd get the next issue.
Nos. 2 and 3 of Batman: Year 100 are now out, and Paul Pope's raddled drawing mannerisms are beginning to get to me. The faces of his characters morph from panel to panel, only their hairdos or costumes identify them; and many of his renderings of equipage and objects do not reveal that those things are, which baffles the reader and befuddles the storyline. The story, however—what I can make of it—is gripping enough. By the end of the third issue, Batman has fought off a horde or two, escaped, and is now on the cusp of figuring out what sinister science threatens mankind. And Jim Gordon, grandson of the original Gotham police commissioner, has been thoroughly beaten up but is, like Batman, about to discover something.
REPRINZ
Bo Nanas: Monkey Meets World by John Kovaleski (128 9x9-inch pages in b/w paperback; $10.95)
The protagonist of this comic strip, launched in May 2003, is a talking monkey who, through no fault of his own, has been set loose in the world of humans. As an "alien" being, Bo Nanas has a unique perspective on human society, a view that offers ample opportunity for warped commentary of the satirical kind. Kovaleski compounds the opportunity by making sure that the humans Bo encounters are not your ordinary, everyday sort.
Bo goes out for an evening stroll, wondering why it is he doesn't fit in, but he's cured of his insecurities when he meets a man rowing himself around in a bathtub. He finds a runaway piggybank. He meets a man in a duck suit. He finds a tv set, tuned up and operating in the middle of a park. He sees a bird, out for a walk. His first Christmas, Bo worked as an elf for an egotistical mall Santa. Bo's landlady, Mrs. Yannes, is always attired in a robe and never takes the curlers out of her hair.
In an age (ours) of predictable sitcom humor, Bo Nanas is never predictable. Bo frequents a hotdog stand and tries to have conversations with the stoic operator. "Are these really dogs?" Bo asks. "Yeah, sure," says the operator; "wild hot dogs—caught 'em myself." Bo ponders this intelligence. "I guess that'd be pretty easy since they have no legs," he says.
Bo wonders into a saloon and goes to the bar just as a customer finishes his mug of beer, holds it aloft and says, "Barkeep—I'll have another one of these." Bo ponders and then says, "Why would you want another empty mug?"
A man seated on a park bench next to Bo asks: "If a sunrise is beautiful, should the opposite, a sunset, be ugly?" Bo, wisely, says nothing. But the man raves on: "If eggs sunny-side up are delicious, should the opposite, eggs sunny-side down, be ..."
Kovaleski's drawing style is refreshingly whimsical: he reduces anatomy to simple lumpish geometric shapes with a quirky wirey line that flexes and twists as it delineates his cast. Bo, as you might expect, is all ears and nose, his body and limbs little more than stick figure. The cartoonist claims the idea of a talking-monkey-in-the-real-world came to him in his sleep. Then he had to think of a name.
"I was walking on the beach with my girlfriend when she just stopped and pronounced that his name would be Bo Nanas," he remembered. She was inspired, doubtless, by the banana vendor in Kovaleski's hometown, Rochester, who hawks his wares in the public market by yelling, "BO-nanas! BO-nanas! Get yer BO-nanas!"
Kovaleski doesn't have a pet monkey, never has had. But the strip's gags and Bo's personality have nothing to do with real monkeys anyhow. "I get inside his head by just thinking of him as a human who's a bit confused by what's going on around him," Kovaleski says, "—much like me."
Before becoming a full-time cartoonist in about 2001, Kovaleski worked as a graphic designer and did some writing and filmmaking. He also worked at an ad agency, a consulting firm, a newspaper, and "a big faceless corporation." He shaves his head.
He starts working on the strip every day as soon as he wakes up: "I do most of my writing first thing in the morning, straight out of bed to the couch when my brain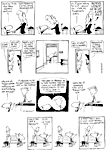 is fresh. A lot of it is coming up with situations that I can put Bo in. I take a basic idea and turn it around and around and look at it in different ways trying to find something interesting and, hopefully, funny. I let my written gags sit around for a while before drawing them so I can rework them if needed."
He tries (emphasizing the word tries) to do about two daily strips every day. Bo Nanas runs in about 20-30 newspapers and richly deserves a much wider distribution. But now, with the arrival of this Andrews McMeel, tome, you can enjoy a big slice of the strip whether it's running in your paper or not.
<![if !supportEmptyParas]> <![endif]>
DICK ROCKWELL: ASSISTANT PAR EXCELLENCE
Dick Rockwell, Milton Caniff's drawing assistant on Steve Canyon for 35 years, died at about noon on April 19, as unheralded at his passing as he had been for much of his comic strip career. He suffered from leukemia and had been in a nursing facility near his home in Peekskill, New York. His ailment went undetected for some time, his wife Bea told me. He was tired more than usual, she said, but his family thought it was merely a symptom of age; he was 86.
Rockwell began his Canyon career early in 1953. One day, he drove over to Caniff's studio near Haverstraw, New York, and knocked on the door. Rockwell was not a physically impressive man. He was slender, and he always wore a cap. In later years when I knew him, he had a sort of tweedy appearance, head to toe. His eyes twinkled, though, and he had a ready chipmunk grin. And his credentials were impressive. Norman Rockwell's nephew and a transport aircraft pilot during World War II, he not only had art in his blood, he knew airplanes and aviation—an important qualification for working with Caniff. After the War, Rockwell freelanced and found his way into the comic book business, starting with Stan Lee at Timely (later, Marvel) Comics. He also drew for Charlie Biro at Lev Gleason, and there, he had met William Overgard, who one day told him how he and Noel Sickles had recently filled-in for Caniff on Steve Canyon. Rockwell lived not far from Caniff's Tor Ridge redoubt and decided to call on him in the hope that he might be in the market for assistance on a more-or-less permanent basis.
<![if !supportEmptyParas]> <![endif]> For twenty years, Caniff had produced a syndicated comic strip with only a letterer, Frank Engli, to assist in the work. Caniff took no little pride in doing all his own drawing; too many of his colleagues, he thought, shopped out too much of their work. Still, his workload was becoming too great for one man: in addition to creating the strip, he was promoting it by traveling all around the country and also stealing time to do drawings for his fraternity Sigma Chi, his alma mater Ohio State, the Boy Scouts, the Air Force and the Air Force Association, Good Will Industries (he designed the mascot, Good Willie), and numerous other causes both private and public. And in the fall of 1952, he'd been struck down suddenly with the flu. He'd called in Sickles and Overgard to get the strip out while he lay helpless in bed. He realized how vulnerable he was—he and his entire system of production, his livelihood and the sole support of his wife, Bunny. He had decided to make his life easier and his business less precarious by hiring an assistant to help with the drawing. Not as a regular matter, maybe, but every once in a while. Just then, Rockwell walked in.
"He brought some samples to my studio," Caniff remembered, "and said he was too busy one week and not busy at all the next, and if I had anything that I needed done, he would probably be available. So I asked him to do a couple of sample things—a couple of pinup pictures, a shot of Canyon in the uniform of the day, that kind of thing. He did them, and he was very good."
Caniff gave him a tryout on the strip at once. Supplied with a set of lettered strips and some stage directions, Rockwell both pencilled and inked everything in a week's strips—except for Steve's face, which Caniff did. Rockwell could not remember which was his first week, but from what he told me of the action, it was either the week of February 2 or, if not that, the week of February 16, 1953. Rockwell did well enough that Caniff proposed that they continue the arrangement. For several months, Rockwell penciled and inked story segments in which the main characters were either off-stage briefly or would not be depicted in close-ups: an alien hand could be easily detected in the rendering of faces familiar to readers. But after three or four months, Caniff proposed a different scheme: Rockwell would no longer do any inking; he would pencil Steve Canyon, and Caniff would ink it. By mid-1954, the new routine was established. For each
strip, Caniff pencilled the dialogue into rough-hewn speech balloons and then gave them to Engli to letter in ink. After Engli finished the lettering, Rockwell picked up the strips at Caniff's studio and took them home to pencil the figures and backgrounds in each panel. A week later, he brought them back for Caniff to ink.
Rockwell told me that he didn't think Caniff planned to keep him on permanently at first, but once he began pencilling all the strips, he was soon integral to the production cycle. "I became part of the routine, part of the machine," he said. And that had its drawbacks. "Whatever happened to Milt, happened to me, too," Rockwell explained. "I became subject to whatever interrupted the production line. I had to wait for Milton to write and for Frank to letter. We were always so close—for years, we were never more than a hair's breadth away from missing the deadline." And sometimes, he confessed—albeit rarely—they missed it.
This chronic brinksmanship did not result entirely from Caniff's being distracted by extramural projects, promotional and otherwise. "He didn't want a big long lead," Rockwell said. "Milton wanted always to be at least close enough to publication time that he could take a newsy current event and use it in the strip."
Rockwell received very little graphic guidance in the lettered strips he picked up weekly. Apart from speech balloons, the panels were very nearly blank. Caniff sometimes gave stage directions with a cryptic notation—"S on balcony," "office," "close-up on package," "long shot," "medium shot," and so on. At first, on rare occasions, he went so far as to block a scene by drawing ovals for the heads of characters, thereby positioning his players on the stage. Sometimes there were a few ghostly lines, vague configurations of stick-like apparitions and other hazy indications. But usually, Rockwell drew the strips by taking cues from the dialogue. He was also guided by Caniff's well-known narrative style: Caniff's storytelling mannerisms—such as his way of pacing a daily strip by beginning with an establishing long shot and ending with a close-up that intensified the dramatic impact of the last panel—were familiar devices now. Rockwell, like his
fellows, had studied Caniff's work for years and knew its characteristic maneuvers. That knowledge usually enabled him to expand upon Caniff's meagre cues.
"He just gave me the copy on the page and—Here, you make the pictures," Rockwell told me. "And I think that was the one unique quality I had that he wanted—my ability to see the scene,
to set it up."
Rockwell's long tenure was vivid testimony to his ability. He stayed on as Caniff's drawing assistant for the rest of Steve Canyon's run. The working relationship that emerged in 1954 would continue in its chaotic, deadline-stalked manner for the next thirty-three years. The only substantial change in their arrangement came in the late 1950s. Rockwell had asked for a pay raise, and by way of justifying the increase, Caniff asked him to do some inking—to outline the backgrounds and equipage in each panel. Caniff then "painted" the backgrounds, laying in shadows with his brush, after he inked the figures and faces in the foregrounds.
"Dick does only outlines," Caniff said. "I still go in and do the blacks. He doesn't do any blacks. And he never does the inking of figures because this is where ghosting shows. You can do all kinds of ghosting in the backgrounds, but he doesn't draw the figures the same way I draw them. He draws them his way. It's all right in penciling, but in the inking, I ink them my way. The end product of that is that it still looks like my stuff. Even though he might have inked the background, still, the figures are what you remember."
Rockwell's comic book illustration showed Caniff's stylistic influence, but Rockwell did not think at all like Caniff. Once when we talked, Rockwell described the differences in their approaches:
"Milton starts a panel by putting the heads in," Rockwell said, "and then he builds the panel around the heads, the heads' relationships. I look at the copy, the dialogue [for the story]. If it's a plane coming in for a landing, Milton would put the plane in and then the landscape underneath it. I would try to see the airplane and the landscape together somehow. Milton has such command over that little box—such a skill at spotting the right detail—whereas if you think the way I do, you have to think and make up the whole picture every time. You're hung up on reality.
But he draws a comic strip."
I tried to clarify what he meant: "He draws the narrative essential and then drapes reality around it," I said. "He sees the essentials of a comic strip—"
"Right, right," Rockwell said. "And I see the actual event, and then I move my camera around to take a picture. But Milton—like in those wonderful scenes where a guy shoots somebody, a great distance shot. If you try to see that whole scene, I think you miss it. What Milton did, he drew the head of the rifleman sighting along the rifle and the essential line, which is the gunshot from the rifle barrel to the target, and then he scaled the guy on the other end. If you draw the two guys and then put in the gunshot line, you've missed it. You've got to start out with that dramatic visual angle.
"Another of Milton's favorite things," Rockwell went on, "the kind of thing he was famous for—the profile of the airplane. Or the straight front shot from head-on. And I'm always a three-quarters view man: you get more depth."
Despite their differing visualizing inclinations, Rockwell was able to bring Caniff exactly what he wanted. Rockwell's penciled strips were mazes of lines, each panel seemingly a tangle of scribbles. But the countless pencil strokes coalesced around recognizable human forms, the heads acquired discernible features, and background details emerged from the thickets of lines.
"When I draw a head," Rockwell explained, "I give him a very detailed, structured head—with lots of lines to choose from. Milt picks out what he wants with his pen."
Caniff didn't need tight pencil drawings to work with. "I've always been a very sloppy penciler," Caniff said, "and only with facial situations very close in and so on do I pencil tightly. I actually almost pencil with a brush." Loose pencils left him free to draw; with tight pencils, he felt as if he was tracing rather than drawing.
"Dick makes it much easier for me," Caniff told me. "As Fred Allen used to say, Well, the boys—his staff—they dirty up the paper, and then they give it to me, and I polish up the jokes." Turning serious, he went on: "He's very adaptable. His style doesn't resemble mine so much as the fact that he does do illustrative kinds of drawing, which is what I do. Sometimes he isn't quite sure what I'm going to do about a costume, so he just makes it a straight nude figure, and I dress it the way I want it—especially with women." He chuckled. "I've said in a stage direction, Crowded street. And so he just puts in all the people with no clothes on at all. Very interesting."
Their working arrangement threw the burden for researching the visuals onto Rockwell's shoulders, and he began almost at once to build up a reference file. In a few years, its comprehensiveness would rival Caniff's. But Caniff scarcely gave up responsibility for his strip's visual accuracy: he'd send Rockwell a "wad" of reference material, "scrap," whenever they began a sequence in a new setting. In picking his assistant, Caniff had been lucky: Rockwell was not only a fine artist, he was also as dedicated to accuracy as his boss. Caniff appreciated these qualities in his assistant.
"Dick's a good artist, and he's a great guy," he remarked once in 1985 when we were discussing their relationship. "And you don't have to spell things out for him." Caniff was, as usual, drawing while we talked. He scratched away with his pen for a few moments without saying anything more, and then: "He was always good, and now he's better than ever."
Caniff would appear to have given away much of the creative control of the strip. Panel composition—including camera distance and angle—is one of the most important aspects of the storytelling mechanism, and Rockwell, in penciling the entire strip, was responsible for this vital aspect of Steve Canyon. But Caniff in practice yielded very little of his control. In blocking out the dialogue, he did the narrative breakdown—dividing the story into daily installments and then panels. That, in turn, controlled a strip's timing, a significant part of its vitality. Moreover, in inking what Rockwell drew, Caniff could accept or reject what his assistant did. "I'm the last one to see it, so I have the final cut," Caniff said, employing a filmmaker's terminology as he so often did. And Caniff frequently exercised his prerogative, changing things at the last moment.
Sometimes he changed only minor aspects—the position of a hand, the tilt of a head. Sometimes he made additions—more people in a crowd scene, another piece of furniture in a room. And sometimes—rarely—he discarded Rockwell's drawings altogether, erasing an entire panel or pasting a fresh piece of paper over the panel so he could draw a completely different version of the scene. When this happened though, it was almost never because of some failure on Rockwell's part.
"I seldom dislike what he pencils because he's very good," Caniff explained. "It's just that I change my mind sometimes about how a scene should look. And I'm inclined to emphasize situations more than Dick is. I goose it a little more. Where I have a guy running down the road, for instance, to escape the bad guys, Dick will draw it correctly and very well, but I want to intensify it: I want to make him look more scared. So I'll bend him over a little more and put him in a position of intense effort instead of having him just jogging."
If Rockwell objected to Caniff's alterations, he kept his objections to himself. He was keenly aware of his role as assistant and what that meant. "I heard that Ray Bailey and Milton used to fight a lot about Terry," Rockwell told me. "And Bailey wasn't even working on the strip itself. So I never argued with Milton about anything. If he said that's the way it was, then that's the way it was."
Early in 1968, Rockwell got another, decidedly different, drawing assignment from Caniff. He was to paint a mural. Some years before, Caniff had accepted a challenge from an old Scouting friend, George Cahill, who, in 1961, was Scout Executive of the Allegheny Trails Council in Pittsburgh. He helped plan an ambitious new headquarters building that would be known as Flag Plaza, an educational, functioning monument to the American Flag. At the core of the idea was a unique daily flag ceremony that would take place in the courtyard at the building's entrance preceded by a prelude of a history lesson in the Flag Room. Cahill asked Caniff to make an inspirational mural for the front of the room.
"In designing the Flag Room," Cahill told the cartoonist, "we have saved a ten-by-eleven-foot spot of wall at one end of the room, and we want you to put something on it that throws everybody who ever walks into the Flag Room into the future with the Flag and a challenge. I don't know how you do it—but there's the hole in the wall, and we need text and art."
The deadline Caniff had been given was scarcely imminent. But seven years later, the Flag Plaza was almost completed, and the dedication was set for July Fourth. Caniff had been working on sketches over the years and getting them approved. With final approval, he drew a detailed black-and-white rendering of the mural slightly larger than his usual Steve Canyon Sunday page. The picture showed a young man standing on a hillside, staring out into the distance—the future—ahead of him. Behind him is Pittsburgh, the celebrated Point at the confluence of the Allegheny and Monongahela rivers. Circling around the boy on the hillside are eight small pictures, disc-shaped vignettes. Emblematically, these pictures symbolize aspects of American life—business, government, medicine, science, religion, education, aviation, and communication. This drawing would be copied onto the surface of a 10x11-foot canvas; and then painted. The execution of this part of the operation Caniff entrusted to Rockwell.
By this time, Caniff had moved from Haverstraw into Manhattan, and he no longer had roomy enough facilities to accommodate the mural. For the final phase of the work, he rented (at his own expense, Cahill said) a loft in Greenwich Village. There Rockwell set up shop. One wall in the loft was exactly ten-by-eleven, and against it, Rockwell built a frame upon which he stretched the canvas. Caniff dropped in once or twice (once to have photographs taken of him and Rockwell at the mural), but Rockwell completed the work entirely on his own.
At last the long-awaited day arrived, the day the mural itself was to be delivered. Fittingly enough, it was June 14, 1968. Flag Day.
As the date of installation drew near, Cahill was gripped all at once by a plummeting feeling in the pit of his stomach. What if the mural didn't fit in the place they'd left for it? In conversation with Caniff, he'd always spoken of a ten-by-eleven mural. But as he had watched the carpenters carefully fitting into place the elegant and expensive beechnut paneling of the Flag Room, he suddenly wondered if the blank place they were leaving at one end was, indeed, exactly ten-by-eleven. Now that the mural was almost ready to install, the matter of its dimensions became vitally important—its exact dimensions. Cahill realized that he had never actually known the exact dimensions of the "hole in the wall"—the unpaneled "window" in the wall into which the mural would be inserted. But at the time Caniff told him about getting the loft in Greenwich Village, he had asked the architect, B. Kenneth Johnstone, to convey those exact measurements to Caniff, and he had assumed that Johnstone had done so. But now, as the moment of truth approached, he couldn't remember Caniff having ever mentioned a message or a visit from Johnstone. His fear furiously escalating, Cahill told Johnstone to be on hand the day the mural was delivered.
Having labored on the painting for nearly four months, Rockwell was not about to entrust either its delivery or its installation to unknown parties. He announced that he would bring it to Pittsburgh himself. On June 14, he arose early in the morning, drove into the city, took the canvas down, rolled it up, and packed it into a stationwagon he had rented for the purpose. He and his wife Bea drove all day long. At four-thirty in the afternoon, they pulled up at Flag Plaza.
They unloaded the canvas and carried it and the pieces of its collapsed frame into the Flag Room. The room was full of workmen. They were not working: they were standing and waiting. For weeks, as the fine beechnut paneling had been cut and fitted and installed, everyone working on the construction site had dropped into the Flag Room at one time or another to admire the woodwork. The "hole in the wall" naturally excited their curiosity. And when they were told that the hole would be filled by a mural created by the noted Milton Caniff and painted by the nephew of Norman Rockwell, they all wanted to be on hand to see the masterpiece unveiled. So at four-thirty when the Rockwells walked into the Flag Room after a long day on the road, they entered an atmosphere thick with anticipation. About sixty workmen were standing there, and every eye was fixed on the Rockwells, the rolled canvas, and the collapsed frame.
The Rockwells went to work without preamble. Assembling the frame was the first order of business, and they fell to the task wordlessly, bolting the wooden pieces together on the floor near the "hole in the wall." The instant they put the last piece in place, all conversation among the assembled workmen ceased. They were standing back from the Rockwells to give them room to work, and as the frame assumed its final dimensions on the floor, they could all see that the frame—and therefore the canvas, the mural!—would not fit into the open place in the paneling above it. It was too tall, or the "hole" was not tall enough. No one breathed. Everyone was waiting for Rockwell to make the same discovery.
Rockwell, on his knees on the floor, didn't seem to be aware of the catastrophe. He was tired. He'd been up late the night before putting the last few brush strokes on the painting. He'd driven all day. He wanted to finish the job and go to bed. He got up and brought the canvas over to the frame. He and Bea unrolled it and positioned it on the frame, and then they began to fasten it in place. It took two people to mount the canvas. One pulled the canvas and held it in position; the other secured it to the frame using a staple gun. Methodically, they went about their task—pulling and stapling, pulling and stapling. The only sound in the room was the snap of the staple gun. Of conversation, there was none.
Johnstone, the architect, doubtless remembered about this time that he was supposed to have given Caniff the exact dimensions. Seeing that the Rockwells' attention was fully engaged elsewhere, he pulled out a tape measure and started measuring the "hole." And then, as the Rockwells worked around the mural, he measured a side of it that they'd completed.
Cahill, his worst fears realized, could not bear to watch Johnstone: he was afraid the Rockwells would notice what the architect was up to and thereby make the dreaded discovery. Thinking somehow that he could prevent them from observing Johnstone's activities if he joined them at their work, he knelt down and helped Bea pull the canvas. Cahill and Bea pulled; Rockwell stapled. Pretty soon, they were working in perfect rhythm. Pull, staple; pull, staple.
Silence still reigned. The Rockwells never looked up from their task. Pull, staple; pull, staple. After what seemed to Cahill an eternity of this, Johnstone broke the painful silence.
He had been staring at the beautiful beechnut paneling. In his normal tone of voice—but sounding in the silent room like a clap of thunder—the hapless architect said, "Well, there's only one thing to do: we'll have to take a foot off the bottom of the mural."
Rockwell never broke cadence. Pull, staple; pull, staple. He didn't look up. But in a loud, clear voice, he spoke directly into the canvas before him: "Huh! I can see him now—the Pope, walking out of the sacristy" —pull, staple— "into the Sistine Chapel" —pull, staple— "cupping his hands to his mouth" —pull, staple— "tilting his head back and shouting up to the artist, 'Michael, oh Michael, please move the angel over a foot: I want to put a light bulb there!'"
Instantly, the Flag Room was empty. The workmen evaporated. Without making a sound, they cleared out at once. They disappeared. First they were there; then they were all gone. Only four persons remained—the architect holding his tape measure idly at his side, and the other three on their knees beside the canvas. And the only sound was the crisp efficient snap of the staple gun.
It's one of George Cahill's favorite stories, and he tells it just about the way it's told here. And he never fails to add the footnote: the next day, the carpenters removed a foot of the precious beechnut paneling to make the "hole in the wall" tall enough for the mural.
Throughout Caniff's long career, it was a point of pride that he could always do his own strip from start to finish, from story idea to final drawing, without assistance. He had seen too many cartoonists become dependent upon their assistants. Bil Dwyer had nearly reached that stage with Caniff assisting him on Dumb Dora. Then there was Ham Fisher. Fisher was admittedly an extreme case: he was helpless at the most essential part of his presumed craft, and as a result, he was the object of derision and ridicule among cartoonists. Caniff's assembly line of assistants would never have been compared to Fisher's, and Caniff knew it. But he was nonetheless reluctant to reveal that he was using an assistant.
His reticence was not entirely a matter of pride: his name was his currency in the industry. In the two years before Steve Canyon was launched, Caniff's name had sold over 150 editors on his new strip, sight unseen, and the name still had clout. If it became widely known that he had a drawing assistant, Caniff understandably felt that the market value of his well-known boxed signature would be diminished. He consequently kept the extent of Rockwell's involvement in low profile for years. Even so, Caniff was sensitive about having an assistant—and about his silence on the subject. He didn't like to think he'd be accused of hiding his assistant, but he also felt it was important to maintain the illusion for the general reader that he did it all himself—"Just like Bob Hope writes all his own material," he said. "Nobody believes that, but for the public and the income tax people, you go along with it."
While Caniff was quiet about Rockwell, he made no effort to keep him a deep, dark secret. All his closest associates knew that Rockwell helped. And most of the active members of the Cartoonists Society knew, too—particularly after Rockwell became a member. Rockwell's role wasn't publicized in the general press, but Caniff named him as his assistant as early as 1960 in an interview published in Famous Artists Magazine. Still, it wasn't until the last ten years or so of Steve Canyon's run that Rockwell's function became known to many of Caniff's fans.
Caniff's practice was scarcely unusual. And Rockwell understood his reasons.
"I really wasn't supposed to exist," he told me. "I can appreciate that. This was his show. And I think he had a good deal of disdain for other cartoonists who had given up drawing and had all kinds of assistants." He paused and then went on, musing aloud. "Milton's thing was that he was the kid who came rushing into the newspaper office and made it. That was his life, a kind of adventure. And I agree with that. Life is an adventure." He paused again thoughtfully. "I think that's what made Milton heads above everybody else. It made him write Terry and the Pirates with that wonderful adventure spirit—and sustain it over all the years. How many creators have sustained their good quality of creativeness at such a constant pace for so long?"
A drawing assistant didn't fit into the adventure. Fortunately, Rockwell had a stoic's vision of his place in Caniff's scheme of things.
"I am related to one of America's greatest illustrators," he said to me once. "And I work for the other one." He smiled. "I have to keep my ego in the closet."
He did. He also developed a separate career. He taught drawing at New York University and graphic reportage at Parsons School of Design. And he practiced what he preached by covering court trials for newspapers and magazines and a New York television station. He also did editorial cartoons for his hometown newspaper, the Peekskill Evening Star, and for Jerry Robinson's Cartoonists and Writers Syndicate and the monthly magazine, Amazing Stamp Stories. But for Caniff, he was the anonymous assistant, and he served so long that it was virtually his life's work.
When Caniff fell ill with cancer in the winter of 1988 and was no longer able to work, Rockwell continued the strip with Shel Dorf, then Caniff's lettering man. Their production routine was the same as always, but one link less in the chain. Rockwell phoned Dorf and dictated dialogue; Dorf lettered the strips and sent them to Rockwell; then Rockwell finished them, inks as well as pencils. Dorf was Rockwell's first audience, and their telephone conversations sometimes turned into story conferences. Despite years of penciling the strip, Rockwell had difficulty at first with the title character. Inking turned sketches into hard-line images, and they were sometimes off the mark. But Rockwell improved as the weeks went by, and near the end, he had the hero's face down pat.
King Features was committed to continuing the strip as long as Caniff was alive. Shortly after Caniff died on April 3, the syndicate decided to end the strip. Joe d'Angelo, the head of King, explained: "It would have been a disservice to Milton to keep it alive, to keep it going without him. We felt we should bury the great strip with the great man."
But he let Rockwell finish the story he was embarked on.
Later, Rockwell wrote his remembrance of Caniff for Cartoonist PROfiles magazine: "Of all my memories of my long association with Milton Caniff the one I drew here is the most vivid.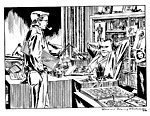 I never sat down, not because I wasn't asked; I just always stood while we talked. It was always late. Day or night, it was a hurried trip to pick up new work and deliver the work I had just done. ... Sometimes if Bunny was there, I would sit down, but the habit of standing was hard to break. It probably comes from sitting at the board so much. ... Our last talks dealt a few times with the fate of the story strips. Diminishing size left little room to draw anything but heads. It was like performing the opera in a subway car at rush hour. And Steve, too, suffered from obsolescence. The resourceful defender of the good guys became suspect in a culture of conflicting ideologies and social contradictions. Milt knew this and wrote his stories with a distinct note of irony. When Milton died and it was over and beyond the emotional separation in the loss of a friend, we were stunned by the sudden silence of our lives. Milton, the characters he created, Bunny, Willie, Adelaide, Frank, Shel and many others had served with dedication a man and his art of humor and ideas. Maybe that's why I was always standing."
Bunny, who was in the early stages of Alzheimer's by then, did not long survive her husband's passing. She died May 11. Steve Canyon followed soon thereafter. Rockwell's story ran through the first week of June. Rockwell concluded it on Friday, June 3, so he could devote Saturday's strip to his own tribute to Caniff: "Here's to all those deadlines, twice a week," he wrote, "—the record in print is Guin

ness bound. ... As well as we know his public fame, he was privately a friend of generous and involved concern; by wire, script, and handclasp, he knew us well. He gave us full measure, always. All honor to his art and name."
And for the first and only time in thirty-five years, Rockwell signed the strip—Richard Waring Rockwell. He printed his name. Then he drew a box around it.
<![if !supportEmptyParas]> <![endif]>
LUCKOVICH INTERVIEW
Excerpted from Cartoonist PROfiles, No. 115, September 1997, the following interview, initially conducted in July 1994, was updated in the winter of 1997 before being published.
The weighty testimony of two Pulitzers notwithstanding, Mike Luckovich, editorial cartoonist for the Atlanta Journal-Constitution, wasn't always a winner. In fact, he wasn't always a cartoonist. He graduated from the University of Washington in Seattle in 1982, sent out resumes all over the country, but didn't get a single positive response. It was a recession year. So Luckovich took a job selling life insurance, which he did for two years before being hired by the Greenville News in Greenville, South Carolina. Luckovich heard of the opening in Greenville through an ad in Editor & Publisher, to which, in desperation, he had subscribed.
"I kept a copy of Editor & Publisher open beside me on the seat of my Pinto as I drove around selling people life insurance," Luckovich said when we first talked in July 1994. "It gave me hope. I hated selling life insurance."
When he saw the ad, he sent in a batch of cartoons, and the News phoned and flew him back East for an interview. He stayed for nine months. He liked the paper: "It's a good paper, and the people there understood the role of a cartoonist. But I'm from a bigger town, and I wanted a bigger area, something more diverse." So when he heard of the opening at the Times-Picayune in New Orleans, he submitted samples of his work.
"Editors get stacks of stuff," he recalled, "so I wanted to be a little bit different. I sent them a cartoon every day. First, I sent in a portfolio of what I thought was my best stuff and cover letter; then I sent them a cartoon daily, the ones I was doing in Greenville, so they could see the quality and consistency of my work on a daily basis. They told me it helped. They were able to see what I could do."
While Luckovich never expected to stay in New Orleans forever, he wasn't particularly eager to leave four years later when, in 1989, the job at the Atlanta Constitution opened up. He didn't even apply for it. But the Atlantans invited him up for an interview. He went. He wasn't persuaded. They invited him back for a second look three weeks later. "Then I kind of got a feel for the city and looked at some of the neighborhoods, which are beautiful," Luckovich said, "and decided to do it. And we're all very happy we came here." He, his wife, and several small children.
Luckovich sees an editorial cartoonist as part crusader, part humorist. "With the type of editorial cartoon I do," he said, "people have to have a reference for it. They have to know the issues; they have to have an idea about them. And then I reflect on the issues. So I don't consider myself a reporter. I feel I definitely have something to say. And that's what is so great for me: to get my point across and to show the flaws in the other side's arguments or to show this individual to be wrong somehow, through ridicule in my cartoons. I feel that my best cartoons are cartoons that get a point across—and are also funny. Those are the kind of cartoons that I like to read. I don't really particularly care for gag cartoons—editorial cartoons that don't make a point. I think that good editorial cartoons get the point across and are still funny."
And he has his target firmly in mind—as a target. "That's part of the fun of the job," he said, "—knowing that I'm going to make somebody squirm. I think I want to get across a point and maybe make people out there see an issue the way I see it, but I think probably my main motivation is to get at somebody. For instance, the tobacco industry. These are easy targets. And the NRA. These guys are easy to hit. But I still derive a lot of pleasure from hitting at them."
Luckovich frequently attacked the tobacco industry and NRA, but he's glad they're out there. "These guys are like walking cartoons," he said. "When you're having a tough day and you want to come up with a cartoon that writes itself, these guys are always available. So I guess I shouldn't be too mad at them."
Like many of his brethren, Luckovich believes that one of the biggest issues in the editorial cartooning profession is a tendency to tell jokes that don't have a point of view. "I think that there's a lot of very good editorial cartoonists out there who are doing a very good job," he said. "But I think on some level cartoons have begun to rely more on straight gags rather than getting a point across. And like I said, I'm not big on gag cartoons unless they're on some kind of goofy issue in the first place. But I think over-all, what's important is that people concentrate on having an opinion and also getting it across in a way that is different from everybody else. And I think that this is an on-going struggle that everybody deals with in their own way."
But it's more than just trying to come up with a picture that's different. "You need to continue to be hard-hitting because editors a lot of times get worried about what their readers are saying, and it's easier to run a gag cartoon that says nothing than it is to run a cartoon that's hard-hitting. And I hate to see that because there's a comics page if people want to be entertained in a harmless sort of way. I don't think that's the role of an editorial cartoon. And so when you have gag cartoons that are funny just for the sake of being funny, I think it waters it down a little bit."
At the same time, Luckovich sees a place for the occasional strictly humorous cartoon: "It's kind of like a pitcher with a number of pitches. I'd rather mix 'em up a little bit. Do the stark image occasionally, but also do a hard-hitting cartoon occasionally—and occasionally, every once in a while, depending upon the issue, do just a funny cartoon. If you can stay fresh that way, I think people like reading you."
I mentioned that some editorial cartoonists with whom I've talked look at humor as the hook—that's what gets people to look at the cartoon. "The readers' expectation is that they're going to get a laugh. And if I can get a message across once I've got their attention, then I think I'm doing my job. That's the point of view I've heard," I said. "But implicit in that statement is that there is a message there, too."
"Right," Luckovich said. "I want my cartoons to be humorous. People respond to humorous cartoons, there's no doubt about that. If you have a humorous cartoon that gets the point across, you can still be both hard-hitting and humorous. They're not mutually exclusive properties. I would much rather see a cartoon like that than a cartoon with the Grim Reaper walking down the middle of the highway. That kind of stuff is Old School to me. And it doesn't hook people. So if you can say what you want to say in a humorous way and still be hard-hitting, that is the best way to go. It's complicated, like I said. Every cartoonist will do a gag cartoon every once in a while; but when that becomes all that you're about, then I don't think you're an effective editorial cartoonist. Now, you can do cartoons that aren't on the major issues that are still worthwhile—satirical type stuff. It's not life-threatening stuff; it's very satirical and kind of life-style oriented. And I think that's great.
"This is a diverse profession," he continued. "I guess what may keep it interesting and dynamic is that you have people out there who maybe aren't really strong humor-wise but may be better with the stark image. So we get some of that, too. And the thing is that even the hardest-hitting cartoonist out there will do a light-weight cartoon every once in a while, depending on the subject. I'm talking about the work that you do day-in-day-out. It shouldn't be all jokes and laughs."
Speaking in June 1995 at the Editorial Cartoonists Forum at the Huntington Library in San Marino, California, Luckovich rejoiced at a recent success. When editorial cartoonists want to jab politicians, he observed, they sharpen their pens and take their best poke—and then the wily politicians phone up and ask for the original cartoon. It can be the hardest-hitting cartoon, but the politicians say they love it and want the original. Sort of takes the fun out of editorial cartooning. So Luckovich was overjoyed at Newt Gingrich's reaction to his election eve cartoon in 1994. In a hospital room setting that evoked Gingrich's notorious visit to his wife recovering from cancer treatment to ask for a divorce, Luckovich's cartoon showed Newt asking his Georgian constituency for a divorce in order to spend more time with Washington highrollers. Newt was so offended that he raved on about the cartoon at his victory celebration and banned the Atlanta Constitution from covering him for four months. The offending cartoon was one of twenty that won Luckovich the Pulitzer for 1995.
In October 1996, Luckovich did a reprise of the same cartoon by way of observing how far Newt had fallen in the esteem of his colleagues. Both are shown here, 1994 on top; then, 1996.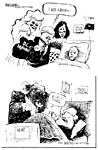 "Newt's a godsend for me and for other cartoonists," Luckovich told me. "He can dish it out but he can't take it. He's one of those kind of crazy politicians who have a messianic complex. So I try to sting him as often as I can."
Luckovich provokes other favorite targets, too. "Among the most interesting letters I've received was just after I'd done an anti-NRA cartoon, and someone used the cartoon as toilet paper and sent it back to us. I'm still trying to decide whether they liked the cartoon or not.
"You sometimes get profanity laden letters," he continued, "—especially if you deal with a subject that engages the sympathies of a lot of kooks. NRA supporters, for instance, send a lot of weird letters. When I do a cartoon criticizing Rush Limbaugh, for whatever reason, I get a lot of nasty letters. I got a letter from one fellow—full of swear words—and he says I criticize Rush Limbaugh too much, and at the end of it, he says, 'And if you want to make something out of it—' and he puts his name and address and phone number. As if I'm going to phone him and say—what?—'Oh yeah'?"
Luckovich works fast because he doesn't do preliminary sketches in pencil. "I just ink right on the paper," he said. He does a preliminary sketch to get reaction from those he consults, but once he's settled on an idea, he goes directly to the illustration board with pen and ink, using a mechanical pen similar to a drafting pen.
Said he: "And so it's great: it saves me a lot of time, and I think that my line work—at least in my opinion—has more of a flow to it. I started this, not using a pencil, in 1988. Up to that point, I would pencil everything in; erase, then pencil more, erase and pencil, until I had something down, and then I would ink over that. And now I've just eliminated that."
I asked: "Do you feel that in the old way of doing it you were actually not drawing; you were tracing?"
"Oh, yes," he said. "And now, occasionally—if I'm doing a cartoon where there's some sort of weird perspective—I'll try penciling to get it right. But I swear, every time I do that, I have to do it over again because once I pencil it in and start to ink over it, the ink work looks crappy to me because it's not my natural flow. So if I'm having a real problem with perspective or something, I'll draw a pencil sketch on a separate piece of paper—quick—and then look at that as I ink on my board."
Sometimes he knows the drawing isn't working. "I really have to get into my mind what I want on the page because if I don't, I'll screw it up right away as I start inking. And when that happens, I'll start over after drawing the first couple of lines. I might start with the main figure in the drawing—maybe I'll draw the nose. And I'll think: that's a crappy nose, so I'll toss it away. As you can see."
He stopped and we both looked at the floor of his office. It, and virtually every other horizontal surface in his cubicle, was cluttered with paper—scraps of drawing paper, tear sheets, newspaper pages. Layer upon layer of paper. He looked up and grinned. So did I.
Luckovich doesn't see himself as either liberal or conservative. "I'm probably more liberal than conservative," he said, "but I like to keep an open mind. I like to think of myself as independent. I don't want to fudge on this, but I hate labeling myself. I don't want to give people a preconception of where I'm coming from. I like to form my own opinions. If you had to pin me down, I'd be left of center."
I said, "What that really means, I suppose, is that you're issue-oriented. An issue will come long, and you either like it or dislike it, and it won't matter whether it's a conservative issue or a liberal issue. Social issues, you're probably left of center."
"I am," he said. "I think when it comes to tolerance, when it comes to issues involving gays and minorities and women, I think I'm left of center on those things. I just consider it common sense. To be tolerant of other people and to accept other people. Life is tough enough without beating the drum against one group or another. That's where I come down. To me, that shouldn't be liberal. People should just treat each other in a kind way. That's the way the Bible teaches—contrary to the way the Christian Coalition interprets the Bible. I think you've got to love thy neighbor."
Luckovich was inspired to get into cartooning by something he saw on the newsstand, not in the newspaper: "Mort Drucker," Luckovich said, "the Mad magazine cartoonist. I love his work. I think he's a beautiful artist, beautiful caricaturist. And so when I was a kid, I wanted to draw for Mad magazine, and I didn't follow the comic strips as a kid. I just drew funny pictures of the teachers and looked at Mad magazine; that's the kind of comics that interested me. That is kind of weird. For most people in this field, comic strips or comic books were a good part of their childhood. But not for me. And I still have Mad magazine here."
Luckovich reached over and pulled a copy out from under a heap of papers on a desk. "It's still great; I still like it. And Mort Drucker is still at it and still looks great, and he's drawing better than ever. You can tell he has a real love for what he does. I just think he's great."
Luckovich is clearly enjoying himself: "I continue to love my job, and the greatest thing for me is still coming in every day and drawing a cartoon. I love doing this. And I'm having a lot of fun at it."
To find out about Harv's books, click here.