Opus 183:
<![endif]>
Opus 183 (May 8, 2006). This time, we feature the latest on the Danish Dozen and why they won't go away anytime soon, a review of what some regard as the first graphic novel, a Swinish explanation of why cross-over comic strips misfire, and a short but highly informative history of Islam. Here's what's here in order: NOUS R US —Smigel's Funhouse on SNL, Paul Gravett's manga book censored, Michael Uslan gives UI commencement speech, Warren Ellis on manga, MoCCA and the British cartoon museums, the notorious queen of curves, Jim Scancarelli hits 20, DC aims for greater obscurity, identities in the infamous sexual harassment (or is it?) case; EDITOONERY— Derf gets RFK; DANISH DOZEN AGAIN— the view from Down Under, more at South Park, freedom of the press, and, yes, Hope for us all, plus Bernard Shaw on Christianity; A SHORT-CHANGED HISTORY OF ISLAM—How Muhammad spread the word; COMIC STRIP WATCH— Swinish Pearls gets fuzzier and fuzzier; Agnes speaks for us all; Dolls and Such Like— The latest zaftig figurines; BOOK MARQUEE— Reviews of the new Victor Moscoso book and the latest Peanuts, plus prognostications of Sempe, Kelly, and Batman's holy terror: a face-off with Muhammad; THE FIRST GRAPHIC NOVEL?— He Done Her Wrong reviewed, and Gross corrected; then, in a stunning return, Bushwah and the usual Punditry. And our customary reminder: don't forget to activate the "Bathroom Button" by clicking on the "print friendly version" so you can print off a copy of just this lengthy installment for reading later, at your leisure while enthroned. Without further adieu—
<![if !supportEmptyParas]> <![endif]>
NOUS R US
All the News That Gives Us Fits
"Saturday Night Live" on April 29 offered 90 tedious minutes of Robert Smigel's Funhouse shorts, featuring such thrillingly satirical creations as the costumed do-gooders dubbed "The Ambiguously Gay Duo," the satirical message of which apparently resides in tights that are too tight and in the friendly pats on the fanny that they exchange in the spirit of boyish camaraderie. The target for this satirical thrust (so to speak) is doubtless the relationship between Batman and Robin—and, hence, between any adult male and an adolescent male sidekick—which Fredric Wertham determined over fifty years ago was homosexual. How is this satirical? How, even, is it amusing? It is unabashedly audacious, and that's all much "contemporary" humor is: it's no more than slightly inventive name-calling. No wit; just bad manners, as much as you dare. Which, given our licentious times, leaves nothing protected. Attack comedy. After about 20 minutes of this, I left. "Feet of clay" humor distinguishes, you should pardon the expression, much of tv's adult animated cartoonery—"King of the Hill," for instance, and "The Simpsons." And probably "South Park," too. All these endeavors at comedy feature, at one time or another, iconic figures making rude and uncharacteristic remarks that reveal them to be less than they appear to be. In the Funhouse on April 29, we meet Santa Claus, who is both gross and profane. And so a cultural icon is destroyed. Well, that's what satire is supposed to do, so it is probably effective. It's also predictable and boring. And the same thing can be said for "Saturday Night Live" even when it is populated by actual human beings. It was all hilarious when Mad started doing it, but haven't we, as a mature and adult population, outgrown that? Our children haven't, of course; so maybe SNL and the rest are aiming at them. Of course: the Youth demographic, 18-35, who still laugh at so-called satirical revelations of things the rest of us have known for decades. Okay, good enough: watch and learn, I say.
Neil Gaiman's fantasy tale for kids, The Wolves in the Walls, has been made into a musical that opened in Glasgow in April. ... In case you missed it, a British judge ruled against the two authors who sued Dan Brown, saying he stole ideas for The Da Vinci Code from their book, which is much like saying Clarence Mulford stole the legends of the American West for his Hopalong Cassidy tales. ... Robert E. Duffy, who has been with Universal Press Syndicate for 30 years, is stepping down as president at the end of June; Duffy assumed the position in 2000 when John McMeel, one of the company's founders, bequeathed it to him. Lee Salem will become president while continuing in his present role as editor of the syndicate; Salem has been with the company for 32 years. ... In Turkey, cartoonist Musa Kart, who was fined $3,700 for depicting the Prime Minister as a cat, won an appeal when the Supreme Court of Appeals overruled a lower court decision. ... Winners of the Jewish Caricature Contest for the best anti-Semitic cartoons can be found at http://service.spiegel.de/cache/international/0,1518,412390,00.html . First prize went to Los Angelino Aron Katz. Jurors included the Israeli originator of the competition, Amitai Sandy, and Art Spiegelman, among others. Sandy was inspired to launch the contest when the Iranian daily Hamshahri, responding to the outrage of the Danish cartoons of Muhammad, announced an international cartoon contest focusing on the Holocaust. Said Sandy: "We had to do something to fight the fire with humor."
Paul Gravett's book, Manga: 60 Years of Japanese Comics, has been removed from the shelves of all 13 branches of the library system in the San Bernardino, California, after a parent complained that some images in the tome depicted sexual activity (about three images, actually). Initially, the parent's complaint was lodged at the Victorville branch, which responded that the book would not be removed. Selection of reading matter "is the parents' responsibility since the library does not act as a parent," said a library spokesman; "it is the library's responsibility to offer a broad spectrum of materials, not to exclude materials." But the outraged parent, acting on behalf of her 16-year-old son, was not deterred; she apparently approached the county board, whose chairman subsequently ordered to book removed. A local councilman allowed as how sexually graphic material does not belong in a public library in the first place: "They don't have any educational value," said Rick Roelle. A dubious assertion if ever there was. One of the baffling aspects of the case is that the book was shelved in the adult section with comics works. Since perusing Gravett's Graphic Novels book, I've had a high opinion of his work, so I bought a copy of this filthy thing, too. Alas, only two pages out of the 176 9x11-inch pages in the book ($24.95) have any pictures of a sexual nature on them. Seems the library could have satisfied the hysterical woman and her highly offended son (sixteen? And he's offended by pictures of sex?) by slicing out the two pages. Now, they say, only a public outcry could persuade the library to reinstate the book.
Michael Uslan was the commencement speaker May 6 at his alma mater, the University of Indiana where he earned three degrees and taught the nation's first accredited course on comic books. He is now a Hollywood producer known mostly as the "architect behind the superhero Batman's renaissance on the silver screen," which reputedly "paved the way for subsequent hit movies based on comic book creations." We can speculate on his message to the impending graduates by extrapolating from the reason he gave for Batman's being his favorite character: "Thematically, it's about a guy who makes a commitment and believes that one person can make a difference," he said. Uslan's own history would seem to embody the same traits. Notable. But I can't leave the building without observing that among Uslan's credits is reviving and writing the perverse reincarnation of Milton Caniff's Terry and the Pirates in the mid-1990s with the Hildebrandt brothers illustrating. In Uslan's version, Big Stoop, Milton's mute giant, speaks, thereby destroying forever his profoundly symbolic function as retribution incarnate. Ouch. Caniff attended the first chapter of Columbia's "Terry" serial in the late 1930s, and when he saw Big Stoop speaking, he ran screaming out of the theater (that's what he said) and never returned. (Yes, I'm pretty much into Caniff material these days: as I mentioned, I'm revising—and shortening somewhat—the 1,900-page biography I wrote, and I have less than 100 pages to go, hurrah.)
The animated adventures of Astro Boy, the seminal cartoon creation of Osamu Tezuka, who, inspired by Betty Boop and Bambi, virtually created the Japanese animated cartoon industry after World War II, thereby launching manga, are now available on DVD in an Ultra Collector's Edition. The eponymous young hero of the series is a super-robot, and because the stories deal with the relationship between humans and robots, saith Charles Solomon at the New York Times, the series "has been widely interpreted by anime fans as a metaphor for racial discrimination," adding: "Fans have often compared Tezuka to Walt Disney, but in some ways [technically, I assume], he was closer to Hanna-Barbera." ... Meanwhile, Warren Ellis reported on his blog that Urasawa's PLUTO is, "on one level, Ultimate Astro Boy—a massively expanded re-telling of a single 180-page Astro Boy/Tetsuwan Atom manga story, 'The Strongest Robot in the World.'" Then Ellis mentions Paul Gravett's book on manga, saying in passing that Gravett's original subtitle for the tome was "comics as air," denoting, Ellis explains, "an artform pervasive in its country." He then elaborates, providing one of the most helpful insights into the genre I've seen: The notion of comics as air "applies to the way the form works on the page, too. Manga isn't a string of postcards, a row of lights or a drum figure. It's a warm jet of air, a stream, to be experienced in motion. I've kind of resisted the following definition because invoking the word 'emotion' in narrative always sounds so clueless and fake: but one of the reasons manga never broke in the comics-shop audience in America is that manga values emotional and psychological content over plot, and comics-shop boys are just frighteningly anal about plot. Manga," he finishes, "are emotional comics. They want nothing more than for you to breathe together with them. To conspire with lives." I've thought as much myself, but Ellis says it so much better. I suspect, though, that this notion applies to chiefly to shojo-manga, the sub-genre aimed at young girls. Lone Wolf and Cub, f'instance, doesn't seem to fit as well.
In Japan according to Reuters, Foreign Minister Taro Aso has proposed establishing a "Nobel Prize" for foreign (non-Japanese) manga cartoonists. The idea is to win hearts and minds internationally. "Pop culture," Aso said, "has the power to influence the public, so we want and need to have it on our side," adding that the U.S., once Japan's enemy, won over Japanese hearts with its pop culture, including the cartoon "Popeye," which, Aso said, "planted in the Japanese an image that Americans are nice and strong."
The Art Festival of the Museum of Comics and Cartoon Art, the fifth, will once again meet in the historic Puck Building, this year, June 10-11. Gahan Wilson is the Guest of Honor and will receive this year's Festival Award in recognition of his "special contribution to the comics medium." Among the events of the weekend is "Charles Burns in Conversation with Chip Kidd" in addition to the customary showcase for independent comics, room after room of display tables and milling throngs. And—another treat—I've written a short essay on the state of the art for the program, which, in return, is plugging Rancid Raves. So there. The MoCCA Gallery is undergoing renovation and will be closed until May 20, when it will reopen with a new exhibit, "She Draws Comics: 100 Years of America's Women Cartoonists," curated by Trina Robbins. For more information, visit www.MOCCANY.org.
Elsewhere—specifically, across the Atlantic in an easterly direction—Clive Collins of the Cartoonists Club of Great Britain reports (in the Australian Cartoonists' Association magazine, Inkspot): "Back in the bunker with George Bush and things American, the British political cartoonists had a field day recently when Tim Benson threw open the doors of his Political Cartoon Gallery for a cartoon show entitled 'Misunderstanding Bush.' This consisted of a brilliant spread of original cartoons depicting the great leader in a light that he might have wanted to stay dimmed. ... As Steve Bell said in his speech to open the event: 'Nobody likes Bush; it's just that, as cartoonists, we'd miss him if he wasn't there.'" By the way, that new cartoon museum in London that I mentioned a time or two ago—it's the Cartoon Art Trust Cartoon Museum with a collection of 3,000 books and 1,200 images, including graphic novels, comics, and "some of the most famous cartoons ever published." It was officially opened February 22 by the Duke of Edinburgh at The Old Dairy, 35 Little Russell Street, near the British Museum, in case you're in the neighborhood.
The pin-up "Queen of Curves," Bettie Page, the preoccupation of many an adolescent wet dream in the 1950s, is back in the news, this time as the subject of the affectionate bio-pic "The Notorious Bettie Page," starring Gretchen Mol's body. Most reviews I've seen treat the movie as the fluff it probably is, but with a certain fondness. Some write-ups refer to Bettie's appearance in 1955 before Senator Estes Kefauver's infamous committee investigating crime, implying that she was unmercifully grilled and humiliated. Kefauver was trying to establish that Irving Klaw, the New York City photographer who made a living selling bondage photos of Bettie and others, was promoting pornography. As nearly as I can tell, Bettie never testified before the committee. She was kept in solitary in a small waiting room for 16 hours, but nothing more. Various of Kefauver's factotums quizzed her, but she told them, "Irving Klaw never did any pornography at all, not even nudes, and I would say that if they put me on the stand." Klaw's models, she said, "were never naked, and there were never any men in the photographs. How could it be pornography?" Klaw as so wary that he had models wear two pairs of underwear if he thought they were too transparent. Said Bettie (in the biography by Karen Essex and James L. Swanson): "You couldn't even see any pubic hair or nipples through any of the lingerie." Sounds like good clean fun to me, and, judging from the pictorial record, Bettie agreed.
Rufus and Joel, the maladroit handymen in Gasoline Alley, are up to their usual bumbling. As April came to a close, they were helping Skeezix, who can't drive his car home because a policeman discovered his, Skeezix's, driver's license has expired. So Rufus and Joel, who come upon Skeezix, stranded out in the country, offer to tow his car for him. Disaster, naturally, ensues. Skeezix goes off, and Rufus and Joel take possession of his car. They drive it, somehow, up onto the two-wheeled cart they are always astride, and when last seen, they'd just demolished a covered bridge: the car on the cart is too tall to get through the bridge under its roof, but Joel and Rufus forge ahead, ripping the roof of the bridge off as they go. The bridge is no longer covered. And the roof of the car has suffered cruelly. More havoc lurks, no doubt. At just about the same time as all this destruction befell in the strip, the author of it, Jim Scancarelli, completed twenty years signing the strip. He'd assisted his predecessor, Dick Moores, for seven years before inheriting the Alley, but he didn't start signing the strip until after Moores died, whereupon Jim took over the operation and signed his work. Jim has been signing solo longer, now, than Moores: Moores started his solo stint in 1969 and died, still working on the strip, in 1986—17 years. But he'd been working with Frank King, the creator of Gasoline Alley, since about 1956, and the strip bore a joint-signature for a while until Moores assumed command by himself; so his tenure totaled about 30 years. Jim's been puttering around in the Alley for 27 years, so he'll be besting Moore's score before too long.
Free Comic Book Day just transpired but mostly only at Diamond Distribution's comics shop accounts, about 1,850 of which bought at least $50 worth of the giveaway titles at 20 cents a copy, saith PW Comics Week. In other words, the books aren't free to comics shops. But then, you knew that, eh? ... And here's something else I'd forgotten: the term "super hero" is jointly trademarked by Marvel and DC, so anyone using the expression is subject to suit. But I bet you can use superhero, one word, with impunity.
Elsewhere among the longjohn legions and their lackeys, 22 of DC's ongoing superhero comics jumped one year forward in their so-called continuities last month, marking the launch of the One Year Later project (OYL, as they say). Starting May 10, a weekly miniseries entitled 52 (a foxy title if ever there was one) is going to explain what happened during the jumped year, week by week. It all sounds a trifle precious to me, and it certainly will require a perverse dedication among readers. The reason for the exercise, Douglas Wolk tells us at The Phoenix, is to enable writers to "hit some sort of big reset button," to bring the DC superhero universe "back to first principles and core values." Lately, it seems, "something has gone terribly wrong with superhero comics: their heroes are grimly twisted or ineffectual—or both; they're no longer capable of being as exciting and inspiring as they once were." OYL will fix it. I say, however, that it will only complicate a four-color world already so convoluted that it repels rather than attracts new readers. Wolk seems to agree. The problem, he says, is "that the comics business now thinks of its readership as a subculture—something with its own private codes that mark its members as belonging, and everybody else as not belonging." And the OYL operation only compounds this obscurism: "You can't just buy an OYL comic book and enjoy it," Wolk observes; "you have to buy into that whole subculture." And you have to purchase an encyclopedia of comics character history, too, or you can't begin so much as knocking on the door of the subculture.
The excitement in the comics blogosphere lately has been whirling around the alleged sexual harassment that a young beginning female comics artist suffered at the hands of a male professional who occupied a position of power in the industry. On her Buzzscope blog, "What a Girl Wants," Friends of Lulu vice president Ronee Garcia, who, she tells us, was raped at the age of 15, raged against the unnamed assailant and vowed to expose him and destroy him if possible. It is likely that she's succeeded. In the forthcoming 276th issue of The Comics Journal, Michael Dean reveals that the woman is Taki Soma, a 30-year-old Minneapolis cartoonist, and the man is Charles Brownstein, the 27-year-old "energetic" executive director of the Comic Book Legal Defense Fund. Dean, as always a meticulous reporter, details the case and his research in an advance posting of the article at http://tcj.com/276/n_soma.html. You should read it all yourself. I'm not going to rehearse it here: it's too long and convoluted a tale, and Dean has already done a terrific job with it.
<![if !supportEmptyParas]> <![endif]>
EDITOONERY
Larry Wright, who has been with the Detroit News for thirty years, accepted a voluntary buyout package from the newspaper, effective at the end of April. Wright is a past president of the Association of American Editorial Cartoonists and one of only two people on the News staff who knows the ins and outs of the newspaper's website. According to Editor & Publisher, he'll continue as a consultant for the website, and he'll do three editoons a week on a freelance basis. He's reasonably sure, he says, "that the arrangement will last as long as I want it to." Meanwhile, he said, "I will no longer have to make the daily 60-mile roundtrip into downtown Detroit." Wright is the second of the Detroit News' political cartoonists: Henry Payne, a devout conservative with a distinctive style, is the other.
After only a couple years at the Tampa Tribune, editoonist Paul Combs is leaving and returning to Ohio to resume a career as a firefighter. He'll do cartoons for a firefighter magazine and website and continue freelancing. "We never really adjusted to Florida," Combs explained. The Tampa Tribune told E&P that it intends to find a replacement for Combs.
John Backderf, who signs himself "Derf," won the Robert F. Kennedy Journalism Award for his cartoon, The City, an off-beat satire on the conventions of our culture rendered in turgid teratoidal disarray. The judges said: "Derf aggressively attacks the institutions, ideologies and attitudes that create an environment for the continuing oppression and exploitation of the powerless. His outrage is directed not just at the cynicism and hypocrisy of the powerful but at the complicity of all of us who remain docile and passive subjects." As an alternate newspaper cartooner whose work appears in the Village Voice and others of the ilk, Derf is an unusual choice for the RFK Award which usually goes to a mainstream political cartoonist. The reason, according to one of the judges, Gene Weingarten of the Washington Post, is that so many of the portfolios from editoonists "didn't really fit the contest's criteria" for cartoons that "effectively highlight the plight of the powerless and disenfranchised." Why? Said Weingarten: "Editorialcartoonists tend to focus their criticism and outrage on the political and emotional issues that define their times. Alas, the plight of the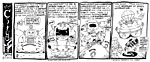 underclasses and the disenfranchised tended to take a back seat to the grotesque mismanagement of our supposed war on terror. Not the cartoonists' fault, but a sign of the utter failure of our national policies and the corruption of our national will."
<![if !supportEmptyParas]> <![endif]>
Fascinating Footnote. Much of the news retailed in this segment is culled from articles eventually indexed at http://www.rpi.edu/~bulloj/comxbib.html, the Comics Research Bibliography, maintained by Michael Rhode and John Bullough, which covers comic books, comic strips, animation, caricature, cartoons, bandes dessinees and related topics. It also provides links to numerous other sites that delve deeply into cartooning topics.
<![if !supportEmptyParas]> <![endif]>
CIVILIZATION'S LAST OUTPOST
One of a kind beats everything. —Dennis Miller adv.
It now costs more than a penny to mint a penny, according to the New York Times. The price of zinc, the chief component of copper-plated pennies, has soared in recent times, raising the cost of the metal in a penny to 0.8 cents. It costs another 0.6 cents to mint the coins. So the U.S. Treasury loses 0.4 cents on every penny. But don't despair: we can all help out in this looming catastrophe. We can't stop Congress from spending the country into penury, but we can help the U.S. Treasury. Simple: stop spending pennies. Particularly newly minted ones, the expensive kind. Just take any bright and shinny penny you have and put it in a piggy bank. Don't spend it. For every penny you don't spend, the U.S. Treasury saves 0.4 cents.
<![if !supportEmptyParas]> <![endif]>
DANISH DOZEN AGAIN
Monthly and quarterly periodicals take a little longer to get to the news flashes of the hour than such ethereal journalistic enterprises as This Corner of the Web. The Comics Journal No. 275 (April 2006) devoted several pages by Michael Dean (with an assist from yrs trly) to the Danish Dozen—and published all twelve of the cartoons that prompted the orchestrated outrage of January and February. Inkspot, the "official Hijab of the Australian Cartoonists' Association," took until the "Autumn 2006" issue, No. 48, which arrived in my mailbox just a couple weeks ago in time for Spring 2006, to examine the issues. ACA's president, James Kemsley, who does the fabled strip Ginger Meggs, conjured up a little ancient history for the sake of perspective. Cartoonists, he averred, are always likely candidates for someone's hit list. "Some of our senior members," he wrote, "might remember the Nazi hit list during World War II, which included a number of cartoonists who were singled out for special treatment had Germany won the war. Apparently Hitler, an artist himself, never saw the funny or artistic side of David Low and company's lampooning, which included our own late Jim Russell with his Adolph, Hermann and Musso comic strip. I had a number of chats with Jimmy about being a designated Nazi target, and it was something he wore like a medal: he was very proud his work was considered so provocative, by Berlin anyway, but prouder still that it was considered funny."
Lest you tire of the Danish Dozen as quickly as I have wearied of Paris Hilton (whose fascination for me, as a cartoonist, lies entirely in her being a perfect caricature of the vapid vacuity of female celebrity), let me counsel patience. We may not, in the foreseeable future, hear the last of the Danish Dozen, for reasons that are apparent in the following news report, clipped from the electronic ether, about bin Laden's latest pronouncement, via audiotape:
Al Qaeda leader Osama bin Laden has called for people who ridiculed the Prophet Mohammad to be killed, weighing into the furor that erupted after a Danish newspaper ran cartoons lampooning Islam's holy messenger. "Heretics and atheists, who denigrate religion and transgress against God and His Prophet, will not stop their enmity toward Islam except by being killed," the Saudi-born militant said. Bin Laden's remarks were part of an audiotape which Al Jazeera television aired excerpts from on Sunday, April 23. ... In the tape bin Laden accused the West of waging a "Crusader-Zionist" war against Islam, citing [in addition to the Danish cartoons] the isolation of the Hamas-led Palestinian government and the crisis in Sudan's Darfur region as examples. Anger over the cartoons, which a Danish newspaper first published last year, outraged Muslims who consider drawings of the Prophet to be blasphemous. The caricatures, which were reprinted in several Arab and European newspapers, sparked violent protests in which more than 50 people were killed. Consumers in Muslim countries have also boycotted Danish goods. Denmark's government has refused to apologize for the cartoons, saying it cannot say sorry on behalf of a free and independent media and that freedom of speech is sacred. "The insistence of the Danish government to refrain from apologizing and its refusal to punish the criminals and take action to prevent this crime from being repeated ... shows that the notions of freedom of speech have no roots, especially when it comes to Muslims," bin Laden said in the tape.
Bin Laden's casual condemnation of twelve cartoonists to a life of fear is breath-taking in its arrogant intolerance and genuinely horrifying to anyone with the traditional secular sensibility of Western nations that champion personal liberty and the pursuit of happiness. Less significant but still annoying is the glimpse of the future that this latest communique affords us. Now that the Grand High Mullah of Mayhem has made the Danish Dozen part of his hate-laden anti-Western mantra, we won't likely hear the end of it for some time. And so we can expect to encounter a steady stream of newsstories about Muhammad in cartoons and similar mischief being perpetrated upon the unwitting publics of the world. Stacy Meichtry of the Religion News Service, for example, reported last month that: "The conservative Roman Catholic organization Opus Dei has apologized for the publication of a cartoon depicting the Prophet Muhammad in hell in a magazine operated by members of the group." (Opus Dei—right: that's the Evil Outfit in Dan Brown's DaVinci opus.)
And at tv's Comedy Central, which recently pulled a "South Park" episode lampooning Tom Cruise's favorite matinee-idol religion, Scientology, another episode earned network enmity. Entitled "Cartoon Wars," it addressed the violence that erupted over the Danish Dozen, and network executives banned the use of an image of Muhammad, which, "in the light of recent events," seemed inflammatory. Lisa de Moraes at the Washington Post tells the tale: "South Park residents gather to figure out how to save themselves from the wrath of radical Muslims, [and] when a pundit suggests they all bury their heads in the sand so the extremists will know they were not watching the episode, one citizen dares speak out: 'Freedom of speech is at stake here [he/she says], don't you all see? If anything, we should all make cartoons of Muhammad and show the terrorists and the extremists that we are all united in the belief that every person has a right to say what they want. Look, people, it's been really easy for us to stand up for free speech lately. For the past few decades, we haven't had to risk anything to defend it. One of those times is right now. And if we aren't willing to risk what we have now, then we just believe in free speech but don't defend it.' [The episode's fictional tv exec] decides to stand up for free speech and show the [dubious] episode. But at the point at which 'South Park' viewers should have seen Muhammad handing a football helmet to one of the cartoon characters, the screen went black and on that was the message: 'Comedy Central has refused to broadcast an image of Muhammad on their network.'"
The contagion is spreading. At the University of Virginia in Charlottesville, the Cavalier Daily was lately criticized for publishing a cartoon that many students saw as offensive to Hindus. Well, of course: if we can't offend Muslims, we shouldn't offend Hindus. Or Buddhists. Or any other religion at all, including Scientology. And whither The Da Vinci Code? Surely it is offending devout Catholics everywhere. Boycott the movie and Tom Hanks' hair-do. Fortunately for the academic weal at the U. of Virginia, Daniel Colbert, a columnist on the campus paper, saw the issue clearly and wrote about it. Excerpts: "The comic itself may have been offensive," he wrote. "That is not the issue. Offensive content is a staple of Cavalier Daily cartoons. ... The pattern of offensive comic followed by outrage from a minority group has been constant this year." He continued (I've added boldface to sentences I think are particularly acute): "In light of these episodes, the Managing Board of the Cavalier Daily felt the need to explain the process of approving a questionable comic in the lead editorial this past Monday. The policy that they expounded was both responsible and just. Naturally, the paper will not publish anything false, nor will it publish direct attacks at a specific group for anything other than their opinions or actions. Since the comic is a work of fiction, the first criterion does not apply. Religion, the editorial correctly argued, is an opinion and is open to both criticism and ridicule. This policy rightly errs on the side of freedom, a goal for which the press should strive.
"Critics of ... offensive comics often claim that the cartoons are not even funny. It is as if many believe that an offensive comic is less offensive if it is also funny. It is safe to say, however, that if the Cavalier Daily only printed funny comics, the Comics page would consist most days of a Jumble, crossword puzzle and Sudoku. As Monday's lead editorial stated, the comic artists' sense of humor 'will always be a mystery.' Perhaps, following the lead of television shows like 'South Park'and 'Family Guy' the artists have decided that offensiveness is inherently funny.
"A point central to most of the criticisms is that religious beliefs must be respected. The claim is tied into the First Amendment guarantee of freedom of religion. However, the Constitution does not insist on respect for any religion. It states that the government may not impose religion on its citizens, but it also allows citizens to say whatever they want about the religions of others, including what may be considered heresy. It was intended to allow citizens to
question religious authority without fear, but it reserves no special treatment for minority groups, which is what some are implicitly demanding.
"That the First Amendment guarantees freedom of speech does not mean that the Cavalier Daily was required to print the offensive comics, of course, but the paper should not censor their artists or writers based on possible offensiveness. In his letter to the editor printed on April 19 ('A heretical comic'), Aadit Bimbhet argued that 'a line must be drawn somewhere.' Freedom of speech, however, means that no lines are drawn. It is too easy to imagine true political expression being stifled in the name of political correctness to allow for any censorship on those grounds. The Opinion, Life and Comics sections of the Cavalier Daily exist in part to give students something to talk about. If an offensive comic or column serves to spark debate, it can only be viewed as a good thing."
Here at the Keyboard of the Rancid Raves Intergalactic Wurlitzer, we have a word for this sort of intellectual shenanigan: Bravo. Would that other so-called professional journalists were as professional.
On the other equally reasonable and also admirably pragmatic hand, we have Mahir Ali, an Australian cartoonist writing for Dawn in Pakistan, quoted in Inkspot: "European papers contend that re-publican of the cartoons was necessary in order to show their readers what the fuss was all about. But would they have been quite so eager to go down that road had the story—and illustrations—in question related to, say, graphic child pornography or pedophilia? Most probably not. Why? Obviously, in the interests of good taste, and in order not to offend public sensibilities. Does this mean Muslim sensitivities somehow matter less than those of other sections of the public?" The implied answer—Yes—tells us why Muslims were so irate about the Danish Dozen.
Also in Inkspot, Rod Emmerson, political tooner on the New Zealand Herald in Auckland, said: "When I first saw the story some five months ago, it was blatantly obvious that the Danish paper was indulging in some poorly conceived mischief making. ... Papers that jumped onto the Freedom Bus months after the event and published the work looked somewhat 'hairy-chested' for no real purpose. No one in this day and age doubts the Freedom of the Press. We cartoonists (from all faiths) tiptoe all over people's beliefs and sensitivities every day of the week and not everyone laughs, so we go about our work with great skill. But the Danish sortie into this minefield has done untold damage to journalism, and, unfortunately, has proved to be a handle for extremists on both sides to fan the flames."
To which we may add the remarks of Peter Lewis, editoonist at the Newcastle Herald in New South Wales: "So what's to be learnt from this latest clash of cultures? Is our cherished ideal of press freedom at an end? Well, to be honest, there's no such thing as press freedom. Every day editors wrestle with a long list of 'Thou Shalt Nots' when putting a publication together. A single defamatory slip can cost millions in legal fees and fines. Then there are matters of taste: you can say one thing but not another; you can use one swear word but not another. It's all very nebulous trying to figure out what is acceptable, what is funny, and what is offensive. But looking back over my two decades of cartooning, the hot topic—the topic that's almost certainly going to get you into trouble—is religion. It's where angels fear to tread. Fortunately, most western believers have grown a thicker skin. My cartoon of the Pope in a panzer tank didn't produce a single complaint. Other religions aren't so complacent. Criticize L. Ron Hubbard, and you'll get a writ from a Scientology lawyer. Islam is a faith that takes itself very seriously. Even being good humored cuts no ice. The fatwa against Salman Rashdie in 1989 was just a warning shot, one that [the Danish newspaper] Jyllands-Posten ignored to its peril. I have mixed feelings about this mess. On the one hand, I see it as a lost battle for satirists, another retreat from what can be said. On the other hand, I think the Danes involved are idiots. I mean—duh! Newsmen who spend hours each day sorting the usable wheat from the defamatory chaff of newsprint should have seen this coming, and, let's face it, if a large group of people regard something as rude, then shouldn't their views be respected? Newspapers can't print swear words because of the possibility of giving offence, so what's the difference here? Everybody knew Muhammad was a no-go. The big worry is where the world goes to from here. I like to think of cartoonists as being canaries in the coal mine of freedom. While we twitter and make rude noises, then all is well; but when we fall silent. ..."
Perhaps a little grim. But no less pertinent. So, however, is another remark from Inkspot, this from Peter Nieuwendijk, secretary general of the Federation of Cartoonists Organizations: "Of course Allah and God have a sense of humor: otherwise, He would never have created men."
In the seemingly endless pondering and repondering of these matters, I wonder: if the issue is "understanding" between East and West—if the noblest objective is to foster our understanding in the West of Muslims in the East—then reprinting the Danish Dozen will demonstrate to us just how super-sensitive Muslims are about their religion because the cartoons are so inferior, so insipid, so badly drawn. Juxtaposing the cartoons against the Islamic reaction highlights Islam's sectarian intolerance, and once we in the West are aware of this kind of sensitivity, won't we be better prepared to co-exist?
As for the Muslim view of the West and its licentiousness and their supposed mutual incompatibility, there's hope. A 38-year-old Egyptian named Amr Khaled has emerged as the Islamic world's most popular preacher. Like American televangelists, his pulpit is tv. Starting as a complete unknown in 1997, Khaled has built a veritable empire. His website received 26 million hits last year, more than Oprah's, according to Samantha Shapiro in the New York Times Magazine for April 30. Khaled is a devout Muslim, holding conservative beliefs, but he dresses in stylish European suits or jaunty sweaters and polo shirts. Says Shapiro: "Khaled's unique blend of conservative Islamic belief and Western style has become popular at a moment when governments and scholars from Washington to Cairo are wrestling with the question of whether religious Islam is compatible with democracy and Western culture." Khaled thinks it is. Like fundamentalists, he believes traditional Islam should play a bigger role in people's lives. His self-imposed mission in the Arab world: improve the physical conditions in which people live—teach illiterate Arabs to read, fix potholes in the streets—"anything and everything that will help create an Arab revival." His message to Muslims in Europe concerns the importance of co-existence with the cultures in which they find themselves. Khaled does not deny the importance of other religions. Says he: "If God wanted, he could have created all mankind as one religion. He created many different ways so we will cooperate." In the wake of the cartoon riots, many Europeans are looking for a point of communication with Muslims, "and a few are beginning to come to the conclusion that they have found it in Amr Khaled," says Shapiro. But Khaled, she says, "found it more difficult than usual to find a place to stand between the West and the Muslim world." At first, he condemned both the cartoons and the violent reaction to them. Later, he urged conversation between the West and the Muslim world, and he organized a conference in Copenhagen to bring young Muslims and Danes together to discuss Islam, press freedom, and religious tolerance. The conference inspired a certain amount of controversy among Muslims, who thought Khaled should not have gone to Denmark until the Danes issued a formal apology. As for Khaled, he regards the controversy over the cartoons as merely the beginning. "It is a practical test for Arab countries: a clash between my ideology of dialogue and the ideology of a clash of civilizations," he told Shapiro. She concludes: "Khaled seemed certain that trying to hold the middle ground would grow only more treacherous." But he is apparently determined to hold it. We need more like Amr Khaled and Daniel Colbert.
Elsewhere, Christianity is not immune in the U.S. from the cartoonist's attentions. Here, direct from Daryl Cagle's blog at www.cagle.msn.com is the Easter cartoon from "Mr. Fish" (aka Dwayne Booth).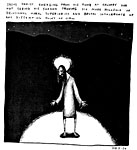 The cartoon provoked virulent comment: "Crass and uncalled for and genuinely offensive," wrote one reader; another wrote, "You must have had some horrible experiences with Christians in your life to lead you to this view. Let me apologize for them." "You are one sick S.O.B." "Your cartoon is rude and sacrilegious," said another. "Mr. Fish, find a deep pond." Others, however, applauded. "Ah, Mr. Fish! What a simply divine cartoon. Thank you—you made my Easter," wrote one. Another said: "Thank you for putting into a picture that which has not been said loud enough." Booth is not far from the view expressed near the Dawn of Time by Bernard Shaw in the Preface to his 1912 play, "Androcles and the Lion." Shaw headlined his essay, "Why Not Give Christianity a Trial?" After which, he carried on in a suitably Shavian fashion: "The question seems a hopeless one after 2000 years of resolute adherence to the old cry of 'Not this man, but Barabbas.' Yet it is beginning to look as if Barabbas was a failure, in spite of his strong right hand, his victories, his empires, his millions of money, and his moralities and churches and political institutions. 'This man,' on the other hand [i.e., Christ], has not been a failure yet for nobody has ever been sane enough to try his way. But he has had one quaint triumph. Barabbas has stolen his name and taken his cross as a standard. There is a sort of compliment in that. There is even a sort of loyalty in it, like that of the brigand who breaks every law and yet claims to be a patriotic subject of the king who makes them. We have always had a curious feeling that though we crucified Christ on a stick, he somehow managed to get hold of the right end of it, and that if we were better men we might try his plan."
Y' gotta love a guy like Shaw.
<![if !supportEmptyParas]> <![endif]>
FOOTNIT. Fareed Zakaria in his column in Newsweek for May 8 finds comforting words in bin Laden's latest tirade. "Most revealingly, bin Laden makes a parochial appeal for foreign aid to help those Qaeda supporters in Waziristan who have been rendered homeless by Pakistani Army attacks. That suggests," Zakaria continues, "that bin Laden and his friends are having a rough time." They've run out of bin Laden's fortune? "Strip away the usual hot air, and bin Laden's audiotape is the sign of a seriously weakened man." He concludes: "The U.S. has a long history of seeing the enemy as 10 feet tall—think of Soviet Russian and Saddam Hussein. But as we paint al Qaeda in those lofty terms, let's please remember last week when Osama bin Laden appealed on a crackling audiotape for a little money to build a few huts in Waziristan."
<![if !supportEmptyParas]> <![endif]>
Under the Spreading Punditry
AN ABBREVIATED SHORT-CHANGED HISTORY OF ISLAM
While Caricatures of the Prophet Still Hover in the Background
Islam seems to some among us to be particularly corrupted at the moment. In Afghanistan, they were going to execute some poor misguided wight because he converted to Christianity. We forget, sometimes, that Islam spread by military conquest. Christianity did, too, eventually; but for the first 300 years, it was a pacifist religion. It was only after it was adopted as the state religion of Rome that it became bellicose. (Which, you would think, is a good reason—a sound religious reason—for keeping church and state separate: religion is corrupted by national ambitions.) Islam was warlike almost from the start. For the first few years, Muhammad won converts among his neighbors in Mecca by preaching (or "testifying"), but as his followers became more numerous, the merchant class of Mecca became wary of his campaign, thinking it might threaten their commercial well-being, and began menacing gestures; and so Muhammad left Mecca in about 622 and went to Medina, taking all his followers with him. Medina didn't have the resources to support this influx of population, so Muhammad did what his desert-dwelling forebears had done: he led raids on passing caravans for sustenance. And since those caravans were bound for the merchants in Mecca, the merchants got angry, raised an army, and came after Muhammad. Muhammad mustered his followers, assumed command, and met the merchantile army in the desert with an army of his own. He defeated the merchant horde. And the very fact of his victory persuaded some of the Mecca merchants to adopt Islam: if Muhammad could be this successful on the battlefield, clearly Allah was on his side, and they wanted some of the same sort of divine assistance. That was the beginning. All of Muhammad's successors were similarly warlike. And Islam spread through the Middle East, across Northern Africa, and into Spain. By the sword.
Is it any wonder that today's fundamentalist Muslims, those who want most passionately a revival of Islam as it was during the Prophet's life, seem so ready to resort to violence to achieve their ends? The history of their religion is steeped in precisely that behavior. "The religion of peace"? Where? I realize I've slipped into racial profiling (or is it religious profiling?), but we can't—can we?—ignore history. In the last analysis, Christianity is no better than Islam with respect to internal contradictions and external intolerance, and its occupation of the West means it is essentially an agent of capitalism and a profiteer of it, too. I'm not sure where the morality of that is. The best thing about Christianity is Christmas. Focusing on a newborn child as an act of religious devotion is somehow uplifting: all of us, beholding a baby—any baby—think warm thoughts about the seemingly limitless promise of the future, and what might be done to see that the child, as it grows, will enjoy the best of things that life has to offer. Hope and the prospect of happiness suffuse the occasion. That seems wonderfully benign, perhaps even religious.
Muhammad was, himself, a stunningly remarkable fellow. Here's what historian Will Durant wrote about him, way back in 1950, before we were obliged to manifest sensitivity to all things Islam: "If we judge greatness by influence, Muhammad was one of the giants of history. He undertook to raise the spiritual and moral level of a people harassed into barbarism by heat and foodless wastes, and he succeeded more completely than any other reformer; seldom has any man so fully realized his dream. [And certainly no one on anything like a similar scale.—RCH] He accomplished his purpose through religion not only because he himself was religious, but because no other medium could have moved the Arabs of his time; he appealed to their imagination, their fears and hopes, and spoke in terms that they could understand." The terms, I hasten to elaborate, were those of a tribal culture in which tribal chieftans demanded absolute obedience and perfect subjugation of the individual to the welfare of the tribe as a whole. Individuals mattered little; the honor and survival of the tribe was what counted most. Muhammad spoke of Allah's wishes as if Allah were the supreme tribal chieftan. Durant continues: "When he began Arabia was a desert flotsam of idolatrous tribes; when he died, it was a nation. He restrained fanaticism and superstition, but he used them." He dipped into the legends of Judaism, Zoroastrianism, and other religions of the time and place, as well as his native creed, and "he build a religion simple and clear and strong, and a morality of ruthless courage and racial pride, which in a generation marched to a hundred victories, in a century to empire, and remains to this day a virile force through half the world."
The Koran is the written record of Muhammad's visions wherein he received instruction from Allah. It is, in effect, a book of sayings that govern all aspects of life, daily household duties as well as religious ones. Muhammad was not above having an occasional self-serving vision. He said Allah would tolerate men having no more than four wives, but, by special dispensation, Muhammad had several more. And when his favorite spouse was accused of adultery, which would have required her to be whipped one hundred lashes, Muhammad, Durant tells us, "had a trance and issued a revelation requiring four witnesses to prove adultery; moreover, 'those who accuse honorable women, but bring not four witnesses, shall be scourged with eighty lashes, and their testimony shall never again be accepted.' Accusations of adultery were thereafter rare." Durant, clearly, is a man with a sense of humor and of proportion, too. (He once wrote that the legend of the prostitute with a heart of gold is a "hoary myth." I had to smile. Still do.)
Meanwhile, just in case any of us feel smug about how superior Christianity is to Islam, it is advisable to realize that the intolerance of fundamental Islamists is a mere foretaste of the intolerance we'd confront in this country if—or when—the government falls any further into the clutches of fundamental Christian evangelicals.
<![if !supportEmptyParas]> <![endif]>
Quips & Quotes
Three may keep a secret if two of them are dead. —Benjamin Franklin
Suppose you were an idiot and suppose you were a member of Congress. But I repeat myself. —Mark Twain
All you need to grow fine, vigorous grass is a crack in your sidewalk. —Will Rogers
The best way to win an argument is to begin by being right. —Jill Ruckelshaus
One of the symptoms of an approaching nervous breakdown is the belief that one's work is terribly important. —Bertrand Russell
Having a good wife and rich cabbage soup, seek not other things. —Russian Proverb
<![if !supportEmptyParas]> <![endif]>
COMIC STRIP WATCH
Judge Parker, white streak still a beacon in his hair-do, showed up in the comic strip named after him on or about April 15, the first time he's been in the strip for I dunno how long. But he disappeared again after a day or so. ... And in The Phantom on Sundays, the Ghost Who Walks is taking his wife on a holiday to visit a picturesque volcano called Fire Peak, and en route, they speculate upon the dangers of global warming.
Whenever Stephan Pastis, who does Pearls Before Swine, starts using other comic strip characters in his strip, the maneuver reveals the scorn that animates his career as a syndicated cartoonist. At first blush, perusing Pastis' characters, you'd think he simply can't draw anything but stick figures. But that's not true. And when he draws other cartooner's characters in his strip, he draws them passably well. So he can draw. Why, then, does he persist in using stick figures? I think it's his way of saying to his inky-fingered brethren: You work hard to draw recognizable pictures, but see—I can get away with just stick figures as a syndicated cartoonist, so the more fool you! But the other thing that is mildly off-putting in Pastis' frequent importation of other strips into his strip is the sheer self-indulgence of the maneuver. Who, besides Pastis and the cartoonist whose characters he's dragooned into temporary duty, gets the jokes in these outings? Only those readers who are familiar with both strips. And what are the chances of Pearls readers being familiar with all the strips Pastis evokes? Not good unless he uses characters from widely circulated strips. If he has characters from Lynn Johnston's For Better or For Worse, a strip with one of the top circulations worldwide, most Pearls readers will probably recognize the characters. Ditto personages from Cathy and Family Circus and Dilbert. But not, probably, Satchel and Bucky from Get Fuzzy. So when Pastis and Fuzzy's Darby Conley conspired to do a cross-over pastiche in mid-April, who got the jokes? Only readers whose papers subscribe to both strips. Here's the whole sequence, which, after you glance at it, I'll try to decode.
| | |
| --- | --- |
| | |
In the first strip, Get Fuzzy, we see a syndicate official talking to Conley on the phone, telling him that he was inadvertently sent a FedEx package with a week's worth of Pearls in it. He tells Conley to destroy the Pearls strips, and then he reminds Conley that he's late with his Fuzzy strips. Conley, who is wholly absorbed in a computer game, eyes the FedEx package in the penultimate panel. The rest of the week, we see what he's done to catch up on his deadlines. The second strip here is Pearls for April 18; immediately beneath is Fuzzy for the same date. If your paper published both of these, you could, if you weren't just breezing briskly through the comics that day, see that the Fuzzy's genial Satchel has been drawn, or pasted, over the Zebra and crocodiles in the same day's Pearls. Tell-tale bits of the Pearls strip still show, and Conley has apparently used all of the Pearls speech balloons without changing anything in them. What a hoot, eh? Funny stuff, right? For the rest of the week, Fuzzy characters are superimposed on Pearls strips, making absolutely no stand-alone sense. If you didn't know what Conley was supposedly doing, none of the Fuzzy strips are at all sensible—even though, given the personalities of Satchel and Bucky, there's a little mild humor of the purely nonsensical sort. When, on Wednesday, Pastis phones Conley and wonders why Fuzzy seems similar to Pearls, day by day, we have the only hint all week long of what is transpiring—a hint that makes sense only to readers who know which cartoonist does which comic strip, by name, a likelihood not by any means guaranteed. Then at the end of the week, we have another telephone exchange that shows just how crass and unscrupulous Conley is. Big boffo here, right? Pastis and Conley no doubt had a hoot doing the sequence, but who else besides fanaddicts like me grasped enough of the implications to see the supposed comedy? Given all this complexity, I'm not sure the gag sequence is that good—good enough to risk being completely over the heads of some readers who don't see both strips. The proceedings are simply too in-groupy and, thereby, too self-indulgent. Or maybe self-destructive.
The first week in May, Pastis returned to his usual dodge, guest appearances. But this time, the "guest" is there by name only. When Pig introduces his new friend, Stromoski "the frog who has trouble meeting women," few, if any, of Pearls readers are likely to know that Rick Stromoski is the current president of the National Cartoonists Society. What a joke, eh? Big laughs, a real thigh-slapper.
Meanwhile, in Tony Cochran's Agnes, the pint-sized eponymous protagonist is upset that her newspaper has dropped her favorite comic strip and visits the editor to complain. "How dare you cancel my favorite comic strip!" she screams. "Do you have some kind of personal vendetta against hilarity?" "Sorry," the editor says, "it wasn't popular in the polls." Agnes: "So?! I'm not popular! Am I supposed to drop off the face of the earth too? Would that tidy it all up for you? Hmmm? If popular meant good," she continues, "the Vatican would be full of Thomas Kinkade cottage paintings." Editor: "Oooo—I have one of his light houses." Well, that seems to sum up handily the business of comic strip selection by newspaper editors.
<![if !supportEmptyParas]> <![endif]>
The Froth Estate: The News according to Television News Media
It's a Medium because it's Neither Well Done nor Rare
How were we to know, except by reading the daily newspaper, that George W. ("Wrongheaded") Bush and the rest of his legions of followers who are upset about a Spanish language national anthem that they're about 90 years too late. The wire service at Knight Ridder assures us that "the government already gave its blessing when the U.S. Bureau of Education prepared a Spanish version of the "Star Spangled Banner" in 1919, and that translation has been available on the Library of Congress' website for the past two years without so much as a sniff of disapproval." Not to mention the National Anthem Project, which, besides boasting First Lady Laura Bush as honorary chairwoman, will happily furnish for your rendition of the "Banner" anything from strolling mariachis or a steel drum band. Sacrilege abounds.
<![if !supportEmptyParas]> <![endif]>
DOLLS AND SUCH LIKE
I'm a sucker for certain kinds of statuettes or figurines (we don't call them "dolls" here), so when Craig Yoe started producing classic comic characters in three dimensions for Dark Horse, I sat up and paid attention. I also paid good money and bought a few of them. Not all. Just certain ones, the ones that spoke to me. Over the years, lots of li'l figurines have whispered sweet nothings in my ear, not all of them comic characters either, and the bookshelves in my studio are festooned with tiny statues. Recently, I acquired a somewhat larger statue. Brandy from Frank Cho's Liberty Meadows. And she's a delight. I realize that she's a little too buxom for some, but not for me. Expertly, faithfully, sculpted by Clayburn Moore of the C.S. Moore Studio (www.csmoorestudio.com), she's exactly as you'd remember her from the famously short-lived strip which is now, just as famously, being reprinted in library-sized tomes at a breath-taking rate. Brandy the statue is strolling through the woods in a yellow dress the bodice of which is somewhat unbuttoned (by two), but she's oblivious: her attention is focused on a butterfly that has perched on her hand. Just as delightful as Cho's zaftig lady are Truman the duckling and the pet "weiner dog," who are accompanying Brandy on her stroll through the mushrooms and other undergrowth of the woods. In fact, I like Truman almost as much as I like Brandy, and he's not at all buxom. More characters from Liberty Meadows will ensue. Ralph the Bear, f'instance, is "coming soon." And Moore has crafted a nearly naked all-green She Dragon from Erik Larsen's Savage Dragon Comic, a real Playboy pin-up this time. If you don't like Brandy, you won't like the She Dragon, no matter how green she is. But in these parts, they're both dolls.
<![if !supportEmptyParas]> <![endif]>
BOOK MARQUEE
I first ran into Victor Moscoso in an early issue of Zap Comix—a surreal vignette in which Disneyesque figures evoking Mickey Mouse and Bucky Bug mutated into sexual apparatus before my eyes, a soaring, bending, twisting ballet that transformed a static artform into prurient plastic. The imagination on display was extraordinary. And it's on display once again in Sex, Rock and Optical Illusions (144 9x12-inch pages in color and b/w; hardcover, $34.95 from Fantagraphics), an elegant production with full-color dust jacket and embossed cover and short introductory essays by Milton Glaser and Steven Heller. Many of Moscoso's mid-1960s psychedelic posters for San Francisco's storied rock halls are here as well as some of his later work, all vivid testimony to the accuracy of Glaser's assessment that "Victor is an extraordinary visionary artist and a superb draftsman." The electrifying images of the posters shriek in primary colors, oscillating reds and blues and greens and screaming yellows, sucking you in until you get lost in them, a surrender of self as oceanic as being overwhelmed by the deafening roar of rock itself. Moscoso, Heller tells us, had seven years of college, learning all the rules of design. Then he simply "reversed everything he had learned in school: The rule that a poster should transmit a message simply and quickly became how long can you engage the viewer in reading the poster? Five, ten, twenty minutes. Don't use vibrating colors became use them whenever you can and irritate the eyes as much as you can. ... Moscoso called this 'a world turned upside down.' By pursuing these ideas and breaking the rules, he created a body of work that altered the language of a generation." Undoubtedly. But my favorite Moscoso inventions are his comics, his shape-shifting images rendered with that juicy, spikey line. Here we find a delicious homage to Herriman's Krazy Kat, some Zap covers, and the spectacular K.S.A.N. comics, about which Moscoso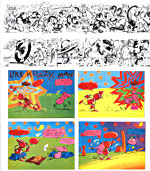 writes: "Jo Ann Diamond, head of advertising [for Metromedia] suggested I create a comic strip [to fit the advertising space that runs around the interior of San Francisco's muni buses]. I designed a loop so that it did not matter where you started reading the strip. The opening party was on a S.F. muni bus surrounded by the comics. We drove around town, smoking, drinking and eating; stopped and gave sandwiches to the homeless, continued to the Legion of Honor Museum and saw an Albrecht Durer etching show. After returning to the radio station, the bus driver called me aside and said, 'Next time you do one of these, ask for me.'"
Speaking of Fantagraphics, the fifth volume of the massive and magnificent Complete Peanuts reprinting project is now out, the years 1959 and 1960 (340 6x8-inch pages in hardcover; $28.95). Creator Charles Schulz is now at his fully fledged maturity, and the identities of the characters are by this time so well established that their quirks create the comedy. Fuss-budget Lucy gives her genius brother Linus a list of all his faults. "Faults?" shouts Linus. "You call these faults? These aren't faults—these are character traits!" The familiar features of previous volumes are here, the exhaustive index, Seth's engaging design, an introduction by a Famous Person, in this case, Whoopi Goldberg, not someone I'd immediately think of when contemplating comics, but she makes up for her incongruous presence with the length of the interview with Gary Groth that is dragooned into service here as the Foreword. Judging from her remarks, she experienced Peanuts first in its tv incarnation, which, she says, "spoke" to her. Groth wonders about that, saying the two creative personalities seem "almost polar opposites." Goldberg is loud, "in your face"; Schulz is gentler. Well, she seems to say, they were born in different times, and maybe if Schulz had been her age, he would have been louder. "But maybe not!" she declares with sudden insight. "I really like Peppermint Patty," she says. And I could have guessed it. Says Goldberg: "I think she knew that she was going to be different from everybody else. And she was. She looked different and sounded different." Whoopi thinks Patty is probably gay. Pigpen is "my other guy," she says. "Is he just a dust cloud? Where did h e come from? Where does he live? Is his house a pigpen? Who can say?" Who, indeed.
The works of French cartoonist Jean-Jacques Sempe, known in these parts chiefly for his New Yorker covers, will soon be available in this country. Phaidon is planning to publish, beginning in September, five volumes of Sempe's cartoons, four in hardcover, all in English, each priced at $24.99. Phaidon has plenty to draw upon: more than 20 volumes of Sempe have been published in France. And Steve Thompson, president-for-life of the Pogo Fan Club, announced in the latest Fort Mudge Most, the Club's official magazine (sometimes quarterly), that he's signed a contract with the University Press of Mississippi (my old publisher) for a biography of Walt Kelly. Entitled Walt Kelly: Fairy Tales for Grownups, part of the Geniuses of Comic Art series, the book may achieve publication by late 2007, just about in time to compete for your budget buck with my own timeless tome, Milton Caniff, Terry and the Pirates, and Steve Canyon: Meanwhile ..., another biography of another cartooning genius. Subscriptions to the Fort Mudge Most are $25 for 6 issues, payable to the publisher, Spring Hollow Books, 6908 Wentworth, Richfield, MN 55423; or at www.pogo-fan-club.org. More Pogo at www.pogopossum.com.
Elsewhere, we are happy to report that George W. ("Warlord") Bush, who has been noticeably unsuccessful in capturing Darth bin Laden (or in "bringing him to justice"—i.e., killing him and having him then disemboweled and beheaded), has clearly turned the effort over to DC Comics, which has Frank Miller working on it. His successful campaign will be recorded in a forthcoming tome, Holly Terror, Batman, about which, Clive Collins of the Cartoonists Club of Great Britain, quoted in Inkspot, says: "This news ... means that our caped crusader—who, you may recall, has no more super powers than you or I: he just dresses ... differently, and runs around with a younger man in tights—is scheduled to go head-to-head with the sheeted one, either later this year or early next. It's an appropriate match, I guess, since Osama also tends to spend a large amount of his free time in a cave, though he doesn't seem to have the whizzo hardware that our Gotham City spelunker packs. Osama is ready to strike first—verbally at least—with his weighty tome Messages to the World: The Statements of Osama bin Laden, a title that doesn't exactly have the zing of Miller's, but for which we all wait with breath not so much baited as yawned. Frank Miller, of course, is the man who remolded the Dark Knight, and it's to be hoped that he's wise enough not to portray Batters going head-to-head at any time with an actual portrayal of Muhammad, bearing in mind recent events in Denmark."
<![if !supportEmptyParas]> <![endif]>
THE FIRST GRAFIC NOVEL?
Once upon a time, not so long ago—last week, in fact—we posted in our Hindsight Department a biography of Milt Gross (click here), which we used to herald the publication by Fantagraphics of Gross's classic 1930 opus entitled He Done Her Wrong. The book may not be, as some claim, the first graphic novel, but it is certainly the most memorable of the early manifestations, and we pause here to take a somewhat longer look at this cartooning benchmark, a handsomely wrought reprint of 200-plus 7x8-inch pages in paperback ($16.95) with an Introduction by cartoonist Craig Yoe and an Appreciation by appreciator Paul Karasik. In his method, as we observed, Gross was perhaps inspired by the recent work of a wood engraver named Lynd Ward, who, in 1929, had published God's Man, a wordless novel-length cautionary tale. For his subject, however, Gross relied upon his experiences in the film colony where he had worked briefly with Charlie Chaplin on "The Circus" (released in 1928): the novel risibly mocks the grand passions and stock situations of Hollywood adventure films and the stage melodramas of the 1890s with its numerous superhuman feats, frenzied action, and clanking coincidence, not to mention its dastardly moustached villain, brave strong hero, and pure beauteous heroine.
The plot is the very soul of pot-boiler machination. Our Hero (unnamed; no words in this book, remember?) is a coonskin-cap wearing trapper in the Klondike who saves a dancehall chanteuse from a roughneck's unwanted attentions, whereupon the singer and the trapper fall in love forthwith. Into this blissful tableau intrudes the moustache-twirling Dastard who cheats Our Hero out of his cache of valuable pelts and takes off with Our Heroine, after convincing her Our Hero, her beloved, is dead. They go to the Big City and marry, but the Dastard loses all his money and all his wife's valuables, not to mention her affections. Meanwhile, Our Hero follows them to the Big City, where he runs into the Dastard as he is about to marry again (without having divorced Our Heroine). Our Hero breaks up the wedding, and after several violent encounters with the Dastardly One, he winds up in the hospital, where he is found by Our Heroine, who has become a nurse in order to survive. Through a classic misunderstanding, she believes him Promised To Another, and she leaves, returning to the frozen vastness of the Klondike. When Our Hero recovers, he follows her, dragging the Dastard with him all the way, down bumpy roads, through underbrush in the woods, up jagged peaks, until he reaches his familiar stomping ground Up North. Our Hero and Heroine are reconciled, he proves to be heir to a fabulous fortune, and they live happily ever after. The Dastard, revealed to be a bigamist, is condemned to living simultaneously with all of his wives for whom he performs a ceaseless round of household chores.
The fun in this hilariously hackneyed tale is supplied in generous doses by Gross's visual merriment and relentless ridiculing of life as we know it. Our Hero's jubilance at arriving, finally, in the Big City, is mercilessly destroyed by the accouterments of civilization: he is stomped on by a horse, spun around by the rush of automobile traffic, cracked in the head by a turn signal, and kicked off the street by a cop. "Welcome to our fair city," as Karasik says. He continues: "The most inventive sequences are those where Gross takes advantage of the lengthy novel form to stretch out a gag for maximum effect." Job-hunting, Our Heroine, deserted by her Dastard husband and penniless, applies for a job in a department store. "She explains her sad plight to the first clerk she meets," Karasik continues. "We see her describing in pantomime her pathetic life story. This same pantomime routine is repeated five times as she works her way up the hierarchy of the store's supervisors. After a dozen or so executives have heard her tale, they retire to the board room in consultation. The entire sequence takes 27 pages at the end of which, she gets a job: the privileged opportunity of spending forty hours a week on her knees, scrubbing the department store floors."
The Dastard's loss of his wealth is another attack on civilization, this time, in the form of a coin-operated gum dispenser that the Dastard tries to get a stick of gum from. "The bit," as Karasik says, "goes like this: The gum dispenser doesn't deliver. The Dastard pops in another coin. It still doesn't deliver. In hysterical frenzy, coin after coin is crammed into the machine without payoff. The Dastard ends up in a fit of total exasperation (one of Gross's specialities), sacrificing everything he owns to feed the street corner no-armed bandit." Everything he owns, plus his bride's belongings. In depicting the Dastard beating up on the gum machine, Gross is taking vengeance, no doubt, on coin-operated gum dispensers that have robbed him in the past—earning our sympathy in the process: who has not been robbed by such greedy, souless machines? By strenuous implication, the cartoonist is also assaulting the edifice of modern technology, heartless machines everywhere. And that's not all that Gross accomplishes with this seemingly simple episode. Says Karasik: "From this sequence we learn that the Villain is an addictive sort of louse and so it comes as no surprise when his actions leave the Girl destitute."
To see what cartooning was like in the golden age of the late 1920s, do not miss this tome. Oh, and while we're still contemplating Gross, I must report that Allan Holtz, who is compiling the world's most comprehensive compendium of dates and data about comic strips, tells me that my aforementioned Gross biography errs in about three ways. First, Gross's first comic strip was not, as reported, Henry Peck: while still in the Hearst bullpen at the Journal American, Gross did Jack Bull, which started in November 1912. Second, the correct spelling of Count Screwloose's place of origin is, according to Gross, "Tooloose." Finally, while Banana Oil ceased at the end of September 1930, it was replaced by Babbling Brooks, apparently a reincarnation of Gross's earlier effort with the same name; and Count Screwloose continued until May 31, 1931, when it was picked up for syndication by King Features. By this time, the famed New York World newspaper for which Gross was working at the time had been merged with another fabled sheet to become the World-Telegram. Dunno if the World had syndicated the Count, but I suspect it had. In any event, that World ceased at the end of February 1931.
<![if !supportEmptyParas]> <![endif]>
AND ANOTHER GRAPHIC NOVEL
The Nameless: The Director's Cut by Joe Pruett as rendered by Phil Hester begins with an assortment of street urchins, some of whom are being killed in a gruesome sacrificial manner. A couple of them are saved by a mystery man who, it turns out, is himself a sacrifice who lived—dismembered, disemboweled, disfigured and skinned alive as a victim of an ancient Aztec rite. He takes the teenagers he saves to a shelter being run by a woman; later, he must confront the mysterious Aztec gods who demand more and more sacrifice. All wondrous, no doubt. But the best part of this book is Hester's artwork, steeped in solid black shadows; you can't get more expressive in line and shape than this.
<![if !supportEmptyParas]> <![endif]>
BUSHWAH
As I see GeeDubya flitting around the country, making speeches before carefully screened and therefore friendly crowds to "sell" one or another of his schemes, I keep remembering that the only thing he was ever successful at was cheerleading in college. So I guess you can take the fella out of cheerleading but you can never take the cheerleading out of the fella. He's still at it. Rah rah for Iraqi freedom. It was his cheerleading that got us into this Mess-of-patomia, remember: he had no facts to support his intentions—just rousing cheers. Rah rah de-boom-de-ray on Saddam.
At this unhappy juncture, it's possible to discern the Bush League exit strategy for Iraq. It begins with the Big Lie. They keep on saying that Iraq is getting better. They say it over and over despite evidence to the contrary. The contradictory evidence, they say, is due to the news media's preoccupation with bad news instead of good news. The news media should be reporting American successes in Iraq—building schools and roads. So they go on telling the lie: Iraq is getting better—better at self-governing, better at maintaining their own security. The psychology of the Big Lie is to repeat it over and over again. Pretty soon people will believe it. And once we have enough gullible red state people believing it, we can then pull our troops out of Iraq "with honor," saying the mission has been accomplished. Iraq is a democracy, self-sufficient and self-securing. No need for us to remain there. So we'll pull out. The country will still be a mess, chaos on every hand. But we'll be outa there, thank goodness. And Gee Dubya, Grand Master of the Magnified Mendacity, will be able to say we fixed it. Vietnamization all over again. When will it happen? Before the Presidential Election of 2008.
<![if !supportEmptyParas]> <![endif]>
UNDER THE SPREADING PUNDITRY
The May 4 issue of Rolling Stone has an unkind caricature of GeeDubya (wearing a dunce cap) on the cover while the adjacent headline bellows: "The Worst President in History?" In the ensuing article, Sean Wilentz, a "leading historian," answers the question in the affirmative. "Only one twice-elected president has seen his ratings fall as low as Bush's in his second term—Richard Nixon, during the months preceding his resignation." As if popularity were the sole criteria for greatness. Or ignomy. Wilentz goes on to detail the reasons for his negative judgement, but he begins by summarizing the criteria: "Calamitous presidents, faced with enormous difficulties—James Buchanan, Andrew Johnson, Herbert Hoover, and now Bush—have divided the nation, governed erratically, and left the nation worse off. In each case, different factors contributed to the failure: disastrous domestic policies, foreign-policy blunders and military setbacks, executive misconduct, crises of credibility and public trust. Bush, however, is one of the rarities in presidential history: he has not only stumbled badly in every one of these key areas, he has also displayed a weakness common among the greatest presidential failures—an unswerving adherence to a simplistic ideology that abjures deviation from dogma as heresy, thus preventing any pragmatic adjustment to changing realities. Repeatedly, Bush has undone himself, a failing revealed in each major area of presidential performance." Popularity polls, in the last analysis, are not a factor. Wilentz then discusses "the credibility gap," the war, domestic policy, and presidential misconduct (usurpation of power not granted by the Constitution).
Last fall in the September 26 issue of Newsweek, Fareed Zakaria wrote: "The U.S. Congress is a national embarrassment, except that no one is embarrassed. ... Today's Republicans believe in pork, but they don't believe in government. So we have the largest government in history but one that is weak and dysfunctional. Public spending is a cynical game of buying votes or campaign contributions, an utterly corrupt process run by lobbyists and special interests with no concern for the national interest. So we shovel out billions on 'Homeland Security' to stave off nonexistent threats to Wisconsin, Wyoming, and Montana while New York and Los Angeles remain unprotected. ... We denounce sensible leadership and pragmatism because they mean compromise and loss of ideological purity. ... Hurricane Katrina [less than three weeks in the past then] is a wake-up call. It is time to get serious. ... Wall-Mart and Federal Express cannot devise a national energy policy for the U.S. For that and for much else, we need government. We already pay for it. Can somebody help us get our money's worth?" Alas, this plea obviously fell on deaf ears and continues to go unheeded.
I may be misremembering on this, but I recall hearing recently an interview on NPR with a purported spokesman for illegal immigrants who said these folks don't want U.S. citizenship. They want to work here, earning higher wages than they can in their native land, then, eventually, they want to return to that country. Is that right? Have we ever asked 'em? If it's true, why not make it possible? Just increase the number of work permits so all those 11-12 million illegals can stay here and work. Under this proviso, seems to me, they'd be paying taxes like all of us—including Social Security tax, which they'd never collect on because they'd be out of here by the time they were eligible. And they'd be "documented": we'd know who they were and where they resided, just like regular citizens. They'd be contributing to the labor force, as they are now albeit illegally, so the corporate entities who champion immigrant labor "doing jobs no American wants to do" would be fine with it. Incidentally—news to me—according to Time, "The majority of immigrants pay taxes, even the undocumented (via fake Social Security and taxpayer IDs). Through 2002, illegals paid an estimated $463 billion into Social Security. Their take-out: almost nothing."
At the Pump. Even at $3-plus a gallon, we pay less for a gallon of gasoline than we do for a gallon of soda pop. Just another example of our skewed social and economic arrangements—like salaries for baseball players as opposed to salaries for teachers, policemen, and firemen. The U.S. has been getting cheap gasoline for decades; other countries pay through the hose—er, nose. It's about time we got our comeuppance. But that doesn't stop us from wishing. I wish there were a way to keep gasoline at the pump high priced (to inhibit consumption and thereby to foster conservation) but lower it for other uses—air transportation, for instance; and the trucking industry, in short, all those functions with profound ripple effects. And then, too, I wish we could get at the oil company CEOs whose so-called "salaries" are so obscenely massive. If we could do both of those things, then I'd say leave gasoline at the pump alone and let the price soar. But since we can't make any dents in either of the other two arenas, then we must do what we can do get those prices back down where they don't belong but where we like 'em.
We agonize about the looming shortage of gasoline as a propellant; what about oil as a lubricant? We'll be out of that at the same time, and that, seems to me, is much more critical. How will we grease the wheels of mechanized civilization if we're out of oil? Use linseed oil? Well, maybe.
Metaphors be with you.
To find out about Harv's books, click here.