Opus 180:
Opus 180 (March 27, 2006). We take long looks at Drawn & Quarterly's Walt and Skeezix reprint project, perpetual hiatus at The Boondocks, and the graphic novel The King. And, in an unprecedented maneuver, we examine some religious issues. I'm not trying to convert anyone; the ax I'm grinding has no proselytizing edge. My interest, here, in religion is scholarly or sociological, not spiritual. The Danish caricatures of Muhammad thrust cartooning into the religious realm, and that, in turn, brings religion into our field of vision here at Rancid Raves. But all that is at the end of the usual menu of cartoonery, so you can skip it when you come to it if the topic doesn't intrigue you. Here's what's here, in order: NOUS R US —Over the Hedge becomes a movie, Baldo goes on a mission, Playmates are unfrocked in The New Yorker, the 1986 comics watershed is explained in Playboy, Universal Press 'tooners substitute for a recuperating colleague, "The Simpsons" decides not to let Muhammad on the set, death threats and The New Adventures of Jesus, the power of imagery over words, "South Park" lampoons Scientology, Frank Miller's new Batman takes on bin Laden, a confusion of early cartoonist clubs, Knight Ridder's sale to McClatchy may be good news for editoonists, Danziger gets the Herblock Prize; MOORE'S VENDETTA— What the Brit is thinking; MORE DANISH —The Arab perspective and the anti-Semitic cartoon contest; COMIC STRIP WATCH— Stasis in Garfield, daring in Chickweed Lane, love in Candorville; DISAPPEARING BOONDOCKS —Will McGruder return in six months? Other strips jockey to fill the slot Boondocks leaves open; Brian Walker on the invincible comic strip; BOOK MARQUEE —Jim Whiting's book and his penny-pickup project; REPRINTZ —A recent Mutts book; GRAFIC NOVIL —The King, a meditation on faith; AMERICAN EPIC —The reprinting of Gasoline Alley and Jeet Heer's abundant enthusiasms; IS RELIGION THE PROBLEM? —An examination by Charles Kimball of the ways religion can go wrong; and, finally, more Bushwah, including GeeDubya's sublimated evangelism. And our usual reminder: when you get to the Member/Subscriber Section, don't forget to activate the "Bathroom Button" by clicking on the "print friendly version" so you can print off a copy of just this lengthy installment for reading later, at your leisure while enthroned. Without further adieu—
NOUS R US
All the News that Gives Us Fits
Over the Hedge, an 11-year-old comic strip written by Michael Fry and drawn by T Lewis, is one of the nation's funniest and best-drawn strips and appears in only about 200 newspapers. Soon, however—May 19, to be precise—RJ the snack-food raccoon and the rest of the animal gang lurking satirically in the woods on the edge of suburbia will transcend newsprint and land on silver screens in theaters everywhere in a computer-animated rendition by DreamWorks. In their digital incarnations, the animals look nearly real. Said Lewis: "It's almost a live-action look, yet still 'cartoony.'" Fry and Lewis were thoroughly involved in the movie production at various stages. "We never felt out of the loop," said Fry. And they are happy with the final product. Fry has produced other comic strips over the years; his Committed just ended in February. And Lewis has another career as illustrator of children's books, 15 so far. He dropped the period after the 'T' in his name because, he said, "after a while, it seemed extraneous." The initial stands for Thomas, which he avoids because there are too many Thomases in his family. Fry and Lewis began their collaboration, according to David Astor in Editor & Publisher, with a farm-based strip called The Secret Lives of Pigs. "Lewis swears he and Fry didn't initially realize the title had the abbreviation of 'SLOP.'"
Baldo, the first nationally syndicated comic strip featuring a Latino family living in the U.S., devoted eleven days at the end of March to warning about the "Latin Lotto Scam" being perpetrated in Hispanic communities. Typically, the con artist approaches elderly people with what appears to be a winning lottery ticket, which, he explains, he can't cash in because of immigration issues. He then asks the victim to claim the winnings for him, but, before turning over the ticket, he also asks for a "security deposit" as a sign of good faith. Once the victim has donated his money, the con artist takes off. In the Universal Press strip written by Hector Cantu and drawn by Carlos Castellanos, teenager Baldo's great aunt, Carmen, is approached by con artists. "The key to preventing this is awareness," said Cantu. And the sequence will heighten awareness.
Michael Jantze, who continues to produce The Norm online, and Matt Richtel, a journalist who moonlights by writing Rudy Park as Theron Heir, have launched a website collection of Katrina-related comic strips. Said Jantze: "I think the hardest part of this cleanup effort is that rebuilding takes years. The Chicago Fire gutted that city, and it took 20 years for it to truly come back. The idea of www.cartoonistswithoutboarders.com is to keep going a long time. Comics readers can come back ... catch up on their laughs and get a reminder to care." The site will have hot links to websites that accept help with hard cash, like the American Red Cross.
In the March 20 issue of The New Yorker (the issue with a cover by Seth), Joan Acocella reviews Taschen's Playmate Book: Six Decades of Centerfolds, in which she reveals, among other things, that Playboy discovered with the publication of Miss August 1967, who had "a pair of knockers rivaling Mae West's," that "breasts count." She also observes: "The Playmates of the past few decades look to me like the 'cereal box' buildings that went up on Sixth Avenue in the sixties, those cold, shiny structures, with no niches, no insets—no doors, it seemed. Likewise, the current Playmates seem to have no point of entry. And wasn't entry the idea?" She quotes from Kenneth Clark's The Nude, wherein the academic nudes of the nineteenth century are described as "smoothed out forms and waxen surfaces" and goes on to say, "Hefner's latter-day nudes have the same look: the skin like polished armor ... the golden light, the velvet thickness of the paper. This is not so much sex, or a woman, as something more like a well-buffed Maserati." The remarkable thing about the article, however, is not Acocella's acerbic opinions, however highly savored, but the accompanying illustration: a full page of assorted Playmates in naked zaftig splendor, lifted right from the centerfolds of Playboy.
Elsewhere, in the current (April) issue of Playboy, Robert Levine and Scott Alexander have a piece entitled "Of Maus and Supermen" in which they argue that comic books were pretty universally kid stuff until 1986, when the medium crossed the Rubicon and became adult. The bellweathers for the new direction were Frank Miller's Batman: The Dark Knight Returns, Alan Moore's Watchmen, and Art Spiegelman's Maus, all produced in that single watershed year. With Maus signaling "the beginning of acceptance," the medium matured to the point that, nowadays, as Moore says, "you can read the reviews without realizing it's a comic." Karen Berger at DC Comics is given a good deal of credit for fostering new talent and nurturing the revolution, but the authors also cite just about every other notable in the current crop of graphic novelists and funnybook scribes. Moore, asked if he's surprised that graphic novels are now being treated as literary enterprises, says: "There's something about this academic acceptance of comics that smells of death. I see all these beautifully produced books that give the masters of the medium the respect they deserve, with intellectual analyses of the work, and they look a bit like tombstones to me. The real energy in any art form has always come from the margins—the filthy, dirty, neglected edges." While the article does a creditable job of surveying the landscape, the authors get a little carried away from time to time. The comic book events of 1986, they say, constituted "a cultural force that would shape the next two decades of entertainment." That seems a little excessive. And they also assert, without qualification, that "a glance around the media landscape suggests that comics have come to rule pop culture." All pop culture? Music? Clothing? Advertising on tv? I don't think so. A little excessive, as I say. In the same issue is a photograph of Hefner's daughter, Christie, who runs the Playboy business these days. She's fully clothed, up to the neck, and looks like Hef did fifty years ago before his face was botoxed into a grinning grimace.
At the Museum of Comic and Cartoon Art in Manhattan, "MoCCA Mondays" feature speakers. On March 27, Mark Newgarden discusses his book, We All Die Alone; on April 10, Ruben Bolling, creator of Tom the Dancing Bug, engages in conversation with Kent Worcester. Scheduled for 6:30 p.m., doors open at 6:15 p.m. at 594 Broadway, Suite 401.
Rob Harrell, who produces the comic strip Big Top for Universal Press Syndicate, recently underwent surgery to remove a cancerous tumor behind his left eye. While he was recovering, twelve Universal cartoonists sat in for him on his strip, each doing one strip a day, starting March 6. "I was shocked they were interested in doing it and willing to do it," Harrell said. "But at the same time, I've been going to cartooning conventions for years, and they really are the nicest group of people. So I probably shouldn't be so surprised." One of his stand-ins, Mark Pett whose feature is Lucky Cow, said: "Rob made it clear that he wanted us to do it in our own style. We're not trying to emulate him. It's more like dressing up for a day."
The international rioting about the caricatures of the Prophet Muhammad persuaded the producers of "The Simpsons" to abandon a plan to have Muhammad show up in a forthcoming episode of the tv series. Said creator Matt Groening: "In light of the situation in Denmark, we have decided to withdraw our depiction of the Prophet out of sensitivity towards the Islamic community's feelings. And also our sensitivity to our office being firebombed."
Back in the early days of undergrounds, one of the first comix—if not, in fact, THE first—was The New Adventures of Jesus in which the Savior is viewed somewhat irreverently, from the twentieth century perspective of a person who has read the New Testament with an appreciation for the human predicament rather than for the divine message. He tries to go swimming but bounces off the water. (Since he walks on water, see, he can't penetrate the stuff, so ....) Frank Stack produced this gem in a succession of issues, and I asked him recently whether, like the Danish cartoonists, he'd received any death threats for his sacrilege. Stack wrote back: "Rip Off did pass on some hate mail to me in the 70s when I was still just calling myself Foolbert Sturgeon, and it was pretty nasty. One of them put a curse on me. I included some of it, fictionalized for story purposes of course, in the 'Daily Grind' story in Jesus Joins the Academic Community. He's checking his mailbox in the main office. The Muslims are not the only ones without a sense of humor. But the Arab countries are theocracies. Not only is drawing cartoons of the Big Kahuna a capital offense, but so is adultery, drinking, and eating pork. I don't intend to draw cartoons criticizing other religions, which I don't understand well enough for informed satire. It's dicey enough with our own superstitions."
Amanda Bennett, editor of the Philadelphia Inquirer, one of the very few American newspapers that published any of the Danish Dozen, justified her decision by citing what a journalists credo ought to be: "It is better to make information available than to suppress it." Simply describing the cartoons, as many U.S. papers did instead of printing the actual images, isn't good enough, Bennett said. To make her point, she referred to a famous photograph taken during the Vietnam War: "Would the words 'a naked young girl burning with napalm' have made us understand the horrors of the Vietnam War as completely as Nick Ut's iconic photo?"
Soul singer Isaac Hayes quit voicing the South Park character Chef on March 13, saying he objected to the show's "inappropriate ridicule" of religion. Series co-creator Matt Stone was dubious. "In ten years and over 150 episodes," he said, "Isaac never had a problem with the show making fun of Christians, Muslims, Mormons or Jews. He got a sudden case of religious sensitivity when it was his religion featured on the show." Hayes is a Scientologist, and an episode of "South Park" last November poked fun at the cult. Hayes said that had nothing to do with his decision: rather, he saw the show's parody of religion as part of "a growing insensitivity toward personal spiritual beliefs" in the media generally, particularly in the recent controversy over cartoons depicting the Prophet Muhammad, and he didn't want to be a part of the trend. On the March 22 "South Park" episode, the Chef character is seemingly killed off but mourned as a jolly old guy who was brainwashed by the Super Adventure Club, a hardly veiled allusion to the fantasy underpinnings of Scientology, the ersatz religion conjured up by sf writer L. Ron Hubbard in the 1950s. According to a report in the March 9 issue of Rolling Stone: "75 million years ago, an evil galactic warlord named Xenu controlled 76 planets in this corner of the galaxy, each of which was severely overpopulated. To solve the problem, Xenu rounded up 13.5 trillion beings and few them to Earth, where they were dumped into volcanoes around the globe and vaporized with bombs. This scattered their radioactive souls, or thetans, until they were caught in electronic traps set up around the atmosphere and 'implanted' with a number of false ideas—including the concepts of God, Christ and organized religion. Scientologists later learn that many of these entities attached themselves to human beings, where they remain to this day, creating not just the root of all our emotional and physical problems but the root of all problems of the modern world." About which, S. Scott Bartchy, director of the Center for the Study of Religion at UCLA, said: "Hubbard thought it was important to have a story about how things got going."
Frank Miller is about halfway through his next Dark Knight title, Holy Terror, Batman, in which the Caped Crusader meets Osama bin Laden and kicks his ass, defending Gotham City from terrorists. "It is, not to put too fine a point on it, a piece of propaganda," Miller said. Another work of unabashed anger and unfettered violence, I'd say. Can't wait to see it. ... Woody Wilson, who writes Rex Morgan and Judge Parker, apprenticed at the game with the strips' creator, Dr. Nick Dallis. ... Baby Blues, the comic strip about overpopulation (the exhausted MacPhersons have three young kids) by Jerry Scott as drawn by Rick Kirkman, has just arrived in the inner circle of syndicated success as it passed the 1,000 client papers mark. ... "Wallace & Gromit: The Curse of the Were-Rabbit" won the Oscar for animated feature film, and now in Bristol, the hometown of Aardman Animations, producers of the film, a clamor is rising for a statue to be erected thereabouts in honor of the balding cheese lover and his long-suffering canine companion. ... Bizarro's Dan Piraro received the "Ongoing Commitment Award" from the Humane Society of the U.S. ... Darrin Bell's Candorville has been nominated for a Glyph Award. Presented by the East Coast Black Age of Comics Convention, the Glyph Award "recognizes the best in comics made by, for, and about people of color." ... With the acquisition of Pixar, the Walt Disney Company has less need for its Circle 7 animation facility, which was set up to make sequels to the movies Disney made with Pixar, and so Circle 7 will be closed and 32 animators and other employees there will be out of work. The remaining 136 or so will move to Disney's Feature Animation division.
Where did it all begin? Magazine cartooner Ned Hilton was once president of the Cartoonist's Guild of America, described as "the first and only organization of its kind in the world ... now [1939] boasting some 200 members." But there was an earlier cartoonists club, formed under the auspices of Cartoons magazine in1926, and Eugene "Zim" Zimmerman was its first and only president. The club disbanded when Cartoons went out of business. And then there was another club, active sometime toward the end of the 1920s, of which Frederick Burr Opper was the one and only president. The club fell to pieces when it tried to elect a successor for Opper. Opper was revered enough by his colleagues that no one questioned the appropriateness of his being president. But with his retirement, each individual member thought himself the only one entitled to succeed the "dean of American cartooning." Unable to agree on a new prexy, the club expired of excessive self-esteem.
EDITOONERY. Heads continue to roll. In one of the most outrageous of layoffs, editooner Stacy Curtis at the Times of Northwest Indiana was "escorted out of the building at 2 p.m." on March 2. He said he had no warning. In fact, he believed his job was secure because he emphasized local issues in his cartoons—exactly the emphasis demanded by the newspaper, a link in the Lee Enterprises chain. "Escorted out of the building"? What? Did the management imagine he would set fire to the place before leaving? Well, I suppose after the Danish Dozen, political cartoonists are widely perceived to be bomb throwers and fomenters of wholesale destruction.
In other news with implications for editooning, Knight Ridder confirmed on Monday, March 13, that its board had accepted a buy-out offer of $4.5 billion from the McClatchy newspaper chain. Knight Ridder went up for sale some months ago because its stockholders were unhappy that the chain wasn't making a big enough return for them on their investment. The situation was widely regarded on Wall Street and throughout the industry as a kind of referendum on the newspaper industry. If Knight Ridder didn't fetch a good price, it would signal that newspapers are no longer good investments. McClatchy's offer, however, has apparently laid that fear to rest. The other encouraging aspect of the deal is that McClatchy is known for its commitment to quality journalism, not bottom-line profits. Knight Ridder, on the other hand, has lately seemed more money conscious than news conscientious. KR had laid off quantities of employees at its 32 papers over the last few years, hoping to boost profits enough to stave off stockholders' impatience, thereby avoiding the inevitable demand that the chain be sold. It worked for a while but, alas, not forever. McClatchy plans no across-the-board layoffs at KR papers although it plans to sell 12 of the papers immediately. Included in that number are the Philadelphia Inquirer, the Philadelphia Daily News and the San Jose Mercury News, papers that don't fit into McClatchy's long-standing acquisitions criteria, which emphasize growing markets rather than stable ones. Interested purchasers include family-owned groups and private investors, another encouraging sign. In the wake of this deal, perhaps other newspapers will not be so jittery about their profit-loss statements; and perhaps they won't be laying off editorial cartoonists to improve profit margins for anxious stockholders. We can hope.
Rocky Mountain News editorial cartoonist Ed Stein won the 24th annual Fischetti Competition with a cartoon about the racial divide revealed by Katrina; you can see his cartoon in my 2005 Round-up of the Year's Best at Opus 176. ... Michael Ramirez, once with the Los Angeles Times now with the Investor's Business Daily, won the Scripps Howard award for 2005 editorial cartooning with cartoons that "reflect his philosophy that an editorial cartoon is not just a funny picture: it's a fine instrument of journalism that has a point, tells a story, and defines an issue." About his professional role, Ramirez recently said: "I get paid to be obnoxious. Editorial cartoonists are like pit bulls trained to attack at the slightest provocation. I sometimes feel like this hybrid between Edward R. Morrow and the Son of Sam. You need to know who the enemy is to draw conclusions, then draw blood. I'm an equal opportunity offender. If I haven't offended you yet, I soon will."
Jeff Danziger has won the $10,000 Herblock Prize for editorial cartooning in 2005. Syndicated by the Cartoonists & Writers/New York Times Syndicate, Danziger produces what may well be the nation's most literate political cartoons. Jules Feiffer, one of the three-judge panel determining the award, said Danziger's cartoons "have a sense of literary intelligence—in their own way, each is an essay," adding that Danziger's Iraq War commentary is "the closest thing to the feeling Bill Mauldin gave us in his best days. I think he's terrific. He's on a level with anybody." Biting and unflinching as Danziger's cartoons are, his caricatures are fairly lame; but who notices amid the acerbic wit otherwise on display in his work? One of the jurying panel, editoonist Tony Auth of the Philadelphia Inquirer, said Danziger "creates lush and believable worlds that are complex and compelling. ... It rains in Danziger's cartoons: he uses weather to establish mood." For more about Danziger, re-visit Opus 148.
<![if !supportEmptyParas]> <![endif]>
Fascinating Footnote. Much of the news retailed in this segment is culled from articles eventually indexed at http://www.rpi.edu/~bulloj/comxbib.html, the Comics Research Bibliography, maintained by Michael Rhode and John Bullough, which covers comic books, comic strips, animation, caricature, cartoons, bandes dessinees and related topics. It also provides links to numerous other sites that delve deeply into cartooning topics.
<![if !supportEmptyParas]> <![endif]>
MOORE'S VENDETTA
The New Yorker's David Denby didn't like the movie "V for Vendetta" much. Calling it "a dunderhead pop fantasia that celebrates terrorism and destruction," he concludes: "'Vendetta' doesn't have any ideas, except for a misbegotten belief in cleansing acts of violence. How strangely doth pop make its murderous way, as V might say. The quarter-century-old disgruntled fantasies of two English comic-book artists, amplified by a powerful movie company and ambushed by history, wind up yielding a disastrous muddle." The two British comic book producers are Alan Moore, who wrote the original V for Vendetta in the 1980s, protesting what he saw as the fascist conservatism of the Margaret Thatcher government, and his artist collaborator, David Lloyd. Conjured up as a motion picture in the wake of 9/11, the celluloid "Vendetta" alludes to the new fascism of the Bush League and seems to extol the redeeming virtues of an opposing terrorism: V is either a terrorist or a freedom fighter, take your pick. Moore himself eventually gave up on V being a hero or a villain. "I made it morally ambiguous," he told Heidi MacDonald. "And the central question is: Is this guy right? Or is he mad? What do you, the reader, think about this? Which struck me as a properly anarchist solution. I didn't want to tell people what to think; I just wanted to tell people to think." Moore rejects the idea that the opposite poles in politics are Left Wing and Right Wing. Says he: "The two more absolute extremes [are] anarchy and fascism. This was one of the things I objected to in the 'Vendetta' film, where it seems to be, from the script that I read, sort of recasting it as current American neo-conservatism vs. current American liberalism. There wasn't a mention of anarchy as far as I could see. The fascism had been completely defanged." He elaborated: "I don't want to say V is the hero any more than I really want to say he's the villain. He's a force. [Neither fascism or anarchy is] a political system. Fascism is a kind of weird mystical system, and anarchy is an attempt to move beyond the need to be politic, the need to manipulate large masses of people. So I tend to think V is pretty much an allegorical force, an idea given human form. And, obviously, I have a lot of sympathy with some of his basic ideas. But I think that killing people is wrong."
Moore has famously requested that DC Comics remove his name from "Vendetta" and any work that he doesn't own outright; and he's given up the income from such endeavors, too. Apart from indulging in a fit of pique, his reasons are somewhat convoluted. "I'm asking them to treat me in the same way they've been completely happy to treat hundreds of much greater comics creators than I over the decades. I'm asking them to say to me the same thing they said to Gardner Fox and Jack Kirby and to all those other guys, just say to me 'you are not going to see a penny for any kind of future reproductions of your work, and we're not going to put your name on them.'" Under this rubric, Moore is turning his career into an object lesson of martyrdom. But the real reasons for his strange action lie, I believe, in the way he's been treated over the years, the way most creative people are treated by corporate America. In effect, I think Moore is saying: if you can't give me the respect a creator deserves—and if you can't treat his creation with similar respect—then I disown the creation. Even more significantly, by refusing to let DC or anyone else put his name on something adapted from his work, he is denying them the promotional value of his name. They can't use his name to boost box office receipts. Or so Moore imagines. Most of the publicity about the "Vendetta" movie, however, usually gets Moore's name into the mix by saying he's refused to lend his name to the project. Moore may be content with this, but I don't think he's achieved what he hoped to achieve by scarpering the premises.
David Lloyd, meanwhile, thinks the Wachowski brothers' screenplay is as faithful to the original story as possible. "In the adaptation, they have had to use much broader sweeps than we did," he said. "In the graphic novel, we had lots of space to tell the story. It's not a perfect translation, but it is very imaginative."
Talking about terrorism, Moore referred to Americans being frightened of dying in a jihad. "No offense," he said, "but that is perhaps more of an American perception than a global one. You have to remember that over here [in Britain], there were teenagers being taken out of cellar bars in separate carrier bags all through the 70s and 80s because of the war in Northern Ireland. Which in that case, the IRA were largely being supported by donations from America. That was why I was a bit worried when George Bush said he was going to attack people who supported terrorism. I thought, Oh my god—Chicago is going to be declared a rogue state, and they're gong to hunt down Teddy Kennedy and people like that."
As for the present state of funnybooks, Moore said: "I never loved the comic industry. I used to love the comics medium. I still do love the comics medium in its pure platonic, essential form, but the comics medium as it stands seems to me to have been allowed to become a cucumber patch for producing new movie franchises." Comic books, particularly superhero comic books, seem "adolescent in their brutality and in their inexperienced adolescent approach to violence and sex. At the other end, at the more supposedly intellectual end, I see an awful lot of angst and adolescent breast beating. ... The industry for all the great claims it makes for itself these days—we're kind of post-modern, we're hip, you know, we're sort of a major star accessory—the industry still seems to be based upon a gangster ethic that was around when it was founded." Interviewed by MTV News' Jennifer Vineyard, Moore elaborated: "There's a lot of rubbish out there. But there have been some very literate comic books done over the last 20 years, some marvelous ones. And to actually read a comic, you do have to be able to read, which is not something you can say about watching a film. So as for which medium is literate, give me comics any day." Would he be happier about film adaptations of his works if he were to undertake directing the films? "I don't have any interest in directing films of my work," he said. "If something worked perfectly in one genre, why is there any reason to assume it's going to work as well or better in another genre that it wasn't designed for? I've not seen 'Ghost World,' but I've been told it's very good. I've not been told that it's better than the comic."
<![if !supportEmptyParas]> <![endif]>
MORE DANISH
One of the most exasperating aspects of the Danish Dozen episode was, for Muslims, the hypocrisy represented by their publication in several European countries, a hypocrisy starkly illuminated recently when an Austrian court sentenced British historian David Irving to three years for denying the Holocaust. In Europe, from the Muslim perspective, it is apparently okay to mock Islam but not to deny the Holocaust. The moral inconsistency of this situation and other stances taken in the West with respect to the Middle East is fodder for editorial cartoonist Khalil Bendib, an Arab American Muslim. Born in Paris of Algerian Muslim parents, Bendib spent his early years in Morocco and went to Algeria after it won independence in 1962. By the 1980s, he was in the U.S., taking a master's degree on East Asian languages and culture at the University of Southern California. Working for the San Bernardino Sun in 1987, Bendib received his first death threats for cartoons critical of Israel in the Palestinian cause. Now cartooning for the Muslim Observer, he saw the Danish cartoons as "the latest sign of the West's utter contempt for Muslims' dearest values and traditions." But, according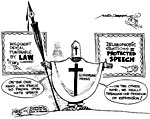 to Teresa Watanabe at the Los Angeles Times, the cartoonist believes that Muslims might not have reacted so violently had they not felt under siege by both indigenous Islamic extremists and what many view as Western occupiers of Palestine, Iraq and Afghanistan. Said Bendib: "Muslims are stuck between a rock and a hard place: foreigners invading their lands on the one hand and the homegrown menace of Islamic extremists on the other. It's a catastrophe." He condemned the violent backlash, but in his cartoons, he continues to present an Arab perspective where almost no one else does.
Signe Wilkinson editoonist at the Philadelphia Daily News is sympathetic. Said she: "I believe the European papers should print the Muslim cartoons denying the Holocaust and mocking Jews. Then, Europeans will have a full and frank view of the imagery that fuels some of the thinking in the Middle East."
Meanwhile, the first stage of the Israeli Anti-Semitic Cartoons Contest has ended. Launched soon after Iran announced an Anti-Semitic cartoon contest, the Israeli version is clearly lampooning the Muslim competition. More than a hundred Jewish cartooners from around the world submitted cartoons, and the organizers are now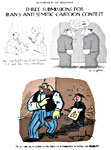 making arrangements for an exhibition. The winner of the contest will receive a $500 prize and, of course, worldwide distinction. One of the judges is Art Spiegelman, who evidently thought the whole idea so satirically uproarious that he did several anti-Semitic cartoons of his own—each typical of the grossest of the centuries-old genre, three of which were published in The New Yorker for February 27.All in good fun, naturally. The strategy is to ridicule an idea out of existence by drastically diminishing its potency with belittling laughter.
<![if !supportEmptyParas]> <![endif]>
COMIC STRIP WATCH
In For Better or For Worse for February 28 one of the characters makes the following observation: "I wonder why we say that people are of different 'races.' It seems to me, we're all running at the same speed and heading towards the same destination. The only 'winners' are the ones who've made the world a better place for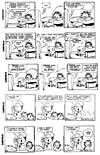 having been here." Bravo, Lynn Johnston.
Garfield spent the week of March 6 watching tv.The strips weren't photocopies of each other, but the compositions were pretty static from day-to-day. The next week, Jon was on the phone all week, trying to get a date, and Garfield provided a comic exit line in the last panels. The next week, they were in a restaurant. And so it goes.
In 9 Chickweed Lane, Brooke McEldowney seems about to question the Catholic doctrine of celibacy. One of the nuns from the school Edda attended shows up in New York, sans habit. She's resigned her order. And she's the nun we saw nearly holding hands with Father Durly many months ago.
And in Candorville, Susan Garcia confesses, to herself, that she loves Lemont. Not too surprising: their relationship has been presumed Platonic, but cartoonist Darrin Bell admits the strip is more than a little autobiographical with Lemont being his alter ego. And Susan, Bell says, is actually his wife Laura. "I'm much, much luckier than Lemont," he grins.
<![if !supportEmptyParas]> <![endif]>
Quips & Crotchets
From Kurt Vonnegut's A Man without a Country: "I asked the now regrettably dead painter Syd Solomon, a most agreeable neighbor on Long Island for many summertimes, how to tell a good picture from a bad one. He gave me the most satisfactory answer I ever expect to hear. He said, 'Look at a million pictures, and you can never be mistaken.'"
"Foreigners," Vonnegut writes, "love us for our jazz. And they don't hate us for our purported liberty and justice for all. They hate us now for our arrogance."
Craig Ferguson, when asked by Playboy if he could be a Bond villain, who he would be: "A Bond villain who harks back to the old days of the Bond villains, when you had a midget with a hat that could kill when he threw it at you. The Bond villains now are all Eastern Europeans with designer stubble. I'm not frightened of guys like that. Fuck off. No, I want a guy with a false hand, an eye patch and maybe an owl—an evil owl that might peck Bond's eyes out. Oh, and whatever side you dress on? That's the side you wear your owl."
Allan Wolper, writing in Editor & Publisher about the dilemma editors face when prominent figures utter obscenities while speaking on the record: "Newspapers know it's unethical to clean up the language of the people they cover. But they convince themselves they're doing the right thing. They're family newspapers. They're worried about their children seeing it. 'I was shocked to see how sensitive American ears are,' said Jeffrey Dvorkin, ombudsman for National Public Radio, who migrated here from the Canadian Broadcasting System. Dvorkin noted that NPR also passed on Cheney's ['go fuck yourself' comment on the Senate floor some months ago]. 'We didn't say 'fuck' on the air. But we were wrong. I would have used it.'"
<![if !supportEmptyParas]> <![endif]>
CIVILIZATION'S LAST OUTPOST
One of a kind beats everything. —Dennis Miller adv.
The Rev. Al Sharpton has no actual church or congregation. ... The New York Times reported that Loving County in west Texas, with only 71 residents, two roads, and one café distributed across its 645 square miles, recently received $30,000 in anti-terrorist funds from the Department of Homeland Security.
Jamie Raskin, a professor of law testifying at a hearing on a proposed Constitutional Amendment prohibiting gay marriage, faced Republican Senator Nancy Jacobs, who, at the end of Raskin's testimony, said: "Mr. Raskin, my Bible says marriage is only between a man and a woman. What do you have to say about that?" Raskin said: "Senator, when you took your oath of office, you placed your hand on the Bible and swore to uphold the Constitution. You did not place your hand on the Constitution and swear to uphold the Bible."
<![if !supportEmptyParas]> <![endif]>
DISAPPEARING BOONDOCKS
I've been expecting, sometime or another, this announcement: Aaron McGruder is taking a six-month sabbatical from The Boondocks. The last new strips were published the week of March 20. Client papers may elect to re-run "classic" Boondocks for the next six months. In a letter that McGruder's syndicate, Universal Press, sent to client papers, McGruder said: "Every well needs occasional refreshing, and I hope that this fall, you will agree that the time away from the demands of deadlines has served the strip, your readers, and me. To be on your comic pages for the last seven years has been a privilege. I thank you for that and for your patience as I explored our world through the eyes of Huey, Riley and their grandfather." Here are the last dailies, with Huey leading his gang off into the revolution, reverting, so to speak, to their pre-Boondocks status to "jack a ride" (steal a car).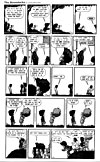 McGruder's editor, Greg Melvin, explained the cartoonist's decision: "Deadlines are hard on everybody, but deadlines are especially hard on creative people. When six months have passed, hopefully McGruder's batteries will be recharged." Other syndicated cartoonists, following Garry Trudeau's lead in 1983, have taken time off— Cathy Guisewite, Berkeley Breathed (between Bloom County and Outland), Charles Schulz, Bill Watterson. All syndicated cartoonists doubtless agree with Jeff Shesol, who ended his just-launched strip, Thatch, in 1998 to become a speech writer for Bill Clinton: "There's a grinding relentlessness to the task of a daily strip," he said. "The deadlines never go away. It's a very isolating existence. It can definitely grind you down." Does he miss it? "I miss the medium," Shesol said, "but I don't miss the job. I miss my characters: they're extensions of your own personality and relationships and ideas. There have been some times, pretty often during these Bush years, when I think, 'Man, I wish I had my strip!'"
Come October, it will have been six months since McGruder laid down his pen. The Boondocks, then, should be looming back up on the horizon. But it wouldn't surprise me if McGruder extends his vacation indefinitely. In fact, my bet is that he won't be back. I interviewed him in the winter of 2003, about four years after the strip was launched with great fanfare and hullabaloo. By 2003, McGruder was populating the lecture circuit and moonlighting on tv scripts and movie projects. He seemed nearly mesmerized with the prospect of Hollywood fame, the promise of power and influence in mass media. He realized, when I prompted him, that a syndicated comic strip gave him a daily platform unequaled in any of the other media he was dabbling in. Much as he disliked the deadline pressures, he didn't want to give up the bully pulpit that the daily strip afforded him. But it was clear that he was sorely tempted. On the stage delivering iconoclastic speeches around the country, he tasted fame in a way that cartoonists, working alone in their spare bedrooms, never do. The audible adulation of the masses. And he liked the taste. It was only a matter of time, I thought, before he chucks it all for something seemingly more lucrative, more visible. More ego-satisfying. Less deadline-draining. Now, I suspect, that time has come. McGruder left the drawing of the strip to assistants several years ago. The animated "Boondocks" now absorbs his time: it seems a workable (and better paying) extension of his peculiar creative sensibility and satiric bent, so now would be a good time to step away from the strip. And I bet he'll do it. Unless, after six months without a pulpit, he realizes—and misses—the bully opportunity to rail every day against the idiocies of his times.
It is, protestations to the contrary notwithstanding, scarcely a coincidence that the launch date of a new strip from Washington Post Writers Group was advanced from May 21 to March 27 just as soon as McGruder's intentions became known. Watch Your Head was on every Boondocks newspaper doorstep last week, waiting to fill in the demographic gap that Boondocks' departure created in 300 newspapers. And the new strip is a perfect substitute: drawn in a manner similar to McGruder's, the strip, like Boondocks, has a mostly African-American cast and is created by an African-American, Cory Thomas. But similarities between the two strips end just about there. Thomas' art, while in the manga-cum-hiphop ghetto style deployed by McGruder, is much more detailed and elaborate: for one thing, we don't see a parade of pictures in which the characters appear in static, unchanging profile, panel after panel, the usual drill at The Boondocks. Set at the predominately black Oliver Otis University, the strip focuses on the campus adventures of six students, only one of whom is white—a Canadian. The ostensible protagonist is a smart, bespectacled kid named Cory. His roommate is Jason, who grew up in upper-middle class splendor but prefers, perversely, to talk gangsta jive and imitate riffraff. Watch Your Head has none of The Boondocks racial edge: the strip is about young people adjusting to college and living on the cusp of adulthood and independence, not about race. There's not a racial joke or jibe in the two weeks worth of strips in the sales kit. Watch Your Head may look somewhat like The Boondocks, but it's another world altogether. The gags grow out of the personalities of the characters, and the punchlines are not telegraphed by the setups. Good comedy; not spectacular—not edgy—just humane.
Like McGruder was when The Boondocks began, Thomas is in his mid-twenties. He grew up in San Fernando, Trinidad, reading comic books and drawing caricatures and mini-comics for his classmates. In 1998, Thomas accepted an academic scholarship to Howard University in Washington, D.C., graduating magna cum laude in 2002 and starting work on a masters degree in mechanical engineering. He also joined the staff of the campus paper, Hilltop, as illustrator, and there he produced the first versions of his strip. The strip has been in development with WPWG for about a year. Comics editor Amy Lago praised the strip for its ensemble cast and its character-driven humor as well as its art. While hoping to squeeze Watch Your Head into the slot vacated by The Boondocks, WPWG will also be pushing Darrin Bell's Candorville, another multi-racial endeavor—albeit with a much sharper satiric edge than Watch Your Head.
<![if !supportEmptyParas]> <![endif]>
Another Thought or Two
Brian Walker, who has now written two massive histories of comics in America—The Comics Since 1945 and The Comics Before 1945 —was asked what great insight his studies have given him. Said he: "The durability of cartooning. Radio, television and now the Internet were all supposed to kill the comics. The comic strip was supposed to die. But cartoonists just keep coming up with new stuff."
<![if !supportEmptyParas]> <![endif]>
BOOK MARQUEE
My friend Jim Whiting, still a cartooner at age 79, has written a book that tries very hard to be an autobiography. While it contains an array of salient facts about his life, they, like Jim himself, appear in no particular order. He sent me the first chapter of the book before it was published and asked me to compose a "blurb" for the back cover. So I did. Here it is: "Anyone who's always wanted to be Jim Whiting should have this handy guidebook, which explains how to be a radio personality, a magician, and a syndicated cartoonist. Whiting, who has amassed a small (very small) fortune picking up every penny, nickle, and dime he can find on the sidewalk, also reveals, for the first time anywhere, who it was who drove across the Nevada desert wearing white boxer shorts on his head. And all of this happens before your very eyes in the friendliest prose you can imagine—in short, a treat for all ages (from the Paleolithic to the Elizabethan and, hence, to this very century)." Truer words were never writ. Even after reading the whole tome, I can't add much by way of assessing the book. Jim started cartooning at a distressingly early age and sold gag cartoons to magazines. Eventually, he did a succession of syndicated cartoons—Ad Libs (1943-1972), Wee Women (1965-1974, 1985-1994) and Li'l Ones (1966-1974, 1985-1995), both the latter originated by Mel Lazarus (Momma and Miss Peach); and Claude & Cleo (1985-1993).
Despite his lifetime drawing pictures, there's very little in this book about brushes, pencil shavings, eraser crumbs, the quest for the perfect line that animates us all, and the other appurtenances of a career in cartooning. Like most cartoonists writing about themselves, Jim seems to think no one would be interested in the crises and triumphs at the drawingboard. The legendary Gordon "Boody" Rogers is the shining exemplar of this misbegotten notion. He wrote an entire 200-page autobiography without mentioning that he assisted Zack Mosley on Smilin' Jack and created two manic comic book features, Sparky Watts and Babe. Rogers regaled us with his adventures as a highschool football player and his further adventures in the armed services. All highly amusing stuff, but if you bought the book because you knew Rogers was a cartoonist, you'd be disappointed to find him ignoring this central aspect of his life.
Jim Whiting, however, doesn't veer off in quite such an extremity. While he doesn't discuss the vicissitudes of daily life at the lip of an ink bottle, he does tell us about all the cartoonists he met over the years, beginning with Sam Cobean, the celebrated New Yorker cartoonist whose "naked eye" cartoons revealed as much about American attitudes towards sex as Alfred Kinsey's book did, coming along about four years after the cartoonist. Other cartoonists about whom Jim rehearses nifty anecdotes include Roger Armstrong, Sergio Aragones, Bernie Lanksy, Eugene "Zim" Zimmerman, John Dempsey, Ed Nofziger, Fred Lasswell, Morrie Turner, Harry Lampert, and Jack Markow. Jim tells us about his youth, growing up in Watkins Glen in upstate New York, where he spent most of his life until moving, in 1984, to Southern California. He tells us about his wife and offspring, his entry into the radio business, and the friends he made along the way. In fact, one has the impression, after reading the book, that it's more about Jim's friends than it is about him. The book is organized around the names of his acquaintances and colleagues, whom Jim admires unreservedly. We learn about Jim, his aspirations and achievements, mostly by what he says, almost incidentally, when introducing us to his friends. And that's just exactly as it should be. Jim is not much involved with himself: he's much more interested in other people. If you set him loose in a roomful of perfect strangers, he'll know more about each one of them within a half-hour than you could find out in a week. The thing that interests Jim is other people—what they do, what they think. And he'll drop everything in pursuit of this sort of knowledge. The book is exactly like that. Entitled Analecta: Selected Reflections of a Cartoonist's Life, the book is just that: "analecta" meaning "a collection of literary passages," which, in this case, are stitched together as a crazy quilt of friendships.
When Jim moved to Solana Beach near San Diego, he resumed freelance cartooning, and in various places herein, he tells us how one might proceed to earn a living in this way. He also alludes, modestly, to his founding in 1986 of the Southern California Cartoonists Society, which he remained the perpetual president of until just five or six years ago. Jim is an affable, kind and out-going person, and the book is a perfect reflection of his personality. You may not learn all that much about what a cartoonist does, day-by-day (or a radio personality), but you get to know Jim Whiting pretty well. And that, after all, is what autobiography is about. And Jim's casual prose style—warm, conversational and gently humorous—completes the reflection. The volume, full of Jim's cartoons and numerous photos of his friends and family, is available through Amazon.com at $13, plus p&h; but you can get an autographed copy directly from Jim for just $22, including p&h: 222 Countryhaven Road, Encinitas, CA 92024.
As for picking up pennies on the sidewalks of Southern California, Jim reports that last year, 2005, he amassed $10.42 that way. A pretty good year, compared to the previous four, albeit not as good as the record year 2000, when he rescued $20.70 from oblivion.
<![if !supportEmptyParas]> <![endif]>
REPRINTZ
As a boy, Patrick McDonnell always wanted a dog because he saw such an admirable canine companion on the funnies page: Snoopy, the imaginative beagle in Charles Schulz's Peanuts. "I never had a dog growing up," said McDonnell, so when he grew up, he decided to leave New York City and move to Metuchen, New Jersey, where he could have a yard for a dog. And then he bought a Jack Russell terrior and named it Earl. Soon after that, he met his boyhood idol, Schulz, and when McDonnell asked Schulz what he should name the dog protagonist of his gestating comic strip, Mutts, Schulz told him to name the dog after his own pet. And so he did.
The strip's other principal character is a cat named Mooch. "My mom named Mooch," McDonnell explains, "because whenever our cat rubbed his head up against me, my mom called it 'that mooch.'"
Unlike most comic strip animals these days, Earl and Mooch do not talk to humans. The animals talk only to each other; and the humans talk to each other, and to their pets—as they do in real life. But McDonnell maintains the "separate world" for animals, one that humans can be only vaguely aware of. The strip is unabashedly whimsical, aiming to provoke a fond smile or chuckle rather than a belly gawfaw or political ire. And McDonnell's simple rendering style enhances the aura of whimsy.
Here's Earl and Mooch, lying on their backs on the sidewalk as a human approaches. "Belly rub for world peace," says Earl. The human passes them by without administering a belly rub. "We're all doomed," says Mooch.
Mooch slurs his S's. When he says "yes," he pronounces it "yesh." McDonnell is an unadulterated admirer of old time comic strips. With his wife Karen O'Connell, he wrote a book about one of them, George Herriman's famed Krazy Kat. Krazy and other comic strip characters of his vintage talked funny, McDonnell said. That got lost, he said, and with Mooch, he's trying to revive it a little.
Earl and Mooch and their assorted friends and owners parade through the pages of the tenth Mutts collection, Who Let the Cat Out? (128 8.5x9-inch page; paperback, $10.95), the cover of which, like McDonnell's Sunday strip splash panel, is designed in remembrance of something else—in this case, a comic book, Mutts Comics. The book includes several of the "Shelter Stories" sequences McDonnell regularly does, urging people to adopt their pets from animal shelters. In one, an adorable little Easter bunny addresses us: "I was the cute gift that lost its charm," he says, "—neglected in a small cage in the backyard and then eventually abandoned. Believe me," he concludes, "being the Easter Bunny was no holiday." McDonnell was recognized a year ago for his efforts on behalf of neglected pets: he received the Ark Trust's Genesis Award, given to artists who communicate animal issues with creativity and integrity.
<![if !supportEmptyParas]> <![endif]>
More Happy Talk
"A man who tries to carry a cat home by its tail will learn a lesson that can be learned in no other way." —Mark Twain
"There's no fate that cannot be surmounted by scorn." —Albert Camus
"Being in politics is like being a football coach. You have to be smart enough to understand the game and dumb enough to think it's important." —Eugene McCarthy
"The first human who hurled an insult instead of a stone was the founder of civilization." —Sigmund Freud
"No man has a good enough memory to be a successful liar." —Abraham Lincoln
"When somebody says it's not about the money—it's about the money." —H.L. Mencken
"When somebody says it's not about the sex—it's about the sex." —Former Senator Dale Bumpers
GRAFIC NOVIL
In The King (262 5x7-inch pages, two colors; paperback, $19.95) by Rich Koslowski, we meet a has-been tabloid journalist named Paul Erfurt who has been assigned his old beat, Elvis impersonators, in order to investigate the possibility that one of the breed is, actually, Elvis Presley returned from the dead. The candidate in question differs from the others in wearing a golden helmet that covers the upper half of his face down to the tip of his nose. He also sings so much like the original that his shows in Las Vegas are mobbed by throngs of delirious fans who, increasingly, are convinced that the guy in the golden helmet is, indeed, Elvis, the King himself. The putative King never claims to be Elvis; but he never denies it either.
Erfurt interviews the King and his entourage and several others, trying to ascertain if he could be Elvis, and the graphic novel is the story of Erfurt's investigations. Erfurt discovers, among other things, that some of "the King's" more passionate fans, those who are convinced that Elvis couldn't have died, have formed "the Church of Elvis," proclaiming that Elvis is a god. The Church traipses around the country as a tent show, raking in millions. When Erfurt accuses the founder of purely mercenary motives, the guilty party frowns and says: "Mr. Erfurt, an operation of this magnitude requires a substantial amount of funds to keep it operational." Well, yes, but gold statues, limousines, diamond cufflinks? "Mr. Erfurt, we are honoring a god. It would be disrespectful to do so improperly." Suddenly, before we know it, Koslowski's story transcends the mystery genre and becomes a meditation on faith and, by implication, on religion.
When Erfurt asks the King about the charade of his divinity, the King admits only to being "a god" not "the god." He's a god of song, he says. And there have been others—Mozart, Beethoven, Sid Vicious. "Apollo was the god of song long time ago," he says, "but then Greek mythology pretty much died off. People stop believin' in ya, ya cease ta exist." Erfurt accuses the King of deceiving people, but the King says: "These people come ta me ta feel good. They pray ta me, worship me, listen ta me sing. ... It makes 'em feel good. ... Mah job is ta fill them up with hope. Make 'em happy." Erfurt protests that religion is more than just "feeling good." But the King disagrees: "Who says it has to be more? Who says we have to suffer? There's enough sufferin' in the world already. Maybe it'd even be awright for some of us ta start feelin' good again."
Humoring the King, the reporter wants him to produce some sort of proof, some facts—anything that might establish the King's genuineness. "Religion isn't facts or proof," the King says. "It's faith. And with faith, there has to be doubt. You asked me why Ah wear this helmet? Now, Ah'm gonna tell ya. Ah wear it ta test mah followers' faith. To create doubt. Mystery. Power. Ah take this helmet off—prove who Ah am—end of mystery. Becomes fact. Science. Science ain't religion. It's science. Religion dies. Religion dies, Ah die. Skeptics see me die, now they say, 'Look! He died! He weren't no god after all!' Now it's not even scientific fact. It's nothin'. Ah'm nothin'. Helmet stays on," he concludes.
Erfurt says he suddenly has a headache. "It can be frustratin,' can't it?" says the King. "Havin' faith is hard. Ain't for everyone. You'll believe if an' when yer ready, Mr. Erfurt."
Erfurt eventually learns who the King might be, and just as he confronts the King with this knowledge, one of the King's entourage takes out a pistol and shoots, and kills, the King, thinking, with the deluded dedication of a zealot, that the King is immortal and that "killing" him will establish this as irrefutable fact. Alas, the King is dead. Erfurt writes his tabloid story, proclaiming that the "God of Song" is alive. Erfurt has the opportunity to remove the golden helmet and ascertain the identity of the King, but he doesn't. And the reporter also destroys the only solid evidence he has that might prove the King's claim or disprove it: a drinking glass with the King's fingerprints on it. To pursue the matter would be to destroy the mystery.
Koslowski has been laboring in animation and the comics vineyard for over fourteen years, some of the time as an inker at Archie Comics, and he's produced an award-winning graphic novel, Three Fingers, and a comic book series, a spoof about comics fans called The 3 Geeks. His drawing style is in the cartoon rather than the illustrative tradition: his characters are caricatures, not portraits. Chiseled rather than drawn, they seem somewhat stiff and wooden. But each character is a distinctive rendering: we always know which of them we are looking at. Koslowski frequently repeats a panel three or four times as a way of slowing down the passage of time, indicating the boredom of a character or the pregnancy of a pause. But if you think the stilted figures and long pauses make for dull reading, you'd be mistaken. Koslowski's pacing is adroit; his command of the medium, sure. And the tedium of his artistic style is deftly enhanced by his colorist, Adam Wallenta, who has added a gray tone to the black-and-white drawings and then superimposed a dusty blue tint, giving depth to Koslowski's flat planes. Ultimately, however, it is the unwinding of the story, the ostensible solving of a mystery—or is it the creation of one?—that grips us and keeps us turning pages.
<![if !supportEmptyParas]> <![endif]>
AN AMERICAN EPIC GETS RECYCLED
The second volume of Drawn & Quarterly's Gasoline Alley reprint, titled Walt and Skeezix, is due in May, and if it's anything like the first volume, it'll be the most elegant reprinting project on the planet this spring. The pages of the first volume measure 7x9 inches, and there are enough of them—unnumbered, but probably close to 400 —that the book is almost two inches thick, a solid squat block on the shelf. When first published in newspapers, the strips ran almost the entire width of a newsprint page, 18-20 inches, so the 8-inch dimension on these pages is a considerable reduction. But cartoonist Frank King's graphic style was fairly unencumbered, and his pictures take even this severe reduction well. The strips appear two to a page, and each page carefully cites both year of publication and month and day. If this volume did no more, it would be a reprinting worthy of an American classic. But the book is more: it is a testament to the affection felt for the strip by the book's designer, Chris Ware, who, with D&Q's active consent, lavished design details on the project that are nearly unprecedented in the historic tome game. The end papers carry minuscule wallpaper images from the strip, one of which is stamped on the book cover. A silk ribbon book mark is stitched into the book's spine. The jacket is a wrap-around layout of familiar scenes from the strip. And— the ultimate signal of elegance— the reverse of the jacket, the part no publisher ever prints on, carries a reproduction of an original Gasoline Alley strip at almost the size of the original. Stunning. Enthralling.
D&Q's first volume does not begin with the first appearance of Gasoline Alley. The publisher made the canny decision to begin with the strips for 1921: starting in January, the book arrives, forthwith, at February 14 when the baby Skeezix shows up on Walt Wallet's front door step, the historic moment when the strip was transformed from a feature about cars and amateur mechanics to domestic, hometown low-key comedy. The rest of 1921 and all of 1922 fill up the first volume. We watch as Walt learns how to care for the baby, comically applying automotive knowledge and terms to the task. When the baby cries all night and sleeps all day, Walt phones the doctor to say the baby is "out of adjustment: it's timed wrong. It's set for night when it should be set for daytime." Walt consults far and wide in determining a name for the child. "Skeezix" is fine as a nickname, but, needing something a little more formal, Walt settles on "Allison,"reasoning that the baby is a "son of the Alley." And before long, Walt's bachelor status teeters on the brink when an attractive single woman, Phyllis Blossom, moves into the neighborhood.
Gasoline Alley started in the Chicago Tribune at the behest of the publisher, Robert McCormick, who was persuaded that people needed help in learning how to care for their automobiles, which were becoming increasingly available to a middle class public. Although scarcely a self-help feature, it did talk a good deal about the problems people had with cars. "Cars had character in those days, and there was plenty to discuss," King once remarked. Set in an alley where men met to inspect and discuss their vehicular difficulties, Gasoline Alley first appeared on November 24, 1918, as one of several panel cartoon features boxed together on a black-and-white anthology page King had been doing for several years for the Sunday Tribune. Called "The Rectangle," the page was a conglomeration of cartoons, offering comic commentary under a rotating series of headings—Familiar Fractions, Pet Peeves, Science Facts, Our Movies, and the like. The Gasoline Alley panel appeared routinely after its debut but only on Sunday until August 1919, when it began to run daily as well.
The early years of the feature have been reprinted by Spec Productions in four volumes, beginning with the November 1918 debut and ending December 31, 1920. Walt Wallet doesn't show up by name for two or three weeks, but once he's identified, we can go back to the beginning and see a character that looks vaguely like the subsequently named personage. Gasoline Alley was a weekly panel until Monday, August 25,1919, when it started running daily—albeit still as a single panel with occasional lapses into strip format. The lapses became more frequent as the year rolled on, and by winter 1920, Gasoline Alley appeared in strip format just about as often as it appeared as a single panel, and by the end of the year, the strip format predominates. Spec discontinued publication of the series when D&Q came out with its first volume, but you can still order copies from the website, www.specproductions.com at $20 each. The reproduction is by photocopy, shot from newspaper clippings; the quality of the early panels is not high, but if you're looking for the complete Gasoline Alley record, this is where to find it.
McCormick may have prompted the feature into being, but the comics brains at the Chicago Tribune were those of his co-publisher and cousin, Joseph Patterson. Reflecting on Gasoline Alley in early 1921, Patterson decided all the talk about cars left out women readers' interests. "Get a baby into the story fast," he commanded the flabbergasted King, who protested that the main character, Walt Wallet, was a bachelor. It was then decided to have Walt find a baby on his doorstep—which he did on Valentine's Day.
With the arrival of Skeezix, the strip developed a stronger storyline: Walt took several days just to get the neighborhood's approval of the name he chose for the infant boy. Subsequently, almost accidentally, the strip evolved its most unique feature: its characters aged. The children grew up, and the adults grew older. To King, this innovative aspect of his strip was simply logical. "You have a one-week old baby, but he can't stay one week old forever. He had to grow." By logical extension, so did everyone else in the strip. Patterson concurred. This attribute of Gasoline Alley added a dimension of real life to the strip, and King went on to convert everyday concerns about automobiles into a larger reflection of American life in a small town. The strip quickly took on familial overtones, and the setting, with Walt's subsequent marriage to "Auntie" Blossom, became thoroughly domestic, the situations those of ordinary life, the humor—warm, pleasant, low-keyed.
For most of the readers of McCormick's Tribune and Patterson's New York Daily News, the mirror of small town life that King held up so faithfully in Gasoline Alley probably evoked nostalgia with its fond reminders of the way things used to be. Said Coulton Waugh in his venerable history, The Comics: "This is a quiet, faithful, tender picture of suburban America. No bluster, no lurid fuss. It has a calm pace ... [and provides] one of the most faithful and cheering pictures of the ordinary business family we have to show."
The D&Q tome comes equipped with a stupendous introduction, about 60 pages of text profusely illustrated with photographs of King's early life, both before and after marriage. Written by Jeet Heer, this inaugural section regales us with more than I'd ever heard about King, and it is mostly well-done. But I think Heer got a little carried away in one area. I think he is buying the story of King's granddaughter, Drewanna King, a little too uncritically. Part of his research consisted of a long visit with her, during which she hauled out albums of family photos and mounds of newspaper clippings. Heer describes her as a pack rat and family genealogist, so, naturally, she'd see her grandfather's role in the creation of Skeezix as being central. King's role was central, surely; but he didn't play the only part in conjuring Skeezix. In one place, Heer in effect says that it was King's idea to put a baby in the strip. And he goes on to say that Patterson, who is usually credited with the idea, was a "credit hog and liked to take the applause for most of the innovations introduced by his cartoonists." The credit hog in the Patterson-McCormick axis was undoubtedly Robert McCormick, who ran the Tribune in Chicago while Patterson was operating the Daily News in New York. McCormick had a very high opinion of himself. But Patterson was the least applause hungry newspaper mogul of his day. He was known as "Sloppy Joe" because he didn't even dress the part of a big time publisher. One time when he tried to gain access to the News Building late at night, the guards wouldn't let him in because he was so badly dressed they figured he was a bum.
I know of at least one case where Patterson should be credited for creating a comic strip character and never was. This was the Dragon Lady in Milton Caniff's Terry and the Pirates. But Patterson never stepped forward to make a claim—or to discredit Caniff, who always claimed he'd invented the Dragon Lady when, in fact, it was Patterson who suggested putting a lady pirate into Terry. If Patterson was as applause hungry as Heer says he was, he wouldn't have stood still for a second to let Caniff take the credit for one of the most popular characters in comics.
Heer's reason for discounting Patterson's role in creating Skeezix is to build up a relationship between King and his family and Walt and his. Heer wants the strip to be "profoundly autobiographical," as he says, and it can't serve that purpose if the baby idea was Patterson's, not King's. So Heer shoots down the legend in order to be able to announce his Discovery: Skeezix is actually patterned after King's own son, Robert.
In an interview Heer gave in connection with promoting the book, he says that Robert was always a little bitter about Skeezix: he thought his father lavished more love and care on the cartoon character than on his actual son. Robert was sent off to school, it appears, and never quite recovered from the feeling of being abandoned—and was therefore bitterly antagonistic towards Skeezix. Or so Heer would have us believe. In this confection, Robert King sounds like Dennis Ketcham or Christopher Robin Milne, two celebrated disaffected scions of authors who took inspiration from their offspring.
As I say, I think Heer's going overboard here. In the first place, it's not necessary to make Skeezix a substitute son in King's mind in order to have King being influenced somewhat by his own family life in conjuring up incidents for Walt and Skeezix to experience together. Any author (and Heer admits this, too) draws upon his own personal experience if that experience parallels the fiction he's producing. But Heer apparently wants to take this further and make the invention of Skeezix a manifestation of some sort of subconscious frustration in King, whose first child was stillborn in 1912. Robert Drew King was born in 1916, five years before Skeezix shows up in the strip. In order to make Skeezix part of the cartoonist's troubled psyche, Heer has to get rid of Patterson as the prod by which Skeezix came into the story: if Walt's domestic situation is to be a reflection of King's life, then Skeezix has to be his, King's, invention, not Patterson's. Skeezix's "Uncle Walt," by the way—as if to put the finishing touch on this construction—is Robert's uncle, his mother's brother, Walter Drew, who appears in several of the photographs in the D&Q volume, and in one of them, the shock of unruly hair that distinguishes Walt Wallet's appearance is in ample evidence. So it all fits, eh?
Well, not quite. In the first place, there's the pesky business about Patterson inventing the orphan child. In the second place, Robert King never felt bitter about Skeezix. Jim Scancarelli, the current author of Gasoline Alley, knew him (he was called "Drew," by the way—his middle name, and his mother's maiden name—not "Robert," which indicates how fragile the granddaughter's grasp of the situation is), and Jim never detected any emotional hang-ups about Skeezix.
Heer has a nifty story here, but some of it, it would seem, he's making up to fit a pre-conceived notion. The pre-conceived notion is prompted by all of the autobiographical comic books and graphic novels presently abounding. In Heer's mind, any book reprinting Gasoline Alley will attract more buyers if it is autobiographical like R. Crumb's comix or Joe Sacco's or Peter Bagge's. And when he met with Drewanna, he found out enough to confirm (or to prompt) a suspicion that Frank King's strip was "profoundly"autobiographical. I think, however, that idea is mostly Heer's pipe dream. And, no, I don't know what he's smokin'.
Volume Two promises more delections. Another 400 pages embracing 1923 and 1924, during which time, Skeezix is kidnaped, Walt's courtship of Phyllis Blossom heats up and then cools off, and Heer provides an 80-page introduction about the strip's Chicago background and the fascination for King and others of the inky-fingered fraternity of the Grand Canyon.
<![if !supportEmptyParas]> <![endif]>
IS RELIGION THE PROBLEM?
The question wouldn't come up here at the Intergalactic Nerve Center of the Rancid Raves Wurlitzer were it not for the Danish Dozen. Until that brouhaha, religion and cartooning were very nearly separate universes and never met. Now, we're not so sure anymore. And having sidled up to the subject by way of a cartooning corridor, we can now slip into an otherwise completely alien discourse. But first, a short apostrophe about my religious beliefs. I'm not undertaking any evangelical enterprise here. My attitude about religion is pretty much to let everyone believe and practice whatever sets them free. I don't care what kind of spiritual life you have as long as you don't try to foist it off on me. Live and let live, I say. Everyone probably needs some sort of belief in something, but it varies from person to person, and that's fine with me. These days, however, religious questions loom larger than ever before. We can hardly ignore the increasingly vitriolic role religion is playing in human affairs. Probably a cartoonist has no business messing about in such matters, and, as I say, if it weren't for the Danish Dozen, I probably wouldn't bring any of this up. I could still avoid the subject, I realize; but I don't want to. So here we go.
Many of the world's most pressing problems at present, not to mention the U.S. predicament in Iraq and elsewhere in the Middle East, seem to stem from differing religious views, so the obvious question is: Is Religion the Problem?
Charles Kimball lobs a few answers at the question in his book, When Religion Becomes Evil. The book is about the most dispassionate, objective thing I've read on these matters. I was surprised, pleasantly. Surprised and somewhat illuminated. Kimball is an ordained Baptist minister but he is not at all shrill or doctrinaire in his examination; in fact, were it not for the biographical blurb inside the book, it would be difficult to say with certainty what religion Kimball espouses. He has a Th.D from Harvard in comparative religion, with an Islamic specialty. His paternal grandfather was Jewish, one of nine children, who, with a brother, had a successful vaudeville career. Kimball was involved in the hostage crisis in Iran in 1979 and was one of few to meet the Ayatollah Khomeini in attempting to get the hostages released. Kimball was director of the Middle East office of the National Council of Churches for seven years and is now chair of the department of religion at Wake Forest University.
He begins his book with the question that headlines this segment of R&R. And his answer is: Yes and no, depending. If we contemplate religion in terms of its fundamental purposes, it is not the problem. All authentic religions, he says, "converge" in teaching an orientation toward God or the Transcendent and in fostering compassionate, constructive relationships with others in the world. In other words: You shall love the Lord your God with all your heart and with all your soul and with all your mind. This is the greatest and first commandment. The second is like it: You shall love your neighbor as yourself. On these two commandments hang all the law and the prophets. Matt. 22:37-40. Religion is NOT the problem when it keeps these two purposes foremost.
But religion can be corrupted by its human adherents, and when it is corrupted, it can become evil, fostering behavior that is contrary to and destructive of its fundamental purposes. There are five clear signals of corruption either happening or about to happen:
When a religion claims to be in possession of the absolute truth
When a religion fosters blind obedience
When an "ideal time" is identified and all else is subordinate to reaching that state
When the end justifies any means
When holy war is declared and waged
<![if !supportEmptyParas]> <![endif]>
Each of the chapters of Kimball's book deals at great length, in turn, with these signs of degeneration, drawing heavily from history as well as from contemporary events. I'll review some of his key points, chapter by chapter, but I'm merely skimming the surface of his argument, which he presents in lucid easy-going prose—nothing decorative or declamatory, just clearly wrought.
When a Religion Claims to Be in Possession of the Absolute Truth
All religions are founded on truth claims. But when particular interpretations of these claims become propositions requiring uniform assent and are treated as rigid doctrines, corruption is likely. When a truth becomes Absolute, it's on its way to being a corruptive influence.
Historically, people armed with Absolute Truth are closely linked to violent extremism, charismatic leaders, and various justifications for acts otherwise understood to be unacceptable.
The source of such truths is likely to the religion's sacred text. But sacred texts are not infallible: all written language is symbolic and therefore subject to misinterpretation. Language is a pointer at best. When adherents lose sight of the symbolic nature of language about God, the text can easily be misinterpreted.
For example: the Christian Bible says nothing about abortion per se, so zealous opposition to abortion is usually based upon the Sixth Commandment, and it fosters an absolute conviction that abortion is legalized murder. Most vocal opponents of abortion allow the practice in cases of rape, incest or threat to the life of the mother. Not the extremists. They have demonstrated that they are willing to do murder to prevent murder.
Suicide bombing is instance of a sacred text being misinterpreted. Over the years, the validity of suicide bombing as a tactic has been established, but how do you recruit the bombers? You do it by referring to a provision in the Qur'an that says those who die striving in the way of God will go directly to paradise instead of to a celestial waiting room where they'll stay until the eventual Day of Judgment. Other texts justify violence when the religion itself is threatened. But this highly selective reading overlooks texts that prohibit killing women, children and noncombatants—and suicide. Extremists, however, have appropriated those parts of the text that serve their purpose.
Kimball wrote his book after 9/11, and much of his discourse deals with Muslim belief and how that may, or may not, influence the course of events in the Middle East. But he points out that both Islam and Christianity have an inherent tendency to corruption.
The Missionary Mistake. Based upon a conviction that theirs is a superior culture and religion, Christianity and Islam are the only two of the world's largest religions with a missionary imperative to proselytize. This can lead to political and/or military coercion. Kimball sites the California mission system established up and down the coast in the late 1700s as an example of noble intention gone awry, resulting in unwitting genocide.
It would be better, Kimball says, to envision mission as a matter of bearing witness to the love of God as manifest in the ways people relate to others, particularly those that are hungry, thirsty, or freezing to death after an earthquake in Pakistan. Bearing witness is the most powerful and persuasive form of missionary activity.
At the end of this chapter, Kimball asks if it possible to embrace and affirm religious truth without defining truth for others. By way of answering, he quotes from Wesley Ariarajah, a Methodist minister:
When my daughter tells me I'm the best daddy in the world, and there can be no other father like me, she is speaking the truth, for this comes out of her experience. She is honest about it; she knows no other person in the role of her father. But of course it is not true in another sense. For one thing, I myself know friends who, I think, are better fathers than I am. Even more importantly, one should be aware that in the next house there is another little girl who also thinks her daddy is the best father in the world. And she too is right. ... No one can compare the truth content of the statements of the two girls. For here we are not dealing with the absolute truths but with the language of faith and love. ... the problem begins when we take these confessions in the language of faith and love and turn them into absolute truths.
<![if !supportEmptyParas]> <![endif]>
When a Religion Fosters Blind Obedience
Kimball cites Jim Jones and David Koresh as charismatic leaders who demanded blind obedience in their followers. Charismatic leadership is not inherently bad: Gandhi and Martin Luther King Jr. were both charismatic but did not demand total obedience.
Dangers abound when people take direction uncritically from religious authorities. Doctrinal positions supporting otherwise unethical behavior must always be challenged. Religions that demand blind obedience signal trouble. "Ethics" may be determined by consulting the two purposes of religion. Think for yourself; ask questions.
Kimball quotes the Buddha on his deathbed:
Do not accept what you hear by report, do not accept tradition, do not accept a statement because it is found in our books, nor because it is in accord with your belief, nor because it is the saying of your teacher. ... Be ye lamps unto yourselves. ... Those who, either now or after I am dead, shall rely upon themselves only and not look for assistance to anyone besides themselves, it is they who shall reach the very topmost height.
<![if !supportEmptyParas]> <![endif]>
When an "Ideal Time" Is Identified and All Else Is Subordinate to Reaching That State
For many of the so-called Christian Right in the U.S., the Rapture is the Ideal Time. Some believe that we are in a "time" before the final dispensation. A key development in a divinely ordained sequence of events is the rebuilding of the Jewish Temple on the site Muslims call Noble Sanctuary. While adherents to this view may not advocate the use of force to destroy the Dome of the Rock to make room for the Temple, they link the fate of Israel to the sacred sequence leading to the Day of Judgment and therefore support Israel uncritically, regardless of how bellicose Israel's leaders became towards Palestine.
The impulse towards identifying an Ideal Time is the conviction that the Present is not desirable, that something has gone very awry.
For nearly 800 years, the Muslim world led civilization in mathematics, chemistry, medicine, philosophy, navigation, architecture, horticulture and astronomy. When the Muslim empire of 700-1500 fell apart and into the hands of outside powers, the catastrophe begged for explanation, and the explanation, eventually, created in Afghanistan the Taliban, who explained the Muslim collapse by saying that people had been distracted from the authentic faith. They demanded the return to "true religion" and the rejection of Western influence. The Taliban brand of Islam became the state religion and that, in turn, created at least two classes of citizens: any state in which rights and status are tied to a particular religious tradition will relegate some of its citizens to second and third-class status.
The Religious Right in America not so far from the Taliban of Afghanistan. They share a religious conviction that the perceived ideal has been lost and must be restored through institutions of the state—say, by establishing prayer in schools, by posting the Ten Commandments, and the like. These reconstructionists seek to remove the political and institutional barriers to God's law, believing that God's rule must prevail against the principalities and powers controlled by Satanic forces. For them, the end justifies the means.
The role of religion in a state is always problematic. In the case of Israel, the problem of religion as national policy is exacerbated with respect to the Palestinians. Any accommodation with Palestinians that involves making them citizens of Israel will inevitably mean Jewish citizens will, eventually, be outnumbered. And so this avenue to a settlement in the area seems forever closed off. In some cases in the Middle East, an interim may be imagined where religion is intimately involved in the state. Iran, for instance, where the basic governmental structure is parliamentary democracy, with a powerful role for the clergy.
Any religion that justifies any action by invoking an imperative to reach an Ideal Time is signaling its internal corruption. Authentic religions live in the present and do not pine for an Ideal Time. Nor, as a result, do they seek to become the official state religion.
<![if !supportEmptyParas]> <![endif]>
When the End Justifies Any Means
Here, Kimball cites the riots in India in March 2002 between Hindus and Muslims, resulting in widespread destruction and death in the civilian population—all brought about by a desire to defend a "sacred place" from defilement by infidels. Ditto the Medieval Crusades, which produced so much horrific savagery on an immense scale in the Middle East.
When people are called upon to do violence to their neighbors in the service of a righteous cause, they should know that something is dreadfully wrong.
In Europe after Christianity became joined with state power, attitudes and behavior toward Jews deteriorated because devotees desired to protect their religious community from outside influences or corruptions. These convictions lead to ethnic cleansing and protection of group identity—which in some Muslim communities has lead to reinforcing group identity at the expense of women, ostensibly in the name of their honor. In Europe, protection of the Christian faith in the Middle Ages resulted in the horrors of the Inquisition.
The need for institutional structures to protect the status quo leads to churches and church hierarchy, which, as in the case of the sex abuse scandals in the Catholic church of recent times, can lead to efforts to preserve the institution at the cost of the religious purposes.
Sacred space, institutional structure, communal identity—none are the ends of religious life.
<![if !supportEmptyParas]> <![endif]>
When Holy War Is Declared and Waged
Declaring "holy war" is a sure sign that a religion has been corrupted. In the history of Christianity, there have been three distinct attitudes about war:
<![if !supportEmptyParas]> <![endif]>
1. Pacifism, which prevailed for the first 300 years
2. The Just War Doctrine, which came about once church and state were united under Rome's Constantine in the early 300s.
3. Holy War
<![if !supportEmptyParas]> <![endif]>
There are four basic criteria for determining a "Just War":
<![if !supportEmptyParas]> <![endif]>
1. Must be proclaimed by lawful authority
2. Cause must be just
3. Belligerents should have a rightful intention to advance good or to avoid evil
4. Must be fought by proper means
<![if !supportEmptyParas]> <![endif]>
The problem is that there is in this catechism no way, actually, to determine if a war is just: it was by definition just if the authority figure declared it so. Moreover, the doctrine also has no obvious connection to the Christian faith. But these ideas became powerful weapons during the centuries when the behavior of many Christians was furthest removed from the teachings and example of Jesus: the era of the Crusades—the third attitude about war—when Christianity declared a "holy war" on Islam and Judaism and committed unspeakable atrocities in the name of that purpose.
In this country during the build-up to the invasion of Iraq, most religions objected on the grounds of the first Christian attitude about war: war was simply bad; pacifism was the best course. By this time, most religions have rejected the Just War Doctrine altogether.
September 11 is often seen as the commencement of the jihad, or holy war, against the West. But this is a perversion of Muslim text. For Islam, as for all authentic traditions, the goal of religion is to save the human soul and consequently establish justice and peace in society so that people can live virtuously and live and die in peace. The popular conception of jihad—and the extremist application of the notion—is counter to the fundamental meaning of the term. Jihad in the Muslim tradition refers to the struggle to do the right thing, to do good works on behalf of others and for the betterment of society. The "greater jihad" is the inner struggle to overcome selfish and sinful desires, the wrong tendencies that inhibit us from doing what we know to be right. It can also refer to military action taken to defend Islam—or to expand its influence.
While church and state were wed in Christianity in the fourth century, they have always been together in Islam. As adherents of a missionary religion, Muslims sought to spread their message and societal system through proclamation, diplomacy, and force of arms. [Muhammad's career went through each of these stages by turns. When he fled Mecca to Medina, he took with him the followers he'd won by proclamation and diplomacy, but when the Muslim community needed food and supplies, Muhammad led his followers into the desert to raid passing caravans. These were bound for Mecca, and the raids provoked the Mecca merchants to retaliate. But Muhammad proved an adroit field commander and won his battles. His victorious progress convinced others that he was, indeed, the messenger of Allah, and so they joined his community.—RCH] This bellicose history makes it easy for Muslims to be seduced into the current jihad, that and the miserable kind of life so many Muslims are forced to live in the autocratic regimes that prevail in most of the Muslim world.
But the U.S. and its allies in the present struggle against terrorism are no better, often supporting totalitarian regimes because "the enemy of my enemy is my friend" instead of pursuing policies and practices by peaceful means. Authentic religion demands that we be peacemakers, not war mongers.
<![if !supportEmptyParas]> <![endif]>
Summary
Under the heading "blind obedience," Kimball examines the careers of Jim Jones and David Koresh. In the "ideal time" chapter, he takes up the relationship between evangelical Christianity with its expectation for the Rapture and how that impinges upon our attitude toward Israel. He sees the Religious Right in this country as not so different from the Taliban in its desire to create a theocratic state. About prayer in schools, he says: "As long as there are math tests, there will be prayer in schools."
Under the "end justifying the means," he cites ethnic cleansing and the Inquisition in Medieval Europe as ways of protecting group identity. He outlines the conditions for "a just war" in the chapter on "holy war" but concludes that the Crusades and September 11 invalidate the criteria.
At the end of the book, he offers several things that we may do to foster peace. Ultimately, Kimball looks to religion to provide not a road map to a better world, but a compass. He argues that there are fundamental and universal human truths embodied in authentic religion—a desire for fairness, integrity, honesty, human dignity, service, growth, patience, nurturance, and encouragement, as well as faith, hope, and love. These he sees as not only self-evident but innate in the human condition. These are the compass. He thinks of God not as an object or being but as a direction. And he also argues for a religious orientation that embraces diversity and pluralism, ultimately a serene tolerance of all other beliefs.
Quite apart from the political aspects of his discussions on Islam and the war on terror and related issues in contemporary American, I think the book goes a good distance towards answering the question of how one lives as a religious person in a world in which numerous religions all demand adherence. How can you be tolerant an still be devout? Kimball provides a thoughtful and rather comprehensive examination of the question, based in history and comparative religion study. And he does not excuse his religion for its historic tendency to fall prey to corruption.
<![if !supportEmptyParas]> <![endif]>
UNDER THE SPREADING PUNDITRY
The Nation struck just the right note: "Rise by fear, fall by fear. Having deliberately nurtured a national security panic for the past four-plus years," George WMD Bush "richly deserves to be trampled in its latest running: the uproar over his Administration's decision to hand management of six U.S. ports to a state-owned Dubai firm" in the United Arab Emirates. A number of things are wrong with all this. First, most news media did not explain that Dubai was going to be managing only a few terminals in the ports; journalistic shorthand—"management of six U.S. ports"—implied something much more extensive. Secondly, it was probably a mistake to force Dubai out of the business. The whole thing reeks of xenophobia and prejudice against "Middle Eastern types" who are all, probably, terrorists. Surely that is not a message we want to send. But send it we did.
Andrew Sullivan, a confessed neo-conservative, has lost faith in the Iraq effort. In Time for March 13, Sullivan ticks off three "huge errors" in regard to Iraq: first, overestimating the competence of government; second, a national narcissism that blinded "many of us to the resentments that hegemony always provokes"; and third, not taking culture seriously enough—particularly "complex, tribal, sectarian cultures abroad." The Bush League, he continues, "sent far too few troops, was reckless in post invasion planning and turned a deaf ear to constructive criticism, even from within their own ranks. Their abdication of the moral high ground, by allowing the abuse and torture of military detainees, is repellent. Their incompetence and misjudgments might be forgiven. Their arrogance and obstinacy remain inexcusable." And this guy is a friend of the Bush League.
In U.S. News and World Report, March 20, David E. Kaplan voices his alarm about the Bush League's passion for secrecy. "Liberals tend to stress government accountability and responsiveness to public needs. Conservatives want to ensure that the government does not exceed its legitimate authority. Secrecy is at odds with both of those impulses. ... What I'm concerned about is that we may lose sight of our own ideals as a society. We may lose the expectation of open, accountable government. We will simply assume that the most important political decisions are out of reach and beyond our ability to affect."
Oh, and if you want to keep track of the cost of George W. ("Warlord") Bush's Iraq Adventure, you can do so at http://costofwar.com/index.html
<![if !supportEmptyParas]> <![endif]>
More Bushwah
George W. ("Wiretapper") Bush believes, fervently, that the mission of America is to spread democracy around the world. To make freedom ring. But that is not a democratic notion. Democracy is not a missionary doctrine. Nothing in the philosophical posture of democracy inclines it in the direction of missionary work. Rather, democracy exists solely to arrange government in such a way as to permit the so-called governed to participate in the process. Democracy, philosophically, is a wholly inward-looking system. We have no business trying to recruit converts. But GeeDubya has arrived at a missionary purpose for democracy by way of his religion, and this, as much as anything, reveals the folly of mixing church and state. As a born-again Christian, GeeDubya is compelled by the evangelical imperative of his belief to proselytize, to spread the gospel, to create converts to his belief. Evangelical religions are essentially missionary. GeeDubya realizes that he can't go around the world, knocking on doors and asking people to take Christ into their hearts. So he sublimates, as Freud would have it: he substitutes democracy for religion. Making converts to democracy satisfies psychologically his evangelical compulsion to win converts. It is also a highly risky enterprise. Democracy is simply not constituted for the task. It hasn't the internal, philosophical machinery for evangelical work. And so, GeeDubya's plan is back-firing. The citizens of the democracy—that is, we the people—have just about had enough of proselytizing in Iraq. And since democracy is better suited to attending to the wishes of its citizens than it is to obeying rulers or bullying other nations, GeeDubya's crusade is bound to fail. And failure will be the shroud for the Fallen: against all hope, they will have given their lives in a doomed cause. Without GeeDubya's evangelical fervor, none of those lives would have been lost, none of America's youth would have been shipped overseas to patrol a hostile desert. And the country would have been better off as a result. The money we have poured into the Iraq project could have been better spent on democratic projects—improving health care, up-dating infrastructures, underwriting corporate pension plans, fixing Social Security. But we let GeeDubya mix church and state, and now we're the devil's playthings.
A better way to spread the gospel of democracy is by the simple act of bearing witness— setting an example by the way we live our lives and conduct our government. And that will attract attention beyond our borders, and the attention will turn to envy, and envy to revolution wherever people yearn to be free. That's the way America has spread the ideals of democracy for most of its history, except for a few jarring incidents. It works. As GeeDubya himself points out, there are more democracies today than there were in 1945. And with a couple exceptions (Germany and Japan), all those "new" democracies arrived at their blessed state without the U.S. knocking on their doors and telling them to take democracy into their hearts.
GeeDubya keeps referring to democracy as a "gift" to the people of the world. But as Joe Klein said in Time, it's not a gift: "It's an achievement." A successfully functioning democracy requires a social order with free markets and an educated middle class with a tradition of civil liberties. These things must be in place before democracy can work. Many of the Arab countries in the Middle East aren't quite there yet.
To find out about Harv's books, click here.