Opus 176:
Opus 176 (January 9, 2006). Like all the grown-up periodicals do at this season, we perpetrate a review of the year's events; ours differs from all the others in being strictly about the Cartooning Year and includes the only completely undraped Shanna picture by Frank Cho in captivity. We also offer our selection of the best editorial cartoons of the year, ponder the Cagle editoon website's choices in the same arena in its second annual round-up, and remember, at fond length, Bud Blake and his Tiger. Here, in order, is what happens next: The Cartooning Year; NOUS R US —Scoop's top ten comic books of the year, Garry Trudeau's cautionary advisory to newspaper editors about adult content in syndicated strips, Time.com's top graphic novels of the year; COMIC STRIP WATCH —Scott Adams appears in his own strip, Bushwhacking in Candorville; Are All Cowboys Now Gay? EDITOONERY —Weaseling at the Tribune Company, Michael Ramirez finds employment fraught with king-size irony, a new African-American editooner, staff opening at the Louisville Courier-Journal; BOOK MARQUEE —Vintage Major Hoople; Civilization's Last Outpost —paganism revived; ANOTHER YEAR UNDER THE SPREADING PUNDITRY —Reviews of the year in Rolling Stone and Entertainment Weekly, plus Time magazine's sell-out of journalistic integrity, Mike Luckovich, and my choices for some of the year's best political cartoons, followed by reviews of other choices by Daryl Cagle, Brian Fairrington, and Charles Brooks in their "best of the year" books, plus Cagle-Fairrington's Big Book of Bush bashing cartoons; then, farewell to Bud Blake, who died December 26. Don't forget to activate the "Bathroom Button" by clicking on the "print friendly version" so you can print off a copy of just this lengthy installment for reading later, at your leisure while enthroned. Without further adieu—
<![if !supportEmptyParas]> <![endif]>
THE CARTOONING YEAR
This time of year, being the beginning of a fresh 365-day allotment, is still close to the end of the previous allocation, which permits us to look both backwards and forwards. I like the backward part, as you probably guessed. I enjoy all the pundit summaries of the Significant Events of the Year. I always look forward to Dave Barry's skewed review of the year's events. The year 2005, he alleges, was the Year of the Woman. And to prove his point, he rehearses a list of the most exciting personalities in the year's news—Martha Stewart, Judith Miller, Valerie Plame, Jennifer "Runaway Bride" Wilbanks, Paris Hilton (jeez—again?), Harriet Miers, Katrina. And then he says: "I'm not saying that men did nothing stupid or despicable in 2005. Of course they did! That's why we call them 'men.' But women are supposed to be better than men. Women are the backbone of civilization: they keep families together, nurture relationships, uphold basic standards of morality, and go to the bathroom without making noise." Barry always sneaks in some snapper at the last syllable of a sentence. Highly entertaining. But Barry barely mentions the events in the cartooning realm. In fact, as I recall, he doesn't mention any at all, unless you count Greta Van Susteren, which Barry does, over and over again. Sure, Barry lets editooner Gary Brookings decorate his column with pungent cartoons, but that's not quite the same thing as reviewing an entire Cartooning Year. Barry leaves that to me, and I gladly step up to meet the challenge. Forthwith—
<![if !supportEmptyParas]> <![endif]>
The Year's Big Stories
The big news in cartooning continues to be the tsunami of manga hurricaning through the bookstores of the nation. But there was other news during the year. Here, ranked from the top down, are my choices for the rest of the year's biggest stories about comics or cartooning: 1) "Masters of American Comics" exhibit opens in L.A., garnering lots of ink for the medium, which, they say, has finally arrived at Art, apparently, to judge from the roster of Masters, without women cartoonists at all; 2) Black Ink Monday dramatizes the looming extinction of editoonists as a byproduct of corporate ownership greed; 3) Will Eisner, the last of the medium's great pioneers (perhaps its greatest), dies; 4) Stan Lee gets an "undisclosed amount" of $10 million from Marvel in settlement of all claims, present and future; 5) Blondie foments a 3-month continuity leading up to the strip's 75th anniversary; 6) Stephen King and Robert Browning join Marvel to produce the Dark Tower series
<![if !supportEmptyParas]> <![endif]>
Events Not Noticed Nearly Enuff
Peter Kuper's Bush parody, "Richie Bush," was seized by U.S. Customs, but the Comic Book Legal Defense Fund minions quickly registered a protest against this clear assault on First Amendment rights, and the Customs folks sheepishly released the books; Legends comic book shop's Gordon Lee got arrested in Rome, Georgia, for committing lewd acts in giving away Alternative Comics No. 2, in which "The Salon" depicts a historical incident showing Pablo Picasso working in the nude with his pecker showing.
<![if !supportEmptyParas]> <![endif]>
Front Page Material That Didn't Make It To The Evening TV News
Defense Secretary Donald Rumsfeld photographed with Spider-Man and Captain America
<![if !supportEmptyParas]> <![endif]>
Best Books of the Year
A few of these were published in another year, but I didn't get around to reading them until 2005, so, for the purposes of this annual outing, they are, for me, "this year's" best books: 1) The book I read with most pleasure this year (although published earlier), Bob Levin's The Pirates and the Mouse; 2) Peter Maresca's colossal book of Little Nemo pages; 3) Paul Gravett's Graphic Novels: Everything You Need To Know; 4) Drawn and Quarterly's reprint of Gasoline Alley, entitled Walt and Skeezix; 5) Chris Lamb's Drawn to Extremes, an examination of the history and current plight of political cartooning in America (published in 2004 but not read here at Rancid Raves Galactic HQ until 2005); 6) Ron Goulart's Comic Book Encyclopedia (not to mention the re-issue, this time with illustrations, of his seminal The Adventurous Decade, all about comics in the 1930s); 8) Eisner's The Plot, a polemic rather than a graphic novel but ingeniously achieved with a cartoonist's sensibility.
<![if !supportEmptyParas]> <![endif]>
The Year's Weightiest Tome
The Complete Calvin and Hobbes in three slip-cased volumes, weighing 23 pounds
<![if !supportEmptyParas]> <![endif]>
Most Satisfying Funnybook Reads of the Year
JSA Classified No. 1 because of Amanda Conner's delightful comedic sensibilities, revealed, time and again, in the facial expressions and body language of her characters, even the zaftig Power Girl, whose voluptuous sexuality Conner manages to preserve while, at the same time, making her look funny when appropriate; and New West, a two-issue mini-series by Jimmy Palmiotti and Phil Noto
<![if !supportEmptyParas]> <![endif]>
Most Over-rated Funnybook
Sophie Crumb's Belly Button Comix
<![if !supportEmptyParas]> <![endif]>
Sensations and Alarums—Scandal in Cartoonery
In Brooke McEldowney's 9 Chickweed Lane, the venue shifts, and young Edda goes to New York with a ballet company and shares an apartment with her dancing partner, Seth, who is gay; Garry Trudeau's Doonesbury gets dropped at a few papers because it deploys one of GeeDubya's favorite nicknames for Karl Rove, "Turd Blossom"—a watershed event as probably the first time these newspapers were not willing to accept the word of the President; Aaron McGruder's Boondocks gets on tv, says "nigger" more times than white sensibilities can readily tolerate, and tv is no longer the same, if it ever was; Michigan J. Frog is fired as the mascot at Warner Bros Cartoon Network.
<![if !supportEmptyParas]> <![endif]>
End of the Series Event of the Year:
Rose Is Rose's Pat Brady finally, after eight consecutive nominations, gets the Reuben, the National Cartoonists Society's trophy for Cartoonist of the Year
<![if !supportEmptyParas]> <![endif]>
The Other Big Award
Nick Anderson of the Louisville Courier-Journal gets the Pulitzer Prize for editooning
<![if !supportEmptyParas]> <![endif]>
The Yet Another Award Award
Tom Toles of the Washington Post gets the first annual Opinion Award for editorial cartooning from The Week magazine
<![if !supportEmptyParas]> <![endif]>
Best Award The Name of Which Is Better Not Uttered Too Much If The Award Is To Retain A Shred of Dignity
The Bill Finger Comic Book Writing Award instituted at San Diego Comicon, 2005, is named in honor of the creator of Batman whose achievement was overlooked all his life; Arnold Drake and Jerry Siegel are the first to get the Finger. The Finger Award is Jerry Robinson's idea. He knew Bill Finger, who he met while assisting Bob Kane by drawing most of the pictures in the Batman stories that Finger wrote. The Award is an excellent idea, and although "getting the Finger" may not be the most dignified way to describe receiving the honor, the expression has a certain ironic serendipity about it if you think of it as a way of getting back at Kane for taking all the credit for the Caped Crusader all these years—and at DC for not crediting both Kane and Finger in the books once Finger's shaping role became widely known and accepted.
<![if !supportEmptyParas]> <![endif]>
Only in the Funnies
Steve Roper ends, December 26, 2004; Cathy marries Irving on February 5; in Funky Winkerbean, Tom Batiuk satirizes the Censorious Righteous when John Gordon, who runs a comic book shop in the basement of Montoni's Pizza Parlor, is arrested for selling porn but, happily, is found "not guilty" in a November trial; however, his business, true to life, is ruined.
<![if !supportEmptyParas]> <![endif]>
Greatest Comedic Achievement Not in the Funnies
Garry Trudeau being wheeled on stage on a gurney to receive the Freedom of Speech Award at the U.S. Comedy Arts Festival at Aspen, Colorado, where he broke his collarbone on the slopes earlier in the day
<![if !supportEmptyParas]> <![endif]>
Rounding the Corner into That Good Night
One who died is only a little ahead of the procession all moving that way. When we round the corner, we'll see him again. We have lost him for only a moment because we fell behind, stopping to tie a shoe-lace.
—J. M. Barrie
<![if !supportEmptyParas]> <![endif]>
SF illustrator and Mad cover artist Frank Kelly Freas, pioneering Will Eisner, DC publisher Irwin Donenfield (November 2004), Seventeen's Bernie Lanksy, Brenda Starr's Dale Messick, Andre Francois (The Half-Naked Knight, 1958), Bringing Up Father's Zeke Zeley, Playboy's Rowland B. Wilson, innovative publisher Byron Preiss, Walt Kelly's widow Selby, gag cartoonist John Gallagher, publisher Jud Hurd, champion fan Bruce Hamilton, Trudy's Jerry Marcus, gag cartoonist Lou Meyers, the Bears' Stan Berenstain, Tiger's Bud Blake (an appreciation appears further down this scroll in the Member/Subscriber section)
<![if !supportEmptyParas]> <![endif]>
They shall grow not old, as we that are left grow old;
Age shall not weary them, nor the years condemn.
At the going down of the sun and in the morning
We will remember them.
—Lawrence Binyon, "For the Fallen"
<![if !supportEmptyParas]> <![endif]>
Most Inventive But Hard-to-Remember-Exactly Quote of the Year
So I Wrote It Down As It Happened
During a panel of editorial cartoonists at the NCS Reuben Weekend in Phoenix last May discussed the almost religious reluctance of newspaper editors to publish cartoons that are critical of ideas or attitudes dear to any of their readers, Joel Pett of the Lexington Herald-Leader constructed the year's most ingenious metaphor, poetic in its entangling but revealing syntax: "Newspaper editors," he said, "act as if they own a shoe store, and they ask themselves—why should I pay somebody to sit at the door and tell people their feet stink?"
<![if !supportEmptyParas]> <![endif]>
The Most Exquisite Invocation of An Iconic Figure for Comedic Purposes
Chris Ware's cover cartoon of Eustace Tilley for the anniversary issue of The New Yorker
<![if !supportEmptyParas]> <![endif]>
The Thomas Alva Edison Citation for Being Both a Dim Bulb and a Bright Light in Cartooning
Goes to The New Yorker for publishing a so-called "cartoon issue" that is woefully deficient, given the magazine's usual standards, in recognizing the medium and celebrating its practitioners, and, second bounce, for instituting the regular weekly cartoon captioning contest as a way of nurturing new talent in gag cartooning (cartoon editor Bob Mankoff's idea, I'm sure)—as good a primer for understanding how a good gag cartoon should work as any I've seen.
<![if !supportEmptyParas]> <![endif]>
The Lost and Now Found Medallion
Goes to the International Museum of Comic Art, which announced it has finally found a new home in New York in the Empire State Building
<![if !supportEmptyParas]> <![endif]>
Rancid Raves Dubious Distinction Riband
To Art Spiegelman and Marjane Satrapi, both of whom made Time's most influential people of the year list for 2004
<![if !supportEmptyParas]> <![endif]>
Anniversaries
Universal Press passed the 35-year-old marker, ditto Garry Trudeau's Doonesbury, the feature that probably boosted Universal Press into the limelight; Morrie Turner's Wee Pals turned 40; and Phil Frank's Farley racked up 30, a singular achievement in that it runs only in the San Francisco Chronicle, its sole outlet for 20 of its 30-year run.
It's the 20th anniversary year for Funny Times, a monthly newspaper of gag cartoons, comic strips, humor columns, and occasional editorial cartoons published by Raymond Lesser and his wife Susan Wolpert, who started the paper in Cleveland with chutzpah. "Chutzpah," said Ray, "can be loosely translated as 'blind stupidity.' ... Originally, Funny Times was a local paper, and we sold ads and left it around town. ... We traded advertising for everything we could possibly trade for because even though the ads were as little as $10, people didn't want to give us money."
"There was one guy," Sue remembered, "Stephano's Pizza—for a $10 business card size ad, we could get a large cheese pizza and an order of homemade pasta with parsley and garlic, and four drinks. So not only could we eat out, we could take two friends out to eat."
By 1989, they realized two things: they would have to turn the paper into a business that would earn them a living, and they had more than 600 people all around the country who had, for one reason or another, bought a subscription to a Cleveland-ads newspaper. They developed what they called a "business plan": they decided to borrow $10,000, rent 20,000 names nationwide, and send out a special, no-ads issue to see how many people would subscribe. They presented their plan to a small business adviser, who looked "sadly" at the plan and advised them not to do it. But they did it anyhow. They figured if they had 2-3 percent return as subscribers, they could keep it going. The first day they looked in their post office box, it was crammed with letters. "It ended up being almost 8 percent," Sue remembered. They were in business. For more about Funny Times, go to www.funnytimes.com.
<![if !supportEmptyParas]> <![endif]>
Anniversaries We Didn't Sufficiently Notice in 2005
Nancy's Ernie Bushmiller was born 100 years ago; 75 years ago, Mickey Mouse began his newspaper comic strip career and Dr. Seuss launched Heiji, a Sunday strip; 60 years ago, Fred Lasswell took over Snuffy Smith; Fontaine Fox's Toonerville Trolley ended 50 years ago, and so did Joe Palooka's Ham Fisher, who shocked everyone by committing suicide just after Christmas.
<![if !supportEmptyParas]> <![endif]>
The Frank Cho Picture(s) You'll See Only in Rants & Raves This Year
In the early stages of his work on Marvel's Shanna, Frank sent me the accompanying picture of a barenekkidwoman who looks suspiciously like she might have been Shanna bursting out of her test-tube cocoon before the satraps at Marvel decided nudity was too nasty for even a so-called "mature audiences" comic book. The other picture is of Jessica Drew aka Spider-Woman, getting her powers back through surgery in New Avengers No. 14, now on the stands. In the published picture, a speech balloon strategically placed over Jessica's right breast preserves her modesty and protects Marvel against the possible consequences of provoking a Janet Jackson Incident. About this picture, Frank said: "Yes, I snuck in a visual gag: those round things on the surgical tray are breast implants." Big THANQUES, Frank, for keeping us all, er, abreast of your current endeavors.
<![if !supportEmptyParas]> <![endif]>
NOUS R US
The newspaper rerun of Calvin and Hobbes, inaugurated in September to remind people that The Complete Calvin and Hobbes was available for purchase, ended on December 31, reprising the very last daily strip from 1995 in which Hobbes and Calvin are strolling along in the snow through the woods. Hobbes asks, "Are you making any resolutions for the New Year?" "Yeah," says Calvin, "I'm resolving to just wing it and see what happens." Hobbes: "So you're staying the course?" Calvin: "I stick to my strengths." Odd, isn't it, how familiar those words seem these days of steadfast political resolve?
According to Diamond's Scoop, the top ten comics of the year are, starting at the top: Daredevil No. 76, DC Countdown No. 1, The New West No. 1, Young Avengers No. 1, JSA Classified No. 1, Astonishing X-Men No. 12, Grimjack: Killer Instinct No. 1, Casefiles: Sam & Twitch No. 12, Space Ghost No. 3, and Desperadoes: Banners of Gold No. 2. Apparently the standings are not determined by sheer sales: annotations accompanying each title rave about content.
Garry Trudeau, speaking about B.D.'s loss of leg and the cartoonist's relationship with the military and the wounded to the American Association of Sunday and Feature Editors on September 30, concluded with remarks more generally a propos syndicated cartooning in newspapers that go into everyone's homes: "I appreciate the wide latitude I've been given through the years. And I hope difficult subjects can be treated in Doonesbury without unduly upsetting the nation's small children, because small children have no interest in Doonesbury. It's discretionary reading, and why would they read something they don't understand? When they are old enough to understand, maybe it's time for their parents to discuss more challenging issues with them." To re-visit 35 years of Doonesbury, visit the archives at www.doonesbury.com.
Time magazine's online comics columnist Andrew Arnold listed his choice of the year's topic graphic novels: 1) Black Hole by Charles Burns, 2) Epileptic by David B., 3) Little Nemo in Slumberland, Peter Maresca's reprint of Winsor McCay's Sunday comic strip (scarcely a "graphic novel," ambitious though the publication is), 4) Walt & Skeezix (another comic strip reprint, not a graphic novel by the usual definition), 5) Or Else by Kevin Huizenga, 6) Concrete: The Human Dilemma by Paul Chadwick, 7) Pyongykang: A Journey in North Korea by Guy Delisle, 8) Dungeon, Vol. 2, by Joan Sfar and Lewis Trondheim, 9) Night Fisher by R. Kikuo Johnson, and 10) Mome, Vols. 1 and 2, an anthology edited by Gary Groth and Eric Reynolds at Fantagraphics. I must confess, by way of putting my opinions on these matters in the proper perspective, that I've read only three of Arnold's choices, an admission that reveals my inability to keep up on such things; but then, I've given up claiming to be the World's Foremost Authority. Believe it or not.
QUIPS & QUOTES
Senator Hillary Rodham Clinton on running for the presidency: "Nothing will ever be attempted if all possible objections must first be overcome."
Former CIA Director George Tenet on criticism of his leadership of the intelligence community: "Those who live by the sword get shot by those who don't."
The media on Madonna: "In order to a void being called a flirt, she always yielded easily."
Microsoft Chairman Bill Gates on the importance of research and development: "What was the greatest thing before sliced bread?"
All from Mortimer Zuckerman's editorial in U.S. News and World Report, January 9, 2006.
<![if !supportEmptyParas]> <![endif]>
COMIC STRIP WATCH
Scott Adams showed up in his own comic strip, Dilbert, on January 2, saying: "Approximately one gazillion people have suggested I draw a comic based on the following idea—which, as you will see, is not funny. But I give it to you anyway because I can't resist peer pressure." In the next panel, Dilbert is staring at his computer screen, which says to him: "If you can't connect to the network, send a trouble report by e-mail." Adams peeks up from the border at the bottom of the panel and says, "Happy?" And he shows up in the rest of the week's strips, too. Presumably, Adams is tired of seeing Stephen Pastis getting lots of laughs by using Adams in his strip, Pearls Before Swine, and decided to get the laughs himself by appearing in his own strip. On Saturday, at the end of the week, a giant hand (very well drawn, by the way, with knuckle wrinkles and fingernails) dips into the strip's final panel and plucks Adams away. "He was creepy," says one of the characters (who looks like a coffee cup).
On his blog, meanwhile, on January 4, Adams has launched a search for an artist to draw a comic strip called Unfit, which, at present, is being drawn by Mike Belkin, the husband of an Adams business partner in a couple of California restaurants. "As an angry loner, Mike has the perfect cartoonist personality," said Adams. "He was either going to be a presidential assassin or a cartoonist, so I thought I'd do my part for the country and steer him toward cartooning." He trained Belkin, he says, and so Unfit looks a lot like it is being drawn by Adams. But it isn't. It isn't selling well, either, according to David Astor's article about this in the online Editor & Publisher; so various personages in the hallways of United Media felt a better artist might help. Hence, the talent search. In divulging all this, Adams, in effect, renders a quite unflattering verdict about his own drawing skill. Unusual perhaps, but Adams has regularly confessed to the shortcoming.
On Sunday, Christmas Day, Lemont in Darrin Bell's Candorville has been asked by Susan what he got for Christmas and he responds: "War without end, federal agents abusing the Patriot Act to read my online Journal without my permission, outrageous gas prices, skyrocketing housing prices, hundreds of thousands of jobs lost or outsourced, and a White House that tortures prisoners—oh, and unaffordable health care." Couldn't have said it better myself.
<![if !supportEmptyParas]> <![endif]>
COWBOY CARTOON DRAWS FIRE
Lifted verbatim (nearly) from Mike Peters at the Dallas Morning News, January 5, 2006
(I couldn't do this story any better than you've done it, Mike)
Cartoonist Dan Piraro, the creator of the syndicated cartoon panel Bizarro, has apologized to newspaper readers for "a lapse in judgment" after last Sunday's cartoon was perceived by some to be anti-gay. "I'm not homophobic, in spite of how it looks," said Mr. Piraro, who lived for many years in Dallas, "and I deeply regret the unfortunate timing of that cartoon."
In the Jan. 1 strip, one scruffy cowboy sings across the campfire to another: "Well, it's been six long weeks since I seen a woman, and yer startin' to look pretty good."
Some readers thought it was a playful joke on "Brokeback Mountain," while others saw something more sinister: an attack on gay people. Mr. Piraro said he got numerous complaints from various parts of the country; The Dallas Morning News received one e-mail. The reaction shocked Mr. Piraro, who says he's done a number of pro-gay rights cartoons over the years. But he was even more surprised by his failure to see it coming. "I feel like a dope," he says, noting that Sunday comics sections are printed far in advance and "Brokeback Mountain" wasn't on his radar when he created that particular strip about eight weeks ago. "It was a dumb accident on my part," he says.
Making matters worse was the caption on the panel: "Jeremiah's Last Song." For some readers, that evoked the Matthew Shepard gay-bashing case in Wyoming.
"I was thinking about two hetero guys out on the trail for weeks away from women, and it evolved into this joke," he says. "There was no intention of making it a gay joke—it never occurred to me."
RCH: Probably, if it weren't for the high visibility of "Brokeback Mountain," Piraro's joke would have escaped notice. Probably, it would have been perceived just as Piraro intended. But the movie has heightened everyone's awareness of gaiety, and made us all quizzical about cowhands; from now on, every time you see two cowpokes together, you'll expect to see them holding hands. Or you'll be watching for hints that they are gay. Or that they definitely aren't. Everything about homes on the range just got more complicated.
<![if !supportEmptyParas]> <![endif]>
EDITOONERY SOME MORE
Black Ink Monday, launched December 12 by the Association of American Editorial Cartoonists (AAEC), had at least two purposes it hoped to achieve by posting 106 cartoons protesting job loss in the profession. First, to make visible the plight of editorial cartoonists, whose ranks are steadily dwindling as corporate ownership demands higher profits in the newspapers to satisfy investors; second, to protest the employment (or non-employment) practices of the Tribune Company, one of those corporate owners, which had adopted bottom-line strategies that resulted in the firing of the Tribune-owned Los Angeles Times' staff political cartoonist, Michael Ramirez, and in buy-outs at the Baltimore Sun, one of which was taken by its long-time staff cartoonist, Kevin "KAL" Kallaugher. Neither paper plans to continue the staff position. The AAEC website where the Black Ink Monday cartoons where posted urged visitors to e-mail the Tribune Company's Vice President of Corporate Communications, Gary Weitman, to protest the firings and the company's apparent policy of eliminating its staff editoonist positions. The Chicago Tribune has not replaced its star editooner, Jeff MacNelly, who died in June 2000, and while other Tribune papers—Newsday, Hartford Courant, and the Orlando Sentinnel and South Florida Sun-Sentinnel of Fort Lauderdale—still have staff political cartoonists, at least one of them, Bob Englehart at the Courant, was offered a buy-out at the same time KAL was. Many of those writing Weitman sent copies of their communiques to Daryl Cagle at his blog. Cagle told David Astor at Editor & Publisher that he'd received more than 1,000 copies by December 23. When Astor asked Weitman how many messages he'd received, Weitman said the thousand-plus figure was "not accurate." According to Astor's report in E&P, Weitman said the actual number is lower. Weitman was quoted in the Chicago Reader as saying he'd answer all e-mails. Cagle asked readers of his blog to send him copies of any of Weitman's replies. Said Astor: "Everyone who wrote Cagle on that subject said they hadn't heard from Weitman yet." Weitman vowed, though, that he'd be responding one of these days.
The Tribune Company is not having a good year, it seems. And it couldn't happen to a more deserving entity. In its never-ending effort to improve its bottom line, the company reduced its work force by 4 percent, or 900 jobs, according to Katharine Q. Seelye of the New York Times—which accounts for nearly half of the estimated 2,000 jobs lost in print journalism in 2005. This kind of slashing came to the attention of the liberal activist group, MoveOn Media Action, spawn of the outfit formed to oppose the impeachment of President Clinton. Convinced that the cuts at the Tribune papers "undermine important watchdog journalism," MoveOn has been conducting demonstrations and circulating petitions protesting the Tribune Company's policies. At a newspaper investor conference early in December, the group gave a petition with 45,000 signatures to Dennis J. FitzSimmons, chairman and CEO of the company. FitzSimmons, naturally, denies that reduced staffs affect the quality of journalism. He claims a talented staff is better than a large staff. I suppose that's true, but there's a point of diminishing returns in the equation, and it's certainly been passed in the editooning departments of three of the company's major papers, which have dispensed with talent altogether. The impulse to pump up the profit margin is still around. The Tribune Company, Seelye said, is much the same as other newspaper companies, which show an average profit of 20 percent, "double the average of the Fortune 500." The Tribune Company's profits are high, but costs are up and its stock prices are down. Stocks are down because investors are pessimistic about newspapers as investments: newspaper circulation is stagnant, readership skewing older and older as younger readers migrate to the Internet, and as a result, advertising revenues are sluggish. And everywhere you look in print journalism, hands are being wrung as the end of the newspaper is predicted hourly. The way to make investors forget this gloomy prospect is to increase the return on their investment thereby proving that newspapers are still a good place to invest your money. Hence, as I've explained here many times before, newspapers, which can't increase ad revenue without increasing circulation, apparently an impossibility for the nonce, are forced to improve profit by the only other means available to accountants (who tend to think like adding machines)—by reducing costs, and that means cutting payroll. In that environment, the most superfluous staffers seem to be editorial cartoonists because newspapers can get editorial cartoons through syndication. And that explains Ramierz and KAL and the failure to fill the slot MacNelly left vacant at the Chicago Tribune. The MoveOn moves, however, prove that people care about newspapers and quality journalism, something the more cynical among the editor ranks might not have imagined. And the deluge of protest letters prompted by Black Ink Monday proclaim readers' engagement with cartoonists. A nice combination and maybe good for journalism.
Another roll in the newspaper investment crap shoot is taking place over at Knight Ridder, where the first round of bids to buy the newspaper chain recently commenced just at post-time here. Among the bidders, according to Editor & Publisher, are newspaper companies (perhaps Gannett) and investment groups. Regardless of who buys the company, job cuts are likely, but if an investment company buys, journalistic values will doubtless take a more distant backseat to bottom line concerns, and KR papers could expect to lose a quarter to a third of their newsroom staffs. But if KR is purchased, the more significant aspect of the transaction will be whether the price is high or relatively low. If the latter, it will confirm all those dire rumors about newspapers being bad investments, and heads will probably start to roll in newsrooms all across the land. On the other hand, if KR goes at a premium price, the investment value of newspapers will be bolstered, and maybe the blood will stop flowing out of the open wounds left by the accountancy axe.
<![if !supportEmptyParas]> <![endif]>
Better News
A couple other happier feetnit: Ramirez found a staff position even before drawing his last editoon for the Los Angeles Times. An aggressive, quality-minded newspaper, the Investor's Business Daily (savor the irony in this), hired the Pulitzer-winning cartoonist to serve as a senior editor/editorial cartoonist. Said William J. O'Neil, founder and chairman of IBD: "For the last five years, we've expanded the depth and content of our editorial page, and Michael is part of that ongoing effort." His editor, Wes Mann, agrees: "IBD already has some of the best editorial writers in the business, so Michael Ramirez, who stands alone among editorial cartoonists, is a perfect fit." The irony is unadulterated bliss: IBD, a national daily newspaper with a reputation for empowering individual and professional investors with innovative research, hires its first staff political cartoonist while newspapers elsewhere—less savvy about business, we assume—are laying off staff political cartoonists and discontinuing the position. The irony is scarcely lost on Ramirez, who said, "I'm pleased to join IBD because of its prestigious reputation and the fact it has countered the media consolidation trend and is hiring to enhance journalism quality. It was apparent to me that in every segment of IBD, they're continuing to innovate and provide cutting edge features and powerful and compelling editorials."
Another paper that recently created the staff editoonist position is the South Bend Tribune (Indiana), which hired its first editorial cartoonist, Ron Rogers, last summer. Rogers becomes one of the very few African-American political cartoonists at a general circulation daily. At 51, he comes relatively late into the editooning game; prior to this, he did some political cartooning in various places, but always as part of a broader assignment that included other kinds of artwork. At the Tribune, he'll continue, somewhat, in that role, drawing three editorial cartoons a week, plus a weekend round-up of news and issues in a collage of cartoons, and spot illos for the Sunday edition of the paper.
Finally, Nick Anderson, last year's Pulitzer-winner, just announced that he will be leaving the Louisville Courier-Journal to take the staff editooner position at the Houston Chronicle, replacing Clyde Peterson (aka C.P. Houston), who is retiring. Anderson said he's sad to leave the Courier-Journal, where he's been very happy since joining the staff 15 years ago as a stand-in for Hugh Haynie on Haynie's days off, then as chief cartoonist for the last 10 years. But the Chronicle is a bigger paper and the Texas market, laced with Bushes and DeLays, is riper for cartoon commentary. Happily, the Courier-Journal, in announcing Anderson's departure, also announced that it will look for a replacement for Anderson, beginning immediately.
These messages bode better for editooning now than a few days ago. Does this mean happy days are here again? That the good times are about to roll once more? Probably not. But it's sure a nice way to begin a new year.
<![if !supportEmptyParas]> <![endif]>
QUIPS & QUOTES SOME MORE
"Being powerful is like being a lady—if you have to tell people you are, then you aren't." —Margaret Thatcher
"If there are no dogs in Heaven, then when I die, I want to go where they went." —Will Rogers
"It is an infantile superstition of the human spirit that virginity would be thought a virtue and not the barrier that separates ignorance from knowlege." —Voltaire
"There is no psychiatrist in the world like a puppy licking your face." —Ben Williams
"A dog teaches a boy fidelity, perseverance, and to turn around three times before lying down." —Robert Benchley
"One of the symptoms of an approaching nervous breakdown is the belief that one's work is terribly important." —Bertrand Russell
"The best way to win an argument is to begin by being right." —Jill Ruckleshaus
<![if !supportEmptyParas]> <![endif]>
BOOK MARQUEE
Lee Valley, a sort of do-it-yourself hardware and gardening operation, recently started reprinting collections of J.R. Williams' vintage Out Our Way panel cartoon. They're up to about 5 or 6 "Bull of the Woods" volumes, plus a book of cowboy cartoons and one on the cavalry, and now they've started on Gene Ahern's Our Boarding House with Major Hoople, beginning with 1927. Part of the Classic Reprint series, the book is merely $8.95, 286 8x8-inch pages in paperback. You can order at www.leevalley.com.
<![if !supportEmptyParas]> <![endif]>
<![if !supportEmptyParas]> <![endif]>
Civilization's Last Outpost
Our local paper had a Christmas Party, but to avoid offending Political Correctitude, it was called a Winter Solstice Party. How appropriate. It's exactly because of the Winter Solstice that we have so many late December religious occasions, I ween. In antique times, as the days got shorter and the gloomy nights longer, primitive man quaked in fear: was the world coming to an end? So he feared. And to propitiate the presumably wrathful gods, he conducted various rites, making burnt offerings and shouting hallelujahs to the sky and so forth. And he realized, shortly thereafter, that it had worked: the days got longer again, the nights shorter. It was not the end of the world after all. Hallelujah indeed. Winter Solstice Party, a return to paganism. Who could object to that? What pagan would take offense?
<![if !supportEmptyParas]> <![endif]>
THE YEAR, ANOTHER ONE, UNDER THE SPREADING PUNDITRY
My choices for Best Political Cartoons of the Year are at the end of this diatribe, if you want to skip to it. Er, them.
January is not named for the Roman god Janus without reason: Janus the two-faced looks both forward and backward, and he therefore symbolizes what we are accustomed to doing at year's end. In This Corner, we mostly take the occasion to look back over the past because, at our advanced dotage, there's more of it. At the ancestral manse, however, we spend New Year's Eve in quiet revels, looking neither fore nor aft but straight ahead at the glowing cathode tube in the livingroom. We usually manage to stay awake until midnight, by which time in the midwest, the celebration at Times Square has been over for an hour, so we watch the re-runs, which is what tv is most of the time anyhow. (How long is the "season" now anyhow? Is it less than six months? So most of the tv year is re-run? And what does that tell us about the mercenary cynicism of the entertainment moguls? It tells us that they think we'll tolerate almost any abuse of our sensibilities, any affront to common sense; so they can do pretty much whatever they want to by way of saving money on re-runs in order to increase profit.) We typically spend the earlier part of the evening watching a DVD. This year, we started on "Target of Opportunity" with Dean Codiran and Todd Jensen, but it proved, ultimately, too tedious: a spy thriller, it alternated shoot-outs and blow-ups with intermittent conversation that racheted up the mystery by introducing a succession of betrayals and iffy identities until there no longer seemed a plot that was going anywhere except to the next shoot-out. After an hour, we gave up, and I put on the vintage 1953 Errol Flynn flick, "The Master of Ballantrae," which proved that Hollywood doesn't do sword fights any more with nearly the panache of Flynn's swash-bucklers—in fact, Tinseltown doesn't do sword fights at all anymore—and Roger Livesey demonstrated a mastery of everlastingly cheerful Irish Blarney that is seldom seen these days. We began the evening with oyster stew and ended it with smoked oysters, cracked nuts, summer sausage, cranberry-flavored champagne, and a little egg of the nog that bit us. Happy New Year to you, too.
Apart from the smoked oysters and the nog, the best fun of the New Year season can be found in the public prints as they sum up the events of the year from their various perspectives. Rolling Stone's "Special Year-End Double Issue" included a section, "The First Annual Worst Year Ever," in which the disasters—natural (hurricanes and tsunamis and earthquakes) and social (Michael Jackson's innocence, the runaway bride, Tom Cruise's jumping the couch on Oprah) and political (Tom DeLay, Scooter Libby, Brownie doing a "heckuva job")—were reviewed, beginning with a photo of a smirking George W. ("Wiretapper") Bush flashing the Hawaiian love sign, captioned: "In his inaugural address, W. Diddy promised America four more years of his sidesplitting Peter Tork-esque antics, including corruption, cronyism, a trashed economy, one of the biggest military blunders in U.S. history and the 'homeland security' policy that proved so decisive in New Orleans." But when I got to the "Ten Best Movies of 2005" and discovered I'd seen only one, I gave up on Rolling Stone. (The only one I've seen, and that only a couple weeks ago, is "King Kong," which deserves every gushing accolade it's so far garnered. Yes, it's a bit longish—after 90-plus minutes, I began to think the movie would end on Skull Island with text message on the screen: "To Be Continued in the Next King Kong Movie." But the special effects were dazzling. I particularly enjoyed the street scenes in 1930s New York and wondered where they got the fleets of vintage autos until I realized they were all 1935 Chevrolets, rolled off a digital assembly line.)
I didn't do much better in movie attendance according to Entertainment Weekly. Again, in its list of the "Ten Best Movies," I'd seen only the monster ape flick. At least I haven't seen any of the five "Worst," although I'm planning to see "Syriana." Because I'm hard of hearing ("half deaf" is more apt), I almost never get to movies in theaters because there's no Closed Caption assistance: I wait for the DVD debuts. With "King Kong," I figured I wouldn't need to hear much to appreciate the movie. I was right: I didn't hear much, and I appreciated the movie. So it's probably no surprise that on the magazine's list of "50 notable movies," I'd seen only three: "March of the Penguins," "Batman Begins," and "Sin City." The latter, EW notes, racked up $29.1 million on its opening weekend—"a triumph for arty-looking black-and-white movies ... [but it's] hyperviolent mix of whores, gore, and decapitation pretty much nips any 'classy' trend in the bud." George Lucas' "Revenge of the Sith" collected a record $158.4 million, sayeth EW, speculating that "eventually, the movie will make $380 million thanks to the sheer number of Star Wars fans who have waited 28 years to find out what turned Anakin to the dark side. For 10 bucks they finally get the anticlimactic answer—some old dude made him paranoid and he fell into lava—as well as the uneasy sensation that someone just threw their childhood into a wheat thresher." The penguin movie earned $77.4 million, "the second-highest gross for a non-IMAX documentary." Several comics-related events of the year made it into EW: comics fan Nicholas Cage borrowing Superman's Kryptonian moniker in naming his newborn son Kal-el; Michael Eisner, the defrocked Disney CEO, stepping down from the company's board of directors; and two graphic novels— Brian K. Vaughn and Tony Harris' Ex Machina and Charles Burns' Black Hole —make it to EW's top ten fiction books of the year. EW is the only weekly magazine I know of to note the passing of Will Eisner, "cartoon pioneer/graphic novelist."
The principal newsmagazines, Time and Newsweek, took Janus to heart: Time looked back with its annual "Person of the Year" cover story, and Newsweek looked forward with a special double-issue about "Who's Next in 2006" and a cover story about the forthcoming Tom Hanks movie, "The Da Vinci Code."
<![if !supportEmptyParas]> <![endif]>
Time's Disgraces Itself by Ignoring the Biggest News of the Year
Time picked billionaires Bill Gates and his wife Melinda and rock star Bono as "Persons of the Year" to commemorate "Good Samaritans." The Gateses administer the charitable Gates Foundation with its $29 million endowment, spreading good works worldwide; and Bono applies the pressure of his celebrity to achieve similar ends, this year, convincing world leaders to forgive $40 million in debt owed by the world's poorest nations. Time magazine's cheery championing of mega-charity notwithstanding, 2005 was not a year for giving. It was the year for taking away. We lost more than we gained, and the biggest loser was George WMD Bush, whose standing in the polls was taken away by a disaster as suddenly as another disaster had bestowed that standing upon him. Katrina brought him down as quickly as 9/11 had raised him up. And his declining popularity was just the symptom of the year's biggest political and social developments. It was the year of the beginning of the fall of the Bush League. It was the year during which veils were ripped from public faces to reveal ugly secret ones; the year the scales started falling from our eyes, and we saw that the Bush League was little more than a charade of imagery and numbers crunching, mirrors and smoke, riddled with corruption, hypocrisy, and cronyism to the everlasting detriment of the public weal. It was the year we were forced to realize that our oft-touted progress in racial equity was an illusion: the poor are still with us and they are mostly black. And the major news story that revealed most of the foregoing to us most dramatically was Katrina's hit on New Orleans. Yet Time chose to put the best face possible on disaster, both political and natural, by trumpeting massive charity on an international scale. Despite this concocted news "event," the magazine hardly mentions the colossal need of the earthquake victims in Pakistan, where nearly 80,000 died, a toll that dramatically overshadows the 1,300 dead in Katrina's wake. In one of its cover-story sidebars, Time spotlights the unlikely partnership of George H.W. Bush and Bill Clinton in raising money to help the victims of last winter's tsunami and last fall's Gulf Coast hurricanes—but nothing about raising funds to help the Pakistani survivors who face winter in the mountains with nothing to shelter them from the bitter cold except flimsy tents, and not enough of those.
The magazine has clearly abandoned the criteria that it has always said informs its selection of the Person of the Year: that individual who, for good or ill, has most influenced the news of the year. Some years—1938, 1939 and 1942, when they picked Adolph Hitler and (twice) Joseph Stalin—the magazine strained to justify its editors' choice, emphasizing that impact on the news of the year is the determining factor, not admirability. The Gateses and Bono, for all the magnanimity of their efforts, scarcely made news during the year. They were picked, clearly, as hope-filled counterbalance to a year in which most of the big news was bad. Blathering on about the beneficence of these Good Samaritans permitted Time to ignore the real news of the year—George W. ("Warlord") Bush is crashing and burning. Time just sold out, that's all—abdicated its journalistic responsibility. Thus, Time's Person of the Year decision, ironically, symbolizes the almost universal dereliction of journalistic duty that the news media have been guilty of for at least the last four or five years, if not longer.
Time has sometimes chosen someone whose actions serve as a sort of emblem: while not creating the year's big news, the individual's role nonetheless underpins the major events of the year in such a way that the magazine can discuss those events under the rubric of its Person of the Year. In 1956, it was the Hungarian Freedom Fighter, a symbolic personage representing the erosion of Russian influence in the communist bloc nations. Represented our hopes, too, that the Soviet Union would wither away and die. In 2002, the cover story was about three women who blew the whistle on corruption in government and other high places, opening the way to a discussion of Enron and civic and moral duty. In 2005, the Person of the Year could have been Patrick Fitzgerald, the prosecutor whose dogged and publicity-averse pursuit of the leaker of Valerie Plame's CIA identity has been stripping away the illusion of ethical behavior in the White House and elsewhere in the Bush League. Covering this story would lead Time to discuss the cronyism that is crippling government with incompetence as well as the corruption in the Republican controlled Congress, which, together, have brought GeeDubya's approval ratings down. That would be the story, the story of the collective big news of the year. Or Time could have picked Rosa Parks, a belated recognition of her achievement as the spark of the Civil Rights movement, which would lead to Katrina's revelation that we still have a long way to go—and to the catastrophic bumbling of the Bush League and the rest of that story, including the errors in judgement (if not outright deception) that led to the Iraq invasion. But by focusing on non-news personages, Time managed to avoid bringing up any nastiness about the shamefully shabby state of the national government these days. However much we may, as a people, benefit from the hopeful outlook Time's cover story encourages, the notion that it is the news media's job to make us feel better instead of to keep us informed is an insidious perversion of function, a trend that is sinister and dangerous.
In the Essay that closes the Person of the Year issue, Andrew Sullivan examines "The Year We Questioned Authority," saying in the subhead, "For President Bush and other public figures, it was the end of the free press." By "free press," I think he means "free ride in the press." Sullivan clearly recognizes the problem, the press's abandonment of its historic function as skeptical observer, but he manages artfully to explain it away: "For more than three years after 9/11, the American public had given the Administration, and indeed many authority figures, the benefit of the doubt. We were at war, even in mortal danger. Trust was essential. The bigwigs kept assuring us they knew what they were doing. And so most of us went along." But in 2005, he continues, "we stopped going along. We gave up blind trust and demanded real accountability. We finally had it with a war in which Bush's bromides didn't even begin to match the facts on the ground. ... Katrina was the turning point, the moment when the extent of cronyism, incompetence and sheer smugness in Washington reached a level that even the White House couldn't ignore. FEMA's Michael Brown, the American people surmised with their wide-open eyes, was not doing a 'heck of a job.' And a President who could say such a thing obviously had no clue about what was going on in his own government." Commendable as self-criticism though it seems, the Essay is actually a cop-out by rhetorical maneuver. Yes, "we" finally "had it" and abandoned "blind trust." The "we" Sullivan talks of is, at bottom, the news media, but almost at the onset, he shifts the blame from the too gullible press to "the American public" generally. He wants to share the guilt rather than assume the responsibility. Still, the sub-headline looms over the page: the erstwhile accommodating news media is no longer going to give George W. ("Whopper") Bush a free ride. "Democracy," Sullivan concludes, "is rooted in the impertinent belief that our rulers are no better than we are and that they are answerable always. ... Every now and then, we have to remind them. In that sense, 2005 was a great year for democracy. Because it was reborn this time after the votes were counted."
But if Sullivan accepts the press's culpability for the rise of GeeDubya, the editors who picked the Persons of the Year reject it. In a stunning act of compartmentalization, they persist in their choice of Persons in the perfidious abdication of professional responsibility that Sullivan condemns: they ignore the big news staring them in the face, glossing over the unpleasantness in order to reassure us that everything is just fine, thank you.
<![if !supportEmptyParas]> <![endif]>
Other Journalistic Sell-outs and Derelictions of Duty
The entire journalistic profession is poised at the brink of this chasm of incompetence and trivialization. The Associated Press, surveying U.S. editors and news directors, listed the top ten newsstories of the year, in descending order with the story receiving the most votes first: Hurricane Katrina and the Gulf Coast disaster, Pope John Paul II's death, Iraq in all its complexities and menace, two Supreme Court vacancies, skyrocketing crude oil prices, the London bombings, earthquake in Pakistan, Terri Schiavo's unhappy plight, the CIA leak and Scooter's arrest, and, at last, GeeDubya's falling approval rating. The preoccupation with Terri Schiavo is a pretty clear indictment of the news media. Tragic though the situation was, it was scarcely a matter of national security; the welfare of the country wasn't at stake. And, alas, it's typical of the news media's behavior. Probably all the other big stories were important, but the Fourth Estate continues to fail miserably at keeping us informed about things that might matter even more.
A book called Censored 2006 produced by Peter Phillips and Project Censored lists the "top 25 censored stories" of the year. This is the 29th year of this annual report, assembled by Phillips, a professor of sociology at Sonoma State University, and some 250 "researchers" —students in his classes, miscellaneous interns and a panel of judges assembled from across the country. Given the time lapse in publication technology, the top stories herein are mostly 2004's stories, but the first ten will suggest the extent of the betrayal of journalistic function our news media seem to willingly perpetrate: 1) the Bush Administration's systematic program to eliminate open government by restricting public access to government records, 2) the failure to report on the extent of civilian deaths in Fallujah and in Iraq as a whole (the citizens of Fallujah were told to evacuate before the U.S.-led invasion of the city to rid it of insurgents, and some 85 percent did leave, but those who didn't—or couldn't—were treated by the U.S. military as hostiles and were shot and sometimes killed like enemy combatants), 3) distorted 2004 election (the official tally showed GeeDubya won by 3 million votes; exit polls gave John Kerry a victory by 5 million votes—a discrepancy of 8 million, a deviation of more than five percent (the normal acceptable margin of error in such instances is around one percent), therefore "a statistical impossibility", 4) the growing surveillance threat to American liberties, 5) the U.S. taking advantage of the tsunami to expand our military presence in Southeast Asia, 6) the real oil-for-food scam at the U.N. deeply involved the U.S. because it was a dominant member of the Security Council that approved every monetary transaction in the operation, 7) foreign correspondents in Iraq and other war zones face unprecedented dangers, sometimes from the very military forces that should be protecting them, 8) the livelihoods of Iraqi farmers are threatened by a Paul Bremer mandate to use only American imported seeds instead of their own saved stores of seed or seed purchased locally, 9) Iran plans to set up a new oil trade system using euros instead of dollars, which has the potential to undermine the U.S. economy, 10) mountaintop removal in U.S. coal mining destroys ecosystem and economy.
These, and fifteen more similarly sinister arenas of news, are not so much "censored" in the American news media as they are simply under-reported. They aren't glamorous enough for the visual news of television, not simple enough for sound-bite reportage. Any one of the 25 is more important to American well being than the sad fate of Terri Schiavo or the silly behavior of the runaway bride or Michael Jackson's dubious guilt or innocence. Yet virtually none of these stories was covered in any way more than perfunctory, if that. The problem is in the journalistic notion of "story" as opposed to "news." A "story" is a continuing event, going on from day-to-day-to-day, like a soap opera. "News" happens once and is then over. Journalists value "stories" over "news" because the continuity fosters cliffhangers, and cliffhangers breed suspense and that brings viewers back again and again for more of the same.
But I divaricate.
In its year-end issue, Newsweek has, for some years, expanded its weekly Perspectives department to several pages of editorial cartoons and quotable quotes that the magazine's editors seem to think encapsulates the chief events of the year. Newsweek's weekly dose of about three political cartoons (most of them, typically, by the Atlanta Journal-Constitution's Mike Luckovich) is infamous among editoonists because the cartoons are invariably of the hilarious rather than the hard-hitting sort. Every political cartoonist produces a certain number of cartoons for the sake of a laugh, and laughter, when directed at authority figures, is a potent political weapon, no question, but most of the editooning fraternity conscientiously aims to provoke thought, even outrage, as well as laughter. At Newsweek, however, the editors seem devoted to avoiding thought whenever possible in their selection; they want to amuse, not arouse. As a result, some editoonists are almost ashamed to be picked for Newsweek's weekly round-up.
The annual year-end Perspectives section this year is seven pages long with 16 cartoons. Most of the cartoons are of the risible rather than the provoking kind, and many deal with the year's more trivial preoccupations in the news media—the runaway bride, Michael Jackson, obesity, steroids, gay priests. Eight cartoonists are represented; Luckovich, eight times in the sixteen 'toons. Luckovich has produced some powerful cartoons, among them, his stunning commemoration of the 2,000 American soldiers killed in Iraq—all 2,000 names lettered to shape the word "Why," which Luckovich punctuated with a question mark (see Opus 174). That cartoon stimulated much response, some aggrieved, some applauding. Among the former, 17-year-old Danielle Ansley, who, upon seeing her mother post Luckovich's cartoon on the refrigerator door, felt a response to the cartoonist's question was in order so she spent 12 hours over the next several days, up-dating Luckovich's tally by adding the recently killed, all forming the word "Freedom." Danielle posted her cartoon on the refrigerator next to her mother's posting of Luckovich's. "I'm not saying my opinion is right," she wrote in Luckovich's blog, "for an opinion is just that, an opinion. But, like a child's voice, an opinion is often not heard." Luckovich has more than his share of other cartoons that are powerful, as you'll see in a trice. But in Newsweek's 2005 round-up, his cartoons are funny rather than infuriating. If it were up to him, he would mix it up a big more, I suspect—a good editoonist, like a good pitcher, varies his delivery. For an appearance on NPR's "Morning Edition" with Renee Montagne, he picked his favorite cartoons of the year, and among them are some heavy hitters as well as some side splitters. Mike Peters participated in the same NPR program, and his favorites were almost all of the humorous rather than the provocative breed.
<![if !supportEmptyParas]> <![endif]>
Rants & Raves Picks of the Top Political Cartoons of 2005
As you might suppose, I could not resist the temptation of participating in this end-of-year ritual myself, and so, like Newsweek's editors, I've picked some of my favorite political cartoons of the year—48 of them by 27 cartoonists. The survey from which I made this selection is scarcely encyclopedic: while I see a lot of the work of the nation's political cartoonists, I don't see everything done by everybody. The ones that I see that I like, I clip and file all year long, so for this annual event at Rancid Raves, I pulled out the file and thumbed through it, culling the ones I thought were the best. My criteria, scarcely objective though, emphasizes the visual character of the medium. I looked for cartoons that presented visual metaphors, memorable images, on serious issues rather than on the flighty transient subjects that too often absorb the attention of the news media. Nothing in my selection on the runaway bride, for instance. While I hoped to include as many cartoonists as cartoons, I didn't keep track as I went along, and I wound up with six by Steve Sack of the Minneapolis Star Tribune. No one else has as many. Luckovich is here four times; and Pat Oliphant (Universal Press) and Steve Benson (Arizona Republic), thrice each. Sack has been getting better and better, it seems to me: he has increasingly deployed images in powerful metaphorical ways. His ducks in a shooting gallery cartoon here is particularly striking. With more and more work like this in recent years, Sack is a persuasive candidate for a Pulitzer. Maybe this year will be his year; it's about time. Oliphant is consistently excellent: his cartoons hit hard and they are almost always also hilarious. His take on GeeDubya's nomination of John Bolton gets me laughing every time I look at it; not as powerful a political statement as much of his work, but nonetheless effective, as all laughter at those in power is. No one does it better. Benson, whose work I haven't followed as much as I will now in future, also has produced some powerful comment. And his cartoon of a Harriet Miers Supreme Court is as perfect an editorial cartoon as you can find: it's funny, and it presents the logic behind her nomination in a highly memorable way. My choices, given my political persuasion, reflect liberal rather than conservative views. I've included some conservative cartoonists, but it seems to me harder to find a conservative point-of-view that is well expressed in visual metaphors. Sometimes I simply don't get it. Chuck Asay at the Gazette in Colorado Springs just plain baffles me usually. I can't get my head around far enough to the right to even understand the point he's trying to make. My liberalities, I suppose, just get in the way. Asay's bubble cartoon, on the other hand, makes perfect sense. Ditto Jack Higgins' comment on the forthcoming Senate hearings on Sam Alito's nomination to the Supreme Court. But enough: let the pictures do the talking—that's what they're supposed to do.

<![if !supportEmptyParas]> <![endif]>
MORE OF THE BEST POLITICAL CARTOONS OF THE YEAR
Speaking of annual round-ups of maverick cartoons, here's the second annual collection from Daryl Cagle, The Best Political Cartoons of the Year: 2006 (262 8x10-inch pages in black-and-white; paperback, $14.95). With these compilations, Cagle, an editoonist himself, enters the arena formerly occupied in isolated splendor by Charles Brooks' annual volume for Pelican, The Best Editorial Cartoons of the Year, which Brooks, a retired political cartoonist, has produced every year since 1972. Both the Cagle and the Brooks series operate with the identical incongruity of titles: a year is included in the title, but the cited year is always the year after the cartoons within were published. So the Best Editorial Cartoons of the Year, 2005 Edition, covers 2004, not 2005.
The Brooks books have been scoffed at by many editooners because they seem to have a conservative bias. That may be true; it is certainly true that Brooks harbors a sense of decorum that has kept such wild men as Ted Rall under-represented in the Pelican collection. The liberal Cagle seeks to avoid a similar criticism from the right by having a co-editor, conservative Brian Fairrington (East Valley Tribune, Arizona). I'm not sure that works any better at creating a book of even-handed representation. Balance is not, actually, possible without distortion: there are more liberal editorial cartoonists than conservative, so any representative annual compilation is going to have a liberal slant. If that's true, then Brooks' books are a little less "representative" to the extent that they tend to champion the conservative side. In last year's Brooks book, for instance, the 2004 Election was covered, and most of the cartoons in that segment of the book rather jubilantly ridicule John Kerry; GeeDubya came in for criticism in only 3 of the section's 38 cartoons. A half-dozen or so attacked concepts rather than candidates, but the over-all posture clearly leaned in favor of GeeDubya. Oddly, perhaps, on the issues—Iraq, the economy, etc.—the Brooks book includes a greater number of cartoons critical of the Bushies than supportive. Which proves, I suppose, that it's easier to produce an attack cartoon than a supportive one. It's also more professional for political cartoonists to assault persons in power than to applaud them. It's the democratic (small 'd,' note) way: we keep our politicians more-or-less honest as often as we can by pointing out that they have feet of clay and maybe heads of concrete. They're no better than we are, in other words, which is a good way for citizens to view their so-called governors in a democracy.
Each series has a built-in bias. If the Brooks book favors the conservative side (albeit, only slightly), the Cagle book favors the Cagle website, the Web's "most popular cartoon site" (it sez here, right on the Cagle book cover), using only cartoonists whose work appears there. The content of the Brooks book is submitted by the cartoonists themselves: they send in a half-dozen cartoons, and Brooks picks the ones he likes—and his choices are second-guessed by his publisher. Some of the nation's best cartoonists aren't even in the running for either book: neither Pat Oliphant nor Ann Telnaes nor Ted Rall nor Kevin Kallaugher nor Don Wright are on Cagle's website, so none of them are represented in his book; neither Oliphant nor Telnaes submits to the Brooks process either, so neither is in his book. Ditto Don Wright. Rall may submit cartoons, but if he does, he never seems to make the cut.
Another big difference between the two compilations is purely quantitative: Cagle's book includes about 800 cartoons; Brooks', only about half that number. Brooks' book numbers about 50-60 pages fewer than Cagle's, but the basic reason the Cagle book has so many more cartoons is that it usually runs more of them on a page than Brooks. Brooks occasionally puts three on a page; mostly, however, his layout standard is two to a page, which gives generous display to the cartoonists' work. Cagle seldom runs so few on a page; typically, we see 4-6 cartoons on every page. For cartoonists whose techniques are intricate and detailed, like Michael Ramirez or Nick Anderson, the severe reduction for a six-cartoon layout effectively spoils their artwork and sometimes impairs clarity. Brooks' book of 2005 cartoons won't be out for a couple months, so let me focus for the nonce on just the Cagle enterprise.
<![if !supportEmptyParas]> <![endif]>
Cagle's Best Political Cartoons of the Year
The best things I can say about the book is that there are a lot of cartoons in it and that the cartoons are mostly of the harder hitting variety. In those senses, then, it is, as advertised, "the best political cartoons of the year." Admittedly, this verdict may reflect my ingrown biases more than the actual circumstance: since GeeDubya, as the person in power, is a frequent target, I may be indulging an impression that the content is hard-hitting when, perhaps, it isn't quite that muscular. But I doubt it. I've been wrong two times in my life, and this isn't one of those times. (Ooops, sorry—I was wrong only once before: I am mistaken about the other time.) The worst I can say is that too many of these cartoons, in common with that other visual news medium, television, seem devoted to cultural and political trivia rather than significant public issues. We have 12 pages on baseball and the steroids scandal but only 10 on the tsunami and the desperate need for relief in that part of the world; we have 14 pages on the death of one Pope and the election of another but just 12 pages on Katrina, and not many of the latter pages display cartoons about the incompetence of FEMA and the Department of Homeland Security or racism and poverty. We have 12 pages on Terri Schiavo and 8 on the runaway bride but only 12 on Iraq, which pages must, necessarily, deal with the war protest here in the U.S., with suicide bombers, and with Iraqi elections and writing the constitution. Two of the cartoons in this section focus on Saddam in his jockey shorts—a subject that makes for a funny picture, but how significant is Saddam in his underwear in the context of the devastation in Iraq? The editors surrender to a comedic agenda again in creating an entire section for the Newsweek story about the Koran being flushed down a toilet: 12 pages of it, and several pages in which the image of a toilet predominates. They allot ten pages each to Michael Jackson's trial, Tom DeLay's assorted (I was going to say a sordid) misdeeds, and Pat Robertson's gaffe in calling for the assassination of Hugo Chavez. Are these subjects all of equal importance? Hardly. The very quantity of cartoons in the book assures that a healthy percentage of them will be hard-hitting, but the allocation of space to trivial topics undermines the over-all effect. Not all the topics are trivial by any means. In addition to the topics I've mentioned so far, the book is divided into chapters with the following titles: Bush and Russia, Housing Prices, Tom Cruise, Charles and Camilla, Michael Jackson Verdict, John Bolton, Space Shuttle, Minutemen, London Bombing, Pat Robertson, Deep Throat, Roberts and Miers, Gas Prices, Cindy Sheehan, and Peter Jennings (4 pages). Each chapter is roughly the same size, 8-12 pages. Given the array of topics, there are too many pages allotted to the less important. Most of the trivial topics are better fodder for making jokes, and we must surely expect jokes in a book of cartoons. But if the profession expects to be taken seriously as opinion mongers in a political debate that depends on diverse views being strongly expressed, too much jocularity undermines that objective. A certain amount, naturally, is not only welcome but embraced with relief and the laughter of awakening insight. But maybe there's too much here.
In one of his introductory pages, Cagle argues that the book is properly considered a "history" book, not a book of humor. "Editorial cartoons can be funny," he writes, "but more importantly, cartoons are a reflection of ourselves, our feelings and our reactions to the news of the day—a reflection that gives us a better view of who we were and how we felt as history happened. This is a history book telling the story of 2005 with the clarity that can only be found in cartoons." I do not quarrel with the sentiment, but it seems to me that in implementing it, the editors have skewed history in favor of cartooning values. To some extent, they must follow media trends in focusing on runaway brides and Tom Cruise's antics: they hope to sell enough books to cover their costs, after all, and if cable tv news gets viewers by telling us all about Deep Throat and Michael Jackson's trial, over and over again, the book must do somewhat the same. Somewhat but maybe not so much as to exclude, for instance, the implications of poverty for racism in America, or vice versa, as revealed by Katrina. Guided, doubtless, by their instincts for what makes a good cartoon, the editors have picked lots of hard-hitting cartoons, most of which are, in the best traditions of the profession, also funny. But not all those cartoons depicting toilets can be that good as political cartoons. A toilet is undeniably as good a candidate for a funny picture as you can find. But lots of toilets don't necessarily mean better humor.
Among the book's other virtues are the inclusion of numerous cartoonists from other countries (most of whom are syndicated with Cagle's other operation, CagleCartoons) and an entire section devoted to publishing the portfolio of cartoons that earned Nick Anderson the Pulitzer last year, a showcase that displays to great effect the style Anderson has evolved over the last couple years—a shading technique that employs a unique filagree of fineline curlicues that gives his drawings the elaborate embroidered look of antique tapestry. Stunning. The book also has an index that lists all the cartoonists with page numbers. With this at our elbow, we can tell that once again this year, Cagle has chosen his cartoons more than he's chosen anyone else's: he has 26 cartoons in the book; his co-editor, only 7. Only Anderson, with his 20-cartoon portfolio, comes close to Cagle. As might be expected, liberals far out-number conservatives, but some of the latter, Henry Payne with 10 cartoons, Michael Ramirez with 12, and Mike Lester (who is syndicated by Cagle) with 21 and, are well represented. Rolling-eyed critics like me will always find something in books like this to carp about, but regardless of the book's shortcomings, mostly trivial, that I've trotted out here, this book is the best overview of the year's editorial cartooning that we're likely to get: the very quantity of 'toons assures us of that.
<![if !supportEmptyParas]> <![endif]>
And Now, Some Lovely Bush Bashing
Cagle and Fairrington have a second tome out this year— The Big Book of Bush (216 8x10-inch pages in black-and-white; paperback, $14.95). Herein, we find political cartoons about GeeDubya that trace his progress from candidate in 2000 to pariah in the fall of 2005. Arranged in approximate chronological order, we follow li'l Georgie all the way from hanging chads to flooded New Orleans, with side-bar chapters on his relationships with Big Business, the environment, Social Security and stem cell research. Culled from Cagle's website, the cartoonists here are the same ones we find in The Best, but there are fewer of them: only 41 in The Bush book as opposed to 126 in The Best book. And, given the relative page counts of the two books, fewer cartoons, too—about 450 vs. 800. This volume's page layouts display more cartoons larger than the other volume; there are lots fewer 6-cartoon pages. Among the more hilarious sections in a book of unabashed attack hilarity is Cagle's opening essay, "How to Draw George W. Bush," which is accompanied by almost three dozen mug shots of GeeDubya as seen by as many 'tooners. Even Cagle wonders why so many of his brethren depict GeeDubya with big ears when Bush's ears are not particularly notable in that regard. Cagle makes the astute observation that even though editorial cartoonists produce their visual comments in single panel cartoons, they, like strip cartoonists, have a continuing cast of characters, the world leaders, both political and cultural, who saunter or swagger across the international stage, day after day. "Every political cartoonist feels like he is drawing a little comic strip with President Bush as the main character," Cagle writes. Therefore, "this is a storybook about George W. Bush, the cartoon character" rather than a biography of the actual accidental President.
Cagle admits that the book is biased: "all of our contributors are biased. President Bush is both our protagonist and our target." But he is more often the latter. As Cagle explains: "Political cartooning is a negative art form," he says; "there is nothing funny about a cartoon that defends the people in power." Naturally, I find this book a more enjoyable read than the other one. Partly that's because I enjoy seeing George W. ("Witless") Bush being belittled and his pretensions shredded and his hypocrisies revealed before our very eyes, page after page. Partly that's because this book makes no claim at being "the best," so I can turn off my analytical faculties for the duration of the read. But not before I tell you that in this book, for a change, Cagle doesn't have more cartoons than any other cartoonist: he has merely 40; Mike Keefe has more, 48, and Mike Lane, the champion, has 55. Keefe and Lane are both syndicated by CagleCartoons; and so are just about every cartoonist in this book with more than a dozen cartoons. Half of the 'tooners here are signed up with CagleCartoon. Cagle, in other words, is doing a good job of making his stable of cartoonists visible. And they, in turn, do a good job of amusing us with their hilarious Bushwhacking. Easily worth the price of admission.
<![if !supportEmptyParas]> <![endif]>
TIGER, TIGER BURNED SO BRIGHT
But the hand that formed it proved all too mortal
The dread news came through the forest of the Internet on a press release from King Features: "Bud Blake, the genial cartoonist whose Tiger comic strip was adored worldwide by comics fans for its warm and humorous glimpses of childhood, died on Monday, Dec. 26, 2005 at Maine Medical Center in Portland. He was 87."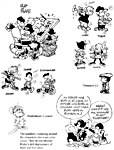 Blake's work was beloved by readers of Tiger, but it was drooled over by his colleagues. Jud Hurd, editor/publisher of Cartoonist PROfiles, once told me that there were two cartoonists whose drawing other cartoonists were universal in their admiration of. One was Gus Arriola, whose Gordo was a fiesta of color and inventive composition on Sunday and stunning design in black-and-white the rest of the week. The other over whose art the inky-fingered fraternity salivated in unabashed envy was Bud Blake. Tiger was without question a stylistic triumph. In a recent interview with Blake in Hogan's Alley No. 13 (2005), art professor Rob Stolzer attributes the distinctiveness of Blake's work to the way he used space and line—and to the liveliness of the individual figures that Blake made cavort through the panels of his strip in a "rollicking rhythm of energy." In combination, these visual elements gave to the work an attitude "filled with energy, vibrancy and immediacy, like the best gesture drawings."
It started in Blake's loose-limbed pencil sketches—"pencil ramblings," Stolzer calls them, with "Daumier-esque quality." Blake liked his pencil drawings better "every time" than the finished renderings: "They have more spirit in them," he said, "—even with mistakes, I love them."
Blake worked hardest on the pencil sketches, discarding many before producing one that suited him. He then took the completed sketch and flipped it over and put it on a light box. "Through this reverse image I can see where my drawing is 'off' more easily," he explained to Leo Stoutsenberger in Cartoonist PROfiles No. 91 (September 1991), "much the same way illustrators and painters use a mirror." Tiny errors in proportion and symmetry, for instance, show up immediately in reverse image.
After making whatever adjustments he thought necessary, Blake inked the drawings with a Gillott No. 170, which is flexible enough to produce lines that vary from bold thickness to fragile thinness. Varying the thickness of the line gives weight to the bodies in Blake's pictures of little kids. "It's the weight of the lines themselves that gave weight to the forms," Stolzer said. Thickness of line imparts volume to forms, and volume implies weight. Alex Toth, another stylist supreme and a long-time friend and correspondent of Blake's, raved in Cartoonist PROfiles No. 29 (March 1976) about Blake's "keen sense of design, 'weighted' line, fine compositional values, and shapes, along with a good 'eye' for spotting blacks."
Blake's deployment of solid blacks gave Tiger a visual spriteliness, but Blake used black as a color, not as shadow. One of the distinctive aspects of the strip was the way the cartoonist often massed two black shapes together, overlapping each other, normally a compositional sin, but Blake's draftmanship was so expert that this maneuver, instead of blurring the definition of each shape, seemed to clarify both.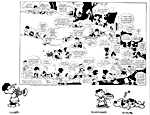 Blake's line flexed thick to thin and back, but the variation in width was most evident in the contrast between a relatively thick outline and the wispy embellishments that added an errant lock of hair or a stress fold in clothing—not as deliberately formulaic as, say, the art nouveau mannerisms of Winsor McCay in Little Nemo, where the outlines are all thick and the interior details all filagree. Blake's line undulated throughout his drawings. But the defining characteristic of Blake's drawings, undoubtedly enhanced by his linear technique and his adroit spotting of solid blacks, lies in the way he captured the anatomy of children.
What Stolzer calls "attitude," I call body language. Blake gave his kids stumpy anatomy: they had bodies the same size as their heads, and they had hands and feet but no arms or legs. Except the girls. The girls have spindly arms and legs. But they mostly stood around. The boys were in motion, always. Blake achieved this energetic sense by wrapping up the boys as bundles of chunks of anatomy, grafting a foot on the front and another on the back of a bundle in a way that suggested headlong movement. These abbreviated bodies thus became not only the tidy caricature of diminutive, only partly formed beings but the body language of motion, the constant effusion of playful activity—in short, childhood itself. It is probably no accident that Blake, as a teenager, admired the work of Willard Mullin, the medium's champion sports cartoonist, whose drawings radiated athletic action with their gangly figures. "He could draw just about anything," Blake said of Mullin, "and he was never one to avoid drawing something difficult." Blake's kids' bodies have no Mullinesque gangle, but they are all movement nonetheless.
Blake's pictures embodied the inexhaustible energy of childhood, and his comedy evoked the preoccupations of childhood in a way quite different from the other classic kids strip, Charles Schulz's Peanuts. Blake's kids are never intimidated by life's little insecurities or failures. The truth of Peanuts lies in that poignant confrontation; the truth in Tiger is in its portrait of childhood as endless discovery. Tiger's little brother Punkinhead contemplates a fallen tree limb and asks, "What do you s'pose made this big limb fall down, Tiger?" Tiger looks up and says, "Heavy birds."
On another occasion, Punkinhead sprawls on the floor, pencil in hand poised over a sheet of paper with dots on it: "I can draw this picture if I just follow the numbers," he explains to Tiger, then struggles over the paper for two panels, concluding at last, "—if I could count."
Tiger stands on a stool and looks at the night sky through a telescope as his tubby chum Hugo watches: "It doesn't bring the stars any closer, Hugo," Tiger says; "Maybe we should try a taller ladder," says Hugo.
Punkinhead, watching a bird pecking the ground, says to Tiger, "Birds live on bugs, don't they?" "Yup," says Tiger. "What do bugs live on?" Punkinhead quite sensibly asks. Tiger looks at their dog, Stripe, who is scratching himself, and says, "Dogs."
Tiger is explaining to Punkinhead the tag on the dog's collar: "It's his dog license. You need a marriage license to be married, and a driver's license to be a driver." Punkinhead says, "He needs a license to be a dog?"
Hugo accompanies Tiger who is taking the dog for a walk. "I'm wearing my boots in case it snows," Hugo says, somewhat smugly. "What if it doesn't snow?" asks Tiger. "I'll have to think of some other reason to wear them," Hugo says, bending forward to admire his boots.
The comedy arises, often, from one kid or another taking something literally. Bonnie says she has her father's eyes, and Punkinhead responds: "Gosh, he must be bumping into stuff around the house."
In the same vein, much of the humor is essentially verbal. Hugo is perplexed: "Mom told me to be home before dark," he tells Tiger, "I know what 'dark' is ... but what the heck is 'before dark'?"
Tiger asks, "When's your birthday, Punkinhead?" "February 13," says Punkinhead. "What year?" Tiger persists. "Every year," Punkinhead answers.
Hugo, when not eating, is usually building something, preferably with a hammer. Tiger comes upon him as he's measuring a length of board, saying, "I'm making a pair of wooden shoes." In the second panel, Hugo continues inspecting the piece of wood and says, "... the wooden shoe laces are going to be the hard part." Timing is all in this joke, and spacing Hugo's speech out for two panels provides the timing that makes his comment funny.
The pictures are often essential in making sense of the gag. Here's Tiger and Hugo out for a walk on a cold fall day and a single tiny falling object catches their collective eye. "Is that a snowflake?" wonders Tiger. Hugo bends forward to inspect the tiny object that is now on the ground at his feet: "Not any more," he reports.
Even when the pictures don't contribute visual information vital to understanding the joke, they add reams of atmosphere. Hugo asks Punkinhead, who is walking the dog, "Did you get Stripe when he was a puppy?" "No," says Punkinhead, "he's always been a dog." The pictures add to the comedy. The boys are bundled up on this winter's day, much of their anatomy obscured under layers of clothing, and snow lies all around, including on one side of the otherwise solid black tree they stand next to. Stripe in the first panel is sniffing, dog-like, the snow near the tree trunk; in the second panel, he's scratching himself, dog-like. A perfect evocation of canine preoccupation.
Tiger and Hugo are in Hugo's bedroom, sprawled on the bed. Tiger asks: "What do you think you'll get on Christmas, Hugo?" Hugo says, "Probably disappointed." The bed and its environs are part of the visual comedy. Stripe is asleep on the bed, surrounded by comic books and toys and an occasional coathanger. On the bedside table are a lamp, a partially eaten sandwich, and a sneaker. Socks seem to be falling out of a drawer. All kid stuff, genuine kid atmosphere.
Tiger is up in a tree, lying on a horizontal limb and looking down at Punkinhead, who says: "I've been looking all over for you." "How come?" says Tiger. Punkinhead says, "So I could find you." Lovely nonsense of the purely literal meaning sort. The tree is a hulking solid black, and in the second panel, the camera moves back so we can see Punkinhead at full length. Stripe lies at his feet, and a bicycle lies on its side near the tree trunk. All the details of background and props are rendered in the same clunky manner that distinguishes Blake's anatomical efforts. It's all of a piece.
Stolzer's description of the strip's ambiance is apt: "The humor in Tiger is based largely upon the gentle observations of kids doing kid things. The characters in the strip explore together, wrestle, play ping-pong or simply talk about things that matter to children. Punkinhead is often the catalyst of these conversations, questioning anything and everything in wide-eyed innocence. Tiger itself is set in a more innocent time, when kids still played together without arranged play-groups; before the isolated distraction of GameBoys and computers. In that regard, Tiger harkens back to some of the classic kid strips of old—Smitty by Walter Berndt, Reg'lar Fellers by Gene Byrnes and those wonderful panel cartoons by John McCutcheon and Clare Briggs. The one element that those strips had that Tiger doesn't is parents. The strip might allude to parents off-camera somewhere, but this world is truly one that belongs to the kids, with few parental restrictions raining down upon their magical parade." Because there are no parents in Tiger's world, kids are permitted to be simply kids, following their juvenile interests and indulging their childish impulses unfettered by any adult inhibitions. While there lurks a nostalgic note throughout, Blake's strip is a nearly perfect evocation of childhood unspoiled, unaffected—a childhood we all imagine we had, whether we did or not. Magic indeed.
<![if !supportEmptyParas]> <![endif]>
Blake Biography
Oddly, Blake didn't set out to be a cartoonist. Born Julian Blake in Nutley, New Jersey, on February 13, 1918, he pursued an assortment of artistic endeavors largely because his father, George, was an artist, employed as an art director at Batten Company, which evolved into the famed BBD&O (Batten, Barton, Durstine and Osborn). George did illustration, including many of the little Dutch boy in Dutch Boy Paint ads. He died when he was 42 and Bud was 7, and Bud's mother then ran a boarding house to support the family. Occasionally Bud was farmed out to friends when his mother couldn't make ends meet. "When he died," Blake told Stolzer, "my father left me all his brushes and stuff. I had to do something with them," he laughed. Initially, however, young Blake earned money with a knife, not a brush: at the age of ten or eleven, he worked carnivals, state fairs and seaside boardwalks as a demonstrator for a penknife company, doing quick, three-dimensional "sketches" of spectators in balsa wood.
Encouraged by the sale of a few cartoons to the old Judge, a humor magazine of yesteryear, young Blake studied art at various schools, among them the National Academy of Design. After brief stints as a soda jerker, lifeguard and sketch man in a commercial art studio, Blake joined the Kudner Advertising Agency in New York as a paste-up boy in 1937. He moved quickly from paste pots to drawing board, then from renderer to layout artist. In 1939, he married Doris Gaskill, who operated the correspondence department at Book-of-the-Month Club, acquiring a useful skill for her husband's career. "When I sent Tiger in to the syndicate every week," Blake recalled, "there were no proof-reading problems—ever! I mean, she went through it, and, boy, did I need her: I can't spell worth a damn."
Blake served in Army during World War II, 1943-45, mostly at the Infantry Replacement Training Center in Macon, Georgia, where he silk-screened instructional posters. After the War, Blake returned to Kudner, eventually becoming executive art director. Then on his thirty-fifth birthday in 1954, he quit, fed up with a two-hour commute, administrative details, long business trips and client lunches. Coming back from a long distance trip to call on a client, Blake often shuddered, he told Stolzer: "If you didn't have that deal all sealed, fifteen people could lose their jobs. I couldn't stand it. There was a company plane and I don't like flying much anyhow, so that didn't help. My wife would tell me to get out of there. So I did."
Even though he was surrounded by what he called "good men and good pay"—even though he owned a tenth of the company—Blake realized that all the time he spent commuting and traveling meant less and less time at the drawing board, where he was happiest.
Blake, who had freelanced at magazine cartooning only occasionally, concocted a panel cartoon about "everyday vignettes and annoyances" (as he put it) and sold it to King Features. It originally appeared in 1954 under the title Humorous Cartoons, then it was called, simply, Bud Blake Panel, sometimes published under a series of rotating titles (That Sinking Feeling was one), evoking the similar vintage endeavors by H.T. Webster and Clare Briggs, but the syndicate encouraged him to settle on a single title, and one of the rotation, Ever Happen To You?, was selected in about 1958. Immediately after selling the feature to King, Blake and his family, which now consisted of two children as well as a wife, took off for Spain, where they spend a memorable three months. "My wife had a miscarriage and the kids had the mumps," Blake said to Stolzer. His plan was to mail his cartoon to New York once a week, but, as it turned out, "Spain is no place to mail things." His weekly shipments were routinely lost; he shifted to daily shipments, but those got misplaced just as regularly.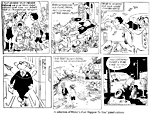 Back in the U.S., Blake sought freelance artwork to supplement his income from the cartoon. "I could've made a living on the panel," he told Stolzer, "but I couldn't send two kids to college." He did art, often cartoon covers, for Business Week, Family Circle, Pictorial Review and American Weekly. And then for St. Joseph Aspirin in about 1964, he did comic strips about teenagers for a calendar. He showed the strips to Sylvan Byck, the legendary cartoon editor at King Features, asking him if he thought "there was anything there." Byck, alluding to the syndicate's Archie and Ponytail strips, said they had enough teenagers but suggested that Blake might want to try a strip about little kids. "When he mentioned a kids strip," Blake remembered, "you think Peanuts. Jeez."
Peanuts was then riding the crest of a mounting popularity. In April 1965, Time would do a cover story on the strip; and the following December, "A Charlie Brown Christmas," the first animated tv special, would air. Naturally, King Features—and every other syndicate—was looking around for a kids strip to compete with Peanuts. Blake was undaunted. In his panel cartoon, kids were "invariably catalysts" in the comedy, he said. "So I did the characters and four or five weeks of gags. I could even tell you every gag. The syndicate said to have five white kids and one black kid. Then they threw the black kid out and told me to do a little brother. They didn't like my name for the little brother, so they gave me Punkinhead. They liked their name. But I guess when they're giving you the money, you say 'go ahead.'" And so the kid strip emerged, debuting May 3, 1965. "They did do some good promotion," Blake said. "Tiger started with 400 or 500 papers, which was very nice."
According to King's press release, "Blake envisioned a strip about a little boy named Tiger and his scrappy group of friends. More of a catalyst than a leader, Tiger pals around with his little brother Punkinhead, his best friend Hugo and his faithful, spotted dog Stripe. Suzy and Bonnie, Tiger's feminine rivals, and Julian, the bespectacled 'brain,' round out Blake's rich cast of endearing characters."
Said Blake: "Tiger is called that the same way a tall basketball player is called Shorty, and he lives just off Main Street in towns from Maine to California. Hugo's athletic, Julian's a junior scientist, Suzy's the eternal female, and Bonnie is the little-princess type. Punkinhead is Tiger's little brother, and everyone else's. And Stripe [a spotted dog, named with the same logic as Tiger and Shorty] is his constant companion because they operate on the same happy wave-length—they're both fascinated with the wonderful world of nearby stuff all created just for them to enjoy." Discussing his characters, Blake often said, "The characters are composites of various youngsters in my neighborhood and from my own childhood." Hugo was a boy who used to beat up Blake regularly. "I don't remember his real name, but I know it wasn't Hugo. I'll never forget that he was bigger and tougher than the rest of us," Blake recalled. Stripe was modeled after Blake's own dog, Jenny.
Don Markstein at his Toonopedia website notes that "the characterizations aren't strikingly original, at least in their broad strokes. Tiger himself is a pretty typical kid, about eight years old or so." And Punkinhead "supplies the naive yet insightful observations. ... It was Punkinhead who named the spotted family dog 'Stripe,' because of his 'round stripes.'"
The characterizations may not be original or unique—in the manner of Charlie Brown, say, or Pigpen—but the characters in Tiger are typical kids, and that universality resonates with an enticing appeal. In the mid-1960s, searching for another Peanuts, King Features said it turned down more than 50 kid strips in search of "the perfect comic strip portraying the wisdom and humor of children." When Blake submitted his samples of Tiger, the search was officially declared over. "Blake's characters, humor and artistic talent met the high standards that King Features sought," the press release asserted.
As the popularity of Tiger grew, Blake eventually had to give up Ever Happen To You? and his freelance work in order to concentrate on his snub-nosed tykes. Blake liked doing the panel cartoon. "I could draw adults and situations," he said to Stolzer. "I haven't drawn an adult in 40 years. ... I'm fascinated with certain small children, although they've changed. I mean, their games and attitudes have changed. They seem more adult than they used to be. It may be that box," he concluded, gesturing at the tv set.
After his wife's death in 1989—"after 49 years of marriage," Blake would usually say, proudly, fondly—he lived in a very modern-looking two-story A-frame building on the shore of a sparkling pond near Damariscotta, Maine. Originally serving as a summer cottage, it became the cartoonist's year-round home. He sometimes went fishing, but, a devout conservationist, he always threw his catch back. Cartoonist Elena Steier, a passionate admirer of Tiger, told me about her first visit there."The house is beautiful," she told me. "There's an separate apartment upstairs which at the end of Blake's life was occupied by a doctor, believe it or not. When we visited him, the tenant was the principal of the local high school. I guess the principal moved out, and the doctor moved in. Bud had a number of ailments at the end of his life. Melanoma, for one. How lucky can an old guy get to have a doctor living under the same roof?" On the studio's walls were numerous Toth sketches.
It was about six years ago, Steier said, that she found out Blake was a member of the New England chapter of the National Cartoonists Society, she rounded up a bunch her fellow 'tooners, and they trekked to Damariscotta and "descended like locusts on la Casa de Blake. Bud was awesome. He opened his doors to us. Even had his housekeeper prepare lobster sandwiches. We'd heard he liked martinis, so we brought libations as gifts. He liked his martinis dry. He was a great storyteller and told marvelous stories—like King's nixing his plea to have one of his characters be a minority kid. We had the best time. When we were there, his dog Nicky was still alive. He really loved that dog, a big golden retriever. Bud always said they'd go together, but they didn't. Bud outlived Nicky by about five years. It turns out this doctor tenant came with a dog so Bud probably figured that, what the heck, he'd wait."
Steier told me about another fabled junket made to Blake's place by a pair of cartooners, Bob Weber (Moose and Molly) and the late Jerry Marcus (Trudy). "They'd planned on spending an afternoon with Bud but ended up staying maybe three days. Maybe not. I'm not sure. But these guys were all birds of a feather. Good humor, love of life, love of drink."
It was only overnight, Weber told me—not three days. He and Marcus had been in the vicinity where Weber made a presentation to children at a library. It was a presentation he did often: "I show them how to draw cartoons, and then we play a game, Pictionary. And they learn how to do cartoons." Weber looked at a map and saw how close they were to Damariscotta, so he called Blake. He told Blake he was up there doing some work with kids and wondered if he could drop by. Fine, Blake said. So Weber and Marcus drove to Blake's pond-side cottage.
"When we drove up," Weber told me, "Bud came right out and looked around and said, 'Where are the kids?' He thought we had 'em with us." One thing led to another, and time wore on. Blake invited them to stay overnight, and they did, spawning a modest legend about marathon cartoonist conviviality. Like most cartoonists, Weber is fervent in his admiration of Blake's drawings. Blake once did spot illustrations for Business Week, and Weber subscribed to it just to see Blake's drawings.
A year after her first trip to Blake's place, Steier and her husband visited again. "He'd lost a lot of weight," she said, "and had just gotten out of the assisted living facility. He was as accommodating as ever. There were two things which are important to understanding Bud. First, he really loved his wife. Lots. And he missed her. Second, he was very proud of his commercial art background. He was a man who understood art. So that's what we talked about, his wife and his art. I have a couple of pieces of tracing paper which Bud sent to me. They're permanently scotch-taped to my drafting table, Tiger Sundays in their preliminary stages. He told me it's more important to see the thinking process that goes in to doing a strip than it is to see the finished product. So everyday, I sit and I marvel. Man, he was good. It's no wonder he and Toth were friends: they are the two masters of the art of black-and-white. Speaking compositionally, these guys were killers. The design work in Tiger is so unbelievably strong. I just re-read one of my Tiger paperbacks like a week before Bud died. The gags were solid, cute, but not that memorable. But the art—first rate. Unbelievable."
The National Cartoonists Society selected Tiger as the year's best humor strip in 1970, 1978 and 2000. Tiger has been nominated several times for the NCS top honor, the Reuben Award. The strip has never been animated for tv, and it appeared in comic book format only briefly: Charlton published eight issues, March 1970 through January 1971. Only the covers were drawn by Blake. "Later in the decade," Markstein writes, "Charlton and King collaborated on a series of comics to promote reading skills among young people. ... Tiger co-starred with Ted Shearer's Quincy in the first of them, and in a later one with Gordon Bess's Redeye." Tiger has appeared in only two reprint paperback collections, both from Tempo—Tiger and Tiger Turns On. Printing only one strip to a page and reconfiguring the strip format to suit a vertical layout, the books do justice to the artwork even at the diminutive size. Ever Happen To You? has also appeared in a paperback collection, from Avon. And you can find copies of all three books on the Web; start at Addall.com.
Jay Kennedy, editor-in-chief at King Features, said in the syndicate's press release: "Throughout his long and illustrious career, Bud Blake maintained a reputation as one of the country's most talented cartoonists. He was highly respected by his peers for the quality and charm of his artwork and his inspiring view of a child's world." Blake will be remembered for his individual artistic style and for allowing the kids in Tiger to just be kids.
Blake is survived by his son Jay and daughter Marianna. A memorial service for family and friends was held at Strong Funeral Home in Damariscotta, Maine. In lieu of flowers, fans may make a donation in memory of Bud Blake to their favorite charitable organization. Tiger still appears in more than 100 newspapers in 11 different countries. King announced that syndication of the strip will continue internationally, using reprints of Blake's classic work. The reprints began over a year ago. After nearly 40 years on the strip, Blake suddenly decided in the spring of 2004 to call it quits. King Features initially trained another cartoonist and a writer to continue the strip, but decided to rerun Blake's work instead, at least for a time. That time continues. And Tiger burns as brightly in today's papers as Peanuts, another kid strip that seems in perpetual re-run, both now threatening to be as immortal as the cryptic poem by another Blake, William.
Bud Blake's work on the strip had given him great pleasure, he acknowledged to Stolzer. "Hell, I enjoy it all," he said, talking about drawing the Tiger-Hugo wrestling scraps and kids at play and heaps of toys and wobbly ladder-back chairs and the other homely furniture that cluttered cozily in the backgrounds. "But when you run out of joy, you don't want to continue." Later, he explained why he was quitting: "When you have a lot of problems, you get awfully tired for no reason. The constant you'd-better-be-ready-to-mail-by-Monday-morning wears on you, and I'd been mailing every Monday morning for 40 years. So I thought that it would be nice not to have to do that. I've done enough. I don't think it was going any better."
Stolzer looked at the Tiger Sunday strip on Blake's drawing board, the last Tiger, and said: "But the one sitting there looks awfully good."
"Well," said Blake, "could I do more? Sure, I could keep doing it. But I can't. I've had enough."
His hand no longer dared. He had enough. Alas, I haven't, and probably never will have.
The recycling program King has adopted helps. And with almost 40 years of non-topical material—almost as much as Peanuts—Tiger could go on for a long time yet. If it does, it'll be pre-empting many new strips, all lined up waiting in the wings for space to open up on the nation's funny pages. And that will be too bad. But, judging from the crop of new strips over the past decade or so, few, if any, of them could match Tiger for art or comedy. So I won't regret not seeing 'em, not just yet.
To find out about Harv's books, click here.