Opus 174:
Opus 174 (December 12, 2005). Featured this time are a gigantic review of Brian Walker's The Comics Before 1945, a convoluted summary of the disasters surrounding the buy-outs and lay-offs of more editorial cartoonists, including the Baltimore Sun's KAL, and visit to the cartooning career of Stan Berenstain, who just died. In order, here's what's herein: CORRECTIONS -Tom of Finland and Marcus of the New York Times; the Continuing Editoonery Disaster -KAL, the Tribune Company's suicidal mission, the fate of political cartooning, and Black Ink Monday; NOUS R US -Pulitzer increases subscription list, new Peanuts book, amplified Canemaker McCay, Korean manhwa invasion, K Chronicles calendar for 2006, Steve Ross's conversion as he made a graphic novel of the Gospel of Mark, King Kong's animator in Wee Pals, DC on postage stamps, Ted Rall and I bash Chris Ware, McCloud's new book, Crumb's, Christopher Robin fired, and Luckovich's 2,000; GRAPHIC NOVELS and LYNCHING DAN RATHER (The New York Review tries to understand verbal-visual blending); The Comics Before 1945, a monster review; COMIC STRIP WATCH -Zippy, Candorville, Pearls before Swine, Herb and Jamaal, and 9 Chickweed Lane; FUNNYBOOK FAN FARE -            Number Ones reviewed, Down, Chicano; and Bernet hardback plus Kyle Baker's Nat Turner No. 2; Berenstain Bear Obit. And our usual reminder: when you get to the Member/Subscriber Section, don't forget to activate the "Bathroom Button" by clicking on the "print friendly version" so you can print off a copy of just this lengthy installment for reading later, at your leisure while enthroned. Without further adieu-
DEPARTMENT OF CORRECTIONS
& Other Maladroitnesses
Editoonery
Oopsie. Edwin Marcus, the New York Times editoonist about whose 50-year career at that paper we were completely ignorant of until last time? We forgot to mention that he did only one cartoon a week, in the "Week in Review" section; his was not a daily gig. A small point, perforce; but a real one. Still, his very existence at the Times changes conventional wisdom about that paper, eh?
Illustration
And when I referred last time to "Tom of Sweden," I should have been saying "Tom of Finland," the celebrated illustrator of gay male fantasies. His actual name was Touko Laaksonen, and he died in 1991 at the age of 71. When I re-read my comments on Tom in Opus 173, I was startled to see that I talked about a "perverted" comfort we might derive from contemplating a reincarnation of Tom in a cartoony advertisement currently running in comic books. Incendiary liberal that I am in many matters, I saw at once that my comment seemed homophobic in the extreme. I didn't intend it that way, but that's sure how it looked. I've tried to reconstruct my so-called thought processes to discover how I managed to stray so far off the liberal line I endorse. Probably some residue of cultural bias lurks back there in the darker recesses of my brain, so it's pointless to deny that influence, but I'm also pretty sure I misspoke: I meant to say "perverse." To me, "perverse" means "contrariwise" or somehow "anti-establishment"; "perverted," on the other hand, means "unnatural." So my comment about Tom, translated, was intended as a slap against the up-tight sexual conventions of our culture. If Tom were actually alive and well, as I playfully speculated, his pursuit of his cartooning passion would offend the up-tights who deserve to be offended. Incidentally, it's not homosexuality that is "perverted": in our society with its Puritan hang-ups and right-wing fervor, all sexuality is perverted, and it was to this over-all hang-up that I was alluding, not very clearly, I realize. Moreover, since I was pretty sure Tom is deceased, any sexuality in which he might be engaged, in pictures or in fact, seemed a species of necrophilia, which seems to me perverted no matter what your sexual orientation otherwise. I still think that. But I don't think homosexuality is any more perverted than heterosexuality-which is to say that, in this culture, they're both nasty and scandalous.
THE CONTINUING EDITOONERY DISASTER
Since last we met here, Kevin Kallaugher, who signs his editoons "KAL," decided to take the buy-out offered him by the Baltimore Sun, where he has been the staff political cartoonist for 17 years. KAL thus becomes the latest casualty in the war the Tribune Company is conducting against American journalism in general and editorial cartooning in particular. At the Los Angeles Times, another Tribune Company paper, Pulitzer-winning cartoonist Michael Ramirez was fired last month. At neither the Times nor the Sun does management contemplate replacing the cartoonists. At both papers, the political cartooning staff position has been eliminated.
            KAL will continue to produce his weekly cartoon for England's Economist, to which he has contributed since the late 1970s; and he plans to finish compiling the fifth collection of his editoons, KAL Draws Criticism.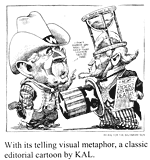 He also intends to take up animation again, to pursue a career he touched on in 1977 at Harvard, where he produced a 13-minute cartoon as his senior thesis. KAL had thought, at first, that his job was safe when the Sun announced that its corporate owner demanded that the paper trim its staff by 75. The 13-person editorial department of which he is a member had to be reduced by only two, and KAL has been a fixture in the community for a long time. The Sun's other editoonist, Mike Lane, took a buy-out offered a year or so ago in an earlier round of budget reductions. "I was the lone editorial cartoonist on a newspaper where cartoonists had flourished for over a century," KAL told friends in the Association of American Editorial Cartoonists (AAEC). So he was stunned when his editor told him that the publisher was thinking of terminating the staff position altogether. The buy-out offer, in other words, had nothing to do with the quality of his work; "it was a purely financial matter." After thinking about it, KAL took the buy-out. Some of his AAEC colleagues had encouraged him to do so, saying that buy-outs tend to diminish in value after the initial offering. The Sun's buy-out was two weeks' pay for every year on staff; for KAL, that's eight-and-a-half months' pay. Kallaugher is one of the most up-beat people I know, and he is determinedly approaching his future as an opportunity rather than as a catastrophe. But he still feels strongly that the Sun is making a mistake by eliminating the staff editooning position and he hope the paper reconsiders. Said he: "The paper has had a long and celebrated tradition in editorial cartooning. For a century, resident cartoonists have distinguished the paper, supplying the Sun a commanding voice in the city and region. Let us hope that voice is not silenced once and for all in January 2006." KAL's employment there will end January 13. But the future for editoonists in the Tribune Company papers doesn't look promising.
            The Chicago Tribune hasn't replaced Jeff MacNelly, who died in June 2000. The Trib's editors keep saying they're still looking, but that, I'm pretty sure, is just an insidious ploy the paper has recently adopted to defuse reader protest when a favorite feature is dropped. When the paper drops a comic strip and readers phone in to object, the official response is: "Oh, we're not dropping that strip permanently. We're just running a test for a few weeks." Or words to that effect. The implication is that the favorite strip will return eventually, and that is enough to silence the complainer, who goes away quietly. Meanwhile, the paper continues its "test" indefinitely, and the comic strip in question never returns. By the time readers realize they've been had-if they ever actually do-their anger and resentment has somewhat abated, and few, if any, make any fresh phone calls. Clearly, the MacNelly vacancy is being treated in exactly this manner. Ironically, the Chicago Tribune maintains a plush gallery of MacNelly's cartoons in the Tribune Tower, which one wag called "a monument to a dead spouse with the Trib playing the grieving widow who'll never re-marry." KAL himself is not optimistic about the editorial cartooning chair at the Sun. The Tribune Company, he told David Astor at Editor & Publisher, pretty clearly does not value "the special contribution a resident cartoonist brings to their newspapers."
Other Endangered Tribune Company 'Tooners
When the Tribune Company bought Los Angeles' Times Mirror Company five years ago, the Chicago cabal acquired several top flight newspapers in addition to the Baltimore Sun-the Hartford Courant, Newsday in New York, and the Orlando Sentinel among them. All three have staff political cartoonists. Bob Englehart at the Courant was offered a buy-out when KAL was. But he didn't take it. He's been with the paper for 25 years and says, "I have no intention of leaving any time soon." He feels his job is safe for the moment, but he's also taking out "the only insurance an editorial cartoonist has": he's focusing more and more on local issues. "Newspapers can buy national cartoons from syndicates," Englehart says, "and get Pulitzer Prize winners by the pound." But they can't get readers excited by national issues. Englehart says his cartoons on the Iraq War have little impact among readers, but their reaction is robust when he attacks the mayor or the governor. Walt Handelsman at Newsday agrees: "My cartoons about Long Island and New York City generate a lot of reaction," he said, and while he doesn't feel his position is threatened yet, he intends to continue ambitious community outreach, including appearances in schools, talking to students helps bring new readers to the paper. Dana Summers at the Sentinel also feels safe for the moment, but he emphasizes doing cartoons on local issues. Said he: "I'm trying to make myself as valuable as I can. Last year, I went to the Super Bowl for sports. If I can do any extra things, I do them." His editoons are syndicated by Tribune Media Services, and he does two comic strips for the same syndicate-Bound & Gagged and The Middletons, which he co-produces with Ralph Dunagin. He has a good income from syndication, but not so good that it would replace a full-time salary and benefits as the Sentinel staff editoonist.
            Meanwhile, J.P. Trostle, who edits the AAEC newsletter, The Notebook, quit his job as designer and illustrator for the Herald-Sun in Durham, N.C., saying, "It was not a good place to work anymore." The paper had been purchased a year ago by Paxton Media Group, which promptly axed 80 of the 350 employees, including editoonist John Cole. Trostle had been doing editorial cartoons for the newspaper's Chapel Hill Herald, but Paxton management nixed his hopes to continue to produce them on a freelance basis. Trostle will freelance in book design and web graphics. "My job [at the Paxton papers]," he joked, "was getting in the way of my career." But he hopes to find an outlet for political cartoons.
            Editorial cartoonists are not the only targeted population in the Tribune Company's payroll purge. At eight of its papers, it expects to reduce staff by almost 350-with no decision made, as of mid-November, about the Orlando paper. Speculation is that the money saved with these draconian cuts will help the company pay off its $1 billion tax debt. But the Tribune Company is not alone. Since January 2005, over 1,900 journalists have been bought out or fired at 22 of the nation's major newspapers, including nearly 700 at the New York Times. Knight Ridder's cuts seem modest in comparison: just 152 at the Philadelphia Inquirer and News and at the San Jose Mercury News; but the chain has been whittling away at staff for several years-with sometimes hilarious outcomes. Dennis Renault, who retired as political cartoonist at the Sacramento Bee some years ago and moved to Monterey, wrote to tell me about his experiences as a reader of KR's Mercury News and Monterey County Herald: "If there's a comic element, it's that there are no proof-readers anymore and really goofy stuff happens, like running the same syndicated editorial cartoon twice, two days apart. When I called the page editor on it, she said she was out of town during the second appearance of the cartoon! And just yesterday a doozy occurred when a 36-pt headline appeared above a long review of the movie "Syriana" in the newspaper's entertainment supplement: Use this 'hed' for secondary film stories/reviews. So one wonders, if the newspaper staff doesn't read the newspaper, how can the populace be blamed for the same thing?"
Striking Back
Clay Bennett, AAEC's president who cartoons at the Christian Science Monitor, wrote the Tribune Company to protest its elimination of editorial cartoonist positions: "There are few journalists in a newsroom who can define the tone and identity of a publication like an editorial cartoonist does. By discarding those who make a newspaper unique, you rob it of its character. By robbing a newspaper of its character, you steal its spirit." Chris Lamb, whose 2004 book, Drawn to Extremes, traces the history of editorial cartooning in the U.S., agreed with Bennett and broadened the criticism, saying that the Tribune policies "gut journalism as a vital part of American democr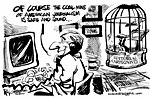 acy." Voicing his outrage in an editorial in E&P, Lamb said staff reductions weaken newspapers, and weak newspapers are not able to be as aggressive in pursuit of news as they must be to keep the reading public informed enough to be intelligent voters. (The accompanying cartoon by Milt Priggee is, he tells us, five years old; these alarm bells have been ringing for quite some time.)
            The erosion in the ranks of political cartoonists has reached alarming proportions in the last ten years. A hundred years ago, most newspapers had their own editorial cartoonist, and most papers published their cartoons on the front page. There may have been as many as 1,000-1,500 editoonists at work then, most of whom had other non-editooning art chores on staff. By the 1950s, the political cartoon was no longer on the front page of most papers, the number of papers was beginning to decline precipitously, and the number of editorial cartoonists likewise, only an estimated 275 still plying poison pens. In the 1960s, the number dropped to as little as maybe 120; then rose again to about 170 in the 1980s. None of these figures are substantiated with actual data, by the way: these are all estimates, some, perhaps, better than others, all culled from magazine articles about the profession in Time and similar periodicals. AAEC's Cullum Rogers tried to do an actual head-count in 1997 and came close, deciding, at last, that there were 150 practicing editorial cartoonists at the time. Today, my guess, based upon even more data from Rogers, is that there are about 100. Much of the publicity surrounding the current lay-offs and buy-outs claims that there were 200 editoonists twenty years ago and now there are only 90. I suspect that's a little exaggerated at both extremes, but it's clear, regardless, that the profession as an aspect of newspapering is eroding away at a furious rate.
            In the face of the current cuts, AAEC has assumed an aggressive posture. It has declared Monday, December 12, "Black Ink Monday," commemorating the occasion by mounting on its website a display of members' cartoons commenting upon the current state of affairs in editooning with specific emphasis on corporate downsizing.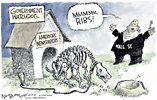 To witness this effort, visit www.editorialcartoonists.com. By Friday, December 9, over 80 editoonists had submitted their graphic assaults, with more to come. The libelous ones will doubtless be culled out by AAEC officers, but the remainder should be a treat for the eye and a balm for the soul.
            The reason underlying all the drastic cutting of staff positions at newspapers is financial, according to newspaper management. Interviewed on NPR by Lynn Neary, Clay Bennett blamed the timidity of newspaper editors and publishers for the layoffs. No newspaper exec wants to offend even a single reader by publishing something too opinionated. And too opinionated is what political cartoons are. That and wholly one-sided, hence unfair. About that, Doonesbury's Garry Trudeau once said that "criticizing a political satirist for being unfair is like criticizing a 260-pound nose guard for being too physical." Commenting on editors' reluctance to offend, Bennett said: "They rush to the middle. They want to be everything to everybody. They don't want to lose even one reader. May make sense to an accountant, but it doesn't make sense when it comes to creating a newspaper that people want to read." Bruce Dold, the Chicago Tribune's editorial page editor was also interviewed by Neary. He denied Bennett's accusation. Controversy, he said, wasn't the issue. It's all economic. Money is the issue. And if you have limited resources, he said, "Do you hire an investigative reporter? Or city council reporter? Or a police reporter? Can't get them through syndication, but I can get the editorial cartoonist through syndication." Bennett countered: "Why even have newsmen on staff?" he said. "Just run stories and columns written in Washington, D.C."
            Syndication is undeniably a big part of the problem (see Opus 173, last time). If the Trib can get a political cartoon to flag its editorial page through syndication for pittance compared to the cost of a salaried staffer, why not? Cartoonist Wiley Miller, who has worked as a staff editoonist and is now producing a comic strip, Non Sequitur, has long thought editoonists who get themselves syndicated are indirectly "taking jobs of others," as he explained to Astor at E&P. In an effort to turn the tide, Miller suggested that all editorial cartoonists who are syndicated should withhold their work from syndication for at least a week. Or a month. Something that will pinch their newspaper clients. Alternatively, syndicates should increase the price of their menu of editorial cartoons. "If we raised the rates," Miller said, "-and I mean a substantial raise in rates, like charging $100 for every reprint instead of [the present arrangement of] just a couple bucks-then there would be less incentive for editors to replace their staff cartoonists." When he was doing political cartoons as a staffer and realized his syndication deal was contributing to the erosion of jobs, Miller took himself out of syndication. Miller also refused to take two jobs: when he sold a comic strip into syndication, he resigned from his editorial position; and he did that twice.
A Modest Proposal
J.P. Trostle, taking newspaper editors at their word about their desperate financial need, made a modest proposal that he submitted to the Los Angeles Times. First, assuming that eliminating the editorial cartoonist is just the initial step on the way to eliminating editorial cartoons altogether, he asked: "Do they really think that an additional 12 column inches of text-the equivalent of one more letter to the editor-would have anywhere the visceral impact or insight of a single Ramirez cartoon? Will simply providing more words stop the stampede of readers to other media? Or," he continued, "did they intend to use that open space [on the editorial page] for advertising?" Returning to the company's desperate need for money, Trostle then asked: "Does the Tribune Company, which owns the L.A. Times, really think that trimming the salary of a cartoonist will help them pay off the nearly $1 billion they owe to the IRS?" And if they really believe that, why stop with firing staffers? "That's shortsighted: they're using only part of what we have to offer. Do you have any idea what organs bring on the black market these days? A good heart and set of lungs can easily get you fifty grand. While our spleens may be shot from overuse, kidneys, livers and gall bladders are all in great shape. And do I really have to point out how prized the eyes of an artist might be? But harvesting organs isn't going to be enough. Therefore, you may as well be sporting about it and auction off hunting rights. There must be scores of politicians, public officials, and celebrities who would be happy to shell out big bucks for a shot at the editorial cartoonists who mocked them and made their lives miserable. Why, Pat Oliphant's head alone would be worth half-a-mil or more. ... I know, I know," he finished, "these are all short-term solutions. And Tribune executives will soon be asking about the next year, the next quarter. Well, there's always the features department."
            The Tribune Company needs to retire its whopping billion-dollar tax bill, of course, but the newspaper industry as a whole has been crying poor for years. How broke are newspapers, really?
Newspapers In Financial Straits
Newspapers, they say, are in dire difficulty, financially speaking. But they decidedly aren't broke. They just aren't making enough money, so, as I've mentioned hereabouts numerous times, they are industriously laying off excess staff (that is, all salaried personnel) to reduce expenses. The fiscal plight of newspapers is mostly balderdash. Newspapers, as an industry, make greater profit than just about any other American industry. The profit margin in the newspapering racket is about 20 percent, compared (as William Falk did recently in The Week) to 7.7 percent for oil companies and 6 percent for Fortune 500 companies. The U.S. corporate average profit is 7.9 percent. Not even Big Pharma with a profit margin of 18.6 percent or banks at 19.6 percent make greater profit than newspapers. And yet-flying in the face of fact-the Wall Street rumor is that newspapers are an increasingly poor investment. Statistical fact is, obviously, of no consequence in this vicinity.
            So I was delighted to read Garrison Keillor on the subject of newspapers because he finds satisfaction in non-statistical matters: "Let us all be thankful for the newspaper, a truly useful object. The press is the watch-dog of a free society, and, while tv reporters are styling their hair and practicing winsome facial expressions, newspaper reporters are on the phone, knocking on doors, doing the work, holding power accountable. And you read their work and absorb something from it, or not, and then you spread the newspaper out on the floor and it absorbs paint drips, or you pack it in a box around fragile objects, or you roll it up and swat cockroaches, or stuff it into cracks to keep the wind out, or stuff it under the kindling and light the fire-one simple thing with six distinct uses. Or you can recycle it and it will transcend into cardboard. You can't do that with images on a screen."
            True. Most news media, incidentally, rely upon newspapers for the "news" they, the other news media, report. So newspapers, while perhaps endangered, are scarcely likely to disappear: if they did, the other news media wouldn't have any news to report or to entertain us with.
Not All Bad News
All the news about editoonists ain't bad, kimo sabe. At the Huntsville Times, they still value political cartooning on staff so much that they conduct an annual competition to find local columnists and cartoonists for their editorial page. This year's competition produced four local cartoonists. The paper may not pay the four local guys much, compared to what they'd have to pay a full-time staffer; but at least, the Times knows editorial cartoons are important.
            And around here, at the State Journal-Register in Illinois' capital city, Springfield, staff editoonist Chris Britt is highly regarded by his editor, Barry Locher, who hired him even though Britt's liberal views tick him off just about every other day. In an article about Britt in the Illinois Times, Locher said: "[Britt's cartoons] contribute to the interest on the editorial page, and, love him or hate him, you're gonna go there and see what he's got to say. He very much drives readership to our editorial pages, and I'd be kidding myself if I didn't say how important that is to me."
            But the bad news continues in yet another dimension-art supplies. Many of today's crop of editooners regularly use Grafix duoshade paper, which produces a gray tone when brushed with a developing chemical. Alas, it appeared, briefly for a few days last week, that the sole manufacturer of this distinctive paper was going to stop producing it. The press used to make it-to laminate on the paper's surface the nearly invisible dots or patterns that the application of the chemical develops-is ancient and impossible to repair any more. When it stops, so does the supply of duoshade. Learning of this dire predicament, one wag said, "I vaguely remember that some ancient oracle-Nostradamus, maybe?-rendered a prophesy that newspaper editorial cartooning would flourish only as long as Grafix paper existed on earth. Looks like time's about up." But, no-the impending doom of Grafix paper was a false alarm. One of the more extensive users of the product checked with the manufacturer and was assured that a stockpile of several years' worth of the paper would be produced before the antique press was junked; and during the interval, the company would diligently search for another way to make the product.
            So there'll be plenty of duoshade paper even if not many 'tooners are around to use it.
NOUS R US
Lawrence Ferlinghetti, Beatnik poet and bookseller of unusual tomes at San Francisco's City Lights bookstore in North Beach-whose poem, "Coney Island of the Mind," has lighted some dark corners along my way-received recently the National Book Award for lifetime achievement; he's 86. About time. ...It helps to win the Pulitzer: before the Louisville Courier-Journal's editoonist Nick Anderson won last year, he was syndicated to 48 papers; after winning, the number jumped to 70. ... Larry Wright's NEA panel cartoon, Kit 'n' Carlyle, about a single working woman and her spunky kitten, Carlyle, is 25 years old. Said Wright, who also editoons at the Detroit News: "It's hard to think of a 25-year old cat as a kitten, but I just pretend that I'm still the same age as I was 25 years ago and that makes it easier to get into the proper mindset. After all, we're only as old as we imagine we are." ... Ballantine Books has just  published a hardcover collection of Peanuts strips that have no speech balloons, It Goes Without Saying: Peanuts at Its Silent Best. ... Naming the year's top 25 DVDs, Rolling Stone lists "Sin City" in fifth place. The magazine also notes that, "thanks to DVDs, the wow factor has passed from the multiplex to the home: movie attendance in 2005 was down eight percent [because] fans want to show off their home-theater systems with DVDs, especially the ones packed with bonus features." ... According to The Week's report on Smartmoney.com, "sales of an out-of-print 1996 novel by former White House aide, I. Lewis Libby got a big boost when Libby was indicted late last month. The Apprentice, which includes purple-prosed passages describing sex, bestiality, and pedophilia, jumped from 5,715 on the Amazon.com sales ranking to 863." ... John Canemaker's Winsor McCay: His Life and Art has been re-issued by Abrams, with 48 additional pages of material. At $45, I still have a hard time resisting it (and probably, in the last analysis, won't). ... The Korean version of manga, called manhwa, will launch an invasion of the U.S. market in 2006 with nine titles to be introduced in the first quarter, aiming directly for a teen demographic. In Korea, manhwa appears on the Web before getting compiled in book form, and this maneuver will be repeated here. Director of Operations for publisher Netcomics, Soyoung Jung, says she finds manhwa more poetic than Japanese manga. ... Keith Knight has assembled 24 of his "Life's Little Victories" cartoons into a calendar for 2006. "It's the perfect gift," he says, "for anyone who needs a little uplifting in their life (and who doesn't need that these days)." "Life's Little Victories" is a regular feature in Knight's K Chronicles. No. 1110, for example, is "Taking a multi-hotel shuttle from the airport ... and it drops you off first!" Yaaay. Or No. 1111, "Stumbling across the only good scene of a crappy movie whilst channel surfing." Or No. 2207, "You desperately need to unload whilst visiting a shady-looking bar ... and they have a clean toilet, a full roll of toilet paper-and good graffiti!!!" The calendars are just $12, including postage and handling, through www.kchronicles.com, the K Chronicles website. ... The Board of Trustees of the Museum of Comic and Cartoon Art (MoCCA) in New York announced the appointment of Ken Wong to succeed founder Lawrence Klein as president. Matt Murray was promoted to fill Wong's previous position as chief operating officer. Klein will retain the title of chairman and a seat on the organization's Board of Trustees.
            In its November 28 issue, Newsweek plugged the graphic novel version of the Gospel of Mark, Marked, creator Steve Ross's effort to "shake up the evangelicals who flocked to [Mel Gibson's "The Passion of the Christ"]." Said Ross: "Here's my chance to finally get even with all the right-wing, neocon, fundamentalist, holy-rolling, snake-handling crazies who I feel have co-opted Christianity." But, says Newsweek's reviewer Elise Soukup, "a funny thing happened on the way to the publisher. As Ross explored the themes of passion and murder, love and law, he started to inject a reverence into his irreverence." The notice in a national newsmagazine took the graphic novel's publisher, Church Publishing of the Episcopal persuasion, by surprise; it has had to go to a second printing almost at once.
            Are movies better than ever? Or are they just re-makes? "If it ain't broke, don't remake it. 'King Kong,' 'The Poseidon Adventure'-come on! There are plenty of great stories," writes Bethan Hatch in Entertainment Weekly, without having to repeat past triumphs. It's undoubtedly too expensive to be original. Says producer Robert Evans: "Filmmakers don't do the unexpected; they're too scared-the prices are too high." And in Morrie Turner's Wee Pals comic strip, the biography of the man who animated the original King Kong will soon appear, giving recognition to his achievement. Willis O'Brien tried newspaper cartooning but didn't make it. Failed as a prize fighter, too. But he put the two together for King Kong. His images of the giant ape atop the Empire State Building convinced RKO execs to fund the movie, the most expensive the studio had produced up to that time. Later, O'Brien channeled his boxing and cartooning experiences into the stop-motion animation for Kong's fight with the dinosaur. Unknown most of his life, O'Brien will at last, thanks to Turner, get known.
            The U.S. Postal Service will be issuing the first stamp pane (20 stamps) honoring comic book super heroes in 2006. Half the stamps will depict superheroes; the other half, famous comic book covers-all DC. The heroes: Batman, Superman, Wonder Woman, Plastic Man (drawn, sad to report, not by creator Jack Cole but by Dick Giordano, a good man but not Cole), Green Lantern, The Flash, Aquaman, Hawkman, Supergirl, and Green Arrow. The covers: Plastic Man No. 4 (here, the art is Cole's), Batman No. 1, The Brave and the Bold No. 36, Green Lantern No. 4, The Flash No. 111, Wonder Woman No. 22 (2nd series), Aquaman No. 5 (of 5, 1989), Daring Adventures of Supergirl No. 1, Superman No. 1, and Green Arrow No. 15. ... Bill Jemas, former Marvel comics honcho, is launching a new comic book imprint, Hyp-No-Tech, featuring, wouldn't you know, a brand new universe. The premier issue will sell for just seven cents, Jemas attempt to overcome what he sees as the market's disinclination to accept new offerings. I suspect the new universe is populated by superheroes, though-so what's new about this offering?
            Ted Rall, displaying what could be mistaken for the same sort of envy that may have inspired his attack on Art Spiegelman a few years ago, did a mute-hued multiple-arrowed tiny-paneled send-up of Chris Ware's cartoonery on December 1, concluding that "it would be sad were it not so incredibly boring." Rall was prompted, he said, by Ware's Sunday page in the New York Times' new Funny Papers. And I must confess that I, too, find Ware a wallpaper cartoonist whose designs, while superb in a delicately pristine way, are not engaging enough to offset the tedious drone of his work's depiction of life as unrelievedly bleak and futile. You can see Rall's lampoon at his website, www.tedrall.com; click on "previous" until you get to December 1. ... I have my allotment of pangs of envy myself whenever Scott McCloud produces another tome, any of his more wildly successful than all of mine combined. And he's about to do it again, this time, with Making Comics (due in September 2006), a "how to" book. Other books of this breed, he says, demonstrate what to do after deciding which moment to depict; none of them discuss how to pick the moment. McCloud will remedy that. ... Robert Crumb completed a story started a dozen years ago for the just released Zap Comix, No. 15. While Justin Green has, at last, been give proper credit for inaugurating autobiographical comics, showing the medium's potential for depth, Crumb is still the master of the genre, which he began to explore at very nearly the same time as Green. In Zap No. 15, Crumb's contribution is, yes, an autobiographical exercise. ... Disney's plan for Pooh in 2007 is to replace Christopher Robin with a six-year-old red-haired tomboy in an effort to "re-brand" the A.A. Milne character. "Re-brand"? More delightful new jargon designed to mislead us or to mask wholesale destruction. Said Nancy Kanter at the Disney Channel: "The feeling was these timeless characters really needed a breath of fresh air that only the introduction of someone new could provide." Trying to have it both ways-"timeless" but "stale." Kanter should enter politics. ...  I suppose novelist Mary Gaitskill can expect a law suit to be filled against her by Archie Comics; the title of her fourth book is Veronica.
            Mike Luckovich, editorial cartoonist at Atlanta's Journal-Constitution, commemorated the 2,000th U.S. military death in Iraq by lettering all 2,000 names to shape the three letters of the word "Why" followed by a question mark. It took him 12-13 hours and appeared October 26, right after the grim milestone had been passed. Said he: "I was trying to think of a way to make the point that this whole war is such a waste. But I also wanted to honor the troops I believe our government wrongly sent to Iraq." By a margin of 70% to 30%, readers seemed to agree that he succeeded. One woman, the cartoonist said, "told me she opened the paper and began to cry when she saw the cartoon." Doing the cartoon was an "emotional experience," Luckovich told David Astor at Editor & Publisher. "Two thousand is a lot of people. It's easy to lose focus on the sacrifice each of these soldiers made. And I saw a lot of diversity-many, many Hispanic Americans, as well as African Americans, Native Americans, and women. Part of the power of it was that the names be handwritten," he added.
            If you're ever curious to see the full article from which I snip only a short piece, visit the Comics Research Bibliography at www.rpi.edu/~bulloj/comxbib.html, where Michael Rhode and John Bullough are steadily amassing a vast list of monographs and articles on comics and cartooning in magazines and newspapers as well as academic journals. As of October, approximately 18,500 entries had been made in this massive bibliography.
GRAPHIC NOVELS AND DAN RATHER
Gratifying as it is to see the comics medium being taken seriously as a literary artform in the mainstream press, it is entertaining, albeit exasperating, to witness the critical elite as they attempt to understand just what it is that a graphic novel is that an ordinary prose novel isn't. Patricia Storace in the New York Review of Books affords me my latest unsuppressed giggle at a critic's expense. Reviewing Marjane Satrapi's Persepolis books in the April 7, 2005 issue (I'm a little behind in my outside reading), Storace sees Satrapi as a "genuine artist," by which Storace means a practitioner of the literary not visual arts. But she realizes that a graphic novel is something different than the traditional prose endeavor. In both Satrapi's books, Storace says, "it is almost impossible to find an image distinguished enough to consider an independent piece of visual art, and equally difficult to find a sentence which in itself surpasses the serviceable," but the books nonetheless emerge as works "fresh, absorbing, and memorable ... extraordinary achievement[s]." She continues: "Pictures function less as illustration than as records of action, a kind of visual journalism. ... Either element [words and pictures] would be quite useless without the other; like a pair of dancing partners, Satrapi's text and images comment on each other, enhance each other, challenge, question, and reveal each other. It is not too fanciful to say that Satrapi, reading from right to left in her native Farsi, and from left to right in French, the language of her education in which she wrote Persepolis, has found the precise medium to explore her double cultural heritage."
            Well, yes, it is a little too fanciful to find that the visual-verbal medium is particularly useful to someone with a "double cultural heritage"-as if a person without a double cultural heritage could not effectively make comics. Ego-boo though it is to see my own criteria for evaluation (visual-verbal blending) flung around in such an August venue as the New York Review, Storace clearly doesn't understand. She realizes the validity of the description of cartooning as blending words and pictures to create a meaning neither offers alone without the other, but she can't, or doesn't, apply the criterion in her assessment of Satrapi's books. Satrapi sometimes achieves visual-verbal blending, but her books more typically do not. Her pictures, in effect, punctuate her prose, which usually makes complete narrative sense by itself, like any prose novel. But even if the words and pictures can stand alone much of the time in her books, the pictures give their peculiar sense of life to the words. As Garry Trudeau said in an interview with Ted Koppel in 2002 on Koppel's late-night show, "Up Close": "Comic strip writing is a weird intersection between two disciplines where you hope some kind of magic happens. If you look at a strip like Dilbert, which has awful art-and I'm the one who made the profession safe for bad art-Cathy, Dilbert, all the minimalist strips-if you look at the strip, the art is nothing to write home about, and the writing itself is sharp, but if it were in another form, it may not resonate as much as it does coming out of these little characters. There is something about the magic when you blend those two together. It just works." And with Satrapi, very often the pictures underscore and emphasize points made in her otherwise deadpan verbiage-all of which creates an interdependence that Storace takes for visual-verbal blending.
            In the same issue of the New York Review, James C. Goodale "reviews" the Report of the Independent Review Panel on the September 8, 2004 60 Minutes Wednesday Segment "For the Record" Concerning President Bush's Texas Air National Guard Service. Goodale reaches the conclusion that I have supposed to be the case nearly from the start. The great brouhaha, you'll recall, was that Dan Rather used forged documents to make the case that George W. ("Whiner") Bush got into the National Guard by reason of his father's privileged status in government, thereby avoiding service in Vietnam, and that GeeDubya's Guard service was, in the end, perfunctory and derelict. While the Independent Panel found that CBS rushed to air its story without sufficient fact-checking, "lost in the commotion over the authenticity of the documents," Goodale writes, "is that the underlying facts of Rather's report are substantially true. Bush did not take the physical exam required of all pilots; his superiors gave him the benefit of any doubt; he did receive special treatment and Lieutenant Colonel Jerry Killian, Bush's commanding officer, was unhappy with the loss of the National Guard's investment in him when Bush informed Killian he was leaving for Alabama" to help on an election campaign. Moreover, "surprisingly, the panel was unable to conclude whether the documents are forgeries or not." And "if the documents are not forgeries, what is the reason for the report?" The answer, Goodale says, is that the report's sole reason for being is to criticize CBS's news-gathering practices.
            In this year's edition of Censored 2006: The Top 25 Censored Stories, Greg Palast writes about "the lynching of Dan Rather." The "independent panel," Palast scoffs, "consisted of just two guys-together as qualified for the job as they are for landing the space shuttle: Dick Thornburg and Louis Boccardi." Thornburg was Attorney General for GeeDubya's father, whose "grand accomplishment" was "to whitewash the investigation of the Exxon Valdez oil spill," letting the petroleum giant "off the hook on paying big damages." Boccardi was once CEO of Associated Press and while in that position "spiked his own wire service's exposure of Oliver North and his treasonous dealings with the Ayatollah Khomenini." Boccardi was, at the time, negotiating with Iran to free Terry Anderson, an AP reporter then being held hostage, and Boccardi clearly didn't want to queer the deal by exposing North's Iran shenanigans. But, "unwittingly or not," Palast says, "Boccardi joined in a criminal conspiracy to trade guns for hostages." He was never indicted for the crime, though; in squelching the North story, Boccardi proved an ally to the Reagan-Bush Administration, and such friends are "taken care of." Reagan's National Security Advisory John Poindexter was indicted for his role in the Iran affair but later pardoned. By Bush pere. Given Bush pere's shadowy but unacknowledged involvement in the Iran deal, Boccardi can scarcely be seen as an "independent" investigator on behalf of unfettered journalistic objectivity in the matter of 60 Minutes' reportage about Bush fils. That these two guys found fault with Rather's reporting is hardly surprising: in fact, you might say it was a foregone conclusion. And while they were "investigating," the 60 Minutes producer, Mary Mapes, was fired and Rather forced to retire, all of which added to the diversion that acted as a smoke-screen, masking the essential truth of the story about GeeDubya's AWOL status with the National Guard, which, I repeat, has never been convincingly disputed.
Quips & Quotes
Cigar-smoking ten-gallon-hatted Kinky Friedman, sometime author of outrageously "autobiographical" detective yarns, is running for governor of Texas (where another joke was recently governor). Says Friedman: "Tell me, why shouldn't my campaign be taken seriously and the Legislature be considered the joke?"
            "I don't understand why the religious right fears homosexuality. They say it's an abomination. The Bible says that shellfish are also an abomination. They who oppose sodomy must also oppose scallops." -Jon Stewart
            "To curb illegal immigration, the U.S. ... is considering building a giant fence along the U.S.-Mexico border. ... In a related story, the Mexican government is building a giant catapult." -Conan O'Brien
            "The sun, with all those planets revolving around it and dependent on it, can still ripen a bunch of grapes as if it had nothing else in the universe to do." -Galileo Galilei
Brian Walker's History of Comics Book
Abrams sent me a review copy of Brian Walker's new book when it came out, which, I am distressed to report, was about a year ago. I promptly read the thing, savoring every page, every picture-nearly every one of Walker's words. I'd seen the words, most of them, before: Brian sent me a copy of the typeset, asking for my reactions, general comments and/or factual amendments, if any. I offered a few suggestions, very few, and then sat back to await the appearance of the final product, which would include everything I hadn't seen-that is, the artwork. When it arrived, as I said, I started reading it immediately, a little at a time-day by day, to prolong the enjoyment. And it was a joy, a delight. And so I am just a little chagrined that I've taken this long to tell you about it.
            This is the prequel to Walker's previous history, The Comics Since 1945, and it's entitled, with a poetic fervor we must admire, The Comics Before 1945. And it has all of the wonderful parts in it that the previous volume had. Divided into chapters by decade, the book begins at the turn of the century (that is, 1890-1900) and concludes in 1945. Each chapter is introduced with an essay that briefly rehearses the chief events of that period and the developments in newspaper comics, illustrated with rare bits of artwork, special drawings done for long-forgotten occasions or promotional purposes. Then come the pages printing representative samples of the comic strips launched during that decade; these are accompanied by tersely informative captions and, sometimes, a few paragraphs about genre or types. Scattered throughout are short one-page biographies of the major cartoonists of the period, followed by several pages of their strips. In the first, "Turn of the Century," chapter, we get Richard F. Outcault, Rudolph Dirks, Frederick B. Opper, Jimmy Swinnerton, and Winsor McCay (don't forget to order a copy of my book about this masterpiece-maker, The Genius of Winsor McCay, previewed here). One of the incidental short essays in this chapter discusses "Racial Caricature," with which comics of the day were rife. Says Walker: "A comprehensive overview of newspaper comics before 1945 would be incomplete without including many of these characters. The images of black people shown here, and in subsequent chapters, must be evaluated in the historical context of the era. Important lessons can be learned by studying the visual record of racial intolerance, and hopefully, these past transgressions can be avoided."
            Walker's essays, as in his previous book, are packed with information: every sentence seems loaded with more facts than the usual subject-predicate configuration is intended to tolerate, and yet, thanks to Walker's unadorned-almost deadpan-style, the text is eminently readable and supplies insights of the sort that have never been placed in the proper context before. And the bibliography and notes that come at the end of the book constitute a windfall of fugitive fact for the historian and researcher. I cannot speak highly enough of the wealth of information this book offers and the pleasure it affords. It is a signal achievement; but in the offing, such a book was, doubtless, a daunting prospect.
            When Walker produced the previous volume, The Comics Since 1945, also at Abrams, he was traipsing over virgin territory. No one had done a general history of the medium that embraced the 1945-2000 period. But in The Comics Before 1945, he's trampling a well-trod field. The classic histories of the medium-by Thomas Craven, Coulton Waugh, Stephen Becker, Jerry Robinson-all cover this ground. In contrast, no one had covered "since 1945." My book, The Art of the Funnies (which is previewed here), brings the history from the humor magazines of the late nineteenth century up through Calvin and Hobbes just before Watterson quit, but I focus on the trail-blazers and trend-setters (Bud Fisher, George McManus, Winsor McCay, Milton Caniff, Roy Crane, etc.) and a few inimitable exemplars (E.C. Segar, George Herriman, Walt Kelly) whose work, while inimitable, showed what the medium, stretched to its utmost, can do. It was left to Walker to delve deeply into the history of the whole medium since World War II, which is the benchmark that 1945 singles out. And as I said here at the time, he covered it with great thoroughness. With the success of that volume, Abrams begged for an encore to explore with Walker's particular expertise the area until 1945, and that's what this book does. With comparable thoroughness and success, I must add.
            For Walker, however, the challenge was to do something that other histories exploring the same thicket hadn't done. Why reprint a lot of Roy Crane's Wash Tubbs, for instance, when the entire strip has been reproduced? Ditto Terry and the Pirates. And then, in terms of visual material alone, we have Bill Blackbeard and Dale Crain's compendious two-volume The Comic Strip Century (Kitchen Sink). Walker's challenge, in short, was to make this book somehow different than the others. He decided to showcase the art, as he had done in Since 1945, using, wherever possible, original art instead of clips or photostats. He was a little less successful with this volume: original art for many of the earliest strips is very scarce, usually unattainable. (Astonishingly, though, he found an original Yellow Kid page, dated July 12, 1896.) But Walker's experience in the catacombs of the International Museum of Comic Art yielded excellent and often seldom seen examples. Walker provided the illustrations as scans of tearsheets or 4x5 transparencies shot from the original art; Abrams simply reproduced what Walker supplied. The result, in virtually every instance, is superb reproduction, and this is the period in the history of the medium when cartoonists were producing spectacular artwork-and newspapers were providing space ample enough to display it in all its glories. And that brings me to the only criticism of any significance that I have of this book. It is the same size and dimensions as its predecessor, but the strips it reproduces were more elaborately drawn than comic strips since 1945, and when these giant 1900-1945 strips are reproduced herein, they often are too small to adequately display the intricacies of the art. That, unhappily, is a criticism that can be leveled at almost all histories of the medium. Here at least, both Walker and his publisher have taken extra pains to preserve the quality of the drawings, whatever the size, and the result, despite the reduced dimension, is, for the most part, exquisite. Among the hundreds of strips reprinted here, I found only one badly reproduced strip-a hand-colored Sunday of The Bungle Family, which seems to be reproduced from a slightly out-of-focus photograph.
            The book brims with rare pieces: Charles Kahles' Clarence the Cop, almost never on display, with the title character seeing himself in the funny papers; Mutt and Jeff throwing a Christmas dinner to which they've invited several of the other Journal American comic strip characters; one of McCay's Dream of the Rarebit Fiend in which the cartoonist, as Silas (his pen name for the feature), appears, his head growing increasingly bigger as he absorbs the compliments of admirers; a self-caricature of Fontaine Fox; an elegant self-portrait by George McManus; the cast of The Gumps; Prince Valiant standing off a mob of warriors on the bridge, a famous page (which Al Williamson has the original of, obtained for a song long ago in the ignorant days when comic strip art was considered just so much trash to be tossed out), re-shot from either original art or photostat and then "re-colored," one of the few strips presented in this manner herein; a second Prince Valiant page, this one's individual panels offering an array of medieval scenes and vignettes, a virtual catalogue of the strip's visual treasures; a tearsheet of Dick Tracy for September 8, 1932, wherein the cleaver-jawed detective meets Junior for the first time; a controversial Popeye Sunday in which Wimpy, ever on the hunt for a hamburger, slaughters a cow that he comes across, grinds up the carcass, and treats himself to a mountain of hamburgers; a half-dozen historic moments in Blondie; the Gasoline Alley portion of Frank King's Rectangle page, showing the feature in strip format, which it occasionally assumed even when appearing within the Rectangle layout; a daily Gasoline Alley in which King exploits the horizontal format of the strip; Crane's Wash Tubbs shaded with crayon on pebbleboard, which we've seen before but never at a size that displays, as this does, the delicacy of the shading; a huge panorama of the entire cast and their relatives in Right Around Home-one of Dudley Fisher's patented bird's-eye views, but this one is jammed with people and their ballooned conversation; and an exquisite Ethel Hays' femme, stunning in both feminine beauty and artistic treatment. And here's a rare political statement by Billy DeBeck-a crayon-shaded rendering of Snuffy Smith, vowing to bounce "a passel of rifle-balls" off'n the "punkin haids" of Hilter, Mussolini, and Hirohito "iff'n them varmints" don't stay on their side of the ocean; it's dated October 12, 1940, and Snuffy is already in uniform, long before the U.S. entered the European hostilities.
            Dow Walling's Skeets has been largely forgotten, but the Sunday page Walker puts before us makes me wonder what great moments we must've missed.  An August 1930 promotional picture of pretty perky Blondie that appeared in Editor & Publisher the week before the strip started-which reminds me of King Features' legendary promotional campaign for Chic Young's strip, an unusually extravagant endeavor in which newspaper editors were sent a suitcase of ladies' lingerie with Blondie's name tag attached. Follow-up telegrams apologized for the "mix-up." Ahh, those were the days. And here's Our Boarding House for January 27, 1922, when Major Hoople makes his debut.
            One of my initial reactions to the book as I was reading it was that I wasn't seeing many "firsts," the sort of thing you'd expect to find in a history book-a result, no doubt, of Walker's insistence upon using original art. But as I continued my slow progress through the book, the quality and rarity of so much of what Walker included more than made up for the missing inaugural appearances.
            Walker begins his history with the obligatory references to cave drawings, but he puts Outcault's Yellow Kid in its proper place, debunking as myth almost every aspect of Coulton Waugh's classic yarn about the origin of comic strips. The feature wasn't a "strip" when it began, didn't use speech balloons, and the Kid's shirt wasn't yellow. Moreover, the antique tradition that his shirt became yellow as an experiment in fast-drying ink is, likewise, bunkum. The Yellow Kid's importance in the history of the medium lies in the resounding success of the creation: Outcault's cartoon stimulated newspaper sales, establishing the commercial importance of comics to newspapers, thus making comics a permanent newspaper fixture. In the long disquisition leading to this conclusion, Walker eventually bumps up against the perennial knotty exercise of defining "comic strips." He quotes a couple candidates, including a portion of my extended definition, but he seems to dismiss this gem of my brain because it excludes such notable efforts as Harold Foster's Prince Valiant and Alex Raymond's Flash Gordon. Just to keep us all on the same track, here's what I usually, of late, have said when "defining" comics: comics consist of pictorial narratives or expositions in which words (often lettered into the picture area within speech balloons) usually contribute to the meaning of the pictures and vice versa. A pictorial narrative uses a sequence of juxtaposed pictures (i.e., a "strip" of pictures); pictorial exposition may do the same-or may not (as in single-panel cartoons-political cartoons as well as gag cartoons).
            My description is not a leak-proof formulation. It conveniently excludes some non-comics artifacts that Scott McCloud's classic ("juxtaposed pictorial and other images in deliberate sequence") includes (a rebus, for instance); but it probably permits the inclusion of other non-comics. (An extended version of this defining exegesis appears in Hindsight, here.) That my description seems to exclude Flash Gordon and Prince Valiant raised hackles among comics theorists-largely, I suspect, because these so-called comic strips are iconic masterpieces that have served in such discussions as this to elevate the status of newspaper cartooning to Art. Ditto the somewhat less iconic Tarzan by Burne Hogarth and Lance by Warren Tufts. For a long time, I agreed with the implications of my visual-verbal blend theory: these works, I said bluntly, are not comics. They consist of pictures with text underneath telling a story. They are, perforce, illustrated narratives but not comics. I have since, without Walker's knowledge, come to think better about this flip formulation. After all, the physical relationship of pictures to words in Prince Valiant is the same as in the venerable gag cartoon, and the words undoubtedly amplify the narrative import of the picture under which they appear, and vice versa. The words don't explain the pictures as they do in a gag cartoon: they are not the key to a puzzle that the picture represents as captions are to the picture in a good gag cartoon. The relationship between pictures and words in Prince Valiant or Flash Gordon seems tangential rather than integral. In most instances of these works of Raymond, Foster, Hogarth and Tufts, the narrative, the story, is carried almost entirely in the text. We can understand the story without considering the pictures. Well, yes, but-but the pictures in Prince Valiant undeniably create the palpable ambiance of the story; they give it sweep and grandeur. And without the heroic elegance of the pictures, Flash Gordon is a shallow, sentimental saga. Many children's books are not substantially different in appearance from Prince Valiant and Flash Gordon: every page with its brief allotment of text carries an amplifying illustration. Still, Foster and Raymond did a little more for their narratives with their pictures than the average children's book illustration does for its narrative. The pictures supply extensive visual information that fleshes out the narrative text. And the text gives nuance to the pictures. The words and the pictures may not blend, precisely, to create a meaning neither conveys alone without the other, but their interrelationship is intimate and complementary. Within the category of pictorial narrative, Prince Valiant and Flash Gordon and Tarzan and Lance are therefore closer to being comics than they are to being illustrated children's books. And that's where I'd like to leave this discussion-right here, with the question suspended in a warm limbo of imprecision, half-answered, half-unanswered, rather than to belabor it further with a fussy pedagogical exactitude. Art is not precise. And appreciation of the achievements in art doesn't require as much precision as the pedagogue imagines it does.
            In any case, having given me a place among the immortals by citing my definition, Walker passes on to Thierry Smolderen's "relativistic" definition in which different definitions are made by different persons, each selecting the defining terms to suit his or her purposes. It is therefore pointless to seek a single, all-purpose definition. Walker agrees, probably because, as he says, "cartoonists do not concern themselves with definitions." True, but what cartoonists theorize about their medium doesn't, really, matter in discussions of the kind Walker is conducting. The cartoonists produce the artifacts, obeying whatever creative impulse fires their engine and instinctively knowing, throughout, how the artform functions without having to define it before they can do their work. It's the historian's job, or the critic's, to formulate criteria for either identifying the artform or evaluating it. Walker, by a rhetorical slight of hand, changes the argument without resolving the issue. Some of us are no doubt too compulsive about this definition exercise (look at all I've just spewed out about it!), and Walker has the decency not to say so but to simply turn, politely, and walk away, leaving us to our petty disputations while he goes about his business, reciting and showing the history of the medium, however we, eventually, define it. Perhaps, in the long run, our preoccupation doesn't matter much: like the Justice who pondered pornography, we know comics when we see them, and we surely see lots of them in Before 1945.
            And Walker's text usually tells us more about the history of the medium than the pictures, excellent though they be. He has researched his subject exhaustively, and his delvings and cullings have produced such verbal gems as this, Jimmy Swinnerton's 1934 reminiscence about the transition from magazine to newspaper cartooning: "In those days [before newspaper cartooning], we swore by [cartoonist Eugene] Zimmerman and [cartoonist Frederick Burr] Opper, and the others of the grotesque school who illustrated printed jokes. It was not the fashion to have balloons showing what the characters were saying, as that was supposed to have been buried with the English [caricaturist George] Cruikshank, but along came the comic supplements, and with Dick Outcault's Yellow Kid, the balloons came back and literally filled the sky." Swinnerton's imagery is memorable, and the quotation is jammed with insights into the distant past: they all knew they were just "illustrating jokes" in the closing years of 19th century magazine cartooning; speech balloons have a long history; Outcault is seen as the popularizer of the modern usage of speech balloons. Most of Walker's own sentences are similarly packed with information. (And he has the sophistication not to point out every jot and tittle of data as I too often do-and just did.)
            As we loll along, we pick up buckets of informative nuggets-sometimes wholly new bits; sometimes just a novel way of stating accepted facts. As before in Since 1945, Walker brings an insider's knowledge to his task: not only has he lived with comic strip production all his life in his father's workshop, but he has, for some years, been an active participant in the writing of Hi and Lois and Beetle Bailey. His view of comics history is therefore often laced with knowledge acquired through involvement with syndicate operations, a perspective most other historians of the medium lack. With the increase during the twenties of news supplied by wire services that gave all newspapers substantially the same news content, the comics "became one of the few unique features that a paper could offer to its readers," Walker says, reflecting a view doubtless held by most syndicates, even today (and accurately so, too). Walker continues: "By the end of the [1920s], signing up one of the top strips, like Mutt and Jeff or The Gumps, could make or break a newspaper." In 1927, E&P reported, according to Walker, that there were 80 syndicates "distributing more than two thousand different features to newspapers around the world." As I've said in my book, The Art of the Funnies, it was the competition among syndicates that fostered the creation of new strips: because Blondie was available to only one newspaper in a given circulation area, rival syndicates urged cartoonists to invent other "family" strips that they could offer to newspapers that couldn't get Blondie.
            Walker seems to have read every issue of Editor & Publisher from 1900 to 1945. In 1936, Popeye "was named the fastest selling comic"-and although Walker doesn't mention it, the Popeye phenomena was doubtless due as much as anything to the Fleischer Studio's flooding movie theaters with Popeye animated cartoons. The first was produced in 1933; within a year, Fleischer was producing one Popeye cartoon a month. Segar's strip was popular enough on its own to attract the animators' attention, no doubt; but once the animated Popeye started wafting across the landscape, the newspaper strip undoubtedly benefitted from the film version's popularity, and circulation rose accordingly.
            In his essay about the 1930s, Walker provides a lesson in syndicate economics for cartoonists. "A modestly successful strip that appeared in 150 papers and earned an average [fee] of $10 per paper could bring in $1,500 a week. After the standard fifty-fifty split with the syndicate, a cartoonist in this category could earn $39,000 a year, not counting additional revenue from secondary sources." To suggest the actual wealth this represented, Walker adjusts for inflation, saying "$1,600 a week in 1933 would be almost $1 million a year in contemporary dollars."
            In any work sprawling across decades of the history of this medium there are bound to be errors or oversights. Walker gets his share, including the same faux starting date for Wash Tubbs that I've been promulgating for years until, last year, I found a better, more accurate, date while pawing through old newspaper clippings. It's April 14, 1924, not April 21. And although Walker tried to supply starting dates for every strip presented here, he overlooked a few (Auto Otto, for instance, and, on the same page, Harold Teen), and sometimes the dates surface in unexpected places, in the decade's introductory essay, say, instead of in the caption underneath a representative strip. The starting date for Hal Foster's daily Tarzan, for example, is given in the 1920s introduction, but no daily samples appear; and the mini-biography of Foster that shows up in the 1930s section with the debut of Prince Valiant fumbles the Tarzan debut. Walker tells us that "an enterprising advertising executive, Joseph Neebe," got the rights to the Burroughs character in 1927 and persuaded Foster to draw it, but Walker doesn't repeat the starting date, leaving us to infer that Foster's daily Tarzan began in 1927, the only date the paragraph cites. An oversight, surely, but this hopscotch juggling of date citations makes the book more hindrance than help to a comics scholar whose interest in the history of the medium requires precision.
            Walker includes, perhaps for the first time in a general history of newspaper strips, Will Eisner's The Spirit, which, as we all know, was invented for a newspaper supplement in the form of a comic book. Why other comic strip historians have overlooked this conspicuous fact and therefore neglected Eisner's magnum opus I can't imagine. Even Jerry Robinson, who ought to know better, mentions The Spirit only in connection with Jules Feiffer and implies that it was a comic book, which it was, of course, but a newspaper comic book supplement. The last Spirit was dated October 5, 1952, by the way-not, as Walker has it, September 28. As he did with Foster, Walker supplies crucial date information in his introductory essay and leaves it out of the mini-biography of Eisner. One of the samples of Spirit artwork, attributed to Eisner, is not his, I believe. The splash page for December 1, 1940, looks suspiciously like the work of Lou Fine, who labored in Eisner's shop during that period and who continued the daily Spirit while Eisner was in the Army during World War II. I could be wrong about this, but the faces of the characters and the treatment of wrinkles in clothing look more like Fine than Eisner. And the Spirit's hat doesn't seem to fit quite right, a flaw Eisner often detected in Fine's drawing. But maybe not: December 1940 might be a little early for Eisner to have surrendered any of the art chores to his stable of artists. Besides, his art was influenced by Fine as was the work of most artists in Fine's vicinity. So maybe what we have here is an Eisner imitation of Fine.
            Errors other than dating slip in sometimes. In his chapter on the 1920s, Walker seems to assume, like most of us, that drinking alcohol was illegal during Prohibition. But the Eighteenth Amendment prohibited only the "manufacture, sale, and transportation" of liquor. The Volstead Act, which provided for enforcement of the Eighteenth Amendment, specifically permits private, personal drinking, as long as it is accomplished in one's own dwelling. Technically, Walker is correct when he says having booze in a hip flash made one a "common criminal": the hip flash was a means of transporting hooch, after all. But liquor itself was not illegal. If you had a wine cellar or a full liquor cabinet in 1918 before the Eighteen Amendment took effect, you could consume the adult beverages as long as your pre-Prohibition supply held out. Presumably, you could also buy booze to replenish your inventory; but the guy who sold it to you and delivered it to your door was committing a crime.
            To revert to our actual subject, errors other than dating in Walker's history of cartooning -Bert Christman, the artist who abandoned Scorchy Smith for real adventures in military aviation, flew with Clare Chennault's Flying Tigers, the American Volunteer Group, not the Navy. The AVG was recruited sub rosa from branches of the regular military, so Christman may have enlisted first in the Navy, but that's not the outfit he was flying with when he was shot down and killed over Burma. In fairness, this sort of nuanced historical footnote is probably too much to include in a caption under a sample strip. And it's doubtless too much to suppose that Walker, even after reading all of E&P for half-a-century, would know that Milton Caniff's Steve Canyon was bought, sight unseen, by a total of 162 newspapers, not just 63. Walker cites the latter number, given in King Features' publicity in May 1945; but by the time the first picture of Caniff's new hero appeared in print, in E&P for November 23, 1946, 99 more papers had signed on without having seen anything, according to Time, December 2. This sort of detail is probably known only by someone writing a biography of Caniff (which, I rush to blurt out, is supposed to be published in the fall of 2007). Steve Canyon debuted on Monday, January 13, 1947, in 234 papers, as Walker notes; and an additional 4 papers had bought the strip for Sundays only. I mention all this not to fault Walker: he can scarcely be expected to plunge this deeply into the history of a single strip in a general history of the medium. I bring it up here merely for the sake of giving this diatribe some informative and entertaining content over and above the evaluation of Walker's work. (And to plug my own Work In Progress, I confess. But that's obvious, eh?) In the same spirit, let me mention that the Terry character whose death Caniff arranged in October 1941, Raven Sherman, was named by the cartoonist's wife, who, Caniff said, never forgave him for killing off "her little girl." In another of the book's built-in chronological incongruities, the sequence of Terry strips depicting Raven's death appears in the 1930s chapter, but the discussion of the outcry her death provoked among the strip's fans transpires in the 1940s Introduction.
            Other tidbits probably too minuscule for Walker to include in a general history include the odd coincidence that Frank Miller had his aviator comic strip hero, Barney Baxter, flying a bombing run over Tokyo in the spring of 1942 on exactly the day that Jimmy Doolittle led an aerial attack on the city in real life. And that the first four dailies of Crockett Johnson's masterful Barnaby that Walker reproduces here are not, actually, the first four dailies: Johnson re-drew the first few days or weeks of the strip for the reprint volume published by Holt's Blue Ribbon Books in 1943, and these are the ones that appear herein.
            But these quibbles are of a magnificently minor order of importance, particularly in the face of the hundreds of fascinating things we can discover in Walker's book. Here, from Frank King, is a perfect description of how the writing of a comic strip must occur: "It is really true that my people seem to act on their own; seem to want to do certain things, almost without my planning it. I think that is a sign that a character has come alive. He has emerged with a personality; the original creative act is over. Now, what the strip artist does is just to cook up situations, and let the strip people react to them in their own way." I've heard the same from virtually any strip cartoonist I've talked with on the subject.
            And here, for the sake of another fugitive fact, is George McManus on the biography of his creation, Jiggs: "He was born in Ireland and came to this country, expecting to find the streets paved with gold," said McManus to a reporter in 1926. "But they were paved with bricks and cobblestones instead. So he became a hod-carrier. Romance came into his life when he met Maggie slinging dishes in a beanery, and they were married. He threw away the hod and began to sell bricks on commission. Then he went into the brick making business and manufactured a brick especially designed for throwing purposes. It was much harder than the ordinary building brick and sold year around." Presumably, Jiggs sold his bricks to Ignatz in George Herriman's Krazy Kat; Ignatz needed a vast quantity of the things to heave at Krazy. Nothing in McManus' 1926 recitation about Jiggs' winning the Irish sweepstakes as the source of his wealth. Just selling bricks. On another occasion, talking with his assistant Zeke Zekley, McManus, as I've said here before, explained Jiggs' wealth by saying he had worked, in his youth, as a hod-carrier for a construction boss named Ryan, who liked him so much that he gave Jiggs a dime every time he, Ryan, made a thousand dollars. Ryan must've been as wealthy as Croesus.
            In a similar vein, there's a possibly apocryphal story about why Stan Link, who had assisted Sidney Smith on The Gumps for years, didn't inherit the strip when Smith died in an auto accident in October 1935, just after having renewed his contract with the Tribune-News syndicate for three more years at $150,000 a year. Notices about Smith's death often said the strip would be continued by Link, but it was Gus Edson, finally, who took up The Gumps. Walker speculates that Link and the syndicate "were unable to agree on terms." Milton Caniff told me another story. According to him, Link was a little too full of himself in presuming he'd continue Smith's popular strip. He went to see publisher Joseph Patterson, head of the syndicate, and when he discovered Patterson was out, he went into the publisher's office to await his return. He stretched out on a couch therein and was smoking a big cigar, prone at full length with his feet on the cushions, when Patterson walked in. Patterson, evidently objecting to the affront to decorum of his sanctum sanctorum, ordered Link out. And soon thereafter, it was announced that Edson would get The Gumps. Legend, doubtless. But amusing withal. Walker is probably wise to stick to ascertainable facts, which he does with an almost religious dedication.
            In the chapter on the 1940s, he rehearses the causes for the evaporation of space allocated to comics. To conserve valuable newsprint during World War II, newspapers started cancelling strips to reduce the number of pages they consumed. Syndicates responded to the crisis by offering strips at smaller sizes. And so the perpetually shrinking comic strip was born. The American Society of Newspaper Editors got into the act, recommending that "the legibility of the comics could be maintained by shortening the balloons and eliminating complicated art detail." By the end of the War, comic strips at the spacious dimensions of yore were decidedly a thing of the past. Walker quotes Fred Ferguson, president of the Newspaper Enterprise Association syndicate, who, early in 1944, "looked forward to the end of the War but speculated that 'even with more newsprint available, I don't see why the newspapers would want to return to a six-column comic strip. The artists have got over the hump of adjusting their work, and they've succeeded admirably in fitting into smaller spaces. As a matter of fact, with more tightly written balloons, the material has improved.' Comic strips," Walker finishes, "would never be restored to their prewar dimensions."
            It's surpassing sad to read Ferguson's comments-to suspect that he was already envisioning the likelihood that he'd be able to sell more comic strips if newspapers could run more comic strips by keeping them all smaller than they had been; to realize that cartoonists had been so complicit, so willing to give away their birthright, the space in which they plied their craft. And the sadness is made even more intense by the samples of comic strip artistry that Walker parades before us through this book. Ahhh, but these guys could draw! Even when they were caricaturing humanity, they produced distinctive works of Art. I can scarcely turn a page without encountering another long-lost treasure-early (1928) Etta Kett etched in Paul Robinson's frail almost minimalist line; Martin Branner making a cameo appearance in  self-caricature in his own Winnie Winkle on April 1, 1928, seated at his drawingboard upon which are perched miniatures of the Rinkydinks, the ragtag kids who populated the Sunday strip; Fritzi Ritz by her creator, Larry Wittington; Billy DeBeck in sumptuous self-caricature from Circulation magazine; four strips from Bringing Up Father's visit to Japan in 1927 in which McManus proves to be, already, a master of the elegant filagree line and form. As I turn pages looking for away to wind this up, I can do no better than to say, I stop at every page.
Bushwacky
When you think about it, the Iraq fiasco was entirely predictable once we'd elected George WMD Bush. His favorite philosopher, remember, was Jesus Christ. Christ's political philosophy, insofar as he had one, was to get himself crucified. So good ol' George W. ("Warlord") Bush, by following in the footsteps of his favorite philosopher, led us all inexorably up to Golgatha-which, today, might as well be Iraq-where we'll all be crucified. Death by crucifixion, by the way, involves being asphyxiate; and the debt we're piling up for future generations is certain to asphyxiate this country for decades to come. 
COMIC STRIP WATCH
If you, like legions of your fellow humanoids, have surpassing difficulty understanding Bill Griffith's Zippy, you will rejoice, doubtless, to know that Griffith has constructed a 5-strip educational sequence explaining it all at his website, www.zippythepinhead.com ; just scroll down the page and click on Understanding and all will be revealed to you. As a hint, though, here's Zippy, saying, "Where kitsch is king, depth is all on th' surface."
            For the past week or so, Darrin Bell in his Candorville strip has been using N**** regularly as the protagonist, Lemont Brown, lobbies in his blog against the increasingly frequent use of the ugly expression in various entertainment venues, probably, among others, the tv version of The Boondocks, where Aaron McGruder deploys the term frequently because, he says, that's the way people talk. Lemont doesn't think that's a good reason, though. ... At virtually the same moment, in Steve Bentley's Herb and Jamaal, one of the characters is musing: "I've noticed how sensitive people have become to language these days. You can't say the L-word, G-word, S-word, D-word, the F-, M - and C-words ... and please never utter the -word! Pretty soon, we'll have to eliminate the alphabet and resort to using numbers." ... In Stephan Pastis's Pearls Before Swine, Rat says: "Isn't it great how every time the Pentagon does something wrong, they get to investigate it themselves? We should let guys who rob 7-11s do that-'Sir, I looked into it, and discovered I was nowhere near that convenience store on the night in question; I'm free to go.' Sure would unclog the courts," Rat concludes. ... And in Brooke McEldowney's 9 Chickweed Lane, one of the heterosexual female characters who has fallen for one of the homosexual males has started wondering if she can turn the guy "around"-that is, convert him to heterosexual preference-"with the right stimuli, a touch, a lingering moment of closeness"; to which Edda says nothing because she is forbidden to use the words "medieval torture," "snowball," or "hell."
Funnybook Fan Fare
I hadn't been following the works of Warren Ellis until the last month or so when-lo and behold-three of his first issues crossed the beaten-down path to the doorway of Rancid Raves. We reviewed two in Opus 172. The third, Down, drawn by Tony Harris, begins, just as the other two did, with a scene of wanton violence: a woman and her two male escorts enter an apartment where she promptly blows away nine people in five minutes, losing her two henchmen in the process. Harris, inked with a juicy line by Ray Snyder and Dexter Vines and colored by J.D. Mettler, expertly depicts exploding skulls and perforated torsos, scattering gore and smattering blood all over the pages. If slaughterhouse precision in drawing havoc interests you, you'll be enthralled by this. Ellis usually manages to insinuate into the mayhem at least one highly imaginative novelty. Here, he depicts our heroine, Deanna Ransome, using the bulky body of one giant bad guy who she's already wasted as a shield to absorb the gunfire directed at her by what few other bad guys remain. After which, she blows away the remaining bad guys. Ransome, it turns out, is an undercover policewoman, and she's suspended for killing so many of the underworld at once-and bringing about the death of her two colleagues-all because she sees a whore about to be raped by some of the drug dealers whom she subsequently blows away. Her boss offers her another assignment even while she's suspended: stay undercover and infiltrate another gang, which is now being led by a guy who was once a policeman who went undercover to infiltrate that gang, but, once he'd successfully done so, he killed the leader and took his place. Intriguing proposition, as all of Ellis's have been in this batch of three.
            Chicano No. 1 gives us Eduardo Risso in pure black and white, rendering a tale by Carlos Trillo. Risso's layouts are a little less extravagant than in 100 Bullets; in fact, he's almost conventional in his deployment of a three-tier grid. But the pictures happily display his wayward tendency to focus momentarily on minor dramas that are unfolding in the vicinity of the main action, side glances that bring the seamy milieu to life. The main storyline concerns a Mr. Walken, a crime boss, whose office has been rifled by a private detective, who finds there documents that can send Walken and his minions to the pokey. Walken's minions prove to be comically stupid and fail to retrieve the missing documents or to find the detective, who, it seems, is a smallish unattractive (and hence wholly unnoticeable) woman with an overdeveloped chest and dogged determination. There's an ending that reminds me of Jordi Bernet's Torpedo -a twist of wry humor. A neat package from IDW Publishing; hope there's more.
            Speaking of Bernet, Manuel Auad produced a year or so ago a stunning volume of the cartoonist's biography, sketches (some in pen-and-ink, some in wash), and strips entitled simply Bernet (240 9x12-inch pages in black-and-white; $24.95, www.auadpublishing.com) with an Introduction by Will Eisner and a Foreword by Joe Kubert. The book includes a couple Torpedo short stories; a fantasy yarn with the scantily clad forest nymph, Sarvan; and appearances by Custer, the beautiful tv operative, and the uninhibited tart, Clara de Noche (who appeared in this country as "Betty" in a series of eponymous comics from Fantagraphics), plus a brace of Kraken tales staring that denizen of the sewer system, Lt. Dante, and the monster Kraken-all suffused with a gritty eroticism that typically distinguishes Bernet's work and invested with an irrepressible flair for the occasional outright comical picture. And page after page of Bernet's Beauties, pin-ups whose curves Bernet expertly captures with single, sweeping lines that recall the linear precision of Roy Crane-every stroke in exactly the right place.
            The second issue of Kyle Baker's four-issue mini-series Nat Turner is as stunning as the first. In telling this tale of a legendary slave revolt in the ante-bellum South, Baker avoids the convention of speech balloons almost entirely, deploying his pictures in a silent scream of outrage and anguish about the cruelties and inhumanity of early America's "peculiar institution." In this issue, young Turner grows to manhood, and Baker shows us whippings, lynchings, dismemberment, vicious dogs. Fear. Anger. Baker's caricatural manner coupled to his treatment-gritty crayoned figures steeped in spectral gray tones-gives his tour of slavery a stark and haunting patina. Only once do speech balloons shatter the ghastly silence-when, as a child, Turner screams a warning to his father. "Run, Daddy," he yells, "Run! Run!" In reserving use of speech balloons for this single, terrible occasion, Baker gives the words the force of thunder and lightning. As he matures, Turner learns to read and write, and he becomes convinced that God has chosen him for some momentous deed. He marries, and then he and his family are separated when they are sold to different masters. The stage is now set for the revolt. Baker has carefully prepared the way, depicting the cruel brutalities of slavery and giving us a protagonist whose religious fervor will make him a fanatic in lashing out against those cruelties. Although there are no speech balloons on any but three pages here, Baker quotes extensively from Turner's "confessions," a document produced from interviews with the man during his imprisonment after his revolt was thwarted. Baker runs the quoted material in script type in and around the panels of his visual storytelling. Turner speaks with the elevated rhetorical conventions of 19th century society through which he intersperses Biblical-sounding phrases, making his utterances eerie as well as vaguely menacing. It's an effective narrative ploy, but I wish Baker had used a typeface other than the elegant script he's chosen: I understand that its elaborate flourishes are intended to give to Turner's words a kind of social status that contrasts dramatically with his station, but this typeface is awful difficult to read. Otherwise, this book demonstrates, once again, that Baker is one of the most accomplished and innovative graphic novelists now working.
Civilization's Last Outpost
Several well-meaning compatriots have tut-tutted just a little over the Catholic Church's recent ruling that homosexuals who are sexually active cannot be priests or enroll in seminaries. Appearances to the contrary notwithstanding, the Church is not discriminating against homosexuals: remember, the Church doesn't want heterosexuals with active sex lives in the priesthood either.
            Priests weren't always celibate, by the way. The Church introduced celibacy in about 1100 when it began to worry that church property might be viewed as their legitimate inheritance by the offspring of priests.
            If you think gasoline prices are high, here, for happy comparison purposes, are the per-gallon prices of some other equally vital liquids we frequent: Starbuck's espresso coffee, $185.06; Diet Snapple, $10.32; Lipton Ice Tea, $9.52; Gatorade, $10.17; Vick's Nyquil, $178.13; Pepto Bismol, $123.20; Scope, $84.48; whiteout, $25.42. Evian bottled water is $21.19, and we don't even know the source of this magical fluid. Evian spelled backwards is "naive," so beware.
            PETA, People for the Ethical Treatment of Animals, has been boycotting Kentucky Fried Chicken for the last three years, accusing KFC and its suppliers of mistreating chickens. Well, I guess. Drumstick anyone?
PAPA BERENSTAIN BEAR DIES
When Stanley Melvin Berenstain died at 82 of lymphoma on November 26, two days after Thanksgiving, the flotilla of obituaries that accompanied his passing seldom mentioned his cartooning career, which, like the 250 Berenstain Bear books for children, he produced with his wife, Janice nee Grant. The couple, who met in 1941 on their first day in a drawing class at the Philadelphia Museum School of Industrial Art, as it was called then, had a flourishing career as cartoonists before they opened their children's bear book factory in 1962 with The Big Honey Hunt. Single-panel gag cartoons signed "The Berenstains" appeared in the Saturday Evening Post and Collier's and other magazines whose cartoon line-ups I devoured as an apprentice cartoonist in the early 1950s. I knew this was a husband-and-wife team, and without thinking too much about it at the time, I assumed they drew in exactly similar styles. A few eons later, I began to suspect this explanation was a little simple-minded, which, while entirely appropriate in political punditry of the sort I commit here regularly, is scarcely adequate for explaining the artistry of drawings. Does one pencil and the other ink? Or do they really draw exactly alike?
            No thanks to an autobiographical tome that appeared in 2002, Down a Sunny Dirt Road (210 pages; $20 in hardback from Random House), by Stan and Jan Berenstain, I still didn't learn what this duo's drawing arrangements are. But that's scarcely surprising: the presumed audience for this autobiography is, I gather, the millions of people who grew up on the ursine family. The narrative concentrates on the couple's adventures as authors rather than as cartoonists, pausing only briefly to recount their initiation into professional cartooning by John Bailey, cartoon editor at the Saturday Evening Post, who explained to them, after their first year's fruitless submissions, that they ought to be doing cartoons about family life for the Post, not cartoons about classical music, Picasso, Freud and Shakespeare. Then the book breezes on into their subsequent specialization in cartoons about kids, which leads, perforce, to writing children's books. There are also several highly entertaining anecdotes about their various meetings with Dr. Seuss, who, as the Berenstains assure us, IS Beginner Books, the Random House division devoted to teaching kids to read. It was Seuss, aka Theodore Geisel, who named the Berenstain Bears and who shortened the authors' names to Stan and Jan because that rhymed and fit on one line. Seuss, guided by his unerring instinct for publishing, kept recommending that the Berenstains do their "next" book about something other than the Bears, and when the couple did as he suggested, he received their effort warmly but then suggested that they do it over, this time with the Bears in the starring roles.
            It takes over half the book to get Stan and Jan through childhood, schooling, and World War II, after which, on April 1, 1946, they team up officially as husband and wife and then as cartooning partners. Until then, the book's chapters alternate between Stan and Jan, each writing his or her own. Their cartooning career, alas, is represented by a mere four pages of cartoons, augmented by another 7 or 8 pages reprinting magazine covers they did and book illustrations.  Their magazine covers were enthralling to me as a callow youth: in copious, inexhaustible detail, they depicted some activity-dance class at school, for instance-at which scores of Berenstain kids were engaged, each in his own idiosyncratic way, every childish activity rendered in detail in a huge panorama of a picture. They did a family humor feature, It's All in the Family, for McCall's and, later, Good Housekeeping, and when their first son, Leo, was born, they produced a book called Berenstain's Baby Book, the first of some seventy cartoon-centered titles, including a host of "marriage advice" paperbacks, Marital Blitz, Lover Boy, Call Me Mrs., etc.-all uproariously funny, the pictures often humorously contradicting the pleasant optimistic blather of the accompanying text. Here are a few samples from 1958's Lover Boy.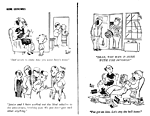 The Berenstains are clearly upper echelon cartooners. Their syndicated feature, Sister, is nowhere in evidence in the autobiography's text. But a Chronology at the back mentions this one-and nearly everything else this extremely prolific team has produced (including two sons, both of whom are in the family bear book business), and a Bibliography lists everything else. There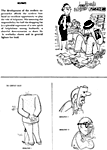 are also several pages showcasing each of the authors "serious" artwork, mostly paintings and drawings done while in school or during WWII. With those as evidence, it's plain that both of them can draw very well indeed.
            But I didn't learn how Stan and Jan share the drawing chores until, a couple weeks after reviewing Sunny Dirt Road, I came upon a book of their cartoons, It's Still in the Family (Dutton, 1961), while tidying up the Rancid Raves Intergalactic Headquarters and Wurlitzer Wordsmithy. On the flap of the dust jacket (but nowhere inside) we find the following revelation: "They created their cartoon style while studying [at the Philadelphia Museum School of Industrial Art] and have developed identical techniques so that theirs is indeed team work. So close is their collaboration that they work simultaneously on the same drawing-one of them sometimes sketching figures upside-down. Their usual division of labor is for Stan to draw the boys and Jan to draw the girls." How they divided the bear art, I still don't know.
            Perhaps Stan drew Papa Bear, who, the cartoonist admitted, was patterned after himself just as Mama Bear was modeled on his wife, an unabashed revelation that prompted Hartford Courant columnist Mary Jo Kochakian to write, in 1998: "You have to wonder, doesn't Stan Berenstain have any self-respect?" Her outburst was caused, doubtless, by the uncontested fact that Papa Bear is the classic bumbling father figure. Each of the bear books typically begin when the cubs encounter a problem. They turn to their father, who, in the traditional male mold, confidently offers a solution. But his solution only makes matters worse, which brings Mama Bear into the story: she comes along and sets everything right again. "I'm like Papa," Stan once said, "-I'm not quite as dumb as he is, and Jan's not quite as perfect as Mama Bear." Papa Bear, it is clear, is the linchpin of the plot in virtually every one of the books. But he is a complete doofus, a klutz both mentally and physically. The Berenstain's website proclaims that he is "often wrong but never in doubt." (So that's where the line about Dick Cheney comes from.) Jan Berenstain told Kochakian that her husband was entirely content with the depiction of Papa Bear. "Nobody likes making a mother the fall guy," she said, "-Papa Bear has broad shoulders."    
            Oriented around the problems and crises of ordinary family life, which are resolved with a gentle moral lesson, the bear books have sold almost 300 million copies and have trained millions of today's citizens and inculcated them with notions of proper behavior. The Berenstain Bears have shown how to survive family vacations, messy rooms, stage fright, junk food, and playground bullies. The Bears starred in a daily animated cartoon series on public tv and inspired two musicals, the latest of which opened Thanksgiving Day. The books have garnered a little criticism in recent years for perpetuating gender stereotypes, but the most severe criticism I've seen came from Paul Farhi at the Washington Post, who loosed his barrage when Stan died. Said he: "The stories reinforce what used to be known as 'common sense.' ... The secret of [the Berenstains'] work is that it is at least as reassuring and instructive to moms and dads as it is to young people. The Berenstains' rigid problem-solution plots, and problem-solving prescriptions, are straightforward and without nuance, cut and dried, spinach with a dash of sugar. ... There's right, there's wrong, and in Bear Country, everything will turn out fine once you know the difference." Farhi sees nothing objectionable in the books' moral basis. "The values in the books actually are timeless and rock-solid," he continues. "Moderation. Cleanliness. Respect, for oneself and for each other. Manners are good, dishonesty and deception are bad." But, he goes on, Papa Bear is a problem. "He is the Negative Example by which his family learns its lesson," Farhi says. "The stories delight in proving him wrong. ... Can young children accept the Berenstains' wisdom without noticing the parallel message amid all the moralizing-that dads are dummies who are better off ignored?"
            That, however, is the "smaller of the criticisms about Stan and Jan Berenstain's stories." And he lays out the larger issue: "Is this what we really want from children's books in the first place, a world filled with scares and neuroses and problems to be toughed out and solved? And if it is, aren't the Berenstain Bears simply teaching to the test, providing a lesson to be spit back, rather than one lived and understood and embraced? Where is the warmth, the spirit of discovery and imagination in Bear Country? Stan Berenstain taught a million lessons to children," Farhi concludes, "but subtlety and plain old joy weren't among them."
            Perhaps. Probably we'd all be better if all children's literature were of the Pooh or Alice in Wonderland sort. But all children's literature isn't. Most of it isn't, in fact. And much of life itself, by the way, is fraught with scares and neuroses and problems to be toughed out and solved. Maybe teaching to the test isn't all bad all the time.
            Stan was reported in the Associated Press in 2002 as saying that he liked to deal with the unchanging challenges of family life. "Kids still tell fibs and they mess up their rooms and they still throw tantrums in the supermarket," he said. But in Bear Country, "nobody gets shot. No violence. There are problems, but they're the kind of typical family problems everyone goes through."And the Berenstain Bears demonstrate that one can survive going through those problems. Not a bad thing, Farhi.
            The books will be continued by Jan and her sons, Leo and Michael.
To find out about Harv's books, click here.