Opus 175:
Opus 175 (Christmas 2005). We chortle over the season with a lingering look at the outrageous satire in a recent week of The Boondocks, report some outcomes of Black Ink Monday, and review the latest Dilbert book(s). In order, here's what's here: Happy Holidazzle— outstanding satire in The Boondocks; NOUS R US —Archie settles with the Veronicas, Muslims upset by Danish cartoonists and other ire in foreign climes; EDITOONERY— Black Ink Monday and plagiarism; Meta-Righteous Xmas; REPRINTZ —Dilbert and what it all means; BOOK MARQUEES —a book about celebrity caricature and an excellent introduction to graphic novels. And our usual reminder: when you get to the Member/Subscriber Section, don't forget to activate the "Bathroom Button" by clicking on the "print friendly version" so you can print off a copy of just this lengthy installment for reading later, at your leisure while enthroned. Without further adieu—
<![if !supportEmptyParas]> <![endif]>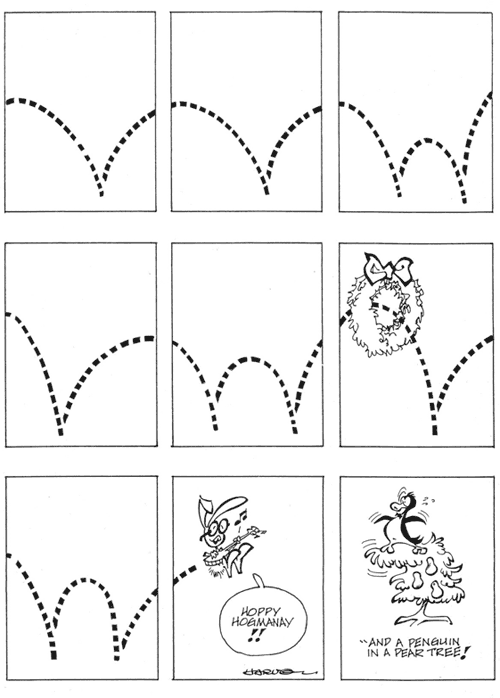 <![if !supportEmptyParas]> <![endif]>
Happy Holidazzle
I am reliably informed that if you conduct a "people" search on the 'Net, you come up with 124 Santa Clauses in the U.S.; and 50 Kris Kringles and two Frosty T. Snowmans, or Snowmen. So if anyone asks you if there really is a Santa Claus, the answer is: Yes, 124 of them.
Aaron McGruder's Boondocks, which has lately, it seems to me, lacked sufficient tooth, has been dentally rejuvenated for the season: McGruder devoted a week to a brilliant satire of our confused celebration of Christmas, in which spiritual and material rituals are blithely confounded. It began on Monday, December 12, when Jasmine, accompanied by Huey and another kid whose visage I can't recognize (Carl Jones draws pretty small, tovarich), raises her arms to the winter sky and says: "He knows when you've been sleeping! He knows when you're awake! He knows when you've been bad or good, so be good for what?!" Silence. She turns on her auditors and says, "I said, be good for what?" "Uh," says the nameless one, "—for goodness' sake?" Jasmine, transfixed: "Goodness' sake! Hallelujah! Praise Santa." Huey says, "I hate Christmas" and leaves. The other kid says, "Preach, sista! Preach!" She continues on the next day to applaud Jasmine's recitation of the Santa Claus song, which, with the words "Santa Claus is coming to town" degenerates into quite another meaning: "—to forgive us for our sins and give us eternal presents." "Okay," says the other kid, "wait a second." But Jasmine overwhelms her reservations: "See, Christmas is about how Santa died for our gifts and rose from the dead ... and moved to the North Pole. And every year, Santa comes down to forgive our sins if we've been nice ... and punish the naughty and the nonbelievers with burning coals of hellfire!" The other kid is overcome: "Praise Santa, yessir." But by the next day, she's recovered somewhat: "Jasmine," she says, "I think you're confusing Santa with Jesus. See, Santa Claus is a white man somewhere up there who watches you all the time and rewards you if you're good. And Jesus is —uh, okay, wait, let me start again..." Sorry: no can do. The damage has been done. Our so-called religion has been revealed for what it is.
Meanwhile, Matt Janz at Out of the Gene Pool is reciting a new 2005 version of "The Twelve Days of Christmas." Not "five golden rings" but "five cell phone rings"; not "four calling birds" but "four infected birds"—"This Avian Flu is some scary stuff," sez one character. And so on, into the night.
<![if !supportEmptyParas]> <![endif]>
NOUS R US
The Village Voice included three graphic novels among its 25 favorite books of the year: Black Hole by Charles Burns, 99 Ways to Tell a Story: Exercises in Style by Matt Madden, and Wimbledon Green by Seth. ... At Marvel.com, you can find classic and current stories of Spider-Man, the Hulk, X-Men, and the like: "Stories from throughout the company's long history will be translated into a form that can be viewed right off the fan-favorite website," says the Marvelous press release. These'll be scanned pages from vintage tales.
Archie Comics has settled with the Australian singing siblings, Jessica and Lisa Origliasso, who wanted to call themselves "The Veronicas," which, the Archie folks said, infringed upon their copyrighted comic book character, Veronica Lodge. In the spirit of the season, the fractious parties joined forces for a series of cross-marketing ventures. Most of the comic book publisher's animosity evaporated once its honchos, Michael Silberkleit and Richard Goldwater, met the two girls. In a statement, the Archies raved: "Not only are Jessica and Lisa highly talented singers and performers, they are very much like Riverdale's own Veronica Lodge—smart, savvy and very classy. We are delighted to forge an association with The Veronicas that will allow for exciting joint promotional activities that will enhance the continued growth of The Veronicas and further underscore the pivotal role Veronica Lodge plays in the world-renowned Archie brand." Said The Veronicas: "We chose the name because as kids growing up in Australia we always loved Veronica from Archie Comics. She was the bad brunette with attitude and we felt a real kinship with her." Go, you bad girls.
In Denmark, the country's largest newspaper provoked a world-wide protest by publishing twelve cartoons depicting the Muslim prophet Muhammad. Islam prohibits artistic representations of any of the prophets—whether Muhammad, Jesus, or Abraham—or of the human form itself because such images could lead to idolatry. Publication of the cartoons led to death threats against the cartoonists, protest strikes in faraway Kashmir, condemnation by Muslim leaders everywhere, and criticism from the United Nations High Commissioner for Human Rights, who announced that investigations for racism and "Islamophobia" would commence forthwith. The newspaper, Jyllands-Posten, got itself into all this trouble when its culture editor, Flemming Rose, heard that the author of a children's book on religion told her that his illustrator demanded anonymity because he feared retaliation for drawing a picture of Muhammad, recalling, no doubt, the 1989 death threat against writer Salman Rushdie for his portrayal of Muhammad in his novel, The Satanic Verses. According to Carsten Juste, the paper's editor, they decided to do a feature "to examine whether people would succumb to self-censorship, as we have seen in other cases when it comes to Muslim issues." Ironically, the project, which championed free speech, provoked an outcry in favor of censorship. Twelve artists contributed cartoons. Published September 30, some of them played off the violence lately committed in the name of Islam. One shows Muhammad wearing a turban shaped like a bomb with its fuse smoldering. Others, however, seem harmless in themselves (although I may be missing something, easy, I suspect, for a non-Muslim to do): one shows the middle-aged prophet standing in the desert with a walking stick in front of a donkey and a sunset; another depicts a schoolboy near a blackboard. But the images, regardless of their import, are, themselves, verboten in Islam. The ambassadors from eleven Muslim nations signed a letter of protest sent to the Danish prime minister, but he said he could do nothing: in a country that promotes freedom of the press, he pointed out, "I have no tool whatsoever to take actions against the media—and I don't want that kind of tool." The newspaper refused to apologize, citing its long-standing policies: "We must quietly point out here that the drawings illustrated an article on the self-censorship which rules large parts of the Western world. Our right to say, write, photograph and draw what we want to within the framework of the law exists and must endure— unconditionally!" Editor Juste added: "We live in a democracy. That's why we can use all the journalistic methods we want to. Satire is accepted in this country, and you can make caricatures. Religion shouldn't set any barriers on that sort of expression. This doesn't mean that we wish to insult any Muslims." But, he concluded, "if we apologize, we go against the freedom of speech that generations before us have struggled to win." Robert Spencer, writing for humaneventsonline.com December 14, noted the much larger implications of the disturbance in Denmark: "[Freedom of speech] is imperiled internationally more today than it has been in recent memory. As it grows into an international cause celebre, the cartoon controversy indicates the gulf between the Islamic world and the post-Christian West in matters of freedom of speech and expression. And it may yet turn out that as the West continues to pay homage to its idols of tolerance, multiculturalism, and pluralism, it will give up those hard-won freedoms voluntarily." It's already begun in the U.S.: laws against "hate speech" erode freedom of speech in the name of humane tolerance of difference and diversity, admired values in a multicultural society. As for the Muslim prohibition of representations of the human form or of any of the prophets—it's not clear from my sources whether it's one or the other, or both, that is prohibited—we must admit that such a practice would handily prevent our annual convulsion over whether or not nativity scenes on display in public places violate the separation of church and state tradition.
Elsewhere abroad, where editorial cartoonists are sometimes threatened with loss of life not just, as in this country, slow extinction, in Turkey, a court of appeals overturned a lower court decision that imposed a ten-billion lira fine on a cartoonist for depicting the country's prime minister as a horse. According to hurriyet.com, this decision may also impact the legal status of the case against another cartoonist we reported on here, Musa Kart, whose picture of the head-of-state as a cat entangled in a ball of yarn the prime minister also found insulting. The prime minister has a thing about animals, we're told. So when he sued Kart, the editor of the magazine that printed Kart's cat cartoon published a raft of cartoons by other cartoonistss who depicted the prime minister, variously, as a frog, a camel, a monkey, a snake, a duck, and an elephant. ... In Japan, meanwhile, a spate of right-wing comic books have sold huge amounts, ridiculing China and Korea and extolling Japan. In one comic, Introduction to China, which sold nearly 200,000 copies in four months, it is maintained that China is incapable of democracy, practices cannibalism and mass murder and has exported 600,000 AIDS-infected prostitutes throughout the world. In another of this ilk, Hate Korea, a 300-page manga that sold almost 350,000 copies in three months, Japan is described as being responsible for bringing civilization to the benighted peninsula during its colonial rule 1910-15. These books are flooding the Japanese market at exactly the time that the country's relations with China and Korea are at a low ebb. The comics aren't helping. ... The Athens News Agency reports that the president of parliament opened an exhibit of political cartoons, about which, the sponsor of the exhibit said that "a political cartoon is equal to a thousand political and social commentaries," adding that political cartoons are integral to democracy, serving as social and political checks. At the ceremony, 88-year-old cartoonist Vassilis Christodoulou received an honorary medal for his work; since 1948, he has created 140,000 cartoons for publication in major Greek newspapers and magazines.
<![if !supportEmptyParas]> <![endif]>
Quips & Quotes
Along came an e-mail that taunted "So You Think You Know Everything" and then proceeded with a list of little known factoids to prove its point; among the statements on the list:
"Stewardesses" is the longest word typed with only the left hand and "lollipop" with your right.
There are two words in the English language that have all five vowels in order: "abstemious" and "facetious."
"Typewriter" is the longest word that can be made using the letters only on one row of the keyboard.
An Ostrich's eye is bigger than its brain.
On a Canadian two dollar bill, the flag flying over the Parliament building is an American flag. [Yeah, right: Canada is in America, North America, kimo sabe; you can't fool me for long.—RCH]
There are 293 ways to make change for a dollar. [Okay: I'll take your word for it.—RCH]
There's no Betty Rubble in the Flintstones Chewables Vitamins. [Ditto.]
<![if !supportEmptyParas]> <![endif]>
<![if !supportEmptyParas]> <![endif]>
EDITOONERY (Part Three)
December 12's "Black Ink Monday" turned out to be a success on the modest scale its initiators hoped for. The Association of American Editorial Cartoonists (AAEC) mounted a protest at the laying off of two of its most distinguished members—Michael Ramirez at the Los Angeles Times and Kevin "Kal" Kallaugher at the Baltimore Sun. We posted details here last time, Opus 174, after setting the scene the time before that, Opus 173. AAEC members were asked to do a cartoon ridiculing the budget-driven newspaper business and the resultant discontinuing of editorial cartooning positions at the Tribune Company's papers (and elsewhere, too, for that matter). The cartoons were all posted on the AAEC site, www.EditorialCartoonists.com. Over 80 cartoonists did somewhat more than 100 cartoons, and the drill was noticed in various other venues, both on the Web and in print. Some people applauded and endorsed the message; others belittled the effort, as might be expected. One of the latter said: "The real question is: Why haven't the sacked cartoonists recognized that the ship they're sailing on has been sinking, and it's only a matter of time before the captain starts throwing people overboard?" A reference to the forthcoming demise of newspapers, a death, as I hope I've indicated amply in the previous installment of This Corner, that has been greatly exaggerated recently—exaggerated, in fact, to the point of falsifying. Clearly, Black Ink Monday got editoonists and the plight of the profession noticed, which was the main objective. Newspapers with staff editoonists sometimes ran editorials or columns touting the fact with pride. The Huffington Post proclaimed "The Death of Editorial Cartoonists No Laughing Matter," and PoynterOnline and CBS News' Public Eye took note, as did Editor & Publisher. And the Herb Block Foundation waived the usual $50 entry fee for its annual $10,000 Herblock Prize in sympathy with the difficulties the editooning profession is facing. The AAEC webmaster reported that the site was visited by ten times the number of usual visitors. "Over half-a-million 'views,'" they said. "We usually get about 3,000 views per hour," said J.P. Trostle, the AAEC newsletter editor; "today, we got more than 15,000 views the first hour." AAEC's president-elect Rob Rogers of the Pittsburgh Post-Gazette said he'd be surprised if either of the Tribune Company newspapers brought back their now homeless 'tooners, but he hoped, E&P reported, "that the protest might make some papers think twice about dropping a cartoonist in the future."
One of the incidental benefits was that the Tulsa World noticed all the fuss and took the opportunity to advertise for a staff editorial cartoonist! The World recently fired its editoonist, David Simpson, who was caught plagiarizing another cartoonist's cartoon (albeit an old one). The paper's posting of the job included some happy phrasing: "We believe the venerable political cartoon is, and should be, one of the most visible and popular parts of the newspaper. We have been advised to hire a cartoonist with the same careful consideration that we would use in selecting a new dog. Not that cartoonists are dogs, but both situations require mutual like and respect and long commitment. Our requirements are simple: our new cartoonist has to be a great caricaturist, be up to the minute on news developments locally and nationally and be able to produce a funny cartoon at least five times a week, or at the drop of a hat. Now, that won't be too hard, will it? If you believe you measure up and will work for something less than an arm and a leg (maybe an occasional bone), let us hear from you. We promise great working conditions, colleagues who like to laugh and enjoy their work, and a lot of ideas, most of which you can feel free to reject."
Sounds like a good place to work.
Plagiarism has lately plagued the editoonery universe. One of the most prominent and respected of the clan was caught lifting a composition—and, they say, the drawing, almost line-for-line—from an old MacNelly cartoon. The guilty party 'fessed up, but he made it seem that the MacNelly image had simply been lurking in the back of his mind. Not likely. That happens, of course; but in this case, it sounded like he had the MacNelly cartoon in front of him as he was doing his cartoon. I haven't seen the cartoon in question, but to the cartooner who did it, I'm sure it was no doubt just a "swipe." And he was probably surprised at all the outrage his copying aroused.
Nowadays, with all the fuss over reporters fudging on their work, what used to be called "swipes" in the cartooning fraternity are now viewed as plagiarism. That's what a "swipe" is, of course; but swipes didn't used to incite ethical outrage. In fact, to some degree, swipes have long been an accepted part of the cartooning craft. How-to books on cartooning even advised neophytes to keep a "swipe file," a file of pictures that they might need to refer to when drawing, say, Sherman tanks or space ships or a kitchen stove. So it seems strange that all of a sudden, cartoonists are being lambasted for "swiping."
I don't mean to condone the practice; I don't, mostly. But it's easy to see how cartoonists could have fallen into what is now a forbidden act but didn't know they were falling as they fell. From swiping for a rendering of a Sherman tank, a cartoonist might slip into swiping the whole drawing, composition and all. The Tulsa World guy appropriated not only the pictures for his cartoon but the idea itself. That, clearly, is going too far. Here's a copy of the guy's cartoon beneath the one by Bob Englehart that he pretty obviously copied wholesale.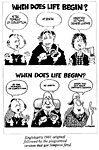 And he'd been accused of excessive swiping previously by other 'tooners; clearly, a habitual swiper is a plagiarist no paper wants around.
I've told the following story around the country whenever it seems appropriate, and it seems appropriate here and now: I got caught swiping once in a acutely embarrassing circumstance. This was back in 1964 when I was preparing a presentation book to take to syndicates, hoping to sell my comic strip, Fiddlefoot. Fiddlefoot is, by trade, a rescuer of damsels in distress, but his vocation is not without a down side: he's so bashful that the mere sight of a damsel paralyzes him. So he can't actually rescue any damsels unless he can figure out a way not to notice them as he works. One day, he hears a feminine cry of distress and is about to rush to the rescue when he remembers his affliction. His sidekick comes to his aid, however, and blindfolds him. So Fiddlefoot dashes off to do his good deed. The damsel in question is on the second or third floor of an apartment house, so Fiddlefoot has to run upstairs and then bust down the door into the apartment where she's in distress. When I came to the busting-down-the-door picture, I remembered seeing a picture exactly like the one in my mind's eye. I saw it in the only copy of Police Comics I had in my still extant collection. I pulled out the comic book and turned to the picture. It appeared in Will Eisner's Spirit story, and the picture was of the Spirit battering down a door. I lifted the composition. Plopped it right down in my strip.
Later, as I was putting the finishing touches on the presentation booklet, I added some introductory pages to introduce the cast and the concept and so on. Fiddlefoot hangs out at a roadside tavern called Worm's Inn, and I drew some pictures of the denizens of that place. In one of the pictures, I put in a distinctive background, an oval window criss-crossed by the leading between panes. This particular image I also borrowed from the Spirit story in my only copy of Police Comics.
That summer, I went to New York to start graduate school at New York University—thinking that if the comic strip didn't sell, I should start advancing my alternative career in teaching; I already had a teaching contract for the fall. While in the city, I took my Fiddlefoot presentation booklet around to syndicates. One of the syndicates was Bell. When I came back a week later to get the verdict on my submission, an elderly portly fellow came out to greet me, carrying my booklet. They thought it was okay, he said, but they weren't buying right now. And then he said, "Have you ever seen the Spirit?"
Caught! Naturally, I lied.
"Nope," I blurted, quick as I could. "The Spirit? What's that?" trying to look as wide-eyed and innocent as I could.
He kindly let me off the hook without saying any more, and I went away, somewhat chastened but not much.
Years later, doing research for one of my books, I discovered that Will Eisner had been, at the time I was peddling my comic strip to Bell, president of that syndicate.
It was probably not the battering-down-the-door panel that gave me away: it was surely the window, the likes of which can be found nowhere but in Eisner's Spirit stories. And then when I started thinking about it all again, I realized that Fiddlefoot, wearing a blindfold, was effectively "masked" just like the Spirit. That, however, was an entirely inadvertent similarity; the door and the window were deliberate copies.
When I met Eisner, finally, I told him this story and later, sent him copies of the Fiddlefoot strip. We both enjoyed a laugh. And he told me the name of the syndicate factotum who'd come out to greet me and confront me with my sin. Alas, I've forgotten it.
Ah, well. C'est la vie, as they say.
<![if !supportEmptyParas]> <![endif]>
COMIC STRIP WATCH
In one of the last of the storytelling strips, Gasoline Alley, creator Jim Scancarelli is still, the week before Christmas, tantalizing us with the storyline he launched last summer in August. That's five months so far, and syndicates, when last they distributed continuity strips, urged that the stories not last longer than 2-3 months, nine weeks usually. Gas Alley is setting a modern-day record, surely. The story is following Slim Skinner's mother, Lil, a sort of walking good-luck charm, on a trip to Las Vegas, where she cleans up, gets in bad with the mob, fakes her own death, bringing Slim out West to take possession of the body, but when he gets it, it turns out to be still breathing and, in its own coy way, still gambling: Lil goes home with Slim, whose wife leaves him when Lil announces she's staying with them permanently, and then Lil wins the lottery but can't prove she's actually alive, and— ... and so on, into the night, for five months, and counting.
In his Candorville, Darrin Bell is doing what on-duty journalism should be doing: pointing out the obvious inconsistencies and internal contradictions in the Bush League's Bushwah. In a two-panel strip, the first panel is tagged "2001" and Lemon is watching tv news, which is reporting: "In other news, Energy company executives are meeting with Dick Cheney to craft America's energy policy." In the next panel, labeled "2005," Lemon is again watching tv news, which is saying: "In other news, nobody seems to know why energy prices are so high or why energy companies are enjoying the highest profits in history." A couple days later, another two-panel strip emerges. Lemont is again watching tv news. In the first panel, labeled "November 2005," the newscast is saying, "This just in—President Bush said today it was absurd for anyone to think America tortures its war prisoners." In the next panel, also labeled "November 2005," the tv is saying, "In other news, Vice President Cheney is lobbying Congress to allow the CIA to torture war prisoners." It would seem an indictment of American journalism that we get these glaring incongruities pointed out to us in the funny papers and not on the front page. Or under "Legal Notices," where it should be saying, "Impeachment pending ..." GeeDubya, in admitting that he authorized wire-tapes without a warrant, has finally abandon his long-standing policy of the Big Lie in favor of just admitting that he broke the law.
<![if !supportEmptyParas]> <![endif]>
Civilization's Last Outpost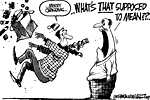 It's that time of year again—the season that dare not say its name when we are all prohibited from using any Christian terminology in reference to the holiday that isn't. Nothing about this anyule brouhaha is sensible. By which I mean, I agree with everyone, on all sides. Back near the Dawn of Time, when I first started sending out Christmas cards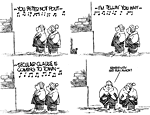 (there: I've said it) of my own manufacture, I realized that a certain number of recipients, all friends of mine, were not Christians; so I refrained from putting "Merry Christmas" on the card I made. In later years, I celebrated New Year's as much as Christmas with my greeting. And sometimes, I cited a verse of a carol. One year, I drew some carolers in Dickensian costume, and inside the card, I was going to quote the title of an old carol, "God Rest Ye Merrie, Gentlemen." Then I started thinking about the ways that phrase could offend various constituencies. In deference to what George Will called "exquisite sensitivities," I peeled off, one at a time, each offending word until all that remained was "Rest Ye Merrie."
But while I am conscious of the variety of beliefs and non-beliefs among those to whom I send my seasonal greeting, something deep inside me thinks I ought to be able to say "Merrie Christmas" to everyone, regardless of their particular persuasions. Why would they be offended? I'm not urging conversion upon them: I'm just sharing a little seasonal exuberance. I don't think the United States is a "Christian nation"; as I've said here before, the religion of America is America. That's it. Totally secular. As you can tell, I'm not a particularly devout person. And I find the current crusade by the Righteous highly obnoxious: the idea of boycotting stores and businesses that wish people "Happy Holidays" instead of "Merrie Christmas" in order to bludgeon the errant enterprises into restoring "Christ" in Christmas is a political, not a spiritual, venture, and it seems loudly out of place at this time of year, which, for many of us—regardless of religion—is a joyful time, a time of good will towards men. Not boycotts.
The Mega-Righteous have a difficult time getting their act together this year. Christmas falls on Sunday, and some of the Meta-churches, the ones with congregations of thousands, have decided not to hold services on December 25 because, I gather, requiring church attendance on that busy day would be too much of a burden on parishioner, who already have plenty to do that Sunday. So just how righteous are these Meta-folk? Many of these are the same brigands that are blackmailing businesses to put "Christ" back in Christmas. It would appear, from this evidence, that their religion is a matter of political convenience rather than spiritual duty. They want to boycott the anti-Christ but don't want to take time on Christ's alleged birthday to worship in the edifices prepared for mass enthusiasms. Smacks more than a little of hypocrisy. But as a Puritan nation, we are experts at hypocrisy. In fact, hypocrisy, particularly as practiced by our government, may well be the defining characteristic of Americans.
I dunno. The whole thing leaves me aghast, puzzled, and annoyed. I think I'll wait for Leonard Pitt to say something wise; he almost always does on whatever topic he addresses in his syndicated column. Until he does, here's hoping for merrie moments for you during the forthcoming holidaze and the ensuing year. Dunno who that'll offend.
<![if !supportEmptyParas]> <![endif]>
REPRINTZ
The 25th collection of Dilbert strips is out, entitled The Fluorescent Light Glistens Off Your Head (128 8.5x9-inch pages; paperback, $10.95). If the circulation of Scott Adams' strip itself (over 2,000 newspapers run it in 65 countries and 19 languages) doesn't proclaim its popularity, the number of collections does: Andrews McMeel, the chief publisher of comic strip reprints in the country, wouldn't have racheted up to 25 volumes unless Dilbert was selling, and it wouldn't sell if it weren't wildly popular. Clearly, as the promotional release says, the strip "has captured the hearts of corporate America's underdogs"—that is, me and thee, kimo sabe. And in this compilation, we meet the usual gang of idiots—Dilbert, the put-upon engineer; his pointy-haired uncomprehending boss, and the stereotypical office workers who cluster at the edges.
The strip famously achieved popularity via the Internet. In 1993, before hardly anyone had e-mail, Adams ran his e-mail address in the strip, and he was promptly flooded with responses, many of which he could transform into the hilariously meaningless work he depicts in the strip. His correspondents quickly convinced him that Dilbert's place was in the office cubicle, not in the fictional country of Elbonia, where he had, until then, spent some fruitless hours. Word spread, and when Calvin and Hobbes and The Far Side retired in the same year, Dilbert was waiting to slip into the newspapers that suddenly had vacancies. Before long, Dilbert was a major hit.
Adams also explored a hitherto unexamined marketing device—again, the Internet. He put Dilbert on the 'Net, flying in the face of the conventional wisdom of the day which announced that if a strip was on the Web, no one would look at it in print, and the strip would consequently die. That didn't happen. Instead, newspaper editors heard about Dilbert before the syndicate salesmen even walked in the door. And what they heard prompted them to buy the strip.
Adams admits that some of the characters in the strip are real people—Alice and Wally, for instance. And Asok. (How is that pronounced? Try it. Sounds like "ass suck" to me.) But most of the characters are based upon Adams' understanding of human nature. To gain some of that, he once took courses in hypnotism which taught him, he says, that people are not rational beings.
While he files readers' suggestions, he never uses others' jokes. He relies upon the situations and frustrations his readers tell him about. To hear him tell it, he begins working on a strip without knowing what the punchline will be. "I draw the first panel, add the dialogue, then draw the second panel, and so on. I really don't know where the strip is going until I've written the dialogue for the final panel. Often it changes while I'm working on it. I'll think I know what's going to happen, but then I'll look at the drawings and think, 'It doesn't look like they'[re saying that.' so I change the dialogue. Sometimes a strip will come out entirely different than I'd planned." Daily strips take him about two hours each to produce; the Sunday strip, five hours.
Some say Adams' drawing style perfectly suggests the sterile monotony of cubicle life; and so it does. But it isn't deployed deliberately for that reason. Adams admires the artistic talents of Bill Watterson in Calvin and Hobbes and Berke Breathed in Opus, but his notoriously simple (not to say crudely primitive) drawing style serves a strategic purpose. "Watterson and Breathed are remarkable artists," he said. "They draw their strips, and then finish them with paintbrushes. It must have taken all day. I can understand how, after you make a certain amount of money, you wouldn't want to work that hard anymore. My approach was designed to be easy. Partly, it was because I had a day job. I did the strip before work, and I had two rules: I could never leave the strip unfinished, and I could never be late for work." Bare-bones visuals helped him on both counts.
But Dilbert is not what it seems. Not according to Norman Solomon, erstwhile executive director of the Institute for Public Accuracy, who, in 1997, wrote a book entitled The Trouble with Dilbert: How Corporate Culture Gets the Last Laugh. The strip, Solomon says, while customarily perceived as striking a blow for overworked, underpaid and badly managed employees, actually does precisely the reverse: it enables "eye-rolling capitulation."
The deeper problems of corporate behavior, Solomon says, are never addressed in Dilbert. Dilbert's world, the one we all find so familiar, is infested with hordes of malicious idiots and rampant incompetents. "A recurring theme," says Solomon, "is chronic malfunction." Dilbert's usual dilemma takes the form of meaningless distractions that prevent him from getting his work done. If Dilbert were granted his fondest wish, he would be allowed to do his job in the most efficient way possible—exactly the objective of his corporate employer.
Solomon quotes Adams from The Dilbert Future: "The beauty of our current system of capitalism is that it legally discriminates against the two groups who are least likely to complain: stupid people, aka InDUHviduals, because they don't realize they're getting screwed; and lazy people because protesting is like work. Unlike other forms of discrimination that are rightly outlawed, almost everyone agrees it's fair to discriminate against lazy and stupid people. It's a very stable system."
But instead of suggesting ways to improve matters, the strip teaches us to accept the dire status quo. Adams shows us that laughter is the best medicine, perhaps the only cure, and in taking it, we move from anger and disillusionment to fatalism. We laugh at the idiocies on display. We agree that they are, undeniably, idiocies. And we are comforted in the knowledge that someone else knows it. Perhaps that someone else will do something about it. But not us, probably.
Solomon is absolutely right. Dilbert offers no solutions to the problems it so deftly ridicules. But all satire acts in precisely this way. Doonesbury, for all its hilariously pointed criticism, does not give us a plan of attack.
Nor should it. Nor should Dilbert. The social (and political) function of satire is to ridicule the status quo and to undermine the authority of those in power by showing how silly they are. After that, we are not likely to take them seriously any more. We are no longer in awe of them. And so satire prepares the way for revolution by adjusting our attitude, not by prescribing remedies.
Just as I came to this conclusion, Gustave Flaubert was quoted on the radio: "To be stupid, selfish, and have good health are three requirements for happiness, though if stupidity is lacking, all is lost."
I'm not sure Solomon is altogether serious despite his argument's essential logic. He may have been inspired to construct the whole 100-page booklet by his discovery that Scott Adams advocates down-sizing. This corporate practice seems so inhumane to Solomon that he was doubtless prompted to examine the rest of whatever argument Dilbert represents—and found, to his astonishment, that the strip is humorous satire not a political agenda.
Some other recent Andrews McMeel reprint tomes (all, unless otherwise noted, 128 8.5x9-inch pages in black-and-white, $10.95) include: Rose Is Rose, Running on Alter Ego, which reprints creator Pat Brady's last months on the strip; and Surfer Safari, the Tenth Sherman's Lagoon Collection by Jim Toomey. And there are at least two new Zits books, Pimp My Lunch and Thrashed, the ninth and tenth collections, each one an exemplar of the art of the comic strip. Creators Jerry Scott and Jim Borgman conspire regularly to exploit the capacity of the medium, to show how its resources can be deployed in new and interesting ways to provoke laughter. Finally, here's Mutts Sunday Evenings (144 8.5x11-inch pages in glorious color, $12.95), wherein creator Patrick McDonnell's penchant for double-barrel entertainment prevails: the decorative first (or "display") panel delightfully mimicking a well-known painting or iconic popular culture artifact thereby setting the thematic stage for that day's antics with the dog Earl and his cat pal, Mooch.
<![if !supportEmptyParas]> <![endif]>
BOOK MARQUEES
Finally, a package too large to say much about in these cramped quarters (who'm I kidding?) but too richly packed not to make mention of. This is Celebrity Caricature in America by Wendy Wick Reaves. It's the book version of an exhibition at the National Portrait Gallery in the spring and summer of 1997, and the book is as large as a gallery: 10x14 inches, over 300 pages. Pictures in black-and-white and in color and an impressive-looking text by Reaves.
The book traces the history of celebrity caricature in this country, beginning as far back as Nast's pictures of Boss Tweed, but the emphasis is on show business personalities, not politicians. If you—like me—thought theatrical caricature began with Al Frueh and ended with Al Hirschfeld with only Miguel Covarrubias in between, then prepare to be bowled over by the work of such luminaries as Ralph Barton, Marius de Zayas, Carlo de Fornaro, William Auerbach-Levy, Paolo Garretto, Joe Grant, and Will Cotton. Hirschfeld is present but in a distinct minority. Frueh and de Zayas and Barton and de Fornaro and Covarrubias each get chapters of their own; Hirschfeld is lumped in with a handful of others (including caricatures done for animated cartoons by Disney and Warner Brothers—such as Edward G. Robinson in "Hollywood Steps Out" and Katherine Hepburn in "Mother Goose Goes to Hollywood").
No, I haven't read this one yet. It's a voluminous tome, but a delicious appearing one, and I'm eager to dive into it. It's published by Yale University Press in conjunction with the Smithsonian and the National Portrait Gallery at a stupendous $45 or so, but you can get it at Amazon on the Web for closer to $30. And it's a great buy at either price.
And here's undoubtedly the best book about graphic novels to sashay this way in a long while: Graphic Novels: Everything You Need to Know by Paul Gravett (192 9x11-inch pages in glorious color; paperback, $24.95). And it lives up to its ambitious title. If you have trouble keeping up on this rapidly expanding literary genre—like I do, even as a full-time critic and all around nuisance—this book will take you a long way to sweet sanity and lucid comprehension. It's part history and part appreciation and all orientation and thoughtful guidance. Its twelve chapters divide the graphic novel universe into thematic clusters—childhood, autobiography, fantasy, superheroicism, crime, comedy, and the like. Each chapter opens with a 2-4 page essay that mixes history and explication. After that comes a two-page introduction to a landmark graphic novel. The superhero chapter uses Frank Miller's Dark Knight Returns. Gravett prints 4-5 pages of the book, with marginal notes that point out the principal plot developments while dropping a clue or two about how to interpret and integrate into the story the visual elements on display. Readers learn about The Dark Knight Returns—what it's about and how Miller approaches the subject—and about how the pictures and the panels in a graphic novel function to aid and abet the storytelling. Terrific. Who could ask for more? Ah, but there is more. The model graphic novel is then followed by half-page descriptions (including a sample page) of other graphic novels partaking of the same trend—in this case, Miller's Daredevil, then Weapon X, Powers, and It's A Bird; in short, a progression that goes from a familiar superhero treatment to less and less familiar ones. The sample pages are a canny touch: they show the artwork, and with graphic novels, the appearance of the drawings is an important factor in convincing a person to read the book. The superheroicism chapter also includes Alan Moore's Watchmen, a 2-page short examination of five pages (like the Dark Knight introduction), then on successive pages, four more short novel descriptions—Astro City, Marshal Law, Promethea, and Planetary. In another chapter, Gravett begins with Jaime Hernandez's Locas, then goes to Food Boy, Paul Has A Summer Job, My New York Diary, and Maison Ikkoku. And the book ventures beyond these shores, too. After The Airtight Garage, Gravett rambles into Luther Arkwright, Finder, Nausicaa of the Valley of Wind, and The Invisible Frontier. The Sandman is followed by Bone, Rose, Hellboy, and Kingdom of the Wicked.
In this manner, Gravett manages to nod briefly in the direction of most of the major graphic novels of the last few years—placing them in a generic context and dropping hints for understanding the genre based upon pictures and manipulation of visual elements as well as story and plot. I read his two-page introduction to Jimmy Corrigan, which I've not read entirely because the fragments I've dipped into seem so tedious, and almost at once, I could see, thanks to Gravett's notations, how Chris Ware manipulates the medium and to what effect, and my appreciation for Ware's work improved. Ditto Jim Woodring's Frank stories, which have alwlays baffled me despite my admiration for Woodring's rendering style. Gravett has constructed his book to function deliberately as a guide to appreciating graphic novels. The opening pages briefly summarize the concepts of thirty important graphic novels—including Dark Knight, Jimmy Corrigan, Frank, The Watchmen. At the end of every one-paragraph description, Gravett refers the reader who wants to know more to the chapter in which the 2-page exegesis takes place, followed by those introductions to other novels in the same vein. Clustering the novels by theme is a useful organizing device—and a very effective orientation to the genre as a whole (by examining its parts, so to speak). And there's an Index, so if you are looking for insights about a specific title, you can find it if Gravett covers it herein. Gravett is a sensitive and knowledgeable reader, and he can write succinct and clear prose, too. He actually reveals the aesthetic workings of his subject instead of merely blathering mystically on about it, the practice of too many would-be critics who substitute vocabulary for perception. My only complaint about the book is that the sample pages from graphic novels are necessarily so small that you need special equipment to read the speech balloons. But Gravett is so good at this, that I unholstered my magnifying glass without a single shrug nor snarl. There should be more books like this.
To find out about Harv's books, click here.