Opus 170:
Opus 170 (October 12, 2005). As the butcher said when he backed into the meat slicer, we've got a little behind in our work. Yes, we've been out. Out-of-touch, actually. September was an entirely lost month, alas. We were struck by lightning-that is, our digital electronic appliance was fried by an electrical surge-and we took the opportunity afforded by the downtime of repair and restoration to enlist in the DSL legions. That took time, too. Another week, as it turned out. And then our webmaster partner moved to Japan for a time, and getting hooked up on the far side of the International Dateline took longer than either of us supposed it would. So Opus 169 was late; ditto the present offering. But we'll make it up to you by perpetrating our usual ration of news and features as if nothing happened at all. And maybe, for the next few weeks, more often than usual. First, we report, sadly, that the legendary Jud Hurd, publisher of Cartoonist PROfiles, died on September 14 at the age of 92 of complications following a stroke he suffered last May. We've reprised below portions of Opus 131 in our affectionate farewell to this pioneer in cartooning whose contributions to the well-being as well as the history of the medium are legion. As a regular contributor to PROfiles, I call him my editor, and I am privileged to believe he was also my friend-as I am sure I was his. This installment also includes a long discussion of Bill Watterson's artistry on Calvin and Hobbes (and a brief glimpse of Watterson's life after the comic strip) and reviews of two graphic novels which current offerings in the movie palaces evoke if they do not, exactly, represent, plus reviews of some comic books and the usual Bushwhacking.
            In order, here's what happens next: An Appreciation of Jud Hurd; NOUS R US -New York Times' Funny Pages debuts and lays an egg, Lindelof on the Hulk, Foolbert Sturgeon returns, graphic novels in English classes, Outland reruns, down under honors, and an increase in syndicate offerings, albeit not in comics; EDITOONERY -Some monkey business from editoonist Pat Bagley, and Daryl Cagle's racist cartoon and the exploitation of a dying breed; Funnybook Fan Fare -reviews of some first issues, Justice, Hero@Large, New Warriors, and Jim Lee and Frank Miller's Batman and Robin, plus AC's Greatest Comics No. 12; BOOK MARQUEES -Newly discovered copies of my Murphy Anderson book, a fresh crop of reprints from Andrews McMeel, and the fourth Compete Peanuts; Civilization's Last Outpost -porn on cellphones, the oldest U.S. corporate mascots, and human cockfighting; COMIC STRIP WATCH -What's happening in 9 Chickweed Lane and in Over the Hedge, where a little political posturing transpires; GRAFIQUE NOVILZ -A History of Violence and Capote in Kansas are reviewed; WATTERSON REDUX -the temporary return of Calvin and Hobbes and the colossal reprint tome, all three slip-cased volumes of it; and the usual manifestations of anti-Bush League angst. And when you get to the Member/Subscriber Section, don't forget to activate the "Bathroom Button" by clicking on the "print friendly version" so you can print off a copy of just this lengthy installment for reading later, at your leisure while enthroned.
            And don't forget: we've revised our list of Bargain Books for sale, adding to the left-overs from April's sale some recent acquisitions. To get to the list, click here. Finally (one last plug), consider, as we approach the 100th anniversary of the debut of Winsor McCay's Little Nemo, celebrating with a tiny tome of mine, The Genius of Winsor McCay, which is described here. Without further adieu-
The Last Cartoonist Profile

The final issue of Cartoonist PROfiles, the profession's longest continuously published periodical, came off the press in mid-September, a little late: the June 2005 issue, No. 146, ends the quarterly's 36-year run. At almost the moment of its publication, Jud Hurd, the magazine's founder, publisher, editor and, for most of those three-and-a-half decades, its chief (if not its only) writer, ended his run of nearly 93 years. To the poetically inclined among us, it was as if his life had to end when his life's work ended.
            Jud suffered a stroke in early May. He never fully recovered. Initially, he lost the use of his right arm and leg; but as he regained speech, his wife Claudia told me, it was clear that his mind was unimpaired. But he couldn't take food by mouth and was fed intravenously.
            The last four months had been very hard for him, Claudia said. Moved to a rehabilitation facility, he regained some of the use of his right hand. But he kept getting pneumonia and was sent back to the hospital on four occasions. Finally, on Wednesday, September 14, Jud Hurd, my friend and editor, died.
            Claudia told me that she went to see him on Tuesday when she got a copy of the last issue of PROfiles; she took it with her to show him. He was lying in bed, she said, with his eyes closed. She asked him to squeeze her hand so she'd know he heard her, and he did. And she put the magazine into his hand. He'd seen the proofs before, but she hoped he'd see the final issue. She doesn't know if he did. When she left, his eyes were still closed, the last issue of the magazine clutched in his hand.
            Jud would have been ninety-three on November 12. "I think he was ready," she said. "He did what he wanted to do," she added, summarizing his life in her eyes.
            What he did-with great affection, high regard, and just a little awe-was all about cartooning.
            Born in Cleveland, Jud discovered, at about the age of 12 or 13, that Charles N. Landon ran his celebrated correspondence course in cartooning right there in town, so Jud went downtown, met Landon, and enrolled in the course. He was hooked. He subsequently drew cartoons for the campus publications at every educational institution he enrolled in, junior high through college, and sold his first cartoon when he was about twenty-two.
            He sold it to the Calgary Eye-Opener, a humor magazine which, at the time, was published in Minneapolis, Minnesota. It promulgated an assortment of jokes and cartoons of the sort that, today, are so mildly risque as to be nearly inoffensive if not completely boring. For 1934, however, the Eye-Opener was a pretty spicy dish.
            Jud's cartoon depicted a honeymoon couple in a fancy hotel on January 1, the newly minted husband saying, "Let's start the New Year off with a bang."
            Jud was informed of the success of his assault on the bastions of publication by a letter from the associate editor, who wrote: "Payment will be three bucks on publication. Check will reach you in time to buy a case of Christmas lager or whatever it is that $3 will buy in Cleveland."
            The letter was signed Carl Barks, who would, somewhat later, make Donald Duck famous and invent for Disney's webfooted waterfowl a miserly mutton-chopped relative named Uncle Scrooge.
            Jud attended Adelbert College of Western Reserve University (now Case-Western Reserve University), where he majored in economics and became art editor of the campus humor magazine, the Red Cat. In that capacity, he wrote various cartooning dignitaries, begging from them drawings of their characters to publish in the magazine. It was a common ploy among campus humor magazine editors. By letter, Jud met such steller 'tooners as E.C. Segar, Frederick Burr Opper, Eugene "Zim" Zimmerman, and Rube Goldberg.
            After graduation, Jud spent a year at the Chicago Art Institute and then lit out for California. In 1936, he was in Hollywood working as an inbetweener at the Mintz Studio but aspiring, all the while, to a career as a syndicated newspaper cartoonist.
            By 1937, he had achieved this goal, producing a thrice-weekly comic strip called Just Hurd in Hollywood (his actual given name being "Justin") with "an all-star cast": each strip consisted of a photograph of a movie star in the first panel followed by several other panels presenting Jud's cartoon rendition of an anecdote taken from the star's life.
            Jud obtained the anecdotes by interviewing the stars, meeting Joan Crawford, Joe E. Brown, Betty Grable, Bob Hope, Bing Crosby, Gary Cooper, Lana Turner, and so on. While in Los Angeles, Jud also met cartooning greats George McManus, George Herriman, and Walt Disney.
            The die was cast: Jud honed his interviewing skills and followed his natural inclination to seek out other cartoonists to hobnob with. But it would be a few more years before he fermented those ingredients into a heady career publishing a magazine of interviews with cartoonists.
            Just Hurd in Hollywood was cancelled soon after it was launched: newspapers were being flooded with studio publicity material about movie stars, and a single syndicated gossip column contained many more anecdotes about more stars in the same space that Jud's six-column cartoon occupied.
            Jud went back to Cleveland and joined the art department at Newspaper Enterprise Association (NEA), a feature syndicate. In those days, many of the NEA cartoonists still lived in Cleveland and worked in the NEA offices, so Jud met such luminaries as editorial cartooning great Herblock and Clyde Lewis (Hold Everything), George Scarbo (The Comic Zoo) and Harry Schlensker (later Roy Crane's assistant on Buz Sawyer) and Bela Zaboly (then doing Our Boarding House with Major Hoople following Gene Ahern's departure for King Features and ownership of his feature).
            Jud went to New York to seek more cartooning fortune in 1940, drew a baseball cartoon-type story called "Pie Cobb" (a take-off on Ty Cobb) for Dell comic books, then returned to Cleveland, where he learned typing (an invaluable skill for a magazine editor acting as his own reporting and production staff) at the Spencerian Business College and met Claudia, who would eventually become his wife and, later, partner and business manager of the Cartoonist PROfiles Corporation.
            While in New York, he met Peter Arno, Bud Fisher (who, in a somewhat alcoholic condition, offered Jud a job-which never actually materialized), and H.T. Webster. Drafted into the Army in 1942 for the duration of World War II, Jud, like many artists and cartoonists, wound up in the Signal Corps, Intelligence Section, where he did a weekly cartoon about a dim-witted soldier named Crypto Chris, later reincarnated as Stew Pid, a character Jud created for American Steel and Wire Company while operating his Industrial Cartoon Studio in Cleveland after the war.
            Like Will Eisner in the postwar years, Jud produced cartoons and comic strips for commercial clients who wanted comics to emphasize safety messages, to enliven in-house newsletters and magazines, and to instruct employees or sell products.
            In the 1950s, Jud tried, in vain, to sell a couple of comic strips to syndicates; then in 1955, Children's Playmate magazine hired him to produce a new "comic book section," for which Jud created Inspector Hector, Socko & Jocko, and Sandy & Dandy features.
            Finally, in 1959, Jud achieved national distribution by syndicating himself with a business-oriented panel cartoon, Ticker Toons, in which, employing (at last) his education in economics, he posed and answered questions about the stock market. It debuted in November, and a year later, it was picked up by the Chicago Sun-Times/Daily News Syndicate.
            By then, Jud was already at work devising another informational cartoon panel, Health Capsules, partnering with a physician, Michael Petti. It was distributed by United Feature Syndicate, which, later, also took on Ticker Toons. Ticker Toons lasted 10-12 years; launched in February 1961, Health Capsules is still going, although Jud gave it up a couple years ago, after over 40 years.
            In 1952, Jud had joined the National Cartoonists Society (just six years after its founding in New York by Rube Goldberg and a half-dozen other cartoonists who had been convening occasionally during WWII to visit area hospitals to entertain convalescing wounded soldiers), and he occasionally made trips to New York on business, timing the trip to coincide with NCS's monthly meetings.
            In 1964, shortly after he moved to Westport, Connecticut, Bob Dunn (They'll Do It Every Time), then president of NCS, asked Jud if he would take over the editing of the Society newsletter-"guessing," as Jud usually puts it, "that I could spell."
            The assignment appealed to all of Jud's instincts and employed many of the skills he'd honed over the years, and he consequently poured more of himself into each successive issue.
            By 1968, it was consuming too much of his time as a volunteer, gratis employment. Jud offered to continue if NCS could find a way to pay him something. Happily, the NCS Board of Governors proved to be fiscally conservative (which, in those days, meant they didn't want to spend any money, no longer a conservative posture), and Jud then had the idea of continuing in much the same vein with a publication of his own.
            Cartoonist PROfiles was born with the winter issue in March of 1969. It and Jud's two syndicated cartoons absorbed his energies ever since. Every day, he went to work in the cozy building in back of his home, a studio about 30 yards from his back door.
            On December 13, 2003, at its anyule Christmas party held, on this occasion, at the New York clubhouse of the Society of Illustrators, NCS presented Jud with the award it gives to those who have performed outstanding service to the Society and/or have made a significant contribution to the profession, the Silver T-Square.
            The first

Silver T-Square was awarded to Britain's legendary political cartoonist, David Low, in 1948. Others have been conferred on such stellar performers as Cliff Sterrett, Herblock, James Thurber, Milton Caniff, Russell Patterson, Bill Mauldin, Arnold Roth -well, you get the idea: it is a distinguished company. And the initiation of Jud Hurd into it is long over-due. Few have done as much for cartooning.
            Jud had decided last spring to end PROfiles with the June 2005 issue. He had been approaching every issue of PROfiles for the last couple years as if it might be his final issue. Enterprising writers kept sending him articles, and he kept the magazine going in order to publish them. But the June issue-he was pretty sure, he told me-would wind it up. He'd finished preparing all the camera-ready pages for the last issue before his stroke, Claudia told me. So she had very little to do to prepare the material for the printer in Birmingham, Alabama, where it has been printed for decades.
            At 156 pages, the June issue is the largest PROfiles ever published. Another record. Going out with a memorably big bang-square spine and slick-paper cover. This issue includes a couple pages from syndicates, friends and colleagues who commemorate Jud's achievement.
And there's a "love letter to the editor" from Claudia, who tells subscribers this is the last issue and summarizes her husband's career. She was moved, she writes, by the tributes inspired by his decision to retire the magazine. "One word recurs in all of them," she says. "Gentleman. That has always been true, my dear. You are a gentle man. You are kind and loving and have included me into your world of talented, fascinating men and women. When cartoonists get together, I have often thought how dark would be the world without them. You have my admiration and my love."
            There was a brief grave-side service at the interment on Monday, September 19. Nothing special, Claudia said. Later, after everyone feels better, she said, there might be a memorial service of some sort.
            Every issue of Cartoonist PROfiles reflected Jud's intensity as a reporter, his passionate curiosity about cartooning, his compulsive desire to understand everything about it and about those who made their living at it. He was perfect for the job, and it created him just as he created it. In the process, Jud emerged as a genuine pioneer in cartooning, a legend in his own right whose contributions to the well-being as well as the history of the medium are legion and lasting.
            For all of its run, PROfiles served as inspiration and edification for hundreds of young aspiring cartoonists who yearn to make their livings at the craft. By this time, a couple generations of them have learned much about the profession by reading PROfiles. The interviews with cartoonists that gave the magazine its heft also recorded the history of the medium, year by year, and that record is now an integral (if, alas, sometimes fugitive) part of the history of cartooning in America. But the magazine was also a visit with colleagues once every three months, a sort of shop talk marathon. In a profession whose practitioners labor, mostly, in solitude, the talk has been invigorating as well as gratifying. Good for the soul of cartooning. So, Jud-Big THANQUES for the conversation. I've treasured the hours. And I'll miss them and you.
            For a little more about Jud, go to Opus 131. Or you can buy the career-spanning book published last year by Andrews McMeel, Cartoon Success Secrets: A Tribute to 35 Years of Cartoonist PROfiles, which includes, in addition to almost three dozen classic articles from the magazine, a brief summary of Jud's other careers.
NOUS R US
As I said in an earlier apparition of this department, we not encyclopedic here: we don't publish all the news that fits; we tend, rather, to disseminate only the news that gives us fits. And during the last three weeks of my Internet hiatus, I became more conscious of the quantity of comics news we don't report. Letting my sources languish for more than the usual fortnight resulted in a long list of articles I hadn't yet digested, a longer list, in fact, than I plan to peruse at this late date. So the flow of news at the Rancid Riverside tends to be intermittent rather than continuous, in utter defiance of the nature of rivers-and of news. But if we aren't comprehensive, we're at least selective. Very selective. Only the very best news and the juiciest gossip and the longest lost lore.
            If we were to be encyclopedic, we'd be rivaling the staid old New York Times, the nation's acclaimed "newspaper of record." We have no such ambition. We wish, merely, to entertain and inform and enhance appreciation of our favorite medium, the comics. We don't wish to be the New York Times. Today, in fact, we'd rather not be the Times. It's fallen in our estimation recently. The Funny Pages, the Times' artfully mistitled addition to its Sunday magazine, is a big fat dud. No comic strips to speak of except Chris Ware's single page "comic," which, in the inaugural issue on September 18, consisted of a lone full-page drawing of a building with speech balloons and captions. Hardly a comic "strip." We should have known. After all, the expression "The Funny Pages" does not, appearances to the contrary notwithstanding, mean "the funny papers" or "the funnies." Except in some newspapers in some parts of the country. Not at the Times, though, where the term only hints, slyly, at "the funnies." But a hint is all we get.
            The September 18 issue's introductory editorial on the subject invokes the history of newspaper comic strips by conjuring up memories of William Randolph Hearst's Sunday supplement, launched in the fall of 1896 and dubbed The American Weekly in the NYT Magazine. Hearst's supplement contained "risque pictures of half-dressed showgirls and lurid tales of murder and the occult," according to this Times writer (unnamed, presumably the editor, Gerald Marzorati). But in the 1920s and 1930s, he goes blithely on, "the prose elements of Sunday supplements were overtaken by color comics like Krazy Kat and Gasoline Alley." Marzorati is obviously alluding to the newspaper comic strip as well as the pictorial and fiction departments of the Sunday supplements. But this is a history of "the funnies" that I've not heard before. In the first place, Marzorati has ambiguously sandwiched into one publication, "the Sunday supplement," all such weekend phenomena. Hearst's Sunday parade in the fall of 1896, for example, included three full-color supplements: a 16-page Sunday American Magazine, an 8-page Women's Home Journal, and the American Humorist, which offered comics and humorous paragraphs and verses. I don't know when the American Weekly came on the scene, but it wasn't in the fall of 1896. And the comics had emerged in sections exclusively their own long before the 1920s and 1930s. Marzorati is pretty clearly evoking the American Humorist when he suggests that comic strips eventually displaced the "prose elements," but he's also trying very hard to subsume comics under a broader, more respectable heading-"Sunday supplement"-in a subversive attempt to slip over on an unsuspecting public the Times Magazine's new "department," which, with the paper's traditional aversion to comic strips, makes only the tiniest of nods in the direction of recognizing comics. The "Sunday supplements" of yore included humorous prose, we are told, as well as pictures of undressed showgirls. Well, harrumps Marzorati, "our Funny Pages will go easy on the showgirls."
            Ah, yes, and it also goes easy on the comic strips: in these austere regions, comic strips will go by the name "graphic novel" in order to avoid offending any of the august Times readership to whom "comic strips" are anathema (or, perhaps, pornographic, meaning "comical disrobing"). Invoking his faux history, Marzorati goes on to say that their new department will continue the Sunday supplement tradition by publishing "three entertainments that reflect the tastes of a new century"-namely, "genre fiction" and "the humorous first-person essay" and (oh, yes, by the way) the "graphic novel." It's all a little too coy for me, kimo sabe. By naming the new section "The Funny Pages" (which name, by the way, does not suggest "genre fiction" at all), the Times satraps are clearly trying to hitch their wagon to the popular "funnies" even though they then labor mightily and bring forth something that bears almost no resemblance to "the funnies" as commonly understood. Cute. But if the Times were not, here, committing a misrepresentation of the classic Madison Avenue sort and sullying the paper's reputation in consequence, we could rejoice that the Old Gray Lady has at last recognized the importance to newspapers of the comics: even if the Times takes great pains to avoid the comics, the despised offspring of American newspapers are conjured up here in an obvious ploy to attract readers. (In committing the folly of its phony history, the Times, admittedly, hadn't my resources at hand when tracing the history of the Sunday supplement: Marzorati says he consulted a 1921 reference book; he should have picked up David Nasaw's The Chief, a biography of Hearst-or any good history of American newspapering. Geez-a 1921 reference book?) Finally, although touted as a "ten-page" section, the section's actual number of pages is somewhat less due to four pages of advertising. Ah, the Times-they aint' wot they uster be, atall atall.
            Damon Lindelof, celebrated for co-creating tv's "Lost," is now working on a six-issue comic book mini-series for Marvel, "Ultimate Wolverine vs. Hulk," which starts in December. Said Lindelof in a Marvel press release: "I actually owned Hulk No. 181 when I was a kid. Then my mom threw it away. I can't believe how lucky I am to have the opportunity to re-introduce these two iconic characters to each other in the no-holds-barred world of the Ultimate Universe. I am truly honored to get a chance to fulfill my life-long dream of writing for Marvel."... Comix pioneer Frank Stack ("Foobert Sturgeon" of the underground, most notably The Adventures of Jesus) has launched a website, www.frankstackart.com, a gallery of his exquisite paintings and prints, a feast for the eye and heart. Elsewhere, FS's Jesus is poised for a return next fall, from Fantagraphics; keep an eye out. ... The September issue of the Council Chronicle, the newspaper of the National Council of Teachers of English, contains two articles advocating teaching the graphic novel in the classroom, one of them by Your Rancid Raver His Ownself, entitled "In Graphic Novels, the Pictures Are the Story." ... Berke Breathed's Sunday-only Outland is now being re-run, one a day, at MyComics.com. ... The down-under equivalent of our National Cartoonists Society, the Australian Cartoonists Association, will be holding its annual conclave, the 21st, the weekend of November 5. In addition to presenting Stanley Awards to 'tooners in various categories of endeavor (among them, "cartoonist of the year"), ACA will host the presentation of the Lindsay Cartoon Awards by the Norman Lindsay Gallery. The Stanley is named for Stan Cross, who created the country's longest-running comic strip, The Potts (first entitled You and Me), a beloved and prodigious cartooner who died in 1977 at the age of 89. The Lindsay is named after the celebrated author and illustrator of the epic children's tale about food, The Magic Pudding, who also served as the main cartoonist of the Bulletin for over 50 years.
            David Astor, who reports on syndicate news at Editor & Publisher, tells us that Lisa Klem Wilson, senior vice president and general manager of United Media, believes that comics continue to have more potential than columns to become breakout hits. Says she: "In the old days, people like Jack Anderson, Erma Bombeck and Ann Landers had hundreds and hundreds of newspapers." These days, a client list of that length is harder for a columnist to achieve. But syndicates have, nonetheless, increased the number of features they offer: tallying those of the five largest syndicates, Astor says since 2000 the number of features has grown from 624 to 746. Creators Syndicate President Rick Newcombe thinks part of the reason for the increase is that syndicates are selling more these days to foreign and online outlets. If syndicated features are good enough, he explained, they'll find all sorts of markets, not just America's general interest daily newspapers. The top five syndicates offer a total of 207 comic strips according to the latest E&P Syndicate Directory. I once tallied 200-240 comics features, so the present number is about "normal," I'd say-that is, about the same as it's been for years. Syndicates receive 3,000-5,000 submissions of comic strip candidates every year; most syndicates decide to launch only one or two. Someone recently opined that the only "breakout" hit comic strips recently are Boondocks, Get Fuzzy, and Pearls before Swine. At least two of them are drawn; Pearls, however, is a diagram.
            Last month, Birmingham, Alabama, lost one of its two newspapers, the five-afternoons-a-week Post-Herald, which, until now, had a joint operating agreement with the Birmingham News. And so the nation is poorer by one more of the few multiple-newspaper towns left. The more newspapers in a town, the more competitive the news environment, and the more competitive the news environment, the better served are the city's citizens. So our sadness is tempered by a real sense of patriotic discouragement as the journalistic horizon contracts yet again. Moreover, every loss of a competitive newspaper situation is another nail hovering over the coffin of comic strips, which existed, originally, to attract readers to one newspaper over its rival in town. With no rivals, whither newspaper comic strips?
EDITOONERY
Here comes Clueless George Goes to War, a tidy CuriousGeorge-sized tome (326x8-inch pages in paperback, $7.95) in which the Salt Lake City Tribune's political cartoonist, Pat Bagley, takes a leaf from the children's book series by H.A. and Margret Rey and gives us "the war-monkey president" whose penchant for mischief, like that of the original Curious George, just causes trouble for us all. Bagley has deftly evoked the mood and manner of the Rey classic to demonstrate how misguided the Bush League has been since 9/11. GeeDubya himself provides the inspirational ammunition: he is as childish in his eagerness to dress up (as a jet pilot for "Mission Accomplished") as Curious George, and in his facial physiognomy, he bears an uncanny resemblance to a monkey. Bagley takes full advantage of such "clues" to create a scathing satire with Cheney in the roll of the Man (in the Yellow Hat), who, at the book's end, puts George to bed and tells him not to worry. A gleefully fiendish read, all the more remarkable for its origins in Utah, Orin Hatch's home state, which gave George W. ("WiltingPolls") Bush his biggest victory margin in the 2004 Election. Bagley, who has been at the Tribune since 1979, is one of the first editoonists I visited and interviewed for Jud Hurd's Cartoonist PROfiles. That was in 1991, and Bagley is still there, wielding a potent pen in the name of truth and justice. He wasn't syndicated back then and has apparently resisted the temptation to join the nationally distributed throngs until recently, when he showed up at Daryl Cagle's online Professional Cartoonists Index, much to my delight. Another new book from Bagley is 101 Ways to Survive Four More Years of George W. Bush. Both books are available from White Horse Books, 1347 S. Glenmare Street, Salt Lake City, UT 84105; 801-556-4615.
            Cagle's website, http://cagle.msnbc.com, displays a vast array of the political cartoons, and Cagle up-dates it daily. Cagle also draws editoons himself, and in the wake of Katrina, he drew one of a bunch of looters deliriously scampering through ankle-deep muddy water with armloads of appliances and clothing. The cartoon was captioned: "Natural Disaster: The Second Wave." And almost as soon as it was out there in the digital ether, the criticism blew into Cagle's blog with a vengeance. James Jordon captured their gist: "Why are the people in the looting cartoon all white? I saw not one person who is white looting in the news videos. In fact, they were all Black. Are you afraid to portray the real criminals for what they are because of race?"Cagle is a master of restraint: he almost never comments on matters in which he is at issue himself, and he didn't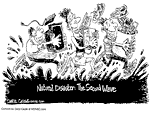 say much here. He just said he thought the cartoon was a "news" cartoon about looting, a statement of fact more than opinion. But he ran a lot of anti-Cagle letters. What he could have said, if he were racist (which he isn't), was that two of the looters in his cartoon were Black. Any racist can see it plainly: two of them have kinky hair.
            Cagle launched his Professional Cartoonists Index website about ten years ago, coaxing fellow editoonists to let him post their work daily online. The ensuing traffic from a web-browsing public won him a place in Slate; and when Microsoft sold Slate a year ago, Cagle shifted to MSNBC, where he now holds forth. In talking recently to Janine Kahn of ojr.org, Cagle claims that he "raises the bar" for political cartoonists, "challenging the quality of their work" by means of the "Yahtzee." Said Cagle: "When a bunch of cartoonists all draw [the same visual metaphor] about the same thing at the same time, I call it a Yahtzee and put all their cartoons up together. And that embarrasses them and makes them think they should not draw the first thing that comes to mind. That's done a little bit of good. The cartoonists live in fear of Yahtzees now." Allegedly, a nation of quaking cartoonists is thereby induced to reflect more and turn out better, more creative cartoons.
            Cagle's site operates somewhat like a marketplace: editors and publishers can browse there and pick cartoons they'd like to use themselves, paying Cagle a usage fee. The cartoonists may realize a modest share. The amount of their portion is not widely known, it being entirely their business and Cagle's, not ours; and Daryl, being an appropriately discrete businessman, quite rightly regards such information as confidential, leaving us to speculate, based upon rumor and idle gossip, rather than to report. In any event, the individual cartoonist's financial reward apparently varies from one tooner to another. At one time, nearer the site's launch date, Cagle reportedly recruited his list of cartoonists by telling them the exposure would be good for them and would enhance their income. At this time, he presumably shared with them whatever revenue the exposure generated. Eventually, as his site increased its traffic, he paid cartoonists a flat fee monthly, distributing their cartoons to a list of 800 prospective paying users. Cagle kept whatever revenue was generated through sales. At the time, this deal, for participating cartoonists, was at least as good and, for some, maybe better than the traditional syndicate arrangement. As time unraveled, Cagle negotiated other deals, some of them with traditional syndicates, some of whom may now supply him with their tooner lists without fee, buying the argument that online exposure would eventually translate into greater income for cartoonists and syndicate alike. So a given cartoonist's income from the Cagle site probably depends upon when he or she joined the club-and whether he or she joined via a syndicate or solo. There isn't much revenue for editoonists in syndication generally- unless they happen to be Pat Oliphant.
            Cagle's sales maneuvers convinced him to start his own syndicate, homeported at his website. He now represents about 44 cartoonists and distributes to about 800 newspapers-"more than anybody else in editorial cartoons," Cagle said. That's undoubtedly true. But it's also true that syndication has had a deleterious effect on editorial cartooning. As I've said here before, syndication conspires to permit newspaper editors to do two things they very much like doing. First, by subscribing to several syndicate services for fees much less than they'd pay a staff editoonist, editors get a wide range of cartoons to choose from every day and save mucho dinero at the same time; second, by using syndicated editoons, they stick to national topics, thereby avoiding cartoons on local issues that would inflame readers on one side of the debate or the other. So editors get far fewer time-consuming irate phone calls from readers. The effect is that the number of papers hiring staff editoonists is steadily decreasing, and editorial cartoonists have become an endangered species. And in this context, Cagle, himself an editorial cartoonist, is helping to deplete their ranks. He's undeniably a good businessman. His site enhances the visibility of editooning, and it is also the showcase for his own syndicate, and since he mixes his cartoonists' work in with the work of all others, he effectively uses nationally known cartoonists as lost leaders: their prominence helps attract browsers who then happen upon Cagle's somewhat lesser-known 'tooners as they browse. Nothing wrong with that. No one can fault Cagle for trying to make a living, for himself as well as those he advertises. And he, after all, had the imagination to start an editorial cartoon website, which he was then able to translate into income for himself and others. It's just too bad the newspaper world works the way it does because operating in it the way Cagle does, he's helping to dig the grave for the profession he practices and, presumably, loves. (Every syndicated editoonist is doing the same, incidentally, but on an individual scale not en masse as a canny entrepreneur.) Until recently, almost all editorial cartoonists who were syndicated were also on the staffs of newspapers; their income from syndication, never much, was, in effect, beer money. But as the number of staff editoonists dwindles, the only hope for the profession is syndication. Sadly, it isn't likely that syndication for most editoonists will yield a living. The fees that trickle down through syndicates to the cartoonists are minuscule. And very few tooners have a national reputation that would make them the commodity Oliphant is. Cagle's site may help improve the quality of editorial cartooning by raising the spectre of the Yahtzee; but it is also contributing to the dilemma by encouraging national syndication, which, in turn, discourages the hiring of staff editoonists. To the extent that Cagle's site increases the visibility of editorial cartooning as a species of cartooning, it may enhance the social and political and journalistic status of editooning. That status, alas, is not likely to translate into staff jobs at newspapers. It may secure a place for political cartooning on the web, but no one is predicting this outcome is capable of securing a living for any cartoonist any time soon.
FUNNYBOOK FAN FARE
Short Notes during a Long Weekend with Some New Comics
DC's Justice No. 1 is elegantly rendered by painter Alex Ross, but this inaugural issue is all prologue: there's no crisis or climax-in short, no drama. And you can't have a story without drama. Admittedly, there's more a-comin' down the pike, but even an orientation first issue should have some over excitement. ... Speakeasy Comics' first issue of Hero @ Large gives us the pitiful Major Alpha, whose contract with Justice Five is dropped, leaving the poor masked man without a function in life. Down and out, he helps a wayward mother and child, and she makes him a new costume. It's played for laughs, I think, but there are very few of them. The drawing by Jeremy Treece is attractive albeit derivative. He adopts the clunky manga mannerisms, simple bold lines and angular anatomy, which I sometimes find more attractive than at other times. This is one of the in-between times. The colors, by Sean "Cheeks" Galloway, are broodingly dark, so dark that they usually mask the lack of visual detail (backgrounds, settings, etc.). But without the color and its variegated hues and modeling shades the visuals would be pretty unimpressive.
            Skottie Young's rendering of Marvel's New Warriors is manga-style more to my liking. His linework is more complex, for one thing-there are more lines, which makes for greater visual interest in the art. But his lines are all of the fine filagree kind, and my favorite linear techniques involve both thin and thick lines. (Young's pencils, often non-photo blue, are rougher and bolder; I almost bought an original pencil when I saw them at his table in Artists Alley during Wizard World Chicago.) The title seems to be about the off- and on-camera adventures of a television team of superheroes, and it's mildly amusing. But why-oh why?-are portions of the pictures deliberately blurred? They're imitating actual photographic effects, I gather, in which parts of a scene that are out of the focal plane are not clear. But why do this in a drawn book?
            In America's Greatest Comics No. 12 from AC we have a whole lot of black-and-white reprints of Jack Kirby from the 1950s: Davy Crockett (Western Tales, No. 32), The 3 Rocketeers (Blast Off, No. 1), "Sitting Duck" (Battle, No. 68), "After I'm Gone" (Black Magic, Vol. 3, No. 6), and "Angel of Death" (Black Magic, No. 9). It's fascinating to see how Kirby's art changes under the inks of other cartoonists. The patented trap-shadow technique with chips of black for modeling is best executed by Kirby's nominal partner, Joe Simon. Al Williamson inked the Rocketeer story-crisp linear work, no chips of black. And Frank Giacoia does much more delicate feathering in "Sitting Duck" than Kirby or Simon did. The book comes with several pages of text by Bill Black, who digs into his collection for illustrative material in tracing Kirby's career in the fifties. And Black is finally supplying complete bibliographic information for his reprinted stories-comic book titles, issue numbers, and year, helpful to the historian, always, but even to the casual reader who might be interested in the chronology of a given artist's work.
            I picked up the first two issues of Batman & Robin: The Boy Wonder because Frank Miller is writing it, and I've usually admired his work. And Jim Lee, another whose work I admire, is drawing the title. Miller's ear for colloquial lingo is, as always, flawless, and the voice-over technique of carrying one scene into the next, a completely different one, is deftly done. But the first issue was, I thought, something of a let-down. It is, admittedly, a re-telling of Robin's "origin," beginning with the senseless killing of his trapeze artist parents, so there's inherently nothing new in it, but Miller's achievements elsewhere suggested there would be something more. There is the suggestion of a corrupt and even sexually perverted police force, the sort of twisted tantalizing vision Miller has lately indulged. But otherwise, we have pretty much the usual story, told, often here, through the eyes of cheesecake Vicki Vale, who has the hots for Bruce Wayne so bad that the narrative cloys immediately. There's something inherently unappealing about a tough-talking dame whose fawning all over a square-jawed millionaire displays nothing more than a panting libido. But with the second issue, Vicki disappears, and Miller's unique take on the Batman-Robin relationship begins to surface. This is more like it: Batman urging Dick Grayson not to give in to his grief ("grief is the enemy," he intones to himself, "grief turns into acceptance, forgiveness. Grief forgives what can never be forgiven"), training him to join him in a battle against crime. "The boy has entered my world," Wayne mutters to himself when he sees Grayson's parents shot down. We may well wonder if Miller will make Robin as nutso as he's made Batman. Lee's art, while marvelously adept, put me off in the first issue. His feathering and shadowing seem awkwardly done, and Vicki Vale's anatomy is sometimes completely askew. An odd criticism, I wont, considering that Lee is noted for limning the curvaceous gender. And the first issue clearly hopes to capitalize on this ability, the third page devoted entirely to a full-length picture of Vicki in her pink scanties. The effect, however, is undermined at once by faulty perspective: she seems "shot" from floor level, which ought to result in her chin being seen from below, but it doesn't. Moreover, her breasts are completely out-of-kilter: one is seen from below, the other from straight on. And rest of the 5-page sequence, obviously intended to titillate, is ruined with clunky body shadowing; Lee is much better when he sticks to unembellished line work. In No. 2, close-ups dominate the visuals, and here, Lee is a virtuoso; Miller's current drawing style could not manage the variety of facial expressions with Lee's aplomb.
Quips and Quotes
"If I had asked people what they wanted, they would have said faster horses." -Henry Ford
"God could not be everywhere, and therefore he made mothers." -Rudyard Kipling
"They keep talking about drafting a constitution for Iraq. Why don't we just give them ours? It was written by a lot of really smart guys, it's worked for over 200 years, and we're not using it anymore." -George Carlin
"Not all who wander are lost." -J.R.R. Tolkien
BOOK MARQUEES
TwoMorrows reports that it has acquired, through returns, a modest stock of the erstwhile sold-out title, The Life and Art of Murphy Anderson, which I mention here because I wrote the book for Murphy and therefore realize a modest income from sales thereof. Visit the TwoMorrows website, www.twomorrows.com . ... Andrews McMeel has just issued four new reprint collections: The Big Book of Zonker from Doonesbury; Never Wink at a Worried Woman from For Better or For Worse; and two first collections- Prickly City from the strip of the same name, and Bo Nanas: Monkey Meets the World from Bonanas. More later when I see 'em. And I have even more waiting here in the bullpen, already reviewed for the next installment of Rancid Raves.
            The fourth and latest of the Fantagraphics Peanuts reprint project, covering the years 1957 and 1958, arrived last week, another tidy package tastefully designed by Seth, 335 6x8-inch pages in hardback, just $28.95. Snoopy is the cover decoration of this one, following Charlie Brown, Lucy, and Pigpen to eminence, and herein, we see the beagle making more enthusiastic forays into being something other than or more than a mere canine. In the preceding volume, Snoopy starts dancing on his hind legs and imitating other creatures and thinking in thought balloons so we can tell what's passing through his mind. Here, the process continues apace and includes Snoopy's nefarious imitation of a vulture, not to mention his attacks on Linus' security blanket. The book concludes with a tell-tale index that lists the various themes alphabetically ("vulture" under "imitations" under "Snoopy") and the full-page version of the Sunday Peanuts for May 31, 1953, which the editors had been unable to unearth before publishing the volume for that year; this makes it all complete. The Introduction this time is by Jonathan Franzen, who performs a huge service for Schulzian scholarship: he successfully unhorses the pernicious armchair psychology perpetrated by Rheta Grimsley Johnson in her biography of Schulz, Good Grief, wherein she attempts to link the cartoonist's creative impulses to damage done him by the so-called soul-shattering setbacks of his childhood and young manhood-his unpopularity in school, the death of his mother as he was being inducted into the Army, and rejection by the red-haired girl he proposed to. Schulz, I suspect, encouraged this delusional analysis because it contributed to the legend; but it ain't necessarily so. Says Franzen: "Schulz wasn't an artist because he suffered. He suffered because he was an artist." Exactly. His artistic temperament made him more than normally susceptible to the slings and arrows of juvenile life. Franzen continues: "To keep choosing art over the comforts of normal life-to grind out a strip every day for fifty years; to pay the very steep psychic price for this-is the opposite of damaged. It's the sort of choice that only a tower of strength and sanity can make. The reason that Schulz's early sorrows look like 'sources' of his later brilliance is that he had the talent and resilience to find humor in them." At last, a sensible interpretation of the relationship between Schulz's life and his art.
CIVILIZATION'S LAST OUTPOST
Barging through a 1933 issue of the Literary Digest (which, I was surprised to discover, was not at all literary but newsy-a prototype of the magazines that eventually rivaled it, Time and Newsweek), we came across the following: "Emperor Hirohito of Japan, 123rd Son of Heaven [who was sitting on the throne for the attack on Pearl Harbor and the ensuing World War II], the first Mikado to give an audience to an American journalist (Roy Howard), has other 'firsts' famous in the flowery land to his credit. [He] broke with precedent when he chose his Empress without the assistance of court officials. He was the first Japanese Prince to travel in Europe, the first to appear in public places on occasions other than ceremonial, the first to shake hands, the first to enjoy competitive sports, such as tennis and golf, and the first to permit the telling of jokes in his presence." I particularly like the part about the jokes. Maybe he even read the comics in Japanese newspapers. And if he did, he may have encountered a pirated Terry and the Pirates, which ran in Japan through World War II even though Terry and Flip Corkin and the Dragon Lady were all battling the Japanese at the time.
            Now that cellphones can deliver to their users full-motion video from the Internet, the porn industry is moving to take advantage of this promising new venue. ... France's iconic cigarette, Gauloise, the kind smoked by Gallic movie stars and philosophers, is no longer French: the factory has moved to the Spanish coastal town of Alicante. ... The U.S.'s oldest corporate mascot, the Quaker Oats Pilgrim, appeared in 1877; the next oldest, Aunt Jemima, in 1893 and the Morton Salt Umbrella Girl in 1911 and Mr. Peanut in 1916. ... The number of journalists killed in Vietnam between 1955 and 1975 is 63; in Iraq since March 2003, 65 have been killed. The percentage of Republicans who think the press is overly critical of the U.S. is 67; the same percent of Democrats think the media are more interested in increasing their audience than in informing the public.
            Speaking of sex, a new report from the National Center for Health Statistics (Time, September 26) revealed that more than half of all teenagers surveyed have engaged in oral sex, about the same number of boys as girls. As any of the teenagers can tell you, by way of explanation, oral sex is not real sex, so the participants manage thereby to preserve their virginity and avoid the threat of venereal disease. Bill Clinton is doubtless the most famous advocate of the belief that oral sex is not real sex, but this study suggests that he is scarcely alone in that belief. It is, in fact, so popular a notion as to be nearly a universally accepted truth. As for the safety of oral sex, highly dubious: one can contract syphilis, gonorrhea and herpes as well as popilloma virus (leading to cervical cancer).
            Sonette Ehlers, a one-time medical technician in South Africa, which has the worst sexual assault rate in the world, has invented an anti-rape female condom. Inserted and worn all day like a regular condom, the device, trademarked Rapex, will sink hooks into an attacker's penis, disabling him immediately. Deflating him, actually, I should think.
            And here's one for superheroics fans everywhere: something called "ultimate fighting" is "heading for mainstream entertainment," according to Time (September 26). Dubbed "human cockfighting," the so-called "sport" combines wrestling, kick-boxing, boxing-almost anything you can think of-under the heading of "mixed martial arts," a "no-holds-barred, pound-to-pulp violence" in the ring. Spike tv offered a second season of "The Ultimate Fighter," a reality series, as its "Trojan horse," slipping the broadcast onto basic cable to blaze the way for more of the same; "most episodes ended with a vicious fight to eliminate a contestant." New rules have displaced "the old chop suey of contending martial-arts schools": no head butting, for example, a doctor is stationed ringside "to discourage death," and the referee will break up dangerous holds. One of the up-and-comers, Forrest Griffin, 26, admires the lack of pretense in ultimate fighting: "Fighting strips away everything," he says; "two guys on a mat going at each other. There is a purity to it." Says New York Post sports writer Phil Mushnick: "Violence for the sake of violence. I understand that not everything necessarily has to have a redeeming social value. It can have no value. But this kind of stuff has negative value."
            Notice how all the storied sports arenas of the country are getting new names? The Hoosier Dome in Indianapolis is now called the RCA Dome; famed Candlestick Park in San Francisco is now 3 Com Park; historic Kaminsky Field in Chicago is now U.S. Cellular. The venues are named for the corporate entities that paid for construction. The Chicago Bulls play in the United Center because United Airlines paid for it. And in Denver, the ringingly christened Mile High Stadium is now Invesco Field (to which is appended, thanks chiefly to local outcry, "at Mile High Stadium"). So isn't it time we start calling 1600 Pennsylvania Avenue the Halliburton House?
COMIC STRIP WATCH           
In Brooke McEldowney's 9 Chickweed Lane, Edda's homosexual roommate Seth finally announces, in no uncertain terms, his orientation: "I'm gay," he says on September 2. We all knew he was gay before, basing our opinions on the evidence of his lifestyle and his boyfriend; but readers could still glide by these matters and assume he was just Edda's roomie and friend. Now, no one can escape knowing. Will there be a deluge of consequences? We'll see. Nothing yet, though.
            Over the Hedge, the engaging and sometimes satirically edgy anthropomorphic animal strip by Michael Fry and T. Lewis, spent the last week of August pondering Cindy Sheehan's protest on the road to GeeDubya's farm in Crawford, Texas. Vern, the box turtle, reports that the President met with the Mom several months ago, calling her "Mom" and referring to her dead soldier son as "loved one." Says Vern: "A lot of soldiers have died. I guess it must be hard to remember all their..." RJ the raccoon interrupts: "No, it's not." The two speculate about what will happen if GeeDubya goes back to the White House without meeting the Mom. She'll follow him there, Vern says. And when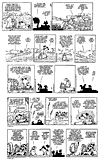 RJ wonders if the news media will be there, too, Vern says: "As long as another white teenage girl doesn't disappear or a celebrity doesn't attack a photographer with a kitchen appliance." In the very next panel, the tv they're watching blurts out: "This just in: Another white teenage girl disappears and William Shatner stabs a camera man with a spatula." RJ sighs: "Mom's going to be really lonely in Washington." RJ is, as usual, more right than wrong-although it was, as predicted, a female that blew Sheehan off the news map. Her name was Katrina.
GRAFIQUE NOVILZ
The graphic novels Ghost World and Road to Perdition were reincarnated as motion pictures a couple years ago, proving that the static medium offers more than the superheroic longjohn legions as fodder for Hollywood's voracious maw. The latest to be devoured in this manner is A History of Violence (294 5.5x8-inch pages in paperback, $9.99), a story by John Wagner as drawn by Vince Locke. But the movie is almost nothing like the graphic novel, says director David Cronenberg. "In fact," he says, "I didn't know that Josh Olson's script was based on a graphic novel until we had been working on it for some time. Weird as it sounds, no one had mentioned it to me, and the credit didn't appear on the script I was sent. By the time I read the graphic novel, we were so far away from it that it could be made into another movie. Maybe it will."
            The graphic novel opens with a brutal random roadside killing by two psychopaths, who then go into the small town down the road where they try to rob a diner late at night. But the diner's owner, Tom McKenna, foils their attempt, killing one hoodlum and wounding the other. Suddenly, McKenna is an Everyman hero, and the news media pounce, invading his life. The national exposure brings more than notoriety: a sinister visitor believes McKenna to be someone else, someone with whom he has a score to settle. The movie makers were piqued by how this intrusive happenstance affects the man's relationships with his wife and children and fellow townsmen, and they devote their movie to an exploration of these matters. Wagner and Locke pause to consider these aspects of the dilemma they've constructed, but their story is more complicated. And more violent. In their graphic novel, McKenna is not mistaken for someone else: he is who the sinister visitor takes him for, although it takes a while for us to realize it.
            The novel puts McKenna's heroism in the context of his life and expands the plot implications that can be inferred from an ordinary man having the capability to violently frustrate two ruthless armed robbers intent on taking his money and, presumably, his life. Wagner, in imagining his story, was fascinated by a narrative circumstance "of claustrophobic terror, of powerful, sinister, unstoppable forces closing in, crushing"-a circumstance over which an ordinary man has very little control but tries, nonetheless, to escape from and survive. In the graphic novel, McKenna, it turns out, has a past with connections to the mob, and although he shuns the publicity surrounding his act of small town heroism, he is not entirely successful. He attracts the attention of the mobsters of his past, and they, in the form of that sinister visitor, return to haunt him. The book flashes back to McKenna's youth and the act that incited the mobsters ire; and then, it tells the rest of the story-how McKenna dealt with this threat to his life and the lives of his wife and children. He meets violence with violence.
            Violence as an element of drama is essentially visual, hence the need for pictures, either in the form of movies or of graphic novels (comic books), in narratives the plots of which are hinged to violence. Locke's visualization of Wagner's story is virtually a storyboard for a motion picture. The breakdowns (the division of action into individual pictures or panels) and panel compositions are cinematic. The sequences of violent action are nearly staging instructions for a cameraman. Locke's drawing style, while appropriate for depicting rapid action, is very sketchy, a mannerism that makes it sometimes difficult to recognize individual characters: Locke's treatment of their physiognomies is not precise enough to capture identifying physical characteristics.
            In the final denouement, we encounter violence so sickening that it could finally do what Clint Eastwood thought he was doing in "Unforgiven" -invalidate violence as a thematic device. But while Eastwood's movie revealed violence as thematically contradictory of the motives that inspire it in the traditional Western, the Wagner-Locke novel's conclusion goes further: here, violence is so brutal, so repellant, that it nearly ceases to function as a dramatic device and becomes, instead, a object of morbid infatuation so enthralling as to unseat our grasp of the thematic implications of violence in both personal and societal life. Here, we are thankful that Locke's rendering style is sketchy: a more precise way of drawing would take us beyond the needs of narrative into realms of psychic disorder too ghoulish to contemplate with the sort of satisfaction that usually accompanies the end of a tale.
            In Capote in Kansas, which the authors dub "a drawn novel," we have the other end of violence-or, rather, a meditation on a contemplative post-mortem on a senseless act of violence. Capote in Kansas is also being accompanied by a motion picture, but the movie is not about the book although it is about the same subject. In their book (126 6x9-inch pages paperback, $11.95), Ande Parks and his artist partner Chris Samnee imagine author Truman Capote on his fact-finding mission to Garden City and Holcomb, Kansas, where he talked to the friends and neighbors of the Clutter family who had all been brutally killed at their farmhouse one night in 1959 by two complete strangers, Perry Smith and Dick Hickock, who apparently murdered all four of the family for no particular reason. Capote wrote what he called a "non-fiction novel" about the case, In Cold Blood, which doubtless achieved its sales records by exploiting our ghoulish fascination with death by grisly murder. Today, thanks to supermarket tabloids galore, the material is all too familiar fodder. In 1965 when Capote's book was published, it was immediately celebrated as a literary landmark, a form almost without precedent. Turns out, it was as much about the personalities of the killers and Capote's relationship to them, Smith particularly, as it was about the gory details of the murder. In 1967, Capote's book was made into a movie with Robert Blake playing one of the two murderers. Another movie, "Capote," is looming on the cinematic landscape this fall, with yet another, "Have You Heard?" due next year. Parks' graphic novel, however, is a coincidental achievement: he told me that he was a third of the way through its formulation when he heard about the two films. He is just a little annoyed by this happenstance because he knows someone is bound to accuse him of ripping off the movie when he could not, patently, have seen it before doing the novel.
            Parks, whose first graphic novel, Union Station, reconstructed the events of the 1930s gangland massacre in Kansas City that inspired the FBI's crusade against the mob, wanted to "break free" of the restraints imposed by historical reportage. In Capote in Kansas, the events that prompt his work are actual-the murder, Capote's research on the scene in Kansas, his resulting book-but Parks' exploration of Capote's struggle to reconstruct the crime and to discover its motive is an act of imagination. Here, Parks is interested in the creative process-how Capote did his work and how that affected him. In Parks' book, Capote's initial problem was his flamboyant New York writer persona that at first so alienated the Kansans that they would not cooperate with him. Prompted by his friend and fellow author Harper Lee (who had not yet published To Kill a Mocking Bird), Capote discards his theatrical mannerisms and is thereby accepted by the Kansans; he also becomes human enough to listen sympathetically to the their stories-and the stories of Smith and Hickock. Parks' treatment of this transformation seems, at first blush, too pat: Capote appears to achieve acceptance when he adopts a subdued wardrobe appropriate to the smalltown Kansas milieu. But raiment is merely the outward and visible sign of Capote's transformation. Inside, much more is going on, and Parks represents that evolution with much greater subtlety. Alone in his hotel room, for instance, Capote is sometimes visited by the ghost of Nancy Clutter, the slaughtered teenage daughter. Through her, Parks suggests, Capote's book achieves the measure of poignance that comes from realizing the tragic disappointment of a life not lived.
            Samnee's contribution in visualizing Parks' story is profound: although this is apparently the first work of this scope he has done, his stark black-and-white pictures, many in long wordless sequences, expertly create the story's brooding atmosphere. Samnee takes the chiaroscuro rendering technique to a startling extreme. Many of his pictures are drenched in black on the "shadow side" of shapes, all detail lost in solid black. He goes even further on the "lighted side" of forms: here, visual details seem burned away by the bright intensity of the light source. He frequently eschews lines altogether, letting nicks and solids of black etch the forms. Much of the tale is told entirely by pictures-no captions, no speeches. But while Samnee's skill is beyond question, he is clearly acting at Parks' direction. Parks let me read several pages of his script for certain segments that I thought were particularly effective. At the onset of any scene or sequence, the script is often discursive, musing almost, as Parks indicates the mood he is after as well as the kind of pictures he thinks will produce that mood. After setting the tone, so to speak, Parks proceeds, panel by panel, describing the visual and quoting the verbal content. Samnee sometimes deviates from the letter of Parks' script but never from its spirit, which seems to me apt because the result is a genuine melding of both authors' talents. For example, on several of the pages for which I saw the scripts, Samnee didn't produce the number of panels that Parks indicated, and he sometimes overlooked certain visual details, but he created the effect Parks was after.
            A graphic artist himself (Parks often inks the work of his longtime collaborator, Phil Hester, most recently on DC's Green Arrow), Parks displays in his scripts a highly visual imagination, and the great visual effects in the book are his in concept while Samnee's in execution. In saying this, I don't intend to take away from either of them: they each have an equal share of credit in the picture that resulted. By way of example, here's one of Parks' instructions that seemed to me nearly impossible to execute. He describes a full-page illustration that is to show Truman Capote outside the now-deserted Clutter farmhouse, looking up at the window of Nancy's room. It's night, and the picture is mostly black. It's Capote's first encounter with the girl's ghost. "We can't see Nancy," Parks writes, "but we do see her shadow. The light from the window makes a white rectangle on the ground below, with Truman centered in the light. ... Nancy casts her shadow down into the area where Truman stands, so we have a light area with darkness around Truman. Don't cast him entirely into darkness, though-we need to see his expression. He looks with awe up at the light coming from the house where no one should be. Nancy's shadow should make it clear to the reader that there is a young woman or girl in the room. They may not know that we're dealing with Nancy's ghost, but I think that's cool. Some will get it right away, and some may not, but it'll be clear soon enough." Got that? Capote is standing in a rectangle of light cast onto the solid black of night surrounding him. The rectangle must suggest the window above. In the white rectangle, we are to see a shadow of the girl in the window-and enough of Capote to realize his expression is one of awe. A colossal assignment. Astoundingly, Samnee brings it off with panache. It's one of the most stunning pictures in the book, a virtuoso performance by Samnee in pe

rfectly achieving a haunting transitional moment in Parks' story as his Capote begins to enter in spirit into the lives of the people whose stories he wants to tell. The book's conclusion (which I'll save for your private delection) is another instance of the adept melding of Parks' description and Samnee's pictures, a silent sequence that suggest in pictorial poetry how the truth of In Cold Blood may have, in some small measure, compensated Nancy for the loss of her future.
Watterson Redux
The Hilarious Philosophies of John Calvin and Thomas Hobbes
Today's funnies page often seems a living testament to the demise of the medium. Between the ugliness of strips with "contemporary looks" and the cobbled-up contraptions of market research we have vapid verbal humor that undermines the function of pictures in the artform, all signaling that comic strips are an endangered species. Then in September, the nation's comics sections got a reprieve: Bill Watterson's Calvin and Hobbes returned to the funnies. But, alas, only until the end of the year.
            And only in re-run.
            Watterson, who famously retired his strip on December 31, 1995, at the peak of his prowess and the strip's popularity, is not making a come-back. His syndicate, Universal Press in Kansas City, is offering this 4-mounth reprise as a way of whetting the appetites of Calvin's fans for the October 4 debut of the 3-volume, slip-cased Complete Calvin and Hobbes. The hardcover compilation includes every one of the 3,160 strips that appeared in newspapers during the strip's original 10-year run. The 1,400-plus-page collection weighs 23 pounds and has a suggested retail price of $150.
            Some comic strips are more popular than others. Dilbert is popular. Baby Blues is popular. Get Fuzzy is up-and-coming popular. FoxTrot is popular. Blondie has been popular for three generations of readers. Only a few of the most popular are also beloved. Calvin and Hobbes is one of that rare breed.
            From the start, it was a notable strip: drawn from panel to panel instead of being a parade of photocopied pictures, its every panel was different. Even more astonishing-and gratifying beyond expression-the cartoonist doing this new comic strip could draw. He could draw his characters in more than one position and with more than one expression. And he could draw a lot of things-not just his characters but also houses, animals, landscapes, street scenes. Anything. And he wasn't doing the strip by demographic prescription. "I just draw for myself," Watterson said.
            For himself and for millions of readers who took Calvin and Hobbes to their hearts in record time. And Watterson's profession did the same: before the strip was two years old, Watterson had won the National Cartoonists Society's coveted Reuben Award, the accolade of his peers as best cartoonist of the year. He won it again two years later. Unprecedented. Watterson wasn't even a member of the Society. And he didn't show up at the annual ceremony to accept the award.
            Even before the first Reuben, though, it was clear to Watterson and his syndicate, Universal Press, that he had a hit strip on his hands. And at that point, Watterson once again indulged a maverick tendency. When the merchandising hustlers began to pester him about licensing his creation for T-shirts, greeting cards, toys of all sorts, jewelry, coloring books, TV appearances-all that stuff that earned fortunes for Schulz and Davis-when they came knocking on Watterson's door, he kept the door closed.
            He explained his reasons in one of the few interviews he's given. "I'm convinced," he said, "that licensing [the characters] would sell out the soul of Calvin and Hobbes." He sees his strip as more than a gag strip; it does more than tell a joke: "The humor is situational, and often episodic. It relies on conversation, and the development of personalities and relationships. These aren't concerns you can wrap up neatly in a clever little saying for people to send each other or to hang up on their walls."
            The idea of a Hobbes doll, for example, is "especially noxious." Such a product would "take the character out of the world for which he was intended. If you stick thirty Hobbes dolls on a drugstore shelf, you're no longer talking about a character I created. At that point, you've transformed him into just another overpriced knickknack." And this would do serious violence to the very heart of the strip: "The whole intrigue of Hobbes is that he may or may not be a real tiger. The strip deliberately sets up two versions of reality without committing itself to either one. If I'm not going to answer the question of who or what Hobbes is, I'm certainly not going to let Dakin answer it. It makes no sense to allow someone to make Hobbes into a stuffed toy for real, and deprive the strip of an element of its magic."
            In the last analysis, Watterson fears that merchandising the strip would destroy the relationship that must exist between a creator and his creation if the work is to have a life of its own. "I'm happy that people enjoy the strip and have become devoted to it," he said. "But it seems that with a lot of the marketing stuff, the incentive is just to cash in. [The merchandised gimmicks] are not trying to do the job of the comic strip; they not giving jokes or developing characters.... Calvin and Hobbes will not exist intact if I do not exist intact; and I will not exist intact if I have to put up with all this stuff."
            Watterson believes that books reprinting the strip are the only legitimate by-product of his work. But he won't flog the books. When the publisher of the first collection of reprints, Calvin and Hobbes, asked Watterson to embark upon a national public appearance tour to promote sales of the book, he said no.
            Watterson had heard "no" a lot until 1985. After graduating from Kenyon College in Ohio in 1980, he found a job as the political cartoonist for the Cincinnati Post. But it didn't work out. Watterson's comic sensibilities were not suited to political cartooning; he was fired after a few months. And then he spent the next five years trying to sell one comic strip idea after another to an assortment of syndicates. After six failures, he hit upon a seventh that eventually resulted in Calvin and Hobbes.
            Calvin first appeared in another of Watterson's strip concepts-as the little brother of the strip's protagonist. Hobbes was there, too, as a stuffed animal that comes to life in the little kid's imagination. Said Watterson: "One of the syndicates suggested that these two characters were the strongest and why didn't I develop a strip around them? I had thought they were the funniest characters myself, but I was unsure as to whether they could hold their own strip. But I tried it, and almost immediately it clicked in my mind; it became much easier to write material. Their personalities expanded easily, and that takes a good 75 percent of the work out of it. If you have the personalities down, you understand them and identify with them; you can stick them in any situation and have a pretty good idea of how they're going to respond."
            Oddly, the syndicate that gave Watterson the inspirational suggestion-United Feature-declined the strip that resulted when the cartoonist followed their suggestion.
            When the strip began November 18, 1985, it seemed built on the premise that the relationship between an imaginative young kid (a six-year-old, to be precise) and his favorite stuffed animal will produce situations to tickle the risibilities of readers. Indicative of the kid's imaginative prowess is the strip's visual gimmick: when the kid Calvin is alone with his toy tiger, Hobbes appears as a real albeit anthropomorphic tiger; but whenever adults are around, the tiger is depicted as a stuffed animal.
            Once the strip was thoroughly launched, Hobbes appears almost always as the "live" creature of Calvin's imagination, not as the stuffed toy.
            And that is just as it should be because the strip is really about Calvin.
            Calvin is the personification of kid-dom. He's entirely self-centered, devoted wholly to his own self-gratification. In pursuit of this completely understandable childhood goal, Calvin acknowledges no obstacle, no restraint. His desire and its satisfaction are all that matter to him.
            Playing in his bath, Calvin cannonballs into the tub, effectively emptying its contents onto the bathroom floor.
            He is childhood unbound.
            But Watterson has given his portrait of childhood a special twist. Calvin doesn't talk like a little kid. He talks like an adult. Or, perhaps, like a true child of the television generation-a kid who has watched too much prime-time TV.
            Discovering that his library book is two days overdue, Calvin panics: "What will they do?" he asks his mother frantically. "Are they going to interrogate me and beat me up? Are they going to break my knees? Will I have to sign some confession?"
            His mother assures him that he'll just have to pay the fine.
            Calvin is considerably calmed by the news. "The way some of those librarians look at you," he says, "I naturally assumed the consequences would be more dire."
            Charles Schulz gave us little kids with adult vocabularies, too, but Calvin is not a character in Peanuts. Charlie Brown and Lucy and the other Schulz kids are motivated by adult concerns, or so it seemed. Calvin, on the other hand, is motivated entirely by his childhood fantasies and desires.
            He's a kind of superkid. He does what we imagine a kid would want to do, but he does it by using adult language and intelligence. He is therefore empowered to an extent that an average kid is not.
            Calvin wants to take Hobbes with him on a trip to the store, but his mother initially says no. Calvin roars at the top of his lungs: "But I want him to come with us!" The bold black lettering fills the panel. His mother relents. In an aside, Calvin explains: "If you can't win by reason, go for volume."
            In short, Calvin is a terror.
            In a sense, of course, he's not really a kid at all. He's Watterson being a kid-or, rather, Watterson imagining himself a kid but with his adult abilities intact so that he can not only achieve his wildest juvenile imaginings but enhance those imaginings with the empowering energy of mature creativity.
            When Calvin and Hobbes put the loose end of the roll of toilet paper into the toilet and flush, delighting hysterically in the frantic revolutions of the roll of tissue as it unrolls, its entire length pulled inexorably in the maelstrom by the cascading water, they are implementing a highly sophisticated scheme. It's not a kid's prank; it's an adult's.
            But Calvin can be an ordinary kid, too, motivated by a wholly juvenile mentality-when, for instance, he holds his nose while sneezing because he's trying to blow his shoes off.
            An annoying kid, perhaps, but also vaguely endearing. He complains that his bath water is too cold. His mother adds some hot water. Now it's too hot, Calvin says. She adds cold water. "Now it's too deep," he says, deadpan.
            In obeying every impulse that flits into his consciousness, Calvin is Id, animated solely by his desire to gratify his every wish. As Watterson himself says, "He has no sense of restraint; he doesn't have the experience yet to know the things that you shouldn't do."
            And to some extent, Hobbes is Superego. "Hobbes," Watterson goes on, "has a little bit of that sense of consequence that Calvin lacks entirely."
            Calvin holds a filled water balloon as he comes up to Hobbes. "You see," he explains, "I have a water balloon, and you don't. I therefore have offensive superiority, so you have to do what I say. What do you think of that?"
            Hobbes says: "I think I'll take this stick and poke your balloon."
            The last panel closes in on a drenched Calvin, who says: "That's the trouble with weapons technology: it becomes obsolete so quickly."
            As Pat Oliphant observes (in the introduction to Something Under the Bed Is Drooling, the second volume of Calvin and Hobbes reprints), Hobbes "leavens" Calvin's brashness "with a wry, endearing wisdom."
            Most of the time, Hobbes is-appropriately-the passive companion, innocently going along with whatever scheme Calvin has hatched. Sometimes Hobbes acts as a sort of counselor, giving useful advice. Sometimes he's a rival, a competitor at their childish games. Always, though, he's Calvin's best friend.
            The original Calvin and Hobbes, however, were not at all acquainted. John Calvin was a celebrated Protestant reformer of the 16th century and Thomas Hobbes, a social philosopher of the 17th century. A political science major in college, Watterson was more than a little cryptic in explaining his coupling of this duo, saying simply: "It's an inside joke for poli-sci majors." But he doesn't explain the joke. No professional humorist explains his jokes.
            I, on the other hand-lacking professional standing-am scarcely daunted by such trifles. John Calvin, you'll remember, advocated predestination and election: at the dawn of time, God determined who would be damned and who would be saved (the so-called "Elect"). No one can know which he is, and good works don't affect the outcome.
            Oddly, instead of fostering massive discouragement among his followers, this notion fired zealous undertakings. The righteous deluded themselves into believing they were among the Elect, not the damned. Thus, they didn't see themselves as helpless before an arbitrary God; they see themselves as his instruments. In the grip of such conviction, men who had inherited Calvin's tradition conquered a continent and raised a democratic form of government.
            If a single term could describe John Calvin, it would be certainty. He was certain of his theology, of himself-and of his being among the Elect.
            Thomas Hobbes theorized that humankind in a hypothetical state of nature was constantly at war, each man fearful of all others. Primitive life, before social organization, was lawless, violent, and fearful; in Hobbes' most famous phrase, it was "nasty, brutish, and short."
            Watterson's tiger is doubtless a symbol of the state of nature. He is a jungle creature, a brute but, as Watterson conceived him, scarcely brutish. In fact, he is more civilized than his young owner: as Superego, Hobbes is the unconscious product of social organization. Calvin, on the other hand, is nasty, brutish, and short. Well, nasty and short anyhow.
            But there isn't a perfect reversal in Watterson's allusions. Calvin is clearly among the Elect. He is certain of his rightness, so he can misbehave without fearing the consequences: he is already saved; his deeds cannot affect his fate.
            So much for in-group poli-sci jokes. It's hard to know where to laugh.
            But nobody reads a comic strip for its allusions. Most of us read the comics for entertainment, pure and simple. In a visual artform, much of the entertainment arises from the pictures. Watterson's action sequences particularly are comically imaginative and inventive.
            Hobbes loves to ambush Calvin when the latter arrives home from school, and when he lunges from concealment at the boy, the tiger is a striped rocket streaking across a panel.
            On a memorable Sunday page, Hobbes flits from place to place in the house, seeking the perfect spot to hide-once flitting so rapidly that he leaves his stripes behind him in mid-air.
            But in Calvin and Hobbes, the humor usually emerges from a blend of words and pictures: neither alone, without the other, is quite as funny. Their synergy creates the comedy.
            Chasing through the house after each other in a game of cops and robbers, Calvin and Hobbes leave the place a shambles, upsetting furniture right and left as they tear through the rooms. But they stop in terrified anxiety, eyes like saucers, fists frozen at the apogee of their swings, when Calvin's mother screams, "Calvin!"-a clarion call for order. Childhood fear of parental reprisal was never so perfectly captured in pen and ink, in word and picture..
            Another time, Calvin plays at being a monster, grimacing horribly, one eyeball large and round, the other squinted shut and tiny, his mouth a gaping maw. His mother tells him to be careful or his face will freeze like that. Calvin stops in his tracks. "Wow," he says to himself, the appeal of the proposition nearly overwhelming.
            Watterson is well aware of the way his medium functions. And it's more than words and pictures: it's also characterization.
            He once lamented that too many of today's strips are merely illustrated verbal jokes. Moreover, the jokes are divorced from personality: often the gag is the same regardless of the characters used in the situation. A lamentable state of affairs.
            In Calvin and Hobbes, the jokes usually arise from the personalities of the principals.
            Take that hysterical sequence of a week or so in which Calvin slicked his hair-usually spiky in disarray-into sleek horns in order to make his school picture "interesting." The humor resides in our knowledge of Calvin's character.

            And there's an evocative piece of business Watterson did every so often with a wagon or a sled. Calvin at the helm, Hobbes a sometimes terrified passenger, the wagon plunges downhill like a guided missile. On one such episode, Calvin philosophizes idly as they hurtle on:
            "Do you believe in Fate?" he asks Hobbes.
            "You mean, that our lives are predestined?" says Hobbes.
            "Yeah-that the things we do are inevitable."
            And at this critical moment, the wagon with its passengers reaches the end of a dock or the edge of a bluff and soars off into space, a tiny speck in the panel. "What a scary thought," murmurs the tiger as they slip loose the surly bonds of earth.
            Calvin and his tiger are each perfectly "in character," like the superb actors they are.
            The picture plays its role, too: it convinces us that such a voyage as theirs could really happen. We can scarcely deny the evidence of our eyes.
            And we enjoy the ride. We always do in comic strips that are so skillfully drawn as to make the journey a feast for the eyes as well as the risibilities.
            Watterson's passion for drawing eventually provoked a nearly unprecedented development: he demanded that subscribing newspapers publish the Sunday installment in a "half-page format," a tamper-free block of space that would permit him to explore the great visual potential of the medium.
            In the late winter of 1991, Watterson, worn out by "a long and emotionally exhausting fight to prevent Calvin and Hobbes from being merchandised," took a nine-month sabbatical (from May through the following January). During this hiatus (while the strip went into re-runs), he started thinking about ways to "rekindle" his enthusiasm for his work. A fan of classic comic strips through the history of the medium, he marveled at the inventive ways cartoonists in the 1930s used their Sunday pages. In those days, "a Sunday strip could fill an entire page," Watterson said, "and I was amazed by the long-forgotten possibilities out there." For years he had been frustrated by the restrictive Sunday format. Sunday strips had to be drawn in three tiers of equal height, and there was "one unmovable panel division within each row." This standard format permitted newspaper editors to reconfigure strips to suit space needs. "The same strip could be run in several shapes [at different papers] by restacking the panels." The top row of panels were often removed by editors in order to make space for more strips on the page, which meant, Watterson observed, "a third of the strip had to be wasted on 'throwaway panels' that many readers would never see." Moreover, "the fixed panel divisions were annoying because they limited my ability to compose the strip to best suit the idea. For example, they often forced a small panel where I needed more space for words."
            Watterson longed for a spatial allotment that would allow him to play with the visual possibilities of the medium as the cartoonists of yore had done. He wanted to dispense with throwaway panels and fixed divisions. When he approached his syndicate, Universal Press, with a redesigned Sunday format, his editors agreed to market the strip as an "unbreakable half-page." Newspapers could run the strip smaller than a half-page, but the layout, the format, must remain intact. Papers that did not accept these terms could not publish the strip. This requirement was nearly unprecedented. Garry Trudeau had returned from his 1984 sabbatical with a similar contractual dictum: the daily Doonesbury had a minimum size demand, and papers that ran it smaller were cut from the subscription list. (Doonesbury is also distributed by Universal Press strip.)
            When Calvin and Hobbes returned in early 1992 with this demand, newspaper editors across the nation howled. "I don't think it's a good idea to have these artists dictate standards to us," huffed Leonard Gregory of the Chieftan in Pueblo, Colorado. But his was an empty bluster: Calvin and Hobbes was running in about 1,800 newspapers at the time. Only Peanuts, Garfield and Blondie were more widely distributed. Fans of Calvin and Hobbes, who had been living with rerun strips for nine months, would be outraged if their papers dropped the strip. At the Tribune in Albuquerque, editor Tim Gallagher was realistic: "We had two choices," he said. "We could either keep Calvin [running it in the required format] or take out more fire insurance." Most of the strip's 1,800 subscribers kept Calvin and Hobbes and their existing fire insurance. And Watterson got a license to exploit his medium.
            "Comics are a visual medium," he wrote. "A strip with a lot of drawing can be exciting and add some variety. The new format opened up new ways to tell stories, and I drew different kinds of strips as a result. Laying out the panels became a job in itself: now that I was no longer confined to horizontal rows, I could place boxes anywhere and any size, but the reader's eye needs to flow naturally to the proper panels without confusion, and big panels need to be designed in such a way that they don't divert attention and spoil surprises. The graphic needs of each panel must be accommodated and the panels themselves should form a pleasing arrangement so the entire page is attractive, balanced, and unified as well. Here again, I looked for guidance in the gorgeous Sunday pages of George Herriman's Krazy Kat."
            Only a few cartoonists in recent years have clout akin to Watterson's: Gary Larson with The Far Side (who retired at the same time as Watterson), Scott Adams with Dilbert, and Lynn Johnston with For Better or For Worse come to mind at once-perhaps Jerry Scott and Jim Borgman with Zits and Scott and Rick Kirkman with Baby Blues. Possibly one or two others. Several other strips have comparable circulation, but they don't inspire the passion in fans that the ones I've just named do, and hence, they haven't the kind of puissance that would permit their creators to demand, and get, more space. The last to try it was Berke Breathed when he brought back his lovable penguin in Opus: Breathed demanded a half-page in the Sunday funnies. And he promised, in return, that Opus would be available only in newspapers (not, in other words, on the Web). Breathed also promised breath-takingly beautiful artwork, but he hasn't delivered anything approaching Watterson's inventive layouts and antic designs. Still, Breathed proved, if it needed proving, that a cartoonist with reputation enough can make waves that roll in his direction.
            Watterson's Sundays were stunning, but after three years, he said he'd had enough. When Watterson retired, he said he was quitting because "I've done what I can do within the constraints of daily deadlines and small panels." The strenuous implication was that he had done all he could do, a highly suspicious assertion. Watterson, after all, was a satirist of the human condition, and a good satirist knows that he's never finished. The world goes on, willy-nilly, day-by-day, and every day, some brand new sparkling human idiocy bobs up to the surface, some annoying inanity richly deserving of the satirist's jab.
            No, the real reasons for Watterson's retirement had more to do with fatigue and finance than lifelong satirical missions. Fatigue and finance and those tiny, tiny panels.
            For most of the strip's run, he fought against merchandising his characters. He also fought for better treatment of the artform. And in both battles, he was more successful than he could have imagined he would be when he started. His syndicate respected his wishes about merchandising and didn't flood the universe with plush Hobbes toys. But the struggle to retain what he regarded as the integrity of his creation was surely a wearying endeavor. Watterson was clearly pretty drained and frustrated by it. And he probably realized, eventually, that he didn't need to continue to do it. He had money enough in the bank.
            Considering that the art he produced was brutalized by the medium that distributed it-the newspapers that run comic strips so small that any real artistry is smudged away-and that he didn't need the money, it's no wonder that Watterson gave it up. No one goes on beating himself over the head any longer than necessary.
            Watterson no longer does any cartooning. Since retiring, he has been teaching himself to paint, he says, and he's learning about music. 
            He "returned," in a manner of speaking, only briefly, in the fall of 2001, for an exhibition of selected Sunday strips at the Cartoon Research Library at Ohio State University. For the exhibition, Watterson had selected 36 strips, and for the show's catalogue, he provided an introduction and annotations on each of the strips. The handsome full-color 96-page book, Calvin and Hobbes: Sunday Pages 1985-1995, is an almost unique undertaking. Each Sunday strip appears twice, on facing pages. The left-hand page presents a strip in black-and-white; the right-hand page, the same strip as it was published in newspapers in color. Watterson's annotations run beneath the artwork.
            The left-hand art is not, actually, "black-and-white." The artwork was photographed in "color," and it is published that way, so we see black lines against a sort of cream-colored background. The object of this maneuver is to show Watterson's drawings in the book exactly as they appeared on the exhibition walls-with shadowy pencil lines behind the inking, occasional blotches of white-out, the uneven coats of black ink wherever solid black appears, and so on. Available through Andrews McMeel (96 9x12-inch pages; $12.95), Sunday Pages is a delectable repast with a master chef of the medium setting the table.
            In the introduction, the reclusive Watterson discusses his working methods, his inspirations, and his frustrations with the limitations and politics of syndicated newspaper cartooning. He also speaks with great affection of the form: "It's been five years since the end of Calvin and Hobbes," he writes, "the longest time I can remember in which I haven't drawn cartoons. Calvin and Hobbes was a wonderful experience, but it was an all-consuming career. When I quit the strip, I put my cartoons in boxes, and jumped into other interests. I haven't really considered the strip since...."
            But he has apparently kept an eye on the funnies. He gently alludes, for instance, to a device that he employed with great effect which other cartoonists now use so routinely as to undermine its impact. At the beginning of Calvin and Hobbes, we sometimes saw Hobbes as Calvin's parents saw him-as a stuffed toy. But mostly, we saw Hobbes as Calvin saw him-as a real tiger. Similarly, Watterson depicted Spaceman Spiff as Calvin imagined himself to be, rocketing through the chilly void of space, making a rough landing on the rocky surface of an uninhabited planet.
            "I did this," Watterson explains, "simply as a way to put the reader in Calvin's head and to reveal his imaginative personality. Now these juxtapositions are a visual game for many comic strips, and after all these years, I suspect readers know where this sort of joke is headed as soon as they see it. The novelty cannot be recaptured."
            When Watterson unpacked storage boxes of his original strips to pick pieces for the exhibit, he discovered anew his passion. Said he: "I no longer take quite so much for granted the versatility of comics and their ability to depict complex ideas in a beautiful, accessible, and entertaining form. For all their seeming simplicity, the expressive possibilities of comics rival those of any other art form. Five years after Calvin and Hobbes, I love the comics as much as ever."
            Very few people have actually seen Bill Watterson. Or, even, photographs of him. Once Calvin and Hobbes got going, the cartoonist shunned publicity with the dedication and passion of a Trappist monk. And he continues a recluse in retirement. Just before he retired, Watterson and his artist wife Melissa moved back to their hometown, Chagrin Falls, Ohio. They bought a three-bedroom house, where Watterson has been painting ever since. This news comes to us through the enterprise of a newspaper reporter named John C. Kuehner, who actually summoned the temerity to approach the absentee cartoonist in his lair.
            "The 40-year old Watterson declined a formal interview," Kuehner reported, "but in a conversation at his door, where he would not allow any notes to be taken, Watterson stressed that he does not want to live, nor should he have to live, in a fish bowl or have to deal with intrusions into his life by the curious."
            Nothing daunted, Kuehner looked up Watterson's parents, who still live in Chagrin Falls. The cartoonist's mother, Kathryn, said, "He definitely wants to disappear."
            Watterson pere agreed, adding that when the two Watterson couples dine out together at a local restaurant, the populace understands that they are to be left strictly alone.
            "They might wonder, Gee-was that your son with you?" he said, "but they are polite and don't ask."
            Everyone in Chagrin Falls, apparently, is in on the charade and pretends that one of the world's most admired cartoonists doesn't live anywhere around. And even if he does, no one ever sees him. And even if they see him, they don't recognize him. And even if they recognize him, they don't.
            This is admirable community spirit. This is the sort of spirit that built the Panama Canal and put a man on the moon. Real togetherness of a highly refined, dedicated, sort. You have to admire that. Still, in a wild moment of utterly mindless speculation (I'm always losing my head while those about me are keeping theirs), I had to wonder if maybe Watterson's desire for anonymity isn't just a trifle on the extreme edge. I have always applauded his determination to thwart the ever-prying press in its unrelenting drive to make every citizen's most private thoughts a matter of public record from coast to coast. I've thought for years that this kind of merciless pursuit of a "story" is a much distorted exercise of First Amendment obligations. I'm not sure how much The Public actually has "a right to know."
            So I've usually rubbed my hands in fiendish glee whenever I read of Watterson's frustrating the press once again. But I begin to wonder, now, if maybe his passion for privacy hasn't turned perverse. Remember millionaire Howard Hughes? He dropped out of the public spotlight years before he died. And the report is that he didn't trim his fingernails or toenails for years.
            The Watterson family should be on the look-out for similar evidences of derangement in their cartooning celebrity-untrimmed fingernails, unkempt beard, unruly nostril hair.
            I'm still in favor of Watterson doing what he wants to do-and keeping the press completely in the dark about it. But I miss Watterson's strip. And I worry about his grip on reality.
            Oh-what does Watterson look like? He looks a lot like Calvin's father.
Much of the foregoing is excerpted (then up-dated) from the Calvin and Hobbes section of my book, The Art of the Funnies, which retails dozens of analytical gems such as this; for a preview, click here.
UNDER THE SPREADING PUNDITRY
Mark Zepezauer, editor of the Santa Cruz Comic News (a dandy monthly compilation of editorial cartoons available through www.santacruzcomicnews.com) observed in the latest issue that "prominent conservatives have publicly admitted the absurdity" of the claim that the media are liberal. He quotes conservative guru Bill Kristol: "I admit it: the whole idea of the 'liberal media' was often used as an excuse by conservatives for conservative failures." And this: "Most recently, liar/plagiarist/harpy Ann Coulter let it slip out in the friendly confines of a Fox News studio that 'we have the media now.'" Finally: "Studies have shown that the news media rely disproportionately on lavishly-subsidized right-wing think tanks for quotations and free op-eds and that the guest lists on news and chat programs skew overwhelmingly white, male, and Republican. Eight of the top ten syndicated columnists are conservatives, and all of the top ten syndicated radio hosts are. The majority of newspaper publishers have endorsed the GOP presidential candidate in all but two elections since 1932."
            Other developments overlooked by a hurricane-and-runaway-bride-infected news media: in Iraq, we're building four massive military bases so is it any wonder no one in the Middle East believes us when we say we'll be leaving the country as soon as the Iraqis can guarantee their own security? And in Massachusetts where a state court authorized same-sex marriage a year ago and state legislators vowed to pass a constitutional amendment banning same-sex marriage, the amendment was introduced in the legislature in mid-September and soundly defeated, 157 to 39. Meanwhile, in Boston's Public Gardens, it was revealed that the city's beloved pair of swans, named Romeo and Juliet, are actually a same-sex couple.
            Martha Mendoza of the Associated Press did a story at the end of September about the New Orleans refugees and the homeless generally. (Yes, I say "refugees" because it seems to me that shames the Bush League more accurately than calling these displaced persons "evacuees," which is just Bushwah, putting a positive spin on disgraceful performance by the government.) She found her homeless sleeping in the pews of St. Boniface, a 103-year-old church in San Francisco that apparently keeps its doors open for those forgotten people with nowhere to sleep. The pews, Mendoza notes, are full of recumbent bodies, which, in turn, fill the benevolent church with "the smell of their sour acrid clothes" and the gentle sound of their snores. Among these persons, Mendoza finds an African-American man who gives his name as J.R. "Let me tell you about abandoned people," he tells her. "Those people who were abandoned in New Orleans, they were abandoned long before that hurricane hit. We all were. This is a capitalist society," he continues. "Capitalism means some people get richer and some people get poorer. In order for this system to work, for there to be really wealthy folks, you've got to have me at the bottom. This abandoning, it was planned from the beginning." J.R.'s articulate perception is surprising in such a man and breath-taking in its profoundly disheartening verdict. We don't like to think he's right, but, alas, I fear he is.
BUSHWHACKING
Tom DeLay, under indictment (at last!) for questionable political shenanigans, claims, in a loud voice, that he's being victimized by the Democrat prosecutor in Austin, a "partisan fanatic." So lemme see if I've got this right: DeLay thinks partisan fanaticism is bad? Who knew? ... In the October 10 issue of Newsweek, Jonathan Alter writes about "Tom DeLay's House of Shame," establishing that the Republican Majority Leader kept a list of lobbyists who were not contributors to his power base and these he never let in the door of his office, a practice that inaugurated "the single most corrupt decade in the long and colorful history of the House of Representatives. ... Never before has the leadership of the House been hijacked by a small band of extremists bent on building a ruthless shakedown machine, lining the pockets of their richest constituents and rolling back popular protections for ordinary people. ... The 21st century Radical Republican agenda is to enact the wish list of the tobacco and gun lobbies, repeal health and safety regulations and spend billions on shameless pork-barrel projects to keep the GOP at the trough." As for Roy Blunt, DeLay's temporary successor as Majority Leader, Alter notes that "Blunt is respected by Republican members in part because he has 'strong ties to the Washington lobbying community.' That's a qualification for office?" I guess so-among Republicans anyhow. Shame indeed. And where has Alter been for the ten years of DeLay's reign?
            The Republicans have the majority in the Senate, but those 51 senators represent only 17 percent of the nation's population (sez George Will, a rampant conservative himself): most of the GOP senators come from the least populous states, whereas the 49 Democrats come from the most populous states, so when the so-called "minority" in the Senate objects to something, they're representing 83 percent of the citizenry.
            The huge fuss made over abortion in the national news overlooks entirely the situation in the states, where the abortion battle continues apace, albeit quietly, virtually unnoticed. While senators and congressmen fulminated and gesticulated in the nation's capital, in the state capitals, the abortion forces inched forward, chipping away at the freedoms seemingly guaranteed by Roe v. Wade. More than 500 bills insinuating inhibitions to abortion were introduced in the last year. There are now 35 states requiring some sort of parental involvement by an underage woman seeking an abortion-either notification or permission from one or both parents (tough to get, probably, in the case of incest-induced pregnancy), a grandparent or adult sibling. In Arkansas, Georgia and Minnesota, women applying for an abortion must be told that the fetus might feel pain. Scientific evidence supporting this contention is incomplete. Other restrictive measures in other states include funding for organizations that offer alternatives to abortion coupled to laws requiring counseling that provides lists of such organizations to women seeking abortions.
            In his appointment of Harriet Miers to the Supreme Court, GeeDubya has managed, at last, to demonstrate a quality that his Democrat opponents have been too timorous to accuse him of: he has revealed an incompetence that goes beyond sheer ineptitude into the realm of gawfaws, and he now stands before us in his real costume, as a political clown, a complete dingbat of the first order. Already reeling in the polls because of the FEMA fumbling that his cronyism fostered, he now appoints another crony to the biggest bench in the country. This guy can't learn: his head is too solid. George W. ("Whoopee Cushion") Bush is a joke. And when he advocates confirming Miers, his strongest recommendation is: Trust me-I know she'll be a good judge. (He means to say "justice," which is the title accorded to all Supreme Court "judges"; but never mind.) The sorts of intellectual skills required of Supreme Court justices are born of "years of practice sustained by intense interest,"according to conservative guru George Will. Using the antique adage, "It takes one to know one," then what possible grounds do we have for "trusting" GeeDubya? What intellectual skills has he ever demonstrated? And what intellectual skill does he demonstrate in appointing this Texas crony to the highest court in the land? Editorial cartoonists are having a field day with this one. Even such rampant conservatives as Henry Payne at the Detroit News, who drew a picture of GeeDubya at the podium announcing his nominee, who stands next to him; says the Prez: "My fellow Americans, I've learned a lesson not to appoint cronies to run FEMA. From now on, I nominate cronies to the Supreme Court."
            At the White House, the Bush League is coming apart at the seams. Presidential spokesmen are trying to appease conservative critics of the Miers nomination by loudly whispering that she's a member of an extremely conservative evangelic church, one that has been opposed to abortion for eons. Queried about this tact, GeeDubya explains that they're only trying to give us "background" on the nominee. "People ... want to know as much as they possibly can before they form opinions. And part of Harriet Miers' life is her religion," saith GeeDubya, echoed forthwith by his minions. A month ago when Concerned Citizens wanted to explore John Roberts' religious persuasion, they were told by White House spokesmen that a person's religious beliefs shouldn't be any part of a consideration of that person's fitness for the Supreme Bench. Okay, I give up: which is it? Like I said, they're comin' apart before our very eyes-as anything built of whirling dervishes and mirrors should.
            Miers' qualifications appear, to Marjorie Cohn at www.truthout.org, to consist chiefly of her long affiliation with her hometown church wherein abortion is rabidly opposed, a fact that ought to make the Bush Base ecstatic (but apparently, unaccountably, doesn't, not enough anyhow). Most of her legal experience derives from representing a string of corporations. So she'll doubtless support the corporate side of any issue involving big business, and she'll frown disapprovingly on anything involving a woman's right to choose. Says Cohn: When Bush nominated Miers, he proclaimed, "She has devoted her life to the rule of law and the causes of justice." On the contrary, Cohn goes on, it appears that Miers has devoted her life to the interests of big corporations and George W. Bush.
            When it finally occurs to GeeDubya that, as President of the U.S., he ought to look like he cares about the citizens who live in New Orleans and the rest of the Katrina-ravaged Gulf Coast, what does this trained chimpanzee do? His keepers send him down to New Orleans to make a face-rescuing nationally televised speech from Jackson Square in the French Quarter. Look: here he is, right there in New Orleans amid the death and destruction. Boy, does this guy care! Or does he. He makes his speech at night when artificial lighting is essential. The city has no electrical power, but that's no problem: the Commander in Chief just gets powerful generators down to New Orleans to crank up enough electricity to run floodlights and the microphone and the tv cameras. Then he goes away and takes his generators with him. The flooded city won't get electricity again for weeks. Does he have any idea of what bad P.R. it is to demonstrate so vividly what the have-nots don't have in the Crescent City? I doubt it. As I said, his head's too solid. The joke would be funny if it weren't for the tragedies that the policies of George W. ("Witless") Bush have wrought on every hand.
MORE BULL
The Bush League foreign policy is of the bull-in-a-china-shop kind: we can barge in and knock over furniture, but we seem incapable of picking up the pieces; we can create chaos but not civilization. This behavior coupled to the gunslinger personality of GeeDubya reinforces the European view of America as a cowboy nation: we shoot 'em up a lot, but when we are invited indoors, we tend put our feet up on the dinner table-and we still have cow dung on our boots. We have plenty of muscle but too little organizational skill in other departments of national behavior. We can intimidate but can't create order.
            Even our power to intimidate has been severely compromised by the Bush League. The Bush League invasions of Afghanistan and Iraq have effectively destroyed the image of America the Invincible. We have a powerful military, but it is capable only of conquest in the broadest sense. In both countries, a substantial insurgency keeps the struggle alive, denying the victory that the most powerful military force in the world ought to be able to claim by now. Clearly-as demonstrated for the entire world to see-we're not all that powerful. We can thank Rumsfeld's operation of the Pentagon for that. Used to be, we could rattle a sabre, and people would quake; now, they are likely to laugh. (Nervously, I admit: they know, now, that we can't conquer them entirely, but we can sure make a big and bloody mess.) The Bush League response to Katrina completes the shredding of our national reputation: not only can we not foster civilization abroad, but we cannot support it at home. At home, it's every man for himself; we're back in the jungle. America's reputation is left in tatters after the Bush League occupation of the White House. (Oops. Sorry: I meant to say, "the Halliburton White House.")
            Metaphors be with you. Sigh.
To find out about Harv's books, click here.