Opus 158:
Opus 158 (April 3, 2005). We take a lingering look at the graphic novel The Long Haul, stump for Frank Miller's "Sin City" flick, point the finger of scorn at the philistine Richard Goldstein, and review a full half-dozen new comic book titles. Topics this time and their order are: Nous R Us -Manga bust, Pekar's latest, Langridge vying for Reuben, Syrian censorship, library heroism in Iraq, Tintin squeezed out by greed; Funnybook Movies -Wonder Woman, Fantastic Four, X-Men; Comic Strip Watch -some anniversaries, Dennis is six but only for a day, the shocking commonplace in 9 Chickweed Lane, Lynn Johnston's dentistry, and an award for Frazz; Editoonery -The winner in The Week's first annual competition and what's good and what's dubious about it, Ann Telnaes leaves TMS and Scott Bateman gives up on King; New Yorker News -an assortment of comments about magazine cartooning by cartoon editor Robert Mankoff and others, and a new piece of visual comedy in the magazine; Feetnit -revisiting some topics from previous outings: Cho's Shanna and what it means for U.S. foreign policy, Trudeau's artistry in his Hunter Thompson tribute, and flacid reasoning by popcult critic Goldstein, who, it turns out, couldn't find any examples of Dole's withered arm being cartooned (even though he says it happened "often"); More Memorable Sin -Frank Miller's Sin City moves; Funnybook Fan Fare -Reviews of The New West, Alexa, Black Panther, The Expatriate, Superman: Strength, and Belly Button Comics; Book Marquee -The Long Haul reviewed. Finally, our usual Friendly Reminder: Remember, when you get to the Members' Section, the useful "Bathroom Button" (also called the "print friendly version") of this installment that can be pushed for a copy that can be read later, at your leisure while enthroned. Without further adieu-
NOUS R US
For the first time since converting to monthly magazine format ten issues ago, the Comics Buyer's Guide for May doesn't have a cover devoted to promoting a movie based upon funnybook superheroes; instead, we have the Green Lantern. ... The manga boom may be going bust. Publisher's Weekly reports that ADV, a Houston-based manga publisher, has laid off as many as 40 staff from its manga division because the marketplace is saturated with the product: "Anyone can see there's only so much shelf space available [in bookstores] for manga," said DVD president John Ledford, "-we've adjusted our schedule to keep pace with the [limited] opportunities." ... Harvey Pekar's latest graphic novel commemorates his surreal experience as the subject of a movie, American Splendor: Our Movie Year ($16.95 from Ballantine); I haven't seen it yet.
            And here, from Fantagraphics, comes the news that Roger Langridge, whose Fred the Clown is a masterful cartooning performance, has been nominated for the Comic Book Division Reuben Award in the annual award fest of the National Cartoonists Society. Fred is a "heartbreakingly funny" masterpiece of sight gags and whimsy, and if Langridge gets this award, which he richly deserves, he might continue to produce comic books instead of taking up some endeavor that will make a living for him. As I've said before, to experience Langridge is to experience comics as high art. Don't miss him. Or them. His books are still available from www.fantagraphics.com.    
            Cartoonists in Syria, like those in many totalitarian countries, are often persecuted if they express views critical of the regime in power. Ali Farzat says his work is not officially banned, but no newspaper editor is willing to chance publishing his cartoons, many of which are brutally critical of authority figures. Ali once published a satirical magazine, reports Dan Isaacs of BBC News. Launched in 2000 during a brief period of greater freedom of expression following the death of President Hafez al-Assad, it was "the first private publication to have been published in over 40 years of Baathist rule." It was banned three years ago. "I went too far for them," Ali said; "the government issued a resolution, and within one hour they had closed my newspaper and my office and taken away my printing license." The Syrian government owns and controls all media, and foreign publications are censored as they enter the country. But relaxation may be in the offing when the present Ministry of Information re-evaluates the current press regulations. One journalist who was imprisoned in 2003 for five months because he wrote an article that embarrassed the authorities said: "Officials who believed they could control the flow of information are now realizing that it's impossible"-particularly in the Internet Age. Said Isaacs: "The tide of information flooding into Syria is unstoppable."
            Alia Muhammad Baker, the head librarian of Basra, Iraq, is the heroine of two new children's books, one of which, by cartoonist Mark Alan Stamaty, is a graphic novel. The British forces left the city after conquering it, and the library was left unprotected. Baker, with the aid of neighboring shopkeepers and friends, quietly removed about 70 percent of the library's collection, according to Eden Ross Lipson in the New York Times, and stored the books in a restaurant next door just in time to avoid a mysterious fire which destroyed much of the library a few days later. Baker's rescue adventure is entitled Alia's Mission: Saving the Books of Iraq by Stamaty. Another book, The Librarian of Basra: A True Story from Iraq, is a more conventional illustrated children's book by Jeanette Winter.
            In Belgium, comics are "an integral part of the country's culture," according to Susan Wilander at Expatica.com: "Over half the books printed in Belgium are comic books. That means a new comic book is published every day by an industry that supports around 600 professional artists." Foremost among these is doubtless the late George Remi, whose creation of Tintin in January 1929 probably did much, over the ensuing years, to establish a cultural cache for comics. Understandably, Remi's nephew is upset that a recently mounted exhibition, "Made In Belgium," does not include anything by Herge (Remi's pen name, made by reversing his initials and giving them a French pronunciation). The famed cartoonist's second wife controls Herge's estate, and she and her new husband, an Englishman named Nick Rodwell, could not reach a financial agreement with Dexia Art Center which had hoped to have a section in the exhibition devoted to Herge. So the show, spread over six floors of the Center, went on without Tintin, perhaps Belgium's most famous personage internationally. The nephew says he and his sister are "outraged" by the apparent greed of Rodwell, who, Remi claims, "wants to turn Tintin into a Disney style empire and anyone who gets in the way is crushed." He wants the Belgians to know that not all the Herge family is so grasping, and he has appealed to his step-aunt to rethink the situation.
            Funnybook Movies. He made his name, initially, with Buffy the Vampire Slayer, and now Joss Whedon turns to another female warrior as he signs to direct the impending Warner Bros. celluloid enactment of DC's Wonder Woman, saying, "Wonder Woman is the most iconic female heroine of our time, but in a way, no one has met her yet. What I love most about icons is finding out what's behind them, exploring the price of their power." The task is daunting because of the dismal showing at the box office of "Catwoman" and "Elektra," which seems to suggest female superheroes aren't as potent as their male counterparts, tv's "Alias" to the contrary notwithstanding. They have yet to find an actress to fill out WW's spangled bustier.
            The Fantastic Four movie, due in theaters on July 8, is hoping to overcome a long history of failure and frustration. Distributor 20th Century Fox is committed to at least one sequel and hopes for a franchise; more than 60 companies have merchandising contracts-despite the movie-making disappointments that have dogged the foursome for decades, stretching back into the 1980s when Stan Lee was laboring mightily in Hollywood to get his brain children translated up to the big screen. The campy 1993 effort produced by Roger Corman was the only tangible result; manufactured just as the company's film rights were about to expire, it was never released it was so bad. And director Peyton Reed left the current enterprise two years ago. Then along came Pixar's astonishing superhero family, "The Incredibles," which looked like a parody of the Fantastic Four and which captured much of the spirit of the vintage team-causing the FF filmmakers to alter their product, even cutting a scene that was too much like one in the Pixar movie.
            Matthew Vaughn takes Bryan Singer's place as director of the third X-Men movie; Singer, who did the first two mutant movies, opted out to re-launch the Warner Bros.' Superman franchise; "X-Men 3" is slated for a May 2006 release. ... Thomas Haden Church, who played the womanizing ignoramus in "Sideways," has been cast as the villain in "Spider-Man 3," but he will play a new nemesis, as yet unidentified, not, apparently, from the roster of Spidey's comic book bad guys.
ANNIVERSARIES:  Dave Whamond's Reality Check, an off-beat syndicated panel cartoon that habitually twists common phrases and everyday images for a skewed view of the world, is ten. ... And celebrating its mere fifth anniversary is Soup to Nutz, the grossly outrageous strip in which, it sez here, "family values" usually refers to a coupon booklet, by Rick Stromoski, who will take office as President of the National Cartoonists Society when it meets this spring in an undisclosed place at an undisclosed time.
Comic Strip Watch. On Monday, March 14, Chuck Wilson, a newspaper reader in Everett, Washington, phoned the office of the local paper, the Daily Herald, in alarm. "Have you looked at Dennis the Menace today," he cried. "He's turning six! He's supposed always to be five-and-a-half." Well, yes and no. Dennis has a birthday every year-on or about March 14, which is the birthday of Dennis' creator, Hank Ketcham -and it's always his sixth birthday. But the next day, he goes back to being five-and-a-half. Reassured by the Herald's columnist, Julie Muhlstein, who had contacted promotion manager Rose McAllister at King Features, which distributes Dennis, Wilson breathed a sigh of relief. He reads two papers every day and is an avid peruser of the comics pages in each. But Dennis is not his favorite; 9 Chickweed Lane is.
            And changes continue to roll out of Brooke McEldowney's exquisitely rendered strip, named for the address of the address of the place where Juliette Burber, her daughter Edda, and the grandmother live. But they all don't live there anymore. Several months ago, Edda won a place in a professional ballet company and went to the Big City (New York, presumably) to pursue her career. Her cat, the Siamese Solange, went with her; and Amos, the boy who's followed her everywhere all their lives, also made the trip. I read Chickweed Lane every day (on the Web at www.comics.com), but I must've been out-of-town for a week or some such excuse because I missed when Edda moved in with Seth, her male dancing partner. And then, slowly-as I began to realize that they lived together-I also realized that Seth is gay. Given the panic that anything vaguely unconventional incites among newspaper readers, I was surprised (1) that McEldowney's syndicate, United Feature, permitted such behavior and (2) that I had heard no outcry about any of it. After all, McEldowney vaulted over two presumably insurmountable taboos: he has an unmarried couple living together, and one of them is a homosexual. Admittedly, these things happen all the time these days, but not in the funnies. So I asked him if there'd been any manifest outrage among Chickweed readers and how he had divulged Seth's sexual preference. Here's what he said on March 24:
            "I have received, out of a bundle of very pleased letters about new direction for Chickweed and Edda and so forth, two notes from readers displeased that Seth is gay. They have both said they will not read Chickweed again. There was one note from a fan who worried that Edda might not realize he's gay, and wished that she be warned. About what, I'm not sure. Frankly, I don't think the kind of reader who would object to such things would have been a devoted Chickweed fan in the first place. A little while back, I established that Edda would be sharing rent with her new dance partner in the ballet company until she finds her own digs. I never even perceived a morality issue in this. When I was studying at Juilliard, many students shared apartments and rents. Edda, of course, is being paid handsomely for her services, but finding an apartment is still rough at times. So she stays at Seth's place and splits the rent. (Obviously, this will in time become informally permanent.)
            "The main thing about Seth, I believe, is that he is not an issue, a statement, an object for controversy. He is just Seth, and his homosexuality is just part of the package that makes up his personality. I think he's a wonderful character, the kind who cares for his friends, worries if Edda's out late, makes sure she's getting a balanced diet, has his own friends, and falls in love at the drop of a hat. He also is the influence that wants Edda and Amos to get back together. He's a romantic. There should be no issue in that. I think I haven't heard much about it because I rather slipped him in under the radar. As I say, he's not an issue. I never used the words gay or homosexual in the strip. He was obvious. However, soon I believe an interview I did with The Advocate will focus entirely on the issue of Seth as a homosexual character in a comic strip. I suppose I could hear more about it after that. Frankly, I don't care. He's a good character, and I have no intention of running around, changing things to appease features editors. People are exceedingly dirty-minded, the moral paragons most of all. If they had it their way, we'd be running away from our own knees (Spike Milligan's image)."
            As you might imagine, I agree with and applaud everything McEldowney says here. Ditto his visuals in the strip, which continue to be among the most imaginative on the comics page. Apart from regularly depicting his characters from inventive angles (which maneuver is often, itself, the gag that day), he's never content with the ordinary. If the story demands a day's worth of talking heads, you may be sure that McEldowney will fill his four panels that day with four completely different views of the discussants, one of which, at least, will be from a highly unusual perspective. Imagination, visual imagination. We so seldom see it so frequently exercised to such effective lengths as we do in 9 Chickweed Lane.

            At the University of Toronto, Lynn Johnston and her dentist husband Ron, a graduate of the institution, were honored April 2 with an award of distinction for "putting a human face" on dentistry. Johnston's strip, For Better or For Worse, concerns the doings of a family the father of which is a dentist. Said Johnston: "[This] recognition is especially meaningful to me because it is an honor I share with my husband. Running a dental practice may appear to be a solo endeavor, but as most dentists know, a spouse's support is a valuable asset." The dean of the University's dental school said, "Although Lynn Johnston is not a dentist herself, her work has helped Canadians see the person behind the profession and made people less fearful about visiting a dentist's office." I don't remember many sequences in the strip taking place in the dentist's office, but the recognition is nice anyhow.
            Frazz, a comic strip set in an elementary school whose title character is the janitor, received the 2005 Wilbur Award from the Religion Communications Council for excellence in communicating values, ethics and religious themes in secular media. Frazz won it in 2003, too. The lead character is a role model to the student body in the school where he mops the floors, whistling Beethoven as he works. The kids come to him for advice-and, sometimes, just to spout off. Here's a youngster talking to Frazz about Valentine's Day: "So I found these Valentine cards at the store ... they said, 'To my one and only' ... And they came in boxes of twelve ... math is weird," he finishes; and Frazz, studying the kid, says, "I know a weirder subject."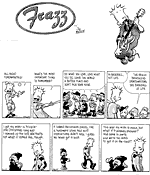 On another day, another kid asks Frazz, "How do I know I'm being educated and not indoctrinated?" Frazz says, "If you sit in the back and be quiet, you're being indoctrinated. If you sit up front and ask questions, you're being educated." And the kid says, "No way is it that simple." To which Frazz enthusiastically responds: "Excellent, excellent!" Says cartoonist Jef Mallett, who doubles in editooning: "It's only half satisfying to create a fictional world where people are essentially good. It's when people can identify with such a world that I feel great. It means maybe the nice world isn't so fictional after all."
EDITOONERY
Clay Bennett (Christian  Science Monitor) won the John Fischetti Award for editorial cartooning, which  carries a cash prize of $5,000.Bennett's winning entry shows American soldiers in the classic Iwo Jima flag-raising pose, propping up a house of cards with "Iraq" on the back of each card-the sort of visual metaphor at which Bennett is particularly adept. This is the second time Bennett has collected the Fischetti (named affectionately for Chicago editoonist John Fischetti); Bennett also won in 2001. The contest-sponsored by Columbia College in Chicago-also gave honorable mentions to Steve Breen (San Diego Union-Tribune) and Nick Anderson (Courier-Journal, Louisville).
            The March 18 issue of The Week magazine, my favorite, contained a dandy 20-page insert announcing the results of its second annual Opinion Awards, which, this year, include editorial cartooning for the first time. The editors of the magazine believe they are uniquely constituted to assess "the vitality, relevance, and coherence" of the nation's commentators because they survey every day the news and opinion columns of the national press in order to assemble each edition of their magazine, which is, topic-by-topic, a summary of the week's events. And they're doubtless correct in their self-evaluation. In the political cartooning category, Tom Toles (Washington Post) got the nod ahead of Chip Bok (Beacon Journal, Akron, Ohio), Steve Kelley (New Orleans Times-Picayune), Mike Luckovich (Atlanta Journal-Constitution), and Gary Markstein (Milwaukee Journal Sentinel). Other opinion-monger winners were Peter Beinart, editor of The New Republic, and, as Advocate of the Year (on a single issue, in this case, civil liberties and national security), syndicated columnist Jonathan Turley. The trio of bloggers who drove Dan Rather out of the anchorage at CBS were dubbed Bloggers of the Year. In tagging Toles the Editorial Cartoonist of the Year, The Week's judges "were struck by Toles' ability to create cartoons that somehow feel good-natured even as they skewer their targets." One judge said he was "enriched" by Toles' "sense of the ridiculous"; another said his cartoons are "the place to go for insightful observation and a good laugh"; yet another said Toles was "reliably wonderful." All pretty vacuous assessments.
            None of the judges, who were the magazine's editors augmented by a panel of distinguished personages associated with the Aspen Institute, are cartoonists. They were instructed to look for a "consistent impact through a marriage of artistry, humor and originality." I doubt that any agreement exists among the judges as to what "artistry" means-or "humor" or "originality" or "marriage." Much the same criticism can be leveled at any of the annual editooning award competitions although the Pulitzer committee usually includes a cartoonist. We are left to suppose, then, that most judges of editorial cartooning look for a good laugh. None, we suppose, think of the editorial cartoon's most potent trait-the memorable visual metaphor that lingers in the readers' minds, twisting their perceptions ever after and, perhaps, influencing their votes in the next election. Too bad. I don't quarrel with their final choice, though, or with the recognition this competition gives the four runners-up. All have produced hard-hitting cartoons through the year. And The Week itself clearly values political cartooning. It publishes one or two pages of editorial cartoons every week-unflinching opinions usually, not just jokey cartoons of the sort Newsweek dotes on (although the selection of cartoons by the contending finalists as published in the insert was more giggly than the usual weekly selection). Moreover, the cover of the magazine is always a caricature of a person prominent in the news that week-rendered in full color as a political cartoon. And all the winners are caricatured here by one of the cover artists, Fred Harper. So we know The Week has a high opinion of the cartooning craft.
            The magazine also seems to lean left (which may account for my affection for it). The sampling of opinions on every news topic that are published in each issue include conservative as well as liberal points of view, but, except for the cyberspace columnists, all the winners of this year's laurels are, more-or-less, liberal. That, however, may reflect our contentious times as much as an editorial bias. Whichever party is in power is always the target for commentators, which de facto gives more visibility to the opposing point of view. And in the wake of 9/11, the conduct of the Bush League has been highly debatable. So perhaps it is natural that the Opinion Awards go to those who have been doing most of the debating, the loyal opposition.
Elsewhere. Editoonist Ann Telnaes, who won the 2001 Pulitzer in editorial cartooning, says she's leaving her current syndicate, the Tribune Media Services, effective April 1. "The relationship  wasn't beneficial to either party," she told Dave Astor at Editor & Publisher. "We didn't see eye-to-eye on the sales effort." As of March 16, she hadn't found a home in another syndicate. She hopes her 150 TMS client papers will continue to use her work. And she continues to do a weekly cartoon for Women's eNews online and a once-a-week strip in King Features' Six Chix.
            Scott Bateman announced that he is withdrawing from King Features' Best & Wittiest package, which has distributed his cartoon since 1997. About a dozen cartoonists submit cartoons to King for the package, and King picks six a day to send out to client papers, paying $55/cartoon. Bateman says he'd been selling about ten a month, and since he has no home base newspaper, King's fee was much of his income. Recently, he says, King has been picking "fewer and fewer of my cartoons, shying away especially from the harder-hitting ones. Granted," he adds, "my work's been getting edgier in tone and design, but still-in terms of content, it's nothing worse than, say, 'The Daily Show.'" Bateman's cartoons are among the most distinctive visually: they typically consist of a series of geometrically minimalist talking heads whose utterances appearing in typeset alongside the pictures. On Sunday, March 20, Bateman did a four-panel cartoon commenting on the so-called "culture of life" campaign being waged in connection with the Terri Schiavo situation, pointing out the self-serving hypocrisies of the conservative stance.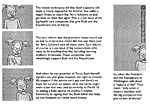 The text reads as follows: "The recent bankruptcy bill that Bush supports will make it nearly impossible for families that suffer a major illness or injury like Terri Schiavo's to ever get back on their feet again. This is a pet issue of the big health care companies that give Bush and the Republicans lots of money. The tort reform that the President wants would put an end to malpractice claims like the one that's paid for Terri Schiavo's care all these years. Tort reform, of course, is a pet issue of big corporations who want to do anything they like, including harming ordinary Americans. These companies over-whelmingly support Bush and the Republicans. And when he was governor of Texas, Bush himself signed a law that gives hospitals the right to remove life support if the patient can't pay and there's no hope for survival, no matter what the family might wish-a law that was used as recently as March 16 to unplug a baby against his mother's wishes. Essentially, by signing that law, Bush killed that baby so the hospitals can make more money. So, when the President and the Republicans in Washington talk about a 'culture of life,' they mean 'only when it doesn't interfere with the big companies that give us lots of money.'" Pretty outspoken stuff and, in my book, admirable. The cartoon, which Bateman posted to his site, www.batemania.com (go to LiveJournal), was picked up, he says, by numerous blogs, bulletin boards, and LiveJournals, achieving a circulation his work doesn't normally get. And yet King didn't use the cartoon in its Best & Wittiest package. Bateman e-mailed King, asking why the syndicate didn't use the cartoon. After writing a second time and threatening to drop out of the package, he received a response from editor-in-chief Jay Kennedy, who explained that the final selection for the package is made by a group of editors, not just him. Kennedy pointed out that Bateman's cartoon is more of an illustrated opinion column than a cartoon and that it uses a lot of space-space jealously rationed by print media but available in unlimited quantities on the Web. And the bulk of King's clients are print publications, newspapers. Morever, entering the homes of their subscribers, they are sensitive about content and are not likely to use material that contains such expressions as "Remember, America-you can't spell B***s*** without 'Bush'" and "Screw unto others." Kennedy told Bateman that he valued his work highly and wanted him to succeed but agreed that perhaps syndication to newspapers was not his best option, saying that he hoped Bateman could find a paying staff editorial cartoon position on some website. Kennedy, who is about as adventurous as his medium allows, having introduced several innovative features over the years, is clearly right about Bateman's work being both unique and problematical for the average newspaper to use. It's regrettable, but, alas, true. I, like many observers these days, wish newspapers were less timorous about what they publish. I applaud Bateman for pulling no punches. His work is among the most imaginative out there, and it's a sad comment on the dismal state of American journalism in newspapers that a giant operation like King feels it cannot place work like his. And it appears that Kennedy feels pretty much the same way. Bateman, meanwhile, is heading for New York, where he doubtless hopes that being "on site" where so many mass media are headquartered will improve his chances of making a living at his chosen profession. We wish him well. His is a voice that must not be stilled.
Lipping the Trite Fantastic from the Pages of the New Yorker
Quoted by Jerome Weeks in the Dallas Morning News, Robert Mankoff, cartoon editor at The New Yorker, explains the disappearance of cartoons from most magazines these days by saying that "they've gotten over-designed-there's no place for a cartoon." I've been saying as much for years: cartoons disappeared from magazines when art directors started controlling the content of the publications. Art directors like solids-solid colors, solid blacks, solid white space, and the solid "gray" of columns of type. Cartoons interfere with the cadence-counting impulse of page design by manipulation of solids. 
            Explaining the continuing appeal of The New Yorker, one of its  new breed of cartoonist, Matthew Diffee, says the secret is the magazine's "intellectual cache: it's a magazine that takes humor seriously." Diffee's college is Bob Jones University, which prompts the press to tag him as "the Christian cartoonist," a label he doesn't much like. Despite his faith, he can rib religion. A sign outside a church in one of his cartoons read: "No shirt, no shoes, no salvation."
            Mankoff says he had to "teach" the current New Yorker editor, David Remnick, about how cartoons should be deployed in the magazine. New Yorker cartoons are topical (and always have been) but not as front-page topical as newspaper editorial cartoons. For decades, thanks to the magazine's founder's Puritan bent, sex was taboo as a subject for cartoons. Then when Tina Brown took over as editor in 1992, that area opened up. New Yorker-style sex, that is, Mankoff explains-"that means no sex. No sex is funnier." He cites the drawing of a couple in bed, the woman snuggling up to her husband and saying, "Is this a good time to bring up a car problem?"
            In recent issues, an innovation has crept, almost unnoticed, into the magazine. One of the New Yorker graphic traditions is the sprinkling of spot drawings-pictures of vases of flowers, tricycle wheels, the odd chair, bent forks, and the like-throughout, breaking up the gray acreage of typography with a little visual relief. Unsigned, the drawings were by an anonymous assortment of contributors. Lately, as reported by Ann Farmer in the New York Times, the spot drawings in a given issue have all been by the same artist for that issue, and the pictures are thematically unified. In the anniversary issue of February 14 & 21, for instance, the spot illos depicted a succession, decade-to-decade, of the city's hot night spots. In another issue, artist Laurent Cilluffo showed a pipe-smoking fisherwoman pulling a bottle of champagne from the sea, then two glasses, a bouquet, a love letter, a ringing telephone, and, finally, her suitor. Other sequences are not so continuous in the comic-strip mode. The one at hand showcases a series of pictures of a cowboy and his struggles with his horse. Said Remnick: "The spot drawings are part of the delight of the magazine, but I thought they needed a little something new. We've been running some of the same windmills, toasters, umbrellas and shoes in six-month rotation for a long time. And so we've let some contemporary artists take a shot at it, and some of the new spots are individuals and some have a recurring theme or joke or tell a story." Art director Caroline Mailhot said, "I think in the treatment of these images, there's a bit of poetry that goes into it. It comes through with a certain surreal quality."
            About the topicality of the magazine's cartoons, Mankoff admits to a liberal bias "in some sense," he says, "but not really ideological." Comedy not conviction inspires cartoonists. "Cartoonists look at the general human condition," he elaborated in an interview in the Capital Times of Madison, Wisconsin, where the College Tour of New Yorker cartoons was on exhibit. "Cartoonists also look for duplicity or doublespeak, whether it's liberal or conservative. That's fodder for their work." Politics involve a system that makes politicians into "paid liars. For example, it's very strange that someone gets up and reads somebody else's words and is credited for them. We accept that. But the cartoonist points out the weirdness of that. In one cartoon, a politician says, 'Let me be vague.' In the historical arc of the political condition, the cartoonists point out that people haven't changed. In that sense, our cartoons are conservative, but they're subversive in that they suggest that whatever politicians say, we think of as BS."
            Roz Chast, one of the magazine's mainstays for decades now, can't find her footing for political commentary. "I find it's hard to have one clear opinion about things. When I can see something clearly, I can do a really good political cartoon. But so often I can see an issue from twenty-four different sides."
            Oddly, Mankoff believes that newspaper editoonists are "actually hired to express a newspaper's viewpoint." That's true only insofar as newspapers tend to fire political cartoonists whose views run counter to the paper's. But most of today's editorial cartooners think of themselves as opinion mongers independent of the positions of their newspapers. If their mongering goes athwart their newspaper's-well, it's a fine line at best.
Quips and Quotes
As we've all known since grade school when we were prone to uttering double negatives ("I don't got no bananas"), two negatives do not make a positive, algebra notwithstanding. But, oddly, two positives these days make a negative. Yeah, right.
            According to the New York Times, more Africans have moved to the U.S. since 1990 than came here in the previous two centuries, including an estimated half-million brought here as slaves.
            In a recent issue of the Washington Post National Weekly, Dana Milbank, discussing the partisan perspective that seems to distort all news these days, recalls the wisdom of Daniel Patrick Moynihan: "Everyone is entitled to his own opinion, but not his own facts."
            Ellen DeGeneres: "My grandmother started walking five miles a day when she was 60. She's 97 now, and we don't know where the hell she is."
Feetnit (the plural of footnote)
You ever find yourself, after you've said something, thinking you could have said it better? Happens to me all the time. One of the beauties of this online extravaganza being conducted here is that I could, if I wanted to, revisit any less than brilliant utterance in my personal past and try to improve upon it. I've not done it much, if at all, and I promise not to bore you in the future with endless "I can top that" reprises, but this time, here are a few of those second thoughts about things I said in Opuses 154, 156, and 157 plus a few blurts of related albeit new information.
            First, here's a little rehashing of Frank Cho's treatment of Shanna in the new Marvel series of that name, picking up by repeating what prompts me to re-think what I said in Opus 157: Cho says he's always had trouble accepting the Shanna concept-"a city woman with no powers leaping around in the jungle, beating up wild animals and men with guns just didn't fly with me." So he's arranged a new origin to "make her into this unstoppable force with questionable moral compass." And it's that last bit that keeps us on the edge of our chairs. (Well, that and Shanna's embonpoint.) A moral dilemma wrapped in a threat of violence. More than just gigantic gorillas and gazongas, gang. In fact, we can, with very little effort, discern a shadowy symbolism in the Shanna persona: there are more than a paltry few among us who believe U.S. foreign policy is military force directed by a faulty moral compass. [That last sentence is the re-think, as if you couldn't guess.]
            And here, beginning with what I said before in Opus 157, is a slightly more amplified take on Garry Trudeau's week-long tribute in Doonesbury to Hunter S. Thompson, an example of cartooning artistry that deserves longer and louder applause than I committed last time: Reassuringly, Trudeau said he has no plans to let Duke follow Thompson's self-destructive example. Although Honey has a bad moment on Saturday at the conclusion of the week-long sequence when Duke suddenly disappears after commenting that "Doc was my inspiration-in a way I owe him everything!" It is a perfect conclusion to an inspired week. [And here's the new stuff:] Trudeau's deployment of word and picture in tandem during the week plumbs the possibilities of the medium. Trudeau has demonstrated for years that he is a past master at timing and impudent dialogue and at getting inside the heads and personalities of each of the characters he creates, however eccentric and distinctive each of them is. But he doesn't as regularly reveal how cartooning can achieve Art. This week, he does. The pictures add a layer of meaning to the dialogue, a layer that reveals Duke and his relationship to the fabled stoned inkslinger as neither words nor pictures alone without the other is capable of showing. Moreover, both Duke and Thompson are evoked through Trudeau's ingenious devices, each shedding light on the other. The interplay between the verbal and the visual is flickeringly complex and nuanced and as mystically outrageous as Duke and Thompson are themselves, and the surreal of the strips becomes the reality of the artform, day by day. Terrific.
            Meanwhile, back in Colorado, Thompson's home state, the bombastic journalist continues even after death to impinge upon the world of the sane. His relatives and friends are seeking to fulfill his wishes for a funeral service and a lasting monument, guided by a BBC documentary on his life in which Thompson specified that his cremated remains should be shot out of an upside-down, sculpted mushroom perched on a 150-foot high double-thumbed fist. I gather the double-thumbed fist is some sort of gonzo thing. The Rocky Mountain News published an artist's representation of the device, which will be erected on Thompson's Woody Creek ranch where it would, subsequent to its initial purpose, serve as a tourist attraction.

Said Thompson's long-time collaborator, Ralph Steadman: "It's quite an interesting idea. Why not do that if you can?" July 18, the writer's birthday, is cited as a possible unveiling date-provided the thing can be constructed by then and permission from the appropriate authorities obtained. Said Thompson's widow: "You wonder if the joke is on us, don't you?" She was remembering a favorite utterance of her husband: "There are no jokes; the truth is the funniest joke of all."
            In my exposition in Opus 154 about Edgy Strips and reader outrage, I observed that the Internet provides complainers with an easy-to-deploy mechanism for fulminating rancorous and overweening exasperation. A few people can create the impression that huge numbers of readers are objecting to this or that strip. When I picked up my March 28 issue of Time, I found in the cover story a staggering instance of this phenomenon running rampant. Describing the "Decency Police," the article discussed the FCC's disciplining of Fox for its airing of an episode of "Married by America" in which several strippers appeared covered with whipped cream and a man was shown licking the confection off the breasts of one of the women. Fox was fined $1.2 million, the largest fine ever. The FCC reported that the questionable broadcast had generated 159 letters of complaint. Considering that several million viewers probably witnessed the licking, 159 complaints doesn't seem like many. But the situation gets even more astonishing. An enterprising blogger filed a Freedom of Information Act request to see the letters. "Because of multiple mailings, the letters actually came from just 23 people, 21 of whom used a form. In other words, three people composing letters of complaint precipitated a seven-digit fine."
            Finally, as a follow-up to the piece in Opus 156 about Nasty Bigoted Editorial Cartoonists, I confess that I was wrought up enough about Goldstein's lunkheadedness that I shot a missive off to The Nation, a somewhat abridged version of my original diatribe that blazed away in this colyum. They printed my letter in the April 4 issue of the magazine, followed by Goldstein's response, which I now quote herewith:
            "I haven't found any sketches of Bob Dole with a withered arm [Goldstein admits], so they may well not exist, as R.C. Harvey asserts. But cartoonist Michael Ramirez did draw Dole with sticklike, skeletal legs (under the legend "Dead Man Walking"); Sean Delonas rendered him holding a cane, with a seeing-eye dog at his side; and Matt Davies put Dole's name over an unattended walker. The idea that images like these were a comment on Dole's advanced age seems disingenuous [What? Sorry: I can't help myself. Like I said, the guy is a visual illiterate. "Dead Man Walking" is clearly OBVIOUSLY plain-as-the-nose-on-yr-fiz a reference to Dole's age, not his arm. Where's a Dead Man walking to if not his grave, the destination of the aged? Ditto the others. Dole's age is being ridiculed, not his arm. But let's let Goldstein continue in his own misguided way-it gets better.] ... seems disingenuous since Ronald Reagan was never shown with such morbid features. [Sheesh. Sorry. Again. Good mannered editoonists didn't depict Reagan as aged? I'm afraid they did-excessively wrinkled jowly neck, for one thing. But even if that doesn't count, Reagan was twenty years ago, and times have changed. We learned some things in the ensuing decades. One thing we learned right away by the end of the Reagan term was the consequence of electing aged politicians: they fall asleep during Cabinet meetings and Iran/Contras slip by while they drowse. Better not make that mistake again. So this time, better point out that the candidate is old so we won't walk into that one with our good-mannered eyes averted. Old, not crippled or disabled.] This was a mocking response to Dole's disability-a source of much anxiety at the time-done with enough subtlety to provide the artists with deniability. [Aha! Now we know why editoonists are so obtuse in their picture-fying. Deniability is what they're aiming for. They don't wish to clarify but to obfuscate. That's why they use all those confusing visual metaphors.] The lesson here is that bigotry in cartoons has grown more indirect at least when it comes to race. But it's still permissible to traffic in other stereotypes, as the many images of Hillary Clinton riding a broomstick demonstrate." End of his letter.
            To my admittedly jaundiced eye, it seems that Goldstein manages with every utterance here to support my argument. My chief point was that he is visually illiterate-incapable of "reading" an editorial cartoon. But even before demonstrating, once more, this deficiency, he admits that there is no evidence of the bigotry he accuses editoonists of indulging: "I haven't found any sketches of Dole with a withered arm," he says. Well then, why make the accusation to begin with? He says he saw this depiction of Dole "often." Yet he can't find any of these frequently disseminated images. Did he make it up out of whole cloth? Evidently. He had to fabricate the bigotry in order to claim it exists.
            But back to his visual illiteracy: in citing the skeletal figures drawn by Ramirez and Davies, he overlooks the fact, obvious to anyone who watches the work of either cartoonist for more than a day, that both cartoonists draw all human beings with spindly legs and arms. That's an aspect of their style. Goldstein, however, is blissfully ignorant of such basic artistic considerations.
            Finally, having absolutely no leg to stand on whatsoever, Goldstein resorts to an argument that can neither be proved or disproved: he accuses me of being disingenuous by stating the obvious (the cartoons were about Dole's age, not his arm) and then, reversing himself completely, asserts that the "age" devices were a cover that permitted editoonists to deny that they were really mocking Dole's disability. How can anyone disprove this assertion? Or prove it? There's no evidence either way. Or, rather, the evidence, such as it is, can be argued either way, hence constituting no "proof" in support of one side to the exclusion of the other. The last refuge of an intellectual scoundrel is an inarguable fiction.
            The only argument against this aspect of Goldstein's case is to ask how he could be right about this when he's wrong about everything else in his analysis of comics and cartooning? Hillary on a broom is scarcely of the same order of things as Dole with a withered arm.
            Incidentally, one 'tooner told me he made reference to Dole's arm in a cartoon in which his caricature of Dole says he can beat Clinton with one arm tied behind his back; but that, it seems, is not so much making fun of Dole's disability as it is Clinton's lack of experience. Still, the point is moot as far as Goldstein's criticism is concerned because he admits he couldn't find a single instance of a withered arm Dole-despite, astoundingly, have said Dole was "often" depicted that way.
            I was, however, a little hasty in claiming shining knighthood for editorial cartoonists, as a few among them pointed out in response to this brouhaha: American editorial cartoonists have consistently employed the most vile ethnic and racial caricatures when depicting enemies of the U.S. The Hun during World War I; Germans and Japanese during WWII. And, recently, rag-headed Arabs for Iraqis and Islamic insurgents. Editoonists could be a little less stereotypical in their portrayals of Arabs, for instance. And of women generally.
            That's the problem with stereotypes: such images are a visual shorthand and communicate certain ideas quickly, but to ignoramuses like Goldstein (and to many who are intelligent and caring citizens) stereotypical imagery bespeaks bigotry, not visual shorthand.
            One unhappy upshot from the Goldstein episode is that my faith in The Nation is seriously undermined: that the magazine would publish such flabby logic as his does not recommend The Nation as a reliable interpreter of the passing scene, political or social. Alas.
MORE MEMORABLE SIN
In the April issue of Playboy, Stephen Rebello reports on Frank Miller's "Sin City" movie, which in three interlocking stories feature Mickey Rourke as Marv, "an outcast misanthrope on a rampage in a morally bankrupt metropolis." Filmmaker Robert Rodriguez "forfeited membership in the Directors Guild when the organization refused to let him and Miller share director credit on the film," says Rebello. The only time I met Miller was at the MoCCA Harvey Awards dinner last year, and I asked him how he liked making movies. He liked it, he said. Rebello quotes him: "Having worked with Hollywood a bit, I thought, I've got no future here." But he found out different working with Rodriguez, with whom, I gather, the working relationship was highly satisfying. Said Miller: "I'd already drawn the damn thing, so I didn't have to work on the shots all that much. What I loved was getting to play with the actors. Mickey Rourke, as pure a Marv as you could ask for, has moments in this that terrify me. ... The tone of the comic is completely uncompromised. My fingerprints are all over this movie."
            The movie gets generous notice in Time, too, just the week before it opened: "The movie seeks out a line between an R rating and an NC-17. ... It's gory stuff, but it's also a visually arresting blitzkrieg with action so bare-knuckled you'll leave the theater spitting out teeth," writes Devin Gordon with a particularly picturesque turn of phrase. "The entire film is a digital painting in stark black and white with dashes of color. ... Frame for frame, it doesn't merely resemble the comic book. It is the comic book." The fidelity to Miller's vision has received considerable notice. Rourke, who plays Marv "with cheerful menace" in "a career-reviving turn," wears a prosthetic to get Marv's physiognomy correct. "There's no way Marv couldn't have that bizarre profile," Miller told Heidi MacDonald on The Beat online. Miller's comic book visuals became, in effect, the storyboard for the motion picture. And Miller added to that right on the spot. "I had a sketchbook and was coming up with shots because you need more shots than you get in a comic," he told MacDonald. The movie was another adventure into the green screen world that "Sky Captain" introduced us to, a world not wholly unfamiliar to a cartoonist. Said Miller: "You're working with actors but you're essentially doing animation and everything behind the actors is made up, like [a] drawing." Asked why Hollywood was so enamored of comic-book characters lately, Miller said it may be because comic book creators have great freedom to experiment-without worrying about vast amounts of money being spent-and therefore the likelihood that they'll produce fresh material is higher than it would be "in a Hollywood boardroom. ... The other thing," he continued, "is that one person can make a comic book. One person can't really make a movie. As soon as you start complicating the process, you're gonna have a lot more voices around. Sometimes the solitary voice can be the best one."
            Miller's experience with making "Sin City" was so much better than his previous adventures in movie making (with two Robocop movies) that he will happily join the production again should "Sin City" be a big success, fostering a sequel. For the time being, though, he's back drawing comic books. He's just finished the next Batman book, Holy Terror, Batman, and he has more Sin City tales to tell. "I have a story about Nancy Callahan that I think will break your heart," he told MacDonald. "But it's not ready yet." And then there's a "dream project" that he describes, cryptically, as "my Corto Maltese." Meanwhile, Dark Horse, Miller's Sin City publisher, is re-issuing all seven Sin City books in a new, smaller format. The size was Miller's idea: "It makes them more intimate," he said; moreover, "crass as it sounds, it means you can put them in your purse."
Funnybook Fan Fare
I think it might have been a mistake to read the first issues of Jimmy Palmiotti's The New West and Stan Lee's Alexa in the same hour last week: by comparison to Palmiotti's terse and cinematic storytelling, Lee's effort came off second-best. But not a distant second-best. The difference may well be simply that superheroics in the tradition of Stan Lee's Marvel are no longer as gripping as they once were, and Lee continues to commit comics in the old way. Maybe it's just me: mayhap I'm simply no longer as keen on superheroic cavortings as I was once. Still, Lee's book has its moments. The story, supplied by Lee (in what we suppose was the traditional "plot outline" manner of the Marvel Method-more miss than hit, a thought here, a crisis there) and scripted by Steven A. Roman, focuses on a comic book publishing company headed by an enthusiastic cornball named "Happy" Harry Sturdley (a cornball Stan Lee name if ever there was one and an obvious reincarnation of Lee himself), who's desperately searching for a new crop of money-making superheroes. Alexa is his star artist. The book begins with her alone and beat-up in a nearly empty room; we don't know why. Then we wind the clock backwards to witness the advent of two giant alien superheroes in skintights, who have arrived on this planet via the portal Alexa somehow provides. Although they pretend benevolence and they consent to be merchandised in comic books by Sturdley (Alexa draws the books), they actually plan to take over the world. Most of the first issue is devoted to their various machinations-and Harry's; the title character hovers around the edges but doesn't appear much. Amid these shenanigans are repeated satirical jabs at superheroing-fantastic powers and unrealistic anatomy and Las Vegas style costuming (remarking about the scanty attire of superheroines, Sturdley says, "You think the Comics Code is going to approve of heroines who pop out of their tops when they throw a punch?")-and some self-deprecating pokes at Lee himself, all of which constitute the best parts of the inaugural issue. The book concludes with more in this vein, a text piece, "Chapter 10" of a "forthcoming" faux volume entitled The Tighter the Costume: The Life and Times of the Fantasy Factory (Harry's comic book company). In this, we learn that "Sturdley and his staff were caught off-guard by the almost overnight transformation" of comics from spangled superheroes to "grim and gritty storytelling. ... Suddenly, the pithy catch-phrases like Sturdley's often-quoted 'The tighter the costume, the stronger the hero' were overpowered by such advertising tag-lines as 'Death's a bitch, and she's in heat,' which had been used to promote the longtime rival Dynasty Comics' revival of The Temptress. ..." Layouts and breakdowns in Alexa are in the vintage Marvel manner-each panel capturing an energized moment, every picture accompanied by either a speech balloon or a caption. While this treatment fosters a relentless excitement, there is no intensity of feeling here. In sharp contrast, in Palmiotti's New West, we have plenty of the latter.
            Sequences of silent action in The New West impart a potent vivacity to the events depicted, and Phil Noto's pictures, drawn with stark linear precision and no feathering, seem to enhance the drama with their raw simplicity. The circumstances in which the story unfolds are intriguing: some sort of "pulse weapon" has shut down all electrical power in Los Angeles, and our hero, Dan Wise, a renegade private cop, pursues his quarry on horseback with a katana sword, narrating his story in the best street lingo of the hard-boiled genre of detective fiction. The main event is the kidnapping of the mayor, but there are sideshows. Wise, engaged by the mayor's wife to find her husband, had some years before failed to recover their elder daughter from kidnappers, and he lost his partner in the encounter. So there's some residual bitterness on both sides, but the bitterness is sweetened somewhat by the younger daughter's infatuated pursuit of the detective. The action commences when Wise, following a lead to the whereabouts of the mayor, runs into a gang of the bad guys and starts systematically dismembering them, one at a time, with the katana sword. The bloody efficiency of this action is emphasized by the almost complete absence of verbiage in these sequences: we witness Wise's gruesome activity without the accompaniment of any ameliorating language. The issue ends when he gets to the kidnappers hideout and sees that "they have power." With a single cliffhanging stroke, Palmiotti has brought both of the main threads of his story together-the kidnaping and the vanished power. The next, and concluding, issue of this 2-issue min-series will resolve both issues.
            The visuals in The New West -page layouts and panel compositions-are restrained; the actions take place between panels rather than in them. We see a hoodlum's hand in one panel; a wrist-stump in the next. When the mayor's younger daughter approaches Wise as he sleeps on the couch in his apartment's livingroom (she's supposed to be in the bedroom), he lets her lie down beside him and puts his arm around her. It's a gesture of comfort. No more. And the action takes four long silent panels to accomplish, building tension as it transpires. The depiction is methodical, step-by-step-not energetic, exploding in one stupendous pictorial extravaganza. And it is in this distinction that we can find the difference between the tried-and-now-trite aura of the superhero comic books of yesteryear and the graphic narratives of today. It is the difference between excitement and intensity of feeling, between energy and human drama, fantasy and realism. For fans of the superhero action of yore in Marvel's heyday, Stan Lee's Alexa is a well-wrought reenactment-better than some of Lee's work a few years ago for DC-with highly competent art by half-a-dozen sterling performers (starting with Dave Gibbons and Dan Jurgens). For aficionados of the medium, it's gratifying to see that words and pictures in tandem can achieve something more than excitement as they do in The New West.
            Black Panther No. 1 is another superlative performance by John Romita, Jr. and his inker, Klaus Janson, for a story by movie-maker Reginald Hudlin, who, it would seem, thanks perhaps to his association with cartoonist Aaron McGruder (in the graphic novel Birth of a Nation last year), has become attracted to the comics medium. The Black Panther is an African monarch, invented by Stan Lee and Jack Kirby back in the sixties in an effort, we assume, to champion the cause of American blacks. Lee and Kirby's instincts were admirable, and to some extent, they achieved their goal, offering a black character who was not a jungle stereotype but rich, cultured, intelligent and high-tech. Naturally, when the character graduated to his own title in 1977, the initial series folded after only 15 issues. Hudlin has revived the character but infused him with a new dignity and transcendent power. In this first issue, we witness through the centuries several attempts by outsiders to invade and conquer the Wakanda, the Black Panther's people. Every attempt fails spectacularly. That brings us up to the present time and the U.S. State Department with an African-American honcho, Dondi Reese (sound familiar?), and some racist underlings, protesting "a bunch of jungle bunnies telling us they've got a 'no fly' zone over their thatched huts." Reese evidently wants to bring the Wakanda to heel, and as the inaugural issue closes, we meet the assassin who will, apparently, attempt to do her bidding.
            Hudlin's storytelling is, understandably, cinematic. The opening sequences, showing thwarted invasions of the Fifth and Nineteenth centuries, devote plenty of time (space, pages and panels) to setting up a confrontation then resolving the suspense with a devastating counter-attack from the Wakandas. Nicely suspenseful throughout, seasoned with satisfying action in which racist scum are humiliated and then obliterated. Hudlin's racial sympathies are on the front burner here, with virtually all of the white personnel being rampant racists. The Black Panther himself makes only momentary appearances, and we are reminded of Lee Falk's Phantom, who "lives" for generations (in the Phantom's case, by a succession of the original Phantom's male offspring); his absence successfully builds anticipation for a forthcoming encounter. Romita's pencils give us meaty figures of geometric rather than anatomical shape, skillfully modeled with lines that flick and leave and a little feathering. Janson augments the feel with a bold outline and filigree detailing and fineline shadowing. Beautifully done, and the restraint of the visuals emphasizes Hudlin's pacing.
            In the first issue of The Expatriate by B. Clay Moore as drawn by Jason Latour, we have a startlingly new visual approach. Latour's lines are bold and sometimes scratchy, and then he steeps the pictures in splashy deep black shadow. All this is fresh enough, but the coloring is a vault into difference: the colors are shrill, gawdy and garish reds and purples screaming off the page. While I'd hate to see all comics deploy color this way, it works for this book. Moore, inspired, he says, by Jimmy Buffett's song about expatriated Americans, "Banana Republics," puts his protagonist, Jack Dexter, in just such an environment, running from something unspecified. Then he sics two hunters (government agents?) after him. They wreak havoc and bloodshed wherever they go, and Dexter escapes just ahead of them, falling into the arms of Maria Lobo, who is connected to the local ruling class somehow. Nicely and inventively done.
            The last number in Scott McCloud's Superman: Strength has arrived, bringing to a close this disappointing three-issue series. The story in this issue, "Cloudsplitter," features the trite device of a villain who is the logical psychological byproduct of an abused childhood seeking revenge upon the entire world. There's a generous amount of hardware on display and lots of spraying action lines. Aluir Amancio penciled the book, and most of my disappointment in it is due to his treatment: his anatomy is seriously flawed in several instances, and his embellishment, feathering everything with a profusion of parallel lines, gives to every panel an almost unrelieved plethora of visual impact.
            And in Belly Button Comix, we have another generation of R. Crumb, namely, his daughter Sophie, exploiting our morbid interest in adolescent sex and angst galore. She has a drawing style that is serviceable but not particularly attractive. Still, if she could find a subject other than her own (perhaps mostly imagined) dissatisfaction with the way life works out for young people, the book might be worth reading. But we've seen it all before-and better done by her father (not to mention numerous other autobiographical 'tooners who've essayed the same psychic landscape after him), and there's nothing notably novel here except the female point-of-view. And that, alas, turns out to be not so different from the male point-of-view when it comes to angst and disappointment with casual sex.
BOOK MARQUEE
In coining the term "graphic novel" in 1964, Richard Kyle made an insightful distinction that enhances our appreciation of comics. "Comics," said Kyle, "are not illustrated stories. In comics, ideation, pictures, sound (including speech and sound effects), and indicators (such as motion lines and impact bursts) are all portrayed graphically in a single unified whole. Graphics do not 'illustrate' the story; they are the story. ... In the graphic story, all the universe and all the senses are portrayed graphically" [i.e., in the static visual mode]. Kyle's point, and mine (although he makes it better than I have), is that in comics everything is portrayed and conveyed in the same manner, visually. And the concurrent presence in the visual mode of speech as well as action, locale, etc., makes comics what they are, a unique kind of pictorial narrative. In fact, this concurrence, if not interdependence, may actually define the medium.
            In The Long Haul (174 6x9-inch pages in black-and-white paperback; $14.95) by Anthony Johnston as drawn by Eduardo Barreto, we have a persuasive example of Kyle's thesis. Set in 1871 on the vast landscape of the American plains, it's a caper tale with the trappings of the Old West. Cody Plummer, whose last name is the same as a notorious mid-nineteenth century Montana gang leader's, is an ex-con who learns about a shipment of federal money to be sent via train to San Francisco as final payment to the Union Pacific for its part in completing the transcontinental railroad. Plummer resolves to rob the train, and the first half of the book is spent, in classic caper manner, introducing us to the "experts" he recruits to help him: the conniving tart, the card sharp and gambler, the safe cracker, and the locomotive driver. Each introduction is a short story that illuminates the expertise of its protagonist. We also meet the financier who, wronged by Union Pacific, provides Plummer with operating capital and furnishes the moral excuse for the robbery. And we meet Robert Harding, a Pinkerton agent assigned to guard the shipment, who is also Plummer's personal bette noir. His shabby treatment of Plummer supplies an added justification, however frail, for the heist because it serves as a sort of payback in their long-standing rivalry. The money will be shipped in an armored boxcar that, once closed, is impenetrable to anything short of dynamite, which, if deployed, would destroy the loot as well as the car. Seven guards will be on duty in the car at all times, and the progress of the train will be monitored and reported by telegraph from each town it passes through, using a secret code. Plummer hatches a scheme that will enable them to rob the train without killing any of the guards or hurting any passenger on the train. It can be done, he explains, because no one will know they're being robbed. How this is accomplished is the story, and telling it here would ruin the surprise that is essential in criminal romps of this breed. I don't think, however, that I'd be giving away the game by saying that the tart's task is to get the code by seducing a telegraph operator who has it.
            Johnston has constructed a daunting task for Plummer and his cohorts and a finely tuned series of maneuvers that click into place with the precision of a Swiss timepiece, including, as most capers do, one or two unexpected developments that threaten the success of the enterprise. The exposition sequence, in which the protections for the shipment are explained, is a particularly deft performance that shifts back and forth between Plummer's explanation to his gang and Harding's briefing of the guards who will be aboard. The changing focus prevents the sequence from being simply verbal explanation without any visual interest. The same sort of shifting from one on-going scene to another and back again takes place during the suspense-filled robbery, culminating in the final deception and denouement.
            Barreto, whose work we've seen here before in the graphic novel Union Station, participates in the narration by giving the characters distinctive facial personalities, placing them in convincing locales and settings, and timing the action-all, as Kyle has said, integral parts of the story, not "illustrations" of it. Moreover, much of the excitement transpires in wordless sequences in which Barreto's pictures are indisputably the narrative. Quite apart from supplying such essential storytelling ingredients, Barreto's crystaline drawings give the novel its distinctive cool aura. His crisp lines are accented by liberal use of solid black-in silhouettes, deep shadows masking faces under broad-brimmed hats, and the like-and by strategic arrangement of white space. Some of his simple page layouts and panels are minimalist, almost devoid of detail; but others-street scenes, crowded saloons-are loaded with telling props and atmospheric accouterments. And when the action heats up, Barreto's line gets looser; in such sequences, he often reminds me of George Evans' superlative energetic delineations in Secret Agent Corrigan. Although still firmly anchored in modeling black shadow, the lines curl and twist and deliberately avoid connecting one to another, imparting to the visuals an energy that underscores the movement being depicted. Barreto's pictures are as much a part of the story as Johnston's plot, and both are impressively adept.
            Metaphors be with you.
To find out about Harv's books, click here.