Opus 154:
Opus 154 (January 30, 2005). Our featured story this time is an essay on the so-called "trend" to edgy comic strips. That comes at the end of this installment, just before the last item, our "Skippit Department" of Bushwhacking. We also have a review of Chris Lamb's Drawn to Extremes, a book about the history and plight of editorial cartooning, and a fond farewell to Frank Kelly Freas. By way of assisting you through the browsing that must inevitably ensue, here's the order of events: Nous R Us -record sales of comic books, Stan Lee's win in court, SpongeBob SquarePants accused of being a shill for gaiety, and a few miscellaneous; Comic Strip Watch -The Norm is back (how to enjoy it again as well as what it may mean for the future of comic stripping), Darrin Bell's pollitical attack in Candorville, and the ladies on Chickweed Lane get chins; Frank Kelly Freas; Book Marquee -TwoMorrows revives a Kirby classic and a few additions to the Eisner oeuvre; Civilization's Last Outpost -the Word of the Year from the Linguistic Society of America, Dan Rather's sad fate, GeeDubya's happy unaccountability, Today's Papers at Slate.com and the joys of The Week magazine; More of the Plight of the Editooner -Chris Lamb's book reviewed; Funnybook Fan Fare -Identity Crisis, Gotham Central, Conan and the Daughters of Midora, Tim Sale in Solo, an unusual turn in 100 Bullets, Concrete, and Hellboy; Are We About to Fall Off the Edge? -the aforementioned essay on "the trend to edgy comic strips"; and a round of Bushwhacking, as I said before. Finally, our usual Friendly Reminder: Remember, when you get to the Members' Section, the useful "Bathroom Button" (also called the "print friendly version") of this installment that can be pushed for a copy that can be read later, at your leisure while enthroned.
NOUS R US
Free Comic Book Day this year is May 7. ... Last year was the best sales year for comics since 1997, according to John Jackson Miller of the Comics Buyer's Guide. In the direct sales market, orders were up 2% over 2003, 3% in dollar amount, based upon the top 300 comic book tallies accumulated over the twelve months. Graphic novels and trade paperbacks did even better-$41 million in sales, up a third from the previous year, an increase due, doubtless, to the greater number of titles: 1,150 in 2004 vs. only about 600 in 2003. In combination, the total sales increased by 7% at $254 million. If estimates about newsstand sales and bookstore sales of trade paperbacks and manga are incorporated, the guessing is that last year's comic book-related sales topped $800 million. ... The Third Edition of Krause's Standard Catalog of Comic Books is coming out, a monster listing of more than 160,000 comic books published since 1900 accompanied by a price-valuation device that completely baffles me. ... In France, where what we call graphic novels have been respectable for decades, one out of every ten books sold is a graphic novel (called "albums" over there), one of every ten books lent by libraries is an album, and the first five of the best-selling books in the country were likewise comics; the sixth was The Da Vinci Code. Comics account for 13% of the French book market.
            Stan Lee, who reluctantly resorted to legal machinations to get paid his due from the Spider-Man movies, won the case January 19 when Marvel was ordered to pay him 10% of its Webslinger profits. Marvel said it would appeal the decision, but Lee's attorney, Howard Graff, believes they'll think better of it: "I'm hoping that after they've had a chance to reconsider their position, maybe after licking their wounds a bit, they'll recognize that they have an obligation to Stan and just honor that obligation." Meanwhile, Lee's POW! Entertainment has signed Beatle Ringo Starr to pay an animated superhero version of himself. "The action," Starr explained, "will be set around a band. It'll be a very strange All-Starr Band. I've been making a CD," he added, "so I have lots of ideas."
            In Southeastern Iran, archeologists have unearthed a 5,000-year-old goblet that is believed to be the oldest (and perhaps the first) evidence of animation on the planet. Around the vessel, goat is depicted in progressive stages of movement as it jumps toward a tree and eats its leaves. ... In White River Junction, Vermont, James Sturm, author of the graphic novel The Golem's Mighty Swing, is starting The Center for Cartoon Studies, an art school for cartooning "where cartoonists can be intimate with the creative process," Sturm said. ... And New York University's School of Continuing and Professional Studies will present four comics courses this semester: Writing Comics and Graphic Novels (a second course is a one-week intensive variation), Inside the Comics Creators' Studio, and Comics as Literature. Instructors/lecturers include Danny Fingeroth, Bill Sienkiewicz, Michael Avon Oeming, Joe Quesada, Tom DeFalco, Peter David, and Joey Cavalieri. ... Pat Oliphant, perhaps the nation's premier political cartoonist (he doesn't like "editorial cartoonist" because it implies that his work is somehow attached to or illustrative of a newspaper's written editorials), is representing the U.S. at the World Economic Forum in Davos, Switzerland, where he and other cartoonists from other countries are expected to address such topics as the relationship between artistic freedom and corporate sponsorship. ... In Portland, staff cartoonist M.E. Russell produces a weekly non-fiction comic strip for The Oregonian; called Culture Pulp, the full-page strip covers colorful local events and Russell's various adventures, including, recently, his experience aboard a Segway Human Transporter. ... Cathy's online gift registry has raised $10,000 for homeless animals so far. ... "The Incredibles" will hit the DVD market in March with a 2-disk package that includes an "all-new, never-before-seen animated short, 'Jack-Jack Attack,' as well as behind-the-scenes footage and deleted material and commentary by the filmmakers. ... The American Society of Mechanical Engineers, not an occupational group you'd readily associate with comics, launched a comic strip series on its website, http://anniversary.asme.org/comicbook.shtml, as part of the Society's anniversary celebration. The strip, Heroes of Engineering, produced by Ron Spellman, a petty officer in the Coast Guard, offers short stories about amazing engineering achievements during ASME's 125-year history; the hope is that young readers will be inspired to become engineers and inventors.
            The Mexican government has published a 32-page comic book with advice for migrants-safety information for border crossers, a primer on their legal rights, and advice on how to live unobtrusively in the U.S. Understandably, some advocates for tighter border controls believe the guide book will encourage illegal immigration. The Mexican Foreign Ministry, however, says its chief concern is the safety of its citizens. The book's introduction reads, in part: "This guide is meant to give you some practical advice that could be useful if you have made the difficult decision to seek new labor opportunities outside your country. The safe way to enter another country is to obtain your passport from the Mexican Foreign Ministry and a visa from the embassy or consulate of the country to which you wish to travel." But the book's pictures depict people wading across a river, running from border patrol, and hiking across deserts. It sounds to me a little like the legendary label that was pasted on crates of grapes shipped across country during Prohibition: the label warned people not to crush the grapes, not to add sugar, not to let the sweetened grape pulp stand around-because if you did all those things, you'd have made wine, and making wine was against the law in those days. In La Cucaracha, Lalo Alcaraz's "doonesbarrio" strip, one of the characters is reading the guide, and Alcaraz reproduces some of its illustrations with their captions. I'm not sure, but I think he sometimes changes the verbiage. Here's one: "Avoid Border Patrol-looking Officers in Overly Tight-fitting Uniforms-They may be imposters, or simply Scoutmasters lost from their campout jamboree." (This highlights the trouble I have with the strip, Lalo: I'm not far enough into Latino culture to know when you're joking. I think you are here, but I'm not sure. I wouldn't think the actual guide discusses tight-fitting uniforms and lost Scoutmasters, so I believe the joke here ridicules the guide, suggesting that it includes misleading or just dumb information, even if it doesn't. Quite apart from that, your strip frequently dips so deep into a Latino milieu that you lose me. In contrast-pardon me for mentioning it- The Boondocks never seems to go that deep; so I "get" McGruder in a way that I'm still groping for in La Cucaracha.)
            A right-wing Christian group has accused SpongeBob SquarePants of advocating homosexuality as a way of life, a proclivity indicated by SpongeBob's habit of holding hands with his animated sidekick Patrick Starfish, his preference for an imaginary tv program "The Adventures of Mermaid Man and Barnacle Boy," and SpongeBob's status as a camp figure among gay men. Mark Morford, columnist for the San Francisco Gate, writes: "Oh, my God-you think, how these people's lives must be one screaming firehose of inexorable, nipple-torquing, kidney-stabbing pain. I mean, really." The video that prompted the objection is a recent production intended to foster multicultural tolerance. Nile Rogers, the video's creator, says the Christian group, Focus on the Family, is mistaken about the objectives of the video. And SpongeBob's creator, Stephen Hillenburg, says the allegations are far-fetched. His agenda, he said, does not go beyond fun and entertainment: "We never intended them to be gay. I consider them to be almost asexual. We're just trying to be funny." Surely, he said, there are "more important issues to worry about." But a spokesman for the FOF said: "We see the video as an insidious means by which the organization is manipulating and potentially brainwashing kids. It is a classic bait and switch." Coming on the heels of this manifestation of moral values, the newly installed Education Secretary, Margaret Spellings, took time away from fixing the nation's public school system to write a letter to PBS complaining about another animated feature, "Postcards from Buster," in which Buster, a bunny, visits Vermont during sugartime and meets live-action children whose gay parents are also on screen. Spellings reminded the tv network that the "Postcards" show is partially funded by the Education Department to "facilitate student academic achievement" not to "expose" children to "the life-styles portrayed in this episode." PBS was surprised to get her letter because it had already informed her office that it would not be distributing the questionable episode. I guess Margaret just wanted to be absolutely certain sure that the kiddies would never see two moms during maple syrup harvesting season.
            The Comic Book Legal Defense Fund's executive director, Charles Brownstein, reports that CBLDF has participated in eleven cases during the past year-five as an active litigant, six as amicus or "friend of the court." Three of the five were resolved in CBLDF's favor; two cases are still in progress. This year's CBLDF membership card will feature Will Eisner's Spirit, an arrangement made last summer. To sign up and support the Fund, visit http://cbldf.org/membership.shtml. Speaking of Eisner, I recall reading somewhere recently, but can't lay my hands on the actual document, that Michael Uslan is lobbying for a motion picture version of The Spirit. And W.W. Norton, which is publishing Eisner's last graphic novel, The Plot, is also going to be reissuing the entire Eisner Library of graphic novels. That's an uptown publisher, kimo sabe; you made it, Will.
            Two brothers, Earl Marian, 74, and Floyd, 80, have exchanged the same birthday card for twenty years. Now somewhat tattered, the card depicts the Peanuts character Linus, who says: "This is the age of ecology! Don't throw this card away. Recycle it to a friend." And so they have.
COMIC STRIP WATCH
The Norm is back! As of January 3, Michael Jantze is back at the drawingboard, and Norm and his wife Reine and friend Ford and the rest are living it up on the computer screens of nearly 4,000 Internet subscribers, of whom I number myself a delighted party of at least one. For the record, Mrs. Jantze (Nicole aka Reine)-who masterminded this venture-reports that they came close enough to their goal of 4,000 subscribers to inspire Michael: "He decided to take a leap of faith and see where it would take him," she wrote. His faith seems justified: more subscribers are signing up every day, now that the re-launch is upon us. Subscriptions are a minimum of $25 for a year; the strip runs Monday through Friday. You can sign up at www.thenorm.com. Nicole explained that The Norm is not a web comic. "We are not using a web comic model, therefore we do not consider ourselves to be a web comic. We are looking for a better way to deliver comics to readers. This will be a member supported site. The website is simply a delivery tool. We will not use advertising or sponsorships." They are entering into other deals to distribute the comic; about which, we'll know more as they come to fruition.
            The Norm's reincarnation on the Web is huge. It has industry implications as revolutionary as Scott Kurtz's offering his PvP to newspapers without charge; ditto a similar Keenspot undertaking of a few months ago. Interviewed by David Astor at Editor & Publisher, Nicole described the goals of the Jantze operation by way of situating it in the over-all scheme of things. "This was not Michael's idea," she began. "He had already ended his contract with King Features and retired the strip. But after reading the ensuing fan mail, I was intrigued with seeing if people really meant what they were saying-if they would pay to read the strip. Comic strips are unique because readers don't feel they should have to 'pay' to read them. This was my main hurdle." Although comic strips are delivered by newspapers that are not free, the illusion remains: to newspaper subscribers, comic strips seem to be "free." Even if they really aren't. "Newspapers still are the best way to reach millions of readers every day," Nicole continued. "But that doesn't translate into a viable living for most creators. My desire is the same as the syndicates and newspapers: to explore new ways to deliver comics and make money. My goal is to connect the people who love Michael's work with Michael. I am not creating a web comic here. I do not believe in giving the strip away for free [as most web-based cartoonists do]. Instead, I'm using the member-supported website as the tool for delivery. Being syndicated in newspapers certainly gave us the leverage to develop this idea. I consider this an experiment, and so far, we are getting encouraging results. The donors [subscribers] have been amazing," she adds. "Keep in mind The Norm ran in less than 100 newspapers during syndication. Imagine if a feature with a higher circulation tried this." I'm sure imaginations all across the land are churning away like speedboat Evenrudes-among syndicate officials as well as among cartooners. Nicole makes an important point, though, with respect to syndicates: syndicated strips aren't free, and neither is The Norm. Her scheme, then, does not undermine the edifice of newspaper syndication (any more than syndicates themselves do by offering free views of their strips to those who surf to their websites). But the day of the free web comic may be numbered. Meanwhile, back to the strip: when we last saw Norm in September, Reine had just told him he was going to be a father; that development has not yet resurfaced (as of January 28), but Norm is looking a little more, er, mature, if thinning hair is a sign of maturity. Or maybe he's just sporting a new, less shaggy and youthful hair-do. Norm's return was another of Jantze's inventive turns: on January 3, we find ourselves at the dawn of a new day-with an antic alarm clock going off (literally) and Norm, as usual, fallen out of bed on his face. Ahhh, it's good to have him back.
            Whether Garry Trudeau wants to provoke outrage among the morality police or not, he edged up towards this objective again with the Doonesbury release on January 5 in which Duke, pestered by Honey about her two Iraqi suitors, refers to Iraq as a "sorry-ass country." How can "sorry-ass" be seen by America's moral elite as anything but a profanity? And on the funnies page! (For more about outrage in the comics, scroll down to the "edgy" essay at the end.) Trudeau, incidentally, will receive the annual Freedom of Speech Award at the U.S. Comedy Arts Festival at Aspen, Colorado, February 9-13. Hosting the presentation ceremony will be Aaron McGruder. Other recipients of the award include filmmaker Michael Moore, playwright August Wilson, and comedians George Carlin, Dick Gregory, and Bill Maher.
            And in Darrin Bell's Candorville on January 5, we have two panels, the first, dated 2002, showing a somewhat younger Lemont and another person at a television store window, watching tv news as a televised face resembling GeeDubya says: "Trust me, I'm sure Saddam Hussein has weapons of mass destruction. We must invade Iraq before he nukes Boston. We must act now, I tell you-now!" And the fellow standing next to Lamont says, "Well, he is the President. He must be basing this on solid evidence." In the second panel, dated 2005, we have the same scene, with the televised GeeDubya saying, "Trust me, Social Security is a real big problem! We must destroy the social safety net by privatizing it before it leaves our elderly with no benefits. We must act now, I tell you-now!" And the person standing next to Lemont says, "Well, he is the President ..." It's just like ol' George W. ("Warlord") Bush said (or tried, so memorably, to say): Fool me once, shame on you; fool me twice, shame on me. Let's not be fooled again. Then the next week, Lemont's African-American female friends were castigating him for  dating white women. Bell, by the way, produces political cartoons and draws Rudy Park in addition to doing his strip.
            As I mentioned a month or so ago (Opus 150), Brooke McEldowney's deftly rendered strip, 9 Chickweed Lane, is changing venue and focus. Daughter Edda has joined a ballet company and her mother, Juliette, has left her teaching position to run a farm, taking Gran along with her. Edda got the cat, and she moved in with a male member of the ballet company, her dancing partner it looks like-a fine thing for a girl from a good parochial school, scandalous but apparently no one worries about it. While all this was going on, McEldowney effected another change, a somewhat more subtle one: he gave his characters chins. One of the visual quirks of his style was that his female characters were chinless. "In 1993, when Chickweed began," he told me, "I drew the characters without jaw lines for no particular reason. I think I was just unconsciously influenced by Peanuts: Edda's profile was surprisingly similar to Linus Van Pelt's." The characters were attractive without chins, mind you, but from certain angles, they looked a little odd. Evidently McEldowney thought so, too. "When I decided I wanted to make a fundamental change in the focus and nature of the strip," he said, "I decided that I'd like to sneak in some jawbone while I was at it." He's received great wads of approving mail about the new adventures his characters are launched into, he said, but apparently I'm the only one who caught the advent of jaw lines. "I'm not sure anyone else noticed," he said. To check it out yourself, visit www.comics.com.
Frank Kelly Freas: August 27, 1922 - January 2, 2005
Just a day before Will Eisner took his leave of us, Kelly Freas did. The celebrated and much honored sf illustrator went gently into that good night, dying in his sleep at his Los Angeles home on January 2. According to his wife, Laura Brodian Freas, the cause of death was, simply, old age. In his 50-year career, Freas illustrated the stories and book covers of such sf luminaries as Isaac Asimov, Robert Heinlein, Arthur C. Clarke, A.E. Van Vogt, Poul Anderson, and Frederik Pohl. He also designed the crew uniform shoulder patch for Skylab I astronauts and six posters for the National Aeronautics and Space Administration (NASA), but he is most noted in the comics universe for his work as a portrait artist, painting Alfred E. Neuman on the covers of Mad magazine for several years (July 1958-October 1962). Succeeding Alfred's first illuminator, Norman Mingo, Freas aimed at giving the gap-toothed adolescent rebel "personality."
            "He always wanted to be a science fiction illustrator," his wife said the day after he died, "and the life of a science fiction illustrator led him to do so much more. Life with a Mad artist was never boring." I'll say. Between the extremities represented by space aliens on the one hand and alienated idiots on the other, Freas did portraits of 400 saints for the Franciscans.
            One of the most prolific illustrators ever to work in the science fiction field, Freas sold his first cover painting to Weird Tales in 1950.  Since then, he has won 11 Hugo Awards for Best Science Fiction Artist (five in consecutive years) and has ranked high on a list of fan favorites. Born in upstate New York but raised in Canada, Freas attended Catholic University in Georgetown, first as an engineering student then as a premed student; but his heart belonged to sf, which had hooked him at the age of ten. He spent four years in the Army Air Corps Engineers as an aerial photographer during World War II, and during his spare time, he applied his talent to decorating the noses of aircraft with paintings of voluptuous women (to remind everyone, as Milton Caniff would say, of "what they were fighting for"). After the War, he attended (and graduated from) the Art Institute of Pittsburgh (which would present him with an honorary doctorate in 2003). While in school, he resumed a career in advertising, doing freelance illustration on the side. An early job was painting internal organs for anatomy textbooks. For a year, he was art director of the Pittsburgh Bulletin Index, then he joined one of the top advertising agencies in the city. By November 1952, he was selling illustrations regularly to New York sf publishers, and he gave up his advertising career to move to New York and become a full-time illustrator. He was soon sharing cover responsibilities at Astounding Science Fiction, a leading sf magazine. He also did covers for other flagship sf magazines, Analog and Weird Tales among them. Commissioned by Laser Books to produce the covers for its science fiction line, Freas did fifty-seven of them before the series was dropped; he may be the only artist to do all the covers for a paperback line.
            Freas' first Mad cover was for No. 40. By this time, Mingo had done only eight Neuman covers; he would return to the assignment after Freas left, doing Neuman more-or-less regularly until the mid-1970s. Mingo joined "the usual gang of idiots" at Mad in response to a classified ad in the New York Times that looked for an artist to paint covers for the magazine. Al Feldstein, who had just assumed the editorial reins after Harvey Kurtzman's departure, wanted to treat the magazine's mascot as if he were a real person-putting him on the cover in a painted portrait just as Time magazine did its cover story subjects. Mingo's first cover, for No. 30 (December 1956), depicted Neuman as a "write-in" candidate for President of the U.S. Both Neuman and Adlai Stevenson lost to Dwight Eisenhower that year. Mingo's Neuman portraits are glossy almost plastic looking images; the point, after all, was to produce and repeat Neuman's vacuous visage, time after time, until it became a joke itself. The static repetition got old fairly soon as humor, and shortly after Freas started doing Neuman, the character began "doing" something. The personality Freas injected into the portraits came about partly as a consequence of making Neuman react to whatever he was doing (or was having done to him). Cartoonist Scott Shaw sees a little more at work: "The main difference between Kelly's version of Alfred E. Neuman and Norman's was that, under Kelly's brush, Alfred had a sense of mischievousness that augmented that look of just being a complete idiot that everybody else gave him. He gave Alfred a kind of intelligence that was somehow missing from everybody else's version." Freas had often displayed a sense of humor in his sf work, and the Mad assignment gave him greater range for this facility. "When it came to humorous illustration," said Mad's Sergio Aragones, "he was unmatchable." Freas left Mad late in 1962, partly because his request for a raise was turned down; but he also was growing tired of painting the same goofy face. "Alfred E. Neuman was making me stale," he told Frank Jacobs, who was writing the history of Mad and the biography of its steward, William Gaines (The Mad World of William M. Gaines). "I found it difficult," Freas said, "to shift my artistic gears from the sublime to the ridiculous and back again." He returned to science fiction, devoting most of his creative energy to illustrating its fantasies. And Mingo, who returned to Mad's covers, started doing Neuman with a little more personality.
            Freas thought of himself as an illustrator, not as an artist. "I prefer storytelling pictures and picture-generating stories," he once said. In his book Frank Kelly Freas: The Art of Science Fiction, Freas wrote: "An illustrator, whether science fiction or otherwise, is essentially a storyteller who can't type." His illustrations of frustrated robots, menacing aliens, and exotic women were rendered in a "highly personalized style characterized by vibrant colors and a sort of cosmic haze well suited for depicting bejeweled alien princesses," Douglas Martin said in the New York Times. And princesses, bejeweled or merely perfunctorily draped in diaphanous scraps of cloth, had a good deal to do with Freas' career choice, he once told me. One year at the San Diego Comic Con, I was seated next to Kelly in Artists Alley. Kelly was attending to a nearly continuous stream of fans who came by to say hello and to commission drawings; I was, as usual, peddling my comic pin-ups of lewd ladies, some in their scanties, some in nothing at all. During a short pause in the parade at his table, Kelly told me he admired my barenekidwimmin, adding that he'd started doing science fiction illustration because he liked drawing sexy women: the covers of sf magazines, he explained, were about the only place an artist could get away with picturing semi-clad cuties at the time he was starting out. I like to think this anecdote perfectly captures the essence of the famed artist. Paul Levitz, president of DC Comics, put it this way: "Kelly Freas created the future in his paintings, sleekly delineating a style that has influenced two generations of designers. And with the impish grin he gave Alfred, he winked and warned us not to take it all too seriously." That day in the Artists Alley in San Diego, I think Kelly was winking at me.
            We'll miss him: we need more among us who don't take it all too seriously.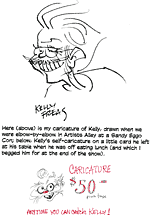 Book Marquee
To celebrate its tenth year of publishing, TwoMorrows has reissued a completely remastered Kirby Unleashed, a scarce 1971 production that samples Jack Kirby's art from every phase of his fifty years in comics. Included are stunning pencil and wash drawings from 1947 and some fantastic color extravaganzas from late in his career as well as the first week of Sky Masters, a discarded Thor sequence in Kirby's distinctive pencils, a smattering of his work for Lincoln Newspaper Features 1936-1939, and, as they say, more-eight new pages, f'instance-all shot from the original art. And Mark Evanier and Steve Sherman, who were assisting Kirby in the 1970s, have updated the Kirby biography they wrote for the first printing. For just $20; www.twomorrows.com
            Will Eisner is destined to have a posthumous presence for years, no doubt. At Dark Horse, for instance, the Will Eisner Sketchbook, a luxurious heavy-duty hardcover tome of 200 9x12-inch pages ($49.95), presents high quality reproductions of his pencil drawings, including many of the layouts and pages for some of his graphic novels plus pencils for a never-before-published Spirit story. And in April, we'll have Eisner Miller, a lengthy transcription of a conversation between Eisner and Frank Miller, illustrated with many photos ($19.95), and The Escapist, No. 6, which includes the first new Spirit story in decades, written and drawn by the Master, of course.
Civilization's Last Outpost
The Golden Globes is an aptly named program because the objective of the exercise, judging from the evidence, is, for women, to find new and inventive ways to display as much of their golden globes as they can. Surely, I'm not the first to make this insidious connection?
            The Linguistic Society of America is an authentic scholarly group that for the last 15 years has deliberated once a year to pick the Word of the Year. The candidates are those terms or phrases that have dominated public discourse for the year, annoyingly prominent words that have worn out their welcome through seemingly interminable repetition. In 2002, for instance, the Word of the Year was a phrase: weapons of mass destruction. Last year, it was metrosexual. In 2004, the Society decided, that red/blue/purple states beat runners-up wardrobe malfunction and flip-flopper. The vote (just so you know how widely this earth-shaking matter is discussed in academic circles) was 36 to 19 to 11. The group also collects interesting variants such as the Word Most Likely to Succeed. Blog won in that category for 2002 and returned in other manifestations, blogosphere and blogorrhea. In 2004's Most Unnecessary division, the suffix based, as in faith-based or reality-based, was a contender for awhile. "It's its own opposite," said one voter; "if it's reality-based, it's not real." Then there's the Most Outrageous word; 2003's winner was cliterati (prominent feminists). In 2002, it was neuticles (false testicles for neutered pets). As you can tell, no holds are barred. In the most recent competition, the winner in this category was santorum, which (and I'm not making this up) was defined by sex writer Dan Savage as "the frothy mixture of lube and fecal matter that is sometimes the byproduct of anal sex." I'm sure we all needed to know that. My favorite is the current winner of the Most Creative: pajamahadeen, which denominates bloggers who do their work every day in their bedclothes. Had there been a category for most picturesque and accurate simile, I'd have nominated New Yorker Nancy Franklin's description of GeeDubya's manner of locomotion-he "carries himself as though he were holding an invisible porcupine under each armpit."
            It's a shame about Dan Rather, who's quitting the CBS News anchor chair ostensibly because of the dust-up over "60 Minutes'" use of phony documents that allegedly proved George aWol Bush received special treatment while in the Air National Guard. I've always thought Rather was a bit too much of a showboat, but that may be because he was the first of the highly visible newscasters as tv news became part of the entertainment medium. His immediate predecessors in tv news were Walter Cronkite, Chet Huntley and David Brinkley-serious news professionals who just happened to be around near the top of the heap when tv news was being born. Soon after the birth pangs subsided, showmanship began to exert itself. Rather grew up under the earlier dispensation, acquiring reportorial skills and fiercely competitive attitudes, but he caught the public eye under the new order. He had a foot in both stirrups: he was a dedicated journalist, but he also proved to have a flair for showmanship (just consider his picturesque "Texas" vocabulary, routinely trotted out for long stints at the desk during Election Night, not to mention his dressing up like an Afghan tribesman to report from that country on the insurgency against Soviet occupation). As tv news was finding its footing, Rather may have gone overboard a little in the direction of showboating, but I wouldn't question his journalistic credentials. And why is he being crucified now? What did he actually do that was so terrible? Most reasonably aware viewers realize that the "60 Minutes" stars don't actually do the reporting: the grunt work is done by the so-called producers, whose names are merely glimpsed on a crawl at the end of the program. The stars, by custom and by necessity, walk into the "story" as developed by the producers and play reporter on camera. That's what Rather did. He maybe should have looked a little more askance than he apparently did at the material he was supposed to report about, but that kind of discernment is not, really, part of his role. He and Mike Wallace and the rest of them are there to put a familiar face on a new story. And then after the whole Bushwah enterprise blew up (thanks chiefly, to a gaggle of bloggers), Rather did what he would be admired for under any other circumstance: he stood up for his subordinates, defended their work ethic and their professionalism. He didn't cave. He didn't blame lower echelon functionaries; in fact, he said, in effect, that they were thorough-going professionals whose work could be relied upon. He had faith in them, a faith founded on CBS's long record of accuracy in news coverage: those people wouldn't be at CBS if they weren't good. Big shots who stand up like that for the work and worth of their underlings are generally admired for their top-down loyalty. Not this time. Not Rather. Not after a week or so. So it's too bad he's going out under this kind of a cloud-a misbegotten blemish on his reputation, which, from my perspective, is pretty good for a big shot who could have sloughed errors off as the fault of others.
            Irony abounds.
            First, all the excitement over the documents diverted attention from the story itself. The documents may have been phony, but GeeDubya undoubtedly did receive special handling in the Guard. (And I would think he would: why have a father who's a Congressman or Director of the CIA or Ambassador to China if it won't entitle you to a little special treatment? Hey, this is America.) And just because the documents about special treatment weren't valid, that doesn't invalidate the story about GeeDubya's skating off during the summer of 1972. The effect of the fake documents story, however, was to make the entire AWOL tale seem fake. And it wasn't. We still don't know where he was during all those months, but he probably didn't spend the whole time in dental care. But thanks to the ineptitude of the CBS producers, that story is now consigned to limbo; we'll never find out how much of a liar George W. ("Whopper") Bush is. The Bush League must've had a wild celebration party in an undisclosed location over this one.
            Second, the similarities between the Rather situation and GeeDubya's are stunning. And revealing. The "60 Minutes" catastrophe was brought about because the top people didn't check as thoroughly as they should the facts their subordinates showed them. Sound familiar? Sound at all like what happened between the White House and the CIA in the run-up to the Iraq Attack? But GeeDubya went on the air anyhow, and the nation rushed to war. No lives were lost because of CBS's rush to broadcast, but CBS fired four journalists because of their poor performance. Nobody in the CIA has been fired over the colossal malfeasance of the agency. Ineptitude does not lead to job loss in the Bush League. George Tenet got a medal, the highest civilian honor the nation can bestow. Ditto Tommy Franks. And Don Rumsfeld remains at his post even though his mismangement of the Iraq Attack and its aftermath is a monument to incompetence. Accountability simply isn't among GeeDubya's criteria for evaluating job performance. Why should it be? Nothing in his own life would persuade him that one must be accountable for what he does. From his wayward youth to his failed oil businesses, Georgie has been protected from the consequences of his mistakes. Why, then, would he hold anyone accountable?
            I've recently discovered Slate.com's daily roundup of the news called Today's Papers, or TP. The front page stories of several big newspapers (New York Times, Washington Post, Wall Street Journal, Los Angeles Times, USA Today) are summarized in a few paragraphs. A healthy liberal bias infects these proceedings, but I've found that a liberal bias is closer to the facts than a conservative bias during a conservative-dominated government. If the Democrats held the White House and a majority in both houses of Congress plus more justices on the Supreme Court than the Republicans, I'd look for more factual news coverage in conservative-bias outlets.
            And, while we're on the subject of discoveries, let me remind you of the virtues of a little weekly news magazine called The Week. In addition to succinct summaries of the news and of the conservative as well as the liberal interpretation of same, it includes a page, sometimes two, of hard-hitting political cartoons, cartoons with as much punch as punchline. A recent issue carried Mike Thompson's cartoon depicting GeeDubya and a top-hatted "U.S." in a rowboat labeled "Social Security"; beneath the water's surface a bunch of sharks labeled "Wall Street" are grinning, and the U.S. character is saying, "Explain to me again how I'm better off in the water?" Another cartoon, this one by Matt Davies, shows a helicopter labeled "World Grief" carrying "Tsunami Aid" off into the distance while, on the ground, Darfur victims in Sudan wave an S.O.S. flag; the caption, "The Devasting Wave." Each issue's painted cover is usually a caricature of the newsmaker of the week. And inside, the magazine covers different aspects of most of the major news events, plus such tidbits as the results of studies at the University of Michigan that found that most men would rather marry women who are their secretaries than women who are their bosses. This finding, it sez here, reflects males' evolutionary need for mates who don't pose the specter of "paternal uncertainty." The secretary mentality, it would seem, is understood by most males to be sufficiently subservient and accommodating that the likelihood of female infidelity is reduced, thereby assuring the male that his offspring are, really, his. That's working pretty hard, I'd say. I suspect that the male preference for secretaries has more to do with the male ego than with survival of the species and the patriarchal social order. But what do I know?
More of the Plight of the Editooner
Lately, it seems that the nation's newspapers can be divided handily into two camps about editorial cartoons: either political cartoons are an important and vibrant presence on the paper's opinion pages or they are but trivial decorative comedy that should amuse but not provoke readers. The latter attitude, in a time of increasing corporate ownership of newspapers and the accompanying bottom-line journalism, seems to be prevailing, and as publishers trim their budgets to eliminate whatever they deem superfluous expenses, staff editorial cartoonists are among the first to be lopped off as being trivial and decorative comedians. As their number dwindles, editorial cartoonists understandingly see themselves more and more frequently as an endangered species. If ever a profession needed a champion-a concerned advocate for excellence in journalism who is not, at the same time, among the persecuted-now is the time. And perhaps Chris Lamb, a professor of communications at the College of Charleston, is the guy. His book, Drawn to Extremes: The Use and Abuse of Editorial Cartoons, at least makes a case for editorial cartoons as vital and powerful but, these days, threatened voices in newspapering (290 6x9-inch pages in hardback; $29.50).
            Lamb rehearses the recent history of editooning, re-visiting the controversies of the last few years, the instances of so-called censorship (or perhaps "muzzling" is a better term), case by case, and the seeming decline of editorial cartooning, and he puts these events into perspective by reviewing the history of the genre, the towering achievements of the past as well as the turmoils and protestations they incited. As it turns out, editoonists have always been persecuted for expressing opinions; and they have also been powerful commentators on the passing political and social scene. They have always been abused as well as used. But the profession has never, apparently, been as menaced with extinction as it is these days (even when, after editooning established itself as an effective voice, politicians in several states between 1897 and 1915 sought to outlaw cartooning and, in a couple instances, succeeded).
            Beginning with editorial cartoonists' reactions to the atrocity of September 11, 2001-first, weeping Statues of Liberty, then outspoken criticism of the Bush League as it turned public outrage into an Iraq Attack (Aaron McGruder's equating Osama bin Laden and George W. Bush in The Boondocks) and of similar perversions of the public weal (Ted Rall's notorious "Terror Widows" cartoon attacking the mercenary motives of grieving widows)-Lamb marches his argument through chapters arranged by topic rather than chronology, but he supplies historical context under each topic. In the chapter quoting the great Homer Davenport for its title, "No Honest Man Need Fear Cartoons," Lamb traces the history of political cartooning from Thomas Nast to World War I, pointing not only to the power of the medium but to the perils that dogged it as politicians sought to suppress criticism. Nast's rise to power in Harper's Weekly was followed by Walt McDougall's cartooning on the front page of Pulitzer's World in 1884, establishing a prestige and influence for the editorial cartoon in daily newspapers that lasted for more than a generation. In "McCarthyism," Lamb continues the history through World War II and up to the Clinton years. It was during the period immediately after World War I that political cartooning experienced a set-back from which it has yet to recover: journalism acquired a patina of professionalism in the form of a call for objectivity, and "as newspapers became less partisan and more objective, editorial cartoons were moved off the front pages and reduced in size and prestige." Then in "Second-Class Citizens of the Editorial Page" (quoting Edward Sorel), Lamb reviews the never-ending struggle between cartoonists and their editors, pointing out that editors generally, and without hesitation, give columnists and letter writers more freedom of expression than their staff cartoonists.
            "Editors don't like the phones to ring," Lamb explained in a radio interview that I overheard; editors are accustomed to working in solitude, without audience participation, and phone callers disturb the even tenor of their preferred mode. Cartoons are cutting edge, he went on, "the raisins in their oatmeal." In this context, he discusses the firings several years ago of Brian Bassett in Seattle and Clay Bennett in St. Petersburg and, more recently, of Kirk Anderson in St. Paul. In other chapters, Lamb reviews cartoons that never made it into print, the legal battles for opinion mongering, and the history of Garry Trudeau's run-ins with the powers that be.
            Viewed across the history of the enterprise, Lamb believes that editorial cartoons "have made their greatest impact when the following conditions exist: social unrest, charismatic politicians, an appropriate technology, a healthy newspaper industry, and a supportive editor." Cartoonists are less successful, he says, "when there is state-sanctioned repression, a contented or fearful status quo, an abundance of banal politicians on the front pages, poor or unavailable technology, and/or a struggling newspaper industry."
            In a discussion of the legal pitfalls yawning before editoonists, Lamb questions the efficacy of libel laws. "When a statement reasonably implies false and defamatory facts, the plaintiff in a libel suit must prove, in order to collect damages, that the statement was made with 'actual malice,' or knowledge of the falsity or reckless disregard for the truth. This definition is problematic for editorial cartoonists. 'That's not a definition of libel,' one newspaper editor said; 'that's a job description. That's what they're supposed to do. And if [they're not allowed to] do that, we've got a problem in this country.'"
            Effective editorial cartoons must be critical, Lamb asserts-harshly so. Which may be why conservative editoonists these days seem so toothless: they have little to criticize with all three branches of government in the hands of like-minded politicians. During the radio interview, Lamb said editorial cartoons are ultimately patriotic, "as irreverent as the Boston tea party." But, he said, "They force us to see ourselves not as we want to be seen but as we are." Unfortunately, humor in this country, he continued, is not rewarded. Indeed, perhaps the reason opinionated cartooning raises so many hackles among readers is that most people equate cartooning with humor, not with commentary. Cartoons about death and disaster are always risky because a certain number of readers will complain about the inappropriateness of a "cartoon" about such tragedies, assuming that the cartoonist intended to provoke laughter rather than thought.
            Lamb also pointed out during his interview that when corporate ownership results in editors firing their cartoonists, "You never hear editors explain that we don't have a cartoonist because our readers don't want them." Profit, clearly, is the only justification for the firing. But increasing the readership-the circulation-of a paper would produce profit, too. "Put the editorial cartoons on the front page," Lamb advised, "-you'd be amazed at what that does for readership." With this comment, he continues the argument he launched in the book:
            "Readership studies tell [newspaper editors] that editorial cartoons are popular and, in fact, bring some readers to the editorial pages who normally would not read them. Finally, it is obvious that cartoons contribute commentary. Why, then, do so few newspapers have cartoonists on their staffs? When editors are pressed to answer, they shrug and plead poverty. But even when the newspaper industry was prospering, most newspapers did not have editorial cartoonists on their staffs. And of those that did have cartoonists, most gave them the Rodney Dangerfield treatment, which suggests that newspapers, unlike their readers, underestimate-and certainly underappreciate-the value of humor, satire, and visual commentary." Perhaps it is understandable: editors are almost always former reporters, and reporters are writers. In short, newspapers are infested with "word people," and "picture people" (including photographers) are historically late arrivals and not as highly valued. A well-wrought picture hasn't the value for a word person that a well-turned phrase has.
            Appropriately (thankfully), Lamb's book is laden with pictures, 160 cartoons. Virtually every incident he refers to is illuminated by the relevant cartoon. Sometimes the reproduction is marginal-when he uses third or fourth generation photocopies (as he often does with Doug Marlette's) or pixilated images from the Web. But mostly, the pictures, although small (given the dimensions of the book), are well done-even the highly cross-hatched and duo-toned work of Michael Ramirez (whose cartoons before and after his infamous investigation by the Secret Service appear here on facing pages) and the delicate tones of Clay Bennett's cartoons and Kirk Anderson's.
            Lamb stumbles occasionally on matters of pure fact. He says there are no black staff cartoonists, overlooking Tim Jackson. And he, like most of us, assumes that Nast's famous foe, Boss Tweed, was christened William Marcy. Not so. Tweed's parents gave him the middle name "Magear," his mother's maiden name. Nast changed it to "Marcy" as a way of evoking readers' memories of political corruption: William L. Marcy was a New York politician who coined the expression "To the victor belong the spoils." But these are majestically minor quibbles. In addition to his fervent advocacy and his succinct review of the history of editorial cartooning, Lamb must be applauded for his exhaustive and copious footnoting, which, in itself, supplies a highly useful bibliography on contemporary editooning as well as the history of the genre. Lamb has a high opinion of political cartooning and hopes for its rejuvenation in the form of more full-time practitioners. He told David Astor at Editor & Publisher that he hopes the book will make a difference. "Even if just one newspaper hires an editorial cartoonist because of it," he said.
Funnybook Fan Fare
I picked up the first of DC's Identity Crisis a couple weeks ago. At the end of the first issue, Sue Dibny, pregnant wife of the Elongated Man, dies, the victim, we are lead to assume, of an intruder caught in the act at their home. What a terrible idea. Brad Meltzer's, apparently. Much of the first half of the issue is devoted to the setup for Sue's death: we learn, in the most saccharine of sentimentalizing sequences, how much her husband Ralph loves her. This "prepares" us for her death: after seeing just how ideal their marriage and their love is, we'll be all the more grief-stricken when she's killed. Not only a terrible idea, but a cheap trick. And then, after Dibny discovers his wife's cold and lifeless body, we are treated to one of the most maudlin pictures in comics since the death of Superman: a full page picture of Dibny, on his knees in the rain, cradling his dead wife in his arms, his elastic face pulled down at the mouth in an exaggerated portrait of grief. Death regularly stalks superheroes these days. Apparently the imaginations of those who write these tales are so poverty stricken that they can invent no other way of engaging us emotionally in the fictive lives of their characters. Death is sure to move us. So they every once in a while kill of another superhero. Or his wife. I was put off enough by the first issue that I didn't, as I'd planned, buy the rest of the series; but I peaked into the last issue and saw Dibny retiring for the day, talking to his wife as he goes to bed. Another cheap shot. I'm glad I didn't try to wade through the whole thing.
            The first installment of "On the Freak Beat" in Gotham Central No. 26 is drawn by Jaxon Alexander, who is a talented artist but who manages to create obscurity instead of clarity with his graphic affectations in rendering the characters in the story. It's almost as if he decided to jazz up his otherwise rather plain linear technique with blots of black for modeling purposes. Alas, all that does is blotch up the pictures. Very arty but Ed Brubaker's story is poorly served by such self-indulgence. Too bad.
            And not even Jimmy Palmiotti's inks can rescue Mark Texiera's awkward art in Conan and the Daughters of Midora. Shadows distort where they should clarify; body proportions are inconsistent from one drawing to the next; and, too often, close-ups and wild perspectives in action sequences interfere with our perception of what's going on. Too bad. Texiera probably does nifty pin-ups; he should stick to what he does best. And Palmiotti's story is sometimes a little lame, too. The attempt at archaic language falls short when he introduces such contemporary slang as "focus," meaning "stay on task, you idiot." But it all ends with a delicious twist-two, actually, and, yes, there are twin daughters.
            About Tim Sale's turn in Solo No. 1, I ought to be happier. I ought to like Sale's work better than I do (and I do, indeed, like it). His line is exuberant and juicy, flexing fat and waning wire thin, and he splashes solid blacks around with aplomb. And that's the problem, I think: his blacks are sometimes shadows, deployed sometimes to model forms, and sometimes "colors," and sometimes they're just atmospheric (meant to suggest shadow but obeying no light-source logic). When all three maneuvers are on display at once and mixed indiscriminately, the result is a mild sort of visual chaos. Still, his quirky line and flair for visual comedy rescues the production for me. In short, over-all, a pleasure. Six stories fill the book. Darwyn Cooke's "Date Knight" is an engaging piece of fluff and a chance for Sale to show off vigorous action sequences, which he does beautifully. Sale's "Christina" leaves me wondering how the guy killed himself: the splashy brushwork on the last page is all technique and no illustration. Diana Schutz's "Young Love" is a nicely turned evocation of romance comics, but Sale, who dares much here, sometimes fails: attempts at perspective in rendering anatomy turn grotesque at least twice, and the drawing of Supergirl's eye in profile is simply wrong. Jeph Loeb's "Prom Night" is a well-wrought poetic evocation. Brian Azzarello's "Low Card in the Hole" is yet another example of the writer's dark storytelling with Sale doing a winning imitation of Eduardo Risso, but how is Tews killed? With what? By whom? The closing piece, "I Concentrate on You," another narrative effort from Sale, is all romance and mood and well done except that I don't know who that young couple is. In sum, the book is a showcase of Sale's art but not an entirely successful one.
            Speaking of Risso, No. 57 of 100 Bullets contains an unusual sequence by this master of drenching black shadow: one sequence, to which we return throughout the book, is straight-ahead storytelling, simple conventional cadance, tiers of regular-shaped panels, no odd angles or obliterating solid blacks-in short, none of Risso's usual visual tricks-and it's colored in hues of the same monotones. This is the sequence in which Wylie kills the girl he loves, and Risso's treatment heightens the emotional content by presenting it to us in as stark a manner as he can, no ruffles, no flourishes. Just the raw facts, nothing fancy or distracting from the tragedy.
            In the first issue of Paul Chadwick's Concrete: The Human Dilemma, Larry proposes to Astra and she accepts in a perfectly lusty and romantically comic way, and Concrete turns down a job promoting childlessness, but the millionaire who approached him with the assignment has another card to play; so we'll see.
            I'm a big fan of Mike Mignola's Hellboy: I love Mignola's drawing style and storytelling mannerisms even though the supernatural milieu, generally, is something I've never quite understood. Hellboy, a spawn of the devil or some similarly netherworld creature, was conjured up by the Nazis to bring about the end of the world, but when their plans are foiled, Hellboy is raised by humans and forsakes his demon heritage, vowing, instead, to fight for good. The question, according to Bob Smietena writing for Religion News Service, is whether Hellboy can escape his destiny. Smietena quotes Mignola, who says he isn't sure: "It's the ultimate question of predestination versus free will," he said. "It really is a quandry." Nice. Now, in addition to superlative visuals, we have metaphysical quandry.
Are We About to Fall Off the Edge?
I was a "guest" on an NPR radio show out of Minneapolis a few weeks ago. The topic was "edgy comic strips." The premise was that newspaper comic strips are getting "edgier," erupting in controversial subjects hither and yon, willy nilly. In short, that all the decorum of yesteryear has been abandoned in favor of Boondocks, Doonesbury, and La Cucaracha. We are experiencing a tsunami of edginess, a tidal wave of tastelessness in the holy name of "attitude." The other guest was a friend of mine, Lalo Alcaraz, the bomb-thrower behind last-named strip, "The Cockroach."  And we get along swimmingly, so it was a good hour-all by telephone. Lalo, me, the interviewer/host, and a smattering of callers.
            After awhile, I tried to put the brakes on before the topic achieved a runaway momentum: the fractiousness we're contemplating, I said, isn't as widespread as the occasional sensational strip with the spate of angry letters from readers in its wake would suggest. Despite the excitement that Garry Trudeau or Aaron McGruder stir up, most comic strips are still pretty staid and uncontroversial. Even when they are more topical than in days of yore, not all the topics are inflammatory. In support of this contention, I asked which strips, apart from the aforementioned Doonesbury, Boondocks, and La Cucaracha, are edgy? Mallard Fillmore? Well, maybe. The other "conservative point-of-view" strip, Prickly City? Not too. Pointed, yes, but not provocative in the same way that B.D.'s loss of his leg or Condoleezza Rice's failure to have a boyfriend are.
            Most new strips, I rattled on, aren't edgy. They, like virtually all of their predecessors, shoot for the widest possible audience, which means they try not to offend any interest group. Newspaper editors won't buy strips that might raise the ire of any significant number of readers. So the syndicated comic strip, by virtue of its syndication, comes close to creating the commonest denominator, aiming to please everyone and offend no one. The material aired in movies and on tv is denied to the syndicated cartoonist: newspaper readers don't have the luxury of tv watchers-they can't change channels if they encounter objectionable material. Only about 10-12 new strips every year (if that) make it into syndication, and most try to be as innocuous as they can be. And if we consider the existing strips with the largest circulation, the innocuous factor is nearly engraved in bronze.
            For the record, as of the June 17, 2002, issue of Editor & Publisher, 18 comic strips have a circulation of 1,000 or more newspapers and are, therefore, the most popular. The latest to reach this mystic goal was Zits. Here's the list, starting with the current champion: Garfield, 2,600 newspapers subscribe; Peanuts, 2,400; For Better or For Worse, 2,000-plus; Dilbert, 2,000-plus; Blondie by Dean Young and Denis Lebrun, 2,000-plus; Hagar the Horrible by Chris Browne, nearly 1,900; Beetle Bailey, 1,800-plus; The Family Circus by Bil and Jeff Keane, 1,500-plus; Cathy, 1,500; Doonesbury, 1,500; B.C., 1,300-plus; The Wizard of Id by Johnny Hart and Brant Parker, 1,300-plus; Frank & Ernest by Bob Thaves, 1,300; The Born Loser by Chip Sansom, 1,300; Dennis the Menace by Marcus Hamilton and Ron Ferdinand, 1,000-plus; Foxtrot by Bill Amend, 1,000-plus; Hi & Lois by Greg Walker, Brian Walker, and Chance Browne, 1,000-plus; Zits, 1,000-plus.
            Of this lot, only a few approach controversial topics: For Better or For Worse (but only occasionally), Doonesbury, and, rarely, Zits. B.C., too, on religious matters usually. But these occasional forays into the jungles of public contention do not make any of these strips as "edgy" as Doonesbury or The Boondocks. There's no denying that some strips are more outspoken than comic strips have ever been. But the number of such strips is still pretty small, compared to the total roster. And the most popular strips of the last decades-the ones with the greatest circulation-are not edgy. Calvin and Hobbes and Dilbert and The Far Side. Nevertheless, we think the age of edginess is upon us. Several factors contribute to the impression that strips are edgier today than ever:
            1. Greater editorial freedom. Syndicates, reacting to the growing pressure from cartoonists to give them freedom of expression, no longer censor as rigorously as they used to. Consider, for instance, the sorts of taboos syndicate cartoonists steered around in the 1920 (these, from an article in the Saturday Evening Post in 1924). The 1920s roared, we are led to believe-a period of happy licentiousness and carefree taunting of the conventions of the status quo by the Young on every hand. And yet, cartoonists could not depict in their strips any young people sassing their parents; such behavior breaks the Fifth Commandment. In comic strips (but not, apparently, in real life), girls and young women must be good girls: the well-behaved young miss couldn't smoke, drink, or kiss a man unless she's engaged to him. And the more realistic the woman is portrayed, the more stringent the requirement for proper behavior. For the longest time, cartoonists couldn't show any leg above the ankle-particularly if the woman was attractive.
            Marriage carried a spate of don'ts and druthers. No comic strip couple could ever be divorced or even discusses it. Spouses are faithful to each other. A wife can smash crockery on her husband's head, but he can't return the compliment or strike his wife. On the other hand, he can lie to her, but she mustn't lie to him.
            Naturally, no cartoonist was permitted to make slighting reference to any race, religion, nationality-or to any political or trade organization, business or professional group. Don't make fun of the Lions Club or the Rotarians. And you could make jokes about the Irish only if you're Irish; about Jews if you're Jewish. But not otherwise. No swear words ever appeared; no diety's name was ever taken in vain. (In Zits recently, a chorus of "omigawds" clustered in the speech balloons of the teenagers; no such thing would never have been permitted in the 1920s.)
            References to drinking or drunkeness-or mention of liquor or beer-were prohibited. When Reg Smythe's Andy Capp arrived here late in 1963, it was a scandal: the irrepressible Andy hung out at the neighborhood pub, chased after bar maids even when his wife was present, and staggered home every night. Hall Syndicate was daring a great deal, and it doubtless got away with it because Andy, bless 'im, wasn't an American, so how could he be viewed as corrupting American readers? Andy set no fashion, however: syndicated comic strips remained mostly uninebriated. Hi Flagston's neighbor, Thirsty, had a nose that glowed in the first years of Hi and Lois, the mid-fifties; but he'd never have made it to the funnies pages in the twenties. And there could be no references to diseases, infirmities, operations or other such "morbid" subjects. Way into the 1950s, some syndicates forbade cartoonists to use snakes in their strips. But the taboos have been eroded over the years, and so today, comic strips seem more attuned to contemporary mores than of yore.
            2. Complaints are more numerous and, maybe, more visible. The Internet provides complainers with an easy-to-deploy mechanism for expressing outrage. A few people can create the impression that huge numbers of readers are objecting to this or that strip. And various activist groups in the body politic diligently seek occasions to grind their political axes: they seize upon even the most harmless allusion in a comic strip as an opportunity to mount up and ride off into the Letters column, advocating their gospel and flaying all opposing points of view as they go. The anti-profanity conclave nearly blew a gasket over Dick Cheney's use of the F-word on the Senate floor, and when Trudeau alluded to it in Doonesbury with "F***," the hysteria as well as the absurdity of this kind of campaign was on display in all its misbegotten glory. You must have a profanity-prone mind to think "F***" stands for anything profane, and if you know that, you're somewhat hypocritical to object to its appearance: you, after all, have survived knowing what it stands for, so wouldn't almost anyone else? The F-word, in short, does not threaten civilization as we know it. But Trudeau's "F***," while nearly harmless (because only those who know the code realize what he's alluding to), provided the excuse to jump up and object to all sorts of indecencies in American life, and those who regularly crusade for purity in all things lost no time in grasping the opportunity and choking it into submission.
            3. Unctuous editorial response. Newspapers, eager to demonstrate that they aren't bastions of liberalism-and fearful of losing yet another reader-respond more fulsomely to reader complaint that they used to, thereby enhancing, even creating, an aura of raging controversy where very little outcry exists. In ancient times, if William Randolph Hearst said it was okay to publish, it was okay-no more could be said about it, by either readers or editors; ditto Robert McCormick and Joe Patterson and Joseph Pulitzer and the rest of the Press Lords. Few newspaper publishers or editors feel as secure as the old time barons did-which is strange, on its face, considering that the papers in those days faced several rival papers in every town, and today, few papers have competition in the same city so those editors should feel virtually invulnerable; but they don't, and most of them work hard to convince their readers that the paper cares deeply about reader opinion, even courts it.
            4. Demand for edginess. Newspapers, hoping to attract young readers and believing that young readers like edgy comic strips, often go searching for strips that seem refractory. And at least one syndicate, Universal Press (which distributes Doonesbury, The Boondocks, and La Cucaracha), has found a marketing niche for edgy, socially-attuned comic strips. But in too many cases, once a newspaper gets an edgy strip, editors cringe whenever the strip is particularly obstreperous.
            For this quartet of reasons (and a few more, doubtless), we have the impression that comic strips are edgier today than they were in the distant (and not-so-distant) past. And the funnies do, in fact, bring up today many topics that, years ago, would have been nipped in the bud at the syndicate office.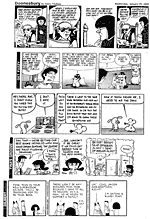 Near here are five strips, each of which contains a word or an idea that, I'm sure, would never have made it past the syndicate editor's desk in yesteryear: sorry-ass, please Jesus (is this a prayer? or blasphemy?), going to the toilet, dribbling on toilet seats, and gay promiscuity. And since I culled these specimens, I came across a B.C. release in which the definition of a booby trap is "brassiere," and Satchel in Get Fuzzy exclaiming, "My God, it looks just like Bucky!" And then there's that long kiss in Mary Worth on January 5; no telling what that'll lead to, eh? Looks like their mouths were open, too. So comic strips are edgier-I agree; I just don't think they're so much edgier that it constitutes a sea change in our culture. Not just yet. So I resisted getting on the bandwagon that the radio show host was attempting to fire up (purely for the sake of controversy, I'm sure). But I wish it were true that we're in an edgier era of comic strips: it would probably enhance the circulation of newspapers if the comics were more provocative. The very effort to avoid offending has made newspapers so bland that they aren't interesting to the young readers they hope to attract.
            Meanwhile, newspaper editors stay busy responding to readers who write in to complain about something in the funnies. Reader complaints in this category seem to me to be rooted in one of two hotbeds of contention. Either the reader thinks the comics are for children and they don't want their children to read something they find in a strip; or they themselves, as purported reasoning adults, find something in some strip objectionable. If I a newspaper editor these days, I'd be tempted to respond to the so-called concerned parents by saying something like this: In today's Name of Strip you found something that you were afraid your child might be affected by, and you objected to the strip for that reason. I urge you to regard this objectionable content as creating an occasion for you to teach your child something about the world he or she lives in and how you hope your child will conduct him/herself in it. If you don't have the intellectual capacity for teaching your child, then you shouldn't have had one, but since you have had at least one whose education you aren't equipped to conduct, then their education is clearly our responsibility, and we're doing our part by exposing them to humor based upon real life. If, on the other hand, you have the ability to teach your offspring but you don't have the time to devote to it, why should we care about them? You clearly don't. And if you don't care about your children, why should we care about you? And if we don't care about you, why would your opinion of our comics matter to us? Go away.
             People who object to something in the comics simply because they find some content offensive must be dealt with more gently, of course. I would begin by pointing out that all humor is essentially aggressive: every joke has its butt, which the comedy is kicking. One can imagine, then, that objections can be raised by anyone who fancies himself-or his friends or business partners-the butt of a joke. Whoever. Even the purportedly inoffensive Blondie assaults something with every joke. On a Sunday in January 2005, as the hapless Dagwood sought the sofa for his nap because he couldn't keep up with his family in doing a jigsaw puzzle, the strip is attacking husbands and fathers, who, in this society, are usually portrayed as dunderheads. Surely somewhere someone is offended by this degradation of domesticated American manhood. Our business, as newspaper editors, is to provide our readers with as wide a range of appealing and informative material as we can, and that goes for humor, too. So, naturally, in our line-up of comics we include a variety of strips in the hope that we appeal to as many different sensibilities as we can conceive of. That means our comic strips also assault as many different sensibilities as we can imagine. We are certain, every day, that someone somewhere in our circulation area is going to be offended by one of our comic strips; that is simply a condition inherent in acts of aggression-those who are attacked are likely to be offended. And all humor attacks. Congratulations: today, you are the winner. Tomorrow, we hope, you'll laugh at the way someone else's sacred cow is gored. Join in the fun.
            That's what I'd like to say if I were editor of a newspaper afflicted with readers who complain too much about comic strip content. Back to the radio show I was on: one of the callers who phoned in complained, not about edginess, but about the complete lack of humor in today's crop of comic strips. Not funny, he said. And I had to agree that an awful lot of comic strips of the inoffensive sort employ formula humor to a tedious extent. On the spur of the moment one day last week, I counted the number of "formula" gags in the comics section of my daily newspaper. Of 27 strips, 13-15 of them used traditional formula jokes-the kind the punchlines of which are virtually telegraphed by the setups. Maybe, if the caller's assessment is accurate-if the comics aren't very funny any more-it's because they're much too formula oriented. That's safe. Use the old formulae; that way, no one gets his or her feathers ruffled. Nobody's funnybone is much more than just tickled either. Maybe the only way to get out of formula humor is to get into edgy humor. Maybe if comic strips really were as "controversial" and "edgy" as some believe they've become, the quantity of formula jokes in the funnies would be somewhat smaller, and the funnies would be funnier. In short, maybe it's too bad we don't have as many edgy strips as the talk show host, looking for a little on-the-air excitement, seemed to think we have.
Under the Spreading Punditry
The Skippit Department
In these days of Extreme Make-overs and Extreme Sports, it's not surprising that we have Extreme Politics-namely, the politics of the Bush League. And ol' GeeDubya is its foremost practitioner. We may gasp at his posturing and parsing these days, but in fifty years, people will look back on his regime and marvel at how thoroughly he re-shaped the world. He will go down in history as the Great Crockery Breaker: the whole neocon notion for the Middle East has been to yank the tablecloth out from under the dinner plates, throwing everything up into the air so it can come down in some new configuration-doesn't matter what configuration it assumes as long as it's somehow different. This act of geopolitical violence is the choice of impatient people, people who won't wait for diplomacy or for events to unfold and take shape on their own. And impatience is not a sign of decisiveness or leadership: it signals, rather, immaturity. But history will acknowledge that George WMD Bush did great things: he's the guy who pulled the tablecloth and broke all the dishes. He's makin' history all right-and breaking all the table settings to do it.
            I know: here I go again. But if this sort of political gasbaggery annoys you more than it amuses, you can easily skip it. This is the skippit section, here at the end where you can readily  disregard it, having, by now, soaked up all the comics news and reviews at hand.
            George W. ("Wishingwell") Bush's second inaugural address, about which so many Sunday morning gasbags fulminated trying to understand, isn't the plan of action it seemed to be. No, it's just the same ol' GeeDubya smoke-and-mirrors tricks of illusion. It effused with the same sort of highflown rhetoric he's always spewing out. No one can disagree with the moral view offered; but it bears no resemblance to the world around him. And contradictions abound. Help freedom fighters but support Saudi Arabia. Advocate freedom but throw dissidents and combatants into prison without trial or access to legal counsel. Rave about liberty in a capital that is as fortified and confining as a city under siege. GeeDubya's living in the fantasy of his rhetoric just as he was when we all experienced his Iraq Attack. His vision is self-delusion. He's doing it again; and we are likely to see more of the same sort of arrogant go-it-alone foreign policy and domestic sneak thievery that we've had throughout his first term. For a man who is notoriously anti-intellectual, GeeDubya resorts to verbal manipulation with the aplomb of a Madison Avenue adman. He adjusts reality by describing it differently from one utterance to the next. And he expects us to accept the illusions that his rhetorical flourishes create. Remarkably, he is successful. We went into Iraq to destroy Saddam and his stockpiles of WMD; when we couldn't find WMD, GeeDubya dismissed them and drew our attention away from the issue by claiming the world is so much better off without Saddam in power. Who could argue with that? As the violence of the insurgency escalated, GeeDubya claimed its very vehemence indicated how successful we were being. Those evil-doers are getting violent because they're angry that we're succeeding. Last week, he had one of his rare press conferences chiefly to change the ground rules about assessing the advent of democracy in Iraq: the number of voters in that beleaguered country doesn't matter-the very fact that an election takes place proclaims the advent of democracy and, therefore, the glowing success of the Bush League scheme.
            The day after the inaugural speech, GeeDubya's his aids were scrambling to assure the world that their boss never meant that the U.S. would be sending armies all over the globe to end tyranny everywhere. Oh, right. But we knew that. We know him now. We know he says one thing and does another. That's scary enough.
            Rumsfeld and the military revisionists and the neocons set out to prove how invincible the American military is. Ironically, what they proved was the precise opposite. Here's Lawrence Freedman in the Washington Post National Weekly: "Iraq is not an experiment that future U.S. governments will care to repeat. For the moment, even this administration is unable to repeat it because there are no ground forces to spare for major campaigns elsewhere. Unless it proves possible to gain the upper hand against the insurgents, a bungled war will leave the United States weaker and not stronger. The confidence in American power that led to war being initiated without direct provocation has been shaken. Whenever the possible use of force is raised again, assurances will be sought that this will not be 'another Iraq.' And future interventionists will worry about how to shake off the Iraq syndrome."
            Despite all the Presidential bungling, Newsweek came out a week or so ago with a cover story about how "intimately" GeeDubya "is engaged with the nitty-gritty of the presidency." According to the article, he's a real hands-on prez, not at all the kind of guy who's spend more time on vacation than any other U.S. president in modern times. After a brief, 14-month pursuit of the truth, the magazine is now back in the fold of Bush flackers, buying every story the White House staff puts out. What a journalistic joke that magazine has become.
            As evidence of GeeDubya's prowess over nitty-gritty and hands-on perspicacity, I turn to his recent discovery of a book. Desperate to prove he can read, he has reportedly taken to advocating that everyone read Natan Sharansky's The Case for Democracy as a blueprint for what he feels is the intimate relationship between democracy and peace. In yet another instance of the sort of irony that dogs this Presidency, Sharansky's book doesn't always endorse GeeDubya's policies. A central idea, for example, is Sharansky's "town square test" to measure the freedom in a society. The test: "Can a person walk into the middle of the town square and express his or her views without fear of arrest, imprisonment, or physical harm?" Sharansky recommends sanctions and pariah status for nations that fail the test. Can the U.S. in the grip of the Bush League pass it? Ask any of the protestors who were denied freedom of assembly during the recent election campaign-you know, the people who couldn't go to hear speeches by GeeDubya or Cheney because they might heckle, so they were bussed off to "free speech zones" blocks, even miles, away.
            And then we have the battle to save Social Security. Two GeeDubya quotes: "I've come to the conclusion that the risk of doing nothing far exceeds the risk of working with the world to disarm Saddam Hussein." And then: "But I want to warn my fellow citizens-the cost of doing nothing, the cost of saying the current system is okay, far exceeds the costs of trying to make sure we save the system for our children." If these utterances didn't create in and of themselves a vast suspicion about the Bush League motivation, there's the whole question of whether the Social Security system actually needs revamping.
            It doesn't. Not much. Here's what Dean Baker, co-author of Social Security: The Phony Crisis, wrote recently about it in a special section of The American Prospect: "After telling people that Social Security poses the risk of economic disaster, the privatizers promise that individual accounts would provide everyone with a secure retirement. The basic argument is that high returns in the stock market would allow workers to get more money from their Social Security taxes than what they can get through the current system. There is a simple and obvious problem with this logic. When they project rates of return in the stock market, the privatizers routinely assume that the returns in the future will be equal to the returns in the past, 6.5 percent to 7 percent above the rate of inflation. But the whole basis for projecting a Social Security shortfall is the assumption that the future will have far slower growth than in the past." In short, the argument contradicts itself, and anything that does that, isn't entirely valid. So there must be some other reason for the Republican eagerness to throw out babies and bathwater.
            Why are Republicans so eager to restructure Social Security when many experts on the subject say violent restructuring isn't necessary? To find real motives, it pays to look beneath the obvious sloganeering for the most venal reasons we can imagine. One reason goes way back to the traditional conservative opposition to the New Deal social welfare policies of Franklin Roosevelt: revamping Social Security will be one step towards undoing the welfare state. And then there's the windfall that Wall Street investors will realize in managing all the new money that will flow from Social Security tax collection (all done by the government) into their hands to play with. More money in the stock market, more likelihood that investors can make even more money for themselves. But below even these craven motives lies another. I found it only after I asked myself: Why would the Republicans want to diminish the steady inflow of money that Social Security tax represents for the government? Here's this big bank of money from which government has been borrowing for generations-issuing bonds that will eventually be cashed to return the money in the form of payments to Social Security recipients, true; but in the meantime, the multi-trillion dollar Social Security trust fund is a huge loan department. Right now, it's financing the Bush League's Iraq Attack and other wars; without it, the government could not finance such schemes because, for all practical purposes, it's broke. Why would Republicans want to shut that down? Precisely because without it the government could not finance such schemes. Remember: the conservatives are against Big Government. Ronald Reagan shrunk government by driving it into debt so far that there wasn't any money to launch new government programs (spending). The personal account scheme will cut off some of the income for government, thereby helping to reduce government by choking off its financing. An impoverished government is, ipso factor, a small government: it can't afford the programs that have traditionally made it big.
            And why are the Democrats so opposed to this idea? Because they believe government should do more for its citizens-and social welfare is part of that. Without the Social Security loan department, government programs would have to pay their own way, "pay as you go" in that memorable and usually ignored phrase.
            Finally (and then I'll stop, I promise), there's all the excitement recently about college campuses being hotbeds of liberalism. Conservatives in college feel persecuted. And outnumbered on the faculty. The reason there are no conservatives on university faculties is that universities are intellectual enterprises, and conservatism is not an intellectual phenomenon; it's faith-based.
            There. I'm done. I'll never write about the Bush League again. (And if you believe that, then you'll believe anything GeeDubya'll tell you.)
To find out about Harv's books, click here.