Opus 31:


1. In Memorium for Two Strips (7/12)
1. In Memorium for Two Strips. May 27th in the year 2000 was
memorable in many ways. It was, first of all, the first day of
Memorial Day Weekend. And that was the weekend NCS held its annual
Reuben Awards Banquet. May 27th was also the day almost 100
cartoonists paid tribute to Charles Schulz and his nearly 50-year-run
on Peanuts by incorporating into their releases that date references
to Schulz or the Peanuts characters.
But May 27th was also the day two comic strips died. Boner's Ark
ceased that day. And so did the more celebrated and long-lived
Bringing Up Father.
Created by Mort Walker, Boner's Ark debuted March 11, 1968, signed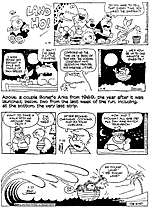 with Walker's middle name, Addison. The strip was the fifth strip to come out of the Walker Workshop; Beetle Bailey, Hi and Lois, Mrs. Fitz's Flats, and Sam's Strip preceded it. Boner's Ark was conceived to be a vehicle for satire and fantasy using animals. "We wanted a self-contained community-such as a zoo or ark," Walker wrote in Backstage at the Strips. "We decided on an ark so the animals could mix freely with no cages."
Since 1982, Boner's Ark has carried Frank Johnson's signature, but it, like most of the Walker Workshop features, is the result of a
collaborative effort by gag writers and artists.
Johnson was also doing George McManus's famed "Jiggs and Maggie"
strip when it expired. Jiggs and Maggie, the stars of McManus'
Bringing Up Father, have a long history.
McManus came to New York in 1903 and started producing a kind of
repertory theater of strips about the various conditions of marriage
(newlyweds, young parents, feuding spouses, and the like), one of
which featured a common laborer who had suddenly acquired great
wealth and whose wife simultaneously acquired social pretensions that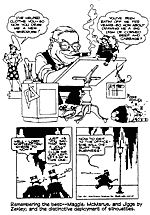 the former hod-carrier can't abide. Another marriage situation-this one, with the wife and husband at odds over matters of propriety and
decorum.
Bringing Up Father is the last (but one) of the great one-joke strips that marked the infancy of the medium in the first couple decades of this century. Mutt and Jeff, Little Nemo, Buster Brown, Little Jimmy, Her Name Was Maud, Foxy Grandpa-each mined a single vein of comedy, a single theme. The joke in each strip always turned on the same pivot-wagering, dreaming, misbehavior leading to moral reformation, unreliability in the young, canny mule, even cannier grandparent.
In McManus's strip, the central theme was naturalness vs. artifice,
authenticity vs. pretension. Jiggs stood for the
former-irrepressible, incorrigible; and Maggie with her fancy
wardrobe lobbied hard for the latter. Jiggs always won.
By the 1930s, Bringing Up Father enjoyed a huge, worldwide
circulation-and Jiggs and Maggie were probably among the most
familiar faces on the planet. The strip may, in fact, have been the
first big box-office success in cartooning. A debatable point,
perhaps; but it was undeniably a hugely popular feature.
The first Bringing Up Father appeared January 2, 1913. So the strip
had reached the ripe old age of 87 years and 5 months when King
decided to pull the plug. "Just declining circulation," King's comics
editor Jay Kennedy told me-about both Boner's Ark and Bringing Up
Father. (But Bringing Up Father will still be distributed in reprint
form overseas, where King has a huge market.)
Of the grand master strips of the early period, only The
Katzenjammer Kids is still running at 102 (and counting). But BUF was
daily and Sunday; only Mutt and Jeff, which expired in its 76th year,
came close to Jiggs' record. (But of the next generation, Gasoline
Alley under the nurturing hand of Jim Scancarelli is coming up fast
at 81-plus.)
When McManus died in 1954, King Features syndicate picked genial
Vernon Greene to continue the strip. Greene had ghosted other
features, and for his new assignment, he asked for every available
McManus original from the syndicate files. And then, using a light
table, he simply traced the drawings, having selected the poses he
needed from the assortment at hand.
Ironically, there's a good chance that some of the originals he was
using as templates had been drawn by McManus's assistant, Zeke
Zekley. Zekley had been with McManus since the mid-1930s and had
become more collaborator than assistant. The two worked side-by-side
and passed the artwork back and forth between them, sharing equally
in the drawing chores for most of the two decades they worked
together.
Zekley often supplied the gags, too, and when McManus accepted one
such offering, he would give Zekley what he called a "plus"-meaning
that the signature on the strip that day would be "+ Zeke Zekley" to
indicate the join endeavor. This addendum was seldom published, Zeke
told me, because the syndicate, saying that it was paying for the
work of McManus (by then, a celebrity) not that of Zekley (an
unknown), instructed engravers to eliminate Zekley's name when
producing plates and matts for distribution to client newspapers.
Why Zekley was not invited to continue the strip remains something
of a mystery, the solution to which is now long lost in the mists of
the collective memory of the profession and the syndicate. Whatever
the reason, in by-passing Zekley, King forfeited the best chance to
perpetuate the McManus manner.
Zekley could have continued the strip and given it all the flavor of
its creator; Greene, who had never worked with McManus, couldn't.
And in his slavish effort to imitate McManus, he failed to put much
of himself into the strip. Greene died in 1965, and the strip passed
into a succession of other hands.
Frank Fletcher did the Sunday version, concurrent with Greene on the
dailies. Hal Campagna inherited from Greene, and Johnson took over
from him. In accommodating both art and humor to contemporary
limitations, the strip has never regained the McManus sparkle.
And so it's gone now. But rather than close on a low note, let me
conjure up glowing memories of McManus's brilliant linework-the
filigree of the skyline, the roccoco design in architecture and
furnishings, the stunning silhouettes. And those goofy pictures on
the wall whose subjects were forever cavorting outside the frames.
Remember the best. Always.
If you want to know more about McManus and Bringing Up Father, you
might want to click here and consider buying a book of mine called
The Art of the Funnies. Jiggs and his creator get half-a-chapter in
the book, and I go into the artistry and theme of the strip pretty
thoroughly.

2. Eisner's Knight Life. Will Eisner's second literary classic
adaptation from NBM is The Last Knight (32 pages in full color,
$15.95). Dubbed "An Introduction to Don Quixote by Miguel De
Cervantes," this hardcover effort brings us Eisner's interpretation
of Cervantes' celebrated delusional hero, a tale often called the
first novel. Here we meet the old man, Alanzo Quixano of La Mancha,
who, reading only old tomes about chivalry and knighthood, comes to
believe he can live the glorious life of a knight errant and dons old
rusty armor to pursue this dream.
The book briefly (as befits an "introduction") rehearses several of
Don Quixote's adventures--his famous tilt with a windmill believing
it to be a dragon, his attack on a herd of sheep believing them to be
armies at war. Each time, like Happy Hooligan a few centuries later,
Don Quixote is defeated (often beaten) by those he intends to help.
But through it all, his dream persists.
"Great deeds come from great dreams," he intones early on. And
later, "deeds are the bricks of life."
As in the Cervantes original, Don Q eventually is
disillusioned--but, simultaneously, his plodding and practical
"squire," Sancho, starts believing in the dream. Such dreams, after
all, elevate the human spirit and make us more than we are.
Eisner's "introduction" is an elegant endeavor--both as storytelling
and as book publication. It is also a vivid display of something
we've seen far too little of--Eisner's skill with watercolor, which
he displays with elan in both books.
The full color treatment does not lend itself quite as well to the
page format Eisner adopted for graphic novels (background colors are
not as malleable as background "white"), but Eisner strokes in the
color with breathtaking highlights, demonstrating a mastery of color
we have not seen displayed except briefly on covers.
Next up, Eisner's Moby Dick, which was actually the first book he
produced in this series, all for the overseas market. And now, NBM
has them. For more NBM information, click over to
www.nbmpublishing.com
And if you want to know more about Eisner's career--and how he
virtually invented the comic book format--you should dip into one of
my books, The Art of the Comic Book, which you can preview by
clicking here.


To find out about Harv's books, click here.