Opus 338 (March 8, 2015). In perpetuating our theme for 2015—namely, being late— we now celebrate February in March with our chief focus this outing on Black Comics and Cartoonists to commemorate Black History Month. (Is Milestone Comics returning?) But we also report on the shootings at Copenhagen and the pressures cartoonists in other countries are under and on a resurgence of censorship to avoid offensiveness. Plus we exhibit and appreciate of some of the best editorial cartoons of the month, and report on the first trophies of the Awards Season, the Brian Williams fiasco, ditto Bill O'Reilly, the Sun giving up topless Page 3 girls (and a rare look at a Sun topless comic strip). We also review Rasputin No.1 and the return of Casanova, we exhibit the first (1922) Pulitzer-winning cartoon, and we reprint our essay on the Meaning of Life.
So why are we late? Easy to explain. I started doing a review of Rick Marschall's Bully, the life of and cartoons about Theodore Roosevelt, got so interested in the subject that I spent a couple days rounding up other cartoons of the eminently caricaturable TR, and then, before I finished that, I remembered that the end of February marks the 90th anniversary of The New Yorker, one of the last bastions of cartooning in the country, and so I leaped into that, stumbling into a history of Eustace Tilley (the personage who appears on the covers of almost all the anniversary issues of the magazine). And by the time I'd finished that, I realized that if I included TR and Tilley, I'd have a 100-page Opus, far too long for me to expect anyone to read it. So I took those two items out (TR will show up in Opus 339 in late March/early April) and Tilley will be in Harv's Hindsight in a week or so.
Feeble excuse, I realize. So, without further ado, here's what's here this time, in order, by department—:
NOUS R US
Free Comic Book Day Growing
Thorne's Red Sonja Exhibit
Weird Al to Edit Mad No.533
Kickstarting Comic Book People 2
Return of Milestone Comics?
AWARDS
Trudeau Wins George Polk Career Award
KAL Wins Herblock Prize and Grand Prix Cartoon of the Year
Bennett Wins Berryman
NCS Announces Finalists for Cartoonist of the Year
Charlie Hebdo in Copenhagen: More Gunfire, Fewer Corpses
Lars Vilks the Target?
Cartoonists Pressured—
In Malaysia
In Morocco
International Meeting of Cartoonists Cancelled
NCS Says Je Suis Charlie
CENSORSHIP ON THE RISE
Gilbert Hernandez's Palomar
Texas Nixes "Offensive" Confederate Flag
Rift at Charlie Hebdo
RAMBLING THROUGH BLACK HISTORY MONTH
Tempus Todd and H. Weston Taylor
George Lee's Interesting People (of Color)
Bass Reeves, Western Lawman: Graphic Novel
Strange Fruit Explicated
BOOK MARQUEE
The Untold History of Black Comic Books
EDITOONERY
Some of the Best Editorial Cartoons of the Last 30 Days
Explication and Appreciation
THE FROTH ESTATE
Brian Williams Explained
Bill O'Reilly Incensed
An Essay on the Meaning of Life Itself
RANCID RAVES GALLERY
Rollin Kirby, Editoonist
Faux Newspaper Comic Strips From the Old Life
NEWSPAPER COMICS PAGE VIGIL
Symphony and Vulgarity in the Funnies
Luann's Thirty
GOSSIP & GARRULITIES
The Sun No Longer Topless on Page 3
But George and Lynne Are (A Rare Sun Comic Strip)
COLLECTORS' CORNICHE
Ahern and Our Boarding House and Its Sequel
FUNNYBOOK FAN FARE
Rasputin No.1
Casanova IV: Acedia 1
ONWARD THE SPREADING PUNDITRY
Why the Castro Bros Don't Like Us (U.S.)
And Other Scraps of Wisdumb
Our Motto: It takes all kinds. Live and let live.
Wear glasses if you need 'em.
But it's hard to live by this axiom in the Age of Tea Baggers,
so we've added another motto:.
Seven days without comics makes one weak.
(You can't have too many mottos.)
And our customary reminder: don't forget to activate the "Bathroom Button" by clicking on the "print friendly version" so you can print off a copy of just this installment for reading later, at your leisure while enthroned. Without further adieu, then, here we go—:
NOUS R US
Some of All the News That Gives Us Fits
Free Comic Book Day (May 2, always the first Saturday in May) is only two months away and Scoop reports that comic book stores "are expecting high numbers of participants. They are so confident in growth of FCBD that they have broken records by ordering 5.6 million free comic books for the event, a 21% increase over last year's orders. The number of stores participating in the comic book holiday also increased with 2,340 participating in the US, Canada, and internationally, an increase of 8% since 2014."
■ An exhibition of the works of famed Red Sonja illustrator Frank Thorne will open March 7, 4:00-7:00 pm at Illustration House in New York, 34 West 27th Street, 4th Floor. Thorne will be there for the occasion, as will "Red Sonja incarnate—Bre Shanklin." The show will run March 9 - March 30, offering works for sale from the exhibition of over 70 pieces including not only Red Sonja but Thorne's creations—Ghita, Danger Rangerette, Lann, Ribit and Moonshine McJugs (from Playboy).
■ The next issue of Mad magazine (No.533) will be edited by Weird Al, upon whom last May the National Cartoonists Society conferred its A.C.E. Award (Amateur Cartoonist Extraordinaire), an award given to some hapless soul who had aspirations of being a cartoonist but made it big in another field. A lifelong fan of Mad, Weird Al has always wanted to be a contributor and now he is one—Mad's "first-ever guest editor!" as Al says on Twitter. According to Mad's press release, among Weird Al's many duties will be writing an introduction to the issue and picking his favorite Mad article for the Vault section. "Other ridiculous responsibilities are yet to be determined but will certainly do nothing to advance his career."
■ Jackie Estrada writes to say that she's in the middle of a Kickstarter campaign to publish a second volume of her book of photographs, Comic Book People; number 2 will include photographs from the 1990s. Says she: "It's mostly shots from the San Diego Con but also includes pix from other shows." She needs to raise over $7,000 by March 11 or 12. If you're interested, visit https://www.kickstarter.com/projects/1472315988/comic-book-people-2-photographs-from-the-1990s
MILESTONE COMICS RETURNS?
AdrenalineRush reported at the end of January that Milestone Comics may be making a comeback. Created in 1993 by Denys Cowan, Derek Dingle, Michael Davis and Dwayne McDuffie and marketed as an imprint of DC Comics, Milestone's titles were all about superheroes of African American, Asian or Native American descent and written by those of the same persuasion—and superlative stuff it was, not merely token diversity. For the relaunch, Cowan and Dingle have teamed with Reggie Hudlin, "Django Unchained" producer and sometime comic book writer.
The Washington Post said: "The team says it hasn't decided when Milestone will officially begin publishing new content, though Cowan hopes that the company will have new visuals to display at this summer's San Diego Comic-Con."
Apparently, the new line won't be coming out through DC.
Said AdrenalineRush: "Despite critical acclaim and gaining a cult audience, comic sales weren't strong enough and Milestone Comics folded in 1997, though Milestone Media continued as they co-produced the DC Animated Universe tv series 'Static Shock.' Milestone characters were introduced to the DC Universe in 2008, including Static joining the Teen Titans, while the 2010 miniseries Milestone Forever explained the Milestone Universe amalgamated to the DC Universe."
Of the original founders of the line, McDuffie died in 2011, and Davis has seemingly been left out of the impending revival. Although he was an active participant four years ago in discussions aimed at bringing Milestone back, he was either left out or opted out; hard to tell from the diatribe posted at bleedingcool.com.
He says he's been actively advocating a come-back for years, but in the last four years "the focus has changed, and those changes have made it impossible for me to be part of Milestone 2.0 at this time."
That, he implies, may change.
In the meantime, he goes on, "Milestone 2.0 is in three capable hands. What they are about to do will change the game just like the original Milestone did almost 22 years ago. Also just like the original Milestone, a great deal of the talent that will work on the new universe came out of my studio mentor program."
More Good News from the Washington Post: Textbook makers, bookstore owners and college student surveys all say millennials still strongly prefer print for pleasure and learning, a bias that surprises reading experts given the same group's proclivity to consume most other content digitally. A University of Washington pilot study of digital textbooks found that a quarter of students still bought print versions of e-textbooks that they were given for free.
Syndicated columnist Froma Harrop joins the chorus for print: "Paper still rules the soul," she writes. "That's why e-readers have barely dented the market for children's books. It seems that most parents don't want to read a bedtime story off a screen. They want their children to hold a book in their hands and play with the pages. Thus, digital versions account for only 5 percent of children's book sales. ... E-book sales in some adult categories account for five times that share." But that's only 25 percent—and only in "some" adult categories.
Harrop concludes: "It's been predicted that the paper books of the future will be better made and more treasured than today's typical pulp product."
That's already started. More effort goes into book design these days: books have become objets d'art, things to value for their appearance. Ask Chip Kidd.
Books are not on their way out.
And even the humble daily newspaper is still with us.
With its comic strips.
AWARDS
The awards season is upon us. Or about to be upon us. We have a report on the Herblock and Berryman award winners down the scroll, but first—:
■ Garry Trudeau, creator of Doonesbury who is currently devoting his energies to the Amazon Studios production of his political satire "Alpha House," has been announced as the recipient of the George Polk Career Award — the 33rd person to garner the honor, the Washington Post notes, but the first cartoonist to do so. "The Polk Award comes exactly 40 years after Trudeau's comic strip became the first comic strip to receive the Pulitzer Prize for Editorial Cartooning (for the feature's satirical commentary on Watergate)."
" He has cut political pretension down to the size of his Doonesbury comic strip for 45 years," saith prnewswire.com, adding (in italics):
The George Polk Awards are conferred annually to honor special achievement in journalism. The awards place a premium on investigative and enterprising reporting that gains attention and achieves results. They were established in 1949 by Long Island University (LIU) to commemorate George Polk, a CBS correspondent murdered in 1948 while covering the Greek civil war.
Reporters who risked their lives in 2014 to cover the Ebola epidemic, trace the rise of the Islamic State, and reveal secret ransoms paid for the release of hostages are winners of LIU's 66th annual George Polk Awards in Journalism. Additional honorees include reporters who uncovered systemic failure in two federal agencies, the Secret Service and the Veterans Administration, as well as journalists who exposed brutal treatment of prison and jail inmates.
Four other cartoonists—Jules Feiffer (1961), David Levine (1965), Jeff MacNelly (1977), and Edward Sorel (1980)—have also been cited for their work in specific years, but no cartoonist until Trudeau has received the Career Award.
On April 9, Trudeau will speak on the impact of comics in journalism. The talk, titled "Dangerous Lines: Cartoonists and Other Subversives," will spotlight comics and satire in the wake of the Charlie Hebdo massacre.
■ Kevin "KAL" Kallaugher of the Baltimore Sun and The Economist managed to win two awards in the last couple weeks: the 2015 Herblock Prize for Editorial Cartooning and, just before that, the 2014 Grand Prix for Cartoon of the Year in Europe as presented by Press Cartoon Europe. The cartoon, which is visible just in the corner of your eye, was selected from over 400 published works from 151 cartoonists in 26 countries.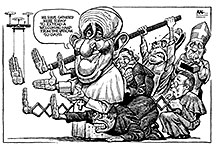 The Herblock Prize is awarded annually by The Herb Block Foundation for "distinguished examples of editorial cartooning that exemplify the courageous independent standard set by Herblock." The winner receives a $15,000 after-tax cash prize and a sterling silver Tiffany trophy. The Grand Prix Cartoon of the Year winner receives a check for 8,000 euro (about $8,850) and a bronze trophy designed by Belgian graphic artist Ever Meuklen.
KAL's portfolio for the Herblock Prize "impressed the judges with his ability to jump between macro international policy issues to Baltimore mayor's stonewalling about the accuracy of its speed cameras. Like Herblock, KAL is a committed defender of civil liberties. His artwork, still traditional ink on paper, remains strong in his fourth decade of cartooning. He is a master of caricature. Whether single panel, circular, or multi-panel, his cartoons are clear, thoughtful, forceful and in the best tradition of Herblock."
Judges for this year's contest were Jen Sorensen, nationally-published political cartoonist and winner of the 2014 Herblock Prize; Sara W. Duke, curator of Popular and Applied Graphic Art at the Library of Congress; and Michael Rhode, archivist and author, commentator on comics for the Washington City Paper and creator of the ComicsDC blog.
Other awards KAL has won include the 1999, 2002, 2005 and 2014 Thomas Nast Award presented by the Overseas Press Club of America, and the 2002 Berryman Award presented by the National Press Foundation.
■ Clay Bennett, editoonist for the Chattanooga Times Free Press, has received the Clifford K. and James T. Berryman Award for Editorial Cartooning. The Award, established in memory of two celebrated Washington Star editorial cartoonists, father and son, is given annually "for work that exhibits power to influence public opinion, plus good drawing and striking effect." The winner receives a $2,500 prize and an engraved crystal vase.
In his remarks accepting the Berryman, Bennett admitted, tongue somewhat in his cheek, that his simple cartoon style (an example of which lurks nearby, revealing that his so-clled "simplicity" symbolically conveys an insight powerfully) was a consequence of his inability to draw.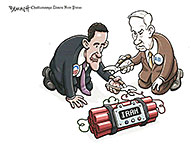 He also said his forte lies not in being funny (as amply demonstrated, he said, by the speech he was giving). And he confessed that he can't do caricatures either (showing an image of a cartoon in which Obama appears and explaining, "That guy is Obama"). His sly implication was therefore that he was unqualified as an editorial cartoonist—except for having one of the salient traits of the breed: he has definite opinions. And he hopes by expressing them in simple, un-funny drawings to offer keen insight into current affairs.
■ Finalists for the National Cartoonists Society Reuben Award as cartoonist of the year 2014 are Roz Chast, whose graphic memoir about her parents' last years, Can't We Talk about Something More Pleasant, has resulted in a deluge of honors and recognitions (Kirkus Prize, National Book Critics Circle rcognition); Hilary Price (Rhymes With Orange comic strip) and Stephan Pastis (Pearls Before Swine comic strip). This is Pastis' seventh nomination and Price's second; for Chast, it's the first.
With two women cartoonists up, we might have a historic moment on May 23 in Washington, D.C, when this year's Reuben is finally conferred. Only two women (Lynn Johnston, For Better or For Worse, and Cathy Guisewite, Cathy) have collected a Reuben statuette in the Society's nearly 70-year history.
CHARLIE HEBDO ALL OVER AGAIN
In Copenhagen on February 14, a lone gunman opened fire in a cultural center, killing one person and wounding others, then went on to kill a Jewish security guard at a synagogue. It is widely supposed that the gunman, a 22-year-old Muslim born in Denmark of Pakistani parents, was inspired by the Paris slaughter on January 7 and 8. He apparently had the same agenda: his attack on the cultural center was prompted, apparently, by a seminar being held there on freedom of speech and expression, instigated by Lars Vilks, a cartoonist (he says) who made himself famous in the aftermath of the Danish Dozen by drawing Muhammad as a dog; and, like the second wave of Paris terror, the Copenhagen shooter assaulted a Jewish target.
Editoonist Daryl Cagle demured over Vilks' profession, pointing out that Vilks is not a cartoonist: "Vilks is a 'conceptual artist,"' Cagle said, "who had been known for building towers made of sticks before he took up the Prophet Muhammad-dog theme. Vilks studied art history and didn't train as an artist, as is clear to anyone who sees his terrible drawings. His most famous Muhammad dog drawing looks like he drew it in five seconds, on a napkin, with his eyes closed, and both hands behind his back. Unlike cartoonists who seek to have their work published, Vilks shopped around for galleries that were willing to hang his scribble on their wall – when one gallery agreed, the drawing made the news, and the art show was cancelled, but the news was enough to give Vilks new fame as the Prophet Muhammad dog 'cartoonist.'"
But the gunman would not have quibbled over such a distinction: Vilks had insulted the Prophet and therefore deserved to die. The seminar was also attended by a Swedish artist, Dan Park, who specializes in offending blacks, Jews, Catholics and Muslims, and the French ambassador to Denmark, who, being French like the cartoonists at Charlie Hebdo, was likewise deserving of murder.
Danish police tracked the gunman and during a shootout at a train station shot and killed him. Later, it turned out he had a criminal record, mostly for possession of firearms, and had probably, like the Charlie Hebdo killers, been radicalized while serving time in a prison.
Lars Vilks. According to Reuters, when Swedish artist Lars Vilks drew the Prophet Mohammad as a dog in 2007, the picture's aim was to challenge political correctness in the art world. After the sketch sparked an uproar in the Islamic world, Vilks admitted that he had been naive to think its effect would be limited.
Vilks, 68, published his Muhammad artwork in 2007, after the 2005 Danish cartoon controversy, and has been a repeated target since then, appearing on death lists of Islamist extremists. He receives round-the-clock police security, has been attacked in his home and at a university lecture, and was the target of a murder plot by a Pennsylvania woman known as "Jihad Jane."
The seminar, which Vilks organized at the cultural center, was meant to mark the 25th anniversary of an Iranian fatwa against British writer Salman Rushdie. During the fireworks, Vilks was whisked away to the safety of a cold storage room, and he has no doubt that he was the target.
"What other motive could there be [for the attack]?" he told Karl Ritter of the Associated Press.
Before 2007, Reuters said, "Vilks was a little known painter, sculptor and art theorist. That year, he drew three cartoons of Mohammad for an exhibition on dogs in art, to test whether the politically correct organizers would dare show them. They did not, citing security reasons."
"In art, it is said there are no longer any boundaries to cross," Vilks wrote at the time. "The little drawings made it possible to show that boundaries undoubtedly exist."
The rejection of his "cartoons" did spark a debate on free speech in Sweden, and several newspapers printed the drawings.
At the time—a year after the brouhaha over the Danish cartoons—Vilks thought all of that was "water under the bridge."
He continued as Reuters reported:
"What I expected was that my contribution would be a local event," he wrote. "But I was naive about this ... Wrong, the issue was very much on the agenda and remains so."
On his blog, Vilks has been critical of Islam, which he says "needs to be modernized," and has upheld the need to debate issues that the religion considers taboo.
But while the controversy over his drawings has gained him fame in his native Sweden, he says his career has suffered due to the security concerns among galleries and art institutions about exhibiting even work unrelated to Islam.
"Just meeting me or learning I am going appear somewhere creates waves of fear," he told Reuters last month. "They think the whole world will come storming over there and blow it all sky high."
"ONCE AGAIN, we are reminded there's a very brutal war going on right under our noses," Robert T. Russell, executive director of Cartoonists Rights Network International, told Michael Cavna at the Washington Post's ComicRiffs. "Many of the same questions will be raised that we all discussed after the Charlie Hebdo killings.
"Once again, we'll most likely come to the same conclusions: freedom of speech and the freedom to express one's self without fear of retribution continues to be the best pathway to a more tolerant world," continued Russell, whose Virginia-based organization is running a crowd-funding campaign to defend "the creative and human rights of cartoonists under threat throughout the world."
"My heart," Russell said, "goes out to the person killed in this attack in Copenhagen, and the family that will now try to cope with actions of people who only understand hate."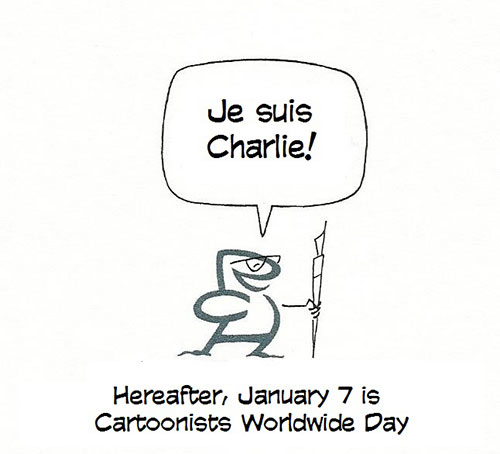 CARTOONISTS PRESSURED
Malaysian Cartoonist Jailed. Again.
Cartoonist Zulkifli Anwar Ulhaque (aka Zunar) was recently imprisoned for three days to await questioning over a tweet he posted suggesting that the Malaysian judiciary is corrupted by political or financial influence. Knowing his arrest was likely, Zunar posted the cartoon at your elbow, which shows Prime Minister Najib Razak handing down a "political sentence" to Anwar Ibrahim, the former Deputy Prime Minister, an outspoken opponent of Najib.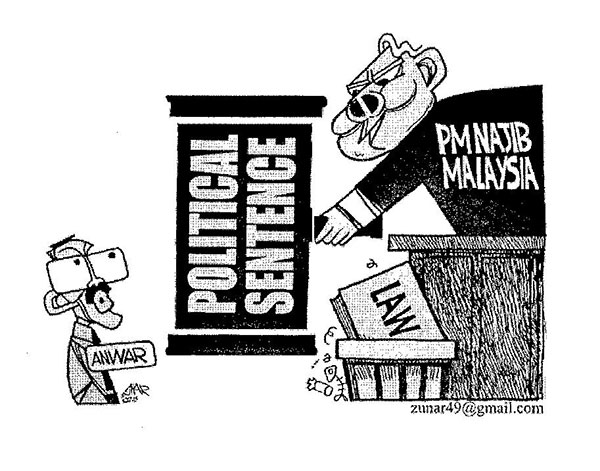 Maren Williams at Comic Book Legal Defense Fund reports that Zunar tweeted just after the sodomy conviction of Anwar Ibrahim was upheld in Federal Court. The conviction was internationally condemned, and Zunar's latest book of cartoons, The Conspiracy to Imprison Anwar, is entirely devoted to the case, which has dragged on for several years.
Williams continues: Shortly after the country's highest court ruled against Ibrahim, Zunar said via Twitter that "the lackeys in black robes are proud of their sentences. The reward from political masters must be plenty." Inspector-General of Police Khalid Abu Bakar pounced, retweeting Zunar's comment with the observation that "this person…wants action to be taken by [police]. PCIRC please detect and investigate." The acronym designates the Police Cyber Investigation Response Centre.
Before the latest sedition charge, Zunar was already under investigation for his cartoons. As we report here last time (Opus 337), just a few weeks ago police raided his office without a warrant while he was out of the country, seizing about 150 books. His current detention is just the newest chapter following years of government harassment and intimidation directed not only at the cartoonist himself, but also at his customers, employees, printers, and the retailers who dared to carry his books. He has cheerfully borne up under the pressure, insisting over and over that only cartoons can do justice to the government of Prime Minister Najib Razak.
Moroccan Cartoonist Threatened. International Business Times reports that Cutthroat CalipHATE supporters have called for lone wolf terrorists to target Franco Moroccan cartoonist Zineb el-Rhazoui, who survived the attacks on the offices of Charlie Hebdo in January. Thousands of hooligan barbarians have tweeted under the hashtag translated as #MustKillZinebElRhazouiInRetaliationForTheProphet, reports Vocativ, posting Zineb's personal details, pictures of her husband and sister, and a map showing places she had visited taken from her Facebook account, as well as pictures of CalipHATE beheadings. Money has also been offered in reward for information on her or her husband's homes or places of work, reports Alyaoum24.com. From Allan Gardner at DailyCartoonist.
INTERNATIONAL MEETING OF CARTOONISTS CANCELLED
By Editoonist Ann Telnaes on February 26
"…we unfortunately have decided to cancel…"
That was part of an email waiting for me this morning from Stéphane Grimaldi, the Directeur General of Le Mémorial de Caen in Normandy, France, concerning a cartoonists' conference I was due to attend in April. Mr. Grimaldi explained that because of security concerns and the fact the Memorial's website had been hacked six times in less than a month, he had no choice but to cancel the meeting of 43 cartoonists from around the world.
I fully understand the organizers' reasons for canceling the event; they have the responsibility of not only the safety of the invited cartoonists but also the safety of the community's residents and businesses.
However, I was sad and angry when I read the email— sad because these cartoonist gatherings are a wonderful way to meet and get to know my colleagues from all different countries and cultures. We exchange stories about reactions to our cartoons, share what subjects are more difficult to address in each of our countries, and complain about getting paid for our work. This is the only group of people whose eyes light up when discussing the differences of working on a vellum or plate bristol board or the merits of a #1 to a #2 Windsor Newton Series 7 brush. They are an inquisitive bunch and are always up for a debate about current events which inevitably ends in pens being pulled out and restaurant napkin drawings to be passed around and shared.
I was angry about the cancellation because it again reminds me of the Paris murders and the senseless violence which is now a sad fact of my profession. I have said repeatedly ever since the Danish cartoon controversy in 2006 that there is no justification for violence if one is offended by a drawing. You can criticize, reject, ignore, protest, or draw your own opposing cartoon but threats and violence are not justified for any reason. Ever.
Just today, the Islamic State posted a video showing militants destroying Assyrian artifacts which date back to the 9th century. It's stupefying to watch grown men destroying these priceless works of art because they have decided the sculptures are idols and therefore offensive, just like some cartoons.
RCH: One of the artifacts destroyed by Cutthroat CalipHATERS was a sculpture of a winged-bull Assyrian protective deity that dates from the 7th century B.C. Made 600 years before the time of Christ.
NCS SAYS "JE SUIS CHARLIE"
In the latest issue of The Cartoon!st, the news letter of the National Cartoonists Society, Prez Tom Richmond devotes his editorial to addressing the "cowardly terrorist attack" on Charlie Hebdo—:
The terrible events on January7 at the offices of the satirical publication Charlie Hebdo left cartoonists all over the world shocked, saddened, and angry. ... Make no mistake, this was an assault on free speech the world over. We are now supposed to fear offending people who do not have the wits or fortitude in their own faith to weather criticism or mockery.
Within a few hours the NCS released an official statement written by Vice President Darrin Bell condemning the attacks and showing support for the defense of free speech:
"On Wednesday, January 7, three gunmen attacked the offices of the French satirical magazine Charlie Hebdo, killing 12 people, including four cartoonists and the editor of the publication. Footage captured during the attack seems to indicate the killers believed they were retaliating against what they perceived to be insults to their religion presumably published in the magazine.
"The National Cartoonists Society condemns the barbaric terrorist attack against Charlie Hebdo, and our hearts go out to the cartoonists, satirists, their families, and all of France. This was the work of insecure cowards who apparently fear their religion is so weak that it can't stand criticism, and who must fear that the God they purport to worship isn't big enough, strong enough, or wise enough to take a joke. The NCS would like to point out these three criminals do not represent the religion of Islam but are murderers taking lives of their own accord.
"We stand with the brave cartoonists and journalists, and we stand with their families, because an attack on free speech anywhere is an attack on free speech everywhere."
[Richmond resumes:] I was extremely proud of the NCS and the world's cartooning community who stood up and loudly proclaimed "We are not afraid" and refused to be cowed or intimidated by a small group of extremists who don't possess enough sense to be able to take a joke but, sadly, can still pull a trigger. Free expression will always triumph over even determined zealots who attempt to silence it, but sometimes the price paid is very, very high. ...
So, Je Suis Charlie —even if you disagree with [Charlie's] the message, we can all agree the voices should not, and will not, be silenced.
CENSORSHIP ON THE RISE
Don't Do Anything That Might Offend Someone
THE MURDERS IN PARIS in January brought into public view worldwide the kinds of cartoons Charlie Hebdo produced—cartoons potentially offensive to a range of religious and political sensibilities. When we last met at this site (in Opus 337), I enthusiastically endorsed freedom of expression as an absolute, something to protect and treasure regardless of whoever might be imagined as offended, whenever and wherever. I still do. And I am certainly not alone.
As if to underscore the strategic importance of that stance, recent cases of censorship are underway, advancing the thin edge of the wedge that will, if such good-intentioned "let's not offend anyone" censorship is successful, drive us apart from the freedom to speak out minds.
Herewith, a couple of the pending suppression of offense cases—:
Hernandez's Palomar under the Censor's Gun
By Maren Williams
Contributing Editor at Comic Book Legal Defense Fund (CBLDF)
THE CRITICALLY ACCLAIMED comic collection Palomar by Gilbert Hernandez is being called "child porn" by the mother of a high school student in Rio Rancho, New Mexico, and the book may have already been removed from a library collection in defiance of school district policy. Sadly, unbiased details are difficult to come by so far, what with the local news station that broke the story labeling the book "sexual, graphic, and not suitable for children."
Catreena Lopez's 14-year-old son checked out Palomar from the Rio Rancho High School library because he likes manga and thought it looked similar. But when she looked through it, Lopez told local news station KOAT, she found "child pornography pictures and child abuse pictures and I was like, 'No. That's not going to happen in my house.'"
But instead of just returning the book to the library, Lopez decided that it should not go to anyone else's house either. She brought it to the attention of Rio Rancho Public Schools officials, who agreed with Lopez and KOAT that the book is "clearly inappropriate." They say they're now "investigating how it became a part of the library's collection in the first place."
KOAT is not helping matters at all with its egregiously biased reporting, which ironically shows no regard for the First Amendment that protects freedom of speech as well as freedom of the press. The news station only cites Lopez and unnamed district officials in its report, and while the video shows the book stuffed with markers flagging "inappropriate" images, reporter Royale Da's voiceover informs viewers that "we can't show you any of the images because they're too sexual and very graphic."
This is a tactic we've seen before in many biased news reports, including CNN's tour of Tokyo manga shops which blurred out even the covers of books.
Needless to say, Palomar is not actually a collection of child porn — Publishers Weekly called it "a superb introduction to the work of an extraordinary, eccentric and very literary cartoonist" and it often draws comparisons to the magic realism of novelists such as Gabriel Garcia Marquez.
The book collects Hernandez's "Heartbreak Soup" stories which originally appeared in the Love and Rockets series, a collaboration with his brothers Jaime and Mario. Gilbert Hernandez's stories focus on the interconnected lives of characters from one family in the fictional South American town of Palomar.
Although filtered by KOAT's biased reporting, Rio Rancho Public Schools officials' characterization of the book as "clearly inappropriate" is worrisome. We certainly hope that the said officials are up to speed on their district's policy on Request for Reconsideration of Library Materials, which says in part:
"Review of questioned ('challenged') materials will be treated objectively, unemotionally, and as a routine matter. Criticisms of print and non-print materials must be submitted in writing on a Request for Reconsideration of Library Materials form obtained from the librarian at the library/media center where the material is housed and submitted to the Superintendent of schools. The Request must be signed and include specific information as to author, title, publisher, and definite citation of objection."
The policy also details the process of forming a Review Committee to decide whether the challenged material will remain in the library collection. Until that decision is made, the policy says the book is to remain in circulation "unless the Superintendent decides otherwise." The document also contains the form that Lopez is supposed to fill out and submit in order to file the challenge. Unfortunately, it does not ask whether the challenger has read the entire work, but it does include the interesting question "Is there anything good in this material?"
CBLDF is already taking action to fight this challenge and to make sure the Rio Rancho school district abides by its own challenge policy. We're hoping that some less biased local news sources will cover the story in the coming days, but whatever happens we will certainly keep you up to date!
RCH: Help support CBLDF's important First Amendment work in 2015 by visiting the Rewards Zone, making a donation, or becoming a member of CBLDF!
Another Wedge at Work
CBLDF was on the case recently in Texas, advocating for the First Amendment right to offensive speech by joining an amicus brief filed by the Cato Institute and amici P.J. O'Rourke, Nat Hentoff, and Nadine Strossen. The brief, reported Caitlin McCabe at CBLDF, turns on the question of offensiveness. The Sons of Confederate Veterans proposed a "specialty license plate" that includes the organization's logo, which depicts the Confederate flag. The Texas Department of Motor Vehicles denied the proposal because the Confederate flag might be offensive to some citizens. CBLDF and the other amici contend that the denial could set a harmful precedent for the First Amendment if such potentially offensive speech is suppressed.
Said McCabe: "CBLDF joins coalition efforts like these to protect the freedom to read comics. Censorship manifests in many ways, and the unique visual nature of comics makes them more prone to censorship than other types of books. Taking an active stand against all instances of censorship curbs precedent that could adversely affect the rights upon which comics readers depend."
The Cato Institute's brief points out the "gross implications of the state agency's decision for freedom of speech and ultimately urges the Supreme Court to overturn the clear violation of the group's First Amendment rights."
At issue, of course, is more than specialty license plates, as McCabe says: "If a governmental agency has the right to determine what is too offensive for the public in this instance, where does it stop? And at what point does the government have the ability to not only regulate and take action against speech, but also citizens' ideas and beliefs?
"In a time during which we are seeing free speech threatened and violently acted upon around the world, it becomes quickly apparent that these types of domestic issues are another symptom of an increasing epidemic, as various advocates explain in an article for the Cato Institute (in italics):
Texas's stance is particularly worrying given that it comes at a time when free speech is being threatened to an extent not seen in some time. Throughout Europe and the Anglosphere, liberal democracies are increasingly intolerant of offensive speech, enacting open-ended hate-speech laws, prohibitions on blasphemy, and "human rights" protections against insulting not just individuals but communities and abstract concepts. ... We have filed an amicus brief urging the Supreme Court to reaffirm that the First Amendment protects the speech of unpopular minorities, even when the proffered justification for censorship is its putative "offensiveness."… There's no "offensiveness" exception to the First Amendment and it would be insulting for the Supreme Court to allow the Texas DMV to tell us what's offensive. Those who are offended shouldn't have a veto over free expression, and putative offenders should be judged in the court of public opinion.
Of course, as McCabe says, "a major part of granting U.S. citizens the right to free speech is that they have the ability to talk about and support a range of ideas and beliefs, including those which might be offensive to other people."
A TRIUMPHANT CRI DE COEUR
Read and Relish
On February 17, ComicRiffs' comics reporter and cartoonist Michael Cavna posted the following paragraphs, which I not only applaud but admire:
They are the four silliest words I often, as occupational hazard, hear. "It's just a cartoon." Silly because a good cartoon is one of the clearest and most concise ways to communicate an idea, an intellectual laser-beam of a thing that hoodwinks the brain's misdirected critical filters and kidnaps the cortex like the nastiest of Nastian cartoons. The usual defenses don't stand a chance, as the cartoon is instantly lodged in the noggin. From conception to inception, it can creep in on little cat feet … and then bare its claws.
Which explains why so many offended forces want their local cartoonist declawed. Because what those four words in truth translate to is, "It's just an idea," and few doubt the power of a potent idea.
Recent attacks on artistic expression from Charlie Hebdo to Copenhagen have only shined brighter klieg lights on the threats and imprisonment and violence faced by editorial cartoonists around the world. And now, as we enter the height of awards season, soon followed by the height of convention and festival season, that illumination turns into spotlights and camera lights.
Let the ramp-up begin.
RCH: And let the spotlight shine not only on the unique achievement of cartoonists but the dangers they face that we must all defend against.
RIFT AT CHARLIE HEBDO
New-found wealth has split the staff of the notorious Parisian satirical weekly according to European Business News. In the aftermath of the murder of a dozen staff members, Charlie Hebdo experienced a stunning increase in circulation—and income—and some of the surviving staff demand that the paper become a cooperative to give everyone a say in how to best use the windfall.
"Money can make people crazy," said cartoonist Riss (aka Laurent Sourisseau), now the paper's top editor and one of only two of the original share holders to survive.
Over the years, the paper's fortunes have risen and fallen predictably: whenever it publishes an outrageously comical issue on some controversial matter, circulation soars; but when life returns to normal, circulation plummets. The first issue published after the January 7 murders sold nearly eight million copies, more than 200 times the usual sales. The most recent issue, the cover of which appears hereabouts (celebrating the "response" as in repartee)—the first issue since the post-murder issue on January 14—printed 2.5 million.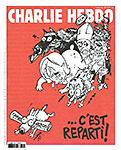 Besides the matter of ownership, another debate is taking place. Some staffers say Charlie must reject its new symbolic role as a champion of freedom of expression; others say they must embrace it, becoming "a global newspaper of freedom." Both sides broadly agree, though, that Charlie Hebdo must not let is newfound wealth and expanded readership change its satirical stance.
Perhaps underlying the impetus for the paper to be employee-owned is an unhappy fact of Charlie's financial history. The paper's profits climbed in 2006 when it published the Danish Dozen and then endured Muslim protests, and the four share-holders decided to pay out nearly all of the year's profits to themselves.
Despite this history, the two top editors, Riss and Gerard Biard, resist the move towards cooperative ownership. Said Biard: "I don't think a cooperative is the best way to run a newspaper."
Riss abruptly left a staff meeting when the discussion turned to employee-ownership.
And Charlie's lawyer, Christophe Thevenet, said: "How can you make this kind of decision when you're still having nightmares at night? It's indecent."
Indecent, no doubt; and perhaps premature. Charlie faces perplexing difficulties. Getting back into the routine of producing a weekly paper is one of them, but another is retaining staff and hiring new people to take up the duties of those who were slain. Working for Charlie is an intimidating employment: some staff members live under round-the-clock police protection with armored policemen wielding automatic weapons stationed in front of their homes.
Fascinating Footnit. Much of the news retailed in the foregoing segment is culled from articles eventually indexed at rpi.edu/~bulloj/comxbib.html, the Comics Research Bibliography, maintained by Michael Rhode and John Bullough, which covers comic books, comic strips, animation, caricature, cartoons, bandes dessinees and related topics. It also provides links to numerous other sites that delve deeply into cartooning topics. For even more comics news, consult these four other sites: Mark Evanier's povonline.com, Alan Gardner's DailyCartoonist.com, Tom Spurgeon's ComicsReporter.com, and Michael Cavna at voices.washingtonpost.com/comic-riffs . For delving into the history of our beloved medium, you can't go wrong by visiting Allan Holtz's strippersguide.blogspot.com, where Allan regularly posts rare findings from his forays into the vast reaches of newspaper microfilm files hither and yon.
Quotes and Mots
Freedom of speech does not entail freedom from the consequences—which, in all civilized parts of the world, means vociferous and perhaps profane disagreement but not death by AK-47s.—RCH
"In a superhero movie, it's typically good guy and bad guy, and bad guy attacks. Well, in real life, evil seduces."—Joaquin Phoenix
"Against the assault of laughter, nothing can stand."—Mark Twain
ONLY A MONTH LATE FOR FEBRUARY
April is, they say, the cruelest month, a debatable proposition. But no one is likely to quibble about February's distinction as the shortest month. To make up for its lack of altitude, February has, over the years, accumulated other distinctions. It's the month that St. Valentine endowed with hearts and flowers. And two of our most revered presidents—George Washington and Abraham Lincoln—were born in February.
(Washington's birthday is always incorrectly given as February 22. He was actually born on February 11, but in 1752, twenty years after he was born, Britain and her colonies on this side of the Atlantic abandoned the Julian calendar under which Washington was born and adopted the Gregorian calendar in order to bring the seasons into closer accord with the rotation of the stars and planets, adding an extra day to February every four years having not been sufficient. The adoption took place at midnight on Wednesday, September 2, through the simple maneuver of jumping eleven days into the future; so the next day was Thursday, September 14. By the same leap, Washington's birthday jumped from February 11 to February 22. Lincoln, on the other hand, kept his birthday of February 12 because he was born after the Great Calendar Shift of 1752 by 57 years. Had he lived a year longer, we could have attached celestial significance to his death at 57 years; but he died at the age of 56, one year shy of the magic number 57. But that doesn't alter the fact that he and Washington were born within a day of each other, albeit 57 years apart.)
February is also marked by two of my favorite events: The New Yorker magazine celebrates the anniversary of its launch every year during the last week of February, and Black History Month transpires all month long, usually with the result that I learn something about African American cartoonists. What I have learned this year comes next; we are postponing our New Yorker celebration for a week or so while we ready a massive posting to Harv's Hindsight to commemorate The New Yorker's Eustace Tilley.
RAMBLING THROUGH BLACK HISTORY MONTH
Tempus Todd and H. Weston Taylor
Offered Again (and Slightly Updated and Corrected)—:
PROWLING THE WEB in search of African American comics a few years ago, I ran across Tempus Todd, a comic strip that ran in 1923 and may have been the first strip with an adult male African American protagonist. Until Todd's advent, most African American characters in cartoons and comic strips had been children, or, if adults, they filled secondary roles as servants or other kinds of menials or fools, importing their imagery and comical conduct from black-face minstrelsy, which is to say, not from actual African Americans but from whites with burnt cork on their faces, "caricatures derived from the popular stage routines of white males' gross parodies of 'black life,' originally the slave life of blacks," according to Steven Loring Jones in "From 'Under Cork' to Overcoming: Black Images in the Comics" at ferris.edu.
The strip was written by Octavus Roy Cohen, a Jew from Charleston, South Carolina, who started as an engineer, graduating from Clemson Agricultural College in 1911, but soon turned to journalism, working on several newspapers around the South before deciding to study the law. He was admitted to the bar in 1913 and hung his shingle in Charleston, but when he sold his first short story in 1915, he quit the law and concentrated on writing fiction.
I first ran across Cohen in the pages of the Saturday Evening Post, where he achieved some popularity (as well as a measure of notoriety in literary annals) with stories featuring egregious comic stereotypes of African Americans, who spoke an exaggerated "black dialect" that Cohen deployed for comic effect. They were, in effect, still "under cork."
The stories, usually starring a "sepia gentleman" named Florian Slappey, known as the "Beau Bummell of Bumminham," were handsomely if stereotypically illustrated in gray wash, sometimes by J. J. Gould, a mainstay at the Post since early in the century, and, on other occasions, by H. Weston Taylor, another regular at the Post.
And Taylor also drew Tempus Todd in the funnies. Dunno Taylor's race, for sure; but at Allan Holtz's website, Stripper's Guide (strippersguide.blogspot.com), Taylor is described as having blue eyes. And his race isn't mentioned. Had he been African American, I'm sure that fact would have been noted.
In a 1997 Newspaper Research Journal article analyzing black images in comic strips, Sylvia E. White and Tania Fuentez say that Tempus Todd's all-black cast is depicted "as individuals" and that Taylor "avoided the traditional minstrel face (protruding white lips, bulging round eyes in a totally black face)." I haven't seen any more of the clickingly christened Tempus Todd than the drawing that appears at lambiek.net under Taylor's name (reproduced here), but with no more evidence than this before me, I'm not sure I'd agree that Taylor avoided "protruding white lips" and "bulging round eyes" although Todd, if this is he, doesn't have the totally black visage and grossly liver-lipped portrayals typical of the day.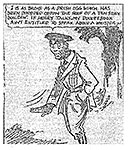 Todd is a cab driver, say White and Fuentez, and the comedy in the strip arises in his encounters with his passengers, all of whom spoke in the minstrel dialect that Cohen had perfected for characters of color. It was a short-lived strip, according to Holtz's American Newspaper Comics: it started April 16, 1923 and ran only until June 30 of that year.
Taylor pursued cartooning in the infant comic book industry, working 1940-42 in the Jacquet Shop, where he produced features for Centaur comics ("Dr. Synthe," "King of Darkness," and the briskly named "Dash Dartwell"), Novelty ("Lucky Byrd"), and Quality ("Scarlet Seal," "Ace of Space," and "Counterspy") before dropping from sight.
George L. Lee
And Interesting People
A MONTH OR SO AGO, Michael Dooley, a comics enthusiast and scholar who is a contributing editor at Print magazine, asked me if I knew of any African American cartoonists who had been prevented from practicing their craft because of their race. At the time, I knew of no one. Since then, I found George Lee.
Born in 1906, Lee aspired to be a cartoonist, and by 1933, he was producing sports drawings for Bang, a magazine about boxing, and the Chicago American daily newspaper—"until," as the back cover blurb on one of his books puts is, "those publications found out that he was black. [Then] there was no more work for him."
But Lee didn't accept defeat. I don't know what, exactly, he did for the next twelve years, but in 1945, he was doing a panel cartoon he called Interesting People and syndicating it himself to the black press throughout the country. In appearance, the cartoon resembled Robert Ripley's Believe It Or Not: Lee drew a realistic portrait of a black man or woman who had achieved greatness in some field and added a paragraph of biography and sometimes a cartoony picture of the subject doing his/her thing.
I just acquired a 1989 Ballantine Book reprint of a 1976 collection of Lee's cartoons entitled Interesting People: Black American History Makers (224 5x8-inch pages in paperback). "The purpose of this book," Lee says in his Preface, "is to show that with God's help, good courage, and determination, one can achieve much. May its pages be a source of inspiration, knowledge, and pride for all."
On the book's back cover is this: "At a time when there was little or no information available about African American 'history makers,' George Lee kept their names alive." Indeed, he may have given them life in the collective memory of many African Americans.
Imagine, in particular, the impact of his "believe it or nots" on young black readers of his cartoon in their African American newspaper: in Lee's Interesting People, they may have been discovering for the first time that black people could be great. Hereabouts, I've posted several of Lee's portrait/biographies.
"Many of the feature's subjects were born slaves; all of the cartoons depict lives that stand as models of the courage and determination that helped George Lee commemorate them in his delightful, accessible history lessons."
Writing the volume's Foreword, educator Helen E. Williams, a black Fulbright Scholar in 1987, says: "This book is critically important to thousands of young people who need to understand that genius, achievement, and dedication to noble ideals are not the exclusive province of one segment of the population. This young audience, along with all Mr. Lee's readers, should become immersed in the pride of heritage that inspired this book."
Lee discontinued Interesting People in 1948 ("because," he says, "of the newsprint shortage brought on by World War II" that limited the size of newspapers for a time, forcing them to condense or eliminate feature content), but he revived the series in 1970 and continued doing it until he retired in 1986 at the age of eighty. I don't know if he's still living, but I doubt it: he'd be 108 years old.
McFarland Publishers has recently completed reprinting three of Lee's books: Inspiring African Americans: Black History Makers in the United States, 1750-1984; Interesting Athletes: A Newspaper Artist's Look at Blacks in Sports; and Worldwide Interesting People: 162 History Makers of African Descent.
Reviewing the latter volume, the Library Journal said: "Interesting People strove to instill in blacks a sense of history and pride through the illustration of blacks from around the world who had overcome poverty, discrimination,, or personal difficulties to make a contribution to society."
Racial bigotry may have sidelined George Lee for a time, but he overcame that obstacle to produce what may have been a first draft of the history of his race in American and throughout the world.
Tales of the Talented Tenth, No.1: Bass Reeves
By Joel Christian Gill
126 8x10-inch pages, color; 2014 Fulcrum Publishing paperback graphic novel, $25.95
GILL IS DOING TODAY what Lee did a generation ago: he's telling stories about black Americans who achieved greatness in their chosen vocations. Bass Reeves, for instance. Reeves, a frontier deputy marshal in Oklahoma during the closing quarter of the 19th century, was "the most successful lawman in the Old West": he was not the first African American marshal, but he arrested more crooks than anyone else—thousands, Gill reports. "He once brought in 21 outlaws at one time. He even helped to put down a race war in 1902. He was never shot—only shot at; and he had to kill 14 outlaws over the course of his 32-year career."
In the volume at hand—the first of a proposed series on what W.E.B. DuBois called "the talented tenth"—Gill traces the life of Reeves, beginning when he is a young slave, being taught to shoot a rifle by his master, who enters the youth in sharp-shooting contests (and collects the winnings himself, naturally). During the Civil War, Reeves' master served in the Confederate Army, taking Reeves along with him. The youth hears about blacks running off to join tribes of Native Americans, who harbor the fugitives and prevent them from being captured; he does the same, growing to maturity among the Indians. He eventually marries and becomes a farmer, but after helping a local marshal solve a problem with some Indians, he becomes a marshal himself.
The rest of the book is devoted to a couple of narrative strands that demonstrate Reeves' methods as a lawman. One of his quirks, for example, is to leave with those he has helped a silver dollar, a habit, Gill speculates, that "led many scholars to believe that his life inspired the story of the Lone Ranger."
An admirer of Chris Ware, Gill has adopted a refined simplicity for his drawings, and he deploys the resources of the medium skillfully. Through much of the book, he runs two narratives, one a flashback, paralleling incidents in Reeves' life for dramatic enhancement. In a few of the wordless passages deployed for action sequences, the narrative import is not entirely clear—due, chiefly, to the simplicity of Gill's style, which is too imprecise for some necessary storytelling details. And I doubt that Gill has ever mounted a horse: if Reeves climbed on his cayuse the way Gill depicts him, he'd be facing the horse's tail.
But Gill is adept at exploiting the capacity of the medium for conveying meaning symbolically. Instead of using the N-word, for example, he inserts in the speech balloon text a tiny version of a stereotypical racist rendering of an African face—big white eyes, liver-lips. Gill believes that the N-word has lost its nasty sting; his visual symbol, however, he thinks revives the power of the word. I don't agree that the N-word has lost its derogatory ugliness; but the rebus pictogram is a potent device, imparting to the term a dramatic, visual weight that the word itself no longer carries.
A recurring character in the story is depicted as a human-size crow. Jim Crow. And it behaves as you would expect Jim Crow to behave. In the first of Gill's graphic novels from Fulcrum, Strange Fruit, the cartoonist tells short histories about lynching, and he shows many crows attending the lynchings. The group of crows, Gill points out, is termed a "murder."
Apt.
Gill believes, with ample justification, that "black people in America are the true Horatio Alger, pull-yourself-up-by-your-bootstraps story. ... What's more American than walking 500 miles in the snow with dogs chasing you just so you can choose where you wake up and go to bed every day?"
He continued: "Tales like Bass Reeves are quintessentially American stories because they don't happen anywhere else. They have all the mythos of America. In five generations, we've gone from property to doctors, lawyers, politicians and presidents. I know it's a grand idea for a guy drawing comic books, but if everybody can embrace the same stories, we can embrace our shared history."
Harvard professor Henry Louis Gates, Jr. wrote in the introduction to Strange Fruit that Gill combines a sleuthing historian's search "for buried bones of the past" with "a folklorist's instinct for shrouding history in legend. Let the comic-book seller have their mythic superheroes; through Joel Christian Gill, we can have our own."
Gill has planned at least three more graphic novels in the Talented Tenth series, featuring: Bessie Stringfield, the motorcycle queen of Miami; Robert Smalls, an escaped slave-turned-politician; and Mary Bowser, a freed slave who returned to the South as a Union spy during the Civil War.
All are on deck at Fulcrum Publishing, which, five years ago, shifted its focus from non-fiction books about the West, Native American history and environmental conservation to historical and educational graphic novels. So far, its other titles include: Trickster; District Comics: An Unconventional history of Washington, D.C.; Colonial Comics: New England, 1620-1750; and Captive of Friendly Cove.
Fulcrum markets its books to comics shops as well as schools and libraries. John Wenzel at the Denver Post wrote: "The books depict ordinary people who came from nothing and rose to greatness despite discrimination, whether they're illustrating the stories of the female entrepreneur who started Boston's first printing press or the first African-American woman to cross the country on a motorcycle."
Wenzel quotes Fulcrum's marketing director, Melanie Roth: "What's interesting is that we've managed to do this in a medium that doesn't offend people and is appropriate for middle-schoolers. Teachers appreciate that it's a new way of talking about these really hard subjects and issues of social injustice."
STRANGE FRUIT, the title of Gill's collection of short biographies of African Americans, is taken from the song made famous by Billie Holliday, and the book doubtless reflects Gill's early interest in lynchings. Here are the lyrics:
Southern trees bear strange fruit,
Blood on the leaves and blood at the root,
Black bodies swinging in the southern breeze,
Strange fruit hanging from the poplar trees.
Pastoral scene of the gallant south,
The bulging eyes and the twisted mouth,
Scent of magnolias, sweet and fresh,
Then the sudden smell of burning flesh.
Here is fruit for the crows to pluck,
For the rain to gather, for the wind to suck,
For the sun to rot, for the trees to drop,
Here is a strange and bitter crop.
In the unlikely event that you've not run to this anointed race song before (or heard about it), the "fruit" dangling from the trees consists of the bodies of black people who have been lynched, the ultimate brutality of the inhumanity of racism. Lady Day sang the song as a plaintive dirge, dragging out the words by pausing at length between phrases. Sometimes called the original "protest song," it was first recorded by Holiday in April 1939. Time called it "the song of the century" in 1999.
Some have said that the song was written expressly for Holiday so closely has she become identified with it—even that she helped write it— but that is not the case. The lyrics were written by a New York Jewish public school teacher, Abel Meeropol, who later became better known as the adoptive father of the two sons of Julius and Ethel Rosenberg, the couple who were executed in 1953 for the alleged crime of giving the secret of the atomic bomb to the Soviet Union. Meeropol wrote the poem in the early 1930s after he'd seen a gruesome photograph of a lynching. It was first published under the title "Bitter Fruit" in the January 1937 issue of The New York Teacher, a publication of the Teacher's Union.
According to Peter Daniels at WorldSocialistWebSite (wsws.org), Meeropol also composed the music for the poem, and it was performed in political circles, Meeropol being a political activist, at the time a member of the American Communist Party, to which many political activists in those days gravitated—many of them, like Meeropol, school teachers.
"In early 1939, Billie Holiday was performing in the newly-opened nightclub Café Society in lower Manhattan, and Meeropol gave the song to the club's owner, asking if Holiday would sing it. By some accounts, Holiday was at first not particularly impressed by the lyrics and perhaps not fully aware of the meaning of the song. Her rendition, however, made an enormous impression. She began performing it nightly."
The song was rarely played on the radio because of its presumed association with Communists, who were in the forefront of the struggle against lynching. In 1941, Meeropol was summoned to testify before a committee of the New York State Legislature investigating the alleged Communist influence in public schools and was asked if he'd been commissioned by the Communist Party to write the song. He was not (and a few years later, he quit the Party). "Despite this political atmosphere, and the virtual banning of the song from the radio, at one point it was number 16 on the pop charts," says Daniels.
But performing the song became increasingly problematic for Holiday. "Some clubs refused to allow her to sing what had become her signature song." She took to specifying in her contracts that she could sing it. But interest in the song faded in the years of the greatest civil rights movement. Perhaps those leading the movement felt it had a better chance at succeeding if Jim Crow were not reminded of the sins of the past: between 1890 and 1940, it is conservatively estimated that at least 4,000 lynchings were held, the vast majority in the South. In 1933 alone, 26 people were lynched, three times the number of the previous year.
Gill, who is dean of student affairs at the New Hampshire Institute of Art, was always interested in comics, but spent many years painting lynchings, hence his acquaintance with "Strange Fruit." He believes his pictures of lynchings are "metaphors for how far we have come in race relations."
Not having seen any of his paintings, I didn't follow that reasoning until he mentioned, during a talk I attended, that he once painted a self-portrait of himself being "lynched"—but the rope, while knotted around his neck, had been cut, so it was no longer lethal. But it was visible—just as the history of race relations in America is always visible.
BOOK MARQUEE
Previews and Proclamations of Coming Attractions
This department works like a visit to the bookstore. When you browse in a bookstore, you don't critique books. You don't even read books: you pick up one, riffle its pages, and stop here and there to look at whatever has momentarily attracted your eye. You may read the first page or glance through the table of contents. In the case at hand, we don't have the book before us because it's not out yet. But it deserves a proclamation, to wit—:
The Untold History of Black Comic Books
By William H. Foster III and Craig Yoe
252 9x12-inch pages, b/w and color; 2014 IDW Publishing hardcover, $39.99
FOSTER IS ONE OF THE PIONEERING scholars of black comics and cartoonists. His Looking for a Face Like Mine, a collection of essays, interviews and presentations, was an early (2005) modest attempt at covering the ground that this more ambitious tome assays, and with Yoe, another dogged comics historian, at his side, Untold promises to be the most comprehensive treatment of its subject yet.
Previews' blurb says this: the book "traces the changing image of African Americans in comic books from the 1940s to the present day. ... Profusely illustrated ... with over 15 complete stories in full cover."
I've already ordered my copy.
EDITOONERY
The Mock in Democracy
ONCE AGAIN, we lunge into our periodic expository spasm about editorial cartoons, examining how they work their particular brand of polemical wisdom. The first array at hand deals with various aspects of American foreign policy (known these days as "wars in alien lands.)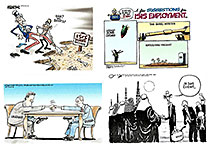 Going clockwise from the upper left, we start with Steve Sack, whose portrayal of Bronco Bama's "war" on the Cutthroat CalipHATE in Syria and Iraq is both apt and memorable. Giving visual heft to the axiom about testing the water by putting your toes in first, Sack implies that perhaps the foot will be next—with a boot on, even—and Uncle Sam looks like he shares Sack's opinion. Sack enhances this message with another: the "water" Obama is testing is not water: it's quicksand, and, as every schoolboy knows, you can't get out of quicksand very easily.
Next around the clock, Nate Beeler goes after recent suggestions that the way to solve the problem that the Cutthroat Caliphate embodies is to tackle its underlying cause—the hopeless, jobless, future-less lives most young men in many Muslim countries face. Until they have a future, how can they be expected to have much regard for the present—which, for them, is bleak and miserable and wholly without prospects? No wonder they join the hooligans of the Cutthroat Caliphate: it gives them a purpose in life. If Middle Eastern governments—or Western countries—could find a way to give the youth of these countries hope for a future, the young men would be far less likely to kill so-called "infidels" and blow up their marketplaces and cities. They would be sabotaging their own futures.
Obviously, I agree with this theory. Jobs for the jobless and the hopeless will give them an economic future. And with a future, they won't be so eager to destroy the present. Beeler may
also agree, but in his cartoon, he imagines several occupations that, in the spirit of the vengeful moment, he would approve of. The images he deploys "explain" the verbal titles.
Contradicting the game-changing import of the jobs-for-the-hopeless argument is another stubborn fact: many of those who flock to the CalipHATE banner are middle class young people from Western countries. What, we wonder, have they to be hopeless about? Not the same sort of hopelessness as youth in Middle East experience, perhaps, but another kind—the kind often experienced by adolescents, disillusioned by a world that does not conform to their idealistic expectations. Feeling alienated and depressed, they find purpose and hope in the trumpeting propaganda visions of the CalipHATE's crusade.
Sad that so many young people flee the economic benefits of their Western countries; sadder still is that once on the ground in Syria and Iraq, they are bitterly disappointed.
In that, perhaps, we may take heart. From the Associated Press, here's a report (in italics) on the fate of those young Western idealists who have joined the "struggle" in the Middle East:
In Tunis, Ghaith stands furtively on a street corner, his face masked by a hoodie, his tense eyes scanning the crowd for any hint of Islamic State terrorists. He chain-smoked as he describes the indiscriminate killing, the abuse of female recruits, the discomfort of a life where meals are little more than bread and cheese or oil. He recounts the knife held to his throat by fellow fighters who demanded he recite a particular Koranic verse on Islamic warfare to prove himself.
"It is totally different from what they said jihad would be like," Ghaith said. ...
Some [recruits] find day-to-day life in Iraq or Syria much more austere and violent than they had expected. These disillusioned new recruits also soon discover that it is a lot harder to leave than to join. [The CalipHATErs confiscate recruits' passports; and they often kill recruits who persist in wanting to leave.]
Elsewhere, Obama has been roundly criticized by the bellicose blow-hards of the Grandstanding Obstructionist Pachyderm for his refusal to call the CalipHATE hooligans "radical Muslims." I call them hooligans because that correctly labels them as shiftless bums looking for blood-thirsty mischief to get into. They're scarcely the religious zealots they imply that they are: they're just lawless hoodlums and common thugs (even if they started out as misguided idealistic youths) out to make as much trouble as loudly and as destructively as they can. I also call them "Islamic extremists" every once in a while. But neither I nor Bronco Bama want to grant them a religious legitimacy they don't deserve.
As reported in several places, Obama explained: "They are not religious leaders; they are terrorists. We are not at war with Islam. We are at war with people who have perverted Islam." He said the Cutthroat Caliphate (which he calls ISIL but I don't because I don't want to dignify
the mob by giving it nationhood) is "desperate" to portray itself as a group of holy warriors defending Islam. It counts on that legitimacy, Obama went on, to propagate the idea that Western countries are at war with Islam, which is how it recruits and radicalizes young people.
"We must never accept the premise that they put forward because it is a lie," he finished.
For somewhat the same reason, Obama won't refer to them as "jihadists" because "jihad is a holy struggle, a legitimate tenet of Islam, meaning to purify oneself or one's commuinity, and there is nothing holy or legitimate or Islamic about murdering innocent men, women and children," as John Brennan once said.
But there is an even simpler explanation for why we shouldn't call these hooligans "radical Muslims." That's because "radical Muslim" or "radical Islam" commonly in Muslim countries refers to a legitimate brand of the religion.
According to Eli Lake at BloombergView.com, "large pluralities of Muslims in countries allied with the U.S. in the war on terror disavow the tactics of terrorism but endorse the aims of 'radical Islam.' For example, 74 percent of Muslims in Egypt feel that sharia should be the 'country's official legal code,' and an equal majority say it should apply to non-Muslims as well as Muslims. ... Three quarters of Pakistani Muslims support laws banning blasphemy. A majority of Muslim Iraqis say they support 'honor killings' of women who engage in premarital sex or adultery."
These are the "radical Muslims" that Obama doesn't want to offend by applying that term to terrorist hooligans. We treat these radical Muslims with the respect that tolerant people show to those of differing beliefs. More than that: we don't want to offend them because we want to encourage them to stay with us in the fight against Islamic extremists. And they're not likely to do that if they perceive that we are in a war against "radical Muslims"—i.e., the very thing they call themselves.
BACK AT THE CLOCK, Jack Ohman is next with a sarcastic reaction to Obama's visit to Saudi Arabia for the funeral of the recently deceased king. By having Obama say "Je suis client," Ohman reminds us of two things: first, that the U.S. gets lots of its oil from Saudi Arabia, and, second, that Obama (mistakenly, shamefully) didn't join—or send a sufficiently high-ranking official to join—the march in Paris protesting the murder of Charlie Hebdo staff on January 7.
At the lower left, Dale Summers provides a vivid and wholly accurate image of the state of "negotiations" for a cease fire in Ukraine.
In the next display, we turn to domestic politics, always a happier hunting ground for cartoonists: politicians simply behaving as politicians are ready-made comic characters.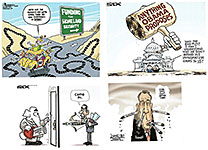 Stuart Carlson gets us off to a good start at the upper left: the carload of goofy clowns is a laughably appropriate metaphor for the Grandstanding Obstructionist Pachyderm as it assumes power in
Congress by running around in self-congratulatory circles all the time ignoring the most pressing crises facing the new convening of the lawmakers.
Following the most unproductive Congress in the nation's history—the 113th Congress—which enacted only 104 laws in the two years of its so-called life, the 114th Congress convened promising to do better; then, instead of attending to such pressing national business as approving funds for repairing the nation's infrastructure or replenishing the evaporating highway trust fund, it immediately introduced five anti-abortion laws, none of which stands a chance of being signed into law by Obama. The 114th may surpass the 113th in doing nothing, thereby setting a new record.
Next on the clock, Steve Sack is back with a memorable image explaining of why Obama is issuing executive orders in order to carry out the laws that the executive branch is entrusted with executing. John Cole supplies a picture of John Boehner (pronounced "blather") that builds on the Speaker's reputation as a smoker, suggesting that he can't, actually, control the right wing-nut branch of his caucus: he says he can quit anytime, but he's smoking several cigarettes at once, each labeled with a fiasco he couldn't prevent from happening. Boehner (pronounced "banal") is clearly a captive of his habit.
And when the House lately approved funding the Department of Homeland Security, it was because Boehner (pronounced "fraud") capitulated to Democrats, who wanted to detach Obama's immigration orders from the bill (as the Senate did)—while significant tea-bagging elements of the House Republicons, the thorns in Boehner's side, insisted that the bill wouldn't be passed without reversing Obama's order. After trumpeting that he'd fight "tooth and nail" against Obama's immigation order, Boehner (pronounced "ineffectual") simply fumbled the whole exercise and wound up voting for the measure without the immigration proviso while two-thirds (167 members) of his caucus voted against it. It passed with 182 Democrat votes and 75 Republican. So much for the highly touted GOP control of Congress.
Sack returns at the lower left with a telling metaphor for the relationship between the Prez and the GOP. Obama invites the Pachyderm to come in, but only because he's poised to shoot him down.
"The Keystone XL pipeline has become a perfect symbol of Washington's dysfunction," said Michael Bloomberg recently. "Democrats exaggerate its environmental impact while Republicans exaggerate its economic benefits. In the debate, each side talks past the other because each cares more about gaining a political advantage than a policy achievement." I agree.
First, according to one account I encountered, Keystone would create about 36 permanent jobs. (Okay—maybe 50-100. Izzat all?) Second, Obama hasn't nixed the pipeline altogether: his veto stems from a procedural issue: the State Department hasn't finished its review of the various impacts of the pipeline. When it does—according to its verdict—Obama might approve the project.
THE NEXT EXHIBIT begins with an ingeniously funny dig at Boehner (pronounced "national disgrace") by Michael Luckovich, who shows Israel's Bibi Netanyahu at the President's desk (identified as the place where the buck stops) and Obama indignantly summoning the Speaker for overstepping his authority in inviting the prime minister of a foreign country to appear before Congress.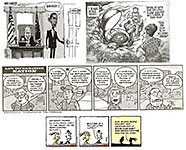 Or—in the exaggerated situation depicted here—inviting Bibi to be Prez of the U.S.,
the next logical step in Boehner's usurpation. The success of the cartoon depends upon the cartoonist's skill at caricature (we must recognize Netanyahu) and on his having adequately identified the locale (hence the sign on the desk, the flags behind it, and the sign on the door). The comedy itself suggests with its barely suppressed giggle that the incident isn't as earth-shattering as the news media have been treating it.
On the issues of immigration reform, David Horsey reveals the irony underlying the situation by conjuring up the scene when Baby Superman arrives and the Pa and Ma Kent open the capsule and behave like good right wing-nuts, proposing to deny entrance to the "illegal alien"—with all his talent for doing good and improving life for all of us.
Then across the middle of the page, Jen Sorensen dips deep into irony to reveal the reason for GOP victories at the polls: the body politic contains too many people who unwittingly vote against their avowed beliefs because they've swallowed whole the lying sloganeering of the Grand Obstructionist Pachyderm.
Then Lalo Alcaraz, deploying his comic strip for political purposes (which he does often) takes a slap at the Senate's new Majority Leader's propensity to claim credit for things the GOP had little to do with.
In the next visual aid, we ponder the ways editoonists dealt with Obama's opening the door to Cuba after 50 years of our keeping it shut.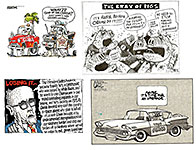 Steve Sack offers a nifty metaphor by referencing the automobile situation in Cuba, where, due to the U.S. embargo, the citizenry travels on 1950s-vintage cars, many of which, because of lack of repair parts, are not functional. Both cars up on blocks; nothing moves.
Meanwhile, Chris Britt recalls the Bay of Pigs fiasco, depicting the critics of Obama's move as squealing pigs. "Braying" unfortunately usually suggests the jackass— or, let us say, the donkey, both symbols of the Democrat Party. But Britt makes us overlook that allusion by exaggerating the hysteria of the pigs' behavior.
Chan Lowe uses the vintage auto metaphor to condemn the erstwhile U.S. policy on Cuba, and the image works perfectly, as did Sack's.
Finally, at the lower left, Monte Wolverton reacts to Rudy Giuliani's attempt to smear Obama. The telling image here is not so much the caricature of Giuliani as it is the swollen speech balloon: the overload of verbiage emphasizes how excessive his wild-eyed accusations are.
Benghazi is back. Again. For the eighth time, Speaker Boehner (pronounced "beat-it-to-death") has appointed a panel to investigate, and Ward Sutton explodes with Benghazi Wars: Episode VIII.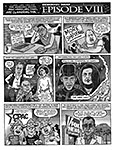 The format, a full-page comic strip, permits him to extend his metaphor to the ludicrous lengths that the so-called "issue" and the GOP obsession with it demands. Every panel piles on a new piece of evidence of the parallels between the Benghazi investigation and an extravagant science fiction—i.e., a made-up story. In the last panel, Sutton leaves us with a caricature of Boehner (pronounced "bloated ego") that strenuously implies his essentially self-centered preoccupation as he lurks through the halls of national government: he wants to be a star. Sutton also reminds us that every Congressional investigation has a budget, swollen with every self-serving time-consuming diatribe delivered by a member seeking his/her moment in the political sun in order to prolong a parasite political career indefinitely.
Next, in another episode of Tom the Dancing Bug, Ruben Bolling deploys the comic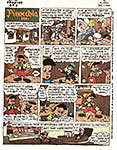 strip format in a more traditional way: instead of piling up evidence of foolish malfeasance as Sutton does, panel by panel, Bolling creates a multi-panel setup leading to the concluding punchline. His ingenious metaphor is Pinocchio as a corporation. Having established that identity, Bolling has Pinocchio behave as a corporation behaves, guided by permissive government policies—all of which permit the puppet to squash his conscience thereby eliminating the only obstacle to whatever money-making scheme he can conjure up. After squashing Jiminy Cricket, Bolling continues, giving his metaphor a second bounce to reveal (who would've guessed?) that corporations lie.
IN OUR NEXT VISUAL AID, we turn to editoonists' treatment of the Senate committee's report on torture.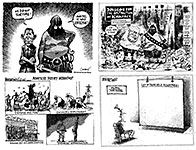 Patrick Chappatte gets us off on the right foot by spotlighting the essential hypocrisy of the GeeDubya/Cheney stance; if they didn't torture, how can they say it was effective? Chris Britt continues with a picture of a torture chamber, which is as big a jumbled mess of inhumanity as we'd always suspected it to be: full of skulls and discarded morality and trampled on justice, it is a "dungeon for the destruction of democracy" indeed.
Matt Davies has Uncle Sam bound to a chair to be confronted by a screaming, nagging, torturing fact: no one is being held accountable for acts of torture committed in his name. The non-existent list is a powerful image in its stark emptiness.
And then Mike Luckovich gives us a history lesson to reveal what "enhanced" (as in "enhanced interrogation") means. Each picture is a sarcastic episode, coupling a verbal term to an ironic visual definition.
WITH THE KILLING SPREE in Copenhagen on February 14, we're back in Charlie Hebdo terror-tory. Most of the remainder of our visual aids this time are culled from cartoonists' reactions to the Paris murders, but they easily apply to Copenhagen, too, and since the Danish episode produced so few editoons, we showcase Charlie again here in order to heighten visibility of the issue as politicians turn away from crusading for freedom of expression to pursue their usual agendas (getting re-elected).
In our first exhibit on this subject, we offer David Pope's now-classic comment on the killing of the Charlie cartoonists: drawn just the day after the event, it makes a terrible and deadly pun.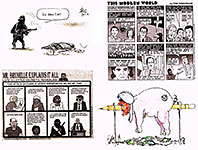 Tom Tomorrow (aka Dan Perkins), in his usual fashion, sarcastically heaps up the evidences of fickle news media and societal hypocrisy in the Paris aftermath, concluding with a mock sigh of relief that henceforth, perhaps, he'll have to endure no more pencil metaphors for cartooning.
Alas, not so. Maybe in the real world, but here at Rancid Raves, we still have a few pencils to point, starting with the stuffed roasted pig at the lower right. Retired Australian editoonist Larry Pickering deploys insult as well as his defiant pencil, depicting his Muslim victim as a pig, pork being a verboten food for Muslims. He wanted to show that he "refused to be cowed" by the killings in Paris. Soon after he posted the cartoon where all his cartoons get published these days—just on his website—police came knocking on his door. But "they weren't there to harass or censor," reports Allan Gardner at DailyCartoonist.com: "they wanted to offer protection."
By the way (although not at all incidentally), for a generous sampling of Aussie editoonery, visit an online gallery of visual celebration at the australian.com.au/50th-birthday/pen-and-ink , where the natives have posted lots of great cartoons.
At our final stop around this clock, Robert Waldo Brunelle Jr. in his uniquely styled cartoon feature explains it all with a line-up of citizens, each commenting on the Charlie Hebdo attack from their unique and often twisted perspectives, a sweeping condemnation of the sort of so-called "thinking" that pervades our irrational body politic.
In the next exhibit, Ted Rall takes up a multi-panel format to protest the cowardice of U.S. newspapers in refusing to publish any of the offensive Charlie Hebdo cartoons on the grounds that they might offend adherents of certain religions—"especially the beliefs of the heavily armed."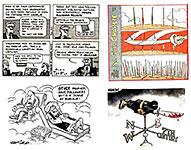 His final panel offers a hint to politicians about how to avoid being criticized in editorial cartoons. Delicious.
Next around the clock, Carol Lay abandons the pencil metaphor for a pen—or a series of pens, which, hydra-headed, multiply when beheaded, a canny evocation of the Cutthroat CalipHATE's now too-familiar tactic. Steve Sack's cartoon could apply to all of the organized terrorist activity in Syria and Iraq lately: the Cutthroat Caliphate has announced that its over-arching purpose is to return to the times of Muhammad, the 7th century, and it has so far moved decisively in the direction of reversing the history of civilization.
South Africa's Zapiro offers gentle humor instead of vicious symbolism, and editorial cartoons have room for both.
In our next exhibit, we conclude this posting's sermon on a somewhat lighter note.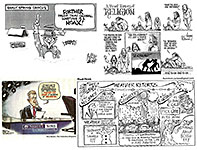 Chan Lowe's goofy-looking Denier aims at making all deniers look foolish by ignoring science. So how is a severe winter caused by global warming? Well, not being a scientist, I can't say for sure, but apparently the warmth evaporates more water than usual from the globe-girdling oceans, creating clouds more than usually loaded with ready-made precipitation, which, when drifting over land masses like the U.S., may encounter cooler temperatures that precipitate snow and rain. Or something like that. But it starts with heat over the oceans. So what do I know? I'm just a typist.
Next around the clock, David Horsey's history of religion uses the comic strip format to set up for the punchline—violence inspired by religious belief. Below Horsey, we have another inventive and refreshingly decorative comment by Flash Rosenberg, whose irrefutable logic is not at all obscured by the decoration or the invention. (If you google her, you can see her on twitter, giving a lively drawing lesson; worth a visit. Or if you can see more of her cartoons at archetypes.com/flash-rosenberg; another treat.)
And finally, Nate Beeler's caustic comment (and superlative caricature) on the fate of the hapless Brian Williams, who, doing what Bill O'Reilly does every day, gets egg on his lopsided face (the most unsymmetrical on tv) and a six-month suspension that everyone realizes will last forever.
And it poses the unanswered question: what would happen if we treated the ever mendacious politicians the same way?
PERSIFLAGE AND FURBELOWS
"Do what you feel in your heart to be right—for you'll be criticized anyway."—Eleanor Roosevelt
"You're given only a little spark of madness. You mustn't lose it."—Robin Williams
"We must believe in free will. We have no choice."—Isaac Bashevis Singer
THE FROTH ESTATE
The Alleged News Instituti
ON THE SAME DAY that NBC announced that it was suspending Brian Williams for fibbing and thereby violating the public's trust that the news media depends upon to survive, Jon Stewart announced that he was going to leave "The Daily Show" sometime later this year. For a moment, it was hard to tell the farce from reality. But, as always, Stewart brought us back to reality, providing the most insightful analysis of Williams' dismal situation. As reported on msn.com, Stewart explained Williams' differing versions of what happened during the now-infamous helicopter ride in Iraq in 2003: Williams was suffering from "Infotainment Confusion Syndrome," and Stewart cited as causes the conflicting roles Williams occupies as a celebrity, yukking it up with David Letterman, and as newsman.
"Spinning yarns in those talk settings," Steward noted, "stimulates the brain's 'applause center,' which might explain why a news account would get inflated and distorted in a more entertaining, self-aggrandizing way."
Notably, "Stewart made no apologies for Williams. ... And it was Stewart who turned the discussion back upon those media outlets expressing righteous indignation about Williams' transgressions, essentially asking where they were when so many dutifully repeated Bush administration spin during the run-up to invading Iraq." Or, as Stewart put it, pointedly, referencing Williams—"Finally, someone is being held to account for misleading America about the Iraq war."
Observers of the Williams fiasco have lately come around to blaming the networks for creating "anchors" as icons. Network promotions emphasize the anchor, not the news, and anchors as celebrities can scarcely bear all the blame when they start behaving like movie stars and talk show personalities in guest appearances where they are encouraged to be entertaining rather than being merely good readers.
The last word, however, I'll grant Mark Vary of Broomfield, Colorado, who wrote the Denver Post: "If NBC News anchor Brian Williams gets suspended for six months for 'misrepresenting' details of an Iraq war experience, then most of the folks on Fox 'News' ('Obama's an African-born Muslim,' 'climate change is a hoax,' etc.) should be taken off the air entirely."
LATELY, TO MY VAST AMUSEMENT, Faux's Bill O'Reilly has been caught in a Williams—er, I mean, a tvNewsAnchorLie. He's said that while with CBS he covered the 1982 Falklands War in a "combat zone," thus laying claim to being a fearless war correspondent. But others who were there say O'Reilly never got any closer to a combat zone in the Falkland Islands than the streets of Buenos Aires, 1,200 miles away from the fighting, where he and most other reporters were billeted in the Sheraton Hotel while they "covered the war."
While there—once the hostilities in the Falklands was over—they saw some protesting in the streets. That, O'Reilly said in a subsequent attempt to explain, qualifies the streets of Buenos Aires as a "combat zone." And this comes to us, directly, from the much touted "No Spin Zone" of O'Reilly's Faux News niche.
To further shore up his claim, he says there was shooting and other violence in the street, including his cameraman getting hit in the head and bleeding. Not so, say those who were also there.
O'Reilly, of course—with typical aplomb—dismisses all such counter-claims with his usual carefully reasoned "Shut up, shut up, shut up!!!"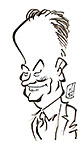 The Monday February 23 after the story of O'Reilly's mendacity broke over the previous weekend, he staged a counter move at Faux. During the "O'Reilly Factor," he mustered old 1982 CBS footage showing that there had indeed been violence in the streets of Buenos Aires. But Eric Engberg, a CBS correspondent for 27years, said that while the crowd was unruly, he and the rest of his crew there at the time characterized the activity as "the chummiest riot anyone had ever covered."
David Corn, one of the Mother Jones reporters who blew the whistle on O'Reilly, said the issue was not whether O'Reilly had reported on a violent protest but whether O'Reilly had reported from a war zone. The streets of Buenos Aires, no matter how unruly the crowd, are not a war zone.
Another CBS correspondent on the ground at the time, said: "What was happening on the Falklands was a war zone; what was happening in Buenos Aires was unrest."
O'Reilly is still furious, believing that his enemies (every liberal in America) are out to drum him out of the business like Brian Williams. And O'Reilly is, forever, O'Reilly:
He was interviewed by a New York Times reporter, whom he told there would be repercussions if he felt any of the reporter's coverage was inappropriate. "I am coming after you with everything I have," O'Reilly said. "You can take that as a threat."
O'Reilly bases his bluster and his soaring self-esteem on being the most watched tv newscaster on cable tv. How much is "most"? Not much. Faux News drew an average of three million viewers over the last month; at NBC's "Nightly News," 9.7 million watched during the same month.
Clearly cable tv-news isn't as widely viewed as people like O'Reilly like to believe.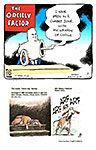 In the accompanying visual aid, Tom Toles provides a suitable metaphor for O'Reilly and his claim to battlefield experience—just shooting off his mouth. And next to Tole, Cam Cardow offers a criticism of the ever-vigilant news media with a telling image of a bloodhound who sleeps through every recent crisis but leaps into action at the first blink of sensation and scandal. O'Reilly would say it symbolizes the liberal watchdog press, eager topounce upon any possibility of a sin committed by him, the right wing-nut knight.
Read and Relish
THE MEANING OF LIFE ITSELF
One spring day at a fondly recalled college of long ago when I'd taken on all the beer I was allowed, I went to visit Mike McLaughlin. He was throwing a farewell party for a mutual friend. Mike was a large fellow with a robust laugh and a booming voice who, later, made a living with it by working as a disc jockey in radio. But when I knew him back on campus, I barely knew him: he was often at parties I attended, and we knew the same people. Some of them came along on that spring day, and we luxuriated in Mike's apartment, which, as I remember it at this distant remove, was spacious. It may even have been a whole house.
It was somewhat on a hillside north of the campus, and at the back, on the southern
side of the house, was a sun porch with a bank of windows through which we could see the campus buildings in the distance. It was a warm and cheery day but not very noisy, and the sunlight through the windows bathed the room in a warm, gauzy yellow-amber glow, like a nostalgic scene in a movie. A couch in the middle of the room faced a fireplace; no fire.
For a reason that now evades me entirely, I lay down on the couch in that room and fell asleep. In broad daylight. Unprecedented. During the short nap that ensued, I dreamt that I had written a sentence that contained the very meaning of life. Just one sentence. And a rather short
one at that. The very meaning of life within it. When I awoke, I tried to remember the sentence, but, alas, I couldn't.
And so, ever since, the meaning of life as eluded me. Until just a few years ago. I was thumbing through Robert Stone's Prime Green, a memoir of his adventures in the 1960s, and as his narrative came to the end of the decade, he told a story about William James, the noted philosopher and psychologist. Brother of the novelist, Henry.
The story is that William James had imbibed a potion that included nitrous oxide and had consequently fallen asleep. Some hours later, he awoke suddenly, in high elation because he had dreamt a sentence containing the very meaning of life. At last, I thought, reading this passage: now I'll see that sentence I dreamt lo these many years ago. (There couldn't be more than one sentence containing the very meaning of life, surely.) William James was luckier than I: he could remember the entire thing, and he promptly wrote it out. This is it:
Hoggamous, Higgamous, Man is Polygamous;
Higgamous, Hoggamous, Woman Is Monogamous.
There you have it. Now we all know the meaning of life, and I, after waiting, patient but distraught all these years for a recurrence of that instant of cosmic insight, can at least rest easy.
Mike McLaughlin went from Boulder, Colorado to Washington, D.C., which is where he found a gig doing radio. He had a perfect voice for the medium. And he had perfect political understanding, too. He once described the nation's capital, meaning our government, as a huge cruise ship. It comes into port once every other year to let some passengers off and to take on some new ones, and then it puts out to sea again. Most of the time, it's completely at sea, barely conscious of the doings of the landlubbers left behind. Perfect.
RANCID RAVES GALLERY
Pictures Without Too Many Words
HERE, FROM THE PAGES of the old Life humor magazine dated March 23, 1922, is a cartoon by Rollin Kirby, an editorial cartoonist who invented the funereal Anti-Saloon League character, Mr. Dry, whom we see here cloaked in black.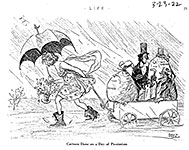 The girl is labeled "Spring," and in the wagon are "Bonus," "Mister Anti-Saloon League," "Ship Subsidy," and the ever present "Politics." It may have been spring, but Kirby wasn't optimistic. Kirby, by the way, was the first editoonist to win a Pulitzer Prize—which he did for a cartoon published the summer before this cartoon appeared.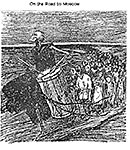 Kirby's prize-winner, which we've posted here, acknowledges the path of oppression followed by Bolsheviks in establishing the rule of communism in Russia. The Union of Soviet Socialist Republics (the famed USSR of yore) wouldn't be formally established until 1922, but during the so-called "civil war" of 1918-1921, the Red Army rampaged through neighboring nations, adding them to the Russian roster; and on the home front, the Red Terror killed millions simply for being middle-class citizens instead of workers. In Kirby's cartoon, Death personified is followed by mobs in chains, Kirby's assessment of the fate of the people conquered by zealous Bolsheviks.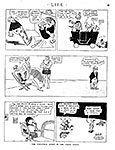 AND HERE, also from the pages of the old Life humor magazine but this time in the fall of 1924, is a spoof of newspaper comic strips of the sort Life did every so often (once newspaper comics became overpoweringly popular).Left to right, top to bottom: Boob McNutt by Rube Goldberg, Happy Hooligan by Frederick Opper, Betty by Charles Voight, Abie the Agent by Harry Hershfield, and the immortal Krazy Kat by George Herriman.
A SHORT HISTORY LESSON
By Joe Klein
This is the real challenge the U.S. faces in the region that stretches from the Mediterranean Sea to the Hindu Kush. The problems in Afghanistan have their roots in a line drawn by the British in 1893 that amputates Pashtunistan—like Kurdistan, a coherent region—into Afghan and Pakistani pieces. The patch of sand called Jordan was a gift to Britain's Hashemite allies in World War I. Israel, too, is a figment of the Western imagination, although—contra [Iran's former President] Ahmadinejad—it does have ancient roots in the region and has transformed itself into one of the world's strongest democracies, a real place, a true nation (as is Iran, by the way).
NEWSPAPER COMICS PAGE VIGIL
The Bump and Grind of Daily Stripping
WHAT A CONCEPT. The beauties of the newspaper funnies page oft lie in the variety of off-the-wall stuff you can find there. Because comics are a blend of words and pictures, the cartoonist has twice as much opportunity to bring smiles to our faces or wrinkles to our brows. And here are a few examples.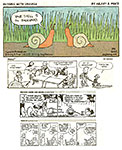 Hilary Price's Rhymes with Orange, done here by Amy Hwang, is a jewel, a gem. Who woulda thought of this? Only a snail, I suppose.
Jef Mallett is a frequent offender in the conundrumous department: the school kids with whom his title character associates are often profound. Makes you think. Furrows the brow. And then tickles the risibilities, which is another part of the anatomy altogether.
And Mike Peters makes us think, too. Grimm asks the question that ought to have been plaguing the human (sic) sapiens for eons. So what's the answer?
Finally, in Pickles, more verbal nonsense of the profound sort. Brian Crane wanders again, as he often does, off the strict and narrow path of common sense and wisdom to find himself up to his neck in wisdom and common sense (and us with him).
Sometimes we need a few moments in the day to let the glow wash over us, to enjoy the prospect before us nurtured by the kind of pleasure only comics can afford us.
OUR NEXT VISUAL AID is in somewhat the same vein.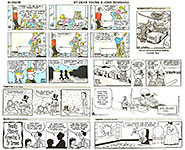 We begin with a quiet afternoon at the Bumsteads. The silent panels are essential: they give impetus to the gag as it builds; without them, not much in the way of a chuckle. And notice the visual details: Blondie stirring the paint with a stirring stick, newspapers on the floor, a wiping rag hanging on the ladder, another sheet of newspaper on the sink. Authenticity reeks. (In a good way, I hope you realize.)
Next, going left to right (and then down to go left to right again), Marmaduke makes us pause a moment to soak it in. The joke doesn't work unless we can imagine what the giant dog has "said." And anyone who's owned a dog knows they speak volumes.
Mort Walker waxes philosophical in our next exhibit; and then he does it again as we move from left to right, looking at Beetles.
Jim Davis in Garfield gives us something to ponder for an instant before the gag kicks in. (Well, it took me a minute. And then when it dawned on me, the pleasure of the laughter was just a scoonch greater for the delay.) You have to think your way through Wiley Miller's Non Sequitur, too: it's a perfectly functioning blend of words and pictures—the picture explains the opening speech, and the closing caption takes us off into another direction, a satirical one.
And then across the bottom tier in Baldo, Hector Cantu and Carlos Castellanos achieve a pinnacle of alternative meaning in Tia Carmen's musing. Chad Carpenter finishes us off this time in Tundra with a scene the irony of which is too often too true. Or maybe we just think it is, brow-beaten as we all are with the commerce of advertising. Hence, the satire.
ON MARCH 17, Greg Evans' Luann will reach its 30th anniversary, about which Evans said (at GoComics): "If time flies when you're having fun, then I've had a blast the past 30 years! I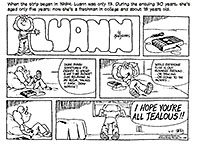 feel lucky that I've been able to spend nearly half my life doing the thing I love most: creating the world of Luann. The strip has never been a task; I always look forward to working on it. And it continues to feel new and fun to me."
GoComics will be sponsoring events all month long; there will be weekly give-aways on Luann's GoComics pag and Kindle Daily deals on Luann e-books. And right about here, we have the very first Luann.
GOSSIP & GARRULITIES
Name-Dropping & Tale-Bearing
The Sun's topless girls have been abandoned. Without much fanfare, the British paper recently gave up printing pictures of bare-breasted models, the notorious Page 3 Girls. But after 44 years of salivating success, naked bosoms will continue at the Sun's website.
Another naked notoriety at the Sun is the comic strip (in both senses of the words) George and Lynne. Written by scriptwriter Conrad Frost and drawn for most of its 34-year run by a well-known Spanish artist, Josep Gual, the strip was famous for its utterly unabashed portrayal of feminine nudity: the shapely Lynne, married to equally shapely (but not the same shape) George, is more often seen in her birthday suit than in any other raiment. When the strip debuted in July 1976, it was drawn by John Burns; he left in 1982 and the drawing chores were assumed by Gual. George and Lynne ended May 15, 2010, but it's still running on the paper's website.
And hereabouts are samples of Gual's stunning drawings, a lively flexible line displaying a surpassing knowledge of rounded anatomy as well as the beauty of an attractive female face.
BEEFS & BOFFOS
"It is one of the great charms of books that they have to end."—Frank Kermode
Obamacare is working ... and the dire predictions of critics have failed to materialize. "A lot of the people who are convinced Obamacare is a disaster will never know that because the voices they trust will never tell them."—Ezra Klein at vox.com
"I've never been able to shake a conviction that if you walk the proverbial mile in another man's shoes, you inoculate yourself against your biases toward him. I believe empathy follows understanding."—Leonard Pitts, Jr.
COLLECTORS' CORNICHE
Welcome to our sentimental section where I muse and marvel about antique volumes on the shelf and rare finds in old bookstores and the like. Nothing major. Skip over this if you're busy.
GENE AHERN, whose career is hinted at in the accompanying Literary Digest bitsy-profile, was one of the few cartoonists before recent times to own his feature, but he didn't arrive at that enviable state until he left his first success, NEA's Our Boarding House, to join King Features.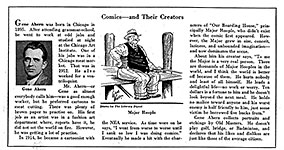 Our Boarding House was obviously a very popular cartoon: King wouldn't have lured Ahern away otherwise. And he was regarded as such a catch that he was apparently able to negotiate ownership as a condition of his deserting NEA for King.
Our Boarding House ran October 3, 1921-December 22, 1984. The star of the show, Major Hoople, showed up four months after its debut—namely, on January 27, 1922—and made the feature the success that it was. Ahern drew it until March 14, 1936, when he left for King to do a feature so similar that it was a swipe—of himself—namely, Room and Board, with the blow-hard Judge Puffle taking the Major's role. It started June 15, 1936 and lasted until November 29, 1958.
AND THEN THERE'S THIS—clipped from Life magazine's April 13, 1962 issue, an illustration for an article entitled "Lethal Legend of Truck-Stop Food," in which Elliott Chaze, traveling 1,200 miles by highway from Hattiesburg, Mississippi to Oklahoma City, ate at 20 truck stops and determined, without further research, that the food was lousy.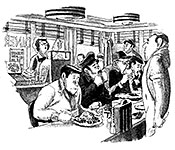 Contrary to legend, truck drivers stop at truck stops not for the food but because there's room to park their rigs. They eat there because there's food there—not because the food is good, but because, "through years of trial, they know they can eat it and survive."
Chaze summarizes his findings: "The meals, generally speaking, are concocted by fine, conscientious people who are good at their work. Their work consists of taking the chill off food and placing it in a plate in such a way that it will not fall on the floor. Cooking does not appear to be among their accomplishments."
I don't know who did the drawing, but it is excellent, a perfect portrait of counter dining at a truck stop. On the plate in the foreground, everything—gravy and rice, no doubt, and maybe the ubiquitous truck-stop fare, potato salad— is piled on top of a slab of steak. A thick slab, thickness being the sign of excellence at any truck stop worthy of the name.
Nobody's talking. They're all eating. Everyone is drinking coffee from huge mugs (in the hope, probably, that the coffee will kill the taste of the food). The waiter-cook stands at the ready with a spoon, the customary display of pies just in front of him.
At the cash register—accoutered with various goods for sale, cigars, nasal spray—is the cashier, a severe (and therefor serious and wholly trustworthy) woman, wearing spectacles that were fashionable a few years ago, inspecting a bill.
It's as perfectly authentic a drawn scene as I've ever seen.
Badinage and Bagatelles from W.C. Fields
"Women are like elephants. I like to look at them but I don't want to own one."
"Sleep is the most beautiful experience in life—except drink."
"Will somebody get me a sedative with an olive in it?"
FUNNYBOOK FAN FARE
Four-color Frolics
An admirable first issue must, above all else, contain such matter as will compel a reader to buy the second issue. At the same time, while provoking curiosity through mysteriousness, a good first issue must avoid being so mysterious as to be cryptic or incomprehensible. And, thirdly, it should introduce the title's principals, preferably in a way that makes us care about them. Fourth, a first issue should include a complete "episode"—that is, something should happen, a crisis of some kind, which is resolved by the end of the issue, without, at the same time, detracting from the cliffhanger aspect of the effort that will compel us to buy the next issue.
THE FIRST ISSUE of Rasputin is purely stunning for its wordless narration. The title character is the nefarious Russian monk who ruled Russia through the hemophiliac heir to the Czar's throne and his hand-wringing mother in 1915 and thereabouts. He was perceived by various power mongers of the day as a threat to their way of life, so they plotted to kill him. He was, as writer Alex Grecian tells us, "poisoned, beaten, stabbed, shot, mutilated, and thrown through the surface of an iced-over river. But none of that killed him. He drowned." In short, Rasputin is the sort of character who holds our attention through the sheer morbidity of our fascination with his unheard of exploits.
In this inaugural issue, we meet Rasputin at dinner with his "closest friends" who, he tells us, are going to murder him. He's certain the wine in his glass is poisoned, yet he drinks to the health of his "friends." At that point, this issue concludes, leaving us hanging on the cliff's edge.
Most of the issue is a flashback showing us Rasputin's upbringing at the hands of a brutal and cruel father, a giant bear of a man who beats both his son and his wife. In the first of the two completed episodes in this issue, we see the father abusing his son and beating his wife. She seems dead, but Rasputin manages to revive her through some sort of magic. (Unbelievable, maybe, but this is Rasputin, who was poisoned, stabbed, shot, etc.—so why not?) In the second, the father is attacked by a huge bear, fights the beast, but is ultimately defeated—not, however, before having dealt the bear a mortal blow. Rasputin magically revives the bear and leaves his father to die.
When we switch back to the present—Rasputin about to toast his "friends" with poisoned wine, we see his father's ghostly hulking image lurking behind him.
The flashbacks show us how Rasputin came to be the stoic personality he seems to be. They show his love for his mother, and his revenge upon a father who richly deserves
whatever punishment can be devised for him. And the cliffhanger is more than sufficient to bring us back.
But the star of the show is Riley Rossmo, who draws the story, carrying it off splendidly with few words. His pictures convey not only the sense of the narrative but the atmospherics of a bleak and foreboding Siberian countryside.He varies camera distance and perspective for both visual variety and dramatic emphasis, and his breakdowns enhance the meaning of the action.
IN CASANOVA IV: ACEDIA 1, Casanova Quinn is back but he doesn't know it: he doesn't know he's Casanova Quinn, and he doesn't know he's back because he can't remember where he was before. This conundrum passing for plot is typical of the "life" of the title character in a series of comic books written by Matt Fraction and drawn by the brothers Gabriel Ba and Fabio Moon.
Casanova, "Cass," began in 2006 with the first of the series as a freelance thief and espionage agent, black sheep son of Cornelius Quinn, who runs the globe-girdling spy organization E.M.P.I.R.E., which, as nearly as I could tell in those distant days, does little more than girdle the globe. From the get-go, we are flung back and forth between various timelines, in which Cass appears as his own dead counterpart, then as his departed sister. Throughout three "volumes" and the numerous issues of each, Cass is a morally ambivalent trickster and victim.
Alternate and parallel timelines and blurred incognito identities are more than I can decipher in fictional narratives, even those posing as sf tales. As a reader, you never know where you are, and in the unlikely event that you figure that out, a new character with unanticipated powers to annihilate comes along and kills everyone you thought you knew thereby changing everything, so you're back where you started.
As you can see, I'm not a fan of what Fraction is doing here (although I like him plenty in other endeavors). I am, however, a fan of Ba and Moon. And I'm buying the books in this volume solely because of them.
Moon draws the Casanova story in this book; Ba draws the backup story, "Metanauts: Kawaii Five-O," written by none other than Michael Chabon. At a glance, the drawing styles appear similar. Upon closer acquaintance, however, distinctive mannerisms emerge: Moon splashes; Ba chisels. And each produces pictures I savor.
Moon's Cass has a fleshier face (reminiscent of Mick Jagger) than anything Ba draws; the faces of Ba's characters are sharp-edged, pointy.
The Casanova story starts with Cass wandering "out from a fire in the mountains" and arriving in Los Angeles unable to remember anything about his past. This is approximately where Volume III left him—in Hollywood, in another dimension. But this time, so far, I can follow the story. A virtual blank slate, Cass is picked up by a mogul named Amiel Boutique, who makes him his majordomo. Taking the name Quentin Cassiday, Cass keeps Boutique's world, chiefly parties, running smoothly.
In the first of this book's complete episodes, Cass is accosted by a sexy broad at one of the parties. They arrange to meet later, poolside. She, then attired only in a pair of panties, attempts to seduce Cass but finishes by attempting to kill him with a hairpin she snatches out of her coiffure. Cass proves a nimble fighter, however, and pushes her into the pool, where they struggle. Cass eventually wins the bout—although both are pulled from the pool, lungs waterlogged but alive.
Moon's treatment of this sequence (which you can witness below) is masterful. Panel by panel on the first page at hand, he develops the threat from the bimbo. Then, on the facing page when they both plunge into the pool and fight underwater, Moon changes the color (or perhaps directs colorist Cris Peter to do so) and, again, alternates camera distance to enhance the drama of the sequence.
The second completed episode of three, is a meeting with Boutique, where Cass learns that Boutique, like Cass, knows nothing of his past. So he sets Cass a challenge: he, Boutique, will try to find out everything he can about Cass's past, and Cass will try to find out everything he can about Boutique's. They have nine days before the world ends. Rim shot.
In the last of the book's episodes, Cass is in a library, looking at old records for some clue about Boutique, muttering: "Put a pebble in a shell, the shell in a box, the box in a bag, and the bag in a trunk—then throw the whole thing in a cave and dynamite the opening shut. That's what it's like trying to pin down 'Amiel Boutique.'"
At that moment, he's attacked by a band of "grey men." But Cass is equal to the task of thwarting their intentions, killing or chasing off his foes. This deftly done sequence is on display at the elbow of your eye.
On the next page, Cass leaves the library to find that his car is in flames, having been blown up. End of this chapter.
We are left to suppose that the "grey men" are agents of someone who doesn't want Cass to find out about Boutique's past. Perhaps the bimbo of the earlier encounter is another agent of another lurking foe. Tune in tomorrow to find out. I'll be there.
But I'll return less for the story than for Moon's pictures.
And Ba's pictures are likewise a delight in the Chabon backup piece, shorter and more crammed with inexplicable ambiance and menace.
On the third page, we see heroine Imago Ameras, a toothsome dish, flash a cluster of journalists who are pestering her. We then see the inexplicable reactions of three other women who apparently live in a monstrous mansion.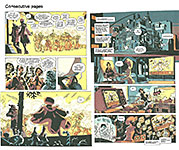 Then we flash back six weeks earlier when Imago (I think this is she) first attracts attention as a musician, playing the bass.
When a supposed fan, Richie Schnur, introduces himself and asks her name, she, implacable and cryptic, says: "I haven't decided yet. Thinking I might go with 'cheap nihilism.' You like? 'Hype, tits, autotune and cheap nihilism.' Am I missing something?"
The story finishes with a scene of Imago's rock and roll band performing—well, I think it's her band— as Richie mutters bitterly.
I'm not sure there's a completed episode anywhere in all that. Or maybe there are at least two. But the whole nine pages are full of the inexplicable—actions without sufficiently sensible motive; utterances more baffling than explicatious. Still, the personality of Imago (if, in fact, that's her) emerges: she is a bold, sexy, potty-mouthed wise ass.
And that's almost enough by itself to bring me back. Otherwise, it's Ba's pictures: crisp and stylish. Where Moon feathers, Ba etches with small blocks of solid black. Both are a treat to watch.
There are good ships, and there are wood ships,
Ships that sail the sea, but the best ships are friendships,
And may they always be.—Irish Proverb
ONWARD, THE SPREADING PUNDITRY
The Thing of It Is ...
■ 50% of Americans think that the U.S. economy improved in 2014, and 45% are satisfied with the state of the economy—the highest percentage in eight years. A year ago, just 28% were satisfied with the economy.—NBC News/Wall Street Journal (quoted in The Week)
■ Why the Castro Brothers Are Suspicious of the U.S.
Verbatim from The Week (January 16, 2015): When Fidel Castro seized power in Havana, the CIA tried to kill him—not once, but dozens of times. Some plots were planned but never carried out, including the famous exploding cigar. Another plot that never came to fruition was to take advantage of Castro's fondness for scuba diving by planting an exploding conch shell in his favorite diving spot. At one point, the CIA mulled putting a chemical in Castro's shoes that would make his beard fall out to cause him public humiliation; at another point, it researched ways to slip him LSD so he would have an acid trip in public and be discredited. The more serious plots simply failed: the CIA slipped poisoned cigars into Castro's supply during an U.N. trip, but either he didn't smoke them or they didn't work. An ex-lover hired to poison him didn't follow through. And spies ordered to poison his food never got close enough to try.
From New York Times Upfront (January 12, 2015): The joke is that the Cuban revolution's three biggest failures are breakfast, lunch and dinner.
■ Here's the Washington Post's Eugene Robinson on John Boehner (pronounced "craven political coward") and immigration reform:
Oh, please. All the melodramatic Republican outrage isn't fooling anybody. The only reason President Obama has to act on immigration reform is that House Speaker John Boehner won't.
The issue could be settled in an afternoon. The problem is that Boehner refuses to do his job, preferring instead to spend his time huffing and puffing in simulated indignation.
The Senate passed a bipartisan comprehensive immigration reform bill 68-32 in June 2013. [But] Boehner refuses to bring it to the House floor even though he knows it likely would pass.
[He won't bring it to a vote because the votes that would pass it would include Democrats' votes, and Boehner would "incur the wrath of his own caucus" if he tried such an obviously "democratic" maneuver.]
Republicans [don't want to pass the bill because they] claim they first want to address border security before making any provision for the 11 million undocumented immigrants who live and work in the shadows. This is precisely what the Senate bill does. The number of Border Patrol agents would be nearly doubled and 700 miles of fencing built before qualifying undocumented adults could even obtain green cards, let alone apply for citizenship.
[New watch towers, camera systems, ground sensors and other high tech gear would have to] be in place before eligible migrants would begin getting permanent permission to live and work here.
[So, as Robinson says, the only reason Congress is still dawdling around over immigration reform is because Boehner (pronounced "gutless shithead") is worried that his authority might crumble if he behaved as if he were living in a democracy instead of an autocratic branch of government.—RCH]
■ But let me give the last words to Leonard Pitts, Jr., writing about racism in the U.S.:
We have been too sanguine for too long about such inequality of treatment in a nation whose birth certificate says, "All men are created equal." We have only the one country. And we can either tear it apart or figure out a way we cn all live in it in justice and, thus, in peace.
To do that, we must stop being moral cowards, stop embracing the idea that somehow, our racial and cultural challenges will resolve themselves if we just don't talk about them. Ignore it, and it will go away. Take a good look at the carnage in Ferguson and ask yourself: how's that working out so far?
To find out about Harv's books, click here.