For a hare-raising post-Thanksgiving treat, we have Bill Watterson's latest artwork, Batman postage stamps, Glasbergen's Better Half (and more), celebrations of the Wizard of Id's 50th anniversary, the PC of Zombies and evidence of Marvel's growing diversity, and reviews Joyce Babner's new graphic novel, Alice in Comicland, Scott McCloud's Best American Comics, Bobby London's Popeye (with a report of his firing in 1992 for attacking anti-abortion advocates), a book about New Yorker cartoonists, Bob Powell's Terror Comics, Masterful Marks (Cartoonists Who Changed the World), Kim's booty, and another end, that of Jonah Hex, editoons on post-election shenanigans, Bill Cosby and Ferguson, with an obit for editoonist and collector Art Wood and a radical plan for campaign finance reform. And the world's funniest joke. Here's what's here, in order, by department—:
NOUS R US
Watterson's Angouleme Poster
More Endorsement for the CGI Peanuts
Cavna Now Full Time on ComicRiffs
Marvel Worth More than DC
Book Two of John Lewis' March
No More BECY
Joyce Brabner's Graphic Novel
Batman Stamps
Marvel Getting Diverse
Glasbergen Retires the Better Half
Zunar Still Harassed by Government
Woodring Honored
Palm To Get New Wall Scrawls
THE PC OF ZOMBIES
EDITOONERY
Post-Election Dances
Bill Cosby
Ferguson Again
Booty Call
NEWSPAPER COMICS PAGE VIGIL
Wizard of Id's 50th
WuMo's Not Funny
Racist Editoon in Indy
CIVILIZATION'S LAST OUTPOST
The World's Funniest Joke
BOOK MARQUEE
Popeye: The Classic Newspaper Comics by Bobby London, Volume 2
London Interviewed after Being Fired over Abortion Strips
Alice in Comicland
The Best American Comics 2014
I Only Read It for the Cartoons: New Yorker Cartoonists
Bob Powell's Terror Comics
BOOK REVIEW
Masterful Marks: Cartoonists Who Changed the World
COLLECTOR'S CORNICHE
Literary Digest Mini-bios of Cartoonists of the Thirties
FUNNYBOOK FAN FARE
War Stories
The New and Wholly Unsatisfactory Lobo
The End of Jonah Hex
PASSIN' THROUGH
Art Wood
A Radical Plan for Campaign Finance
Our Motto: It takes all kinds. Live and let live.
Wear glasses if you need 'em.
But it's hard to live by this axiom in the Age of Tea Baggers,
so we've added another motto:.
Seven days without comics makes one weak.
(You can't have too many mottos.)
And our customary reminder: don't forget to activate the "Bathroom Button" by clicking on the "print friendly version" so you can print off a copy of just this installment for reading later, at your leisure while enthroned. Without further adieu, then, here we go—:
NOUS R US
Some of All the News That Gives Us Fits
BILL WATTERSON AT ANGOULEME
The creator of the beloved Calvin and Hobbes comic strip has stepped out of seclusion once again—this time, to produce the poster for the 2015 Angoulême International Comic Art Festival held every winter in France.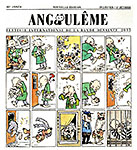 In early 2014, the Festival named Bill Watterson the recipient of its Grand Prix award for lifetime achievement — a prize that usually includes serving as event president the following year (it starts January 29). Apparently, saith reporter Michael Cavna, "in a fashion that's delightfully French, the festival bestows the typically obligation-laden honor without asking in advance whether the honoree'll accept the concomitant duties, from jurying to appearances."
So it was all a surprise to Watterson, who didn't even know the award existed.
"Nobody asked me anything," he told Cavna at ComicRiffs. "I wasn't even aware I'd been nominated. My syndicate sent me an email saying I'd won this award, and I literally had to Google it. People started talking about all the obligations that went with the prize, so I thought the whole thing was bananas, but Angoulême assured me there were no strings attached and they'd work with whatever I'd be willing to do. Drawing the poster sounded fun, so I agreed to do that."
Watterson said he wouldn't be attending the event, but the recent show of Calvin and Hobbes originals at Ohio State's Billy Ireland museum will travel to Angoulême for the festival.
He talked about the poster with Cavna:
"This is a comic strip about newspaper comics, presented as if it were a newspaper comic strip. But in all that circularity, I hope the drawings convey the fun and pleasure of cartoons in the largest sense. I still read newspaper comics, but without much hope for their future. As a small joke on myself, I deliberately set the story in a non-digital world, where the guy gets his morning newspaper in the yard, and the lady next door uses a big phone with a cord. For me, the anachronism evokes the distant heyday of the medium, and razzes how long ago my career was.
"For this idea," Watterson continued, "I wanted something simple, exaggerated, and silly—i.e., very cartoony. In that regard, I always think of Popeye and Barney Google as quintessential comic strips in that old rollicky, slapstick way we've sort of lost. So older comics were in the back of my mind, although I wasn't trying to mimic anything specific. And to tap into one of comics' great strengths, I chose to tell the story visually [without words], so that anyone of any age, from any country, could understand it. In this way, I was trying to connect the poster to my American newspaper comics background and acknowledge the international flavor of Angouleme's festival."
CGI PEANUTS
ComicRiffs' Michael Cavna stoutly (or at least circumspectly) maintained skepticism about the CGI Peanuts animation that's a-borning with a debut date about this time next year. He says he has "two looming concerns" about a new 3-D feature film:
"The first concern was that Schulz's idiosyncratic line and visual style would become lost in the oversaturated tints of so much antiseptic CGI animation – a victim of the souped-up pixel. And the second concern was that the deeply familiar personalities, so crisply drawn out and layered by Schulz over a half-century, would be bent toward the narrative needs of a 2015 film that surely hopes to open to a holiday box office north of $40-million domestic, conservatively speaking. In short: would the masterfully modulated depths of various characters fall prey to the too-frequent tendency to play down to the kiddies by relying on snark instead of soul?"
My concerns are somewhat the same—although I also am apprehensive about the too-polished look of the characters in faux three-dimension. But Cavna had a two-minute peek in mid-November, and felt "another balm for the diehard Peanuts brain. With each release of footage, my skeptical side keeps expecting the cinematic football to be pulled away at some point (blame the big-screen 'Garfield'). Instead, though, my hopes are raised – and with the new trailer, we achieve serious elevation."
He was "absolutely assuaged" on his first concern and "considerably comforted" on the second.
He likes the visuals, "which require paying homage to Schulz's supple kinetic line while giving subtle dimensional shape and shadow to the iconic characters. Somehow, the filmmakers have solved the riddle of how to avoid the clinical, too-cool feel of much CGI – a trick that is so much more essential when the characters are imbued with true psychological dimensions (as opposed to, say, the intentional stock-comedy shallowness of Yogi Bear and Scooby-Doo).
Assuaged, I became curious whether Team Peanuts was as satisfied with the results as I was. Comic Riffs reached out to both coasts involved in this creative high-wire act. They both echoed my sentiments."
On the West Coast at Peanuts Central in Santa Rosa, Cavna spoke with Paige Braddock, creative director at the Schulz Studio. Said Braddock:
"I was talking to the director [Steve Martino] yesterday and I was complimenting him on the renderings of the characters. In terms of Charlie Brown, Steve took a character that already had a lot of depth and gave him even more. The lighting on his simple features, the nuances in movement of his simple eye shapes. Steve's interpretation of Charlie Brown is completely endearing, and I think it will make fans fall in love with him all over again.
"I know Snoopy is a fan favorite," Braddock added, "but I really think Charlie Brown is going to steal some scenes of his own in this movie."
On the East Coast, Cavna got reaction from Neil Cole, the CEO of Iconix Brand Group, which owns 80-percent of Peanuts Worldwide. Cole said:
"It's great to see the incredible animation from Blue Sky Studios and Twentieth Century Fox come to life in today's all-new 'Peanuts' movie trailer. The look is fresh and new, but at the same time, it's clearly the 'Peanuts' characters that Charles Schulz created. Next year is sure to be a banner year for 'Peanuts,' which will also be celebrating its 65th year."
Sorry: I'm not convinced. Not yet.
CAVNA RIFFED?
Not exactly. He's not being forced to retire: he's moving to full time on his ComicRiffs blob covering comics. According to Alan Gardner at DailyCartoonist, Cavna started his comics blog for the Washington Post in 2008, working part-time, the rest of his obligation being as the Post's tv/theater editor. A cartoonist himself, Cavna's first allegiance is clearly to comics. He told Gardner: "The Post has been highly supportive of ComicRiffs since it launched, and while I enjoyed my run as the Post's tv/theater editor, this has been a natural evolution as readers increasingly came to Comic Riffs. The Post has also been very supportive of my cartooning career, so it's a natural. It also speaks to the tremendous changes in kids' publishing, superhero films, webcomics and everywhere else visual storytelling is thriving."
As you've surely noticed, we quote from Cavna's riffs here at Rancid Raves very often. And we're happy to be able to continue to poach from him.
MARVEL WORTH MORE THAN DC
This story first appeared verbatim n the November 21 issue of The Hollywood Reporter magazine.
Much has been made of the arms race between Disney's Marvel Studios and Warner Bros' DC Comics to create superhero movies through 2020. Less debated is a key financial underpinning of the war: licensing revenue generates tens of billions of dollars for Hollywood companies, and DC needs a heroic effort to catch Marvel in licensing profits.
On October 15, Warners CEO Kevin Tsujihara said that if he can close the current gap by half, the studio could earn an additional $150 million a year in profits. How big is the gap? In May, License Global placed Disney first among licensors with sales of about $41 billion in 2013; Warners was seventh with $6 billion. Both have strong properties: the Licensing Letter listed Marvel's Spider-Man global retail sales at $1.3 billion and Avengers at $325 million in 2013, compared with DC's Batman at $494 million and Superman at $277 million.
"Marvel has a big head start," says Ira Mayer, publisher of the Licensing Letter, adding, "It's not that Warners can't do it, but it is going to take a lot of time and money and energy to make it happen."
MARCHING AGAIN
Book Two of John Lewis' autobiographical adventures in the civil rights movement continues his story. PreviewsWorld interviewed Lewis, his co-author Andrew Aydin and the artist, Nate Powell.
"Nate and I joke about this sometimes," said Aydin, "but it's really pretty accurate: If Book One is Star Wars, then Book Two is our Empire Strikes Back. The stakes are higher, the heroes are stronger, more prepared, and the danger is more lethal. Book One focused on the congressman's childhood and coming of age, studying and rehearsing in nonviolence workshops with the Nashville Student Movement, launching a sit-in campaign that successfully forced the city to integrate lunch counters, and eventually the formation of SNCC (the Student Nonviolent Coordinating Committee). Now with Book Two, we show how these young people became a truly national force, and one of the key elements of the broader Civil Rights Movement."
Congressman Lewis chimed in: "So we talk about the Freedom Rides: a group of us, about a dozen people, black and white, young and old, set out on a Greyhound bus and a Trailways bus to ride through the heart of the deep South, to test the Supreme Court decision prohibiting segregation on buses. We were attacked several times, beaten, left lying in a pool of blood. One of the buses was set on fire. We knew that we might die. But we continued the Freedom Ride. More and more riders joined the movement. It became front-page news. Attorney General Robert Kennedy got involved, the governor of Alabama got involved, we were arrested several times, we spent weeks in Parchman State Penitentiary … but we dramatized the issue to the nation, and around the world, to see the reality of segregation in America."
Lewis continued: "Book Two also shows the March on Washington on August the 28th, 1963. I was 23 years old — I had just been elected chairman of SNCC a few months earlier, and after about a week I was invited to the White House along with representatives of several other organizations to discuss plans for the march. And it worked so beautifully. It was an unbelievable day. So many people worked so hard to organize a peaceful, orderly, nonviolent march. It really represented the best of America. Hundreds of thousands of people coming together to say 'we want our freedom and we want it now.' I spoke number six that day. Dr. King spoke number ten, when he said 'I have a dream.' And out of everyone who spoke that day, I'm the only one still around. So we tell the story."
Said Nate Powell: "I could tell how much our collaborative method had found its stride within just a few pages of breaking down the script for Book Two. After getting to know each other on Book One, we were able to come out of the gate swinging with the second, and that gave some much-needed room to allow for all the other considerations that go into the visual process for this story. I certainly had a better sense for the kinds of daily research and reference I'd have to do, the degree of double-checking along the way, and a sense of when some issues would give us problems down the road. Overall it's been a much more natural and efficient process."
"To paraphrase something Dr. King once said," Lewis finished, "there is no sound more powerful than the marching feet of a determined people. This book March is not just my story, it's the story of so many of us who stood up and spoke out, who studied the philosophy and the discipline of nonviolence, who organized and made ourselves impossible to ignore. It is my hope that a new generation can read it and be inspired to march again."
NO MORE BEST EDITORIAL CARTOONS
Pelican Publishing announced that it is discontinuing the Best Editorial Cartoons of the Year series. The 2014 edition, available since last March, is the final volume in the 42-year run of the title. So unless some enterprising publisher picks up the series, we won't henceforth have any more history on the hoof in ironic visual terms.
DALLAS BUYERS CLUB ON SECOND AVENUE
By Michael Sangiacomo at the Plain Dealer in Cleveland
Joyce Brabner, best known as Harvey Pekar's widow and collaborator (Our Cancer Year), released a graphic novel about early efforts in a New York gay community to fight the AIDS epidemic. Despite a weak, unwieldy title, Second Avenue Caper: When Goodfellas, Divas, and Dealers Plotted Against the Plague (Hill and Wang, $22) is a solid piece of work. And at 145 four-panel pages, it's a quick read.
A graphic novel is only as good as its artist, and Brabner found a worthy partner in Mark Zingarelli, who faithfully translated the words into pictures. His artwork is well-done, consistent and makes the story easy to follow.
The story opens with Joyce interviewing a friend, Ray Dobbins, who was horrified to watch his friends die slowly and in agony from a mysterious disease in the early 1980s, then believed to be an illness confined to the gay community. Dobbins learns of a treatment developed in Mexico, but not approved for use in the United States.
Much of the book is about his successful efforts to run an underground smuggling operation to buy the drug in Mexico and sneak it across the border. Where do he and his friends get the money? From selling marijuana.
BATMAN STAMPED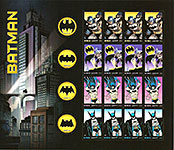 We know when some personage has arrived at the pinnacle of celebrity and distinction—the U.S. Postal Service issues a stamp. And now Batman joins the illustrious legions. We've posted a likeness of the stamps on the other side of the $ubscribers Wall. There's a variety: here's what they look like.
MARVEL'S DIVERSITY DODGE
As Marvel celebrates its 75th anniversary, it is working to take its growing catalog of characters into a future with a more diverse audience – and to use talent and staffing that better reflect the increasingly female and ethnically varied crowd at comic conventions, said Blake Hennon at herocomplex.latimes.com. Shorthand for that effort—a woman becomes Thor, and a black man becomes Captain America. Hennon continues:
"Such dramatic changes coming simultaneously to two of the publisher's classic marquee brands – names that front blockbuster film franchises at its sister company Marvel Studios – were celebrated by many people as positive progress, but others decried the decisions: 'This is political correctness run amok,' 'Affirmative Action Man' and 'PC Avengers, Assemble!' read parts of some readers' reactions posted on Hero Complex stories about the announcements.
"Whether they're meeting fans or foes," Hennon concludes, "— the new Captain America and Thor represent two ongoing concerns for Marvel and the comics industry's growth: minorities and women."
Other recent inroads into the white male redoubt include Ms. Marvel, a young Muslim girl, and Captain Marvel, who is now female.
Not everyone is keen on these innovations.
Hennon quotes one skeptic—Christopher Priest, a former Marvel staffer who in the 1980s became the publisher's first black editor (under his former name, Jim Owsley) and has written a Falcon miniseries and Captain America and the Falcon series in which the Falcon is Cap's second banana.
"It feels like a stunt," he told Hennon in an email interview. "It would have felt like a stunt had I done it."As he understands the development, Sam Wilson, the black guy who is the Falcon and who dons Captain America's costume, wouldn't become Captain America permanently.
"Putting the black sidekick in the suit, when everyone knows sooner or later you're going to switch things back to normal, comes off as patently offensive," Priest said.
Adding that he'd be "delighted" to be wrong about the Cap change being a stunt, Priest laid out what his former employer is facing: "Marvel's challenge is to deliver something so affirming and positive that the work overcomes that cynicism. I assure you, Black America will be watching: Does this have real depth, or is it just surfacey costume-switching?"
And he had some other advice for Marvel: "Hire some actual black people."
Tim Hanley, who wrote "Wonder Woman Unbound" and keeps statistics on female and minority workers at Marvel and DC in a column at Bleeding Cool, counts Marvel's percentage of women working on its comics as varying between 8% and 15% in the three-plus years since he began keeping track, with ethnic minority numbers lower.
"I don't think Marvel's done well diversifying its creators yet," he told Hennon in an email, "but there are people inside the company who are very committed to doing so. I'm optimistic about Marvel in 2015; I wouldn't be surprised to see their numbers for women and people of color grow significantly."
THE OTHER HALF DISAPPEARS
Randy Glasbergen is retiring from the syndicated cartoon The Better Half he told Alan Gardner at DailyCartoonist.com. Glasbergen took over the panel in 1982 from Vinnie Vinson. Said Gardner: "He tells me that with his decision not to renew his contract with King Features Syndicate, the syndicate has opted to retire the panel completely. He says that his freelance business has been doing really well and consuming more of his time and the effort needed to produce The Better Half was becoming disproportionally larger than the financial return."
Glasbergen, the past master at comic noses, will still produce his other cartoons Glasbergen Cartoons and Thin Lines. In this vicinity, we've posted the final Better Half (for November 30), which is all about Harriet and Stanley's "retirement," and a short sampling of Glasbergen's other cartoons. Although I think he's a visualizing genius when it comes to cartooning anything, I've always been slightly disappointed that the jokes in so many of his single-panel cartoons are essentially verbal gawfaws. The pictures identify the speakers but otherwise don't function in the gag itself. But in our third exhibit near here, the pictures do a little more of the comedy work.
I admit this is an almost pointless cavil: regardless of the gag—the combination of picture and words—Glasbergen's pictures are always hilarious by themselves. There may not be verbal-visual blending in his cartoons—an aspect of all cartooning that I look for—but his cartoons are still rampant comedy, thanks to the pictures.
AND THE THREATS CONTINUE IN KUALA LUMPUR
For a long time, cartoonist Zunar has been systematically harassed by the police and the Home Ministry for producing cartoons that were purported to be "detrimental to public order." More than 400 copies of his books were confiscated and five of his books were banned by the
Home Minister from 2009 to 2010.
Government's determination to persecute Zunar has extended to printers, vendors and bookstores around the country: their places were raided and they were warned to not print and carry any of Zunar's book in future.
In 2011, Zunar received the Courage in Editorial Cartooning Award from the Cartoonist Rights Network International, a cartoonists' rights NGO based in Washington, D.C. And in October 2014, one of Zunar's book, Pirate of the Carry-BN was accepted into the Library of Congress in Washington.
Most recently (as of November 20), Zunar was questioned at length in local police stations. He refused to answer any questions. Meanwhile, the police have asked the online payment gateway that handles his book sales to list those who have purchased his books. Three of his assistants were detained for fie hours for selling his books. And the webmaster of the website selling his books was summoned to be questioned.
WOODRING HONORED
Jim Woodring is the 2014 winner of the Lynd Ward Graphic Novel Prize—$2,500 and the two-volume set of Ward's six novels published by the Library of America (plus a "suitable commemorative"). Sponsored by Penn State University Libraries and administered by the Pennsylvania Center for the Book, an affiliate of the Center for the Book at the Library of Congress, the Lynd Ward Graphic Novel Prize is presented annually to the best graphic novel, fiction or non-fiction, published in the previous calendar year by a living U.S. or Canadian citizen or resident. [Press release]
MERRY MURALS WILL REAPPEAR
When the new Palm Restaurant in Los Angeles opened November 7 in Beverly Hills, its walls were bare. Still are. Mostly. They're awaiting a fresh influx of caricatures of the Hollywood mighty. The Palm has its origins in New York on Second Avenue, where Pio Bozzi and his partner John Ganzi opened a restaurant in 1926 that became a speakeasy. Close to midtown syndicate and newspaper offices, the place became a hangout for journalists and cartoonists, and the latter started drawing their characters on the walls. Most of those pictures are still there: whenever the place needs a coat of paint, the management hires portrait painters who carefully outline and paint around the antique comic characters.
The Palm became famous enough that a second edition opened across the street—Palm Two. Then in 1972, another Palm opened in Washington, D.C. After that, they sprouted up everywhere. There's even one here in Denver. And in every one, caricatures adorn the walls. (The Palm in San Diego applied copies of the original Palm pictures to its walls, using some ultra-modern method of duplication.)
In Washington, the caricatures are of politicians. In West Hollywood where the first L.A. Palm opened, the caricatures are of actors, actresses and movie moguls. But the new Palm has bare walls. "glaringly portrait-free slates that have caused a ripple of anxiety in moviedom over revoked statuses and set up a subtle new immortalization competition," saith Brooks Barnes at nytimes.com.
"The hand-wringing over the caricatures has taken years off my life," said Bruce B. Bozzi Jr., great grandson of the co-founder and the executive vice president of the Palm Restaurant Group, which has 26 locations. "Do we move the old ones? That wasn't possible. There were 2,300 of them. Do we pick 100 to move? The most powerful? No, I would be a dead man."
So he decided to start over, even though he knew some traditionalists would be unhappy. Only one image, to his knowledge, had ever been removed from the West Hollywood location: O.J. Simpson. (The restaurant covered him up after somebody — following his 1995 murder trial — stuck a steak knife in his portrait forehead.)
Bozzi noted that none of the old West Hollywood caricatures were thrown in the trash. Instead, each picture was sawed off the wall and offered as a gift to the person who inspired it. Steven Spielberg and Brad Grey, Paramount's current chairman, were among the others to request the images, Bozzi said.
In the end, he did move a few of the old caricatures to the new restaurant. Warren Beatty and Jack Nicholson, for instance, occupy a spot next to the front door. Farrah Fawcett and Lee Majors, painted as a pair, also made the cut.
"I wanted to pay homage to the '70s, when we first put down roots," Bozzi said.
So far, Bozzi has authorized five new power portraits: Amy Pascal, a co-chairwoman of Sony Pictures Entertainment; Sue Mengers, a talent agent who died in 2011; Sherry Lansing, the former chief executive of Paramount; Steven Tyler of Aerosmith; and the Bravo television personality Andy Cohen.
Why them? "Because they're fabulous," Mr. Bozzi said, flashing a smile. (And at least a couple are his friends, added Barnes.)
But none of them are characters from the comics. Beginning with Palm Two, that tradition was slowly eroded until, by Washington's Palm, it was gone.
Fascinating Footnit. Much of the news retailed in the foregoing segment is culled from articles eventually indexed at rpi.edu/~bulloj/comxbib.html, the Comics Research Bibliography, maintained by Michael Rhode and John Bullough, which covers comic books, comic strips, animation, caricature, cartoons, bandes dessinees and related topics. It also provides links to numerous other sites that delve deeply into cartooning topics. For even more comics news, consult these four other sites: Mark Evanier's povonline.com, Alan Gardner's DailyCartoonist.com, Tom Spurgeon's comicsreporter.com, and Michael Cavna at voices.washingtonpost.com./comic-riffs . For delving into the history of our beloved medium, you can't go wrong by visiting Allan Holtz's strippersguide.blogspot.com, where Allan regularly posts rare findings from his forays into the vast reaches of newspaper microfilm files hither and yon.
QUOTES AND MOTS
The following is excerpted from excerpts of the oral history section of The Complete Zap, to be released by Fantagraphics this month. A longer version of excerpts can be found at tcj.com/zap-censorship-and-suppression/
The first underground comix backlash came from the usual suspects opposed to smut and licentiousness. America at mid-twentieth century was chock full of self-appointed, blue-nosed guardians of good taste who tried to control what could be shown in popular media and insisted that everyone follow their rules. Movies couldn't be released without facing the Motion Picture Production Code. Books like Naked Lunch were banned in Boston and elsewhere, because they depicted perverse relationships. Race music was not played on the radio, and religious groups burned Elvis Presley records. A United States Senate subcommittee investigated juvenile delinquency in 1954 and accused comics publishers of contributing to it. The Comics Code Authority quickly stepped up to police the industry and quash the offenders. Magazine publishers like Ralph Ginzburg went to jail for trying to exercise free speech in print. For a long time, the most conservative elements of American society held sway over everything that could be read, watched, or heard in the media.
The underground press found a way to bypass all these barriers by creating an alternative production and distribution system. Newspapers and comic books could be printed cheaply in small runs of ten thousand or less and spread around through a network of hip businesses and street entrepreneurs. Nobody in those networks cared about censorship.
And whilst we're on the topic of horror, we cannot, any longer, overlook—:
THE PC OF ZOMBIES
Zombies and the rest of the undead are at today's terminus of a trend toward political correctitude that began before any of us were born. Comics—of the newspaper ilk—had been criticized by Concerned Citizens almost from the beginning. And the criticism lurked, sometimes shouting and sometimes merely growling, ever since. With the advent in 1954 of the Comics Code, we learned specifically what the Concerned Multitudes were so concerned about. It was a long list.
Prohibited were: glamorizing crooks, detailed plans for crimes, the words "horror" (and "crime") on comic book covers, gruesome pictures, vampires, walking dead, cannibalism, profanity, smut, obscenity, attacks on religion, nudity, divorce, sex perversions, liquor and tobacco and fireworks advertising, scenes of violence—and more, much more, but all in the same Victorian vein.
Mainly, Concerned Citizens objected to any affront to a nineteenth century sense of decorum. They didn't like sex or ghoulishness or violence. Particularly, they didn't like people killing people.
The publishers and creators of comic books reacted accordingly. They skirted sex, avoided ghoulishness, and took all the weapons away from heroic characters. Batman couldn't have a pistol. And even if he got one by disarming a foe, he couldn't use the pistol against his opponent. No killing.
In Westerns where wholesale gunfire is common, no one is ever killed. Gunfighters shot the guns out of the hands of the bad guys. No one died.
Meanwhile, back at the superhero shops, the good guys in tights acquired new offensive armament. Force fields. Lighting bolts from the finger tips. These vibrations could render enemies unconscious or harmless. But nothing fatal or disfiguring. And no blood was shed.
Simultaneously, the bad guys were no longer members of the human (sic) sapien species. They were alien beings—with force fields in their fingertips. So the superheroes were, at last, evenly matched. Their foes were not just crooks of the same species. They were superpowered aliens. So the superheroic good guys couldn't be accused of bullying (which, in his inaugural appearance, Superman certainly could be), of beating up on ordinary, unpowered humanoids. Perforce, it was okay to pound non-human aliens—to dismember them, to blow them full of wholes.
Admittedly, the stories told under these restraints quickly became dull. The trend reached its apotheosis in the movie "Man of Steel" wherein Superman and his similarly superpowered opponent, neither of whom, regrettably, has force fields under his fingernails, must resort to pure, unadulterated power: they run at each other and crash headon like a couple freight trains. After a couple of these, boredom sets in pretty quick.
And the same kind of thing was transpiring in comic books.
Then, to the rescue, we have the walking dead.
At last, our heroes have opponents they can dismember and dispose of without killing them. Because they're already dead. Hence, the ultimate in politically correct violence—superheroes battling and bloodily disintegrating zombies and similarly no-longer-alive beings. No one, apparently, objects to desecrating animated corpses.
EDITOONERY
The Mock in Democracy
NO, WE'RE NOT FINISHED with the machinations of the Midterm Election. Before getting to that, however, return with us now to the days of the run-up to it, when Will Durst had this to say: "The country is abuzz with the same kind of anticipation normally reserved for marathon sock sorting. ... Midterm elections have always been the run of the balloting litter." Because of the overwhelming lack of interest, he goes on, "we might be forced to merge the midterms with Hallowe'en. Why not? Same week. Besides, they have a lot in common. Lboth events highlight tricks and treats. Everyone wears costumes to disguise their true identities. All the real action occurs in the dark. John Boehner looks like a pumpkin. And, not infrequently, the face under the mask is the scary one."
As usual, we now take up a selection of the best editoons of the last month to explore the different ways cartoonists have deployed images and visual metaphors to comment on the passing political (and sometimes social) scene. In the wake of the recently interred Election, the punditariat has been up to its usual tricks—:
When in danger, when in doubt,
Run in circles, scream and shout.
The gasbag fraternity has wasted no time in calling the victory of the Republicons "a trouncing! A tsunami! A shellacking!" Even, on hysterical occasion, "a landslide!" "A mandate!" But it is none of those things, as Juan Williams so pointedly observed in The Hill.com. The Republicons enjoyed a clear victory, but during off-year elections like this one, the opposition party historically picks up an average of 29 seats in the House and six seats in the Senate. By this yardstick, then, this year's fiasco at the polls was no different than most Midterm Elections. In fact, a little worse: the Republicons gained only 15 seats in the House albeit 8 in the Senate. It was certainly no turning point in American politics as so many of the Grandstanding Obstructionist Pachyderm would have us believe.
Nor was it a whole-hearted endorsement of the GOP posture, Williams observed. A CNN poll found that only 40 percent of Americans have a positive view of the Republicon Party, compared with 44 percent of the Democrats. And 80 percent, taking both parties together, have a negative view of Congress.
Most other countries (as we'll see, again, Under the Spreading Punditry below) can't understand how the Republicons "won" the Election. In France's Le Monde, Alain Frachon, quoted in The Week, noticed that the GOP won by conducting an entirely negative campaign alleging that everything wrong with the world is Obama's fault. The Republicons offered no vision of their own, other than to slash taxes and gut environmental protections.
Why would American voters reward such a message? Most of them didn't; they stayed home. The vote was effectively won by the "omnipresent, unlimited, corrosive" impact of money—donations by big business to the GOP. And that party refuses to participate in democracy, which requires compromise for the good of all instead of insisting on its way or nothing.
True. In fact, the GOP intransigence amounts to treason. The ingeniously contrived checks and balances built into the U.S. Constitution require compromise; those who refuse to compromise are ipso facto effectively traitors.
Incidentally, in most European countries, the government funds political compaigning so the vested interests of plutocrats don't control the outcome as easily as they do here.
In any event, in assessing the alleged Republicon victory, Steve Sack's image at the upper left in our first visual aid is bitingly accurate.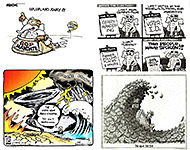 The GOP, desperately albeit comically costumed as accomplished aviators, claim a mandate when there hasn't been enough gas in the balloon to get them off the ground. Early analysis shows that the number of registered voters who cast ballots is estimated at 36.9 percent—the lowest since 1942, when a lot of potential (male) voters were off at war. (And in Texas, where the new voter ID law went into effect, voter turn-out dropped to 33 percent, down from 38 percent in 2010—another victory for the Republicons.)
And Sack continues in the next cartoon around the clock to drub the GOP for what it is—resoundingly hypocritical. They rig the election and then claim "the people have spoken!"
In the next two cartoons, the wave metaphor is dismantled. In the first, Clay Bennett depicts the boat of Democracy about to be swamped by a wave of Dark Money, an image that vividly acknowledges another ingredient of the GOP recipe for victory. And Tom Toles at the lower left gives the wave another meaning, showing the Pachyderm about to be overwhelmed by the elements responding to climate change. With typical myopia, the poor li'l elephant doesn't understand that the voters cannot vote climate change out of office. To take Toles' imagery another step, it shows that for the GOP, wining elections is all that matters.
But we knew that, eh?
IN THE NEXT EXHIBIT, we take a few peeks at the future of the life in official Washington, post-election.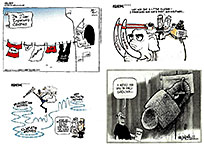 Joel Pett, who cartoons for the Lexington Herald-Leader in Mitch McConnell's home state, gives us the benefit of his intimate knowledge of the wannabe Majority Leader of the Senate. Notice that it's not "the emperor's new clothes": it's the new emperor's clothes, which, we see, are the same old duds McConnell has been sporting for six years. Steve Sack is back with another penetrating insight into the milieu that McConnell and House Speaker John Boehner (pronounced "blather") foster in the houses of Congress. Can't see any compromise in that image. And Mike Luckovich's visual metaphor of the ol' Pachyderm doesn't give us much hope either: the GOP is effectively a padlock, keeping the door to cooperation tightly closed.
Finally, Sack returns again, this time deploying the "lame duck" description of Bronco Bama's last two years in the White House to produce a vivid picture that contradicts the notion that the Prez will not be able to function. Clearly, this is a duck that doesn't know the meaning of the word lame.
The relationship of Obama and Congress continues to preoccupy the editoonists in our next display.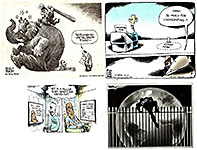 Jim Morin's imagery reveals just who the leader is in Washington. If it's not Obama, it's not the GOP either, subject, as it is, to the whims of the "no government" party of tea in its midst. And Tom Toles provides an adroit image explaining why Obama avoided the Republicon invitation to work with the GOP-controlled Congress on immigration reform, an invitation sure to delay the process and, hence, a trap for Obama.
In the grip of its customary self-contradictory mode, the GOP describes Obama as a dictator issuing laws without legislative approval and on the other hand as a milk-sop Prez who is too weak to hold and wield the office. Can't be both, kimo sabe. So which is it?
Neither, of course. Each GOP extremity extends the party's "big lie" policy when it comes to Obama.
Although both Reagan and George H.W. Bush issued executive orders about how to implement the nation's immigration laws, neither of them, the GOP claims, went as far out on a limb as Obama. But the Associated Press disagrees, citing White House officials who released statistics showing that Bush's order protected about the same percentage of immigrants that Obama's action is projected to protect, though far fewer in raw numbers because there were only 3.5t million immigrants living in the country illegally in the early 1990s.
To steer away from rabid politics for a calmer conclusion, take a look at the lower right for Bill Day's telling combination of two issues in one picture—the White House intruder and the ebola intrusion. Nifty.
While it's clear that, like the security for the White House, the security at places of entry to this country from Africa was somewhat feeble, ebola is not as fatal a disease in the U.S. as it is in Africa.
About 70 percent of the 13,000-plus cases in Africa are fatal; in this country, only two of ten cases have resulted in death (20%). So ebola is not an automatic death sentence despite what we hear in the "froth estate." Why not? We've heard there's no cure, so how do people survive here in the U.S.?
In this country, we have many hospitals, extensive staffing and lots of sophisticated equipment. All assure attentive treatment. Vital bodily fluids lost (up to 5 gallons a day) through vomiting and diarrhea are replenished via an IV-drip to prevent the organ failure and shock that lead to death. Doctors monitor and adjust electrolyte levels in the blood. In Africa, IV lines, saline solution and monitoring equipment are in short supply. And Africans, knowing that people die in treatment facilities, don't seek treatment until they are too sick, their organs already failing.
No cause for panic, whatever you may have heard in the public prints.
And then we come to the hapless Bill Cosby.
It's a mark of the esteem in which the comedian is held that no editoon I've seen so far shows him caught with his pants down around his ankles. And in our exhibit, Joe Heller's paired images merely mirror us shaking our collective head in amazement and sad surprise—like Cosby over Charles Manson, and Manson and the rest of us over Cosby. We are angered as well as saddened to witness an icon brought low.
Did Cosby do it? Of course. He doubtless had sex with many young women—many many more than the dozen or so who have thus far come forward with their stories of seduction, assault and rape. The accusations of even a half-dozen women suggest that Cosby experienced great success in his pursuit of random sex. If he hadn't had success, he wouldn't have continued, and if he didn't continue, we wouldn't be hearing from even the relatively "few" who've been speaking out. Nothing but success could have persuaded him to continue the same pattern of behavior. So I have no doubt that he was guilty as "charged."
But his guilt is not being determined in a court of law. It's the social media that is accusing him—and convicting him. No trial. No lawyers. No cross-examination or procedural rules designed to protect even the accused. He's being ganged up on.
And all the outcry in the social media is based upon the testimony of accusers some of whose stories might collapse under cross-examination in a court of law. Moreover, he's being "convicted" for violating today's sexual mores when, for much of his career, other standards prevailed—particularly in the entertainment industry.
The social media are convicting him without a trial. And they have very little actual evidence. That's what gets my wattles in an uproar. One of his accusers wasn't actually raped: she was assaulted but escaped before Cosby could do the deed. Another of the accusers was, by her own testimony, raped more than once. Okay: the first time, the 17-year-old girl could plead that she didn't know what she was getting into when he invited her to his room. But "multiple times"? So when does it stop being rape and start being consensual (or contractual: you do this, and I'll help you in your career)?
Lest it look like it, I'm not defending Cosby. He was a shameless womanizer, taking advantage of his fame and power to overwhelm young women. Despicable behavior in anyone, but in a beloved funny man and a national father figure, more than despicable.
Indicted and tried by the social media, Cosby is now humiliated and shamed. There is a certain rough justice in that: the accusing social media have now brought about the only punishment possible, destruction of his public personna. And that's probably what he deserves.
JUST AS I WAS PUTTING THE FINISHING TOUCHES on this posting, Ferguson erupted again. More than any of the many aspects of "Ferguson," the rank stupidity of the authorities stands out. Why, for instance, wait until nightfall to announce the results of the Grand Jury deliberation? After dark, all kinds of civic disobedience and mischief are possible—more than during daylight. Why encourage riot by waiting for the cover of darkness?
And then the national guard, diligently on stand-by in case it would be needed, was not called up in time that night, so a dozen commercial buildings burned down, other businesses were looted, and 12 vehicles were torched. Authorities made 61 arrests, many for burglary and trespassing, and an additional 21 were arrested in nearby St. Louis.
All this "demonstration" happened because the African American population of Ferguson didn't agree with the Grand Jury decision. And that, too, was predictable. In fact, I suspect mobs would've filled Ferguson's streets no matter what the Grand Jury decision: it'd be an angry mob or a joyful one.
As a white man, I can scarcely make a decision on the matter that is any more accurate than a black man's.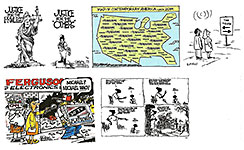 David Sipress's cartoon for The New Yorker —drawn for posting the morning after the first post-decision demonstrations and appearing at the far right on our visual aid—is one of the best cartoon reactions I've seen. "Best" because it is unabashedly accurate: the truth depends upon which race you are. And John Darkow's reaction at the upper left is another that reflects the only certainty possible. We have two systems of justice: "just us" and the "others."
The family of the slain Michael Brown held a press conference and claimed the Grand Jury process was rigged to clear Darren Wilson, the white officer who shot the teenager to death. Prosecutor McColloch has been strenuously criticized for adopting an a-typical process for the Grand Jury's deliberations: he arranged for it to see all the evidence, hear all the witnesses, instead of aggressively pressing for indictment.
And yet, reading John Cassidy's report of Wilson's testimony at The New Yorker online, I did not conclude, as he did, that Wilson wasn't subjected to sufficient cross-examination. Wilson's account of what happened seemed plausible; and the prosecutor's analysis, offered as he announced the Grand Jury's finding, found that Wilson's testimony was for the most part supported by the physical evidence.
Wilson's story was that he stopped Brown and Brown's friend and asked them to walk on the sidewalk instead of in the middle of the street. Brown responded with an obscenity and kept on walking. (My wife remembers that Brown's mother, interviewed last August very soon after the killing of her son, admitted that the kid had "attitude.")
Wilson then realized Brown was carrying some cigars and wore clothing that matched that of a reported shoplifter; he backed up and stopped the teenagers again, but when he tried to get out of his vehicle to talk to them, Brown approached and slammed the SUV's door on the cop, keeping him in the vehicle. They had a little tug of war over the door, and Brown reached in through the open window and punched Wilson in the face. Wilson tried to pull his gun, threatening to use in on Brown; Brown asserted with another obscenity that the officer didn't have the nerve to do it. They struggled over the gun; Wilson finally freed the gun and got off a shot, hitting Brown in the hand. Then Brown ran.
Wilson gave pursuit. Cassidy, reviewing this testimony, wonders, in effect, why Wilson went after Brown:
"What stands out is that once the second shot had been fired and Brown had started to run, he no longer represented a deadly threat to the officer or to anybody else. He was a large, bleeding, unarmed man running down the street in an attempt to get away. Wilson, who chased after Brown, was the one with the deadly weapon."
Well, yes. But police always have deadly weapons. And Brown's attempt to get away is the action of a guilty person.
My guess is that Wilson went after Brown because the kid had demonstrated criminal behavior: he refused the lawful order of a policeman to stop walking in the middle of the street, he looked suspiciously like the shoplifter, he assaulted the officer, and he was fleeing from a policeman who wanted to question him about a crime. What would we expect a police officer to do in these circumstances? Let the suspect escape?
And Brown was no longer a deadly threat to anyone? That, it seems to me, is a matter of interpretation.
Running after Brown, Wilson called for him to stop. And when Brown did, he turned around and came toward Wilson. Maybe he was charging; maybe just walking. But he didn't drop to the ground as Wilson ordered him. And so long as Brown kept coming, Wilson felt threatened. Wilson is 6-foot 2-inches and weighs, it is said, 120 pounds. Tall and skinny. Brown is 6-foot 6-inches and weighs 190 pounds. He's comparatively formidable physically. And he's obviously angry. And this neighborhood in Ferguson is a high crime area. All of which makes the "teenager" a considerable threat not just a mischief-maker or a harmless runaway.
Wilson fired several shots at Brown, most of which hit the kid in the right arm. Perhaps because he had his right arm ahead of him as he was charging Wilson; perhaps because he was holding his arms over his head in surrender. The latter doesn't sound as convincing as the former; but, again, I'm a white guy.
Wilson finally stopped Brown by shooting him in the head.
Whether Wilson's account is objective and not self-serving is immaterial. As I said, no matter what decision the Grand Jury reached, there was a mob a-borning in Ferguson that would have rampaged through the downtown once they knew the decision, whatever that decision was. And Wilson's testimony is immaterial on yet another score—the larger issue of the distrust and animosity that prevails between American law enforcement, mostly white, and a black citizenry wherever it resides. Given that animosity, Wilson's behavior as an officer of the law, Brown's behavior as a big black teenager with attitude, and the inevitable outcome made the episode a proxy for longstanding race relation problems in this country.
David Fitzsimmons' cartoon, second from the upper left, is as accurate and forceful a depiction of this unhappy state of affairs as any in our exhibit. Ferguson is all over the map, everywhere in the country. And that's the fundamental problem: our slave-holding heritage, not the conduct of a policeman in a suburb of St. Louis and the teenager he accosted there.
As for the riot itself, there were clearly people in the streets who wanted to wreak havoc. Brown's "step father" was filmmed yelling "Burn the place down, burn the place down" repeatedly, whipping the crowd into a destructive frenzy. But even without him, there are a-social elements in any crowd, as cartoonist Nease shows us at the lower left. My guess is that a considerable number of the rioters and looters were simply neighborhood hoodlums for whom wholesale destruction of property is their idea of a good time.
Surely no other group of Ferguson's black population would condone the destruction of local businesses that provide jobs to the community. And in fact, it is hard to find anyone interviewed on the omnipresent "news" media who said he/she thought destroying buildings and property was a good idea. Another fact not widely reported: there were a considerable number of young African Americas trying to stop the destruction.
Ferguson should be a learning experience for America, white and black. Chances are, though, it, like so many other Michael Brown/Trayvon Martin episodes, will fade from memory and the public agenda. And we'll continue to have a society in which black mothers, like the one in Pat Oliphant's cartoon from last summer, have a grimly distasteful job to do in raising their children.
"Don't look suspicious," she tells her son, "—or the police gone shoot you."
PERSIFLAGE AND FURBELOWS
The following is excerpted from excerpts of the oral history section of The Complete Zap, to be released by Fantagraphics this month. A longer version of excerpts can be found at tcj.com/zap-censorship-and-suppression/
MOSCOSO: Crumb and Wilson were using [Will] Eisner's technique. The story had a beginning, middle, and an end. Griffin and Moscoso weren't doing that. Our stories had no beginnings, no middles, and no ends: a non-linear story. That's interesting. And not only is it interesting, it's more lifelike. When you get up in the morning, and you go out in the street, you don't have a linear day. You don't know who you're going to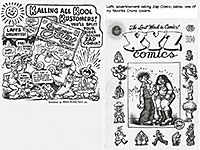 run into; you don't know what they're going to say; you don't know how it's going to end up. What is life? Life is a sequence of one event after another, and Rick and I were much closer to reality in our absurd, non-linearuse of the comics form than Wilson and Crumb, who were definitely and obviously lifelike, since they were drawing like life. But really, it's all marks on paper.
WILSON: My idea is not to entertain them but to enlighten them. Or to make them sick. One or the other. Sometimes it happens simultaneously.
RANCID RAVES GALLERY
Pictures Without Too Many Words
IN CASE you hadn't noticed, T&A is passe; with-it dudes refer to B&B—boobs and booty. On November 12, Joseph Pisani at the Associated Press wrote: "Gym classes that promise a plump posterior are in high demand. A surgery that pumps fat into the buttocks is gaining popularity. And padded panties that give the appearance of a rounder rump are selling out. The U.S. booty business is getting a big bump."
The padded pantie entrepreneur notes, "People just want more booty."
Well, not "people." Women. Women want more booty. "Every girl wants a booty," says the operator of a gym class in Boston.
And Pisani can't resist an opportunity for double entendre: "Some businesses that specialize in butts say pop culture has had a direct impact on their bottom line." Ouch.
It all started with Kim Kardashian, Pisani says. And the same day I read his report, Kim's big booty, polished to a high sheen with oil, appeared online in a copy of the cover of the winter issue of Paper magazine. On the very same day. Seldom have I been on the crest of a wave of popular culture. So I've savored the experience, and to enable you to do the same kind of savoring—albeit not on the day the wave broke—here's an assortment of Kim's booty.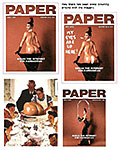 Paper magazine, it seems, has two Kim kovers [sic]. The second one, it avows, is just as "bootylicious, but is safe for work. Kim is posing in an evening dress shooting champagne out of a bottle into a glass that's resting on—her backside." About which, Kim is alleged to say: "And they say I didn't have a talent. Try balancing a champagne glass on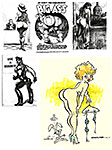 your ass."
Not to be bested in booty, the mischievous Craig Yoe rounded up another assortment of famous booty—those by Frank Frazetta, R. Crumb, Paolo Elenteri Serpieri, and Tom of Finland.
Then I added one of my own confections—and we've augmented our rump fest with the accompanying display of the whole enchilada.
READ AND RELISH
"Gay people have a different role than other minority groups. Very few black kids have ever had to worry about telling their parents that they were black."—Barney Frank
"See what the boys in the backroom will have, and tell them I died of the same."—Marlene Dietrich sang it, and I just wanted to store it away somewhere—here—so I'd have it handy next time I need it.
"So we beat on, boats against the current, borne back ceaselessly into the past."—F. Scott Fitzgerald in The Great Gatsby
NEWSPAPER COMICS PAGE VIGIL
The Bump and Grind of Daily Stripping
DAGWOOD'S DILEMMA here immediately conjures up the White House fence jumper, who penetrated far into the Executive Mansion before being reined in.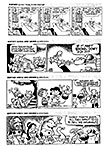 Some editorial cartooners ridiculed the Secret Service security by showing that the intruder managed to get as far as the bathroom where he encountered Bronco Bama. So when I saw this Blondie strip, I thought it might be another of that ilk. And it may be. Published November 5, it would have been sent off to syndication about four-five weeks before—on or about the first week in October. And since the fence jumper did his notorious leap on September 19, maybe Dean Young and his gag writer had the White House intrusion in mind. Funny either way.
In the next strip, Mike Peters at Mother Goose and Grimm continues to explode the limits of traditional taboos in newspaper funnies. My guess is that the gag began with the expression "fixed" that is often used to describe neutering surgeries. (But you knew that, too, eh?)
As for the other two Grimms, which happened on successive days, I enjoy seeing a comic strip playing with its medium and with visual symbols. It's like breaking the fourth wall in movies or on stage. Jeff Parker's perfect capturing of Beetle Bailey and Linus and Lucy is frosting on the marshmallow.
YOU'D THINK, LOOKING at these four consecutive Mutts strips, that Patrick McDonnell was scrimping on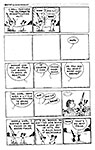 artwork in order to gain time—maybe he was so far behind in meeting his syndicate deadline that he had to do a week's worth of his Mutts strip in a day. And not doing any drawing is a good way to speed up production. That's one explanation. The other is that Mooch's "ultimate disappearing act" gave birth to a couple of elaborations that, leap frog-like, turned funny and funnier as they leapt. I prefer the latter explanation because the gags are so good.
"Oops" is a perfect punchline for the second day. And a magic wand that's invisible is a next logical development. On the fourth day, I got a bang out of Linus showing up—surprise! And all this time, I thought he'd be diligently awaiting the arrival of the Great Pumpkin.
COULDN'T HELP but notice that The Wizard of Id passed the 50 years mark on November 17: half-a-dozen strips in the Denver Post (the local press) celebrated with congratulations.
According to the GoComics website, cartoonist Johnny Hart, creator of B.C., came up with an idea for a second comic strip while flipping through a deck of playing cards. In other words, it wasn't the court magician that struck his fancy: it was the king (whose playing card image shows up in the celebration in Patrick McDonnell's commemorative Mutts). Hart enlisted longtime friend and mentor, Brant Parker to help co-produce and draw The Wizard of Id. To help celebrate the 50th Anniversary of the Wizard, GoComics launched Wizard of Id Classics to reprint some of the strip's hijinks moments wherein you can meet again the Wiz, Blanche, Bung, Rodney, the King "and all the other 'ID-iots' from the very beginning!"
Meanwhile, as we see on the accompanying visual aids, several comic strips helped celebrate the anniversary: McDonnell's Mutts, Marc Hamilton's Dennis the Menace, Mort Walker's Beetle Bailey, Blondie, Mike Peters' Mother Goose and Grimm, Jim Davis' Garfield, and, in the next exhibit, Gary Brookins and Susy MacNelly' Shoe, Jack and Carol Bender's Alley Oop, and both the Hart-inspired strips. B.C. is now produced by Hart's grandsons, Mason and Mick Mastroianni; and the Wizard, by Brant Parker's son Jeff and his wife, plus the Mastroiannis.
Other celebrations took place in strips not pictured here: Jerry Van Amerongen's Ballard Street, Ralph Hagen's The Barn, Mark Parisi's Off the Mark, Brian Crane's Pickles, Mark Buford's Scary Gary, and Dave Coverly's Speed Bump.


HELP ME. WHAT'S FUNNY about these WuMo strips?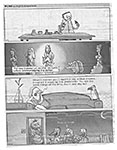 Well, the first one is mildly funny. The guy opens a series of nesting dolls and finds, in the last one, a grenade. Surprise. He'll be surprised, but we aren't. The situation is so unlikely that it is transparently just a joke. It exists only as a joke, and as a result, it has no bearing on us. Transparent jokes are inherently unfunny. If you can see the working parts, you will never be surprised enough to laugh.
In the next one—about a beauty pageant—we find a sow competing. And after losing several recounts, the sow admits defeat. That's no surprise. You'd expect that outcome—if a sow ever competed in a beauty pageant. Is that the funny part? A sow competing? (It certainly isn't that the sow is Miss Colorado, which, I take it, is entirely gratuitous.) Or are all contestants in beauty pageants sows? If so, how's that funny? Satirical maybe, but not funny satirical.
In the third strip, a woman is complaining to her "husband" that his conversation is repetitive. He's a parrot, so what do we expect? Is the core of the joke the predictability of a spouse? From that, we spring with a single bound to the highly unlikely situation that a woman might marry a parrot. So predictable spouses are parrots? I'm not laughing.
Finally, here's Hallowe'en. The little monsters in Monsterland are dressed up like people? We know it's Monsterland because the person at the door is a monster. And, upon close inspection, we see that the kiddies are all monsters, too, encased in human masks. Mildly amusing, but also somehow predictable. The whole joke idea of trick-or-treaters being monsters is worn out. It's been done. I'm sure. Over and over.
From the GoComics site, we have this tout about WuMo (named, as you'll see, for the first letters in its two author's last names, a contrivance as opaque as the comedy in the strip)—:
WuMo celebrates life's absurdity and bittersweet ironies, holding up a funhouse mirror to our modern world and those who live in it. Thanks to its delightful artwork and irreverent humor, this hilarious comic by writer Mikael Wulff and illustrator Anders Morgenthaler has grown from an underground sensation to one of the biggest and most popular strips in Europe. WuMo's inventiveness is reminiscent of their countryman Hans Christian Andersen—if Andersen's fairy tales had been populated by sadistic pandas, disgruntled office workers, crazy beavers, Albert Einstein, Snoop Dogg and Darth Vader.
With hype like this, I'd expect to encounter roaringly hysterically funny stuff. Not this lame recitation of the obvious and the obtuse. Ahhh, those Europeans—a tricky lot.
Whimsey. Maybe that's at the heart of WuMo's comedy. But I've seen better whimsey. Mutts, f'instance.
FINALLY, to end on historical notes, we have the eponymous Dilbert displaying a mouth, which, as we all know, he seldom does.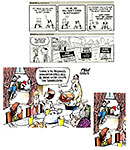 Usually, he talks without a mouth. And history is made twice in this Dilbert: herein, his hair, usually placid as funnel cake on top of his head, is ruffled—frizzed almost—so excited is the character in his paroxysm of scornful ridicule.
Incidentally, here Dilbert is wearing his customary necktie, which stands erect below his chin. But in other episodes lately, I've noticed the tie is gone. Instead, there's a tiny square thingy on a string around his neck. Is this a name badge? Or is it some sort of electronic device?
And just to prove that Dagwood isn't the only comic strip character who dabbles in politics, here's Baldo with a sarcastic display of campaign signs. Alas, not true. But should be.
And here's a left-over from the Editoonery Department—a Gary Varvel cartoon published in the Indianapolis Star on the day after Obama's immigration speech. It prompted immediate protest from some readers, who said the cartoon was racist. To them, the immigrant leading the invasion through the window is Hispanic: after all, he wears a ball cap and has a bushy moustache. The protestors evidently didn't see that they were employing the same kind of racist imagery that they accused Varvel of using.
But it didn't matter. Newspaper editors these days quake in fear of reader protest, and as Latino population approaches 17% of U.S. citizenry, they quake at 7.8 on the Richter Scale at the thought of offending any portion of the Latino population. So the editors, caving, as usual, to what ever smattering of protest hits the window, reacted: they eliminated all racist innuendo by removing the guy's moustache.
Now he couldn't possibly be a racist caricature.
But he was, if we use the remarks in the speech balloon as a guide, an immigrant. What's the word for prejudice against immigrants? Immigrantist?
Varvel is clearly against Obama's immigration policy, but he claimed (and his editors supported him) that he harbored no racist intention with the cartoon. Executive Editor Jeff Taylor said that Varvel did not intend to be "racially insensitive" or for the cartoon to be read literally. "He intended to illustrate the view of many conservatives and others that the President's order will encourage more people to pour into the country illegally," Taylor explained.
From my point of view, the cartoon was tasteless whether it was racist or immigrantist or not.
And some readers didn't like the cartoon with or without moustache. One noted that Thanksgiving was first celebrated by undocumented pilgrims who sat down to a meal with the native-born indigenous people of the "new world."
Next, the Star removed the cartoon from its website without explanation. Then the following day, Taylor explained, saying: "This action is not a comment on the issue of illegal immigration or a statement about Gary's right to express his opinions strongly. We encourage and support diverse opinion," Taylor wrote, but in this case, "We erred in publishing it. The depictions in this case were inappropriate; his point could have been expressed in other ways."
The non-cartooning population can be depended upon to say "it could have been expressed in other ways." Maybe. But the non-cartooners never offer another way. Varvel did, though.
He published several cartoons in response to the Prez's immigration actions, which are expected to grant up to five million unauthorized immigrants protection from deportation. One cartoon showed the President's car driving over the United States Constitution. Another showed the President dressed as a king for deciding to take action on his own.
As for the offending cartoon, Taylor went on, "I was uncomfortable with the depiction when I saw it after it was posted. We initially decided to leave the cartoon posted to allow readers to comment and because material can never truly be eliminated once it is circulating on the web. But we are removing the cartoon from the opinion section of our website, as well as an earlier version posted on Facebook that showed one character with a mustache."
Among editoonists, while all agreed that publication decisions rest with newspaper editors not their cartoonists, many voiced disgust that editors respond to reader criticism of a published cartoon by, first of all, apologizing for it, and second, censoring it after they have published it. Said one: "It's incredibly creepy to toss art down the memory hole because a few people have complained. More than that, editors ought to stand by what they publish after they have published it. Once it's out there, the cartoon is the responsibility of both the cartoonist and the editors who approved it. It's incredibly cowardly to throw the cartoonist under the bus for a cartoon that the editors have signed off upon."
AND THEN THERE'S THIS, the Blondie strip accompanied by R.L. Crabb's Roadskill, about which Crabb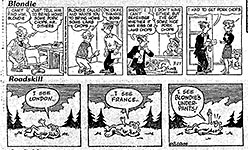 said: "You can have a lot of fun with a daily strip when you have an editor with a warped sense of humor." And a cartoonist of similar bent.
CIVILIZATION'S LAST OUTPOST
One of a kind beats everything. —Dennis Miller adv.
SEVERAL CENTURIES AGO in the raw months of my Long-lost Youth, I heard of a survey conducted in England to discover the "funniest joke in the world." I looked it up, and this is it—:
Sherlock Holmes and Dr. Watson go on a camping trip. After a good dinner and a bottle of wine, they pitch their tent and go to sleep. Some hours later, Holmes wakes up and nudges his faithful friend. "Watson, look up at the sky and tell me what you see."
"I see thousands and thausands of stars, Holmes," replies Watson.
"And what do you deduce from that?" said Holmes.
After thinking for a moment, Watson replies: "Well, astronomically, it tells me that as there are billions of galaxies and potentially billions of planets, others may now be looking at their sky. Astrologically, I observe that Saturn is in Leo. Horologically, I deduce that the time is approximately a quarter past three. Meteorologically, I suspect that we will have a beautiful day tomorrow. Metaphysically, I can see that we are a small and insignificant part of the universe. What does it tell you, Holmes?"
Holmes is silent for a moment. "Watson, you idiot!" he says. "I deduce someone has stolen our tent!"
Not content with having discovered the world's funniest joke, the surveyors also determined the second funniest joke, to wit—:
Two hunters are out in the woods when one of them collapses. He's not breathing and his eyes are glazed, so his friend calls 911. "My friend is dead! What should I do?" The operator replies, "Calm down, sir. I can help. First make sure that he's dead." There's a silence, then a loud bang. Back on the phone, the guy says, "OK, now what?"
You may or you may not be gratified to know that in recent times, the relative positions of these two jokes has changed. Sherlock and Watson's camping trip is now the second funniest joke in the world, and the murdering hunter is the funniest. Must have something to do with the National Rambo Association.
BOOK MARQUEE
Short Reviews and/or Previews of Coming Attractions
This department works like a visit to the bookstore. When you browse in a bookstore, you don't critique books. You don't even read books: you pick up one, riffle its pages, and stop here and there to look at whatever has momentarily attracted your eye. You may read the first page or glance through the table of contents. All of that is what we do here, starting with—:
Popeye: The Classic Newspaper Comics by Bobby London, Volume Two, 1989-1992
By Bobby London
340 8.5x7.5-inch pages, b/w; 2014 IDW hardcover, $39.99
THIS VOLUME of the London Popeye, the second of two, includes the 3-week sequence that got London abruptly fired in 1992. According to the IDW blurb about the book in Diamond's Preview: "King Features pulled ... three weeks of strips, and daily newspapers began running reprints. Now, 22 years later, thanks to the kind cooperation of the good folks at King Features, those three weeks—plus an additional six weeks of never-before-seen strips—will be included in this volume."
Our "short review" ends here; what follows is history and wild but educated guessing.
The three weeks at issue (July 6 through July 25, 1992) were what ended London's Popeye gig. I'm not sure about the "additional six weeks"—were they part of the sequence that got him fired? or were they an entirely separate sequence that King had declined to distribute at some earlier time, asking London for new strips? Dunno; we'll find out when the book arrives here. But the three weeks that King "pulled" weren't pulled everywhere: they actually got into print in one newspaper.
In my current dotage, I can no longer recall the name of the paper, but it was a weekly that printed nothing but a week's worth of all sorts of comic strips. I subscribed, and the news about London's firing broke just about the time the issue containing the questionable strips arrived in my mailbox. So I clipped and saved the damnable things. Here they are—:
As any fool can plainly tell (I can tell), the questionable part of the sequence begins at the end of the second week here when Popeye suspects Olive of having an affair—and an illegitimate child—with Bluto. From there, it plunges on into the abortion issue. And hence to religious questions.
On the issue of abortion, the sequence seems to be in favor of it. Popeye, after all, recommends that Olive "get rid" of the baby she doesn't want. On the religious matter, London is pretty clearly ridiculing organized religion. One of the clerics is named "Nosebest." And he is depicted as motivated by issues other than moral ones: without Satan, he proclaims, "we're out of a job."
Which of these dubious matters got London fired? We've always assumed in was abortion. But the blasphemy is also pretty severe. And not even London knows whether the latter was any part of the thinking that got him canned.
A few days after London was fired, he was interviewed at comic-art.com by Steve Ringgenberg, who asked the cartoonist to explain how the brouhaha came about. Turns out London had no warning that he would be treading forbidden ground; in fact, a previous mention of Roe v. Wade in the strip had lead him to believe the topic was acceptable. He'd done a gag where the Sea Hag uttered the words: "Drat! There goes Roe v. Wade." Said London:
"I didn't hear a peep out of the syndicate and since I always heard from them whenever they objected to any kinds of punchlines or other nonsense that I might have injected in the strip— which was seldom, but it did happen occasionally—I automatically assumed that Roe v. Wade was considered fair game by them and I proceeded to prepare a full-length story about the subject."
Excerpts for the rest of the interview—:
Ringgenberg: That's the storyline that they recently found objectionable with Olive Oyl wanting to send back the baby she'd gotten?
London: She didn't get a baby, she got a baby robot that she did not remember ordering from the Home Shopping Network. ... It was an allegory designed specifically to keep Olive Oyl's innocence intact, and it was designed primarily to lampoon all the misguided good intentions of all the characters concerned.
Ringgenberg: Oh, so was it specifically, in your mind, a veiled reference to the whole abortion issue?
London: Well, of course, but I knew that, I respect Olive too much to sully her reputation or her good nature, or anything else about her and I would never directly, I would never be that blatant where she's concerned. I've known her for many years and she's a fine woman, and a good Joe. ...
Ringgenberg: Okay, so why don't you run down, as briefly as you want, exactly how did the syndicate notify you that your work was unacceptable and that you were being terminated?
London: Well, in, you know, uh, they, I can, I can just tell you very briefly because it happened very briefly and very abruptly. They just, the editor, Jay Kennedy, just called me up and told me that they were unhappy with the storyline and I was fired. It was simple as that.
Kennedy was an acquaintance from before he became comics editor at King. London knew him from Kennedy's days at Esquire when London was drawing for "slick magazines" in the late 1970s.
Ringgenberg: Now the strips in question, with this storyline, the syndicate just notified you that this stuff was unacceptable. Had they had any complaints from their client papers?
London: Not that I know of, no. I never got anything but positive fan mail.
Ringgenberg: So this was just the execs at King Features deciding they didn't like it?
London: Well, yes. There was a rumor that I heard from somebody there that they'd been considering dismissing me for quite some time because they other plans for Popeye, but I just sort of, I just kind of ignored that. I was continually ignoring rumors like that because they're just rumors, and to concentrate on my work, and see that it improved. I just, uh, I think the only serious argument I had up there with somebody was one particular individual who no longer works there, who was the former head of the licensing department.
At issue was the matter of royalties from a St. Martin's Press reprint of London's Popeye. London was not paid royalties. And although he acknowledges that King Features was within its rights not to pay him, he thought, since St. Martin's had specifically asked for "a Bobby London book," he was entitled to royalties. It was his name that was selling the book.
Ringgenberg: Well, prior to this whole thing with the Olive Oyl storyline was Popeye doing all right in syndication? Had your work attracted more papers?
London: It was, I'll tell you the truth, it was beginning to attract new clients when this dismissal happened. However, it was due more to word-of-mouth than any effort that the syndicate would make to promote it, and it had been. ... It's a strip that's slowly been losing papers since the creator died. That's pretty much the natural chain of events. You can look at Pogo or any other old strip where the creator passes away and that's bound to happen. And even when Bud Sagendorf left the daily because he had been with it so many years, people were used to seeing him. So naturally I expected some amount of readership loss, but I also expected new readers to be gained if enough people heard that I was doing it. And I think that that was beginning to happen. I think that I didn't underestimate my draw, my drawing power. No pun intended. There've been, in fact, a number of the papers, a number of existing client papers have already dropped it because I've left, so. ...
Ringgenberg: Well, that's good. About how many papers is it running in, you think?
London: They never told me, and I can only guess that it's about twenty-four, which is what they're telling the press, but I don't really know. This whole thing started when a client newspaper in Chicago insisted on running the cartoons in question, and a reporter called me and asked me what the story was and I had just been freshly fired at the time, so I just told him, and then all off a sudden I found, I found seven networks at my doorstep.
Ringgenberg: So, what day did you actually find out you were fired?
London: Friday the seventeenth.
Ringgenberg: Okay, so it's about two weeks ago.
London: Yeah, it all happened very fast.
Ringgenberg: What's your opinion of King Features right now?
London: No comment. (Laughter)
Ringgenberg: Okay.
London: You can just say, I'll be eating neither spinach nor fried chicken for some time to come, you know.
I recommend going to comic-art.com/interviews/london.hm for the rest of the interview, which shifts to London's Playboy cartoon, Dirty Duck (who Hugh Hefner insisted have a sex life; London complied and came to regret it).
I ran into Jay Kennedy in the fall of 1992, months after the London firing, and I asked Jay if he wanted to add anything to the prevailing reports. King Features had been portrayed pretty universally as the corporate bad guy; so did he want to do anything to set the record any straighter? What was the syndicate's side of the story?
Kennedy declined to elaborate beyond the official statements that had been made at the time of London's firing. He was fired because his work was no longer acceptable. Given the timing, it was assumed that the Bluto baby episode was the cause. And Kennedy said nothing to correct that impression.
I had the sense, though, that Kennedy—whose involvement with underground and alternative press cartoonists was long and cordial—was a little embarrassed and very much wanted the whole thing to go away without further ado.
If the abortion sequence were to run these days, probably nothing would come of it. Syndicated comic strips today have joked about a number of previously taboo'd matters. These are simply freer times. But in 1992, as London discovered, the leash had not yet loosened much.
Okay: a little long for a "short review"; but the review part is short—the rest is history.
Alice in Comicland
By Various; edited by Craig Yoe with an Introduction by Mark Burstein
176 8.5x11-inch pages, color; 2014 Yoe Books/IDW Publishing hardcover, $29.99
THE CRAFT OF MAKING BOOKS has lately undergone a sea change, inspired, as far as I can tell, by Chip Kidd (or Kidd Chip). Since what used to be "books" are now so widely available digitally in non-book form, the book publishing industry has become increasingly desperate to find ways to sell books. And, presto, Kidd and his entourage came up with a way: turn the book itself into an objet d'art, something conversation-inspiring to sit on your coffee table when having visitors. Used to be, a book was important for its content; now, it's important for its package, which is an artifact to be admired and fawned over. When Kidd first started producing books with fancy cover-designs, I carped about it, saying the package was detracting from the content. More the fool me. I was harboring a decidedly old fashioned notion about what a book was. Nowadays, the idea is to make books to sell, and if the package will do it, lead on McDuff.
The volume at hand, like several recent Yoe Books, has a cute cut-out cover in the Kidd manner: on display is that classic picture by John Tenniel of Lewis Carroll's celebrated Alice parting a curtain to get into Wonderland, but through the parted curtain we see a cartoony Alice, not, as in the Carroll book, the door to Wonderland that Alice holds the key for.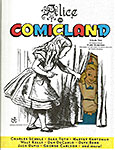 Inside the book, Yoe has assembled a sprawling selection of the variety of Alice's appearances in comic books. We see cartoon interpretations of Carroll's work by George Carlson, Chad Grothkoph, Harvey Kurtzman and Jack Davis. Alice is given up-to-date adventures by Dan DeCarlo, illustrator George Muhlfield ("Alice on Monkey Island," the longest story in the book), Dave Berg, and Alex Toth (for a little taste of terror). A contemporary Alice meets Superman, drawn by Sam Citron and Stan Kaye, and Little Max from Joe Palooka, drawn by Warren Kremer. In a couple Peanuts strips, Charles Schulz has Snoopy doing his Cheshire Cat's grin trick. And Walt Kelly is represented by Albert giving a hysterically physical interpretation of "Jabberwocky" and by a five-page poem enacted by Humpty Dumpty, reproduced here for the first time from original art in Mark Burstein's collection. And there's a section reproducing the covers from many Alice comic books. The content is not encyclopedic: it's a selection, judicious and appealing.
Burstein, President of the Lewis Carroll Society of North America, supplies a learned introductory essay that connects Carroll's Alice to the history of comics, starting with England's William Hogarth and Thomas Rowlandson and passing through Switzerland's Rodolphe Topffer and Britain's Ally Sloper and Germany's Wilhelm Busch with stops at Richard Outcault's Hogan's Alley (although he perpetuates the myth that the Yellow Kid acquired his name through an accidental application of yellow ink in printing one of his weekly adventures early on). "Carroll," Burstein contends, "was very much alive during the time of the development of proto-comics and can himself be considered a progenitor."
Yoe then offers an orientation to the book's contents with notes about some of the cartoonists represented. Among them, the aforementioned Muhlfield, who, after a short comics career, went on to become "a noted sports illustrator, poster artist, and painter." And his Alice story was written by Serge Sabarsky, who graduated to become "an internationally known art dealer and leading authority on German and Austrian Expressionism. ... Because of his interest in Expressionist art, he may have influenced Muhlfield's approach to Alice"—which he rendered in a expertly slap-dash manner.
Yoe also observes the most direct connection between Carroll and comics by quoting Alice's comment in the first paragraph of Alice in Wonderland: "What is the use of a book without pictures or conversations?" Saith Yoe: "Absolutely nothing."
The volume is sprinkled throughout with rare and wondrous pictorial fragments of Alice's experiences in comics—altogether, an impressive volume for comics fans but especially for Alice enthusiasts, of which, no doubt, there are legions.
The Best American Comics 2014
Edited by Scott McCloud with Bill Kartalopoulos
400 7x9-inch pages, b/w and color; Houghton Mifflin Harcourt hardcover, $25
THIS YEAR'S OMNIBUS OUTING includes comics published September 1, 2012 through August 31, 2013 and differs from its predecessors in a couple of ways. First, guest editor McCloud divided the contents into ten thematic sections and wrote short introductions for each; second, webcomics are represented this year—six of the forty cartoonists do their work in the digital world.
This is also the inaugural effort by both editors. As senior editor for the series, Kartalopoulos replaces Jessica Abel and Matt Madden, who honed the book for the past six years. Kartalopoulos brings to the task an impressive resume: he teaches comics at the School for Visual Arts in New York, serves as editor/publisher of Rebus Books and programming coordinator for SPX: The Small Press Expo and is also the programming director for the MoCCA (Museum of Comic and Cartoon Art) Arts Festival. He also assisted Maus creator Art Spiegelman for some years.
I'm not a regular buyer of the volumes in this series. After the first couple, I was convinced that the criterion by which the selection was made every year were not at all akin to mine: the editors seemed to prefer cutting edge comics. And Kartalopoulos, interviewed by Hillary Brown at pastemagazine.com, seems to be continuing in the same vein.
"In very general terms," he said, "I'm planning to maintain a high level of quality within the series and to keep pace with the wild diversity of the comics field. I'm especially committed to tracking new developments in comics (in style, form, materials, narrative, format, etc.), particularly in work that might still be under the radar of mainstream culture. That's where the breakthroughs in any art form usually begin."
I'm not sure that "breakthroughs" are the best indicator of "the best." But this year, because I've admired McCloud's work over the years, I've ordered a copy of the tome just to see what he picks.
The selection ritual begins with Kartalopoulos: he piles up candidates. Then the guest editor makes the final selection.
Said Kartalopoulos: "I'm really grateful that Scott was open to a lot of discussion about the contents of the book, but at every point in our process I've always been respectful of the fact that the Guest Editor ultimately has the difficult responsibility of making the final choices regarding the book's contents. I want any Guest Editor to be happy with the final book and I totally support those choices. I also want the Guest Editor to feel free to engage me in as much open and confidential discussion as they need or want to.
"Scott and I are both extremely satisfied with the final product of our process. We both agreed that it would be good for this year's volume to provide a broad overview of the comics field in 2014. Scott's decision to break the book up into contextualized sections was brilliant, and allows Best American Comics 2014 to function for many readers as a general anthology of contemporary comics, even beyond its status as one volume in an annual series. Each selection in the book, in addition to being an outstanding work from the past year, also serves as an exemplar of some currently vital area of the comics field. That's a lot of heavy lifting, but Scott makes it all seem effortless.
"We really get both sides of Scott McCloud with this book," Kartalopoulos continued, "—his selections reflect his critical tastes as an engaged reader and the structure he devised demonstrates the analytical intelligence that we all know so well from Understanding Comics and his other books."
Paul Morton at themillions.com observed that this effusion of The Best American Comics "reads as a sequel to McCloud's theoretical studies. Previous guest editors instructed readers to thumb through the anthologies and choose work that interests them most just as they would browse the shelves in a comics shop. McCloud asks that you read his anthology in order, cover-to-cover, and that you treat it as a critical narrative. He divides his book into discrete sections, presenting a taxonomy of genres. The book is an argument on the state of comics in the second decade of the 21th century."
Since McCloud has always touted webcomics as the venue of the most adventurous new cartooning—the future of comics, so to speak—his including web cartoonists is not a surprise. And I'm looking forward to seeing what he deems the best of the lot (without, I should add, having surveyed the Internet comics landscape myself at all; a nodding acquaintance is all I claim).
Some of the webcomics, Kartalopoulos said proudly, he initially found online. Some have since been republished in print. "In either case," he said, "the boundaries remain somewhat porous."
For McCloud, "the webcomic category was problematic," he said. "Webcomics generally was a source of enormous passion for me 10 years ago. But while working on my graphic novel (The Sculptor), I drifted so far from the scene that I practically got whiplash [coming back to it]."
The digital format itself is immensely problematic for this series of books. Kartalopoulos explained: "As more online comics embrace the medium-specific properties of digital media to do things that can only be done online, the harder it could become to accurately represent that work in a standard print format"—i.e., in the Best American Comics series.
I already know that many of this year's selections are excerpts from longer works, but that, I believe, is not particularly novel—and this habit of the series is another reason I've never been enthusiastic about it. But McCloud is a pragmatic visionary: as Michael Cavna said after interviewing him for his ComicRiffs blog, "McCloud knows that 'best' is an impossible term. He also knows that anything less — 'notable'? 'eminent'? — is far too great a hedge to sound sexy."
Cavna discussed the issue with McCloud: "You talk in the intro about the Ode to Futility [in claiming to decide all the year's 'best' comics], which such previous guest editors as Neil Gaiman essentially nodded to in their introduction. That does nicely disarm the reader — and 'best' is such a loaded word to begin with. Could you talk about the Ode to Futility, and how you take us on this book's trip as a docent and a guide, and not as the final arbiter?"
"Yeah, it's like the old saw about how the wise man realizes how little he knows," McCloud said. "The more you delve into the project, the more you can [realize] your own ignorance. [This book] was a convenient opportunity for me to curtail that ignorance and become acquainted with some of the aspects that I'd strayed away from. And at this point, the Ode is a ritual. You have to do some variation on the Ode to Futility. At this point, it's boilerplate that you can slip in there."
McCloud's selection includes, he told Cavna, two "slam-dunks": Chris Ware's Building Stories and RainaTelgemeier's Drama. Said he: "There were 16 or so comics that I knew were going to make the cut from very early on. But if you told me that Best American Comics was cut back and was only allowed … to have two comics, I think Building Stories and Drama would actually be a pretty good representation of the kind of range there is."
The cartoonists whose works McCloud selected are: *Sam Alden, Isabelle Arsenault, Andrew Aydin, Fanny Britt, *Allie Brosh, Nina Bunjevac, Charles Burns, Victor Cayro, R. Crumb, Aline Kominsky-Crumb, *Erin Curry, Michael DeForge, *G.W. Duncanson, Theo Ellsworth, *C.F., Brandon Graham, Tom Hart, Gilbert Hernandez, Jaime Hernandez, Gerald Jablonski, Ben Katchor, Miriam Katin, Aidan Koch, David Lasky, Congressman John Lewis, Ted May, Onsmith, *Ed Piskor, Nate Powell, Ron Rege Jr., Sam Sharpe, Mark Siegel, Fiona Staples, Raina Telgemeier, Richard Thompson, Adrian Tomine, Brian K. Vaughan, Chris Ware, Lale Westvind and Frank M. Young.
The asterisked names are webcartoonists. While several of this roster are familiar names to me (those in boldface), most are not. And as far as I know, only Richard Thompson has done any extensive work in newspaper comic strips. I'd have included Brooke McEldowney and his 9 Chickweed Lane strip in any list of the year's best: it is adventurous in both content and manner, more than almost any other strip in newspapers—or, even, on the Web.
But I'll wait to see what McCloud has come up with.
I Only Read It for the Cartoons: The New Yorker's Most Brilliantly Twisted Artists
By Richard Gehr
240 6x9-inch pages, b/w illos, adequate but not numerous; 2014 New Harvest hardcover, $25
IN THIS TIDY TOME, Gehr, who has written for Rolling Stone and The Comics Journal, collects the results of interviewing an even dozen of The New Yorkers' cartoonists: Lee Lorenz, Sam Gross, Roz Chast, George Booth, Edward Koren, Charles Barsotti, Arnie Levin, Victoria Roberts, Gahn Wilson, Jack Ziegler, Zachary Kanin, and Bob Mankoff (the magazine's current cartoon editor). Except for Kanin, these cartoonists are what I'd call the "second generation" of New Yorker cartoonists—those who came under contract after the death of the magazine's founder, Harold Ross.
Each chapter begins with a description of the cartoonist's characteristic cartoons followed by a rambling biography and concluding with a few pages about the subject's methods and working style. Each essay is accompanied by a photograph of the cartoonist (taken by Gehr) and 3-4 cartoons, all, alas, reproduced at sinfully tiny dimensions. Enough to remind us of what the guy's work looks like but not enough to fully represent the oeuvre.
Now this review is of the brevity I had in mind when I created this department for "previews" and "short reviews." But, as you may have noticed, I've never been remarkably successful in controlling my tongue or flying fingers, and I usually finish with something like the previous extravaganzas.
By way of prolonging the agony this time—in keeping with my typical practice— let me observe that the title of this book would never have made it past The New Yorker's resident grammarians. The magazine famous for its exhaustive fact-checking (even of cartoons) would have shuddered (and doubtless did, after the fact) at the misplaced "only" in the title. "I only read..." What else might you do with the magazine? Cut it up in little pieces and sprinkle them all over the backyard as compost? Tear the pages out and use them as toilet tissue?
The orthodox (not to say officious) form of this sentence is: "I read it only for the cartoons." Grammatical purists, into which category I often fall, demand that the oft-hovering "only" be forced to land nearest the thing it modifies. On the other hand, Fowler, whose Modern English Usage is a more sensible guide than the fevered mutterings of sometime grammarians like moi, says: Don't be so fussy! "I only read" is colloquial usage, and we ought to support it unless meaning is utterly distorted.
The meaning of "He only died a week ago" is not likely to be made more exact by the grammatically correct "He died only a week ago" (although the "incorrect" syntax is unintentionally risible in a sentence seemingly expressing sorrow or alarm or surprise—but not humor). But in written as opposed to spoken—colloquial—usage, the correct, or officious, choice is preferred.
In colloquial usage the accepted place of "only," which is an adverb, is before the verb. Hence, "I only read" and "he only died." The more exacting among us, however—like Jacques Barzun— say "Only God knows" and achieve the wholly practical communication of ordinary life.
Enough. Onward.
Bob Powell's Terror
Edited, designed and introduced by Craig Yoe; produced by Clizia Gussoni
146 8.5x11-inch pages, color; 2011 Yoe Books/IDW Publishing hardcover, $24.99
THIS VOLUME IS THE SECOND in the Yoe Books Chilling Archives of Horror Comics; the first being Dick Briefer's Frankenstein (reviewed in Opus 272, January 2011). Reprinting 17 Powell classics from pre-code issues of Witches Tales, Chamber of Chills, This Magazine Is Haunted, and a couple others—two entire stories from original art—the book at hand is the third printing of the title, an indication of its popularity. What? Horror? Terror? Zombies? Popular? What age are we in?
Ours.
And Powell is as at home in our age as he was in his. Starting in 1938 with Will Eisner and Jerry Iger, Powell became one of the most prolific of the Golden Age comic book artists, operating his own shop with half-a-dozen assistants. According to Yoe's introduction, Powell wrote and penciled stories and sometimes inked—everything from westerns to war stories, jungles to juveniles, romance to horror.
I remember him chiefly from the stories of the Lemonade Kid that ran in Bobby Benson's B-Bar-B Riders comic books that were spun off a popular radio show for kids in the late 1940s. But in his horror stories, Powell abandoned cowboy wholesomeness for monsters both gigantic and gooey, rotting faces, treacherous women, and a catalog of terrifying spookinesses—all of which are plentifully represented in this anthology.
As the stories here amply reveal, he was a master of pictorial storytelling. His breakdowns were deft and his panel compositions dramatic and varied. His style was realistic and subtly distinctive, particularly the way he rendered faces; once you've read three Powell stories, you will ever after be able to pick a Powell drawing out of any array of artists of his vintage.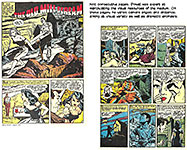 The color reproduction in this volume is especially noteworthy: not shiny and garish as is so often the case in ambitious reprint projects, the color here is true but subdued, reproducing exactly the hues of a comic book's newsprint palette.
As usual with Yoe Book texts, Yoe's introduction is a capable summary of Powell's life and career, brief but thorough, and is copiously accompanied by illustrative material. The most unusual aspect of the inaugural pages is the reproduction of a letter Powell typed to Jerry Bails, rehearsing his career; each page of the letter is faced by a page of pictures keyed precisely to names mentioned in the letter. The book also has an index, something of a novelty in tomes of this sort.
Another succinct review, hoorah.
BOOK REVIEWS
Critiques & Crotchets
Masterful Marks: Cartoonists Who Changed the World—Sixteen Graphic Biographies
Edited by Monte Beauchamp, Abetted by Sixteen Cartoonists/Artists and Two Writers
128 8.5x11-inch pages, color; 2014 Simon & Shuster harcover, $24.99
THIS BOOK STARTED WITH A PROVOCATIVE IDEA and an admirable modus operandi. Who, Beauchamp asked himself, "were the original comic artists that left an indelible mark upon the world, paving the way for those who followed?" To discover the answer, Beauchamp then divided the cartooning word up into its various genres—comic books, syndicated comic strips, animated cartoons, anime, manga, graphic novels, caricature, gag cartoons, and children's picture books—and identified "the creators who most influenced or revolutionized each category."
In the order of the foregoing list of genre, he picked Joe Shuster, Jerry Siegel, Jack Kirby, Harvey Kurtzman and Robert Crumb, Rodolphe Topffer, Charles Schulz and Winsor McCay (in animation as well as comic strips), Walt Disney, Osamu Tezuka (both anime and manga), Lynd Ward, Edward Gorey and Herge, Al Hirschfeld, and Dr. Seuss. And he mixed in Charles Addams (for the Addams family, I assume, because Beauchamp doesn't mention single-panel cartoons) and Hugh Hefner (for Playboy, which fostered single-panel cartooning). Having highlighted two people associated with single-panel cartooning, how come Beauchamp doesn't mention the genre, what I call the haiku of cartooning?
The list runs heavily to comic books with a quarter of the names (counting Shuster and Siegel as one creator) and skimps shamefully in syndicated comic strips—all the more so because comic books grew out of comic strips. Missing are those comic strip cartoonists whose work most shaped the funnybook medium in its infancy—Roy Crane, Milton Caniff, Alex Raymond and Hal Foster.
And what about manga artist Yoshihiro Tatsumi who enjoys a certain fame in his home country, where he's known as the originator of gekiga, a hard-boiled style of manga from the 1960s-1970s.
Disney undoubtedly belongs on the list even though he didn't draw much after moving from Kansas City to Hollywood in 1923, but I question whether Ward, Topffer or Gorey left "indelible marks" that "paved the way for those who followed." Ward, whose wordless novels were, apparently, popular during his lifetime, was "discovered" long after he produced his works, which, ipso facto, means he didn't influence many. Ditto Topffer, whom no one even heard of until the last few decades. And Gorey, a delightful but acquired taste, influenced no one I've ever encountered.
Similarly, Addams is so distinctive a cartooning voice that no one could "follow" him without seeming to copy him. And Hefner was a frustrated cartoonist whose cartoons found their way into print almost entirely in self-published magazines, beginning with his unpublished autobiographical comic book. Okay, his magazine elevated magazine cartooning to the level of art, and his editorial eye, according to every cartoonist he published, is especially acute in suggesting nuances and various astute alterations. He is to magazine cartooning what Disney is to animated cartooning, so I suppose he belongs here. But Beauchamp doesn't say as much; we're left to guess about why this connoisseur of naked ladies should be considered one of the "cartoonists" who changed the world. He changed the world all right; but not as a cartoonist.
But another magazine editor, Harold Ross founder of The New Yorker, did more for the single-panel magazine cartoon than Hef, for all the latter's acumen in editing. Ross is almost single-handedly responsible for the emergence of the gag cartoon with a single-speaker caption. Ross couldn't tell his cartoonists what, exactly, he wanted, but he knew it when he saw it—drawings that made comedic sense only when accompanied by verbal captions that, in effect, "explained" the picture. Ross called them "idea drawings" the key discovery of which was that the words and pictures blend to achieve a meaning neither is capable of alone without the other. Ross had been put off for years by the "illustrated joke" form of cartoon in which the cartoonist provided a drawing that illustrated the situation in which the exchange of dialogue—among several speakers—was taking place.
In the summer of 1925, an advisory letter to contributors called for cartoons that were "illustrative of ideas" rather than of situations.
Until Ross popularized the single-speaker caption at The New Yorker, the prevailing magazine cartooning mode was the multiple-speaker caption. Single-speaker captions had greater impact because they quickly unlocked the puzzle that the drawing presented to the reader/viewer. Suddenly—surprise! And, hence, laughter.
Ross, however, isn't in this book. Alas, more the oblivious Beauchamp.
Anyone would doubtless feel he could modify and improve Beauchamp's list, removing his names and adding others. Anyone.
In short, Beauchamp's list, like anyone's list of the best of anything, is his list and almost no one else's. It provides fodder for a host of nit-pickers like me to chew over and re-digest and pick to pieces.
After concocting a list, Beauchamp did something that makes his list different from all other such rosters: he decided to produce a book about his champions by commissioning short biographies in comics form. Just as the creators on his list exulted comics, so would his book of comics biographies proclaim the value of the form they took.
To this purpose, he recruited a stellar list of cartoonist-biographers: Ryan Heshka/Shuster and Siegel; Mark Alan Stamaty/Kirby; Marc Rosenthal/Addams; Nicolas Debon/McCay; Sergio Ruzzler/Schulz; Nora Krug/Herge; *Peter Kuper/Kurtzman; *Drew Friedman/Crumb; *Arnold Roth/Hirschfeld; Larry Day/Disney; Owen Smith/Ward; *Frank Stack/Topffer; Greg Clark/Gorey; *Gary Dumm/Hefner; Dan Zettwoch/Tezuka; and *Denis Kitchen/Seuss.
I say these are stellar artists, but I'm familiar with only those whose names are asterisked (*). Still, judging from the art in the book, they are all, without exception, excellent artists; their work herein is superb. Not much of it, however, is cartooning, which, by my definition, requires that the pictures contribute to a narrative as much as the words do. In more than half of these biographies, verbal captions carry the narrative almost entirely; the pictures are merely decorations, illustrating the words but adding little or no narrative substance.
Dumm draws Beauchamp's treatment of Hefner's life, and the result is fairly typical of the majority of the other biographies. Here's a caption:
"He took a job as subscription manager at Children's Activities magazine, and soon thereafter resolved to start his own magazine—for the city-bred guy. He met with good friend Eldon Sellers to discuss funding."
The picture underneath this caption shows two heads facing each other in profile. Since they look exactly alike, it's impossible to say which is Hefner, but one of them says: "Why not incorporate and sell stock? I know a lot of guys who'd be interested." He's probably Sellers.
The picture adds no information to the narrative. Nothing. Nada. The speech balloons—all words—add something, but not the pictures of the speakers. All but a few of the book's biographies are like this one. Long on narrative captions; short on pictures that add anything.
That's mostly Beauchamp's fault in the Hefner bio, but Dumm is not suited to this sort of work. He's not good at capturing likenesses. He pictures several Playboy cartoonists (Jack Cole, Phil Interlandi, Harvey Kurtzman, Shel Silverstein, Eldon Dedini), but none of them look even remotely like the cartoonists. Dumm's drawings add to the substance only when he is imitating Hefner's autobiographical comic strips, which reveal Hef's shortcomings as a cartoonist.
Beauchamp's narrative itself is remarkably shy of dates. And he and other writers in telescoping events in the lives they write about sometimes end by twisting the facts.
Disney's life by Beauchamp with pictures by Larry Day is another wholly verbal narrative—told entirely by a big bird with a beret and an eyepatch to a smaller bird as they wander meaninglessly across a landscape.
Ruzzier's treatment of Schulz is all text (even typographic) accompanied by fanciful, childlike illustrations. Stamaty presents Kirby through exploding page layouts with large lettering; I understand what he's trying to do—capture Kirby's dynamic style of drawing—but the screaming lettering spoils the effect. Debon gives us McCay's life as a dreamlike trip in a hot-air balloon with Nemo but nothing about McCay's much longer career as a political cartoonist. Debon also claims McCay influenced animated cartooning, but as a matter of historical fact, no one in animation equaled what McCay had done until decades later when Disney came along. And I strenuously suspect that Disney never saw any of McCay's films. So what is McCay's influence?
Despite these considerable flaws, the book has a good share of highlights. Rosenthal adopts Addams' drawing style to tell his life story, and the pictures often comment (sometimes ironically) on the narrative in the captions. Krug's drawings for Herge, grotesque in their simplicity, are hard for me to look at, but she sometimes manages visual interpretation of the droning captions rather than simply illustrating them. Stack does the same with much more appealing drawings for Topffer (somewhat in the manner of Topffer's art), and Roth's Hirschfeld is an outright comical interpretation of the caricaturist's astonishingly successful career—with liberal doses of Rothian humor in visual asides.
Friedman does Crumb by recalling all of his, Friedman's, connections with the underground cartoonist, illuminating the proceedings with a stunning array of portraits of Crumb. And of Friedman.
Similarly, Heshka manages to elevate Beauchamp's text-heavy life of Siegel and Shuster through the sheer shimmering suface of his brilliant illustrations—which add to the narrative by depicting the comic book characters and other personages and incidents mentioned in the prose. Clarke's elegant drawings capture some of Gorey's weirdness, but otherwise do little but accompany the captions.
Kuper and Kitchen are the best in the book, and they are very good. Kuper draws in the manner of his subject, Kurtzman, and laces the narrative with sight gags worthy of Kurtzman's life-long collaborator, Will Elder. And Kitchen does somewhat the same in his tour de force treatment of Seuss, shifting from his own style for biographical matter to Seuss's style to depict the good Dr.'s creations.
For the six or seven good biographical treatments, the book is worth having. But like a lot of what have been passing for graphic novels lately, short biographies are not the best subjects for cartooning. Captions with illustrations that add nothing to the narrative is not a form of cartooning. It's illustrated text. But doing a life story in a few pages leaves the authors little choice but to rely heavily upon words—sadly, to the detriment of the artform.
Beauchamp's is an admirable attempt, and even in falling short, it is often engaging and informative.
READ AND RELISH
GARRY TRUDEAU on the difference between spending days alone drawing and being executive producer responsible for cast and crew of a hundred and twenty people for his tv show "Alpha House"—:
"I've never had a single full-time employee in my entire career," he told Mark Singer at The New Yorker. "That was very disorienting in the first season. I was so clueless, I had to be told I was the showrunner. I got a call from the line producer, Antoine Douaihy. We shoot all the interiors at Kaukfman Astoria Studios. He said, 'When are you coming in?' I said, 'Oh, is there a place for me to work?' He said, 'Are you kidding? You've got the corner office on the third floor. You're running the joint.'"
COLLECTORS' CORNICHE
Welcome to our sentimental section where I muse and marvel about antique volumes on the shelf and rare finds in old bookstores and the like. Nothing major. Skip over this if you're busy.
IN THIS DEPARTMENT over the next few months, I'm going to post articles like the accompanying two about cartoonists Edgar Martin and Milt Gross.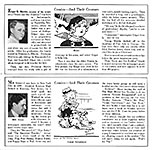 I hope you can read them; maybe you'll need to punch the enlarge button on your machine. The Literary Digest published a host of these biographical squibs from September 2, 1933 to June 29, 1935.
I found nothing startlingly revealing in any of these pic-and-prose self-portraits, but I like them anyhow. Like most writers of the time, the authors, who supplied the articles even if written in the distant third person, were not wedded to literal truth so much as to the truisms of entertainment. The actual facts of their lives as they portray them are slightly submerged in a gentle swirl of exaggeration and oversimplification of the sort that makes amusing reading. But the actual facts are still there, often submerged somewhat, as I say. And those, coupled to the various perversions of the cartoonists' senses of humor, provide perhaps more accurate portraits than we'd get with the facts, alone and unencumbered.
I got onto the Lit Digest when researching Milt Gross a few years ago because the Literary Digest was cited as having run an article about him. The "article" was a little autobiographical squib like those at hand. But running down Webster introduced me to the Literary Digest, which, it turns out—contrary to my expectations—is not "literary" at all but "newsy." In fact, it was a precursor to Time; and when Time started, everyone predicted it would die a-borning because it was too much like the very popular Literary Digest. Well, not that much alike, it seems: the early Lit Digest used to run articles pro and con on various public issues; and Time, of course, ran whatever Henry Luce thought was the right view of the universe. There was only the Luce view; no con at all.
Time eventually displaced the Lit Digest as a national news magazine. It gained on it all through the 1920s and 1930s. The Lit Digest was worried enough that by the end of its run, it had reformatted itself to look like Time. It was that worried. It died, though, partly because it predicted FDR would be defeated by Kansas' Alf Landon in the 1936 Election.
The magazine had earned a considerable reputation for the accuracy of its "polls" over the years, and its poll for the 1936 Election predicted FDR would lose handily. He didn't. And the Lit Digest went down in flames, smoldering slowly to death in the early spring of 1938.
That's the legend: that its erroneous poll shot it down. But Time had, by then, already begun to make such huge inroads into the Lit Digest circulation that it would have been only a matter of, er, "time" before the Digest died.
Anyhow, when I discovered the Gross article, I saw that it was part of an on-going series that the Digest was running about cartoonists. Somewhat over half of them were editorial cartoonists, whose squibs were accompanied by self-caricatures. I copied them all and a sample cartoon that the magazine published in the same issue as the self-portrait. Those'll show up here eventually. For now, it's comic strippers galore.
Martin's Boots and Her Buddies, the title of which sounds too much like the strip was concocted to compete with Cliff Sterrett's Polly and Her Pals, ran February 18, 1924 - October 6, 1968. Gross' Count Screwloose of Tooloose, a Sunday strip in which the Count escapes from a mental asylum every week but eagerly returns because the world he encounters "outside" is crazier than the one inside, started February 17, 1929 and ended in 1945. Gross was doing other series at the same time, some of which he mentions in the accompanying text.
IRKS & CROTCHETS
Midway through Season Two of Garry Trudeau's tv show "Alpha House," the lazier-than-a-possum character played by John Goodman says about the life of a politician: "You know what the sad thing is? We spend ninety percent of our lives ducking shitstorms, begging for money, and whoring for votes. And why do we put ourselves through all that? In order to hold on to jobs that are ninety percent ducking shitstorms, begging for money, and whoring for votes."
FUNNYBOOK FAN FARE
Four-color Frolics
An admirable first issue must, above all else, contain such matter as will compel a reader to buy the second issue. At the same time, while provoking curiosity through mysteriousness, a good first issue must avoid being so mysterious as to be cryptic or incomprehensible. And, thirdly, it should introduce the title's principals, preferably in a way that makes us care about them. Fourth, a first issue should include a complete "episode"—that is, something should happen, a crisis of some kind, which is resolved by the end of the issue, without, at the same time, detracting from the cliffhanger aspect of the effort that will compel us to buy the next issue.
GARTH ENNIS IS FIGHTING World War II again in War Stories. "Castles in the Sky," the first 3-issue story arc, is about bombers and focuses on a member of the crew of an American B-17, the mighty flying fortress. In the first issue, his plane accidentally explodes while lined up to take off. Everyone in the crew except the protagonist, Leonard Wetmore, is killed. Wetmore joined his crew where it is based in England, and whilst strolling around dreamily, he met a boy and the boy's widowed mother, who invites him to tea sometime.
This is the only complete episode in the book, and it's a pretty frail thing: we see that Wetmore is a decent guy, and like most decent guys, he's appalled by the tragedies that war brings—the death of the boy's father, the woman's husband. Nothing remarkable here. And, in fact, nothing remarkable throughout the book—except the explosion that only Wetmore survives, with only minor scratches. When he asks a doctor what will happen when he's released from the hospital, the doctor says: "They find you another crew and another aircraft, I suppose. Then you get on with the war."
It's a matter-of-fact tone that runs throughout the issue regardless of the horrors being depicted. War is hell. Ennis shows us that. But apart from implying that Wetmore will be back on duty, being shot at, the issue's cliffhanger has no cliff. The matter-of-factness of war isn't enough by itself to bring me back, and neither Wetmore himself or his unspecified but instructional fate—the promise of which is the only suspense herein—is enough either.
Matt Martin draws meticulously, deploying a bland line which occasional feathering and copious modeling sprays elaborate. Wholly adequate but nothing remarkable.
DC COMICS has assigned Cullen Bunn to destroy the most original superhero character to come along since Fawcett's Captain Marvel in 1940. Lobo, "the main man" who suffers no bastiches willingly, arrived in June 1983 in Omega Man No.3. Created by Roger Slifer and Keith Griffen, Lobo is an alien and works as an interstellar mercenary and bounty hunter, exuberantly slashing his way violently through the galaxies. He was almost at once a hugely popular creation. Said Griffen: "I have no idea why Lobo took off. ... I came up with him as an indictment of the Punisher/Wolverine hero prototype, and somehow he caught on as a high violence poster boy. Go figure."
In the early 1990s, Lobo had his own title as an anti-hero biker, a parody of Marvel's Wolverine. But now, in the first number of his eponymous series, he's just another superpowered warrior, fighting the intergalactic bad guys. The only part of Griffen's stunningly comical concept that remains is the sheer brutality. The book begins with the new Lobo—a handsome fella with red eyes and bulging biceps—holding the original Lobo's decapitated head aloft, dripping blood and faux foul language in that character's erstwhile typical style. The new guy, an assassin for hire apparently, is as vicious and foul-mouthed as the original but without any of his redeeming comedy. And it was the comedy that made Griffen's Lobo so engaging: his brutality was humorous because it was so over-the-top. When this guy tries it—without humor—it's just repulsive.
One of the book's two complete episodes involves Lobo sleeping with a beauteous damsel who turns into a zombie. The other has him killing some of the bad guys, which he does by slicing and dicing and beheading. What fun. Neither episode reveals the sort of protagonist that appeals to a normal mind. He's something of the same self-absorbed personality of yore, but without the caricatural exaggeration, he's merely a thoroughly unattractive personage. The pictures, penciled by Reilly Brown and inked by Nelson DeCastro, are fine but the story they illuminate is awful.
The old joyfully uncooth and obstreperously savage Lobo shows up in an unlikely place, Green Lantern: The Animated Series, where the Main Man does a walk-on. Writer Ivan Cohen revives the characters blustery ferocity a little, and artist Dario Brizuela captures the toothy snarl and chest thumbing bravado, likewise a little. It's gratifying to see something of the old, original Lobo in even these reduced circumstances. But the new title with the wholly revamped character—not for me, kimo sabe.
JONAH HEX rides off into the sunset in the last of his New 52 books, All Star Western No.34—but in a ship not on horseback. The cover proclaims "End of the Trail," and, just so we won't miss it, the last page announces "The Final Curtain." Jonah has been deteriorating pretty steadily over the last year or so. First, he traveled in time to the 20th century and got mixed up with the Waynes in Gotham. Nothing sensible came of this maneuver although the situation promised much. Jimmy Palmiotti and Justin Gray are expert at devising situations and building suspense; but they usually fail to concoct an ending that's at all satisfying, that picks up all the loose pieces and bundles them together neatly. And they failed again with Hex's 20th century sojourn.
Then Hex's horrifying face was magically fixed, and he traipsed back to the Old West and took up with a plentifully scarred Tullulah Black, paramour of yesteryear. They shot up a few nasty towns and some saloons, and then, in the final issue, Hex faces a no-good owlhoot who claims he's Jonah Hex. So Hex shoots and kills him to prevent him from killing an innocent dance hall dame.
Just as various souls are wondering what to do with the body of "Hex," L.B. Farnum, proprietor of Farnum's Spectacular Wild West Revue, shows up and takes possession of the corpse. Believing it to be the authentic Hex, Farnum plans to exhibit the body as a sideshow attraction of his Revue. "Who wouldn't pay to see one of the meanest gunfighters in the history of the West?" he says to one of his entourage.
And how does he intend to preserve the body? "Taxidermy," Farnum says with a sly wink.
Nice. We've come full circle to that 1978 issue of Jonah Hex Spectacular in which writer Michael Fleisher arranged for Hex to be shot while playing cards. Farnum again claimed the body and had it stuffed for display in his Revue. The whole tale is rehearsed an amply illustrated in Opus 322. For his heartless treatment of this gunslinging icon, Fleisher was roundly abused throughout the fan press. He survived.
And now we know, thanks to Palmiotti and Gray, that the stuffed gunman in Farnum's Revue isn't actually Jonah Hex. The real Hex gets a better ending.
This is an actual conclusion, a tying up a loose ends, that Palmiotti and Gray can be satisfied with. I am.
While Farnum contemplates his new exhibit, Jonah decides to abandon bounty hunting and go sea-faring, and Tullulah, who's been jumping in and out of bed with him all issue and nuzzling him a lot between times, decides to go with him to prolong, doubtless, their lovey-dovey relationship.
The end. And a happy one for ol' scarface.
Nicely rendered throughout in his usual clean-cut manner by Darwyn Cooke, who paces the action as deftly as he draws.
BEEFS & BOFFOS
Congratulations Voters!
Here's what you rejected by voting out the Democrats—:
65 straight months of economic growth
a record 56 months of private sector job growth
unemployment falling from 10.1% to 5.9%
the Budget deficit reduced by two-thirds
fewer Americans in harm's way in war zones
zero attacks by al Qaeda on U.S. soil
record stock market growth
Here's what Republicons gave us last time they were in charge—:
two economic recessions
the worst financial collapse since the Great Depression
the worst terrorist attack in history
the two longest wars in U.S. history
the worst rcord of job creation since Herbert Hoover
a complete collapse of the stock market
a budget surplus turned into a trillion dollar deficit.
Well played, America. Well played.
WE'RE ALL BROTHERS, AND WE'RE ONLY PASSIN' THROUGH
Sometimes happy, sometimes blue,
But I'm so glad I ran into you---
Tell the people that you saw me, passin' through
James Arthur "Art" Wood, Jr., 1927 - 2014
Art Wood, editor, editorial cartoonist, public relations executive and one of the founders of the Association of American Editorial Cartoonists, died November 14 in Charlottesville, Virginia. An obituary from the J.T. Morris Funeral Home recites the salient details of Wood's life (hereafter, in italics):
Wood was born in Miami, Florida where his father was in a law firm. He spent most of his life in the nation's capital. He graduated cum lLaude from Washington and Lee University in 1950 and received his Masters at Michigan State. During World War II he served in the Navy where he was staff cartoonist for the Bainbridge (MD) Mainsheet, All Hands magazine and Ships Editorial Association (a Navy syndicate) which circulated his cartoons around the world.
After the war, Wood was cartoonist for the Washington (DC) Star, the Richmond (VA) News Leader, and chief political cartoonist for the Pittsburgh (PA) Press, one of the largest evening papers in America. His work appeared in such major publications as Time, Newsweek, US News and World Report, Saturday Review of Literature, Harpers, and Editor & Publisher. Syndicated nationally, he was also reprinted regularly in the New York Times "News Of The Week In Review" and papers coast to coast.
But Wood was probably better known as a collector of original cartoons and illustrations. His collection, some 40,000 drawings, was the largest private collection of that genre in the world. He gave (or sold) this collection to the Library of Congress in its Bicentennial Year. The Library of Congress has published a table top book, Cartoon America, based on his "Gift to the Nation." Art authorities [including moi—RCH] and prize winning cartoonists have contributed chapters to the volume illustrated by work from his collection. Earlier he had written a book of his own, Great Cartoonists and Their Art concerning the trade and leading major artists he knew personally.
Wood was awarded a dozen Freedom Foundation Awards, the Christopher Award with Walt Disney and numerous others. For twenty years he was a political cartoonist for the Farm Bureau News (a weekly). He also hosted and moderated the Smithsonian's popular lecture series "Great Cartoonists" and the National Press Club's "Cartoonist's Night" featuring the country's outstanding graphic artists.
Wood was a member of the National Cartoonists Society, the National Press Club, Sigma Delta Chi, ODK, Phil Gamma Delta, and PRSA, Accredited. He was president of AAEC in 1975.
His own original cartoons have been displayed at the Metropolitan Museum in New York, the Hirschorn in the Washington, D.C. and the National Gallery in London, and featured in two World's Fairs. He was included in the International Touring Exhibit "The Great Challenge." President Truman framed one of Art's original political cartoons over the door to the Oval Office. His work is also represented in Presidential Libraries.
In addition to his cartoon work, Wood was Director of Public Relations for the Telephone Association in Washington, DC and Editor of their publications for many years.
I MET ART WOOD over twenty years ago at the time he was about to open a cartoon art museum in Washington, D.C. He took me to lunch at the Press Club, and we traded stories about cartoonists for a couple hours. Then we went to the museum, which, at the time, was being decorated and refurbished for an opening later that month. His book, Great Cartoonists and Their Art, is chiefly a autobiography retailing his monomaniacal adventures in acquiring the original drawings of several of the most famous cartoonists in America. Astonishingly perhaps, he tells about the tricks he would pull to get some of the pieces. Each cartoonist gets a chapter, and each chapter includes a short biography of the cartoonist; sometimes these bios are insightful, but just as often, they weave legend and myth in among the facts.
Richard Thompson, lately of Cul de Sac fame, knew Wood and wrote the following the day he heard Wood had died—:
When you opened the front door of the spacious yet unassuming house in Rockville, Maryland the first thing you saw was Prince Valiant. A choice Sunday page, all sweeping vistas and heraldic detail. The fact that the house contained almost 40,000 original cartoons, the largest private collection of comic art in America, if not the world was too much for the mind, so great was the discrepancy between the blandly comfortable house and what it contained
I said, "when YOU opened the front door," but that wouldn't happen. Steeped as he was in Southern Manners, it was unthinkable for someone else to open a door, any door, when Art was around. So there you'd stand, confronted with a man who looked like Hollywood's ideal of a Southern Senator living in this house with drawings.
"Come out to the house," he'd say, to the amusement of Pat Oliphant who knew the house was really a shrine. "Come out to the house. We're having some of the troops out." The troops were inevitably Big Names of Cartooning and stacks of their Christmas cards could be found on the coffee table in season.
I met Art in the early 80s, courtesy of my high school friend Greg's mom. Doris Fronsdorff was a respected collector-and expert in children's books and she had a sharp eye, so when Art needed someone to authenticate some drawings by Kate Greenway, he called Doris. And Doris called me.
The Greenways were fakes, but it didn't matter. At least to me. I was at loose ends, unsure of what to do next. Or first. But Art Wood's enthralling tales and fabulous collection turned my head. The old-school Southern charm got me. And he knew everybody! My favorite Art Wood story from among millions is from later, after I'd quit Cul de Sac. I said my new work would look like Cy Twombly if he used his sleeve. I soon got a note from Art that said he and Cy Twombly were old schoolmates who'd gone on sketching expeditions together. There are two names I wouldn't put in the same sentence and they are "Art Wood" and "Cy Twombly."
Whenever he visited my studio, Art would sit on the floor like a little kid and go through piles of originals. To his utter delight I'd say, "Keep what you want." I figured he'd take better care of anything I gave him than I would. I mean, a guy with not just an animation cel hung on his wall but a cel with all seven dwarves signed, "To Art from Walt Disney" is at least trustworthy, monomaniac though he be, right?
Art sold his collection for just under a million dollars (though technically it was priceless) to the Library of Congress, where he'd worked as a boy (he'd also attended Hearst school, a public school in northwest DC, like my brother and even went to kindergarten in the same room). They had a nice ceremony in one of the fancier rooms attended by many cartoonists and Woodses and a show drawn from the collection. Art was expansive.
The last time I saw him was just before he moved to Charlottesville. He and his wife, the ever-gracious Sallie, had pretty much emptied the house, so now it was what it appeared to be, a normal suburban house. All the custom-built drawers Art had installed were empty. It was strange.
We had lunch at his club, where the waiters were vaguely insulting yet the food was good. It called to mind all the lunches we'd had; at one of them, memorably, I met Pat Oliphant for the first time. I remember because it was at the Press Club and Bill Mitchell was there and we went bar-hopping and my car got towed and I missed a date at the Phillip's.
But that was in 1987 (I could tell you the date because I asked Pat what he'd drawn— Nancy Reagan dropping a chandelier on Donald Regan). Art said he had something for me. I thought of one particular Krazy Kat I'd long admired. Heck, I'd told him I'd steal it.
He held out an old case. "I never could figure this out," he said. Inside was a complex optical device for transferring drawings. I never could figure it out either but it's handsome and mysterious.
ONWARD, THE SPREADING PUNDITRY
The Thing of It Is ...
FOX NEWS IS NOT OFFERED on the airways in Canada. Canada has a law that says a news organization cannot broadcast lies and claim they are true. So Fox News is banned in Canada. Or so it is contended. I was delighted when I heard about this. I rubbed my hands and chortled in fiendish glee. Alas, it isn't true. Much as I'd like it to be true, it isn't. Canada does have regulations that prohibit broadcasting false or misleading news, but these regulations did not keep Fox News out. The regulations apply only to Canadian broadcasters using Canadian airwaves; they do not apply to the Fox News Channel, which is a non-Canadian entity transmitted via satellite and cable, not broadcast over public airways. See snopes.com under foxcanada.
THOSE STRANGE AMERICANS
By Jameson Parker (at a URL clouded because I got all this via e-mail)
As an American, I've found myself dizzied by the hypocrisy of the midterm election: a majority of people reported that the economy was their number one concern, and yet they overwhelmingly voted against the president who has been bringing the economy back on track and instead gave the reins back to a political party which was almost entirely responsible for derailing it in the first place. So if I was confused, imagine how it must look to the outside observer. Americans must look nuts.
To get a sense of just how baffled the rest of the world is at how Americans voted this year, we find a Letter to the Editor of a Detroit newspaper, written by a Canadian who just doesn't get it. First noticed by Rick Strandlof who tweeted a picture of it, the piece, published by the Detroit Free Press, is devastating. Titled "You Americans have no idea just how good you have it with Obama," the author, British Columbia resident Richard Brunt, goes on to list an impressive array of accomplishments under Obama – none of which the American voter seemed the least bit interested in.
The letter reads (in italic):
Many of us Canadians are confused by the U.S. midterm elections. Consider, right now in America, corporate profits are at record highs, the country's adding 200,000 jobs per month, unemployment is below 6%, U.S. gross national product growth is the best of the Organization for Economic Cooperation and Development (OECD) countries. The dollar is at its strongest levels in years, the stock market is near record highs, gasoline prices are falling, there's no inflation, interest rates are the lowest in 30 years, U.S. oil imports are declining, U.S. oil production is rapidly increasing, the deficit is rapidly declining, and the wealthy are still making astonishing amounts of money.
America is leading the world once again and respected internationally — in sharp contrast to the Bush years. Obama brought soldiers home from Iraq and killed Osama bin Laden.
So, Americans vote for the party that got you into the mess that Obama just dug you out of? This defies reason.
When you are done with Obama, could you send him our way?
Parker again: The letter is on point in a number of ways, but for my money the most salient point is when it mentions the repaired image Obama has given to the United States after Bush killed the country's credibility over the last decade. It may not be expressed often from within the right-wing echo chamber that dominates the American news media, but Obama is viewed very favorably on the international stage and his presidency has been a soothing touch to a very bad reputation. In one of Dick Cheney's monthly "criticize the president" national tours, he remarked that he thought America's image around the world was "increasingly negative." The Atlantic decided to fact check that idea and found… well… you'll see (in italic):
For more than a decade, the Pew Research Center has been asking people around the world about their opinion of the United States. The upshot: In every region of the globe except the Middle East (where the United States was wildly unpopular under George W. Bush and remains so), America's favorability is way up since Obama took office. In Spain, approval of the United States is 29 percentage points higher than when Bush left office. In Italy, it's up 23 points. In Germany and France, it's 22. With the exception of China, where the numbers have remained flat, the trend is the same in Asia. The U.S. is 19 points more popular in Japan, 24 points more popular in Indonesia, and 28 points more popular in Malaysia.
Parker concludes: So given that popularity (especially compared to Republicans, which the world still equates with George W. Bush), it's easy to see why other countries scratch their heads when America makes bashing Obama the major platform of the Republican Party and Democrats are seen actively trying to avoid him so as to not taint their campaigns. Richard Brunt clearly thinks that we are nuts. And, frankly, it's hard to disagree with him.
Thinking More about Elections
As we pass into the post-election doldrums, now might be a good time to look anew at the following article—:
NOT ONE DIME
A Radical Plan to Abramoff-Proof Politics
By James Carville and Paul Begala
CUT OFF THE INCUMBENTS
The biggest problem with the status quo of campaign fund raising is that it puts good people in a bad system. Nearly every member of the House and Senate, whether sinner or saint, spends a spectacular amount of time raising money. The very process of raising money distorts the politician's perspective. You try spending six hours a day, six days a week in a cramped room calling people and sucking up to them for money. If the only people you ever talk to are people with the wherewithal to contribute thousands of dollars to your campaign, that is bound to affect the way you see the world. You don't hear much about the minimum wage from folks who can write a check for $2,000. Nor do you spend a lot of time calling people who don't have health insurance or who can't afford their prescription drugs.
We propose fundamentally and radically reforming the way that campaigns are financed. Our proposal combines the fondest dream of liberal reformers—public financing of campaigns—with the fondest dream of conservative and libertarian reformers—no restrictions at all on donations from American citizens. The goal is to put a little distance between power and money. Federal office holders have power but need money. Special interests have money but need power. When the two come together, trading money for power, bad things happen. Here's how our plan would work:
First, we raise congressional pay big time. Pay 'em what we pay the president: $400,000. That's a huge increase from the $162,000 congressmen and senators currently make. Paul, especially, has been a critic of congressional pay increases. But he is willing to more than double politicians' pay in order to get some of the corrupt campaign money out of the system. You see, the pay raise comes with a catch. In return, we get a simple piece of legislation that says members of Congress cannot take anything of value from anyone other than a family member. No lunches, no taxi rides. No charter flights. No golf games. No ski trips. No nothing.
And when it is campaign time, incumbents would be under a complete ban on raising money. You read that right. No president or member of Congress could accept a single red cent from individuals, corporations, or special interests. Period.
Challengers, on the other hand, would be allowed to raise money in any amount from any individual American citizen or political action committee. No limits, just as the free-market conservatives have always wanted. But here is the catch: within 24 hours of receiving a contribution, the challenger would have to report it electronically to the Federal Election Commission, which would post it for the public to see. That way, if you want to accept a million dollars from, say, Paris Hilton, go for it. But be prepared for voters and reporters to ask what you promised her in exchange.
The day after you disclose Paris's million bucks, the U.S. Treasury would credit the incumbent's campaign account with a comparable sum—say 80 percent of the contribution to the challenger to take into account the cost of all the canapés and Chardonnay the challenger had to buy to raise his funds as well as the incumbent's advantage. So if Paris gave the challenger a mill, the Treasury would wire $800,000 to the incumbent. It couldn't be much simpler. You might even call it the flat tax of campaign laws.
The penalties for violation would be swift. If an incumbent accepts so much as a postage stamp, he loses his seat. If a challenger doesn't report contributions, he loses his shot. If you cheat, you are out on your ass.
What if the incumbent wants to spend her own money? After all, the Supreme Court has made it clear that the Constitution does not allow restrictions on how much money a candidate—challenger or incumbent—can spend. No problem. Uncle Sam would write the challenger a check for an equivalent amount. Unlike today, no one would have the upper hand simply because they were loaded.
What if a sitting congressman wants to run for senator, or a senator wants to run for president? Would he be allowed to raise funds? Sure. He'd just have to do what Bob Dole eventually did—resign his Senate seat and hit the campaign trail like a regular citizen. If you want to run for higher office, you have to get off your current pedestal first.
The idea is to fundamentally change the role and responsibilities of incumbency. Under our plan, incumbents have to live by Thomas Jefferson's maxim: "When a man assumes a public trust, he should consider himself as public property." (We know, we know—the language is archaically sexist, but we are not going to edit Mr. Jefferson.) Once you assume an elected office, you achieve a new status. You are no longer a campaigner. You are a public servant. As such you should not be in the fundraising business. You should be in the exclusive business of making policy.
Today more than 90 percent of all senators and representatives are re-elected. Under current law, incumbents almost always have a huge money advantage. Our wager is that a majority of incumbents would be willing to give up that advantage in exchange for higher pay and no time spent fundraising. Think about it. Not only would they be bringing in a much larger salary, they'd also never have to kiss up to another rich donor. You should never underestimate how much these folks hate spending half their time—or more—sniveling for money. Nor should you underestimate how damaging and distorting it is to require federal office holders to spend that time raising money. No wonder they vote on so much legislation without ever reading it.
And what about the public? We haven't seen the final data for 2004, but in all the federal races in 2000—congressional, senatorial, and presidential—candidates spent a total of $1.6 billion. Half of that, which is what taxpayers would have had to shell out under our plan, would be a lot of money: $800 million. But that is nothing compared to what the current system costs us. Those special interests who pour money into politicians' campaigns get something in return. Actually, they get a lot in return. Special tax breaks, special loopholes, special funding of pork-barrel projects, maybe even a no-bid contract or two. The energy bill passed in 2005 handed $2 billion in subsidies to the ethanol industry—you know, the fine folks at Archer Daniels Midland. It gave the makers of the controversial fuel additive MTBE another $2 billion. And another $8.1 billion in tax breaks for oil, coal, and electric utilities. In all, that one bill cost you $80.8 billion.
All of a sudden $800 million—one percent of the cost of one bill—doesn't seem like very much money, does it?
We know our plan is not perfect. Some will argue over whether the plan favors incumbents or challengers. Some will argue whether it favors Democrats or Republicans. Some will argue whether salary increases for politicians are justified.
We have our doubts as well, but if more money from the taxpayers makes it easier for politicians to agree to no money from special interests, it's a good deal.
At its core, this plan does something no one will argue with: it forever divorces the corrosive—and sometimes corrupting—effect of campaign cash from members of Congress and presidents. When American citizens look at their Congress and White House, they will say what Alexander Hamilton said to a visitor to the newly-constructed U.S. Capitol: "Here, Sir, the people govern."
This article is adapted from Take It Back: Our Party, Our Country, Our Future by James Carville and Paul Begala.
FOR ARCHIVAL PURPOSES
So you don't need to read this (because, probably, you've already read it), here's the Annual Report:
If you're already a paying $ubscriber to this fortnightly avalanche of comics information and want to skip the ensuing sales pitch, you can scroll down to the paragraph that begins with all CAPITAL LETTERS, saying OPUS 333; there you'll find our usual casserole of come-ons for this posting. On the other hand, you may find the next couple paragraphs (at least) jammed with just fascinating data.
But first, an overwhelmingly self-indulgent apostrophe (that's nothing new, of course: anyone who writes an entire website himself is nothing if not self-indulgent; but you knew that, eh?)—:
This is our eleventh year as a paid-subscription online magazine; but we posted Rants & Raves without an admission fee for four years before charging a subscription. And I'd been writing comics criticism and history for 26 years before beaming up to the digital ether for the present enterprise: I started in the fall of 1973 with an obituary written for the fondly remembered Menomonee Falls Gazette about Walt Kelly. I also wrote a regular column for the Rockets Blast Comic Collector before winding up at The Comics Journal, for which I've written for about 38 years. In between (as the older among you may remember), I did an occasional column for The Comics Buyer's Guide. All told, that's 41 years as a chronicler of comics news and cartooning lore.
During that stretch, I've produced a dozen books on the subject: I edited 4 and wrote another 8. Most are listed on the website. And a thirteenth is about to appear: Insiders History of Cartooning: Rediscovering Forgotten Famous Comics and Their Creators is scheduled to launch in December. As soon as it commences, we'll offer it for sale here.
In a fit of becoming modesty, I've refrained from calling myself an award-winning cartoonist/writer; but I am. Apart from an Eisner nomination for my biography of Milton Caniff, you won't have heard of any of the others—beginning with a Scholastic award while I was in high school and ending a couple of years ago with the Ink Bottle Award from the Association of American Editorial Cartoonists. In between, I was once All Navy Cartoonist (in 1960).
Having risked boring you by patting myself on the back, let me get to the business at hand: in our eleventh year as a paid-subscription online magazine, from November 2013 through October 2014, we posted a total of 519 pages of Rancid Raves (averaging 43.5 pages a month—more than last year's 39 pages/month), plus 125 pages of Hindsight (an average of 10.5 pages a month). That's a bit much.
In the conviction that no one has the time or inclination to read over 50 pages a month at one or two sittings, we've been trying (without conspicuous success) to cut back a little until we are averaging 20-25 pages a month in R&R, plus whatever Hindsight we can gin up. Not much luck so far. And if the past is any indication of the future, we'll probably go on waxing prolific next year. Regardless, we can still, this year (and probably forever henceforth), trumpet our accomplishment: what other magazine generates 50-plus pages of comics-related (mostly) news and reviews and in-depth articles by an award-wining cartoonist/writer/critic every month for a mere $1.32 a month? (See? I knew I'd use that self-glorifying fact to help you feel good about lavishing $3.95 a quarter on this enterprise.)
We (Jeremy Lambros, R&R webmaster, and I) produced 15 opuses of Rants & Raves in the last twelve months and posted 12 Hindsight (history and biography) articles. In the aggregate, that's about the same as in previous years, so we're still within sight of the terms of our contract with subscribers: our treaty specifies approximately bi-weekly issues of R&R, and although we did that only three times out of twelve, we posted something at least twice a month—at least one R&R and one Hindsight. And in some months (January, March, June), three postings each. In short (although admittedly it's a little late to claim brevity), you had two postings to read every month all year long. And, as noted above, the total pages compare favorably with previous years. Still a big bargain, aristotle.
Resolve to the contrary notwithstanding, I still have not managed to curb my tongue sufficiently to reduce output to about 20 pages per opus, the original target. With R&R, however, I did keep it under 40 pages for 8 months; under 50 for 3 more. If I reach my goal for the next year, I'll crank out one or two R&Rs every month (at about 20 pages each) plus a Hindsight, one or the other landing in your inbox every other week. Or so. Chances of doing that are not good. Probably, I'll go right on flooding your inbox. But even if I'm successful in cutting back, I humbly submit, you'll have a bargain at a mere $1.32 a month.
If you're not a $ubscribing Associate, here's some of what you've missed last year: eye witness reports of San Diego Comic-Con, the Reubens Weekend of the National Cartoonists Society, the annual convention of the Association of American Editorial Cartoonists, the big success of Denver's third comic-con, and the Grand Opening of the Billy Ireland Cartoon Library & Museum in Columbus, Ohio. We also reported about: the Stanley Awards in Australia, the crisis in newspaper comics (on-going reportage), DC's move to Burbank to produce movies not comic books, the continuing violation of age-old taboos on the newspaper comics pages, lay offs among editoonists, CBLDF's list of bannable offenses, Stan Lee's legacy (and his being interviewed in Playboy), best comics sellers of the year, awards won by editoonists, Watterson's first published cartoon in 18 years (and his stint drawing some panels in Stephen Pastis' Pearls Before Swine), Doonesbury hiatus, anniversaries too numerous to list here (including 50 years of Al Jaffee's fold-ins), new Peanuts film, the surge in the number of comic-cons (and the probable future of same), New York Post dropping its comic strips, Dick Tracy's 4-5 month search for Little Orphan Annie, various censorship efforts, the glut of superhero movies, winners of the cartooning courage award in foreign climes where cartoonists are frequently threatened with violence or imprisonment (not to mention death), NCS revamping its awards process, Dave Gibbons Britain's Cartoonist Laureate, and the dirty secrets about Wonder Woman.
We also regularly (nearly every posting) review the current crop of political cartoons and, almost as frequently, some of the first issues of new comic book titles. We did a long essays
on the history of the Billy Ireland Cartoon Library & Museum, Mike Lester and his comic strip Mike du Jour, Barnaby, Reuben Award winner Wiley Miller, first appearances of the Little King, San Diego Comic Con's police state, and cosplaying at comic-cons. And we've been keeping track of the number of casualties among editorial cartoonists: the total number of full-time staff newspaper political cartooners now stands at 51 for the second year in a row. There were 101 in May 2008, so we have little to cheer about yet.
And we did career-appreciation obits for Al Plastino, Morrie Turner, Gary Arlington, Bill Kresse, Bhob Steward, Fred Kida, Al Feldstein, Dick Ayers, Morris Weiss, Charles Barsotti, Etta Hulme, Frank Cummings, Jay Maeder, and Stan Goldberg.
We reviewed books, too, great heaps of them, including: In Love with Art (Francoise Mouly's Adventures in Comics with Art Spiegelman); Comics, Manga and Graphic Novels; Barnaby: Volume One; Ray and Joe (The Story of a Man and His Dead Friend); Cartoon Monarch (Otto Soglow and the Little King); Best Editorial Cartoons of the Year (2014 Edition); Outside the Box (Interviews with Contemporary Cartoonists); Miss Mizzou (A Life Beyond Comics); Walt Kelly's Pogo (The Complete Dell Comics, Volume One); Walt Kelly (The Life and Art of the Creator of Pogo); We Go Pogo (Walt Kelly, Politics and American Satire).
AND—: Frank Frazetta (Art and Remembrances), The Secret History of Marvel Comics;
This Book Contains Graphic Language; The Art of Rube Goldberg; Vip (The Mad World of Virgil Partch); What Fools These Mortals Be (Puck Cartoons).
AND—: Adventures into the Unknown (Pre-code Horror Anthology, Vols. 9-12); Cartoons of World War II; The Complete Colonel Blimp; The Best of Comix Book; Classic Phantom Lady (Volume One); George Wunder's Terry and the Pirates; Alley Oop 1939 (First Time Travel Adventures); 50 Years of Dave Berg; Jacky's Diary; Forbidden Worlds (Volume 3, Nos. 9-14); Zap Comix; Batman's 75th; Marvell's 75th Anniversary Magazine; Ripley's Believe It Or Not; Complete Pogo (Volume 3).
We also took a look at a few graphic novels: Lost in the Alps, The Madam Paul Affair, The Life and Opinions of Tristram Shandy, Gentleman; Kill My Mother; Zombillenium; Madison Square Tragedy (The Murder of Standford White); Century West; Army of God; War is Boring; Dark Rain (A New Orleans Story); Marble Season; SuperZelda (The Graphic Life of Zelda Fitzgerald); The Bohemians (A Graphic History); Slayground (Richard Stark's Parker).
And in the Hindsight department, our long-form essay/historical section, last year we rehearsed and celebrated the histories and artistries of Morrie Turner, Gus Arriola's Pussy Willows (a comic strip that never was), Eldon Dedini, Otto Soglow, and Vic Herman (who did Winnie the WAC during World War II). We also recited the history of Punch and printed an interview with Bill Watterson (not our interview; we don't have one), who hasn't spoken for publication for years and years.
So that's what you've been missing if you're not paying our paltry subscription fee. It's never too late to join up, kimo sabe.
To find out about Harv's books, click here.