Opus 327 (July 16, 2014). Down the rabbit hole this time, we ponder the current state of what has become the comic-con "industry," report on the recent success of the Denver Comic-Con and look forward to the San Diego Comic-Con July 23-27. We also celebrate the careers of two giants who died last month, The New Yorker's Charley Barsotti and Etta Hulme, first lady of editooning. And we review the horrors of the last month as seen through the eyes of some of the best editorial cartoonists, plus reviewing Southern Bastards, Dicks, and United States of Murder and a few other recent funnybooks. And more, much more—including a report that Dick Tracy is on a four-month search for Little Orphan Annie. Astounding. Here's what's here, in order, by department—:
NOUS R US
Watterson's Pearls Appearance Stirs the Multitudes
Michael Uslan Says Farewell to Betty and Veronica
Mister Magoo Is Back
PlanetPOV Website Caught Stealing Editoons
Dick Tracy Searches for Little Orphan Annie
Neil Gaiman Visits Syrian Refugee Camps
Playboy Publishes a Lame Graphic Narrative
Ted Rall Fired
Stephan Pastis Maintains Exacting Schedule
Parade Magazine Briefly Produces a Small Comic Book
Funky Winkerbean Promotes San Diego Comic-Con
Comic Book Artists Create Faux Comic Book Covers for Batiuk
Terrible Cartoons: Cyanide & Happiness, Nameless NY Times Strip
MORE ABOUT OTTO SOGLOW'S LITTLE KING
COMIC-CONNED
The State of the Comic-Con Industry
Denver Comic-Con Report (amply illustrated)
EDITOONERY
Rounding Up Some of the Best of the Month
Religious Freedom Teeters
More Guns Won't Help
RANCID RAVES GALLERY
Marvel's 75th Anniversary Logo
Scott McCloud's Cover for The Sculptor
NEWSPAPER COMICS PAGE VIGIL
Sex and Other Taboos Broken in Today's Strips
Civilization's Last Outpost
Redskins
BOOK REVIEW
Cartoon Monarch: Otto Soglow & The Little King
Collectors' Corniche
Carl Barks Self-portraits
FUNNYBOOK FAN FARE
Southern Bastards
Five Ghosts
The Massive
Dicks
Time Lincoln Continental
Sandman Overture No.2
United States of Murder, Inc.
PASSIN' THROUGH
Charles Barsotti
Etta Hulme
Frank Cummings
Our Motto: It takes all kinds. Live and let live.
Wear glasses if you need 'em.
But it's hard to live by this axiom in the Age of Tea Baggers,
so we've added another motto:.
Seven days without comics makes one weak.
(You can't have too many mottos.)
And our customary reminder: don't forget to activate the "Bathroom Button" by clicking on the "print friendly version" so you can print off a copy of just this installment for reading later, at your leisure while enthroned. Without further adieu, then, here we go—:
NOUS R US
Some of All the News That Gives Us Fits
BILL WATTERSON'S SURREPTITIOUS RETURN to the funnies pages of the nation's newspapers by invading the stick-figure precincts of Stephan Pastis' Pearls Before Swine the first week of June created an unprecedented uproar. A clamour among millions, it quickly became that most desirable of occurrences in the entertainment world: it was an "event," saith Michael Cavna at ComicRiffs.com.
Pastis, Watterson's dupe in the enterprise, was aghast. "It's just massive," Pastis told Cavna on Saturday, June 7, the last day of the Watterson Week, "—the biggest thing I've ever been a part of. I mean, I knew there would be a big reaction but didn't know it would be this big."
"As of Saturday morning, Pastis had set the digital world ablaze," Cavna wrote: "His blog account of how the collaboration came into being was the No.1 blogpost worldwide on WordPress, buoying him to the morning's top blog overall. Update: Pastis tells me his personal blog's Watterson post has been viewed more than 3-million times."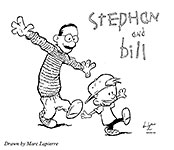 And his syndicate's website, GoComics.com, "was barely holding up beneath the sudden flood of visitors. (Universal Uclick is the syndicate for both Pearls and Calvin and Hobbes.) Update:On Saturday, June 7, the GoComics site received 6.1-million page views, syndicate chief John Glynn told ComicRiffs — a spike of 4-million more than the previous Saturday."
Rocking the entertainment world just a month after the New York Post dropped its entire comics section (admittedly, just a measly seven comic strips)—creating what some of us saw (and still see) as an unhappy harbinger for the rest of the daily newspaper fiefdom (see Opus 326)—Watterson Week was, we trust, welcomed throughout the syndicate business as a vivid—astonishing, stupendous—demonstration of the enduring appeal of newspaper comic strips. Every syndicate salesman on the planet ought to be out there, visiting feature editors and waving the Internet statistics in their faces.
ODDS & ADDENDA
Michael Uslan, who has already wreaked havoc in the Archie Universe by getting the Riverdale redhead to marry both Betty and Veronica, says in Comic Shop News No.1407 that he's about to do it again: "I'm doing Farewell Betty & Veronica which is going to change the dynamics of those comic books and Riverdale itself."
In 53 theatrical animated cartoons in the 1950s, near-sighted (well, almost blind) Mister Magoo bumbled into vast acreages of trouble because of his poor eyesight, and now he's back: voiced in a cheerful adenoidal mumble by Jim Backus, you can find him in a 4-DVD box, "Mr. Magoo: The Theatrical Collection (1949-59)."
A website called PlanetPOV was posting editorial cartoons by the bucket but doing it without getting permission from the cartoonists—and without offering payment. Members of the Association of American Editorial Cartoonists protested, and PlanetPOV started asking permission but offering no recompense.
Dick Tracy is only partway through the longest continuity that any strip has foisted off on us in several decades (except 9 Chickweed Lane, which a year or so ago ran a story for nearly a year; expertly done, too). Writer Mike Curtis and cartoonist Joe Staton started the story on June 7, and it will last through September. The special dispensation for length in this age of 4-week continuities is doubtless because in this story, Tracy goes looking for Annie Warbucks, the famed heroine of Harold Gray's Little Orphan Annie, a strip that ended in June 2010 (albeit not very definitively: she was missing in Guatemala in the last strip, with a caption that was open-ended enough to permit the orphan redhead to return, should the stars be reconfigured. She'll show up in Tracy, but, as yet, without any hint that her own strip might be revived.)
The continuity will feature several other LOA fugitives—Daddy Warbucks, the Asp, Punjab, even the mysterious Am (rumored, in some fanatic parts, to be Gray's version of the Almighty Himself). And Staton will alter his drawing style to mimic Gray's. Meanwhile, Curtis is hoping this cross-over will inspire another—namely, a meeting between Tracy and Batman. "Having America's two greatest crime fighters meet each other would be fun," he told George Gene Gustines at the nytimes.com, "—in fact, we have a plot if it happens." We can hope.
Under the auspices of the United Nations Refugee Agency, author Neil Gaiman traveled to Jordan in May and visited Syrian refugee camps to see for himself the situation faced by Syrians who've fled the war in their native land. He writes: "I am struck by how fragile civilization is. Even if the war was over, many people couldn't go home immediately because home isn't there. Sometimes the house that people lived in isn't there. Sometimes the town or district isn't there. Things that you think of as being so permanent are fragile and permeable. And I'm as struck by the things that you think of as fragile, like people, being so tough and so resilient. These people have endured tragedies and ordeals that are almost unthinkable. And yet they are smiling. ... How incredibly fragile are the systems within which we exist. And how proud I am of being human."
And Time magazine's June 9 issue has a devastating report, with searing photos, "Has Assad Won?" Subtitled "In Syria, Victory Is Written in Ruin," the report details some of the wholesale destruction in "rebel" areas in bitter contrast to "life as usual" in sumptuous Damascus and includes a short but impressive history of how it all came about.
The July/August issue of Playboy (another of its fraudulent "double issues" with only 30 percent more pages than usual allotment) contains a 6-page graphic narrative. Written and drawn in black and white by David Lapham based upon artist Joe Andoe's so-called autobiography, the story, such as it is, concerns a drunken ride Joe took with a couple friends which got him thrown in the tank for wrecking the car and trying to beat up a local citizen. Joe gets out of jail and promptly screws his girlfriend in the back seat of the wrecked car while thinking, at the same time, of the unsanitary behavior of one of his cellmates. The juxtaposition of present and memory is competently done, but the story is otherwise wholly undistinguished. Hugh Hefner has published a couple other efforts along these lines, similarly undistinguished. Makes me think he doesn't really understand graphic narratives.
RALL OUT ON THE STREETS AGAIN
Less than a month into his new job at the Web's PandoDaily, Ted Rall, the ever-outspoken gadfly of editorial cartooning and Internet columning, was fired. His PandoDaily gig was the first regular job with a predictable paycheck that the notorious freelancer has held in his cartooning career (see Opus 324). No reason was given for the termination, but Rall's dismissal was accompanied by another, that of columnist/reporter David Sirota, known, like Rall, for his aggressive journalism.
According to Nitasha Tiku at valleywag.gawker.com, "Sirota recently broke a big story about Chris Christie's administration awarding pension contracts to hedge funds, private equity groups, and venture capital firms whose employees donated to the governor's reelection." Rall had similarly ruffled feathers by reporting that "some Uber drivers made less than minimum wage, contrary to the company's claims."
The general supposition swirling around the news was that PandoDaily's investors were uncomfortable with the direction these two were taking in their reporting. Pando factotums denied any such thing. And Tiku quotes Rall as saying: ""I loved working for [editor] Paul Carr. I had complete editorial freedom. When I wrote stuff that he disagreed with, he not only posted them without comment, he promoted them. I thought, 'Here's a guy with a lot of integrity.'"
Neither Rall nor Sirota had any advance notice of their impending dismissal. Rall told Tiku that the decision was "really truly out of a clear blue sky. I literally never got anything but A-triple-plus reviews." At first, neither of the newly unemployed would comment on their firing. Later, Rall reportedly said: "Reason given was my work was too political, strayed from core mission, covering tech."
But, said Tiku, "that complaint about the lack of tech coverage seems tenuous considering that Sirota and Rall both cover the intersection of tech and politics, taking a broader perspective than your standard press release reblog, which is what the NSFWCorp acquisition [by Pando] promised. The flow of tech money into politics is an increasingly vital topic. Earlier this month, for example, Chris Christie traveled to Silicon Valley for fundraising."
THE STEPHAN PASTIS MACHINE
Stephan Pastis seems a glutton for work. Not only does he do a daily comic strip—traditionally a recipe for destroying one's spare time—and collaborate with the profession's most reclusive retiree, he also writes books. Inspired, no doubt, by Jeff Kinney's Wimpy books, Pastis has published three hardcover books about Timmy Failure, "a comically clueless boy who runs the Total Failure detective agency with a 1,500-pound polar bear named Total," reports Sally Lodge at publishersweekly.com. The first book in the series, the 2012 debut title Mistakes Were Made, " spent more than 20 weeks on the New York Times bestseller list and has 350,000 copies in print in North America."
In addition to producing the strip and its reprint tomes and the Timmy Failure books, Pastis spends hunks of time traveling around the country doing signings and otherwise promoting his products. Lodge reveals how Pastis balances his workload: the secret is rooted in his carefully structured creative regimen. "Each week, Pastis creates 10 Pearls Before Swine comic strips between Monday and Thursday, thereby producing three extra strips per week, or more than 150 a year. 'That's buying me five months when I can do all the other things – write the novels, do the tours and other promotion for the books and strip, and have a life,' he explained."
Lodge continues:
Pastis's success at switching mindsets between Pearls and Timmy Failure depends on just that: for him, it's a total switch. The endeavors are so different from each other, the author said, that he "totally separates them out," writing his novels full-time in six or seven weeks.
"I write the books in one run and then return totally to Pearls," he said. "When you do anything creative, you really have to live entirely in that world. I think my ability to do that is what makes me such a bad dinner guest. I'm always looking over someone's shoulder, taking in stuff around the room, immersed in the world of whatever I'm writing about, and keeping the characters completely in my head."
Does Pastis agree that he's firmly on Team Kid? "Oh man, I totally am!" he said. "I'm 12 years old in my head. With the Timmy Failure books, I write what makes me laugh, and as it turns out, what I find funny, 12-year-olds find funny. And the other thing is, though I didn't set out to do it, when I step back and look at my books, I realize that in many ways Timmy is really me as a kid. I didn't do that on purpose. When I began the first book I just sat down and wrote, and decided I'd figure it out later."
Pastis remains committed to both Timmy Failure and Pearls. "I feel that they are in my blood, and I'd do both even if nobody paid me," he said. "I never feel burdened or overwhelmed by my work. People tell you to find something you love for a career, and I have. That makes me feel very lucky."
SUPPLEMENTAL REVIVAL OF NEWSPAPER CARTOON
The Sunday supplement magazine Parade has been remiss considerably in the last year or so— reducing the number of cartoons it runs, sometimes to nothing. Weeks go by with no "Cartoon Parade." I've been keeping score and posting the shameful results for a couple years. And just this month, my protest has apparently borne fruit: July 6's Parade contained a small 4.5x8.5-inch booklet of four self-cover pages, printing two cartoons on every page (except the cover, seen hereabouts) for a grand total of seven cartoons!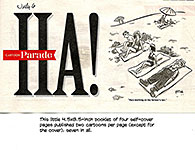 HOOOrah! They've found a way to publish cartoons without reducing the magazine's interior capacity for publishing such world-changing articles as what sort of hot dog to serve on July Fourth. This is clearly an advance for Western Civilization as we know it. And we should encourage newspapers to think along similar lines.
Newspapers, always jealous of the amount of space they must poach from "covering The News" to print the comic strips that are more popular with readers than The News, could satisfy both their journalistic impulses and reader interests by publishing a daily comic book of each day's funnies. What a concept!
Update: Alas, no Cartoon Parade booklet the next week. Back to one dinky cartoon at the bottom of an interior page. Sigh.
But we could dream. And still do!
FUNKY PROMOTES THE CON
Just in time to join in the general rush to promote the San Diego Comic-Con, Tom Batiuk devoted a two-week continuity in his Funky Winkerbean strip to comic books as treasures. Running the two weeks before the Con, the story regales us with a search for a long-lost comic book.
"It started," said Batiuk, "with the fact that in the strip, Funky's stepson Cory is in Afghanistan. I had done some stories with him over there and I wanted to continue that but I also wanted to do a homefront story about what it was like for the parents. I was casting about for ways to get into this story when I thought of what if Holly—Cory's mother—discovered that he had a comic book collection and there were some comics missing. As a way of staying in touch with him and feeling like she was doing something, she would go out and collect the missing comics for him."
The comic book in question concerns the adventures of Starbuck Jones, a space-traveling hero that Batiuk invented when he was in the fifth grade. One thing led to another, and Batiuk realized that the erstwhile fictional comic book had to appear in the strips. So he contacted several cartoonists, beginning with Joe Staton, to see if they'd draw a suitably spectacular Starbuck Jones cover. And they did— Bob Layton (his cover is pictured near here), Neil Vokes, Michael Gilbert, Mike Golden, Norm Breyfogle, and Terry Austin (whose cover joins Layton's in our exhibit; the other covers can be found somewhere at web.mail.comcast.net).
Batiuk gave them complete freedom—"draw what you want"—with the unexpected consequence that Austin's Starbuck Jones is a monkey.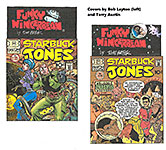 In the course of her quest, Cory goes to the Sandy Eggo Con and rummages through bins of old comics looking for the one issue of Starbuck Jones that will complete Cory's collection.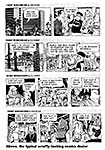 But, alas, she doesn't find it. Not there. She finds it back home when she goes to Tony Isabella's Garage Con, where Isabella (a real person, columnist for the defunct Comics Buyer's Guide in case you've just joined us) finds the illusive No.115.
Although he spilled this many beans to Alex Dueben at web.mail.comcast, Batiuk also promised that there's more to come. Turns out that he invented a lot more characters while in the fifth grade—among them, The Amazing Mr. Sponge. Stay 'tooned.
TERRIBLE CARTOONS DEPARTMENT
Previews, the Diamond catalog, listed in its May issue a new 200-page book reprinting a webcomic called Cyanide & Happiness that will be released in August. The comic strip is produced by Kris Wilson, Rob Denbleyker, Matt Melvin and Dave McElfatrick. It takes four guys to produce a stick-figure comic strip. Wow. Here's a portion of the ad.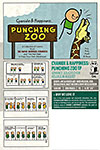 The giraffe, we admit, is very well drawn. But a quartet of "authors/artists" to produce stick figure drawings?
But the minimalist art in C&H at least doesn't hurt your eyes. In fact, it is almost a symphony in simplicity (but then, it should be with a whole orchestra to produce it). The comic strip cranked out weekly for the New York Times' Week in Review section by David Rees (who writes it) and Michael Kupperman (who claims that what he vomits onto the page is "artwork" of some sort) makes my head hurt it's so badly drawn. It's a genuinely painful experience as you'll soon (if you're not careful to avert your eyes) suffer. The one we've reproduced here at your elbow was actually rejected by the Times. But not because of its execrable artwork. No, it was the strip's "message," which the Times deemed "too sensitive" to publish. The issues addressed: men's rights activists, infantile misogyny, Internet harassment and pissing in your pants, according to Salon.com.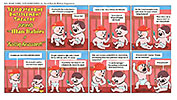 In an e-mail to Salon, Kupperman said he was "genuinely shocked" that the comic was rejected. "What really blew my mind this week was that they didn't just reject the script; they declared that the subject itself was too sensitive to be prodded at with humor. Frankly, I genuinely believe they didn't understand it, and that made them nervous."
Maybe. Maybe the Times editors found the notion of raping feminists as an act of revenge to be repulsive. Dunno. But the most astonishing aspect of this episode is that it reveals what the Times thinks comic strips are—namely, monumentally bad drawing. No wonder the Times doesn't run comic strips: it can't recognize the artistry of the medium.
We're in bad shape, kimo sabe, if Cyanide and Kupperman are passing themselves off as examples of the cartoonist's art.
Fascinating Footnit. For even more comics news, consult these four other sites: Mark Evanier's povonline.com, Alan Gardner's DailyCartoonist.com, Tom Spurgeon's comicsreporter.com, and Michael Cavna at voices.washingtonpost.com./comic-riffs . For delving into the history of our beloved medium, you can't go wrong by visiting Allan Holtz's strippersguide.blogspot.com, where Allan regularly posts rare findings from his forays into the vast reaches of newspaper microfilm files hither and yon.
Quotes and Mots
"Be wise because the world needs more wisdom. And if you cannot be wise, pretend to be someone who is wise, and then just behave like they would."—Neil Gaiman
"Problem of the world: fools and fanatics are always so full of passionate certainty."—Television show
Congress manages to avoid a recall despite being filled with faulty air bags.—RCH, revising someone else's quip (sorry: forgot whose).
LITTLE KING REDOUX
It was bound to happen: my legendary ineptitude with mechanical and electronic appliances resulted in my posting a week or so ago an incomplete history of Otto Soglow's Little King. I was unable to give the date of the rotound monarch's first appearance in The New Yorker. And I should have been able to supply this vital information: some years ago in my continuing crusade to make my Book Grotto the most complete print-based reference library on comics and cartooning, I bought the Complete New Yorker Cartoons tome, which included on CDs the entire cartoon content of the magazine from its birth in 1925 until the publication date of the book, 2004. The first Little King is not in the print volume. So I tried the CD. Alas, there I met my digital Waterloo: I needed Adobe 6, but my new computer has a more recent version that couldn't read the disk. I could have tried the website the CD recommended, but, as any inept septuagenarian can tell you, I was reluctant. Frozen with fear of the unknown, actually. So I didn't go online.
But then a few days latter, I descended to my studio wherein my old computer languishes. It, antique that it is, had Adobe 6, so I was able to activate the CD and find the first of Soglow's Little Kings. But since the CD is programmed to prevent me from printing any of the cartoons, I must resort herewith to verbal description of this historic event; to wit—:
In the opening panel of the first, published June 7, 1930, a footman tells the King: "Your bath is ready, your majesty." Followed by one footman, the King follows another one to the palace swimming pool. At the edge, one footman helps the King off with his robe while the other footman jumps (fully uniformed) into the pool, creating a splash that sprays the naked King. That's his bath. Shower, rather. The footmen towel the King dry; then they hold his robe for him, he slips it on, and all three leave in the reverse of the procession that brought them to the pool.
The Little King did not appear again until the next year. On March 14, his minions tell him that the cornerstone laying is imminent, so he goes there—in his carriage with an accompanying parade of footmen, bands, and marching soldiers. At the site, King takes off his robe to reveal workman's garb underneath, and he approaches the cornerstone with a trowel in hand. He will lay the cornerstone.
The King then appears just about every other week for the rest of the year. Reprising a couple illustrations from our Hindsight essay on Soglow, here is the third and the eighth Little King.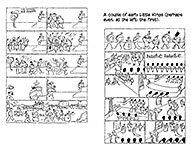 As I mentioned in Hindsight, Harold Ross, the editor and founder of The New Yorker, clearly liked Soglow's silent sovereign: he asked for more, but, as I said, he was picky about his selections, so it evidently took ten months for Soglow to produce another Little King that Ross liked—namely, the cornerstone cartoon. Since the King began at that point appearing biweekly, we may assume that Ross let a little inventory build up before re-launching the feature on March 14. In the meantime, Soglow cartoons without recurring characters appeared in virtually every issue of the magazine during the interim.
In subsequent 1931 appearances: the Little King is importuned by two heavily uniformed and extravagantly gesturing factotums after which, he buys life insurance; finds mice in his carriage; sets up a scarecrow, dressing it with his own royal robe; is visited at the end of a lengthy tour of the palace by a gaggle of sight-seers; returns the champagne toast of some noblemen by raising a stein of beer; visits a zoo where a pelican eats his crown; takes the crown prince for an airing in an elaborate four-poster bed on wheels rather than a stroller or baby carriage; reviews the troops whereupon his arm gets stuck in a saluting position; slides down a bannister; goes dancing and gives his partner all the medals off his chest; dresses as an admiral for a cruise on one of his battleships and goes water skiing; visits a toy fair and plays with the toys; and meets another monarch with whom, upon arguing, he dons boxing gloves.
By the end of the year's run—the bannister episode, water skiing, playing with toys—the fundamental childlike personality of the Little King has emerged. But before sliding down the bannister, The Little King shows his diminutive majesty in adventures with simply incongruous conclusions that do not, in most instances, reveal his personality.
The cartoon in which a busload of tourists visit the palace, successive panels show them ogling various rooms, including the royal kitchen and the royal bathroom with its royal tub, accompanied throughout by an elaborately gesturing tour guide. At the end, he brings them into the throne room and, with another elaborate gesture, shows them the King on his throne. Then they all depart, leaving the King alone on his throne.
Such episodes do not necessarily puncture the grandeur of royalty. The operative spirit of the cartoon is not satire but playfulness.
Down the scroll, we have a review of a new book reprinting vast stretches of The Little King. From IDW.
COMIC-CONNED
Report on the DenverComic-Con and Elsewhere
WE ARE RAPIDLY APPROACHING—and perhaps are already deeply into—an era in which every major American city has a comic-con, but the term "comic-con" seems applicable only to the Comic-Con International in San Diego. And that application of the term has become itself nearly meaningless.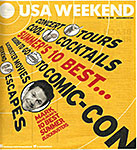 In a celebration of recommended summer activities, USA Weekend's cover for June 20-22 gave the biggest type to "Comic-Con." But the article within—after dispensing with movies, cocktails, and concert tours—in attempting to give the "10 best reasons to go to Comic-Con" did not include comic books or comic strips or cartoonists among those reasons. And the word "superhero" was mentioned only in connection with dressing up in the costume of your favorite. Others of the "10 reasons" include celebrity spotting, family-friendly events, retro toy retailers, free nightly parties and "nearly every pop-culture passion." Oh, and "Artists Alley"—"where many folks are happy to draw whatever your heart desires." But no cartoonists, comic strips or comic books. Just "pop culture passions."
The themes adopted for the Sandy Eggo Con this year commemorate various anniversaries—Batman's 75th, Daredevil's 50th, Marvel Comics' 75th, Usagi Yojimbo's 30th, and Hellboy's 20th. All comics milestones. But 2014 is also an anniversary year for many of the most historic, precedent-setting newspaper comic strips, some of which set the pace for comic book adventuring. With 80th anniversaries are Terry and the Pirates, Flash Gordon, Jungle Jim, Secret Agent X-9, Mandrake the Magician, and Li'l Abner; 90th anniversaries—Wash Tubbs (and Captain Easy, a model for Superman, who came along in 1929, 85 years ago) and Little Orphan Annie. And other 85th anniversaries are those of Buck Rogers and Tarzan—and Popeye in Thimble Theatre. But I'm willing to bet that you won't find any program sessions in San Diego that recognize the signal contributions these comic strips made in the field that the Comic-Con is supposedly celebrating.
Comics are not being celebrated some more at comic-cons in New York, Washington D.C., Chicago, Denver, Salt Lake City, Seattle, Portland, Minneapolis, Los Angeles, Phoenix, Philadelphia, and, last I heard, Atlanta and Dallas and who knows where else Wizard World plans to invade? Wizard World, once a comics magazine publisher and now a pop culture convention chain, doubled its offerings to 16 cons this year, and its CEO, John Macaluso, says, "There is probably not a city in the country we are not looking at."
Wizard World has a tendency, according to Joel Warner at wired.com, "to enter a new city by scheduling its event right before a pre-existing con." Said Steve Menzie, general manager of Fan Epo Canada in Toronoto: "They have a predatory model. They find somewhere that has a good show in a strong market and try to take it over."
Macaluso denies the accusation, saying Wizard World is merely an unwitting victim of the event schedules at city convention centers. But the scheduling conflict has been repeated with Wizard World's debut in too many cities to be entirely accidental.
Heidi MacDonald, comics editor at the Internet news site The Beat, estimates that there are 600-700 popular culture conventions being held around the world each year. Newspaper reports on comic-cons usually emphasize the colorful costumes on parade at these events but seldom mention comic books or comic strips. Or cartoonists. But the news articles are awash in the names of movie stars and other pop culture notables.
At nytimes.com, George Gene Gustines observes the change: "Its name may emphasize comic books, but New York Comic-Con [scheduled for October] at the Jacob K. Javits Convention Center also celebrates film, television and video games. ReedPop, which organizes the show, is making that appreciation of all things pop culture more official by declaring October 3-12 'New York Super Week,' a citywide festival that will include gaming events, lectures, concerts, comedy shows and more."
Most of the new crop of comic-cons report record-breaking attendance year after successive year. The Denver Comic-Con, which I've attended since its inaugural three years ago, jumped from about 27,700 the first year to 61,000 the second and, this year, to 86,500. Comic-cons are apparently growing in popularity, but they're also growing further and further away from the comics that inspired them.
Denver Comic-Con.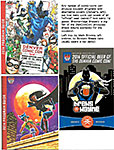 The sponsor and founder of the DenComCon (as it is known affectionately) is a nonprofit called Comics in the Classroom, the mission of which is to promote literacy through comic books by conducting workshops in schools of underserved children. A conspicuous feature of the Con is the CBC Kids' Corral, an 8,000 square foot area just inside the entrance to the exhibit hall. Throughout the Con, the Corral, dubbed a family-friendly, arts-oriented, hands-on laboratory, conducts interactive storytelling, sequential art, game design and simulations. This year, CBC surrendered to the inevitable and changed its name to Pop Culture Classroom. Comics, once again, subsumed out of sight.
Official promotional materials for the DenComCon usually describe its programming as featuring comic books, tabletop and video games, anime, manga, cosplay (costumes), science fiction, webcomics, movies, television and literature. Comics are mentioned, but the emphasis has shifted—in Denver as well as everywhere else comic-cons are held—led by the San Diego extravaganza into the larger entertainment world.
In one respect, DenComCon has surpassed Sandy Eggo. I didn't see any horrendous around-the-block long lines to get through registration and badge-pickup. Apparently, Denver has solved this persistent annoyance by creating several pickup locations around the city. Otherwise, the Big Blue Bear standing outside the Convention Center is still peering inside to catch a glimpse of the proceedings.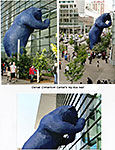 My daughter (a massage therapist and organic farmer's wife by profession and an artist with a cartooning gene by accident and inclination) helped out at my table in Artists Alley (called "Artists Valley" in deference to the predominant peeks in these parts). It was her first comic-con, and when I asked her afterwards what she thought, she said it looked as if people were all having fun. And I agree: it's a fun event, and fun-loving people come in droves to have fun.
But there's a slight downside, slight but perturbing.
"It's a casual crowd," one of the comic shop exhibitors told me. "These are not comic collectors looking to complete their runs of particular titles." Knowing this, he doesn't bring to his exhibit booth any "high end" comic books—no collector treasures.
As comic-cons drift away from comics and become bigger, they become businesses, and since businesses must make money, the cons are inherently competitive. And the more of them there are, the greater the competition and the bigger the financial risks. John Warner at wired.com interviewed Joe Parrington, Emerald City's former PR director. Since Wizard World set up shop in Portland, Parrington says that for the first time, several celebrities booked at nearby Seattle's Emerald City Con haven't made enough selling autographs to meet their event guarantees, meaning the convention has had to pay them the difference.
Warner wonders how independent non-chain conventions can stay afloat as the comic-con phenomenon turns from a convening of collectors to a gaggle of geeks, from a hobby to a business. One option, Parrington believes, is to turn professional, become a business in order to be competitive. "A lot of these conventions have fanboys and girls running their shows," he says, "—they are not business people." So the operation of a con could be turned over to professional convention management firms that are, perhaps, better equipped to compete with interlopers like Wizard World.
But, says Warner, "some longtime convention organizers say there's another option: Get back to basics. According to lead organizer Nick Postiglione, attendance at this year's SpringCon in Minneapolis was up 25 percent despite Wizard World Minneapolis occurring two weeks earlier, plus SpringCon didn't have trouble meeting celebrity autograph guarantees—since it doesn't book celebrities."
"We are a comic con. We don't do media guests," Postiglione explains. "We are kind of purebred in that way. We are here to provide the comics industry opportunities to interface with the public. There is kind of a fight going on for the heart and soul of the whole thing. A lot of conventions have forgotten the girl who brought them to the dance, so to speak, which is the comic geek."
I suspect comic-cons have gone too far in the other direction: we can't go back, however fondly we may wish to.
Meanwhile, as the "con wars" are brewing beneath the glittery pop culture surfaces, comic-cons, now pop culture phenomena not collectors' conclaves, are undeniably fun. No question. And here are some of my photos of the funsters.
(A couple of the accompanying photos salivate over Stan Yan's zombie caricatures; he's got a book of them that you can find at his website,
http://stanyan.me/caricatures/zombicatures/201206catalog_frontcover/#main )
Augmenting my photos are excerpts from Tales from the Con, a comic book from Image. Written by Brad Guigar and drawn by Chris Giarrusso, the book offers single-panel comic-con gags sandwiched between comic strips of three or four panels, all taking fun potshots at the peculiarities and proclivities of the comic-con culture. Probably a better glimpse of the comic-con milieu and experience than my photos.
I haven't run across Giarrusso's work before, but he's been drawing comic books since about 1999, when he created the Mini Marvels at Marvel, writing and drawing dozens of crisply rendered comic strips and short stories for the company. Displaying a deft and sure hand at cartoon comedy, he created a brand new character for the Marvel Universe, Elephant Steve. These days, Giarrusso is perhaps best known (everywhere, apparently, except here at Rancid Raves, where we remain resolutely ignorant of many of the day's most persistent fads) for writing and drawing G-Man, an all-ages series featuring a young superhero who gains the powers of super strength, super endurance, and flight when he wears a magic cape; now available in two graphic novel volumes. Here's the way Giarrusso treats the traditional superhero realm.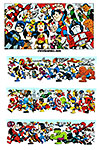 All of which ought to be sufficient come-on to get you to the San Diego Comic-Con, poised on the Left Coast to begin July 23, lasting over the ensuing weekend. I'll be there, hanging out occasionally at the National Cartoonists Society booth (Thursday, 1-3pm; Friday, 5-7pm; Saturday, 5-7pm; and Sunday, 10am-Noon). I'm also on the program twice: once on Friday, 3-5pm, "Origins of the Comic Strip: The Untold Story of Artists and Anarchy, 1895-1915" (put together by Peter Maresca to celebrate his newest spectacular book of vintage newspaper comics, Society Is Nix; reviewed in Opus 315); and again on Sunday, Noon-1:30pm, "Strips and Pin-ups, Race and Politics" where I'll be talking mostly about a pin-up, namely Bill Hume's Babysan (see Harv's Hindsight for September 2010). Hope to see you somewhere along the line.
QUIPS & QUOTES
Helen Mirren on the social media: "It reminds me of a stinky old pub. In the corner would be this slightly disgusting old man who sits there all day, every day. If you went up and talked to him, you'd gt the kind of grumpy, horrible, moldy old meaningless crap that you read in Twitter."
EDITOONERY
The Mock in Democracy
WAR, HISTORIC AND CONTEMPORARY, was a preoccupation in June. A war of the past and wars of the present. On June 6, the United States and its World War II allies celebrated the 70th anniversary of D-Day, the day that changed the course of the war in Europe, and editorial cartoonists also commemorated the occasion.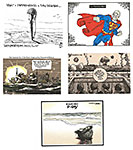 Our purpose in this department is to appreciate how editoonists address a given topic by deploying in tandem the words and pictures of their medium, and to that purpose, our first visual aid shows the variety of ways editoonists chose to remember D-Day.
Starting at the upper left and going clockwise, Mike Streeter depicts the time-honored battlefield marker of a death in combat, and the words with which he accompanies the picture are ironic: D-Day made a difference in the history of the 20th century, but it also changed—by ending—the lives of thousands of soliders.
Bob Englehart thinks of those who went ashore that day as supermen; and, indeed, in terms of their aspirations, they were. Bud Plante shows us from one of the hundreds of landing craft the view of the formidable beach before the invaders, a picture repeated by many of his colleagues (some of whom doubtless found exactly the view depicted here on the Web). Jeff Danziger deploys his D-Day image—soldiers wading ashore as seen from the beach—to take a poke at one of our sillier politicians.
But I like best the stark image at the bottom of the page by a cartoonist whose name I failed to jot down. An empty, upside-down helmet. A somber reminder.
As I watched the television reports of this year's D-Day commemoration, I thought it less a celebration than an act of contrition—a gesture of apology from today's officialdom for the
decision of yesterday's officials to send thousands of young men ashore in the face of withering German gunfire that would be certain death— certain death—for many. About 24,000 fought their way onto the beaches of Normandy that day; casualties numbered over 9,000, almost 4,200 were killed. One out of every six soldiers died. And so we stage periodic remembrances as a way of saying, We are profoundly sorry to have ordered you to die.
While on the subject of death, we contemplate with a growing sense of horror the conduct of health care services for those soldiers who've managed to survive the battlefields since D-Day. The Veterans Administration scandal grows apace, a new shameful disgrace surfacing day-by-day.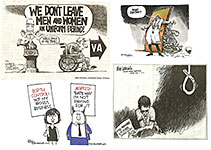 John Darkow begins by quoting President Obama's justification for rescuing the last American soldier held captive in Afghanistan—and with the ironic wheelchair image applying those words to the dire fate that awaits too many vets. Next on the clock, Steve Benson gives us a comical image of a VA doctor trying to keep the door closed on a closet brimming with evidence of his malfeasance, the comedy highlighted as well as undercut by the bouncing skull, a grim reminder that we're pondering life and death situations here.
And finally, Mike Luckovich deploys the familiar looped ribbon symbol as a noose to suggest the fate that awaits so many of the vets who suffer from PTSD.
With Chip Bok at the lower left, we change the subject to the Supreme Court's Hobby Lobby decision that permits corporations to evade some of their responsibilities under the Affordable Care Act. Citing religious beliefs, a business can opt out of supplying certain kinds of health care to its employees—in the Hobby Lobby case, four of the twenty mandated forms of contraception. The four in question are deemed by Hobby Lobby's owners to be forms of abortion, and their religious belief is that abortion is murder. They understandably do not want to be accomplices in committing murder.
Bok's interpretation of the dilemma is not as straight-forward as it seems. The logic of the words seems irrefutable, but the "boss" carrying the corporate slogan is the Pointy-Haired Boss from Scott Adams' Dilbert, a notoriously idiotic and uncomprehending character. By employing this image, Bok sabotages the logic of the sign the "boss" carries.
Or does he? Some of his readers are doubtless of the pointy-haired persuasion, and they will applaud the boss's sign. I don't think Bok tried deliberately to have it both ways with this cartoon, but I think he got it that irregardless.
Our next exhibit continues to address the topic of the Supreme Court decision, beginning with Rob Rogers, who has taken the Court's claim that the decision is a "narrow" one (i.e., not broadly applicable to all corporations in all aspects of the Affordable Care Act's mandates) and shows that, narrow or not, the decision affects the well-being of women.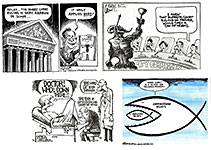 Chan Lowe takes is into another realm of religion that the Supremes lately ruled on—permitting the practice of opening governmental meetings with prayer, seemingly a violation of the separation of church and state provision of the First Amendment. Both decisions seem to open the door for all sorts of exceptions based upon all sorts of religious practices— satanic, f'instance, or other forms of demon worship.
At the lower right, Kevin Siers deploys the abstract fish symbol of Christianity to make his point: the Hobby Lobby decision is not a victory for religious freedom; instead, it makes it possible for employers to force their employees to behave in ways that the employer's religion dictates. The large fish devours the smaller ones.
And finally, John Darkow gives us a comically nightmare image fostered by the Supremes' decision. An unforgettably rude image, surely, and one that every woman is haunted by, insulted by. This image gives real bite to the complaint of many women in the wake of the Supremes' Hobby Lobby decision: they thought, with no little justification, that by the 21st century, we, as a society, had left hang-ups about abortion behind long ago. At least as long ago as the 1973 Roe v. Wade decision.
But it wasn't just women's rights that were put in jeopardy.
RELIGIOUS FREEDOM was dealt a serious if not fatal blow on June 30 when the Supreme Court found in favor of Hobby Lobby's contention that it ought to be exempt from Obamacare's contraception mandate because four of the 20 forms of contraception mandated are deemed forms of abortion, and abortion is contrary to the religious convictions of the evangelical Christian owners of the company, David and Barbara Green. The company was willing to offer 16 of the 20 mandated, but to offer the other four would offend the Greens' consciences thereby threatening their religious freedom. Not true. The only real threat to liberty and religious freedom in this case takes the form of business owners who want to impose their religious beliefs upon thousands of employees.
The Court's ruling applies, they say, only to closely-held for-profit corporations. But according to Marci Hamilton of Yeshiva University—who apparently wants to raise a ruckus—more than 80 percent of U.S. corporations are closely held, and they could "now be able to discriminate against their employees." Not quite true: all but 2 percent of those corporations employ fewer than 50 people and thereby evade the ACA mandate.
In her dissent, Justice Ruth Bader Ginsburg said the decision "discounts the disadvantages religious-based opt-outs impose on others, in particular, employees who do not share their employer's religious beliefs." Said the Denver Post editorially, the way is now open for companies whose owners object to blood transfusions, antidepressants, medications derived from pigs, vaccinations "and who knows what else" to demand waivers, too.
While it is true that the Obama administration will doubtless find a way to provide contraception by other mechanisms, the larger issue pertains to the role of government in the religious lives of its citizens, which, with this decision, has seemingly altered enough to encourage the kinds of spectres the Post imagines. Not quite, as it turns out, but enough to give us pause.
Despite the obvious implications for the religious freedom, the Hobby Lobby decision was not based upon the First Amendment. The justices, in fact, seemed determined to avoid the First Amendment. They based their decision upon the Religious Freedom Restoration Act of 1993. This law was intended to address certain inequities that had surfaced when a couple of Native Americans were fired and denied unemployment benefits because they used peyote as part of their religious ceremony. Peyote, tagged a drug, was illegal in the state's law, hence the culprits lost in court, which held that state law trumps their religious practice. The RFRA was passed in order to correct this situation.
The applicable part of the RFRA requires governments to refrain from limiting (or "burdening") religious freedom unless they have a compelling societal reason for doing so; and to select the least intrusive method to achieve their goal if they need to restrict religious freedom for a compelling reason.
The Supremes felt that the government had a compelling reason for the ACA contraception mandate but that there are less intrusive means of achieving the law's objectives. In fact, as one of the justices pointed out in his decision, the Obama administration has already put such a less intrusive means into practice by letting non-profit enterprises opt out of the contraception mandate and requiring insurance companies to cover the cost. This means of excepting compliance could be applied, saith the justices, to for-profit entities.
According to the Rancid Raves legal advisory council (my daughter is a lawyer), if the RFRA did not exist, the Supremes might have been forced to ponder the case in the context of the First Amendment, and the outcome might have been different.
The RFRA might be considered unconstitutional itself. In fact, in a 1997 case, it was so deemed if applied to state governments; it is apparently still regarded as constitutional for federal cases, which the Hobby Lobby case was. But the whole proposition is on shaky ground, it seems to me: it looks suspiciously like making a law about religion.
The First Amendment in prohibiting Congress from making any law "respecting the establishment of religion" was not only guaranteeing "the free exercise" of citizens' religious beliefs, it was also strenuously preventing the establishment of a state religion. The Hobby Lobby victory in this case effectively establishes a state religion—that is, a governmental mechanism that can force citizens to live by religious beliefs not their own.
The way out of this dilemma is supplied by Christ himself in a maxim apparently overlooked by the strenuously religious who seek to impose their beliefs upon others. "Give unto Caesar what is Caesar's," Christ said when asked about paying taxes to Rome. From this admonishment, we can derive the principle that since we live secular as well as sectarian lives, we must therefore find ways to live in both, in the sectarian as well as the secular world—the latter, the world the founding fathers sought to establish with the First Amendment—which we do by giving in to secular requirements now and again, giving to Caesar.
Incidentally, the Greens' assault on the ACA contraception mandate is only one part of a much larger plan to inflict their religion on the nation as a whole. Reports Time: "The Greens are beta testing a high-tech Bible-study curriculum for public schools this September in an Oklahoma district. They hope to see it adopted in thousands more districts within three years. A draft copy suggests it will be a wonderland of technological pedagogy but will raise church-state issues that could end up before the high court." They ain't done yet making good Christians of us all.
GUNS AND THEIR CAPACITY TO KILL were in the news again in June. As time goes by and we endure mass murder after mass murder, we have become inured to bloodshed. Apart from the initial expressions of outrage and grief at each new outburst, we take no more notice than we do of deaths on the highway, and Tom Toles in our next visual aid has found a perfect and memorable way to assert this sad fact.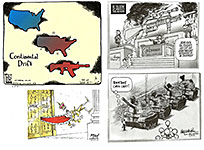 It is probably not accidental that his map of the U.S. turns from Democrat blue to Republicon red as it assumes the shape of a sacred fetish.
Next around the clock, Dave Horsey goes to another extreme, a comedic one, intending to ridicule the National Rambo Association for its ceaseless and unquestioning allegiance to "America's True Religion." If we can't beat them (and we apparently can't), perhaps we can laugh them out of existence. (Oh, sure: dream on.)
Despite what the NRA would have us believe about the only thing that stops a bad guy with a gun being a good guy with a gun, it ain't true. And we have a recent example to cite, namely John Wilcox, a good guy who was armed when Jerad and Amanda Miller, brandishing weapons, rushed into a Walmart where Wilcox was moments after they'd killed two police officers. Wilcox, a dutiful good guy, pulled out his legally concealed weapon and moved toward Jared, only to be shot and killed from behind by Amanda.
In Hollywood, Wilcox would have triumphed. In real life, not so much. A 2009 study by the University of Pennsylvania found that assault victims carrying firearms were 4.5 times more likely to be shot than those who were unarmed. Another statistic to refute the claims of the NRA: in states where background checks on all gun sales are in place, there are 39 percent fewer law enforcement officers killed by individuals armed with handguns compared to those states that allow some gun sales to go unchecked.
Meanwhile, the bodies pile up. Slate reports that since the 2012 mass murder at the Newtown school, at least 9,901 gun deaths have been reported in the U.S. But that's a low number: it doesn't count suicides, which make up about 60 percent of the likely actual number of gun deaths in America. But they are only rarely reported. A more accurate tally, then, of people killed by guns—some 28,600, according to an estimate by the Center for Disease Control and Prevention.
More guns, as the NRA prescribes, will not solve the problem. In fact, the ready availability of guns is a huge part of the problem. Here's Mark Morford in SFGate.com: Deeply embedded in the American psyche is a fetishized worship of firearms—the icon of "bogus virility." In the 70-plus mass killings over the last three decades, every perpetrator has decided that the only way to prove he's a man, to get back at women, the boss, the world, "is to buy a firearm and start shooting." Until American men realize that relying on a gun makes you less of a man and that authentic masculinity doesn't involve violence, we face even "more unimaginable pain, and nearly all of it at the hands of men."
It's a cultural problem, and carrying a weapon is part of the masculine pose. Mike Luckovich revives the lasting image of Tiananmen Square in 1989 China to characterize "open carry" as overt intimidation—to which Starbucks and Target and other retail operators have assented so far as to discourage customers from wearing weapons when then enter their stores.
At the lower left, Gary Varvel changes the subject to the Supreme Court's decision about Obama's ability to make appointments during Senate recesses. The image effectively catches Obama's seemingly imperial aspirations by portraying him in a king's costume, and Varvel provokes a laugh, too, by showing the king's cloak getting hung up by the Supreme Court.
In the context of Bronco Bama's everlasting struggle with a thoroughly recalcitrant (not to say obstructive; but then, I usually do say it) Congress, his resorting to recess appointments seems appropriate. Besides, the Senate's claim that it was in session, not in recess, because one senator showed up every three days to gavel a non-present body of lawmakers into order (and then promptly gavel an adjournment) is clearly a dodge intended to prevent the President from making appointments during what anyone else would call a recess.
For much the same reason, I find Obama's alleged expansion of executive power wholly understandable. Even appropriate. Obama, I hasten to point out, was elected and then re-elected, both times by more than 50 percent of the voters (a percentage no president of recent vintage has recorded); no member of Congress can claim any electoral victory even close to that. Obama, then, would seem to be a more accurate reflection of the population's wishes than anyone in Congress; Obama would not have been elected let alone re-elected were this not the case. So Obama more accurately reflects the wishes and inclinations of the American public than any member of Congress, who, by diligent pandering, represents only the biases of his district, a minuscule population compared to the nation's as a whole.
But then, I'm not a Republicon, and I can't even think like they do.
OUR NEXT EXHIBIT contains several examples of the Grandstanding Obstructionist Pachyderm's so-called "thinking"—the stuff of real comedy.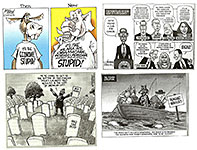 Gary Varvel gets us started by comparing the simple focusing slogan of Bill Clinton's 1992 campaign to the scattershot confusion that animates the GOP these days. Then Dave Horsey presents a little drama that captures wonderfully the prevailing tactics of the opposing party.
The strategy is transparently to manufacture some seemingly scandalous but overlooked aspect of everything Obama does or proposes and to build that faux criticism into a thunderous chorus, overwhelming with distraction the actual matter being considered. Exactly what happened when Obama asked Congress for $3.7 billion to begin to address the crisis on our southern border of unaccompanied children invading the country in droves by the thousand.
The first thing GOP Senator John Cornyn of Texas said was: "If it's serious enough for him to send a $3.7 billion funding request to us, I would think it would be serious enough for him to take a hour of his time on Air Force One to go down and see for himself what the conditions are. I think it would be instructive for him."
No doubt. But wouldn't it be instructive for Cornyn too? Sorry: that's playing their distraction game. There's no denying the crisis exists, and for the GOP to cobble up a criticism of Obama instead of attempting to address the problem is malfeasance of the first order.
And subsequent attempts to blame the flood of illegal child immigrants on Obama's policy of deferring action on undocumented young people assert that this policy invites them to come. But the law that makes possible a child's attempt to successfully infiltrate American society was a law signed by GeeDubya Bush at the end of his presidency—a law that established a lengthy legal process in order to prevent sex trafficking. The length of the process makes it possible for a child to elude the long arm of the law by disappearing during the proceedings into the bosom of a family of relatives already here.
But let's not make the mistake of expecting rational thought processes from politicians. (Actually, we don't have politicians anymore: we have panderers seeking everlasting re-election.)
Horsey is with us again at the lower right with helpful congeries of insight into the so-called Republicon mind. To caption the scene a "fishing expedition" implies that the fishermen have no discernible purpose—but they hope to "catch" something by fishing the pond. The pond here is a mudflat with no water to keep the boat afloat. Labeling the mudflat "Benghazi" effectively points us towards the House's latest investigation of the event, which hopes (against hope, given how often it has failed in the past) to find "something" to hang Hillary with. (You know about Hillary, right? She's the evil genius who masterminded the most elaborate cover-up in U.S. history and is also a frail old woman with brain damage. Boy, those Pachyderms must have fascinating nightmares.)
The fishermen are the GOP, Fox News and the Tea Party. And Fox gives us the rationale for the entire enterprise. (And he might've added—"and that will keep the viewers coming back for more of the same.")
Nick Anderson takes another tack at the lower left, depicting the cruel irony of the GOP's hysteria over the deaths of four Americans in Benghazi compared to the death of thousands in the war that Dick Cheney invented—about which no Republicon has yet expressed equivalent outrage.
In our next display, the GOP continues in much the same headlong fashion over Obama's trading five Guantanamo prisoners for one American soldier, Sgt. Bowe Bergdahl, who'd been a prisoner in Afghanistan for five years.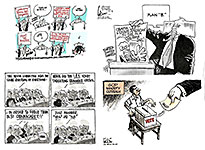 David Fitzsimmons re-creates the Republicon reaction to the news of the exchange, showing how the GOP deteriorated from joy to political talking points in less time than it takes to draw it. Chan Lowe aptly reveals that the GOP would have been against Obama no matter what he did.
At the lower right, Jim Morin takes up another hypocrisy of the GOP, deploying a revealing image to depict the party's "outreach" to minority voters.
And finally, Dan Wassserman reveals just how convoluted Republicon reasoning is, jumping from one cause celebre to another and linking them in a grand crescendo of finger-pointing so feverish and nonsensical that it reveals the hollow desperation of the pack of Pachyderms in Congress.
More evidence of the Pachyderm panic ensues in our next visual aid.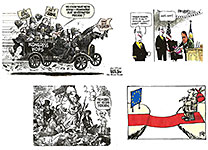 Jim Morin captures exactly the reputation that the House GOP has earned for itself: the image is that of the famed comedy Keystone Kops, a band of helmeted billyclub-waving fanatics rampaging wildly through the streets, ringing bells and creating havoc among innocent bystanders. Yup: that's our Congress under the influence of the Tea Party and John Boehner (pronounced "blubberer," as craven a quivering blob of pandering protoplasm as you'll ever encounter).
Boehner's latest grab at headlines is his scheme to sue the President for failure to faithfully execute the laws Congress has passed. This from a Congress that has failed to govern. The Speaker's maneuver is, as Obama correctly points out, "a stunt." The Constitutional remedy for an elected official's failure to do his job is impeachment. But Boehner knows that (1) he hasn't the votes to impeach and (2) even if he had, the last time the GOP impeached a president, the president's popularity soared (Clinton, remember?). So he resorts to this shred of theatrical fraud.
So hideously ludicrous (except among the Tea Party base, no baser a group in politics known) is this maneuver that Mike Luckovich nails it at the upper right: Boehner's next stunt will be that whoopie cushion he's putting on the chair.
But enough Washington nonsense. Next around the clock, we have a cartoon by Dutch cartoonist Tom Janssen, who's been doing this kind of work since 1976. His image deftly captures part of the Ukrainian problem: Ukraine may want to join the European Union, but the red carpet the EU has rolled out for it lacks any kind of substantial support. Then we have John Darkow's adaptation of Delacroix's famous painting "Liberty Leading the People"— all for the sake of a joke at the expense of the Russian bare, Putin. But the joke has a point: Darkow's Putin hopes to ridicule the Ukranian revolution out of existence. And if he does, Liberty will lose.
THE APPALLING SITUATION IN IRAQ is the next subject of editoon attention.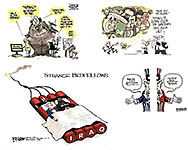 John Cole offers a highly comical picture assessing the emerging disaster in Iraq. The vet at the left wonders if his decade-long effort was "for nothing." But Dick Cheney's Halliburton denies that the Iraq escapade was for naught (as well he might, Halliburton having glommed onto untold millions in fees for its services to the war effort) and turns to Cheney himself for confirmation, and Cheney, with typical GOP logic, makes anything unpleasant Obama's fault. Then we have a minuscule GeeDubya, now a painter of portraits of political personages. Notice that he's painting by numbers.
A funny picture, as I said, but it has a sharp edge, too, making a point about Halliburton's war profiteering.
Pat Bagley's next, and he conjures up a similarly laughable portrait of Obama's predecessor, who, having rubbed the neo-con magic lantern, finds that it has summoned up horrors he never anticipated. So he runs away, carrying his paint brushes.
Jimmy Margulies offers a nicely ironic analysis of the Iraqi situation: just as help for Iraq depends upon somehow unifying the feuding sects of Islam, so does the functioning of America depend upon somehow joining together in common purpose the polar opposites in today's politics. Then Steve Breen at the lower left provides a dynamite metaphor for the explosive situation in Iraq that finds the U.S. sharing an interest with Iran in suppressing the Iraqi revolt.
The revolt itself and the ISIS that has provoked it fall victim to editoonists' analysis in the next display.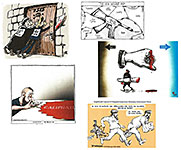 Tom Janssen at the upper left offers another version of the "strange bedfellows" metaphor: here the irony of the partnership is emphasized with the labels, each of which employs the epithet used by the other to characterize their dislike. In her visual metaphor, Signe Wilkinson finds the outline of the area controlled by ISIS makes an accurate picture of how the new califate came into being. Below Signe, a cartoon by a cartoonist whose name escaped me creates a terrifying image of the fate of the new state of ISIS: instead of going forward under ISIS rule, the society is going backward—to the distant past of the early years of Islam, when women weren't allowed in public and honor killing was widely practiced.
Next on the clock is another of Jeff Danziger's. Without any particularly compelling imagery, he accurately states the case: ISIS is able to achieve its objectives because it is armed by the United States, which had supplied weapons to the Iraqi forces that left them all behind when they fled. Hence, the folly of our sending arms to forces we only vaguely understand—in Syria, for example.
The last cartoon in this exhibit is by another Dutch cartoonist, Joep Bertrams, who characterizes the ISIS movement as snorting caliphate, a nasty but vivid metaphor.
We go to Gaza for the next collection of war cartoons.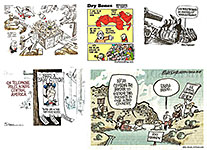 The caption for Pat Brady's cartoon is "Fish in a Barrel." And, indeed, Israel attacking the tiny Gaza strip, jammed with residents, is a good deal like shooting fish in a barrel. Brady's adroit caricature of Israeli Prime Minister Benjamin Netanyahu cautions, "Try not to hurt any civilians"—an utterance made ridiculous by rest of the picture. The ludicrousness of the circumstance is emphasized by the sardine can mass of heads in the enclosure—and by the massiveness of the surrounding armament.
To be fair, however, the Israelis often telephone civilians housed in their targets, warning them to leave the premises or risk being bombed.
The present warfare was prompted, as best I can sort out, by the killing (burning alive) of a Palestinian teenager by some Israeli youths; that, in turn, was revenge for the Palestinians' kidnaping three Israelis and killing them. And on it goes.
But the reactions in Israel and in Palestine to the killings are strikingly different. According to report, the Israelis are much more humane. The uncle of one of the slain Israeli boys went to the home of the slain Palestinian boy to offer his condolences. And Netanyahu phoned the Palestinian boy's father, calling the killing "abhorrent" and saying that whoever murdered the youth "must be resolutely condemned in the most forceful language."
Netanyahu also referred to the killing as shameful.
And Israeli security forces tracked down and arrested at least one of the suspects in the killing of the Palestinian kid.
But, as columnist Greg Dobbs said on July 8 in the Denver Post, "have you read a single word of condemnation from the Palestinian side about the abominable murders of the three Israeli teenagers?" No. And we haven't heard anything about how diligently the Palestinian police have been in looking for the murderers of the Israeli kids.
And even if those killers are caught, Dobbs avers, they'll doubtless be praised as martyrs among their people.
I'm quite willing to allow that Israel routinely enjoys favored treatment in the American news media. In fact, if you judge by news reports alone, all the Israelis are saints (assuming Jews have saints) and never are at fault. From the beginning, the Palestinians have been the villains and the Israelis, the victimized heroes.
And maybe Dobbs is another of Israel's secret journalistic agents. But other sources tell us that the official Israeli policy with regard to bombing for terrorists in civilian enclaves is to issue warnings that bombs are about to fall. And Jonathan Tobin in CommentaryMagazine.com reports that "Palestinians openly celebrated the death of the Israeli kidnapping victims" while Israelis "largely condemned the revenge killing" of the Palestinian youth.
The humanity I've alleged in the foregoing paragraphs cannot all be propagandist hogwash. Can it?
Maybe it can. But how are we to know? At the very least, the Palestinians need better public relations.
Yaakov Kirschen, whose Dry Bones strip is next on the clock, is an Israeli cartoonist, so his perspective is predictable. But it's also worth pondering.
Ed Gamble, an American ediltoonist who supplies the next cartoon in our sequence, is, as far as I know, neither Palestinian nor Israeli—although his sympathies, like those of most Americans, have been nudged to lean toward the Israelis. Moreover, working at the Florida Times-Union in Jacksonville, he is in a state with a vibrant Jewish population whose interests he is likely to be conscious of. In his cartoon, he shows Hamas hiding behind women and children and then accusing the Israelis of attacking women and children. The image is blunt.
But if Israelis seek to kill Hamas agents in crowded Gaza, aren't they likely to hit civilians and women and children? Maybe Hamas is not, exactly, using women and children as shields, but the effect is the same as if they were.
There are no answers here in these cartoons. The Israelis and the Palestinians have been at each other's throats for so long that assigning blame one way or the other is an impossible task. The animosity goes back further than the United Nations partition resolution of 1947, the immediate cause of the war between Jews and Arabs that resulted in the Arabs being driven from their homes in what was quickly proclaimed Israel.
Ironies abound. The UN plan called for the creation of two states. The Jews accepted the plan; the Arabs rejected it, seeing the Jews as interlopers in Arab precincts. The ensuing war settled the issue for the moment—but perpetrated the animosity that continues to plague both populations. And now, for the last dozen or so years, both parties have agreed to a "two state solution"—exactly what the UN proposed 67 years ago.
And so it goes.
The ridiculousness of Brady's Netanyahu urging Israeli troops to try not to kill civilians, while seeming to indict Israel, actually implies also the opposite. Upon this contradictory circumstance—which haunts all of that region—I'll leave this discussion, as incapable of resolution as ever.
But if you wish to examine some of the sources of the modern effusion of ethnic animosity in that region of the world, you may want to visit Opus 190 and scroll down towards the end, where I attempt a version of the history of the area by way of sorting out the hatreds and their probable causes.
FROM GAZA, WE ROTATE TO ANOTHER BORDER, ours with Mexico. Mike Keefe uses the crisis at the border to comment on violence abroad and at home. His image serves a narrative rather than symbolic purpose, but his message is bitterly accurate. And Joe Heller, at the lower left, tells us the cause of the predicament we now face.
And we'll continue to face it, I suppose, because Congress is more concerned about assigning blame than about fixing problems. Sad—even criminal—but true.
One last visual aid—this one, prolonging the indictment of our do-nothing Congress.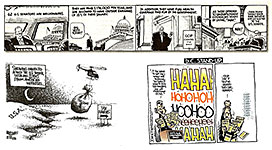 Across the top, Jack Ohman explains the folly of asking rich politicians to solve the problems of the poor and unemployed. There have been numerous editoons over the last several months with essentially this message: Congress does nothing but congressmen/women get paid anyhow, turning on its head the GOP bromide that people who aren't working shouldn't be paid.
John Cole just below Ohman's strip says the same thing, but adds the complication that results from comparing Obama's handful of jokes with various punchlines to Boehner's single issue gag.
And so, gagging all the way, we ponder the last of our visual aids this time—Mike Davies' deft indictment of Republicon opposition to immigrants "stealing jobs from American workers": the GOP, friend to business everywhere, is too myopically hypocritical to see that the business practices that it implicitly endorses explicitly do the same thing that the Grandstanding Obstructionist Pachyderm condemns in immigrants.
Gagging all the way.
READ AND RELISH
Thoughts by Charley Barsotti—:
Someday I'm going to write a "How to Be a Cartoonist" book. It won't have anything to say about drawing but will tell you how to dress casually without being picked up as a bum.
I will reveal the true history of cartooning from the earliest times when cartoonists drew on air. This was known as the Golden Age because no one could prove the drawings weren't as funny as the artists claimed they were.
Eventually, of course, editors came along and messed things up by passing gas through the air cartoons. Since then, things haven't changed that much.
I will also include a few of the hard truths I've learned about the business over the years. For example: Talent is okay, but denial is critical.
It's been written that creative work is the hardest work of all. It goes without saying that this was written by artists, not ditchdiggers.
And if you don't know who Charley Barsotti is, skip to the Passin' Through Department down the scroll.
RANCID RAVES GALLERY
Pictures Without Too Many Words
Marvel Comics has devised a logo to promote its celebration of 75 years in the business. Very attractive, don't you think?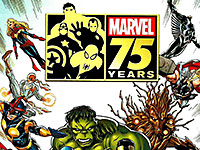 But where's Wolverine, Marvel's biggest seller in these days of mutant mania?
AND, SPEAKING OF SPECTACULAR DRAWING, here's the cover for Scott McCloud's new book, The Sculptor. David, the eponymous hero of the piece, makes a deal with the Death to be remembered by posterity but then he falls in love. The cover had to communicate three things, said McCloud to USA Today, which published the art: the supernatural way David shapes the world around him, the love story that forms the book's emotional center, and their surroundings in New York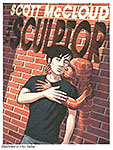 City. Said McCloud: "By having David's lover, Meg, emerge from the brick itself, wewere able to combine the second and third elements into one hopefully unforgettable image."
Whatever else the picture may be, in its treatment of Meg as part of the brickwork, it is an outstanding example of McCloud's command of his medium. Dang: the man is good, better than ever. And he was no slouch to begin with.
PERSIFLAGE AND FURBELOWS
"I'm one of those people who's not really turned on by baseball. My idea of a relief pitcher is one that's filled with martinis."—Dean Martin
"Good pitching will beat good hitting any time—and vice versa."—Bob Veale
"Baseball is accused of being too slow. Here's something that would not only speed up the game but also provide a welcome opportunity for serious injuries. Like most good ideas, it's uncomplicated: if the pitcher hits the batter with the fall, the batter is out. That's it. A simple idea but it would make quite a difference."—George Carlin
NEWSPAPER COMICS PAGE VIGIL
The Bump and Grind of Daily Stripping
Strange and Sometimes Risque Stuff in the Funnies. In this Sunday Zits, I noticed that Jeremy has no feet. Sara does; but not Jeremy.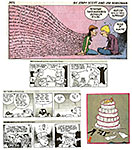 When I asked Jim Borgmanabout it, he said, simply, that he'd wasted enough ink on Jeremy's shoes. Cryptic, but true: Jeremy's shoes are the largest and most complex visual in the strip. Usually.
It cannot (can it?) be mere coincidence that the signatures of Greg (who inks) and Mort (who pencils) Walker appear where they do in this Beetle Bailey. They're just over—on the very cusp of going in—the bowl Beetle holds. And Cookie says acorns (nuts) keep failing into the cereal (bowl). That makes Greg and Mort the nuts, right?
In Darby Conley's Get Fuzzy, Satchel confesses to an urge that once couldn't be mentioned in the comics. Mores change, as we've noted here from time to time: what was once verboten is now permitted. But I bet if the mutt had said "piss," it wouldn't have escaped the censor's scalpel.
And speaking of the forbidden, we have a single panel cartoon depicting a wedding cake on which those little groom and bride figurines have impulsively cast their clothing aside in order to enact the wedding day's customary concluding ritual right there, on top of the cake. Can't read the name of the cartoonist, though; sorry. (Ham?)
Finally, Crankshaft is getting an idea in Tom Batiuk and Chuck Ayer's strip of the same name. But I doubt that this is the first time the cartoon symbol of having an idea has confronted the change from bulb to corkscrew shape.
More Sex in the Funnies. In Greg Evans' Luann, Tiffany, the strip's self-proclaimed gorgeous sex symbol, suggests that she's not wearing any underpants. Pretty daring stuff even for today's funnies page where all other manner of sexual innuendo is transpiring.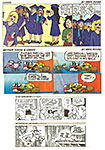 Like, f'instance, in Mike Peters' Mother Goose and Grimm, wherein Grimm pretty obviously is alluding to Neut's nuetering surgery. Or Tom Batiuk's Funky Winkerbean in which the "everything" that Les has lost interest in is almost certainly the connubial bliss of carnal knowledge. And, finally, in another Grimm effort, the chicken's utterance comes awfully close to the real thing. Signs of the times, kimo sabe. Newspaper comics have lost their purity, their innocence; but then, so have we.
It Must Be Contagious. Nothing earth-quaking: no taboos being broken; no sexual innuendo being exploited. Just cartoon skylarking in the funnies. In Beetle Bailey, Mort and Greg Walker continue to exploit the comedy inherent in their joint signature.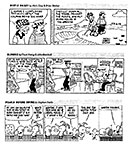 This time, the "O" in Mort is doing double-duty on the golf course. Should we mention that Mort is an avid golfer? Probably not.
And now, Blondie joins the ranks of comic strips doing cross-overs—or, rather, drafting characters from other strips to do cameos. Characters from other strips visited Blondie over a 2-3 month celebration of the strip's 75th anniversary in the summer of 2005, but that was a special occasion. The cameo in the strip at hand is without any justification other than comedic effect. Justification enough, but, as with similar guest appearances in other strips, the risk is that the strip furnishing the cameo may not run in the same paper. Hasn't stopped anyone yet, but you'll notice that the cameos all come from top circulation strips. Where will it all end? Who knows?
Certainly not Stephan Pastis, who's made a specialty of importing into his strip the characters of others. This time in Pearls Before Swine, however, he resorts to another of his tried-and-awful word play productions. This one is so wonderfully awful that I saw it coming in the first panel. As soon as I read "Juan," I knew that "futon" would somehow wind up in the penultimate punchline. And it did. But the actual punchline, in the last panel, is as wonderful a pun as any other Pastis has perpetrated.
CIVILIZATION'S LAST OUTPOST
One of a kind beats everything. —Dennis Miller adv.
"Amanda Blackhorse, a Navajo who successfully moved a federal agency to withdraw trademark protections from the Washington Redskins because it considers the team's name derogatory, lives on a reservation where Navajos root for the Red Mesa High School Redskins."—George F. Will
In the Denver Post, a retired newspaper editor, Dick Hilker, ranted on in the same vein, reporting that the school board in LaVeta, Colorado, voted 3-2 to keep the Redskins as the high school's mascot.
"The Political Korectness Kops are so inane with much of their never-eneidng outrage over school mascots and various words and phrases (see "sissies") that it is enjoyable when someone tells them 'enough.'
"If Redskins are obliterated, where does the PKK strike next, Chippewas? I can't figure it out. For instance:
"Why is it perfectly fine for Florida State to be the Seminoles and Utah to be the Utes, but not okay for the University of North Dakota to be the Sioux? Why is it noble to name teams Vikings, Prospectors, Miners, Azltecs, Spartans, Trojans and Irish but not Indians? If no teams were named for Native Americans, would the PKK then be equally steamed and demand to know why the nation's early settlers are being discriminated against? Likely so."
But then Hilker makes his best point:
"We should assume that intentions are the highest when school nicknames and mascots are chosen. Ironically, LaVeta was once known as the Cowboys before adopting Redskins. No teams are named Wimps, Weasels, Nazis, Thieves or Hornswogglers."
But we forget such things.
BOOK REVIEWS
Long Critiques
Cartoon Monarch: Otto Soglow & The Little King
Edited by Dean Mullaney, Introduction by Jared Gardner, Foreword by Ivan Brunetti
428 7.5x9-inch landscape pages, b/w plus 95 in color; 2012 IDW hardcover, $49.99
SOGLOW'S FAMOUSLY silent pint-sized red-robed monarch is given an ample display case with this volume, another exemplary IDW production (including the now-familiar sewed-in ribbon bookmark), generously reproducing one strip per page and scrupulously dating them all. The color reprint section begins with The Little King's predecessor, The Ambassador, and continues with a selection of strips from the first Little King syndicated (September 9, 1934) through the 41-year reign, samples from every year—all in black-and-white except for the first 95 pages. Also represented are examples of Sentinel Louie, topper to The Little King, and samples of Soglow's early "ashcan school" cartoons, about as far from his characteristic minimalism as possible.
In his brief Foreword, Brunetti appreciates Soglow's artistry, analyzing one strip featuring a long phallic automobile that emphasizes the King's interest in a female jogger. Gardner's Introduction is a much more ambitious undertaking: a copiously researched essay, it offers without question the most complete biography of Soglow available (except perhaps the one we posted lately in Harv's Hindsight —but it poached a lot from Gardner's). Very little has been written about Soglow and his Little King, so the detail Gardner has been able to uncover is impressive.
In the absence of actual biographical material, Gardner has resorted in a few instances to deducing facets of Soglow's life from the milieu in which he moved. An entirely acceptable practice, it occasionally leads to mildly misleading assumptions. Yorkville, the Upper East Side of Manhattan where Soglow grew up, is not the same impoverished and crowded kind of neighborhood that the Lower East Side was in the early years of the 20th century; Soglow's early left-leaning political views speak of an urban population, not a slum population, even though Gardner sometimes seems to suggest that the German Jewish ethnicity of parts of Yorkville implies otherwise.
But to quibble over such a teensy blemish risks overlooking Gardner's persuasive achievement in mustering biographical meaning from episodes in Soglow's life—his leftish instructors at the Art Students League, for instance, "ashcan school" artists like John Sloan and Robert Henri.
Gardner has also assembled an authoritative gallery of non-monarchical Soglow art—book covers and illustrations (Soglow drew pictures for over 30 books), advertising illos, spot drawings, photographs, and several of the early Little King cartoons (alas, undated) from The New Yorker, where the character debuted.
Soglow's mastery of pantomime and minimalist visuals in cartooning is the most significant aspect of his long career, and while I don't see Soglow as defining the "post-war style and sensibility" of the form in quite the pace-setting way that Gardner does, this book—the reprinted Little King strips and Gardner's essay—is a worthy monument to the cartoonist's distinctive style and unmatched achievement.
BEEFS & BOFFOS FROM HARPERS:
Percentage of Americans in 1992 who believed gun laws should be stricter: 78
Percentage who believe so today: 43
Percentage of U.S. government contracts intended for small business that went to large corporations in 2011: 37
Percentage of U.S. veterans from the wars in Iraq and Afghanistan seeking disability: 45
Percentage of African countries in which it is illegal to practice homosexuality: 69
Number of college graduates currently working as astronomers, physicists, chemists, mathematicians, or web developers: 216,000
As waiters and bartenders: 216,000
Percentage of American households made up of just one person in 1950: 93
Today: 27
Chances a Republican believes today that Iraq had weapons of mass destruction at the time of the 2003 invasion: 2 in 3.
Average number of times each week U.S. surgeons operate on the wrong patient or body part: 40
COLLECTORS' CORNICHE
Welcome to our sentimental section where I muse and marvel about antique volumes on the shelf and rare finds in old bookstores and the like. Nothing major. Skip over this if you're busy.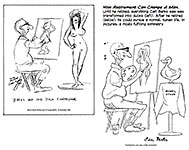 THE TELL-TALE SYMMETRY of these two Carl Barks self-portraits smote me in the eye, so I thought you'd like to see them together, too. Although for the sake of poetry, I'd like to think they were drawn years apart—and in chronological order—various comments on this pair of drawings suggest they were actually drawn at almost the same time, give or take a year either way.
ANDY ROONEY ON SEX
When I was born, I was given a choice—a big pecker or a good memory. I don't remember what I chose.
A wife is a sex object. Every time you ask for sex, she objects.
Impotence: nature's way of saying, "No hard feelings..."
There are only two four letter words that are offensive to men: "don't" and "stop," unless they are used together.
FUNNYBOOK FAN FARE
Four-color Frolics
An admirable first issue must, above all else, contain such matter as will compel a reader to buy the second issue. At the same time, while provoking curiosity through mysteriousness, a good first issue must avoid being so mysterious as to be cryptic or incomprehensible. And, thirdly, it should introduce the title's principals, preferably in a way that makes us care about them. Fourth, a first issue should include a complete "episode"—that is, something should happen, a crisis of some kind, which is resolved by the end of the issue, without, at the same time, detracting from the cliffhanger aspect of the effort that will compel us to buy the next issue.
IN SOUTHERN BASTARDS No.1, writer Jason Aaron and artist Jason Latour manage a preview of the title and an encapsulation of the series in an unprecedentedly blasphemous one-page opener: a dog is depicted in mid-crap in front of a cluster of signs advertising the Christian virtues of Craw County—Freewill Church of God in Christ, Bible Belt Baptist Church ("Hell: One Way In, No Way Out—Welcome"). With that as a kick-off, we are not surprised to find that the community into which Earl Tubb drives HIS rental truck is a shit-hole of moral hypocrisy and brutish behavior, centered, mostly it seems, around the town's football team, the Runnin' Rebs.
Earl has come "home" to the town where he was born to pack up his Uncle Buhl's belongings and sell the house now that Buhl is in a nursing home. In the 40 years since Earl left, a giant tree has grown out of his father's grave in the front yard. Big Bert Tubb was the sheriff and an asshole of a giant of a man physically: in a series of red-tinted flashbacks, we learn that Sheriff Tubb became a local hero by wielding a big stick to beat up a bunch of southern fried thugs that came callin' one night. Why they came, we don't yet know.
At the local diner, Earl is accosted by Dusty Tutwiler, a local layabout, who remembers him and engages him in unwelcome reminiscent conversation. Dusty has come to the diner to find Coach Boss, to whom Dusty apparently owes money. Then one of Boss's thugs, Esaw Goings, shows up to inflict some sort of brutal punishment on Dusty, and Earl comes to his rescue, clouting Esaw with a boiling basket of fries.
Earl goes back home, and Dusty goes to plead with Coach Boss, where Esaw finds him and beats him up savagely. Back at the Tubb house, Earl takes an axe to the tree growing out of his father's grave—but, as we find out in No.2, can't make a dent in it. Earlier, he asserted that the tree had grown out of his father's legendary Big Stick, which had been buried with him.
The issue brims with tantalizing mysteries: who is Coach Boss and does he run the whole town? What heroism, exactly, did Big Bert Tubb commit—and why? His son is apparently a worthy scion of the Tubb tradition, but how will he fare if he meets Esaw again? (And he is sure to.) And who is Earl repeatedly calling on his cell phone?
At the Tubb house, Earl reveals his vaguely resentful attitude about his father—and the town he grew up in. In the issue's complete episode, Earl's rescue of Dusty, we have an ample display of both Earl's physical ability and his moral superiority.
Apart from the bitterness that hangs over the story, Latour's depiction of the events is superlative. The verbal content is terse, so most of the narrative is carried by Latour's drawings, gnarly pictures of angry, resentful rednecks, nearly bursting with bad behavior waiting to explode. In narrative breakdown and panel composition, Latour shows himself a master of the visual storytelling medium, matching the terseness of Aaron's tale-telling with cryptic glimpses of the action, just enough to advance the story.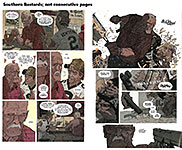 The final beating Esaw administers to Dusty alternates its panels with panels showing Early attacking the tree over his father's grave in a crescendo of visual violence. Throughout, Latour enhances the story's moods with color evoking appropriate feelings.
Nicely done.
In the second issue, Earl finishes packing up the house late on Friday and, deciding to stay another night, he goes to see the Runnin' Rebs play football, a game played as roughly as everything else transpires in this title. In the middle of the game, old Dusty comes staggering across the field, more dead than alive (every bone in his body busted), again seeking Coach Boss. When he dies, Earl visits the sheriff, seeking justice, but when he learns the sheriff played football for Coach Boss, he gives up and goes back home.
Standing in the rain over his father's grave, he curses the dead man and vows not to get involved in the ugly business of Craw County. Then lightning strikes the tree, splitting it asunder, and Earl imagines he sees his father rising out of the grave, the Big Stick of vengeance and justice still in his hand. If that's not enough to bring me back for No.3, nothing is.
WHILE ON THE ERRAND OF ART APPRECIATION, I pause to acknowledge the stunning energy and visual excitement of Chris Mooneyham's rendering of Frank J. Barbiere's Five Ghosts, of which I've seen only Nos.11 and 12, enough to admire Mooneyham's work extravagantly.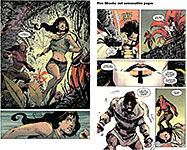 One of the letterhacks in No.11 thinks Mooneyham's manner is reminiscent of Neal Adams'; but only vaguely. Mooneyham is much more sketchy than Adams. I see in Mooneyham more of John Buscema on Conan than anything else. But even here, the resemblance is tenuous. Mooneyham is his own man here, and well worth watching in action.
Danijel Zezelj in The Massive is a wildly different sort of thing altogether. There are more lines and deep shadowings here than make any sense.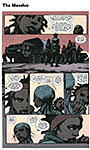 But the effect is striking.
Again, as in Southern Bastards, the storytelling in both Five Ghosts and The Massive is visually elliptical: we get glimpses of the action in small inset panels that depict visual fragments of the tale unfolding. Terse and tense, and nicely done.
It's gratifying to see that Image and Dark Horse, the publishers of these titles, are producing affecting stories with exemplary storytelling in a medium that Marvel has steadily cheapened over the years with an unending parade of superheroics, badly infected with personality quirks too numerous to mention. Marvel, the ostensible "house of ideas," keeps doing the same thing over and over, repeating again and again its once revolutionary trope of personality-ridden superheroes. By now, the gimmick has made the same face so many times that it's stuck, as your mother used to say (thanks to the New Yorker's Emily Nussbaum for that image). DC may have gone batshit beyond belief, but it also brings out Vertigo titles worth pondering.
BUT NEW, NON-SUPERHEROIC STUFF is not always, ipso facto, good stuff, as Avatar is proving with its return of Garth Ennis's Dicks, a genuinely repulsive concept rendered in suitably repulsive visuals by John McCrea, who, aided and abetted by Ennis, seems bent, willy nilly, on performing the grossest of adolescent gross-outs possible. The two idiots from Belfast (by two idiots from Belfast, as Ennis puts it), Dougie and Ivor, are back in a series subtitled "To the End of Time, Like." The first issue begins with a funeral for a friend, whom Dougie and Ivor and their cohorts intend to launch into the hereafter by pouring the dregs of their bottle of booze onto the guy's grave. Alas, they drink all the hootch before the ceremony can be enacted. So they do the next best thing: alluding to the alimentary fact that the liquid they've consumed is destined to leave the body, they gather around the grave and piss on it.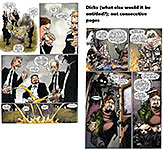 Now, that's a fairly clever concept, but the execution of the appropriate visual involves far too many hand-held dicks and obscene language for my taste. Still, it's funny.
Most of the rest of the book isn't. Towering bad taste seldom is. Dougie and Ivor have decided to remedy their lack of visibility on the heroic plane by dressing in superhero costumes hereafter. Another premise with promise. We'll see. But meanwhile, we must gaze at more of McCrea's crudely rendered ugly visualizations, including (in our visual aid) a picture of Ivor sitting on the toilet with his dick about to flip into view. More than enough, as I said. And in the jungle of Dougie and Ivor's loathsome world of foul language and repellent imagery, the method overwhelms the message. The book ends on a suspenseful note, but only those who delight in fetid comedy are likely to care enough to return.
SIMILARLY, I won't be back for the second issue of Time Lincoln Continental, written and drawn by Fred Perry. Although his pictures have a stylish tilt and his heroine has a neckline that plunges to her ankles, the story is incomprehensible, larded, as it is, with the kind of paradoxical proclamation that usually weighs down Neil Gaiman's work. (His fans think such vagaries lift a story and make it soar. It's poetry, true; but it ain't heaven-bound.) Listen to this, the profundities of one of the characters: "The void is a mysterious dark matter, stretching between the cracks of time and space. It bends reality ... I'm here. I am the man ... Join me in the dark ... Where peace unites, discord divides. ..."
Whoop-de-doo. I like the pictures, but my stomach can stand only so much drivel like this.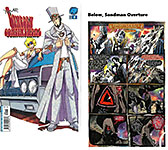 Ditto the second issue of Gaiman's highly touted Sandman book, The Overture. As we can see in the second half of the visual aid just posted, J.H. Williams' pictures undeniably enhance Gaiman's poetry, but neither picture nor poetry advances what might pass for a "story." But then Gaiman is all about atmosphere, not narrative. Perhaps my reading Gaiman before Perry perverted the possibility of enjoying the latter. Gaiman's verbiage is full of the same contradictory imagery: "I was the dream of the first created things: those that sleep in the space beneath space. They still sleep in the space beyond space, in the cracks of the real." Is the space beneath or beyond space? And all those cracks—they show up again in Perry's tale.
THE NEW TITLE from Brian Michael Bendis with pictures by Michael Avon Oeming, The United States of Murder, Inc., seems promising. In the first issue, we follow in the footsteps of young Valentine Gallo, who, by way of becoming a "made man," is sent on an errand to Washington, D.C., where the briefcase he delivers to a senator explodes and kills the recipient. Before he makes his delivery, however, he meets a ravishing redhead who invites him to touch her boob, saying, at the same time, that he'll never sleep with her. (But maybe he already has; we can't be sure any more than he can.) She, it turns out, is sent by the mob as Valentine's escort on his first mission.
The book contains two or three completed episodes that reveal Val's personality—of which his encounter with the ravishing redhead is one. Another involves Val's friend Dino, who, at Val's insistence, accompanies him to Washington. En route on the train, Dino dispatches an annoying passenger but Val seems unmoved by the violence: it's Dino's disobedience that bugs him. Later, when Dino is killed, Val is again seemingly unmoved. And when he delivers the briefcase, he is likewise something of an automaton.
When he returns to the mob headquarters, they are all worked up trying to determine who rigged the briefcase to explode. Val is no help. Later, when he goes home, his mother tells him that he was born into undercover for the FBI. His father was a made man, and only the son of a made man could infiltrate the mob, and that's what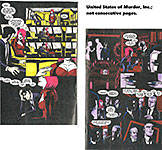 she intends him to do—and while there, to pull it all apart. End of issue.
Oeming's art has become more drenched in shadow than ever. His characters' faces are typically half solid black. All very nice for mood, but it makes recognizing the characters difficult—particularly when the artist's rendering manner is stark simplicity. The only thing that distinguishes Val from Dino is their hair: Dino's is curly. Makes it all a little more confusing than it should be.
ONWARD, THE SPREADING PUNDITRY
The Thing of It Is ...
Someone surely has said before this that politics is the first refuge of the scoundrel, but some of my second-best friends are scoundrels, and I do not offer the back of my hand to a man because he happens to be in politics. The professional politician has a practical cynicism toward the human race that I constantly struggle with in myself, so I probably understand him a little better than do more virtuous men than I. I don't want you to think that I do not applaud evidences of idealism that I have seen displayed by some working politicians, but I must ask you not to insist that I regard any politician as a full-time idealist. Or at least no elected politician. In this naughty world it would be asking too much of a politician to require him to get elected while restricting him to the practice of ideals.
Any man who has been in the Cabinet, especially any man who has been in the Cabinet since 1940, will tell you that more time is wasted preparing for and appearing at congressional investigations than is consistent with the good results obtained. Occasionally there is a crook. But we have had so many silly investigations that we may be forgiven for being a little bit suspicious of all of them. Something bad happens and gets on Page One of the newspapers, and the very next day Senator Replevin (R., Me.) asks for, and gets, $350,000 to conduct an investigation. There seems, from this comfortable distance, to be a gentlemanly agreement among the lawmakers to go along with each other more or less bipartisanly on the small-potatoes kind of investigation, and even when there is a big one, they all try to get into the act in one way or another.
The reason politicians are contemptible is that they are ineffectual unless they can fool around with the one thing that should not be fooled around with, namely, the public trust. Sometimes when I consider the character of the men we elect, I conclude that the saying Vox populi, vox Dei is rather blasphemous.
The foregoing paragraphs were written by John O'Hara in his column in Collier's magazine, August 31, 1956. It could have been written yesterday. Which proves, I am agrieved to say, that politics and politicians don't change much.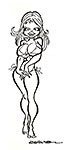 O'Hara had so sickened himself with contemplating politics, that he concluded this edition of his column by saying: "I have devoted so much of this installment to politics that I have suggested we run a picture of a girl in a bathing suit for no other reason than that it's summer." Next to these words is a full-color photograph of Brigitte Bardot, then twenty-two, "the newest glamour export of the French film industry." I should make the same gesture. So here—:
WE'RE ALL BROTHERS, AND WE'RE ONLY PASSIN' THROUGH
Sometimes happy, sometimes blue,
But I'm so glad I ran into you—
Tell the people that you saw me, passin' through
Charles Barsotti, 1933 - 2014
CHARLEY BARSTOTTI, who, for fifty years, drew distinctively minimalist single-panel cartoons for magazines, chiefly The New Yorker, died June 16 of brain cancer, following more than a year of chemotherapy and radiation treatments. He was at home in Kansas City and comfortable, surrounded by family. In its June 30 issue, The New Yorker ran a selection of his cartoons, which we've repeated here.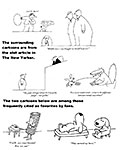 Editor David Remnick wrote the magazine's farewell, ending:
"He was astonishingly productive. At the end, there were many dozens of drawings available to us, and while we will miss him, we will be publishing Charley Barsotti for a long time to come."
At The Comics Journal online, tcj.com, Richard Gehr captured the essential Barsotti in his obit, beginning: "Barsotti is renowned for his Zen-lined renderings of puppies, kings, seekers, chickens, cutlery, pastas, corkscrews, magazines, and toothpaste tubes that convey readily recognizable emotions that seem to emerge from some bottomless font of wisdom. These minimalist drawings leap off the page energized by their own simplicity. There is nothing superfluous in his lines and no need for ink-wash half-tones to flesh out backgrounds or hint at perspective. A Barsotti cartoon has the brisk immediacy of a mentholated cough drop."
Remnick observed that Barsotti's recurring cast of characters "seemed inoffensive, apolitical, even sweet—adorable hounds, therapized kings. Somehow, though, his humor approached essential things: the tyranny of autocrats, the injustices of corrupt judges, the complacency of the wealthy and the corrupt."
But in former New Yorker cartoon editor and cartoonist Lee Lorenz's invaluable little book, The Essential Charles Barsotti, we learn that the Texas-born cartoonist led a normal life (graduated college in 1955 with a degree in social science from Southwest Texas State in his home town, San Marcos; then two years in the army) until he got out of the army and took a position as administrator at a residential school for mentally challenged kids. Whether these environs shaped his sense of humor, which is curiously abstracted and off-the-wall antic, is an open question.
In the early 1960s, Barsotti, who had his sights set on cartooning as a career, was submitting cartoons to magazines by mail in a somewhat haphazard, desultory—not to say half-hearted—manner (his first sale to The New Yorker appeared August 25, 1962) when he was persuaded by the president of the school to accompany him on a trip to New York, where he dropped in on several magazine cartoon editors and sold some cartoons.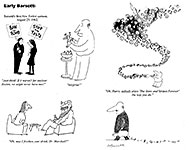 Then in late 1963, he changed his life.
The assassination of John F. Kennedy shocked Barsotti into realizing that "it's time to buckle down and get serious about this" (cartooning), so he applied for work at Hallmark, was hired, and in 1964 moved there with his wife and four kids.
While with Hallmark—writing mostly rather than drawing—he continued freelancing by mail, selling cartoons to the major markets of the day, Saturday Evening Post, Collier's, Look, and The New Yorker. Then one day, "something really weird happened," he told Lorenz:
"Rapidograph pens had just come out, and I splurged and bought myself a set. With my Rapidographs, I just went wild. I had been working with regular straight pens, and of course you have to stop and dip all the time. With the Rapidographs, you never have to stop—and I didn't. I got so excited. I whipped up two large batches of cartoons and shipped them off to the Post."
Mike Mooney, the Saturday Evening Post cartoon editor at the time, was so impressed with the cartoons that he taped them to the walls along a hallway in the Post offices—a gallery of Barsotti—and convinced the Post editor, William Emerson, to give Barsotti a regular bi-weekly panel (called "My Kind of People") and to launch it with a three-page spread of Barsotti cartoons.
By 1968, Mooney had left the Post and Emerson asked Barsotti to move to New York and take over as cartoon editor. He did. And he loved it: "I thought, 'This is what I wanna do. Forever.'"
Barsotti worked at the magazine offices three days a week: on Wednesdays ("look day" in the Big Apple), he looked at the submissions of local cartoonists who brought their wares in personally; on Thursday, he went over all the week's submissions; on Fridays, he met with Emerson to make the final selection.
"At some magazines," Barsotti told Lorenz, "this meeting includes the entire editorial board. Emerson felt strongly that it should be limited to the two of us. His thinking was based on his experience as a reporter covering beauty contests down South. He said there were always five judges and the second-prettiest girl always won. With just two judges, he felt we had a better chance of buying the unique and the best."
Tidbits like this litter Lorenz's book, enlivening the narrative and edifying us all.
As the Post's cartoon editor, Barsotti discovered George Booth and was on the cusp of publishing a multipage spread of Booth's maniac cartoons when the Post folded, ceasing publication in January 1969. Booth's spread never ran. Neither did a cover that Barsotti had just finished drawing for the magazine (but we've posted Lorenz's copy of it herewith).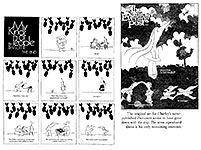 The collapse of the Post was a turning point in several ways. In magazine publishing, it was watershed event. The Post died because its advertising revenues were down; advertisers were investing in television ads. Oddly, the Post's circulation at that juncture was the highest it had ever been, but that was its undoing: with advertising revenue down, it could not afford to mail the magazine to its millions of subscribers—a fate met by several general interest magazines of the day, Collier's and Look, f'instance—a fact that underscores the vital importance of advertising over circulation in almost all forms of mass media.
Desperate to escape a similar fate, other magazines began to "reinvent" themselves, Lorenz points out. "It was no coincidence that the ascendance of the art director dates from this period," he goes on. "A magazine's look became more important than its editorial content. It should be simple, bold and, above all, predictable. Among the elements an art director works with—typography, photography, layout—the least predictable is cartoons. Styles vary, and they don't come in uniform shapes. Cartoonists and art directors, it developed, are natural enemies."
In the ensuing battle, art directors won out. Art directors, Lorenz believes, began studiously to leave cartoons out of their layouts, which marched resolutely through uniform columns of gray type accented by occasional photographs and charming white space. Sports Illustrated, for example, eliminated cartoons from its format. And cartoons were likewise banned from the pages of Clay Felker's emerging New York magazine although they had appeared in his initial prospectus.
Barsotti, meanwhile, was unemployed at least three days a week. He continued freelancing cartoons to magazines, but he also developed and sold a comic strip—the thoroughly unconventional and proto-feminist Sally Bananas, featuring a character and concept based upon a regular visitor in "My Kind of People," Emma June. (Said Lorenz: "Romantic yet clear-eyed, ambitious but independent, Emma June both personified and transcended feminism.")
Two months after the strip's launch in October 1969, Barsotti was signed as a contract cartoonist at The New Yorker.
William Shawn, editor of The New Yorker at the time the Post collapsed, had phoned Emerson to ask if there were anything he could do. Emerson said, "See Barsotti and Booth."
The week after the Post died, Shawn interviewed Barsotti, who reported: "I can't remember what he said, but as bad as I felt, I came out feeling like a million dollars."
At Shawn's urging, Barsotti went to lunch with Jim Geraghty, cartoon editor then, and had a great time, but it all seemed a little vague to him, too vague to depend on. So while he continued submitting cartoons to the magazine, he also worked up Sally Bananas. Had he known he'd get a contract offer from The New Yorker before the year was out, he said later, he probably would not have "gone down the painful path" of the comic strip at all. Happily, he kept on with Sally, though, for four years; its delightful run ended February 16, 1974.
After signing his contract, Barsotti moved his family back to Kansas City, which he said was a more "manageable" place for raising a family.
Barsotti contributed regularly to The New Yorker for the rest of his life, and the magazine complemented him by printing over 1,400 of his cartoons (with more waiting in inventory for publication in the coming months or years). He also published in Punch, The Atlantic, USA Today, Texas Monthly, and op-ed pages of the Kansas City Star and the New York Times. And Playboy.
Barsotti's debut at Playboy was auspicious: he was sued.
He told the sordid story to Richard Gehr (whose book, I Only Read It for the Cartoons: The New Yorker's Most Brilliantly Twisted Cartoonists, will be published in October) during an interview in March 2013 (about the time Barsotti was diagnosed with brain cancer):
"Around the time of my divorce [in the mid-1970s], Michelle Urry [cartoon editor] at Playboy said, 'We like your cartoons, but our readers like sexy stuff. Could you give that a shot?' So I gave it a shot. The first one was mild enough. But I guess I wanted the setting to be kind of formal. I was using a different drawing style. A little bit more ornate. Fanciful. [The setting of the cartoon] was supposed to be real upper class, and I got it into my head that the man [in the cartoon] should have an English title. But it turns out that if you name somebody Lord Something, and there's somebody by that name, there's only one in the world. Who knew? In fact, one of the questions they asked me at the deposition was, 'Are you familiar with Burke's Peerage?' I said I'd heard of it, which I had, but didn't know anything about it. My cartoon had Lord Cowdrey in it, and the real Lord Cowdrey was notamused.
"So Playboy ended up tearing out all those pages in the British edition," Barsotti finished. "But let's not open this again. Because I know how it was settled but I'm not supposed to talk about that. And I won't. This particular Lord Cowdrey's dead, but he has a son, who I believe called it to his father's attention."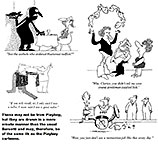 Barsotti's cartooning career was briefly supplemented in 1972 when, engorged with opposition to the Vietnam War, he ran for Congress.
"He won the Democratic nomination for a Kansas district," reported Edward Eveld at the Kansas City Star, "but he was put off by campaigning. He decided to 'stand for office but not run for it,' he said at the time. It was a 'you can vote for me as a protest against the war if you want to' kind of thing. He recalled getting about 30 percent of the vote."
Said Barsotti to Gehr: "It was a terrible experience. I must have been out of my mind. ... I was doing the comic strip and doing cartoons."
Barsotti told Lorenz that "if anything about it surprised me, it might have been the shock of being taken as an idealistic young fellow one day to being a highly suspect pol the next."
Despite his hatred of the Vietnam War, running for office wasn't his thing. Far more than politicking, Barsotti said at the time, cartooning had "a fearsome integrity."
The integrity begins, probably, with his pared-down style (which he calls "post-cluttered") so perfectly suited to a whimsical almost fey sense of humor that usually turns common sense on its head for a laugh. So inventive was he that none of the usual cartoon cliches show up, Lorenz observes: no small children, no battling spouses, no teenagers, no flying saucers, no desert islands. Instead, we find "heaven but not hell, romance but not sex, dogs but not cats."
According to the present cartoon editor at The New Yorker, Robert Mankoff, interviewed by Michael Cavna at ComicRiffs, the essential Barsotti can be boiled down to three elements: the empathy of his humor, the simple minimalism of his drawing style, and a surreal perspective on the human dilemma.
Elaborating on each in order, Mankoff began by saying of Barsotti's comedy, "It hugs us and we want to hug it back. Our heart goes out to the little dog on the psychiatrist's couch plaintively saying with a tear dripping down from one eye, 'They moved my bowl.' "
"I loved Charley Barsotti's cartoons," said veteran New Yorker cartoonist Roz Chast. "They were funny, but never mean and never corny. I loved seeing the world through his eyes."
"I don't think his cartoons ever had a mean spirit,," says another New Yorker cartooning colleague, Liza Donnelly. "They were always gently poking fun at life, and often had a warm and gentle affectionate quality."
"Charles's little dogs always got to me," says fellow New Yorker cartoonist Frank Cotham, an avowed dog person. "Anyone who could render little dogs in such a way had to have been a very nice man."
Then there was "the sophisticated simplicity of his art," Mankoff told Cavna. "With a few sinuous strokes, he could lasso any topic; love, death, truth, wisdom and pull laughs from it."
"I loved looking at the drawings — that black line looping through all that lovely white space," Chast said. "He never overdid it, or underdid it."
"Charley was an incredible artist who could pack enormous meaning into the simplest of drawings," New Yorker cartoonist David Sipress said to Cavna. "The spare beauty and graphic punch of his style is unmatched."
Describing his style to Gehr, Barsotti said: "I distill both the caption and the [drawing]. You want the caption to be conversational, so that's got to be boiled down to whatever you've got in mind. And, yeah, I like to simplify very much. There was a cartoon not too long ago – I don't even remember who did it and I should, one of the newer ones [Nick Downes] – that was set in a doctor's office with a sign that said, 'Thank you for not mentioning Dr. Oz,' which I thought was wonderful. But the way I'm working now, if I'd thought of it, I'd need a doctor's setting. Now, what I am pleased to be able to do is show the doctor in a white coat, with the stethoscope over here, and he's talking to somebody. And you've seen a doctor's office, so I don't need to show what [one] looks like. And it pleases me a lot that I can distill it to that point and it still works. The same goes for the aggressive/evil businessman, whichever one you want. The less important characters in medieval paintings would be smaller. So when I have somebody picking on somebody economically, I just draw the picked-on person small. I like that kind of shorthand. It allows for a more abstract type of situation."
"Complication is easy, simplicity is incredibly hard," said Michael Wolff, a British designer who led a project to get Barsotti honored on a series of first-class postage stamps in England. "He's a very talented man, a genius of humor really."
The third Barsotti essential, Mankoff said, was Barsotti's skill at making "the surreal real."
"Every cartoonist does talking animals, but Charley's comic imagination ranged much further afield, animating the inanimate, and giving voice to, for example, pasta, bowling pins, forks, knives and assorted fruit."
Even with the warmest of lines, Michael Cavna said, Barsotti could be cuttingly political — and incisively philosophical.
"His writing has always been sharp and totally original," Sipress said. "I especially admire his politically themed cartoons. Charley has been taking on income inequality since before we had words for it, and he managed to do it hilariously every time.
The ultimate essential about Charles Barsotti, though, is how friends and colleagues describe the kindness of the man.
"A master cartoonist, a true original, and a nice guy, to boot," Chast said.
"He was also a gracious and lovely man," said Sipress.
"Charley was a legend: a great cartoonist, a better guy and a heck of a lot of fun," says friend John McMeel of Kansas City-based Andrews McMeel, "You could sit for hours and talk to Charley. He could get very serious, and then he would send this rocket at you, just to see if you were listening or not. He was fun to be with. He will be missed."
"My memories of Charley are of a sweet and gentle soul," Mankoff said, "who even under the weight of a terminal illness continued to lighten our lives with his wit, humor and humanity."
"He has done an amazing amount of work," said Ramoth, his second wife, who organized the business side of the Barsotti cartoon enterprise. Married for 35 years, they were referred to as Barsotti Incorporated. "We heard from people all around the world."
Barsotti had four children with his first wife; and Barsotti adopted Ramoth's daughter.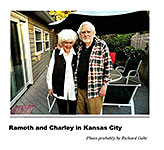 In 1996, at age 62, Barsotti became one of five cartoonists on postage stamps issued by the British post office. After approval by a stamp advisory committee, the choices were personally approved by Queen Elizabeth II. Three of the 10 stamps in the series were Barsotti's.
"It got approved by the queen, they tell me," Barsotti told the Kansas City Star. "I would have hated to not be approved by the queen."
"Barsotti's drawings seemed to become increasingly lean and clean over the years," said Richard Gehr, "—some were realized with less than a couple of dozen lines. When it came to his process, Barsotti described doodling until an idea came to him, then sketching it out in pencil. Strathmore paper let him get away with a lot of erasing until he applied a Rapidograph to a sketch over a lightbox. Bottles of Wite-Out sat on his drawing table. 'I start off sketching, and if it's no fun to draw, what fun can it be to look at?' he said with a chuckle. 'I just work until I'm happy with it.'
We hope you'll be happy with the gallery of his work we've selected; herewith—:
Etta Hulme, 1923 - 2014
SHE DIED ON WEDNESDAY, June 25. But you don't have to believe news like this, and I don't. She was too full of life. Etta Hulme is an icon in editorial cartooning, a trailblazer for women cartoonists. She was a full-time editoonist on the staff of a major metropolitan daily newspaper before any other woman cartoonist was; she was widely syndicated at a time when no other woman cartoonist was. And she is also a treasure—short and gray-haired grandmotherly in appearance, witty and waspish in her opinions and deft in her drawing. I liked her a lot and admired her skill and talent, both as a thinker and as a cartoonist.
They say Etta died at her home in Arlington, Texas; she had been in frail health since a heart attack in 2009.
For 36 years, she drew editorial cartoons for the Fort Worth Star-Telegram, where she was a decisively liberal voice on a conservative newspaper in a conservative town in a conservative state. Her last cartoon was published in December 2008, one farewell poke at two of her favorite targets—President George W. Bush and his cohort, Dick Cheney, the president of vice—as they left office.
The National Cartoonists Society twice named her best editorial cartoonist of the year—for 1982 and for 1998 (this last, mind you, when she was 75, long past everyone else's retirement age; but then, Etta never really retired). She served as president of the Association of American Editorial Cartoonists in 1986-87.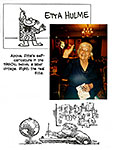 Etta never won a Pulitzer, but she should have. And she was admired by all her colleagues in a famously opinionated profession—including those who've won Pulitzers. Philadelphia Daily News/Inquirer's Signe Wilkinson, for one: "She was the dean of our little band of women editorial cartoonists," Wilkinson told Michael Cavna at ComicRiffs, "—though, in her self-effacing way, she would never have claimed that spot.
" She never won the Pulitzer, though her work is as [strong] as most who have, but her cartoons won higher honors," Wilkinson continued. "For example, on [Interstate] 95 coming home from a women's march in Washington, I remember looking over at the car in the next lane and seeing a Hulme cartoon about equal rights blown up and plastered in the window. That's the mark of a successful cartoonist. Her work lives on."
And Mike Luckovich (Atlanta Journal Constitution): "She was a great cartoonist and person. She was fearless in standing up for the oppressed and less fortunate, while never taking herself too seriously."
And Ann Telnaes (WashingtonPost.com), whose comment was shorter but just as true: "A lovely woman and a kickass cartoonist."
And Jen Sorensen (Austin Chronicle et al.): "As a cartoonist, she had a wonderful line — a very accessible, funny drawing style that I am amazed she pulled off into her 80s. Politically, she was right up there [with] Molly Ivins and Ann Richards in the great tradition of witty and wise Texas women. I think she deserves far more national recognition for her place in history."
And Jim Borgman (longtime Cincinnati Enquirer political cartoonist): "Only in retrospect do I appreciate Etta's remarkable place in the storyline of editorial cartooning. A lone female voice, liberal at that, in 1970s Texas — that's one lonely perch in an already solitary profession. Etta was confident, brave, funny and warm, with an engaging drawing style that focused on people more than symbols. She was under-appreciated by those of us who should have known better."
Kevin "KAL" Kallaugher of the Baltimore Sun, The Economist: "Etta Hulme was a delightful study in contrast. On the surface an endearing genteel and humble grandmother, beneath, a punishing pundit with cunning wit. I loved both those Ettas and will miss both of her."
Ed Stein of the now-defunct Rocky Mountain News, who followed Etta into the presidency of AAEC, wrote: "Her cartoons were a lot like her. Rendered in a soft, feathery line, her disarmingly quiet, smartly captioned drawings packed a surprisingly biting punch. An uncompromising liberal's liberal on a conservative paper in a conservative town in a conservative state, she had to be—and was—one tough, feisty lady. She's been described as the den mother to all the guys (and the few lonely gals) at our annual conventions of editorial cartoonists, That description doesn't come close to doing her justice. She was the equal of the best of us as both an artist and commentator, and more than capable of holding her own in our mostly testosterone-driven profession. And we loved her."
She may have been the AAEC den mother, but, as Ben Sargent (another Pulitzer-winner) at the Austin American-Statesman said, "She never made a big deal about being a female cartoonist. She was just a cartoonist."
Her drawing style was as unique as her visual commentary was sharply pointed: folksy, down-home, but still somehow startlingly modern.
"I draw mostly to entertain myself," she said once, "—as I've always done since I was a kid. So it's not like a real job that you train yourself for and then eventually retire from."
At the Star-Telegram, several of her former colleagues remembered their favorite "ettatorial" cartoons when they heard of her death.
Former Star-Telegram editorial page director Paul Harral remembered a cartoon about a dispute in the state legislature over funding both schools and prison projects. In the cartoon, two guards stood amid a group of buildings all labeled "Jale."
"One guard says to the other something like, 'Perhaps we should have provided more money for schools.'" Harral said he got reprint requests for more than a decade.
Bill Youngblood, a retired editorial writer, recalled another Hulme cartoon drawn after Charlton Heston was elected president of the National Rifle Association. Etta depicted Heston as Baby Moses being plucked from the Nile while a voice said, "Watch out, he has a gun."
Reporter Tim Madigan, writing the paper's obit for Etta, asked former Star-Telegram publisher Wes Turner whether her cartoons ever gave him headaches. Said he: "Hell, yes." But, he went on, the grief was worth it. "Her political persuasion and mine diverged, but I thought she made our paper better because she certainly got people talking and got people thinking, and that's what a good political cartoonist does."
In a 1993 interview, Etta said: "Most of my hate mail — sure, I get hate mail — calls me a liberal. But whatever opinions I have come naturally without my trying to take any particular stand. If I go on too long without one of my cartoons gettin' me in the soup, I start to worry. A cartoonist ought to provoke."
Outspoken, that was Etta.
Or as she said of her readers: "They just have to live with me. I'm an opinion person."
Perhaps the best way to get to know this woman whom we all loved is to listen to her—as I did when conducting an interview with her in her office at the Star-Telegram in October 1998— and to read what she wrote about herself in a 1980 autobiographical article. We begin with the latter, into which I interspersed bits and pieces from my interview with her. When I talk, it's in bold italic; the rest of this is Etta in her own inimitable Texas drawl, herewith—:
I'VE BEEN CALLED AN ICONOCLAST and a harmless housewife. I like to keep my options open so I'm willing to agree to both descriptions.
I was born [December 22, 1923] and raised in Somerville, Texas, where my family had a grocery store. Working in the store after school and in the summers, I think, gave me a pretty good notion of the human condition. I learned that the customer always thinks he is right and how to cut a pound of cheese (within an ounce). And I had access to the wrapping paper to draw on. I also did a lot of soap carving.
I majored in fine art at the University of Texas, so when I graduated, I went out to California and the Disney Studios, assuming I could get a job. (Chuckles) It was World War II, 1944. And, of course, the men were being drafted so Disney was full out hiring more women. They had some in animation, but most of them were shuffled off to Ink and Paint.
I went in for an interview, and they told me to come back with some more samples. So I drew some more samples. And I was put in the training program. Twenty-seven fifty a week was the pay. It was great. Marvelous training. Hard on my myopia but good for facial expression and body english. Most everybody progressed up through Clean-up and Breakdown and eventually got to be a regular In-betweener. I was pretty far down on the row, but I was a breaker-downer and a cleaner-upper and an in-betweener. Got to work with Ward Kimball. Drawing for animation gave me a compulsion to close all the lines neatly together [so they could contain color without it spilling into a neighboring shape], and I'm still struggling with this.
I was there only for about two years. And then I departed and came back to Texas, and worked in commercial art in Dallas. And I went on from there. I was an art bum. I went up to the University of Wisconsin one summer and took General Writing. I just bummed around for a while (laughs) and came back and worked in commercial art in Dallas again, and taught school in San Antonio and formed a little art school, a Little House School of Art in a little pink stucco building.
All the WWII veterans were on the G.I. Bill. They could go anywhere. Well, (laughs) some of them came to the Little House School of Art and ended up being sign painters. (Chuckles) But they had some good teachers there besides—I mean excluding—me. (Laughs) I spent a long time there.
Then I went up to Chicago and decided that I needed a job. And so I walked in to Dearfield Publishing Company on West Washington Street with my portfolio and got to jabbering with a fellow named J. Charles Laue who published a few comic books. He was not a large operator, but he was a wonderful friend to me. He gave me a spin-off he'd gotten from Hanna-Barbera. It was Red Rabbit. It was a comic book parody of Red Ryder.
Red Rabbit's horse was named Glueball and his sidekick was named Punchy. You know, Red Ryder had an Indian sidekick and he always did good things. Red Rabbit was a white hat rabbit.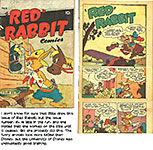 I got that and went to the Art Institute at night, a course in lithography. Then I brought Red Rabbit back to Texas. It paid next to nothing, but (chuckles) I could live on next to nothing. I did it on my Momma's back porch in Sommerville. I could draw it anywhere and mail it in. And this was about the end of the comic book heyday, so Red Rabbit didn't last very long (laughs), about six months. I don't think it was even a whole year.
I became a displaced cartoonist in 1952 when I went to Germany and married Vernon Hulme. Before that, we went around together for a few years—we met in college—and we were going to get married. Then there was the Korean unpleasantness, and he was dispatched to Germany instead of Korea. And I decided, "What am I doing sitting here when I could be in Europe?" (Laughs) So I went over there and we got married and lived over there for a couple years, and I blew off cartooning for a while. I think I made a poster, or an invitation, or something like that (laughs) for an Italian party, but that was about the extent of it. And then we came back to the States—to Austin where he had to complete one more year to get his chemical engineering degree.
In Austin, I produced Kay (the first of four children) and an editorial cartoon a week for the Texas Observer. A friend told me they used cartoons. They were operating on a shoestring, as they always did, and I think it was five dollars for a cartoon, and they used an occasional editorial cartoon. Well, these were the great days of Civil Rights. And so I did a few cartoons for them, my first editorial cartoons.
We moved a lot in the following years. In Houston, I produced Helen and a few commercial cartoons. In Corpus Christi, I produced Charlie and a few commercial cartoons. In Shreveport, I produced John and gave up cartoons to catch up on the laundry.
After Shreveport, we shuttled to Odessa, Texas to Arlington, Texas, to Detroit and back to Arlington. By then there were no moving companies left that we were on speaking terms with so we've been here [in Arlington] ever since.
After serving time as a Girl Scout leader, Den Mother in Cub Scouts, and Potato Lady for the Rotary Club lunch (good recipe but it serves 400), I got back to cartooning. I showed the kids how to use the steam iron and where the peanut butter was, got out the phone book, and looked up the advertising agencies and so forth. The Fort Worth Star-Telegram was on my hit list. They were using syndicated editorial cartoons in the afternoon paper. Harold Maples was doing editorial cartoons for the morning edition. I made a nuisance of myself until they agreed to print a few on a freelance basis. In 1972, this evolved into a regular job and the five a week I do now.
When I came in with my little portfolio, it was with theatrical cartoons. And I took them and showed them to the Entertainment Editor. He said, "We don't use graphics." (Laughs) And they hardly ever did, you know. But then, he brought me back to see another editor, and this other editor brought me back to see a Mr. Al Redus. He had been there forever, in my judgement. He was a very portly gentleman, and a very conservative gentleman, and he had some of my editorial cartoons from the Observer, and I said they were probably too liberal for you. But he was courteous to me. (Laughs)
Redus let me do cartoons for a while, freelance. In trying to persuade Jack Butler, the main editor, to put me on the payroll permanently, I did a little cartoon of me, playing a violin (laughs), begging him. (Laughs) And that amused him into letting me be on the payroll, but not for any extraordinary amount of money. (Laughs) We always said we'd draw for next to nothing, and they let us.
I was doing three a week at first, and when it did work into the job, it was five a week. And Harold and I were both here. He was still on the morning. I was doing the afternoon.
Etta worked at home in the early years—in a "gazebo" in her back yard.
We called it a gazebo because it has six sides. It's fairly large. It's got six-foot windows on two ends and it's got a vaulted roof and a ceiling fan that's from the First Baptist Church in Sommerville. My grandchildren leapt up and pulled a blade off of it, and I'm still mad about this. (Laughs) But it's got a little fireplace. It's got a heat pump and an air conditioner. It's just a great, wonderful place to work.
My husband used to travel—he's been deceased since 1983—but he traveled quite a bit and he'd write his ideas for cartoons on airsick bags and bring them back to me every time. (Laughs) I never used them, but he was very thoughtful. He just worked so hard, trying to think of them. He was very supportive. He built me the gazebo as a studio—in order to get my cartooning debris off the table in the den. I loved it. I got to see the squirrels up in there, spring back and forth at the house, and I worked there through six editors, I think. None of them wanted to see me in the flesh.
Working at home, Etta would telephone her editor when she had an idea. And he'd approve it over the phone.
It was usually acceptable. I don't give a big, big hit in the middle of the stomach or anything. I sneak around back. (Laughs) Ben Sargent was kind enough to give me the best description I ever heard about my cartoons. He said, "She doesn't chop them up with a hatchet. She smothers them with a pillow." (Laughs)
After getting approval, Etta drew the cartoon and brought it in to the office herself. That routine changed with Harold Maples' death in 1982. The Star-Telegram hired another cartoonist, Mike Shelton, for the morning slot, and, as Etta explained it—:
They said, "Well, he's going to be here in the office, so she might as well be. " And I said, "Well, you going to move me down here?" "Well, yes, we are." And I said, "Well, I want the room with the windows. I've been on staff long enough."
Mike was a wild man. He's an extremely conservative—he thought himself Libertarian. He used to come and march in here in the morning, a dear person, but he was misguided and he thought I was misguided too. (Laughs) So he'd come in and try to save me. That never worked, (laughs) but we had a great relationship.
How, I asked, did the paper tolerate two diametrically-opposed editorial cartoonists?
"Well," Etta said, "that's the perfect world. (Laughs) This is a great paper to work for. I hate to think that I was totally, predictably Liberal, or Conservative, or labeled; although probably most people that complained about me complained because I'm a wild-eyed Liberal. Yes, I have had complaints. (Laughs) Complaints are what we live for, of course, but we shouldn't. We should just convince them and they should say, 'Oh, I was wrong. Your cartoon convinced me.' (Laughs) And editors should say, 'What a lovely cartoon. Let's write an editorial about that.'" (Laughs)
"The best complaint I've ever had," she went on, "—and I really loved it, and I have no idea what I've done with it now—was from an anti-gun control person who put [my pro-gun control] cartoon up on a wall and shot bullets through it and then sent it to me." (Laughs)
About an hour or so into the interview, another staffer, a woman, knocked on the door of Etta's office, opened it and stuck her head in, saying, "I was just wondering about you. I've never seen this door closed."
By way of explaining the closed door, Etta introduced me: "This is Bob Harvey. He's from Cartoonist Profiles magazine. He's trying to sell me a vacuum cleaner."
The woman bid me hello and left, and Etta and I then talked about her daily routine a little and about making cartoons.
I really like to kind of have something in mind by one or two o'clock, so that gives me enough time. And it varies a great deal. Sometimes, it's your first different idea that lights up: it's okay. Sometimes, it just never happens (chuckles), and three o'clock comes and you don't have nothing. I start scratching through a big pile of paper up there [on top of her filing cabinet] and see if there's a germ of something that I can go back and revive. (Laughs)
There are all kinds of desperate lunges off the cliff every day to try to say something, you know, that you read into something that just kind of gets to you later.
Etta picked up a stack of scratch paper off the top of the filing cabinet and started showing me pencilled caricatures of some of the day's names in the news.
Sometimes I just get a little sketch I like. This was my George Bush and a Janet Reno, and I'm not very good at caricatures. There's Paula Jones that I've never used.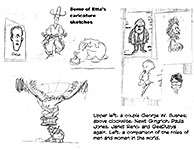 Sometimes, if it happens, it may just be the first time I try. Everybody gives Clinton a big, fat jaw [pointing to a sketch]. And he doesn't have one. He's got a sharp chin. (Laughs) And bags under his eyes. (Laughs) He says they're getting bigger every day. (Laughs) And his hair's fun too. I like his haircut. His forehead kind of comes to a point and so does his—well, his hair doesn't, really. Just hair all over, sticking up like wire. Must be an Arkansas thing. (Laughs) Maybe it's a lawsuit thing. (Laughs)
I asked: Okay, so when you make a rough sketch, do you show the sketch to anybody before you turn it into a cartoon?
Yeah, if I can find him—I show it to Mike Blackman. But if I can't find him, I show it to somebody else if I think they'll like it. And if they don't, I'll just draw it anyway. (Laughs)
I said: So you don't have too much trouble getting your cartoons approved.
No, very, very little, very little.
And that, she confirmed, has been the case from almost the very beginning. I asked her if she thought an editorial cartoonist was a crusader or a jester or a reporter.
None. None of the above. A crusader? Well, in a sense, I mean, in that you state your opinion. But if you're too overbearing in it, I think it's counter-productive. And that's where humor comes in. Humor is useful, but it's not the be-all and end-all, and it really hurts our feelings, many of us [if our cartoons are thought of as just humor pieces]. (Laughs) People say that what your editor decides is funny is the primary criteria. Well, it's one. But if funny can deliver a message, then this is where you step in it up to your knees because you look at your cartoons and there's some that really don't have that much of a message. (Laughs) You know, I go through a drawer-full, maybe one in ten. But I'm trying. (Laughs) Ideally, a cartoon should have a position.
And there are things that I kind of crusade about. There are subjects that I feel strongly about and will probably never change my mind. And those are the ones that get reactions that I never can control. I don't agree with my cohort next door who is a welcome and delightful person, and an excellent writer—and an advocate of the Second Amendment right to carry. And she's a responsible individual, and that's fine. (Chuckles) But I don't trust everybody to carry a gun, I'm sorry. (Laughs)
But anyway, that's one of my "causes." Of course, Women's Rights, back there when it was still an issue (laughs), which it no longer seems to be. [Not that gender issues have all been resolved:] only if you think that sixty-nine cents to seventy-two cents is that much of an improvement in the average salary. (Laughs)
Cartoons that merely report on some current event without expressing a definite point of view did not earn Etta's whole-hearted approval.
I don't think they're editorial cartoons, not what an ideal editorial cartoon should be. But there are many of them out there, and I'm responsible for some of them, so I can't fuss about it. But just because something has happened that may be a major news story, I don't have to comment on it. If it's something—nobody wants the Federal Building to blow up. Am I for it or against it? (Laughs) What can I do?
Terrorism is bad. Okay, Terrorism is bad. Who's going to disagree with that? Another terrorist, perhaps. (Laughs) But I bet they don't read me. (Laughs) But if you're just going for the topic just to illustrate it, this is what the news roundups and the news magazines are going to pick up because that's the story of the week. And that's what the Op Ed Editor's going to look for because he's got that zinging article coming. And maybe it's right and maybe it's not. Maybe there's something to be said, and maybe there isn't. I don't feel compelled to come in on it just because it's happened. Sometimes, I wait a week and then I get a great idea, and then it's gone. (Laughs)
A satisfying cartoon is a cartoon that makes you get a little bit of a buzz, and you think you're making a point, you think that you're making noise with the person reading it. The woman who's the editor at the St. Louis Post-Dispatch said it—I think it's kind of an expression of journalism—"a sharp stick in the eye." (Laughs) She said a cartoon should be a sharp stick in the eye, and I thought that I liked that a little bit. I think that other people have used it, have latched on to it.
When you've been doing it as long as I have, sometimes you steal your own ideas. "Oh, I think I did that fifteen years ago." Maybe I did, I'd have to put a different label on it. (Laughs) There's a lot of cliches. Now, I like action pictures. I don't do enough of them. But if I can work something in where there's something to catch the eye—that's the best, if you can do it. If you can do it without words, and a minimum of labels.
I think the weakness of an editor is not setting out to rile people up. If a cartoon is viewed as something to lighten the page, there's no purpose in putting them in there to start with. Certainly Thomas Nast wanted to lighten the page. (Laughs sarcastically)
But we have to have people who are not fair-minded. If we don't have them, well, who's there to win over? (Laughs) We've got to depend on it, their stereotype. (Laughs) "You wrong-headed idiot, I need you." (Laughs)
I chimed in: "You need the misguided millions."
Etta elaborated: "The satirically-impaired. And they're out there, they really are."
I asked if she felt when she was starting out that she had been put in a special category as a woman cartoonist.
"No," she said, "I don't think so. I just was a cartoonist and always have been. Ain't any special feeling about it now, as far as I'm concerned."
Were you paid less than a man cartoonist? She admitted she was paid less than her predecessor at the Star-Telegram but he'd been there longer. She laughed and said: "I think I've probably caught up by now."
Did she ever feel, as a woman and as a political cartoonist, that she'd been discriminated against in some way?
"No," she said. "In my case, there's never been any discrimination that I can detect."
Did she think that was unusual?
"No," she said, "I don't think so. I don't know, do other women cartoonists think it's unusual? I'll have to call them and ask them."
A couple years before, Etta had been on a panel of three women cartoonists at an AAEC convention, Signe Wilkinson and Ann Telnaes (both Pulitzer winners, by the way) being the other two. Signe started the assessment of the poor represention of women in the profession by memorably speculating that their panel might have been entitled "Bitch, Bitch, Bitch"—or, perhaps, "Ho, Ho, Ho." Three being the operative number.
Later in the ensuing discussion, the panelists considered how the culture at large teaches stereotypes that women have to deal with all their lives. It all begins with child rearing. Etta wasn't quite sure about that:
"I raised my son to be a boy," she said, "and my daughter to be a girl. And they seem to have turned out all right." Then she chuckled.
I don't think any of this means that Etta didn't care about feminist issues. I'm sure she did. But her passion grew out of principle rather than personal experience. I also suspect that she didn't attach as much significance to sexism as she did to doing the best cartoons she could. Only one or two of the cartoons in her book, Ettatorials: The Best of Etta Hulme, deal with sexism. The others target her favorite foes—environmental protection, health care, welfare, gun control, the havoc of war, and gender relations.
In 1980, she wrote this: "On being a woman in editorial cartooning—. There aren't very many women editorial cartoonists for the same reason that there aren't very many women bricklayers or surgeons. There have been times when being a woman has been an advantage; times when being a woman has been a disadvantage.
"My advice to aspiring cartoonists is the same to males and females: Learn all you can about drawing. Read everything you can get your hands on, especially news and opinions. You must be persistent and it helps if you're lucky because the quality of drawing and humor has been high for young people entering editorial cartooning in the last few years. Also, bake an occasional batch of cookies for your photoengraver—his good will is essential."
Is baking cookies one of those advantages of being a woman? I dunno.
By the time I knew Etta, she was grandmotherly in appearance but usually satirical in demeanor; she had a wicked sense of humor and an appropriately perverse perspective.
During my interview with her, she made a casual comment that seems to me, now, to explain a lot—perhaps the best insight into Etta's attitudes, about feminism and virtually everything else.
"I come in to the office about nine-thirty," she said, "and I have my editorial board meeting, which, sometimes I attend and sometimes I don't. I go if I hear them laughing loud. (Laughs) Particularly if I hear them shouting. Shouting is best. I'd consider those were some pretty entertaining editorial board meetings. They meet in a small room," she continued with a grin, "and I end up sitting in the hall, making cracks."
Making cracks. Poking holes. Deflating pomposity and revealing hypocrisy. Etta Hulme was an expert at all of that. And we have a gallery of her ettatoons to prove it—just down the scroll.
Before you roll into that, a word or more about how Etta worked. She'd make a rough drawing in pencil and then she would often photocopy it, reducing or enlarging it in order to get the drawing the right size for the final cartoon. Then she'd take the photocopy, or the rough drawing (if it was the size she wanted), and put it on top of a carbonized piece of tracing paper and put that on top of a piece of coquille paper. And then she took a blue pencil and traced over the lines of the drawing that she wants to come through the tracing paper onto the coquille board. So the blue pencil is really non-functional in terms of its photographic capacities. (Light blue won't photograph.) But the blue lines on the rough drawing show which lines she's transferred. And judging from the blue pencil lines I saw, she doesn't transfer every line of her original sketch. She just does a very rough version of it. Then she'd ink the final product.
She didn't exploit the coquille paper's capacity for adding gray tone to a drawing. Her drawings were never shaded in the manner that the rough surface of the coquille paper so readily facilitates. She used the rough-finish coquille paper, she told me, because she like the way it grabbed her pen and brush. She liked the feel of it pushing back at her.
And now, that Ettatoon Gallery, showing off the final products (and a few pencil roughs, too).
Frank Cummings, 1959 - 2014
SINCE 2004, Frank Cummings assisted head artist John Marshall in producing the durable Blondie comic strip. Succumbing to pancreatic cancer, he died in Birmingham, Alabama on July 1. During his career, Cummings worked for numerous newspapers and ad agencies. In 1992, he began self-publishing JAB, a regional (southeast) illustrated satire/humor magazine. In 1995, the exercise guru Richard Simmons and the moguls at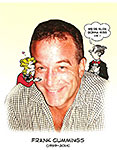 Cracked took notice of Cummings' work. For the next nine years, he produced Simmons' monthly newsletter and drew movie parodies at Cracked. After nine years of that, he was hired by King Features and Dean Young, the manager of Blondie, to help with the drawing on the strip.Chic Young's enduring strip has always had a deep bench of writers and artists—typically in recent decades, two or three of the latter, only one of whom signs the strip.
To find out about Harv's books, click here.