Opus 322 (March 14, 2014). Another big bounding hare-raising ramble through comics both present and past, including the first Watterson cartoon in 18 years and reports on NCS Reuben nominees, the Doonesbury hiatus and a historic comics mural being threatened, taboos being violated in newspaper comics, and Jonah Hex being stuffed AGAIN, and reviews of the comic strip Mike Du Jour and other Mike Lester works, some graphic novels, and a half-dozen books (including Rube Goldberg, George Wunder's Terry, Alley Oop's time travel debut and a new "biographical dictionary" of cartoonists, complete with a digression into lore and history), and a long discussion about sins being committed in the name of "graphic novel." Here's what's here, in order, by department—:
NOUS R US
Reuben Nominees
Jen Sorensen Wins Herblock
Paige Braddock Gets Alumni Award
Bud Plant's Mail Order Catalogue
Langston Hughes Poem Illustrated
Historic Comics Mural Threatened
Disney vs. Stan Lee Media over Spider-Man
Children's Book Illustrator Takes Over Editoon Gig
Watterson's First Published Cartoon in 18 Years
LAST DITCH OFFENSIVE
College Defunded for Teaching Fun Home
Doonesbury Hiatus
Mike Lester & Mike Du Jour
Kerfuffle at Denver Comic Con
RANCID RAVES GALLERY
Harv Cartoons Discussed
EDITOONERY
Recent Editorial Cartoons
Stop Do Nothing Congress's Pay
NEWSPAPER COMICS PAGE VIGIL
Luann, Pearls, Get Fuzzy; Sex and Dirty Words
Time's Oscar Game
Beatles 50th
BOOK MARQUEE
Feiffer's Kill My Mother
Barnaby Fraud at Dover
50 Years of Mad's Dave Berg
Jacky's Diary
Forbidden Worlds, Volume 3: Nos.9-14
New Yorker Big Book of Cats
BOOK REVIEWS
Biographical Sketches of Swann Collection Cartoonists
George Wunder's Terry and the Pirates
Alley Oop 1939: First Time Travel Adventure
The Art of Rube Goldberg
LONG FORM PAGINATED CARTOON STRIPS
Dark Rain: A New Orleans Story
Marble Season
SuperZelda: The Graphic Life of Zelda Fitzgerald
In True Graphic Novels, Pictures Set the Pace
Bohemians: A Graphic History
Slayground: Richard Stark's Parker
Woman Rebel: The Margaret Sanger Story
Collectors' Corniche
George Scarbo's Comic Zoo
Ike's Military Highways
FUNNYBOOK FAN FARE
Bad Ass No.1
Ms. Marvel No.1
Jonah Hex Stuffed (Again)
Onward, The Spreading Punditry
A Love Letter to Big Government
PASSIN' THROUGH
Bhob Steward, 1937 - 2014
Our Motto: It takes all kinds. Live and let live.
Wear glasses if you need 'em.
But it's hard to live by this axiom in the Age of Tea Baggers,
so we've added another motto:.
Seven days without comics makes one weak.
(You can't have too many mottos.)
And our customary reminder: when you get to the $ubscriber/Associate Section (perusal of which is restricted to paid subscribers), don't forget to activate the "Bathroom Button" by clicking on the "print friendly version" so you can print off a copy of just this installment for reading later, at your leisure while enthroned. Without further adieu, then, here we go—:
NOUS R US
Some of All the News That Gives Us Fits
AWARD SEASON
It's that time of year again: now that the movie industry's award season has concluded with the Oscar presentations, the parade of awards for cartoonists begins with the nominees for the National Cartoonists Society's Reuben for the "cartoonist of the year."
This year, NCS named four finalists, not just three, the usual number. And all four are, as is usual with the Society, syndicated newspaper cartoonists: Hilary Price, Rhymes With Orange; Wiley Miller, Non Sequitur; Stephan Pastis, Pearls Before Swine; and Mark Tatulli, Lio and Heart of the City.
"I was expecting that about as much as I was expecting to get called up to go play in the NHL," Price told Michael Cavna at ComicRiffs. "It was a really, really nice surprise."
Said Miller: "The initial reactions were the obvious ones of surprise followed by delight. It really did seem to come out of the blue for me, completely unexpected."
This is the sixth Reuben nomination for Pastis; the other three are first-time finalists.
"I am so pleased to be standing shoulder to shoulder with those three," Price told Cavna. "Or, I guess, Stephan and Wiley are standing shoulder to shoulder, and Mark and I are standing at about nipple height to them."
"The best part came when I learned who the other candidates are, four in all this year, which is unusual," Miller said. "All the others … are very good friends of mine, and I honestly couldn't be more pleased. I know this sounds like the usual 'aw shucks' [baloney], but I'm genuinely happy to be a part of this group, and will be very happy regardless of who takes home the trophy. I really think that we've already won in being nominated. The trophy will just be icing on the cake."
The winner will be announced May 24 at the NCS Reuben Awards dinner in San Diego. If she wins, Price will be only the second woman to collect the Reuben statuette; Lynn Johnston of For Better or For Worse was the first in 1985. (And she declined her nomination in subsequent years, saying no one should get the Reuben more than once; a position the Society adopted formally a few years later.) Price would also be the only openly gay winner.
In its prolonged Reubenesque glorification of syndicated comic strip cartoonists—only 18 of the 67 winners have not been syndicated—NCS continues to overlook such stellar figures in cartooning history as Gahan Wilson. And only 5 editorial cartoonists have ever got the nod.
Herblock Prize. The eleventh Herblock Prize for excellence in editorial cartooning was awarded to Jen Sorensen, the first woman to win. "Winning the Herblock is one of the finest moments in a political cartoonist's life," Sorensen told the Washington Post. "Being the first woman to win the prize makes it an extra-special thrill."
Sorensen, a former Charlottesville alt-weekly cartoonist who now draws for the Austin Chronicle, was a Herblock finalist in 2012 according to Michael Cavna at his ComicRiffs blog. That year, she told Cavna: "It's so nice to see our genre of political cartooning acknowledged after so many years in the wilderness."
In announcing the winner, the judges issued a statement about Sorensen: "Her strong portfolio addresses issues that were important to Herblock, such as gun control, racism, income inequality, healthcare and sexism. Her style allows her to incorporate information which backs up the arguments she presents. Her art is engaging and her humor is sharp and on target."
The Herblock Prize consists of a silver Tiffany trophy and $15,000 after-tax cash award.
Sorensen is the fourth editoonist to win who is not a full-time staffer on a major daily print newspaper, joining Tom Tomorrow and Matt Bors (the first of the three alternative publication cartoonists to win) and Matt Wuerker, who's gig is Politico, initially a mostly online newspaper.
The seeming flood of alties may be explained in part by the presence on each year's panel of judges of the previous year's winner. In addition to Tom Tomorrow (aka Dan Perkins), this years judges included editoonist Tony Auth and Sara Duke of the Prints and Photographs Division at the Library of Congress. But Sorensen stands amply qualified before any panel of judges.
In addition to receiving several Alternative Newsweekly awards, last year she won the Robert F. Kennedy Journalism Award and the National Cartoonist Society's Award for Best Editorial cartoonist.
Cavna reports on her career—:
Raised in Lancaster, Pennsylvania, Sorensen attended the University of Virginia, where she drew a daily comic strip, Li'l Gus, for the campus newspaper, University Journal, from 1994 to 1995, and contributred to the satirical magazine The Yellow Journal.
Sorensen was soon published in various comic anthologies, including Action Girl and the Big Book of the 70's. She published her own magazine, Slowpoke Comix No.1, in 1998. In 1999, one year after the book's publication, Slowpoke became a weekly comic strip. As of 2012, Cavna said, the strip goes simply by her own name, though a few alternative weekly papers continue to use the Slowpoke name.
Sorensen has published three volumes of cartoons: Slowpoke: Café Pompous from 2001, Slowpoke: America Gone Bonkers from 2004 and her latest book, Slowpoke: One Nation Oh My God! published in 2008. Besides her weekly political cartoon, she has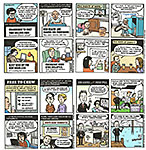 produced illustrations for such periodicals as Nickelodeon Magazine, The American Prospect, The Dallas Observer, Women's Review of Books, and Mad Magazine.
Sorensen has written and illustrated a number of long-form comics, most notably a piece on health care reform commissioned by Kaiser Health News, and a synopsis of Jane Austen's Pride and Prejudice for NPR. She also writes a political weblog on her site. Here are four of her recent cartoons.
AND WHILE WE'RE TOTING UP AWARDS, here's the University of Tennessee giving one of its alums, Paige Braddock, its Accomplished Alumni Award, conferred upon notable alumni for their success and distinction within their fields. Braddock is executive vice president and creative director of the Charles Schultz Studio. Schulz met Braddock at comics conventions and, impressed with her work and philosophy, hired her to work with him at his studio in Santa Rosa, California. At Schulz's death, Braddock was selected to take his place as head of the creative arm of the Studio. The UT press release reports: "Braddock and her team are responsible for the worldwide production and quality control of the Peanuts and Snoopy brands. The enterprise is global, with more than half its sales revenue coming from outside the U.S."
Braddock also produces Jane's World, a comic strip about a young lesbian living in a trailer with her roommate, Ethan. Wikipedia reports that Braddock created Jane's World so that women, particularly lesbians, would have a comic strip character that they could relate to, though it's meant to be accessible to a wider audience of many genders. Braddock devised Jane's World in 1991 but it wasn't until March 25, 1998 that the strip appeared on the Web. In 2001 United Media's Comics.com website picked up reprints of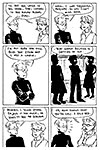 Jane's World, making it the first gay-themed work to receive distribution by a national media syndicate. Freshly concocted strips began appearing in 2007.
These days, we can find the strip online at GoComics.com, where Jane has just learned that her mother knows she's gay.
In addition to web and newspaper publication, Braddock publishes the strip in a comic book format through her own publication house, Girl Twirl Comics. The trade paperback versions feature covers created by different artists.
SHORT STOPS
Bud Plant, who shed his mail order business a year or so ago to rely completely upon online ordering, is back with a printed catalog issued through the Postal Service. Presumably you could request to be put on the mailing list: BudsArtBooks.com or 800/2421-6642.
NPR Books and Code Switch finished Black History Month by asking three comic artists to illustrate something — a person, a poem, a play, a book, a song — that inspired them. Afua Richardson, an award-winning illustrator who's worked for Image, Marvel and DC Comics, chose Langston Hughes' great poem "The Negro Speaks of Rivers." And you can see the results at npr.org/blogs/codeswitch/2014/02/24/280166355/blood-and-water-illustrating-langston-hughes-rivers . Much as I admire the art, poems cannot be illustrated. Poetry is essentially a specimen of word play. Illustrations may be inspired by poems, but they cannot, by definition, represent them. And if they try, they inevitably fall short, robbing the words of the suggestive power they have when standing alone, unaided.
HISTORIC COMICS MURAL THREATENED
A New York watering hole called Costello's was once a storied hangout for various cartoonists and writers of The New Yorker persuasion. But mostly writers. Walt Kelly frequented the place—rather than the Palm, a former speakeasy on Second Avenue the walls of which are decorated with famous cartoon characters, drawn there by their originators. The Palm was for cartoonists; Costello's was for writers, and Kelly saw himself as chiefly a writer. So did James Thurber, another Costello's habitue. Kelly never drew on the wall, but Thurber did.
The story is that Thurber drew his pictures on the wall of the original Costello's, another speakeasy that opened under the Third Avenue El in 1929, to settle his bar tab during the Depression.
I had lunch at Costello's once; Milton Caniff took me there while I was in New York interviewing him for The Biography (see Meanwhile description elsewhere on this site). We sat at a table for two, and nearby there were a couple framed Thurber drawings—on plaster. Caniff explained that this Costello's (on East 44th Street) was not the original Third Avenue Costello's, which had closed some years before but reopened at the present location.
Knowing that they had an art treasure on the wall in Thurber's scrawls, the management had the decorated sections of the wall at the old place cut out and bodily removed and framed so they could hang them in the new Costello's, which was now operated by the son of the founder.
Eager to establish the place's reputation as an art gallery of original cartoon murals to rival the Palm's, Tim Costello invited several notable cartoonists to draw their characters on the wall in the dining room beyond the bar in front. The deal, engineered by New York Daily News's legendary sports cartoonist Bill Gallo, was that if Costello closed the place for 24 hours and offered free drinks and food, Gallo would get "the best known cartoonists in the country to paint the wall." And so it transpired.
Caniff drew Steve Canyon. Others drew their characters— Bill Holman (Smokey Stover), Bill Keane (The Family Circus), Paul Fung (Dumb Dora), Bill Kresse (Super Duper) and others of the freelance fraternity— Al Jaffee, f'instance; even Stan Lee. And so on. A couple months ago, the wall was described by the New York Daily News' Brian Kates:
"In the center, with a nicotine patina, is Gallo's Basement Bertha, brandishing a membership card in the National Society of Cartoonists. Stretched across the top, from the hand of Mad magazine's Sergio Aragones, is a small army of Mexican banditos, tipping their sombreros to a buxom senorita. At the bottom is a caricature of bartender Fred Percudani, smoking a stogie and riding a bike with two flat tires. In between are what Jan Ramierz, museum director of the New York Historical Society, called 'a wonderful, wonderful vignette of New York and the world of cartooning.'"
Mort Walker's Beetle Bailey is among those pictured on the wall. "I did my part," Walker explained, "—climbed up a ladder and drew my character. Then I got down and had some drinks, so I don't remember too much after that. But Costello's was a wonderful old place."
The emphasis is on was.
Several years after the muralizing, Costello's closed. But the place re-opened as the Turtle Bay Café. The owner of Turtle Bay Café lost the lease recently, and the joint is going to be torn down to make room for "a trendy eatery." What will happen to the wall mural was, at the time Kates wrote (end of January), unknown. The Thurber drawings had already disappeared long ago, their whereabouts unknown.
Said Kates: "The Historical Society is one of several institutions that hope to find a way to preserve the wall for posterity. But removing an old 20x4-foot plaster wall without destroying it requires considerable finesse and potentially a lot of money. And then there's the problem of what to do with it once it is removed."
None of these problems have yet been solved as far as I know.
NON-ENTITY SUES DISNEY FOR RIGHTS TO SPIDER-MAN
The legal machinations of Stan Lee Media Inc.'s claim to own Spider-Man continue apace. Eriq Gardner at hollywoodreporter.com says: "Predicting a conclusion to SLMI's drawn-out battle over Spider-Man rights is somewhat of a fool's errand because every time the seemingly down-and-out company gets punched in the stomach by a judge, it figures out a new way to stand up in court again."
Gardner continues: "Last September, Disney filed a lawsuit in Pennsylvania court against a musical production entitled Broadway: Now & Forever, which included scenes or references from The Producers, Billy Elliot, Wicked, Jersey Boys, Mary Poppins, The Lion King and yes, Spider-Man: Turn off the Dark. American Music Theatre was the defendant, and after being sued, it struck a licensing agreement with SLMI for Spider-Man rights. ... Now there's discussion over whether SLMI is precluded by prior court decisions from asserting rights over Spider-Man. One of the big reasons that SLMI keeps losing is that judges keep deciding that the matter has already been determined by past judges. But SLMI believes that no judge has ever gotten to the merits of its claims of ownership over Stan Lee's creations."
Recently, in continuing the fight, Disney gave a Pennsylvania judge two more big reasons why SLMI's claims should be disallowed once and for all.
First, "Disney says SLMI's claims are time-barred. Its subsidiary Marvel and licensees 'have continuously and notoriously used the Marvel Characters for more than fifty years,' says Disney, adding that SLMI knew about this and could have objected when it made a deal with Stan Lee in 1998.
"Second, Disney says that SLMI is an 'administratively dissolved corporation that lacks the capacity to license.' [SLMI is the outfit whose CEO turned out to be a conman of international reach, who subsequently absconded to Australia or some other planet; Stan Lee had long terminated any connection with the operation.—RCH] Essentially, Disney says SLMI has ceased to function but for litigating since 2002. And Disney adds that under Colorado law, a dissolved corporation can't carry on its business except to 'wind up and liquidate its business and affairs.'
"If the Pennsylvania judge accepts the arguments," Gardner concludes, "it would seemingly be game over for SLMI. But we'd be a fool to say it'll really mean, The End."
EDITOONS IN OGDEN, UTAH TO LOSE BITE
From Alan Gardner whose DailyCartonist originates in Utah: I'm a bit surly this morning after reading the news that my one-time local paper the Standard Examiner hired a freelance cartoonist to do local cartoons once drawn by the genius cartoonist (and personal friend) Cal Grondahl. The Examiner laid Cal off last month a couple years shy of his retirement [reported in Opus 320]. Now I learn the paper has hired a children's illustrator, Val Chadwick Bagley (not related to the award-winning Salt Lake Tribune editorial cartoonist Pat Bagley), most noted for his work for The Friend and New Era – children and teen magazines for the Mormon church. Being a decades long contributor to various church publications guarantees Val won't be touching any issues related to the church's heavy influence in local politics and culture. In other words, they didn't hire an editorial cartoonist with any bite, they hired an illustrator who's pen will stay holstered on a lotof important issues that will affect their readers.
RCH: One of the traditional (and disdained) roles of editorial cartoonists in the ancient history of newspaper journalism was to illustrate a paper's verbal editorials, giving the management's opinions a visual-verbal double whammy. But modern editoonists eschew such mindless errands.
NEW UNEXPECTED WATTERSON ART
As far as we know, the reclusive Bill Watterson, in hiding since abandoning his insanely popular comic strip Calvin and Hobbes 18 years ago, hasn't drawn a cartoon since. Until just this month, when he drew a cartoon for the poster about "Stripped," the documentary that web cartoonist Dave Kellett has co-directed about the changing (perhaps disappearing) newspaper comic strip world.
The documentary, which is now available on iTunes and will be offered in DVD starting April 2, contains interviews with a score or more cartoonists, including the creators of Garfield, Cathy and Beetle Bailey, who talk about their craft and how it is changing as newspapers have begun to go away. Watterson is also interviewed in the film, but not on camera. As a disembodied voice, he says: "In the right hands, a comic strip attains a beauty and an elegance that really I would put against any other art."
Kellett, his chutzpah amped by this success with Watterson, was emboldened enough to ask Watterson if he would draw a picture to promote the film. Apparently, said Kellett's co-director Fred Schroeder to the New York Times, "Watterson really wanted to express some thoughts about comics and cartooning."
Said Watterson: "Aside from supplying a few sentences to the documentary, I'm not involved with the film, so Dave's request to draw the poster came completely out of the blue. It sounded like fun, and maybe something people wouldn't expect, so I decided to give it a try."
He explained the cartoon's genesis to the Washington Post: "Given the movie's title and the fact that there are few things funnier than human nudity, the idea popped into my head largely intact," he said. "The film is a big valentine to comics, so I tried to do something really cartoon-y. I had thought of having it colored with off-registered printing dots like newspaper comics, but Dave asked if I'd paint it instead, and I think he made the right call."
At the New York Times, he continued: "It's a silly picture that sums up my reaction to the current publishing upheaval, so I had a good time, and I hope it brings the film some attention."
To resort to understatement—it undoubtedly will.
Gazing fondly at the cartoon, it's satisfying to notice that Watterson has lost none of his aptitude for comedic visuals. Not that it's a surprise: if you draw every day for ten years, as he did while producing Calvin and Hobbes, you acquire a certain skill that does not erode over the years, even if you aren't drawing every day anymore.
And speaking of Watterson's persistent cartooning expertise, here's the original Watterson self-caricature erstwhile on the wall at Universal Press HQ, the picture that inspired the one I posted lately with the Watterson speeches in the Harv's Hindsight.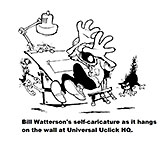 More Unexpected Watterson. Alan Gardner reports that some early Bill Watterson art has surfaced—cartoons he drew for his high school newspaper in 1973-74. The drawings are posted at DailyCartoonist.com for February 17. It's a comfort to see this juvenilia: they reveal that, like almost all artists in their raw youth, he drew pretty badly before he got really good.
LAST DITCH OFFENSIVE
In South Carolina in mid-February, the House Ways and Means committee voted 13-10 to cut the College of Charleston's budget by $52,000, the amount the school spent last summer on The College Reads!, an annual campus-wide initiative designed to promote discussion of "challenging" books among faculty, staff and students. Kevin Melrose at robot6.comicbook resources.com reported that problem was the choice of Alison Bechdel's gay-themed graphic novel Fun Home, which "drew fire in July from a conservative Christian group that labeled the graphic novel 'pornographic.'"
At the same time, lawmakers cut $17,000 from the budget of the University of South Carolina Upstate for assigning "Out Loud: The Best of Rainbow Radio" which is about South Carolina's first gay and lesbian radio show.
The legislative drive, reported Carolyn Kellogg at latimes.com, was led by State Representative Garry Smith, a Greenville Republicon who sits on the House's higher education budget committee that approved the cuts, who "pushed punishing the College of Charleston and USC Upstate for their book choices."
Said Smith: "One of the things I learned over the years is that if you want to make a point, you have to make it hurt. I understand academic freedom, but this is not academic freedom .... This was about promoting one side with no academic debate involved."
As I gather from the purported purpose of the program at Charleston, the whole idea was to foster discussion and, yes, debate. But Smith and his ilk, looking at the world through the isinglass in their navels, can't see that. Of course.**
College of Charleston professor Christopher Korey, who leads the college's First-Year Experience, which oversees the summer reading program that included Bechdel's book, said: "The [school] committee recognized the book might be controversial for a few readers, but the book asks important questions about family, identity, and the transition to adulthood. These are important questions for all college students."
Important to confront and discuss—and debate.
Smith told the Post and Courier that Bechdel's book "goes beyond the pale of academic debate," because "[i]t graphically shows lesbian acts," adding (of course) that the college was "promoting the gay and lesbian lifestyle."
As attitudes across the nation change in support of such things as same-sex marriage, people like Smith are increasingly fighting a rear-guard action in retreat away from an inevitable defeat. Desperate to avoid facing the inevitable, they pick on whoever seems vulnerable.
In a statement released by her publisher Houghton Mifflin Harcourt, Bechdel said: "I'm very grateful to the people who taught my book at the College of Charleston. It was brave of them to do that given the conservative pressures they're apparently under."
She continued, "I made a visit to the school last fall for which they also took some flak, but to their great credit they didn't back down. It's sad and absurd that the College of Charleston is facing a funding cut for teaching my book—a book which is after all about the toll that this sort of small-mindedness takes on people's lives."
The funding cuts approved by the budget committee will go to the House floor for debate on March 11.
**Looking at the world through the isinglass in their navels is a cute way of saying their heads are so far up their collective ass that the only way they can see anything is through a window in their navel.
DOONESBURY'S HIATUS AND THE FATE DU JOUR
Poached from the redoubtable Michael Cavna's at his ComicRiffs blog at the Washington Post: Starting February 24, Garry Trudeau put the daily releases of his Pulitzer Prize-winning Doonesbury on long-term hiatus in order to concentrate on writing his political satire live-action tv show, "Alpha House," which recently ended its debut season with such strong viewership that Amazon Studios has picked it up a second season. Trudeau will continue to create new Sunday Doonesbury strips; the rest of the week, readers will get reruns dating back to the feature's syndication launch in 1970. More than 13,000 potential "Flashback" strips, Universal Uclick notes, haven't been seen in a newspaper since their initial run. And that's a lot of inventory to pick "Flashbacks" from.
Trudeau intends to return full-time to the strip eventually, but he admits no one can say for sure in these days of "lateral movement" by creators in the media and arts. Said he: "I've always thought of myself as a comic-strip lifer, which is common in our industry and an annoyance to younger cartoonists. I love working for newspapers, and can't imagine life without them. Which is why I'm keeping one foot in with the Sundays."
"Comic strips and episodic tv actually draw from similar skill sets," Trudeau told Cavna.
"I'm accustomed to writing dialogue, constructing scenes and developing characters. And, of course, I think visually."
But "Alpha House" does present the left-leaning Trudeau with a challenge: his protagonists are a quartet of conservative senators (played by John Goodman, Clark Johnson, Matt Malloy and Mark Consuelos) who room together while in Washington, and Trudeau is on more familiar ground depicting the four as they fend off Tea Party challengers, ethics probes and blasts in Afghanistan.
Cavna asked the cartoonist whether it was difficult to leave one of his creations behind in order to tend to the other. "They're both full-time jobs," Trudeau said, "—so I had to choose, and no, it wasn't that difficult. I've done the strip for 43 years — 45 if you include the college edition [at Yale] — and I'm ready for an extended break. A hiatus comes with uncertainty, of course: I can't assume I'll be welcomed back a year or two from now. The comics page is zero-sum real estate, and there are a lot of interesting new strips that editors could turn to while I'm away."
Asked about the differences between the two enterprises, Trudeau said: "The goal is essentially the same: to entertain. Sure, commentary is part of the package, but if you can't clear the comedy bar, you don't have a show. The main difference is that the strip allows me to be a little emperor, in total control of every element. On a tv show, by contrast, I have to get buy-in from 120 teammates. 'Alpha House' is a small corporation, and when you consider all the disciplines, talents and temperaments involved, it's amazing that the show looks anything like what I imagined it would be. And yet, miraculously, it does."
I don't doubt that Trudeau intends to return to doing Doonesbury seven days a week instead of just on Sundays. But the temptations of the other medium are clearly great, and the last time the cartoonist took a sabbatical—in 1983-84—he announced that he'd be gone for 18 months but stayed away for almost two years. And he's now 65, which, for many of us, is retirement age. Despite his undeniable affection for the comic strip medium, this time, he may call it a career after a few seasons of "Alpha House" and a couple years of Sunday Doonesburys.
The Sunday Doonesbury is stand-alone satire, and I'm glad Trudeau is continuing to do it. But the real wallop of the strip is achieved cumulatively in the gradual pile-up of edgy commentary day-by-day. At your eye's elbow are a couple consecutive strips from earlier this year; this is the kind of satiric comedy we'll miss in the non-continuous Sundays.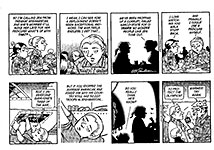 And Trudeau, as usual, is right in these strips. Here's Ernesto Londono at the Washington Post on March 6: "These days, 12 years after the start of America's longest war, far fewer U.S. troops are being killed or wounded in Afghanistan, but the war churns out American casualties by the dozen each week. Their injuries rarely make headlines."
"By the dozen."
Londono goes on to quote Rep. Adam Kinzinger, R-Ill., a former Air Force pilot, after returning from a visit to Kabul a few weeks before the State of the Union speech: "I think there is a sense in the military that Americans are not paying attention anymore. I think they're right, to be honest. There is a sense that it's over, but it's not."
Exactly the proposition advanced in these Doonesbury strips.
And if, without the daily dose, Doonesbury loses its sting, will it also lose its readers? Among whom number some 1,400 newspaper feature editors.
While Trudeau is juggling conservative senators on tv and a cast of thousands of liberals in the comic strip, other cartoonists lurk, ready to pounce on any vacancy that shows up on the daily newspaper turf. And the pouncing has already begun as newspaper editors ponder what to do about Doonesbury in rerun.
AT THE STAR-TELEGRAM in Fort Worth editor Jim Witt mused: "It's hard to know what to say when an old friend tells you he's leaving, maybe never to return. That's what's happening to the Star-Telegram beginning Monday, February 24, when the Doonesbury comic strip that runs daily on our opinion pages goes away. The syndicate offered to sell us old Doonesbury strips that have already run daily," Witt continued, "but because the cartoon depends so much on topical humor we declined. Strips about Nixon during the Watergate years just don't have the same punch now that they had back in the day."
Witt goes on, sounding more and more like he's decided Doonesbury may never return. "The Star-Telegram has been running Doonesbury since October 26, 1970. We were one of only 28 newspapers that picked up the strip from Day One. It now runs in more than 1,400 papers worldwide. Most of the other strips we ran when Doonesbury debuted have been discontinued for a long time. They include Little Orphan Annie, Mandrake the Magician, Animal Crackers, Half Hitch, Lolly, Rip Kirby, Rick O'Shay, Redeye and The Smith Family."
At the Knoxville News Sentinel, Jack McElroy puts the question bluntly: "Has Doonesbury's time passed? That's a question the News Sentinel's Editorial Board will be contemplating this week. ... This past week, emails were bouncing among Scripps editors asking for ideas on what to do next. Some are considering other politically oriented comic strips, such as Candorville by Darrin Bell or Prickly City by Scott Stantis. Others will stick with the reruns and see if Trudeau returns to full-time work this fall. I'm open to suggestions," McElroy finishes. "Doonesbury has been a great comic for more than 40 years. But if Trudeau is moving on, is it time for this paper to do likewise?"
AT THE ARIZONA STAR, Doonesbury dailies no longer appear. In their place, Mike Lester's Mike Du Jour. As an indication of the caliber of Lester's strip, it was the only strip launched into national syndication in 2012. You can find this historic moment detailed at Opus 296, but we'll add a little to its legend here.
In his other guise, Lester is an excellent editorial cartoonist of the conservative persuasion. Or so it seems to me. He denies it. "I find it odd," he told me a few years ago when we first met, "that I'm referred to as a conservative. Somewhere in the Constitution, it plainly states: all men should be made fun of equally."
But don't take his word for it. Or mine. In the immediate vicinity, I've posted some of my favorites of the Lester oeuvre —over the GeeDubya years mostly, with a couple of the most recent. You look 'em over and decide: conservative or crank?
Incidently, one of the cartoons commemorates the deaths of Ronald Reagan and Ray Charles, who, I'd forgotten, died within a week of each other: June 5 and June 10, 2004 respectively. Otherwise—the guy with the virgin daiquiri always makes me laugh out loud; ditto the guy being tortured in the "newly remodeled interrogation room." Lester's caricatures of Michael Moore and God are a hoot. And his depiction of the emerging "civil discourse 2004" is about as bipartisan as you can get.
The two most recent cartoons go after Obama pretty good, and while I think the "affordable sex act" cartoon is hilarious (particularly the woman gaping at the poster or flyer or whatever it is), I'm not sure I can explain it.
Despite Lester's misguided convictions, I love his cartoons. Ditto Mike Du Jour —perhaps even more because Lester's political ideology doesn't seem on display so blatantly. So it's not as if the Star is replacing the liberal Doonesbury with the conservative Mike. (Arizona and its reputation as a right-wing nut orchard notwithstanding, the only two operating editorial cartoonists in the state, Steve Benson at the Arizona Republic and David Fitzsimmons at the Star, are both more liberal than nutty.)
A native of Georgia, Lester lives in Jacksonville, Florida, where he moved with his wife Regan last July (her sister and brother-in-law live in Jacksonville). He left a full-time gig as editorial cartoonist with the Rome (Georgia) News-Tribune. The paper filed Chapter 11 in January 2012, and Lester was a casualty of the ensuing re-jiggering of the balance sheet. Until Lester's departure, the paper was the smallest circulation daily newspaper in the nation with a full-time staff editoonist. No longer true; Lester was not, to my knowledge, replaced.
"Great people to work for, but it was time to move on," Lester said. "So we did."
David Crumpler at the Florida Times-Union, another paper where Mike Du Jour began last month, supplies more Lester background (in italics):
Lester, 58, grew up in Atlanta and was an art major at the University of Georgia. He got his start in newspapers doing illustrations for the Atlanta Journal and Constitution. He also began doing freelance work for ad companies and corporations, something he continues to do today. In Lester's words, "I'm always on deadline."
He's not complaining. He always liked to draw, he said, and figured out well before college that this was probably how he was going to make his living.
Mike Du Jour got its start during the dot.com bubble in the 1990s. The Wall Street Journal contacted Lester and asked if he could do an animated comic for the paper's website. "I didn't know the first thing about animation," he said. "At that point, I didn't even know much about websites. So of course I said 'yes.'"
He wrote and drew a 30-second animated web cartoon that appeared five days a week. "But as the dot.com bubble languished, Mike Du Jour went on lengthy hiatus."
[Lester told me that he had compiled a wad of gags for the show and when it expired, he thought about re-purposing them for print. The first title for this cache of gags was "What the?"—RCH]
Under the title Mike du Jour, the strip was picked up for syndication in 2012.
Lester also spent close to a decade doing illustrations for children's books. The first, A Is For Salad, which he wrote as well as illustrated, made the New York Times list of Top 10 Children's Books of 2002. By 2009, he'd done the illustrations for seven more.
LET ME INTERRUPT Crumpler here to point out a couple of things, one of which should, by now, be obvious: Mike Lester and I are friendly acquaintances, both members of the National Cartoonists Society and of the Association of American Editorial Cartoonists, and when we run into each other at the annual shindigs of these outfits, we enjoy each other's company long enough get just one more drink. I refer to him as "Lester" in this article in order to distinguish him from the protagonist of his comic strip, whose name is Mike.
I'd just as soon call Lester "Mike," but doing so would presumably betray my acquaintance with him and thereby severely unhorse my supposed objectivity in commenting on the caliber of his work—even though it was my admiration of his work that first prompted me to make his acquaintance.
The second of the pointy things I've interrupted Crumpler to say is that Lester has won the NCS Reuben Division Award for Best Book Illustration four times since beginning to dabble in the genre—in 2000, 2006, 2008 and 2010. The photo of Lester and me that you can see out of the corner of your eye was taken at the 2007 Reuben Banquet where he was up for what became his second win. The peculiar guilt-ridden expression on my face is caused by my realization that I was being photographed while seemingly accepting the ten dollar bill Mike was slipping into my hand to persuade me to vote for his entry. He should have known better than to think I could be bribed for anything less than a twenty. But he won anyway.
Next to the incriminating photo are Lester pix from two of his children's books. The first is from the aforementioned A Is For Salad, a cruel perverse joke on the young because, as any fool can tell (I can tell), "salad" does not begin with an "A" but the creature consuming the salad, an alligator, does begin with an "A."
Perhaps Lester wants children to learn that things are not always what they claim to be. "E" is really for "elephant," isn't it? And I'm sure any parent reading this book to, say, a six-year old child would be corrected at every step by the child, which brand of human is always more perceptive than the adult version.
I like especially that "Z" is for "the end"—the end in question being not only the end of the book but, apparently, the south end of a zebra going north. How Mike came up with this style of drawing is another story, I'm sure; but the visuals—all the animals winking at us in order to let us know they're in on the joke—seems perfectly appropriate for the subject. And for the presumed audience (parent with offspring attending).
The other two illustrations are from a book Mike only illustrated—The Really Rotten Princess and the Cupcake Catastrophe written (it sez here) by "Lady Cecily Snodgrass." (I've put quotation marks around the name because Lady Cecily is almost certainly someone's nom de plume; the coupling of an aristocratic title, "Lady," with the wholly pedestrian last name, "Snodgrass," gives it away as a fabrication.)
To appreciate Mike's artwork, you don't need to know much more than that the Rotten Princess has made cupcakes that taste awful. Maldemar is the court wizard. ("Mal de mer" being French for sea sickness; but I suppose you don't need to know that.) I like the drawings so much I bought a copy of the book for myself so I could periodically take it off the shelf to admire the loose pencil lines and manic textures. I'll let you alone to do the same while I rejoin Crumpler for his article on Lester and his new comic strip, Mike Du Jour, in progress.
DRAWING CHILDREN'S BOOKS, Crumpler quotes Lester as saying, never proved as satisfying as drawing cartoons. [So Lester persisted in drawing cartoons all the time he was also dabbling in children's literature.]
The name "Mike Du Jour," Lester said, is a "triple entendre." It's the main character's name, the cartoonist's name and "an honest description of the strip" — as in, a reflection of whatever fresh ideas are brewing in Lester's mind. "The nebulous title doesn't paint me into a corner."
He sees Mike as autobiographical, he said, "not in the sense that it's about me, but 'This is what I am thinking.' "
He has described his protagonist, Mike, who is single, something of a loner, who works for a generic company called Big Bottom Line Inc., as both "an observer and victim of his life."
The humor in Mike Du Jour is observational rather than topical, Lester said, although topical events — such as the Winter Olympics — may inspire a series of drawings now and then.
He develops a weekly theme for his daily strips.
["Hit Man Week," he explained to me, "—Emperor w/no Clothes Week, Lint Week, so it's essentially a weekly serial. What you read on Monday, you'll read through the week. Sundays stand alone. The result is that I really don't develop characters, including Mike, in the common way. They show up when the situation calls for them, and some of them have stuck around—like the Key Cat Lady, Emperor and a composite of every barista, waiter and waitress I've ever met.—RCH, interrupting again.]
Basically, "It's just kind of a smart-aleck cartoon," he told Crumpler. "Humor is still what it always was. Funny is funny."
Lester may make it sound simple, but his observation that a good joke "has to have an element of surprise" gives you a sense of the work a single strip may involve.
[And (interrupting yet some more) we can easily see the element of surprise at work in the accompanying array of strips in which Mike, relaxing at his favorite saloon, encounters a man dressed as a woman. Reflecting on the last two strips in the series, it may seem the jokes are predictable, but Lester carefully staged them to insure the surprise.—RCH]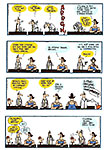 "It's all about the setup, so that you don't see the punch line coming," Lester said, and you don't know what's going to happen until the last panel.
[But you should have known. In fact, the realization that dawns as you chuckle over the joke is that the thing turned out as could be anticipated—and should have been; and that's an essential part of the comedy, the groaner part.—RCH, still interrupting.]
"It's a blessing to be able to do this," Lester said. "It's a gift. I don't take it for granted at all."
He has three editors at The Washington Post Writers Group, and though Mike Du Jour is "not written by committee," he thrives on the collaborative process. But his first editor, he said, is his wife, and he welcomes her input.
"I think I'm funny, that I can be funny," Lester said. "But I'm the second funniest person in the house."
[RCH, back full time:] And who am I to contradict Mike? But I don't think Regan can draw, and it's Lester's weedy drawing style that enhances the comedy in his strip with the spindly hilarities of his line constantly in search of itself.
The Star's Gerald Gay asked Lester where the idea for Mike Du Jour came from.
"This is sort of my second act," the cartoonist said. "I've been an illustrator for ad agencies and publishers for years. Then I got into children's books. I've written enough to where I think I can call myself an author. Mike du Jour allowed me to combine all of the useless talents that alone didn't really add up to much."
He continued: "When I embarked on this, I said, 'We are going to be a comic strip for people who don't think they like comic strips.' We are just trying to be funny. There is not a running gag. My readers are smart. I don't want to ever forget that. I am trying to make both of us laugh. If I don't think it is funny, you aren't going to think it is funny."
Is it a challenge coming up with ideas every day, Gay asked.
"It is like having a litter of puppies every week," Lester said. "You have to give birth to them all and keep them going. Then you start all over again. I am blessed that I get to do something that I love and that people are generous enough to publish it. I take very seriously signing my name at the end of the day. Not everybody gets to do that."
Another time, Lester, saying he loved the job, also described writing a daily comic strip is like being married to a nymphomaniac: "The first two weeks are great."
Said Gay: "You are known for your conservative editorial cartoons. Why keep politics out of Mike du Jour?"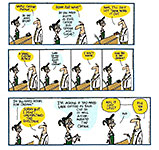 "If I added politics to it, I wouldn't have two different jobs. I want Mike du Jour to stand on its own. In many ways, it is autobiographical. I use a lot of my own thoughts. A lot of the people I meet, I use as composites for characters in the script. Drawing editorial cartoons is a different hat that I wear. I'm lucky to be able to do both."
And here, one more dose of Lester laugh-inducement, three strips regaling us with Mike's adventures with one of those annoyingly cheerful and forever imperturbable barista persons.
KERFUFFLE IN THE MILE HIGH CITY
As the Denver Comic Con approaches its third incarnation June 13-15, a kerfuffle has emerged. One of the co-founders of DCC and of the Con's sponsor, the non-profit Comic Book Classroom, Charlie La Greca, posted a letter online that alleges (1) that CBC is not using the proceeds from last year's roaringly successful Con to extend its program in the schools teaching literacy and art skills through comic books and (2) that some $300,000 in revenue from the Con remains "unaccounted for." La Greca claimed that he was ousted by the organization's board without any explanation and that no Comic Book Classroom courses have been created or taught since last year's convention and no new programs initiated.
CBC officials immediately refuted the allegations, posting a preliminary financial summary that shows the disposition of its $1.3 million 2013 revenue, and offered some explanation for La Greca's behavior. Last year, La Greca resigned from the boards of both entities in order to take a $10,000 contract for design work for the Con. His resignation was voluntary but essential if he wanted the fee: board policies prohibit members from accepting payment; all board positions are voluntary. After the Con, however, La Greca's contract was not renewed. La Greca presumably objected, and he and CBC/DCC entered into mediation to resolve the issue. His online outburst was, I suspect—with nothing but ordinary reasoning to substantiate—an act of frustration that mediation wasn't working as quickly as he'd hoped.
In its online response to La Greca, CBC reported that a CBC class is currently in session in a school near Denver and that numerous plans are underway to expand the reach of the program, citing at least three by name and purpose.
Meanwhile, La Greca called a "town-hall style" meeting for Sunday, February 23 to air the issue, but the meeting was cancelled two hours before it was to begin because La Greca and the CBC/DCC officials had agreed to resume mediation to resolve their differences.
The Denver Post, which had conspicuously promulgated the news of the disputation, failed to report the subsequent events. So I wrote an irate letter to the editor; to wit (in italics)—:
A week or so ago, you ran a story in which one of the Denver Comic Con co-founders accused the sponsoring Comic Book Classroom people of various kinds of malfeasance. The article included notice of a "town-hall style" meeting on Sunday, February 23. If you had a reporter assigned to the story, you would know that the meeting was cancelled because the disputants agreed to re-enter a mediation process that had been derailed by the dispute. You didn't run a story about the cancelled meeting or the resumption of mediation.
I understand why: newspapers always prefer sensational news to reconciliation news : the former is exciting and sells papers (but how many papers are you selling at corner newsstands these days?); the latter is boring and sells nothing.
Interested persons had to find out about the resumption of mediation at the DCC Facebook page. And so your journalistic nonchalance about the story has the effect of undermining print journalism: ironically, the news was on the Internet, not in the paper. Maybe the online Post carried the story; if so, it merely reinforces my point: in forfeiting journalistic responsibility in print, you give yet another boost to the medium that is slowly killing print newspapers.
Postscript: No reply, of course.
Fascinating Footnit. For even more comics news, consult these four other sites: Mark Evanier's povonline.com, Alan Gardner's DailyCartoonist.com, Tom Spurgeon's comicsreporter.com, and Michael Cavna at voices.washingtonpost.com/comic-riffs . For delving into the history of our beloved medium, you can't go wrong by visiting Allan Holtz's strippersguide.blogspot.com, where Allan regularly posts rare findings from his forays into the vast reaches of newspaper microfilm files hither and yon.
QUOTES AND MOTS
On Black History Month by Henry Louis "Skip" Gates, Jr.: We may be "a nation within a nation," as the 19thcentury Black abolitionist Martin Delaney declared, but, from slavery to freedom, our 500-year [African American] story is indivisible from that of the nation. And to leave it out on any given day (or to carve it out for "special display on only 28 or 29 days in February) is to distort our common past while robbing those who will shape the future of an expansive archive of resiliency and hope."
RANCID RAVES GALLERY
Pictures From the Perpendicular Pronoun Press Archive
FINAL FLING PORTFOLIO (circa 1980). Our sub-subtitle here refers to that period in my paisley not-to-say checkered career when I last drew cartoons for money: from about 1978 until about 1982, I freelanced single-panel gag cartoons to magazines by mail. I did pretty well at it, selling well over 50 percent of the cartoons I sent out, a percentage I achieved after winnowing out a whole category of market. At first I sent cartoons to both men's magazines and to "general interest" magazines, but when I realized that I was selling much better to men's magazines, I concentrated on them and didn't do as many "general interest" cartoons. My sales rate improved forthwith. The cartoon at hand is one of this nefarious concentration.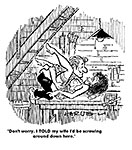 It's a terrible pun of a joke, of course. But apart from the appealing dishabille of the femme, it's the atmospherics that I like in this cartoon—all the basement workshop accouterment, the light fixture dangling from the ceiling, the tools on the wall and the workbench. The pose itself require a certain ingenuity, but the crowning visual achievement, I think, is in the shading—two thicknesses of vertical lines creating the dim and dimmer gloom of the basement. The perspective of the stairway is a little off, perhaps—but who notices?
Our second exhibit is a relic with a extended history. Tom Pilcher with Gene Kennenberg produced several years ago two hardcover volumes entitled Erotic Comics, covering the whole genre from 19th century France through Tijuana Bibles to Undergrounds to Europeans (who are much more explicit than we are) and much more. Naturally—for reasons I needn't mention (surely)—I bought them both and discovered, thumbing through the first volume, this cartoon of mine buried in the fine print of the bibliography at the end.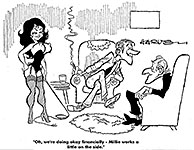 So now I'm in the history books!
I like a lot of things about the cartoon. The girl's hair, for instance, and the comedy of the extreme garment that is exaggeratedly pushing her up and away. The body language of the two men is pretty good, too, I ween: one blase and casual, the other intensely hypnotized by what he's seeing, hand gripping the arm on the chair. White knuckled. The husband's pose is nicely achieved—leaning to one side, elbow resting on the chair's arm; legs crossed, left foot turned sideways at the ankle. And I like the cigar smoke, too—wafting ceilingward—and the shag throw rug. Not bad.
And here, by way of further elucidation, is the rough sketch for the cartoon.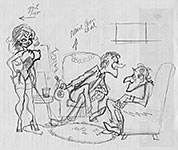 To make the finished drawing, I put a piece of tracing paper over this sketch, then trace it with a pencil, creating as I go the ragged edge line by "scrubbing" with the pencil. For the final step, I photocopy the pencil tracing—presto, instantly inked. Then I add solid blacks and shading.
Looking at the sketch, you can see my notations directing the shifting of two of the visual elements around—the girl, move to the left; the chair with the husband in it, raise up in the composition. These shifts isolate each of the visual elements so they can be quickly seen and understood. Easy to do in the final tracing: just move the paper around.
Interesting to me is the amount of detail in the sketch—the glass on the side table, f'instance, and the shags in the shag rug. I'm amazed that I took the trouble to add such nonessential ingredients to the composition. The final drawing is not much changed, but in the sketch, you can see where I've drawn several lines, finally deciding on one and making it darker than the others. Fascinating, I'm sure.
EDITOONERY
The Mock in Democracy
THE LATEST RIGHT WING NUT FIASCO in Arizona came to a cringing halt when Governor Jan Brewer vetoed this rampantly fascist law, but not before a few of the editoon fraternity had their way with it.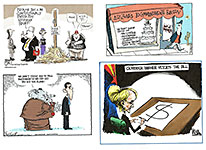 Pat Bagley's cartoon at the upper left is a visual reminder of the Spanish Inquisition when non-believers were deemed creatures of Satan, a conviction that permitted the believing faithful to burn the alleged infidels at the stake, the flames presumably driving the devil out of the hapless incinerated individual. The firebrands were acting on their religious belief, and our Constitution would presumably protect them in the exercise of that belief. And Bagley's image of a stake being readied for a burning is extreme but memorable and apt, considering the provocation the Arizona right wing nuts provided. The faggot joke is a hoot, albeit an adolescent one—emphasizing just how juvenile the conservative lawmakers are in their desperate attempt to hold back progress.
Laws like the one proposed in Arizona would legalize discrimination. Under the banner of "religious freedom," religious zealots and other bigots intend to enact "homosexual Jim Crow laws." And no one's religious freedom is protected under such a regime.
Signe Wilkinson, next on the clock, shows how it works out if the Constitution actually permits the sort of prejudiced selectivity that Arizona law would have fostered. As Andrew Sullivan says at his website: "If we reopen the door to legal discrimination to satisfy conservative Christians, bigots could claim the right to refuse to employ Muslims, sexually active single women, or Mormons."
But what about those businesses that have been forced to close down when they follow their moral convictions—Christian adoption agencies that refuse to place children with same-sex couples, for example. Should a black baker be forced to bake a cake for a Ku Klux Klan wedding? asks Kevin Williams at NationalReview.com. Should a gay restaurant owner be guilty of a crime if he politely declines to rent out his dining room to the Westboro Baptist Church for their annual "God Hates Fags" Sunday brunch?
My guess is, probably not. I've been in many saloons with signs on the door that say the owner reserves the right to refuse service to anyone for any reason. I think maybe the owner has a right to do that. But he also must face the consequences if the surrounding community boycotts his business and shuts him down. Neither of these activities—refusing service and boycotting—is illegal, as far as I know. So for the time being (pending further thought), I suspect that the owner in question ought not face a law suit. The problem with the Arizona law was that it sought to protect businesses from legal action that was probably itself not quite legal.
The issue of religious freedom claimed under the First Amendment's prohibition against government establishing a religion is a wildly liberal interpretation of the plain language that simply aims to keep government out of the religion business. This has been interpreted as permitting people to worship (or not) as they please. Freedom of religion. And that's all well and good.
But one sect's freedom to exercise its religious beliefs ought not to permit that sect to force everyone else (or anyone else) to abide by that sect's beliefs. The sect is free to practice its religion but not to force anyone else to practice it.
And so the nuns in Colorado who object to including contraception coverage in their employee health plan should not be allowed to carry their objection so far as to deprive their employees of that coverage. The nuns can eschew contraceptive devices and can encourage others of their religious persuasion to do the same. But that's where freedom of religion ends. To go beyond that is to deny a similar freedom to those who don't believe as the nuns do.
One person's freedom of religion should not become another person's constraint or compulsion. Yet that's exactly what those who want to practice their religion on non-believers aim to do. Religious liberty is not a license to enslave others who believe differently than you. Stick to your own business and let others do the same, I say.
To return for the nonce to Arizona, Steve Benson at the lower right correctly interprets Brewer's motive, seems to me, with a vivid image showing that her motive was not moral conviction but financial consideration. And I suspect that those Arizona GOP lawmakers who passed the law and then recanted were guided by similar motivation. So much for moral purity.
We move to the "trust issue" that John Boehner (pronounced "borish bean-counting hypocrite") raised last month with Bob Englehart at the lower left. And Englehart's proposition is comedically complex: the old Grandstanding Obstructionist Pachyderm wants Bronco Bama to fall backward, trusting that the GOP will "catch" him—but their well-publicized intention is to let him fall to the floor. The point is made more by the words than the picture, which merely sets up for the verbal complexity. But the image is nonetheless a telling one.
The "trust issue" was raised when Boehner (pronounced "blatant bought-and-paid for") averred that immigration reform won't happen this year (2014), saying: "You all know for the last 15 months, I talked about the need to get immigration done. … It needs to be dealt with. Having said that, we outlined our principles last week to our members, principles that our members by and large support … but I never underestimated the difficulty in moving forward this year. The reason I said we need a step-by-step common sense approach to this is so we can build trust with the American people that we're doing this the right way.
"And frankly," he continued, deploying another familiar Republicon device—the Big Lie, which is, admittedly, frankly and openly committed, "— one of the biggest obstacle we face is trust. The American people (including many of my members [who we are ashamed to admit are Americans]) don't trust that the reform we're talking about will be implemented as it was intended to be [my emphasis].The President seemed to change the health care law on a whim whenever he likes. Now he's running around the country telling everyone that he's going to keep acting on his own. He keeps talking about his phone and his pen. And he's feeding more distrust about whether he's committed to the rule of law."
The Speaker finished with this bombast: "There's widespread doubt about whether this administration can be trusted to enforce our laws and it'll be difficult to move any immigration legislation until that changes."
Well, now we know why this Congress has done less than any other in history (just to resort to the GOP tactic of the Big Mendacity) (it's almost true, though—at least insofar as it applies to "modern Congress" not 18th century Congresses). And that gives me an idea about how we can save money, probably enough to retire the Deficit altogether.
If the reason the House refuses to pass immigration laws is that the majority GOP can't trust Obama to enforce or execute the laws, then the same reasoning obviously has applied to all laws that the House might have enacted. Hence, it has passed very few laws so far and will doubtless pass no more—at all, period. And if the House won't act until the administration changes (until 2016, as Boehner [pronounced "roaring asshole,"] says), then we ought to leave them all at home and save salaries big time for the next two years. Why pay them when their avowed purpose is to do nothing?
Here's an odd (if typical of modern politicians) fact: John Boehner (pronounced "bought and paid for"), the son of a bartender, has been in public service all his life, and he's a multi-millionaire. How'd that happen?
BY THE WAY (but not at all incidentally), Kirk Mitchell at the Denver Post reports that "a group of prominent conservatives and moderates, including former Republican U.S. Senator Alan Simpson of Wyoming, has filed a friend-of-the-court brief supporting gay marriage" in the Oklahoma case before the 10th Circuit Court of Appeals. Many of those filing the brief are Republicans—all, however, "former" office holders no longer seeking election. So they can act out of moral or intellectual conviction without regard to the price they might pay at the polls for taking a position anathema to many conservative voters. Said one of the signers: "A lot of Republicans are not extreme on these issues."
That's a good truth to know. Now all we need are some actual office seekers with guts enough to take the same positions, which some elected Republicons apparently support silently. And maybe that won't be so far in the future as we might suppose, thanks to Simpson and his cohorts.
THE RAMPANT ILLOGIC of the Pachyderm's so-called thinking is on display again in our next visual aid.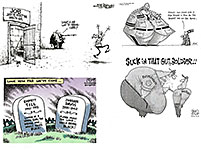 The GOP's irrational delight in claiming that Obamacare kills jobs because some people can now quit the jobs they held solely to keep health insurance flies in the face of reason. Matt Davies at the upper left has the right idea: the job the individual has given up wasn't a job; it functioned instead as a prison. What's more—and here's the irrational part of the GOP alarm at the so-called "job loss"—the job isn't lost: it's there still, and someone of the currently unemployed could apply for it and get it, reducing the ranks of the unemployed.
In other words, the so-called "job loss" that the GOP criticizes Obamacare for creating is actually helping the economy by creating job openings. What can be wrong with that? Doesn't the GOP want that?
Apparently not. Although I venture to guess that even the rampaging One Percent want people to be employed, to earn enough money to buy the goods and services that keep the One Percent up there, well above us hoi-ploy financially.
Next around the clock, Tony Auth and Glenn McCoy confront the latest attempt to reduce the size of the U.S. military. Both pictures employ a image of obesity to make their points vivid. Auth's point is that even with a slightly reduced budget, the U.S. armed force will be larger than any other country's. What's more, as Kevin Drum asserts at MotherJones.com, Secretary of Defense Chuck Hagel's over-all budget proposal is actually $115 above the ceiling currently imposed by the GOP-dominated Congress under the ignominious sequester. So what's to complain about?
Obama, that's what. Obama, the source of all GOP complaint, regardless of any and all other consideration, including logic and reason.
One of the first Pachyderms to come out swinging at the Obama gang was our favorite Darth Vader, Dick Cheney, who immediately began prophesying doom to the American way of life if our military capability is cut at all. And as the GOP applauded Cheney's growl, they apparently forgot that cutting the military—making it smaller but more agile—was exactly what Cheney's protégé Donald Rumsfeld wanted to do before 9/11 upset his plan
By way of giving the opposition a little airtime, here's McCoy, another of the rampant right wing nuts, making the GOP point handily by comparing the money spent on entitlements to the trifling amount spent on the military—and implying, thereby, that maybe entitlements should also be trimmed.
"Entitlement." I'm not entitled to the Social Security stipend I get every month: it's my money to begin with, and I merely loaned it to the government until I needed it.
Finally, at the lower left, Rob Rogers gives us a disheartening image of "how far we've come" by comparing the deaths of two black youngsters 57 years apart. Have we progressed so little? Not quite. The white guy who shot Jordan Davis was, I believe, found guilty—albeit of a lesser crime than murder despite evidence to the contrary. If you point a gun at someone and shoot it, isn't your intent to kill?
PERSIFLAGE AND FURBELOWS
"Just because someone makes a lot of money in business, it doesn't mean he has special wisdom to offer everyone else. ... At conferences such as the World Economic forum in Davos, wealthy pooh-bahs gather to offer their 'important insights on pressing public policy issues.' But why ask for solutions to the worlds problems from 'the people who benefit from the status quo?' —Matthew Yglesias at Slate.com
"A 2012 poll found that people who listened to no news were better informed than those who listened to Fox News."—Charles Blow, New York Times
About the catastrophic brain injuries likely caused by playing football: "The struggle playing out in living rooms across the country is that of a civilian leisure class that has created, for its own entertainment, a cast of warriors too big and strong and fast to play a child's game without grievously injuring one another."—Steve Almond in the New York Times
GOSSIP & GARRULITIES
Name-Dropping & Tale-Bearing
From The Week: The Coca-Cola Super Bowl ad that showed singers performing "America the Beautiful" in several languages sparked a backlash [among some of our more wild-eyed right wing nuts] and calls for a boycott [throughout their echo chamber]. "Coca-Cola is the official soft drink of illegals crossing the border," according to one tweet. Former Rep. Allen West said the ad proves the U.S. is "on the road to perdition." [And guys like him are lighting the way 24/7 with the dimmest bulbs around.]
READ AND RELISH
"I am really just a daily journalist. I sit down every day to do it because I have to do it, and now I know how to do it. I actually do enjoy the act of writing, and it is that which means the most tome."—V.S. Pritchett
In an ad touting Robert Dubac's "The Book of Moron," this gem: "If Thinking Was Easy, Everyone Would Do It."
NEWSPAPER COMICS PAGE VIGIL
The Bump and Grind of Daily Stripping
WORDS AND PICTURES, that's what cartooning is all about. And our lesson today is about just that—words and pictures, and just words.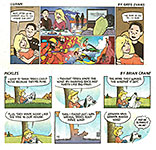 In Luann, Brad and Toni, the couple canoodling in the first strip at hand, are engaged to be married, as you may recall. The pictures are the setup for the joke: they show that Brad is thinking their married life together will be romantic dinners, hand-in-hand strolls along the beach; Toni, on the altogether unpredictable hand, is thinking about their lives as fire-fighters and other action-oriented scenes. Brad's response shows how wrong he is in his imagining—but how typical, too, of the male animal. Words and pictures blend to tell the joke.
Below Greg Evans' Luann, we have Brain Crane's Pickles, wherein the joke is all verbal—and a good one, too (especially in giving the dog the last word, shades of the movie "10"), verging, as it does, on the brink of the verboten (i.e., mentioning flatulence in a comic strip).
YOU'D THINK SOME THINGS ARE SACRED. But you'd be wrong, and Stephan Pastis would be sure to show you the error of your so-called thinking. As he does here, in four of his Pearls Before Swine strips from December last in which he resurrects the sublime Calvin and Hobbes in order to imagine how the principals are faring nowadays.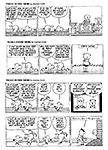 His reimagining of Calvin is hilarious, of course—however blasphemous the visual is. Hobbes and Moe the Bully look like they always did, mostly, but with Hobbes, Pastis has now carried blasphemy into sacrilege, leaving us all blushing in embarrassment.
It is, however, a nasty rumor that Pastis is behind the marketing of those rear window stickers for cars that show Calvin pissing on something. Pastis never did that. And I'm here to refute the rumor. But I am not at liberty to say whether his wife Staci threw him out or not, as reported in recent Pearls strips.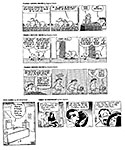 Michael Cavna, on the other hand, is at liberty to reveal the whole story.
It's not that I didn't try to resolve the issue. After a couple days of the "thrown out of the house" sequence, I wrote Pastis and asked him if Staci had actually thrown him out. The question was not as impertinent as you might think. Pastis has let the real world invade the precincts of his strip on other occasions. Several years ago on one of the five previous occasions that he was up for NCS's Reuben, he used the strip to lobby on his own behalf. Or maybe he was merely telling his readers that he was a nominee for the distinction. Can't remember. In any case, he doubtless knew at the time that NCS members would have already voted by the time the strips were published so his lobbying was purely in jest; but, still, it was a real world event in a fictional world. So maybe Staci had, indeed, thrown him out.
Pastis answered my query with a cryptic: "Everyone has to have secrets." So he thinks his dubious marital status is a secret? I wrote back: "Secret? Swine Pearls appears in now many newspapers?" More than 600 papers according to his syndicate's publicity. So how many million people who are readers of the strip now believe that Pastis's wife has thrown him out of the house?
Lots, turns out. And that's where the redoubtable Michael Cavna, proprietor of the Washington Post's ComicRiffs blog, comes in. He contacted the cartoonist and got a civil response.
Said Pastis: "Our real estate agent called Staci and said: 'I have to tell you, I saw what you're going through here' … For a moment, it took us aback. We had to say to the agent: 'No-no-no! That's not real.'"
Only Pastis's fictional "meta-person" (known around the house as "Stephan Pastis," not Stephan Pastis) was suddenly single.
Their accountant also e-mailed to express sympathy. Then Pastis got a Facebook message from an Orthodox monk, who said he was praying for the cartoonist because of what happened. For the record, Pastis notes, of those three respondents, only the monk expressed concern specifically for the cartoonist.
"So if we divorce," he jokes, "I see where the sympathies lie."
Cavna continues: Pastis admits that he, of course, brings this all upon himself. He has created this snarky, paunchy version of himself as comic persona, he says, and the lines have blurred with readers. "The character is such a weird hybrid," Pastis tells 'Riffs. "Half of me considers him about as real as [the characters] Rat and Pig. But I do sort of use him as a real [stand-in]."
But do Pastis's loyal readers really think he would joke about a real-life divorce in his strip?
"I guess that's how little they think of me," he says with a laugh. "But I don't think anyone's mistaken to think that" given his hybrid stand-in.
Pastis also sees an upside or two to walking this gray-area tightrope between fact and comic fiction.
"This is engaging readers — and anything to get people talking about the comic [is good]," he says.
"It's a productive alley. For a guy [like Pastis] doing book signings in 2014, it's a perilous thing for strip cartoonists," says Pastis, noting the times he has spoken to far more empty chairs than full ones — although he mostly draws large audiences these days. He says the hybrid character, in an odd way, has made him more famous.
"There's a 'meet the cartoonist' curiosity factor [when I do book signings]," says Pastis, adding that people wonder: Does he look like how he draws himself? Specifically, he notes, with a large stomach and always smoking.
"You're always branding yourself" as a creator, the cartoonist also points out. "What better way to brand yourself than to make yourself part of the product?"
Then, Pastis notes, there's the personal satisfaction that comes from storylines like his divorce arc — and the reader feedback that they generate:
"I like that I disrupt Staci's life."
As for the other two specimens at the bottom of our visual aid, I don't get 'em. Maybe Mrs. Kowolski is the clue in Free Range, but I don't know her. As for Funky Winkerbean, I realize that Lisa is Les's first wife, who died of cancer, and that the woman he's embracing is his second wife. But stitches on the fastball? You lost me, Tom.
COMIC STRIP TABOOS is again our subject in the next visual aid.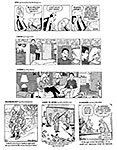 Jerry Scott and Jim Borgman manage to turn Jeremy's stomach in Zits by making him think about his father and mother in the throes of carnality through the use of a common expression that can mean more than what Jeremy thinks it means. In Luann, our engaged couple, Brad and Toni, are house-sitting for his parents and wander through the rooms of the house, mentally "playing house" as if they are now married. A whole week of this transpired, ending with the second strip here. Pretty subtle as a visual: lots of details in the scene, and it takes a while before your eye lights on the detail that makes this a sexual episode—her foot, if, like me, your attention span is impaired.
The last three on this exhibit are just favorites for one reason or another. I don't know how many jokes you can make about a huge dog, but Marmaduke has been going for several centuries now (since 1954), seven gags a week. What I like, though, Brad Anderson's pictures of the dog (often drawn by his son Paul). John McPherson haplessly ugly drawings add no beauty but visual meaning aplenty to a laughable firing squad gag. And Gary Brookins' Plugger is me. The idea that old age brings wisdom is a deluded fiction. Old people are not wiser; they're just quieter. The wisdom illusion is caused by old people's realization that they no longer understand the world around them and so they say nothing about it anymore. Younger witnesses to this behavior (or nonbehavior) mistake the silence of ignorance for wisdom. It's easy. Try it.
Hey—if thinking were easy, more people would be doing it.
ONLY IN THE COMICS, another of our mini-departments, focuses on jokes that can be achieved only in this medium. Here, f'instance, we have a Grimm joke in which speech balloons are the McGuffin.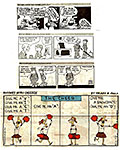 And another variety of the same sort in the first posted Beetle Bailey. In the next one, the visual character of the medium makes the joke possible. And finally, here's Hilary Price's Rhymes with Orange with another gag possible only in the comics.
Greg Evans in his Luann has been dealing with adult subjects for several years, here and there. And now that he has three romances going—Brad and Toni, Gunther and Rosa, and Luann and Gill—the subject of sex lurks through the strip fairly often.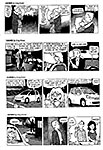 At hand, f'instance, are strips from the week that Luann and Gill go dancing at a party, then stop on the way home for some heavy necking in Luann's car. Since all of us have been teenagers at one time—and victims of hormonal blasts—we know what's going on here. Moreover, we all know the answer to Luann's question when she, plastering her body against Gill as they dance in the second panel of the first strip here, asks what she's feeling. Yes, Gill—she feels "something between us."
I'm surprised that Evans attempted this little tableau—since everyone reading this, including his co-writer, his daughter, knows that Luann's question might get a more lusty response than Gill gives it. But sometimes double entendre is at the heart of good comedy, and it is here.
The rest of the week is just as daring but with less risk of naughty repartee. As usual, Evans handles this kind of narrative with great delicacy, taste, and humor. The end of the sequence—with everyone going "woo"—is a beaut. Everyone, it's clear, is relieved to have passed through the crucible of passion and emerged with innocence still intact. (If it weren't, Luann in the second panel of the third strip here wouldn't be pining for more.) (But she's still relieved.)
Nicely done.
NOTHING BUT COMEDY here in Darby Conley's Get Fuzzy and Brian Crane's Pickles.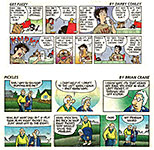 And the comedy is mostly verbal in the first of these—albeit some of it inspired by Rob's nasal adventure, which is inaugurated with a picture. The rest of it is verbal leapfrog: one misunderstanding leading to another and so on. The hilarity in Pickles is the perfect conclusion to a perfect strip-long setup. Who could ask for more?
Next, bad words you can' use in comic strips. Jan Eliot of Stone Soup entitled the first book of her strip's reprints You Can't Say Boobs On Sunday. This otherwise unaccountable dictum is based upon the supposition that children read the comics on Sundays—but not, apparently, on any other day, when anything, seemingly, goes—as today's crop of daily strips reveal by exposing the collapsing taboos on "certain words." And, in some cases, certain "situations."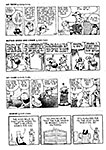 In Darby Conley's Get Fuzzy, Rob and his fuzzy friends discuss the words that can't be used in comics by actually using the words, thereby tempting Fate. It's a form of protest, I ween; and I suppose it worked. Somehow. In Mother Goose and Grimm, Mike Peters edges up to a statement about gays, who are not supposed to be mentioned in comics. Back to Get Fuzzy where Conley approaches the same taboo but dodges the issue by invoking a hoary stereotype in which gay males, to a man, frequent cosmetics.
And finally, here's Scott Adams' Dilbert in which peeing is the topic alluded to (rather boisterously). I almost missed the joke here: the simplicity of Adams' rendering of the robot tempted me to breeze by the last panel; only when I wondered what the joke was and went back to look did I see the that urinal was now the robot's belly. Or was being held next to the belly.
Adams also resorts to a visual device often deployed in days of yore by cartoonists to avoid a parade of talking heads: he shifts the focus from inside among conversationalists to a distant view of the building in which the conversation is occurring. When Leonard Starr did this in On Stage, we were treated to a spectacular drawing of a New York skyscraper (which Starr usually traced from a photograph). Adams' version of this ploy is far less appealing visually. (And I can't believe that he draws this box anew every time he resorts to it; surely, we're seeing a recycled image in the second panel.) Still, we must admit that the visual variety he achieves by this maneuver is, er, stunning. (In the sense of numbing.)
CIVILIZATION'S LAST OUTPOST
One of a kind beats everything. —Dennis Miller adv.
ON OR ABOUT Valentine's Day, Facebook added 54 new terms that people can use to indentify their gender. Among such time-tested stalwarts as male, female, man, woman, bi-gender and androgynous are a whole flock of designations new to me: cis, FTM, gender fluid, intersex, MTF, trans, two spirit, and, the champion—neither. "Neither" is problematic because the word negates both of two alternatives; in other words, implying that the gender universe consists of three—male, female, and neither. Those three are the only choices. But the list of 53 others denies that implication. Confusion, as you might suppose, reigns. Ahhh, it was ever thus.
MILEY CYRUS's twerking may seem a raunchy attention grab, but "it shouldn't be stifled or discredited," wrote Matt Miller in the Denver Post, "because it has something to say in a form closer to the artist Marcel Duchamp than to soft porn. By doing whatever she wants, Cyrus is mocking the system that created her—the Disney machine, media and a culture that rewards normalcy. ... We should give her our applause, not our sneers, for doing something different, for challenging the very popular tastes that created her. All art should be evocative, and when it comes to Miley, even falling out of a plane can be insightful."
About Those Political Colors. People who, for whatever obsessive reason, study colors, know that red is the eye-catcher in any array of colors: it leaps out at us first, screaming "Me, me, me." Blue, on the other hand, is the color we go to second because it is sober and restful; we can be comfortable with blue. That's why Democrat states are blue and Republicon states are red.
White, on yet another hand, is no color at all; it's neutral. That's why the American flag is red, white and blue.
TIME'S OSCAR GAME
I'm writing this at 2:30 p.m. MST on March 2—in other words, before the Oscars have been awarded (which will happen a few hours from now)—which I mention so that the prognostication I'm about to engage in will be seen for what it is, prediction of the future not reportage of the past.
In its March 3 issue that went on sale the week before the Oscar broadcast, Time created a chart that could be used by such fools as I to predict which of this year's nominees for Best Picture will win. Time created six attributes derived from plot keywords: theme, characters, sex, violence, storytelling and setting. All movies have these six attributes. Or most of them.
Then Time found sub-attributes in each of the six. Under "theme," for instance, we find suvival, honor, racism, infidelity, and jealousy. "Character" included doctor, drug dealer, mafioso, police officer, and cowboy.
The chart showed which sub-attributes could be found in each of the 43 Oscar-winners from 1970 through 2012. The "theme" attributes most often found in the winners are infidelity (in 10 of the 43 winners), honor (9/43), and jealousy (9/43). Characters found in the most winners are doctor and police officer.
In the other sub-attribute categories, female nudity was most popular in the "sex" attribute; beatings and fatal shootings in "violence"; and church as "setting." Under "storytelling," the most frequent device is no opening credits; second, flashback.
So to accurately predict this year's winner, we have only to discover which of the 9 nominees contains most of the most frequently deployed devices. "Philomena" is not likely to win because the only sub-attribute it contains is the church setting. Nothing else.
"The Dallas Buyers Club" isn't likely to win because although it contains both police officers and doctors, it has none of the other sub-attributes. "Gravity" and "The Wolf of Wall Street" both have no opening credits, but that's the only one of the sub-attributes each contains.
The themes of "Captain Phillips" involve survival, honor and racism; and there's a beating in it. But only beating is most frequently used in Oscar winners.
Only "12 Years a Slave" and "American Hustle" have enough of the most frequently used sub-attributes to have a chance at winning. "Slave" includes jealousy and infidelity; female nudity and beating. "Hustle" has infidelity, mafioso, death by shooting and beating, and flashback. By this system, then, "American Hustle," having more of the most frequently deployed sub-attributes than its closest contender, will win.
This next sentence was written after the Oscar was awarded this evening. The winner was "12 Years a Slave." Aha.
Post Script. The movies that won in other competitions: New York Film Critics Circle, "American Hustle"; National Board of Review, "Her"; National Society of Film Critics, "Inside Llewyn Davis"; Golden Globes, "12 Years a Slave"; People's Choice, "Gravity"; Spirit Awards (conferred on the day before the Oscars), "12 Years a Slave."
Lisa Kennedy at the Denver Post took pleasure in contemplating the variety in the movies up for the Oscar: "This has been a year of first-rate films that have engaged our existential aches, wondering with artistic grace what it means to be human. Even David O. Russell's vivid, vicious ride 'American Hustle' celebrates this conundrum."
Probably. But couldn't you say the same thing about almost any movie? "What it means to be human"?
BEATLES 50TH BIRTHDAY: FEBRUARY 9, 1964
Actually, they were born in 1960 in Liverpool, but their invasion of the U.S. music market was commemorated by their appearance on "Toast of the Town" (as Ed Sullivan's tv show as originally billed) on February 9, 1964, a little over a year after "Love Me Do" made them famous in England. I, like millions of Americans who weren't teenage girls, didn't think all that much about the Beatles when they first showed up. In fact, I didn't pay much attention to them until the summer of 1967 when, staying with Chris Glenn at his Norwalk manse, he came home with the Beatles' latest album, Sgt. Pepper's Lonely Hearts Club Band. We sat in his livingroom and played the record over and over, smoking pot and knowing what "Lucy in the Sky with Diamonds" meant and, ditto, that loooong lingering last note.
All the living celebrities who were pictured on that historic album cover were contacted and permissions obtained. Mae West, momentarily at a loss for words, recovered quickly: "Why would I be in a lonely hearts club?"
BOOK MARQUEE
Short Reviews and Proclamations of Coming Attractions
This department works like a visit to the bookstore. When you browse in a bookstore, you don't critique books. You don't even read books: you pick up one, riffle its pages, and stop here and there to look at whatever has momentarily attracted your eye. You may read the first page or glance through the table of contents. All of that is what we do here, starting with—:
Feiffer's New Opus
A Report by Mina Kaneko and Francoise Mouly, Quoted Verbatim
WHEN WE FOUND OUT that the Pulitzer Prize-winning cartoonist Jules Feiffer was going to be publishing his first noir graphic novel next summer, we asked him to let us see a few pages. [And Feiffer sent some pages and some explication, to wit—:]
"The book is called 'Kill My Mother,' which, I assure you, has nothing to do with autobiography," Feiffer says. "It goes back to my early years, when I was an addict of hard-boiled crime fiction and newspaper adventure strips. If you were a child of the Great Depression, as I was, your preference was to fantasize elaborate escapes, because they were much more attractive than real life; my forms of escape allowed me to survive my real life.
"As I aged into my eighties, I found that my interests in the long form, which over the preceding forty years had been largely taken up with theatre and film, shifted back to what I loved most as a kid: the classic adventure strips exemplified by Will Eisner's The Spirit and Milton Caniff's Terry and the Pirates. Both strips offered role models and crucial learning experiences.
"I worked for Eisner from when I was about fifteen or sixteen, around 1946, on and off until 1951. Toward the end, I was ghostwriting The Spirit. Eisner found me useless as an artist, but he liked the way I wrote. He was by far the most original and inspirational comics creator of his time. And, for me, it was painfully frustrating that, no matter how hard I tried, I couldn't learn to draw in noir style. It only took me sixty additional years to figure out how.
"Working in the noir form for the first time, I began fooling with a story line, not really knowing where I was going, leaving behind the sketchy line drawings I had become known for and the satiric political and social ideas that made up my subject matter for over forty years. Instead, I began to experiment with the sort of work I loved and read as a teen-ager: not only Eisner and Caniff but the private-eye guys Hammett and Chandler, along with such noir movies as 'The Maltese Falcon,' 'The Big Sleep,' 'Double Indemnity,' and 'Mildred Pierce.' I tried to write and draw in celebration of the works that meant so much to me as a young man, areas that I had steadfastly avoided up till now because I didn't think I was the right artist to draw the story I wanted to tell.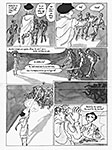 "The following selection will introduce to the reader a style of storytelling and illustration that neither I nor my readers have ever seen me work in before. The short selection is meant as an appetizer. The book itself is a hundred and fifty pages of thrills and chills, taut and tortured characters and, here and there, I admit, pretty funny."
Kill My Mother will be published by W. W. Norton, in August. Here's a page of the action, a wild departure from the usual Feiffer fare. More pages are on display at The New Yorker website.
IN THEIR CATALOGUE, Dover Publications has been bandying about a false claim in their enthusiastic listing of reprints of the two Holt 1943-44 books of Crockett Johnson's famed strip, Barnaby and Barnaby and Mr. O'Malley. Dover asserts that these books reproduce the strips "in full color." Not so. Misled by the advert, I bought both of the books. Neither is in color; both are simply the old black-and-white. The covers are in color; that's all.
Next time, we'll review the Fantagraphics Barnaby reprint—which contains a strange and wonderful surprise.
Dave Berg: Five Decades of "The Lighter Side Of..."
By Dave Berg with a Foreword by Drew Friedman; edited by Jordana Tusman
272 9x12-inch pages, b/w and some color; Mad's Greatest Artists series; 2013 Running Press hardcover, $30
IF YOU ARE A DAVE BERG FAN, you don't need me to tell you much more than what's in this book; if you, like me, are not a Dave Berg fan, this is a prompt to become one. Berg's "The Lighter Side Of ..." feature began in 1961, and most of this book reprints a vast acreage of those. The content is divided by decade, beginning with the 1950s (19 pages) and running through the 1960s (65 pages), 1970s (59 pages), 1980s (51 pages), 1990s (45 pages) and concluding with the 2000s (30 pages). Included are Berg's first Mad contribution (on "Modern Furniture," in Mad No.34, August 1957) and the interpretations by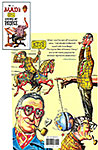 18 Mad cartoonists of some "Lighter Side" gags that Berg left undrawn when he died in 2002. Also included are a few sketches, some photographs, covers of Berg collections, and a 1969 interview with Berg published in Cartoonist PROfiles in January 1970.
In the interview, Berg reveals that he tape-recorded interviews with experts on the subjects he drew about in order to know what he was doing (or who). Although he didn't join the Usual Gang of Idiots until the mid-1950s, he had been invited from the very first. The original Idiots all shared a studio together. "When they started the magazine, they asked me to come along. I had a good job, so I kept refusing. But I saw it was catching on and switched. I sold them a script and they've been demanding their money back every since."
As a concluding comment, Berg said: "Even though my work has a lot of love in it, I'm really rather negative about the human animal. I believe that God has a tremendous sense of humor and that this is his idea of a practical joke on the human animal. And I think we are animals and I don't think we've reached civilization yet."
Jacky's Diary by Jacky Mendelsohn (Age 31½)
By Jacky Mendelsohn (age 86½); preliminaries by Mort Walker and Mell Lazarus
188 9x12-inch pages, color; 2013 IDW Yoe Books hardcover, $39.99
ALTHOUGH MENDELSOHN hung around with cartoonists a lot, the only enduring evidence of his cartooning so-called skill is this Sunday-only comic strip which ran for just three years, from January 11, 1959 until December 31, 1961. Considering the appearance of the strip (samples of which are at your elbow), it's surprising that it ran so long in that era of reasonably well-drawn comic strips.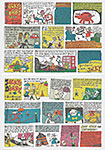 Today, it would be adjudged an artistic masterpiece, far superior in visual acumen to, say, Cathybert or AnteSwine. Still, the pictures in Jacky's Diary make my eyes hurt. But they're supposed to: that's part of the comedic design (unlike Cathybert or AnteSwine, wherein the pictures seem to be the best the cartoonist can manage) (although in Stephan Pastis' case, stick-figure art is a pose not a reality).
Sophisticated intentions aside, in 1959, as Mendelsohn tells us in his autobiographical introduction, Jacky's Diary was signed up at King Features as a comic strip for children. You can tell right away by reading the accompanying samples, that children would never understand the nuanced visual-verbal subtlety of Jacky's monologues. The comedy is for adults, not kids.
In his diary, young Jacky records his adventures visiting relatives, going with his father to buy a present for his mother, visiting a farm on a school trip, being read stories by his mother and his teacher, going to a drive-in movie (remember those?), learning history (the origin of Thanksgiving, in which a "bunch of tourists called Pilgrims" endured "hard ships"—ships that were so hard, the Pilgrims couldn't even lie down on them), and more of the same sort.
The strip was syndicated to only about 75 newspapers, Mendelsohn says, and King pulled the plug for financial reasons. But not those you might suppose. Not low circulation in-and-of itself. Many of the client papers were in other countries, which meant someone had to translate Jacky's painfully achieved half-literate prose into several other languages. And considering that puns were the underpinning of the humor in the strip, this was a nearly impossible —not to mention thankless, expensive, and comedy-corrupting—task.
The book reprints the entire run of the strip at the rate of one Sunday strip to a page, a generous allotment of space that permits the lettering to be read without magnifying glass; the drawings would survive any reduction in size, but we don't laugh here at the drawings so much as at the combination of drawings and words—the true essence of cartooning, in other words—so we must be able to read the words. Not that the drawings aren't funny; they are, hilarious visual misapprehensions of the world as seen by a 31 ½ year-old-child.
After the collapse of his cartooning aspirations, Mendelsohn went on to write comedy. Starting with Mad, he graduated to tv comedy in "Laugh In" and other shows (including "Van Dyke and Company," "The Jim Nabors Show," and "The Carol Burnett Show"), storyboarding animated cartoons for Hanna-Barbera and "Jim Henson's Muppet Babies" (for which he won an Emmy) and others of the ilk.
Drawn in the manner of a persistent childish scrawl, Jacky's Diary is a comic strip like no other. Beyond that, no words are adequate to describe it. And if you've looked at the attendant samples, you'll know why I stop typing about it right now and why I've put my copy of the book on my shelf for safekeeping forever.
Forbidden Worlds, Volume 3: Nos. 9-14
Edited by Philip P. Simon with a Foreword by Timothy Truman
224 6.5x10-inch pages, color; 2014 Dark Horse hardcover, 49.99
ANOTHER IN DARK HORSE'S continuing effort to reprint some of the classic non-EC horror titles of the 1950s, this volume reprints six issues of ACG's Forbidden Worlds, September 1952 through February 1953, including ads and letters pages—as thorough an archival enterprise as possible. Although EC Comics has the enduring reputation of high quality artwork, the drawings on display herein are astonishingly good. The artists of many of the stories are not identified, but those by such Golden Age luminaries as Ken Bald, King Ward, Jon Blummer, Harry Klazarus, Edvard Moritz, Charlie Sultan, Dick Beck, Jay Disbrow (scarce), Al Camy, Sam Cooper, Art Gates, Paul Gattuso, Charles Nicholas, Charles Quinlan, and Pete Riccia are appropriately credited. And the digital production and retouching by Ryan Jorgensen result in visuals at least as good as the comic book pages that he worked from. In some cases, the quality is surprisingly good—fine lines intact, not meshed into meaningless black blotches, for instance.
The Big New Yorker Book of Cats
By Assorted Writers and Cartoonists from the Magazine; Foreword by Anthony Lane
328 8x11-inch pages, b/w and some color; 2013 Random House hardcover, $40
THE NEW YORKER sent me this as some sort of bonus for re-subscribing; there's a companion volume about dogs. Some cartoons dot the pages of this tome—as they do the pages of the magazine—but the content is mostly text pieces by the usual gang of sophisticates. I enjoy reading some of the articles in each week's New Yorker, but I don't need a big book of prose about pussycats in my library. I'll sell this at the first opportunity. I'd keep it if its contents were entirely cartoons.
FURTHER ADO
The Borowitz Report (filed at The New Yorker by Andy Borowitz)— Potential Republican Presidential candidate Sen. Rand Paul (R-Kentucky) said today that he believes he has a "secret weapon" that will derail Hillary Clinton's 2016 White House bid: "A little-known affair between her husband and a White House intern, Monica Lewinsky." Appearing on the Fox News Channel, Paul told the host Sean Hannity, "Sean, when the American people find out about this scandal, they are going to be shocked, truly shocked. It didn't get a lot of coverage at the time."
Asked by Hannity how the scandal could have remained under wraps for so long, Paul replied, "You'll have to ask Bill and Hillary that. Let's just say they've pulled a lot of strings to keep this story out of the mainstream media. Unfortunately for them, Sean, I have the details on this juicy scandal and I'm prepared to share them with the American people," he said. "I think it's going to be a game-changer."
Here at the Rancid Raves Intergalactic Wurlitzer, we think Borowitz has exactly the right approach to the Grandstanding Obstructionist Pachyderm's plans for the 2016 Presidential Campaign. These Republicons take themselves entirely too seriously whenever they are not perpetrating another of the Big Lies about Bronco Bama. Fight fire with fizzle, I always say.
BOOK REVIEWS
Critiques & Crotchets
THIS POSTING, just riddled with rambling charming apostrophes and captivating digressions—all in the name of cartooning lore—starts with a colossal example of a slowly unraveling essay—:
Biographical Sketches of Cartoonists & Illustrators in the Swann Collection of the Library of Congress
By Sara Duke, Terry Echter and Michael Rhode
340 6x9-inch pages, no illos, paperback; copies may be ordered through lulu.com at cost, $17
THE INSPIRATION for this 2012 "public domain" volume was Michael Rhode's. As he tells it: he had known Sara Duke and respected her work for some time when he complained "about the lack of a cartoonist biographical dictionary, such as had been done in the UK, [and] she replied that she had a draft of one that had never been published. Terry Echter had begun the project, and Sara took it over in 1993 and completed it in 1995 when the Swann Collection became publicly available." She sent Rhode a copy, and he edited and updated it slightly, and arranged for its publication through lulu.com.
The book defies pigeon-holing. The cartoonists are American, British, Canadian, French, Mexican, Czech, and so on. Some are magazine gag cartoonists; some comic book cartoonists. Some editorial cartoonists are included—as are comic strip cartoonists and animators.
No apparent logic governs the content. Not every cartoonist in any category is present. Rollin Kirby is present but not Jack Kirby. Bob Kane but not Jack Cole. Harold Ledoux on Judge Parker but not the superior Dan Heilman, who was the first artist on the feature. John Sloan and Reginald Marsh but no Robert Minor. Ronald Searle, Phil May and John Held, Jr. each get 1 ½ pages; but the New Yorker's founding art director, Rea Irvin rates only half-a-page. And here are invaluable entries for James Trembath and Virginia Huget and Ellison Hoover and G.B. Inwood, all virtual unknowns in the larger context of cartooning history so I'm delighted to see them here. But no Jack Kirby?
The variety throws the violently book out-of-focus. What is it, actually? After trying to find a categorical explanation inside the volume by summarizing its contents, I bethought myself of the book's title and silently cursed myself for my obtuseness.
In effect, the book is an index to the Swann Collection of over 2,000 original cartoons and caricatures housed at the Library of Congress, where Duke is on the staff of the Prints and Photographs Division as curator of Popular and Applied Graphic Art. The cartoonists represented in the Collection are in the book; those who are not, are not.
And the second word in the title of the book, "sketches," was no doubt carefully chosen: it is not a work of encyclopedic depth; it is more like a dictionary, an alphabetical compilation of short biographies and career summaries, many of which lack the kind of specifics that an encyclopedia (or even a dictionary) would supply. The entry for Roy Crane, for instance, credits him with creating in 1924 the comic strip Wash Tubbs, "one of its main protagonists [being] Captain Easy"—a notation that, while accurate as far as it goes, could have mentioned that Captain Easy didn't show up until 1929.
Many of the entries, like Roy Crane's, are a little shy of precision, giving the year of a strip's debut but not the day (Tubbs began April 14 in 1924); ditto Bud Fisher's A. Mutt, which began on the 15th in November 1907, and eventually morphed into the legendary Mutt and Jeff.
In the entry for Richard Doyle, a British cartoonist, his early work for Punch qualifies him for inclusion but his salient achievement for the magazine—he drew the picture that covered the publication for over 100 years, week after week, the same iconic drawing—is ignored.
Not surprisingly given the modest ambition of the work, some entries contain errors. The strip Dumb Dora lasted until January 1936, a year longer than the Bil Dwyer entry suggests. Al Capp wrote Long Sam as well as Abbie an' Slats, a fact mentioned in the entry for Bob Lubbers (who drew Long Sam) but not in the Capp entry, which mentions Abbie an' Slats.
Some entries offer information I'd never encountered before. Rudolph Dirks, it sez here, took off from doing The Katzenjammer Kids to serve in the army during the Spanish-American War. And the Walt Disney entry suggests that he may have been born as Jose Luis Guirao Zamora and adopted by the Disneys. Both of these assertions seemed dubious enough to prompt further investigation, which I dutifully performed.
In only one of several biographies of Disney in the Rancid Raves Book Grotto, Neal Gabler's, is this odd factoid of his name mentioned—and then, only in a footnote that calls it a "stubborn fabrication, traced to a Spanish magazine, Primer Plano," which alleged that Walt "had actually been born in Mojacar, Spain, and that his parents had emigrated to the United States and gone to work for Elias Disney [Walt's father], who adopted the boy." Said Walt in the same footnote: "I assure you it was with utter amazement that I learned that I was born in Spain, which is certainly stretching the point by 5,000 miles."
Not even the most vicious of Disney's biographers, Marc Eliot in his menacingly entitled Walt Disney: Hollywood's Dark Prince, perpetuates this grotesquerie. Too bad it's given even marginal credence in a reference book.
While the facts retailed in this book must be regarded as suspect and deserving verification in other sources, the book is useful in at least two ways beyond the obvious. First, each entry cites its sources, to which the interested researcher can repair to check the facts, the accuracy of which may depend upon the validity of the source. Maurice Horn's World Encyclopedia of Cartoons (or of Comics) is often cited, for instance, and Horn's assertions are often reflections of his peculiar sometimes off-the-wall opinions rather than ascertainable facts. But each entry in his books is initialed by the contributor, so as long as the entry is not supplied by Horn, it can be regarded as reliable.
Dirks' adventure in the Spanish-American War originates in Ron Goulart's Encyclopedia of American Comics. Goulart is a dependable historian, but nowhere else have I seen Dirks trudging about in the Spanish-American War. So the first question is: How likely is it?
The Spanish-American war lasted only about three months. New York's sensationalist newspapers—William Randolph Hearst's Journal and Joseph Pulitzer's World—were printing stories about atrocities committed by the Spanish government in Cuba in January 1897. Dirks' Katzenjammer Kids began in December of that year. Three months later, on February 15, 1898, the American ship Maine exploded Cuba's Havana Harbor. Hearst began calling for war immediately. On April 25, Congress complied, declaring war on Spain; on May 1, U.S. Commodore George Dewey annihilated the Spanish fleet in Manila Bay in the Philippines. On June 10, U.S. Marines landed at Guantanamo Bay, Cuba; three days later, Teddy Roosevelt and the Rough Riders set out for Cuba. A month later, on July 18, Spain initiated peace talks, and by early August it was all over.
It seems highly unlikely that Dirks would desert his new comic strip so soon after it was launched. Or so we suppose from our perspective a hundred years later, during most of which time competition among newspaper comic strips was so keen that no one ever left his/her job for any reason—until the celebrated "sabbatical" Garry Trudeau took from Doonesbury, January 1983-October 1984. We simply can't imagine Dirks risking the continuation of his career for any reason.
But Dirks was working in the infancy of newspaper comics, and in those days, no newspaper cartoonist was likely to think of any individual creation of his as a sinecure for life. Cartoonists worked on the staffs of newspapers, making illustrations and drawing funny pictures all over the place, few if any with recurring characters. The Katzenjammer Kids was something of an oddity: a comic strip featuring the same characters that appeared week after week, as if it were somehow a permanent fixture of the newspaper. Not very much else in the funnies at the time was like it. The Yellow Kid in Hogan's Alley and the Ting Ling Kids in Chicago's Interocean being about the only kindred comics. No doubt Dirks thought of the Katzies as a temporary assignment that would disappear if he invented something else to devote his pen to. Until six or ten months after the inaugural Katzenjammers, no newspaper cartoonist developed any loyalty to any single creation of his; and Dirks likely was no different.
Moreover, Dirks was working for the war monger Hearst, and if he went off to do battle in Cuba, he'd probably curry favor with his boss. And as it turns out, the war was over so soon, Dirks wouldn't have been away from his drawingboard for long. Still, no one other than Goulart (and Sketches) has ever noted this fugitive fact in comics history.
I asked Goulart about his source, and he said that he'd talked at great length with Dirks' son John and assumes that's where the information came from (but actual documentation, he said, is probably moldering in his basement). And I asked Pete Maresca, who has spent years compiling tear sheets of the funnies from the earliest decade, and he said the appearances of The Katzenjammer Kids during 1898 were "spotty," an irregularity that would be explained by Dirks' absence while storming up San Juan Hill. In between storms, he may have drawn a Katzie page or two.
The short of it—probably Dirks did, indeed, desert his new comic strip for a short time in order to serve in the Spanish-American War.
The second of the book's usefulnesses is that it mentions many cartoonists whose names don't show up in the usual annals of American cartooning. Nat Collier, for instance, a prolific magazine cartoonist often overlooked, is here. Ned Hilton, on the other hand—another cartoonist of the same vintage and productivity—is, surprisingly, still among the missing.
And he's missing almost everywhere. The Web never heard of him except as a New Yorker cartoonist, prints of whose cartoons are offered for sale by the Conte Nast Store. And the only biographical information I've ever seen I found in two obscure sources. Collier's ran short biographies of its cartoonists in 1940, and Hilton's was among them; the entire article, illustrated by a self-caricature, is at the elbow of your eye.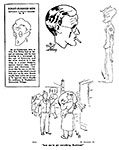 Next to the Collier's piece is another caricature, this one by cartoonist Chuck Thorndike, who produced a book about cartoonists entitled The Business of Cartooning in 1939—"success stories and methods of working of over one hundred of the world's greatest contemporary cartoonists."
But Thorndike adds almost nothing to the Collier's information except, perhaps, to corrupt it. He says Hilton (who always signed his name "Ned Hil-ton") is a former president of the Cartoonists Guild of America, "the first and only organization of its kind in the world ... now boasting some 200 members." But the first such organization appeared, briefly, in 1926, under the auspices of Cartoons magazine; Eugene "Zim" Zimmerman, who wrote a column for the magazine, was the club's only president before it folded, which it did when the magazine did.
Thorndike further perpetrates myth by saying Hilton has been cartooning for the "last twelve years." That would mean he started in 1927, but the Collier's piece says he's been cartooning since 1917; and I've seen his cartoons in Life much earlier than 1927. So much for Thorndike. And now you know all I've ever found out about Ned Hil-ton, cartoonist of mystery.
Hilton may have nurtured the mystery himself. In the fourth of Lawrence Lariar's annual compilation of the "Best Cartoons of the Year" (which he did for 30 years, starting in 1942), the editor solicited self-caricatures and short autobiographies of several of the cartoonists whose works he included in the book. The standing Hilton caricature came from this tome; but there's no autobiographical next to it as there is with other self-caricatures. So Hilton complied with only one of Lariar's two requests. Why? Did he wish to remain a mysterious, disembodied cartoonist?
Whatever the reason, Ned Hil-ton shows up mostly in his cartoons, not in history books; and the cartoons kept appearing for over 40 years. Maybe over 50 years. Dunno because I don't know when Hilton died.
Many entries are comparatively long in biography but short on the person's chief accomplishment. Ken Ernst, for instance, who worked in comic books and assisted (ghosted?) Don Winslow of the Navy, made a career out of drawing Mary Worth, which gets only a sentence at the end of a 3/4-page entry. Carl Ed's Harold Teen, however, gets half of Ed's 3/4-page.
Despite my nit-picky disquisition here, the book is a valuable addition to the library of comics theory and history. In fact, you'd be entirely justified in thinking that I'm mostly showing off here—taking a detour to the Spanish-American War and then worrying old Ned Hil-ton to smithereens. Except that I'm not showing off so much as I'm simply indulging a passion for comics and cartooning history and lore—a major part of the focus here at the Rancid Raves Intergalactic Wurlitzer—and an equally ungovernable impulse to tell whoever will listen as much as possible about the subjects of my passion.
Sketches includes a number of illustrators, about whom fans of comics are not likely to be terribly interested, and a generous smattering of cartoonists from other countries—again, perhaps not a particularly absorbing area of interest. But it also includes a fair number of magazine cartoonists who have been almost systematically ignored elsewhere in books of comics history. For that alone—although there are other saving graces in the volume—the book is worth having on your self.
In the last analysis, we must consider Biographical Sketches as a modestly useful if not entirely reliable starting point for anyone seeking information about American cartoonists.
Terry and the Pirates: Volume One, 1946-1948
By George Wunder
256 10x14-inch landscape pages, b/w and color Sundays; 2013 Hermes Press hardcover, $60
I HAVEN'T HAD AS MUCH FUN reading a comic strip lately as I did last weekend turning the pages of this volume and meeting once again the characters to whom Milton Caniff gave such vibrant life in the twelve years he produced Terry, his brain child. In his first two years on the strip, George Wunder brought back Pat Ryan (Terry's mentor in the early years of the strip; he'd disappeared for most of Terry's World War II service in the Air Corps), the rotund con man Chopstick Joe, mute Big Stoop, the craven Sandhurst (who dies again herein at the hands of Big Stoop, who, I was led to believe, ended the foul fellow in Caniff's last years on the strip) and the fabulous Dragon Lady (who shows up here with more cleavage than Wunder ever gave her again).
But Wunder unveils his creative chops here, too, introducing distinctive characters of his own invention—femme fatale Ermine Toy (whose assessment of her own charms is accurate if excessive), the villainous man mountain Theodore Bar ("Teddy Bear"?), the towering Lhassa (fit paramour for Big Stoop) and the spitfirey Spray O'Hara, who immediately charms Hotshot Charlie (and vice versa) and will return again and again until they finally marry.
As Caniff's successor on the famed strip, Wunder has never been accorded much attention or appreciation so masterful was the originator's work. Disdain originates, probably—as Bud Plant notes in his description of the volume—in memories of Wunder's last decades on the strip when the mannerisms of his drawing style emerged as a series of superfluous visual tics. But in the early years, Wunder drew an imitation Caniff that was more than merely passing fair: it was superlative. In his Introduction to this volume, Ron Goulart admits that "over the years, I've come to see Wunder as a gifted artist with a style of his own, an able storyteller, and, like his predecessor, strongly influenced by the way movies tell stories. ... [In short,] Terry's second incarnation is really worthy of serious attention."
From the very first Wunder strip, we know we're in more than merely capable hands.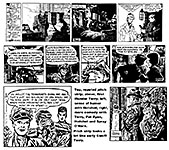 The speech balloons crackle with Caniff-sounding snappy patter ("lochinvar Lee, the luckless lover"), and the silhouettes in the concluding panel create suspense (is that Hotshot Charlie? and who is he trying to seduce?) while framing Terry, focusing our attention secondarily on his apparent suprise. In the first panel, Wunder ties off the last of the Caniff continuities, referring to Terry's momentary love, a nurse named Jane Allen, who had just left Terry when she found out her first love, Snake Tumblin, thought dead in the jungles of Indochina, is still alive.
The inaugural Wunder strip also displays his mastery of the Caniff chiaroscuro drawing technique. Almost at once, however, Wunder begins indulging two of his most distracting stylistic mannerisms: all of his characters develop severely arching eyebrows and rows of furrows in their brows. (Except the good-looking women, who escape the second visual tic.)
The stories unwind for weeks in the best rambling tradition of newspaper continuity strips: syndicate editors and newspaper factota had not yet demanded short continuities in the disastrously misguided notion that shorter stories in the comics section would help newspapers compete with television (which, in the years embraced by this volume, had not yet emerged as the nation's primary entertainment medium). Wunder weaves a tantalizing storyline, although, in the Theodore Bor tale, a little too convoluted with military maneuvering and Bor's own ever-shifting scheming.
Stories vary considerably about how Wunder got the Terry assignment: some say the competition between legions of applicants was fierce; others say Wunder was the only serious contender. Frank Springer, who assisted Wunder from 1955 until 1961, is of the latter persuasion. Caniff admired what Wunder achieved with the strip and appreciated the difficulty his successor surmounted in following in his footsteps while he was still around (peering over the new guy's shoulder and second-guessing the stories, as Caniff said in jest), although he once remarked that Wunder's forte seemed to be in developing distinctive secondary characters. Wunder could not avoid bringing back the Dragon Lady even if he wanted to: she was simply too integral to the strip's mystique. But he never reincarnated Burma, the blonde bombshell who was almost as important in the Caniff strip as the Dragon Lady.
The book includes some nifty extras—a reproduction of one of the strips Wunder did to pitch himself as Caniff's successor (not a Terry simulacrum though) and several reproductions of Wunder's strips from original art, some from the latter years that display another of his stylistic quirks—adding a flap of flesh at the corner of the characters' mouths.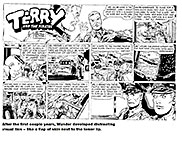 Dan Herman, the publisher at the helm of Hermes Press, explains in an epilogue that obtaining Terry strips to reproduce from was a herculean task. The syndicate didn't have a complete run of proofs, so Herman and his minions had to scour the hinterlands. They have assembled a complete run, but some of the sources for daily strips are scarcely pristine instances of the printer's craft: fine lines mesh together and become blotches. But the Sunday strips, mostly supplied by Jay Meader, are excellent reproductions, nearly pristine. We conclude with a quick array of this volume's contents.
Alley Oop 1939: The First Time Travel Adventure
By V.T. Hamlin; Introduction by Michael H. Price
350 4x11-inch landscape pages, b/w; IDW's Library of American Comics Essentials, hardcover, $24.99
WHEN VINCENT TROUT HAMLIN decided in 1939 to follow his wife's advice and take his caveman hero traveling through time, he revitalized a strip that was slowly getting bogged down in a moribund sameness. Since Alley Oop's double birth—first on December 5, 1932 with a bush league syndicate, Bonnett-Brown; then again after Bonnett-Brown collapsed with Newspaper Enterprise Association (NEA) on August 7, 1933—Alley Oop's adventures had been confined to an unspecified prehistorical era when dinosaurs and men strode the earth at the same time (otherwise, an impossibility). And there's only so much adventure possible in caves with stone axes. But traveling through time—Hamlin confessed to liking H.G. Wells' The Time Machine— opened whole new vistas of adventure for the truculent caveman, whose solution to most problems was to give them a whack with his stone axe. And the first year of Oop's time travel, reprinted herewith, is a rouser, beginning with caveman King Guz's pursuit of Oop and his girlfriend Ooola, who escape by stumbling into the beams of the time machine, which transports them to the twentieth century on April 8, 1939.
Then, there is a bruising assortment of Oop's encounters with the twentieth century, starting with the scientist who invented the time machine, Dr. Wonmug ("one mug" echoes the name of the most famous scientist of our century, Einstein, "ein" and "stein")—who has a daughter, Dee, who conveniently disappears soon thereafter—and continuing through his introduction to tableware (spoons and forks), trains and airplanes.
Then a friend of Wonmug's shows up—a grizzled old scientist named Dr. Bronson—and he goes with Oop to visit the caveman's native haunts, but the time machine malfunctions slightly (which it does regularly for the rest of the strip's run, an ingenious way to undermine predictability) and they wind up in the middle of the Trojan War.
Bronson was a canny addition to the cast. Neither Oop nor Ooola know any history, so the erudite Bronson becomes Hamlin's spokesman in the strip, making sure that readers know at least enough history to understand the implications of the events at hand. Bronson, for instance, knows what will happen when the Greeks park a giant wooden horse outside the gates of Troy. And he then confronts the dilemma of all of literature's time travelers: should he change the course of history by putting his knowledge to use? Knowing that Greek warriors are concealed in the horse, Bronson could warn the Trojans and prevent the fall of Troy. He decides not to meddle.
Hamlin uses the incident to establish one of various parameters for his time traveling. Oop immediately suspects warriors are hidden inside the wooden horse, but Bronson won't let him tamper with history: "The history of the wooden horse has been written for centuries, and you've no right to barge in and gum it up," he tells Oop. And so we know that Hamlin won't be re-writing history during his hero's time travels.
But he will wring the most out of the history that Oop encounters—both action and comedy, particularly hilarities of the ironic sort.
Oop meets the beauteous Helen of Troy and fights and whips the Greek hero Ajax, who excuses his defeat by accusing Oop of ungentlemanly fighting techniques. Meanwhile, Ooola jumps into the time machine and joins them, but on the Greek side of the conflict. Ulysses and his troops mistake her for the goddess Minerva because of Oola's display of marksmanship with a pistol (a lightning spear). When Oop and Ooola are reunited, they go to sea with Ulysses and encounter that array of fearsome creatures that Ulysses battles on his long voyage home. In this retelling, it's Oop who "blinds" Cyclops, hitting the giant in his one eye, which swells shut and momentarily destroys his vision.
The wanderers also encounter Circe and Charybdis and Scylla, and are seduced by the legend's formidable sirens (whose leader meets the shipwrecked band with the classic greeting of prohibition speakeasy queen Texas Guinan, "Hello, suckers").
When Oop meets Hercules, the two strong men have a confrontation that Hamlin resolves satisfactorily for both parties. Displaying his prowess, Hercules toys with Oop at first, tossing him into the air and spinning him around on his finger, but Oop, tiring of the game, clouts Herc unconscious.
Before the year ends, the cast has expanded again to include an opportunistic con man named G. Oscar Boom ("GO Boom"), who gets Wonmug to transport him and his station wagon back to ancient Troy. An explosives expert who sometimes relies upon Hamlin's experiences with nitroglycerin in the oil fields of Texas, Boom is a black-sheep rogue scientist who often travels in time with the cave man but not out of scientific curiosity. Boom's chief motive is to loot history of valuable relics that might enrich him in the 20th Century.
Various of the strip's impossibilities are dispatched almost at once when Wonmug and his assistant learn of Oop's pet dinosaur, Dinny. Dinosaurs lived before man was ever heard of, says the assistant. "Behold the unheard of," says Wonmug, gesturing grandly at Oop.
With similar aplomb, Hamlin tackles the problem of language a couple years later and disposes of it. Pondering how it is that he can understand the language of ancient Egyptians, Boom decides that "there must be something about time-travel that gives all parties the power instantly to interpret spoke thought."
The advent of the time machine enhanced the strip's appeal: at its peack in the 1950s, Alley Oop appeared in 800 newspapers.
Alley Oop of the early strips in prehistoric Moo is an obstreperous, belligerent, club-wielding cave man. And if he isn't actually looking for a fight everywhere he goes, he nonetheless finds one nearly everywhere. Not only does he have the prickly disposition of a brawler, he has the appearance of a strong man. Hamlin gave his cave man a great barrel chest and a bewhiskered bullet-head with no neck (and no ears), and then he chanced upon the same device that E.C. Segar had used in showing Popeye's strength (but not consciously imitating Segar). Instead of making Oop's biceps bulge with power, Hamlin bunched his hero's muscles right behind his fists in ballooning forearms, a ploy that gave ham-fisted a visual metaphor.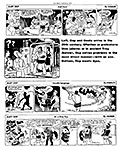 With time travel the strip's mainspring to action, Hamlin makes a subtle change: Oop must now assume a less comedic and more commanding role in the strip. Oop, after all, is the chief decision-maker in directing the escapades of several persons whose welfare often depends upon his skill as both warrior and tactician. Oop becomes a cool pragmatist, his temper honed to a fine belligerence: he is as peevish as before albeit much less excitable. But there is still comedy a-plenty in his adventures: when his horse gives out while he is pursuing Boom, Oop dismounts but continues his pursuit, now carrying the horse.
The reproduction in this book is excellent. The story of Oop's arrival in the 20th century via time machine has been reprinted before. The Dragon Lady Press in Canada did it in its Alley Oop magazine, Nos. 2-3 in November 1987 and January 1988. That was fine for reading purposes, but the strips were reproduced much too small for the amount of detail in Hamilin's hachured style; and retouching sometimes destroyed the complex shading.
The same sequence is currently being reprinted in Rick Norwood's Comics Revue, starting last spring. Quality is very good, and Norwood is including Sunday strips from the same period that show in color Oop's comical encounters with the modern world.
Comics Revue is a bargain for fans of classic adventure strips. Current issues are reprinting Dan Barry's Flash Gordon and Mac Raboy's, Alley Oop, Mandrake the Magician, Tarzan (Russ Manning's), Buz Sawyer, The Phantom, Steve Canyon, Modesty Blaise, and in a somewhat lighter mood, Rick O'Shay, Sir Bagby and Krazy Kat. The magazine comes out every other month with a "double issue"; subscriptions are $59/year for six issues: Manuscript Press, P.O. Box 336, Mountain Home, TN 37684.
For the whole story of Hamlin and Alley Oop, visit Harv's Hindsight for September 2005.
The Art of Rube Goldberg: (A) Inventive (B) Cartoon ( C) Genius
Selected by Jennifer George; Introduction by Adam Gopnik
194 10x14-inch landscape pages, color; 2013 Abrams ComicArts hardcover, $60
IF YOU NEED TO BE REMINDED about who Rube Goldberg is, take a moment to re-visit Harv's Hindsight for January 2001, "Rube Goldberg and NCS." Rube lived to the age of 87, and for 66 of those years, he was a cartoonist. He was more than a cartoonist: he was the consummate cartoonist. He cartooned everything and in every genre of the medium except comic books (and maybe those, too): he did gag cartoons and comic strips, puzzle pages, animated cartoons and editorial cartoons. He illustrated books, and he wrote books that he then illustrated.
He wasn't just a cartoonist: he was a juggler of a cartoonist, an entertainer, a fabulist and flimflam man with a pen, a conjurer in a madcap frenzy of visual comedy, an enchanter and beguiler of giggles and snorts, a raconteur and Broadway wit. Lavish New Year's Eve parties at his Upper West Side Manhattan townhouse from 1925 to 1930 attracted hundreds of guests, among whom were numbered such show business luminaries as George Gershwin and Groucho Marx.
This year marks the 110th anniversary of Rube's debut as a professional cartoonist (he got paid for it) with the publication of "The Fan Kid," a sports cartoon, in the San Francisco Chronicle.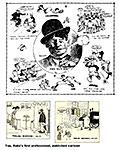 But it wasn't until after Rube left the City by the Bay in 1907 that he achieved his first fame in New York in 1908 with a series of single-panel cartoons under the heading Foolish Questions. (Hotel front desk clerk checking in a customer, "Do you want a room, sir?" Customer: "No, you boob—I think I'll disguise myself as a banana and sleep in the fruit dish.") Soon after, in 1910, came another series of cartoons, I'm the Guy. ("I'm the guy that put the muss in mustache." "I'm the guy that put the ham in Hamburg." "I'm the guy that put the bloom in bloomers.").
In common with most other newspaper cartoonists of the day, Rube kept several such one-joke features aloft at the same time. In his essay "Rube Goldberg Butts In" at tcj.com, Paul Tumey reprints 5 days' of Rube's cartoons from April 1917 to how varied the cartoonist's output was, saying: "The variety and rich comic invention of Rube Goldberg's comics can be seen more clearly when the work is studied in the context of an original publication sequence. ... The range of formats and varying subject matter in these five consecutive cartoons alone speaks to an endlessly creative mind ... with its mix of satirical and topical comedy at a furious, brilliant pace from 1909 to 1938."
In 1938, Rube started a Sunday comic page called Side Show for which he produced cartoons and strips and an occasional invention in a random array that changed every week. The feature, which lasted until 1941, was Rube oeuvre in a, er, nutshell.
He created more than 60 different cartoon features, some lasting only a few days. (We've posted a list at the end of the Rube Gallery.) His granddaughter, Jennifer George, maintains that her grandfather drew more than 50,000 cartoons. Sounds about right to me.
But Rube's lasting fame rests on his "invention" cartoons, diagrammatic pictures that explained how some outlandishly complicated mechanism worked to perform a ludicrously simple task. After the first of these appeared July 17, 1912, Rube drew an invention cartoon off and on for the rest of his career and got into the dictionary as a result: "Rube Goldberg," it sez in my American Heritage Dictionary, "relates to a contrivance that brings about by complicated means what apparently could have been accomplished simply." The inaugural one of these depicted "The Simple Mosquito Exterminator."
Says Adam Gopnik in his Introduction: "Rube Goldberg's great subject is the chain reaction—the way that the most disparate parts and bits of modern life can be strung together to accomplish something no one part alone does, or implies. ... His great discovery was that the chain reaction is often more interesting than its end product. ... Invariably, the goal and end result of a Rube Goldberg machine is perfectly practical but one already easily accomplished. We already know how to cool a plate of soup, carve a turkey, pop the cork on a bottle of wine. It is the inventor's ambition to show that another solution to the problem might be more intensely mechanized than the existing one—and to show that the new proposed solution would be better because it is more intensely mechanized. It is the rococo necessities of the achievements that make them inspired: these are things that need doing, but they don't need this much doing."
About his invention cartoons, Rube said they showed "man's capacity for exerting maximum effort to accomplish minimum results." He had no indication when he hit upon the idea that they would strike "a universal chord" among his fellow inhabitants of the planet. The chord he struck was man's obstinate resistance to change, which, by the early years of the 20th century, meant rejection of the machine age. Machines, Rube showed, were vaguely idiotic because they needlessly complicated ordinary life. Although it was his innate sense of the ridiculous that made the invention cartoons so successful, it was doubtless his training as an engineer that made designing the contrivances possible.
Starting in November 1938, Rube was an editorial cartoonist for 26 years, winning a Pulitzer in 1948. But that merely polished the gleam of his fame. He was a cartooning celebrity long before he began editooning. The other cartooning effort that burnished his inventive fame was the comic strip Boob McNutt, which ran for 16 years, from June 9, 1918 until September 23, 1934. Boob was another of Rube's patented idiots, whose every endeavor was stalked with accident and hilarious mayhem.
But "boob," meaning a stupid, foolish person, was not a coinage of H.L. Mencken, the assertion of Paul Tumey in his survey of Rube's works herein to the contrary notwithstanding. "Boob" was in use long before the date (1922) sometimes crediting Mencken for the term. Mencken deployed the word when he concocted "booboisie" to denominate respectable idiots as a new class of Americans. On February 15, 1922, he published the term in the Baltimore Sun with a list of 50 similar ones— boobariat, booberati, boobarian. But he was using a word, "boob," already in common parlance.
This book, an elegant example of the book-maker's craft, is not a biography: it is more a scrapbook of Rube's life's work. Pasted into it are fragments of comic strips, scraps and scrapings, photos, reproductions of original art, copies of yellow-to-brown newspaper clippings, quotes from the verbally picturesque Rube, and essays by Jennifer George (recalling her grandfather), Brian Walker (biography), Peter Maresca (historical context of the comic strips), Paul Tumey (survey of the Goldberg strips), and Andrew Baron, a paper engineer who is responsible for the book's most distinctive feature: the cover reproduction of a Goldberg invention, which, when you push the tab beneath it, moves in exactly the sequence described in the original cartoon.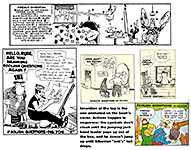 Baron explains that most paper engineering produces one of two types: movables, with pull tabs, and pop-ups. His cover device for the book is an elaboration upon the usual pull tab movable because the activating tab causes the motions to take place in sequence, not all at once. As in Rube's static cartoon, one action causes the next—and stops once the next action has commenced. An ingenious contrivance without equal. Rube would rejoice.
Many of the scraps in the scrapbook are undated—a fragment of a Boob McNutt strip, no date visible. Many photos and clippings are dated, but in most instances, the date is incidental: the purpose of the item is to illustrate the juggler's vast and varied repertoire and the legerdemain of his jiggery-pokery that keeps words and pictures aloft through sheer comedic sleight of hand. But for biographical information, the Timeline at the end of the volume is a more than adequate substitute.
The book is not without such errors as the "boob" origin. Similarly, the authors assert that Rube was one of the co-founders of the National Cartoonists Society in 1946, the other being Russell Patterson. Not quite the case.
NCS had its origins in World War II in the trips that several New York-based cartoonists made to East Coast military hospitals to entertain wounded soldiers. The original group of inkslingers included *C.D. Russell (Pete the Tramp), *Otto Soglow (The Little King), *Gus Edson (The Gumps), Martin Branner (Winnie Winkle), Ray Van Buren (Abbie `n' Slats), Ad Carter (Just Kids), *Ernie Bushmiller (Nancy), Bill Holman (Smokey Stover), Al Posen (Sweeney and Son), *Milton Caniff (Terry and the Pirates), a couple King Features bullpen cartoonists (Bob Dunn and Paul Frehm), and, to serve as emcee for the act, Arthur "Bugs" Baer, humor columnist and after-dinner raconteur, one-time vaudevillian, sometime sports cartoonist, and all-time master-crafter of memorable one-liners. ("What America needs is a good five-cent cigar" is Baer's; but I like the telegram he sent to his wife in the hospital when their son Arthur, Jr., was born: "I hear you had a boy in your room last night.")
While it's true that they all knew no cartoonists club could be formed without Rube at its head and that Patterson talked Rube into going along with them, the usual histories of the Society name seven founders—all those whose names I asterisked in the previous paragraph's list, plus Rube and Patterson. A trivial point, no doubt, but what else are historians good for except to point trivially?
The book offers so many more happy snippets of lore that I'm inclined to overlook such tiny toe-stubbings. Among the trivia blooming in its pages is the quiet assertion that Professor Lucifer Gorganzola Butts, cited in the invention cartoons as the inventor, never actually appears in the cartoon. True. But near here is a portrait of this personage so you can go thumbing through the hundreds of invention cartoons looking for him just to prove this tome wrong.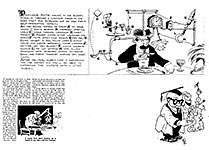 And did you realize that Rube's famous Mike and Ike—They Look Alike duo were propagating ethnic tolerance? Mike, an Irishman when Irishmen were a despised immigrant population, and Ike, a member of the equally disdained Jewish minority, by "looking alike" proclaim they are not different, hence (by a leap of syntactical logic) they are like all of us. Thus, we're all equals. A little twisted in the rationale, but, I suspect, an authentic reflection of Rube's catholic comedy.
The book is a delight, visually and verbally—festooned throughout with Rube's funny pictures. And here is my own culling of Reubenia from this volume and others written about him.
IRKS & CROTCHETS
Medication Clue. I know it takes me longer than most people to assess and get accustomed to reality. (I didn't get a birthmark until I was ten, and that set the mold—so to speak).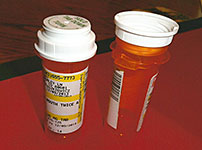 Our accompanying illustration is a photo of two of those pill bottles you get at the pharmacy—the kind that are tamper-proof because there's a little nodule inside the cap that gets caught on a protruding tab when you twist the cap. (The tab is shown on the right in the photo.) But if you push the tab down, the cap swings free—and off. An annoyance, surely, albeit a minor one. In a world of petty annoyances, however, it's always nice to find an escape. And just a few weeks ago, I was told of a way around the annoyance of this kind of tamper-proof bottle cap.
Look carefully at the two bottles in the photo. The bottles seem identical, but they aren't. The one on the left is the way you get the bottle at the pharmacy. But on the right, the bottle cap has been inverted—a mindlessly simple maneuver by which the protruding tab is circumvented altogether. Presto: you can screw the cap off without fiddling with that annoying tab. Just like you can with any other bottle cap.
Wonderful. And it took me only 50 years or so to learn this basic fact of medication life. Well, I told you I was retarded.
LONG FORM PAGINATED CARTOON STRIPS
Called Graphic Novels for the Sake of Status
Dark Rain: A New Orleans Story
By Mat Johnson and Simon Gane
166 7x9-inch pages, b/w and blue tones; 2010 DC Vertigo hardcover, $24.99
THIS IS A CAPER STORY set in the wake of Hurricane Katrina. Dabny Arceneaux and Emmit Jack, two petty crooks now out on parole in Houston, decide to rob a bank in the center of New Orleans; they figure they can get away with it because the flooding diverts everyone's attention and they won't be noticed. It's mostly Emmit's idea, and he cons Dabny into joining him, but when they get to the Big Easy and go floating through the streets, Dabny is more interested in helping the stranded people they encounter than in robbing the bank. Emmit thinks only of the money.
Johnson, who is also responsible for the marvelously intricate Incognegro (which we enthusiastically reviewed in Opus 241), embroiders this simple premise by introducing several other players and complications. The first of these is the ruthless rogue commander of a security force known as Dark Rain, evoking memories of another, real-life rogue security force, Black Water (Dark Rain = Black Water). Colonel Driggs has decided to rob the same bank, saying: "We are the real America. We've paid for our citizenship in blood. It's time for us to get properly compensated for our patriotic efforts."
Other complicating characters include Emmit's "cousin," upon whom Dabny thought they were relying but who is utterly, physically, incapable of helping; a factotum at the bank, who stays in it during all the flooding to protect the deposits (which consist mostly of mob money that the bank is laundering); and a pregnant young woman who provides a romantic interest. (Yes, among other things, this is a love story.) As he did in Incognegro, Johnson keeps the story turning and twisting, each bend in the narrative threatening Emmit's plan. They improvise to overcome each threat, and it all turns out happily, without undermining the traditional moralities of Western Civilization.
Gane, whose work I've admired for years, turns in another superb performance but in a much more realistic style than he usually deploys in making his trademark knarly pictures.
Apart from the central plot, the book offers glimpses into the heartbreaking tragedy that was the actual New Orleans underwater—the gross incompetence at the Convention Center and Super Dome, the confrontation at the bridge to Gretna (where armed police prevented refugees from getting to the safer side), the hunger and thirst of survivors, floating corpses and dead people in wheelchairs. Together, Gane and Johnson have produced a minor masterpiece of comics storytelling, melding pictures to words in the classic manner and culling hope from the ruins of a humanitarian disaster.
Marble Season
By Gilbert Hernandez
128 8x11-inch pages, b/w; 2013 Drawn & Quarterly hardcover, $21.95
HERNANDEZ HAS REAPED ACCOLADES for his pitch-perfect portrayal herein of childhood—based, obviously, upon his own. The essence of childhood—the ever-wavering juvenile interest that results in rapid shifting from one kind of play to another, the petty prejudices, the bullying, and all the rest of it—is not something that is of consuming interest to me. This book is not like Huck Finn, wherein the preoccupations of a juvenile reveal a larger, humanitarian view of life. What we get here is what Hernandez promises: a reenactment of childhood. And it is superbly, lovingly, done. As an example of how the comics medium can be deployed to do more than record the fantastic exploits of the longjohn legions, we can't ask for better than this. And for more explication on the achievement, I go to the excellent essay at the end of the book by Corey K. Creekmur, associate professor of English and film studies at University of Iowa, who writes:
"Perhaps no other current creators of comics recognize (or vividly remember) the ways actual kids think, talk, or even stand and walk as accurately as the Hernandez brothers, and no other comics artists so delicately intertwine moments of childhood trauma with the goofy logic that otherwise sustains kids when they begin to sense that they live in an irrational world. (Lynda Barry may be their only equal in this regard.) ... Marble Season is about, among other things, the way kids—and perhaps artists, or perhaps especially kids who become artists—think."
Creekmur thinks the book is "about" childhood: it doesn't merely "depict" childhood. There is very little "story" in the sense of a narrative following the road map of a plot; instead, what's here is "seemingly minor childhood events that might take hold as lifelong memories. ... a representation of the way life is lived, even or especially in the moments we might disregard as simply ordinary or everyday. ... The focus here is therefore less on what childhood means than on what it feels like."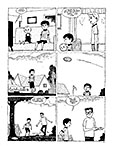 The good professor also provides a succinct and apt description of the emergence of the "post-underground, alternative comics renaissance of the 1980s" of which Los Bros Hernandez were so significant a part, which he begins with an attack on the absurd journalistic practice of suddenly proclaiming that "comics aren't just for kids anymore."
Says Creekmur: "Millions of people viewing recent big-budget superhero films no longer read the comics these are based on, in part because the convoluted continuities established by mainstream comics publishers haven't welcomed new readers for decades." Today's comics "address a narrowing niche market ... of hip adult consumers with disposable incomes, not kids who don't yet view comics as edgy art or as investments to be sealed in plastic."
Bravo. The book is worth owning for Creekmur's essay alone. And if you want to be reminded of what your childhood was like, you get that as a bonus.
Many of the events depicted herein sprinkle references to the pop culture of the late 1960s and early 1970s, and Hernandez provides a helpful appendix that explains them ("Page 37, Panel 2: Curly is Curly Howard, a slapstick comedian best known for being one of the Three Stooges....")
SuperZelda: The Graphic Life of Zelda Fitzgerald
By Tiziana Lo Porto with drawings by Daniele Marotta; translated from Italian by Anthony Sugaar
176 6x8-inch pages, b/w with second color; 2011 One Peace Books paperback, $16.95
AS THE HUMBLE COMIC BOOK has graduated from the denigrated throw-away periodical to the esteemed and culturally significant "graphic novel," the shelves of the nation's bookstores have been increasingly polluted with the works of ambitious well-meaning comics fans who don't understand the medium and whose perversions of it not only threaten the form but indoctrinate an audience with false perceptions: readers of such lame endeavors will have a skewed understanding of what graphic novels are and what the cartooning arts are capable of. The volume at hand is a poster boy as a bad example of the visual-verbal artform. We must stop praising such enterprises because they seem to advance the cause of elevating the form and start condemning them for demeaning it.
The book is meticulously researched and the research is impressively deployed: virtually every word in it comes from the novels, stories and letters of Scott Fitzgerald and his wife Zelda and others of their jazz age milieu. For example, everything the Ernest Hemingway character in the book says when introduced is taken, verbatim, from A Moveable Feast. And the pictures throughout are based upon period photographs.
The authenticity of the biography seems beyond question. We meet Zelda Sayre as a young girl being systematically spoiled by a well-to-do family. She remains a self-indulgent brat throughout the book, meeting the author Scott Fitzgerald when he is on the cusp of becoming a celebrity. They marry in 1920 and begin partying excessively throughout Europe and America, supplying the Roaring Twenties with living icons of beauty, talent, extravagance, irreverence, and drunkenness. At the end of the decade, Zelda is diagnosed with schizophrenia; she will spend most of the rest of her life in mental institutions, dying in a fire that destroys one of them in 1948, having outlived her alcoholic husband by eight years.
And the book itself is an elegant artwork: a dusty blue tint enhances the black-and-white drawings, and book-jacket-like flaps give it pretension to published literature. But between the covers, the contents betray the pretense. Marotta is very good at drawing buildings and automobiles, but, as you might expect from an artist for whom a doorknob is an objet d'art, rendering people is a challenge beyond his capacity. Zelda and Scott change appearance page by page; Marotta manages a modicum of consistency by giving her squinty eyes almost every time and him a pointy nose. Otherwise, they could be anyone else in the book.
BUT THE MOST PERSISTENT OFFENSE the book gives to the graphic novel genre is in its absolute failure to exploit the medium appropriately. Words and pictures should work in tandem to tell the story; in this volume, the words do most of the storytelling, and the pictures merely decorate the pages. SuperZelda is essentially an illustrated verbal narrative. A graphic novel, if it is worthy of the name, should embody the distinctive features of the comic strip arts.
The things that make comic strip art unique among the visual narrative arts are speech balloons and narrative breakdown. Speech balloons breathe life into comic strips. In all other visual narratives, characters are doomed to wordless posturing and pantomime; in comics, they speak. Moreover, including speech balloons within the pictures gives the words and pictures concurrence—the life-like illusion that the characters we see are speaking even as we see them, just as we simultaneously hear and see people in life.
If speech balloons give comic strips their peculiar life, then narrative breakdown gives that life duration, an existence beyond a moment. Narrative breakdown is to a comic strip what time is to life. In fact, "timing"—pace as well as duration—is the second of the unique ingredients of comic strip art.
In their pretension to greater literary status than comic books, graphic novels must still preserve the essential characteristics of the medium, speech balloons and narrative breakdown. While these two elements act in concert to create the world of the narrative—neither words nor pictures alone without the other presenting a complete story—pictures control the pace.
Pictures must be vital to the story, supplying narrative information that is otherwise lacking in the words—what the characters look like (an obvious example) and the appearance of locale and settings. And also, through facial expression and body language, a character's state of mind.
Speech balloons together with narrative breakdown create the narrative and pace it, but the telltale evidence of the graphic novel's comics essence is when the pictures seem almost alone by themselves to control the pacing. We realize when this principle has been abandoned, violated, when pictures, the more obvious of the two elements, merely decorate the prose. If the words control the pace, the artifact isn't a graphic novel: it's an illustrated prose narrative (or a prose exposition in the case of history and biography).
In SuperZelda, the pacing is controlled almost entirely—that is, from the beginning to the end—by the prose. In only a few instances—notably, in Marotta's portayal of Zelda as a child, playing in her backyard—do the pictures pace events and tell us more than the verbiage. Here, the medium is exploited properly.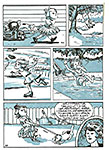 Typically, however, in SuperZelda, the pictures add little or nothing to the meaning of the words—as in our next example.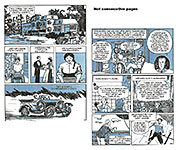 The page on the left tells us what the nearly newly-wedded Fitzgeralds Long Island house looks like; ditto the staff they hire. But the words control the pace. The page on the right is an even more blatant instance of pictures merely illustrating the words, adding nothing to the narrative itself but setting the pace.
In our next example, the abuse of the artform is even more evident. Here, on the page at the left, most of the pictures repeat the information in the prose—verbal-visual double exposure.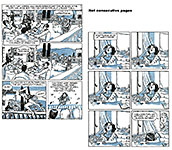 The page on the right, however, is one of the few in the book (I might be able to count as many as half-a-dozen out of the 176, and I've posted two of those in this review) where pictures perform a narrative rather than a purely decorative function. Here, the pictures alone create a dramatic moment: the repetition of the first panel effectively freezes, stops, the action—just as suicide stops life. But this page is an exception; most of the book's pages are like the three other examples at hand.
The perversion of the artform in this book consists, chiefly, in its failure to make pictures do something other than decorate the pages, on which the prose is already excessive. We can find out a great deal about Zelda and her misfortunes in this book. But what we see, page after page, is not a graphic novel, and we must stop praising such efforts before they corrupt the form beyond all recognition. SuperZelda is an illustrated narrative, not a graphic novel.
THE PROBLEM is that the medium of a graphic novel is not well-suited for either history or biography—although it is possible to achieve some telling measure of visual-verbal blending in the latter.
Generally speaking, a biography's impulse is to include all the chief details of the subject's life. As we see in SuperZelda, the effort to include all such matters in graphic novel form effectively destroys the form. Unless the biographer expands the number of pages in his/her work to gigantic dimension, the natural impulse—the best way to achieve a manageable brevity—is to resort to words for telling the story, and in obeying that impulse, the biographer inevitably uses pictures only to illustrate the prose. As a result, the pictures don't add any narrative content. The comics form works best as a form when it can portray at some length an incident or event, an impossibility if the over-all objective is to cover all the chief events in a person's life in as few pages as possible.
In SuperZelda, we can see at least one instance where the biographers could have exploited the visual-verbal form to better advantage. In the double-exposure page of our last example, that episode could have been narrated almost entirely in pictures. In fact, if we removed the captions on this page, we'd have a much more visually dramatic episode. Words could re-enter the narrative at the conclusion to explain the significance of the events.
To make this modification most effective, the episode should be re-imagined for two pages instead of one. Then Marotta could introduce pictures that would show Scott being star- struck, say, and another couple to show Zelda slowly burning up with jealousy until she does something silly.
Scott and Zelda were famous for their extravagant behavior, partying and drinking and doing all sorts of reckless things. Such events are covered in the book, but usually, the biographers devote only a panel or two to depicting them. They could have devoted, say, two whole pages to one such party, depicting the progression from drinking and conviviality to drunkenness and destruction, Zelda dancing in the fountain in a hotel lobby, splashing water on all comers. Such a maneuver would give episodes of this kind much more life and vitality, making them visual-verbal exclamation points in the book and thereby emphasizing the aspects of Scott and Zelda's life together that made them the legendary icons of the Roaring Twenties.
Most of the book could remain chiefly an illustrated narrative, but selecting several episodes like those I've just described would bring the book more into the graphic novel genre. And a few vivid sequences of visual-verbal action would also bring the narrative to life.
As an actual rather than a theoretical example of the sort of storytelling that a graphic novel should do, we've posted a page from Yoshihiro Tatsumi's short story "Traffic Accident," which was published here in 2005 in a collection of his stories, The Pushman and Other Stories. Tatsumi is considered the "grandfather of Japanese alternative comics," coining, in 1957, the term gekiga to describe the gritty style of story he pioneered. That, for our present purpose, is neither here nor there.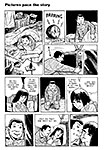 On this page, pictures are clearly pacing the story. For much of this page, pictures are telling the story. Halfway down the page, words begin to clarify the man's sexual fixation, but even then, the pictures are timing events: words clarify but do not control the pace of the story.
Unhappily, Tatsumi's manner does not prevail in many of the current manifestation of the "graphic novel." Increasingly—as the graphic novel gains cultural respectability—the precincts of the form are being invaded by the illustrated narrative usurper. As we see, sadly, in our next review.
Bohemians: A Graphic History
Edited by Paul Buhle and David Berger
240 7.5x10.5-inch pages, b/w; 2014 Verso paperback, $16.95
FROM WALT WHITMAN and Oscar Wilde to the Harlem Renaissance in 25 illustrated narratives, this volume surveys "the moments and movements of American bohemia," a population concentrated for much of its history in New York's Greenwich Village and in Harlem—with outcroppings elsewhere, too. To quote from the news release accurately describing the book: "Since the mid-19th century, bohemians have occupied a place of opposition to both the establishment and the anti-establishment, forging social arrangements that stood contrary to prevailing bourgeois norms, especially those around sex and marriage [all hail free love, f'instance]. Bohemians have been at the forefront of movements in music, dance, literature and social life while remaining largely independent from the markets and mass culture they inspired."
Among the bohemians whose contributions are covered—Ada Clare (the 19th century's "Queen of Bohemia"), Victoria Woodhull, Mabel Dodge, Arturo Giovannitti (Bohemian rebel, labor champion, and poet), Claude McCay, sexologist V.F. Calverton, Carl Van Vechten (who wrote the novel Nigger Heaven), dancers Josephine Baker, Katherine Mary Dunham and Pearl Eileen Primus; and singers Woody Guthrie and Billie Holiday.
Their lives are illuminated by Sharon Rudahl, Spain Rodriguez, Lance Took, Peter Kuper, and others.
The book is jammed with information, and I learned a lot, just thumbing from one story to the next one that caught my eye. But although it claims kinship with the graphic novel form, it seldom permits pictures to pace the narratives. Mostly, like SuperZelda, the tales are illustrated narratives.
One of the most accomplished artists is Dan Steffan, who wrote and drew the longest piece in the book, "Frowning Prophet and the Smiling Revolutionary," about photographer Alfred Stieglitz and iconoclastic artist Marcel Duchamp with Walt Kuhn, Man Ray, Georgia O'Keefe and Francis Picabia heralding the arrival of "modern art" in New York. But as you can see from two of Steffan's 21 pages at hand, the prose paces the story.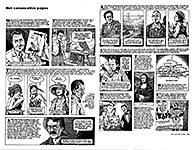 Jeffrey Lewis comes closer to the essence of the graphic novel form with his story of Woodie Guthrie that avoids lengthy captions in favor of pictorial vignettes of the folksinger's life, a panel for every year with speech balloons conveying the essential information.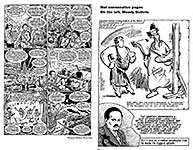 But the next page (from "'The Sex Boys' and the Libidinal Left") with Paul Buhle's script drawn by Matt Howarth is typical of the book's biographies—prose setting the pace. (I confess that I include this page chiefly because of its 1926 cartoon by Fred Ellis.)
Afua Richardson's highly decorative treatment of Josephine Baker's life is nice to look at, but the pictures simply decorate captions.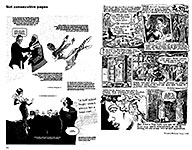 Similarly, Sharon Rudahl, who draws more of the pieces in the book than anyone else, is guided by text, and in her impulse to give visual life to the narrative, she jams too much pictorial information onto every page, creating a confused hodge-podge of visuals.
Absorbing as the lives of these bohemians are, the book is, at best, only a crude approximation of the graphic novel form. But our next review is of a superb graphic novel.
Slayground: Richard Stark's Parker
By Richard Stark (Donald Westlake) adapted and illustrated by Darwyn Cooke
100 6x9-inch pages, b/w with second color; 2013 IDW hardcover, $17.99
THIS IS THE FOURTH of Cooke's graphic novel adaptations of Stark's stories about a ruthless crook named Parker. In the title story, Parker and two others rob an armored car, but their plan is foiled when the driver wrecks their getaway car on a snowy, slippery road. Parker, unhurt, leaves his injured cohorts in the wreck and makes his way to an amusement park, closed for the winter. He holes up there but, knowing that the police will soon come for him, he prepares various booby traps. When the cops come, he learns that they are on the take and are accompanied by son of the local mob boss and his minions. The rest of the story is about how Parker eludes them, killing as many of the cops and crooks as he needs to in order to effect his escape. In a second, much shorter story, Parker pursues a fellow robber who has absconded with ill-gotten goods. After killing the culprit, Parker finds that the fellow has only his portion of the take.
As usual, Cooke is superb in managing his visual storytelling resources. The first page displayed in the accompanying visual aid depicts the conclusion of the robbery at the left.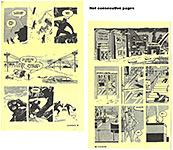 Pictures tell much of the story—pacing the unfolding events; but words add clarity. The partner who is hurt is the other guard in the armored car. The crook's advice to put snow on the back of the hurt guard's neck shows a measure of compassion. Then, the single word, "sirens," explains why the robbers are running off at the end of the page.
In our second example, the page at the right, no words are deployed. Parker runs into one of the retail shops in the amusement park, having just killed a corrupt cop by drowning him in the pirate ship moat. Parker is wet, soaked through, and it's freezing. The pictures are all the narrative there is here: they show the store he enters, and, once inside, we see a single shoe, then bits of clothing that Parker has left behind as he strips off the wet clothes; on the next page, we see him huddled on the floor, naked and groaning with the cold. Here the pictures alone pace the story.
In the next two exhibits are three pages of the story's climax. One cop has been garroted in one of Parker's booby traps, and Parker captures the cop's partner, forcing him to strip the wounded cop. Parker then dons the uniform and feigns disability to get by the mob boss, who has come to the amusement park to avenge the killing of his only son, whom Parker shot to death.
Parker's disguise almost works until the old man wants to inspect his alleged wounds. Words, as usual, clarify what the pictures are revealing, and on the third page of this sequence, the old man's words—"son of a bitch!"—reveal that he's made Parker. And his shouts in the next panel confirm his new knowledge. The rest of the sequence is related almost entirely in visual terms.
Throughout the episode, pictures control the pacing. Cooke's adaptations of Stark's Parker stories are typically terse in the verbal dimension. Words and pictures together tell the story, but pictures do the pacing.
Even on the first page of this series, pictures shoulder most of the storytelling burden. We see the nearly unconscious cop on his back and his partner looking at him. Then we see a gun held to the cop's head; the story moves forward. In the next panel, silhouettes even without clarifying verbiage show the cop giving up his weapon. And the next two panels show Parker in control.
Pictures pace the story. The contrast to the way pictures work in SuperZelda and The Bohemians could not be sharper. Cooke is doing a graphic novel; the perpetrators of these other two works are illustrating prose narratives. Instructive—even entertaining—as the other two works are, they are not graphic novels, and calling them graphic novels does the artform a disservice bordering on fraud.
Before we get off our soapbox, we have one more example of biography as graphic novel, well-done by Peter Bagge.
Woman Rebel: The Margaret Sanger Story
By Peter Bagge
104 8x10-inch pages, color; 2014 Drawn & Quarterly book, $21.95
I HAVEN'T SEEN THIS BOOK, but I've seen Sarah Boxer's review of it at the Comics Journal website, and her essay is amply illustrated by pages excerpted from Bagge's book. Those pages are a nearly perfect demonstration of how a factual biography can be constructed with pictorial pacing by resorting to a series of revealing incidents in the life of the subject—exactly what I was describing at the end of my SuperZelda review. Go to tcj.com and you'll see what I mean.
BEEFS & BOFFOS ON MEDICAL MATTERS
Compiled by Jon Winokur, the Curmudgeon His Own Self
"Be suspicious of any doctor who tries to take your temperature with his finger."—David Letterman
"Never go to a doctor whose office plants have died."—Erma Bombeck
"My doctor told me that jogging could add years to my life. I think he was right. [I started jogging and] I feel 10 years older already."—Milton Berle
"Whoever thought up the word 'mammogram'? Every time I hear it, I think I'm supposed to put my breast in an envelope and send it to someone."—Jan King
"I'm addicted to placebos. I'd give them up, but it wouldn't make any difference."—Jay Leno
COLLECTORS' CORNICHE
Welcome to our sentimental section where I muse and marvel about antique volumes on the shelf and rare finds in old bookstores and the like. Nothing major. Skip over this if you're busy.
HERE'S A COPY OF George Scarbo's The Comic Zoo, one of the few fragments of this strip I've ever seen—this copy, pasted into an antique scrapbook of mine. According to Allan Holtz's American Newspaper Comics encyclopedia, the Zoo was a Sunday only strip, the topper to J.R. Williams' Out Our Way; it ran from June 28, 1936 to May 30, 1965—an impressive run—featuring a repertory of animals (Blackie Bear, Chops the Pig, Grumpy the Porcupine—so Walt Kelly wasn't the only cartooner who knew porcupines were grumpy—and so on, each, like Squeaky the Mouse in our exhibit, given the subtitle with their appearances).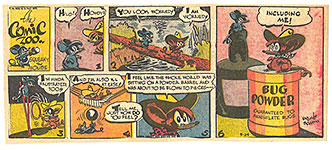 Given the feature's longevity, it's surprising that it's virtually unknown these days. The Web knows a little about The Comic Zoo: you can find samples posted here and there. But it's almost ignorant of George Scarbo—except for Holtz's posting at strippersguide.blogspot.com, which reveals that Scarbo was on staff at the Newspaper Enterprise Association (NEA) where he drew caricatures of notables and other specialty art when not doing his strip, a genuine charmer, as you can tell.
CAN'T REMEMBER WHERE I picked up this next item—a cartoon depicting aspects of the 1919 cross-country army motor convoy from Washington, D.C. to San Francisco. The idea was to test the highway system, to see if military assets could be moved quickly to places where they might be needed in the event of an invasion. Highways in those early days of automobile/truck transportation were primitive, nothing resembling today's paved roadways. Mostly, the roads were not paved, for instance: they were mere tracks across the landscape. Probably not many "gas stations" either. The cross-country trek was, by all accounts, an ordeal, fraught with difficulties and delays—scarcely an affirmation of the nation's ability to move its military around for defensive purposes.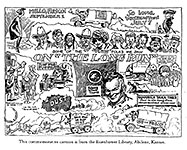 The chief point of interest in this exhibit is the portrait of Dwight Eisenhower in the middle of the picture. He was the officer in charge of the exercise. Given the difficulties he encountered, it should come as no surprise that one of the chief efforts of his Presidency 33 years later was to obtain authorization of federal funding for the interstate highway system, which was undertaken, ostensibly, for the purpose of facilitating the movement of military assets all around the nation. The nightmare of 1919 would not ever be repeated.
Alas, no cartoonist signature to identify the artisan responsible for this commemorative cartoon, which is on display at the Eisenhower Library in Abilene, Kansas (where Ike grew up).
FUNNYBOOK FAN FARE
Four-color Frolics
An admirable first issue must, above all else, contain such matter as will compel a reader to buy the second issue. At the same time, while provoking curiosity through mysteriousness, a good first issue must avoid being so mysterious as to be cryptic or incomprehensible. And, thirdly, it should introduce the title's principals, preferably in a way that makes us care about them. Fourth, a first issue should include a complete "episode"—that is, something should happen, a crisis of some kind, which is resolved by the end of the issue, without, at the same time, detracting from the cliffhanger aspect of the effort that will compel us to buy the next issue.
IN BAD ASS No.1, we meet a thoroughly bad-ass guy called Dead End who, after donning a stocking-like head mask in the book's central completed episode, wipes out about thirty other bad-ass guys, who are so thoroughly nasty that Dead End emerges as a likeable hero. But this redeeming outcome seems scarcely likely in the opening episode in which the long-haired Dead End, irked at a waiter demanding a tip, flips a coin at him, hitting him in the eye and then riccochetting off the windshield of a passing car, thereby causing an accident and uncatalogued havoc. Bad ass indeed.
We are also treated to a glimpse of the protagonist's life in high school where his facial pimples were to numerous that the schoolyard bullies wouldn't hit him in the face for fear they'd burst the pustules and stain their shirts; and when a short-tempered teacher slaps him, we see what happens. Not an attractive sequence.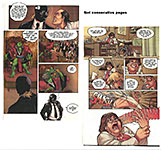 One of the book's more inexplicable moments is when Dead End lights a cigaret which he hold between his lips even though his head mask would seem to prevent him from putting anything in his mouth. Only in the comics.
We reach the cliffhanging ending just as a new character, a catwoman named (yes) Kitty, hurls a few musical notes at Dead End, leaving us in suspense about (1) how lethal musical notes in three dimensions might be and (2) whether Kitty is actually a feline being or just wearing pussycat ears. Herik Hanna's creation is provocative enough to bring me back, and Brukno Bessadi's pictures are amply adequate.
THE HIGHLY TOUTED Muslim heroine, Ms. Marvel, has arrived, a thoroughly predictable effort by G. Willow Wilson, herself, according to report, a Muslim, which gives her insight into her heroine's predicament, beautifully pictured by Adrian Alphona. Before becoming Ms. Marvel, teenage Kamala Khan, enamored of superheroes in comics, wants to become one of the spandex bunch and thereby escape the restrictive life she lives in Brooklyn under the thumb of her traditionally Islamic father and mother. That's the predictable part: born in New Jersey, Ka
Kamala doesn't like being an orthodox Muslim; she wants to be an American superheroine. Or, at least, less Islamic.
By the end of the first issue of her title, she's been magically transformed into Ms. Marvel. Magic, remember, is the standard transformational device among the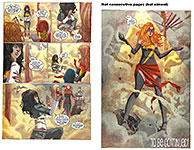 Marvels—Shazam and a bolt of lightening. Th magic here having changed Kamala's hair from dark to blonde and her skin from brown to white. I'm not sure this represents an advance to mainstream American understanding of Muslims. If they have to forego all racial identity to be a proper superheroine, what does that imply about the original racial identity? Obviously inferior, right?
RECENTLY, having heard that Jonah Hex has been time-traveling to the 21st century, I picked up a half-dozen issues of All Star Western (Nos.22-28) to catch up. Jonah in the hands of Jimmy Palmiotti and Justin Gray is undoubtedly the nastiest personality in comics. Used to be he was a teense cranky, but in these books he's out-of-control bad tempered and brutally heavy-handed. What amused me, though, was when, in No.27, he lectures Superman about the Man of Steel's failure to do the good he claims to be doing.
"Ya ain't very good at it, are ya? The helping part."
"What?" says Superman.
Jonah explains: "There's still wars. Crazy wars fought by cowards that attack civilians with bombs ... still people doin' terrible things ta each other same as it wuz in muh time. Difference is, we ain't never had someone like you. Someone whut could stop them things easy as mending a fence."
Superman says it isn't easy. "It's a complicated world. Truth is, I can't save everyone. At some point they have to save themselves."
"Yeah, I git it," says Jonah. "We had a fella come along once promisin' all kindsa wonderful things, sayin' we could all save ourselves and what'd he git fer his trouble? We hung him on a cross."
Pretty heavy stuff.
But the biggest hoot in this issue occurs later, when, guided by his current squeeze Gina (whom artist Moritat renders bosomy, acceptable, but with an impossibly small waist thereby turning her into a Playboy cartoon wholly out-of-place in an otherwise realistically drawn story), Jonah visits the "Jonah Hex Exhibit" in the Metropolitan Museum—where he encounters himself, stuffed. Preserved by taxidermy.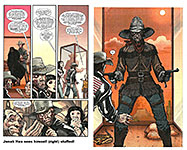 Only an antique Jonah Hex reader like me is likely to remember what Michael Fleisher did to the character during his writing stint on the title. It happened in Jonah Hex Spectacular in the fall of 1978 wherein Fleisher did a little time-traveling of his own, imagining Hex in the twilight of his career, 66 years old, white-haired and with such dimmed vision that he wears spectacles.
Attempting to live up to his fearsome reputation, Jonah gets into a card game, and while his attention is distracted as he cleans his glasses, a recently provoked deadly enemy comes in and blasts the bounty-hunter into the hereafter with a shotgun.
Later, as Hex's paramour, the squaw Tall Bird, is preparing his body for a funeral pyre, she is killed and Hex's body kidnaped by a conman named Lew Farnham, who owns and operates a traveling snake-oil show that he calls the Spectacular Wild West Revue. Farnham had invited Hex to join his traveling troupe to lend his reputation and the authenticity of his deeds of derring-do to the show. Farnham has even arranged for a special fringed-coat white suit for the gunfighter to war while on exhibit—er, working. Hex scornfully refused Farnham's offer.
But now, Farnham has Hex—dead but, apart from a hole in his chest, whole. Farnham takes the corpse to a taxidermist, who stuffs it. Then Farnham puts the stuffed Hex on display in that fancy white, fringed suit he bought for him.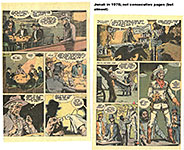 Farnham is later killed by a trio of robbers, who, spying the stuffed Hex in the corner, take him, too. The body of Hex subsequently endures neglect and serial desecrations, and the story finishes with the body on exhibit outdoors, being rained on.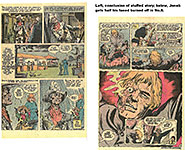 Fleisher caught all sorts of bijesus from passionate Jonah Hex fans for getting their hero stuffed. A fairly rampant display of disrespect, I grant; but somehow a fitting metaphor for our worship of the violent Old West.
And Palmiotti and Gray have, er, resurrected the memory of Fleisher's morality play now, 34 years later. Fleisher's imagination was described as "crazy," "derange-o," "certifiable," and in a category of "bugfuck insane" by Harlan Ellison in a Comics Journal interview in about 1980, and Fleisher thought he was being insulted instead of complimented. From the context of the remark, Ellison was clearly praising Fleisher's work. But Fleisher didn't see it that way, and so he sued Ellison and the Journal's Gary Groth for two million dollars damages to his reputation. The case dragged on for several years, culminating, eventually, in a verdict for the defendants. Fleisher soon left comics to pursue a couple of advanced degrees and become some sort of consultant in anthropological matters.
Palmiotti and Gray, meanwhile, ended No.27 with Hex severely injured as a result of having an accident with his motorcycle that he was operating while monumentally shloshed. drunk. He awakens in a hospital in No.28. Surprise: supposing that the horribly disfigured right side of Hex's face was caused in the wrecking of the motocycle, the doctors have done reconstructive surgery, restoring Hex's appearance as it was before irate Apaches seared his face in No.8 of Jonah Hex in 1978, another Fleisher story.
Moritat didn't draw this issue; Staz Johnson and Fabrizio Fiorentino did. And they produced the 3-page sequence I've posted nearby, a sterling example of storytelling, dictated by the writers but superbly executed by the artists—ending with a punchline that's a beaut.
And that's enough lore for now.
MOTS & QUOTES
"We have two ears and one mouth so that we can listen twice as much as we speak."—Epictetus.
To make up for the oral deficiency, some people—politicians chiefly—talk out of both sides of their mouths at once.—RCH
Which reminds me of Mark Twain, who said: man is the only creature who lies—or needs to.
"Term limits aren't enough: we need jail."—P.J. O'Rourke
ONWARD, THE SPREADING PUNDITRY
The Thing of It Is ...
A LOVE LETTER TO BIG GOVERNMENT
By Bob Garfield, at Slate
Seventy-two percent of Americans say big government is a greater threat to the U.S. in the future than is big business or big labor, a record high in the nearly 50-year history of this question.
— Gallup Organization, December 13, 2013
YOU ARE HULKING AND AWKWARD, humorless and impatient. You are pathologically regimented and nerdy almost beyond belief. You are penny-wise and pound-freaking-ridiculous. Every now and then your behavior is simply reprehensible. So maybe this is perverse, because also — ewww — you're my uncle. But I am so in love with you.
Let me count the ways:
You protect me from terrorists and pathogens and pollution and bigots and foreign armies and racketeers. You enforce a semblance of order in the neighborhood and in the marketplace. You finance stuff that I use all the time, more or less for free: bridges, dams, GPS, federal reserve banks, crash-test dummies (indirectly), and Medicare (soon).
You deliver my mail, plus the odd cruise missile. Not to mention my land-grant-college education and my graphite and titanium golf clubs — dual-use materials researched and developed by you. Stealth fighter shmealth shmighter, we're talking 30 extra yards off the tee, baby.
Also you invented the Internet, which is soooo great for global communications and last-minute shopping. Meanwhile, you've been ticking off items on the ol' honey-do list. "End slavery," check. "Eradicate polio," check. "Clean Lake Erie," check. "Elvis stamp," thank you very much.
Twice in the past 85 years, from the New Deal to TARP, you saved the world from financial Armageddon. In the 20th century you defeated both fascism and communism — because of, not in spite of, your gigantism. So when the haters mock your size and the size of your heart, it breaks mine. When Newt Gingrich flamed you in his book ("The secular socialist machine represents as great a threat to America as Nazi Germany or the Soviet Union once did") it was like seeing you rank last in "Hot or Not." All love, it is said, begins with pity.
Truthfully, this was love at first sight. You didn't even have to offer Big Bird or Obamacare. You had me at the Louisiana Purchase — a huge federal expenditure guaranteeing westward expansion. Fifteen states emerged, in whole or in part, from that budget-busting, tax-and-spend initiative — all 15 of them red.
I feel for you, ya big lug. You're so ungainly next to the sleek and comely free market, but let's not forget that the captains of industry, with alarming frequency, go all Bligh on us:
BP (manslaughter), GlaxoSmithKline (suppressing bad clinical news and illegally marketing unapproved drugs), JPMorgan Chase (subprime recklessness), Philip-Morris (lying merchants of cancer), Archer Daniels Midland (price fixing), HSBC (abetting drug-cartels' money laundering), Enron (megafraud), Comcast (just plain sucking).
Yes, as I constantly say, among the things the free market is free of is conscience.
Now don't go getting a big head, my dearest Uncle Sam, because in addition to a century of human bondage you have plenty to answer for. Spying on your own citizens is merely your latest outrage. Who can forget the CIA overthrows? The World War II internment of Japanese Americans. The Trail of Tears. The Vietnam War. The Red Scare. Tuskegee. The Amtrak café car.
And yet I'm prepared to be forgiving. Social Security. Yellowstone. The Sherman Antitrust Act. Dude, memory foam! Yes, plutonium and weaponized bacteria aren't the only things developed in a government lab. Touch-screen technology, too. Whatever number of $600 hammers went into my ATM and Tempur-Pedic pillow is fine by me.
Anyway, per the corporate crimes and misdemeanors listed above, you have no monopoly on institutional transgression. You do, however, have a monopoly on protecting the public from monopolies. And hostile ICBMs. And salmonella. With all due respect to the rights of individual states, some functions require scale.
New Mexico Division of Antitrust? Arkansas Institutes of Health? Vermont Aviation Administration? Alaska Department of Defense? As somebody once said, thanks but no thanks. Also, some things even private industry isn't industrious enough for. To whom should we outsource food inspections or air traffic control ... Blackwater?
But now there's a Blue Scare, and they're hating on you. They loathe your debt and your giveaways to freeloaders like the elderly, the poor, the unemployed, the war-disabled, and the just plain unlucky. They want the unregulated economy's lucre to simply trickle down, like fracking-lubricated ground water, to the disadvantaged. As Florida Sen. Marco Rubio says, "Free enterprise makes people prosperous, all people prosperous, and big government makes people poorer."
But, gosh, Big Government, one of the things I so love about you is your generosity — not to welfare queens but to free enterprise itself. On top of the bridges and that other infrastructure you built, the stable society you have sustained through your do-gooder entitlement largesse offers business a dependable, educated workforce and vast affluent consumer base more or less entirely unwiped-out by famine, epidemic, civil strife or grinding poverty. In other words, the supposed welfare state your enemies so despise is the ultimate trickle-down corporate welfare.
As for spending, it's so infuriating when folks like House Budget Committee member Bill Flores start running you down. ("Every American family and 49 out of 50 states currently abide by some form of a balanced-budget requirement. If they can make the hard choices to pay their bills and live within their means, then Washington should too.") But, dearest one, two-thirds of American families do live with huge debt burdens ... called "mortgages." Flores has two of them, totaling about $1.5 million. Last I checked, he hadn't been strangled.
At business school nobody calls debt a noose. They call it a lever. That's why corporations indebt themselves to the tune of trillions of dollars. Gee, Unc, you don't hear Grover Norquist badmouthing bonds.
Yet he blackmails legislators into signing an anti-tax pledge. Why? Compared to the rest of the industrialized world, you tax us so little. In terms of individual tax rates, you are in the middle of the pack. As a percentage of GDP, at 27.3 percent you are near the bottom, 29 spots below Denmark (48 percent), one above Turkey. In a month or two, I'm going to file my tax return, SWAK.
Think of my check this way: sweets for my sweet. Big Government, be mine.
Bob Garfield is co-host of the public radio program On the Media and the podcast @lexiconvalley. He is author most recently of the novel "Bedfellows" and wrote this for Slate.
WE'RE ALL BROTHERS, AND WE'RE ONLY PASSIN' THROUGH
Sometimes happy, sometimes blue,
But I'm so glad I ran into you---
Tell the people that you saw me, passin' through
Bhob Steward, 1937 - 2014
By Bill Pearson at tcj.com
AN IMPORTANT PERSON HAS DIED. He wasn't a politician or a famous movie star, the kind of person most people consider important. Bhob Stewart was an eccentric fellow whose talents and intelligence contributed creatively to American culture in many ways over the course of his life.
Without the burdens of a giant ego or lust for wealth, most of his professional occupations occurred behind the scenes, in one way or another. I believe he was content with that. He never complained to me that he was frustrated in reaching any lofty goal.
When Bhob arrived in New York City in his early 20's from small town adolescence in the middle of the country, he tried everything, even acting. Many of his experiences in living are recalled in his longtime blog Potrzebie, in which his research and accompanying graphics about a vast variety of subjects were masterfully assembled. Check out the current and earlier entries before it's taken down.
Early on, figuring he might get a byline sometime, for something, he put the 'H' in his first name, realizing there were probably thousands of other Bob Stewarts right there in Manhattan. ...
It's hard to evaluate how much the casually delivered opinions and insights of an individual can affect the judgments and consensus of a wider population, but Bhob was one of those unique people who come along every generation or so who examines everything, comments on much of what he sees and hears, and challenges a good deal of it. He was never smug or condescending to anyone, always asking questions, expecting answers, relishing every interaction that came along.
Here's a brief outline of Mr. Stewart's professional life, in no factual sequential order at all. His first substantial job (he was actually paid a salary) was at TV Guide. Among other duties he was tasked to describe all the movies upcoming on TV each week in just a few words, providing a capsule review intended to let a prospective viewer decide whether they might or might not want to watch the movie. Bhob, according to my questioning years later, didn't seem to appreciate how influential his subtle hints in these brief reviews could be.
Very early in his career, he wrote for and edited Castle of Frankenstein, one of the first magazines devoted to horror movies, well before Jim Warren's more commercially designed Famous Monsters Of Filmland.
In collaboration with his friend John Benson, he interviewed Bernard Krigstein, which was one of the first published interviews with a comics artist that proposed graphic art was a legitimate art form, worthy of attention.
He was in a short play, The General Returns From One Place to Another by Frank O'Hara, that premiered on a double with "The Eighth Ditch" by Leroi Jones, both plays starring Taylor Mead. He was in a comedy workshop with Vaughn Meader. He contributed a continuing cartoon for The Realist and contributed to underground comics. He made a short film, The Year the Universe Lost the Pennant, which was in the Filmmakers Co-op Catalogue and was championed by Jonas Mekas in the Village Voice. He wrote a paperback about the Fonda family. He curated one of the early comics exhibition in a major North American museum — the Corcoran, in 1969. He also worked for Woody Gelman at Topps, most notably on Wacky Packages.
Bhob taught art courses at a college in Boston, and stayed in touch with several of his students, some of whom went on to successful careers as illustrators.
At DC comics, for several years, he was an assistant to Joe Orlando, in the licensing department, which involved many diverse products and all manner of production jobs. Once, out of the blue, knowing I could handle it, he sent me a small production job for a set of trading cards that paid very well. I enjoyed his anecdotes of dealing with various DC and Mad artists involving special artwork for occasionally odd licensed items.
For decades, before, during, after and between other jobs, Bhob wrote book reviews for Publishers Weekly, sometimes providing two or three reviews a week for two or three different editors at that publication. He reviewed all kinds of books, on every subject imaginable, and it wasn't by accident that so many editors had confidence in his perceptions. Bhob had so many interests, and such clarity of thought that he could distill the general theme of any book, and express a positive or negative opinion of its relevance in a few well chosen words. Now, that's influence.
Occasionally I'd mention a book I'd just read to him, and he invariably had an opinion about it. Bhob read everything!
Bhob and I shared a common interest, the admiration of a genuine genius we knew and worked with as assistants, both as writers and artists, named Wally Wood. His book, Against The Grain, was many years in various stages of production, held for years by a particular publisher who somehow never got it into print. Finally released back to Bhob, he placed it with another particular publisher, who insisted it would contain no nudity or improper content. Finally in print, it garnered wide acceptance. Years later, the book, long out of print, revised and updated, is soon to be released by the original particular publisher, which will probably contain too much nudity and improper content. But that's the publishing world. Everybody has their own perspective.
Bhob coined a few phrases, now commonly accepted, like "Underground Comix", which he first uttered at a comic convention panel in the early '60s. But it's not incidental facts like this that put him in his proper place as the brilliant thinker he was. It's the totality of his work, which I believe he thought was mostly play.
When the Internet and digital revolution came along, unlike many older people who resist anything new, Bhob dove right in, exhilarated by the expanding universe of knowledge it presented.
In addition to creating his own blog, and later joining Facebook, when he discovered Wikipedia, and realized he could contribute material himself, it was the beginning of another fixation that resulted in dozens, probably hundreds of entries. Bhob wrote, providing graphics as well, about many subjects of interest to him. Look up any syndicated cartoonist of the 20th century on Wikipedia. Chances are better than 50/50 that he wrote the biographies you'll find, along with providing rare examples of their features. As with most of his work over the course of his life, he wasn't paid or even given credit for these articles.
I believe this curious character's mission in life was to offer knowledge to others, without any consideration of reward. It isn't anything he expressed to me. It's my own deduction, as an observer of his lifestyle over decades
Martin Jukovsky, a lifetime friend since childhood, remembers Bhob as a generous man with an amazing, restless mind. I don't think there could be a better description than that.
I've forgotten a lot of his extensive professional accomplishments, but I'll always treasure my memories of the hours of fascinating conversations we shared over the years. I've lost a dear friend, and I'll miss him.
To find out about Harv's books, click here.