Opus 311 (May 30, 2013). Out of the rabbit hole this time, our report on the doings in Pittsburgh over the NCS Reubens Weekend, May 24-26, when the National Cartoonists Society handed out awards, among them, the Reuben statuette for the "cartoonist of the year." After a short preamble to crucify Stan Lee, we get right into it. But first, our customary reminder: when you get to the $ubscriber/Associate Section (perusal of which is restricted to paid subscribers), don't forget to activate the "Bathroom Button" by clicking on the "print friendly version" so you can print off a copy of just this installment for reading later, at your leisure while enthroned. Without further adieu, then, here we go—:
NOUS R US
Some of All the News That Gives Us Fits
ONE OF THE PROUDER MOMENTS last year during the first Denver Comic Con was when we learned that Stan Lee had agreed to be "guest of honor" at next year's extravaganza. Next year is now this year, and just a week before the DenComCon is to open on May 31, Lee cancelled. His reason? He had a "scheduling conflict": he was supposed to be on hand somewhere else to get filmed making a "cameo appearance" in one of the Marvel movies. Clearly a case of an ego running away with the man. It was more important to Stan to get himself on a few seconds of film next to a Marvel superhero than it was to show up for faithful gaga fans—more important to be in a movie than to be as good as his word. Guest of "honor" indeed.
I've always suspected that the self-adulating Stan the Man was more about Hollywood than anything else, so it's somehow gratifying to have my suspicions confirmed. No one's saying, yet, what will become of the 300 tickets to Stan that were sold for $175-275. Probably he won't get the money.
Maybe his stand-in will: William Shatner agreed to replace Stan. Said Charlie La Greca, co-director of the Con: "Is there anyone like Stan Lee? Of course not. But there is no one like William Shatner either. We know how disappointed people will be, but hopefully they'll still feel that it'll be a phenomenal con with a phenomenal guest."
The Con will issue full refunds to anyone who does not want to use his/her Stan Lee ticket to visit with William Shatner.
THE RELEASE DATE of Dan "DaVinci" Brown's new novel, Inferno, is 5/14/13, the value of pi written backwards—a nod, saith the wags, to the circles of hell in the original Inferno, Dante's.
NCS IN PITTSBURGH
The National Cartoonists Society committed history again on Memorial Day weekend, this time, in Pittsburgh at the confluence (as natives are addicted to saying) of the Allegheny and the Monongahela rivers (both of which disappear immediately to form the Ohio). Not only did NCS name the "cartoonist of the year" last Saturday, but it did it twice: voting for the coveted Reuben trophy winner produced a tie this year, for only the second time in 67 years. Brian Crane, who does the comic strip Pickles (mostly about Earl and Opal, doting grandparents and cranky co-existers) and Rick Kirkman, who draws Jerry Scott's gags in Baby Blues (a strip about a family with three kids, a mother and a too-large-nosed father), went home each with a heavy metal statuette named after NCS's first prez, Rube Goldberg. The third nominee was Stephan Pastis, who casts Pearls Before Swine. The only other time a tie vote produced two "cartoonists of the year" was in 1968 when editorial cartoonist Pat Oliphant tied Johnny Hart (B.C. and Wizard of Id).
This was Crane's third nomination; first for Kirkman. Pastis has now been the bridesmaid for five consecutive times. He should not, however, be discouraged: Dan Piraro (Bizarro) won in 2009 on his eighth nomination; ditto, Pat Brady (Rose Is Rose) in 2004. And we all lost count of the number of times Garry Trudeau was nominated for Doonesbury before he won in 1995.
By custom, the Reuben is presented by the oldest Reuben recipient present—for years, that's been Mort Walker (who won in 1953 for Beetle Bailey), but he was unable to attend this year; ditto the next candidate, Mell Lazarus (who won in 1981 for Momma and Miss Peach). So Lynn Johnston (For Better or For Worse) carried on the tradition by pretending to be so aged as to be also decrepit: she came to the podium hooked up to a rolling IV rig and speaking in a creaky voice.
Although the Reuben ostensibly recognizes "the best cartoonist of the year," the adjective is best ignored. Over the years, the Reuben was as often conferred for sentimental reasons as for excellence at the craft in a given year. Alfred Andriola (Kerry Drake), for instance, was an intrepid laborer in the NCS vineyard (producing the newsletter for several years) but he neither wrote nor drew his strip when he got the Reuben in 1970. And when Milton Caniff was the first to be named "cartoonist of the year" in 1947, it was as much for shaking loose of syndicate shackles with his landmark ownership of Steve Canyon and his guidance in the founding of the Society as for the excellence of his last year on Terry and the Pirates. Thus, the Reuben is more a mark of the esteem of one's cartooning colleagues than it is an objective evaluation of one's work in a given year.
The festive Awards Banquet was further enlivened by Master of Ceremonies Jason Chatfield, the Australian who inherited a national monument when he took over the comic strip Ginger Meggs in 2007 at the death of James Kemsley who had done the strip for 23 years. (Ginge first appeared on November 13, 1921, in Us Fellers, a strip by the legendary Jimmy Bancks; the red-headed pre-pubescent mischief-maker soon elbowed the others off the masthead, and Bancks continued the kid's capers for the next 32 years; the strip persists in 120 newspapers in 34 countries). In addition to being a cartoonist, Chatfield is a deft song-and-dance man and an accomplished stand-up comedian, who performed through the evening with panache and flourish—in short, a severe departure from the cannily incompetent comedy of Tom Gammill, who rained on the Reuben Banquet parade for the previous three years. (He giddily intruded again this year in two short videos that documented his monumental cluelessness—a deliberate pose for the sake of laughs—and the utter indestructibility of his ego [ditto] at failing to be returned again as emcee.)
The announcement of this year's Reuben winner(s) is the climactic event of the evening: it is preceded by the presentation of other awards, including the Division Awards in 15 areas of cartooning endeavor. Before those were presented, NCS conferred the Milton Caniff Lifetime Achievement Award on Brad Anderson, who has been producing Marmaduke since June 1954 (now assisted by his son Paul), and the Silver T-Square for service to the profession on Universal Press/Uclick's Lee Salem (see Opus 307), whose leadership, canny talent discoveries and stalwart support of cartoonists has set an industry standard for syndicates.
The NCS divisions and the winners and finalists in each category follow. Because being nominated for any of these awards is a distinction in itself—the considered judgment of one's peers—I'm listing here the nominees as well as the winners in each division, identifying the latter with an asterisk before their names; those with two asterisks were not present to receive their awards.
NEWSPAPER COMIC STRIPS
* Brian Basset, Red and Rover
Jeff Parker and Steve Kelley, Dustin
Jerry Scott and Jim Borgman, Zits
NEWSPAPER PANEL CARTOONS
Tony Carrillo, F-Minus
Dave Coverly, Speed Bump
* Hilary Price, Rhymes with Orange
EDITORIAL CARTOONS
Clay Bennett
Michael de Adder
* Jen Sorensen
COMIC BOOKS
Amanda Conner, Silk Spectre
Evan Dorkin, House of Fun
** Bernie Wrightson, Frankenstein Alive, Alive!
GRAPHIC NOVELS
Derf, My Friend Dahmer
Joseph Lambert, Annie Sullivan and the Trials of Helen Keller
** Chris Ware, Building Stories
ONLINE COMICS — SHORT FORM
* Graham Harrop, Ten Cats
Jonathan Lemon, Rabbits Against Magic
Michael McParlane, Mac
ONLINE COMICS — LONG FORM
* Vince Dorse, Untold Tales of Bigfoot
Meredith Gran, Octopus Pie
Pat N. Lewis, Muscles Diablo in Where Terror Lurks
FEATURE ANIMATION
Rich Moore, director, "Wreck-It Ralph"
** Joann Sfar, director, "The Rabbi's Cat"
Hiromasa Yonebayashi, director, "The Secret World of Arriety"
TELEVISION ANIMATION
Todd Kauffman, executive producer, "Sidekick"
Alberto Mielgo, production design, "Tron: Uprising"
** Rich Webber, director, Aardman Animation Studios, "DC Nation"
GAG CARTOONS
** Roz Chast
Sam Gross
Mick Stevens
Jack Ziegler
GREETING CARDS
Bill Brewer
George Schill
* Jem Sullivan
MAGAZINE FEATURE/MAGAZINE ILLUSTRATION
Barry Blitt
Daryll Collins
* Anton Emdin (Australian)
ADVERTISING and PRODUCT ILLUSTRATION
Luke McGarry
* Ed Steckley
Wayno
BOOK ILLUSTRATION
* John Manders
John Martz
Dave Whamond
NEWSPAPER ILLUSTRATION
Mark Brewer
Bob Rich
* Dave Whamond
FEETNOOTS. Roz Chast, who wasn't present to accept her award, sent in her stead a funny video of her accepting and appreciating. But none of the other no-shows evidently think enough of the award to make provision for winning it without being there. Altogether, that's a third of the Division Award winners who didn't bother to show up, a negative blight on the otherwise jubilant occasion.
Ed Stekley supplied the illustration for the Reuben Banquet program, giving Prez Tom Richmond a break from caricaturing NCS award winners, which he's done for years. Stekley's picture appears hear here, joyfully jammed with pictures of nominees and dignitaries and dozens of celebrated comic characters; see how many you can find and name (starting, perhaps, with the Lockhorns at the upper left).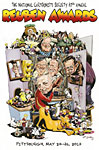 The first altie to win in the NCS political cartooning category, Jen Sorensen, who also is a finalist in the Association of Alternate Newsmedia contest and was last year a finalist in the Herblock Prize competition, began by correcting the spelling of her name on the projection screens heralding her win and then explained the steady disappearance of newspaper staff editoonists by referring to "the Rapture of Editorial Cartoonists." Then, in gratitude to the Canadian chapter of NCS which juried the editorial cartoons this year, she recited a few lines from that nation's anthem, "O Canada":
O Canada! Where pines and maples grow.
Great prairies spread and lordly rivers flow.
How dear to us thy broad domain,
From East to Western sea.
Thou land of hope for all who toil!
Thou True North, strong and free!
I don't know if these were actually the lines she recited: I can't hear well enough to know. But it doesn't matter. Just the notion of reciting "O Canada!" on this occasion and for the reason she gave provides a telling glimpse into the originality of the woman's canny comedic mind, insightfully satirical and thoughtfully compassionate. More of the same with her winning editorial comic strip, Slowpoke.
ABOUT 165 CARTOONISTS attended this year's Reubens Weekend. Many were accompanied by family, friends and business associates, bringing the total attendance to 310. Leading up to the Awards Banquet, the weekend also featured several "seminars," or presentations, by notable members.
On Friday afternoon, the first seminar offered an assessment of the bright future of cartooning in ebooks, then editoonist Rob Rogers of the Pittsburgh Post-Gazette showed some of his more scandalous political cartoons, followed by Terri Libenson, who regaled us with the story of her career as a greeting card humorist and, subsequently, as the creator of the comic strip The Pajama Diaries about a work-at-home mom with two lively daughters and a sometimes horny husband.
During the ebook presentation, one of the panelists, Mark Tatulli (Heart of the City and Lio), commented on the color often embedded in ebooks. He said he designs his daily comic strips in black-and-white, and he's not happy with them when he sees them in color. "Color is what makes Sundays special," he said.
Saturday's seminars started with Mo Williams, who talked about the creative process as well as aspects of his career, beginning with cartooning for school and alternate papers, then progressed to sketch comedy, animation, his own tv programs, children's books, and musical theater.
Williams was followed by Drew Friedman who showed pictures of his stippled caricatures and told stories about most of them. One was of comedian Milton Berle, "Uncle Miltie," who, it seems, was famous for a part of his anatomy that was no laughing matter—his schlong, a thing of awe-inspiring dimension.
I was grateful for the knowledge, which retired a mystery for me. I've wondered, occasionally (not obsessively) about the urinals in men's restrooms. If there are two, one is always lower down (about knee high) than the other (which is about crotch high). Why two heights? I supposed, until Friedman supplied an alternative insight, that the shorter urinal was for small boys, who couldn't get their little peckers up to the standard height. Now, however, I realize that the lower elevation urinal is for men like Berle, whose schlongs reach to their knees. The shorter urinal permits them a carefree pee without having to worry about their private part dabbling in the flush water.
The last of the seminars was with Brad Anderson, who received the Lifetime Achievement Award this weekend. He related and illustrated his career, beginning with cartoons he did during his service in World War II and continuing as a magazine gag cartoonist and winding up as Marmaduke's master. Marm was inspired, Anderson said, by a neighborhood dog that was a bit of a clown. The dog was a boxer, and Anderson realized his antics would be funnier if he were much, much larger—a gigantic dog that believed he was a lap dog.
NCS's Friday night ritual cocktail hour took place three blocks from the Omni William Penn Hotel, site of the Reubens, at the Toonseum, a cartoon art museum on Liberty Avenue. For the occasion, the Toonseum's Joe Wos and San Francisco's Cartoon Art Museum's curator, Andrew Farago, managed to collect original art of each of the 58 cartoonists who've won the Reuben. (Although 67 Reubens have been awarded, 8 of the winners won more than once—if you're keeping score.)
Joe Wos went into action again on Sunday afternoon, arranging to block off the street for a "street fair" festival of cartoon arts in the Toonseum's block. Cartoonists autographed copies of their book collections, and a couple of panel presentations transpired in the neighborhood theater. One was a gaggle of women cartoonists— Lynn Johnston, Cathy Guisewite, Terri Lobenson, Jen Sorensen, and Hilary Price, who moderated, posing questions and prompting comments.
Describing her creative process, Price said she begins by assembling random topics, which, by Wednesday of every week, have become a sort of compost pile of seemingly unrelated topics, which, after lying there and slowly squashing down, begin to touch other topics they were never meant to touch—and, presto! comedic ideas begin to surface.
Sunday concluded with what I'm calling "the Wives Dinner." A sumptuous buffet was supplemented by an exceedingly loud rock band. (How loud? So loud that when I got back home I had to visit my dentist to have filings resorted to my cavities.) The so-called music was so loud that no one could hear what others might be saying, even if they were saying it into their ears. In effect, the music destroyed the sort of conversation that people go to conventions to have.
The wives of cartoonists rejoiced. They like to dance, which, to bone-rattling rock music, they can do solo. But more important, because the music drowned out all talk, they didn't have to listen to their husbands talking about cartooning.
Next year, the Reubens Weekend will be in San Diego. At the Omni Hotel. See you there.
Now, here are some photos of what happened in Pittsburgh at the confluence of the Allegheny and the Monongahela.
To find out about Harv's books, click here.