Opus 310 (May 22, 2013). Our chief preoccupation this time is in reviewing and assessing the achievement of DC's Before Watchmen prequel, which turns out (upon examination) to be surprisingly good. We also ponder a few editorial cartoons that challenge ethical considerations and look at nearly naked ladies in our First Annual Swimsuit Issue (why haven't we thought of that before?). And we visit some recent comic strips and funnybooks, including Archie's guns and cleavage maneuver. And more, much more. So much more, in fact, because we are wandering the countryside during much of June, so this gigantic installment of Rancid Raves will, presumably, keep you satisfied until we can get back to work at the end of the month. Here's what's here, in order, by department—:
NOUS R US
Disney Survives Day of the Dead Attack
More Comic Cons: C2E2, Denver, Washington, D.C.
Kim Thompson Fights the Big C
Comics Sales Goin' Just Fine
Daily Newspapers Healthy
Honors and Awards
CARTOONING IN IRAN
EDITOONERY
Ethical Issues in the Profession
Plus the Usual Shots at Political Malfeasance and Scalawaggery
—Including Mitch McConnell's Seditious Program
And Cartoons of Force Feeding by GITMO Inmate
BEFORE WATCHMEN PREQUEL ASSESSMENT
An Extensive Examination
SWIMSUIT ISSUE
Skimpy Costumes in Comics
And Playboy's Latest Joke
THE FROTH ESTATE
Snafu in N'Orl'ns
RANTS & RAVES GALLERY
A Pictorial Display with Annotations
NEWSPAPER COMICS PAGE VIGIL
Free Comic Book Day Fizzles in the Funnies
National Cartoonists Day
John Darling Back in Funky Winkerbean
Walt Wallet Visits the Old Comics Characters Home in Gasoline Alley
BOOK MARQUEE
New Comics Magazine from TwoMorrows
FUNNYBOOK FAN FARE
Guns and Cleavage in Archie
PASSIN' THROUGH
New Yorker's Ed Fisher
Our Motto: It takes all kinds. Live and let live.
Wear glasses if you need 'em.
But it's hard to live by this axiom in the Age of Tea Baggers,
so we've added another motto:.
Seven days without comics makes one weak.
(You can't have too many mottos.)
And our customary reminder: don't forget to activate the "Bathroom Button" by clicking on the "print friendly version" so you can print off a copy of just this installment for reading later, at your leisure while enthroned. Without further adieu, then, here we go—:
NOUS R US
Some of All the News That Gives Us Fits
Rounding Up: Doonesbury's Garry Trudeau has created a political tv drama through Amazon Studios; entitled "Alpha House," the show is about four senators who live together as roommates in Washington, D.C.—played by John Goodman, Mark Consuelos, Clark Johnson and Matt Malloyand. ...Cleveland is so excited about the 75th anniversary of its native son Superman that the Cleveland Plain Dealer put its story about the anniversary (and the history of the creation of the Man of Steel) on its front page, April 14; more about Superman here later this summer. ... Can't believe I misspelled E. Simms Campbell as Sims when we first posted the Hindsight piece last month; he's still there, but correctly spelled now. ....
IF THE DEAD COULD SPEAK...
And They Did—Through the Petitions of the Living
and the Drawing of a Cartoonist
The Walt Disney Company sought recently to trademark "Dia de los Muertos," the name of the traditional "Day of the Dead" celebrated by millions in Mexico and the U.S. Disney, which, with Pixar, was trying to protect the title of an animated movie it is developing, inspired by the holiday—the movie title and the usual array of toys, T-shirts, shorts, caps, cereals and jewelry that clutter the marketplace after a Disney movie.
When he heard about Disney's filing, cartoonist Lalo Alcaraz (creator of the comic strip La Cucuracha) was aghast. He created a poster to protest the mercenary appropriation of his culture.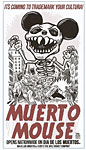 His poster went viral. And it wasn't alone. So did other protests, including a petition to stop Disney that went up Tuesday, May 7, the day after Disney filed. By Wednesday morning, the petition had 19,500 signatures.
The centuries old holiday with roots in indigenous Aztec culture honors the departed souls of loved ones who are welcomed back for a few hours every year. At burial sites or intricately built altars, photos of loved ones are centered on skeleton figurines, bright decorations, candles, candy and other offerings, and memorial processions are conducted. The Day of the Dead is observed in many Latin American countries and by Latinos everywhere.
"Our spiritual traditions are for everyone, not for companies like Walt Disney to trademark and exploit," wrote Grace Sesma, the petition's creator. Consuelo Alba of Watsonville, California, agreed: "This is a sacred tradition. It's not for sale."
Disney, claiming it had changed the title of its projected movie, withdrrew its trademark application.
But Alcaraz wasn't finished with the Mouse House. The week of May 20, the characters in his comic strip encounter a representative from Disney, who claims to have trademarked numerous expressions the characters use—"Hola," "Loco en la cabeza," and so on. At this writing (May 22) the crisis is not yet resolved.
MORE COMIC CONS
Attendance at one of the newest comic-cons on the horizon, the Chicago Entertainment and Comics Expo (C2E2 for short), held April 26-28, was up significantly, reports Heidi MacDonald at publishersweekly.com—from 40,000 last year to 53,000 this time. But neither of the Big Two comics publishers was represented extravagantly. DC, in fact, didn't have a booth at all because of "evolving marketing plans." Not a little surprising what with a gigantic Superman movie lurking just over the horizon. And Marvel had a "stripped down booth" with an emphasis on "Iron Man 3," saith MacDonald.
Among the panels MacDonald attended was one on comics and education, whereat the University of Illinois' assistant professor Carol Tilley spoke about the Common Core State Standards and how the emphasis on nonfiction and certain learning goals may make comics difficult to apply. "Comics are difficult to measure," she said. "People need to be well equipped to ague comics as part of a Common Core classroom." Tilley's own slideshow, said MacDonald, includes examples of sophisticated comics storytelling that use the kind of ideas Common Core will call for. I need to know more about what this "Common Core" is; Tilley, incidentally, is the person who recently exposed Fredric Wertham's Seduction of the Innocent as a fraud.
MacDonald reported that publishers experienced "flat sales" although the denizens of Artists Alley seemed more than happy with their experience. Her conclusion: "The weekend's display of the full range of comics and pop culture experience shows that C2E2 has arrived on the local pop culture circuit. The difficulties that some publishers had on the show floor may have as much to do with the evolving model of the comic con in the era of crowdfunding and social media. Attending seems to be all about the personal experience—whether it's listening to Felicia Day, dressing up as Harley Quinn or getting a beloved comic signed by a favorite creator."
THE DENVER COMIC CON last year was a bigger than expected success, and this year's version, May 31-June 2, is well on its way to the same objective. Stan Lee is a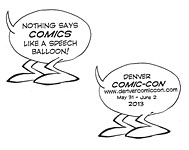 guest, and the Con offered tickets to meet him at a special limited attendance event. The tickets—300 of them, priced at $175-275—sold out within two minutes. The Con's website tallied 20,000 people trying to buy a ticket. Charlie La Greca, co-director of the Con, said, tongue-in-cheek, that he was surprised: "I honestly didn't realize they would go so fast," he said, "—I thought it might take four to five hours."
And in Washington, D.C., the first Awesome Con D.C., April 20-21, appears to have been successful enough that planners have scheduled a reprise for next year.
KIM THOMPSON UNDER TREATMENT
Fantagraphics co-founder Thompson was diagnosed with lung cancer in early March and has stepped back from his responsibilities in order to concentrate on his treatment and recovery. Although the diagnosis was early, the prognosis is still uncertain. The projects he was working on have been re-assigned to co-founder Gary Groth, Eric Reynolds, and Jason Miles. Groth issued a brief statement: "Kim Thompson has been my partner at Fantagraphics Books for 35 years. He's contributed vastly and selflessly to this company and to the comics medium and has worked closely with countless fine artists over that time. This is a tough announcement to make, but everyone who knows Kim knows he's a fighter, and we remain optimistic that he'll get through this and report back to work, where he belongs, doing what he loves."
COMICS SELLING JUST FINE
Sales in the comics specialty market are still growing, according to figures released at the 2013 Diamond Retailer Summit in Chicago, held just before C2E2. First quarter sales were up 27% in periodical sales, 21% in graphic novel sales and 47% in merchandise, for a total growth of 29% over last year, according to Diamond's figures as reported by publishersweekly.com's Heidi MacDonald. "Diamond Comic Distributors is the biggest distributor to comics specialty stores, and publishers, retailers and even Diamond personnel in attendance continued to express surprise over the booming sales, which goes against other publishing trends."
JUST HOW HEALTHY ARE DAILY NEWSPAPERS?
The financial health of U.S. newspapers continues iffy but no longer teetering on the cliff. Likewise, therefore, newspaper comic strips. Newspaper circulation declined some more, but only slightly since March 2012. Average weekday circulation for 593 daily papers dropped just a little less than 1% (0.7%); Sunday for 519 papers, slipped 1.4%. Paid digital subscriptions—including smart phone apps, digital editions and website pages—accounted to 19.3% of daily circulation, up from 14.2% the previous year.
But the nation's two largest newspapers continued to grow, reported Dow Jones Newswires: with a circulation of 2.4 million, the Wall Street Journal was up 12%; the New York Times with 1.9 million daily readers was up 18%—Sunday edition, the highest in the country with 2.3 million, up 16 percent. USA Today comes in third with 1.7 daily readers, a decline of 7.9%.
The Denver Post, the daily I read, increased its Sunday circulation by 3.8%; daily, 1%. That includes home delivery, single copy sales, as well as people accessing digital replica and nonreplica editions on mobile devices, tablets, e-readers and computers. Mobile page views increased 27%; mobile unique visitors, up 9%; and page views of the digital replica edition, 31%.
As I've said before in other venues, the reports of the death of American newspapers have been greatly exaggerated. Scarcely robust but not dead yet either. That, of course, bodes well for comic strips, which aren't likely to exist without newspapers. And recent events have suggested that web editions may not have as long a future as supposed; see The Froth Estate below.
The Denver Post, by the way, is published by the Media News Group, which publishes 57 daily newspapers and more than 100 non-daily publications in 12 states, chiefly in the West. In its 29th year, Media News Group is the second-largest newspaper company as measured by circulation and the largest privately-held newspaper concern.
HONORS AND AWARDS
Jules Feiffer received the New York City Literary Honors award in April. The award was created by Mayor Michael Bloomberg to honor great living authors and scholars who have demonstrated a lifetime of achievement and for whom New York city has been a central inspiration. Feiffer's award was annotated "for humor."
The Chicago Tribune's Scott Stantis and the Wisconsin State Journal's Phil Hands won this year's Society of Professional Journalists' Sigma Delta Chi awards for editorial cartooning—Stantis in the category for newspapers with greater than 100,000 circulation; Hands, for papers with less than 100,000.
Pittsburgh Post-Gazette editorial cartoonist Rob Rogers has won, for the second time, the Thomas Nast Award, given by the Overseas Press Club for excellence in cartooning on international affairs. Saith the judges: "According to his editors, Rogers 'enrages' and 'infuriates' some readers in Pittsburgh. The OPC Committee presumes he delights many more with his deft application of humor to serious subjects from around the globe. He executes the cartoonist's mission: to inform, entertain and spark discussion on world events." Before joining the Post-Gazette in 1993, Rogers had cartooned since 1984 for the Pittsburgh Press (which evaporated into the financial ether). He got the Nasty in 2000 too.
Fascinating Footnit. For even more comics news, consult these four other sites: Mark Evanier's povonline.com, Alan Gardner's DailyCartoonist.com, Tom Spurgeon's comicsreporter.com, and Michael Cavna at voices.washingtonpost.com./comic-riffs . For delving into the history of our beloved medium, you can't go wrong by visiting Allan Holtz's strippersguide.blogspot.com, where Allan regularly posts rare findings from his forays into the vast reaches of newspaper
CARTOONING IN IRAN
Iranian newspapers are rife with cartoons, saith a couple of press releases that wafted through the 'Net to my desk. They are a tradition, and play a big role voicing criticism of the country's authoritarian regime. Increasingly, though, Iranian cartoonists have been imprisoned, received death threats, or gone into exile because of their work.
Omid Memarian was a journalist in Iran. Arrested in 2004 for his writing, he was taken to prison, tortured and forced into a confession of guilt on national television. He fled to the United States in 2005, attended graduate school for journalism at the University of California, Berkeley, and continued to work as a journalist. Now he's edited a book published by the International Campaign for Human Rights in Iran. Sketches of Iran: A Glimpse from the Front Lines of Human Rights consists of 40 essays of political persecution paired with political cartoons from artists inside and outside Iran. Or, as a press release puts it (in more copious detail):
"Forty beautifully reproduced, full-color political cartoons by internationally acclaimed Iranian artists are accompanied by commentary by leading political activists and journalists, distinguished artists, international lawyers and family members of Iranian prisoners of conscience. In stark colors and unsparing lines, Iranian artists communicate the harsh realities of life in Iran today where political and artistic freedoms are denied. Sketches of Iran offers a rare and unvarnished view inside Iran. It documents the individuals who refuse to relinquish their rights, despite the Iranian government's attempts to silence them. Sketches of Iran is a must-read for all those who wish to see the real Iran, in all its complexity and with its multitude of voices. This book shows Iran is far more than the official pronouncements coming out of Tehran. Even as the Iranian Government denies the existence of domestic dissent, the drawings and commentary in Sketches of Iran reveal that there is still an active community in Iran today who endure imprisonment, torture and death to defend their rights."
Editor Memarian joined Jacki Lyden, host of weekends on npr's "All Things Considered," to talk about the role of political cartoons in his home country. Here are some excerpts:
"It's a tradition in the Iranian media that each magazine, each newspaper, has a political cartoon, a bunch of political cartons every single day. ... Newspapers basically fight to have the best cartoonists for their newspapers."
"I can write something and my audience is limited, but people from different ages and different social economic classes, they can understand the meaning of a cartoon. ... So I think in many ways cartoons are the best way to tell people a story."
"Many cartoonists in Iran have been arrested for the cartoons that they have drawn for newspapers, and the reason is because the Iranian government knows the power and influence of political cartoons. And for that, many political cartoonists have tried to become ambiguous and communicate a message in a way that it makes it hard for the government to come after them. ... After the election [in 2009], we saw a intense crackdown against journalists, civil society activists, lawyers."
And here are a couple of excerpted paragraphs from one of the book's essays, "Cartoonist Chronicles," by Abbas Milani:
"With beguilingly simple lines, cartoonists tear asunder the fog of ideological delusion and the illusions of the propagandists' pomp. The essay, they say, is a child of modernity. It affords an individual an opportunity to offer her or his succinct vision on a topic. And a cartoon is an aesthetic, sometimes abstract, rendition of an essay. It offers the artist's searing vision of an issue — an image bereft of the deluding detritus of unnecessary words or lines.
"All despots seem formidable and irremovable, till they fall, and artists and cartoonists play a critical role in expediting the process. Ever since Iran's Constitutional Revolution of 1905-1907, political cartoonists have played an indispensable role in Iran's century-long, still unfinished battle for democracy. Contemporary cartoonists like Ardeshir Mohasess, no less than the often-unknown cartoonists of political satire magazines Tofigh from the 1920s to the 1970s and Asghar Agha from the 1980s to today, are indeed the 'abstract and brief chronicles of the time.' They are fitting epitaphs for despots and refreshing reports about the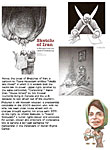 inevitable dawn of democracy."
"Political" cartoons in many foreign climes, especially the Mideast, are almost entirely pictures, very few words, because much of the populace in some of these countries cannot read. But the pictures can be powerful. Here, in the corner of your eye, are a few from Sketches of Iran, with amplifying notation.The book is available from Amazon, $64.95.
QUOTES AND MOTS
"So when you spot violence or bigotry or intolerance or fear or just garden-variety misogyny, hatred or ignorance, just look it in the eye and think, 'The good outnumber you, and we always will.'"—Patton Oswalt, on Facebook, in response to the Boston bombing; quoted in Entertainment Weekly
"Always remember you're unique—just like everyone else." —Norm, in Michael Jantze's comic strip by that name
"You know what I can't stand? When I sit down. I just can't stand when I sit down."—Unknown
EDITOONERY
The Mock in Democracy
THE EXCITEMENT we've chosen to headline this month in this department has less to do with how editoonists assault their targets than with the ethics of the profession. Or the absence thereof.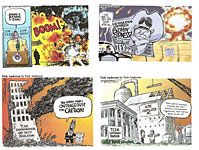 The first of these alleged instances is reflected on our first visual aid. Jack Ohman's cartoon at the upper left started an avalanche of protest, led by Texas Governor Rick Perry (the man who can't remember the third thing).
The Associated Press reported that Perry was "disgusted" that a California newspaper ran a cartoon that depicts him boasting about booming business in Texas, then shows an explosion, a week after a fertilizer plant explosion killed 14 people in a Texas town. Perry said he wants an apology from the culpable newspaper, the Sacramento Bee, on behalf of the town.
An April 17 explosion in the town of West, which is outside Waco, left a crater more than 90 feet wide and is estimated to have caused more than $100 million in damage. The blast occurred moments after a fire was reported at the West Fertilizer plant. Ten of the people killed were first responders who rushed to the nighttime blaze.
Perry expressed himself in a letter to the Bee's editor; herewith—:
"It was with extreme disgust and disappointment I viewed your recent cartoon. While I will always welcome healthy policy debate, I won't stand for someone mocking the tragic deaths of my fellow Texans and our fellow Americans. Additionally, publishing this on the very day our state and nation paused to honor and mourn those who died only compounds the pain and suffering of the many Texans who lost family and friends in this disaster. The Bee owes the community of West, Texas an immediate apology for your detestable attempt at satire."
Perry's Lt. Governor, David Dewhurst, also a Republican (and presumably eager to be counted among the grieving supporters of the citizens of West, Texas), called for Ohman to be fired, adding: "I think it's reprehensible for a member of the media to sit in safety and mock such a profound tragedy regardless of any 'point' he is trying to make."
The Bee's editorial page editor, Stuart Leavenworth, responded that the artist, Jack Ohman, "made a strong statement about Governor Rick Perry's disregard for worker safety, and his attempts to market Texas a place where industries can thrive with few regulations. It is unfortunate that Governor Perry, and some on the blogosphere, have attempted to interpret the cartoon as being disrespectful for the victims of this tragedy. As Ohman has made clear on his blog, he has complete empathy for the victims and people living by the plant. What he finds offensive is a governor who would gamble with the lives of families by not pushing for the strongest safety regulations. Perry's letter is an attempt to distract people from that message."
While most of the observers of Ohman's cartoon would see it as an isolated attack on Perry and wonder, at the same time, why a California editorial cartoonist would bother with the shenanigans of the longhorn chief of state, California residents would see the cartoon in quite another context. As California raised income and sales taxes in an attempt to retire the enormous debt left by its previous body-building governator, Perry started courting California businesses by boasting about his state's pro-business prowess—low taxes, few annoying regulations.
In February, a public-private Texas marketing firm ran radio ads featuring Perry denigrating California's taxes and regulation and inviting California businesses to move to business-friendly Texas. California Governor Jerry Brown shrugged off these efforts as "barely a fart." Perry continued his courtship in February by traveling traveled to California to recruit workers as well as businesses. He made a similar trip—this time backed by a print-media ad buy—to Chicago.
In this context, Ohman's cartoon was part of an ongoing conversation between California and Texas. And more. Perry's attack on the Golden State's economy and business policies likely resonates with the state's primary GOP voters, who believe that the sky has fallen because Democrats and unions are holding all the political cards. So the conversation in California isn't just about business opportunities: it's also about the Republicon desire to oust the Democrats and regain the state house.
Editoonist Ohman has been a part of the argument for months, as we'll see in a nonce. For the moment, however, here's his reaction to all the fuss about his cartoon (in italics):
SEVERAL READERS wrote me this morning expressing varying levels of concern about the cartoon depicting Governor Rick Perry's marketing of Texas' loose regulations, juxtaposed with the explosion of the fertilizer plant in West, Texas. Their comments ranged from "you are a sick human being" to "insensitive and tasteless."
I'm not sure I am clinically qualified to give myself a direct diagnosis, but I am pretty sure I am not a sick human being. Let's explore the question of tastelessness.
The Texas chemical plant had not been inspected by the state of Texas since 2006. That's seven years ago. You may have read in the news that Governor Perry, during his business recruiting trips to California and Illinois, generally described his state as free from high taxes and burdensome regulation. One of the burdensome regulations he neglected to mention was the fact that his state hadn't really gotten around to checking out that fertilizer plant. Many Texas cities have little or no zoning, resulting in homes being permitted next to sparely inspected businesses that store explosive chemicals.
So when the plant exploded and killed 14 people, people started asking the inevitable questions about whether this tragedy could have been prevented.
Well, we're not going to know that now, exactly, but I doubt that more inspections and better zoning would have hurt.
Governor Perry's name and the explosion have been linked for several news cycles. I didn't just make this all up. It's out there. There is a rather stunning report about all this on ProPublica, the investigative news website. I invite you to read it.
When I have to come up with these ideas, I can assure you that I am not really deliberately trying to be tasteless. I am not. What I am trying to do is make readers think about an issue in a striking way. I seem to have succeeded in this cartoon, one way or the other. The question is whether it is tasteless or not. My answer, respectfully, is that it isn't.
Having said that, what normal person doesn't mourn those poor people fighting the fire and living by the plant? I certainly do. What makes me angry, and, yes, I am driven by anger, is that it could have been prevented. I guess I could have done a toned-down version of the cartoon; I am not sure what that would have been, but I think many readers' objections just stemmed from the fact that I used the explosion as a metaphor, period. The wound is fresh, the hurt still stings.
The Texas governor's campaigning notwithstanding, should I have used the explosion as a vehicle to illustrate my point? I did. I stand by it. Here's why: Many readers said things along the lines of, "Would you have portrayed the severed limbs created by the Boston bomber to make a political point?" Hmm. No. I would not. But I have drawn a faceless Iraq war veteran, wrapped in bandages, wanting to know who had to invade Iraq to save face.
Yes, I got the same kind of reaction. "Tasteless."
But you know something? I would draw that cartoon again. Wouldn't even think twice about it.
I also drew all the faces of the Newtown massacre children as the new face of the NRA. "Tasteless."
Same thing. I would draw it again.
The cartoon we're discussing is rather sanitized, honestly. It shows an explosion. It plays off the word "Boom/booming." That's obviously the problem. Would I do it again? Don't know. I knew it was close to the edge, but I went with it, and I don't go with things I can't defend. I'm defending this one because I think that when you have a politician traveling across the country selling a state with low regulatory capacity, that politician also has to be accountable for what happens when that lack of regulation proves to be fatal.
That's exponentially more offensive to me.
My job, as I understand it, is to be provocative. I provoke, you decide. I don't dictate, I put out my opinion along with everyone else. I sign my name. I own it. In my opinion, I could have gone further. Much further.
Does this cartoon disrespect the victims? Their families?
Well, if someone, say a Texas regulator, had picked this up before 2013 but after 2006, maybe I wouldn't have had to draw that cartoon. No victims, no grieving families. So my rather pointed view of all this would be moot.
Gambling with the lives of innocent people is much more offensive to me.
That's way worse than tasteless.
It's reckless.
BECAUSE PERRY'S HEAVY-HANDED CRITICISM of the cartoon and his demanding that Ohman be fired seemed more than usually menacing—coming from a governor!—the Association of American Editorial Cartoonists (AAEC) got into the act, adopting the following resolution (in italics):
The AAEC firmly stands behind Jack Ohman and his powerful cartoon on the tragedy in West, Texas. The Ohman cartoon represents the finest traditions of both American political cartooning and our freedom of the press. On the other hand the Texas governor's response demanding a retraction and an apology, represents the worst impulses of those who have no respect for our most basic and fundamental right to free speech. Governor Perry attacking the cartoonist is the kind of reaction we'd expect from a leader in North Korea, not one from Texas.
The attempt to intimidate a journalist for being critical of the government, particularly the call on the part of the Texas Lt. Governor to have him lose his job, is what should be condemned. This sort of intimidation of journalists is, at its root, just plain un-American.
During the drafting of this statement, there was some mischievous agitation that someone should demand that Pat Bagley be fired, too, because of his cartoon about Perry and the Texas fertilizer plant, the next cartoon on our display—an indication, if one is needed, that the Perry politics of unregulated enterprise is a national issue.
Meanwhile, back in Texas, Nick Anderson at the Houston Chronicle joined the fray with his cartoon (just below Bagley's). His cartoon, published the same day as Ohman's, is also an attack on Perry's myopically reckless attitude about regulation. But Perry didn't demand that Anderson be fired. Probably in the mistaken belief that Anderson is a fellow Texan. And he is, but only because he lives in Houston; he was born in Toledo, Ohio, and won a Pulitzer while cartooning at the Louisville Courier-Journal.
If Perry had called for Anderson's head, and if the Chronicle had granted his wish, then Perry would have been spared another of Anderson's attack cartoons—the one at the lower left, a scathing reaction to Perry's hissy fit over Ohaman's cartoon.
And before we leave these fertilized premises, here's one of Ohman's earlier assaults on Perry during one of the Texan's recruiting maneuvers in California. Here, Ohman deploys his comic strip format, which enables him to explore (and ridicule) in more exhaustive detail than the customary single panel format.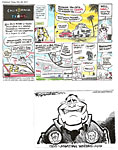 In another earlier cartoon, Ohman depicted Perry enumerating three good reasons for businesses to move to Texas. After rattling off two reasons, he confessed he couldn't remember the third.
At the bottom of this display—by way of changing the pace for a few seconds—here's Milt Priggee's farewell to comedian Jonathan Winters. Apart from the excellence of Priggee's caricature, we remember that Winters also drew cartoons, samples of which, alas, I haven't been able to find. They were funny—but not nearly as funny as the man in person.
THE OTHER ETHICAL MATTERS stirred up by last month's crop of editoons are exemplified on our next visual aid.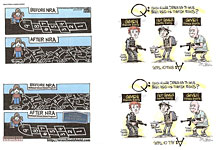 Let us begin, for a change, with Daryl Cagle's cartoons on the right. Identical drawings (and surpassing caricatures), they differ only in the A to the Q, the "answer" to the question. Both of these cartoons are posted at the CagleCartoons website and are, perforce, available for purchase by interested newspaper editors. Because the cartoons present diametrically opposite points of view, their syndication by Cagle provoked an outcry among many of the inky-fingered fraternity, who charged that Cagle was trying to maximize his income by devising a cartoon that would conform to either of the points of view on the issue that an editor might espouse. In short, it seemed to be a cartoon by a cartoonist who had no actual opinion on the question—but sought, only, to make as much money as he could with a single drawing.
Among the more moderate reactions was that of the Washington Post's Ann Telnaes, master (or mistress—but that sounds different) of animated editorial cartooning, who said: "This is a clear case of a cartoon syndicate trying to maximize profits by offering the same artwork but changing a few words to address both ideological sides of an issue. An editorial cartoon is supposed to have a clear point of view ... It should reflect the opinion of the creator. Otherwise, it's not an editorial cartoon but just a cartoon. Distributing this kind of work demeans and devalues the profession."
Telnaes has long contended that Cagle's syndication business practices are an affront to the profession and tend to undermine its financial viability. And she is not alone. I'm not sure what Cagle's business practices are, but I gather that he markets his syndicate's entire inventory for a set fee, setting the fee lower than that of any other syndicate. That makes his offerings more attractive to financially strapped newspaper editors, but it also reduces drastically the amount each individual cartoonist can make with his cartoons. Let me repeat: I'm not sure this is actually the case; I'm extrapolating from some random comments fired off by irate cartooners during the fray that ensued after Cagle's two cartoons with opposing points of view appeared.
The most vitriolic of the reactions was that of Ted Rall, who devoted an entire essay to the matter on his blog (rall.com/rallblog). In Rall's view, the whole reason for there being two opinions reflected in the cartoons is greed—the desire to sell twice as many cartoons for the same drawing. His blog for April 29 resonates with sneers and smears: the current kerfuffle, Rall says, "follows a multitude of sins—sleazy business deals, bottom-feeding and scabbing, censorship, coddling and encouraging plagiarists...."
Typically, Rall uses the most negatively freighted words to describe the object of his detestation. Here's how he describes Cagle's operation (from which I derive my remarks above): "This business model, beginning in the 1990s, was to collect the cartoonists who were unable to get syndicated by the five major syndicates, aggregate them into a package to be sold to individual newspapers, pay the cartoonists a pittance, undercut the syndicates by offering 100 cartoons for the price of one good one, and flood the market. ... Fortunately for editorial cartoonists and for readers ... many [editorial page editors] are still willing to pay $20 a week for one high-quality syndicated editorial cartoonist feature as opposed to $50 a week for a package containing 100 low-quality cartoons. They know the difference, and they figure that their readers know the difference, too."
As an instance of negative connotation—that is, smearing—Rall says the cartoons in Cagle's package are all "low-quality" cartoons. Hardly. Cagle's package includes Pat Bagley, David Fitzsimmons, Steve Benson, John Darkow, Mike Luckovich, Milt Priggee, Michael Ramirez, Jen Sorenson, Keith Knight, to name just a few of those whose names leap to mind at once as cartoonists whose work I respect and admire. But Rall has branded them all as "low-quality." Hardly.
Cagle responded to the criticism in his blog for April 26; to wit (in italics)—:
THIS WEEK I DREW AN UNUSUAL CARTOON that garnered a crazy response from my outraged, cartoonist colleagues. There was a short lived debate about whether a Miranda Warning should be given to Boston Bombing suspect, Dzhokhar Tsarnaev, who had been questioned without being given the warning. I drew this last Sunday [April 21, the top cartoon in our display—RCH].
I got no response from editors or other cartoonists to this cartoon, but I got such a strong reaction from readers against the cartoon, with many well reasoned arguments, that I changed my mind – something that doesn't happen much in this profession. (The comments on my Facebook page are representative of the overall comments I received). So I posted a revised version of the cartoon on Monday. I learned that Tsarnaev was given his Miranda rights shortly before I posted the revised cartoon, so I doubt that this second cartoon got reprinted much.
The second version is the same as the first, but instead of "none of them" deserving to be read their Miranda Warning, the revised cartoon says "all of them" should get the warning. I've changed my mind before, not often, and usually over a longer period of time, but I won't go back into the archive to delete the old cartoons. I posted them, I should live with my history. So both cartoons are still posted. (My old cartoons supporting the run up to war in Iraq are still posted too—I'm more embarrassed by those.)
I remember when the Miranda decision came down in the 1960's, on a 5-4 vote. It was controversial for a long time; the only area of the law where "ignorance of the law is no excuse" didn't hold true. Liberals like it, conservatives still don't like it. I decided to disagree with the talking heads at Fox News, and I changed my mind to agree with my readers and conclude that the Miranda decision should no longer be controversial—it has become a part of our national fabric. Most of the responses conflate reading the Miranda warning to the suspect with the suspect's overall civil rights; I have come to the conclusion that is a good thing. (I really do pay attention to the arguments that readers send to me.)
I got very little response to the second version of the cartoon from readers or editors, but there was an angry torrent of responses from my editorial cartoonist colleagues. Some cartoonists blogged that I had a new, insidious business plan to make more money by offering two versions of the same cartoon, for both liberal and conservative editors—to sell twice as many cartoons with only one drawing. Others agreed, adding that I was cheapening the profession with this crass commercialism.
One cartoonist blogged that this was no editorial cartoon at all (and by extension, that I am no editorial cartoonist) because editorial cartoons must, by definition, express only one opinion. Another editorial cartoonist responded to the cartoon in his blog by calling me the "Osama Bin Laden" of editorial cartooning.
Some cartoonists wrote that I must surely be lying about my reason for changing the cartoon, because the idea that I would change my mind was simply not credible. Others called for me to be punished for my breach of the unwritten laws of cartoon ethics. Some demanded that I remove the old version of the cartoon from my archive, as I would do with a cartoon that was revised to correct a spelling error; the idea that an editor could purchase and print both versions of the cartoon, with two different opinions, was repugnant. Bloggers and journalism sites reported on the cartoon controversy.
Yes, the cartoon police really do exist.
I know this all sounds unbelievable, but I'm not exaggerating. It is fascinating that editorial cartoonists have such a different perspective on their own work than editors and readers do. The cartoonists take themselves far more seriously than anyone else takes them.
Perhaps I should change my mind more often – it makes for a wild ride.
SEEMS REASONABLE TO ME. Others, Ted Rall in particular (but he is not alone), don't agree. Rall finds all sorts of sinister implications squirreled away within. Commenting on the third paragraph about how Cagle keeps even cartoons he's embarrassed by in his inventory, Rall sneers: "It is standard operating procedure for rogues to describe their nefarious actions as motivated by integrity."
Well, maybe it is. But Cagle would also have been criticized if he'd taken down the cartoon that he no longer believed in. Then he would have been accused of "self-censorship." Impossible: posting a cartoon on a syndicate "for sale" list is tantamount to publishing it. And no published cartoon can be un-published.
Cagle couldn't win no matter what.
Ted Rall may be right about all this, but the extremes of his language suggest that he's simply a raving zealot. He acknowledges that he uses extreme language in advocating his causes; he says that's the best way to attract attention.
But whose attention does he wish to command? That of other wild-eyed zealots?
THE NEXT ASSAULT ON ETHICS is on the left side of our last exhibit. There are two cartoons by Mike Peters but since they look alike, take a moment to read each one carefully. Done that? Okay, the cartoon at the top is the one Peters drew and his syndicate distributed; the one at the bottom is what the Ammoland website did with it when they posted it. This pro-gunplay site simply reversed the two panels and thereby changed entirely, 180 degrees, the message Peters intended. The cartoon as published in Ammoland supports the National Rambo Association's "School Shield Program"; Peters' cartoon pretty clearly takes an anti-NRA stance.
Peters told Alan Gardner (DailyCartoonist.com) that this has happened to him before.
"There have been people who have reworked my cartoons before but not an organization like this before. I have gone twice to the courts (once to the Supreme Court) about a cartoonist's right to free speech. But when you take someone's copyrighted, intellectual property and it goes exactly opposite of its original meaning is not right and going against copyright laws like this does indeed infringe on free speech."
Fred Reihl, the editor of Ammoland Shooting Sports News responded at DailyCartoonist when he heard about the cannibalizing of Peters' cartoon, saying: "We got this cartoon after we announced we were looking for political cartoons. [It came] from one of our readers, and [we] thought it was their work. We had no idea it was Mike's. What is it they say, 'if it seems too good to be true?'—well we should have done our home work. If you can please pass along our apologies to Mike, your readers and anyone else we may have offend as it is never our intention to harm others' work product."
He also took down the cartoon. In the DailyCartoonist comment section, cartoonist Darrin Bell opined that Reihl's explanation "rang true," supposing, as a result, that the matter was closed forthwith. Nearly as I can tell, he's right: it's over.
IN OUR NEXT VISUAL AID, we return to the usual venue of this department.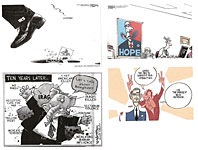 Bronco Bama is coming in for more than his usual ration of shit due to the actions of assorted Executive Branch twigs and tendrils. At the upper left, Nate Beeler puts the IRS matter into the Right perspective with a visual metaphor that shows the taxing agency as a giant stepping on (and thereby squashing) the poor li'l Tea Bagger. While I think the IRS malfunctioned more by accident than by design ("never ascribe to malice that which is adequately explained by incompetence"), the agency is a giant to whom all of us are but li'l bugs on the pavement. For us mere citizens, ineptitude among the powerful is as bad as malice.
This is one of those scandals that the Grandstanding Obstructionist Pachyderm salivates over—sweat pouring down its gray face and into the corners of its mouth in anticipation that Obama's impeachment is but a few hours in the future. But like almost all of the "crucify Obama" scandals lately, this one seems destined to run out of nails. No one has yet found any evidence that Obama was directly involved in decisions that created the scandal. (And even if he were, he'd be following in the footsteps of Roosevelt and Nixon, to be bipartisan about naming miscreants.)
And the more we find out about it, the more it seems that the IRS was doing exactly what we expect it do.
Groups seeking tax exempt status under 501(c)4's "social welfare" rubric, if granted that status, are allowed to participate in politics only so long as that is not their primary purpose. Making sure that political operations are not a group's primary purpose probably ain't easy, hence the need for all the paperwork to review that everyone with a tea bag is complaining about.
Groups with (c)4 status are prohibited from engaging in political campaigning but are able to "promote social welfare ... in some way for the common good and general welfare for the people." I can just hear a Tea Bagger saying that his political activity is "for the common good and general welfare." So why isn't he granted (c)4 status?
The review process was further complicated by the quantity of applications—due to the dawning of possibilities that the Citizens United decision precipitated. Flagging for further examination any application with "Tea Party" or "patriot" in its name seemed a sensible way of winnowing the wheaties from the chaff.
According to one report, more than 400 organizations came under close examination, which included (according to another report) 296 political advocacy groups, among which 72 had "tea party" in their name, 13 with "patriot" in their name—plus at least two dozen liberal-leaning groups and some that were seemingly apolitical. But who among us can tell, one way or the other? We're at the mercy of the Froth Estate, which is having such a good time with all this that it can hardly see straight.
There are other tax exempt categories, by the way, but only the 501(c)4 category permits groups to keep secret the names of their donors.
As the New York Times editorialized: the agency should examine any group seeking social welfare status since that tax-exempt status is so often abused. Karl Rove's Crossroads GPS, for example, has spent tens of millions on behalf of Republican candidates yet claims to not be political.
Still, it would seem that any social welfare organization looking for tax exempt status is asking for scrutiny when it uses the term "Tea Party" in its name: "Tea Party," after all, is most commonly thought of as a political action entity, not a social welfare operation. Said Alec MacGillis at NewRepublic.com: "The whole purpose of [the Tea Party movement] was to orient American politics and government toward its constitutional roots by intervening in elections at all levels." That mission likely made IRS workers doubt whether these groups met the criteria for tax-exempt status.
Incidentally, it's recently been divulged that Issa knew about the IRS's targeting of Tea Bag applications for tax exempt status a year ago. So why'd he keep quiet?
Another question going without an answer. Speaker John Boehner (pronounced "boner") wants to know, he says, "who's going to jail" over the IRS debacle. I can't remember his asking that question about all those billionaire bankers whose recklessness in playing investment games brought down the country's house of financial cards.
Ahhh, another name for hypocrisy is Republicon politics.
Well, they're all crooks, remember—Jackasses and Pachyderms alike, insider trading to a fare-thee-well all over the place.
WHILE ALL THIS WAS TRANSPIRING, the Department of Justice got in trouble by spying on the press, the Associated Press. The DOJ is within its legal rights to subpoena the records it obtained, and the crime it sought to solve—who leaked to the press CIA secrets that endanger the lives of undercover operatives abroad—is serious, but there are within the law more decorous ways of proceeding that would have left the DOJ looking a little less like an ominous Big Brother. None of that matters, naturally, to the Grandstanding Obstructionist Pachyderm, which looks every which way for nits to pound Obama with. Beeler again supplies a nicely sarcastic interpretation of the hapless AP under the bug-eyed scrutiny of the Obama administration.
David Fitzsimmons is next on our clockwise expedition. He invokes the ghost of Richard Nixon to remind Barack O'Bama that there is no greater political goof than attacking the press, which reacts to any perceived government interference immediately in extremis, treating a possible infringement on the First Amendment as if it were a Sherman tank sized IED on the doorstep of an orphanage. Fitz is right: the press reacted strenuously, virtually overlooking such serious assaults on human rights as the military's apparent inability to react effectively to prevent the rape of his female soldiers—or, for that matter, the Veterans' Administration to properly care for those who've managed to survive the battlefields of the Mideast. Fox News, in particular, is in a swivet of an orgy over the alleged infringement of the press's right to do whatever it wants to do.
Finally, at the lower left, Nick Anderson provides keen and common-sensical reaction to all the GOP fussing about Benghazi. The image of the ol' elephant trying to cover-up its sins of the past by talking about an Obama administration mistake is both telling and highly comical; the elephant looks as ridiculous as the Republicons do trying to treat the death of four Americans in Libya as if it is a blunder as massive as getting 4,4887 Americans killed by invading Iraq. The death of any American is a serious matter, but the Obama administration's blunder isn't even vaguely comparable to the mistakes GeeDubya and his gang made in putting boots on the ground in the Mideast.
What's more, under GeeDubya's administration, there were 13 attacks on U.S. consulates and embassies, leaving dozens of Americans dead. As Bob Cesca at HuffPost.com says: how come Republicans so outraged by Benghazi didn't protest these earlier attacks? Where were the hearings into who was at fault for them?
OBAMA'S RED LINE FOR ASSAD tops our next display.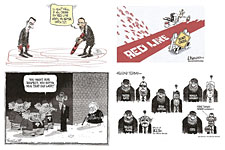 Both Daryl Cagle and Lisa Benson offer images that reveal how ineffective Obama's warning has been. Criticism of the Obama strategy (if that's what it is) on Syria usually overlooks the complexity of the situation, but the most effective cartoons typically do exactly that.
Still, labyrinthian complexities remain. Among them, that Russia has been supporting Assad. How can the U.S. intervene on the side of those who seek to depose Assad without aggravating the Russians? And which of the rebels would we support—and how do we know if a seemingly non-extremist group won't turn extremist once they've taken power? Moreover, Syria is not an easy place to invade—much more populous than, say, Libya. And a U.S. invasion might draw Iran into the fray. And I'm only touching some of the more obvious issues. But probably Obama's talking about a red line was not a good idea; the best information is that he tossed that notion out without thinking it through. Uncharacteristic of him, but maybe true.
Next on the clock, Jim Morin's series of pictures explains all the recent goofs in the Obama administration by reminding us that all second-term Prezes lately have suffered similar scandals. Scandal seems endemic to second terms—the second-term curse, as one wag put it. Morin emphasizes the IRS fumble, but that episode can stand for all the rest in his insightful array of reminders.
At the lower left, Bob Englehart's explanation of Obama's troubles is more factual than Morin's fanciful offering. It's an explanation that Clay Bennett extends in the same factual direction in the first cartoon in our next visual aid.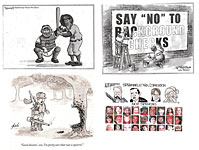 Bennett uses a current event—the opening of the baseball season—to hang his comment on. And his imagery, as usual with Bennett, is powerful and accurate.
The National Rambo Association's success in defeating gun regulation comes under fire next. Nick Anderson's image of sign-painters campaigning against gun control reveals who the real winners are. And Jeff Darcy, next around the clock, reminds us who the losers are with his comment on the speakers and non-speakers at the NRA convention recently. Even The New Yorker gets in a lick, dramatizing how hilarious it is to imagine that assault weapons with massive ammunition magazines are the arms hunters would use.
The utter ruthlessness of the NRA as a proxy for gun manufacturers accounts for its success. When Tennessee House of Representatives member Debra Maggart, a Republicon and a life-long NRA member whose voting record had, heretofore, earned her NRA's A+ rating, helped kill ab NRA-supported bill that would have permitted Tennesseans to keep firearms in their parked vehicles wherever they went—work, schoolyard, or neighborhood bar—the NRA and other gun support groups spent an estimated $155,000 to defeat her in the primaries.
Said Maggart: "They did this to send a message: 'If you don't do what we want, we will annihilate you.'"
The NRA is accomplished at ignoring contrary messages. Will Durst, under the heading "Yellow-Bellied Cowards," writes: "That giant, arrogant pimp known as the NRA should be laughing hysterically after its lackeys trashed the ephemeral spirit of compromise that had settled over Washington like a soft dawn mist. Ninety percent of Republicans voted against an issue that 90 percent of the American people support."
The background-check bill that failed in the Senate lost 54 to 46—that is, 54 senators voted in favor, a clear "democratic" victory. But in the Senate, nothing wins unless it has a "super majority," 60 votes, enough to foreclose on the possibility of filibustering. To turn this around, as I've urged before, the Democrat majority should insist that those who threaten filibuster should be forced to actually filibuster—to stand in the well of the Senate like Jimmy Stewart and fulminate on for hours and hours, thereby demonstrating just how foolish they are. That, of course, is not likely to happen: the Democrats want to protect the threat of filibuster against the day when they might be the minority and might use the same tactics as the GOP senators have been using, under the patriotic inspiration of Mitch McConnell.
After the election of Barack Obama, McConnell famously said: "the single most important thing we want to achieve is for President Obama to be a one-term president." His strategy for achieving this goal was to keep Senate Republicons marching in unthinking lockstep to prevent the administration from accomplishing anything. "Then," as Isaac Chotiner writes in The New Republic (May 27), "Washington would look hopelessly inefficient, and he could persuade independent voters that the stasis was Obama's fault." And Obama would, perforce, not be re-elected. His government, then, could be said to have been overthrown through the machinations of Mitch McConnell.
It didn't work out that way. Obama was re-elected with better than 50% of the vote (the second time he achieved this outcome, the best any president has done in years)—even in an ailing economy (thereby dashing another shibboleth of the gaseous classes). But McConnell has overlooked something, something that ought to be disastrous for him: his scheming qualifies him for prosecution under the sedition laws of 1940.
"SEDITION" IS GENERALLY DEFINED as overt conduct, either by speech or organization, that is deemed by legal authority to tend toward insurrection against the established order; that includes subversion of a constitution and incitement of discontent to lawful authority (my emphasis). The "Smith Act" of 1940 made it a federal crime to advocate or teach the desirability of overthrowing the U.S. government.
Since the "established order" is determined in this country by elections and since Obama was resoundingly elected—twice!—anyone who incites discontent about his administration or advocates its overthrow is guilty sedition. McConnell clearly qualifies.
But like many things he's messed up so far (didn't stop Obamacare or achieve financial reform in the Republicons' favor), he's likely to be frustrated in this, too.
But there are two other troubling aspects to the failure of gun legislation in the Senate. First, as Denver Post editorial page editor Curtis Hubbard put it, "is that more senators voted for an amendment making it easier to carry a gun than for the measure aimed at keeping guns out of the hands of those wh shouldn't have them."
Secondly, as Randi Weingarten, president of the American Federation of Teachers, said when reacting to the NRA's proposal to turn schoolrooms into armed camps, "Ironically, the NRA proposes extensive background checks for the people they want to guard our schools—but opposes those same background checks for anyone else."
Guns are still the subject in our next object lesson.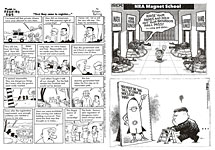 Going counter-clockwise (just to trip you up) from the upper right, we start with Steve Sack's memorable picture of what schools will be like under NRA rule. Dropping down, we come to a different sort of armament with Rick McKee's hilarious image of Kim Jung Un, war-monger of the North. The picture is encouragingly belittling although Kim is so loose a canon that we can't laugh him off altogether. And then, at the left, is Ruben Bolling's ironic analysis of the gun control situation. The comic strip format is aptly suited to making an argument of this kind—step by step, piling up factoids, and then, with a twist, making the point.
WE COULD FIX ALL THE MALFEASANCE at the ballot box if we chose to. But as David Fitzsimmons points out in a bitter but comically sarcastic cartoon at the upper left of our next exhibit, we probably won't take that option.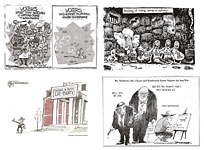 The friendly pooch is a nice visual touch. The Arizona Republic's Pulitzer winning Steve Benson felt the heat of certain irate readers who called his cartoon (next on the clock) unfair or extremist—anything but accurate—when he likened the GOP's attitude about women's issues to Ariel Castro's Cleveland prison for young girls. I dunno: it seems a fair comment to me.
One blogger wrote that "it is simply unacceptable to vilify someone's political views by portraying them as a basement sex slave criminal." Another said "Benson should let these women come back to some kind of normal life and not use them for his political agenda."
Arizona Republican Party chair Robert Graham ranted on in the same vein in an irate letter to The Daily Caller: "This Arizona media outlet has chosen to publish an absurd and grotesque image that grossly mischaracterizes the pro-family and pro-life position contained in the Republican Party platform. The cartoon is bizarre and disturbing. The fact is that our party supports the sanctity of life and the right of every individual to life and liberty, and we are disappointed that some in the media so falsely misrepresent our view."
Oh, yes: the GOP is well known for supporting the sanctity of life and the right to life and liberty of every individual except, maybe, women.
Tim Cavanaugh of the Caller reports: "Steve's editors are standing behind the cartoon and I love how it's phrased, 'Steve's cartoons are often among the things that draw the most comment. This one was not unusual in that regard.' In other words, this is on par for a Benson cartoon." Indeed.
So Ariel Castro allegedly punched a pregnant woman in the belly until she miscarried? The more I hear about the horror in Cleveland, the more I am inclined to recommend that we revive some of the Medieval ways of punishing transgressors—say, hang the convicted Castro by his scrotum, naked and alive and on public display, then disembowel him, and as his entrails go flapping down around his face, set them afire. Finding someone to do this will be mildly difficult, so we should adopt the policy of commandeering the senior Tea Party Republican in the state for such jobs.
Because none of that is unlikely to happen, I drew the picture of Castro that appears near the corner of your eye.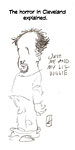 And it's sure to offend someone. While it may seem perverse to draw a "funny picture" of such a depraved sexual ghoul, I submit that ridicule through laughter (with a portrait such as this) belittles what he otherwise doubtless thinks is his greatest attribute.
But let me quickly (before anyone notices) return to our previous exhibit and the two cartoons that decorate the bottom half. The opening of the George WMD Bush Library prompted a sprinkle of cartoons about the epoch event. Jeff Danziger at the lower right is, as he usually is with GeeDubya, admirably sarcastic. "Rembrandt Junior" and "horsie" are nice touches—as is Cheney holding a bucket of paint—er, whitewash. For the painter? But I like best Pat Bagley's commemoration: giving a typically southern pronunciation to the word "library" makes it completely accurate.
Syndicated columnist Alexandra Petri made a few notes about the GeeDubya Library, too. "So far," she said, "Bush has pursued the brilliant PR strategy of saying nothing and never appearing in Major National News. ... It is the only surefire way to avoid gaffes."
After observing that the opening of the Library as provoked a re-evaluation of GeeDubya in which he appears "smarter than you thought ... greater than you thought," she continues: "The trouble with the Bush Resurgence is that so far, the former president's popularity seems largely premised on his disappearance from public view. Absence has made the heart grow fonder. ... If the present trajectory continues, we will all agree that Bush's presidency was perfect the instant we have forgotten him entirely." So true.
Next, by way of winding down toward the fini of our show this time, we ponder the perversities of the present Do-Nothing Congress.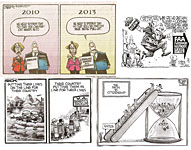 The benighted House has just finished trying for the 37th time to repeal Obamacare. What is it they say about how to tell if someone is insane? If he/she keeps doing the same thing over and over, each time expecting a different result, then he/she is clearly nutso.
Starting us off in a clockwise direction from the upper left, I'm not quite sure what Nate Beeler's cartoon means. I like the caricature of Nancy Pelosi, though, so I've included it here for little or no other reason. Oh—and the Congress character's clear implication that he's full of crap. But Congress can act—and quickly—in such national emergencies as the furloughing of flight controllers because of the dreaded Sequester. John Darkow draws the obvious comparison, revealing the self-centered hypocrisy of our national legislative leadership in laughable terms that, were the circumstance not actually true, would be admirable. Well, as a cartoon, it is indeed admirable.
Christopher Weyant's illustration of the path to citizenship envisioned by the a-borning immigration law is a vivid pictorial analysis of its principal fault. (By the way, if the IRS can't handle the greatly increased number of applications for tax-exempt status, how will it and other branches of government handle 11 million illegals seeking the path to citizenship?) And in a telling pairing of pictures, Steve Sack reminds us of our neglect of the veterans of the wars in the Mideast.
Finally, a few loose ends—the loosest of which is the GOP, which, in perpetual campaign mode, has seized upon the Boston tragedy as fodder for its political agenda.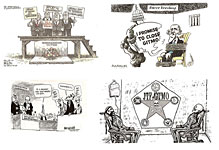 First at the upper left, Jim Morin shows us how with a telling visual metaphor: the heartless Republicons have built a platform on the graves of the marathon victims. To the right, we have Jimmy Margulies, who alludes to the current force feeding in GITMO to remind us of Bronco's campaign promise to close the island concentration camp. The problem, of course, is Congress. Its timorous membership has chosen to cower before popular panic about the superhuman evil of Islamic extremists rather than to lead public opinion out of the morass in which it finds itself.
Congressmen/women believe that their constituencies are so fearful of what al Qaida prisoners might do if confined in prisons on U.S. soil that they block every attempt Obama has made to close GITMO, which requires, ipso facto, moving the prisoners. Or releasing them. If we had any genuine leadership in Congress, those personages would attempt to persuade their constituencies that there is little to fear from persons, however dedicated to violent jihad, who are imprisoned in maximum security facilities. Or perhaps we could be convinced that it would be better to release these aging firebrands and risk whatever they might attempt to do rather than keep them penned up as an advertisement of how inhumane our vaunted values have permitted us to become. We could implant tracking chips in each of them so we'd always know where they were and, probably, what they were up to.
Speaking of force feeding in Guantanamo, our next "cartoon" is one that was drawn in 2008 during the last time the prisoners there attempted a hunger strike. This cartoon is one of four that were drawn by Sami al-Hajj, an imprisoned al Jazeera cameraman, that the Army banned. The drawings were submitted to the camp censor who would not permit their release. But detailed descriptions of the sketches (called "Sketches of My Nightmare") were allowed through the censorship process, and Lewis Peake, a political cartoonist, was able to recreate this one, entitled "Scream for Freedom."
A press release at mwenews.net takes up the story (in italics):
Al Hajj describes the way he sees himself being force fed in the so-called "Torture Chair"—the restraint chair into which they are strapped twice a day to have a 110cm tube forcibly inserted into one nostril so that liquid food can be administered. The tube is pulled out after each feeding, and the prisoner is left in the chair for up to two hours so he can be force fed again if he vomits.
Said Hajj: "My picture reflects my nightmares of what I must look like with my head double-strapped down, a tube in my nose, a black mask over my mouth, with no eyes and only giant cheekbones, my teeth jutting out—my bones showing in every detail, every rib, every joint. The tube goes up to a bag at the top of the drawing. On the right there is another skeleton sitting shacked to another chair. They are sitting like we do in interrogations, with hands shackled, feet shackled to the floor, just waiting. In between I drew the flag of Guantanamo—JTF-GITMO—but instead of the normal insignia, there is a skull and crossbones, the real symbol of what is happening here."
Said Al Hajj's lawyer: "He explained he felt compelled to express the nightmare that he and the rest of the hunger strikers have been suffering. Sami's sketches speak volumes about what he goes through every time they strap him into that chair for feeding."
Clive Stafford Smith, director of Reprieve, a British charity that provided legal representation to GITMO detainees, commented: "You have to question—I have to question, as an American—why the U.S. government thinks that free speech in the form of this picture is somehow a threat to U.S. national security. I have seen plenty of evidence that is extremely embarrassing to the American government. ... This sort of picture gives you a visual image of what poor Sami goes through twice a day. I think a picture sometimes paints a thousand words, and I think that is what the U.S. government is afraid of."
So they ban the cartoons in order to keep these images out of the news media.
Al Hajj is probably no longer a prisoner in GITMO. He was seized by the American military when he was covering the war in Afghanistan for Al Jazeera's Arabic channel and had been held as an "enemy combatant" without trial or charge since 2001. Somewhere since 2008, he has undoubtedly been deemed less than dangerous and released. But not before he endured weeks—months?—of forced feeding.
By way of finale, we let Mike Luckovich's hilarious cartoon at the lower left take us away from the grim realities of Guantanamo. Starting with the notion of "whistle blower," he remembered how dogs can hear frequencies that humans cannot hear. And from there, he gets to the barking dog Republicons who are interrogating the whistle blowers. The message is layered but clear: only Republicon dogs can hear something sinister in the whistle blowing about Benghazi. The rest of us are pretty much fed up with watching the painful contortions of the GOP members of the House Oversight and Government Reform Committee as they try to make something duplicitous out of the sheer panic and confusion that drove U.S. reaction to the murderous raid on the American embassy outpost in Benghazi.
As an issue, the Benghazi episode is over. Military experts have testified that whatever assistance could have been dispatched to Benghazi would not have got there in time to do any good. In the wake of the tragedy, the talking points that were drafted and re-drafted 12 times reflected the tug of war between the State Department and the CIA, both of which obliterated references to an organized al Qaida raid, presumably in order to prevent Islamic hooligans from knowing about CIA operations in the vicinity. The edits aren't flattering but all they reveal, saith Alexander Sullivan, is fairly typical Washington spin.
The real issue is being routinely glided by—the lack of adequate security. But the GOP interrogators don't want that to come up because the inadequacy is the fault of the Republican cuts to the State Department's budget. Even so, Ambassador Chris Stevens, who was killed in the raid, had twice declined offers of more security. The more information that comes out in the hearings, the more the entire brouhaha seems a tempest in a tin cup.
And the stalwart leader of the inquiry, Republican Darrell Issa, has emerged as a knight with somewhat tarnished armor. His personal worth estimated at $450 million, he is the wealthiest member of Congress. He made his fortune building and selling Viper car alarms, a business he got into, he used to joke, because his brother was a car thief. No joke, it turns out: his brother did spend time in prison as a car thief.
And while Issa doesn't have a jail record, he was accused several times of stealing cars, according to Andrea Seabrook at npr.org. Issa says the police mistook him for someone else, and the charges were dropped. His brother was arrested with him, so I wonder who the police took Issa for.
When running for office, Issa claimed that when in the Army, he had been part of an elite unit protecting President Nixon. But an investigative reporter found no evidence of such an assignment in Issa's Army records, which actually reveal him to be considerably less than he claimed: he had a bad conduct rating, he was demoted, and a fellow soldier accused him of stealing his car.
But the biggest blot on the Issa escutcheon was Issa's warehouse fire in 1982. A co-worker revealed that before the fire, Issa had put important electronic prototypes in a fireproof box and removed the business's computer and financial files from the building. Morever, less than three weeks before the fire, he had increased the company's fire insurance from $100,000 to $400,000.
Suspicious enough that the insurance company refused to pay his claim. The two later settled out of court.
It's always gratifying when we can conclude our foray into the political jungles on a note of high comedy.
PERSIFLAGE AND FURBELOWS
"When you say 'gay people,' the emphasis is on the 'people,' and the only difference between gay and straight is which way your head faces during sex." —Will Durst
Incidently, Congress surreptitiously repealed aspects of the law it passed last year that attempted to control, and perhaps eliminate, insider trading by government officials with non-public knowledge that would give them an advantage on the stock market. The law had required individuals to post their stock transactions so we'd all know what they were up to; but that was deemed dangerous, leading, perhaps, to identity theft. So it was struck from the law.
BEFORE WATCHMEN PREQUEL ENDS AT THE BEGINNING
DC's prequel to Alan Moore's Watchmen, heralded for its artistic ambition when it was announced a year ago and simultaneously condemned as just another corporate grab at squeezing a few more bucks from Moore's game changing concept, wound to its conclusion a month or so ago with the publication of the sixth issues of the Ozymandias and Comedian titles. In 37 issues, 9 titles, each named for one of the idealistic but doomed do-gooders, the whole gaggle is brought to the brink of their final undoing, Moore's 12-issue series in 1986-87.
The prequel ends with Ozymandias killing the Comedian, the precipitating event of Moore's series. Moore continued the slaughter by killing off the retired Captain Metropolis and the paranoid Rorschach. The prequel titles lay the grisly groundwork with the deaths of Dollar Bill, the Silhouette, and Moloch and the retirement of Captain Metropolis, Sally Jupiter, Mothman and the original Nite Owl. Ostensibly, the prequel, apart from earning more money for DC from Moore's originality, was to tell us what Moore's "watchmen" did before they became the Watchmen. Or, perhaps, how they became the Watchmen. Does it do either? Well, yes and no.
First—no; we need to be reminded that there is no club of costumed vigilantes called the Watchmen. Moore took the title of his book from the speech John F. Kennedy was to make in Dallas on the day he was assassinated: "We in this country, in this generation, are by destiny rather than choice the watchmen on the walls of world freedom." Moore's opus is essentially a political statement about whether the watchmen were doing their job—whether they are succeeding in protecting freedom.
The club that we meet in Watchmen is the Crimebusters, which was formed soon after the 1949 dissolution of the Minutemen, which was established in about 1939. The Minutemen were Hooded Justice, Nite Owl, Silk Spectre (Sally Jupiter), the Comedian, Mothman, the Silhouette, and Captain Metropolis. In 1966, Metropolis (Nelson Gardner) formed the Crimebusters with the new Nite Owl, Rorschach, Dr. Manhattan, a new Silk Spectre (Sally Jupiter's daughter), Ozymandias, and the Comedian (the only hold-over, other than Metropolis, from the original gang).
The history of the Minutemen is rehearsed in the eponymous prequel title. The chief actor, the narrator, is the first Nite Owl, aka Hollis Mason. During the course of other adventures, Mason becomes convinced that Hooded Justice is a pedophile, and he finally tracks him down and kills him in a fit of rage and disgust. Then the Comedian tells Mason that the pedophile is another person altogether (who had, incidentally, killed the Silhouette, who was, by the way, a lesbian): the Comedian framed Hooded Justice, convincing the Nite Owl of his guilt. On the surface, it seems just another of the sort of fiendish joke that the wholly amoral Comedian seems to delight in. But it's more than that. It is, instead, the Comedian's revenge on Hooded Justice, who had interrupted him while he was forcing himself on Sally Jupiter (an event depicted in Moore's Watchmen).
In any event, Nite Owl has killed the wrong person! But he goes on and lives with his guilt, subsequently bequeathing his costumed alter ego to Dan Dreiberg. Darwyn Cooke, writer and drawer, handles all of this with his usual aplomb, expertly staging the action and letting the pictures tell as much of the story as possible.
In Nite Owl, by J. Michael Straczynski with pencils by Andy Kubert and inks by his father, we meet Dreiberg as a youth whose father regularly beats his mother, and his classmates beat him. He learns from his mother the way to survive: find someplace deep inside, she tells him, something you can remember as you're being beaten, "something happy, something that makes you angry." And as he watches the first Nite Owl, Hollis Mason, fighting crime—being beaten but always getting up to continue the fight—he identifies with the crime fighter. His hero worship leads him to discover his hero's civilian identity, and he becomes the Owl's teenage sidekick. When the Owl finally retires to run a bicycle repair shop, Dreiberg takes on the Nite Owl title and role. By 1964, Dreiberg is patroling the city at night in his owl-shaped flying machine dubbed Archimedes.
Dreiberg hooks up with Rorshach to fight crime, and they both join Captain Metropolis when he forms Crimebusters in 1966. In the course of one adventure, Dreiberg meets an S&M queen when he busts into a room outfitted with chains and whips over which the queen presides, applying a wooden paddle to the posterior of a naked, bound and gagged fat man. A den of fetishism. A few minutes later, Rorschach, following his partner, comes in, stops in his tracks, stares at the woman, and calls her a whore, to which she responds: "You say that like it's a bad thing."
The queen joins Nite Owl (both professionally and carnally) as Twilight Lady. Together, they expose and Rorschach kills a shady hypocritical preacher, who preys on whores and pimps and kills them. Then the Twilight Lady retires, first phoning Dreiberg to explain. She says she's rich and can afford anything—except one thing: she can't afford to fall in love (as she has with Dreiberg). So she leaves the phone booth and walks down the street, going by Rorshach without recognizing him in his civilian garb. Rorschach is carrying a sign, The End Is Nigh—exactly the sign he carries on his first appearance in Moore's Watchmen.
The Dreiberg-Rorschach partnership seems odd until we learn more about Rorschach. Rorschach, like Dreiberg, had a father who brutalized his mother. Both men killed their fathers: Rorschach trips his on the stairs, and he tumbles to his death; Dreiberg, on the advice of his mother, does not call an ambulance when his father is having a heart attack, and so the man dies.
After meeting the Twilight Lady, Rorschach goes off, sulking. We see him in his room, remembering his mother, who, it seems, was a whore. He rejoins Nite Owl later to help the police who've discovered the body of a prostitute in her room, dead. Rorschach remembers the notorious case of Kitty Genovese, a woman who was attacked for half-an-hour in the lobby of her apartment building, screaming for help the whole time—and 38 of her neighbors heard it all, but no one called the police. Says Rorschach, rehearsing a portion of the same origin story that we read in Watchmen: "No one saw. No one cared. Whores die every day. No one sees. This isn't the first."
The night Rorschach heard about Kitty Genovese, he tells Nite Owl, was the night he put on his mask: "Never wanted to see face in mirror again," he says, "—ashamed to be part of human race. So I'm not. Not any more. Enough talk," he finishes. "Let's go hit something."
With that, we learn something of Kovacs' inspiration—the cause of his missionary zeal—but we don't know why he chose the kind of mask he did. That, Moore has revealed.
IN 1962, WHEN KOVACS was 22 years old, he was working in a dress factory, and Kitty Genovese came in and ordered a dress made of a special Dr. Manhattan fabric, which accidentally came out looking like a rorschach pattern. She never picked up the dress because she was killed before she could. Kovacs, appalled by the Genovese case, used the cloth to give himself a face he could "bear to look at in the mirror." So the rorschach pattern is not the reason Kovacs chose that cloth; the Genovese case, symbolic of the evil side of human nature, is.
In the 4-issue Rorschach, he's already on his crusade. We see him wearing his rorschach-test pattern mask, attacking deviants and all other civilians he deems reprehensible. He is repeatedly beaten senseless by thugs he despises. But he is also trying to find "the Bard," another sociopath who kills women, strips them naked, carves messages on their bodies with a knife, and leaves the bodies in dumpsters. In the last issue of this title, one of the victims survives—a waitress in a diner who had befriended Rorschach. When the killer somehow is acquitted, Rorschach goes after him and kills him.
This title establishes Rorschach as a psychopathic vigilante who finds the world around him both threatening and execrable and in his paranoia, seeks with dogged dedication to destroy all evil—which, for him, is virtually everything. The final issue of this title concludes in 1982, just before Watchmen begins with Rorschach's journal entry for October 1985.
Brian Azzarello's brutal story is drawn by Lee Bermejo with colors by Barbara Ciardo that are too realistic for my taste—excellent, mind you, but Ciardo's colors have turned Bermejo's drawings into paintings so photographic that we might be looking at stills from a motion picture.
The Dr. Manhattan title is the least reader-friendly of the pack: J. Michael Straczynski attempts to explain the inexplicable—how Manhattan came to be and how he functions—but it fails, as far as I'm concerned (although, to be candid, I pretty quickly tire of and lose interest in pseudo metaphysical explications like this). At the end of the fourth and final issue, we leave Manhattan floating around in the galaxy, pondering imponderables—time and space and how he moves through both. He'll show up next in Moore's first issue of Watchmen, but, unlike some of the other prequel titles, there's no bridge in the last Manhattan to the first Watchmen.
Adam Hughes was presumably chosen to draw Dr. Manhattan because the big atomic blue nude guy falls for Silk Spectre, which will give Hughes ample opportunity to draw his speciality, a beauteous woman with as many curves as a country road. He doesn't get much chance to do it, though, because the title is mostly concerned with more esoteric matters. Moore and Dave Gibbons handled Manhattan much better in the original Watchmen, it seems to me, because they weren't preoccupied with concepts of time and quantum physics like Straczynski is herein; Moore and Gibbons were about drama and the human predicament, and to get to that, they ignored physics completely. They just told Manhattan's story.
Silk Spectre is the most visually appealing of the prequels, due chiefly to the surpassing artistry of Amanda Conner, who makes the title sing with all the tunes and tropes of which comics artistry is capable. The book itself, however, written by the excellent Darwyn Cooke, is a tale of adolescent angst. Laurie Jean, the daughter of Sally Jupiter (who quit the Minutemen in 1947 to marry the group's agent), initially resists her mother's attempts to turn her into the second edition of Silk Spectre to fight crime in abbreviated costume. But she dons a costume to avenge friends who were destroyed by drugs, and she soon accepts the wisdom of her mother's preference and becomes Silk Spectre, who joins Metropolis' Crimebusters, eying Dr. Manhattan and lusting after him. They have an affair in Moore's Watchmen, but Laurie eventually returns to Dan Dreiberg, who she eventually marries when they both give up cosplaying.
The prequel title, however, does more than explain Silk Spectre's origin: it also reveals Laurie's desire to be loved, which governs most of her behavior in both the prequel and the Watchmen. It may also illuminate the only conclusion to which Moore's work trends.
Cooke's story is fairly straightforward, but Conner brings to it her usual comedic touches—funny facial expressions on beautiful women, sight gags, and inventive panel compositions. Sometimes she breaks the visual narrative flow with a panel that illustrates a character's state of mind in exaggerative cartoony style. She's a master at staging action and in timing passages to reveal emotions and drama. In short, she repeatedly plumbs the possibilities for enriching narrative with pictorial devices. If you want to know what comics can do, read Conner.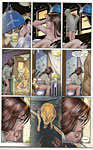 Dollar Bill, the only one-shot in the prequel array, makes perhaps the bluntest thematic statement. Dollar Bill is a highschool football star, William Benjamin Brady, whose knee goes out, leaving him unemployable. He finally finds work as a costumed shill for a bank—Dollar Bill, protector of your savings account. He is the star of the bank's live action motion picture promotions, his deeds all done by stuntmen and special effects. But then the bank pr guys want him to join the Minutemen, thinking if he is a real-life crime-fighter his value as a bank publicity stunt will be enhanced. Because of his celluloid fame, Dollar Bill is immediately accepted into the Minutemen and joins them on a few escapades. Finally, believing he really is a crime-fighter and not just an actor, he chases after some bad guys, but his cape catches on a doorknob and, momentarily halted, he becomes a stationary target for the gunman, who shoots and kills him.
The theme of Dollar Bill, the tragedy of self-delusion, is not overtly repeated in the fates of others of his breed, but his death hovers over all the ensuing adventures.
OZYMANDIAS IS THE SMARTEST MAN in the world. If you don't believe it, ask him: as the first person narrator, he's this title's foremost authority on himself. In first issue of the title, we meet the fabulously wealthy and self-indulgent Adrian Alexander Veidt, Ozy, as he's reflecting on his past from the perspective of 1985, the year Moore's Watchmen begins. He was a brilliant kid but bullied in school; he learns dojo and cripples the lead bully. He studies constantly, learns much, acquires extensive knowledge of the mysteries of the Far East. He meets the beauteous Miranda, gets wealthy, and ignores her; she looks for fun elsewhere, finds it in drugs, and dies of an overdose. Adrian vows vengeance and dresses in Oriental robes, a costume, in order to avenge her death without giving away his civilian identity thereby threatening his corporation's "swelling fortunes."
After vanquishing the culpable drug lord, Adrian convinces himself that his city needs his services, and he spends hours in "the bowels of the New York Public Library" (he frequently visits the bowels of one edifice or another, a verbal mannerism writer Len Wein overindulges), learning about a 1939 bunch of do-gooders called the Minutemen. They've all disappeared, he decides, except Hooded Justice. Adrian goes looking for the missing Minuteman and encounters the Comedian, the cigar-smoking menace in a mask, who promptly threatens Adrian. (Later, they'll both be Crimebusters.)
Wein makes his narrator speak in what we are supposed to believe is upper-class professorial patois. Lots of fancy words and locutions. Adrian, however, sounds more like Philo Vance, the effete and snobbish 1920s private detective invention of S. S. Van Dine (who was actually Willard Huntington Wright, whom H.L. Mencken once called "probably the biggest liar in Christendom ... but nevertheless an amusing fellow").
Here's Adrian on the cusp of some violent action: "My eyes, while appearing barely to move, instead scanned the room scrupulously, looking for anything out of the ordinary ... and swiftly finding it." Philo Vance to a T.
Jae Lee's artwork, an symphony of fine lines in page layouts deploying circular panels like stained glass windows, is as effete as Adrian's discourse. Effete art for an effete character.
After his first triumph, Adrian gives himself the name Ozymandias, taking it from a Shelley poem, Ozymandias, and he quotes a few lines: "My name is Ozymandias, king of kings, look on my works, ye mighty, and despair."
But Shelley's poem ends with the next three lines about Ozymandias' self-glorifying monument in the desert: "Nothing beside remains. Round the decay / Of that colossal wreck, boundless and bare, / The lone and level sands stretch far away."
Ozy will kill the Comedian to prevent him from revealing his earth-saving plot. To keep the secret, Ozy also kills Marla, his faithful and beauteous assistant, and all other assistants who might divulge his master plan. And he kills Moloch, too.
In the two issues of Moloch, produced by J. Michael Straczynski and Eduardo Risso, we meet Edgar Jacobi, the person who eventually becomes Moloch; as a kid, he is so ugly (he looks like some sort of troll) that even his mother rejects him. He learns magic from a carnival magician and picks stage name, Moloch the Mystic, the name of a god in the Bible most closely associated with the ritual sacrifice of children.
He uses magic-like tricks to rob banks and assembles a band of subordinates, dealing in dope and all sorts of crime, including brothels, whose employees service him. It was a world, he thought, that was uglier than he.
His activities attract the attention of the Minutemen, who repeatedly capture him and send him to jail; and he repeatedly escapes and resumes his life of crime. During one of his incarcerations, he finds Jesus. Then he gets paroled, right into the hands of Ozymandias, who puts him to work on a project to verify the formula for a new energy source by checking the work of three teams of experts, each independently developing the formula. Moloch's power of concentration makes him especially adept at this activity.
Besides that, he is apparently a human guinea pig for one of Ozy's schemes: he gets cancer because Ozy gives it to him, and then he commits suicide because Ozy convinces him that's what Jesus would want.
Seems altogether pointless to me—except for providing one more demonstration of Ozy's heartless self-absorption
But Ozymandias as a killer runs a poor second to the Comedian.
The Comedian, Edward Blake—Eddie as everyone calls him—is the most thoroughly repulsive of the bunch; his book, the most ingeniously devised of the lot. Brian Azzarello has elected to set the action in the Kennedy years—at least, the last of them, embracing JFK's assassination and Bobby's bid for political power on his own. Azzarello's preoccupation with fitting the Comedian into that milieu as an intimate of the Kennedys is initially annoying: it prevents anything like a plot from surfacing. Moreover, Azzarello infects all the Kennedy family verbal exchanges with unseemly and therefore wholly unexpected gutter talk, continuing the penchant he so ably indulged in 100 Bullets; but here, it's too jarring to be entirely effective. The Comedian can swear like a sailor, but when Jackie Kennedy does, it is disturbing rather than realistic.
In the first issue, Azzarello's penchant for elliptical dialogue—speeches that allude to things otherwise not specified, say—while markedly effective in most of the settings he's chosen to work in, exacerbates the problem that no discernible plot poses. But the issue nonetheless introduces us to the essential Comedian.
He's a womanizer with a wholly compunctionless joy in killing, completely and thoroughly amoral. His conversation with Jackie suggests, but just barely, that their relationship may be more than merely friendly. Azzarello wedges actual history into his fiction: Jackie, jealous of Marilyn Monroe for Jack's attentions to her, tells Eddie to kill the movie star sex symbol. And so he does—by giving her an overdose of drugs after enjoying her charms in bed one evening. The episode fits handily into the actual circumstances of Monroe's death (at least, as far as we know them). Azzarello will perform this sleight of history again, giving the Comedian a pivotal role in real events.
Later, the Comedian accompanies the FBI on a raid and, in his bloodthirsty eagerness to slaughter the bad guys, nearly gets everyone killed. And when the FBI raid is over, the Comedian hears that JFK has been assassinated, and the man of violence seems almost likely to shed a tear.
Despite his seeming affection for the Kennedy brothers (he was with JFK in the Pacific in World War II), the Comedian is a thoroughly unsavory personality, not the sort of fellow you'd want to meet again.
History continues to unfold through the series. The Comedian goes to Vietnam just as LBJ declares war on the northern sector of the country. Here we see the Comedian as a crude, ruthless killer—useful on the battlefield but of dubious value on the streets of Hometown, USA. We might be persuaded that his inclination to violence is caused by his sense of loss at the death of Kennedy, but he displays a violent tendency before JFK is killed. So we are left to conclude that the Comedian's brutality is genetic. When in August 1965 he comes home on leave from Vietnam, he joyfully joins the riot in Los Angeles' Watts neighborhood, escalating a street protest against the war into a combat zone that leaves 34 dead.
Still, the Comedian remains, for a time, a somewhat heroic figure. Sent to Vietnam to boost morale, he takes to the field himself, killing anything that moves, whole villages—like My Lai in March 1968, where he helps kill 350-500 unarmed civilians, women and children—no men. The men were out fighting us, he says.
If the world hates us, he tells his fellow soldiers, so much the better: "Love don't keep the peace—fear keeps the peace."
Outrageous as that philosophy is, the title ends with an even more outrageous sequence.
The Comedian is recalled from Vietnam because his work at My Lai was inspiring the enemy instead of our troops. He runs into a fellow CIA operative, Gordon Liddy, who tells him an attempt on the life of Bobby Kennedy will be made in California at the end of the primary election there. Bobby meets Eddie and tells him that he's going to blow the whistle on his My Lai slaughter at his press conference immediately after the California primary votes are counted.
Says Kennedy: "This has to come out from a leader—not the press—or our government runs the risk of losing all credibility with those we govern." (Could be a lesson for today's political leaders.)
Eddie volunteers to do the telling while standing right next to Bobby at the rally, thereby taking the onus off Bobby. But on that night, before Eddie can say anything, Bobby leaves the stage and, Eddie accompanying him, seeks to leave the rally via the kitchen. In the kitchen, as Eddie tells him that some CIA-brainwashed patsy is going to try to kill him that night, the brainwashed patsy opens fire. He misses Bobby, but Eddie, saying, "Relax—I got you," grabs Bobby around the neck and in the confusion over the assassination attempt, shots him in the temple, killing him.
Outrageous. Chilling. And appalling—to tinker with such a tragic moment in our history. But Eddie's killing of Marilyn Monroe has prepared us for outrage.
Why did Eddie kill a man he ostensibly loves? To prevent the disclosure about his role at My Lai? Supposedly.
Unnoticed amid all the excitement, Eddie leaves the scene of the assassination, dumps the gun in an alley trashcan, gets in his car and drives off, obviously very upset, blood on his face dripping off—and one drop hits the smiley face pin he always wears, the pin that decorates the cover of the first issue of Moore's Watchmen.
In that issue, the pin winds up in the hands of Rorshach just after the Comedian is killed; he picks it up just as it is about to wash down a storm drain. It all meshes together like the inner workings of a Swiss watch.
As we know from Moore, the Comedian returns to Vietnam, where, on the eve, at last,of leaving the killing fields, he shoots and kills the Vietnam woman who is pregnant with his child, and when Dr. Manhattan, who is there with him (and is credited with ending the Vietnam War), objects, Eddie scoffs, saying Manhattan could have stopped it but didn't. It's Moore's Comedian who explains his nom de guerre: "Once you figure out what a joke everything is, being the comedian's the only thing that makes sense."
J.G. Jones' art is more than able: he deploys the resources of a visual medium with aplomb and command. And his cover for No.2 may be the most provocative comment on our stupid involvement in Vietnam I've seen yet: the bloodstain in the swampy water is in the shape of the country.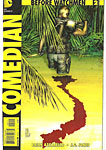 THEMATICALLY, THE PREQUELS feed into Moore's 12-issue Watchmen, the final act. Watchmen culminates in Ozymandias' setting his hideous creation lose in New York, killing half the population. His conviction is that if mankind is threatened with extinction, the nations of the world will unite in a grand bargain to defeat the threat. And it seems to have worked. Peace in our time. Rorschach, however, believes "evil must be punished," and the evil in this case is the illusory nature of the threat—the deception Ozy engaged in. But if the deception is exposed, peace will disintegrate, and all-out warfare will resume. Dr. Manhattan vaporizes Rorschach to prevent him from revealing the secret.
But will the death of Rorschach preserve the secret? He has mailed his journal off to a right-wingnut newspaper in New York, and there, it falls into the hands of a comic book enthusiast who is directed by his superior to create some "filler" for the paper. The guy reaches for Rorschach's journal, wherein all is revealed.
And there, Watchmen ends.
In effect, Moore seems to be saying that none of the costumed deeds of derring-do achieve the desired outcome—the salvation of humanity. Or, as JFK would have it, the preservation of the world's freedom. Rorschach, the purest if most disastrously flawed of the lot, whose dedication to principle is unshakable, dies for his devotion: he won't play along with Dr. Manhattan to preserve Ozymandias's illusion that supposedly saves civilization.
None of the other heroes are viable saviors. Moore seems to have distributed heroic traits among his Watchmen—idealism, violent aggression, intellectual superiority, great wealth, physical strength, moral integrity. And he shows that none of them functions.
Dollar Bill, for instance, may represent idealism in his final adventure, but he dies of his super hero delusion. Rorschach dies for his integrity. The Comedian, who embodies raw violence as a heroic value, is violently disposed of: Ozymandias throws him out of a high-rise window. Ozy the wealthy super intellect is also physically accomplished, but he is morally deficient; at the end, he is left alone with his pet Bubastis (a genetically altered lynx), asking himself if he did the right thing—and hearing no answer from the person who hears him, Dr. Manhattan, the only mental, physical and moral super hero of the band. As Moore's only genuinely superior hero, Manhattan washes his hands of the planet and the human race and leaves for another galaxy, where, he says, he may amuse himself by creating humans—perhaps better constituted ones than Earth has suffered.
Silk Spectre is a good heart and a willing hand, and Nite Owl is a compassionate technocrat. And they are the only heroes who survive the ordeal Moore sets up to test their mettle. On the closing pages of Moore's Watchmen, we see that Laurie Jean and Dan Dreiberg have married. Love triumphs. Ordinary love, not super love. And maybe that's the only triumph mankind can achieve. Love rules.
BUT WHAT DO THE PREQUELS tell us that we didn't already know? What useful fictional purpose does it serve? Is it at all necessary—or desirable?
Most of the individual biographies give us a slightly greater insight into the personalities of the would-be heroes. As Laurie Jean becomes the Silk Spectre because of her compassion for others, she reveals the extent to which her actions are motivated by her desire to be loved and, in turn, to love others. The first Nite Owl, who doesn't appear in Moore's Watchmen, shows us a fun-loving law enforcement advocate in the game more for laughs and excitement than for enforcing the law. His successor, the abused child Dan Dreiberg, finds his personal salvation in hero worship and in technological achievement with a moral purpose.
Dr. Manhattan's history reveals his preoccupation with the esoteric conditions of his own existence; he has a moral core, but he is almost constantly diverted by the peculiarities of his power and is therefore detached, distant, from those who were once his fellow beings. In Dollar Bill, we see the shallowness of his self-deception.
Rorschach's story dramatizes the extreme of principled dedication in the amount of physical abuse he'll endure to follow his ideals. With that in mind, we can see what drives him at the end when, refusing to listen to anyone's reasons for staying silent, he effectively signs his death warrant.
Ozymandias in Moore's hands doesn't seem as morally corrupt as he is in the prequel. In the effete decadence of his life and in his self-absorption we see the man Moore gives us later: the hero undeterred by moral considerations.
We find no origin story in the Comedian books; instead, just a more elaborate display of his heartless joy in killing. Except for his assassination of Bobby Kennedy: that, we are persuaded, ate at the self-proclaimed "patriot's" otherwise non-existent heart. The Before Watchmen series ends with the chilling melding of history and fiction in the last issue of the Comedian, which was so long in coming that it was, indeed, a fitting coda to the series.
Because Rorschach admired the Comedian, the joyless fate of the latter reminds us of the former's bleak world view, as he described it to the prison psychiatrist in Chapter 6 of Moore's Watchmen.
Once, looking into the darkened sky at night, Kovacs says in his telegraphic syntax, "...God was not there. The cold, suffocating dark goes on forever and we are alone. [We] live our lives, lacking anything better to do. Devise reason later. Born from oblivion; bear children, hell-bound as ourselves. So, into oblivion. There is nothing else. Existence is random. [It] has no pattern save what we imagine after staring at it for too long. No meaning save what we choose to impose. This rudderless world is not shaped by vague metaphysical forces. It is not God who kills the children. Not Fate that butchers them or destiny that feeds them to the dogs. It's us. Only us. ... The void breathed hard on my heart, turning its illusions to ice, shattering them. [I} was reborn then, free to scrawl own design on this morally blank world. [I] was Rorschach."
Kovacs admires the Comedian, he says, because Eddie sees the world as it is—man's capacity for horrors, the black underbelly of mankind. He sees the joke that makes comediansof us all.
But neither Rorschach nor the Comedian—or Ozymandias or Dr. Manhattan—has a capacity to love.
ALL IN ALL, the Before Watchmen series turns out a lot better than the skeptics (among whom I was lined up) expected it would be. The themes of Moore's Watchmen remain intact. The prequels provide intelligent insight into the personalities of the heroes whose function Moore set out to test, extending the meaning we find in his work. The portraits dovetail nicely with Moore's characters. Particularly Ozymandias and the Comedian, despite, in the latter case, the absence of anything approaching an origin story. Len Wein's Ozy explains Moore's Ozy, filling in an otherwise notable gap in the original tale. And Azzarello's Comedian is without question the most convoluted but inventive concoction since Moore's original conception. The melding of fiction and fact is almost as breath-taking as the acts of the Comedian are numbingly iciclic.
In short, in story, characterization and visualization, Before Watchmen must be considered a resounding success. I'm keeping my copies of the series on the shelf next to Moore's founding document, perhaps the best artistic accomplishment of the last 30 years.
By the way, Moore's pacesetting and mold-shattering artistic accomplishment in Watchmen is enjoying yet another reprise. DC has reprinted it again, this time in a "deluxe" hardcover, complete with out-take sketches and a new introduction by Dave Gibbons. Merely $40.
GOSSIP & GARRULITIES
Name-Dropping & Tale-Bearing
Jeff Danziger, accepting the Herblock Award and its $15,000 stipend in 2006, like all Herblock Award winners, was asked to tell a Herblock anecdote if he had one. And he did. When he returned to his home in Vermont after serving in Vietnam, he started teaching and doing cartoons for the local paper. And one day, the editor asked him to drop by. Whereupon, the editor told him he wanted him to continue drawing cartoons, particularly on local topics, but said they couldn't afford to pay him any more than they paid a syndicated cartoonist. How much did they pay for syndicated cartoons? asked Danziger. A dollar, said the editor.
Danzier swallowed hard and accepted (mostly because he was having fun drawing cartoons). On his way out, he paused, turned, and asked: Who was this syndicated cartoonist they were paying only a dollar. Said the editor: Some guy at the Washington Post —Herblock is his name. And Danziger remembered wondering how "poor Herblock" could live on such miserable pay.
In concluding his remarks, Danziger thanked the Herblock Foundation—particularly, he finished, for the prize money: "It sort of makes up for all those years working for a dollar a cartoon."
SWIMSUIT ISSUE
Featuring Suits the Likes of Which Will Never Get Near the Water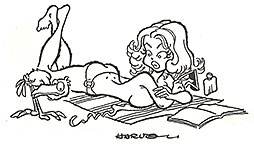 Well—it's the time of year for swimming costumes, isn't it? Sports Illustrated can get away with publishing their swimsuit issue in mid-winter, but here at the Vista Ridge headquarters of the Rancid Raves Intergalactic Enterprise, we've got to be more circumspect. May—June, July, August—that's the swimsuit season.
And here are a few of the exotic sorts of swimsuits we find on the covers of funnybooks being offered in the latest issue of Previews.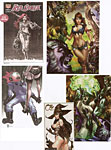 I'm including Red Sonja because the book starring the nearly naked redhead is now being written by Gail Simone, who, in interviews on this new gig, pronounces herself absolutely delighted to be in attendance on the most famous tin bikini in comics. Simone is famed for bringing a feminine point-of-view to comics, and her plan is to inject a little humor into the usually grim Sonja—a little humor and a little more lust, I gather.
Of the other covers, I like Howie Chaykin's best. Something about stockings and garters and rear-views, I suppose. Although Ale Garza's witch has her points.
AND SPEAKING OF NAKED, here's the other extreme—the cover of the June issue of Playboy.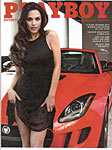 I unwrapped the package with my subscription copy in it and I could scarcely believe my eyes. Playboy has been going after the "laddie mag" crowd for some years, but not even in my most cynical afternoons did I imagine it would go this far. Farther, even—all the way to Good Housekeeping.
And the content of this issue is equally disappointing. The number of full-page cartoons is at an all-time low—just four (plus the Olivia pin-up mouthing a sassy remark). Usually there are 5-6 full-pagers. And the smaller cartoon count is also down. In last fall's 154-page magazines, there were 8 or 9 of the smaller ones; this time, only 7. But page ratio is the critical factor. Last October, there was a full-pager every 25 pages (1/25); with this issue, the ratio is 1/38—that is, as a purely mathematical proposition, we find a full-page cartoon once in every 38 pages.
The desirable goal is to bring that number down. For smaller cartoons, the ratio in October was 1/17; in the issue in hand, it's 1/22.
The deterioration in Playboy's cartoon content isn't the only signal that Hugh Hefner's legendary men's magazine is in trouble. Many previous issues have offered 2-page spreads of cartoons culled from old Playboys —round-ups of Sokol or Gahan Wilson, say. Nice to see. And while Hef undoubtedly pays the cartoonists for recycling, he probably pays them a little less than he paid them the first time their cartoons ran.
But the biggest money-saver is the so-called "double issue." A genuine "double issue" would be twice the size of a "normal" issue. "Normal" lately has been about 150 pages; so a double issue ought to be 300 pages. The last time I counted (the January/February issue in 2012), the page count stood at a paltry 210 pages. That was only a 30% increase. Playboy's next issue is being touted as a "double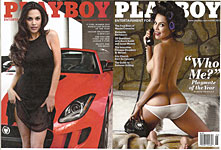 issue"—July/August. So we'll see.
Oh—before we leave, here's the June cover joke. The Good Housekeeping cover was glued over the regular cover. Peel off the temporary cover, and the regular one appears, as we see, here, on the right.And if we'd looked closely, we'd have seen the word "Advertisement" at the top of the first fully draped cover; it was advertising the Jaguar in the photo, not the dish.
READ AND RELISH
Finally, reports syndicated columnist Leigh Anne Jasheway, the government has done something right. Due to a sharp decline in the number of people with "bathing suit bodies," the FCC (Fashion Crime Commission) has called off this year's swimsuit season. According to a size-14 spokesperson who wished to remain anonymous, "There's a distinct chance that the size 0-2 woman, for whom the average swimsuit is typically designed, may be facing extinction. And although we can't pinpoint a single factor, it does appear that 40-oz triple caramel lattes and bagels the size of Volkswagen Beetles may be partially to blame. It is our hope that by allowing Americans to sit out this swimsuit season and giving them an extra year to get in shape, we can turn those numbers around before the end of the decade."
IF TWO MEN ARE FIGHTING and the wife of one of them comes to rescue her husband from his assailant and she reaches out and seizes the assailant by his genitals, you shall cut off her hand. Show her no pity.—Deuteronomy 25:11-12. The only instance of mutilation required as punishment in the Old Testament. Lots of death by stoning, but no mutilations. Cutting off someone's hand—pretty severe. Gives a sharp edge to the cautionary "don't touch my junk."
THE FROTH ESTATE
The Alleged News Enterprise
SNAFU IN N'ORL'NS
A year after announcing a plan to reorganize the Times-Picayune of New Orleans into a more digitally focused enterprise that printed a newspaper just three days a week —enraging local residents — its owners have added a new innovation: they will go back to producing a printed product every day. Reporting this newsy bit, David Carr at the New York Times added: "This daily newspaper thing may be catching on. Last week, the Philadelphia Inquirer announced that it would begin selling a Saturday edition on newsstands after a nearly two-year hiatus."
In all the stampede to digital publication, evidently some newspapers that have "cut their operations beyond usefulness or quit delivering a daily print presence have suffered."
The lesson in the Big Easy is especially acute, Carr goes on. "The name Times-Picayune, which had stood for quality and civic constancy for decades, does not mean the same thing anymore. The vaunted Web site that was to be the lifeblood of the new enterprise remains a creaky mess, and the newsroom has been denuded of remarkably talented people."
And here comes the lesson: "Several of those people, including the two former managing editors, have gone to work for the Advocate, the Baton Rouge daily that has introduced a New Orleans edition. With a new, rich owner, it has taken aim at the market the Times-Picayune once owned. Since early fall, the Advocate has been publishing the New Orleans Advocate with 20,000 subscribers.
"It's been a jaw-dropping blunder to watch," Carr continues. "Advance (the chain that owns the Times-Picayune) misjudged the marketplace — the whole city and state went ballistic when the changes were announced — and failed to execute a modern digital strategy. Now it is in full retreat with new competition."
The Times-Picayune will continue its web edition on Mondays, Tuesdays, and Thursdays but add a tabloid print version on those days, available only on newsstands. Home delivery will continue for the broadsheet edition on Wednesdays, Fridays, and Sundays; an advance edition of the Sunday paper will also be printed on Saturdays. Back to seven days in print.
RANCID RAVES GALLERY
Pictures Without Too Many Words
More rummaging around in the Book Grotto of the Rancid Raves Intergalactic Headquarters here on Vista Ridge on the northeast shoulder of Denver— For the sake of a wholly undeserving posterity (they deserve better than this), here's the first cartoon of mine that was reproduced by grown-up printing methods. The Edgewater Firecracker was published every Thursday by Joel Miles, who, as you can see, hand-lettered (probably with a Leroy) the news on sheets of 8.5x11-inch paper, then had it printed front and back and folder the result in half for a 4-page paper. Dunno if he made expenses, but he sold some advertising, and he recruited a 17-year-old cartoonist who signed his name in imitation of Hank Ketcham's signature. Rotten perspective, but the trenchcoat came out okay. The cartoon reporter's visage was another imitation—of something I'd seen in Mad, as I recall. Miles ceased operations before the summer, but by then, I'd seen my work in print (and profited immensely from the lessons thereof) about nine times.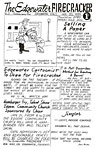 CAPTAIN GEORGE HENDERSON ran a comics shop in Canada (on Memory Lane in Markham Village, wherever that is) And he published numerous fan publications, including this newspaper, which, on its cover, published this exquisite drawing of a porcupine by Walt Kelly.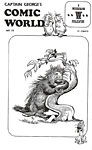 Don't know the year: the tabloid is devoid of any kind of publication data. I picked up this copy at Kayo Books on Post Street in San Francisco when I was there in April—best old used books and magazine store around, I ween.
The same issue of Comic World reprints an article about Kelly and Pogo from Maclean's Magazine dated April 15, 1950, no quite a year after the strip debuted. Pogo got off to a slow start because for the first few months, it was offered only to a few select papers. But by the time Maclean's ran this piece by Harrison Fisher, sales were going gangbusters: "In the nine months since the possum invaded the funny pages, he has collected 100 newspapers. ... Currently a new paper is taking on the midget marsupial every 48 hours. At this tempo, Kelly's syndicate suspects that next year Pogo may be strutting in the fast company of Blondie, Li'l Abner, Dick Tracy and Joe Palooka, strips which appear in more than 400 newspapers."
NEWSPAPER COMICS PAGE VIGIL
The Bump and Grind of Daily Stripping
THE NATIONAL CARTOONISTS SOCIETY urged its members, especially those with daily exposure in the newspaper funnies, to plug Free Comic Book Day on May 4 (or just before) as a way of promoting public interest in comics. Great idea, I thought. But not very widely executed. I looked at 35-50 comic strips for May 4; and about half that many on the 3rd. Only three mentioned Free Comic Book Day.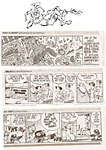 Two (Rose Is Rose and Baldo) are below; the third was Tom Gammill's Doozies, which runs only at GoComics.com. Too bad. Nice idea still. Oh, the bottom strip in the adjacent visual aid doesn't mention FCBD. It is, instead, another example of the bathroom humor that has invaded comic strips over the last 6-7 years. In this case, literally. It's only the third time I can recall seeing someone on the toilet in a strip. And one of the other two times, it was, like this, in Get Fuzzy. Another advance in civilization.
MAY 5 IS A RESIDUAL NATIONAL HOLIDAY —National Cartoonists Day. It was proclaimed several years ago by the National Cartoonists Society, which picked May 5 because that's when Richard F. Outcault's Yellow Kid first appeared in color in the New York World in 1895 (although he was not yet "Yellow"). The idea was to draw attention to comics, and newspaper strip brethren were urged to mention the new holiday in their strips on May 5. And many of them did for the first couple years. But soon, NCS determined that the competition with Cinco de Mayo was too much and officially decided to ignore the holiday it had so earnestly tried to establish rather than to tax their brains to find another appropriate landmark date.
A few dogged cartoonists continued for a year or so to drop the National Cartoonists Day logo into their strips on May 5, but the whole enterprise gradually fizzled away. The only remnants I was able to find on the trumpeted date was in Baby Blues by Jerry Scott (writer) and Rick Kirkman (drawer), but while the strip celebrated Warner Bros animated cartoons, it didn't mention any other breeds of cartooning.
Nor did it mention National Cartoonists Day. Neither did Rob Armstrong's Jump Start although it did talk about a cartoonist. Sigh. Other kibitzers rounded up other examples: Norm Feuti's Retail and Lalo Alcaraz's La Cucaracha, which, given its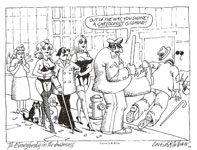 ethnicity, can't quite make up its mind which holiday it's celebrating. Nicely done, though. Particularly with Pig from Pearls Before Swine making a cameo comment. There may have been others; I didn't see them.
But the dearth reminded one dedicated cartoon fan of a classic by B. Kliban depicting a way that Cartoonists Day ought to be celebrated if we had balls enough.
FRESH NEWS IN THE FUNNIES.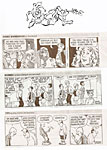 As you can see in Tom Batiuk's Funky Winkerbean at the top of the adjacent visual aid, John Darling, his life (perhaps) and his startling death on camera (both in the strip and in the strip's tv talk show that the egocentric but thoroughly vacuous Darling hosted), will surface again in Funky later this year. I've always been baffled by the sudden demise of the John Darling strip, another of the spin-offs from Funky (debuting, March 1979). According to Wikipedia: "Batiuk had a contractual conflict with his syndicate over ownership of the character, so he stunned readers by killing off Darling, leaving the syndicate with a largely unusable property. Darling was shot by an unknown assailant in the second to last strip [August 3, 1991]. The murder stayed unsolved until a 1997 Funky Winkerbean storyline celebrating that strip's 25th anniversary. Over the course of the storyline, Winkerbean character Les Moore wrote a book on Darling's murder (Fallen Star) and solved the case. The murderer was revealed to be Peter Mossman, alias Plantman." That's a help, but I don't know anything about "alias Plantman."
I asked Batiuk about the Wikipedia entry, and he wrote back: "Well, it's sort of true. I was doing Funky, Crankshaft and John Darling as well as suing my syndicate for ownership of Funky. Something had to give and it was J.D. It is true that I didn't want anyone to carry on the strip, so I made sure John was "Bucky dead" in order to preclude that. I'll be digging into all of the sordid details in Volume Six of the Complete Funky. And the story gets resolved in the spring when Jess visits her father's killer in prison. I happy with the resolution so maybe it's good that I waited."
Below Funky Winkerbean, I'm posting this Blondie release because it's another instance of the strip's evolving: a two-panel format. It's also done one-panel releases in the recent past, a clearly adventurous departure from the classic 4-panel format.
And then Zits: I just want to celebrate "meatloaf and macaroni" as a new phrase for colorless and out-of-date (not to mention vanilla) habits.
Our next visual aid includes another Comic Strip First: in Crankshaft, underarm hair is depicted.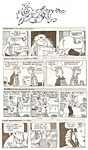 Beetle Bailey is here just because it always tickles me when a comic strip invokes other cartooning media—and the self-deprecation here is funny, too. In Blondie, the detail in the background and environs amazes with its authenticity: Dagwood is sitting on the examining table, rendered exactly as examining tables appear; he's in his stocking feet, and his shoes are visible on the floor. And when he checks out, there's a potted palm in the corner where hospitals and doctors' offices always have potted palms. But who, might I ask, is Thomas Austin? My guess: Dean Young's doctor and/or doctor friend. Finally, at the bottom, one of the launch releases for taking up once again the death of John Darling in Funky Winkerbean. Or so I am surmising.
OVER AT GASOLINE ALLEY, cartoonist Jim Scancarelli is finishing up a nearly two-month continuity featuring Walt Wallet's visit to the Old Comics Characters Home, where he goes periodically to visit old friends who've disappeared from the funnies pages—Mutt and Jeff, the Yellow Kid, Abbie the Agent, Little Orphan Annie, Happy Hooligan and numerous others, some of whom are pictured in the two strips we've posted near here.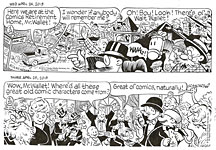 These visits are fun enough in themselves as we try to identify all the vintage characters who wander through the panels; and Scancarelli has great fun doing these episodes. This time, he's added a mystery to be solved. You can witness the visit, the mystery, and its solution at GoComics, where you can find Gasoline Alley and a button that'll let you go back to April 8 when this adventure began.
MOTS & QUOTES
Sobriety Test
He is not drunk who, from the floor,
Can rise again and drink some more;
But he is drunk who prostrate lies,
And cannot drink nor cannot rise.
----Eugene Field
BOOK MARQUEE
Previews and Proclamations of Coming Attractions
This department works like a visit to the bookstore. When you browse in a bookstore, you don't critique books. You don't even read books: you pick up one, riffle its pages, and stop here and there to look at whatever has momentarily attracted your eye. You may read the first page or glance through the table of contents. All of that is what we do here, starting with—:
A NEW MAGAZINE from TwoMorrows— Comic Book Creator. Edited by Jon B. Cooke, former editor of Comic Book Artist, the first issue focuses on Jack Kirby and "the oft despicable treatment he endured from the very business he helped establish—from being chseated out of royalties in the 1940s and bullied in the 1980s by the publisher he made great, to his estate's current fight for equitable recognition against an entertainment monolith where his characters have generated billions of dollars." Also in this issue, the last years of writer/artist (i.e., cartoonist) Frank Robbins, the most spectacular of the Caniff school of illustration, noted in comic strip histories as the creator of Johnny Hazard. Cover price, $8.95.
PERSIFLAGE AND BADINAGE
"I couldn't wait for success, so I went ahead without it."—Jonathan Winters
BADINAGE AND BAGATELLES
Matt Wuerker, accepting the Herblock Award in 2010, talked about the future of the political cartoonist. Others may think they're nearing extinction, but Wuerker sees a bright future for editorial cartoons in the age of increasingly condensed forms of communication, ending in something even briefer, perhaps, than tweets. He noted that "news and policy debates are getting sliced and diced down into smaller and simpler morsels, taking complex topics and shrinking them down to black-and-white simple-minded and often glib political points. That's the political cartoonist's mission statement. We do all of that, and we do it with funny pictures."
Clearly, political cartoonists have an advantage. And that's not all: cable news has brought the clowns into the center ring of the media circus—bloviators and bloggers and all sorts of uniformed fact-less but opinionated gas bags are farting (that's my word, not Wuerker's) all through the ether.
So, Wuerker continued in his pre-determined path, if the news media have turned into comedy, it can only be good news for "us cartoonists." Although conceding that factual news reporting is good for democracy, ditto civil political discourse, Wuerker went on to say: "Infantile oversimplification of politics with helpings of mockery mixed in is something cartoonists have been doing for a few hundred years." A medium that appeals to the American public's shrinking attention span is good for political cartoonists, who, I add, have been deftly shrinking it all down for decades into small but telling pictures. Despite his prompting to laughter, Wuerker hoped for better political discourse, more good natured humor and insightful satire rather than repeated sharp pokes in the eye with a stick ("which can only make us blind").
FUNNYBOOK FAN FARE
Four-color Frolics
GUNS AND CLEAVAGE
Ever since Archie became the icon of American teenage life, the comic books extolling his misadventures have been steadfastly, resolutely, middle-of-the-road culturally—pranks not politics. This wishy-washy posture was enthusiastically shored up a few short years ago when, rather than risk alienating any possible segment of their readers, the Archie moguls opted to please them all by having Archie marry both Betty and Veronica. The bigamist marriage fantasy, originally conceived as a dream, assumed four-color reality in a new title, Life with Archie, in which our carrot-topped hero continues in both marriages—one at the front of the book; the other, at the back.
The company's refusal to take a position on any potentially controversial matter persisted even through the special issue devoted to the Occupy Movement: the story came out for freedom of speech without favoring either side of the dispute. And when Cheryl Blossom turned up with breast cancer—a bravely confronted issue for such middle-roaders as Archie Comics—the storyline was giving publicity to a public health issue that had already achieved wide public support. No risk there. But lately, Archie is confronting guns and cleavage.
Archie continues to evolve. Not only in storylines, but in visualization. As you can see from the covers reproduced here, at the elbow of your eye, Veronica and Betty have both become somewhat more bosomy than even Dan DeCarlo's pert-breasted teenagers—both flaunting cleavage (albeit somewhat conservatively) that in bygone years would never have seeped by Archie's censors.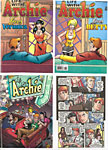 And the scene on the cover of No. 28 at the lower left is rendered in much more detailed terms than DeCarlo and his numerous protoges would have ever contemplated.
On the interior page at the lower right, we see an Archie in a much more illustrative mode. He could no longer be drawn as simply as always and exist on the same page with Kevin Keller, who is waving at the top of the page. This tendency, now fully on display in the Life with Archie books, is amply apparent in our next exhibit, in which the beloved Archie ensemble is barely recognizable.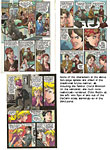 If you read the fine print in the speech balloons on the Kevin page in our previous exhibit, you'll encounter the other daring element in this seemingly namby-pamby comic book company's books. Kevin, Archie's openly gay character, is running for elective office, and a plank in his platform advocates greater gun control. Very risky stuff if you're trying to sell to the American public at large.
And that's not all the Kevin Keller news. In No.10 of his title, he kisses his partner Devon. (It's okay: they're married.) "It's just a quick kiss," the New York Daily News reports, "but it's a long step forward for Archie Comics' openly gay character." The kiss occurs in Pop Tate's diner—that is, out in shockable public—and, sure enough, it is observed by a disapproving Riverdale mom, who "gets very offended and kind of pitches a bit of a fit," said Dan Parent, who writes and draws the issue for release August 7.
For Parent, the story is a "playful poke" at actuality. He wrote the story after efforts to remove a comic magazine showing Keller getting married drew complaints. One Million Moms, a project of the American Family Association, asked Toys R Us not to display the relevant issue of Life With Archie near its checkout aisles. Toys R Us did not, and the issue went on to sell out its print run.
In short, we can hardly say that Archie Comics is any longer averse to taking a controversial position. Cheers.
ONWARD, THE SPREADING PUNDITRY
The Thing of It Is ...
DESPITE POLLS PROCLAIMING 90% of Americans favor expanded background checks for gun purchasers, the Senate "made a cold and cowardly political calculation, choosing to appease the National Rambo Association—which spent $25 million supporting pro-gun politicians in the last election—rather than honor 'the legacy of the thousands of victims of gun violence and their families,'" noted The Week, quoting the New York Times. In Albany, New York, the Times Union echoed Bronco Bama, saying that the NRA "falsely painted the bill as tantamount to a national gun registry" and therefore a "prelude" to wholesale confiscation of individuals' private armories in spite of the bill's content, which specifically banned a national registry and called for a 15-year felony sentence for anyone who tried to implement such a thing. Contrary to the NRA claim that everyone's Second Amendment rights would be trampled upon, "the only people this bill would have hurt were those too dangerous to own guns," including felons, wife beaters, and terrorists. "That's who the NRA fought for, and that's who 46 senators protected."
ALSO FROM THE WEEK: The defeated background check legislation received 54 aye votes but couldn't pass because of threatened filibuster. Almost every bill now faces a 60-vote hurdle needed to overcome filibusters, a once-rare legislative tactic that the Grandstanding Obstructionist Pachyderm has been routinely abusing. During Franklin Roosevelt's 12-year tenure as president, the Senate used the filibuster a total of six times, including twice in the 1930s to block anti-lynching legislation. In the past six years, the Republican minority has used the filibuster to block or stall legislation or presidential nominees more than 170 times.
WE'RE ALL BROTHERS, AND WE'RE ONLY PASSIN' THROUGH
Sometimes happy, sometimes blue,
But I'm so glad I ran into you---
Tell the people that you saw me, passin' through
Ed Fisher, who drew cartoons for The New Yorker from 1951 to 2000, died in early April at the age of 87. The magazine's notice of his passing reported that he'd contributed over 700 cartoons. "The last cartoon he did for us works as well today as it did when it was published more than ten years ago. In its masterful art, its gentle wit, and its continuing relevance, this cartoon is echt Ed at the top of his form."
To find out about Harv's books, click here.