Opus 307 (March 31, 2013). Leaping quick like a bunny into the fray, we announce the nominees for Cartoonist of the Year from the National Cartoonists Society, ditto the Reubens Division nominees, examine editorial cartoons on recent issues, and review Hawkeye, Black Beetle, and The Shadow— with a long digression on the history of the Shadow and how it inspired Batman. This last is an unintended accident (I know: like all accidents). I started out to review Dynamite Entertainment's newest title, The Shadow, and then as I was checking into a history of Street and Smith (which published the original Shadow), I ran across Anthony Tollin's facsimile recycling of some early Shadow stories, which publication included an essay by Will Murray about how Bob Kane and, particularly, Batman's writer, Bill Finger, were inspired by (and even copied) Walter Gibson's shadowy mystery man. I became so intrigued by all of that, that I wandered off into a completely different funk altogether. And so you are the beneficiary (or the goat) of this accidental meandering. Here's what's here, in order, by department—:
NCS Reubens Nominees for 2013
Division Award Nominees
Lee Salem to Receive NCS Silver T-Square
Testimonials from Cartoonists
EDITOONERY
Selection of Some of the Best Editorial Cartoons on Recent Issues
Guns, Priestly Celibacy, Gay Marriage, Sequestering
CIVILIZATION'S LAST OUTPOST
Mammary Machine Guns
WHAT I'M READING THESE DAYS
Hawkeye
Black Beetle
The Shadow (including a history thereof)
Batman and the Shadow
Our Motto: It takes all kinds. Live and let live.
Wear glasses if you need 'em.
But it's hard to live by this axiom in the Age of Tea Baggers,
so we've added another motto:.
Seven days without comics makes one weak.
(You can't have too many mottos.)
And our customary reminder: don't forget to activate the "Bathroom Button" by clicking on the "print friendly version" so you can print off a copy of just this installment for reading later, at your leisure while enthroned. Without further adieu, then, here we go—:
CARTOONIST OF THE YEAR NOMINEES NAMED
The National Cartoonists Society announced the nominees for its 2013 Reuben Award as Cartoonist of the Year, and once again, for the 48th time in the 67-year history of the NCS award, the winner (to be selected from the nominees) seems destined to be a syndicated comic strip cartoonist: either Pickles creator Brian Crane or Baby Blues creator Rick Kirkman or Pearls Before Swine creator Stephan Pastis. The winner will be presented with the Reuben, a heavy metal statuette, at the NCS convention in Pittsburgh, May 24-26.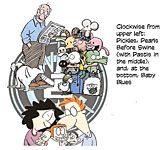 At the same gathering, Lee Salem will be honored with the Silver T-Square Award (see on down the scroll), and the winners in the NCS "division" categories will be announced.
In 1956, when NCS was on the cusp of its tenth anniversary, it realized that cartoonists labored in vineyards other than syndicated comic strippery and created division awards for editorial cartooning (that year, Herblock won the Reuben, the first editorial cartoonist to be so recognized), magazine gag cartooning, newspaper panel cartoons, advertising, and comic books. The next year, divisions were denominated for humor comic strips, feature animation (Walt Disney won in this division this year but has never won a Reuben), and sports cartooning (the legendary Willard Mullin won in this category this year and for the next five, plus two more years thereafter for a total of eight division wins, and in 1954 he'd won the Reuben, the first to win who did not do a syndicated comic strip).
Through the years, more divisions have been added, and some have been subtracted (no more sports cartoon division) or amalgamated (humor strips and story strips were combined in one division in 1989). A couple years ago, graphic novels emerged from the comic book division into a division of their own, and last year, online cartooning was recognized. This year, there are 15 divisions, including, in addition to those already named, tv animation, long- and short-form web cartooning, greeting cards, newspaper illustration, magazine illustration, and book illustration.
Very seldom since the advent of the division notion has any cartoonist from a division other than syndicated newspaper comic strip won the Reuben. Starting with Herblock in 1956, only 7 editorial cartoonists have been Cartoonist of the Year. Ronald Searle won for "humorous illustration" in 1960, and six others have won Reubens under this rubric since (although there has never been a formal "humorous illustration" division). And there have been winners, one in each division, in sports, magazine gag, comic book (Will Eisner won in 1998), tv animation (Matt Groening in 2002) and sculpture (Rube Goldberg, the founding prez of the Society in 1946, won the only award ever given in this category of comical endeavor).
In short, syndicated comic strip cartoonists have won the Reuben 47 times out of the 66 years the Cartoonist of the Year award has been given. And all 7 of the Reuben editoonists were also syndicated. Given this record, it is impossible to imagine a cartoonist who does greeting cards ever winning the Reuben. Probably no cartoonist will ever be named Cartoonist of the Year for advertising cartoons.
In other words, NCS, despite having created awards for cartooning in different venues, has been unable to devise a way for its members working in those venues to ever win the Society's premier award. And yet there may be a way to increase the odds.
The nominating process invites all members to submit five candidates. The ballot has numbered blanks, and the name in blank no.1 is assigned 5 points; no.2, 4 points, and so on. The three who have the greatest number of points are the finalists, and one of those, the one with the most points, wins. The winner is not disclosed until the annual Reuben Awards banquet, held, for the last several years, over Memorial Day weekend.
One way to widen the scope for awarding the Reuben would be for the nominating ballot to suggest to voters that they include representatives from at least three divisions among their five candidates. Because the work of comic strip cartoonists is more widely known than that of any other kind of cartooning, probably three of the candidates would be comic strip cartoonists. But to fill the other two blanks, cartoonists from other divisions would have to be named. And to comply with the suggestion, they would come from different divisions. One from the graphic novel division, let's say; another from magazine gag cartooning.
Some might object to having their absolute freedom to vote however they want interfered with. But that's an extreme reaction to a modest proposal. They would still have absolute freedom to fill three of the five blanks with whichever names they want. (There's nothing sacred about the number five either—five blanks instead of three; I'm sure five was settled on because it makes the tallying of points mathematically easier.) At least by adopting such a plan as this, NCS would be gesturing in the direction of being as diverse as its membership.
Had the Society opened up its balloting along these lines decades ago, perhaps it would not have failed to recognize Al Hirschfeld, Peter Arno, Jack Cole, Ted Key, Harvey Kurtzman, Will Elder, John Dempsey, Carl Barks, Jay N. Darling ("Ding"), Quentin Blake, George Price, Wally Wood, Carl Rose—to name a few of the cartoonists who are giants in the history of the medium but nowhere in the annals of NCS.
To return to the present, ComicRiffs' Michael Cavna phoned this year's Reuben nominees to see how they felt about it.
"It kind of caught me by surprise," said Crane, who has been nominated twice before, "but it's a great honor and I appreciate it very much. I am a big fan of the other nominees," he added: "With that kind of competition, I don't plan on clearing a space on my mantel for a Reuben any time soon."
His Pickles is syndicated by The Washington Post News Service to more than 800 newspapers, and won the NCS's Best Newspaper Comic Strip award in 2001.
"I am honored to be nominated alongside Brian Crane," said Pastis, who has been up for the Reuben seven previous times. "But I am not familiar with that Kirkman fellow," he joked: Pastis and Kirkman have gone on NCS/USO tours to the Middle East together.
Pearls Before Swine is syndicated by Universal Uclick to more than 650 papers, and won the Best Newspaper Comic Strip award in 2003 and 2006.
"It's an honor to be nominated," Kirkman, a first-time Reuben finalist, tells Comic Riffs. "It really is nice to have that recognition from my peers. Just a mere 50 years ago, I was copying drawings from my favorite cartoonists out of the paper. Not only am I a fan of both Pickles and Pearls," he continued, "but my parents told me they love both of them, too. That worries me."
Kirkman co-creates Baby Blues with Jerry Scott, who received the Reuben in 2001 and who is therefore ineligible for another of the weighty trophies. King Features syndicates the strip to more than 1,200 papers. Kirkman also co-produced the animated "Baby Blues" show for the WB and Cartoon Network.
NCS REUBEN DIVISION AWARD NOMINEES
Winners of the Division Awards often refer to themselves as "Reubens winners," an unfortunate telescoping of "Reubens Division Award winner": unfortunate because the person deploying this expression seems to be implying that he/she won the Reuben, which he/she did not. There is only one Reuben winner, only one Cartoonist of the Year. (Technically, the honorific is "Best Cartoonist of the Year," but that usage grates on my remaining nerve: it implies that the winner is at his best only during the year he/she wins, which is clearly never, or almost never, the case. So I've taken to calling the Reuben winner "Cartoonist of the Year," which seems more accurate and far less presumptuous.) But enough carping for the moment; here are this year's nominees for the Division Awards:
NEWSPAPER COMIC STRIPS
Brian Basset, Red and Rover
Jeff Parker and Steve Kelley, Dustin
Jerry Scott and Jim Borgman, Zits
NEWSPAPER PANEL CARTOONS
Tony Carrillo, F-Minus
Dave Coverly, Speed Bump
Hilary Price, Rhymes with Orange
EDITORIAL CARTOONS
Clay Bennett
Michael de Adder
Jen Sorensen
COMIC BOOKS
Amanda Conner, Silk Spectre
Evan Dorkin, House of Fun
Bernie Wrightson, Frankenstein Alive, Alive!
GRAPHIC NOVELS
Derf, My Friend Dahmer
Joseph Lambert, Annie Sullivan and the Trials of Helen Keller
Chris Ware, Building Stories
ONLINE COMICS — SHORT FORM
Graham Harrop, Ten Cats
Jonathan Lemon, Rabbits Against Magic
Michael McParlane, Mac
ONLINE COMICS — LONG FORM
Vince Dorse, Untold Tales of Bigfoot
Meredith Gran, Octopus Pie
Pat N. Lewis, Muscles Diablo in Where Terror Lurks
FEATURE ANIMATION
Rich Moore, director, "Wreck-It Ralph"
Joann Sfar, director, "The Rabbi's Cat"
Hiromasa Yonebayashi, director, "The Secret World of Arriety"
TELEVISION ANIMATION
Todd Kauffman, executive producer, "Sidekick"
Alberto Mielgo, production design, "Tron: Uprising"
Rich Webber, director, Aardman Animation Studios, "DC Nation"
GAG CARTOONS
Roz Chast
Sam Gross
Mick Stevens
Jack Ziegler
GREETING CARDS
Bill Brewer
George Schill
Jem Sullivan
MAGAZINE FEATURE/MAGAZINE ILLUSTRATION
Barry Blitt
Daryll Collins
Anton Emdin
ADVERTISING and PRODUCT ILLUSTRATION
Luke McGarry
Ed Steckley
Wayno
BOOK ILLUSTRATION
John Manders
John Martz
Dave Whamond
NEWSPAPER ILLUSTRATION
Mark Brewer
Bob Rich
Dave Whamond
Comments, Criticisms, and More of the Usual Carping. Well, sure. All deserving talents, no question. But, wait—I can't refrain from picking nits: wasn't Derf's My Friend Dahmer published several years ago? I thought Division Awards were for work done in the past year. Probably Dahmer (a true story about a classmate who, after high school, became a serial killer who ate his victims) has been re-issued or re-formatted or some such in the last twelve months.
And in fact, that's what happened. Derf had been toying with the Dahmer epic for years, starting with notes and sketches in the mid-1990s, which he eventually translated into six short stories, the best of which were published in 1997 in Fantagraphics' Zero Zero. In 1998, he re-tooled the lot into a 100-page graphic novel that failed to find a publisher, so Derf self-published a 24-page version of it in 2002. Says Derf at his website: "The hope was it would generate some interest in the larger work I envisioned. That, in fact, didn't happen, but much to my shock this little comic became an instant cult classic! When the buzz died down, these stories were now seven years old. In the interim, I had produced Trashed, a more polished effort. At that point, I decided to chuck everything I'd done, broaden the scope of the project and start over. The result is the best-selling, critically acclaimed book that came out this year." The one for which he has been nominated.
So much for the time warps and woofs of actual history.
But then—to move into yet another grousing tirade—why are all the gag cartoonist nominees New Yorker cartoonists; aren't there any other gag cartoonists? Playboy? What about the ubiquitous Randy Glasbergen, uncrowned monarch of the cartoon nose? He is syndicated, but he does a lot of magazine gag cartooning, too.
And while we're on the subject of ubiquity, here's Barry Blitt in magazine illustration—for his New Yorker covers, no doubt, which he does at the rate of one a month.
And Luke McGarry—isn't he one of the twin scion of Steve McGarry, former NCS prez?
In the Editorial Cartooning Division, I was puzzled by the name Michael de Adder, unfamiliar to me (and since I'm on the board of the Association of American Editorial Cartoonists, I'm more than noddingly familiar with the names of editooonists). So I looked him up and found out why I didn't recognize the name: de Adder is a Canadian. After graduating college in 1991, de Adder began his career drawing a comic strip called Walterworld for The Coast, a Halifax-based alternative weekly, and he also freelanced to other Canadian newspapers. In 2000, he started full-time at the Halifax Daily News. Since its demise in 2008, he has been working for New Brunswick Publishing, through which his work appears daily in the Moncton Times & Transcript and Fredericton's Daily Gleaner, and he freelances with Metro Canada, which brings his cartoons to most major Canadian cities. Weekly he draws approximately 10 cartoons and, at over a million readers per day, he is considered the most read cartoonist in Canada. A past president of the Association of Canadian Cartoonists, he has won numerous awards.
His presence as a nominee becomes less surprising when we realize that jurying for this division was done by the NCS Canadian chapter. I don't mean to suggest naked nepotism or raw provincialism despite the presence so frequently among nominees of the names of NCS board members or former board members. With de Adder, at least we have a nominee from outside the usual inner circle—a circumstance that is true also of most of the other divisions that don't veer off into syndicated cartooning. Nearby we've posted one of de Adder's cartoons, an incidental manifestation of the phenomenon of recent years (beginning with the Danish Dozen) in which cartoons are viewed as incendiary devices designed to blow up and exterminate human [sic] sapiens, at least the more paranoid of them.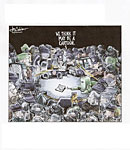 Another alien among the nominees is Anton Emdin, an Australian (and recent winner, down under, of the Stanley, the Aussie equivalent of the Reuben).
Other encouraging presences on this year's list include Jen Sorensen, a altie-cartoonist who was finalist in the Herblock Prize competition last year; Clay Bennett, who is a genius at constructing telling metaphors in his editoons; Brian Basset, whose charming comic strip, Red and Rover (about a boy and his dog), is in competition with two others, both of whom have won in this division before (which displays, alas, either a poverty of imagination in the jury or a dearth of submissions in this division); Amanda Conner in the Comic Book Division for her superlative Before Watchmen work in Silk Spectre (not just her usual spectacular drawing, but psychedelic renderings to suit the youthful heroine's experimentation with drugs); and others, I'm confident. But I'm particularly happy to see, in the oft-neglected Comic Book Division, a cartoonist of Conner's superior achievement recognized.
I looked up all the online cartoons in nomination and was delighted to see that drawing ability is demonstrated, sometimes with great panache, in all of them. Bravo. At least no stick figure rendering is being honored.
QUOTES AND MOTS
"Money cannot buy a penis"; or, if you discard the French accent, "Money cannot buy happiness."
"Nothing like the sign of a condom-dispensing machine to set hormones raging." —Anony Mous
"May you have the hindsight to know where you've been, the foresight to know where you are going, and the insight to know when you have gone too far."—Irish blessing.
LEE SALEM AND THE SILVER T-SQUARE
The National Cartoonists Society doesn't confer the Silver T-Square every year, and some years, more than one individual is recognized for "outstanding service or contributions to the Society or the profession." The first recipient was Britain's David Low in 1948. Since then the Silver T-Square has been awarded more than 80 times. Not all the Squares (to play fast and loose with the honorific) have been cartoonists. Most are, but Harry Truman is among the number, as is Dwight Eisenhower, both recognized, if memory serves, while hosting at the White House a breakfast with cartoonists. And Lee Salem won't be the first syndicate official to receive a Silver T-Square: John McMeel, a founder of Universal Press syndicate, Salem's home base, and Joseph D'Angelo at King Features have both been recognized in recent years (McMeel in 2004; D'Angelo in 2002).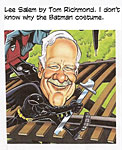 Salem, long-time Universal editor and, lately, Universal Uclick President, is one of the most influential editors in comics, setting an industry example for supporting his syndicate's cartoonists and their freedom to express themselves. He also has discovered and cultivated some of the most iconic comics in newspapers including: Garry Trudeau's Doonesbury, Bill Watterson's Calvin and Hobbes, Cathy Guisewite's Cathy, Gary Larson's The Far Side, Lynn Johnston's For Better or For Worse, Aaron McGruder's The Boondocks, Richard Thompson's Cul de Sac, and Mark Tatulli's Lio.
When Salem announced last fall that he was retiring, Michael Cavna wrote a great piece on cartoonists'reactions to that announcement. Herewith, the whole thing—:
SYNDICATION EXECUTIVES, by the nature of the beast, seldom gain wider acclaim in comics. They work offstage, undetected beyond the panels and unseen behind the balloons. As former senior vice president Lisa Klem Wilson underscored last year when United Media shuttered its doors, the focus is on the talent instead of the suits. Sometimes, however, a momentary exception must be made. Lee Salem, a four-decade figure at Universal Uclick, now deserves a little time in the center-spot.
The Kansas City-based syndicate recently announced that Salem will move from the editorial side of the business, as the Universal Uclick president drops "Editor" from his title — and the baton is passed to capable hands, and the talented John Glynn becomes Editorial Director.
Since Salem joined Universal Press Syndicate in 1974, he has helped discover and/or nurture dozens of stellar strips [as noted above; Doonesbury, incidentally, won a Pulitzer the year after Salem arrived at the Kansas City syndicate's offices].
As Salem eases into his transition with his usual wisdom and grace, Comic Riffs asked five cartoonists to share their thoughts on his legend and legacy, his editorship and his friendship. Here are their thoughts:
GARRY TRUDEAU: I'm in complete denial about his move. I've depended on Lee's friendship, guidance, protection and occasional interventions for decades, and I have no intention of giving all that up. He'll just have to keep making room for me in his schedule. This isn't open to discussion.
BILL WATTERSON: I think a big part of Lee's editorial legacy is in bringing to newspapers a new generation of cartoonists — including women — and introducing an entirely new range of subjects and voices to the comics page.
In the strips Universal launched, the writing was paramount, and Lee had a great eye for lively writers and a real understanding of what makes a comic strip work. He always seemed to find strips with highly individualistic takes on the world, and a strong sense of voice. This has become more or less the standard model for newspaper comics now, but it was quite different from the plug-in-the-gag, committee-drawn strips of the '50s and '60s, and I think it brought the comics a new sharpness and relevance.
Because I admired and respected so many of Universal's strips, I completely trusted Lee's judgment in editing my work: I never argued for a strip he questioned. Of course, his "New England reserve" took some getting used to. In the early days, I'd save a week's mailing time by handing Lee a stack of roughs to edit whenever he swung through the area on a business trip. He'd read through a month of my cartoons in a few minutes, and he could have been reading obituaries for all the delight he radiated. I'd crawl under the couch and lie in a tight ball until he was back on the plane. You can imagine what it was like to negotiate a contract with him.
But of course, that unflappable quality was a real virtue in the other part of his job, which was to step into a circle of furious readers and newspaper editors, and take all the bullets. Lee was a great defender of my work, and I'll always be grateful for his long and vigorous support. I've really enjoyed having Lee as my editor all these years, and he's been a great friend to cartooning.
MARK TATULLI: Lee Salem changed my life. I always wanted to make comics professionally, and I had been trying for syndication for some time. But it wasn't something real until 1997, when I sent a bunch of Heart of the City sample strips to Lee through the mail and he called to offer me a development deal. And from then on my life changed.
It was because Lee Salem, the first guy with real comic-strip power, said, "Yes."


LYNN JOHNSTON: When I first started to work with Universal Press, Lee Salem was my editor. He was the one who suggested the name "For Better or For Worse" for my comic strip, and I have to admit, it suited the work I did.
For the first few months, he worked with me to develop something that had consistency and balance. He was an excellent editor. Writing funny stuff is a personal venture, so the editor who says, "Hey, that's not funny!" better be right—and Lee usually was.
Whenever I traveled to Kansas City, he'd come to the airport to meet me [in his car]. It was old and comfortable with evidence of kids and family still in the trunk and the door compartments.
The syndicate was then headquartered on the second floor of a plain square building on Squibb Avenue. A dusty plastic jade plant was at the top of the stairs, which gave me comfort. There was a lack of pretense everywhere and a real sense of camaraderie among the staff. Lee's office was small and cramped, but orderly. He had a window with a view of the farmlands outside and a secretary who sometimes put her dresses on backwards. I was lucky enough to have been there when [co-founder] Jim Andrews was alive. In fact, I think it was Jim who went to bat for me when others might have asked me to wait until I had something worth consideration.
My first impression of Lee was that he was competent, thoughtful, honest and fair. He still is! I was well out of my league with a daily comic strip, but his confidence and easygoing manner made the job so much easier. Lee has a smart sense of humor and he understands good comic timing. He can be funny and fun to be with, but he can also be a tough opponent if need be. We have disagreed, heartily at times, and yet we have never fought. ...
I believe his impregnable stare and calm demeanor — when under duress — is kind of a gift. Managing cartoonists can't be easy. We are all so capable of devastating a weak superior with a withering remark or a hideous drawing that it's best, perhaps, to keep us guessing when the gloves are off! What I'm saying here is—we all appreciate authority when it comes with class.
Lee is a class act and I'm grateful to have been one of "the cast."
RICHARD THOMPSON: Late in 2005, out of the blue, I got an e-mail from Lee Salem; his subject line was: "Syndication?" I'd been asking myself the same question since I was about 10 years old, and the answer had always been, "Maybe some other time." But such is the reputation, sway and authority of Lee Salem that my immediate response was: "Sure!"
In the seven years since that e-mail, Lee has gently guided me into a life-changing career in the noblest calling: newspaper comic strip cartoonist. He didn't do it alone, of course — it's taken a team of ace specialists to convince me I know what I'm doing. But Lee's lower-case e-mails encouraged me like nothing else, and his dinnertime conviviality sure helped, too. I'm proud to call him my editor and friend.
RANCID RAVES GALLERY
Pictures Without Too Many Words
I'm going to keep this picture/article forever.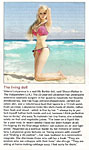 It is clipped from a recent issue of The Week magazine. I hope you can read the caption under it. (If you can't, click on Page, Zoom, then 150%.) The gist is that the woman in the picture, 23-year-old Ukranian Vaeria Lukylanova, has undergone extensive cosmetic surgery in order to resemble her favorite childhood toy, Barbie. She has huge almond-shaped eyes, perfect porcelain skin, and a voluminous bust that tapers to a 17-inch waist. Up close, "she looks like she's made of plastic"; ergo, mission accomplished.
READ & RELISH
By Way of Getting Into a Political Mood for the Next Department
In an honored tradition of psychoanalysis, a person is judged insane if he (or she) keeps doing the same thing over and over, in the same way each time, always expecting different results. The House of Representatives, controlled by the Tea Baggers, has voted 36 times to end Obamacare; but nothing, other than the vote itself, happened. The result is always the same. Nothing changes. Ergo: the House is insane.
EDITOONERY
Afflicting the Comfortable and Comforting the Afflicted
THE OBLIQUELY-NAMED SEQUESTER was invoked by Bronco Bama and a few of our so-called Congressional "leaders" in August 2011 as a maneuver that permitted the aforementioned "leaders" to approve raising the nation's debt ceiling—that is to say, they agreed to pay the bills they'd already run up. "Sequestering," the meaning of which (to put aside) seems unlikely to apply to the situation it causes us to be facing, was cobbled up in 1985 as a way of controlling the budget. Until this invention, the government spent money as Congress passed bills authorizing the expenditures; so at the end of the year, the authorized expenditures achieved by this decentralized process easily exceeded anything anyone had contemplated. But under the terms of the Deficit Reduction Act of 1985, Congress approves, first, a Budget Resolution which sets a ceiling for over-all expenditures. If the combined amounts subsequently approved through the passage of individual bills exceed in total the limit imposed by setting this "cap," then Congress must agree on ways to cut back. Or, more likely, it will approve a new Budget Resolution authorizing the increase in expenditures.
But if it doesn't pass a new Budget Resolution, then an automatic spending cut takes place in an amount equal to the difference between the cap and the otherwise approved bills of expenditure. That amount is "set aside"—hence, the term sequestered—by Treasury and not handed over to the agencies for which it was initially appropriated. And all agencies get cut by the same percentage. That was the original notion.
Sounds like a good idea, but it's been squirreled around with considerably through the years as various factions of the Congress introduce modifications to suit their own constituencies (or personal pocketbooks), so what's left, operationally speaking, is an across-the-board budget cut. And that's what Obama convinced the would-be renegades in Congress to activate in meeting with them in August 2011—if they could not otherwise settle their budgetary disagreements.
The mob he was dealing with, inspired by ravenous Tea Baggers, had vowed not to raise the debt ceiling unless they could solve the budget "crisis" by tackling the issues of spending and taxation, and since they couldn't agree on any of those matters at that time, they kicked the can over to a "super committee" that, with a single bound, would make the problem disappear in order to avoid the Sequester and its across-the-board cuts in spending, willy nilly without thinking about anything in government at all or prioritizing in any way.
The Sequester was deemed so stupid and irresponsible that it would ipso facto force Congress to act; naturally, Congress continued to perform as it has lately and did nothing thereby proving that it is both stupid and irresponsible.
But we've known that for years, haven't we?
Our first batch of editoons confront this disgraceful situation.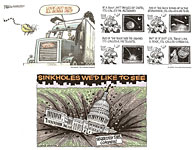 Nate Beeler supplies an apt image for the horrors of the Sequester in the cartoon at the upper left. Bronco spent a week yelling about the terrors of the forthcoming willy-nilly tax cuts (the Sequester) and prodding Congress to act, and Beeler has nailed the presidential politics deftly. Fact is, Congress didn't act because it, and Bronco, knows the punny tax cuts the Sequester would put in place were too punny to have much effect at all. They would reduce spending a little but not a whole lot. (The percentage of the budget reduction is minuscule, comparatively speaking. And most American families, faced with similar reduction in their budgets in recent years, have survived. Not happily, perhaps, but still without major surgery to their way of life.) Moreover, Congress, both Democrats and the Grandstanding Obstructionist Pachyderm, wants to reduce spending; so with the Sequester, the Grand Maneuver, they get what they want without taking any blame for it.
My theory is that Barack O'Bama, too, got exactly what he wanted. Every president since Teddy Roosevelt has wanted to reduce government spending; but no president since TR has wanted to pay the political price: since reducing government spending would reduce services or benefits that many voters want, if a prez actually cut back on spending, he'd hazard his future election—and the good will of his party. So no prez has done what they all knew needed to be done. Until Bronco. He connived the deployment of the Sequester, which he knew Congress could never avoid by settling the budget crisis; so he knew the spending cuts the Sequester imposes would, in fact, be imposed. So he would get what he wanted but dared not talk about.
And the GOP has been clawing for spending cuts for years; so it got what it wanted, too.
Dialing clockwise in the above array of editoons, we get to Joe Heller at the upper right, who has invoked the phenomenon of the meteorite landing in Russia to characterize Congress—accurately, I'd say. And, finally, Monte Wolverton alludes to another news event to express his opinion about the do-nothing Congress—another telling image.
Our next exhibits take up the Horrendous Problem that guns have created in America.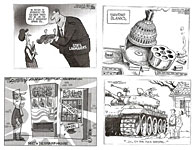 In the first editoon at the upper left by Jeff Parker, the irony of relying upon teachers to protect school children from the rampages of the insane is tagged.
A propos the moment, syndicated columnist Leonard Pitts, Jr. discussed the place of unions in U.S. history several months ago during the imbroglio in Wisconsin, where the GOP governor is systematically unhorsing unions for public employees. Said Pitts: "To whatever degree our workplaces are not filled with children working adult hours, to whatever degree an employer is required to provide a clean and safe workplace, break time, sick time or fair wages, that [reflects the legacy of organized labor]. It is instructive that this campaign [in Wisconsin and other states, Indiana, Ohio, Michigan, and Florida, to name a few] to roll back that legacy is contemporaneous with a New York Times report on how General Electric earned $14.2 billion in profit last year, yet paid no U.S. taxes. Indeed, the Times says, GE netted a tax benefit of $3.2 billion. What's it tell you that some of us are on the offensive against working people, but breathe scarcely a peep when a giant corporation somehow slips through government-provided loopholes, paying no taxes? If need is a character flaw, what, then, is greed?"
Parker doesn't get into all that. Too bad, but his point is somewhat pointier and it's quickly and vividly made by contrasting the demure teacher with a giant handgun: the two simply don't go together at all. Not in the fond American schoolhouse of nostalgic imagination. And not in practical, real life either.
The Wayne LaPierre formula for school safety, arming teachers, is based upon the notion that if some AK-47 brandishing madman invades those ivied precincts, the teacher will draw her weapon and blow the bad guy and his big gun away. In other words, arming teachers presumes they'll succeed in a fire fight. But policemen don't agree. One of them wrote a piece in Time (or some similar publication; sorry, I've lost track of it) in which he argued convincingly that arming teachers would not be enough. They'd have to be trained, too. And we're talking hours, days—even months—of stringent training. Not even policemen, he said rather surprisingly, have enough of that kind of training. Drawing a hand gun to engage in a shootout with an armed foe isn't something most policemen are prepared to do. (And the civilian casualties in New York recently as cops opened fire on a miscreant would seem to support this contention.) If a cop isn't ready for it, why do we think a teacher, whose instincts and training tend in the opposite direction, will quickly adapt?
Next on the clock is Adam Zyglis whose metaphor of the capital building as a revolver shooting blanks, ineffective gun control laws, is memorable. As is the extremity of Bill Schorr's metaphor for "hunting" as the tried-and-true justification for being able to possess weapons capable of slaying masses of humanity at a single pull of the trigger. You'd think, by the way, that all the fuss about hunters' right to own weapons would be justified by a vast aggregation of hunters, sportsmen armed to the teeth, that constitute a part of what Timothy Noah in The New Republic (February 25) dubbed "an authentic American majority in a way liberals who don't shoot guns are not." Statistics, however, deny the majority.
Noah goes on to say that this "authentic majority" has traditionally been found in the rural heartland, but people living there these days are less than 20 percent of the population. Hardly a majority even if they all owned guns. The total of all the Americans who own guns represents only 21 percent of the population, down by about one-third since 1985. The percentage is steadily declining. And the number of "hunters" is likewise getting smaller.
"According to the most recent survey by the U.S. Fish and Wildlife Service," Noah wrote, "less than 5 percent of the U.S. population reported doing any hunting in 2011. ... The most generous thing you can say about the hallowed tradition of hunting is that its dwindling popularity means its relevance to American gun culture is dwindling, too. Gun ownership ... during the past three decades became extremely concentrated in a few hands. One-third to one-half of the world's civilian-owned guns reside in the United States. ... According to CNN, a group of Americans representing less than 1 percent of the world's population owns two-thirds of all the guns in America and one-third of all the guns in the world. That means a lot of serious stockpiling is going on."
But most Americans aren't gun owners. They may pay lip service to the old idea of the manly ritual of the hunt—the father teaching marksmanship and gun safety to his son as they stalk the wild bull pheasant—but "a large majority of us don't own firearms and don't hunt. By fetishizing a fading tradition," Noah continued, "liberals have only made their arguments for increased gun control less likely to have much of an impact."
The citizen's right to own a gun is demonstratively important to an increasingly small number of citizens. "Today's gun owner," Noah finishes, "is much likelier than the gun owner of the mid-1970s to be a major criminal or a raving lunatic." And I suspect most of us aren't much interested in protecting the gun rights of that population.
Moving around the clock to our next cartoon, still on the same or a related issue, David Fitzsimmons dramatizes the dilemma that everyone realizes: our mental health mechanisms are woefully inadequate for finding and restraining citizens who would use weapons to kill their fellow citizens.
Even if psychoanalysts had sufficiently keen psychic insight to identify persons likely to resort to mass murder as a way of expressing themselves—a highly dubious proposition—too many of the provisions of the Constitution and other legal regalia preclude taking action. The idea—one worth preserving—is that you can't lock a person up, take away his freedom, just because you suspect he might be dangerous. And even if you legally could, would you?
The mother of the Newtown shooter doubtless knew her son was a little off, but she did nothing about it. Seung-Hui Cho, the Virginia Tech killer was recorded as mentally unstable well before he went off the deep end. Recent revelations about Gabby Giffords' would-be assassin, James Loughner, show that his parents and many of those with whom he had contact suspected something was seriously wrong with him. When he was expelled from Pima Community College, school officials recommended to his parents that he undergo a mental health evaluation before he would be readmitted, but his parents did nothing.
In short, many people knew, or strenuously suspected, that these mass murderers were dangerously nuts, and yet they did nothing. Does it make sense then to rely in the future upon such informants to assure our safety?
A stunning example of how we fail to report mentally ill persons, especially if they're relatives, took place last fall here in Colorado. Mindy Sigg came home from work one day and found her son Austin, 17, lying on her bed. "I'm a monster," he said, adding that he needed to tell her something.
What he told her—that he'd kidnaped, raped, strangled and killed, then dismembered 10-year-old Jessica Ridgeway with a saw in the bathtub and hid her body parts in the crawl space beneath their house—prompted Mrs. Sigg to phone the police: "My son wants to turn himself in for the Jessica Ridgeway murder," she said. "He just confessed to killing her. ... He gave me details."
She turned the phone over to Austin, who told the officer on the line: "I murdered Jessica Ridgeway. I have proof that I did it. You should send a squad car down here. I'll answer all the questions. I won't resist."
Later, a neighbor said Austin was taking mortuary-science classes and was interested in dead animals and human bodies.
That Mrs. Sigg so quickly decided to phone the police suggests that she knew something was amiss in her son's head long before this murderous incident. And yet, she did nothing. For years? Did she hope she was mistaken about her son? Probably. Most mothers would be hoping in such situations.
We've posted the whole grisly tale from the Denver Post at the end of this installment of R&R. It seems to me another in a long line of instances proving that if we plan to depend upon mental health operatives to alert us in advance to the presence of mass murderers in our midst, we're deluded. We find out about 'em after they've taken their toll, and I don't see much hope for improvement on that front.
Returning to our usual front, in the next display of editoons, Steve Sack provides a contrary image of the purposes of the Second Amendment, and then we get to Wayne LaPierre, the insane spokesman for the National Rambo Association; Kevin Siers has perfectly unveiled the wholesale absence of reasoning in the NRA position as espoused by the fevered LaPierre (who would be more accurately portrayed as clutching an array of guns to his bosom as he cowers under the bed in a paroxysm of fearful anticipation, awaiting government legions to invade his domicile and take his toys away).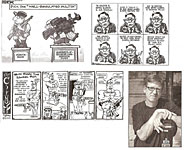 Finally, across the bottom, here's Derf, aka John Backderf, one of the doyens of alternative newspaper empire. He's the only cartoonist I've seen yet who has dared to expose (so to speak) the real reason gun supporters want guns: owning—brandishing—a gun is a phallic declaration of masculine power; it affirms the testosterone fueled machismo so essential to the male human [sic] sapien's sense of well-being. Derf's overworked every-wart-and-wrinkle-must-show style is admirably apt for portraying this astonishingly accurate insight: it is as repulsive a visual mannerism as the idea he is portraying.
And Derf is good at this kind of thing. At DerfCity.com, we learn that: "Derf sold his first cartoon, a nude portrait of his sixth grade teacher, for $2 dollars to a classmate who used it for unspeakable purposes. ... An art school dropout, Derf worked on a garbage truck before deciding to give cartooning a try. He attended Ohio State University, where he drew political cartoons for the school paper for three years and caused such controversy school officials put a 1-year limit on [the tenure of] all future cartoonists [at the paper]. After graduation, he landed a similar position on a paper in Florida but was fired after two years for, as the editor put it, 'general tastelessness.' He moved to Cleveland and The City debuted in the now-defunct Cleveland Edition in 1990. A year later, he began selling it to other alternative papers."
And he still does. As you can plainly see, he's good at capturing the most unappealing of our too human nature, which makes him a success as a political cartooner. In the February issue of Previews, Derf, responding to a question about what he's reading lately, says he's currently on a "Richard Corben kick": "How can this guy still be drawing such amazing stuff after like 50 years in th biz?!" Derf is also passionate about the Hernandez Bros and Drew Friedman.
An Appostrophe on Guns. I admit that we're awash in detours this time, sidebars veering off in all directions at once with no warning at all; and if you'd like to avoid the digressions that are actually labeled as such (like this one), you can skip down to a succeeding paragraph that begins with ALL CAPS. That's the signal that we're getting back on track. Meanwhile—as you leapfrog blithely ahead—we'll indulge ourselves here.
The same people who oppose any restrictions whatsoever on gun ownership doubtless include many people who see nothing wrong with imposing limitations on a woman's right (established in Roe v. Wade, therefore as constitutional a right as the right to bear arms) to an abortion—such as mandatory waiting periods, parental consent, forced ultrasounds and compulsory counseling that might include information on the alleged link between abortion and breast cancer, supposed long-term mental health consequences and discussion on whether or not a fetus can feel pain. And in almost all states, some of these restrictions apply.
"These roadblocks don't mean a pregnancy still can't be terminated before 22 or 24 weeks," wrote Denver Post columnist Meredith Carroll, "but they contribute nevertheless to the attrition of a right that was guaranteed to women some 40 years ago."
In short, the right to an abortion has become largely illusory.
Limitation on the right to an abortion almost exactly parallels the sorts of legal restrictions being contemplated for gun ownership. So how can someone be in favor of one but opposed to the other?
These laws don't mean that individuals cannot own guns; rather, just as with abortion, ownership is predicated upon complying with certain laws.
On the other hand, those who support restrictions on gun ownership probably include many people who object to any limitation whatsoever on a woman's right to an abortion. That's how exact the parallels seem to be.
Given this conundrum, hypocrisy rules. Legislation is enacted based upon political considerations rather than moral or practical matters, or even intellectual consistency—upon which interest groups donate money to a politician's campaign, say, instead of the conscience of the lawmaker.
The rational solution is that both sides on each issue must compromise. The world won't end, despite what Wayne LaPierre, quaking under his bed, may believe. The Roman Empire collapsed, as one wag put it on Bill Maher's show, but the Italians are walking around in really good shoes.
But none of this matters in the struggle for controlling violence. No gun control law is going to be absolutely foolproof. Nothing will work in 100% of the cases that we can imagine—or that we have actually experienced. The anti-gun control guys are right about that. But it doesn't matter. As long as we continue to debate these issues, we are taking actions that highlight the uncivilized evils of violent behavior. Over a couple generations, we may reduce the appeal of violence. And that's what must happen before any gun control legislation can be effective; and if it does happen, gun control legislation won't be needed to reduce violence.
TO RETURN, NOW, to our tour of editoons on the issues of the last few weeks, we first bump up against the papacy.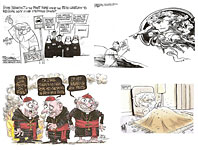 David Fitzsimmons starts us off at the upper left. His message is not conveyed in the usual visual metaphor fashion of editoonery; instead, he offers, in his stunningly crisp and crinkly style, a verbal litany of reasons, a couple startingly anti-papist, for Benedict's departure—alluding to Benedict's German (Nazi?) heritage, his un-modern theology, and the Church's difficulties with sex.
Next on the right, Nate Beeler invokes Michelangelo's Sistine Chapel ceiling portrait of God giving Adam the finger of life (sorry: couldn't resist that one), but I'm not sure how that works in this cartoon. Is Benedict giving the Almighty a two-week notice a way of denying life? Or is the Pope's resignation just a surprise to God? Dunno. And the cartoon fails for lack of immediate clarity.
But Paul Zanetti's comment, deploying a visual metaphor of the Pope relaxing, "putting his feet up" on the lump in the carpet created by his sweeping the sins of the Church under the rug, is clear and vivid. Daryl Cagle, on the other hand, is just being nasty, showing the cardinals as sexually frustrated potentates. Which brings us to our next Apostrophe.
Another Apostrophe. Benedict XVI (aka Joseph Ratzinger) will doubtless go down in Church history as the pious pope who quit, unable with piety, no matter how evangelical its spirit, to increase the ranks of Catholics in the West—or even to slow the steady decline in their numbers—or to cope in any meaningful way with the problems that human sexuality inevitably brings to an institution that attempts to ignore this most fundamental aspect of life. Celibacy is almost certainly at the cause of much of the Church's most recent troubles. As a friend of mine, once a Catholic, said to me the other day, leaning earnestly across the table in the booth where we were seated having lunch, "I don't understand how they can deny sex."
Neither can many Catholics in this country; and non-Catholics are surely aghast in complete bafflement.
In the March 11 issue of The New Yorker, Margaret Talbot, after noting that "last fall, the Vatican dismissed an American priest who had participated in an ordination ceremony for a woman," went on to say: "According to a 2010 Times poll, 67% of American Catholics think priests should be allowed to marry and 59% think women should be allowed to be priests. Yet surely a Church that expels a priest for advocating women's ordination faster than it does men who have been credibly accused of raping children is in some kind of trouble."
The Church has been in that sort of trouble since the middle of the eleventh century when celibacy was suddenly inflicted upon the sect's priesthood.
Alluding to the "insular and self-protecting brotherhood" of the Church, Talbot speculates that "without the requirement of celibacy, some men drawn to [the Church] because they thought it would cure them of unwanted urges might not have sought refuge in the priesthood." In the same spirit of pooh-poohing the "aura of purity, of exalted separateness" that celibacy confers upon Catholic priests, she notes that "the Italian newspaper La Repubblica reported that the real reason Benedict resigned was that gay prelates at the Vatican were being blackmailed." And he didn't want to face the consequences at his advanced and enfeebled age. Can't say I blame him.
If pedophilia is beyond the ability of Benedict's strict piety to deal with, homosexuality is entirely outside the pall. All, as I believe, brought on by the Church's insistence on celibacy for its priests. And celibacy became a requirement for reasons having little to do with spiritual purity.
By the end of the ninth century, the papacy was thoroughly corrupt. Because the priesthood was often the career choice of the male offspring of the rich and powerful who could not inherit because they were not the first-born, priests were often aligned with powerful families—their relatives—and simony, the practice of buying and selling ecclesiastical offices, was widespread as a way of consolidating and expanding power. In this tradition, the papacy was in the gift of powerful families—and of kings and emperors. And since priests could marry, those who held high office in the church sought to pass the power and influence on to their children. The Church had become the instrument of the wealthy and powerful, reflecting their interests and theirs alone. One consequence was the so-called "Papal Pornocracy," according to Brenda Ralph Lewis in A Dark History: the Popes.
"Popes were being manipulated, exploited and maneuvered for nefarious ends by mistresses who used them as pawns in their own power games. ... So many popes were assassinated, mutilated, poisoned or otherwise done away with that when one of them disappeared, never to be seen again, it was only natural to scan a list of violent explanations to find out what had happened to him. Death by strangulation in prison was a frequent cause. Had the vanished pope been hideously mutilated and therefore made unfit to appear in public? Had he made off with the papal cash box? Or should the brothels and other houses of ill repute be searched to find out if he was there?"
With the papacy being conferred by noble but usually feral families, popes came and went with the fortunes of the families on battlefields and in commerce. Said Lewis: "There were 24 popes between 872 CE and 904 CE. The longest reign lasted a decade and another four came and went within a year. There were nine popes in the nine years between 896 CE and 904 CE. ... That meant, of course, that the papal See of Rome was in a constant state of uproar as the struggle for the Vatican had to be fought over and over again."
I'm not suggesting that the idea of the papacy is inherently idiotic or irredeemably flawed. But it is surely as human in its frailties as any other human institution. And it soon occurred to many that the only way to take the Church away from the wealthy and powerful was to outlaw simony and to end clerical marriage.
In 1049, a reform-minded bishop, Bruno of Toul, became pope Leo IX by acclamation of the people of Rome rather than by the emperor's favor. Leo set about trying to abolish simony and to promote clerical celibacy. He was not entirely successful. In France, for instance, although bishops were asked to put aside their wives, the order was not generally obeyed. But the idea of reform acquired enough support through the succeeding years that in the Second Lateran Council of 1139, clerical celibacy was made compulsory.
In other words, priestly celibacy was instituted in the Church in order that the power of the institution would reside entirely within the hierarchy of bishops and cardinals instead of in the courts of kings and emperors. The effort was not notably successful for several hundred years—as long as there were still powerful emperors and kings.
For 72 years (1305-1377), the "bishop of Rome" (the Pope) resided in Avignon, France—the so-called "Babylonian Captivity" of the Church—because a powerful French family was quarrelling with a powerful Italian family. And then came the Great Western Schism (1378-1409) during which the French power brokers continued to maintain their own pope at Avignon while the Italians installed one in Rome. Two popes because two families vied for power over the Church.
Even the end of that family feud did not end corruption in the Church. In 1492, Pope Alexander VI bribed his way to the papacy, appointed his relatives as cardinals, fathered eight children by three or four mistresses, and amassed a great personal fortune.
But as those dynasties of powerful families crumbled or faded away, the Church retained its celibate tradition and thus assured that the power would reside within its hierarchy.
Where is the touted spiritual purity in all this? It came along later, or concurrently, with the reform movement as a way of selling the idea of celibacy. Nothing but an aspiration to spiritual purity in a religion would be powerful enough an inducement to persuade men to give up sex with women.
Unhappily, what Americans think about the Church and its sexual dilemma almost certainly had absolutely no effect upon the election of an unassuming Argentine archbishop as Pope on March 13. Bergoglio was undoubtedly chosen in the hopes that having on St. Peter's throne a cleric from one of the fastest growing Catholic populations in the world would stimulate further growth. We may expect no particular change in the more misguided of Catholic policies: Bergoglio is a rampant conservative on such matters, opposing abortion and women for the priesthood and same-sex marriage while endorsing celibacy forever. Yes, as you may have heard, the Pope is Catholic.
It is encouraging, however, that Bergoglio chose the name Francis "in honor of Francis of Assisi," a rich man's son who championed the vow of poverty. And Francis I seems to be a man who eschews the trappings of power. He asked the crowd in St. Peter's Square to pray for him. And he didn't take a private car back to the hotel for dinner with the cardinals: he rode the bus with them. Before dinner, after toasting the cardinals, the new Pope added: "May God forgive you."
So he's got a sense of humor as well as a consciousness of humility.
Fitnewt. Catholics are expected to eat fish on Fridays not because of any dietary admonition in the Bible but because Christ died on a Friday. Avoiding meat is a way of honoring his sacrifice. But it seems a little gruesome to me. It's as if we think of Him as a piece of meat, hanging there on the cross like a carcass of beef.
There are ways around the fish-on-Friday dictum. In 18th century Quebec, the faithful had a hard time complying with the custom because there weren't many edible fish around. But there were lots of beavers, and beavers lived in the water and had flat scaly tails. Fish-like. So the citizenry asked the Church to declare that the beaver was a fish, and they all lived happily ever after. Except the beavers.
Chico the Jester in Dumas' novel by that name had a monk friend baptize a fish as a cow so he could eat beef on Friday.
Human ingenuity knows few bounds when it comes to food. Or sex.
TO RESUME OUR EXAMINATION of the editoonery mind, we take a short look at a couple less earth-shaking events of recent weeks.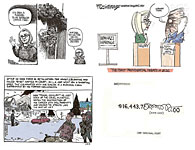 The highly partisan Republican inquisition of Hillary Clinton over the incident at Benghazi last fall (last fall! How long does the GOP hope to keep this festering?) attracted the attentions of Steve Benson and David Fitzsimmons, each of whom delivers a suitable rejoinder, neither, however, in the form of a particularly telling visual metaphor although the pictures in both cases make a loud noise.
Moving around the clock, we come to Michael Ramirez's comical assessment of the fitness of Obama's new Secretary of the Treasury, John Lew, whose signature will soon adorn our paper money. Ramirez has reproduced Lew's signature exactly, and counting the loops as zeroes, we get Ramirez's customarily conservative comment on the national debt. Clearly, he doesn't expect any Obama appointee to do anything to reduce that number.
Then comes Ted Rall, flailing away at the cavalier way Christopher Dorner was mistreated by the L.A. police department, leading him to go on a murderous rampage in Southern California. This cartoon contains a lot of visual detail (note the mountain village setting, houses, cars—displaying more artistic ability than Rall usually reveals in his work), but his message is contained chiefly in the words. Reportedly, Dorner was fired a couple years ago for reporting the police brutality of a fellow officer, who Dorner saw kicking a homeless person. All of which may be true—and may also be an indictment of the way the L.A. police department operates—but in making that point, Rall conveniently overlooks the four corpses Dorner left behind before being trapped in a mountain cabin and killed in the fire started by the cops who surrounded it.
So is Rall suggesting that rather than enduring "cruel injustice" with "dull passivity," we should all take up arms and kill those we blame for our misfortune? Maybe Rall has published a book, remember, that seems to call for a new American revolution.
More likely, though, Rall is simply expressing a contrary opinion, drawing attention to the injustice that Dorner suffered. That he sidesteps the murders Dorner committed in his supposedly righteous rage is not unusual: no political cartoon can convey more than a single point of view at a time, and so his cartoon is a peculiar demonstration of this salient attribute of the medium.
While all this was going on, we also commemorated the longest war in American history.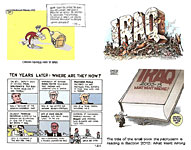 Most editorial cartooners saw the Iraq War as a colossal disaster by almost every conceivable measure. Pat Bagley begins by reprinting a cartoon he drew of his chimpanzee GeeDubya character ten years ago, a bitterly wry comment. For the chimp, Iraq was simply a toy, a plaything—an object of infantile curiosity. What will happen if—? Next Dave Granlund reminds us of how thoroughly we managed to destroy the economy and vitality of a country: his stack of total ruin around the crumbling monumental name of the country provides in a single image a devastating indictment of America's careless conduct of the war. Still going clockwise, John Cole deploys the Iraq War to illuminate the blithe ignorance of the Grandstanding Obstructionist Pachyderm: the title of the little book the GOP is reading is Election 2012: What Went Wrong? And Ted Rall's reflection on the aftermath of the war skips blandly along through five panels before hitting us in the stomach with its punchline. The power of the cartoon lies in the inherent format of a comic strip: a parade of images and words that piles up the evidence, and then drops the bomb.
The most thorough assessment of the ten-year cataclysm I encountered lately was Trudy Rubin's at the Philadelphia Inquirer; herewith—:
"Ten years after the invasion of Iraq, it's clear who lost the war that followed. But it may be years before we know if anyone won. Topping the loser's columns, of course, is Saddam Hussein, with the world better for it. Yet, despite his demise, America is also the loser. The goals the Bush administration set for the war were never achievable. ... Far from providing a model for regional change, Iraq became the nightmare example that Arab democrats sought to avoid. ... And the costs [to America] were greater than most Americans realize, not just in lives and money squandered but in reputation lost. Iraqis were freed from Hussein, but a botched American occupation led to a civil war that killed more than 100,000 civilians and forced millions to flee the country. Despite elections, Iraq still has a government that arrests and tortures political opponents and runs a secret police state. ... In Iraq, we destroyed our reputation for competence, and our global moral stature.
"Iraq also distracted U.S. attention from cementing the 2003 victory over the Afghan Taliban. A decade after the invasion, we are still toting up the staggering costs of this war."
I didn't find a single editorial cartoon that displayed a positive opinion about the Iraq War. Most editoonists are liberal so their disapproval and disgust are expected; but I also looked at the work of six or eight conservative cartoonists. None cheered our Iraq War. It seems no one, conservative or liberal, wanted to be seen supporting the follies the Iraq War represents in American history.
THE OTHER BIG NEWS of recent weeks includes the Supreme Court's taking up the question of same-sex marriage. In three of the best cartoons about the issue, religion plays a dominant role.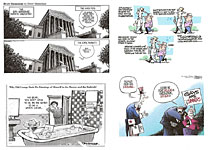 Drew Sheneman gives us a talking Supreme Court Building, and in summarizing the case against gay marriage, the brief utterance captures the childishness of religious opposition by employing a childish expression, "yucky." Moving clockwise, we come to David Fitzsimmons, who creates a conversation about the bloodthirsty Biblical admonitions that religious enthusiasts conveniently overlook in quoting the part about homosexuality being an abomination. And Nate Beeler, who usually leans more right than left, continues in much the same vein as Sheneman and Fitz: with a deft play on the word evolution, he ridicules the backwardness of the Religious Right's convictions about gays.
There are only two arguments against gay marriage. One is that God doesn't like gay people. That argument falls apart several ways. Since there are gay people, does that mean God made a mistake? Unheard of. But this argument is essentially a religious one, and I thought the First Amendment keeps religion separate from government—in effect, giving us freedom from religion.
The other argument revolves around the family. Marriage, it is said, is for propagating the species, and families of sexual opposites are essential thereto. But history destroys the "traditional marriage" argument. Procreation occurred over several centuries before marriage was institutionalized; and for most of the time thereafter, marriage was an arrangement of property, not propagation. Besides, with the divorce rate as high as it is in this country (and elsewhere), this argument crumbles. Marriage and family are clearly not essential for perpetuating the species; if they were, then according to the reasoning of the "marriage is for men and women" opponents of gay marriage, divorce would be illegal.
Finally, we wind up with Jeff Danziger, who supplies a comical conclusion to our survey of the editoonery landscape over the last few weeks. In the midst of so much foolishness and disaster and heartache, it's refreshing to see GeeDubya back in the comedy spotlight (where he has always belonged, were it not for his Oedipus Complex, the real cause of the Iraq War). Recent reports of the retirement activities of our WPSH (Worst Prez Since Harding) have revealed that he's taken up painting in watercolor. One of the paintings, which, unless you are an avid watcher of the doings of George WMD Bush, is of his bare feet at the opposite end of the bathtub full of water in which the painter is obviously soaking. Danziger's ingenuity in creating this gag is extravagantly admired here at the Intergallactic Headquarters of Rancid Raves.
CIVILIZATION'S LAST OUTPOST
One of a kind beats everything. —Dennis Miller adv.
UNBELIEVABLE. Sometimes in the course of our ordinary lives, we see things that are simply unbelievable. But our eyes, contrary to what Richard Pryor used to say, are not lying eyes: their testimony must be believed. And so we come to this trio of pictures.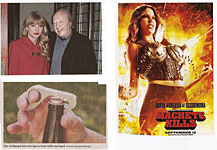 The most unbelievable of these is on the right—an advertisement for a forthcoming (September 13) movie, "Machete Kills," in which Sofia Vergara plays the femme fatale, Desdemona, for which purpose, as Entertainment Weekly put it, "she straps herself into a weaponized wardrobe that lifts and separates even as it mows down her enemies." Indeed. So we see.
I'm a little amazed at this exhibition—both the picture at hand and the forthcoming flick. I'm sure Sofia is proud of her twin wombats, but this costume turns her into a rampant self-caricature. Is she aware of it?
The movie,"from the impact-splatter mind of Robert Rodriguez ('Sin City,' 'El Mariachi') doesn't dial back the gore despite the national debate about guns in pop culture." Says Rodriguez: "To lay the problems of gun violence on movies diminishes the importance of the real issues."
I believe that make-believe violence on the big screens and small fosters a cultural bent toward violence in real life, and so I encourage all sorts of impractical legislation because discussion about it focuses our attention on our propensity as a society for violence, a focus that might, over generations, undermine the appeal of violence. But I just heard that a school board in New Hampshire has banned dodgeball from the playground because it is essentially a violent pastime.
Right. As a society, we never seem to know when to stop.
I give up.
Nothing makes sense anymore so I'm posting the picture you see near here, just at your eye's elbow. The picture has nothing to do with guns or dodgeball. It is, however, majestic in its confounding senselessness. It seems, then, a perfect visual for my state of mind about dodgeball in New Hampshire. It confirms my growing belief: nothing makes sense anymore.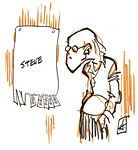 The picture also reenacts my actual experience encountering just that poster in a mountain town book shop a couple summers ago.
Going clockwise on our previous visual aid—just to the left of Sofia's machinegun mammaries—a handy device, the GroOpener, that lets you open a beer bottle with one hand. We've always needed this contraption. It makes sense in its own little universe of guzzlers. (Where I often find myself.) But it leaves unanswered a lurking question: what are we holding in the other hand that makes using both hands to open a bottle of beer so inconvenient?
Finally, back to cartooning—we have a photograph of the too-oft broken-hearted Taylor Swift and the ever-cheerful Jim Davis, creator of Garfield, taken, Gawker tells us, in a SoHo bar where the two were seen "canoodling." I'm not sure of the date of this photo, but its caption assures us that the 23-year-old singer-songwriter and the 67-year-old cartoonist are "an item," and Gawker contributor Janice Reynolds even coined a name for the couple—Tayvis.
I'm not a big country music fan, but I'm not against it either. When a callow youth, I played country on my studio (bedroom) radio all the time. But I heard Taylor Swift sing her album cover song, "Red," a few weeks ago to Dave Letterman, and I was appalled at the vacuousness of the lyric. No story to tell. Just another of Taylor Swift's seemingly endless indictments of ex-beaus for breaking her heart. Blurts of supposed heartache, but nothing more. No reason, no rhyme. Metaphors are left dangling and go nowhere at all. But are repeated, over and over.
This, I thought, is what everyone is gaga over?
I watch and enjoy both "Smash" and "Nashville" tv shows, and I think the song lyrics there are just fine. They tell stories. The words often rhyme. So my reaction to Taylor Swift's "Red" does not stem from dislike of the genre.
But then, I looked up some of her other celebrated songs and found that their lyrics often made sense. They told stories. The metaphors didn't dangle. "Red" was obviously an exception. A mistake. A brain fart of some sort, arriving in the middle of the night just when Taylor Swift needed one more song to fill up the album.
She shoulda left it alone.
As for the numerousness of her love life, that's much exaggerated she said in a recent Vanity Fair interview. She claims she's had only two boyfriends in the last umpty years. In Elle, she admitted to Lizzy Goodman that she craves the euphoria she feels at the start of a new romance. "Having just met someone—that's almost as good as it gets, isn't it?"
Goodman says Swift is in love with falling in love. Not being in love; just falling in love. Swift doesn't think she's ever really been in love: she's only experienced "versions of love that weren't the love." Sounds just a little (what we used to call) scatter-brained to me. Her final comment: "I need to live in a world where my best love is ahead of me, not behind me." So she'll never find the love, eh? And in the meantime, she'll make millions writing and singing songs about how her latest love has collapsed. Again.
This is a dangerous woman. A modern succubus—with a squinched-up face to match. Looks like she's just been sucking on a lemon. Watch out for this one.
JUST ANOTHER STATISTIC? From the Spring Report of the Southern Poverty Law Center: The number of anti-government groups on the American radical right reached an all-time high in 2012, the fourth consecutive year of powerful growth by a movement that is becoming increasingly militant as President Obama enters his second term and Congress debates gun control. According to the SPLC's annual census, there are 1,360 "patriot" groups in 2012, an 813 percent increase since 2008; the groups include 321 militias.
Not to be too alarmist here at Rancid Raves, but the SPLC Report goes on to say: "The climate is reminiscent of the 1990s, when the 1993 Brady Handgun Violence Prevention Act and the 1994 assault rifle ban helped spark a violent militia movement that culminated in the 1995 Oklahoma City bombing."
WHAT ELSE I'M READING THESE DAYS
Mostly Funnybooks, Wouldn't You Know?
Hawkeye. In No.7, Clint Barton (Hawkeye on his days off) and Kate Bishop (the distaff Hawkeye) get caught in Hurricane Sandy and rescue people. Ostensibly, Clint goes to Far Rockaway with a neighbor, "Grills" (aka Gilbert), to help Grills' cranky mean old father face the incoming storm. They arrive before Sandy does, but before they can extract Grills' mom's memorabilia from the basement of the father's house, the storm hits, and the basement is flooded. And as we see in our visual aid, Grills is unable to get out of there what he went to get and blames his father's depression-induced lethargy for the loss.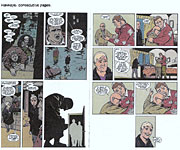 Hawkeye rows them all to temporary safety, and soon thereafter, Kate arrives, and the rest of the issue is devoted to depicting her successful attempt to protect a local store from being looted by the thugs who always show up during disasters to loot stores. Interesting stories, but not nearly as interesting as the story of how this issue came to be.
Hawkeye's writer Matt Fracton, who lives in Portland, Oregon but is a former New York resident, wanted to do something in his funnybook to show the world the effects of the storm. As editor Stephen Wacker explains, Fracton's idea required postponing publication of stories already in the production pipeline to create a window where the Sandy story could be slipped in. And there wasn't much time, and the regular artist on this title, David Aja, was otherwise occupied. Luckily, Fracton's notion involved knitting together two stories for the issue—one for Clint and one for Kate, as we've just seen—so Fracton recruited a different artist for each one, thereby reducing precious production time enough that the whole enterprise could be finished and published on time.
The artists, Steve Lieber and Jesse Hamm, are studio mates at Periscope Studios in Portland, and nowhere do I find anything to indicate which artist drew which story. But both turned in impressive work, the Clint segment more akin to Aja than the somewhat more energetic visuals of the Kate segment. Earlier in commenting on issues of Hawkeye, I had supposed that the page layouts and narrative breakdown were the inspired work of Aja, but this issue gave me pause to wonder.
Take another look at our visual aid. The left-hand page culminates in a silent panel, two tiers tall; mostly silhouette, it captures an emotional moment that represents the sense of loss that Grills feels about his mother's stuff being flooded to kingdom come. And it includes Grills' supposedly cranky father's grief, too.
On the next page, father and son experience a moment of reconciliation or companionship that they haven't, apparently, experienced much lately since Grills' mother's death. All neatly staged in cadanced panels. But the page ends with an odd visual—that single panel occupying the otherwise blank tier. The emptiness of that tier forces our attention to the only panel it carries—and, hence, to Clint, whose cheerful announcement takes us, in a single bound, away from the sadness of the preceding panels. The effect of isolating that panel is to emphasize Clint's mood-changing demeanor. Nicely done.
Given that the artist here is not Fracton's regular collaborator, I can't attribute the unconventional layout to Aja. But since this sort of deviation has appeared in previous issues of Hawkeye, I conclude that Fracton may be the responsible party, not the artist. "Collaboration" implies that both are working together, of course; but it now appears to me that Fracton may be a more active participant in the visual aspects than I, in my naive ignorance, otherwise supposed.
To complete the unconventions associated with No.7, Fracton donated a portion of his pay for this issue to the Red Cross. Said Fracton: "I love New York and come from hurricane country in North Carolina. I wanted to do something."
The Black Beetle. This title's eponymous hero is a noir creature of the night, and Francesco Francavilla, who writes and draws these adventures, drenches the pages of his comic book in black. Black and lurid red and not much else, as you can see from the spread posted hereabouts.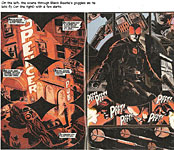 In this picture, Black Beetle is hovering over a crime lord meeting place, Spencer's; seeking to join the proceedings to disrupt them, BB shoots a fusillade of darts to disable the crooks' guards so he can enter at will. Before this plan can be carried out, however, an explosion destroys Spencer's and the proximate neighborhood.
The spread is typical of Francavilla's imaginative page layouts throughout the book: every spread explodes visually. The artwork is stunning. And the storytelling, if you allow for BB's narrative drone in the captions, is well done and persuasive. Visually, Francavilla often focuses on just the narrative element of a picture, although he varies close-ups and long shots with aplomb. The storyline itself (and sometimes the language of the captions) is sometimes a little lame: simplistic, not nuanced at all—perhaps a conscious attempt to evoke the bygone noir spirit of the 1930s.
Through No.2, BB is dogged in his pursuit of the bad guys, but his target shifts. Since a mysterious bomber has destroyed the gangland families whose meeting BB wanted to disrupt, he now is trying to find out who did the bombing. And then, when the bomber foils him in the No.2, BB is bent on catching him. The leap-frogging storyline is intriguing despite its meandering a little.
One of the most intriguing aspects of the first three issues (there was a No.0 before No.1) is that Francavilla declines to show us BB in his civilian aspect. His beetle-browed mask (the red opaque lenses, an obvious imitation of Lobster Johnson's head gear) keeps his face hidden, and it isn't until the last two pages of No.2 that he's out of uniform. And even then, his fedora's wide brim hides most of his face. And no biographical background to explain BB's crusade against crime. I hope Francavilla keeps it that way. In any event, I'll come back if only to see how tellingly Francavilla manipulates his blacks and reds.
AND THE BLACK BEETLE AND LOBSTER JOHNSON
lead us, inexorably,
to their most likely inspiration, to wit—:
The Shadow. I don't know that there's ever been a successful revival of the Shadow, who old-timey radio expert John Dunning calls "radio's most famous fictitious crimefighter." The Shadow began his fictional life as the voice of the announcing narrator of "Detective Story Hour" in July 1930. He was popular enough to graduate and star in his own magazine adventures in Street and Smith's The Shadow Magazine, beginning April 1, 1931, then on the radio with the debut of "The Shadow" radio show September 26, 1937. In his Encyclopedia of Old-Time Radio, Dunning calls this show "the epitome of radio crime drama. Today it remains one of the three or four shows cited by people as a synonym for 'oldtime radio' ... routinely defined [by] 'The Shadow,' 'Fibber McGee,' and 'The Lone Ranger.'" Other radio show titles are occasionally plugged into the list, but "The Shadow is a given. It makes everybody's list. The character combined the strongest elements of rank melodrama and delivered them as truth."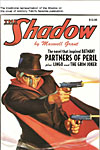 It was undoubtedly the introductory utterances of the radio show that earned the character an iconic niche in American popular culture: "Who knows what evil lurks in the hearts of men? The Shadow knows."After which, a maniacal laugh fades into an introduction of Lamont Cranston, who learned how to "cloud men's minds" and become invisible, and his "friend and companion" Margo Lane.
Listening to this celebrated introduction on Sunday afternoons in the late 1940s, I was too young to pick up on the sexual implications of Margo's being Cranston's "friend and companion." (But then I never wondered, either, about Froggy the Gremlin's "magic twanger" that he plucked in order to become visible on Smilin' Ed McConnell's Saturday morning kids program.)
The radio Shadow was the best of the Shadow incarnations. In print, Walter B. Gibson (aka Maxwell Grant) made the Shadow much too complex. In civies, he was probably Kent Allard, aka the Dark Eagle of World War I, but Allard sometimes took the identity of a friend, Lamont Cranston; sometimes, Allard is Henry Arnaud or Isaac Twambley or Fritz. Much too confusing. On the radio, he was just Lamont Cranston: the radio show's 30-minute time slot didn't allow for such identity shifts as Gibson's pulp magazine stories promulgated.
The Shadow has appeared in his own comic book title a few times: first, in Shadow Comics, the most successful—101 issues from March 1940 to September 1949. Most recently, DC published a 12-issue series from November 1973 to September 1975, drawn by Michael Kaluta, Frank Robbins and E.R. Cruz. And then again in four issues by Howard Chaykin in 1986; finally, in 1987, a monthly title, drawn by Bill Sienkiewicz and Kyle Baker. Marvel did a graphic novel. Malibu reprinted the 1940s newspaper strip in 1988. DC did another new series from 1989 to 1992. Dark Horse acquired the rights in the early 1990s.
And there were other manifestations—and a revelation or two. Among the latter, the Shadow as inspiration for Batman.
Bats and Shadows. Batman's connection to the Shadow has been presumed for a long time. As Will Murray tells it in Anthony Tollin's facsimile re-issue of Shadow stories in The Shadow Volume 9, Bob Kane's initial concept for a costumed crimefighter was dressed all in red and was called Bird-Man. But then writer Bill Finger arrived on the scene and "helped Kane develop the idea into the somber Batman."
Said Finger: "I was very much influenced by the Shadow and Doc Savage, the Phantom, things of that sort. We discussed Batman's potential. My idea was to have Batman be a combination of Douglas Fairbanks [an iconic swashbuckler], Sherlock Holmes, the Shadow and Doc Savage as well."
Murray points out that Batman's famed utility belt (a much more utilized aspect of his costume in the early years) "was modeled after a many-pocketed yellow gadget belt Doc Savage started wearing in 1937. ... Like Batman, Doc used it to carry capsules of knockout gas and other useful tools."
And the Bat-signal was similarly appropriated from another creation—the Phantom Detective.
Even Kane, whose conceit was that he single-handedly invented Batman (and that he dated Marilyn Monroe), acknowledged eventually that the Shadow was a major influence on Batman's creation.
Finger, Murray said, was frank about his inspiration, admitting that "I patterned my style of writing after the Shadow. ... It was completely pulp style. Sometimes I overdid it, writing phrases like 'Night mantles the city.' But, somehow, it all seemed to work."
Finger went even further in connecting the Shadow and Batman: "My first script was a take-off of a Shadow story," he said. But Murray and Tollin go well beyond that.
"Finger did not simply draw inspiration from a Shadow story—he adapted it outright," Murray said. The story in question, "Partners of Peril," initially published in The Shadow Magazine's issue for November 1, 1936, is "the same story," Murray goes on, "—same death trap, even the scene where Batman first appears on a rooftop, bats wheeling above him, has a close parallel scene where the Shadow makes a rooftop appearance accompanied by squeaking bats! Only the character names have been changed."
Tollin adds: "Kane fully participated in the Bat-adaptation of 'Partners of Peril,' swiping a rooftop chimney and laboratory machinery from the Tom Lovell shadow illustrations" in the original publication of the story.
Perhaps we should not be surprised. "In almost every way," Murray said, "Walter Gibson's seminal mystery man was the fountainhead from which a generation of pulp and comic superheroes sprang. All the pioneer comic book creators read his adventures. And copied. Did they ever copy."
Gibson, Murray goes on, recognized the homage, calling Batman "a clowned-up verison of the Shadow." The Shadow's creator even wrote Batman stories at the end of his career. Gibson's last story was a "delicious piece of pulp he called 'The Batman Encounters Gray Face,' written for Detective Comics No.500. It starred Batman, but Gibson confided that he wrote it so that with a few minor changes, Bruce Wayne could become Lamont Canston and Batman transmuted into—the Shadow!"
THE CURRENT TRANSMUTATION of the Shadow began in 2011, when Dynamite Entertainment licensed the Shadow from Conte Nast. The first issue appeared last spring, written by Garth Ennis and drawn by Aaron Campbell. Not content with one Shadow title, DE produced The Shadow: Year One, written by Matt Wagner and drawn by Wilfredo Torres. Year One appears to deploy many of the elements of Gibson's pulp Shadow—multiple identities, f'instance. The Ennis incarnation, however, seems focused, like the long-running radio show, on Lamont Cranston. Margo Lane, as if to satisfy an adolescent wet dream, appears in both titles in a sexual role: in Wagner, as a call girl; in Ennis, as Cranston's mistress.
Both DE Shadows are set in the 1930s. Campbell's visuals are thoroughly realistic and evoke the period nicely; Torres' realism deploys a somewhat simpler style, much more linear, with some facial tics that are distracting; and much less shadowing, which is too bad, because a noir character like the Shadow needs darkness.
When depicting the Shadow, both artists resort to the standard that was established in the pulps, according to Wikipedia: the Shadow wore a black slouch hat and a black, crimson-lined cloak with an upturned collar over a standard black business suit; a crimson scarf covering his mouth and chin. Almost all depictions of the Shadow since give him a larger-than-life-size nose—but only when garbed as the Shadow; on Cranston, the nose is of a nearly normal dimension. How this trick is effected, I don't know; but it seems part of the ritual.
I don't know whether I'm up to a Shadow saga, but if I were, I'd probably go for the Ennis-Campbell version because it reminds me of those Sunday afternoons I spent learning that "the weed of crime bears bitter fruit—crime does not pay. The Shadow knows!"
ONWARD, THE SPREADING PUNDITRY
The Thing of It Is ...
I PICKED THIS UP WHILE WANDERING THE WEB:
GOP Voted Against Bills to Help Veterans. The GOP in the House of Representatives has voted TO NOT SUPPORT THE TROOPS at least 8 times, often enough to justify our calling the GOP House Hypocritical and Phoney. Here's a concise extraction for easy viewing for those who are INTERESTED IN VETERANS ISSUES and need to know which party supports veterans and which party does not.
The rejected Bills are named:
H.R. 466 – Wounded Veteran Job Security Act became H. R. 2875.
H.R. 1168 -- Veterans Retraining Act
H.R. 1171 – Homeless Veterans Reintegration Program Reauthorization
H.R. 1172 -- Requiring List on VA Website of Organizations Providing Scholarships for Veterans
H.R. 1293 -- Disabled Veterans Home Improvement and Structural Alteration Grant Increase Act of 2009
H.R. 1803 -- Veterans Business Center Act
H.R. 2352 – Job Creation Through Entrepreneurship Act
We can also add the following to this list:
H.R. 6563 – Veterans Jobs Corps Act of 2012
The Grandstanding Obstructionist Pachyderm probably has some convoluted justification for this performance, but you can bet that if all the vets were rich guys, the bills would have gone through.
WHO KILLED JESSICA RIDGEWAY
From the Denver Post
Only when it was inevitable that DNA would reveal him as Jessica Ridgeway's killer did a 17-year-old confess to his mother: "I'm a monster."
It was one of numerous revelations at a preliminary hearing for Austin Sigg, now 18, on Friday in which Judge Stephen Munsinger bound him over for trial on 18 of 20 counts relating to the death of 10-year-old Jessica and an attack on a jogger at Ketner Lake over Memorial Day weekend last year. Prosecutors dismissed two additional charges.
Sigg didn't admit he kidnapped, strangled and dismembered Ridgeway until a neighbor called a tip line Oct. 19 and gave police the lead they needed to solve the case, according to testimony at the preliminary hearing. On that day, two FBI agents went to the Sigg home, and Sigg submitted his DNA. Four days later, after he confessed, he chided authorities for taking so long to process the DNA with someone as dangerous as him running around. They should have brought in more resources, he criticized.
Westminster police Detective Albert Stutson testified that Sigg got on the phone after his mother called to report him and said, "I murdered Jessica Ridgeway. I have proof that I did it. You should send a squad car down here. I'll answer all the questions. I won't resist."
During Stutson's testimony, a tape of the phone call Sigg's mother, Mindy Sigg, made to police Oct. 23 was played. Several members of Sigg's family who were seated behind him began sobbing while the tape was played. "My son wants to turn himself in for the Jessica Ridgeway murder. He just confessed to killing her," Mindy Sigg is heard saying.
When the dispatcher asked her what her son had told her, Mindy Sigg replied, "That he did it, and he gave me details."
The dispatcher told her she was doing the right thing, and she replied, "He did it. He's turning himself in." Then, Austin Sigg took the phone and confessed.
Detective Michael Lynch later interviewed Mindy Sigg.
He testified that she said she came home from work and that her son was lying on her bed and told her he needed to tell her something. "I'm a monster," he told his mother.
He also said he had attacked the Ketner Lake jogger. [The jogger escaped, though. —RCH] He said he used a red rag soaked in chloroform that he made using a recipe he found on the Internet.
Lynch's testimony of his interviews revealed that Austin Sigg grabbed Jessica when she was walking by his car. He put her in the back seat and tied her with zip ties around her arms and legs, then drove around for a while. Sigg took Jessica to his bedroom. He took her clothes off. He tried to choke her with zip ties, then strangled her. Under defense cross-examination, Lynch said Sigg denied sexually assaulting and torturing Jessica. But Anissa Jones, a sexual-assault nurse examiner, testified that she examined Jessica's torso and determined that there was evidence that she had been bruised, cut and sexually assaulted.
Sigg told his mother that he dismembered her body in the bathtub with a saw he found in the garage. He then bagged up pieces of her body and hid them in a crawl space beneath their home. Two workers from a dump found Jessica's torso in a shiny garbage bag. One of the men opened the bag and found another bag inside. He dumped that bag on the ground. A supervisor arrived, opened the bag with a pocket knife and saw the torso.
Mindy Sigg told police some of Jessica's remains were in the crawl space of her house.
An autopsy determined that the cause of death was asphyxiation secondary to suffocation or strangulation.
The lead police detective in the case testified that DNA evidence linked Sigg to the clothing of the jogger who was assaulted May 28 and to the clothing and body of Jessica. DNA on the body was linked to evidence found on clothing of the jogger.
Lopez said evidence found in Jessica's backpack also pointed to Sigg. The backpack contained Jessica's prescription glasses and clothing — her tie-dye T-shirt, her pants, panties and boots with pompoms.
Detective Luis Lopez testified that a wooden cross was found along with Jessica's torso. After authorities released photos of the wooden cross, a neighbor of Austin Sigg's called police, Lopez testified. The neighbor said Sigg wore such a cross, and she said he was taking mortuary-science classes and was interested in dead animal and human bodies.
Jessica was kidnapped on her way to school Oct. 5. Her body was discovered by the two workers five days later in a field in Arvada. Sigg was arrested Oct. 23.
To find out about Harv's books, click here.