Opus 303 (Christmas 2012; or December 20). This year, December has five Saturdays, five Sundays, and five Mondays. Just like that—in a row, one after the other, five times. This happens, we were assured by some Internet pontif, only once every 824 years. It means, of course, that we'll be going over the fiscal cliff as we have every 824 years. And everyone's taxes will rise—except John Boehner (pronounced Boehner), who, as usual, dodges the bullet.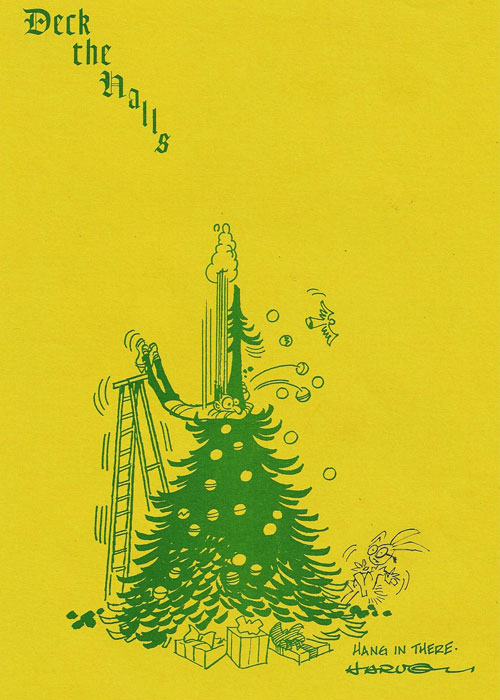 When I told my lawyer daughter that December had five 3-day weekends, her incisive legal mind engaged immediately: "Great!" she exclaimed; "No one had better complain this year about not having enough weekends for Christmas parties!"
Alas, the Web oracle was lying. Just as the Mayans lied about the world coming to an end this year (on December 21, the digital prognosticator was fibbing about the 824-year interval. December has five Saturday-Sunday-Monday weekends every time December 1 falls on a Saturday. That's happened four times since 1990.
Besides, even five Saturdays, Sundays, and Mondays in December were not enough to enable me to assemble my anyule shopping list of Suggested Good Cartoon-Related Books to Buy in time for you to pass the list on to your spouse as suggestions for what to put under the tree for you. And so, once again, you should regard the List as suggestions for how you may spend the Christmas stocking money your Great Aunt Debra gave you. Ten books about comics, cartooning, and cartoonists, plus one graphic novel (listed immediately below); and 14 funnybooks (ditto), plus the year's very best comic book series, Punk Rock Jesus by Sean Murphy.
The longest, most detailed review is of Sean Howe's new Marvel Comics: The Untold Story, during which I wander off his gossipy terrain into the well-trammeled sideroads about Marvel and its minions, including an examination of the original art for the first Spider-Man story—the only documentary evidence we have about who, Stan Lee or Steve Ditko, was the shaping genius. We also get a report on how S. Clay Wilson is faring after his accident in 2008, and we bid farewell to Spain Rodriguez and Jeff Millar. Here's what else's here, in order, by department—:
NOUS R US
Katzenjammers Are 115
Steve Ditko Surfaces
Zuma Drops Some of His Suits Against Zapiro
Barney Google's Back
Topps Discontinues Bazooka Joe
Stan Lynde Saddles Up for Ecuador
James Gunn Sexist
S. Clay Wilson's Slow Recovery
(Book Review: The Art of S. Clay Wilson)
EDITOONERY
Some of the Best of the Month
Dana Summers Laid Off
RANCID RAVES GALLERY
Stereotyping
BOOK REVIEWS
Sean Howe's Untold Story of Marvel Comics
(Ditko and Lee on Spider-Man: Documentary Evidence)
Comics about Cartoonists
BOOK MARQUEE
The Lost Art of Zim
Matt Baker: The Art of Glamour
Marie Severin: Mirthful Mistress of Comics
Totally Mad: 60 Year Anniversary
Mort Drucker: 50 Years of His Art
Ralph Steadman's Extinct Boids
GRAPHIC NOVEL
Lover's Lane: The Hall-Mills Mystery
COLLECTOR'S CORNICHE
Allen Saunders' Self-portrait
FUNNYBOOK FAN FARE
What I'm Readin' Lately
Batman: The Dark Knight, nos. 10-11
Happy
Wolverine Max, no. 2
Black Kiss II
Daredevil, nos. 18-20
Hawkeye, no. 4
Superman, no. 14
Lobster Johnson
Where Is Jake Ellis
The Creep
Bad Medicine, Criminal Macabre
The Saint (Eduardo Barreto)
Punk Rock Jesus: The Best Comic Book of the Year
PASSIN' THROUGH
Spain Rodriguez
Jeff Millar
PUNDITRY
Campaign Finance: A Novel Notion by James Carville
Our Motto: It takes all kinds. Live and let live.
Wear glasses if you need 'em.
But it's hard to live by this axiom in the Age of Tea Baggers,
so we've added another motto:.
Seven days without comics makes one weak.
(You can't have too many mottos.)
And our customary reminder: don't forget to activate the "Bathroom Button" by clicking on the "print friendly version" so you can print off a copy of just this installment for reading later, at your leisure while enthroned. Without further adieu, then, here we go—:
NOUS R US
Some of All the News That Gives Us Fits
The Katzenjammer Kids are 115 years old this month: Rudolph Dirks introduced them to the world on December 12, 1897. For the first episode, there were three Katzies. What happened to the other rowdy kid? Some speculate that he was just a random neighbor kid, not one of the family, so he wandered off. The strip is still going, by the way—which is the chief reason for taking notice here. New stuff, all created by Hy Eisman (who also does the Sunday Popeye).
GLIMMERS FROM THE CAVE
Steve Ditko has long enjoyed the reputation as comics' J.D. Salinger, said Chris Arrant at robot6.comicbookresources.com, "—rarely releasing new work and eschewing the modern notion that creators engage with fans and press. Stan Lee, he's not," Arrant concludes with what I imagine must be a satirical sneer: Ditko, who had more to do with creating the Spider-Man character than Lee, quit Marvel ostensibly because he could no longer get along with Lee, who, Ditko realized, was claiming all the creative credit for the Marvel Universe. Since then, Ditko has maintained a stoic silence on his life and his career at Marvel. But recently, Arrant reports, "Ditko has written several essays about Spider-Man in various independent publications. ... Earlier this year, Ditko published an essay called 'The Knowers & The Barkers' in his comic book #17: Seventeen, and a second just popped up in the comic fanzine The Comics Vol. 23 No.7, published by Robin Snyder, Ditko's former editor at Charlton and Archie. This second essay, 'The Silent Sel-Deceivers,' reportedly runs a page and a half and features Ditko addressing the creation of Spider-Man.
"In this essay," Arrant continues, "Ditko discusses the original take on Spider-Man by Jack Kirby before Ditko was asked to come up with his own interpretation of Lee's idea for a spider-based hero. These pages, which Ditko says number five in total, have never been published or seen on the original art market. Lee, in a 2000 interview for Greg Theakston's The Steve Ditko Reader, said he rejected Kirby's work as 'too heroic.' On several occasions, Kirby later claimed he contributed many ideas that ended up in the character's formal debut in 1962's Amazing Fantasy no.15. Ditko talks about that in this essay, as well as Lee's own contributions to the Spider-Man concept."
Ditko's fugitive essays, which promise much, are often disappointing. I've read a smattering of these over the years in Snyder's newsletter, and Ditko employs a high-fallutin' vocabulary of abstract expressions and arcane buzz words that he often fails to fasten securely to the actualities he seems to be discussing—like what, exactly, was his contribution to the invention of Spider-Man. He garbles on about "art" and "creativity," championing both and sometimes asserting, through a generous deployment of these terms, that he was the creative artist on Spider-Man. I don't question that, but I always hope he'll say as much in unequivocal, ordinary language, minus Ayn Randian locutions.
Details on ordering the books containing these essays, and seeing Ditko's modern cartooning work, can be found at the Ditko Comics Blog. And on the other side of the $ubscribers Wall, I report on my examination of the original art for the first adventure of Spider-Man, wherein pencil marginal notes make revelations.
ZUMA VS. ZAPIRO SOME MORE
In order to "avoid setting a legal precedent," South Africa prez Jacob Zuma recently withdrew his claim for damages against cartoonist Jonathan "Zapiro" Shapiro. Zuma had sought R5m in damages for defamation and impairment of his personal dignity over the publication of Zapiro's Lady Justice rape cartoon in 2008. The cartoon depicted Zuma loosening his trousers while Lady Justice was held down by Julius Malema, president of the African National Congress Youth League at the time, Congress of South African Trade Unions general secretary Zwelinzima Vavi, South African Communist Party general secretary Blade Nzimande and ANC secretary-general Gwede Mantashe, all saying: "Go for it, boss." (We posted this cartoon in Opus 263; scroll down to "Zapiro: Thorn in the Side.")
Zapiro and Zuma have often clashed over the numerous satirical depictions of him, said Bekezela Phakathi on bdlive.co.za, adding what Zapiro said in addressing the Cape Town Press Club after Zuma dropped his suit: Zapiro said Zuma always tried to play the victim and "he is a master at it. ... He has a number of defamation suits against a lot of people and he has not dropped them. He has not, by the way, dropped another defamation suit against me which stands at — I am told by my lawyers — at R10m ... the figures are stupid ... they could never get these kinds of amounts, and it is all about intimidation. But I think South African media people are feisty and thank goodness for that," he said.
In October, Zuma's spokesman, Mac Maharaj, said the decision to withdraw the defamation suit against Zapiro was informed by three major considerations, Phakathi quoted: "Whereas the president believes that in an open and democratic society, a fine and sensitive balance needs to be maintained between the exercise of civil rights such as freedom of speech, and the dignity and privacy of others, that balance should be struck in favor of constitutional freedoms."
He added that Zapiro's views on Zuma "did not necessitate a comment from the Presidency."
BARNEY TO RETURN TO THE HILLS
Barney Google, once the nameplate character in the strip now known as Snuffy Smith, will be making one of his periodic returns to the strip soon. John Rose, the current master of the revels, brought Barney back briefly last February; at the time, it had been about 15 years since the guy with the goo-goo-google eyes had been in the strip. Rose frequently makes appearances before civic and corporate groups, and in one of them recently, someone asked where Barney and Spark Plug (Barney's race horse) were. Said Rose: "I thought it would be fun to bring the characters back. I approached Brendan Burford, King Features' comics editor, with the idea and he was all for it. So away we went!"
The entire robust history of Barney Google from Spark Plug to Snuffy is retailed in Harv's Hindsight for December 2009 (on the other side of the $ubscribers Wall, naturally).
NAME-DROPPING AND TALE-BEARING
Steve McGarry, a Brit now living in this country and a former prez of the National Cartoonists Society and creator of Biographic and TrivQuiz on GoComics, is bringing to these shores his "western" comic strip, Badlands, which started in 1988 and ran for 12 years in Britain. The strip features the puerile antics of Marshall Mask and his "motley mob of maladjusted misfits"; the strip will appear, I gather, at the GoComics website.
Topps recently announced the discontinuation of its long-running Bazooka Joe comic strip, since 1954 a popular enclosure in its bubblegum packaging. The strip has a storied history (ironically the subject of an upcoming celebratory book from Abrams ComicArt, Bazooka Joe and His Gang: A 60th Anniversary Collection). For many years the gags were written by Underground comics legend Jay Lynch and drawn by former Tijuana Bible cartoonist Wesley Morse. According to The New York Times, the gum company executives have decided to rebrand, reducing the iconic character to the role of occasional spokesperson/mascot, stating, "What we're trying to do with the relaunch is to make the brand relevant again to today's kids."
And here I thought all along that bubblegum alone would do that.
SADDLING UP FOR ANOTHER HEMISPHERE
Stan Lynde, the 81-year-old creator of the Western comic strips Rick O'Shay and Latigo, is leaving Montana, where he grew up and spent most of his life, for Ecuador. He and his wife, Lynda, have divided and donated all of the memorabilia associated with their past life between their children and the Montana Historical Society and plan to pack what's left into four suitcases, two backpacks, and a camera bag and move to Ecuador.
Starting in 1958 as a spoof of "Hollywood westerns," Rick O'Shay eventually achieved a circulation of about 100 papers and became increasingly a realistic portrayal of life in the Old West. After a 1977 contract dispute ended Lynde's involvement in his first-born, Lynde launched a new realistic strip, Latigo in 1979 with Field Syndicate; it ran until 1983. He also wrote a Western comic strip Rovar Bob and other comics for Swedish publications. In the years since Latigo ceased, Lynde's deep engagement in America's Old West inspired him to produce eight novels staring Merlin Fanshaw about the period. They, like his comic strips, smack of the West in both incident and lingo.
The Lyndes plan to return to Montana every fall for a few months. We'll have a long piece about Lynde and his comic strip creations in the next Hindsight, to be posted before the end of the month—a happy new year token.
WHO'D A-THOUGHT: SEXISM IN HOLLYWOOD
From Lady Geek Girl at ladygeekgirl.wordpress.com: James Gunn, if you don't know who he is, is the director who has been tapped to helm the upcoming Marvel Cinematic Universe movie, Guardians of the Galaxy, due in 2014. He is also the author of this post, "The 50 Superheroes You Most Want To Have Sex With." There is nothing wrong with being attracted to a superhero character. There is nothing wrong with wanting to screw a superhero. (I would be lying if I said I wouldn't sleep with Batwoman, for example.) But the way Gunn comments on the entries in his list makes him sound less like a respected director and more like an unwashed neckbeard who has never seen a woman outside of bad porn. Here's a highlights reel of the commentary, care of tumblr's othothegreat and buckycaps:
The art he chose in general, especially for the female heroes, is really gross and terrible, but here are a few more sexist, misogynistic, sex-shaming gems:
"for those men that love rude bitches, [emma frost] the white queen is the way"
[on natasha romanoff, the highest debut] "considering she's fucked half the guys in the marvel universe, that's quite a feat"
[on elektra] she'll "give you a nice, ninja-trained blow job"
[on black canary] "I used to think she was the hottest chick in the dcu, but then I remembered that she fucks green arrow"
[on dazzler] "a friggin' great vagina"
[on kitty pryde] "I want to anally do her"
[on choice of art for jade] "I picked the one with the big tits"
[on batwoman] "i'm hoping for a dc-marvel crossover so that tony stark can turn her; she could also have sex with nightwing and still be a lesbian"
This same article also includes such charmingly puerile humor as calling Gambit a "Cajun fruit" and sharing his vivid imaginings of "my balls slapping against Gambit's" which, he immediately points out, "makes me sick to my stomach," just so you don't get the wrong idea.
He goes on to make fun of Dr. Manhattan's penis size, and then this: "Many of the people who voted for the Flash were gay men. I have no idea why this is. But I do know if I was going to get fucked in the butt, I too would want it to be by someone who would get it over with quick."
And he STILL manages to treat the male characters with more respect in general than the female ones.
S. CLAY WILSON: SOME MORE OF THE STORY
Smashed up and in a coma when found unconscious the night of November 1, 2008, famed iconoclastic buccaneer undergrounder S. Clay Wilson has disappeared from public view. He's recuperating. Wilson's live-in lover Lorraine Chamberlain writes: "I have been flirting with S. Clay Wilson for forty years, lived with him for ten, visited him in the hospital every day for a year, and brought him home to take care of ..." She continues at http://www.punkglobe.com/sclaywilsonarticle0610.html —(in italics):
WILSON WAS IN A COMA FOR THREE WEEKS until he was taken off the ventilator. They had removed it once before in the first week, but he failed this breathing test and had to be intubated again. He suffered from a bout of pneumonia after that, so it was frightening when the neurosurgeon told us he may not make it when they removed the machine again. Thankfully, he gradually opened his eyes and continued breathing on his own. ...
We had no idea how severely impaired he was for many months after that day. Always an uncooperative personality, many times he told people to "get lost" when they came to visit. Some took it personally, some blamed it on me, and some let it roll off their backs to return another day for a more successful visit. He had bouts of outrage when he was in the rehab facility, trying to escape with all of his belongings crammed into the legs of a pair of sweats, like a duffel bag. He spent days ranting about vivid characters and scenarios not based in reality. It took me awhile to realize that many of these wild delusions were really "verbal drawings"—not hallucinations at all. He couldn't draw them, so he spoke them.
It took several months before he could even write his name. I brought him a small sketch pad which he kept close by but left blank. One day I looked in it to discover his famous signature! It brought me to tears, offering hope for the first time about his ability to draw again some day. Soon after that we discovered a face he'd drawn on an easel in the dining room. A friend thought it looked like me. Two days later, I discovered four Checkered Demon faces on the same easel. I saved these little gems to show him later, thinking we would have a great laugh at their simplicity. ...
Since returning home, he spends many days drawing, followed by days or sometimes weeks off. He has completed several remarkable pieces here at home, but said recently that he is weary of his characters. This worries me, of course, but I do not nag him. I try to keep him engaged in any way possible, exercising, walking, and visiting with his friends. We go to museums and galleries together, and once in awhile to a matinee. He loved "Avatar" and "Alice in Wonderland," as well at "Crazy Heart." ...
Wilson is not a blank slate. In many ways, he makes more sensitive observations than he ever verbalized before his accident. He cannot problem solve, however, and can do very little for himself without help. His short term memory is shot, and he no longer talks very much since he now has aphasia. Sometimes it is hard for him to express himself, but since we are together most of the time, I can usually help "put words in his mouth" so he can get it out. (He's always quick to tell me if I'm getting it wrong, however.)
THE PUNKGLOBE.COM site from which I've just quoted the foregoing paragraphs has some photos and brims with Chamberlain's affection and regard. She outlines other aspects of this tragedy at sclaywilsontrust.com (in italics):
S. Clay Wilson was [not coming home from a bar; he was] trying to get home from a friend's house November 1, 2008, the night his life changed forever. We will never be certain if he fell or was attacked, since he has no memory of it. The numerous injuries on his face and head made him look like he was beat up. Two good samaritans found him unconscious between parked cars, face down in the rain, and called an ambulance. (I have tried to find them in order to express my gratitude for saving his life, but have had no success.) He'd suffered a Traumatic Brain Injury, bleeding in three hemispheres of his brain. He spent three weeks in a coma, and we had no idea how severely impaired he was for many months. Once he began to speak again we realized he hadn't just "awakened" to resume life as it had been before.
We'd been flirting since we met in 1968. I have been living with him since June 2000, visited him every day for the year he was in the hospital, and brought him home November 10, 2009. Taking care of him 24 hours a day is a daunting task, but one I am devoted to. He cannot go out on his own or he would get lost immediately, nor can he be left alone in the house. He cannot problem-solve, nor do anything for himself. Yet somehow he is aware of this loss of freedom, and some days I can tell it saddens him.
The days he spent drawing were his happiest, but after the first year at home, he stopped doing it. He did about 15 drawings the first summer he was home, but by the next Christmas he would no longer go in his studio. Yet he thinks about drawing all the time, and frequently brings piles of his art supplies onto the bed. I continue to hope this means one day he will resume drawing. ...
He is very quiet now after being a motor mouth all his life. But he is not a blank slate. ... He is more sensitive now, and needs reassurance every day. He's always asking if I still love him, and reaches for my hand when we're walking or watching a movie.
I have put together a Special Needs Trust for him since he is no longer capable of earning a living. He will need 24-hour care from now on since the little details of daily life are a mystery to him now, and he is easily confused. This gifted artist worked as hard as he partied and was a playful, brilliant person. Although he is still capable of worrying about the future, he does not fully understand what has happened to alter it. He is now in need of help. This is a tragic turn of events for a proud man.
The Trust is set up so it can only be spent on him. We pool our meager resources for basic expenses. I hope people will find a way to donate what they can to give him a better quality of life and assist in his ongoing care. Donations can be made here [i.e., sclaywilsontrustfund.com] by clicking on the yellow PayPal button. Or mail to PO Box 14854 San Francisco CA 94114
Look for his Facebook page at S. Clay Wilson. Thank you! Lorraine Chamberlain
RCH again: In case you've forgotten the products of Wilson's twisted but highly comedic imagination—the Checkered Demon, the loathesome pirates, the rapacious wimmin—here is an assortment taken from The Art of S. Clay Wilson (172 9x12-inch pages, color and b/w; Ten Speed Press hardcover, $35).
While such specimens as these are probably review enough for this tome, I can add that there is no text in the body of the book itself, but it is generously prefaced by persons who know (and even understand) the noxious humors of the underground's most outrageous cartooner: R. Crumb, Mark Pascale (Associate Curator of Prints and Drawings at the Art Institute of Chicago, whose essay was written "as a defense for an acquisition" of Wilson art), John Francis Putnam (writing in The Realist), Charlie Plymell (Wilson's first publisher), and Bob Levin (whose astuteness is legendary around Rancid Raves).
Crumb writes of his first meeting with Wilson, which took place just as his Zap Comix no.1 was being printed by Plymell. Wilson, erupting with "inspired patter," showed him a portfolio of his drawings. Says Crumb: "It looked like folk art, like old-time tattoos, like some demented highschool hotrodder's notebook drawings. The drawings were rough, crazy, lurid, coarse, deeply American, a taint of white-trash degeneracy. Every inch of space was packed solid with action and crazy details. The content was something like I'd never seen before, anywhere, the level of mayhem, violence, dismemberment, naked women, loose body parts, huge, obscene sex organs, a nightmare vision of hell-on-earth never so graphically illustrated before in the history of art! Wilson was the strongest, most original artist of my generation that I had yet met. ... He'd been through art school and was barely touched by it."
Putnam writes about Wilson's "single page explosions of mayhem, with people stabbing switchblades into eyeballs, people sticking shotguns into vaginas and pulling the trigger. Everywhere, bits of flesh and bone flying about as those who are involved in the melee make with exhortations like 'Take that, you black-hearted cunt!' ... Wilson has an American passion for accurate detail: a pirate pistol blowing off the top of a girl's head has the correct fire lock. ... The focal point of Wilson's fantasy is, quite simply, revenge. And who doesn't dig revenge fantasies? ...With him, every fuck is a Grudge Fuck! ... Cocks are wonderfully distended and throbbing; cunts are prehensile and ever-receptive. ... The Dyke, in Wilson's drawings, strides pridefully through all the mayhem. The Dykes actually win!"
Charlie Plymell supposes about Wilson's work that "a better label than Grotesque is the Carnival."
Bob Levin talks about Wilson's art "of ball-bat outrage and white shark excess, chain saw intelligence and rattlesnake wit. ... He has (imaginatively) scaled the peaks and plumbed the depths and balanced on the edge, and he has emerged bearing guffaws. ... I don't know about you, but I am even going to have trouble taking penises and vaginas so seriously again."
Speaking for myself (nothing remarkable about that, I realize), I am eternally grateful to Wilson for inspiring such flights of linguistic excess as those I've just quoted. And his pictures? Well, we all love to be grossed out from time to time. I would not part with this 2006 retrospective of his work from 1961 to 2006 for any amount of money.
Fascinating Footnit. For even more comics news, consult these four other sites: Mark Evanier's povonline.com, Alan Gardner's DailyCartoonist.com, Tom Spurgeon's comicsreporter.com, and Michael Cavna at voices.washingtonpost.com/comic-riffs . For delving into the history of our beloved medium, you can't go wrong by visiting Allan Holtz's strippersguide.blogspot.com, where Allan regularly posts rare findings from his forays into the vast reaches of newspaper microfilm files hither and yon.
Quotes and Mots
The cartoonist makes love to his reader a meager minute or two each day; for the remainder of the twenty-four hours that elfin darling who paid for the copy of the newspaper is gamboling about among the other strips in the same or similar sections. Because of the brevity of assignation, the comic artist tries to fashion a thin, taut wire of continuity upon which he hangs baubles of incident, hoping to hold the customer's affection even while his worship cavorts below the fold with the blowzy product of a rival syndicate.—Milton Caniff
EDITOONERY
Afflicting the Comfortable and Comforting the Afflicted
NOW THAT THE ELECTION is over and the Major Issues of Our Times have been resolved, we've descended back into the Dark Pit of Politics As Usual—which means, news media exaggeration and its accustomed frenzy of preoccupation with petty peccadilloes and molehills.
And here, briefly, is an overview of the last month or so.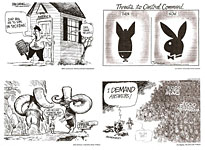 Going clockwise, we start with Mike Luckovich at the upper left. His visual metaphor isn't particularly striking, but a fat Tea Bagger leaving home in a juvenile fit of pique is wonderfully apt and echoes my view succinctly. "Quick, change the locks" indeed. This one runs a perfect parallel to Pat Bagley's two-panel comment last fall (Opus 301) on the political climate in the aftermath of each Debate, wherein he depicts the Democrats as assuming blame for the failure of their man ("Obama blew it"), but Republicons never taking responsibility but blaming everyone else when their man fails ("it's the moderator's fault," "it was rigged," and so on). Joe Heller provides a nifty metaphor for the troubles afflicting David Petraeus and his be-ribboned ilk: simple silhouettes tell the tale.
Next on the clock is Pat Bagley with a telling visual that puts the Benghazi episode in proper context. The Grandstanding Obstructionist Pachyderm persists in making a huge deal out of the death of four Americans who were serving their country in a powder-keg of a foreign country. Yes, we are diminished by their deaths, each one of them. But presumably they all knew the risks. Meanwhile, we are also the poorer for the 7,000 who died in the deserts and mountains of Iraq and Afghanistan for reasons that now seem petty and obscure. Incidentally, by way of putting these honorable deaths in a context: in World War II, on the average, 6,600 American soldiers died every month; that's about 220 a day. And now the GOP wants us to rend our garments and tear our hair over four deaths—all for the political advancement of the Party of Tease, of course.
About the looming Fiscal Cliff, John Darkow has an image that works for me and anyone else who's ever watched big horn sheep fight: they just butt heads over and over again until they're both worn out. Big horny bastards engaged in head-butting to prove their machismo. The perfect metaphor.
That our National Life is threatened as we teeter on the brink of the Fiscal Cliff reminded a friend of mine of one of the best bon mots to emerge from tv's "Smothers Brothers" when Tommy Smothers says: "Let's all get behind the President and Congress —and shove."
Our next visual aid is not, strictly speaking, an array of political cartoons, but gag cartoonists often supply startling insights into the way we live.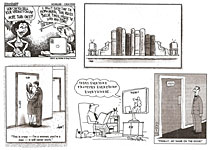 At the upper left, Schiller and Cravens in their More On TV feature offer a different (but revealing) perspective on the religious experience of being born again. Some of the signatures I can't read, and the Humor Times, from which I clipped these philosophical observations, doesn't supply names in small type, so I'm lost about who drew the bookends that so aptly reveal why the book publishing biz (not to mention Thinking America) is in somewhat less than healthy condition. The next three across the bottom (ending on the left with one of Cheney's) are simply hilarious, although Harley Schwadron's cartoon in the middle deftly takes on the news media as well as the state of our so-called democracy.
The Humor Times ran a short piece by S.L. Chandler on Schwadron, who admits that cartooning as a profession has "lots of low points," explaining: "Cartooning is filled with rejection. For every cartoon sold, there are hundreds that are submitted and rejected in the freelance field." But he still enjoys the work: "Coming up with ideas is sometimes difficult," he admits, "but the drawing—putting ink on paper—is a joy."
Despite the rejection, Schwadron advises young aspiring cartoonists "to follow their hearts and hope for the best." Which Schwadron does with his 9 to 5, syndicated by Chicago Tribune Media Services, and in countless single panel cartoons that have appeared in The Wall Street Journal, Forbes, Readers Digest and other outlets, and in the illustrations for numerous books (including 25 different Chicken Soup for the Soul tomes).
"As for the graphic novel," Chandler goes on, "which permeates much conversation about cartooning these days, Schwadron says he doesn't think he 'could do graphic novels. I have a short attention span. Doing individual cartoons is more up my alley.'"
Schwadron has a moustache and a beagle. You can find more of his work at schwadroncartoons.com.
COMINGS AND GOINGS. Alan Gardner at DailyCartoonist.com reports that Dana Summers, editorial cartoonist for the Orlando Sentinel, announced on Facebook that he had just been laid off from the paper due to cutbacks. Jim Romenesko at his blog reports that several Sentinel employees, including Dana, took a buyout. Dana mentions that he'll continue to syndicate editorial cartoons through his syndicate and focus on his two comic strips Bound and Gagged and the Middletons. Jeff Parker, editoonist for Florida Today, posted the following comment from Summers: "Well, earlier today, my 30 years at the Sentinel ended due to cutbacks. It was a good run—longer than many more-talented cartoonists I know. When I was a kid, all I ever wanted to do was draw cartoons and get paid for it. The Sentinel afforded me the opportunity to do just that. So, after thousands of drawings, I won't be signing the Orlando Sentinel after my name. I'm still drawing for TMS—editorial cartoons and the two strips. Except I'll be doing it in cutoffs and a T-shirt. No shoes. Thanks to all who read my cartoons in the paper."
We reported earlier that the number of full-time staff editoonists stood at 54 following the departure of Jack Ohman from the Portland Oregonian; but Ohman then joined the staff of the Sacramento Bee, so the number reverted to 55. But with Summers' departure, we're back at 54.
The Sacramento Bee pursued Ohman. He will take the perch left vacant when Rex Babin died last year. As it happens, Ohman and Babin were good friends. And Ohman was thinking about leaving the Oregonian. (Maybe because he heard buyouts were going to be offered; and he might not have had much choice later on. Dunno for sure.) In any event, the Bee's editorial page editor, Stuart Leavenworth, was actively looking for a new staff editoonist.
Rob Tornoe, reporting in Editor & Publisher (December 2012), wrote: "For Leavenworth, the role of the editorial cartoonist is more essential now to newspapers than it ever has been, and he knew that even though he would never be able to replace Babin, it was important to preserve the power and irreverence of his voice in the community."
Tornoe quote Leavenworth: "Rex had a really strong commitment to doing local cartoons, and since he passed away it's been such a huge loss for our pages. ... Readers not only miss Rex, they miss a local cartoonist. It's going to send a big jolt of energy to our readers when Jack starts in January."
Persiflage and Furbelows: Why?
Why do supermarkets make the sick walk all the walk to the back of the store to get their prescriptions while healthy people can buy cigarettes at the front?
Why do banks leave vault doors open during the day and then chain the pens to the counters?
Ever wonder—:
Why the sun lightens our hair but darkens our skin?
Why 'abbreviated' is such a long word?
Why is lemon juice made with artificial flavoring, and dishwashing liquid made with real lemons?
Why is the man who invests all your money called a broker?
Why do they sterilize the needle for lethal injections?
Why there isn't mouse-flavored cat food?
If flying is so safe, why do they call the airport the terminal?
Why you never see the headline "Psychic Wins Lottery"?
THE FROTH ESTATE
The Alleged News Institution
WARREN BUFFETT, THE NATION'S WALL STREET ICON, went on a newspaper spending spree this year, reported the New York Times. "He bought more than 60 newspapers from Media General and a small stake in the newspaper company Lee Enterprises, a chain of mostly small dailies based in Iowa. At the time, he stressed that he had great confidence that newspapers would continue to be solid investments for decades to come: 'I think newspapers in print form, in most of the cities and towns where they are present, will be here in 10 and 20 years,' Buffett said. 'I think newspapers do a good job of serving a community where there is a lot of community interest.' Buffett has purchased 63 papers and a 3% stake in Lee Enterprises.
Buffett being the economic bell wether that he is, we must all, now, take heart.
PERSIFLAGE AND BADINAGE
"The Democrats' big advantage is that they have non-solipsists at the top of their party. The Democrats have a leadership class of Clintons and Obamas who are bgetter at reaching beyond the epistemic closure of their own tribe than anybody in the GOP."—David Brooks
"The modern purifiers start to resemble the Puritans of yore. Thomas Macaulay wrote 150 years ago that 'the Puritan hated bear-baiting not because it gave pain to the bear but because it gave pleasure to the spectators.' Similarly, our purifiers go after outdoor smoking, not because it's a serious menace to public health but because someone is drawing some solace from tobacco. I have an even darker theory to explain the vigor of this crusade. Many political revolutions started in smoke-filled coffee houses. Just as soon as the authorities finish banishing the smoke, they'll start going after coffee so they can stay in power."—Ed Quillen, the late Denver Post columnist
RANCID RAVES GALLERY
Pictures Without Too Many Words
CARTOONISTS GET ACCUSED all the time of perpetuating stereotypical images. Naturally. Of course. They're the bread-and-butter of the craft. Stereotypical images are the visual shorthand for conveying a message. Elephants, donkeys, Santa Claus, half-naked wimmin—all stereotypes. Still, some of the Perpetually Concerned wring their hands about all these stereotypes. I occasionally do that, too. How can we do any original thinking when we think, always, in stereotypes?
But, like it or not, our society is awash in stereotypical imagery. We see it everywhere, not just in comics. Take the picture below, which appeared to illustrate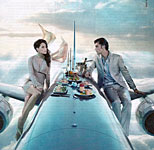 an advertisement for Korean Air. If you enlarge the image (Page, Zoom, 150%), you'll see all the cliches of a seduction scene. A sumptuous meal, champagne (flutes and the ice-bucketed bottle), candle-light, girl with her skirt hiked up her thigh (and if that doesn't symbolize something sexual, what does?), a guy with sideburns and shiney pants. Why is her scarf waving in the breeze and his coat tails are not? Who knows? Still, stereotypical seduction scene. Stereotypes pervade our culture. Maybe we can't live without them.
CIVILIZATION'S LAST OUTPOST
One of a kind beats everything. —Dennis Miller adv.
While I'm waxing philosophical, let us consider that the religion of America is America. It even has a holy trinity: the father of the country, George Washington; the savior of the country, Abraham Lincoln; and the "holy spirit"—namely, the Constitution, which Quixotically embodies the notion that it's possible to have a democracy in a capitalistic society.
BOOK REVIEWS
Critiques & Crotchets
Marvel Comics: The Untold Story
By Sean Howe
488 6x9-inch pages, no pictures; Harper hardcover, $26.99
A HISTORY THIS IS NOT. It is anecdotal rather than documentary. At best, it is a book of gossip; at worst, it is inaccurate. All history is gossip so we can scarcely fault Howe for spreading lots of it in this book. But recognizing the book as more gossip than ascertainable fact is a good way to prepare for reading it. Despite this debatable shortcoming, The Untold Story has been receiving favorable reviews hither and yon, mostly because (a) Marvel is big in the entertainment biz; no longer merely a simple publisher of funnybooks, (b) many of those doing the reviews don't know much about Marvel so this tome seems gloriously juicy with insight, and © everyone dotes on gossip, the nastier the better.
Howe is not particularly nasty although he does manage to make Marvel into a sort of simmering stew of fights, feuds, squabbles, power plays and bad feelings fostered by a boss, Stan Lee, who appears increasingly more concerned with promoting himself rather than Marvel Comics. Several times (enough to be monotonous), Howe records the departure of a Marvel staffer by saying: "His feelings about Marvel would never fully recover." Or words to that effect. Jack Kirby, Steve Ditko, Roy Thomas—in short, anyone important to the creative processes of making comic books eventually leaves with a bad taste in his/her mouth.
Lee is not a bad man in Howe's estimation; but he seems oblivious to the effect on artists and writers of his decisions that advance the fortunes of Lee (and, to be fair, also of Marvel) at the expense of creative enterprise. Much of the narrative is a litany of people who were so slighted or put upon by Lee or by corporate preoccupations that they quit the company, leaving behind a crushed and bleeding spor of shattered dreams and broken promises.
In some ways, Howe shows, Lee was as much a victim as any of his cohorts. When Marvel began to be noticed for producing comic books about unusual superheroes, longjohn legions "with problems," Lee, as the editor of the line, would be interviewed by newspaper reporters and very often his enthusiasms led his interviewer to believe that Lee was the sole creative personality at Marvel. This is an old story. Kirby created the Silver Surfer, Howe says; but Lee has always referred to the character as his creation, not Kirby's. Ditto with Spider-Man and Ditko. Only in the last 15-20 years has Lee pointedly acknowledged that the creative machinations at Marvel included artists at his elbow.
Incidentally, on my recent weekend sojourn in Washington, D.C. for the convention of the Association of American Editorial Cartoonists, I spent a couple of hours in the Prints and Photographs Division of the Library of Congress, looking at original art for the first Spider-Man story, which was donated by "an anonymous" person. Ditko?
Interlude with Spider-Man. Judging from the evidence at hand, Ditko submitted his work to Lee in its penciled state. In this inaugural two-part Spider-Man tale, Lee asked for three adjustments, two of which would have required re-drawing a panel or whiting-out offending visual elements. But the original art for the pages I contemplated featured no paste-overs and no white-out, which would have been visible if the adjustments had been made after the art had been inked. So Lee was looking at the penciled pages, which Ditko adjusted according to Lee's directions when he inked. Or, as it happens, did not adjust.
Lee made his suggestions in pencil in the margins. The notes have been erased but they are still discernable. The first one occurs on page 3 of Part One. The eighth panel shows a speeding automobile that almost runs over Peter Parker because he is so absorbed in thought that he is oblivious to his surroundings. The penciled art apparently included an arm protruding from the interior of the car, and that, Lee thought, implied that the car was being drive recklessly, so he asked Ditko to remove the arm so as not to suggest to young impressionable readers that reckless driving was acceptable. And Ditko removed the arm, as we see in the accompanying illustration.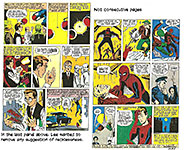 On the last page of Part Two (shown above), Lee's comment focuses on the sixth panel. Here, he asks that Ditko "lift up" the second policeman's head. In the original, apparently the second cop's head is lower down in the panel—or perhaps just smaller. "Lifting it up" enhances its visibility, and Ditko complied with the suggestion.
But the other comment Lee made, his third instruction, Ditko ignored. On page eight of Part Two, Lee's penciled comment is next to the third panel: "Steve, omit crook! Show door slamming!" Ditko quite sensibly ignored this command.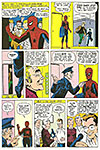 He probably ignored it because omitting the crook would remove the visual interest in the panel: a vertical line indicating closed elevator doors is scarcely a dramatic picture, and the scene demands some drama, coming, as it does, at the end of a presumably heated pursuit.
Ditko may also have realized that the crook's face, which establishes his identity at the end of the story (look again at the previous visual aid), needs a little more exposure than even the close-up of the next panel supplies. The figures of the crook in both second and third panels are small, but the heavy eyebrows provide a quick and certain means of identifying him. The profile in the fourth panel confirms in detail the distinctive eyebrows, but profiles, as a general rule, are not useful in identifying anyone except in profile; and the crook at the end does not appear in profile. Without page eight's several exposures of the crook's face, including the detailed profile, we might not be equipped to share Spider-Man's moment of recognition at the end, and the story with its heart-rending moral lesson would be substantially spoiled. Ditko was right to ignore Lee's dictum here.
Judging solely from this instance—perhaps the only "documentary evidence" we have—Lee, as editor and scripter, influenced how Ditko told the story that Lee plotted, but Ditko did the actual storytelling, enhancing its emotional highs and lows, and he didn't always do what Lee wanted him to do. Ditko is clearly the better storyteller; Lee's advice is either off the mark or almost superfluous.
Back to Howe's Book. The relationship between plotter/writer and artist, between Lee and Ditko—and that between Lee and Jack Kirby—epitomizes the "Marvel Method" of creating comic books. Lee conjured up a plot and outlined it to an artist, and the artist then drew the story and then passed the finished pages of visual storytelling, first in pencil then in ink, back to Lee, who then created speeches and captions that knitted the pieces together. (Although sometimes, as gossip has it, Lee couldn't remember the plot when confronted by the pages it inspired. He made do, though—larding the tale with witticisms and quips, thereby, almost incidently, creating the Marvel mystique.)
The "Method" served the purpose for which it was devised: by sharing the storytelling load, Lee was able to produce great quantities of comic book stories that he could not have created had he tried to write complete scripts for the artists, the practice followed by DC and most other comic book publishers in the early days. But the "Method" also fostered the notion that Lee was the creative engine at Marvel; artists were secondary. The actuality, however, was quite the reverse. And the artists resented it.
The unhappiness fostered by the "Marvel Method" of creating comic books—and the bickering struggle over possession of original art and all the rest of the more sordid sensational aspects of Marvel's history—have been aired before in a 2004 biography of Jack Kirby written by a man going by the name of Ronin Ro, which, as I recall, is a pseudonym. His Tales to Astonish, rift with scandalous revelation, has a good deal in common with Howe's book: both rely upon interviews with persons who were engaged in producing Marvel Comics; both dwell upon the discontent of these persons and the injustices they complain of.
Mark Evanier, who worked on projects with Kirby in the latter part of the artist's career, was among those "Ro" interviewed, and Evanier said he was surprised at how short the interview was. "If I'd been him and I had a chance to ask me questions," Evanier reported in his newsfromme.com in September 2004, "I'd have asked a lot more than he did. ... As I page through the finished volume, I find myself impressed by his knowing a couple of things that I know I didn't tell him—but also annoyed about a number of things that I could have corrected if he'd run them by me."
After reading the book, Evanier decided he didn't want to review it. He felt Ro "made a sincere effort ... and did a better job than I'd have imagined from a guy who was so far removed from Jack." But Evanier didn't want to "endorse everything in the book" because there were inaccuracies; nor did he want to go through the volume, page by page, to point out the errors. He finally decided to say, simply, that he had mixed feelings about the book and to caution against believing everything in it.
Interviews with Jim Steranko provide one of the more enthralling episodes in Ro's book. In the struggle over possession of original art, Steranko got his pages back by simply taking them. They were among piles of original art on shelves where they'd been stowed after being returned from the printer. No security. And unauthorized persons were taking them and selling them at conventions.
Steranko confronted Lee and said: "Unless I get my pages back, I'm gonna go to the IRS and tell them about the original art inventory." By then, Steranko reasoned, the inventory had to be massive, going back to Timely and Atlas, and "worth a fortune" even at only a few bucks a page. When Steranko told Lee that if IRS found out about the inventory, Marvel would have to pay taxes on it, Lee told him to "do whatever you have to do—but I never want to discuss this again, ever." Steranko took his pages. "And when Stan saw I had my originals for display at conventions and shows and exhibitions sometime later, he never mentioned it," Steranko said, "and I never mentioned it again either."
Ro, like Howe, sometimes quotes his sources directly and sometimes simply constructs a narrative from what they've told him. His story dashes on, headlong, usually without the specific underpinning of the sources of its presumed facts. No footnotes. No bibliography at the end. None of the apparatus you'd expect to find in an authentic history. And that makes it questionable.
In sharp contrast to Ro is the biography of Stan Lee written by Jordan Raphael and Tom Spurgeon, Stan Lee and the Rise and Fall of the American Comic Book, which appeared the year before Ro's Kirby book. Spurgael (or Rapheon), to bundle the pair, includes an extensive bibliography, arranged by chapter (almost like footnoting), which attests to the seriousness of their endeavor and the likelihood of its historical accuracy. The authors shore up their narrative with analysis and opinion, as do Ro and Howe, but Spurgael does not expend as much of this effort on fanning the flames of sensation. They conscientiously looked for truth among the gossip and rumors. Their book seems factual and therefore a good history.
Howe, on the other hand, seems to leave history to Spurgael. His narrative, liberally laced with gossip and the dubious testimony of disaffected writers, tumbles along, aiming for the Big Finish when the company is rescued by blockbuster movies based upon Marvel characters. In effect, Howe's book, after the obligatory review of juicy discontent created by Lee, takes up the Marvel epic where Spurgael and Ro left it and advances the narrative to Hollywood.
We can see substantive differences in the emphases inherent in the books' page counts. Spurgael is a shorter book—about 300 pages, 80 of which are devoted to Lee and Goodman and comics history from the 1930s to 1960; 26%. Howe's longer treatise, almost 500 pages, devotes only 25 pages to whatever happened before 1960; 5%. (In reporting the 1992 death of Martin Goodman, Howe comes close to attributing to "the founder of Marvel" the creation of the entire comic book industry; but he slights the man's contribution by gliding so quickly over Goodman's early history.) Howe does, however, footnote exhaustively, impressively, and he lists all those he interviewed between 2008 and 2012 (something like 150 persons).
Still, the accuracy of Howe's reportage is suspect. On page 12, he commits a blunder that makes me wonder how thoroughly he looked into his subject: "Legend claimed that the publisher of Wonder Man, one of the earliest and most blatant imitations [of Superman], had been an accountant for the head of National [Superman's publisher] until he saw the numbers on Action Comics and [so] quickly set up his own company" to cash in on the phenomenon.
Legend? What part of that scrap of history is legend rather than fact? That Victor Fox, an accountant at National, left the company (now DC) to form his own company when he saw sales figures that convinced him that comic book publishing was the coming thing? I believe that whatever Howe thinks is legendary in that sentence is actually pretty well accepted as fact. But if he didn't research the matter enough that he's driven to saying it's legend, then I wonder what else he didn't research enough.
On the next page, Howe says the appearance of the Submariner pages in Marvel Comics No.1 was "compromised by cheap printing, which muddled everything into a purple sludge." Yes, the artwork looked smudgy, but that was caused by artist Bill Everett using Craftint paper for shading, the slanting and cross-hatched lines filling up so much of the art with gray tones that the addition of color could only muddy the appearance. Cheap printing it was, but the appearance of the artwork was compromised by the artist's choice of medium, not the printing press.
Two slips in as many pages persuaded me that I could skim this book rather than read it closely. But I am as intrigued by gossip as much as the next guy, so as I paged through the book, pausing here and there, I started paying closer attention until, by the end, I was reading every word. Long before then, however, I'd happened upon another couple of Howe missteps.
On page 32, he mentions the blunder Martin Goodman made in 1957 when, suddenly stuck without a distributor, he signed on with the only show in town, Independent News, which was owned by DC Comics. Independent News struck a hard bargain to protect the company that owned it from a competitor: Goodman, who had been cranking out titles by the dozens (reputedly as many as 80 a month at one point), would be restricted to no more than eight titles a month. "The Timely line," as Howe puts it, "was decimated instantly."
In fact, Timely was rescued by Stan Lee's consummate skill as a production manager. First, he gradually reduced the frequency of Timely titles to bimonthly, which permitted the company to produce as many as sixteen titles, not just eight. Then as Goodman began demanding the addition of superheroes to the line, Lee juggled to avoid going over sixteen—cancelling titles, adding features within existing titles, renaming books. This feat Spurgael discusses in some detail, but Howe never mentions it.
Similarly, Howe slights Roy Thomas, who joined the Marvel staff after the Independent News deal went away. By then, Marvel was adding titles as fast as exploiting the market demanded. And one of the things that contributed to Marvel's success in the 1970s was the introduction of comic books about the Robert E. Howard character, Conan, who was bought into Marvel by Thomas. Conan was a big hit, Howe says, but says no more about it or about how Thomas negotiated the licensing deal, which eventually led to other licensing deals. Nor does Howe mention Barry Windsor-Smith, whose growth as a visual stylist while helping Thomas adapt Conan to comic book format assured its success.
Howe's sourcing is impressive, but however scholarly the apparatus, he is relying largely upon the testimony of writers and other factotums at Marvel, and very little on artists. On the one hand, this practice is fruitful: writers, in particular, are articulate about their experiences and their views of what was transpiring at the "House of Ideas." On the other hand, writers, particularly those who create works of fiction, are, by nature, tempted to make things up—or to emphasize selected instances for dramatic effect. In short, since writers make their living by fabricating the best tales they can, isn't it likely that they'll deploy their talent during interviews about their, and Stan Lee's, past? How reliable are they as sources?
Jim Shooter, whose persona in Howe's book emerges largely from the testimony of the writers he bullied, comes off as a ranting tyrant, demanding substantial changes in books on the day before they are scheduled to go to press. Jim Starlin and Steve Englehart partied all day and dropped acid before plotting their books. How reliable is their testimony?
Still, Howe has cobbled up an engaging narrative. He may not have interviewed many of the artists, but he is astute enough as a reader of comics that he can assess the art and articulate his appreciation of it, thereby filling out portions of his narrative. He alternates plot summaries about the comic book adventures with gossip about writers, artists and editors. Anticipating the Hollywood crescendo that ends his tale, Howe threads throughout the book Stan Lee's longing for the career of a Tinsel Town mogul. Howe's method produces a highly readable (however dubious factually) book.
In the last analysis, Howe's method is no different than any historian's. He is forced to rely upon questionable witnesses. As are we all. So is all history but the sum and substance of gossip? Probably. And we are therefore well advised to remember that.
In his handling of the desertion of Todd McFarlane and Jim Lee and others to form Image Comics, Howe apparently doesn't realize that the name of the new publishing company was intended to proclaim the victory of artists over writers in a dispute about which was the most important in producing comic books. Image Comics were concocted by the artists, who worked up plots and stories without any assistance from writers, making them "poster boys for artistic autonomy"—and setting Comics Journal editor Gary Groth off on one of his celebrated tirades (which Howe quotes):
"The founding creators have managed to dumb down and vulgarize an idiom not known for its application of intelligence or sensitivity and have consistently displayed an arrogant contempt for the medium and an unbridled ignorance of its history, coupled with a moral obtuseness rivaled only by the corporations to whom they owe their success."
McFarlane's scorn for comic books and costumed heroes and the industry that grew up around them is dutifully presented. Since he was the ostensible leader of the Image revolt and embodied the attitudes upon which it was based, it's no wonder that most of the Image founders we don't see around much anymore: almost as if to reinforce an image (ha!) of artists as infantile conductors of temper tantrums and otherwise too childlike to sustain an adult enterprise, most of the founders have disappeared into other endeavors. The Image Comics now on the newsstands are being produced by a second or third generation of artists; the first bunch, McFarlane's crew, have long receded from view. Except Erik Larsen, whose Savage Dragon continues, unabated.
Larsen obviously loves making comics. And the comics he produces are exciting and readable. Perhaps not as intellectually challenging as Groth might wish, but superheroes were not conceived as anything but devices for exciting visual storytelling, and Larsen does that with elan and panache. I enjoy his work chiefly for the visual energy it embodies. Savage Dragon is virtually a model for superheroicism in comics. What more can we ask?
The creation of Image Comics, while a momentary sensation, soon contributed to the temporary collapse of the direct sale business: the jubilant outlaw artists weren't production-minded enough to publish their books on schedule, and comics shops that ordered the books (and, as required, paid for them in advance) soon exhausted their financial resources and began closing. Eventually, the direct market recovered; by then, the original Image guys had moved on.
Building up to his big screen conclusion, Howe details Marvel's insane appeal to the so-called "collector market" (which turns out to be not as large as everyone imagines) and the company's equally nutty devotion to marketing tricks (cover enhancements, anniversary issues and other gimmicks) that were detrimental to the future of the company and of the medium itself. Anticipating fan interest, comic book stores bought huge inventories of such confections and were then stuck with them when the fans weren't quite as interested as the marketing department at Marvel thought they'd be. The Marvel marketeers were killing off the stores that were feeding Marvel.
Stores were closing and "actual comics readers ... were fed up with paying jacked-up prices for hologram covers" and left. But the disaster brought on by greed would be spectacularly quelled by Hollywood blockbusters.
In the last 100 pages of his book, Howe conducts a masterful review of Marvel's years in the hands of a succession of Wall Street raiders who bought and sold the company—Ron Perelman, Ike Perlmutter, Avi Arad, names that ring the doomsday bell. They wanted a company they could sell for a fortune. But not being comics people, they believed the long-standing Stan Lee hype that Marvel characters were as ubiquitous in popular culture as Mickey Mouse and Donald Duck. But Marvel was not Disney (not until just recently anyhow).
In an effort to monopolize the marketplace, Marvel inaugurated the distribution wars—buying a distribution company and constructing a diabolical distribution system that presumed that comics stores were so eager for Marvel books, so dependent upon them for financial success, that they would stop buying all other publishers' comic books if a system could be devised that punished them enough for not buying Marvel books and rewarded them for buying them. The validity of this marketing gimmick soon collapsed of its own fiendishness. Meanwhile, "the number of comic shops, which had already fallen from 9,400 to 6,400 in just two years," Howe notes, "soon dropped to 4,500."
Marvel, which was the best selling comic book publisher at the time, was financially a shambles, approaching bankruptcy. The Wall Streeters' response: put all editorial decisions in the hands of marketing personnel. "Perlmutter saved money by sacking executives. ... The joke everyone muttered was that if Perlmutter had his way, Marvel would consist of one guy in an office with a phone, licensing the characters." And on the West Coast, those characters were slowly mustered for making movies.
Joe Simon, who was engaged in yet another fight to regain the Captain America copyright, "could see that it was movies, not publishing, where the future lay—comics, he said, were for the 'masturbation generation,' a parade of big guns and big breasts. 'The business is going to hell in the first place," Howe quotes him saying, "'but the characters are more valuable than ever. So, we'll do the best we can'" to gain control of what was once the biggest character of all.
Avi Arad, busy putting together movie deals, assessed the situation: "Publishing was where it all started, and [comic books were] a great source. You had readymade storyboards to look at to understand how to lay out stories. But the big deal for the company was merchandising—everything from cereals to shirts to video games to shoes, you name it. That's where the serious revenues were coming from."
"By 2004," Howe says, in one of his sporadic citations of date, "Marvel was employing statistical analysts to feed information about creator and character performances into algorithms that determined launches, cancellations, and frequencies of publication. The company embraced the concept of crossovers as never before, with a relentless chain of big-event storylines that determined the course of multiple other titles. In turn, each of these massive arcs—which included prologues, epilogues, and entire spin-off series—fed into the one that followed. Major characters were torn in half, died in explosions, sacrificed themselves, lost their memories, regained their memories, lost their powers, or were revealed as shape-shifting Skrull aliens who'd posed as the real thing for years while the original hero was kidnaped on a spaceship."
In short, the company had deteriorated into a vast marketing scheme not comic book creation. But the successful movies began to stack up—Spider-Man sequels, X-Men sequels, and so on—predicting even greater success. "The strategy was to corner the market on films about the individual members of the Avengers: they'd get back the rights to Iron Man ... roll out "Captain America" and "Thor." ... And then, for the coup de grace, they could build on brand familiarity with the Avengers and combine the franchises into a monster-sized team-up movie. ... The circle was closing. The interweaving intricacies of the Marvel Universe, in all their glory, would be replicated as synergistic Hollywood franchises."
It all culminates, exactly as planned, Howe says, on the first weekend of May 2012 when "'The Avengers'" broke the record for the biggest box-office debut in movie history. A week later, it had grossed more than $1 billion worldwide."
Such success should, by all rights, blast its comic book incarnation to bits. But it hasn't. Not yet. Marvel comic books continue to come out. Revitalized? I don't know: I don't buy that many Marvel titles. The few I buy seem pretty much the same old schtick, with an occasional new twist torqued in. DC, in contrast, seems always poised to try something new, something different.
Howe is not convinced that the "Hollywood rescue" (as I call it) is good for Marvel. It performed a financial miracle of sorts, but the comic book universe it rescued has been modified and amplified and glorified out of its previous virtual reality by means of the endless tinkerings and alterations necessitated by the heroes' appearance in other media, passing, en route, through the hands of a seemingly endless parade of temporary custodians. The comic books still come out, but they appear in the service of larger market considerations. They are commodities, not artistic creations.
Howe's "untold story" has actually been told before, as I mentioned, by Ro and Spurgael, among others. But the title leads the uninitiated among book reviewers to suppose that the book is full of "inside" information, tantalizing backstage stuff that the public, which seems panting for the next superhero movie, is hungry for. Maybe we are. I am famished enough that I've now read this whole book—even though I know much of it is gossip, like most histories that are fed by the prejudices of eye witnesses.
I do wish, however, that it weren't so difficult to find dates in Howe's book. When he says, for instance, that "for the next three weeks" a disaster fomented, you have to flip back for pages to locate the month and year those crucial three weeks took place in.
Still, Howe's is an impressive performance. He demonstrates superior organizational skills in assembling a massive quantity of information and in arranging a cogent order for its presentation. And his tumbling narrative is highly readable, a pleasure to wade through—although splashing might be a better metaphor for the delights of the experience.
FOOTNIT: The Week magazine asked Sean Howe to participate in its weekly "Best Books" feature in which a chosen author lists his choices as the best books in his field. Taking Marvel Comics as his field, Howe listed these books: The Golden Age of Marvel Comics, Vols. 1 and 2; Masterworks Fantastic Four, Vols. 5 and 6; Daredevil, Vol. 2; Masterworks Spider-Man, Vol. 4; Masterworks Uncanny X-Men, Vols. 4 and 5; and Marvels, that painted extravaganza by Kurt Busiek and Alex Ross.
Comics about Cartoonists: Stories About the World's Oddest Profession
Edited and designed by Craig Yoe
232 8.5x11-inch pages, color; IDW Yoe Book hardcover, $39.99
THIS TOME IS ANOTHER in what is becoming a long shelf of delightful and superior Yoe Books, volumes distinguished by the obvious affection their editor/author, himself a cartoonist, has for the medium. That applies not only to the selection of content but to the design of the book that showcases the material. Take, f'instance, this volume's endpapers.
Why bother with endpapers? Who looks at endpapers? Craig Yoe (with whom I sometimes share a hotel room at the San Diego Comic-Con) evidently does. And he thinks others who admire cartooning and its history might also look at endpapers if those endpapers have something to do with cartooning.
So the endpapers of this book display numerous of the ads that appeared during the first 70 years or so of the last century in sundry sorts of magazines, each ad offering training in cartooning via mail order courses. Dozens of the profession's practitioners took correspondence courses in their youth—Milton Caniff, Elzie Segar, Jack Cole, Carl Barks, Chic Young, Bill Mauldin, Floyd Gottfredson and so on. And here we see the come-on ads that seduced young scribblers to part with their allowances: "How To Make Money with Simple Cartoons," says one; another, "Cartoon Your Way to Popularity and Profit" (illustrated with a picture of a young cartoonist surrounded by pretty girls); "Do You Like to Draw?"; "Your Future Depends on You!"
In the same spirit of informing and entertaining, the first seven pages of the book are devoted to spot drawings of cartoonists by the great Eugene "Zim" Zimmerman, the first big-foot cartoonist of any eminence in the profession. And, yes, he also ran a correspondence school.
As you can tell from its title, the book is devoted to reprinting comic book stories about cartoonists—almost 40 stories, drawn by nearly three dozen cartoonists (some, H.T. Webster, Milt Gross and Winsor McCay, represented by more than one story). With few exceptions (like those just named, plus Elzie Segar and Al Capp), the cartoonists labored in our favorite four-color pulps rather than in newspapers. The content is punctuated by fifteen comic book covers depicting comic book characters working as cartoonists (Bugs Bunny, Wacky Duck, even Superman and Batman).
The longest story in the book is by Jack Kirby and Joe Simon: their cartoonist is the protagonist in a love story from the romance title, In Love, but the tale also traces the guy's progress from novice to full professional, supplying en route glimpses into the intricacies of syndicated comic strip cartooning. The shortest stories are one-pagers—Hey Look! by Harvey Kurtzman, a couple of Grossly Xaggerated by Milton Gross, and four of the eight or so one-page autobiographical comics Collier's published in 1948 (Milton Caniff, Ham Fisher, Chester Gould, and Ernie Bushmiller).
Some of the works represented are classics—a Spirit story by Will Eisner, a six-page Scribbly continuity by Sheldon Mayer, an adventure with Joe Shuster and Jerry Siegel's manic Funnyman and another with Basil Wolverton's zany-off-the-wall Scoop Scuttle—all particular favorites of mine.
And in an Inkie story, Jack Cole supplies his usual dose of wacky visuals coupled to routine insanities. One character threatens the cartoonist with a bottle of camel poison, saying: "We'll poison all da camels, den dere'll be no camel's hair fer brushes an' all da artists'll starve."
"You fiend!" exclaims the cartoonist. "You have me in your power!"
And there are some rarities like a cartoon done by Jack Chick before he took up salvation as a subject matter, "Kar Toon and His Copy Cat" by Martin Filchock, and a 1953 horror story by Jay Disbrow, who draws, here, better than I remember his doing. "Suzie," attributed to Harry Sahle, is a spritely leggy-sexy funny romp with the title character modeling superheroine garb for a cartoonist. The collection ends with another classic, Wally Wood's legendary "My World."
The reprinted pages are reproduced directly from their initial incarnation in the funnybooks, complete with out-of-register color sometimes (not often), but lacking altogether (thankfully) any recoloring with garish hues in a misguided attempt to refurbish the art to make it look "new." On the first page of every item, Yoe supplies the source (comic book title, number, and date) and the name of the cartoonist—invaluable.
Yoe's Introduction, laced with some rare one-panel cartoons (many from his stupendous stash of originals), explains obscure references and reminds us of who some of the cartoonists are (Frank Frazetta worked for Al Capp on Li'l Abner for a time before catapulting himself into fantasy illustration). This is his favorite book, Yoe says; and it may be mine, too.
We've posted a few pictures from the book hereabouts; you can get an even better idea of the content at the video posted at youtube.com/watch?v=IYqQGMcIIoU
Or watch it here...
BOOK MARQUEE
Previews and Proclamations of Coming Attractions
This department works like a visit to the bookstore. When you browse in a bookstore, you don't critique books. You don't even read books: you pick up one, riffle its pages, and stop here and there to look at whatever has momentarily attracted your eye. You may read the first page or glance through the table of contents. All of that is what we do here, this time, by way of giving you a Christmas shopping list to present to your spouse, starting with—:
The Lost Art of Zim: Cartoons and Caricatures
By Eugene "Zim" Zimmerman; edited by Joseph V. Procopio
128 5.5x8.5-inch pages, b/w text and pictures; paperback from Lost Art Books, an imprint of Picture This Press, $19.95
IF ZIM DIDN'T INVENT "BIGFOOT" CARTOONING in America, he was at least the foremost practitioner of the form during his career on the staff of the humor magazine Judge, roughly 1885 - 1910. He continued freelancing his cartoons and various writings until his death in 1935 at the age of 73, and he also conducted a correspondence course in cartooning and, in 1910, produced an instructional tome on the subject, which Joseph Procopio has now carefully reproduced in the book at hand, adding to its pages from an earlier (1905) Zim effort, This and That About Caricature.
The book brims with sound, practical advice about drawing—some of it, like the caution against having lines overlap in a picture, not readily available elsewhere anymore. But Zim infiltrates the how-to's with other valuable tidbits:
"In the first place, try to forget that you are a great artist and lead a natural life. Don't be too eccentric. Be like other poor mortals who love to earn an honest living, and the world will love you the better for it."
"When you make a character sketch, be sure to append an appropriate foot. ... It's the proper treatment of details that earns big salaries." Illustrated with an array of different footwear.
"Perhaps the hardest simple object to draw correctly from memory is a silk plug hat [top hat]; it is so perfectly shaped that the slightest discrepancy in drawing it is perceptible. ... An open umbrella is also very difficult."
"Refrain from caricaturing acquaintances unless you are sure they are not of a sensitive nature, else you may incur their enmity. If they are sensitive or vain, they do not deserve the attention of your pencil or pen. You may ridicule, but don't offend."
"Sage advice," saith Procopio, "on a variety of esoteric subjects, including Swiping, Booze and Bohemianism, Dealing with Editors, and Cartoonists and Marriage.
About Bohemianims, Zim cautions: "To follow this life in its true sense is all very well, but the average art student is quite apt to mix it up too freely with beverages of amber and more ruddy tints—a nerve-wrecking and career-destroying course."
And marriage: "In the face of the facts before me, it would be safe for me to state that a man, to be successful in any matter he undertakes, should be either married or unmarried."
"The main point in the profession is 'The Lead Pencil.' Whenever you sketch in public, in order to throw your audience off the track and make them think that you are a full-fledged caricaturist, always wear a reckless air and a common twenty-five cent necktie."
Apart from such wisdom as the foregoing, the book contains a wealth of Zim drawings—more than you'll find anywhere else. And since Zim's drawings constitute most of his appeal to me, I'll conclude this short review with a smattering of pictures from the book—and then I've added some more from other sources, just to give you a comprehensive understanding of America's most eminent bigfoot cartoonist of his day.
Fitnoot: Lost Art Books' inventory includes several other notable works about artists or cartoonists, including: The Lost Art of Frederick Richardson (a newspaper artist in the 1890s whose illustrations for the Chicago Daily News were incredibly detailed), The Lost Art of E.T. Reed: Prehistoric Peeps (recording Reed's discovery of a comic goldmine in anachronistically combining drawings of prehistoric men and dinosaurs with modern life), and two volumes of Heinrich Kley drawings. Dover did a couple volumes of Kley drawings many years ago, but these two Lost Art Books add many more to the store, including many in color. We expect to review all of these delectable publications in a not-too-distant opus. Forthcoming in 2013, it sez on the website, a tome that reprints all of Matt Baker's delectable and thoroughly decent Canteen Kate, a coincidentally happy event that will juxtapose delightfully with the book we review next. Look for all of these at LostArtBooks.com, whence you can also order your own copies thereof. I did.
Matt Baker: The Art of Glamour
Edited by Jim Amash and Eric Nolen-Weathington
192 8.5x11-inch pages, 96 in color; TwoMorrows hardcover, $39.95
MATT BAKER IS THE GOLDEN AGE artist everyone's heard about but no one knows about: everyone knows that he was one of the few African Americans working in comics in the 1940s and 1950s and that he drew gorgeous women in a surpassing style, but no one knows much more. A long-awaited and expertly accomplished treatment of an admired but mysterious master comic book maker, this volume delves into both his artistry and his biography. Unconventionally, the book begins at once with Baker's pin-up heroines: no preamble, no title page—nothing bookish or bibliographic—the first page reproduces the most famous Good Girl Art of all time, that cover rendering of Phantom Lady whose battle togs are designed to plunge from her clavicle to her navel in order to display her nearly naked chest. This titillating spectacle is followed by a Phantom Lady story, another of her covers, another story and cover, then a Sky Girl story (she wears conventional waitress garb, but her dress is always blowing up to reveal shapely legs).
Then comes the text, amply illustrated with Baker drawings and photographs of a gorgeous black man (all obtained from Baker family members, who have carefully prohibited their reproduction elsewhere). Alberto Becattini supplies the basic biographical text, culled from sources scattered hither and yon, and amplified elsewhere in the volume by a 2004 Jim Amish interview with artist's nephew, Matt D. Baker, and his half-brother, Fred Robinson, and interviews with Baker's friends and co-workers, accompanied by numerous drawings, many previously unpublished. Becattini and Jim Vadeboncoeur, Jr. provide an annotated index of Baker's professional work, arranged alphabetically by comic book title and amply illustrated with cover art and interior pages.
The book includes several samples of the syndicated comic strip that Baker drew for a short time, Flamingo, about an exotic dancer (no, not a stripper) and concludes as unconventionally as it began, this time with a Canteen Kate reprint in color and two stories shot from original art—Kayo Kirby (manager of a female wrestler) and Tiger Girl.
More than seductive, his pictures of girls revealed a sense of humor—with a turned ankle, or raised chin.
Born in 1921 in North Carolina, Baker became a professional comic book artist at the tender age of 23—an extraordinary achievement for an African American in those days of aggressive segregation (and therewith, a ringing testimony to his talent early on). He joined the Iger Studio on the strength of a single sample of his art, Jerry Iger said—a color sketch of "naturally, a beautiful gal!"; his first published art appearing in Jumbo Comics No.69 (November 1944). Once established as a good girl art practitioner, Baker took assignments illustrating stories in pulp magazines, and in 1955, became art director of an early Playboy imitator, Nugget. Afflicted as a boy with rheumatic fever that weakened his heart, Baker died in 1959 of a heart attack—just a short 15 years into a career that might have been even more stunning than it was.
This volume, with its insights and careful documentation, is a thorough treatment of one of the industry's most remarkable artists. We've longed for it for a long time, and we recommend it highly, without reservation or quibble. Lots of pictures, ample demonstration of Baker's mastery of his medium. A well-designed book that seems to spare no expense to capture and convey the essence of the artist. The color pages are shot from comic books and are not noticeably retouched or reconstructed: this is Baker's work as we saw it when it first hit the newsstands. Here's an ample sample of the Baker art that graces the production.
Marie Severin: The Mirthful Mistress of Comics
By Dewey Cassell with Aaron Sultan
176 8.5x11-inch pages, b/w with a color section; TwoMorrows paperback, $24.95
A BOOK ABOUT MARIE SEVERIN is another long-overdue tome. She's been working in comics for over 50 years: she started in the early 1950s by coloring EC Comics (adding an emotional dimension that sometimes expressed her discomfort with a horror story), and then for 30 years, she worked at Marvel—everything from production to coloring to penciling, inking and art direction, doing preliminary cover sketches among other things (like actually drawing comics, in case that isn't obvious).
Cassell begins the book: "This book is a tribute to one of the icons in the comic book industry ... In an industry dominated by men, Marie Severin made her mark in a way that few, if any, of her male counterparts have equaled. She was not the first lady in comics ... but she is unquestionably the first lady of comics. She shaped the way we saw and thought about comics for multiple generations."
Cassell assembled the book's text from numerous interviews with Marie and her brother John, plus Stan Lee, Al Feldstein, Jack Davis, and numerous other artists and friends, all carefully—feelingly—orchestrated into a symphonic acclamation. Throughout the book are many photographs and scores of caricatures and the comedic sketches Severin was famous for—an plentiful visual explanation of why Stan Lee called her "the mirthful mistress." Indulging her penchant for humor, she worked on Crazy, Coneheads, and Not Brand Echh, Spoof, plus various special projects.
Although noted for comedy and coloring, parody and caricature, Severin also occasionally drew superhero books, straight, without a grin—Crime Suspenstories, The Cat, The Avengers, Captain America, Deadly Hands of Kung Fu, The Incredible Hulk, Spider-Man titles, Submariner, and Thor, to name a few that she both penciled and inked.
An index of her comic book credits—penciling and inking interiors, covers, coloring, and writing—completes the package, altogether a delightful book. Here are some of her pictures.
Totally Mad: 60 Years of Humor, Satire, Stupidity and Stupidity
Edited by John Ficarra with Introductions by Stephen Colbert and Eric Drysdale
256 9x12-inch pages, color; Time Home Entertainment hardcover, $34.95 (cheap)
THIS IS A GIANT, LUXURIOUS SCRAPBOOK. Every page offers fragments of the magazine's 60-year career—a couple pages of a parody, a fake ad, a smattering of Sergio Aragones' Mad marginals, a few pages of Spy vs. Spy, and, across the bottom, a parade of Mad covers. Some of the short, one- or two-page features are reprinted entirely, but none of the long features, like the movie parodies, are. In short, a book for the short attention-span generation.
The book is expertly conceived and executed, exactly what we expect from Mad, which has become a master at publishing anthology books of this sort. Don Steinberg at The Wall Street Journal points out that "few periodicals have been so prodigious in pillaging their own archives for resale in book form. There have been close to 300 Mad [reprint] books, produced with more than a dozen publishers. ... This year," he continues, "there will be six regular issues of Mad and one newsstand special, but there will be 11 Mad books from an assortment of publishing houses."
Steinberg quotes Mad editor Ficarra, who deftly dodges in his response: "We like to think of it not as pillaging so much as reincarnation. Figuring the jokes have died once on the page, we can bring them back to life. And then they die again."
This 60th anniversary tome is organized chronologically, by decade. Dates and issue numbers accompany nearly every scrap in the scrapbook; nice for historians albeit still just scraps from the groaning board. Frank Jacobs supplies a series of essays—two on Who Bill Gaines was, another on the Mad trips, yet another on Who Was Alfred E. Neuman, and one on Was Mad Ever Sued? Jacobs also explains how Mad started taking advertising in 2001 (to pay for color pages inside), something the founding publisher Bill Gaines would never do. "How can we make fun of Pepsi when we're taking money from Coke?" he once pondered.
"The editorial mission statement has always been the same," Ficarra told Susan Karlin at fastcocreate.com, "—'Everyone is lying to you, including magazines. Think for yourself. Question authority.' But it's gotten harder because they've gotten better at lying and getting in on the joke."
Mad's comedy became more and more crass as our civilization lost civility, decorum, and inhibition about sex and nudity and nasty words. The chronological arrangement permits us to watch this slow descent into crude ordinary humanity. Annoyingly, the comic book phase of Mad's history is virtually ignored: just 11 of the 256 pages reprint fragments of the formative material the magazine's founder shaped in the first 23 issues into the country's most enduring and infantile satire. Gaines permitted Kurtzman to convert Mad to magazine format with no.24 (July 1955), and Kurtzman stayed with his creation through no.28.
The first issues of Harvey Kurtzman's Mad comic book were chock full of genre parodies. But it was in the second issue that Kurtzman chanced upon what would become Mad's metier. He did a parody of Tarzan (called "Melvin") and discovered an axiom: "Satire and parody work best when what you're talking about is accurately targeted," he decided. "Or, to put it another way, satire and parody work only when you reveal a fundamental flaw or untruth in your subject."
To expose a fallacy, he had to be specific about where the fallacy lay. A parody of westerns didn't have the satiric clout that a parody of "High Noon" had. He re-visited Tarzan in no. 6, and "Melvin of the Apes" was even more pointed in its exposing of the fallacy in Edgar Rice Burroughs' concept. But it was his first treatment of the Jungle Lord that led him to "Dragged Net" and "Lone Stranger" in no.3. And with "Superduperman" in no.4, Kurtzman had found his satiric footing.
In Kurtzman's view, Mad served the same gods as his celebrated, truth-telling war books: "Just as there was a treatment of reality in the war books, there was a treatment of reality running through Mad; the satirist/parodist tries not just to entertain his audience but to remind it of what the real world is like."
For instance, in his Disney characters parody, Kurtzman has Donald Duck put on trousers, making us aware of the sexless fantasy we'd always accepted without question. And in his treatment of George McManus' Bringing Up Father in Mad no.17, Kurtzman turns his comedy into a powerful statement about our tolerance of domestic violence.
The story alternates a page drawn in imitation of McManus' style with a page drawn realistically. The McManus-style page ends with the usual hailstorm of crockery launched against the long-suffering Jiggs by his domineering wife, Maggie. The realistically rendered page picks up the action at this point, and we see Jiggs bruised and bleeding from Maggie's assault. And the realistic Jiggs complains about his treatment, too, pointing out that there's nothing funny about being hit with flying kitchenware.
Kurtzman also needled movies, TV shows, advertising practices, literary classics, and the like, and every Mad editor since has dutifully, slavishly, continued the tradition by the rigorous imitation that this anniversary celebration exemplifies. (The whole story of the creation and perpetuation of Mad is recited in Harv's Hindsight for August 2002.)
The package includes an envelope pasted into the back, containing the twelve covers that the editors think best represents Mad's heritage and humor. All but two depict Alfred E. Neuman, including one by Neuman's founding portraitist, Norman Mingo. The two exceptions—a Saturday Evening Post-style portrait of prez Richard Nixon and his vice prez, Spiro Agnew, as the stars of the movie "Sting." The other exception is a hilarious smear of oil paint committed by a monkey that the Usual Gang of Idiots had commissioned for the task.
We leave this commemorative volume, comforted by the words of the immortal Alfred E. Neuman: "Genius is rarely recognized in its lifetime, but fortunately, neither is gross incompetence."
Mort Drucker: Five Decades of His Finest Work
By Mort Drucker with a Foreword by Michael J. Fox
272 giant 9x12-inch page, b/w mostly with occasional color; Running Press hardcover, $30
THIS IS ANOTHER, perhaps the second, in the Mad's Greatest Artists series of which, a year or so ago, Sergio Aragones' book was the first (reviewed in Opus 274). If the scraps of movie lampoons provided in the 60th Mad anniversary scrapbook have left you panting to see more—the whole parody, not just a page or two—this is the book for you. And it is the book for anyone who admires the finer artistries of caricature, of which Drucker is the past master. His likenesses are uncannily evocative of the actual personages he draws; he even manages to preserve the likeness when changing expressions, and he commits adroit caricatures of good-looking women—preserving their good looks—no easy task (particularly in the case of Margot Kidder in the "Superman" movie spoof). And his manner deploys a much more relaxed drawing technique than, say, Tom Richmond. Drucker's line is looser, but his pictures are crammed with the sort of background story detail for which Mad (and Drucker) is famous.
"Mad has always allowed me the freedom to fool around," Drucker says to Nick Meglin in the interview that is the only text piece in the book, "—to put my own silly stuff here and there that isn't an integral part of the story. That freedom makes it a lot more fun for me. I enjoy illustrating a movie satire in a realistic way as much as I enjoy doing a simple, funny gag drawing."
But it is for his caricatures that Drucker is reknowned. Michael J. Fox did the book's Foreword probably because of what he said during an appearance on Johnny Carson's "Tonight" show in 1985. Carson asked him, "When did you really know you'd made it in show business?" And Fox replied: "When Mort Drucker drew my head."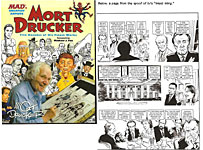 Wikipedia accurately records the auspicious moment of Drucker's arrival at Mad: "In the fall of 1956, shortly after the departure of Mad's founding editor Harvey Kurtzman, Drucker found his way to Mad. His first visit to the magazine's offices coincided with a radio broadcast of the World Series [blaring throughout the offices so everyone could hear], and publisher Bill Gaines told Drucker that if the Brooklyn Dodgers won the game, he would be hired. The Dodgers won [and Drucker was hired]. Capricious though Drucker's alleged audition process may have been, it made for a good anecdote. Years later, Gaines unsurprisingly confessed, 'We would have hired him anyway.' More than a half century later, Drucker holds the longest uninterrupted tenure of any Mad artist."
Virtually all of the book is devoted to complete reprints of movie and tv show parodies that Drucker drew, beginning with Mad no.32 in April 1957 (a mock ad, not, strangely, a movie) and ending with another one-pager, "The Bailout Hymn of the Republic," featuring Barack Obama in June 2009's milestone Mad no.500. The spoofs include "Bonanza," James Bond, "East Side Story" (the cuban missile crisis, staring Khruschev and Castro and numerous other politicians of the day), "True Grit," "Godfather," "Saturday Night Live," "Cheers," "NYPD Blue," "Deadwood," "West Wing," "House," to name a few of the 37 herein.
Each is dated with the number of the issue in which it appeared. All are in black and white, but many of Drucker's color covers and other one-page lampoons are included. A removable poster with 68 of Drucker's caricatured personalities is tipped in at the end of the book.
AND BEFORE WE LEAVE THESE PREMISES, we alert you to a new book of drawings by the manic gonzo cartoonist Ralph Steadman. Entitled Extinct Boids, the volume includes fanciful portraits of over 100 lost feathered friends rendered in Steadman's customary splattery style. The story is that he was asked to draw a single picture of an extinct bird, and once he got started, he couldn't stop—although many of the extinct ones portrayed herein are as fabricated as they are extinct: the needless smut, the blue piddle, the double-banded argus, red-mustached fruit dove. As usual, Steadman didn't feel restrained by the "straightjacket of reality," said James Gorman in the New York Times. It's a $50 tome from Bloomsbury.
READ AND RELISH
Some, for renown, on scraps of learning dote,
And think they grow immortal as they quote.
—Quoted by Edward Gorey in a letter to Peter Neumeyer in Floating Worlds
And now, for some quotable Steve Wright:
I'd kill for a Nobel Peace Prize.
Half the people you know are below average.
If you want the rainbow, you have to put up with the rain.
All those who believe in psycho kinesis, raise my hand.
The early bird may get the worm, but the second mouse gets the cheese.
I almost had a psychic girlfriend—but she left me before we met.
LONG FORM PAGINATED CARTOON STRIPS
Called Graphic Novels for the Sake of Status
Lovers' Lane: The Hall-Mills Mystery
By Rick Geary
80 6x9-inch pages,b/w; NBM hardcover, $15.99
THE NEWSPAPER SENSATION of 1922 was the double-murder of the Reverend Edward W. Hall and Mrs. Eleanor Mills, whose bodies were found, lying side-by-side, his arm around her shoulders, her hand on his thigh, in "lovers' lane" in New Brunswick, New Jersey. She was a singer in Hall's church; her husband, the church sexton. Most of the congregation knew the preacher and the singer were having an affair, and it was supposed, after a second autopsy revealed that Mrs. Mills' tongue and larynx had been cut out, that the killings were committed by someone jealous of her musical role in the church. More likely, I would think, the message was: you won't need these organs if you're sleeping with the boss because sex is getting you what you want. Hall's widow was eventually, four years later, brought to trial, but she was acquitted. The murderer has never been found.
Geary performs his usual masterful job of methodically presenting the circumstances surrounding the crime, the personalities of the people involved, and the evidence in the case. I knew about the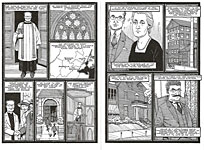 ostensible "eye witness," dubbed the Pig Woman by the press because she raised pigs in her farm near Lovers' Lane; but I'd never heard about Mills' missing organs. As always, Geary's manner, both visually and narratively, is rigorously deadpan: his carefully construed pictures, meticulously shaded with a variety of textures, impart to the proceedings a suitable aura of menace with their portraits of the haunted-looking participants. He finishes the book by examining several possible explanations for the murders; none, however, entirely plausible.
COLLECTORS' CORNICHE
Welcome to our sentimental section where I muse and marvel about antique volumes on the shelf and rare finds in old bookstores and the like. Nothing major. Skip over this if you're busy.
HERE'S A RARITY. Shel Dorf, founder of the San Diego Comic-Con, sent me several boxes of his files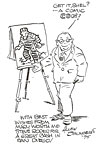 before he died, and the other day, while rummaging in the Rancid Raves Book Grotto, I opened one of those boxes and found the drawing posted hereabouts. Shel routinely asked friends of his in the syndicated comics world (as well as everywhere else) to produce special drawings for the Con souvenir booklet. This is one of hose—a self-portrait by Allen Saunders, the writer of Mary Worth and Steve Roper, about whom it was said that he drew only stick figures to guide the artists who worked on his strips; but here we have evidence that he did somewhat better than stick figures.
BADINAGE AND BAGATELLES
"A mistake is simply another way of doing things."—Katharine Graham
"Find ecstasy in life: the mere sense of living is joy enough."—Emily Dickinson (all of whose poetry can be sung to the tune of "The Yellow Rose of Texas")
"No one has a finer command of language than the person who keeps his mouth shut."—Sam Rayburn, Speaker of the House in the 1950s
"The very meaninglessness of life forces man to make his own meaning."—Stanley Kubrick (who may be paraphrasing Albert Camus)
FUNNYBOOK FAN FARE
Four-color Frolics
WHAT I'M READIN' LATELY
I picked up Batman: The Dark Knight nos. 10 and 11 a couple weeks ago, and I must say, I was (and am) pretty much put off. Artist David Finch's storytelling is mostly okay: a few pages descend into incomprehensibility because of extravagant layouts, but there are some very nice passages, too—Batman comforting one of the child victims, f'instance. It is Gregg Hurwitz's story that troubles me: it seems that the Scarecrow is kidnaping small children and scaring them into a trance.
My problem with this concept is probably entirely personal—and topical. Our local paper, the Denver Post, recently did a week-long series, Failed to Death, about how the county mechanism isn't adequate for preventing child abuse. Since 2007, 175 of Colorado's children have died of abuse and neglect—beaten to death, starved, suffocated, or burned. Monstrous depravity.
And when I think that the last experience of life for these children is pain and merciless cruelty, I weep.
And I don't see how such barbaric abuse can be the subject of a Batman story arc.
Happy, a 4-issue mini-series, bubbles over with the word "fuck" and its endlessly unimaginative variations. Written by Grant Morrison, so what else can we expect? We meet Nick Sax, a sloppy, slovenly ex-cop, now a killer for hire. He's supposed to kill the three Fratelli brothers; to get them all together, he hires them to kill himself. He shoots three but there's a fourth, Mikey; Sax kills him, too, but the bad guys believe Mikey told him the pass word to the Fratelli fortune, so they go out to get him. Before he checked out, Mikey plugged Sax, sending him to the hospital, where Sax is visited by a flying blue donkey called Happy the Horse, who helps him escape in no.2. If Happy were a pink elephant, we'd know he's just an alcoholic illusion; and so would Sax. But Happy's not pink. Nor is he an elephant. So what is he?
Happy wants Nick to come with him to rescue Hailey. Nick, to get the horse to prove he's not just a hallucination, gets in a high stakes poker game, and the horse tells Nick what hands his opponents have. Nick wins and then kills all the other players, all bad guys. No.2 ends with Santa who's just tied up two kids and is writing an obscene note.
Darick Robertson's art is a little too detailed and fussy for me—the every pimple must show school of grit illustration. I like a little cleaner look. But the presence of art like Robertson's in comics means that "house styles" are no more; and that makes possible such other deviant pleasantries as those practiced by Chris Samnee, David Aja, Tonci Zonjic, and the gloriously eccentric Christopher Mitten.
Adding to my vague discontent with Happy— Sax is a wholly unattractive character. Why should I be interest in him unless I'm a social worker? Happy on the other hand? I'd like to see where that concept goes, and I'd like to know who Hailey is, so I'll be back.
Wolverine Max no.2 is drawn by two teams: Roland Boschi and Felix Ruiz, pencillers; Craig Yeung and Felix Ruiz, inkers. One style is fairly clean, boldly lined and attractive; the other, somewhat scratchy and less attractive. The story is confused—because Logan is. He survived a plane crash but lost his memory en route to (or from) Japan; now in Japan, he looks for explanations, which quest leads him into more than one encounter with heavily muscled bad guys. Wolverine doesn't remember who he is, but he still knows how to use his claws. The book also includes a fairly gripping picture of Wolverine en flagrante delecto, as you can see out of the corner of your eye. More realistic visualization than we usually see; could be a first for a newsstand funnybook.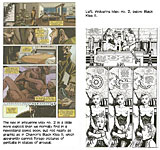 BUT THE COMIC BOOK that is all copulating and cock-sucking characters, page after page, is Howie Chaykin's Black Kiss II, which is now up to no.4 of a 6-issue run, and, as we see above, has scarcely run out of a need to be salacious and provocative. Chaykin's dialogue is as unabashed as his pictures. In no.2, we encounter these words in first three pages: fuck, shitty, cunt, pussy, dick, cock, pussy-lapping field whore, anal rape, and pork (in the sense of prick, which, oddly, doesn't show up) (but then there's the whole rest of the book). The story, so to speak, is a parade of fornication scenes featuring a pair of rapacious women, one of whom is as fully equipped between the legs as any man. They seem to be hovering around Hollywood. Apart from getting sated as often as possible (nearly every other page, I'd say), there seems to be no other plot. Chaykin's pictures are detailed and accurate, and his characters seldom go more than a few panels without undressing, but all the women look alike, and Chaykin's storytelling devices deploy close-ups frequently and therefore monotonously. And he somehow manages to infect all his black-and-white drawings with cobwebby smatterings of tiny lines, laminating grit all over the pages.
I'VE BEEN READING Daredevil lately, chiefly because Chris Samnee's pictures are such a pleasure to behold. Clear, boldly lined, with just the right splashing of black and modeling details. After reading nos.18, 19, and 20 at a single sitting, I begin to wonder where Mark Waid is going: DD falls into the hands of The Spot, who is now calling himself Coyote; and when DD regains consciousness, he notices that his head is no longer attached to his neck. Waid has taken us on a profoundly affecting ride before (in nos.12-16, reviewed in Opus 299), but this is a hallucinary venture, and the more removed it is from anything remotely possible, the less interesting it is.
THE NEW HAWKEYE series by Matt Fraction as visualized by David Aja is thoroughly engaging. It began by attempting to chronicle the daily live of Clint Barton (Hawkeye) when he's not working as an Avenger, but by no.4, Barton has been sent off on an Avenger mission, so here we go again. Aja's art is beautiful—simple, bold-line with a minimum of shadowing. Clean and crisp. Barton is keeping company with Kate Bishop, who is apparently the female Hawkeye; she goes on missions with him. I think she has the hots for him, but in no.3, he falls in bed with a tall redhead, then rescues her, and, on the last page, kisses her in front of Kate. The issue is packed with movement and violence, all nicely delivered visually.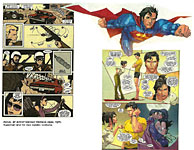 SUPERMAN, AS WE CAN SEE in the collage on the left, is being drawn in a wildly different manner by Kenneth Rocafort: lines are thin to non-existant with colors (by Sunny Gho) contributing a stylistic flourish of their own. The Man of Steel's costume has a suitable (sorry) metallic glow and segmented patterning. Very attractive stuff. Scott Lobdell's story in no.14, the first issue after Clark Kent quit the Daily Planet because journalism has become entertainment, not information, brings in a Krypton alum named H'El, mostly, I suspect, so the story arc can be entitled "H'El on Earth." Most of the issue is devoted to depicting these two Kryptonites floating around while they shout boasts to each other in non-functional page layouts. Dull stuff; very attractive art.
ANOTHER CRISPLY DRAWN book is Lobster Johnson in "Caput Mortuum," a single issue adventure rendered with panache by Tonci Zonjic. With the thirties vintage flyer's helmet and opaque goggles that prevent us from seeing his eyes, Lobster Johnson is a mystery man (no past, no secret civilian identity that we know of yet) who has intrigued me from the moment he was cast up on these shores, another creation of Mike Mignola. Here Mignola teams with John Arcudi on the story, which has LJ boarding a zeplin infected with Nazi plotters to foil their plot, which he does in his usual barge-ahead-consequences-be-damnned fashion. Zonjic's style is chiaroscuro, reminiscent of the best of Noel Sickles and Milton Caniff—but simpler. The visuals remind me of David Aja's work and Chris Samnee's except that Zonjic deploys a much thinner line, creating a stunning contrast between the deep black shadows and the crisp thin line.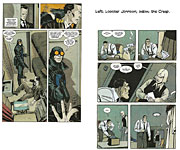 Incidently, Zonjic is back with the latest manifestation of Jake Ellis, Nathan Edmondson's Where Is Jake Ellis?, a continuation of the symbiotic relationship between a former CIA agent, Jon Moore, and a badly wounded (hospitalized?) Sergeant Jake Ellis, who, joined psychically to Moore, mysteriously guides him on a hazardous flight from ubiquitous bad guys. Mysterious, as I say—lots of bullet-dodging, as in the inaugural appearance of this saga, but very little explanation of anything. A remarkable storytelling feat to keep us in suspense with so little information. But let's go on to The Creep, a page of which appears above with a Lobster Johnson illo.
John Arcudi's tale about a big, ugly, misshapen man is a deliberate slap in the face of the comic book tradition that heroes must always be handsome. Oxel is definitely not. He is afflicted with some sort of disease that is slowly changing him physically: his body is bigger, and his face has become boney and lantern-jawed, massive. But he's working as an amateur private investigator to find out about the suicides of two teenagers—Mike and Curtis. Maybe a third, Jeff. Hard to say: the pieces fall together slowly as Oxel drags his miserable aching carcase around investigating. Did Curtis commit suicide because Mike did? Is suicide contagious? Oxel talks to Mike's mother and Curtis'—to no particular avail; they don't want him around. And through the pages of the first of two issues an old man wanders; a friend of Curtis', the old man hallucinates part of his days. Arcudi is taking his time. Jonathan Case is drawing the book in a simple, bold-line manner not unlike Chris Samnee's or David Aja's but with virtually no shadowing.
The third issue resolves the suspense, explaining the reason for the angst that ends in suicides. It is an ending of the kind that James Joyce inaugurated with the short stories in The Dubliners—all whimpers and no bangs.
LEST YOU THINK only artwork with simple bold lines grabs me, I'm also high on Nunzio Defilippis and Christina Weir's Bad Medicine because it is drawn by Christopher Mitten whose quirky line knows no equal. At the beginning, the book seemed to be about a murder the perpetrator of which manages to keep himself invisible. But after a few issues, the plot turned into a zombie and werewolf extravaganza, which I normally don't like much. Still don't, but Mitten's drawings keep bringing me back. And I'll keep every issue.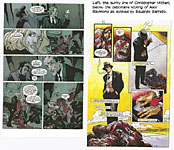 Mitten is also drawing Steve Niles' Criminal Macabre series about a zombie do-gooder and his walking dead assistant. I'm not much on zombies but I enjoy Mitten's pictures.
At my comic book store, I Want More Comics, I chanced one day a month or so ago on The Saint, no.0, a comic book incarnation of Leslie Charteris's "Robin Hood of modern crime," Simon Templar. (It's his initials that give him his moniker.) This book'll be a one-shot because it is drawn elegantly and inventively by Eduardo Barreto, the Uruguayan master penman who died earlier this year, leaving comics much poorer (see Opus 289 for our appreciation). His last continuing gig was on the comic strip Judge Parker, where he distinguished himself with imaginative layouts in the cramped space of newspaper comics pages, but I'm guessing he had drawn this Saint story and publisher Moonstone had it in inventory and didn't know what to do with it after Barreto died. Thankfully, they decided to publish it even at its decidedly brief 12-page length. I'm glad they did even though we're not likely to see a second issue. On the last page is a note, "To Mel Graff and John Prentice," doubtless jotted there by Barreto; his visual mannerisms echo Prentice more than Graff (and Alex Raymond above all), and that's all to Barreto's credit. I'll keep this one.
BUT THE BEST COMIC BOOK OF THE YEAR is without quibble Sean Murphy's stunningly conceived and exquisitely drawn Punk Rock Jesus, now up to five of its six-issue limited run. I'll wait until the series is complete before reviewing it here, but for the nonce, just a glimpse of what it's all about. If you've read the issues of American Vampire that Murphy did—or picked up the graphic novel incarnation of Grant Morrison's 8-issue Joe the Barbarian, you'll know that Murphy is a stylist without parallel in comics. In Punk Rock Jesus, he does it all some more, this time, just black and white. And the story concept is magnificent with herculean satiric prowess.
The notion behind Murphy's story is wildly intriguing: it's about the second coming of Jesus Christ, which is engineered by a tv producer as a continuing reality program, "J2," also the name of the island where the show originates. Some biological techie arranges to pluck Jesus' DNA from the Shroud of Turin and inject it into the uterus of a young virgin named Gwen. She gives birth to "Chris"—and, here's the stunner, a twin sister. But the second birth is kept secret, and a J2 factotum runs off with the girl baby, ostensibly drowning it; but not really. Really, the child is permitted to live and will show up later—to disrupt Christianity, one assumes.
The tale is laced with satirical jabs against the idiocies of our day—opposition to global warming, evolution vs. blind faith, reality tv, religious extremism (the NAC, New American Christians) and Tea Partiers, the NRA, Larry King. And that's just through no.3 of the run. More to come, but in the meantime, here are some Murphy pages of a sequence in which Chris's mother Gwen, who has become an alcoholic due to her confinement on the J2 island, bargains with Rick Slate, the mastermind of the project, for a normal life for her son. Murphy's layouts are varied, but, as we see, he usually works within a grid of different-sized panels; at the end of the sequence, however, he goes beyond the grid for the climax of the negotiating episode.
WE'RE ALL BROTHERS, AND WE'RE ONLY PASSIN' THROUGH
Sometimes happy, sometimes blue,
But I'm so glad I ran into you---
Tell the people that you saw me, passin' through
Spain Rodriguez, 1940 - 2012
Spain Rodriguez, one of the original assault force of underground cartoonists, died of cancer at his home in San Francisco on November 28. At the New York Times, Bruce Weber wrote: "Rodriguez was part of a wave of artists — including R. Crumb, S. Clay Wilson and Bill Griffith, who created the character Zippy the Pinhead — who established the irreverent, profane, highly sexed, antiwar, anti-capitalist spirit of underground comics (often, in this context, spelled comix).
"A voracious reader of comic books as a boy in Buffalo, Rodriguez was highly offended by the Senate hearings that resulted in the censorship of comics in the 1950s, and his anger at the establishment never wavered."
At ComicRiffs, Michael Cavna wrote: "Spain could make ink ripple and resonate. His style could be bold and blunt and grunting — as in-your-face as an urban hustler — but it somehow always remained seductive. He drew road warriors and revolutionaries. At times — to strangers and eventual friends alike — he could resemble both himself."
Manuel Rodriguez became "Spain" as a boy defending his heritage in fights with schoolmates in Buffalo. "His father," Weber says, "was an auto body repairman. His mother, an artist of Italian descent, painted under a male pseudonym: Steve Nomi."
Weber continued: "His characters, who originally appeared in leading underground publications like The East Village Other and Zap, included the counterculture superhero known as Trashman, an urban guerrilla with a ruthless disregard for the lives of the rich and powerful; Manning, a corrupt cop (whose strips bore the slogan 'Some call it police brutality; he calls it Justice'); and an adventuress, known as Big Bitch, who was a sexed-up counterpart to Trashman, a pornographic cross between a Charlie's Angel and Rambo."
Patrick Rosenkranz wrote: "Spain Rodriguez brought a unique perspective to comic art – a hard-edged outlaw's attitude coupled with a voluptuous sensuality that also espoused class struggle and a universal quest for human dignity. His characters were die-hard individuals who ceaselessly fought the oppressor, powerful women who demanded respect – by force if necessary, and many of the real people who inhabited his life. He excelled at science fiction fantasy, gender warfare, heroic tall tales, and the dramatization of his own experiences. He also created many non-fiction works on historical figures and events, including Joseph Stalin, Che Guevara, and Lily Litvak, the Rose of Stalingrad. He was a genuine Marxist who fought fairly and with club spirit."
The Comics Journal's online obit at tcj.com includes an array of visual tributes from such cartoonists as Gary Panter, Bill Griffith, and others of the revolutionary inkslingers.
Jeff Millar, 1942 - 2012
Jeff Millar, who for 38 years wrote Tank McNamara, the only comic strip nowadays about sports, died November 30 after a four-year fight with biliary cancer, according to his longtime employer, the Houston Chronicle. In 1974, Millar—then the Chronicle's main film reviewer—teamed with Houston-area artist Bill Hinds to launch the strip named for its strip's lantern-jawed athlete-turned-sportscaster (a tv trend, Michael Cavna notes, becoming increasingly common at the time). "The comic found a national following," said Cavna, "received NCS honors and grew a client list of more than 300 newspapers."
Universal Uclick revealed that Hinds, who collaborated with Millar on the writing as Millar's health deteriorated, will continue Tank as both the writer and artist. Cavna, who was a sports cartoonist in the 1990s, asked Hinds to share some memories of his writing partner:
"'Bewildered' is a good way to describe the source of Jeff's humor," said Hinds. "He was bewildered by life, which he translated into columns, and bewildered by sports, which became Tank gags. Frankly, he was also bewildered by many of the movies he reviewed. It is also how I would describe my favorite image of Jeff: a bewildered look that appeared often in our laugh-filled discussions of things in the popular culture. I can see it now. I wish I had been able to spend more time with him. His bewilderment was comforting in a crazy world."
POST SCRIPT
Grievously, the festive spirit of this season is blighted this year by the horrific events in a little town in Connecticut. For twenty mothers and fathers in Newtown, this will not be a merry Christmas. It will, instead, be a heartbreaking one. They will spend some portion of Christmas Day looking at gaily wrapped gifts that will never be opened by the little boy or girl for whom they purchased what's inside. For the rest of us, we might celebrate the occasion and our good fortune by hugging our children or grandchildren a little tighter as we put them to bed to await the arrival of Santa Claus.
And we might also contemplate the wisdom of the National Rifle Association, which, if past behavior is any guide, might have responded to the tragedy at Sandy Hook Elementary School on December 14 by saying: "If only those first graders had been armed, many fewer of them would be dead today."
Forgive my heavy sarcasm.
PITHY PRONOUNCEMENTS
"Tea parties are for little girls and their imaginary friends."—Norman Goldman, professional talker
T-shirt slogan: "Jesus is coming—. Look busy."
"A man does what he can, and endures what he must."
Here's another one I never want to forget (so I'm putting it here): "Laissez les bon temps roulez." You see it all over N'Orleans. And it always makes me want to sing and dance.
ONWARD, THE SPREADING PUNDITRY
The Thing of It Is ...
From TheDailyFelltoon.blogspot.com: If there's one thing that's become blindingly obvious over the [extensive coverage of the so-called Petraeus affair and its encumbrances] it's how utterly bereft of purpose much of our national media machine is. ... What most of those in the major media outlets—who still have their hype generators on full-blast, after months of doing so during campaign season—haven't yet acknowledged is that there just doesn't appear to be any "there" there in this nontroversy. At least there's nothing important where most in the media are pointing. The fact that over 20,000 pages of e-mails were exchanged by parties involved in the Petraeus scandal, and that the whole Petraeus affair was discovered by the FBI using surveillance powers in an ethically questionable, if not questionably legal manner? That's where the real story is.
From the Happy Harv: And you can get regularly dosed with such unswerving, fact-based commentary at the aforementioned blogspot. Try it.
I NEVER DOUBTED FOR A MOMENT through all the long agonizing 4-year campaign that Bronco Bama would win. But had I been watching "This Week with George Stephanopoulos" on the weekend before Election Day, I would have been even more confident of an Obama win. George Will, who, according to studies that track such things, has the worst record as a prognosticator of any of the gaseous class, predicted that Romney would win, 312 electoral votes to Obama's 226. Will has never been right. So, naturally, with Will as a dowsing rod on the election, Obama would win.
And just to keep his record perfect, Will predicted that Minnesota, which has gone Democrat for nine consecutive elections, would, this year, go Republican. Guess what? Right: Minnesota remains in the Democratic column.
Faced with the GOP's massive loss, Will decided that it was all Romney's fault: half the electorate, he says, embraced the conservative message "more warmly than it did this year's messenger." Romney's "salient deficiency was not of character but of chemistry, that indefinable something suggested by the term empathy."
But that, too, could have been overcome were it not for the surpassing ignorance of the voter, said Will: "Many people are more informed when picking a refrigerator than when picking a president."
Looks like Will is enacting his deficiency of chemistry, which, naturally, will continue to doom Republicon efforts for the foreseeable future.
HOUSE OF REPS
John Boehner (pronounced Boner) believes the American public re-elected a Republican House, thereby endorsing the Republicon policies. This is a wildly misshapen interpretation of events. But what else can we expect? Boehner (pronounced Beaner) was accompanied in his rise to eminence (albeit not power, thanks to obstreperous Tea Baggers who actually have all the power in the House) by a severe case of dementia, aggravated by tea time in the House. In his crazed state, he can scarcely assess the political realities of the Election.
Obama's re-election signals one thing; the return of most incumbent members of Congress does not signal the same thing. Obama is the only public servant that all the country can vote for; his re-election signals, rather more than less, that the country approves of him and/or his policies. Members of Congress are voted for only by voters in their states, so even if all the incumbents are returned, that does not imply national approval.
As Tip O'Neill famously said, "All politics are local." Voters en masse may strenuously disapprove of a do-nothing Congress en masse, but voters vote only for their home town guy, not the rest of the scalawags and do-nothing scoundrels. And their home town guy is the one the voters profess to like and to approve of even if they don't like all other members of Congress who espouse the same policies. Not logical, but nothing about politics is.
Moreover, elections for members of the House are not competitive: most districts in the country, state by state, are rigged to give incumbents an easy run to re-election. Most districts have been gerrymandered in favor of the existing political power structure, which is the power structure that favors the incumbent. Since elections in districts are therefore not competitive, no one can look at the outcomes and say that they represent the convictions of any substantial number of voters: voters not given a real choice do not represent anything.
Besides, Boehner (pronounced self-satisfied but delusional idiot) neglects to remember that the GOP lost seats in the House. What does that mean?
HERE'S A CLEAR-SIGHTED FRAGMENT I culled from somewhere. I forgot to include the URL when I copied it; I think it's from FellToons Daily Commentary by Sean Peirce, but I'm not sure; here goes—:
An more important survey, released on Tuesday, came from the firm Public Policy Polling. They surveyed Republicans in the wake of the 2012 election and found that "49% of GOP voters nationally say they think that ACORN stole the election for President Obama."
Considering 52% of Americans thought the same thing in 2008, that finding might not be seem so bad—except that ACORN, the community organizing group for low-income Americans, has been dead and gone for over two years, after being driven out of business by right-wing extremists.
Those right-wing extremists are part of the closed epistemic right-wing world, consisting of stations like Fox "News,",right-wing talk radio, and fanatical right-wing websites. For years, these propagandists have told their viewers and listeners that they have all the answers, while everyone else in the media is just lying.
Sadly, as we've warned many times before, the damage they've been doing to America isn't just to fill your crazy uncle's head with half-truths and outright fabrications.
Do you have a position on the Panetta-Burns deficit reduction plan? According to another PPP poll, one-fourth of America has a position on Panetta-Burns right now, which is amazing to us, since there is no Panetta-Burns plan. Zero. Nada. Doesn't exist.
Over at respected Wall Street magazine Business Insider, another poll was conducted to ask Americans what they think will happen to the deficit if we go over the mythical fiscal cliff. Forty-seven percent of Americans insisted that the deficit would increase if we go over the cliff—which may have surprised the experts, like the CBO and professional economists. They all know that if we go over the metaphorical fiscal cliff, the U.S. national deficit will go down [because taxes, and therefore revenues, will go up].
Then again, the professionals—who actually understand the fiscal cliff—may not be surprised at all, considering how many Americans think our nation is headed for a literal precipice with all the discussion of a fiscal cliff.
This is why we continue to harp about the desperate need for standards and practices in the national media, even while some of our best known media institutions are gutting their staff as they bow to the whims of Wall Street.
It's easy for organizations like Fox, and the blowhards on right-wing radio, to keep telling lies to Americans and convincing them those lies are true— while hiding the all-too-disturbing truth.
What's difficult is thinking that the opinion of who is trustworthy in America has real value anymore—especially when the people determining public trust also believe in zombie community organizing groups and have real positions on fake deficit plans.
NOW'S THE TIME
Now's the time to seriously revamp campaign finance law. And here's my favorite option:
NOT ONE DIME
A Radical Plan to Abramoff-Proof Politics
By James Carville and Paul begala
CUT OFF THE INCUMBENTS
The biggest problem with the status quo of campaign fund raising is that it puts good people in a bad system. Nearly every member of the House and Senate, whether sinner or saint, spends a spectacular amount of time raising money. The very process of raising money distorts the politician's perspective. You try spending six hours a day, six days a week in a cramped room calling people and sucking up to them for money. If the only people you ever talk to are people with the wherewithal to contribute thousands of dollars to your campaign, that is bound to affect the way you see the world. You don't hear much about the minimum wage from folks who can write a check for $2,000. Nor do you spend a lot of time calling people who don't have health insurance or who can't afford their prescription drugs.
We propose fundamentally and radically reforming the way that campaigns are financed. Our proposal combines the fondest dream of liberal reformers—public financing of campaigns—with the fondest dream of conservative and libertarian reformers—no restrictions at all on donations from American citizens. The goal is to put a little distance between power and money. Federal office holders have power but need money. Special interests have money but need power. When the two come together, trading money for power, bad things happen. Here's how our plan would work:
First, we raise congressional pay big time. Pay 'em what we pay the president: $400,000. That's a huge increase from the $162,000 congressmen and senators currently make. Paul, especially, has been a critic of congressional pay increases. But he is willing to more than double politicians' pay in order to get some of the corrupt campaign money out of the system. You see, the pay raise comes with a catch. In return, we get a simple piece of legislation that says members of Congress cannot take anything of value from anyone other than a family member. No lunches, no taxi rides. No charter flights. No golf games. No ski trips. No nothing.
And when it is campaign time, incumbents would be under a complete ban on raising money. You read that right. No president or member of Congress could accept a single red cent from individuals, corporations, or special interests. Period.
Challengers, on the other hand, would be allowed to raise money in any amount from any individual American citizen or political action committee. No limits, just as the free-market conservatives have always wanted. But here is the catch: Within 24 hours of receiving a contribution, the challenger would have to report it electronically to the Federal Election Commission, which would post it for the public to see. That way, if you want to accept a million dollars from, say, Paris Hilton, go for it. But be prepared for voters and reporters to ask what you promised her in exchange.
The day after you disclose Paris's million bucks, the U.S. Treasury would credit the incumbent's campaign account with a comparable sum—say 80 percent of the contribution to the challenger to take into account the cost of all the canapés and Chardonnay the challenger had to buy to raise his funds as well as the incumbent's advantage. So if Paris gave the challenger a mill, the Treasury would wire $800,000 to the incumbent. It couldn't be much simpler. You might even call it the flat tax of campaign laws.
The penalties for violation would be swift. If an incumbent accepts so much as a postage stamp, he loses his seat. If a challenger doesn't report contributions, he loses his shot. If you cheat, you are out on your ass.
What if the incumbent wants to spend her own money? After all, the Supreme Court has made it clear that the Constitution does not allow restrictions on how much money a candidate—challenger or incumbent—can spend. No problem. Uncle Sam would write the challenger a check for an equivalent amount. Unlike today, no one would have the upper hand simply because they were loaded.
What if a sitting congressman wants to run for senator, or a senator wants to run for president? Would he be allowed to raise funds? Sure. He'd just have to do what Bob Dole eventually did—resign his Senate seat and hit the campaign trail like a regular citizen. If you want to run for higher office, you have to get off your current pedestal first.
The idea is to fundamentally change the role and responsibilities of incumbency. Under our plan, incumbents have to live by Thomas Jefferson's maxim: "When a man assumes a public trust, he should consider himself as public property." (We know, we know, the language is archaically sexist, but we are not going to edit Mr. Jefferson.) Once you assume an elected office, you achieve a new status. You are no longer a campaigner. You are a public servant. As such you should not be in the fundraising business. You should be in the exclusive business of making policy.
Today more than 90 percent of all senators and representatives are re-elected. Under current law, incumbents almost always have a huge money advantage. Our wager is that a majority of incumbents would be willing to give up that advantage in exchange for higher pay and no time spent fundraising. Think about it. Not only would they be bringing in a much larger salary, they'd also never have to kiss up to another rich donor. You should never underestimate how much these folks hate spending half their time—or more—sniveling for money. Nor should you underestimate how damaging and distorting it is to require federal office holders to spend that time raising money. No wonder they vote on so much legislation without ever reading it.
And what about the public? We haven't seen the final data for 2004, but in all the federal races in 2000—congressional, senatorial, and presidential—candidates spent a total of $1.6 billion. Half of that, which is what taxpayers would have had to shell out under our plan, would be a lot of money: $800 million. But that is nothing compared to what the current system costs us. Those special interests who pour money into politicians' campaigns get something in return. Actually, they get a lot in return. Special tax breaks, special loopholes, special funding of pork-barrel projects, maybe even a no-bid contract or two. The energy bill passed in 2005 handed $2 billion in subsidies to the ethanol industry—you know, the fine folks at Archer Daniels Midland. It gave the makers of the controversial fuel additive MTBE another $2 billion. And another $8.1 billion in tax breaks for oil, coal, and electric utilities. In all, that one bill cost you $80.8 billion.
All of a sudden $800 million—one percent of the cost of one bill—doesn't seem like very much money, does it?
We know our plan is not perfect. Some will argue over whether the plan favors incumbents or challengers. Some will argue whether it favors Democrats or Republicans. Some will argue whether salary increases for politicians are justified.
We have our doubts as well, but if more money from the taxpayers makes it easier for politicians to agree to no money from special interests, it's a good deal.
At its core, this plan does something no one will argue with: It forever divorces the corrosive—and sometimes corrupting—effect of campaign cash from members of Congress and presidents. When American citizens look at their Congress and White House, they will say what Alexander Hamilton said to a visitor to the newly-constructed U.S. Capitol: "Here, Sir, the people govern."
*****
This article is adapted from Take It Back: Our Party, Our Country, Our Future by James Carville and Paul Begala.
To find out about Harv's books, click here.