Opus 288 (January 9, 2012). It's admittedly a trifle late for a Noo Yr's wish, but it's still the Year of the Rabbit, which comes with certain privileges, among them, the lateness license. So: hoppy noo yr, y'all.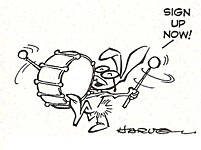 Otherwise, our glad tidings come mixed with sad ones: in December, two giants in the history of cartooning died, Jerry Robinson and Joe Simon, and we celebrate their lives and achievements at loving length, taking up, and resolving (to our satisfaction at least), the puzzles that cling to their careers: did Robinson create the Joker? And how much of the Simon and Kirby oeuvre did Simon draw? Also, a smattering of cartooning news and a couple funnybook reviews. (Incidentally, from now on, the date of every opus is the date I finished writing it, which is usually several days before it is posted.) Here's what's here this time, in order, by department—:
NOUS R US
Wimpy Kid Sues Zombie Kid
Syrian Hands Healing
Ronald Searle Dies
Golden Apple Comic Store for Sale
New Berth for Editoonist David Horsey
Stan Lee in India
PASSIN' THROUGH
Jerry Robinson
Joe Simon
Newspaper Comics Page Vigil
Celebrating Christmas in the Funnies
EDITOONERY
And the New 52
Funnybook Fan Fare
Number Ones reviewed: Green Wake, Blue Estate, Spaceman
Plus: The Kents no. 2, Catwoman no. 4, Cold War no. 2
ONWARD THE SPREADING PUNDITRY
More of the Happy Harv's Political Sprew
Our Motto: It takes all kinds. Live and let live. Wear glasses if you need 'em.
But it's hard to live by this axiom in the Age of Tea Baggers,
so we've added another motto:.
Seven days without comics makes one weak.
(You can't have too many mottos.)
And our customary reminder: don't forget to activate the "Bathroom Button" by clicking on the "print friendly version" so you can print off a copy of just this installment for reading later, at your leisure while enthroned. Without further adieu, then, here we go—
NOUS R US
Some of All the News That Gives Us Fits
THE WIMPY KID ISN'T ALL THAT WIMPY in his corporate identity (namely, Jeff Kinney). As reported by Tim Kenneally via reuters.com, "Wimpy Kid, Inc., the copyright holders of the Diary of a Wimpy Kid series, on December 20 filed a trademark-infringement lawsuit against comic-book publisher Antarctic Press, claiming that Antarctic has violated Wimpy Kid's intellectual property with its book Diary of a Zombie Kid. According to the suit, Zombie Kid, published last August, is "substantially similar" to the Wimpy Kid book line, and 'obviously intended to confuse the public into believing that defendant's books are addition to such series.'
"In addition to depicting a backpack-carrying protagonist, the suit alleges, the Zombie Kid cover artwork bears a startling similarity to the Wimpy Kid series, including 'distinctive striping along the spine, the hand-drawn pictures of the main character on the front and back covers, both illustrated so as to appear to be taped at each corner of the cover, and the miniature illustration of a male child's head located on the side of the book.' The lettering is also confusingly similar to that of the Wimpy Kid series, according to the suit, with letters stylized so as to look brush-painted."
In addition to punitive damages, Wimpy Kid seeks destruciton of all Diary of a Zombie Kid books and any other infringing materials. A few days after the suit was brought, Antarctic Press agreed to cease and desist.
There is at least one other Wimpy clone out there, something about a Dorky Kid, but it's drawn in the manga manner so it has probably evaded Kinney's eagle eye. Or perhaps the manganese renders the effort dissimilar enough to escape prosecution.
Syrian's Hands Are Healing. Renowned Syrian cartoonist Ali Ferzat vows to return to cartooning in Syria as soon as his fingers have healed and he has retrained them to draw again. On August 25, he was ambushed by security services, who beat him, focusing on his face and hands, intending to send a message that he should not draw the cartoons he'd been drawing. The cartooning custom in Syria was to use symbols to represent the powerful when attacking them. But since April 2011, Ferzat deployed recognizable caricatures of President Assad and other leaders.
Ironically, Ferzat had been encouraged to champion freedom and modernization by the same Assad before he became President. Thinking the heir apparent supported him, Ferzat started Al-Doman (the lamp igniter), an independent magazine.
"But the fun was soon over," reported Jannie Schipper at Radio Netherlands Worldwide. "When the regime realized after a few months that Al-Domari was not afraid of publishing sharp criticism, the censorship got worse." After two years, the magazine ceased publication.
Ferzat is convinced that the insurgents in Syria will win: "The response of repression and security that the regime has chosen, has failed. Now, people face the deadly weapons with bare chests."
Once he has retrained his fingers, Ferzat, who is recovering in Kuwait, will return to Syria. That's not a choice, he says. "I don't own a supermarket that I can freely open and close. Drawing cartoons is my only profession. The art is a gift from God, and I must continue to bring my message."
Ronald Searle Dies. Best known for his bristly comic drawings depicting the outrageously ghoulish machinations of the St. Trinian's girls, and for his illustrations of the Molesworth books, written by Geoffrey Willans, which, as any fule kno (sic), tells of life at the boys' prep school St Custard's, cartoonist Ronald Searles died "peacefully in his sleep" Friday, December 30, in southern France's Draguignan after a short illness—and just months after his second wife, Monica, for whom he scandalously left his first wife and family in the early 1960s, died in July. Searles was 91, the Guardian reported.
Michael Cavna at ComicRiffs.com writes: "Searle will surely be best remembered for his St. Trinian's boarding-school girls gone bad; through their brazenly wicked behavior, the artist was sending up the 'proper' British school system. These dark-humored hellions debuted in the magazine Lilliput the same year—1941—that Searle was captured by Japan and endured brutal conditions as a World War II POW (he drew with whatever he could find during this time, later publishing To the Kwai—and Back: War Drawings 1939-1945)."
Searle "created an alternative to the conformity of Harold Macmillan's Britain", said his publisher Simon Winder, quoted in the Guardian. "He gave Britain in the 1950s particularly a sense of anarchy. He was extraordinarily skeptical about all forms of authority [and] there's something just astonishingly anarchic about Molesworth and St. Trinian's— that's why they have appealed to so many generations."
Searles enjoyed a spectacular career as an illustrator and a member of the legendary Punch table when he returned to Britain after the war. We'll have a longer and more appreciative obit next time in Opus 289.
Golden Apple Falls from the Tree. As a comic book store, the Golden Apple in Hollywood is not only a landmark in the neighborhood but a benchmark in the history of the revival of comic books. And it's up for sale on eBay at a "buy it now" price of $679,000 (or best offer), reports ICv2, which continues the tale as follows:
Golden Apple was founded by Bill Liebowitz in 1979, and as we described it in our 2004 obituary for Bill, he "almost singlehandedly invented the pop culture store, a place where comics, toys, licensed merchandise, imports, and other products were displayed and cross-merchandised in a wonderful mélange that delighted all who shopped there." At the time of his death, we described the store on Melrose Avenue in Los Angeles currently for sale as perhaps "the best-known comic store in the country." There's more competition for that title now, but Golden Apple is certainly among those best-known stores, and it exemplifies the history of the comic store in America since its founding during the very earliest years of the direct market. And due to its location and the owners' management style, the store has been a unique hotbed of store events over the years, from product launches to signings to movie events.
The sale is being managed by Ace Business Brokers on behalf of owners Sharon Liebowitz and her son Ryan Liebowitz, who are selling because the "principal owner (Sharon) is nearing retirement age and wishes to divest herself of the Company for personal reasons."
Horsey Leaves Hearst After 32 Years. Longtime Seattle Post-Intelligencer editorial cartoonist David Horsey is leaving his Hearst base and moving, ethereally, to Los Angeles. Rick Anderson at the seattleweekly.com reports that as Horsey accept his new gig, he said to his new bosses at the Los Angeles Times: "If you need me to move down there, I will." They said naw, that's fine, you can stay in Seattle and work from there. "Well," Horsey said, "how about in the winter months then?"
Now 60, Horsey, who has spent the last 32 years drawing political cartoons for the P-I, (including the last few, after the print edition folded, at SeattlePI.com), began telecommuting to LA at the stroke of midnight January 1, "re-crafting," as Times Editor Russ Stanton put it, the paper's dormant Top of the Ticket political blog. Horsey, who is a formidable writer as well as a cartoonist, will supply "some combination every day of words and pictures. ... Some days it may be a long column and a small sketch, others days a full color political cartoon and a few graphs underneath," he says.
Horsey will be sending copy and cartoons from the road as well. First up is the South Carolina Republican presidential primary January 21. "I'm excited," Horsey says. "It's a good feeling to have again."
Horsey was hired at the P-I in 1979 by then-editor Bill Asbury, who'd been publisher of the University of Washington's Daily when Horsey was cartooning there. The Seattle Times had just brought on Brian Basset to do local editorial cartooning, "So Asbury knew me, called me up, and asked if I want to come draw cartoons." Three decades and two Pulitzer Prizes later, he began looking for an exit.
"Some consider that a career," said Horsey, "but I consider this a mid-career change."
After the print P-I folded, Hearst kept Horsey and [columnist Joel] Connelly on at seattlepi.com to help get it launched. An atmosphere of experimentation prevailed as the site explored ways of doing what it wanted to do, but it hasn't found its niche yet, and "there was always an implication, for both sides, that it might not last forever," Horsey said. "Although Joel might," he added admiringly.
For some time, Horsey said, "I've been thinking I wanted to try something bigger. It's an amicable parting with Hearst, and I wish everyone the best. PI.com is trying to do something new with a small but talented staff, and is still trying to sort out what works best."
Miscellaneous But Still Notable. At artsbeat.blogs.nytimes.com, George Gene Gustines reported that writer Gary Friedrich was unsuccessful in securing for himself the rights to Marvel's Ghost Rider, which Friedrich created. Friedrich launched his legal bid to cash in on film rights in 2007, but lost when "United States District Judge Katherine Forrest threw out on December 28 the four-year-old claims by ruling that Friedrich 'gave up all ownership rights when he signed checks including language-relinquishing rights to the predecessor companies of Marvel Entertainment.'"
Kate Beaton's new book, comic strips culled from her literate webcomic Hark! A Vagrant, ranks 7th on the Top Ten Fiction Books for 2011 at Time, which called it "the wittiest book of the year ... the debut of a smart, funny, wholly unique voice."
The three men accused of plotting to murder the Swedish artist Lars Vilks because he depicted the Prophet Muhammad as a dog have been released from custody pending the verdict, which is expected on January 20. Vilks has faced numerous death threats and was the target of another suspected assassination plot since his dog Prophet was first published in 2007, illustrating a newspaper editorial on the importance of freedom of expression. The three suspects, reports the Courier-Mail in Australia—one Somali citizen and two Swedes in their mid-20s—were all carrying knives when they were arrested and were, according to the prosecution, planning to stab Vilks to death.
Back to the Drawingboard—er, Megaphone—Once More, With Feeling
Stan Lee, still trading on a reputation for character creation that is founded (even stranded) in the 1960s, is at it again—this time, in India, where he's engaged with Liquid Comics to invent India's first comic book superhero. Lee will be working with local artists and writers on Chakra the Invincible, who originates in an Indian teenager, Raju Rai, a technology genius living in Mumbai, who is determined to use science to unlock the secrets of human potential. Raju develops a technically-enhanced suit that activates the mystical Chakras of the body, unleashing newfound abilities and powers."
Lee, with characteristic bombast, describes the new "saga" as "thrill-a-minute" and Chakra "our daring and dangerous teenage hero."
Sounds a bit like Iron Man wedded to Spidey, to me. But not, apparently, to Liquid Comics co-founder and CEO, Sharad Devarajan, who saith: "Stan Lee is one of the most prolific storytellers in the world today, having created iconic characters that have generated billions of dollars at the box office and are known by nearly every man, woman and child on earth. The opportunity to bring Stan's unparalleled experience of the superhero genre to India and enable him to collaborate with local talents to create a new Indian character is the culmination of a lifelong dream."
I don't mean to belittle Stan Lee's medium-changing achievements in revitalizing the American funnybook biz, but we've heard these trumpets sounding before over the last couple decades, and none of Lee's "thrill-a-minute" creations of those years is still operating. No matter. My guess is that his creative work on Chakra is already done: having named and conceptualized the new superhero, the rest he'll doubtless leave to those "local artists and writers."
Fascinating Footnit. Much of the news retailed in the foregoing segment is culled from articles eventually indexed at rpi.edu/~bulloj/comxbib.html, the Comics Research Bibliography, maintained by Michael Rhode and John Bullough, which covers comic books, comic strips, animation, caricature, cartoons, bandes dessinees and related topics. It also provides links to numerous other sites that delve deeply into cartooning topics. Three other sites laden with cartooning news and lore are Mark Evanier's povonline.com, Alan Gardner's DailyCartoonist.com, and Tom Spurgeon's comicsreporter.com. And then there's Mike Rhode's ComicsDC blog, comicsdc.blogspot.com and Michael Cavna at voices.washingtonpost.com./comic-riffs . For delving into the history of our beloved medium, you can't go wrong by visiting Allan Holtz's strippersguide.blogspot.com, where Allan regularly posts rare findings from his forays into the vast reaches of newspaper microfilm files hither and yon.
CLIPS & QUIPS
"Talent hits a traget no one else can hit; genius hits a target no one else can see."—Arthur Schopenhauer
"When your work speaks for itself, don't interrupt."—Henry Kissinger
"All human evil comes from a single cause, man's inability to sit still in a room."—Blaise Pascal
WE'RE ALL BROTHERS, AND WE'RE ONLY PASSIN' THROUGH
Sometimes happy, sometimes blue,
But I'm so glad I ran into you---
Tell the people that you saw me, passin' through
SAD TIDINGS FOR THIS OTHERWISE GLADSOME SEASON: in December, two giants in the history of cartooning died. Jerry Robinson and Joe Simon. They were the last of those early comic book pioneers whose work determined the directions that the young artform would take. With their deaths, we have lost the kind of direct connection to the past that can be provided only by those who lived it. Of the early laborers in the comic book vineyard of those formative years only Murphy Anderson, Shelly Moldoff, Irwin Hasen and Bob Lubbers remain, and none of them shaped the medium in quite the way Robinson and Simon did. Coincidentally, the life stories of both pioneers have recently been published. We devote most of this posting to an appreciation of their careers, beginning, in each case, with a review of the biographical books about them.
JERRY ROBINSON
January 1, 1922 - December 7, 2011
Jerry Robinson: Ambassador of Comics
By N.C. Christopher Couch
224 8x11-inch pages, color; 2010 AbramsComics hardcover, $35
IN JUST ABOUT EVERY WAY that we can imagine, this is the sort of book that a revered cartoonist deserves as a biography. It's full of superb pictures from every phase of Robinson's long and highly varied career, a plentitude of photographs as well as drawings, many of the latter reproduced from original art.
"Luckily, I've hoarded all my work," Robinson said in an interview last year with Chris Mautner. "I didn't want to see it destroyed, which was very fortunate, particularly in the early days, when things were destroyed. I saved things I thought were great pieces of art and no one thought of them as art at the time.
"Fortunately," he continued when interviewed by Jason Sacks at comicsbulletin.com, "I've preserved some of the key pieces. I couldn't bear to see them destroyed, some of the great work of Fred Ray, who did some of the iconic Superman covers, like Superman no.14 with the eagle on his shoulder. He did all those iconic covers and a strip called Congo Bill. He was a very good friend. I saved his work, literally from salvage.
"They would routinely destroy each cover," he went on, "—I had to call the engraver to prevent them from destroying those. Not because they had any value at the time. It didn't have any value to anybody else but myself. I used to just tack them up on the studio walls. I really saved from destruction Ray's covers, my own. A couple of the first Joker covers. A couple of Simon and Kirby covers. And some of the insides. It was just fortuitous that I felt that way, and that's a theme that I've always pursued.
"That's how I kept for 70 years some of the iconic Batman, Superman, and Captain America art," he finished with Mautner. "There must've been tens of thousands of pieces of art that we culled through for the book."
And Abrams has now preserved these masterful relics of a bygone but seminal time in American popular culture in this book, maintaining throughout production standards of the highest quality in a design that handsomely accommodates both text and visuals.
A fitting accompaniment to the visuals, Couch's text is not strictly chronological: he organized it with chapters on each phase of Robinson's career, but the result is a rough chronology because much of Robinson's early career progressed from one phase to another; the overlaps occur in the later years. Couch cites dates at the pertinent moments and is analytical as well as biographical so even the uninformed reader gains an accurate idea of Robinson's place in the history of comics and his stature as both artist and advocate.
Couch begins with this prefatory admonition: "Few modern American artists can claim to have worked in as many media as Jerry Robinson and with such success in all of them. Like a Renaissance master, he has been a visual artist and author, a teacher of other artists, and a spokesman to the world for the arts he loves."
Couch worked with Robinson, recording interviews for nearly two years. "It was a very close relationship," Robinson remembered. "It was in the works for more than a year and that was several times a week of recording sessions. We went through all my works from the past 70 years. I think I put more time in that book than any other where I've done the actual writing."
After a short inaugural section on Robinson's childhood and youth—born on New Year's Day in Trenton, New Jersey—Couch gets quickly to the part where young Jerry, intending to become a writer, becomes instead a comic book artist, working with Bob Kane on Batman. Robinson's emerging talent for comic book creations took him from Kane's studio to the DC Comics bullpen and then to other publishers, for whom he did work in a variety of genres—war, crime, science fiction. After producing for two years (1953-1955) a syndicated newspaper comic strip, Jet Scott, Robinson taught at Manhattan's School for Visual Arts for ten years while also doing illustration for children's books and magazines.
For Dell from about 1957 until 1962, Robinson did comic book stories based upon popular tv series—Bat Masterson and Lassie, the latter for two years. In 1962, he launched Still Life, an unusual gag cartoon of political and cultural commentary that was made by speaking objects rather than people; drawn in an distinctive Pop Art style, it was syndicated six days a week in 1963 and ran through the 1970s. In 1964, Robinson started a second feature, a Sunday cartoon for the New York Daily News; entitled Classroom Flubs and Fluffs, it presented actual student goof-ups in cartoon format, which converted errors to laughter until 1979.
With the Still Life experience proving successful, he started doing more pointed political satire in 1977: Life with Robinson often deployed caricatures of notable personages, many in the arena of government, commenting on the news and fads of the day; it lasted until 1995. To distribute it, Robinson took another unconventional step, establishing his own syndicate, Cartoonists & Writers Syndicate, which has grown to represent more than 350 artists in 75 countries. Robinson's motive was simple: why shouldn't artists own the proceeds for their work?
During this time, he also established himself as an illustrator of range and discernment with a monthly feature illustrating Broadway shows for Playbill magazine, the little booklet serving as a program that is distributed at each theater along the Great White Way.
Through the years, Robinson had attracted the admiration of his peers. The National Cartoonists Society (NCS) awarded him three division awards: in 1956, best comic book artist (he was the first in this category, which was established with his winning); in 1963, best newspaper panel cartoon (for Still Life); and in 1965, best special feature (for Flubs and Fluffs). In 1967, he was elected president of NCS. In 1978, his editorial cartoon and syndicate successfully in place, Robinson was elected president of the Association of American Editorial Cartoonists (AAEC), becoming the only cartoonist to head up both of the nation's major professional organizations for cartoonists.
"I did 32 years of political cartoons, one every day for six days a week," Robinson told Geoff Boucher at herocomplex.latimes.com. "I wrote and drew every word, every line. That body of work is the one I'm proudest of. Looking at the Batman pages is like revisiting my youth. My first seven years in New York were the first seven years of Batman itself. While my time on Batman was important and exciting and notable, considering the characters that came out of it, it was really just the start of my life."
In 1975, as news about a big-budget Superman movie from Warner Brothers began roiling the tabloids, Robinson joined Neal Adams in spearheading a publicity campaign intended to convince Warner Communications, owner of DC Comics, to make the old age of Superman's creators, Jerry Siegel and Joe Shuster, financially secure. As past president of the prestigious NCS, Robinson was able to exert considerable pressure. Warner agreed to a financial arrangement, but Robinson continued negotiating up to the last minute, insisting that Siegel and Shuster's names appear on all print and film interpretations of their Man of Steel. Robinson won his case by pointing out that credits are highly regarded in Hollywood, and Warner would look bad in the motion picture community if it denied credit to Superman's creators.
Couch covers Robinson's Superman effort on behalf of creators' rights (a cause Robinson never abandoned) and the other legendary episodes in Robinson's life: the winter weekend marathon during which he and several other cartoonists produced all the stories and art for a 64-page comic book; the invention of Batman's arch villain, the Joker, and his role in concocting a juvenile sidekick, Robin, for the Dark Knight; how wearing a house painter's white coat decorated with his own cartoon drawings got him his job with Kane; the inauguration of the Bill Finger Award for comic book writers.
As the 1970s drew to a close, Robinson, his awareness of the value of editorial cartoons sharpened by his stint as president of AAEC, arranged for the publication of a retrospective of the editorial cartoons of the decade. The 1970s: Best Political Cartoons of the Decade was published in 1981 and featured cartoons by a number of cartoonists from other countries in addition to America. Two years later, Robinson expanded the idea with Views of the World, a weekly sampling of international political cartoons distributed by his syndicate. In the 1990s, CWS took a corporate name that reflected its growing international scope, CartoonArts International (CAI), which produced book projects, exhibitions, and archival functions as well as international syndication.
His engagement in the international cartooning community resulted in Robinson championing cartooning through United Nations exhibitions, and in the early 1980s, in a little recognized episode, Robinson became involved in efforts to obtain the release of a Uruguayan cartoonist, Francisco Laurenzo Pons, who, in 1978, had been imprisoned for his cartoons' dissenting political views and was regularly tortured, beaten and subjected to electrical shocks that left him with severe kidney and urinary tract illnesses.
Amnesty International approached AAEC about the plight of Pons. At first, Robinson thought a publicity campaign like that conducted on behalf of Siegel and Shuster would help. But then he had another thought:
"We were trying to think of ways to exert pressure to get him released as our objective was to get him out of jail and out of the country if possible," Robinson told Ethan Sacks at wizarduniverse.com in 2008. "So I invented this new award called the Foreign Distinguished Cartoonist Award. It became a real award, but it was invented for the purpose of getting him out."
The New York Times reported Pons as the winner on May 21, 1981, and members of the conspiracy visited the Uruguay embassy to apply for a visa so Pons could accept the award in person. Unhappily, the Uruguay government rejected that idea, but they let Pons' wife and son fly to American in his place. "That gave Pons' family a chance to campaign to the U.S. government for his release," said Sacks.
The results, however, were not as immediate as they'd been with Siegel and Shuster.
"The important thing was that from that time on, when we got involved in the case, they stopped torturing him," Robinson said. "They even brought him to the hospital for treatment."
Pons was not released until August 13, 1984. That was six months before his six-year sentence had been served.
Said Pons: "I don't have any doubt that Jerry and the other companeros from the AAEC had a bearing on making my freedom possible." Pons and his family still live in Uruguay, and he's still drawing political cartoons.
Robinson produced a definitive history of the cartooning medium in 1974, The Comics: An Illustrated History of Comic Strip Art, which complimented Stephen Becker's 1959 landmark Comic Art in America; Robinson's book was updated and re-issued in 2011. During his researches, he discovered the strange fate of Percy Crosby, who had produced in the thirties a highly popular comic strip staring a precocious kid, Skippy, but ended his days in a mental institution for a condition that today would have resulted in his being treated as an out-patient.
Robinson wrote Skippy and Percy Crosby in order to revive appreciation of the neglected comic strip masterpiece and to expose the injustice to which Crosby had been subjected in his final years; published in 1978, its shocking information about Percy's final confinement has been augmented (even explained) by his daughter, Joan Crosby Tibbetts, who has been crusading for decades to obtain adequate recompense from Skippy Peanutbutter for the company's theft of the strip's name and imagery. (For this horror story, visit Harv's Hindsight for April 2004.)
As his life amply demonstrates, Jerry Robinson was something considerably more than a comic book artist, and the subtitle of his biography, Ambassador of Comics, hints broadly at what Robinson was. And he was more.
He was proud of the book, its design and content, particularly of its closing section, Portfolios, which includes some of his photographs and a short story he'd written. In his interview with Mautner, Robinson summarizes his reaction to the book:
"I am proud that I was able to have work in different genres and cartoon styles I enjoyed. And another thing that wasn't really a career but that I did get enmeshed in was photography, which I love with a passion. I had a couple shows of my photography and some photography magazines reproduced some of my work. I'm proud of that. And I paint whenever I have the opportunity. What I love particularly about the book is the editors wanted to include those elements, which I was very happy about. They included a portfolio in the back of the book of my photography and painting and my sketchbook, which I've traveled around the world and sketched in."
Creating the Joker
THE STORY OF HOW one of fiction's greatest villains was created has been hashed over for years. In Harv's Hindsight for January 2006, I rehearse the contending versions in an article otherwise about whether Batman was knocking off Dick Tracy in its rogues' gallery of grotesque villains (it wasn't). The question of who created whom, or what, has hung over the Batman menage for a generation. Kane says he created the Joker; Robinson says he did. Kane says he created Robin; Robinson admits he didn't create the Boy Wonder but says he named the character and devised his costume. And he says the same thing lately in the first part of a two-part interview in The Comics Journal (no. 271 in October 2005). Bill Finger, the writer who should have been given at least as much credit for Batman as Kane, isn't around and hasn't been around, and Kane's also dead. So there's no other witness we can consult about the Joker and Robin. It's one man's word against another's without letup. Or one man's recollection against another's. And memory is forever fallible. Still, considering Kane's larger-than-life ego, I'm tempted to discount his claim as being just so much more hot air. But to give the devil his due, here are both versions of the creation of Robin.
Robin, I always thought, was Junior Tracy in tights. And Jay Maeder agrees. In his book on the Gould oeuvre called Dick Tracy: The Official Biography (Penguin Books, 1990), Maeder says: "Kane usually acknowledged that he had lifted the [Robin] premise straight from Dick Tracy." What's more, Maeder says "Gould invented the comic tradition of the Boy Sidekick" with Junior Tracy, who arrived on September 8, 1932. Robin didn't show up until years later—in Detective Comics no. 38, cover-dated April 1940. Yes, the first of these two kid sidekicks was clearly Junior. But it's not certain that Junior directly inspired Robin despite Kane's apparent assertion.
In an interview in the Comic Buyer's Guide (no. 1328, April 30, 1999), Robinson says Robin was conjured up in order to give Batman somebody to talk to. It's an old dilemma in comics, and the solution was fairly threadbare by even 1940. Give the protagonist a sidekick. Spud, Hotshot Charlie, Happy Easter, and so on. "I'm sure it was Bill's idea for adding a boy," Robinson told Gary Groth in that October 2005 interview. "That I would attribute to Bill without question. When I came in they were already discussing possible names. So I joined the discussion of the creation. There was nothing on paper yet, nothing but the idea of adding a boy sidekick. And I know that was Bill's idea to add a sidekick from the discussion that ensued. The impetus came from Bill's wanting to extend the parameters of the story potential and of the drama. He saw that adding a sidekick would enhance the drama. Also, it enlarged the readership identification. The younger kids could then identify with Robin, which they couldn't with Batman, and the older ones with Batman. It extended the appeal on a lot of levels."
At first, Robinson says, Kane and Finger were going to call the new kid Mercury or some such moniker from a long list they had of mythological characters, but Robinson offered "Robin" based upon his affection for Robin Hood. "I had been given a Robin Hood book illustrated by N.C. Wyeth," he said, "—full-plate tip-in [illustrations]. I remembered those because I had pored over them so many times as a kid. I had a vision of Robin Hood just as Wyeth drew him in his costume, and that's what I quickly sketched out when I suggested [the name] Robin, which they seemed to like, and then showed them the costume. And if you look at it, it's Wyeth's costume, from my memory, because I didn't have the book to look at. But it is pretty accurate: the fake mail pants, the red vest, upon which I added the little 'R' to correspond with Batman's bat on his chest."
With that, the deal was done. Robin—named and costumed. Robinson doesn't mention Junior Tracy, though, even if Junior was the first kid sidekick in popular literature. As a kid, I always thought the name Robin was mean to invoke the bird, another flying critter to accompany the bat. Unlikely. (And I was a big Robin Hood fan, too.)
COUCH RETAILS Robinson's version of the creation of the Joker in the biography. Robinson told the same story when he was interviewed by Jason Sacks (and, occasionally, Alex Rodrik) for comicsbulletin.com in the fall of 2010, and I'm quoting from that interview extensively here because we get to hear Robinson's version in his own words, and we gain a little insight into the man himself as well as the creative process he describes.
Sacks: I think it's fair to say that between you and Bill Finger, you created so much of what we think of as Batman's world, which has become so iconic. You were so closely involved in the creation of the Joker and Robin and Two-Face and the Penguin and so many of the other components of Batman's world, not to mention the artistic view of it. Was that fulfilling times for you, and how do you feel now about those characters becoming so much a part of our iconography.
Robinson: It's incredible. After 70 years, nobody could have foreseen that. If I knew, I would have created several other multi-million dollar properties [Laughs]. You never know which one's going to hit.
They were really very exciting times. I was so young, and thrown into this field, new in New York. Bill Finger turned out to be my mentor. We were very close friends, socially as well. He was about the same age as Bob. And later when he was married, we were close friends with his wife, Portia, as well. He introduced me to everything in New York: the Metropolitan Museum of Art, MOMA, the Modern Museum, all the foreign films, all the out-of-the-way theaters. It just opened my eyes. I was like a blotter, soaking everything up.
It was a very creative time. Of course, at the same time I started my studies at Columbia, which became more and more difficult. I was burning the candle at both ends, trying to make classes during the day and work all night. Then I switched it the other way around to try to relieve it. That lasted two or two and a half years, doing them both. By that time, although I wanted to be a writer and journalist, which fortunately I was able to pursue during my career, I didn't think of doing both writing and cartooning. After a couple of years, when I created my own comic book feature, London, under my own name—this was when I was still doing Batman—that opened my eyes to the possibility of combining the careers of writing and drawing. Once I found I was adept at drawing as well, that convinced me that this was the path to go. And besides, I don't think I would have lasted another year doing both.
Alex Rodrik: The Joker's personality has changed a lot of over the years, from psychopath to campy trickster. How does that match your original vision of the character?
Robinson: My original vision—well, the character was created at a particular time and for a particular reason. Batman was very successful in Detective Comics and within six months the publishers decided to put out a whole comic of Batman alone, who was appearing just once a month in Detective. Suddenly we were confronted with doing four new stories for Batman no.1, in addition to the one per month for Detective, and I think at that time he was appearing, or was shortly to be appearing, in World's Finest in another story. We had been writing and drawing one story a month but now suddenly we needed five at one time.
Bill Finger, while he was undoubtedly, in my opinion, one of the best comics writers of that time, was a very careful and slow craftsman. It would have been very difficult for him to turn out that many stories overnight. With new characters, new plots, new stories, etc. You have to remember Batman was still in its infancy. So I volunteered to do a story, because it was my goal to be a writer. They knew that, and they had seen some of my creative writing, my short stories that I wrote for my creative writing classes. They were appreciative of what I was doing.
They immediately thought that was great. I was going to do at least one of the four stories for the new Batman book. So I went home that night, very elated and excited to do my first Batman story, and I also had in the back of my mind that I not only could get paid for the Batman story but also that I could hand it in for my creative writing class and get credit for it there. Trying to get a little extra out of that story.
So I went home that night to try to write that first story for Batman. The first thing I had to think of that I thought was lacking in the comics, particularly in adventure stories like Batman, was a new character for Batman. I wanted a strong protagonist to be pitted against Batman, who was worthy of Batman. And I didn't think that—remember, this was 1939, we were just coming out of the Depression, this was the era of the gangster—John Dillinger, Pretty Boy Floyd, Machine Gun Kelly, that whole era, prohibition. There were embezzlers, bank robbers. They were the usual villains. Occasionally a mad scientist would show up.
I wanted to do something that was more literary, having learned from my readings in literature that the heroes all had great antagonists. Sherlock Holmes had Moriarty. Even in the Bible there was David and Goliath. Always a strong opposition. But strangely enough there was a dichotomy in the comics at that time that if you made the villains too strong, they would overshadow the hero. I took the opposite view. I thought that heroes had to win in the end. They're heroes, after all. But heroes can also be dull. You know they're going to win.
But villains can be bizarre. They can be more interesting. That's what attracted me to write a character that was much more interesting than what we had. That was my first thought, to write that first story that night and come up with a worthy villain for Batman. I guess everything in your past somehow—that's what you are, it comes out of your experiences in your life. There were two things that were operating. The stories that I had written in college and in high school were mostly satires and humorous stories. My favorites were Guy de Maupassant and Mark Twain. Stories that had a twist and had some edge to them. That was part of my thinking at the time.
Knowing the components of good writing from my knowledge so far, I knew that a good character had some contradiction in their personality. A contradiction in terms. So a killer with a sense of humor would be different. You don't think of a villain with a sense of humor. I think now you do, with the Joker, even though it's perverted and strange. Those two things I immediately put together: a villain with a sense of humor.
Once I did that, the next thing, and for all characters, it's very important to give them good names. We spent a lot of time creating the names for all of our characters. So I began to think of the names that fit that concept. It wasn't long, maybe a few minutes, before I immediately thought of the Joker. And again that related to my past because cards were very common in my household. One of my older brothers was a champion contract bridge player, where you got points like a master chess player who gets points. He was on that level. One time he won 17 tournaments in a row. My mother played, and I was a very good player as well. I was not in their class but I loved the game as well.
So we always had a deck of cards around. I immediately related, when I thought of the name of the Joker, with the Joker playing card. I searched frantically that night in my room for a deck of cards, which I usually had somewhere even though I hadn't used them for a long time in New York. I found one, and it had the classic kind of look of the Joker playing card that I had in mind. That's what I used as the visual image, to begin with, of the Joker. Then I fleshed out the lines of his M.O., how he operated in his story. I sat up all night working on that and couldn't wait to rush in the next morning to show Bill and Bob the start I had on my story. And of course they loved it immediately. We knew it was a great concept, as did the publisher and editor. It immediately got slated for the lead story in Batman no.1. And that's how it all began.
Rodrik: He's become the iconic villain. He really has. You think villainy and –- hey, it's the Joker!
Robinson: I was very excited. I was in London when they were filming "The Dark Knight," and they had a poll there among their literary critics—not just comic critics but literary critics—the Top 50 Villains of All Time. I forget what number he came out, but the Joker was up there with a bunch of Shakespearean villains and whatnot.
I heard there was one taken here by a comics magazine, a poll of the greatest comic villains. The Joker came out Number One and I was very pleased by that.
I think the Joker, as you mention, has gone through a lot of metamorphoses, transformations from the comic, to the sinister, to the psychotic. I think the character's longevity is due to the fact that at its core, it's something very unique among the villains. It has been susceptible to various interpretations over the last 70 years by other great writers and artists. That was pleasing. One thing that I've come to believe is that inadvertently, in the beginning, he came to me visually and in the name having such a visceral impact. Because at its core there's something unique about the image. The image of the Joker or the clown or the jester, it has that tradition. It goes back to medieval times and before.
Actually the image of the clown can be very scary, just the clown alone. You'd think it would be fun, but children almost have a phobia about the image of a clown. In fact there's a name for it, coulrophobia, the fear of a clown image. I think all of us have a little bit of that, which makes the image a little edgy. That was just—of course, I didn't think of all those things at the time, that was just how I viewed the image, not realizing what it psychologically came from or historically.
I think that's part of the attraction of the Joker and the emotional reaction you get from the image.
KANE'S VERSION of the Joker's invention is, understandably—knowing a little about Kane's ego—different. Kane's story, which he said is supported by E. Nelson Bridwell's report of Finger's recollection, begins with Kane wanting to create a worthy antagonist for Batman. Kane came up with the Joker playing card and the concept of a joke-playing villain. He says he showed his sketches based upon the playing card to Finger, who "liked the idea of a compulsive practical joker, and we kicked around ideas about a maniacal killer who would play life-and-death jokes on Batman, and that would test his mettle and ability to outwit his foe." About a week later, Kane says, Finger came into the studio with a photograph of Conrad Veidt, an actor, made up for his role in a movie called "The Man Who Laughs." Finger thought Veidt's visage was a better image for the Joker than the clownish creation that had come from Kane's pen, and Kane agreed. Robinson's playing card Joker came in after this, Kane maintains—Robinson's contribution was to put Veidt's face on the Joker playing card as a calling card for their new villain. But this took place after the Joker was invented, Kane says.
Robinson's version of the Joker's creation can be incorporated into Kane's—albeit with a shoe-horn. When Robinson volunteered to write the story, Kane may not have taken the youth's intentions seriously, and so he forgot that Robinson was on the assignment. Meanwhile, he and Finger went ahead with their discussion of what might be a "memorable" villain. He may have also forgotten that Robinson brought the Joker to them. What he remembered was Finger bringing in the Veidt photograph, which Finger could well have done after Robinson came up with the character and the playing card image—as a way of affirming the rightness of the concept by contributing to the visualization of the character. And Kane remembered using Veidt's visage on a playing card. Maybe it fits. But an internal contradiction betrays Kane: he says he conjured up with the notion of the Joker playing card; and then he says Robinson's playing card came after the Veidt inspiration. By offering contradictory theories, Kane reveals that one of them is made up. Which one?
Maybe it doesn't matter. We can't escape the fundamental fact that both Kane and Robinson claim to have invented the joke-playing villain and the playing card image. Clearly, both could not have done it. And considering Kane's cavalier treatment of Finger, I'd opt every time not to believe anything Kane said when the utterance tended to elevate his reputation above that of his collaborators. Self-aggrandizement was Kane's forte, not creative imagination.
Robinson realized this about Kane, but as far as I know, he never said anything derogatory about him. In his many recitations of the Joker's creation, he stuck to the facts as he knew them and said nothing about Kane's overweening personality. And when Kane died in 1999, Robinson wrote the obituary in the New York Times, extolling the achievements of his former boss.
FASCINATING AS THE GIVE-AND-TAKE of pros and cons is, it has been settled for some time now that the Clown Prince of Crime was mostly Robinson's invention, but the Conrad Veidt loose end still dangles tantalizingly in some quarters. Appearing on a panel at the 2010 San Diego Comic-Con, Robinson dealt persuasively with that matter, his remarks subsequently posted by Travis Langley (aka Papa Llama) at rocketllama.com; to wit:
Jerry: There was a story that's been repeated that the look of the Joker came from Conrad Veidt.
Travis: From the movie "The Man Who Laughs."
Jerry: "The Man Who Laughs," yes. Well, it's true and not true. What actually happened was, Bob Kane and I never heard of "The Man Who Laughs" before [writer] Bill Finger brought it up. Bill was an aficionado of offbeat films, German Expressionism. Conrad was a well known German actor who carried that kind of aura with him. In that first meeting when I showed them that sketch of the Joker [as a playing card], Bill said it reminded him of Conrad Veidt in "The Man Who Laughs." That was the first mention of it. He said, "I'll show you," and in a day or two, he found a clip of Conrad in that role. He brought it in and it was astounding: it looked so much like the Joker. That was after the fact. The movie had nothing to do with the playing card or how I first came to that image. But it helped Bill kind of visualize the character because he was struck by the similarity. That's how it came about.
If you read the Batman historian Nelson Bridwell, he had one interview where he interviewed Bill Finger, and Bill said, "No, the Joker was created by me" [Jerry Robinson]—an acknowledgment. He can be credited and Bob himself—we all played a role in it. The concept was mine. Bill finished that first script from my outline of the persona and what should happen in the first story. He wrote the script of that, so he really was co-creator, and Bob and I did the visuals, so Bob was also. But as Bill said, "Bob didn't create any of the other characters except perhaps Two-Face." Bill Finger was really the creative genius for Batman. He created all of the other characters except the Joker, and I think he did more on Two-Face than he'd admit himself. I think sometimes Bill was so self-deprecating that he didn't take credit for the things he did do at times because he was so kind of brow-beaten in a way and insecure. It's a tragedy. He died broke and uncredited. That's why I started that award [for writing] in San Diego that's given in his name every year because from the very beginning everything should have said Batman was created by Bob Kane and Bill Finger just like Siegel and Schuster (the creators of Superman).
RCH: Now that, it seems to me, ties down all the loose ends anyone has ever thought of. Thanques to Papa Llama.
BACK AT THE DRAWING BOARD on that memorable night of creation, Robinson stared at the playing card he'd unearthed and made a sketch of his own, emphasizing "the jester's distorted features and gave his new character the teeth-baring rictus of a sinister clown. Robinson," Couch goes on, "had just created one of the most memorable characters in comics—and in all of literature. In the Joker, Robinson brought together the mystery and sadness of Poe's work, the dark psychological forces of Expressionism, and the vagaries of fate, expressed in the turning of the cards as a metaphor for our lives. It's no wonder that this complex and resonant figure has been such a durable and mercurial character in the history of comics, and that the Joker has been portrayed by some of the finest film actors.
"At first, however, Jerry didn't get to write his own story, the Joker origin. 'When I came in with my Joker idea, Bob and Bill loved it so much they persuaded me to let Bill write the story because time was of the essence and this would be my first script,' Robinson recalled. 'They both literally begged me to relinquish the idea and let Bill do the finished script, using my premise. I reluctantly agreed, though I must admit I had tears in my eyes. I was eighteen and the time. If it had been at a later point, I might have had second thoughts.'"
Robinson sat down with Finger and "described the Joker's character, his persona, and the whole story idea. His friendship with and respect for Finger made losing the chance to write his own story a bit easier: 'Bill was such a sweet guy, and I knew he would do a great job with it,' Robinson explained."
But the seminal idea almost died at birth, Couch notes: "The original script had called for the Joker to be killed at the end of the story, after a dramatic fight with Batman. But the Joker was saved at the last minute—by the book's editor. DC's Whitney Ellsworth, who had worked in newspapers and the pulps before he came to comic books, knew a good thing when he saw it. A quick change before going to press shows a cop discovering that a knife wound to the Joker had not, in fact, been fatal. The grinning villain would live on to commit more crimes."
Not quite. No knife appears in the Joker's inaugural tale. On the last page of the story, Batman and Robin are chasing the Joker across the scaffolding of a high-rise building under construction, and Robin knocks the Joker off the edge. Batman grabs the falling mad man and saves him, saying (as if invoking Ellsworth), "You're too valuable a prize to lose." And in the last panel, the Joker, now behind bars, vows revenge.
But there's a second Joker story in Batman no.1. Originally intended for Detective Comics no. 40, it wound up as the last story in the first issue of Batman. In it, the Joker accidentally stabs himself with the knife he intended to plunge into Batman. Batman and Robin leave the scene, thinking their would-be arch nemesis is dead. But he isn't. A new last panel was added to the story, and therein, the doctor attending the supposedly dead Joker declares that the maniac is going to survive his self-inflicted wound.
Becoming a Comic Book Artist
ONE OF ROBINSON'S FAVORITE autobiographical stories is about how he got diverted from a career in journalism to a career in cartooning. Here he is, telling the tale to Jason Sacks:
Robinson: I spent that summer after my graduation from high school at the ripe old age of 17 selling ice cream. At that time you sold it off the back of your bicycle. They didn't have motorized ice cream cars like they have today. As the new man on the block I was given the outermost reaches of the suburbs of Trenton, New Jersey, where I grew up. I was selling the ice cream as preparation for my first year of college. I wanted to earn enough to relieve my family of some of the financial strain because we were just getting out of the Depression at that time, in 1939. Things were just beginning to turn around, but it was very difficult. I had three brothers who were much older than me who were in college. So I was trying to earn some money.
By the end of the summer, I was on the 98-pound track team. I was very light and skinny. My mother persuaded me to take $25 of my hard-earned royalties from my ice cream. I think I got a cent and a half per popsicle, or something like that. Towards the end of the summer—she didn't think I was going to last the summer, let alone the first year of college—she persuaded me to take $25 of that hard-earned ice cream money and fatten up in the country. So I finally agreed as I went off to this resort—one I didn't know of, I just picked one in the mountains. I was on the tennis team. Sports were a lifelong passion, as it was for my brothers before me.
So on the first day out, not mindful that I was there to fatten up, I ranged out to play tennis. I went to the tennis court to find a partner. I was standing there at the court and I was wearing a jacket. It was a regular house painter's jacket. They were white linen and had a lot of pockets all over for painters' supplies. They were all the fad in college at the time. I grew up next to Princeton University, which was only ten miles away from Trenton, so when we were in high school, we copied the fads of the college kids. They took these jackets and decorated them with their own so-called graffiti of the time. I was already a cartoonist for the school paper, though I never thought of cartooning as a career. I was an editor at the paper and did stories for it, but I also did the cartoons. I'd never taken any art courses, though I'd have loved to. They just didn't give any credit in those days for art classes, and I needed the credits for college. So I decorated the back of my painter's jacket with all kinds of cartoons.
And while I was standing there in my painter's jacket at the tennis court looking for a partner, I felt a tap at my shoulder and a voice said, "Who did these cartoons?" Without even looking around—I thought I was going to be arrested or something—I replied meekly, "I did."
The voice said, "They look pretty good," and I turned around, and the voice introduced himself. It was Bob Kane, who just did the first story published of Batman.
He introduced himself and we got to be friends. He was quite a bit older but still young enough to pal around with. He was at that time 24 and I was 17. He immediately showed me a copy of the comic book with his Batman in it, which I'd never heard of—of course, it was the first issue—but I'd never even seen a comic book before. I must say, I wasn't terribly impressed with it. I was used to the Sunday strips. I loved the major strips like Prince Valiant and Terry and the Pirates and the humor strips like Bringing Up Father and Mutt and Jeff. All the classic comics.
Once he said that he had just started the strip and needed somebody else on the staff—it was just himself and the writer, Bill Finger, who was really the co-creator of Batman and wrote all the stories and developed all the characters and really developed most of the whole mythos of Batman, Gotham City, the base story of Batman and so forth. When Kane said that he needed an assistant and I could make some money, my ears perked up. When he found out I was going to Syracuse, he said it was too bad that I wasn't going to New York, because he could give me this job on Batman.
Fortuitously, I had applied to Syracuse, Columbia and Penn, because my faculty members said they were best for journalism. That was my goal, to be a journalist and writer. Fortuitously, I had been accepted at all three places. I chose Syracuse really for no good reason except that it sounded like a college town. I never visited any of them. I'd never been to New York or to Syracuse, though I had been in Philadelphia many times in high school. That was a favorite date place because it was only 30 miles away.
So I raced to the phone and called Columbia to see if my application was still good. Luckily it was, so I called Syracuse, told them I wasn't coming, and called my home and said I got a job in New York, and I went immediately from the mountains to New York to start on Batman and the first semester at Columbia. So that's how it started.
Sacks: All because you were wearing the right jacket at the right time.
Robinson: The right time and the right place. I've often wondered what would have happened if I hadn't worn that painter's jacket that day. I might have been interviewing you, who knows?
The other kind of fun thing that happened is when I decided to go right from the mountains to New York, not having been to New York, I asked the manager the best way to go to New York and it sounded very complicated. He said, Jan Peerce—you may not know his name now, but at that time, Jan Peerce was one of the leading tenors at the Metropolitan Opera, and he'd given a concert at this resort the night before—the manager said that Mr. Peerce was going back to New York, maybe he'll give you a ride if you ask him. So I went over meekly to the great tenor and said, "Umm, ahh, Mr. Peerce, I'm going to New York, can you possibly give me a lift?" He said, "Oh sure, kid, hop in."
Then a big black limousine pulls up with a chauffeur, a private car. I got in, and that was my entrance to New York. By private car with a famous tenor for the Metropolitan.
We got to New York and of course he kicked me out in the Bronx. So that's how I got there.
Sacks: Talk about arriving in style!
Robinson: Exactly! It was quite a day!
Sacks: Your first impression of Batman was that you weren't very excited, which is understandable because the early issues were pretty primitive compared with Milton Caniff and the other artists that you were enjoying.
Robinson: Exactly. And I wasn't even used to the form, though I had seen comic strip reprints in comic book form. That was in a larger form. I'm not sure if you're familiar with them. There were a series of comic reprints. The publisher was Cupples and Leon and they published 12x12-inch [cardboard cover] books that were all [black-and-white] reprints of comic strips. They were my favorites as a kid. I remember once I went away for the summer and I kept begging my parents to keep sending me those books if they could find them. They were those reprints of newspaper strips. So that was my close attachment to comic strips at that time—or comic books, actually.The early comic books, as you know, starting with Famous Funnies in 1934, were reprints of comic strips.
Sacks: That's one of the reasons that Superman was such a blockbuster at the time because it was one of the first real comic book stories as opposed to comic strip reprints.
Robinson: It was the first super-hero in the comics. There were a few original stories published in comic books form, like Detective Comics—in fact, Siegel and Shuster did some of them before they created Superman. But what happened was that the comic publishers were buying the comic strips to reprint but began to run out of suitable strips to purchase for the comic books because they came out so often. Then they began to search for original material, and that's when the era of the comic book began.
Beyond Four-Color Fantasy
SACKS TALKED WITH ROBINSON about other aspects of his long career, and I'm quoting at length from the interview because Robinson's words are his own and his manner of speaking, as you may have noticed, is distinctive. He spoke very rapidly in a run-on ramble, a soft sort of rumbling. Reading the transcript of the interview is as good a way of getting to know Robinson a little as we now have. Here's some of the rest:
Sacks: You obviously were working and playing hard when you were young. Sounds like you had a fun life in those pre-War years.
Robinson: When you're young and foolish you take on a lot. I remember later on I was teaching five hours a day at the School of Visual Arts and doing my comic book all day. I did that for the better part of ten years, teaching five days a week, five hours a day and doing my comic and other illustration work at the same time. You can only do that when you're young and foolish.
Sacks: I can tell you really enjoyed teaching.
Robinson: I did, yes. I learned a lot as a teacher, myself. My own work became fuller and richer. I had to analyze what I was doing. I never went to an art school. So I had to analyze what I did, what I learned, in order to convey it to my students. So I really had to go back over and reflect on what I was doing in order to convey it to students. So I did enjoy it. It was a challenge. And when somebody in my class made it as a professional, I was as pleased as if I had sold something of my own.
Some of my students became very successful, notably Steve Ditko, who was my student. Somebody who wrote a book about him—I gather he doesn't do a lot of interviews, but somebody reached him and asked him about his early life and his experiences at the School of Visual Arts. He wrote somebody a letter and—I don't know if it's quoted in my bio or not—but he wrote very kind and nice things that he started his career and learned a lot in my class. And he was very good. I got a scholarship for him the second year to study.
One of the leading cartoonists in The New Yorker was in my class. There were other cartoonists who became successful in comic books as well. My memory isn't as good as it used to be, but they're listed in my book. And a lot of them have kept in touch with me over the years, sent me copies of work they've published and so forth. That's been very satisfying.
Sacks: I wanted to include in this interview some of the international travel you've done. Cartooning has really opened the door for you to do some personal diplomacy. You've gotten to travel all over the world to help improve human rights, the relationship between the U.S. and the Soviet Union when the Cold War was going on, and other trips.
Robinson: That was very fruitful and I was very grateful for those opportunities. It did take me—in fact, I'm writing more of my memoirs now, which tells more of the anecdotes about some of those travels. I made a number of trips entertaining the soldiers in camps throughout Europe and North Africa. I made friends with some of the cartoonists that we traveled with. I usually traveled in groups of four or five, and we became lifelong friends on those trips. Those trips were four or five weeks living and working together, and traveling. We also went to Japan and Korea. I met all the foreign artists at that time. I think that's what led to my founding the syndicate that introduced foreign cartoonists to America, and also American cartoonists abroad.
At last count I visited around 45 countries, and many of them many times. Favorite places are Japan, where I collaborated I think on one of the first manga with a Japanese artist, from the musical I collaborated with a writer on here in the U.S. We first wrote the musical here. It's called "Astra." That was quite an experience.
I traveled to China, and lots of South America. Places in North Africa and the Far East. I can't complain about that. I'm very grateful for that opportunity.
That also led to my curating a number of exhibitions for the United Nations. I've done four or five major shows. I took the exhibitions to Rio for the first Earth Summit on the environment. I met the then-Senator Gore, who was in our delegation to Rio at the time. It was the largest exhibition there. I also covered it for newspapers while I was there.
That was so successful that I followed with three others at the invitation of the U.N. The human rights exhibition I did the following year in Vienna and in Cairo in housing and development. Another one in Denmark. And then last year or the year before I reprised the exhibition on human rights here at the U.N. headquarters in New York for the 14th anniversary of the one I did originally. That was the anniversary, also, of the original human rights covenant. That was really a rare opportunity. I must say that all the artists that I met around the world who were invited to participate were really artists who were concerned, as I was, about the problem of human rights. I always had great support from my fellow cartoonists, both here and abroad.
Sacks: I tend to think of cartooning as an introspective art, but you've really used it to change the world in positive ways.
Robinson: That's what happened in my battle for Siegel and Shuster. When Neal Adams and I represented them to get back their rights in their name on their property. I've always had great support on those causes. I was grateful for the opportunity to do it. What helped me was when I served as President of the Cartoonists Society and also as the Editorial Cartoonists. Since I knew the top editorial cartoonists, I was able to reach them right away. They always came through, 100%, to support. That gave us great leverage in negotiating on all these fronts.
Sacks: Certainly the Siegel and Shuster story was one of those ones where the good and evil in the story were so clear. The lives they were living at the time of the settlement were rough.
Robinson: It was just tragic. You know, they were very good friends. I used to double-date with Joe Shuster when he was young. I couldn't have been more pleased than to be able to help them in some way.
Sacks: And it all started because you were in the right place, at the right camp—
Robinson: With the right painter's jacket. I've been asked many times if I still had that painter's jacket. I think if I had it, it might be a museum piece or something. But unfortunately, it was given to my nephews when they were kids. They were also three brothers, sons of my oldest brother. They handed it down from one to the other, so it was probably in threads. Of course, none of us thought of it as having any value at that time.
Sacks: Same as your work on Batman at the time.
Robinson: I look at comics as a true indigenous American artform. That's why I've written a history about it, put on exhibitions about it here. I'm not sure if you've seen the one I did that's still traveling, called "The Golden Age of Comics from '38 to '50"? It's been traveling around the country in museums. I did it first for a museum in Atlanta. It has all those early covers and other artifacts from the Golden Age.
It opened in a museum in Atlanta, then it went to museums in Detroit, Cleveland, Miami, and last in LA. Early next year it's opening in Phoenix and then back in Atlanta. If you ever get a chance to see it, I think you'll love it. It took us three years to put together that exhibit and it looks beautiful. All the collectors tell me it's so exciting to see the originals from that period. They've never seen them in that form before.
One of my next projects is that I've been working on—I started, but I laid it aside for the book projects [reissue of the history, plus the biography]. But I have been working on a graphic novel of the Joker. I do touch on his origins also. But there can be a couple different versions of that. They've had enough different versions of the Batman and the Joker already, so why not another version of the origin? I am working on that.
Sacks: Don't slow down. We look forward to reading your work for another 20 years, at least.
Robinson: Well, that's optimistic but I'll take it. I did have a great-grandfather who is written about in the book, who lived to be 116. I don't think I'll reach that, but any portion of that I'll be happy about!
JERRY ROBINSON died in his sleep during an afternoon nap at a hospice on Staten Island, just a few weeks short of his ninetieth birthday
Robinson's Reputation
THE LAST TIME I SAW JERRY ROBINSON was at the 2011 San Diego Comic-Con in July. He had started walking with a cane when I'd seen him at the end of May at the National Cartoonists Society's Reubens Award weekend in Boston, so I was a little surprised to see him all the way out in California, about as far from his home in New York as one can get: a man who uses a cane doesn't usually stray so far from his home turf.
Jerry was sitting with his wife Gro at a table in Artists Alley, selling prints of a drawing of Batman and Robin in a classic pose, swinging through the air, rendered in Jerry's superbly sketchy manner. I stopped to talk for a minute, but when other admirers started lining up behind me, I took my leave.
"Wait," Jerry said, "—here, I want you to have this," and he gave me one of the sketches. He'd signed it to me, and I was pleased to have it. I love the slap-dash flamboyance of it, Batman and Robin grinning with the devil-may-care bravado of yesteryear, before Batman became the psychotic Dark Knight. I thanked Jerry, but I didn't properly appreciate the gift until later when I read the inscription, which you'll see anon.
At the NCS meeting in Boston, I'd sat next to Jerry and Gro at the Reubens banquet—quite by chance: seating is assigned, and unless you've assembled a group of dinner partners in advance and notified the authorities, you're at the mercy of some russian roulette system they have of assigning seats. Roy Doty, who would receive the Milton Caniff Lifetime Achievement Award that evening, was also at the table, and for any cartoonist, it was August company. For me, alas, it was like being a diabetic in a candy store: although I wear hearing aids, I don't hear very well in noisy environments like cocktail parties and banquets. (Which makes me wonder why I go to the Reubens: it's all cocktail parties and banquets.) At one point, though, Jerry leaned over and told me a story about Gro's recent comedic meeting with a distant relative.
I'd first met Jerry at one of the conventions of the Association of American Editorial Cartoonists (AAEC). My first one of those was in Chattanooga in 1999, and I met him either at that one or the next year's in Minneapolis. Again, by chance, we were seated next to each other at the closing banquet. We talked more then: my hearing had not yet deteriorated to the point that I needed a hearing aid. I asked him how he and Mort Meskin had worked on the Black Terror stories. Who penciled and who inked? They alternated, he told me: sometimes he penciled, sometimes Meskin did.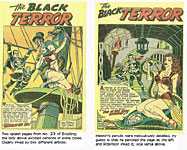 Jerry didn't attend every AAEC convention or every NCS meeting, but whenever he did, I sought him out for another fragment of a conversation. Often, seeing him and Gro seated by themselves in the audience at a panel presentation, I went over and sat next to Jerry. And we'd have a good-natured albeit fleeting exchange. Once, after swearing me to secrecy—"You can't tell anyone this," he said—he told me a scandalous story about the inner workings of NCS several decades ago. Something about the Reuben balloting I think it was. I don't remember the details because since he'd sworn me to secrecy, I didn't think I needed to remember any of it. But now that I think of it, why did he tell me the story at all if he didn't want it known? And so I mention it now because I think he'd want me to.
He phoned me a couple of times. Once, he wanted to know what I thought of his idea to create an award for comic book writers. It would be named in honor of Bill Finger, he explained—adding that a certain degree of care would have to be exercised so that the award wouldn't be referred to in verbal shorthand in a way that suggested the honoree was being flipped off. I applauded the idea of the "Finger Award" and appreciated the need for discretion in referring to it. Another time, after reading my Caniff biography, he phoned to tell me how good he thought the book was.
At such brief encounters over the years, I got to know Jerry a little. Neither humility nor hubris characterized his demeanor. He was a matter-of-fact person, without pretense or posturing. He knew who he was and what he'd done, but he didn't live on reputation. I wish Couch's book had been published years ago: until I read it, I didn't realize, quite, what sort of dignitary I had been in the company of every time I sat next to Jerry Robinson.
TO SUGGEST, inferentially, the extent of Jerry Robinson's achievement in cartooning and the esteem in which members of his profession held him, we need only remember that he was elected president of both NCS and AAEC, the only cartoonist ever to serve in that capacity in both organizations. He achieved distinction in every static genre of the medium—comic books, book and magazine illustration, newspaper comic strips, gag cartoons, comic portraiture. He was a finer artist than most of the inky-fingered fraternity and a more dedicated advocate for cartooning than many.
The rest of his profession agrees, and Veneta Rogers at Newsarma.com compiled some of their comments:
DC editor Dan DiDio said: "Jerry Robinson was one of the greats. He continued to be a vibrant, creative force well into his nineties, with ideas and thoughts that continue to inspire. Jerry was a great advocate for creators. It was my pleasure to meet and work with him. He will be missed."
Another DC editor, Jim Lee, said: "Jerry Robinson illustrated some of the defining images of pop culture's greatest icons. As an artist myself, it's impossible not to feel humbled by his body of work. Everyone who loves comics owes Jerry a debt of gratitude for the rich legacy that he leaves behind."
Marvel icon Stan Lee said: "Jerry Robinson was not only one of the finest artists ever to illustrate comic books, but he was also the head of an editorial syndicate which made cartoons available worldwide, as well as being an inspiration to young artists whom he always found time to help and advise. A genuine talent and a genuine gentleman, he was truly a credit to the arts."
Editorial cartoonist Steve Benson said: "Jerry was accessible to fellow artists seasoned and greenhorns alike. He was genuine, passionate and committed to his work, as well as being a helluva nice guy. In short, Jerry was a class act and a pillar of our profession. He will be missed."
"Jerry was a bit of an odd duck in that he was very much one of the best educated artists in comics in the early days," said Paul Levitz, former president of DC Comics. "It was very much a gang that came from the school of hard knocks and he had a college education—and a very good one. Jerry was a lifelong force driving the comics field: a masterful artist and creator, his love of the work led him to become one of the few to preserve beautiful original art when it was considered disposable industrial leftovers, his love of his fellow creators led him to become an advocate for them in need, and his intellectual energy made him a historian of the field who literally knew it from the inside out. Whether it was some of the advocacy he did with Siegel and Shuster for our company in the '70s or setting up a bank for editorial cartoonists [with his syndicate], he's been out there on progressive issues," Levitz finished. "Which is a very cool way to spend a life."
Erstwhile Batman artist Judd Winick said: "I have this great sense of loss as well as awe in his accomplishments. Jerry Robinson wasn't quite an unsung hero, but to turn a phrase, it would have been better if there had been a much louder chorus doing the singing. A creator, an advocate, and an enormous talent. I met him once years back, introducing myself as a comic creator. He asked me what I was working on. I said, 'Batman.' He smiled and joked, 'Yeah? I use to work on that too.' Then he winked at me and punched my shoulder. Almost all of us working on comics today are standing on the shoulders of giants. Jerry Robinson stood very tall."
Chuck Dixon: "Jerry Robinson made major contributions to the comics field in addition to creating the most recognized villain of them all. For my money he was also the creator of the graphic novel. In the early fifties he did several issues of a comic called Battlefront for Marvel (then Atlas). The title was usually an anthology but Jerry would write and draw the entire issue cover to cover, presenting a complete long-form story told in four chapters. A great innovator, master craftsman and true gentleman."
Marv Wolfman: "Jerry was not only a brilliant artist and a creator, but a wonderful, giving person whose charitable touch extended even beyond his talent."
Scott Snyder: "In my opinion, the Joker is the greatest villain of all time. Not just in comics—in everything. He is the twisted fun house reflection that exposes all our own darkest fears about ourselves, our childhood terrors, over and over, laughing. All of us who tell stories owe Jerry Robinson a tremendous debt for creating him."
Fabian Nicieza: "Comics would not exist today if it weren't for Jerry Robinson, and superhero comics would never have gained the traction they did during the Golden Age if it weren't for the innovations he created (along with Bill Finger)—the kid sidekick, the outlandish arch-villains who thematically reflected on the main hero and, not the least of which, a sense of elegant style and dynamic drawing that he brought to everything he did."
Neal Adams, who became a fan-favorite artist by reviving Batman in the 1960s and a champion for creator rights, said that young Robinson brought an energy and intuitive understanding of his audience to the Batman comics. Nothing showed that more, Adams said, than the addition of Robin, the plucky daredevil sidekick who provided an entry point for every kid who spent their nickels on Detective Comics.
"You say 'Batman,'" Adams said, "—I say 'Batman and Robin.' It was the team that mattered to me as a kid, and Robin was the guy every reader wanted to be." Talking to Geoff Boucher at herocomplex.latimes.com, Adams continued: "As I grew up and fell into this stuff, I realized that everything I liked about Batman ending up being the stuff that Jerry Robinson created. 'Who is this guy? He did all that? Yes he did all that.' When I started doing Batman the stuff that came back in—Two-Face, who they hadn't used in years, and the Joker and Alfred—all was from the stuff that Jerry Robinson did, and in the films, a lot of that is there, too. You can't make a Batman movie without Alfred."
Interviewed at Newsarama, Adams elaborated further: "We have just seen the passing of not only one of the greatest comic books geniuses of our time, but also unique in that generation. A true Mensch, an activist, a man, a stand-up brother. Yes, even in that first generation of comic book artists there were true revolutionaries who stepped out into other areas of art and thinking.
While he was a comic book artist, he created great comic book characters, but in a day where the goal of comic artists was to create a syndicated comic strip, Jerry simply became another total human being. His comic strip and editorial work was not more of the same, it was editorial, it was humorous, it said things. It wasn't oh-here's-what-I-can-do, it was, 'I have opinions and a sense of humor and, by the way, I'll express them with drawings as well.'
"Jerry represented the brotherhood of the medium," Adams said, "—the reaching out to other artists of other countries who were doing political cartoons with humor that sought to bring about cultural change. Jerry was elected the President of the NCS and was there when I had to reach out to them to help me with re-establishing the reputation of Jerry Siegel and Joe Shuster. I have no idea what another President of the Cartoonists Society would have said. I can tell you only that with Jerry Robinson, I didn't even get a chance to finish asking the question when he called out to me 'Of course I'll help with this, Neal, I've been following it.'
"You will never know the Jerry Robinson that I knew," Adams concluded, "and I promise you that had you, you would a better person for it. I believe I am a better person for knowing him. And I say this with tremendous pride: Jerry Robinson liked me."
And I have the same feeling every time I look at what Jerry inscribed on that drawing he gave me just last July in San Diego.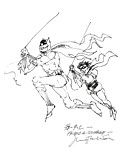 JOE SIMON
October 11, 1913 - December 14, 2011
Joe Simon: My Life in Comics
By Joe Simon (of Simon and Kirby fame)
260 6x9-inch pages, b/w with a color section; Titan Books hardcover, $24.95
JOE SIMON, assisted on the writing by his son Jim, published in 1990 a memoir entitled The Comic Book Makers. In it, he regales us with his early adventures in newspapering and in the publishing machinations of the nefarious Victor Fox, how he met Jack Kirby and what they did together, how he invented Spider-Man before Stan Lee and Steve Ditko did, what he did after the Simon-Kirby company Mainline evaporated, and the launching of Sick (of which Simon was the founding editor). The book at hand is a vastly revised encore. More text than pictures, this new incarnation has been fleshed out with many more (or at least different) anecdotes than its predecessor (which was about 50/50 text and pictures on ample 8x10-inch pages); and the pictures are not only smaller, understandably, but fewer throughout. The narrative has been updated, too, so that it includes glimpses into Simon's court fights for the rights to Captain America.
In revising the earlier book, though, Simon left out some of its more colorful anecdotes (in some cases, perhaps because he learned they were not true). And he failed to repeat making a connection between the "sick joke," popular at the time Sick debuted in 1960, and the name of the Mad knock-off. The narrative, although usually chronological, often meanders and seldom pauses long to cite dates.
This new version includes a revised albeit brief account of DC's suing Victor Fox for copyright infringement when Fox's Wonder Man showed up in Wonder Comics (cover-dated May 1939 but on the stands at least a month or six weeks earlier), an obvious imitation of Superman. Simon arrived at Fox late that year; he wasn't on the premises when the case came to trial April 6, 1939, but he was around during the aftermath.
In The Comic Book Makers, Simon retails the usual story of the DC-Fox confrontation. At the Eisner-Iger comic art shop, which produced material for Fox, Will Eisner had been instructed by Fox to create a character just like Superman—i.e., Wonder Man. When DC sued, Fox told Eisner to claim that he'd created Wonder Man without having seen Superman, their similarities therefore being coincidental. When Eisner would tell this story over the years, he always said he refused to lie—so Fox lost to DC and, in retaliation, never paid Eisner-Iger for the job. But about a year or so ago, Eisner's story was sharply contradicted.
A transcript of the trial surfaced and fell into the hands of comics chronicler Ken Quattro, who wrote about it and quoted the pertinent portions in Alter Ego, no. 101, May 2011. It was a shocker. It seems that Eisner wasn't the model of rectitude in this adventure: he did as Fox directed. He claimed he had invented Wonder Man in January 1938, showing Fox at the time a sketch of the character. That would be five or six months before the inaugural appearance of Superman in Action Comics no.1, cover-dated June 1938. Ergo, Wonder Man could not have ripped off Superman.
The complete transcript is posted at Quattro's thecomicsdetective.blogspot.com. I printed it out but before I could read it in microscopic detail, hoping to find wriggle room for Eisner, it got buried in the Rancid Raves Grotto. It'll surface again eventually, and I'll read it carefully. But I can't imagine anything I might find in it that would change the facts that appear in the Alter Ego excerpts: Eisner lied. And then, years later, claimed he didn't.
Eisner died before all this came to light, so we can never have his reaction. I suspect, however, that he wouldn't be as chagrined as we might suppose. Eisner has been accused and applauded for many things in his life, some actual; some not. And he used to say that whenever someone came up to him to report a fresh finding about something he'd done (or not), whether happy or hostile, ordinary or outlandish, he'd just smile and nod. It required too much effort to confirm or deny; besides, Eisner knew he wouldn't be believed. By the time you become an icon, people have formed their opinions of you, and those opinions are unshakable. So he just smiled and nodded. I think he'd do much the same here: he'd just say he'd forgotten, and smile and nod.
The reason for this long detour, however, is not to examine Eisner's recollection but to evaluate Simon's. He incorporates into his tale the information the long-lost trial transcript supplies, but in recounting it, he says Eisner "admitted that the cover for Wonder Comics and some of the Wonder Man drawings had been done in early 1939—more than eight months after Action Comics no.1 hit the market."
Well, not exactly. During Eisner's testimony at the trial, the splash page for the first Wonder Man story was produced in original art, and it revealed that the drawing of Wonder Man on that page was pasted onto the artwork. Eisner claimed the pasted drawing was what he'd done in January 1938, well before Superman reached a newsstand anywhere.
Yes, the cover, as Simon said, was doubtless produced early in 1939; and probably most of the Wonder Man drawings. After all, the first issue was published in about March that year: the artwork would have been completed a month or so beforehand. But Simon evidently lost track of the fine distinction Fox, through Eisner, was making during the trial—that a drawing of Wonder Man had been done months before Superman's debut; and in Simon's memory of the situation, the likelihood that Eisner copied Superman is enhanced. Eisner's version, the one in the transcript, eliminated that possibility.
I doubt that Simon, in telescoping the evidence in this way, intended to discredit Eisner or to shore up the case against Eisner's reputation for veracity. Simon remembered the key truths revealed by the transcript, but he didn't remember the nuances—or didn't want to write it up as laboriously as I have here.
Simon makes other dubious statements on occasion. I don't think he's lying. I think he just doesn't remember. That's the hazard in memoirs written by old men. (As most memoirs are.) Old men's memories tend to be foggy: they remember the big pictures but have forgotten the niggling and often revealing details. Or they remember things that didn't happen. (I'm easing off into my dotage myself, and I'm worried sometimes that some of the things I remember about my childhood never happened.)
Later in this book, for instance, Simon claims that Marvel's hardcover 1992 reprint of Boys' Ranch was superior to the 1989 reprint of Fighting American because the former was shot from the original art. Not so. For three reasons: first, an examination of the printed pages in the Marvel production reveals a loss of fineline detail that would not occur if the pages had been shot from original art; second, credits on the back of the title page list several persons involved in "restoration," an expression usually used in connection with reproducing artwork from the early printed comic books; and third, I have a page of Boys' Ranch original art, and no one asked me to borrow it in order to reproduce it in the book.
As I said, I don't think Simon is lying, which implies intentionality. I think he just isn't remembering accurately. And there are doubtless other instances of similar lapses of memory in the book. (I haven't read it all, page by page.) In fact, I would venture to guess that the book is riddled with similarly flawed remembrances. And that likelihood casts a long shadow of doubt over Simon's description herein about how he and Jack Kirby worked together. (I had reached this point in drafting this review when I heard that Simon had just died.)
IN THE 1950s WHEN I WAS A TEENAGER, the names of the people who drew the comic books I was reading almost never appeared in print. It was as if funnybooks were produced by magic, untouched by human hands. The most notable exceptions to this practice of anonymity were Lev Gleason's books (Boy, Daredevil, Crime Does Not Pay, etc.) and the EC books: artists names always appeared in these, usually as signatures on the splash pages. And Bob Kane's signature block also appeared on the splash pages of Batman stories. The only other exceptions I remember occurred in the comics drawn by teams. In those days, only two team signatures appeared regularly: Severin and Elder (Bill Elder and John Severin) and Simon and Kirby.
In those dearly departed days of yesteryear, no one asked how the teams functioned, who drew what. But as fandom blossomed in the 1960s, many of us wanted to know who did what. Kirby was asked; Simon was asked. Their answers varied a little in degree of vagary. Gradually, based upon these vagaries, we came to believe that Simon wrote the stories, Kirby penciled them, and Simon inked Kirby's pencils. That was the legend. But through the years, I evolved a more elastic understanding of how they worked together, basing my opinion mostly on interviews conducted separately with Simon and Kirby by Will Eisner.
Simon told Eisner that "pure Simon and Kirby" (Kirby pencils, Simon inks) occurred only at the beginning of their partnership when they were producing the Blue Bolt stories. As the team became more successful, more and more of Simon's time was devoted to managing the enterprises of the "Simon and Kirby studio" (as it's sometimes termed) and less to producing the product. Other artists drifted in and out of the premises to help out at peak production periods. Kirby did the penciling, but the inking was done by a small army of others. Because Kirby's pencils (judging from those I've seen) were tight, whoever inked him, if they followed his pencils carefully (and why wouldn't they?), would produce pictures in Kirby's style.
In My Life in Comics, Simon's description of how the famed duo worked together generally supports my view; to wit:
"When we needed to, we'd bring in a writer like Charles Nicholas [who also did a lot of the inking]. Then Jack and I would be spouting out ideas, and the writer would be taking notes. If we had time, I would lay out everything [in pencil, right on the artboards], and usually it was Jack who would do the [detailed] penciling, tightening up what I had started."
From this, I conclude that Simon's "layouts" were fairly sketchy, not much more than breaking the story down into panels and then roughly blocking figures into positions in panels.
"I did most of the writing," Simon continues, "but Jack could write, too. We'd script the story right on the [art]board, and make notes in the margins. Jack was excellent at following the story, adding to it, or reinventing it if that was what it needed. By the time we got done laying it out on paper, though, Jack and I would have spent so much time on it that it was an entirely different script.
"I was doing most of the inking," Simon goes on, "—Jack was too exceptional a penciler to waste him on inking, in my opinion. ... When we weren't busy, Jack and I did the stuff together without any help. When we were busy, we did the assembly line thing. If Charles Nicholas was doing the outlining [by which I assume he means Nicholas was drawing lines on the paper, inking Kirby's pencils, not outlining a plot verbally], Jack and I would take our loaded brushes and put the shading in. Jack's brush was even heavier than mine. His technique was a little rougher than mine, too. Bolder, especially on crosshatching. ... No two styles are exactly the same. In order to get a uniform look on our work, however, I leaned toward Kirby's style in crosshatching and inking. Whenever we worked together, we tried to make it mesh."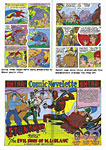 (My guess is that Nicholas' outlines are what we see in the accompanying Stuntman pages, published for the first time in The Simon and Kirby Superheroes (Titan Books, 2010), which supplies a nice long glimpse into the way S&K art was made. The unfinished double-truck splash page, in particular, shows exactly how simple linework was embellished to produce the characteristic Simon and Kirby look.)
Since Simon's description of the S&K working methods coincides somewhat with how I imagined them working together, I suspect it's generally accurate. All the more so because it brims with alternative realities: sometimes this happened; sometimes that happened. But I think Simon gives himself a somewhat larger role than he actually played, particularly after the first year or so. This is an instance of his not recalling accurately—or, more likely, of reconstructing and then recalling a sort of "ideal" (or typical) procedure that perhaps never existed exactly as he describes it. He builds his description in his memory out of fragments culled from scores of creative sessions in the studio. The actual procedure probably varied considerably, depending upon workload, which grew as the years passed, but in the memory Simon has constructed, all the varied creative sessions meld into a single manner of working with minor variations. The variations, however, were probably more pronounced than they are in Simon's idealized memory.
At one time, I was particularly concerned to identify who had produced the beautiful art in Boys' Ranch, my all-time favorite comic book. Based upon the Eisner interviews (which I quote from in tedious detail in my book, The Art of the Comic Book), I decided that Kirby did most of the creative work—penciling everything; and he may have inked himself, too, more often than is generally supposed.
Patrick Ford, who has studied the Simon and Kirby oeuvre more than most of us it seems, thinks Simon never inked Kirby after the first few stories they did together:
"Joe Simon inked very little for the Simon and Kirby studio," Ford wrote me. "Kirby inked all his own early work, as can be seen in the very early Lone Rider strip done before Kirby met Simon. Kirby as a kid was already at the top of the field, producing superb writing, pencils, inks, and slick lettering. During the early Simon and Kirby partnership, Kirby continued to ink many stories, including most of the Vision stories done for Timely, and almost all of the Captain America splash pages. At DC, Kirby inked very few complete stories but continued to ink covers and splash pages."
Ford continues: "Kirby was also the principal writer for the Simon and Kirby studio. In the 1950s, Kirby wrote penciled and inked most of the lead stories in any title packaged by the studio. Kirby had time to do this because during the early fifties, he was often producing no more than 25 pages a month. Kirby not only created his own stories, he was in essence the art director and studio boss at S&K in the fifties. Kirby worked with the other artists often redrawing panels or whole pages, and retouching inked pages."
In his e-mail, Ford collects quotes from Jack Katz, Gil Kane, Pete Morisi and others, all of whom have commented on Kirby's inking in various interviews. Here's Jim Amash interviewing Katz:
Jim Amash: Did Jack talk about line weight?
Jack Katz: Yes, he did. He showed me how to apply all of that to figures and objects. He said: "You have to make it three-dimensional. What you do is, make sure you have black areas behind a line, always a dark behind a line; it could be feathered. If you bring the light in on the right hand side, you have to make sure the opposite side is carefully outlined. If you want to show real drama, you have a light source from the top, so the eyes and mouth are in shadow, If you want to make a real ghoul."
Once he turned the page over, and drew a face, he showed me how the light from underneath highlights the bone structure. He showed me how to vary textures; he'd say, "Curtains should look delicate." He showed me how to do that with a brush.
Jack knew I loved Lou Fine, everybody did. He took some of Lou's work, and said, "Look at these delicate lines, and look at the reproduction. Nothing came out."
Then he showed me Hal Foster and said, "Look at the economy of line, and yet it does everything it needs to do."
Then I said to him, "Inking is problem solving." He said, "No, drawing and inking are decision-making. The problem-solving, you do that in your head, but when you put down a line, you've made a decision."
One of the things they had in the office were the Hal Foster Sunday Tarzan pages, from it's inception in 1931. They also had almost all the Prince Valiant pages, and everybody in the office was using them for swipes.
Amash: Did you ever see Kirby use swipes?
Katz: No. Never. I'm being very straight about that. If he ever did, it would have been for reference. Jack would work at his own desk there and Joe would come in during the morning and subtly stare at us. Jack would go for lunch, and when he came back, Joe would leave for the day. Jack would get in early, he was always there before I came in. He left late. Jack wrote as he drew; he also worked from scripts, but he would use them as a template.
*****
Pete (PAM) Morisi: "I spoke to Joe Simon once and asked him who inked Kirby years ago. Joe said he was involved with everything ... which means I didn't get a straight answer."
*****
Stan Lee: Generally, Jack would be sitting at the drawing board drawing and chewing his cigar, muttering to himself. Joe would be walking around, chewing his cigar and mumbling, and also handling whatever business there was to handle under Martin Goodman.
*****
Gil Kane (during an interview conducted by Gary Groth at the Comics Journal): Simon was business-like. He did all the handling, all the talking, he did all the standing. Jack was always sitting and working. Jack would take the scripts, and he'd either write them or re-write them. Jack was simply a workhorse who never sweated. It just came to him. Simon was a nice guy who was much more realistically attuned to the world. Joe was involved in the creative process, and he was the one who made all the deals. He didn't write: it was Jack who wrote. Jack would either write a script or get one and adjust it as he saw fit.
Groth: One other question about Simon: he was an artist too, and he always maintained that his and Kirby's collaboration was 50/50.
Kane: No, that's absolutely untrue. First of all there was a guy named Charles Nicholas, who used to do all of the inking that Jack and Simon didn't do. We know that Jack penciled every single thing they did. Simon only inked a fraction of what they did. Jack was his own best inker; he was superb. He did most of the Captain America splashes.
*****
Ford also said that Kirby routinely supplied detailed plots to the other shop writers and quotes from the Jim Amash interviews with two S&K shop writers, Kim Aamodt and Walter Geier. Alex Toth said Aamodt was the best writer he ever worked with.
Kim Aamodt: Well, Simon and Kirby wrote the plots. They sat there and wrote them, and that's what we followed. Jack did more of the plotting than Joe. Jack's face looked so energized when he was plotting that it seemed as if sparks were flying off him. I remember Jack Kirby was very good at making up titles. I remember giving him a lame title, and Jack said, "No. We're going to call it 'Under the Knife.' " It was a surgical story. I was impressed that Jack came up with titles so quickly. I really sweated out plots, unlike Jack Kirby. Jack just ignited and came out with ideas, and Joe'd just kind of nod his head in agreement. Joe was on the ground, and Jack was on cloud nine. Jack was more of the artist type; he had great instincts..
Walter Geier: Every time I went up there, I saw both of them (Simon and Kirby). And they always gave the writers the plots. Jack Kirby was great about that; he always came up with the plots. Jack had a fertile mind. Joe used to sit there when the writers came in for conferences. They sat there and made up the plots for the writers. Jack did most of that. Joe would say something once in a while, but Jack was the idea man. Joe didn't talk much. He could come up with decent plots, but it was usually very sketchy stuff. A lot of times Joe would say, "Aww—you figure out the ending." Jack would give me the ending because he was good at figuring out stories. It was not hard to work with Jack. They were Jack's plots. I just supplied the dialogue.
ALL OF WHICH CONFIRMS my earlier opinion. For the first few stories of their partnership, I think Kirby penciled and Simon inked. But that ceased fairly soon. Over the first years as their workload increased and concomitant deadlines multiplied, there wasn't time for such artistic refinements. Simon did less inking, leaving it to others who were drafted into the studio to ink Kirby's pencils. Charles Nicholas, Arturo Cazeneuve, Mort Meskin. Sometimes after someone had done the inking, Kirby—or Simon—might look over the finished art and tweak it here and there, add a little feathering or cross-hatching, fatten up a line to improve clarity, and so forth. And sometimes, according to the testimony Ford cites, Kirby inked himself, usually, I'd say, judging from the Sandman story pages posted above, by fleshing out simple outline artwork, adding the texture and shadowing that distinguished the S&K (Kirby) style. But sometimes doing the whole inking job, too.
The contradictory evidence—that Kirby never inked—originated with Kirby himself. He's quoted as saying, in effect, that he didn't like inking: inking his own pencils would be, he said, like drawing the same picture twice. From this, many of us have assumed he didn't like inking and didn't do much of it. But Ford doesn't buy that.
"The 1950's are a treasure trove of Kirby inks," he said to me. "Not only most of the lead stories for the S&K studio, but almost everything except the Challengers that he did for DC, and most of the work he did for Atlas in 1956-57. ... Kirby fully inked a few stories before the war. Check out the Sandman book collection, pages 186-195: 'The Boy Who Was Too Big For His Breeches' is pure Kirby pencils and inks.
"The idea Kirby didn't like to ink is not as clear-cut as people think," Ford goes on. "In the Nostalgia Journal interview in 1971 with Tim Skelly, when Kirby was pressed— 'wouldn't you like to do the whole job yourself?'—he said, 'Sure, everybody would.'"
The Simon and Kirby Drawing Style
LOOKING OVER THE YEARS of Simon and Kirby product, we can see the evolution of what I have come to regard as the distinctive S&K style. For me, that style reached its apogee with the Boys' Ranch series, which, as I've decided, is more Kirby than Simon. One of its most visible mannerisms is the trap shadow technique of indicating shadowy areas. But another aspect evolved out of feathering: as the feathering strokes became bolder, what had been tiny, parallel lines modeling shape became fat chips of solid black, indicating shadows as well as volume and shape.
Thanks to a recent spate of S&K reprint tomes, we have the visual evidence of the style's evolution readily available. Herewith, we paw briefly through the evidence locker, beginning with the earliest S&K manifestations and continuing through their last collaborations, in chronological order by the date of the reprinted material not the publication date of the reprint books—:
Blue Bolt (94 6.5x10-inch pages, color; 1998 Verotik paperback, $14.95), 9 stories from summer 1940 to March 1941. The first three stories are all Simon; Kirby joined him with the fourth issue, penciling. Because he was working from Simon layouts and the inks are Simon's, we can see little evidence of Kirby in the first few of his efforts although the action sequences seem a little more exuberant than they were in the first three issues. By no. 8, hurtling heroic figures are leaping over panel borders in what we might regard as a typical Kirby manner.
Among the more recent reprints, we begin with The Sandman (304 7x10-inch pages, color; DC hardcover, $39.99), 32 stories, March 1942 - February/March 1946. The artwork is fairly routine brushwork with wrinkles in clothing rendered in a straight linear manner, no trap shadow, no chips; facial shadowing, though, drenches one side of many faces in solid black. And volume and shape is rather extensively modeled with feathering lines in a manner we recognize from Blue Bolt as Simon's.
The same visual tics and tropes in an otherwise ordinary (i.e., contemporary) rendering style appear in Newsboy Legion (360 7x10-inch pages, color; DC hardcover, $49.99), 26 stories, April 1942 - May 1944. And in Boy Commandos, Vol. 1 (256 7x10-inch pages, color; DC hardcover, $49.99), 21 stores, June 1942 - Spring 1943. The only differences in the visuals of these last three volumes is in the reproduction. The colors in the Sandman volume seem brighter, cleaner; in the two boy books, many of the pages seem dark and gloomy. But all seem shot from comic book pages, and although credits indicate "restoration," the linework throughout is clean and free of the kind of blotchiness that often infects pages that have been Theakstonized.
We begin to see the distinctive S&K drawing mannerisms in the Titan volumes that reprint post-war titles. In Simon and Kirby Library: Crime (320 7.5x11-inch pages, color; Titan hardcover, $49.95), 34 stories, March 1947 - July 1948 (plus one each from 1949, 1954, and 1955), we see that linear wrinkles in clothing have given way to heavy brushstroke blacks at the beginning, with some trap shadow shading showing up. By the end of the book, chips of black have developed as fat-stroke feathering and modeling emerges. Reproduction here, as in the other Titan book (below), is superior to anything we've seen yet in this listing.
And the mannerisms of the rendering style in Crime are continued with great panache in
Real Love: The Best of Simon and Kirby Romance Comics, 1940s-1950s (160 8x11-inch pages, b/w; 1988 Eclipse paperback, $12.95, in 1988), 13 stories, 1949 - 1950 (Young Romance, the inaugural title for this genre of comic book, was launched September 1947). In these stories, linear wrinkles have almost entirely disappeared in favor of juicy fat brush strokes (a la Caniff), feathering has evolved into chips of black, and trap shadow shading appears on every page although not in every panel. Some panels get more attention than others as if the inker embellished the individual panels only if the drawing stimulated his imagination. I can envision the inker going from panel to panel, adding a little texture and shading as he went and then, whenever a particular picture offered greater opportunity for fleshing out, stopping and lavishing more attention on this panel than on that one. Two or three of the stories are inked in an entirely different fashion, but otherwise, the "mature" S&K style is firmly in place in this volume.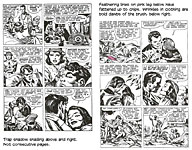 The Simon and Kirby Superheroes (480 7.5x11-inch pages, color; Titan hardcover, $49.95) is a happy monster of a nearly encyclopedic production, spanning 1940 to 1959 (and dipping a little into 1966 and 1989 for Fighting America) with 60-plus stories, including all of Fighting American, plus excerpts from pre-war Black Owl, then post-war Stuntman, Vagabond Prince, Captain 3-D, Private Strong (1959), and The Fly (1959). We seldom see the minor pre-war creations, so this volume is a valuable historical document. Most of the 1959 stuff is not inked in a recognizable S&K manner; otherwise, the techniques are typical of the periods from which the stories are taken. Reproduction is generally satisfactory except for Fighting American, which is lousy—linework clogged and too darkly colored.
Published in January 1992, The Kid Cowboys of Boys' Ranch (208 7x10-inch pages, color; Marvel hardcover, $39.95) offers all six issues of the legendary comic book, running from October 1950 to August 1951. This, in my biased opinion, is the best S&K ever—all Kirby: trap shadow all over the place, feathering turned to black chips. The best.
Marvel's previous S&K reprint, in 1989, Fighting American (192 7x10-inch pages, color; Marvel hardcover, $35.95), every issue of the title, April/May 1954 - April/May 1955, plus October 1966, is the last of the classic S&K titles; after this, for all practical purposes, Kirby goes solo, no Simon (not even by osmosis as in Boys' Ranch). Less trap shadow shading here because there are no wrinkles in skin-tight superhero costumes, and after the first few stories—when, sensing that the time was no longer right for a serious patriotic superhero, Simon converted the title to the weak-tea treacle he later called "satire"—the drawing steadily deteriorates. If Kirby is penciling, whoever is inking isn't following his guidance much. Reproduction, while flawed through Theakstonizing, is still markedly better than in the Titan omnibus above.
Kirby on his own produced whole universes of superhero adventures for which he is now unreservedly renowned. I find his drawing in this phase of an impressively productive career monumental and clunky, his anatomy lacking the blithe gracefulness of his early work (and certainly of its epitome, Boys' Ranch). But his inkers have been more faithful to his pencils, I think, throughout the post-Simon period than they where before.
The assembly-line production method that prevailed during Simon and Kirby's most productive decade immediately after World War II—with Kirby's pencils being inked by several anonymous persons—ought to make it difficult to discern a distinctive style, particularly when the likelihood is that some inkers embellished some panels more than on others. Even against such odds, however, a recognizable drawing style emerged in the post-war period and prevailed through all the S&K product until the pair broke up for good in the late 1950s. What with Simon spending more and more of his time during this period on the business aspect of the team's enterprise, the style that emerged is more Kirbyesque than Simonese: Kirby's pencils were clearly tight enough to guide a ragtag band of inkers to a single style, and that style was Kirby's.
The Ulterior Motive Motif
MEMOIRS are, by their very nature, self-serving. No one writes the story of his life and makes himself the villain or an irremedial goofus; always, the writers of memoirs are the heroes of their stories. Human [sic] sapiens being what they are, My Life in Comics can scarcely avoid the memoir pitfall. And it doesn't. But My Life is more than just a memoir: it can also be seen as an instance of special pleading. Simon may have had one eye on future litigation over the rights to Captain America, and in his memoir, he can be seen as trying to establish himself as the rightful proprietor of the character by reason of his artistic chops. The bigger his role in the creative endeavors of the S&K shop, the more secure his claim that Captain America belongs to him.
By the time My Life appeared, Simon had participated in at least three legal skirmishes over the rights to Captain America, and while the last one, ending in 2003, resulted in what you and I might call a final settlement, Simon's experience of our legal system up to then had been that "final" doesn't necessarily mean the "end." Three "settlements," after all, implies that perhaps a fourth is in the offing—or at least possible. And so it is perhaps understandable that I sometime see My Life as another chapter in a struggle that Simon never regarded as over.
It's pointless to ask the principals about such matters—particularly about my favorite, Boys' Ranch, which both Kirby and Simon also professed was the favorite of all their creations. Kirby was once asked whether he had written the books. "Yes," he said, "—I wrote Boys' Ranch. I always wrote my strips." At the time, Kirby was trying to retrieve his original artwork from Marvel, and the adversarial circumstances may have made him more affirmative and unequivocal than he might otherwise have been. Simon claims in My Life that Mort Meskin "joined us on the art and did a spectacular job." (Joined us.) But when I ran into Simon once in the aisles of the San Diego Comic-Con exhibition hall and asked him who inked Boys' Ranch, he didn't hesitate: "I did," he said. Had I asked Kirby, he would doubtless have said the same.
But if Simon did ink all of Boys' Ranch—or even a substantial portion of it—why are there so few pages from this title reproduced in My Life? If, as he claims, Boys' Ranch was his (and Kirby's) favorite series—and if he inked those sumptuous pages—why wouldn't he want to show them off in his memoir? Boys' Ranch art shows up in the book only once—a small reproduction of the cover of the first issue. That's all. In Comic Book Makers—produced during Simon's second try for ownership of the Captain America copyright—Simon included seven-and-a-half pages of art from Boys' Ranch. But, oddly, no text about the series' creation.
Why so little representation in My Life? Perhaps Simon wanted to downplay that part of the Simon and Kirby story in order to emphasize his claim to Captain America. He spends only a page-and-a-half of text on Boys' Ranch. In contrast, Captain America gets several pages and illustrations. And if, as I suspect is the case, by the time of Boys' Ranch, most of the creative work of the S&K shop was done by Kirby—that is, Simon didn't have much to do with the production of that series—Simon wouldn't feel any compulsion to spend much time on the cowboy kids. Besides, he has another axe to grind in this book.
In the other book, Comic Book Makers, Simon included lots of Boys' Ranch art because, presumably, it was beautiful and he appreciated its beauty—and he may not have envisioned the book as an aspect of his legal maneuverings. Perhaps he wasn't trying to strengthen his case about creating Captain America by avoiding the mention of productions in which he had little or no input. If he were to convey an impression that he was not involved in Boys' Ranch, an enterprising opposing counsel might assume he was likewise on the sidelines in the rest of the S&K output, even Captain America. I'm speculating wildly here—an occupational hazard—not a shred of unfiltered evidence to support these suppositions.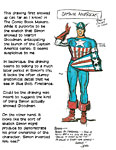 When writing about Kirby, Simon invariably resorts to flattering admiration. But some observers have reported that when speaking about Kirby in the years after Kirby's death, Simon sometimes belittled his partner's role in their enterprises. When he sold Martin Goodman at Marvel (then Timely) on publishing Captain America, Goodman agreed to give S&K 25% of the profits, plus a better than usual page rate. "I agreed," Simon writes, "and kept 15%. Jack would get 10%."
Does that reveal Simon's opinion about the man whose name has so long been associated with his? Kirby isn't worth as much as Simon? Or is Simon trying to establish a greater right to Captain America than Kirby's? Kirby was no longer around to enjoy any largesse that might trickle down from some distant rejuvenation of the legal battle, so why not push his own claim over Kirby's? Or is his memory playing fade-out again. Dunno.
Survivors always get to write history to their advantage, and Simon's memoirs, like that of most (if not all) survivors, serves his purposes—both legal and historical. Now that he is no longer a survivor, is it an affront to decency and decorum to question his version, his veracity? I prefer to think not. (But then I would, wouldn't I?) Joe Simon spent the last decade or so of his life trying to set the record straight from his perspective. I prefer to believe that we do him honor by following his example. (What absolute balderdash! Pure sophistry, a desperate attempt to get out of the rhetorical corner into which I've so far painted myself.)
Regardless of what ulterior purpose may infect its pages, My Life in Comics is, in most respects, a good book: with its anecdotal insights into the comic book business during its Golden Age, it's an invaluable addition to the history of the medium. But you need Comic Book Makers, too, because many of its most colorful anecdotes are missing from My Life. And Makers has much more art in it than My Life: all of a long-lost Boy Explorers story, for instance. But My Life includes such invaluable visual artifacts as a page from Bullseye that depicts a vigorous tomahawk fight without tomahawks because the Comics Code Authority wouldn't approve fighting with sharp-edged implements; and Simon affectionately tells a story about a late night session with Kirby, who was penciling a Stuntman story, "The Rescue of Robin Hood" even though both he and Simon suspected the story would never get into print: their deal with Harvey Comics (no relation) was falling apart, and several of S&K's nascent series were not published under their own titles. The anecdote is a sterling example of Simon's writing ability. Not to miss. Don't miss either of these volumes.
And Now the Obligatory Obit
A BOOK REVIEW, especially one like the foregoing ramble that veers off into a minute and tedious examination of a single aspect of a person's life and career, is scarcely adequate for appreciating the work of one of the undisputed founders of the medium. To place all the preceding persiflage in an appropriately picayune context then, next we post substantial portions of the obituary written by Bruce Webber for the New York Times (with a few additions imported from other obits elsewhere, as noted); herewith—:
During the so-called Golden Age of comics, the 1930s and 1940s, Simon created or helped create dozens of characters near and dear to the memories of comic book aficionados. The Guardian, the Newsboy Legion, the Boy Commandos [Young Allies, Manhunter, the Fly, Private Strong, Fighting American, not to mention the Blue Bolt] were just some that bore his name. He was also the first editor of Timely Comics, which evolved into Marvel Comics. Later, as the popularity of superhero tales dissipated after the war and comics sought to branch out into other narrative genres, he and his longtime partner, Jack Kirby, created a romance comic book, Young Romance, often credited with being the first of its ilk. They also created a western comic with adolescent leads, Boys' Ranch, [crime comics with titles like Clue Comics and Justice Traps the GUILTY], and a horror comic, Black Magic, distinguished by its lack of gore.
But Simon's most enduring character, which he created with Kirby, is that defender of (among other things) the national honor, Captain America. The alter ego of a decent but wimpy young fellow named Steve Rogers who has volunteered to take an experimental serum that turns him into a perfect specimen of human athleticism, Captain America was a super soldier. Muscular, masked, clad in red, white and blue and carrying a shield he could fling as a weapon—though not possessed of any explicit superpowers—he appeared for the first time in December 1940 (the issue was dated March 1941), a year before the United States entered World War II. On the cover he was pictured delivering a right cross to Adolf Hitler. It was Hitler who provided the impetus for the character.
"The comics that were doing really well at the time were ones with clever villains in them, so I started by looking around for the perfect villain," Simon wrote in his autobiography, My Life in Comics. "I thought to myself, Let's get a real live villain. Adolf Hitler would be the perfect foil for our next new character, what with his hair and that stupid-looking mustache and his goose-stepping. He was like a cartoon anyway."
For Simon, adds R. Rees Shapiro at the Washington Post, "the Jewish son of a tailor, the cover image was a deliberate shot at the Third Reich's anti-Semitism. The book's 45 colorful pages essentially amounted to Simon's and Kirby's argument for America's entry into the war."
Simon and Kirby did more than draw pictures of the war: they both served in the military; Kirby in the Army; Simon in the Coast Guard.
"It's no accident," Simon told the Post in an earlier interview, "that the first superhero boom came when we were facing the Great Depression and a world war. Superheroes represent the best in all of us—in that sense, they are us."
At the Washington Post's ComicRiffs blog, Michael Cavna adds this from Stan Lee:
"Joe Simon and Jack Kirby's Captain America was the first comic I read that made me feel like I was watching an exciting action movie. To me, the way Simon and Kirby wrote and drew Captain America gave me the same thrill as watching Errol Flynn playing Robin Hood on the big screen. There was a sense of power and drama and excitement in Joe and Jack's work that made it totally unique and always enjoyable."
(Recently, Cavna revealed, Simon created a "secret," never-seen remaking of the first Captain America cover, this time, with Cap KO'ing not Hitler, but Osama bin Laden.)
It was Simon who, as editor of Marvel's predecessor—Timely Comics—would hire a 16-year-old Stanley "Stan Lee" Lieber, giving the future legend his break into the business.
Weber resumes: Simon went by Joseph Henry Simon, but when he was born in Rochester on October 11, 1913, his father, a tailor, named him Hymie. His mother, upset by the name, called him Joseph until it stuck. The Henry, Simon once said, simply evolved from the middle initial he decided on to commemorate Hymie.
He took to drawing at an early age, creating comic strips and cartoons for his high school newspaper and yearbook. After graduating, he worked in the art department at newspapers in Rochester and Syracuse, learning how to retouch photographs and lay out pages. He created cartoons and illustrations for the papers' sports sections. "Drawing athletes prepared me for drawing superheroes," he said in his autobiography. And he began to write as well, covering boxing matches and other sports events.
He eventually moved to New York, where his first job was for Paramount Pictures, retouching still photographs of movie stars. "I retouched some of the most famous bosoms in motion pictures—Gloria Swanson, Joan Crawford, Bette Davis, Carole Lombard and Dorothy Lamour," he wrote. "Good bosom men were considered experts and got lots of work. I could hold up a sagging bust line with the best of them."
Eventually he began freelancing for glossy magazines, and an editor who admired his work recommended he seek employment in an emerging business hungry for artists: comics. He met Kirby in the late 1930s when they were both working for a comic-book company known as Fox Publications.
After the comic-book industry waned in the mid-1950s, Mr. Simon worked mostly as a commercial artist and in advertising, though he occasionally returned to comics. He founded a satirical magazine called Sick to compete with Mad in 1960, and was its editor for several years.
In 2003, Simon and Marvel reached an agreement that granted him royalties for merchandising and licensing of Captain America and ensured that he and Kirby would be recognized as the creators of the character. The movie "Captain America: The First Avenger," with both their names in the credits, was released this year.
Joe Simon died in Manhattan after a brief illness; he was 98.
MOTS & QUOTES
Sadakichi had denounced me for refusing to see life as anything other than a great hoax, with all men the victims of some monstrous practical joke. Not that I accepted the good-fairy pap, offered by the lesser Brownings, that all was well with the world; but I was too enamored of life to think the living of it futile. Seeing, breathing, hearing, the smell of life—I interpreted these as valid evidence that the house I resided in, though not always kept in good repair, had been leased to me on fair terms by a mot lenient Landlord.—Gene Fowler in Minutes of the Last Meeting
NEWSPAPER COMICS PAGE VIGIL
The Bump and Grind of Daily Stripping
BEFORE THE CHRISTMAS WARS—that is, before religion became a political issue instead of being merely an ordinary, everyday fact of life for each of us, according to his/her wont—the holiday was regularly celebrated in the funnies. Nowadays, not so much.
Partly, the ancient ritual of observing Christmas in comic strips was a purely logistical maneuver. Back in those distant days of yesteryear, many newspapers did not publish on Christmas Day, and the cartoonists who produced continuity strips—Dick Tracy, Mary Worth, Terry and the Pirates, et al—faced a dilemma: how to plunge ahead with their stories when they knew some of the papers carrying their strips would "miss" the Christmas Day installment?
The solution turned out to be simple: interrupt the continuity that day and instead do a "Merry Christmas" strip with the cast all assembled and waving to the reader. Then on the day after Christmas, resume the continuing storyline. Other non-continuity strips picked up the practice, and before long—for a while—almost all comic strips wished their readers a happy holiday on the day in question.
These days, some strips notice the holiday; others do not. Here, at your elbow, are a couple that not only recognized the holiday but did a week's continuity about it.
Baldo's Hector Cantu and Carlos Castellanos devoted all of the week leading up to Christmas to a Hispanic rendition of "The Night Before Christmas," expertly done—with a beautiful bilingual emphasis in the last rhyme. And in Mother Goose and Grim, Mike Peters started, but couldn't finish, "The Twelve Days of Christmas" with linguistic mutilations that, like all puns, get screamingly funny the more outlandish they become.
Our third page of holiday exuberances begins with what we might call the "traditional" Christmas greeting as exemplified in Mort Walker's Beetle Bailey. Blondie, which never used to acknowledge any American holiday the whole year long, has lately noted such events as July Fourth and Christmas. Here, Dean Young and John Marshall even throw in a festive reminder a few days before the occasion itself; and they follow up with Dithers' Christmas Eve nightmare (not completely unlike Scrooge having a long bad dream on the same day several decades ago). Then, to abandon the comics page for the nonce, here comes editoonist John Darkow with a seasonal comment on the recalcitrant GOP Congress.
Before we take our leave of the funnies, one final stop to celebrate the kind of brilliance we can find in comic strip comedy—and the kinds of taboos now being regularly broken.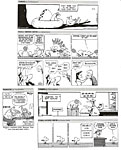 First, the latter, starting with Chad Carpenter's Tundra, the joke of which makes us think of a part of the anatomy customarily never referred to; man—how that bird's rectum must hurt after she deposited that giant egg! And in Pearls Before Swine, Stephan Pastis takes us from "little thingie," normally not an obscene reference, to "shuttlecock," which Rat promptly converts to another eschewed part of the male anatomy. In Zitz, Jerry Scott and Jim Borgman return us to the posterior reference we began with, but this time, the allusion is overtly sexual, not postpartum. Or so we are persuaded to think.
For the rest, just outrageous comedy and insightful commentary. Carpenter takes an old saying literally in Tundra, and Gary Brookins offers a little social satire over the latest development in canine currying. Finally, back with Pearls for what Pastis assures us is the strip's tenth anniversary. Geez: has it really been ten years?! Well, maybe; maybe not.
At GoComics, one wag observed that the anniversary being commemorated is actually Pearls' second birthday; the first was on the Web long before the print debut. And there's even disputation about when Pearls started in print: Wikipedia says the Orlando Sentinel started Pearls on December 30, 2001, and The Washington Post started Pearls the next day, then the rest of its first clients started on January 7, 2002. So Pastis' strip has four birthdays, only one of which is celebrated in the strip at hand.
MORE MOTS & QUOTES
"Laissez les bon temps roulez." —Everywhere in New Orleans. And I love the sound and the idea of it.
Retiring congressman Barney Frank once observed that Republicans who want to criminalize abortion and eviscerate poverty programs believe that "life begins at conception and ends at birth."
"The country would be better off if Congress were run by dead goldfish."—Bruce Cameron in the Denver Post
EDITOONERY
Afflicting the Comfortable and Comforting the Afflicted
We know, now, that Mitt Romney won in Iowa—just barely— but while the memory of the past tedious weeks of tromping, figuratively, through the corn stalks still lingers, albeit painfully, let us note a couple instances of playful ribbing inspired by the Grandstanding Obstructionist Pachyderm, both from the gifted hand and happily twisted brain of Ward Sutton.
In the first couple exhibits, Sutton, after noting that DC's "new 52" was either "a bold creative move or desperate gimmick," suggests that the GOP might follow the example ("If it worked for superheroes, could it also work for politicos?") to "breathe new life into a roster of all-too-familiar characters and tired rivalries." And then he shows us how it would work with the covers for six new comic books.
In our next two specimens, Sutton turns from comic books to television hits to show how our political leaders belong in "Dancing with the Stars" because they are so skillful at dancing around the issues. Bravo, I say.
NEXT, we have a couple pages of Pablo Lobato's contributions to the current fashion for brilliant "color form" caricaturing—sculpting with color, I say. And Lobato is one of the very best at it.
FINALLY, SPEAKING OF INNOVATIVE practices—we ran a short piece last time (Opus 287) about The Week magazine's practice of using a full color political cartoon as its cover every week. But we managed to leave out the illuminating illustration—one of the covers about which the article raved. We've now installed said cover, so you can return to the scene of our crime and, this time, see what it was that we were raving about.
PERSIFLAGE AND BADINAGE
Black Friday, so-called (we assume) because it launches the Christmas buying season by which anyule frenzy the financial statements of retail businesses will be catapulted from the red into the black, can be dangerous. The Associated Press reported that in Los Angeles, a woman allegedly pepper-sprayed 20 fellow shoppers fighting over discounted Xbox consoles and in a Wal-Mart in Little Rock, a riot broke out over $2 waffle irons.
FUNNYBOOK FAN FARE
Four-color Frolics
An admirable first issue must, above all else, contain such matter as will compel a reader to buy the second issue. At the same time, while provoking curiosity through mysteriousness, a good first issue must avoid being so mysterious as to be cryptic or incomprehensible. And, thirdly, it should introduce the title's principals, preferably in a way that makes us care about them. Fourth, a first issue should include a complete "episode"—that is, something should happen, a crisis of some kind, which is resolved by the end of the issue, without, at the same time, detracting from the cliffhanger aspect of the effort that will compel us to buy the next issue.
RILEY ROSSMO's splintery art in Green Wake no.1 is the book's chief attraction—as it should be in any comic book: the pictures grab your attention; the story keeps you coming back. But the beginning of Kurtis Wiebe's story has too much mystery, not enough definitive content: we are kept in a continual state of puzzlement without any likeable characters whose company we enjoy. The opening sequence of the immediate aftermath of an auto accident in which the male driver's girlfriend seems to have perished is never accounted for in the rest of the book—nor in the second issue of the title. We assume—but can't be sure due to Rossmo's extremely sketchy manner of rendering faces—that the driver is the detective who appears to star in the flashback that constitutes the story. His name may be Morley, but he is named in a panel with off-camera speakers, and the name isn't attached to his visage until many pages later.
Morley, if that is he, works with a zombie-like character whose name might be Krieger (again, extrapolating from the off-camera introduction), and they live and work in Green Wake. They don't get far in solving an apparent murder before the story shifts again to another character, Carl, who wanders into the tale in search of Ariel, who may have been his girlfriend in a life outside Green Wake. And she may have become Morley's girlfriend and she may be the corpse in the opening auto accident as well as the female wraith in a dreamlike state at the end of this issue. Before that, though, Morley has another murder to solve, Goodwin's.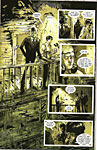 None of this passes for a completed episode, the sort of narrative scrap thatmight help define Morley's personality. And throughout, a narrator—perhaps Morley—drones on and on, pondering imponderables while the pictures show us Carl wandering the streets in the rain. All very atmospheric, and Rossmo's scratchy art is provocative and appealing, but it's lack of clarity and Wiebe's penchant for never concluding anything in order to amp the mystery combine to leave me baffled and no longer interested.
BLUE ESTATE no.1, "The Rachel Situation," is another first issue failure for many of the same reasons. Again, it is the artwork that attracts, although it's impossible to say which of the four artists credited (Viktor Kalvachev, Toby Cypress, Nathan Fox, Robert Valley) gives the visuals their stylistic appeal. The story is likewise credited to an array—Kalvachev and Kosta Yanev with "script by Andrew Osborne"—but they haven't, even with three of them working at it, managed to create an initiating chapter with a protagonist. We meet Rachel, an attractive enough bimbo married to a martial arts movie star named Bruce Maddox, who seems, somehow, involved with a Russian mafia, operatives of which show up midway through the book with money to launder.
None of this is interconnected in any apparent way so far, but the last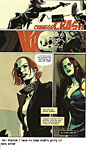 episode in the book at least explains the title: Maddox doesn't want his drunk wife around and doesn't want to divorce her—that's "the Rachel situation." But where it goes—or, even, in what direction it may be headed—isn't at all clear. The visuals, however, are a little better than those in Green Wake at identifying various personages; we still have highly individualized graphic mannerisms, but we can usually tell who they depict.
BRIAN AZZARELLO AND EDUARDO RISSO are teamed again in Spaceman, a 9-issue mini-series. Risso's art has graduated from deft and inventive to simply spectacular! Azzarello's story benefits immensely from atmospherics that depict the dystopian ambiance of one of two locales, and Risso performs heroically, creating a sense of foreboding vastness that is detailed as well as bleak—as you can see in the two-page panorama posted here.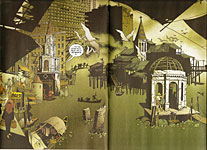 Three stories are entwined: in one, on a distant planet, Orson is a space explorer; in the dystopian, Orson, a thoroughly simian human, admits he's genetically engineered and drifts around on some sort of trash-compacting raft on a lifeless sea that has submerged a city; in the third, presumably in the same dystopia, various well-dressed personages look for a little girl named Tara. Throughout, Azzarello unveils an imaginative mutation of the street argot he displayed in 100 Bullets.
Azzarello flips back and forth among these venues, advancing each of three narrative strands a little each time. Whenever we can tear our eyes away from Risso's exquisite vistas of a ruined civilization, we wonder how Orson gets into a space exploration program—and, not at all incidentally, whether the dystopian sequence comes before or (more likely) after the space exploration sequence. In the first issue's completed episode, Orson finds and rescues Tara, taking her under his protection (thereby demonstrating his worth and earning our admiration); after which, he is threatened by a hulking bad guy who points a giant hand-held canon at him. We want to know what happens next because (1) Orson is a likeable fellow and (2) Tara is a cute, seemingly helpless young female who apparently deserves Orson's protection and (3) Risso's pictures are beautiful and absorbing.
THE SECOND grandiose compilation of Superman: The Kents is no better than the first: too much story is crammed onto too few pages, resulting in long intervals with speech balloons and captions crowding up the pictures. John Ostrander is attempting a monumental task—integrating the history of the 19th century Kansas Kents into the fabric of the Civil War, and I admire him for his ambition and his occasional successes. But his narrative often forces Timothy Truman to draw tiny pictures of Confederate soldiers, say, silhouetted in a long file against an orange sky—essentially, dull pictorials. The Kent brothers, Nathaniel and Jebediah, wander back and forth across this broad canvas, running into a host of actual historic personages, beginning with Bill Quantrill and "Bloody Bill" Anderson and Bill Hickok and continuing through Jeff Davis and Abraham Lincoln and Frank and Jesse James with episodes mentioning William S. Harney and John Schofield and others. Sometimes, Truman uses actual vintage photographs to embellish the story, but when, in a fever of name-dropping, Ostrander has Jonah Hex show up, I'm through. The story of the Kents in the Civil War is an intriguing one, and I'll probably buy the next issues to find out what happens to them. But The Kents is bad comics, laden with verbiage and labored drawings.
The fourth issue of the New 52's Catwoman gives us more of Guillem March's toothsome Selina in glistening black leather, this time, moping around because she believes she caused the death of her friend Lola. So she resolves to go solo and do her own fencing, but in the closing episode, fresh off a heist, she encounters another costumed female combatant, Reach, who sends her rocketing into the midnight sky over Gotham. Meanwhile, Detective Alvarez thinks he sees a link in seventeen robberies—i.e., Catwoman.
The second issue of John Byrne's Cold War is a disappointment: we don't find out who is menacing with the pistol at the end of the first issue for one thing, and Byrne too often can't seem to render his hero consistently from one page to the next. All the men participate in a macho auto race, at the end of which, hero Michael Swann appears to be hurtling his vehicle toward a gasoline truck that explodes on impact.
THE FROTH ESTATE
The Alleged News Institution
Once every four years, the so-called "news" media gets a bonus between Christmas and New Year's, a traditionally "slow news" period. For the intervening three years, journalists scramble to fill pages and air time with whatever nonsense they can rustle up. Big "year in review" stories are usually popular. But once every four years, the "news" media has the Iowa caucuses to exploit 24/7.
The Iowa caucuses didn't emerge as a politically important phenomenon during the primary election season until Jimmy Carter came in second there in 1976, becoming, suddenly, somewhat less of an unknown. From being an unknown, he was catapulted into the White House, in part because of a person-to-person ground game nationwide—but also because the Iowa caucuses gave him a little name recognition across the country so his ground game would work. Every four years thereafter, the Iowa caucuses assume an importance their structure scarcely justifies. In 2008, 118,000 Iowans participated in the caucuses; in a state with a population of 3 million, that's a little shy of 4% of the citizenry. That naked statistic coupled to the predominantly rural (agricultural) population makes Iowa a wildly unrepresentative state for forecasting presidential election outcomes.
This year, the Republicans, reports New York Times columnist Gail Collins, "hope to get more than 100,000 participants" in the caucuses. "That is approximately the number of people who go to Michigan Stadium to watch the Wolverines play football," Collins adds.
She continues: "On Tuesday, January 3, Iowa voters [only registered voters can participate] will go off to 1,774 local caucuses, most of which will be held somewhere other than the normal neighborhood polling place. ... History suggests that in some rural districts, the entire caucus will consist of one guy named Earl."
But thanks to the ever vigilant "news" media, the Iowa caucuses (which pulled in merely 130,000 this year, scarcely an improvement of landslide proportions) have gained an importance that nothing else about them warrants.
And contributing mightily to that inflated status is an endless stream of "news" about the candidates crawling all over Iowa, "news" that the tv "news" media exploits and invents to fill the "slow news" period between Christmas and New Year's. It's bad enough that most of the tv news in this country year around is political news—elections and party maneuverings in Congress—but between Christmas and New Year's this year, there was virtually no other "news" reported on tv.
So if you were being mesmerized by tv's reports on the Newt-Romney shenanigans in Iowa, you probably missed a story about how illegal immigrants are supporting Social Security with billions in withholding taxes that they can never claim because they can never retire and draw a Social Security check. The Social Security Administration keeps track of withholding tax revenues from employers that do not match up with names or numbers in the system. In 2009, "the last year for which figures are available, employers reported wages of $72.8 billion (with a 'b') for 7.7 million workers who could not be matched to legal Social Security numbers because they used fake names and numbers" when being hired. Illegal immigrants may not be paying income taxes, but they pay sales taxes like all the rest of us, and they are also funding our Social Security checks with "donations" they are necessarily denied access to when (and if) they "retire."
All of which I learned from the pages of a daily newspaper.
Instead of being bombarded by such elevating information about the state of our society, we heard on the tv about Newt's whining because he was being victimized by negative advertising in Iowa. He dropped pretty fast from a briefly held lead in the polls, due in part to the information in the ads about what an unreliable blow-hard he is, but also, I venture to say, because his whining reminded everyone of the whining he did when, as Speaker of the House, he had to sit in the back of Air Force One on a trip back from Egypt with Prez Bill Clinton. Once a whiner, always a whiner, I say. And all of his towering smugness can't mask the essentially egocentric aspect of his character.
As Newt sank in the polls, Michelle Bachman, Rick Perry, and Rick Santorum staggered around the 99 counties of Iowa, shaking hands and hoping to finish within the top four at the caucuses. If you don't finish at least fourth, you're "presidential toast," saith the sharp-tongued Collins, who then goes on to report how delighted Santorum has become lately as he realizes "people like us. ... They say, 'We really like you. You are on my list. You are No. 2 or No. 3 or No.1, and that is a good place to be.'
"At this point," Collins goes on, "polls suggest Santorum could come in anywhere from first to fifth. But he's still like a kid who so desperately lusts after the most popular girl in the class that he is thrilled by being told he will be permitted to drive said girl and her date to the prom."
American politics—don't you love it? The television "news" media do. And, judging from the content of the "news" they report, they probably wouldn't exist without it.
RAGGED AND FUNNY
In his first 18 months on Fox News, Glenn Beck and his guests invoked Hitler 147 times, Nazis 202 times, fascism or fascists 193 times, the Holocaust 76 times, and Joseph Goebbels, 24.—The Washington Post
Sent to me by a fellow loiterer on the Web:
In Lebanon, men are legally allowed to have sex with animals but the animals must be female. Having sexual relations with a male animal is punishable by death. (Like that makes sense.)
In Bahrain, a male doctor may legally examine a woman's genitals but is prohibited from looking directly at them during the examination. He may see only their reflection in a mirror. (Do they look different reversed?)
Topless saleswomen are legal in Liverpool, England—but only in tropical fish stores. (But of course!)
Banging your head against a wall uses 250 calories an hour. (Who volunteers for these tests?)
An ant can lift 50 times its own weight, can pull 30 times its own weight, and always falls over on its right side when intoxicated. (From drinking little bottles of —??) (Did our government pay for this research?)
ONWARD, THE SPREADING PUNDITRY
The Thing of It Is ...
Since the Iowa caucuses are now completely over, nothing I say here can possibly influence the outcome. (Not that I believe anything I say here would influence anything anywhere.) But I can't resist observing that GOP candidate Mitt Romney has improved his stump demeanor since his last run for Prez in 2008. He seems well-versed (glib) and animated. In the cover story of the December 12 issue of Time, Joe Klein notes: "Mitt Romney has a curious body language when speaking to civilians at town meetings. He moves in tiny steps, rotating to his right, then to his left, covering his entire audience like a lawn sprinkler. He speaks softly but very quickly, almost too quickly, spraying facts and policy one-liners on the crowd."
I admire the lawn-sprinkler image for its accuracy as well as its comedy. And I think the "tiny steps" way of walking—"mincing" we used to call it—is not confined to platform appearances: that's the way Romney walks.
More comedy.
Klein also assesses Romney's achievement in the world of business: "The form of capitalism that Romney practiced [in corporate America] helped revive the U.S. corporate sector in the 1980s and made it more efficient in the short term but left it less likely to produce new products and technologies in the long term—with the exception of Wall Street, where phenomenal slaries lured the smartest young Americans to create fabulous new computerized gambling devices with, as former Fed Chairman Paul Volcker has noted, no redeeming social value."
MEANWHILE, the gasbags of the airways stood around in complete amazement over Rick Santorum's seeming victory in Iowa. (Second place—within just 8 votes of tying Romney—is, for Santorum, a victory.) What's going on here? they wondered, scratching their heads in unison. How come Santorum is suddenly so popular?
After a few hours of pointless pondering, they finally reached the obvious conclusion: a vote for Santorum was not actually a vote for Santorum; it was instead a vote against the rest of a stunningly mediocre field—Romney and Huntsman excepted, but no one in the Republican Base wants a (shudder!) Mormon as a candidate. Oddly, the GOP electorate, in championing first Bachmann and then Perry and then Cain and then Newt, turning away from each in rapid succession, seems to embody the very trait they fault Romney for displaying—flip-flopping.
Sigh. Well, we're into it now for the next ten months.
JUST AS WE WERE ABOUT TO POST this diatribe, the monthly report on the unemployed came out, and we learned that the unemployment rate has dropped .2 percentage points to 8.5, the lowest it's been since GeeDubya left office, when it stood at 7.8%. (When he was sworn in, the unemployment rate was 4.2%, so the number of jobless rose drastically during the Bush League years, 3.6%. But do any of the Grandstanding Obstructionist Pachyderms notice? Nah.)
And no self-respecting GOPer is giving Obama any credit for the decline. In fact, Rick "Eight-vote" Santorum opined from the New Hampshire hustings that hiring was on the upswing because businesses figure that Obama was on his way out of the White House.
Really.
But we expect no better from the GOP.
To find out about Harv's books, click here.