Opus 284 (September 24, 2011). Yes, it's still the Year of the Rabbit and it's still a good year to start subscribing to this unending stream of news and reviews, cartooning history and lore, and, yes, this time out, we're even more vociferous and prolix than usual—a failing, forsooth, not attributed to the rabbit at all, as you can see from the accompanying visual aid.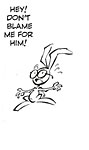 We had the very best intentions. We started out with the modest hope of reviewing 15-20 of the books heaping up disastrously at Rancid Raves Central, but we finished only 11 of them because we got distracted by Other Pressing Matters—namely, the surfacing of a long interview with Mike Diana, the only American artist to be convicted of criminal obscenity; we post excerpts. And then a week's Doonesbury got dropped from the Chicago Tribune and two other major newspapers because of its skewering (you should pardon the expression) of Palin, so we felt obliged to examine that in depth. Plus, in doing a survey of the editorial cartoon celebration of NineEleven's 10th anniversary, we were moved to comment on the catastrophe itself and its perennial anniversaries. And did. Then we have the usual news department, which, this time, we've seriously shortened in deference to our going overboard with Doonesbury, Diana, and the Editoonery of NineEleven. Sigh. Here's what's here, in order, by department—:
NOUS R US
DC's New 52 a Big Success
Cartoonists Exhibit in Solidarity with Syrian Inkslinger
New Threat to Dane
Spider-Man on Broadway
Russ Cochran's New Generation of Comic Strip Reprints
MIKE DIANA DIDN'T DISAPPEAR
Excerpts from a Long Recent Interview
Doonesbury Dropped for Palin Slam
Signe Wilkinson's Tree House Falls
EDITOONERY
NineEleven in Denver
The Tenth Anniversary as Seen by Editorial Cartoonists
Other Events and the 2012 Campaign
Pecos Perry
BOOK MARQUEE
Short Reviews of—
Too Small to Fail: Another th(ink) Anthology
The Complete Peanuts: 1981-1982
The Lives of Sacco and Vanzetti
Guerillas: Volume 1
The Big Hoax
Lincoln from Rail-Splitter to Icon
Blackjacked and Pistol-Whipped: A Crime Does Not Pay Primer
BOOK REVIEWS
Longer Reviews of—
Willie & Joe Back Home
The Peanuts Collection
GRAPHIC NOVEL REVIEWS
How To Understand Israel in 60 Days or Less
Aaron and Ahmed
Jim Ivey's AnagramOrama
Humor Times' James Israel on the Passing Political Scenery
PASSIN' THROUGH
Tom "Ziggy" Wilson, Sr., 1931 - 2011
Sam Norkin, 1917 - 2011
Our Motto: It takes all kinds. Live and let live. Wear glasses if you need 'em.
But it's hard to live by this axiom in the Age of Tea Baggers,
so we've added another motto:.
Seven days without comics makes one weak.
And our customary reminder: don't forget to activate the "Bathroom Button" by clicking on the "print friendly version" so you can print off a copy of just this installment for reading later, at your leisure while enthroned. Without further adieu, then, here we go—
NOUS R US
Some of All the News That Gives Us Fits
DC Comics' stimulus plan to ramp up sales by starting all over with a brand new generation of Number Ones is working better than anyone imagined. Every No. 1 of "the New 52" is selling out within hours. Retailers raised their orders for these titles but not enough. "I thought ordering five times my normal DC numbers would have been enough," said John Robinson, co-owner of Graham Crackers Comics, which has nine locations in the Chicago area. "I needed to think more like 10 times."
DC went back to the presses almost at once, ordering second printings of the first round of releases. On Monday, September 12, reported Scoop, the company announced that 12 titles would receive second printings, due in stores on October 5; then on September 13, they announced that week's full line-up would be reprinted, due on the shelves October 19. And on September 14, DC announced that Action Comics No. 1 and Batgirl No. 1 have sold their second printings and were scheduled for third printings, out October 12.
AN EXHIBITION DEDICATED TO SYRIAN CARTOONIST Ali Ferzat opened in September at Atelier du Caire, a downtown Cairo gallery, under the auspices of the Museum of Caricature in Fayoum and the Egyptian Cartoonists Association. Ever since Bashir Assad's thugs attacked Ferzat (see Opus 283), artists and cartoonists around the region have expressed their rage and solidarity through cartoons, and the exhibition continues that demonstration of solidarity, according to a report at english.ahram.org. Featured are many of Ferzat's works as well as works by Egyptian artists condemning the Assad regime and the brutal beating of Ferzat by Shabiha thugs, who broke both his hands.
"One of Ferzat's key inspirations is the contradictions of everyday life. In one cartoon, he depicts a man in a warplane throwing a bomb on a little child whilst his colleague asks him to throw it delicately. As a comment on power structures, one cartoon shows identical men placed in a row like a flight of stairs, (their heads take the shape of the sole of a shoe), while someone climbs these stairs. What is also interesting about his cartoons is that most of them do not depict specific incidents and thus can be applied to different contexts. In many cartoons he criticizes intellectuals who work as a mouthpiece for the regime, like one depicting a figure of authority from behind with a typewriter planted in his head."
Mohamed El-Sabagh from the Egyptian Cartoonists Association said the artists participating in the exhibition have made a large poster with signatures and good wishes to be sent to him.
IT ISN'T OVER FOR KURT WESTERGAARD, the Danish cartoonist who drew a picture of Mohammad wearing a bomb-like turban. In Oslo, Norway, police have arrested a suspect who was preparing a deadly attack against the cartoonist, reported news24.com. The suspect, who is in his 30s, was detained on Tuesday, September 13. The 76-year-old Westergaard had been scheduled that day to attend the launch in Oslo of a children's book for which he provided the illustrations, but he cancelled and returned to Denmark on Monday night after Norwegian authorities told him they'd caught wind of a possible attack against him, involving automatic weapons and explosives.
The Spider-Man musical has the last laugh, says Nick Allen at telegraph.co.uk. Troubled with gadgetry that didn't work quite right, flying actors that fell from the ceiling, and a flock of mocking reviews, Broadway's "Spider-Man: Turn Off the Dark" has been turned around and has become successful at the box office. More than half a million people have now seen show. The $70 million production, the most expensive in Broadway history, took in $1.7 million a week over the summer. As evidence of its continuing success, "producers of the musical, featuring music by U2's Bono and The Edge, announced that the star Reeve Carney, who had been scheduled to leave in November, has extended his contract until May. Said he: "I am thrilled to be on stage nightly as Peter Parker/Spider-Man. I can't imagine a more wonderful, harder-working company than my mates on Broadway."
In celebrating Hispanic Heritage Month, the proprietors of Baldo, Hector Cantu and Carlos Castellanos, have turned over the Sunday strip for the month to a series of guest artists, all Hispanic. Nice touch. More at baldocomics.com/blog.
A NEW GENERATION OF COMIC STRIP REPRINTS
Veteran archival publisher Russ Cochran is going back into the reprinting industry with a vengeance, saith Scoop. He recently announced his partnership with GC Press, LLC for the return of the EC Archives line, and at the same time, he is launching another publishing effort, this one designed to showcase historically important comic strips. The Sunday Funnies will be a 32-page, monthly comic section which reprints the best Sunday comic pages from the late 1890s through the 1950s. Each issue will contain 32 full-page, 22"x16" Sunday pages in full color. Included in the line-up will be Gasoline Alley, Little Nemo, Polly And Her Pals, Flash Gordon, Buck Rogers, Alley Oop, Terry And The Pirates, and many more.
Cochran explained: "Today, newspapers are dying. They have lost their power base, the advertisers, to television and the internet. So what about the history of these mass media? Where can you go to learn about this history? I have read that half of all the motion pictures ever made are now lost to us; there are no existing prints. To be sure, the best ones have been preserved, and we can enjoy them through DVDs. And what about the medium of radio? At least half of everything that went out over the airwaves since the boom of commercial radio started in the 1920s has been lost, but there remains a huge library of recorded radio shows which allows us to study that medium. And the same is true of television.
"But that is not true of newspapers" he continued. "Every newspaper ever printed, basically, still exists! It might exist on yellowing and crumbling newsprint in libraries, or on microfilm (until that microfilm eventually deteriorates). And those Sunday comic sections, which helped the newspapers built their readership into the tens of millions—they still exist. But they are much less accessible to us. If you want to hear a radio show broadcast in 1925, chances are good that you can find a recording of it. If you want to see a movie that was made in 1925, chances are that you can find a DVD of that movie. But if you want to read a Sunday comic section from 1925, where do you find it?"
Concluded Cochran: "The point I am making is that we have preserved in more-or-less permanent form the greatest radio shows, the greatest movies, but not the greatest newspaper comics. Until now."
The Sunday Funnies No. 1 will be available November 2011, with a retail price of $10. Subscriptions will be offered, but comic shops can place their orders for this historic first issue through Diamond.
MIKE DIANA DIDN'T DISAPPEAR AFTER ALL
As the first artist ever to be convicted of criminal obscenity in the U.S., Mike Diana is the central figure in what should be roundly condemned as a national disgrace. He was convicted in Florida, a state infamous for its backwoods attitudes about sex and race (among other dubious achievements), and his conviction enjoyed considerable publicity at the time (1996-97) as an outrageous instance of police power gone amuck in a society of antiquated sexual mores. The case against Diana materialized under highly suspicious circumstances that suggested he had been targeted by an ambitious assistant state's attorney, who, understanding perfectly the troglodyte attitudes of Floridians on matters of sex, saw Diana's comic book efforts as flagrant assaults in the moral sensibilities of a population he regarded chiefly as voters. In about 1993, this aspiring public servant found copies of Diana's comix in a dusty file and charged the 24-year old cartoonist with three counts of obscenity: one for publishing the material, one for distributing it, and one for advertising it.
Diana was then employed as an elementary school janitor, and he had used the school's copier to reproduce some of his comic books with their crude explicit drawings of sexual molestation and limb severing and body piercing and other unsavory desecrations. Some of the material was allegedly left at the copy machine, and Diana was fired.
Subsequently, in a Largo, Florida district court, he was found guilty on all three counts, and was sentenced to a three-year probation, during which time his residence was subject to unannounced inspection to determine if he was in possession of obscene material. He was to avoid all contact with children under 18, undergo psychological testing, enroll in a journalistic ethics course, pay a $3,000 fine, and perform 1,248 hours of community service. He was also ordered to cease drawing even for personal use, and his home was to be open to visitation by the police, who, without warning or warrant, could enter the premises at any time, to discover if he was violating this ruling. He was not sentenced to any jail time, but spent four days in jail between the dates of the verdict and the sentencing.
At the time, the sentence was widely decried as a draconian denial of the principles upon which this country was founded, an odious offense against individual liberty and democratic ideals, including, most obviously, freedom of speech and artistic expression. But the sentence survived the appellate process more-or-less intact, and Diana seemingly disappeared from public view (he would presumably have been in violation of his probation otherwise), and those of us who bemoaned his fate were left bemoaning and wondering how a judicial system we believed to be fair could have been so perverted into such a shrieking instance of the abuse of judicial power. Okay, Diana drew some really nasty pictures involving belligerent attack penises, devouring vaginas, crucified children and spurting nudity in often distorted detail. But can an American court order an artist not to draw pictures anymore—even for his own amusement?
But Diana did not disappear. In fact, while his case was still on appeal in early 1996, he left Florida and went to New York thereby escaping the most heinous of the conditions of his probation and even enjoying a certain success and international celebrity as the Boiled Angel martyr. He recently gave an interview to Morgan Watt at richardsonmag.com, from which we derive the remainder of this diatribe.
*****
WITH ASPIRATIONS to being an underground cartoonist, Diana spent some of his final highschool days in 1987 drawing comics showing teachers whom he and his classmates didn't like being killed in some "sick way." When his friend Robert got a job in a print shop, the two conspired in 1988 to produce a comic book, using some of Diana's highschool comix and some of Robert's. The result, entitled HVUYIM (an inexplicable acronym without meaning meant to baffle people), was printed in a few less than 1,000 copies. Next, Diana soloed with Angelfuck, "the title of a Misfits song," which he followed with the now notorious Boiled Angel. Its initial 65-copy print run ballooned to about 300 per issue by the time it reached No. 7.
Diana's major influences, he told Watt, included Topps products—Ugly Stickers, Horror Head tattoos, Wacky Package stickers, and Creature Feature cards—as well as Heavy Metal Illustrated magazine, old copies of Creepy and Eerie, Plop with Basil Wolverton cartoons, and Bernie Wrightson's Swamp Thing. He also liked S. Clay Wilson's work and that of Greg Irons and Rory Hayes. In short, whatever was unsavory and repellent, albeit often redeemed by a peculiar sense of humor.
Diana once indulged his own odd sense of comedy with "sick little Chick publications," the mini-comic books produced to advance the hellfire and damnation religious notions of Jack Chick. "I once wrote a letter to Chick Publications and told the story that I found a Chick comic and it turned my life around. I drew a crude image of Jesus on the cross with a text arrow pointing to him saying 'He saved me,' and I asked for a bunch of Chick books, and they sent me a box of what I think was every issue they had at the time."
Diana confessed to feeling less than religious about religion: "I should mention that when I was a baby I was baptized as a Roman Catholic. I remember going to church each Sunday and I liked the images on the stained glass windows. However, I got a creepy feeling about Jesus hanging on the cross."
And the fire and brimstone advocacies of the church his family attended put him off so much that he quit attending when he was sixteen. "I had a lot of anger toward the church and religion. I put a lot of this in my artwork. I felt it was a way, and still is a way, to get the years of them trying to brainwash me out of my head. Also, because it is so taboo for artists to go against the church, I wanted to be even more blasphemous. This anti-religious theme was brought up in court and used against me."
After publishing several issues of Boiled Angel, Diana was targeted by some self-righteous police officers who effectively entrapped him. (I know: entrapment is illegal—except, evidently, in Florida.) And then the ambitious prosecutor brought charges.
"The first time I showed up to court to enter my plea I was mobbed with tv and radio reporters as well as two groups of concerned Christian citizens with protest signs. I pled not guilty and then contacted the Comic Book Legal Defense Fund for help. They got me a Lawyer, Luke Lerot, and after much red tape and attempting and failing to get the case thrown out or moved to Tampa, where we felt we would get a better chance at a fair jury, it was time a year later to go to trial.
"I was railroaded in court,"Diana continued: "the prosecution told the jury I was a suspect in the Gainsville murders even though the real killer had been caught and had pled guilty just days before my trial started. They claimed that the art in Boiled Angel was made for killers and would turn people who read it into killers. At the courthouse the Boiled Angel books were on display for the public and even children to see; the Florida law says the public has the right to see material involved in a charge, so Florida exposed my art to so many more than I could have ever dreamed of, not to mention they showed my comics on the prime time news on all stations. I was even on some tv talk shows about the case.
"I was on the stand for over three hours to explain my art to the jury. I had a big stack of my old underground comix as exhibits to show them that I was not doing anything new and that I had freedom of press but the judge would not let them be seen." Even though Boiled Angel pages were on public display. Ah, Florida.
In complying with the ruling that he obtain a psychiatric evaluation, Diana was told that the doctor whom he would see charged $100 an hour, which he would have to pay for himself, and that his evaluation would take two hours. After the evaluation, Diana was informed the session would cost $1,200 because the doctor claimed to have spent 10 hours reading Boiled Angel in preparation. Without sufficient funds, Diana was unable to pay, and the doctor refused to give her evaluation to the court, effectively putting Diana in violation of the terms of his probation.
But Diana moved to New York City before anything could come of this criminal behavior, and there he found a shrink that gave him a perfect evaluation (stating he was not insane) for $100. Soon after he arrived in New York, his appeal to the Second District Court was denied, at the same time blocking any further appeal. The probation office in Florida contacted the NYC probation authorities to get Diana returned to Florida, but the New Yorkers didn't want anything to do with it according to Diana.
"I was always told that I could not be forced to return to Florida for a misdemeanor offense," Diana said, "and so they let me do my probation by mail and the conditions still stood. I got a non-profit job at a group called God's Love We Deliver. I signed up at NYU for the journalism ethics class the judge ordered me to take. It turned out the teacher remembered reading about my case in the newspapers."
Diana sent in $100 a month to retire the fine, plus another $50 probation fee. Periodically, the Florida probation officer would phone and ask him if he was doing any drawing in New York. "Of course not," he'd reply.
But he was doing some drawing. And some painting. His probation officer was fairly permissive, it seems, although he told Diana that he could order his apartment raided if he felt it necessary; apparently, he never felt it necessary.
"He had followed my trial on the news," Diana said, "and he just wanted to help me get through the probation. I decided for the most part that I would do something I had been wanting to and that is painting. I kept the artwork in the trunk of my car and would bring it up stairs to my apartment to work on it. I did a few paintings and found it relaxing. I did a drawing for Wired magazine. The drawing was the court room and I depicted myself tiny and the judge and prosecutors as monsters. So that published drawing and a few others are illegal!"
Diana was never caught at the game, "but as a joke I said I was going to do a painting of a fluffy bunny with big happy eyes, but then I figured the police would probably find that illegal." So presumably he never drew the fluffy bunny with big happy eyes.
The young outlaw cartoonist was also becoming something of a celebrity. Articles about him appeared in Playboy, Wired, Mother Jones, Flipside, Dazed and Confused, and many other magazines. And he subsequently traveled to Europe a few times, appearing at art shows and the like.
Watt asked Diana if he harbored any ill will about the police officer who, "by all accounts, made a personal vendetta" against him. Diana was blushlessly unforgiving in his reply:
"Yes, I hate all of them. [Born in New York,] I was forced [when his parents moved] to go to Florida in the middle of fourth grade and I never got used to the racism and the heat and the police. It was like being pulled over on your bike all the time, what's your name, are you a runaway? ... I know that the prosecutor Stuart Baggish felt he could make a name for himself with my case. The Boiled Angel books had been on file at the State Attorney's office for two years until he came across them on file and charged me. The legal helper my lawyer had said that he knew the prosecutors from way back in law school, and he knew from phone conversations between Baggish and another of his friends that Baggish thought the jokes in Boiled Angel were funny and said 'SPLORCH' in a comical way, laughing, quoting directly from my comic when the dick rams into the female rape victim. The next day in court he described that very panel and said I put in the word Splorch to show how I really wanted to give it to that female, how I wanted to rape and kill."
These days, Diana works with the Comic Book Legal Defense Fund, hoping to put the legal disaster behind him so he can return again to Florida, where he is still a "wanted" person due to the mixup over his probation officer's retiring without telling him. He plans to release a boxed set of Boiled Angel Nos. 1-8: "Everybody wants to see the books that started all my problems," he said.
But not everybody wants to buy his artistic services. Despite, or because of, his notoriety, he has some difficulty finding work as an artist: "Sorry to say, I have felt that due to the legal problems in Florida, some publishers are afraid to print my art. Some feel they cannot ask me to do art because I will go too far over the edge for their publication; it is more fear on their part. That being said, I did a great fold-out cover for an amazing band, Iron Monkey. I did a sketch for approval: it showed a gorilla stuck to a cross with needles and they asked me, 'Where's the big dick?' And I realized some want the big dick and some do not, so I gave the gorilla a big dick with a big needle stuck into a bulging vain. They were happy.
"I do feel I should keep topping my past work in one-way or another," he went on. "One way is doing short cartoon animation, little gags that are not as extreme as the Boiled Angel stuff but just being in movement and on the tv makes it seem shocking. In the future I want to make a graphic novel all about the court case and how living in Florida is what made me rebel and took my art in the direction that lead me to jail. I will show how horrible the Largo police were, beating up drunks on the street, and how it is basically a police state. The police got the fire department to have our family evicted from our house with only one week's notice and then they bulldozed the house down."
Diana is working on a new comic collection called Sugarfang. And he says he might publish the long awaited Tantalizing Terror, a collection of his "terror and gross comics" published in Europe but not seen in the U.S. News about these projects and others will be posted at Diana's website, mikedianacomix.com. Stay 'tooned.
DOONESBURY NAILS PALIN (You Should Pardon the Expression)
And Superlative Satire Gets Overlooked in the Ensuing Melee
Fortunately for us all in this age of pandering politicians who shudder at the remotest possibility that they might offend a voter, Garry Trudeau isn't afraid to piss people off. And he's just done it again. The editors of the Chicago Tribune, Newsday, and the Atlanta Journal-Constitution all decided that they could not run Doonesbury for the week of September 12.
Michael Cavna at the Washington Post's ComicRiffs.com reported that the Chicago Tribune said on Monday of the week in question "that it chose not to run the current Doonesbury strips" because "the story-line doesn't meet the newspaper's standards of fairness."
In the story-line that so ruffled feathers at the Trib, Trudeau's faux Fox News reporter, Roland Hedley, is reading portions of a new salacious biography of Sarah Livingston Palin. The biography, The Rogue by Joe McGinniss, who first stepped into the national spotlight with The Selling of the President about how Richard Nixon was successfully marketed in his 1968 campaign for Prez, is an actual biography, the parts Hedley reads are actually in the book, and both McGinniss and Trudeau attest to their accuracy.
Trudeau told Cavna that he was "surprised by many of the specifics, not so shocked by the overall portrait that emerges from them." He also calls the book "meticulously reported."
So when Hedley reads that Palin's former head of security says in the book that Palin is just a housewife "who happened to be governor," adding: "I'd fly cross-country with her many times, and she'd spend the whole trip looking at People magazine," we assume that the guy being quoted, namely Gary Wheeler, actually said just that. And in another strip, when Hedley reads that Palin's chief of staff was instructed to fire all the state minority employees because "Sarah just isn't comfortable in the presence of dark-skinned people," we again assume that McGinniss is accurately representing a situation that sundry of his researches uncovered.
And when, in Wednesday's strip, September 14, The Rogue quotes Palin "cracking sassy" (as Cavna puts it) "about her own empowering undergarments," we continue to assume that Palin actually said what she's reported to have said. Cavna amplified: "McGinniss provides the reportage. Trudeau brings the badinage. And Palin reportedly provides the remarks about her own decolletage."
Trudeau got in trouble with Palin's bust before, as we can see in the Sunday strip for September 4, conveniently reproduced near here, wherein the cartoonist's disembodied Palin refers to the recent Newsweek cover photo as ample evidence of her readiness to fill out a tight sweater.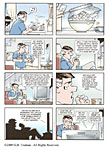 Palin fanaddicts immediately got their knickers in a knot over it. But as anyone paying attention must've concluded, Sarah the Palin did not show up for Newsweek's cover shoot in "come as you are" garb: her wardrobe for the occasion, as I intimated hereabouts (Opus 281), was carefully selected. She knew exactly what she was about, and the quote from The Rogue confirms it.
With Wednesday's strip about the power of Palin's pecs, the Trib's editors had seen enough. Trudeau's syndicate typically supplies subscribing newspapers a week's worth of strips all at once, so the editors could see everything that was coming down the pike. And they didn't like it, particularly with Wednesday's release: "The remarks become increasingly serious," the Trib's entertainment editor said, "and rather than interrupt the narrative, we decided not to run any of the strips."
But, as service to all Interested Parties, who, we assume, would like to form their own opinions on the issue based upon actual evidence, we're posting the most spectacular of the week's releases here.
On Tuesday, September 13, after alerting readers on the previous day to the suspension of the strip, Trib editor Gerould W. Kern waxed further on the subject:
Doonesbury does not meet the paper's standards of fairness for the week of September 12 because "the strips refer to allegations purportedly contained in an as-yet-unreleased book about former Alaska Governor Palin. The book is not yet available for verification or review by the Chicago Tribune. To be sure, Doonesbury is a satirical cartoon, but the remarks are serious enough that we cannot publish the strip without more information, context and a response from Palin."
Boy, those guys at the Chicago Tribune are thoroughly professional. Makes you wonder if they wait to publish all their news until they've been able to get responses from all the people whose names turn up in the stories. How difficult could it be to verify the assertions in Doonesbury? If the book isn't available for "verification," the author is. So is Palin. It's not as if it's impossible to verify the alleged facts asserted in the book. And if Barack Obama were the subject of a biography of this sort, you can bet the Trib would plunge ahead and publish and collect verifications willy nilly in the aftermath.
Nah, the Trib's explanation to the contrary notwithstanding, the paper suspended Doonesbury because it didn't like the inherent politics of the series and were afraid of offending the paper's conservative readers. Moreover, most newspaper editors like to think that the comics aren't serious enough to warrant expending any journalistic resources on them, checking facts and the like.
On an altogether irrelevant matter—but one of more than passing interest, I would think, to people who make a profession out of using words—I'm still wondering how a book can be "as-yet-unreleased." So it is due to be unreleased at some point? An astonishing new publishing feat.
At the Atlanta Journal-Constitution (another newspaper with lots of conservative readers), public editor Shawn McIntosh was more fulsome, offering the following explanation of the paper's decision not to run Doonesbury:
"We did opt not to run the series of strips ... because of the strong partisan content based on an unpublished book about Sarah Palin. ... Mr. Trudeau has based this series of comic strips on an as-yet unpublished [that new publishing feat again] book by author Joe McGinnis about Sarah Palin. Since the book is not yet published, Ms. Palin has not had an opportunity to comment publicly on the content included in the book and picked up in the cartoons. Nor has the book yet been reviewed for accuracy. [The book has since has since been reviewed; a New York Times reviewer described it as petty and unsubstantiated gossip, often from unnamed sources.] In essence, the cartoons would be reporting news, not commenting on news that is already public. When news is initially reported, newspapers have an especially strong interest in balance and fairness. I imagine the book may make news that will be reported on our news pages, along with Ms. Palin's response, but at this point our editors did not believe making untested allegations in the comics was the appropriate way to introduce the content of this book. While I understand that readers may disagree with the newspaper's decision to edit ["edit" is journalese for "excise entirely"] this series of comic strips, I hope they understand that it is the newspaper's responsibility to make editing decisions on a daily basis and the editors do not make those decisions lightly. We appreciate hearing from you as we strongly consider readers' views."
After hearing from a goodly number of outraged and/or puzzled readers ("Isn't Doonesbury always strongly partisan?" one wanted to know), McIntosh came back on September 16 to emphasize that "it wasn't the subject of the strip but rather the unusual nature of the content that called for special treatment." That is, the conjunction of "news" from an unpublished book being retailed in a lowly comic strip and the supposed unverifiability of that "news." Some readers agreed with that rationale, but others did not.
"I appreciate the responsible journalism," one reader wrote. Another said: "I think people can differentiate between news and a satirical comic strip." Yet another pointed out that even if the cartoon broke "news," Palin would have no difficulty getting her side of the story out, with millions of Facebook and Twitter followers. Other readers said holding a cartoon to journalistic standards was a mistake.
At Poynter.org, Jim Romenesko pursued the issue further by asking the Chicago Tribune's editorial cartoonist, Scott Stantis, who also draws a syndicated satirical comic strip, Prickly City, what he thought about excising Doonesbury:
"As you might guess I am torn," Stantis said.. "On the one hand I understand their reasoning. They did the same thing to my Prickly City a few years back in a series on Ted Kennedy. This was before I was on staff here. So this is not a new policy aimed squarely at liberal comic strips as has been suggested. On the other hand, it ticked me off when it happened to me. As a creator you never want your work stifled. You know that."
Understandably, Stantis straddled the fence when voicing an opinion about his bosses' decision. But Michael Cavna, whose job isn't at risk, straddles the same fence: "Editors, of course, have the right not to run a cartoon. But to that I would append: Cartoonists who editorialize, of course, have the responsibility not to be fair."
Their positions could well be my own. Still, I was somewhat disturbed when Alan Gardner at DailyCartoonist.com agreed with the suspension.
"I'm going to side with the newspapers on this one," he wrote. "Earlier in the week after looking at the first two or three strips I thought papers like the Chicago Tribune and others were being overly sensitive. But today's strip [reporting Palin's pre-marital roll in the hay with basketballer Glen Rice] is a game changer. We comic fans been looking at these strips one at a time and formulating our opinion of the newspapers actions based on the very small sample of strips. Editors had advanced copies of this week's content last week, and I think they had reason to worry after seeing today's strip. Today's strip breaks news that Palin had a fling with Glen Rice of the Miami Heat. That's news. Coming from a comic strip, but news nonetheless. The source is Palin biography by Joe McGinnis that will not be released until next week. Certainly, if the rumor proves to be false, what is the liability of the newspaper for having propagated the rumor?
"So definitely," Garner continues, "I think newspapers have the right to be cautious and those that pulled the strip were doing their job as editors. As an aside, I thought (and I'm painting a wide brush here) liberals believe sex is a private matter for individuals. Why is Garry delving into this salacious issue? We're talking about an encounter 24 years ago before Palin was even married."
He concludes with a disclaimer: "I am not a Palin fan. She's one of the reasons I didn't vote for McCain in '08 and I've struggled to understand why she's so popular or how she's been taken so serious."
By the way, despite Gardner's implication, none of the editors said they dropped the strips because they didn't want to be held liable.
At the Chicago Tribune, columnist John Kass felt obliged to chime in, saying he understood why a few newspapers suspended Doonesbury: with the series quoting from McGinniss's book, "Trudeau has become the tub thumper for the sleazy anti-Palin bio, a book of the keyhole peeper variety, with references to Palin's sex life as a young, single woman and unproven gossip attributed to anonymous sources." (McGinniss famously rented a house next to the Palins' in Wasilla so he could observe them, as if through a keyhole; Palin then built a high fence to frustrate him.)
But what "really annoys" him about all of this, Kass goes on, "is that I've had to defend Sarah Palin. I don't much like her. I don't like her attempts to become the den mother of the Tea Party. She had a chance to cast herself as a serious person, but instead, she opted for celebrity and that mama grizzly survival show. She's flaunted her lack of depth, proving she's not ready for the presidency. But Trudeau," he concluded, "has overplayed his hand. This cheesy attack on her only makes the ineffectual Palin seem more powerful, influential and threatening, at least to the political left. Is that what Doonesbury really wants?"
No, I'm pretty certain that's not what Trudeau wants.
Speaking both professionally and politically, he told Cavna that he has no interest in seeing Palin stick around the national scene as a potential candidate—though his opinion is that she will milk the moment:
"I'd say her strategy flows from an unusually deep need to get the most attention for the longest period of time," the political satirist said. "For 2011, that means stringing out her decision whether to run. For 2012, it'll mean stringing out her endorsement of [Texas Gov. Rick] Perry. ... Professional interests [as a satirist] aside, I would not like to see her enter the race. Like most people, I've had my fill."
But she's been a regular target of Doonesbury satire since 2008, as Trudeau acknowledged: "She's up there with go-tos Quayle, Dubya and Trump."
SO DID TRUDEAU OVERPLAY HIS HAND? At ComicBookResources.com, Brigid Alverson said she wants "to defend Trudeau's right to publish his strip and readers' right to read it. On the other hand, if I were an editor, I would be complaining to the syndicate. The strips are awful heavy-handed, even by Trudeau's standards; he's clearly eager to get the juicy bits out there before anyone else. I'm no Palin fan, but from the excerpts I have seen online, McGinniss' book is mean-spirited and journalistically dodgy, relying heavily on anonymous sources and folks with axes to grind, and the Doonesbury strips just amplify that. They should have been sent back for a rewrite, but that's the job of his syndicate editor, not comics-page editors at individual papers."
I'm not sure I'd agree with all that. Trudeau's eagerness to scoop the rest of the world on the book, for example. He's had advance proofs of McGinniss's book since last spring; if he were hot to be the first to expose the scandalous bits, he would have done it much earlier, seems to me. An interesting question, then, is: why has he waited so long? My guess is that he waited because he was expecting to dovetail his "book preview" with Sarah's next Big Moment in the Spotlight—presumably, when she announces her candidacy for the GOP nomination. But I also guess that Sarah probably won't be a candidate: as Trudeau says, she's a publicity hound, not a politician. So he decided there was no longer any reason to hold fire.
And then there was the imminent release date of McGinniss' book, September 20. Doonesbury's "preview" had to precede the release date.
Finally, while syndicates have some responsibility for editing their wares, Universal, Trudeau's syndicate, usually confines itself to advising, not squelching—a mature and welcome policy, I must say.
But Alverson puts her finger on the touchstone in this brouhaha when she says, parenthetically, "editors who sign up for Doonesbury know what they're getting into from the beginning, after all." Right. If they sign up for Doonesbury, they knowingly sign up for blood-letting "strong partisan content," abrasive satire with its accompanying moments of Truth as discerned by Trudeau.
As Cavna observes, this isn't the first time Trudeau has mined a tell-all book about a woman who's a conservative icon for satirical nuggets. "I did something similar with Kitty Kelley's 1991 book on Nancy Reagan," he said to Cavna.
And then there was a story arc in the summer of 1985 that was critical of President Reagan's bestowing of a humanitarian award upon Frank Sinatra, clearly identified in Doonesbury as a friend of the Mob. The Palin satire, said Universal's Lee Salem, "is certainly within the tradition of the strip."
Right. And newspapers who subscribe to Doonesbury doubtless do so for its satirical content that is the strip's well-known tradition. Three of them then demonstrate a spinelessness usually attributed only to politicians when they decide the temperature in the kitchen is too high for them and want to leave the premises—or turn down the heat by excising the strip that generates light as well as heat.
Lost in all the brouhaha about Sarah the Palin is any recognition of the brilliance of Trudeau's satire. The target is not Palin but Fox News. Hedley's recasting of the reports in The Rogue is a Fox News textbook, a vivid (and uproarious) demonstration of how to ignore the patently obvious and spin facts to suit ideology. In this instance, the ideology is Sarah Livingston Palin's sainthood, but the Hedley lessons could apply to any topic or person. The satirical objective, however, wasn't apparent to Trudeau at the beginning when he started talking to McGinniss about the forthcoming biography. He was probably thinking only of Palin as a favored "go-to."
Trudeau's relationship with McGinniss started in the summer of 2010 when the cartoonist sent Hedley to Wasilla to stalk the stalker peeping over the fence at Sarah and her brood. McGinniss enjoyed the sequence and asked for reprint rights last March. He also proposed that Trudeau review The Rogue. Trudeau declined the review opportunity, proposing instead to quote excerpts from the book before its official publication on September 20. And McGinniss authorized the release to Trudeau of advance copies (proof pages, presumably) last spring.
Said Trudeau of the duo's non-financial conspiracy: "I did warn Joe, though, that the deal required the cooperation of my imagination."
Trudeau found in the book "an embarrassment of riches"—including "revelations that didn't make the cut because I couldn't figure out how to make them work as comedy." But when he finished the book, he couldn't, at first, figure out how to work it into Doonesbury. He needed "a way in."
Finally, he found his way in through Twitter, a character bearing a striking similarity to Fox boss Roger Ailes, who orders Hedley to do damage-control by issuing "fair and balanced," positive-spin tweets about the book.
Hence the satire of the sequence, which is not to say that Trudeau doesn't enjoy zinging Sara at the same time. She is, by his own confession, one of his favorite targets, and he clearly relishes McGinniss's disclosures.
McGinniss, meanwhile, has been blogging about Doonesbury's treatment of The Rogue. On Saturday, Cavna wrote, the author—who won acclaim four decades ago for his Alaska-set Going to Extremes—blogged: "It's just Roger and Garry and I—the Unholy Trinity—trying to distract you from important issues by making you wonder what'll happen next."
*****
BY THE WAY, Doonesbury has not returned to the Denver Post. Neither has Peanuts. Both summarily dropped a couple months ago. I'd thought if any comic strips were too sacrosanct to be dropped from a newspaper's line-up, these were two. Alas, not so. I protested dropping Doonesbury for several weeks running. In response, the Post factotum in charge of pacifying protesters sent me a canned e-mail telling me (1) the objection to dropping Doonesbury was "overwhelming" but that (2) the decision about whether to reinstate the strip was "management's" to make. My guess is that management made the decision at the time they dropped the strip.
The Post dropped nearly two dozen strips a few months before, pruning its comics pages of relics the paper had inherited from the now defunct Rocky Mountain News and touting those strips as a way of seducing Rocky subscribers to take the Post.. Apparently, so few readers objected to that wholesale slaughter that the Post was emboldened to drop some more as it effected a 14 percent cost-cutting maneuver.
Used to be when a newspaper dropped a comic strip, fans of the strip came out of the woodwork, pounding pots and pans and loudly objecting. Now, apparently not so much. If the Post gets away with dropping Doonesbury and Peanuts—and the indications at present are that it will—it will mean that comics are no longer one of the two or three things people take newspapers to enjoy. At a single stroke, as I said last summer (Opus 280), comics will be revealed as a paper tiger. Dropping them will no longer be the third rail of newspapering. And we may then see newspapers all over dropping whole comics sections. Why not? If people don't care enough about them to protest dropping a few favorites, they obviously don't care about comics enough to justify the expense newspapers incur to publish them.
And so a great American art form will end, not with a bang, but a whimper.
TREE HOUSE COLLAPSES
All of Us Are Injured in Another Ending to be Mourned
The charming Family Tree, a green comic strip with distinctly feminist overtones, ended on Saturday, August 27, at the behest of its creator, Philadelphia Daily News' Pulitzer Prize winning editorial cartoonist Signe Wikinson. "I couldn't give the strip the attention I'd like in addition to doing my regular job that still, after all, pays my health care," Wilkinson told Alan Gardner at DailyCartoonist.
Beginning in January 2008, the strip focused on the Tree family, father Ames, mother Maggie and daughter and son, Twig and Teddy, with the maternal grandmother, Agatha Bell, thrown in. But it is not just another family strip. Wilkinson, long a promoter of environmental concerns, made her comic strip family "live green." Ames, for instance, let his yard grow wild, thereby annoying his suburban neighbors who trim their lawns to carpet uniformity.
"Family Tree combines my interests in raising tomatoes and raising children," Wilkinson said at the time, "neither of which ever goes exactly as we plan. Even though my husband and I were consistently brilliant parents, we managed to create enough detours from perfection to provide inspiration for Family Tree."
Wilkinson also has a feminist row to hoe from time to time, and she's attuned to the various hypocrisies of modern life, all of which she cuts down to size with an acerbic wit of flashing eloquence. She denies that the strip is political in the Republican or Democrat sense, but she tackles with relish social issues that arise from politics. The house next door to the Tree family was vacant but up for sale. Prospective buyers included a gay couple and a black couple. The Tree kids thought the gay couple "dullsville." Other residents on the street thought the gay couple "looks normal." What about the Trees? "Are they normal?" asks one of the neighbors. "They think so," says another.
Gardner interviewed Wilkinson, whose rapier wit was on display throughout the exchange, as you can readily tell by reading on and on.
AG: Do you have any post-Family Tree plans? Will we see your strip/character elsewhere?
SW: Universal will rerun the strip on its GoComics website but otherwise, I won't be using the characters for the time being. They would, of course, make a brilliant sitcom or movie (even without superheroes) and I will entertain all the multi-million dollar offers I assume will flood in. In the meantime, I plan to re-introduce myself to my family and re-learn their names.
AG: Has your work in cartooning (editorial cartooning or comic strips) ever taken on any more special meaning because of the scarcity of female cartoonists or was it just simply your life pursuit irrespective of other women in the field?
SW: The lack of women creators and decent female characters in strips is a whole other sinkhole I could wallow in. I wish the best for talents like Hilary Price who remain in the trenches. Fortunately, I'm getting supportive emails from readers who are shocked their favorite strip is ending. A little late but I'll print them out and put them under my pillow.
AG: Any regrets regarding the strip, unfinished goals?
SW: I loved doing the strip and regret I didn't have the time to both draw it and help promote it in the way it needed to be successful. Twig was a real girl. I'll especially miss her and her grandmother. They allowed me to write and draw outside the left/right, headline-driven box of daily editorial cartooning. Really fun. And, much as I admire my talented male colleagues, I took pleasure in drawing female characters for comics pages that don't have many good ones. I still think about my little family members as real people and miss being able to chronicle how they navigate the hideous pressures of having the right online personality, eco-sensitive footwear and impressive SAT scores.
WILKINSON DECIDED TO ADD a syndicated comic strip to her daily chores because her first career choice, political cartooning, is threatened with extinction. She's been at the game for 29 years, 26 of them at the Philadelphia Daily News, so one would think her situation is fairly permanent with more than a little assurance of a future. But considering the number of layoffs lately of editoonists with similar longevity at their papers, Wilkinson wasn't banking on permanence: if Family Tree could generate a living, she would be prepared for what may be the inevitable disappearance of a staff job at the Daily News.
The prospect of joining the nation's comics pages also appealed to Wilkinson because she'd be adding another woman's voice to the meager chorus that presently chants all too softly there. Family Tree is not Wilkinson's first try at stripping: several years ago, she launched a comic strip called Shrub, an overtly political enterprise with lots of little bushes. But Family Tree seems a much better vehicle for her distinctive brand of witticism.
In the hope of capturing a few more of her bon mots, I asked her about the evaporation of her original plan.
"Yes," she said, "I did think the strip would be a nice way to segue out of editorial cartooning if it came to that. So far, despite all my paper's turmoil, my key still turns in my office door so I can only hope that I have a few more years as a staff editorial cartoonist. What I liked about the strip was thinking outside the left/right political grid. My strip family tried to do rightby the world, especially environmentally, but had its lapses and, ummm, inconsistencies. In the political world, inconsistency is a sin punishable by excommunication.
"I'm now in recovery," she continued, "and wake up on a Saturday morning wondering what to do with time. Yesterday I wandered around the city, strolled by an open-air art show, perused some clothing shops, bought apples at the farmers market, ran into friends and talked to them. It was shockingly pleasant."
In her interview with Gardner, Wilkinson added: "I will forever thank/curse Ted Rall for getting me into this racket in the first place."
It was Rall who signed her up to do a strip while he was Editor of Acquisitions and Development for United Media 2006-09, and when he heard Family Tree was ending, he mourned its passing: "In previous years my friend and fellow editorial cartoonist Signe Wilkinson would have enjoyed a big paycheck as the result of this intelligent strip. Alas, the market for print comics has all but dried up. Comics pages are shrinking, newspapers aren't buying, and the Internet doesn't pay. When her strip vanished from papers, readers didn't complain—they just began reading it online. I will miss the Tree family. But I still have Signe to kick around—well, not really. No one kicks Signe around. But I can still whine—if she'll take my calls."
In Philadelphia, Family Tree is enjoying a brief afterlife in an exhibition of Wilkinson's artistry at Moore College of Art. The display, which continues through October 15, was mounted in connection with her being honored with a Visionary Woman Award. The award is made annually to women whose work and leadership have had a major influence on the visual arts, but Wilkinson is the first illustrator to win this award. "We thought she was a pioneer in the industry," said Moore College President Happy Fernandez. "She's a strong woman who we [decided] would be a great influence on our students." She is also the first woman to win a Pulitzer Prize for cartooning, in 1992.
Highlighting her career, the exhibition includes a selection of editorial cartoons that she produced for the Daily News. Grouped by ongoing themes found in the cartoonist's work, they include her perspectives on education, peace and/or war, women and everything else. In addition, the show includes cartoons for Organic Gardening and other magazines, plus a section devoted to Family Tree, "a daily comic strip," saith the College's brochure, "that follows a family's loopy attempts to live green in modern,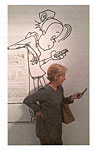 chemically dependent America."
I interviewed Wilkinson for Cartoonist PROfiles some years ago, and we'll post the interview in Harv's Hindsight in a few weeks by way of recognizing the life's work of a fine editorial cartoonist. In the meantime, here's a photo of Signe with one of the Trees. The photo's a little grainy because it's pilfered from the Web story on the Moore show, but since she seldom lets her photo be taken, it's a collector's item.
Fascinating Footnit. Much of the news retailed in the foregoing segment is culled from articles eventually indexed at rpi.edu/~bulloj/comxbib.html, the Comics Research Bibliography, maintained by Michael Rhode and John Bullough, which covers comic books, comic strips, animation, caricature, cartoons, bandes dessinees and related topics. It also provides links to numerous other sites that delve deeply into cartooning topics. Three other sites laden with cartooning news and lore are Mark Evanier's povonline.com, Alan Gardner's DailyCartoonist.com, and Tom Spurgeon's comicsreporter.com. And then there's Mike Rhode's ComicsDC blog, comicsdc.blogspot.com and Michael Cavna at voices.washingtonpost.com./comic-riffs . For delving into the history of our beloved medium, you can't go wrong by visiting Allan Holtz's strippersguide.blogspot.com, where Allan regularly posts rare findings from his forays into the vast reaches of newspaper microfilm files hither and yon.
QUOTES AND MOTS
"Politicians are people who, when they see light at the end of the tunnel, go out and buy some more tunnel."—Sr. John Quinton, banker
"Being in politics is like being a football coach: you have to be smart enough to understand the game, and dumb enough t think it's important."—Eugene McCarthy
"The problem with political jokes is that they get elected."—Henry Cate
"We'd all like to vote for the best man, but he's never a candidate."—Kin Hubbard
EDITOONERY
Afflicting the Comfortable and Comforting the Afflicted
DATELINE DENVER
9/11 + 10
Fields of sunflowers in our neighborhood spread a carpet of yellow into the distance in early September. It's a good time of year: in a few weeks, up in the high country, the aspen will turn, scattering splashes of yellow across the green velvet of the mountainsides. A good time of year for sights and mild weather.
As September 11th dawned, a few scattered clouds skeeted through a brilliant blue sky over the front range. The blue was an unsettling reminder of the sky over New York ten years ago on the same date. Of the weekly magazines that come into my house, only Newsweek eschewed somber black with soaring towers of light to commemorate that awful day back then: Tina Brown, aspiring always to be startlingly different, chose sky blue for the cover.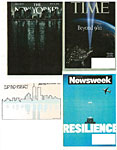 And in the corner, a tiny image of a distant 727 airliner, aimed at the typography. Terrible enough.
"I may never be normal again," said Manu Dhingra, a survivor of the attack on the Twin Towers. "But this is my life now. I have to live it." He was on the 83rd floor of the north tower when the plane hit. He was a little late to work that morning, so he was just out of the elevator when a ball of fire came up the shaft and burned his back. Had he been on time, he might have escaped being so badly burned.
I didn't watch much television on NineEleven this year, all that weepy stuff from the victims' families, all that breast-beating tough patriotic talk from politicians, all that sorrowful sympathetic respect for all the "heroes," of which, forgive me for saying, there seem to be too many. A hero is an exceptional personage; the more heroes there are, the less exceptional each is. I watched two hours of NBC's re-run of the tape of their broadcast on that fated morning in 2001.
That was enough. There was something typically excessive about all the ceremonial ruffles and flourishes, however well-meant.
When the Denver Post arrived, I read some of the commemorative columns. I agreed with Bob Benham's letter to the editor:
"I'm tired of 9/11 and would like to move on. 9/11 was a tragic event for those who perished, and for their loved ones. While those most affected by it won't put it aside anytime soon, the nation should. Yet we don't. Why do we keep picking and scratching at the scab? For one, I believe 9/11, along with the 'hallowed ground at ground zero,' is a politician's candy store. Politicians associate themselves with it, and with the aftermath of it, as much and often as possible. Hyping 9/11 also keeps hundreds of millions of dollars rolling into the coffers of Homeland Security without a whimper from the taxpayers, even though there are many who doubt Homeland Security serves any purpose at all.
"Keeping 9/11 alive helps justify our present wars," Benham goes on, "and the terrible cost to the finest of our young who serve in them. Some try to equate the event with Pearl Harbor. Pearl Harbor cast us into a global conflict that put the very existence of our country at stake. It cost millions of wounded and dead. 9/11 is not this. Not anywhere near. Let's place 9/11 in perspective with other great challenges our country has faced in the past, and honor it accordingly."
Ed Quillen, a retired newspaperman who lives in Salida in the midst of mountains west of Denver, expressed an even more jaundiced view in his column on September 11:
"Buildings fell and panicked people ran, and we wondered what it all meant. In retrospect, it meant a great victory for people who hate America. To be more precise, there were people who hated the very idea of a peaceful, prosperous republic. And so they managed to get it to transform itself into a bankrupt security state that practiced torture and extraordinary rendition, a Patriot Act nation that betrayed the principles this country was supposed to stand for."
He went on, talking about the wars we didn't pay for and the terrible debts we ran up as a result. "By now," he finished, "it should be obvious that even if Osama bin Laden now sleeps with the fishes, the bad guys—the ones who hated a prosperous and peaceful republic—came out ahead as a result of 9/11."
Well, not quite. Osama bin Laden lived to learn that he was wrong. He believed that America would cut and run if attacked. The slightest opposition, if bold and bloody enough, would turn the tide, would halt the Americanization of the Muslim world, its desecration of holy places, its support of Israel. Bin Laden's delusion was that if anyone had the audacity to strike at America, America would leave the battlefield. His delusion was fueled in part by what happened in Afghanistan. When the Soviets left Afghanistan, bin Laden regarded their departure as a victory for his ragtag forces, funded by his millions (as long as they lasted).
"After our victory in Afghanistan," he told John Miller, an American journalist who interviewed him in May 1998 (subsequently published in Esquire, February 1999), "the legend about the invincibility of the superpowers vanished."
He ignores the part that the CIA played, supplying weapons to the mujahideen rebels.
And then when, soon thereafter, the Soviet Union collapsed, bin Laden thought its demise was the result of the Soviet failure in Afghanistan: hence, the "brothers" had brought about the ultimate defeat of communism.
By the same sort of inflated, self-absorbed reasoning, when the U.S. withdrew its forces from Somalia in 1992, bin Laden—who had some of his fighters with AK-47s in the struggle, shooting down American helicopters—quickly assumed, as he said, that "the American soldier was a paper tiger. ... after a few blows, they ran away in shameful defeat."
Emboldened by what he regarded as these signal victories, bin Laden and his minions killed more American soldiers when they drove truck bombs into American barracks in Riyadh in 1995 and Dhahran in 1996. By the spring of 1998 when he was interviewed by Miller, bin Laden was contemplating yet another of the same kind of effort: he was planning to "bring the fight to America."
Again. The bombing of the World Trade Center in 1993 had not quite worked to destroy the paper tiger for once and all. So bin Laden would try again, this time, bombing the Twin Towers with airliners.
He knocked down the Twin Towers, but we didn't cut and run as he thought we would. Instead, we came after him. And we eventually got him, after humiliating him, driving him into abject hiding.
ON THE HOME FRONT, we tried to fix everything that had gone awry to allow bin Laden's attack to succeed at the World Trade Center. Fix everything. Americans are always about excess, and the aftermath of NineEleven proved to be no different. We are a nation of pragmatists. As a country, we've always fixed whatever was amiss. Why not this time? Fix everything. And in our usual excess, we made some mistakes.
After invading Afghanistan, we left the country and invaded Iraq. The idea was to purge the whole world of radical Muslims. Make the whole world safe. An excessive ambition but it seemed like the thing to do at the time. Wrong. A colossal mistake as it turned out.
A couple of NineEleven anniversaries ago, Hendrik Hertzberg at of The New Yorker, wrote that the U.S. "came out of the Cold War and into the new century cloaked in an aura of mostly beneficient omnipotence, strengthened by the first President Bush's quickly decisive (and truly multilateral) police action in Kuwait. If the aura was a myth, it was a useful myth: it served as a means of persuasion and a deterrent to mischief. It was a kind of hard soft power—a velvet fist in an iron glove. (Its efficacy, a liton of potential, not actual, use.) That and more was squandered in Iraq."
I agree. For a long time, we could say that America's role among the family of nations was to lead by example—not the example of military force, but the force of the example of our way of life and governance. Military might had its uses but not on the battlefield. Once upon a time, the U.S. could impose if not worldwide peace at least a more-or-less international cessation of active hostility, country by country, simply by being the 800-pound gorilla on the davenport in the livingroom. The implication was pretty clear: if you don't behave, we'll send our army into your country and take over, so you may as well behave now and save us both a lot of trouble and heartache. The U.S. seemed invincible and therefore a powerful inhibition to uncivilized behavior among nations.
Since the Bush League fiasco in Iraq, the unspoken ritual incantation is somewhat different. The big gorilla is still on the couch in the livingroom, poised for action, but now it weighs somewhat less than 800 pounds. Now the implication has changed: if you don't behave, we'll send in our army and destroy your countryside, your cities, and your economy, and then go away, leaving a ruined and destitute country behind. The hulking primate is not a paper tiger by any means, but it isn't the model of effectiveness that everyone supposed it to be. It no longer seems capable of imposing order upon the country it conquers: it is a wrecking ball not a building block.
IN THE PAST, THE BIG BEAST was threat enough by its sheer presence; we didn't have to set it loose. And now we know, we probably shouldn't set it loose. We now know that if you set the thing loose, it'll just make things worse: it'll carouse around clumsily, breaking the furniture and messing up the floor, revealing, thereby, its inherent fallibility and, ultimately, its ineffectiveness. The idea slowly took shape: the U.S. can't, actually, do what its sheer power seems threatening to do.
In Time (December 14, 2009), Peter Beinart, a professor of journalism and political science, seemed to agree, both with me and with Hertzberg. He argued that "the harsh truth is that the U.S. is significantly weaker in the Middle East," and, as a consequence, everywhere else, than it was when the century turned. Beinart continued: "For close to a decade [now], our adversaries have not only survived our efforts to destroy them; they've also realized that conflict with the U.S. has its advantages."
Chief among them, bragging rights: because a confrontation with the American military might is not likely to lead to complete annihilation, the victim of the attack can claim it is so strong it could survive the U.S., a persuasive propaganda ploy in certain parts of the world (as it happens, exactly those parts that are causing the most trouble).
The giant gorilla argument that inhibited uncivilized behavior on an international scale is still there, but many in the immediate aftermath of GeeDubya's Iraq don't admire the gorilla any more. And admiration—the force of example—is the most persuasive of the arguments the U.S. can make on behalf of international peace. We lost admiration in the rubble of Iraq's ruin.
For a while, it seemed that Barack Obama could bring back the power of the American example, and he may yet. But despite the success of his reception worldwide, I wonder if he can achieve this objective in real as well as rhetorical terms.
Meanwhile, back home, we set about devising ways of protecting ourselves against another NineEleven. We began by striving to make air travel safe. To protect ourselves against future shoe bombers, we started every journey in our stocking feet. Why didn't the underwear bomber make us drop our drawers? Because by then, we were deeply into "security theater": the idea was to make it look as if we could find any weapon some errant suicide bomber tried to bring aboard an airplane. It was about creating the appearance of adequate safeguards; it was no longer about actual adequacy.
But in recognizing our excesses and our hubris—our pragmatic passion to fix everything that doesn't work right—let's not forget the most revealing images of NineEleven, the images of who Americans are.
AS LAW-ABIDING PEOPLE—people who live by laws—we obey authorities: and so no one on the two airliners that crashed into the Twin Towers resisted; no one on the plane that crashed into the Pentagon resisted. Authorities on the psychology of highjackers had told us over the years that the best way to react to highjackers was to play along. Do what they tell you, and you'll be safe. So we played along. But not everywhere.
We resisted in that plane over western Pennsylvania. Once the Americans on United 93 realized that they were being highjacked as part of the New York and Pentagon assault—that the final unavoidable destination of their flight was death—they stood together to stop it. And they did stop it. Americans aren't pushovers by nature; the national spirit is rebellious. American authorities must always be careful not to provoke rebellion among the rebellious populace. Rebellious and maybe even, from time to time, heroic.
On that first NineEleven we seemed suddenly to have more heroes than we'd previously supposed. On the evening of September 12, the next day, we watched Bill Moyers having a conversation on tv about the events of the last two days. He opened the program with pictures of firemen and other rescuers in Manhattan. And as we watched the pictures, he told about a person who had successfully escaped from one of the Towers. That person reported being in a long stream of people going down an emergency exit stairway. And all the way down, the people descending met teams of rescuers going up.
"We were all going down," the survivor said, "and they were all going up. And they kept on coming. Floor after floor after floor—they kept on coming up."
What makes people do that, Moyers wanted to know. Why do rescuers run towards the dangers that most of us flee?
The image of the rescuers who keep on coming is powerfully moving. But, like much puzzling human behavior, the explanation may be quite simple. In this case, probably anyone who has ever been in combat knows the explanation. Heroism on the battlefield is much like heroism in any disaster. You do what you do because you don't want to let your comrades down. Once you are committed to a general proposition (military service, say, or fighting fires and rescuing people), you keep the faith: you do what you said you'd do because if you don't, you'll be failing your companions.
And that's the lesson of NineEleven.
It seems to me not to diminish one whit the ordinary heroism of that dark day to say that it is an aspect of the human condition. If there is a meaning in this life, surely part of it is this sense of mutual commitment. That commitment to one another may, in fact, give meaning to human life. What makes heroes is the thing that makes us human—our sense of community. Thus, heroism is distinctly human, perhaps even a defining characteristic.
The best way to remember NineEleven is to reaffirm our common humanity, to protect ourselves by calling upon ourselves. Let's roll indeed. Let us roll.
*****
THE FIELDS of sunflowers stretch from here eastward across the arid high plains toward Kansas City. But, contrary to the popular myth, the flowers aren't turning to face the sun as the day wears on. They did that when they were young flowers, but when they matured, they no longer needed the benefits of heliotropism. They watch the sunrise, but they don't see the sun set. Beginnings not endings.
For them, the sun is forever rising. And never setting.
*****
THE FOURTH PICTURE ON THE PAGE that started us off on this diatribe is Mike Keefe's remembrance of NineEleven. Nicely done. Word and picture blend in a playful double entendre, the picture lending meaning to the words and vice versa. Somber and thoughtful without attempting to drum up emotions for the sheer sake of emotional impact.
Editorial cartoonists everywhere plied their pens and brushes to provoke poignant response. Tearful Uncle Sams and Lady Liberty statues. Eagles glowering in defiance. At Daryl Cagle's blog.cagle.com, he posted a sampling of cartoons that had been drawn on the day of the tragedy in 2001 and asked the cartoonists to "reflect on that day and how it affected their creative process." Meanwhile, at bostoonsfestival.com, the Boston International Humor Festival posted the winners of an online tribute to the 10th anniversary of NineEleven. There were 178 entries from 46 countries with 50 finalists. We've posted the winners of the first and third prizes. Thomson from the United Kingdom sees the family as the stalwart equivalent of towering buildings; Zuleta in Columbia offers an ethereal almost mystic vision of the evaporated Twin Towers. You can see more at the website. And at WeeklyStorybook.com, if you search the site for "Looking Back at the Conversation," you'll find a slightly sour retrospective essay by the host, illustrated by editoons from several countries that sketch in the terrorist-related events of the past decade.
In constructing our next visual aid, I avoided the visceral images of grief or defiance in favor of cartoons that are either more than routinely metaphorical (no sorrowful Uncle Sams) or that deploy the memories of NineEleven to make statements about other aspects of the passing scene.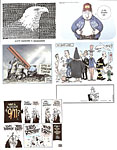 At the upper left, we have an instance of the first: Steve Breen's angry eagle may be standard patriotic fare, but Breen's cleverly constructed the bird with 2,974 tick marks that record, one by one, the deaths of NineEleven. Moving clockwise, Clay Bennett finds a homey metaphor to comment from the perspective of 2001 on the divisiveness of today's politics. Next, Rob Tornoe lines up images that evoke some of the least desirable of the outcomes of NineEleven. To the left, I included a cartoon by Glenn McCoy because the drawing is such a marked departure from his usual big-foot cartoony style.
Below Tornoe's line-up is Tom Gammill's comic strip The Doozies for Sunday, September 11, 2011. Gammill has made a minor career out of his strip's lame comedy, and here, Gammill's cast remains in character to remind us of GeeDubya's initial lame response to the attacks by remembering the book the Texas Prez was reading at the time. Finally, at the lower left, my favorite. John Cole constructs the most meaning-laden memorial of the day, doing two things at once—remembering the awful event and criticizing our political parties for their stubborn opposition to each other. So contrarywise have our political parties become that even in remembering NineEleven they find ways to disagree even when saying the same things. Makes me angry all over again. But I have to laugh, too. And so Cole brilliantly achieves both the objectives every good editoonist aims for.
*****
WE LEAVE NineEleven behind with our next pages, whereupon other issues of the past month or so are reviewed from the steely-eyed perspective of irritated cartooners.
At the upper left of the first, David Fitzsimmons produces an inventive image that reveals the inner workings of American-Pakistani relations. Next, going (as always) clockwise, Rob Rogers contemplates the work before Congress's "super committee" with a metaphor that reminds us that two other such collaborations ended in failure. In his next offering, Rogers moves from mockery to angry angst, pointing out a bitter truth about American excess. Finally, Steve Sack provides a new and more accurate image of Congress, whose members seem to do little more than clown around these days. (And we're paying salaries to these goofballs?)
On the next visual aid, R.J. Matson kicks off by showing us how Gadhafi has managed so successfully to evade capture in Lybia. Nicely comedic and probably true, too. Clockwise brings us to Tom Toles, whose ironies about the perversities of Congress have become stunningly strident of late. And accurate. And Clay Bennett shows us why the Republicans are no help in reviving the economy: their continuous hot air bloviating is likely to fan the flames of an economic conflagration rather than put it out. Next, at the lower left, headlines from Faux News set the stage for our next Arena of Contention—namely, the efforts of the Grandstanding Obstructionist Pachyderm to find someone to nominate to unseat Baracko Bama.
*****
NO SINGLE POLITICAL EVENT of the past several months has enlivened editooning nearly as much as the arrival on the GOP hustings of Rick Perry, the pistol-packin', Bible-thumpin' Texas blow-hard who embodies a caricature of "American" as envisioned by most of the world—even as Jerry Lewis was taken to the bosom of the French for generations as a "typical American." In addition to jogging with a side-arm and conducting political rallies in the fevered mode of an Evangelical tent show, Perry, governor of the Lone Star State, is now being celebrated as a teller of tall tales, the equal of which Texas hasn't seen since Pecos Bill invented cowboyin' and then, in his spare time, gouged out the Rio Grande with a bent spur.
I call this new political phenomenon Pecos Perry because, like the fabled cowboy of folklore, he is the hero of a tall story; in Perry's case, however, the tall story is concocted entirely by Perry, who astonishes all and sundry with tales of his performing out-sized feats that apparently no one else can do (or even think of).
"I've got a record," Pecos Perry booms out, with characteristic swagger, "—particularly when it comes to creatin' jobs." Yes, Texas has added more than a million jobs in the ten years he's been governor; but Texas has also increased in population by 4.2 million in the same decade, so the increase in jobs is due largely to population growth, not Pecos Perry.
As for the state's unemployment rate, about which Perry also brags, at 8.4% it's lower than the national average, but on a state-by-state basis, it's right in the middle of the pack—27th lowest among the 50. Moreover, the unemployment rate is higher now than it was when Perry took office: then it was 4.4 percent. And most of the jobs Perry says he's created are low-wage situations.
If you rightly discern that Pecos Perry's boasts are wholly unsupported by facts, you must also realize, with GOP strategist Alex Castellanos (who worked against Perry in the last gubernatorial primary), that the Lone Star superhero action figure is intellectually challenged: "Perry benefits from an uncluttered mind," Castellanos murmurs.
We can easily confirm Castellanos' opinion by citing just a couple of Pecos Perry's recent gaffes in the vicinity of his self-proclaimed religiosity. First, when Texas fell into the grip of record drought, Pecos Perry invited every loyal Texan to pray for rain. They prayed. But no rain. Perry's exploit could anger his so-called supporters on the Religious Right because he managed in one swell foop to demonstrate the ineffectiveness of prayer. Just what the Religious Right needs.
And then there was the episode of the governor's executive order that all sixth-grade girls get vaccinated against human papilloma virus. The drug in question has been tagged "the promiscuity vaccine" by the Religious Right: because it protects young girls from sexually transmitted disease, the RR alleges that the vaccine gives the girls license to become sexually active, something the RR has been fearful of for as long as there's been a RR and two sexes. Surely Pecos Perry must've known that his executive order was running against the grain of a vast number of his supporters. Well, not if his mind is as uncluttered as Castellanos claims.
No matter. As one wag observed, Pecos Perry is oblivious: during the debates, even when he was losing on a point, he looked like he thought he was winning. As a superhero action figure, he's impenetrable. That's his super power.
But enough from me; here's what some of the nation's editoonists have to say about Pecos Perry.
At the upper left, Taylor Jones, who specializes in revelatory caricature, captures the essential Pecos Perry as a primate under a ten-gallon hat. Clockwise to the right is Nick Anderson's comic strip that vividly portrays (1) the hypocrisy of Perry's politics and (2) his tendency to run from (i.e., ignore) questions that reveal that hypocrisy. And Anderson, who cartoons for the Houston Chronicle, is close enough to the scene of Pecos Perry's crimes to know whereof he draws. I've included Pat Bagley's portrait of the emerging GOP field of candidates because of the barbs it tosses at the Top Three—particularly, Michele Bachman, who believes homosexuality is a disorder rather than a human condition and thinks it can be cured by prayer. (Surely this has been tried and found wanting before—like praying for rain in Texas?)
On the next page, John Cole's picture of "The Texas Miracle" is another of his brilliant visual contrivances which manages, in its image, to do two things at once: in depicting Pecos Perry walking on water, Cole suggests Perry has a Christ-like vision of himself; then by showing that Perry's achievement (walking on water) is accomplished by trodding on the welfare of Texas citizens under water, Cole reveals the half-truths in Perry's claims. Deftly and brilliantly done.
Mike Keefe, next on the clock, imparts visual substance to my earlier verbal characterization of Pecos Perry, but it's Karl Rove's comment—"More cartoonish"—that rings my bell. And from here on, the commentary itself becomes more and more cartoonish—more outlandish, in perfect step, that is, with Pecos Perry's posturing. Pat Bagley colorfully reminds us that we've seen the likes of Pecos Perry before—only a little less than moreso. And David Fitzsimmons tackles the evolutionary aspect of the frontrunners' beliefs with a couple of stunning caricatures. Once again, Pecos Perry is portrayed as an ape—that is, human [sic] sapiens before evolution; and Ron Paul, fittingly enough, as a cave man. Since neither believes in evolution, neither has evolved. In the distance, we see Romney, cheerfully whistling to himself as he awaits the others' self-destruction.
In our last exhibit, more of The Campaign.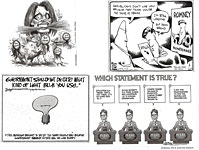 Taylor Jones is back with a devastating insight into the bucolic mind of Michele "Crazy Eyes" Bachman, evoking memories of the farm subsidies she enjoyed on her family's farm. Tom Toles clearly sees Romney as another Obama, but I'm including this cartoon in order to refute the supposition that Toles can't draw anything but lumps of oatmeal: his caricature of Romney is perfect. In the series of the Pecos Perry image from R.J. Matson, the succession piles up an indictment of Perry as a simpleton before asking the implied question: do we really want a simpleton as U.S. Prez? Didn't we learn anything from the last time we had one?
But who cares? Who cares if Pecos Perry inflates his record and his reputation with half-truths and misrepresentations and outright lies and benighted beliefs? Not us. In fact, we applaud Pecos Perry's candidacy and wish it well. From our perch here high atop the Rancid Raves Intergalactic Wurlitzer, it appears that Pecos Perry will probably capture the Republican nomination for Prez—his religious credentials being much more appealing to the Tea Baggers than Mitt Romney's (who most of the Born Agains don't even consider a Christian)—thus assuring the re-election of Baracko Bama. O'Bama may have his shortcomings, but he is surely more appealing to independent and moderate voters (without whom no presidential candidate can get elected) than the Texas Terror.
And despite the GOP's allegations to the contrary, Obama has an actual record of accomplishment, not the braggadocio of Pecos Perry's fanciful territory. For a recitation of Obama's works, see Editoonery at Opus 282.
Before we leave the steaming road apple of Pecos Perry's pronouncements behind this time, one thing Pecos said I applaud. Asked if he supported the notion of building a fence along the Mexican border, he reposited: "No, I don't. The fact is, it's 1,200 miles from Brownsville to El Paso. Two things: How long you think it would take to build that? And then if you build a 30-foot wall from El Paso to Brownsville, the 35-foot ladder business gets real good."
Finally, the grand crescendo of today's sermonette: at the lower left, Lee Judge's picture of a light bulb, accompanied by verbiage that explains why he's chosen a light bulb. The words alone reveal the inherent sham of the GOP charade, as embodied, mostly, in the person of "Crazy Eyes" Bachman, but the picture in its stark simplicity is offered as a symbol of her campaign. Notice the bulb isn't burning brightly. It is, in fact, a dim bulb.
PERSIFLAGE AND FURBELOWS
The Sandy Eggo Comic-Con has taken another step into world-class fame with a write-up in the October issue of Vanity Fair. James Wolcott devotes his column to regaling us with his adventures at what he dubs "this merchandising clusterhump and fan fair, catering to every taste-stroke of superhero, vampire, zombie, cyborg, wizard, witch, Starfleet commander, ghostbuster, and elf follower" in the Known Universe. He astutely points out that "veterans refer to Comic-Con simply as 'the Con,' an interesting double entendre" (and more accurate than we normally admit).
Wolcott seems to have spent most of his time in Hall H, the giant cavern where the movie moguls and their products put in appearances. Wolcott reports producer-director Guillermo del Toro's paean to horror: "The first thing you love is monsters. ... I love universal monsters, I love freaks, and I love everything that is deformed because that is beautiful for me. I cultivate my body shape through that principle. Perfection is impossible, imperfection we can aspire to and achieve, and I think monsters do that beautifully."
Wolcott finishes by telling us what he took away from the Con: "Popular though they may be, zombies don't bring a lot of zing to the party. ... If Andrew Garfield (the new Spider-Man) dials the adorability up any higher, we're all going to break out in dimples. ... Not even the prospect of a skeleton avenger urinating fire from his bony penis will entice me to see 'Ghost Rider: Spirit of Vengeance.' And if that makes me a philistine, so be it."
BOOK MARQUEE
Previews and Proclamations of Coming Attractions
This department works like a visit to the bookstore. When you browse in a bookstore, you don't critique books. You don't even read books: you pick up one, riffle its pages, and stop here and there to look at whatever has momentarily attracted your eye. You may read the first page or glance through the table of contents. All of that is what we do here, starting with—:
Too Small to Fail: Another (th)ink Anthology
By Keith Knight
128 6x7.5-inch pages, b/w; Keith Knight Press paperback, $16 plus $4 p&h from Knight at kchronicles.com
KEITH KNIGHT, in case you haven't been keeping up (distracted, perhaps, by the impositions committed by Pecos Perry and Michele "Crazy Eyes" Bachman), draws three cartoon features: a weekly strip called K Chronicles, a syndicated daily strip called The Knight Life (about which Garry Trudeau said: "Keith Knight is mapping out a previously unknown vector of the vast cartoon universe"; and Dave Eggers said: "It's hard to make a comic that is this funny while also so frequently profound. Keith deals with so many issues with both gravitas and such a light touch, while never missing a chance at a cheap laugh. This is the work of a master."—both comments that apply to Knight's third enterprise), and a single panel cartoon called th(ink).
The first two are semi-autobiographical and have been reprinted in book form; the volume at hand is the third collection of the third feature, an African American cartoonist's comment on the passing socio-political scenery, another of those first drafts of history. Herein you'll find Knight's sharp elbows poking at the economy, New Orleans, police brutality, corporate corruption, the first African American U.S. president, and so on. Here's a sample of the kind of biting observation Knight specializes in, wholly unabashed and provocatively opinionated—sometimes, as here, in K Chronicles.
| | |
| --- | --- |
| | |
As you can readily tell, Knight pulls no punches in th(ink). Race and the social injustices that abound even in post-MLK America insinuate themselves into all his work, but in th(ink), such matters are the chief comedic fodder. Knight inserts his dagger and then twists it with a grim smile. But he doesn't overlook the small stuff of chuckles. Never does. For this book, the cover design incorporates a symbol signaling "too small to fail"—namely, a cent sign. Not a dollar sign; a cent sign. And then there's the Keith Knight Press logo— a tiny sheep, sheepishly embedded in a toilet (symbolizing sheep dip?). This book is available at Keef's website (cited above) and nowhere else, so go there now and get your copy. "Failure," as the man sez, "is not an option!"
The Complete Peanuts: Dailies and Sundays, 1981-1982
By Charles M. Schulz
346 6.5x8-inch landscape pages, b/w; Fantagraphics hardcover, $28.99
THE SIXTEENTH VOLUME in the projected 25-volume reprint monument to Schulz's humanity and cartooning genius takes us through the first two years of the Reagan administration without mentioning Reagan, no small achievement when we remember than Reagan was shot at in the second month of his White House occupancy. But Schulz was never political in Peanuts: he was too busy being profoundly human. The Foreword for this volume comes from Lynn Johnston, who, as auteur of For Better or For Worse, another comic strip about the human comedy of the human condition, was one of Schulz's most avid admirers. And a friend. She writes:
"The most memorable friends are the ones you learn from. Sparky [Schulz's friends called him Sparky) taught me to expect the best of myself and to push myself hard. He taught me to give my audience something uplifting. There are too many negatives in the world, and we get far too much of it. He complimented, reinforced, and encouraged me when I lacked confidence, but his friendship said it all. It was what kept me going. If Sparky liked what I was doing, then I'd be okay."
Perpetuating Seth's low-key design, the book concludes with an index, of all things for a comic strip reprint collection, citing page numbers from "Aaugh!" to "zamboni," and including along the way Cato the Elder, Citizen Kane, "A Man for All Seasons," Sweet Babboo, and Billie Jean King. The index actually begins with a number—"5" (555-95472), which, it sez here, can be found on page 98, but I can't find it there. Or anywhere else.
Billie Jean King, on the other hand, can be found mentioned on page 251 in Peppermint Patty's rant about women athletes in which she lists 19 notables of the fair sex whom sports news programs routinely overlook. Page 251 is also where "A Man for All Seasons" is mentioned. Marcie, after patiently listening to Patty's tirade attacking the chauvinism of tv sports reporting, changes the subject by suggesting that they watch some old movies on tv—choosing from among "The Men," "A Man for All Seasons," or "All the King's Men." Patty falls over and mutters: "I can't stand it."
The Lives of Sacco and Vanzetti
By Rick Geary
80 9x6-inch pages, b/w; NBM hardcover, $15.99
ANOTHER IN GEARY'S Treasury of XXth Century Murder series, this one eagerly awaited by Your Faithful Reviewer. The Sacco and Vanzetti "case" in which two Italian immigrants were tried, convicted and executed in 1927 for a crime they didn't commit has hovered over the otherwise fun-loving Roaring Twenties as a stark instance of a shameful triumph of blind, unthinking American bigotry. I've always been curious about the details of this notorious episode in American history, and now, thanks to Geary, my curiosity is assuaged. After checking a couple of general histories of the period, I'm happy to say that Geary seems to have done a thorough a job of researching and presenting all aspects of this national disgrace.
The ostensible crime committed in South Braintree, Massachusetts, on April 15, 1920 by Nicola Sacco and Bartolomeo Vanzetti is a payroll robbery and the accompanying murder of two couriers. The actual crime perpetrated by the two is that they are Italian immigrants who were avowed anarchists. Geary assembles and presents evidence both pro and con on the matter, but it is clear that, based upon the evidence and the testimony of witnesses, the pair were scarcely guilty beyond a reasonable doubt of their ostensible crime. They were guilty of no more than being immigrants at a time when Americans were loudly prejudiced against immigrating Europeans (wherein, lest we forget, the nation is firmly rooted) and being anarchists at a time when Americans were foaming at the mouth in unreasoning fear of anarchists, who, in the popular mind, roamed the alleys and byways of the country carrying round, black bombs with fuses ominously fizzing. Compounding the pair's plight was their trial, which was turned into a judicial farce by a judge whose anti-radical prejudice is vividly apparent from the perspective afforded in the hindsight of history.
Not all Americans were against Sacco and Vanzetti: thousands protested the outcome of the trial, and the case dragged on, in and out of the courts with appeals, for years after the initial verdict was rendered in June 1921. To no avail. The unfortunate immigrant anarchists were electrocuted on August 23, 1927.
Geary's documentary style is augmented by his meticulous pictures and his low-key, unemotional storytelling. He begins with maps of the crime scene and vicinity, then relates the particulars of the crime itself. Sacco and Vanzetti do not show up until the end of the opening chapter, whereupon Geary supplies the biography of each. Throughout, his technique is lawyerly: he tells the story much as it might emerge in court. And his drawing mannerisms—the fustian texturing and shading of clearly outlined figures and surroundings, the haunted, staring faces of the accused and their accusers, the diagrammatic presentation of evidence—all combine to enhance the effect of objective distance that we look for in a documentarian's work. In short, another all-around treat from Geary.
Guerillas: Volume 1
By Brahm Revel
168 6x9-inch pages, b/w; Oni Press graphic novel, paperback, $14.99
SET IN VIETNAM during the "war" there, this is the first of a reputed trilogy about a private in the U.S. Army, the frightened (not to say cowardly) John Clayton, who is the only survivor of a Vietcong attack that wipes out all the rest of his unit. As he contemplates his prospects for continued survival in the surrounding jungle, he is joined by a band of chimpanzees—gun-toting, cigar-chomping, military trained chimps—who effectively rescue him by taking him under their collective wing because they need someone who can light their cigarettes.
Revel's drawing style is clean and clear and as realistic as his simplified manner can be. And it is happily enhanced with gray tones. As satisfying as it is to gaze upon his rendering of apes (at which he achieves simian perfection), it is his storytelling that is the chief distinction of this book. He often writes in counterpoint, paralleling the pictorial action with contrasting (and sometimes ironic) narrative captions. The maneuver emphasizes the way words and pictures can blend in comics to achieve a meaning neither makes alone without the other, a startlingly dramatic example of which occurs early in the novel when Clayton is calmly discussing father's military career as his unit is being attacked by a sniper (the page on the left in the two-page illustrative matter than comes next down the scroll).
Later in the novel, another sort of parallel narrative transpires: we meet another bunch of soldiers whose adventures while assigned to a mysterious mission in the jungle alternate with developments in Clayton's case. The mysterious assignment, we eventually conclude, involves tracking down the chimps that a scientist has trained as soldiers but who have probably gone off the rails and started killing and dismembering human soldiers. But that, we assume, will be revealed in the ensuing volumes of this series.
The Big Hoax
By Carlos Trillo and Domingo R. Mandrafina
128 7x9-inch pages, b/w; Dark Horse Venture paperback, $10.95
ALTHOUGH THIS GRAPHIC NOVEL has been around since 2001—and I've had it on the shelf to review for almost as long—I didn't get around to reading it until last month. And then I kicked myself for waiting so long to be entertained by so exquisite an example of the medium at its very best. Trillo has worked with several other artists (Jordi Bernet and Eduardo Risso among them) and has twice won Lucca's Yellow Kid Award as Best International Author, and while his story here is a highly satisfying invocation of the noir genre, it's Mandrafina's art that blew me away. As you can see in the samples that appear above, he is a master of pictorial narrative; his supple, bold lines are accented by the filigree of fine lines that model forms and features, and his adroit deployment of solid black heightens both the noir and the drama of Trillo's story. Mandrafina varies camera angle and distance with telling effect, but his dextrous deployment of black creates the story's mood as well as its visual drama.
On its face, the story's plot is simple: a beautiful young woman (whose persona in this little offbeat country is "the Intact Virgin," the hoax of the book's title) is being blackmailed, and she turns to an alcoholic and disgraced ex-cop for help. She is scarcely a virgin: her sexual indoctrination began at the age of 15 in the bed of her uncle, the governor of this tiny benighted nation. She has since strayed occasionally, most notably into the arms of a man who turns out to be the ex-cop's brother, and now the personage who has learned of this affair and who has photographs of the lovers in flagrante delicto threatens to reveal all to the powerful uncle. As the machinations uncoil, we meet the Iguana, undoubtedly the most repulsive villain in all the abject pantheons of villainy and venality. His skin has the appearance of a lizard's pelt; his tongue is forked, like a lizard's. And he even has a small tail, we discovery at a later moment when, for obscure reasons, the Iguana chooses to indulge himself sexually.
The Iguana (who appears elsewhere in the Trillo canon as a title character) has been charged with finding the Intact Virgin and killing her, her wanderlust having become known to the governor. It doesn't work out quite that way, and although the ending isn't entirely satisfactory, it's pretty close—enough for me to withhold it so you can indulge yourself.
Trillo complicates his story by adding two other narrators: one, the author of soap operas who invented the concept of "the intact virgin"; the other, the female owner and singer of a night club. Their function is to enable Trillo to breeze through expository passages of background information, resorting only to verbal narrative. In illustrating their narratives, Mandrafina makes an interesting modification of his drawing style, splitting his lines to create ghostly images. Nicely done. Nicely done all around.
From Rail-Splitter to Icon: Lincoln's Image in Illustrated Periodicals, 1860-1865
By Gary L. Bunker
398 8x10.5-inch pages, b/w; 2001 Kent State U. Press hardcover, $45
CULLING FROM A DOZEN OR SO mid-19th Century periodicals—comic weeklies and illustrated news magazines, British as well as American—Bunker offers over 200 caricatures and drawings of Abraham Lincoln, and he supplements the pictures with an extensive text that rehearses the history of attitudes about Lincoln's presidency and Lincoln himself as well as the history of many of the periodicals plus short biographies of some of the cartoonists. Pictures and text reveal the evolution of public opinion about Lincoln and "the complex dynamics of the Civil War, popular art and culture, the media, political caricature, and presidential politics." While Bunker's focus is on the development of Lincoln's graphic image, he also resorts to "relevant magazine content from editorial essays, satire, doggerel, and news articles," weaving it all together "to help the reader better understand the substance of Lincoln's changing public profile."
As an example of scholarship, the book is impressive, but it is flawed. Captions for every picture identify it by title and cite the source, giving the name of the magazine and date of publication. But the cartoonist is not identified. Often he is mentioned in the text, but the usefulness of the book as a ready reference would be greatly enhanced if we didn't have to plow through paragraphs of gray matter to find out who drew the pictures.
Surprisingly in a book in which the images are the raison d'etre, the pictures are badly reproduced: all are half-toned, which converts white background to gray and reduces even the sturdiest linework to a pattern of tiny dots. The result is some loss of detail and an over-all grayed-out appearance.
But the most disappointing of the book's shortcomings is that it includes none of the images that appeared after Lincoln's assassination. Lincoln's eminently caricaturable visage was turned into a derisive portrait, mocking the 16th President all during his public life, from his campaigns through his administration, but his image in the press after his death, Bunker says, was almost universally respectful, doing homage to the man and honor to his achievements. That this image of Lincoln should be missing in a book purporting to record his evolution from "rail-splitter" to "icon" seems an oversight of more than casual dimensions.
Another book on my shelves, Lincoln in Caricature (1945) by Rufus Rockwell Wilson, without claiming to show any sort of evolution, includes a couple of tribute-style post-assassination caricatures. Wilson mined far fewer magazines than Bunker, but Wilson also reached out for published prints and campaign posters and the like. The images in Wilson's book suffer somewhat from 1945's relatively unsophisticated means of reproduction. Straight linework fares well, but posters and prints, particularly those in color, seem to have been treated as linework with dismal results. In his 163 illustrations, only a few are duplicated in Bunker's collection, but there are enough for a sharp comparison of the means of reproduction. I've included a pair in the ensuing array of Lincolns.
Blackjacked and Pistol-whipped: A Crime Does Not Pay Primer
Original Series of Comic Books Edited (and Often Drawn) by Charles Biro and Bob Wood
This Collection Edited by Denis Kitchen of Kitchen, Lind and Associates
224 6.5x10-inch pages, color; Dark Horse paperback with stylish flaps, $19.99
ALTHOUGH MOSTLY A REPRINT of selected stories from the infamous landmark Golden Age comic book Crime Does Not Pay, the most intriguing aspect of this book is advertised on the Biro-style cover (ingeniously contrived by Pete Poplaski) which, apart from depicting a man attacking a woman by smashing her face with an electric iron, trumpets: The True Story of Bob Wood, The Killer Cartoonist. And we learn subsequently by reading Kitchen's profusely illustrated essay at the beginning that the lurid cover actually pictures the murder for which cartoonist Wood was convicted in 1958.
The stories in the book sample the content of Crime Does Not Pay from 1942 (beginning with a story from its second issue drawn by Bob Montana) through 1948; why we get no stories from the book's last years ( it died as a result of the Comics Code Authority with the June 1955 issue) is a mystery, but it doesn't matter. As a glimpse of the kind of comic book that inspired Fredric Wertham's crusade, what we have here is more than adequate. The early stories were clumsily drawn, but after a year or so, we started getting a few notables on the art—artists who would make names for themselves elsewhere: Carmine Infantino, Dan Barry, George Tuska, and Fred Guardineer, even Montana, as noted, and Dick Briefer. Lots of gruesome firearm violence, which grows gruesomer as the years flick by, but not much sex, surprisingly, given Wertham's preoccupation with how pneumatic portraits of the fairer sex in comic books corrupted American youth.
Reproduction is startlingly uneven: the simple clean linear work of Infantino and Briefer (drawing in a nearly bigfoot manner) reproduces okay, but the more realistic highly feathered and noodled-over efforts of other artists are marred by blotched clusters of fine lines or lines that drop out altogether.
Again, no matter. Informative as the reprinted stories are, the prefatory history of Lev Gleason Publications and of the roles played by Biro and Wood is a solid secondary reason to own this volume. Their stories are available elsewhere in various guises but here, it's all together.
Biro and Wood were co-workers and co-carousers, alcoholics and womanizing free-spenders. Gleason paid them a percentage of the comics' profits, so they were motivated to do good work—which they did in Crime and the other two Gleason titles, Boy and Daredevil. The collaboration was broken up when Gleason Publications collapsed: Biro went on to work as a graphic artist at NBC television until he died in 1972; Wood descended into the dregs of the publishing world, gambling and drinking, until he murdered his lover in 1958. (He was sentenced to only three years in prison because the judge took pity on Wood's alcoholism, which, the judge implied, was the real culprit.) Kitchen illustrates this aspect of the man's career with reproductions of the screaming newspaper headlines: "Gramercy Park Gets the Horrors - Editor of mag called 'Crime Does Not Pay' murders ad woman in a hotel tryst."
Among the happier tidbits Kitchen discloses: Biro (like one of his characters, Crimebuster) had a pet monkey that sat on his shoulder as he worked, "and the way the monkey behaved was said to be a clue to Biro's mood that day." And Harvey Kurtzman's acclaimed war stories for EC were influenced by the unemotional realism of Biro's crime stories, which Biro may, or may not, have written all that many of. Kitchen alludes to David Hajdu's The Ten-Cent Plague, in which Hajdu (who has not yet impressed me with the acumen of his observations) claims the principle writer of Crime was Virginia Hubbell.
MOTS & QUOTES
"Elections, after all, about pandering, not thinking."—David Harsanyi, syndicated columnist (Creators)
"All of us who are concerned for peace and triumph of reason and justice must be keenly aware how small an influence reason and honest good will exert upon events in the political field."—Albert Einstein
"My choice early in life was either to be a piano player in a whorehouse or a politician. And to tell the truth there's hardly any difference." —Harry S Truman
"A politician is a person with whose politics you don't agree; if you agree with him, he is a statesman."—David Lloyd George
BOOK REVIEWS
Critiques & Crotchets at Some Length
Willie & Joe Back Home
By Bill Mauldin, Edited by Mauldin Biographer Todd DePastino
286 8x10-inch pages, b/w throughout; Fantagraphics hardcover, $29.99
BILL MAULDIN WAS ONE OF THE NATION'S MOST REVERED editorial cartoonists, but his apprenticeship was long and arduous even though he was already famous as an anti-authoritarian critic by the time he was twenty-four years old. He acquired his notoriety in the most authoritarian of societies, the U.S. Army during World War II: in the cartoons he drew for military newspapers, he depicted the life of the "dogface" (foot soldier) the way it was. Rained on and shot at and kept awake in trenches day and night, the combat soldier was wet, scared, dirty, and tired all the time; and Mauldin's spokesmen—the scruffy, bristle-chinned, listlessly dull-eyed, stoop-shouldered Willie and Joe in their wrinkled and torn uniforms—were taciturn but eloquent witnesses on behalf of the prosecuted. Through simple combat-weary inertia, they defied pointless army regulations and rituals: they would fight the war, but they wouldn't keep their shoes polished.
On one occasion, we see them, in their usual state of slovenly disarray, stopped on the street of a freshly captured Italian town. They are standing outside a temporarily designated officers club while an officious-looking lieutenant in neatly pressed uniform points accusingly at the front of Willie's shirt. Willie responds, "Them buttons wuz shot off when I took this town, sir."
Perhaps in the same town a day or so later, Willie and Joe are seated, wearing garrison caps and comfortably slouching, on the stoop of a bombed-out building. Looking at them with vague disapproval is a rear echelon corporal. "He's right, Joe," says Willie, "When we ain't fightin' we should ack like sojers."
Mauldin's drawing style for the wartime cartoons was wonderfully evocative of the ambiance of the dogface's life. He drew with a brush, and his lines were bold and fluid but clotted with heavy black areas, clothing and background detail disappearing into deep trap-shadow darkness that gave the pictures a grungy aspect that approximated visually the damp and dirty feelings bred by the miserable field conditions of a soldier's life on front lines everywhere. Willie and Joe looked like they needed a bath, and so did many of their first readers.
The images of Mauldin's reportage of the raw ironies of battlefield life—relieved, thankfully, by the sardonic sense of humor that found a common humanity alive and well amid the tedium and hazards of combat life—won Mauldin the first of his two Pulitzer Prizes in 1945.
Because they so faithfully represented the average foot soldier's plight and proclivities, Mauldin's cartoons were immensely popular with the men in the trenches. To say that Mauldin was beloved by the common soldier may not be putting it too strongly. He was also flagrantly admired.
CBS's Andy Rooney, who served on the Stars and Stripes during the war, said of Mauldin: "He was a genius—and I don't use the word lightly. He was sharp, bitter and funny all at the same time." For more about Mauldin, visit Harv's Hindsight for February 2003.
Willie and Joe were syndicated to civilian newspapers under the title Up Front, also the title of the book Mauldin wrote about their adventures and his—very likely the best book written about soldiering in wartime. And when the War was over, the syndicate, United Feature, intended that the cartoonist bring his dogfaces back home to civilian life. Mauldin wasn't so sure about that: he would have preferred a little time off to decompress. But syndicate officials prevailed, and under a succession of titles (Sweatin' It Out, Willie and Joe, Bill Mauldin's Cartoon), Willie and Joe shed their shabby uniforms and dressed in mufti.
But they didn't look very comfortable. Mauldin's bold brush strokes and trap-shadow shading, ideally suited to depicting the grimy life at the front, made his civilians look like bums. But that wasn't all that was going awry.
Initially, the circulation of his feature doubled, but Mauldin soon found that his approach to cartooning wasn't working in civilian life. He had started by focusing on the experiences of Willie and Joe as returning G.I.s, getting used to civilian garb, wives and children they'd never seen, and so on. But that focus didn't last long. Ever the realist as well as an idealist, Mauldin couldn't help but see the anger the vets felt about shortages, about no housing for themselves and their new families, about few goods and fewer jobs, and about unthinking yahoos who failed, apparently, to appreciate sufficiently the sacrifices the erstwhile dogfaces had made. Humor in the cartoon gave way to anger at the injustices.
His ire up, Mauldin went on to assault segregation and racism, the Ku Klux Klan, and then right-wing veterans' organizations and politicians. While taking essentially the same satirical stance that he'd taken in the service, his cartoons, which began as comedy, were soon seen as "political" rather than "entertaining," and newspapers dropped his feature quickly, saying they had their own political cartoonist on staff.
In 1947, Mauldin wrote a book about his disillusionment as a civilian cartoonist: frankly cranky and just a little bitter but also humorous in a the self-deprecating way that made Up Front a bestseller, Back Home joined its predecessor as a hugely successful publishing event. The Fantagraphics volume at hand reprints the post-war Mauldin gag cartoon from its debut July 31, 1945 through December 31, 1946.
The only text other than captions under the cartoons is supplied by Mauldin's biographer, Todd DePastino, who pulls out of his biography paragraphs about the cartoonist's post-war life by way of introducing the cartoons. DePastino is particularly helpful in pointing to specific cartoons that exemplify the difficulties Mauldin was having adjusting to civilian life with Willie and Joe.
The cartoons are dated and published in strict chronological order, so we can witness Mauldin's day-by-day conversion from satirist to crusader: by the beginning of 1946, his cartoons are often strident indictments of life in post-war America. Early that year, Mauldin had tried to get United Feature to release him from his contract, which was due to run into the spring of 1948, but the syndicate refused to let him go. Mauldin went on hiatus for February and part of March, and DePastino thinks his work improved as a result, but, judging from the contents of this volume, the improvement is slight; perhaps the improvement DePastino sees took place mostly over the next years, 1947-48, which will be embraced by Fantagraphics' second Back Home volume.
In any case, by the end of 1946, Mauldin's humorous satire has almost disappeared in a tsunami of bad-tempered assaults on the evils he sees around him. His targets richly deserve the attacks, but the man who had found something funny about cold, wet and shivering foot soldiers in WWII could find nothing very funny about post-WWII America.
Unhappy with his contractual obligation, Mauldin apparently reacted by producing increasingly bitter cartoons, and he also dashed off his drawings, turning in sloppy and half-hearted renderings. United Feature, in an attempt to halt the defections by subscribing newspapers, began censoring the cartoons—changing captions and even altering the drawings slightly. DePastino pinpoints a few of these, but, alas, his scrupulousness is thwarted by inattentive editing: the cartoons are published as the syndicate re-captioned them, but Mauldin's captions don't appear, so we can't see how the cartoons were changed. We don't mind taking DePastino's word for it, but it'd be nice to see exactly how the modifications altered Mauldin's meaning.
This mild shortcoming, however, is offset by the book's comprehensiveness and the insights the chronological ordering provide. Some of the drawings, regrettably, are reproduced from very poor sources (syndicate proofs?): the linework is smudged and sometimes blotchy. The editors would have done better to reprint the cartoons from the pages of the 1947 Back Home where they appeared in pristine splendor.
But this, too, is a quibble in the face of the over-all achievement that the book represents: a visual chronology of Mauldin's post-war development as a political cartoonist. Although he failed as a gag cartoonist, his attempt was good training for the rest of his career. Without this three-year stint trying to be funny, he may never have matured into one of the nation's most unflinching observers of the passing scene, a hard-hitting editorial cartoonist who could see the comedy as well as the hypocritical fallacies in the cultural and political follies of the second half of the twentieth century.
Here's a sample of Mauldin's apprenticeship.
The Peanuts Collection: Treasures from the World's Most Beloved Comic Strip
By Nat Gertler
64 giant 10x12-inch pages, color; 2010 Little Brown slipcased hardcover, $35 or less these days on the Web
THIS BOOK HAD TO BE SLIPCASED: otherwise, the loose parts would fall out every time you picked it up. A scrapbook sort of production, its pages often have envelopes pasted on them with souvenirs stuck into the envelopes—little promotional booklets ginned up for one or another of the scores of advertisers Peanuts characters flogged for, facsimile sketches and letters to fans, and so on. Among the signal achievements of this happy book: all those envelopes work just fine; you can extract and re-insert their contents without the slightest struggle.
Nat Gertler, writing about himself, says "by any sane estimation, he has far too many Peanuts books," the accuracy of which remark attested to by a "reference library" of over 1,000 Peanuts- and Schulz-related books. And it seems some of the best parts of that trove found their way into this volume, a succession of two-page spreads with text on one page ("Playtime," about toys and games bearing Peanuts imagery), souvenirs on the other (photos of lunch-boxes, coloring books, viewmasters, hand-held video game, figurines).
On another page, we have a facsimile of the 1957 letter Charles Schulz wrote his syndicate, protesting the name Peanuts (which Schulz hated all his life) and citing the confusion of readers, most of whom expected to find one of the characters named Peanuts. Schulz lobbies to discard the despised name: "I can see no difficulty in changing the name, and think that this would be an especially good time with te popularity of the fourth book collection and its title being so high to make the change. In fact, the success of this fourth book proves that Good Ol' Charlie Brown [the cartoonist's choice for a name] is recognized immediately." The fourth reprint book, published in August 1957, is entitled (naturally) Good Ol' Charlie Brown.
One page has a strap holding in place a facsimile charcoal sketch that you can remove and unfold, revealing the intrepid loser himself. Another sketch shows Lucy wrist-wrestling Charlie Brown and clobbering him. Elsewhere is a photograph of Urban Outfitters' "real life" version of Linus' security blanket.
In facsimile envelope on another page is a facsimile January 1955 letter from Schulz to a young fan in Pittsburgh, Elizabeth Swaim, who wrote the cartoonist demanding that he dispense with a character called Charlotte Braun. It's a handwritten epistle that demonstrates for all to see that Schulz could use a spell-checker: "Remember that you and your friends will have the death of an innocent child [Charlotte] on your concience [sic]. Are you prepared to accept such responsibility?"
Charlotte, by the way, was introduced on November 30, 1954, as the gender-psychological opposite of Good Ol' Charlie Brown—a forceful, self-confident, opinionated female, who always speaks in BOLDFACE and calls herself Good Ol' Charlotte Braun. According to Derrick Bang (whose 1999 book, 50 Years of Happiness: A Tribute to Charles M. Schulz, qualifies him as second only to Gertler in possession of far-flung facts about Peanuts), Charlotte "appeared fewer than a dozen times, and not one of these strips has been reprinted. Charlotte," Bang goes onto explain, "falls victim to the inexplicable publishing quirk that has left almost an entire year's worth of strips—from early 1954 through early 1955—unseen since their one and only newspaper appearance." True in 1999, but all these fugitive strips appear in the Fantagraphics Books Complete Peanuts, Vols. 2 and 3 (1953-54 and 1955-56 respectively).
Elizabeth Swaim's complaint must've been persuasive: Charlotte disappeared from the strip after her last appearance on February 1, 1955. Near here, we've posted strips from her first week and her last appearances two appearances, all taken from the Fantagraphics volumes.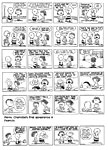 Charlotte was clearly intended as the antithesis of Peanuts' round-headed anti-hero, and the cartoonist probably realized that her presence would, by contrast, transform Charlie Brown into a farcical personality, and since, for Schulz, Charlie was scarcely a farce but a profoundly sympathetic personal reflection of the cartoonist's understanding of the inherently solitary nature of the human condition—a character with whom we all identify—he dropped Charlotte in order to preserve Charlie.
My favorite spread in Gertler's Collection is the one for "Hallowe'en" because it includes The Peanuts Book of Pumpkin Carols—the complete text for such stalwart seasonal favorites as "I'm Dreaming of the Great Pumpkin," "Deck the Patch," and "The Twelve Days of Hallowe'en." Until I saw this, I never knew there such songs. But they make perfect Linus sense.
The book, a superior example of the bookmaker's craft, is great fun. It marshals enough obscure facts about Peanuts to entertain comics scholars, but its more enduring function is as a leisurely stroll down the garden path of Peanuts lore and remembrances. A treat from top to bottom.
Gertler operates the website collectors' guide to Peanuts books (Aaugh.com) as well as the Aaugh Blog (blog.AAUGH.com) of news, views, and reflections for Peanuts fans. And he founded a publishing and packaging company, About Comics, which published two collections of non-Peanuts Schulz cartoons: It's Only a Game (a short-lived syndicated panel cartoon about sports) and Schulz's Youth, a collection of the cartoonist's cartoons about teenagers that appeared in Christian youth magazines in the fifties and sixties.
READ AND RELISH
This is a little tale about four people named Everybody, Somebody, Anybody and Nobody. There was an important job to be done and Everybody was sure Somebody would do it. Anybody could have done it, but Nobody did it. Somebody got angry, because it was Everybody's job. Everybody thought Anybody could do it, but Nobody realized Everybody wouldn't do it. So Everybody blamed Somebody when Nobody did what Anybody could have done. —Anonymous (wouldn't you know!)
LONG FORM PAGINATED CARTOON STRIPS
Called Graphic Novels for the Sake of Status
How to Understand Israel in 60 Days or Less
By Sarah Glidden
208 6x9-inch pages, color; Vertigo hardcover, $24.99
ONE DAY Sarah Glidden, a left-leaning Jew, was having an argument with her mother about the political situation in Israel, and her mother interrupted her, saying: "Why don't you go there before you decide that you know everything about it?" Glidden had been wanting to do some kind of comics narrative about history and current events, she told Matt Moore at the Associated Press, and an Israel project seemed tailored for the purpose. A few months later, she was on a Birthright tour. "Birthright visits are efforts by Israel to familiarize young Jewish adults with the Jewish state and maintain a strong connection to American Jewry," Moore explained. "Visitors are shown the country and introduced to interesting Israelis from all walks of life, and some end up staying for a while, or even immigrating." As of last fall, Glidden was still traveling, but she'd stopped long enough to produce this memoir about her Birthright experience.
The book is essentially argumentative: Glidden begins her trip expecting to encounter pro-Israeli propaganda but determined not to be swayed by it, and this personal-philosophical conflict enlivens a history and yields a cultural lesson. By the end of the volume, Glidden's convictions about the Israel-Palestinian conflict have been thoroughly shaken: whether by the tour guide's propagandizing or by glimpses of life in Israel or by a newly acquired knowledge of the history of the area, Glidden is no longer as pro-Palestine or as anti-Israel as she was at the beginning.
The book accomplishes the transformation of its author by its composition—by the selection and arrangement of incidents. The book's artistry is not so much the pictures (Glidden is good with scenery and buildings but only passable in rendering people); it is, rather, in the editing of the author's experiences. The narrative wanders back and forth between reporting Birthright indoctrinations (and Glidden's ever-critical response to such efforts) and reviewing the history of the country.
Much of the book is a series of long conversations—people talking, with the pictures doing little more than identifying the speakers and providing, through shifting camera angles, the kind of visual variety that prevents the words from overwhelming the pictures. But there are moments, too, when the Glidden's pictures, juxtaposed with accompanying verbal narrative, add poignance to the words or give their meaning greater dramatic impact.
Slowly, Glidden realizes that she has been converted—and she is even enthusiastic about it. She explains her dilemma to one of the other tourists:
"I'm Jewish so that means I'm supposed to support Israel, no matter what, right? But according to a lot of people, any support for the Palestinians means that you don't support Israel. At the same time, when it comes to politics, I'm left-wing and progressive. And if you're progressive, you're supposed to be anti-Israel. Any sympathy with Israel means that you don't support the Palestinians. So see? I'm stuck."
But her listener has a different perspective: "I don't understand how you can be 'progressive' and be 'anti' anything."
"Well," says Glidden, "—that's a good point, actually."
Another time, she attacks the indoctrination inherent in one of the lecturers' talks—"all the rhetoric about Israelis being 'heroes' and 'pioneers'." Her listener reminds her that the lecturer is a storyteller, and a storyteller is part poet:
"A good story may contain exaggerations, omissions. But it was rhetoric and poetry that inspired all of us to take a risk, and we ended up changing history. We did real things here."
In one of the last incidents in the tour, a rabbi gives a lecture about Jewish law and how it is less important than basic humanity: "If you are a religious Jew, a doctor, on seeing a Palestinian injured on the side of the road, you should not have to think about whether or not to help him. He is the same as you. Some people say I am part of the 'liberal left,'" he continues, "I am no such thing! I'm a religious Jew, dammit! Why should caring about your fellow man be labeled left-wing liberalism?"
As a history lesson, Glidden's book is very informative. But in the final analysis, the book is more than a history lesson, and Glidden, with acute self-awareness, knows it: "It was important to show that this was my own subjective experience and not a book which is to explain Israel to the reader," she told Moore. "It's about me trying to explain it to myself. In a way, this book isn't really about Israel but a story of someone going from certainty to uncertainty."
In uncertainty about ourselves, we are more likely to discover our common humanity. And in that discovery, we may find a blessing for the troubled Middle East as well as for the turmoil of American politics these days.
Aaron and Ahmed
By Jay Cantor and James Romberger
144 7x10-inch pages, color; Vertigo graphic novel, $24.99
JAY CANTOR, a novelist and screenwriter, has flirted with the comics medium before: his 1987 prose novel is entitled Krazy Kat, but, as I recall (and my memory is not very clear on this), George Herriman's characters do not appear much therein. In my foggy recollection, they show up as costumes worn by humans; but I'm almost certain I'm not remembering aright. The novel purports to examine our relationship with nuclear weapons; the graphic novel now under the R&R microscope tries to explain the suicidal mission of terrorism.
Nearly destroyed by the death of his fiancée in one of the 9/11 attacks, Aaron Goodman gives up his career as a doctor and goes to the Guantanamo prison to become an interrogator/torturer. When he realizes that torture doesn't yield any useful information, he decides to try a new technique: he'll befriend a prisoner and be kind to him. He chooses Ahmed, and with the aid of some mild drugs as well as kindness, he seems to win the Muslim over.
Up to this point, the novel works as a coherent exploration of the relationship between the two men, how they develop trust—even love—for one another. But then, Cantor goes off the rails with meme theory. A meme, saith Wikipedia, "is 'an idea, behavior or style that spreads from person to person within a culture.'A meme acts as a unit for carrying cultural ideas, symbols or practices, which can be transmitted from one mind to another through writing, speech, gestures, rituals or other imitable phenomena. Supporters of the concept regard memes as cultural analogues to genes in that they self-replicate, mutate and respond to selective pressures."
Or, as one of Cantor's characters says: "The brain is a computer. The meme is a program made of words that runs it. The body is a meat puppet."
And when Ahmed tells Aaron that the jihadist suicide bombers are "programmed" by "chanters" back in Pakistan, Aaron wants to go there to learn how the programming is achieved. The two arrange Ahmed's escape from the Gitmo ghetto, and Aaron undergoes "training" in the holy mountains of Pakistan. By the time the pair return to the U.S., it seems that Aaron is thoroughly programmed to be a suicide bomber. Although he talks about his programming and realizes what has happened to him, he is unable to control himself any more. He has, in fact, gone a little mad: he believes himself infested with "bugs"—the verbal virus, the meme, that directs him to turn himself into a bomb and blow himself up and everyone around him, including, significantly, the meme that possesses him. Thus, Aaron thinks of his suicide mission as the means by which he will "save" Ahmed: by destroying the infection, Aaron will prevent it from spreading to Ahmed.
But when Ahmed is killed by snipers, Aaron goes completely around the bend. In the novel's last scenes, he is confined in an asylum. Naked in his cell, he scratches himself ceaselessly, attempting to rid himself of the "bugs." In devising a way to treat him, the doctors adopt the same technique Aaron employed with Ahmed, saying: "It's all a matter of who you love." Or, as one of the doctors says: "It's basic psychology. Please your father. Please God. Please your therapist—life's all about who you want to roll over for."
And with that, Cantor returns to the rational narrative stream of the book's opening sequences, leaving behind the madness of its central sections.
Thematically, then, the novel seems an indictment of love. Throughout the latter sections of the book, Aaron, who serves as narrator part of the time, expresses doubt about whether he should trust Ahmed. And yet his final acts are undertaken to protect Ahmed. But when the asylum doctors coldly adopt Aaron's techniques, they effectively condemn "love."
The meme theory seems to unnecessarily complicate this thesis. Unless—is love just another meme? Is God love? Is God yet another meme?
That seems as rational an explanation for jihadist terrorism as anything else I've seen. As a further complication— words are memes; and novelists like Cantor deploy words for their purposes. So it's words that infect humanity with a love that is destructive.
James Romberger employs a realistic somewhat wobbly drawing style that is wholly successful. His manages to make every drawing of Aaron's face (and Ahmed's) look like Aaron (and Ahmed), no mean accomplishment, and he supplies a setting for nearly every panel: none of those "blank" backgrounds that so often prevail in graphic novels.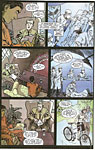 When Aaron and Ahmed go to Pakistan, Romberger begins to vary his page layouts. Instead of confining the progression of panels to a single page, going left to right, from top to bottom on the left-hand page and then repeating the rhythm on the next page, Romberger takes his panels across the gutter and back, effectively making the layout two pages wide. This maneuver gives a certain visual sweep to the narrative—most dramatically in suggesting the vastness of a desert locale, for instance, or the overwhelming nature of the madness that Aaron finally succumbs to. Unhappily, standard book binding destroys the effect: pinching the visuals at the center tuck of the spread's gutter, portions of the pictures are buried from our view, inhibiting our grasp of their import and giving the sweep a distinct limp.
The book is a serious and ambitious undertaking on an important topic with the kind of thematic and visual complexity that nudge it well beyond "comics" into "literature."
ANAGRAMORAMA
By Jim Ivey
The veteran editorial cartooner and beach comber nonpareil, Jim Ivey is a regular R&R correspondent—that is, he writes me letters and I write back. His letters for the last year or so have included a plethora, a veritable deluge, of anagrams. He reports that it has become a compulsion. "I just can't stop finding anagrams," he wrote recently. "They pop up in front of my eyes and I can't ignore them. I figure I've done about 500 of them. (Maybe 100 are small gems.) It's on autopilot now."
Some are purely beauts. And so we're going to start sharing them with you, beginning here.
ONWARD, THE SPREADING PUNDITRY
The Thing of It Is ...
From James Israel, publisher/editor of The Humor Times; subscriptions start at $19.95 for 12 issues at Humor Times, P.O. Box 162429, Sacramento, CA 95816; or, online at humortimes.com, a buck less. Humor Times is mostly cartoons, but sometimes Israel gets carried away, as he did in the last issue, which we now quote verbatim:
American politics seems to be an exercise in absurdity these days. The recent self-made crisis regarding the debt ceiling is a perfect example. With unemployment hovering officially around 9-10% (and unofficially closer to 20%), Washington could think of nothing better to do than create a "crisis" that took every scrap of their attention for a few months. All over something that has been done routinely for decades, under both Republican and Democratic presidents.
The fact that getting the economy going again would in itself help to pay down the debt seemed too esoteric a concept for this bunch. The "tea party" – that un-party that managed to elect a bunch of temper-tantrum specialist Republican juvenile congressmen in the last election – shoulders most of the blame, of course. It was they who pressured Speaker of the House, "Orange Man" Boehner, to insist on draconian cuts to anything that might help those in need in this super-recession, while absolutely refusing to ask those who can actually afford it to give up something.
Still, the Democrats, especially President "The Hope is Gone" Obama, deserve a lot of the blame for letting these fools push them – and by extension, the American people – around.
A vast majority, in poll after poll, favor restoring the upper income tax rates to what they were during the boom years of the Clinton era. Even billionaire Warren Buffet has come out strongly (again) for raising taxes on the rich. But of course, the talking heads on Fox "News" and the toxic-stew-breathing Rush Limbaugh on radio resorted to the same old, worn out, over-misused cliche, calling Buffet a "socialist." Sure, a billionaire is a socialist … right. That's how he got so rich. Good one, Fox. How did you find that out? Bugging his cell phone?
Well, now that the debt circus has closed, can we get back to creating jobs (if the new law hasn't made it impossible)? There are some good plans out there.
Like the one Illinois Democratic Congresswoman Jan Schakowsky proposed: The Emergency Jobs to Restore the American Dream Act. "Over two years, her plan would cost $227 billion and would be paid for by tax increases for those earning more than $1 million and $1 billion, closing corporate tax loopholes and ending subsidies for big oil," according to an article by Michael Winship on Truthout.org, August 20, 2011.
This bill is based on the conclusions of a report titled "Back to Work: A Public Jobs Proposal for Economic Recovery," written by Rutgers law and economics professor Philip Harvey. It says "a million temporary jobs in a federally administered, direct jobs creation program – jobs in childcare, elder care, education, public health and housing, construction and maintenance, recreation and the arts" could be created, and as many as 414,000 jobs outside the program. "Annual cost in program spending: $46.4 billion. Actual net cost, taking into account revenues and savings: only $28.6 billion."
As it happens, the federal government would have collected about $295 billion in additional revenue during 2011, if the Bush-era tax cuts had been allowed to expire at the end of 2010. More than enough to cover Schakowsky's program and put America back to work.
As Jon Stewart pointed out on the "Daily Show" on Comedy Central, you could increase revenues by $700 billion over ten years simply by letting the Bush tax cuts expire for the rich – a few measly percentage points. Or, you could raise the same amount of money – and this seems to be the preferred Fox plan – by taking HALF of EVERYTHING the bottom 50% in this country own.
I say the better plan is to let the ultra-rich top 2% pay something back to the country that helped them attain such obscene levels of wealth. But then, I guess that makes me a "socialist."
ELSEWHERE—On the eve of the return of Congress to the game preserve in the District of Columbia, New York Times' Joe Nocera asked Jim Cooper, a Blue Dog Democrat from Nashville who remembers when "compromise" was not a dirty word, what he thought of the present atmosphere in Congress. Said Cooper: "We no longer search for the best ideas or the best policies. There was only one health care bill offered. ... Too many people here are willing to deliberately harm the country for partisan gain. That is borderline treason. This is not a collegial body anymore. It is more like gang behavior. Members walk into the chamber full of hatred. They believe the worst lies about the other side."
WE'RE ALL BROTHERS, AND WE'RE ONLY PASSIN' THROUGH
Sometimes happy, sometimes blue,
But I'm so glad I ran into you---
Tell the people that you saw me, passin' through
Tom Wilson, Sr., 1931 - 2011
Tom "Ziggy" Wilson, Sr., died Friday, September 16, and today, September 20, word of his death is just surfacing through his family. Since I'm about to post this Opus, I don't have time to research the man's professional biography, so I quote verbatim the Associated Press article by Thomas J. Sheeran. Herewith:
Tom Wilson Jr., who took over his father's Ziggy panel cartoon in 1987, said his father died of pneumonia after a long illness at a Cincinnati hospital. The elder Wilson had moved from Cleveland to a Cincinnati nursing home about eight years ago to be near his family, his son said.
Wilson was an artist at American Greetings card company in Cleveland for more than 35 years and first published Ziggy in a 1969 cartoon collection, When You're Not Around. Ziggy was launched in 15 newspapers in 1971, syndicated by Universal Press, and now appears in more than 500 daily and Sunday newspapers. It also has appeared in books, calendars and greeting cards.
Wilson Jr. said the name Ziggy derived from his father's school experience of being the last alphabetically. When a new classmate arrived with a last name beginning with "Z," the idea took root with the friendly sounding "y'' ending, such as Billy or Tommy.
"Ziggy is a last-in-line character," the son said in a phone interview. "The last picked for everything and kind of a lovable kind of loser character."
"I had a 'y' at the end and 'z' at the beginning, so the word Ziggy just fell into place. That became his name," was the way Tom Wilson Sr. described it, according to his son.
Wilson Jr. said his father was always optimistic. "He was a passionate and charismatic man, it came out in everything he did," he said. "He loved ideas and he loved creating — that was really what drove him. He wasn't a loser in that sense because his passion just came out and inspired everyone around him."
Wilson was "a visionary cartoonist," said John McMeel, chairman and president of Andrews McMeel Universal, which owns Universal Uclick, formerly known as Universal Press Syndicate. "Tom leaves behind a wonderful legacy in Ziggy, a hard-luck comics page hero who serves as a reflection of Tom's endearing wit and optimism in the face of adversity."
Ziggy also starred in the ABC Christmas special, "Ziggy's Gift," which won a 1983 Primetime Emmy for Outstanding Animated Program and was re-released on DVD in 2005. And Wilson was also head of a creative team that developed the Strawberry Shortcake and Care Bears character licensing.
"Tom Wilson had a unique gift for producing creations that stirred imaginations and touched people's lives," said Hugh Andrews, chief executive officer and president of Andrews McMeel Publishing
*****
Sam Norkin, 1917-2011
Sam Norkin, who died in his sleep early Sunday morning, July 31, at the age of 94, could not escape being compared, usually to his detriment, with celebrated theatrical caricaturist Al Hirschfeld. Even in death, as witness these sentences, the insidious comparison keeps cropping up. But the kinship lurks only in the fluidity of Norkin's line, and he often resorted to less lyrical compositions: in the accompanying mash-up of some of his caricatures, his picture of Rex Harrison and Richard Burton, for instance, is stolid and angular.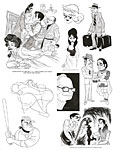 And in rendering faces, Norkin deployed a chiseling, sculptural subtlety; we see it in Harrison and Burton, but also in Norkin's own self-caricature in the center and in Katharine Hepburn and, at the far right in the same vignette, Ralph Richardson. But in his picture of corpulent opera director Sara Caldwell (just to the left of Norkin himself), Norkin is every bit as graceful as Hirschfeld.
In his last years, Hirschfeld, although still spectacularly brilliant, produced Hirschfeldian pictures: there was a sameness about his fluted gracefulness. Norkin, however, could still surprise with pictures that diverged from whatever we might expect—as in his Jason Robards (just behind Hepburn); he sometimes captured angular likenesses by drawing blocks of granite instead of flowing robes.
To test both Norkin and yourself, find these persons in the adjacent visual aid: Dean Stockwell, Bette Davis, Sophia Loren, Dustin Hoffman, Patty Duke, Anne Bancroft, and James Earl Jones (moving mostly clockwise from the upper left).
Hirschfeld couldn't explain how he did what he did, but he knew how it achieved its effects: "Say you recognize a friend a block away. It's raining, you have only a back view; the guy's wearing a new suit—but, with all the billions of people who inhabit the earth, you recognize him. How? This is a talent not peculiar to me. It's a common phenomenon. Everybody has that great talent of recognition. They dismiss it as nothing, as just being natural and normal, but it is a strange and wonderful talent."
In creating that recognition, however, lies the caricaturist's genius. Harry Haun, writing in Playbill for July 31, 1998, when Hirschfeld was celebrating his 95th birthday, continued the thought: "When he creates recognition with a line, he is on a plane with Astaire in motion and Sinatra in song. ... Frequently, he plays fast and loose with physicalities, but always the result is the same: that word again, recognition."
And that's what happens with the very best of caricatures. Caricaturing is not simply exaggerating the most prominent of a subject's physical appearance: it is, rather, creating recognition.
And Norkin would agree. Writing in Cartoonist PROfiles No. 92 (December 1991), Norkin provided a description of the art of caricature that astonished editor/publisher Jud Hurd with its explicit recitation of nearly mechanical details. Hirschfeld's description is poetic; Norkin's, tutorial. Here, I quote only parts of Norkin's exposition:
"The principles are ... to give greater inflection to the personality by taking liberties with proportion. As some express it: 'to arrive at truth by lying.' ... It is not a matter of exaggerating 'the most prominent feature.' Most people have no such feature, but everyone is theoretically caricaturable because he has an individual likeness."
Find the angle or attitude that "reveals the best likeness factors," Norkin continued. "Observe your model talking, smiling, or being serious. Full face, profile, or three-quarters. Observe his natural attitude and what it reveals. Does he tend to look straight ahead, glance downward or upward? What happens to the features, especially the eyes, during these changes? Or to the angle of the head, up, down, or tilted, as it affects the features, their relationship, pattern or connection?
"Here's just an inkling of what you must automatically observe and commit to a premeditated concept in seconds: if there is one prominent 'feature,' it has to be the shape of the head. It is elementary to a good likeness. Get it wrong, and it will defeat the remaining perceptions. Capture it, and you are on your way. ... I have been describing the scanning process top to bottom, but starting a portrait with the nose and constructing from that point is a sound approach because of its strategic central placement. ... Once you have applied those precious few seconds of scrutiny and have established your concept mentally, it is possible to plunge into your drawing, committing your premeditation to paper spontaneously, without roughs, to produce a finished caricature."
There's more, but you get the idea—the careful, step-by-step process by which Norkin captures his likenesses, beginning with a "mental construct" based upon over-all shapes plus individualistic contours. His description is as precise as his pictures. What follows next I purloined from numerous obituary articles that appeared just after Norkin died.
For more than seven decades, Norkin depicted and described the performing arts in America through his sketches and artworks. During his long career, he created more than 4,000 published drawings of theater, dance, opera, jazz, pop, circus and classical music. He was also a writer, lecturer and noted raconteur. His first sale was a 1940 drawing of Alfred Hitchcock directing "Mr. and Mrs. North" that ran in the New York Herald Tribune: it netted him the princely sum of $15.00.
From 1940 to 1956, Norkin's witty and elegant stage illustrations were featured in the Tribune. During the next 26 years, he covered all of the performing arts for the New York Daily News, getting a weekly assignments.
"Hirschfeld and I are probably the last two that do this," Norkin told Frank Pauer, editor of The Cartoonist, the newsletter of the National Cartoonists Society (NCS).
Hirschfeld covered opening nights on Broadway, but Norkin, uniquely, went to the cities where shows made their debuts before coming to Broadway, and his theater drawings therefore appeared in newspapers in those cities—the Boston Globe, the Washington Post, the Philadelphia Inquirer and the Toronto Star.
During the 1940's, newspaper editors wanted to devote more space to new theatrical events, but the only visual evidence of the play were photographs of actors rehearsing in street clothes, scarcely a reflection of the essence of the productions. Norkin attended rehearsals to capture the action of a show, and he "dressed" the performers in their costumes based on costume design sketches, thus providing an accurate representation prior to an opening.
"When I am privileged to be the only outsider at a rehearsal," Norkin wrote in Sam Norkin: Drawings and Stories (Heinemann, 1994), "the director may relate to me in the following ways: ignore me, if he thinks he has a hit; give me succinct information in a professional manner; buy me a pastrami sandwich and stage any scene I desire if he suspects he is stuck with a bomb; put on an ego show strictly for my benefit."
"I've seen more rehearsals than anyone in the business," Norkin told Pauer."I did most of the shows that opened out of town. Often I was the only outsider allowed in because they needed my pictures for the publicity. Many times all the actors saw of a set was just a dummy of a set. Chalk marks might indicate a stairway. So they really hadn't seen a production themselves. They arrive out of town, open the Sunday paper and see my drawing and say, 'Oh, so that's what we'll look like.'
"I talk to the actors and find out about their makeup," he continued, "I've seen the run-through, I've heard the play, and then I see either a dummy of the scenery or the sketches. I've got specific materials. There's enough there so I can deliver something authentic to the reader."
The Sam Norkin book's 266 drawings are accompanied by Norkin's reminiscences and colorful stories about life (and lives) in the theater.
Norkin's drawings of theater, opera, ballet and film celebrities were also published in Variety, Backstage, the Los Angeles Times and many other publications. His portraits frequently appeared on covers of the magazines Saturday Review and Harpers. Norkin also served as an art critic for the Carnegie Hall house program and was a cultural reporter for the New York Daily News.
Norkin was born in Brooklyn on January 10, 1917. He was accepted into muralist Mordi Gassner's life classes for talented teenagers at the age of nine and studied with him for nine years. He attended the Metropolitan Art School after high school and later studied at Cooper Union and the School of Fine and Industrial Art. When he began doing theatrical caricatures, he also supplied his own captions, which eventually prompted him to write articles and reviews.
"I was a product of art deco," he said in his interview with Pauer, "—my formative years were the 1920s and the early 1930s. I related to the design in form, and I got the biggest kick out of seeing what Miguel Covarrubias did with design and geometry. [Hirschfeld was also a fan of Covarrubias.—RCH] I grew up with a tendency to find the decorative in things influenced by Covarrubias, and to a degree by the early work of Hirschfeld, though I like to think that because I worked with a brush and they worked with pen and ink, the brush's fluid and elongated line would lend itself to things that a pen couldn't do."
But he was still sensitive about being compared to Hirschfeld. I met him once, briefly, at an NCS Christmas Party, and when I mentioned Hirschfeld, Norkin bristled a little.
In addition to the 1994 retrospective collection of his work, a 2009 volume, Having Fun With Words of Wit and Wisdom, written by his friend and colleague Tom McMorrow, contains his illustrations. Norkin's artwork has twice been exhibited at the prestigious Lincoln Center Library and Museum of the Performing Arts; The Museum of the City of New York; the Metropolitan Opera House; the Hudson River Museum in Yonkers, NY; and in various galleries on the East coast.
*****
HIRSCHFELD'S APARTMENT in Manhattan where, seated in an antique barber's chair, he drew his way into carticatural (and theatrical) history, was for sale a few weeks ago. I didn't buy it.
The whole Hirschfeld story can be found in Harv's Hindsight for January 2003.
*****
AND BEFORE WE LEAVE caricature for the nonce, here, by way of finale, are a flock of caricatures the recognition nuances of which are often achieved by flat planes of color, a new wrinkle in the art these days.
To find out about Harv's books, click here.